Hello lovelies, we're inviting the very charming bridal accessories designer, Debbie Carlisle to share her expertise on styling your hair with delicate, handcrafted headpieces today.  Debbie is one of our absolute favourite 'wedding people' – she's been crafting delicate headpieces for brides for a number of years now, and we love her to bits.
If you have any questions after reading this piece, Debbie can be contacted via her website or through her social media feeds, and her inspiring Instagram account is one you should be following already 😉 Over to you Debbie!
_______________
Layering hair vines and hair pins to create your own unique wedding hair accessory is a wonderful way to create a wedding day look that is unique to you.
I love the idea of brides wearing headpieces in unusual ways and creating looks that are personal to them – it's something I often do in private consultations with my brides and I wanted to extend this option to all brides, whether you buy from my online store, from a bridal boutique or at one of my stockist events or wedding fairs.
With this in mind I have purposely created a series of bridal hair vines and wedding hair pins that are designed to be mixed and matched so you can use coordinating pieces to form your own headpiece design.
A simple way to create your own headpiece is to choose a hair pin trio set which you can pin into different positions together or separately to create your own look. Here you can see three Maisie Swarovski crystal and pearl hairpins styled as one beautiful headpiece – you can change the positioning to create your own look, or wear a single hair or two pins for a simple look.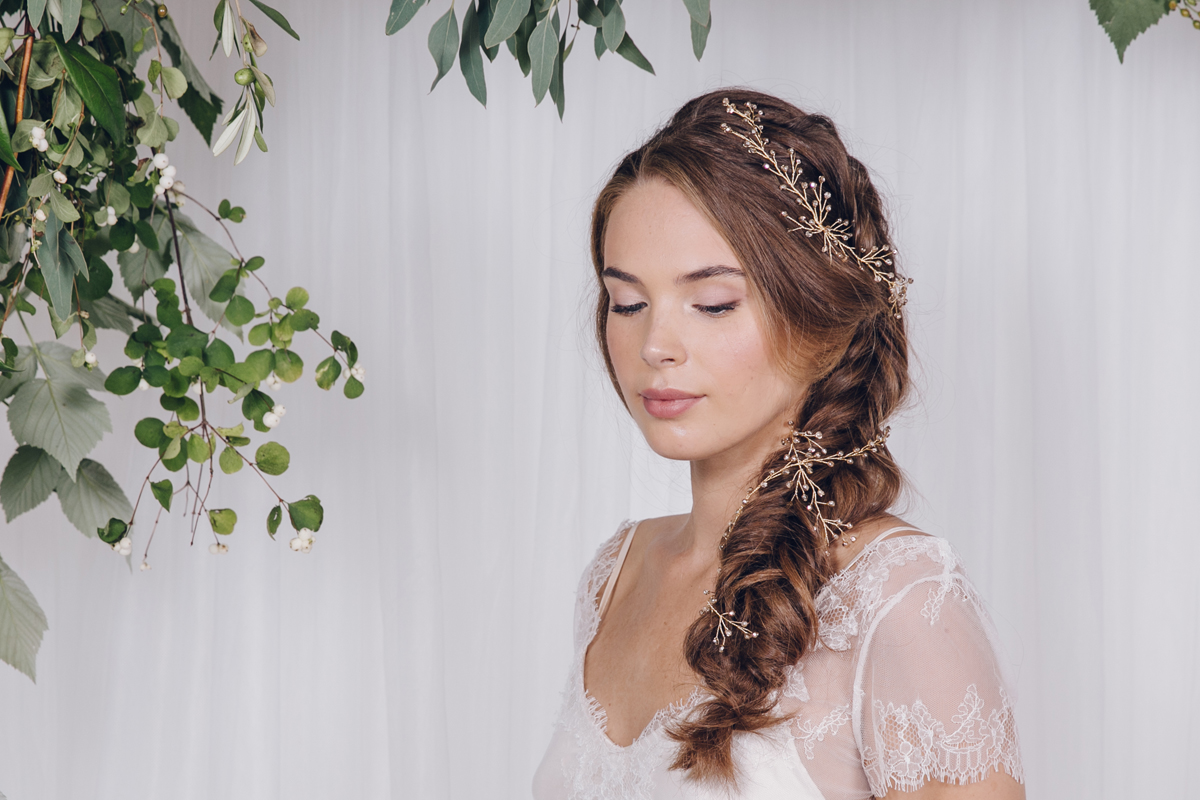 I also offer plait sets of pins – larger groups of pins which are designed to be dotted through a braid or up do. My Minna plait set offers flowers in three sizes which can be added to a plait while the Daisy sets offer small flowers in two sizes which are perfect to place in clusters through the hair.
You can even mix and match different hair pin designs – below is a single Saffron hair pin worn with two Anya hair pins to create two different styles, firstly spacing the pins out to create a simple dusting of sparkle, and secondly placing the three pins closely together to give the look of a single jewelled clip.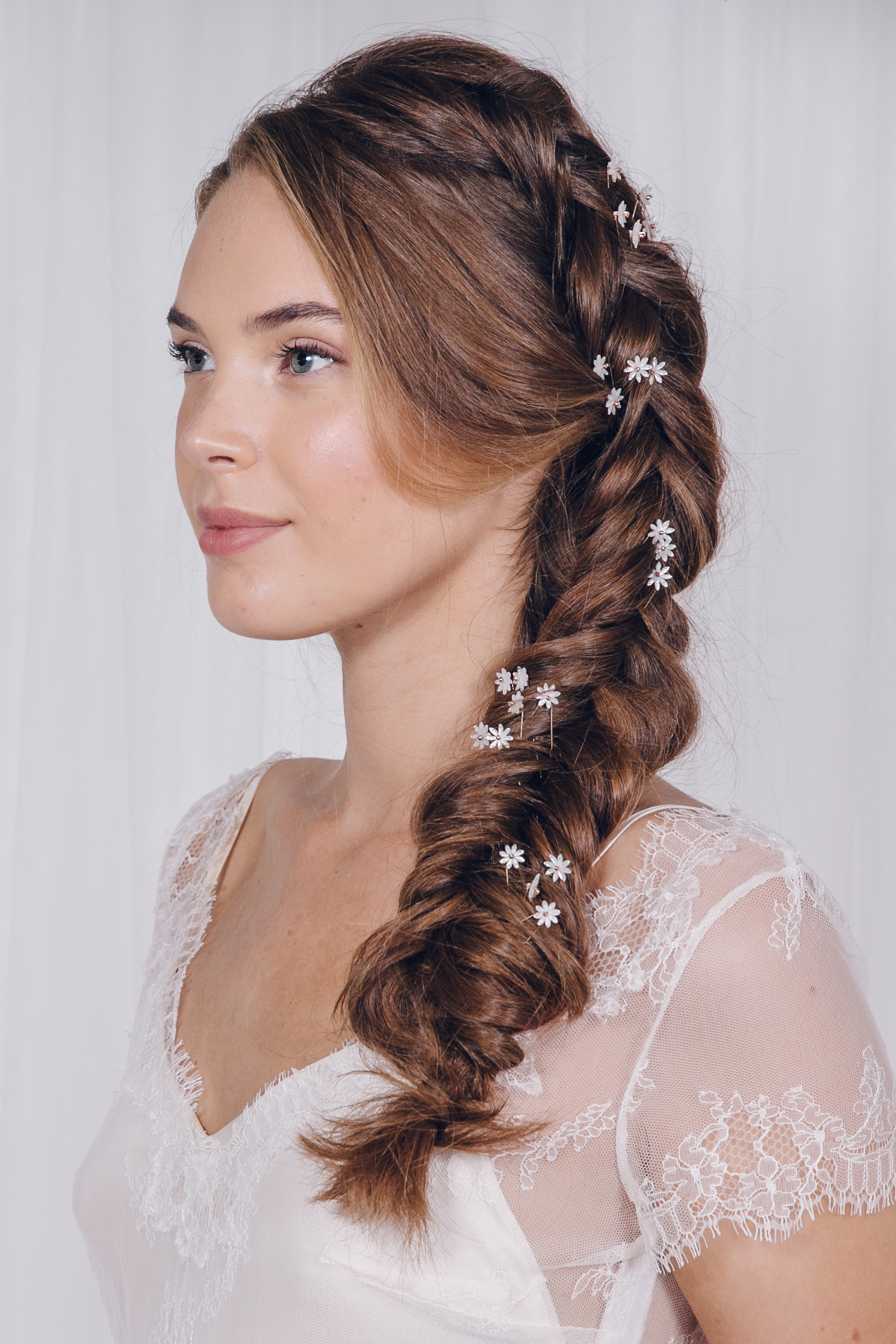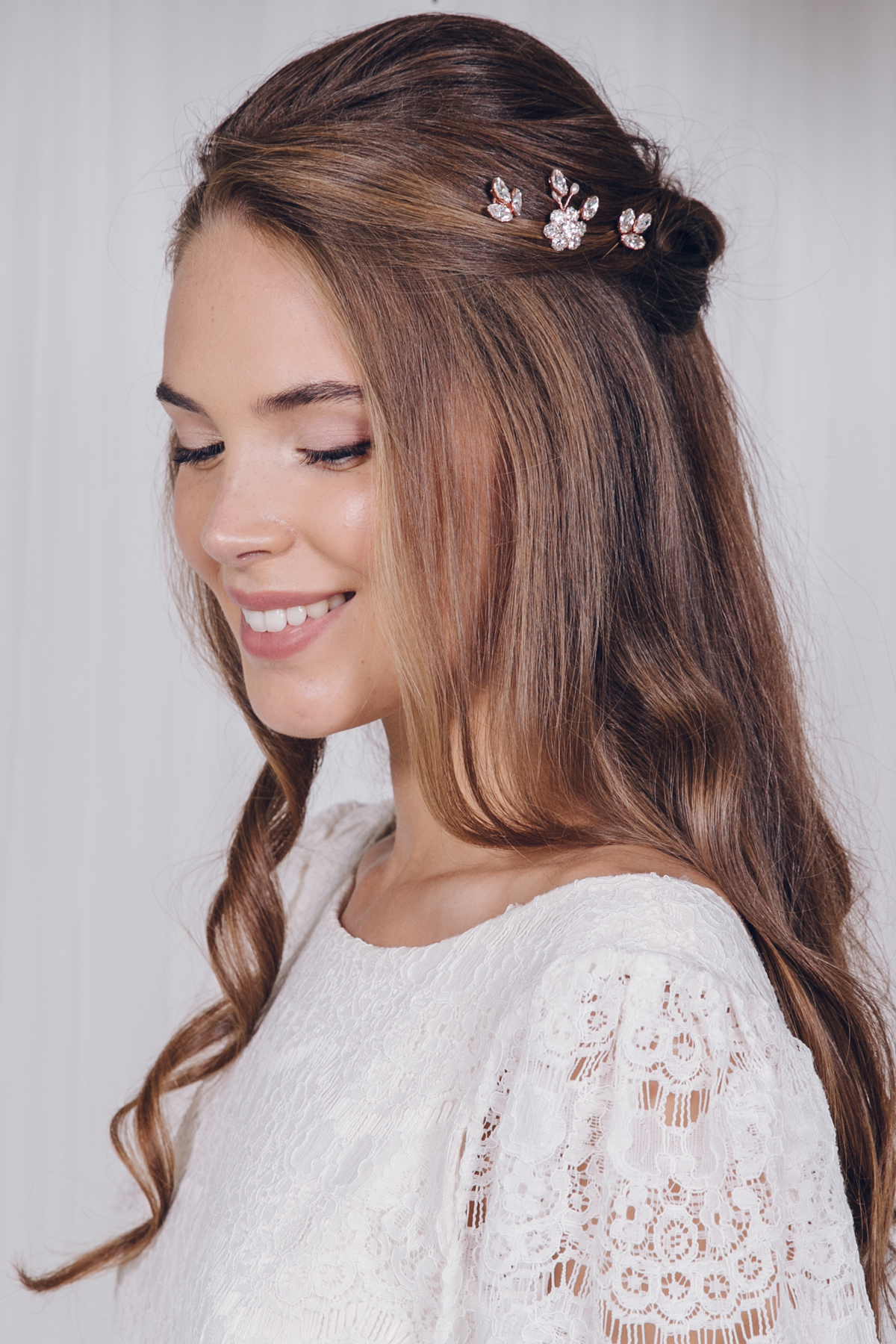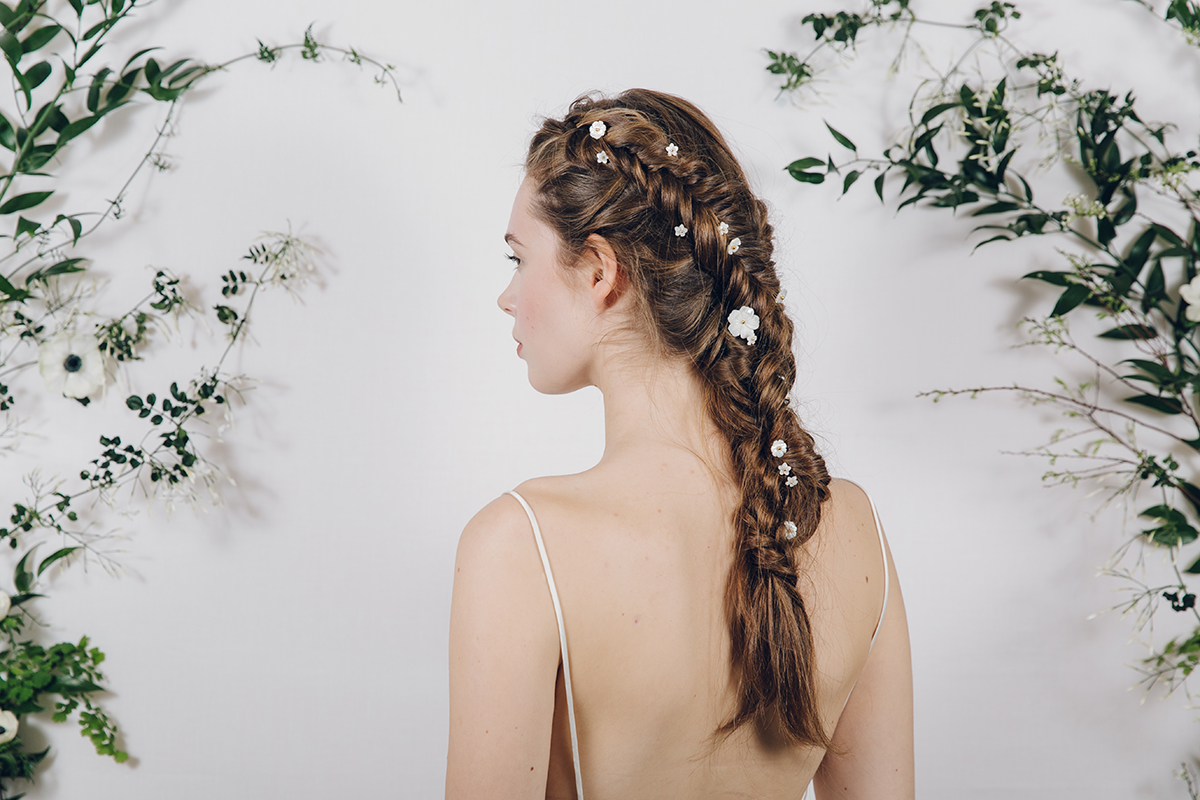 Another way to create your own look is to add hair pins to other coordinating pieces to create a stronger look or to give the impression that a hair vine has been threaded through a plait or up do. Here we pinned the Annette trailing floral hair vine in rose gold along a beautiful braid and add teamed it with three coordinating Coralie flower hair pins which give the impression of a longer vine which has been threaded through the plait.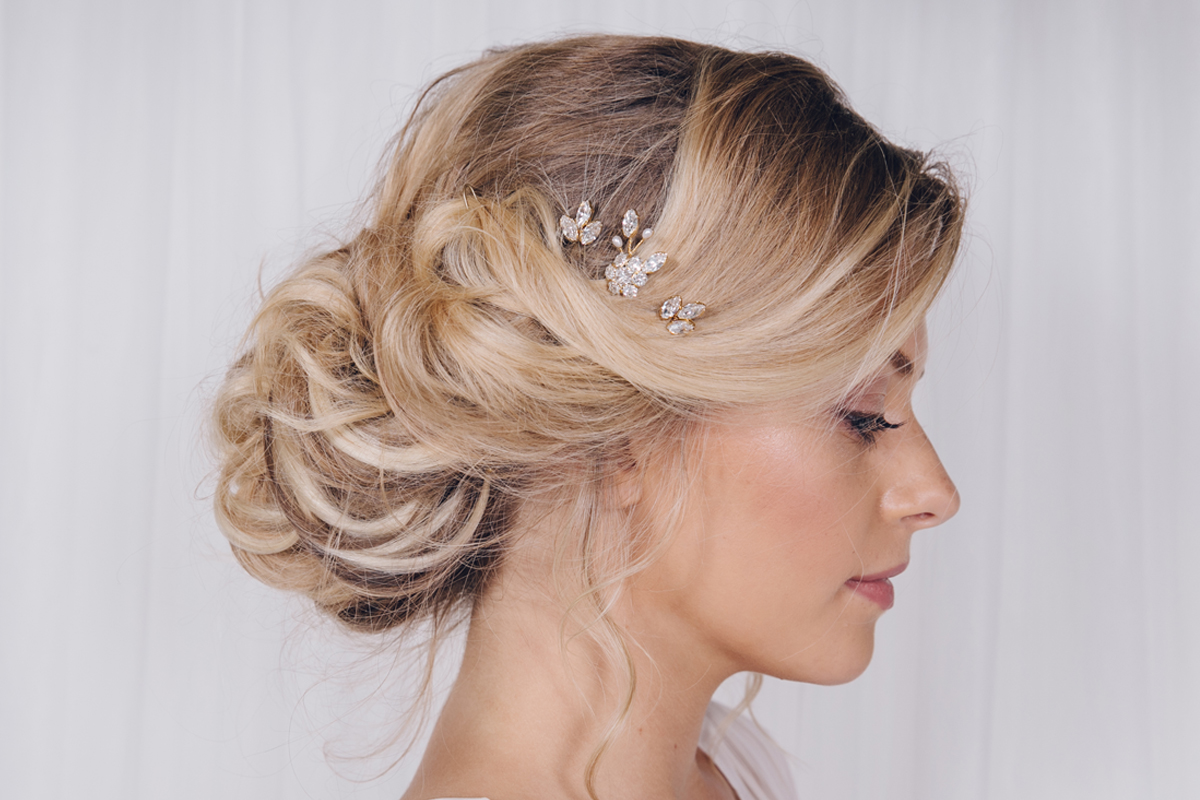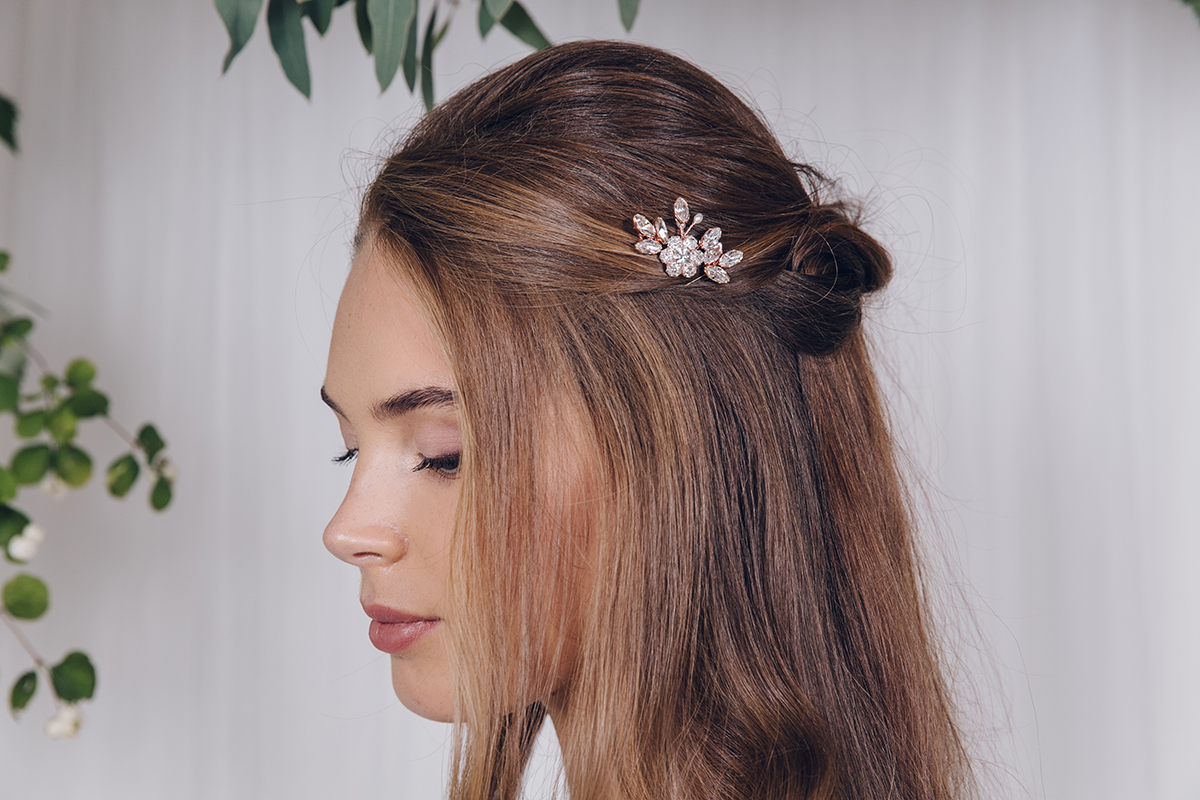 Here we've styled the Evie trailing hair vine so the longer strands wrap around this elegant low bun and then added two Coralie hair pins on the right so it looks as though the pieces are one long vine pushed into the hair.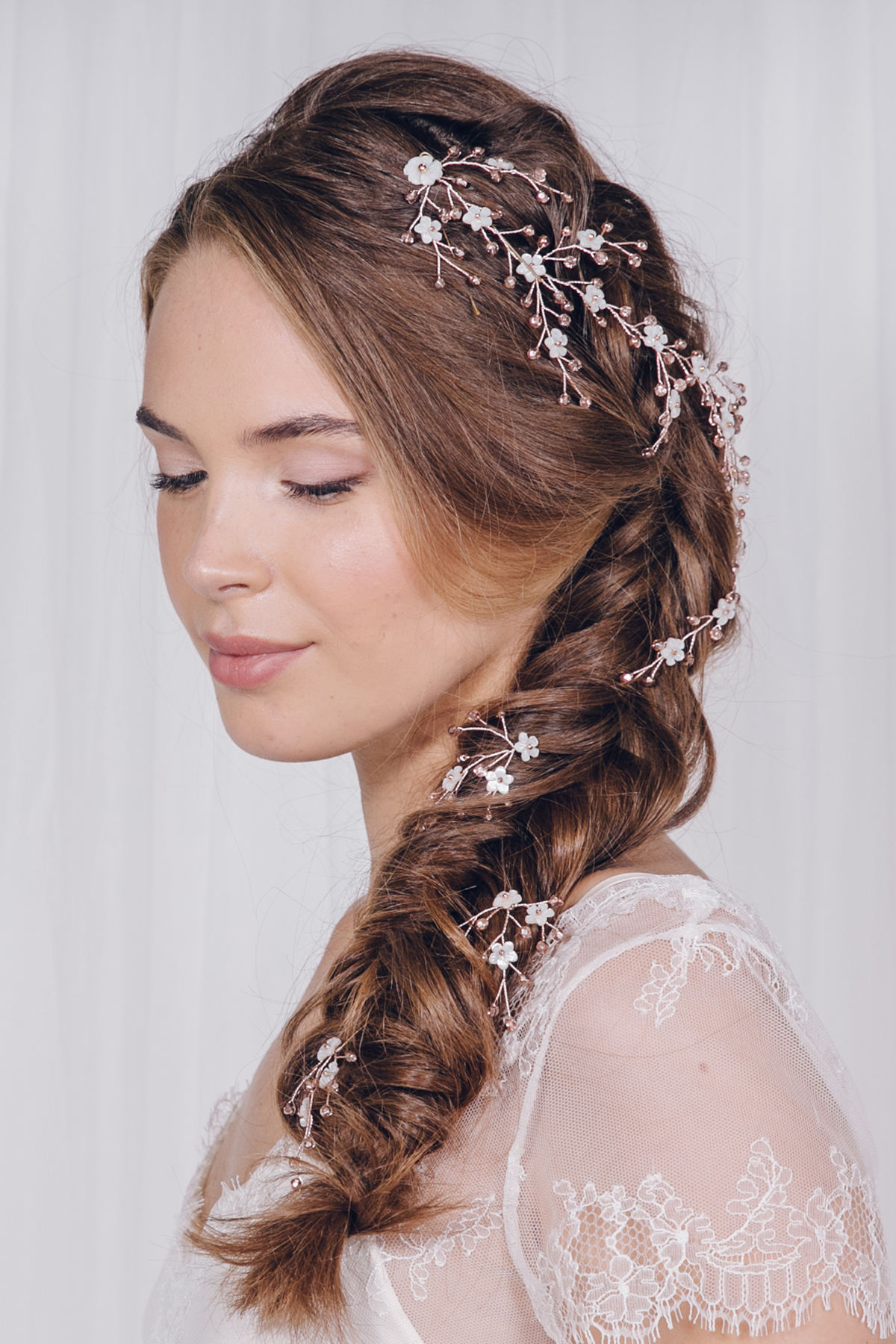 Below is a single gold Annette hair vine placed on top of the head in tiara position with three gold Coralie hair pins and three rose gold Coralie hair pins placed so the pins create some height across the crown in alternating shades to create an ethereal raised flower crown for a beautiful soft yet striking look.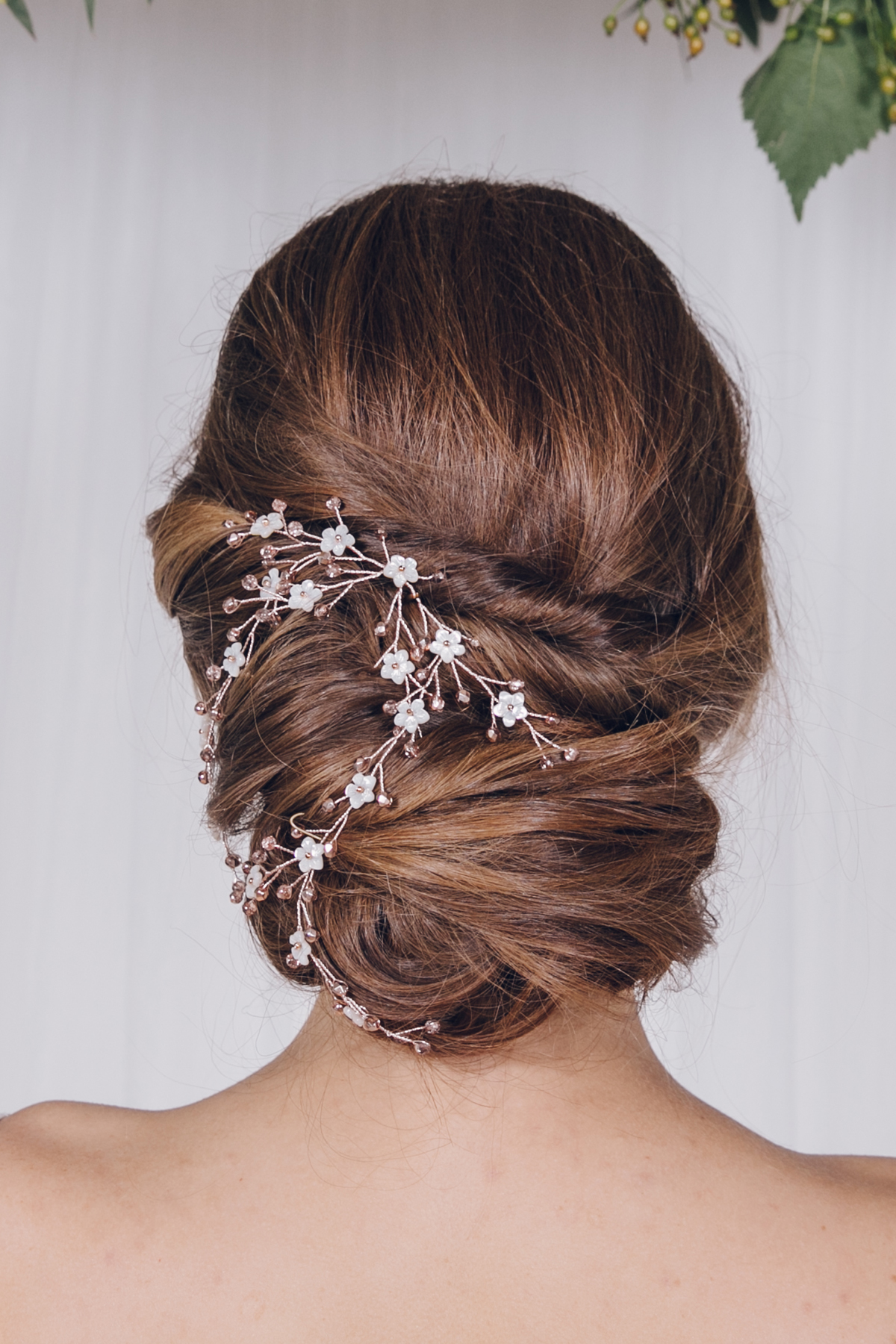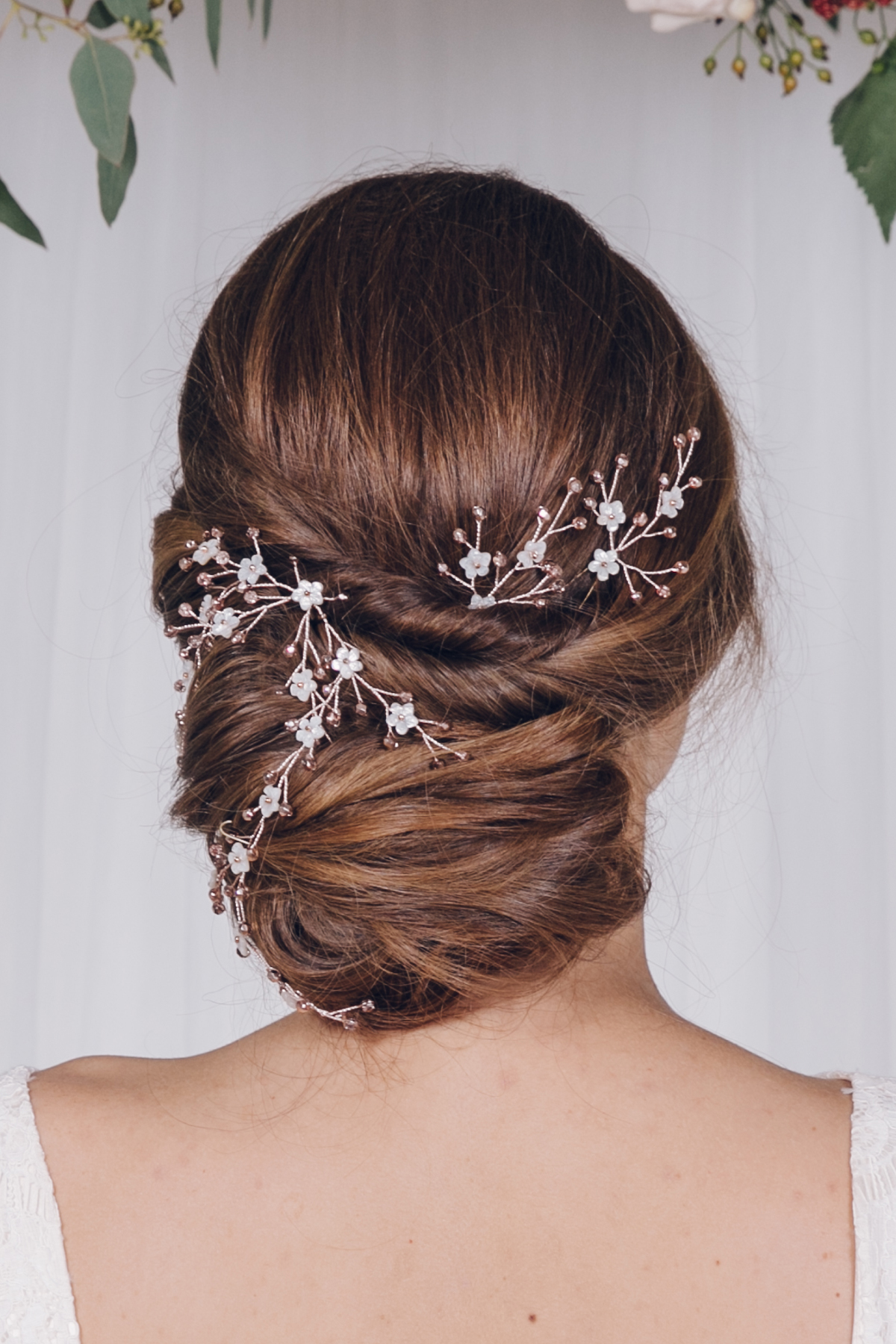 Another option is to pin longer vines into position side by side – here we have layered three Daisy headbands together to create a stronger look compared to the simple effect of a single headband vine.
There's really no limit to the amount of layering you can do – I love this look which uses one central gold Loretta floral vine flanked by two gold intertwined Anastasia vines to create a headpiece that is similar to the statement Katya wedding headpiece but has a more open relaxed feel. Layering vines is a great way to change up your day time look by using a simple piece during your ceremony and adding a second piece to it for the evening to give your look more drama.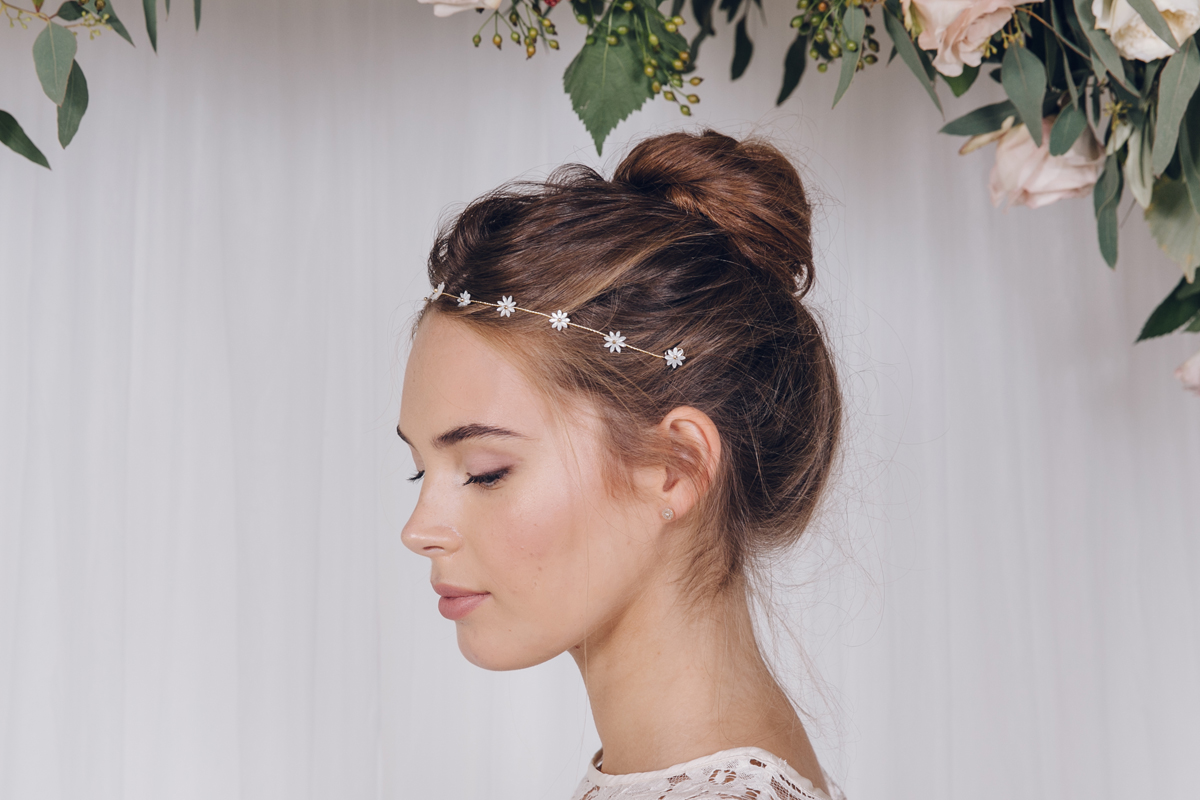 You can even weave two longer bands together to create an intertwined effect – below we gave the rose gold Amy and India hair vines a gentle curve and then pinned them into position so they look as though they have woven together. You could also create similar styles using any hand wired hair vines or headbands – just let your imagination run free!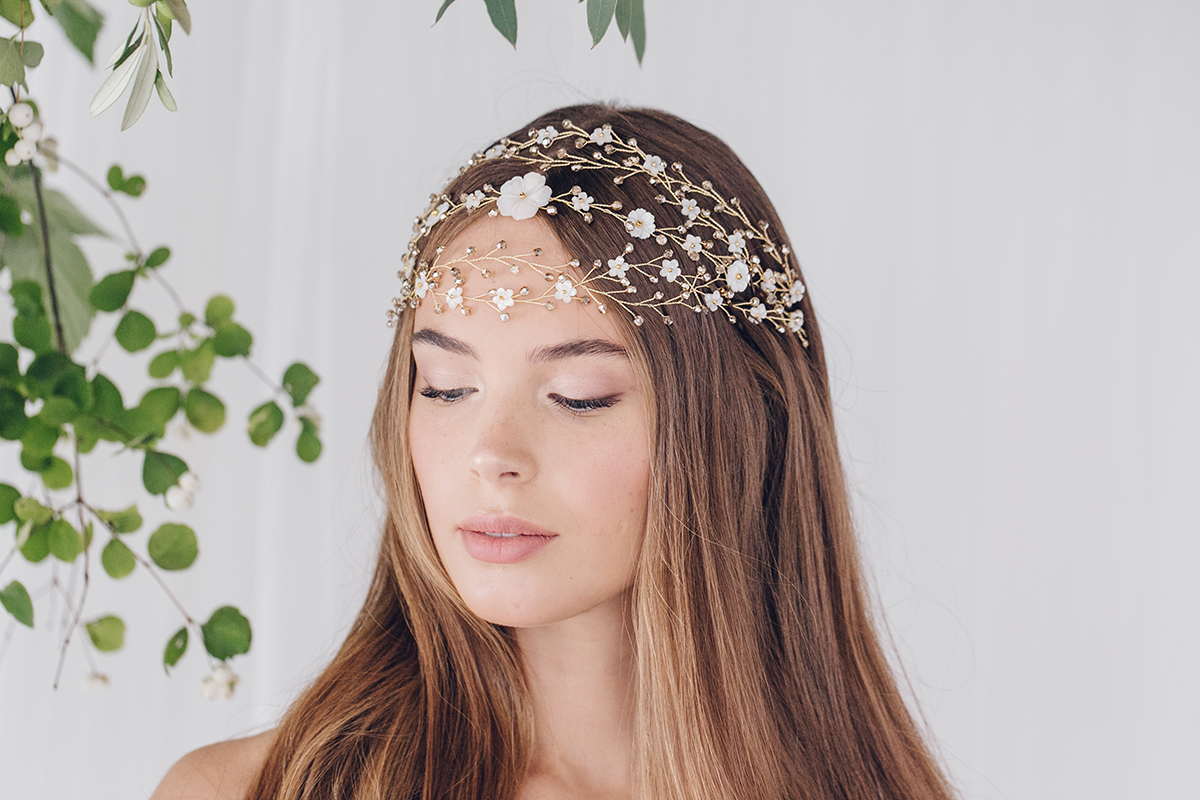 Plaits are a great opportunity to mix and match pieces to trail around the braid – here we mixed the coordinating Rosie, Rosemary and Amy vines in gold to weave around the braid.
We also combined the Rosemary gold vine with coordinating Haillie simple gold hair pins to create a relaxed bohemian feel.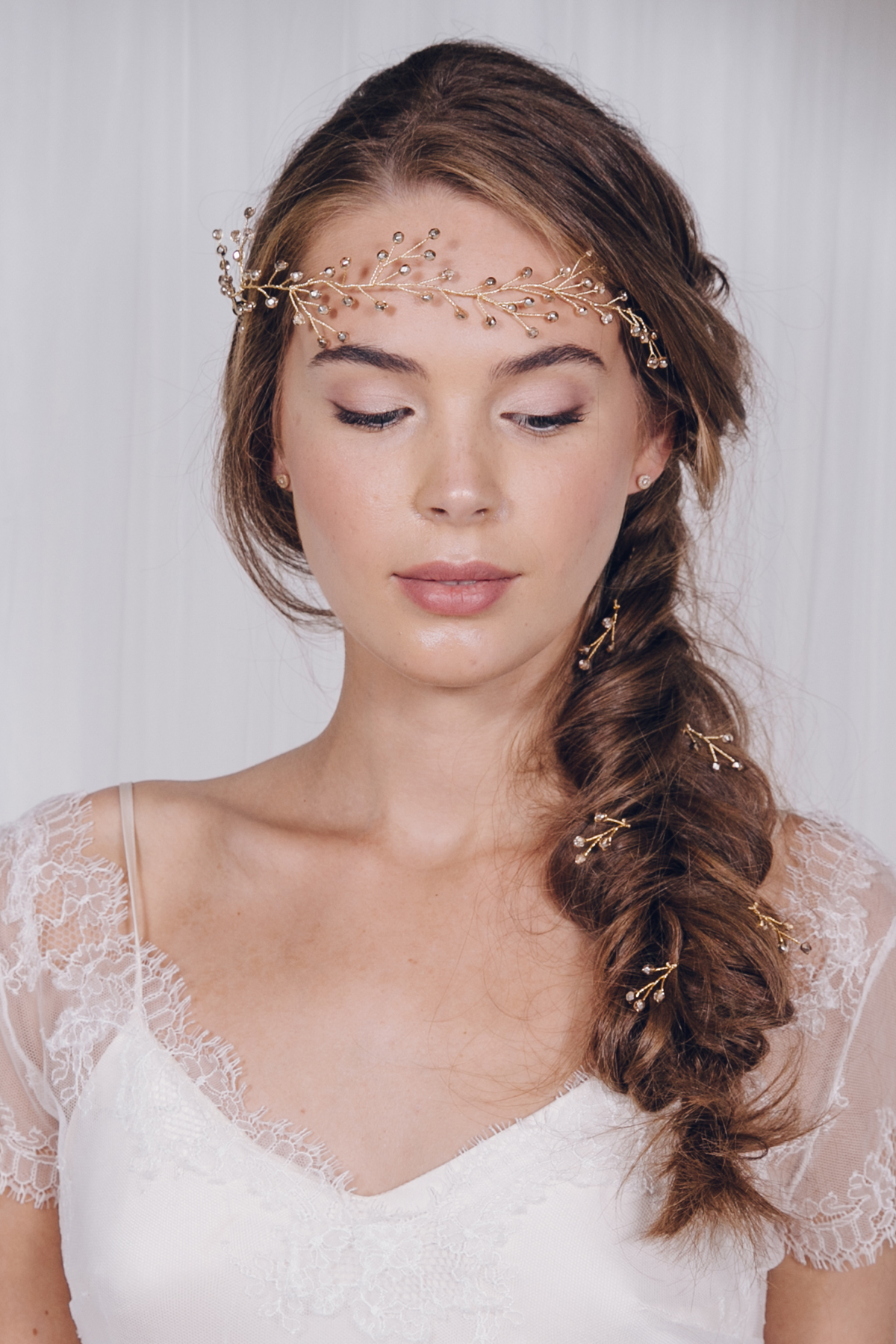 Here is the Annette hair vine in gold teamed with the Isabella slim hair vine worn twisted around the lower half of a bridal braid.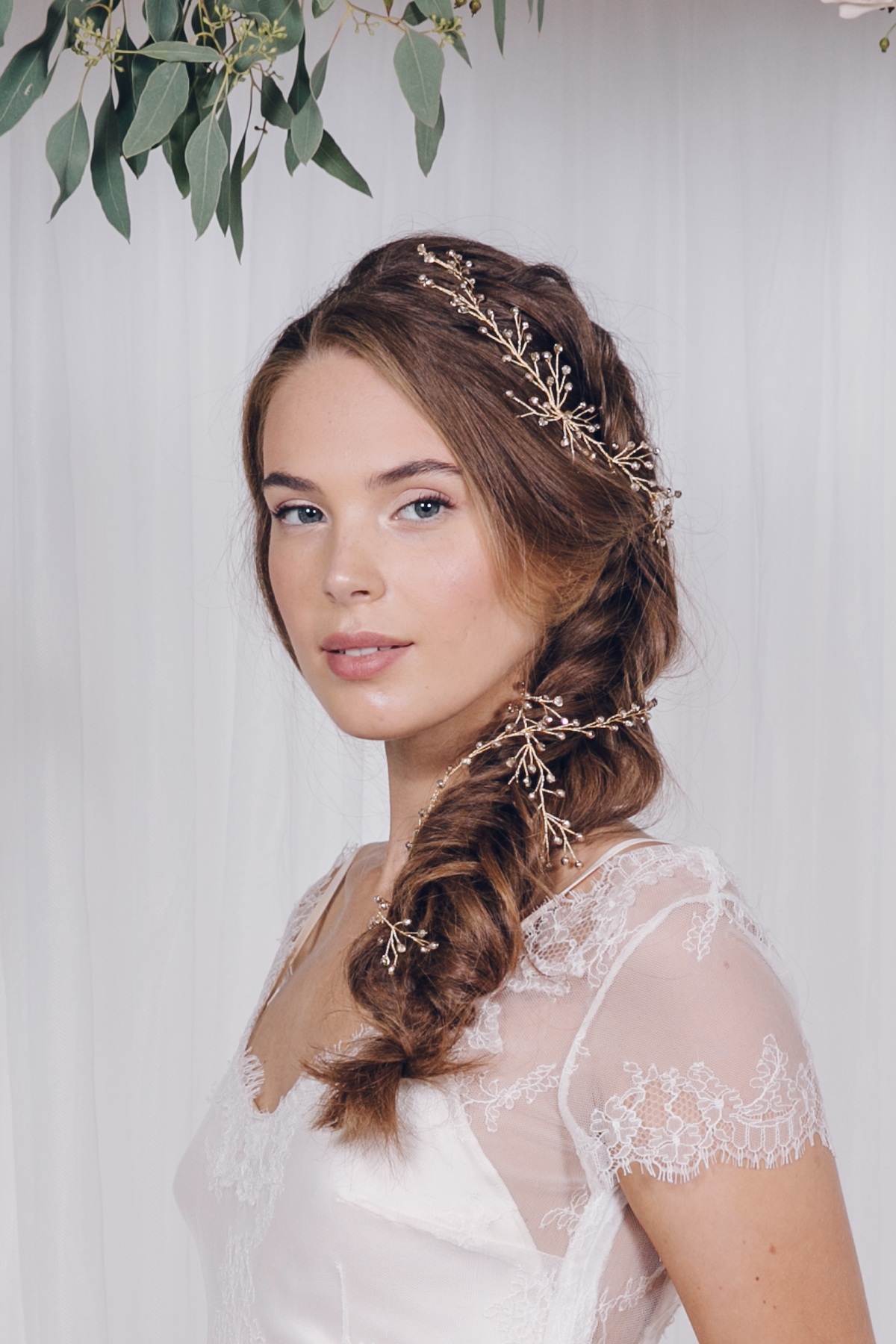 For a more glamorous sparkle you can pin the trailing Scarlett Swarovski crystal wedding hair vine down a bridal braid and dot coordinating Saffron hair pins down the plait to create a stunning bejewelled look.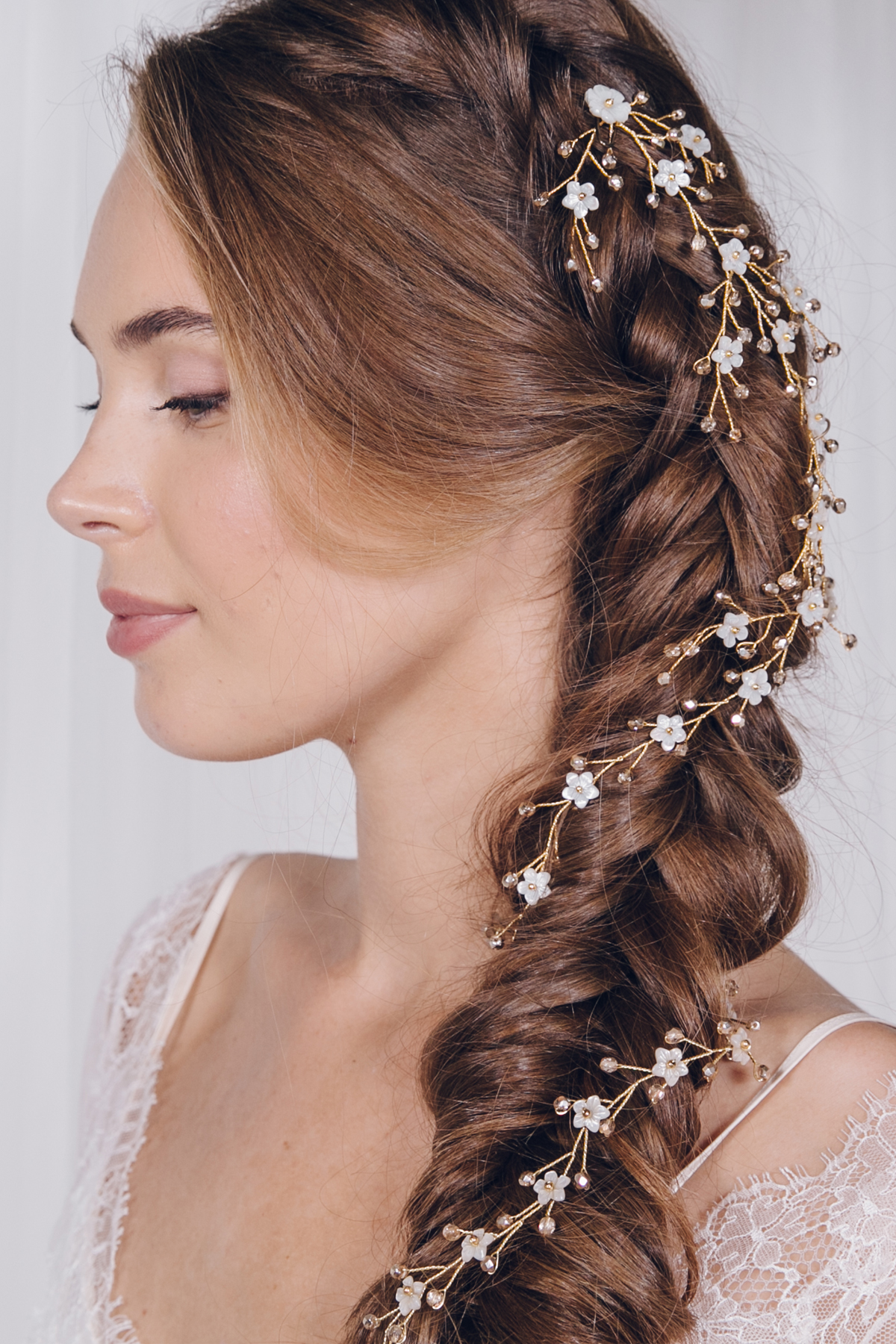 There are so many ways to create your own headpiece – I'm constantly coming up with new ways of mixing and matching headpieces here in the studio and hopefully this guide will inspire you to create your own looks too!
If you'd rather let us do the bespoke design for you please do get in touch – as we create every headpiece by hand and to order in our studio we can easily make hair vines longer or shorter, add or take away elements and even make circlets bigger or smaller to ensure you have the perfect piece for your look.
Lead times for making headpieces are approximately four weeks for standard designs and 6-8 weeks for tweaks to existing designs. If your wedding is very soon do get in touch via email to ask for a rush order.
All designs are available to buy from the online Debbie Carlisle shop www.debbiecarlisle.com. For a private consultation at the Debbie Carlisle studio in Sheffield by appointment only, email [email protected]
Prices start at £30 for a set of three hairpins, £75 for a headband or vine and £125 for a comb. All Debbie's headpieces are made by hand and lovingly packaged in beautiful branded boxes.
Love Debbie x