Hello world – do please forgive our relative quietness yesterday afternoon in comparison to our usual social media coverage – I genuinely found it very hard to focus on work at all following the US election results. The weirdest, most surreal and frankly not particularly very pleasant day unfolded. I was so tired from staying up to follow election coverage the evening before and yet seemed to be stuck in a state of inertia all day and evening yesterday – unable to do pretty much anything at all bar listen to the radio shows playing out their analysis of the appointment of the new President of the United States. One thing I did do was write an email to our US advertisers, to reassure them we love them and respect them dearly and to show them some solidarity at this unprecedented time. What a day. Just, what a day.
Let's move on to the business of inspiring and sharing beautiful images and stories with you, because this is our passion and if I'm not misjudging, then the vast, if not entire Love My Dress community will appreciate being cheered up a little right now – and these images, I'm confident, will more than meet that task. Saskia, a researcher in art and design (who herself is half American and half Danish) married Colin, a photographer, filmmaker and visual artist on 25th of June this year. The couple's ceremony was held at Cruggleton Church and their reception at the Old Place of Mochrum – both locations are in the region of The Machars, which is peninsula of Galloway, South West Scotland.
Saskia wore a chic, fuss free gown that was accessorised with delightful feather detail around the sleeves – a creation by our favourite designer Halfpenny London – and a purchase made via Anne Priscilla Bridal. And incase you fall in love with it too – let us tell you that it's the 'Daisy silk chiffon crossover wedding dress', and that you can find a list of Halfpenny London stockists right here.
"I adore Kate Halfpenny's bridal gowns and the Halfpenny London brand. I wanted a dress that was elegant but effortless, and with a small detail which would make it stand out. The classic style of my dress, combined with the interesting details of the low cut V back and the feathered sleeves, was exactly what I was looking for."
Photography by Lisa Devine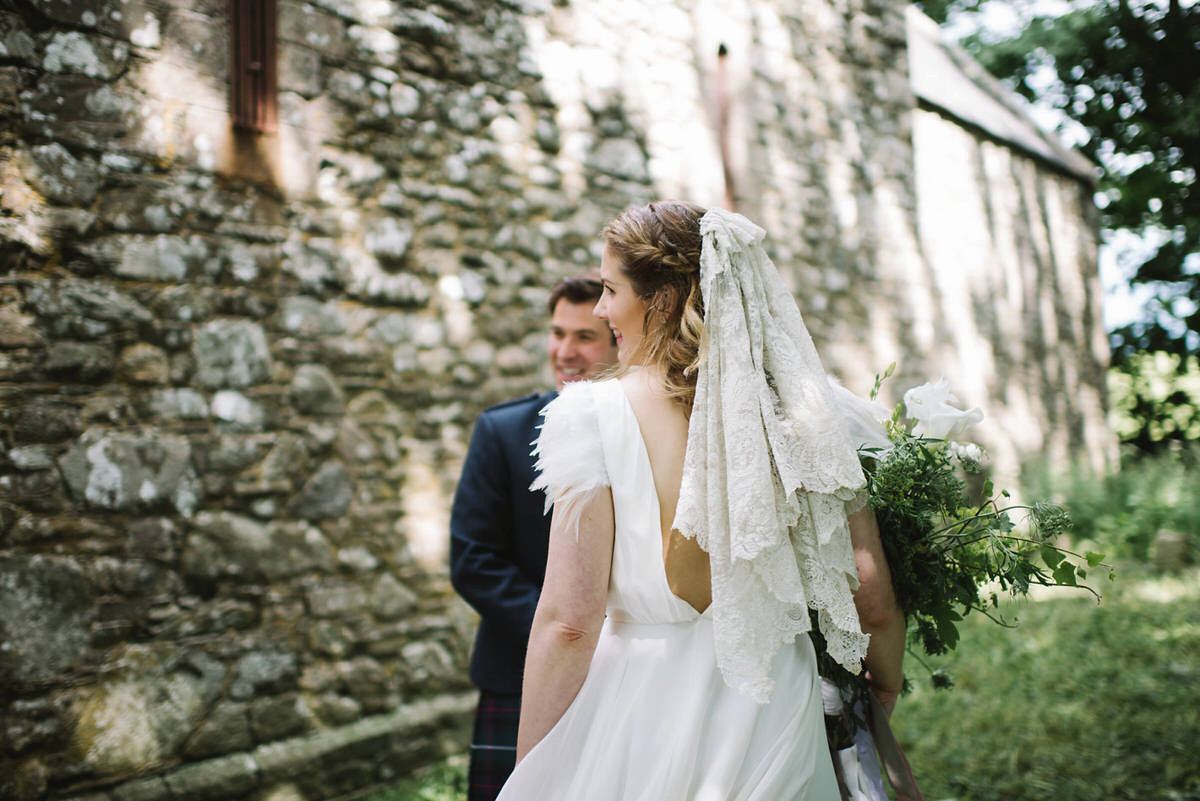 "I'm also obsessed with fabrics and the tactile feel of clothes. In interviews, Kate Halfpenny often talks about how she is very selective with the fabrics she chooses for her gowns and that really comes through in all her designs. The silk chiffon fabric in the dress was so soft, was extremely luxurious and comfortable to wear.""We really love the area where we got married, and the community of people that live there. We tried to keep everything as local as possible and were inspired by the natural beauty of the surroundings."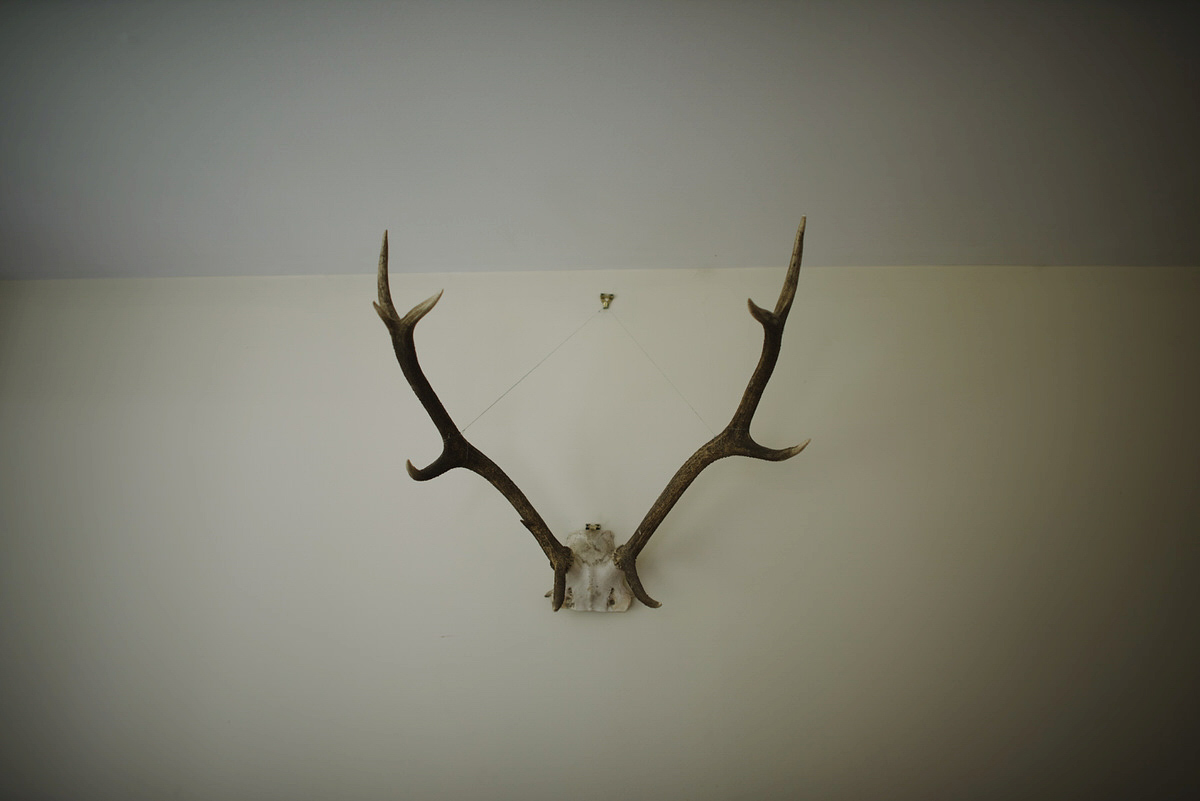 "Our engagement story is as follows; Colin had wanted to go stargazing in the Galloway Forrest Park; it has a Dark Skies award and is one of the best places in the UK to see the stars. Colin had booked us a weekend away to go under the pretences of going away for my birthday.
He had planned to propose under the stars on our first night away. However, when we arrived and headed to the park it was completely overcast and not a star to be seen – typical Scotland! The reason it has been certified as the best place to view stars is because there is no light pollution, so when it's dark – it's DARK!"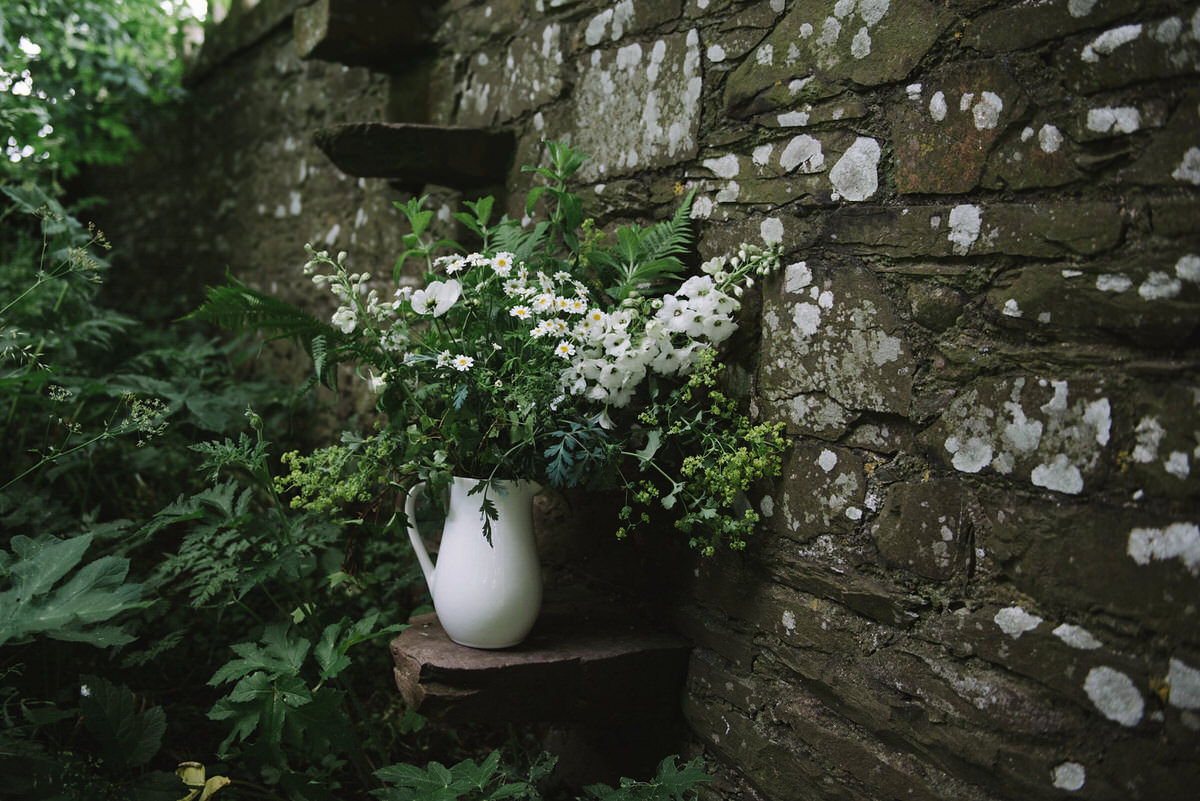 "The only source of light we had were our stargazing flashlights, which are very dim and we could barely see a thing."
"He proposed in the pitch dark anyways, and I said yes, though I still don't even know if we were even facing each other at the time. We were engaged for just under a year and a half before we were married."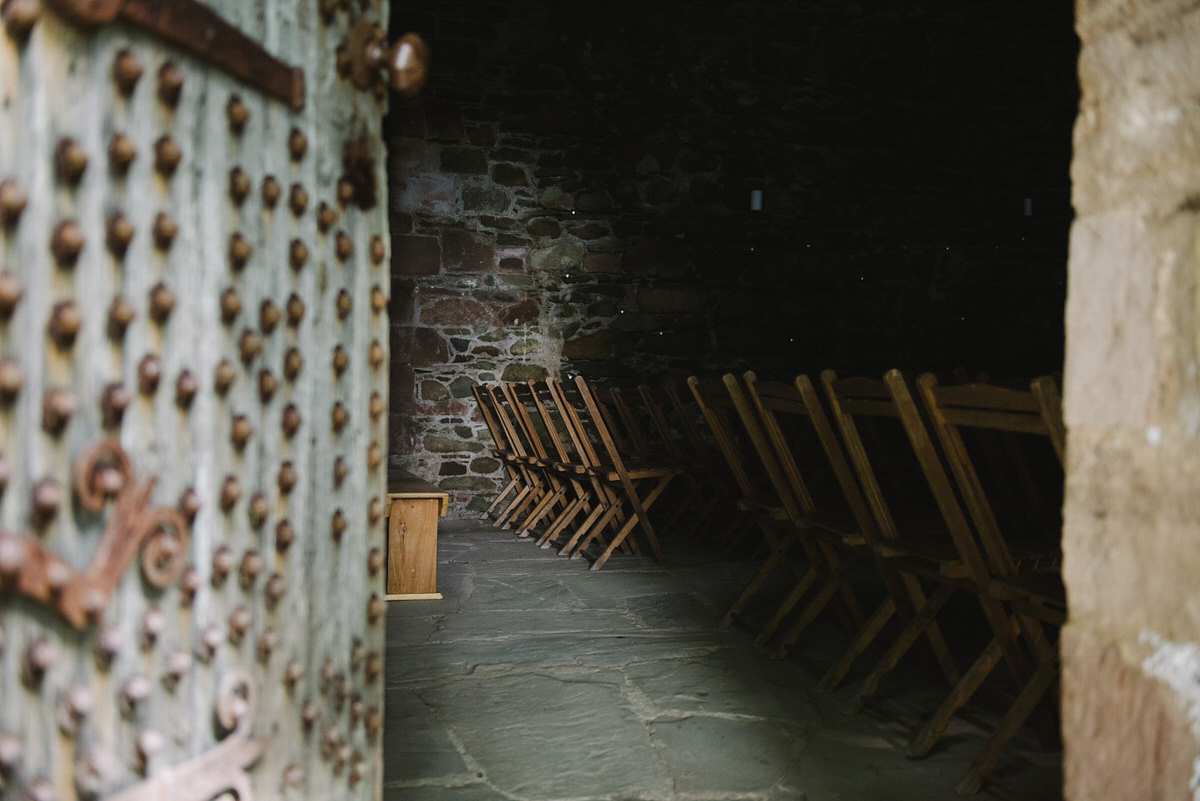 "We went back to the Galloway Forrest Park to see the Perseid meteor shower half a year later, it was a clear night and it is an incredible view! "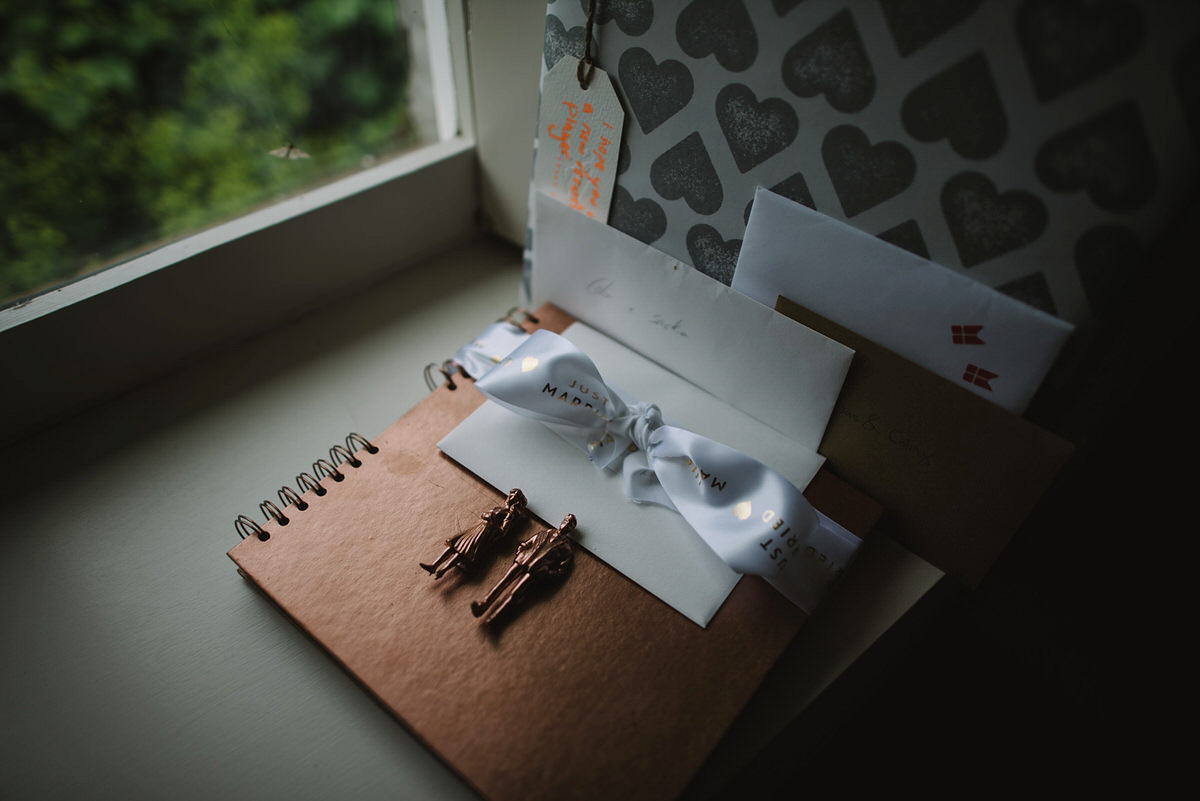 "We met at art college, where we were both studying fine art photography. We were together for 10 years before Colin proposed. We chose our wedding location because Colin comes from the region (Dumfries) and has been working as a photographer in the area for many years and we have both come to know the area and people very well through this. It is an amazing and picturesque part of the world."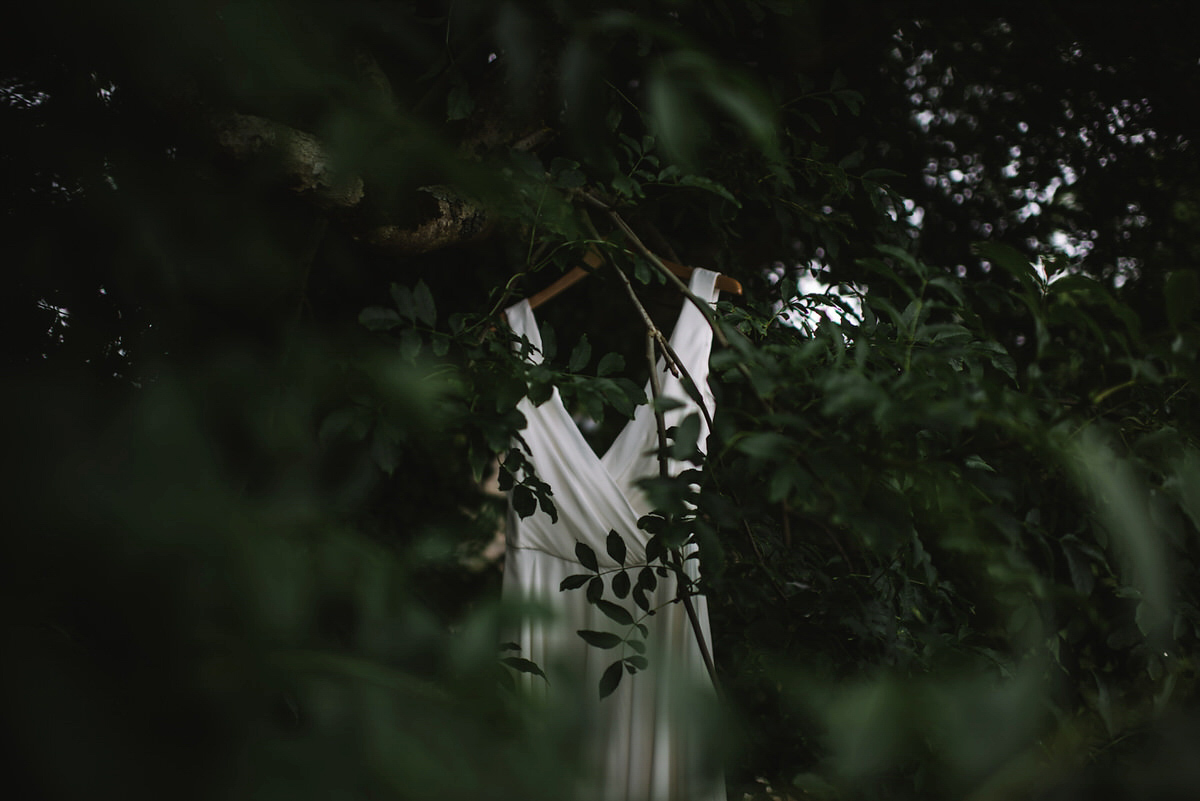 "That being said, there aren't many wedding venues there so we had to really pull the whole wedding together ourselves but we couldn't have done it without the support and assistance from our family and friends!"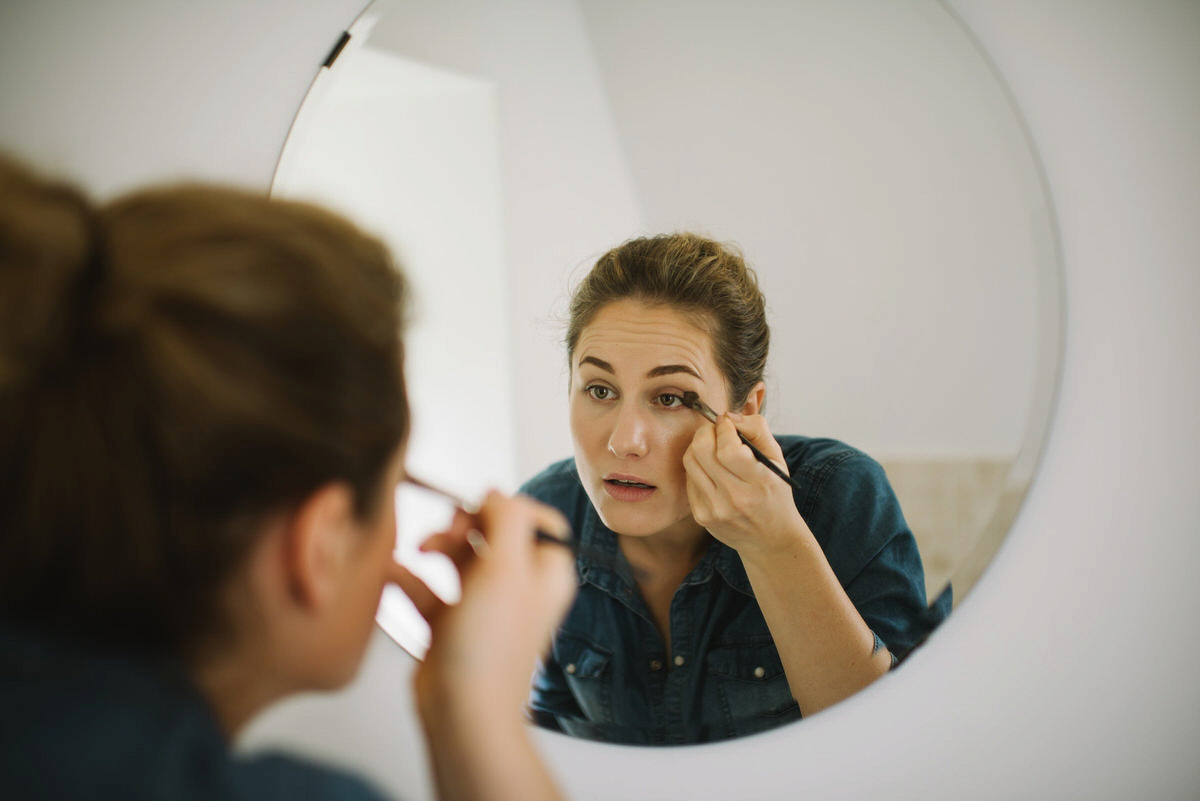 "I wore Tom Ford Soleil Blanc, which was a wedding gift from my bridesmaids."
"I did my own make-up and my bridesmaid Bente helped me with my hair. My earrings were my something borrowed, from my bridesmaid, Bente."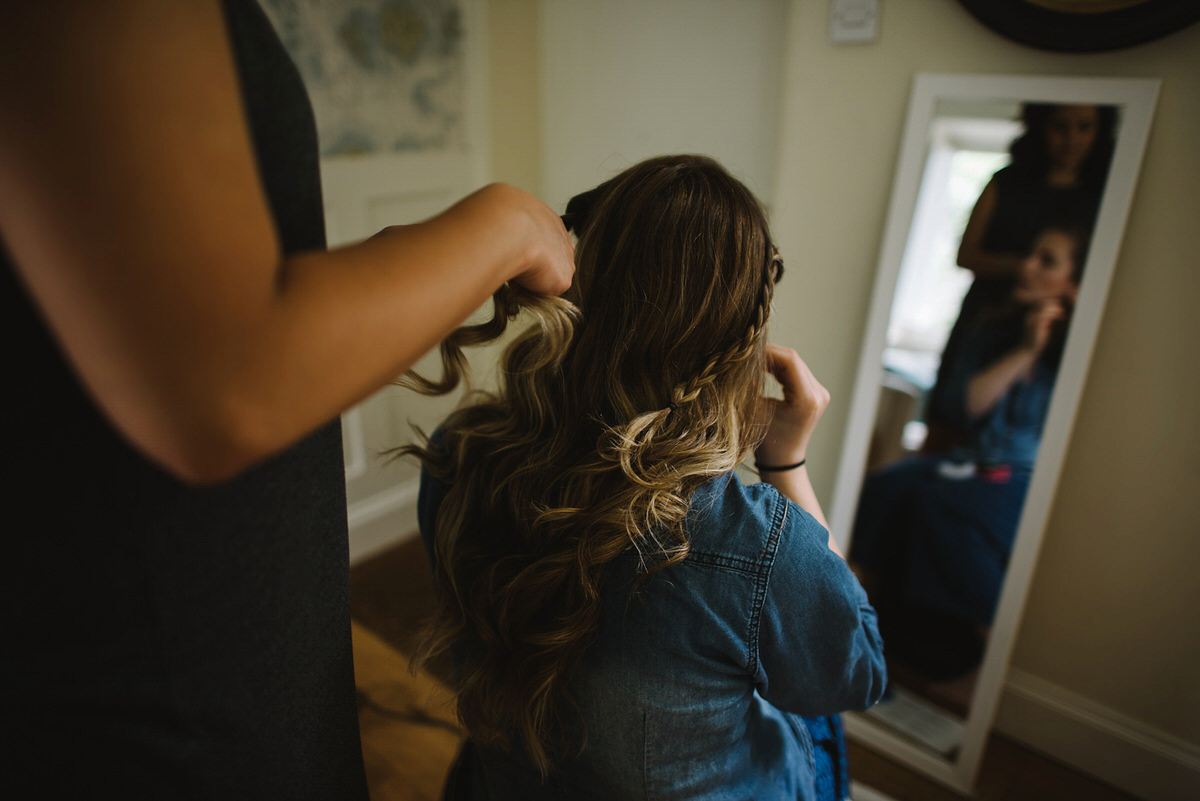 "We weren't keen on the idea of buying flowers from abroad, so instead we found a local grower, Rosie, of Galloway Flowers, who grew all the flowers and foliage for the wedding. Rosie (how perfect is her name btw) was so lovely and really took care in considering what she would grow for our wedding; she also lives and has her green house only a few miles away from where we were engaged."
"My mom, my aunts, and my brother's girlfriend spent the night before the wedding arranging the bouquets and buttonholes. They took some great photographs of themselves being engulfed in all the masses of flowers. In hindsight, we ordered too many – my bouquet was huge, but it was beautiful!"
"The hand dyed silk ribbons in my bouquet came from Mill Pond Flower Farm in the Scottish Borders.
For favours, we gifted our guests with mini jars of chilli preserves, grown and made locally by a friend and who's company is called Galloway Chillies. We designed our own labels and Colin's mom and aunt spent an entire day sticking all of the labels on the jar."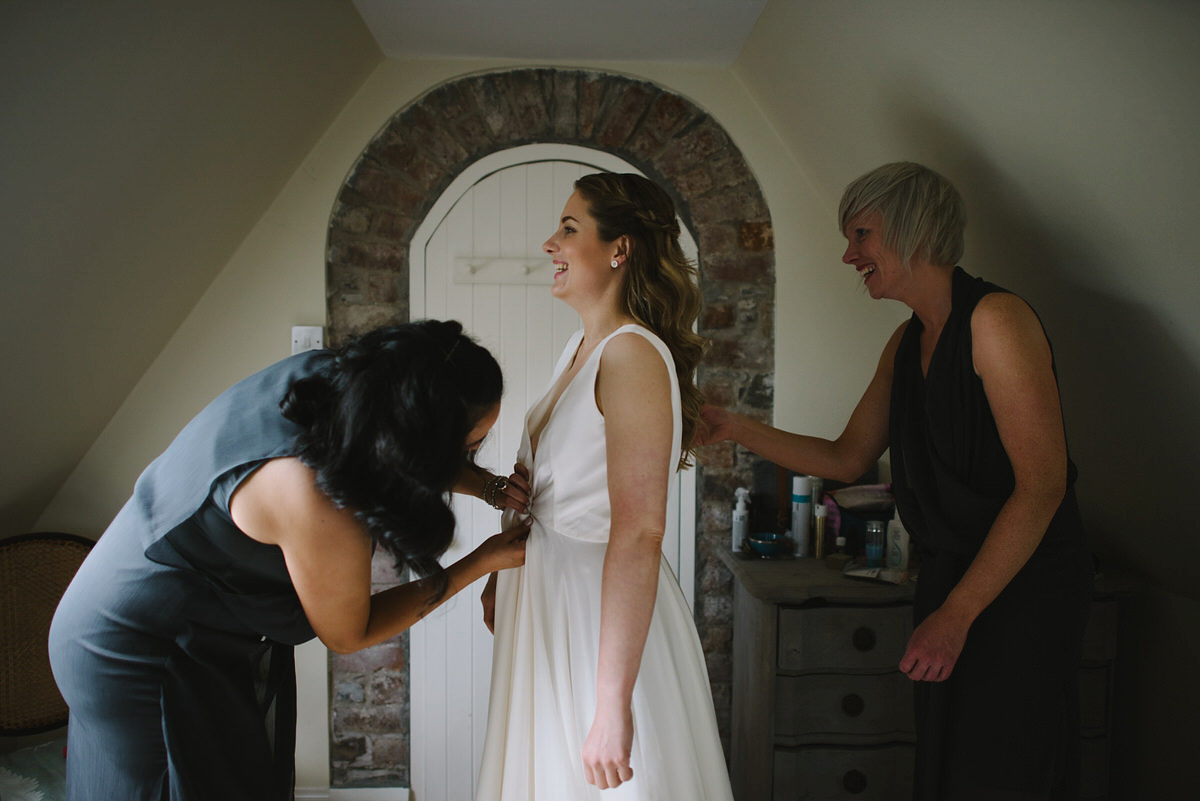 "My veil was made from a piece of lace that has been in my family for several generations. My great-grandmother, my grandmother, my great aunt, my mother and my aunt all wore it at their weddings. My mom stitched the lace onto the hair comb for the ceremony, it was so delicate and she did an amazing job of restoring it and turning it into a veil."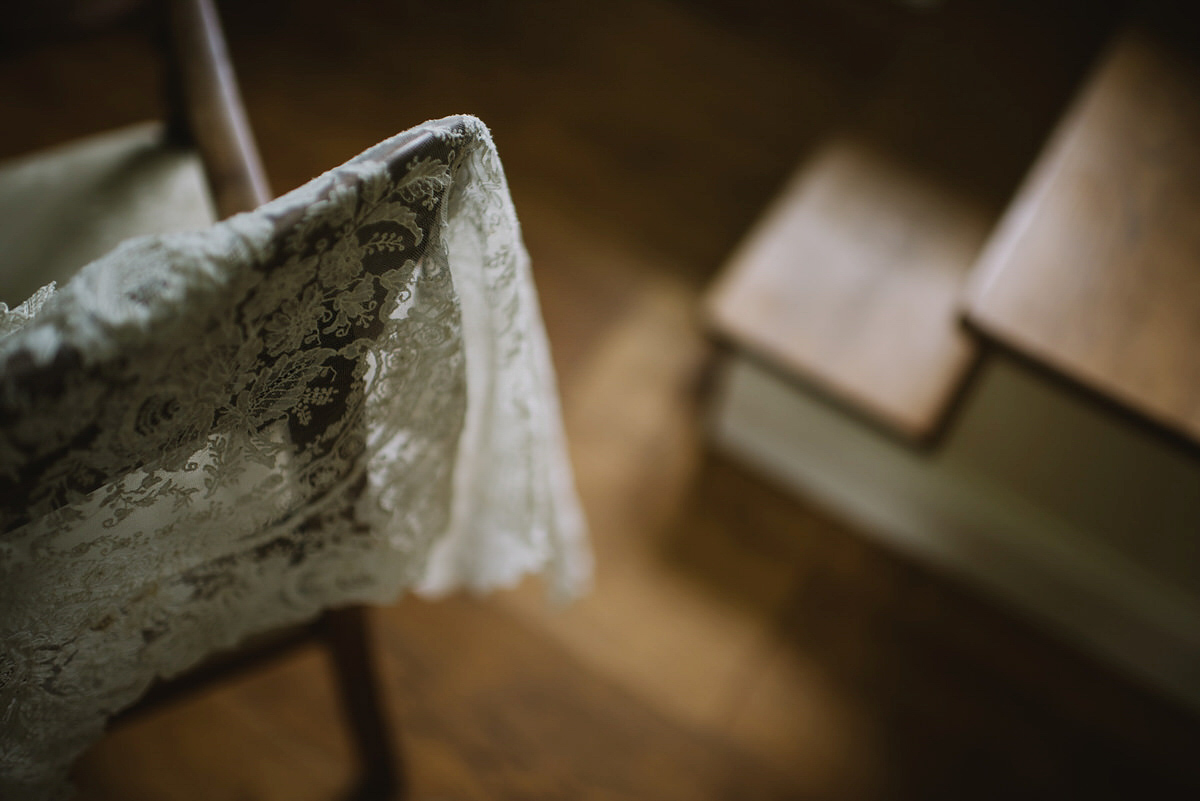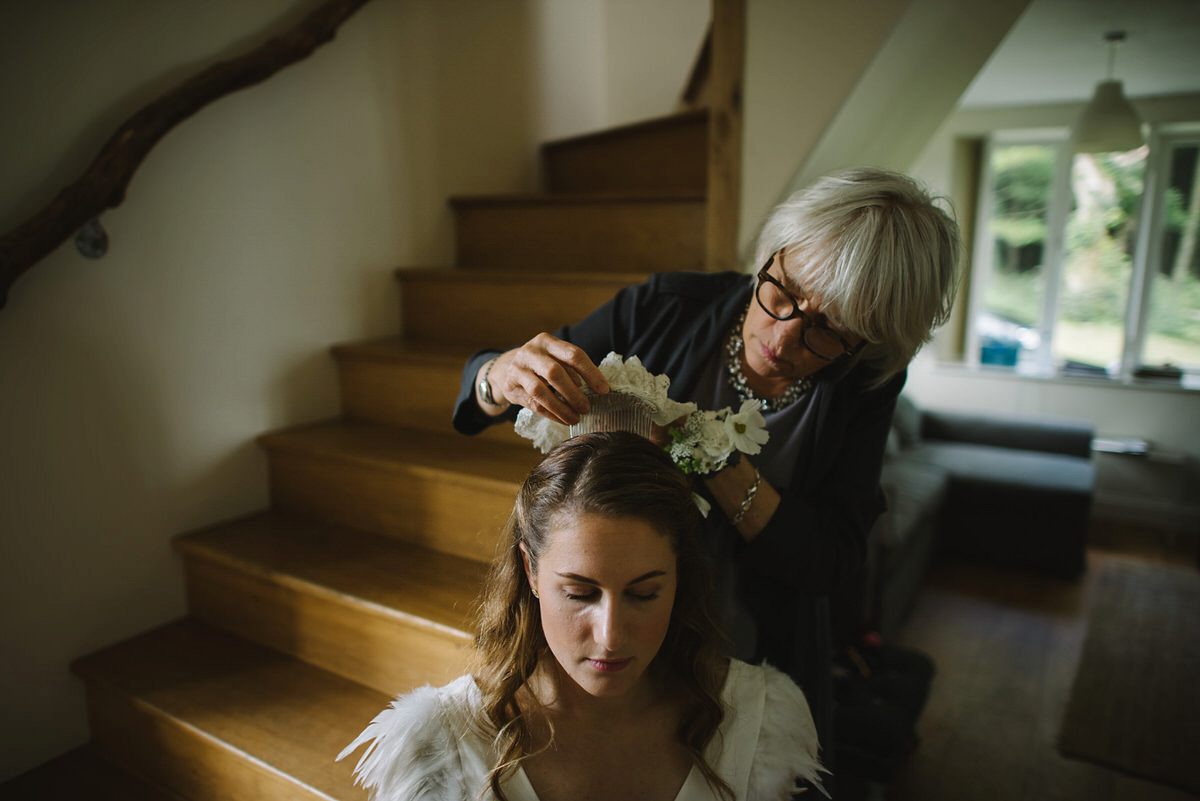 "Colin's mom, Linda, handmade all the road signs that helped our guests find their way to the church and from the church to the reception venue. She also made the seating sign, which was decorated by my bridesmaid, Bente."
Saskia's bridesmaids wore dresses from H&M which they teamed with red peep toe shoes from Faith, via Next.
"I gave them each a hand printed scarf by the artist Susie Green as a gift, which they wore on the day. Otherwise they wore their own jewellery and accessories."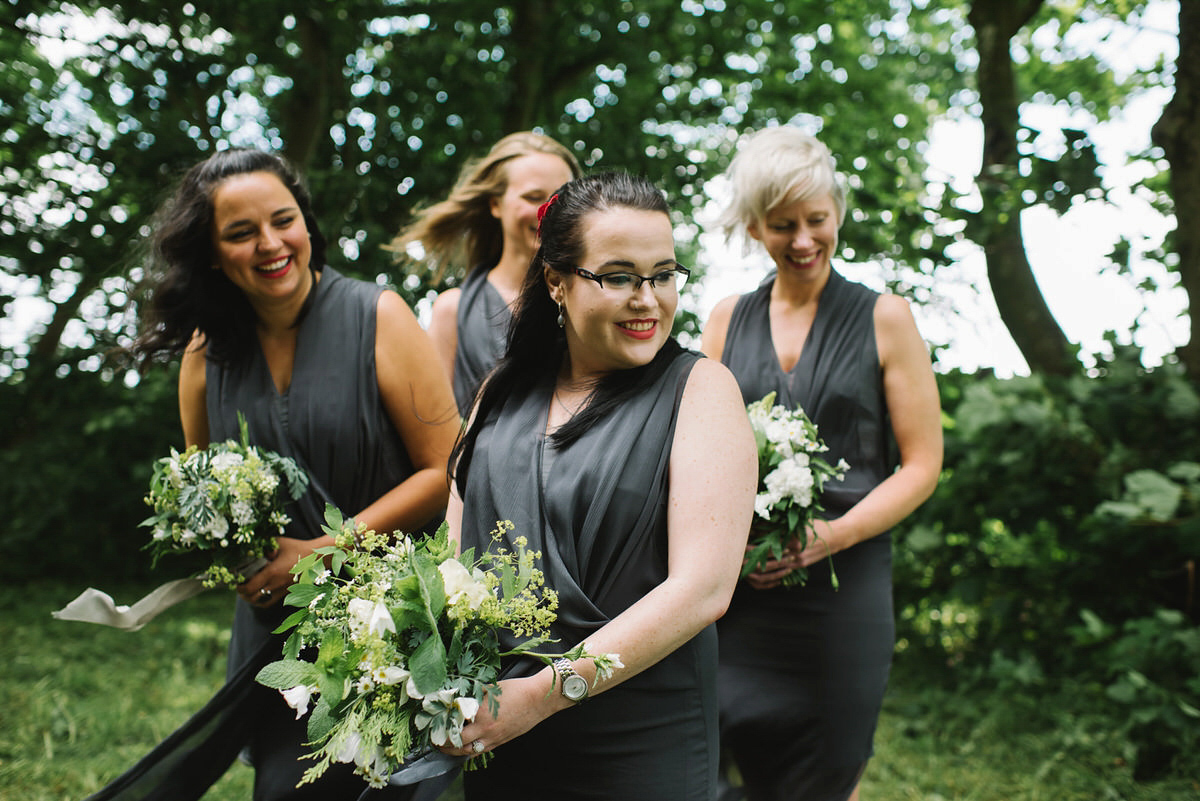 "Cruggleton Church is a 12th century church that only holds just one service a year at Christmas time, to maintain it's church status. It's located in the middle of a field but Colin knew the farmer and his family, and they kindly gave permission to use it. In the summer full-bloomed trees hide it from view. There is no electricity in the building so we had to light the interior with hundreds of candles. Even with all the candles, it was still dark, but it looked incredible."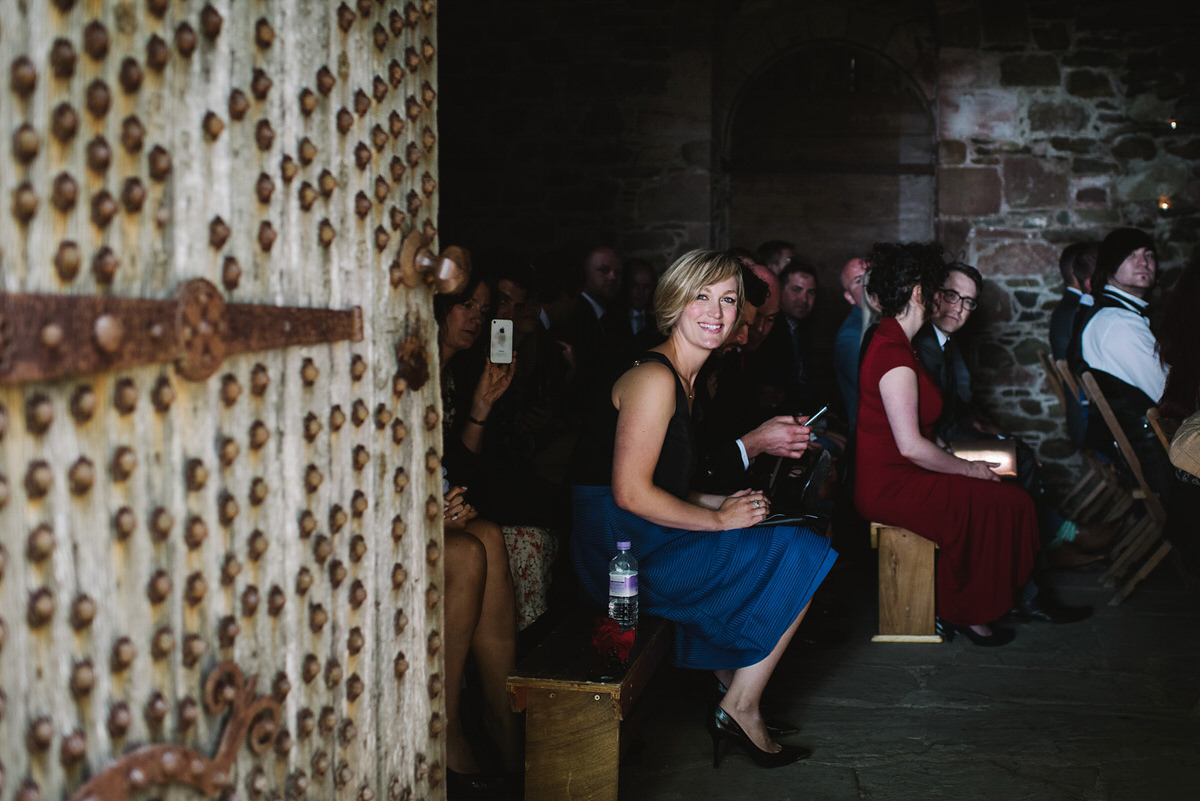 "Old Place of Mochrum was built in the 14th century and is a private home and isn't often used for weddings, but we were allowed to hire the grounds for our reception. We hired our tipis from Fjell Tipis in Cumbria."
"My mom accompanied me down the aisle. Unfortunately, my father passed away in a tragic accident a little over a year before the wedding day. I knew that getting through the day was going to be a bitter-sweet experience for both of us. It was great that my mom and I could support each other and get through the most difficult part together. She also made a very lovely and emotional speech later on in the day."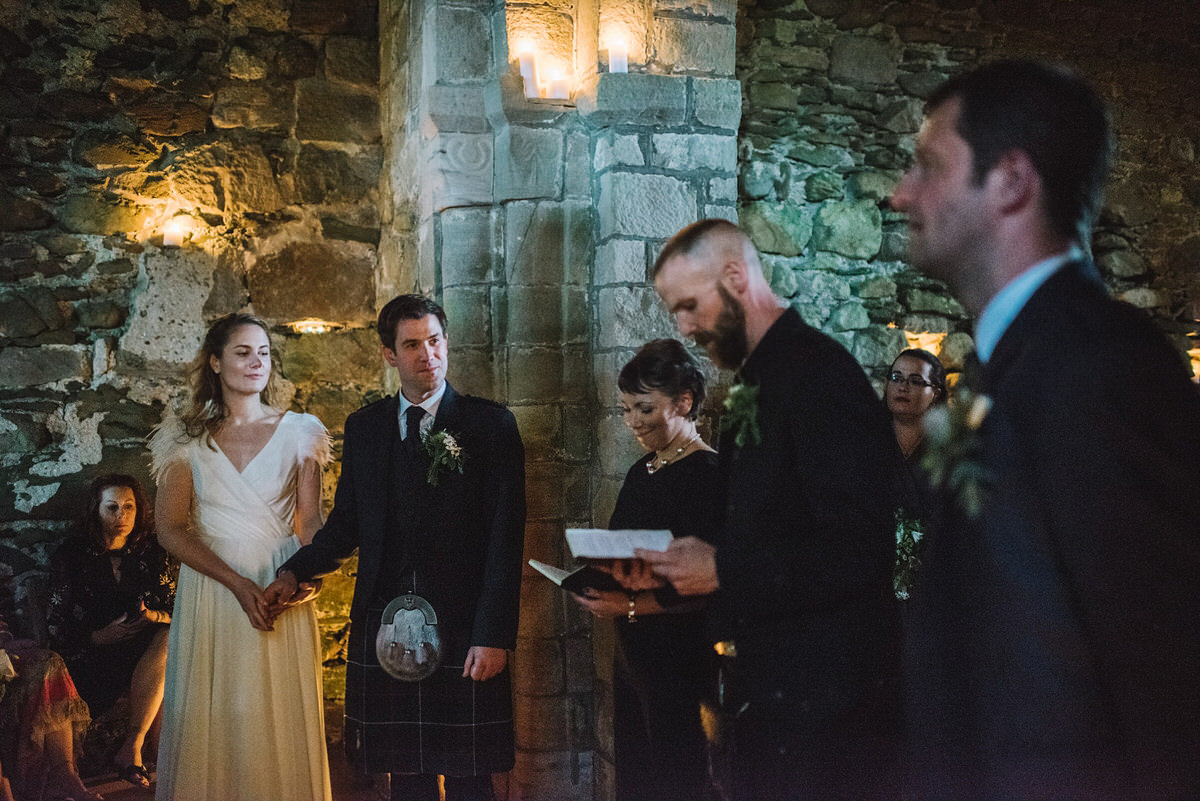 "Zoe Bestel performed cover songs that had a special meaning to us. She has the most angelic voice and she plays a ukulele, her covers are really special. I walked down the aisle to Wouldn't it be Nice by the Beach Boys and we walked out of the church to Home by Edward Sharpe & the Magnetic Zeros."
"Our close friends Graham and Dee led the ceremony; they tailored every element to who we are as a couple. They even made sure all our guests felt included; since I had family from Denmark, Dee had my mother teach her a few sentences in Danish so she could welcome them in their native language at the start of the ceremony."
"We have known Graham and Dee for years so they have seen us grow as a couple, but we also spent a lot of time with them discussing our relationship and what marriage means to us, and they incorporated it all into the ceremony. It was really lovely spending that time with them on the run up to the wedding, and it made for very a special ceremony.
Our sister-in-law Alison read a poem entitled, The Romance, by Shel Silverstein, a poet my dad used to read to my brother and I when we were young. Our friend, Jenn, chose and read a poem by Robert Burns called, O, Were I On Parnassus Hill, written during his first year of marriage to his first wife, and said to be the happiest time of his life."
"Colin's wedding band was his father's, he has had it since his father passed away when he was young. He always knew that he was going to use his father's ring as his own wedding band. My wedding band was from Shimell & Madden."
"Shimell & Madden's designs are really interesting but still classic, the double arc band that I chose goes really well on it's own or with my engagement ring designed by Jo Hayes Ward."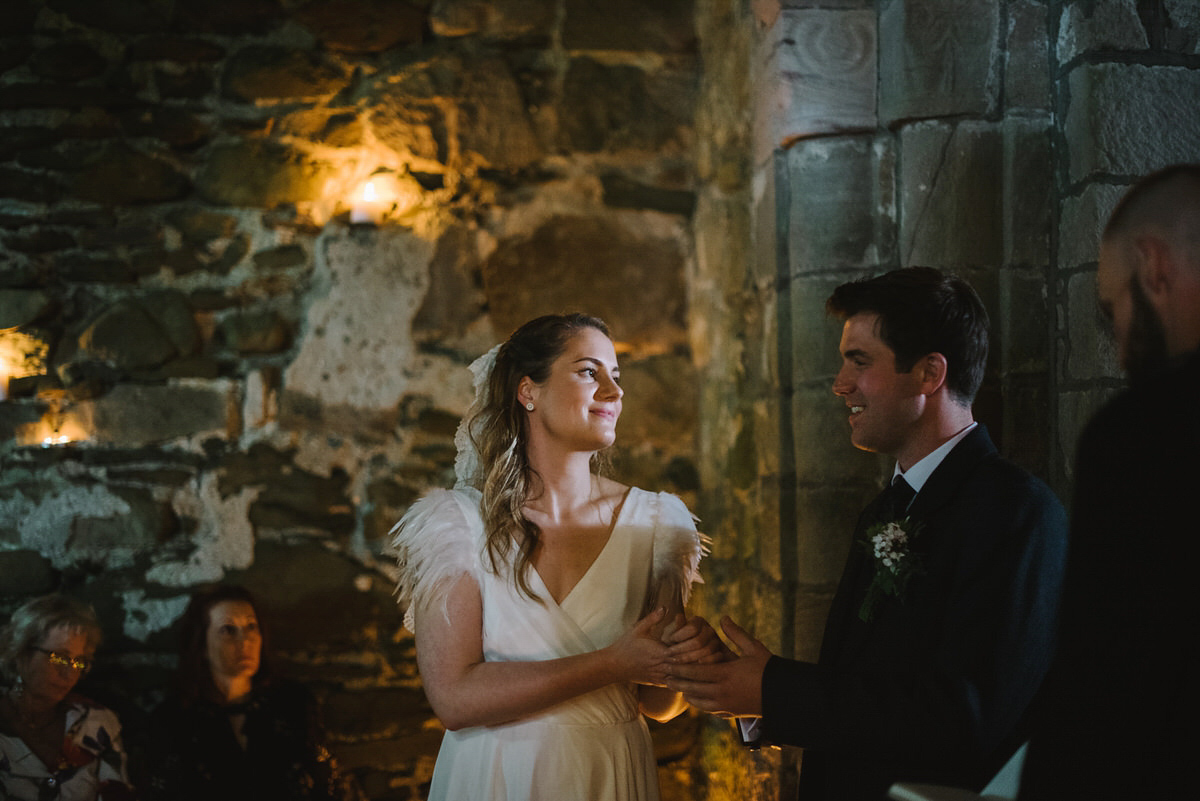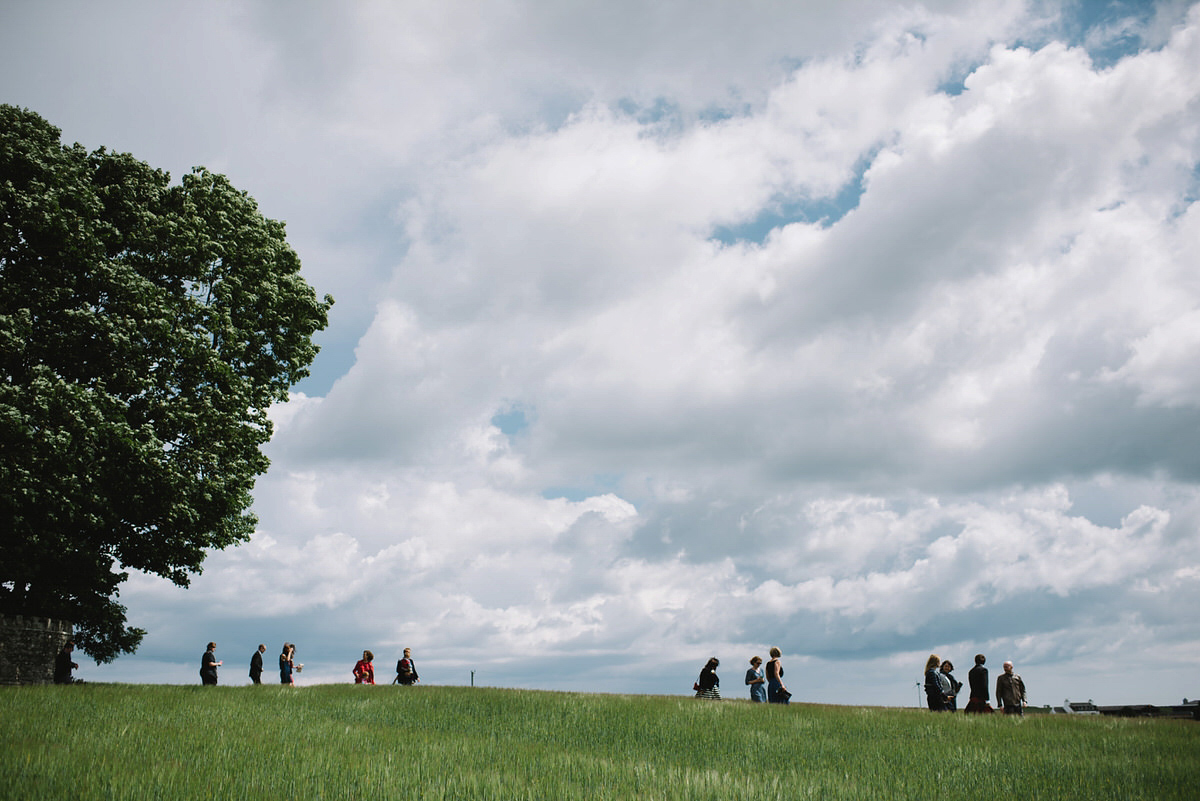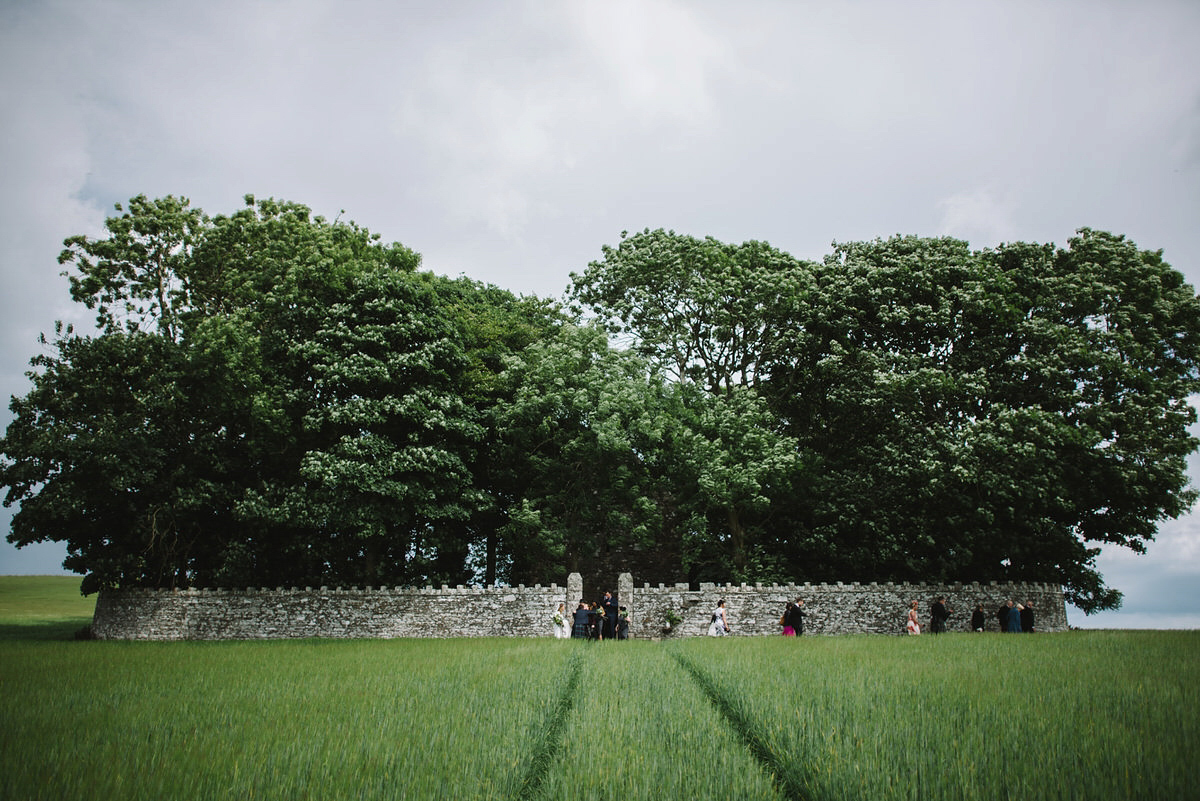 Colin wore a kilt from Andersons Kilts in Dumfries, that was accessorised with a pin by designer Alison Macloed.
"Alison Macloed is a friend of ours and from Dumfries and Galloway, we commissioned her to make matching kilt pins for Colin and his best man / brother, Gordon."
ƒ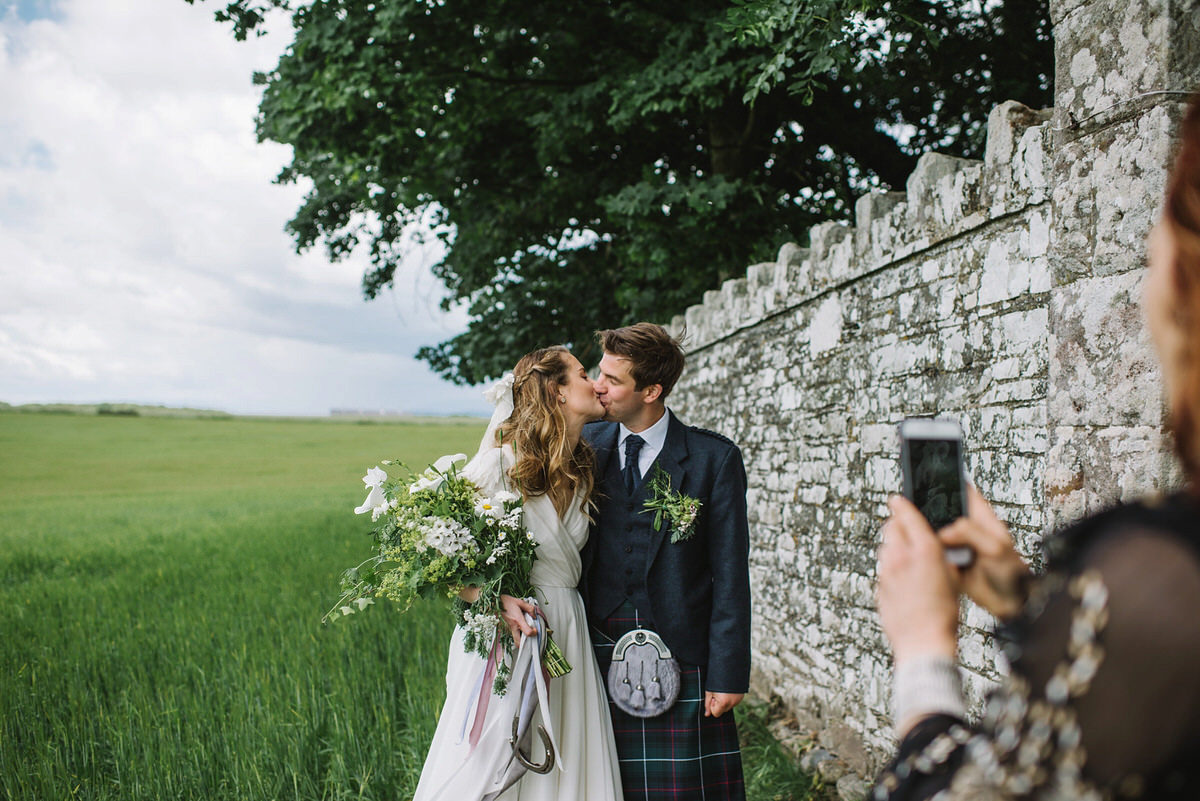 "Our photographer was Lisa Devine. Lisa was the first supplier we booked. We were struggling to find a venue but we knew we wanted her as our photographer so we secured one of her last available dates for the summer and that set our date!"
"As Colin is a photographer, and I was trained as one and come from a family of photographers, we were really selective about the style we wanted from our photographer. We did a lot of research into the options and I remember coming across Lisa's work and not only was her work beautiful but she catches little subtle moments and interactions between people which reveals the full range of wedding emotions, and truly mirrors the scope of what everyone feels on the day."
"This is crucial, as having such a great portfolio of photos that really capture the day has been amazing for us, and our guests to look back on. It was also really nice to share them with my grandparents who unfortunately couldn't make the long journey from USA to attend the wedding. We very much appreciate what an amazing job Lisa did."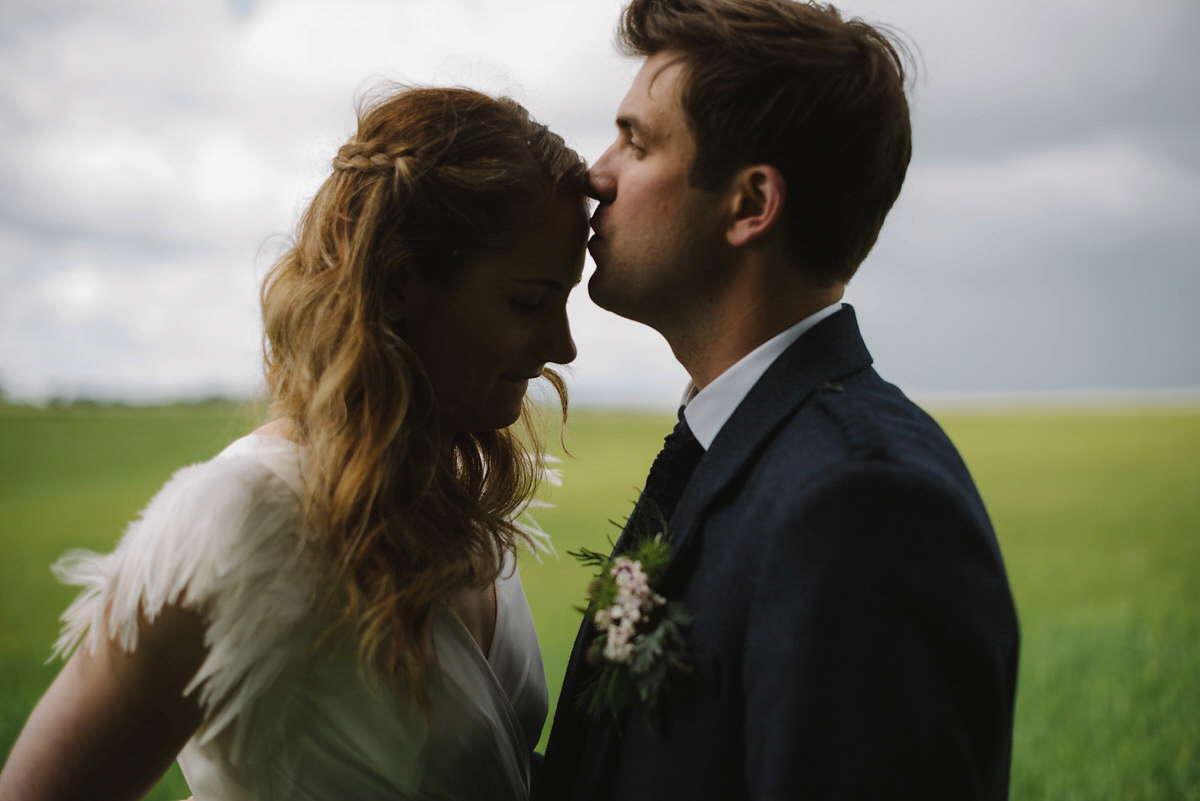 "On top of that, Lisa is a real pleasure to be around. I never really thought about it, but your wedding photographer will be with you most of the day and it's important that you enjoy their company. Lisa eased right in from the very moment she arrived, and was also very considerate, supportive and has a great sense of humour."
"We have a bit of an obsession with our car; it's a '99 Nissan Micra Inspiration and even though its old and rickety, we love it, and it has achieved cult status with us. We always knew that we had to have it as our wedding car. Our friends decorated it after the ceremony and we drove to the reception with all the bunting flying from the rear window and cans rattling away – the cans looked a bit worse for wear when we arrived.
Driving it from the ceremony to the reception was one of our highlights, as it gave us a bit of time just to ourselves and share our experiences of the morning, getting ready and getting to the church."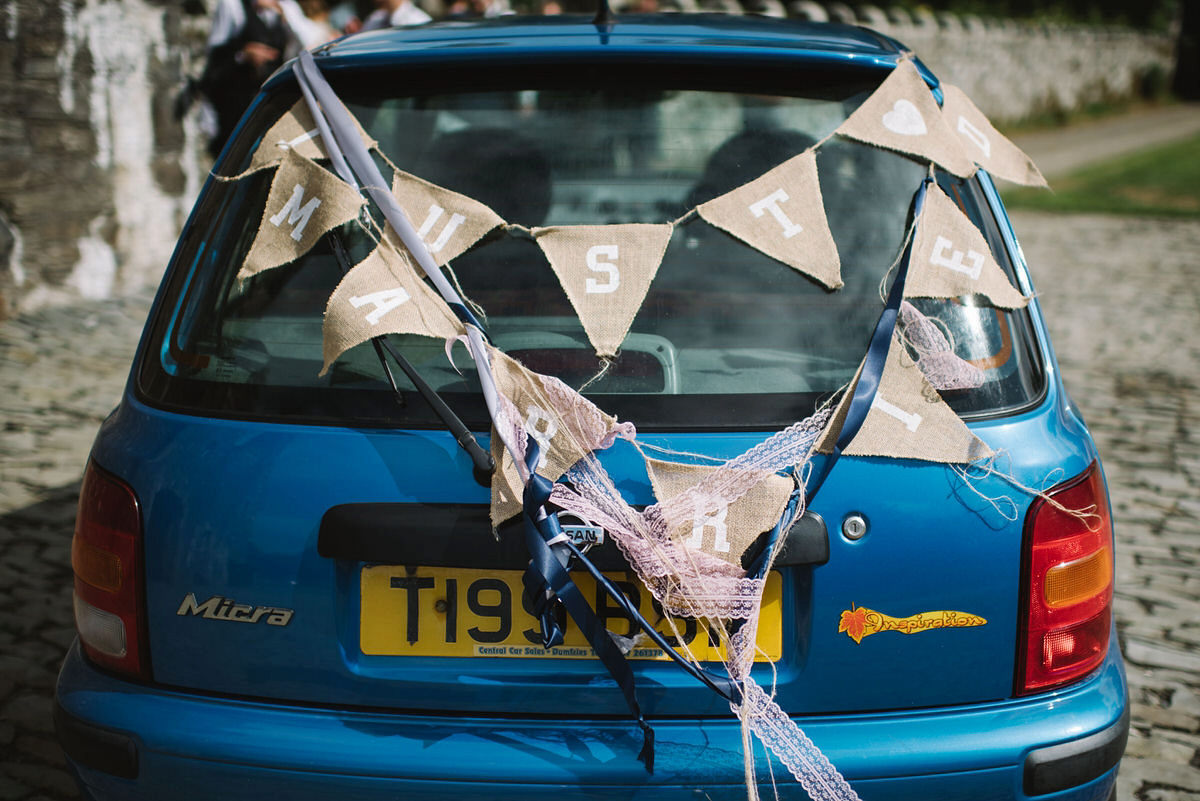 "Maria Salzmann was our main caterer. Maria is an amazing chef who lives close by to the reception venue and used a lot of locally sourced produce in her dishes. She made the most fantastic salads to go with the hog roast was provided by a local specialist, Hog 2 Roast."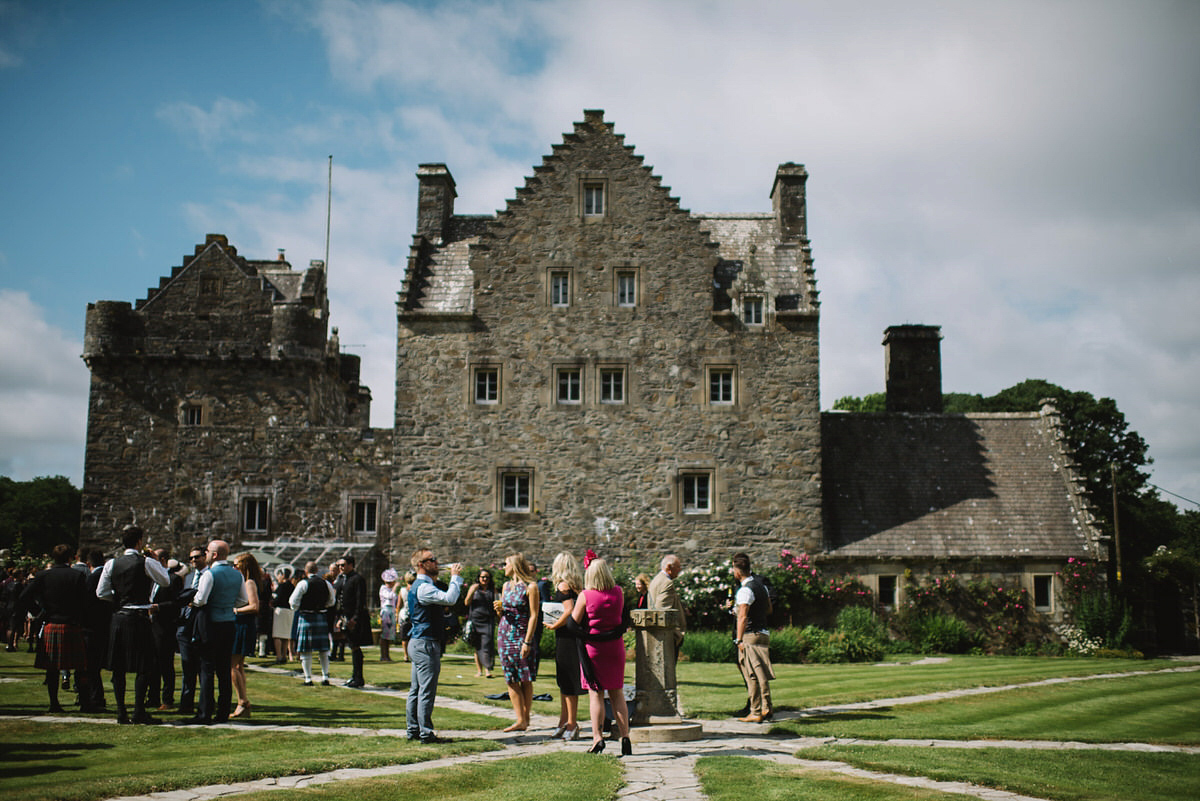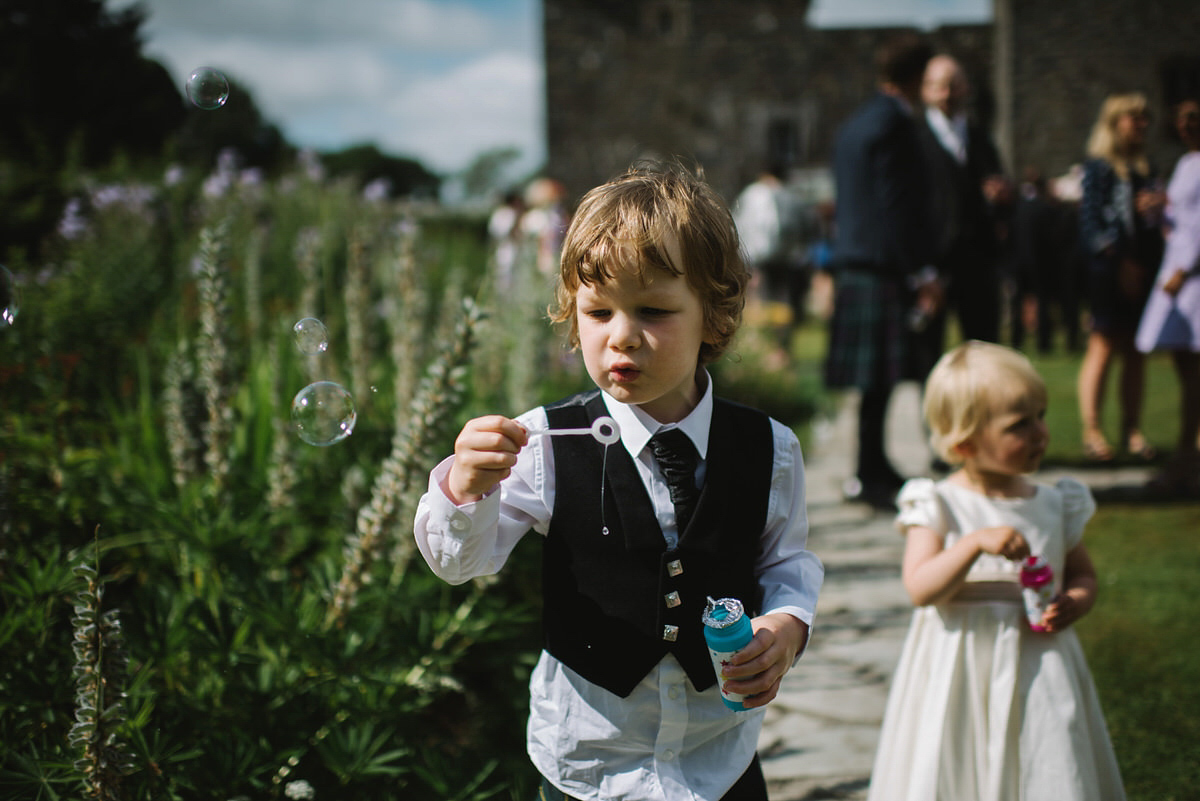 "Zoe Bastel sang and played ukulele at the ceremony, she also sang at the drinks reception. After dinner, the ceilidh band, Two Left Feet, performed and in the evening and our friends who are also the DJs behind Deep Fried Soul provided the soul, Motown and disco tunes."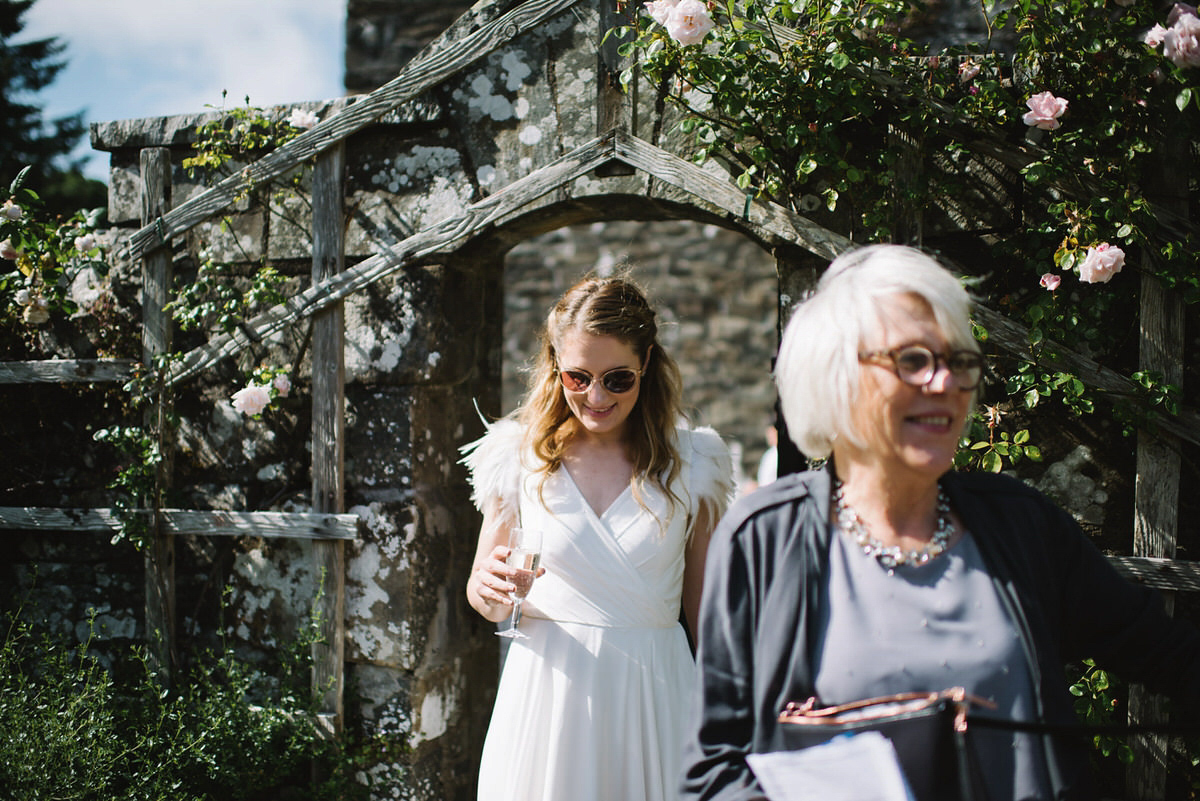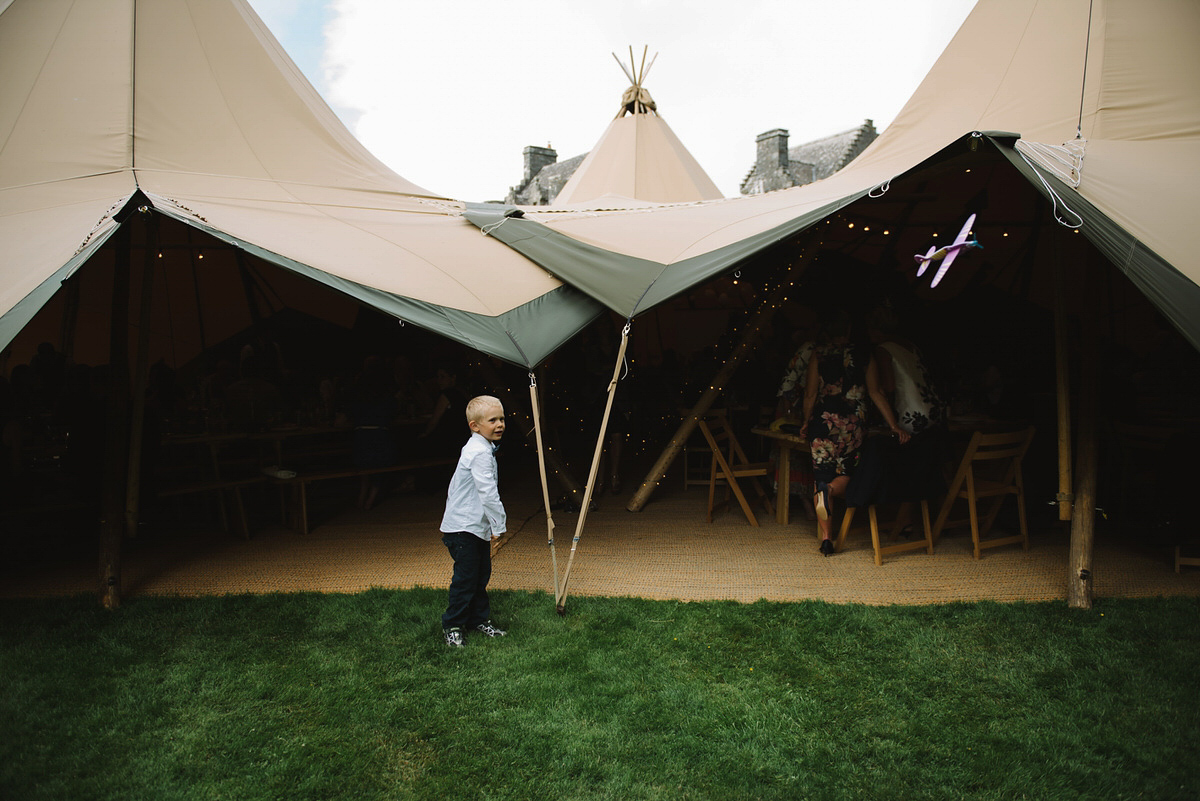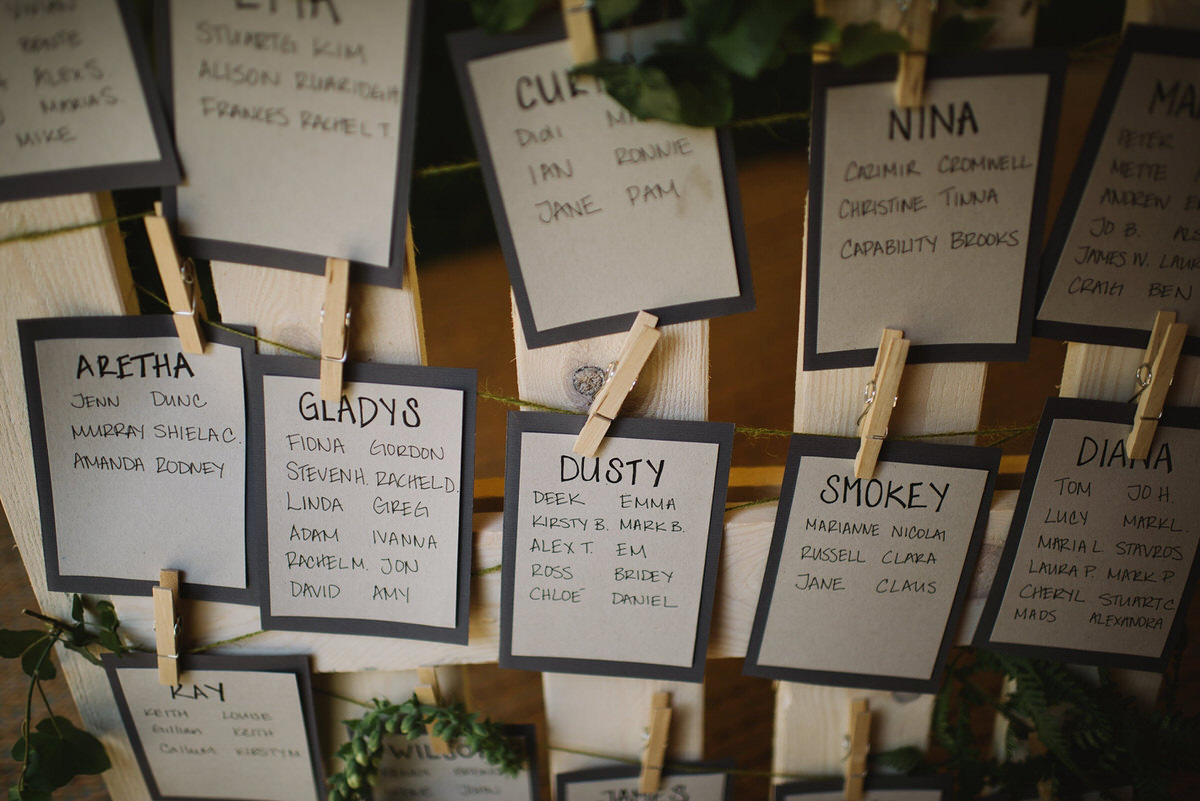 "Our friend, Kim, has her own bespoke wedding decoration company and she made all the centrepieces and decorated all the tables. We asked her to make something that reflected the natural surrounding, but we also wanted each table to be named after a famous Motown, soul, or R&B singer."
"Her designs were incredible and really were the focal point of the tipis."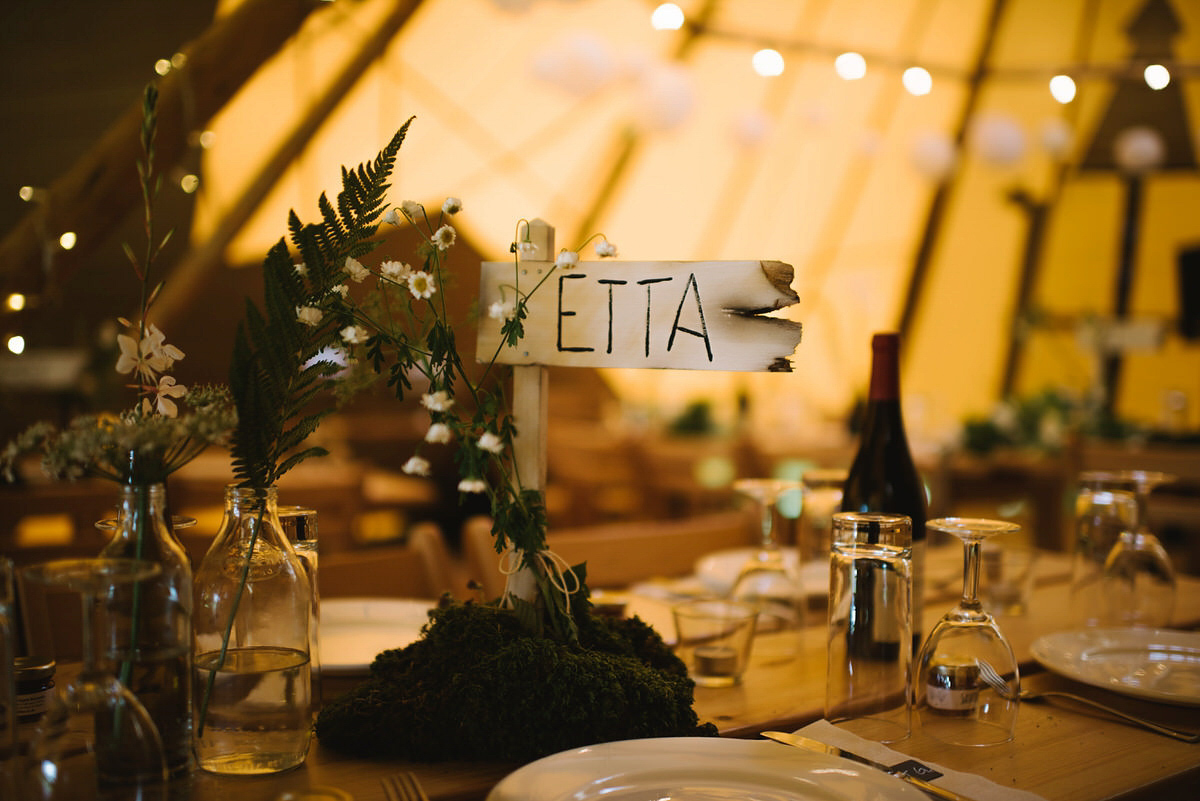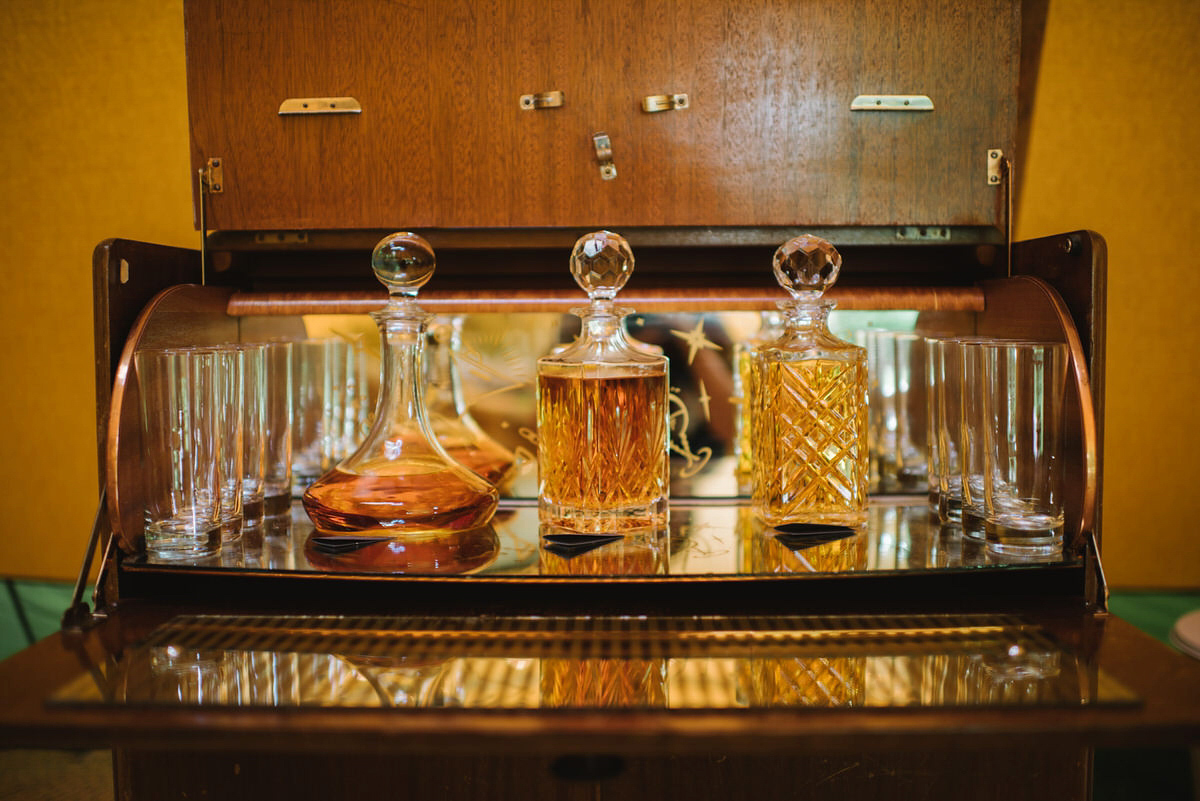 "We co-designed our own stationery, with the assistance of our groomsman, Russell, who is a graphic designer and owns the Boutique Wedding Stationery Design company."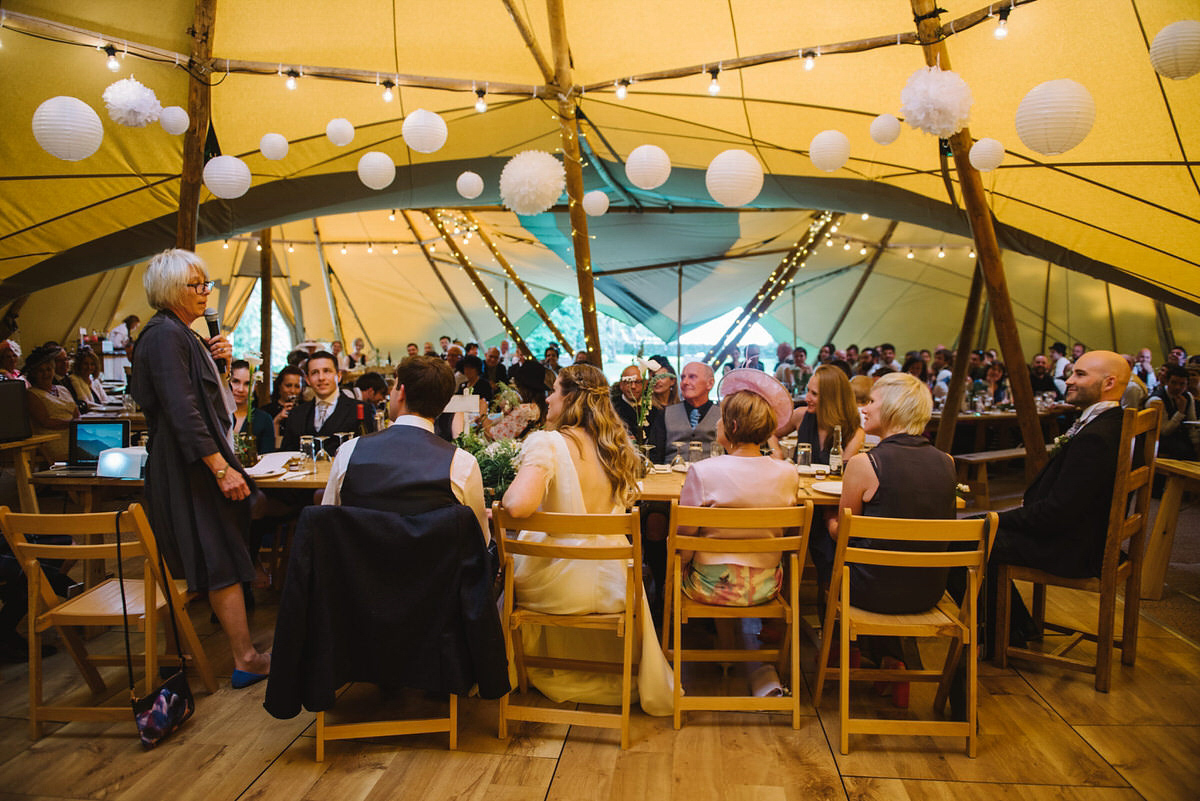 "Our sister-in-law, Alison, made all our cakes and the desserts. She made three different kinds of wedding cake; victoria sponge, coffee and walnut and carrot. Since we decided to go for a more a laid back style of meal, she prepared loads of small desserts (including; mini brownies, mini cheesecakes and strawberry tarts) which were laid out on log slabs on the tables after the hog roast. They looked fabulous and were so tasty."
"My favourite moment of the day were our speeches! In Denmark its tradition to open the speeches up to anyone who wishes to say a few words. We had seven speeches in total and two songs, and they were all brilliant. A lot of our guests mention how much they enjoyed the speeches when reminiscing about the wedding, it was definitely a highlight for everyone."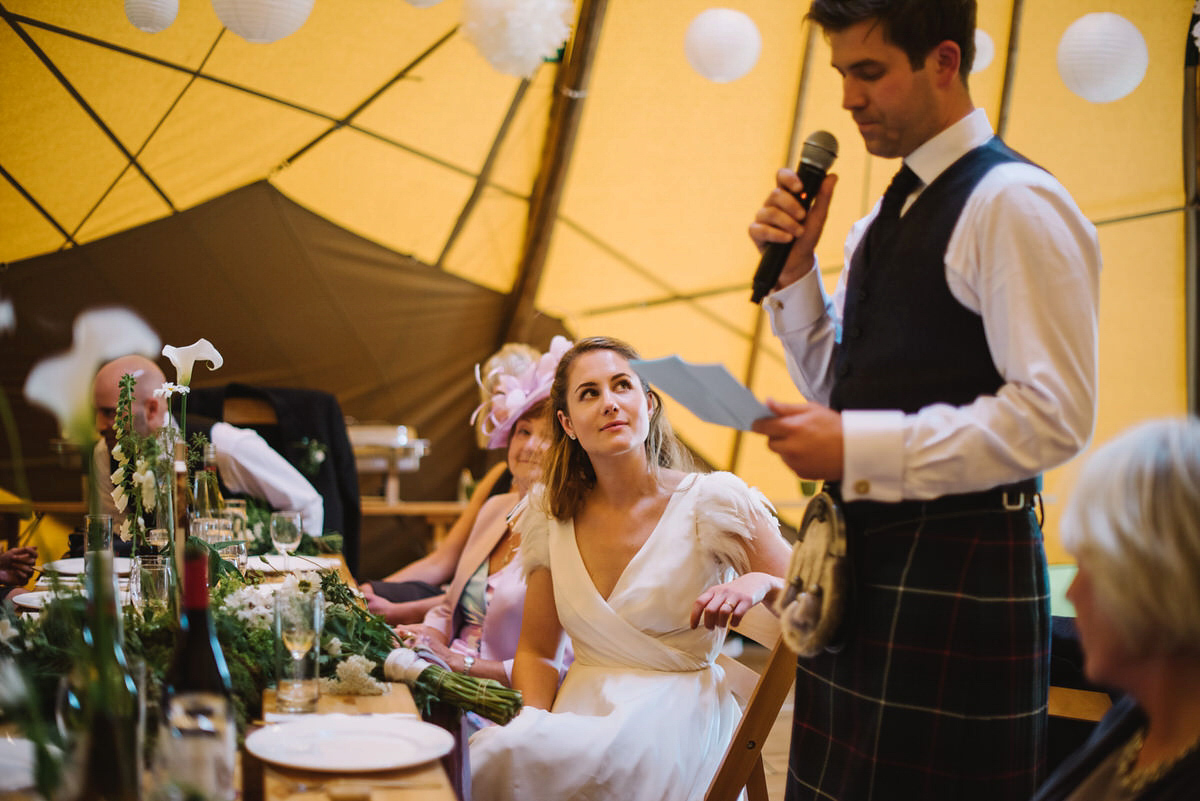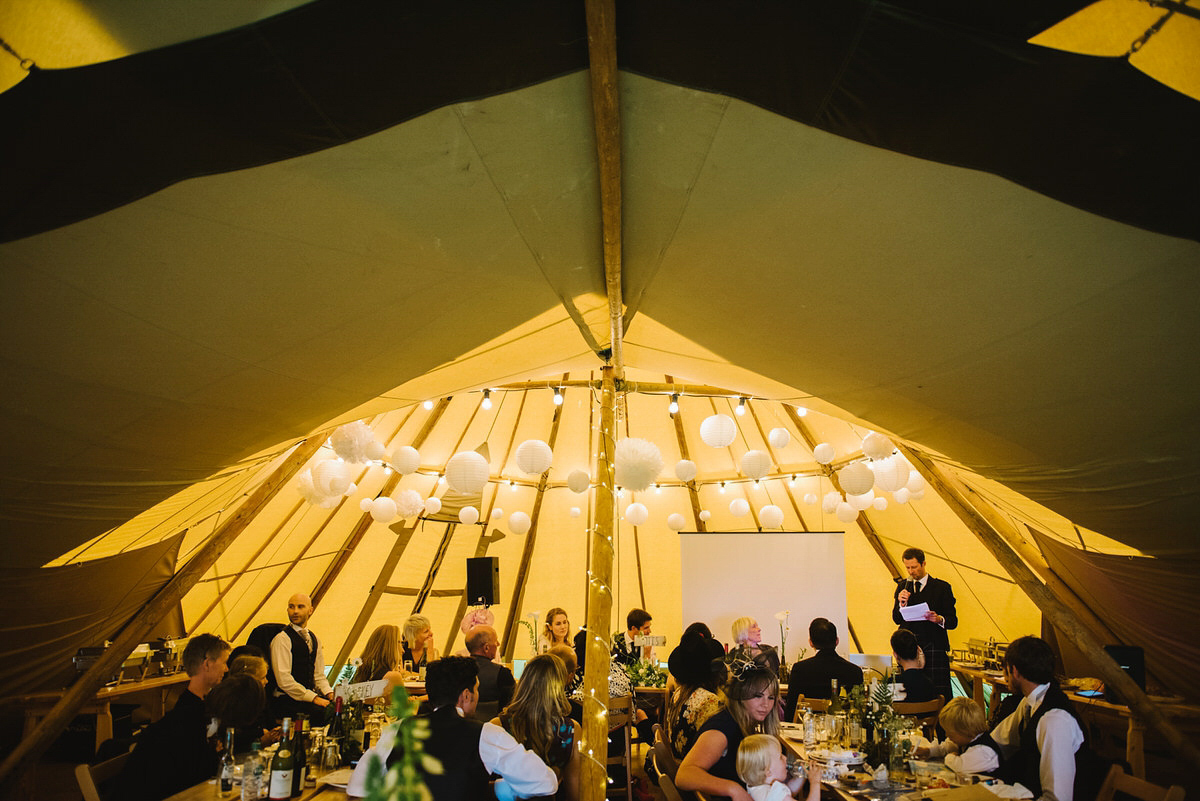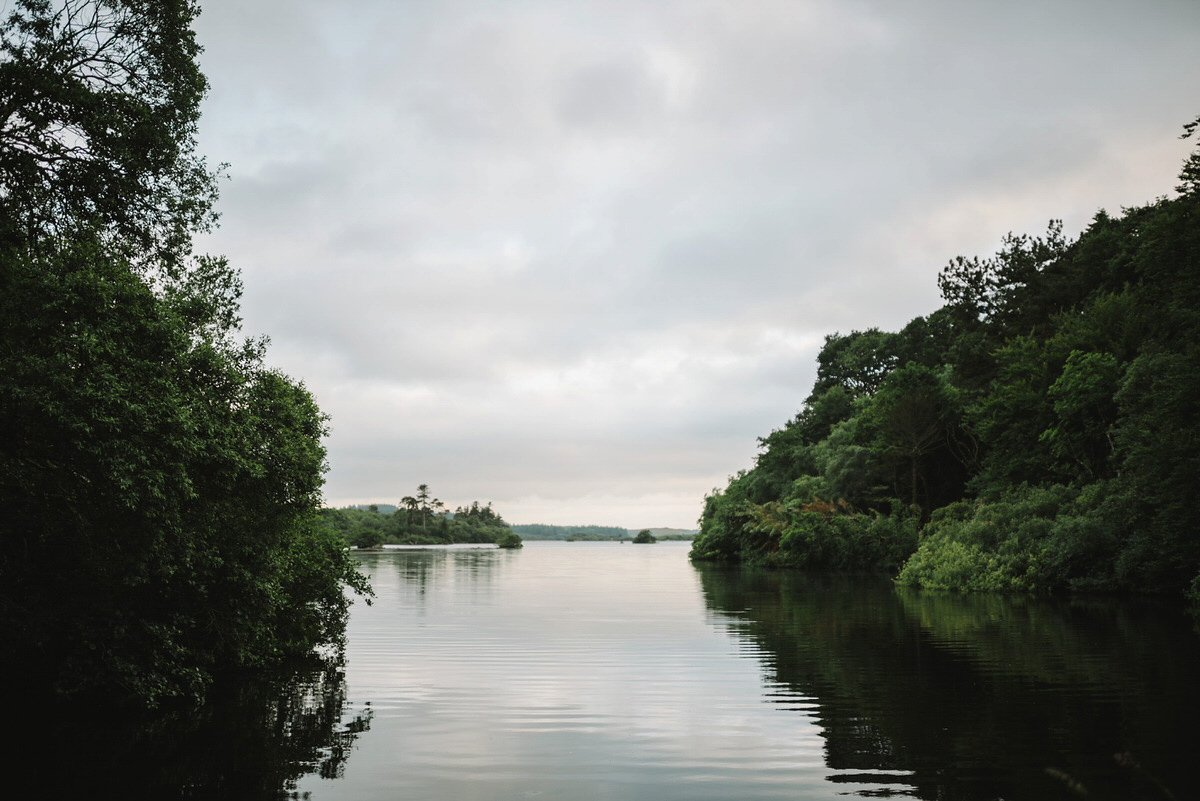 Words of Wedded Wisdom
"Involve everyone! Colin and I were a team in putting our wedding together, but also, because our wedding was basically made from scratch, we called on all of our family and friends to help us with the preparations and day. Being part of it was special for them, and supporting us in run up to the wedding really galvanised everyone.
I remember the day before the wedding when we had our family and friends who had come from all over the world helping out preparing the church and it was remarkable to look around the room and see our loved ones from different times in our lives sharing that experience and enjoying being together."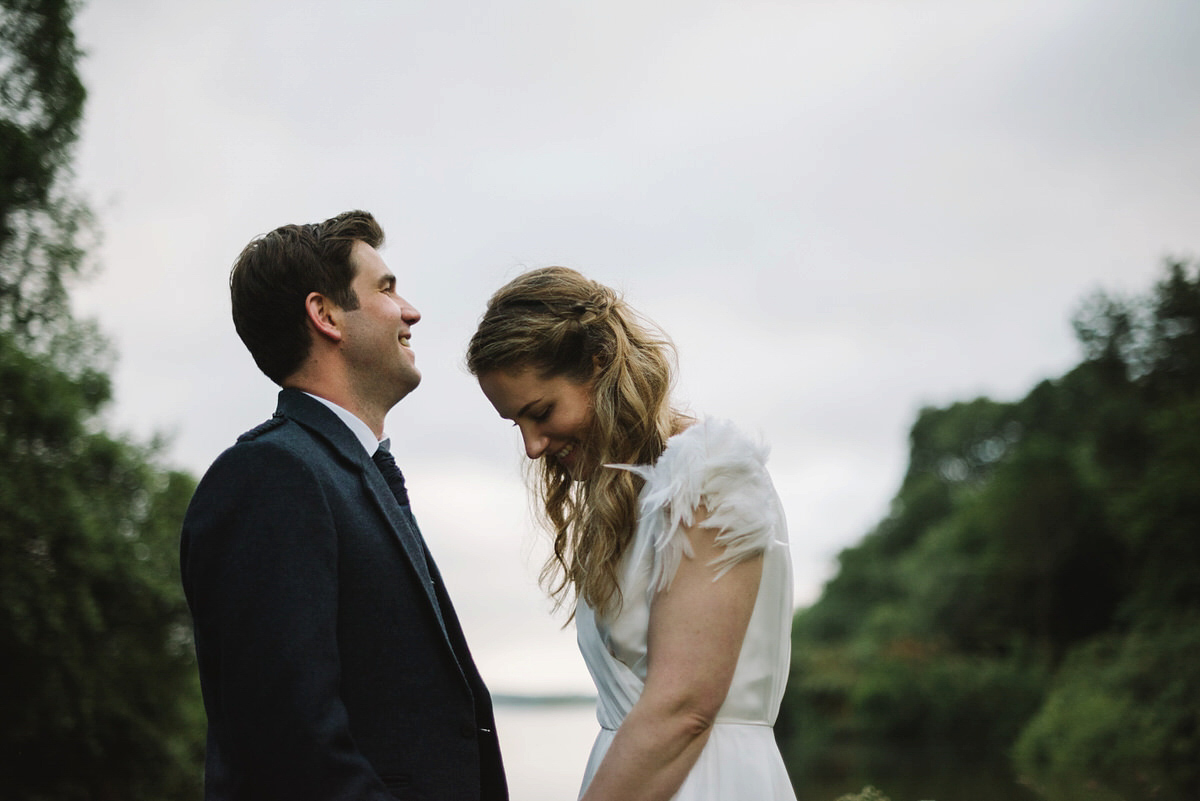 "And extend the celebrations! My brother and his girlfriend are professional chefs and they prepared the most delicious BBQ on the Sunday after the wedding where family and the wedding party came back together and reminisced about the day before and had another amazing day.
We did a lot of last-minute, stress shopping. I've heard this is common, but we did end up with a lot of stuff we didn't need. So we would recommend writing a list, and sticking to it, the latter is the hardest part."
How absolutely sublime – the tone of imagery captured by photographer Lisa Devine is exquisite. Ladies, you can see more brides wearing Halfpenny London here on Love My Dress.
My love and thanks to Saskia and Colin for sharing their precious wedding memories with us – sending my endless love and positivity too, to our friends in the United States of America today.
Love Annabel x