Good afternoon ladies and gents (I know you visit occasionally gentlemen – you're so busted!). Those of you planning your own nuptials will more than likely be aware that there are various events that take place up and down the country designed to help you plan your wedding day. From full on luxury bridal shows to the more local, artisan style wedding fair. One of the best, most innovative, creative, fun and well organised of these events I have ever had the pleasure of attending is the MOST CURIOUS Wedding Fair in London. If it isn't on your radar yet, trust me, it needs to be.
I'm handing the rest of this blog feature to one of the organisers of the Most Curious event, the remarkable Becky Hoh-Hale.  Becky is keen to share with you the campaign images for the March 2017 show. I can't wait to attend and support this event. Some of the loveliest of Love My Dress readers I know attended and became friends with other brides to be who also attended the last show. True story! And I'm talking friendships for life. The event seems to gather a really style savvy, creative, warm, intelligent community fo brides to be who appreciate the innovative and artisan nature of the event. Please pop Saturday 18th and Sunday 19th March 2017 (and Sunday 9 April at St Andrews Hall in Norwich too) into your diaries ladies and make a note to plan a brilliant day out with your bestie.  Over to you Becky…
____________
With every campaign photo shoot we try and create a vibe that takes more from the fashion world than the bridal world and we endeavour to look forward at what's coming next to put together something unlike what's already been seen. The hardest part is striking the balance between shirking off what's already being out there in weddings and showing ideas that people do actually engage with for their wedding. It's almost like, if it looks too bridal we don't want it, if people really like it now, it's already happening so we don't want it, but on the other hand we want brides to love it and be inspired by it and connect with it! Basically our best method, as with most things in life, is to block out the external noise and just go with our gut. We simply channel what we think is cool right now, regardless of weddings. And actually, it always works out.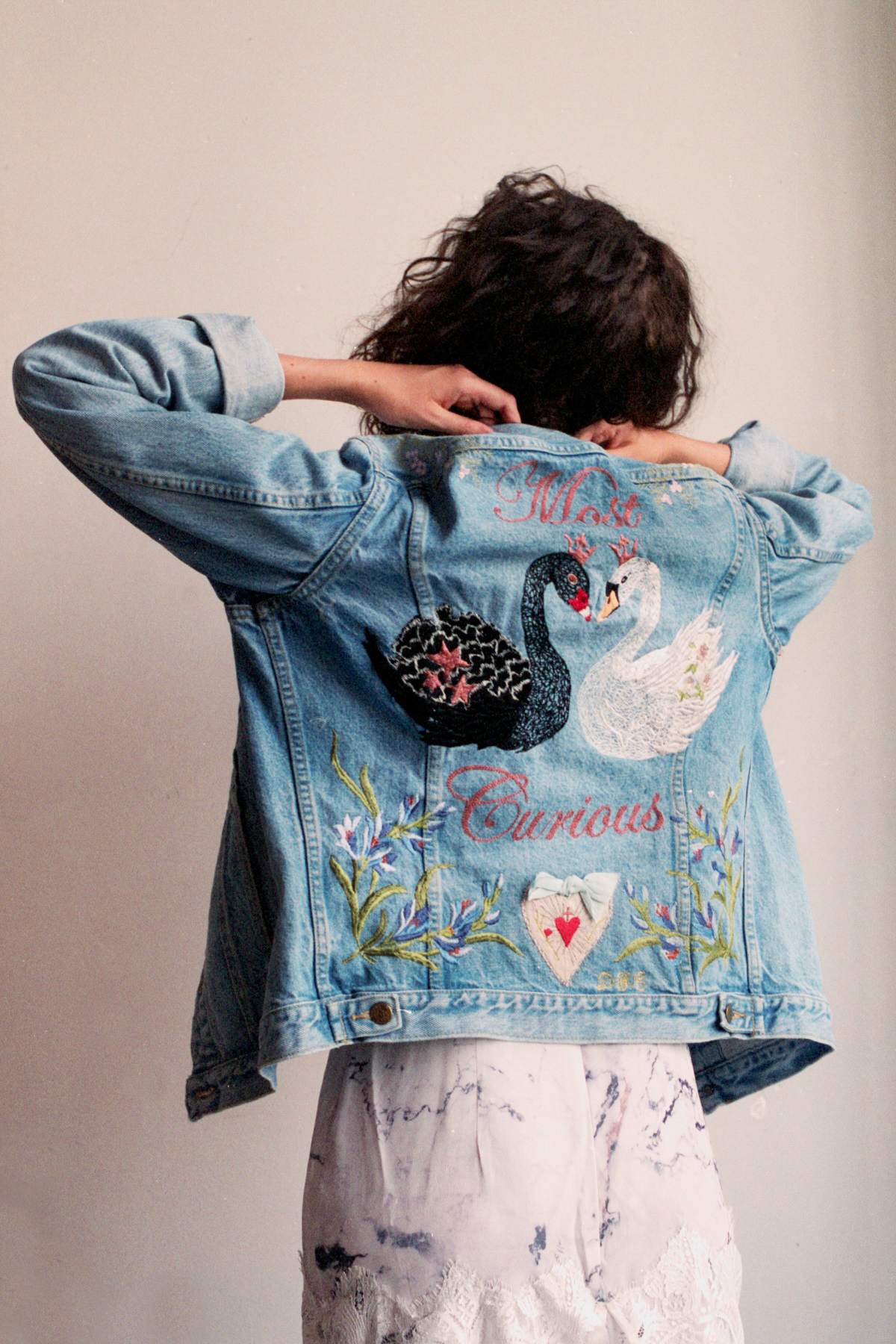 Once we've got the ideas, we run them by the the people we are collab0rating with on the shoots, such as the amazing Portraits Bridal Hair & Makeup and AM Faulker Millinery – suppliers and designers who are really out there on the front line, hearing and creating what the coolest brides are asking for and pretty much every time the ideas meet in the middle perfectly.
This year we also used a photographer specialising in editorial fashion, Eleanor Hardwick, who shot the entire set almost entirely on film, and who has worked for the likes of I-D, London Fashion Week, Dazed and Polyester magazine, to bring the sort of look our creative and media savvy brides are accustomed to.
For our new campaign, we knew there had to be a back shot of a cool jacket, featuring embroidery, patches or printed text – a massive trend right now. We loved the Gucci denim jackets of that ilk, with that quite 90s-esque shape, so we got on ASOS market place, bought a vintage denim Lee jacket and gave our exhibitor and artisan embroiderer Daisy Sheldon a call. Daisy spent 42 hours creating our MOST CURIOUS jacket and we are in love! So happy she will be at the 2017 show too!
In fact embroidery and layers of texture is another big trend that featured in the styling, with amazing embroidered separates by Poppy Dover and fringed top by Otaduy and veil by AM Faulker Bridal. The latter, alongside the awesome wide, bell bottomed pants also from Otaduy, form something of a Rolling Stones 70s vibe, mixing a sort of Mick Jagger/Bianca Jagger hybrid in one look and stance. Mick and Bi created one of the greatest most iconic wedding looks of all time, so we were very happy to channel that!
Laid back 70's style runs throughout the whole shoot, in a magical time and place where punk met disco and all the wonderful female icons of the era in that mix, Debbie Harry, Patti Smith, Diana Ross, even a little Jane Birkin. We know this kind of feel is going to be big with all the coolest brides in 2017, soft, shaggy, fringed hair, rather than braids or anything too styled. Our model Leslie brought all the vibes together too and Portraits styled her with a 70s heavy sort of fringe and loosely curled hair, and soft flicks.
Most Curious also has a special section of the show entitled bridalNEXT, which is a dedicated platform for new businesses launching into the industry which is often where the most directional innovative ideas happens. We wish to support those new talents and also brings them direct to the couples hungry for fresh cool ideas, it's a win-win situation! So we asked some of these exhibitors to collaborate with us on the shoot too.
Bridalwear was Dana Dallal, who created the 70s style sheer trumpet sleeved, high necked blush dress and beautiful marbled gown seen in the images. Marble patterning is such a big trend, even in interiors too, so we nabbed that one up straight away and even employed it for our brief to 2016 bridalNEXT'er, Blossom & Crumbs' cake, made specially for the shoot. Both will be back for 2017.
The 90s is also something we wanted to reference – as it's so huge in fashion right now, and by proxy will no doubt trickle through into world of weddings and bridal fashion in coming months.  With that in mind, we called in cute simple tees from East London Bridal, which are embroidered with the slogan 'Bride'! Paired with a pleated, lace skirt from ASOS and trainers from I am Florence, to have a little nod to a girl-power, non-pretty look. Both referencing 90s fun styles but also a more simple, austere laid back idea for bridal styling, soft, simple, comfortable and cool, while staying chic of course.
I am Florence are going to be joining us at the 2017 show too, and do cool trend led bridal footwear, we also used their glitter heeled and brogue styles, we're big fans!
For this more 90s look, our model Leslie's hair went a little curlier! It's a look we requested from Portraits which still referenced 70s big shaggy hair but pushed it to verge on soft 90s perm – definitely no fishtail plaits in sight! This fresh, contemporary bridal look was emphasised by Bobbin & Bow's geometric and tasseled decorations, we wanted to explore new ideas for decor, as this is an area that can easily get staid and samey so we wanted to push the new!
Geometric will continue to reign in 2017, just as they have been seen in interiors they will feature in wedding styling too. And Bobbin & Bow draw on traditional geometrically minded, Polish decorative interior objects, breathing new life into them for modern celebrations, so we're super happy to work with our brief! And you've guessed it both these guys will be back for 2017!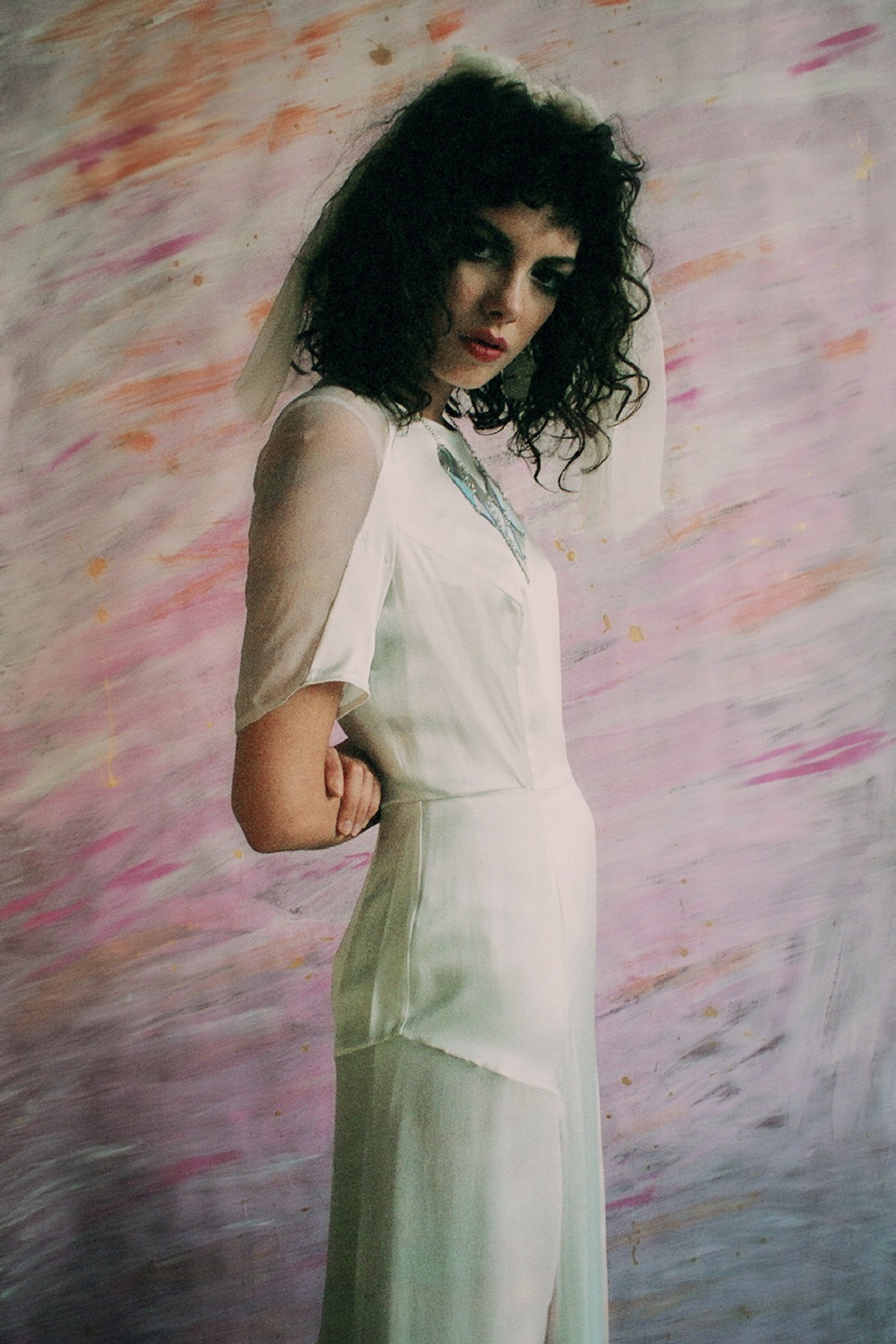 Adding more to the textured and layered trend, AM Faulker provided her cute, fresh perspex floral headbands and tasseled veil. She also made us some tasseled earrings from her new accessories line Florence & Dot.  She'll be bringing both brands to the show!
We added red lips, bigger curls plus the denim jacket for a potent mix, more Audrey from Twin Peaks than anything massively recognisably bridal, but we like it! Bubble gum was of course needed to finish this sass-drenched look.
Eclectic Eccentricity also added tasseled necklaces and marble rings to complete the vibes, as well as Jane Bowler's chunky geometric bangles, to add modernity to the moments of nostalgia. Jane is also confirmed for the 2017 with her ultra contemporary range of bridal wear, we're excited!
Sorrel and Steve supplied pieces from their hire list, such as cool cinema seats and the black gloss topped, copper legged table. Come and meet them at next year's how too! And Aesme Flowers provided us with a knock out bouquet and floral elements to the background with blooms inspired by the blushy 70s palette,  helping us keep grounded in bridal as that is what we're here for after all.
To find out more, be you a bride-to-be or an exhibitor keen on showcasing your products and services at the event, please visit the MOST CURIOUS website at . You can also connect with the MOST CURIOUS team via Instagram.
I can't wait to see you in March! I'll be the one wandering around with my trustee Olympus Pen camera shooting all the beautiful things.
Love Annabel x
This is a sponsored post