Hello Friday! SO sorry our first post is a little late today folks – if you follow me through my personal Instagram feed you'll know we're undergoing some major house renovations currently and as my home office is located amidst the mayhem it's been a bit of a crazy week! But all is well and am so very happy to be sharing this absolutely charming winter wedding with you today.
Rebecca, a Public Sector Bid Coordinator married Ash, a Network and Security Engineer on 20th February this year with a ceremony at Forde Abbey in Chard, followed by a reception at the Lord Poulett Arms in Hinton St George, Somerset. These lovely mages were captured by photographer Joanna Brown, who is one of the best photographers I know. Her ability to capture 'real life' and somehow make it look extraordinary is exceptional. Her images make you wonder at the 'every day' – those things you take for granted – they celebrate the natural and spontaneous so always look so relaxed and 'unforced'.  And I genuinely love how her work blends natural light and shadow so beautifully.
"We knew from the start that the right photographer would be one of our most important investments so as soon as we confirmed our venues we contacted Joanna Brown. I fell in love with her images on Love My Dress and as soon as Ash saw her work and realised that she shot film as well as digital, he knew it would be futile to look elsewhere! For us Joanna was the perfect match because there is nothing contrived about her photographs – we have an honest collection of images that enable us to re-live our wedding day."
Photography by Joanna Brown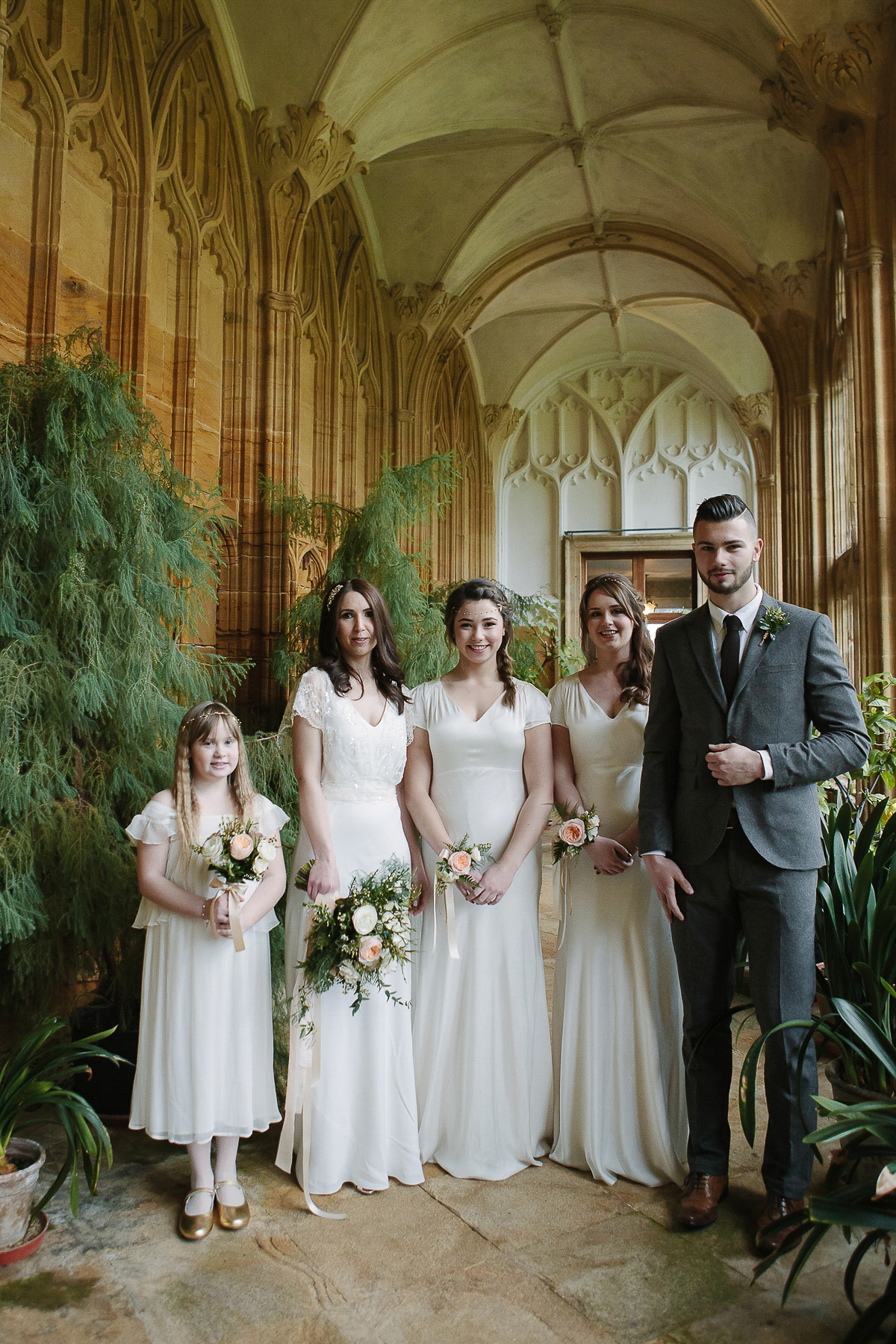 Bridal gown Charlie Brear
Bridesmaids Ghost, flowergirl Wild & Gorgeous
"We chose February so that we could create a romantic atmosphere at our venues with open fires and candlelight. Both venues had a lot of historic character so we were led by that and selected minimal décor, simply accessorising with brass candlesticks and vintage vases. I was probably also inspired by my engagement ring to bring in some touches of the 1930's as I love the understated glamour of vintage eras.""Ash and I met through work in Somerset in 2007 and survived long periods of living apart as we chased our careers. Until recently marriage hadn't been a priority for me but Ash was patient and he proposed on a weekend away in February 2015 with the most beautiful 1930s engagement ring. We married a year later and are expecting our first child in December."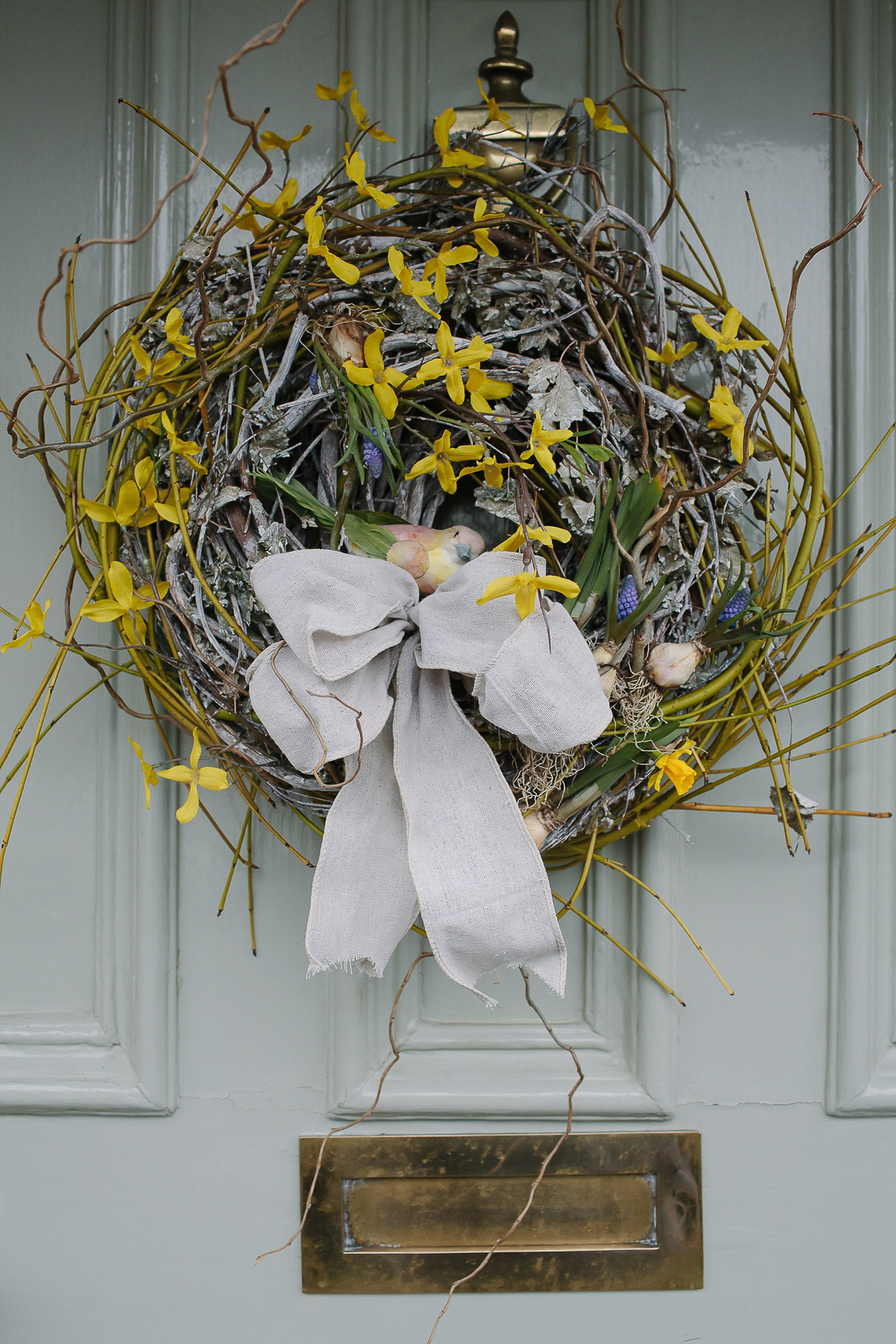 "From there we chose Forde Abbey for our ceremony. As soon as we walked into the Great Hall bathed in wintery light and saw the giant fireplace we were sold."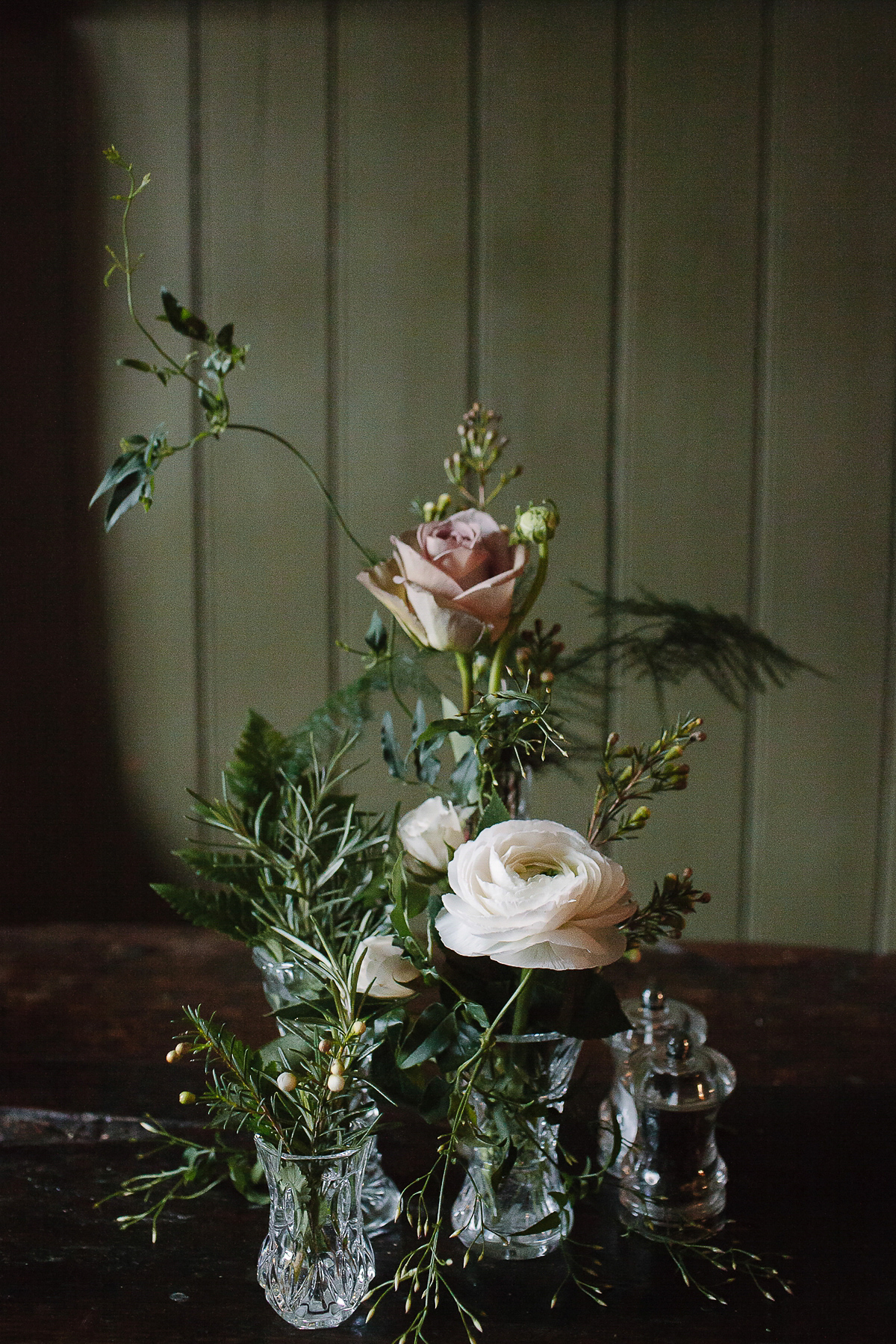 Rebecca wore some beautiful bridal separates by Charlie Brear – the Payton slip with the Sabine top. Both items were purchased directly from Charlie Brear's London studio.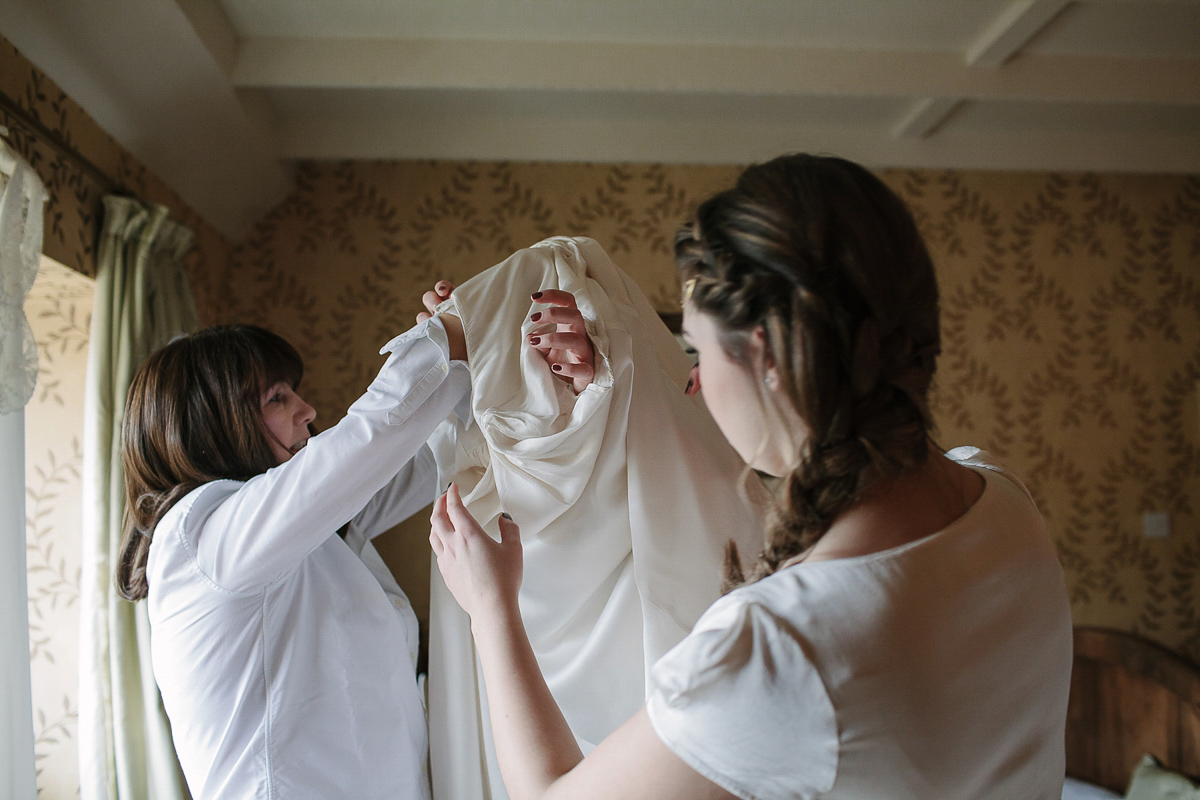 "I discovered Charlie Brear on Love My Dress and as soon as I tried the Sabine top over the Payton slip I knew I could stop searching. It was so simple yet had a touch of vintage glamour with the beautiful gold lace."
"My main criteria for selecting a wedding dress was feeling like myself. I also had to be conscious that our reception was being held in a pub and I didn't want to be tripping over myself all night!"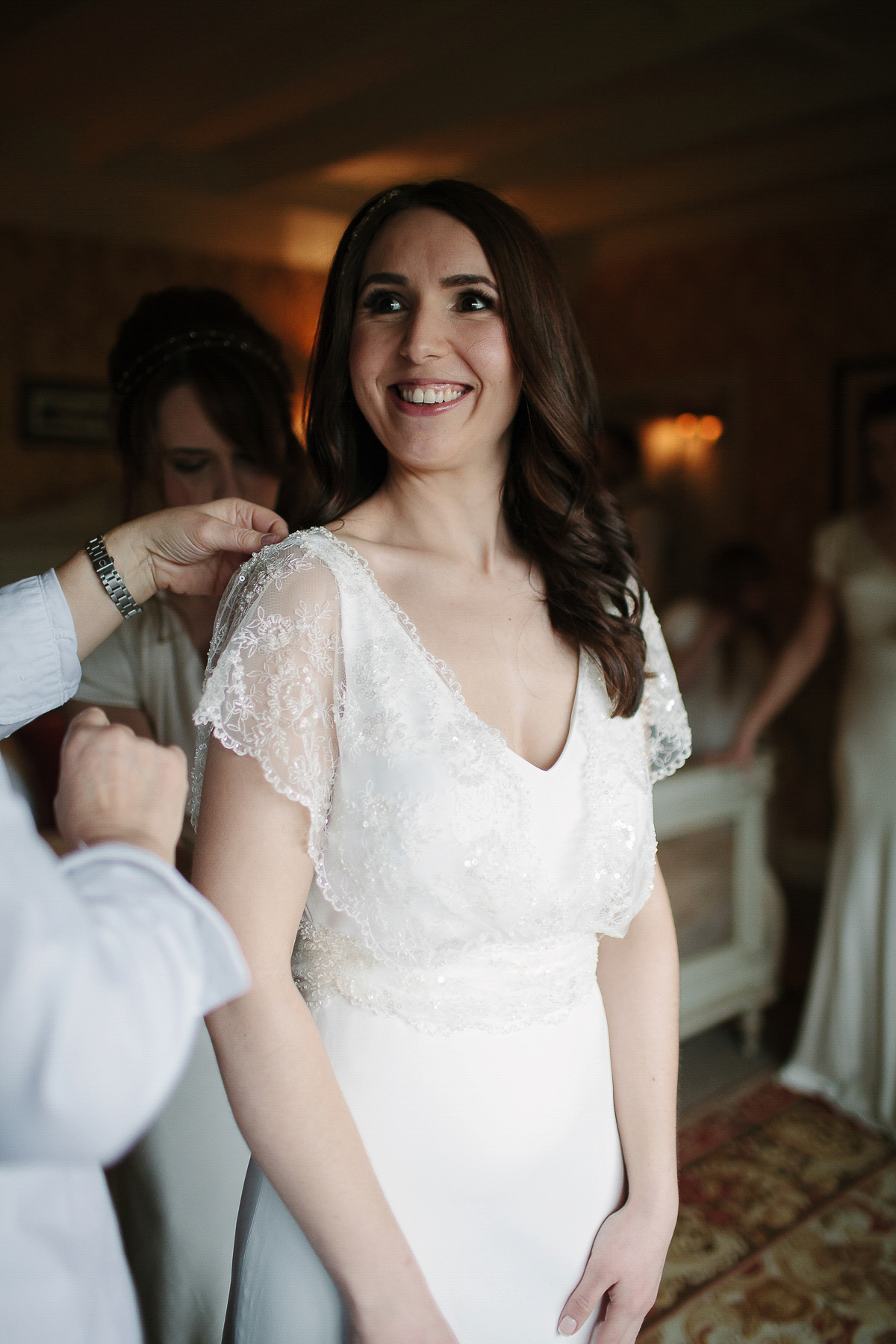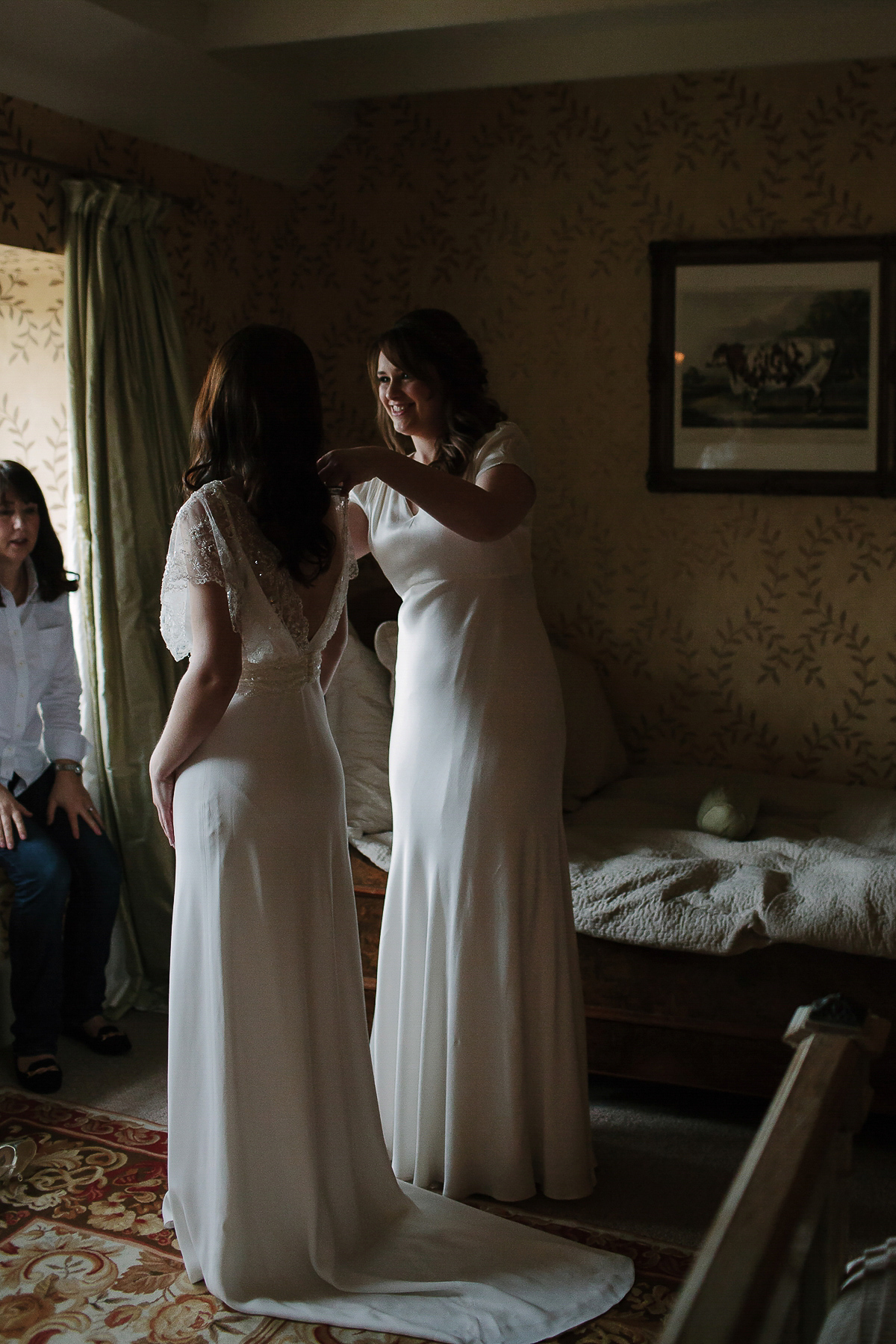 "My shoes were Rachel Simpson's 'Ginger', in gold leather. I had two issues to overcome when shoe hunting – my not very tall husband to be and my wide feet! Fortunately I was recommended these which were the perfect height and style and a dream to wear all day."
Rebecca also wore a pair of antique diamond studs which were a gift a number of years ago, and a Jenny Packham Santorini Ostrich feather shrug – a second hand purchase.
The couple turned to florist Cottage Flowers of Ilminster to supply their beautiful seasonal blooms.
"In keeping with the time of year and our relaxed theme we opted for a casual woodland feel. I had a beautiful loose bouquet of seasonal flowers tied with flowing silks and our ceremony venue was decorated with fern garlands."
"I wore the scent 'Timothy Han, She Came to Stay'. This smoky, woody scent just felt like the perfect pairing for the wedding day. I wanted to select a scent that would transport me back whenever I wore it."
"To add some drama for the ceremony I added a cathedral length veil which was also purchased from Charlie Brear."
"I wore the Ananti hair comb in pearl gold, by Jenny Packham – I found it surprisingly difficult to find a gold toned hair accessory."
"My younger brother accompanied me down the aisle. My two sisters were bridesmaids so it felt right for him to have a significant role too. He had dislocated his shoulder a few days before the wedding so was in and out of a sling all day but was able to grit his teeth and let me hold onto his arm for our entrance. We walked in to Kristina Train – How Long Will I Love You. She has a haunting voice that sounded beautiful in the venue and I'm so glad that we chose a track that can be included in our normal music playlists – It always moves me when it starts playing."
Rebecca's bridesmaids wore the 'Charlotte' dress by Ghost, purchased from the Ghost outlet in Hatfield.
"As soon as I had selected my dress, I knew that Ghost dresses would be perfect for the bridesmaids. Living near to the outlet we were able to keep popping back on a regular basis until the perfect styles appeared. The original plan was for the girls to have different dresses but the Charlotte dress was a simple version of my dress and they both looked great in it so it was an easy decision."
"My bridesmaids hair accessories were made by my sister. I gave her free reign to design pieces that the girls would enjoy wearing and would match whatever hairstyle they chose. Although my lack of direction probably drove her crazy at times, the finished pieces were perfect for each of them."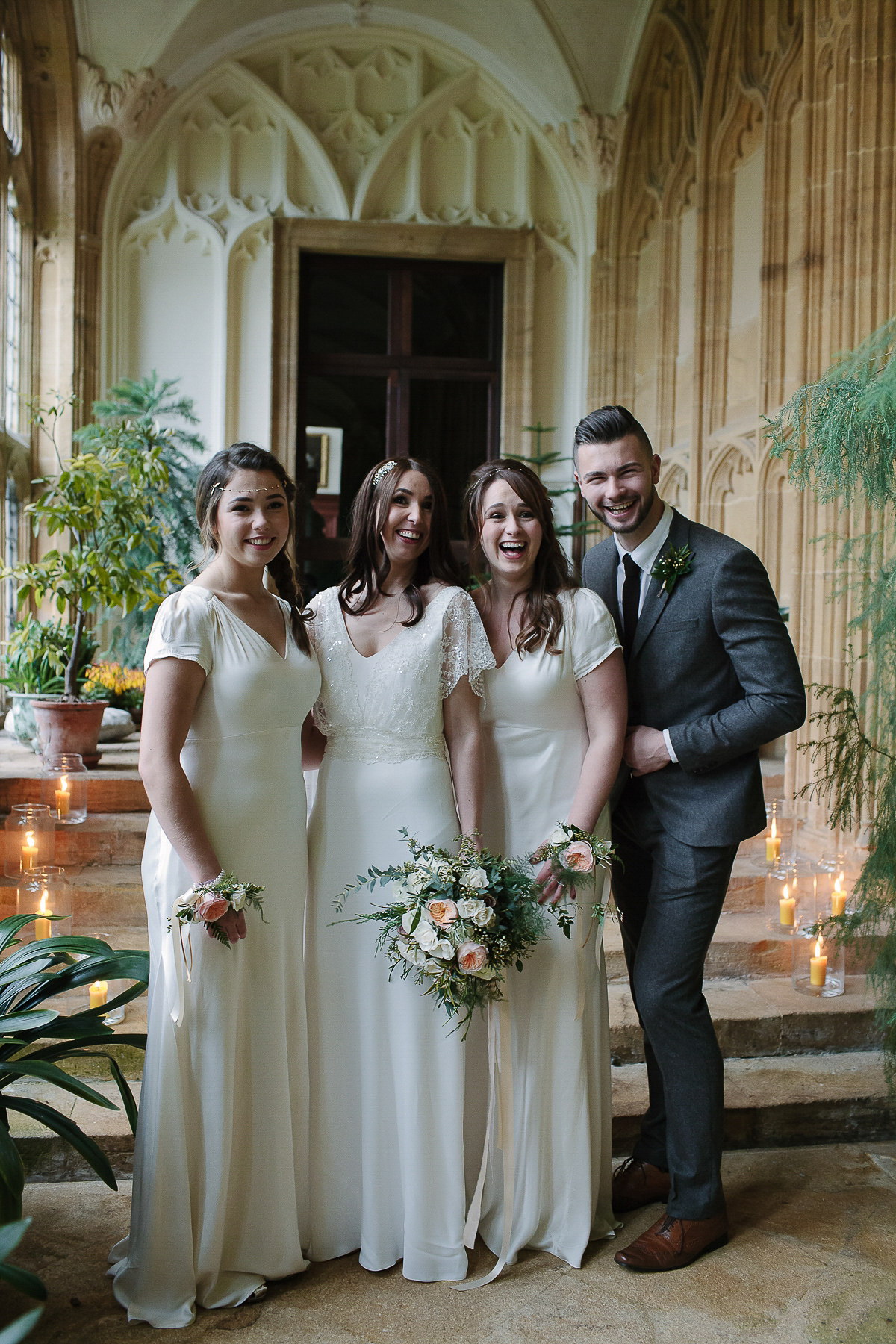 "Ash owned one suit and it was from when he was 18 so it made sense to invest in buying rather than renting one! His suit was by Hugo Boss."
"All of Ash's boys wore brown wool ties from Topman, and tan shoes and belts. We didn't want the boys to be matching for a more casual look so they all wore different brown suits but accessorised with the same tie."
"It sounds unromantic but we wanted to incorporate readings that reflected our relationship, rather than an idealistic notion of what love or marriage should be. Our first reading was entitled 'Maybe' by an unknown author…"
Maybe…We are supposed to meet the wrong people before meeting the right one so that, when we finally meet the right person, we will know how to be grateful for that gift
Maybe…it is true that we don't know what we have got until we lose it, but it is also true that we don't know what we have been missing until it arrives
Maybe…the happiest of people don't necessarily have the best of everything; they just make the most of everything that comes along their way
Maybe…the best kind of love is the kind you can sit on a sofa together and never say a word, and then walk away feeling like it was the best conversation you've ever had
Maybe…you shouldn't go for looks; they can deceive. Don't go for wealth; even that fades away. Go for someone who makes you smile, because it takes only a smile to make a dark day seem bright.
Maybe…you should hope for enough happiness to make you sweet, enough trials to make you strong, enough sorrow to keep you human, and enough hope to make you happy
Maybe… Love is not about finding the perfect person, it's about learning to see an imperfect person perfectly.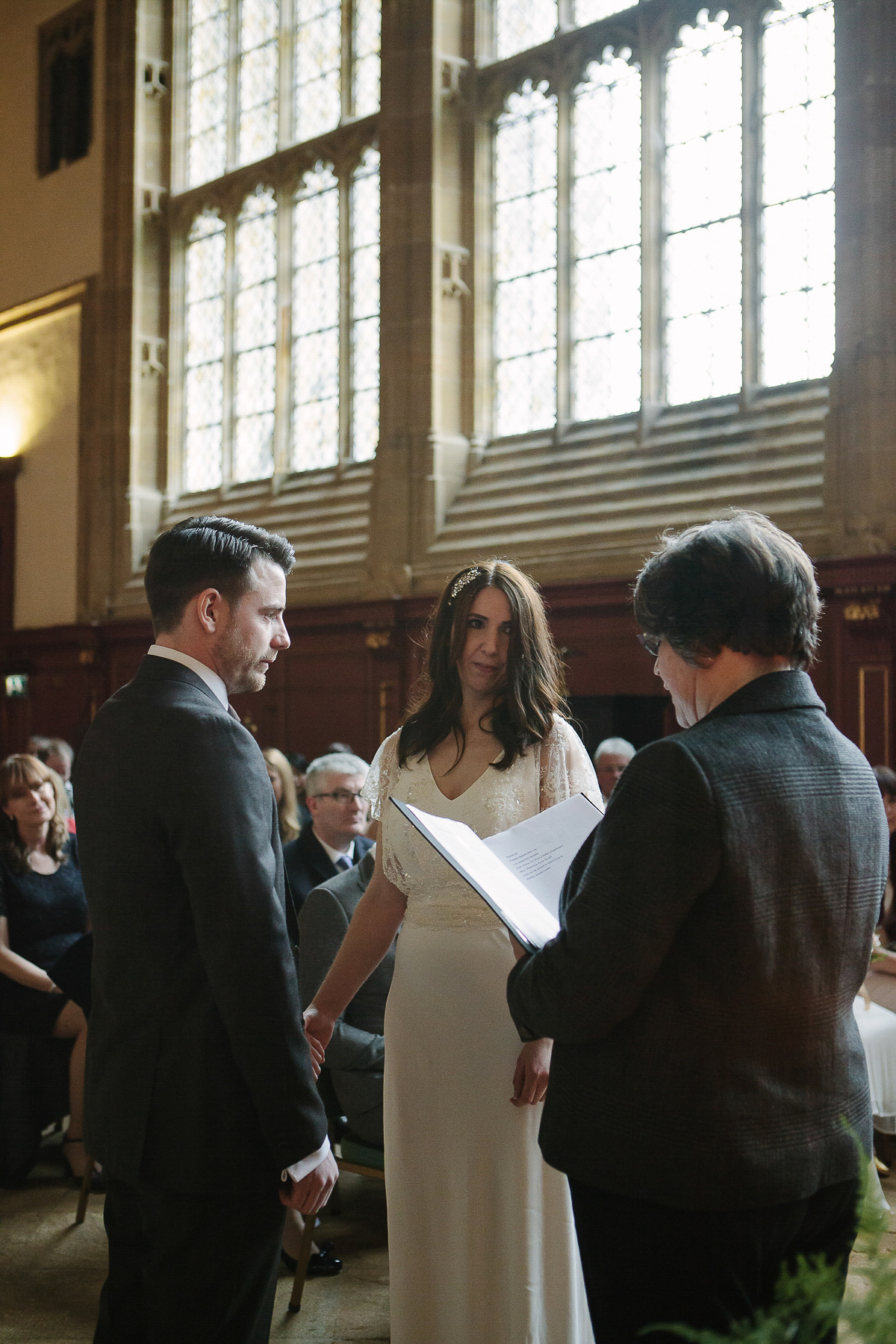 "Our second reading was 'Love Sonnet 17' by Pablo Neruda…"
I do not love you as if you were salt-rose, or topaz,
or the arrow of carnations the fire shoots off.
I love you as certain dark things are to be loved,
in secret, between the shadow and the soul.
I love you as the plant that never blooms
but carries in itself the light of hidden flowers;
thanks to your love a certain solid fragrance,
risen from the earth, lives darkly in my body.
I love you without knowing how, or when, or from where.
I love you straightforwardly, without complexities or pride;
so I love you because I know no other way
than this: where I does not exist, nor you,
so close that your hand on my chest is my hand,
so close that your eyes close as I fall asleep.
Rebecca's engagement ring was purchased from Robin Haydock at Grays Antique Centre. Her engagement ring was a discovery at Berganza in Hatton Garden.
"I'd honestly just dragged Ash in to drool over the beautiful antique jewellery but when they pulled out a diamond set 1930's band that not only matched my engagement ring but was also a perfect fit, we couldn't leave empty handed! Ash has a simple platinum band, also purchased from Hatton Garden."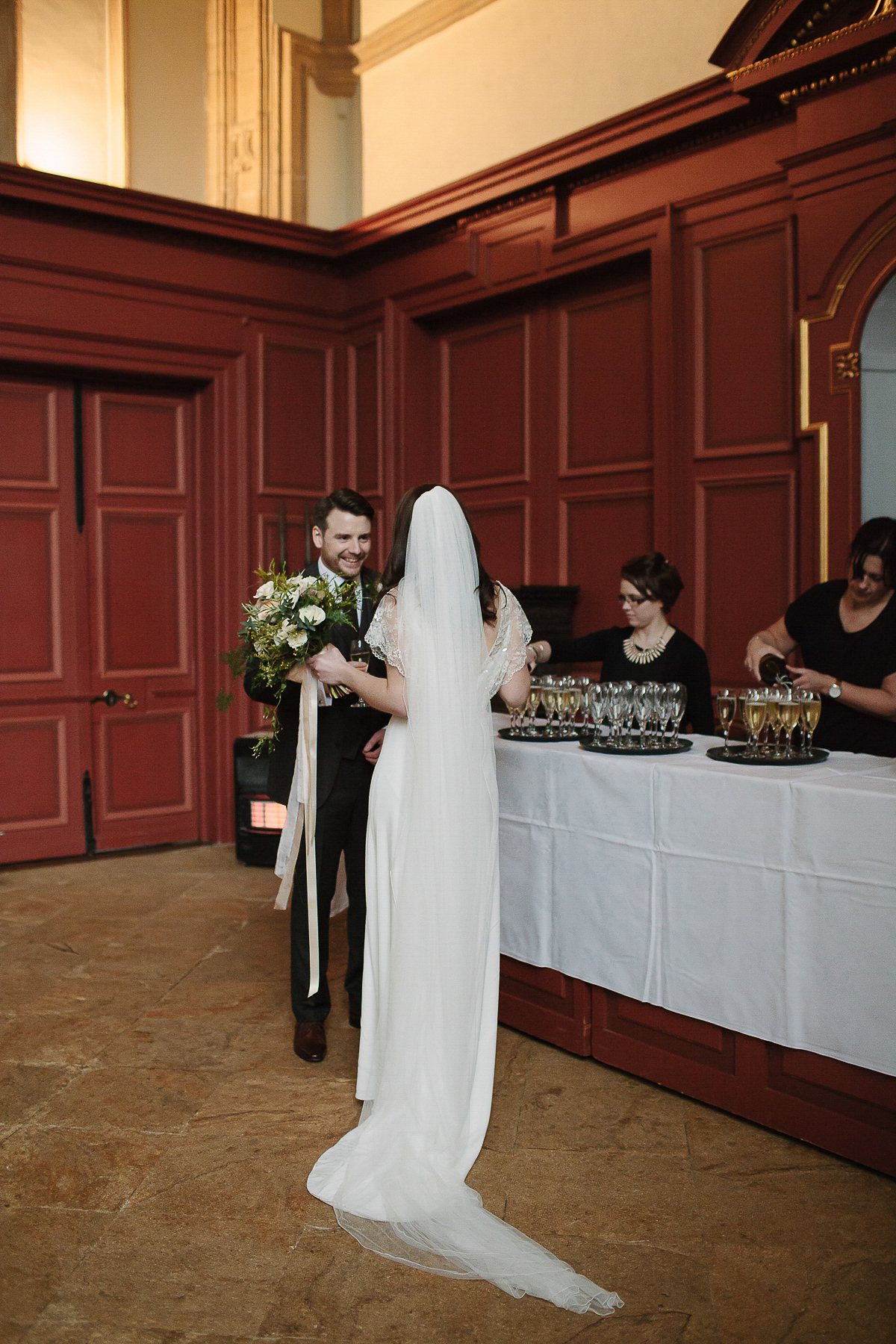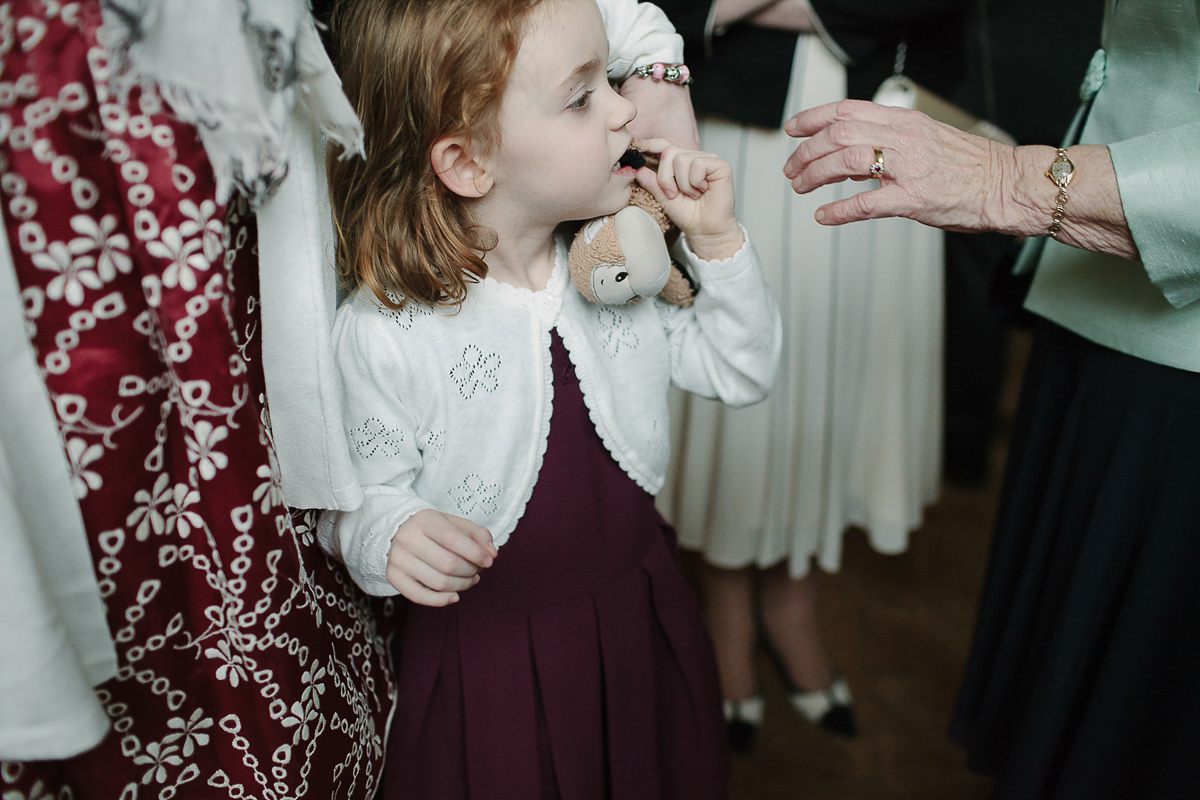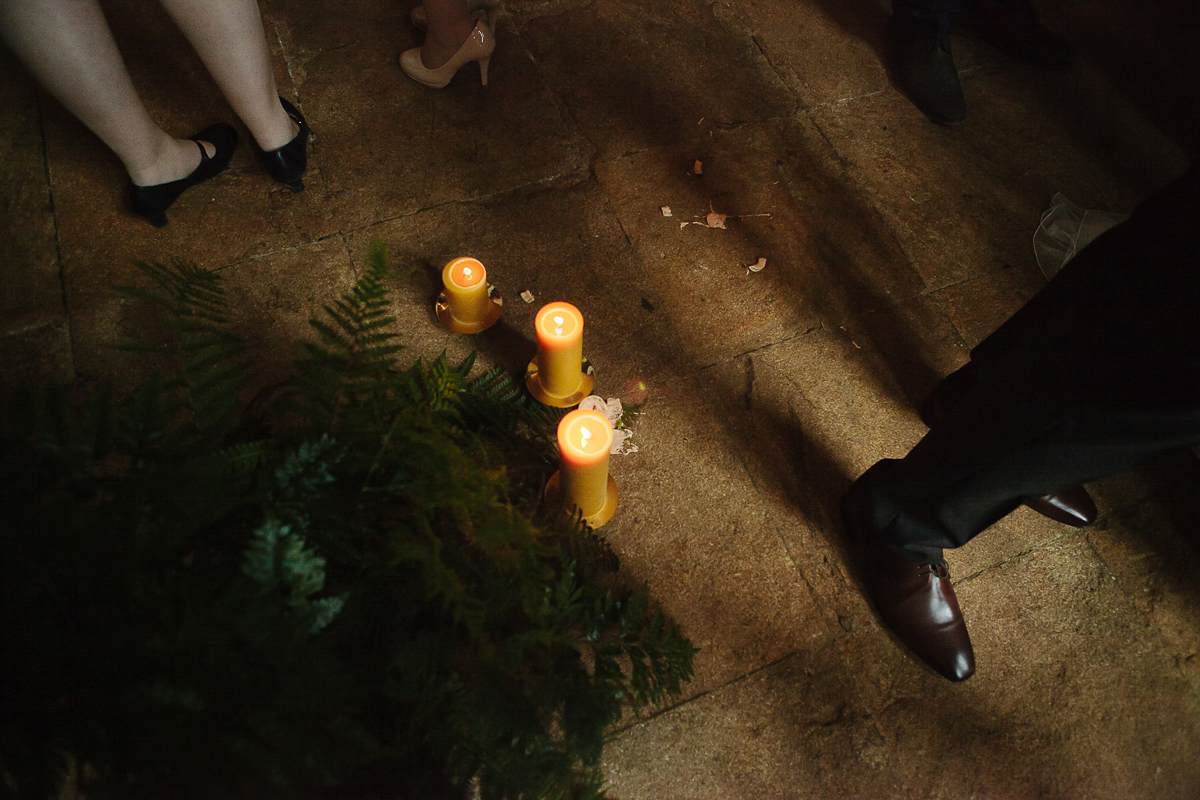 "I think my flowergirl was a bit underwhelmed at having a dress (she wore the Silvie dress by Wild & Gorgeous) that was more vintage than princess but she looked like a beautiful woodland nymph."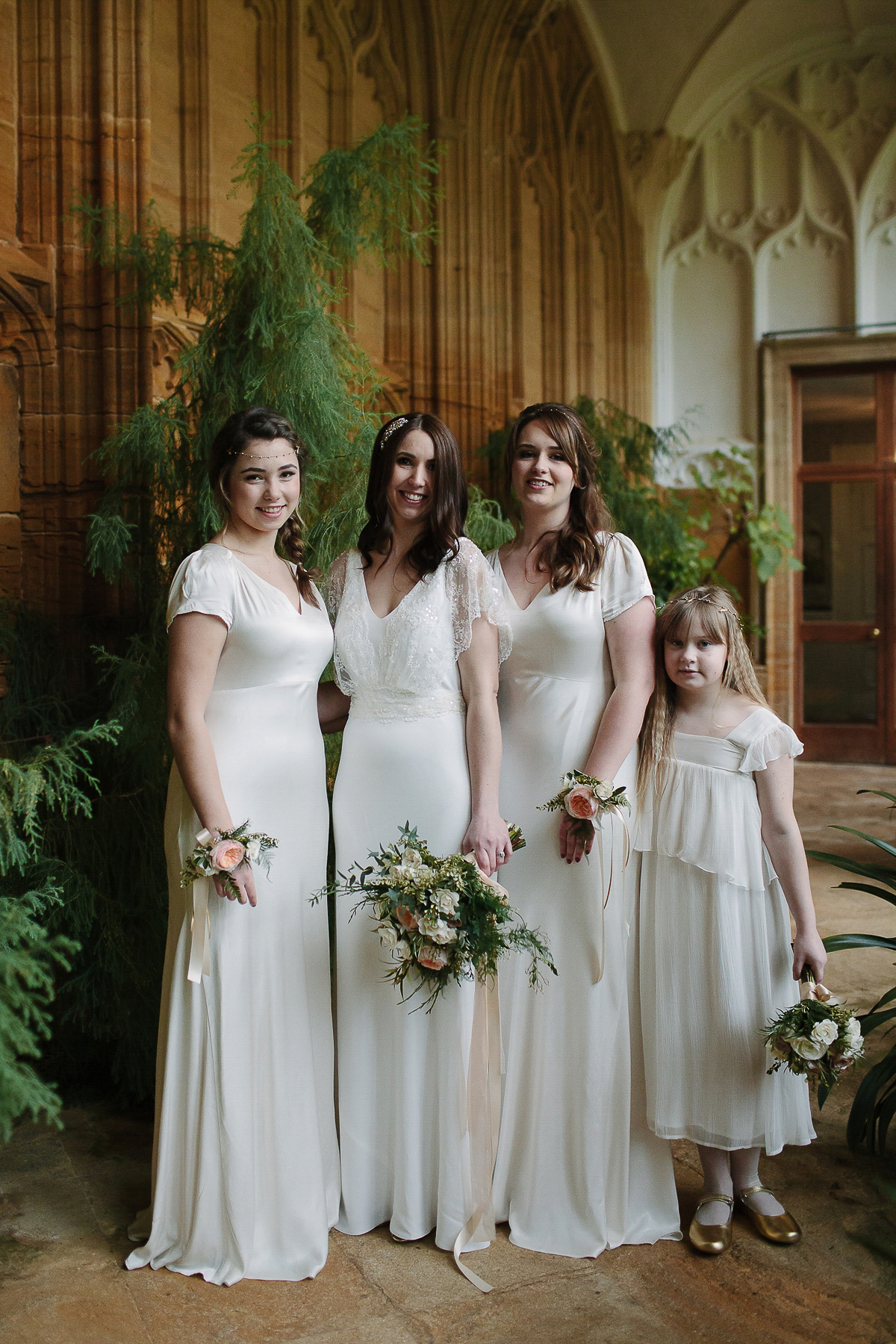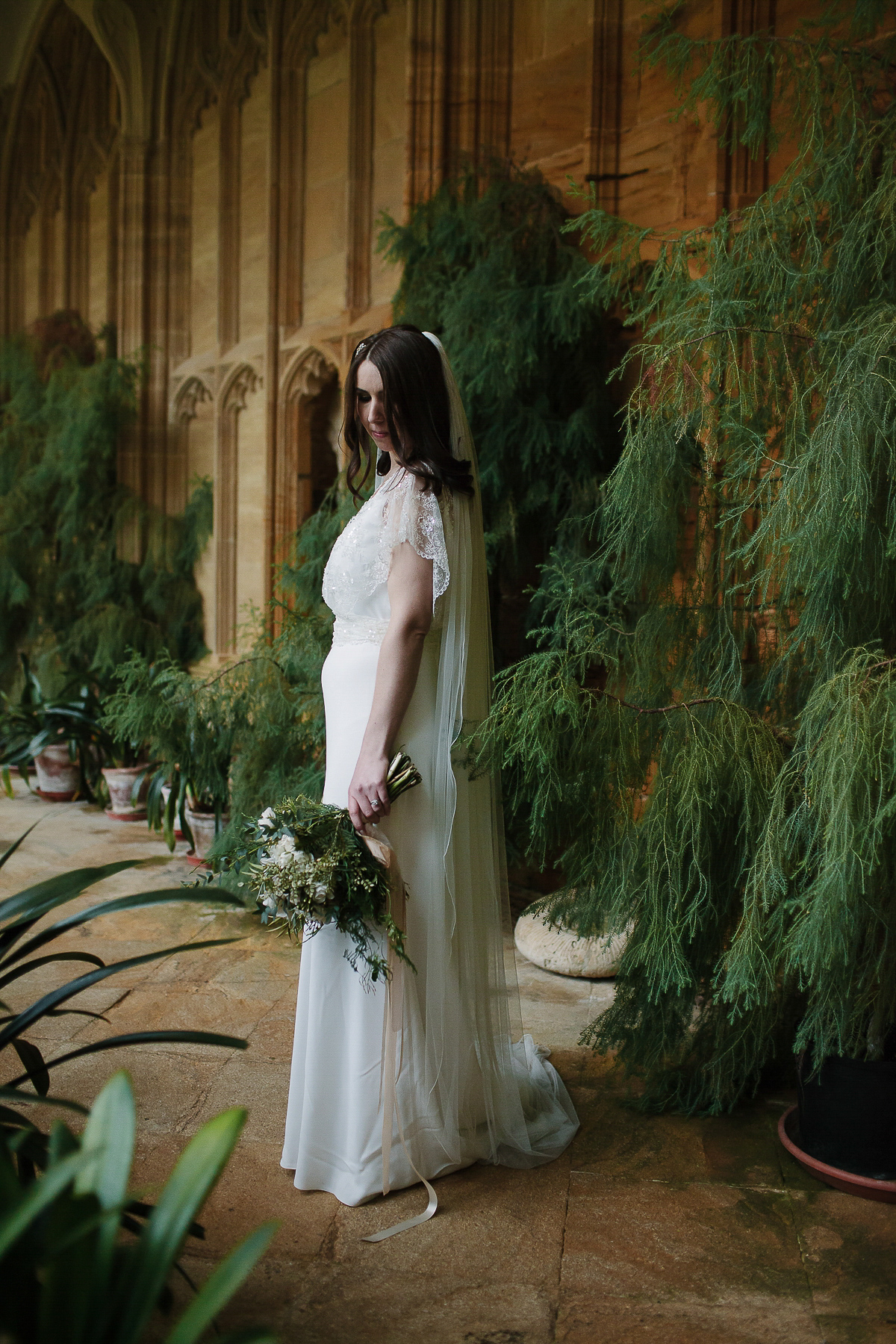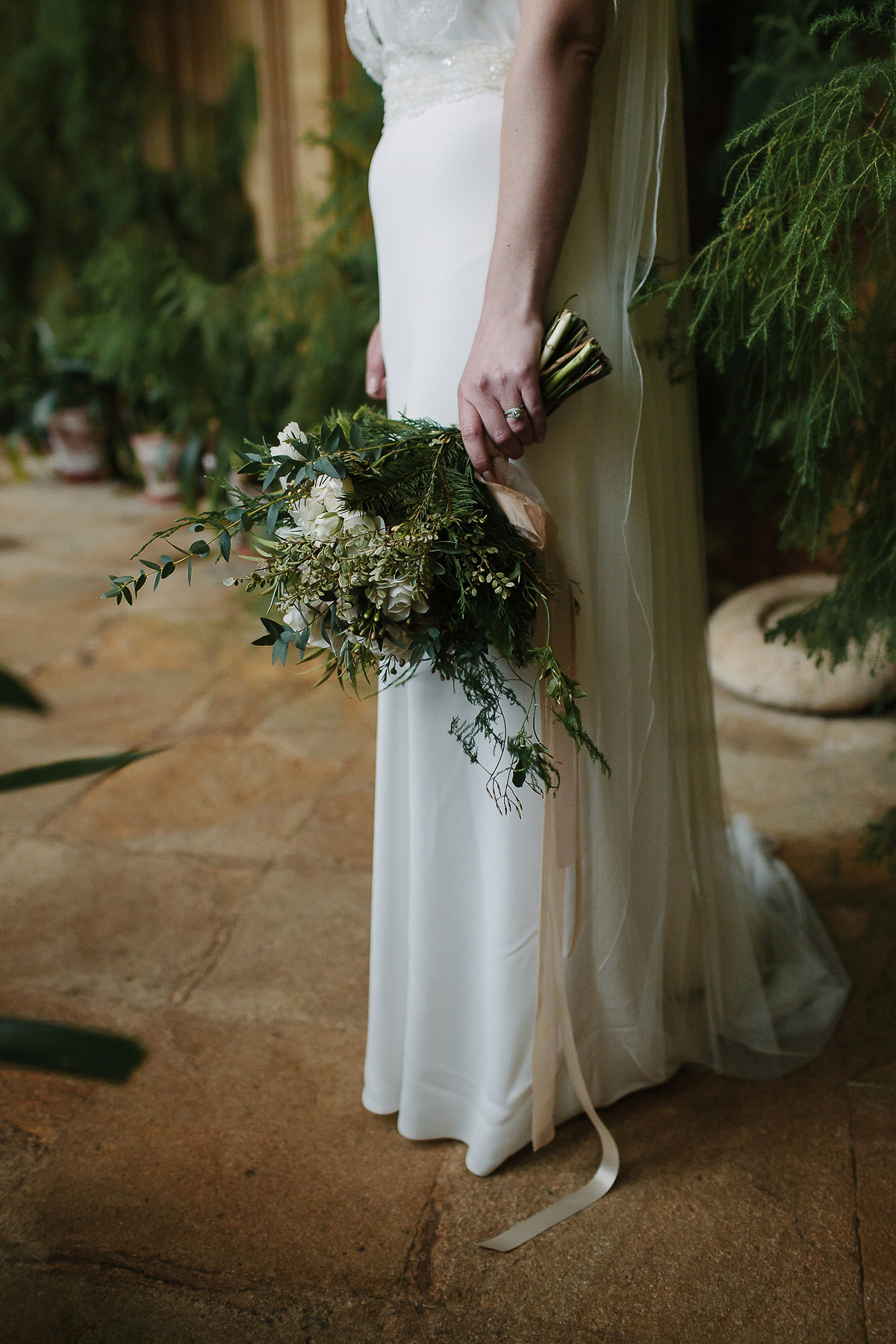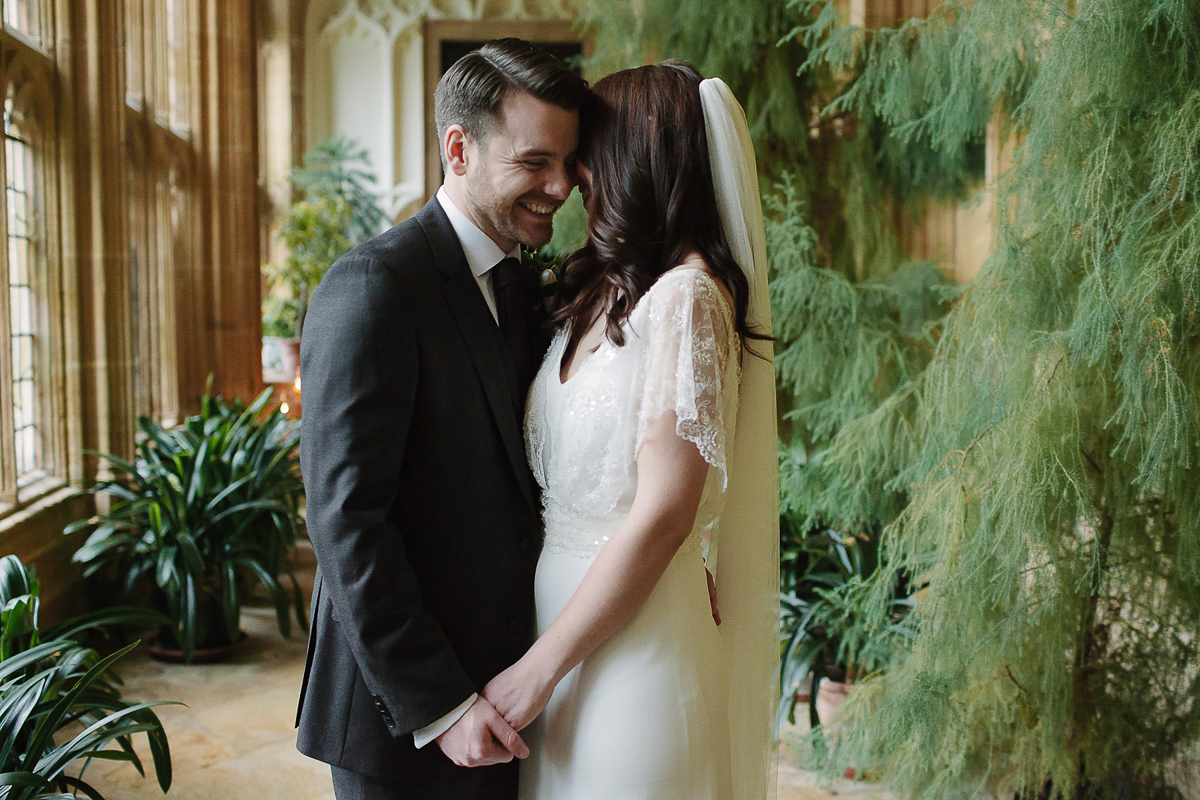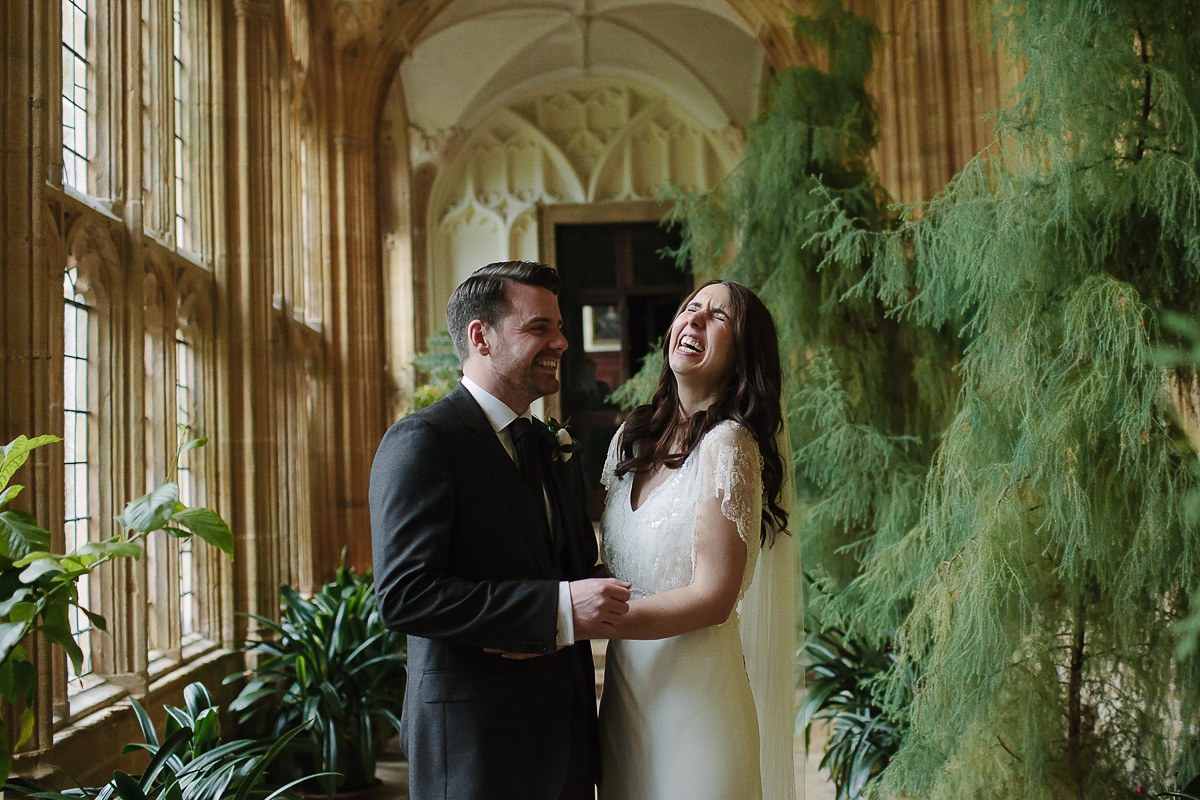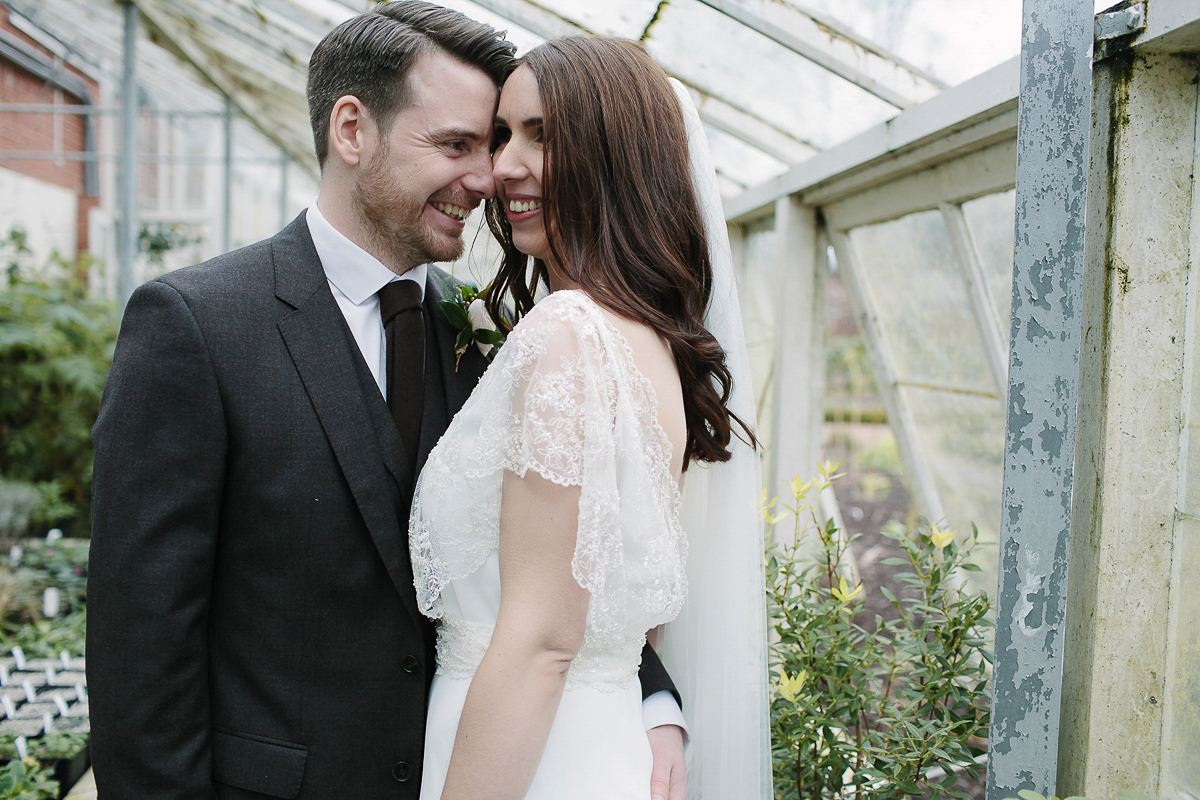 "Kate of Kate Burt Cakes saved the day and stepped in at short notice to create the most beautiful cake that tasted even more magnificent then it looked. We had no idea what the final cake design would look like but Kate translated our vague ideas into something that was perfectly keeping with the feel of our day."
"The cake was coloured in grey and gold to match our wedding stationery and the decoration was inspired by my sisters headpiece designs."
"The Lord Poulett Arms provided champagne and canapes at the ceremony venue as well as the wedding breakfast."
"Both our venues were decorated with local beeswax candles from Gold and Black candles which were a beautiful buttery gold colour and scented the air with honey. We gave our guests smaller versions as favours."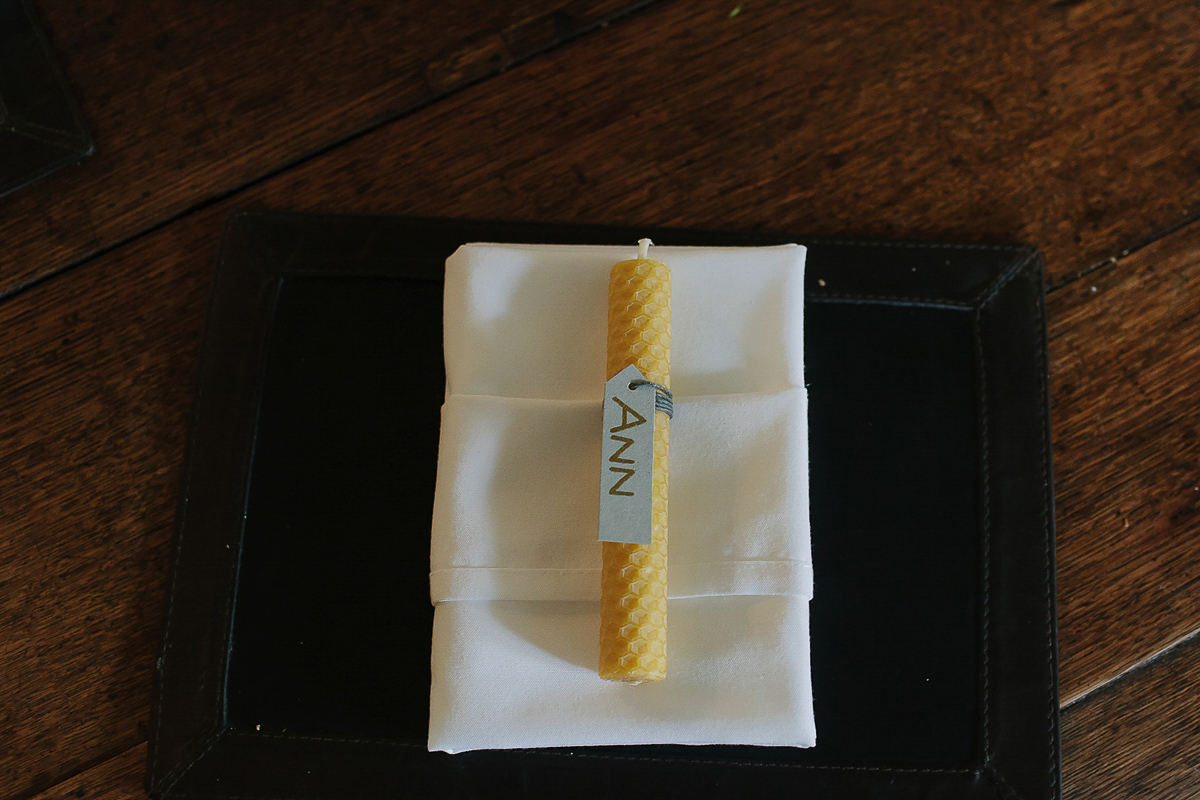 "Our invitations were a simple grey board with gold lettering by Emily & Jo. We painstakingly replicated this and hand made all of our favour tags and table numbers with a foil embossing kit."
"We printed our own menus using the font from our invitations and the pub drew up our seating plan on a chalk board."
"Rather than a traditional guest book we set up a polaroid camera and vintage themed fancy dress box which kept our guests entertained and has left us with lots of amusing snapshots."
"Selecting music for the day was probably one of the hardest tasks as we have such different tastes and we don't have a special song. We were hoping to avoid the embarrassment of a first dance shuffle but after giving in to peer pressure we deflected to the band for their suggestions and chose Stand By Me by Ben E King.
"We hired Super Rollers Acoustic via Bands for Hire – they were fantastic and one of our best investments. We really wanted a live band in the evening so that people could enjoy the music even if they didn't dance but that definitely wasn't a problem – the dance floor was packed from the start to end of their set."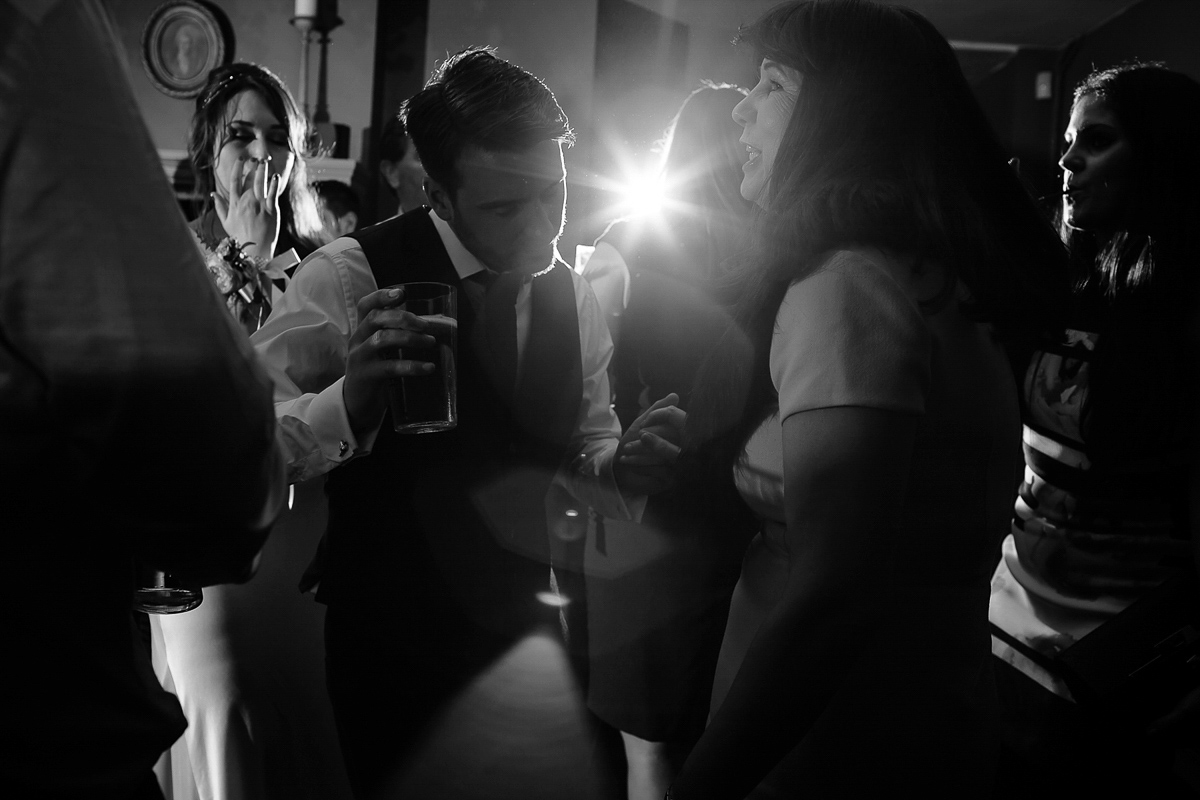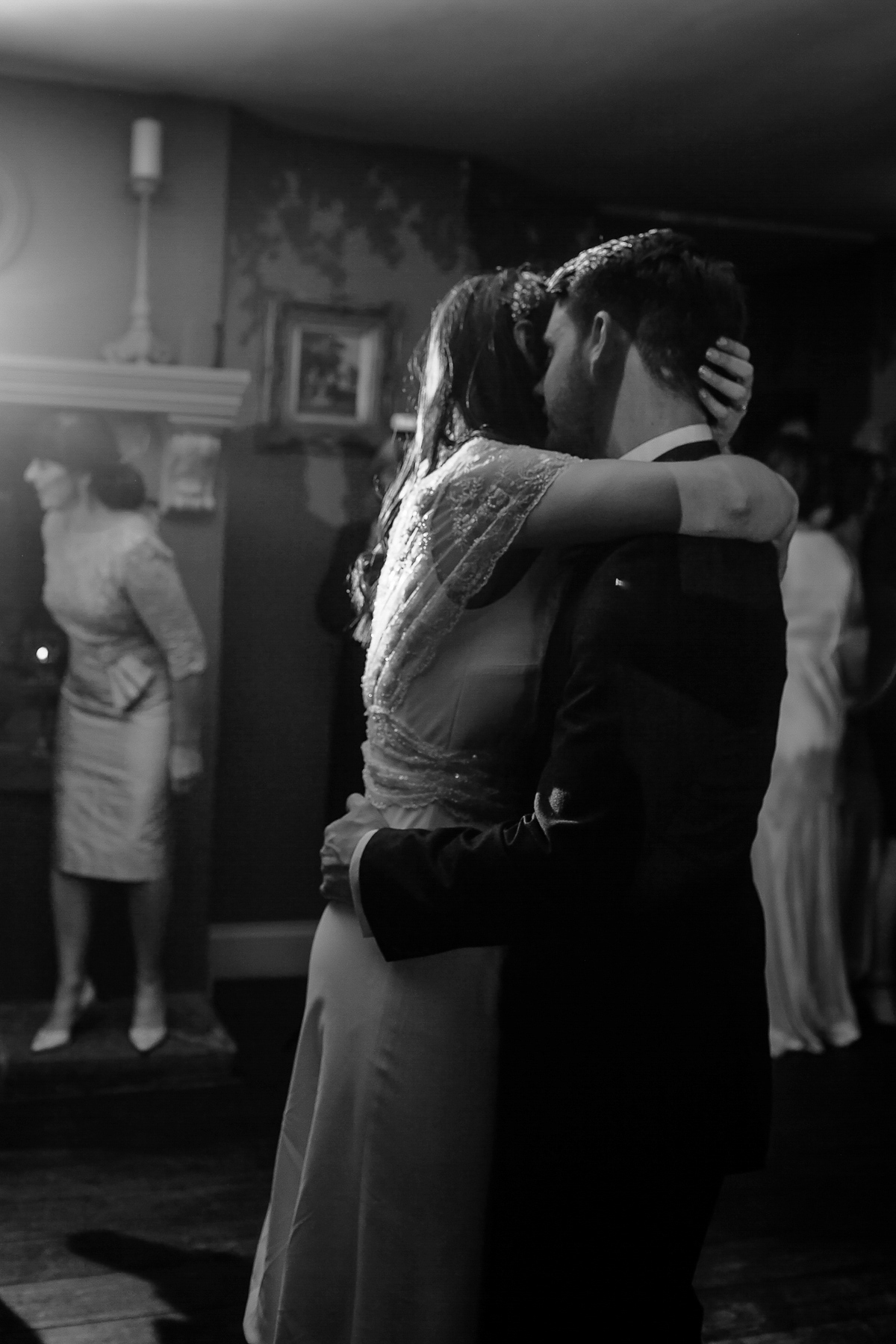 "There were so many special moments but if I had to name one it would probably be seeing Ash at the end of the aisle after so much anticipation. He was welling up which nearly made me lose it but once I reached him and took his hand it felt like we were lost in our own world and I could relax."
"We both agree that it was our perfect day and we wouldn't have changed a single thing. The feedback we received after the wedding was that it was very 'us' which was such a great compliment and probably the reason we had such an amazing day."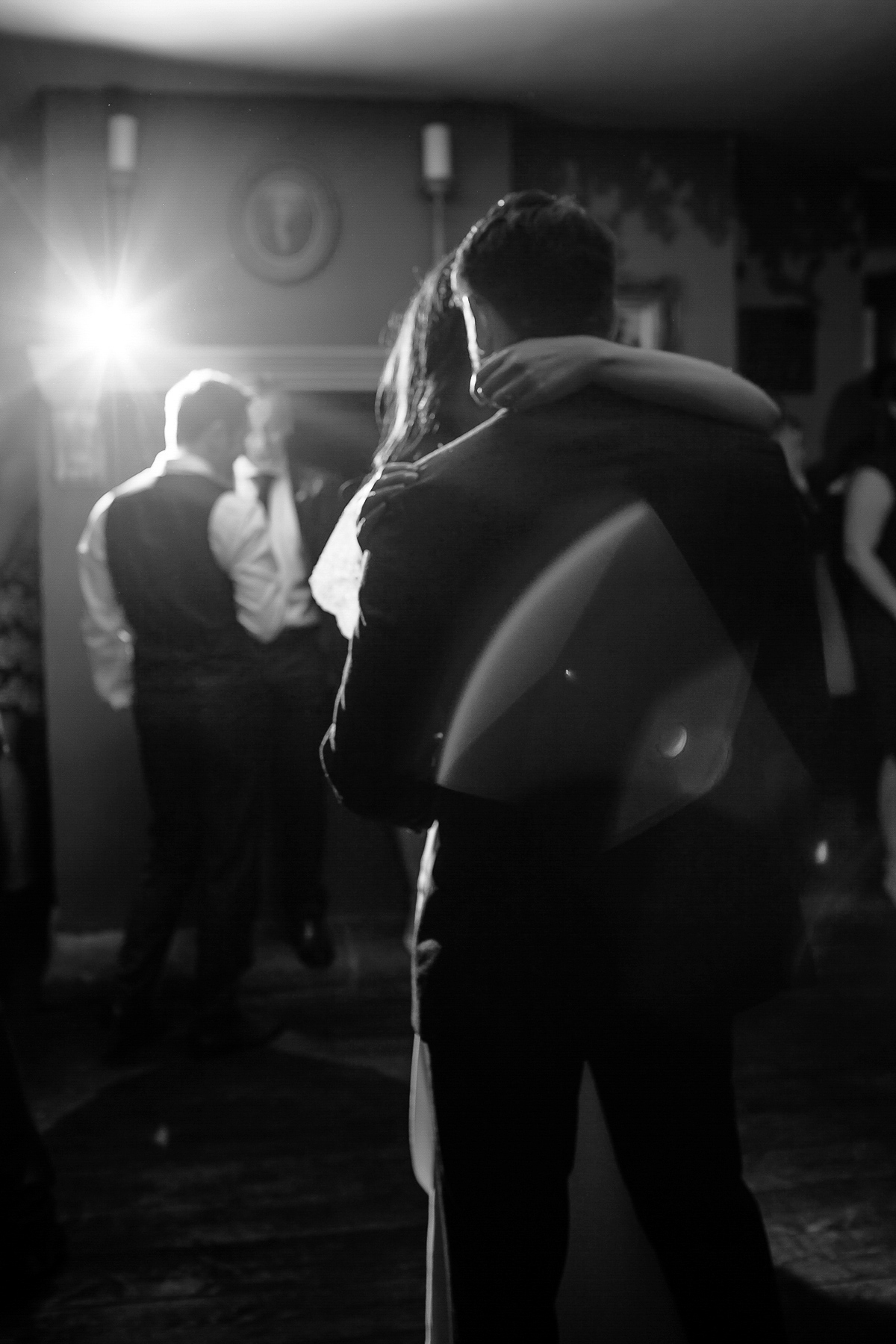 Words of Wedded Wisdom
"It's not always easy when planning a wedding but try and stay true to yourselves as a couple as much as you can. Our day felt more personal as a result and we don't have any regrets. Also, it might seem obvious but make time for each other as you can get caught up with all of your guests and the day goes by so quickly.
One of the biggest regrets I'd heard from other brides was that they hadn't had a wedding video so we made the decision to stretch our budget to accommodate one. It wouldn't have been fitting to have a digital film so we found Hugh and Chris of Hugh Farrow Films who specialise in vintage wedding films shot on super 8mm. It was such a great decision – their video is the perfect accompaniment to Joanna's photos."
My love and thanks to lovely Joanna Brown for sharing these images today, and of course to Rebecca and Ash for sharing their most precious memories with us too.
If you'd like to explore more wedding photography by Joanna Brown on Love My Dress you can do so here.
Annabel xx