How's the weekend treating you so far? I do so love that Saturday has become synonymous with beautiful destination weddings here at Love My Dress and today I'm delighted to be sharing the romantic wedding of Jesper and Hong Kiu with you all. The couple, who are based in Hong Kong, ventured to Phuket in Thailand for their glamorously lavish seaside nuptials at Sava Villa Essenza on 6th March this year. Hong Kiu wore three stunning gowns over the course of the day and married her love against a backdrop of softest blooms. Let's start with the couple's wedding film by Tichakorn Cinematography, part-edited by talented groom, Jesper.
In order to orchestrate their big day, Hong Kiu and Jesper chose our Little Book For Bride wedding directory members,  The Wedding Bliss Thailand to conceptualise their romantic ceremony and reception – a planning process which spanned the nine months after their engagement. Everything about this day has a soft, delicate, dream-like quality; from Hong Kiu's two elegant ballgowns to the pastel-toned stationery from Paper & Lace.
"We wanted to have a ceremony beside the sea. I liked Alice in Wonderland when I was a child, so we used flowers to decorate our wedding venue to make it look like a fairy tale and when it came to the colour selection, I liked that light pink gave our day more of a My Fair Lady style."
Photography by darinimages
"IAMFLOWER were our florists. We chose decoration closer to a Western style rather than the Thai style more common in Phuket."I absolutely love that in addition to the romantic blush, pink and cream tones of their Western-style ceremony and reception, Hong Kiu and Jesper chose to start the day by honouring their heritage with a beautiful Chinese wedding tea ceremony.
The tea ceremony is such a significant event in a modern chinese wedding and a chance for the bride to be formally introduced to the groom's family.
In keeping with modern tradition, Hong Kiu and Jesper had their intimate tea ceremony in the morning with closest family and our bride wore a stunningly intricate, orientally-inspried red gown. That vibrant colour is so beautiful against Hong Kiu's softly tumbling locks, styled by Kimmy Image.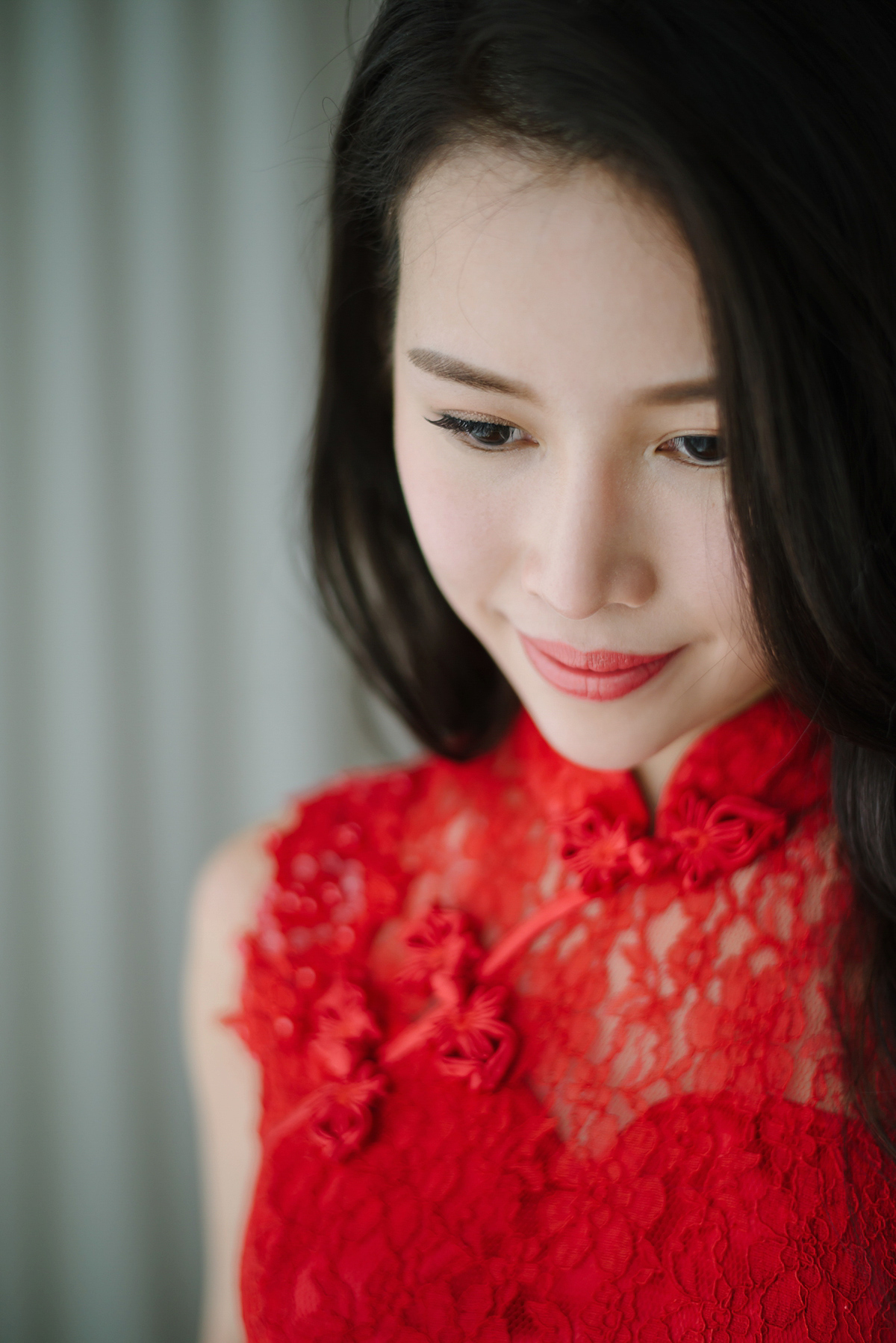 Aren't the pretty Piyama robes that the girls wore to get ready in sweet? Hong Kiu chose a bejewelled pair of Badly Mischka shoes in a delicate shade of pink to complement her romantic Jenny Yoo dress and a Swarovski necklace finished off her ensemble.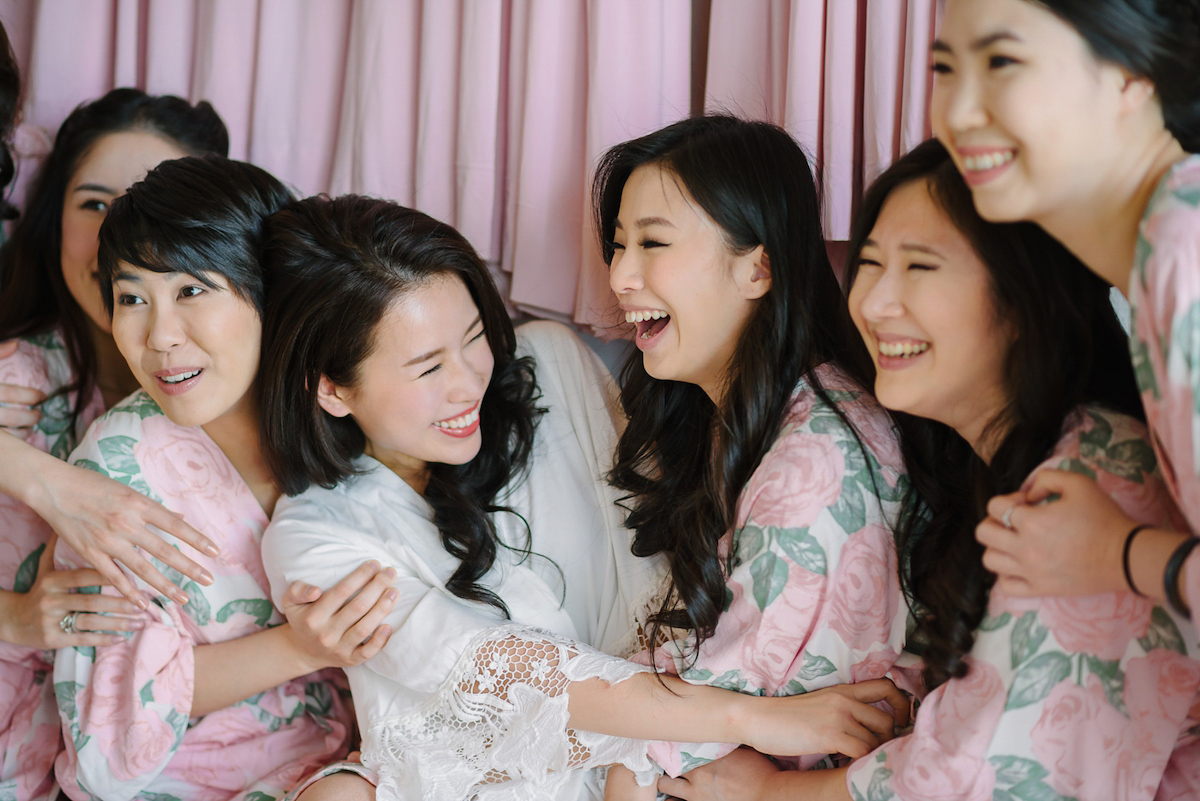 "For my ceremony dress I chose Esme by Jenny Yoo from Miss Bride Wedding Shop and my evening dress was Watters – the Carina Corset and Ahsan Skirt bought from BHLDN."
"I went for a light-weight, soft, flowing feeling for the gown and evening dress, which was also suitable for walking along the beach."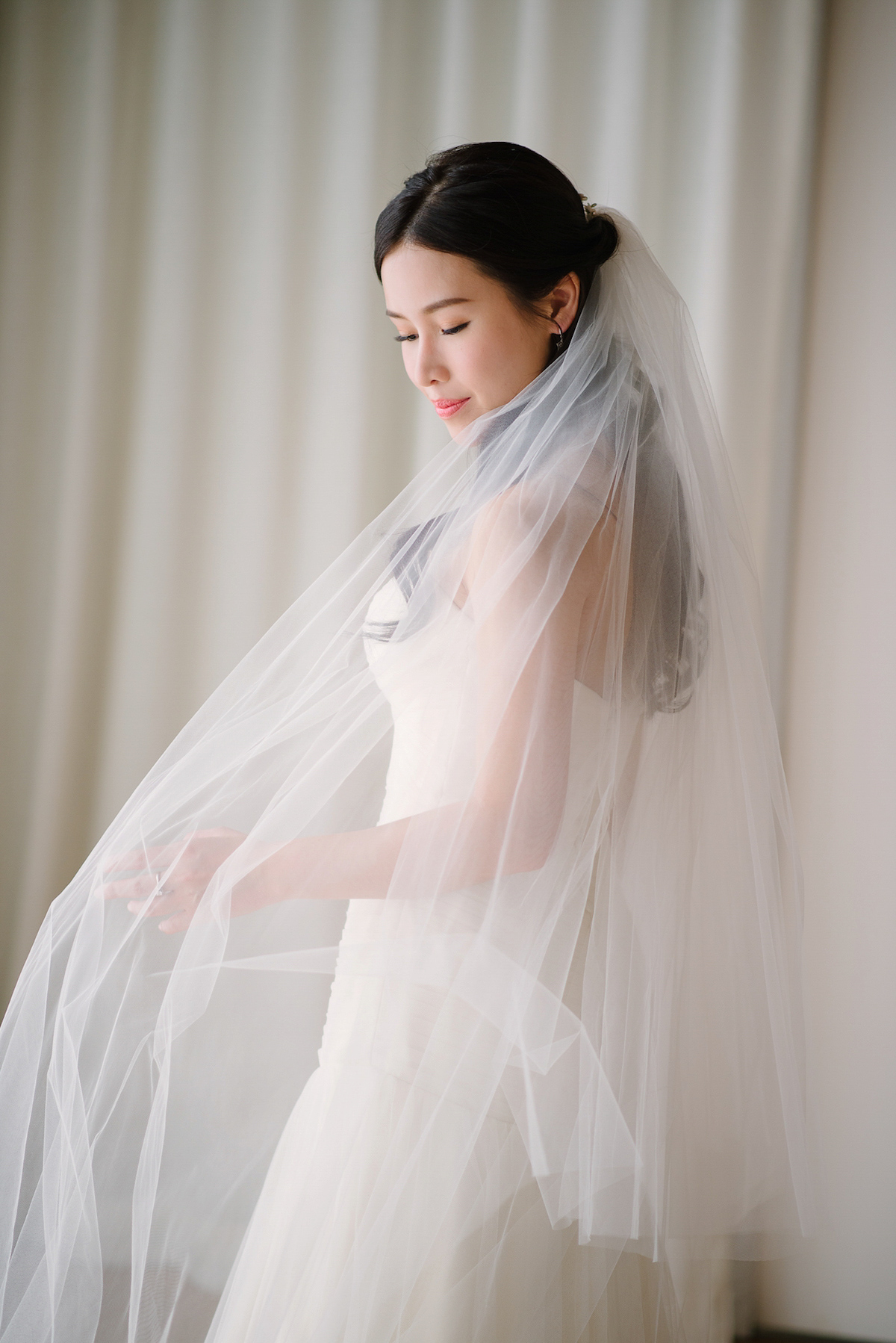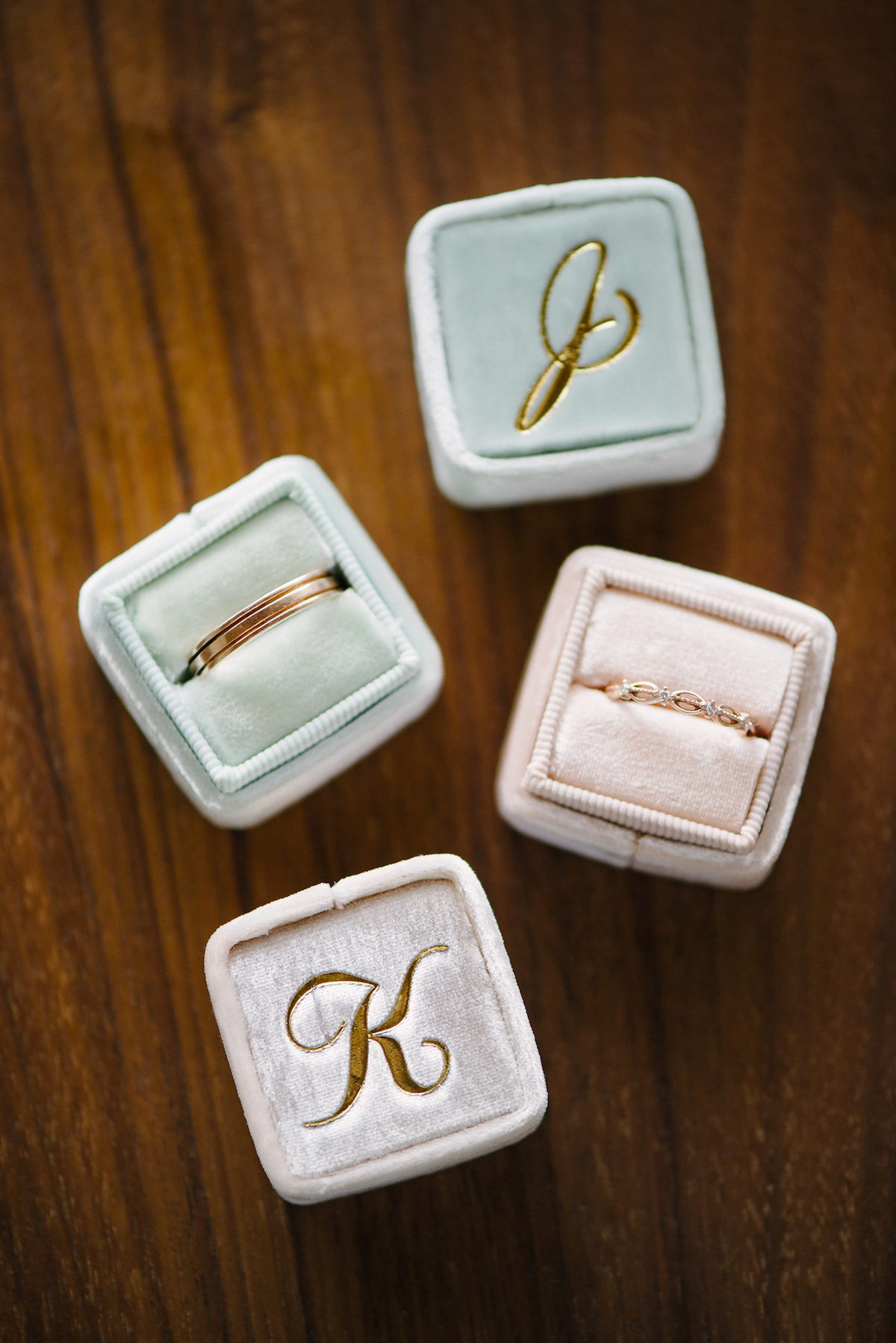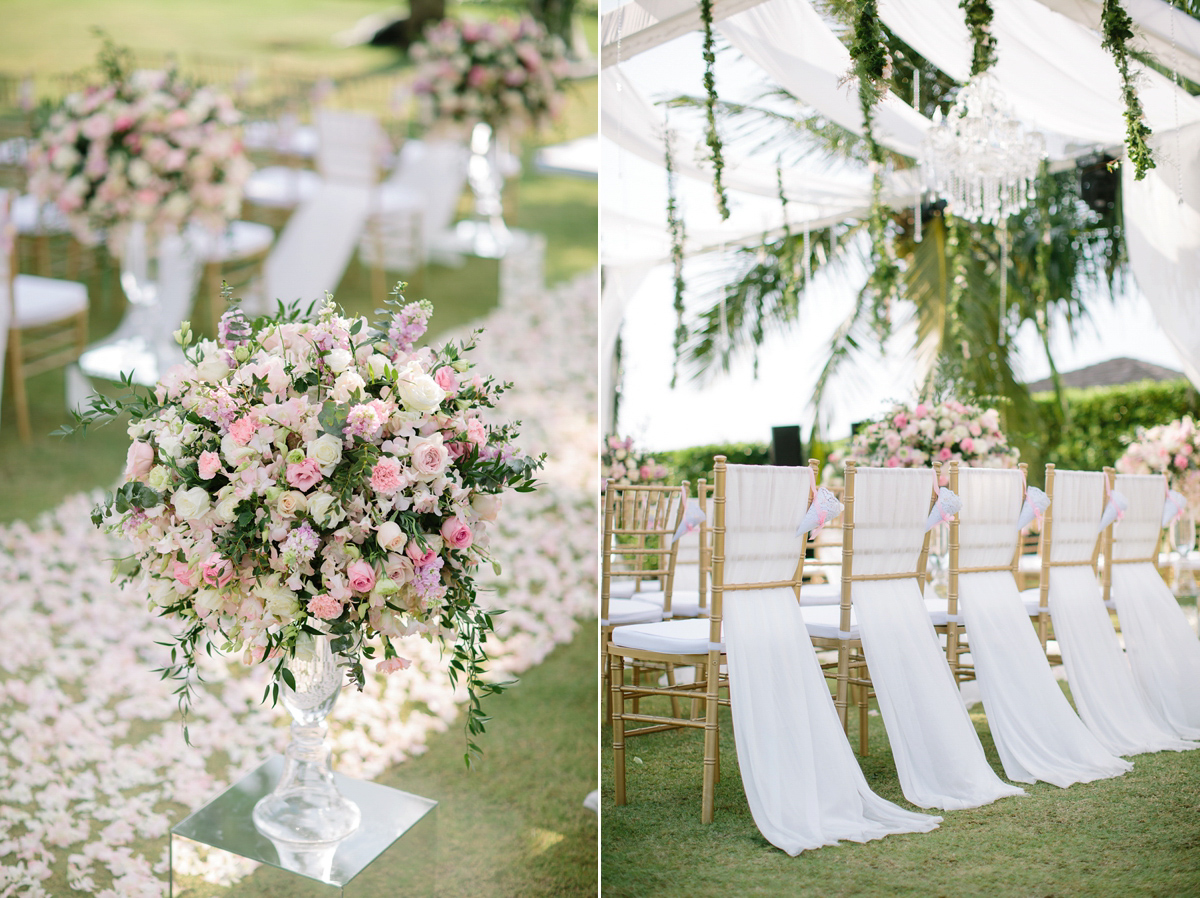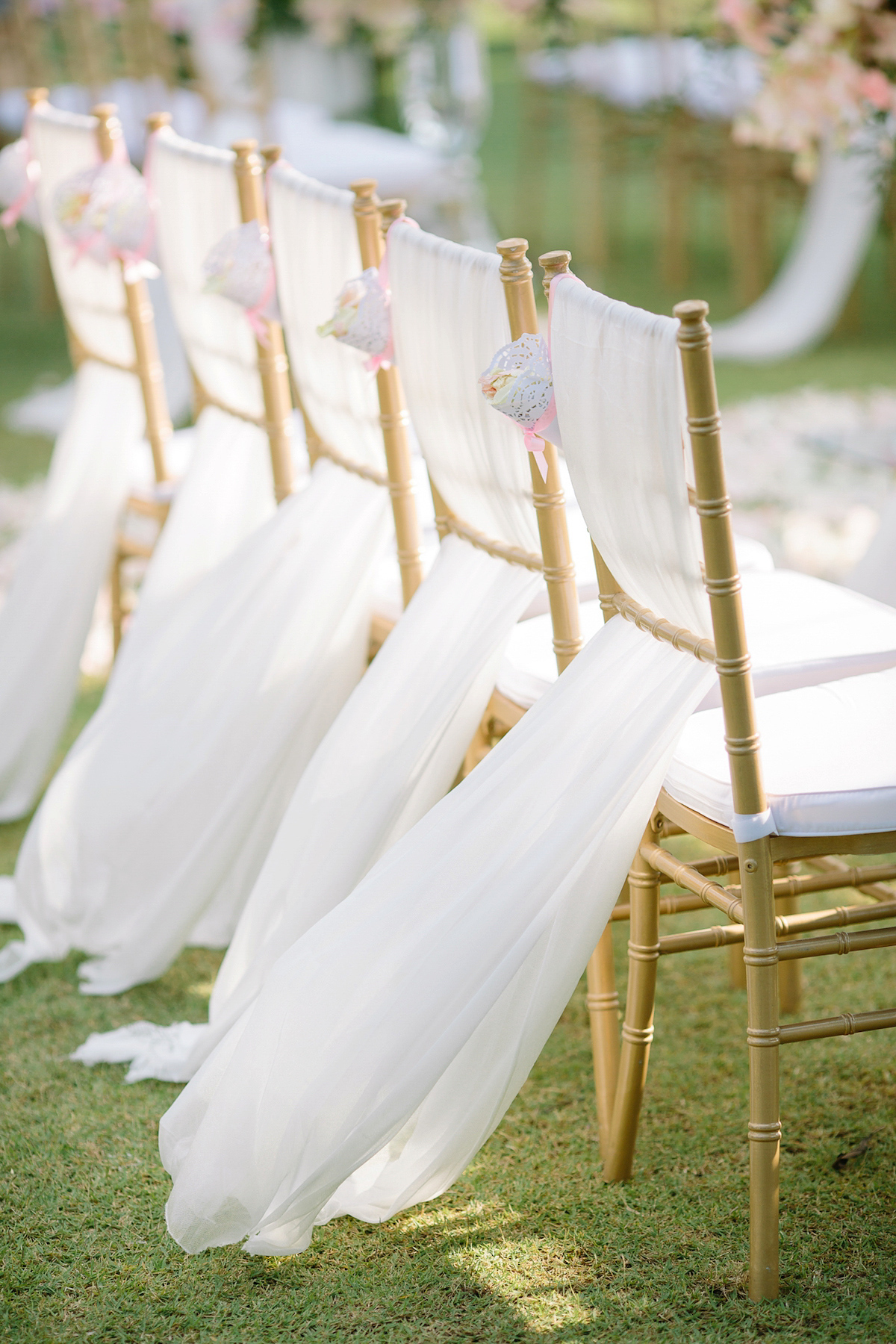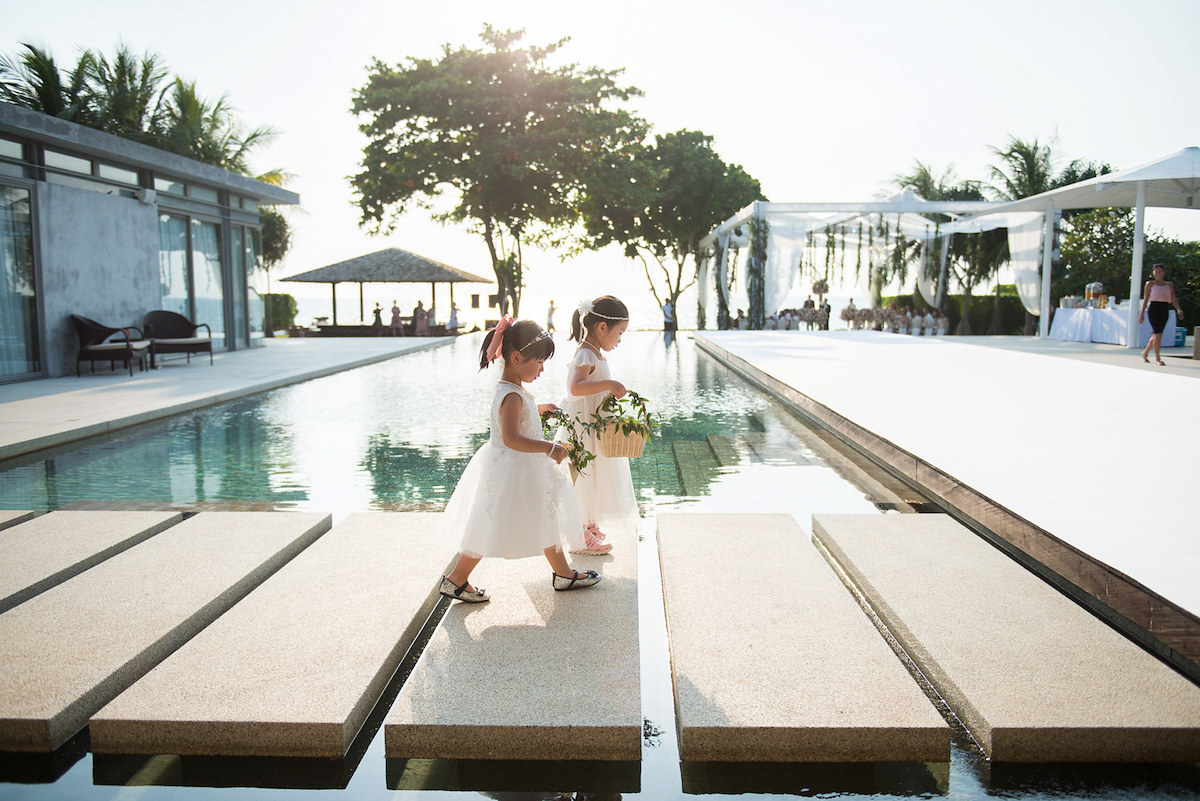 Hong Kiu walked down to the aisle on the arm of her father to From Yesterday by the Holunson Orchestra. Her groom looks so dapper in his Mode suit, a modern prince charming to her fairy-tale inspired bridal look.
Further accentuating the dream-like quality of Hong Kiu and Jesper's ceremony was a veritable plethora of soft blousy blooms in sugar-sweet shades.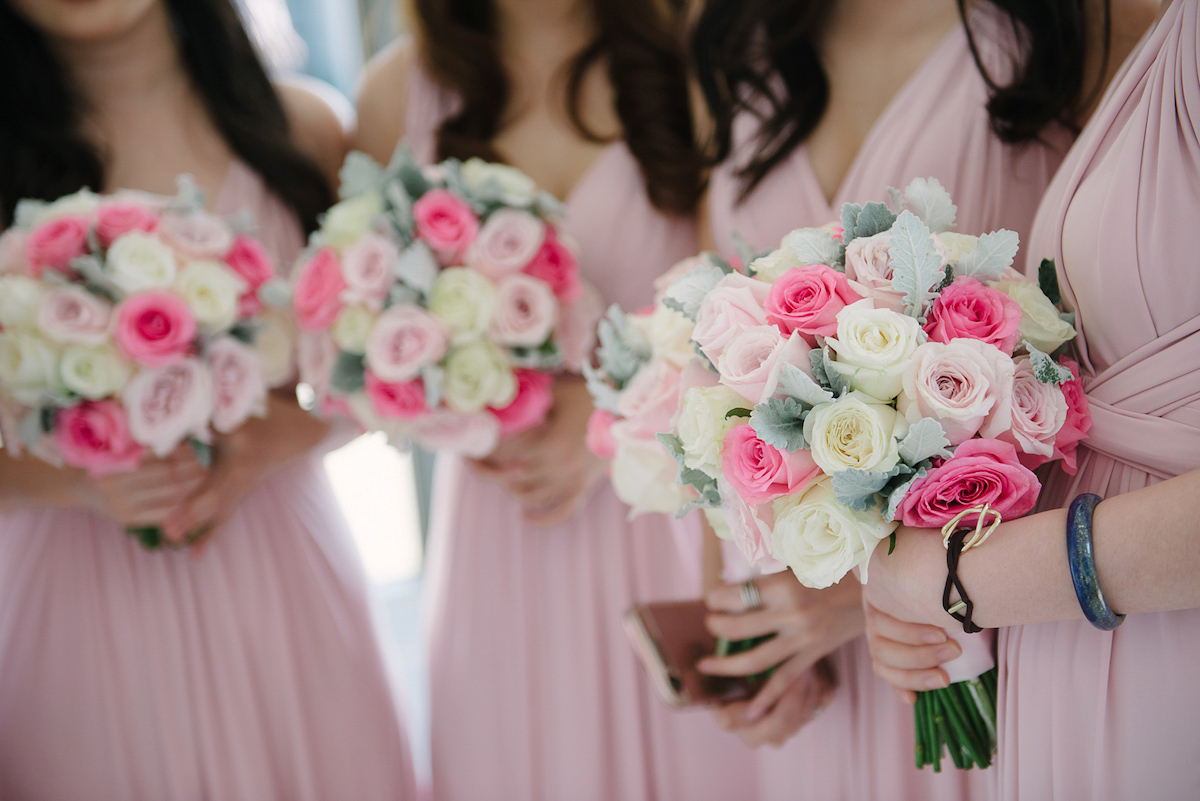 The couple exchanged rings from Futago, chosen for their vintage style and simplicity. It's so lovely to be able to share Hong Kiu's wedding vows with you; they're so incredibly poignant, I just hope I've managed to do them justice and communicate something of the original meaning:
"It takes a decade for two unknown people to find each other to ride on the same boat,
While it takes a century for a man and a woman to have a chance to have both bed and board. 
In Buddhism there is a saying, 'may our shoulders cross to meet each other in our lives, because we have already met five hundred times in pre-existence'."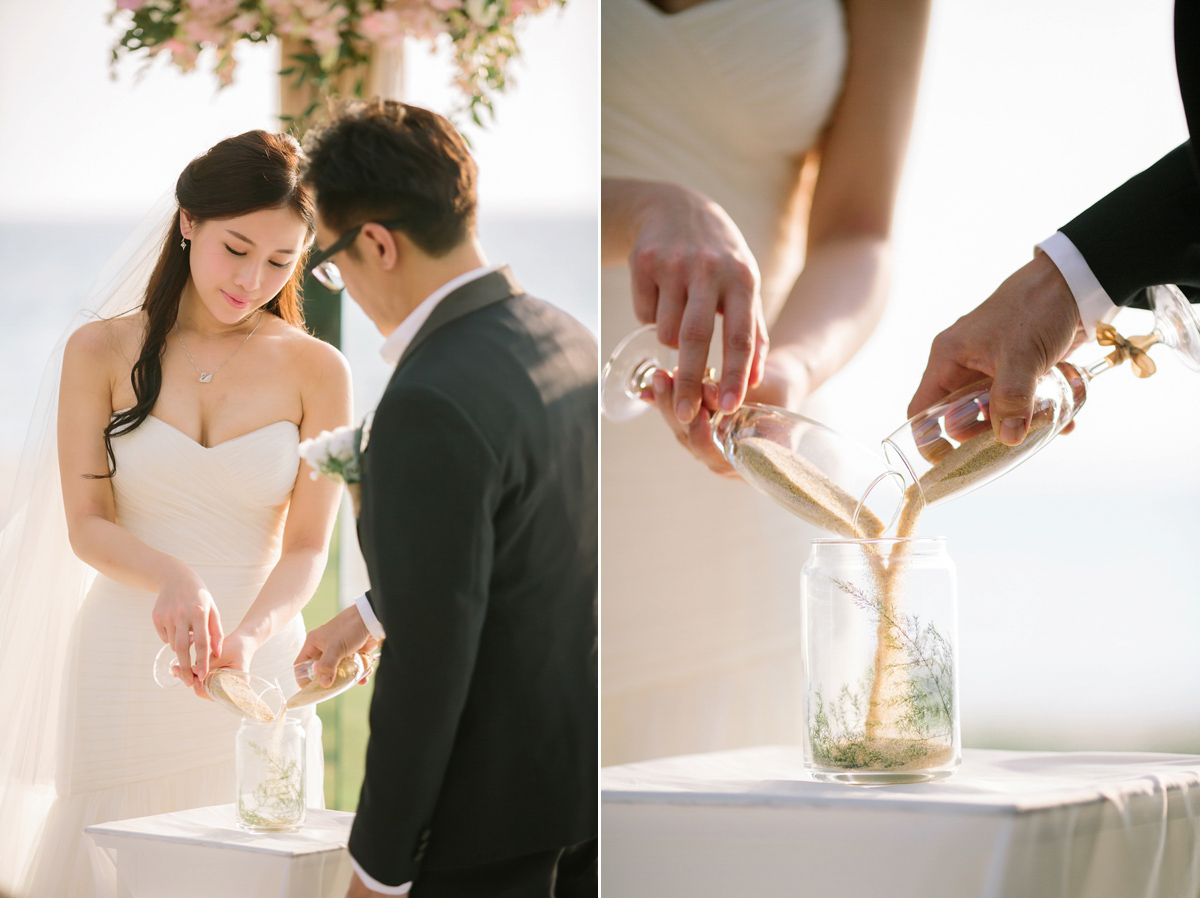 "We liked the part of our ceremony where we had the exchange of vows; it was both meaningful and touching – thinking about how many years had passed waiting for us to meet, knowing that and being able to live together in this life."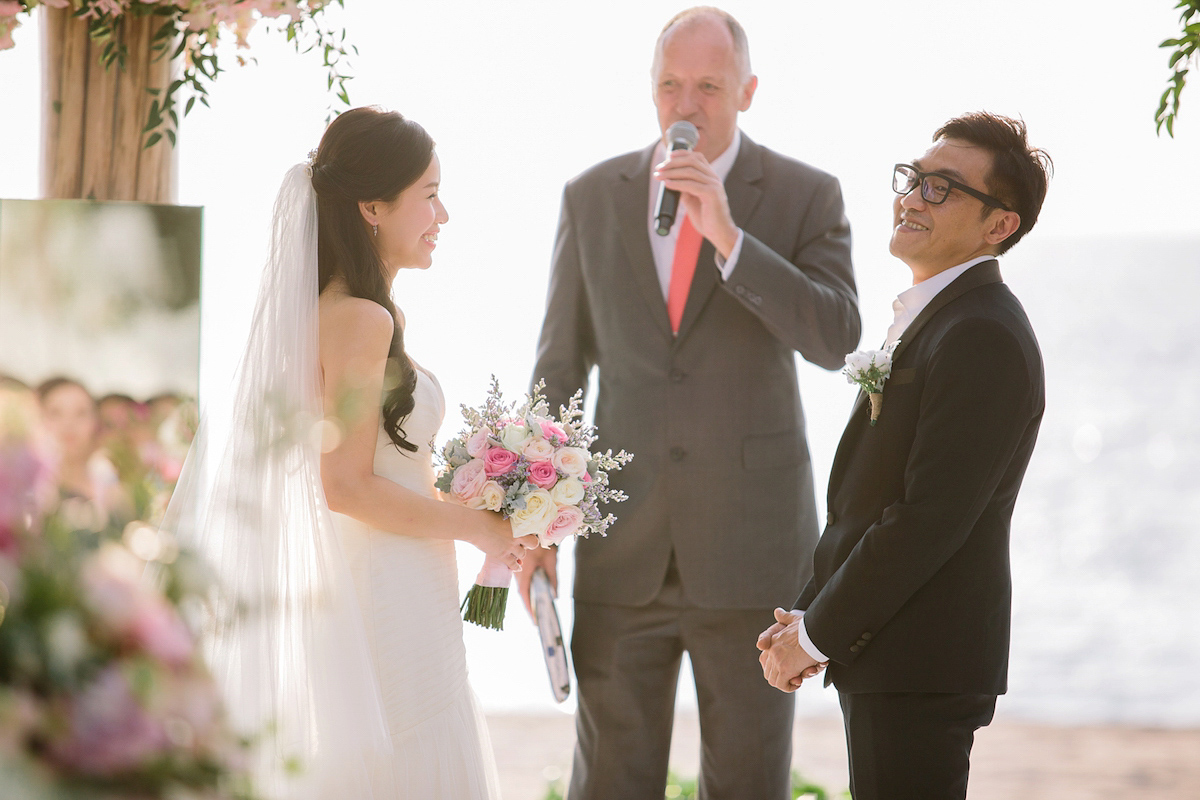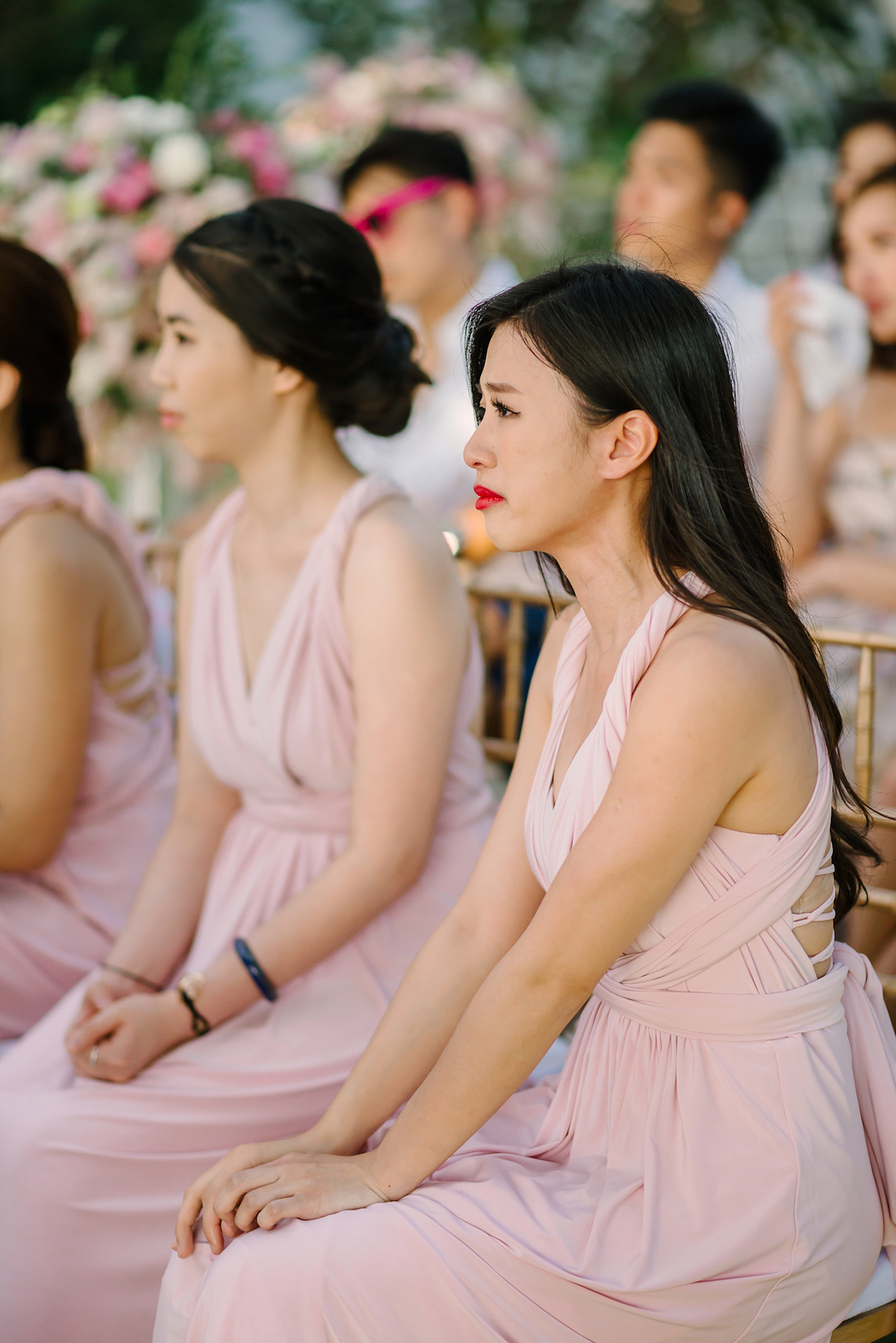 Hong Kiu and Jesper chose Phuket-based photographer Darin to capture their day. Darin prides herself in documenting stories and fleeting portrayals of emotion and she's certainly captured a depth of feeling in these images, as well as highlighting the many beautiful details that went into creating this opulent celebration.
"Darin is a wedding photographer who works with her heart, therefore she captures so many great reactions at different moments."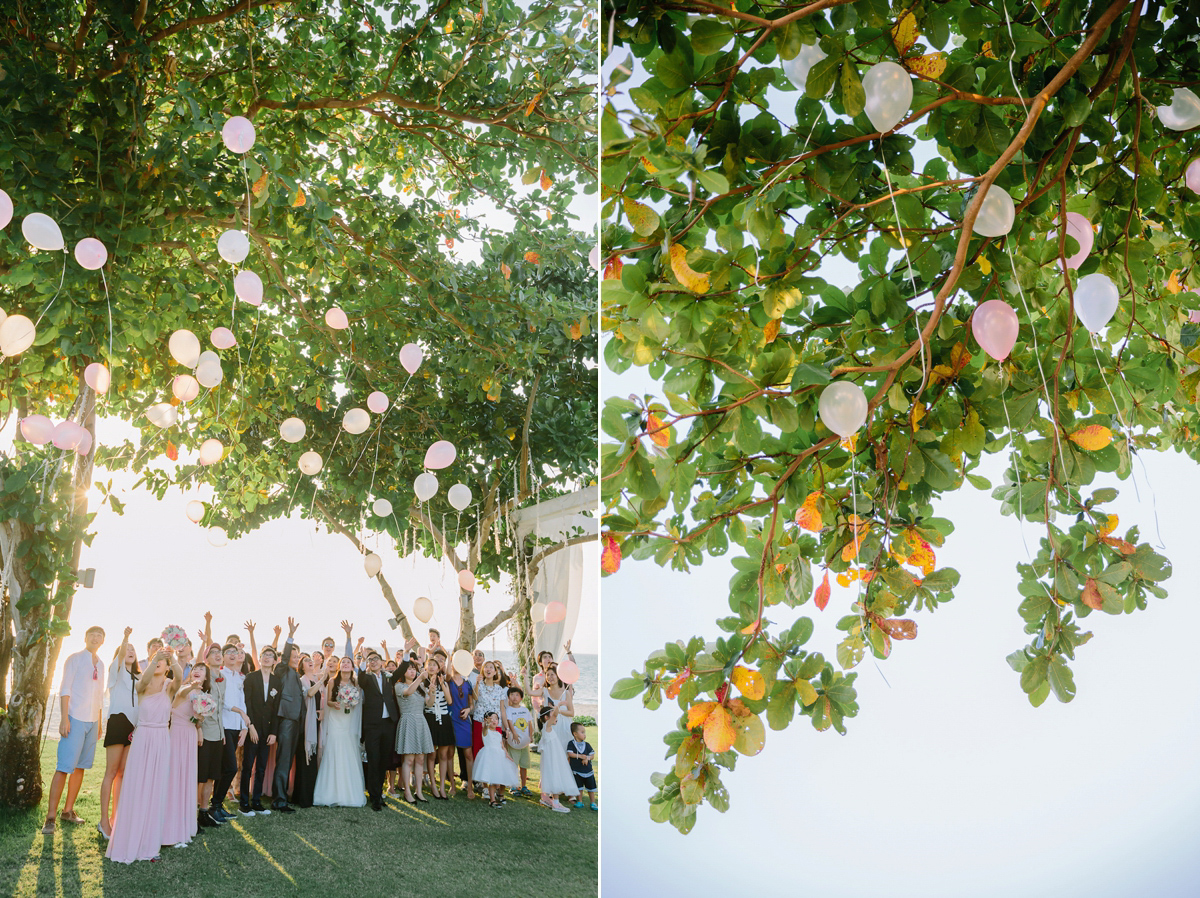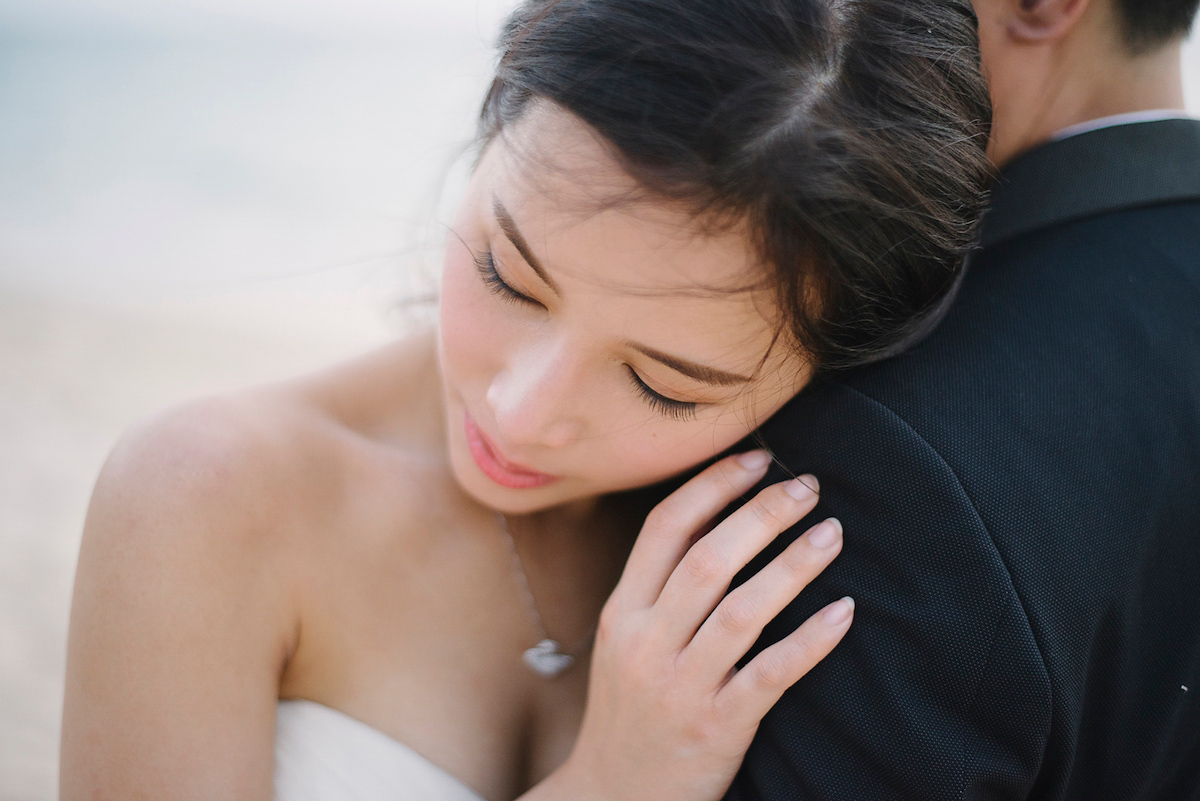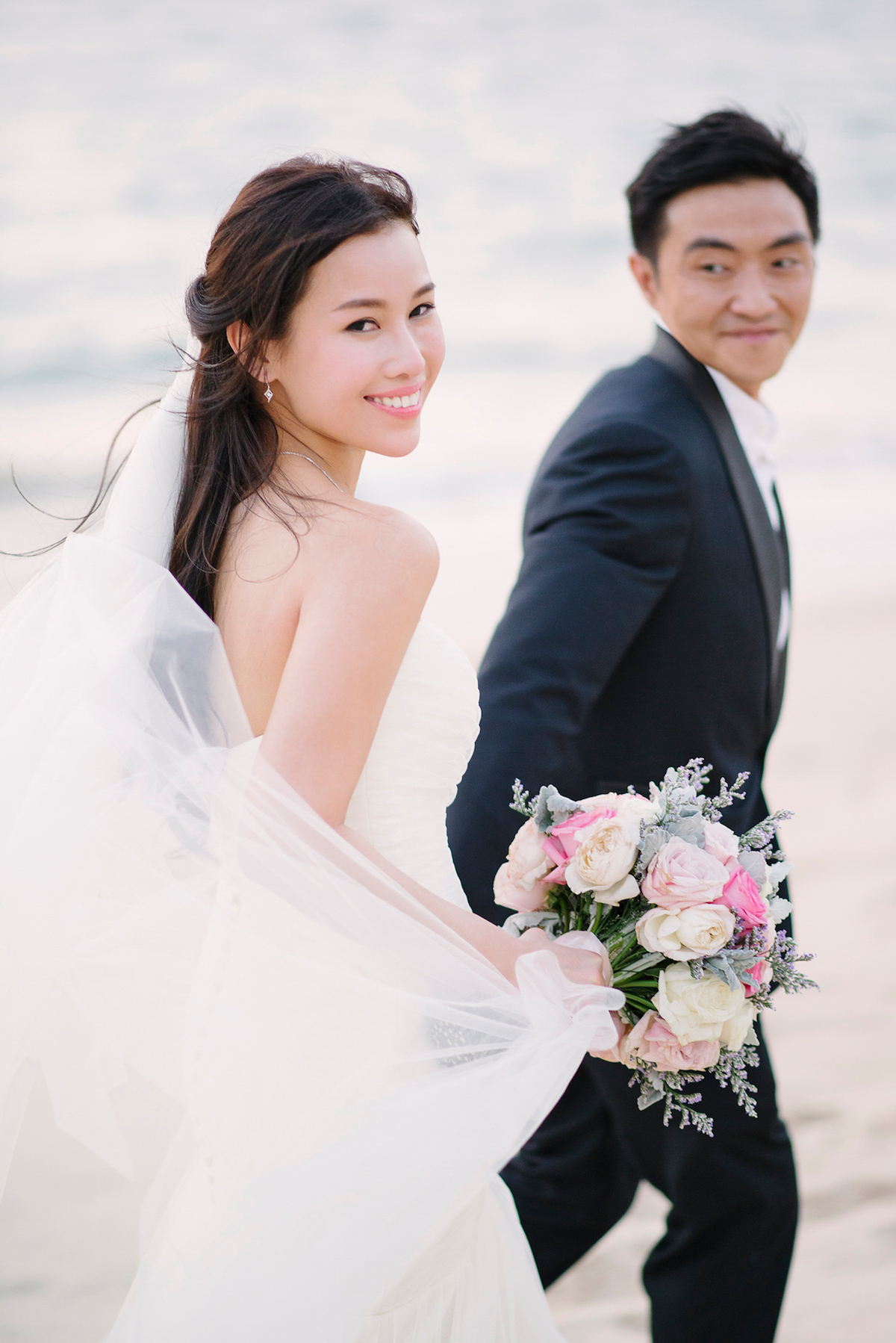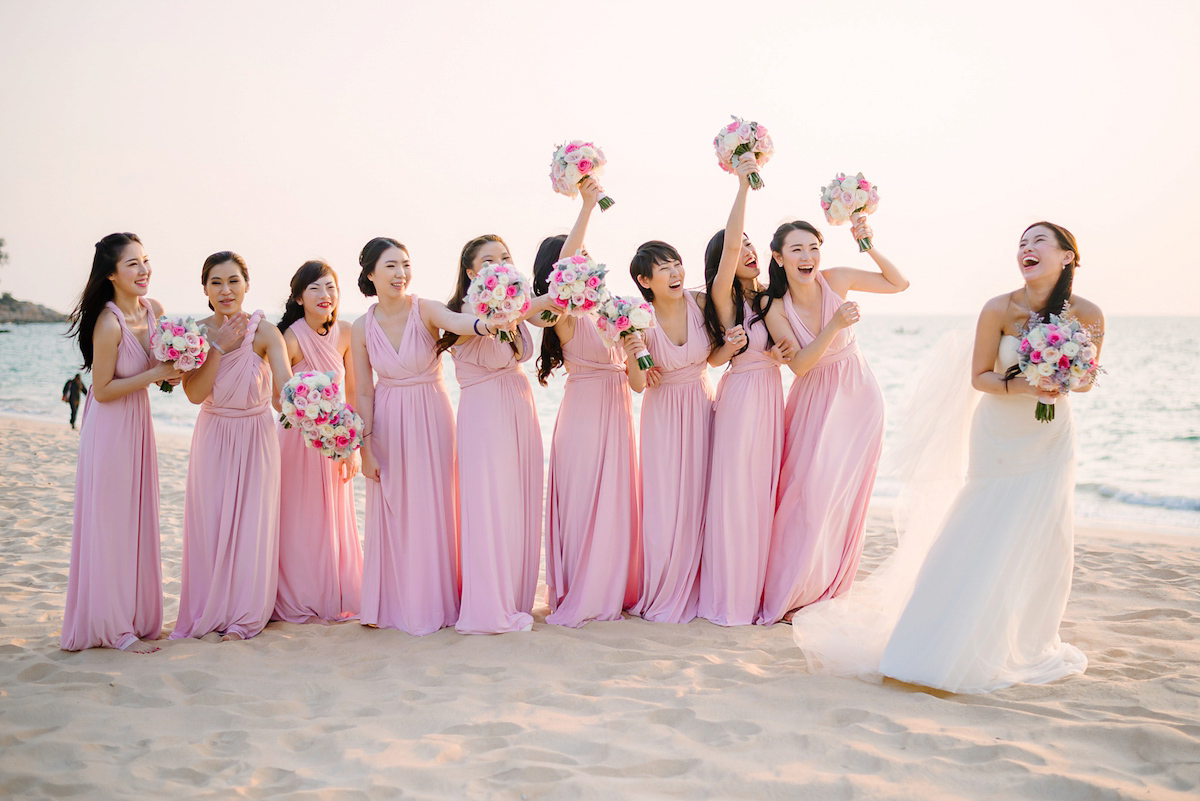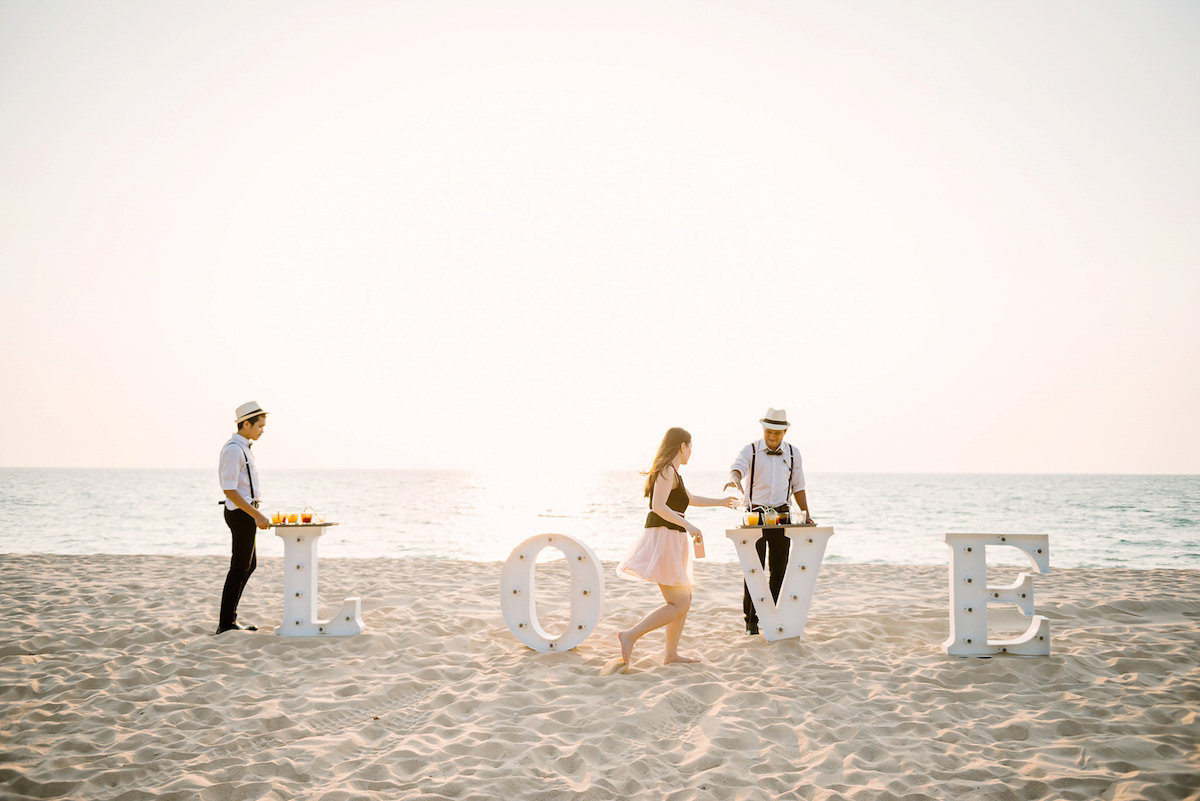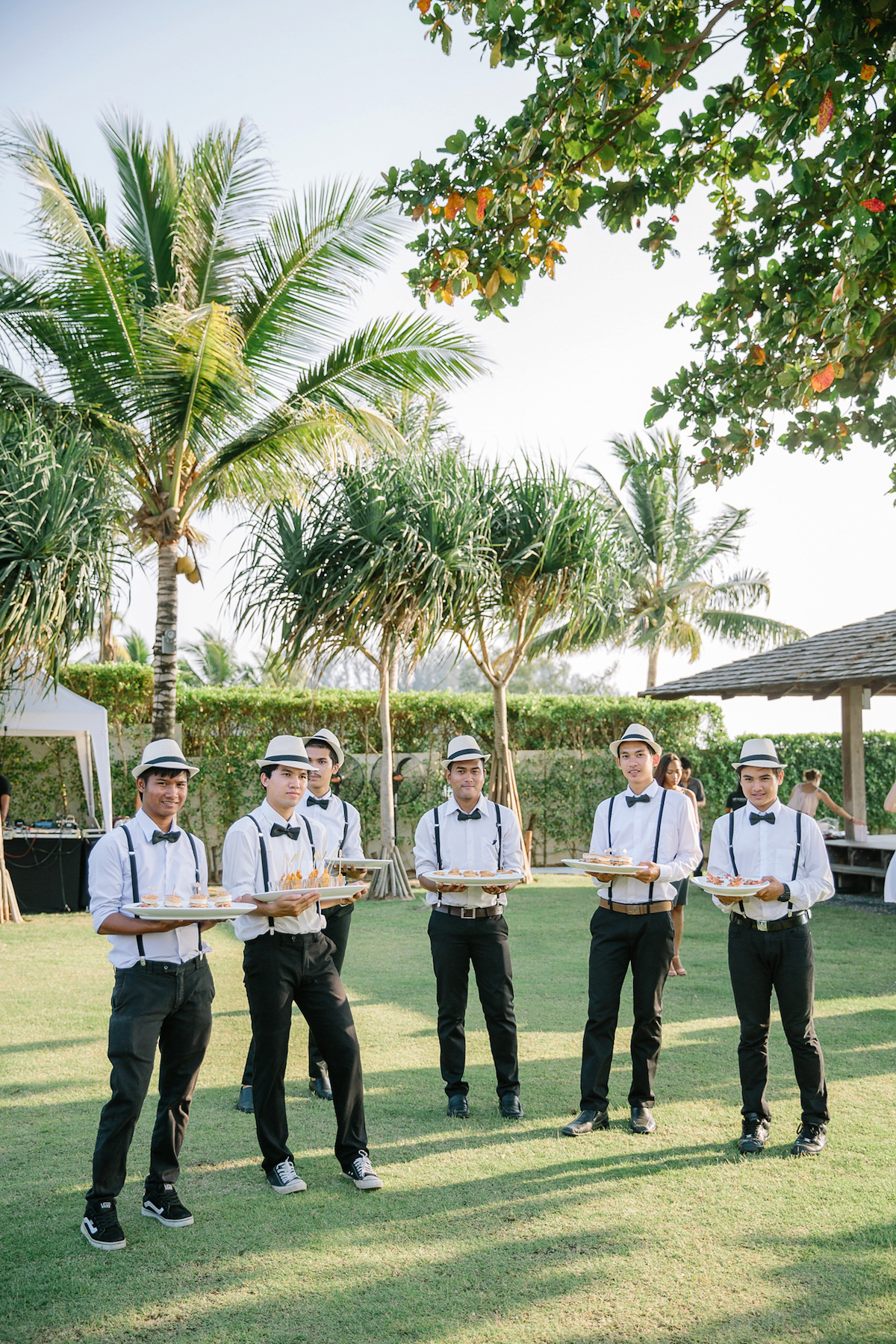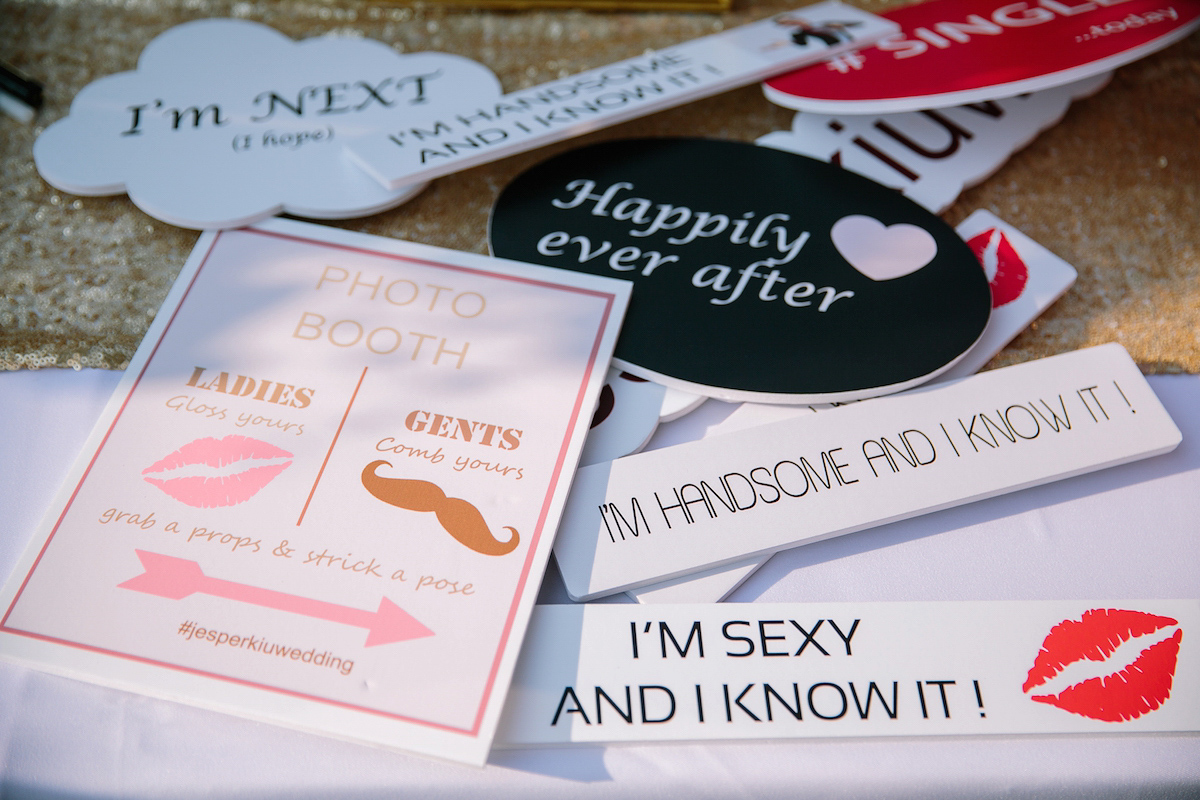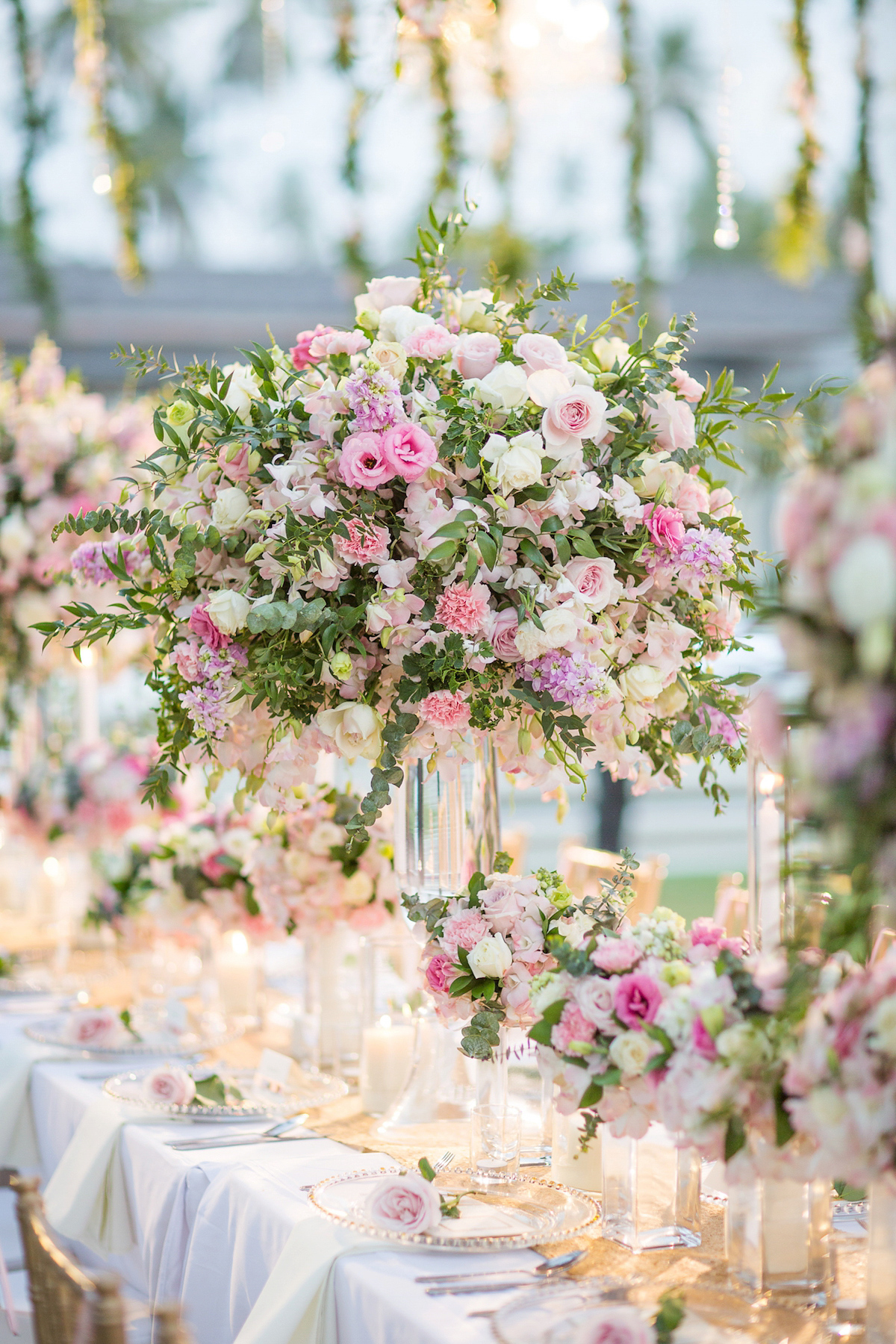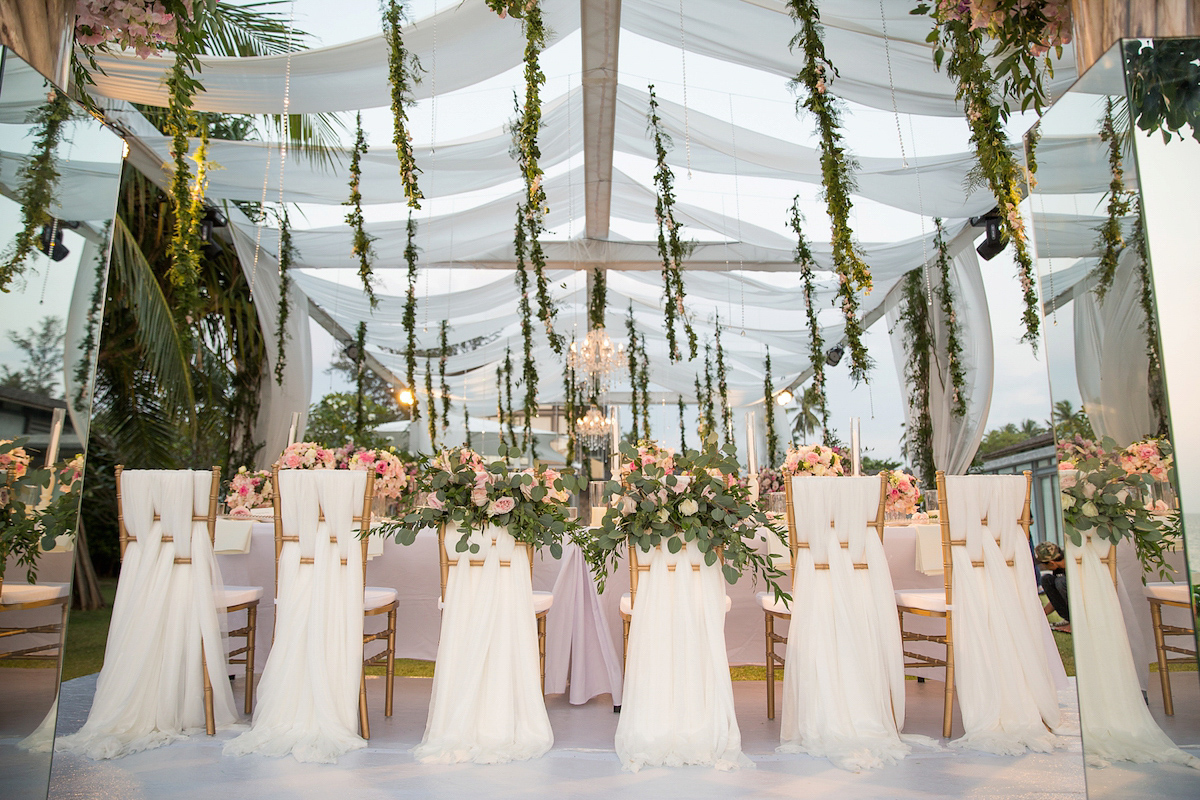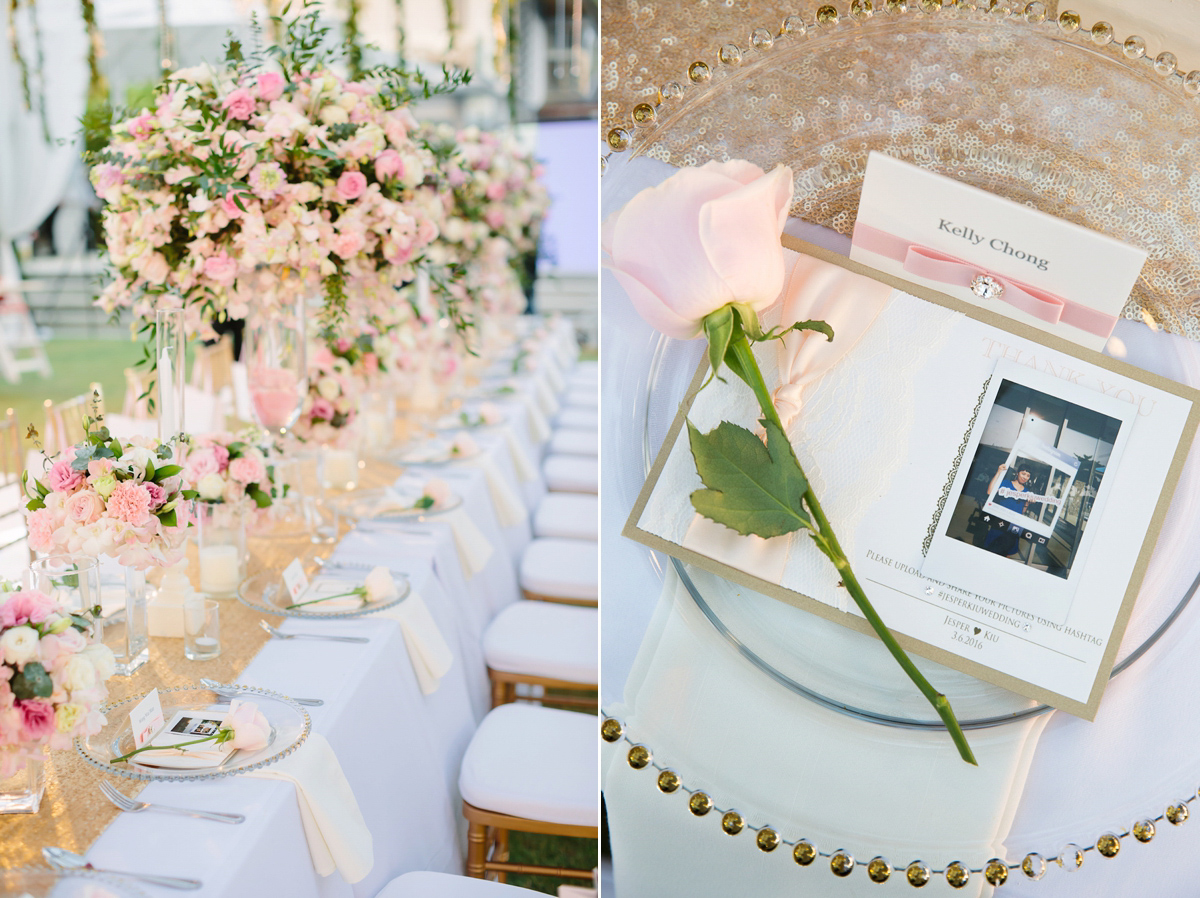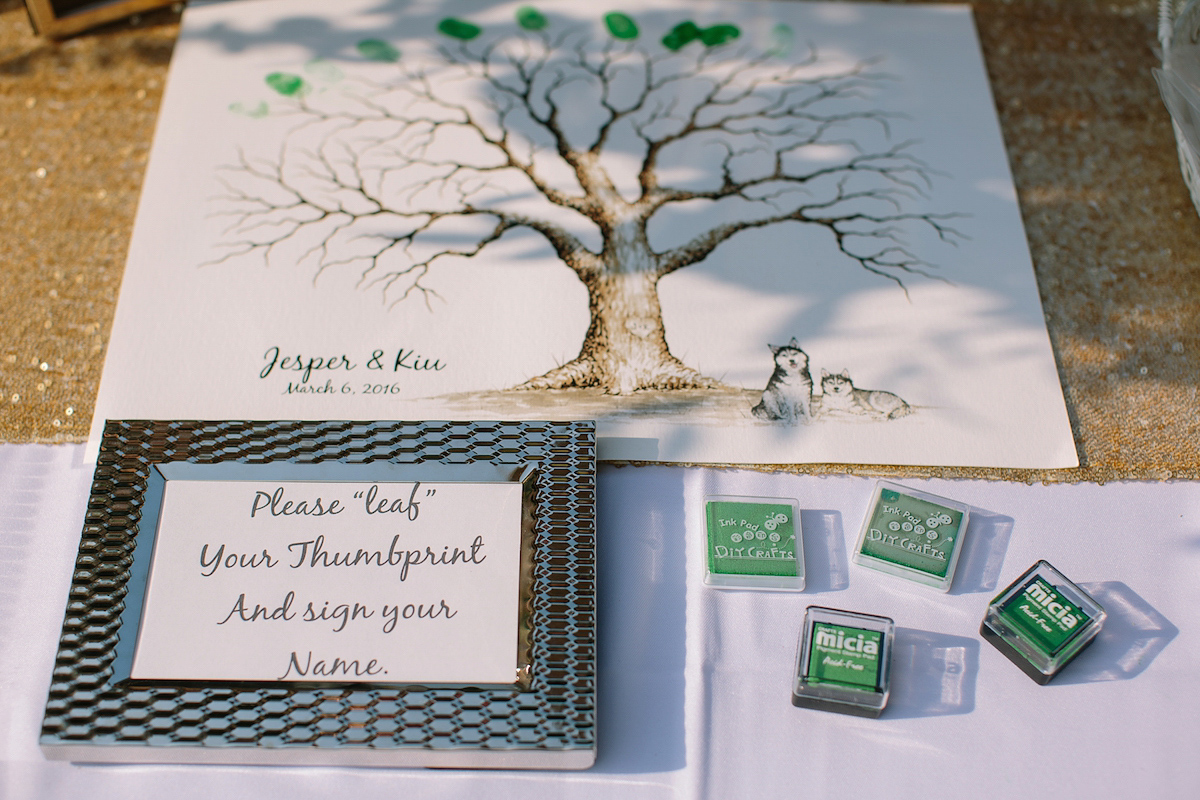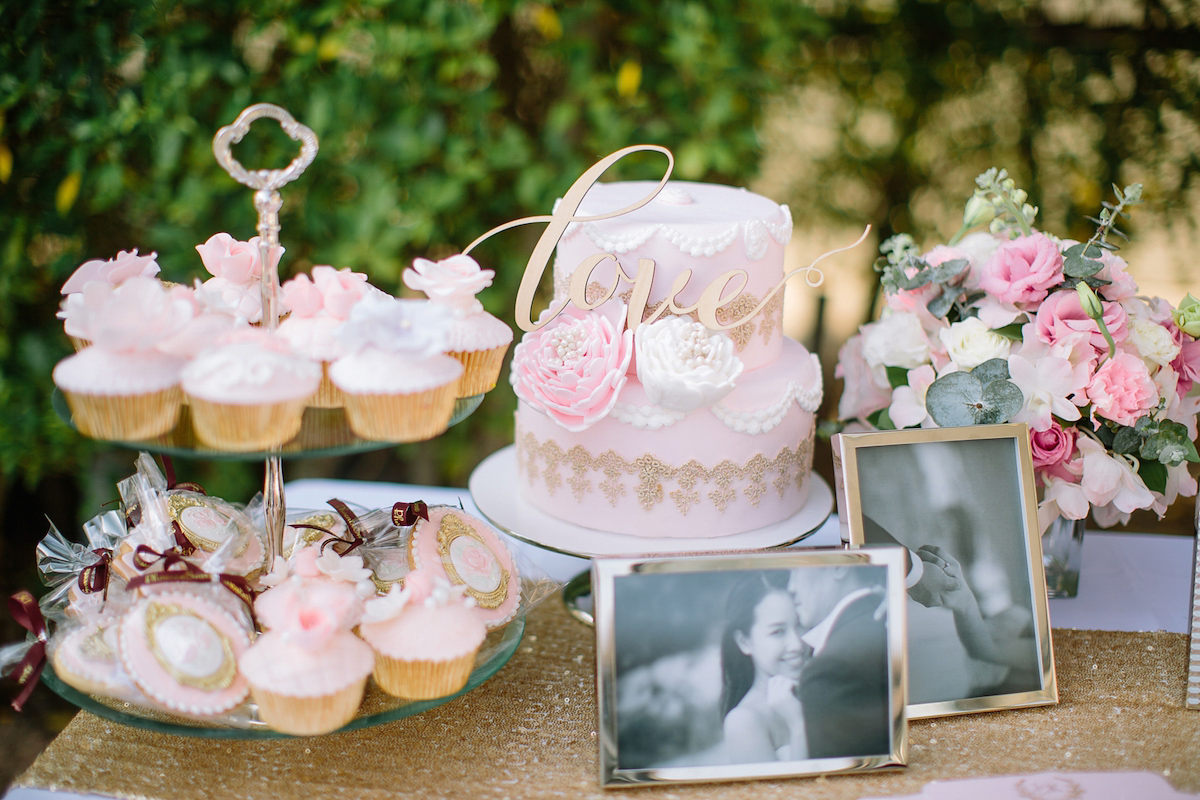 As you know, we here at Love My Dress are 100% supportive of couples that do 'their day, their way'. It was so lovely to hear that Hong Kiu and Jesper honoured their Chinese heritage with a very carefully thought out seating plan for their guests, but that the bride also eschewed tradition by making a speech.
"The guest seating arrangement is very import in Chinese marriage culture. We also had karaoke, a photo booth and fireworks to entertain everyone."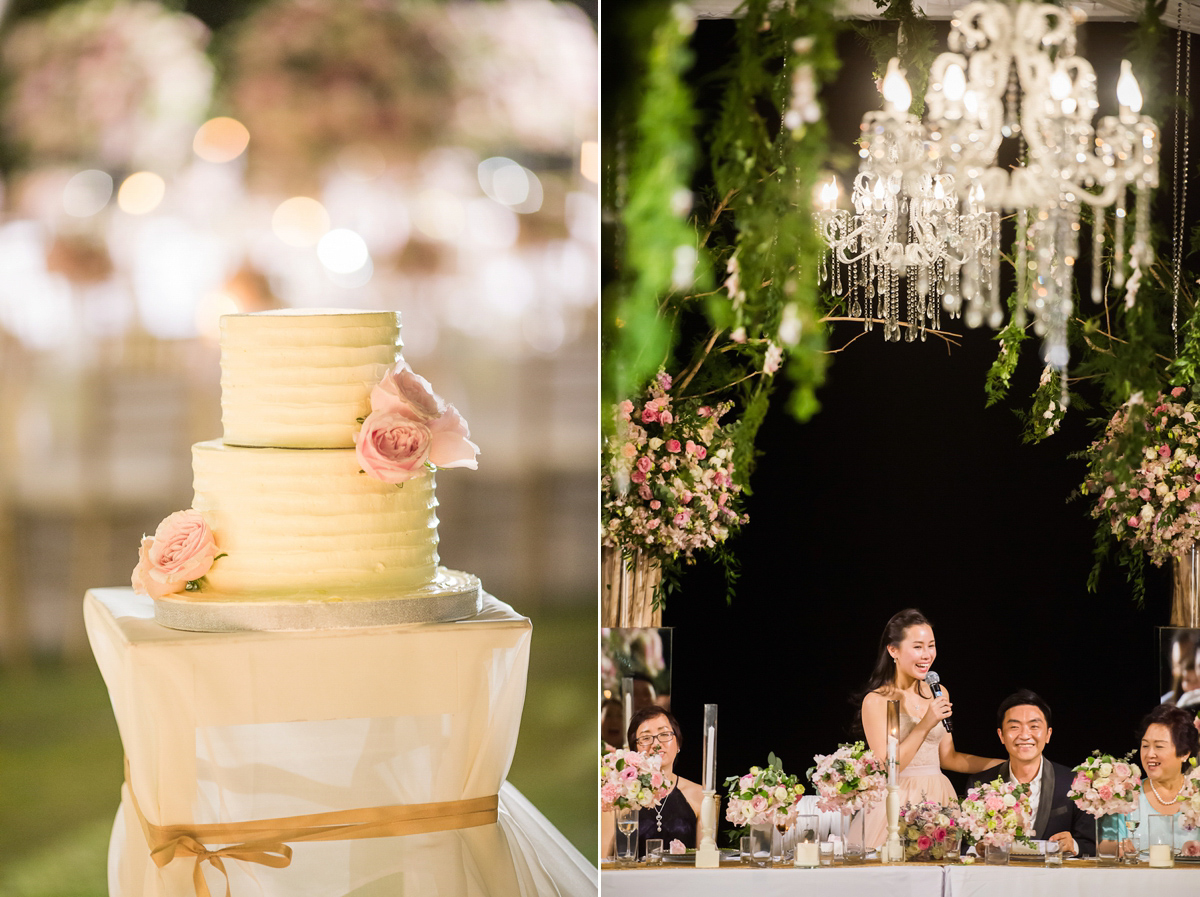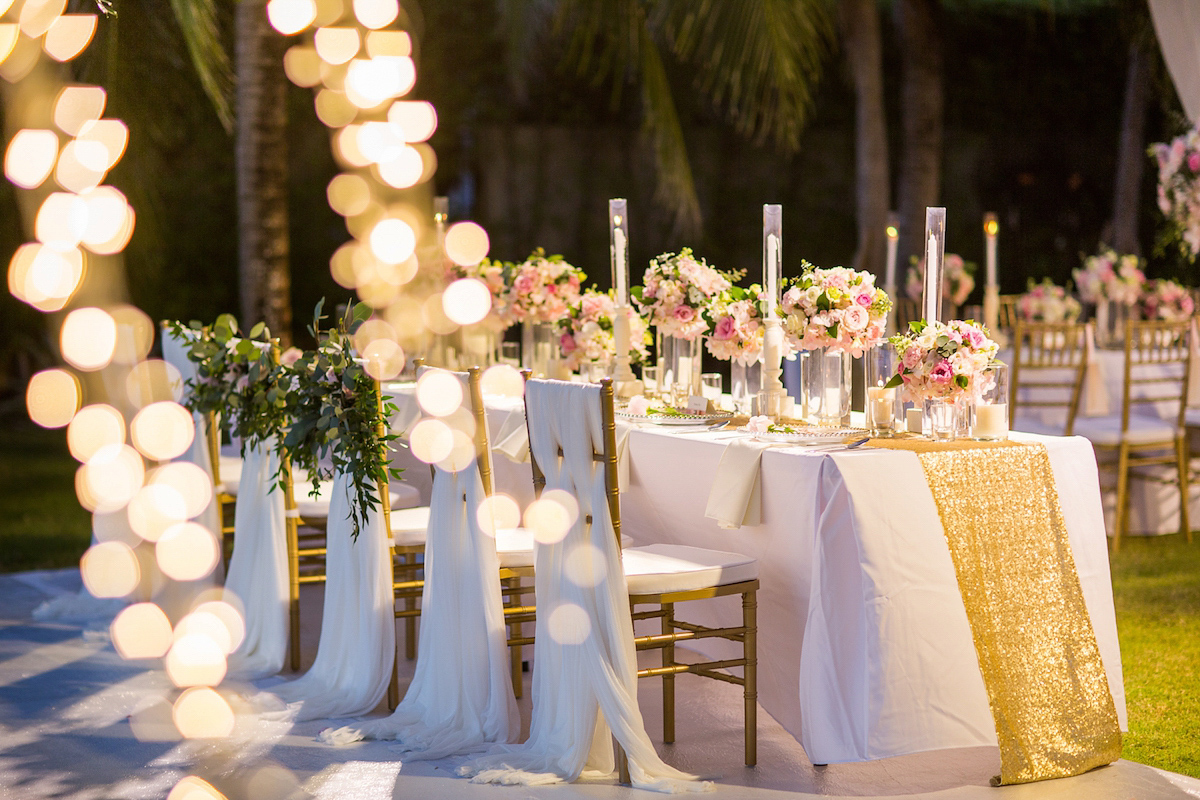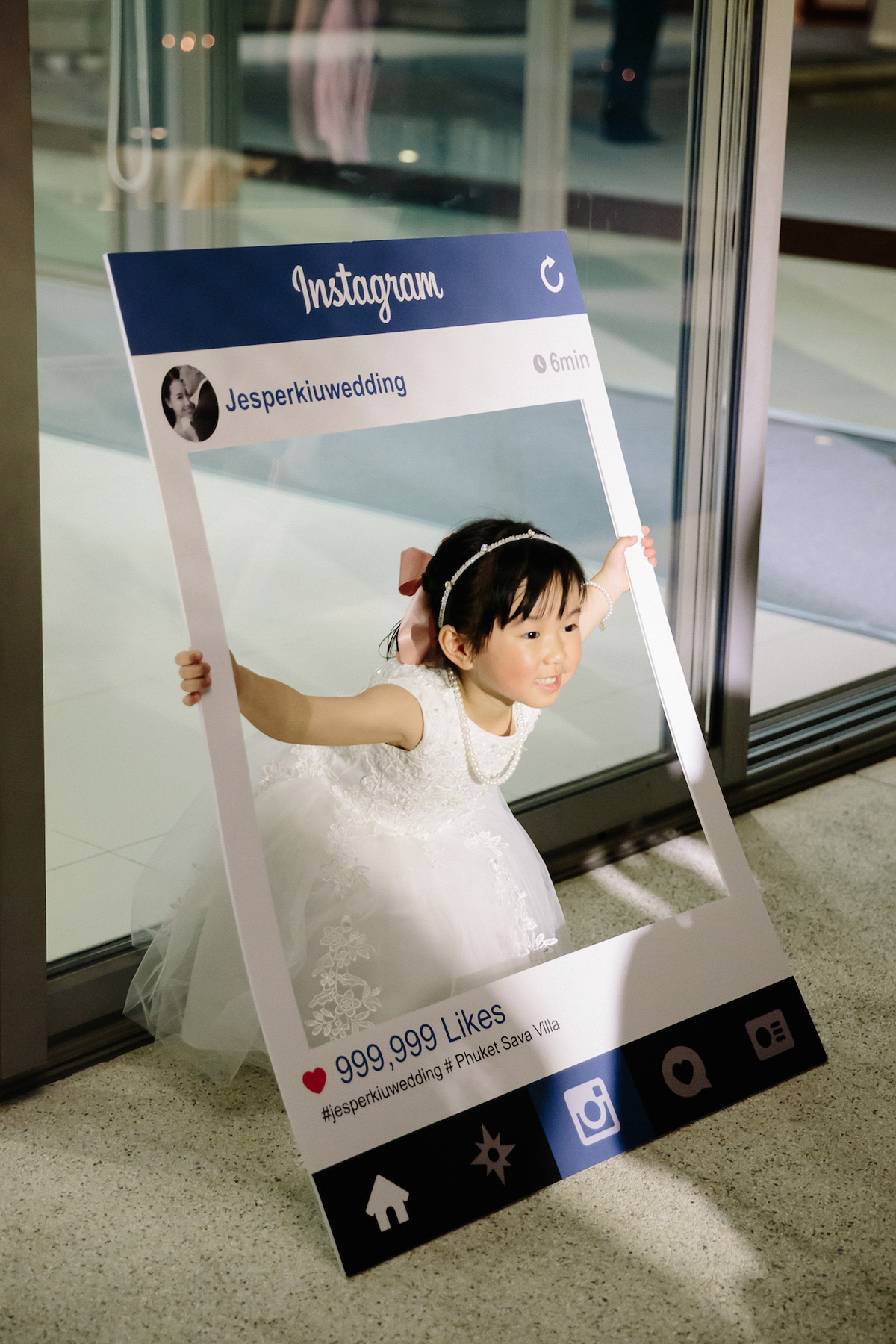 Hong Kiu changed into a Jenny Yoo ballgown, assisted by her bridesmaids in their soft pink YuMe Fashion dresses. I have to admit to being a little bit infatuated with the gorgeous grey Jenny Yoo tulle skirt that appeared in one of our features back in June, worn so beautifully by a non-traditional bride for her rustic Italian villa wedding.
The newlyweds chose a combination of scrumptious cupcakes and a flower-adorned wedding cake, all from Phoenix Sweets, and dined al fresco with their guests under the most gorgeous canopy of hanging foliage garlands and strings of twinkling jewels. Their reception just oozes romantic prettiness and Hong Kiu looks just stunning in her BHLDN evening ensemble – that flowing, voluminous tulle skirt is the stuff of blush-toned daydreams.
Golden fireworks and exotic fire dancers add a further element of celebratory sparkle to this already happy day and a pretty competitive-looking bouquet toss resulted in one extremely happy bridesmaid! I'd love to know which wedding traditions you're incorporating into your day? I love the ability to pick and chose those which feel relevant to you and your partner, and also the concept of totally eschewing anything 'expected' and making your own rules.
I'm definitely going for a bouquet toss (mainly because my soon to be in-laws have a pretty princess-worthy balcony from which to cast my blooms into the sea of my best girls!) but we're not planning on a 'cutting of the cake.' Mainly because I'm more interested in just eating as much of it as I can. As fast as is publicly decent.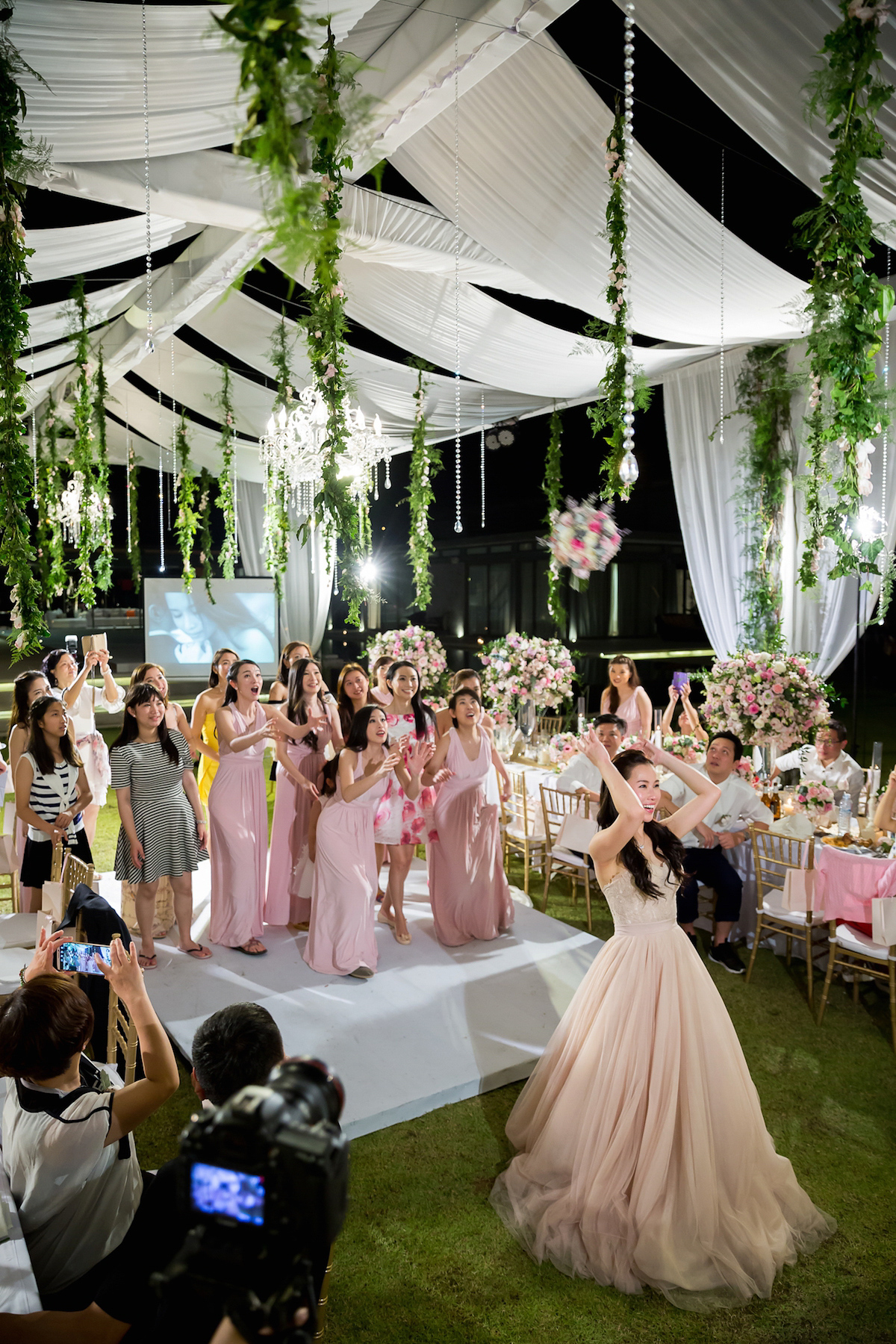 Words of Wedded Wisdom
"Even though you work so hard to prepare your wedding, the day itself is not a time to check and review what you've done, it's just a day to enjoy everything with your love and your guests."
Hong Kiu is so right, it's so hard to know when to let go and just let things unfold. So many months, or in many cases years, of planning go into crafting this one day that you want everything to run like clockwork, but often imperfections make things perfect and the things that don't go quite right can turn out to be the source of some of fondest wedding day memories. So in the words of my 3-year old niece (stolen from Frozen's Elsa) 'let it go.'
Thank you so much to the lovely Hong Kiu and Jesper, and of course to darinimages, for sharing this luxuriously gorgeous day with us all. If you'd like to see more beautiful brides in Jenny Yoo, look no further. Or if you're a total BHLDN fangirl (addictive webpage scrolling springs to mind) explore our gorgeous archives of brides who chose dresses from this online source of prettiness.
I'm heading off to Paris tomorrow where I'll be working for the next week so I'm wishing you all a très bon weekend!
Em x