Are you ready, little lovelies, for the very heartfelt tale of childhood sweethearts and their forest-inspired and boho nuptials in the incredibly stunning location of a ruined abbey in the Yorkshire Dales? Meet Tom who works as a boat builder, whilst Verity is a corporate relations executive, and they married on the 16th of July 2016. I'm also very happy to hear that Aussie weddings were a big part of her inspo. And I'm sure you will gasp with pure delight at the sight of these utterly magic images by one of dear Little Book for Brides members, Ryan from Shutter Go Click Photography.
My dream had also always been to have my wedding at a ruined castle so when we found the ruins of Jervaulx Abbey, we couldn't stop smiling. Once we'd seen Jervaulx nothing compared; we knew in our hearts it was the perfect place for us. We also wanted the wedding to feel very chilled, boho, foresty and stylish, and classy too, so it was about getting the balance just right! We knew right away that we wanted a festival type feel, a field, good beer, good food and a proper party."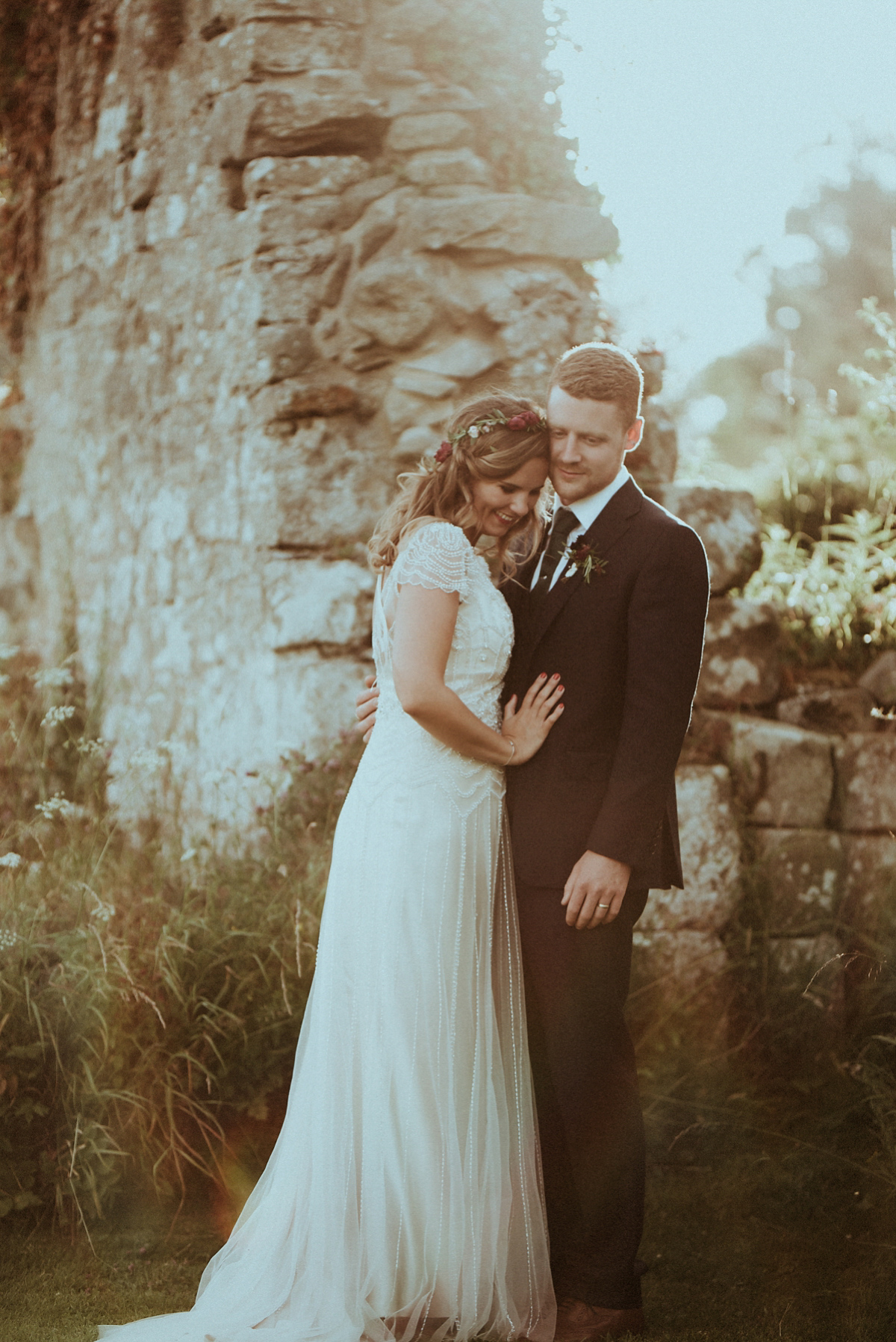 "We were really inspired by Australian wedding culture and I did a heap of reading of Aussie wedding magazines whilst we were away. We also lived in the mountains in the south island of New Zealand and so I was really keen to introduce lots of deep dark greens and hunks of wood into the wedding. Also, scale was really important to us, and the abbey provided us with this."Most of the blooms were locally grown and gathered from the florist's own cutting garden. Verity was so happy with the results and incredibly grateful to have found a vendor with such vision.
"The florist Alice at Forage and Blossom created the most beautiful displays for the wedding – the church flowers and our top table garland were absolutely perfect and our bouquets and my flower crown were just incredible. I had blousy roses with lots of wild flowers, richly scented sweet peas and rosemary and clover in my flower crown. The flowers are probably my favourite styling touch we did on the day."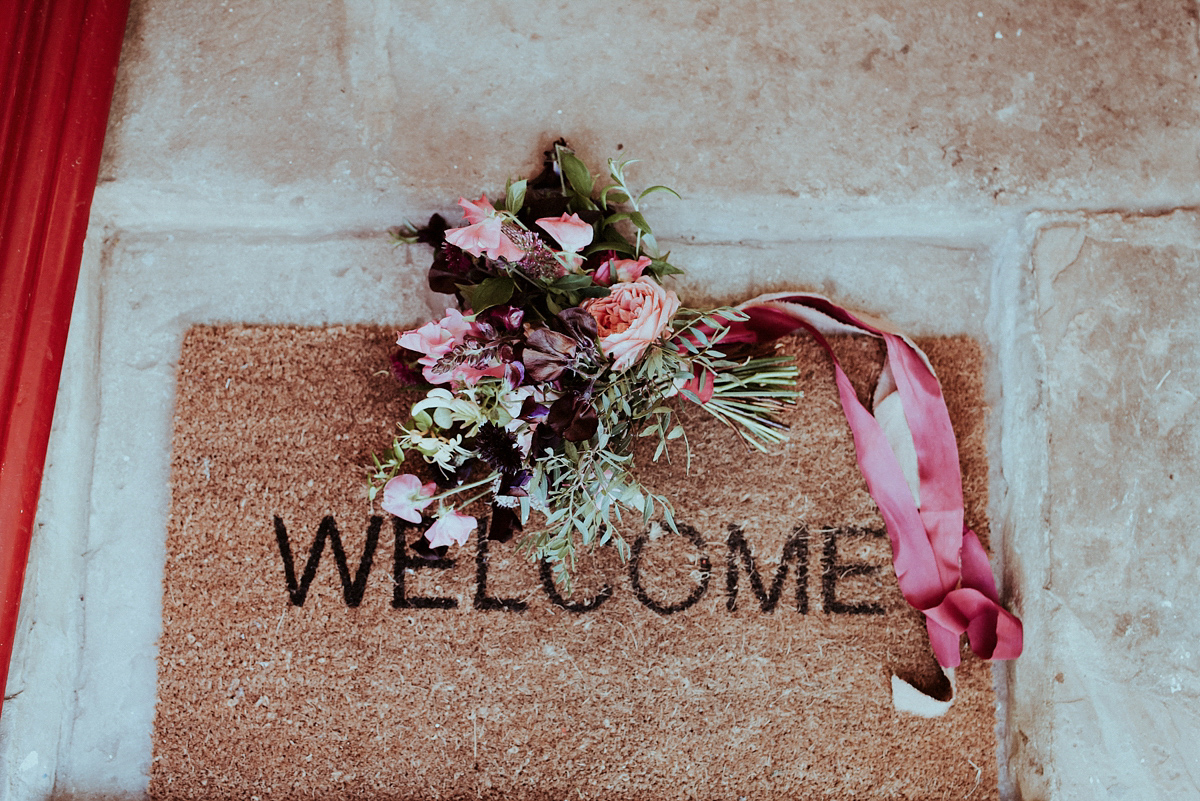 "Tom proposed to me a few days before we left the UK. We stayed in the grounds of a manor house in a bell tent and Tom popped the question after we'd dressed following a spontaneous swim, on the shoreline of the beach in Salthouse in Norfolk after ten years together."
"Vicki Suddaby, who did my hair and makeup, was incredible – she kept my makeup so light that you couldn't tell I had any on in the beautiful sunshine, thus she completely understood what I was after."
"She was also a godsend on the day when the alterations on my dress had gone slightly wrong and I had a strap bulging in the wrong place. Amidst the chaos, Vicki carefully unpicked stitching and stitched me back in. I don't really know what I'd have done without her."
Verity's three maids wore gorgeous sparkly dresses from Debenhams, a fresh flower each to match the flowers in the bouquets, their own shoes, and sterling silver crescent moon bracelets handmade by a friend of Tom's.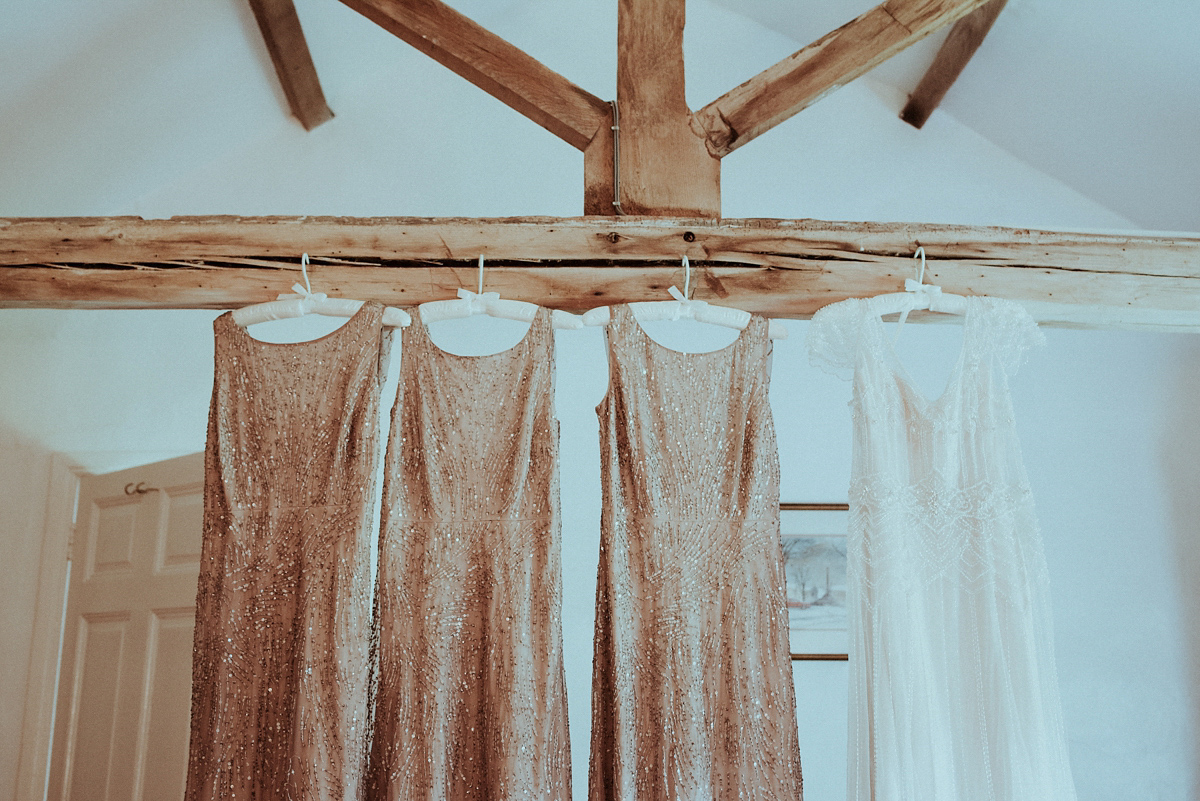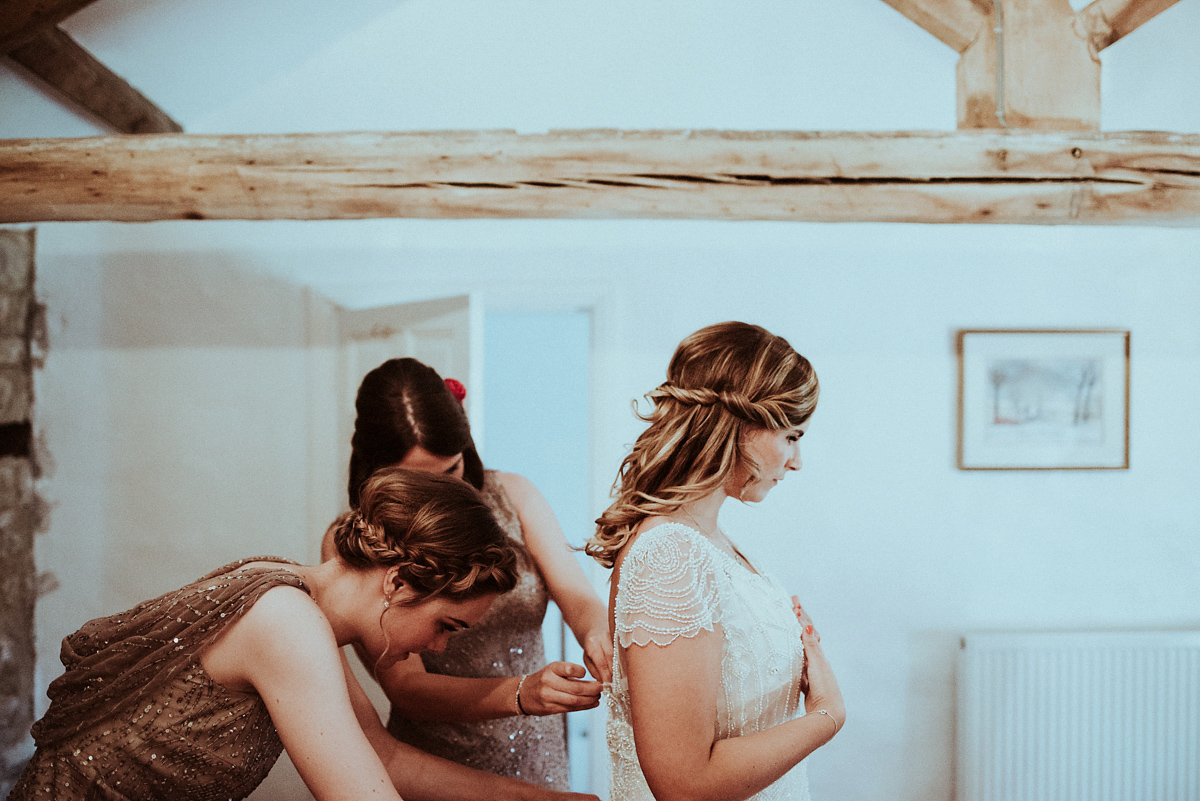 Verity wore the beautiful beaded design 'Ettia' by Maggie Sottero, from Morgan Davies.
"I found a Maggie Sottero dress that made me feel all kinds of wonderful and myself at the same time – which was the most important thing for me. I wanted to feel like myself all day, not holding my stomach in or keep my arms at funny angles for flattering photos. I danced all night in that dress too, so it was everything I could have dreamed of and more."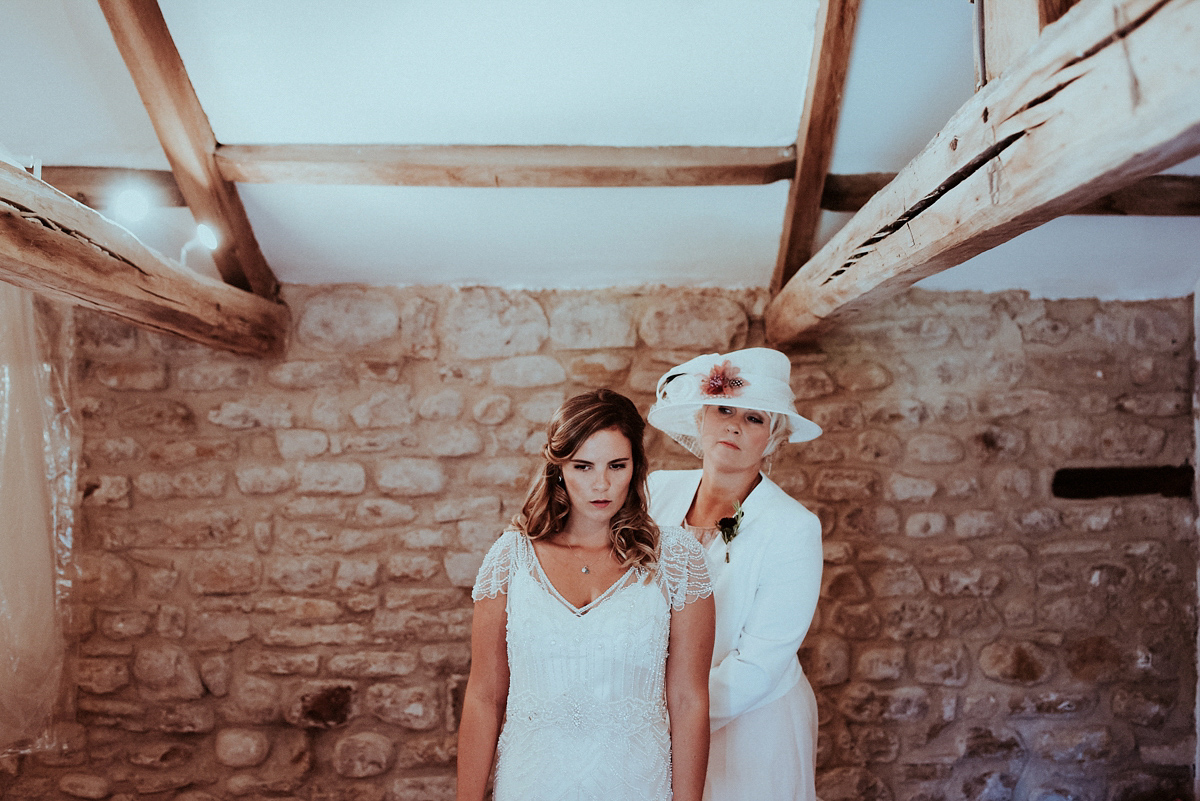 Verity adorned pear-shaped earrings from TK Maxx, a horseshoe bracelet bought by her mum for her hen-do, and a stunning favourite necklace.
"My mum bought me a couple of silver St Christopher's many years ago when I was about 15, I've worn them and a gold one which I bought for myself, ever since. On the day I dug out my old sterling silver St Christopher's, one with an enamelled blue face and they felt just perfect. St Christopher for travel (and what is a journey if marriage isn't one?) and my necklace also served as my something blue."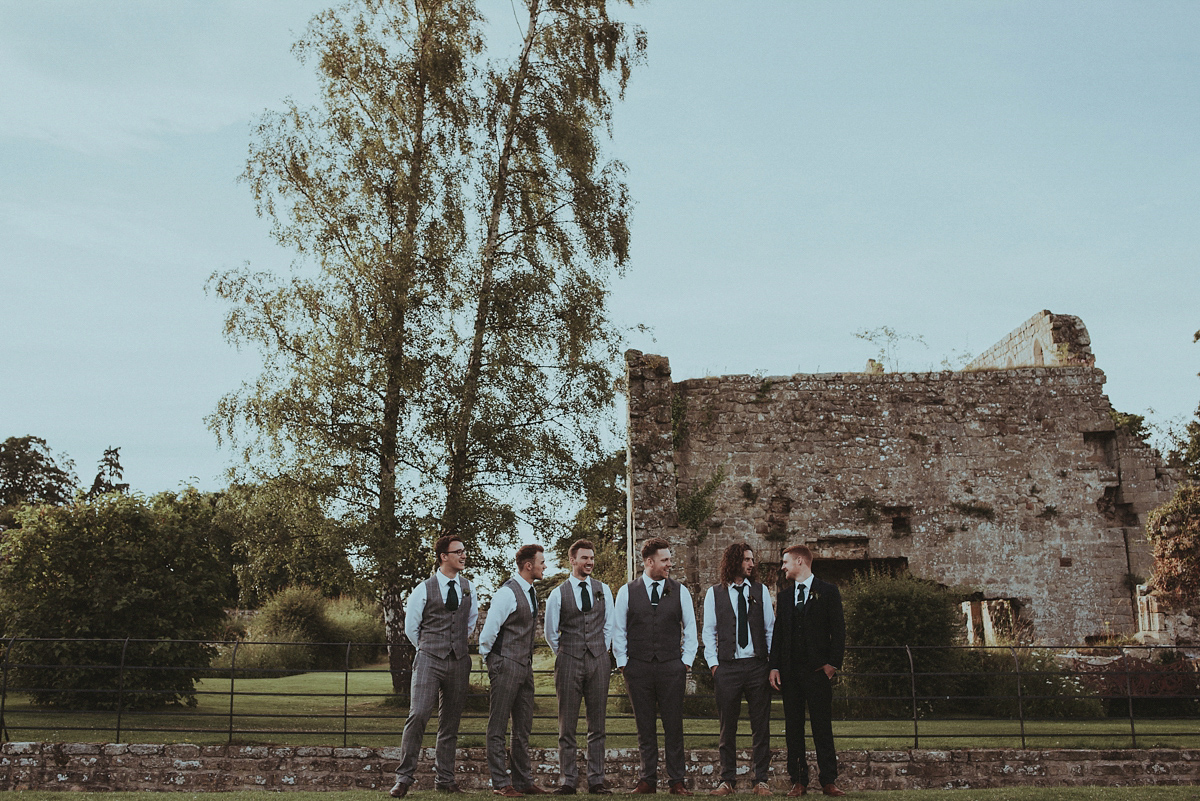 The wedding party arrived in style via a 1935 Austin and a Rolls Royce Silver Shadow from Classic Car Hire North. The beautiful bride was accompanied by her dad down the aisle to The Kendal String Quartet playing 'Canon in D' by Pachelbel and for the signing of the registers the tunes 'Kissing You' by Des'ree and 'Sweet Disposition' by Temper Trap. For the exit of the bride and groom, they played 'There is a Light that Never Goes Out' by The Smiths. And Verity's family helped out with a beautiful rendition of a favourite song.
"My cousins played an acoustic version of Chris Malinchak's track 'So Good to Me' based on the 'Only Girl' version we came across on YouTube. It was so beautiful – I thought we'd be bawling but we smiled all day as it was all just filled with such enormous happiness."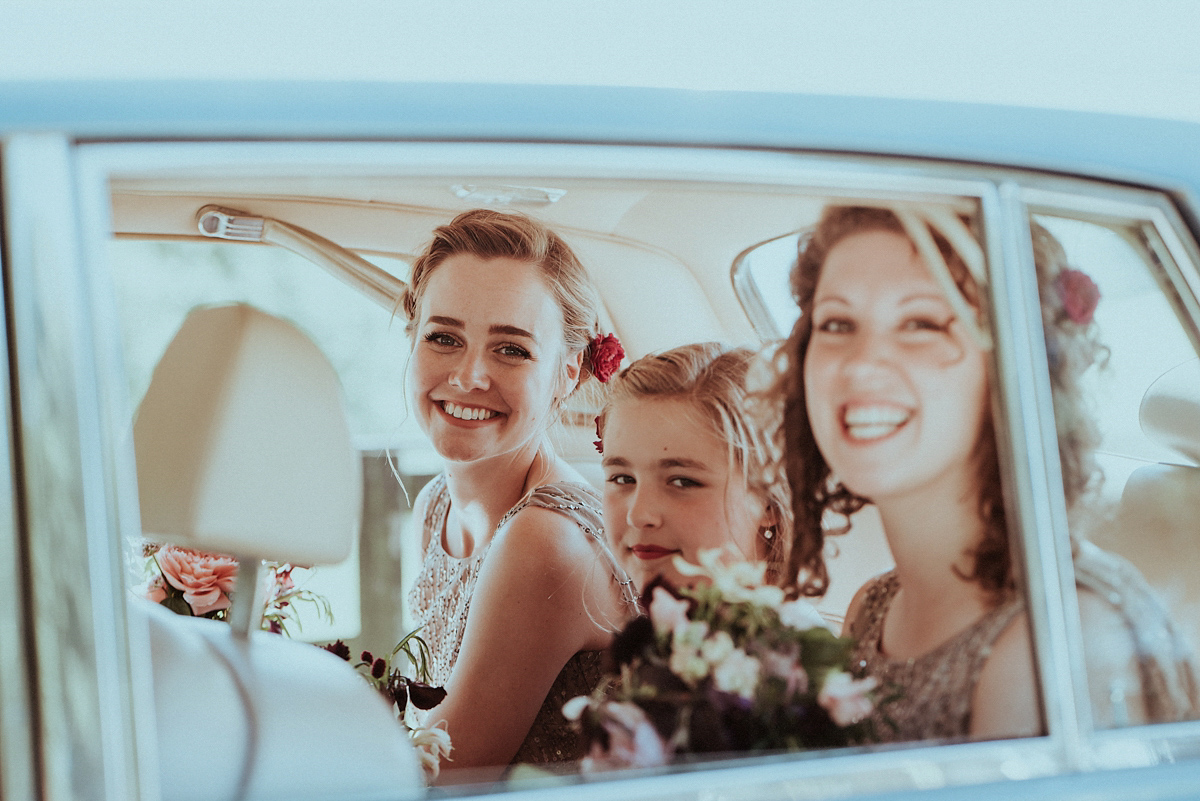 The gorgeous bride added a Joyce Jackson cathedral-length veil, unfussy low heels via M&S, a pretty flower crown with clover and rosemary to add scent, and a spray of Chanel eau Fraiche.
"My mum and I bought a new perfume each so that we could capture the day by assigning a scent to it. It works too – every time I wear it I am transported to that wonderful sunny day in the Dales."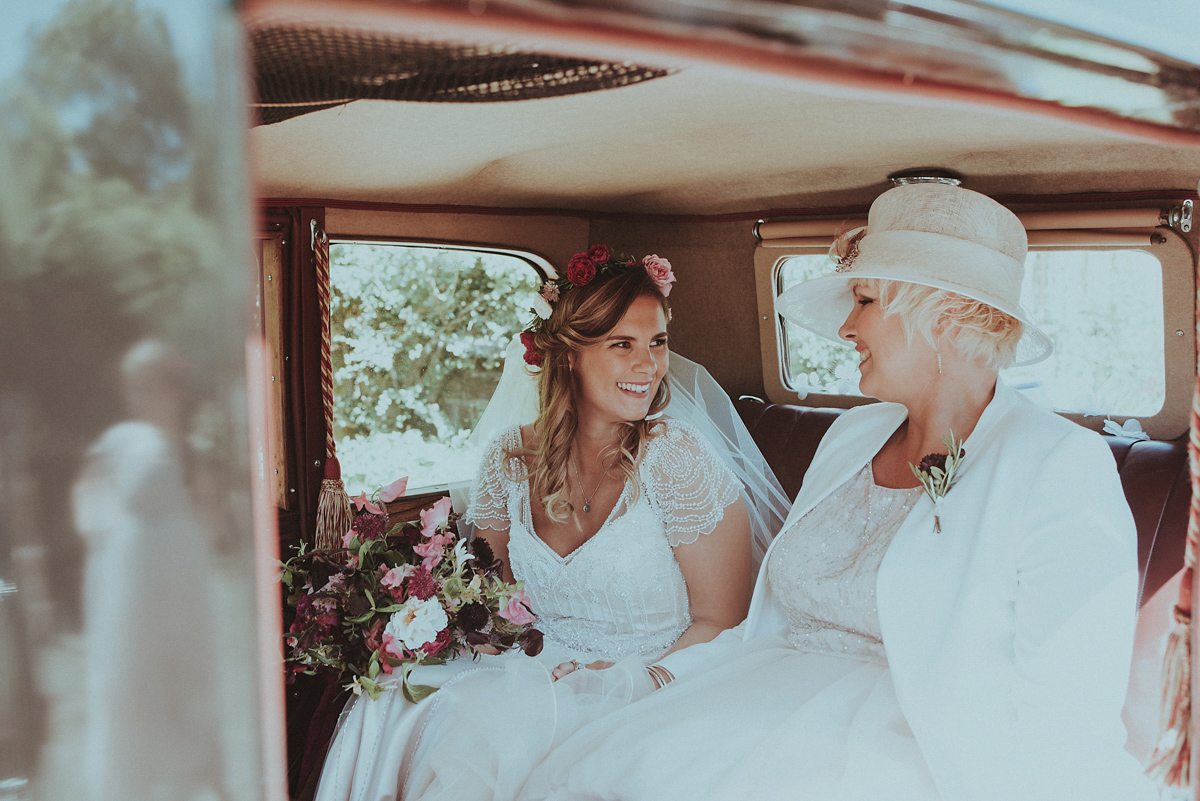 The couple both had a deep connection to the Yorkshire Dales, hence the choice of this picturesque location. And the Jervaulx Abbey made Verity's dream of marrying amongst a ruined castle come alive.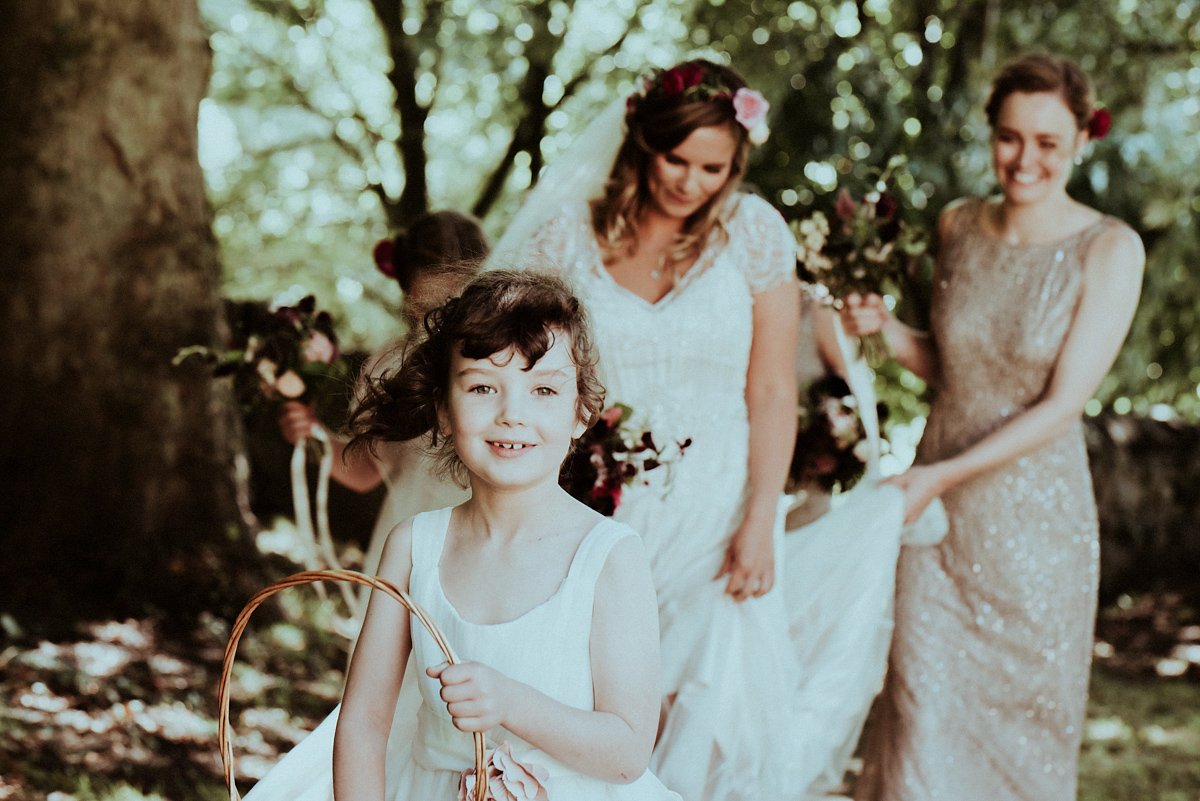 "Looking for somewhere to get married, it felt natural to pick somewhere with meaning and for us and that really had to be the Yorkshire Dales, where my family head every year for a family holiday and granny's ashes are also spread there, so my connection runs deep. For Tom, the Yorkshire Dales has become a special place for him having been in my family such a long time, but also somewhere he travelled with his own family over the years for walking holidays. It also represents so many things that we love, the countryside, family, community, ruins, good ale and plenty of fresh air!"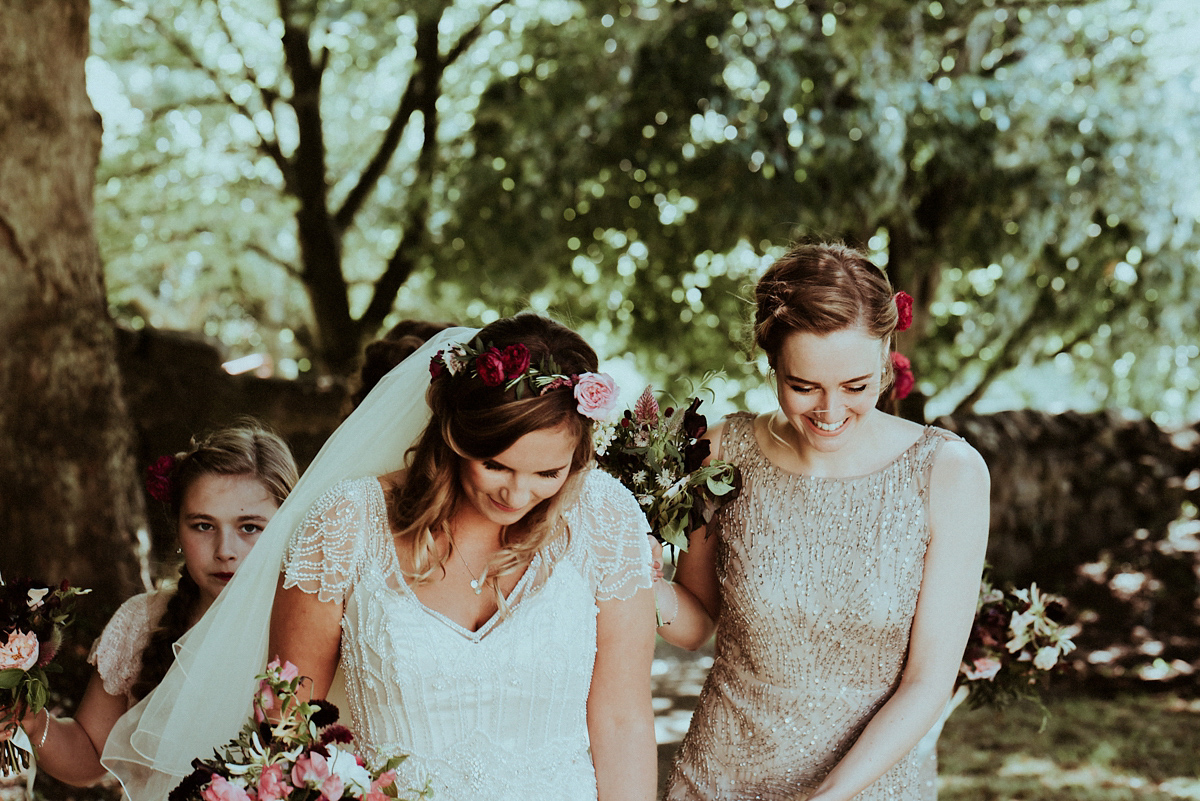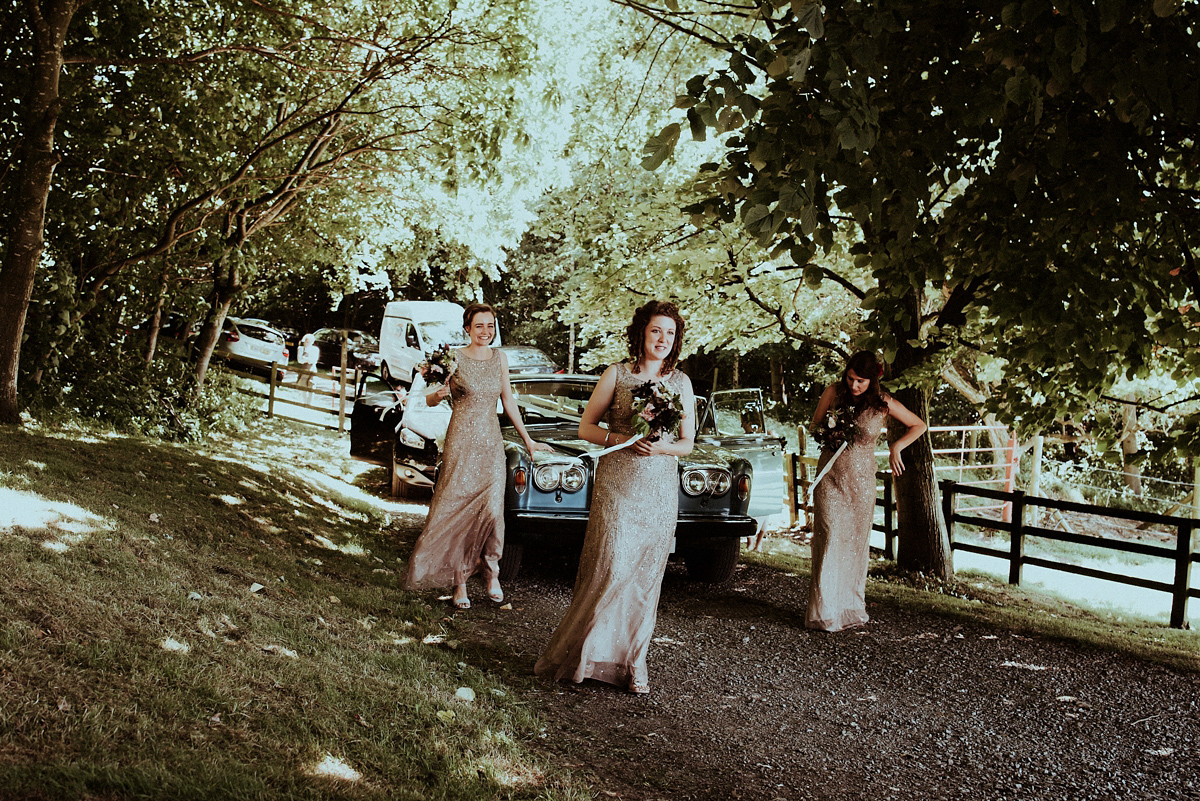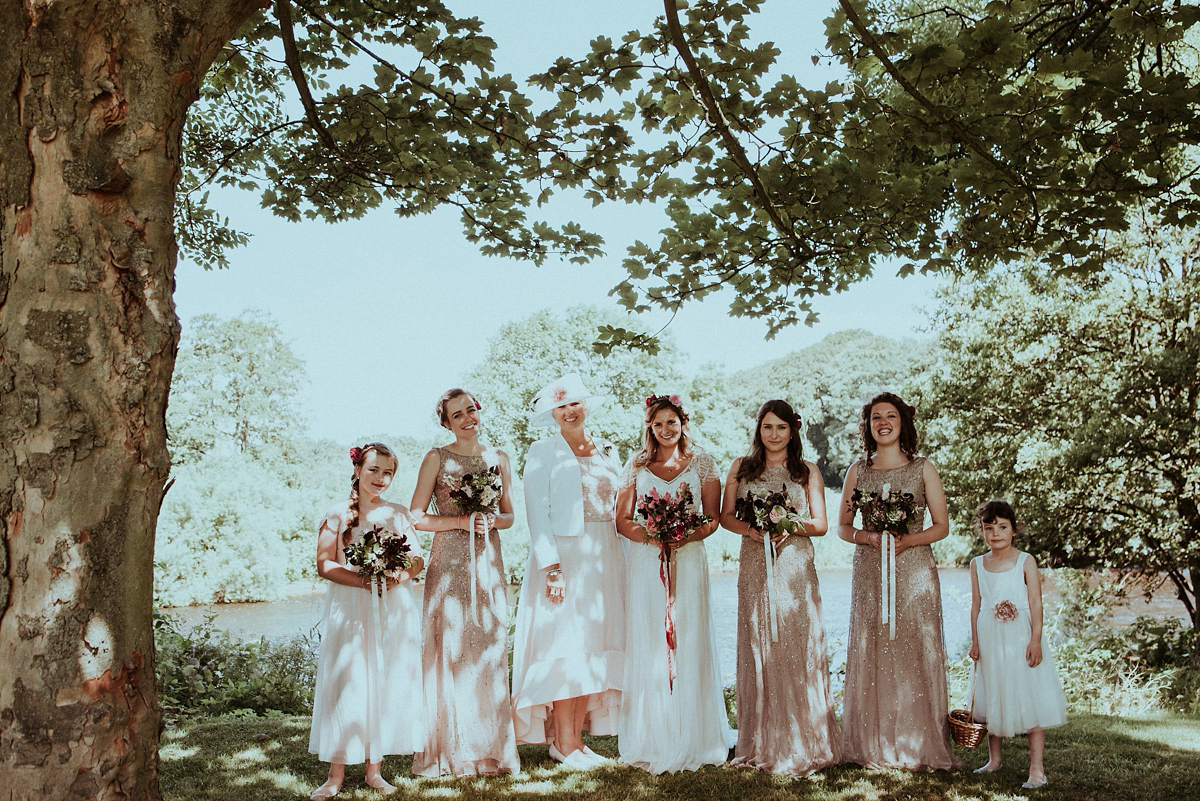 Tom cut a fine figure in his attire from Charles Tyrwhitt and Verity organised a special addition to his stylish ensemble.
"I had a sterling silver tie pin made for tom with his initials on – it looked so nice on his green tie and I'm so glad I got organised in time to get one for him."
One of the bridesmaid's created all of the wedding stationery – what a talent!
"My bridesmaid Heather Elliot made all our invitations, orders of service, table numbers, chalkboards and place names. She hand-wrote every single name card and for the invitations she created all the ink work herself – she's an absolute genius!"
"Tom and I met at school and are childhood sweethearts. We grew up in Nottingham in a village called Radcliffe-On-Trent and even played together as young children in my next door neighbours' garden – though we didn't figure this out until years later!"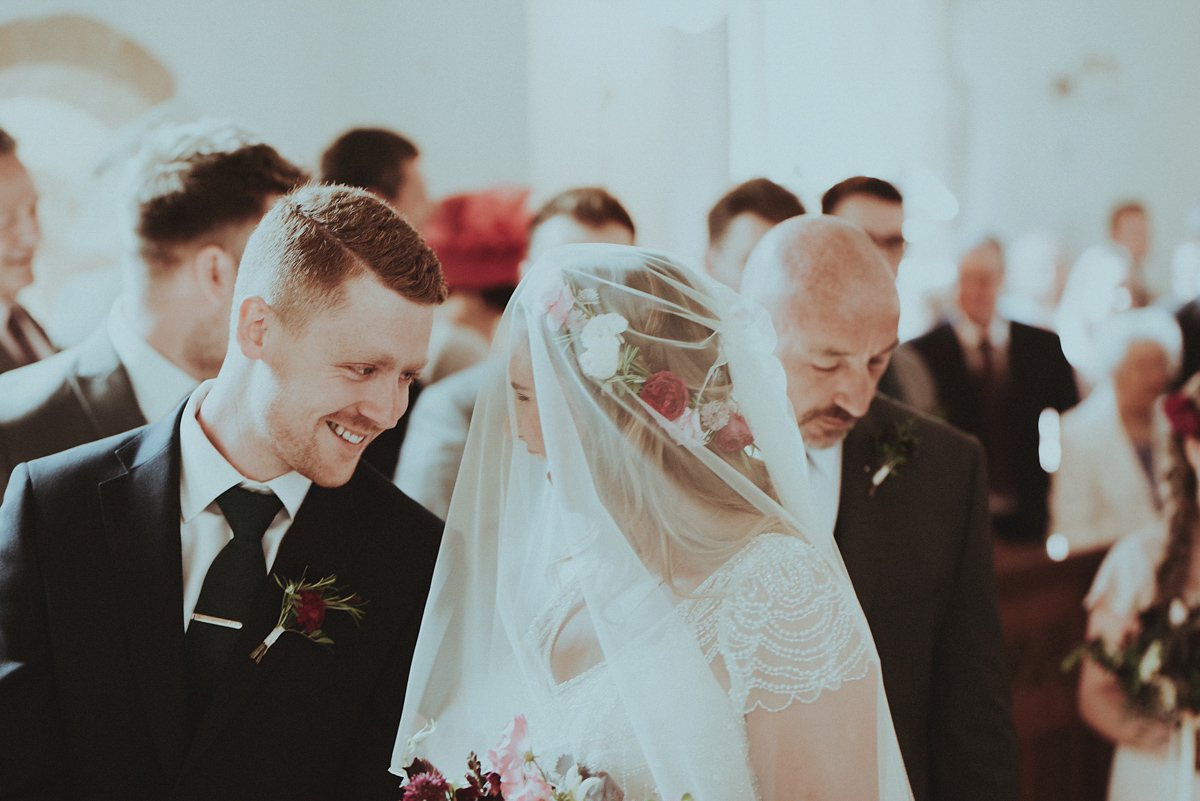 "We went off to university, and then decided to work and save with a view to travel. We spent a wonderful year working at a school in Hertfordshire and then took a leap of faith and packed our bags for two years abroad in the southern hemisphere, where we lived and worked in Australia and New Zealand before travelling to Singapore, Thailand, Vietnam, Cambodia and Japan."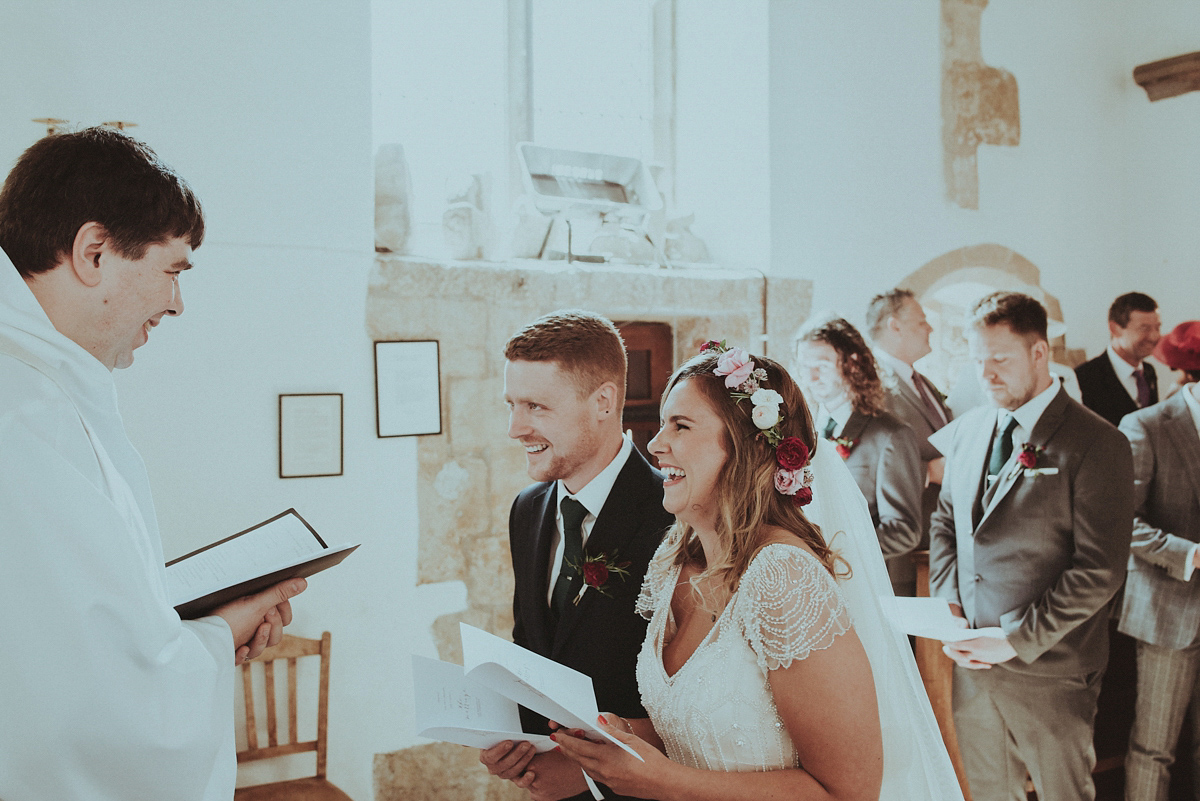 "We wanted a church wedding and knew we wanted it to be local to the reception so we committed to attending a local church once a month for six months in order to be allowed the permission to be married in it. We naturally looked at the four churches within the Jervaulx parish, but Thornton Steward was the most idyllic church either of us had ever had the pleasure of visiting. It's the oldest church in Wensleydale and is down a beautiful tree-lined country lane, before you glimpse the church atop a grassy vantage point which has endless vistas of breathtaking Dales countryside."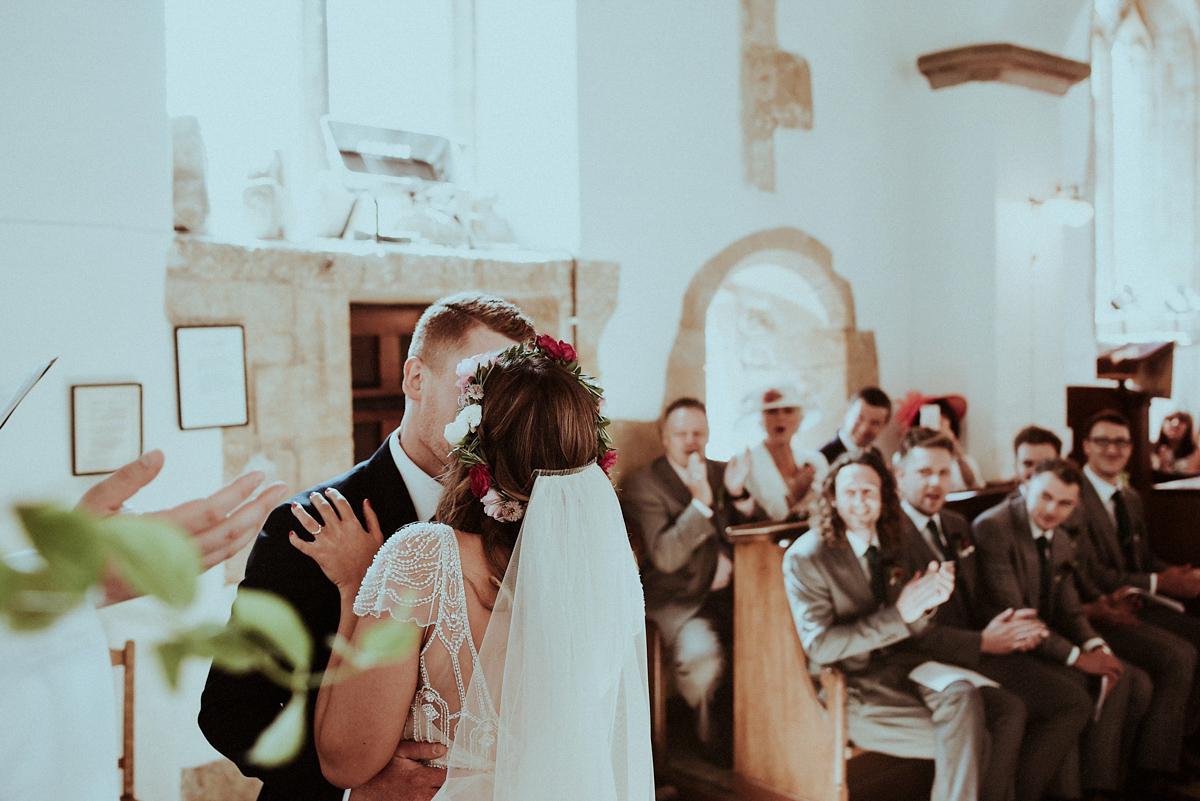 "We had the classic reading of Corinthians and also a poem by E.E. Cummings who is my favourite poet. We chose 'Silently if out of not knowable'. It's such a beautiful reading for a wedding…"
Losing through you what seemed myself; I find
Selves unimaginably mine; beyond
Sorrow's own joys and hoping's very fears
Yours is the light by which my spirit's born:
Yours is the darkness of my soul's return
– you are my sun, my moon, and all my stars.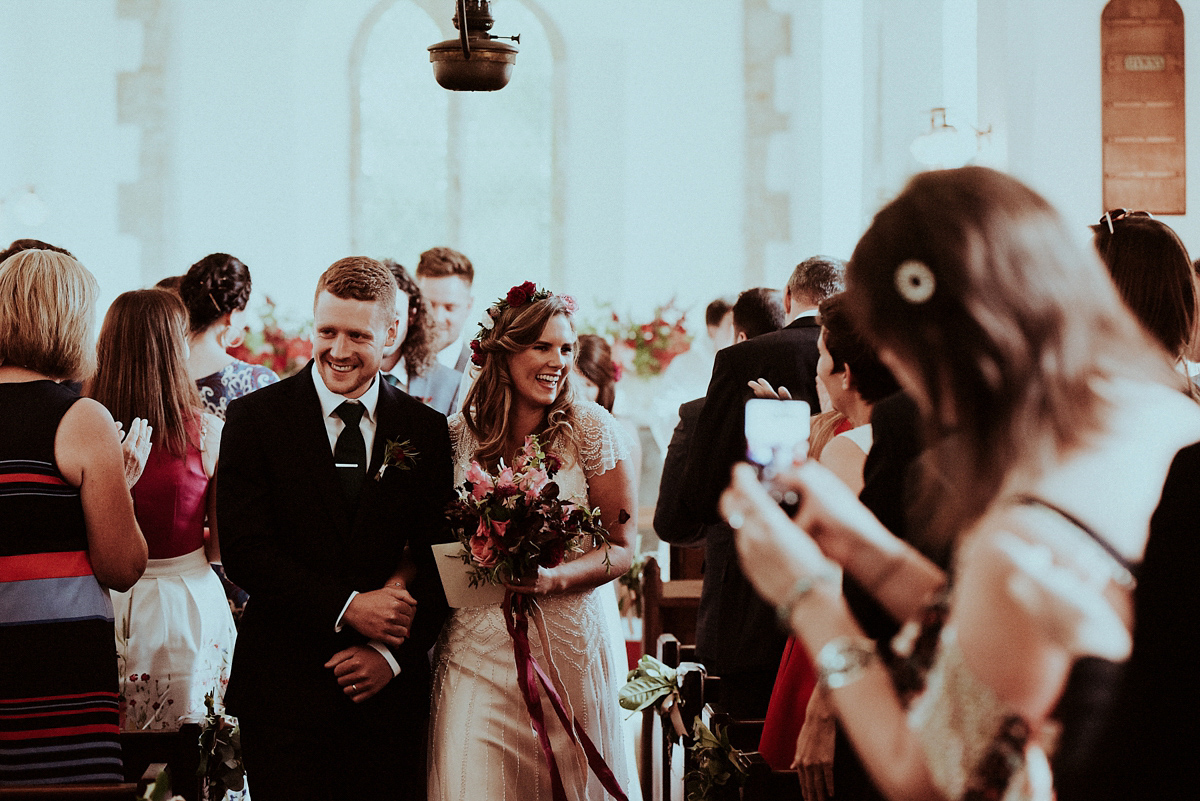 "Lora Leedham made our wedding rings. She also made my engagement ring, which Tom commissioned. She is a gemologist too so is incredibly knowledgeable and talented and also ethically focused."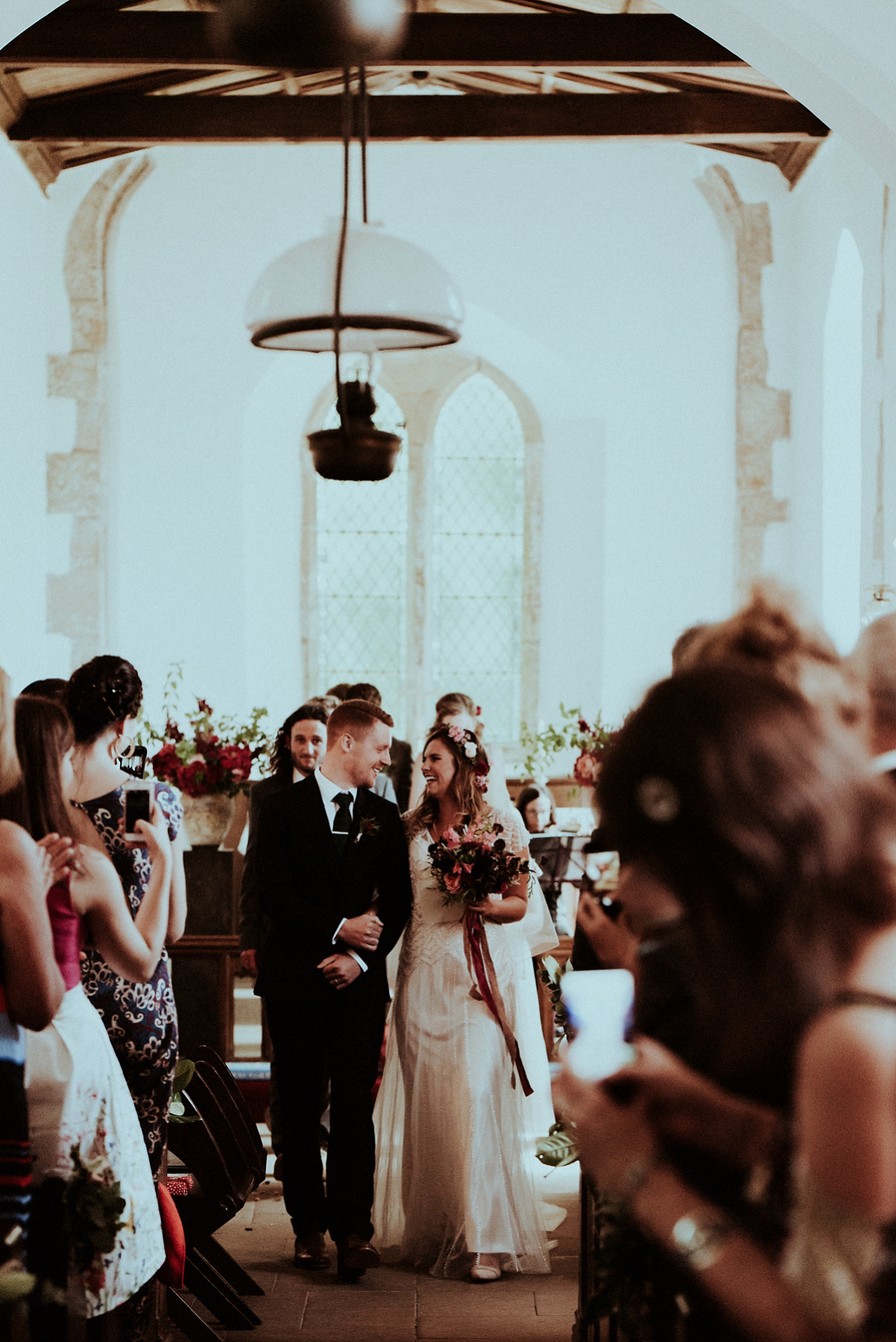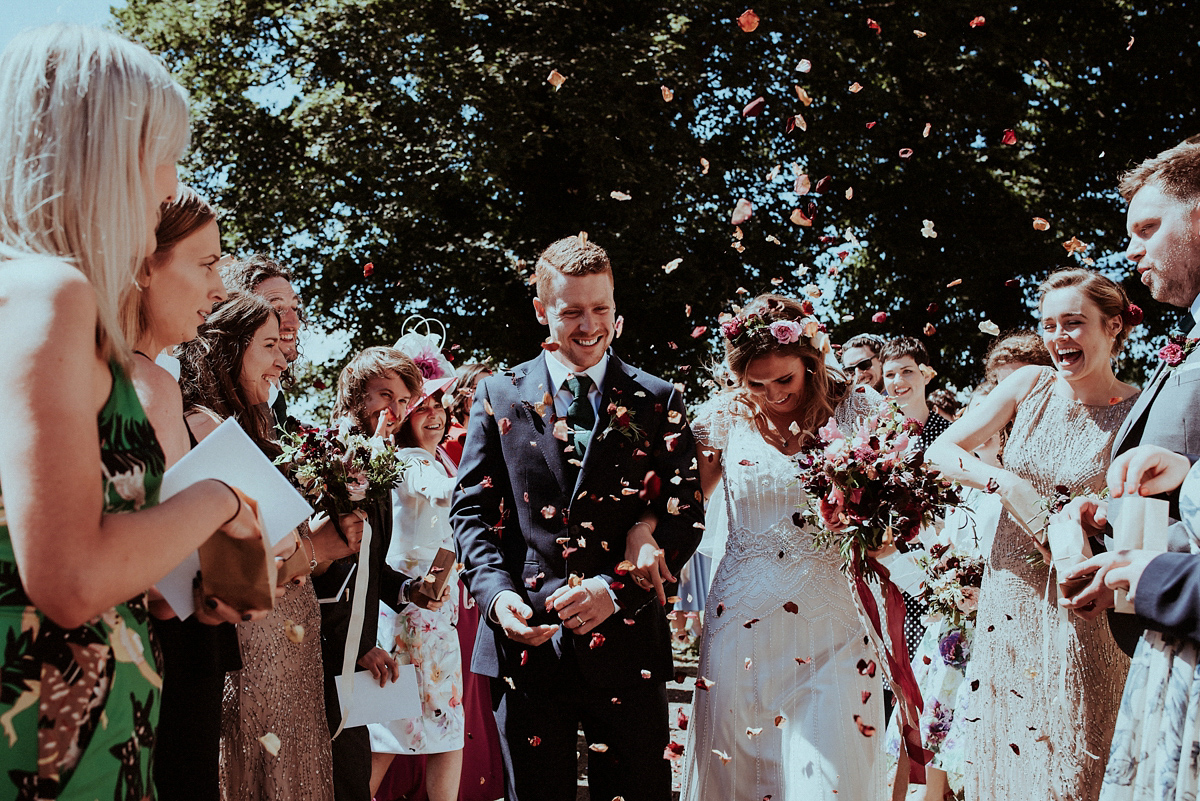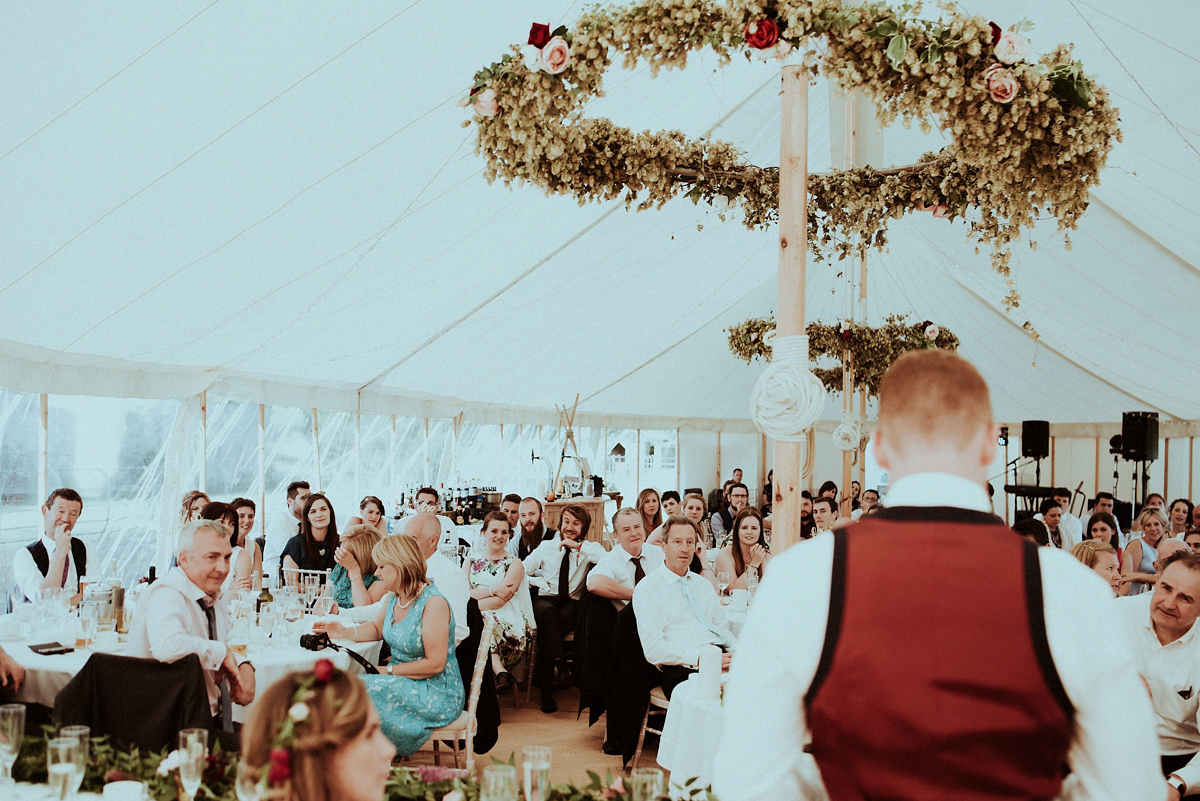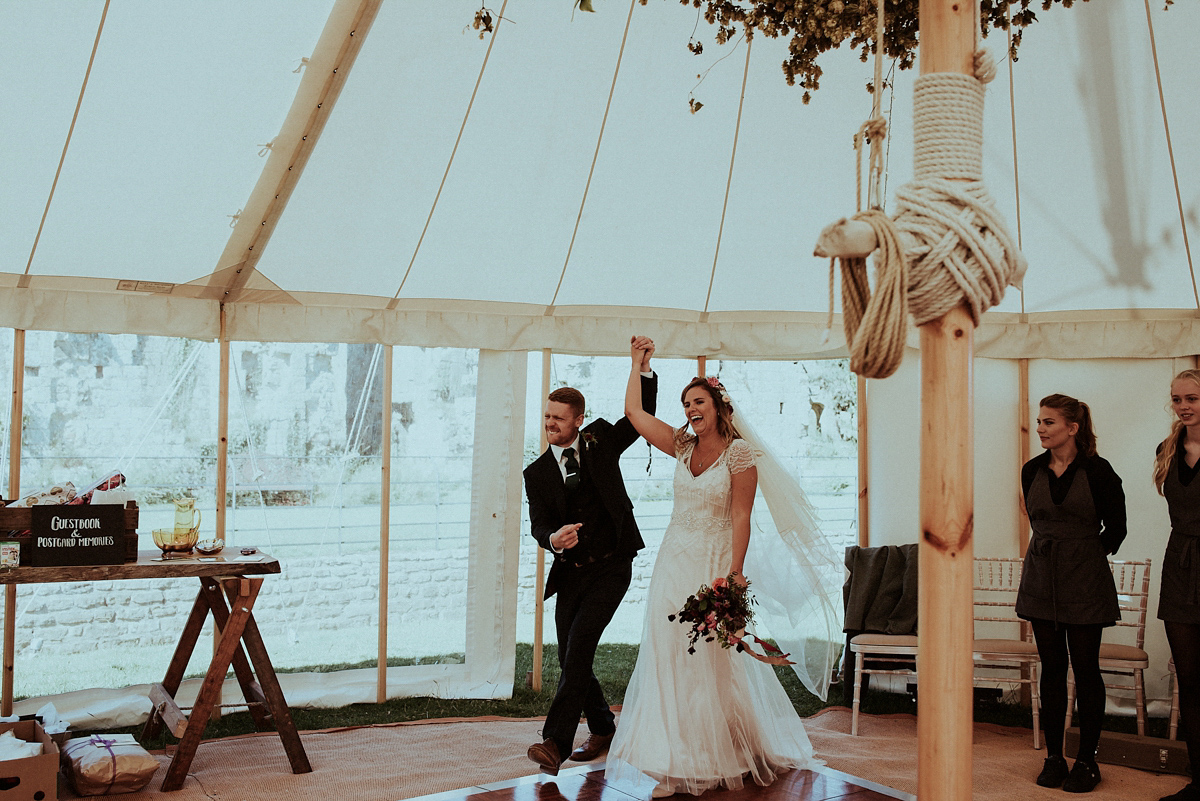 Tom's creative mum made a beautiful three-tiered cake – with one tier of carrot cake and two tiers of lovely madeira cake. Yes, it's time for a tea break as you view this temptation!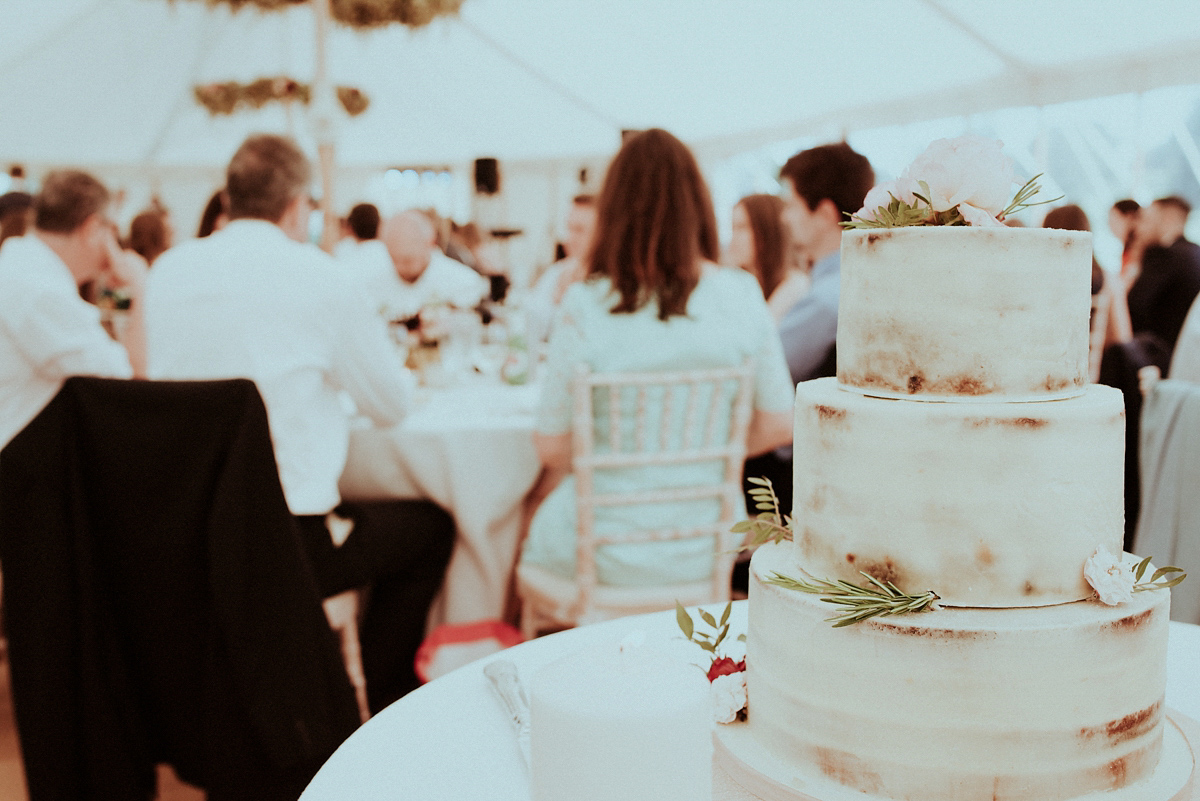 "The catering was a really difficult choice for us because we wanted to specify the menu, which not many catering companies want to accommodate. GFS Catering were absolutely brilliant."
"They listened to what we wanted, had us in for meetings and tastings and were always available at the end of a phone or email. On the day they couldn't do enough for us and we were bowled over by their service and really can't highlight enough how spectacular the meal and service were. The food is all locally sourced too which just added to our appreciation of it!"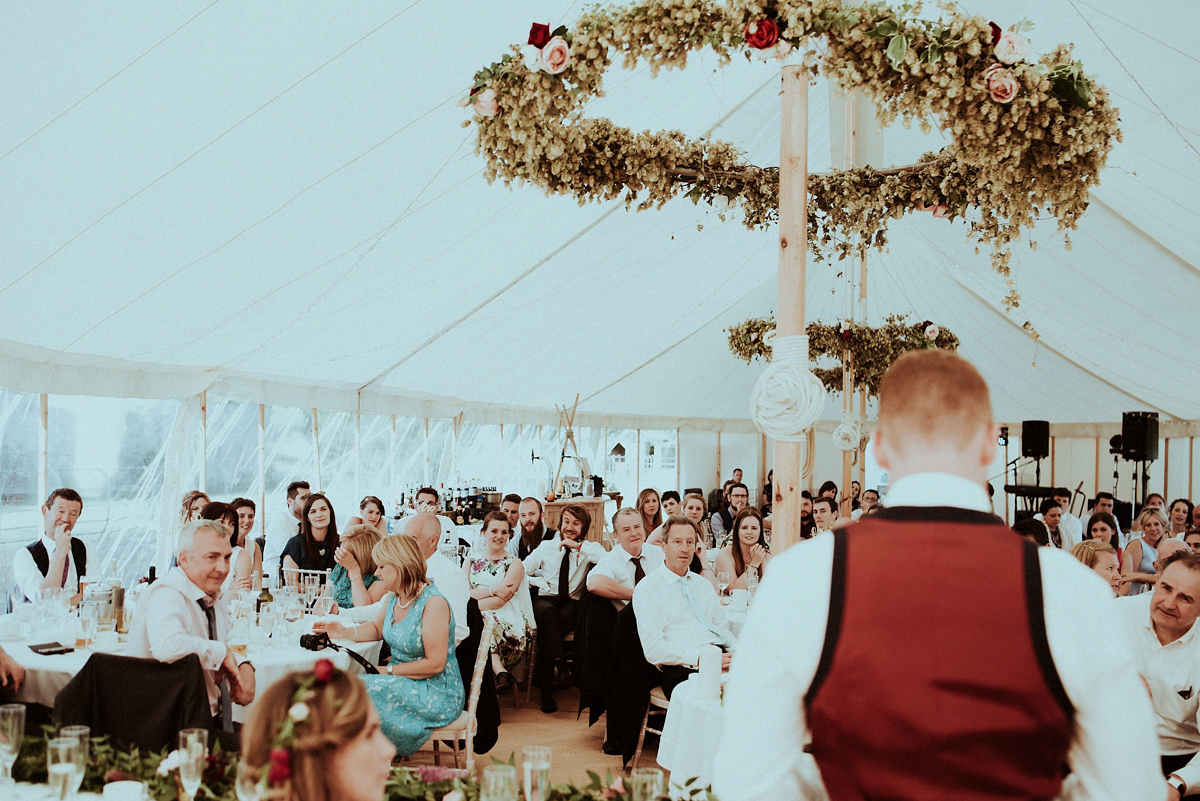 The favours were tea spoons collected from charity shops and hand-stamped with the word 'Caru', which means love in Welsh and a nod to Tom's paternal family who are from Cardiff. And the couple were keen to put their mark on the marquee and table settings and also save money wherever possible. Very handy to be a boat builder and use his skills for the wedding prep!
"Tom did all the carpentry using wood he salvaged from work – the bar, the signs, the outdoor wooden benches, oak guest book table and cake board. Tom's mum constructed all the floristry on the hoops in the marquee. She bought hoops and silk flowers and I had so many comments about them – they were completely stunning. We gathered all the yellow glass for the tables from charity shops and also created a little Prosecco bar out of an old school desk we bought off Gumtree."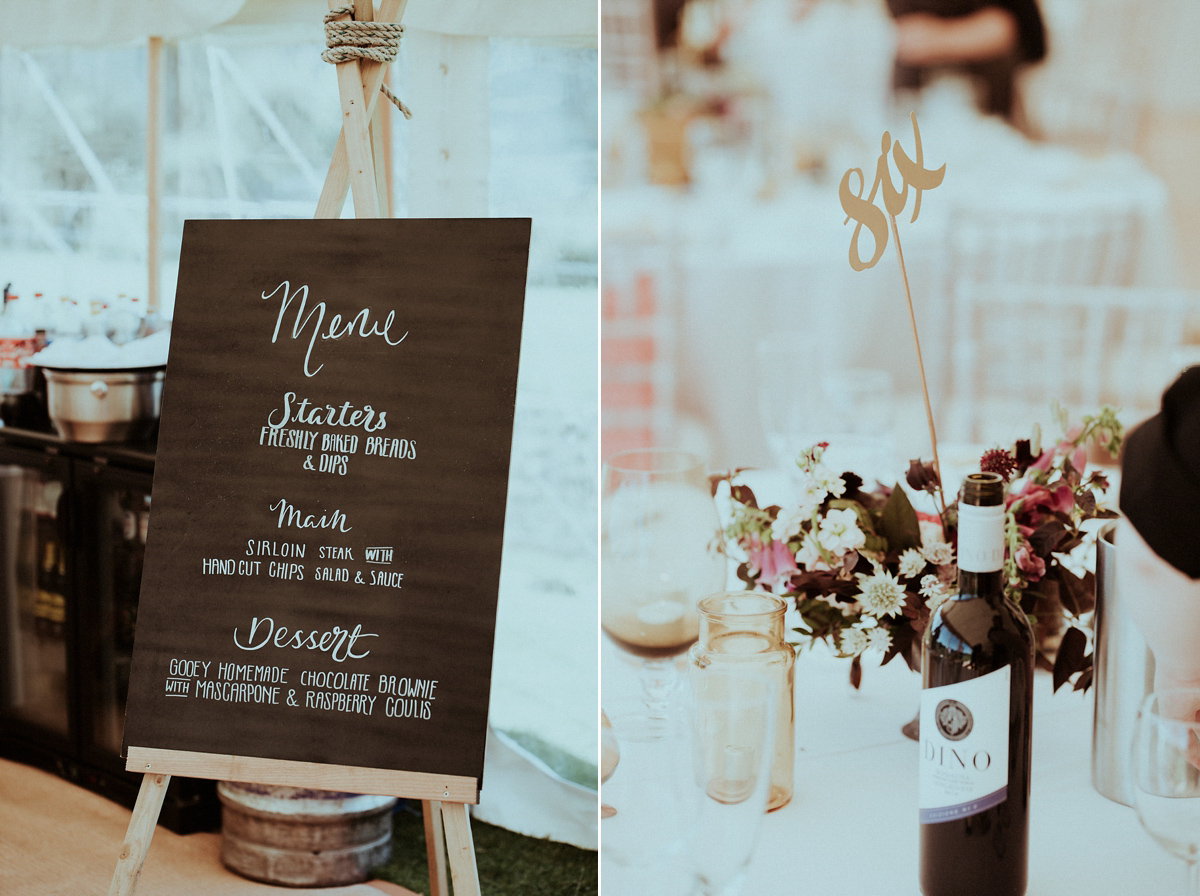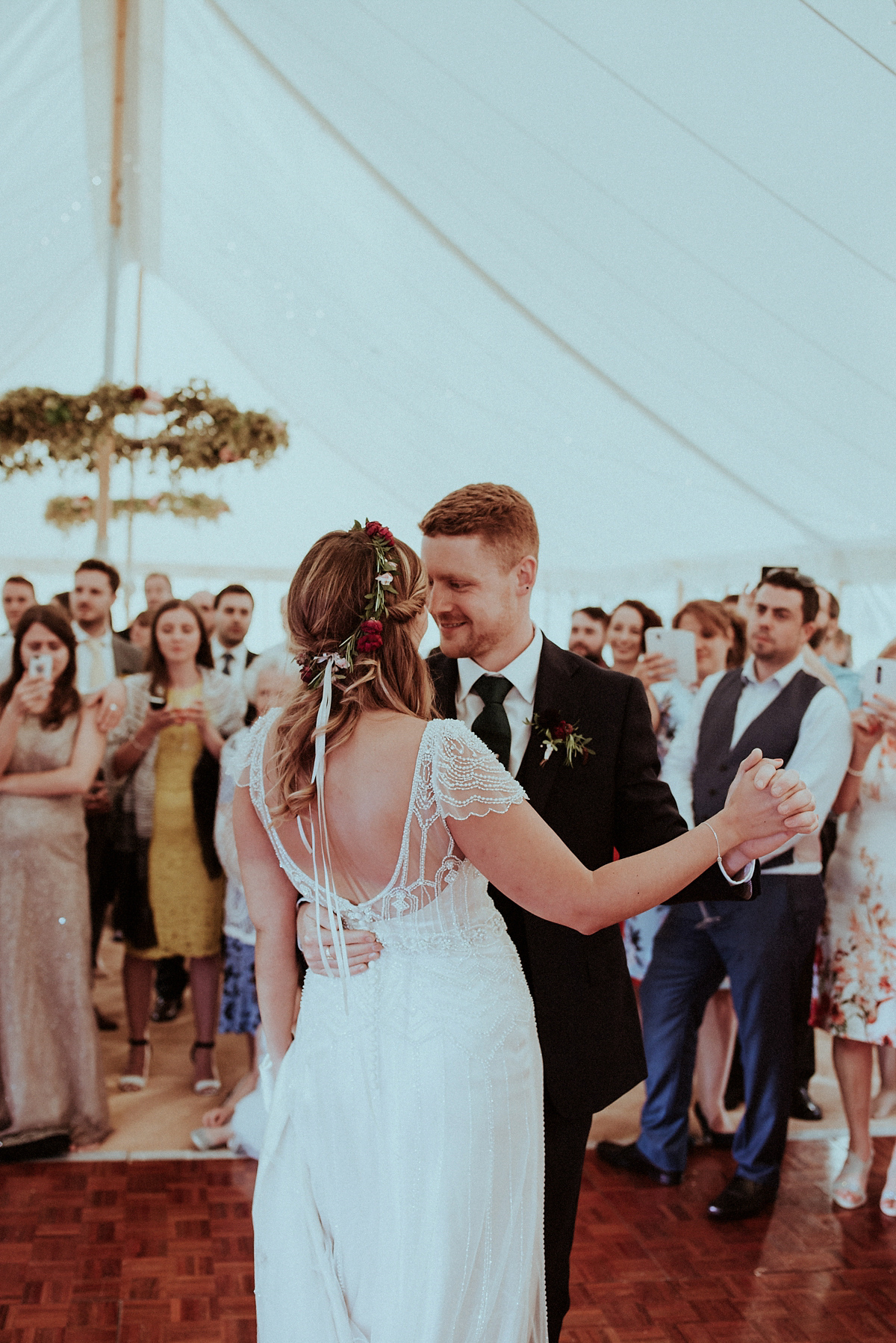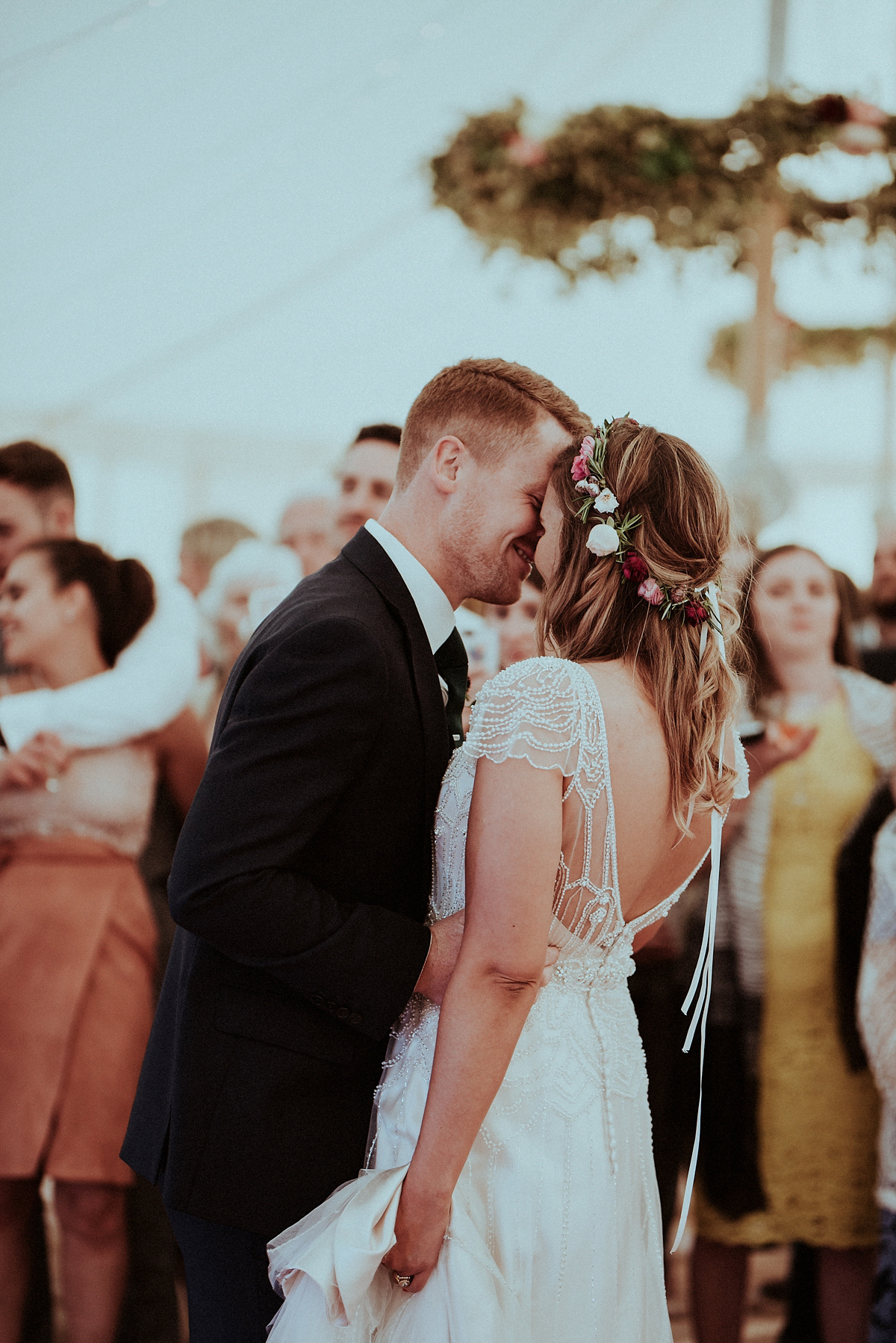 "Our photographer was Ryan at Shutter Go Click Photography and really, I don't need to say anything, the photos speak for themselves. Ryan was fantastic, calm, attentive, completely unobtrusive and took the most wonderful photographs of our day. We want to print and hang them all in frames! I don't know if we'll ever stop looking at them."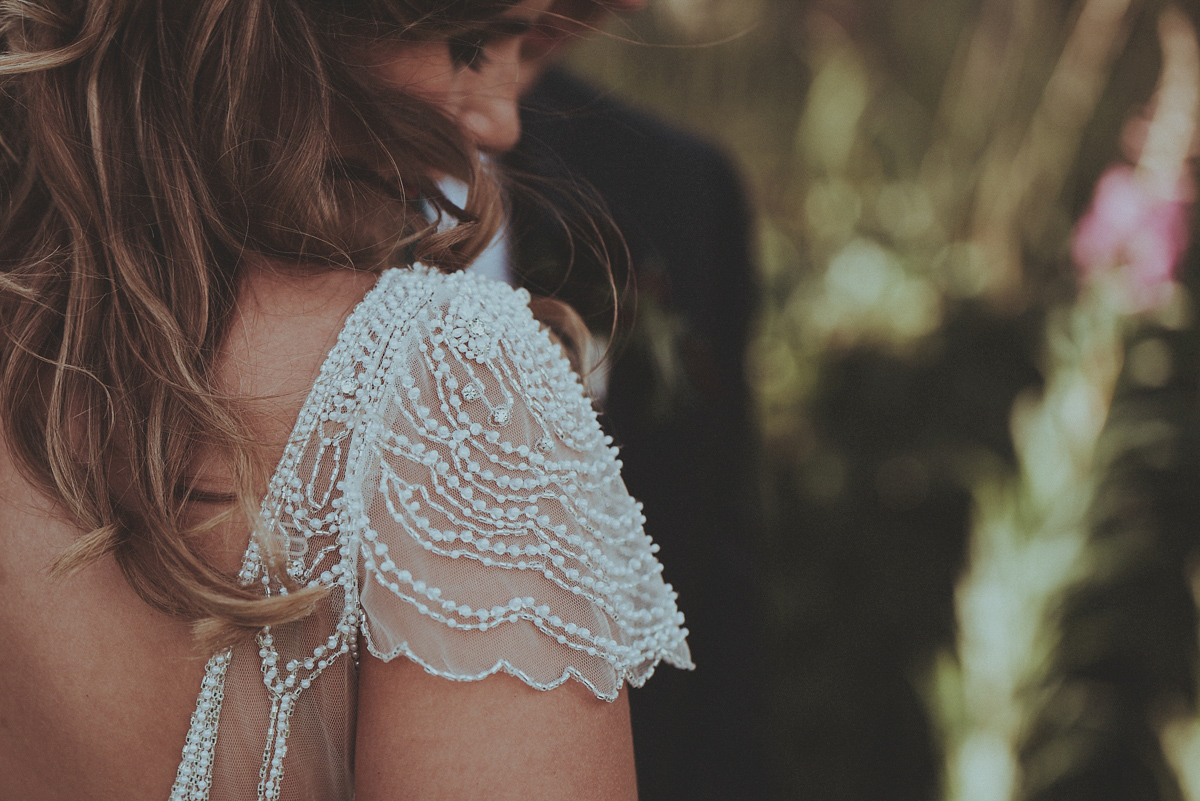 "Our DJ's were Karl and Kate from Deckheds and they are such a great pair! They encouraged us to assault them with lists of songs we love and kept everyone moving all night – it was an incredible party and all down to them."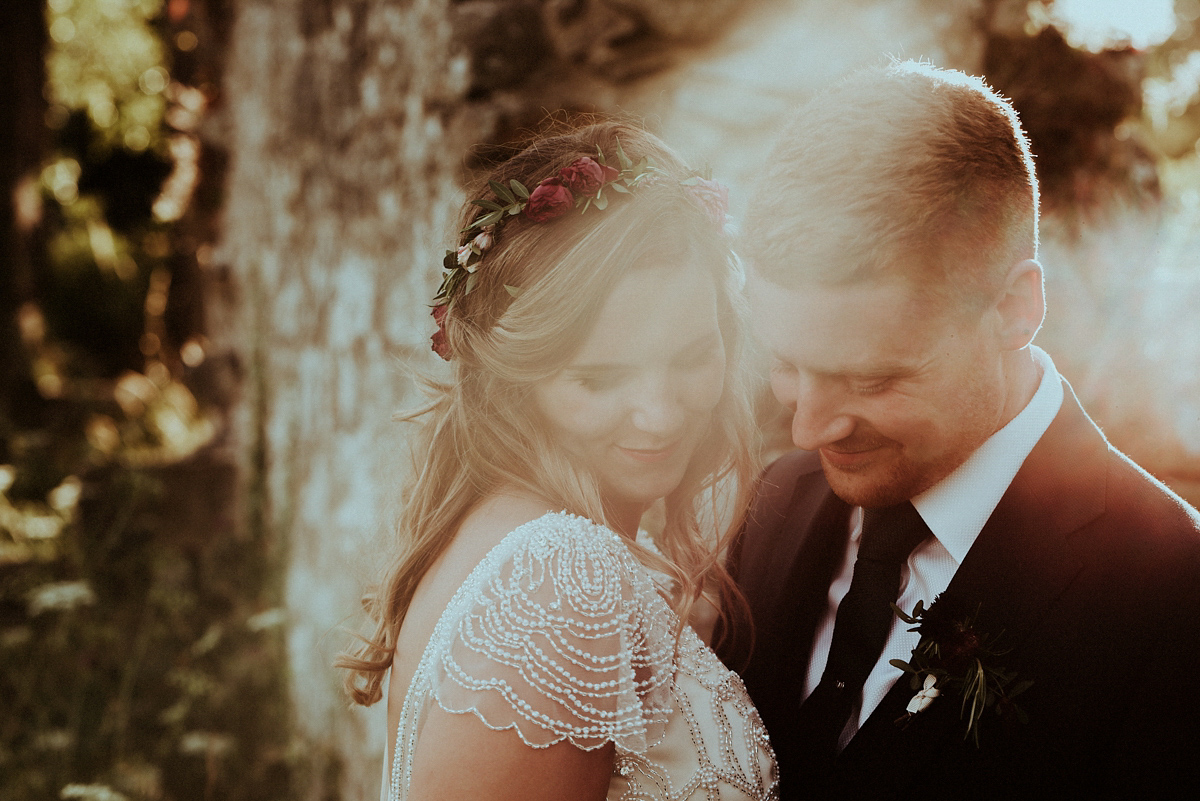 "I think the best part of the day for me was arriving at our reception. We'd planned the route our guests would take through the abbey to reach the stunning area we held our prosecco reception, and had made a load of beautiful wooden signs to send people on a sort of treasure hunt."
"It was singularly wonderful wandering through the abbey with the bridal party and rounding the corner and seeing everyone enjoying the abbey, the sunshine and the drinks. We got a huge cheer as we arrived and it was completely wonderful."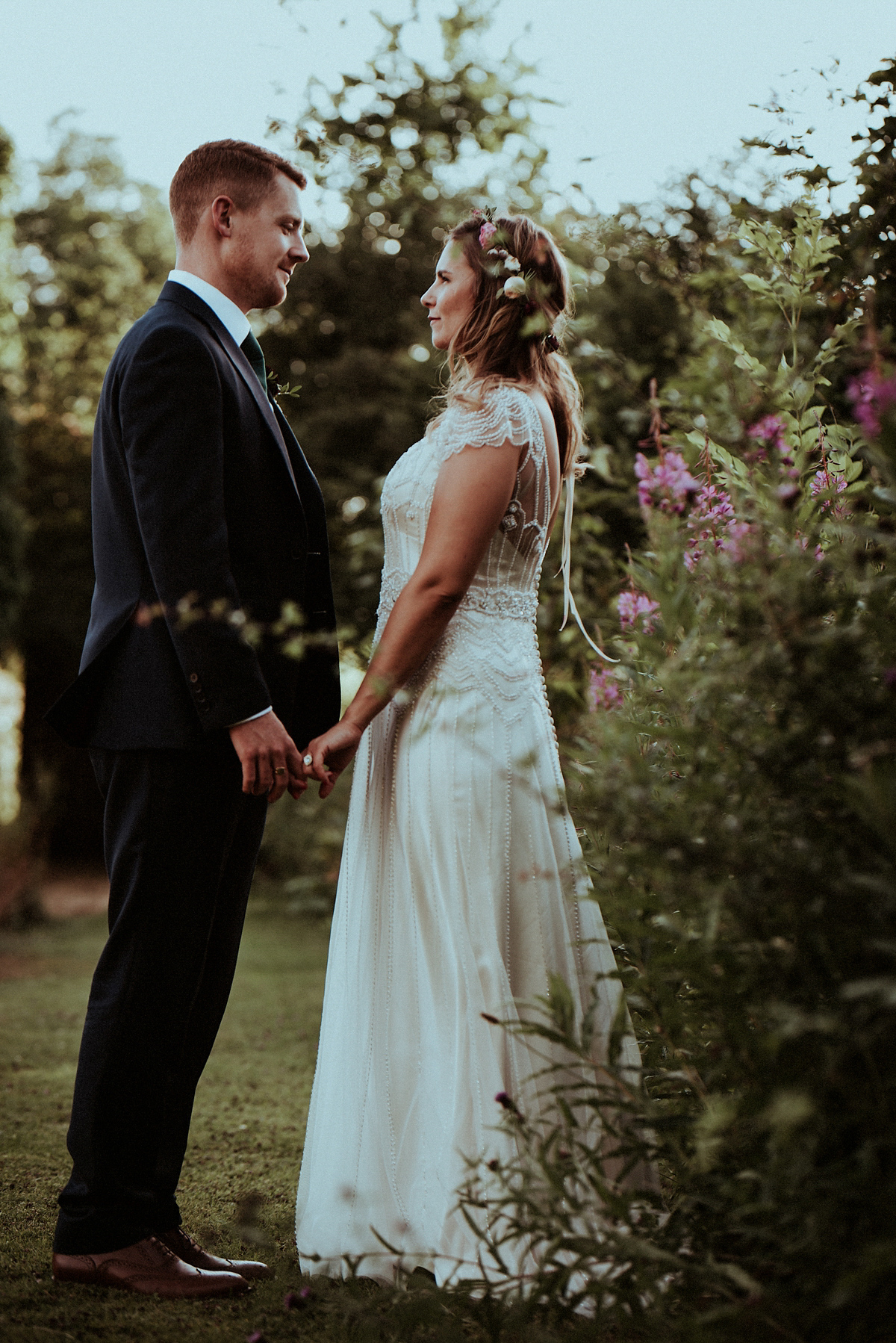 Words of Wedded Wisdom
"On your wedding day there is so much to enjoy you feel like you only get moments with people, so the night before catching up with our friends and families was pretty special and important in the grand scheme of things. It was very life-affirming to have everyone come from so far and commit a whole weekend to the wedding. I don't think we'll ever experience anything quite like it again.
My final note of advice to anyone planning a wedding would be to do your research, compare as much as you can and really wherever possible, go with your heart. We saved money where we could and made sacrifices where necessary, but I can honestly say that we had everything we dreamed of, and more on the day. Decide what's most important to you and stick to your guns. Go with what you know you want and don't do anything for anyone else, it will be written all over your face on the day if you don't make yourselves happy and really, that's all anyone attending your wedding wants to see anyway!"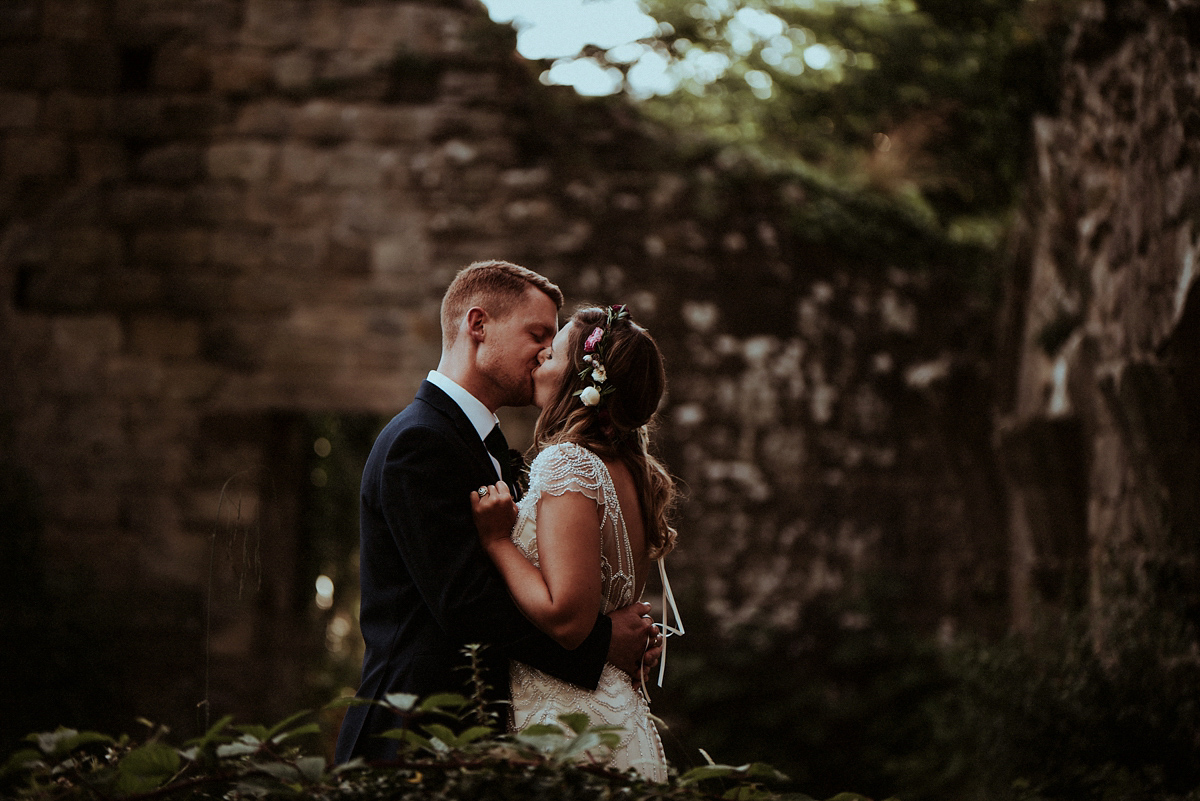 I have thoroughly enjoyed preparing this beautifully captured wedding by the incredibly talented Ryan from Shutter Go Click Photography with you lovelies! So many thanks to the sweet couple for allowing us a little peek into all of the very special moments – your heartfelt tale pulled on my heartstrings and I'm certain will provide loads of inspo for our lovely readers.
Have a wonderful rest of week.
Love Jo -x-