Good morning everyone – well autumn seems no sooner upon us than Christmas appears just around the corner! Once Halloween has passed, the year always feels like it's breaking out into a gallop towards the end of year festivities, and I struggle to feel like I'm keeping up with things, but especially so with all our house renovation right now. I'm thankful therefore that I can rely on a spot of escapism through the beautiful real wedding features we share on our beloved wedding blog. And by the way, with yuletide on my mind, I much prefer the M&S Christmas advert to the John Lewis one this year. How about you? 😉
This morning's wedding is full of English seaside charm; PR Account Director Anya tied the knot with her beau Steve, Head of UK Operations at a Wifi Company, on Saturday 11th June this year. Their wedding was documented by one of my industry friends, Eliza Claire, who has captured the really lovely, laid back nature of these celebrations absolutely perfectly.
"We knew from the start that we wanted something a little different for our wedding day, rather than the archetypal white wedding. I have always loved vintage style and fashion, and we also both love the Suffolk coast, particularly Southwold. We decided to base our wedding near Southwold, close to my hometown of Lowestoft, so we could make the most of the beautiful beach. We were very lucky with the weather on the day, and took all our guests to Southwold Beach for photos and ice cream, served from Steve from Ice Cream Dreams' delightful vintage ice cream bike."
Photography by Eliza Claire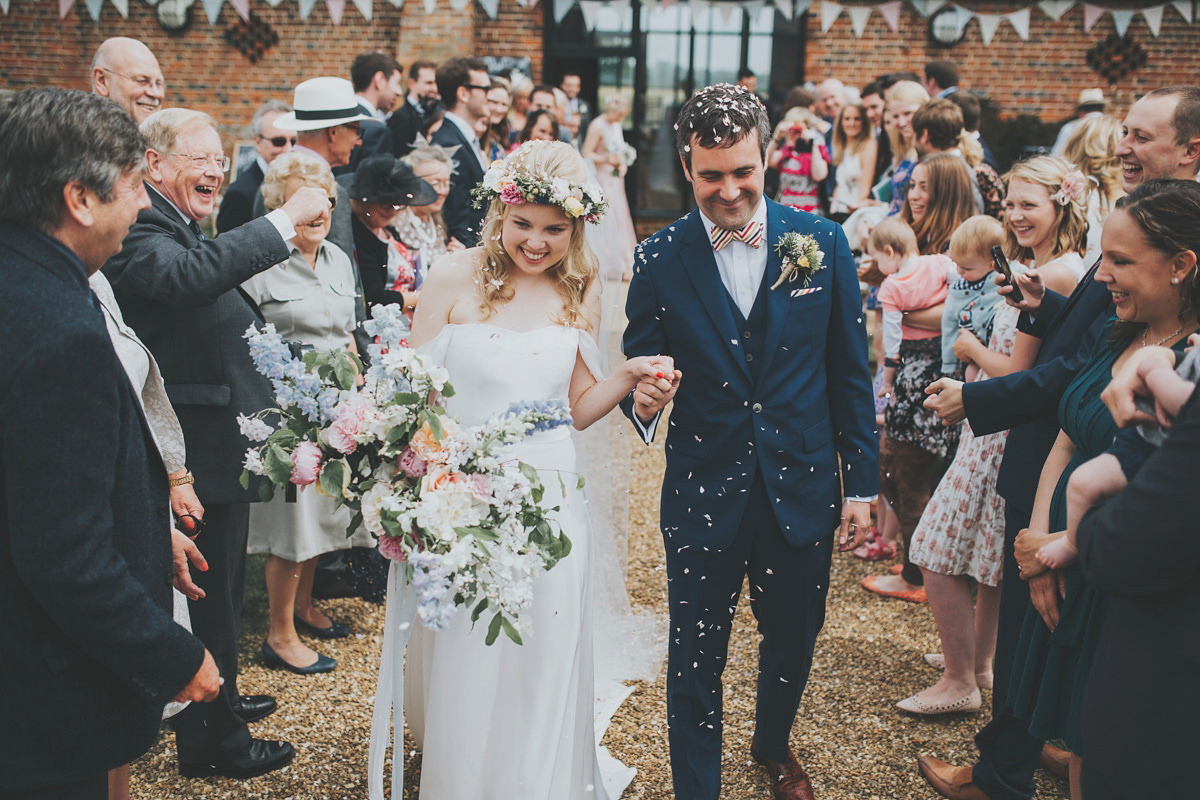 "Whilst trawling Love My Dress one day for inspiration, I chanced upon Sabina Motasem and immediately fell in love with the style of her understated and elegant dresses, with an ethereal, boho style and luxurious, lightweight, flowing materials. I called Sabina's showroom expecting to talk to an assistant and ended up speaking to Sabina herself.""I described the elements from the different dresses I had tried on so far and Sabina said my 'dream dress' was one she had been wanting to design for a while."
"I tried on a number of dresses by different designers, which was great fun! I knew I wanted something flowing and non-traditional, with a boho/vintage vibe. I found lots of beautiful dresses I liked, but there wasn't one dress that had all the design elements I wanted, so I knew I definitely hadn't found 'The One' yet."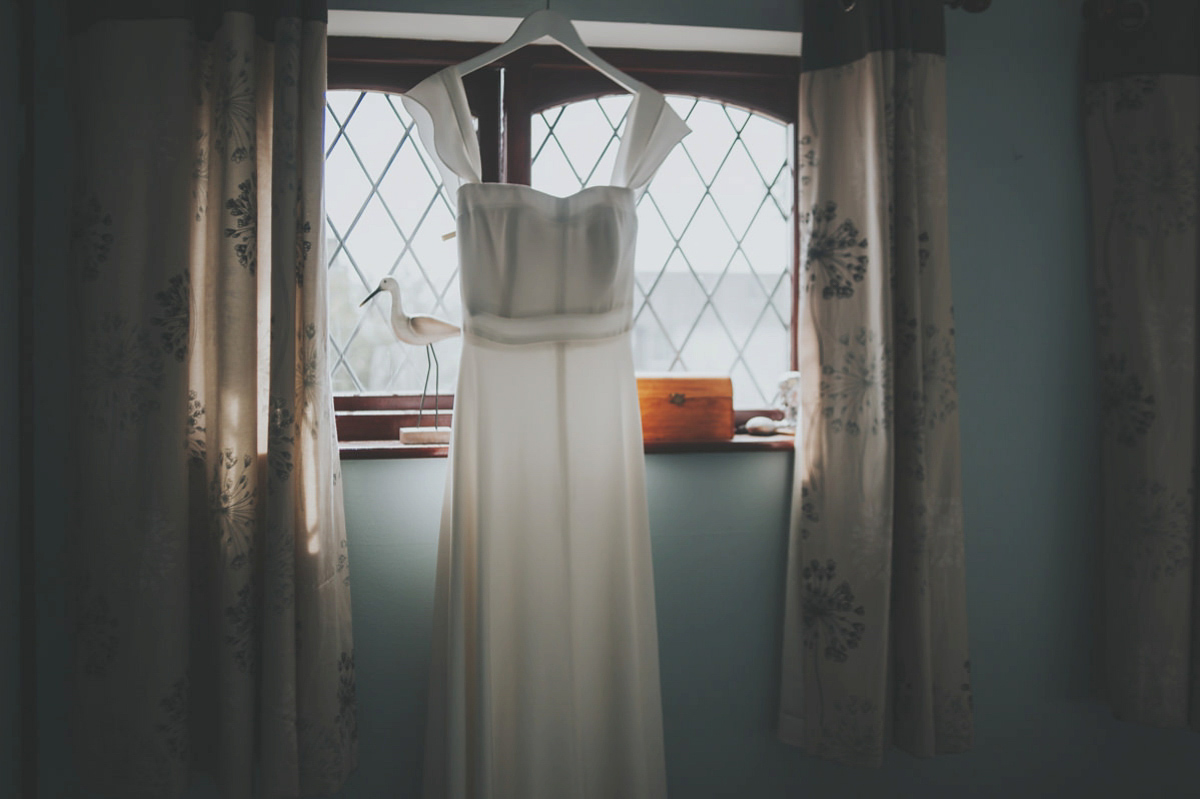 "We first met five years ago whilst living and working in Birmingham – Steve is from Birmingham originally and I went to Birmingham University. Steve popped the question whilst we were on holiday in one of my favourite cities – New York. He treated me to a helicopter ride above Manhattan and then surprised me with a beautiful diamond ring from the Birmingham Jewellery Quarter, whilst we stood admiring the view over the East River."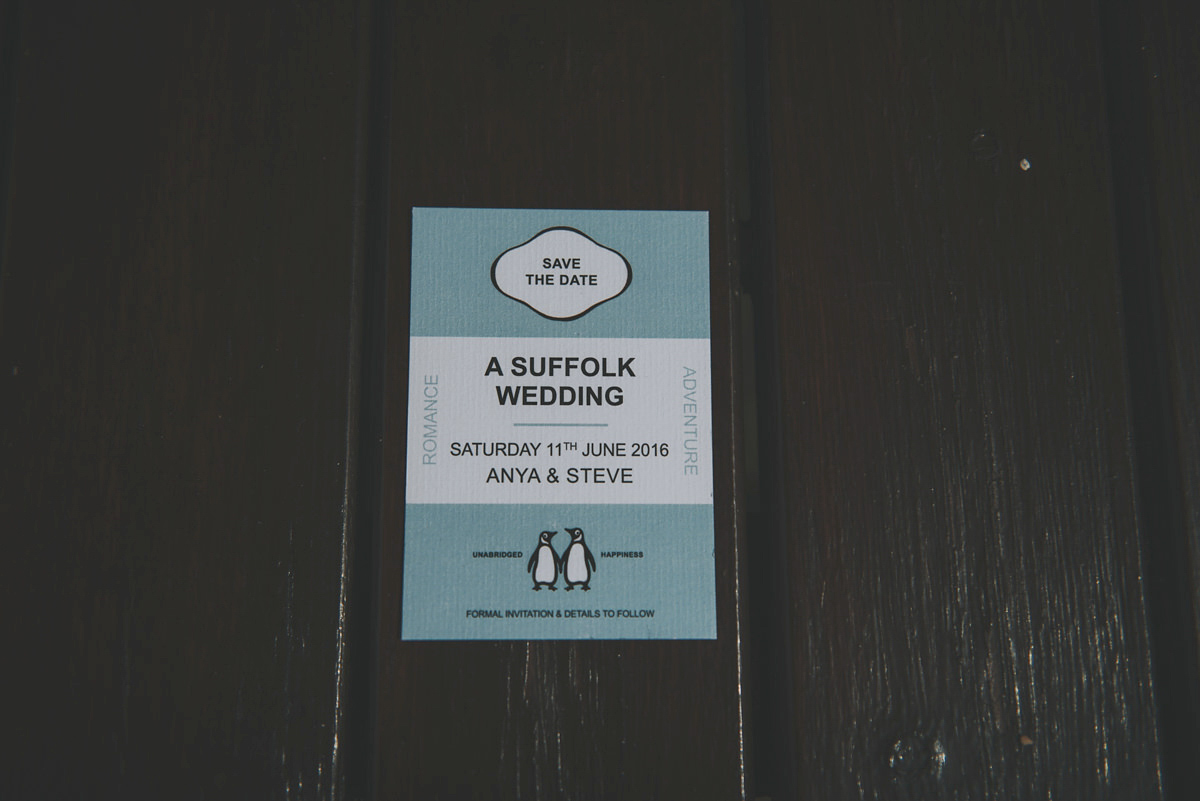 "Our venue was the beautiful Wood Farm Barn on the Benacre Estate, located just outside Southwold in Suffolk. It was the perfect 'blank canvas' to personalise and style, to create our vintage seaside themed day. It is only a 10 minute drive away from my parents' house and only 15 minutes from one of our favourite places on the Suffolk coast, Southwold. We didn't even look around any other venues before booking it.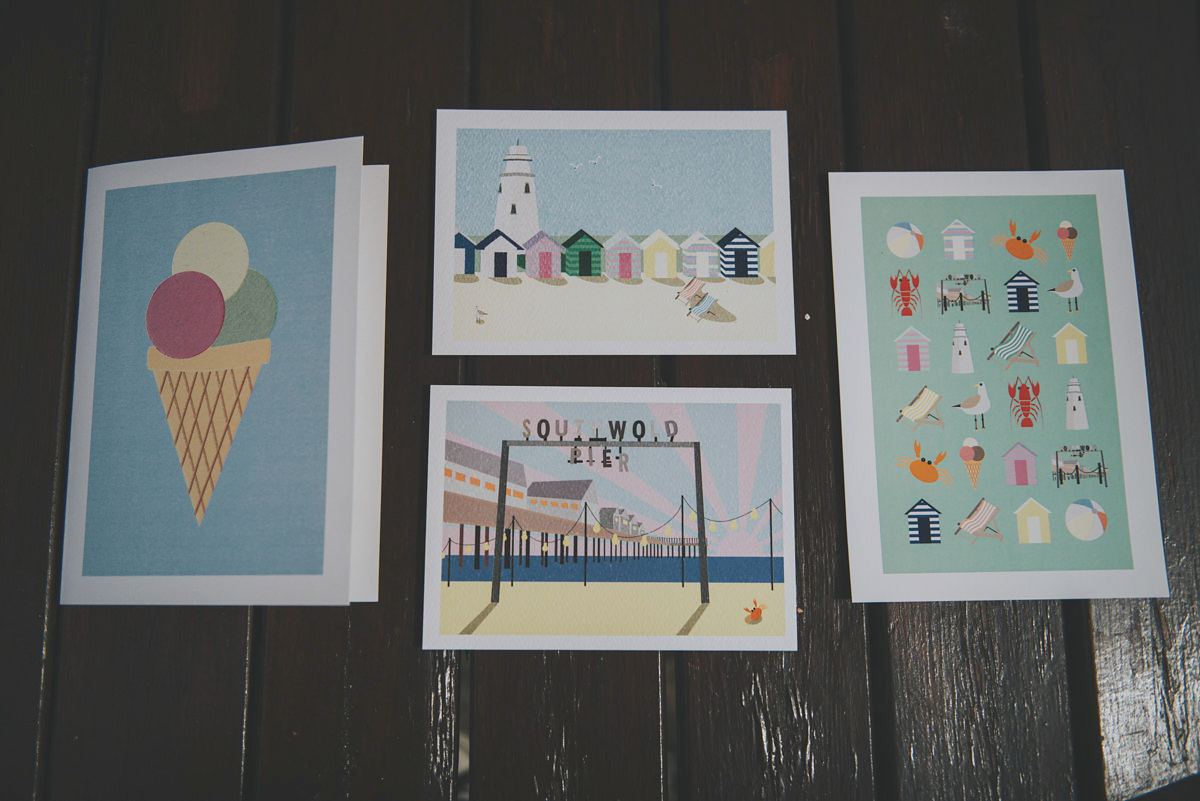 "Our invitations, order of ceremony booklets and wedding breakfast menus were designed by our friend, Vicki, who is a graphic designer.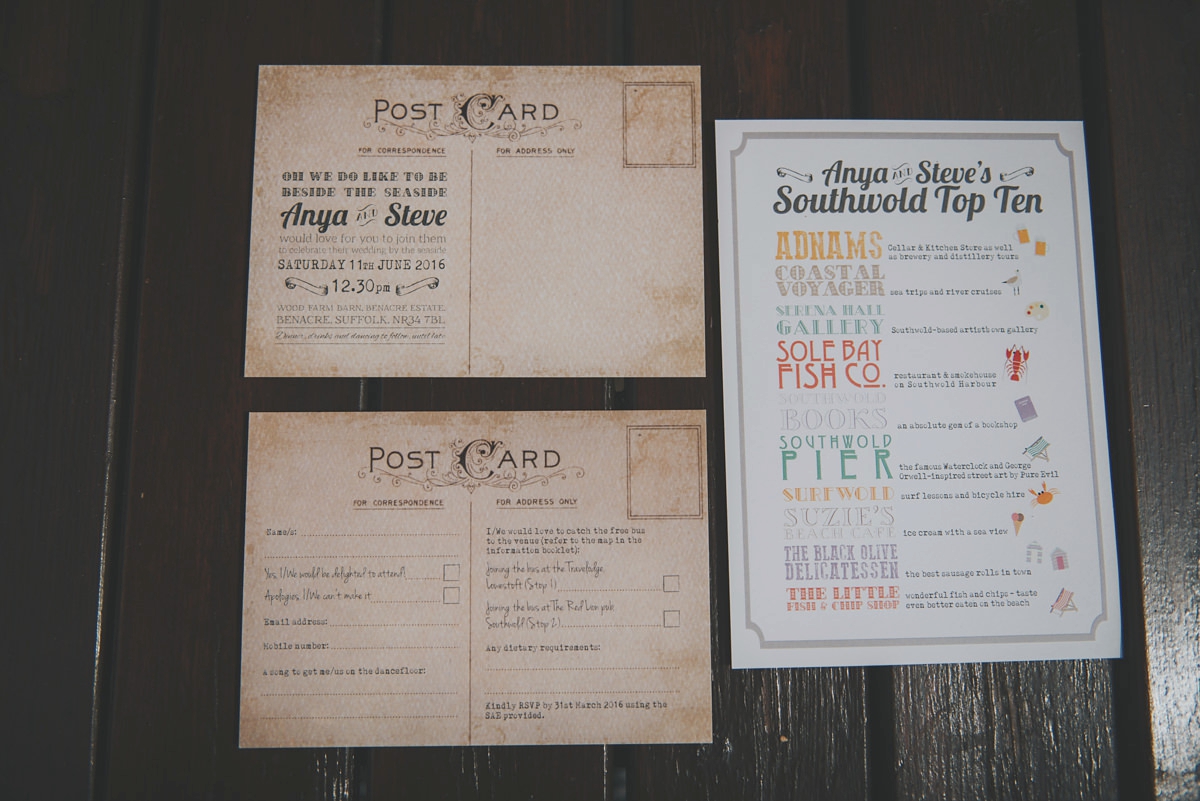 "Without having been to Southwold before, Vicki designed us our very own vintage style Southwold seaside postcard invitations. They were fantastic and we now have a copy framed as a memento.'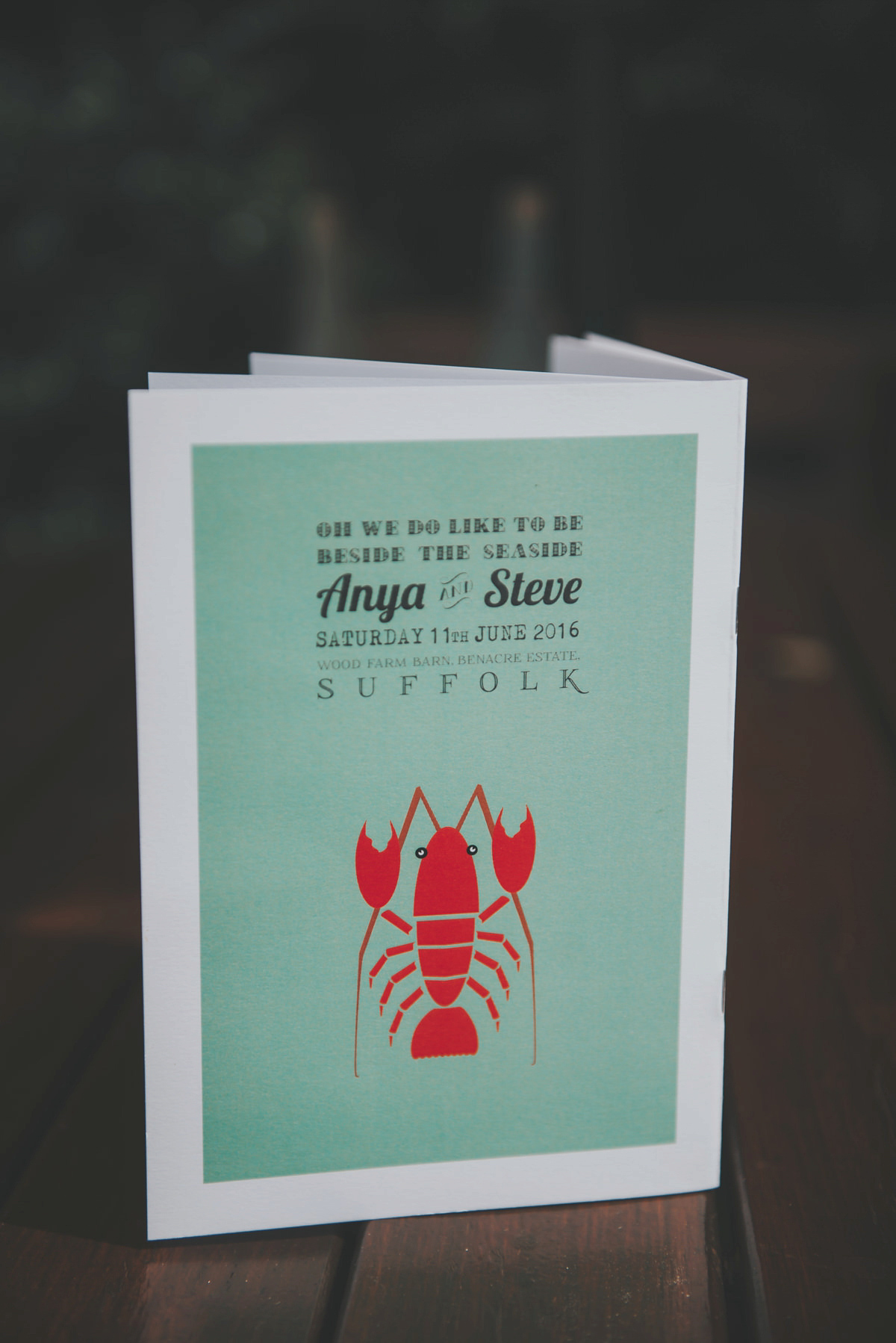 "I fell in love with my shoes before I had even found my dress . They were the Mimosa Powder Blue vintage peep toe t-bar heels by Rachel Simpson and were also my 'something blue'. They fitted perfectly with our pastel colour scheme and they were so comfy, I danced all night in them."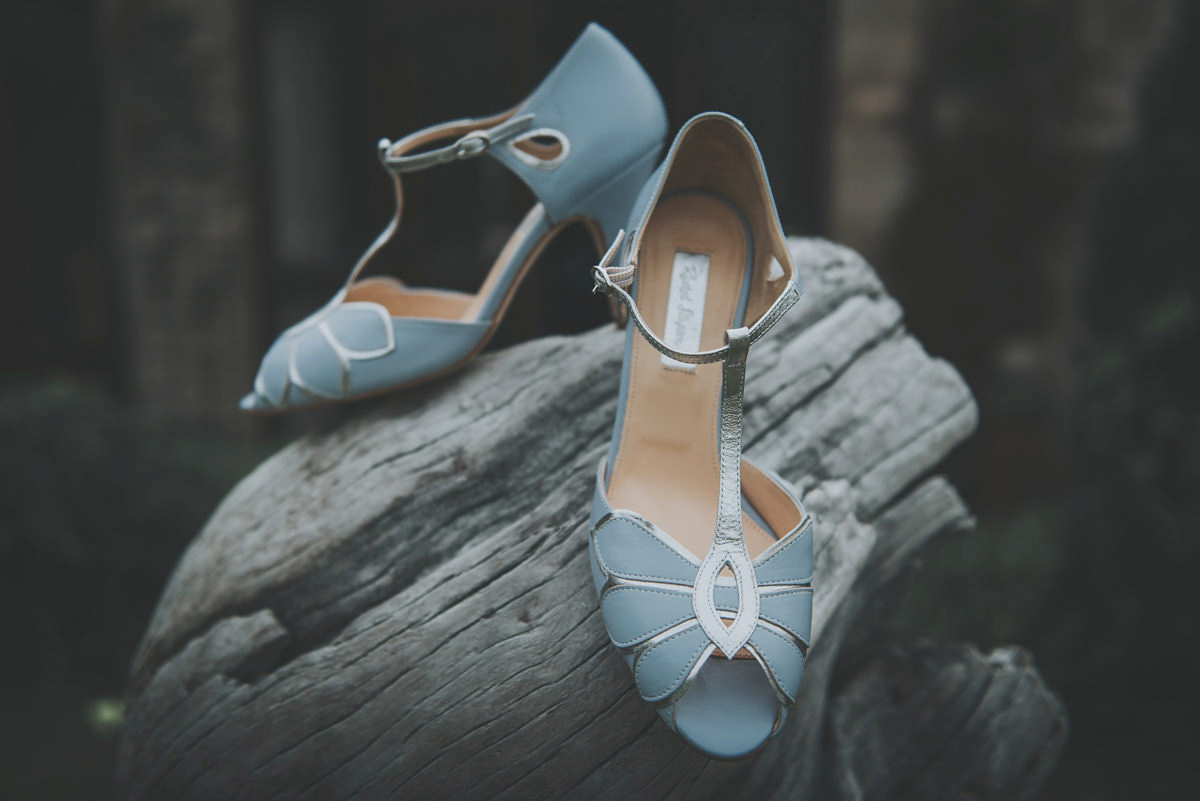 "Michelle, my make up artist from Beauty Bliss Therapies did my make up on the morning of the wedding, using Bobbi Brown products. I went for a natural, English rose look to complement my flowing boho style dress and fresh flower crown. I chose pretty, natural colours that I was able to wear again on our honeymoon in Thailand."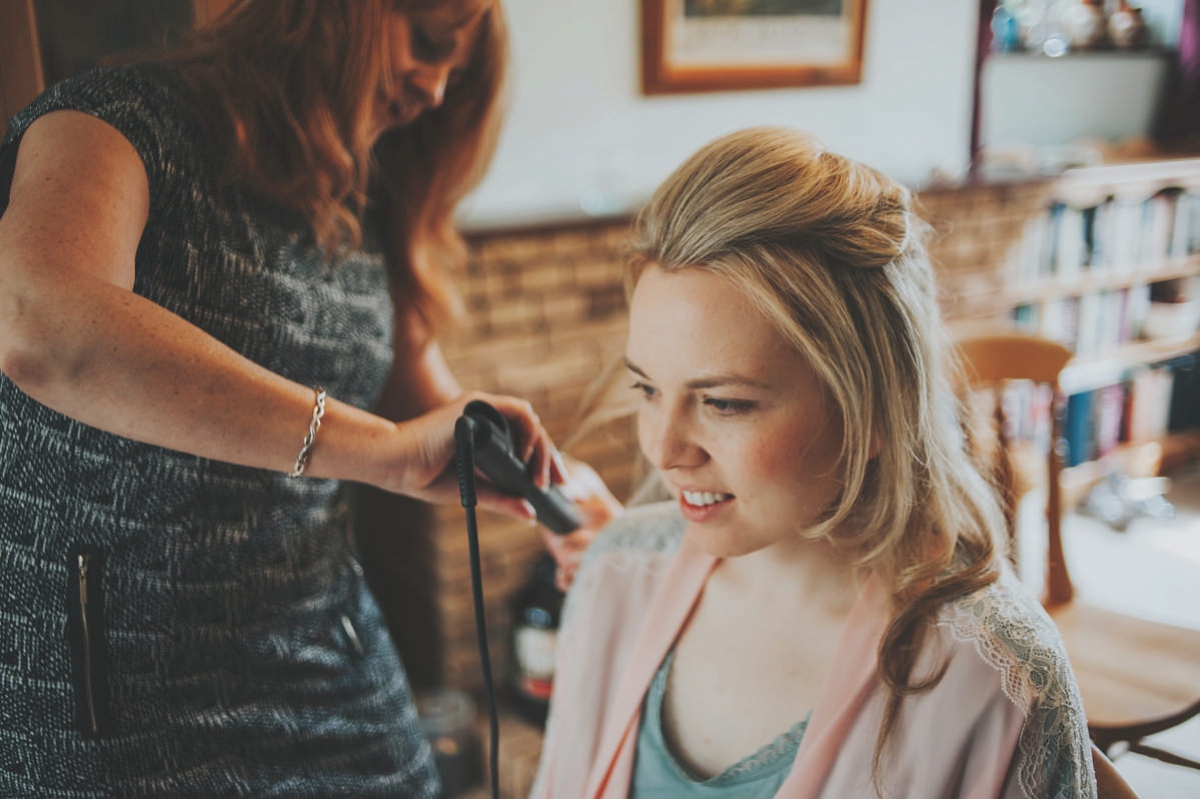 "Kerry, my hair stylist, created gorgeous boho waves for my hair. I wanted a loose flowing style that would work well with my fresh flower crown and the floaty style of my dress. I chose a loose natural beach wave so my hair could blow in the breeze when we went on the beach for photos.  To continue the vintage/boho look with my hair accessories. During the day I wore a beautiful fresh flower crown created for me by our florist, Denise, at The Garden Gate."
"My perfume was Jo Malone Orange Blossom. I love the fresh, floral scent and the orange blossom also has associations with marriage and fertility – Queen Victoria wore a wreath of orange blossoms on her wedding day."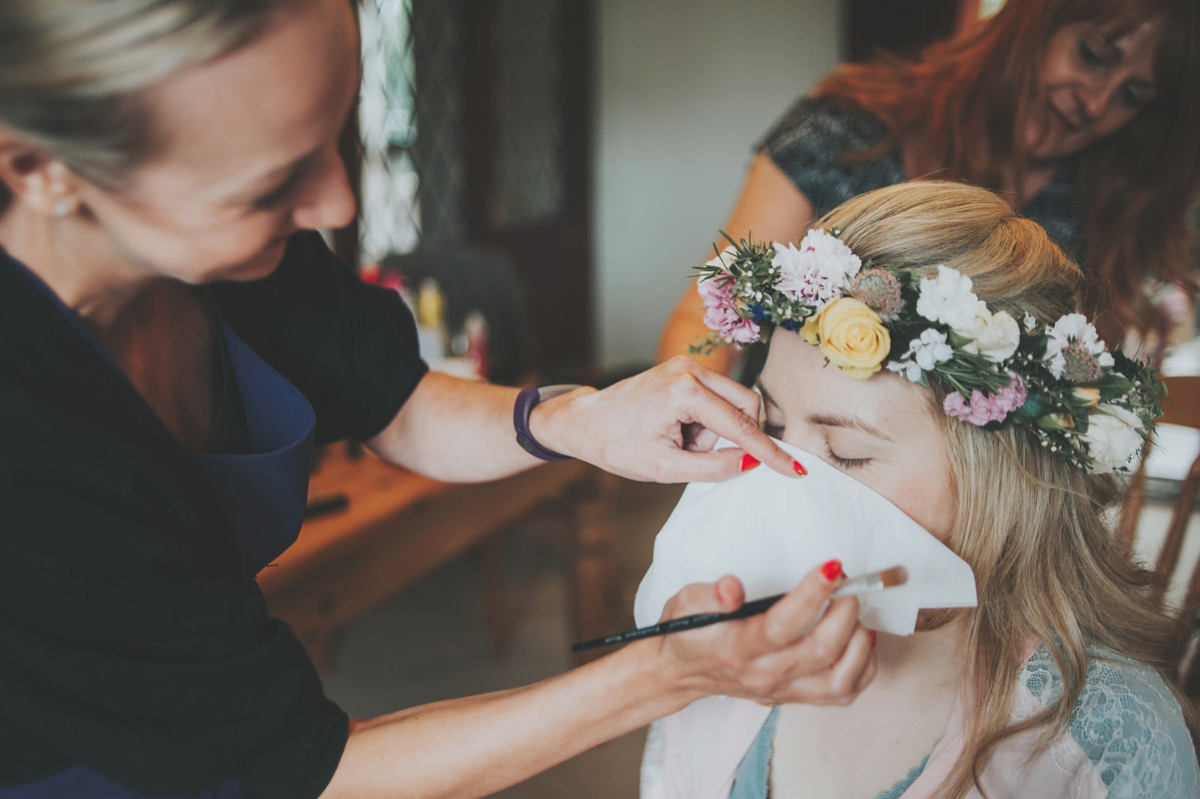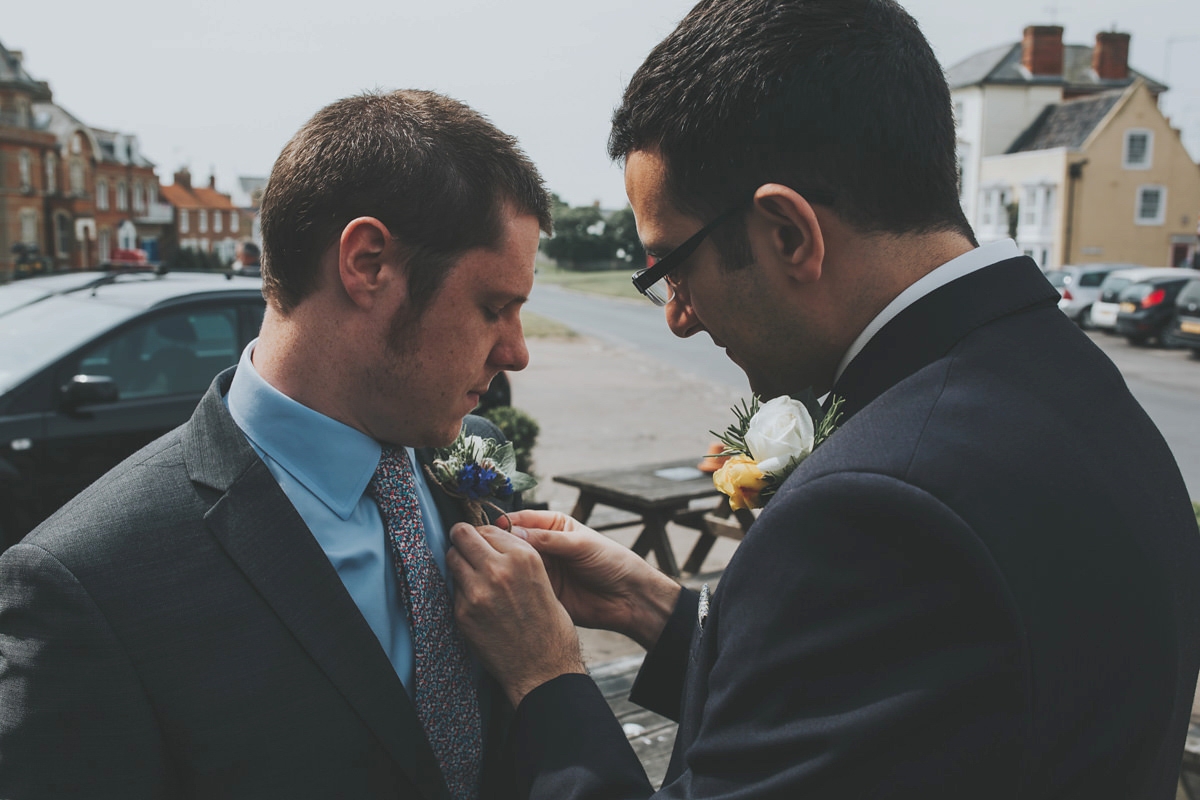 "Elle, my bridesmaid, wore the Taylor dress from the Ghost dye-to-order range, in boudoir pink. She paired her dress with heels by Carvela, from Kurt Geiger. Elle wore fresh flowers – small headed roses and gypsophila – pinned in her hair from our florist, Denise at The Garden Gate.  She accessorised with a simple pearl bracelet and pearl tusk earrings by Sarah Hickey from Not on the High Street."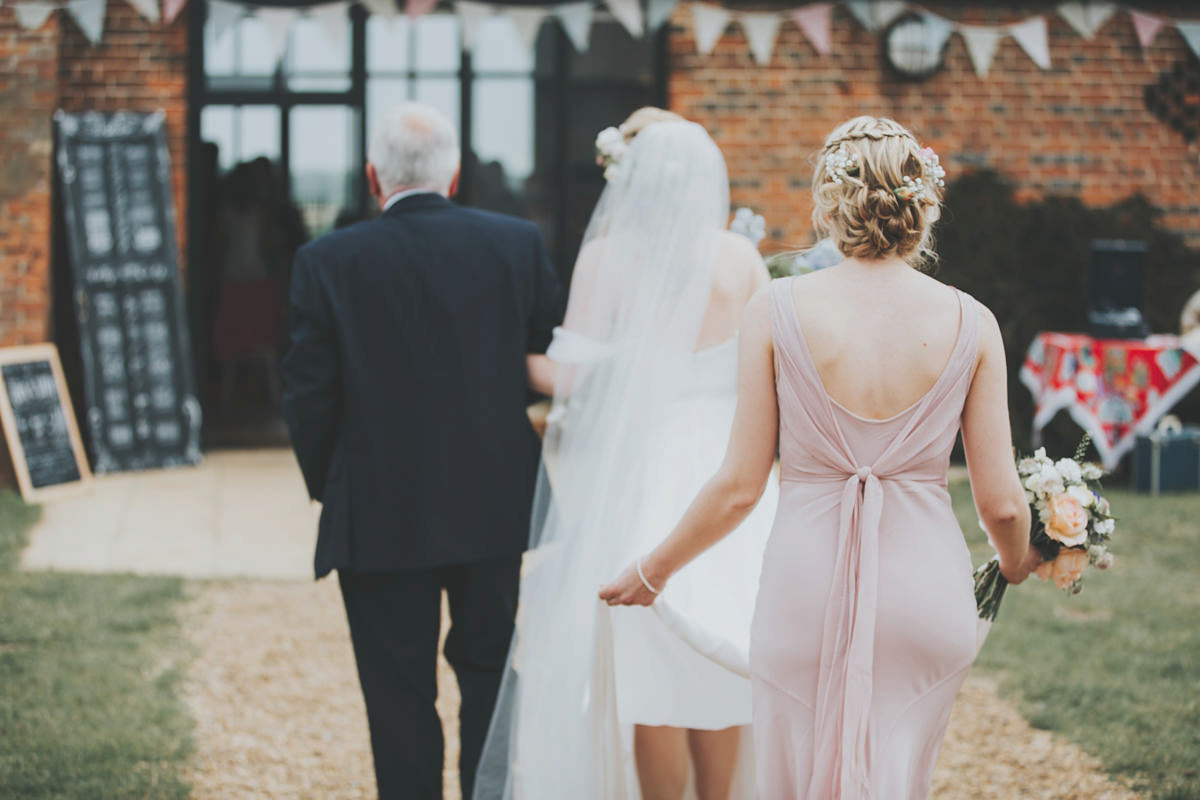 "Our florist was Denise from The Garden Gate, an artisan florist and flower grower. Having locally grown, seasonal British flowers that looked 'just picked' was important to us and Denise grows and styles beautiful seasonal flowers from her walled cutting garden near Southwold. She is a true artist, creating gorgeous, natural arrangements that look like they have just been picked from an English country garden.
For my bouquet I wanted something big, wild and natural looking, in pastel colours, that would blow in the breeze as we walked along Southwold Beach. Denise created a stunning arrangement with big blousy peonies and garden roses, delphiniums, sweet peas, cow parsley, cornflowers, sweet rocket and irises, as well as lots of foliage to really give that wild and natural effect. She even included some freesias in my bouquet, as my Nan had freesias in her wedding bouquet.
For the flowers on the wedding breakfast tables, we arranged a mix of seasonal flowers in vintage jars and bottles and positioned these on stacks of old hardbook and Penguin books – a nod to my love of literature."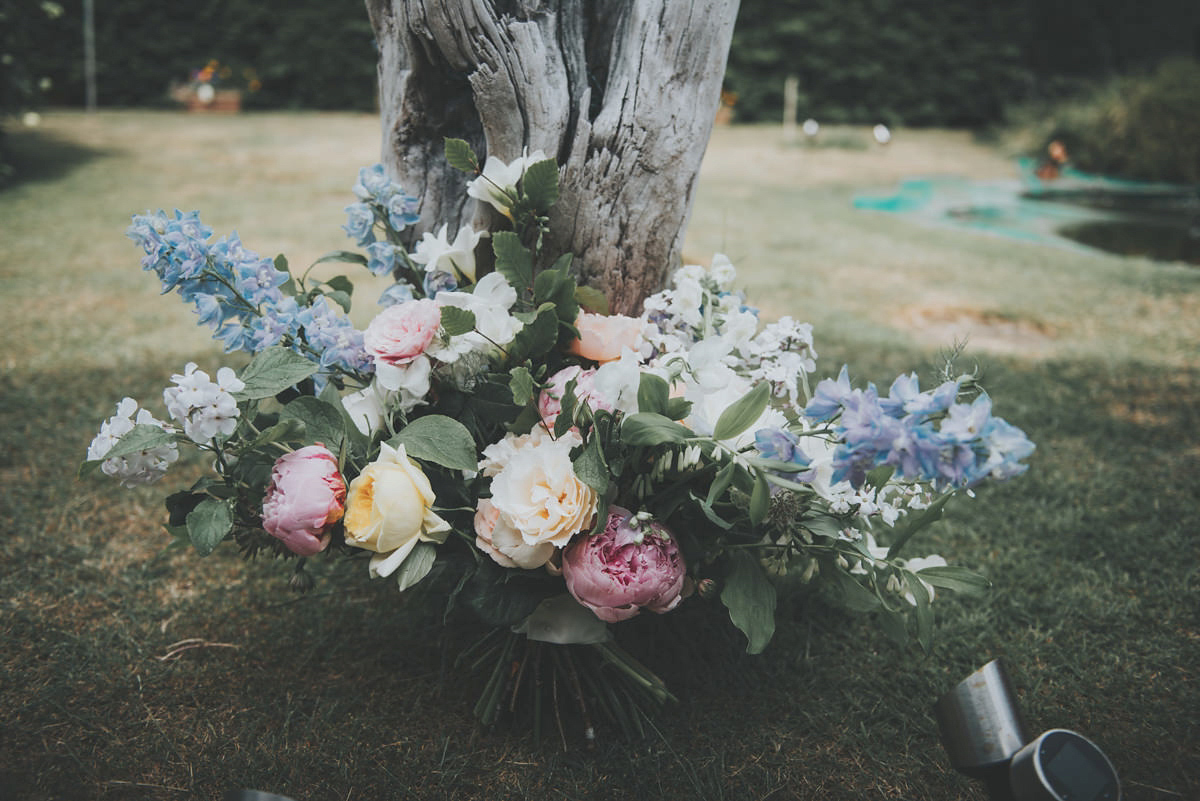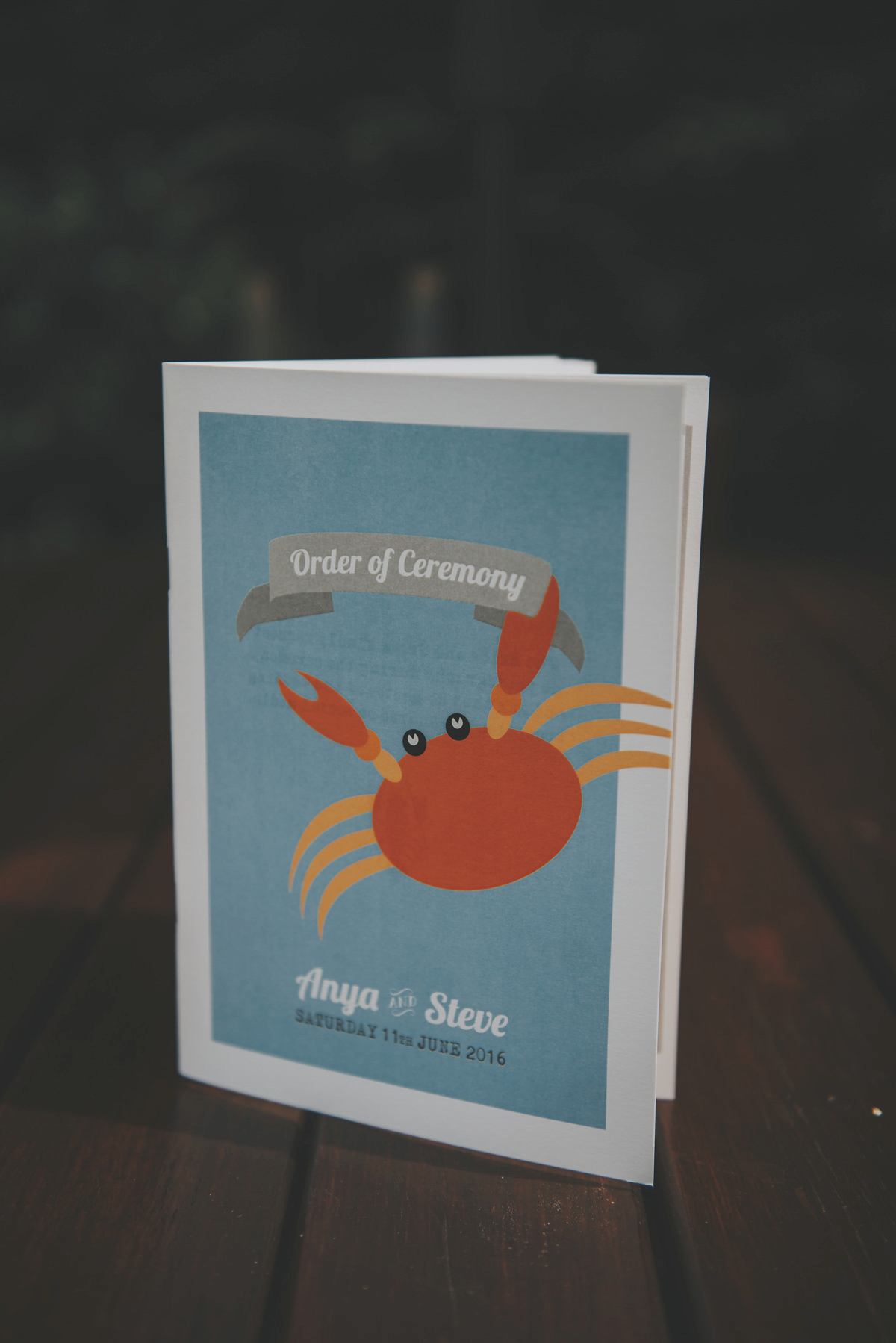 "I walked down the aisle with my dad to Moon River by Audrey Hepburn and Steve and I walked back up the aisle together after the ceremony to Frank Sinatra's Come Fly With Me – both songs were played on the gramophone by the Vintage 78 DJs, Matt and Annabel."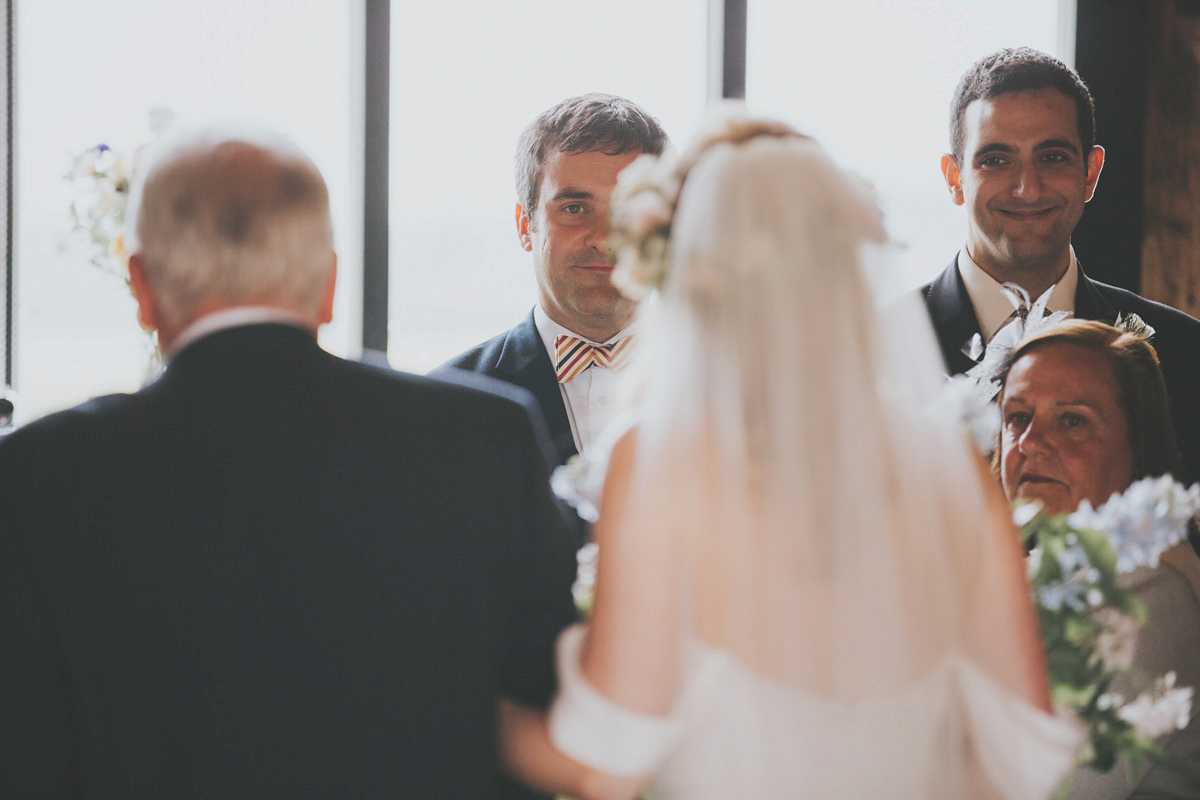 "We had three readings read by friends; Sonnet 116, by William Shakespeare, a reading inspired by the late astronomer, Carl Sagan and his wife Ann, entitled 'A Humanist Perspective on Love, Life and Meaning' – this was based on Carl and Ann Sagan's humanist, scientific perspectives on love, life and meaning and was written by our friend and usher, Tom. And finally we had 'Rock and Stone' by an unknown author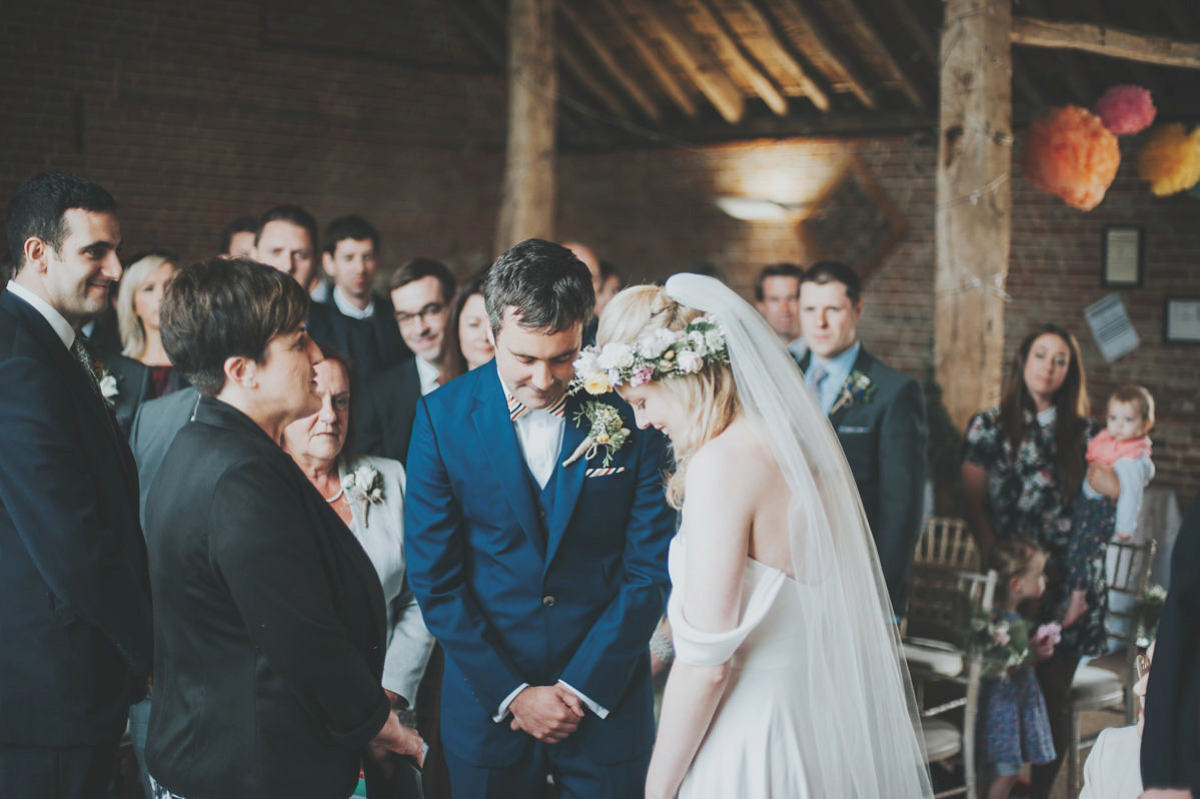 "Although we had a civil ceremony and not a humanist wedding, we wanted to include the reading inspired by Carl Sagan's perspectives on life and love as a nod to our humanist beliefs."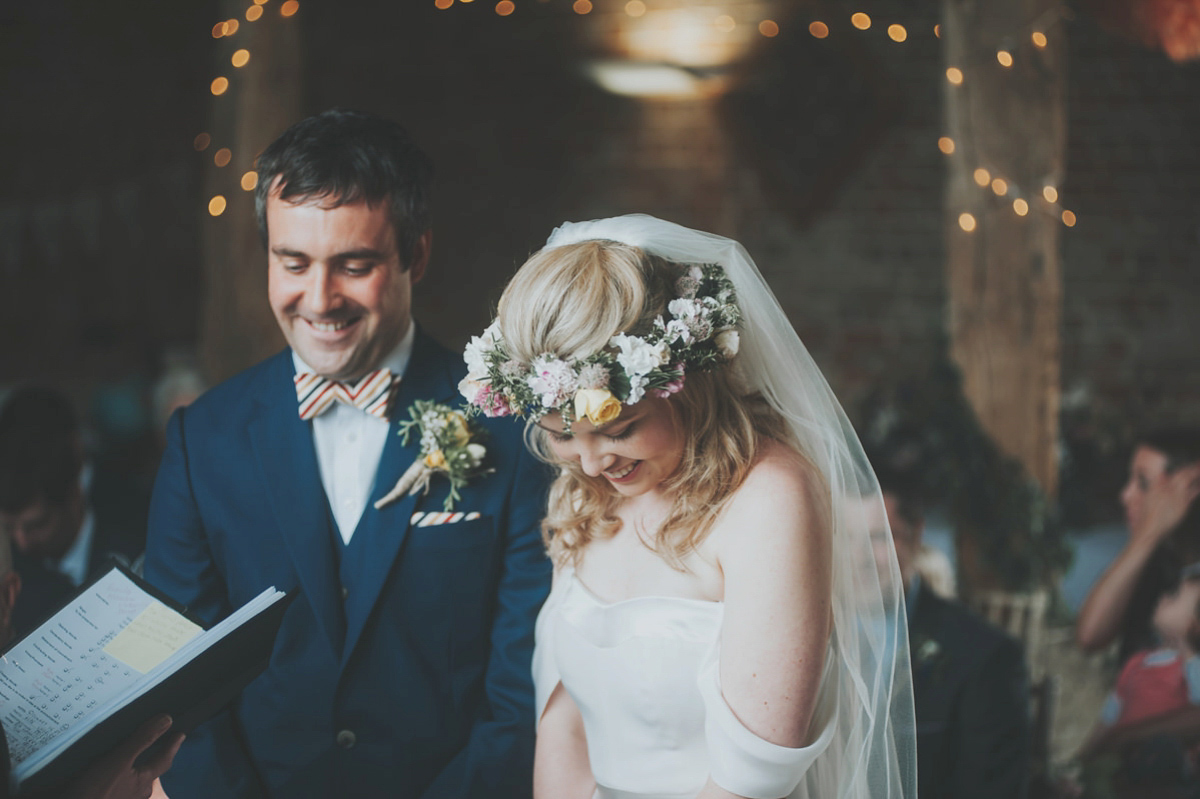 "For my something old and borrowed I wore two bracelets that have been passed down in my family – a delicate silver chain with little butterflies on it and a freshwater pearl bracelet. I also wore a ring on my right hand that has been passed down in my family, which fitted with my vintage look perfectly."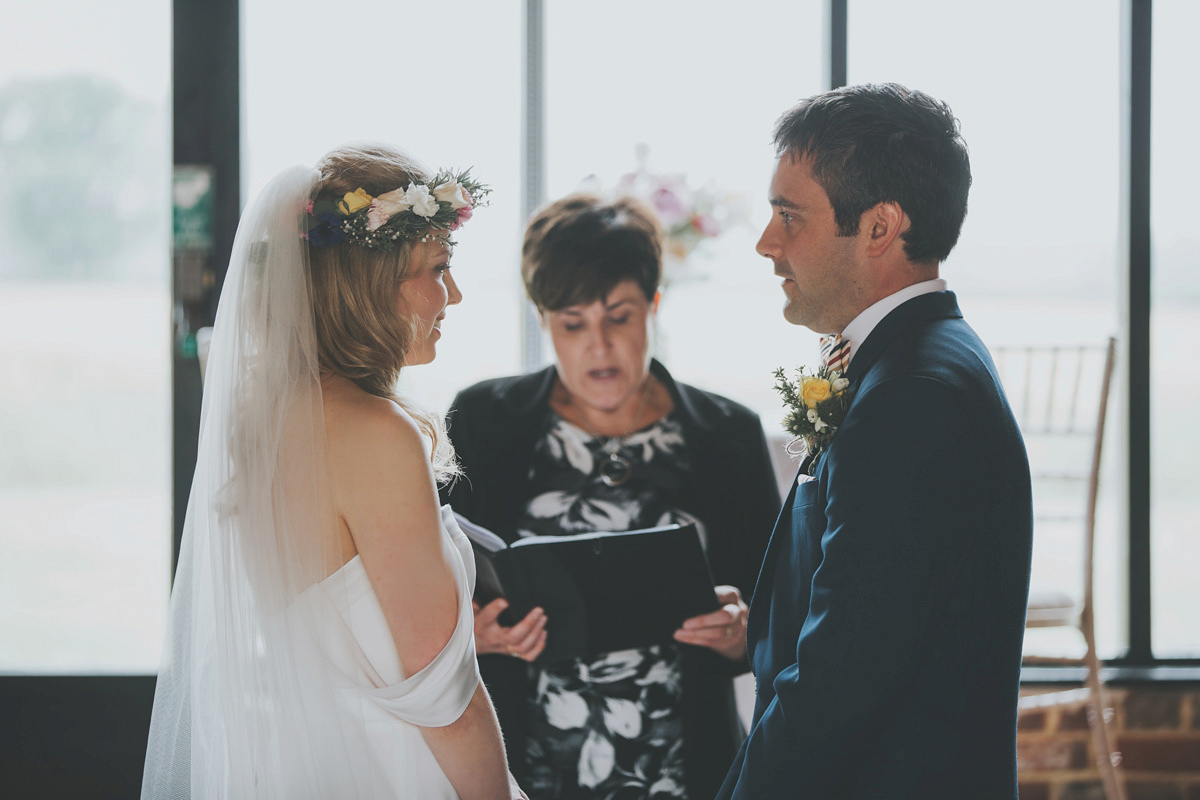 "Our rings were from the Jewellery Quarter in Birmingham – a nod to Steve's home city and the place where we first met."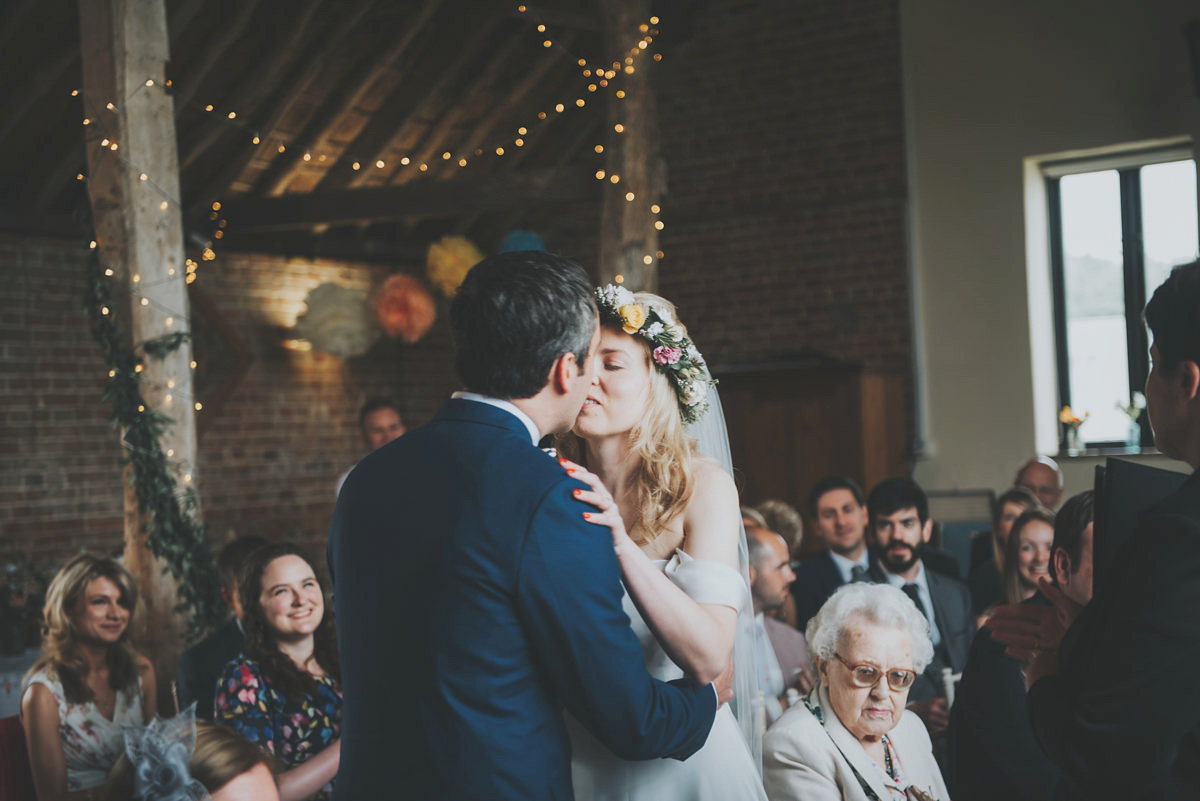 "Our photographer was the super talented and lovely Eliza Claire, who we would recommend without hesitation. Our photos are all we could have wished for and more. Eliza managed to capture the essence and feeling of the day perfectly and guests commented on how professional she was."
"Every time we look at our photos now, we are transported back to that moment in the cornfield by Wood Farm Barn or our walk along Southwold Pier, looking out at the sea. Eliza has created a set of images that will continue to evoke memories of our special day and that we will treasure forever."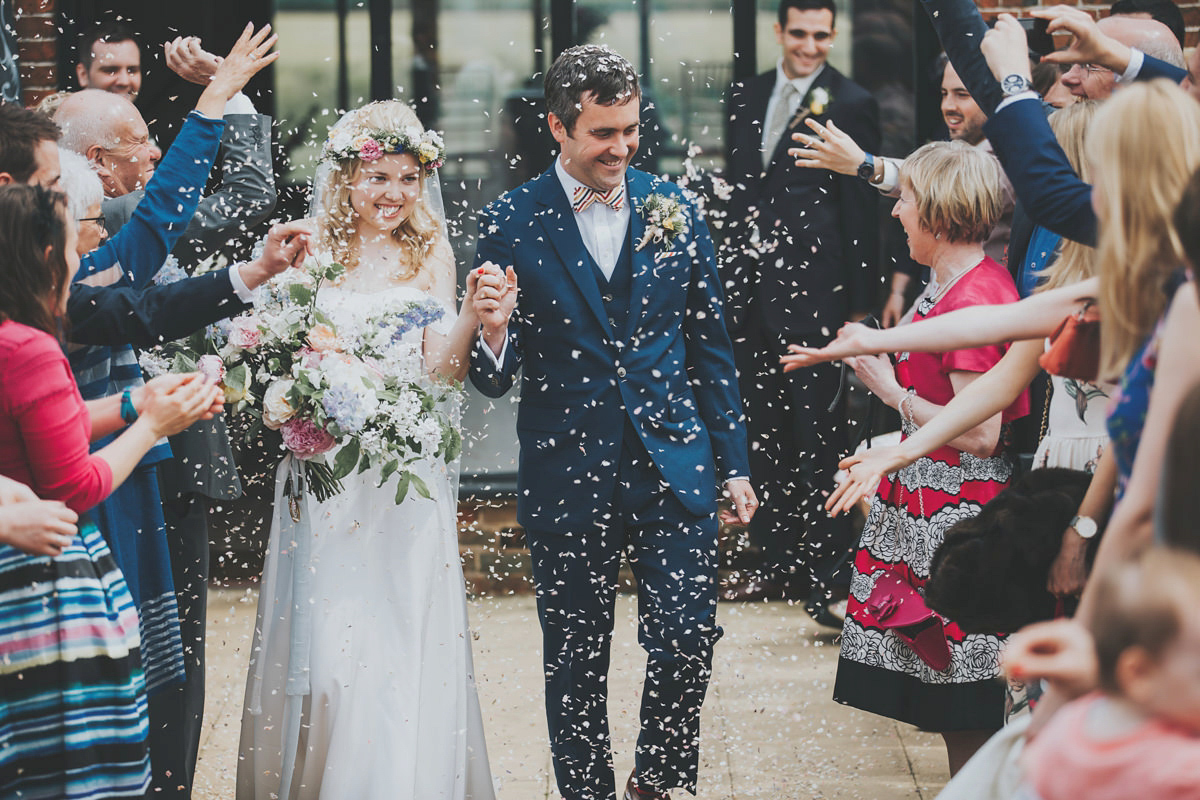 "Cian and Eddie at Beggar's Run are fantastic. As soon as we visited their studio in Bethnal Green, we knew they would make Steve's wedding suit. Steve looked amazing in his French Blue Worsted Wool suit which he wore with a white shirt from Thomas Pink. Steve accessorised with the Alton vintage navy and red bow tie and pocket square from Mrs Bow Tie."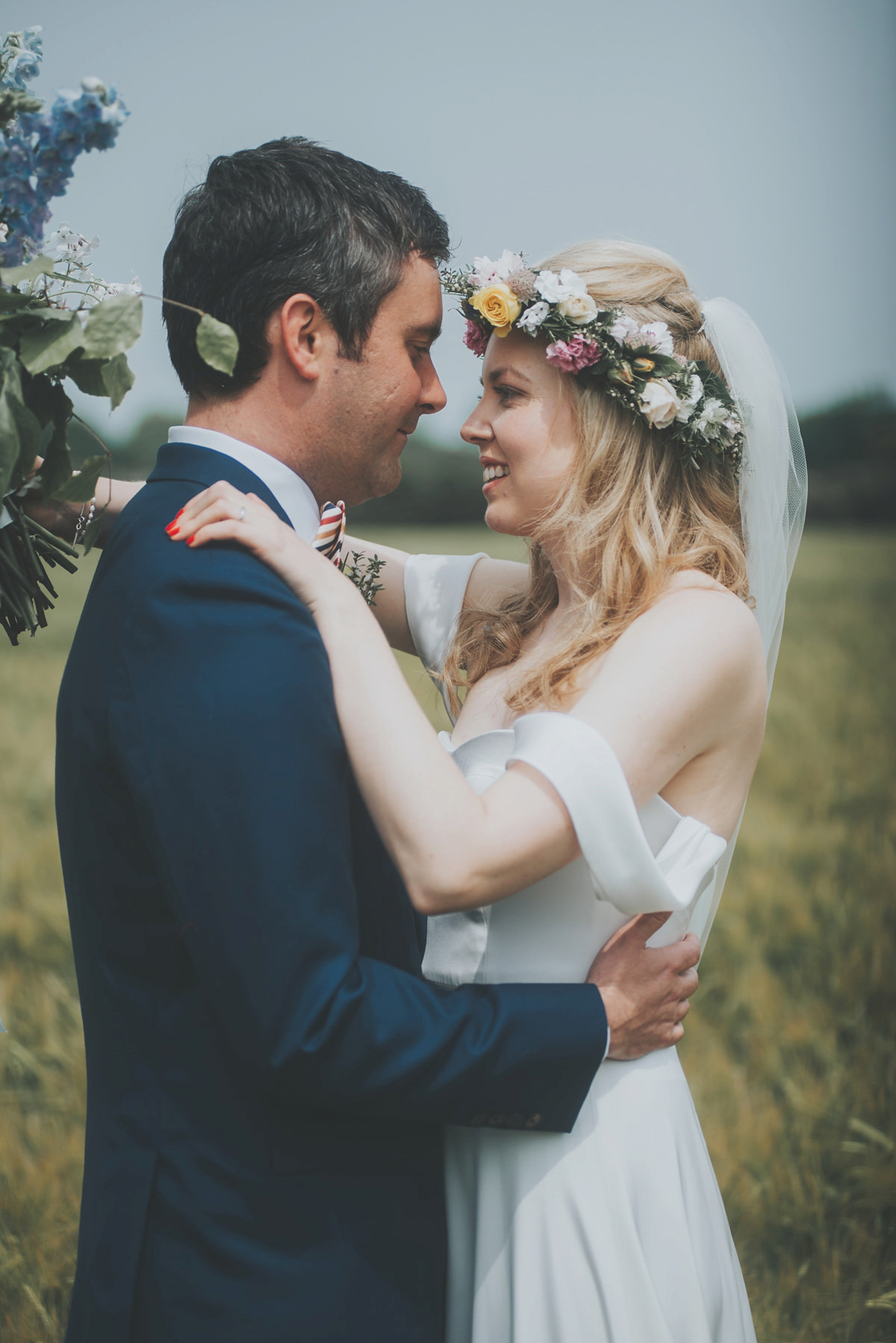 "Steve's lobster cufflinks and fabulous tan brogues were from New & Lingwood on Jermyn Street. Lobsters became a bit of a theme throughout our wedding to tie in with the vintage seaside theme – we had lobsters on our wedding invitations, order of ceremony booklets and wedding breakfast menus."
"In the evening before the first dance, he also had a bit of an outfit change to create a new look for the evening and swapped his bow tie and pocket square for a lobster print bow tie and pocket square, also from Mrs Bow Tie."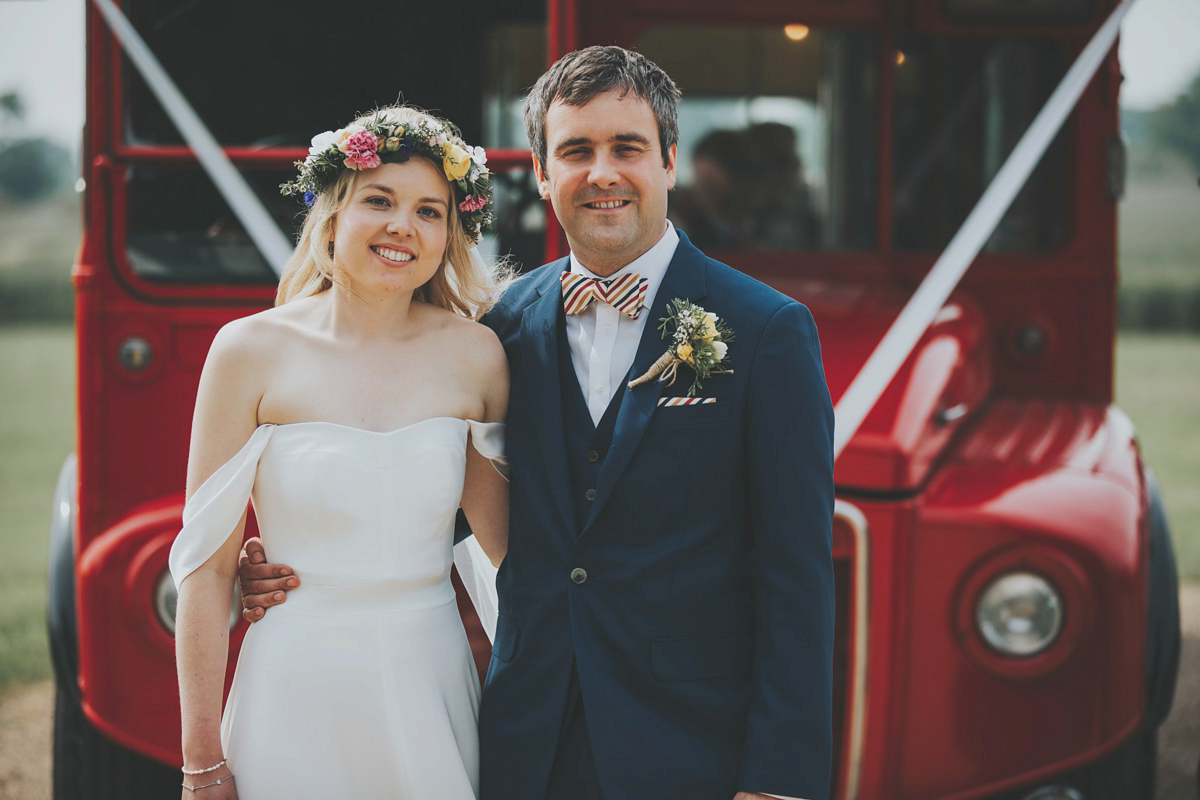 "For transport we hired a vintage Routemaster bus to take our guests to the wedding venue, and also to Southwold Beach for ice cream and photos after our ceremony. We hired the bus from Imperial Bus Ltd."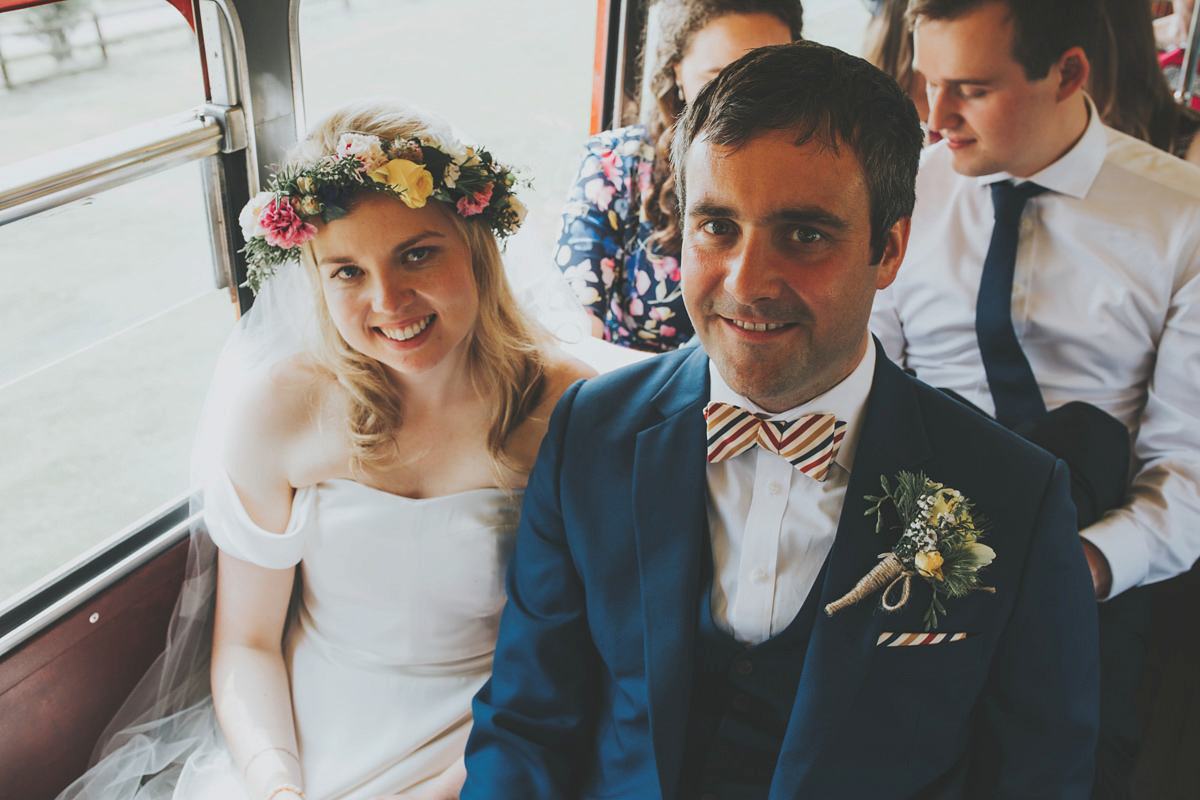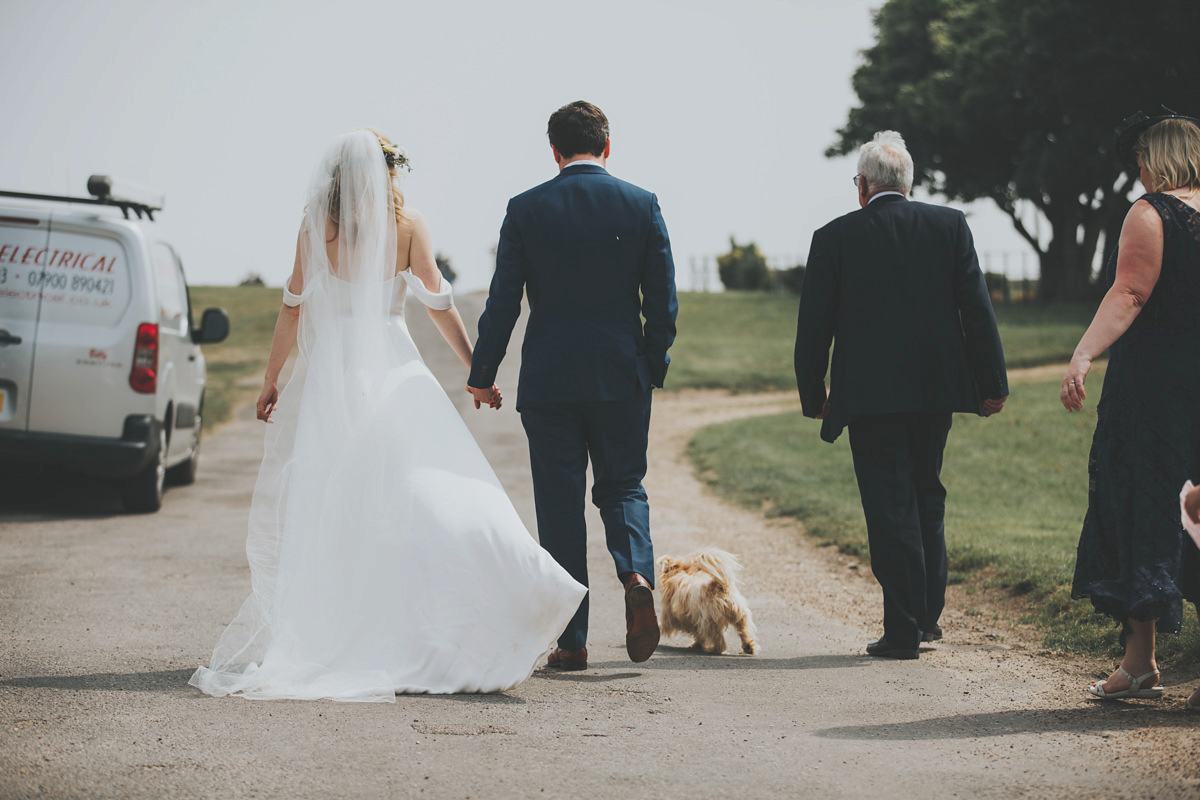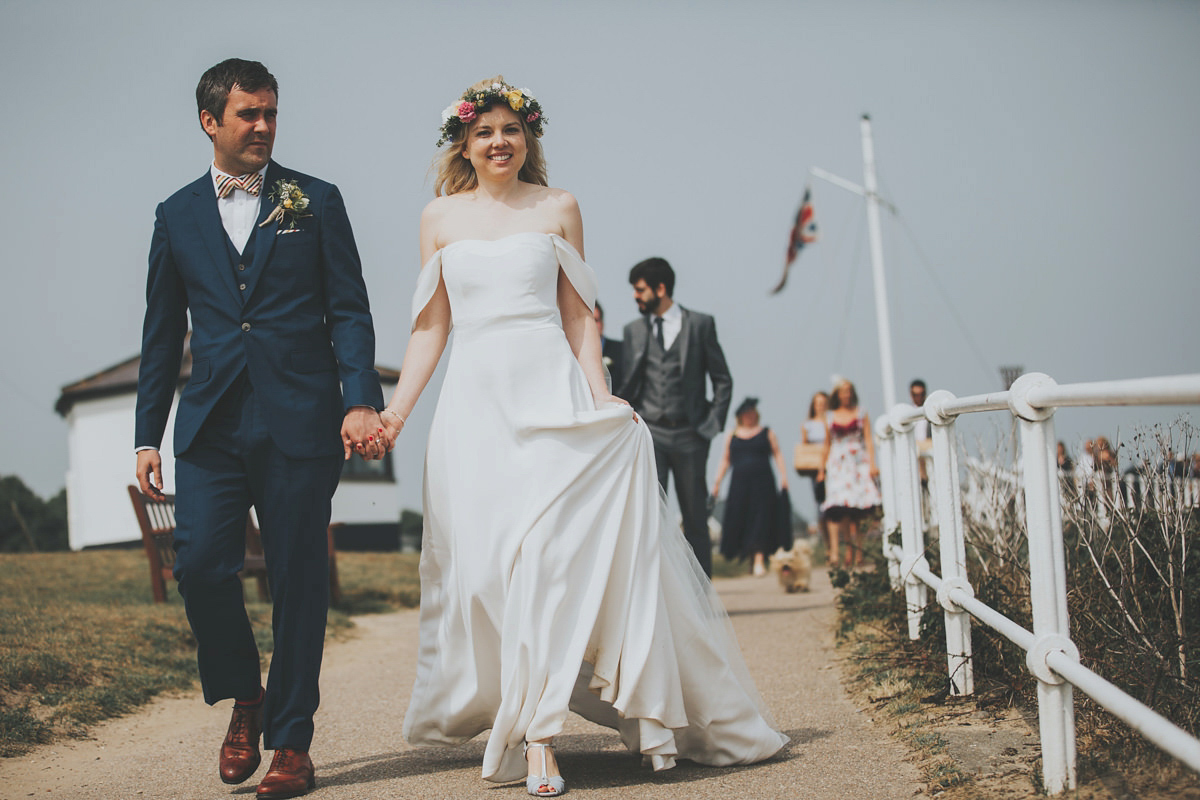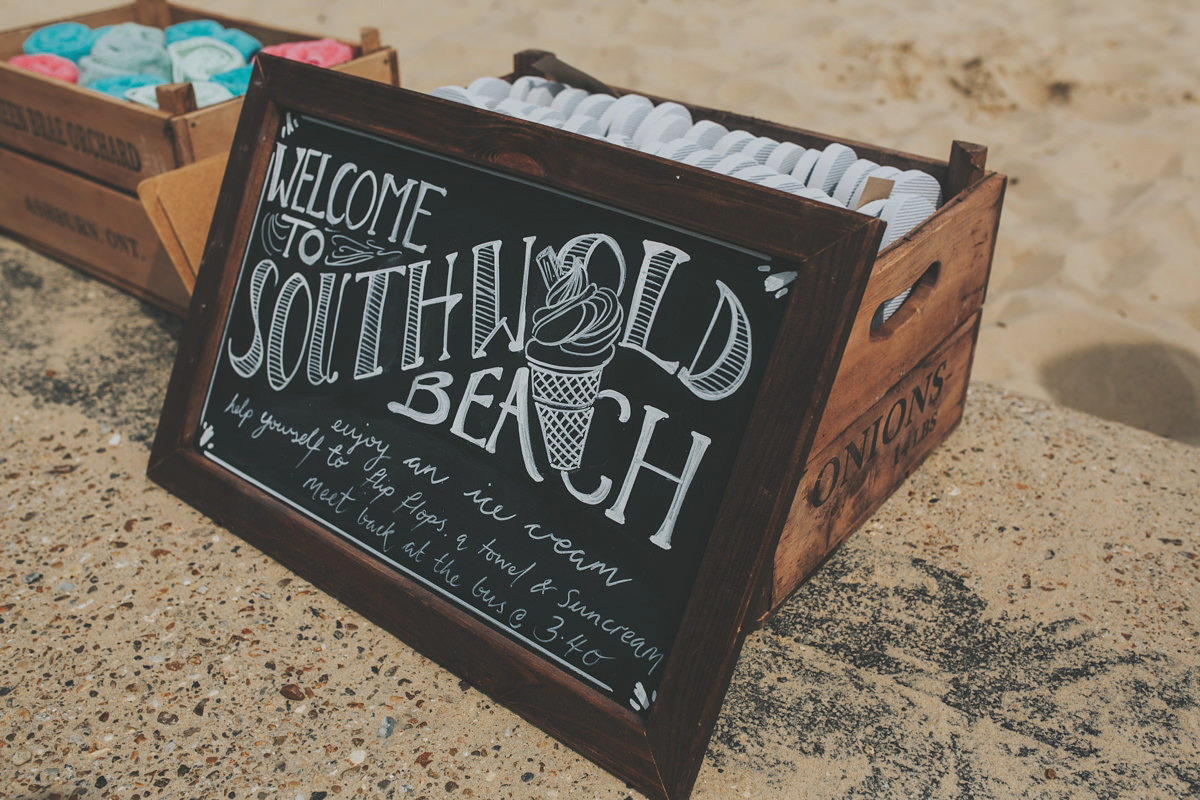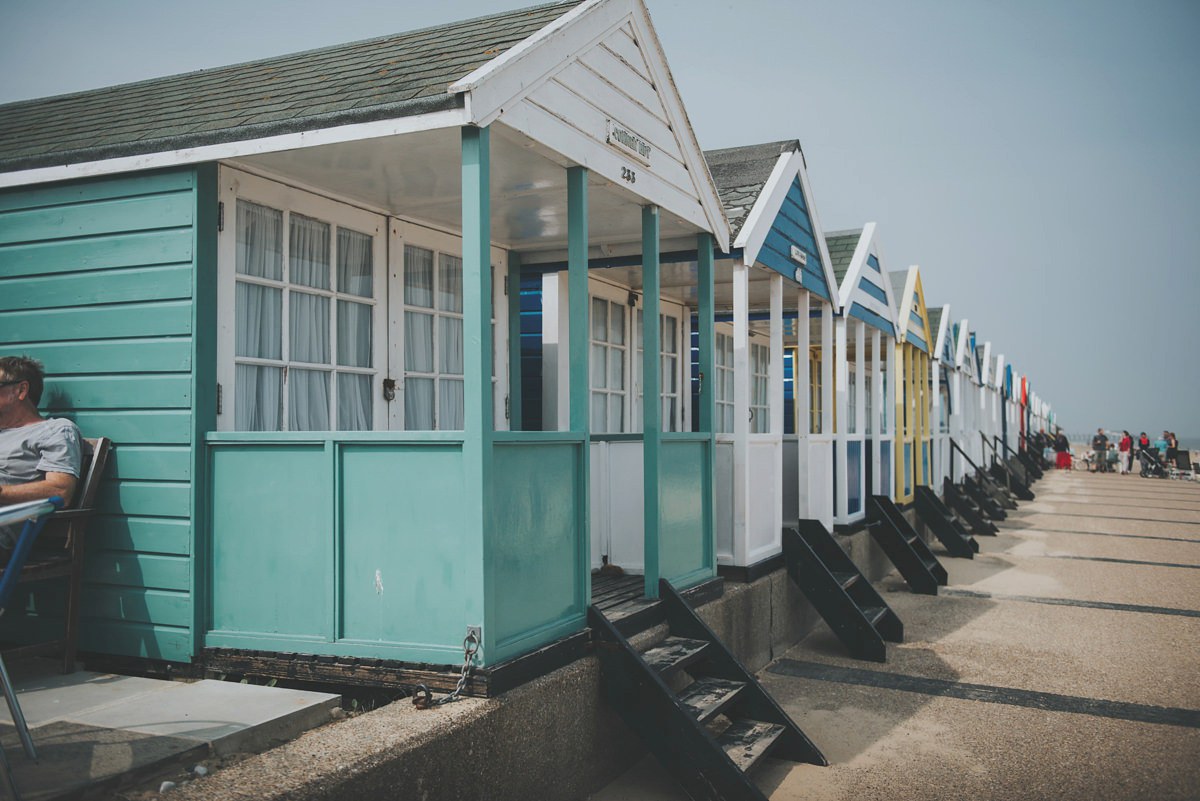 "Steve from Ice Cream Dreams served ice cream to our guests on Southwold beach from his delightful vintage ice cream bike."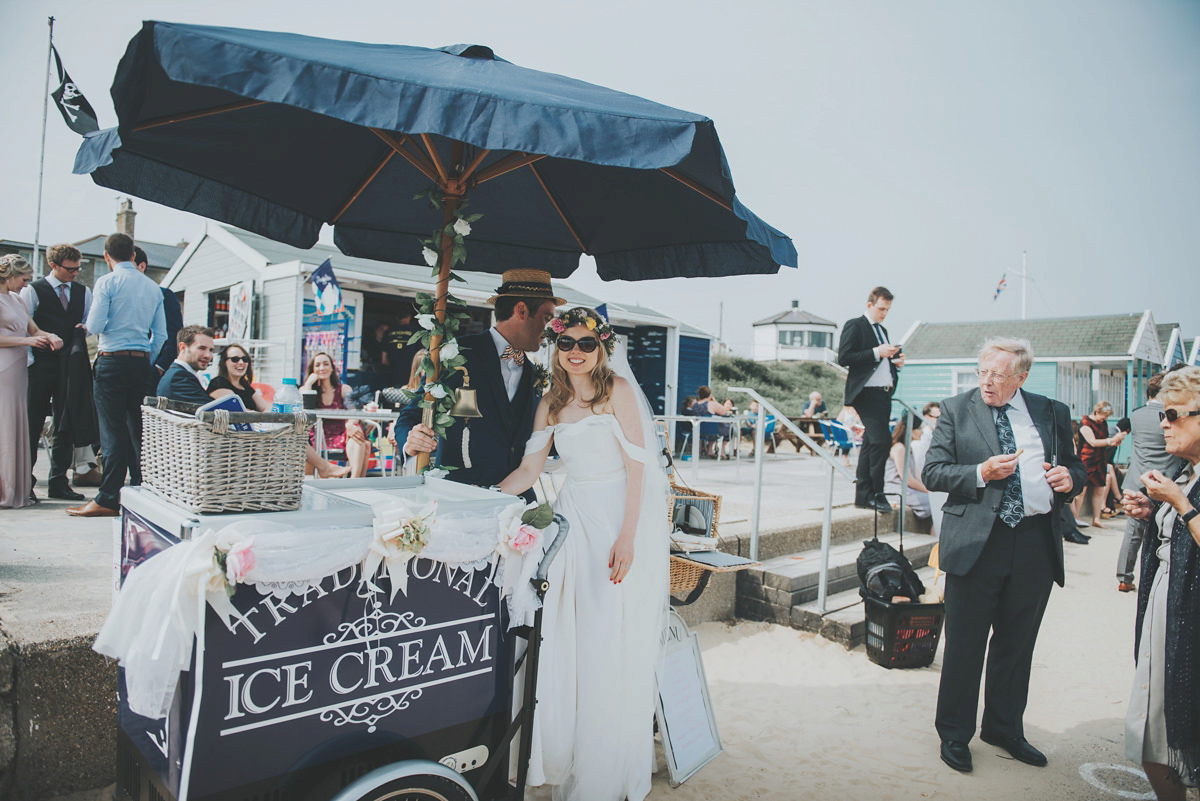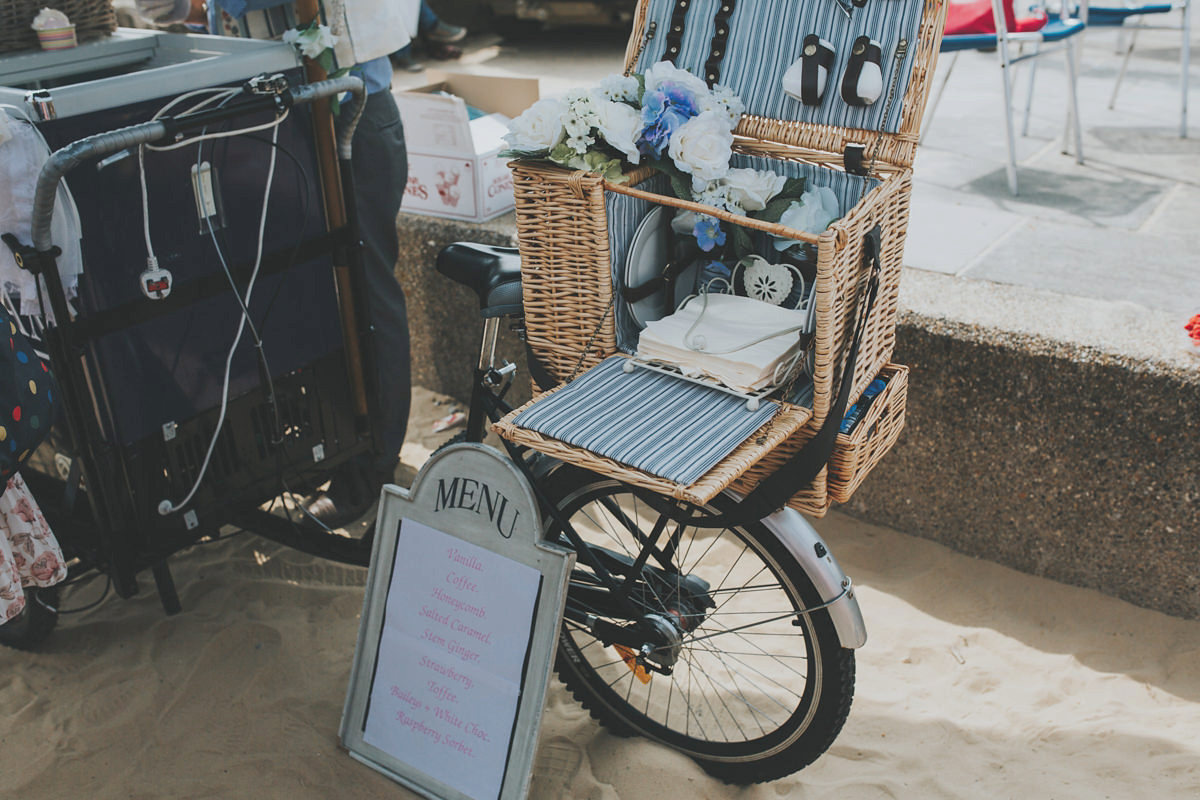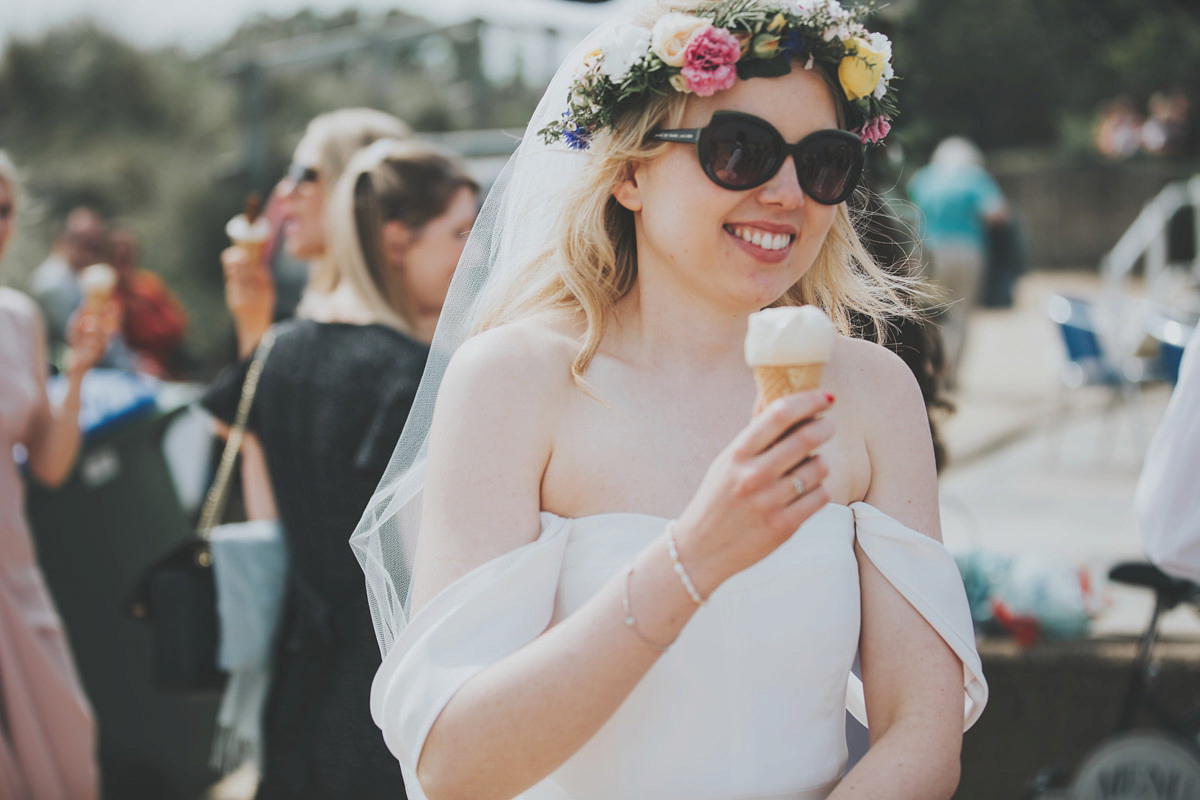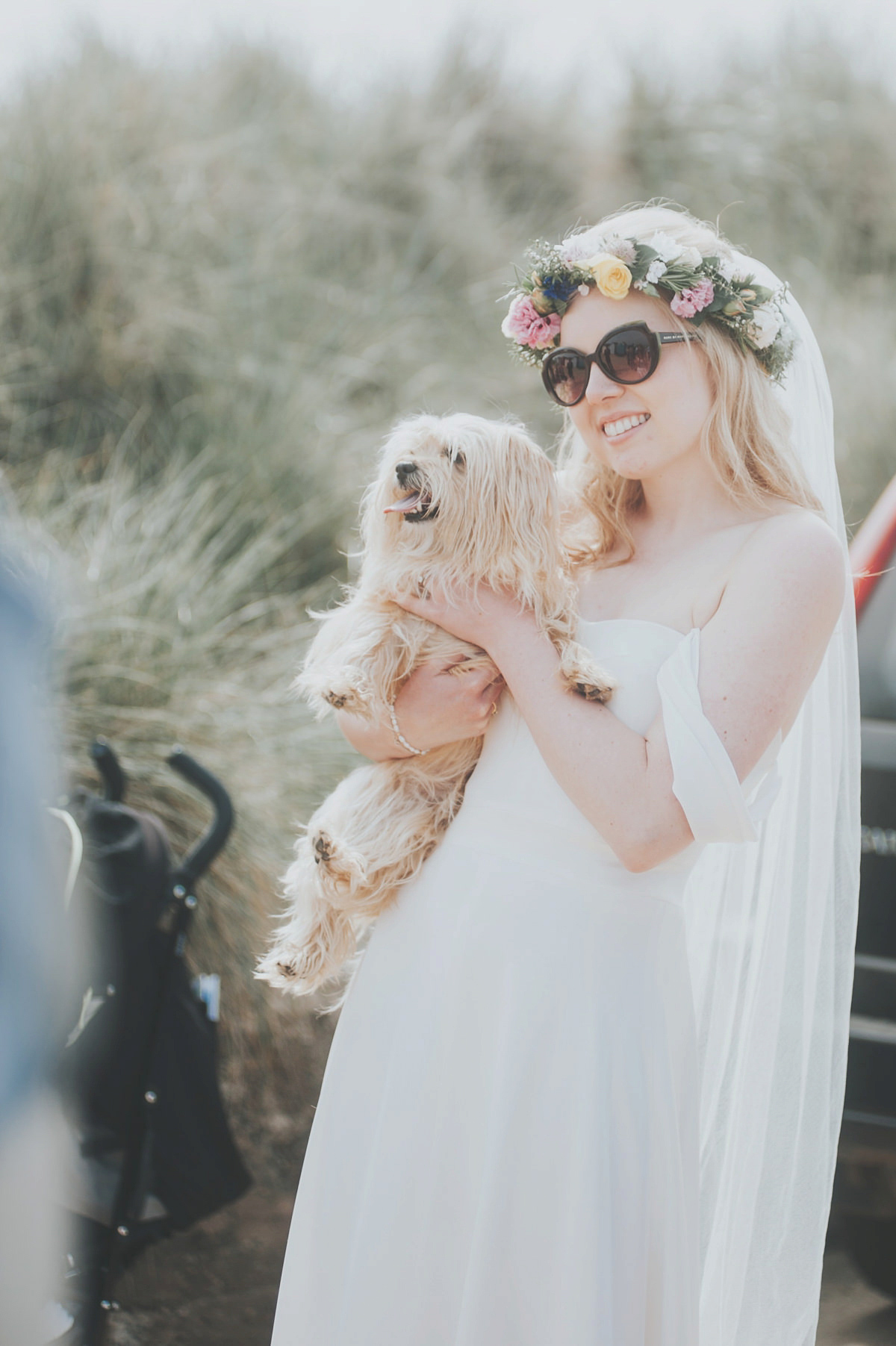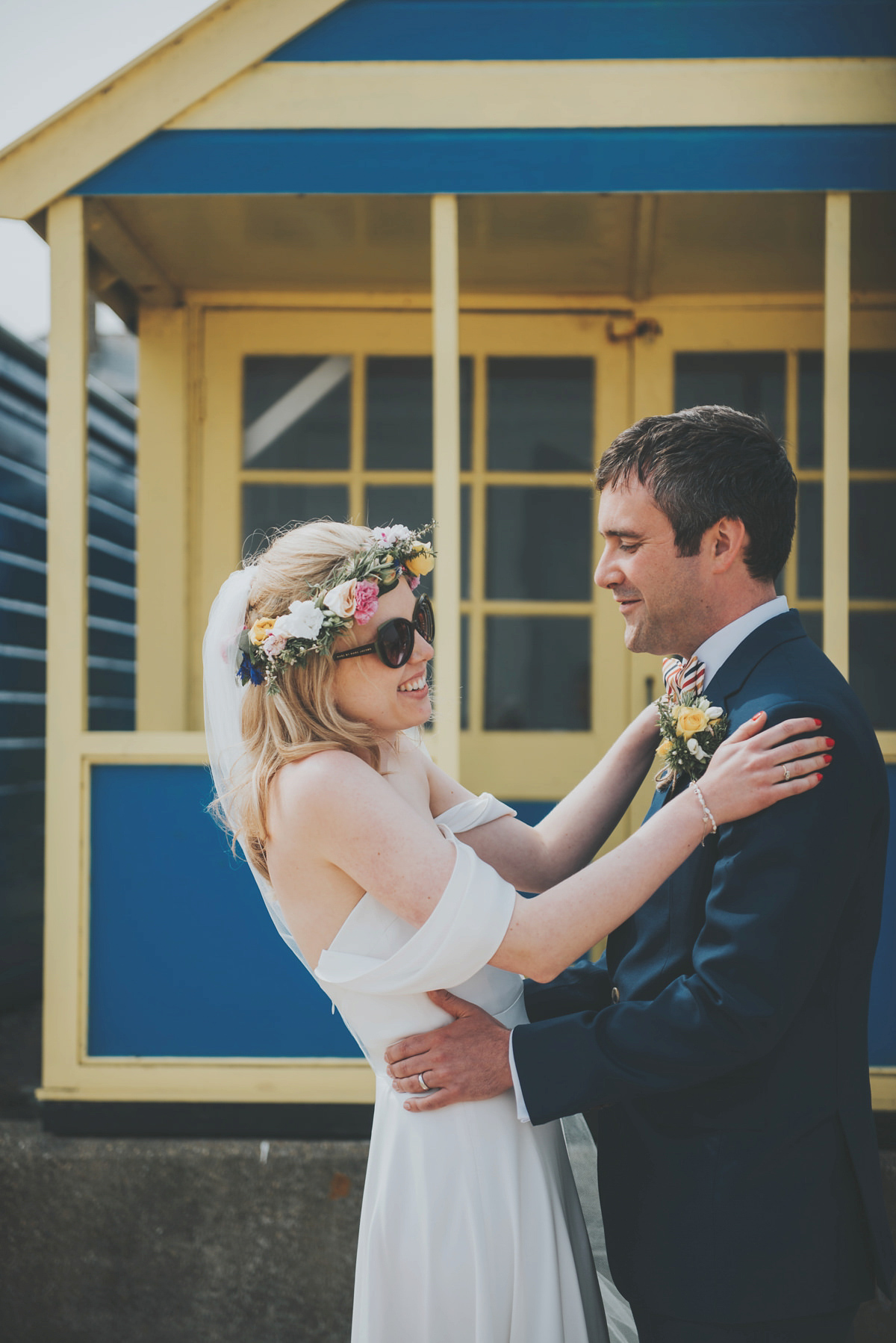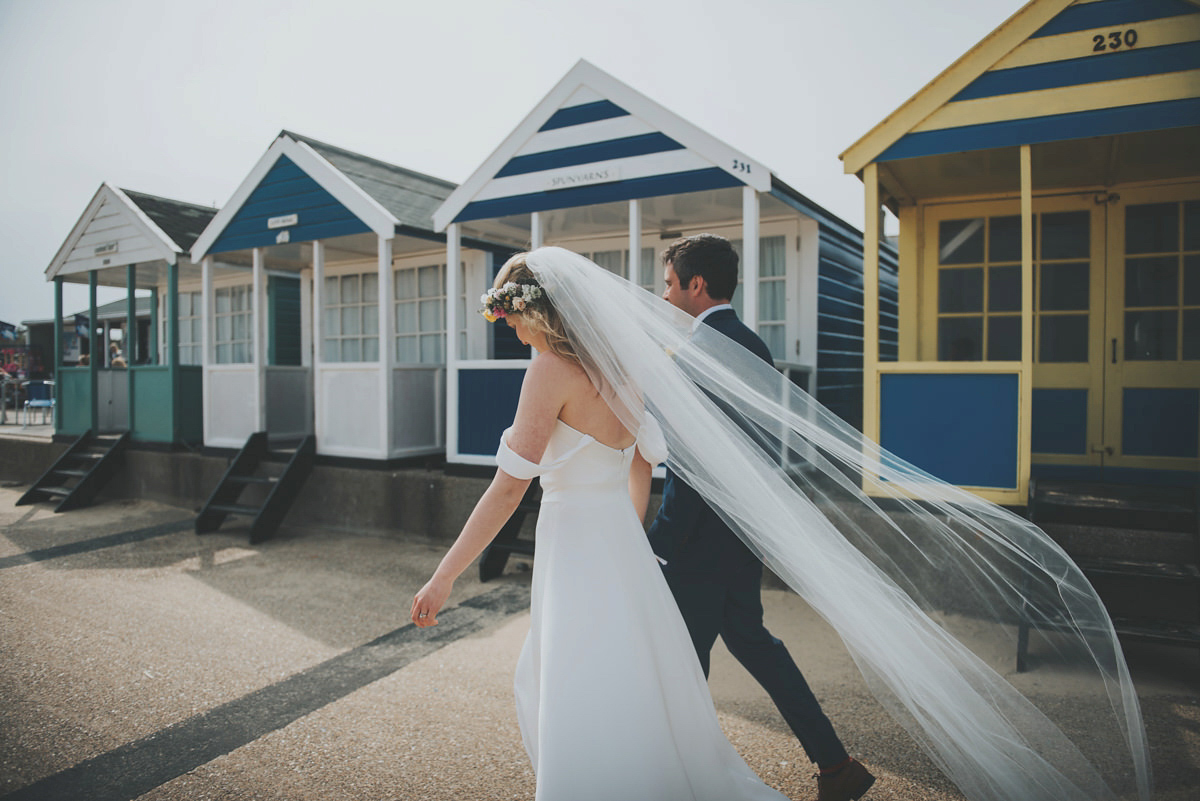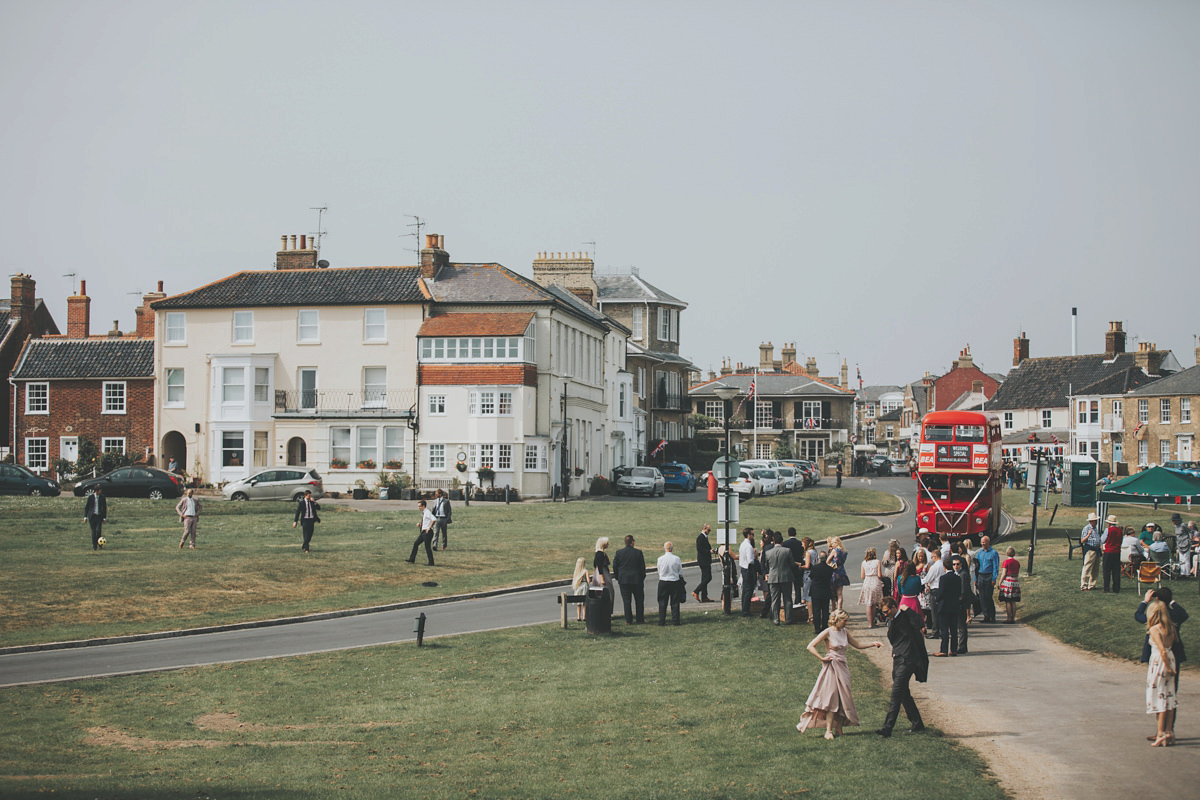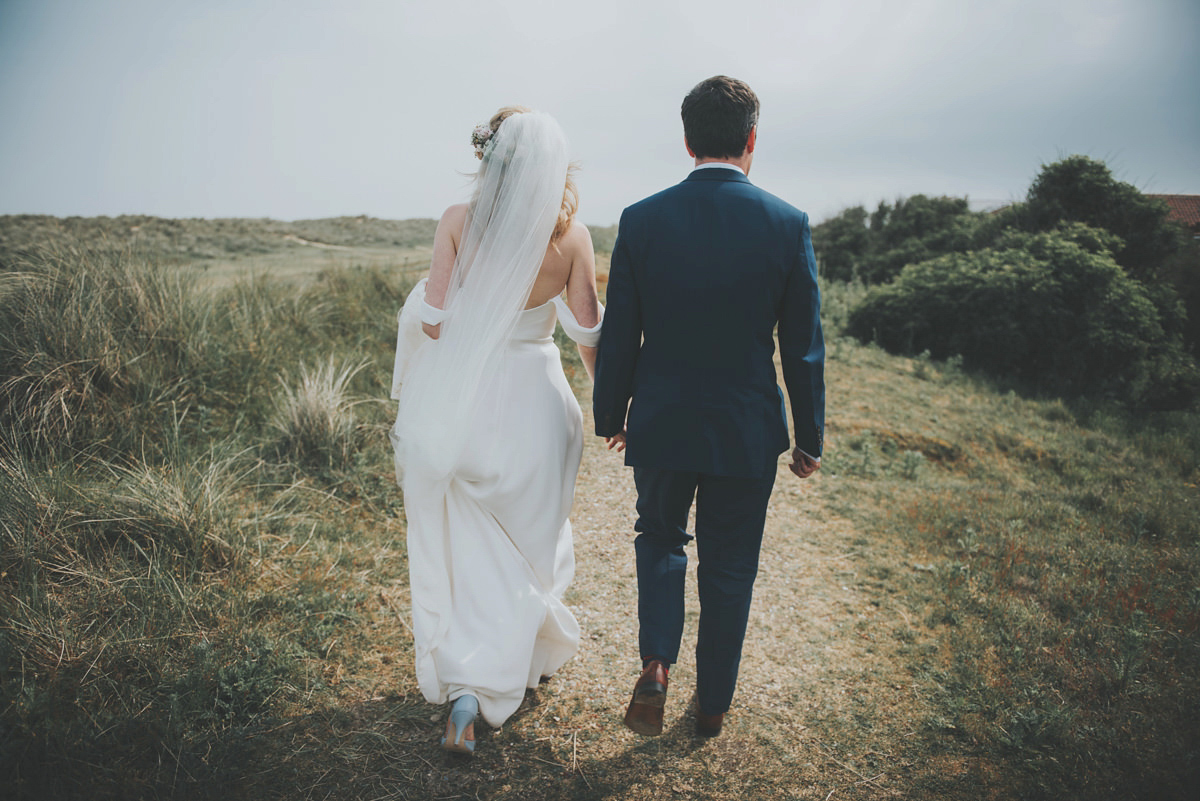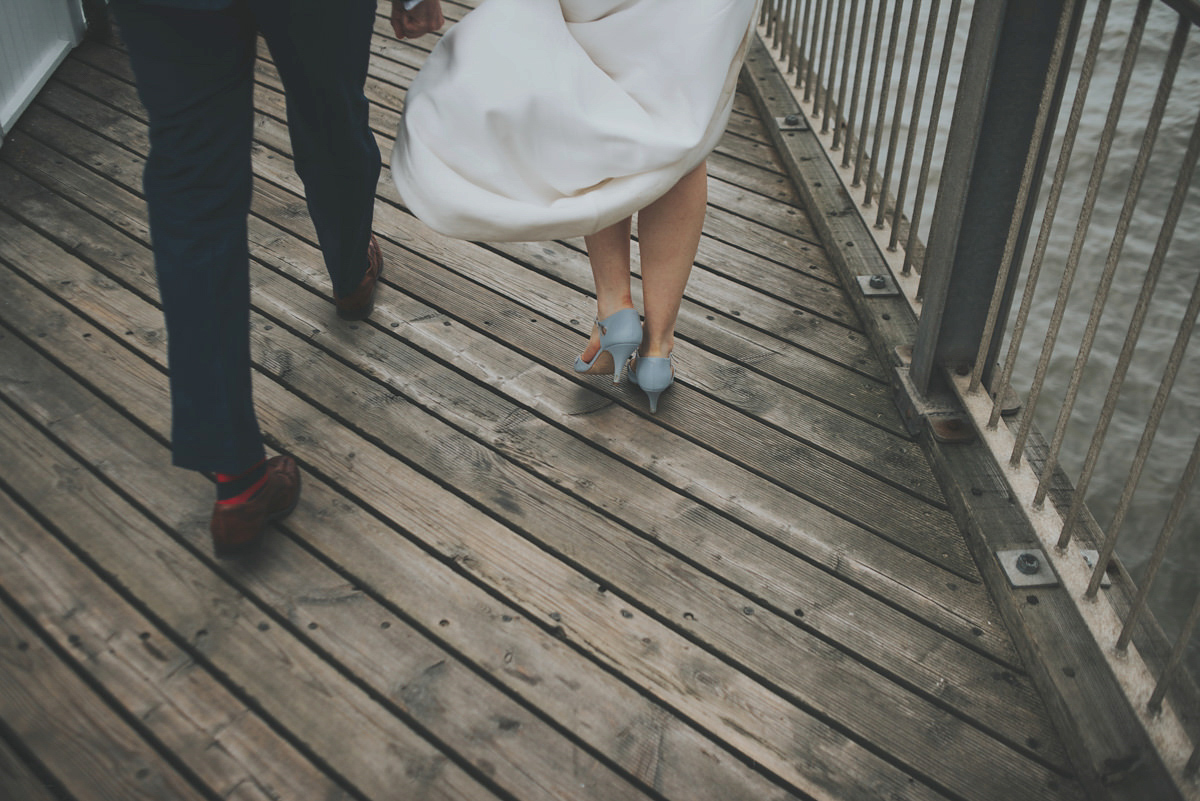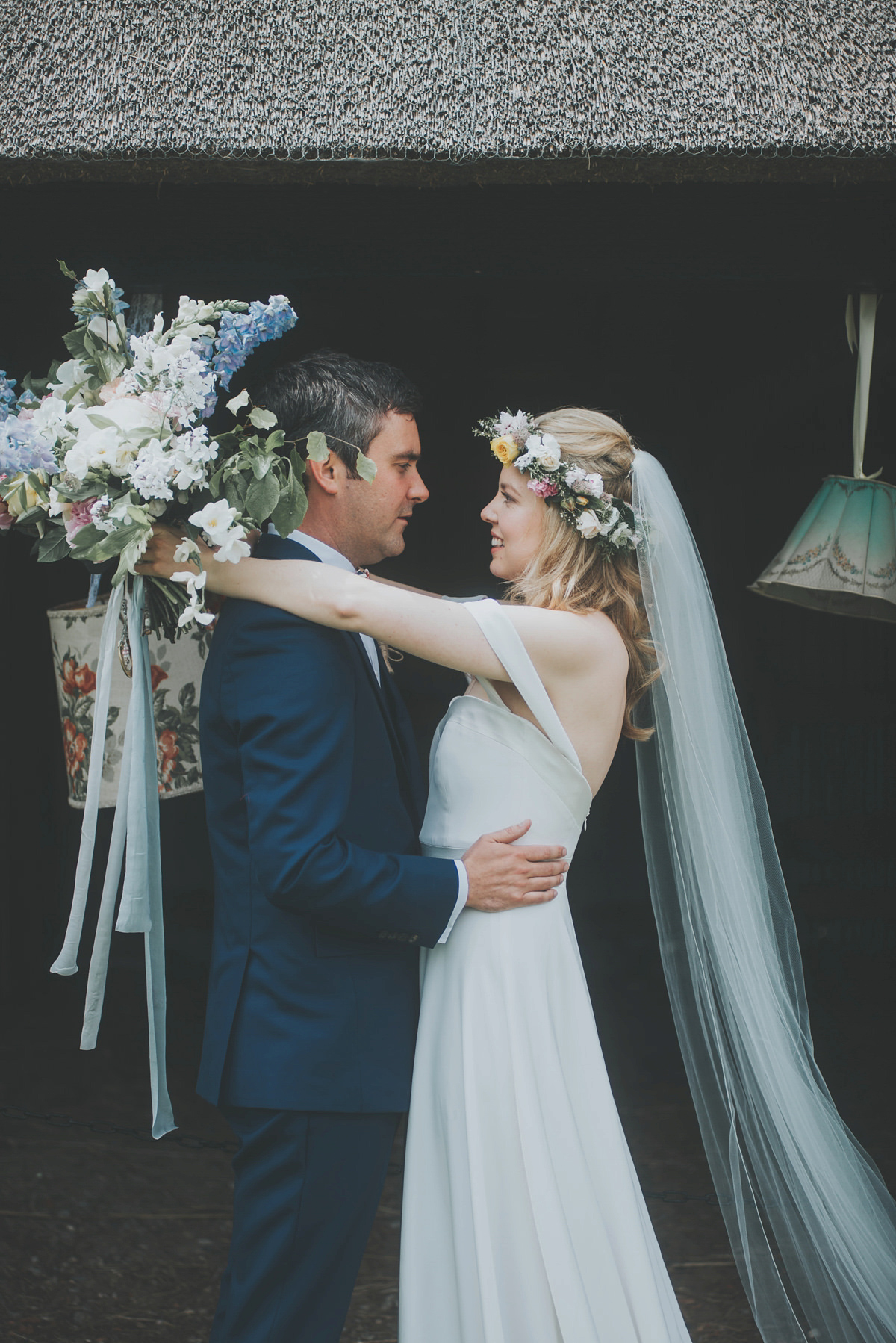 "We collected lots of dressing up props and painted old picture frames to create a photobooth in the evening for guests to strike a pose with vintage props."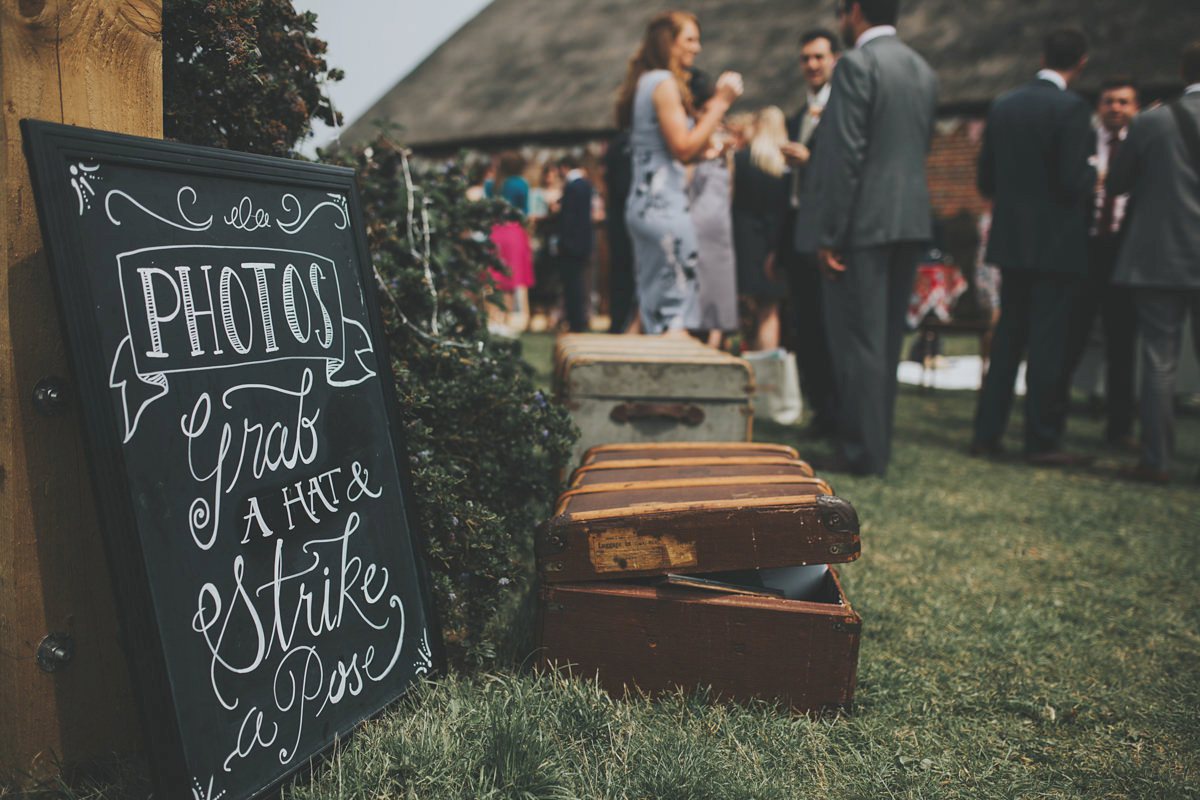 "I really loved the design process and helping Sabina create the 'Anya' dress. She is such a lovely person, as well as being super talented and creative, so we had great fun experimenting and tweaking elements of the dress until the final beautiful 'Anya' dress was finished."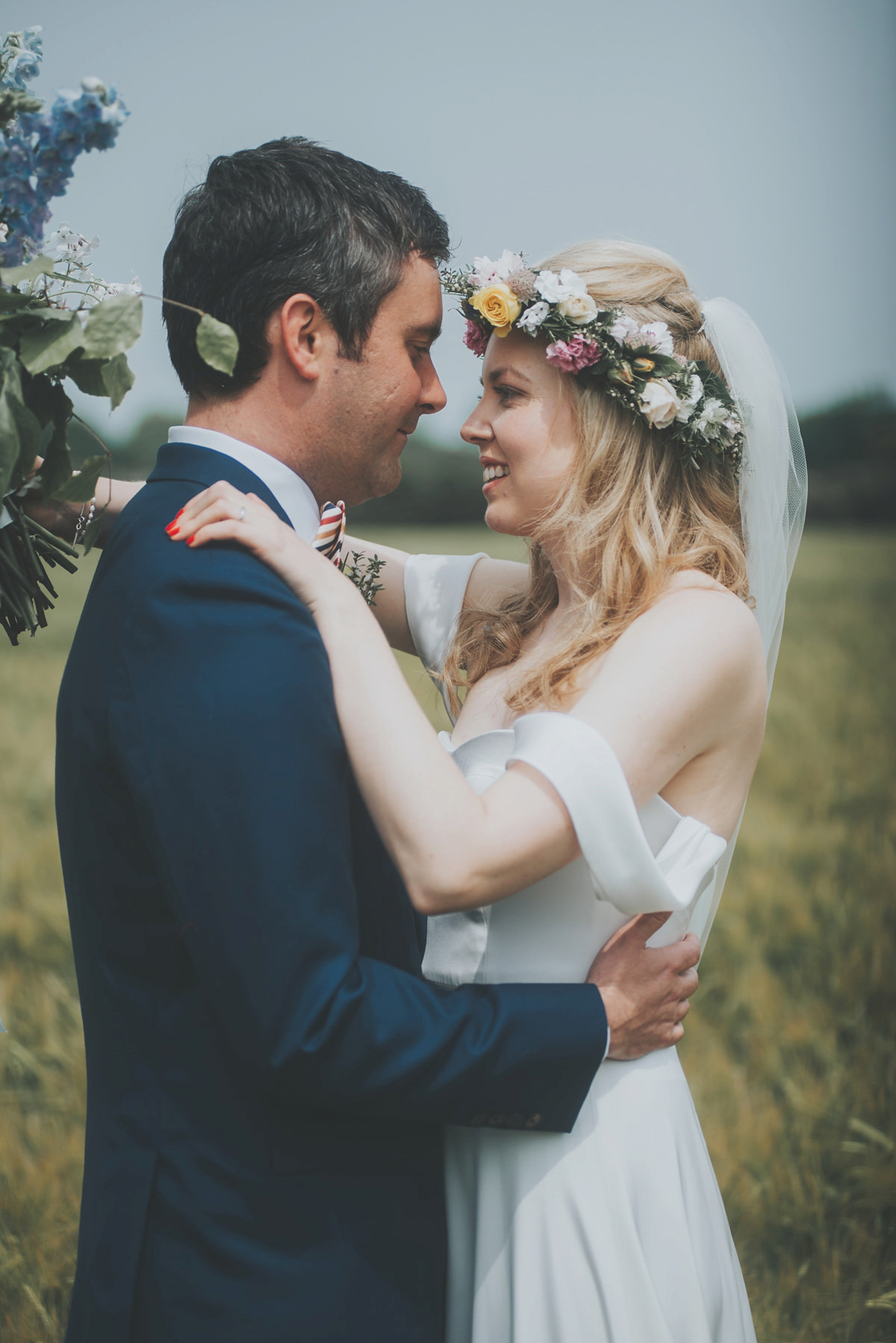 "Sabina's dresses take inspiration from the world of ballet, so she found a ballet dancer called Anya Linden, spelt the same way I spell my name. I knew I wanted a silky, flowing material (the Anya dress is made from Italian silk from Lake Como), a low back and shoulder drapes to create a flowing boho look. I was able to detach the shoulder drapes to create a whole new look for the evening reception before our first dance and for dancing in the evening. It was an amazing feeling to be the first bride wearing the brand new 'Anya' dress, which I had helped create. I loved the long, flowing train of the dress and the way it moved as I danced."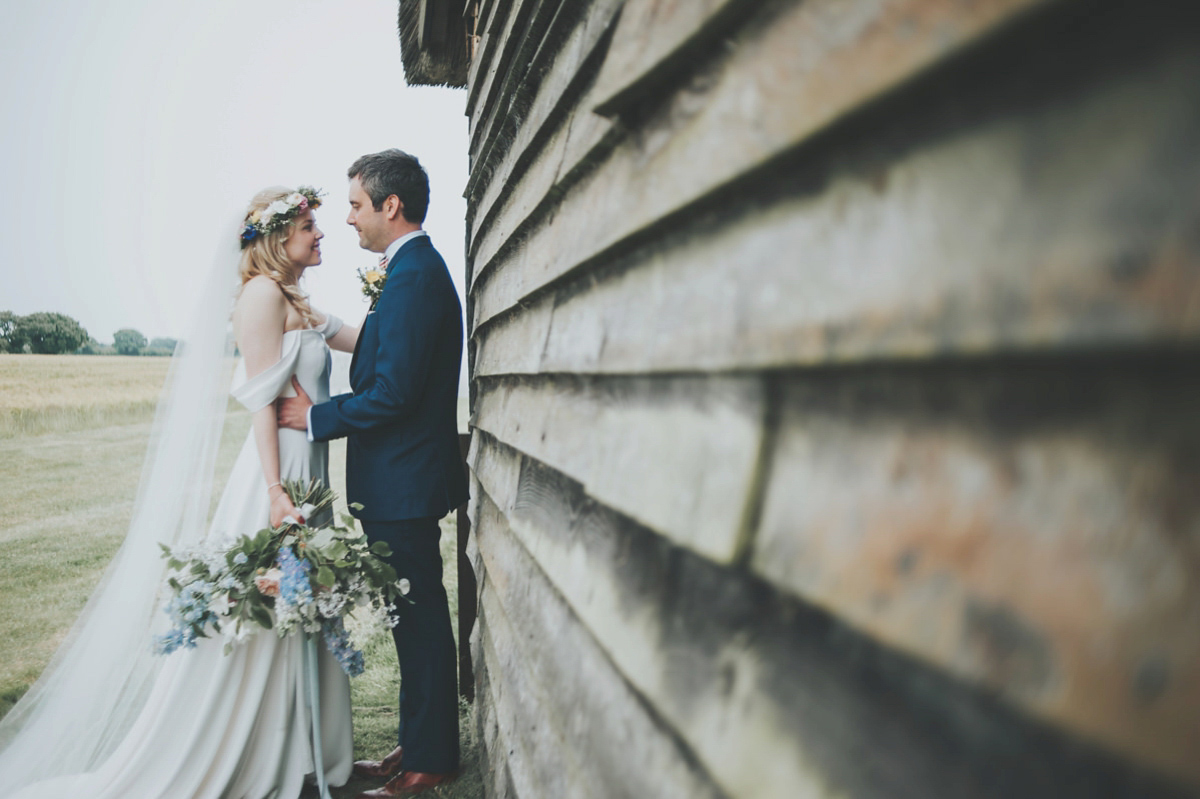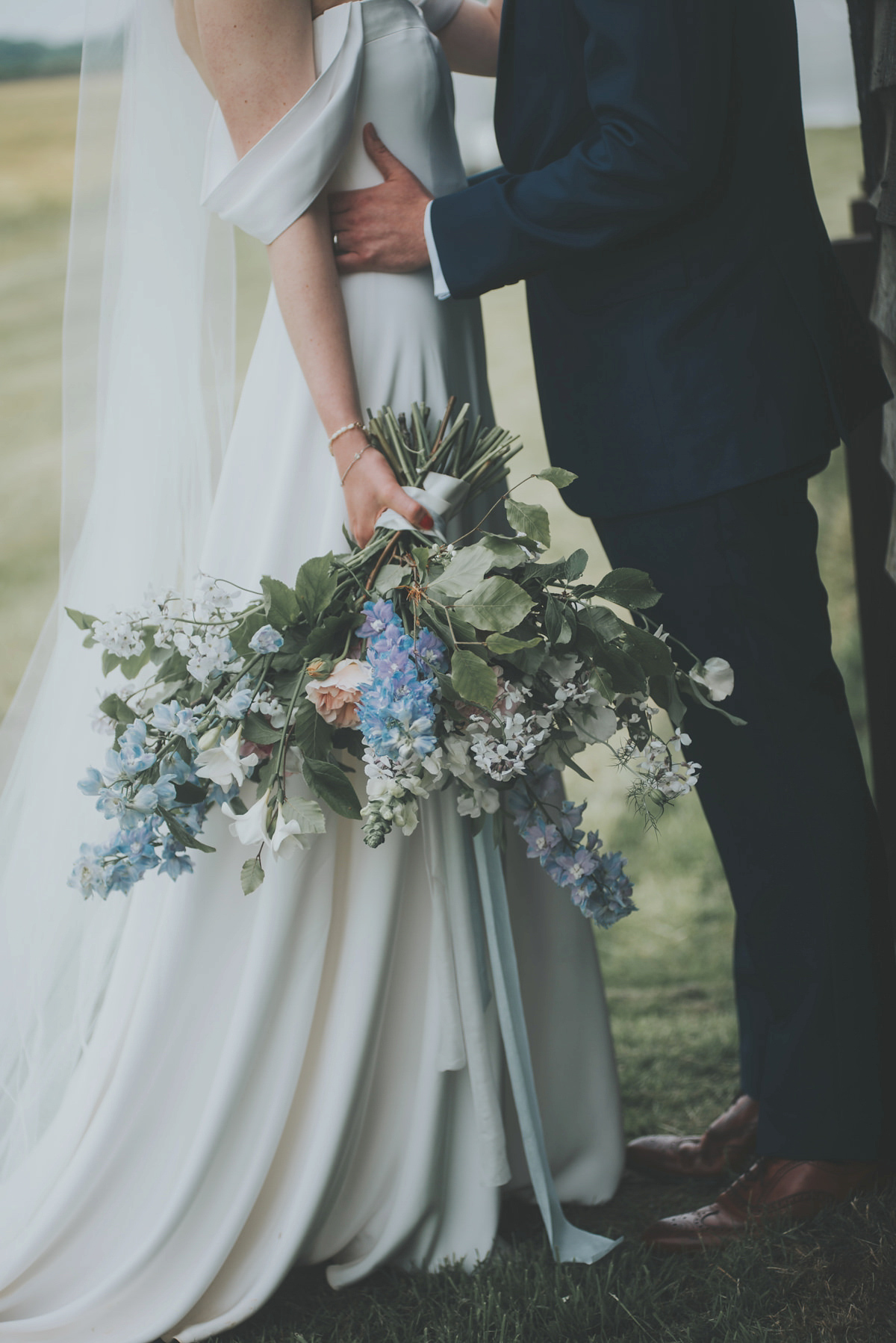 "Our entertainment was provided by the formidable pair behind Vintage 78 DJs, aka, Matt and Annabel. For the ceremony, post ceremony drinks and wedding breakfast they played music on an original gramophone. The Vintage 78 DJs also provided some fun vintage games for our guests to play under stripy Edwardian sun shelters, including a skittle alley, hook a duck and a coconut shy, as well as a vintage seaside 'peep board' that we and our guests had great fun posing for photos behind."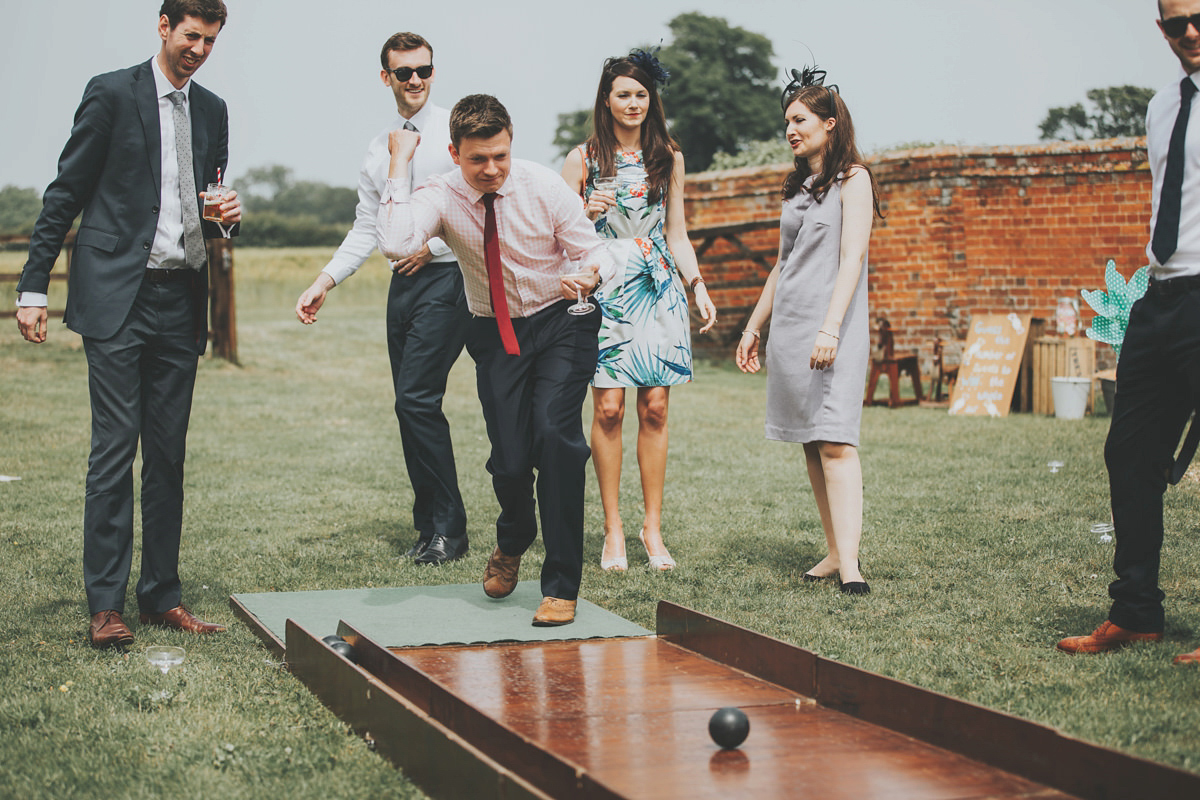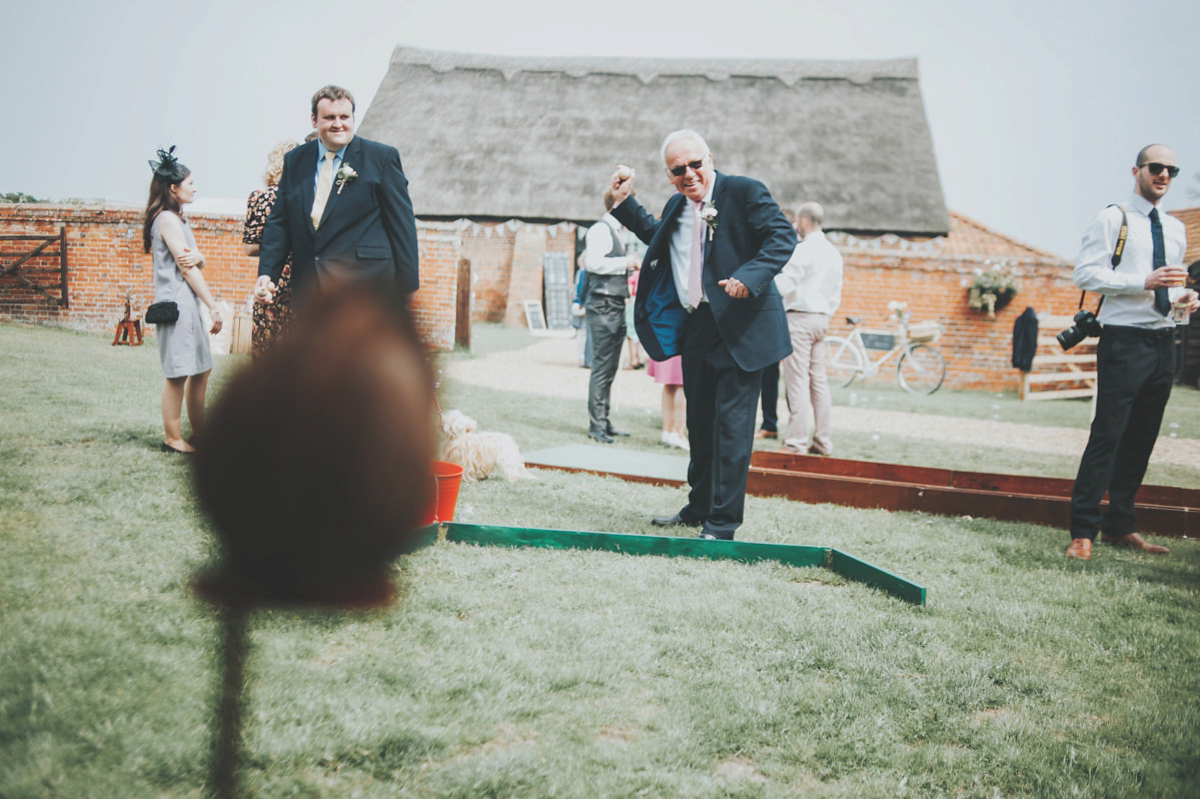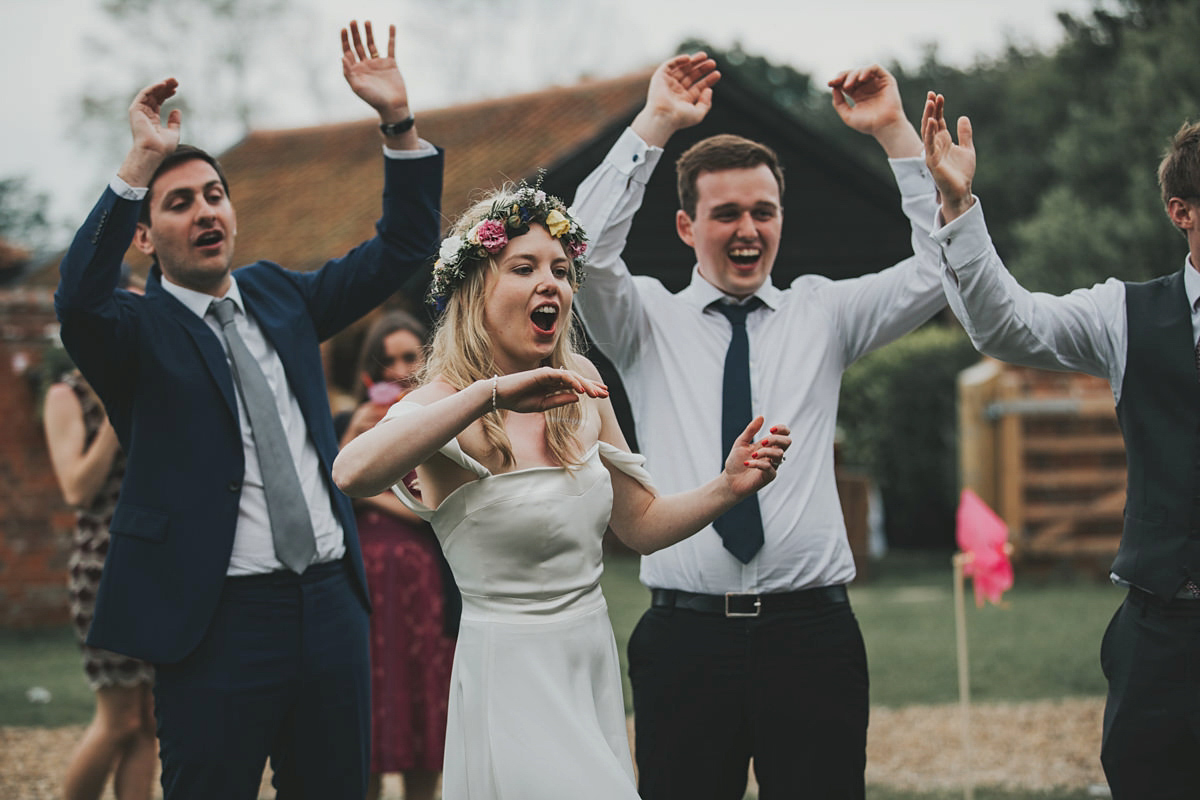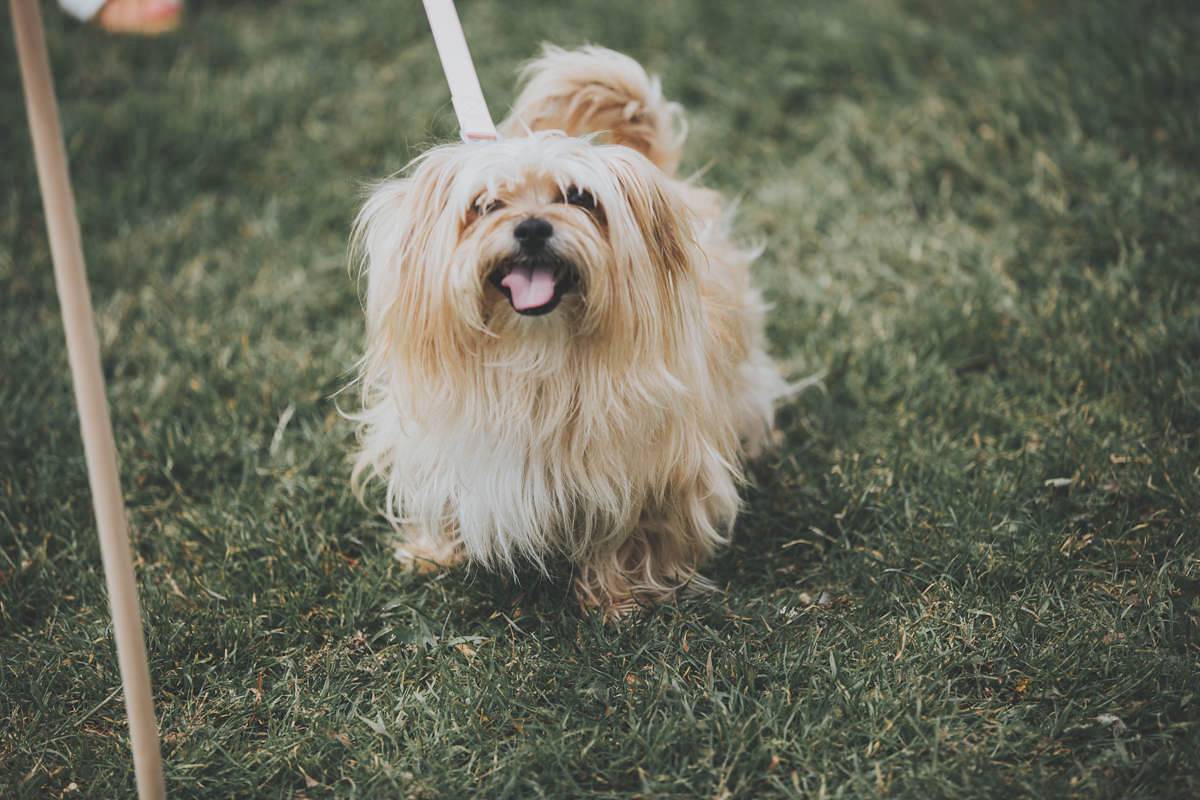 "We served real ales from Adnams in Southwold, and Sadlers in the West Midlands, as well as some home brewed ale from our usher, Tom. We had three cocktails served in champagne saucers, vintage teacups and crystal wine glasses. All our cocktails and ales had names relating to our favourite things or to our vintage seaside theme."
"One of our ales was called 'Nasha's Hop Dog' after my dog Nasha, who was there on the day. Our cocktails were: the 'Sole Bay Spritz' (Aperol Spritz), the 'Suffolk Bramble' (Bramble), and the 'Southwold Sea Breeze' (Sea Breeze)."
"To provide some more fun games for our guests and add a seaside fairground vibe, we created 'Anya & Steve's lucky dip bran tub'. Using an old galvanised tin bath we wrapped retro toys in brown paper and twine and invited our guests to have a dip for a prize. We also created a 'guess the number of sweets in the jar' competition and a kids' colouring table to keep our younger guests entertained."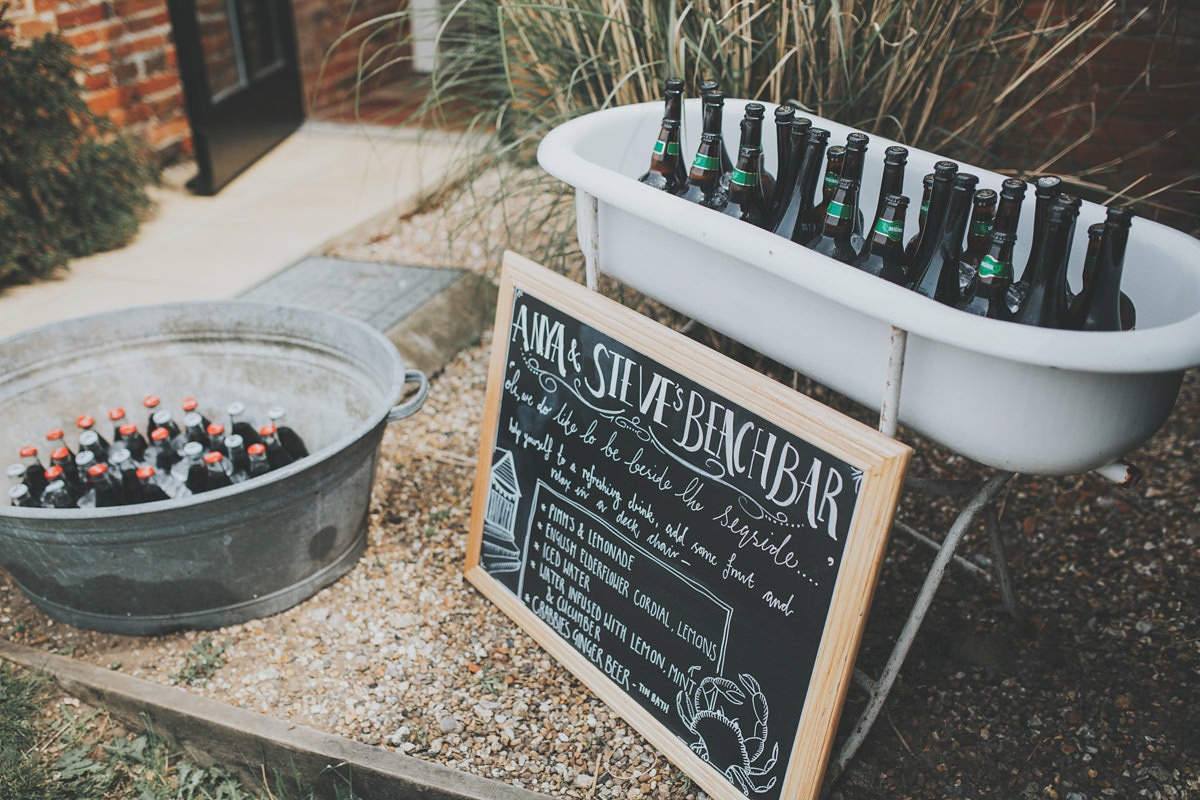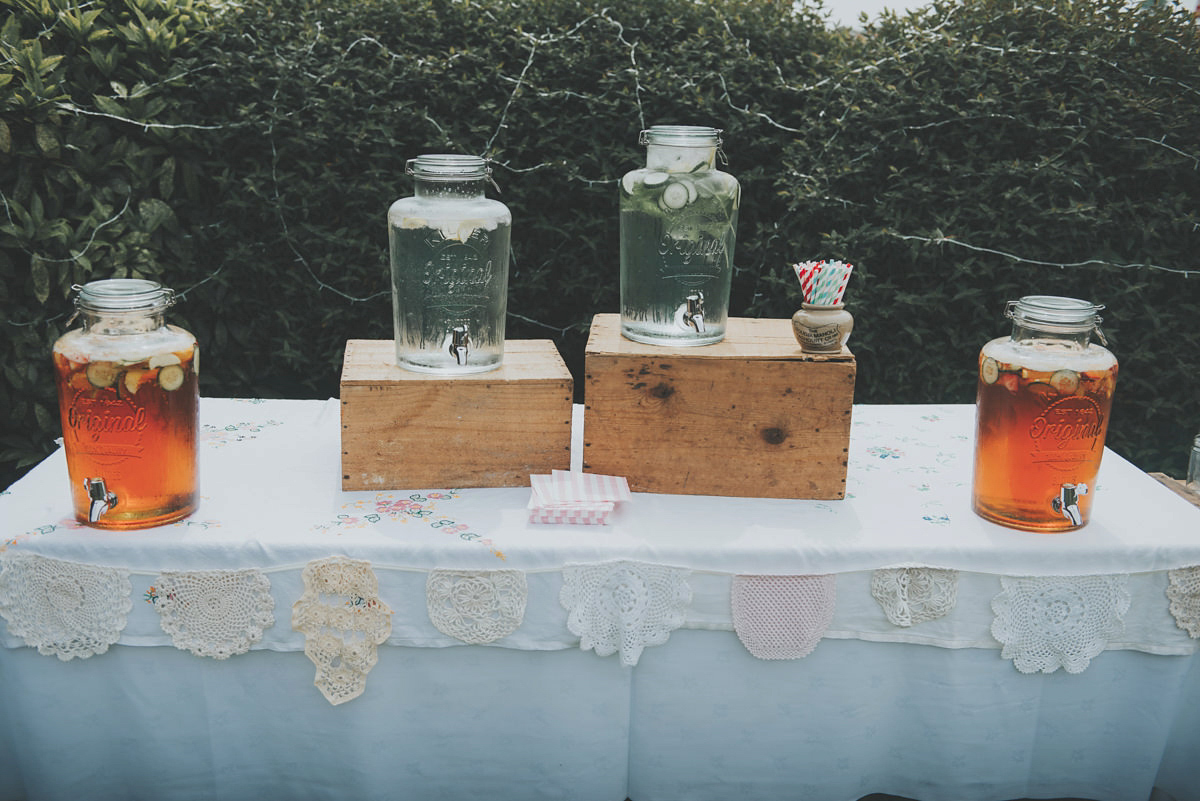 "We reconditioned two vintage football tables in the bar area, which was a nod to the Euro 2016 match of England v Russia that was played on our wedding day – Steve is a big football fan! I painted lots of signs for the games, using wood from an old cupboard door, a scaffolding plank, and even the back of an old mirror. We also bought stripy pastel coloured windmills which went perfectly with our vintage seaside theme and we strung bunting outside the barn buildings and across the gate leading to the barn entrance."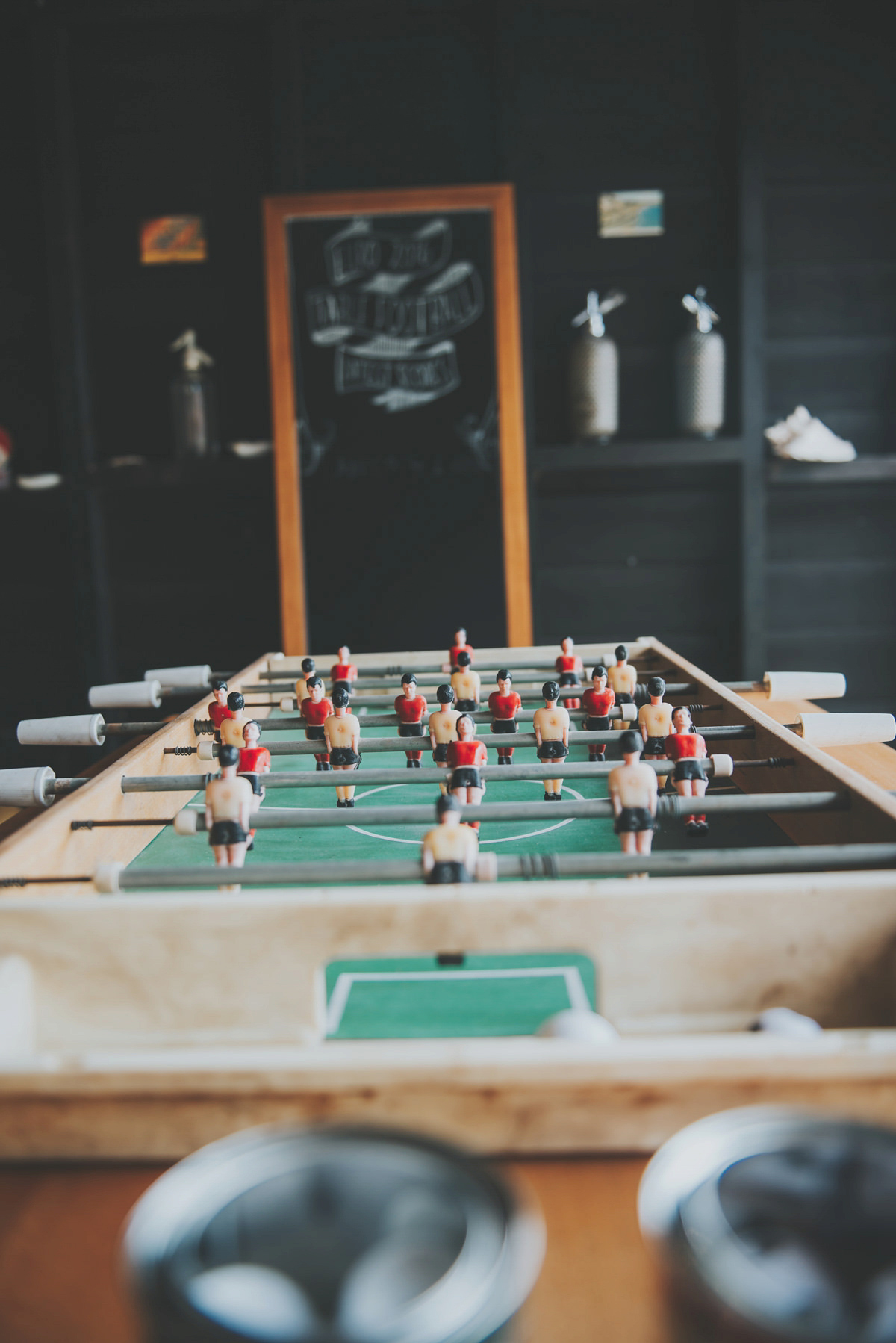 "We styled the area outside the barn using deckchairs, vintage sofas, faux antique patchwork quilts and picnic blankets, to create a chill out area for guests. We also positioned two old ladders and displayed framed family wedding photos on it, as well as a 'washing line' photos of Steve and I when we were children."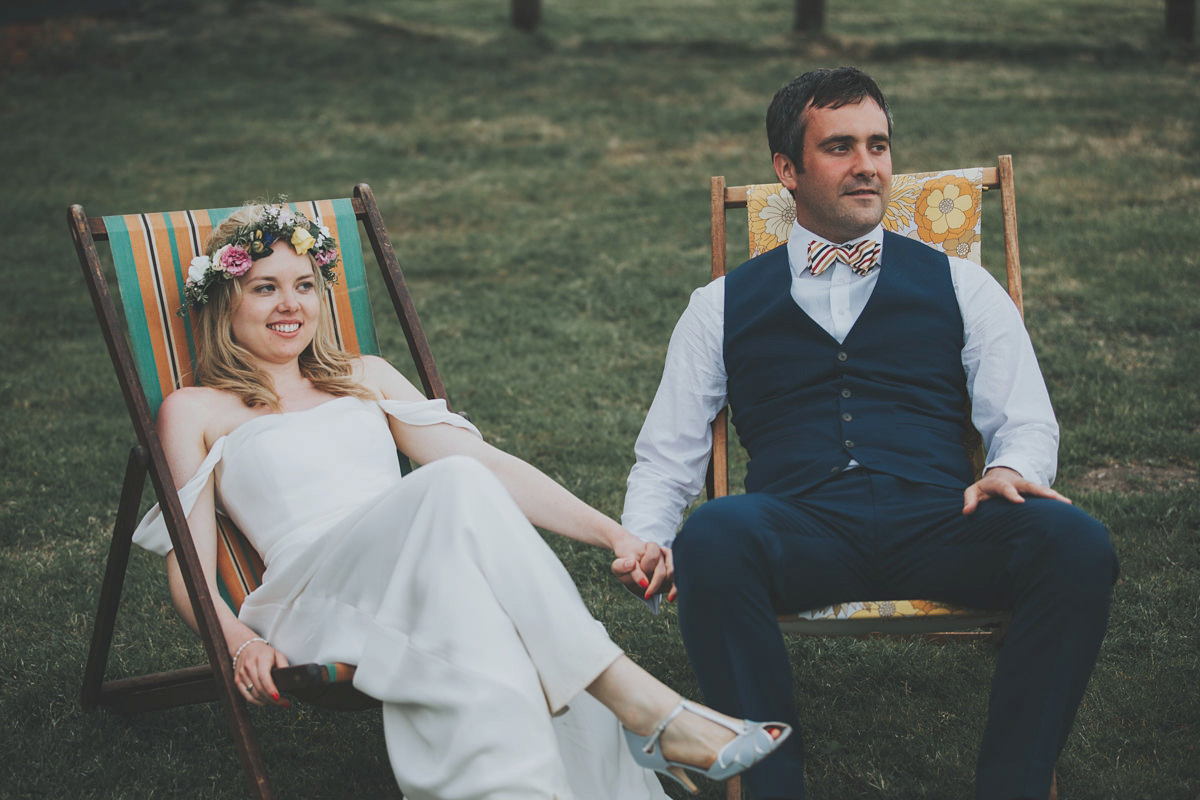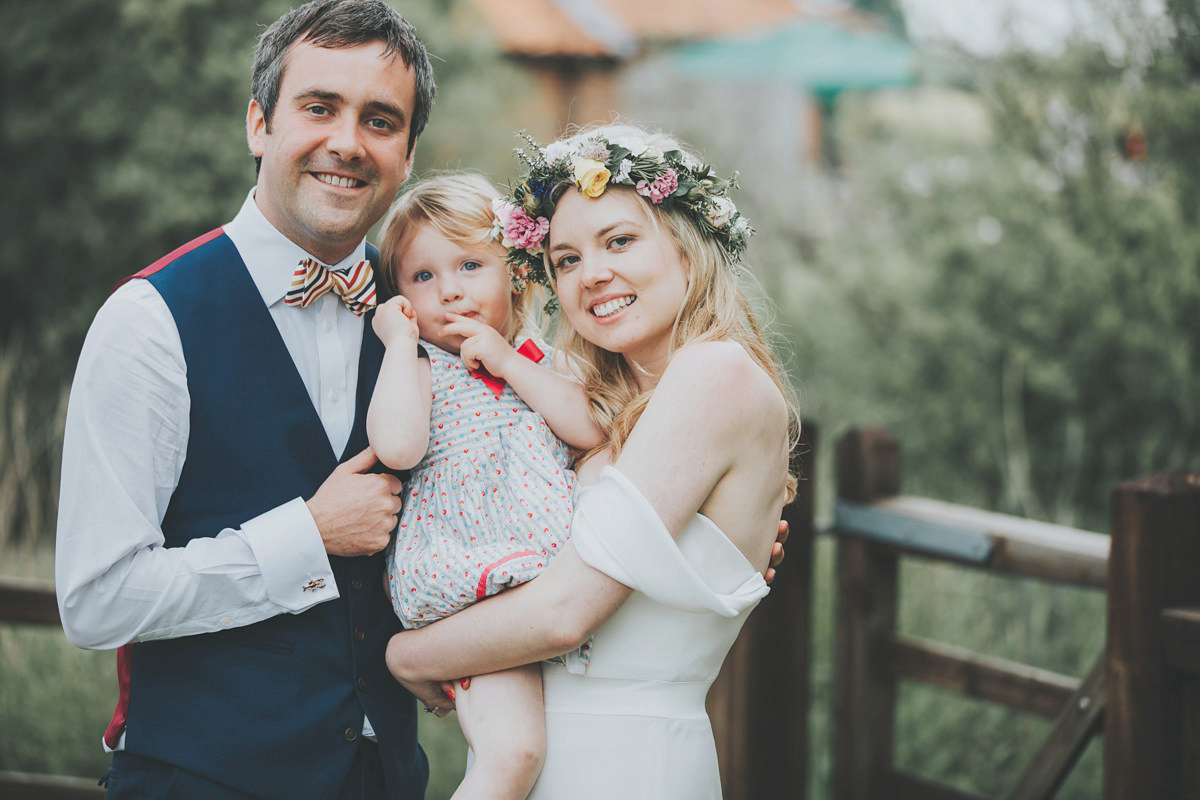 "The day before our wedding we had a fantastic time with family and friends decorating the barn from top to toe. My mum set out a lovely picnic for lunch and we all had so much fun transforming the barn for our big day – and luckily it didn't rain!"
"I created our cards and gifts table which consisted of an old vintage suitcase for guests to put their cards and gifts in. I then strung some beach hut fairy lights across the front and placed old letters spelling out 'cards' on top.
Our guestbook table was provided by the Vintage 78 DJs. Matt and Annabel and included an original typewriter and British saucy seaside postcards so guests could type or write their messages to us."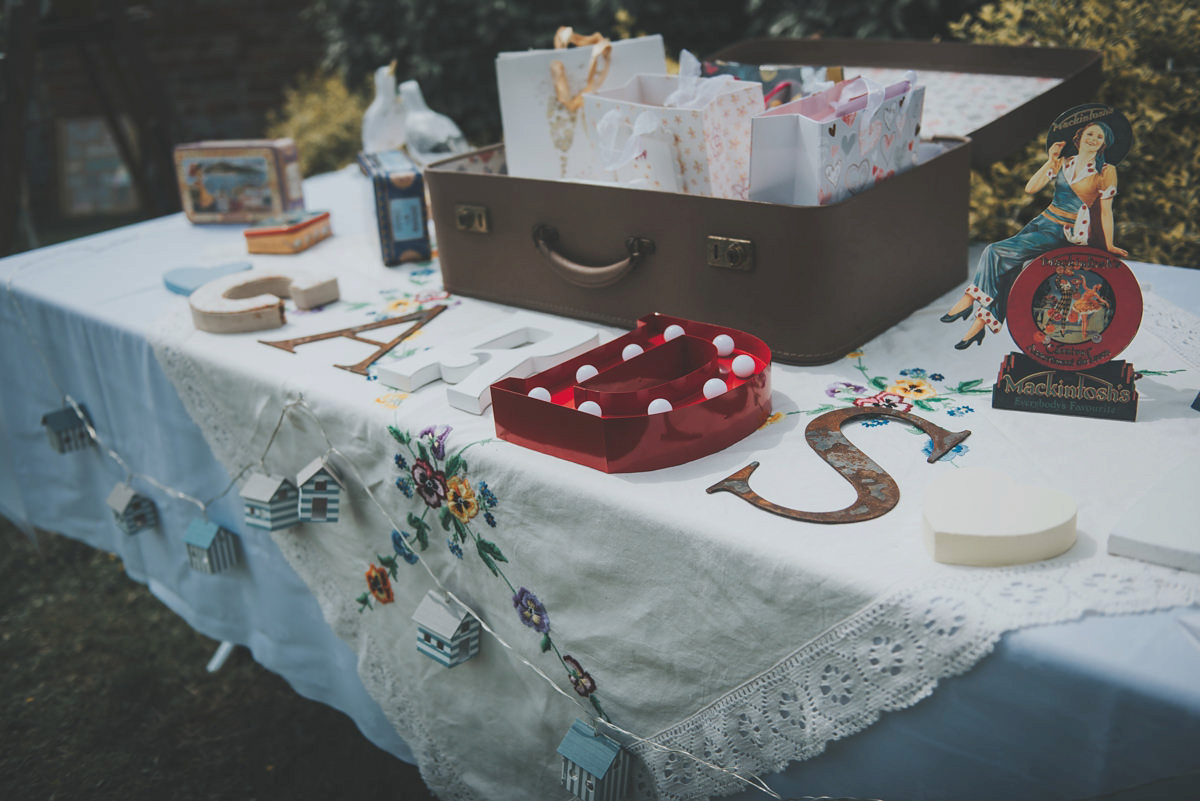 "I made our tableplan from a framed world map that usually hangs in our kitchen, and displayed it on an easel. All our tables were named after places we have been together. On each table we placed a vintage postcard relating to that particular place- the top table was 'New York' named after the city where we got engaged."
"We had a bespoke rubber stamp made by The English Stamp Company, that we used to stamp luggage labels for our invitations and table place names."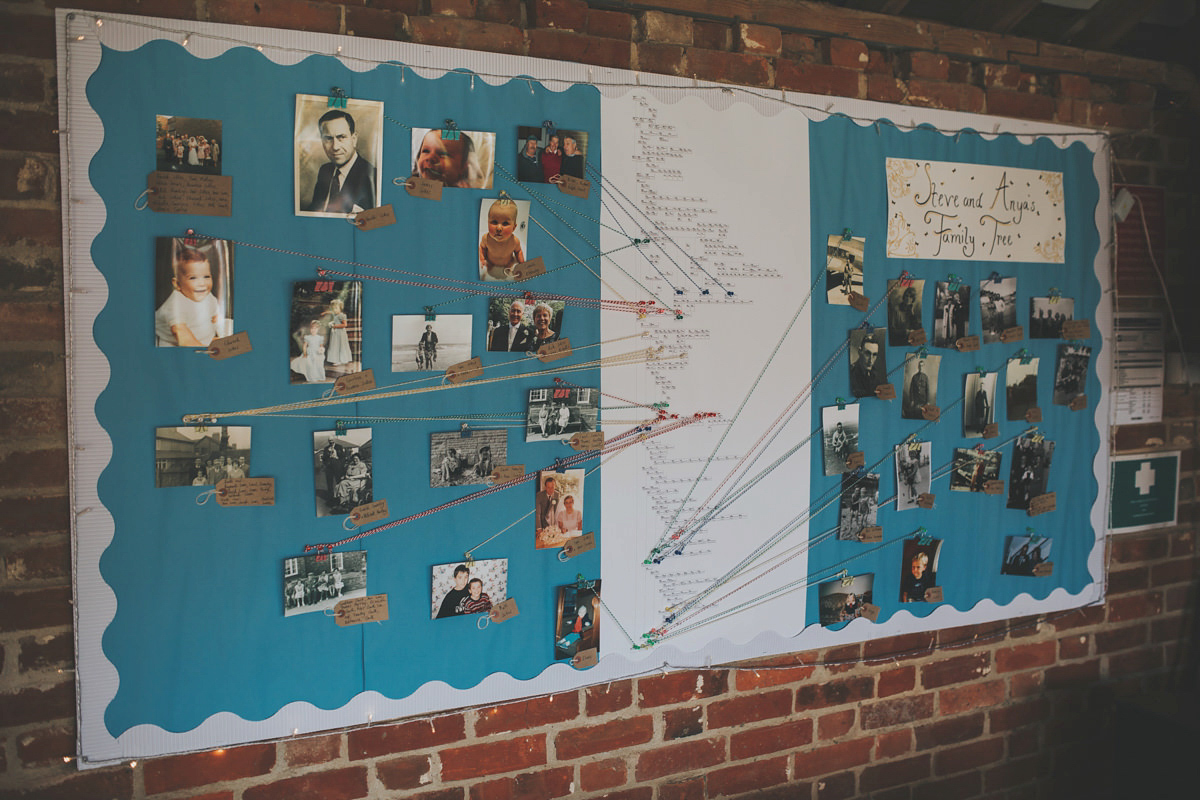 "Our cake was created by the amazingly talented and artistic Charlie from Ophelia Weddings who also drew all our chalkboard signs for us. Charlie runs a fantastic vintage tearoom in Norwich that we love to visit, called Biddy's Tea Room. The cake had three tiers: carrot cake with sultanas and pecans; chocolate brownie cake with salted caramel; and gluten-free rose, raspberry and almond. It had pastel coloured meringue kisses, edible flowers and chocolate drizzle cascading down the side, with penny foam shrimp sweets as a nod to our vintage seaside theme. We are still getting compliments about our wedding cake even now!"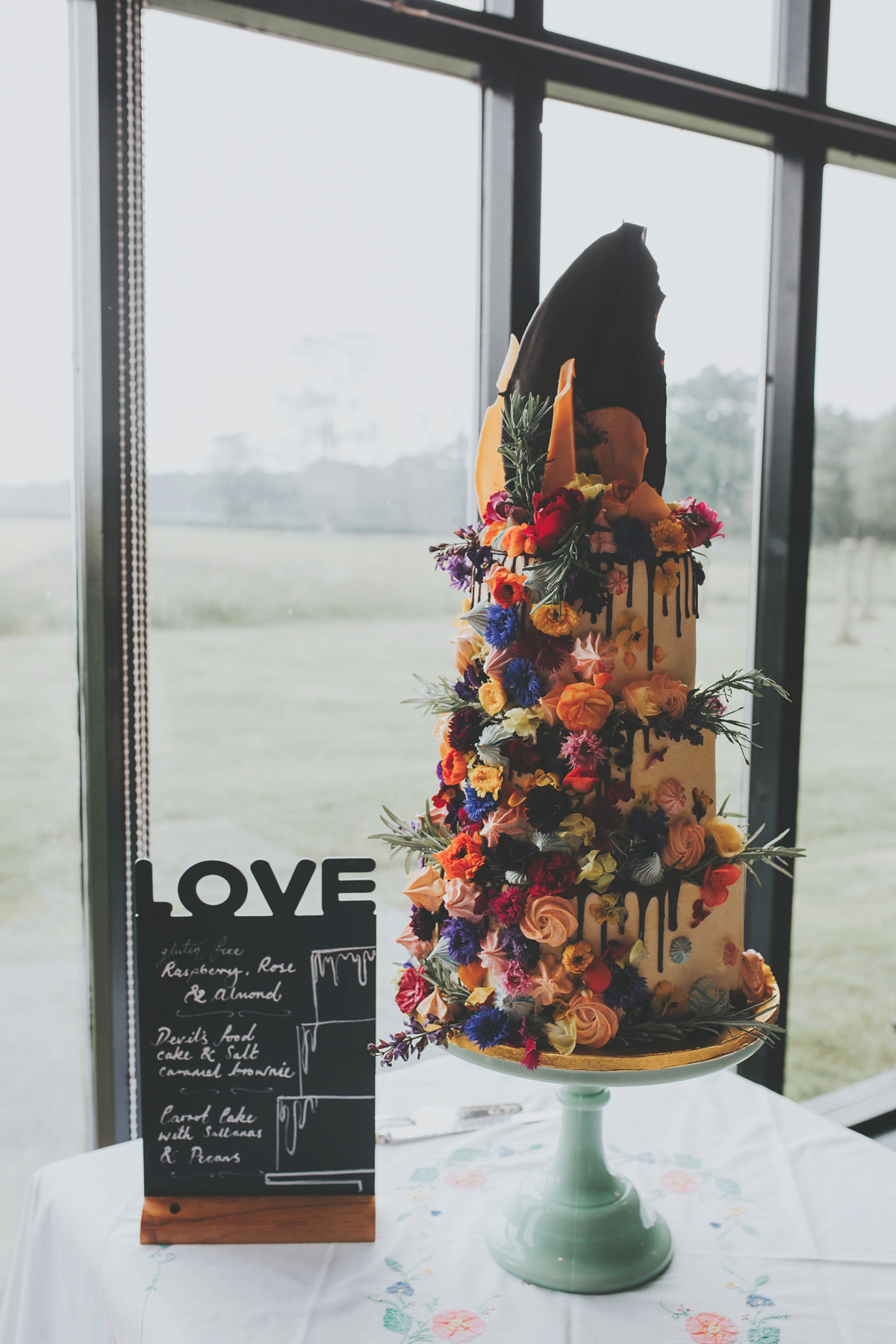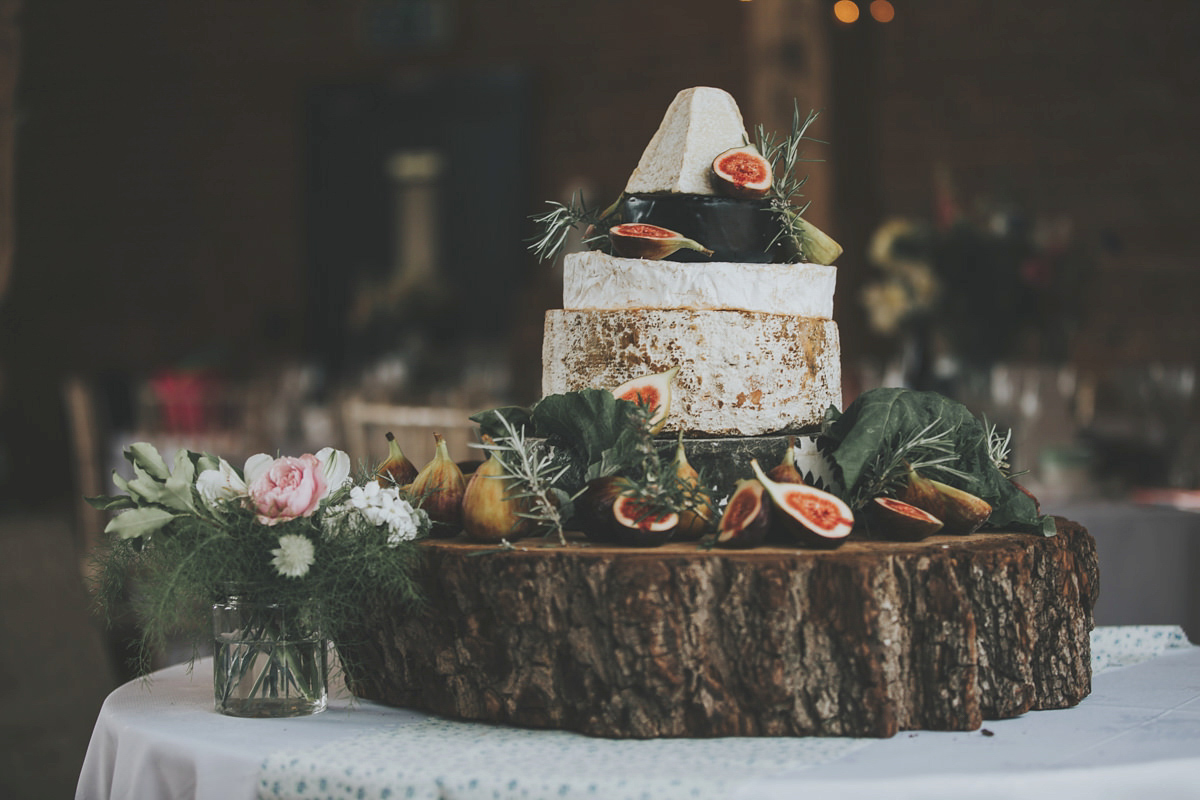 "At the entrance to the venue we positioned a beautiful old trade bike and arranged flowers in the basket. My parents collect old soda siphons, ale flagons and ginger beer bottles, so we used these to style the smaller barn which we used for our bar area. We also arranged cocktail accessories on the bar in vintage teapots and classic Lyles Golden Syrup tins. We hung vintage lampshades in different sizes from one of the machinery barns to create a backdrop for the group photos."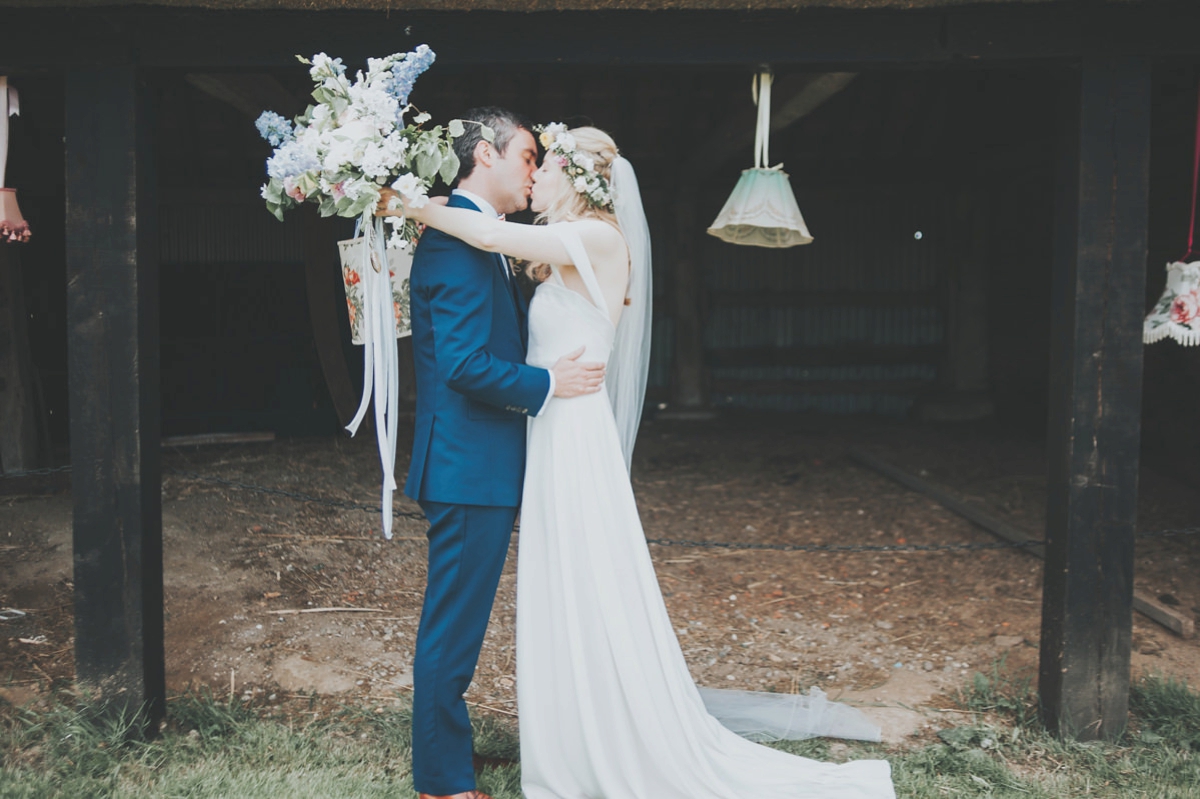 "We collected many of the props and decorations ourselves. A lot of the vintage china was collected by my mum from antiques fairs and charity shops and we also borrowed items from friends and family, as well as hiring some of the larger props from Vintage Mischief."
"Our wedding favours were sugar mice and sticks of Southwold rock from Southwold sweet shop, Beaches and Cream. In each guest's place we also put a fake moustache, a pack of Lego and 'Anya and Steve's Seaside Scramble'- a quiz where guests had to unscramble the names of seaside towns around the UK. The winners got a seaside bucket each filled with Southwold souvenirs. We also placed a seaside bucket in each child's place filled with toys and a personalised wedding themed colouring book."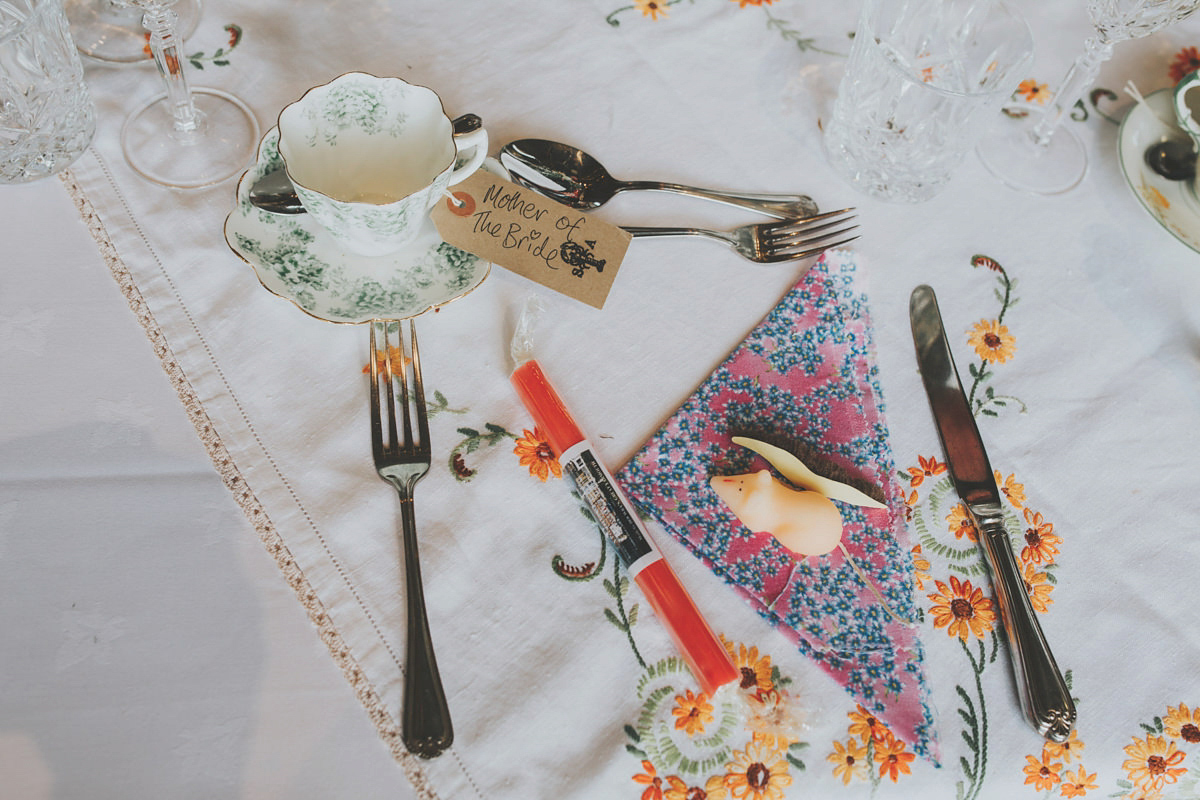 "Our caterer was The Main Ingredient, who we couldn't recommend highly enough.  Emma at The Main Ingredient was brilliant in the run up to our wedding day and we were able to completely relax on the day as we knew she would run everything perfectly.
We wanted tasty, local and seasonal food that our guests would love and that would keep our friends fuelled for the evening party, into the early hours. We also provided a free bar all day and night so we could choose the drinks, including real ales and cocktails, that were served.
We had canapes served after the ceremony, with champagne in vintage coupes. For the post ceremony drinks we also created 'Anya and Steve's Beach Bar' – galvanised tin baths filled with bottles of drink including Aspall Suffolk Cider, Crabbie's Ginger Beer and Fentimans Rose Lemonade. We also had Kilner drink dispensers with Pimm's & Lemonade, Elderflower Cordial and iced water infused with lemon, cucumber and mint."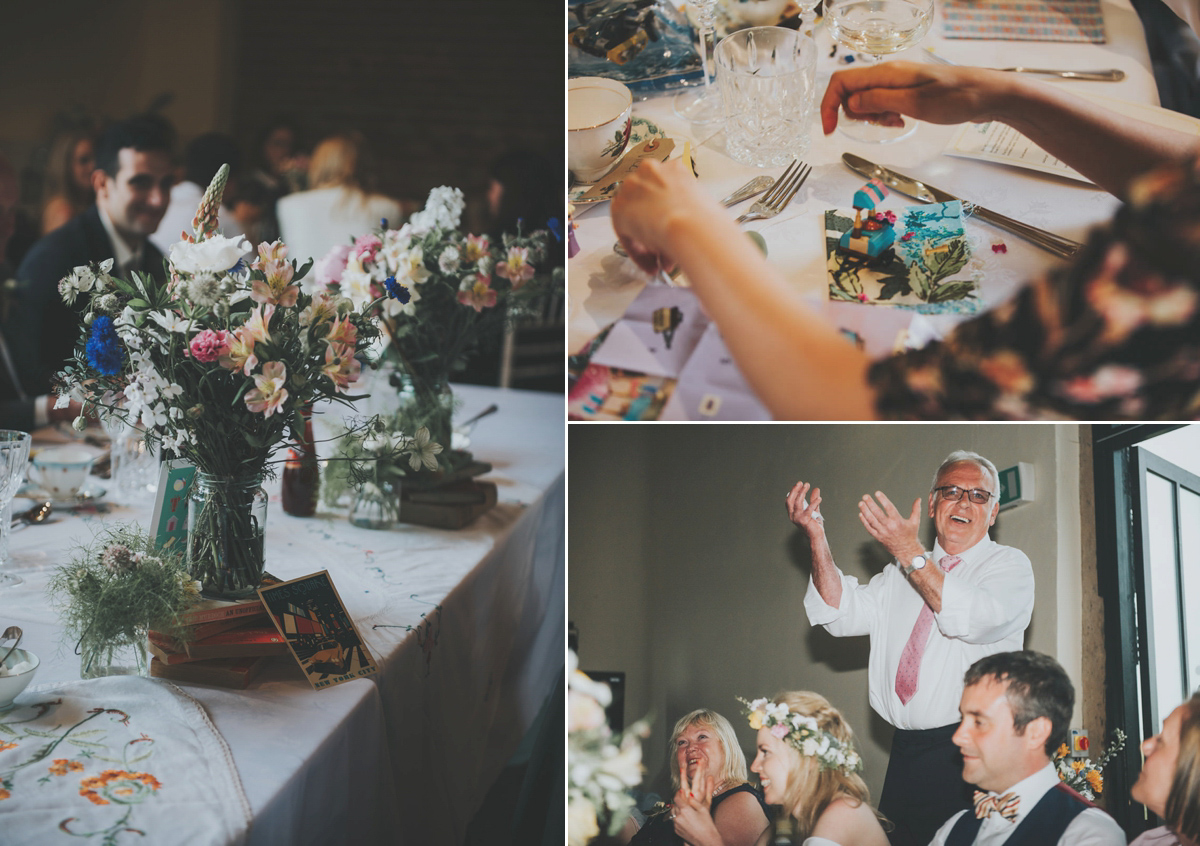 "We wanted our seaside theme to be reflected in our food choices too, so for the wedding breakfast we had Adnams Southwold Bitter battered cod loin, with hand cut chips, mushy peas, tartare and curried sauce- it was delicious and some guests have said it was the best fish and chips they have ever had."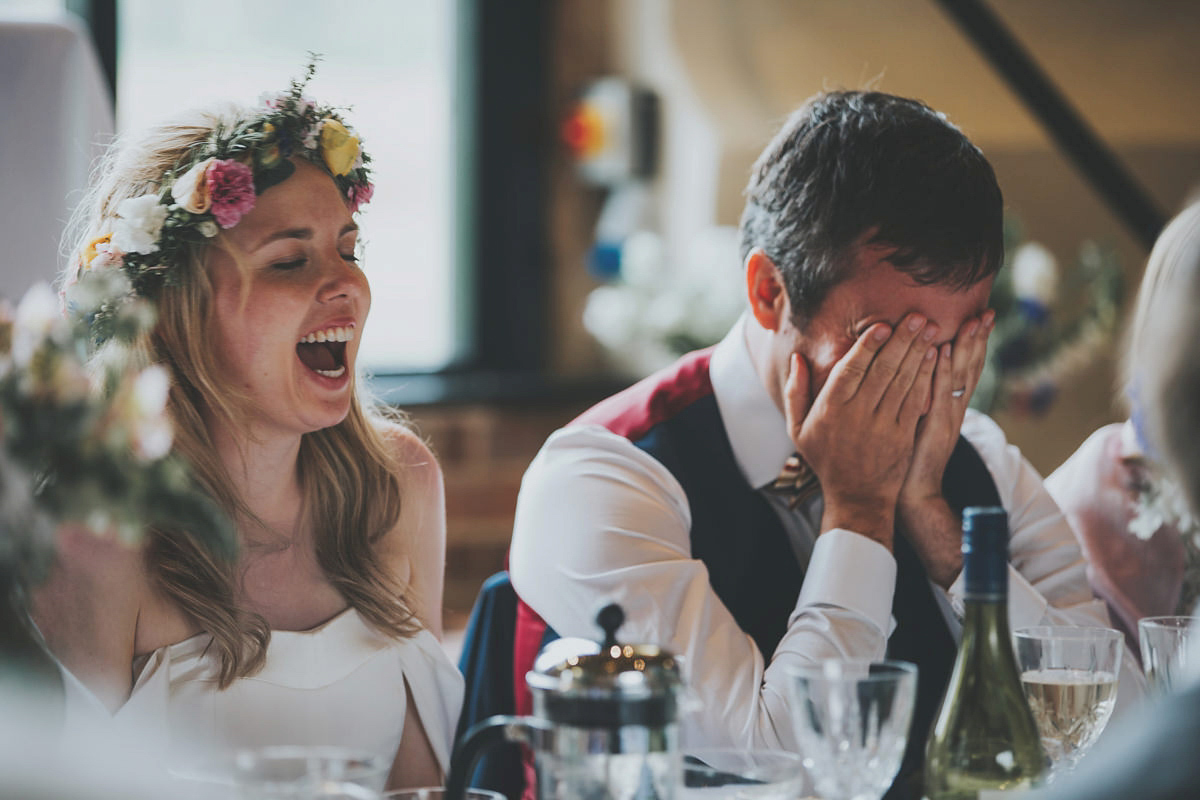 "Pudding was 'Make Your Own Mess' where guests helped themselves to seasonal Suffolk strawberries, meringue kisses, creme Chantilly and strawberry coulis to create their own Eton Mess. All our food was served on vintage china, and tea & coffee after the wedding breakfast was served in vintage teacups and saucers, collected by my mum from charity shops and antique fairs. We also hired lots of vintage crockery and props from Vintage Mischief.
For our evening food we had a buffet with local, seasonal foods including pork pies and sausage rolls made from Suffolk Dingley Dell pork, a cheese tower, salads and breads, as well as a cake table of cakes made by my mum and friends, all served on vintage cake stands."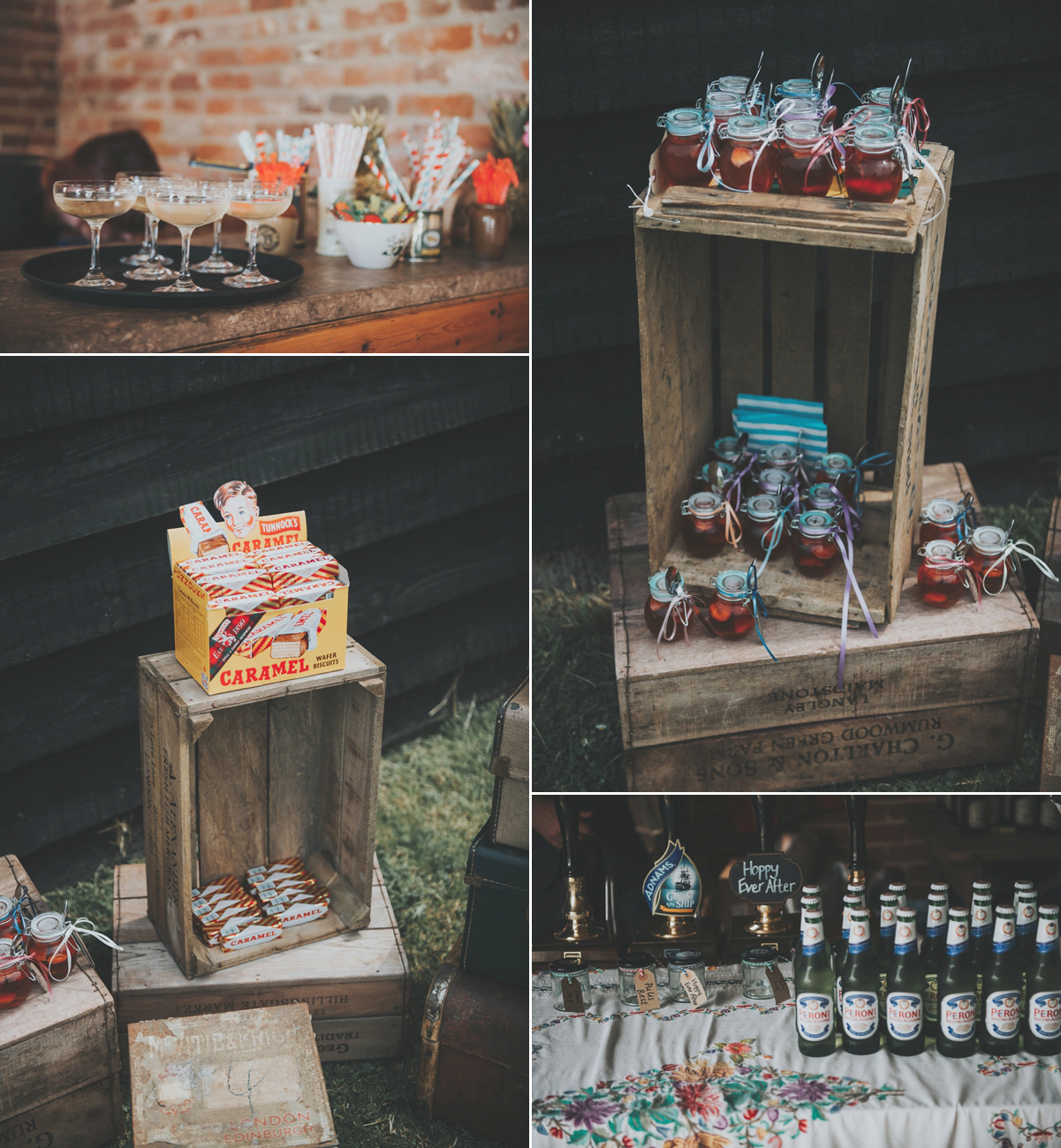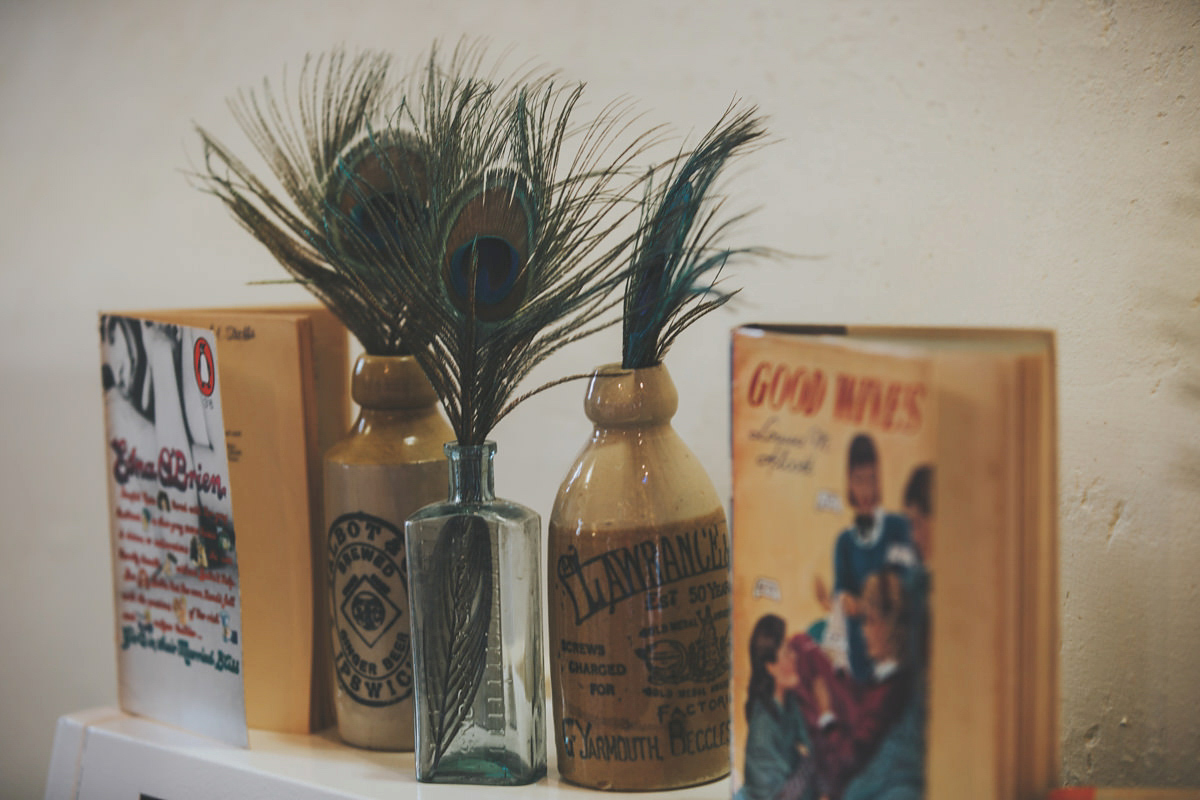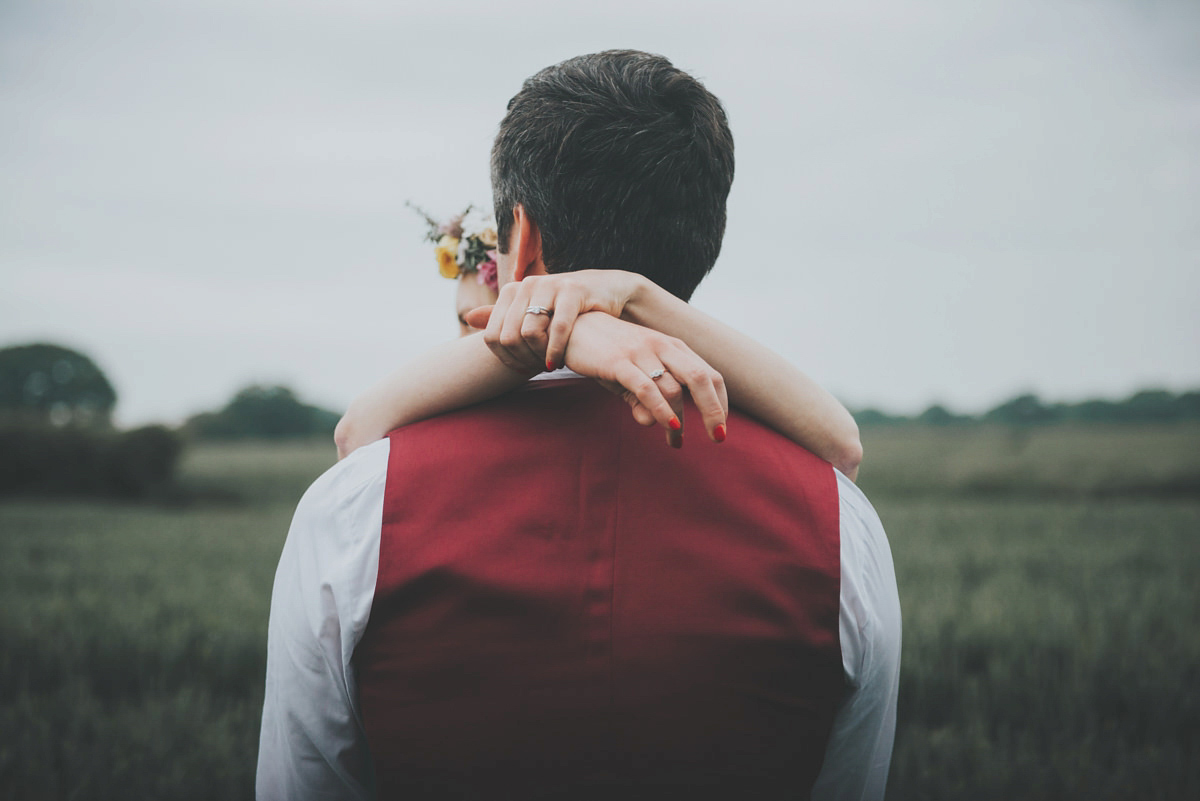 "Our first dance was to David Bowie's 'Heroes'. In the evening I wanted to create more of a 1920's Hollywood look, so I detached the shoulder drapes from my dress and swapped my fresh flower crown for the Vivien Elegant Glamour Wedding Comb by Debbie Carlisle."
"My mother in law wired lots of jam jars with tea lights, which we hung in the trees surrounding the barn and positioned on the pathway, so they twinkled beautifully in the evening."
Talking of Debbie Carlisle – pop in on Thursday lunchtime folks to enjoy a feature written and shared by Debbie herself around the topic of bridal headpieces.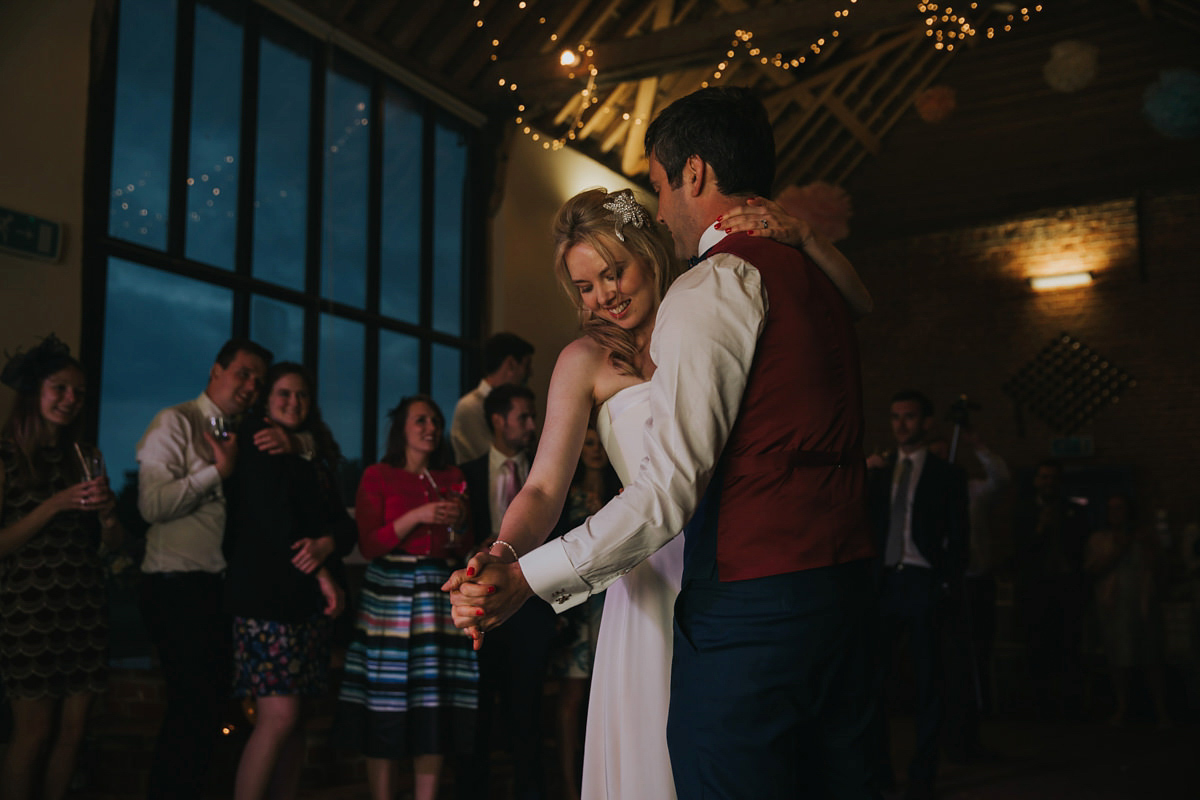 "We asked all our guests to suggest a song on their RSVP card, and we then compiled a playlist for the evening including all our guests' chosen tunes as well as a selection of our favourites too – a few guests commented when their song came on and it certainly got everyone up and dancing!"
"It's so hard to pick a favourite part as it was just the best day ever, but having ice cream with all our guests on Southwold Beach in the sunshine, and then having photos together as husband and wife on the beach and pier were definitely highlights! It was also the weekend of the Queen's 90th birthday celebrations and as we got off the bus to walk down to the beach we got a cheer from some locals who were having a street party! It's unplanned but memorable moments like this that make the day extra special."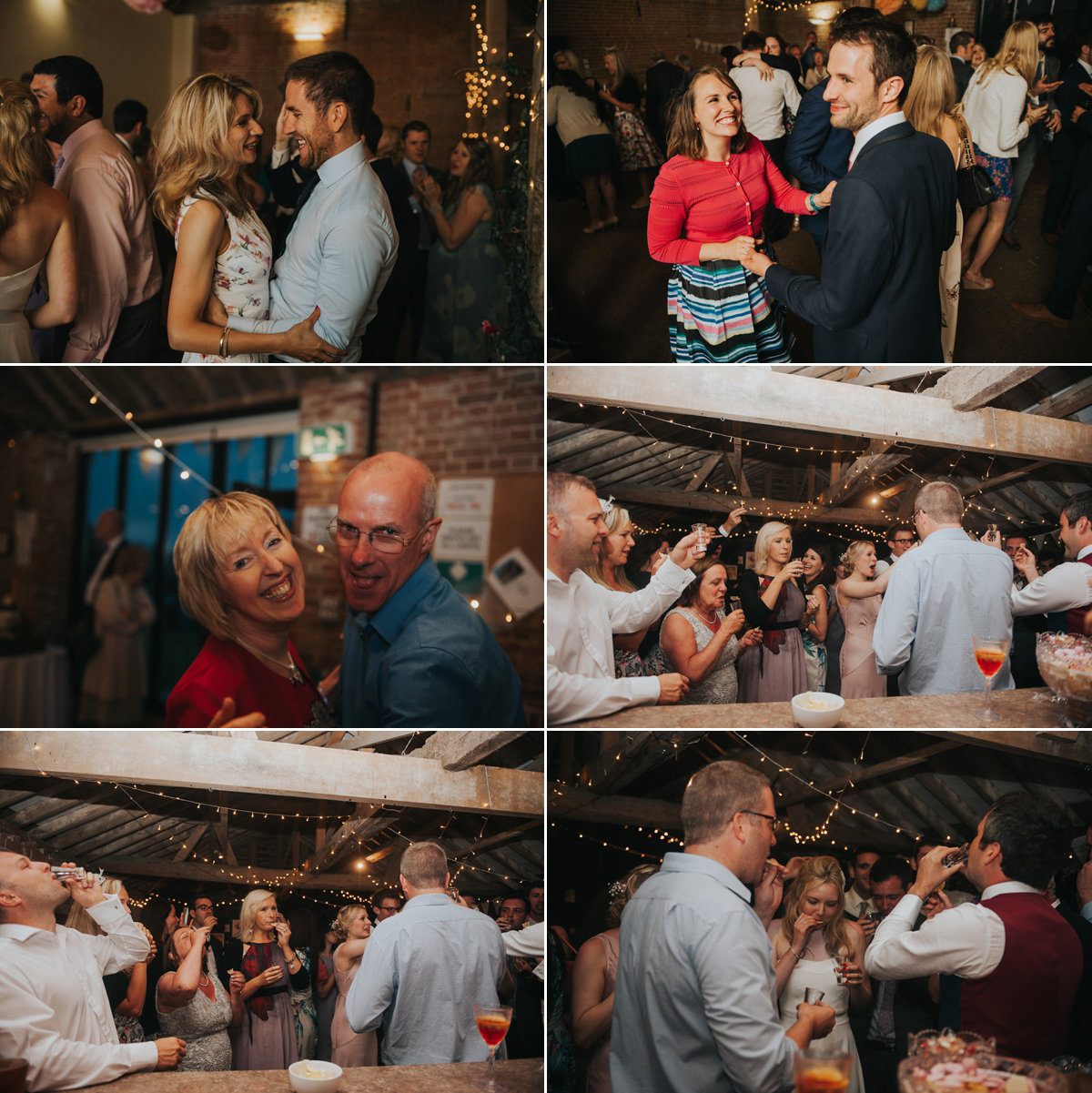 Words of Wedded Wisdom…
"Let friends and family help in the planning, where possible, and play to people's strengths. A family friend who is a talented textile designer made the bunting for our venue, a close friend drove me and my dad to the ceremony, several family friends made cakes for our cake table and our mums collected lots of the vintage china and props. Having family and friends come together to help in the preparations for our big day made it even more special.
Also, many brides before me have said this, but try to have some time out alone together during the day, as it whizzes by so quickly. Having half an hour with Steve during our photos on Southwold Pier, to breathe and reflect on the fact we were now husband and wife, was one of my favourite parts of the day."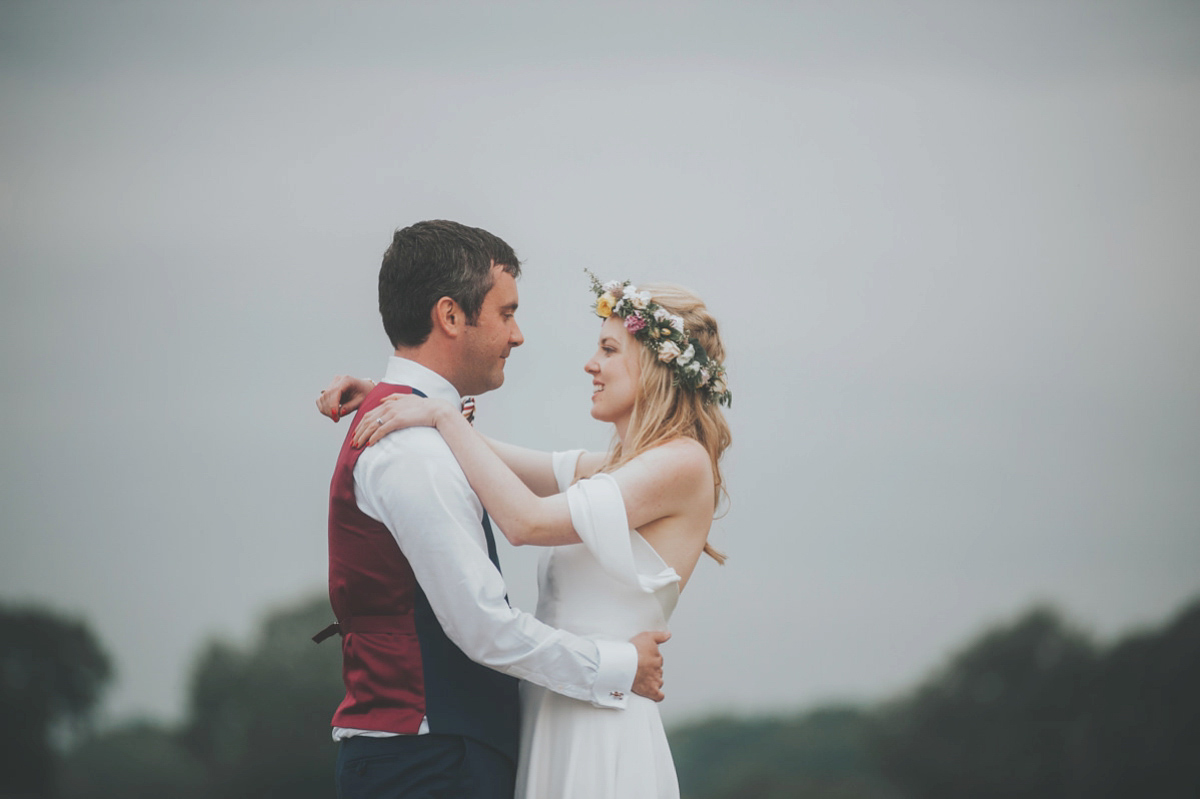 It's such a pleasure to be sharing lovely Eliza Claire's photography today – and so nice to see a bride wearing a dress by such a talented, independent designer.  If you're looking for an independent designer to create your gown, please take a moment to visit Sabina's website – alternatively you can browse these pages in our Little Book For Brides wedding directory.
Love Annabel xx