Are you thinking of a destination wedding for your big day? It's becoming more and more common these days, particularly with exciting European locations so close to the UK. And it's a brilliant way to pay respects to one's heritage and cultural background, as was the case for the gorgeous groom Alejandro, who works at the London Business School. His beautiful bride Stephanie is the PR Manager for a cosmetics company and the stylish couple married officially in Ireland, then headed over the seas on the 2nd of July 2016 to the most majestic location in Valencia, Spain – Jardin de Azahares, or  'garden of orange blossoms.'
Amelia Morales from La Margarita Azul helped as the couple's wedding planner and I urge you to take a break right now and and be inspired by this heartfelt tale, as you view these beautiful images by Dani Balsera Photography
"I wanted the wedding to have an elegant but relaxed and romantic feel. Our venue was surrounded by acres of traditional citrus orchards with water fountains and streams flowing amongst the orange trees, so I wanted everything we added to that to be white, fresh and classic. We wanted to give our guests an authentic Valencian experience and Alejandro's mum had always wanted one of her children to marry there, so when they had a date that suited us in the summer, we grabbed it. I read Love My Dress regularly for their great coverage of destination weddings, the many different styles covered, beautiful layouts and lots of pictures for inspiration."
Photography by Dani Balsera Photography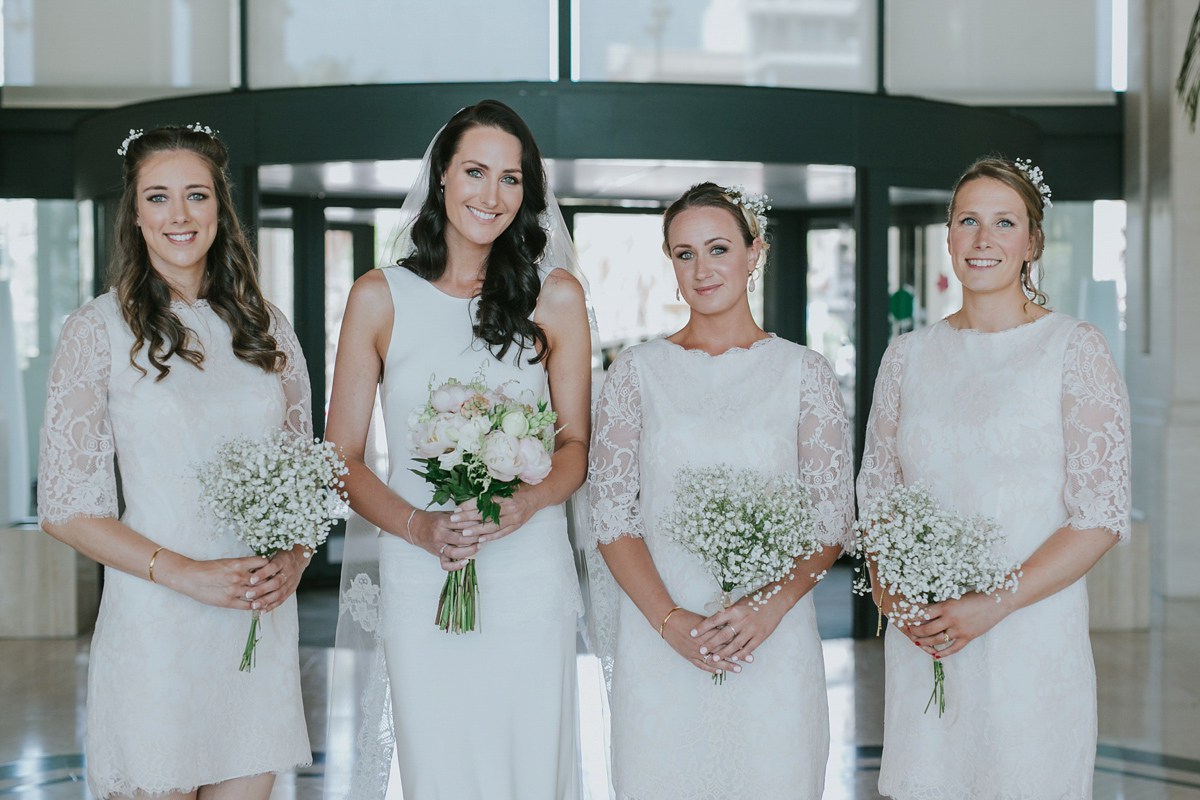 Stephanie chose an utterly gorgeous dress by a firm favourite of us here at headquarters, the incredibly talented designer Charlie Brear, as well as a floor-length veil in chantilly lace.
"I tried on a lot but I loved the simplicity and timelessness of Charlie Brear's dresses. The 'Sada Chantilly' had a chic, glamorous feel to it that I hadn't seen in any other dress and I really liked how it contrasted with the heavy lace of the veil, giving a slightly Spanish look that I kept coming back to."The couple met in a bar in London six years ago and Alejandro proposed on Malvarossa beach in Valencia, after asking permission from Stephanie's dad via an important phone call.
"Alejandro had been there a few days already spending time with family when I flew in early on a Saturday morning to spend the weekend together. He picked me up from the airport and took me straight to the beach. As we walked down to the water I kept asking to go somewhere for a coffee, but he ignored me. He started playing in the sand with his foot before suddenly turning to me and telling me how much I meant to him. I thought he had just really been missing me the last few days, it was only when he was down on one knee that I realised what was happening."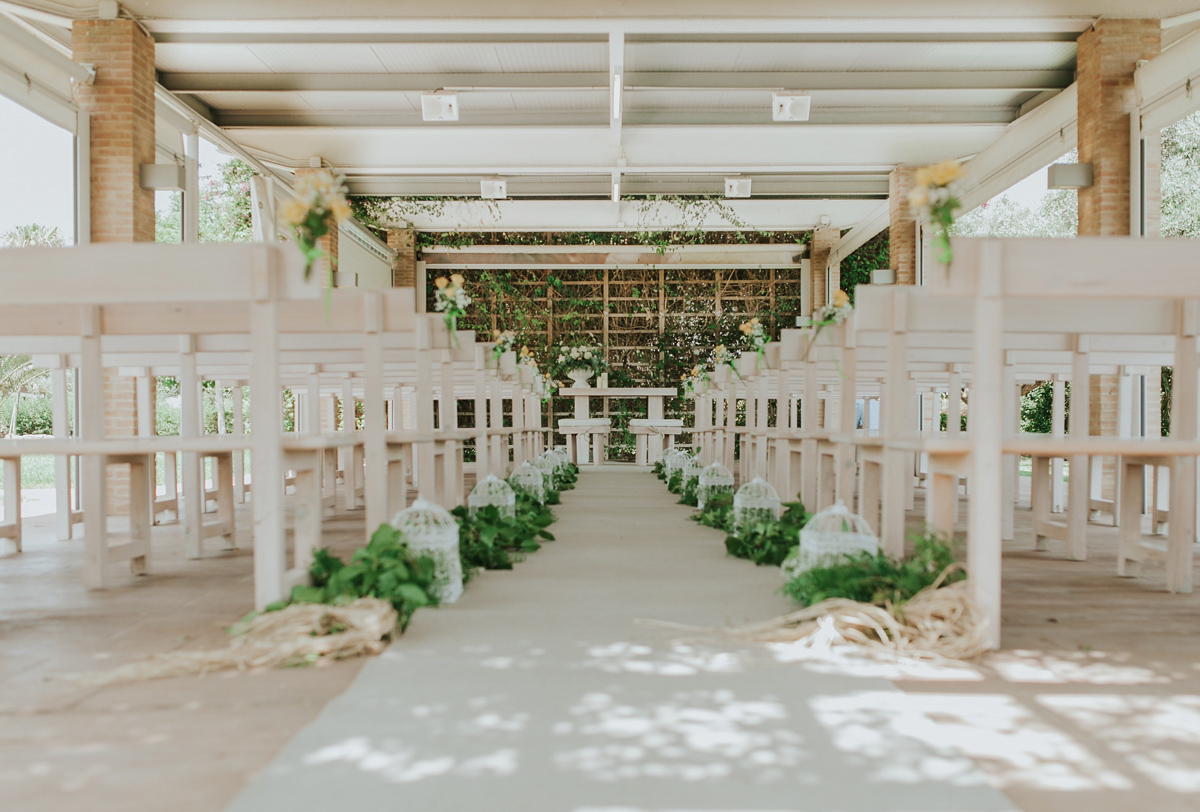 "He had called my Dad the evening before to ask permission, which is not something usual in Spain but felt important to me."
"My Dad was out at dinner at the time and said he would call him back but Alejandro insisted he go outside so he could speak to him now – I think it had taken him long enough to build up the courage to make the call in the first place!"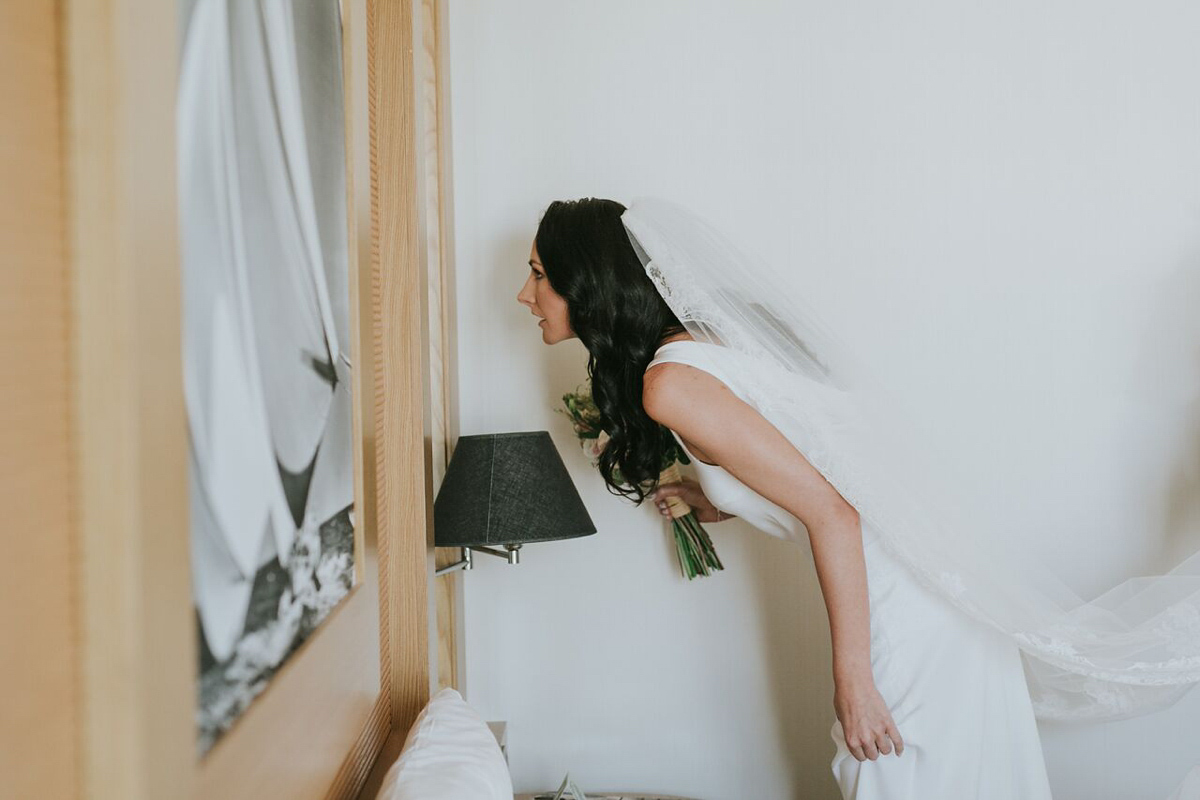 The stunning bride donned a beautiful pair of Freya Rose heels (see more timeless glamour in their Little Book for Brides listing), double crystal cluster drop earrings by Irish designer, Paul Costelloe, which were a gift from her sister, and a sterling silver bracelet by Monica Vinader."
"I had it engraved with our initials and wedding date afterwards, which makes it feel even more special when I wear it now."
"My amazing friend Chloe of Cakeface Makeup did my makeup as a gift. We didn't even have time for a trial before but I trusted her completely. As a professional artist, she has done the makeup for all my best friends on their wedding days and always does a fantastic job. I am still getting compliments on it to this day."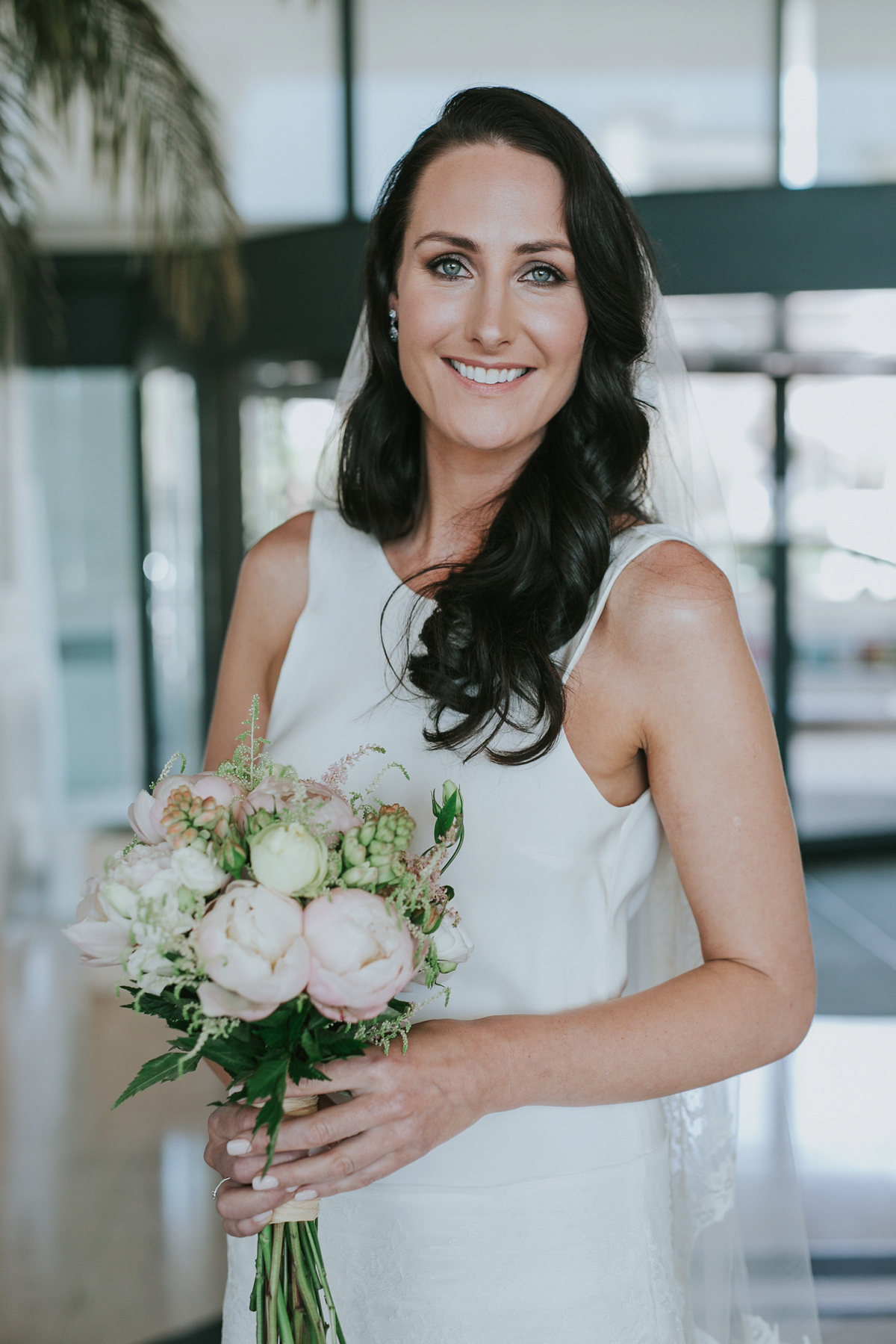 The bridesmaid's complimented Stephanie's glamorous attire in their white Ted Baker 'Laavia' dresses with wide lace sleeves, sprigs of pretty baby's breath for their hair, and gold bracelets by Monica Vinader that were gifts from the bride. I adore maids in white and this added to Stephanie's desire for a crisp, fresh look.
"My bouquet was made by a small, local florist in Alejandro's home town. I changed my mind so many times! In the end I sent her one final picture of what I liked and she nailed it.
I made the bridesmaids' bouquets myself, as I just wanted simple, undone looking bouquets of baby's breath, which was pretty straightforward."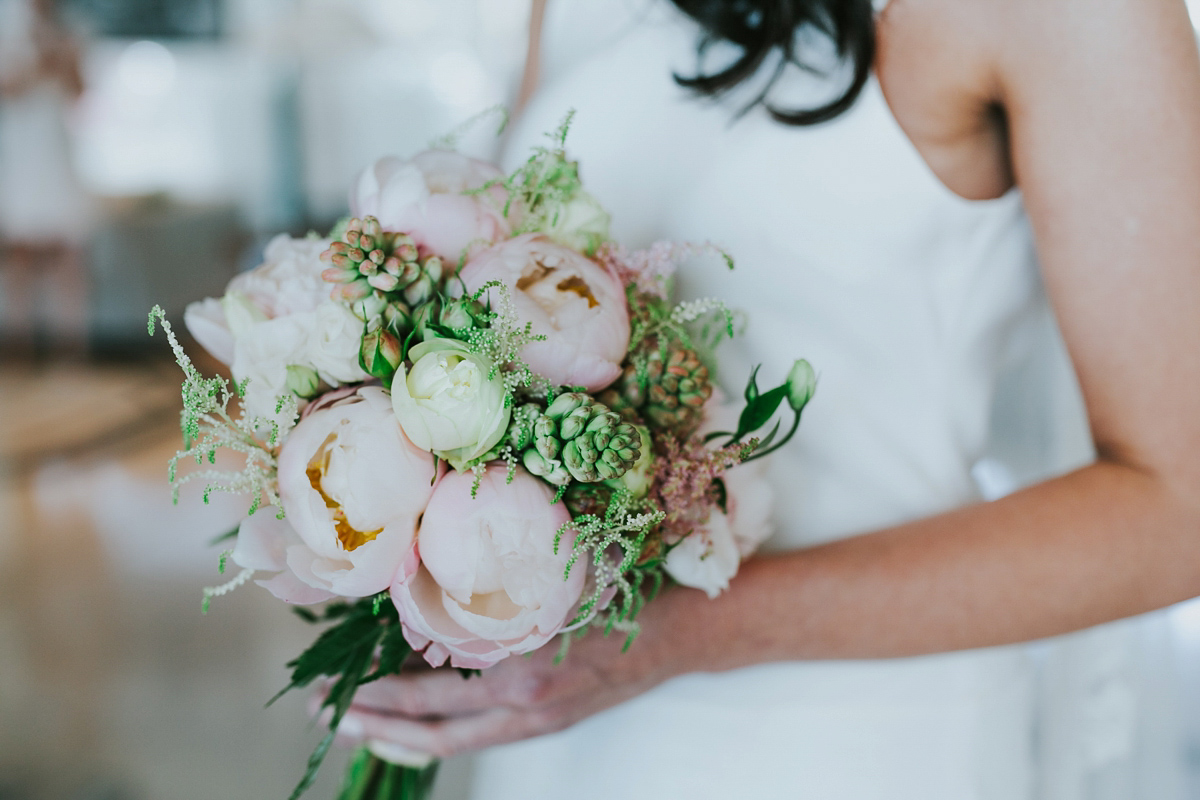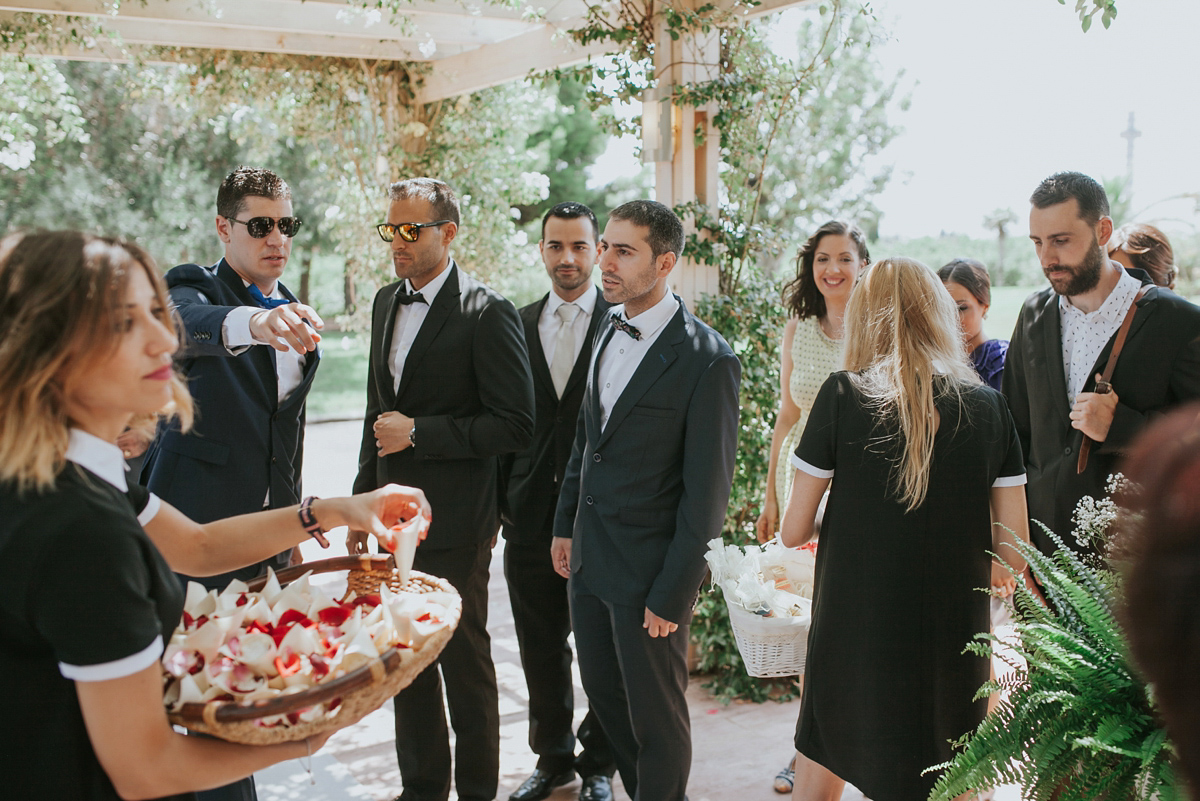 Stephanie and Alejandro had an outdoor bilingual ceremony that focused around their love story and included the Spanish tradition of a few close friends and family each getting up to speak about them as a couple.
And Stephanie's brother performed the important task of accompanying her for the aisle walk.
"My younger brother walked me down the aisle when my father became ill suddenly the week before the wedding. He had just come back from Australia for the wedding so it was emotional and he did a brilliant job. We joked than he had been upgraded for the day!"
"Alejandro walked down the aisle with his mum to the acoustic version of 'Wings' by Birdie, a song we both love. I followed my bridesmaids to the piano version of Canon in D By Pachelbel. For me, it's one of the most beautiful parts of a wedding and I was really adamant that it didn't look rushed! The song was almost ten minutes long and we all crossed a river over a small wooden bridge slightly hidden by trees, which meant the guests just got glimpses of us until we reached the aisle."
"We did our vows to 'I Giorni' by Ludovico Einaudi and walked back down the aisle as husband and wife to "Somewhere Over the Rainbow" by Israel Kamakawiwo'Ole.
My ten-year-old nephew stole the show when he spoke about how our hearts were now combined and how beautiful I looked from the top of my head to the tips of my toes! He finished by reading the poem 'I belong in your arms' by Deborah Bridea and blew everyone away with his confidence."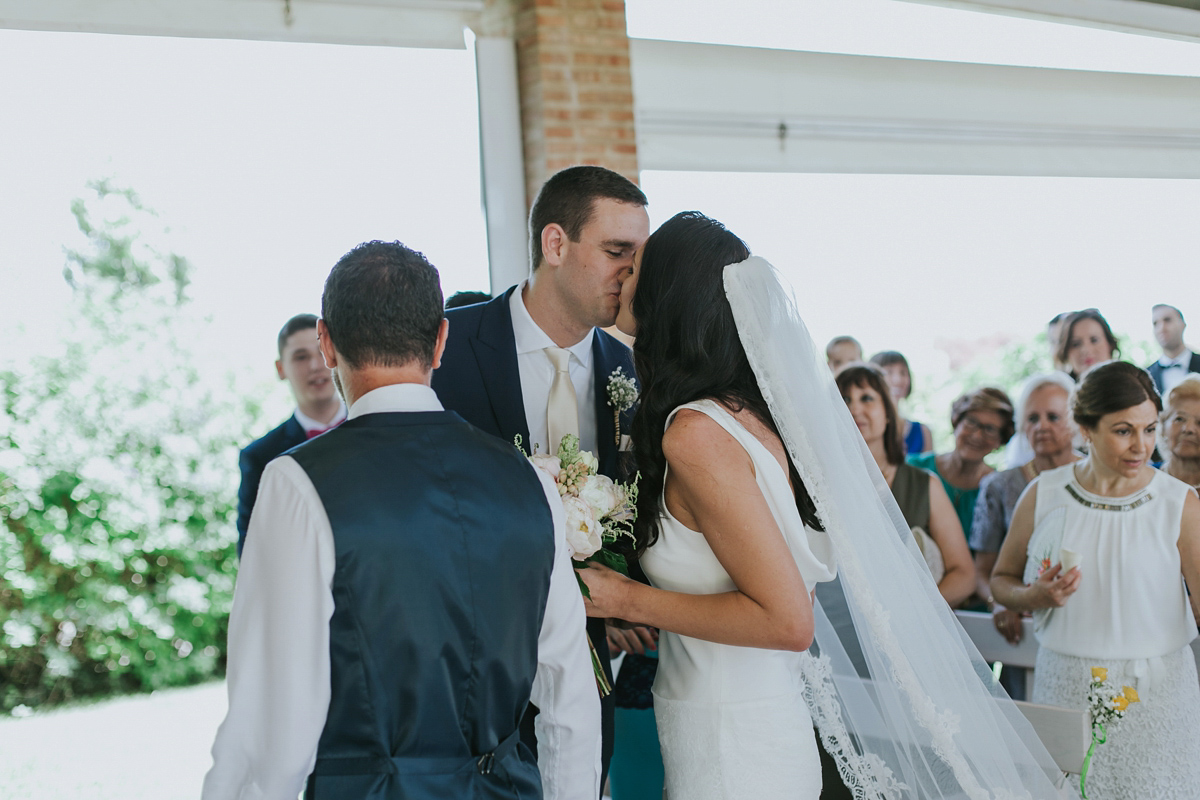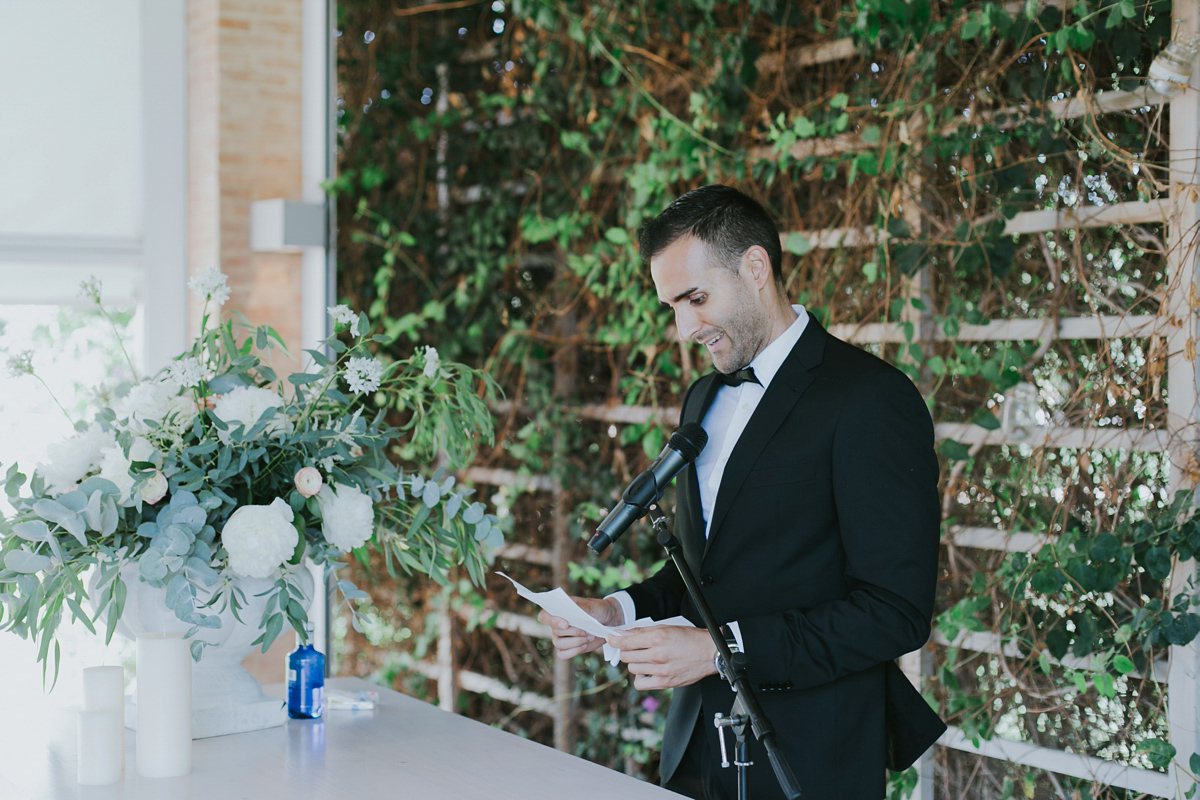 "Our wedding rings were a gift from Alejandro's mum and I chose a really thin band with the same setting."
"We bought them in Hatton Garden from Fraser Hart and had such fantastic service, I would highly recommend them. We chose my engagement ring together and I love its antique style with the pavé diamond setting gracing the shoulders."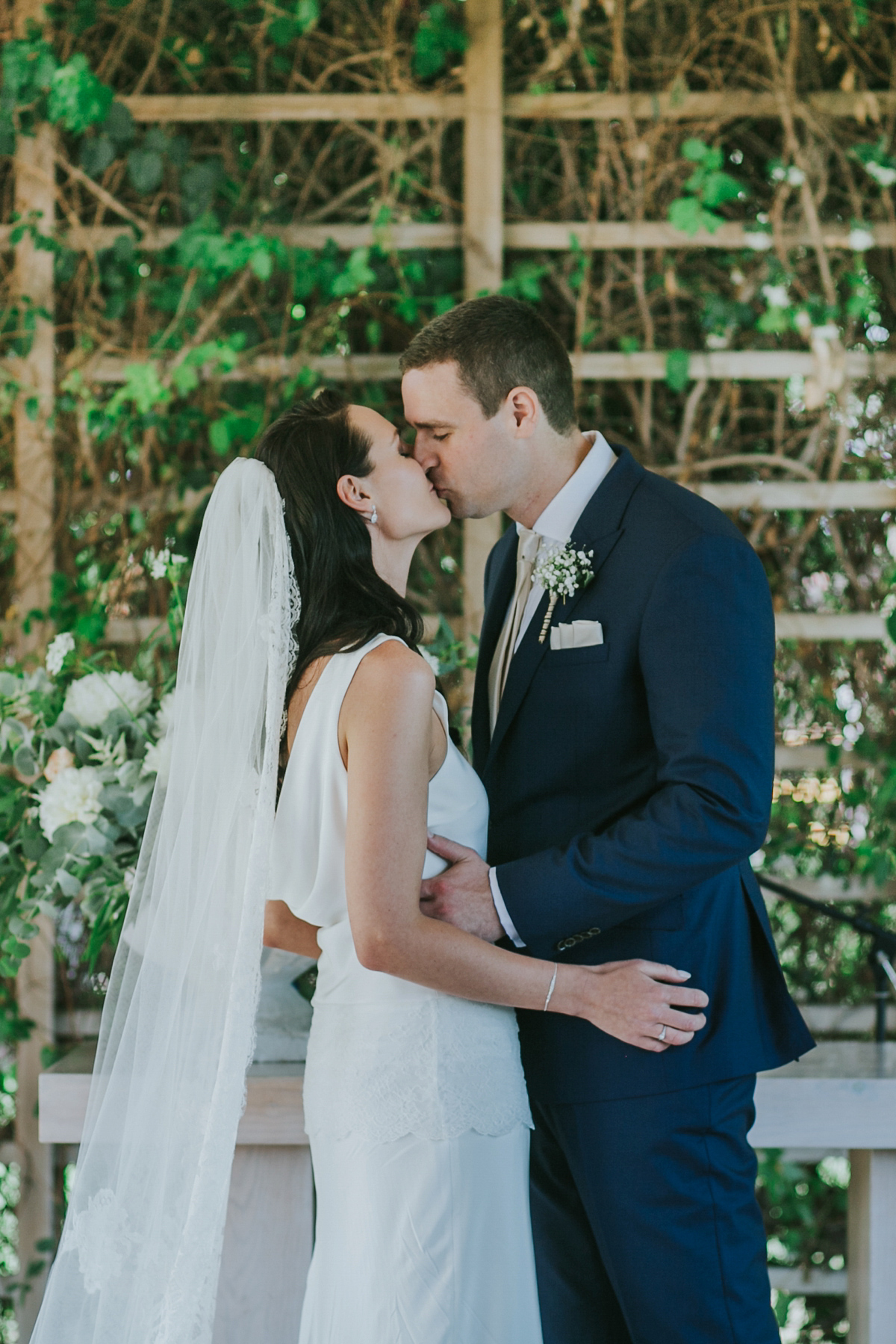 Bright pops of colour of Valencian oranges featured throughout the decor and stationery and looked incredible against the white background.
"Everything related to the design of the wedding invitations, menus, table numbers was a gift from my friend Hazel, founder of Thatch Design. Orange trees and lemon hearts bearing our initials featured throughout, but the backdrop was always white. The room itself where we had the wedding lunch was somewhat modern and impersonal. I really wanted to add some warmth and character so we added large shabby chic vases of baby's breath, bird cage candle holders and greenery."
"I made the table plan myself with help from Alejandro's mother. We wrapped hula hoops with pale gold ribbon and the florist added flowers and greenery to finish them off. I added little cards on the English speaking tables explaining the Spanish tradition of chanting out 'Vivan los novios!' ('Long live the bride & groom!') and 'Que se besen!' ('Kiss eachother'!) to get the newlyweds to kiss during the meal so they could also get involved. There was a lot of shouting at our reception!"
To stave off the summer heat, traditional hand-painted Spanish fans were given to the guests for the ceremony as favours.
And during a flamenco performance (organised for straight after the meal to keep everyone going after six courses of delicious food!) the bridesmaids gave out rose petal bath bombs from Lush in small rustic hessian burlap bags to the women, while Alejandro's father gave cigars to the men.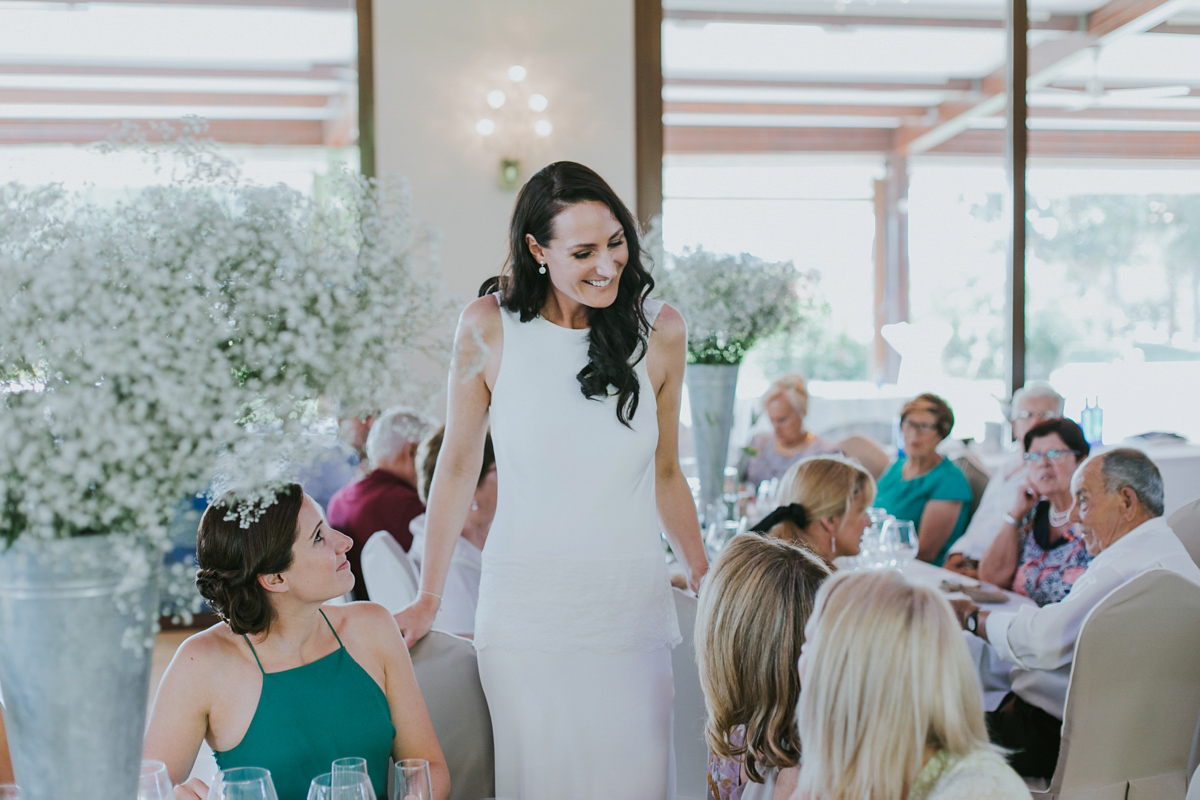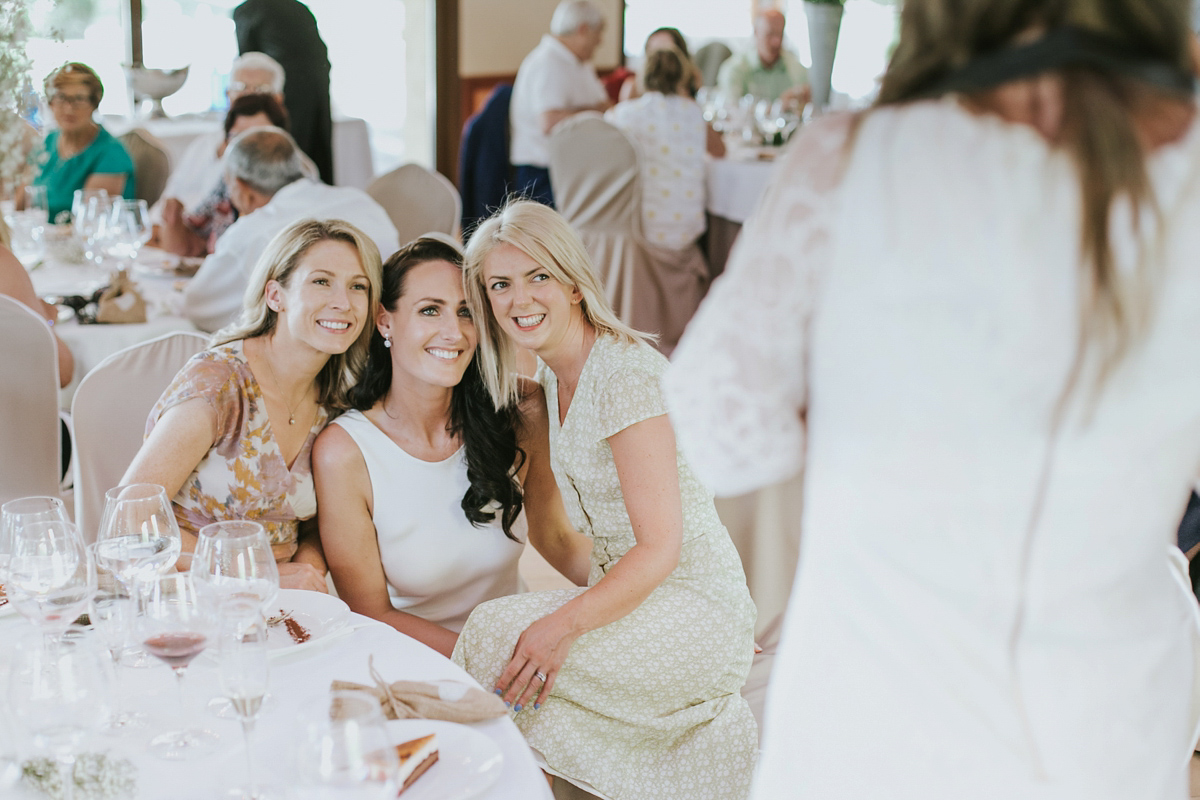 "A Spanish custom at weddings is to play a joke on the groom and Alejandro's friends surprised him (and me!) with a basketball shaped piñata (he used to play semi-pro) later after the lunch. They had a bit of a game to Quad City DJ's "Space Jam", throwing it over our guests' heads before it reached him and burst open, spilling out lots of coins as a gift to us!"
"I think for both of us, seeing our friends and family all get on so well, despite the language barrier, and embrace the different cultures and traditions is what we will remember forever. There was even exchanging of numbers and promises to visit at the end of the evening – we couldn't have asked for anything more."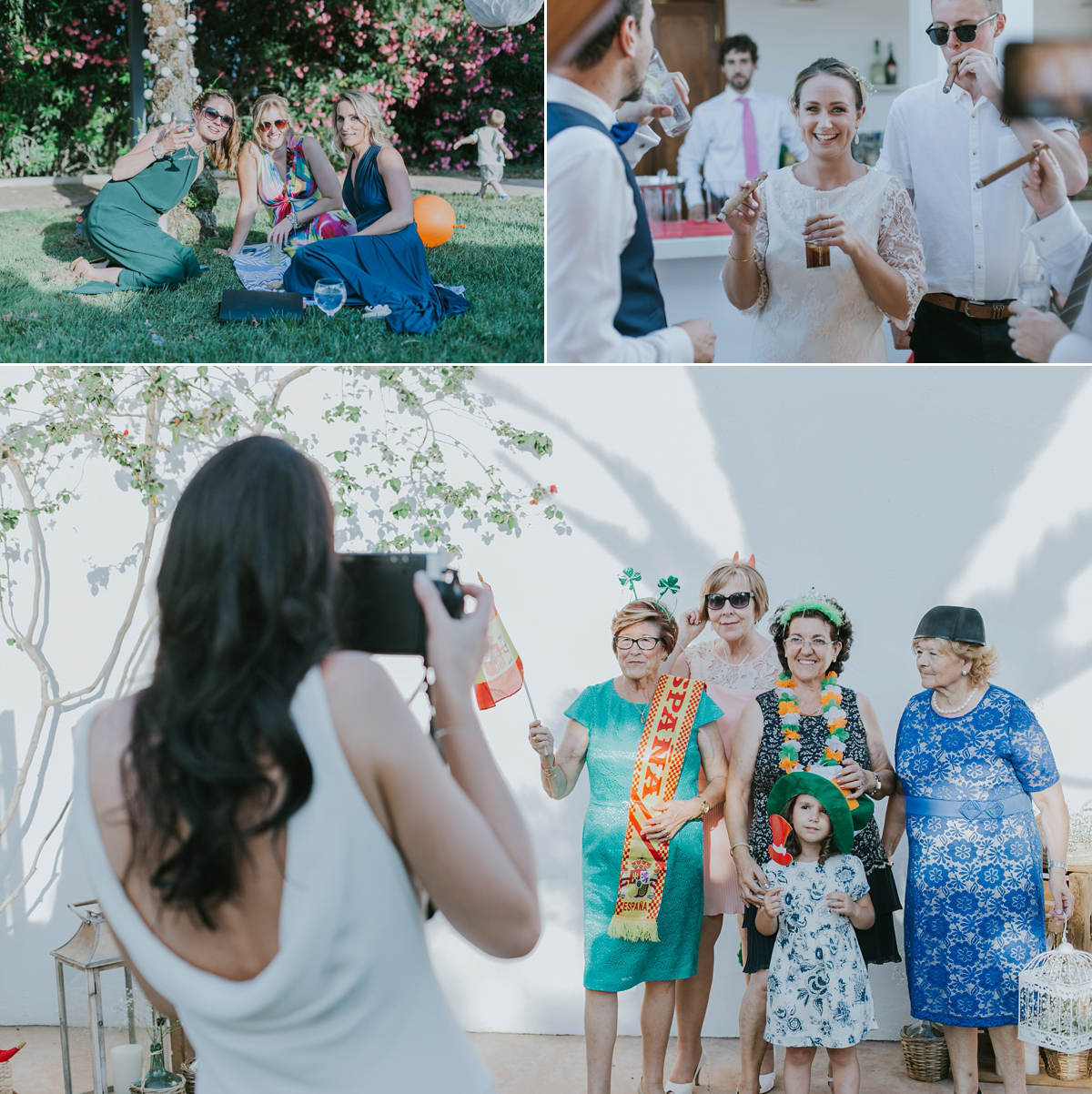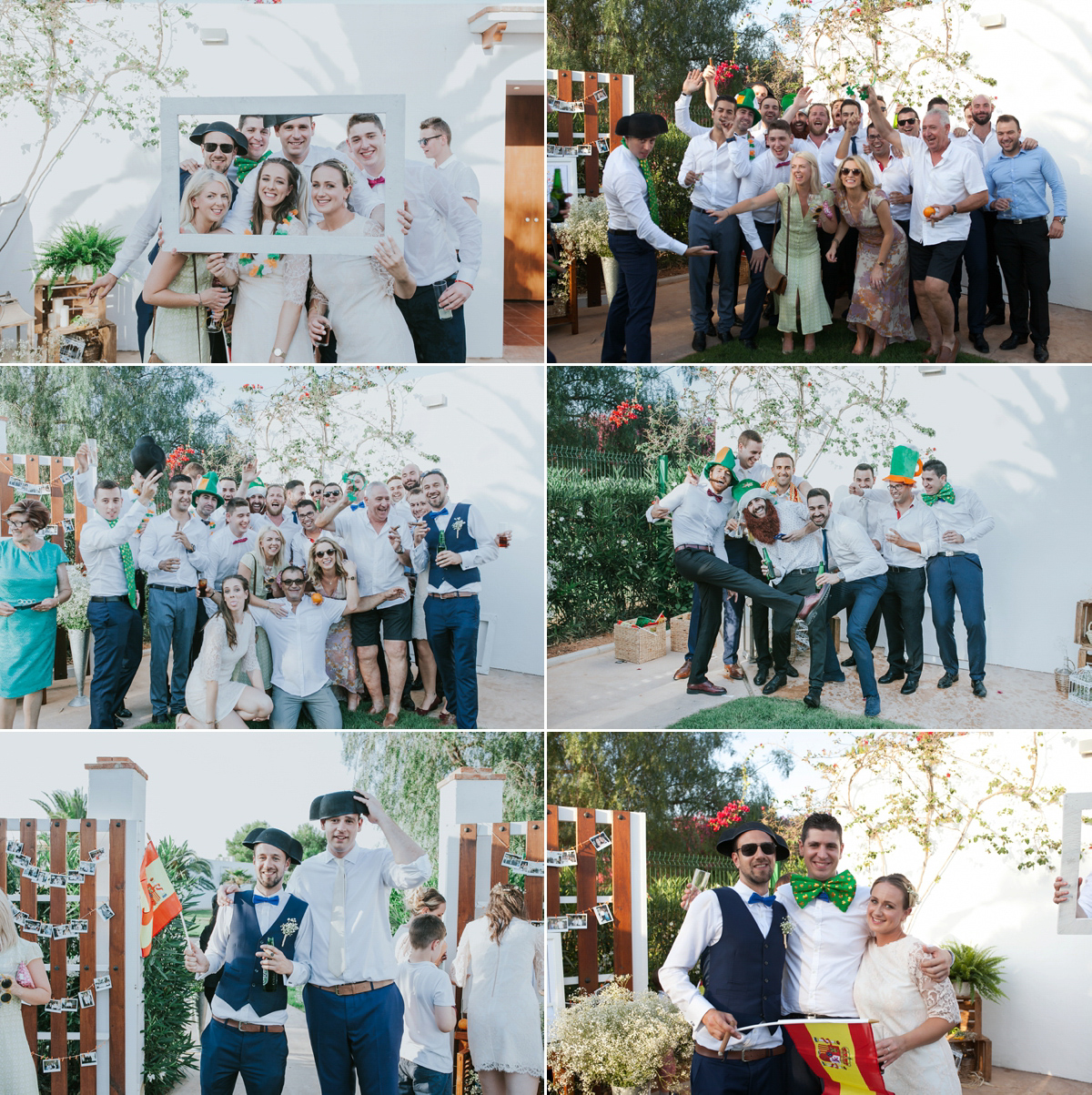 The evening band was The Kojaks, a funk, rhythm and blues band from Valencia and they created a groovy vibe for the guests in the chill out zone.
"The chill out area, where we moved to for the evening fiesta, already had a pretty cool Ibiza-style vibe so we just added lots of candles, white globe fairy lights to the trees and a couple of teepees for the kids to play in."
Words of Wedded Wisdom
"If you are getting married abroad, especially in a different language, invest in a local wedding planner and someone to coordinate on the day so you can really enjoy it all. It was the best money we spent.
As much as I wanted everyone to understand what was going on all the time, we decided not to translate everything and had some speeches in English, some in Spanish and others in both where it felt right. The day still had a natural flow and it wasn't too long and arduous for our guests.
If you don't have a videographer, make sure to ask some friends to film you walking down the aisle and your vows. We didn't but had about five different versions sent to us the next day and I'm so grateful!
Try to pick a theme, stick to it and trust it will all come together at the end. Everything on blogs, Pinterest and Instagram is so beautiful that I found it hard not to become overwhelmed with ideas!"
Take note, brides-and-grooms-to-be! Lots of excellent advice here – thank you so very much to lovely Stephanie and Alejandro for sharing these helpful tips and your utterly stunning day with us all. You brought me right back to my time spent in Valencia after viewing Dani's light-filled pictures of the amazing orange trees.
For even more inspo, be sure to bookmark these links of Charlie Brear glamour and other Spanish destinations we've previously featured on this most beautiful blog.
Have a relaxing rest of week lovelies!
Love Jo -x-