I do so love seeing all the fabulous venues our couples choose for their wedding days- we've had everything from barges to zoos and everything in between over the years- the originality is astounding.  One type of wedding I am always slightly envious of however (as I wasn't brave enough to do it myself, being a November bride) is an outdoor, woodland wedding, like today's beauty.
Meet Sarah and James, who chose the magical Marthrown of Mabie, Mabie Forest, Scotland, as the location for their nuptials on the 4th of June 2016. Sarah looked so lovely in her 50's inspired gown by one of our fave designers, Charlotte Balbier – it was the ideal dress for their relaxed and lovely, family focussed wedding in the woods.
"We wanted our wedding to reflect who we are.  We wanted it to be relaxed, but we also both wanted the ceremony to be the focal point and for the day to involve as many of our friends as possible. We are both musicians and music was an important part of the ceremony – ranging for a solo guitar being played as we walked down the aisle, to a flashmob of brass players performing The Beach Boy's 'God Only Knows' while we signed the marriage license.  We have been to lots of wonderful weddings over the years, but we knew we wanted ours to be a celebration of who we are and reflect what we enjoy doing."
Photography by Mirrorbox Photography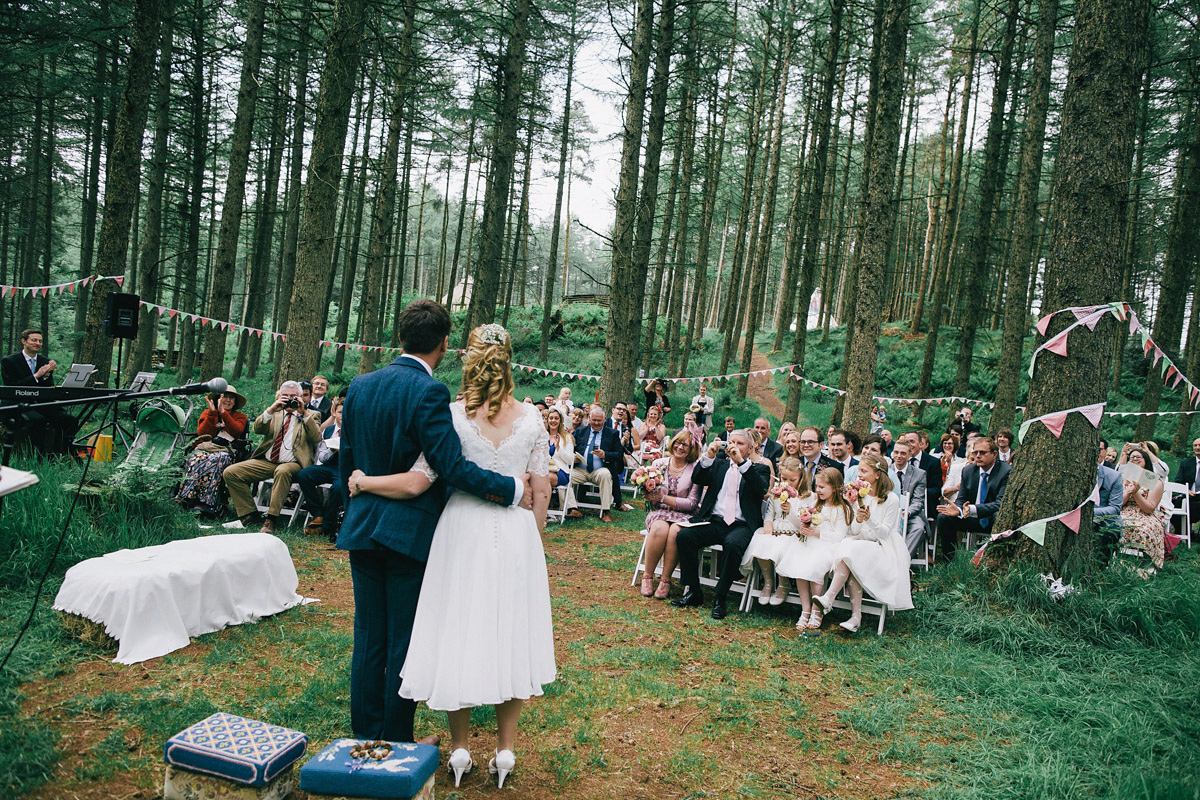 "During one of our many holidays to the Solway Coast we went for a walk in Mabie Forest and came across Marthrown of Mabie – a retreat in the forest with yurts, an amazing roundhouse and a tepee.  We met the wonderful Pam and Mike who run the venue and they showed us around. They were so passionate about what they do and really emphasised that we could do whatever we wanted there – it was a complete blank canvas for us.  We love the outdoors and could immediately see that this venue would give us the ability to have the wedding we wanted.""We were able to hire the venue for the whole weekend and friends who wanted to camp or stay in bunkhouses or yurts could do so. We were the only people using the site and so we didn't have a curfew and we were able to party until we were exhausted and weren't worried about disturbing any neighbours."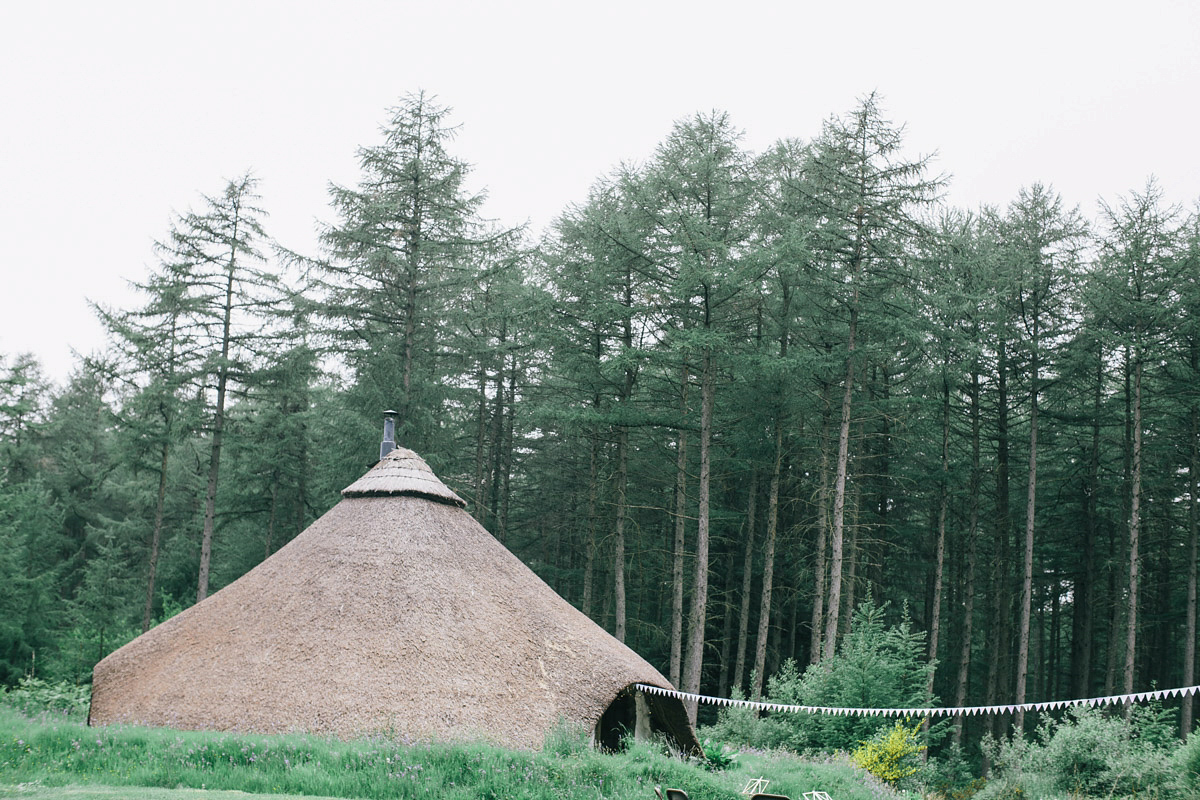 The couple met through mutual friends and they had been together nine years when James proposed on a winter walk through some Woodland Trust fields in their home county of Hertfordshire.  How gorgeous.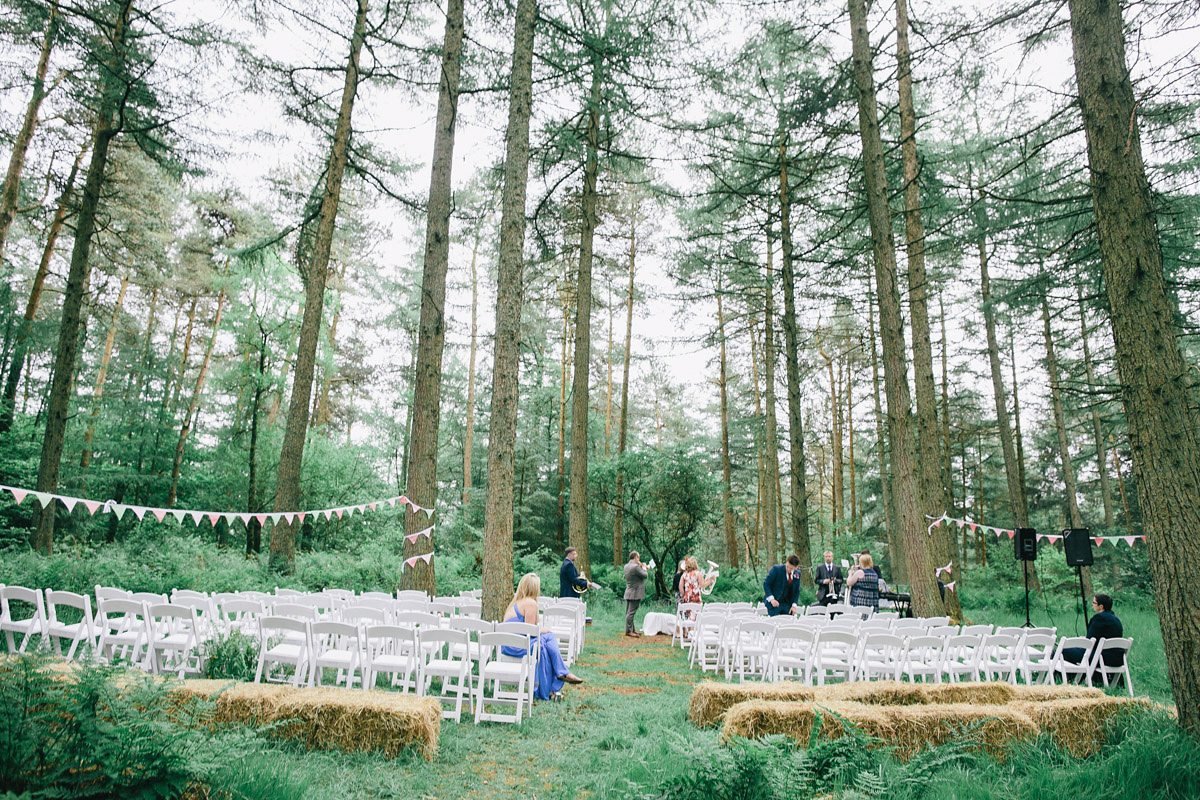 "It's a good job I said yes because James had also planned a celebratory family meal with our parents and siblings for that afternoon."
"The family had all been in on it – and I, for once, was lost for words."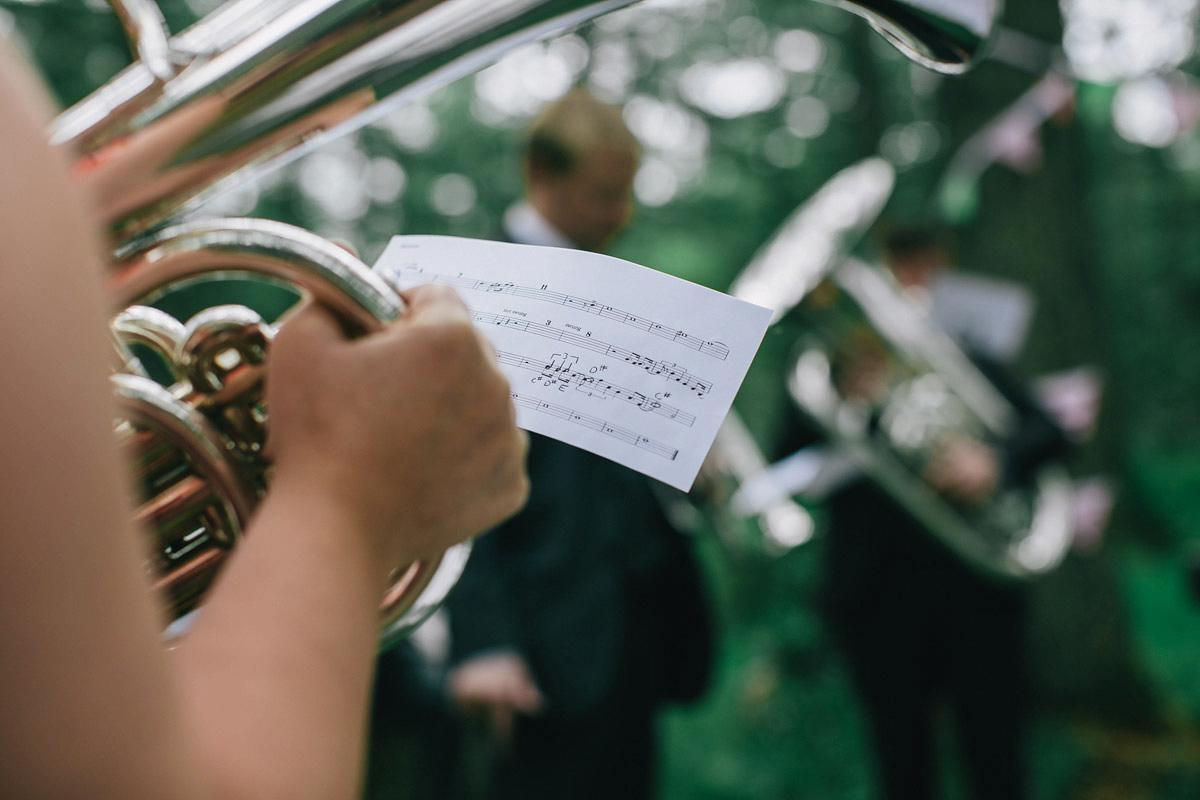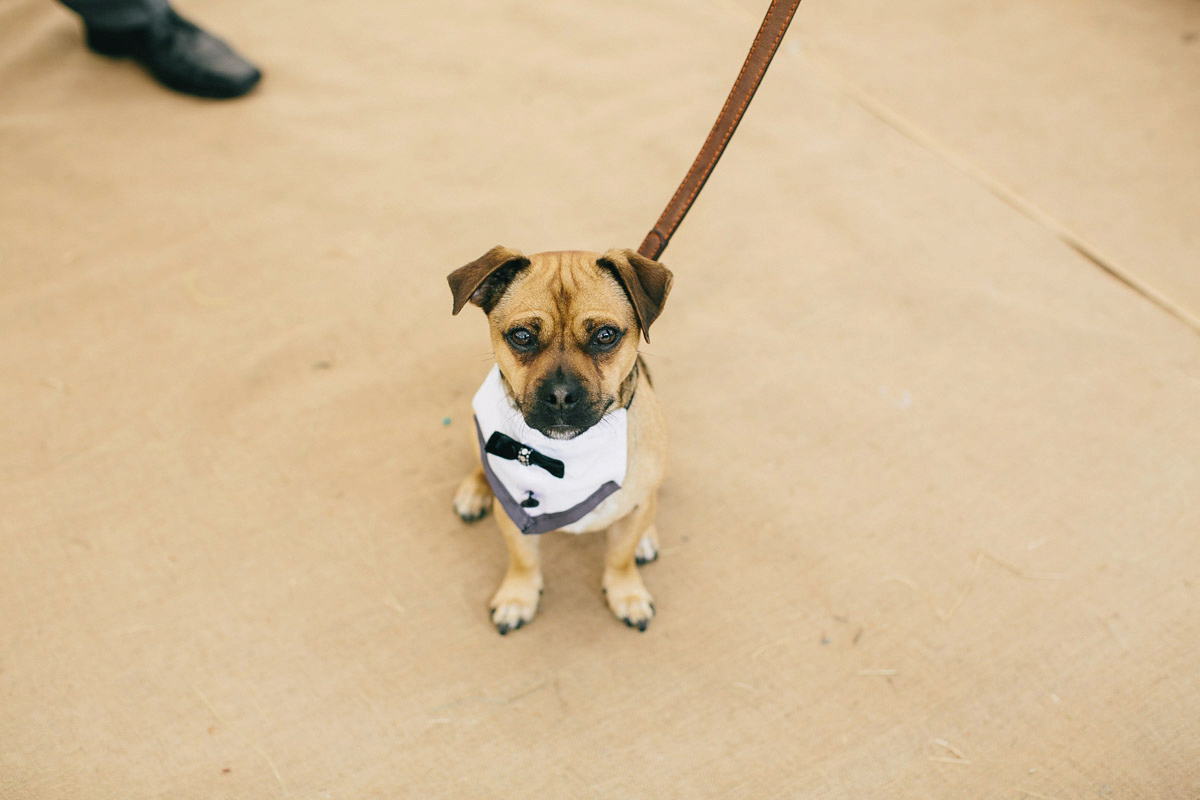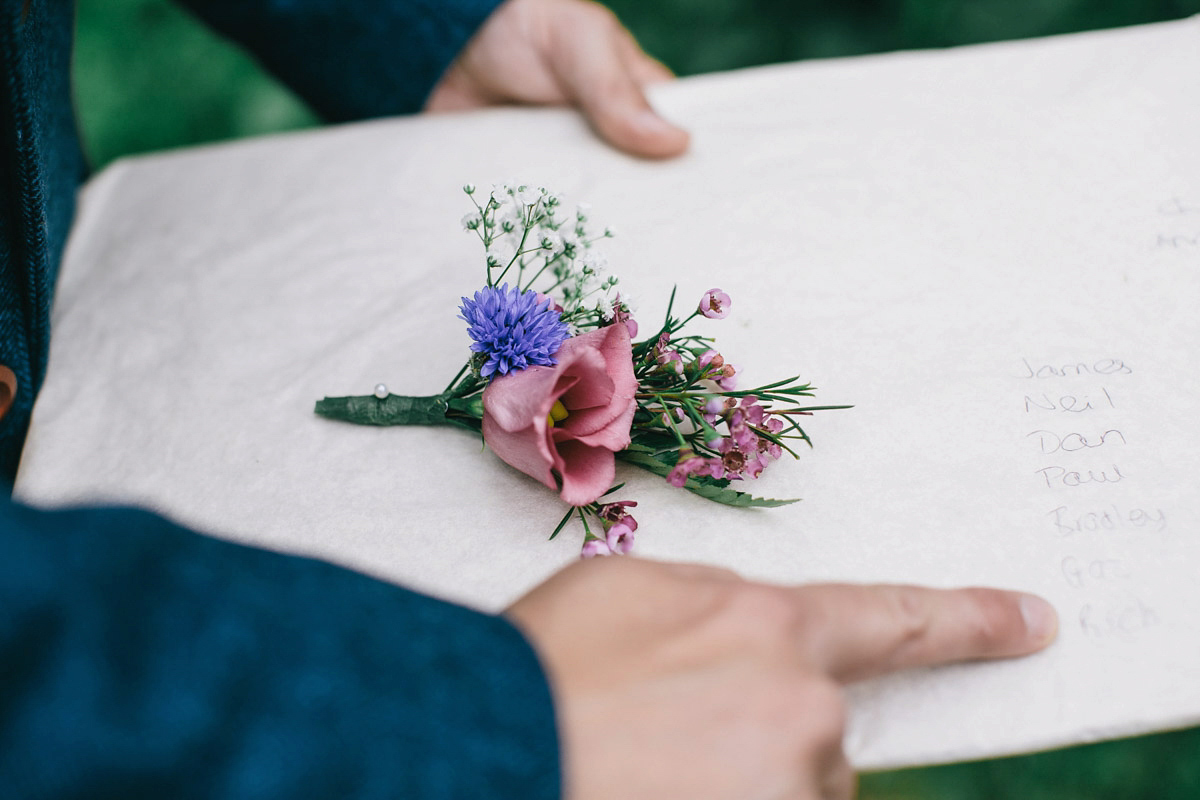 James and his groomsmen looked great in blue suits from Jennis and Warmann, paired with contrasting red ties.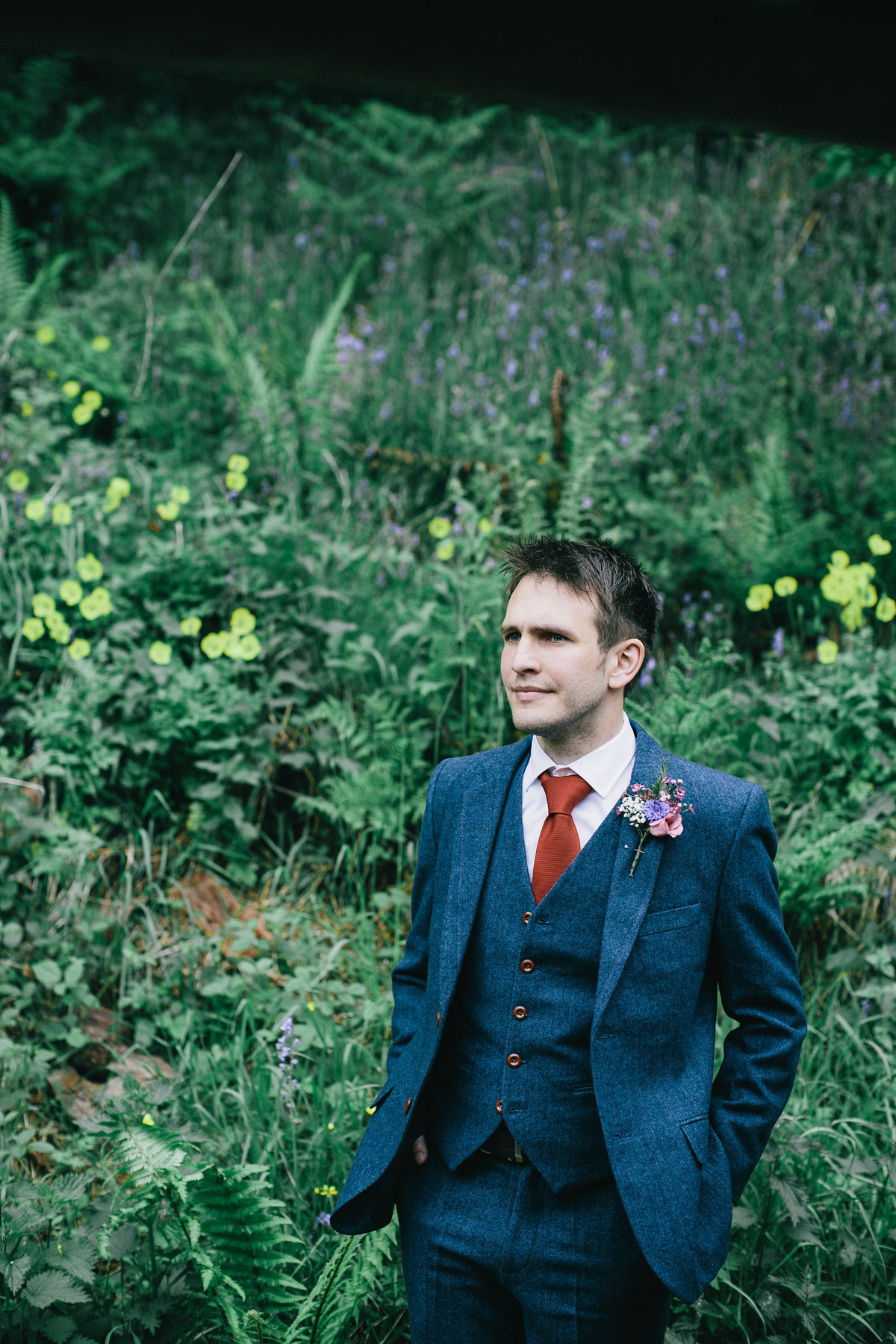 Sarah looked beautiful in 'Maud' by Charlotte Balbier, (one of our fabulous Little Book for Brides members) purchased from Confetti Bridalwear, Tring, which she visited on the recommendation of a friend.
"I was quite particular about the sort of dress I wanted.  With the wedding being in a forest I didn't want a floor length dress because it would drag along the floor and get ruined.  I also wanted something that was quite simple, but with enough detail to make it feel special. Originally the dress was full length, but the wonderful Sarah (owner of Confetti Bridalwear) did all the alterations to make it the length that I wanted.  I loved the simplicity of the skirt against the intricacy and detail on the bodice and the way the skirt flowed was perfect – as soon as I tried it on I knew I never wanted to take it off."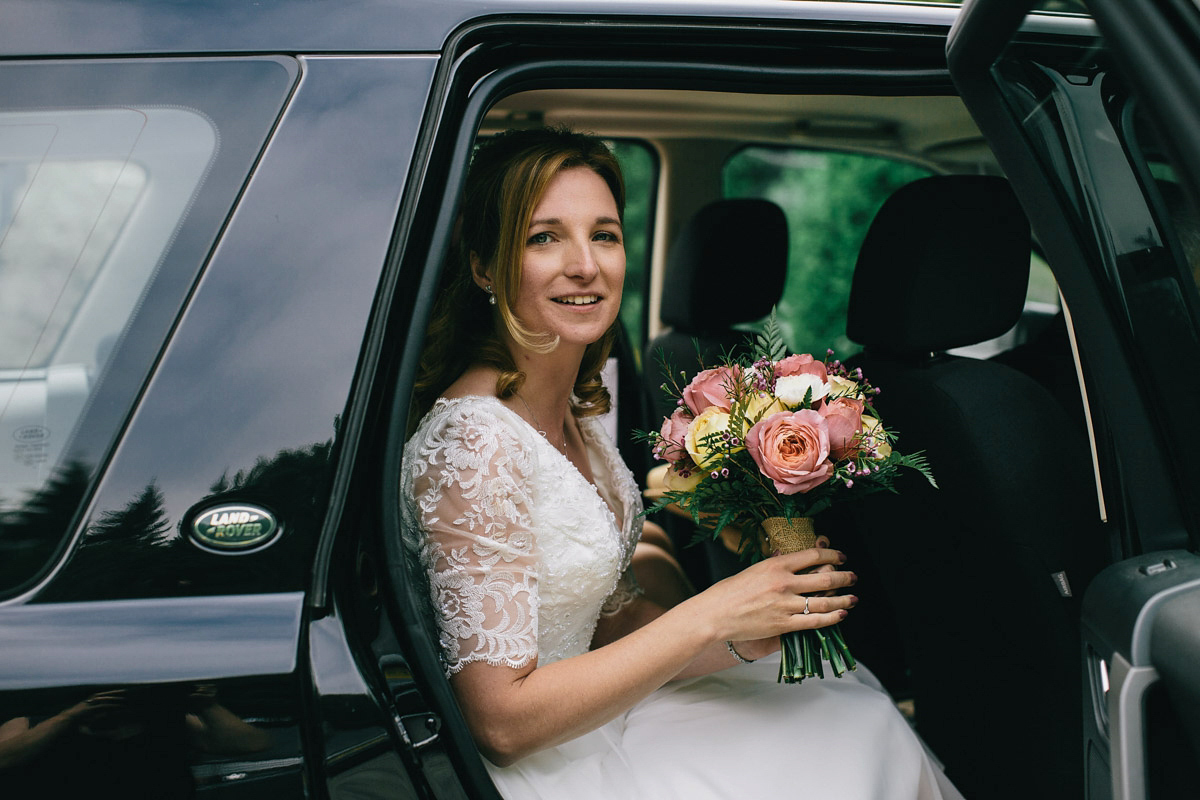 The bridesmaids looked lovely in pink floral swing dresses from one of my personal favourite shops, Lindybop, while the three flowergirls looked very sweet in white frocks from BHS.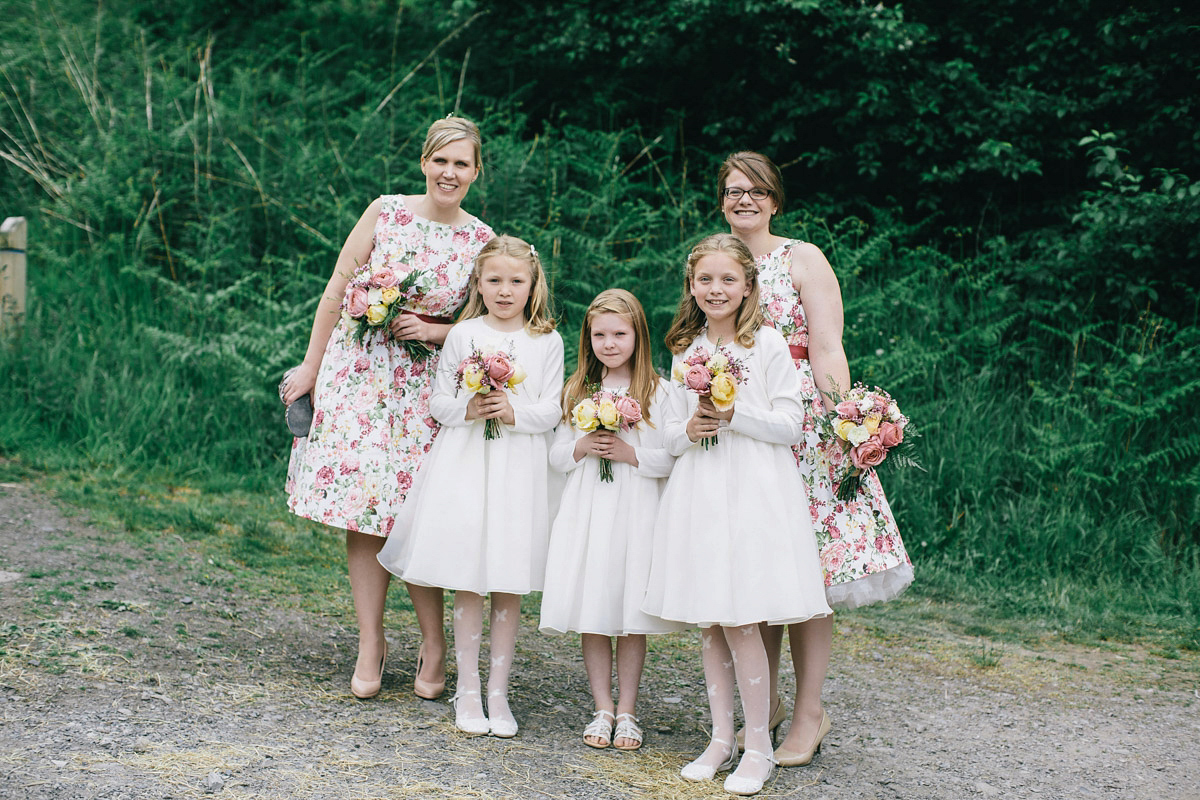 The beautiful flowers were by Caroline Thorburn of The Country Wedding Flower Company.  I love the soft vintage shades she's used for the bouquets.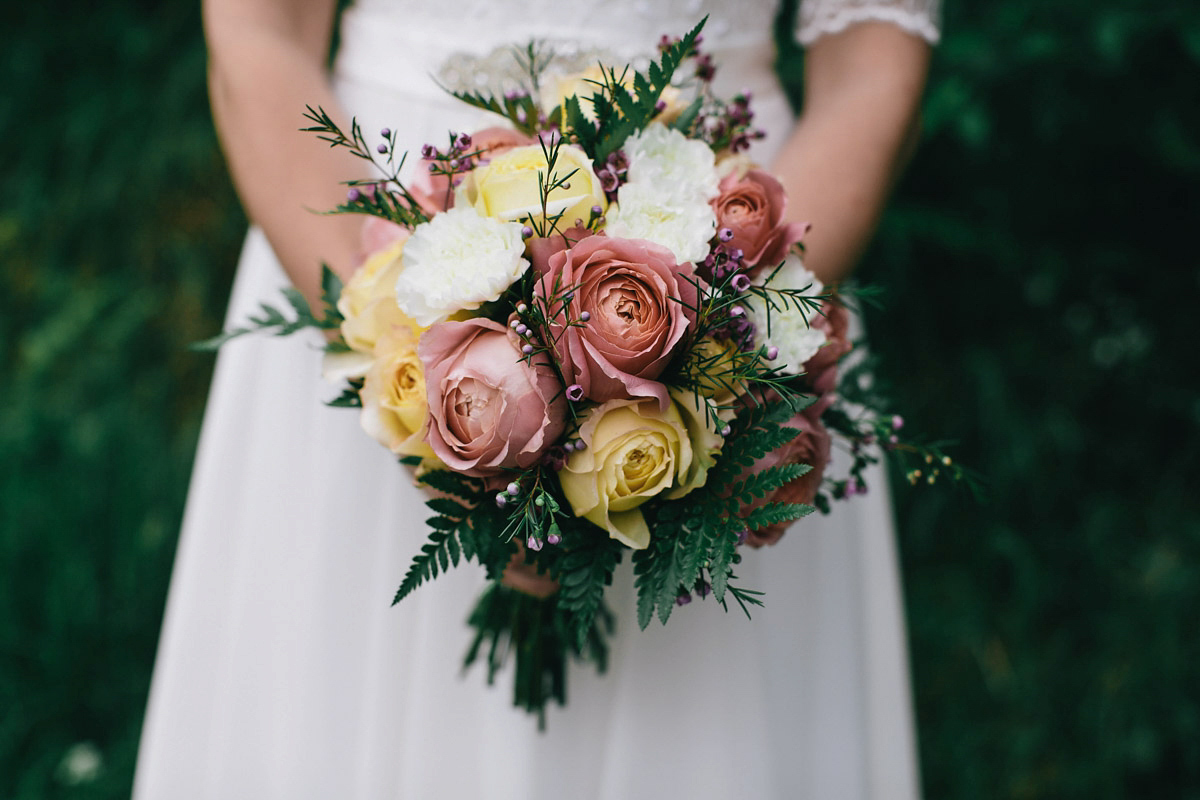 "We decorated the forest with bunting that we had made, and in the roundhouse we asked friends to bring fairylights so we could have a party in there once the ceilidh band had finished."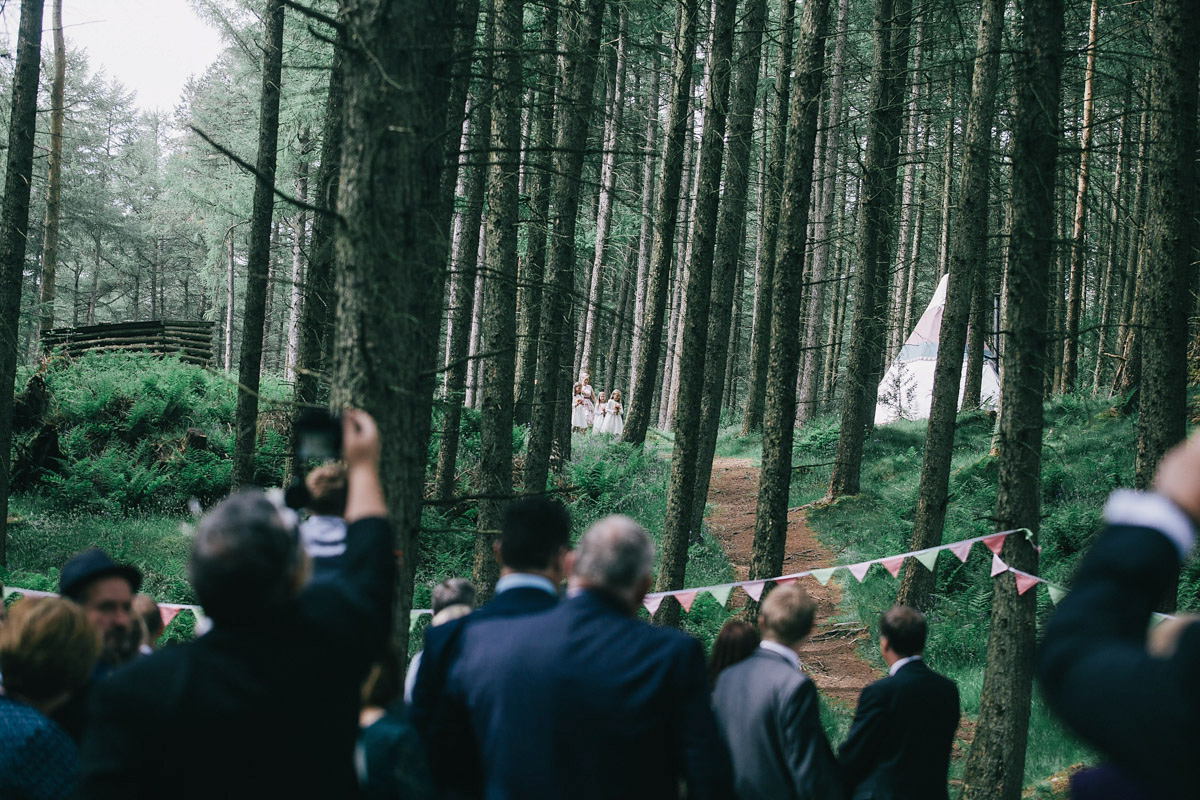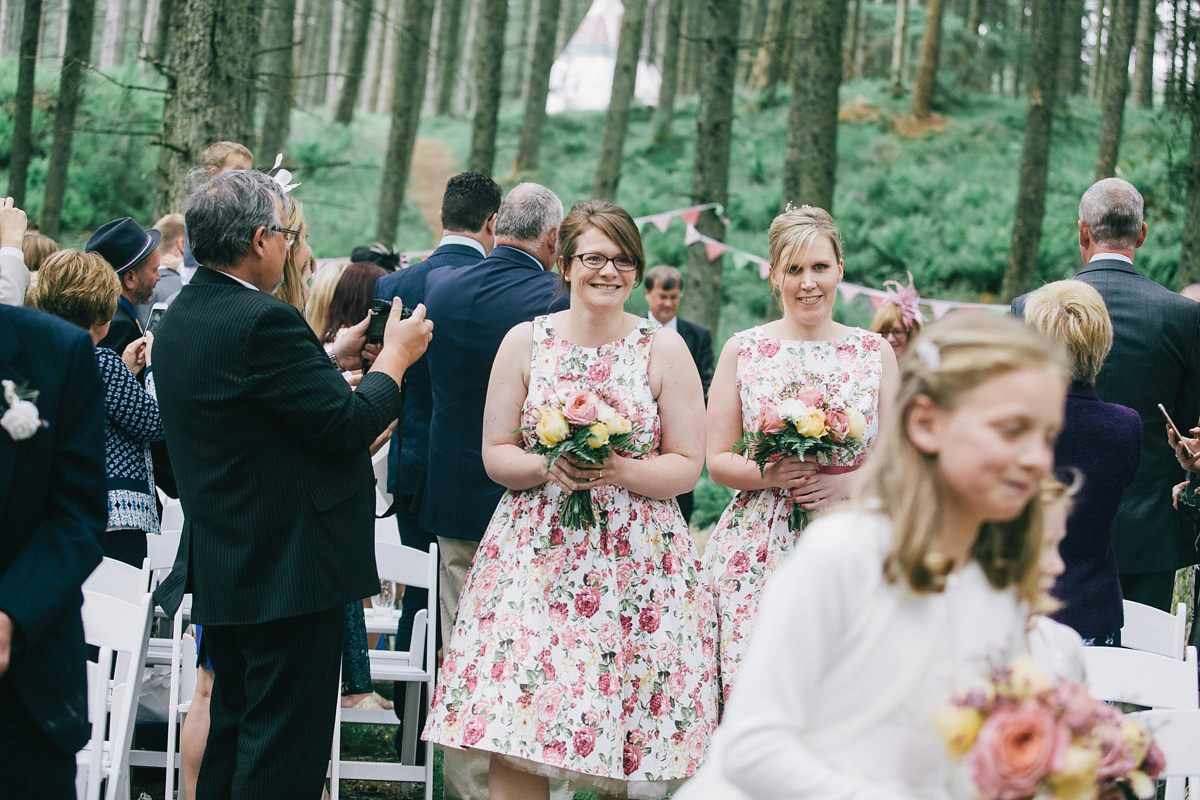 Sarah was accompanied down the aisle by her Mum, to 'Sheep May Safely Graze' by Bach, played on the guitar by friend Ross.
"Our ceremony was outside in the forest.  A great thing about getting married in Scotland is that the rules about where you can get married are different, so it's the person who marries you who is licensed, rather than in England and Wales where it is the venue that is licensed.  Therefore we were able to seek permission from the church to have our friend Rev. Helen Coffey marry us at Mabie.  She has known James since he was a toddler, so it was great to have her conduct the ceremony for us as she was able to add really personal touches to the day."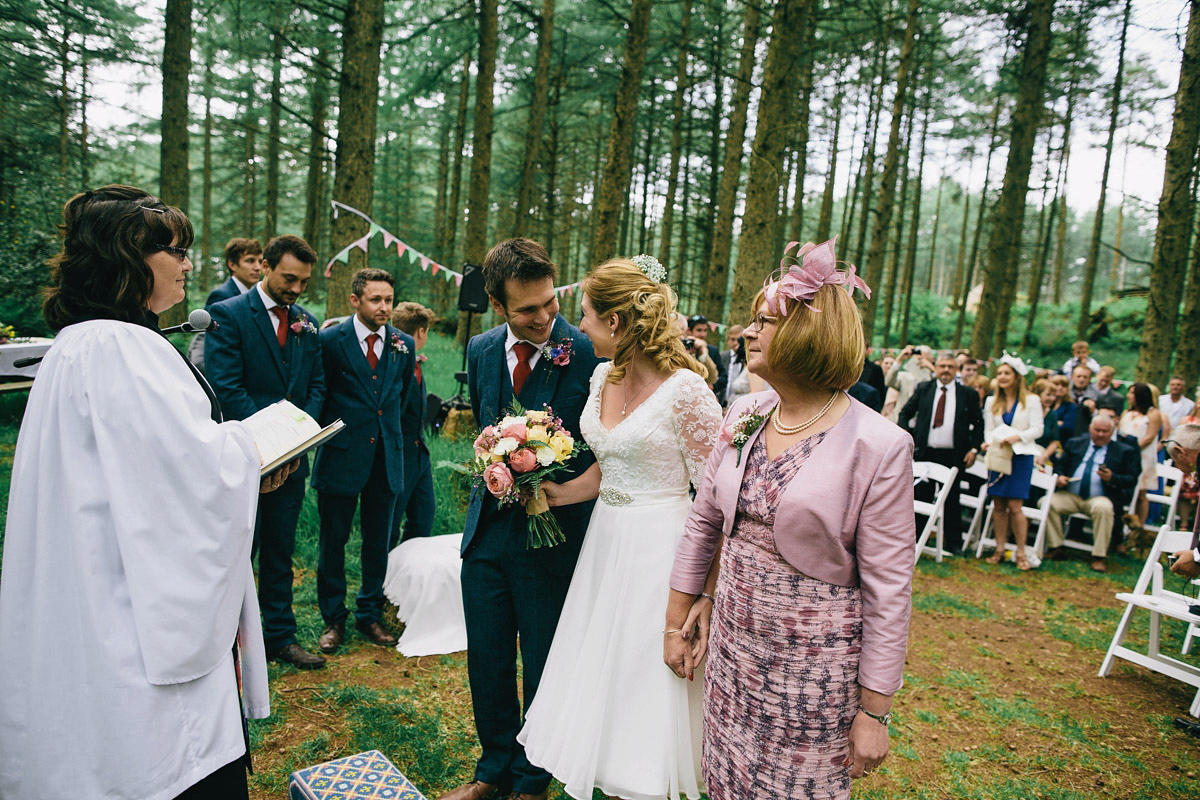 Today's lovely images are by the always fabulous Mirrorbox Photography, who have graced our pages many times over the years and are another member of our Little Book for Brides Directory.
"Sam was great – she created a package which worked with our budget and captured the day perfectly for us.  We wanted the majority of our photos to be unposed and natural and we've come away with some great photos of our wedding, capturing our friends and family in a relaxed way.  They really reflect the day."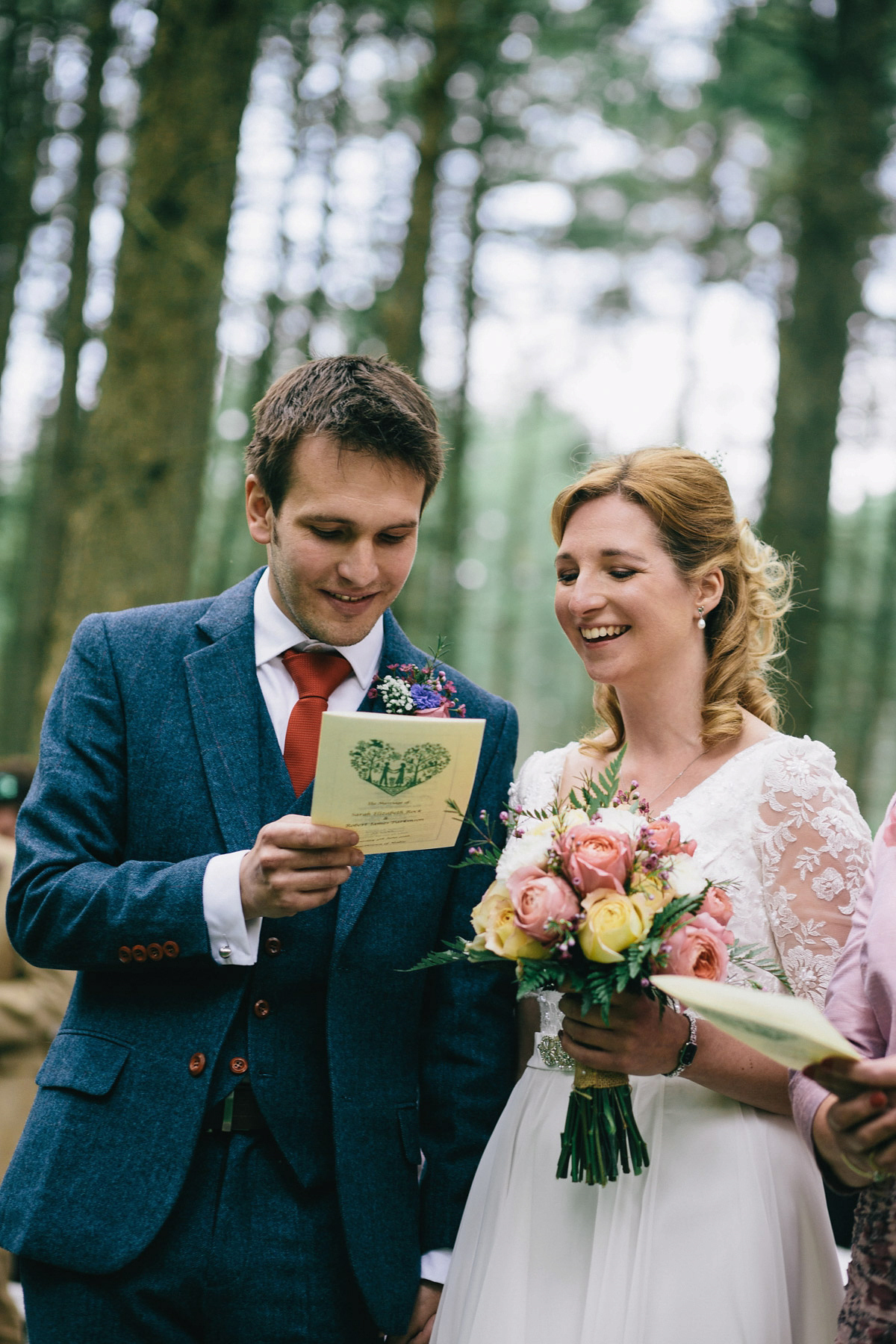 The couple exchanged rings from Hearts of London, Hatton Garden, chosen as James used them for Sarah's engagement ring and was delighted with the service.
"The marquee was is a blank canvas, which was great because we could really personalise the venue.  We brought lots of ivory and pink satin style fabric to line the marquee, as well as hessian rolls to line the floor. We made our own white tablecloths and hessian table runners.  Our florist and a local farmer provided hay and straw bales for us, and we bought lots of blankets for people to sit on as well.  We hired chairs and festoon lighting from Get Knotted."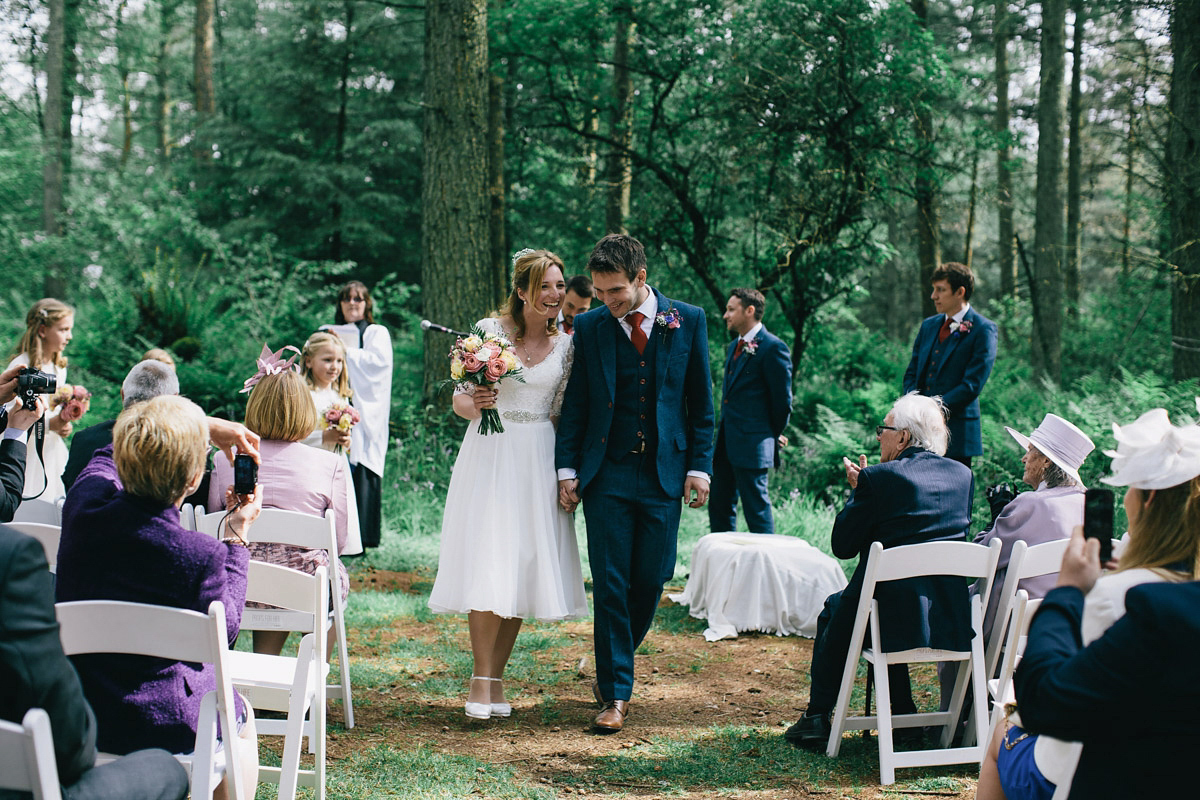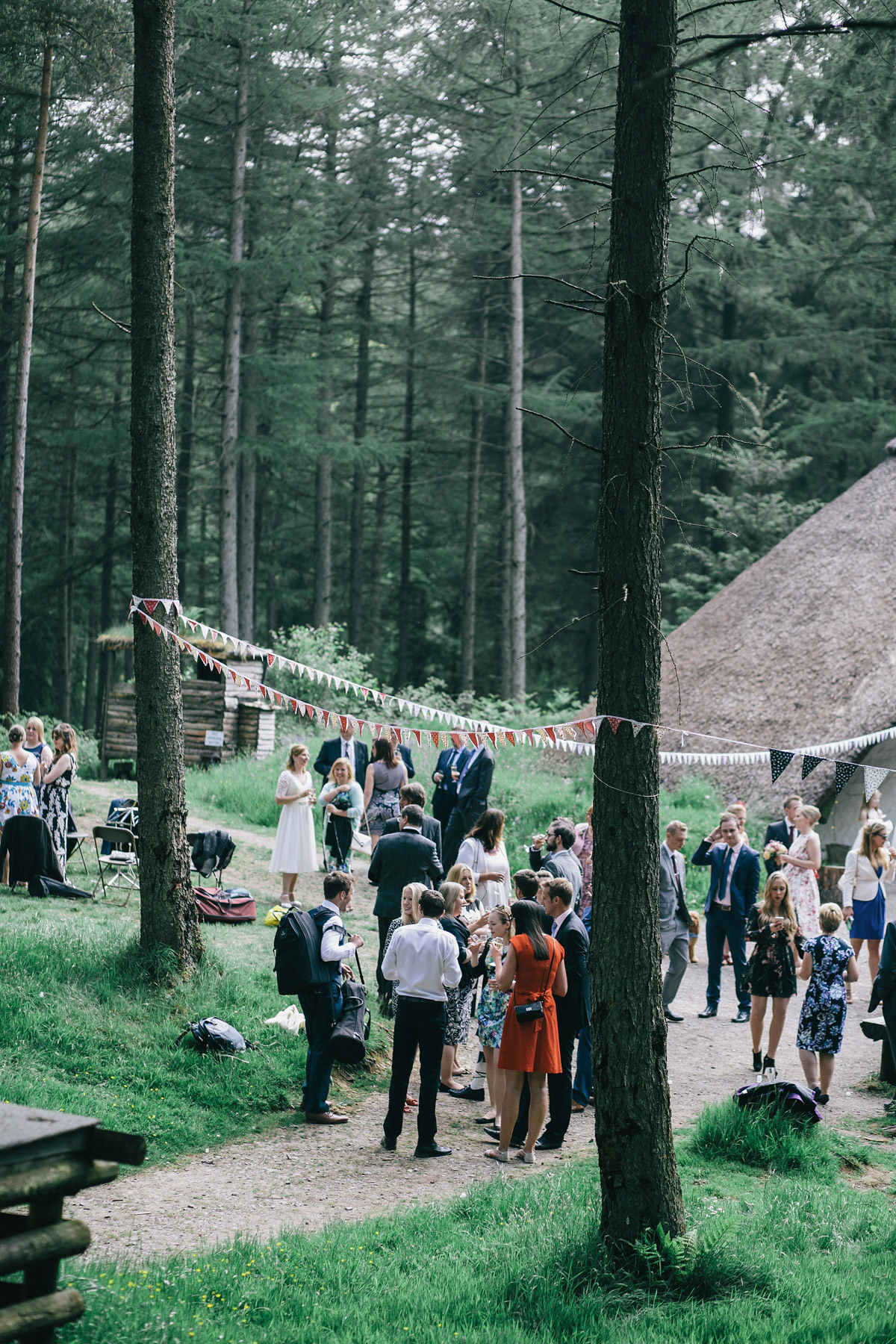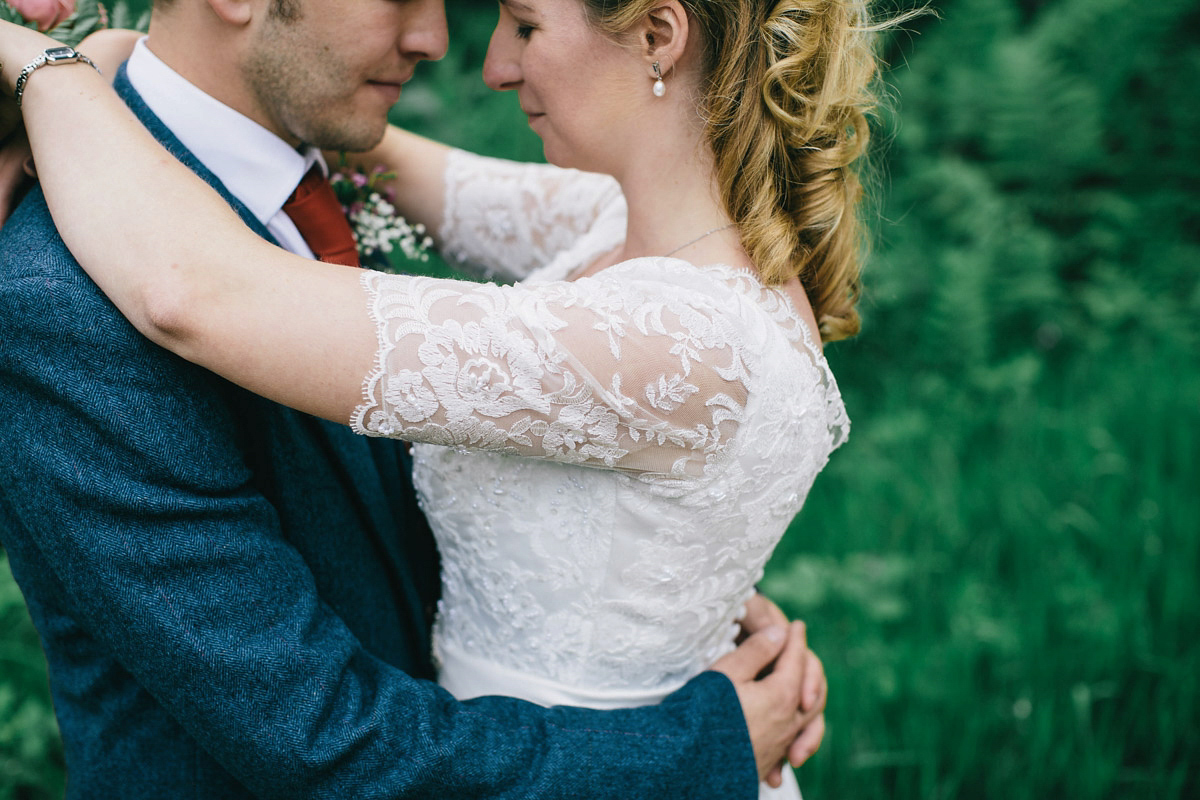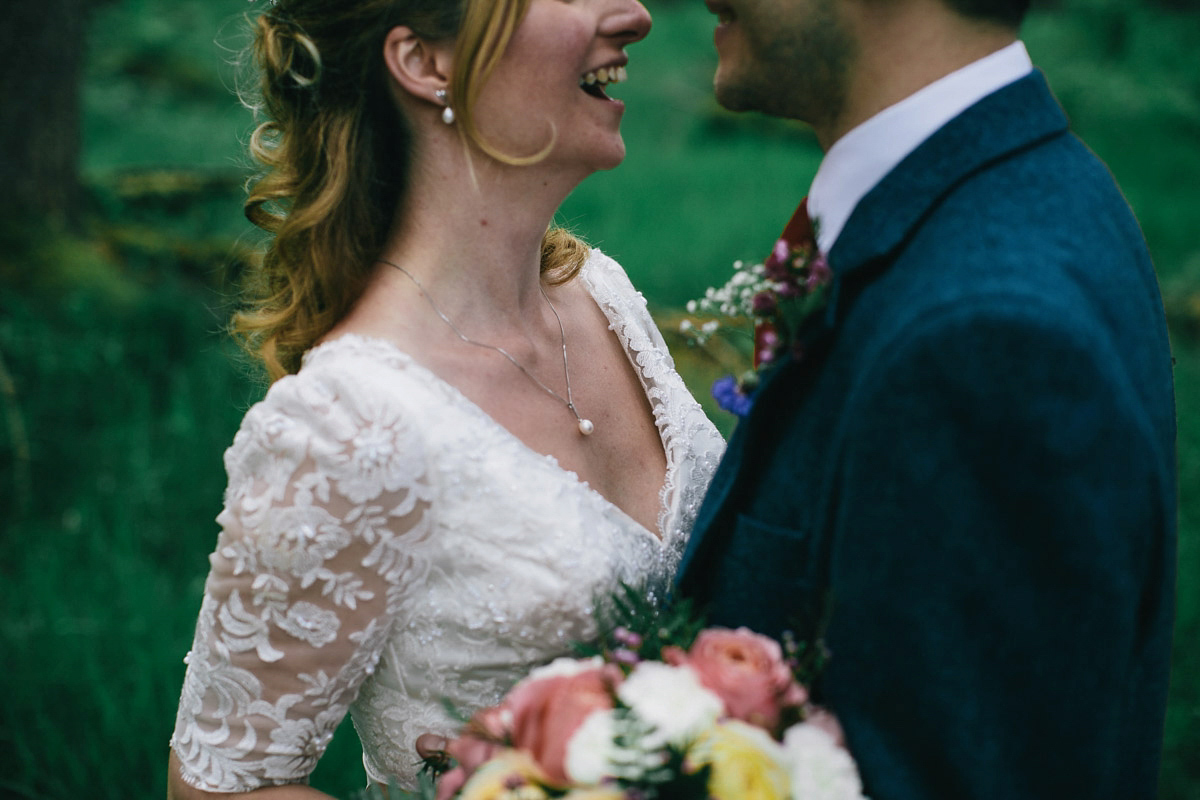 "Involving our friends in our wedding day was really important to us.  We have a friend who makes cider, so a group of us went and picked the apples in his orchard in the autumn before the wedding.  He turned those apples into a cider which we enjoyed with our guests.  Another group of us dusted off our sewing machines and made bunting, while a very talented baking friend made our unique wedding cake that had a forest theme.  Another couple of friends ran the free bar for us – serving local ale and cocktails to our guests and other friends came and joined us a few days before the wedding to help us decorate the venue.  We certainly couldn't have had the day we had without the help of our friends."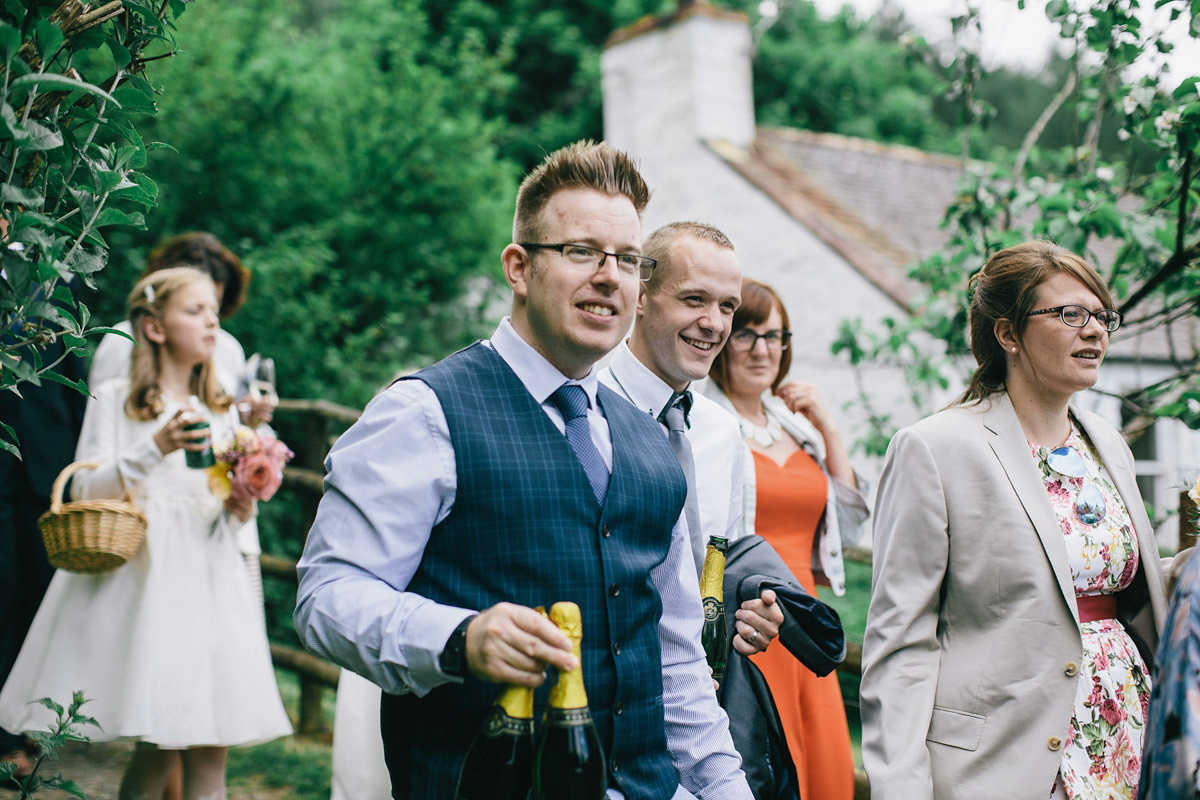 The unique cake was the work of close friend and talented baker Katie Raisbeck and was designed to a forest theme.  Sarah tells us it tasted as good as it looked.
The rest of the food was provided by Pam at the venue and guests feasted on hog roast with a range of accompaniments.  Crockery and glassware were hired from Caterbirds.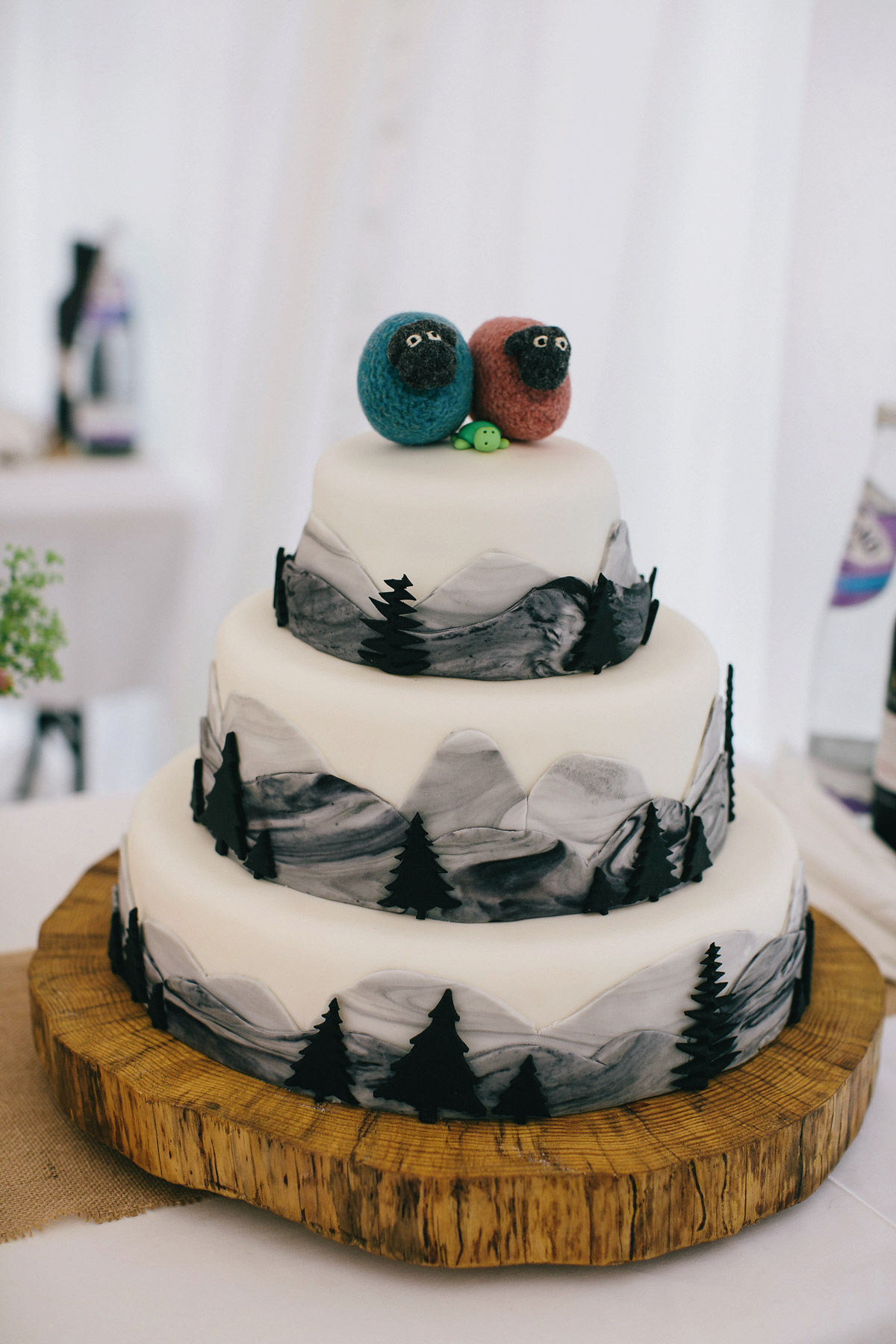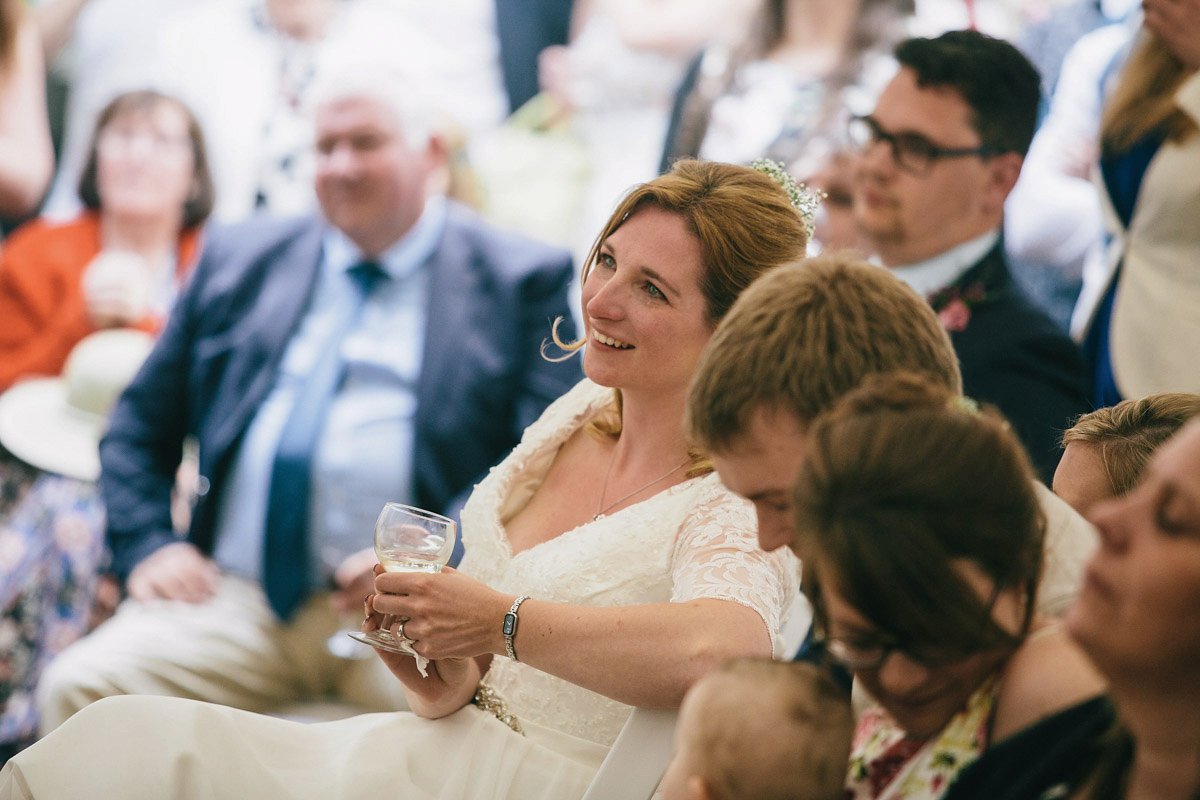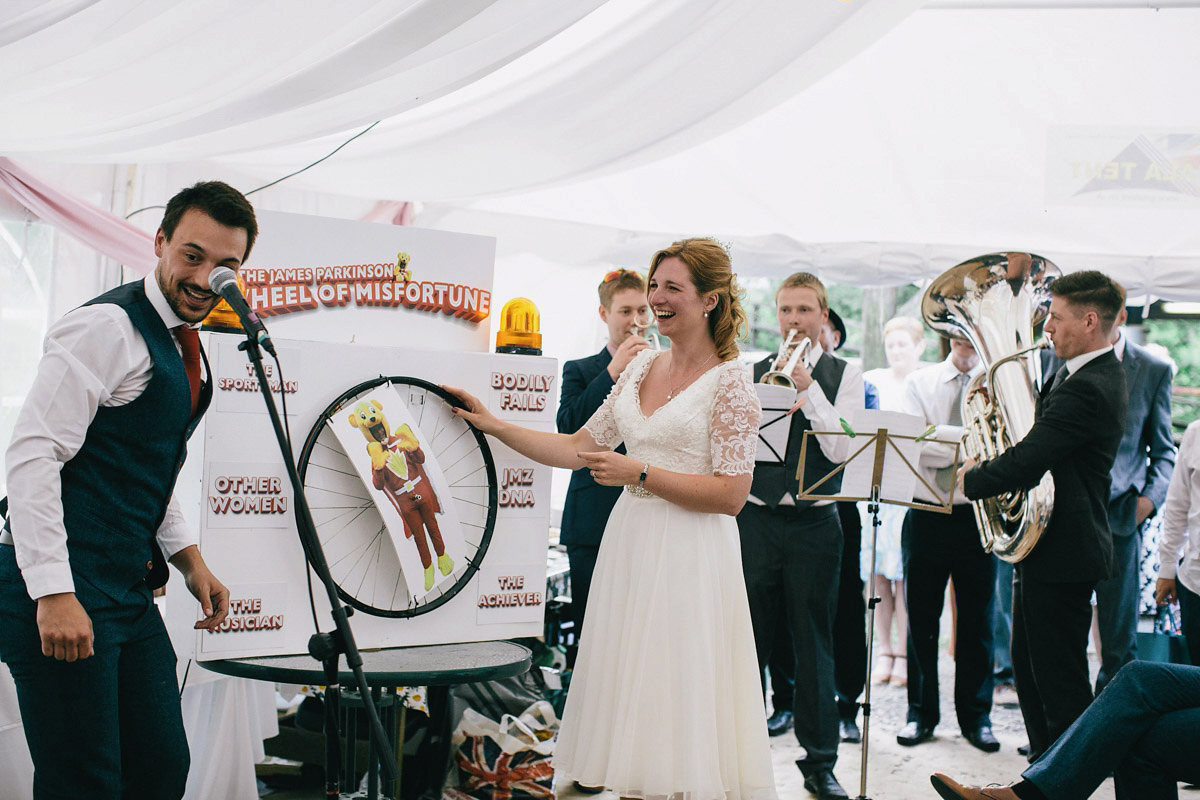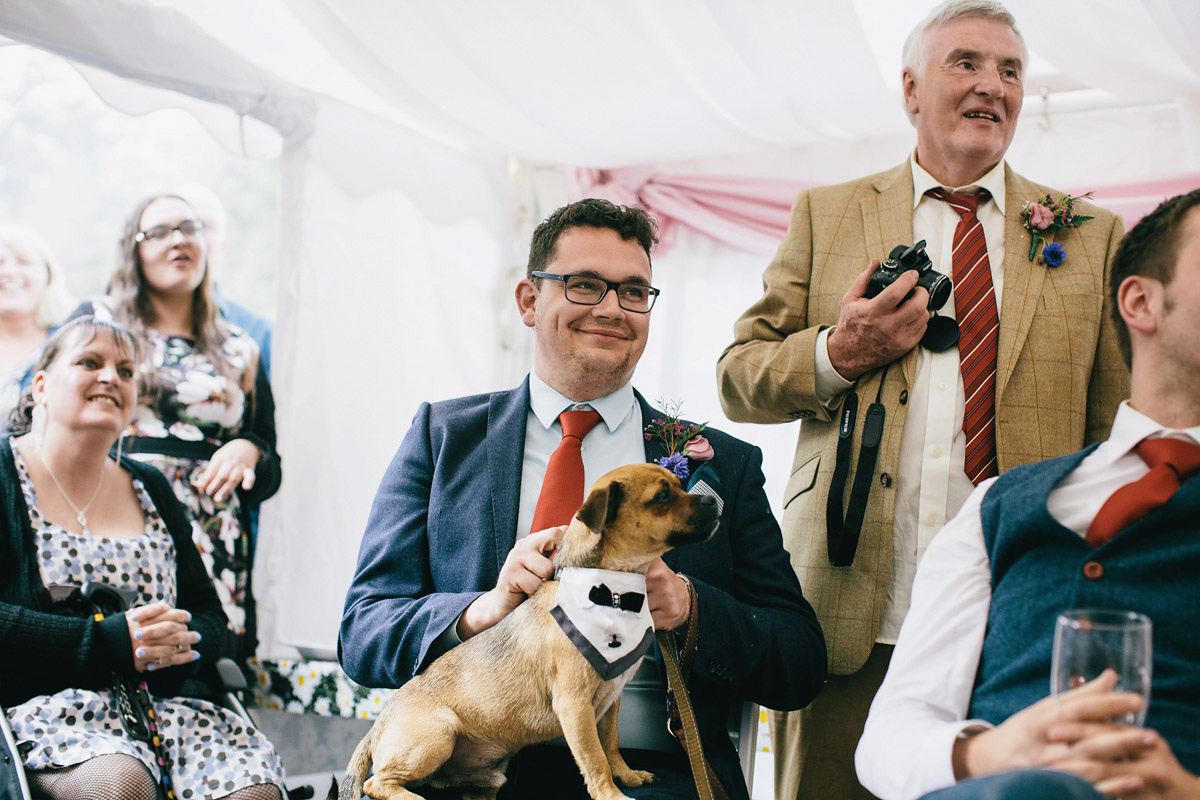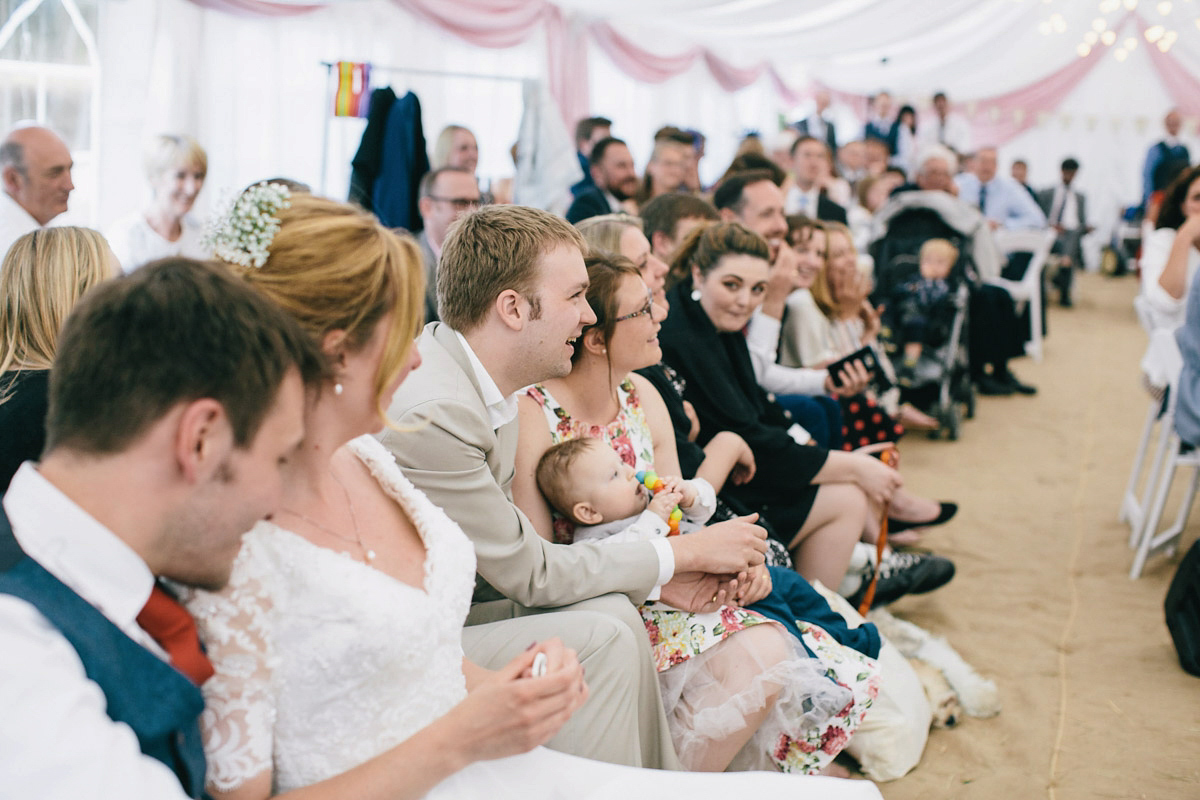 "We really wanted a Ceilidh band as our evening entertainment as it's music that crosses the generations.  Children and older guests all enjoyed the music of Two Left Feet, who were brilliant and very patient with those of us from England and further afield who really did have two left feet!"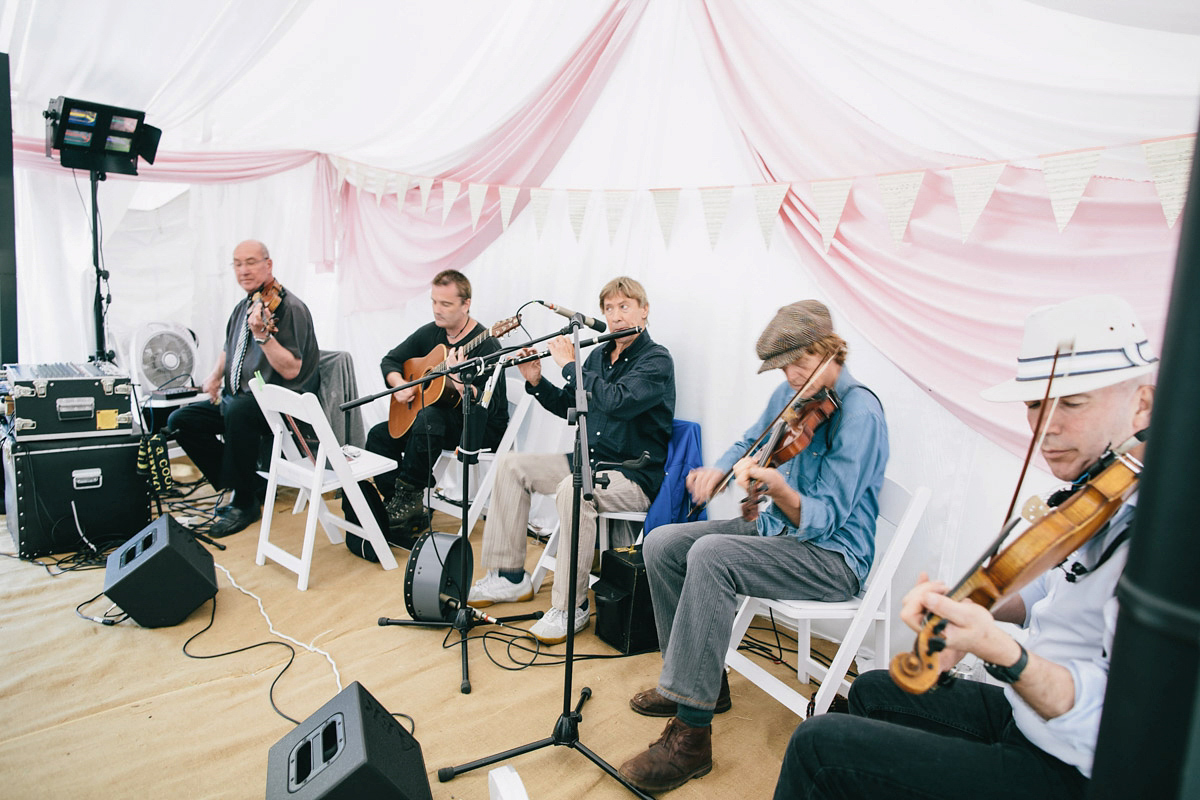 Words of Wedded Wisdom
"Have the wedding day that you both want and don't be afraid to do it your own way.  Try and grab a few moments to step back and watch the day – taking the time to create memories of your friends and family enjoying the day you've worked so hard on."
So many thanks to Sarah and James for sharing their wedding with us and to Sam of Mirrorbox Photography for sharing her work.  She's captured the sense of place just perfectly.  For more Charlotte Balbier-wearing brides, take a look here, and for Charlotte's own wedding, which we featured back in 2014, visit here.
Much love,
Shona x