Hi there lovely ladies, how are you all? I've been thinking recently of the bizarre levels of knowledge we build up as brides – I swear I can pinpoint the work of certain photographers by looking at a single striking image, or spot the telltale signs of bridal designers creations at first glance. When Annabel sent me the wedding I'm about to share with you, these well-honed wedding skills came into very good use; after hungrily perusing the first few images it was immediately obvious that these gorgeous stills were the work of our Little Book for Brides superstar, the über-talented Ed Godden.
Bride Theresa, a Director of Business Development for a software company, wed Julian, a Business Analyst specialising in web strategy on 28th of May 2016 at 28 Portland Place in Westminster. A chic reception followed at The Montague on the Gardens, a boutique hotel in Bloomsbury. Their day was a fun-filled celebration of their love for each other and for the city of London.
"Ed Godden is truly amazing. We chose him for his fluid and creative style, as well as his exceptional ability to capture the energy of the moment. We must have looked at more than thirty photographers and he was our top choice. We also wanted someone who we connected with, and Ed exceeded our expectations in every way. It was wonderful to have him as part of our wedding – he captured our day with London as the backdrop to our wedding and our love story so perfectly."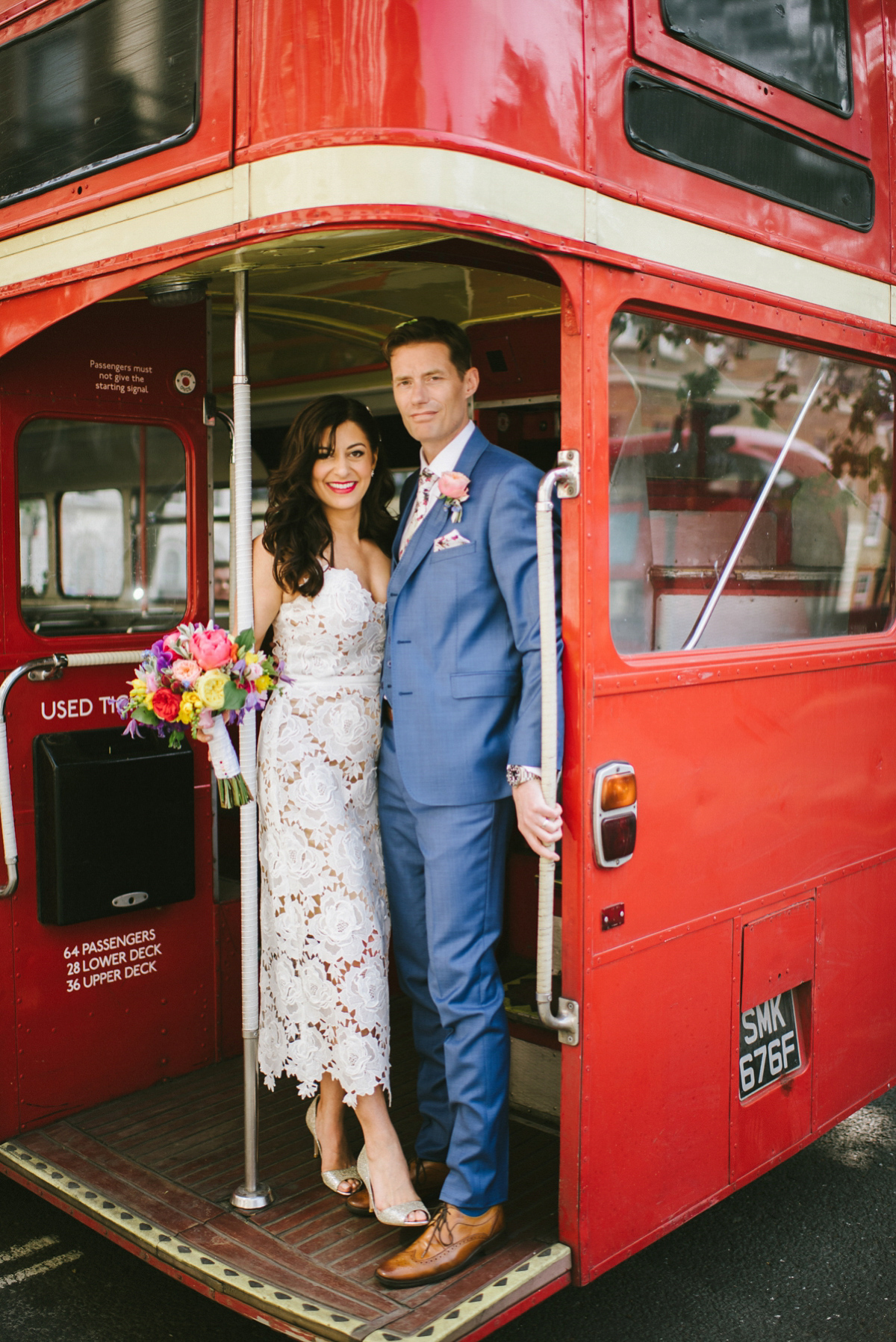 "We are a multi-national couple (Julian is English and I am American) and we decided we wanted to play up our love of London. We wanted to have a fun and relaxed city-styled wedding with a few twists to show our personalities and highlight our love of classical English elements. Traditional weddings aren't my thing but my husband wanted to keep a few traditions intact, so we worked to strike a balance. We had a lovely traditional civil ceremony with a relaxed garden party reception in the middle of the city."
Theresa wore the Frida dress by Catherine Deane, a gorgeously glamorous lace beauty, which she paired with Cole Haan shoes and a the pretty Luci miss comb by Little Book for Brides member, the truly stylish Liberty in Love.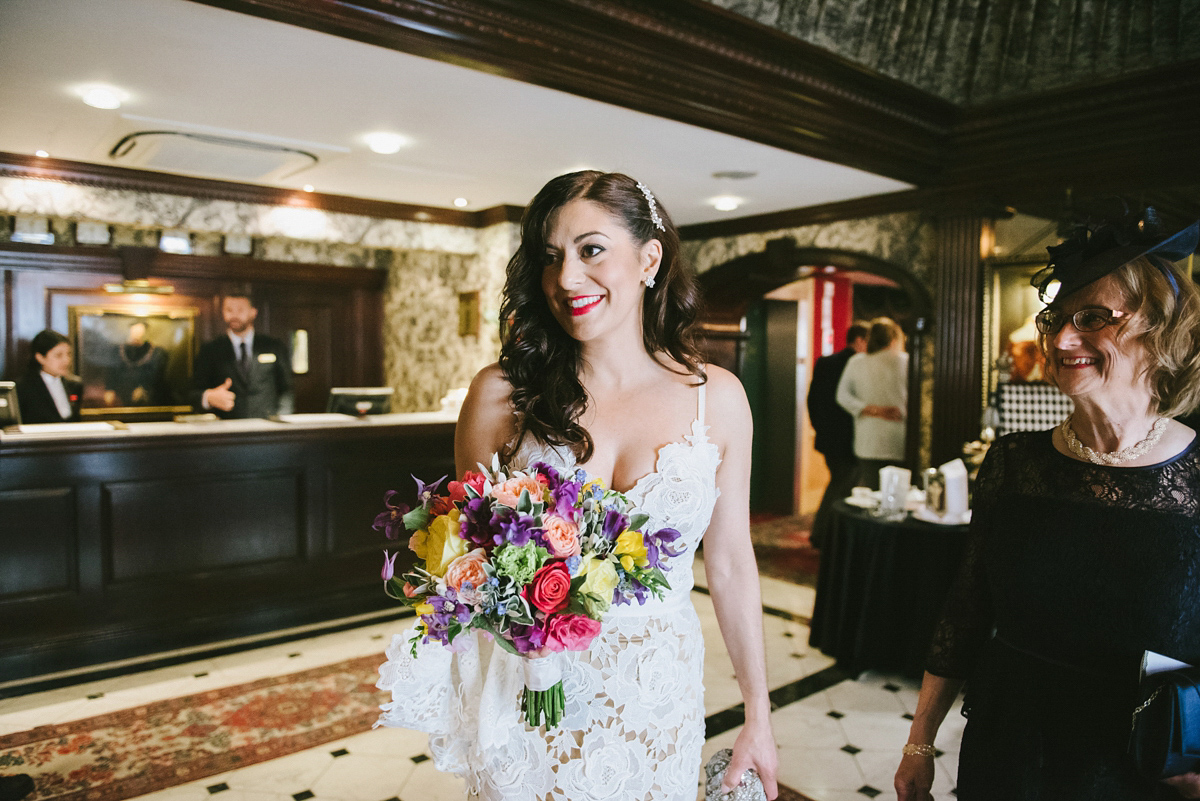 "I found my dress at the Catherine Deane flagship store in London but ended up purchasing it from BHLDN, which was simply easier with me being in the US at the time. I searched endlessly (it felt) in two countries for a dress that fit my personality, had the balance of having some classical elements, but was fun as well. I didn't want to look traditional, I wanted a bit of glamour, something a bit different, yet to still look like a bride."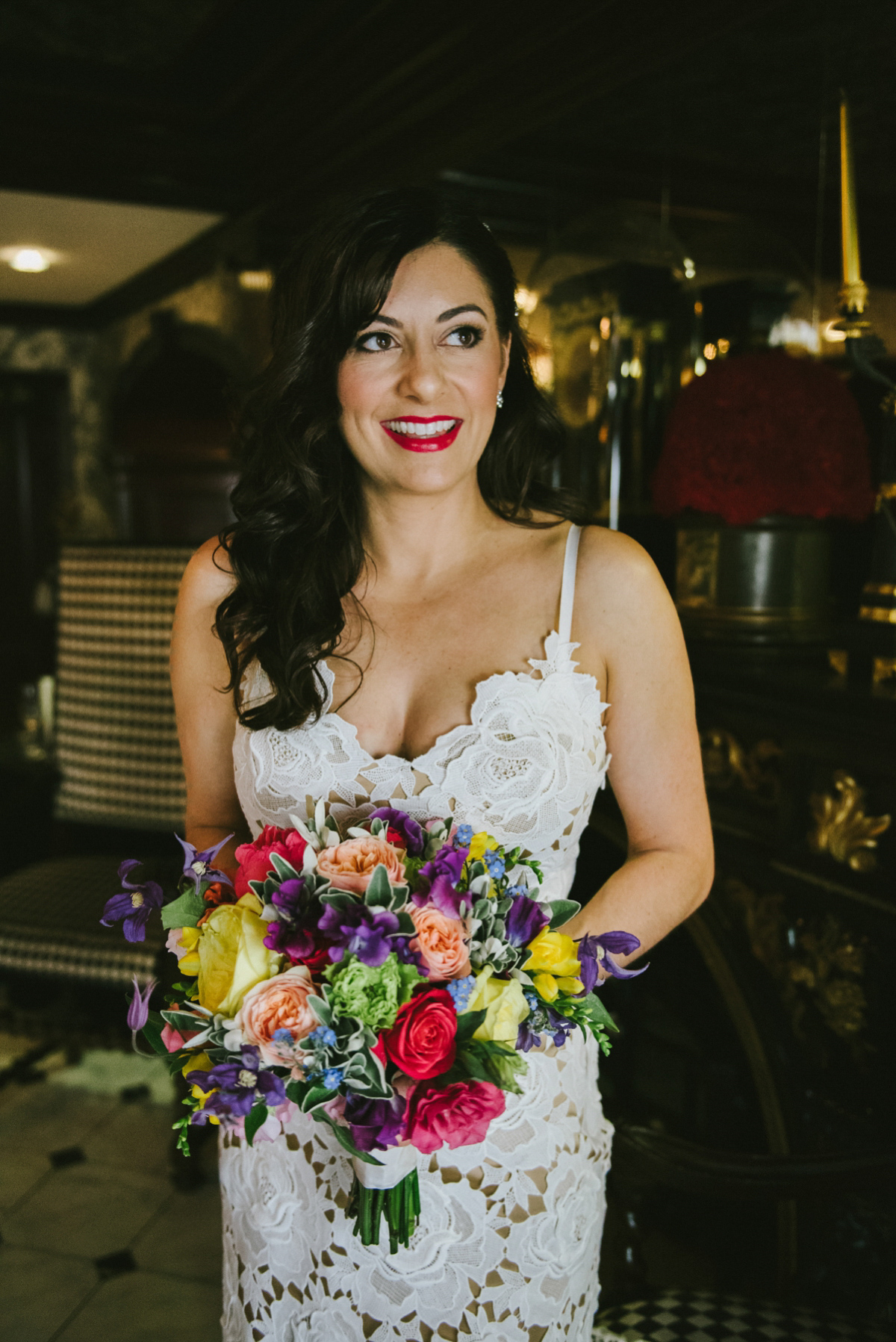 "I also LOVE lace. It was the last appointment in a string of six in London over two days and I was already dressed and walking out of my appointment with Catherine Deane, when this dress caught my eye and I stopped, went back in and tried it on."
"I knew it was the one. I'm excited at the prospect of wearing it again for special occasion or anniversary."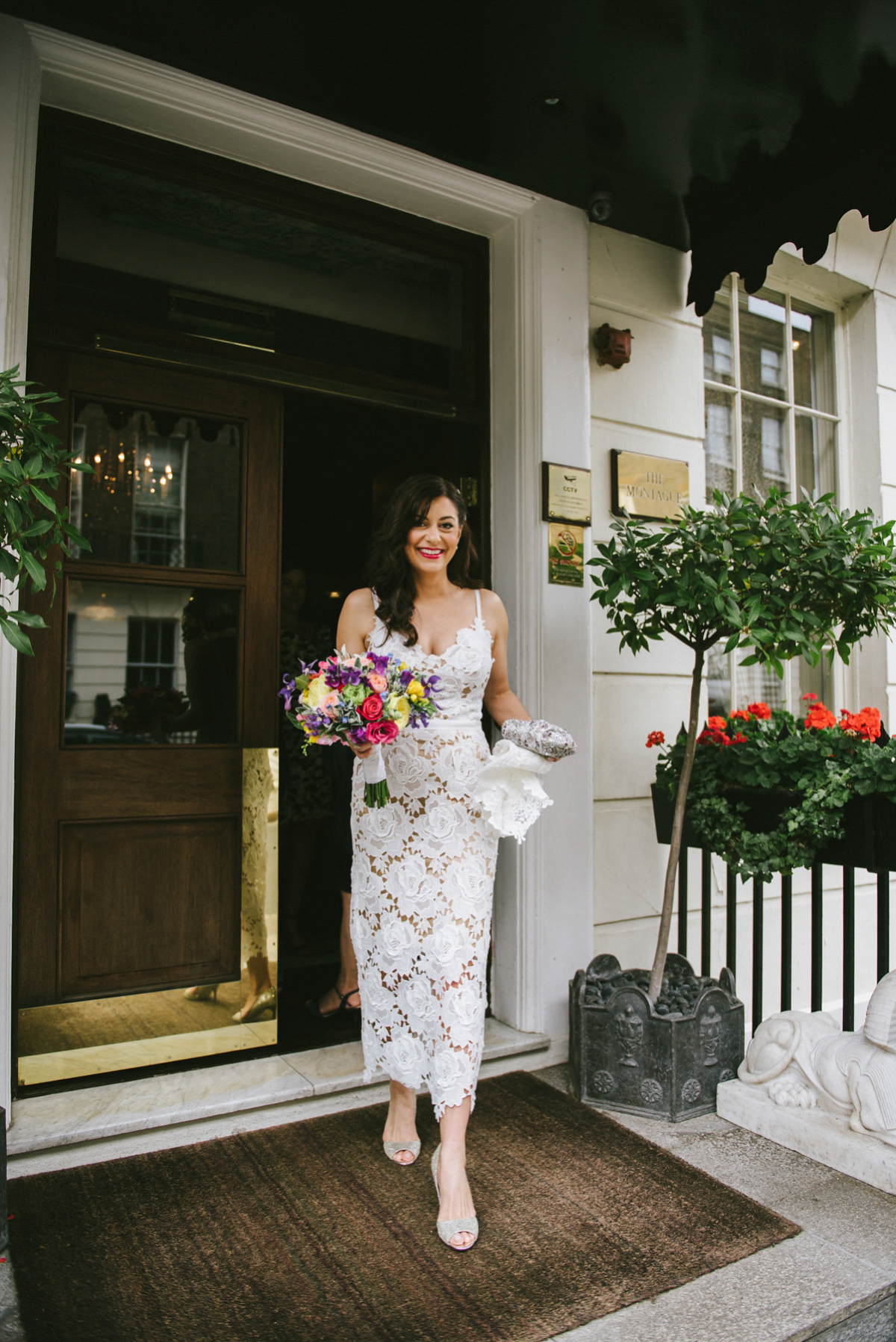 "Our flowers were by Bud Flowers of Finsbury Park. I walk by Rachel's shop nearly daily and was always struck by the beautiful arrangements and vibrant colours she displayed. I popped in one day and fell in love with her, her work and her personality. I told her I just wanted color and showed her a few photos of bouquets I liked, but wasn't set on anything. I just told her use her instincts and my bouquet was sublime."
"I wore earrings and a bracelet by No. 1 Jenny Packham for Debenhams and my hair and make-up were done by Ausra Renke of Kristina Gasperas Studio. Both were utter perfection and stayed perfect all day and night. Her talent and eye for detail is remarkable."
We so love the beautiful work of this Little Book for Brides creative – please do take a look at more beautiful Kristina Gasperas brides in our archives. Theresa opted for her signature scent, Chanel Allure, and a beautifully bright bouquet perfectly complemented the glossy berry tone of her lipstick.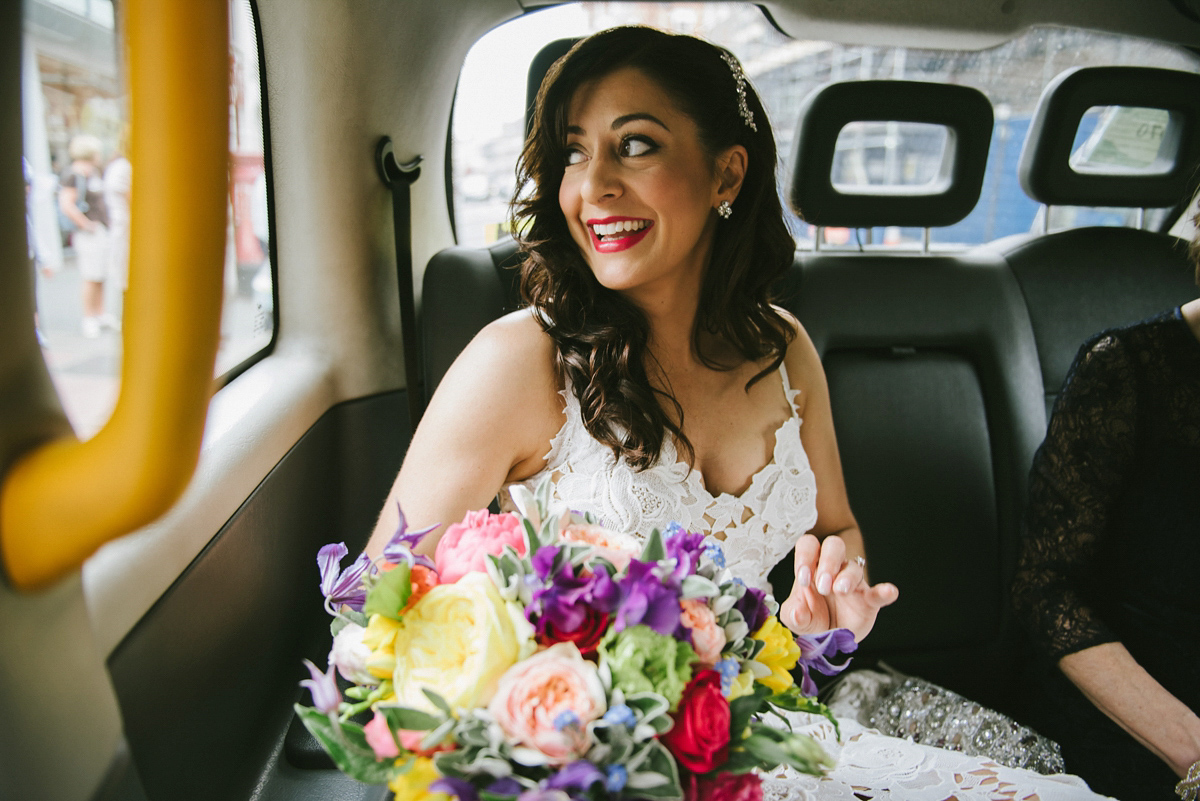 Looking totally and utterly fabulous, Theresa and her mum hopped into an iconic black cab to the ceremony venue, 28 Portland Place; a bright and elegant space, perfectly suited to the couple's intimate ceremony and champagne toast.
I absolutely love that Theresa was greeted outside by her very dashing groom, resplendent in his periwinkle suit from Ted Baker and new Tudor watch.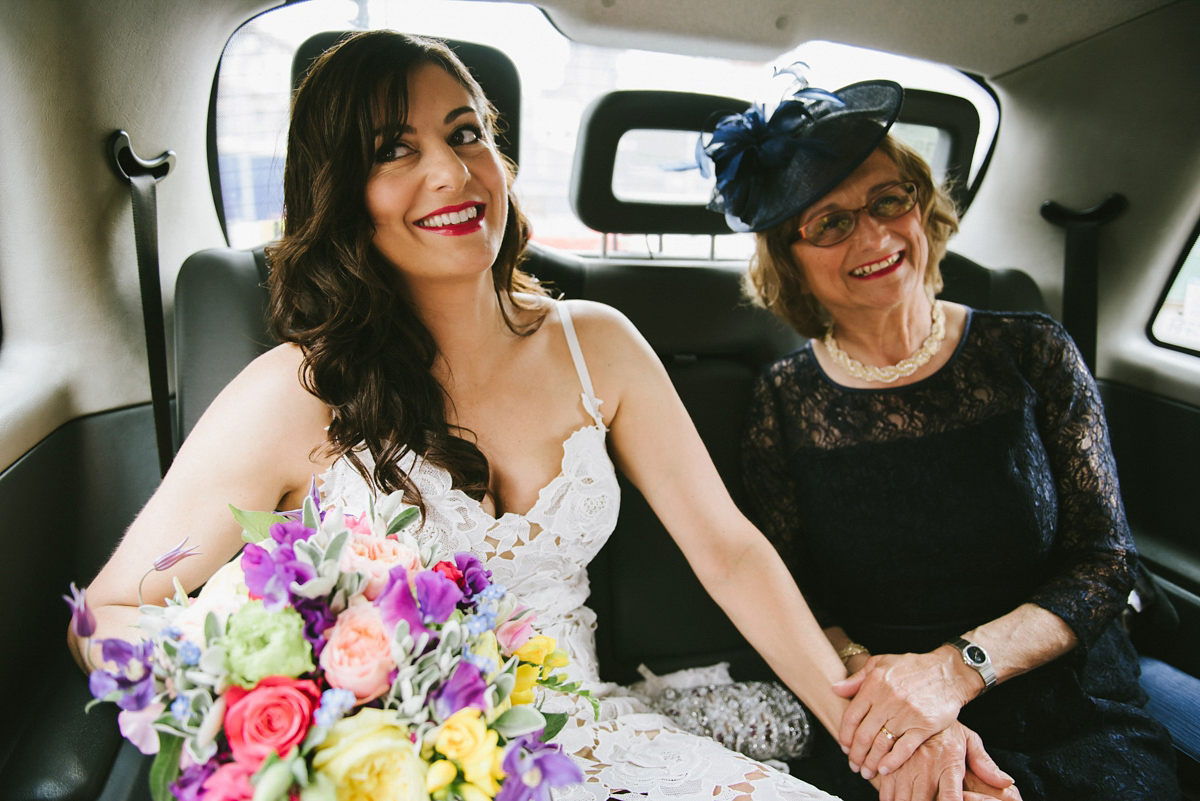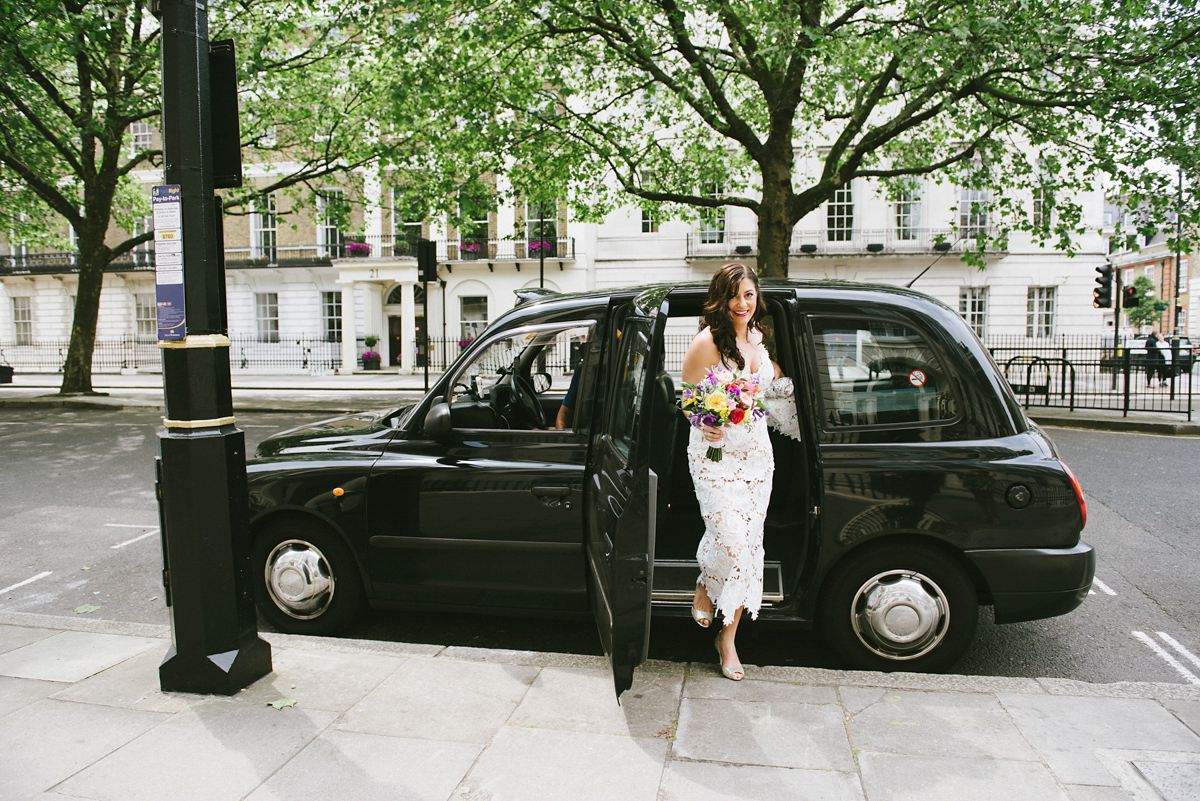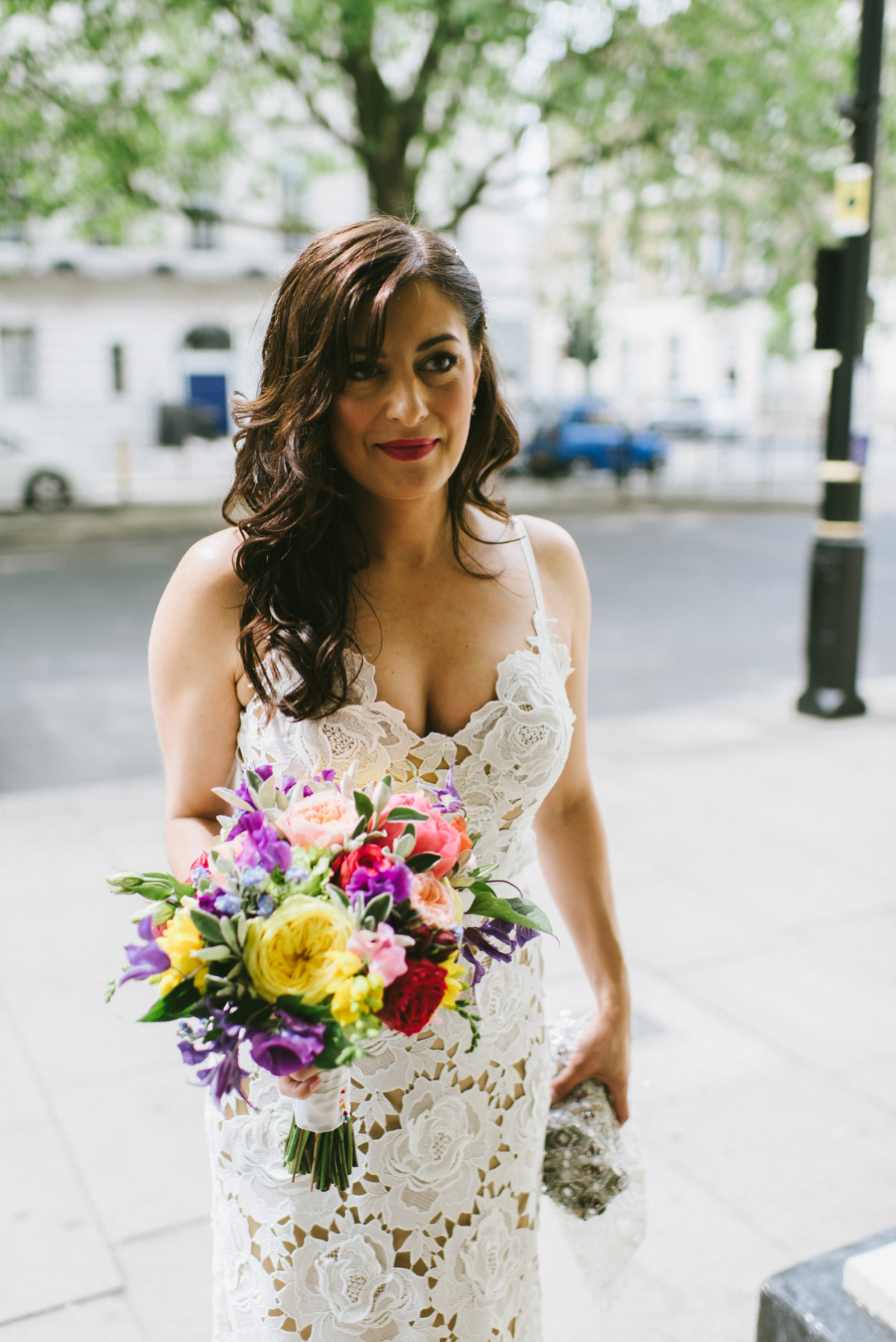 "Julian's suit and tie were spectacular and matched the fun and sophisticated note we were trying to hit with a London wedding. My favourite part of the day was when he came out to meet me and I saw him for the first time – I fell in love with him all over again. In that moment I felt utterly complete and knew this is where I was meant to be, that I found my person."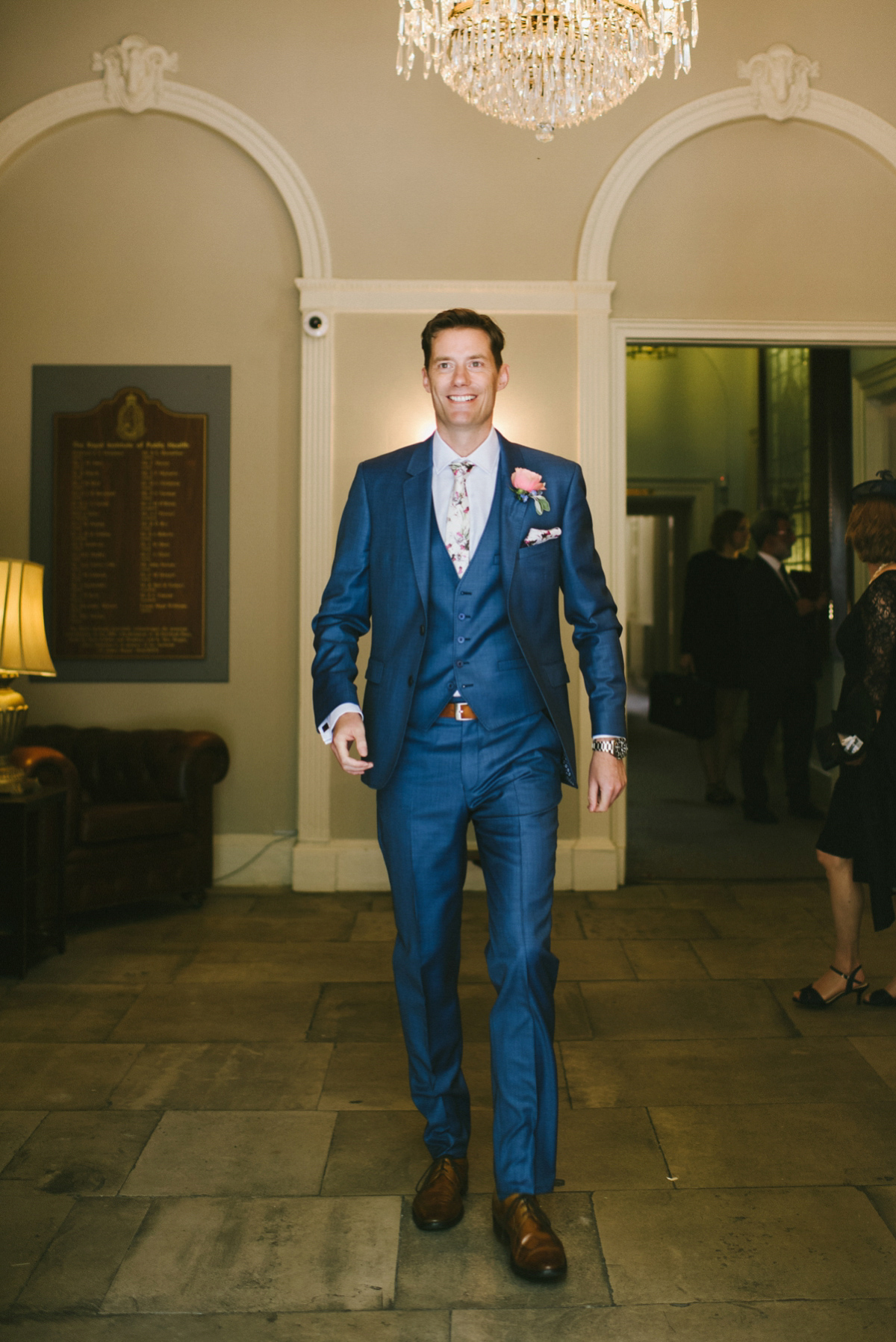 "Julian and I met by chance in a pub near Covent Garden while I was on business in London about three years ago. I thought he was cute and said hello and we exchanged numbers, disappointed that I was leaving the next day. We texted and chatted on FaceTime for about a month and then he decided to plan a trip to the States to see his best friend in Texas, and wanted to see me as well."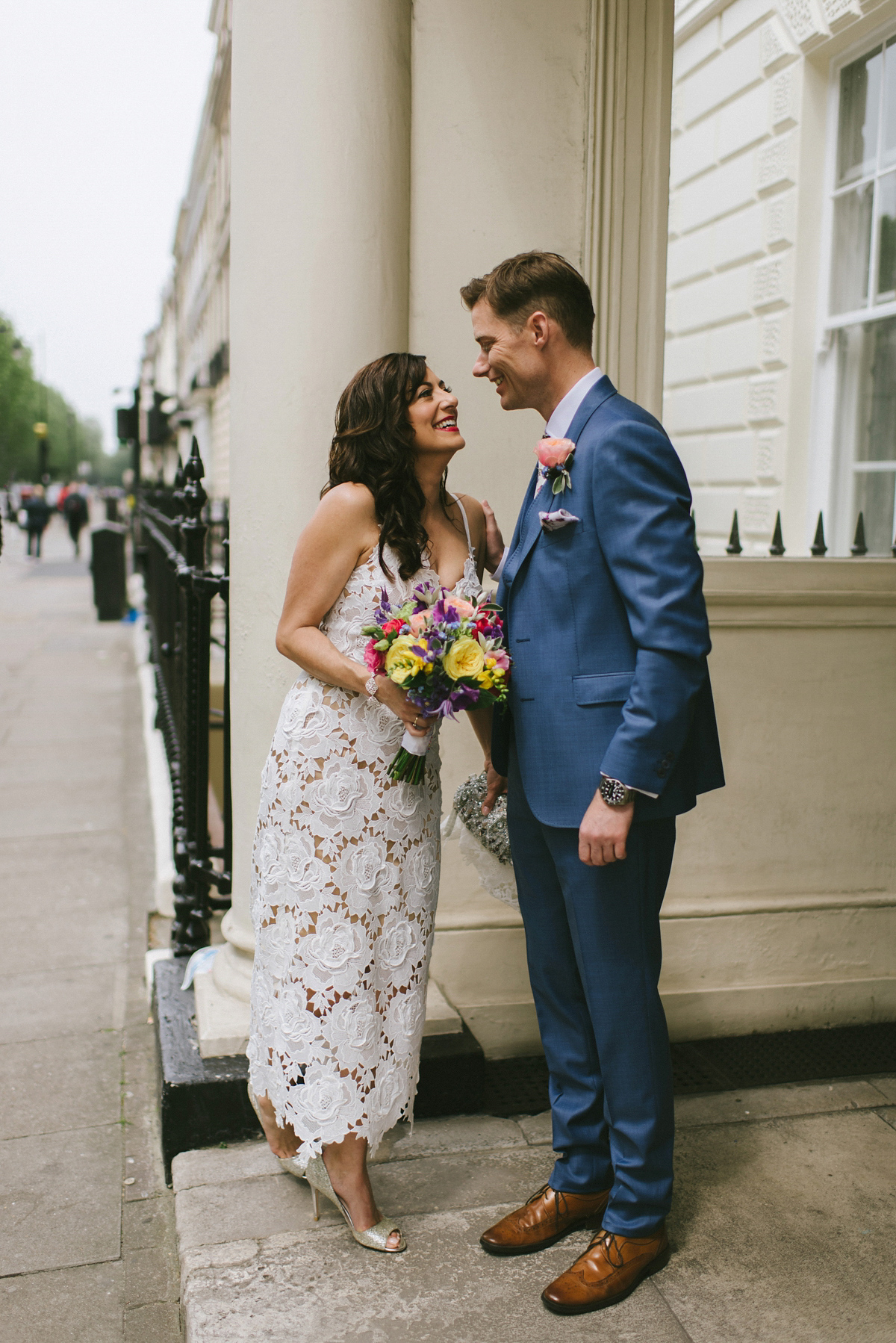 "I felt a mixture of excitement and reluctance but he quickly convinced me. I will never forget what he said to me; 'I find you beguiling and I need to know if you are for real. An ocean between us is not ideal, but it is not insurmountable.' We knew from that week he first visited me that it was worth going the distance figuratively and literally, and we have managed to stay in love and connected for three years while being in two separate countries for part of the time."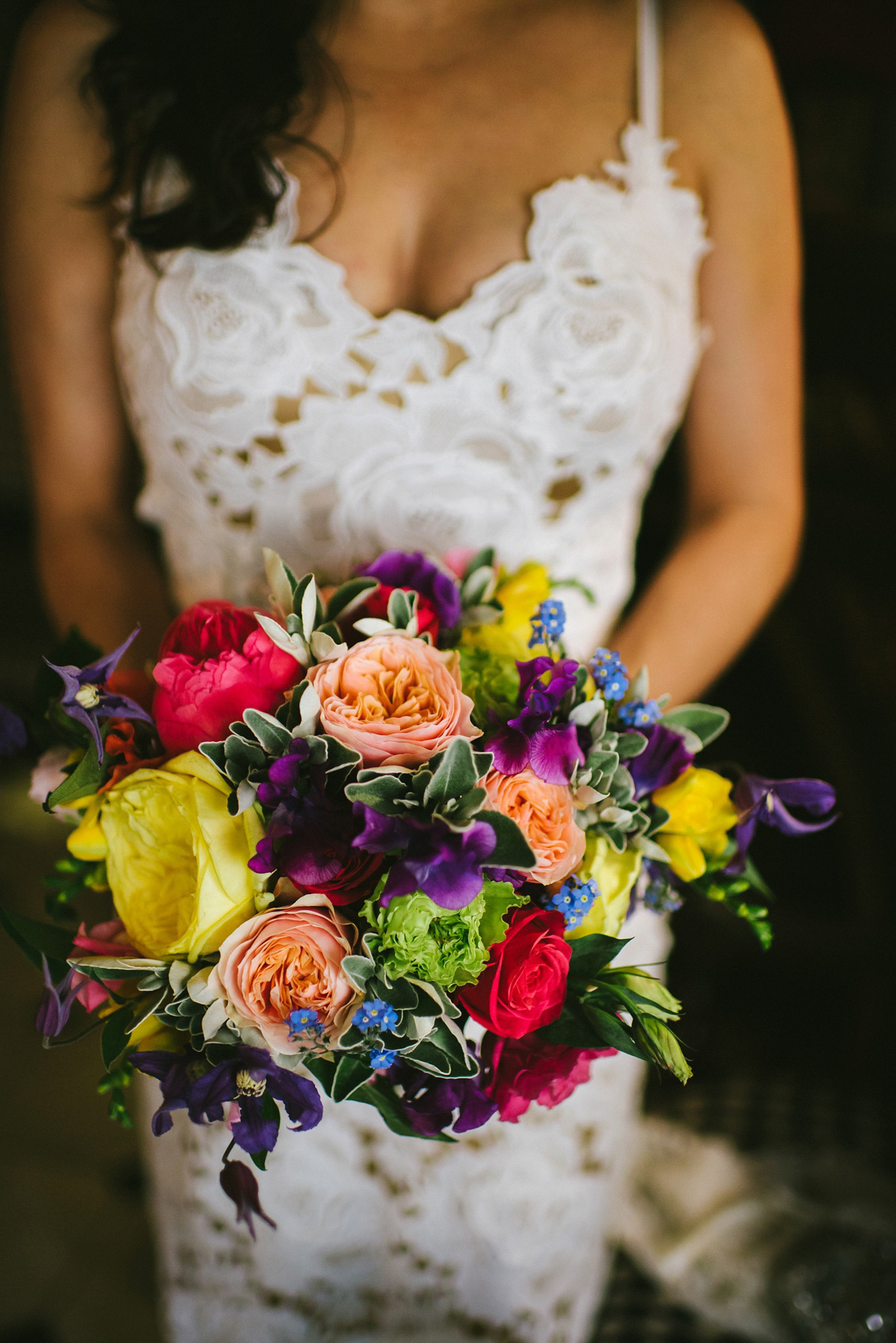 London has always been a part of the fabric of Theresa and Julian's life together, so it seems only right that Julian proposed in the big smoke. I just love this intimate insight, doesn't it bring a whole host of emotional memories flooding back?
"Julian said he wanted to marry me after five months together but we held off for another year of adventures and managing the distance. One bleak January Saturday in London, after I had just arrived from the US, we had plans to go to an art exhibition and then to dinner at a new place in Mayfair. Well, the day went a bit sideways with me being jet-lagged and (I later found out) Julian being painfully nervous, so we scrapped our plans and just ended up just making our way to Gordon's wine bar (our 'place') for some drinks."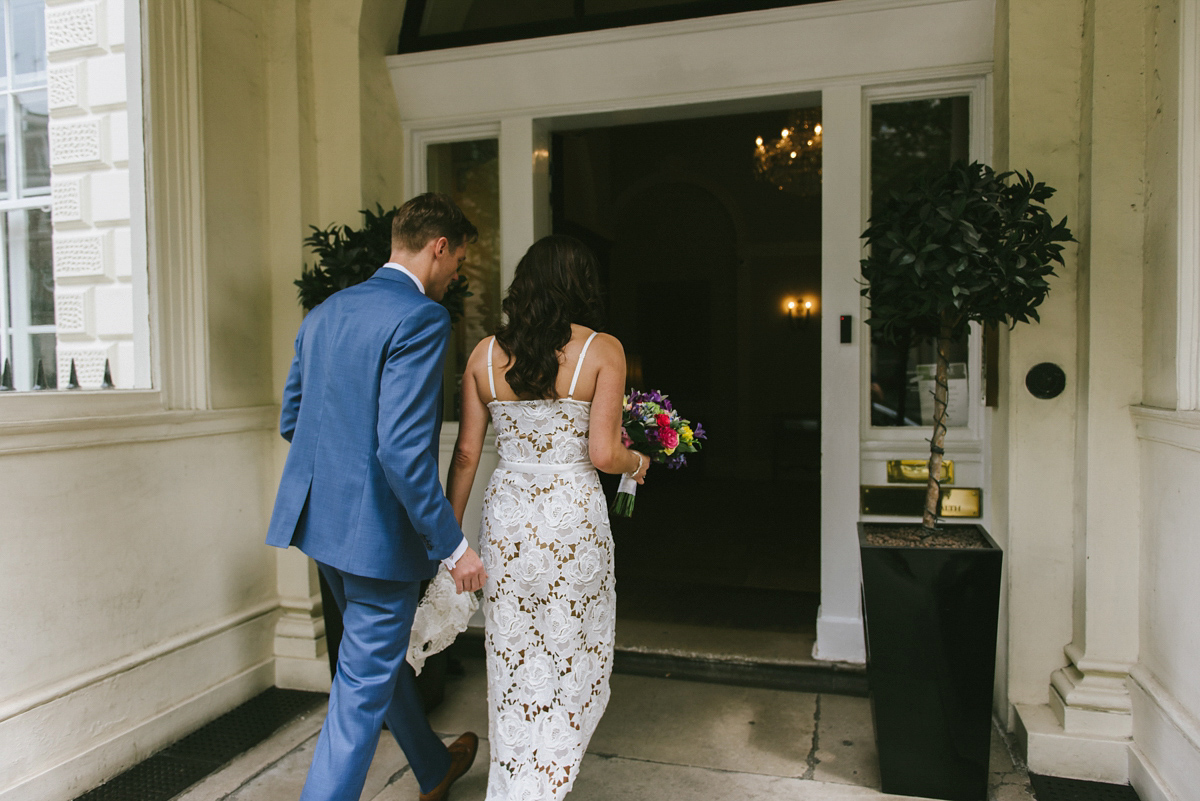 "Unbeknown to me he had made several attempts to propose that day, then in a packed wine bar and just after our first sip of wine he grabbed my hand and slipped the ring on my finger.  I was speechless; blinded by emotion, surprise and desperately trying not to cry…while also being distracted by two very drunk girls trying unsuccessfully to join our table, or rather sit on my now husband. We both had a laugh and then he leaned over and said, 'I love you. You are my unicorn. I told you it wasn't insurmountable.'"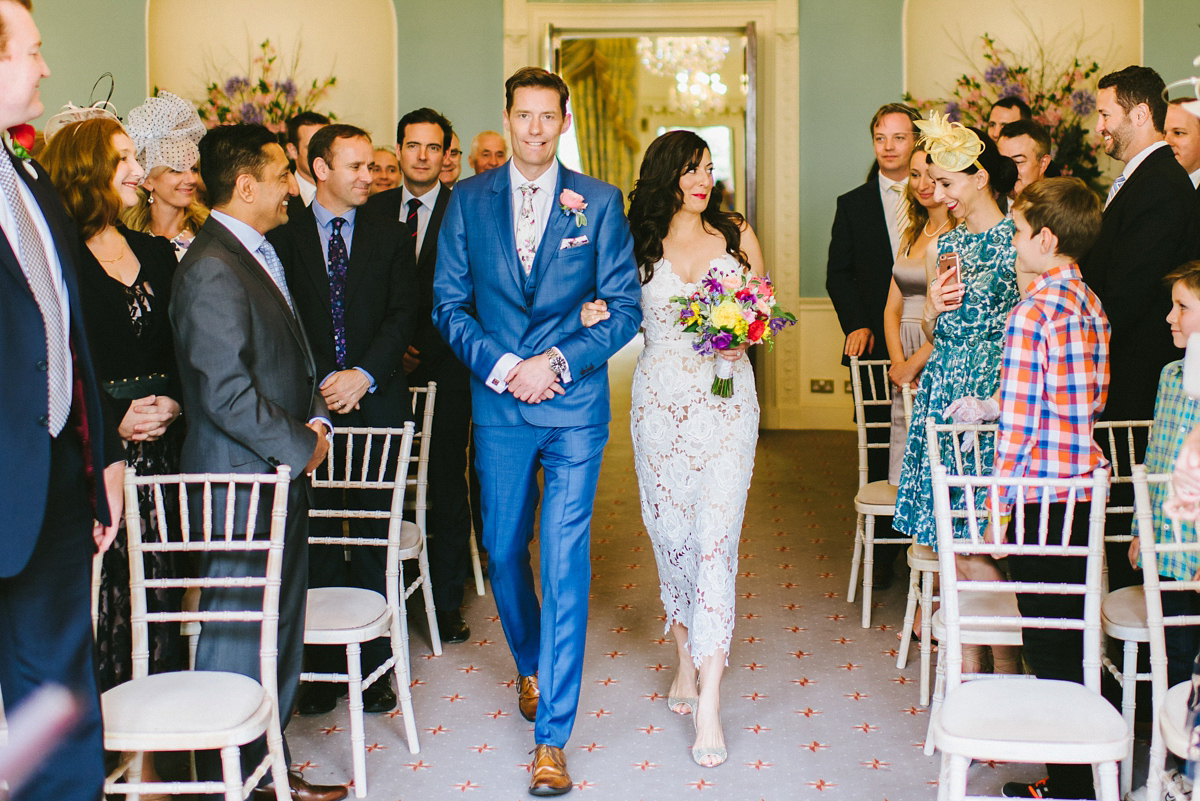 "Julian and I chose to walk down the aisle together. Both Julian's parents passed away about ten years ago and I lost my father when I was young. We've been on this journey together, weathering distance, and felt we should be side by side from the beginning of our married journey. I also didn't want it to be about me or the bride coming in; it was about us taking our first steps together to the rest of our life."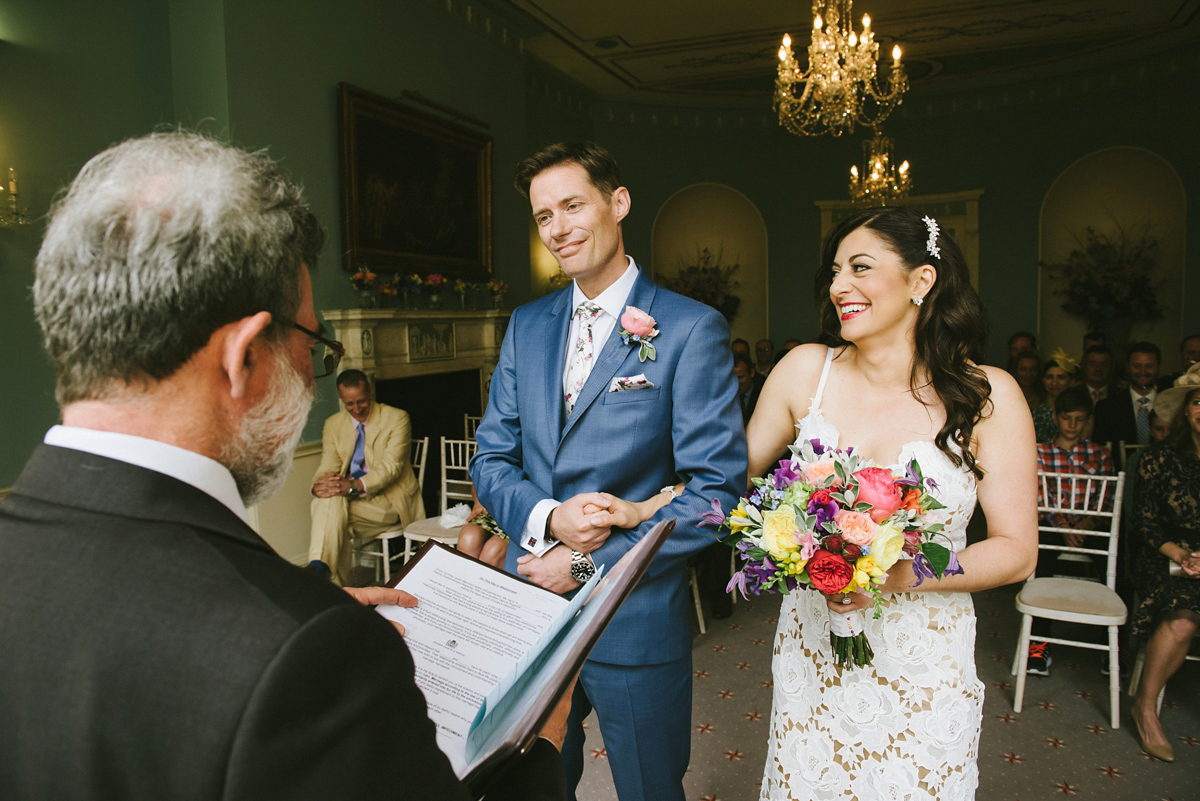 I love that Julian and Theresa created their own tradition and did what felt right and fitting to them as a couple in walking down the aisle together – what a powerful and beautiful statement and a true testament to their enduring love across the oceans. During their civil service, Julian's brother read If you can keep your head by Rudyard Kipling, one of his favourite poems.
"When I asked why we should have this as our reading he said, 'because it gives guidance on perseverance over adversity, while understanding those things that really matter – equality, support and tolerance.'"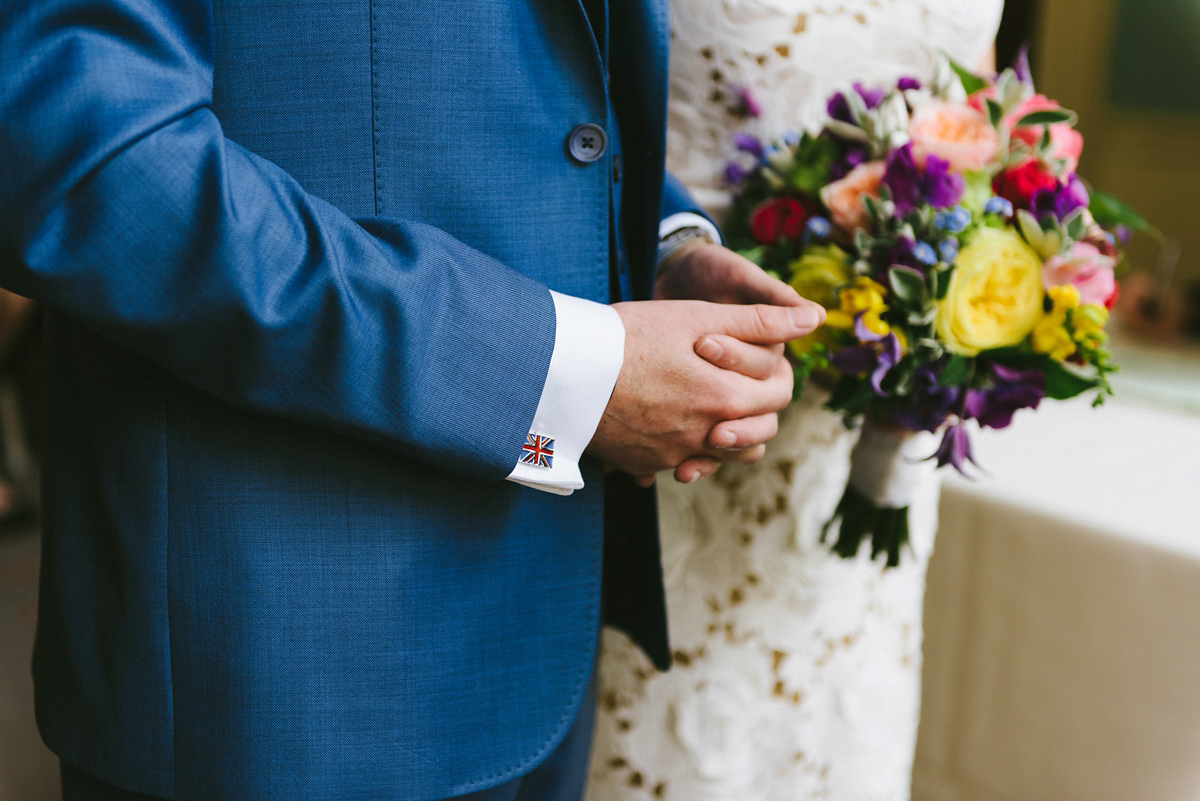 While Julian chose a platinum wedding ring, Theresa added a Lorelei Floral band by Hearts on Fire to nestle alongside her glittering engagement ring, which Julian designed and had custom-made in the US.
"Julian's favourite part of the day was the ceremony. Every word seemed meaningful and we laughed and enjoyed ourselves along with our guests, but the best part was saying I do."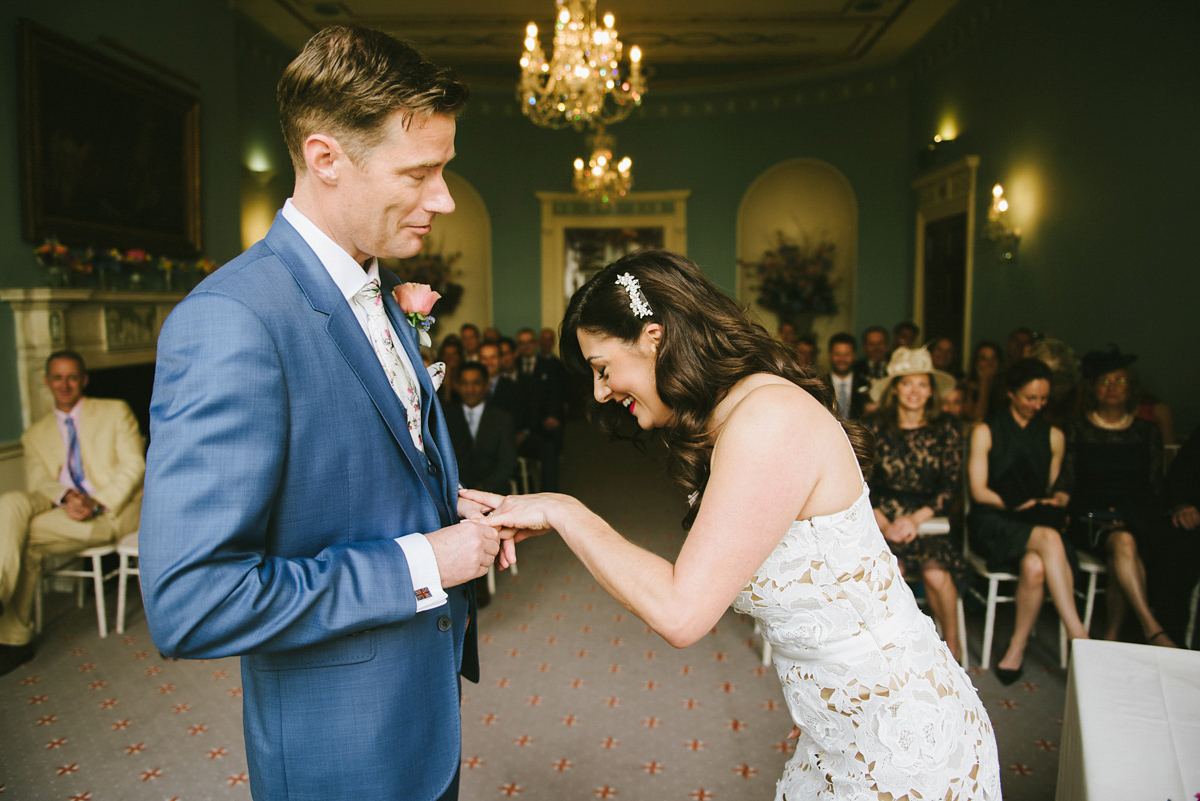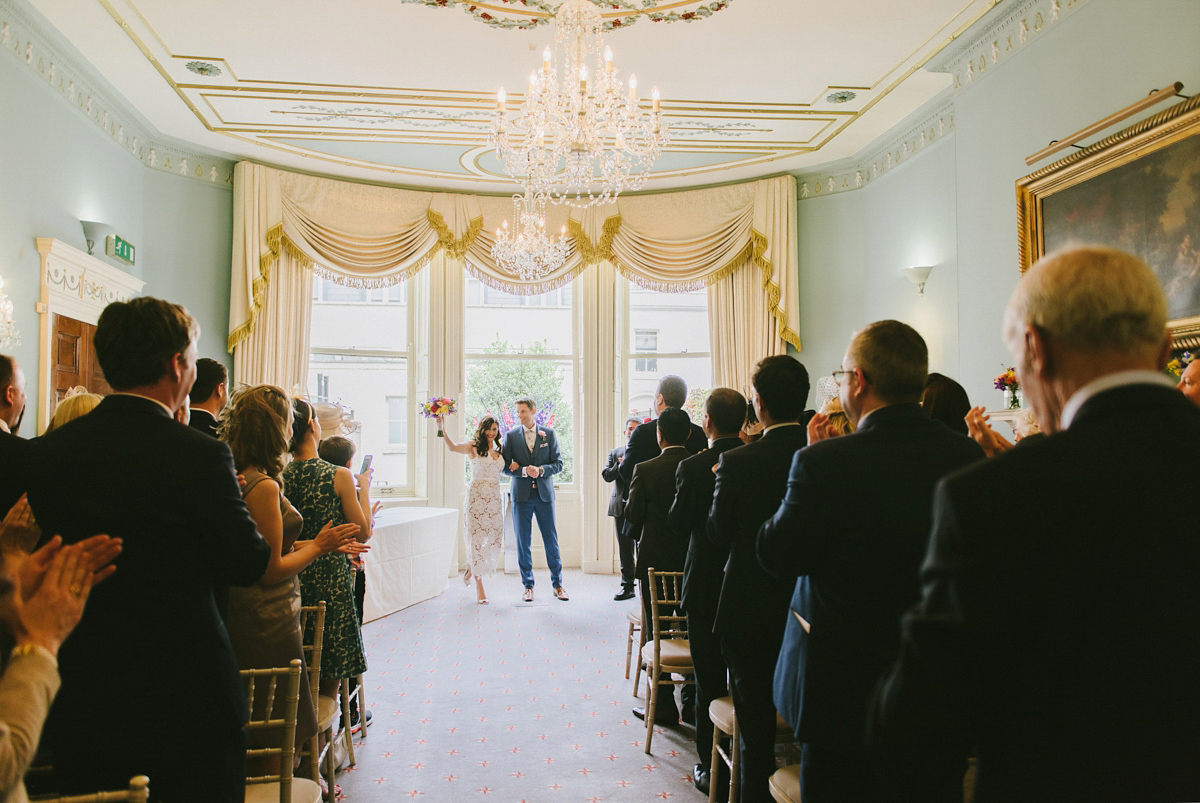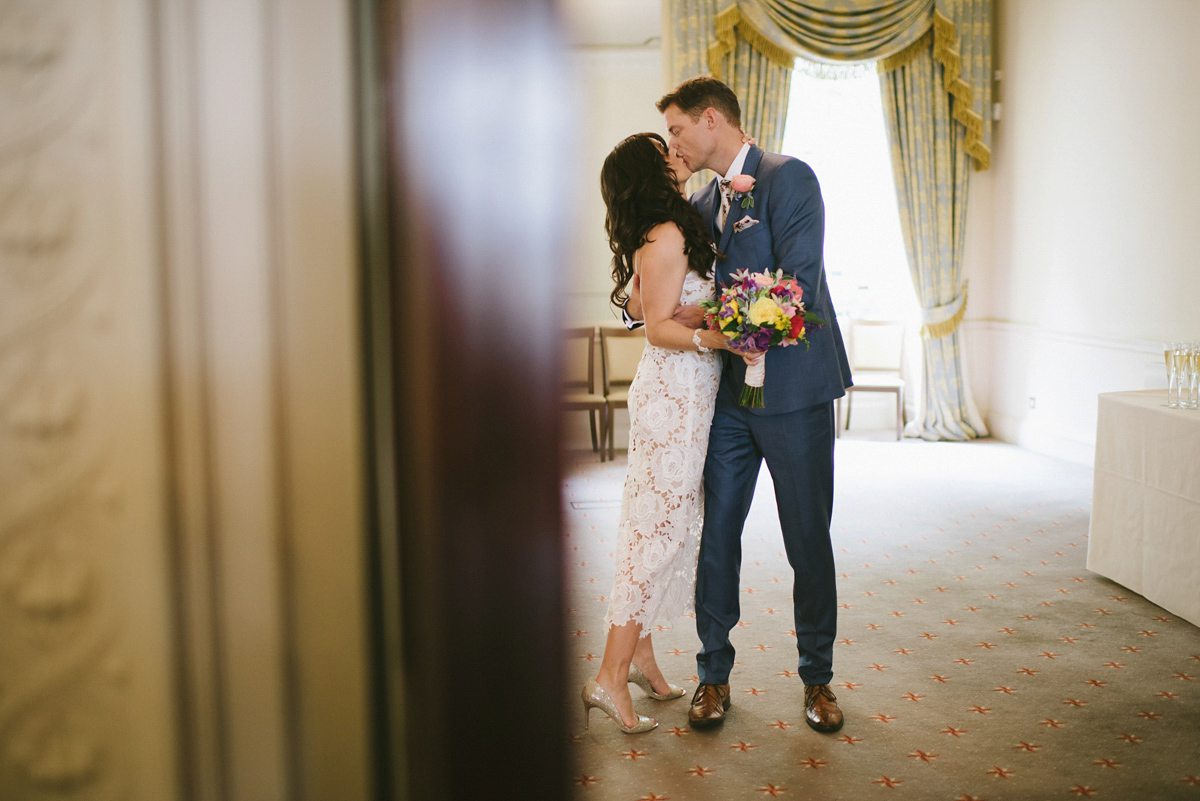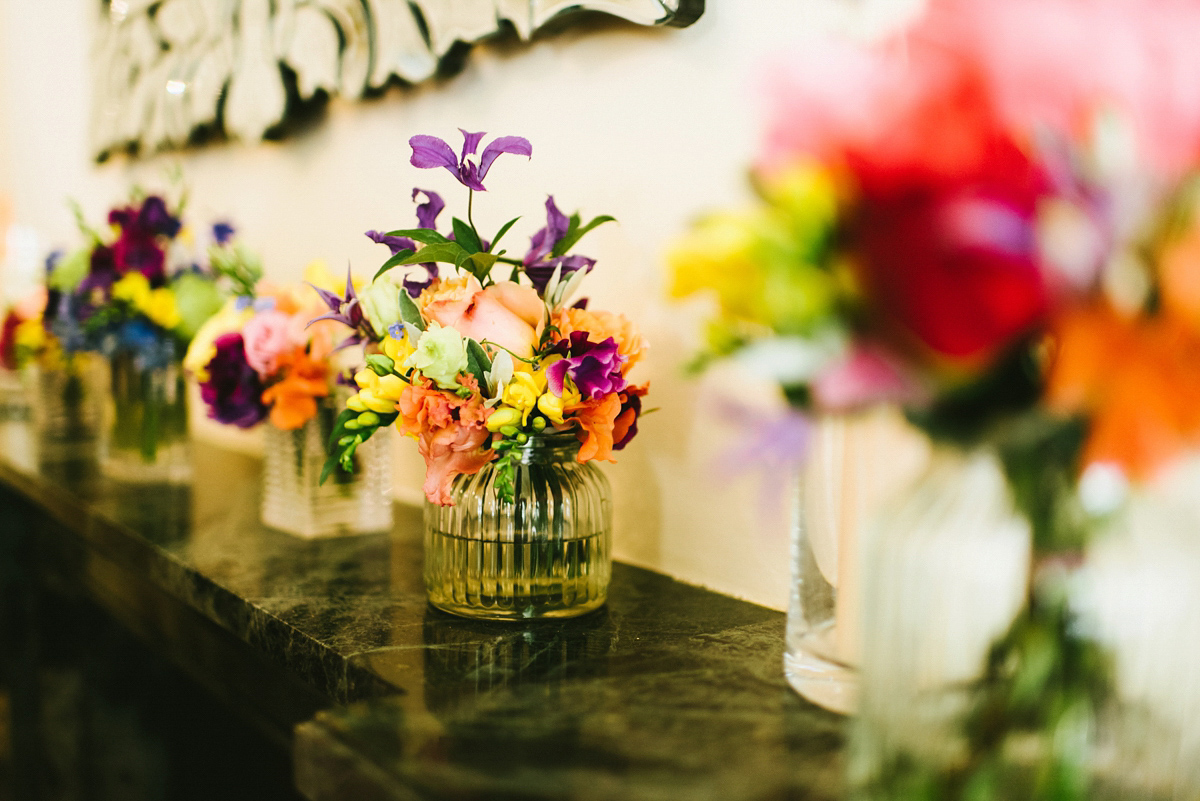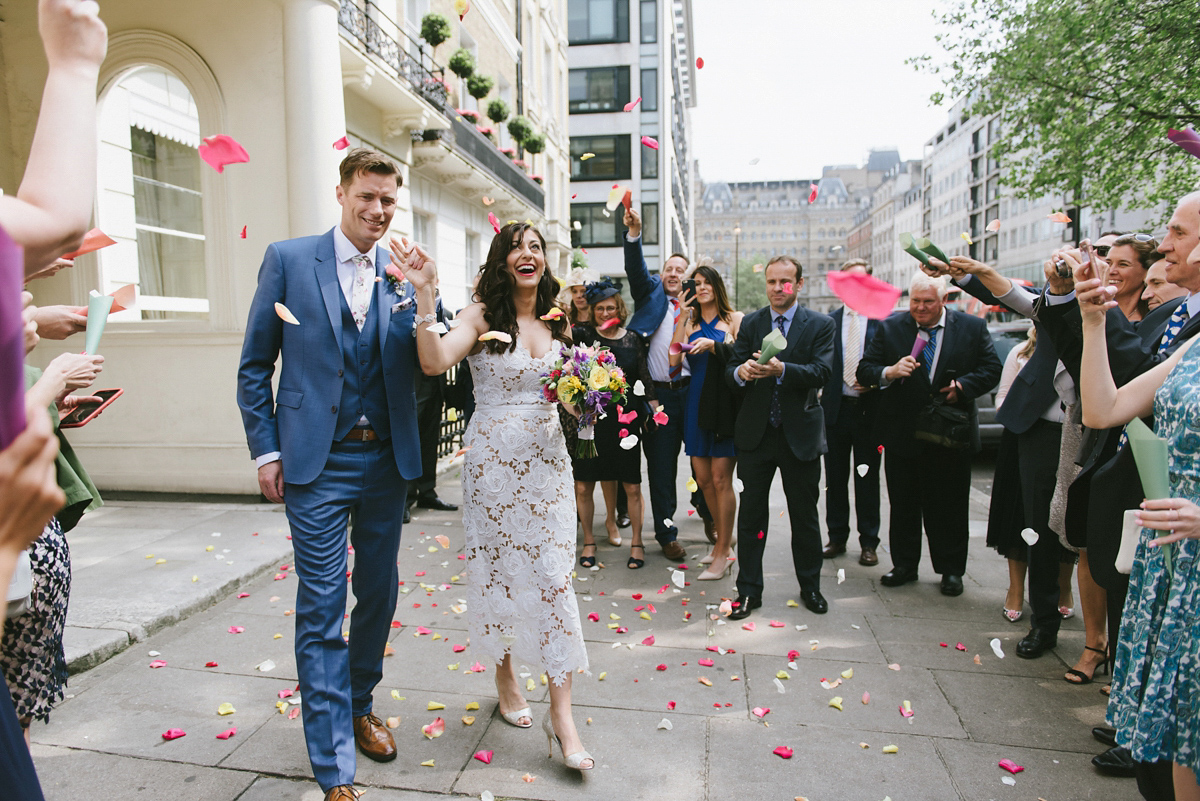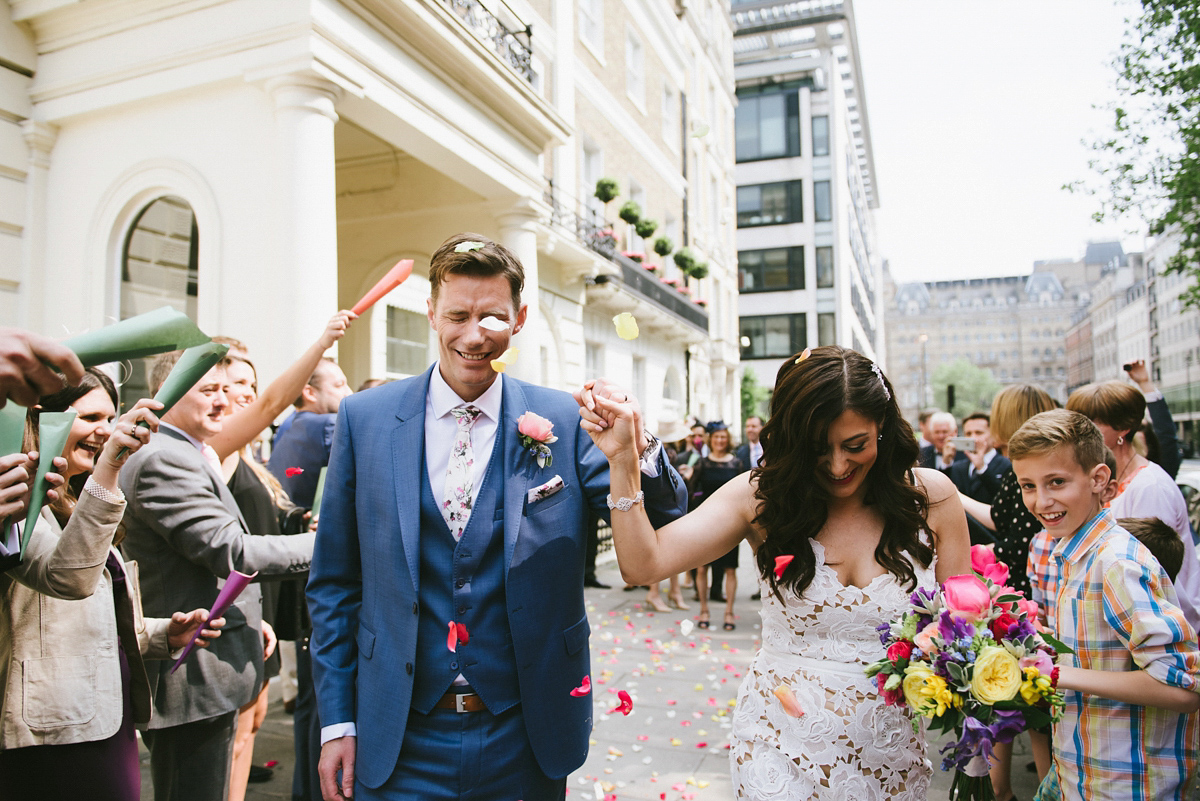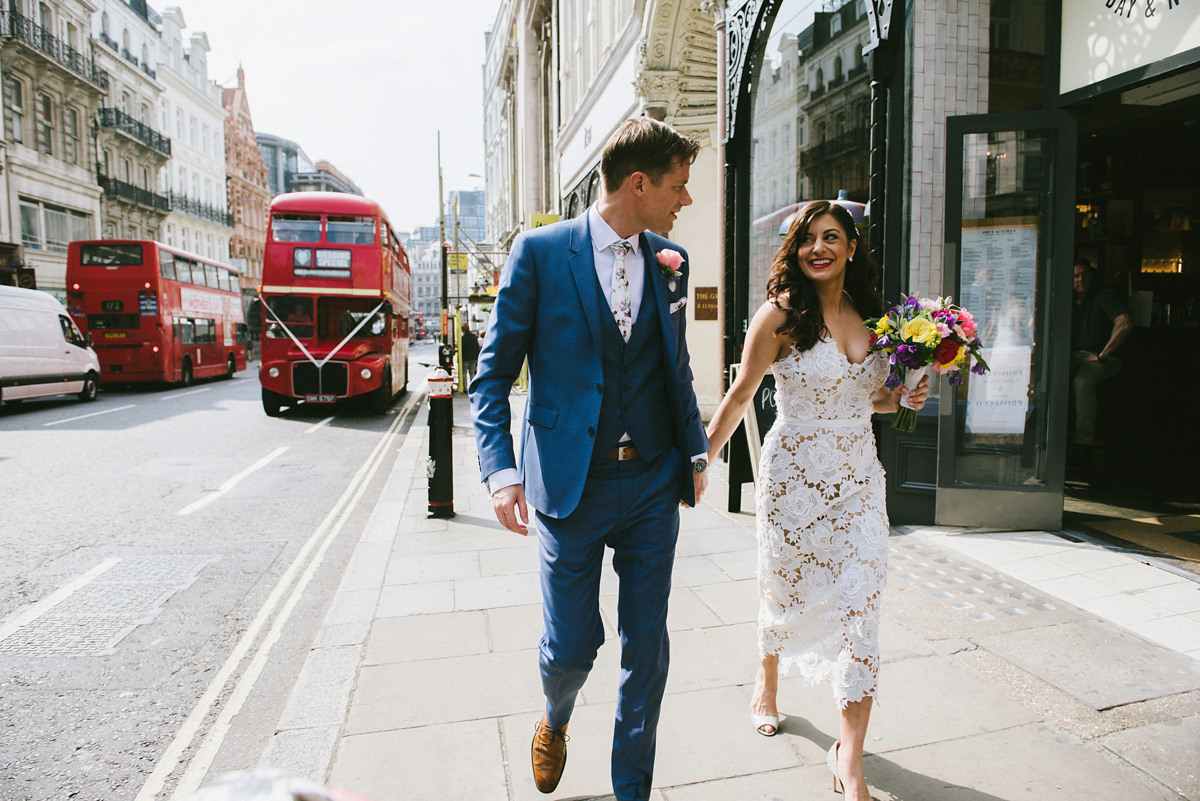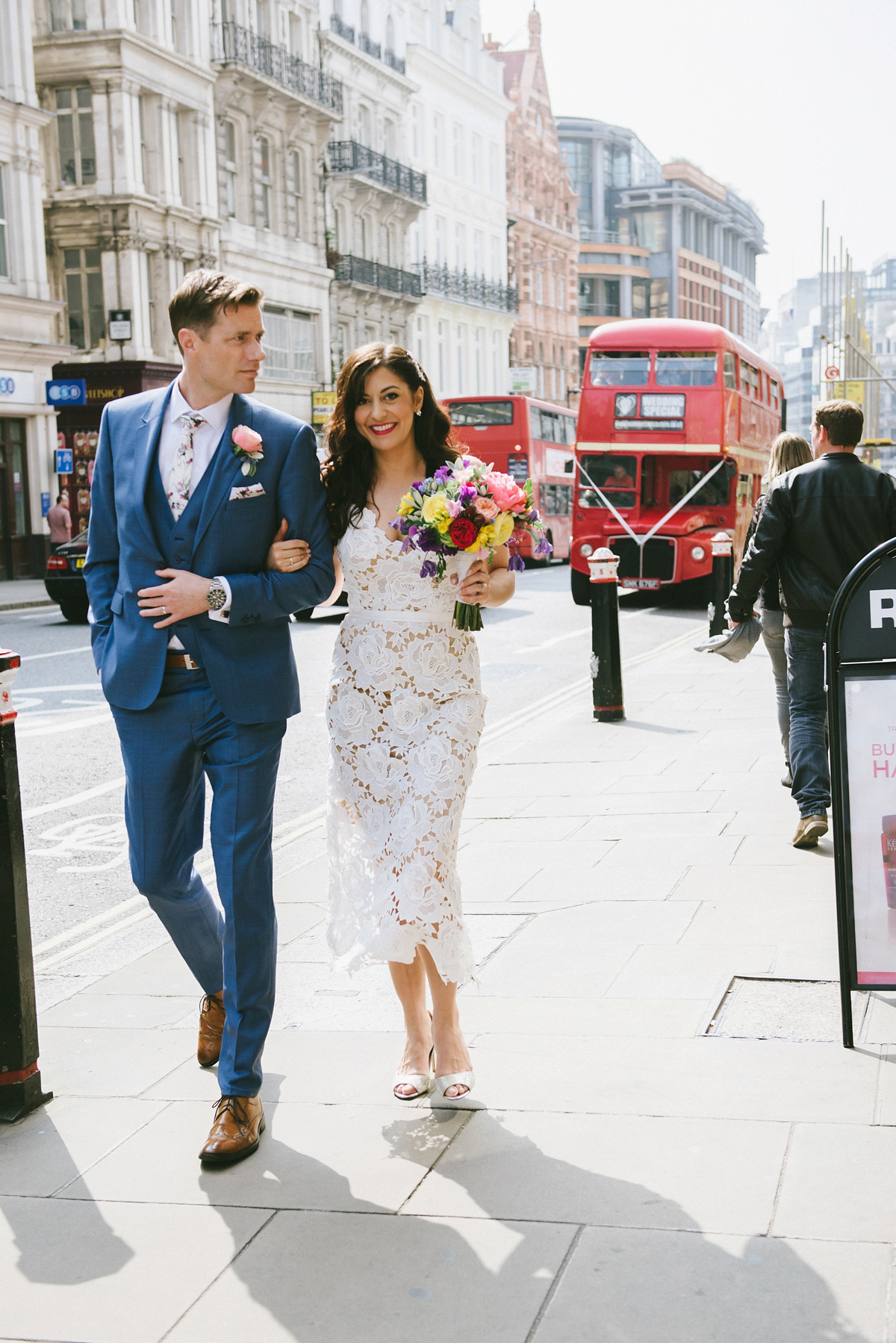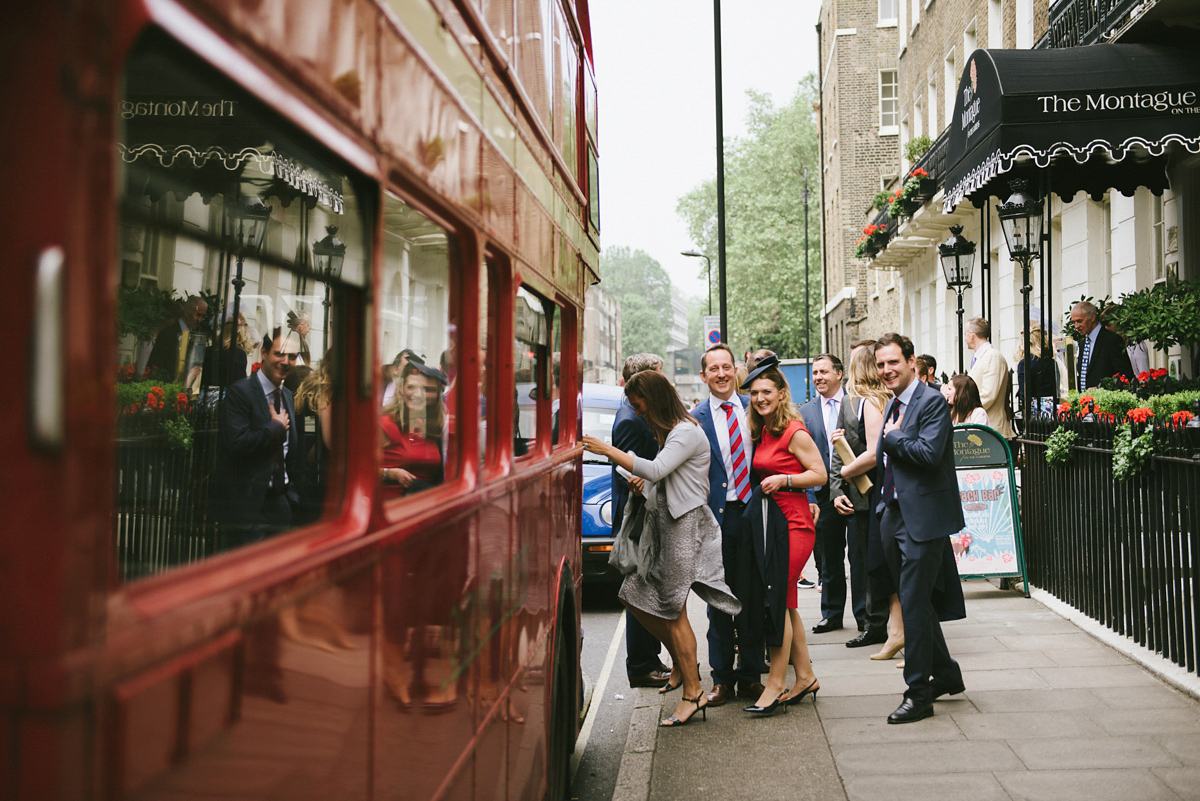 In a veritable haze of champagne, confetti and joy, the newlyweds and their guests boarded a Routemaster Bus for a tour of London, with stops in their favourite places from some iconic landmark photographs and time to really savour the sunny spring day with their loved ones.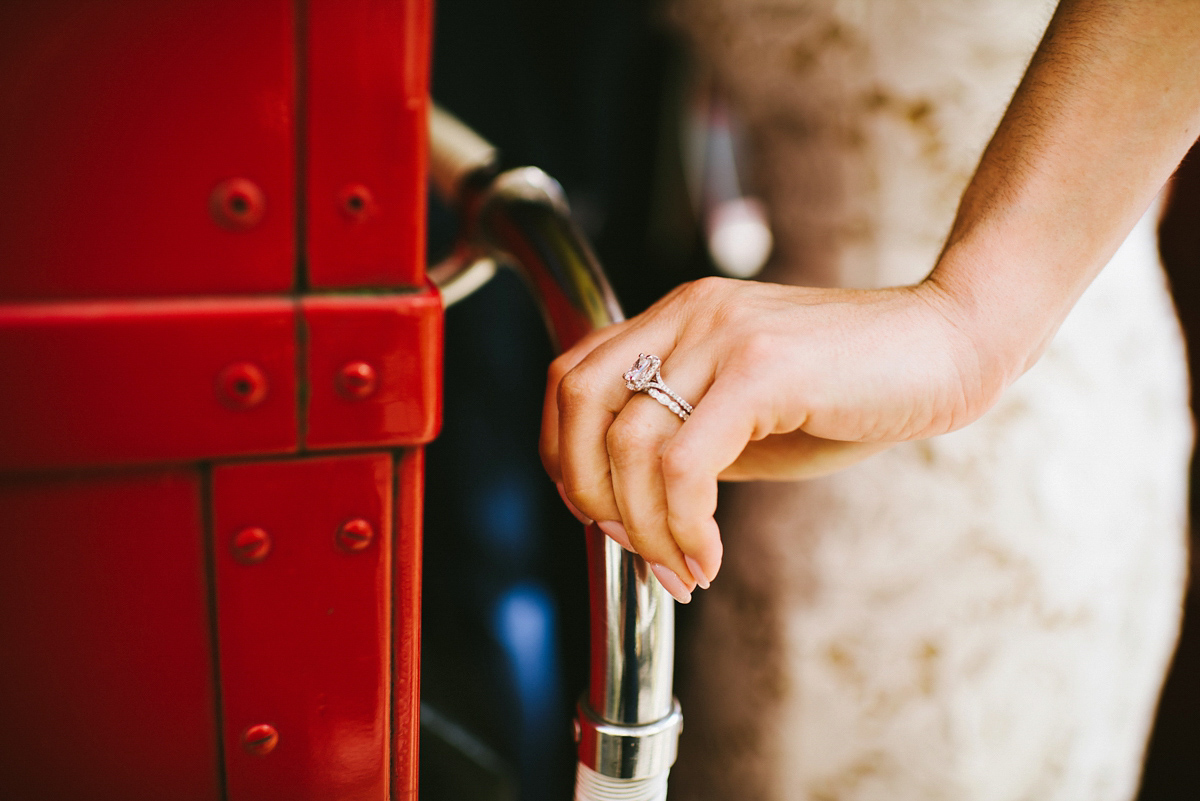 "The other favourite part of the day for both of us was on the bus touring around London, seeing the faces of passers-by light up with smiles almost unknowingly when they saw us; a bride and groom. To see them, strangers smile, just at the unexpected sight of love with all the craziness in this world – that joy can still be contagious, it was moving."
"The Americans loved visiting London, but our English guests also loved it too; they said they rarely get to sit back and enjoy the sites. We wanted the party to start off with a fun little bang so we served gin and tonic and Pimms in cans during the bus tour to keep with the English theme."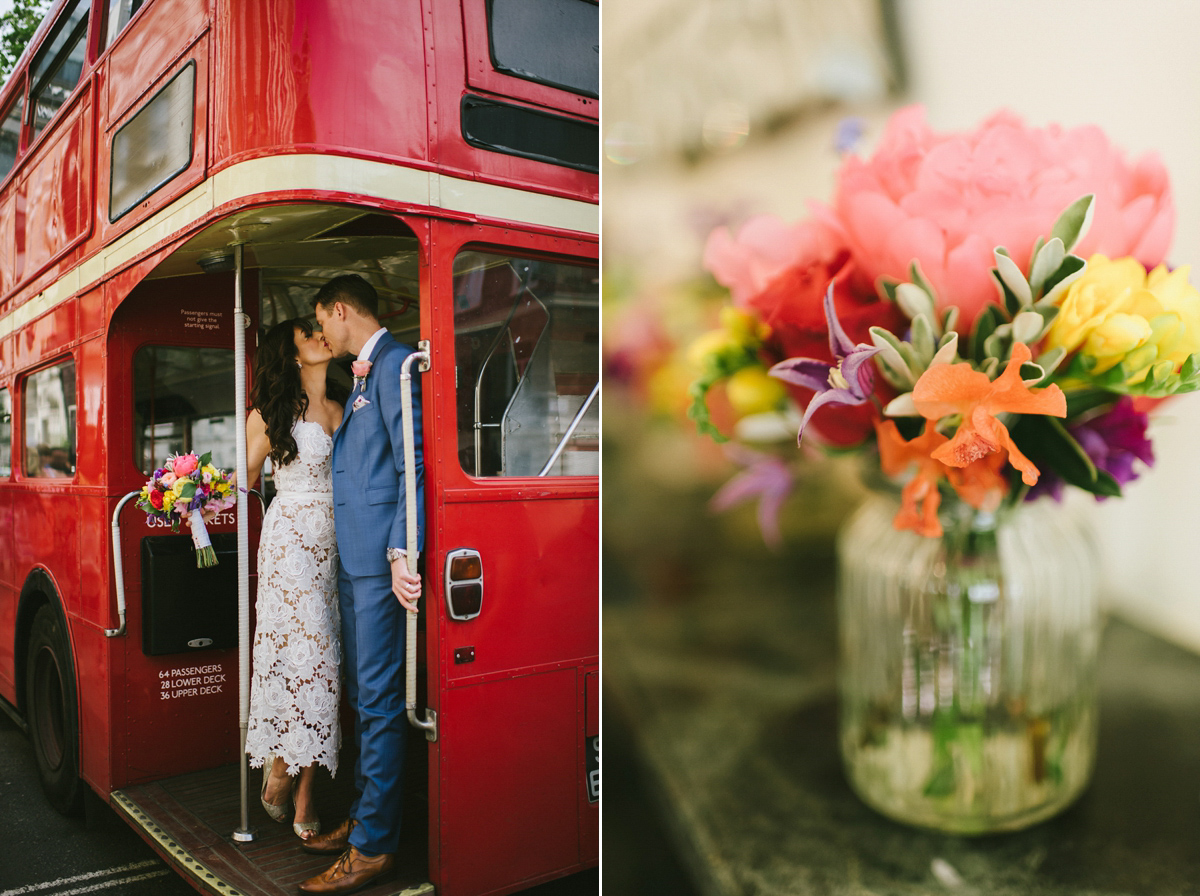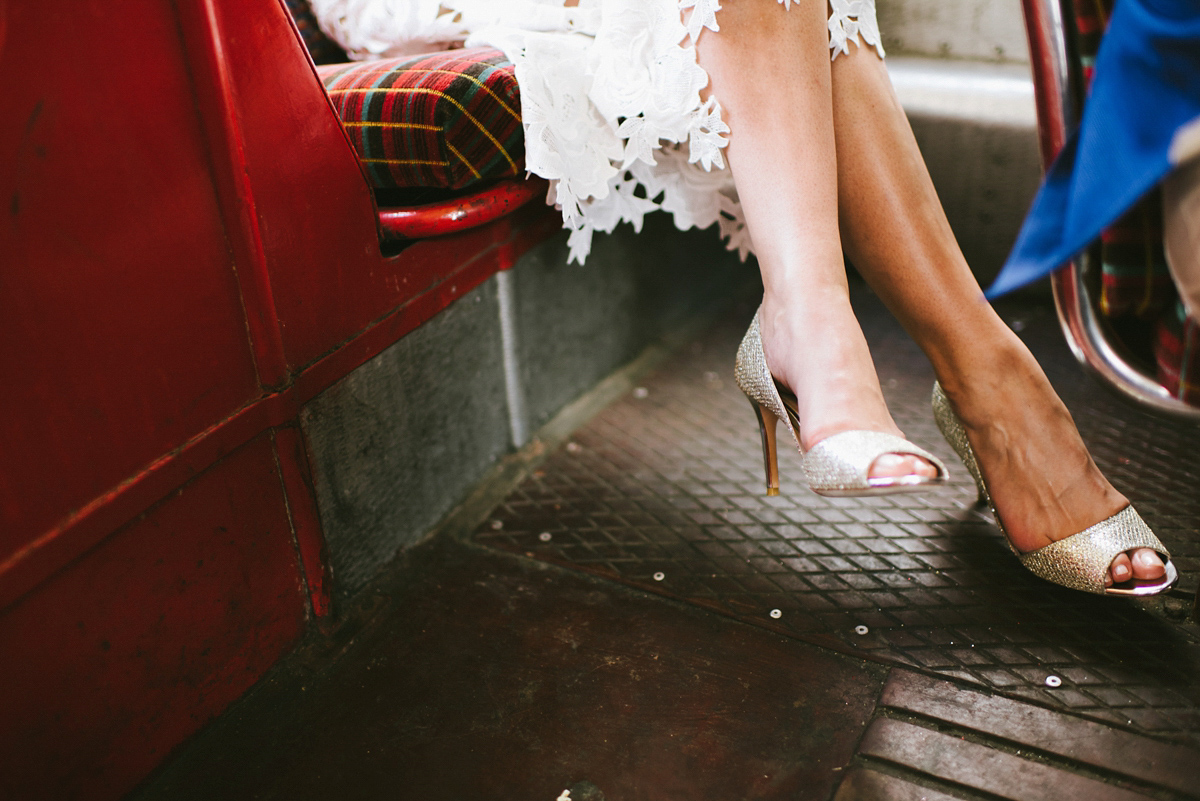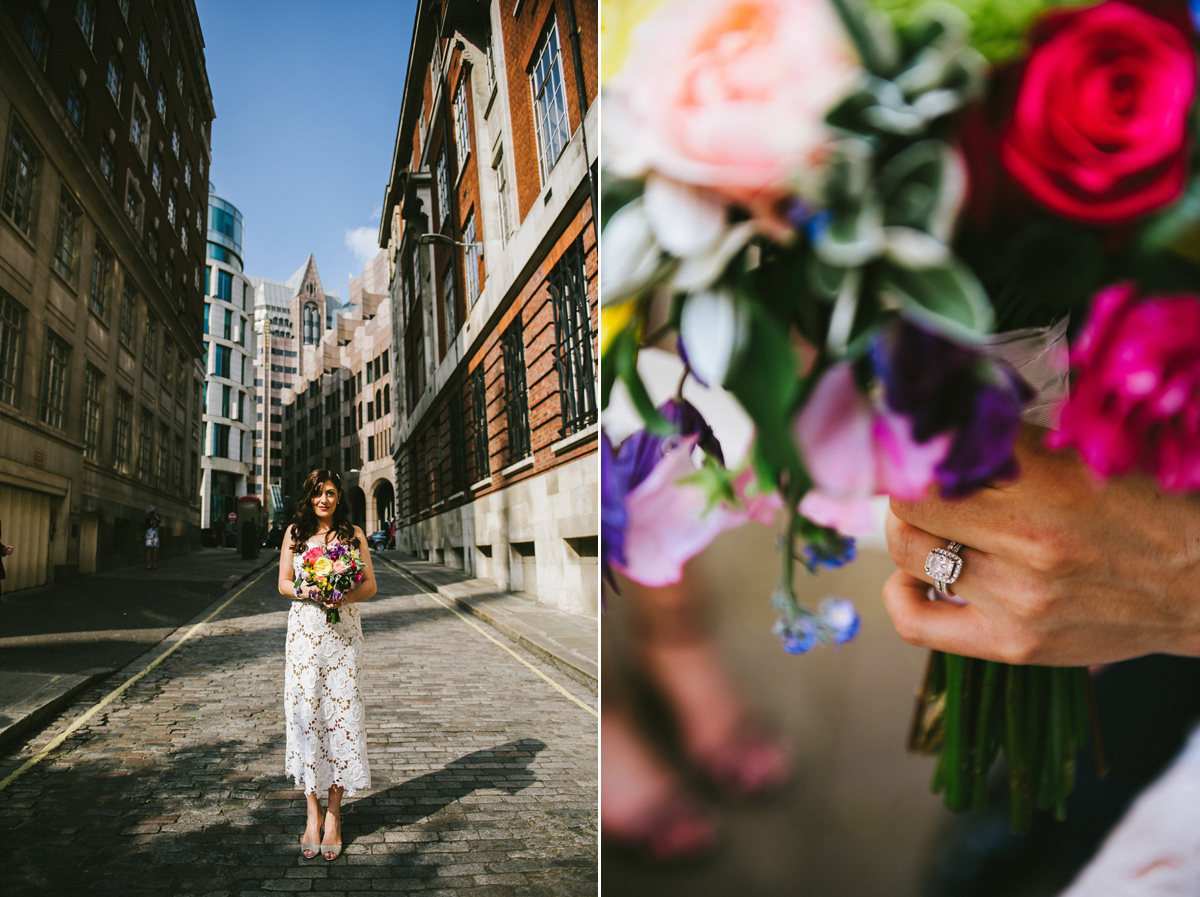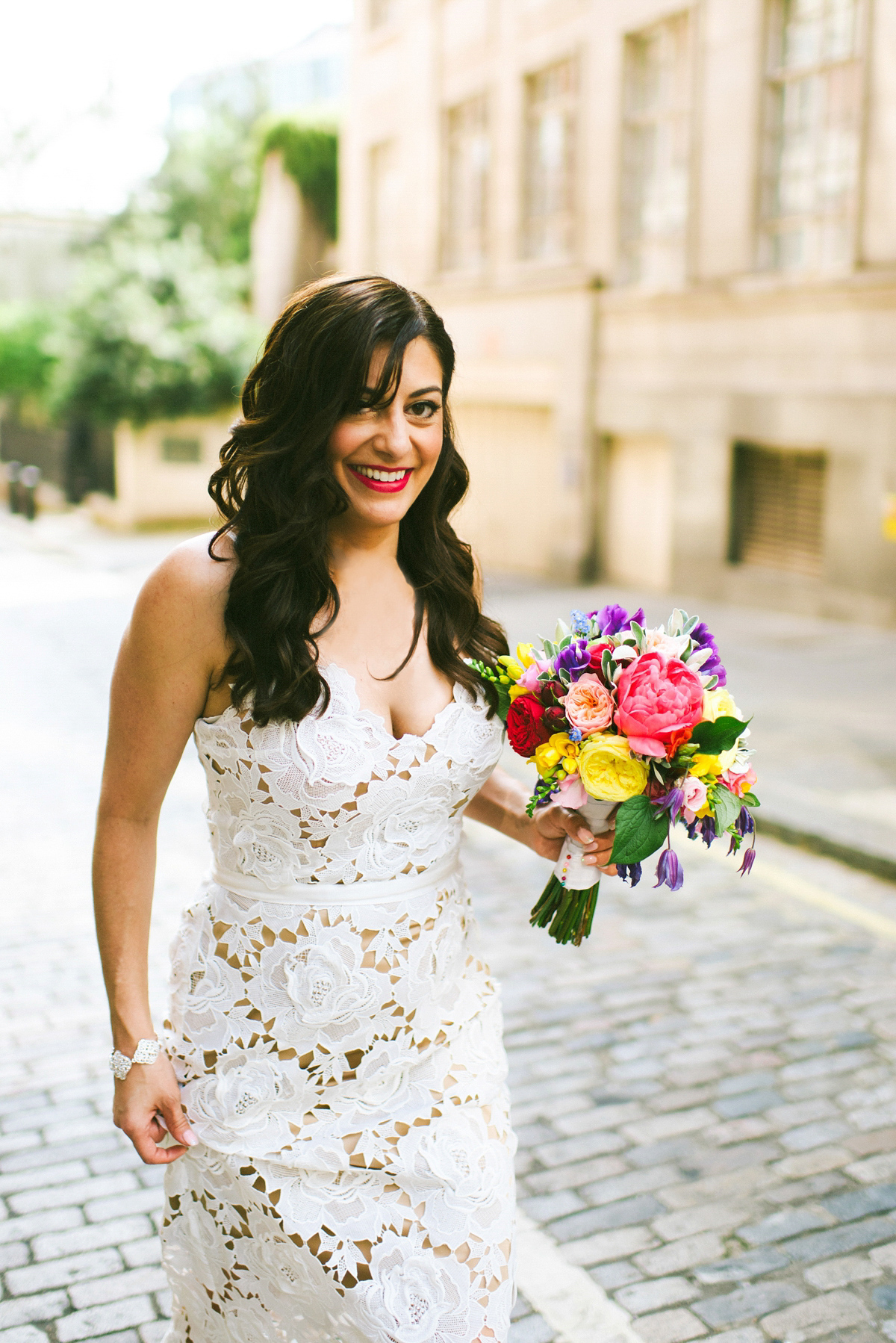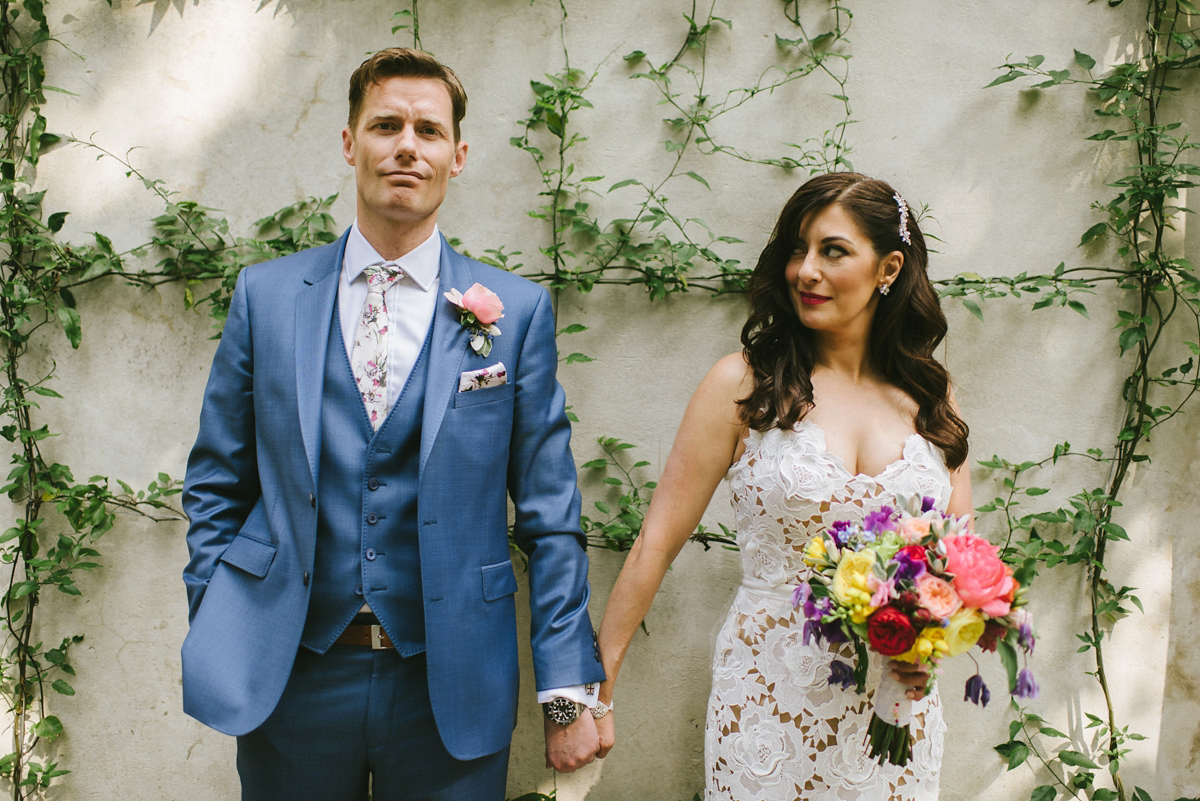 Theresa and Julian knew they didn't want a traditional wedding breakfast; it was important to them to give their friends and family as much time as possible to mix, mingle and enjoy being together. So many loved ones from so many corners of the earth being in the same place at the same time is a rare and truly special occurrence.
"We held our reception just a few minutes away at The Montague on the Gardens. I wanted to have an indoor/outdoor relaxed reception and The Montague was perfect with a lovely conservatory and two covered garden terraces. We searched nearly every venue in London, but none matched it's unique, quirky, yet classical English style. It was perfect for us and the relaxed tone we were trying to hit for our day. The entire hotel is lovely and the staff are dedicated and flexible. There's no venue hire charge, just a minimum spend, which was fantastic."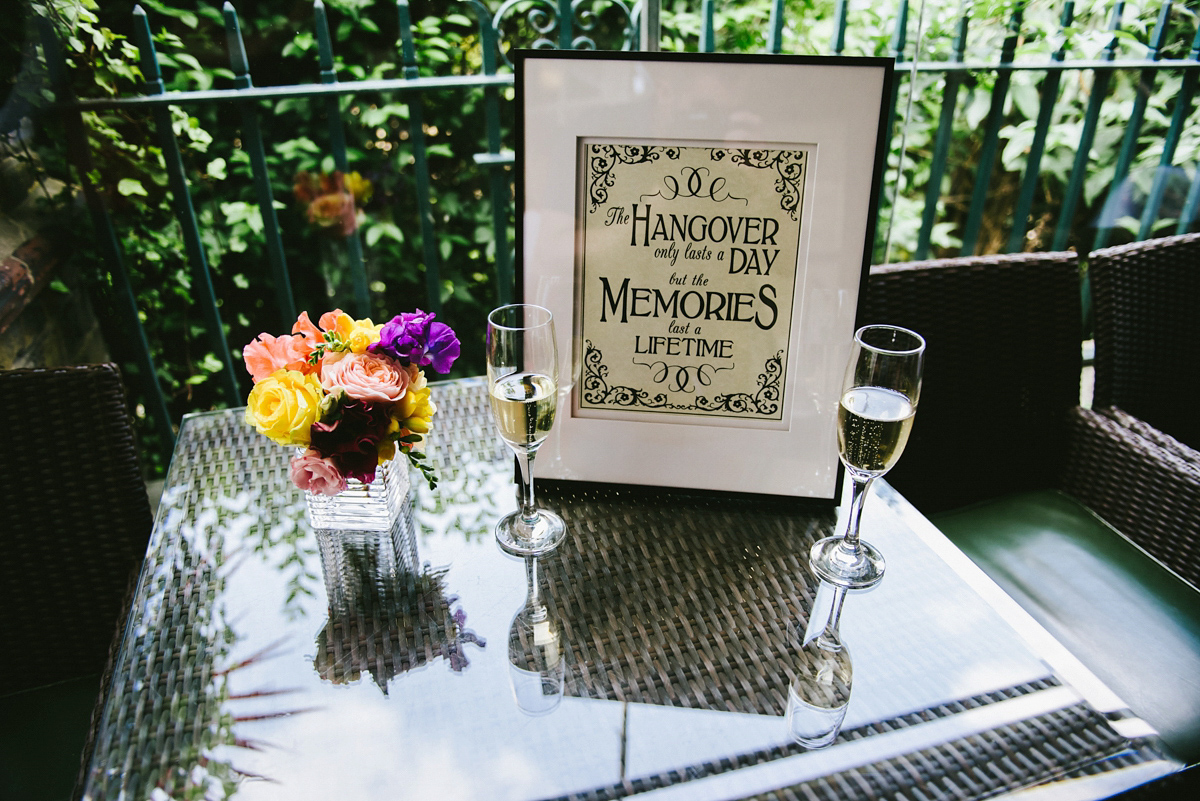 The Montague on the Gardens catered brilliantly for the couple, customising a menu and creating small dishes which were passed around for guests to enjoy – maximising that precious time spent together while savouring all manner of tasty treats.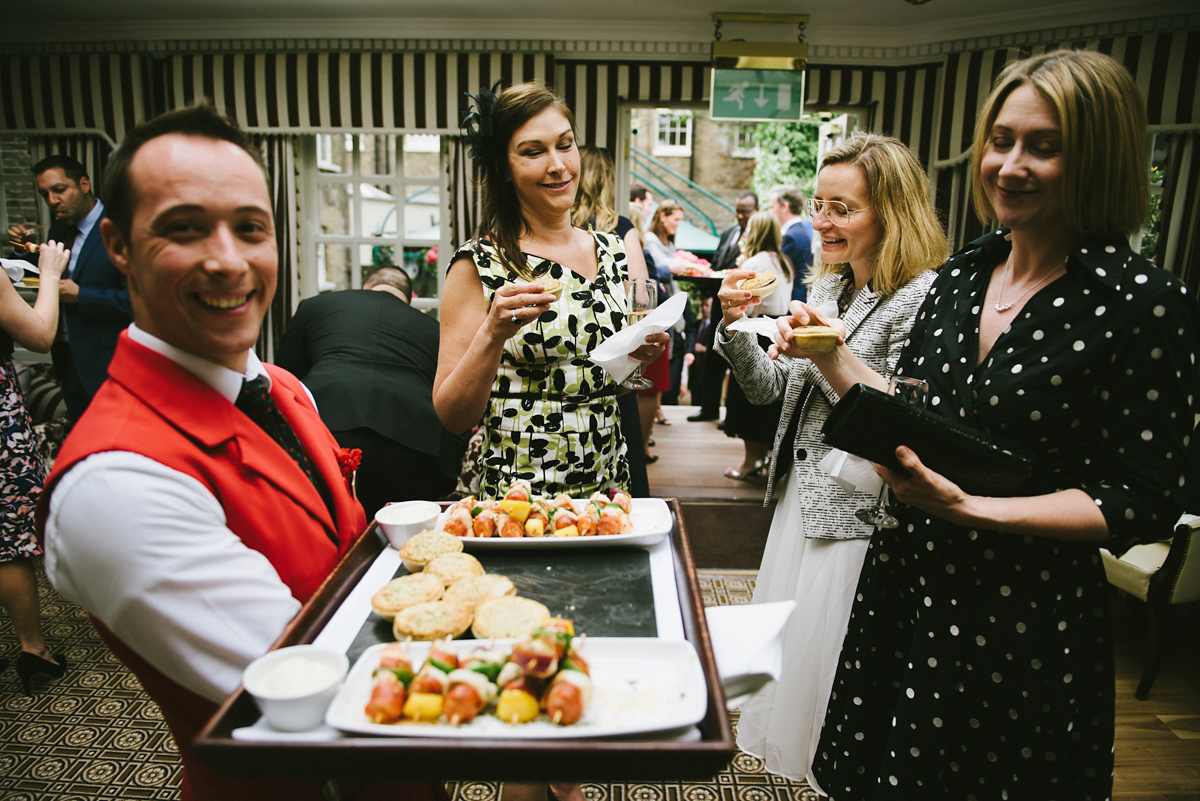 "We had The Montague do mini items with some traditional English flare; steak and ale pies, scotch eggs, mini-sliders and salmon belinis were just a few of our choices. Then we had a chef's station with tender cut of beef filet with potato dauphinoise and lightly dressed watercress greens. We also had a large traditional English cheese display to go with a customized wine tasting."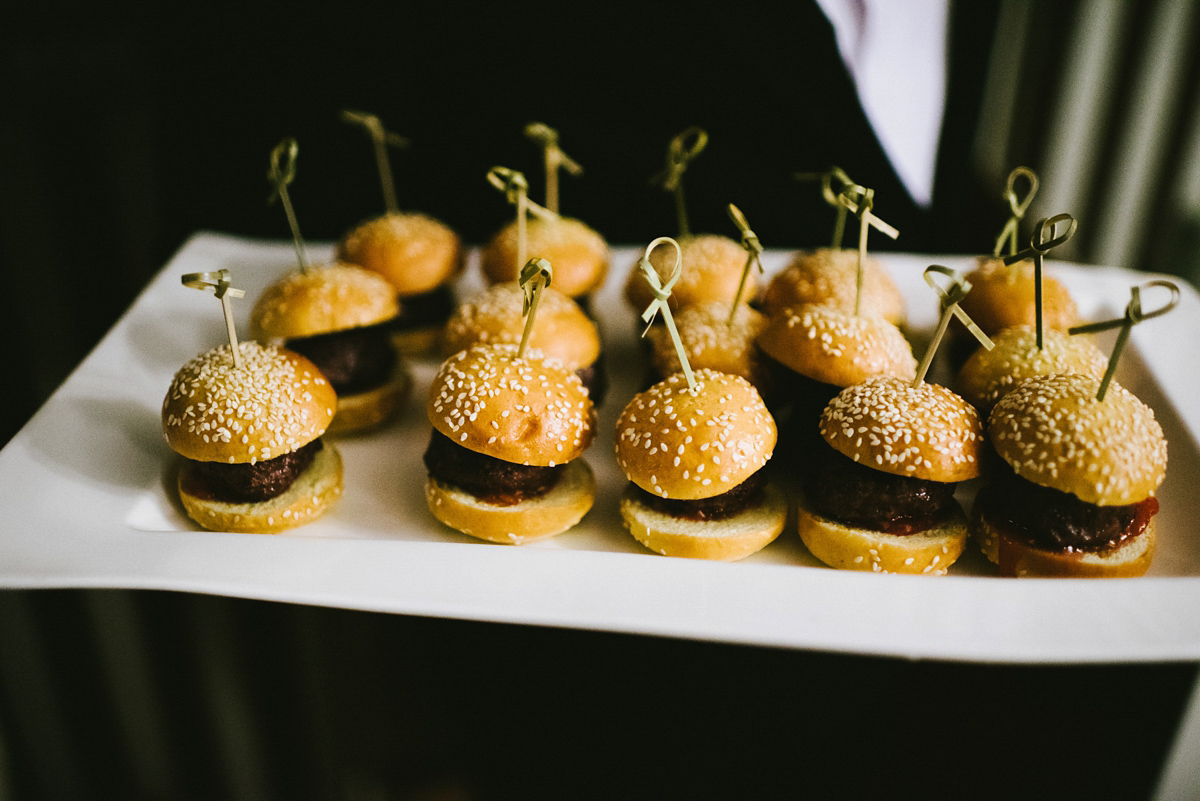 "Wine is a big part of who we are. We also chose the hotel because they own their own vineyards and we had a custom wine tasting during the reception.  We also had the red wine for the reception shipped in from one of our favourite vineyards in Tuscany. We made custom London-themed wine glass charms for our guests to take home as a keepsake and use to toast future joy in their lives."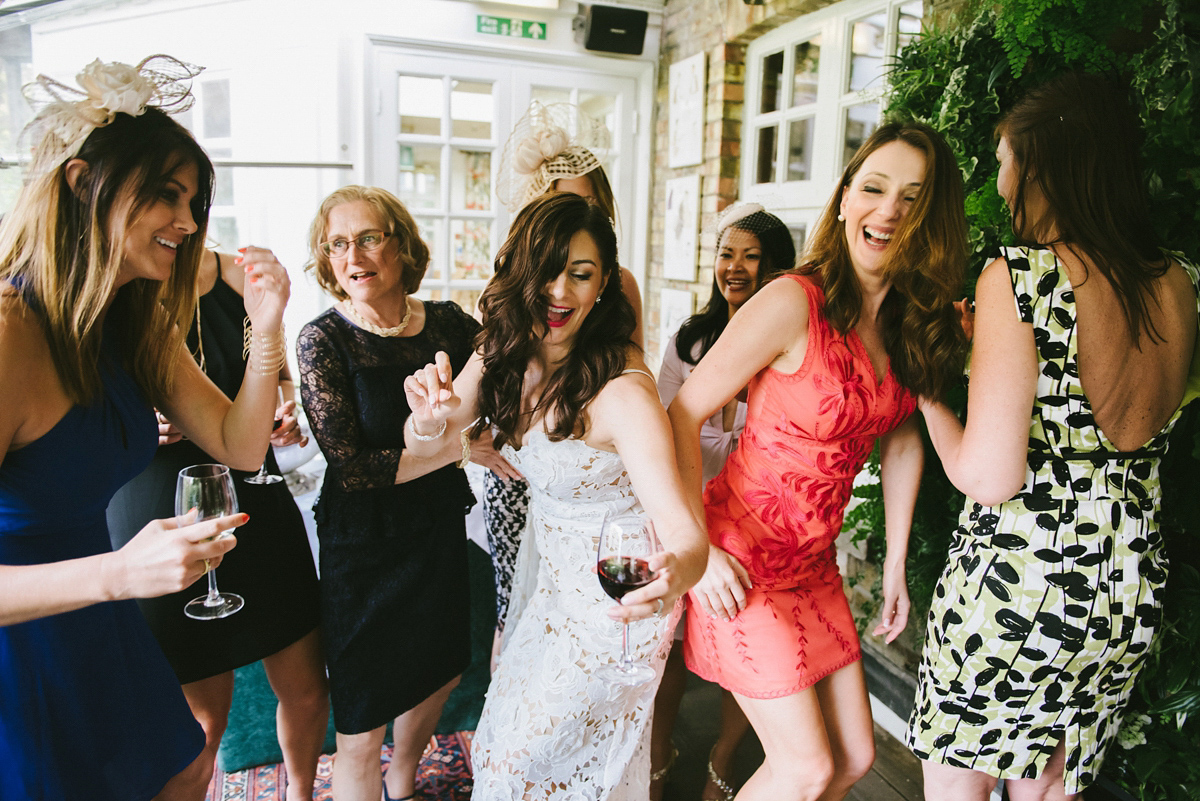 Theresa indulged her love of Lola's Cupcakes by selecting a variety of mini cupcakes in place of a traditional wedding cake. The couple further accentuated their London themed day through the design of their wedding stationery, crafted by Goldfinch Design.
"Lola's Cupcakes are what makes me happy on a rough commute home, or the perfect addition to a day when Julian and I are out and about. I love the unique variety of flavours and the fun colours. They are a part of London for me and we wanted to give our guests different fun flavours to enjoy."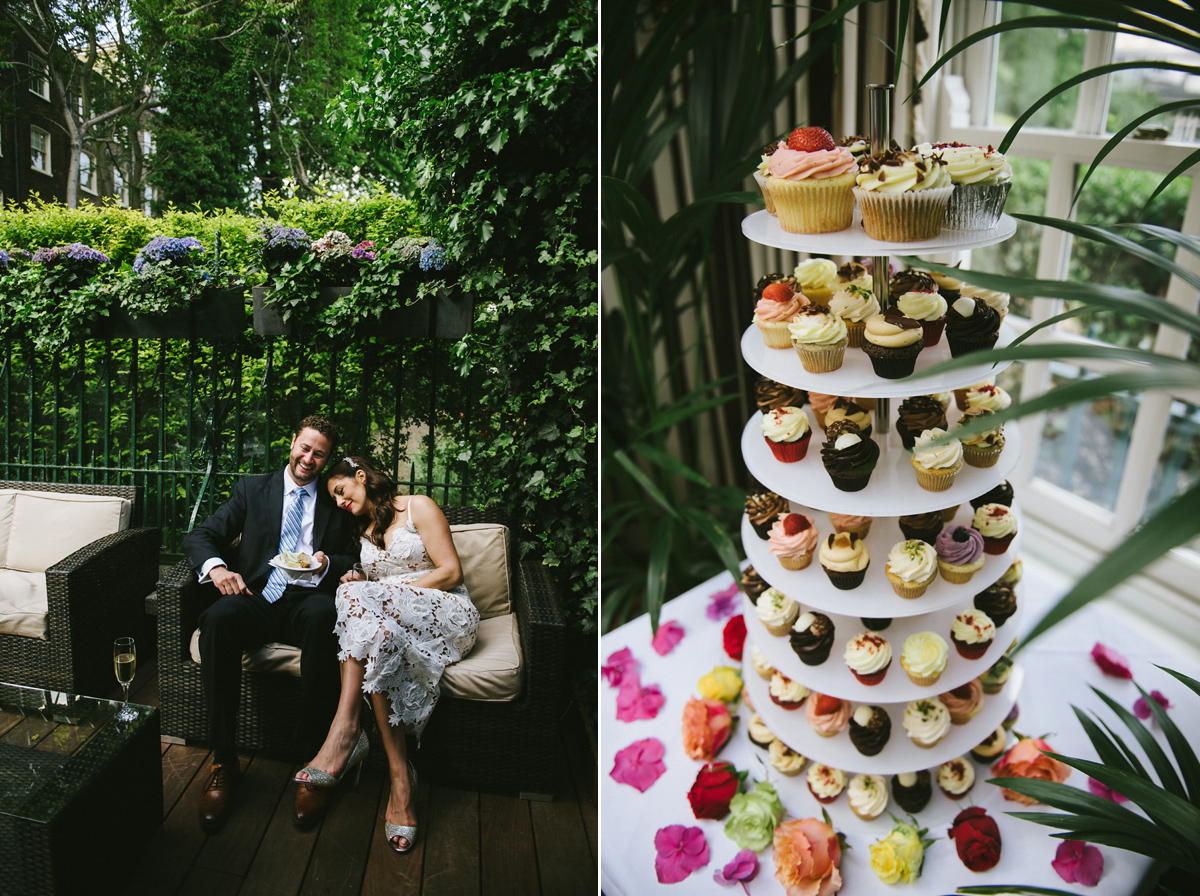 "I spent a lot of time looking at invitations that set the tone for the day and the simple design that we chose looked like a sketch for our story and the day we were planning. Our 'guest book' artwork was created by Bleu de toi on Etsy. I fell in love with this interactive artwork idea that also conceptualised celebration."
Theresa and Julian provided their own playlist to be broadcasted over the hotel's audio system. Eschewing a traditional first dance, it looks like this lovely pair danced the night away with their loved ones with truly joyful abandon, devouring a scrumptious-looking cupcake or two in the process – perfection.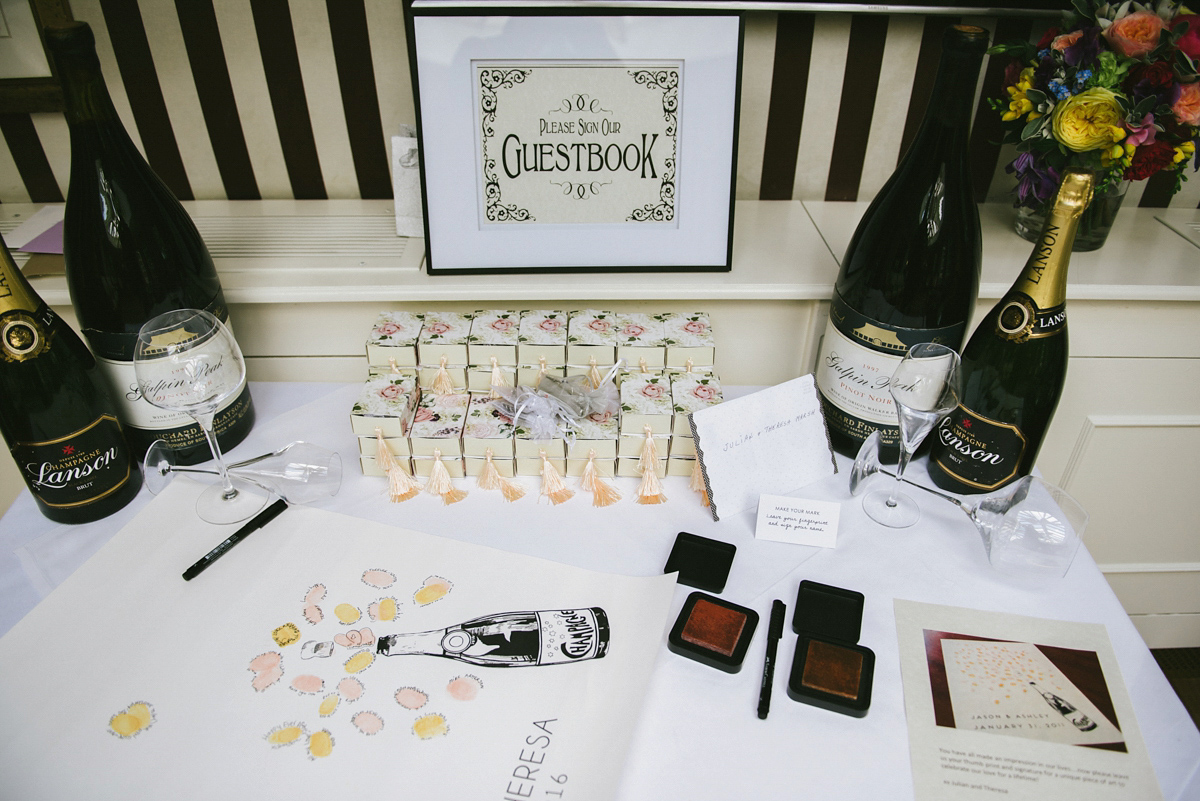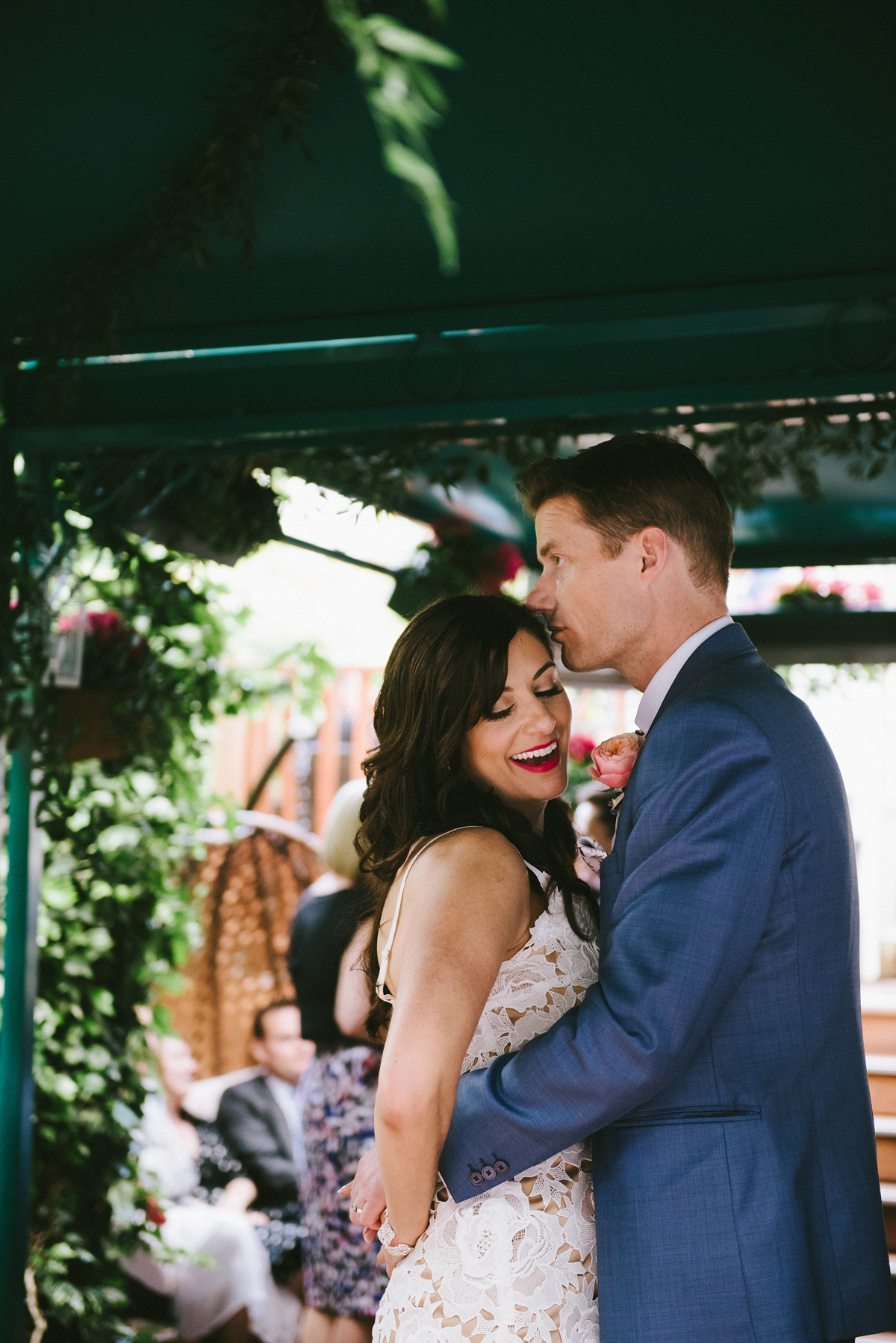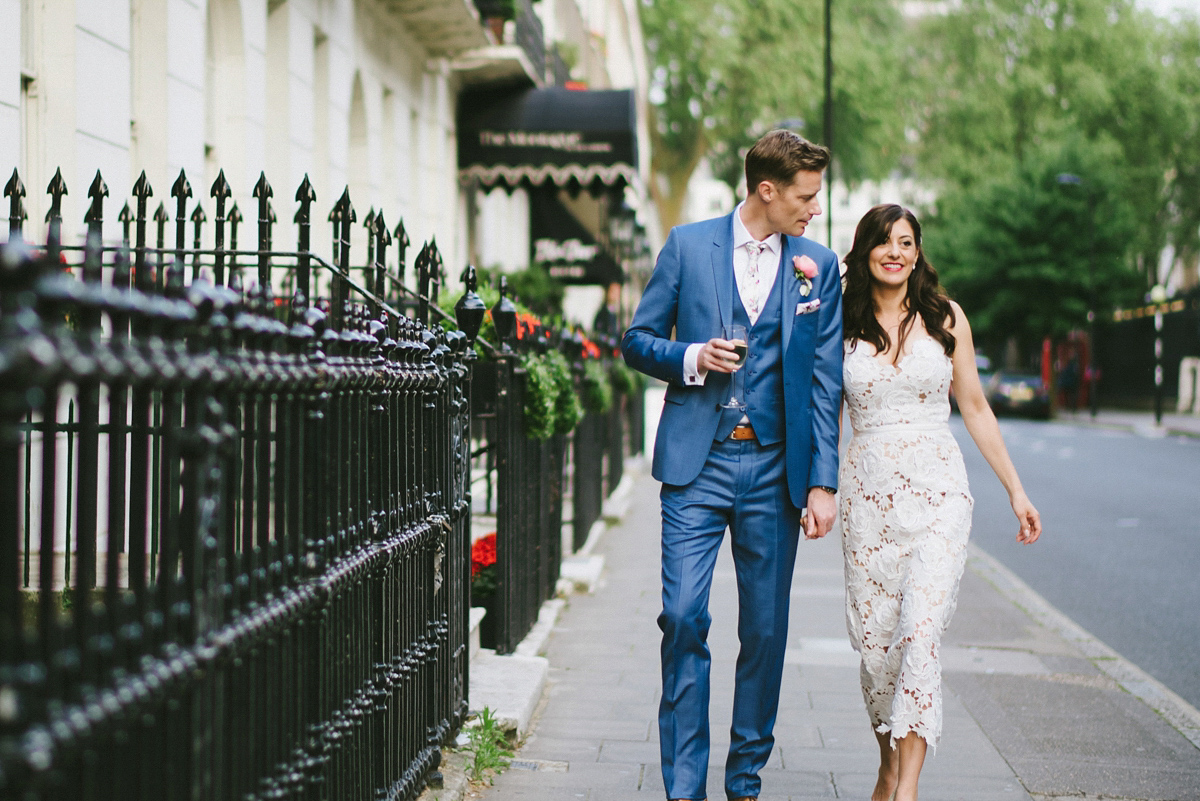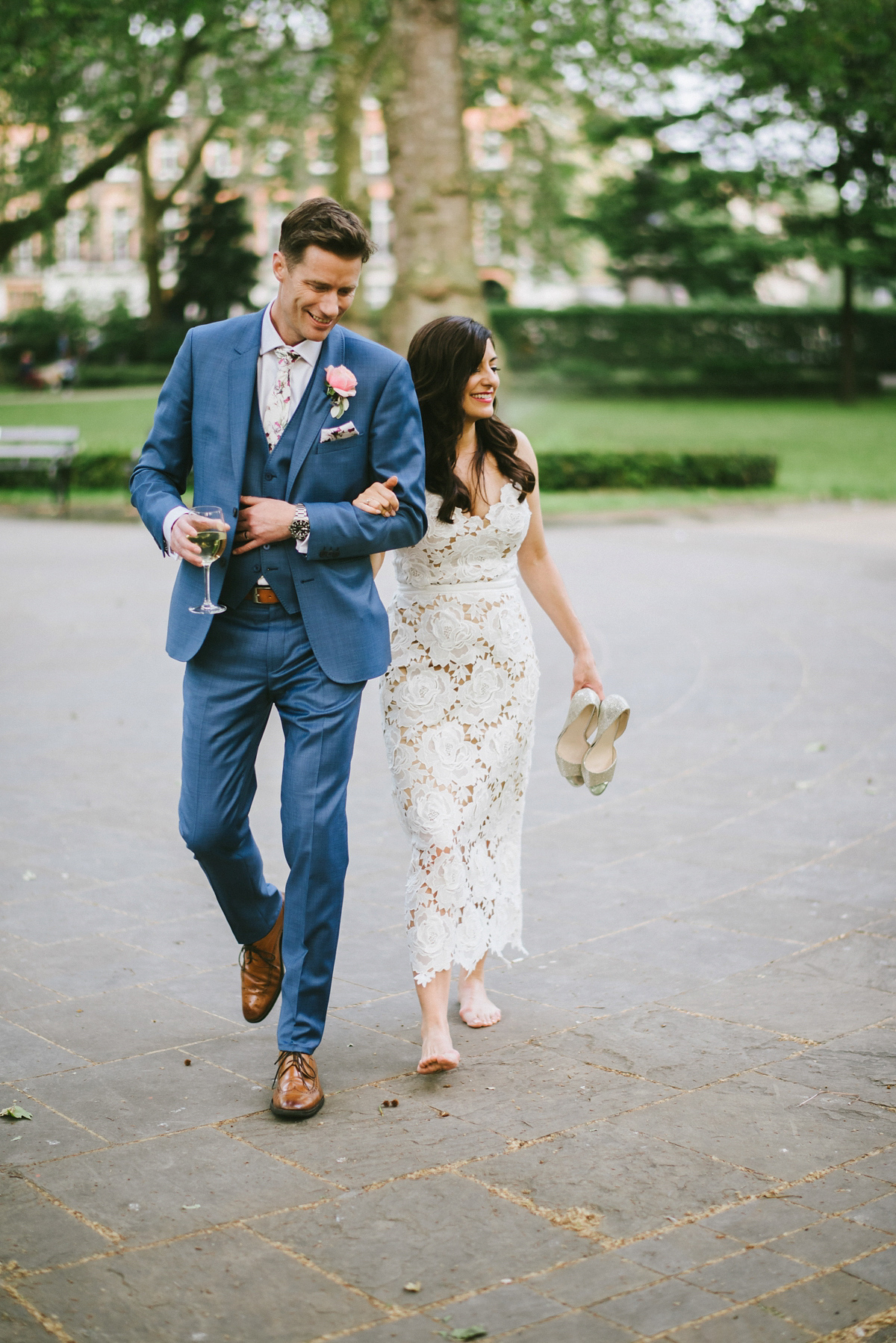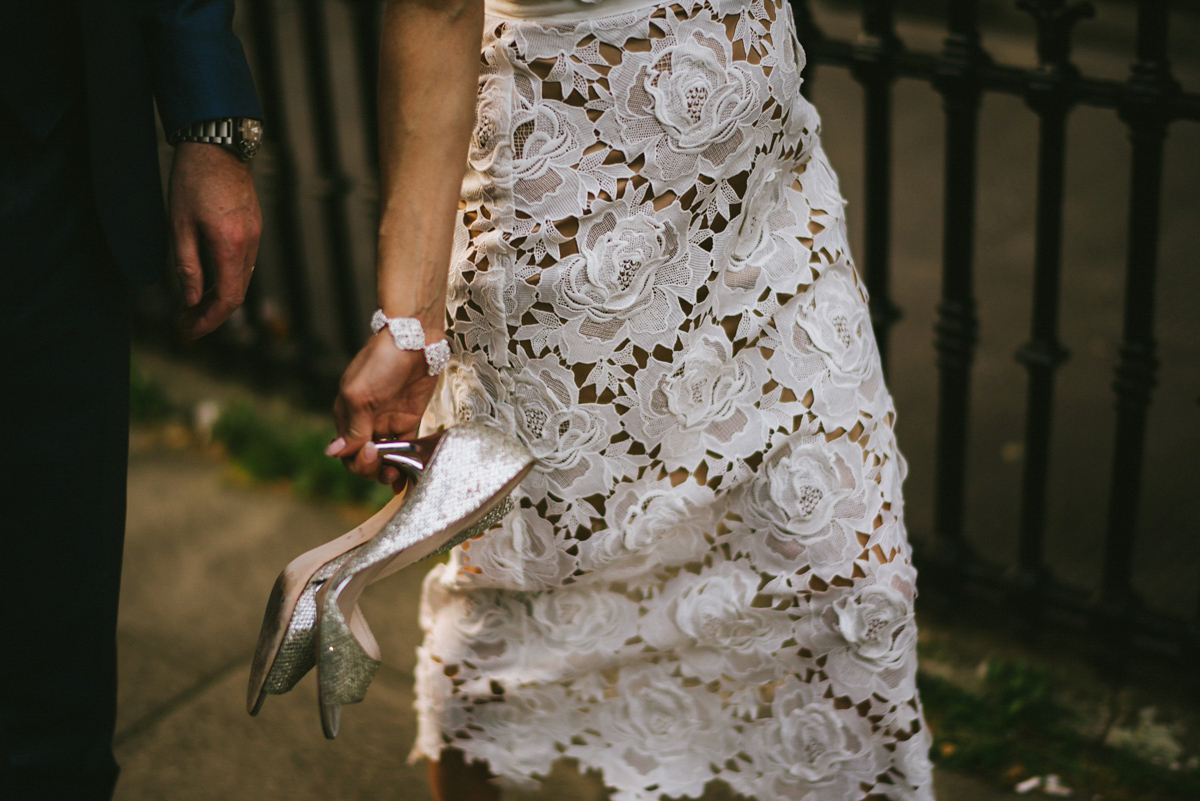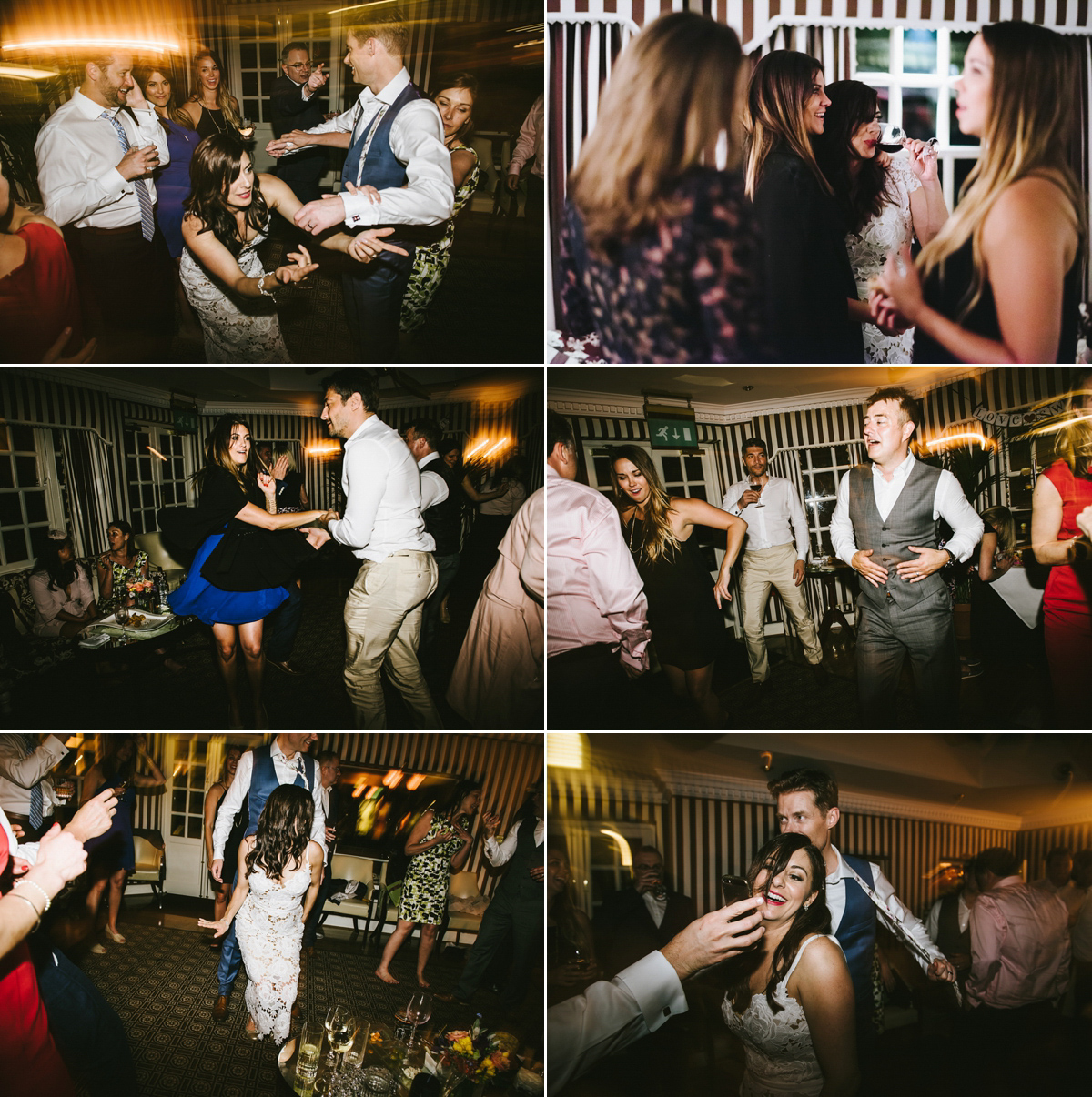 Words of Wedded Wisdom
"We didn't have an event planner but now that it's all done, in retrospect, planning a wedding from an ocean away, I wish I'd hired one. I spend half my time in the UK, but I didn't account for how long it would take me to find vendors or information that a planner probably would have at their fingertips.
I didn't have bridesmaids (which I wouldn't change), but I would tell others to make sure they have someone reliable to know your priorities of the day and help you stick to them. I lost track of time and didn't get as much quality time with some of our guests as I would have liked and some of my time was taken up dealing with minor reception items. Don't try to do it all yourself. 
Plan time in your day for five to ten minutes to have time alone with your new husband. No photographer, no guests, no staff – just the two of you before the day gets too hectic or it gets too late. Take a moment to absorb the day, be happy together and give thanks.
Just 'do you' and don't get too caught up with every little thing, or social media or if it is 'Pinterest perfect.' I tried to stay away from it as much as possible, and didn't even have my phone near me but it's hard not to want everything to be as you planned. If you are authentic and enjoy your day and the people you love, it will be perfect in it's own way regardless."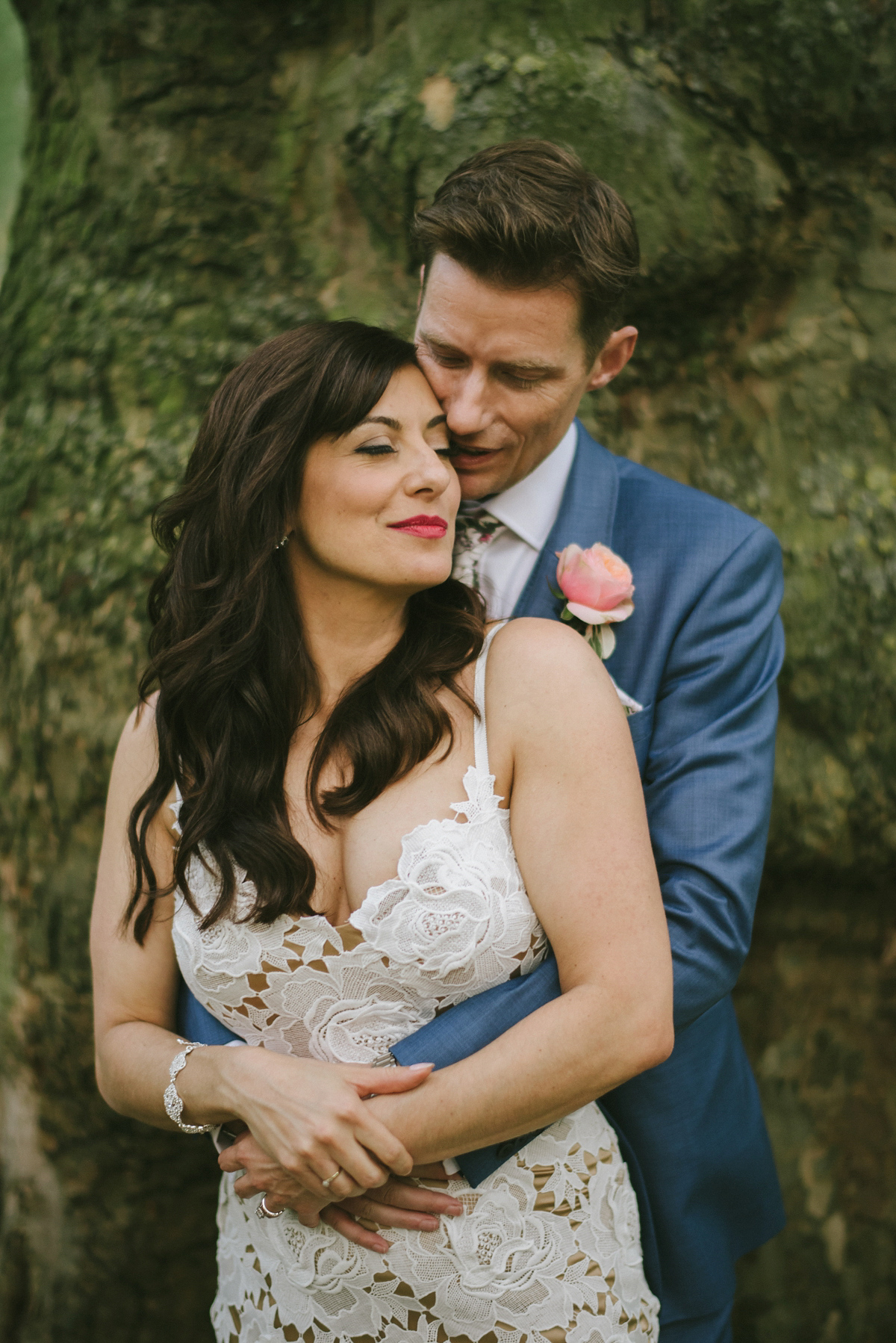 Ladies, take heed of these very wise words indeed! Lovely Theresa was a regular Love My Dress reader in the run up to her nuptials and particularly loved our gorgeous directory, Little Book for Brides for, and I quote, 'the best vendor listings.' I second that!
Thank you so so much Theresa and Julian, for brightening up our day with your lovely London-themed celebrations, and perhaps even more so with the beautiful  story of your lives together. Sending you so much love and congratulations from the whole team at Love My Dress.
And of course, we are eternally grateful to the talented and really rather lovely Ed Godden Photography – I whole-heartedly encourage you to explore our archives of gorgeous weddings shot by this incredible creative.
Wishing you a wonderful weekend,
Em x