It's official: the glittery, cinnamon-spiced excitement of Christmas has well and truly landed in my house and our riot of festive decorations have been gleefully festooned across every possible surface. I feel so lucky that my husband (eeepp!) loves the most wonderful time of the year as much as I do, and our giddy annual visit to the Christmas Tree farm has become my most favourite tradition. Whilst merrily making paper chain decorations just after we became a couple back in 2012, I realised this is how I wanted to spend every single Christmas; smiling, drinking and singing (badly) with my favourite person. I still feels echoes of that new-found contented joy whenever I unpack those paper chains.
Today, I have some Jenny Packham glitz that will make even the most grinch-like among you begin your online search for the perfect sequin party dress, and plant a great big smile on your face. Meet Andrew and Michelle, today's happy couple who got hitched on 1st May 2016 at Upwaltham Barns, West Sussex. Sparkle, tartan, foliage and all kinds of merriment in the sunshine were the order of their spring love fest and the immense happiness seeping from these images totally warms the cockles on this December day.
I'm always struck by how each day shared with you lovely lot has its own unique feel, atmosphere and stories. Here at Love My Dress, we look beyond the veritable feast of wedding suppliers and strive to tell the story of the day, the human elements, the joy and the real-life achievable inspiration. Annabel wrote an amazing piece on this very subject that you can enjoy right here. A stand out story from Andrew and Michelle's day is the case of the missing bridesmaids dress! Little Book for Brides favourites Two Birds provided two beautifully deep blue bridesmaids gowns.
I bet you cant tell that the third dress was a last minute purchase from Biba on the morning of the wedding. The missing Two Birds dress was found after the wedding breakfast in the fancy dress box, and I'm sure the morning panic was worth such a memorable wedding day tale.
Photography by Paul Joseph Photography
These lovely images are brought to you by Paul Joseph Photography, and I can totally see why Andrew and Michelle were sold as soon as they looked at their portfolio. Ensuring each and every beaming moment was captured in sparkling crispness, I especially adore the 'big sky' photographs.  A beloved Little Book for Brides member, you can see more weddings captured by Paul Joseph here.
"We were drawn to Paul and Kelly looking at some of their photos on various websites. We love their "big sky" effect photos and the informality, especially as we wanted documentary style photos. They live near to where Andrew grew up and were so much fun when we met up to discuss our plans. A lovely couple who were appreciated by all our guests – the photos were pretty good too!"
Giving brides on a budget hope, Michelle picked up her exquisitely draped and fancifully embellished gown in a Jenny Packham sample sale . Of course Jenny is  worshipped over on our Little Book for Brides site, and this unmistakable Jenny Packham vision is yet another breathtakingly timeless creation from the powerhouse of bridal dream sighs.
"I first spotted a Jenny Packham dress when I was a bridesmaid for a friend but I knew her dresses were out of my price range so I signed up to her mailing list on the off chance I could find one in a sample sale."
"I'm a bit of a magpie so I chose this dress because of the sequins and sparkles and my mum altered the neckline and sleeves so it fitted me perfectly."
Michelle paired her shiny new gown with vintage lace shoes, the very same that her mother wore on her own wedding day! This divine headpiece is also by Jenny Packham, and a Stella & Dot bracelet and Simon Lewis earrings were the perfect additions to the sparkle of Jenny Packham.
Farida Ghwedar was on hand for hair and make up duties, going for understated glamour and a beautifully twisted up-do.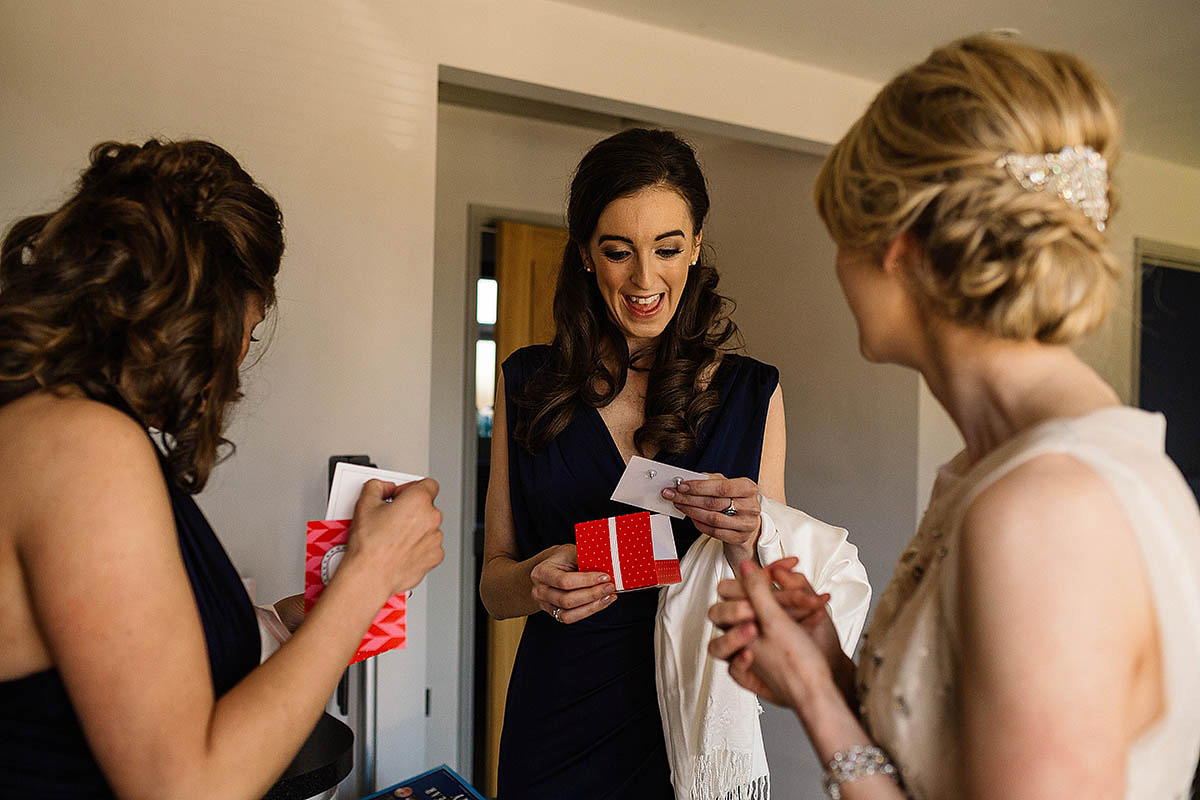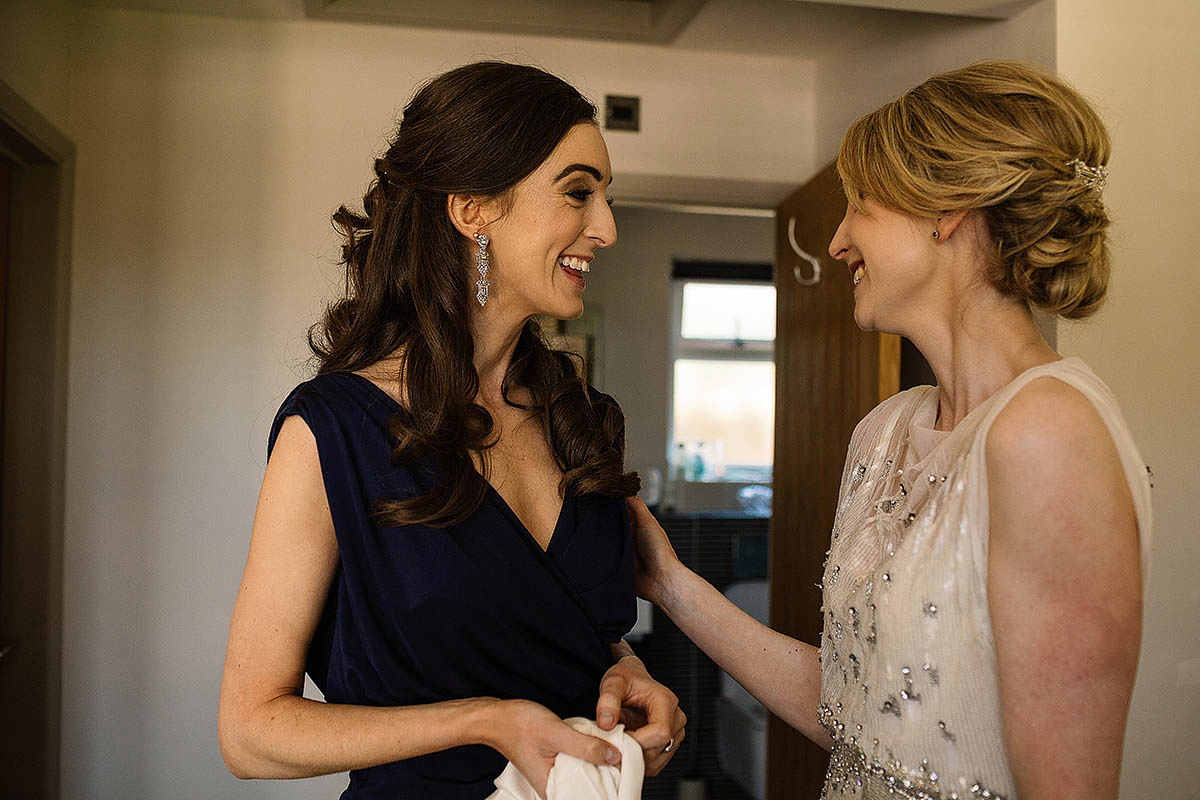 A fabulous 1950's Bentley from BPS Wedding Cars chauffeured Michelle and her Dad to Upwaltham Barns, before walking down the aisle to the sounds of 'One Day' by Elbow. Michelle's sister in law Jennifer Ann Music composed versions of Fleetwood Mac's You Make Loving Fun which she played and sang whilst the register was signed. The couple wanted readings that weren't too soppy and were slightly unusual, plumping for 'Union' by Robert Fulghum and 'Love is an Adventure' by Pierre Tielhart de Chardin.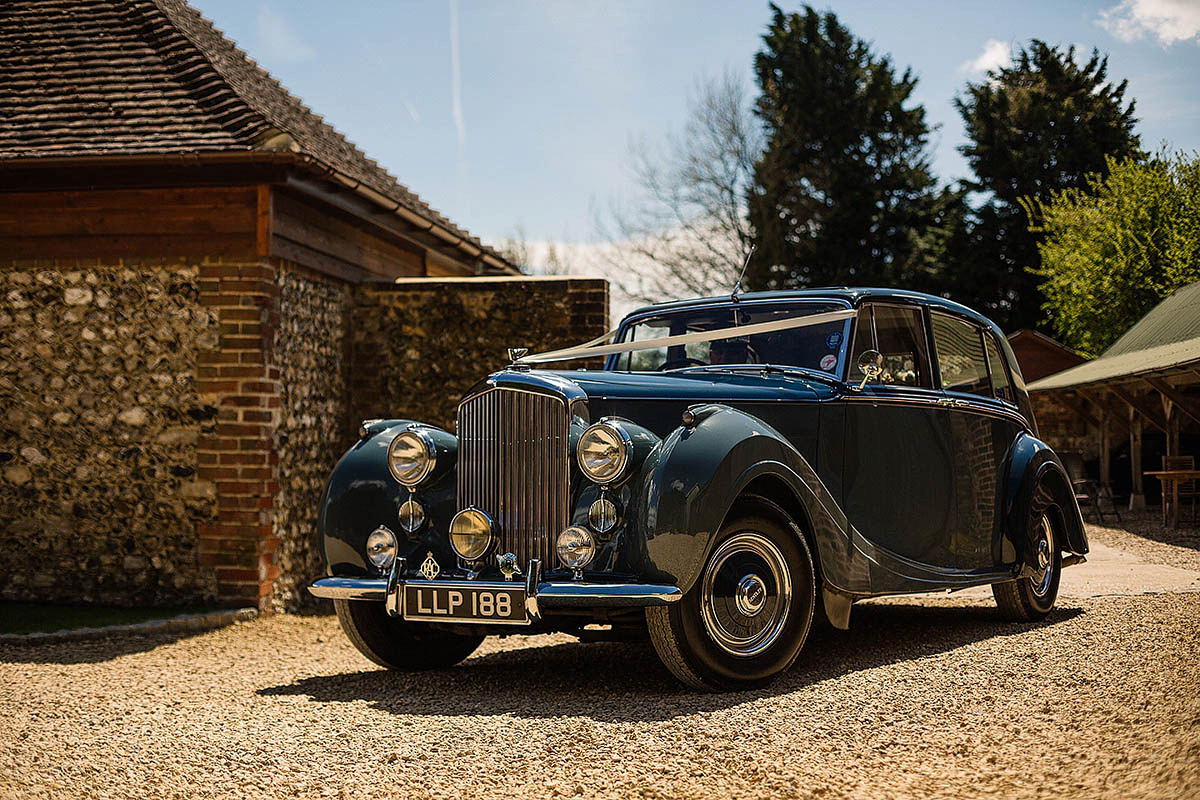 In one of those fate-like moments that fill my heart with joy ache and keep me re-watching Serendipity, Andrew and Michelle both sought shelter from the rain at the same pub back in 2012, two years later Andrew surprised Michelle with a hugely romantic proposal.
"We met in the Prince Albert pub in Battersea during the Queen's Diamond Jubilee celebrations in 2012. Both of us had been enjoying the festivities in Battersea Park before seeking shelter from the rain in the pub."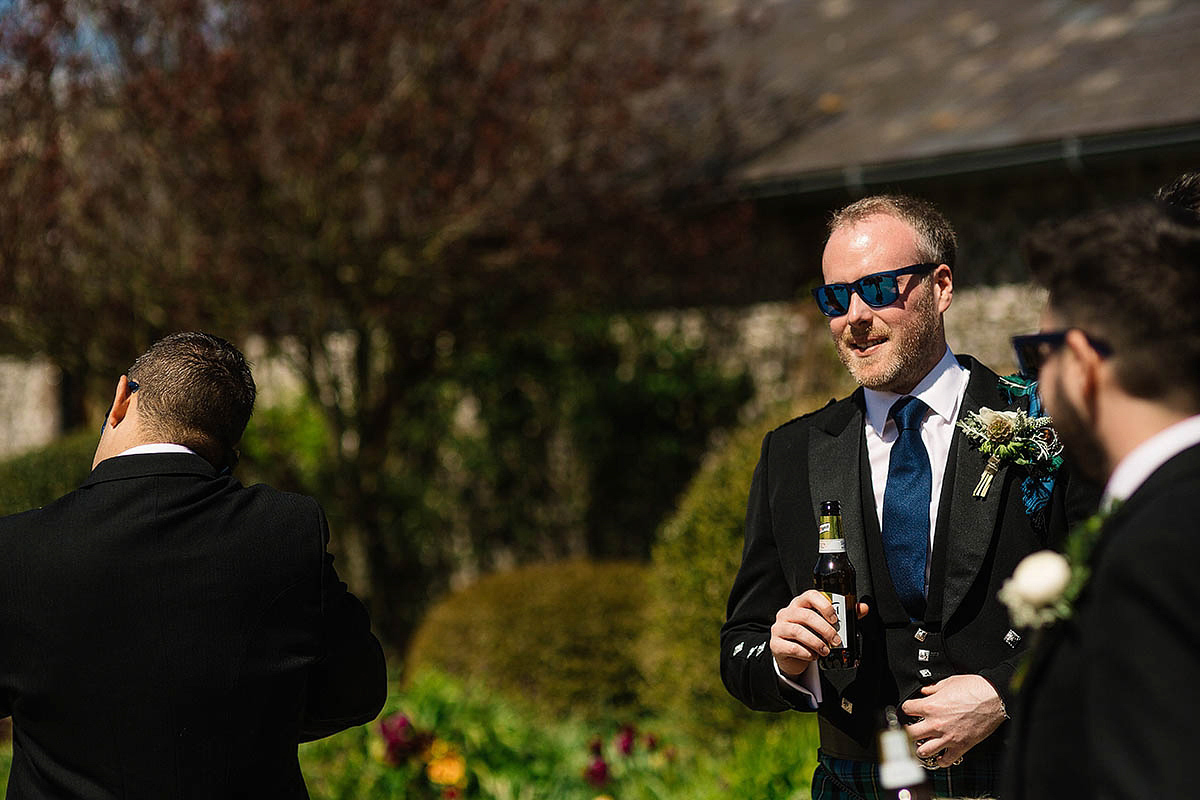 "Andy proposed in November 2014, I was in Zambia with Habitat for Humanity on a house building project. I thought I was meeting Andy in South Africa where we were going to spend a couple of weeks visiting friends, however on our final day Andy turned up on the building site and proposed in one of the houses we had built."
"It was incredible, I was so surprised I was still holding my trowel! We were engaged for about 18 months before our wedding."
"Andy is Scottish so we chose our colour scheme to reflect his family's tartan, Ancient Campbell. It is a beautiful mix of blues, greens with a flash of gold, so we followed this colour scheme for the flowers and table decorations."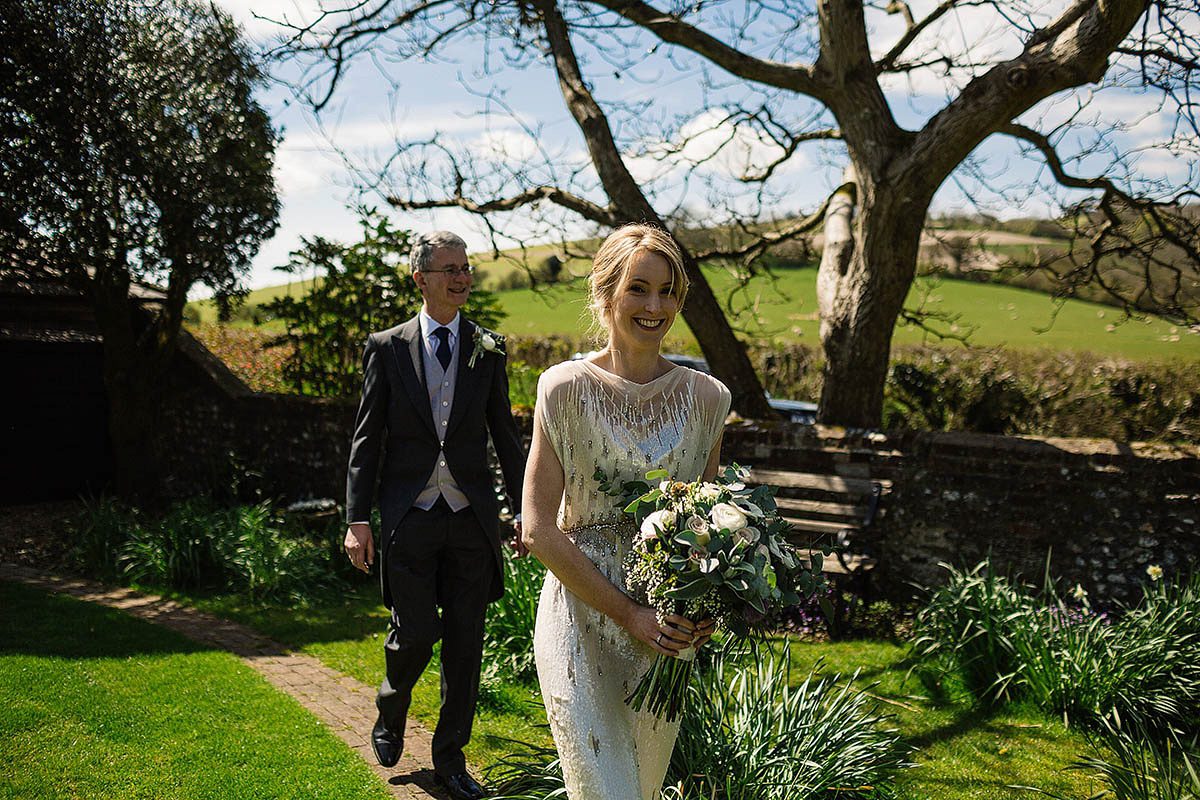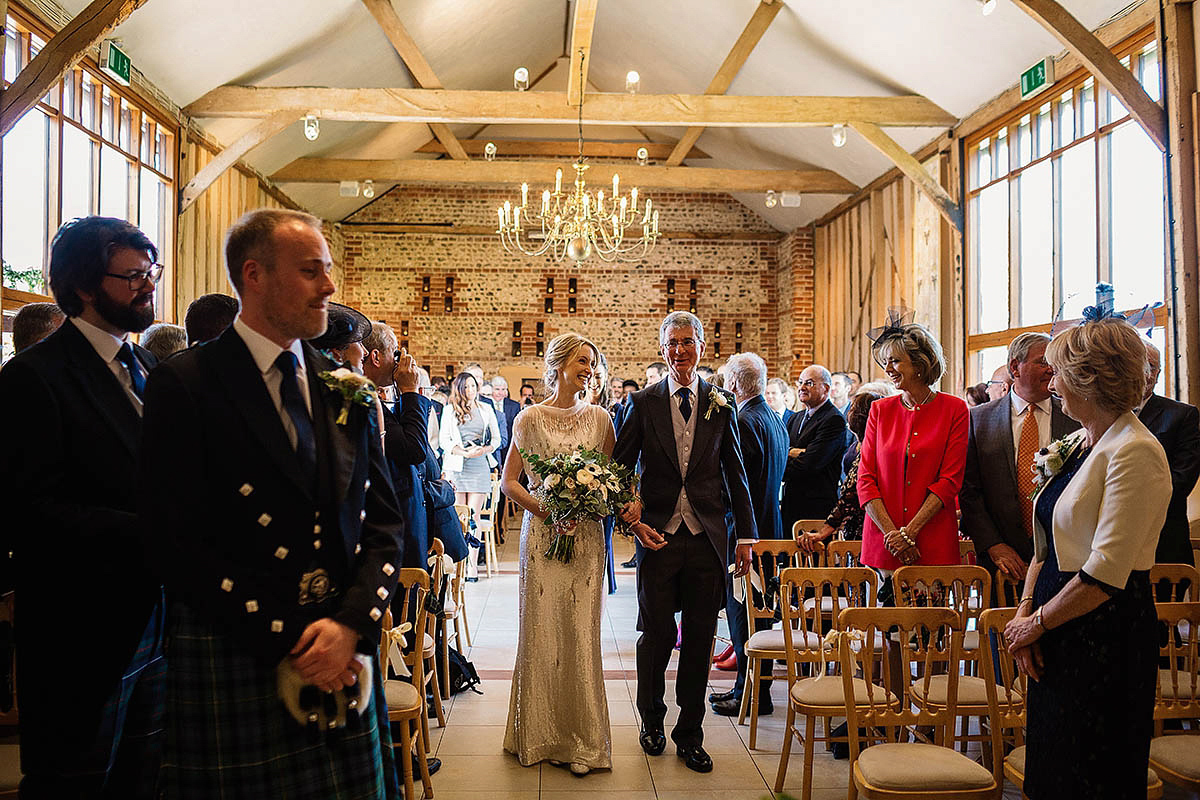 Andrew rocked a kilt by Houston Kilt Makers, with the colours of this used throughout the day. His sporran and sgian dubh were both worn by his dad and grandfather on their wedding days, I love the nod to family history that weaves through our bride and grooms attire.
Michelle and Andrew delightedly exchanged rings that they had made for each other at Simon Lewis in Hatton Garden, after thoroughly enjoying a day spent in his workshop making such unique and personal wedding rings.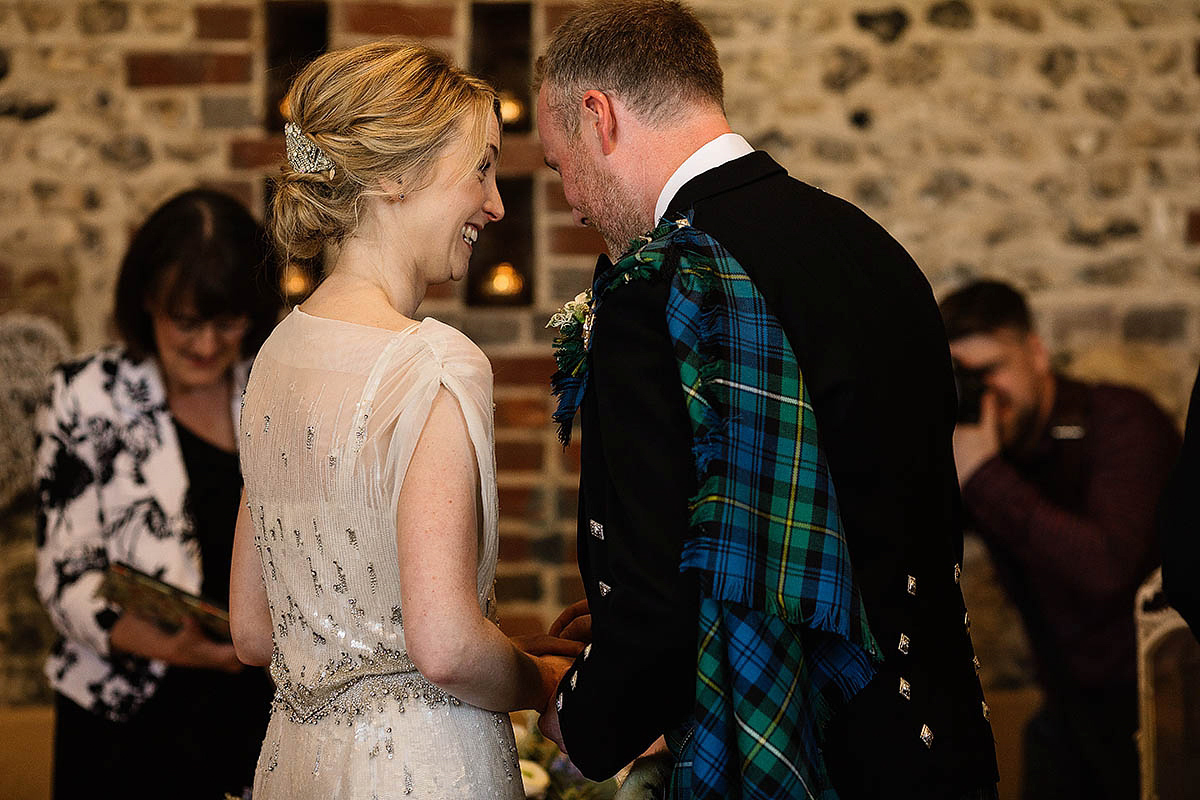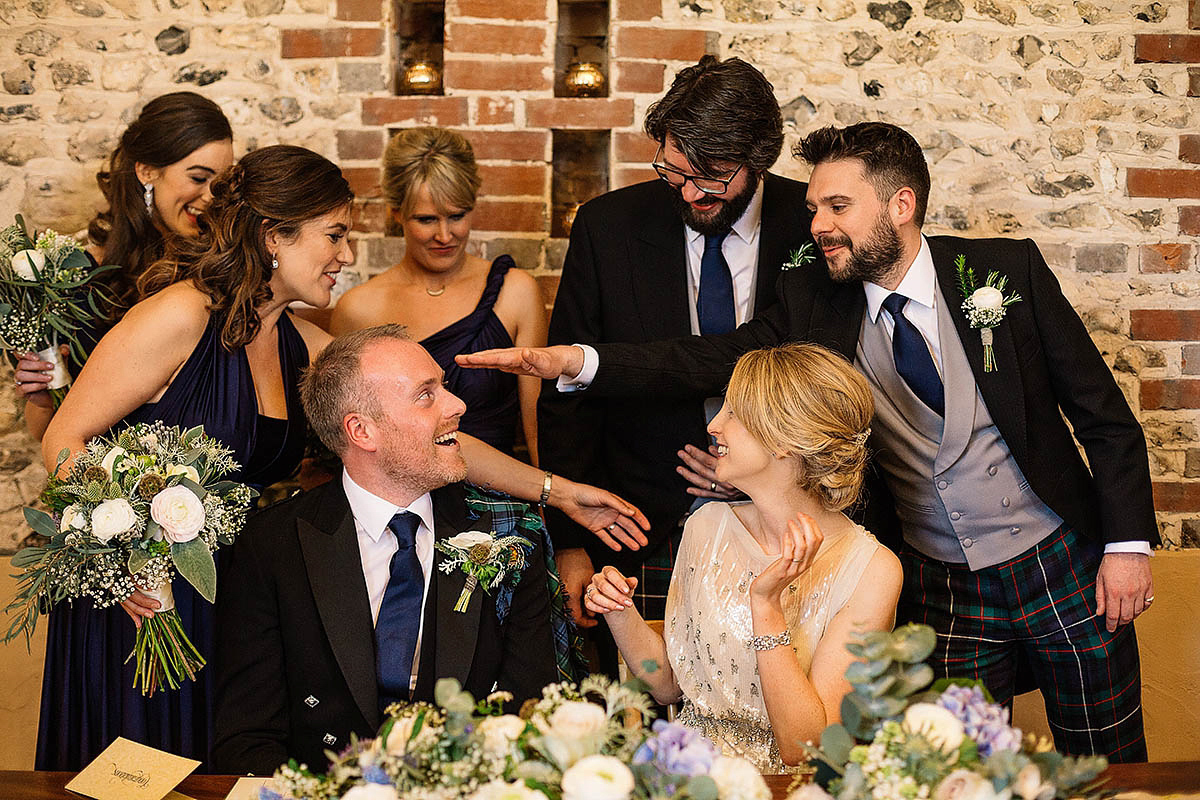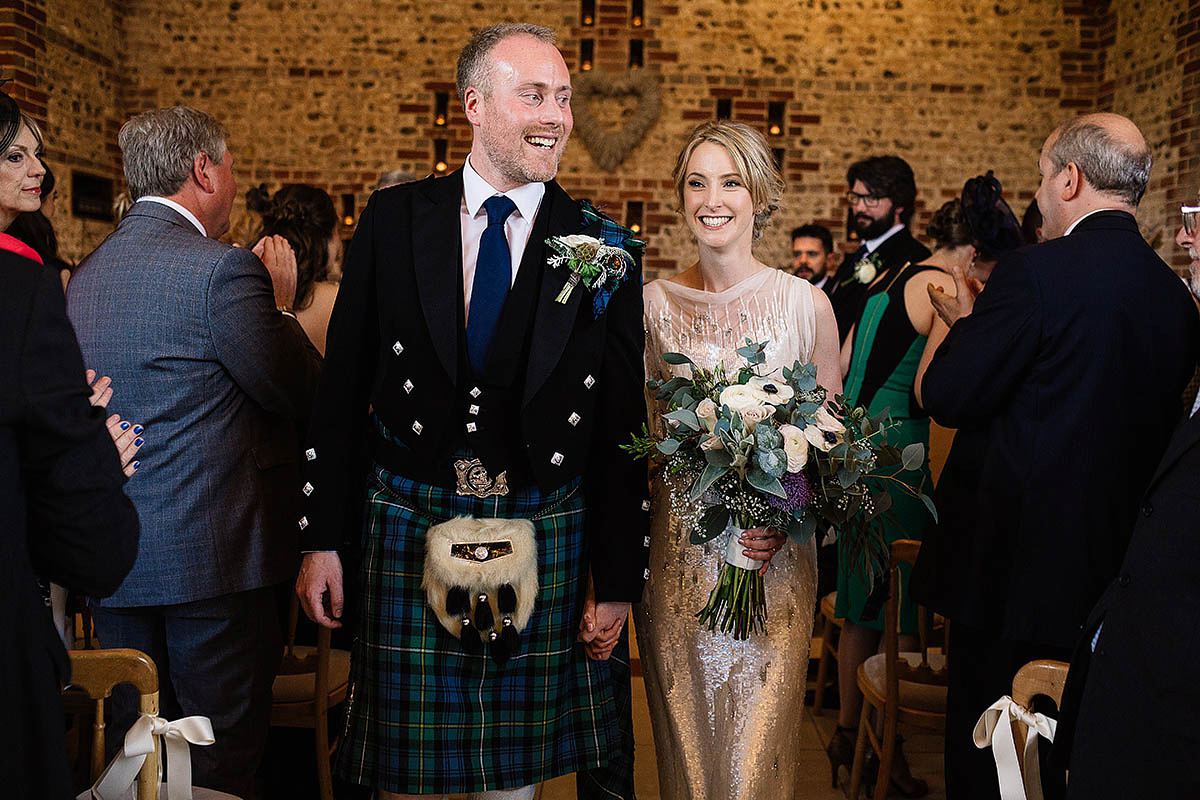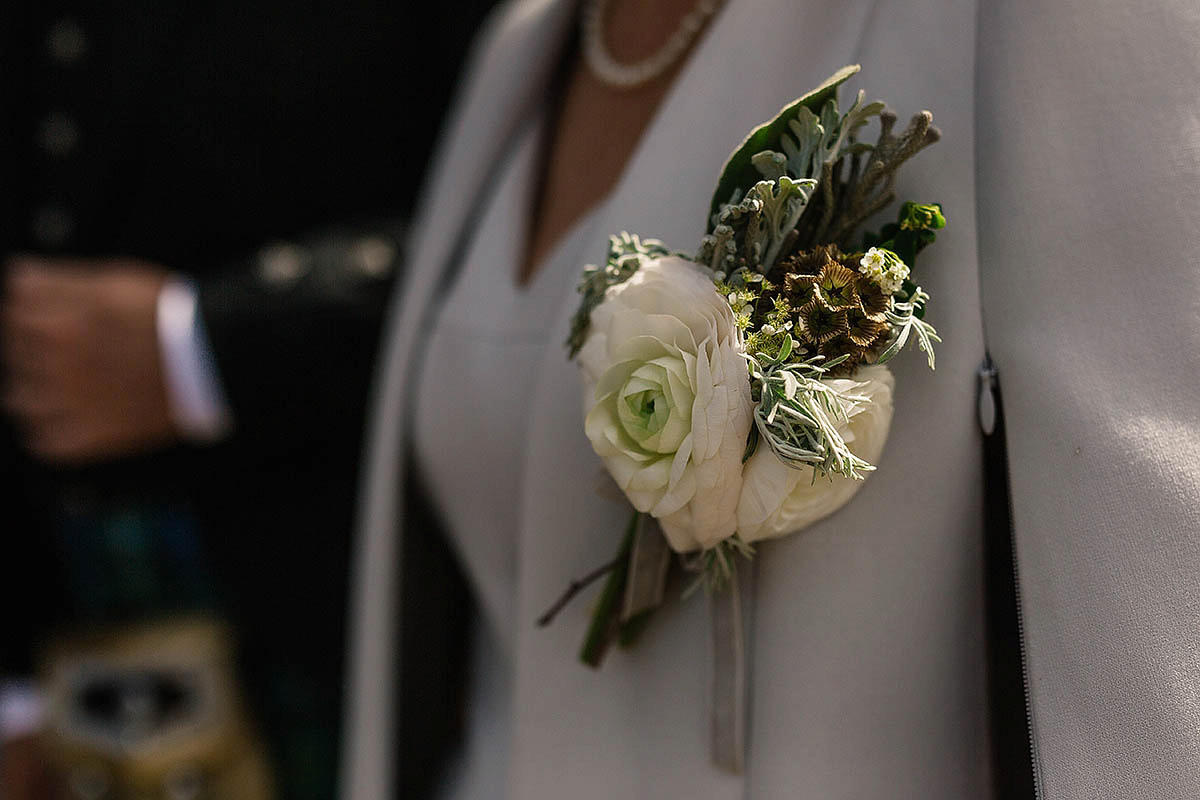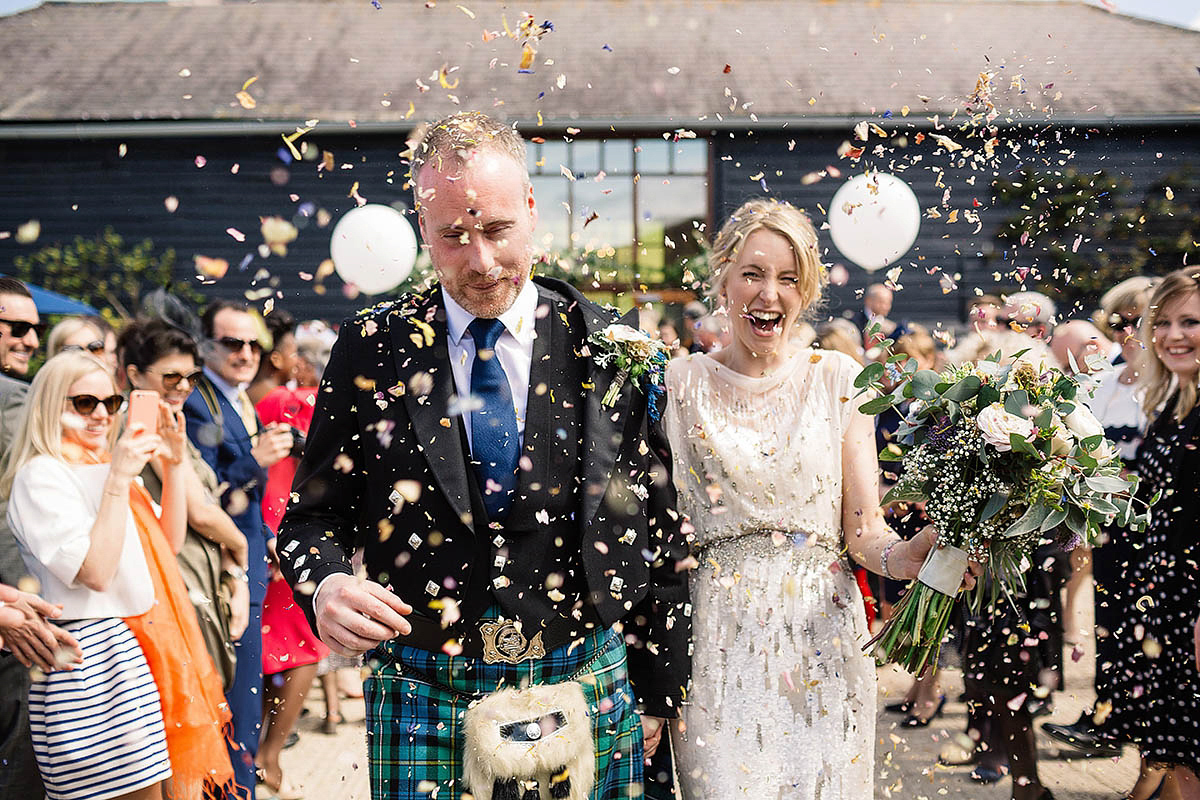 Abundent foliage and Jenny Packham glamour were a match made in heaven, and the rustic backdrop of Upwaltham Barns gave this combo extra pop.
Rose Cottage Flowers adorned the character of the restored barns with swathes of foliage, and those chandeliers look amazeballs covered in such glorious greenness.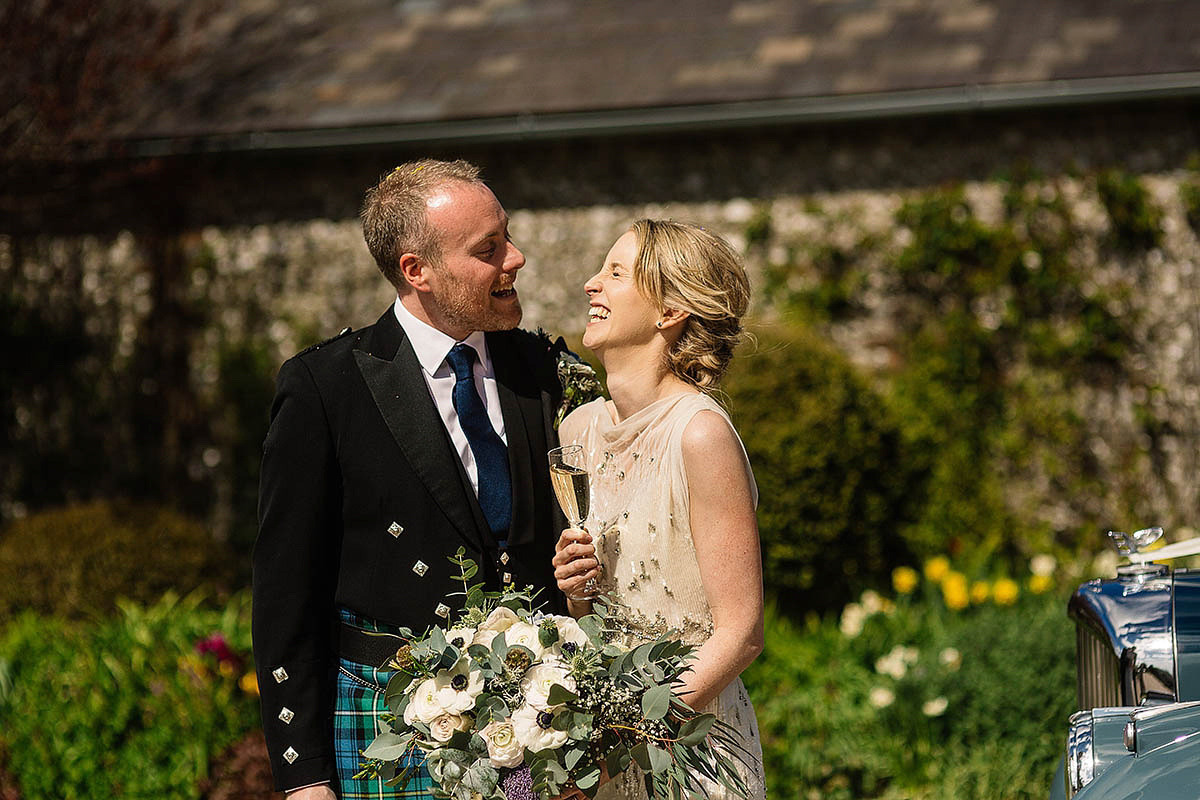 "We wanted the flowers to compliment the colours of Andy's kilt so used lots of foliage, with greens and blueish tones from eucalyptus leaves and thistles and white flowers. The reception barn was styled with foliage decorating the chandeliers and the tables and hung from the beams. Kerry was excellent in suggesting ways to maximise our budget to create maximum impact, the flowers exceeded all of my expectations."
Happily, Michelle is friends with wedding planner extraordinaire Katrina Otter, and she offered invaluable help and much needed support throughout the planning process. You can see Katrina's most recent offering to Love My Dress brides here, it's time to make a start on those resolutions!
"We love travelling and although we didn't want this to be a theme we used a map as the backdrop to the table plan and my mum covered wooden numbers with old aviation maps for our table numbers. As we were going on safari for our honeymoon we spray painted plastic safari animals gold for the place names."
What better way to celebrate than with a cake of cheese from The Cheese Shed, catering from Nibbles2Nosh and Corra Music taking guests on a journey with a mixture of covers and Ceilidh music.
Pal and DJ Sam then kept the dancefloor packed all night.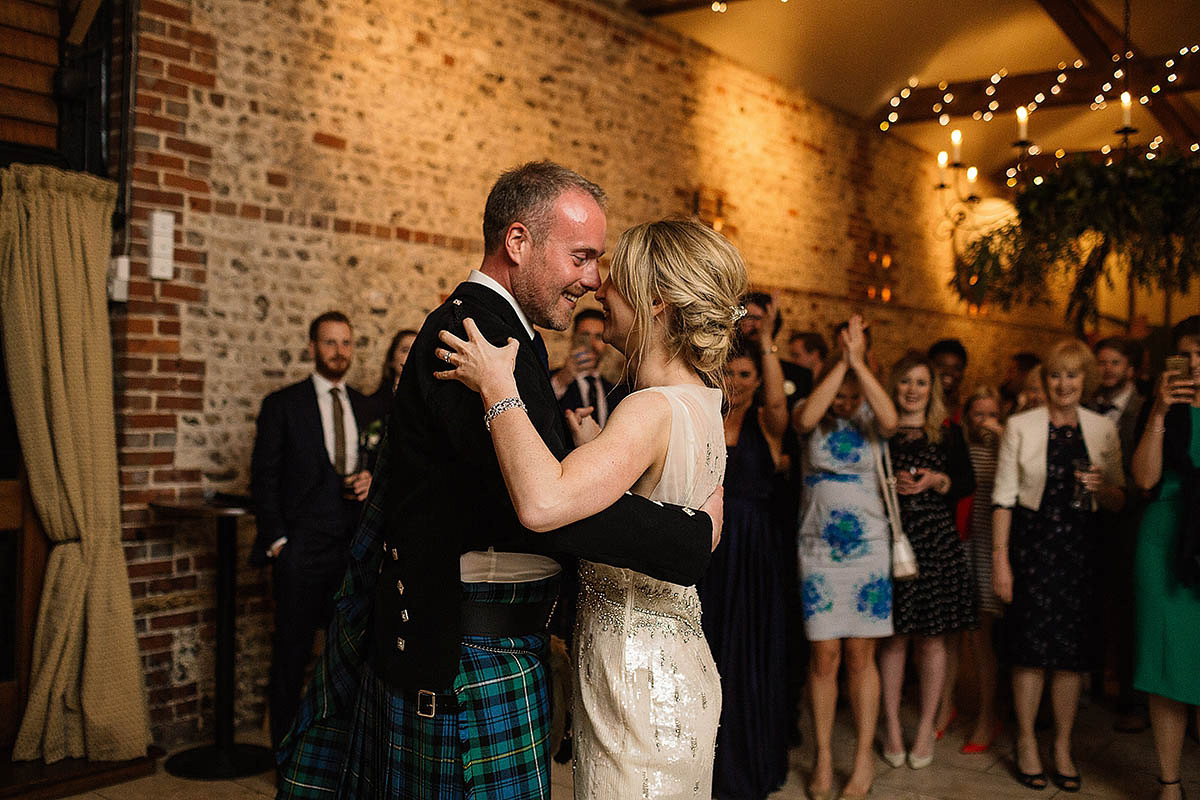 Words of Wedded Wisdom
"Don't worry about the weather, you can't control it and you will have enough to think about, but do plan for the worst! Three days before our wedding it was snowing, at the end of April, but we had beautiful sunshine on the day."
"If you are having a limited number of formal group photos, make sure you grab your mum/dad/best friends/ anyone you want a photo and ask the photographer to take some snaps."
Sigh, what a beautiful day. Does anyone else feel like they've just come home from an amazing wedding? Huge thanks to Andrew, Michelle and Paul Joseph Photography, I aim to take some of the joy found in these images with me for a week of finishing Christmas shopping and ticking of that blasted to-do list!
Much love,
Emily C xxx