How are you this Christmassy Monday morning lovelies? It's beginning to feel very festive all of a sudden isn't it? Today however, I'm whisking you away to summer days and fields filled with wild flowers and billowing skirts for the gorgeously romantic wedding of Posie and Jamie; the new Mr and Mrs Doughty. This lovely couple tied the knot on 23rd July 2016 in a bohemian outdoor ceremony filled with spirituality, fun and one heck of a beautiful sunset.
"No one thing in particular inspired our day, but I love romance, dancing in fields, sunsets and pretty wild flowers. Our venue was Out To Grass near Bromyard, a stunningly spiritual location belonging to my sister's boyfriend and near my parent's family home. It has the best sunsets and allowed everyone to camp at the farm. We could bring our own booze for a small corkage fee; very important for an Irish family of boozers!"
Photography by Amy Taylor Imaging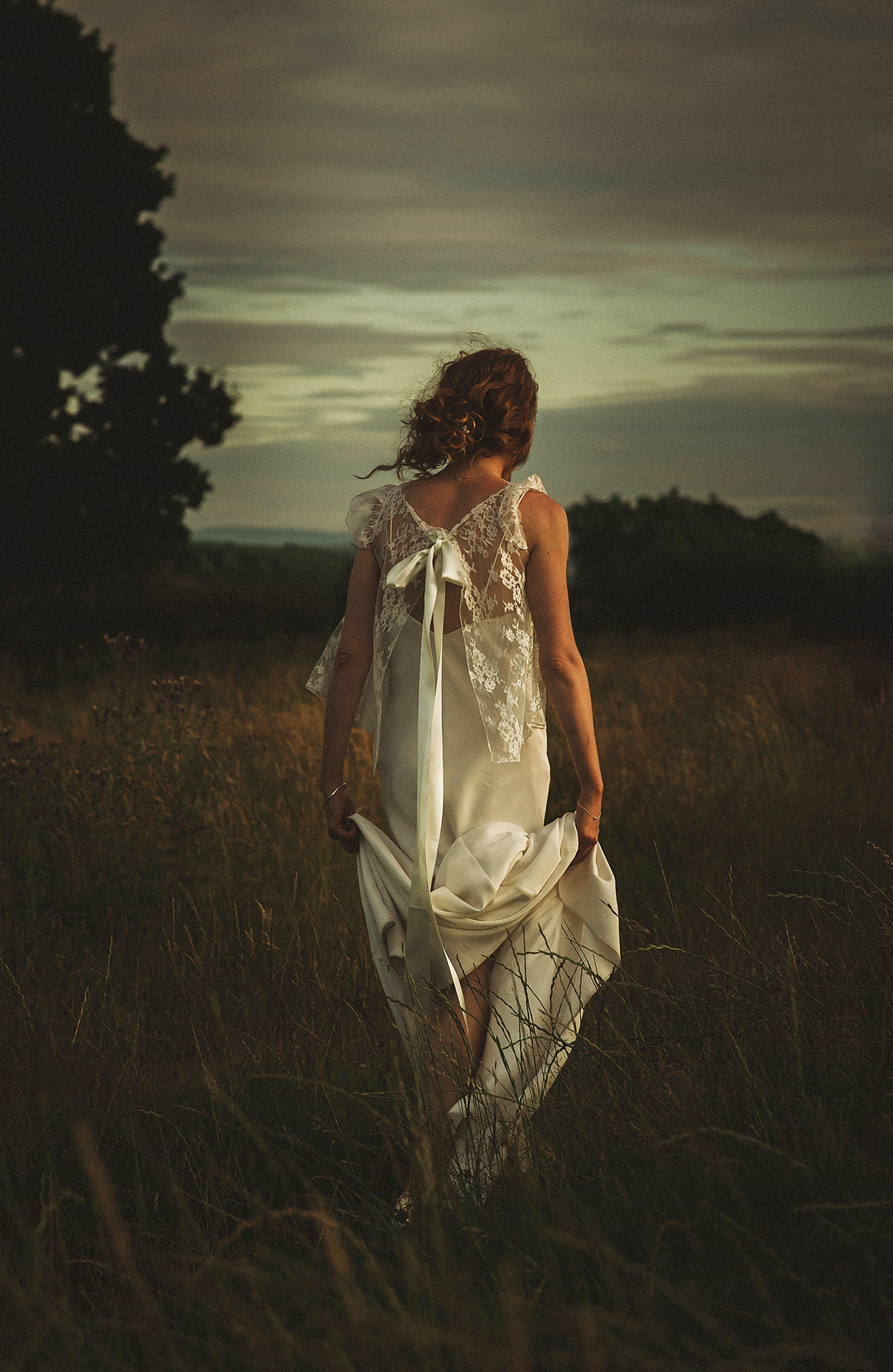 Posie, a Marketing Manager for 20th Century Fox, chose the most sublime Delphine Manivet gown from The Mews of Notting Hill; I absolutely love the elegantly bohemian style of these stunning Parisian designs. If there's one designer's dresses I wish I'd tried on when I was searching for my own wedding dress, it's hers."I loved the delicate pretty French lace and ribbon of my Delphine Manivet dress; it was both bohemian and elegant. My vintage coco wedge shoes were from L.K. Bennett and I wore Portrait of a Lady by Frederic Malle perfume; an old fresh favourite which lingers on the back of the neck all day."
"We met via our neighbours at my first flat in Kensal Green in London. I hadn't been living there long and he was at a party in the flat downstairs and I wanted to join them. I climbed out of my bedroom window down the drainpipe into his arms."
"We got engaged in Sri Lanka on a beach with no other soul around in March 2015."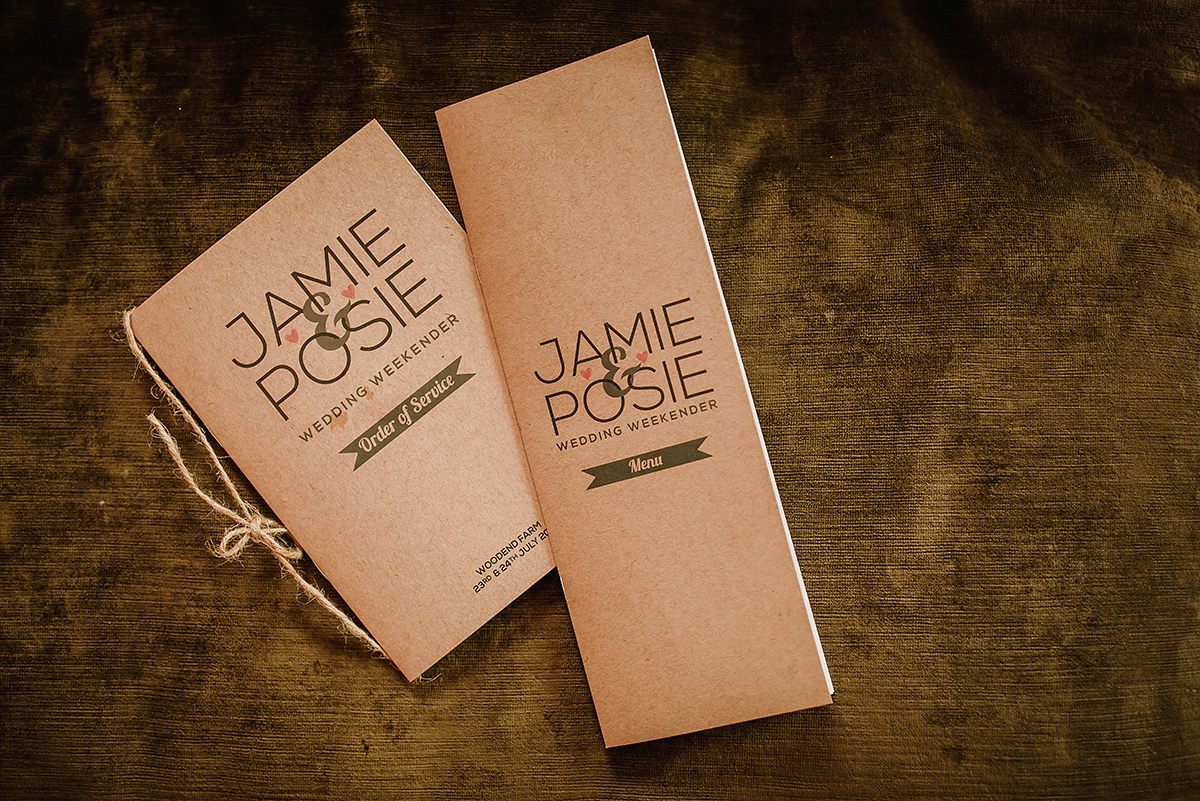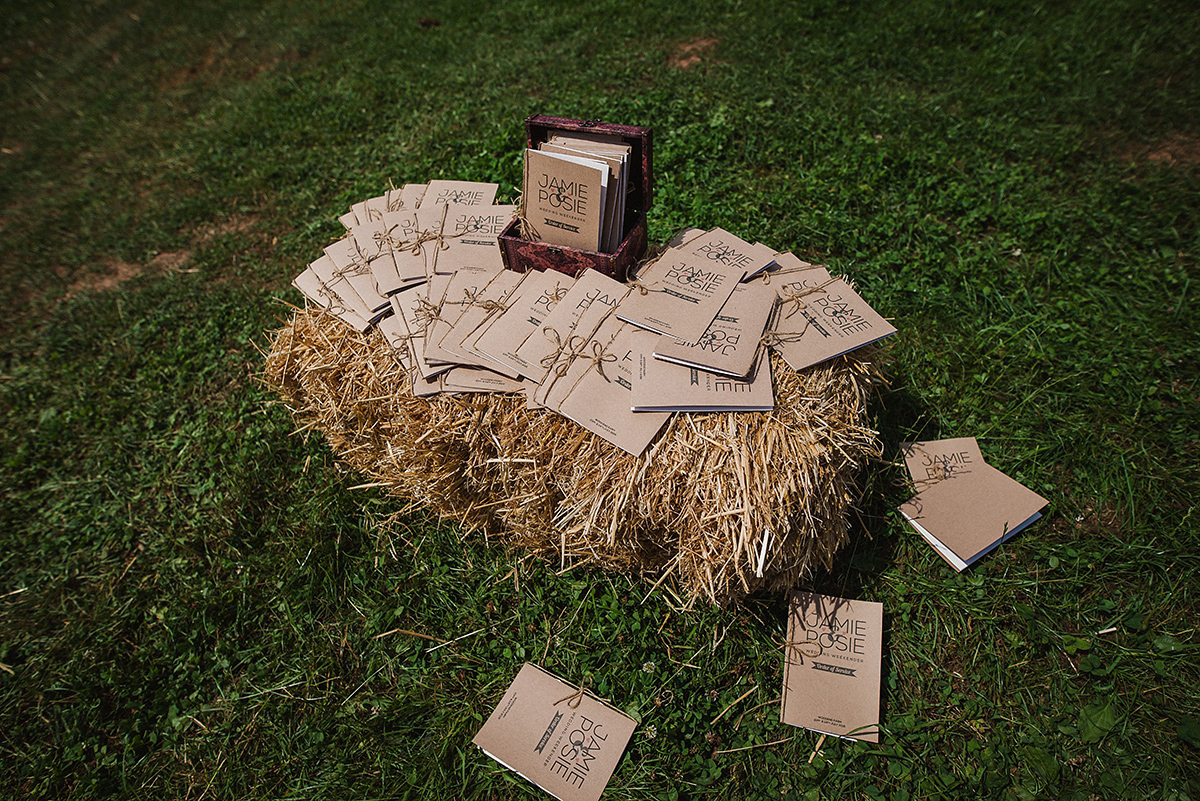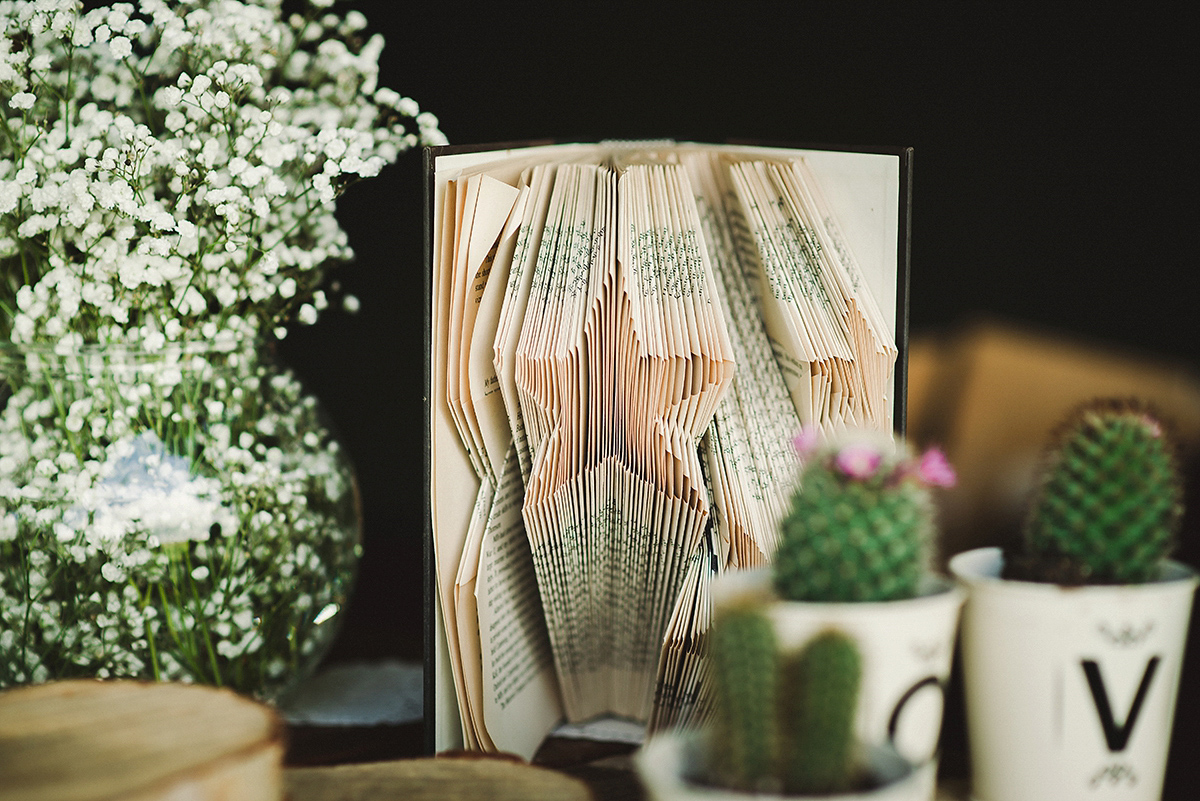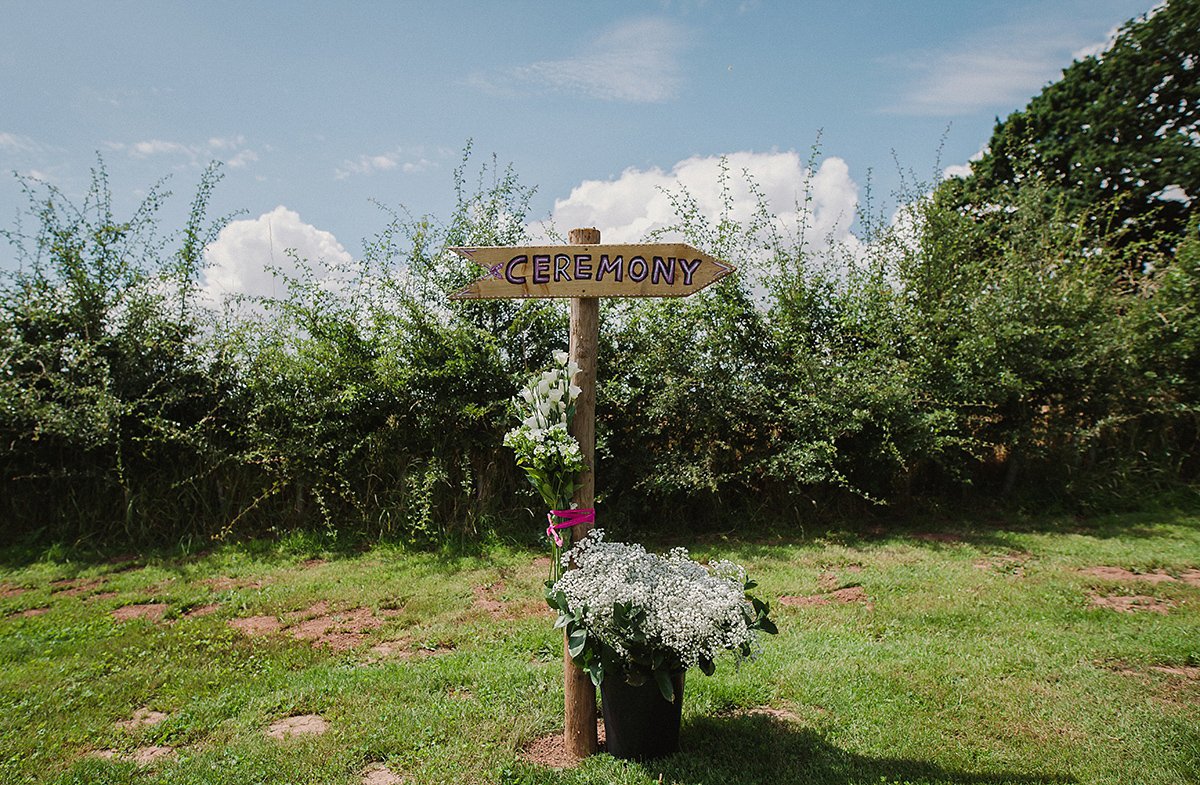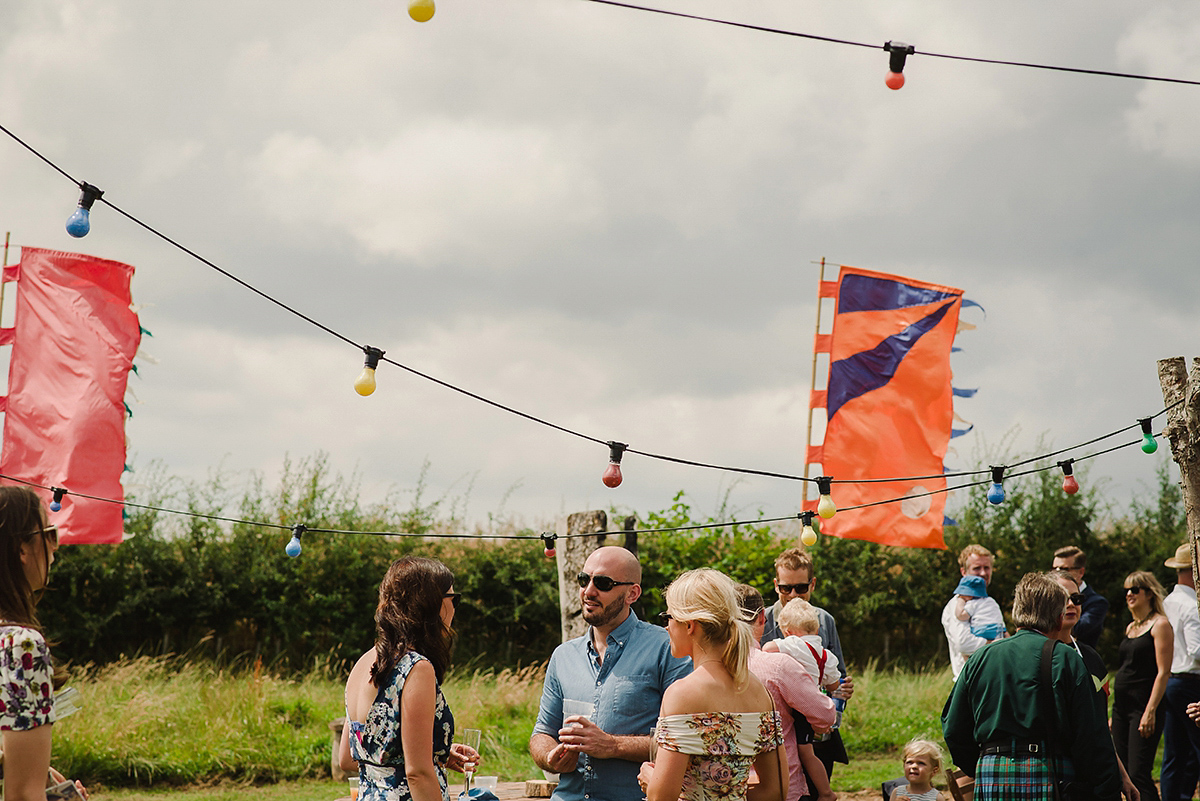 "Our photographer Amy Woodward-Taylor is so approachable, collaborative and generous with her time. She's instinctively brilliant at capturing the happy informality of the day unobtrusively and with a very lose brief from me."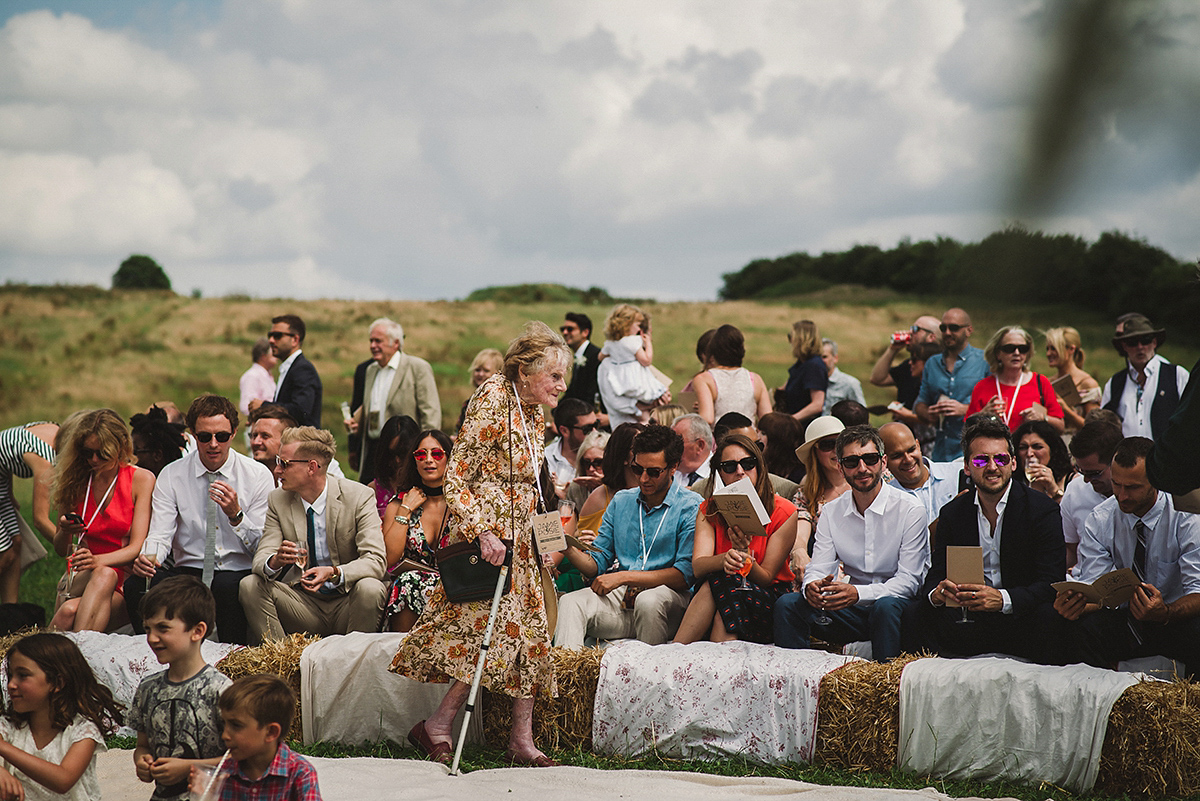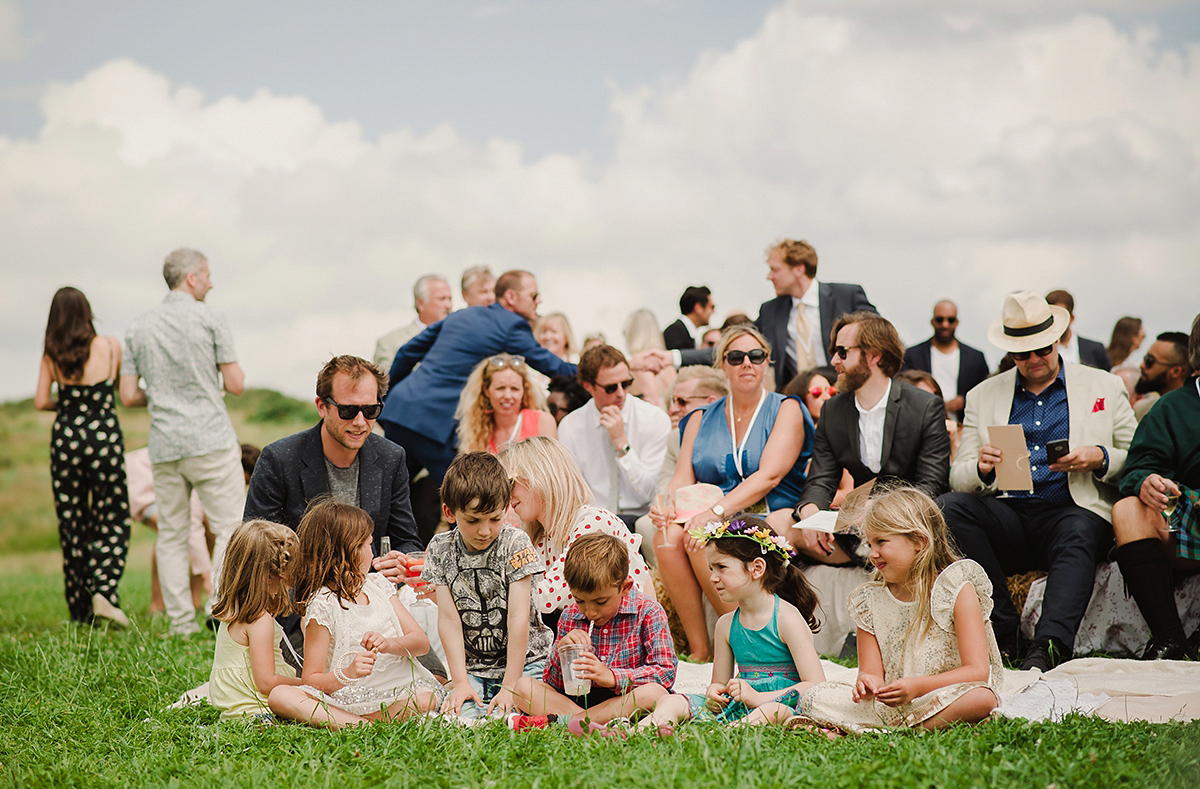 "My aunt and uncle, Anne Hackett and Dermot Doughty, made our ceremonial flower bough, it was the perfect blend of romantic and rustic."
"They used willow cuttings from their garden and ordered all the flowers to adorn it from a local wholesaler. We purchased all the gypsophila for decoration of tables and other ourselves from New Covent Garden Market London."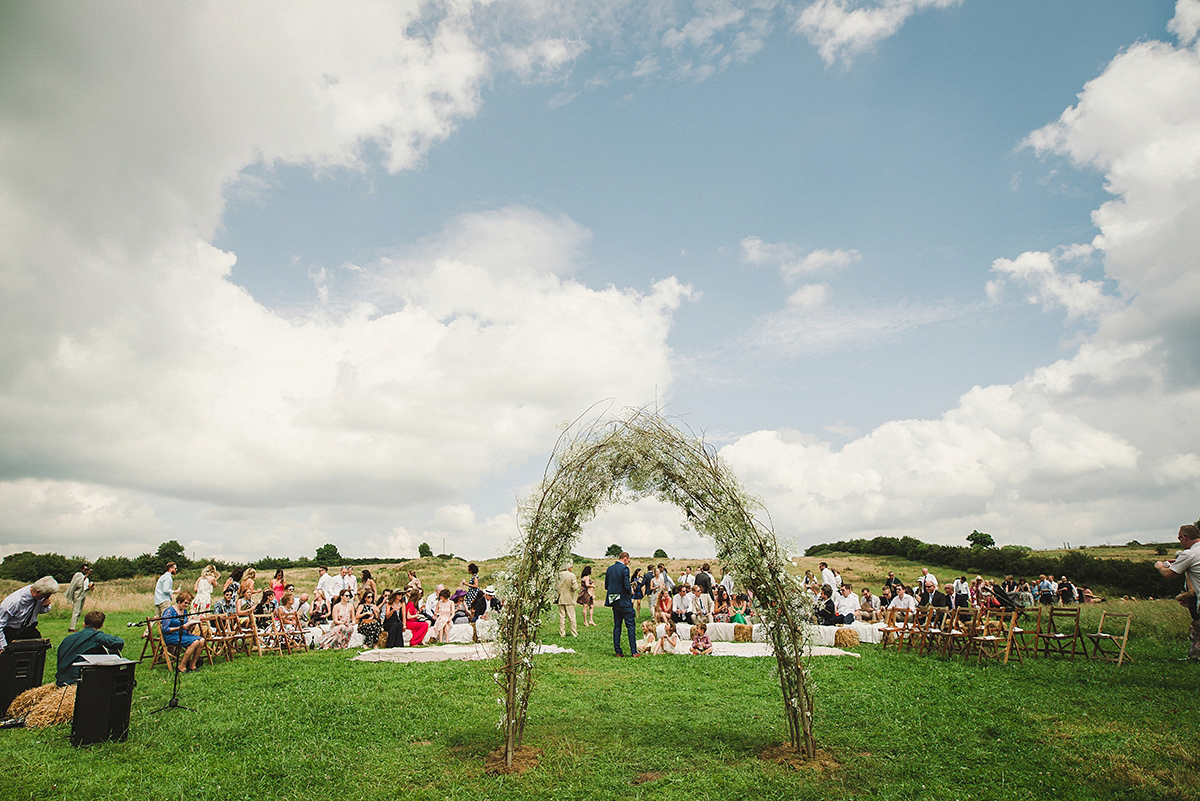 That floral arch is the stuff of dreams; a twisting organic structure which so perfectly complements the bohemian, ethereal nature of Posie and Jamie's celebrations. I absolutely love the impish image of Posie shimmying down a drainpipe when she first met Jamie; just so full of life and adventure.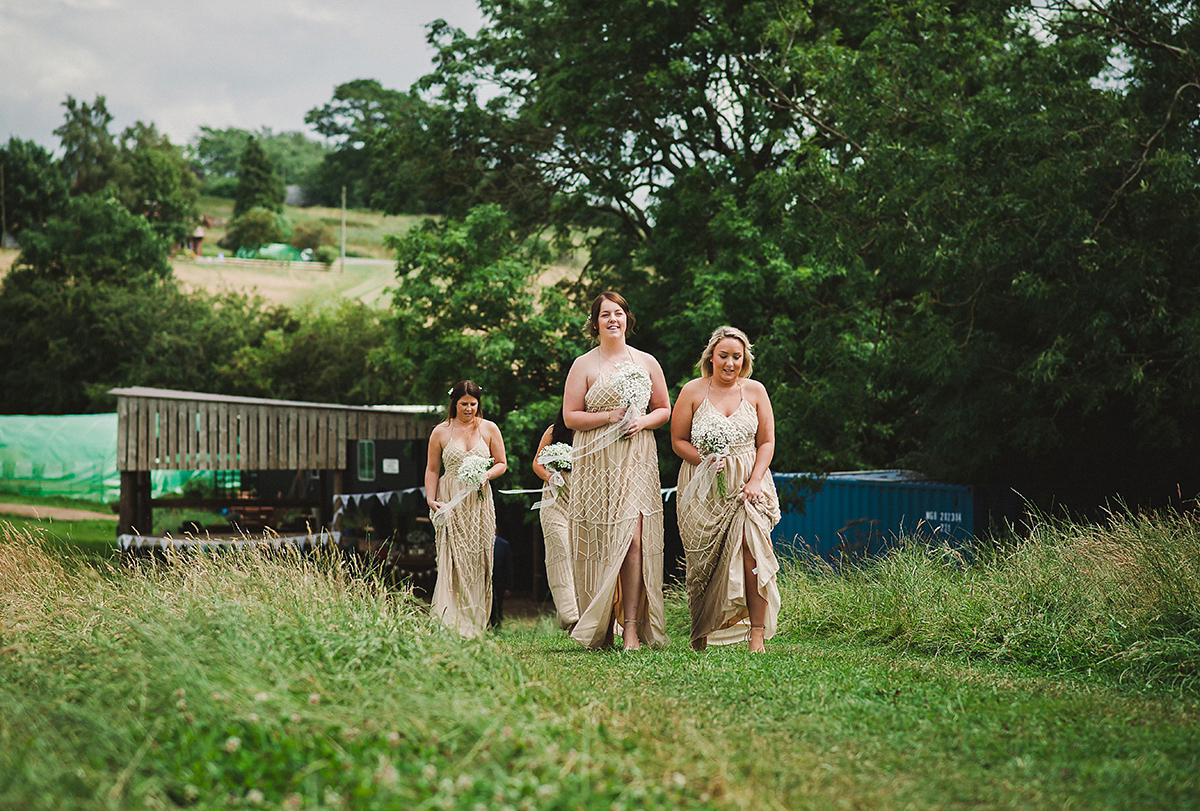 "My dad and the family dog, Flintstone, chased me up the aisle. She Moved Through The Fair was played on an Irish wooden flute by Pat Brennan of The Hurling Boys. Walking up the hill to the ceremony arch, arm in arm with dad to the beautifully haunting Irish folk song, and drinking in the love I have for every person I saw as I approached Jamie's beaming face at the front was my favourite moment of the day."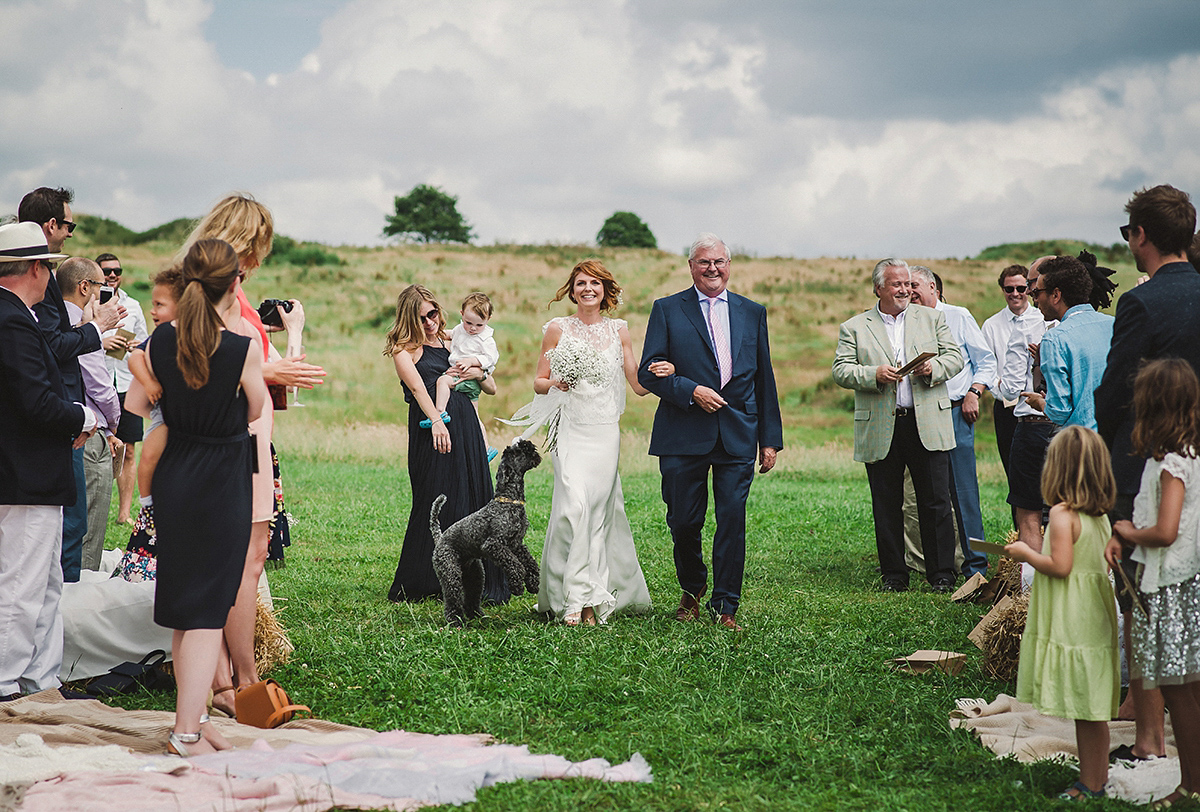 Posie's natural make-up and tumbling auburn locks were crafted by East London based Charlotte Yeomans, fresh sprigs of gypsophila added as a pretty finishing touch.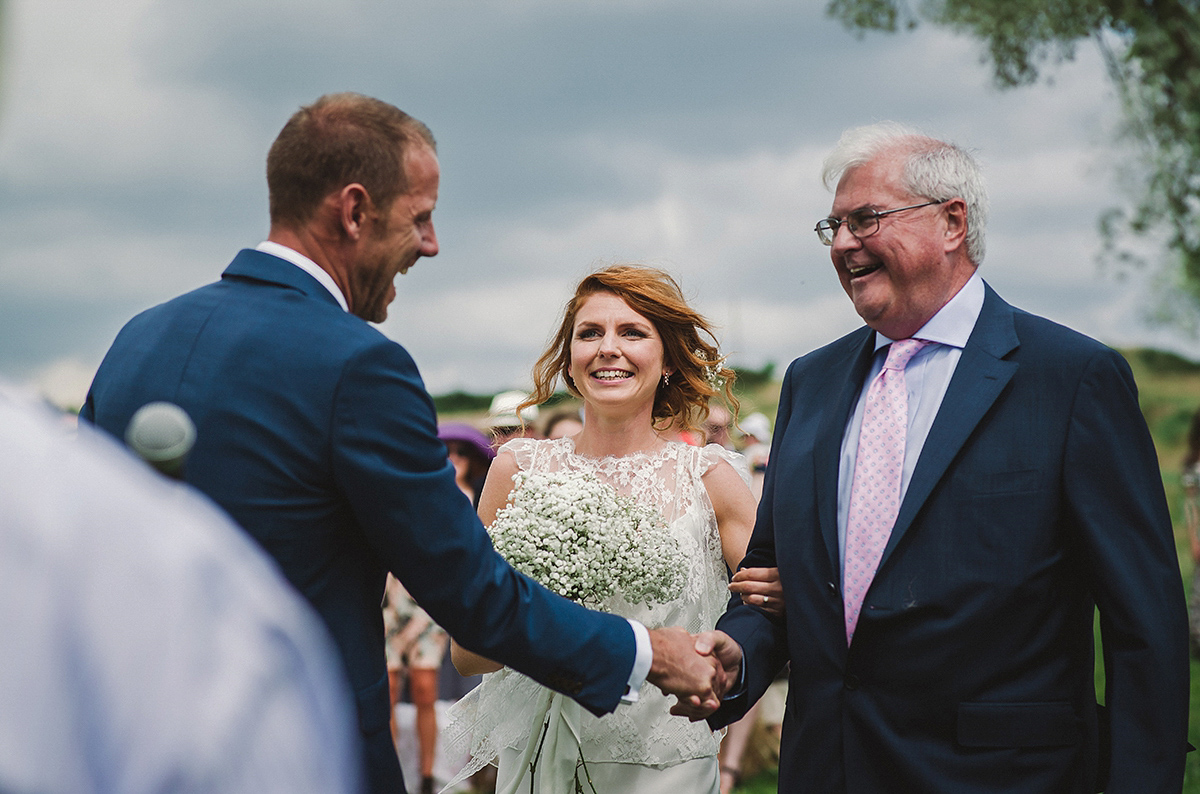 Posie and Jamie had both a reading and an Irish Blessing spoken at their ceremony; the reading, Gathering by William H Machett, a wonderful reflection of how happy the couple were to have all their favourite people around them:
Here, in our best bib and tucker we flock,
Drawn from all the hell over, iron filings to a magnet,
An intricate pattern, a one-time convergence
Of friends and relations, a living mandala;

Young and old, nephews and nieces,
Sisters and brothers, parents, grandmother,
And all those others you got to choose for yourselves
Agglomerating to hold you in the centre.

Slow in coming, swift in passing, this day
Slow but long-lasting the major choice confirmed,
Hardly inevitable, yet falling into place
As though it were just what we always expected.

So we join, as you join,
In celebrating love – yours for each other of course
Ours, as you must know, for you – circling,
Cherishing, blessing, releasing
Love, the core of all.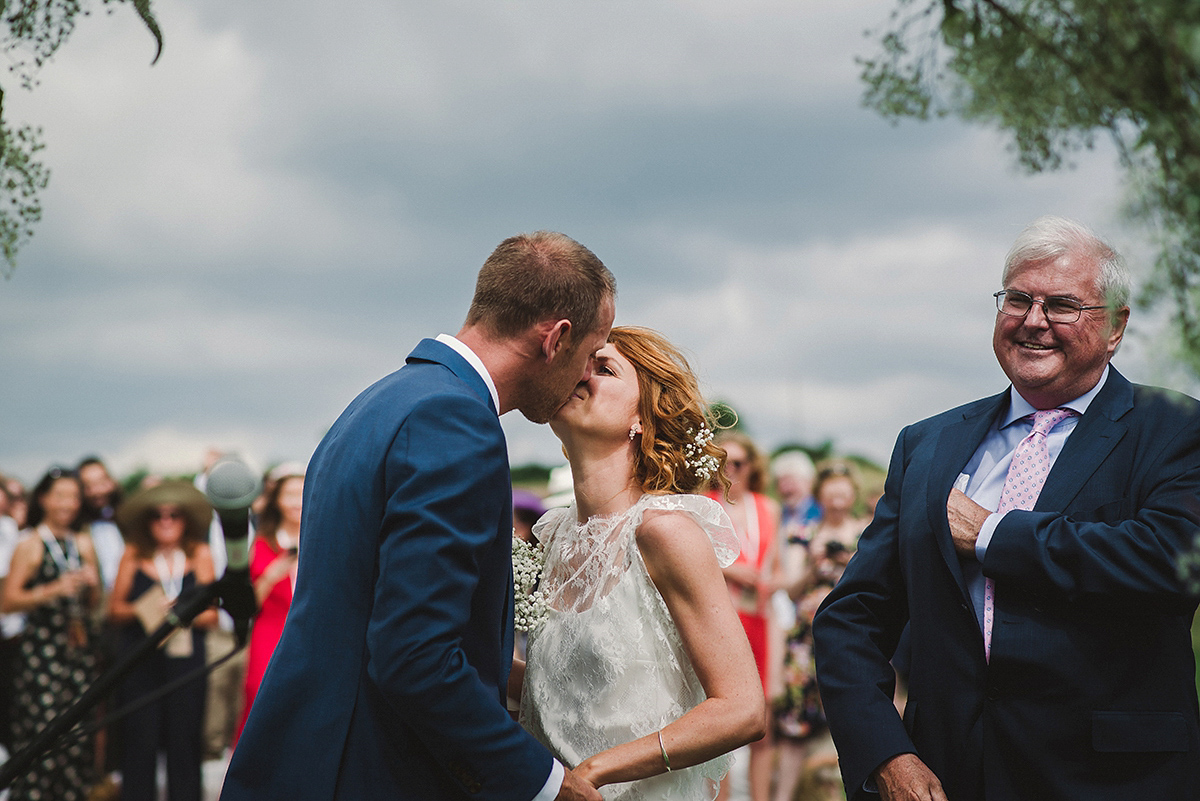 The couple didn't exchange rings, but instead incorporated a handfasting with ribbon and lace into their ceremony; representative of their union. Writing their own promises to one another was such a lovely, personal statement, I just have to share Posie's beautiful words to Jamie with you:
Standing in front of you and all the people who love us today is the scariest but by far the best thing I've ever done.
Jamie, you colour my world in ways I'm not able to paint it.
Your endless love for life is such a positive force for good,
It rubs off on me every day.
And just seeing your beaming face is enough to rescue me from the stormiest moods.
And when storms hit us,
Whether hailstones on mountains, downpours on late bike rides home or showers of frustration during shed builds,
I promise to keep us on the up.
To return the grin to your chin when you feel like giving in,
And to keep living and loving life sharing passions.
Jamie, if you give me your all,
I'll give you mine.
Let's see more sunsets sipping on crazy coconuts together,
Ride more canals and dance until dawn breaks in deserts.
Most of all let's see life in all its lights,
With open eyes and open arms for one another.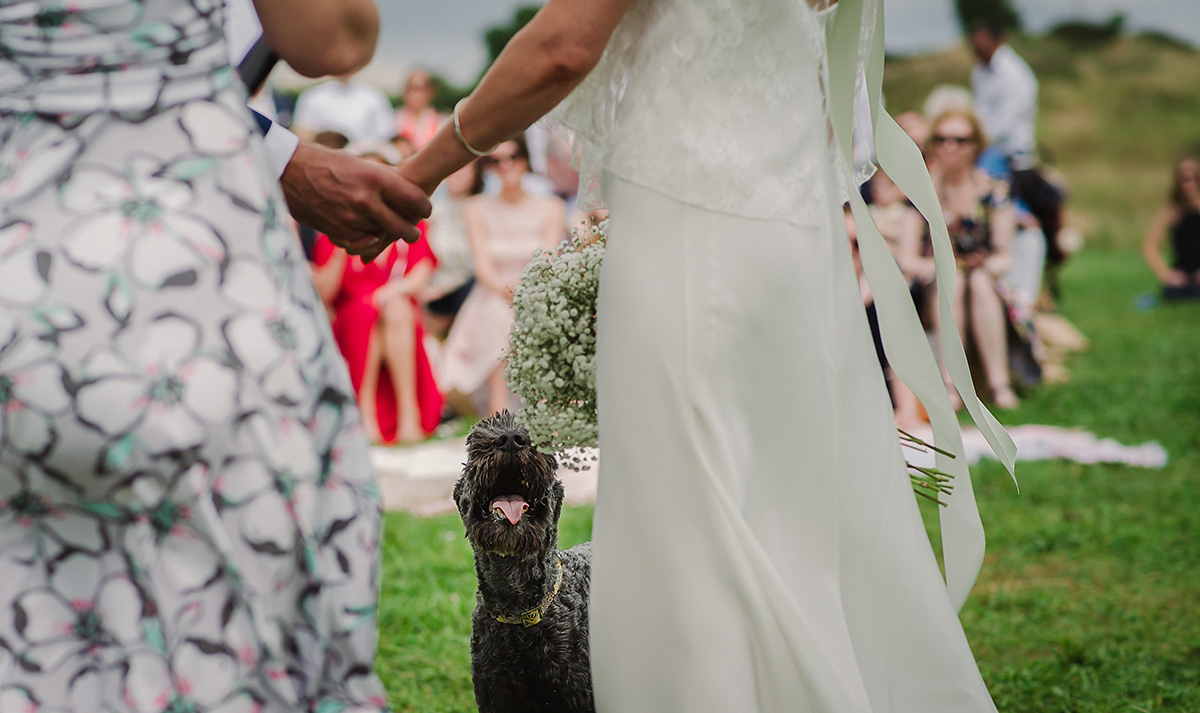 "The handfasting was a lovely way of involving our parents in the ceremony and felt more in keeping with the folkish style of the ceremony than the giving of rings."
"We wrote our own promises and kept them a surprise; it was the best way to contribute to the feeling of uniqueness on the day. We also asked our guests to make promises to us to make sure they felt just as involved in the ceremony and our lives going forwards as we did."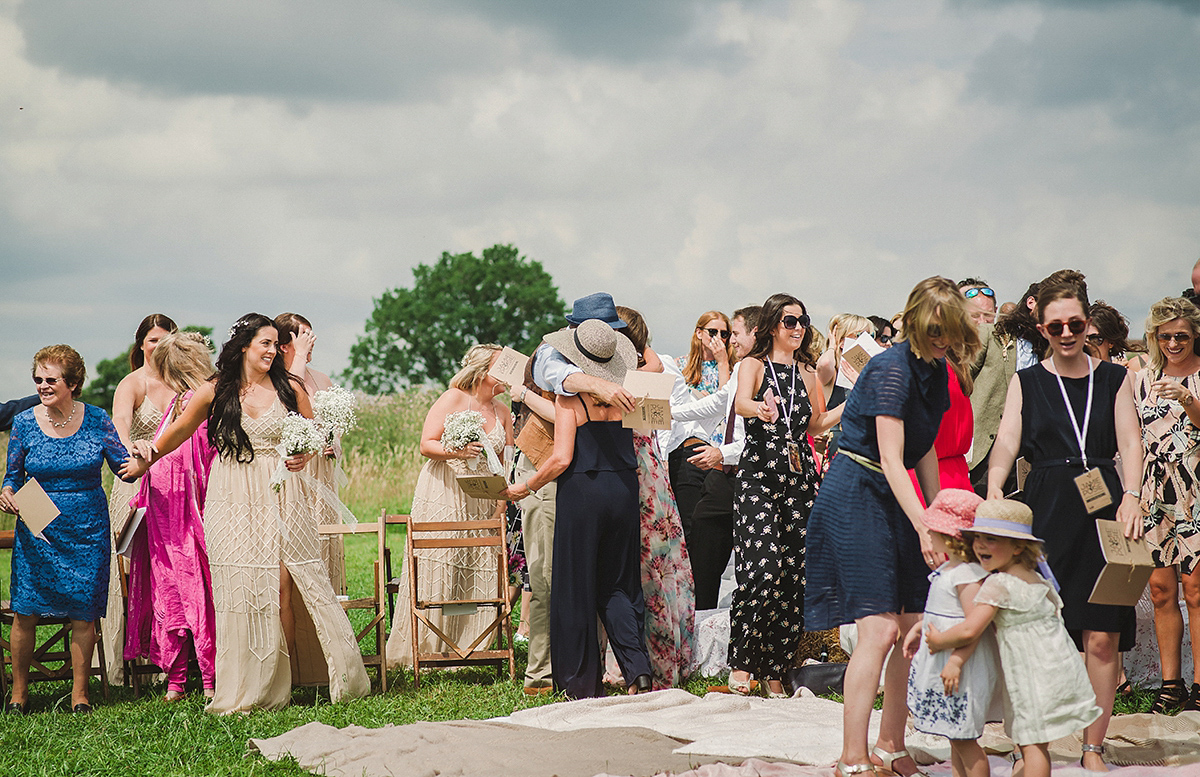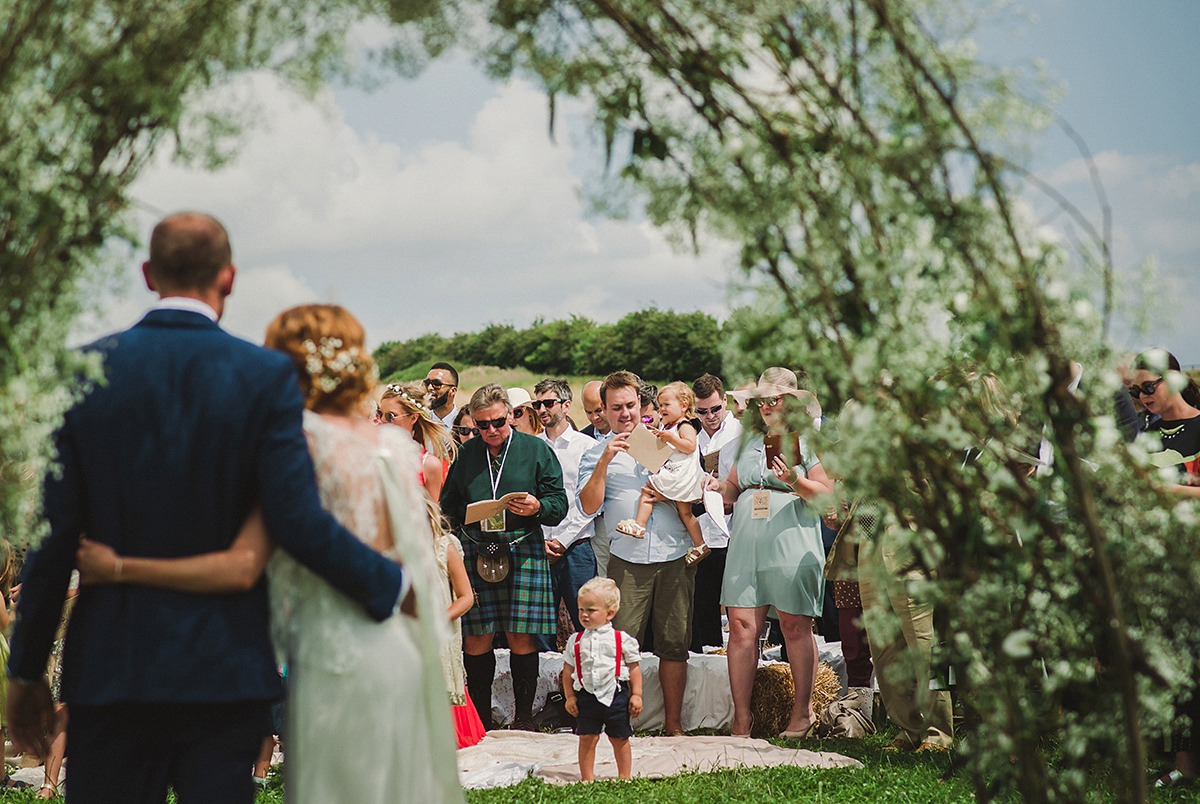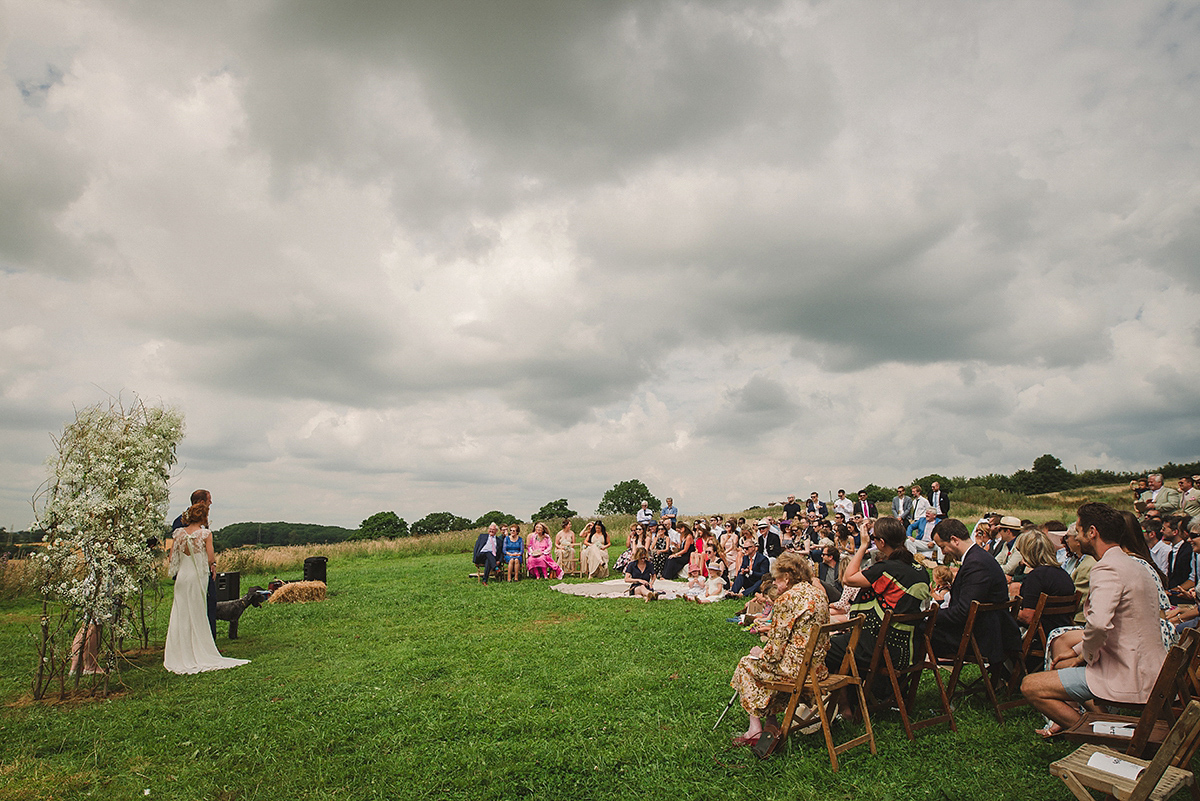 Jamie wore a smart suit from Gresham Blake, bought from Commercial Street in East London, while Posie was surrounded by a girl gang in pretty nude maxi dresses. The outstanding thing I noticed when I first pored over these gorgeous images are the ear-splitting, joy-filled smiles lighting up the face of each and every guest. Photographer Amy Woodward-Taylor has so beautifully captured the spirit of fun and celebration and the lighting in these stills is so incredibly atmospheric.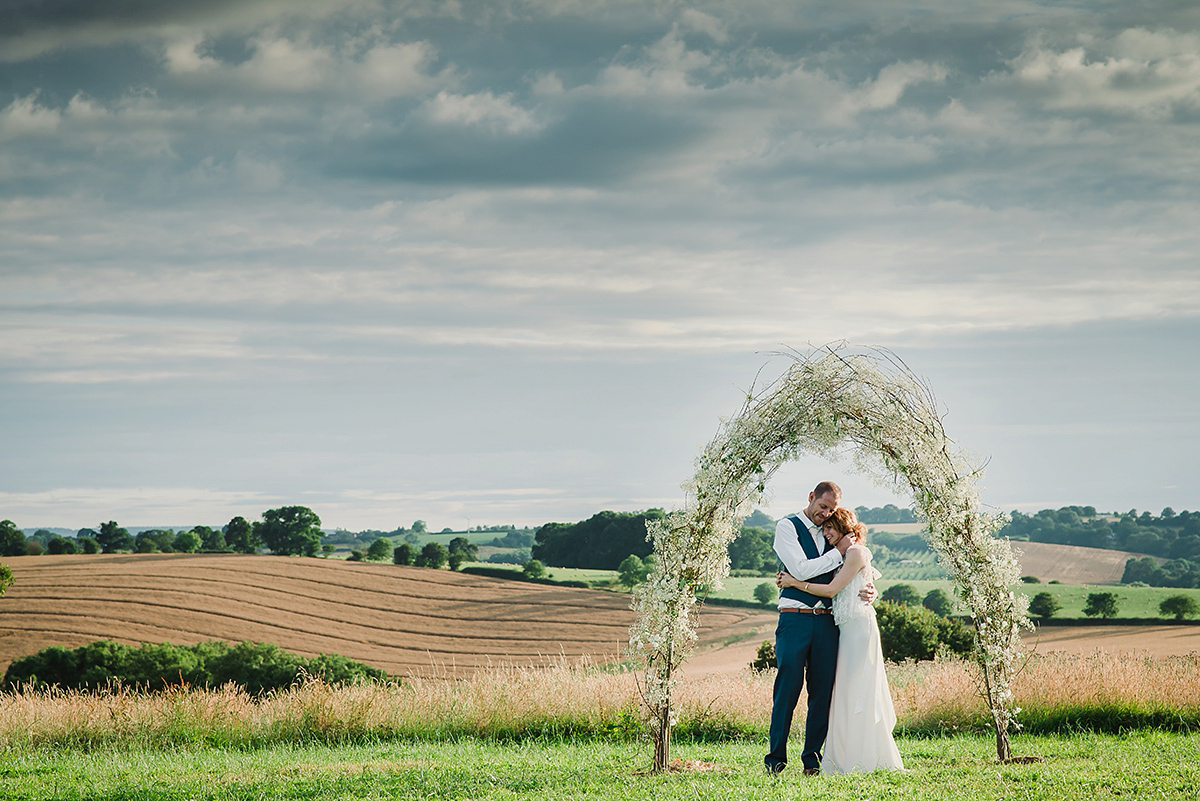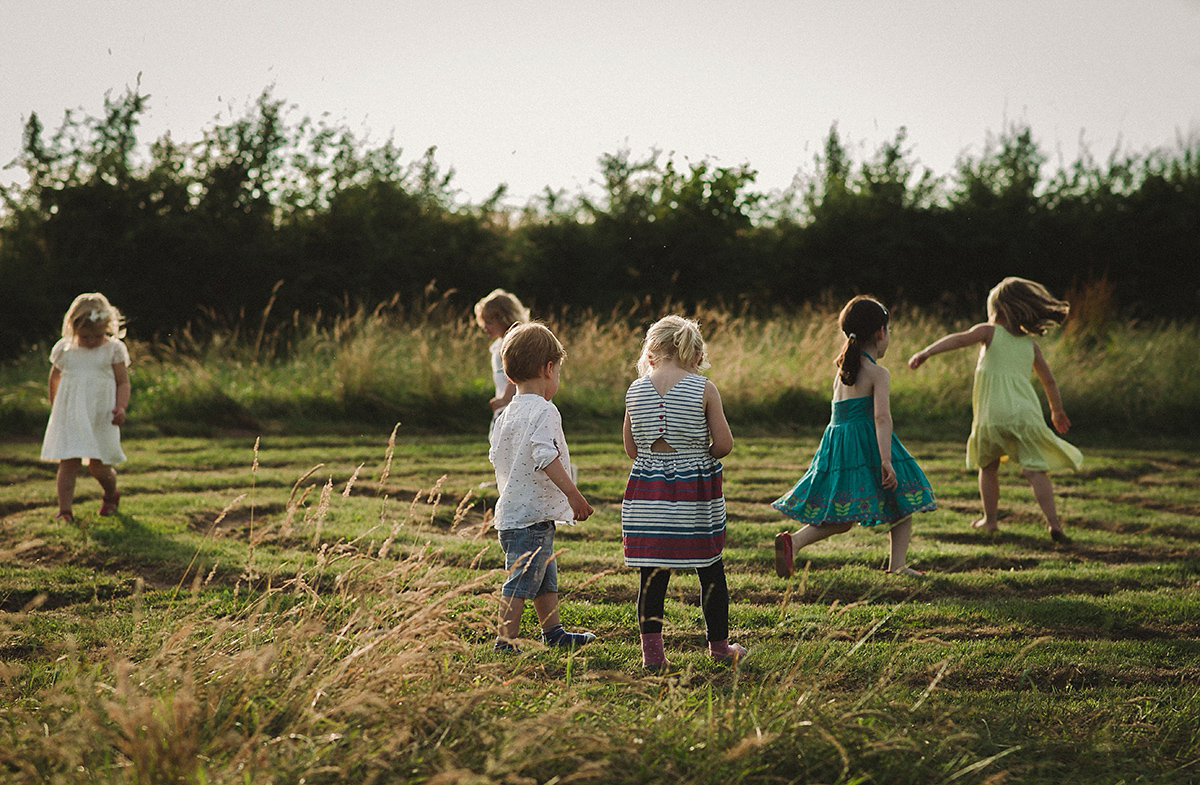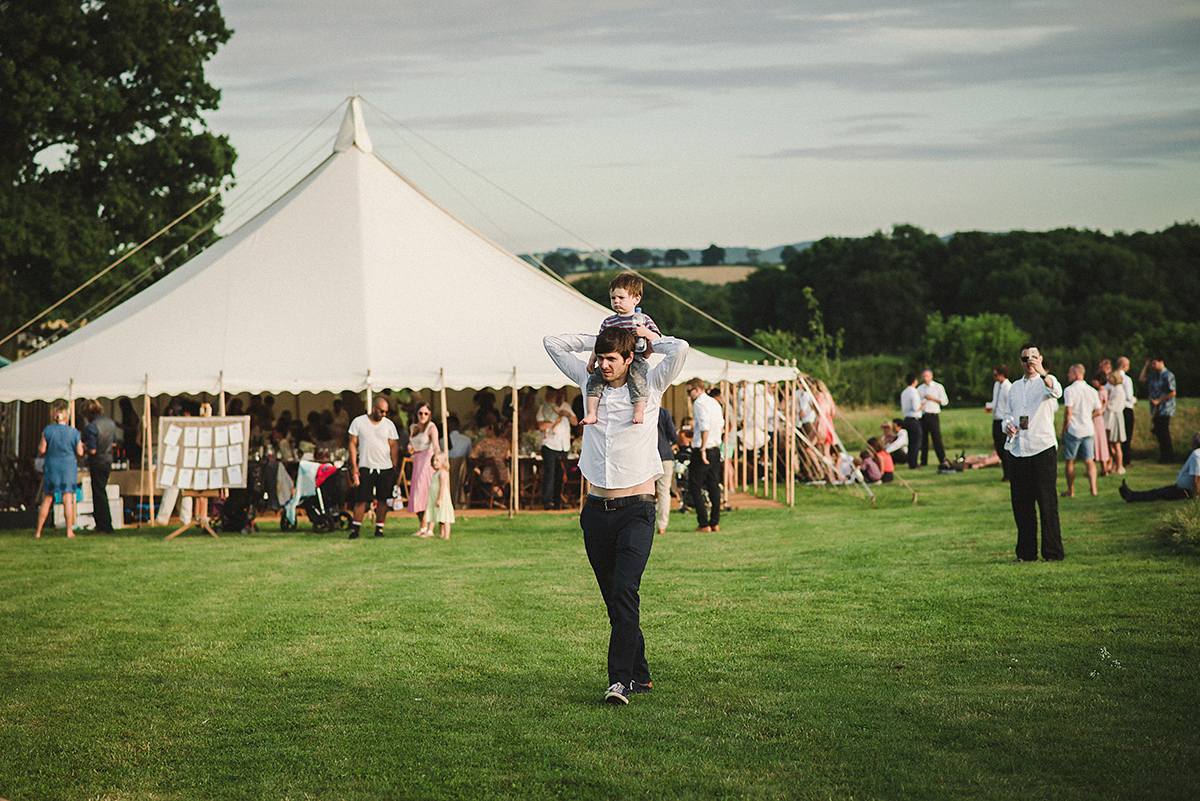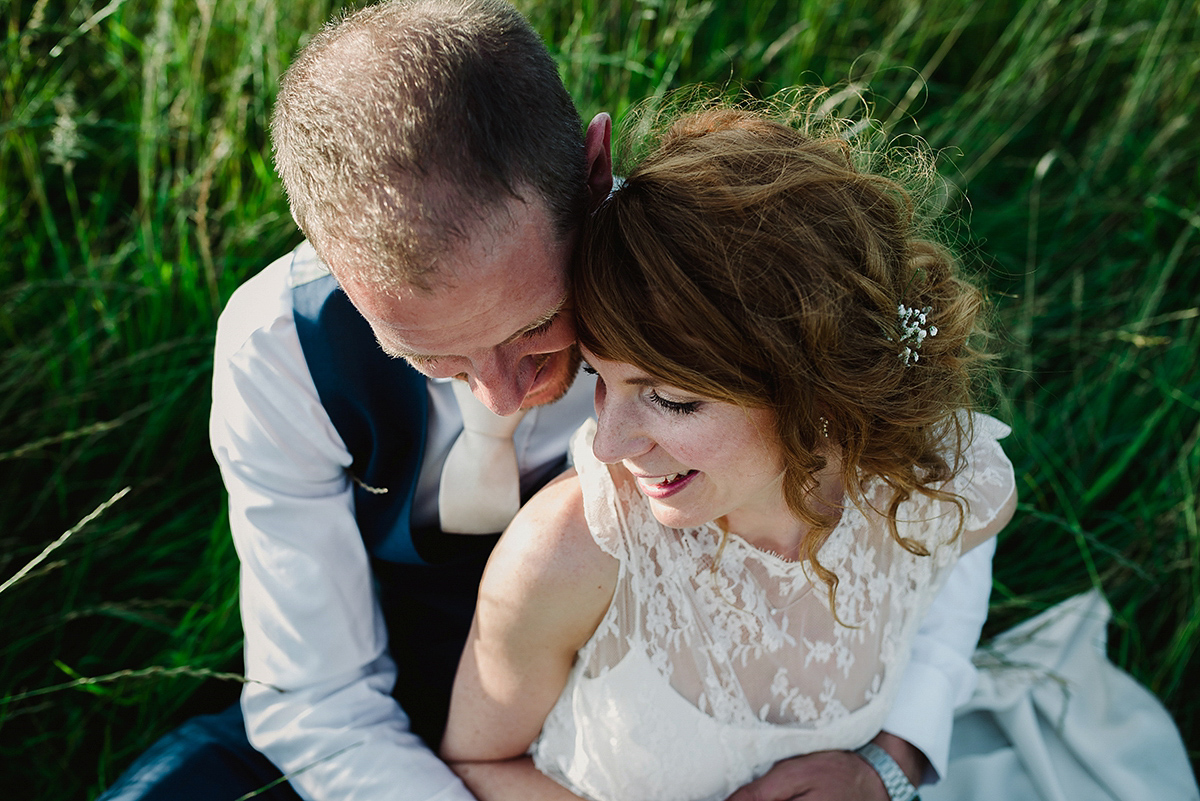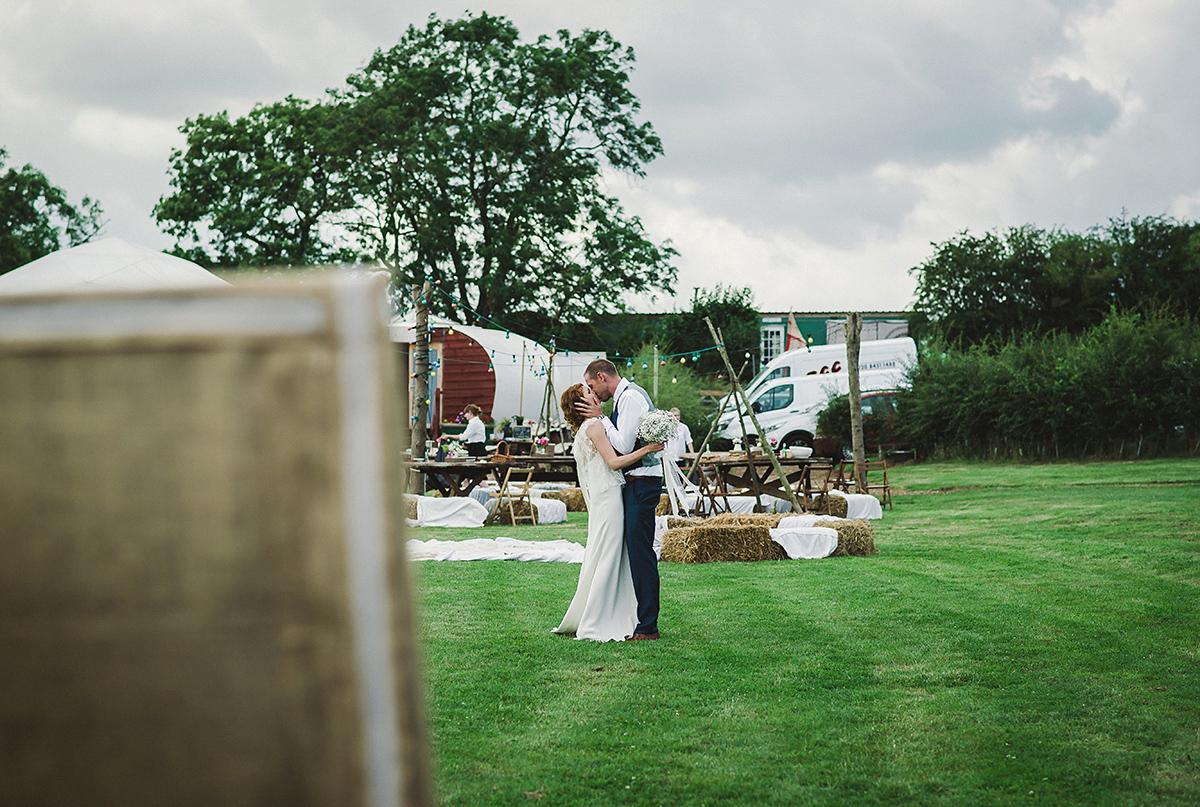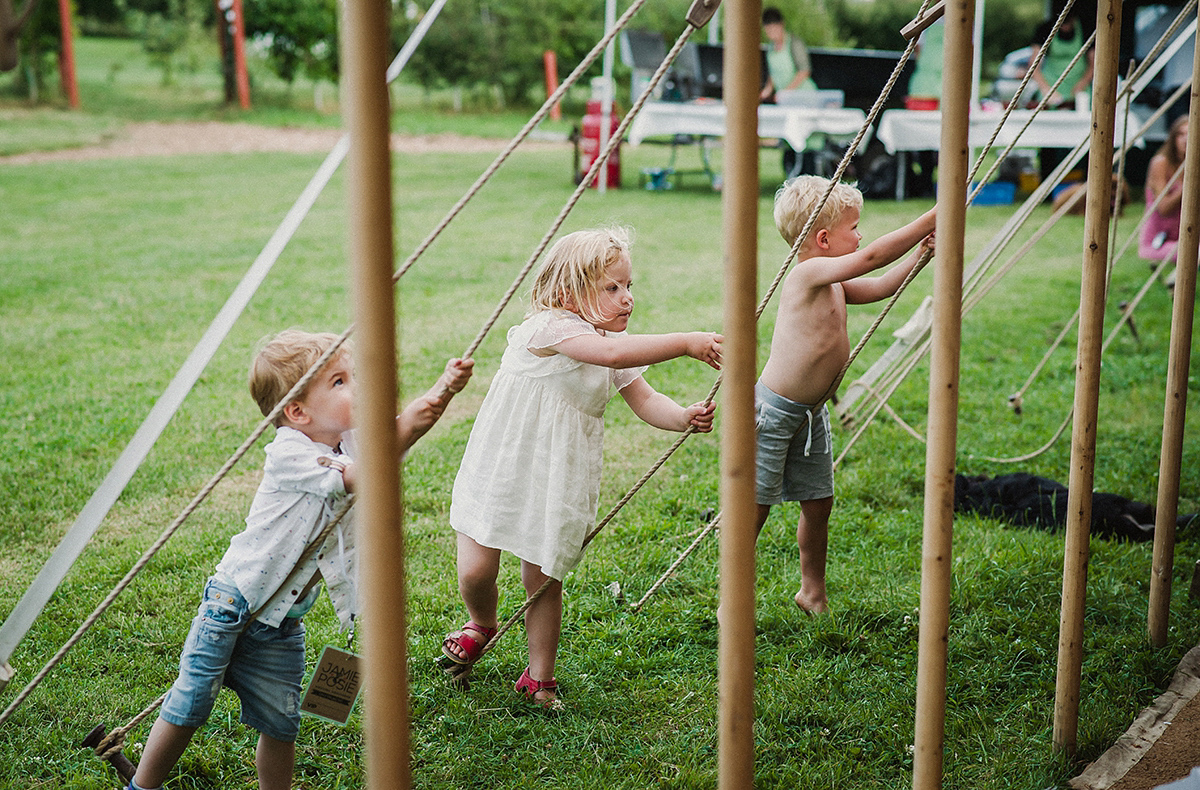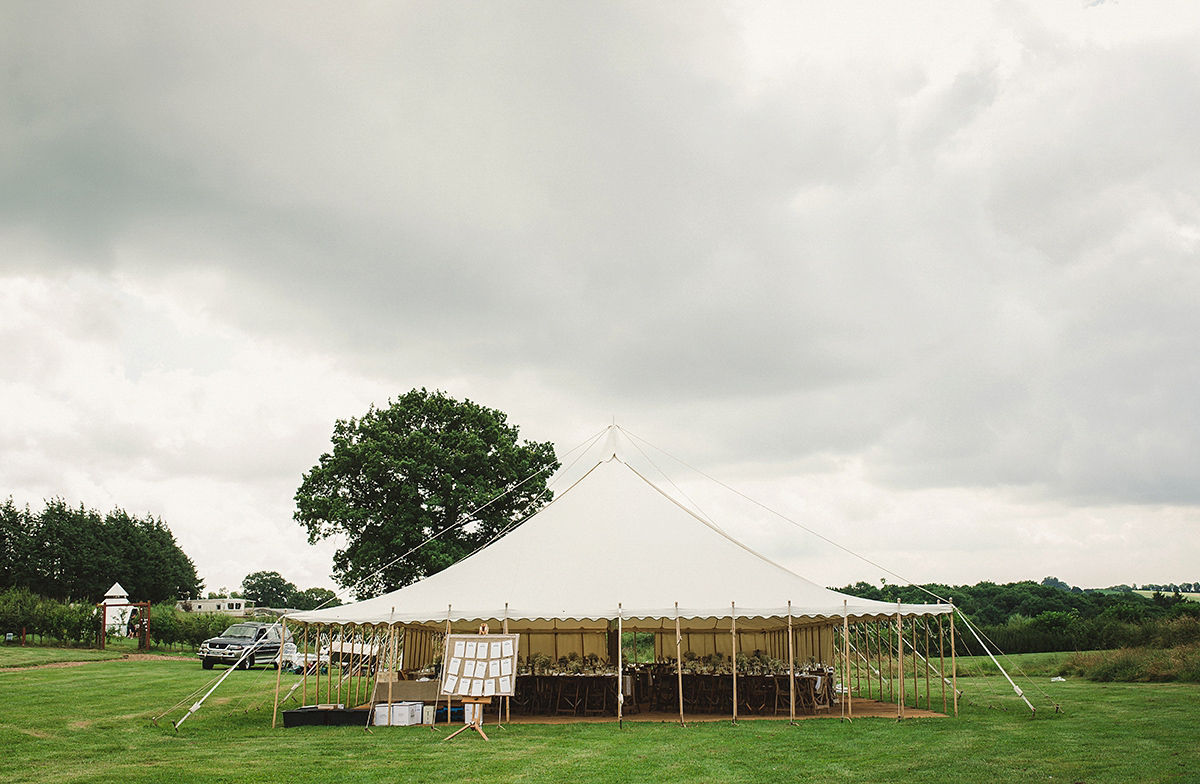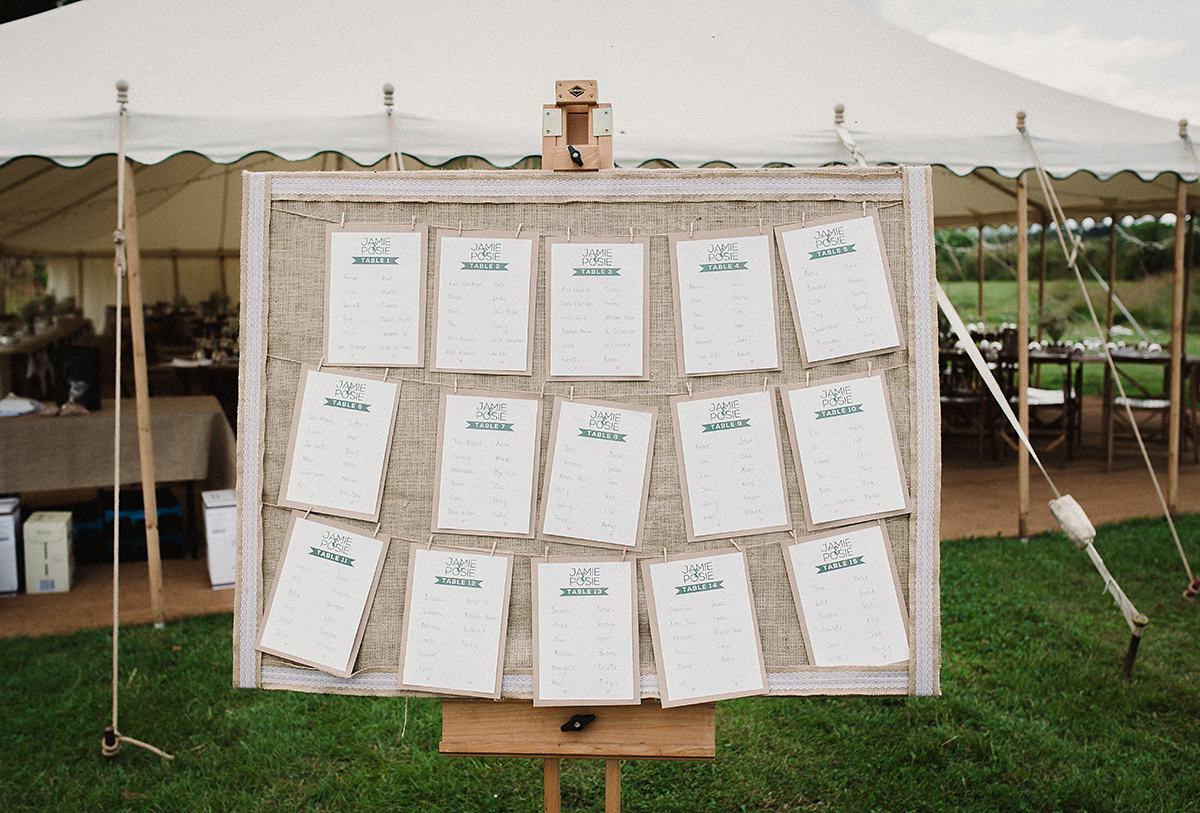 The celebratory triumph of Posie and Jamie's ceremony slid seamlessly into a reception laden with laughter. Friends and family lent bunting and jam jars and the couple sourced hessian and lace from eBay to add to the rustic feel of their outdoor party. Stationery was created by Gareth Shepherd at Hoo-Ha in London's Soho and Posie's sweet nanna handmade napkins for the occasion.
"We had salads by Melrose and Morgan in Primrose Hill, which was overseen by friends, Josh Talmud and Alice Quested. We also had a hog roast cooked on the site and served by Hilltop Farm – the best and most succulent hogs in Gloucestershire, Worcestershire and Herefordshire."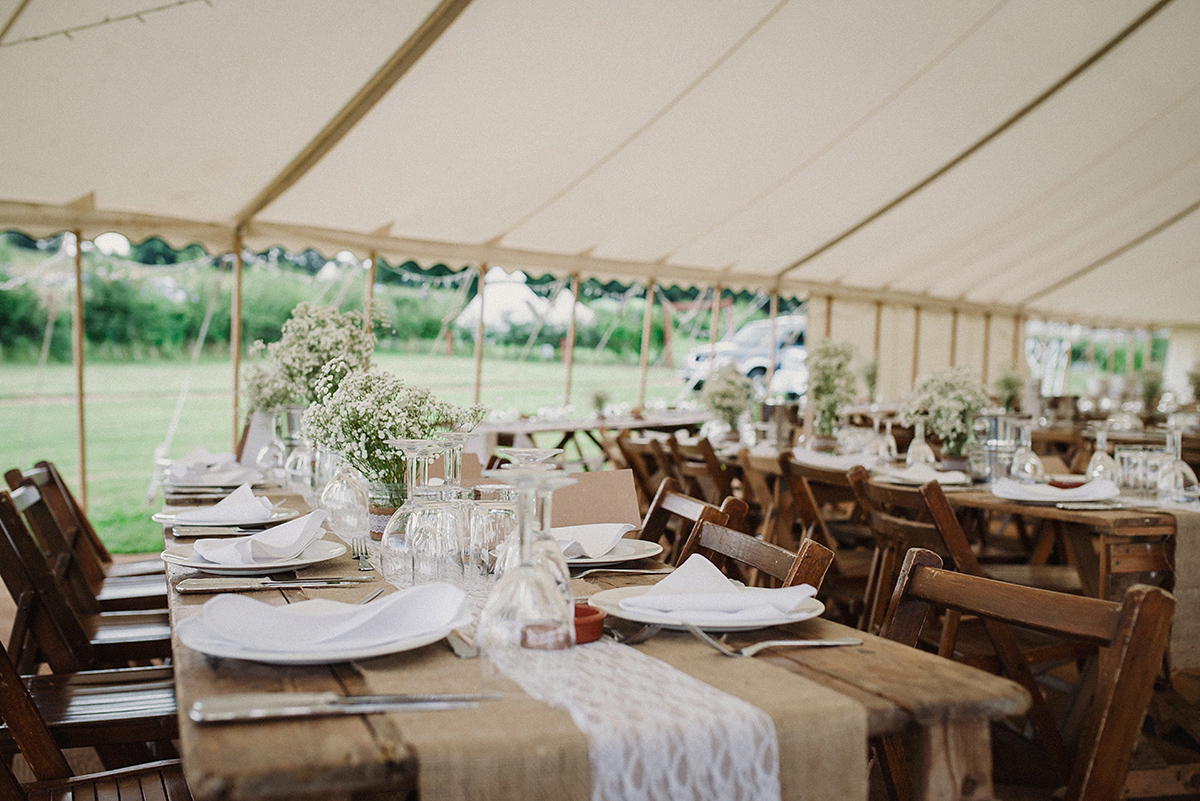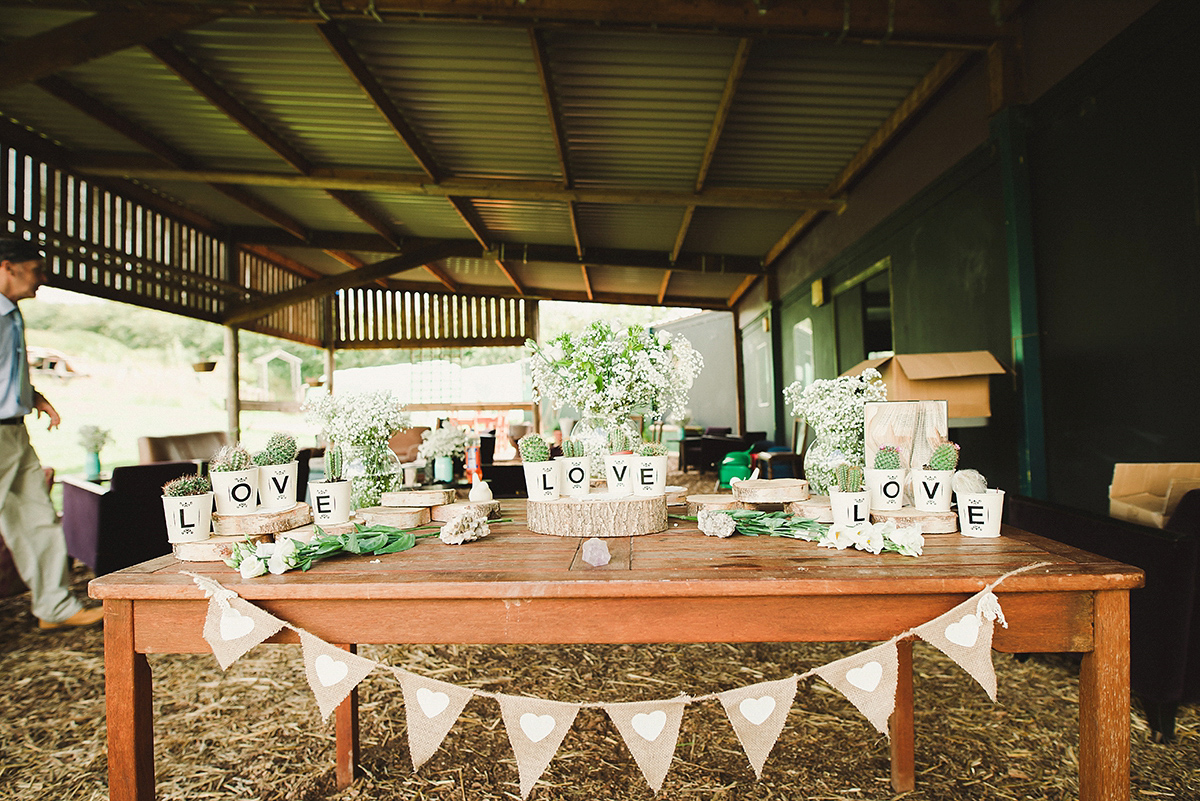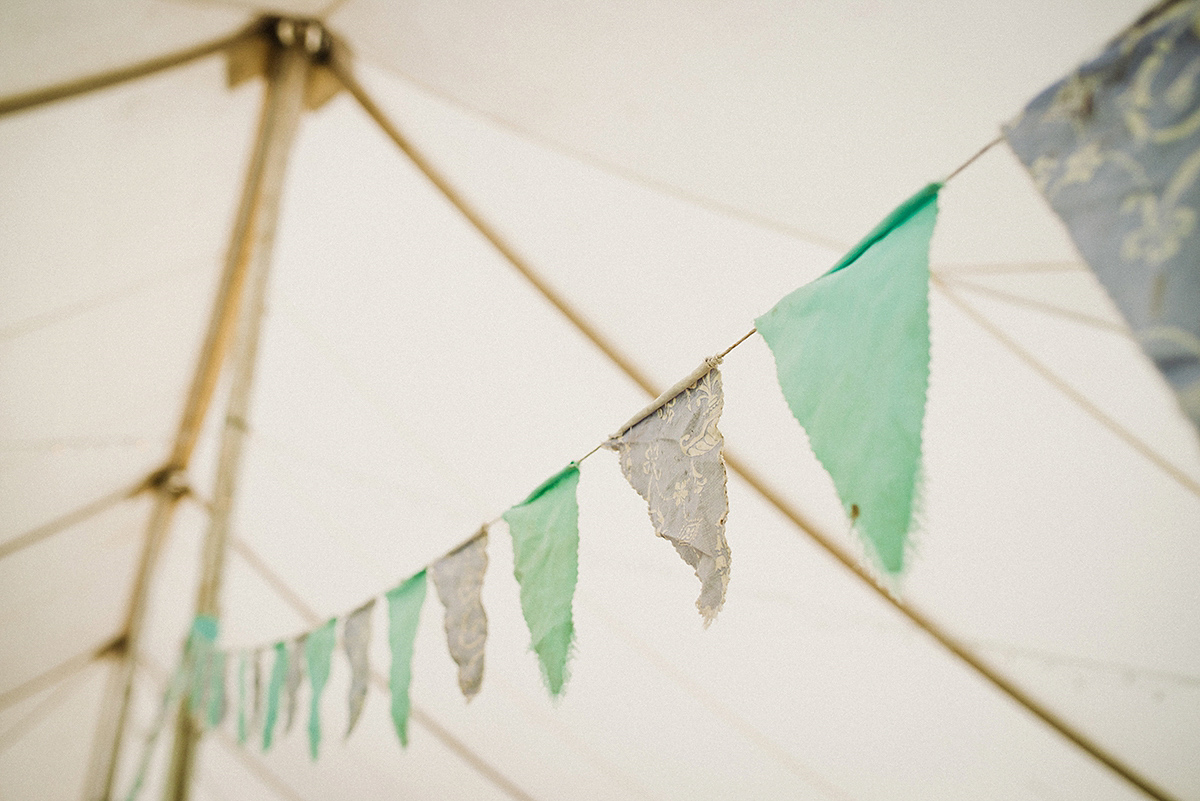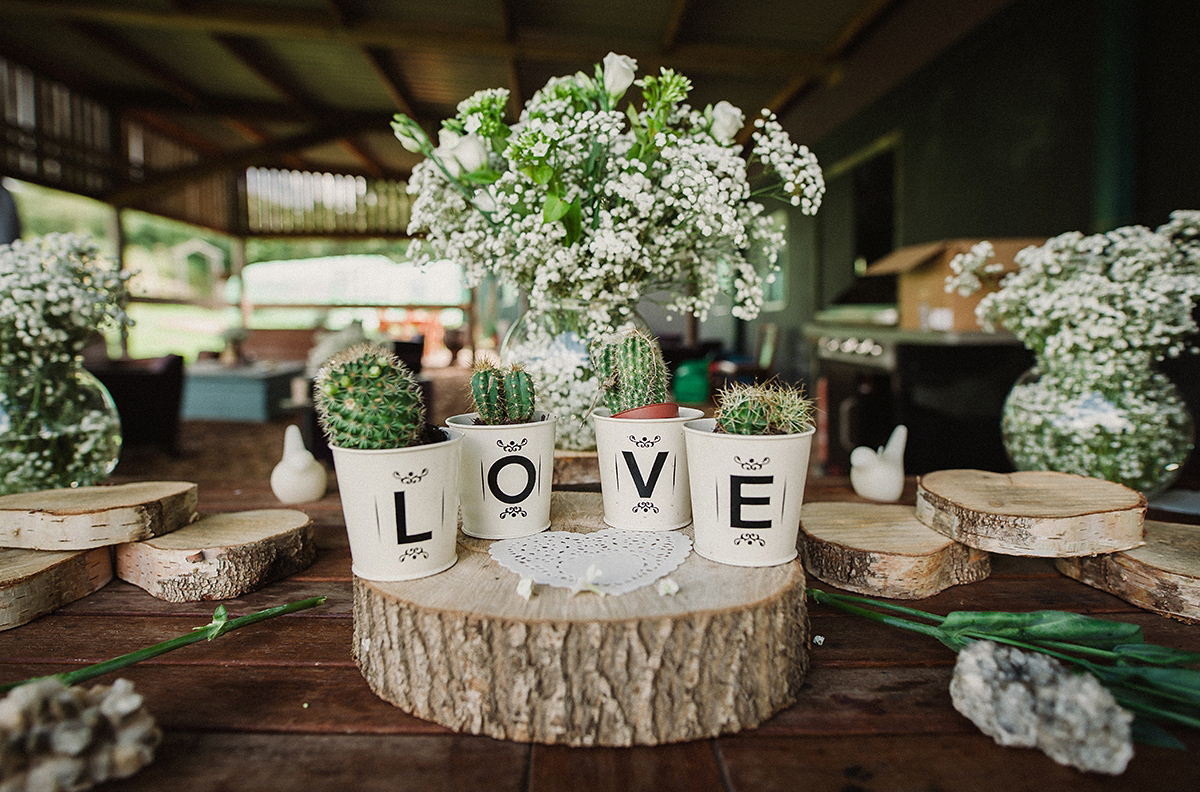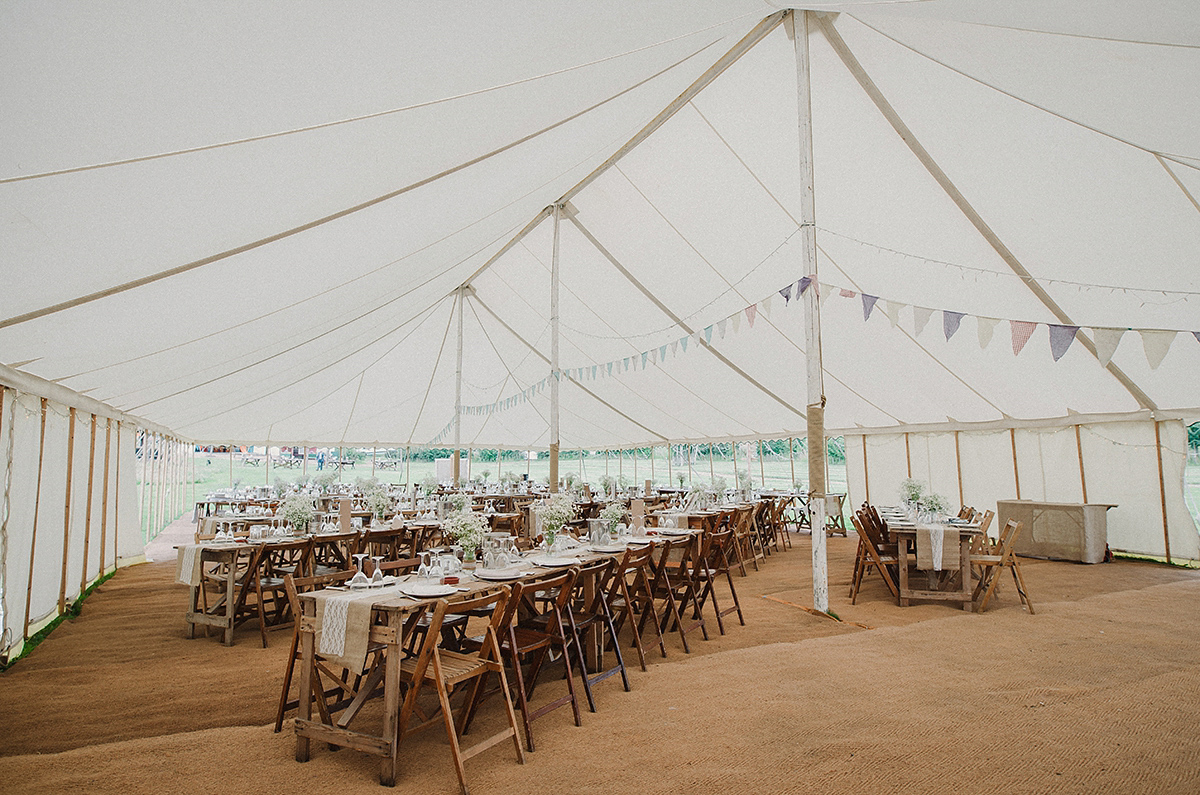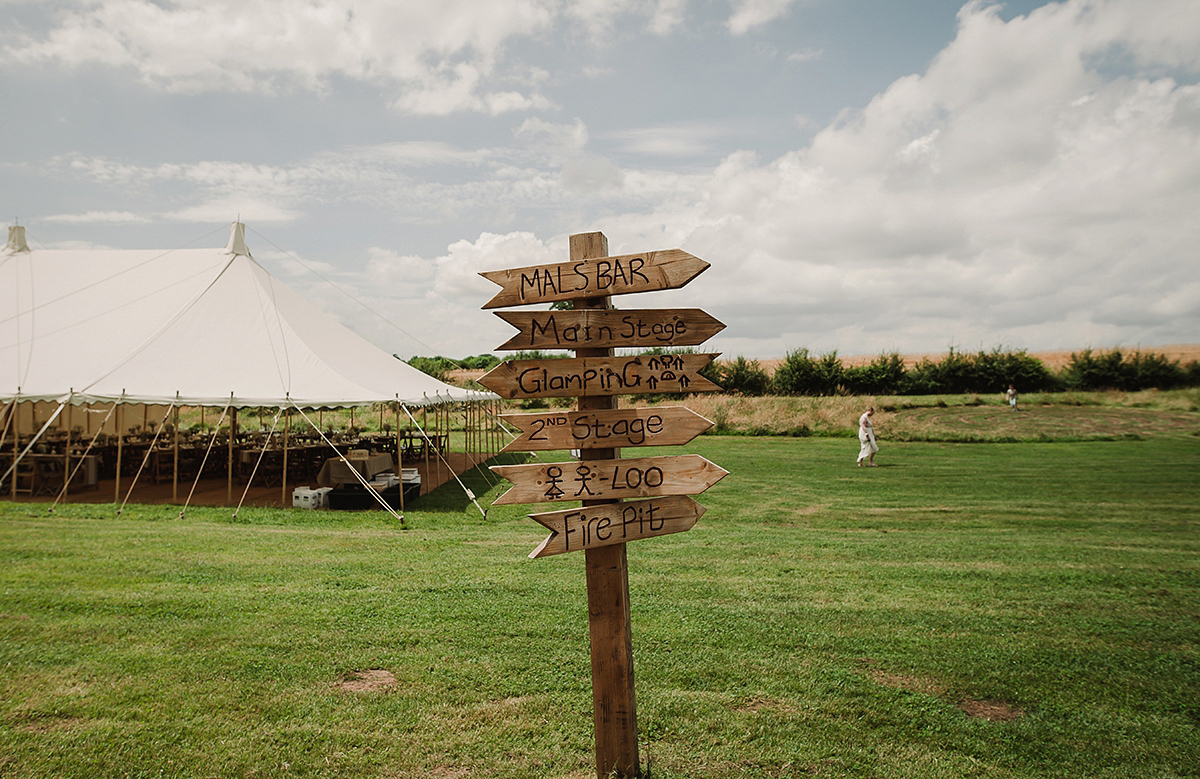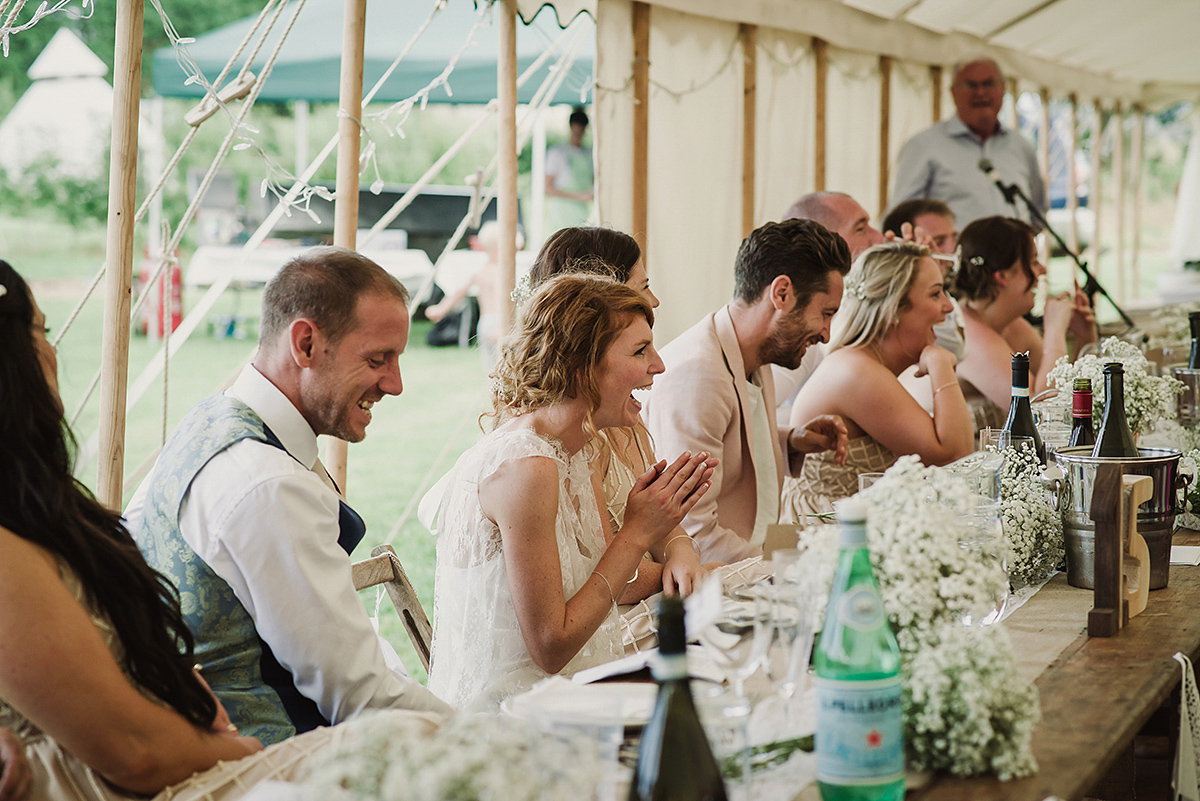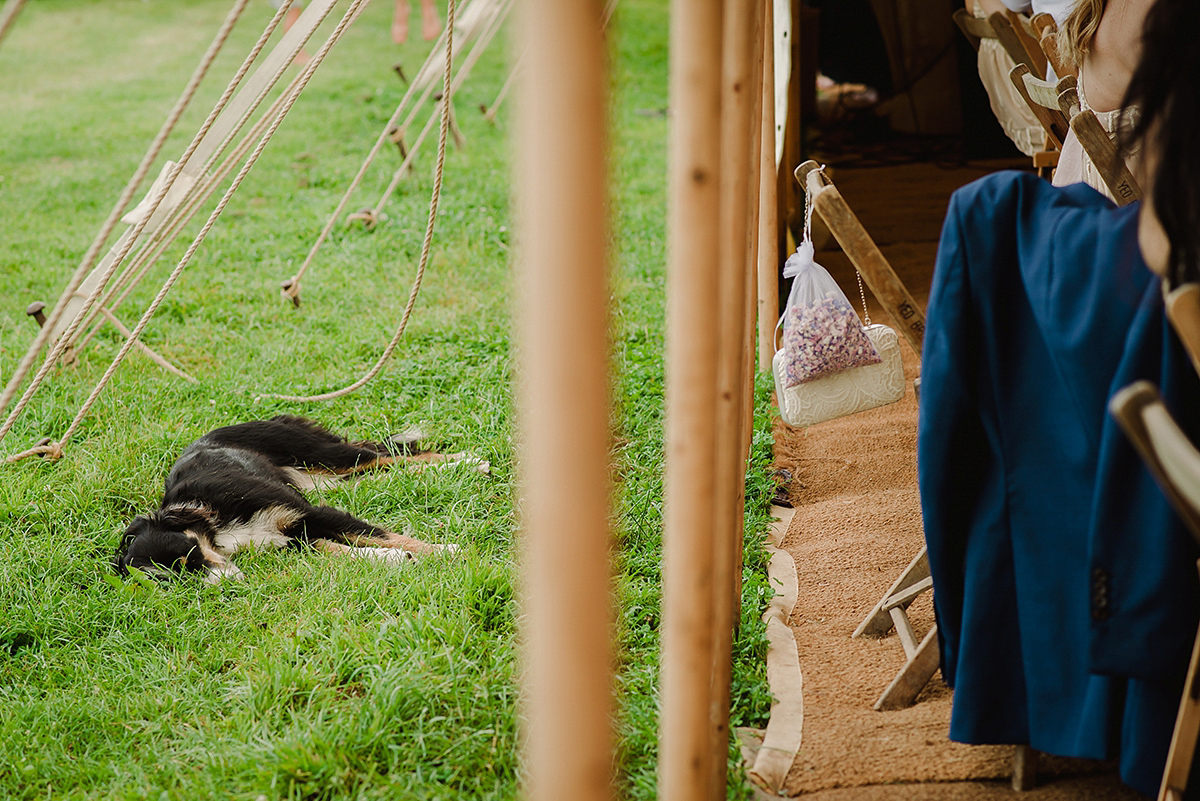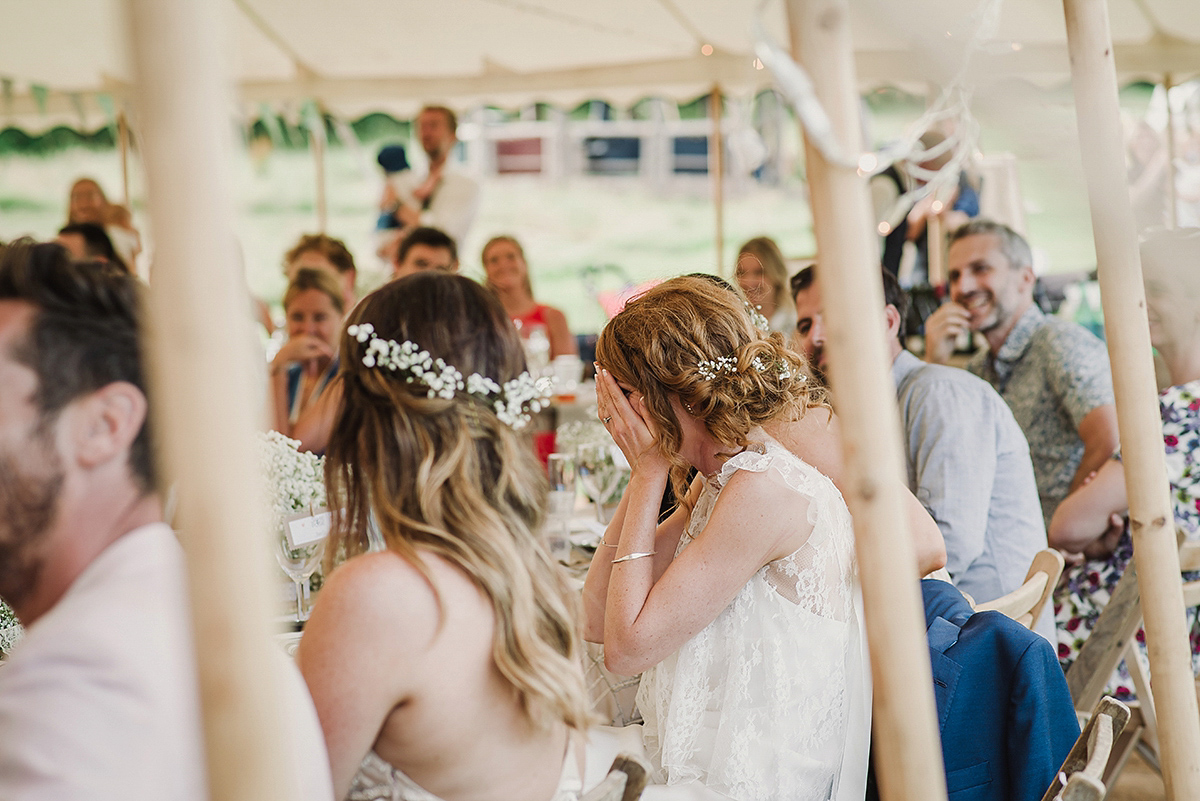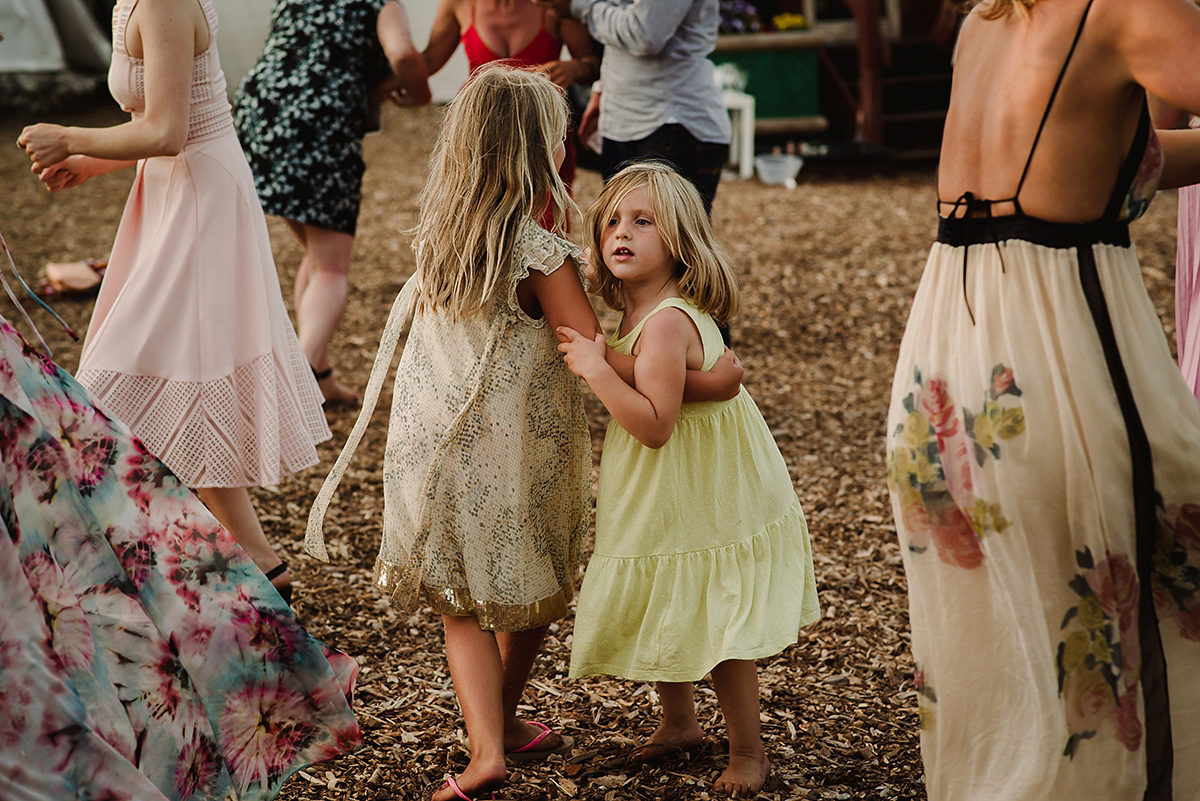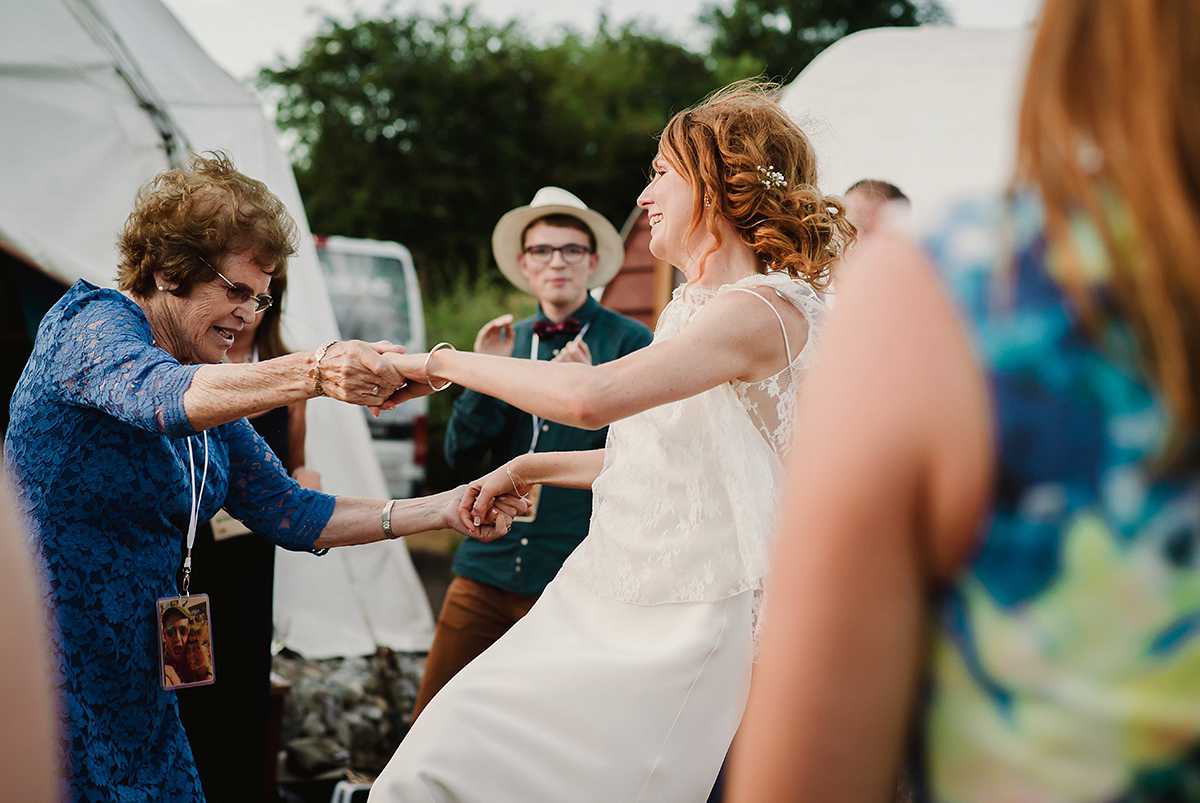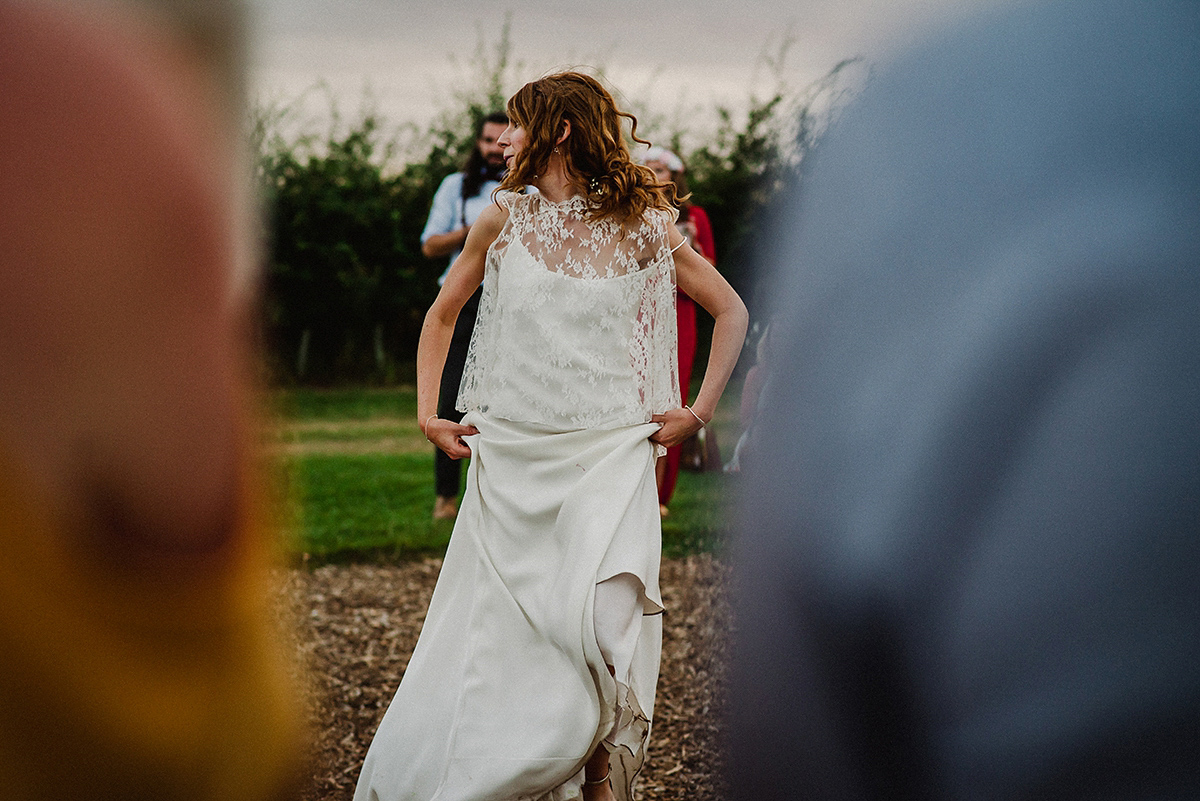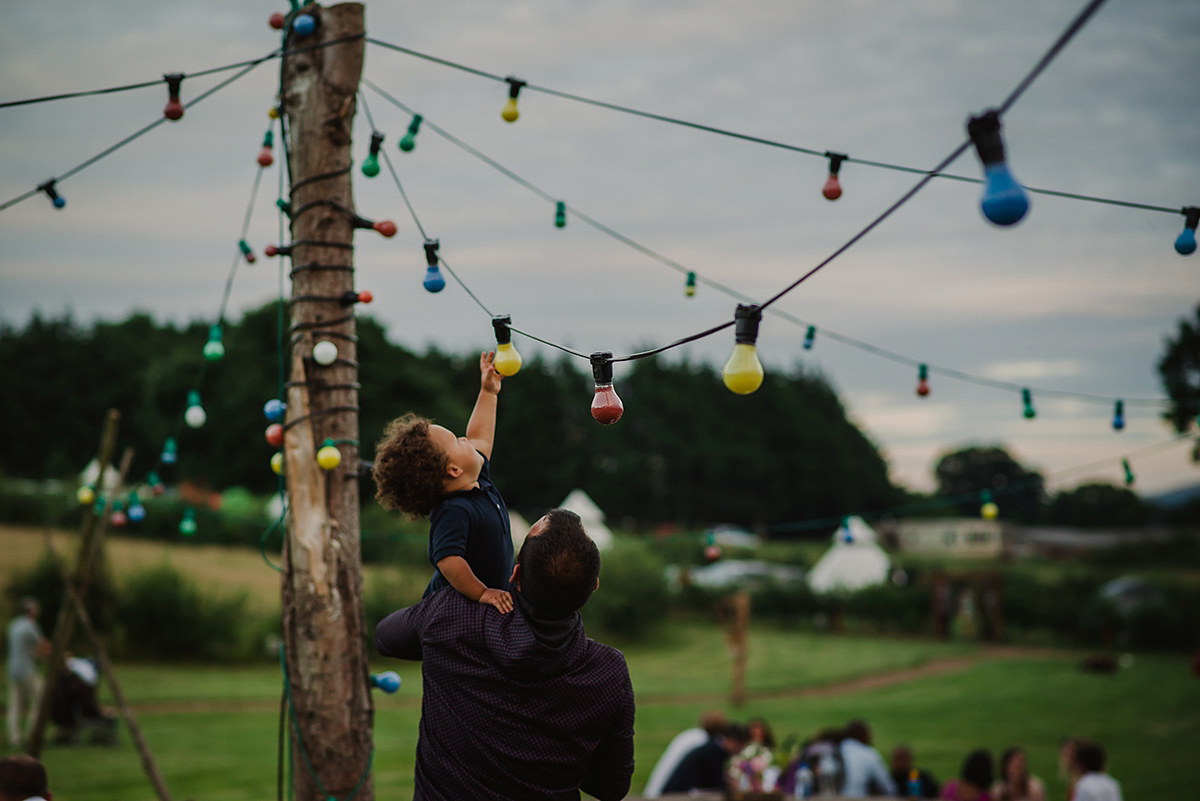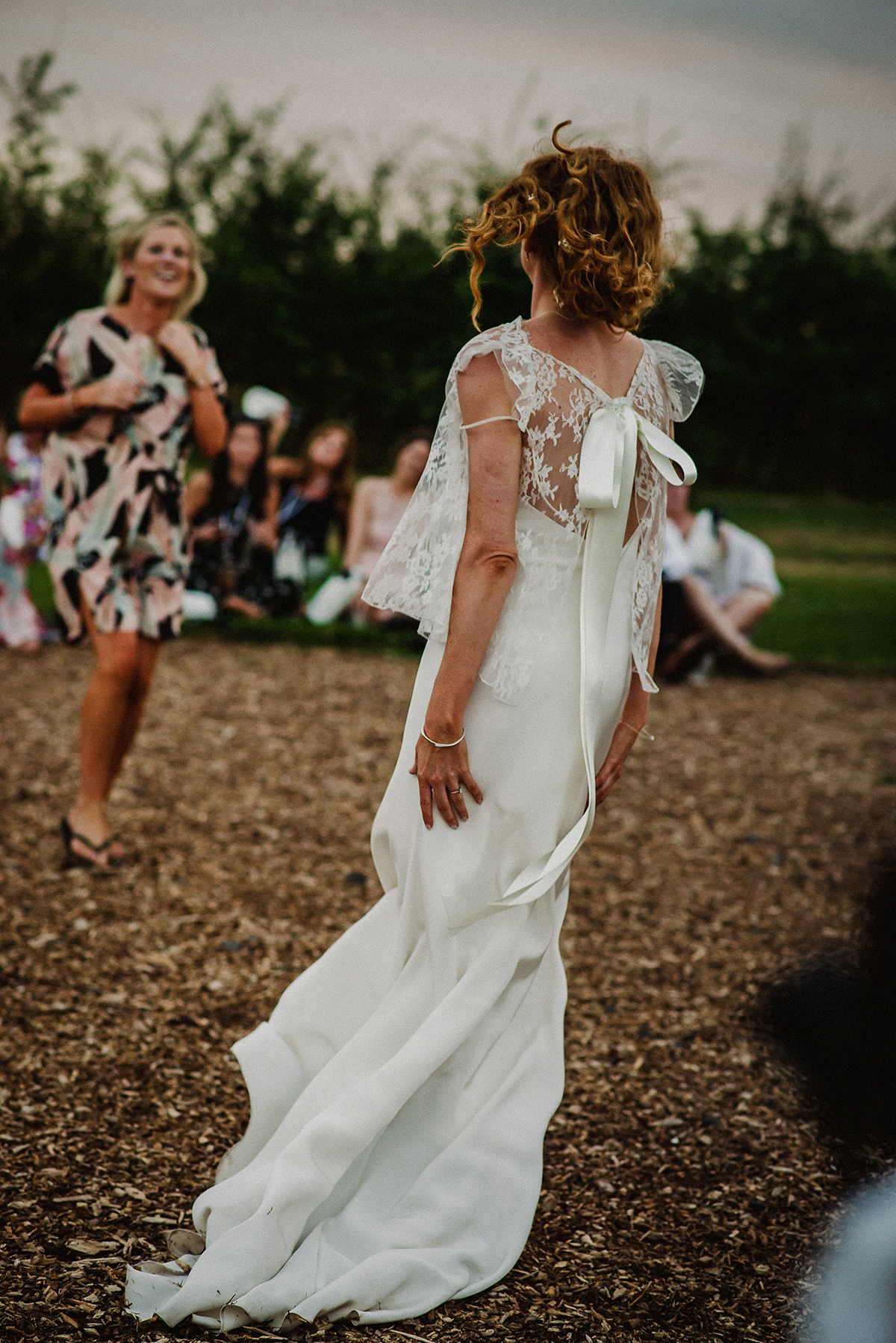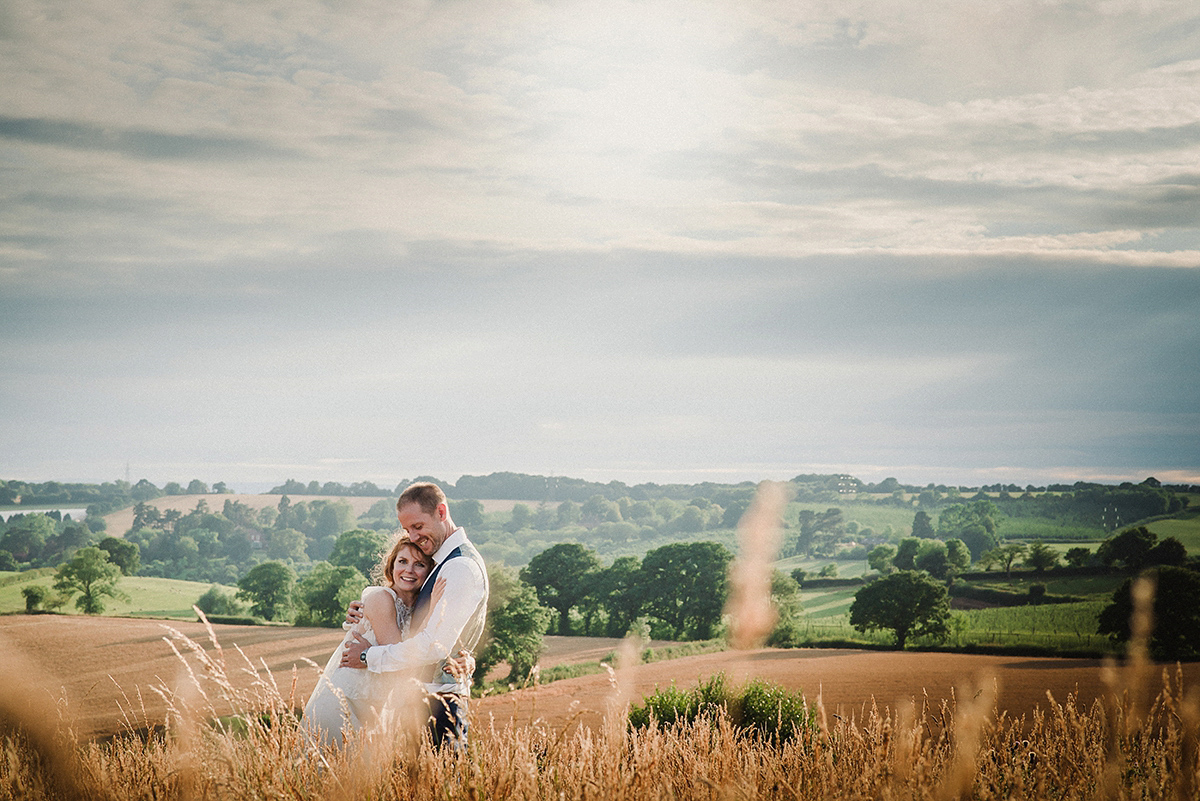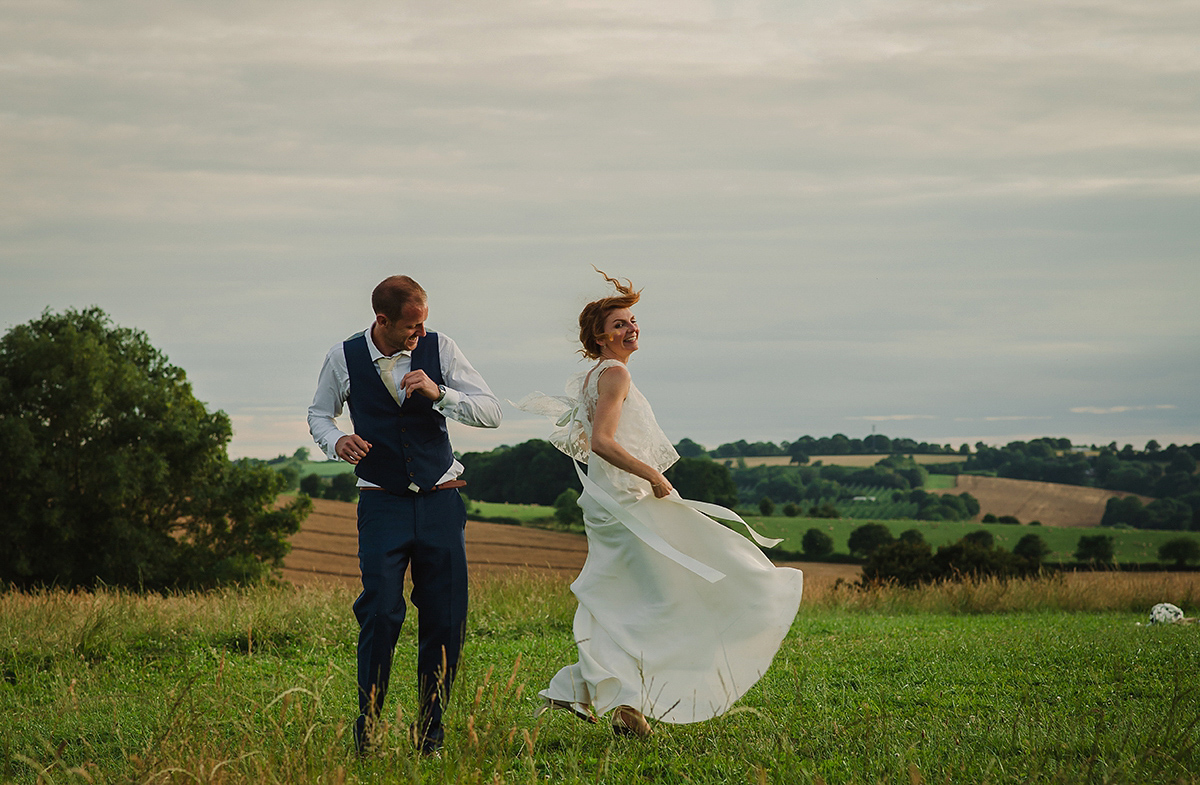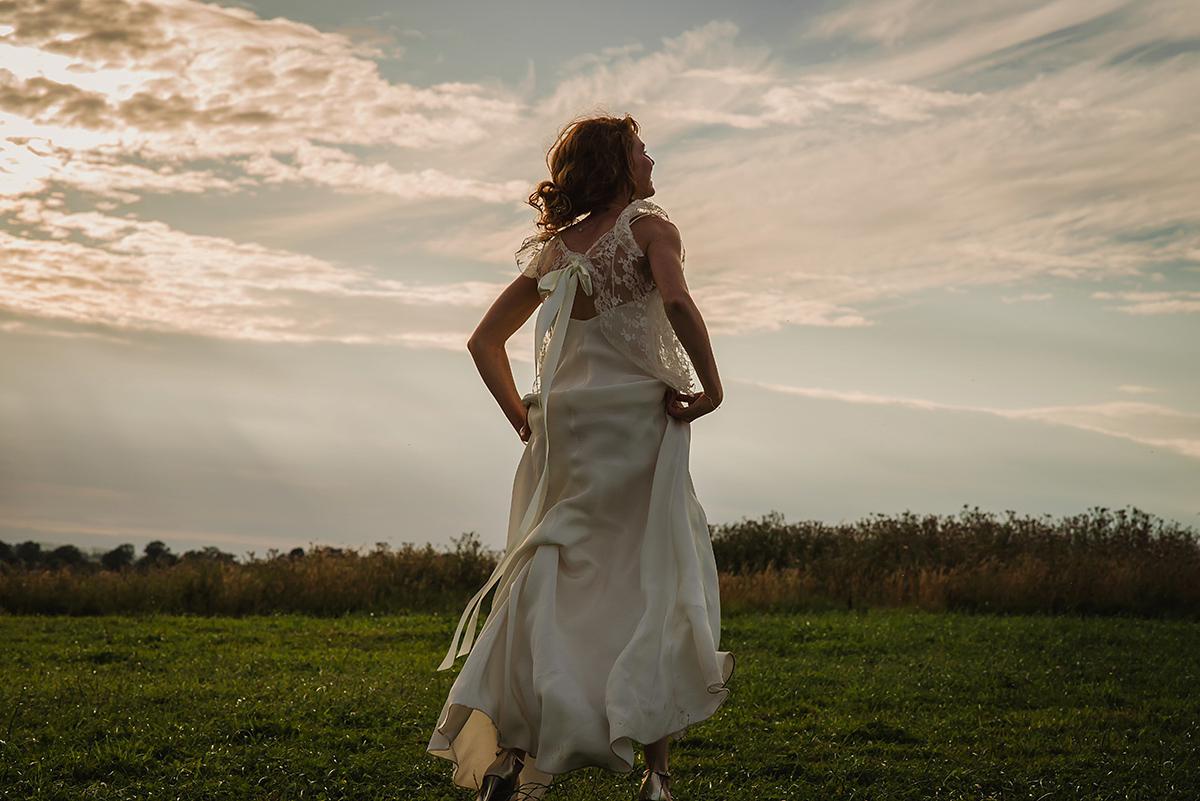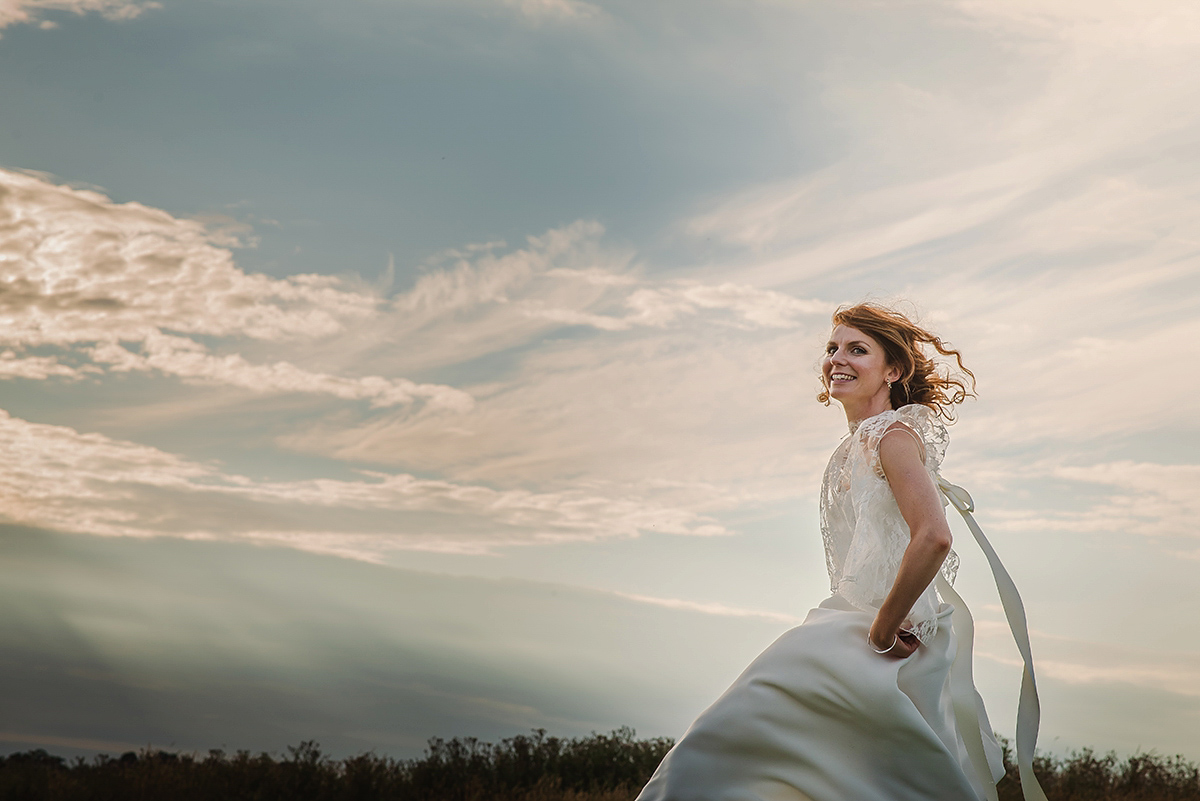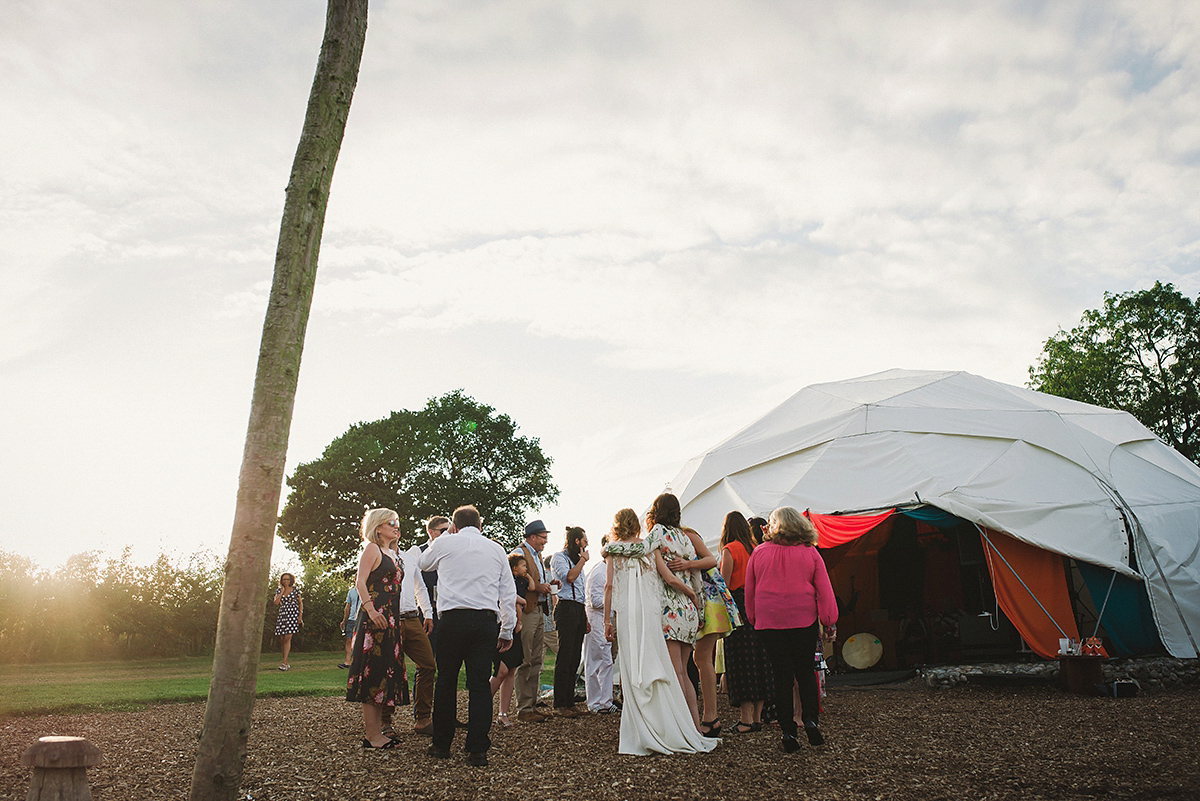 Lucky guests partied under the stars and ample festoon lighting late into the inky night, feet kept well and truly busy by an Irish Caleigh performed by Pat Brennan and The Hurling Boys who Posie describes as "a great craic and lovely to collaborate with." The newlyweds chose I Will Wait by Mumford and Sons for their first dance.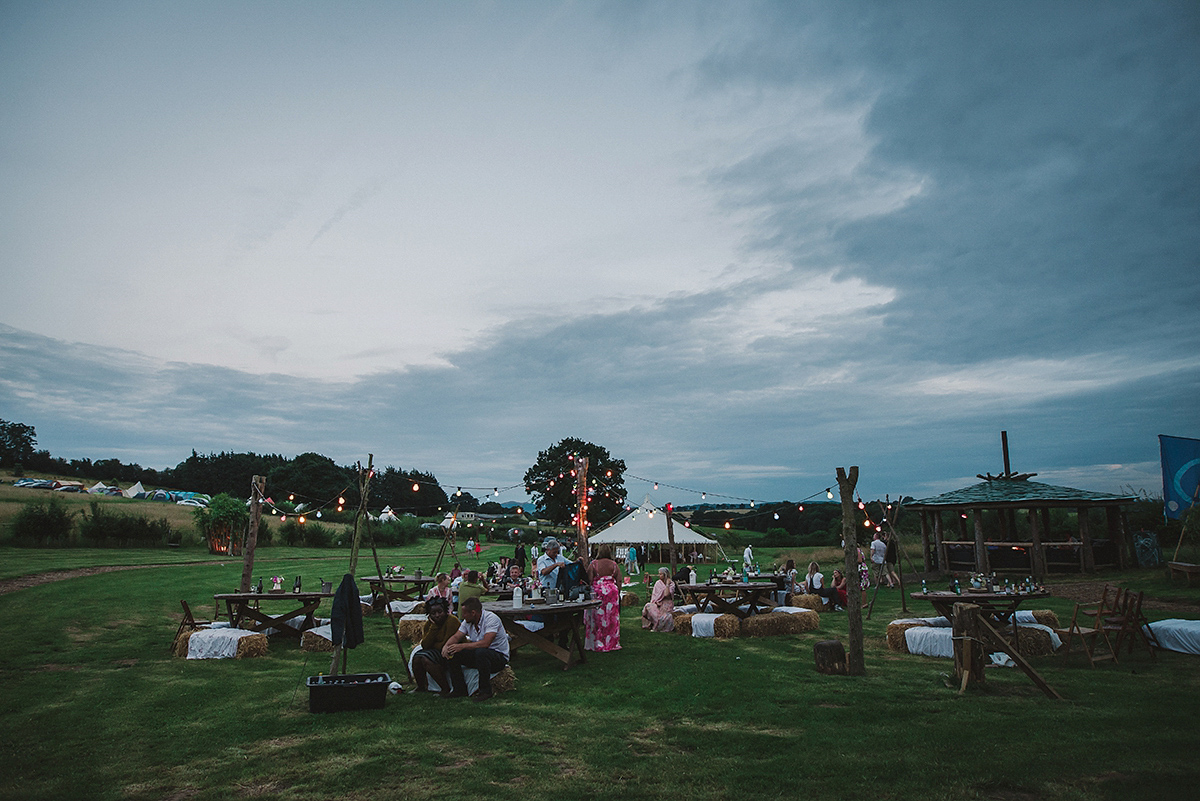 "I love to jig plus Mumford are the perfect way to celebrate living and loving life. They were the first gig we attended together and I Will Wait was suitable since we're both prepared to wait forever for the other person."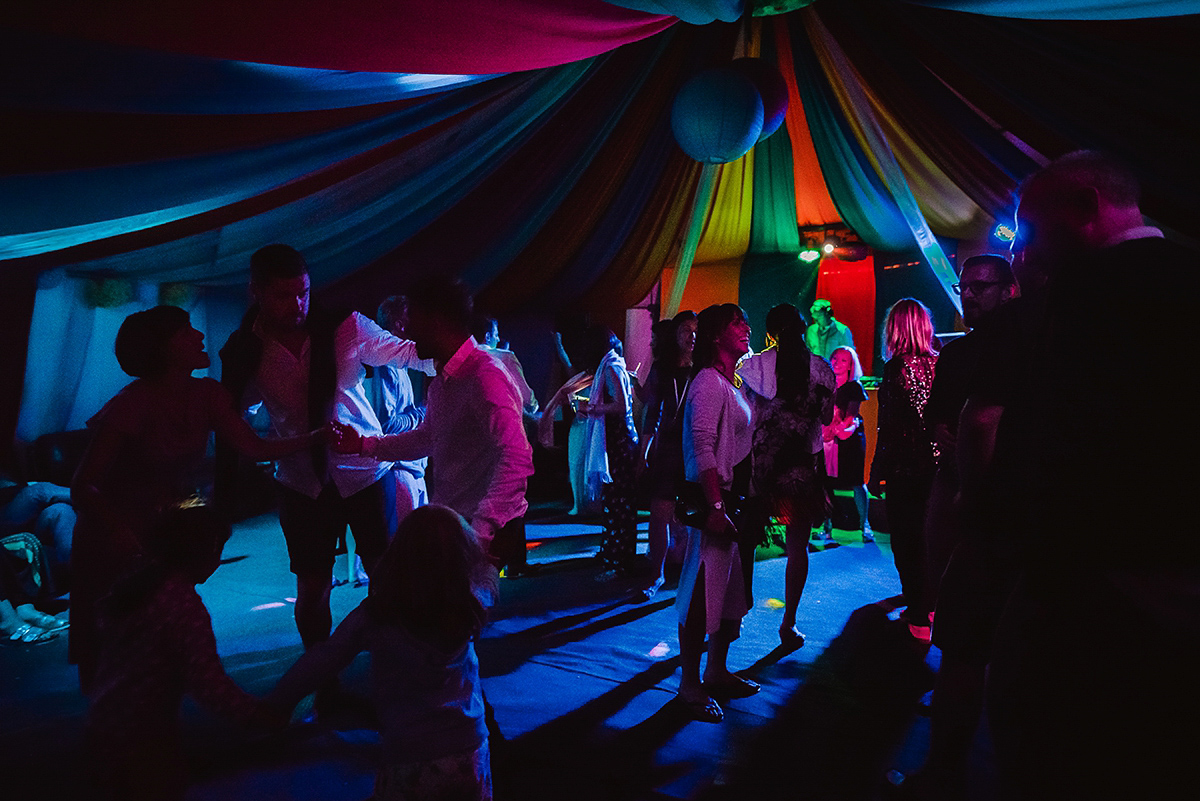 Words of Wedded Wisdom
"Do it your way however others feel and however dubious folks are about your ideas and plans. Don't feel the pressure to spend heaps of money –  you can do so much yourself but give yourself plenty of time to do it. If you can afford to make it a weekend affair to benefit from more time with each other and guests – do it – it makes all the difference having two days.
I wish we'd made more of the Sunday. We had a weekend wedding but it was very hard to keep up the momentum on Sunday and consequently we lost lots of guests due to a combination of hangovers, and work commitments the next day made it tricky.
Ask for help from friends and family; we had so much talent in our family and are so grateful to all those who helped us. Share information, don't be afraid to delegate roles. Be patient and collaborative with your partner and try not to let it rule your life for too long. 
If I'd have done anything differently, I'd have had someone on hand on the morning of the ceremony to help field questions from suppliers and manage basic set up. Jamie ended up doing most of the work himself and couldn't enjoy the morning with guests. We didn't feel the need for a wedding planner but should have shared information and allocated roles to people who were willing to help."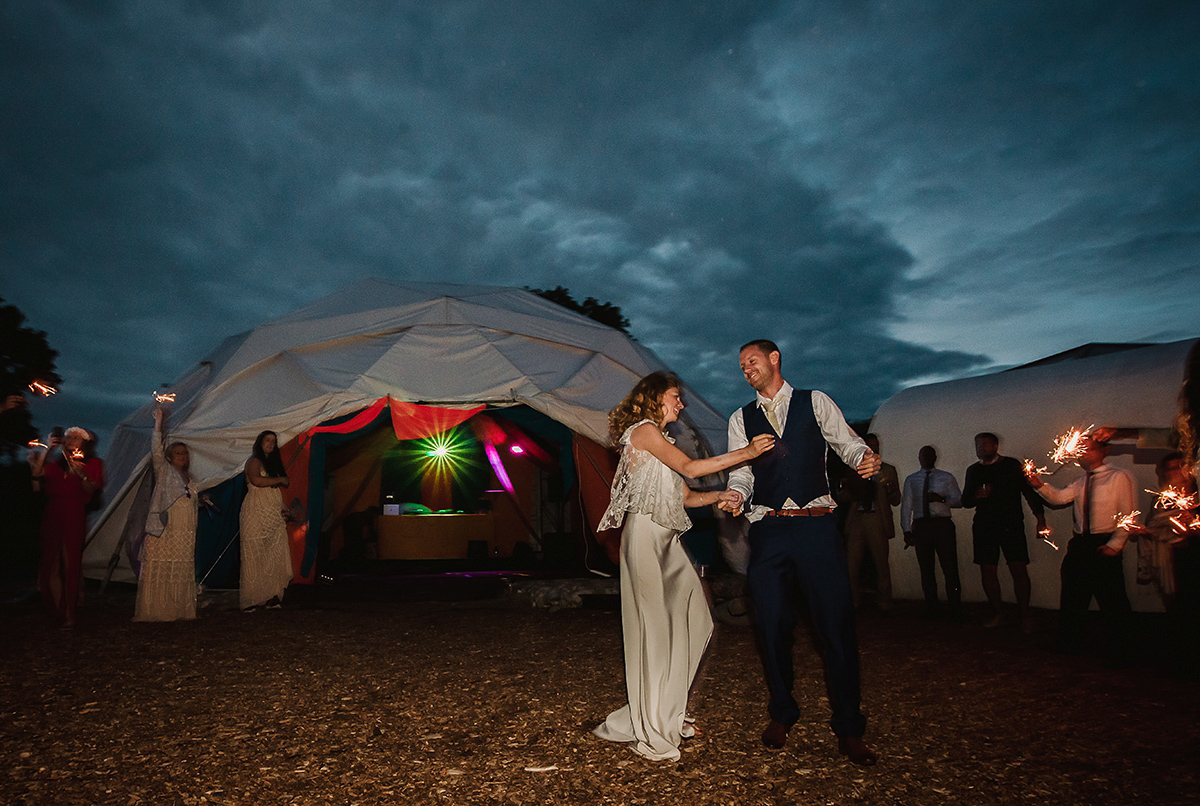 That just leaves me to say a very huge thank you to Posie and Jamie for allowing us an insight into their truly stunning day. And of course my very heartfelt thanks too to Amy Taylor Imaging Photography for these dreamily romantic and atmospheric images.
I'm off to wistfully gaze at the beautifully bohemian detail of a few more Delphine Manivet dresses *sigh.*
Em x