I took my girls to the dentist earlier this week.  The young gentleman on reception offered an unexpected jovial and gesticulated welcome. Stepping aside from his desk he bowed down before us in flamboyant and animated fashion; "The Beeforths! And how are you today? Have you had a good day at work Mum? What have you been up to?". I told the young man that I was feeling pretty tired, having spent the past 3 weeks trying to work through renovations at home – my office being home based. "Aha, and what is it you do for a living Madam, might I ask?".  "I'm a blogger", I responded. There was a momentary delay in his response as his eyes grew wide. "A blogger? You make your living from blogging? Like, full time?". "Oh yes! More than full time – In fact I'm often wishing there were 8 days a week just so that I could keep up!".  "Wow, kids, it's so cool that your mum is a blogger! I've never met anyone before who made a living out of doing that!"
I'm sharing this little anecdote with you because this weekend, I've been quietly celebrating the 7th birthday of the blog I make my living out of – the very one you're reading right now.  I've not made any fanfare style announcement about it, partly because for the past 3 weeks, I've been in survival mode (working from home is hard enough but doing it through major house renovation is incredibly challenging), but partly too, because I didn't want to detract from my daughter Eska's 11th birthday celebrations this weekend.  It would be sad however not to mark the 7th birthday of my beloved wedding blog somehow, so this evening, after the marathon post-party tidy up, I sat down to write this post.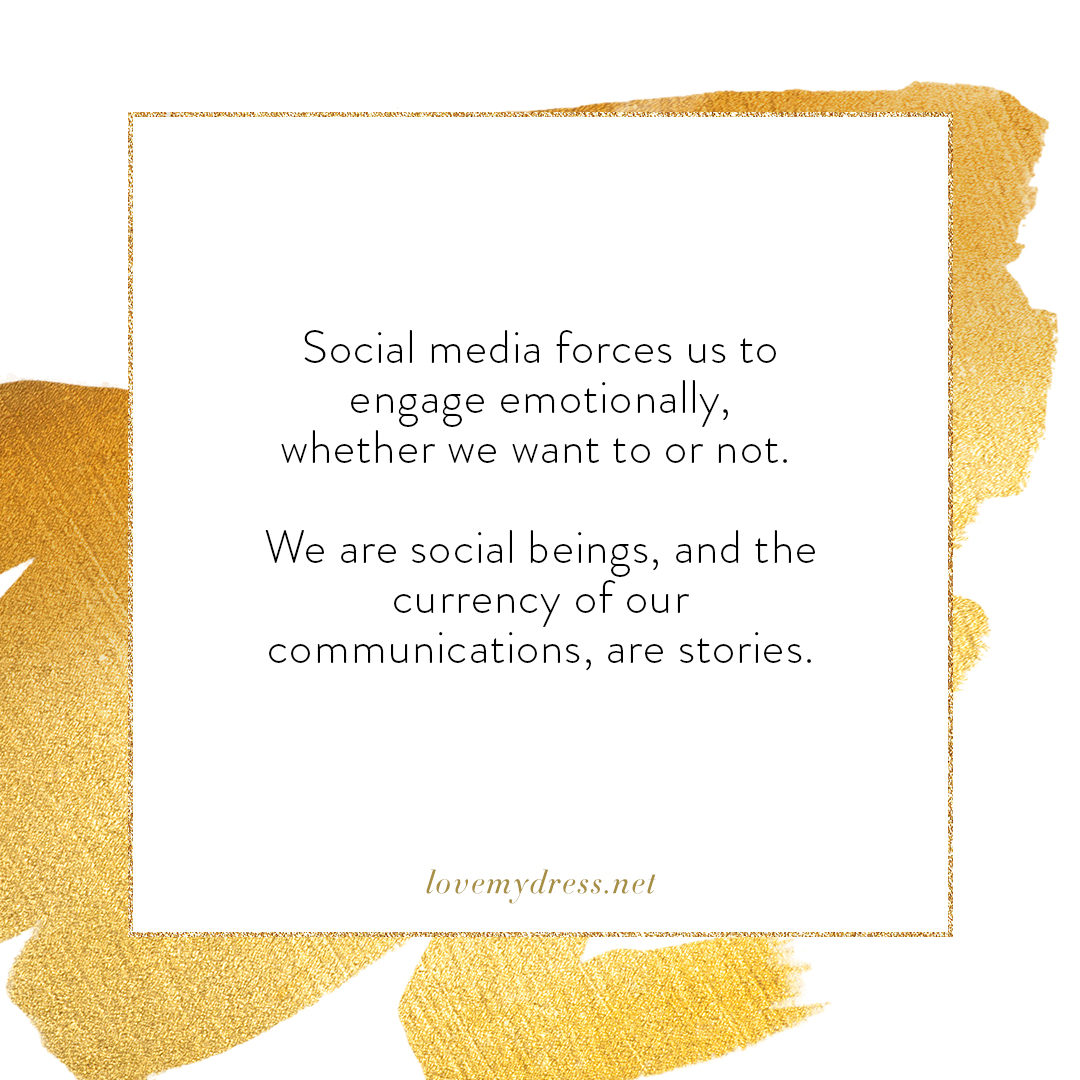 I smiled at the dentist receptionist's reaction.  Yeah, I thought, it really is pretty cool that I make my living out of blogging. I consider myself exceptionally lucky that I get to do a job I adore for a business I established myself. As I reflect over the past 7 years since Love My Dress was born, I'm amazed at how much my entire life has changed – and all because of this blog.
It seems crazy now when I think of how much has happened, but on that cold, snowy day back in November 2009 when wrote my very first blog feature (which was nothing to do with weddings, by the way), I had zero idea at all of how much things would change. Love My Dress came about because I wanted to share my own wedding with other people. I didn't realise it back then, but what I was actually doing was seeking out an online community that I wanted to contribute to and be a part of.
Let's go back a little while to 2008, the year I spent planning my wedding. During that year, I discovered an online wedding forum hosted by You & Your Wedding Magazine.  It was the closest thing we had to 'social media' at the time. Twitter and Facebook weren't really within our consciousness back then and the likes of Snapchat and Instagram hadn't even been invented. As I sought to plan my wedding, I stumbled upon the Y&YW digital forum and I was almost instantly hooked.
The forum provided an opportunity for me to share and participate in community style chat with a group of like-minded women who were equally as excited as I was to be planning their weddings.  I began to notice that some of the forum users were sharing 'wedding stories' after their nuptials had taken place. I loved reading through other people's experiences of their actual wedding day and eagerly looked forward to being able to share my own. Except, when an opportunity to do so arose, I did so quite differently to the rest.  I shared my experience in instalments and wrote about it in true Mills & Boon style  – all 25,000 words of it! I kid you not. And a most wonderful thing happened; other users of the forum started commenting on my story in their droves, and whilst 'likes' weren't a thing back then, I could see that my wedding story had been viewed thousands and thousands of times.  In those exciting days, a little seed of an idea was born, and whilst I was completely unaware at the time, the foundations of Love My Dress were taking root.
This was all happened in the few months immediately after my wedding, so April, May 2009. Several months later, around September 2009, I was asked by a fellow user of the You & Your Wedding forum if I would share my story on what was going to be their new wedding blog. I was thrilled to have been asked and spent hours pulling together highlights of the story I'd already shared online, when I it suddenly dawned on me that I'd rather be sharing it on my own blog. And so, Love My Dress was born. I set out to find myself a blogging platform, designed my own blog header in Photoshop and, well, the rest is history. I named my blog after my forum username of 'lovemydress'.
It was just the most wonderful time to be setting up a new blog in the UK.  Blogging was about to take off big time and, unbeknownst to me this time 7 years ago, advertisers were starting to turn away from traditional print media in favour of exciting 'new media' advertising opportunities. Blog advertising was the ideal solution. Almost as soon as I started blogging, I also started receiving enquiries about advertising. It was overwhelming – I couldn't quite believe it was happening. I figured however that if I could make a little on the side doing something I love, then I jolly well shall. I waited though, I wasted several months to gather statistics and work out how much I should be charging and design a little media pack in Microsoft Word, but in April 2009, I took on my first 8 advertisers.
I didn't set out today to write the history of Love My Dress, so let's just say things are very different now.  From setting out to explore a newfound love of all things wedding, I now spend my days, with the help of an amazing team, supporting hundreds of businesses through Love My Dress and Little Book For Brides. My work regularly takes me overseas and I've made some lifelong, treasured friendships through my blog. I'm even occasionally asked to present at conferences or workshops on the role of blogging or how to get work featured on a wedding blog. I was due, in fact, to give a talk earlier this month,  though it fell through for reasons I won't bore you with. Part of me was enormously relieved – I loathe public speaking.  What the actual fluff was I going to talk about? What pearls of wisdom might I, a humble wedding blogger, have to impart to a room full of talented photographers with successful businesses in their own right?
I was genuinely panicking to the point I really wasn't looking forward to it. And then, with a little help from a friend who coaches in public speaking, I discovered that actually, I have a powerful message to share about the role of storytelling through blogging.  My friend, a former BBC News correspondent, encouraged me to believe that I could talk about what powerful, empowering, positive and inspiring influences storytelling through my blog has had in the past 7 years. "You're so much more than a blogger", she told me. "You're a storyteller –  talk to the photographers about how you are the journalist who can tell their story."  
Storytelling. It was a true Eureka moment for me!
Storytelling is the social and cultural activity of sharing stories, often with improvisation, theatrics, or embellishment. Stories or narratives have been shared in every culture as a means of entertainment, education, cultural preservation and instilling moral values. (Oxford English Dictionary)
Social media forces us to engage emotionally, whether we want to or not.  We are social beings, and the currency of our communications, are stories. How many of you fumble for your phone on waking first thing in the morning – only to find yourself flicking through your favourite social media feed moments later?  We're scanning for something that makes us 'feel' and find a connection with others.
This is why apps like Instagram are so insanely popular – they make it simple to share miniature stories and meaningful fragments of our lives with others. It's so easy to share stories this way, in fact, that not that long ago, some social media pundits started to forecast the death of blogs. But I disagree with this wholeheartedly – I believe blogs like Love My Dress provide a most valuable and needed opportunity to share stories on a deeper level – ones that that go beyond a single image and confines of an Instagram caption. Stories of love, joy, sadness, celebration, loss – stories of real life from real people. Stories that unify us and help us find a sense of familiar and belonging. Our community. Your tribe.
There is no doubt at all that the blogging landscape has changed drastically in the past 7 years since I started Love My Dress, almost unrecognisably so. Some blogs haven't survived these changes and there will be others that fall beside the wayside to0. Others have thrived and will continue to do so. I truly believe that Love My Dress will be one of them.
I realised sometime ago now, that the reason Love My Dress is successful, that it touches so many people and brings together such an amazing community, is because these people are all drawn to the humanity and storytelling behind what we do. It's part of the reason Mrs Caudery chose Love My Dress to launch her #sharethehonestlove campaign. It's the reason why Clara Francis asked us to share the heart rending and yet powerfully life affirming story of getting married after losing her child. It's the reason this disabled bride entrusted us with the story of her wedding planning experience and why this incredible individual turned to us to share her story of marriage after meningitis and miscarriage.  And it's the reason all these brave and courageous readers chose to share their own from the heart stories.
Six months ago, I set up a private Facebook group just for brides to be and newlyweds. The success of this group is staggering and not because of the number of members we have already, but because of the unbelievably warm, supportive, friendly and sharing community that has been established.  The words below are from one of our group members, after I shared with the group those media reports about the death of blogging. The coments really do perfectly sum up the view of the entire group:
I hate the thought that the art of writing, of crafting beautiful words, compelling stories and wonderfully conveyed essays is being pulled apart by the need to write 'challenging titles' or 'short snappy paragraphs'. If you want to write 300 words, do it because you want to, not because that's the length of feature that gives you an SEO bump. 
I completely believe there will always be a place online where community thrives around storytelling and shared experiences. There will always be a need to seek out online spaces like Love My Dress, places we can converse, feel and share. That's never going to go away, I'm confident in reassuring you of that. Through our real wedding features, we provide a state of what it is to be a human being in love and we reinforce the deep-rooted need within all humans for connection.
Human connection brings complex values to our lives: relationships give us a sense of belonging in the group, a sense of identity in contrast to others in that group, an almost therapeutic-support system, and reason not to feel lonely. We learn from others' experiences and insight, and we learn together by pursuing new experiences alongside those we befriend. (goodtherapy.org).
Storytelling, human connection, trust, honesty, authenticity, relationships, nurturing, sharing, friendship, loyalty, community. I need to believe that these are the reasons people are being drawn to the blog, not because we're so focussed on our Instagram count number and comments reel, that we forgot how important the basis of crafting a rich, loyalty building, storytelling resource is.
I'm not interested in succumbing to the ever-changing search engine algorithms by filling Love My Dress with click-bait tat and re-hashed top ten lists. I feel a genuine responsibility to produce honest, emotive content that inspires and connects people.
Photography by The Kitcheners
Read the full wedding story here
A picture can tell a thousand words and have an enormously powerful impact, but accompanied by a well written story, then the individual can be taken on a deeper, more meaningful journey and experience. Storytelling is therefore, for me, the main purpose of this blog. And in this multimedia age, where the number of followers and likes you have seems to take priority for so many, it comforts me to know that I have created a space where storytelling and community building in a meaningful sense will always take main priority.
I'd like to end this piece by quoting from one of our recent 'From The Heart' features…
Statistically, over 1 in 5 of us has a mental health disorder. We're likely suffering to a degree from a media age we're the first generation to experience and are navigating our way blindly through, yet we're seeking comfort and assurance from strangers within social media… and we're receiving it. Strangers who are also suffering wedding anxieties, crisis of confidence and pressures of perfectionism. Yet instead of seeking assurance for ourselves from the belittling of others, all 1,037 of us are aiding each other, building confidence, offering assurance, providing a space and a safety and a community of love, openness, and honesty. (Read more)
I dream and hope that there will be many more years of storytelling through Love My Dress – years that survive and transcend any new social media fads, trends and algorithm changes. It would be wonderful if you could join me on that adventure.
Happy birthday Love My Dress,
Annabel x