I'm bursting with pride for the wedding industry and the many brilliant businesses that exist within it that make it the incredible, vibrant, creative scene that it is.
Some of these businesses are extraordinary – the people that lead them are brave visionaries and boundary pushers, always at the frontier of change. Miss Bush is one of these businesses, and today, I want to help this exceptional bridal boutique, celebrate 35 years of helping brides find confidence, support and beautiful bridal fashion.
I first met Emma Marshall, MD of Miss Bush, back in 2011 at an event I hosted in the North East (for those of you who might have also attended, it was the legendary night that was the 'Love My Dress Summer Soiree'). Emma made an instant and lasting first impression – she was a woman's woman, a feminist before I truly knew what a feminist was, a woman who was passionate about helping other women discover self/body/wedding day confidence like no other.
I loved Emma's punky level of self expression – she was and always has been the Vivienne Westwood (R.I.P.) of the wedding world – someone unafraid to use her voice, and use it she frequently has, to highlight issues like age representation, how the wedding industry is adapting and evolving, the female voice and imposter syndrome, to support brides with weight and body image anxiety and to defend the mainstream media's poor support of the wedding industry. She has from the day I met her, been unapologetic for who she is, and I adore her for it.
Today, I want to join one of Emma's personal favourite bridal fashion brands, Jesus Peiro, in helping her celebrate 35 years of Miss Bush, through the creation of this beautiful, celebratory bridal gown.
Emma, tell us about your special relationship wtih Jesus Peiro
Jesus Peiro and Miss Bush share an anniversary. Both our brands have been established for 35 years.
For the last 17 years, half our business lives, we have grown and evolved and celebrate an incredibly valuable business partnership.
What started as a passion brand for me has grown into a mainstay of my  business, the design team endlessly delivering dresses that capture the spirit of the year without sacrificing quality and craftsmanship.
As Miss Bush turned 30, Merche, the head designer at Jesus Peiro, designed an exclusive dress that has become at much loved classic.For our 35th birthday we have another exclusive dress reflecting what we love from an fashion perspective and what we love about Jesus Peiro. Emma Marshall, Miss Bush
Tell us about this beautiful Anniversary Dress
The dress, called Chloe, after my long time muse and collaborator is at once incredibly stylish and incredibly traditional.
There has been two polar opposite trends in bridal; slinky/sexy versus minimalist and modern. Celebrity brides, who have access to the most incredible stylists and couture gowns have tended to choose modesty and looks appropriate for a faith-based ceremony.
In the era of the multiple wedding dress, it is increasingly common and incredibly practical to have two looks.
One high style and suitable for the most formal of occasions and one short, sassy dancefloor-ready option.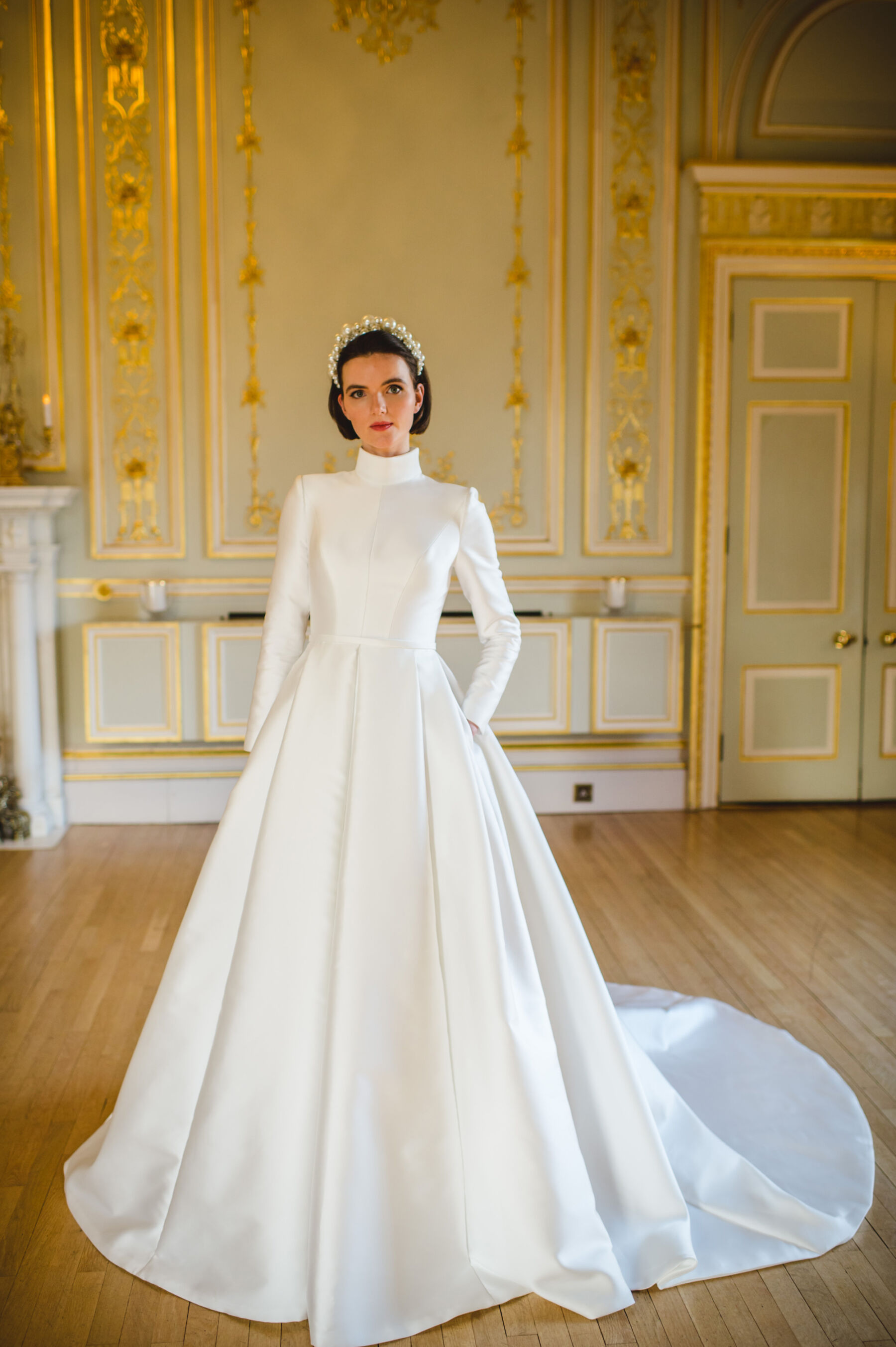 The Chloe dress features and polo neck, high buttoned back, the classic inverted pleat skirt and, of course, pockets. The complexion enhancing, ivory silk mikado bounces light off skin making it part beauty product, part dress!
Bra fans, sleeve fans and high back fans will be delighted that some of the areas women feel uncomfortable showing are easily addressed.
The dress is available in a wide range of fabrics and with alternative skirt shapes.
Can brides try on this dress and how much does a dress like this cost?
Our Chloe sample gown, pictured here, has been sized around Chloe, the model who wears it. Chloe is 5'11" and is wearing a Spanish 40. This is equivalent to a large 8, small 10 in UK sizing.
There is a similar, beautiful Jesus Peiro dress en route to Miss Bush, in a Spanish size 50 as the downside to tight fitted sleeves is, that if they don't go on, then the dress doesn't go on. 
Ultimately, for this level of wedding dress simplicity, I would recommend a made to measure service – and these is no upper or lower size limit with made to measure.
As shown on this page, the dress, with petticoat, is £3,650 in silk mikado. Prices for the satin version with no petticoat, start at £2,730. Made to measure is an additional 15%.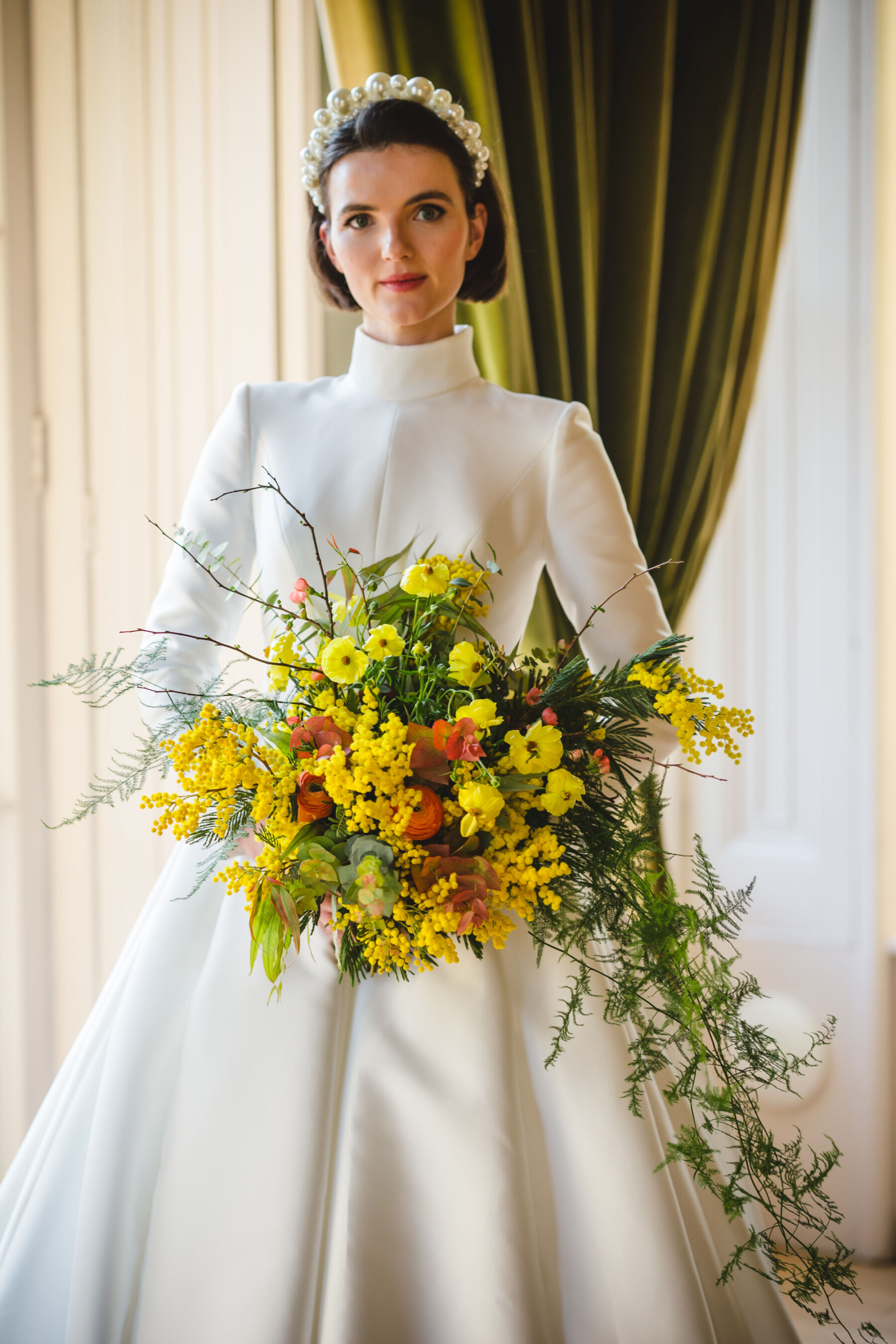 How To Book an Appointment & What To Expect
Please email [email protected] for an appointment to try on this beautiful gown or discuss your made to measure requirements in further detail.
Emma and her team at Miss Bush adore welcoming Love My Dress through their doors. The boutique itself is located in a beautiful former chapel and the experience you will receive whilst there and at all times when liaising with Miss Bush is one of high-end luxury. You can also take a look through all former Miss Bush brides whose weddings we have shared.
Please note that Miss Bush is closed throughout April to undergo renovation, so we strongly recommend you book your appointment in March.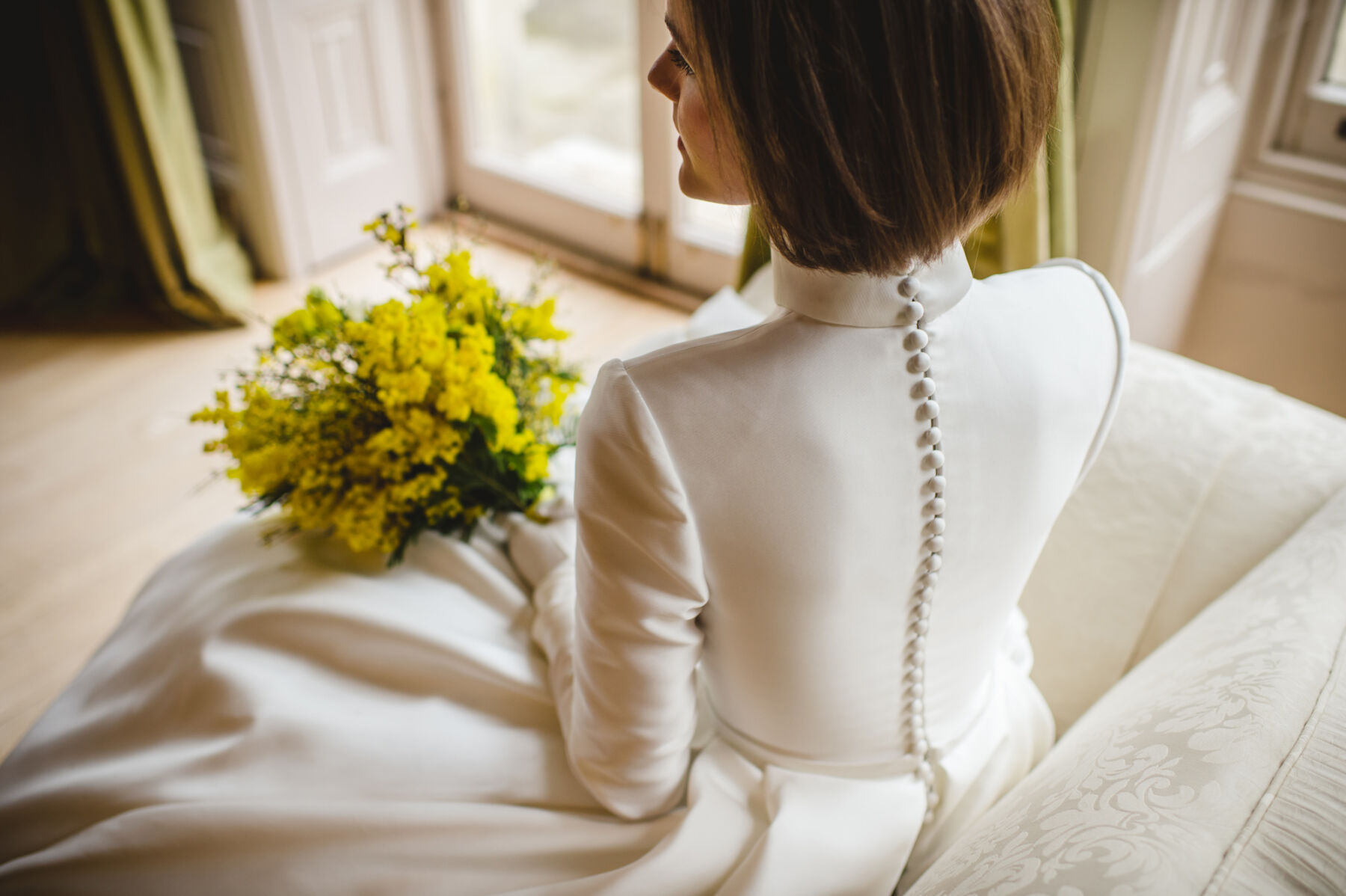 missbush.co.uk