Throughout the month of April, Miss Bush bridal boutique, will be hosting a month long, incredible sample sale.
The sale will be hosted at Miss Bush partner, Nortier Shallow in Basingstoke, as a 'pop-up' event, whilst the Miss Bush boutique undergoes renovation.
Sample Sales are a fabulous opportunity to pick up some rare treasures, classic styles and creative, high fashion pieces – and Miss Bush sample sales are legendary – and the Miss Bush sample sales are legendary. Here, you'll be able to find absolute gems from the likes of Suzanne Neville, Jesus Peiro, Anna Kara, Sophie et Voila and Yolan Cris.
Read on for all of the details including dress prices and view some of the highlights that will be heading into this not-to-be-missed sale, or book a sample sale appointment now.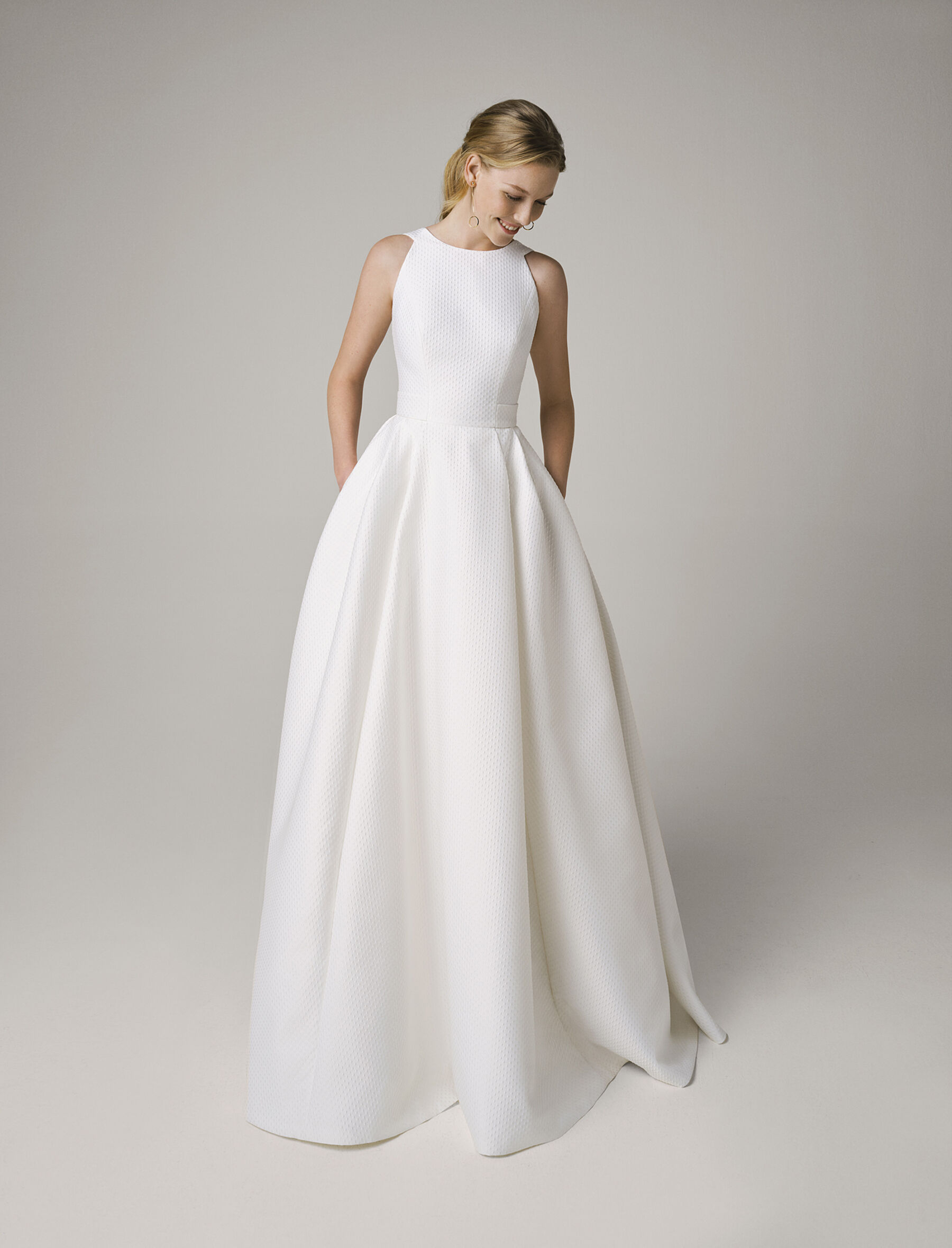 A Quick Intro to Miss Bush
For those of you not in the know, Miss Bush is a leading British bridal boutique based in Ripley, Surrey, who provide a unique and luxurious wedding dress shopping experience.
We've been supporting Miss Bush for around a decade now and it is an absolute joy to do so. If you need any convincing of the kudos of this brilliant boutique and the superb service and experience it provides to all brides, start here. Then take a look through all these real wedding, editorial and opinion piece articles for inspo.
The Miss Bush team have been dressing stylish, fashion-conscious brides for nearly 35 years. With high-end, knowledgeable styling advice, exclusive one to one appointments, an exemplary fitting and alteration service and a thoughtfully curated selection of stunning contemporary gowns the bridal shopping process is a truly unique, memorable and luxurious experience.
The Miss Bush dress selection reflects a taste for understatement, sharp lines, clean cut and incredible fabrics.
Why is Miss Bush holding their sample sale somewhere else?
Good question! Miss Bush is housed in a former chapel, and in April, the entire building is closing so that the roof can be renovated. It's a pretty big deal – Miss Bush has secured grant money to help enhance their beautiful building sustainably – you can read more about that here.
So a decision was made to host this year's epic sample sale at Nortier Shallow, who are the Miss Bush recommended supplier for fittings and alterations.
How Much Are Sample Sale Dresses & Designs?
The vast majority of designs will be priced under £1000. All designs will be priced below £1500.
Please note, this is a sample sale event only, and only sale items will be available for purchase. You will not be able to order full priced items from the Miss Bush collections at the sample sale.
Please also be aware that there will be limited sizes available in the sample sale – the samples will mostly be sizes UK 8 to 14.
Recommendations for cleaning, storage and fitting services with trusted partners will be provided by the expert Nortier Shallow team.
Do I need to book, or just show up?
You will need to book an appointment and we strongly advise you book one now.
The Miss Bush pop-up sample sale will start on Monday 3rd April and will run for the whole of the rest of the month. Appointments are available between Sunday and Wednesday (excluding bank holidays and Easter Sunday) from 10am until 4pm.
A £25 appointment booking fee applies, which is redeemable against purchase of a dress.
The sample sale location, Nortier Shallow, is conveniently located close to the train station in Basingstoke, providing super easy access and a very warm welcome.
The full address is: Unit 4-5, 35-41 Essex Road, Basingstoke, Hampshire, RG21 7TB. Click here for the address and directions.