Planning a wedding, currently, feels very 'jazz'; any attempt to define, precisely, what it will be or what it will look like is futile. Improvisation is in, predetermination is out.
That said a wedding cannot be entirely extemporised. Smaller events still need managing, like good jazz they don't just happen. There needs to be a solid base of expertise to allow the spontaneous magic to happen.
Miss Bush Bridal

+ Follow
Susie Evans has now experienced managing many smaller events…
"It really brings home the true meaning of love and marriage. The intimacy really is something special. The opportunities to create a magical guest experience are elevated and working with the detail from florals to food, the inspiration and ideas are endless."
"Wedding suppliers are learning to adapt to help couples create that perfect intimate wedding."
Creative shoots, right now, are like putting the 'band back together.' Part therapy, part problem solving. How do we, as an industry, create an intimate 15 person wedding that feels meaningful, heartfelt and memorable? How can couples harness all the ingenuity and expertise of 'big wedding' experts, scaled, for the here and now?
The creative team headed by Susie Evans, Mad Lilies, Two Many Cooks and Inside Outside were, necessarily, inspired by the limitations currently faced by couples. Two Many Cooks devised an indulgent, fine dining experience for fifteen. If you are lucky enough to be on a small guest list be ready to enjoy more intricate dishes and wine pairings.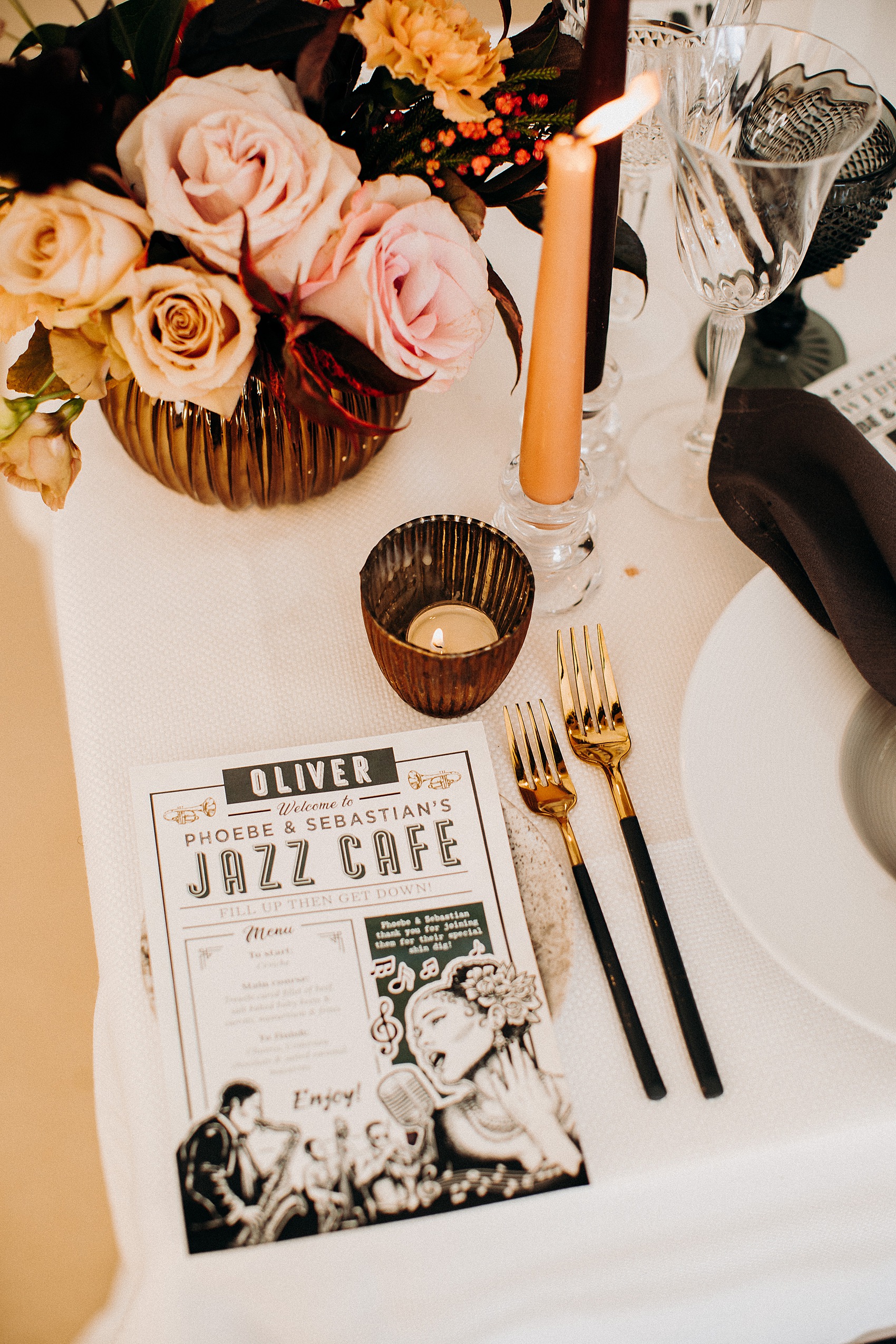 Similarly, Ali from Mad Lilies, suggests doubling numbers by hosting separate consecutive events and repurposing flowers. A lunch for 15 could be flowed by dinner for 15, with the appropriate safety measures in place.
Bright lunchtime florals can take on a whole new personality when lit seductively with elegant candles and shimmering tealights.
Society DJ, Matt Maurice believes that a great party is not dependent on great numbers. A DJ and a soloist can bring all the much loved musical elements to an event with a more bespoke tailored playlist rather than universal crowd pleasers.
A jazz soundtrack was the inspiration for the event design; music that moves the listener without the listener having to move. It's not the moment for 'dancefloor bangers' but for a more reflective way of celebrating with your absolute nearest and dearest. Mr Brightside is taking a much needed nap.
Whilst the team strongly believe that a marquee at home for 15 could be Covid secure, it is still not an option for couples. As a group of creatives we want to keep the name of our beloved peers, Inside Outside Marquees, in the public eye and wave the flag for marquee providers everywhere.
The styling for this shoot can be lifted and used in any small venue and, when safe to do so, scaled up.
I am notorious for having a very 'basic' music taste, more than three chords and I am lost. In researching my approach to a jazz themed wedding inspo' I headed straight for the inspirational women of jazz; how they looked, what they wore and what they said.
Rather than a direct homage or fancy dress I tied to illustrate three different ways of dressing for an intimate event while keeping a strong female soundtrack in my head.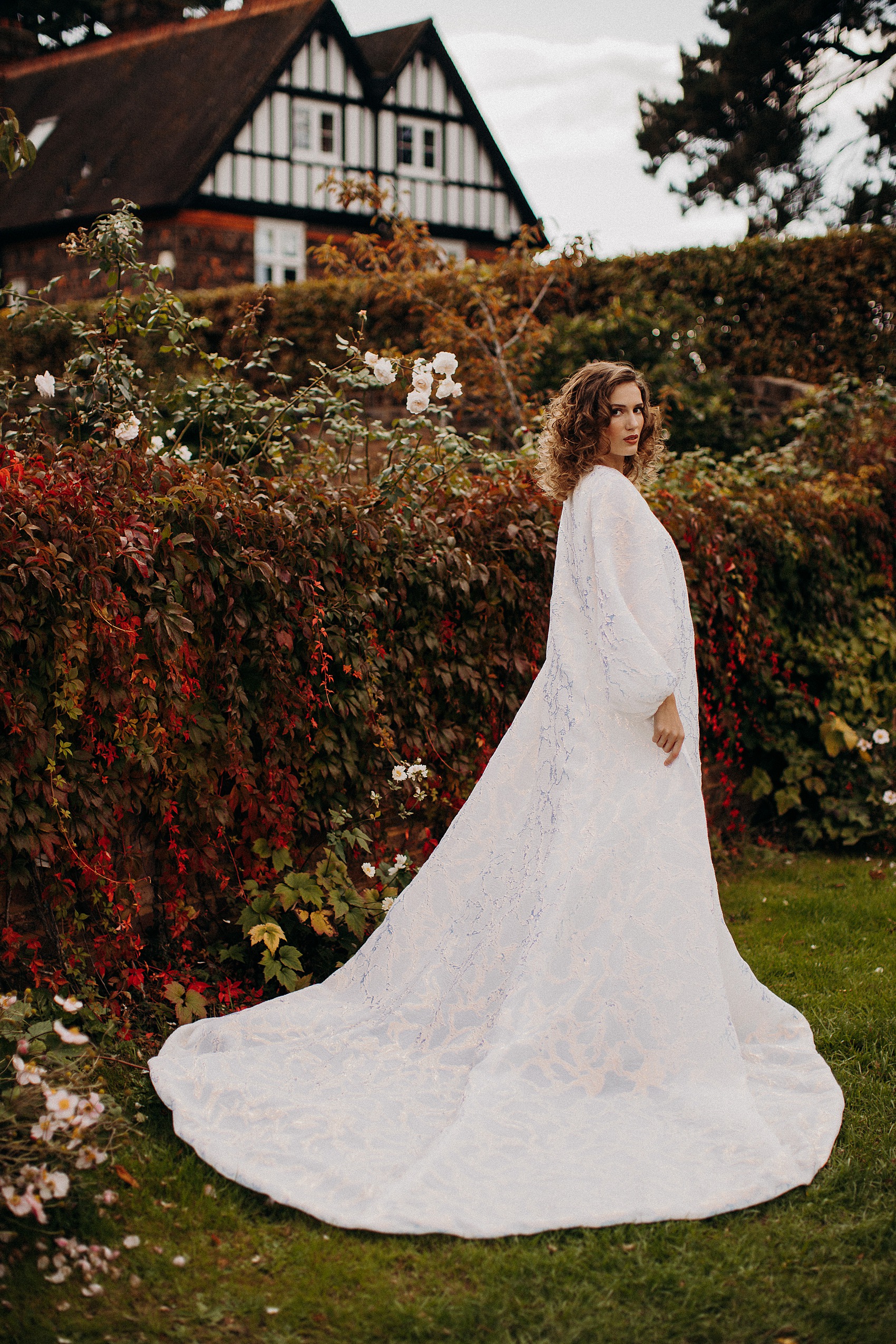 In one of life's universal coincidences my first muse Melody Gardot has a song called Amalia, the name of Jesus Peiro's 2021 collection. I was inspired by her folk/jazz look. The classic left bank beret-sunglass insouciance. Curls, coolness and a poet's soul.
Maybe fate, maybe reason, made you fall from the sky, like the tide, like the seasons, ever changing, you and I. Melody Gardot
Billie Holliday has a quote that I think we could all live by right now if we are in any way connected to the concept of a 'wedding' either as part of a couple or as a service provider
There's no damn business like show business – you have to smile to keep from throwing up.  Billie Holiday
It is hard to stay sunny, optimistic. At times this year we have all been wracked by anxiety and nausea so I pulled my second look around the big hair, big flower iconic images of Billie and had "When you are Smiling" on repeat.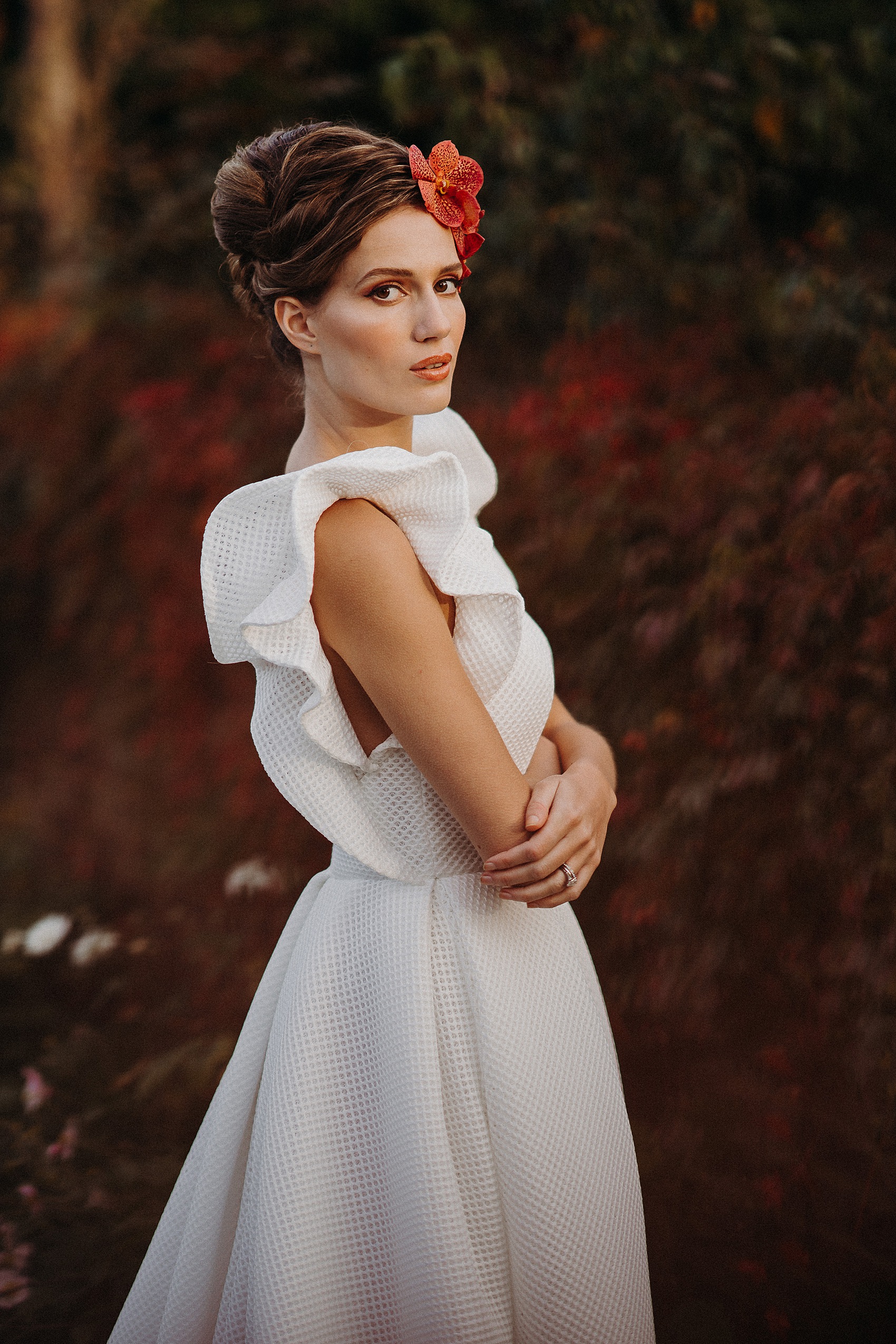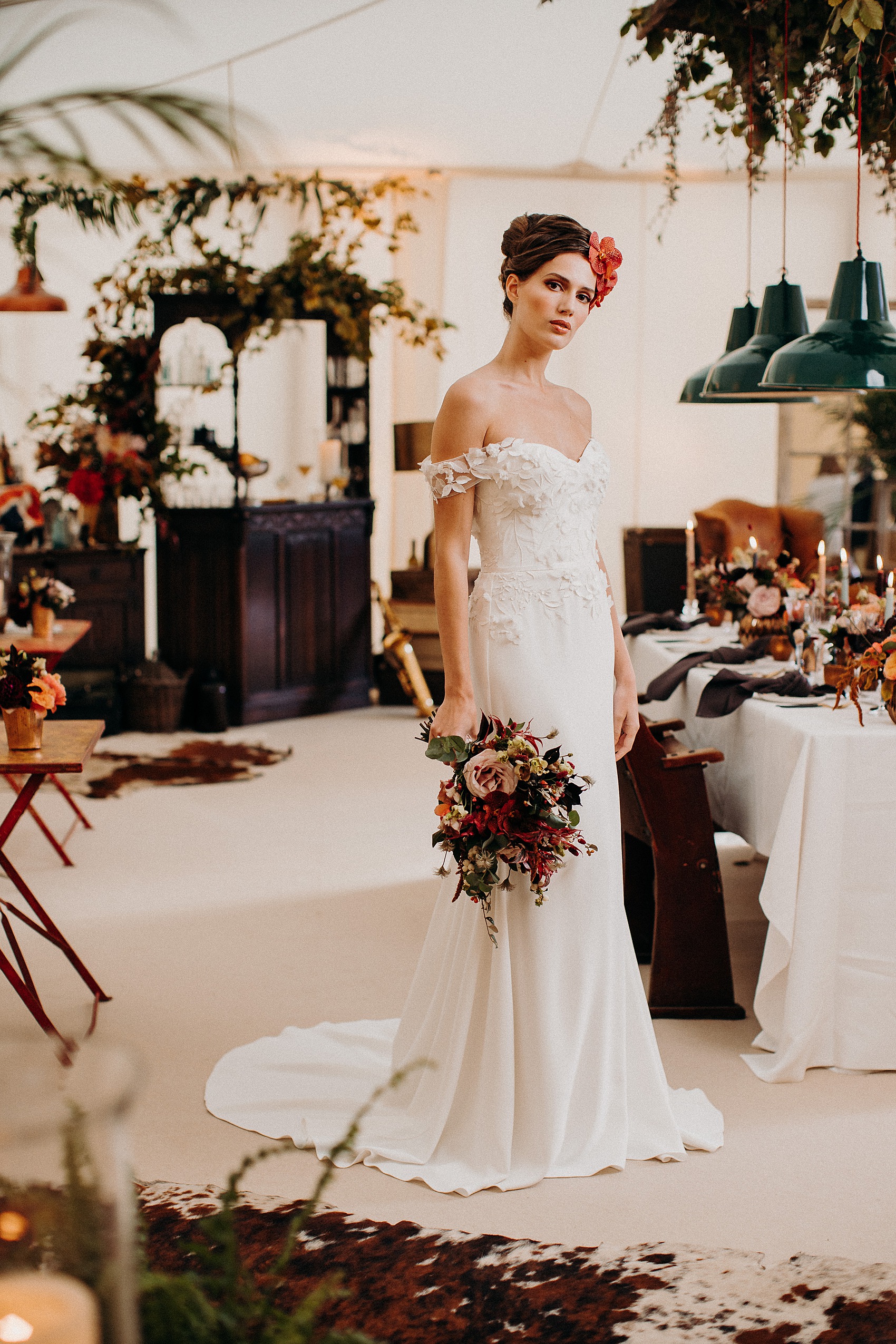 Finally, Sade. Any teenager in the 80s will have tried to emulate the cooler-than-thou, slicked back hair and hoop earrings. Serious minimalism has lasting appeal even though the Sade quote that was not about classicism…
I'm not anti-fashion, but I've always had a bit of a punk attitude. That's important, I think. I do my own thing. Sade Adu
Punk music was my introduction to protest and politics and now as individuals it has never been more important to use our voices, votes and platforms.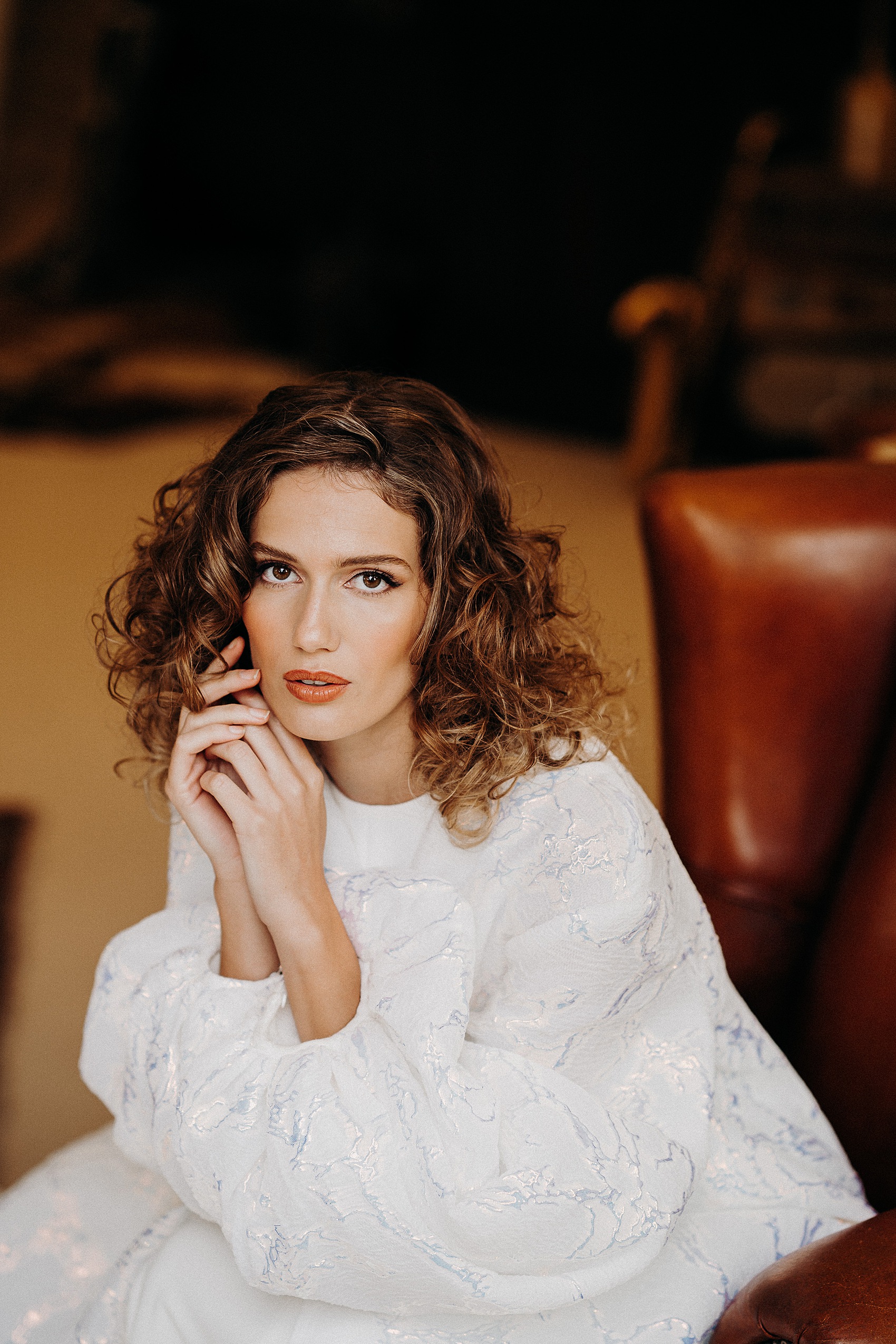 I could never have imagined weddings being at the centre of a raging political debate that encompasses art, culture and events as we know it.
I am serving a side order of opinion with the main course of pretty.
I want to thank Annabel for always allowing both to exist side by side on Love My Dress.
Emma