As we gently and cautiously make our way through the first half of Autumn – waiting for the next government announcement that might impact weddings, I'm sensing a deep longing within the community of wedding businesses within which I work; the need to create.
With almost all weddings that were due to happen this year, now postponed to next year, there are thousands of businesses and venues all over the country who are desperately missing being involved in the creative process of planning and delivering a wedding day.
Angela Ward Brown Photography

+ Follow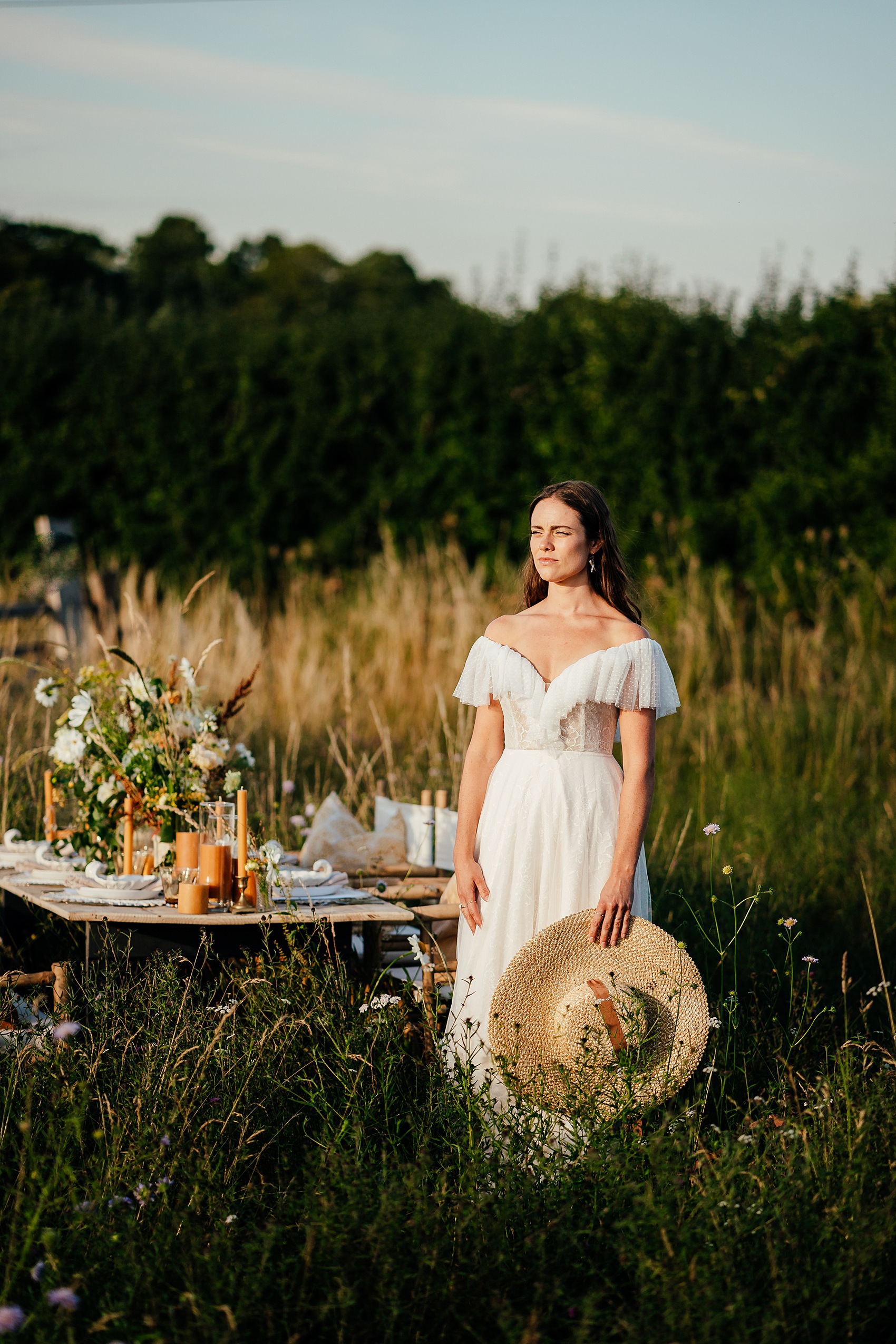 We are a creative sector within a creative industry, and not even a pandemic can stop the flow of creative juices. Halt them, maybe, but only temporarily. And so even in these uncertain and unsettling times, the desire to create, make, produce and inspire is very real – and actually very necessary on so many levels (mental health, day-to-day survival etc).
These beautiful images were taken by Angela Ward Brown, who I'm delighted to say is in the process of joining our Little Book Wedding Directory, but the words that follow are from Helen War, of What Peggy Did Next.
"This editorial stemmed from longing to get creative again with our supplier friends after COVID-19 has affected our wonderful industry so greatly."
Angela Ward Brown Photography

+ Follow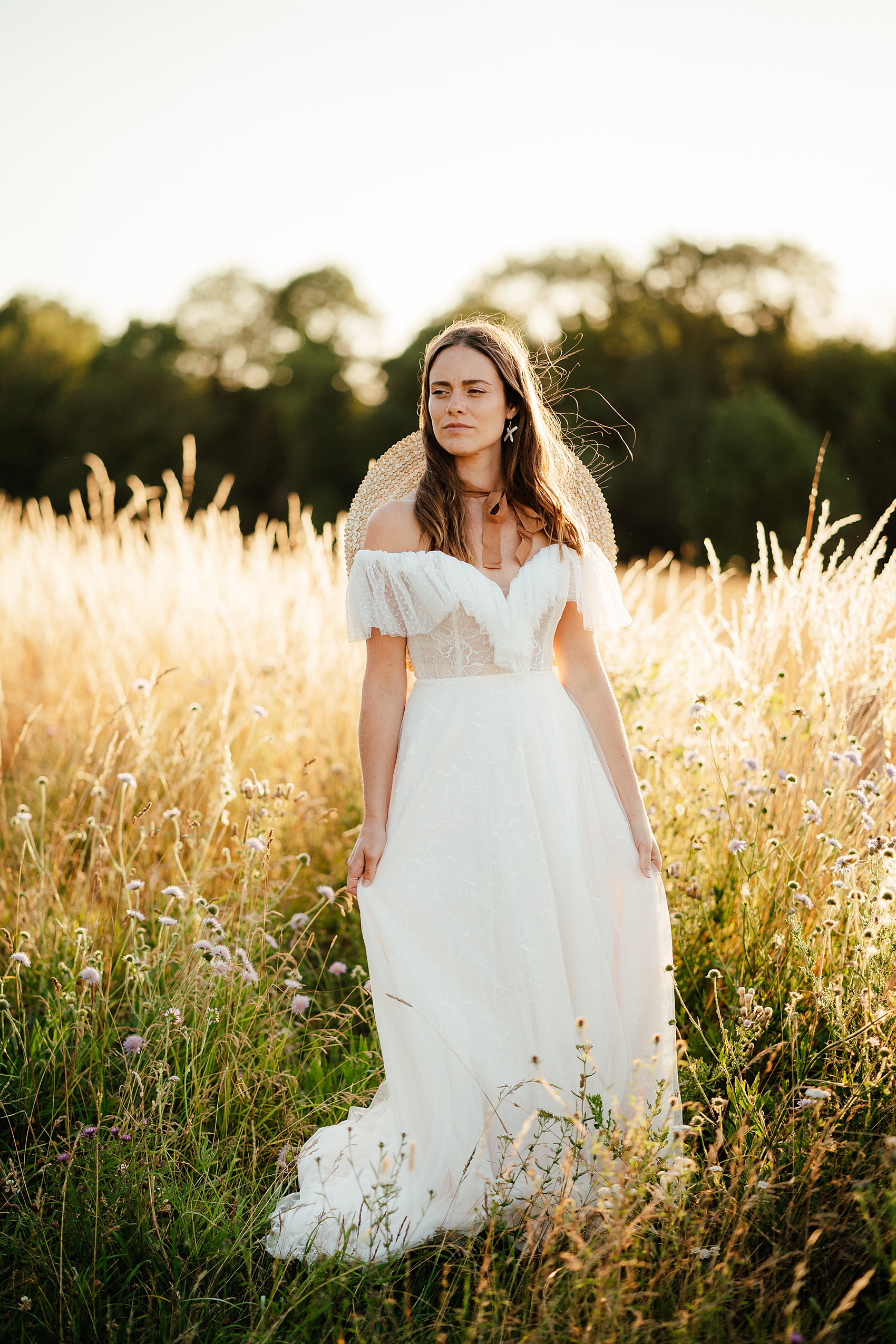 "We, What Peggy Did Next and our long-time collaborator, photographer Angela Ward-Brown, wanted to create some new inspiration for engaged couples and our peers to enjoy, in the absence of 'real' weddings being able to go ahead."
"Of course, one key thing on our minds was to show that small, intimate celebrations can be just as beautiful and detail focussed as a larger wedding."
"Inspiration started very simply, with mid-summer fields full of wildflower, long grasses and barley which absorb the light so beautifully as the sun sets. We then discovered our beautiful dress 'Odette' by incredible design duo Nortier Shallow, adding perfectly to our laidback, subtly luxurious aesthetic."
"We paired with sublime accessories such as Ashley Wild Bridal's Kiss Kiss modern pearl earrings and an oversized straw hat, carefully keeping tones neutral and a touch earthy to complement our setting in the late afternoon sun."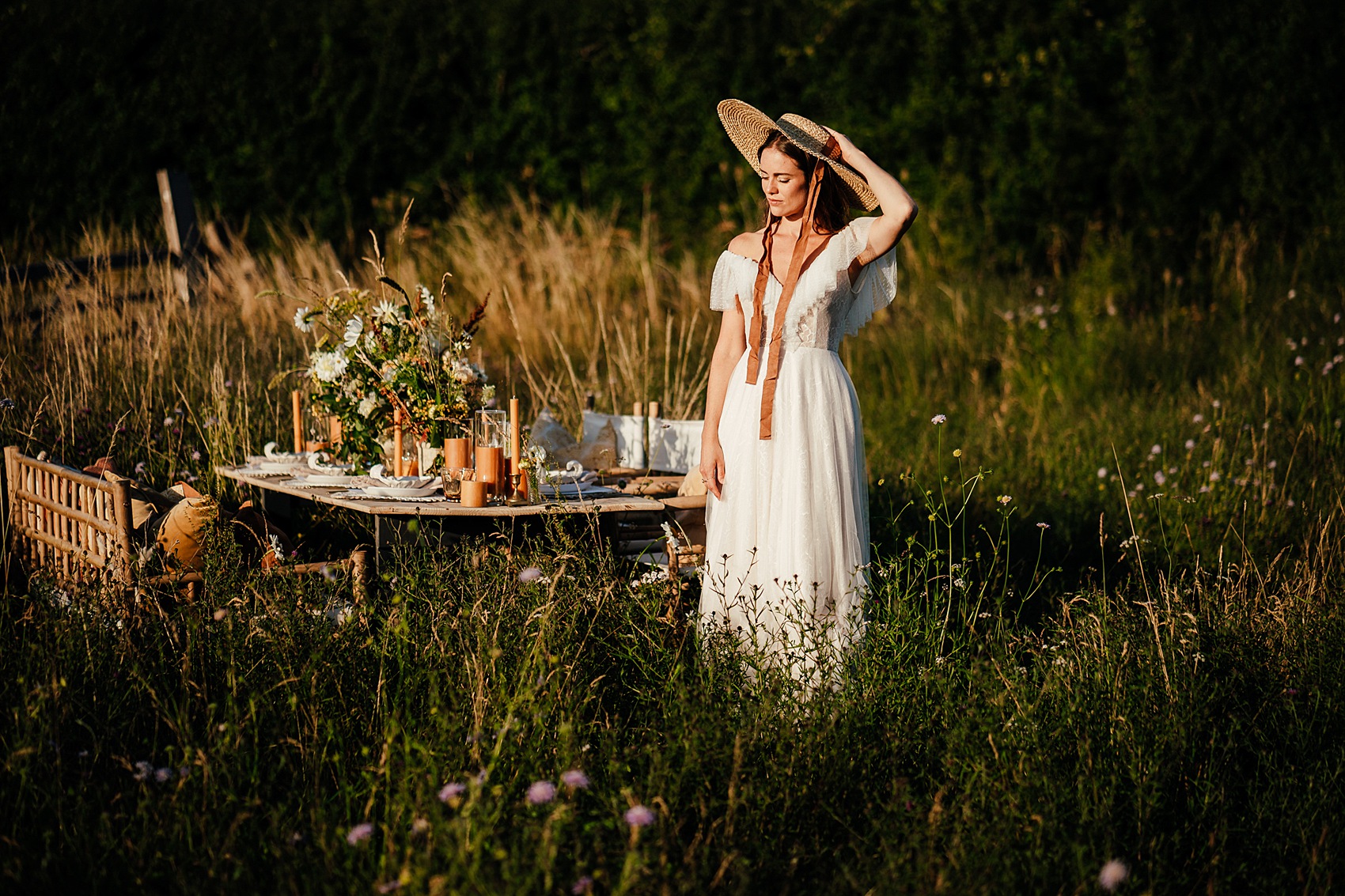 "We chose a colour palette with a warming and welcoming presence, an inviting combination of rich caramels and honey hues against fresh, organic whites seen within the landscape."
"Complementing the wild and raw environment was key to the styling, adding textures from the stone vases of foraged grasses and fresh blooms by the talent that is Catherine Coombes, the rattan shell placemats and tableware by Maison Margaux and elegant furniture by The W Collection."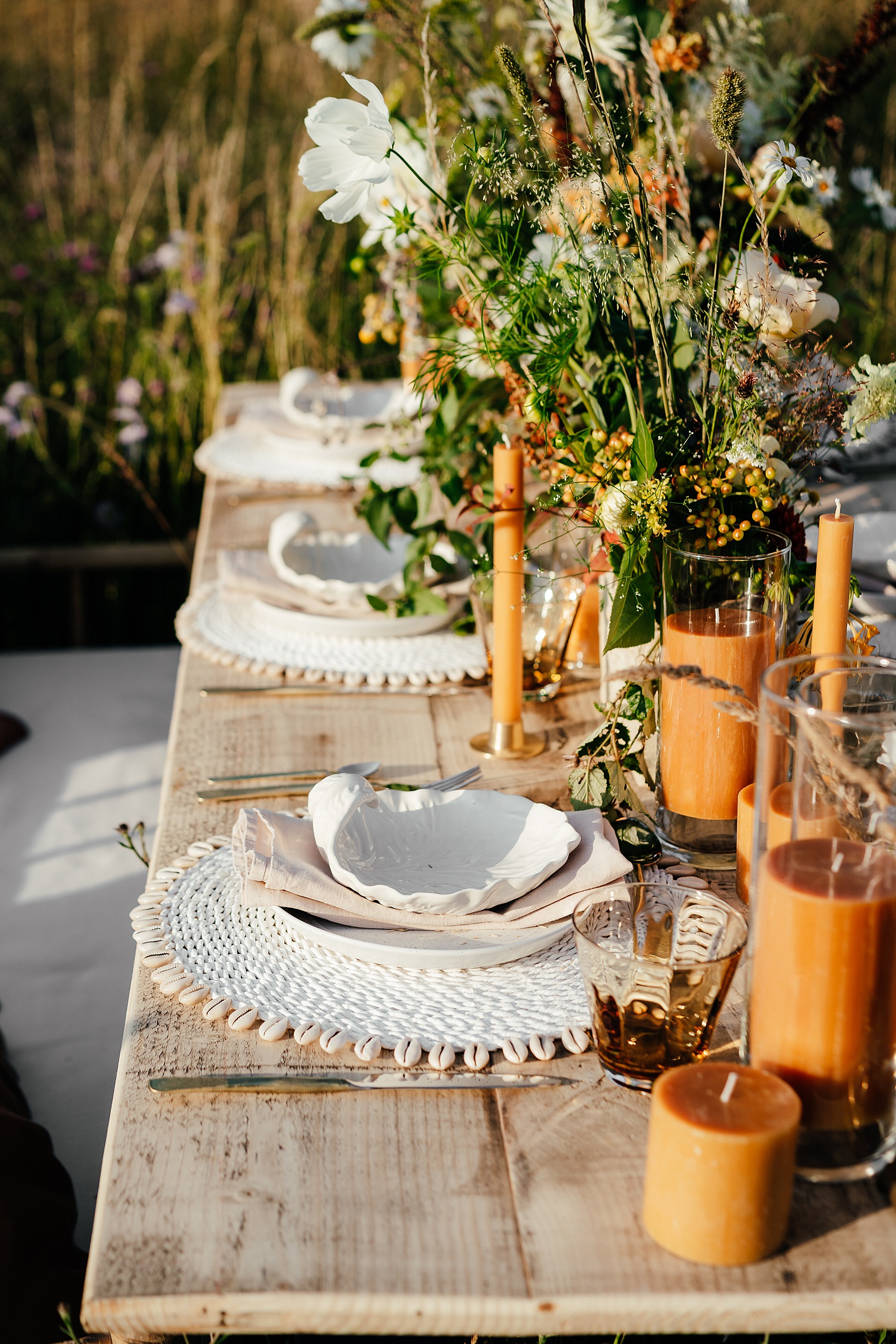 "Pippa at The W Collection has such a stylish and unique set of furniture, the bamboo seating ticked every box for us and lends itself so well for both intimate weddings and dinner parties alike."
"Vine In The Wild provided the stationery, combining minimalist design with traditional techniques, to create considered pieces that worked so well on the table."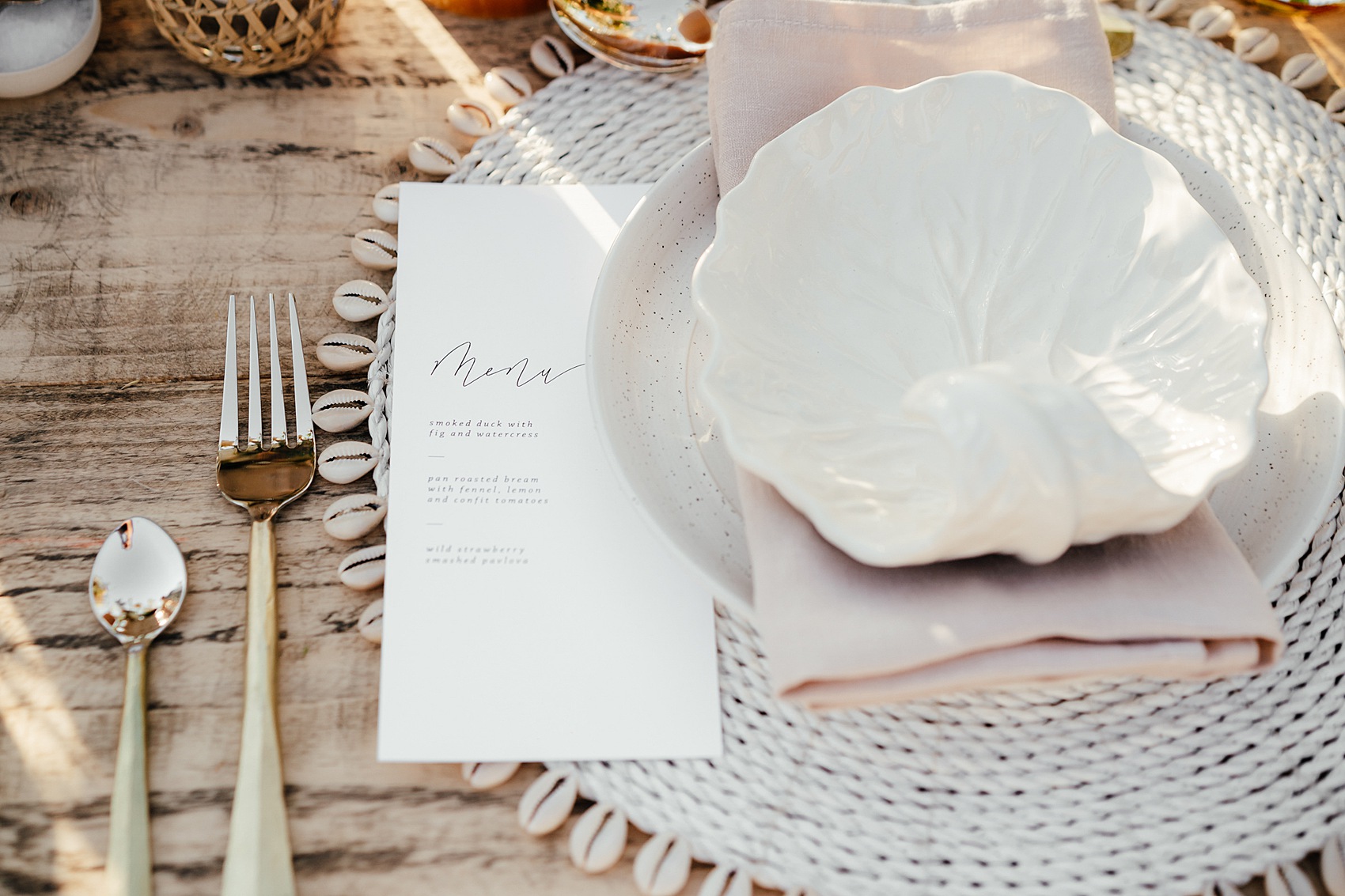 "When designing our client's weddings we always use and enhance the venue chosen, we did the same here, placing discrete vases of dried and fresh flowers within the grasses to appear as if they had always been, framing the table setting with floral detail."
Intimate celebrations may not demand the need for a tiered cake, we chose a seasonal pavlova, acting as the centrepiece alongside some pretty mini mille-feuille all baked by Smallpiece Catering."
"The treats were nestled in amongst the grasses on a versatile nest of side tables by the W Collection.