On 28 August 2021, journalists Lucy and Philip wed in the Garden Museum, Lambeth, London.
Previously the abandoned St Mary's Church, the Museum offered an atmospheric and versatile space for the modern and contemporary wedding day, which combined 'wildflower meadow' inspiration with a rich deep green and white colour palette.
Photography Maja Tsolo Photography
Lucy applied her own make-up, following guidance from a make-up tutorial.
"I didn't have a make-up artist on the day (a regret!) but did have a pre-wedding tutorial with the amazing Louise Lerego Makeup Artist, who gave me some great tips and who I would really recommend."
"For everyone's hair on the day I booked a few hours at Aer Blow Dry Bar, a really beautiful salon."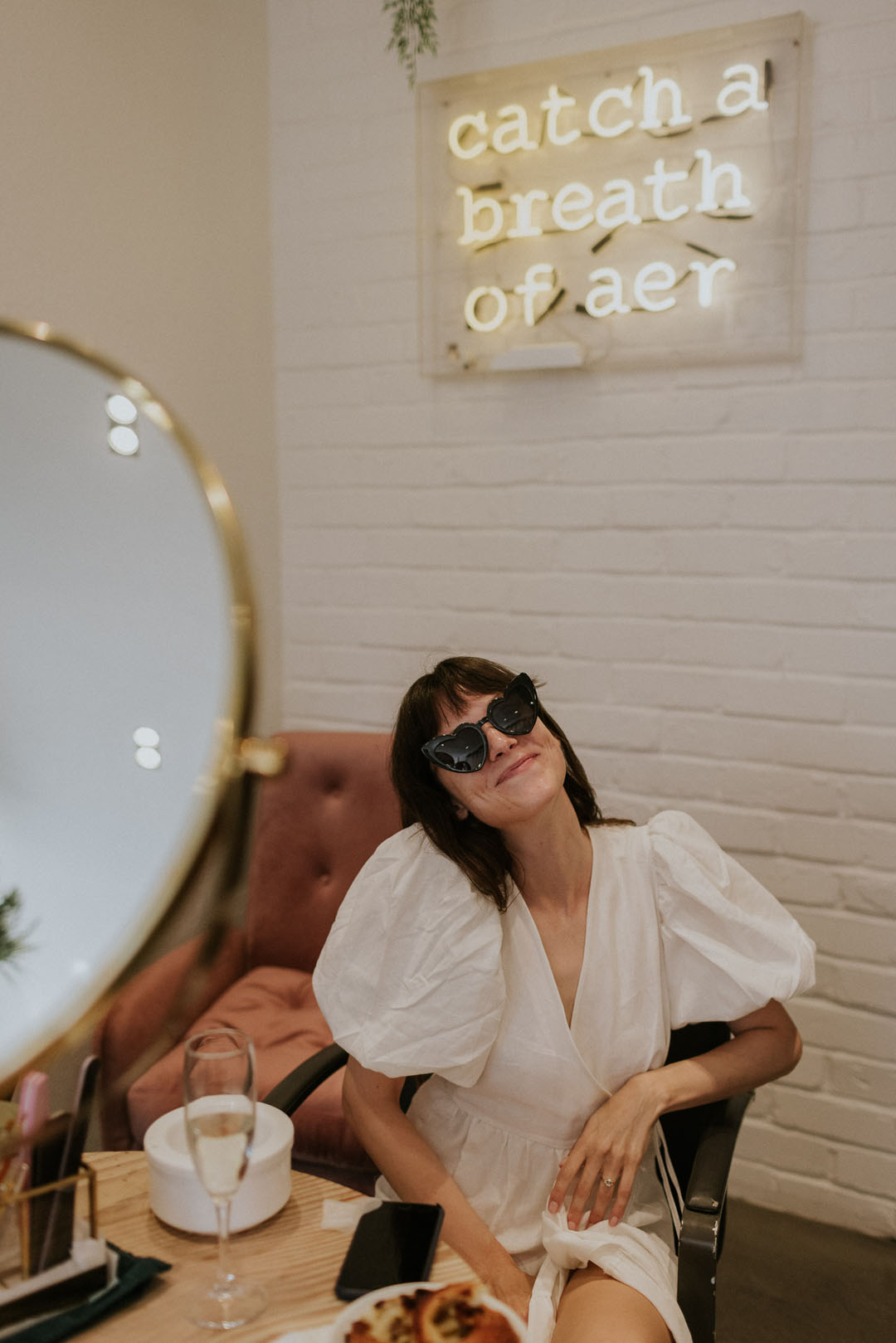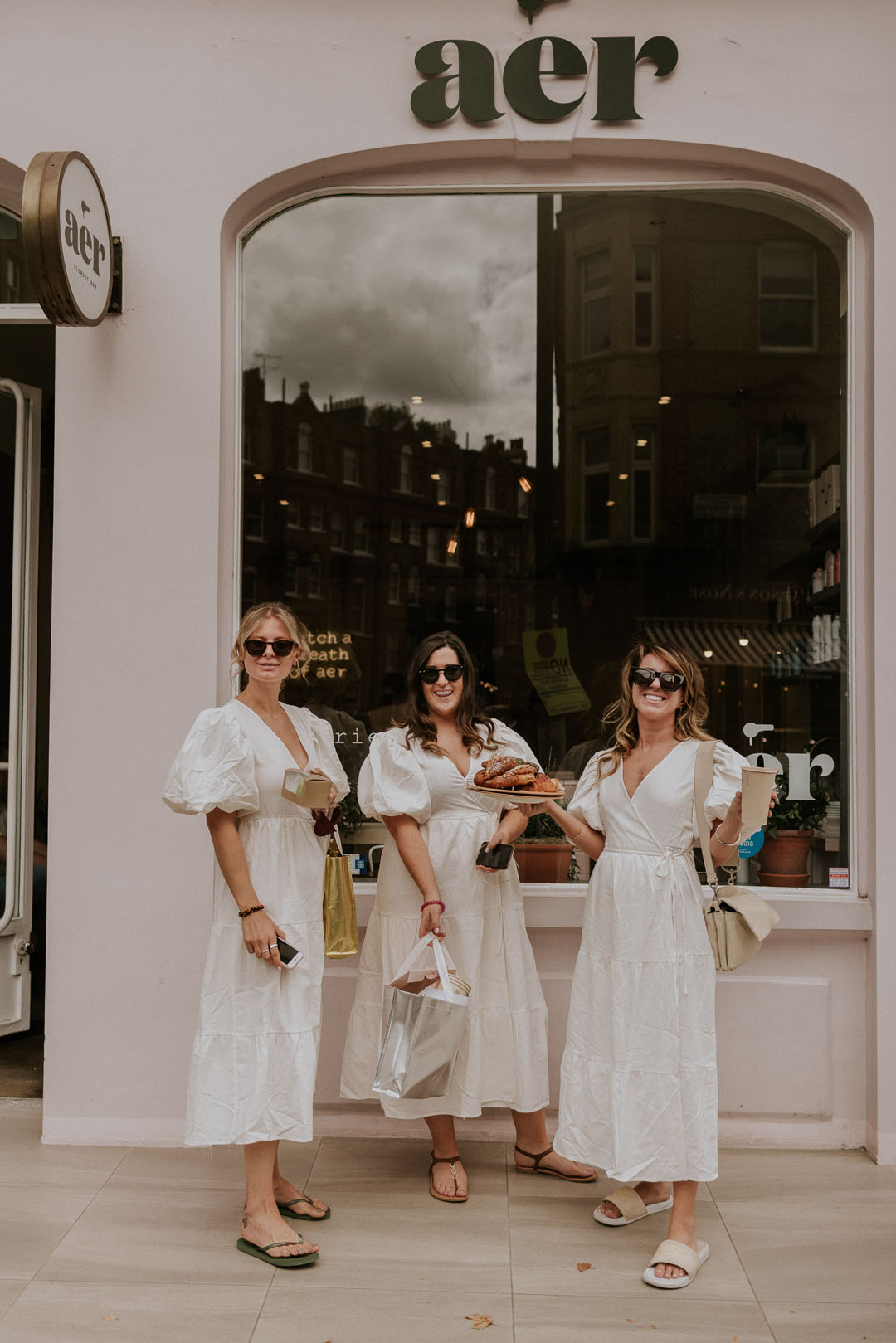 For her cool, modern bridal look, Lucy selected a structured gown from Jesús Peiró. Over the strapless gown with its full, pocketed skirt and sexy split, she layered a boxy, cap-sleeved crop top.
She chose the outfit with the help of Emma at Miss Bush in Surrey, about whom you can find out more on our Love My Dress Wedding Directory.
"I only bought my dress two months before our wedding, when I was running out of time to find something and was getting fed up of looking."
I knew I didn't want a traditional wedding dress. I had a simple halter-neck style in mind but couldn't find anything that was quite right."
https://www.lovemydress.net/directory/supplier/miss-bush-bridal-boutique-ripley-surrey/
"I liked a lot of Jesús Peiró's designs so booked an appointment with its main UK stockist, Miss Bush, knowing I had to make a decision that week."
"The store's managing director Emma helped end my indecisiveness – she had loads of patience and expert advice, helping me choose a dress that had everything I wanted."
"My final outfit ended up being a mix of two styles (not a halter-neck – but did have pockets!) so the dress was unique even though I decided on it so last minute, and there were no rush fees." 
"It was the structure and material of the dress, especially with the boxy crop top, which sold it for me. I hadn't seen anything like it before."
"I was going to wear a black bow to match my shoes but decided against it, so had no accessories other than a very thin gold headband. I bought the same headband for my bridesmaids and my mum."
The bridesmaids wore gowns in deep green, a gorgeous look with their wild and loose bouquets of greenery and wildflowers.
"My bridesmaids wore beautiful dark green dresses, all in different styles which they chose themselves. They all looked amazing!"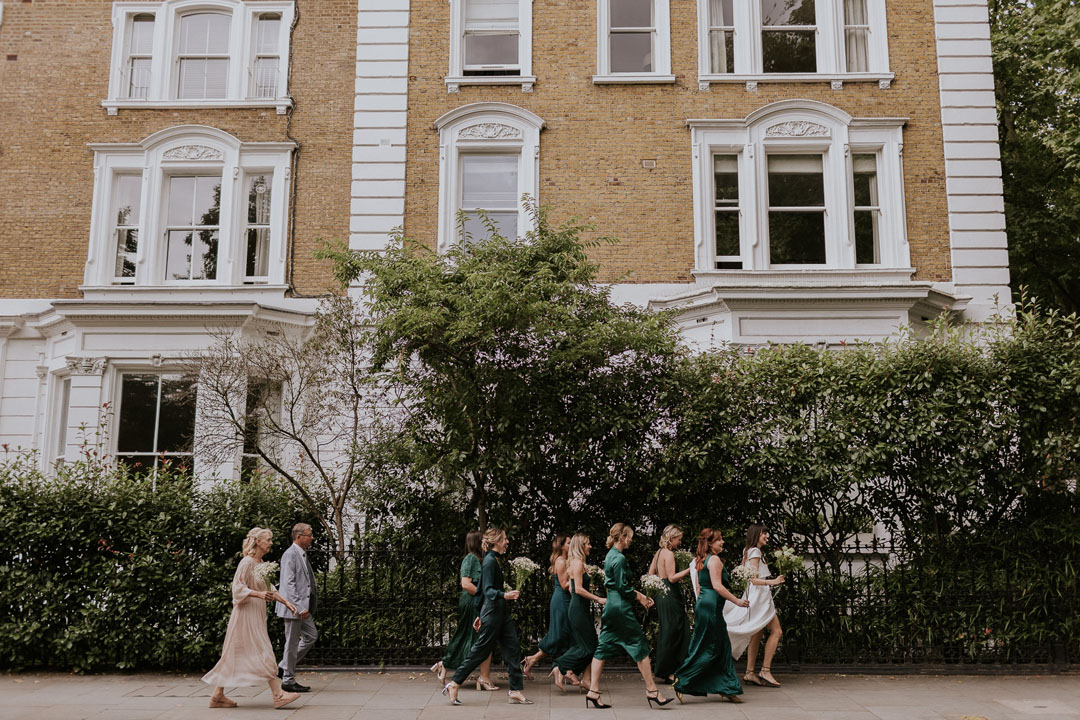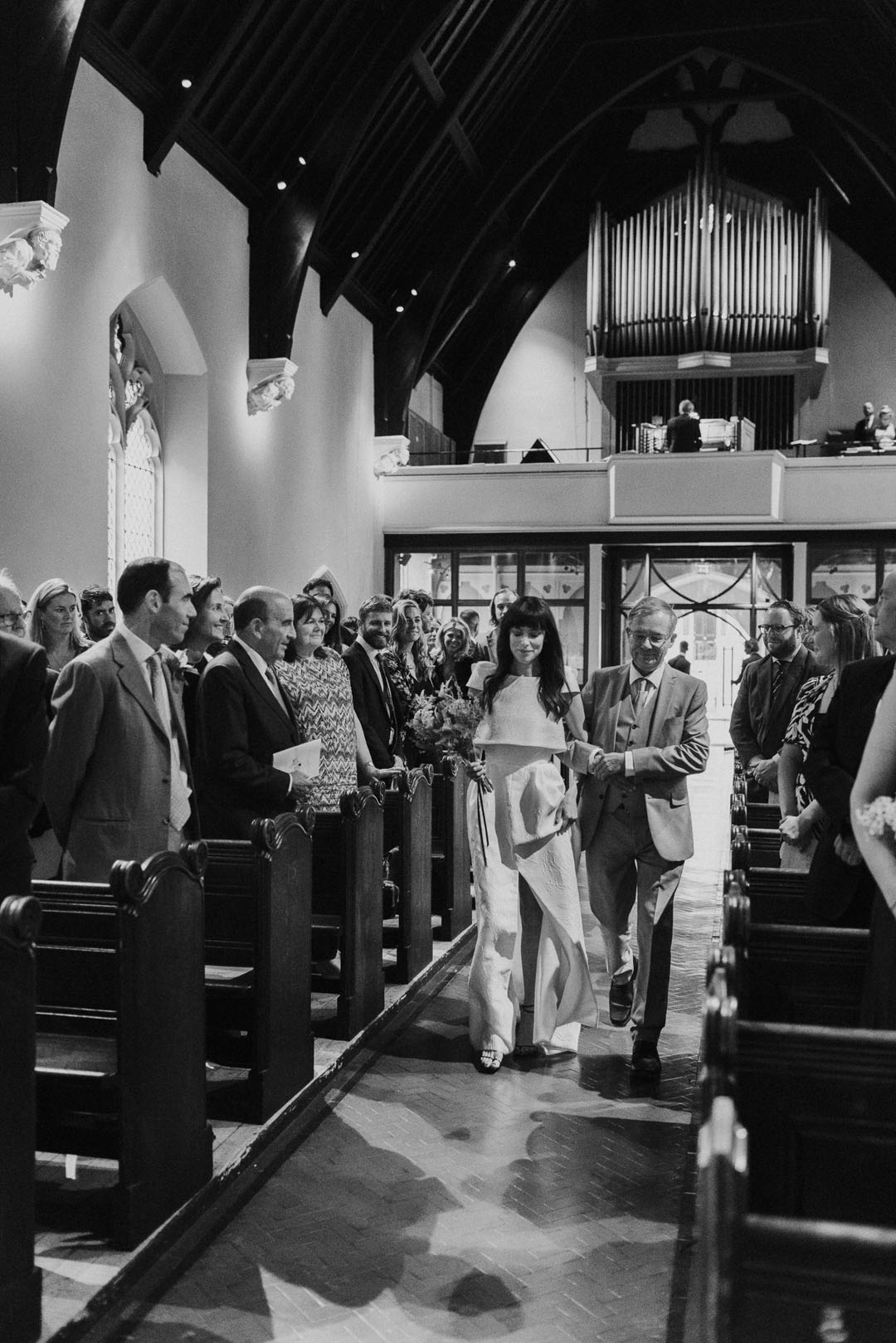 The ceremony was held in The Garden Museum, which looked beautiful with its stained glass windows and high ceilings.
https://www.lovemydress.net/directory/supplier/claire-fleck-photography/
The couple exchanged rings from Jessie Harris, who custom-made both the bands and Lucy's engagement ring.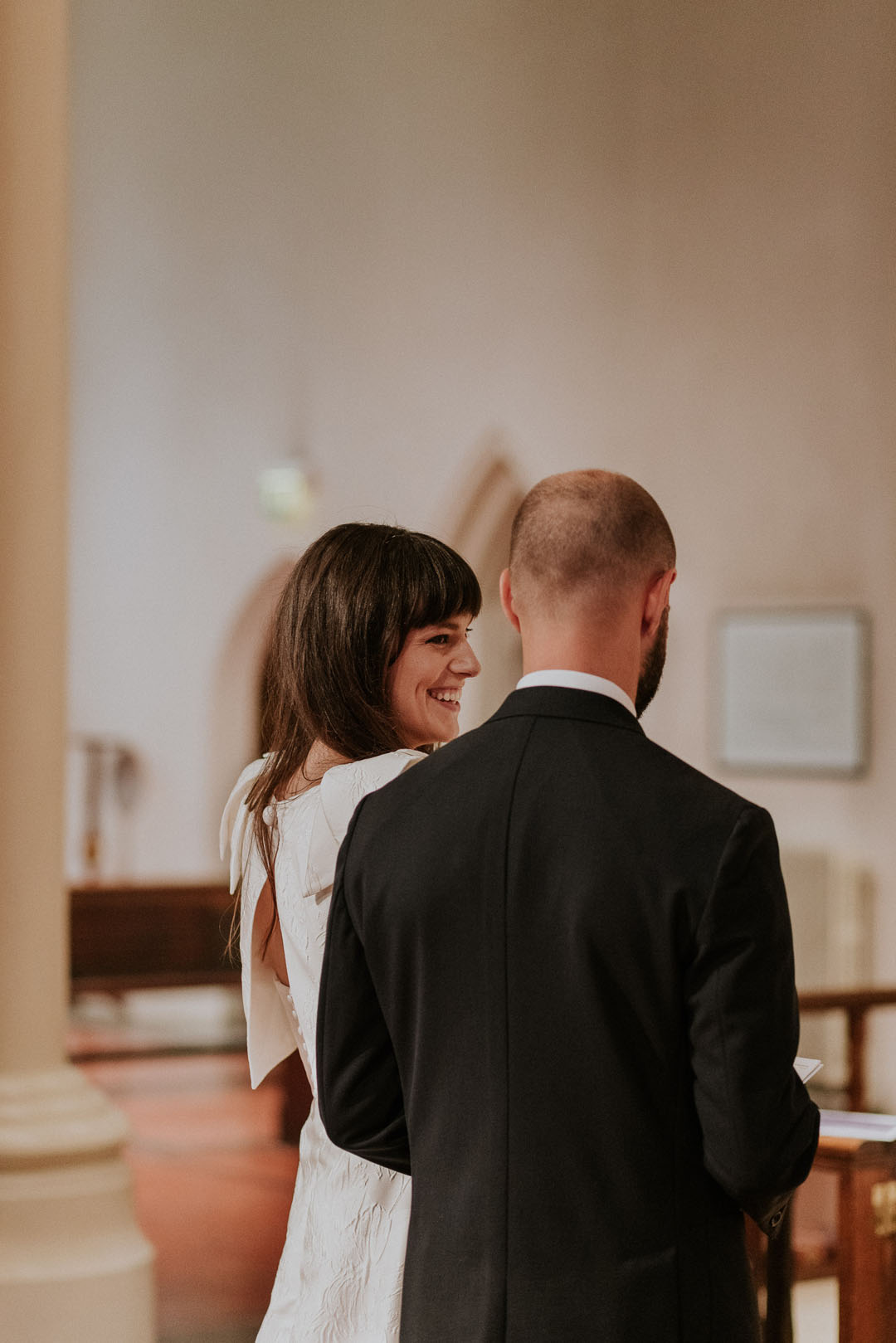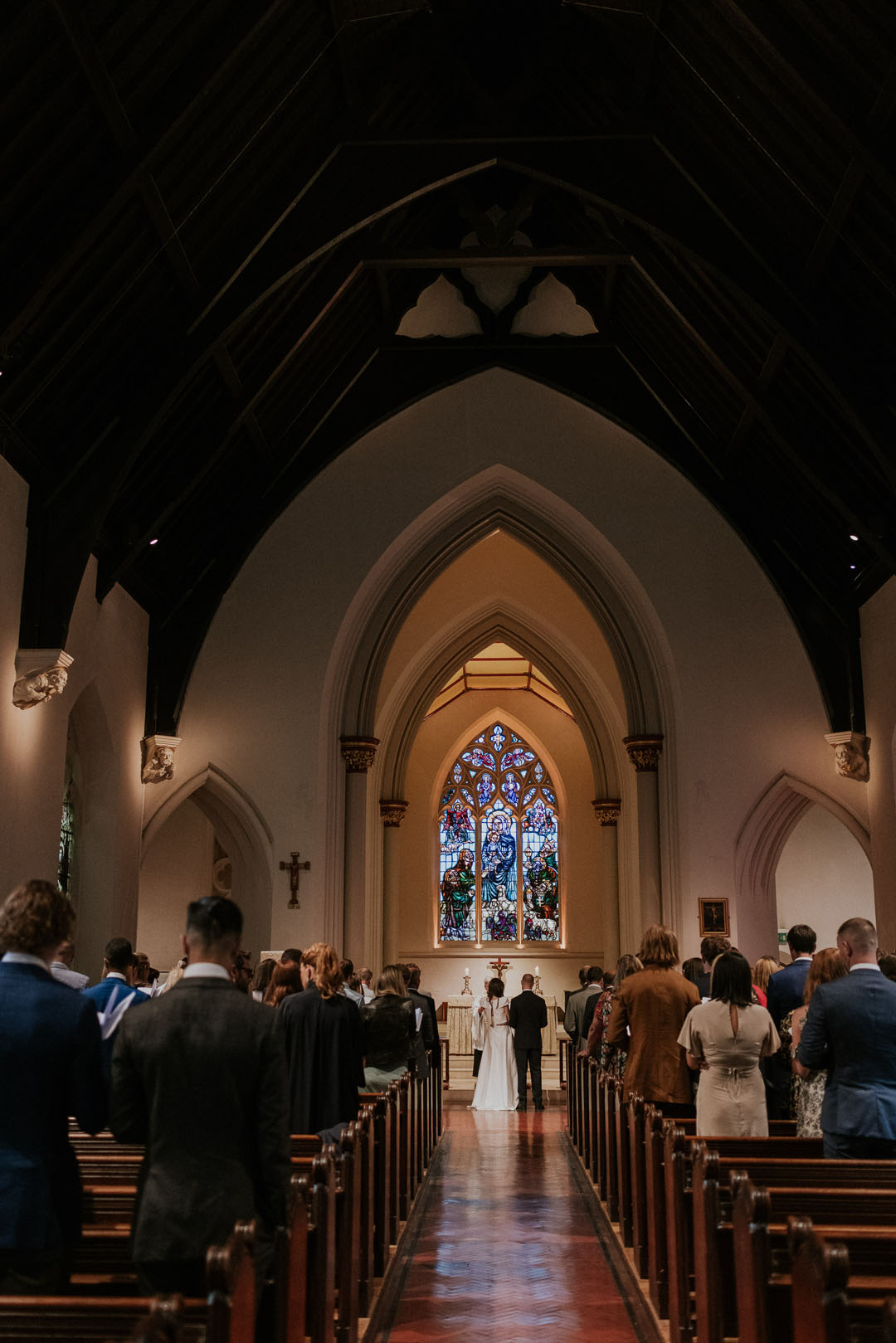 Philip paired his slick Drake's suit with a contrasting burnt orange tie and pocket square.
Maja Tsolo, whose other work on Love My Dress you can check out here, captured every moment of the day in her modern, vibrant and emotive style.
"I chose Maja Tsolo after being recommended to her by The Fall Bride and would definitely recommend her to others."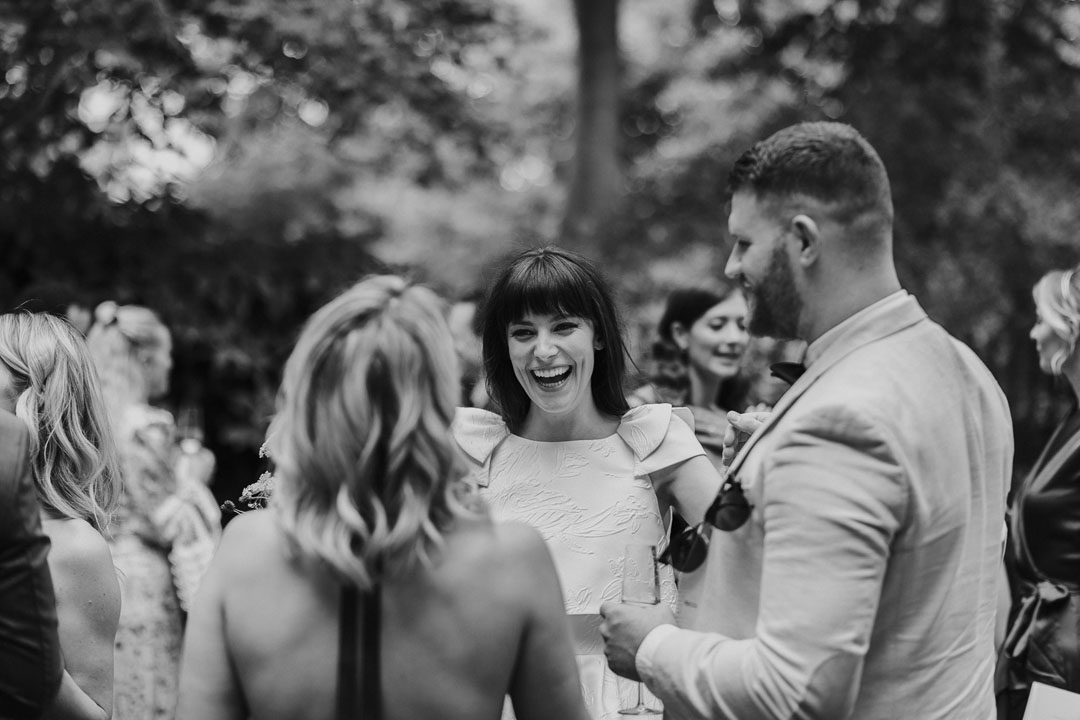 "She was brilliant to have there on the day and her photos are exactly what I was looking for – pictures which are full of life and personality."
"She captured the energy and joy of the day and caught some really special moments."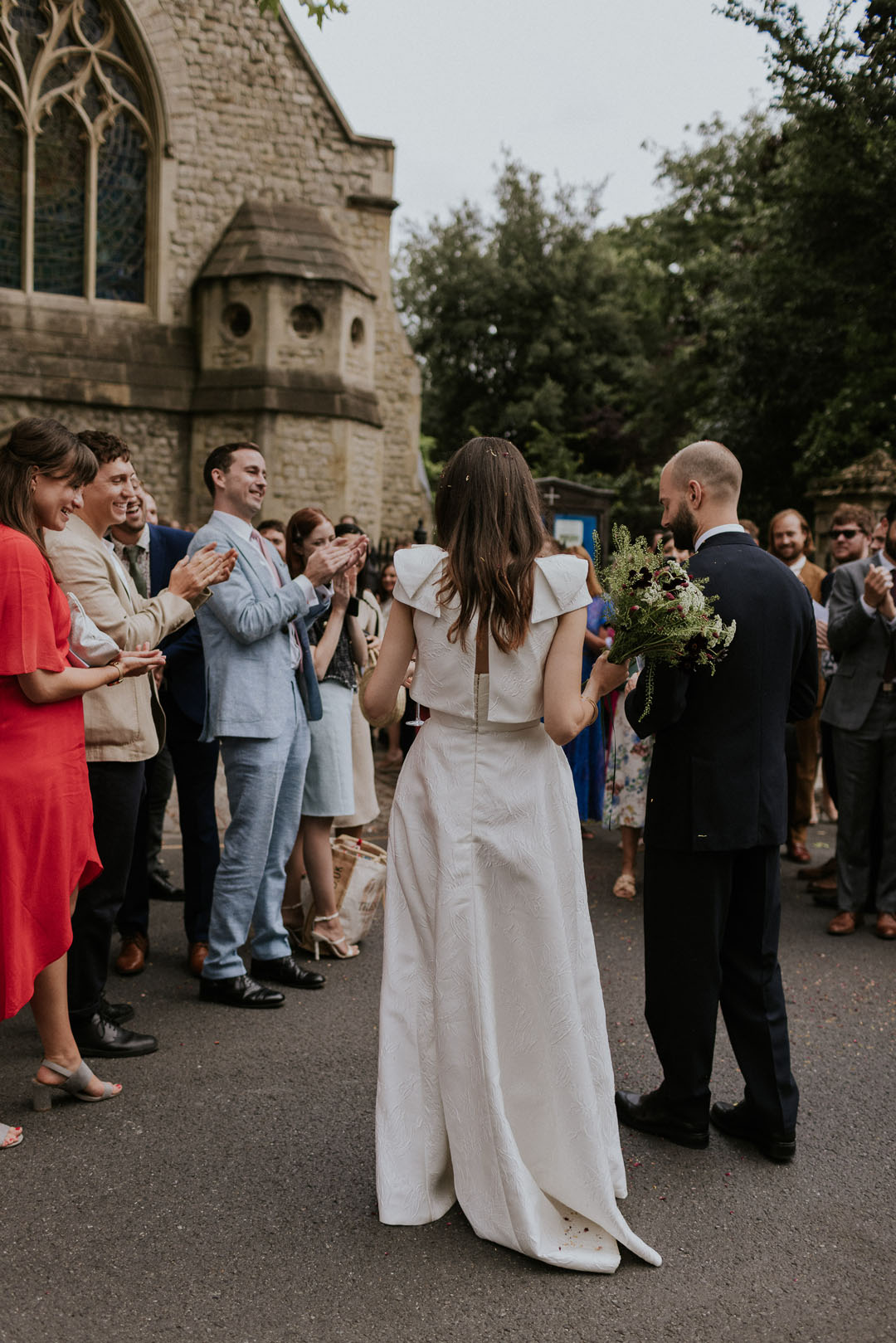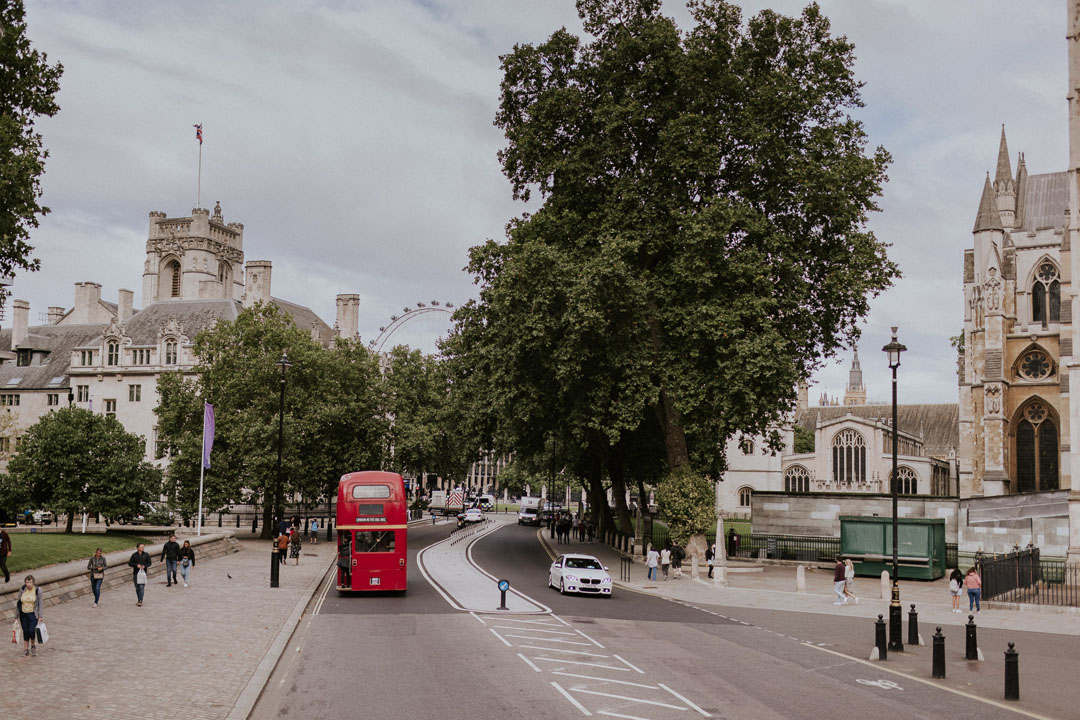 The bride had a soft blow-dry at Aer Blowdry Bar and wore strappy black sandals from Studio Amelia.
https://www.lovemydress.net/directory/supplier/emma-hewlett-floral-design/
"I wanted to contrast the white dress with dark colours, so painted my nails a dark red and wore black heels."
"The only accessories I wore were a gift from my mother-in-law – some beautiful bangles and a matching intertwined ring."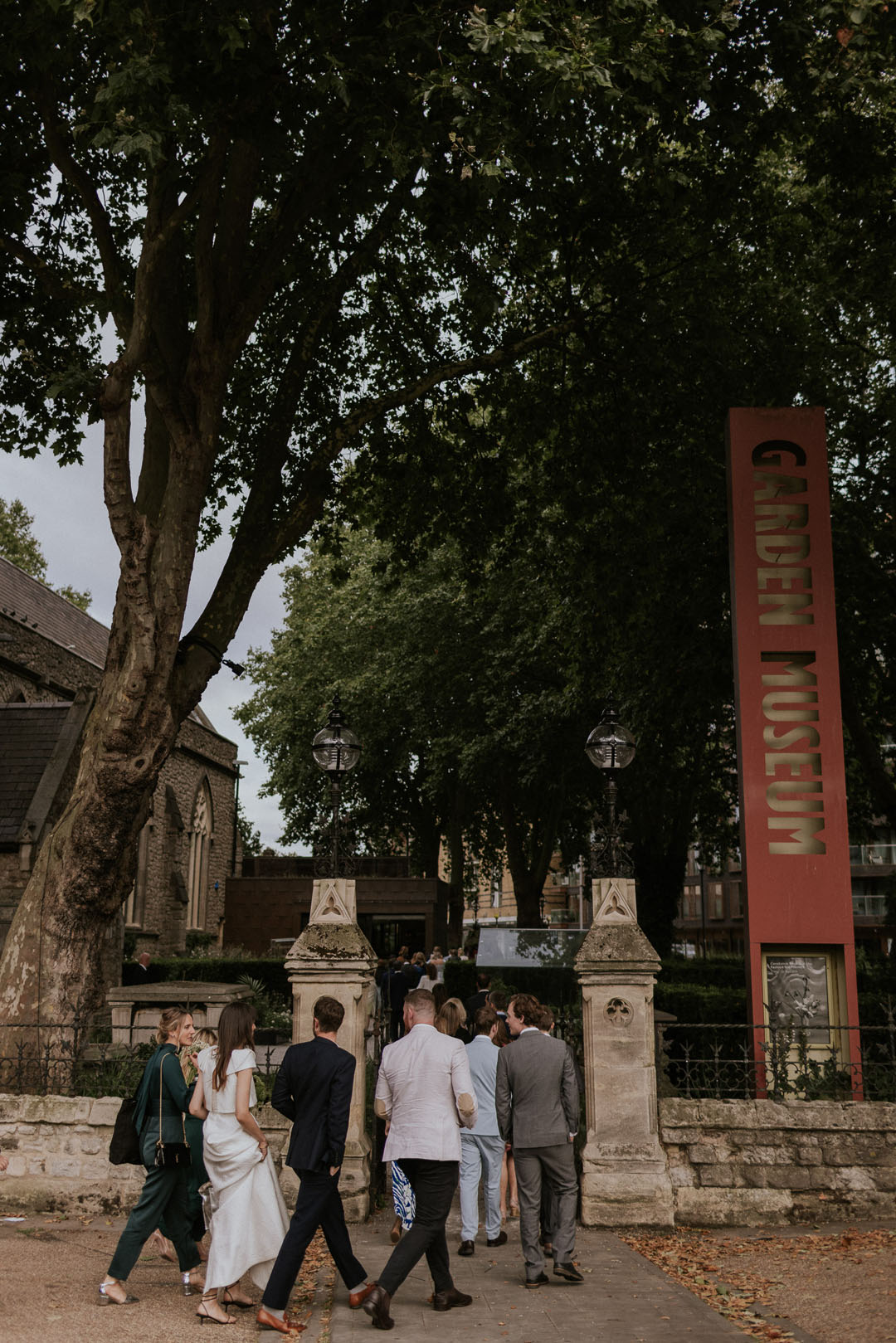 The newly-weds and their guests gathered in the garden after the ceremony to enjoy the fresh air and some speeches.
"My favourite parts were the ceremony, the speeches and the dancing. I always love hearing the speeches at a wedding but it's particularly special at your own."
"My parents did a quick speech together in the garden, then we did a joint speech before the best men and maid of honour spoke."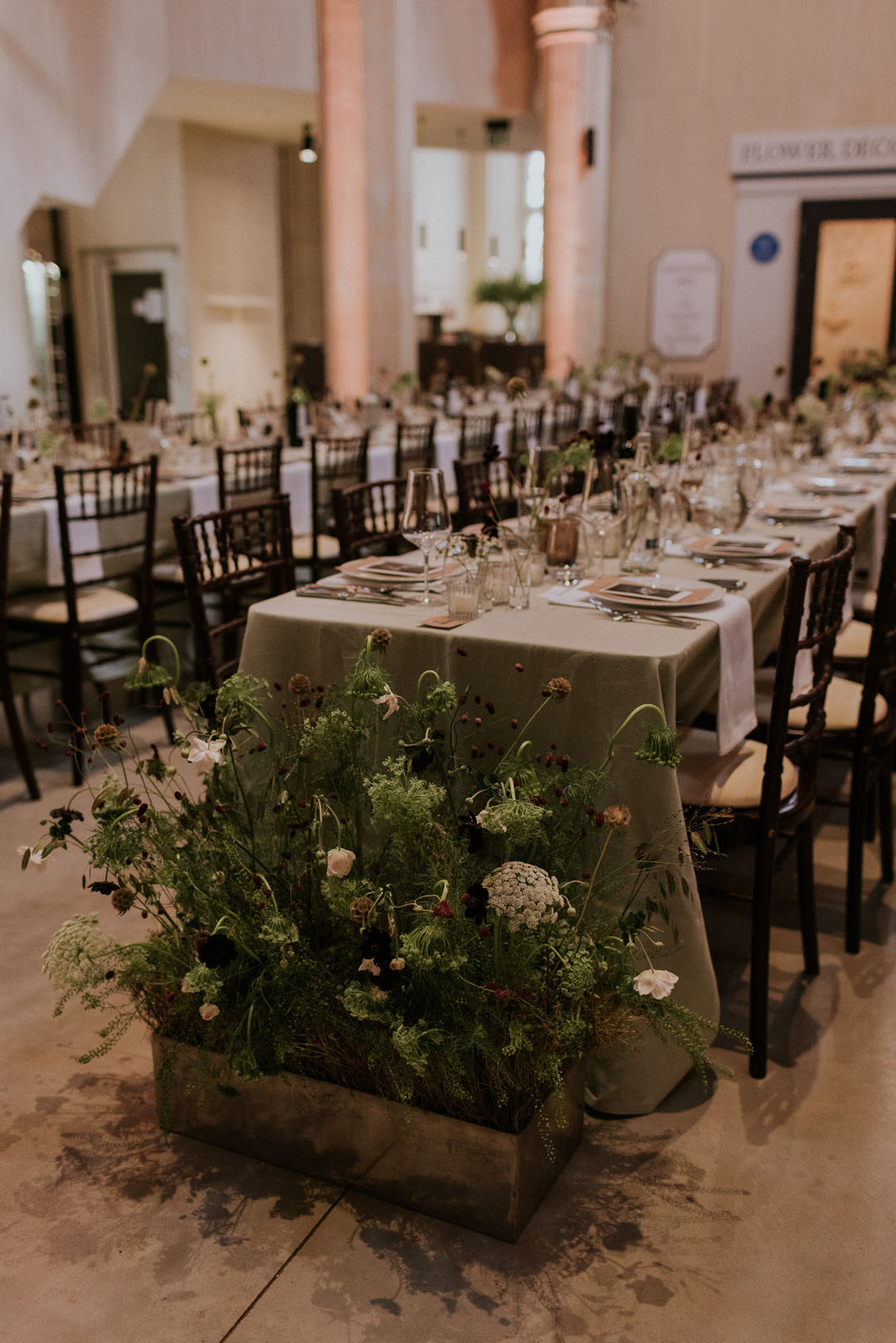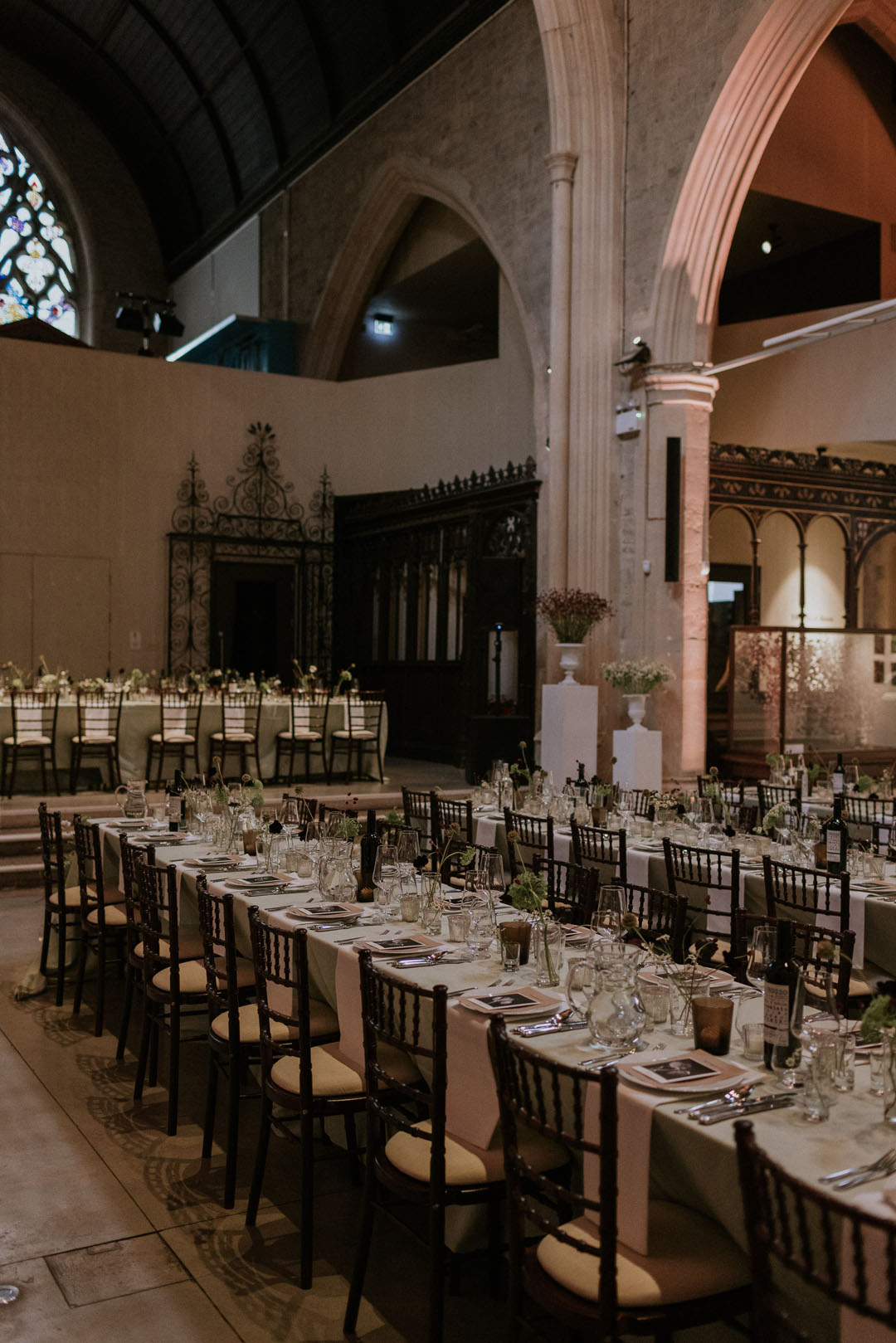 "All of our flowers and table decorations were done by Anna at The Table Edit. We wanted all the flowers to feel really wild and she did such an incredible job, making stunning 'wild meadow' displays for the end of each dinner table, decorating the tables and venue beautifully and making mine and my bridesmaids' bouquets."
The couple met through work and got engaged in December 2019, originally planning their wedding for the following December.
"We picked a beautiful townhouse in Soho for a wintery wedding."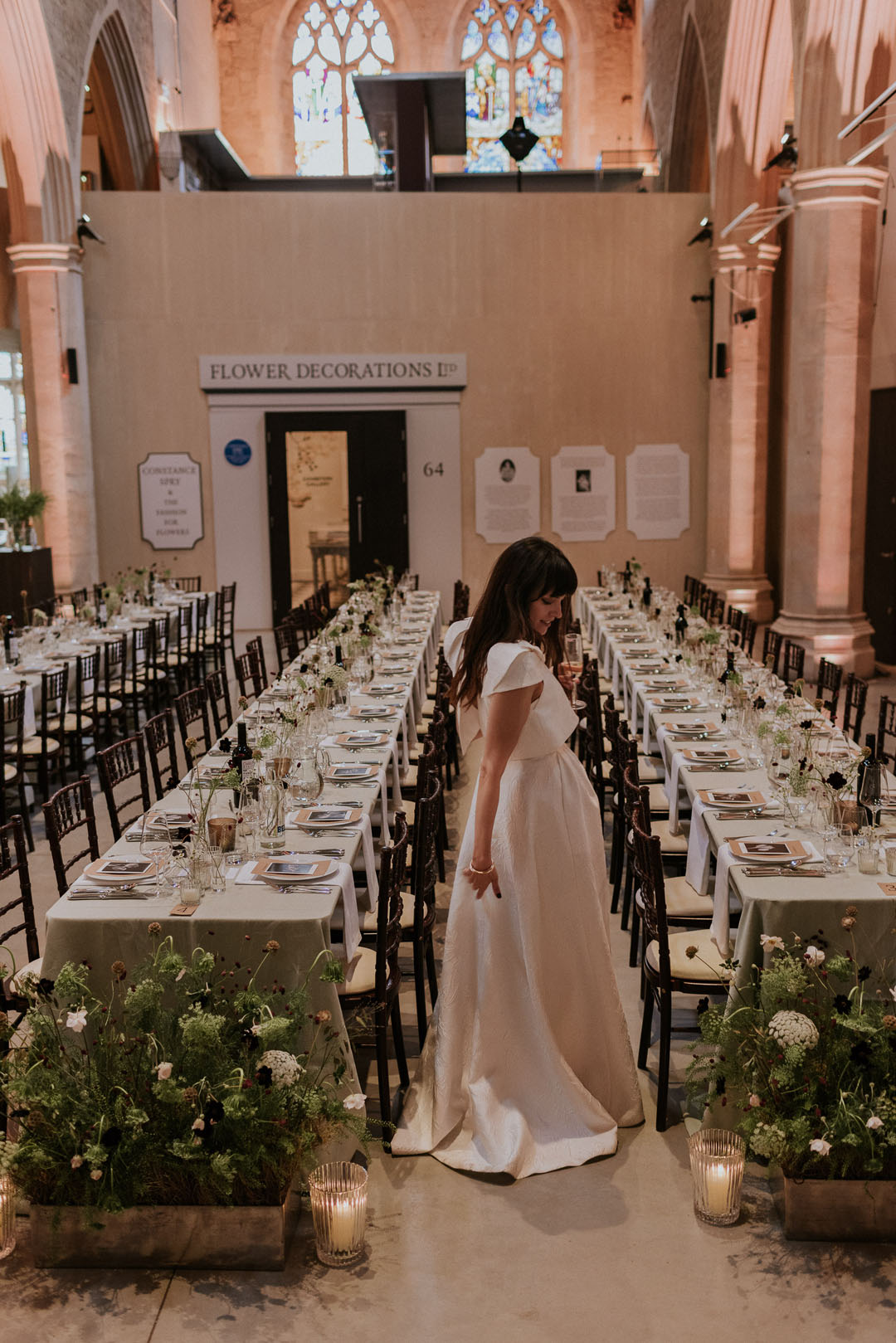 "We decided on a plan pretty quickly – it all seemed surprisingly easy at first! But then the UK went into lockdown a few months later."
https://www.lovemydress.net/directory/supplier/hermione-harbutt-handmade-wedding-headpieces-accessories/
"In the year that followed we ended up planning and unplanning various versions of our wedding based on different Covid scenarios."
"It was impossible to predict what would happen but we decided to get married in August 2021 regardless of restrictions."
"We gave our guests a provisional date and planned two scenarios – a wedding where everyone could come and there are no restrictions, and a back-up in case rules were still in place."
"The Garden Museum has an excellent restaurant, the Garden Café, which we knew could work well for either a small, intimate summer wedding or a large event."
"It wasn't until late July that we knew we could definitely go ahead with a big wedding, so a lot was left to the last month."
The Garden Café provided the dinner.
"The Garden Café, the museum's in-house restaurant, was the reason we chose this venue. It's one of the best restaurants in London and a hidden gem!"
The Garden Museum was transformed into a banqueting hall with long tables and tealights, with wild meadow displays from The Table Edit.
"Our wedding favours were seed packets by Graen Studios."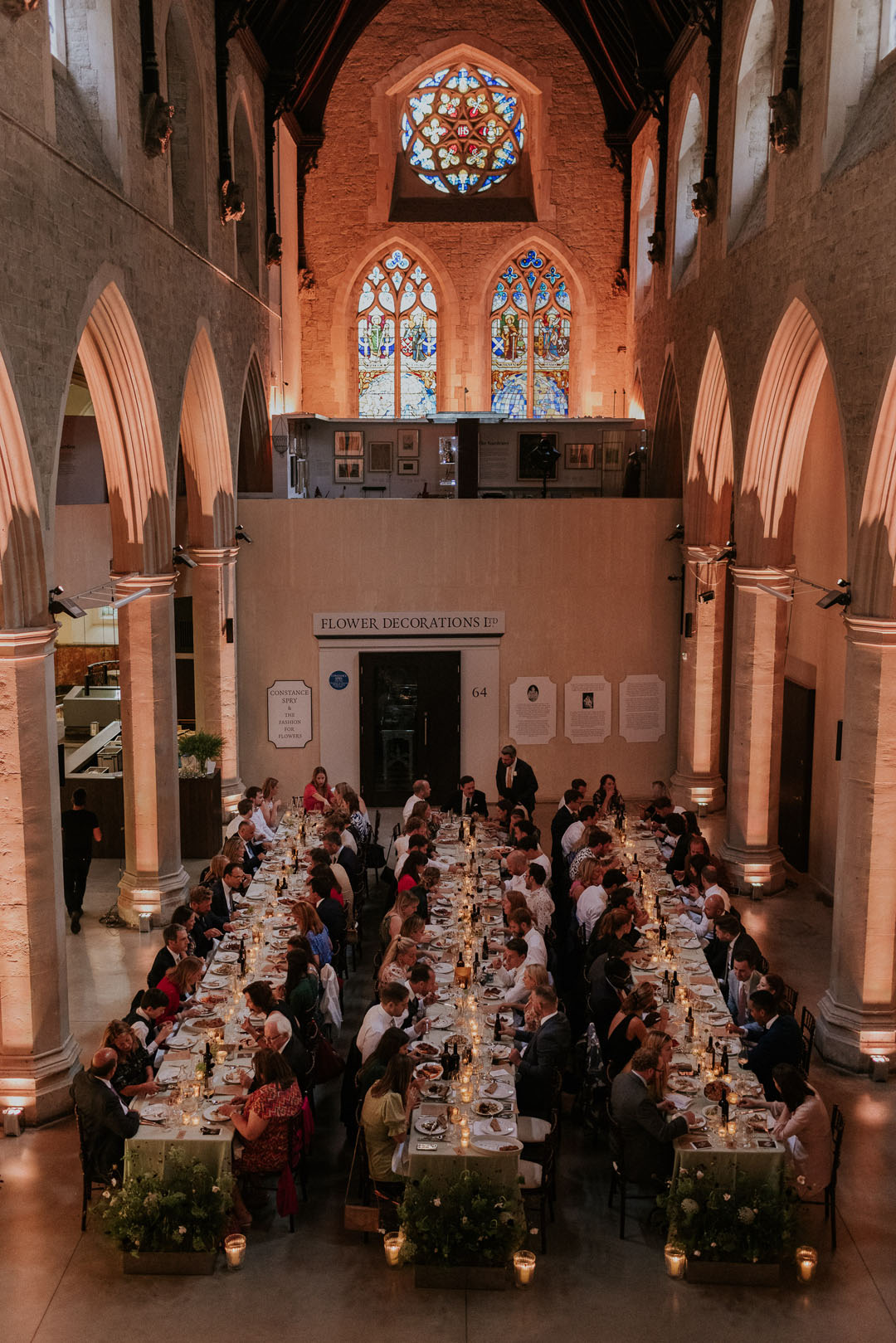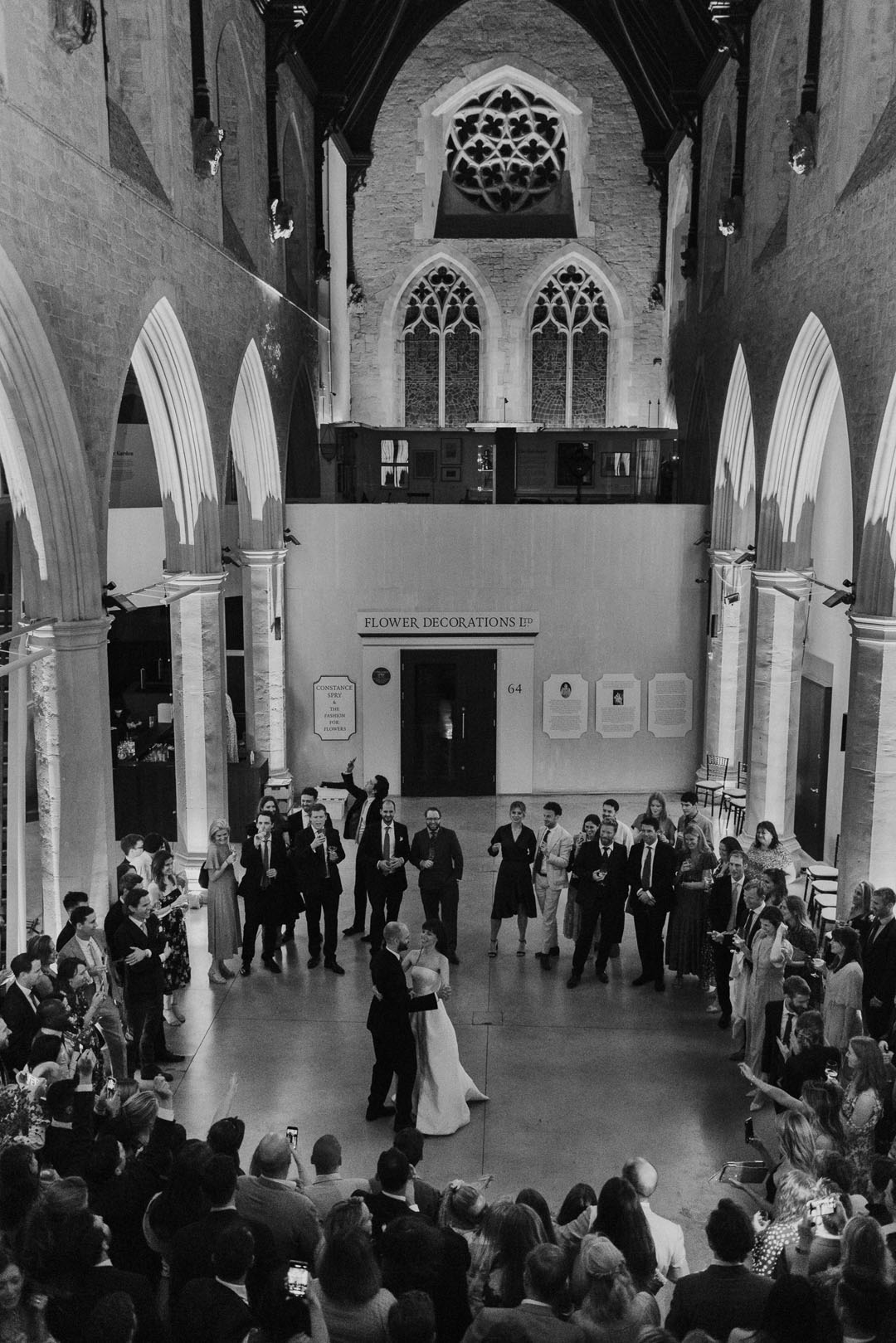 Words of Wedded Wisdom
"With postponing and replanning we found it became really easy to overthink everything, but what you remember the most is the love and warmth you feel on the day rather than the tiny details."
If you're captivated by Lucy's Jesús Peiró gown, as I am, you might like to see more of their designs worn my Love My Dress brides here.
Maja Tsolo Photography, thank you for letting us share your work once again on Love My Dress; it's been such a pleasure. And Lucy and Philip, congratulations and thank you both.
Ele xx