This week has had a sense of 'blink and you miss it' about it, and here at team Love My Dress, we can't quite believe that February will be here in just a few days time.
On 4 October 2021 real estate agent Leah and debt capital markets associate Logan eloped to Rome, Italy for an intimate, outdoor wedding that was quintessentially Roman; classy, elegant and historic.
Film by Memento Story
There is a sweet and moving story to the reason behind this elopement which reveals itself a little further down. We hope you enjoy this lovely film created by Memento Story and images by Sarah Joy Landon.
Photography Sarah Joy Landon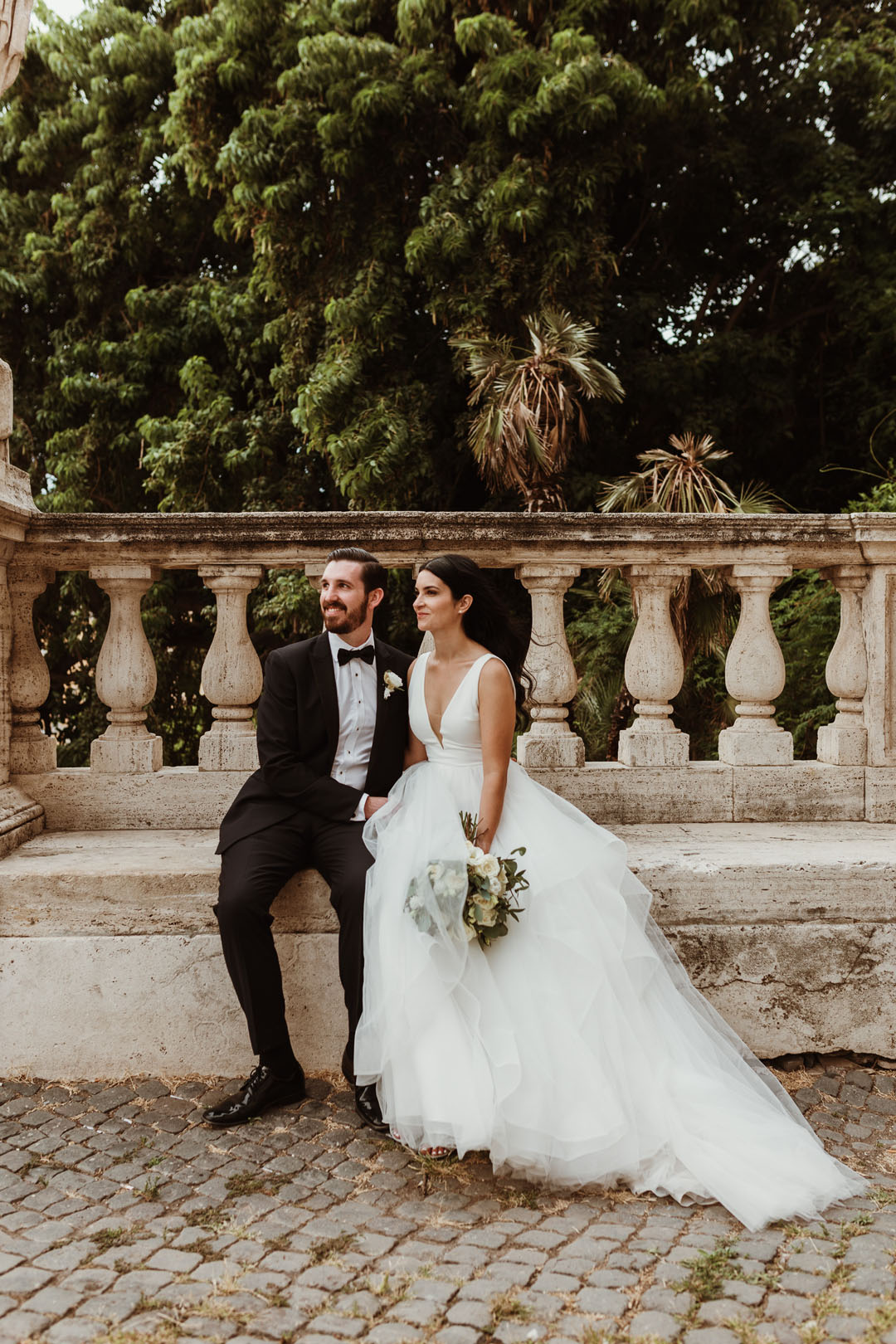 Leah and Logan met on dating app Bumble in December 2018 and travelled to Italy from the US for the elopement.
"We got engaged in October 2020 and got married in October 2021."
"Covid was an obstacle for us to be able to travel from the US to Italy."
"We both are vaccinated but still had to get negative tests inbound and outbound."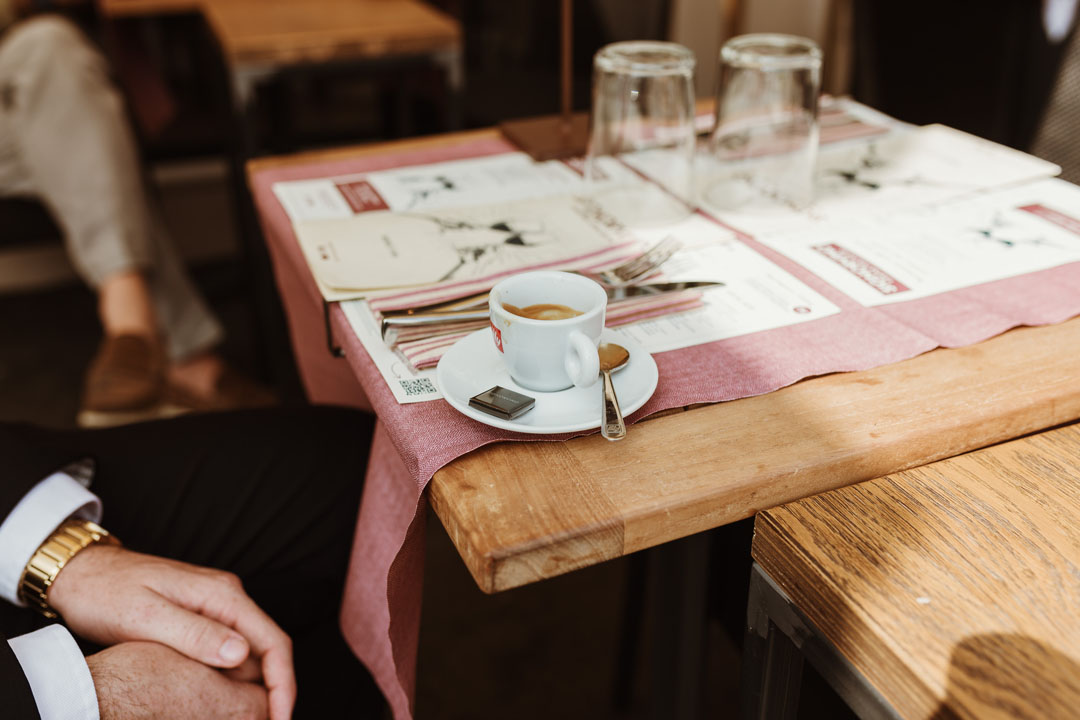 The couple chose a smart, black tie feel for the day and Logan selected his tux online at Generation Tux.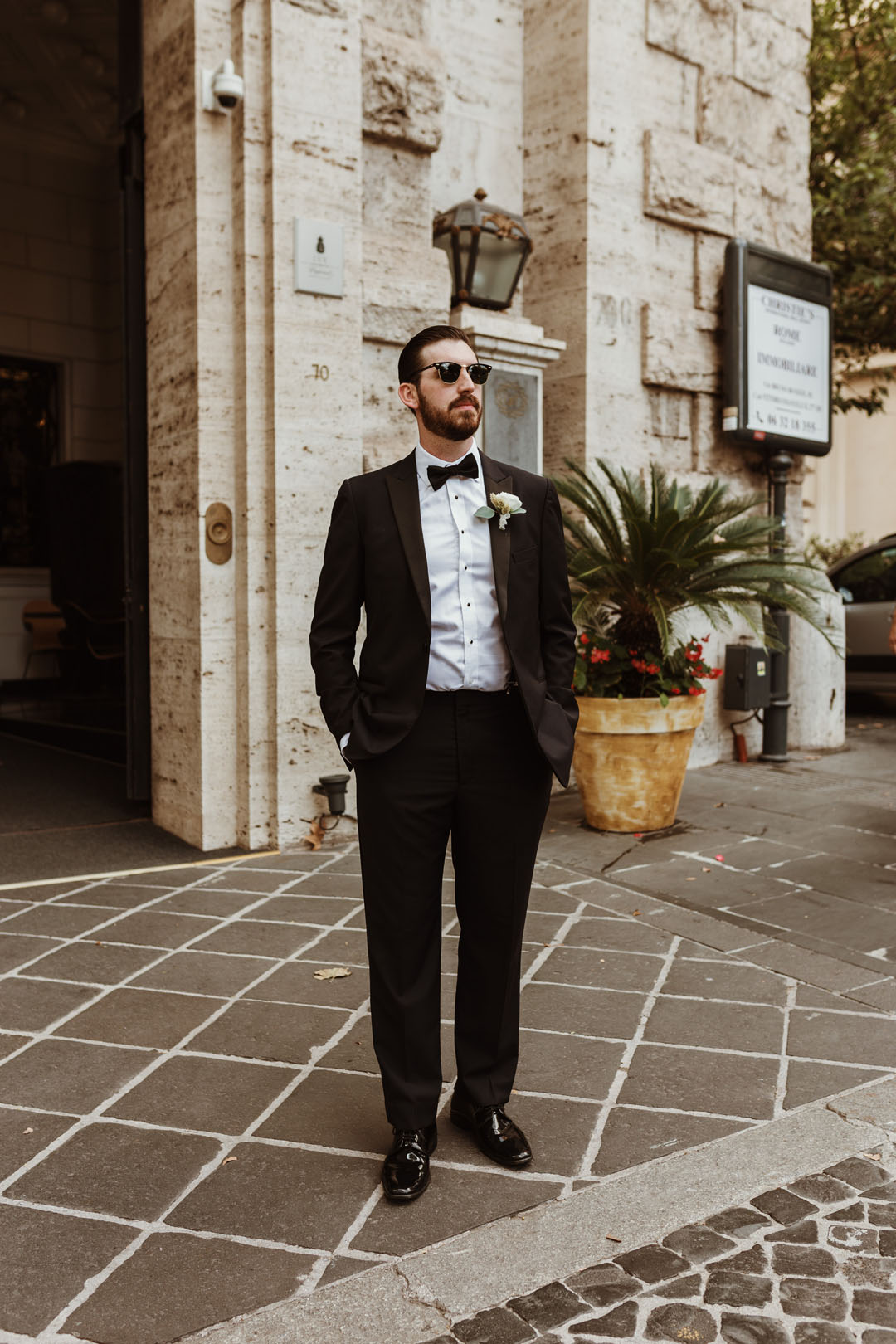 The bride visited bridal boutique The White Magnolia in Jacksonville, Florida to choose her multi-layered Maggie Sottero 'Fatima' gown.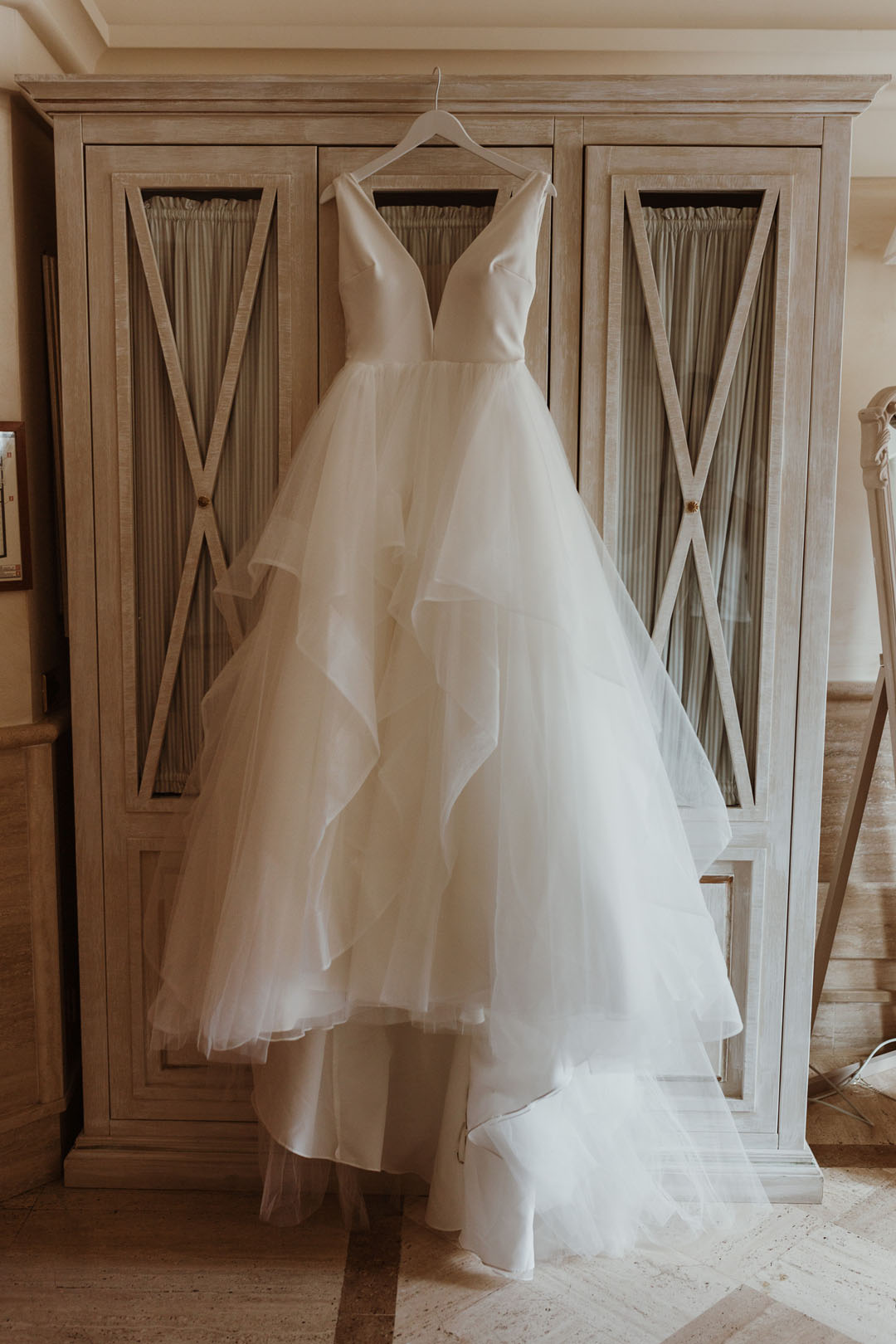 "I wore baby blue, low heels that I got off Amazon for my 'something blue' and a simple veil during the ceremony that I ordered from Etsy.:
"Logan got me earrings as a wedding gift and I got him a watch. We wore them on the day."
"I had just some perfume I found at a store in Rome because I forgot to pack mine."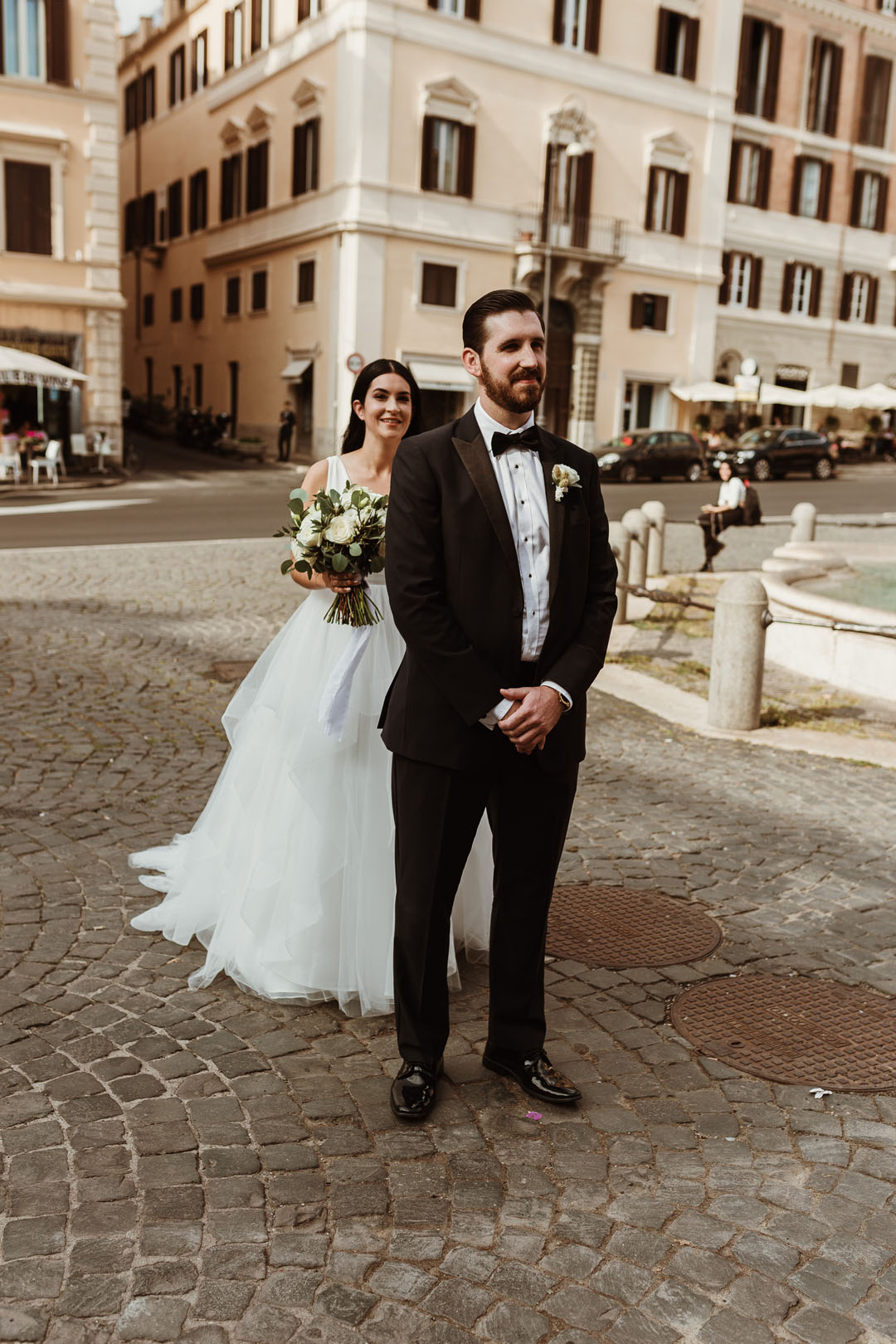 "It was the best experience at The White Magnolia boutique. They truly make you feel like a bride and were so patient."
https://www.lovemydress.net/directory/supplier/blue-meadow/
"I didn't even want to go anywhere else and highly recommend them to other brides."
"I loved how classy and elegant the gown was."
Leah's hair and make-up were elegantly styled by Elisa Zamparelli and the bride carried an exquisite bouquet of cream roses and foliage, created by Carolina Floral Designer.
"She did an amazing job with my bouquet and the floral dêcor on our dinner table."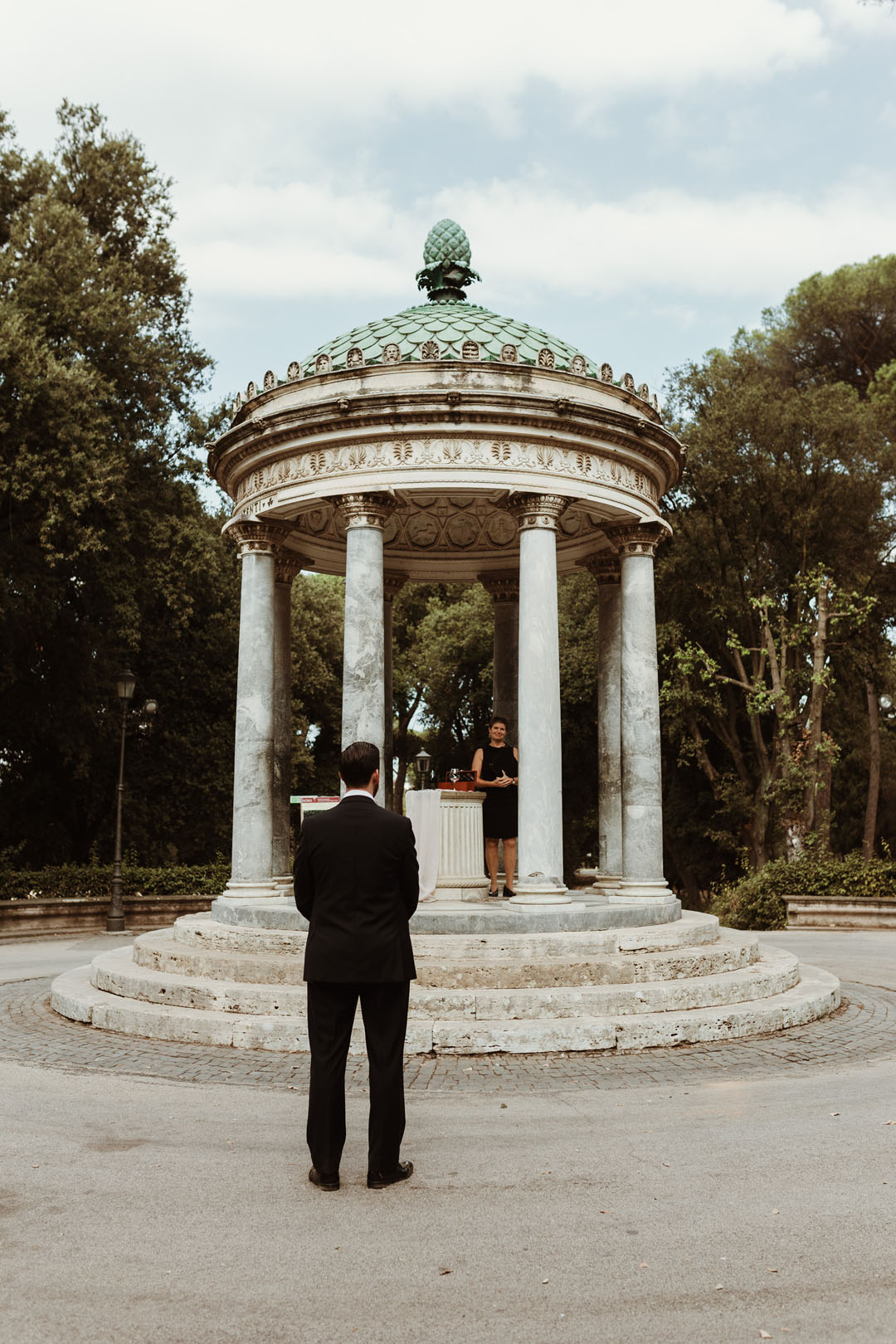 The couple's ceremony was held in a stone band stand surrounded by gardens, and was led by an officiant from Passaggi Weddings.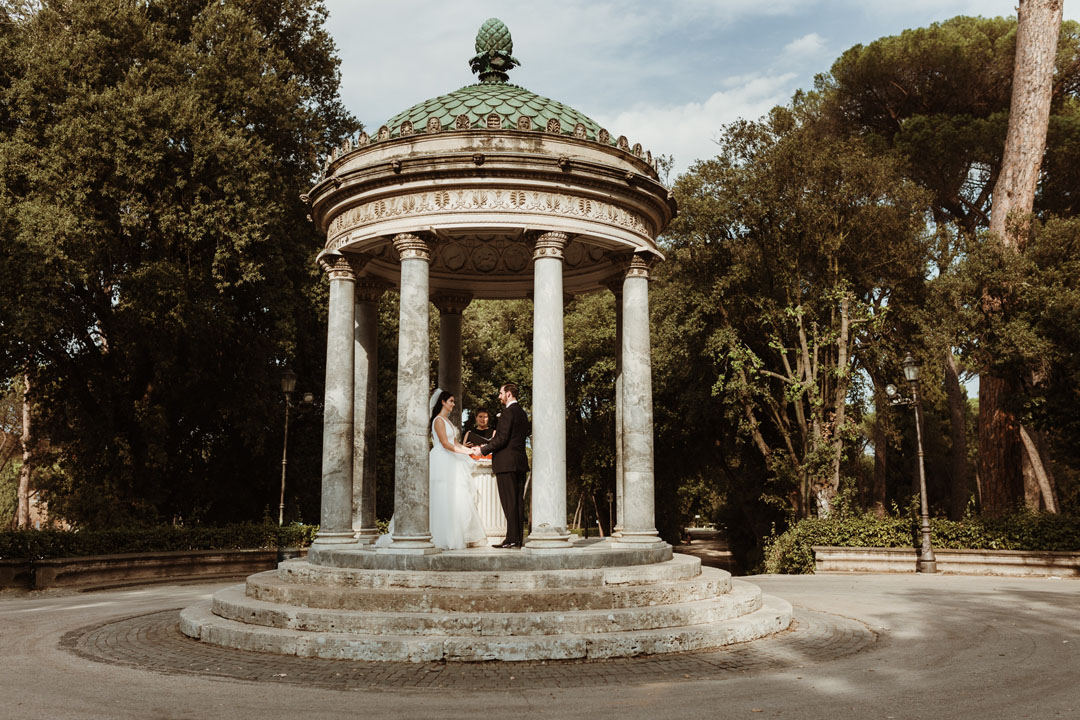 "We had the instrumental version of our wedding song, 'The Bones', playing."
"Logan and I wrote our own vows to each other and our officiant made everything else very customised to our relationship."
The ceremony also included a wine ceremony and Leah and Logan exchanged rings from Diamonds Direct.
"We had a box at the altar in which we placed a bottle of wine and our vows to open up for our anniversary."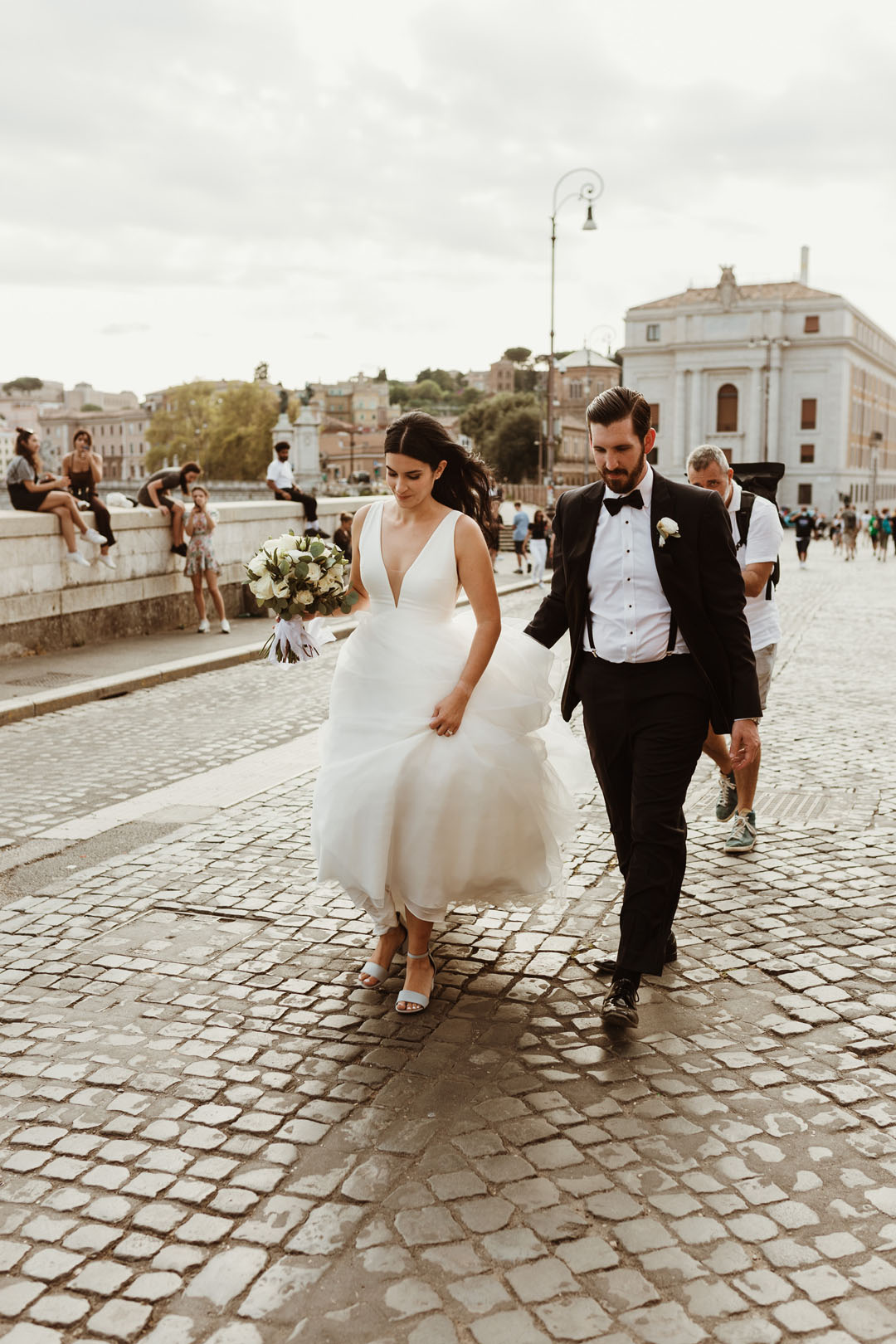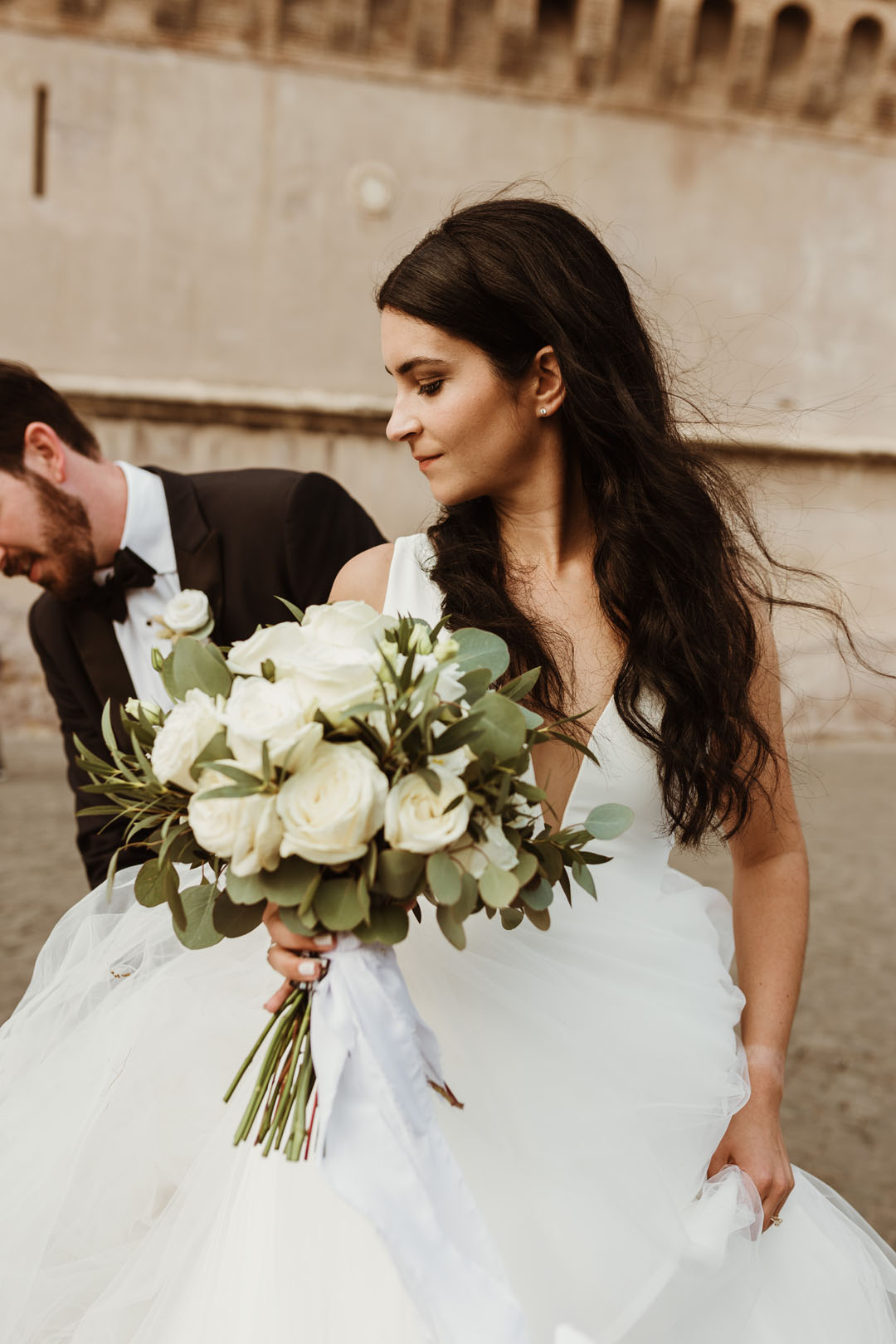 Leah was introduced to photographer Sarah Joy Landon by her wedding planner, Marigiulia Sella Weddings.
Sarah's timeless, elegant style is the perfect fit for the historic and sophisticated streets of Rome, and her photographs are so romantic and intimate.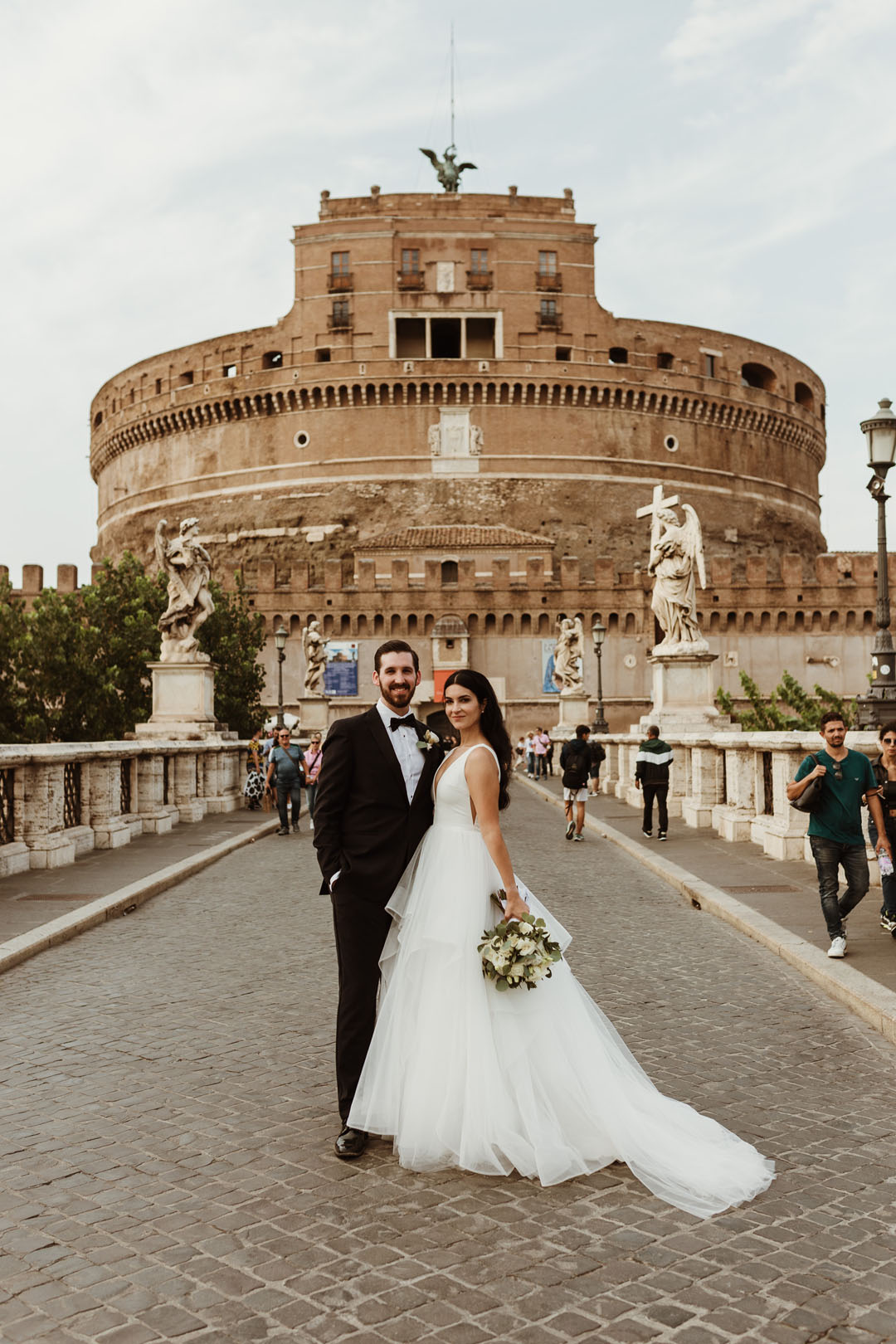 "I loved Sarah Joy Landon's work on Instagram and was so excited to shoot with her on the day!"
"She was so kind and knew exactly what she was doing."
"She also was not afraid to tell people to move and get out of the way so we could get our perfect shot. I highly recommend her."
Leah and Logan also had a wedding video, filmed by Memento Story.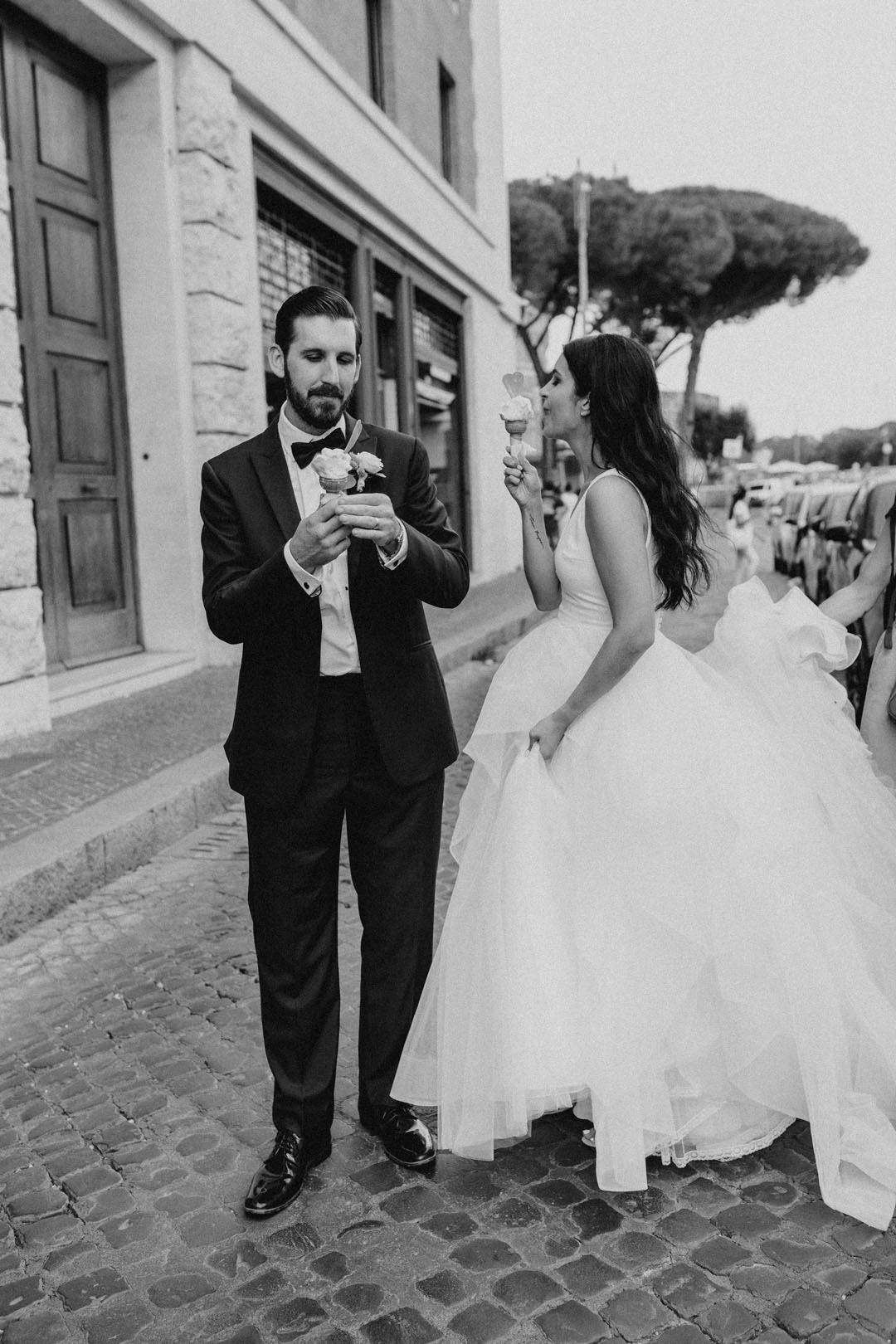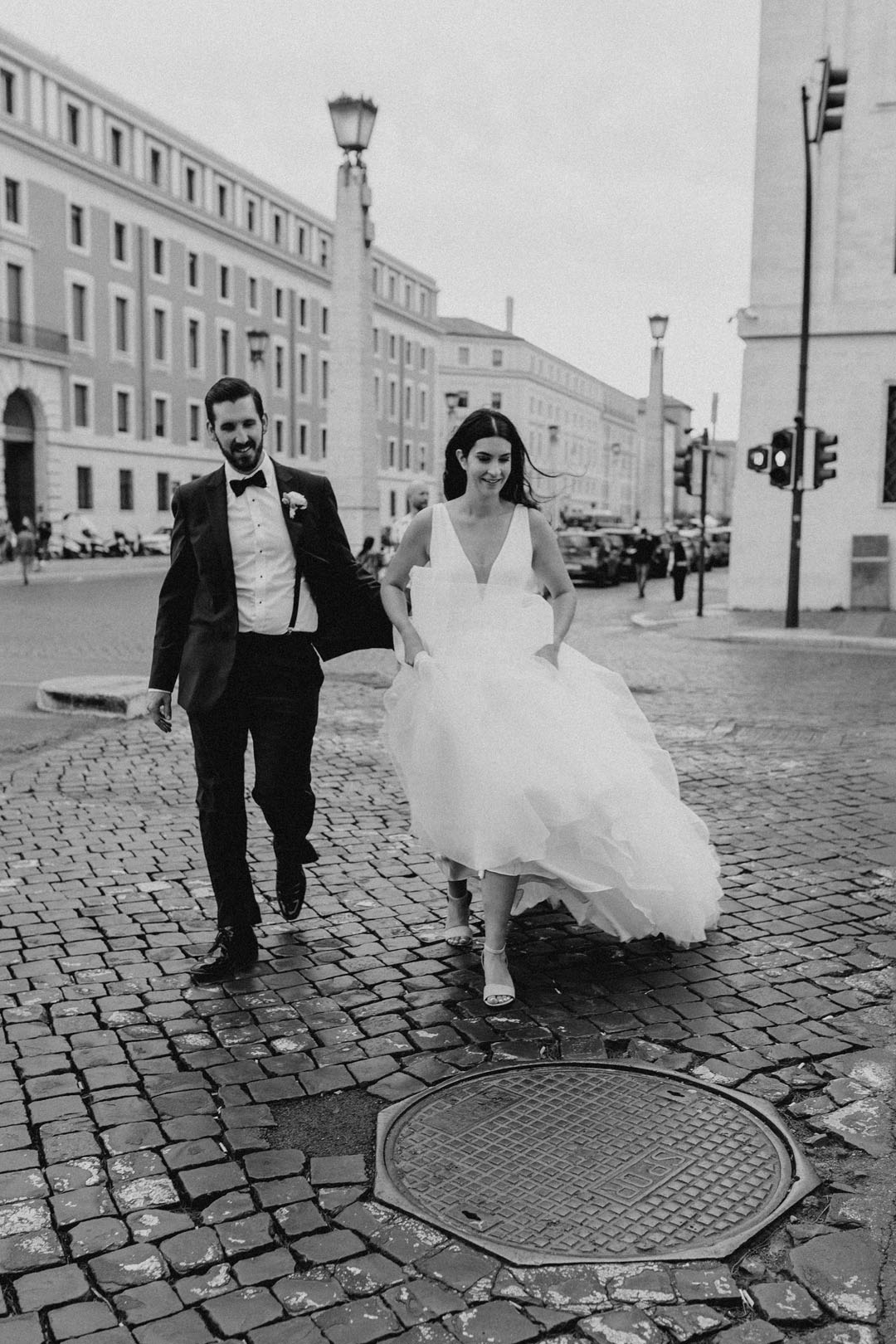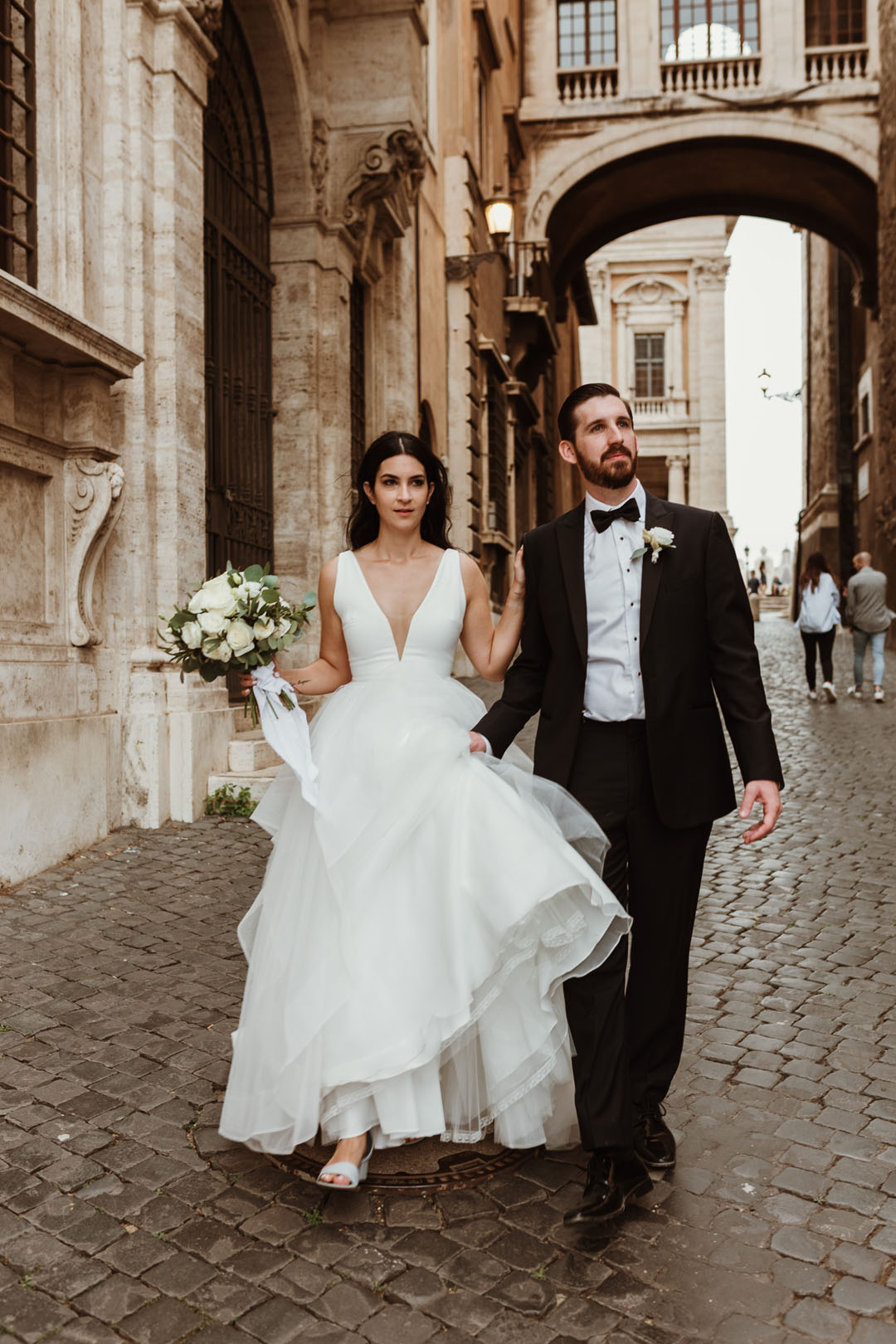 After the ceremony, the newly-weds walked the streets of Rome together, allowing Sarah Joy Landon so many opportunities for some timeless portrait shots, and for them to enjoy an unexpected first dance.
"Since we eloped we didn't have a first dance planned but we were walking the streets and a street musician played a song for us to dance to. It was special!"
"My favourite part was being in Rome together with no stress, focusing on each other."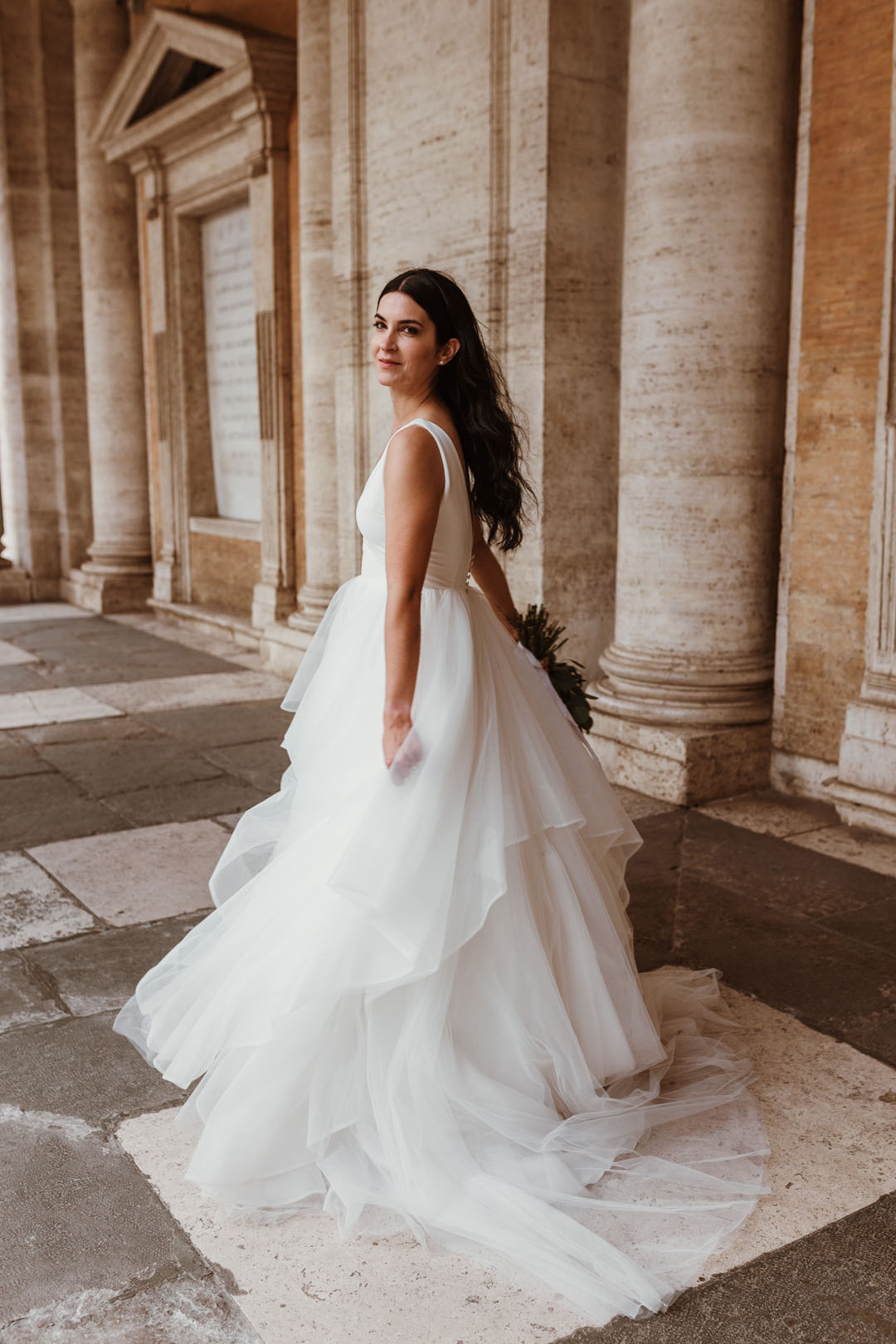 After marrying in the heart of Rome, the couple enjoyed an intimate and beautiful dinner à deux, overlooking the historic skyline.
"We chose to elope here, just the two of us, because I was not emotionally prepared to have a big wedding without my mom, who I unexpectedly lost in March. Our only theme was Rome, which was perfect!"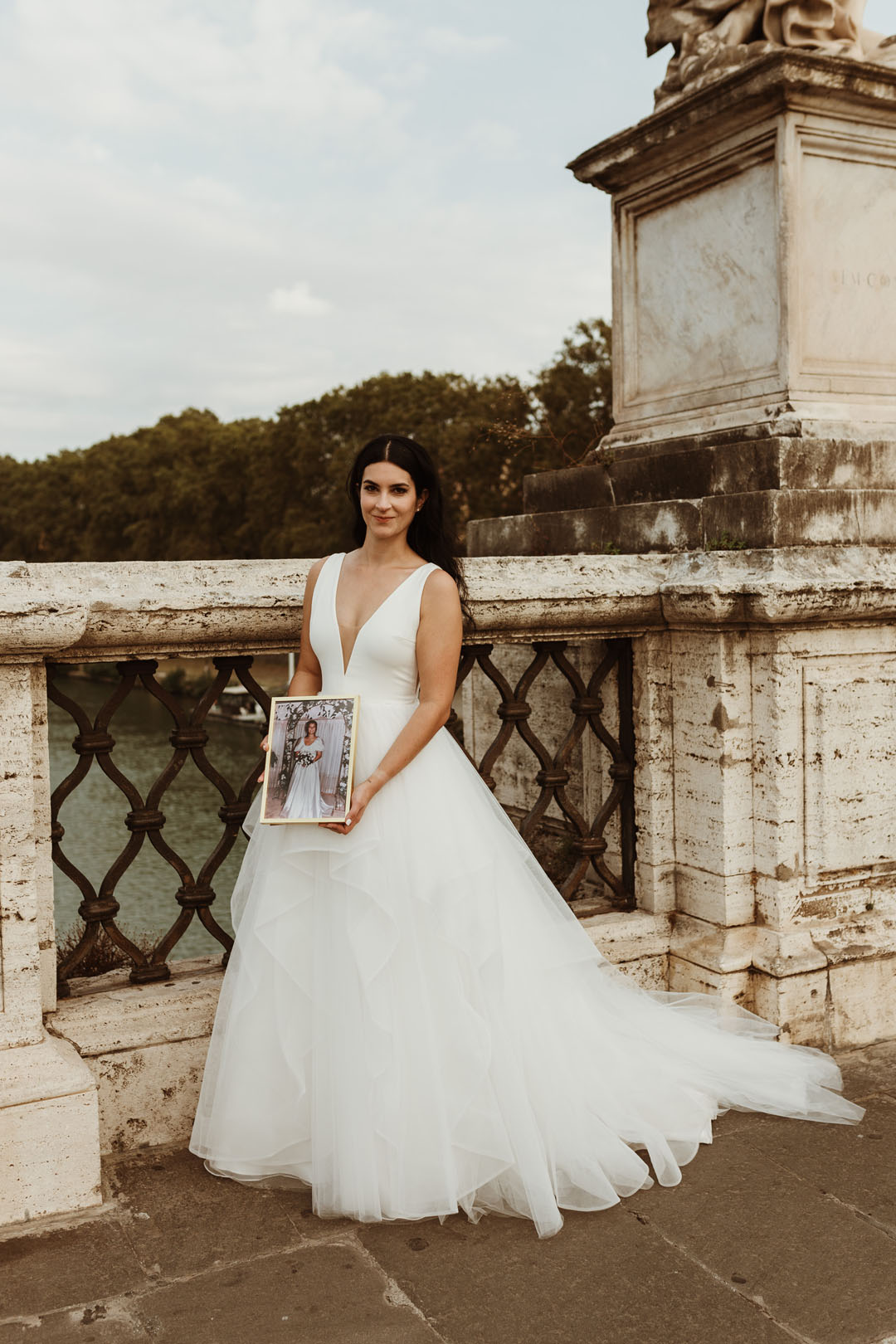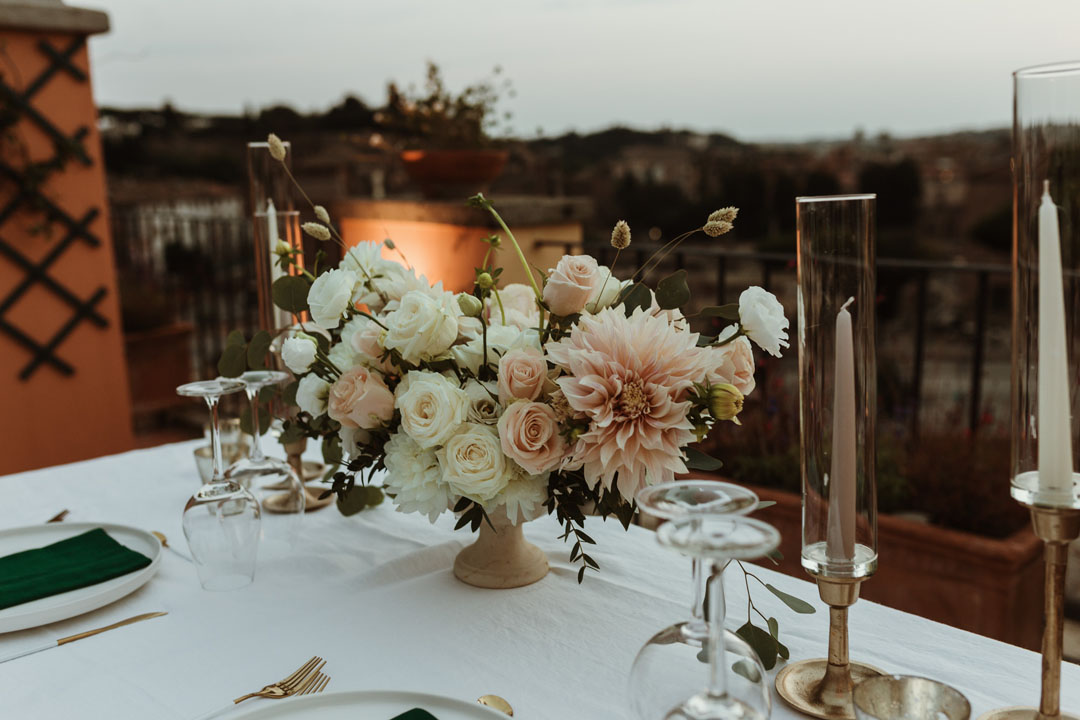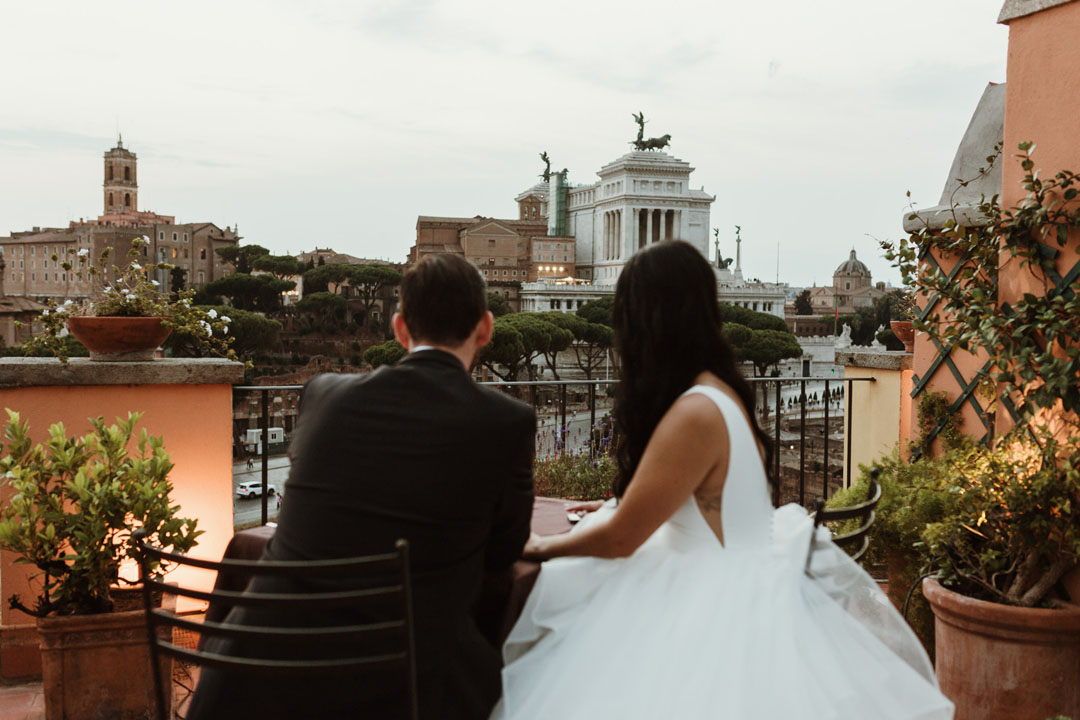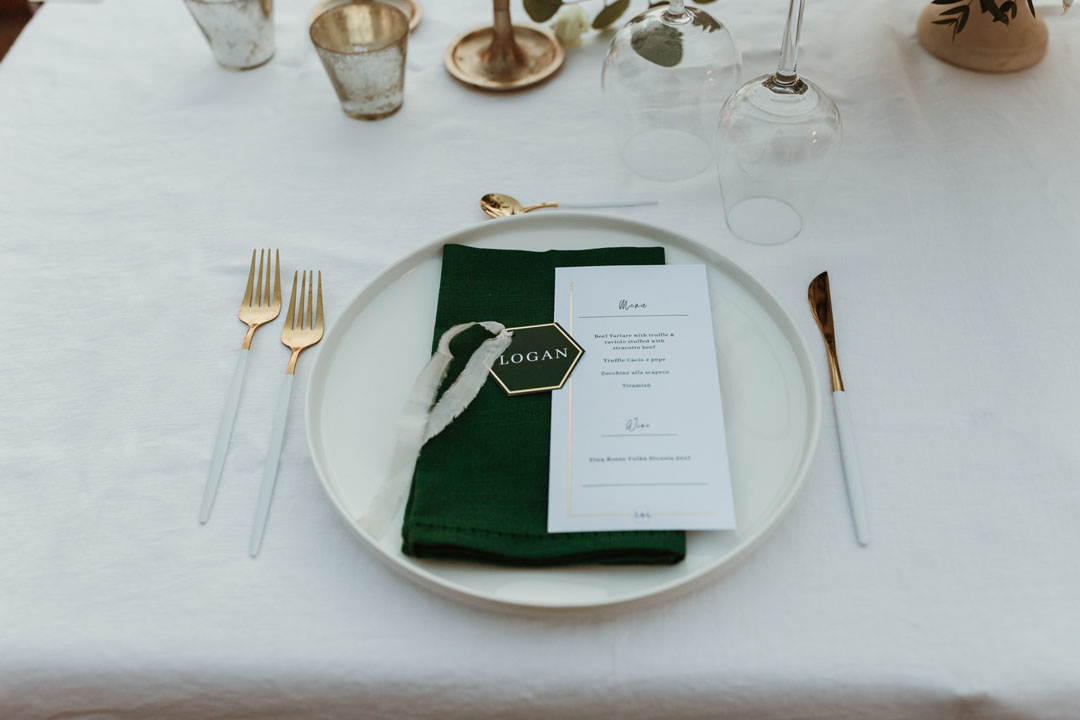 For brides affected by the Pandemic, Leah has the following advice.
"Use this as a time to really think about what you want for your wedding. If you always wanted a big wedding, maybe consider eloping and then having a big reception later."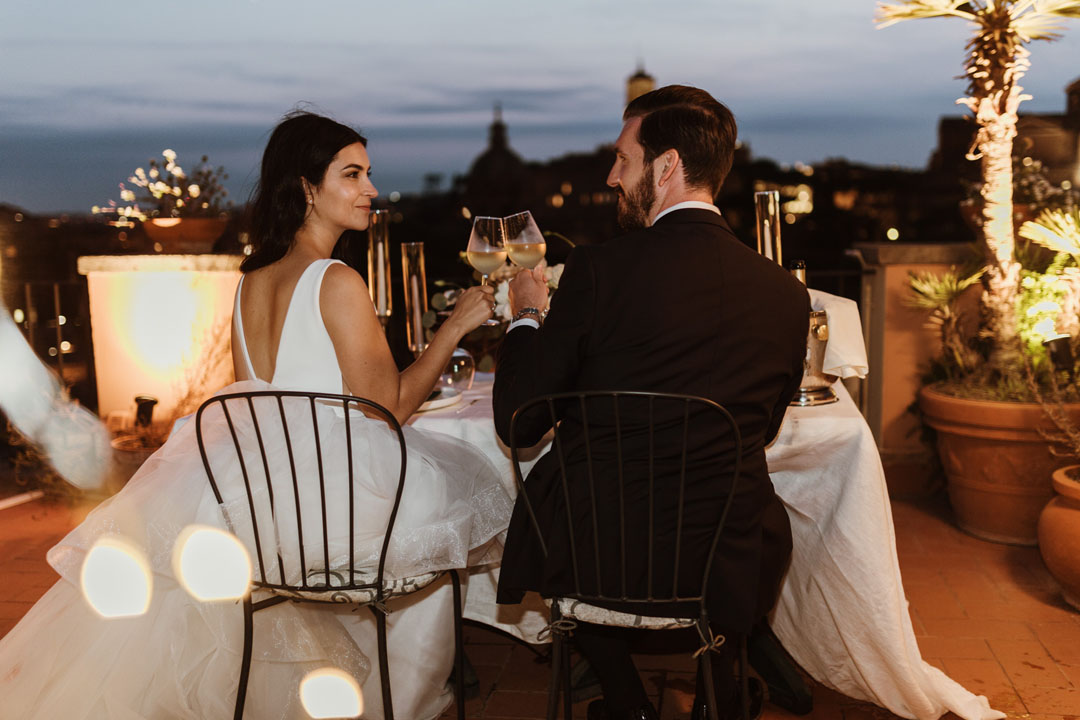 Words of Wedded Wisdom
"Please don't forget what your wedding is about – you and your partner! It is easy to fall into the stress of it all and try to please others."
"You really have to focus on what really matters and the day will be perfect."
Sarah Joy Landon, a huge thank you for these exquisite photographs. Leah and Logan, so many congratulations and thanks to you.
For more elopements, enjoy this Love My Dress selection.
Ele xx