Beautiful Bavaria is the location for today's wedding and wow, what a heavenly setting. The couple, Gloria and Valentin, were inspired by a 1970's Mediterranean garden party vibe, pulling out all the stops to create a cool and laidback atmosphere for their guests.
Please welcome wedding photographer Gloria and economist and PhD candidate Valentin. They wed on 6 August 2021 in a civil wedding in Wasserburg am Inn, Bavaria, Germany followed by a personal ceremony and bijou reception afterwards in the glorious surroundings of the groom's parents' gardens. The day had a glam yet fun feel, with Mediterranean touches in the form of olive branches and Venetian spritzes.
Photography Flora & Grace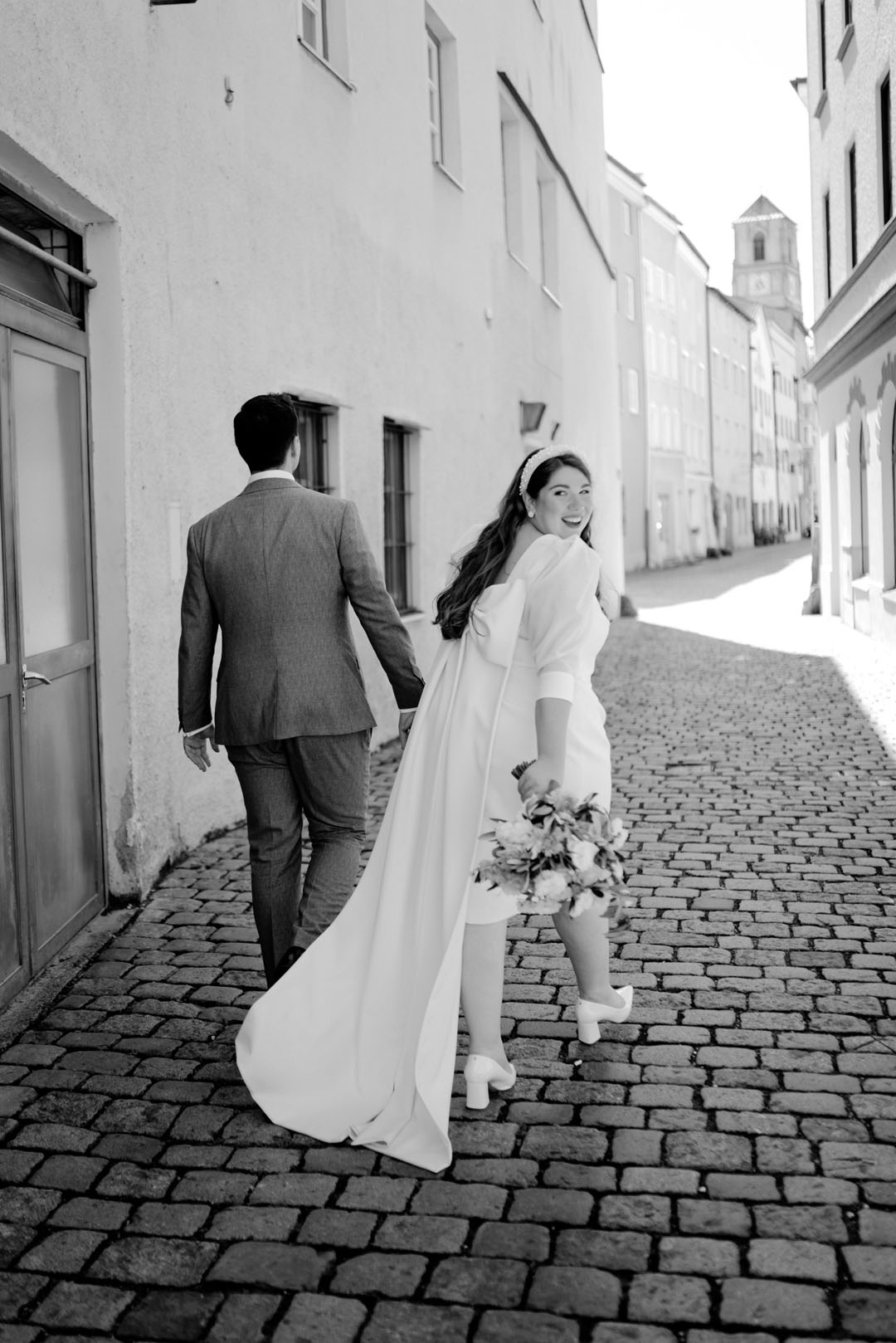 Gloria and Valentin met at school and quickly became high school sweethearts.
"We fell in love while doing the school dance together in 2011. After nine years together we decided to get engaged, in October 2020."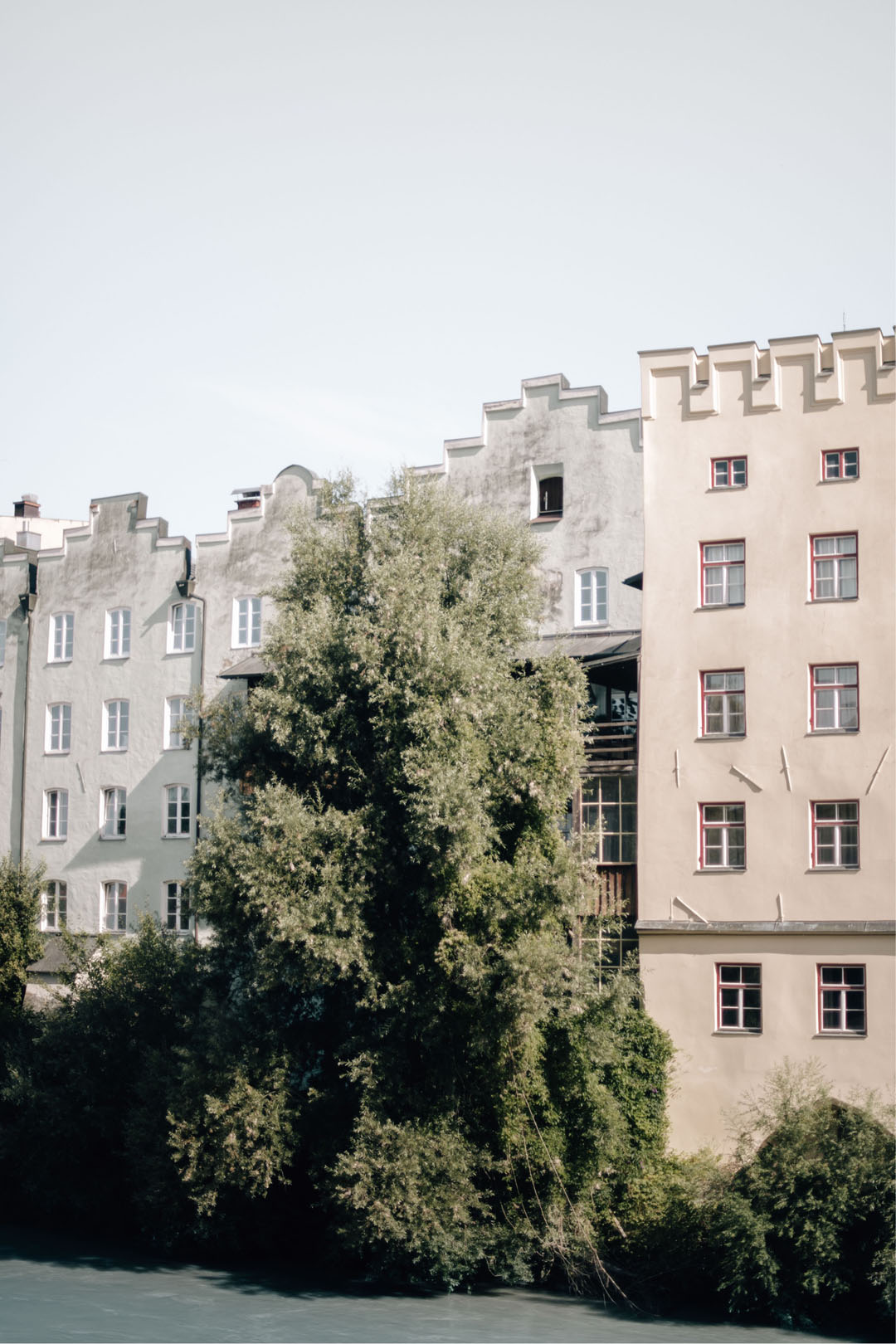 "There was no proposal but it very us and very equal. We always said that there will be no big proposal and pressure on one of us, but a meaningful decision together."
https://www.lovemydress.net/directory/supplier/sassi-holford/
The Covid-19 pandemic meant that the couple had to postpone from May 2021 to August 2021, but they benefitted from glorious weather because of the change of date.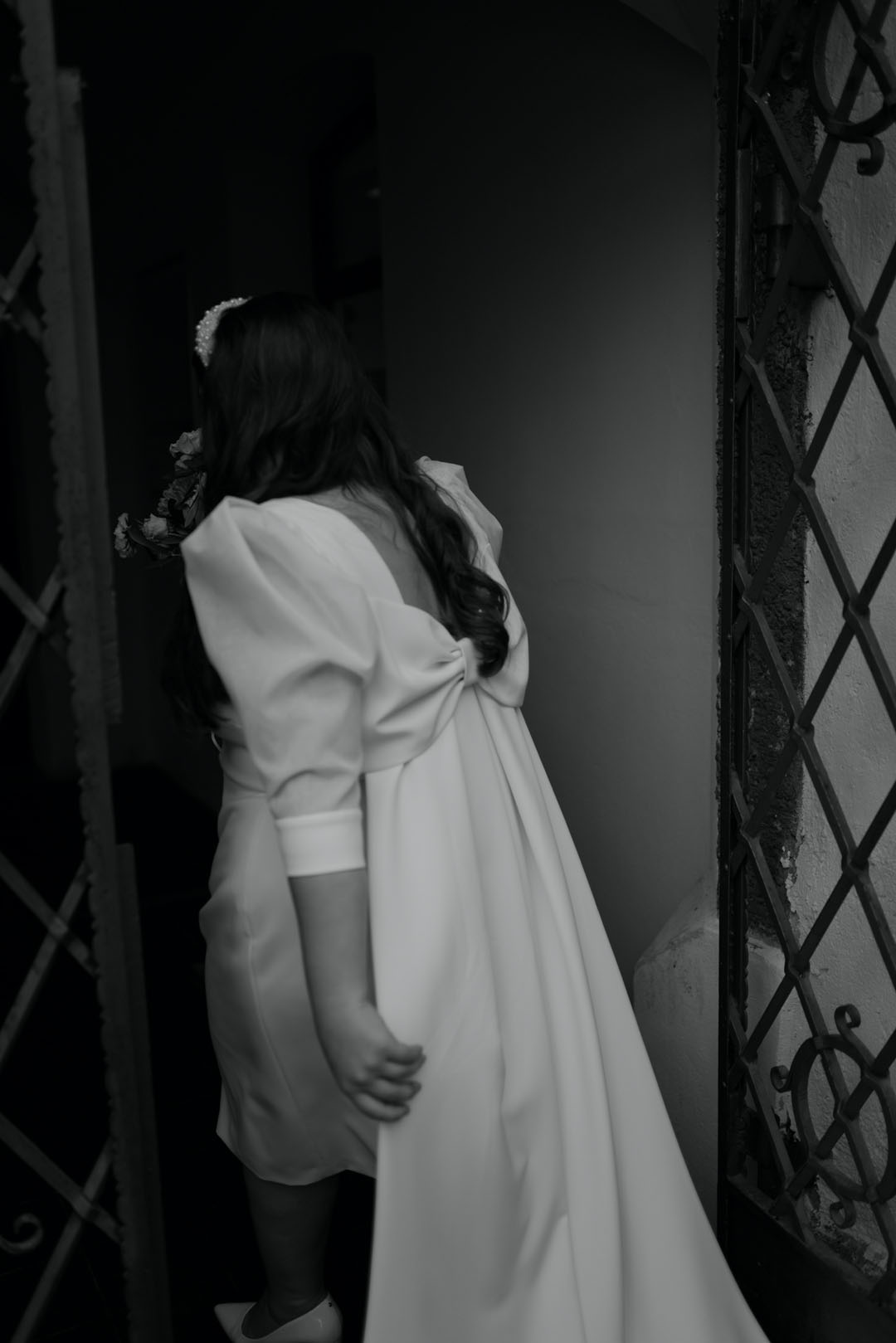 "We originally wanted to get married in May but there was still a lockdown in Germany so we moved everything to August."
"It was lucky for us; we would have had terrible rain in May. To keep our guests and us safe, we had a high vaccination rate at our wedding and everybody had to be tested before coming."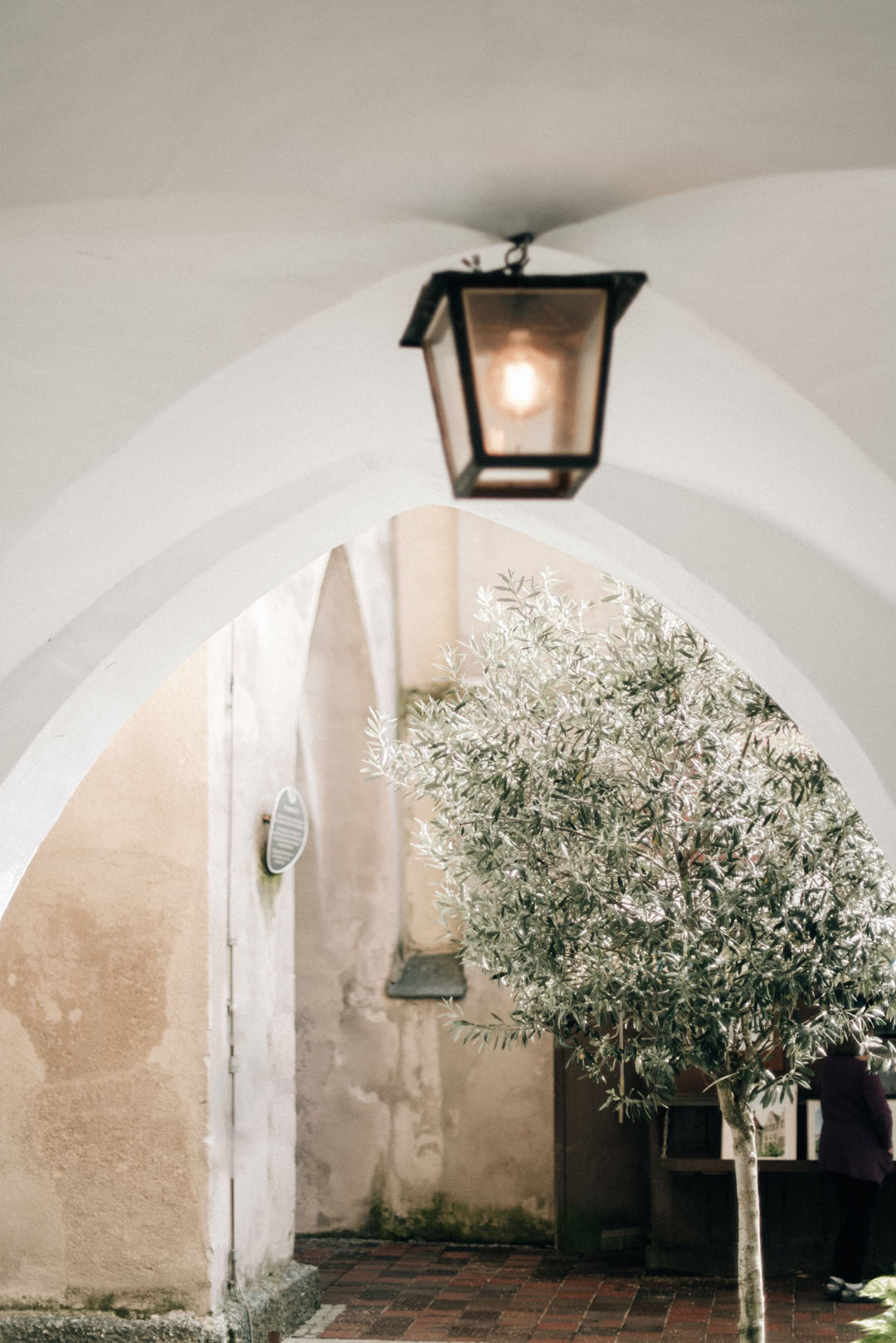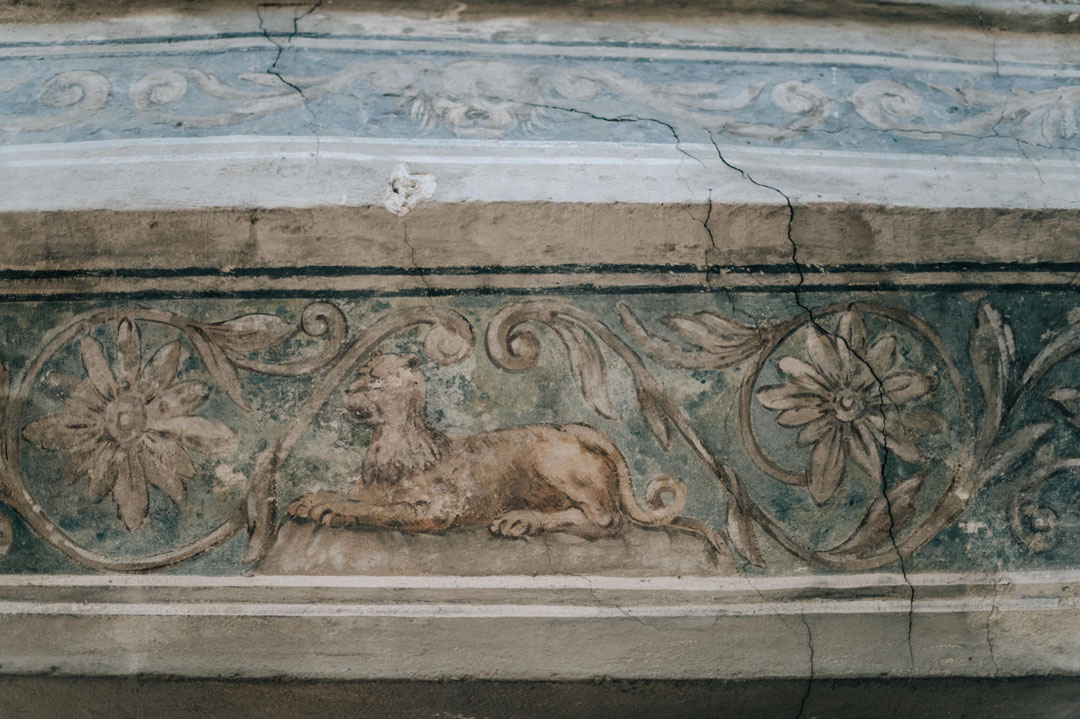 "For us, having most of our beloved ones in one place was always the thing that excited us most for our wedding day."
"When it came down to not being allowed and being unsafe to do that on our original wedding day we postponed and it was the best decision. "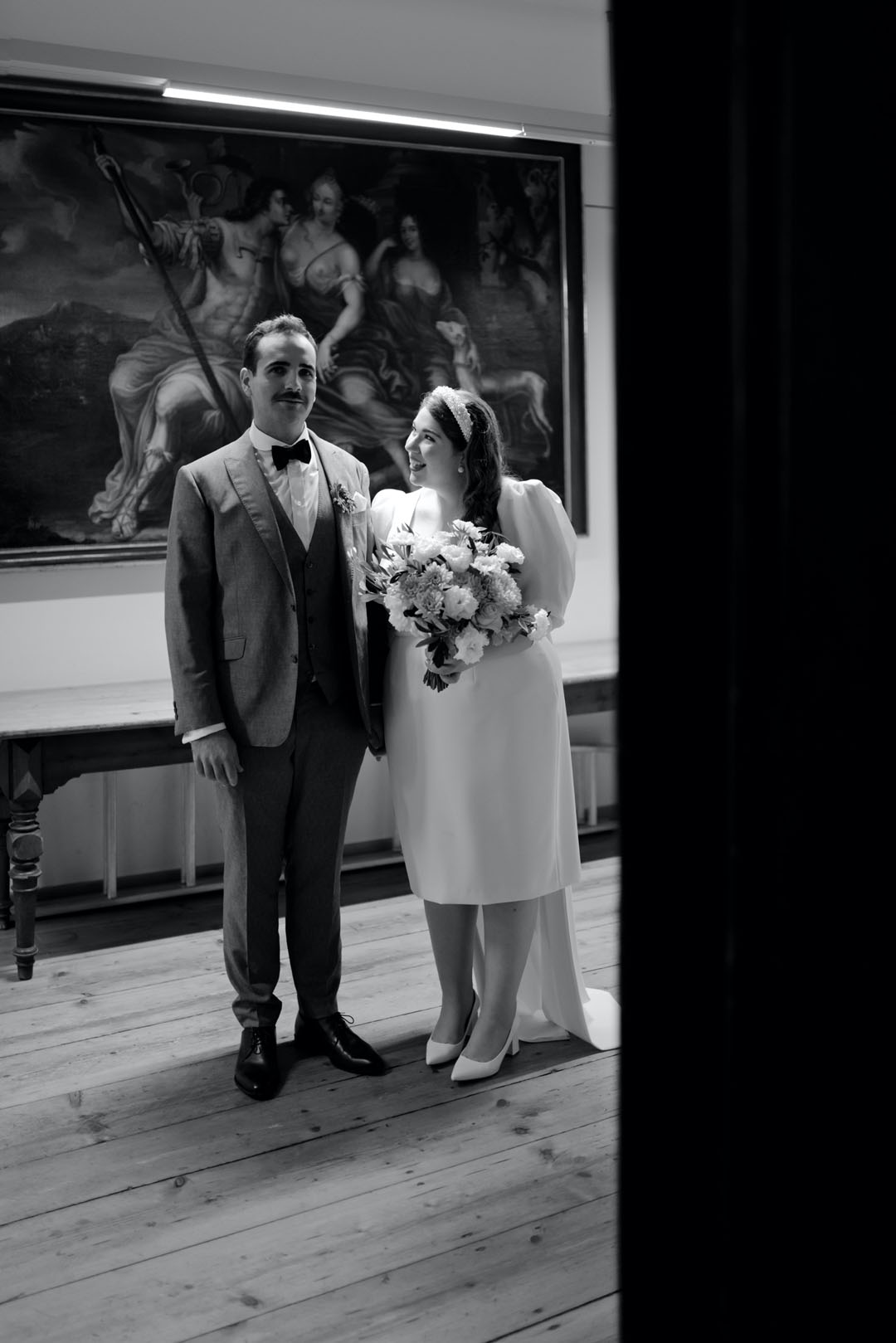 "Having almost all of our favourite people there is still one of our best and most surreal memories of our day."
"Postponing was heartbreaking at first but I am so happy we did.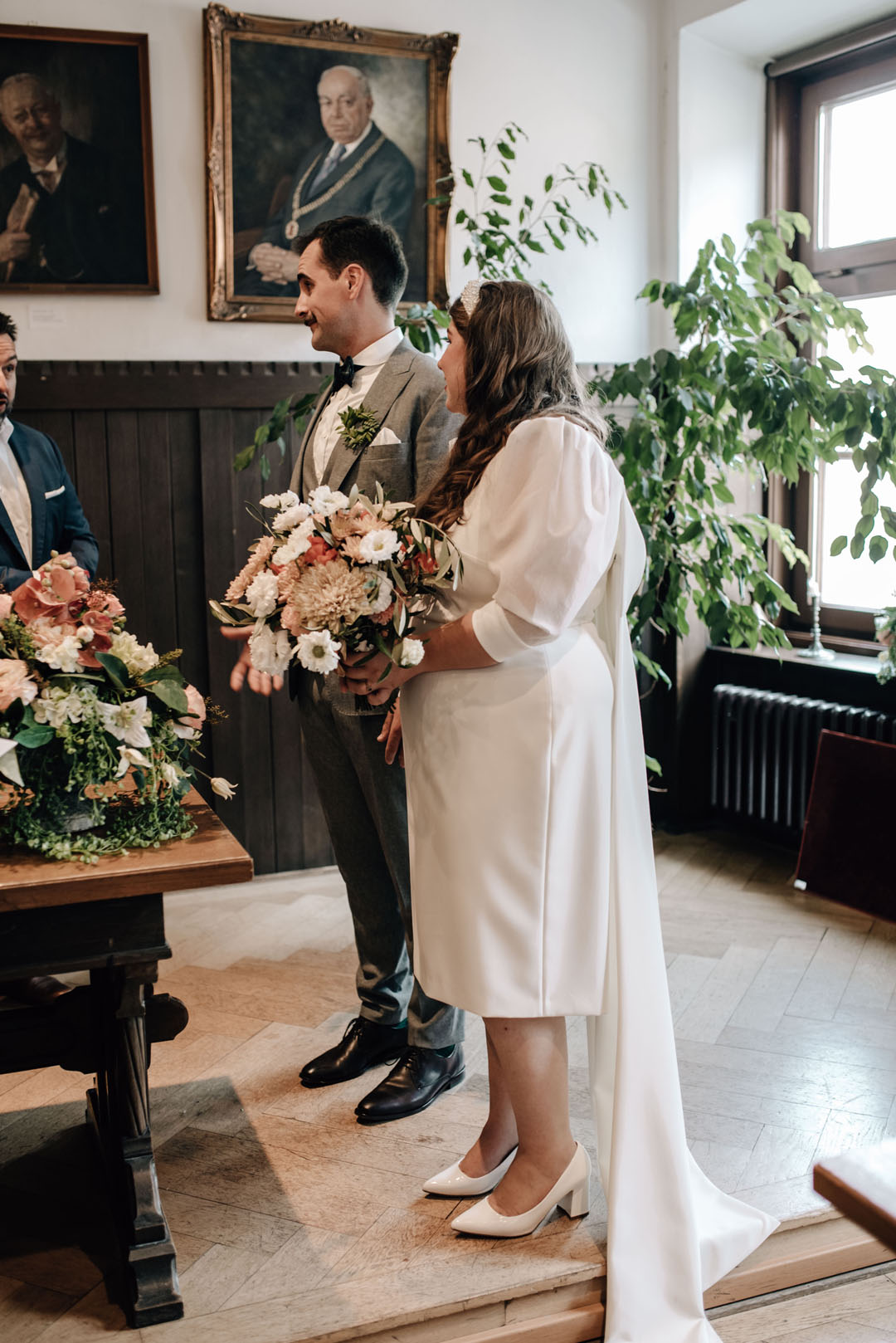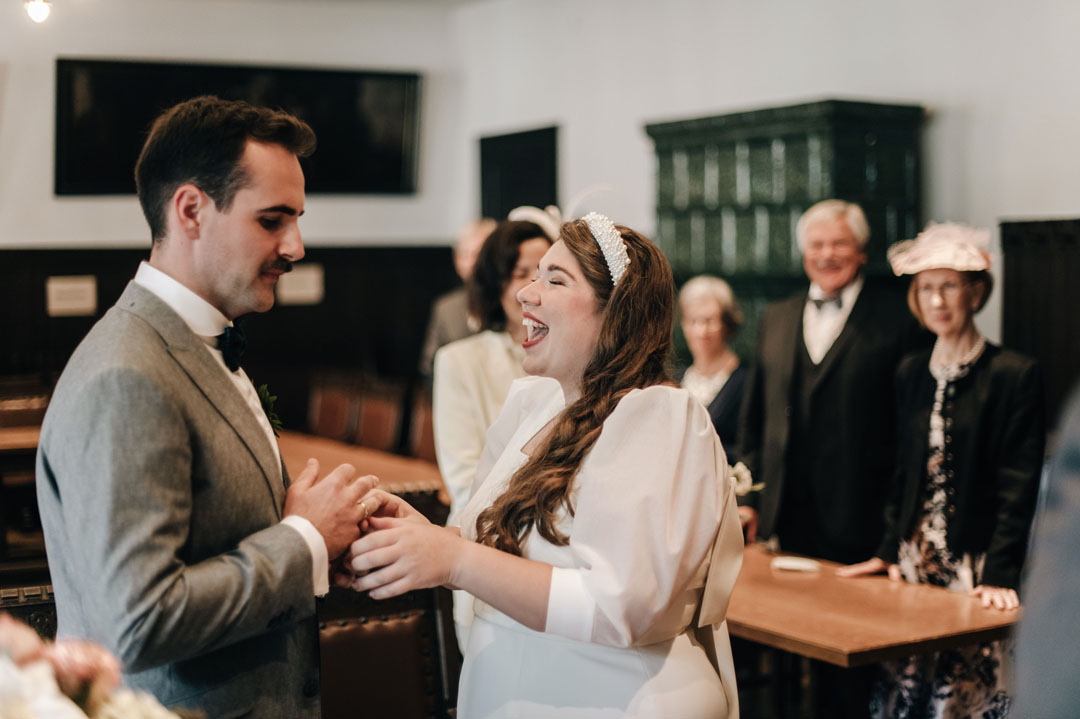 Gloria and Valentin wed in a civil ceremony in Wasserburg am Inn in the morning, travelling there in the bride's father's vintage car.
"It was just perfect with the 70s theme and made us feel like movie stars driving across the countryside."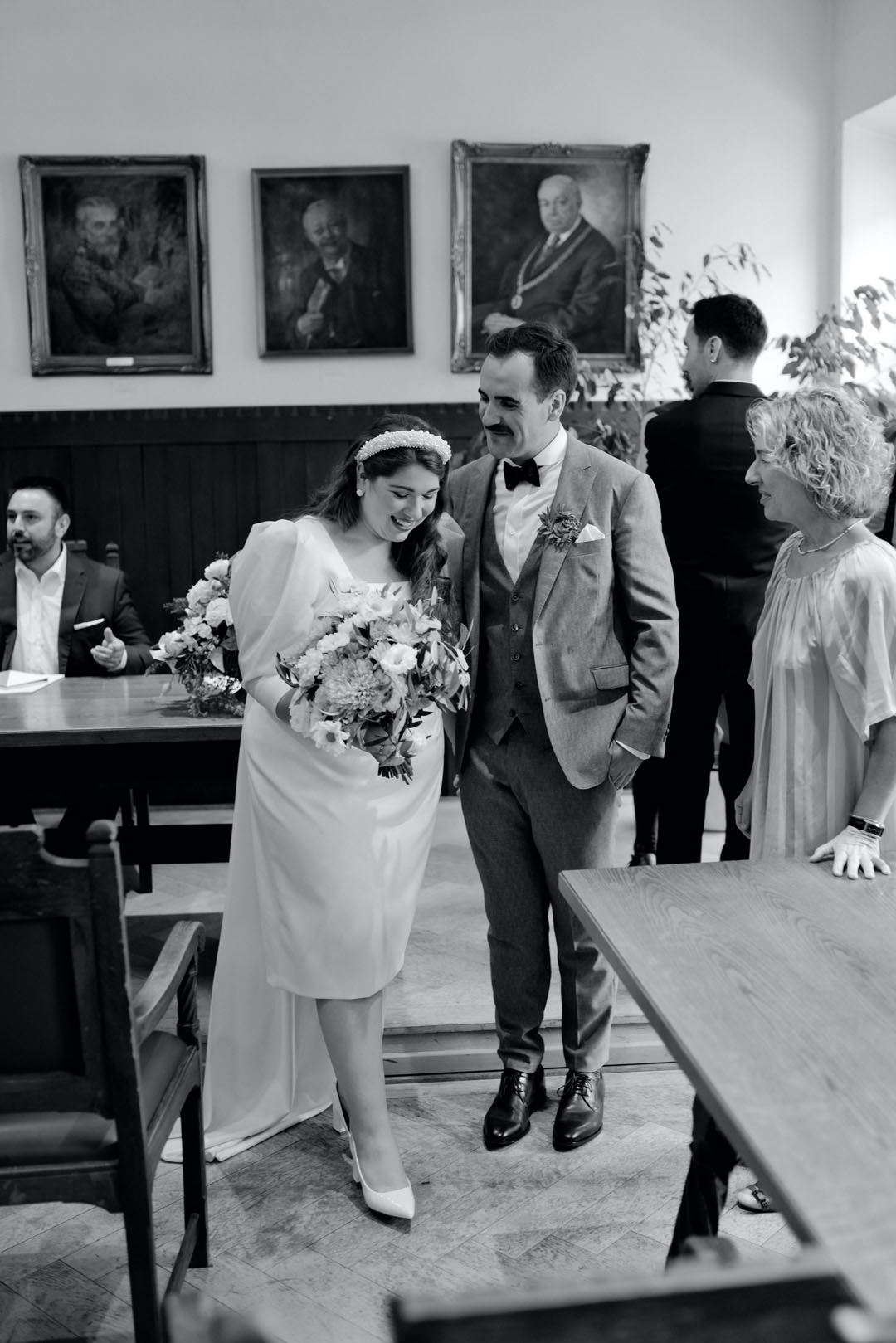 "We had a civil wedding (obligatory by German law) in the morning and our free ceremony with our vows in the afternoon."
"We love the garden and the little medieval town and we spent so much time there since we became a couple, so this only felt right."
The groom's suit was a tailored Monsieur Agnes suit worn with a dark bow-tie and his late grandfather's cufflinks
"Valentin wanted a grey, three-piece suit from the start."
"The challenge was to find material with enough texture to avoid the suit looking too business-like."
"Valentin used to live in Brussels back then so he every trip to Cologne for the fitting felt like a nice escape with exciting news from the tailor."
His button-hole was a special piece by florist Classy Flowers.
"Valentin wanted to have a special boutonniere and he went for a round one to mimic the Italian Laurea wreath students get when they finish university."
"Valentin couldn't celebrate his graduation from his Masters in Italy due to Covid so this was his ode to a fun tradition."
The bride wore a dramatic midi-dress with a statement bow at the back, its tails forming a sumptuous train.
It was a bespoke piece designed with Silk & Honey.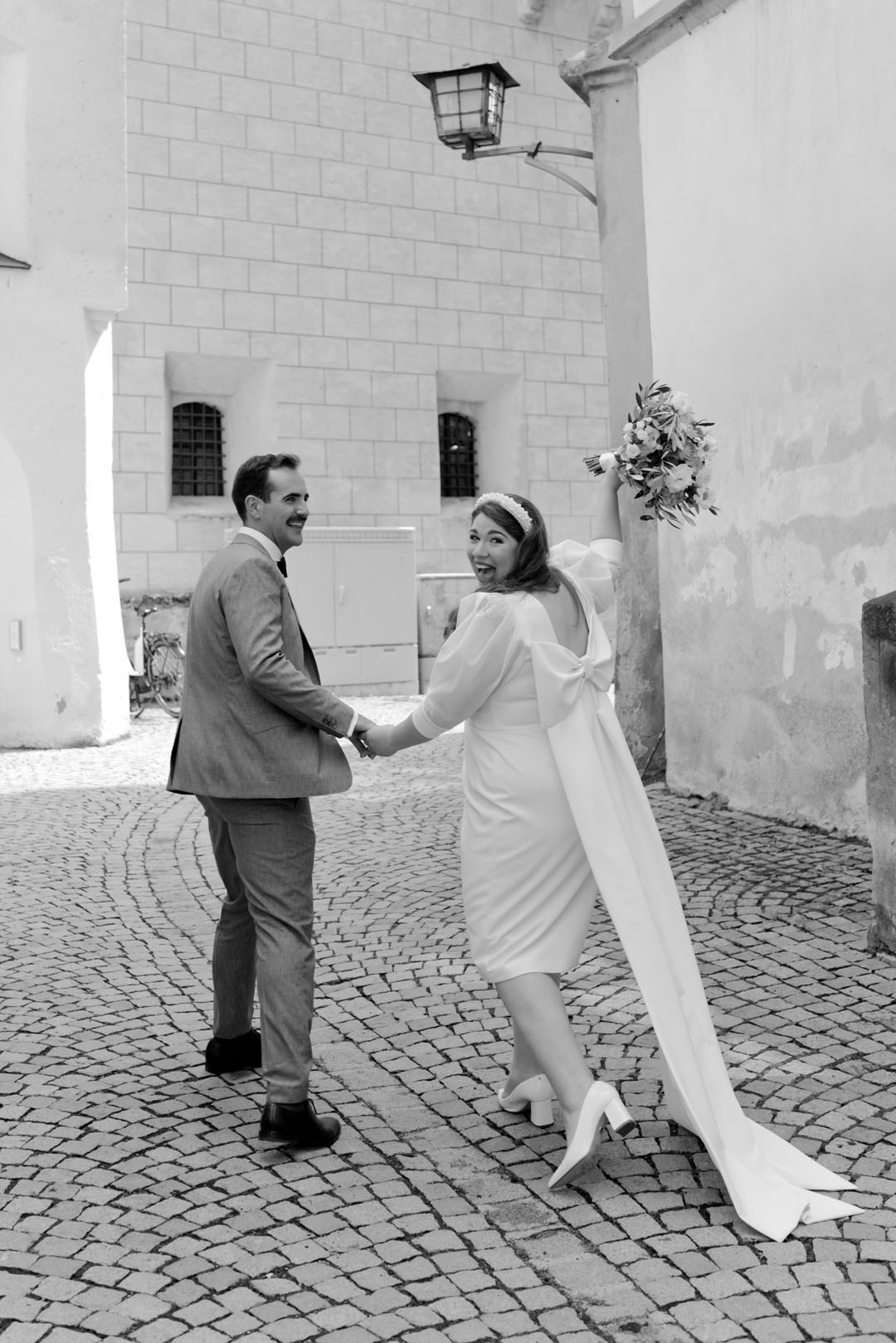 "As a wedding photographer myself, I had seen many dresses on my brides and photographed almost every dress style."
"I wanted something fun but still clean and bridal. The big bow and train is still my favourite element of the dress."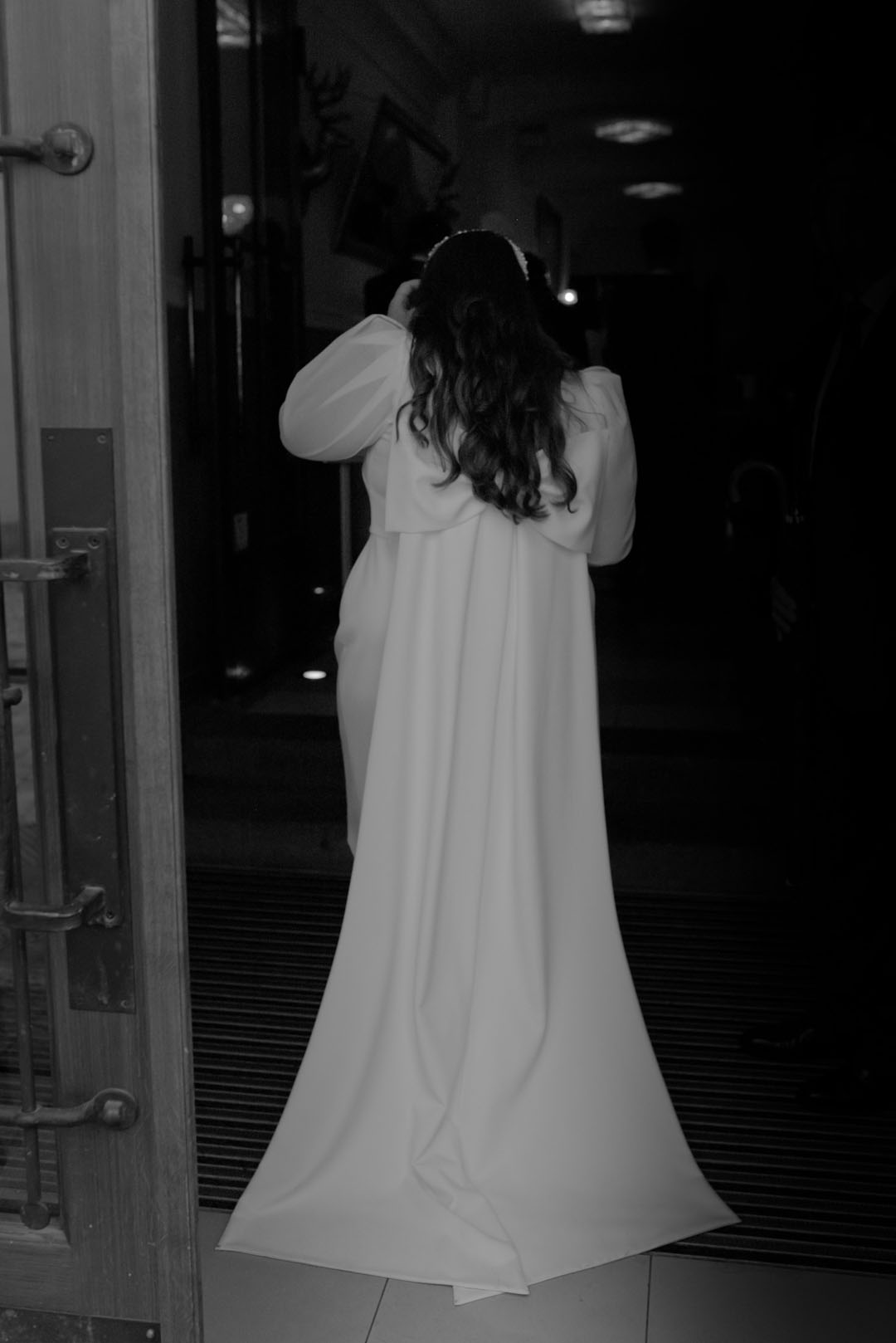 "I loved working together with my seamstress and designer Agnes on the dress."
"For our first video chat, I had prepared a little mood board of all the things I loved and then we slowly started working together on all the fun details."
"We had five appointments and by every appointment the dress grew more and more into my dream dress."
"Agnes listened so well, had such patience and brought such great practical solutions for all the things I had in my head. She was just amazing."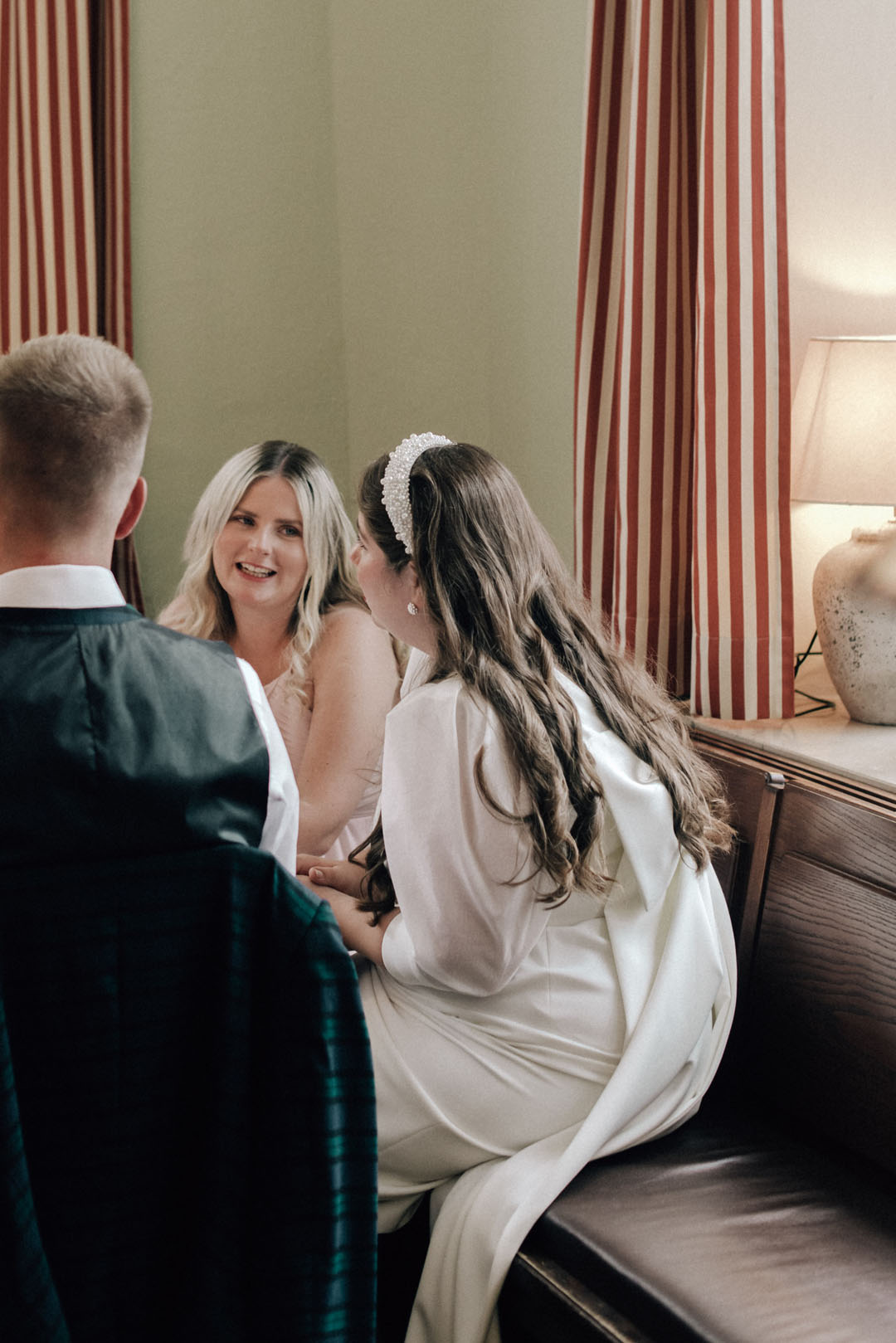 Gloria slipped on a pair of Buffalo high heels and a beaded Alice band from Alice & Blair on Etsy.
Her perfume was 'Good Girl' by Caroline Herrera, a gift from her mum.
"I wear a ring my grandma gifted me years ago as my engagement ring."
"Having her close to me through that ring meant a lot as she passed away shortly after we got engaged."
The bride's make-up was flawless and her hair was left in long, boho waves, styled by Marina von Massenbach.
The final touch was her 70s-inspired bouquet of flowers, from Classy Flowers.
"She really went with the colours of the 70s and a lot of olive twigs for the Mediterranean vibes."
She is just great and we wanted to be surprised so we did not give her any real instructions."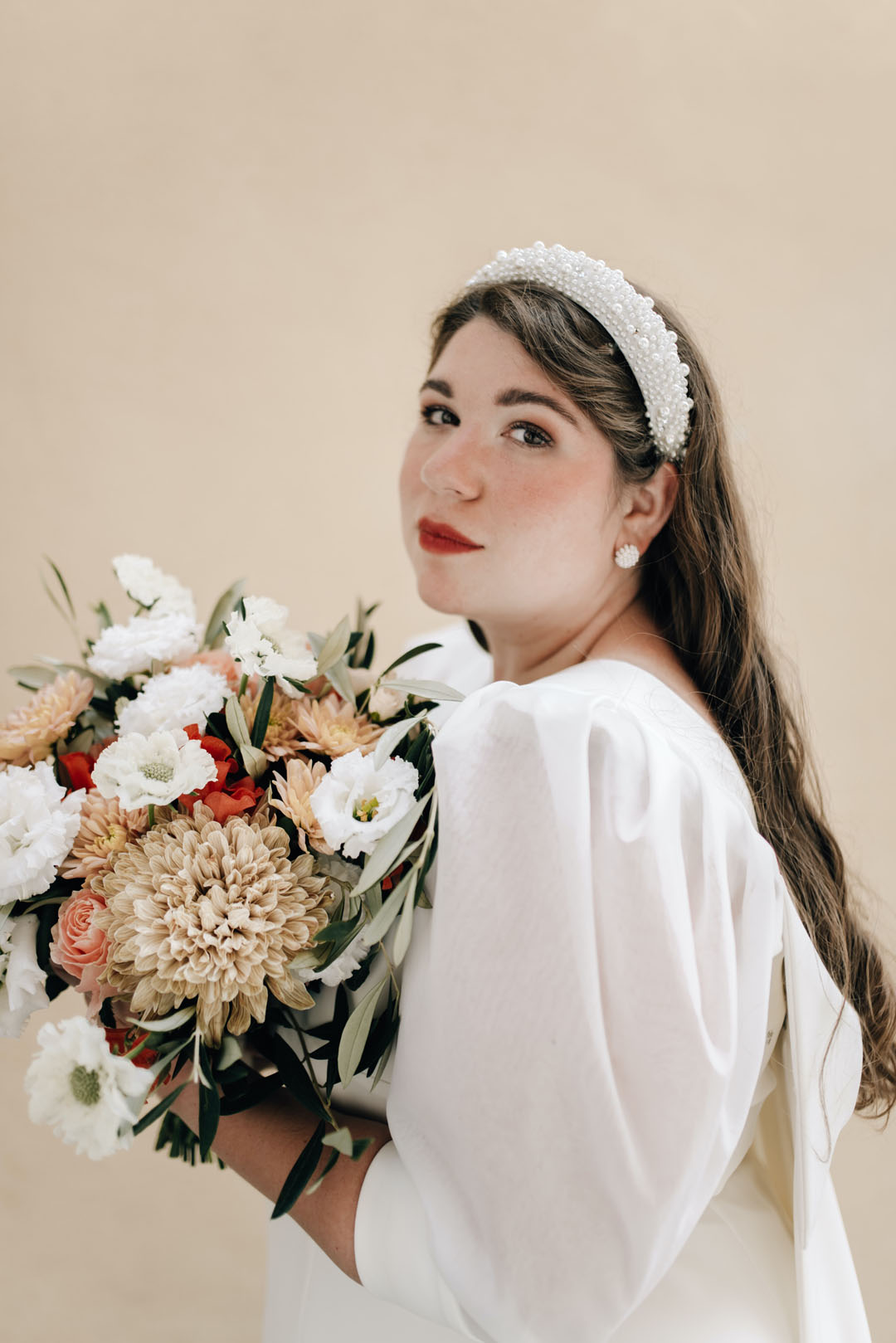 As a wedding photographer, Gloria had a clear idea of the style and approach of the photographer, and chose Flora & Grace to capture these elegant, light-infused images which show off the beautiful Medieval town and garden so wonderfully.
"We love their elegant and timeless look with such a modern feel. With celebrating a garden wedding, we were scared of somebody capturing it with a more rustic style than we would want."
"Jasmin and Tim from Flora & Grace found all the elegance and meaningful details we put into the garden and made it perfect! We couldn't have asked for anyone better to capture our wedding."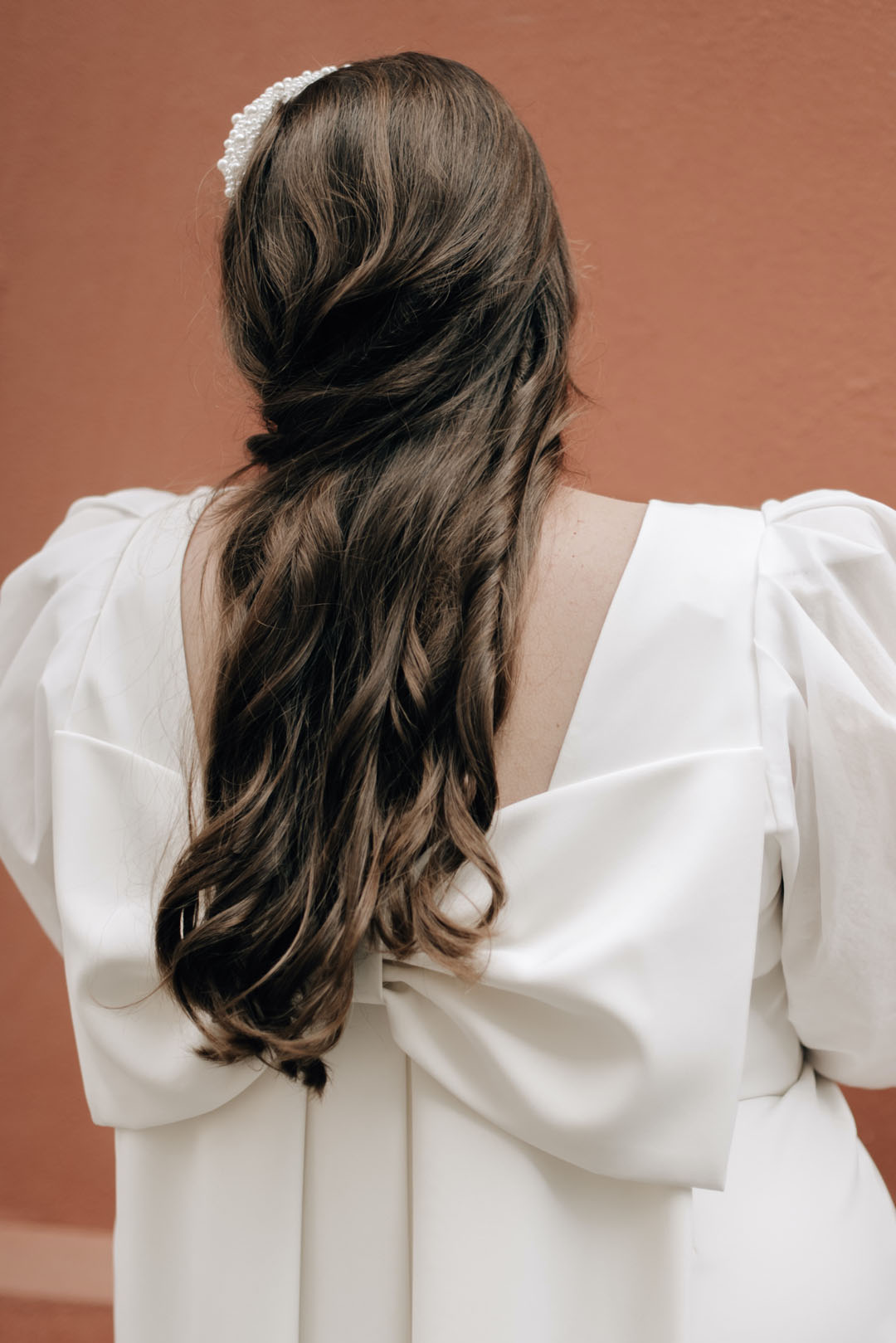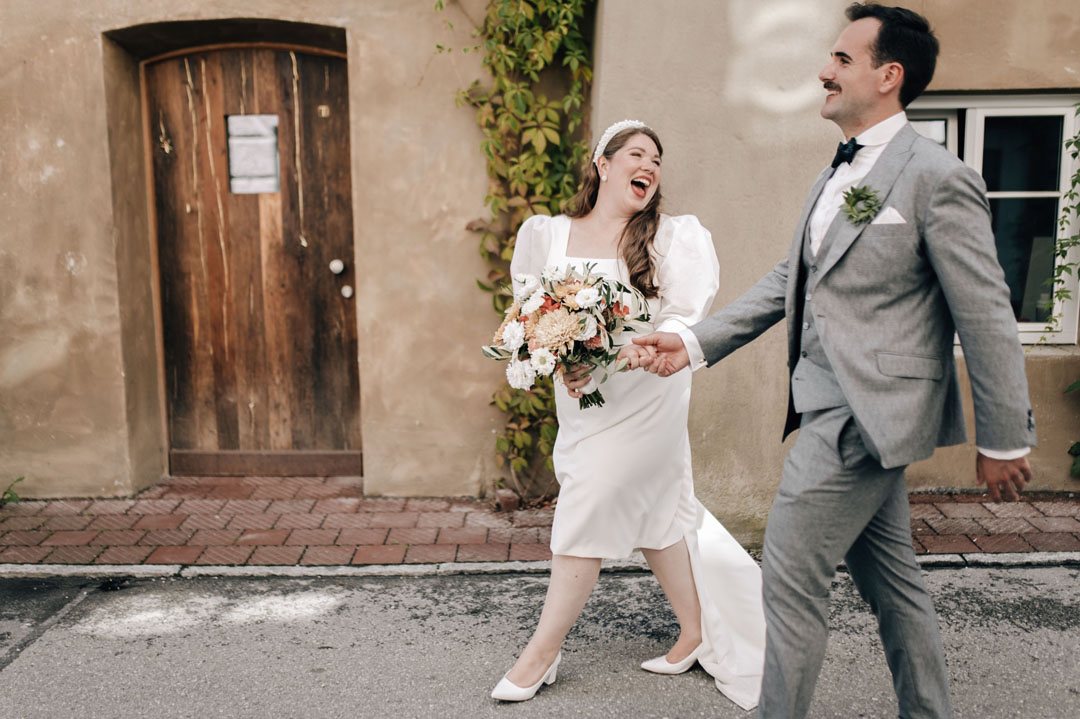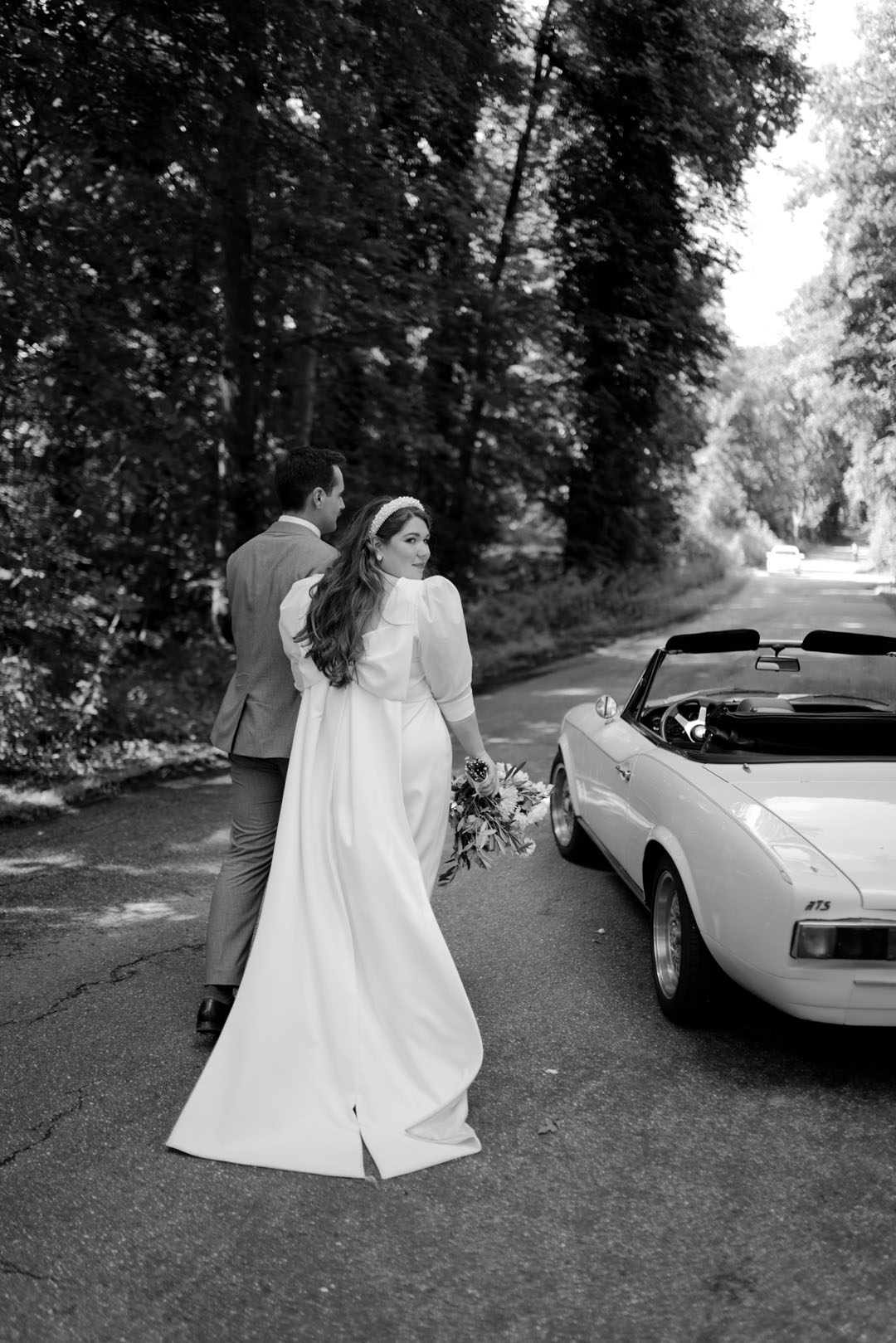 After the civil ceremony, the couple enjoyed a wedding lunch from Das Fletzinger before their beautiful portrait photos in the Bavarian town and countryside.
Then, on to Valentin's parents' garden for the second ceremony and fun reception.
"Arriving at the garden and seeing all of our friends and family in one spot was our favourite part."
The garden ceremony was held against a backdrop from My Pretty Wedding.
"My dear friend Beatrix from Im Namen des Glücks officiated the wedding. She knows us very well so this meant a lot."
"We both wrote our own vows and our celebrant really helped us out with her tips. Her two top tips were; keep them short, and alcohol helps with the first draft."
The couple exchanged rings from Ruepp Juwelier.
"We wanted really clean and classic, gold wedding bands. They are timeless and both of our parents wear similar ones."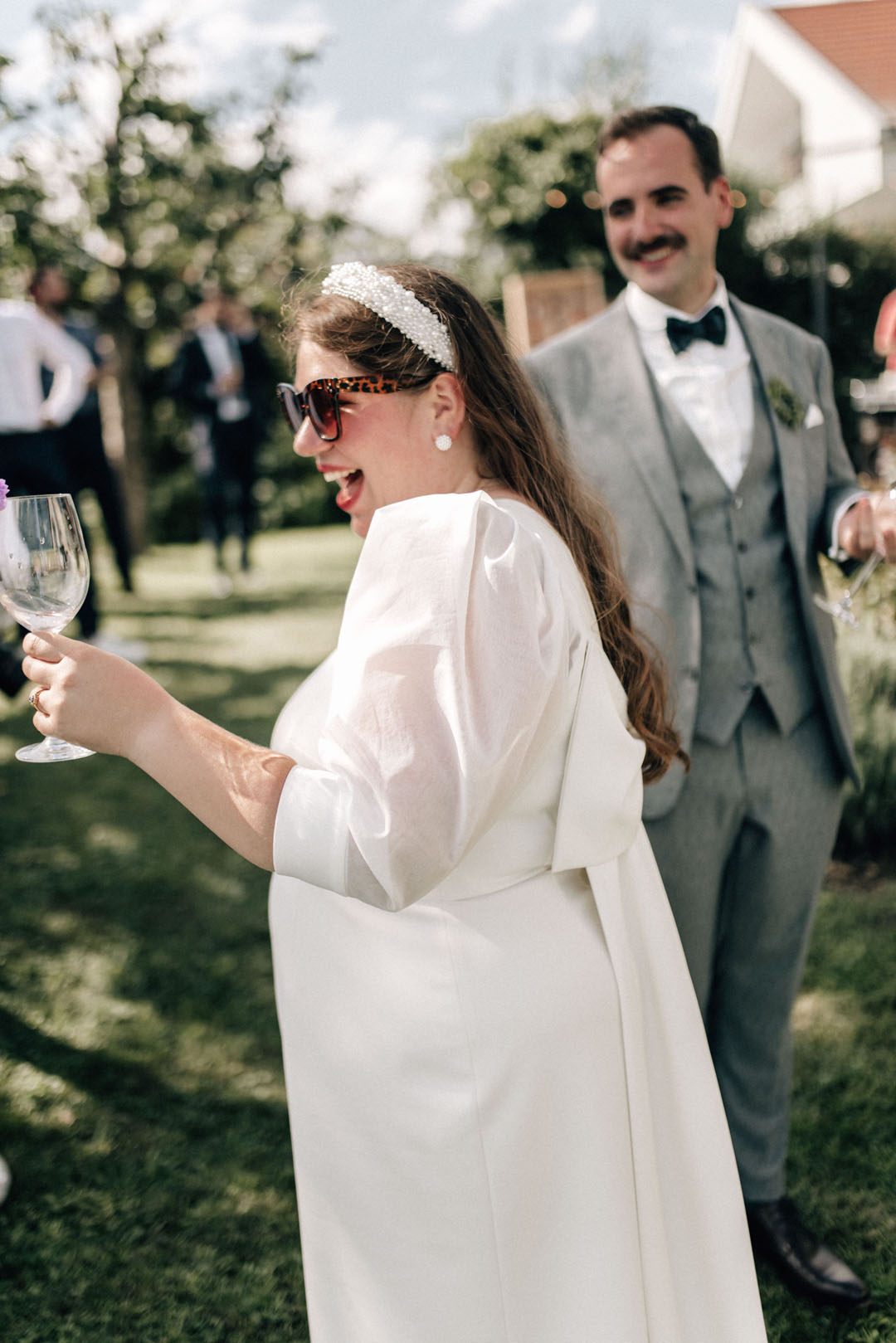 Valentin's personal style influenced the wedding style, with a 70s vibe the perfect fit for his retro moustache.
"As I have seen a lot of wedding styles we just wanted something super fun and went for a 70s-Mediterranean garden party."
"Valentin really pulls off a moustache and a lot of our friends actually grew one for the wedding which was super fun; we got a lot of photos during the wedding preparations from our male friends."
"We loved it so much, especially because we felt like for the first time there was more excitement on the men to pull off a great wedding look than for the women. We liked that change."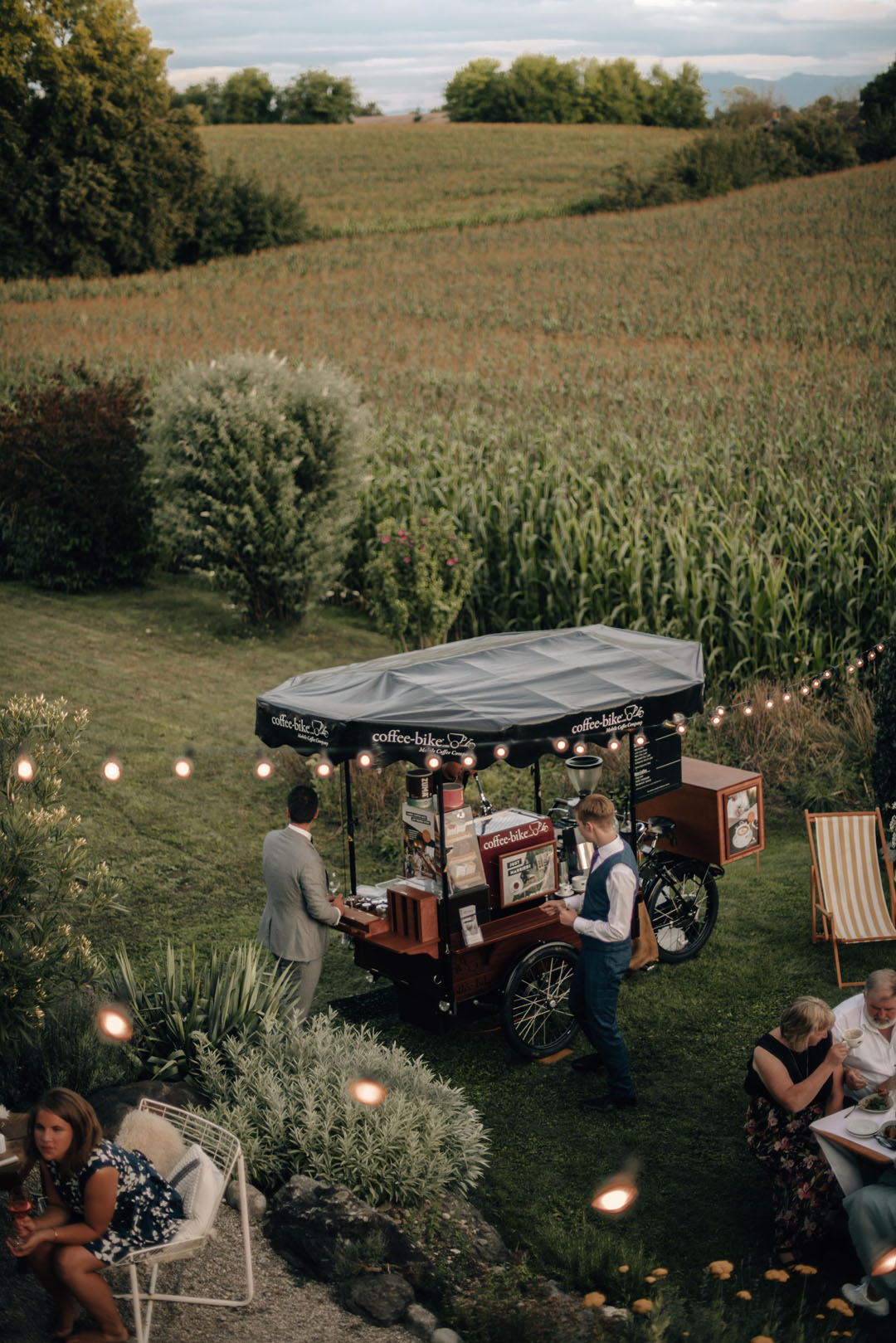 "Right after the ceremony we wanted to open the dance floor as we did not want to wait until evening with the dancing. 'Sara Perche Ti Amo' is such a feel-good vacation song for us and our guests threw all our home-made, biodegradable confetti (aka dried flower petals) at us whilst dancing. It was magical."
The guests relaxed in the garden with food from Paul Fuβstetter and coffees from Coffee-Bike. There were also plenty of Italian-inspired Spritzes.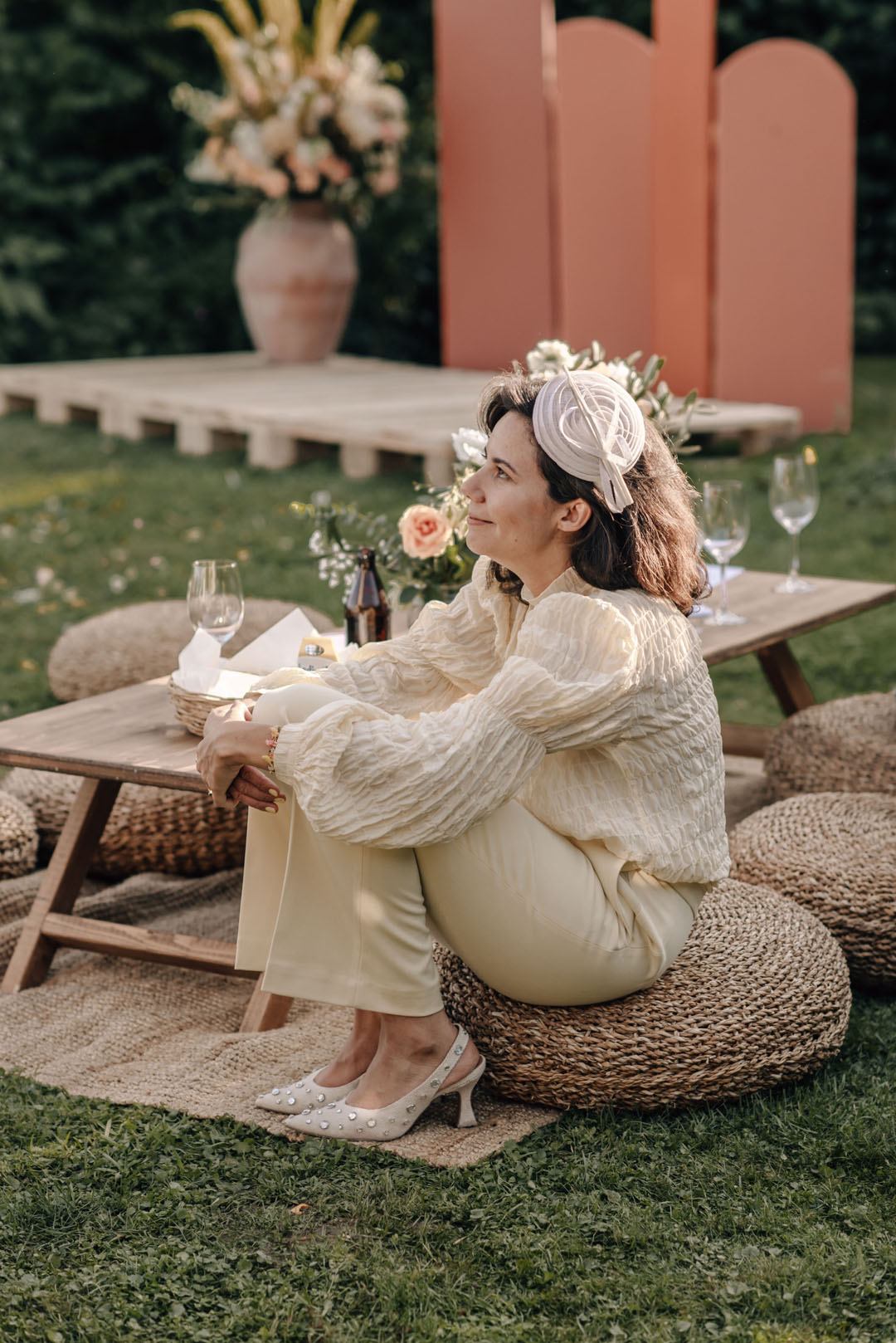 "We are both avid Spritz drinkers. After spending a lot of time in Venice, we not only enjoy the classic Aperol Spritz, but also all the delicious Venetian spritz variations (with olives)."
"We went through pretty much the whole internet to find a device for our spritz dreams and we couldn't find one."
"A friend who, luckily for us, is also a carpenter worked with us on our dream – a spritz dispenser! We were also very particular about having Prosecco from Sanfeletto."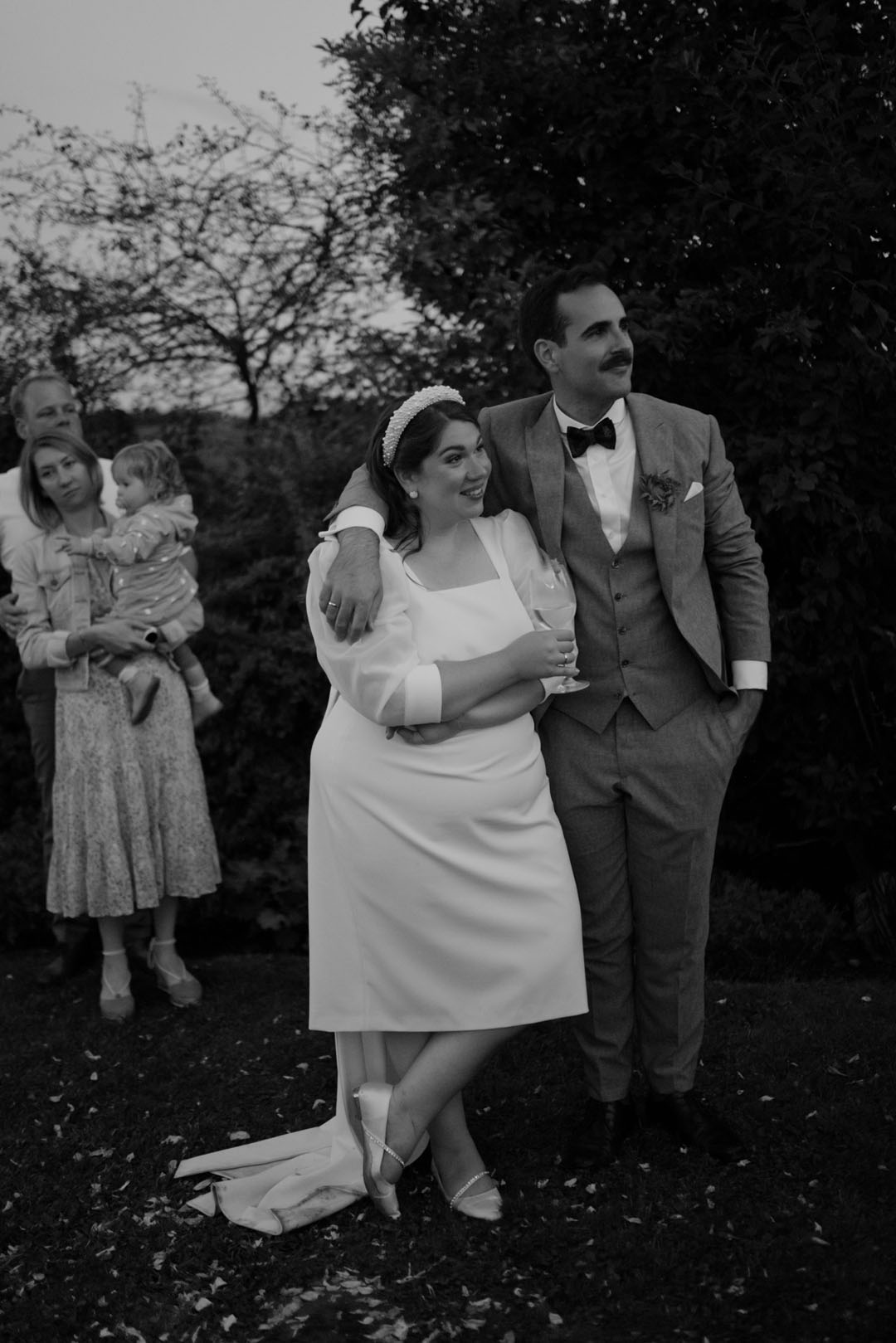 "Valentin met their son in university and they became close friends. Being able to toast with our favourite Prosecco made our inner Italian very happy."
"We didn't want to cut a cake so we had no real wedding cake but our friends and family baked some of our favourite cakes. They were delicious."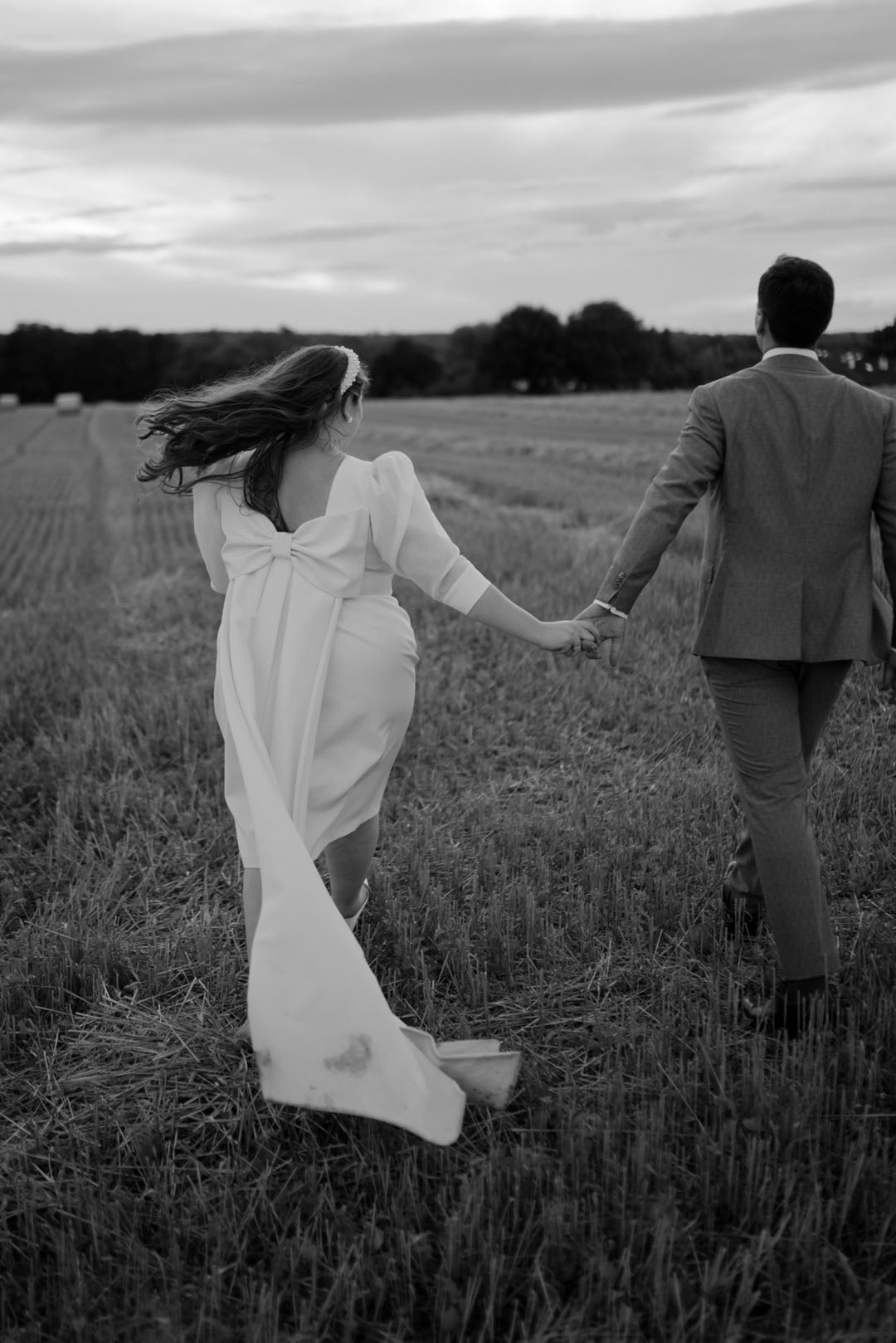 Gloria and Valentin, thank you and congratulations! It's been such a treat to see your German garden wedding and I love the fun and glam 70s vibe you created.
Thank you, Flora & Grace, for your beautiful work. For more 70s-inspired weddings, you can get lots of inspiration on Love My Dress here.
Ele xx