Now, this is a wonderful story of a couple absolutely determined to get married, despite a pandemic, if ever there was one.
Isobel and George's beautiful London micro wedding was held on 26th September 2020 – in between national lockdowns and just a week before wedding restrictions were about to become even tighter.  And talk about a head turning wedding dress! This incredible design is exclusive to Miss Bush Bridal, a long-term partner of Love My Dress, whose founder and MD, Emma, is one of the best British bridal fashion stylists you will ever meet. She is also just so utterly brilliant and wonderful on so many levels – we honestly cannot recommend booking in an appointment at this wedding dress haven and bridal haven.
After multiple postponements – a result of the pandemic, the couple finally exchanged vows at St John's Church in Hyde Park and celebrated their union with a reception at The Royal Automobile Club, Pall Mall.
Maja Tsolo Photography

+ Follow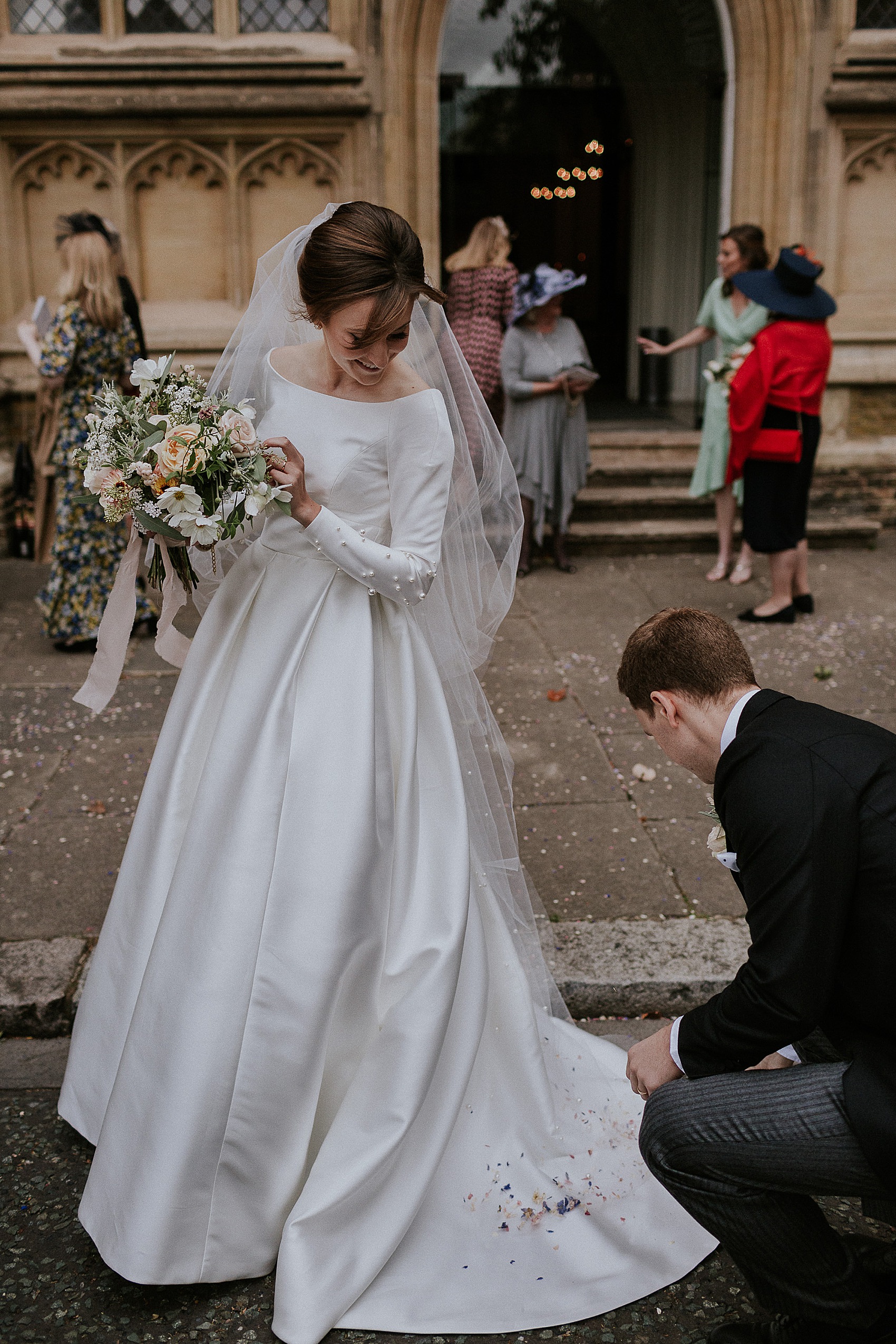 "We ended up moving our wedding four times and I can safely say it has been one of the most stressful and miserable experiences of my life – I got to the stage where I longed for the whole thing to be over!"
"George and I were adamant that we did not want to push our wedding to 2021 but this did involve a fair amount of juggling dates in line with constantly changing government updates.""When a week before the wedding, the government announced that wedding receptions were being cut from 30 guests to 15; we decided we couldn't make any more sacrifices to our day, so we called all our guests and suppliers and brought the whole thing forward by a week."
"I wore a pair of beautiful pearl earrings from Tiffany which George bought me as a wedding gift. They were very simple and tied together my pearl look."
"I started my own stationery business, Paper Maven, in the first lockdown after being made redundant from my job in hospitality. I created all my own wedding stationery using the same colour palette as the flowers to tie the whole theme together."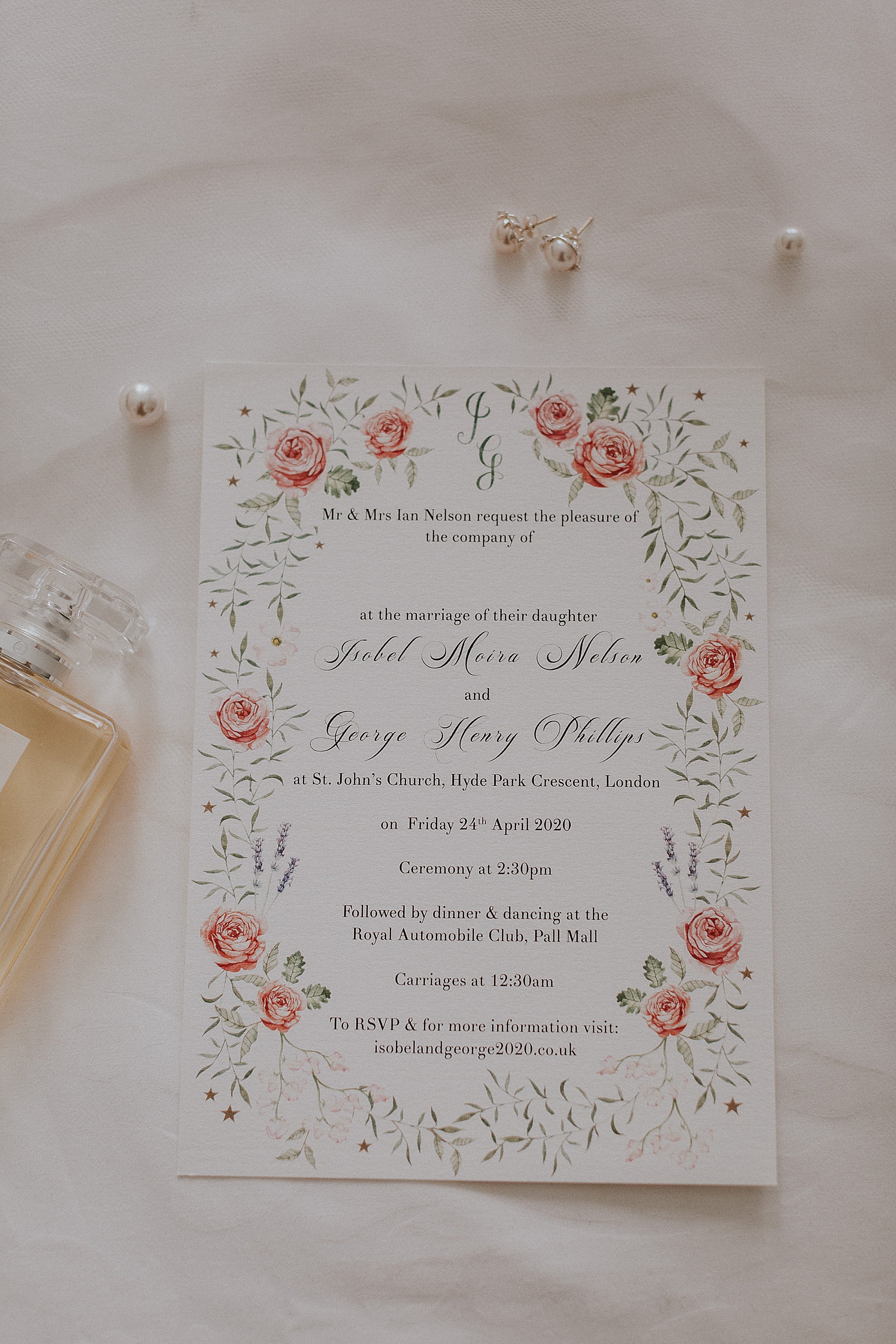 "I wore the Jesus Peiro Pearl Anniversary dress which was made especially for Miss Bush, which was the first and only dress shop I visited."
"I absolutely loved their collection of dresses and Emma was so in tune with my taste. I cancelled all my other dress appointments as soon as I stepped out of the chapel; Miss Bush was the only shop for me!"
This very special gown isn't available to order anywhere else. Created to celebrate Miss Bush's 30th birthday in 2018, the dress features a simple, elegant bodice with full length sleeves and a fitted cummerbund waist. This sits above a full, romantic skirt with pleats and pockets. The gown is embellished with delicate hand sewn pearl detailing on the sleeves for a timeless, romantic finish. Emma Marshall, Miss Bush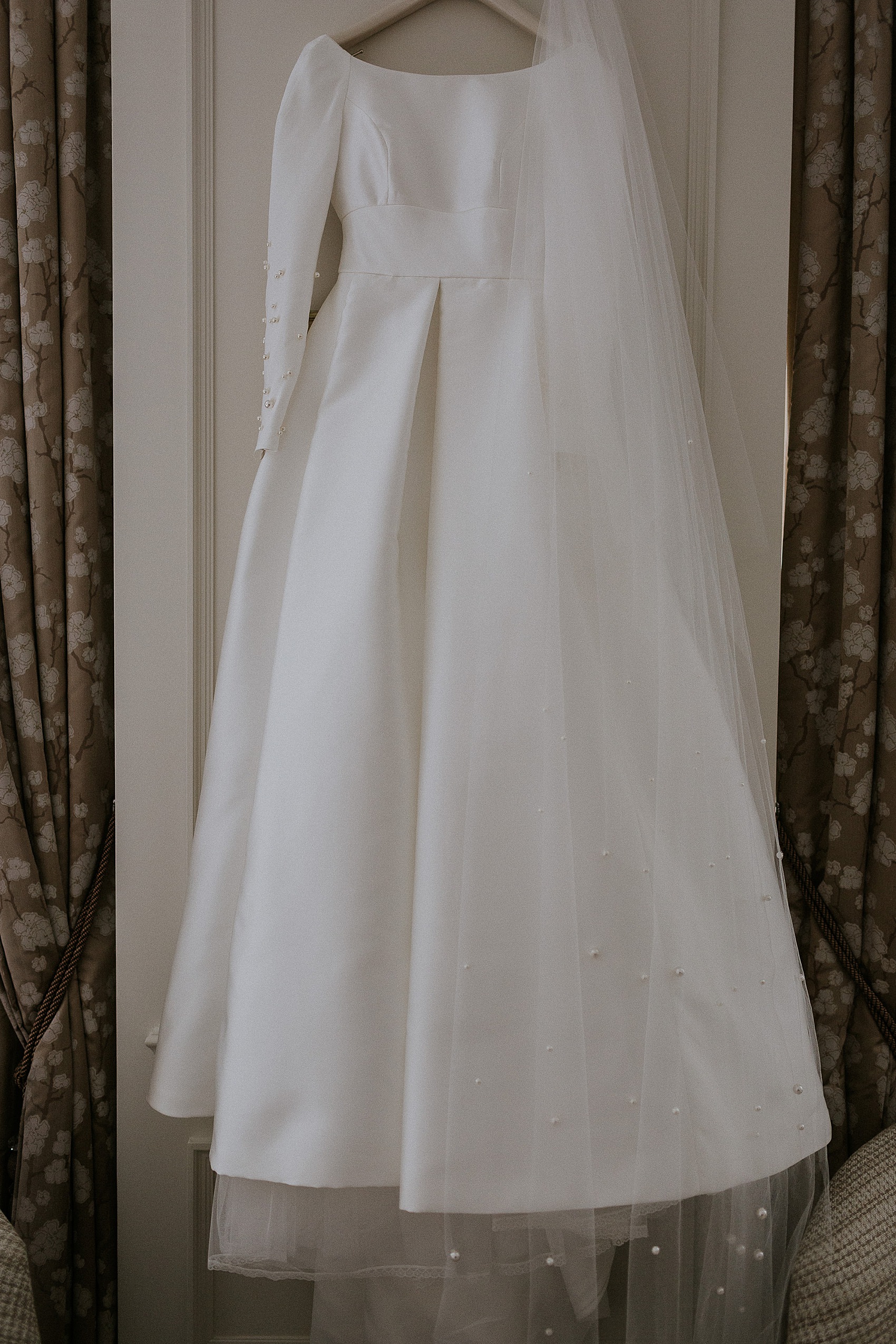 "Throughout Covid, the Miss Bush team were so helpful and accommodating and I found the fittings were a particular source of comfort over lockdown as they served as a reminder that the wedding would one day still happen.""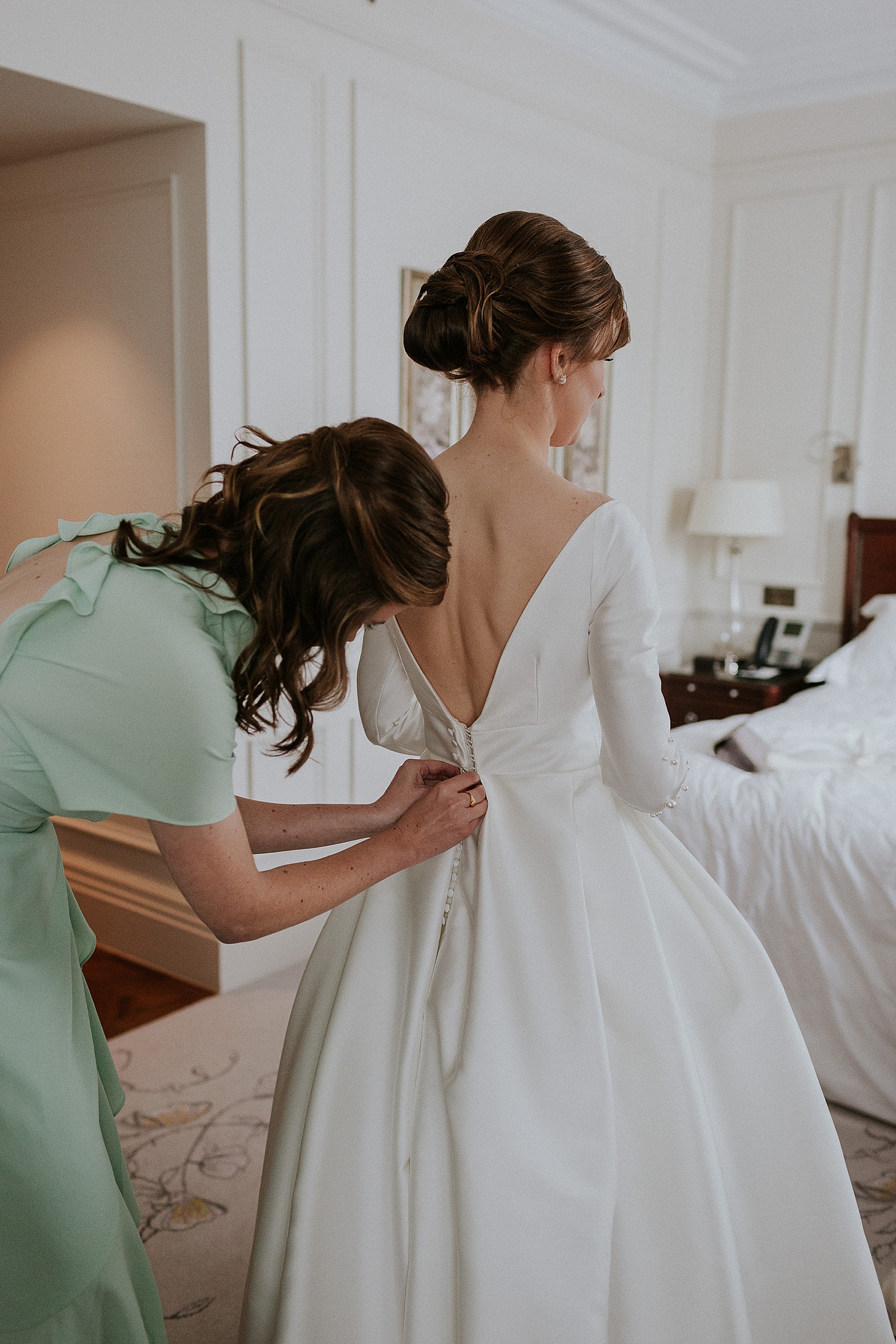 "I have always dreamed of having a wedding dress with long sleeves. The Pearl Anniversary dress was the first dress I saw hanging up when I walked into Miss Bush, and initially upon seeing it on the hanger, I wasn't 100% convinced by it."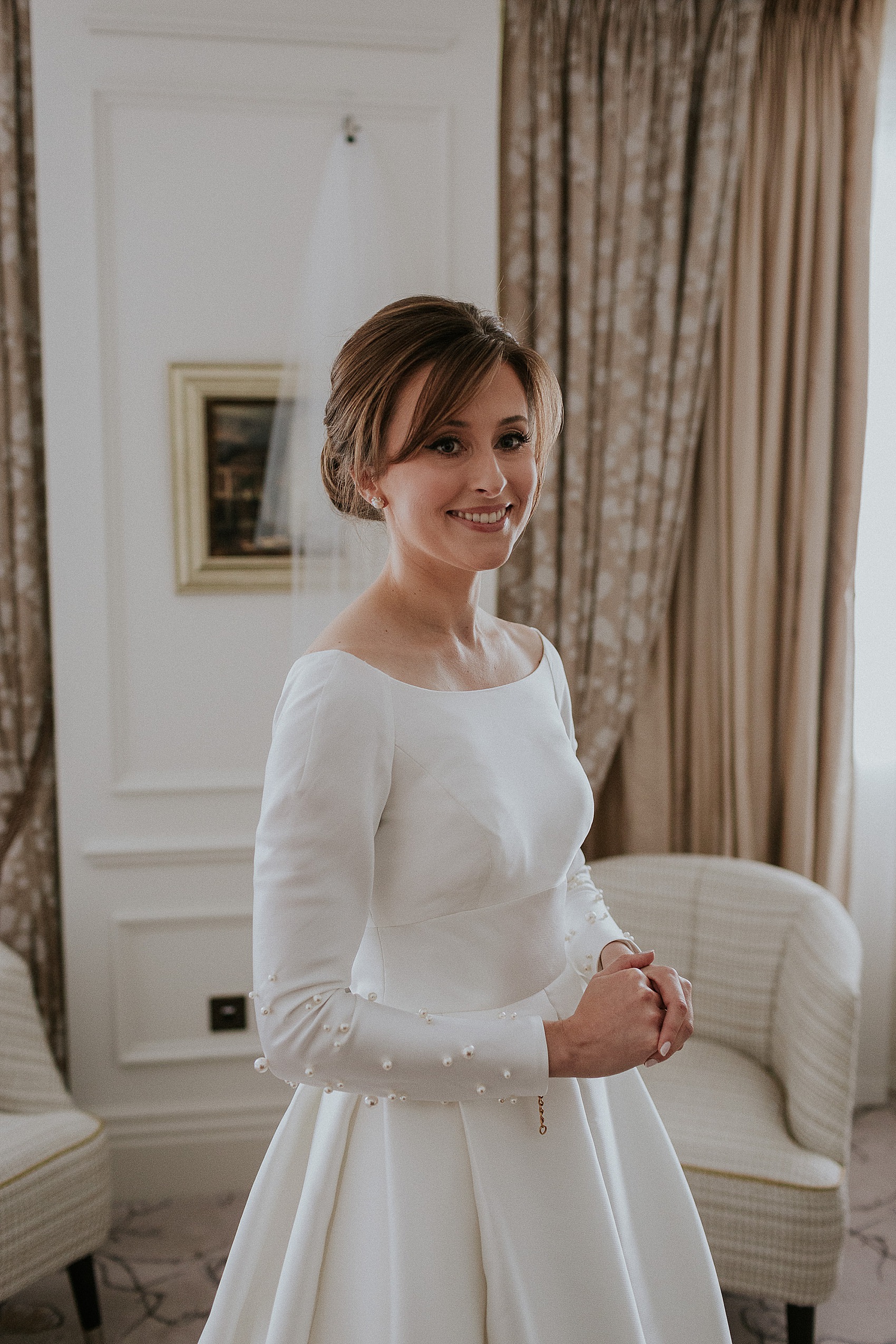 "I thought I wanted a Kate Middleton style lace top and worried the pearls looked a bit fussy. Emma suggested I tried it on first as a starting point, and I knew immediately that I had found my dress."
"I loved every single detail: the low back, the boatneck neckline, the train, and most importantly the pearl sleeves (I can't believe I was ever unsure about them!)."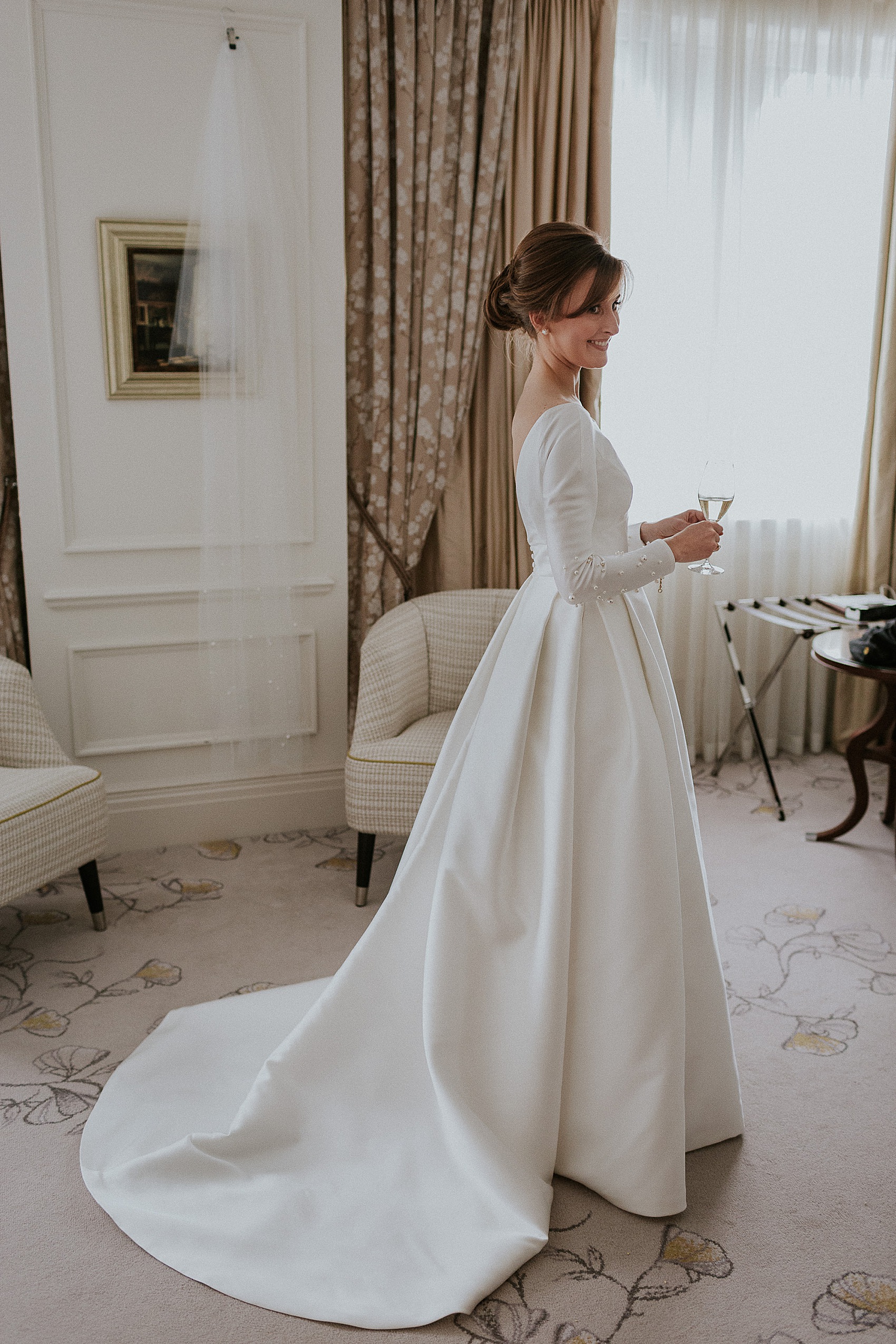 "I paired my dress with a gorgeous matching pearl veil from Jesus Peiro which really tied the whole look together."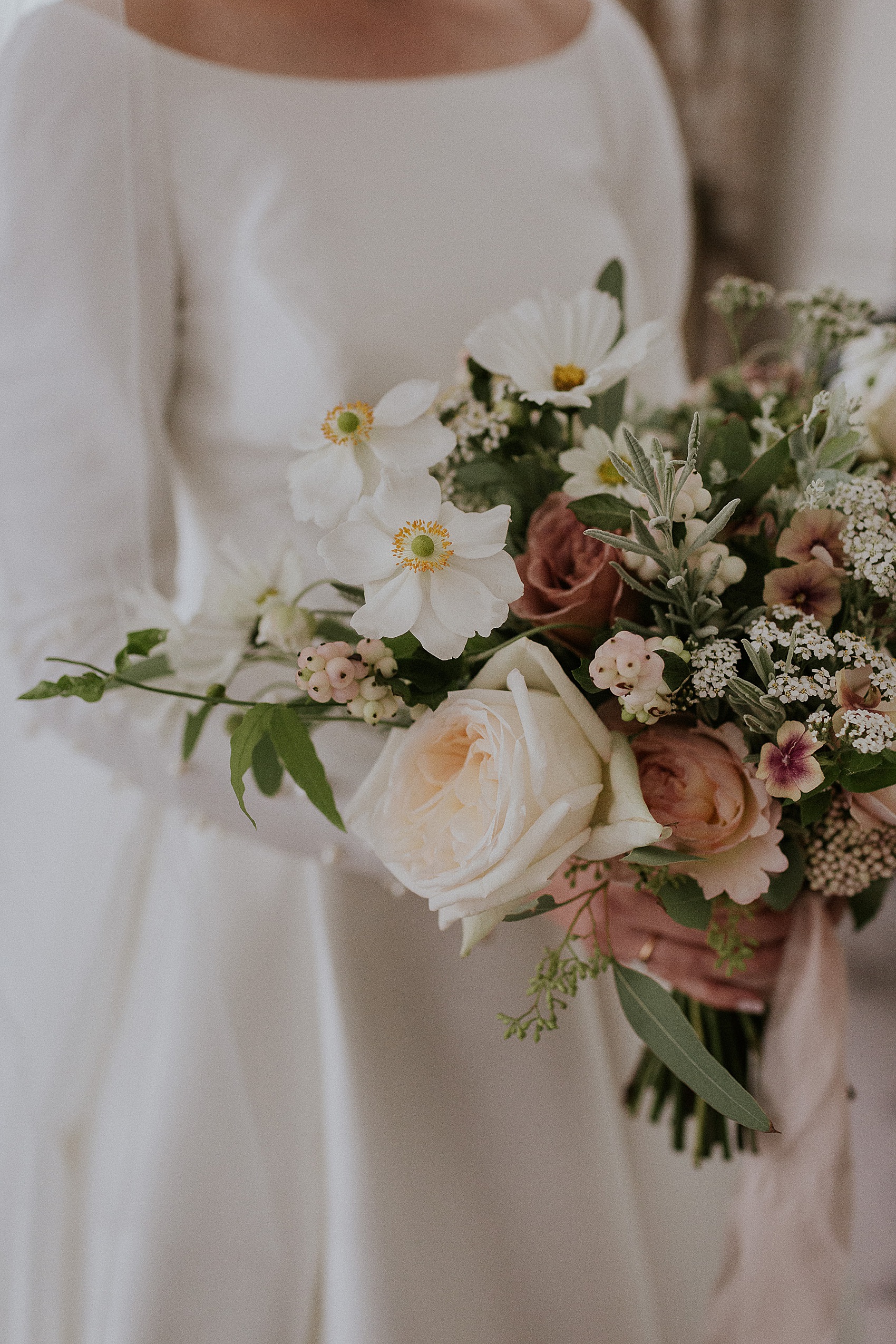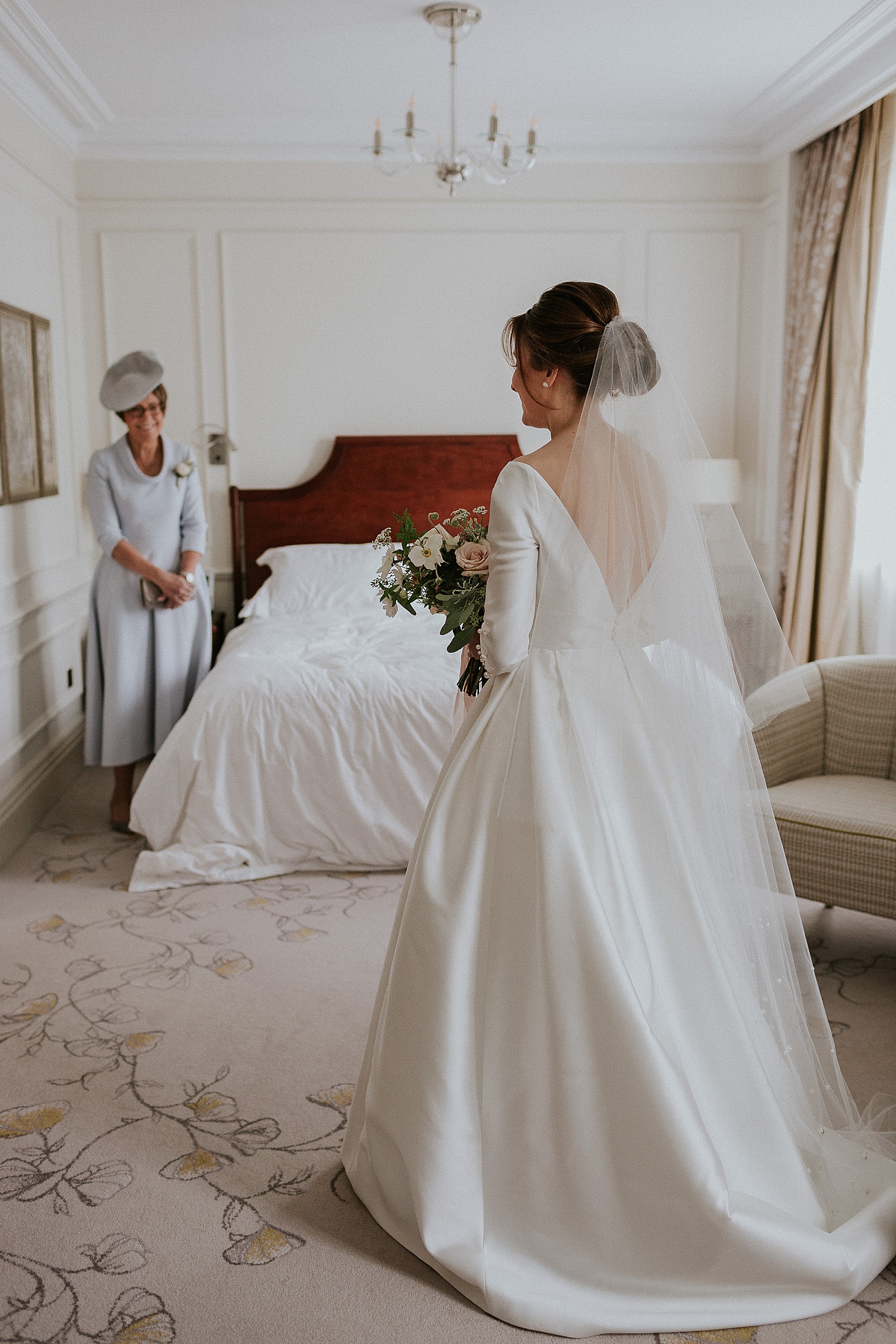 "Our original florist sadly couldn't make our new date so very kindly recommended Joanne Truby who did the most incredible job in creating my dream wedding flowers."
"I was keen for a soft, romantic feel with a light colour palette of white, blush and dusky pinks with flowers including Garden Roses, Cosmos and pale pink Snowberries."
"I think Joanne had the hardest job of any supplier when I called her up on the Tuesday and said we were moving the wedding to that Saturday! But even with three days' notice she created the most stunning flowers and I am eternally grateful for her help."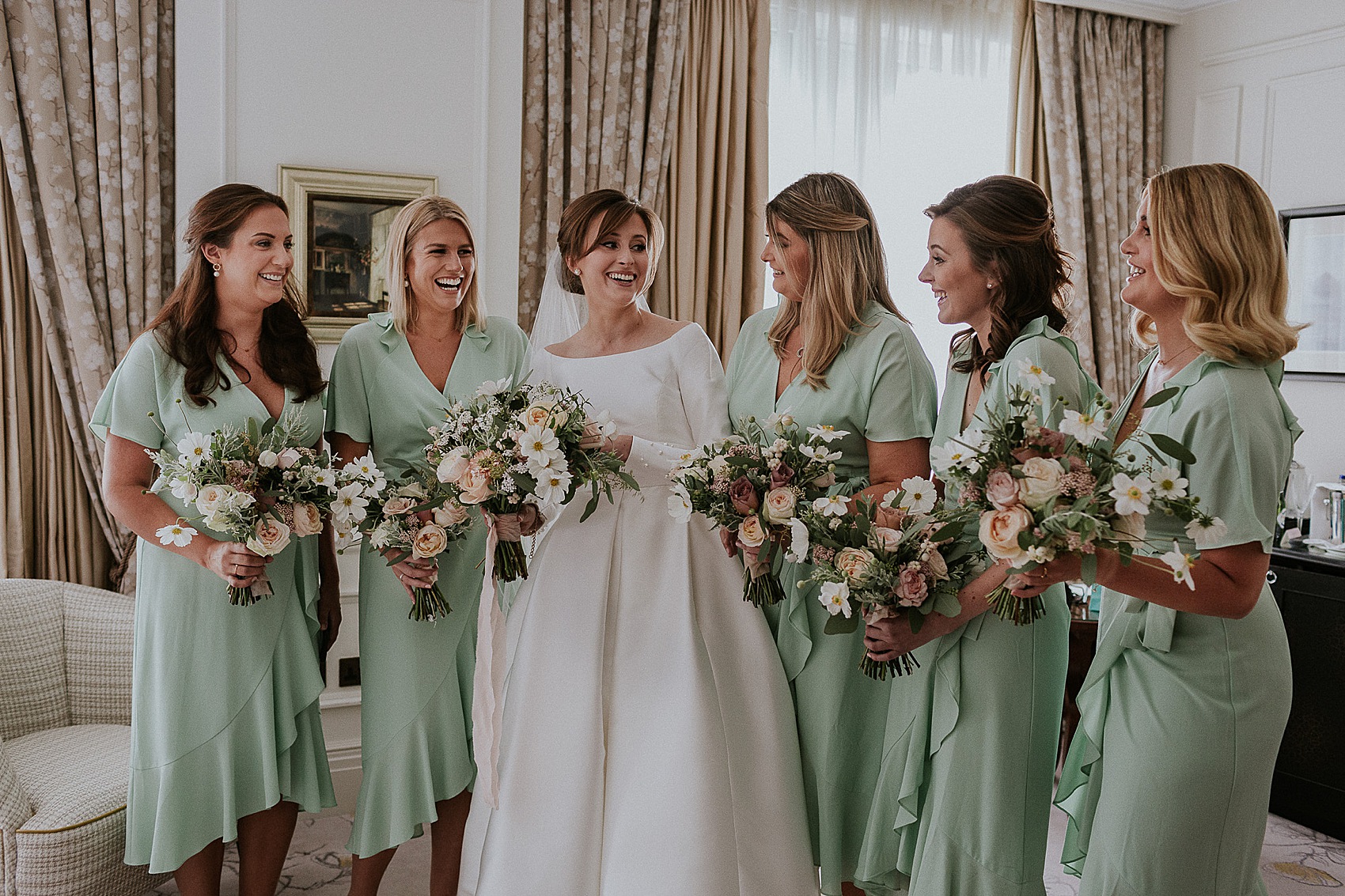 "My dad drove me to the church in his vintage green Austin Somerset (his absolute pride and joy!), which also happened to perfectly match the bridesmaid's dresses which was a very lucky coincidence!"
"We then hired a routemaster bus from Red Bus Events to transfer guests from St John's to the RAC."
The couple's ceremony took place at St John's Church in Hyde Park and their reception followed at The Royal Automobile Club, Pall Mall.
"It was my local church when I was a child and I was christened there.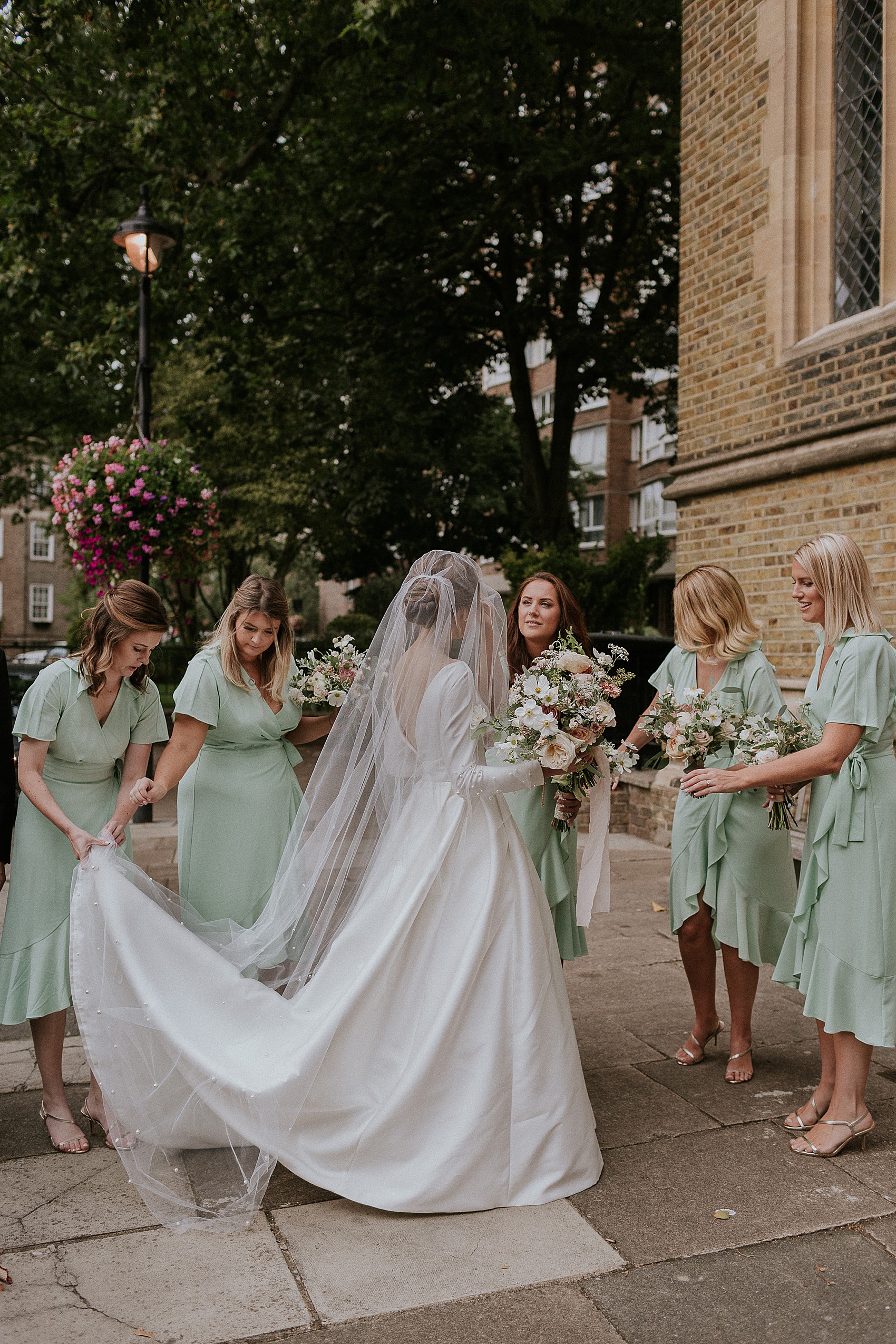 "George and I met at a Texas themed house party in Clapham and I didn't like George at all when I first met him! Luckily he won me over with time and after five years he proposed on a trip to Scotland."
"We had been engaged for a year before our original wedding date which was then pushed back several times due to Covid."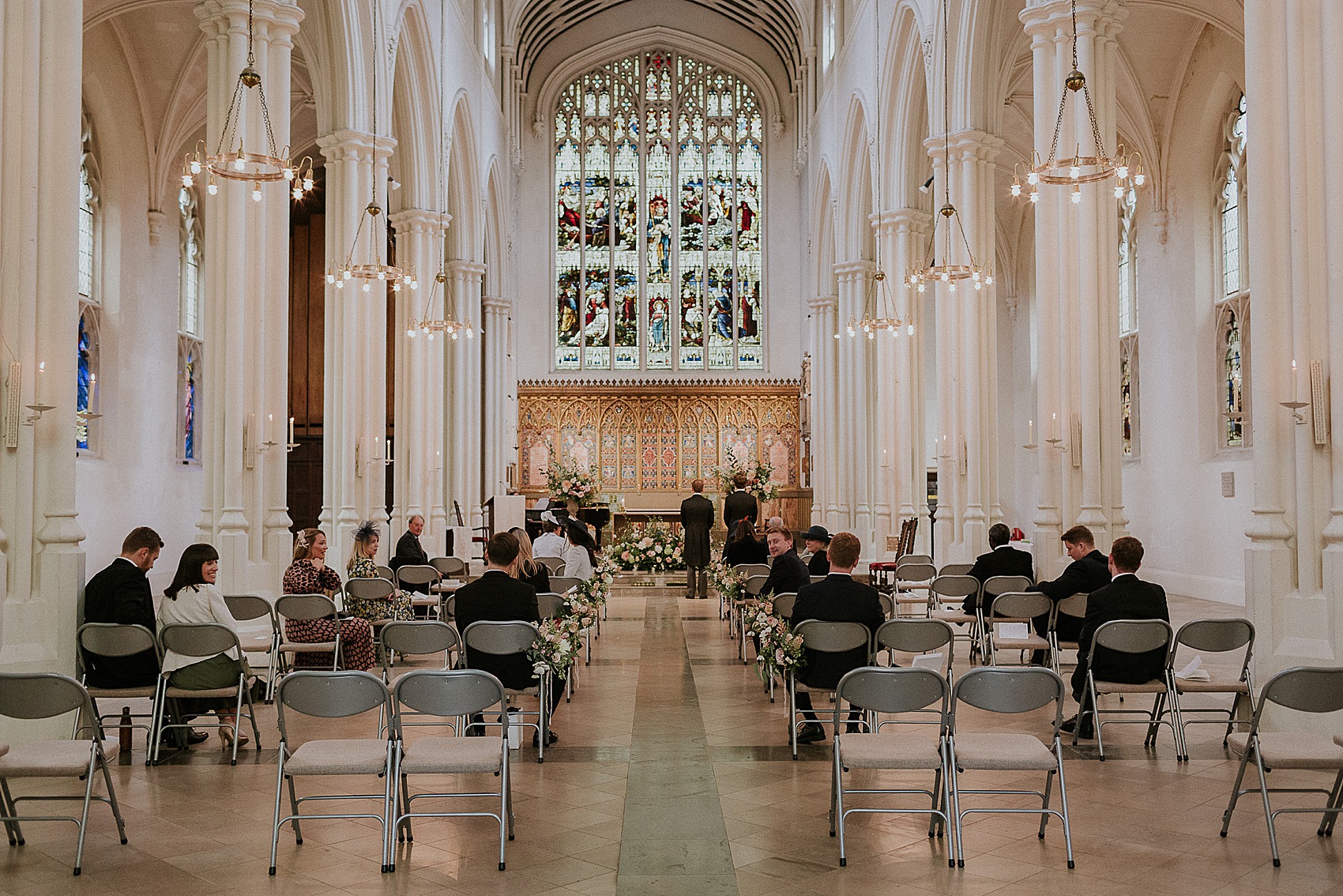 "My dad walked me down the aisle. I am very fortunate that my brother is an incredibly opera singer so when we were forced to cancel the choir and string quartet he stepped in and saved the day and did all the singing for the ceremony."
"George did a lot of research before getting my engagement ring from Arlington & Co in Hatton Garden and we went back for our wedding bands. Their customer service was wonderful!"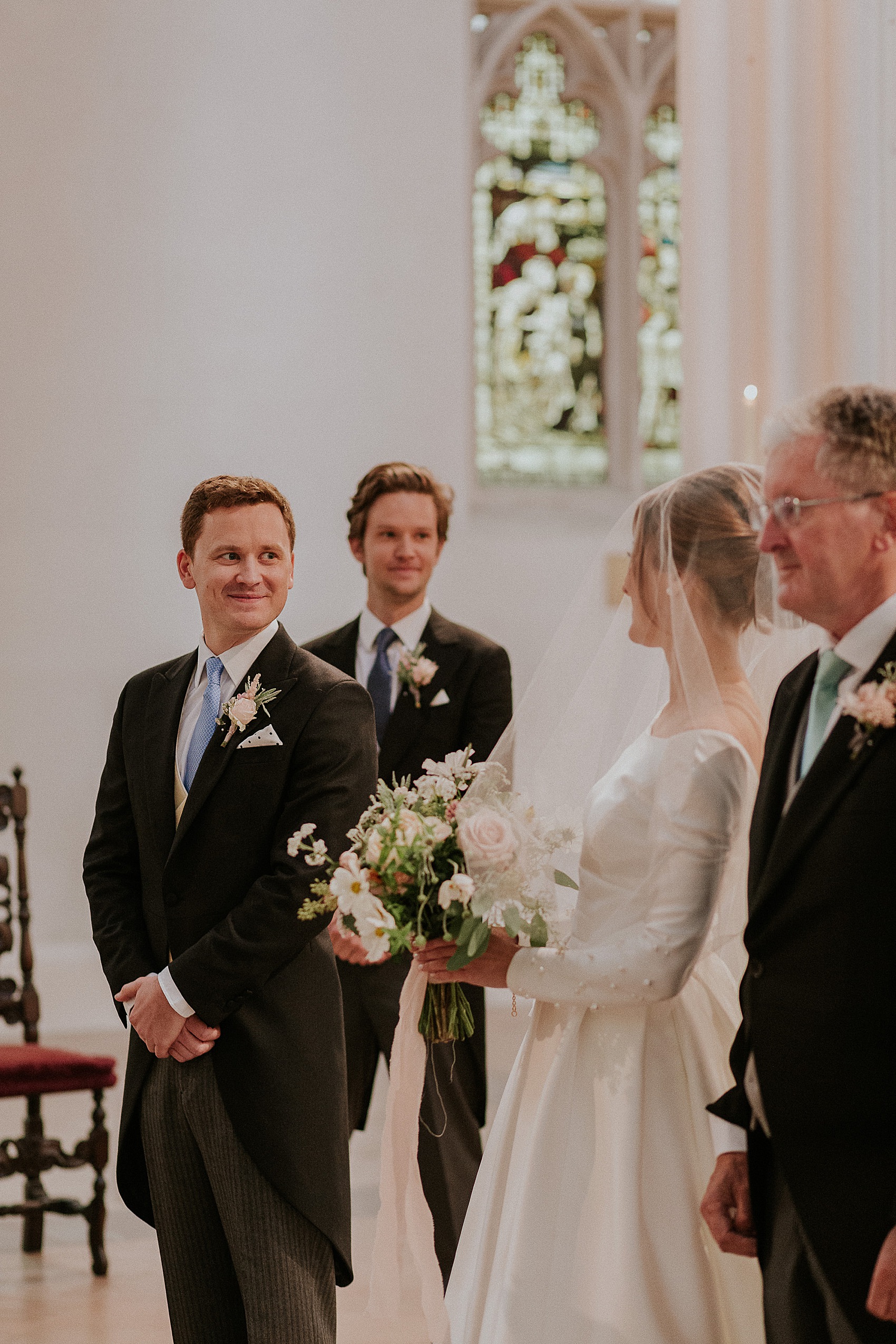 "Dan our vicar was completely wonderful and worked so hard to make the service really special. We'd been through so much with Dan to get to that point and he supported us throughout the process when government guidelines kept changing and we felt more and more demoralised."
"The whole thing felt like a real team effort."
The couple hired talented London based wedding photographer, Maja Tsolo, whose photography we absolutely adore sharing here on Love My Dress.
"I found Maja by scanning tagged photos on the Miss Bush instagram account and absolutely loved her style."
I couldn't recommend her more, her photos captured our day completely perfectly and she was so lovely it was like having another guest with us!"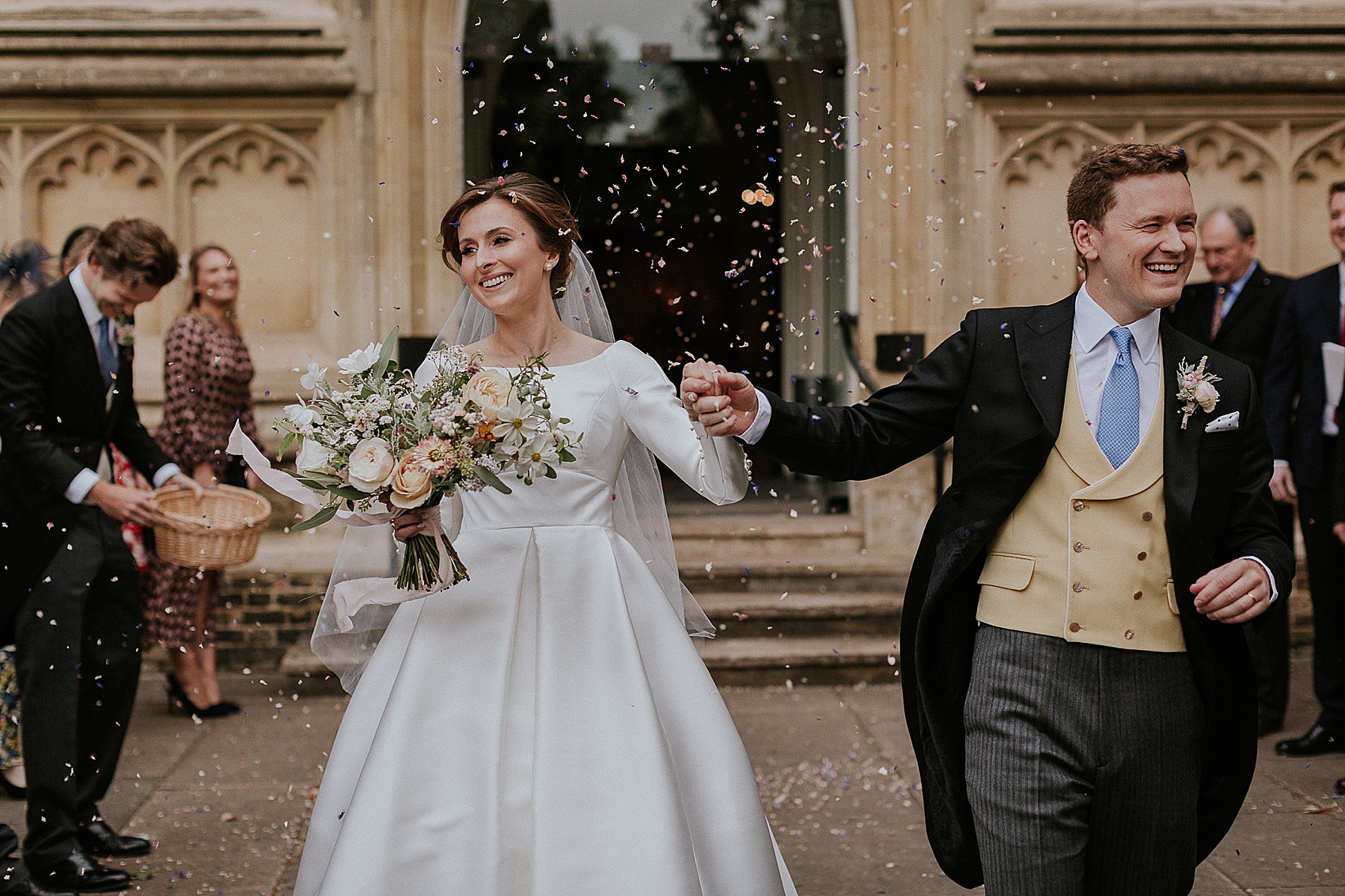 "Maja is incredibly professional and all communication in the lead-up and after the wedding was super speedy and helpful. I honestly cannot say enough good things about her."
"I loved every single part of the day but I think my favourite part of the day was definitely the church service. After everything we had been through, I could not believe we were finally there getting married."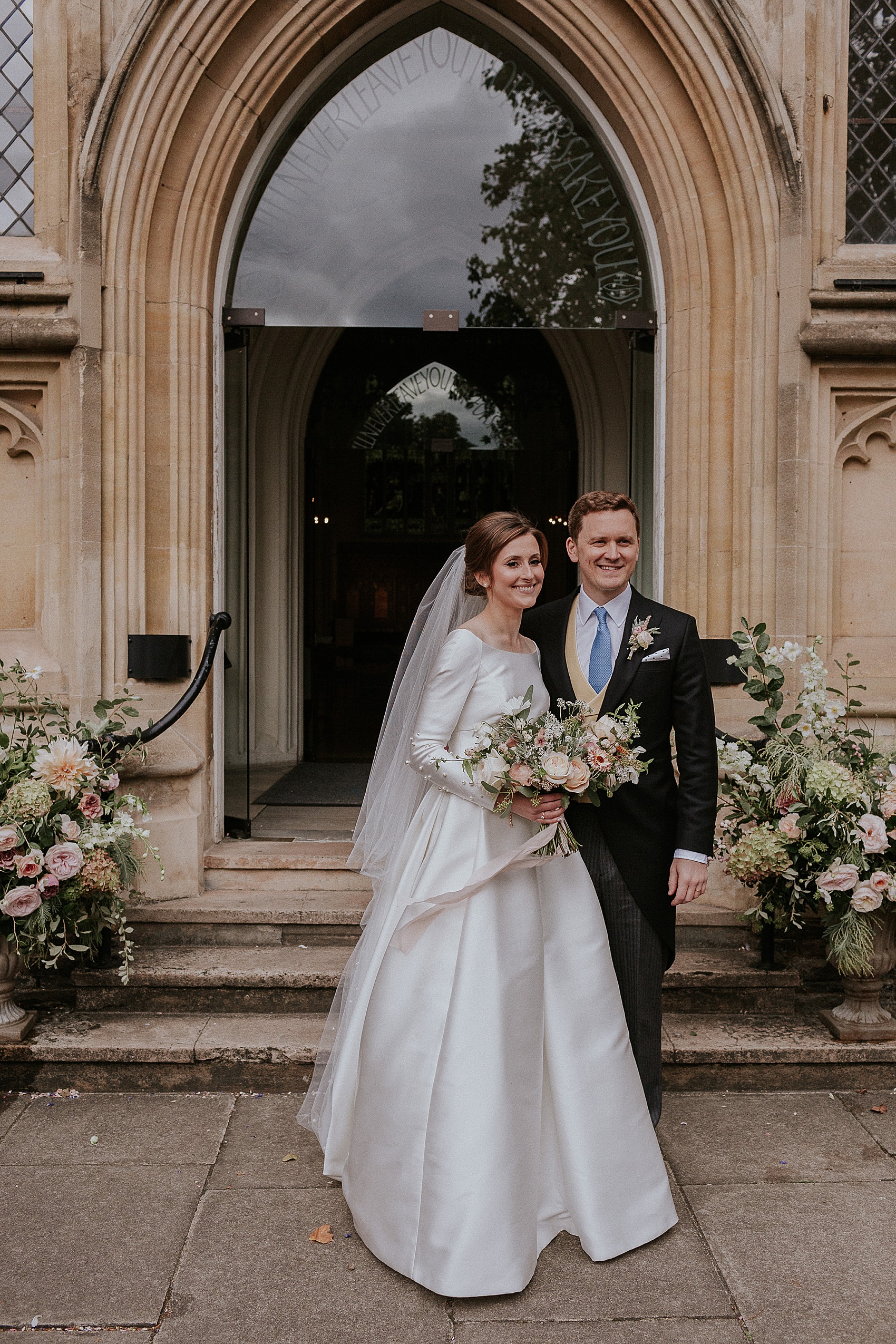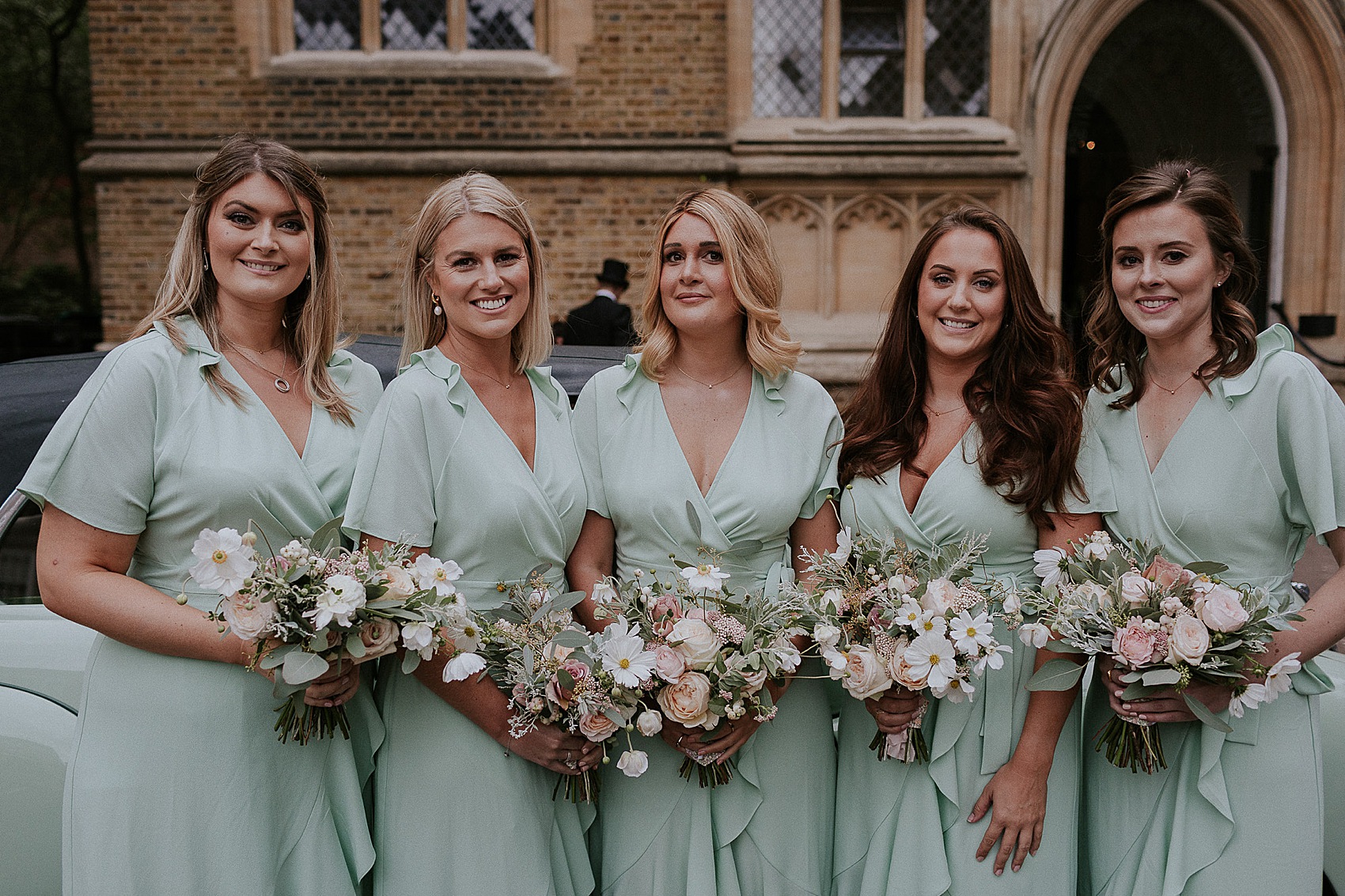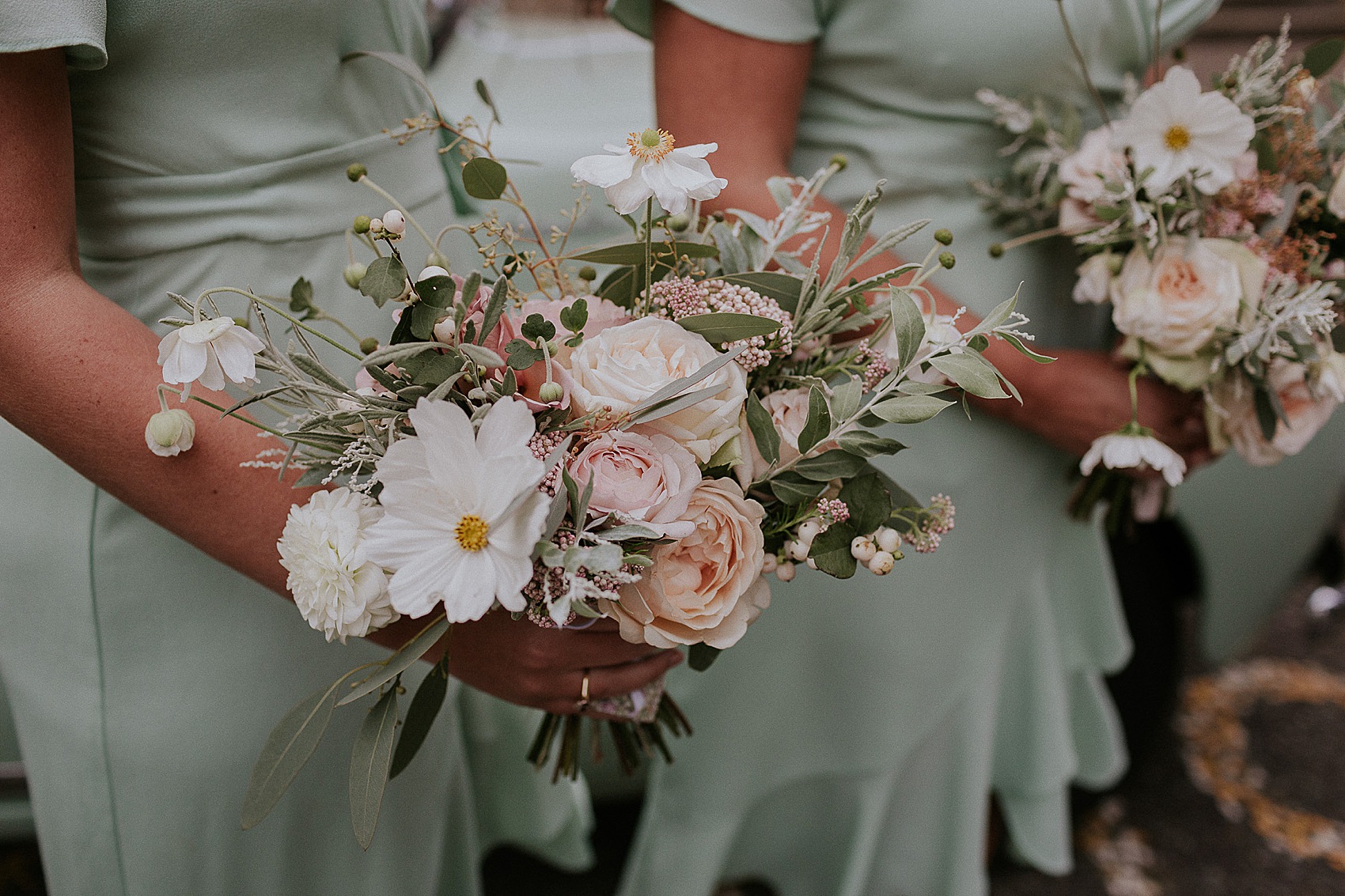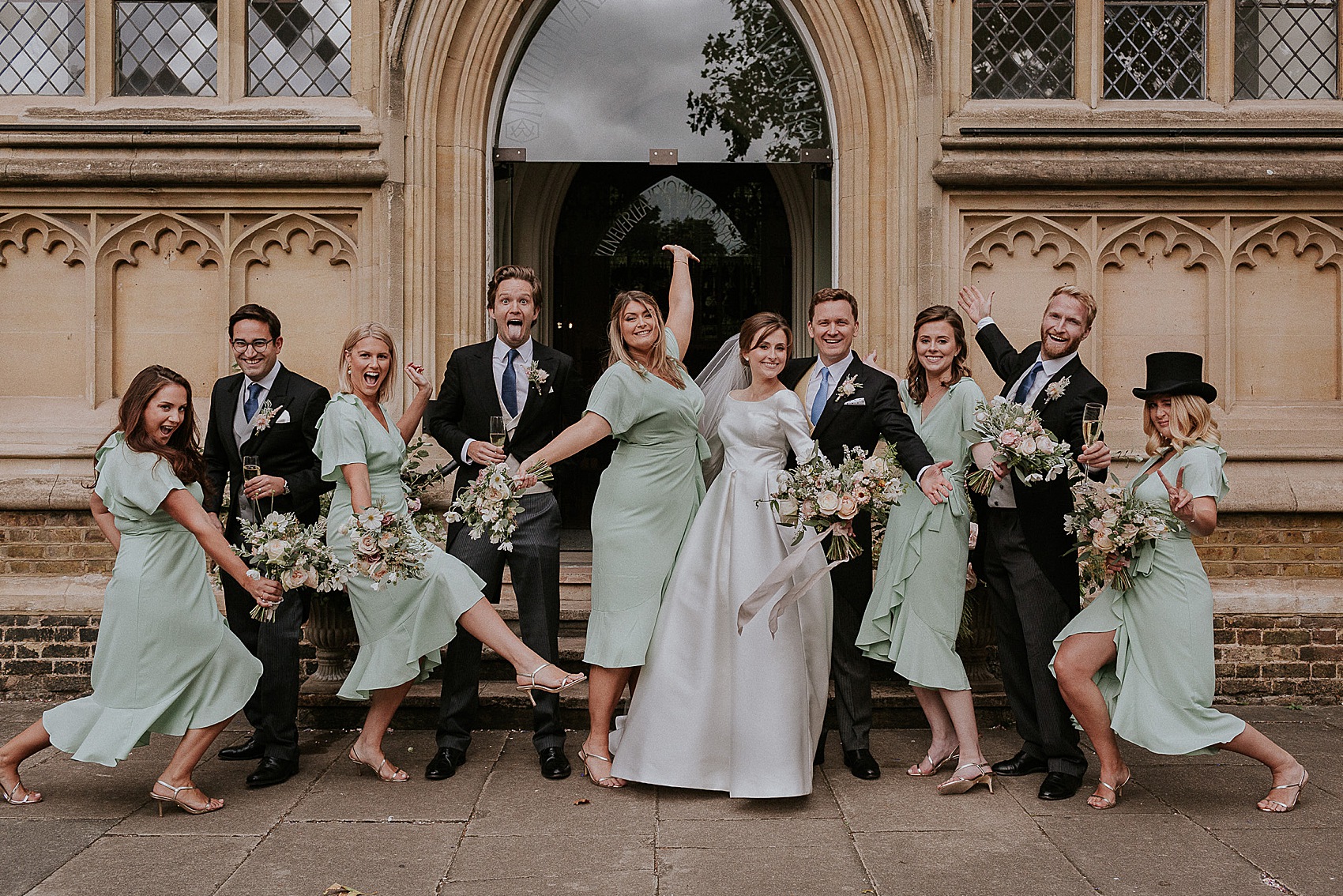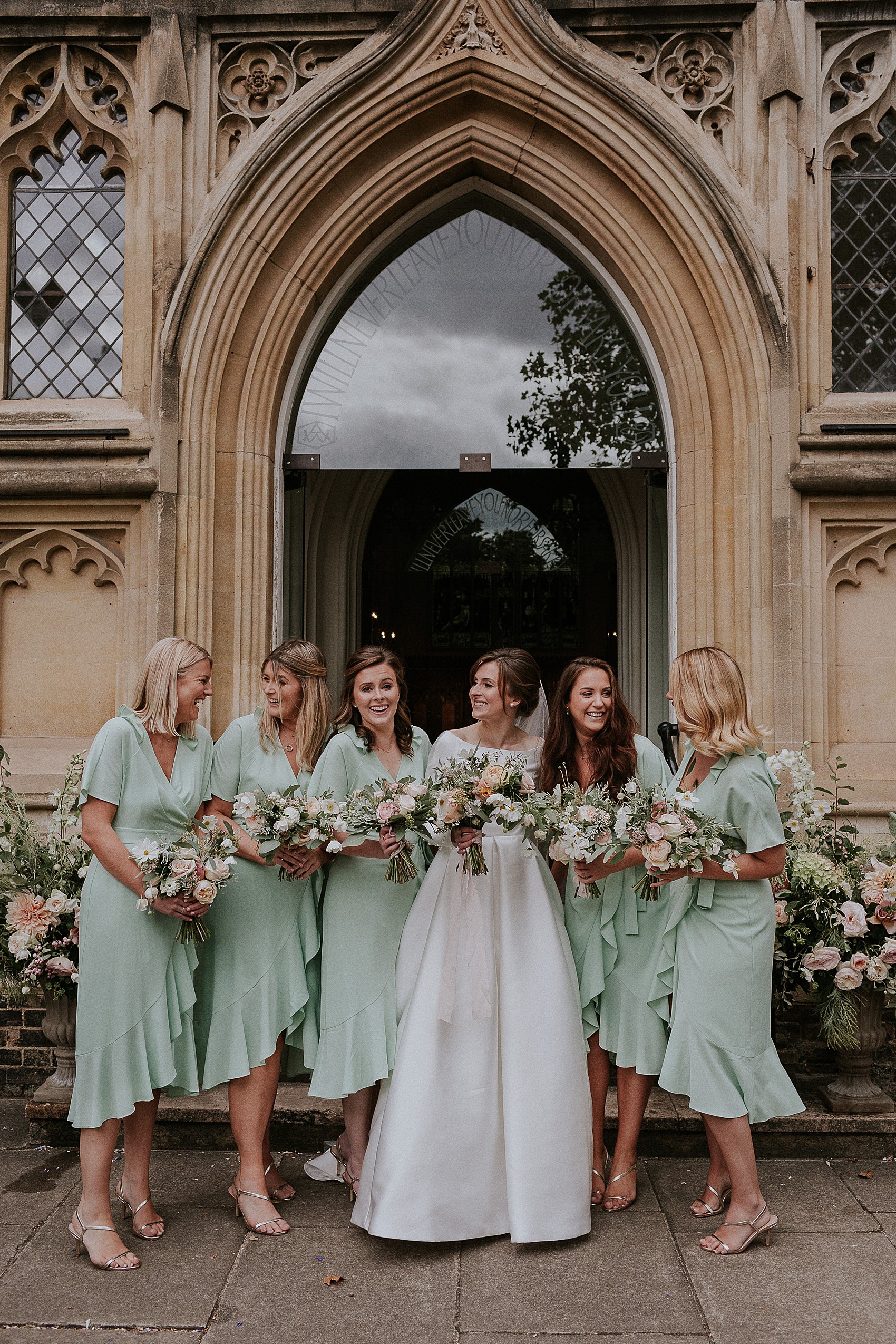 "The The Royal Automobile Club events team is incredible and everything was so well organised, it really took so much stress out of the planning process."
"My lovely mum made our cake – again, with only three days notice! It was a Victoria sponge and looked beautiful topped with flowers supplied by the florist."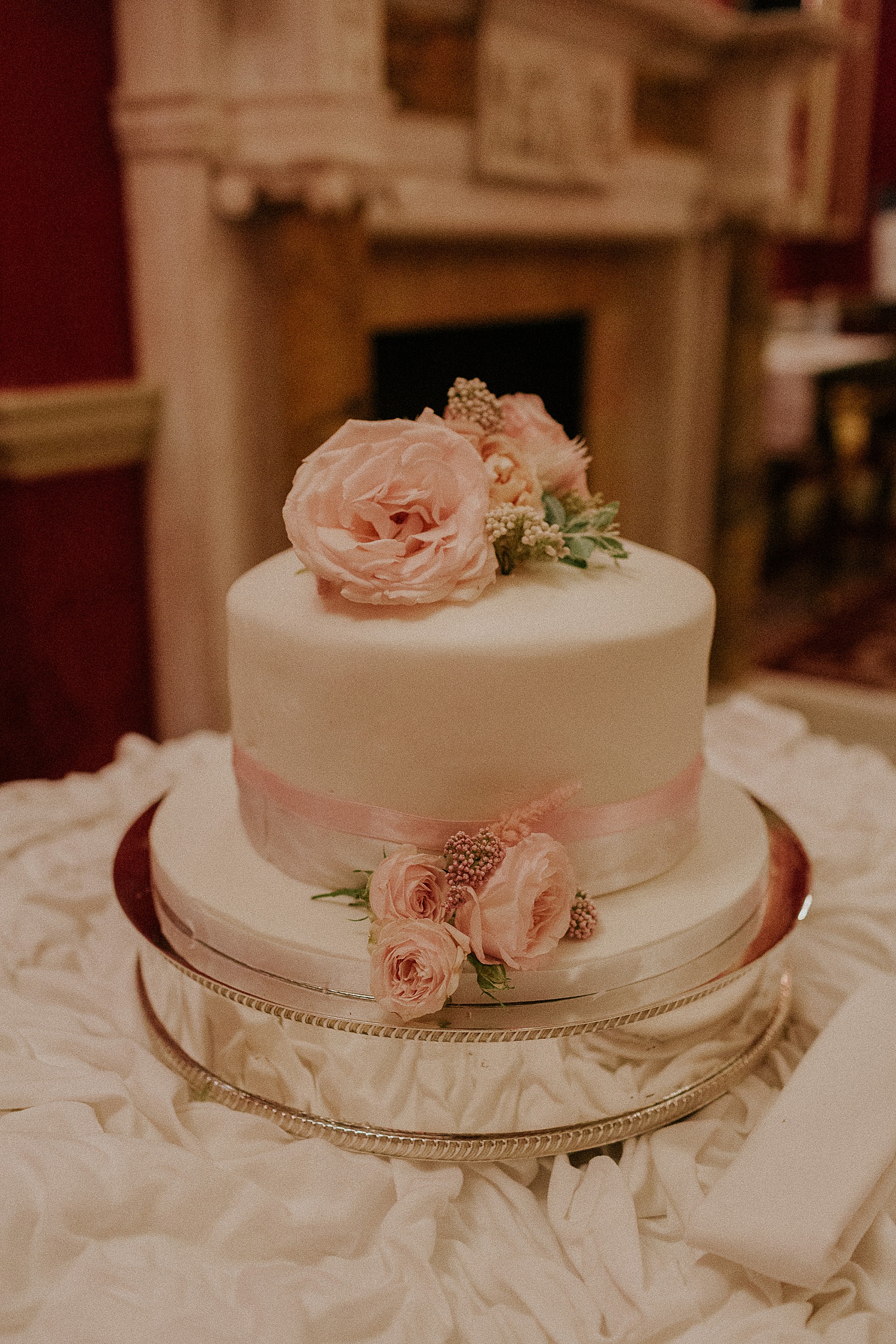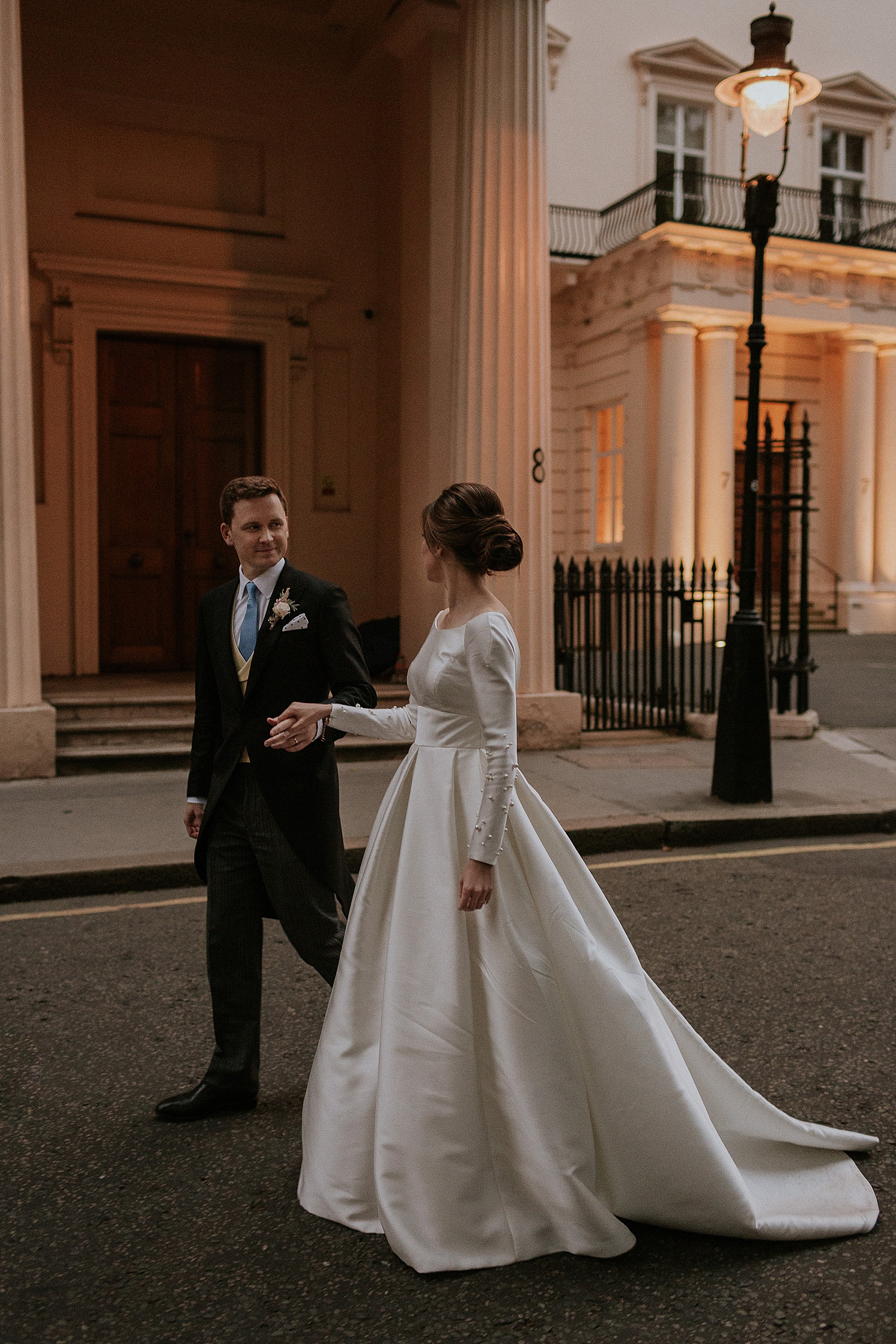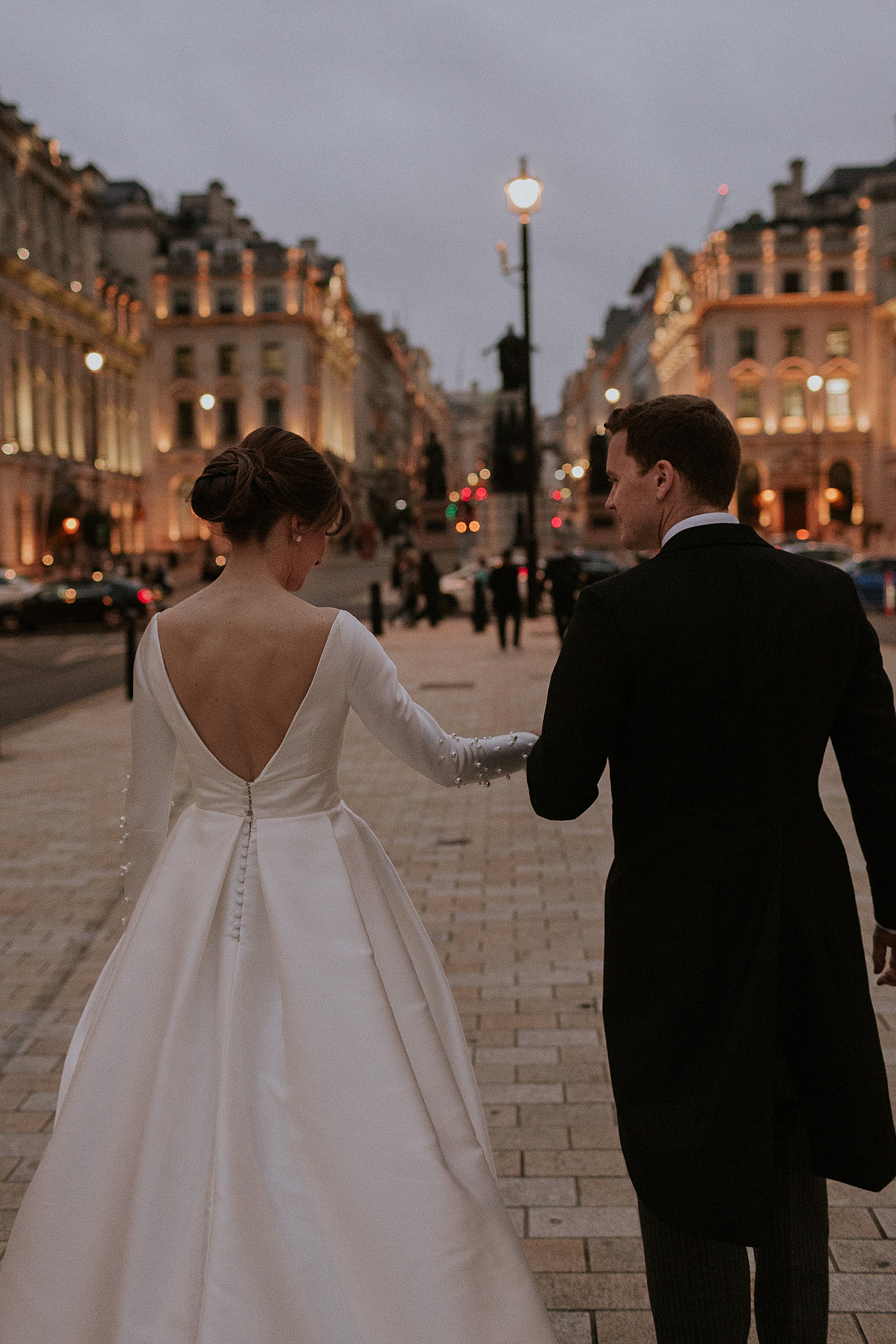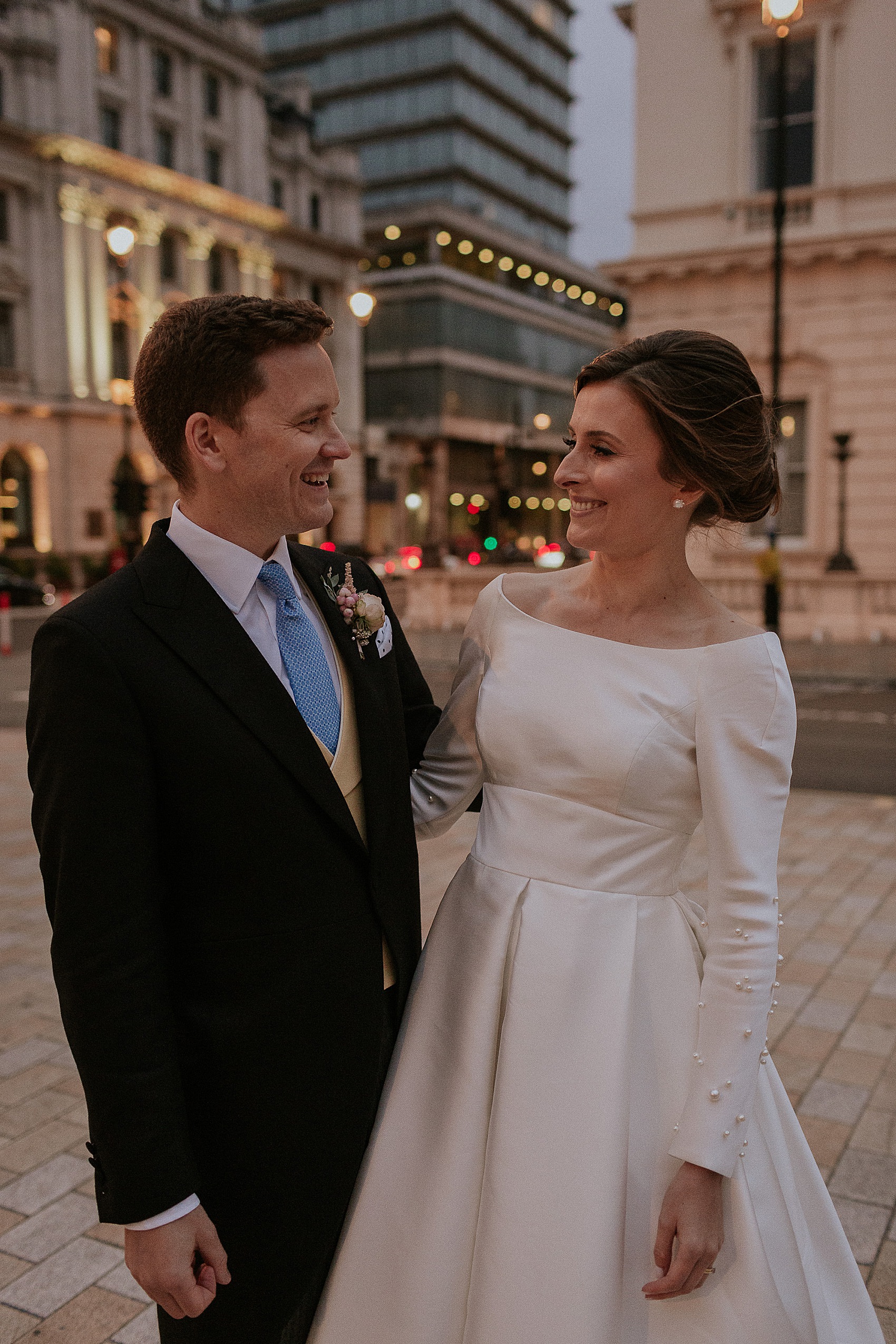 Words of Wedded Wisdom
"Although a small Covid-secure wedding was never what I wanted or planned, it did mean that many of the things I thought were essential were no longer an option for us."
"As a result, we were able to focus on the important aspects of a wedding such as having a small group of our nearest and dearest, and a willingness from everyone to just get stuck in and have a wonderful celebration."
"I can wholeheartedly say that despite everything, we ended up having the best day ever and we would not change our wedding day for the world. There was something very intimate about only having 30 guests and everyone felt pure happiness and relief that we'd finally managed to get married!"
"I really do think our day was so much more special as a result of everything we'd been through to get there. If I can offer any advise I would say, try not to spend time worrying about things you have absolutely no control over – your day will come. I know a lot of brides in the same situation have been unsure as to whether they should wear a big wedding dress for a small celebration; you are only a bride once so do it!"
Absolutely stunning! Listen ladies, we sincerely cannot recommend a visit to British bridal boutique, Miss Bush, more highly. If you are looking for an excellent, unintimidating service and beautiful choice of bridal fashion, it is a must-visit.
I'd like to thank Maja Tsolo for once again sharing her glorious work on Love My Dress – readers, you can see more of that here.
Enjoy more micro weddings or Jesus Peiro brides here too!
Love A x