As much as I appreciate every single image of lightbulb-moment inspiration shared on Love My Dress, I have to come clean and say that (especially now I'm a wife) I mainly live out my alternate wedding fantasies on this most glorious of wedding blogs. With no end to jaw-dropping nuptial options  (Little Book for Brides is a testament to this) and with no single style defining any one of us, I know I'm not alone in saying that I do delight in skipping down the path of the wedding day not travelled. Today, I'm rocking the elfin do my moon face could never pull off and twirling to dizzy content in a tea length dress, just wonderful.
In reality, it was Jo, a clinical psychologist looking divine in this retro inspired look. She married Ali, a doctor working in A&E on 21st May 2016 at the Catholic Church of Saint Gregory and Augustine in Oxford, the city where our bride grew up and where these cuties met. The Perch is a place that held childhood memories for Jo, and so made the perfect relaxed reception location, with photo-shoot ready trees, miles of bunting and even a silent disco!
"We didn't really have a particular theme in mind, but both agreed that the best weddings we'd been to were the ones that truly reflected the couple getting married and so we were keen to keep this in mind when planning our day. At heart we are Glastonbury-going, comic-book reading, rugby watching, lovers of life and family. We don't really do formal so just wanted a relaxed day with everyone to be as involved as they wanted and to have a really good time sharing all the things we love, sending us into married life in the best possible way."
Photography by Hannah Larkin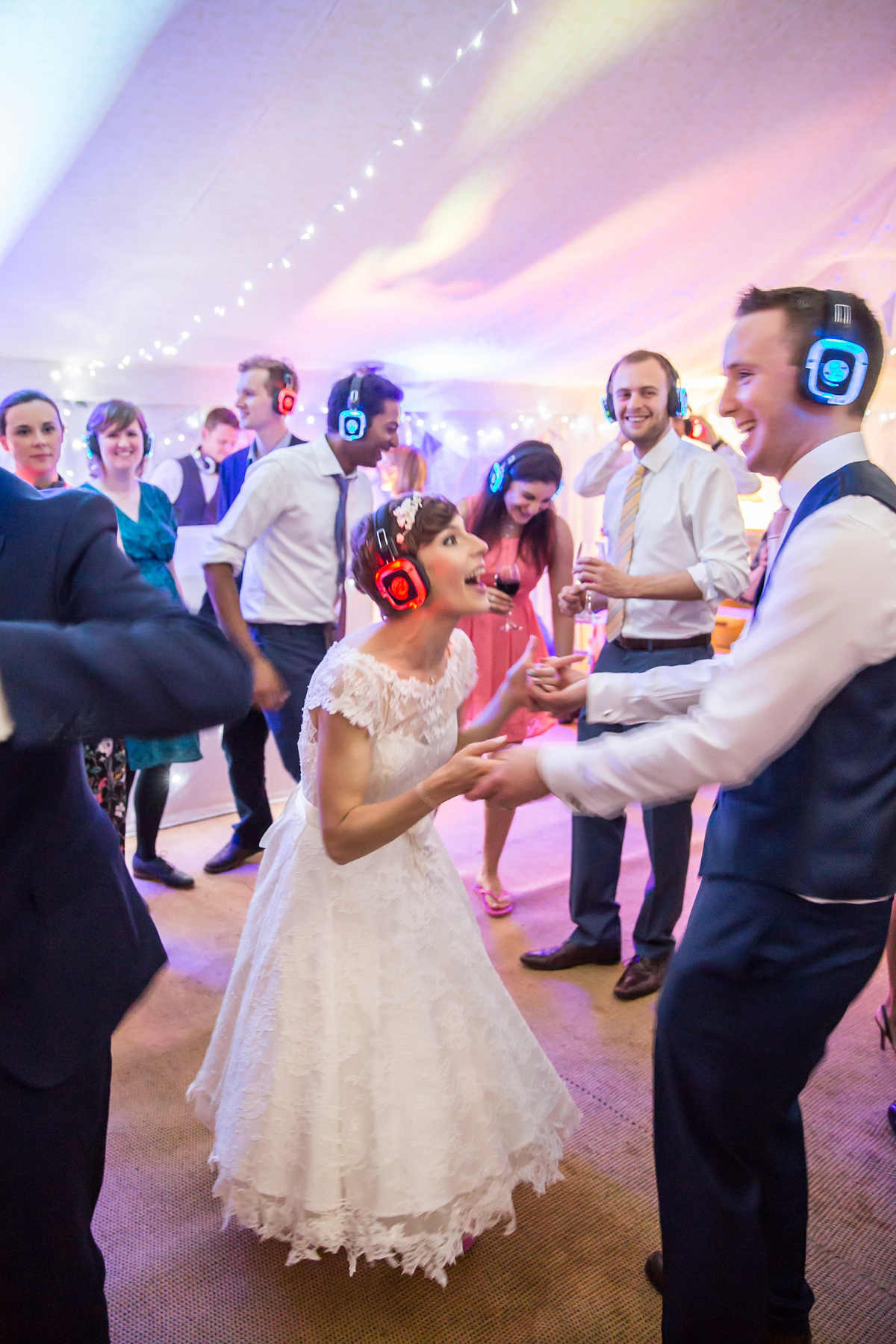 "We hired Matt from Visually Sound to DJ for the evening. We met him at a wedding fair and when he explained that in his view, its his music against the bar vying for the guests attention and that he intends to win, we knew were onto a good thing."
"The silent disco was one of our favourite bits of the day. We were both a little nervous about whether it would work but as soon as Matt announced it, everyone was up grabbing a set of headphones and really got into it! The headphones had LED lights on to show which playlist people were listening to and so we spent the night running round the dance floor to find people on our channel or trying to persuade people to swap – after all it was my music vs Ali's and we both wanted to win over our friends and family! Matt also managed to play some background music for those who were sitting down. It was so much fun!"Jo selected charming additions to her Sassi Holford gown, including Little Book for Brides favourites Charlotte Mills for some peep-toed, scalloped 'Alice' heels.
One of the first things I noticed when soaking up these beautiful images was that utterly perfect, icing-on-the-cake headband that sits atop Jo's crop like it was destined to be there, and it turns out it was.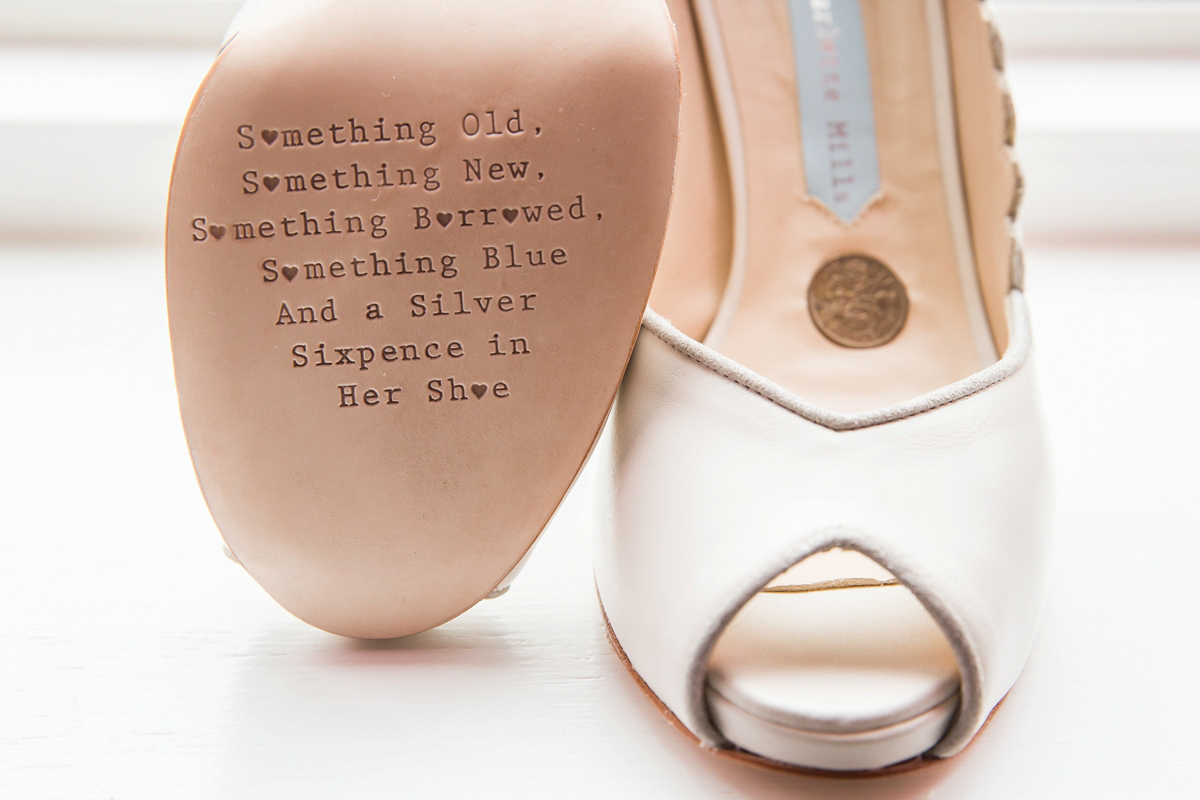 I  have such a soft spot for tea length dresses, they add such fun and whimsy to a celebration, not to mention that incredible retro shape. Discovering that feeling like yourself (but with a spoonful of Beyoncé-esque confidence and fierceness) is actually total bridal goals, Jo stuck with her tea length instincts and purchased this dainty but smile-inducing Sassi Holford number from the Ellie Sanderson Bridal Boutique in Oxford.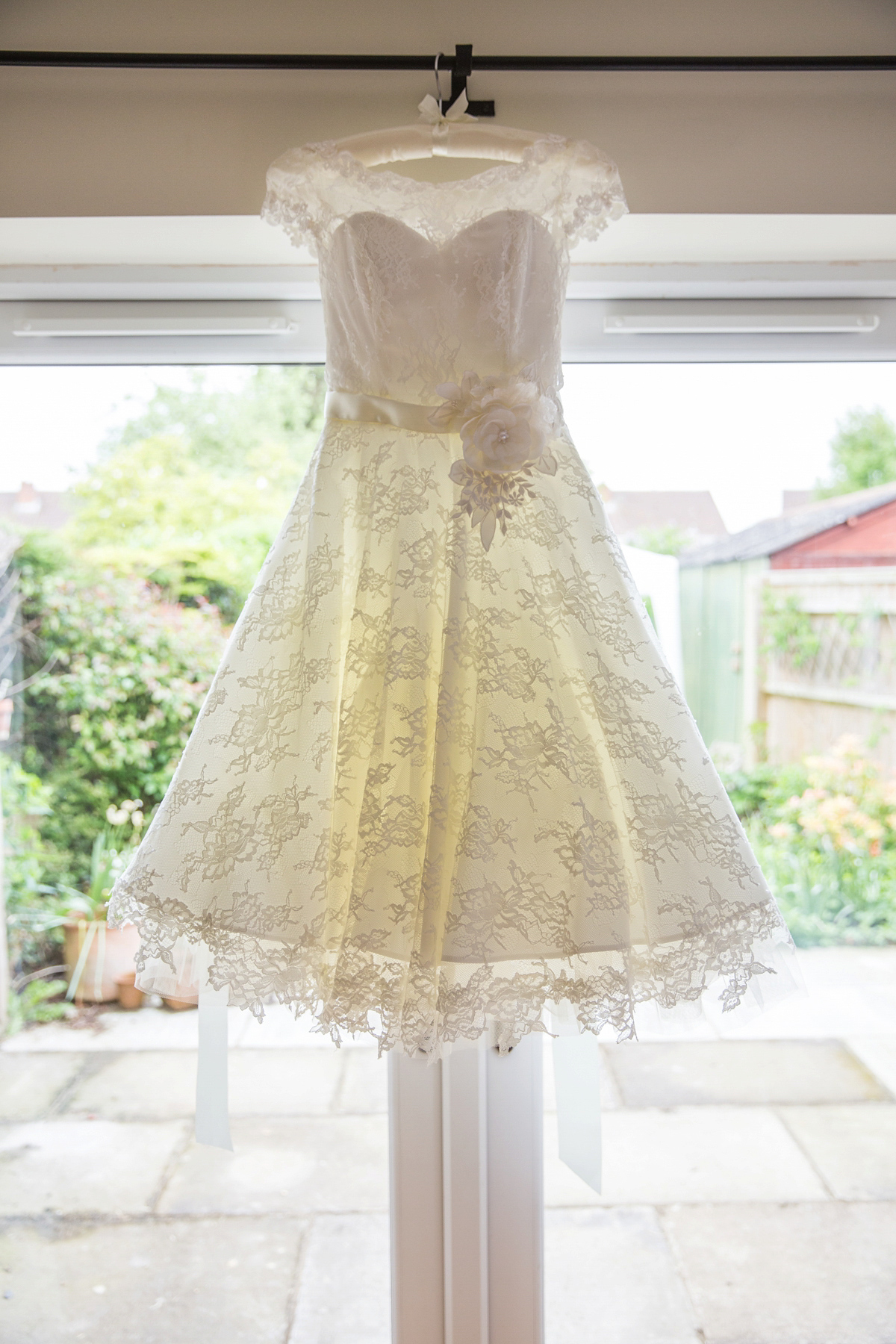 "I was so excited about dress shopping and booked a number of appointments as soon as my mum and I could find time."
"When I first started looking, I had at the back of my mind that I might want a shorter style especially being quite small and with my short hair."
"However, first I tried on some longer more traditional dresses; I really liked them and began to doubt my instincts, thinking perhaps I should wear something full length to get married in as when else do you get to? I then went to Ellie Sanderson and tried on the Martha dress and just felt totally me in it."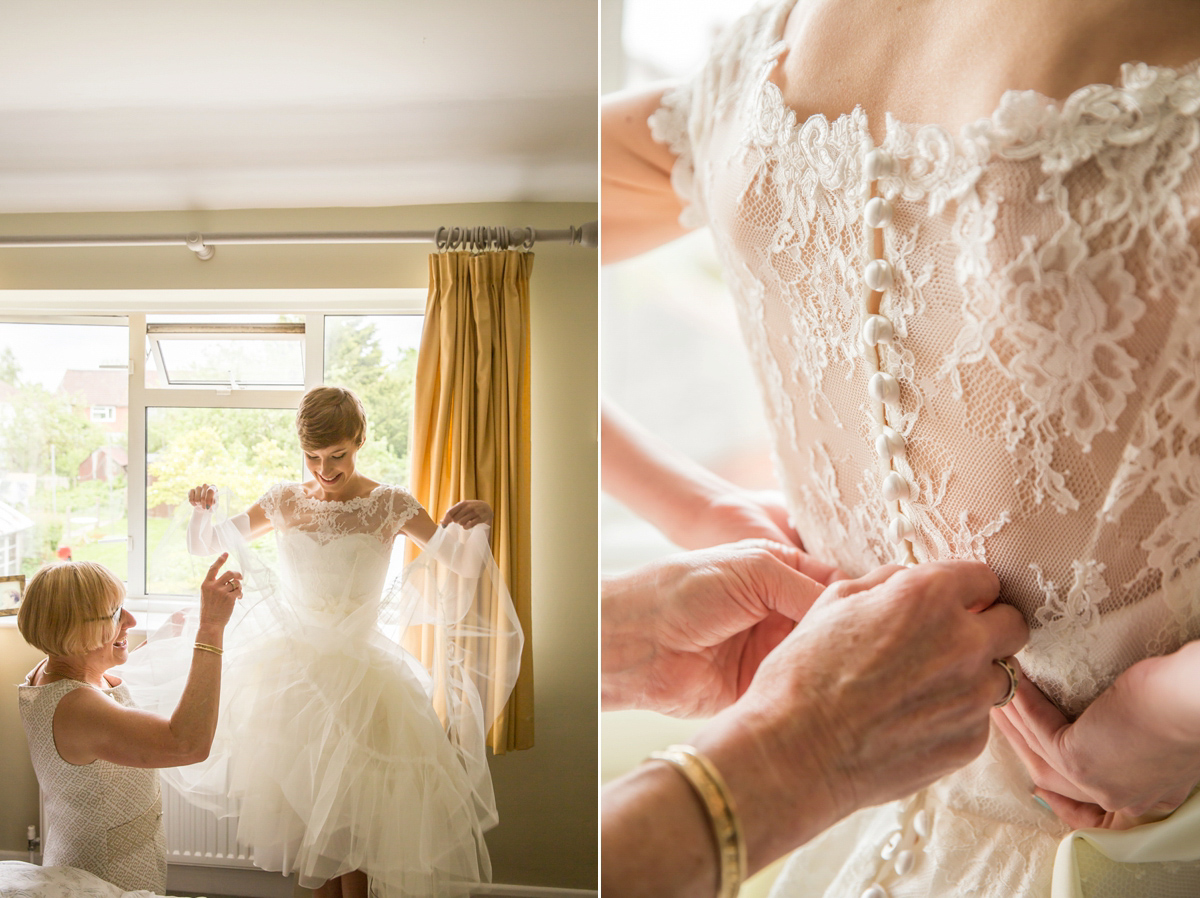 "Whilst the other dresses had looked lovely, I realised that I felt as though I was in costume, playing the part of a bride whereas in the Martha dress I felt just like me and that's what sold it. Coincidentally, my sister is called Martha so I took that as a good sign!"
"I wore a lovely headband by Polly Edwards also bought at Ellie Sanderson. Despite loving it, I had decided that I wasn't going to have this headband and was debating the veil as we felt the money perhaps could be put towards something else. However, while my mum and I were looking through family photos to use on the day, we found an ancient savings certificate that my Grandpa had bought me for my Christening – still with the card he had sent and everything."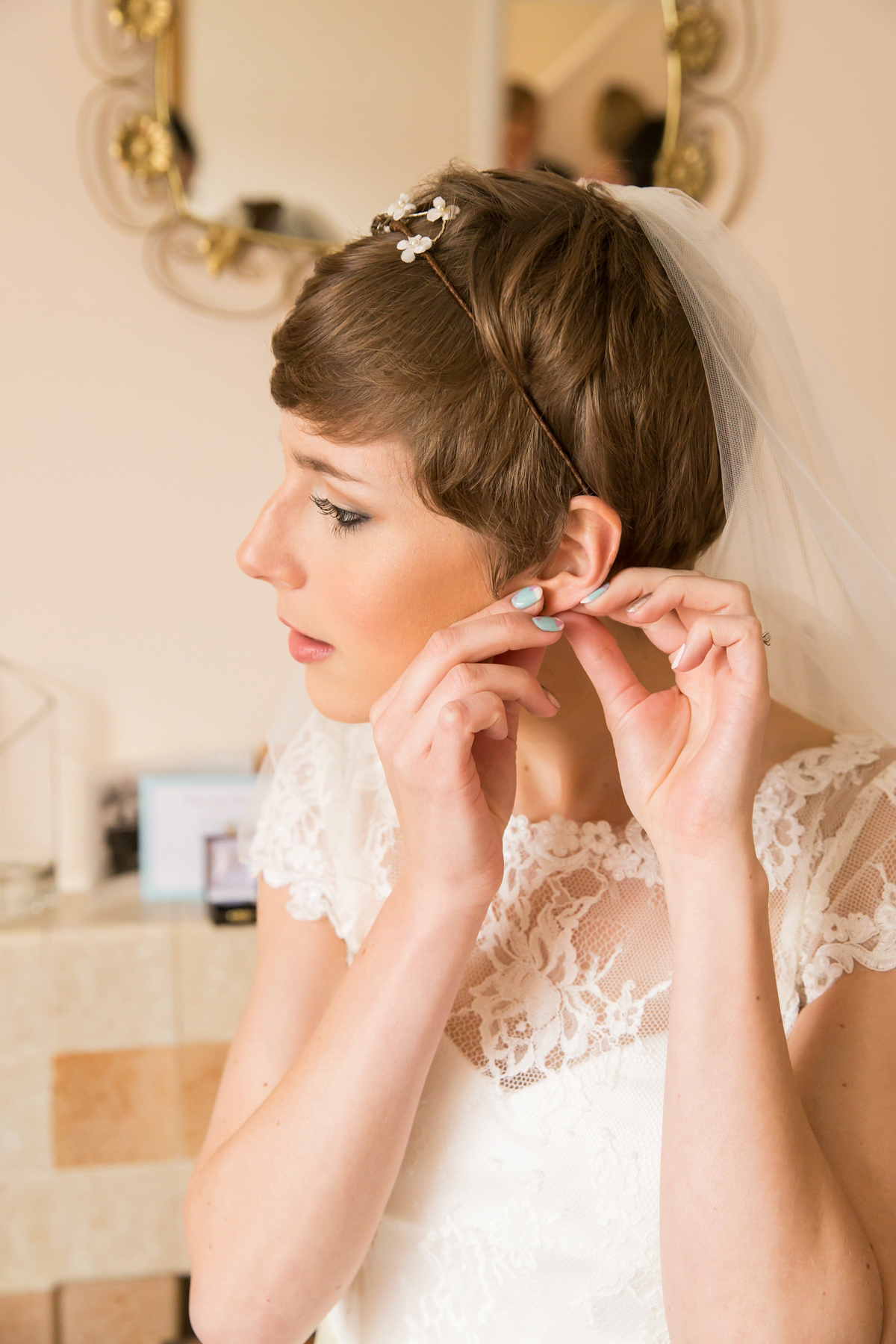 "I had always been close to my Grandpa and had hoped he would be at my wedding but unfortunately he died a few years ago."
"When I investigated this savings certificate, it turned out it was worth just enough to cover my veil and headband so I like to think it was his way of making sure I looked perfect on my big day even though he couldn't be there."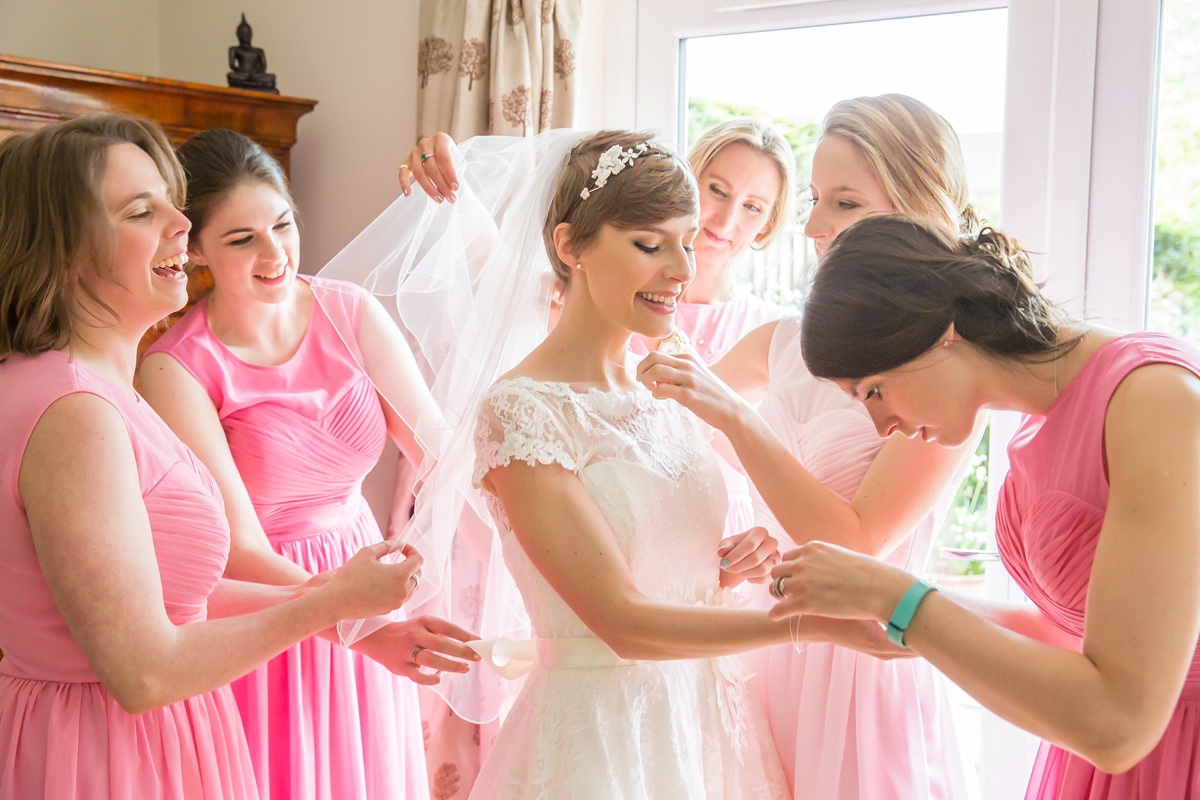 These bright and beautiful blooms were grown and arranged by Ali's mum Jan and her daughter in law Clare. All of the flowers were grown on Jan's farm and the sublime seasonal character of these happy little buds shines through, you really can't beat the scent and look of some air-mile free and much-tended flowers.
"Ali and I are both pretty clueless when it comes to flowers. I knew that I was keen that they were a mixture of pastel and bright colours, nothing too structured and that my bouquet didn't swamp me. Clare and Jan were amazing and turned this vague brief and my pinterest boards into the most spectacular arrangement of anemones, sweet peas, ranunculas and lots of greenery. They even found a lovely white wild flower called the Bride of Oxford which felt meant to be!"
Jo and her Dad made their way to the church in her cousin's orange VW campervan Herbie, who was spruced up with bunting and ribbons. Proudly accompanying his daughter down the aisle to the sounds of The Minuet from L'Arlesienne Suite No.2 by Bizet , the emotional pair were met by a beaming Ali, clearly blown away by his beautiful bride. Traditional Catholic wedding vows were chosen, and Jo felt it very special saying words that had been used by couples for centuries  to declare love and commitment to one another.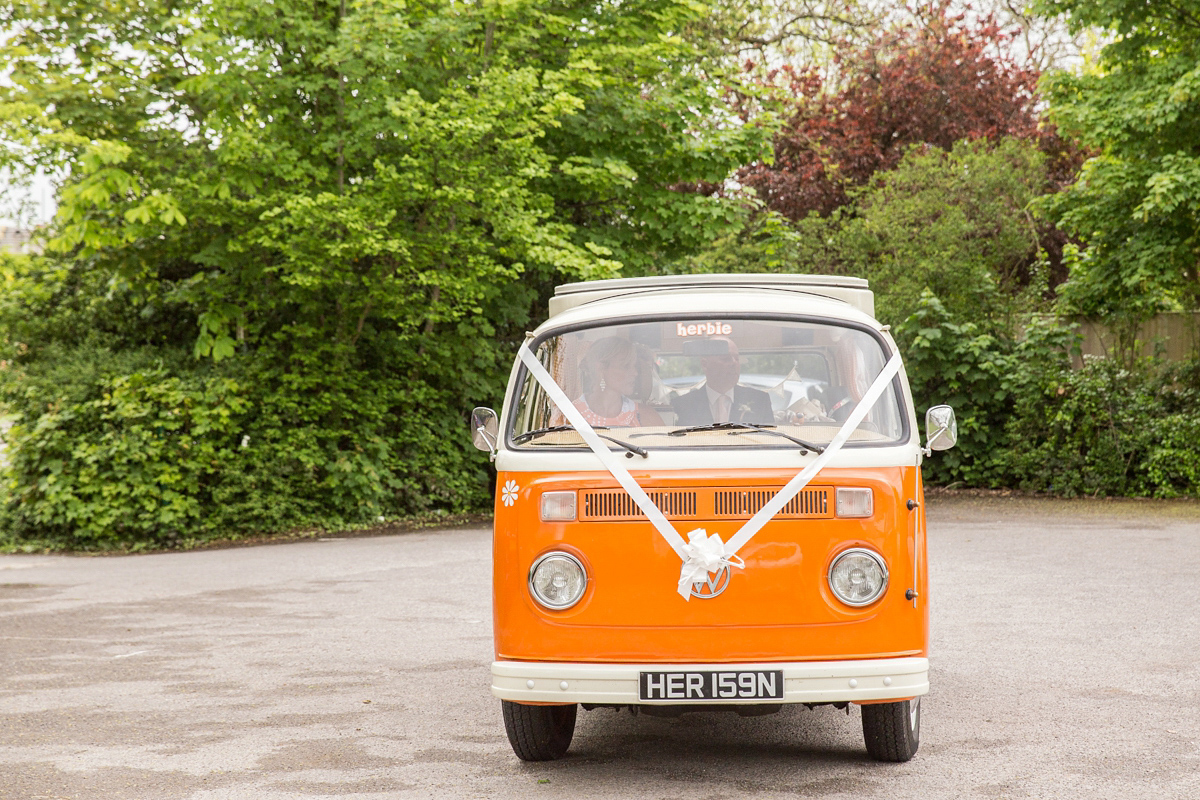 Jo's everyday scent of Armani Code was chosen, and jewellery was kept sentimental in the shape of a diamond pendant from Ali, a bracelet from Ali's mum and pearl earrings that were a birthday gift from Jo's beloved Grandpa many years ago. Jo bravely did her hair herself, and got that fresh, glowy look from make-up artist Harriet Franklin.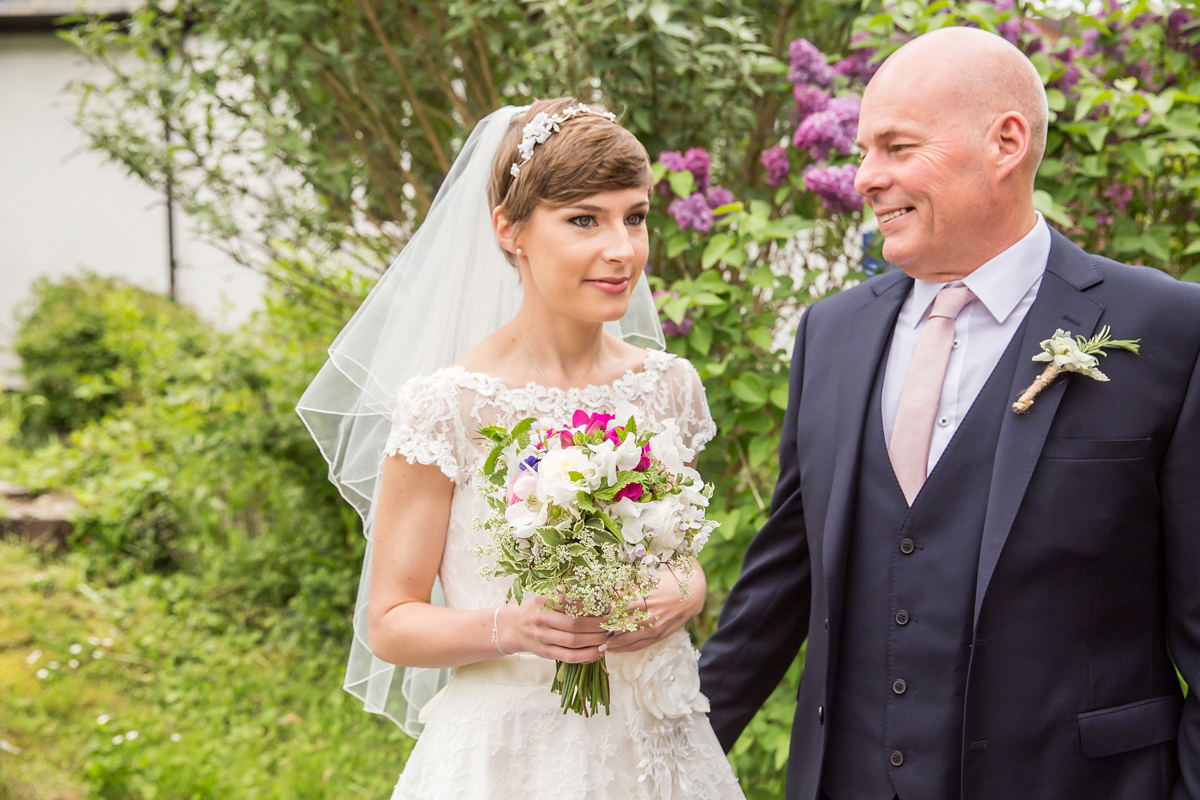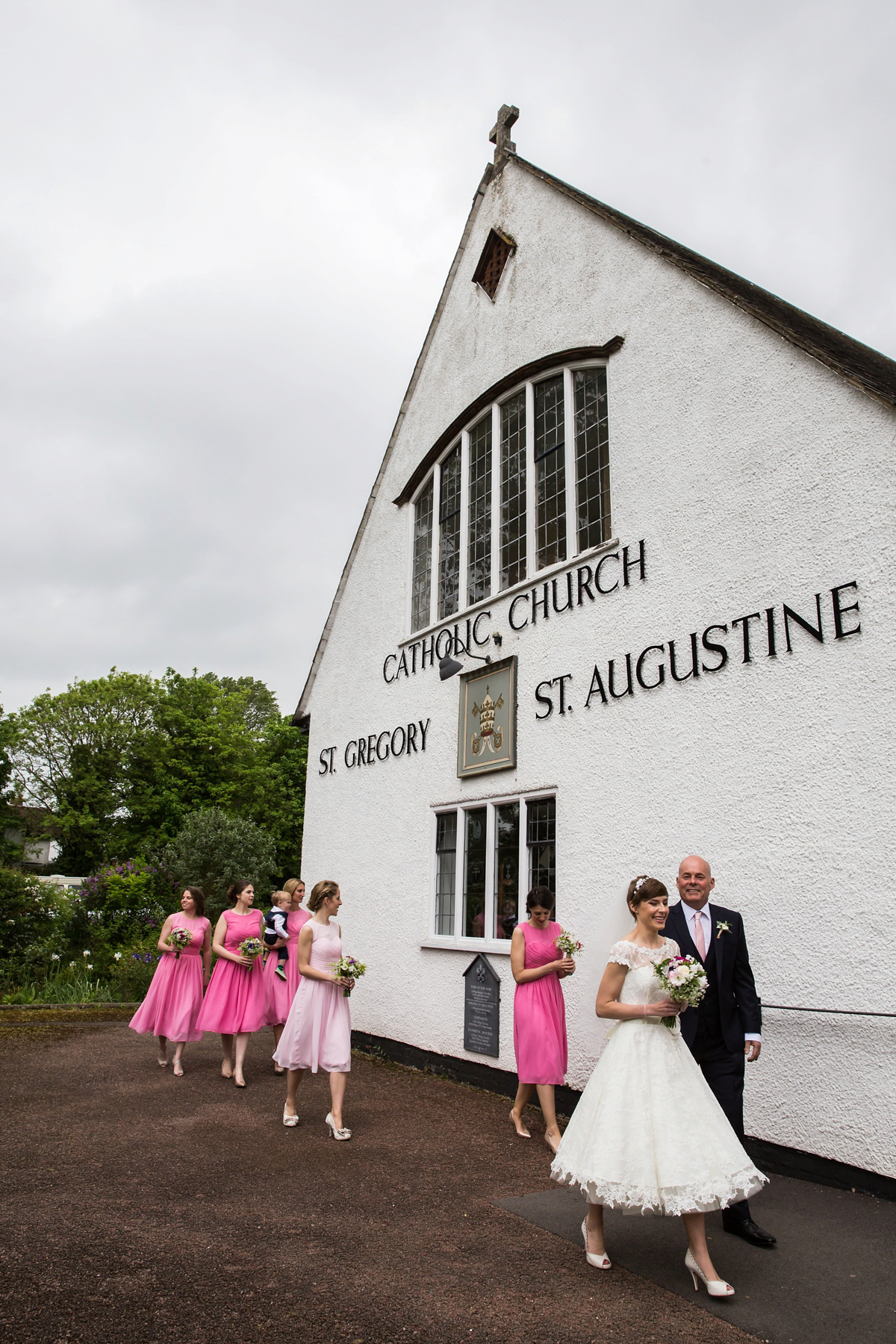 "Ali proposed on our five year anniversary. He totally threw me off the scent by getting me to book a restaurant and suggesting that we save our money and just do dinner and not presents. We were saving to go away so this made sense to me. When I arrived home from work, Ali said that he had got me a little something for our anniversary after all. I was a little annoyed and embarrassed as I really hadn't got him anything!"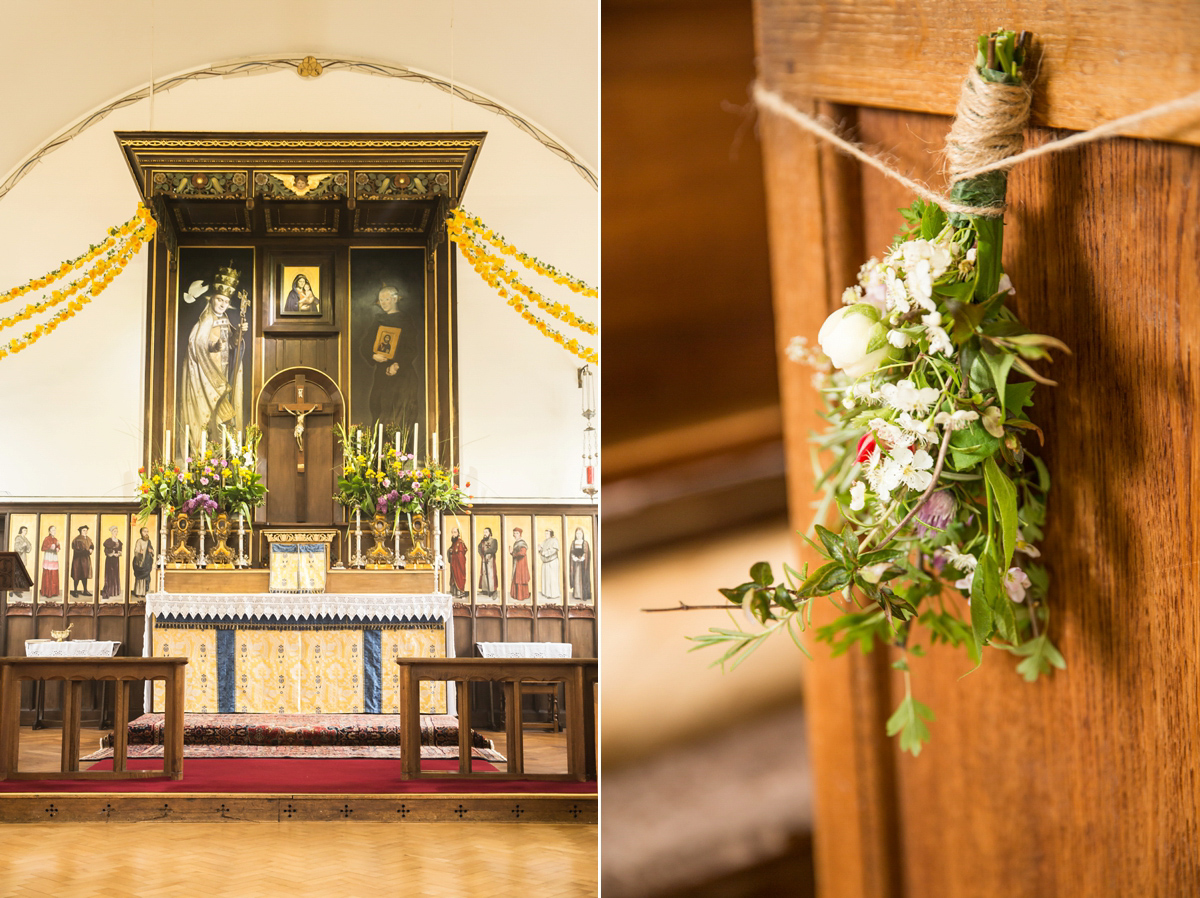 "He reassured me, saying it was more of an experience than a gift. It turned out he had arranged a treasure hunt around our house with clues leading to find items he had hidden around the place. Both the things he had hidden and hiding places were all important to us and our relationship from silly stuff like bags of Haribo (my favourite) to more serious like pictures of our bucket list travel destinations hidden in my thesis. The last clue had me searching in the corner of our bedroom."
"I found a card on which Ali had written "I really love you, turn around, I have a question for you". When I turned around, Ali was down on one knee with the most beautiful ring! I was so happy I cried and eventually managed to say yes and we spent the evening ringing round friends and family to tell them the good news. We were engaged for 14 months before we got married."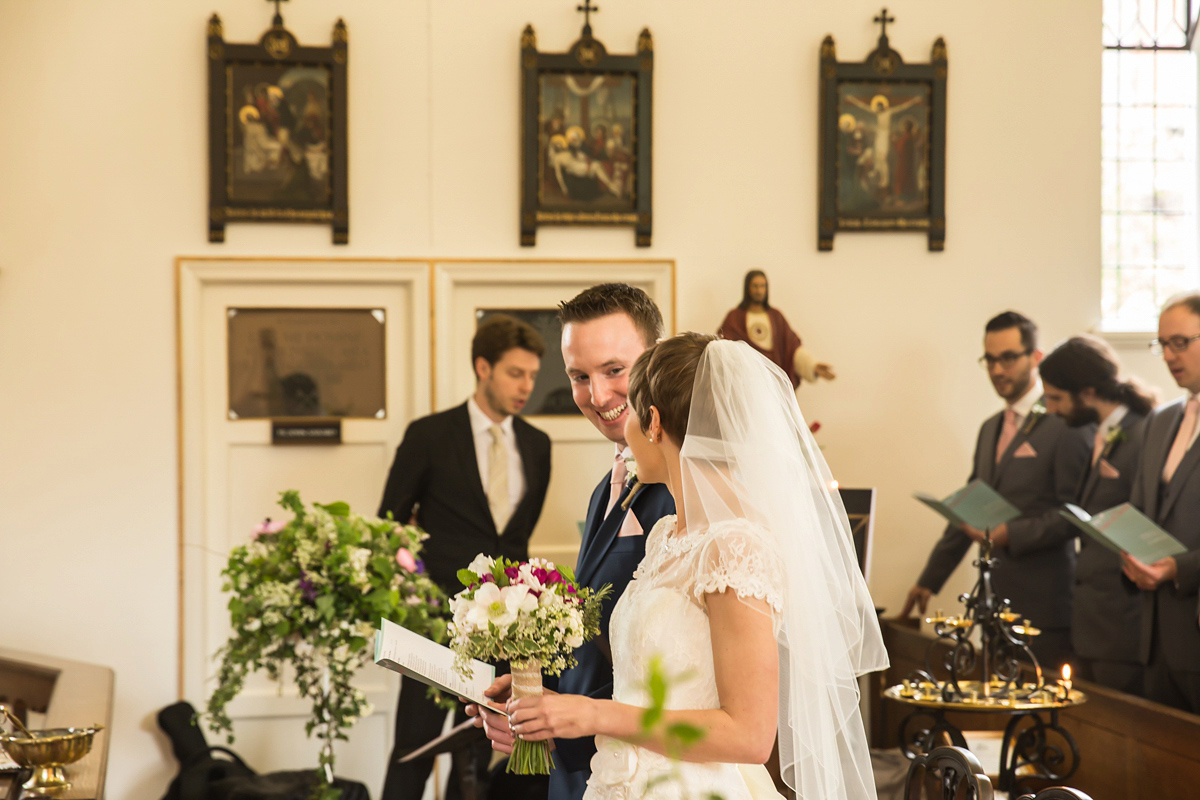 The couple chose two traditional bible readings: Song of Songs 2:8 and 1 Corinthians 13 read by beloved family members and walked out of the church as Mr and Mrs Moffat to Mendelssohn's Wedding March. Guests were treated to a ride on  vintage double decker bus from Nostalgia Travel as they excitedly made their way to The Perch, a historic pub nestled on the riverside in Oxford.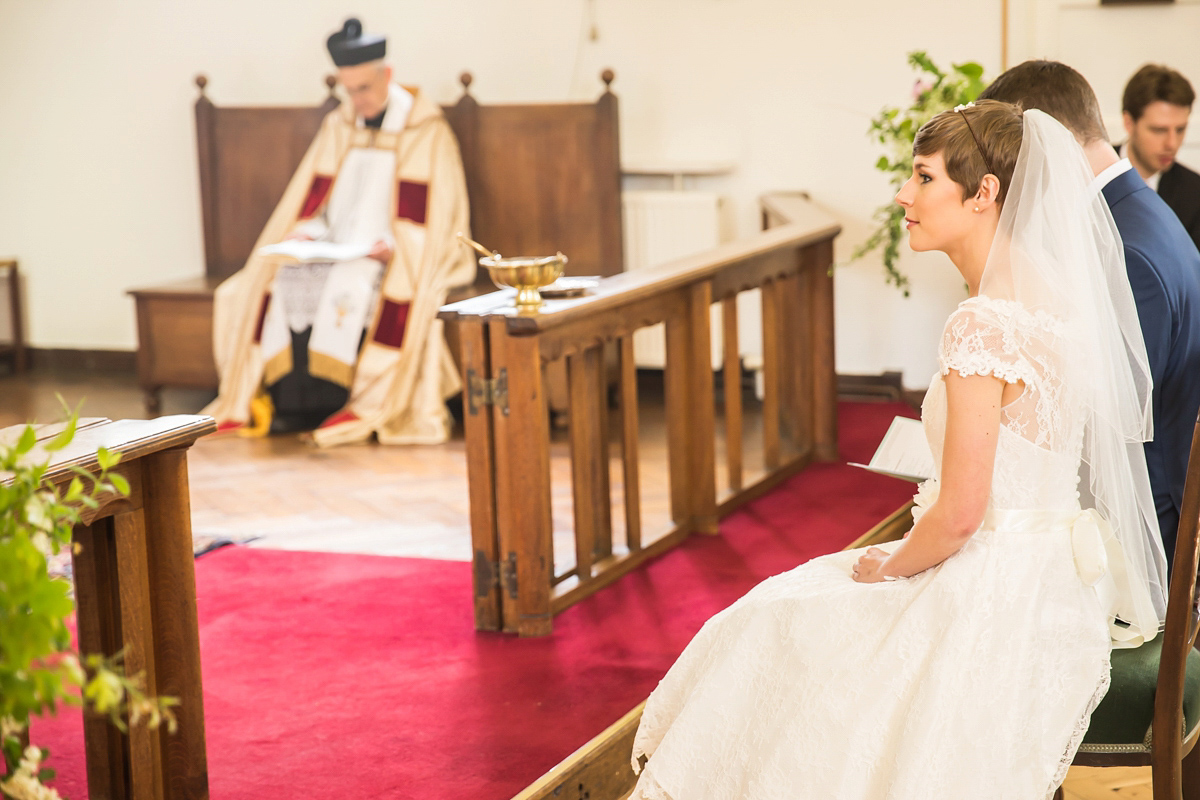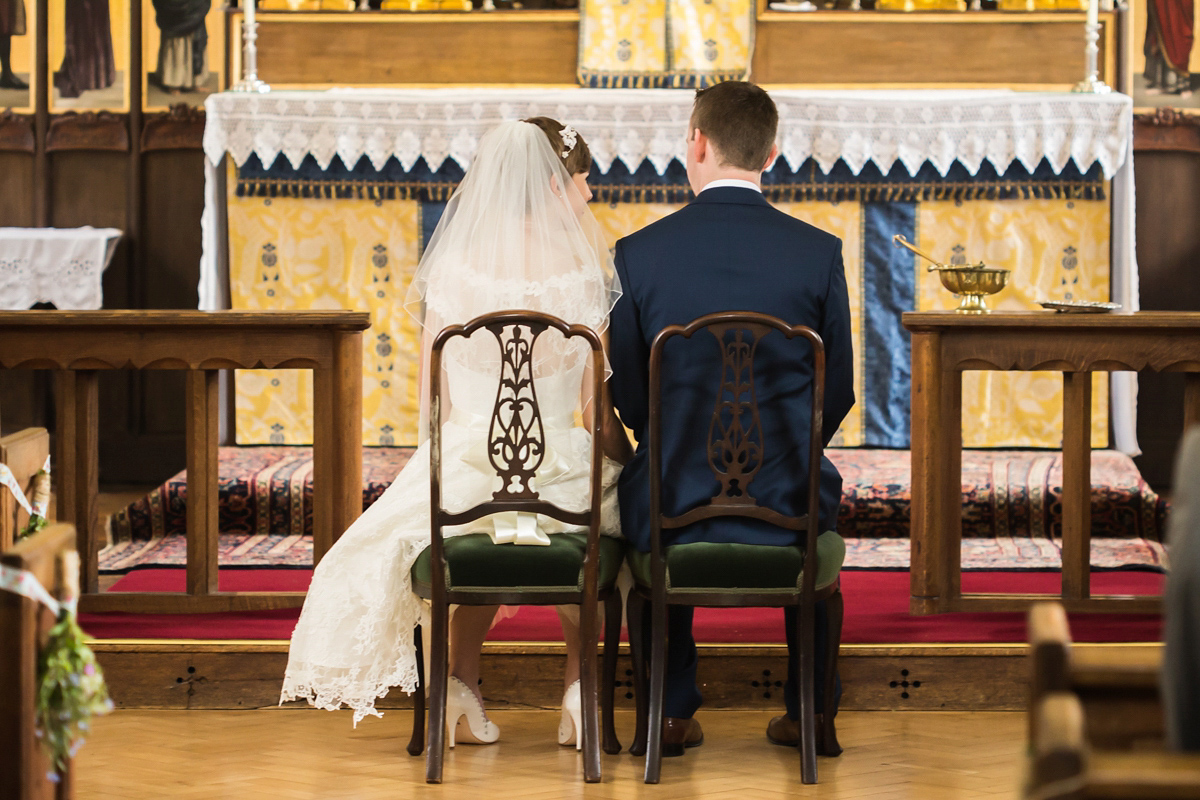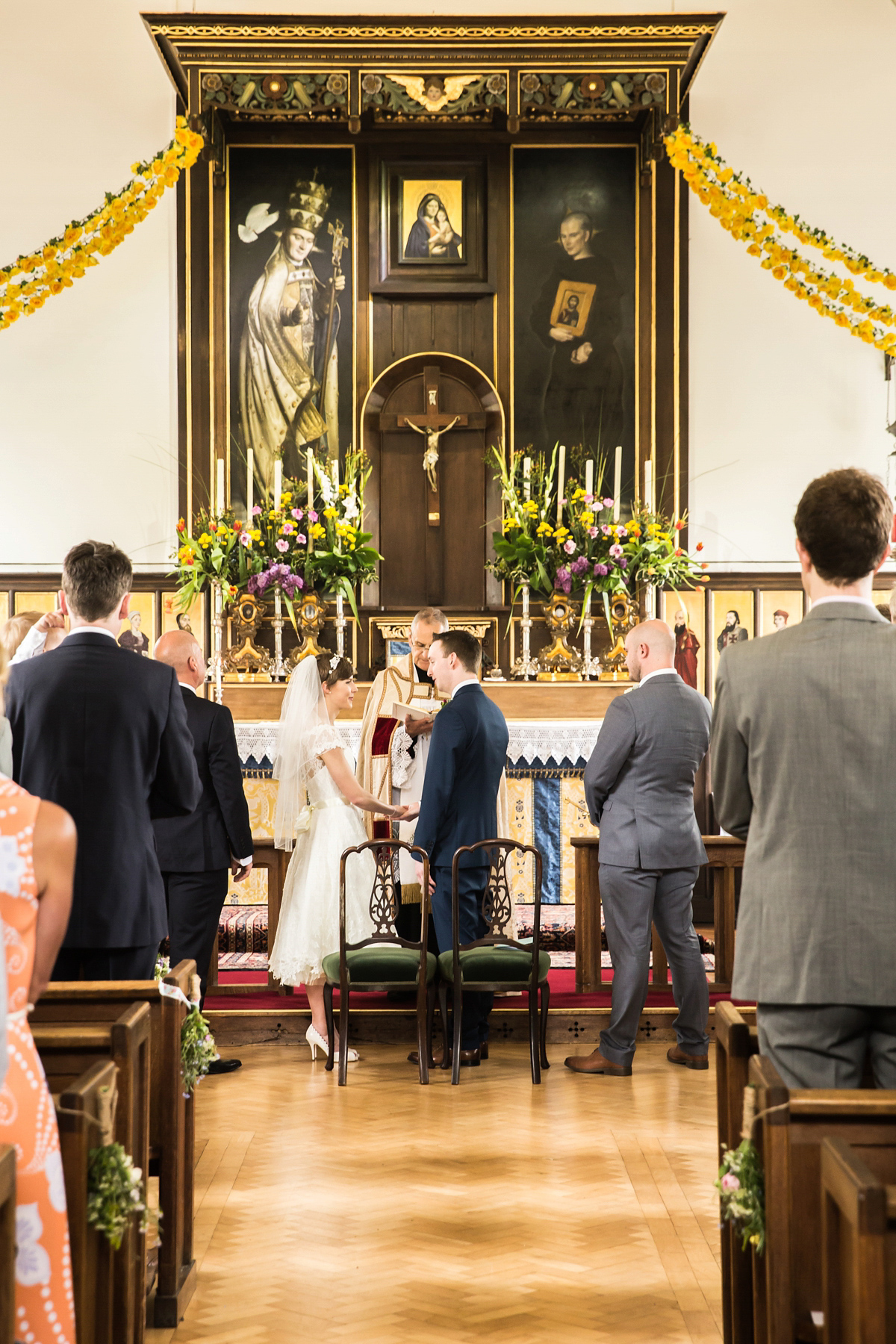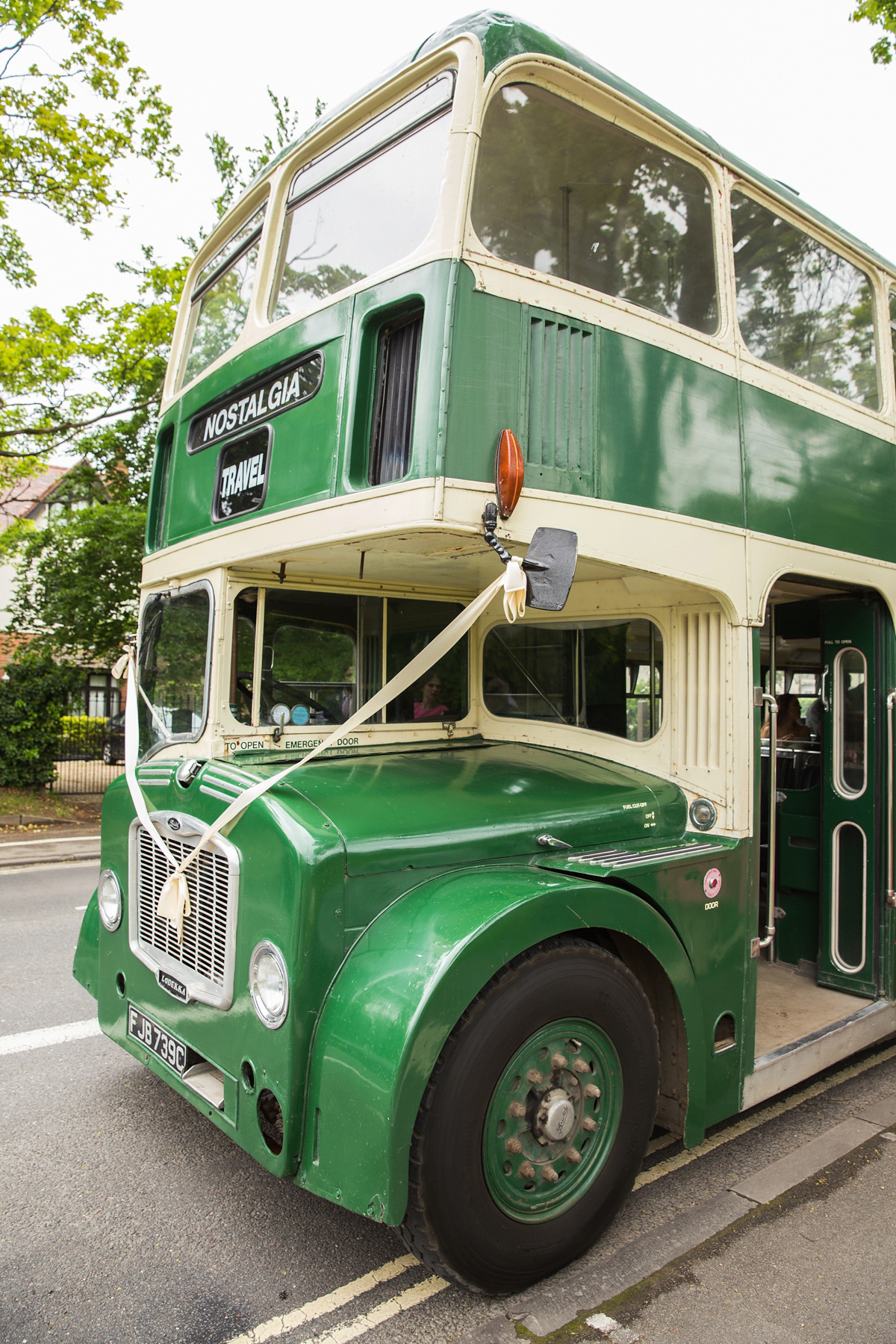 Hannah Larkin is the woman behind the images you are soaking up right now, and they capture the complete spectrum of wedding day emotions; from tender to jump on the bed joy and everything in between.
"Our photographer was the amazing Hannah Larkin from Hannah Larkin Photography. I am lucky enough to be a friend of Hannah's and since I've known her I have seen her photography business go from strength to strength."
"Her ability to capture the essence of the day and particularly all the emotions from the happy giddy moments to the intimate quiet ones is really incredible and we knew we wanted her to photograph our day as soon as we got engaged. Hannah offers an engagement shoot as part of her package. Beforehand, I thought this was a nice bonus but actually it was so useful spending time being photographed as a couple and getting over the awkwardness!"
"Also, looking through the images afterwards with Hannah helped us to think in more detail about the types of photos we wanted for the wedding which was really useful. She kept everyone organised whilst also being subtle and getting so many lovely candid shots. She and her husband Karl also kept a close eye on the weather and whisked us away at twilight in a brief gap from the rain to get some fantastic couple shots by the river. We adore the photos she has taken and looking through them just takes us right back to the day."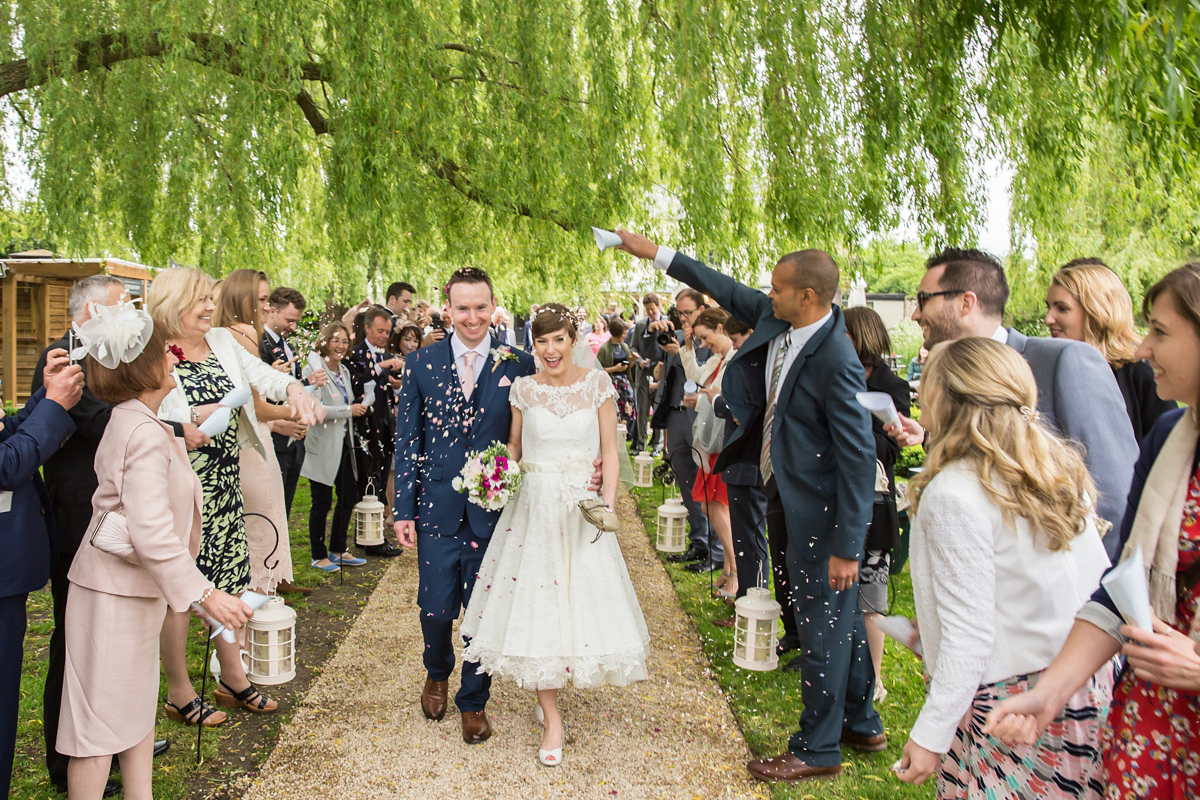 Reminding us all that grooms have a strong idea of their own wedding day look too, Ali decided to commission Pins and Stripes to tailor make a suit for him, choosing a polka dot lining to match the retro vibe of this wonderfully joyous day.
"Ali decided he wanted to have his suit tailored and after doing some research he set his heart on having it made by Pins and Stripes, the company who make the suits for the rugby team we support – Wasps. I have to admit I was initially sceptical about this but once he contacted them, they did a fantastic job. They came out to our flat to fit him, working around his shifts to do this and spent the time filling him in on endless Wasps related gossip which he thoroughly enjoyed. In the end, he decided on a slim fitting blue suit, with a waistcoat subtly patterned with polka dots which I think he looked incredibly handsome in."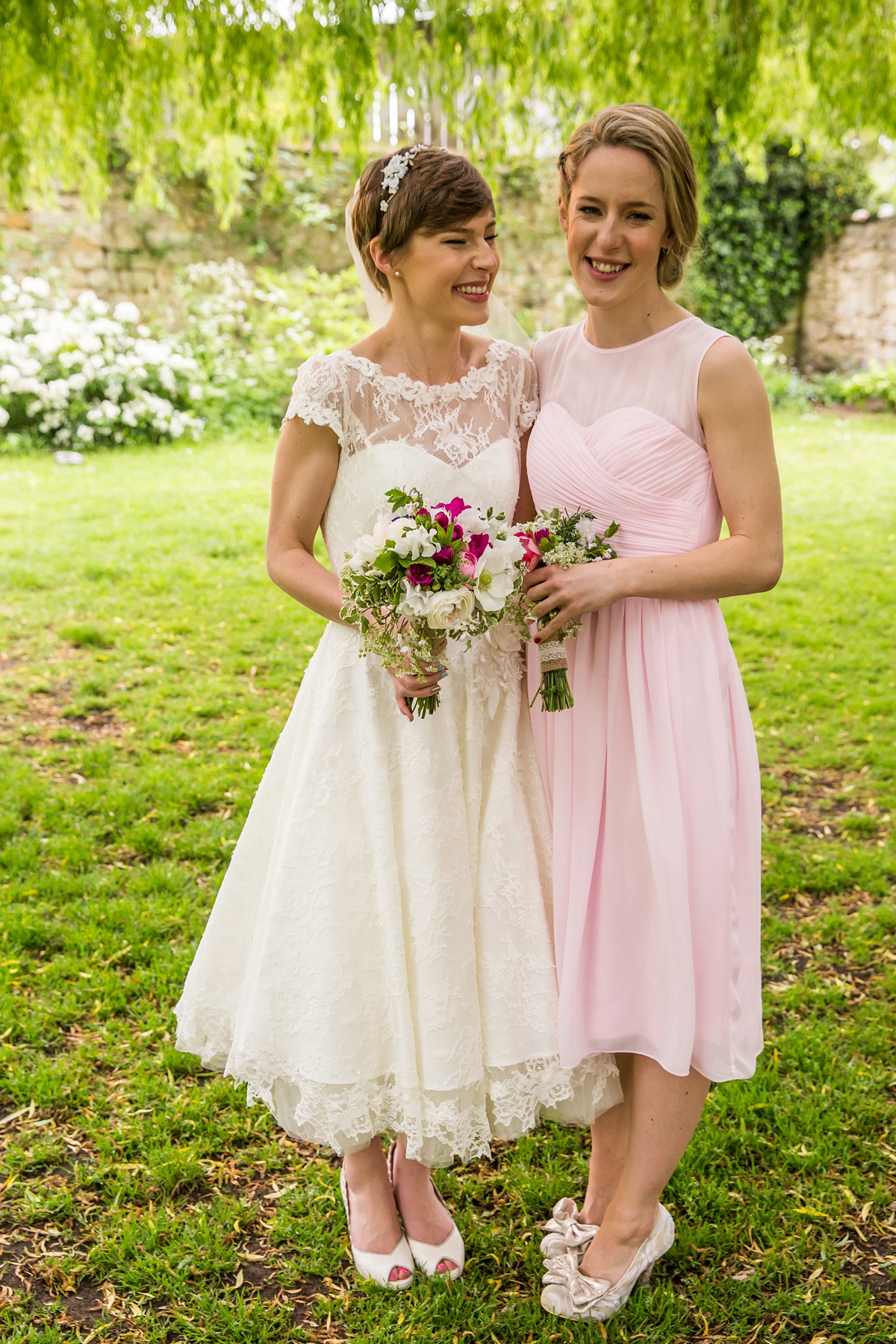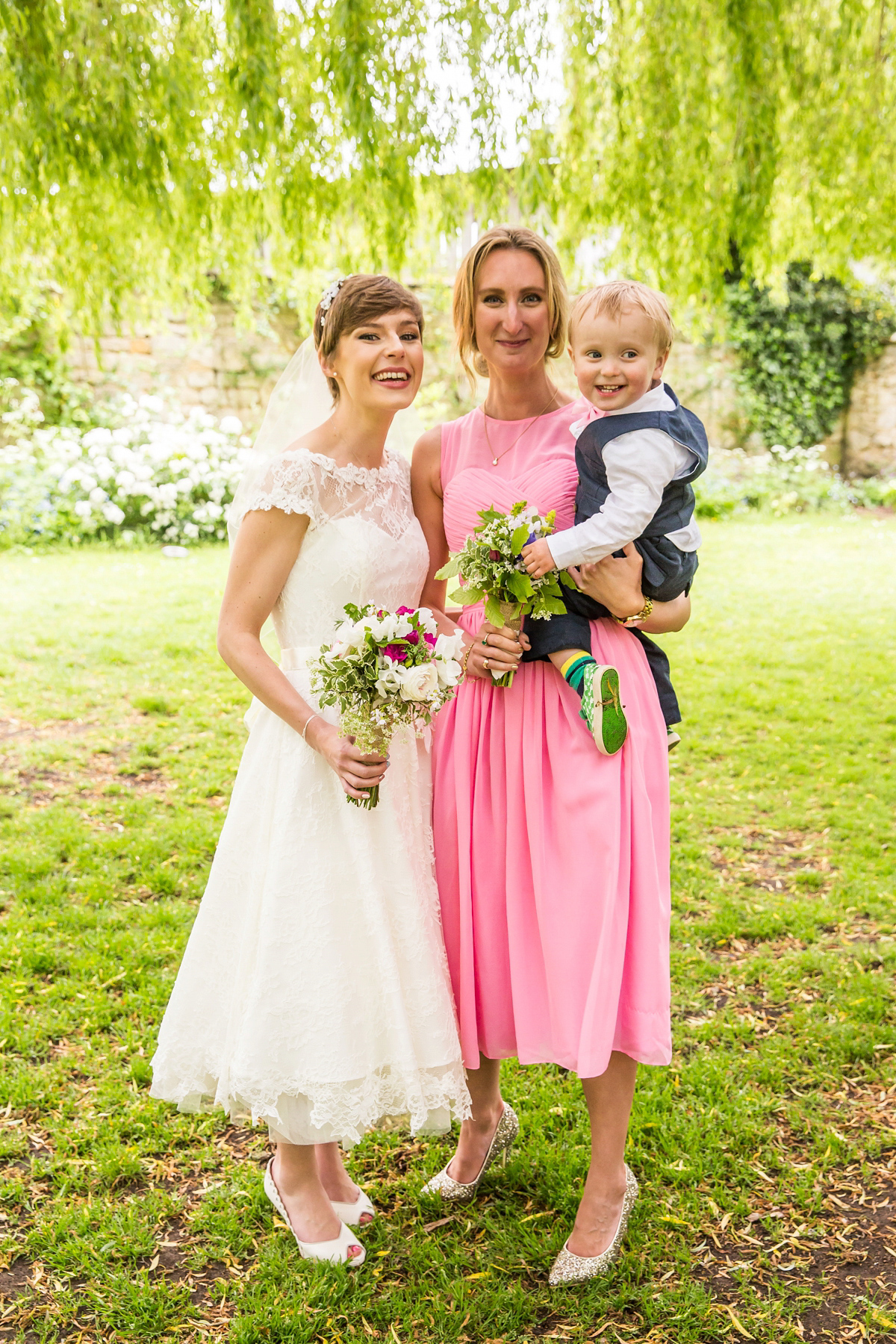 Little Book for Brides members For Her and For Him ensured Jo's favourite girls were a vision in various shades of pink, a decision that worked so well with the summery prettiness running through the day.
"After much searching I eventually got the bridesmaids beautiful pink dresses from For Her and For Him. I was so impressed by their service – they even created a custom colour for me so I could have a variety of complimentary shades of pink. My sister, as chief bridesmaid wanted the palest shade and the other girls had one of two slightly darker shades."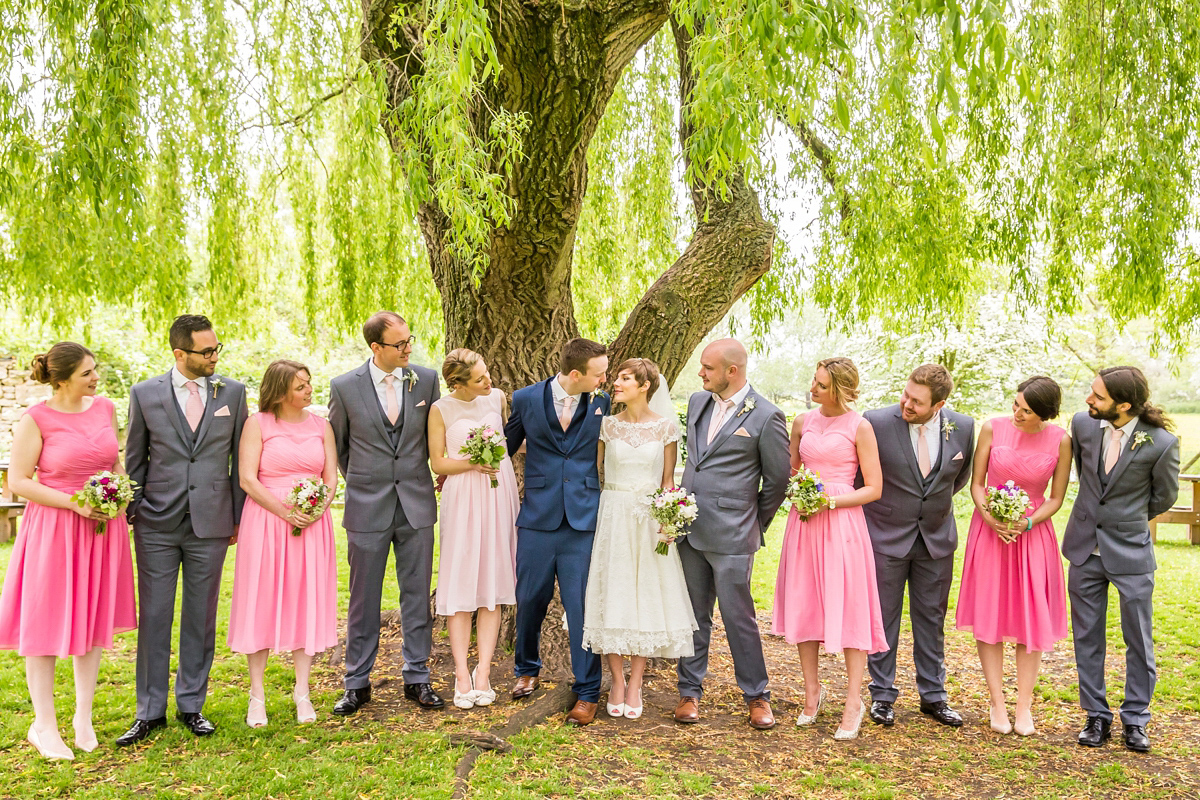 "In terms of reception venues, we looked at a few in the area and were keen to find somewhere relaxed and not too formal, but also convenient. The Perch is somewhere that has always been part of my life in Oxford."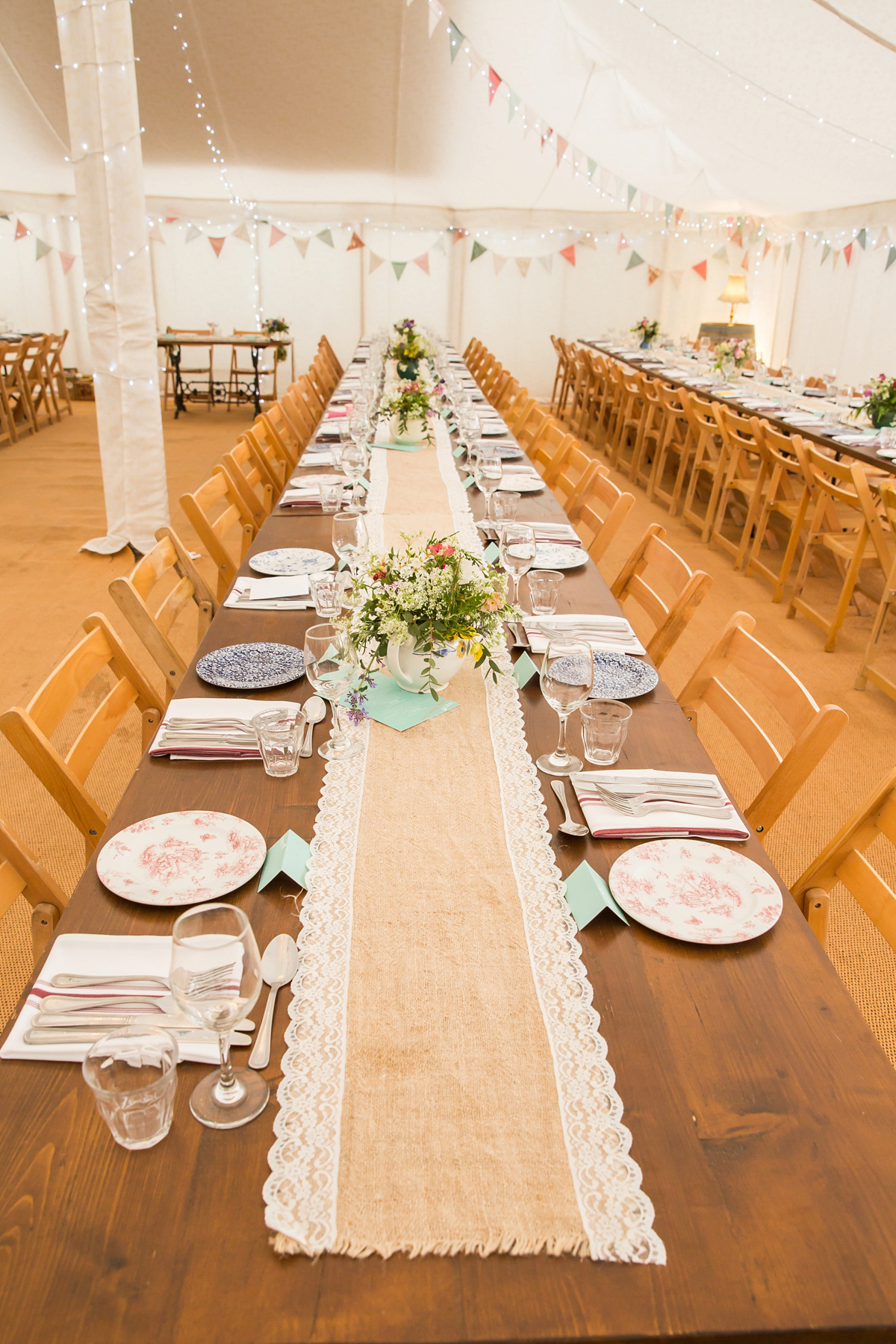 "When I was little we spent many happy summer afternoons enjoying family walks along the river which often finished with a drink there which we loved as they used to have the best playground."
"When I found out they now do weddings, Ali and I both knew we could be onto something special. It turns out they've replaced the playground with a wedding Marquee so in some ways it feels like it's grown up with me!"
" The marquee at The Perch has a lovely mix of vintage décor giving it some character without being overwhelming which allows you to take it in any direction. We loved the character it had and wanted just to enhance it with extra touches. My mum was a hero and made miles and miles and miles of bunting, she even sourced some comic book fabric to have some flags especially for Ali. We also used flowers in teapots on the tables and hung pictures of family and friends around too. This was particularly important as we were able to include the wedding pictures of our grandparents who weren't able to be there on the day."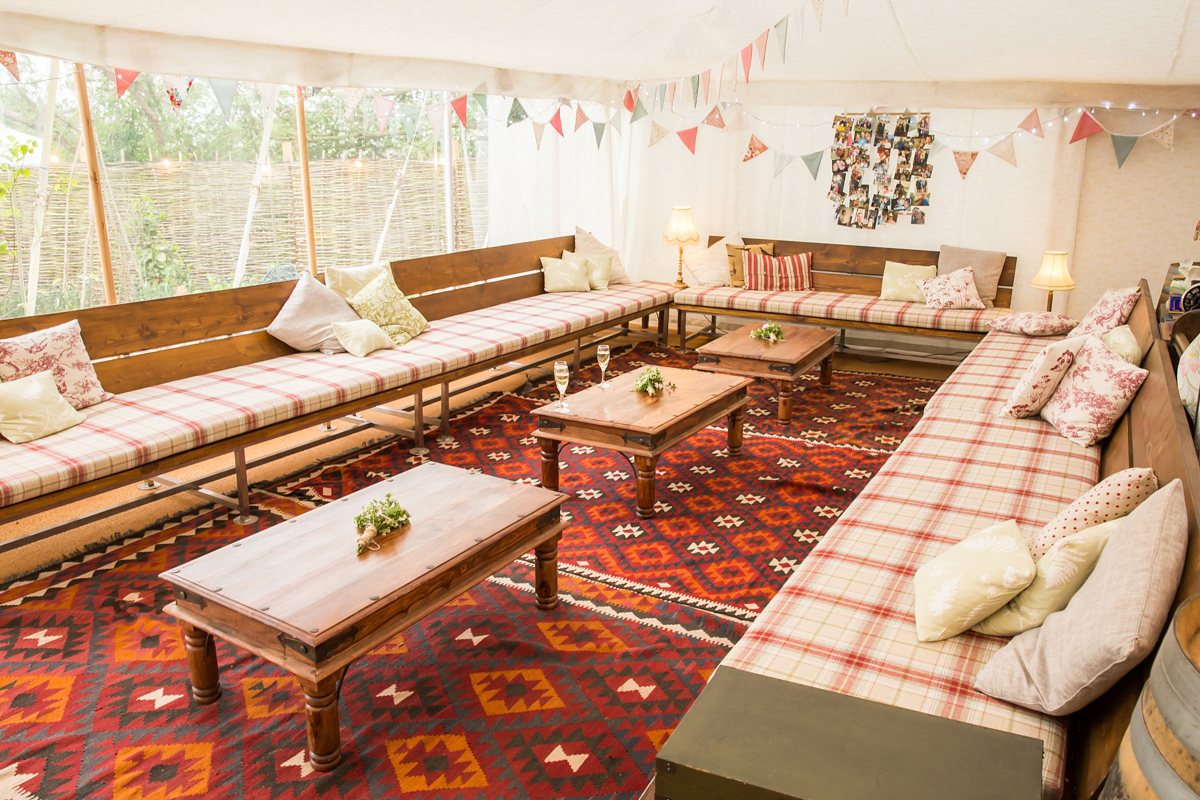 These amazing nails were a stroke of genius present from Jo's sister and the two of them spent an evening sipping bubbles and choosing gel nail art designs together at Hula Nails in London. Our bride Jo went for polka dots, hearts and her and Ali's initials, with sister Martha deciding on some very in-keeping bunting designs. Ladies, go forth and buy/receive nail art gifts, I love this so much!
"Our save the dates were done through vistaprint as we hadn't got a clear idea of the style of the day by the time we wanted to send these out. The rest of our stationery was designed and printed by Amelia at Noble Hound."
"We were drawn to her fun and quirky designs. She created everything from our invites to name cards to the order of service and did a fantastic job of incorporating all our random ideas of bunting, polka dots and rugby balls to create a package that was totally us. I so admire all the crafty brides on Love My Dress but I am the least arty, creative person in the world. I have visions of how I want things to look, but can never get them into reality and so it was amazing to see Amelia do this for us with our stationery. In particular, she spent ages getting the order of service just right. I knew a lot of our guests wouldn't be familiar with a Catholic ceremony so wanted it to be as explicit as possible and Amelia really worked hard at this."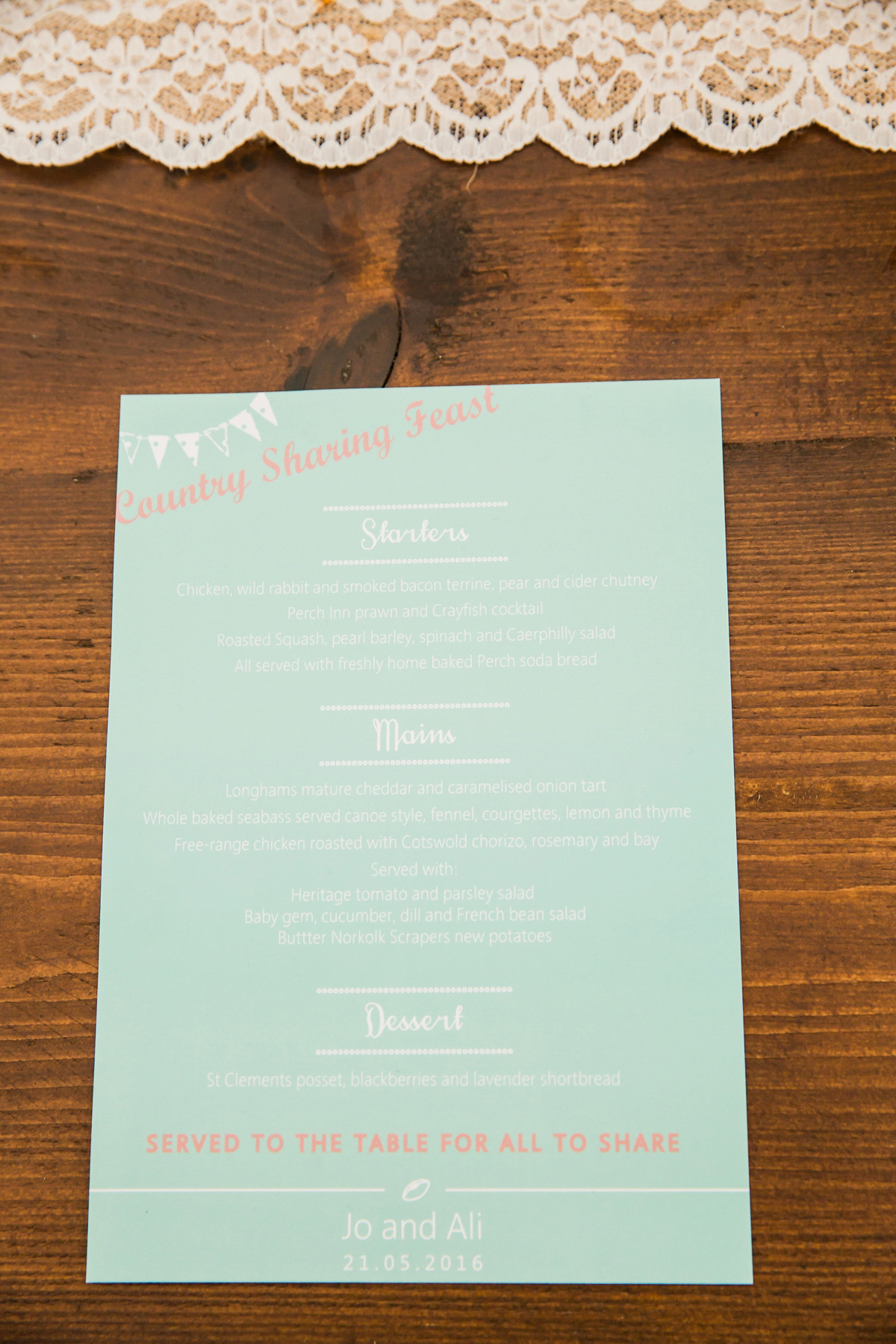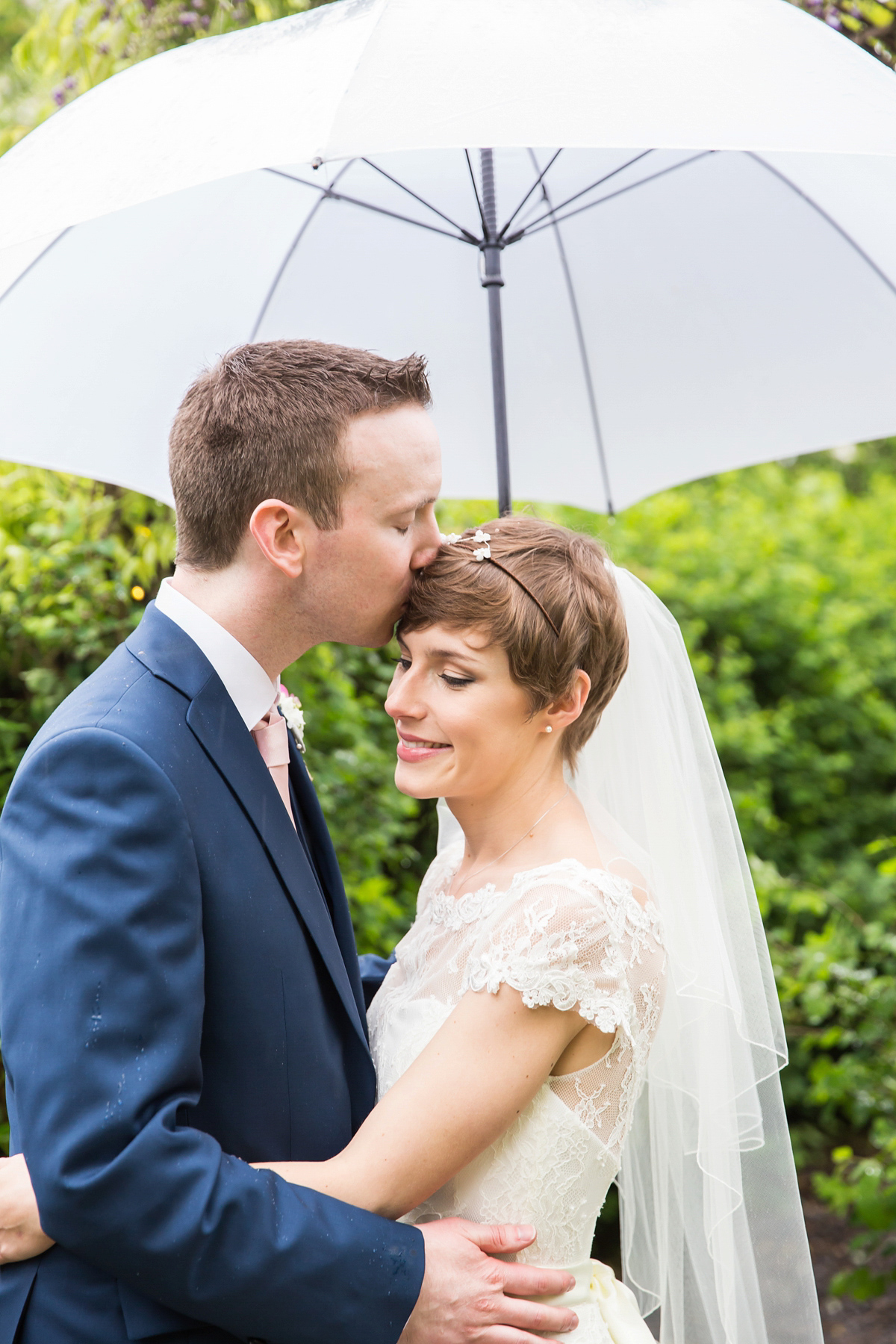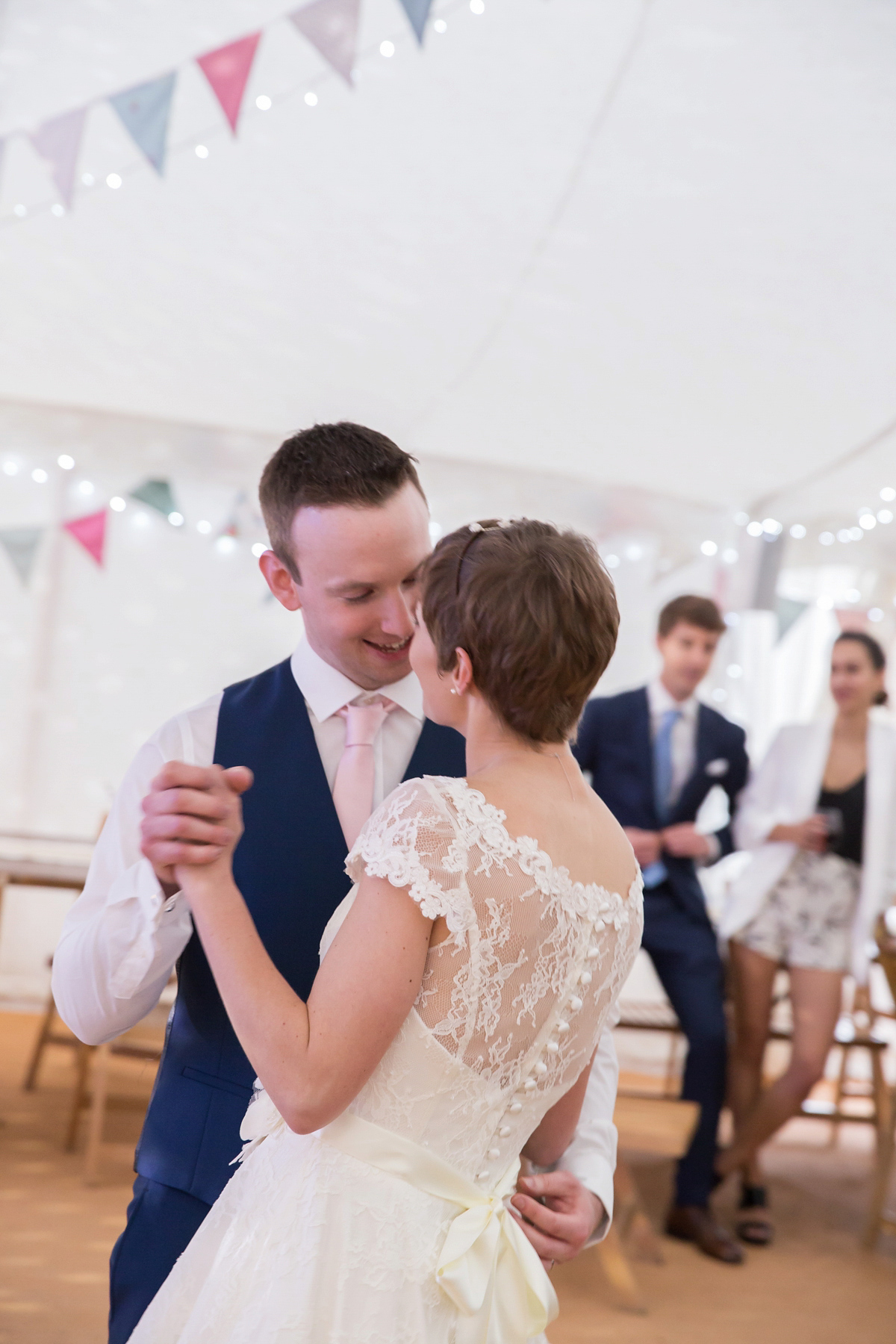 The Perch provided all of the catering, organising a sharing platter feast that ensured no guest was even close to hungry all day. Late night cheese and biscuits and posh bacon butties went down a treat with wedding cake made by friend Abi, with amazing cake toppers from Oh My Hero.
"Our first dance was to an acoustic version of Flaws by Bastille. They are one of our favourite bands and we have many happy memories of seeing them live. This song of theirs really connects with us as a couple."
Words of Wedded Wisdom
"I know it's what a lot of people say but the best advice I can offer is to try and stick to your guns and have the day you both want to have. Our experience was that people were really interested and had ideas and opinions on things which in many ways was really lovely and we loved to be able to involve them where we could. However, this, coupled with my self-induced pinterest addiction, left me overwhelmed at times. When that happened I sat down with Ali and we went back over the key things that were important to us and this helped us refocus resulting in a day we loved. Lots of people on the day commented how infectious this enjoyment was, that because we so clearly loved it, everyone else did too.
This might sound odd but the only other thing I'd say is don't worry if you're not massively creative. I am the least arty, crafty person ever – my bridesmaids laughed a lot at the fact that I couldn't even put the confetti cones together! I wish I could do more and really admire arty people and part of me felt sad that I wasn't making loads of things for our big day. However, there are loads of amazingly talented crafty people out there to help and the joy of finding a supplier who you click with and who gets your vision is really something. Don't settle, find that person who gets it, it's not about cost it's about shared understanding of your day."
All that leaves me to say is huge thank yous to the lovely Jo and Ali and of course Hannah Larkin, my Tuesday has been all the better for a little peek into so much love.
Enjoy all of this deliriously gorgeous wintery-ness ladies, I can feel the Christmas joy unwrapping and it's time to satisfy that Buble itch (yes I am one of those people)
Much love,
Emily C xxx