From the first moment I stumbled across Love My Dress, and upon reading my very first real wedding feature, when I found my future wedding dress (this may or may not have been a tiny bit before I was actually proposed to…) I was hooked. The elegance, the beautiful brides, the sensuous blooms (and tasty cakes) – it was addictive and exciting. But what I loved most in the months, in fact years, that followed, was the way each and every wedding was different. Unique. Totally and utterly spellbinding in its own right.
Love My Dress showed me that when it comes to wedding planning, anything is possible. Outdoors, indoors, white gown, rainbow dress (blimey that was an amazing one) – that little kernel of an idea that you thought was just a bit too out there to be possible? Go for it. You can do it, and it will be blooming magic.
Allow me to introduce Katie, who works in fashion trend forecasting, and Ross, a Community Manager for a 3D scanning website – two beautiful human beings who created the wedding of their creative daydreams, which all played out in epically cool style on 9th September this year at Woodside Warehouse in Glasgow.
"The idea of a traditional wedding didn't seem right to us, it would have been forced and not really our style, plus more than anything we just wanted to have a big party with all our friends and family. So where better to have a massive party than a warehouse?"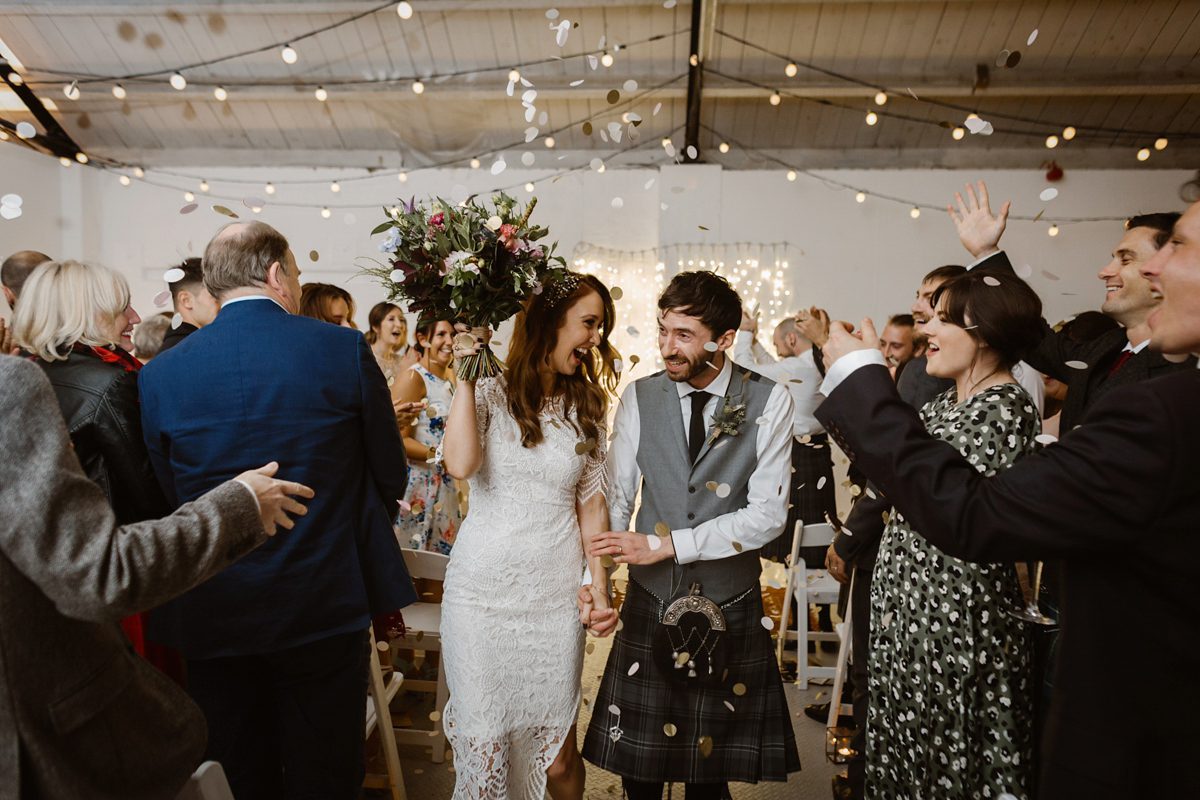 Katie chose a gloriously alternative wedding dress from For Love & Lemons, which she teamed with a cool leather jacket and shoes from Dune. The crowning jewel of this ensemble was a statement hairband snapped up in a Jenny Packham sample sale, a steal at £70 down from £450. Brides in leather jackets is just one of my absolute faves – the contrast of pure white girly-ness with that tough, rock-reminiscent item is just so effortlessly stylish.
"I knew I didn't want to wear a proper wedding dress, the idea of going to millions of bridal shops and trying lots of stuff on was my worst nightmare. And I didn't want to spend thousands of pounds on a dress I would wear once.""It was important to me to feel comfortable and at ease on the day so when I saw this dress online I fell in love with it straight away. I loved the lace detailing and more than anything it just felt like me. I ordered it straight away and the fit was perfect, it was the only dress I looked at or even tried on."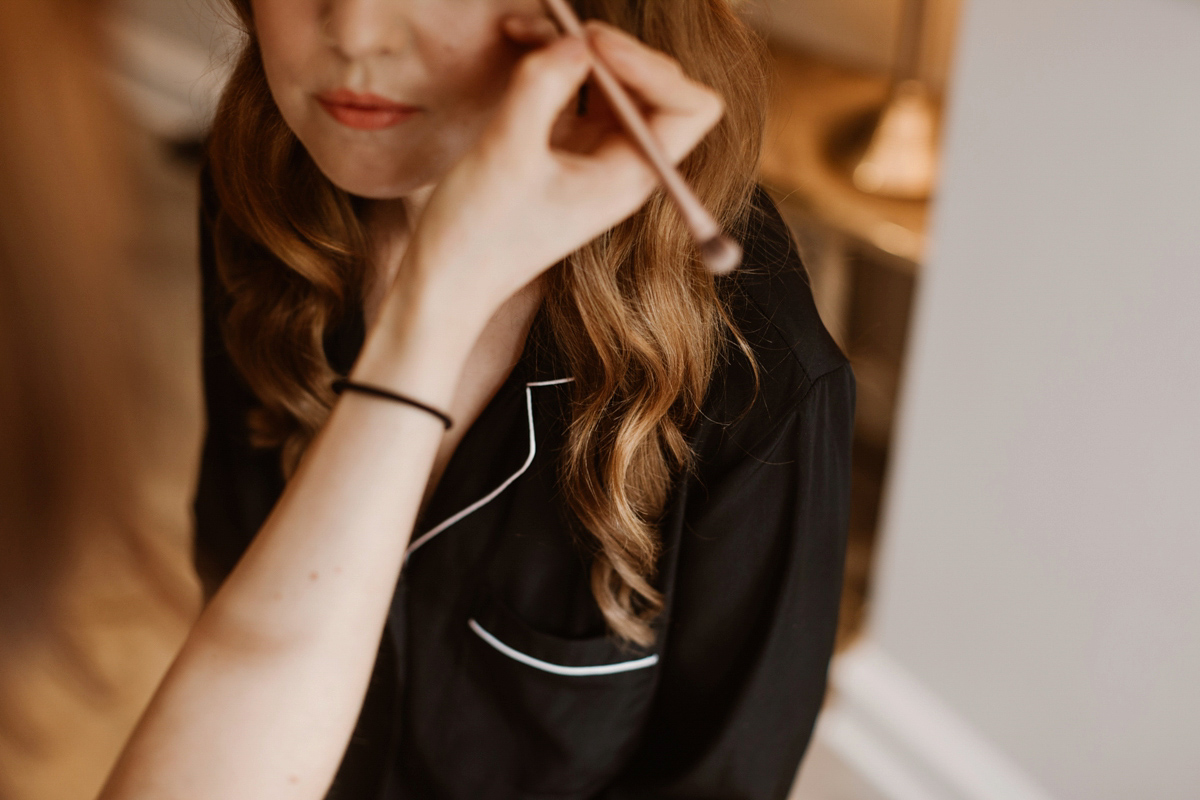 "I wore Jo Malone's Tuberose Angelica. I went with my sister for a bridal appointment at Jo Malone and fell in love with this scent."
"A friend had told me to buy new perfume and aftershave for the day, a type you had never used before so that scent would always remind you of the wedding and it was such a great tip. Every time I wear it now it brings back memories. Ross wore Jo Malone's Cedarwood & Juniper cologne."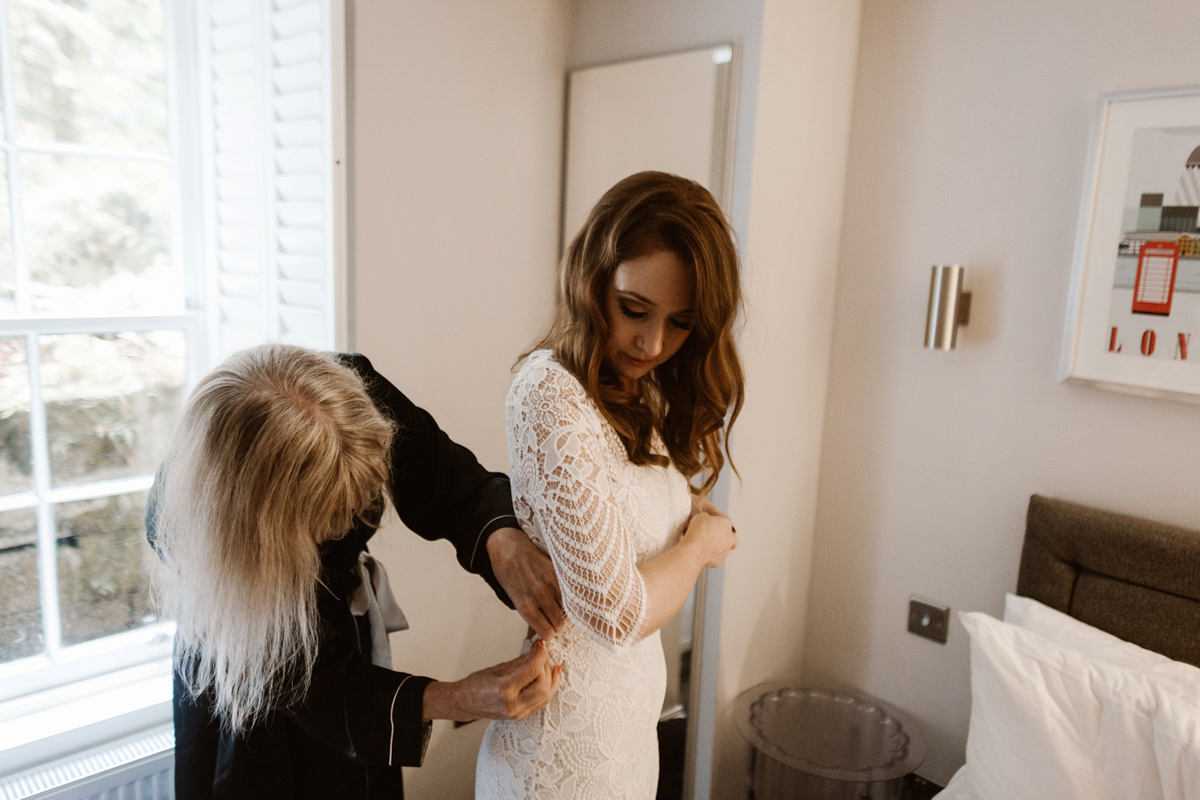 I think I spy a first look between this lovely pair! We're building up quite a collection of these intimate special moments in our archives and this London street-scape encounter is simply lovely. Katie and Ross have some of my fave ever couple shots in the shabby-chic interior of their super-cool warehouse, artfully captured by some of my all-time favourite photographers, The Curries.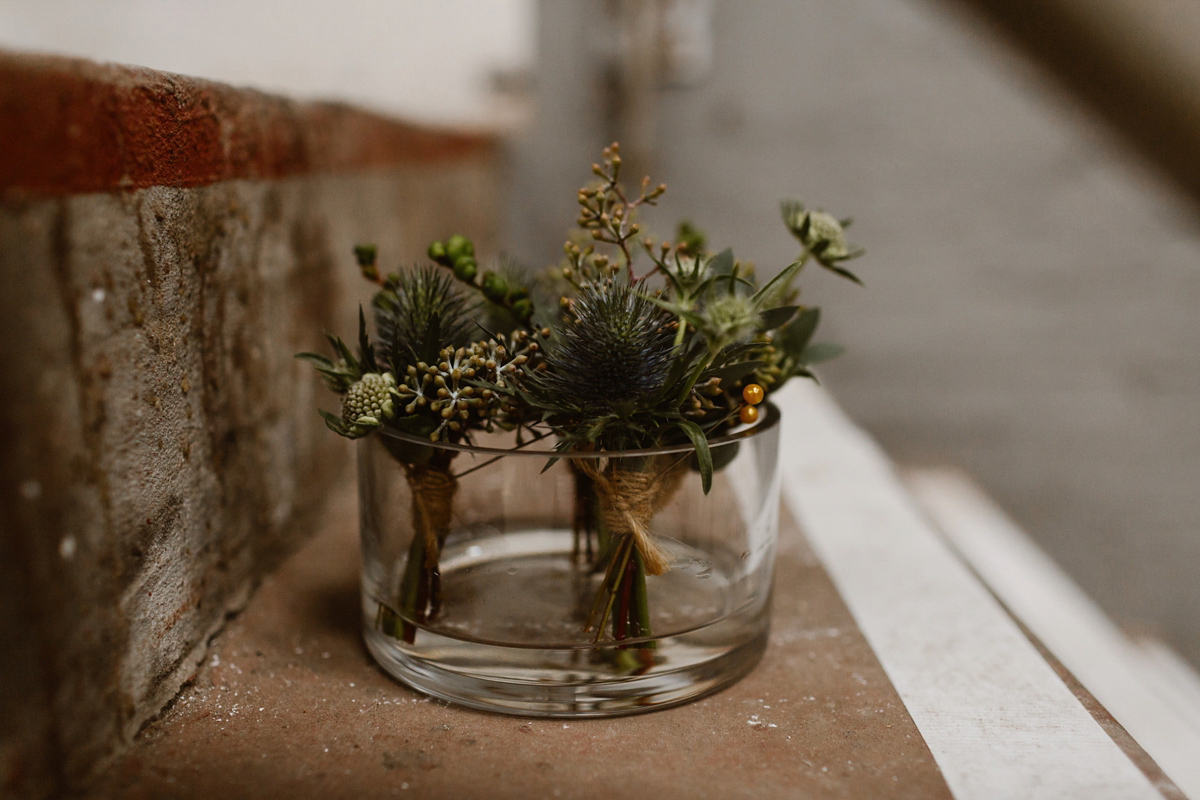 Ross went traditional with a kilt and kilt accessories from The Scotland Kilt Company, paired with a shirt from H&M, a Topman tie and a waistcoat from Austin Reed. He too entered the cool groom stakes with smart shoes and later on, casual sneakers, both from ASOS. Seriously cool couple alert.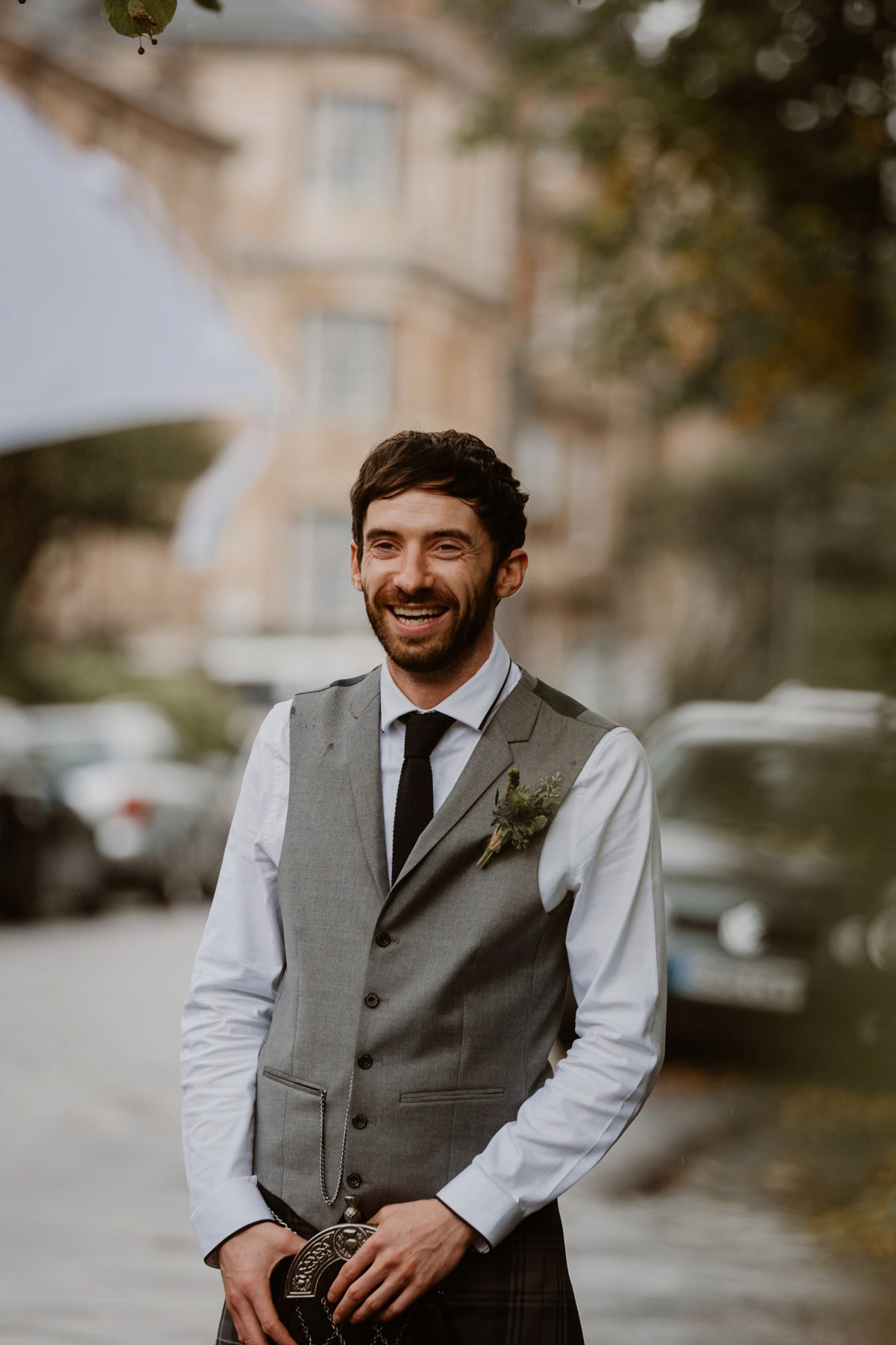 "The Curries are utterly fantastic wedding photographers, I can't recommend them enough. Not only did we get our dream photos but they went out of their way to make us feel relaxed on the day, from bringing me a drink of water and a chair before the ceremony to making sure we had a drink in hand when the photos were finished."
"We got engaged just over a year before our wedding on a roof top in Brooklyn. We first met in Edinburgh seven years ago and fell for each other straight away, the only problem was I had just accepted a job in New York."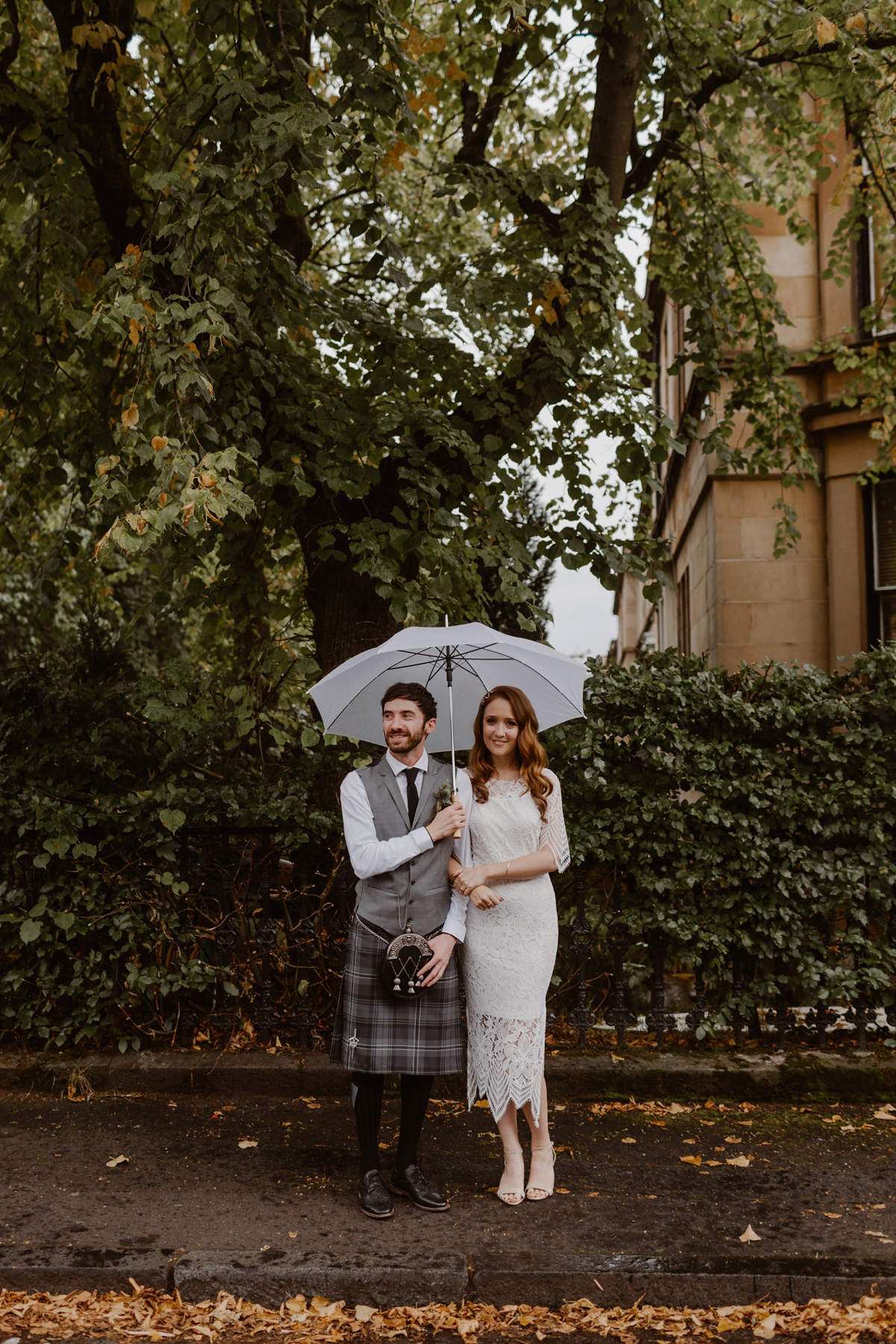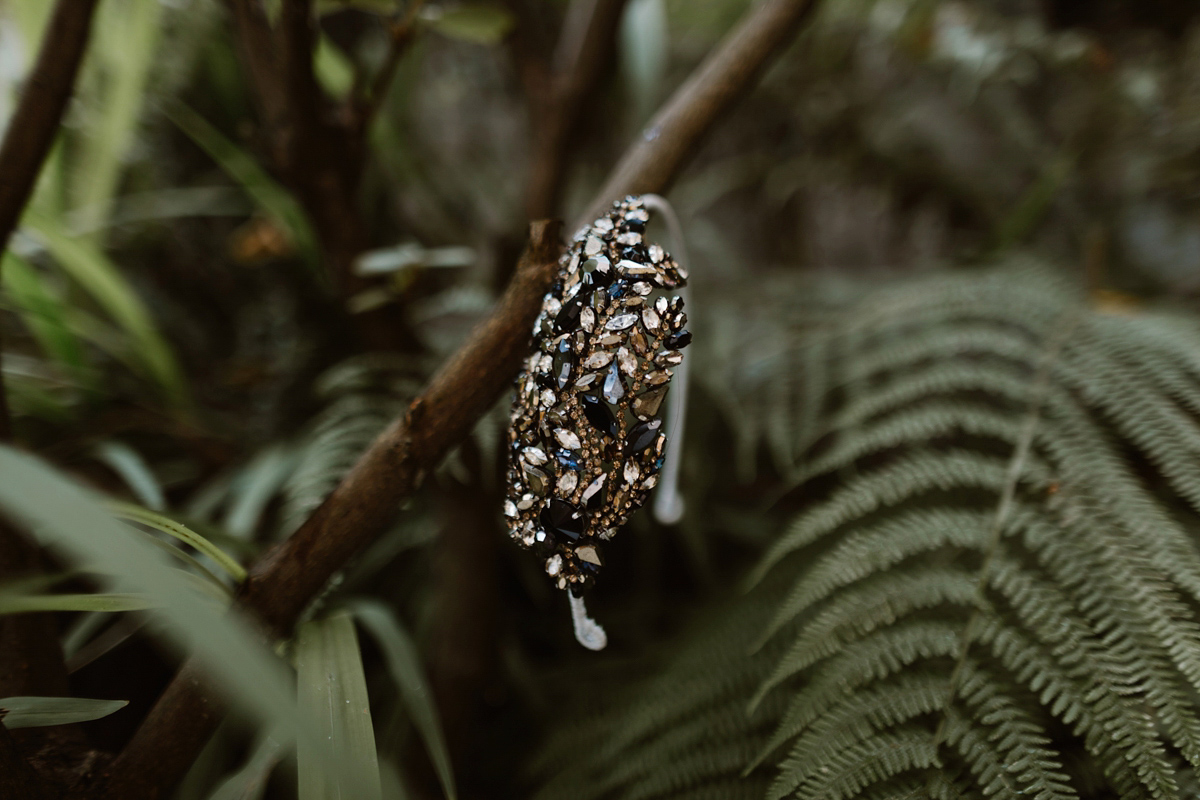 Katie added a thin gold bangle from Oliver Bonus, an evil eye necklace and bracelet from LuvMinimal and a collection of stacking rings from a market in Korea, sitting alongside a mix of old rings that belonged to her late grandma.
Chic, glossy waves were crafted by the talented Pin-Up Hair Glasgow and natural make-up applied by Joanne at Kiss & Make-Up salon.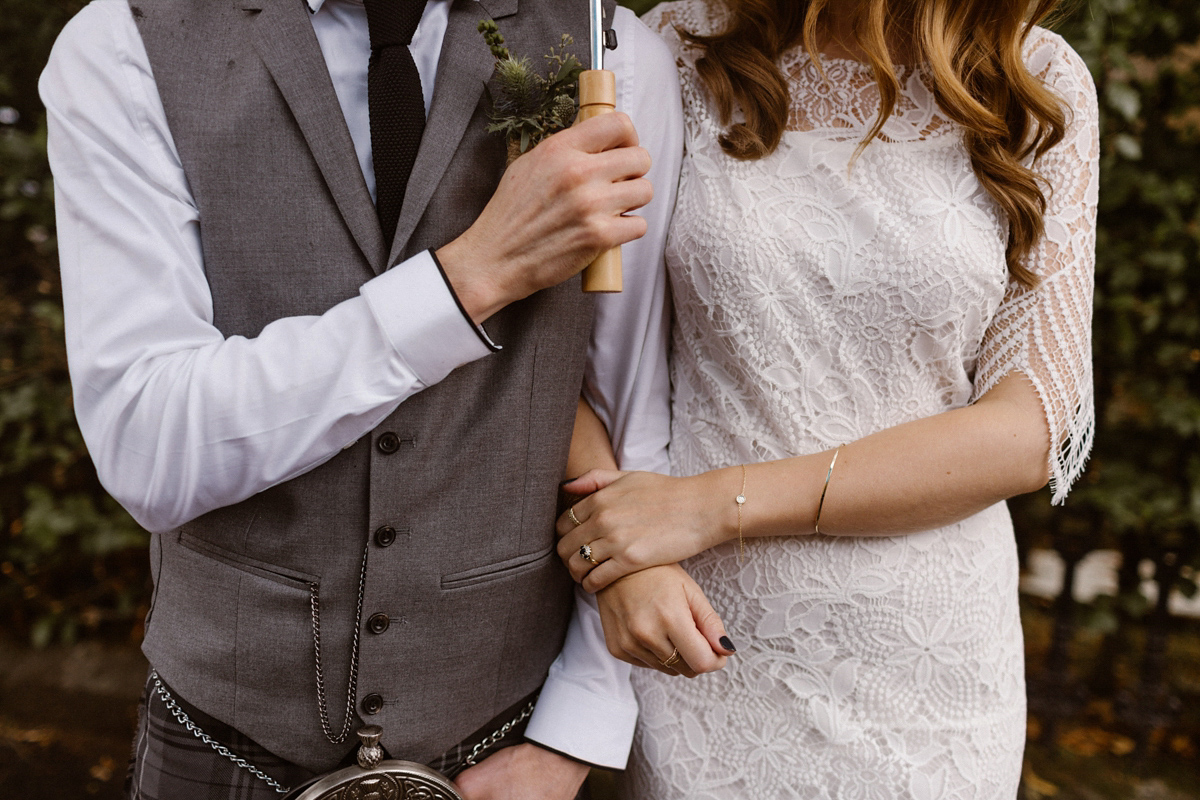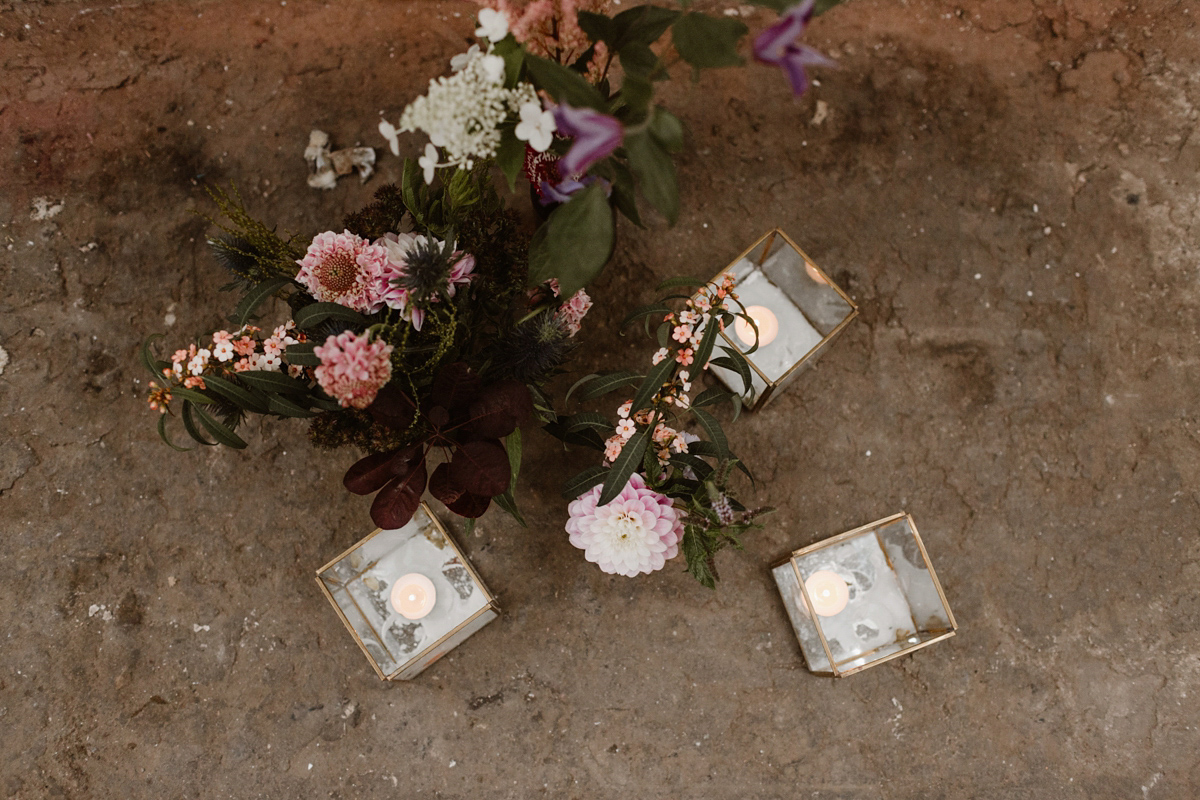 "I moved to NYC three months after we first met and despite what everyone says about long distance relationships we managed to make it work for the next year with a lot of late night Skype calls and a couple of trips back & forth. New York holds a special place in both our hearts and the roof top proposal was the perfect addition to our NYC memories."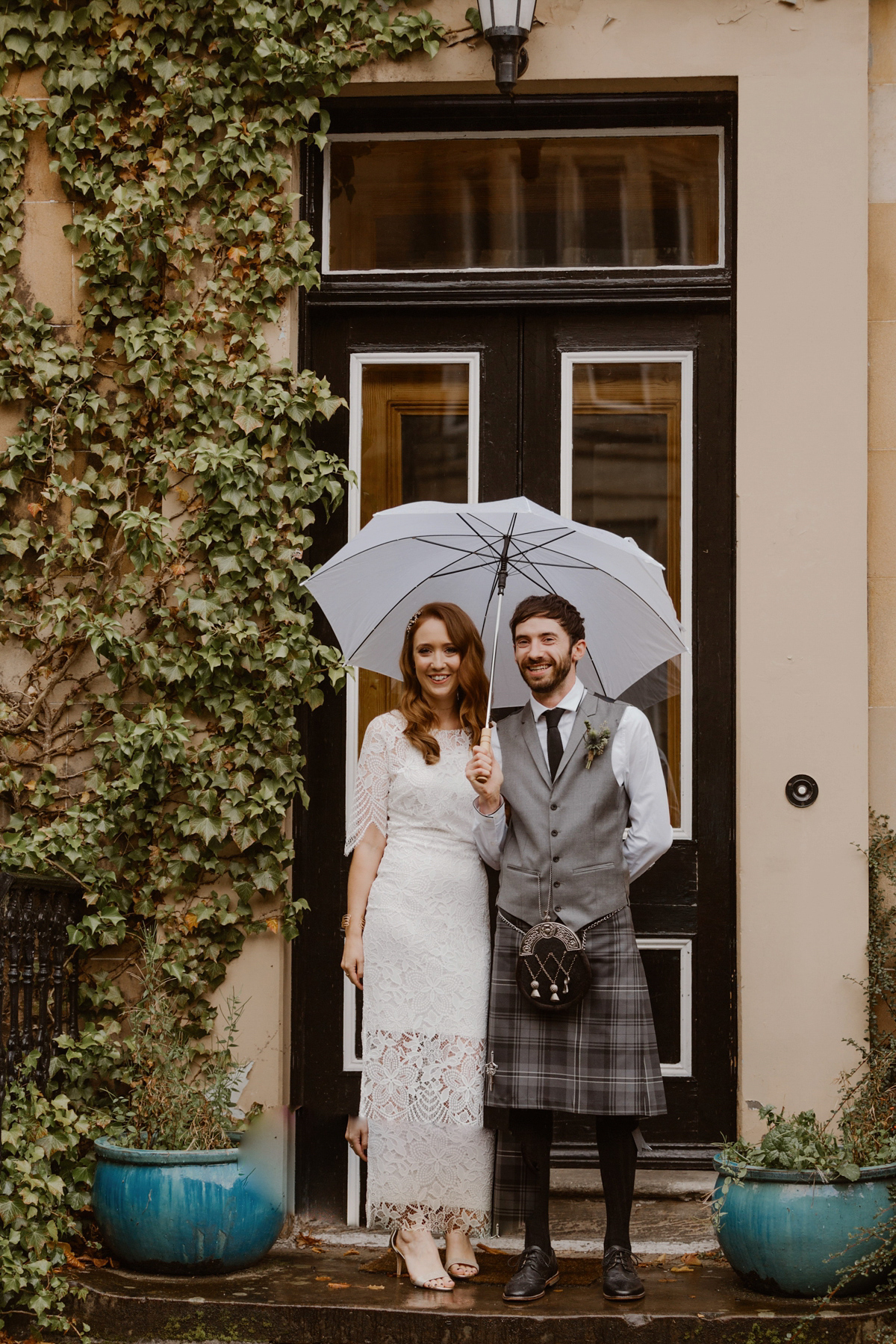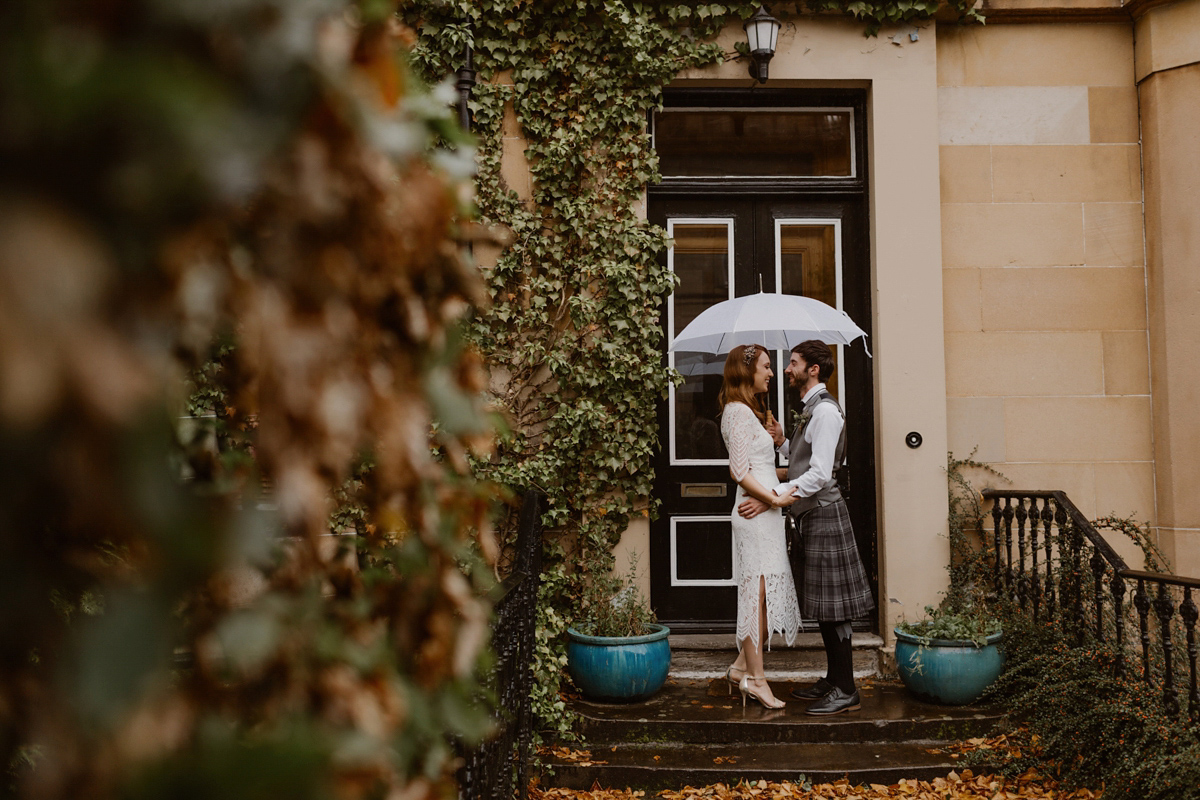 "We have lived in London for the past five years but wanted to get married back in Scotland where we are both originally from and where we met. We knew right from the get-go we wanted an industrial looking space, with lots of rooms that we could add our own DIY touches to."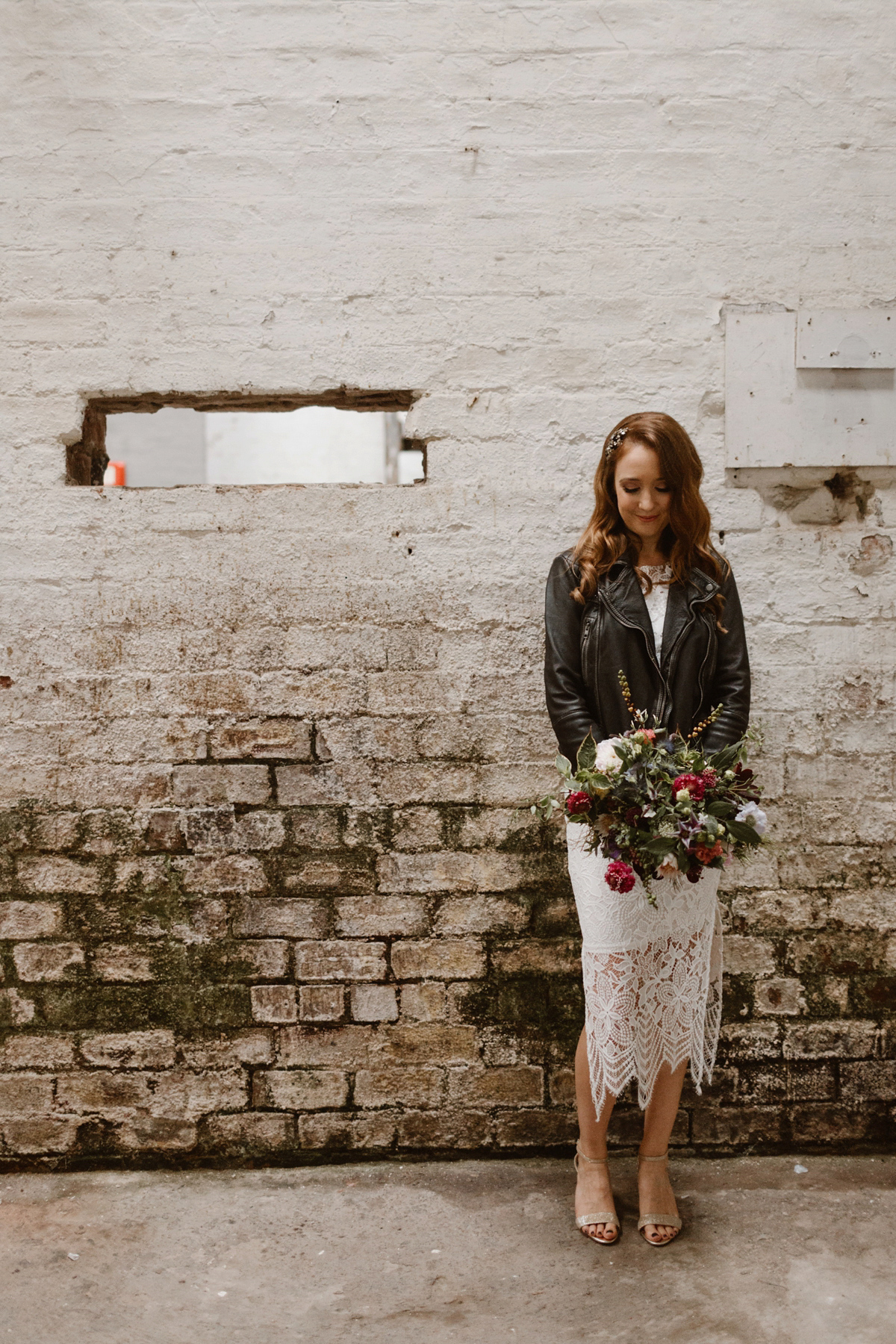 "Unfortunately this kind of venue is hard to find up in Scotland so after many hours of internet research we eventually found Woodside Warehouse and booked a viewing. An empty warehouse on an industrial estate is probably a lot of people's wedding nightmare! But for us it was perfect and we fell in love with its relaxed vibe the moment we saw it."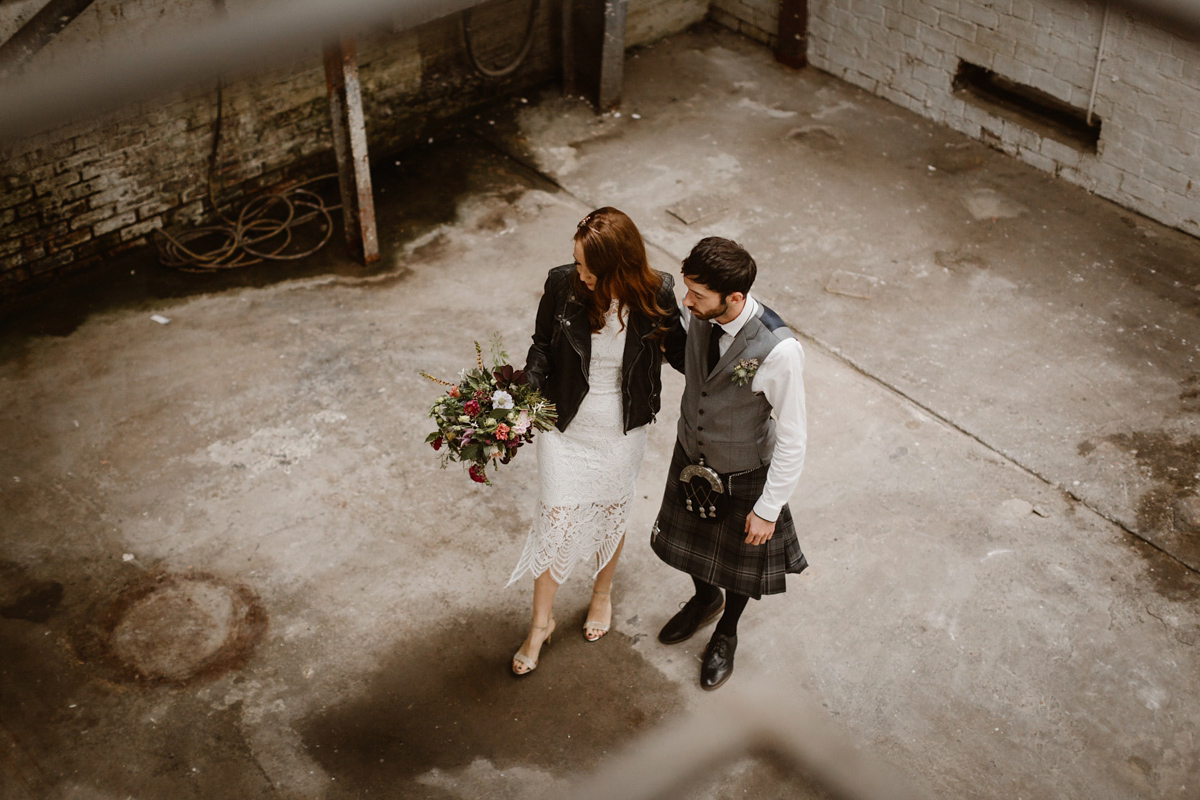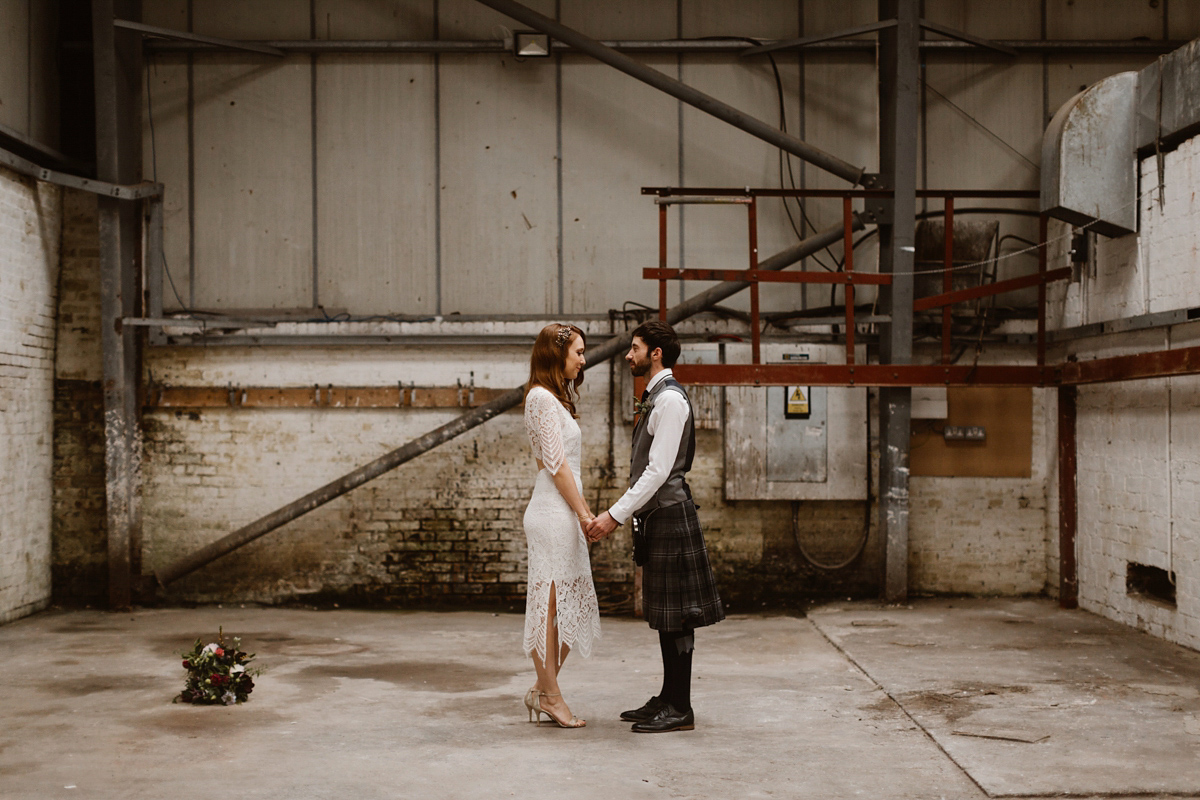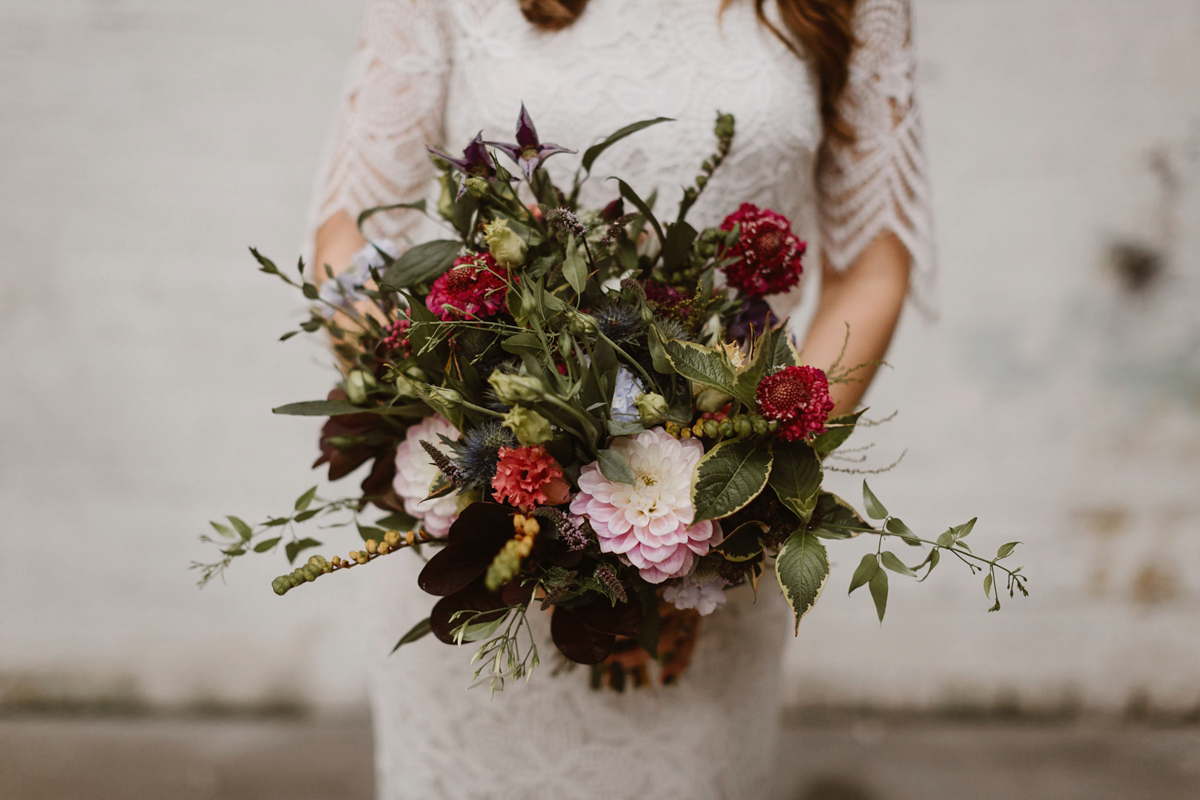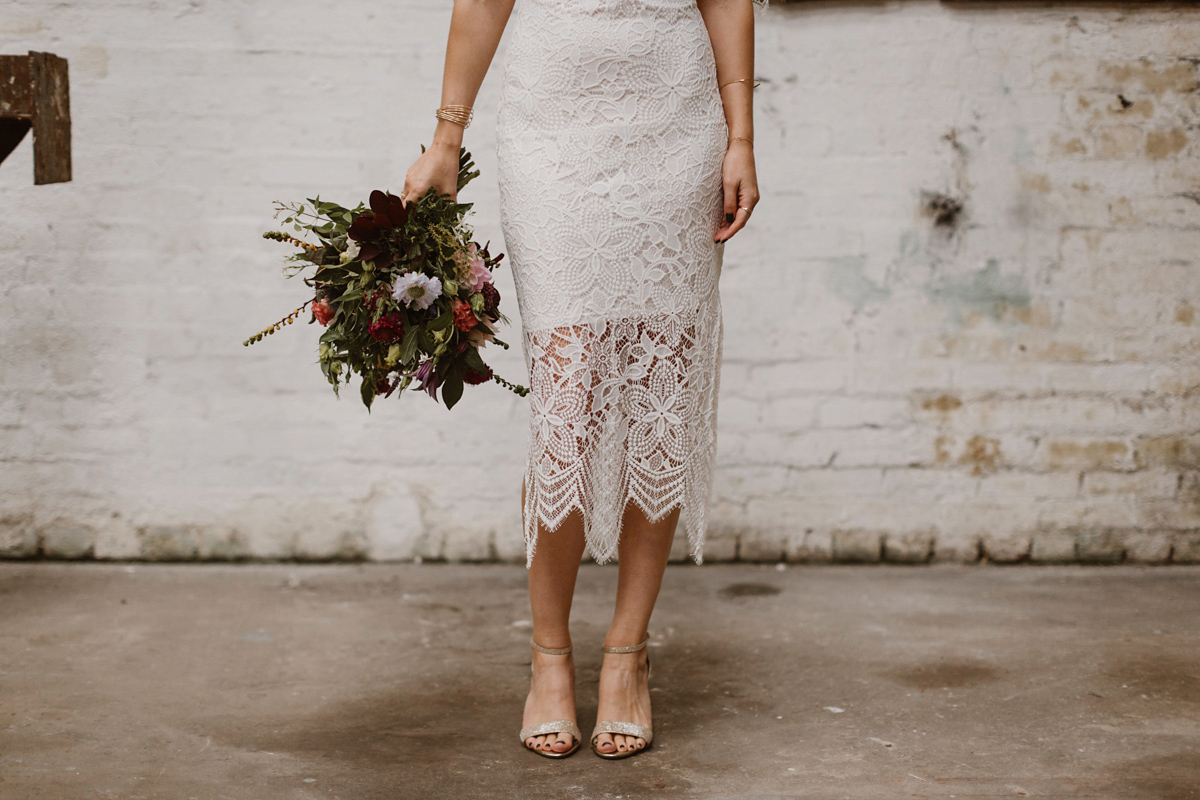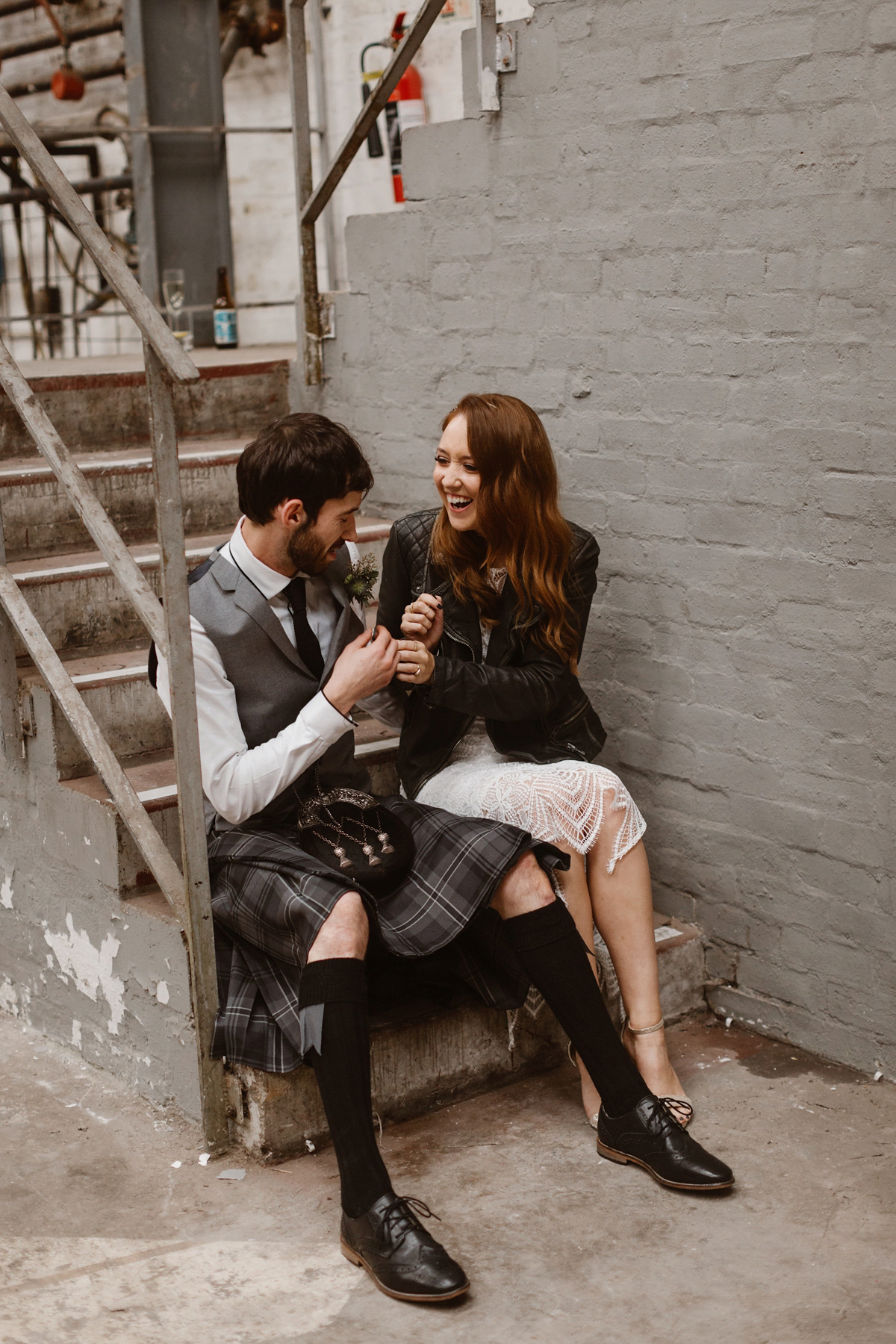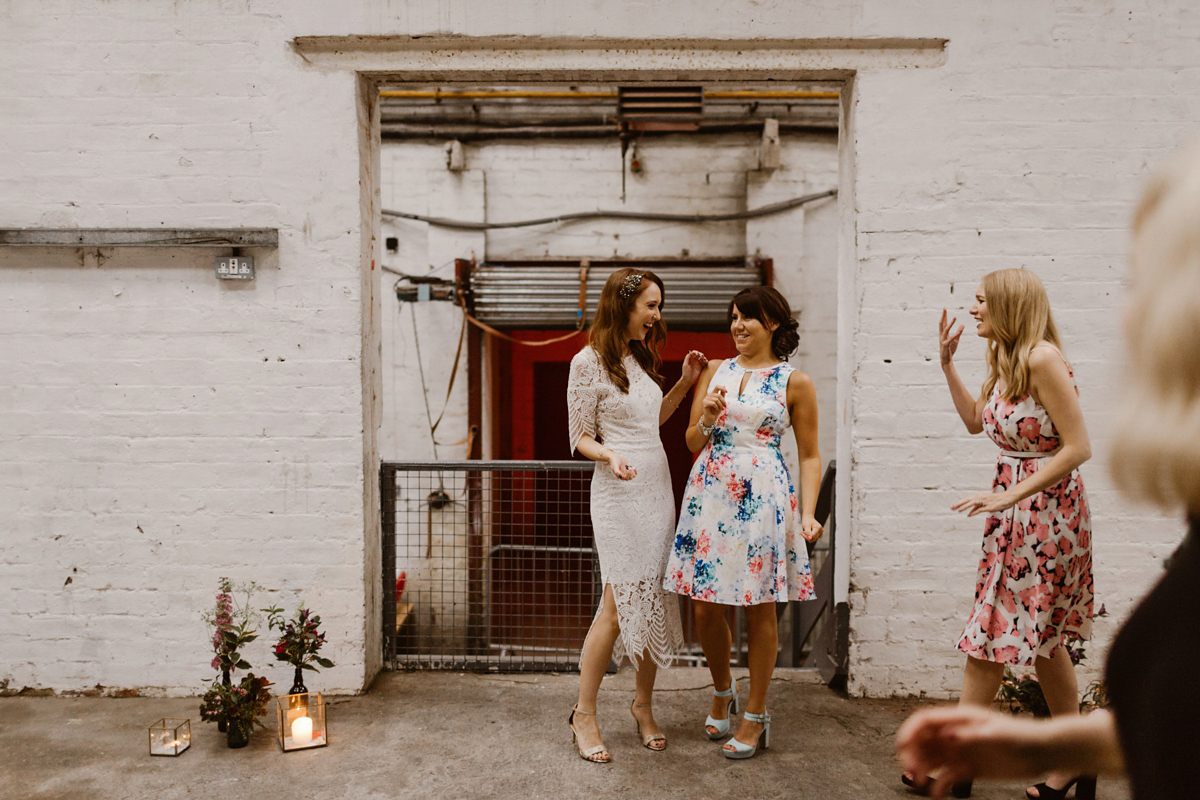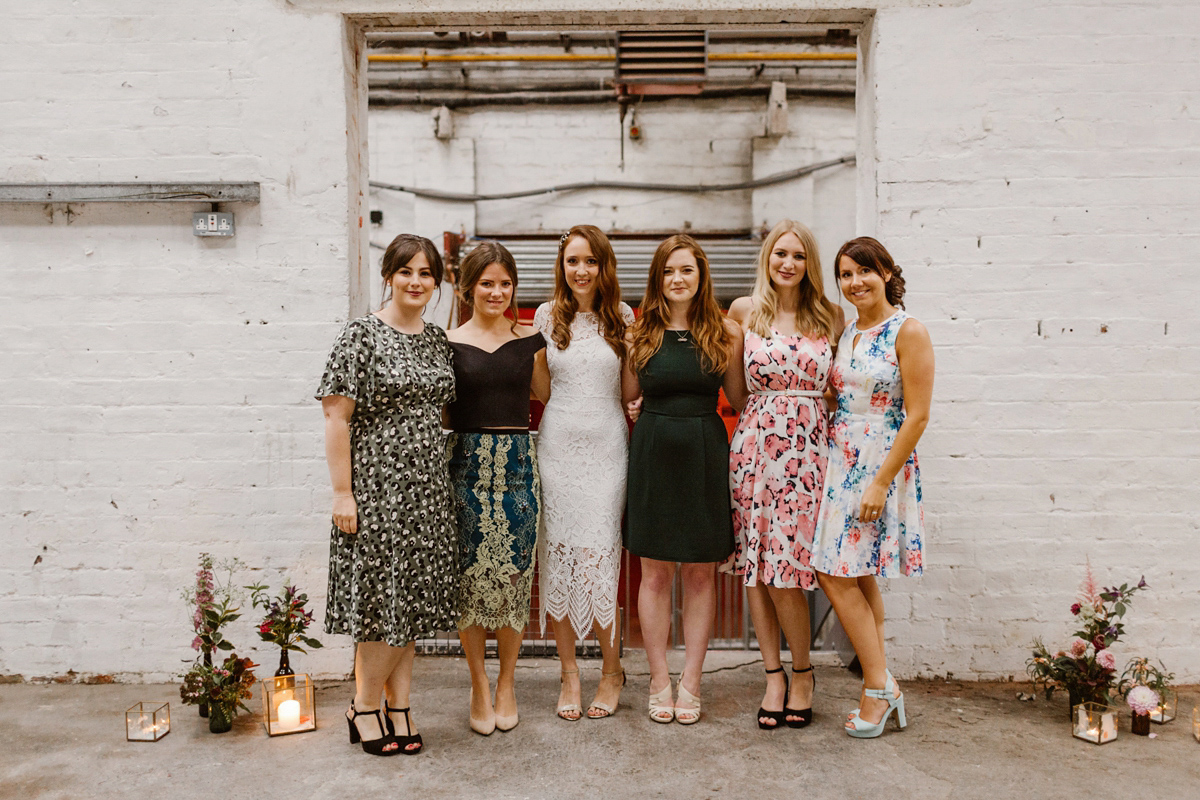 Katie's girls wore a section of high-street gems, in fact four out of the five dresses were ASOS sample sale purchases, and the fifth gorgeously embellished dress that the bride's sister wore was from TK Maxx.
I adore that soft blush pink against the sheer sections and intricate detailing of Katie's dress and who could fail to notice that gorgeous flower girl in her sweetly sophisticated pink Zara frock.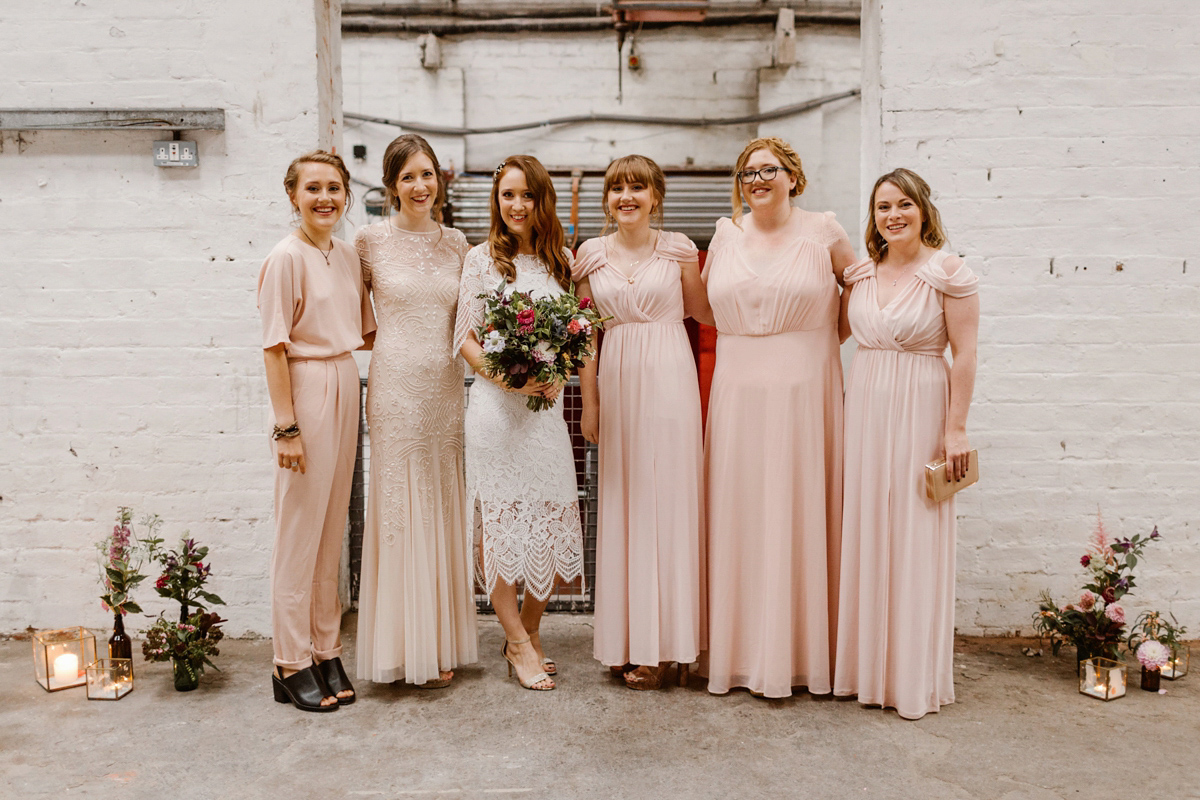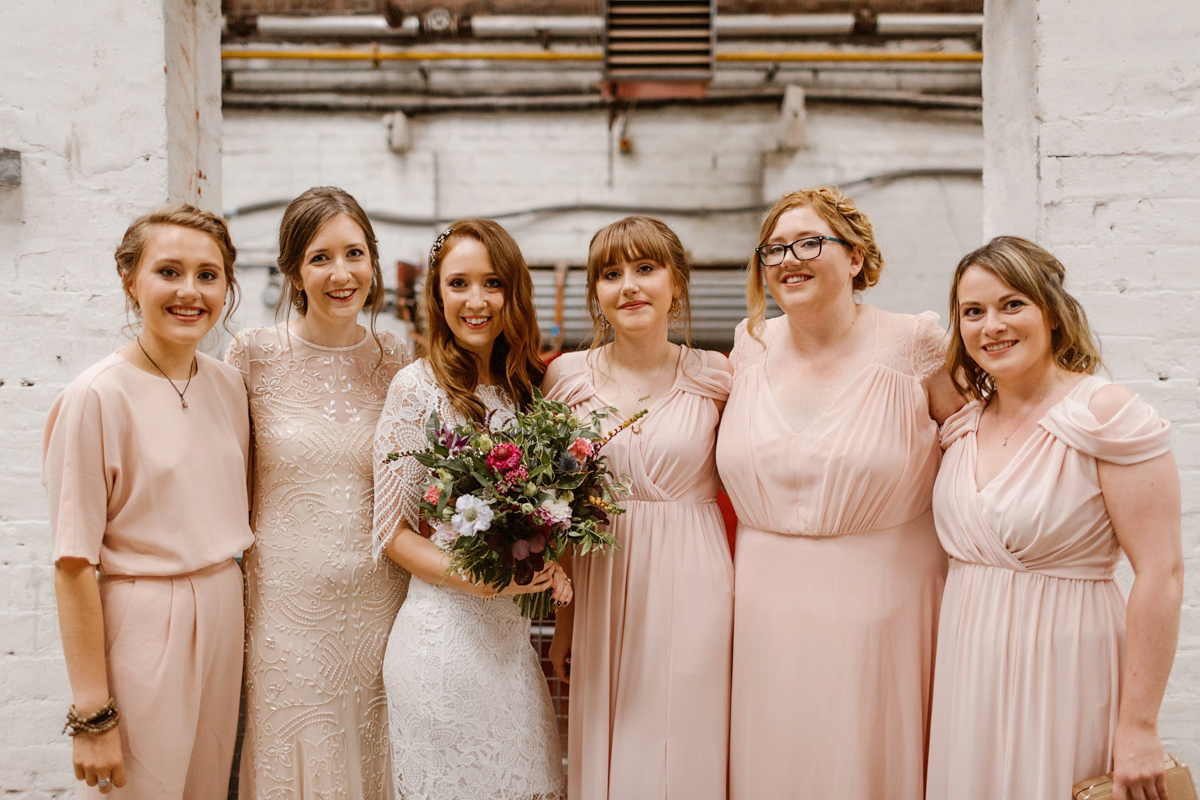 "I designed my own save the dates, invites, menus and order of events and we used Lisa from Sparrow & Rose for our flowers as well as lighting and props. I wanted the flowers to look wild and non-wedding-like and I got exactly what I was after."
I so love the brown glass bottles bursting with structural greenery and pops of floral colour. The addition of some eclectic rugs, fun paper decorations and heaps of white and gold confetti just add to the quirky charm of the couple's warehouse venue; a heart-stoppingly romantic fairy-light curtain as a ceremony backdrop twinkling away alongside festooned glowing bulbs. Katie's dad walked her down the aisle to the Birdy cover of Skinny Love and she and Ross found vows that spoke all the words they felt in their hearts.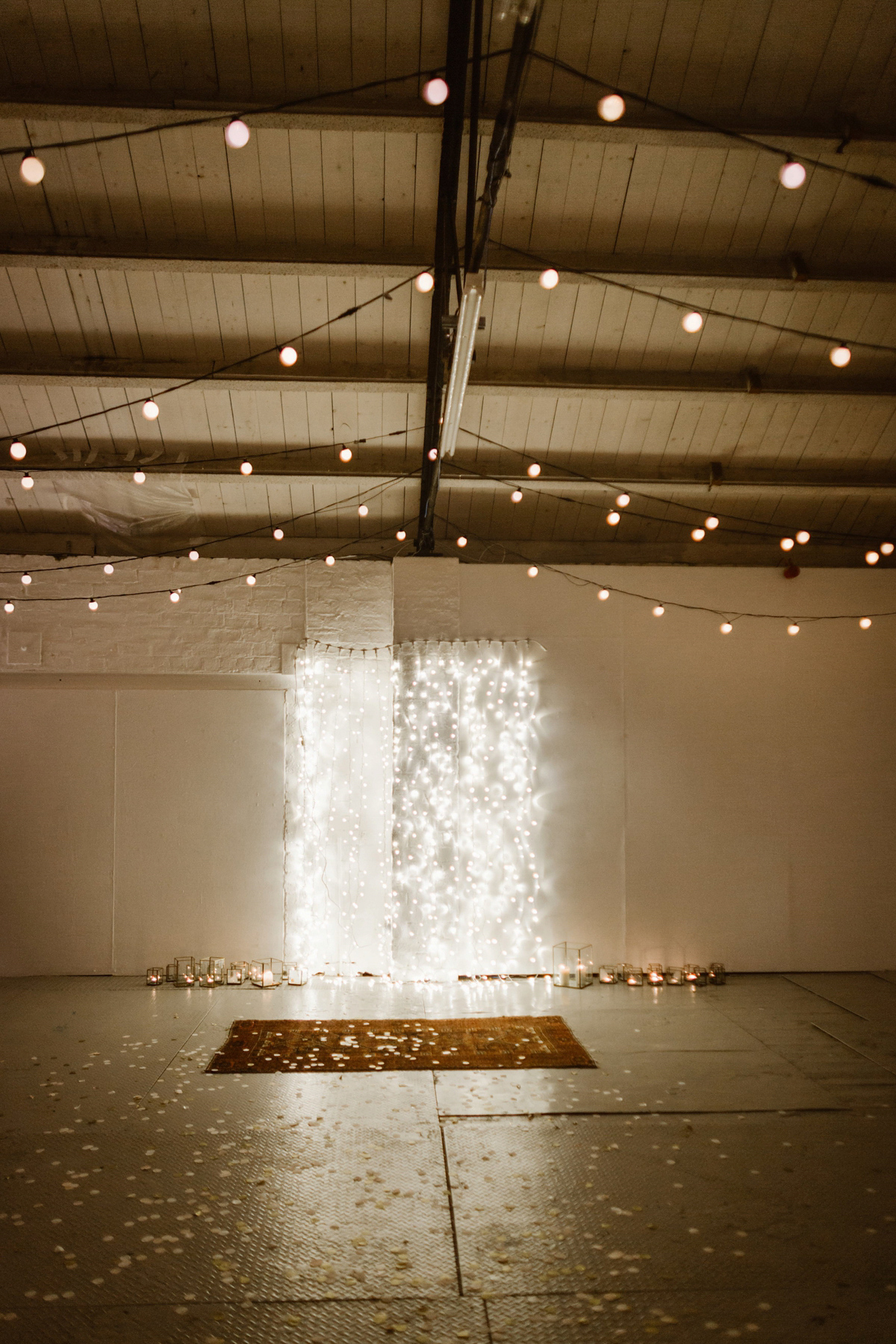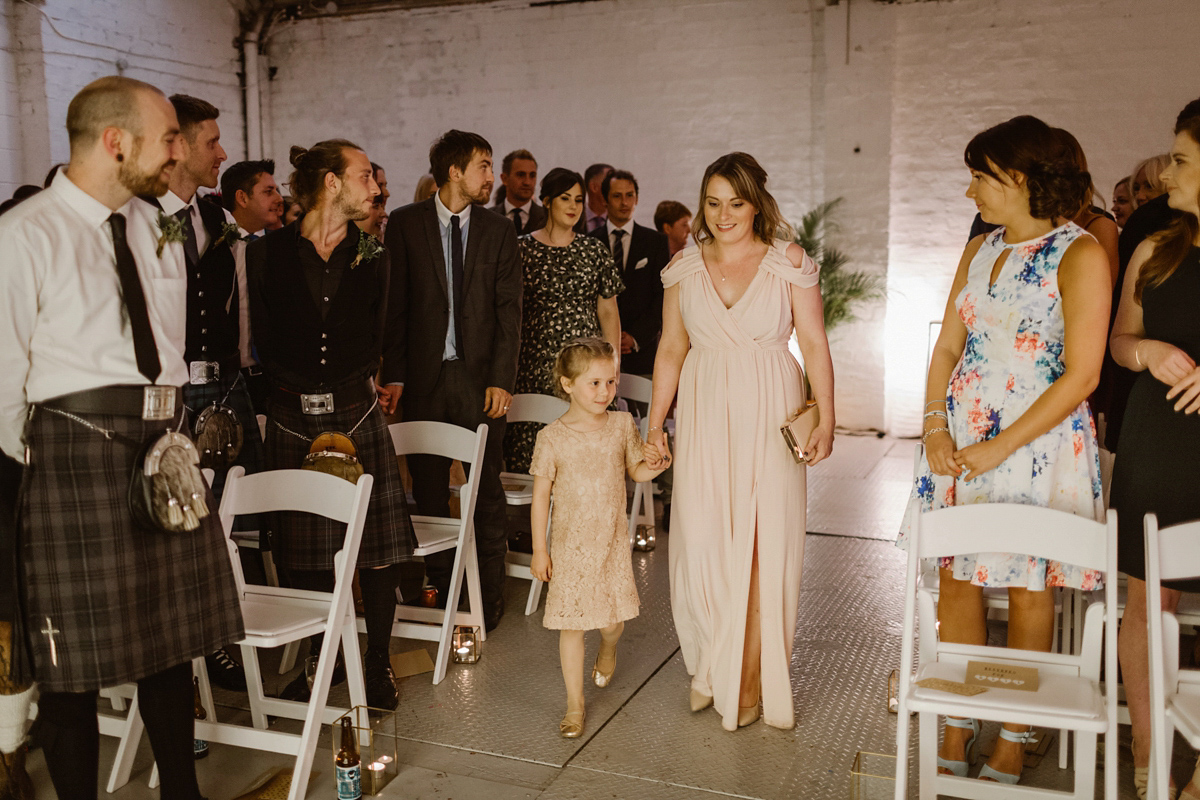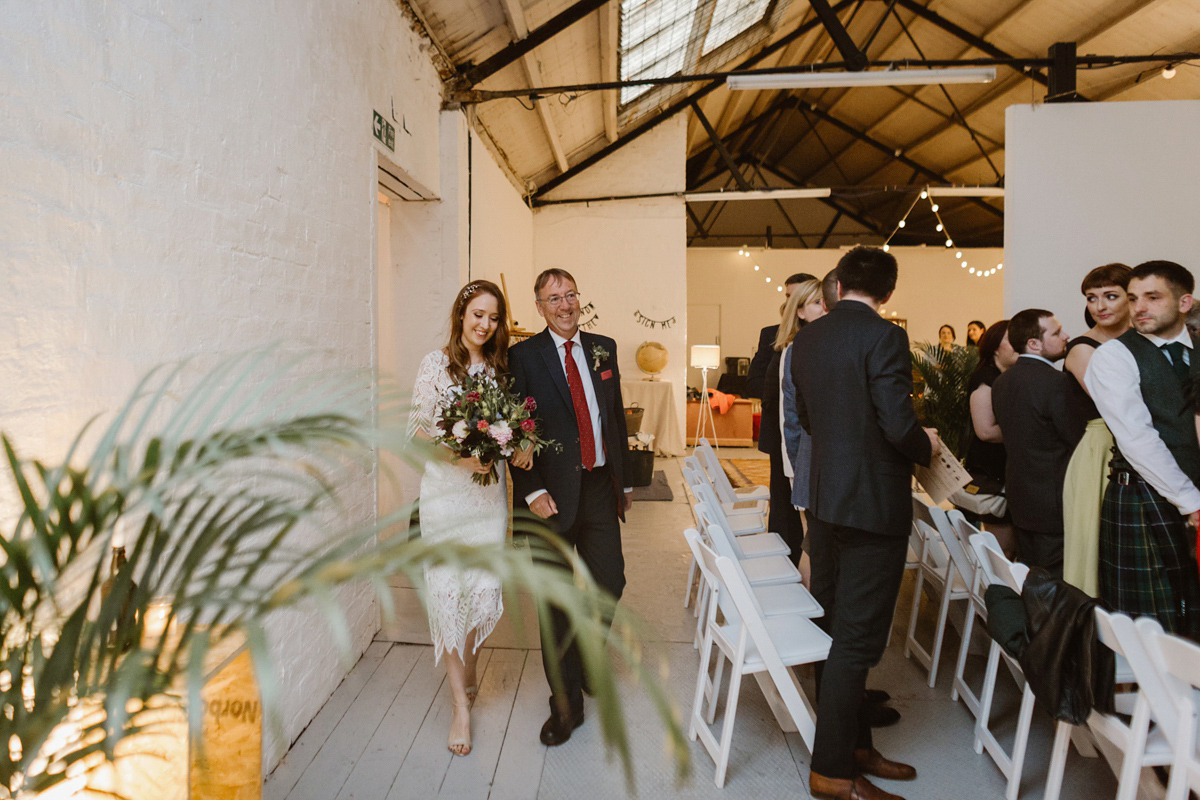 "We found our vows online, they were simple, to the point and were exactly what we wanted to say. We liked the idea of keeping all the vows and statements from the ceremony short but also achievable – for example not promising to be the best wife/husband in the entire world but promising to be the best wife/husband that we can be instead:"
"I promise to be your friend and partner,
and to walk beside you always;
to love you with all that I am as you love me;
to support, respect and share with you in all of life's decisions,
through joy and sadness, triumph and uncertainty, laughter and tears;
to have you every day in my life as long as we live."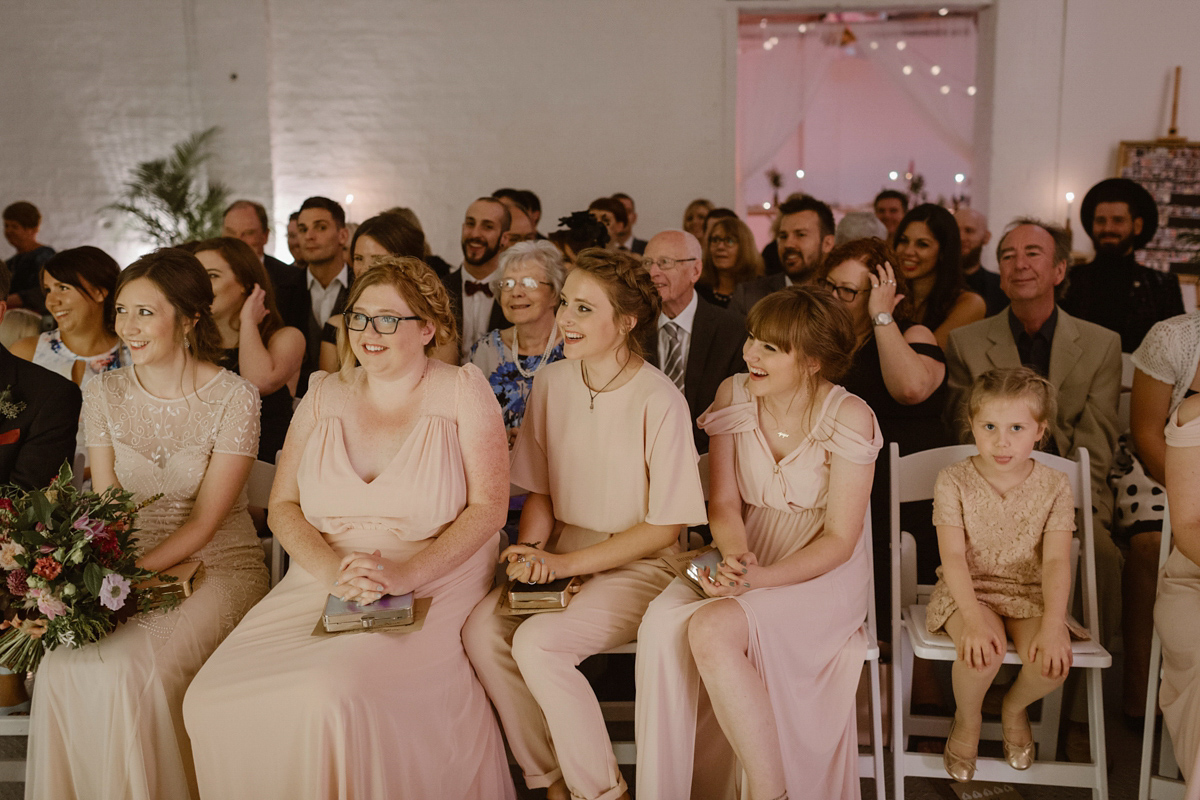 Katie and Ross' groomsman, Sunny, found and gave a Bob Marley reading. The couple loved the romance as well as they honesty of these words:
"Only once in your life, I truly believe, you find someone who can completely turn your world around.
She's not perfect – you aren't either, and the two of you will never be perfect…
But if he can make you laugh at least once, causes you to think twice, and if he admits to being human and making mistakes, hold onto him and give him the most you can.
He isn't going to quote poetry, he's not thinking about you every moment, but he's giving you a part of him that he knows you could break….
Smile when she makes you happy, yell when he makes you mad, and miss her when she's not there.
Love hard when there is love to be had.
Because perfect guys don't exist, but there's always one guy that's perfect for you."
"We chose the J. Cooper Clarke poem (which was read by my three best friends) because we are big Artic Monkeys fans. We played The Artic Monkeys track 'R U Mine?' when we came back up the aisle after being married and we loved the lyrics to their song 'I Wanna Be Yours,' which was adapted from this poem so when we heard this version we loved it even more:"
"I wanna be your vacuum cleaner
breathing in your dust
I wanna be your Ford Cortina
I will never rust
If you like your coffee hot
let me be your coffee pot
You call the shots
I wanna be yours
I wanna be your raincoat
for those frequent rainy days
I wanna be your dreamboat
when you want to sail away
Let me be your teddy bear
take me with you anywhere
I don't care
I wanna be yours
I wanna be your electric meter
I will not run out
I wanna be the electric heater
you'll get cold without
I wanna be your setting lotion
hold your hair in deep devotion
Deep as the deep Atlantic ocean
that's how deep is my devotion."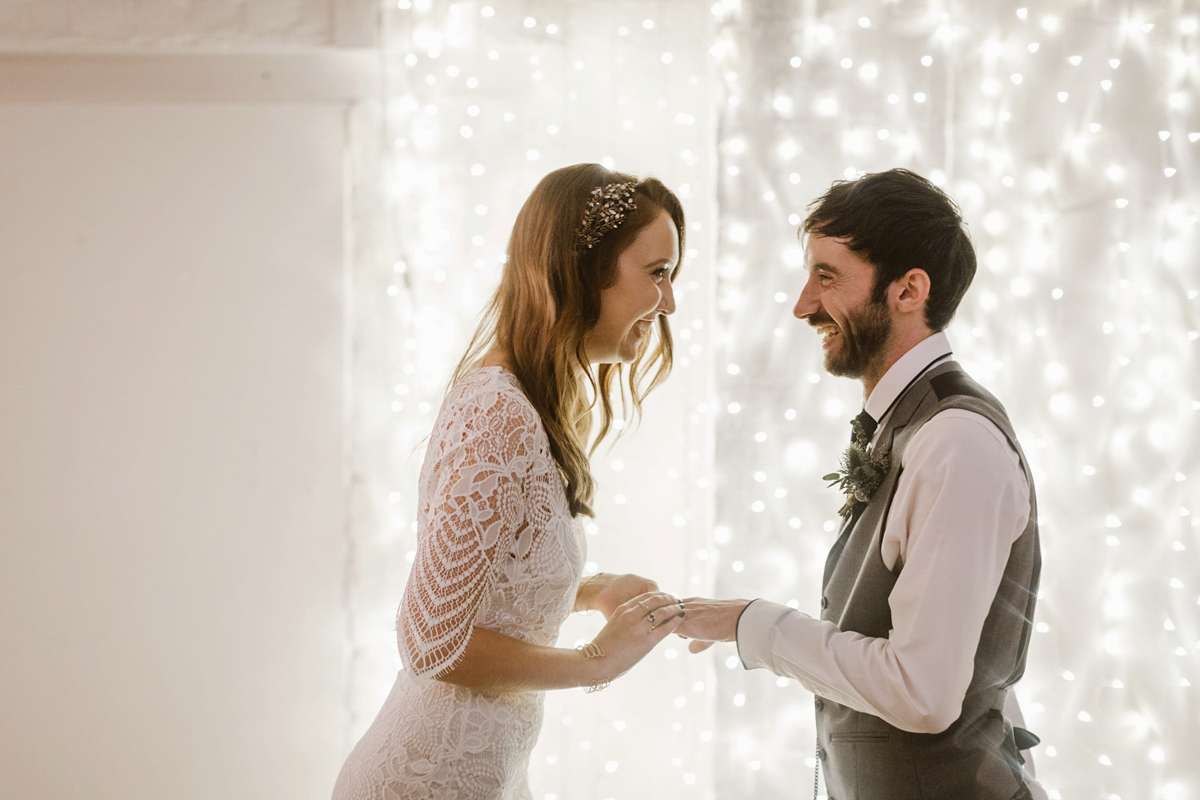 Katie chose her wedding ring from jeweller, Katie Lees, while Ross went for a durable band from H.Samuel, able to stand a few knocks from his active skating hobby. Our bride hunted high and low for a simple yet unique band to fit around her vintage engagement ring – not an easy task, but Katie Lees fashioned a perfect custom-made creation.
"We have to mention our amazing humanist Claire. She gave us the perfect, hilariously funny ceremony and made us feel relaxed at the same time!"
Bubbles firmly in hand after their laughter-filled humanist union, the newlyweds sat down to a wedding meal provided by Reagan Hallett Catering followed by a cake created by Lynsey at Custom Cakes. This gorgeous scene was lit by candles and light boxes, while paper pom poms and chains added a colourful touch.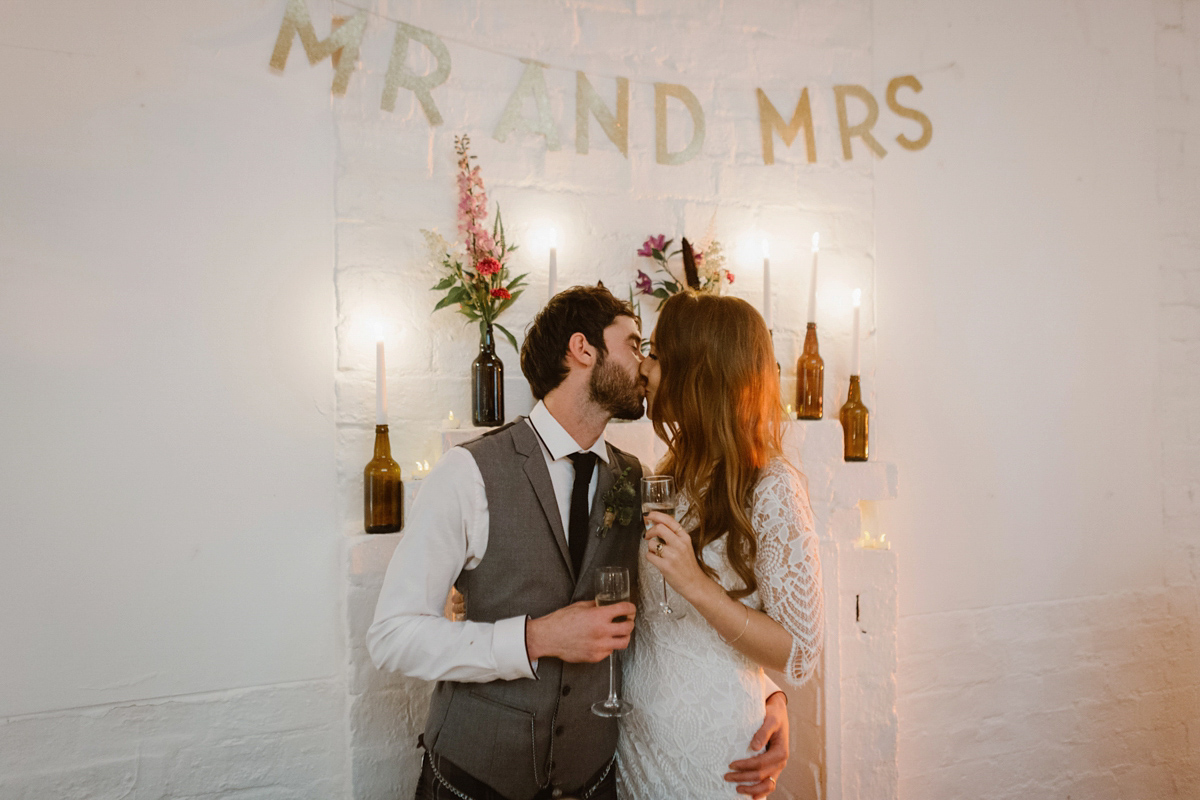 "We sourced our light up arrow & light up Bar sign from Go2 Event Hire and we gave out shots of alcohol for our wedding favours. I sourced mini jars from Lakeland filled them with a variety of booze and added homemade tags and twine to each one saying what they were. They went down really well and worked as an icebreaker around the table."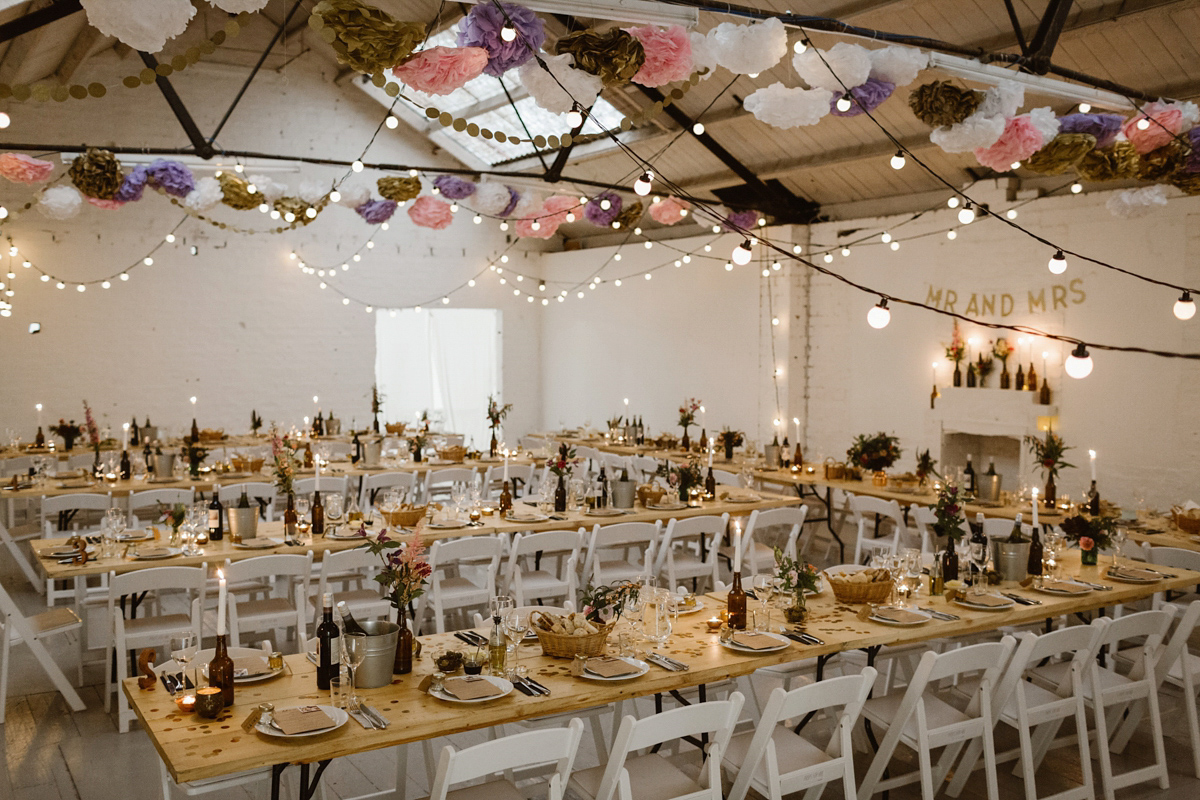 The newlyweds made the decision on the morning of their wedding, that every time one of them wanted a drink or needed to leave the room, they'd find each other and go together. These precious moments of time alone were so precious to Katie and Ross and I'm going to be sure to snatch a few of these quiet moments on my wedding day.
"My favourite part of the whole day was coming back into the room together and seeing all our friends and family laughing, dancing and generally having such a good time."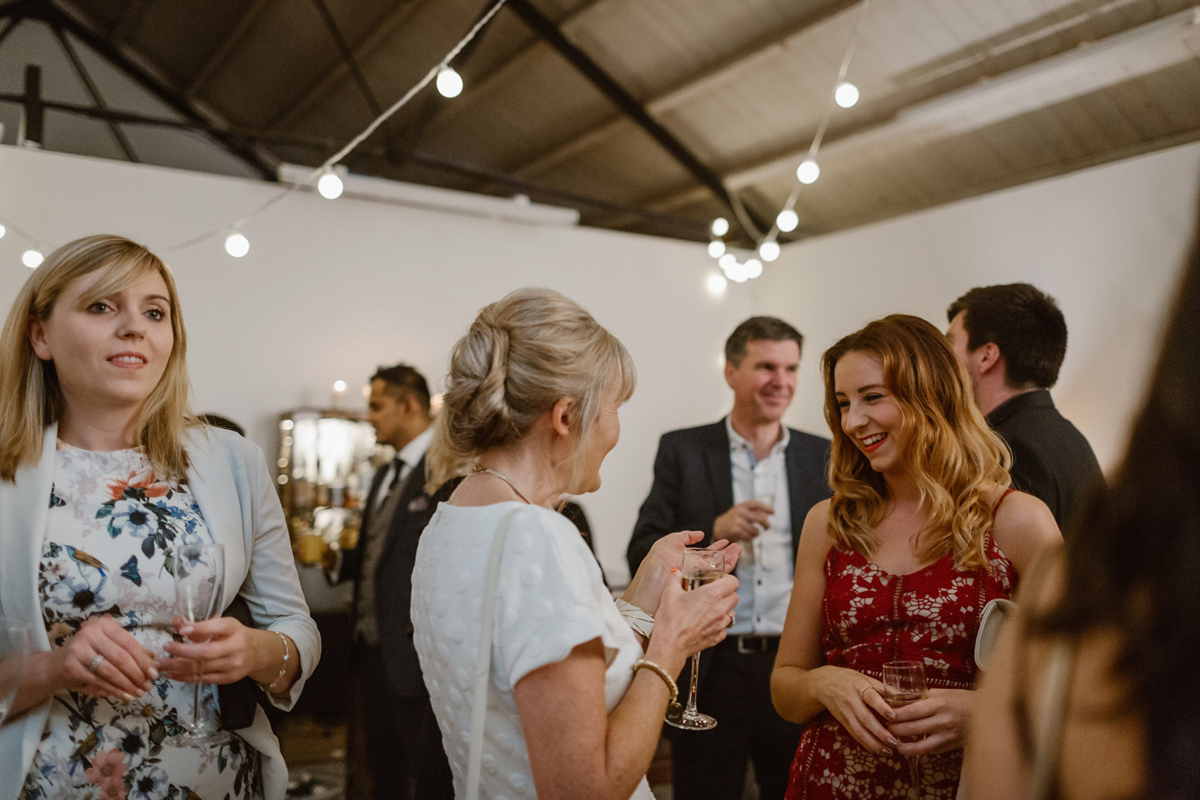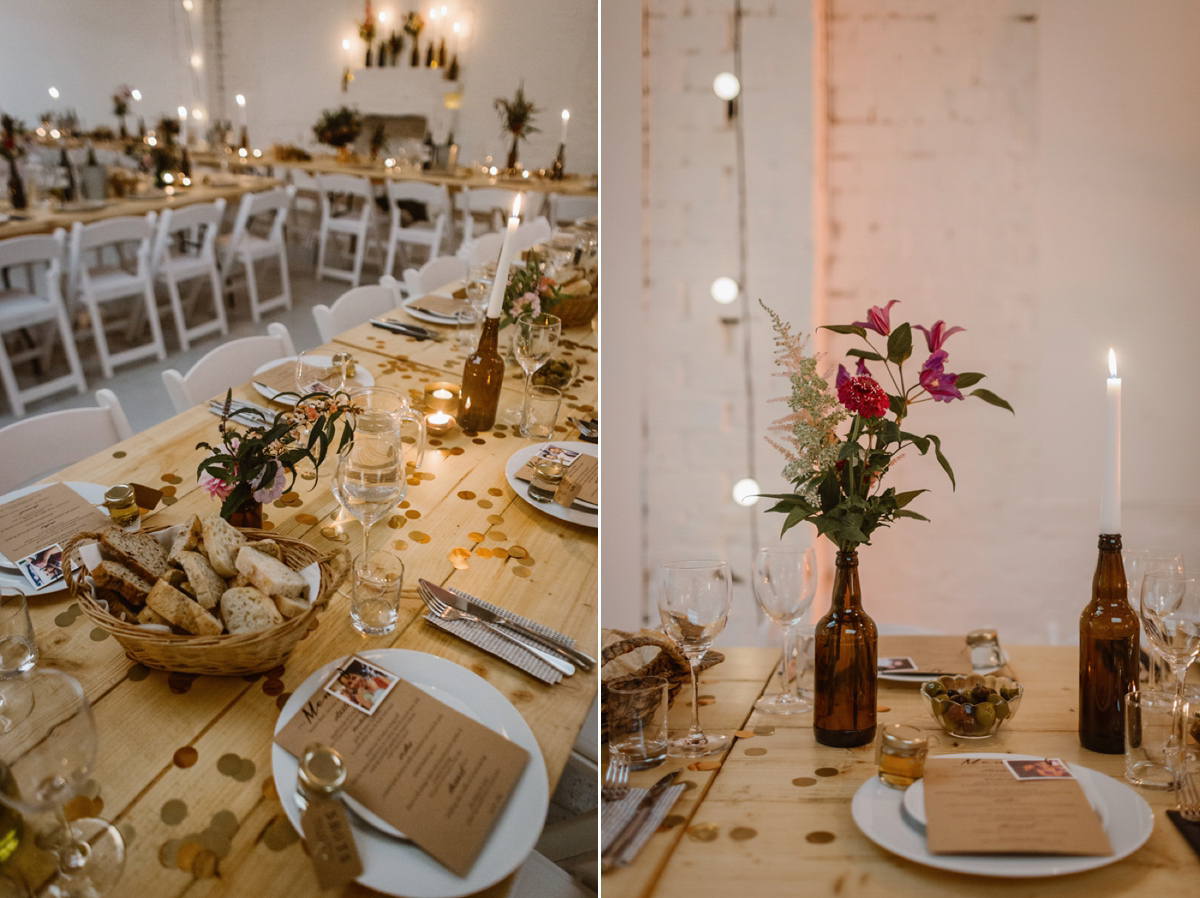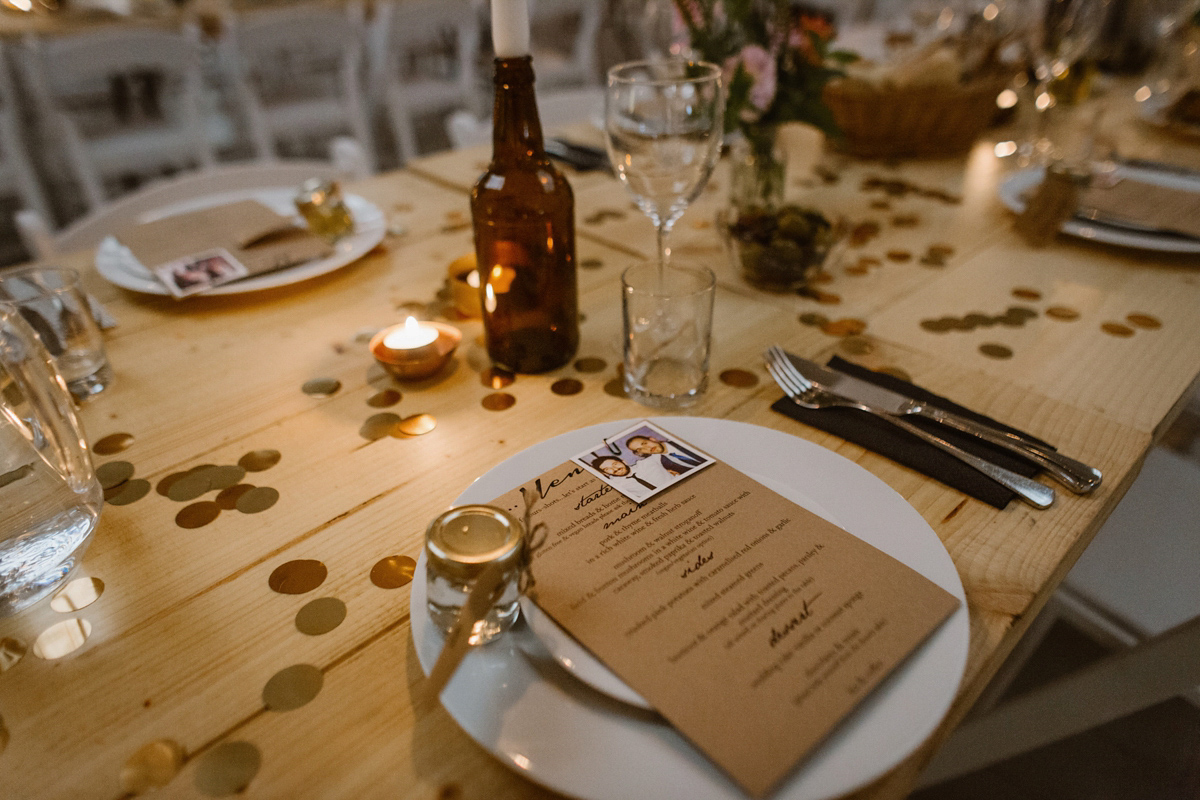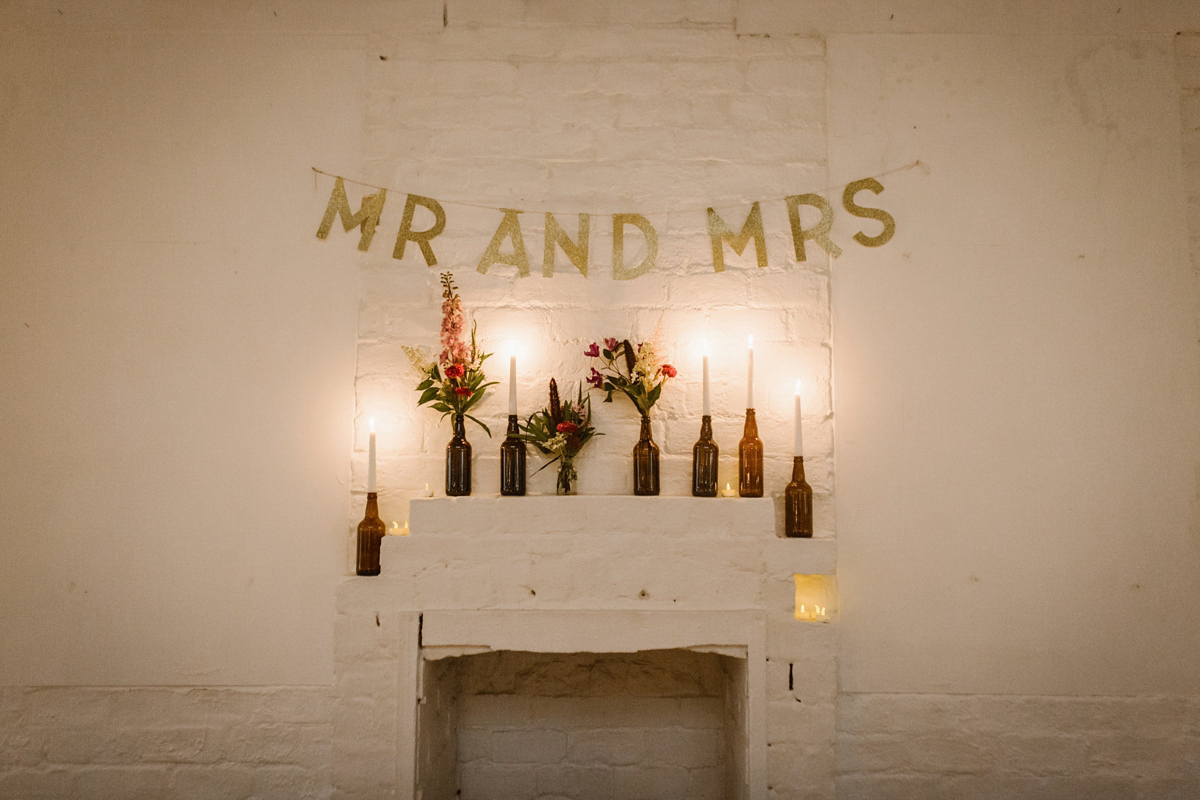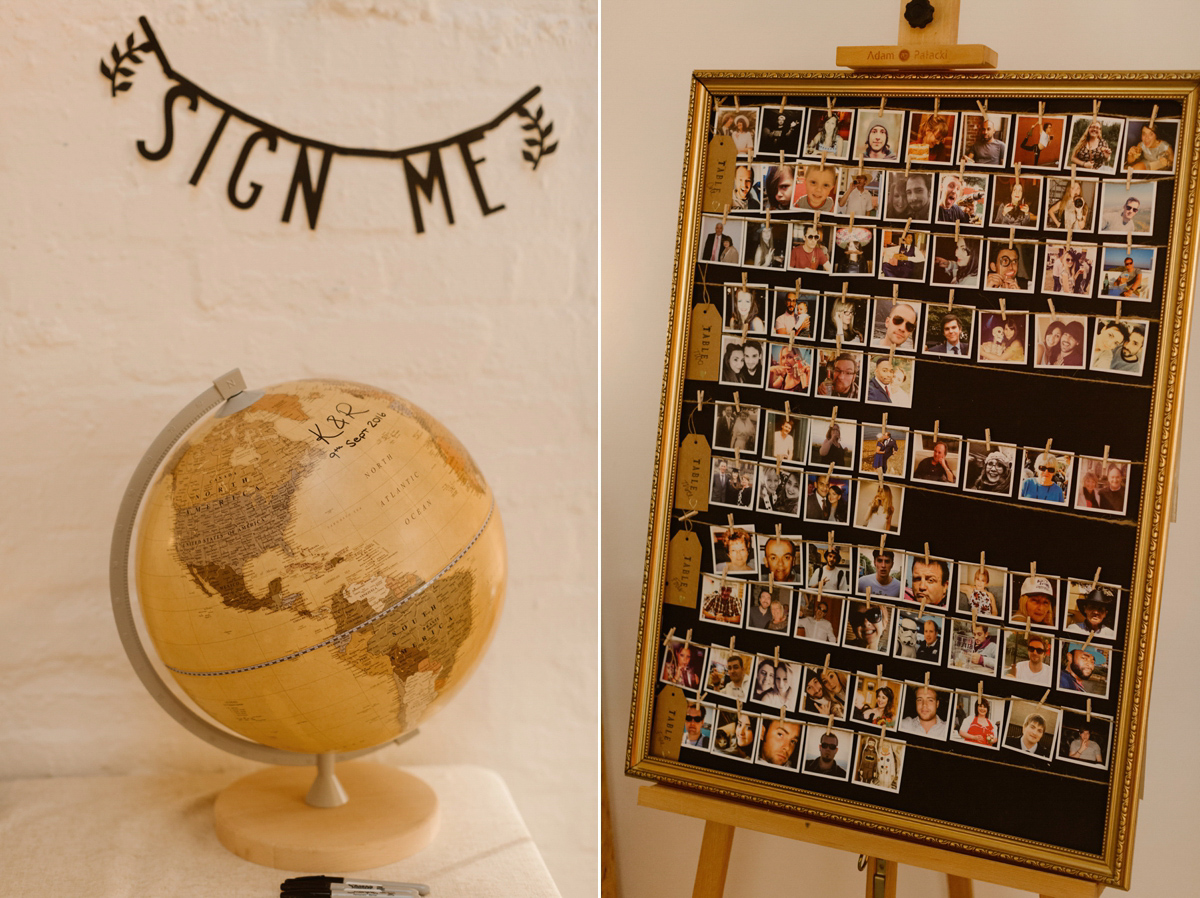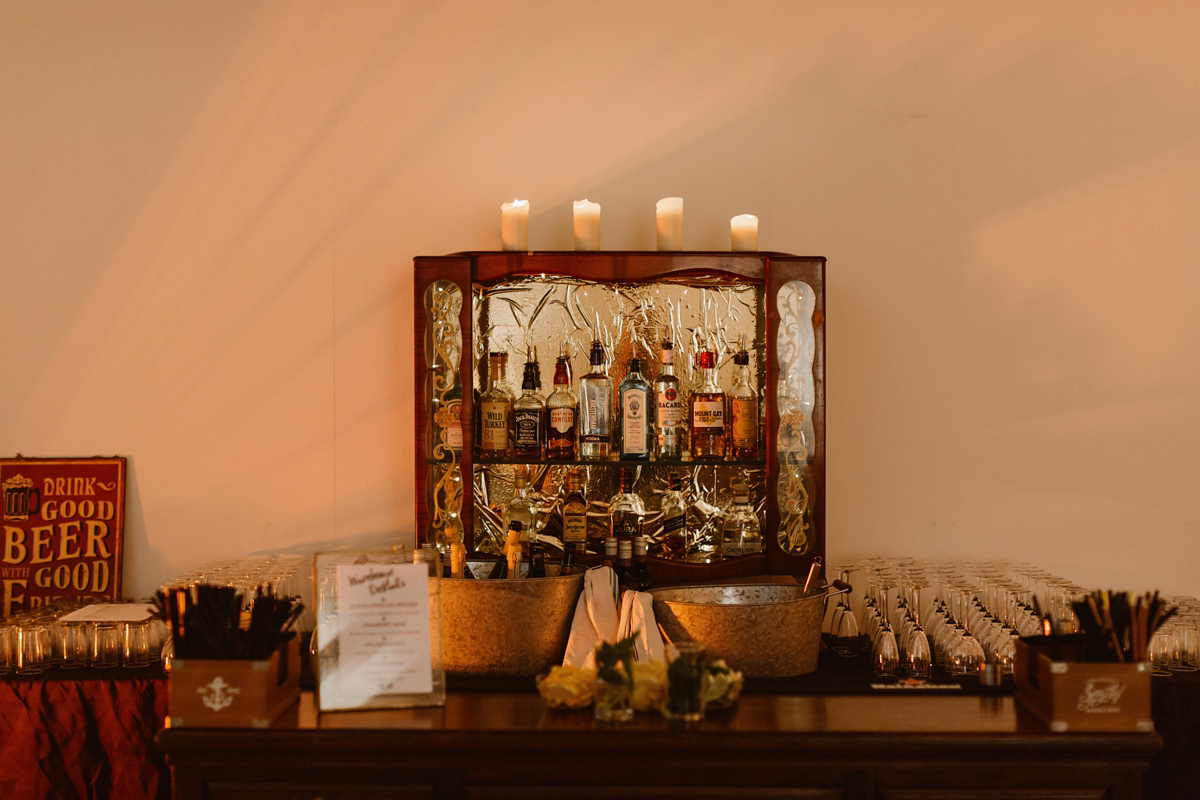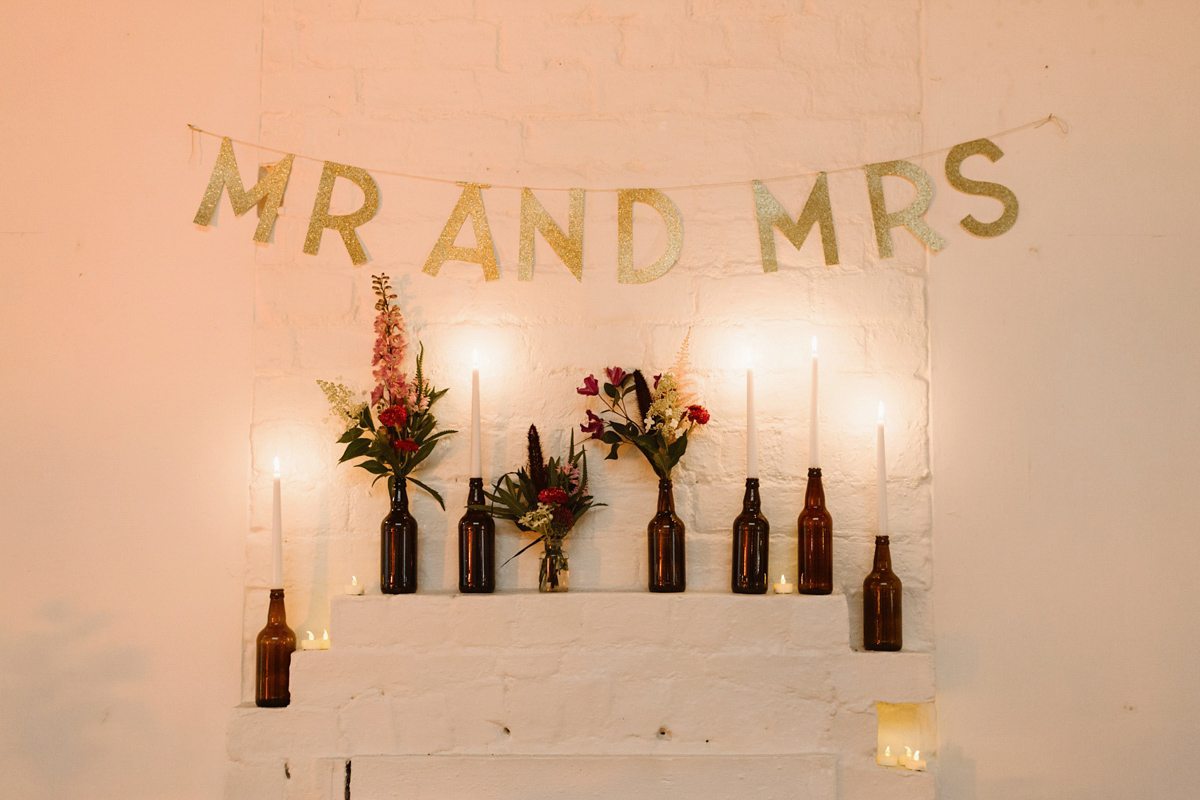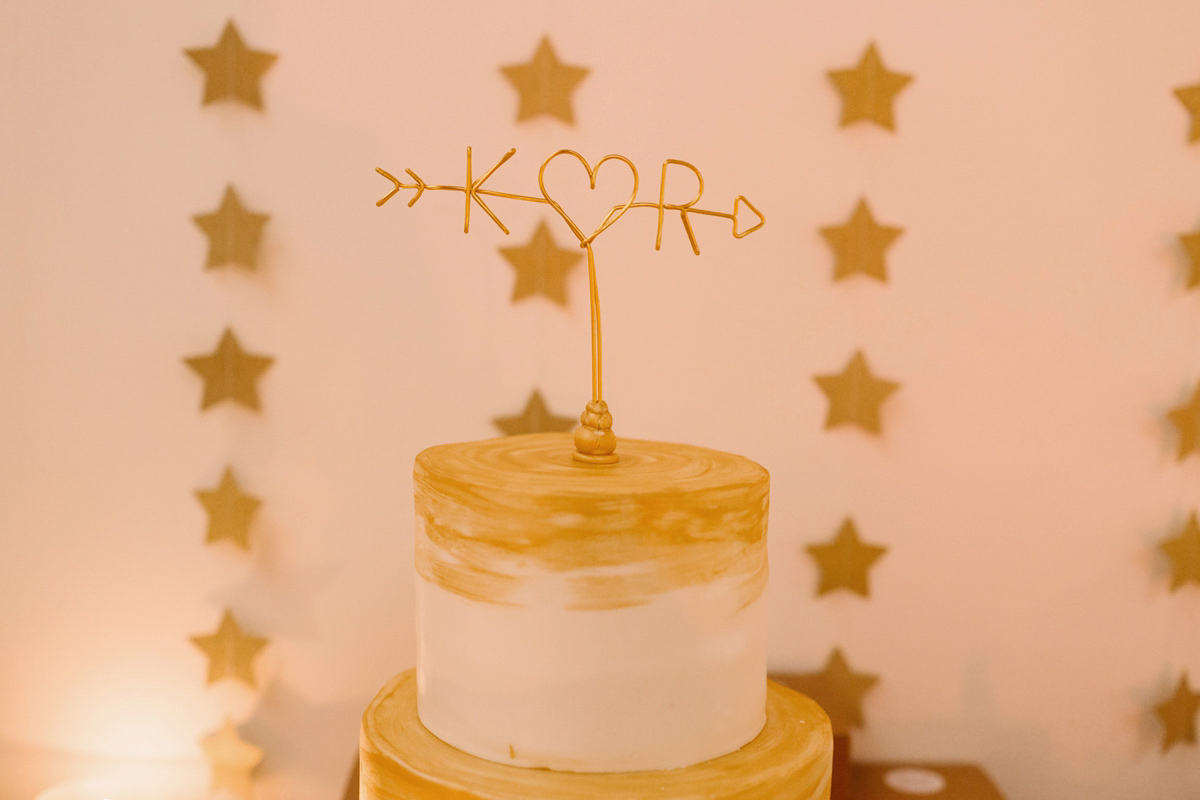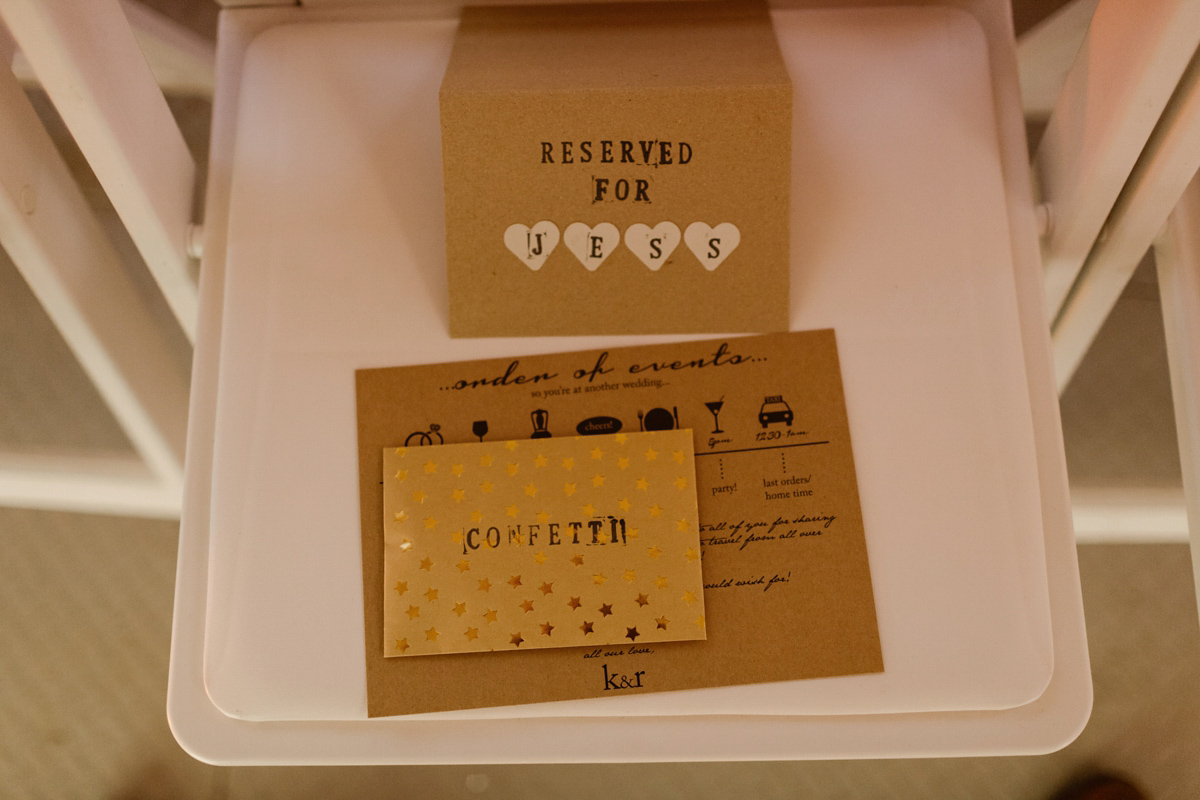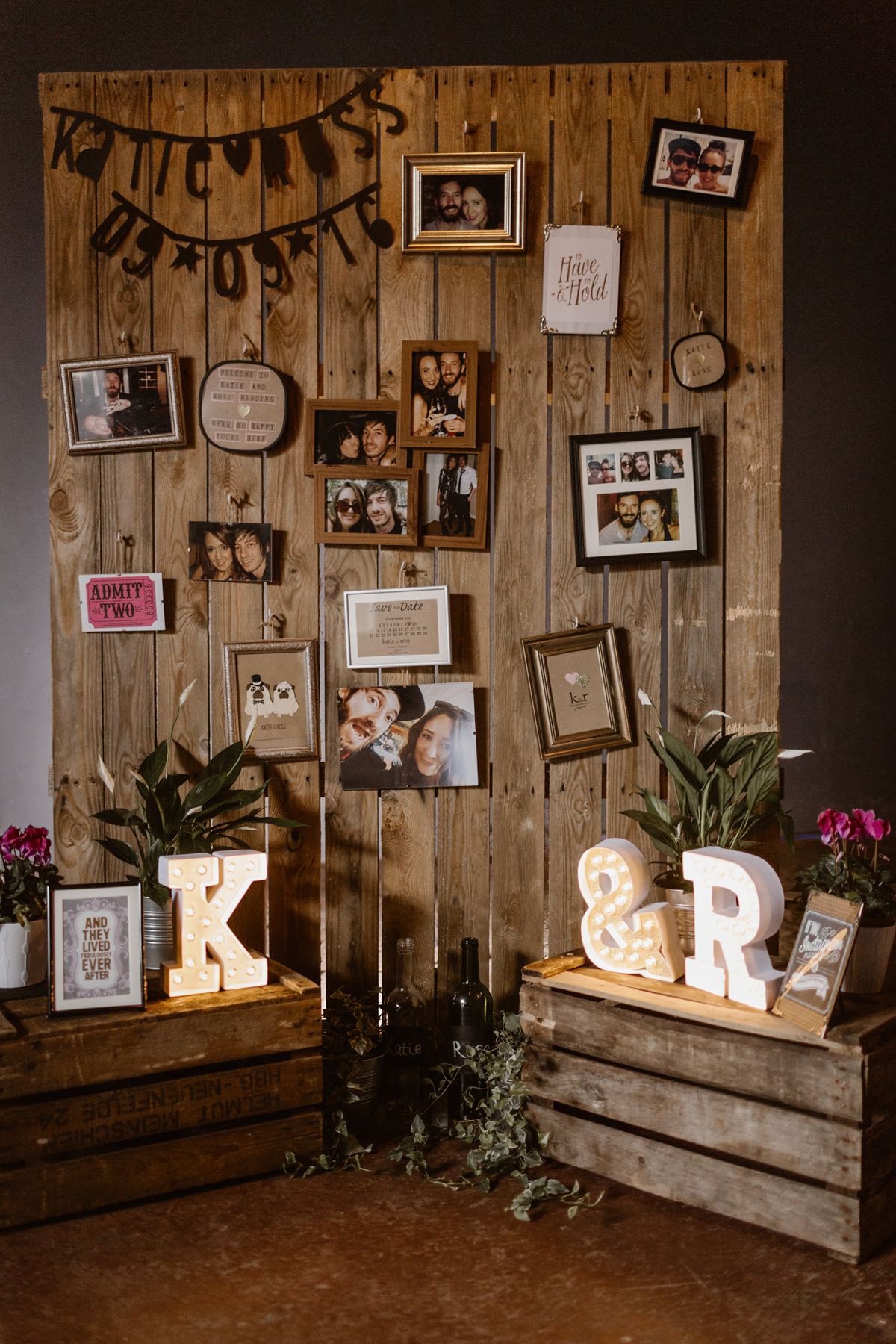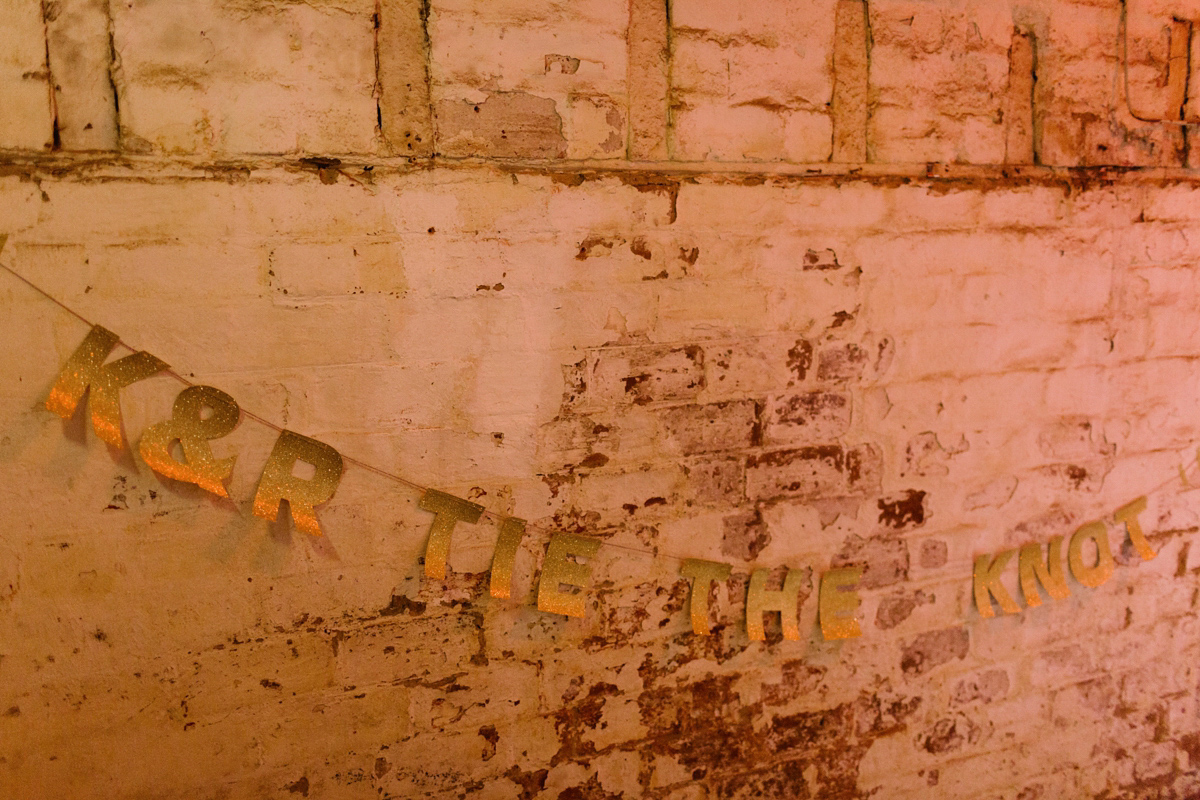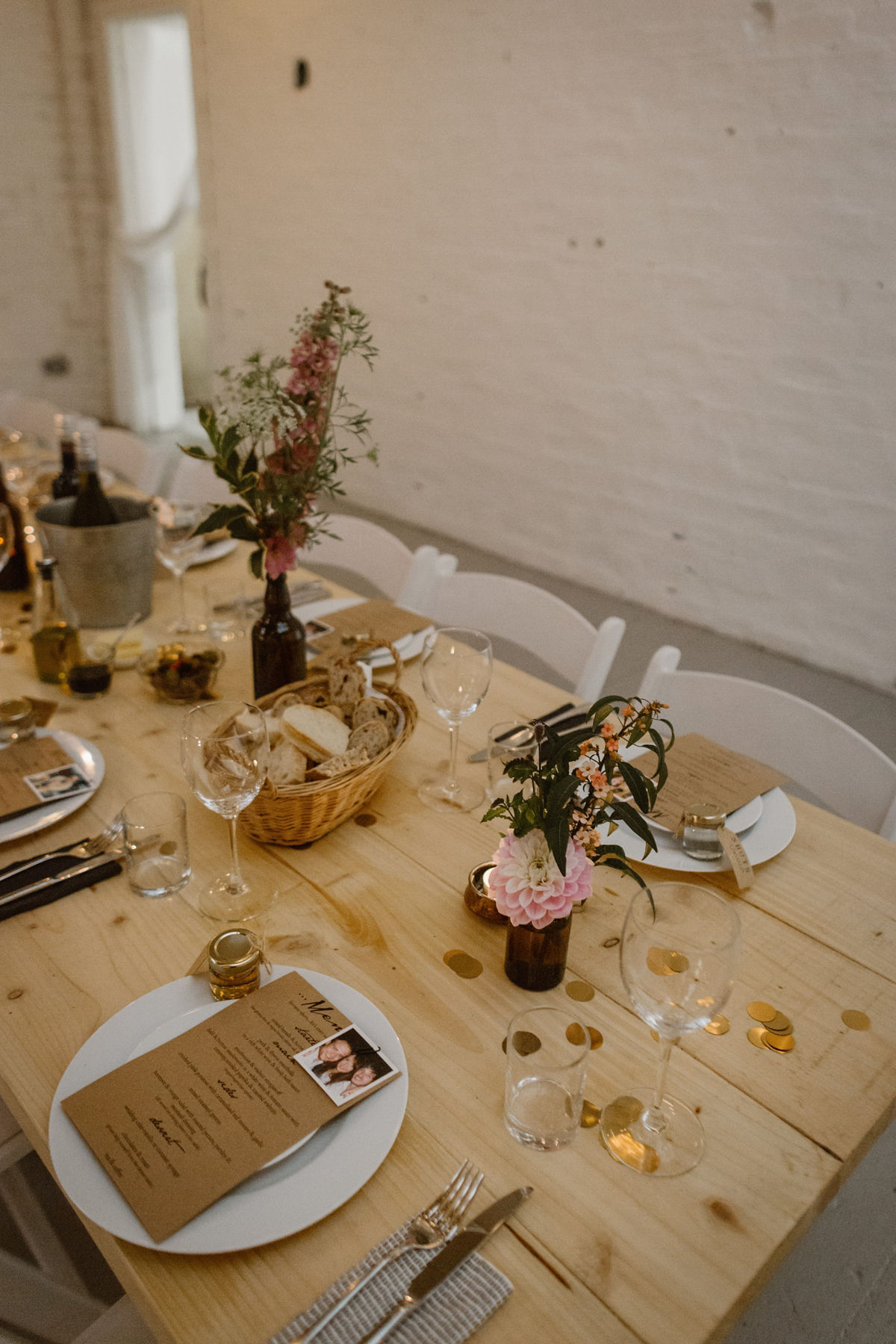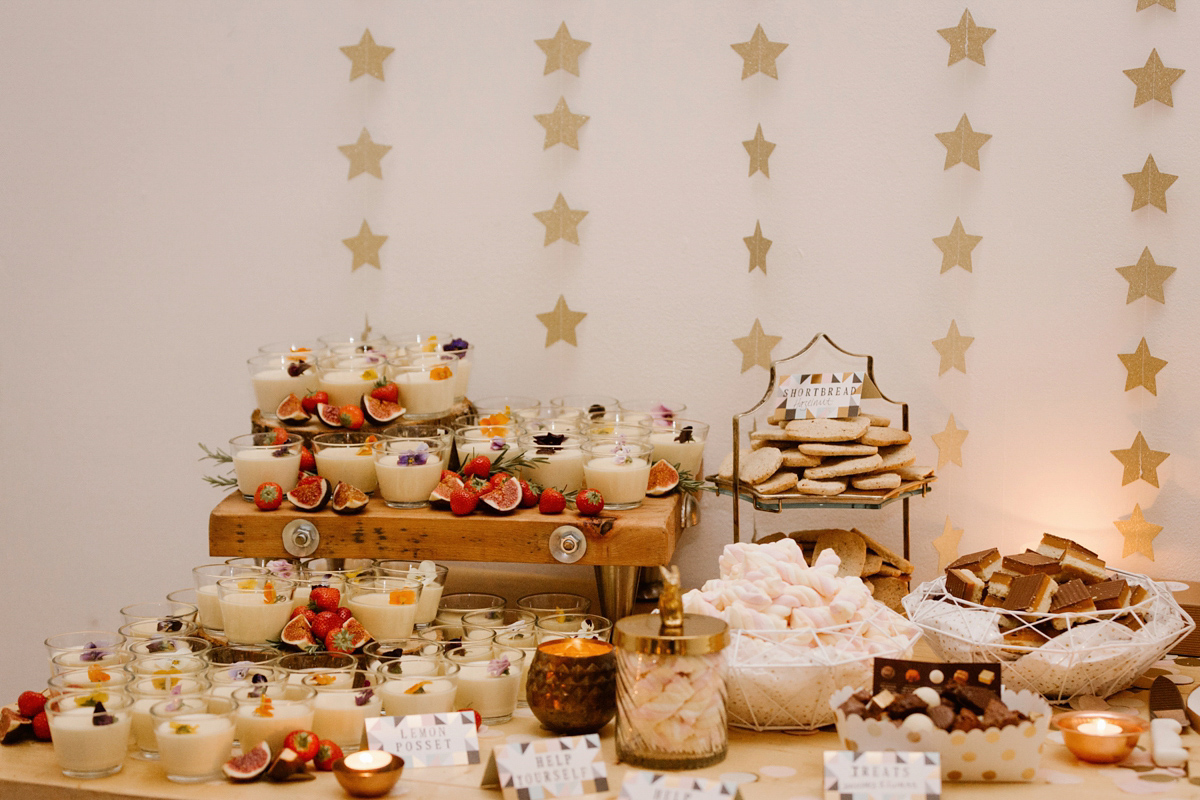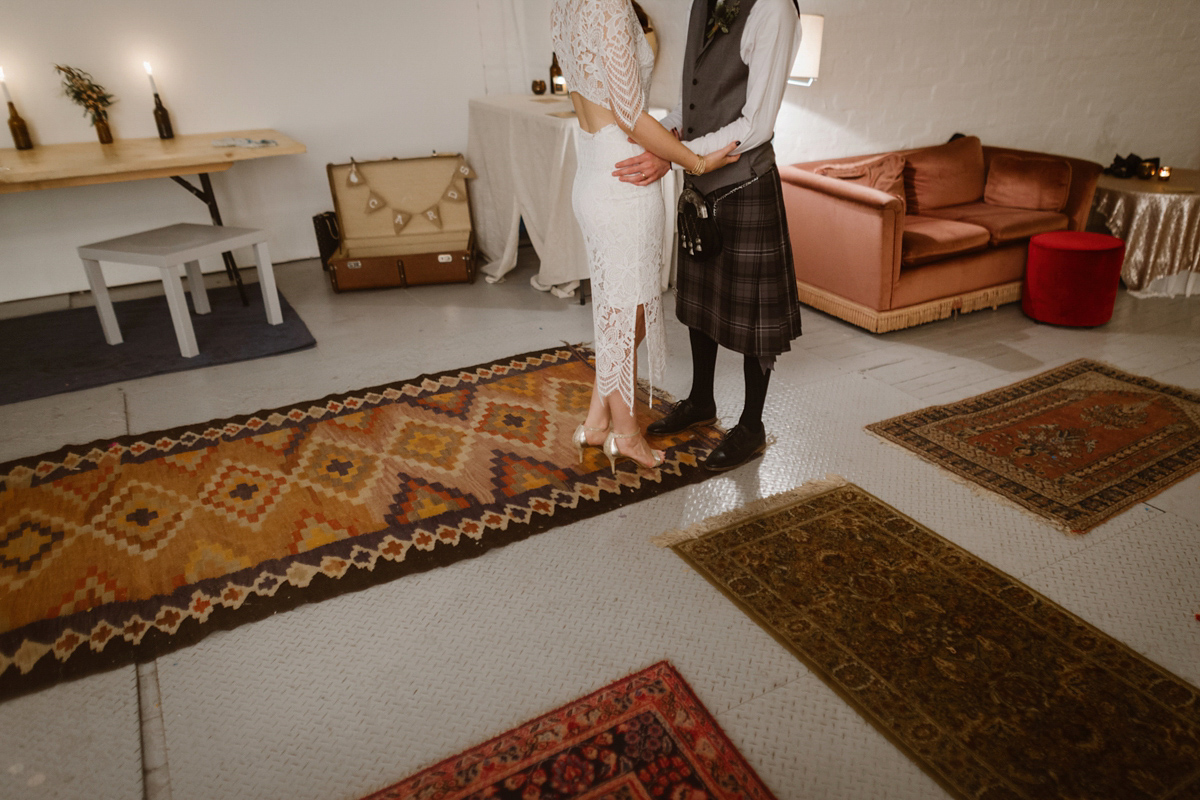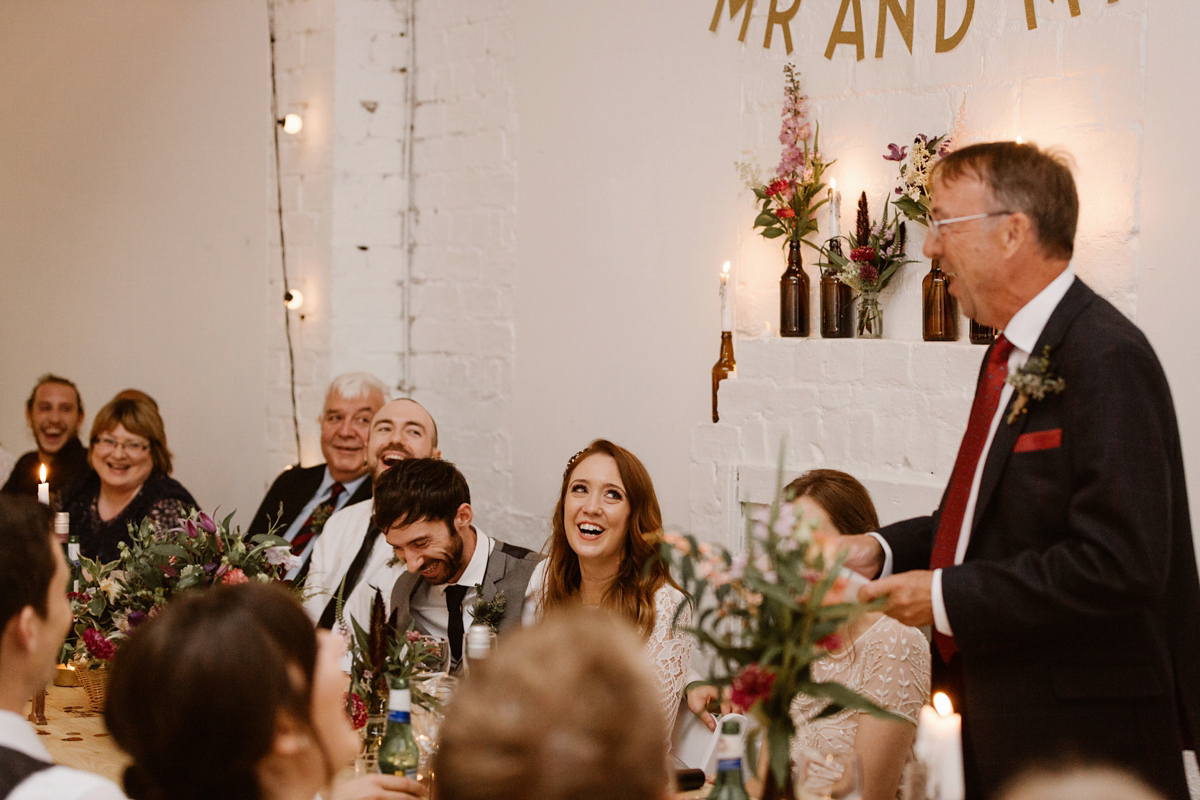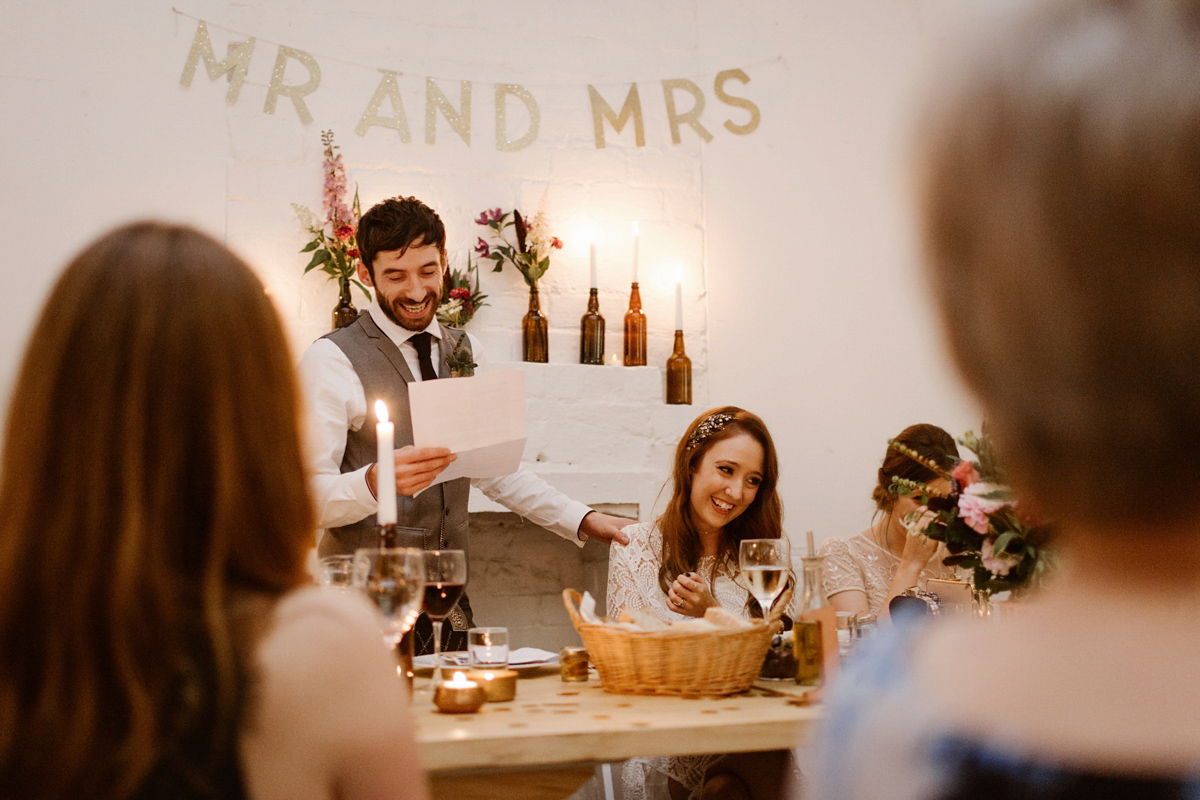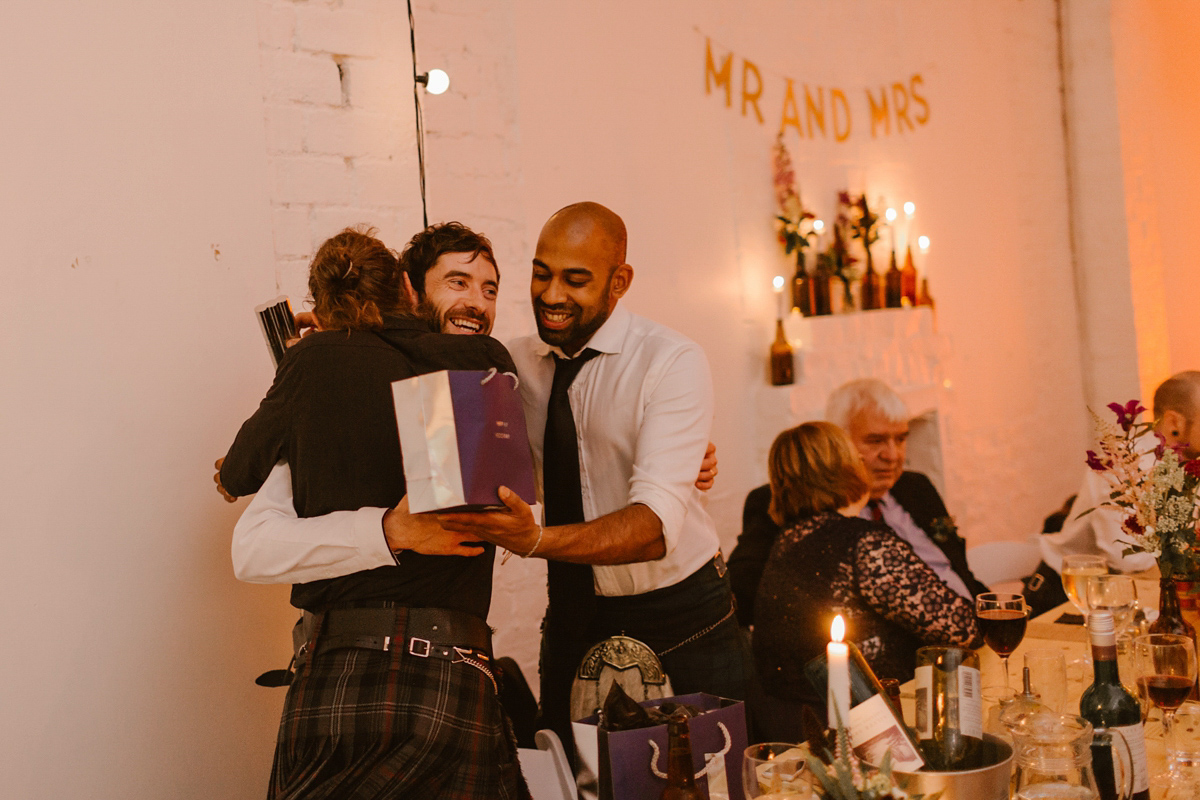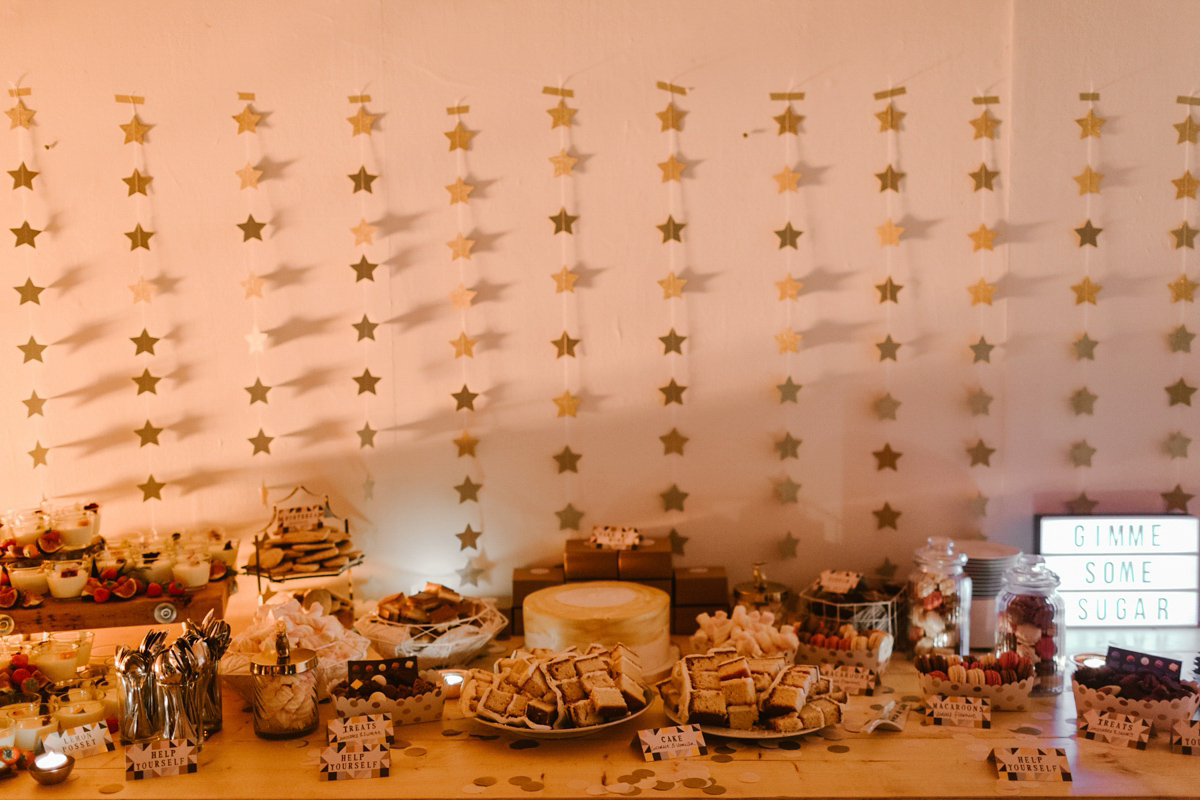 Band Franco provided the musical entertainment for the evening and Katie and Ross chose Cocoon by Cat Fish & The Bottlemen (a slightly adapted version with no swearing, to please the grannies!) for their first dance.
"Ross and I don't agree much on music but we both love this song. The lyrics mean a lot to us, it's about not letting each other down and forgetting about all the problems and everyone else and knowing it's ok because you have each other."
"We also liked the idea of having an up tempo song rather than the traditional slow song. It worked so well, by the end of the song everyone was on the dance floor jumping and singing around us!"
"The stand out thing about our day was the amount of fun and laughter, the photos are full of smiling, laughing faces (even throughout our ceremony, which I have to say was made hilarious yet touching by our fantastic humanist Claire) and I have never seen myself, Ross or any of our friends and family laugh so much in my life – I will always remember it."
"I wouldn't change a single thing about our day. It didn't all run smoothly, it wasn't perfect but it was everything I could have possibly hoped for and we will always remember it as the best party we ever had!"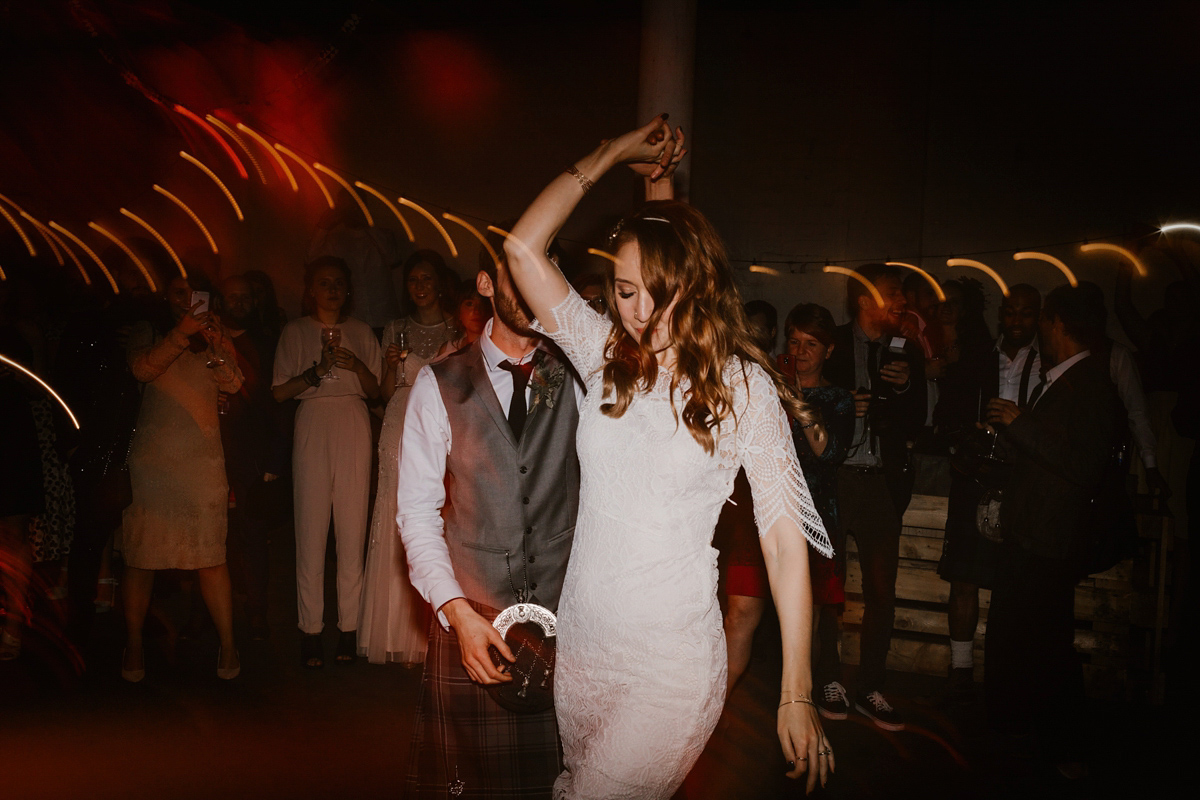 Words of Wedded Wisdom
"My advice to any brides-to-be would be – be yourself, do what you want and most of all have fun! Despite what many people say you can have a beautiful, glamorous and elegant wedding while being yourself and having fun.
You don't have to spend a lot of money (we didn't) you don't have to conform to tradition (we definitely did not!) you can even wear a leather jacket (I did!!) and you can still have the most perfect wedding day. 
And try to remember, on the day you don't care about all the little details. All you care about is the time you have with your partner and friends and family."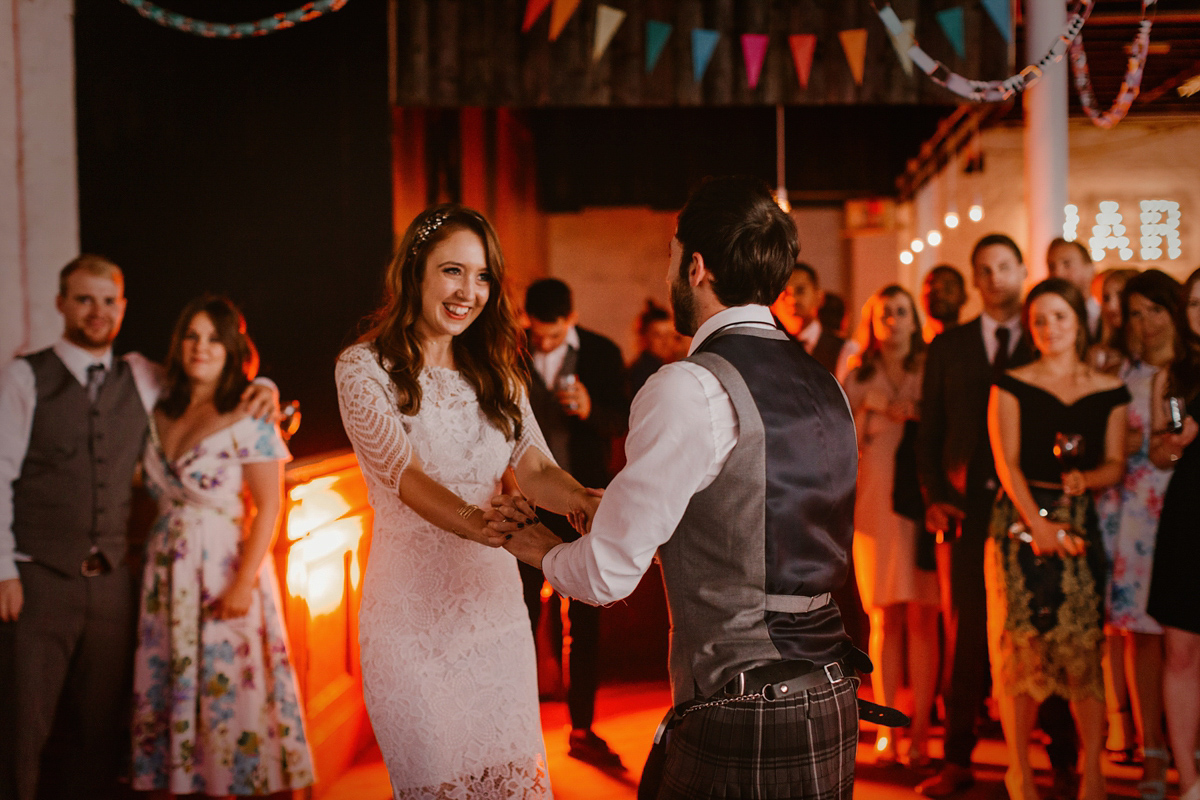 I'm so indebted to you both, Katie and Ross, for being kind enough to share your quirky, beautiful day with us – I'm feeling totally inspired and I'm sure loads of our lovely readers will be too.
If you just can't get enough of this gorgeous day, why not take a look at a few more gorgeous weddings shot by The Curries – photography wizards who we can't thank enough for these sublime images.
Happy Monday bridal babes,
Em x