A gorgeous treat for you today readers, as we slip into December, with a trip back to a lovely warm memory from the summer.  Meet Matt and Jude, who married in the Victorian splendour of Hexham Winter Gardens in Northumberland on the 2nd of July 2016. The couple met while at University in Newcastle and Jude is a woman I admire hugely, as she proposed to Matt herself while on holiday on the Isle of Skye- a stunning location for a proposal.  Well done Jude- much as I loved being proposed to, I rather wish I had found the bravery to do the asking.
Capturing their beautiful day in her light and ethereal style was the fabulous Sarah Jane Ethan.
"Hexham Winter Gardens is a beautiful Victorian glasshouse with high ceilings, surrounded by trees, with a wood panelled hall next door. We wanted to be able to decorate it ourselves and to be able to choose the people who worked on the wedding so it was great as it is a venue-only hire. The style of the venue inspired the decoration.  I used Pinterest to collect ideas and it evolved over a few months of planning.  I think it's fair to say there was also significant input from my family, especially my sister Meg who is an artist."
Photography by Sarah Jane Ethan
"We loved SJ's light, luminous style and the informality of her photography.  She was an absolute dream to work with, putting us at our ease and getting the most incredible shots."
Jude wore a beautiful lace gown by Mori Lee, with a gorgeous scooped back, purchased from Kathryn S Trueman Bridal in Morpeth, Northumberland.  Having visited Kathryn's boutique myself I can thoroughly recommend the experience- great fun and she knows her stock inside out.
"I didn't have a very set idea of what I wanted in a dress, I had thought I wouldn't wear a white dress but I tried this one on and it was just right.  I couldn't wait to wear it on the day."
Hair and make up were the work of Sarah from FACE Makeup Artistry and Victoria of Pins, Petals, Powder.
"Sarah and Victoria were fantastic, totally professional and so much fun."
Jude kept her look summer fresh and simple, with fresh flowers in her hair, gold and pearl earrings by Sarah Hickey (a gift from Matt), a Jemima Lumley bracelet which was a birthday gift from her mum and her grandmother's gold brooch tied on her bouquet.
For scent she chose Jour d'Hermes, after buying a new perfume especially for the wedding but deciding that morning that it was too heavy for a summer's day.
"My bouquet was one of my absolute favourite things about the day, Hannah (of WildFlower Florist) is a genius.  She included scabious (my Grandmother had scabious in her wedding flowers) and a surprise of a baby Northumbrian apple with peonies, astrantia, cornflowers and other beautiful things."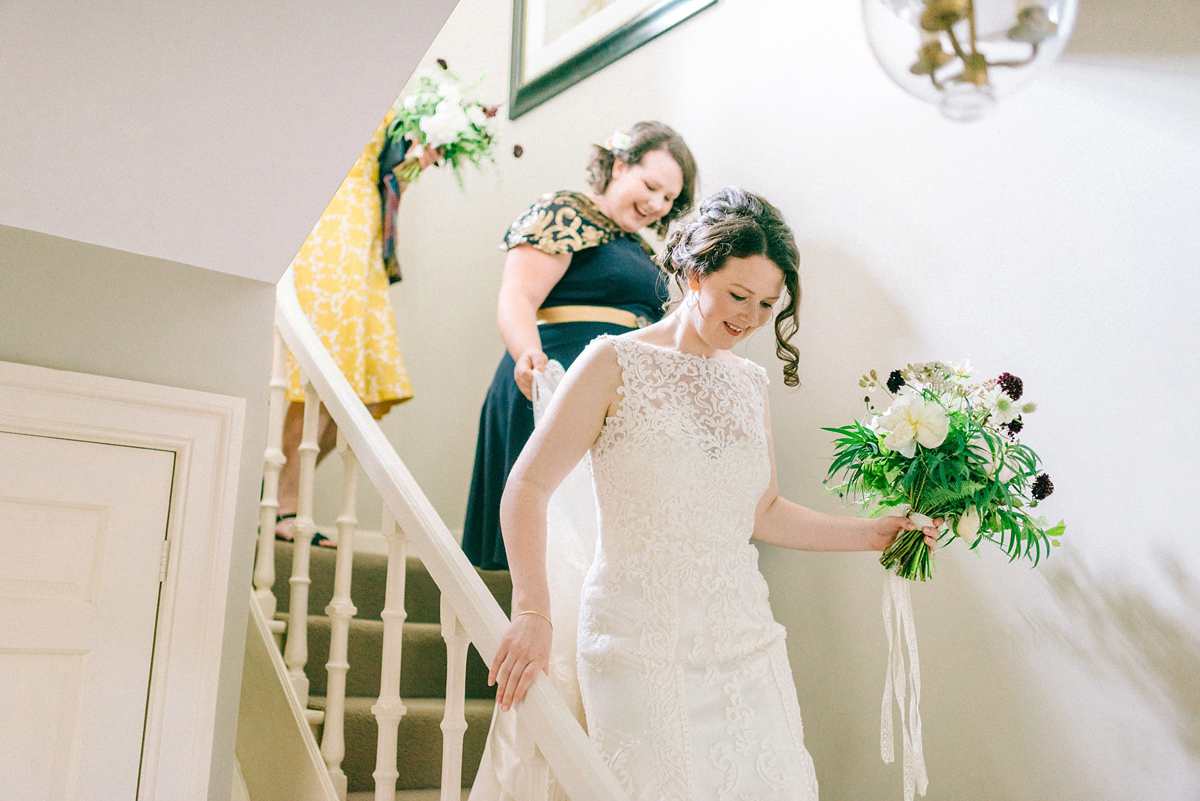 "I had planned to give myself away but last minute nerves meant I ended up walking in with my sister which was lovely as we had a few moments beforehand where she calmed me down."
"The ceremony was short and sweet: neither of us are particularly extrovert so we just said the things that mattered to us."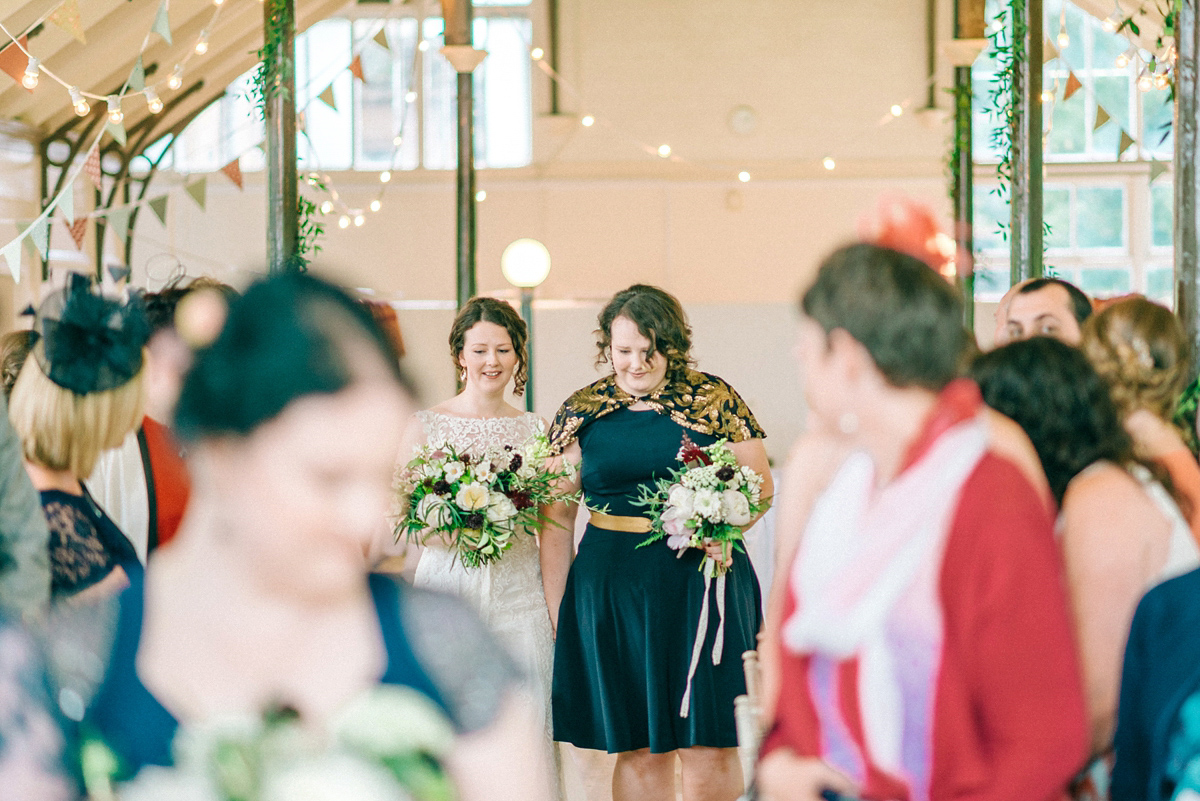 Matt looked very smart in a blue three-piece suit from Chris Kerr in London, which he enjoyed getting fitted as it meant several trips to London.  He accessorised with a vintage gold pocket watch (a gift from Jude) and gold cufflinks.
The couple swapped rings- Jude's a family ring, reshaped by Old Eldon Jewellers in Newcastle, while Matt's was from Ingle and Rhode who make bespoke jewellery from recycled or fair-trade gold.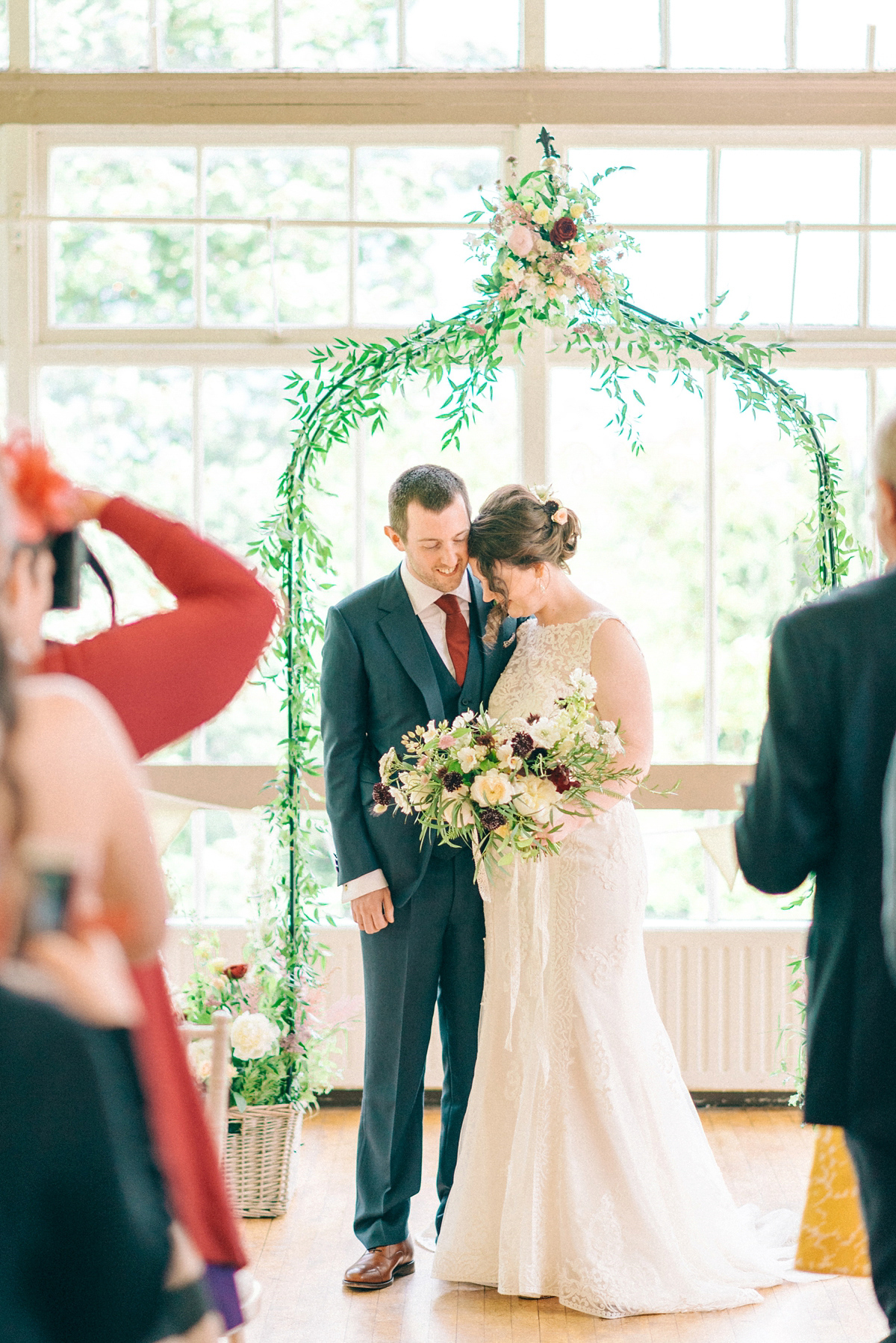 Decor, table settings and entertainment were largely the work of Matt and Jude's talented and generous family and friends, who put lots of time and effort into helping them create their perfect day.
I do love  a wedding which is so personalised like this.
"My amazing sister Megan designed our invitations.  We had the designs made into stamps which I used to make the invitations, menus and placecards.  Meg also screenprinted napkins with ties and necklaces which guests could take home."
"My wonderful aunt made kilometres of bunting which we used in the winter gardens along with festoon lighting and Matt's mum Elizabeth made us a magical floral arch to be married under and arranged flowers for the tables and the porch.  The confetti was made from petals donated by my mum's neighbours that she dried and scented."
"Meg also made us a photobooth which down well with the guests, especially as the night wore on- the photos are hilarious.  My mum made a backdrop out of ribbons and lace and Anna, one of the bridesmaids, knitted hats, moustaches and wigs (Princess Leia was my favourite)."
Catering was the work of Wilkins Fine Dining. (described as "just fantastic" by Jude), while the wedding cake was Matt's Mum's creation- creole fruit cake, chocolate honeycomb and lemon drizzle decorated with flowers.
"My mum made a 'tea and temperance' bar with soft drinks, tea making equipment and snacks, decorated with more bunting, while Matt's mum provided port for the evening buffet in vintage decanters which was very well received."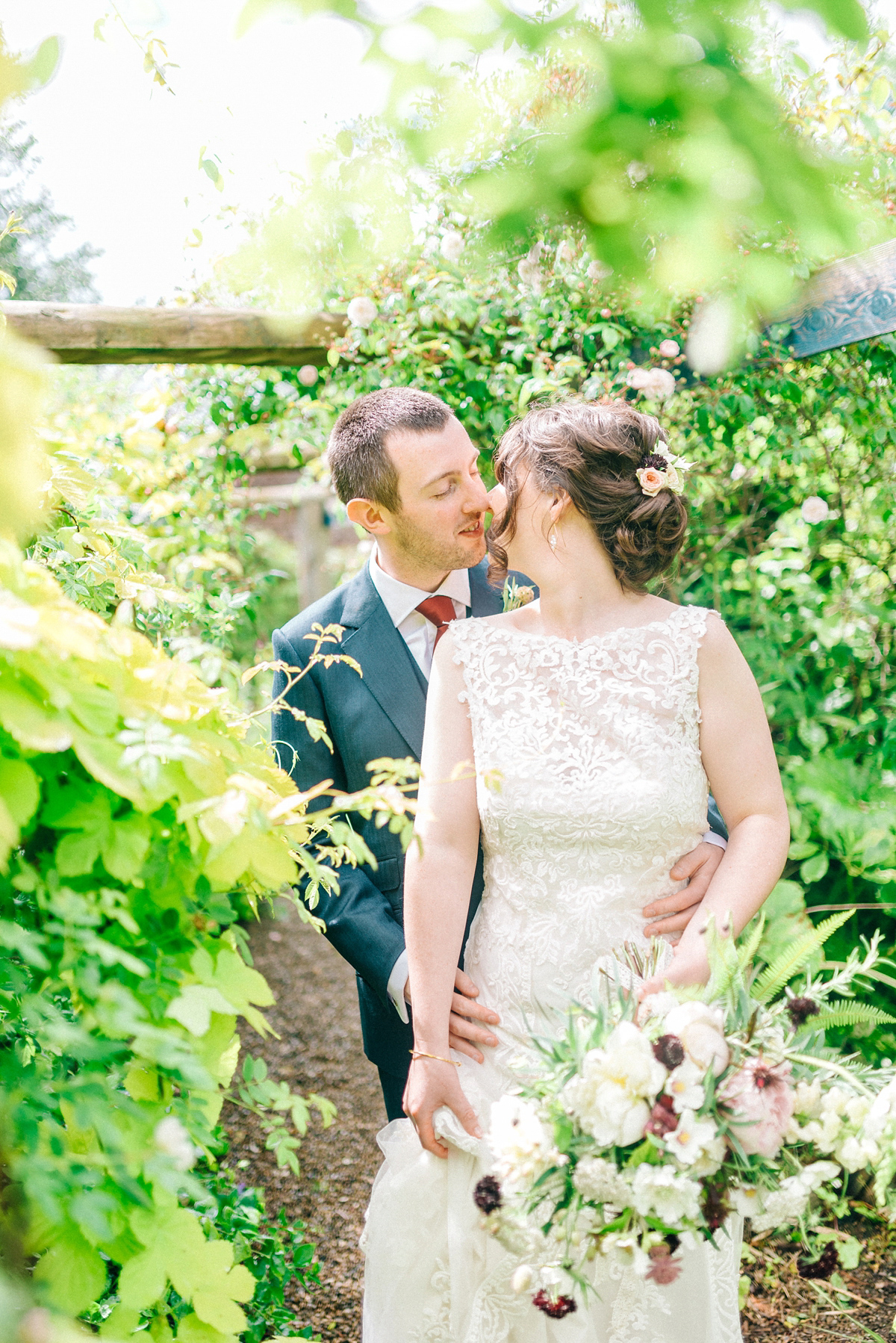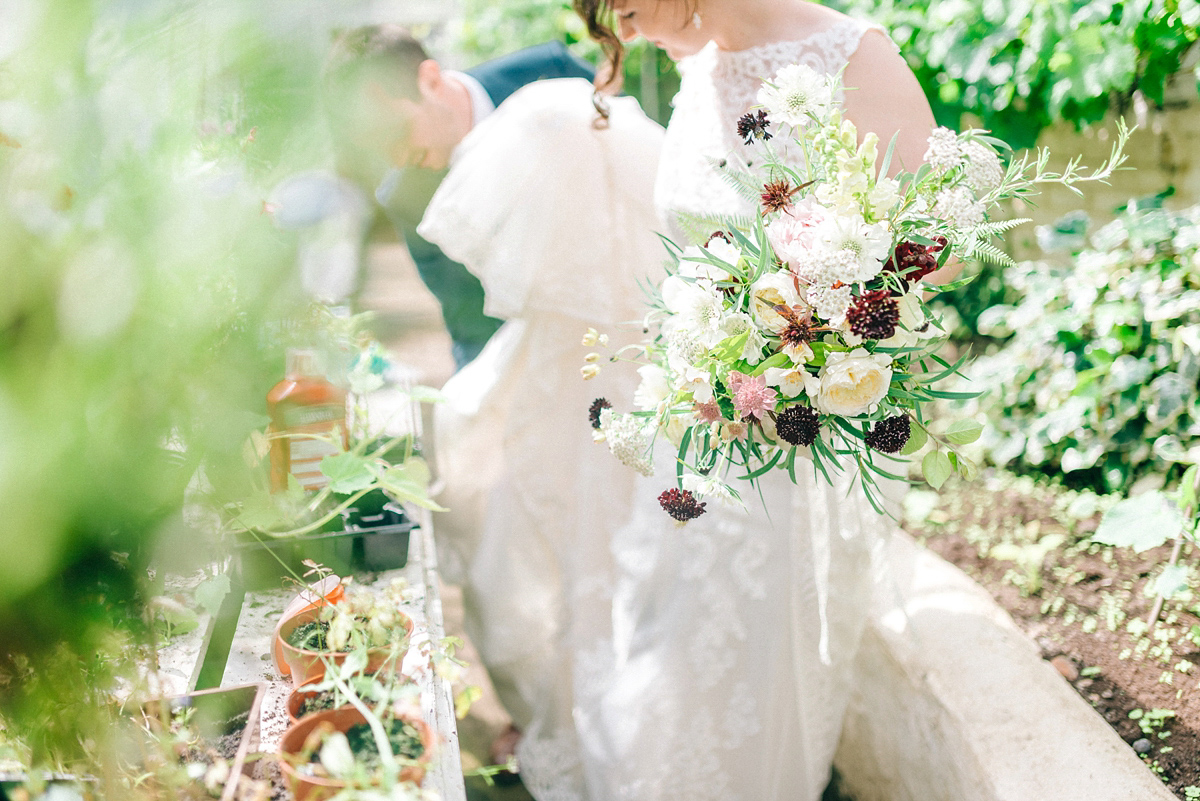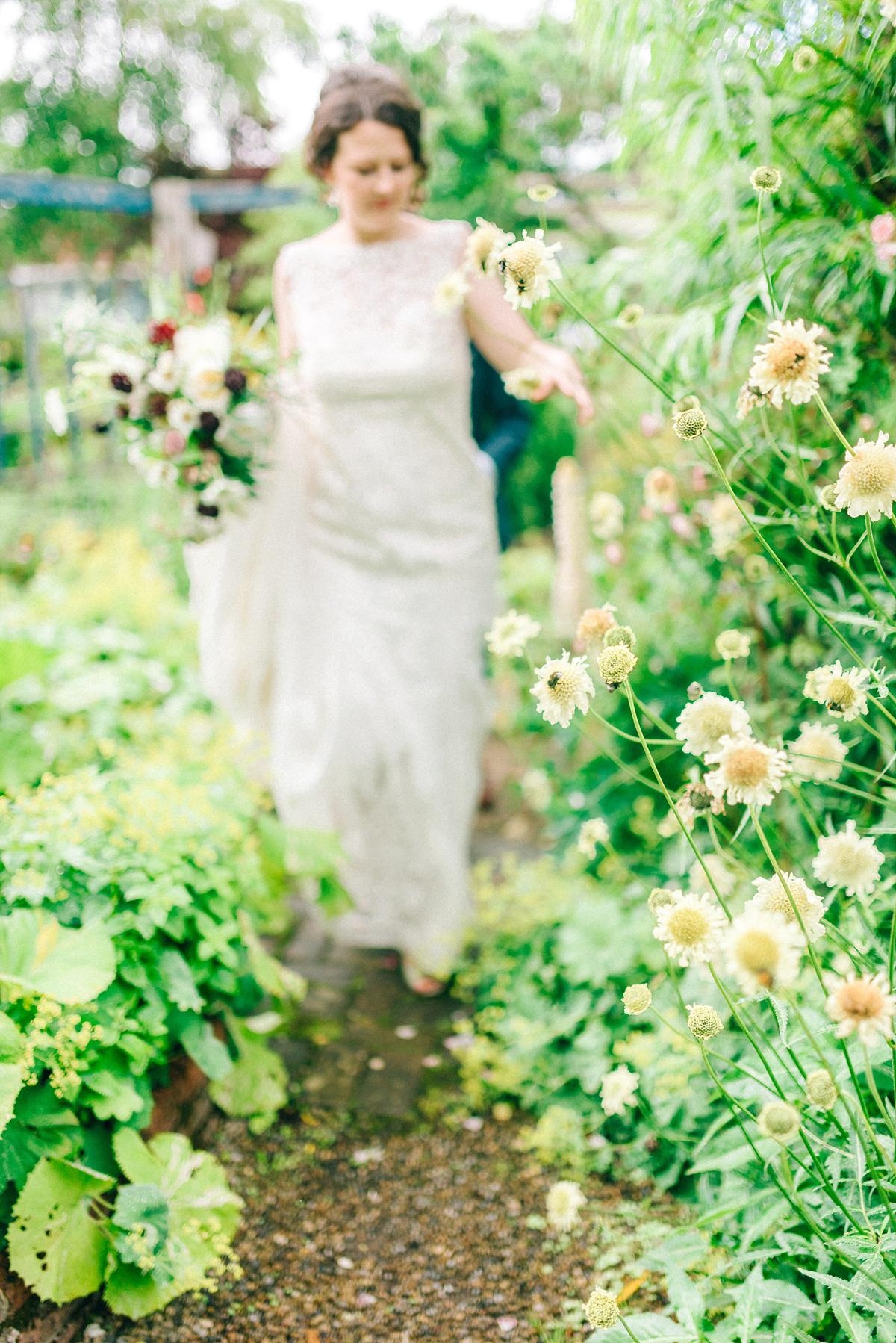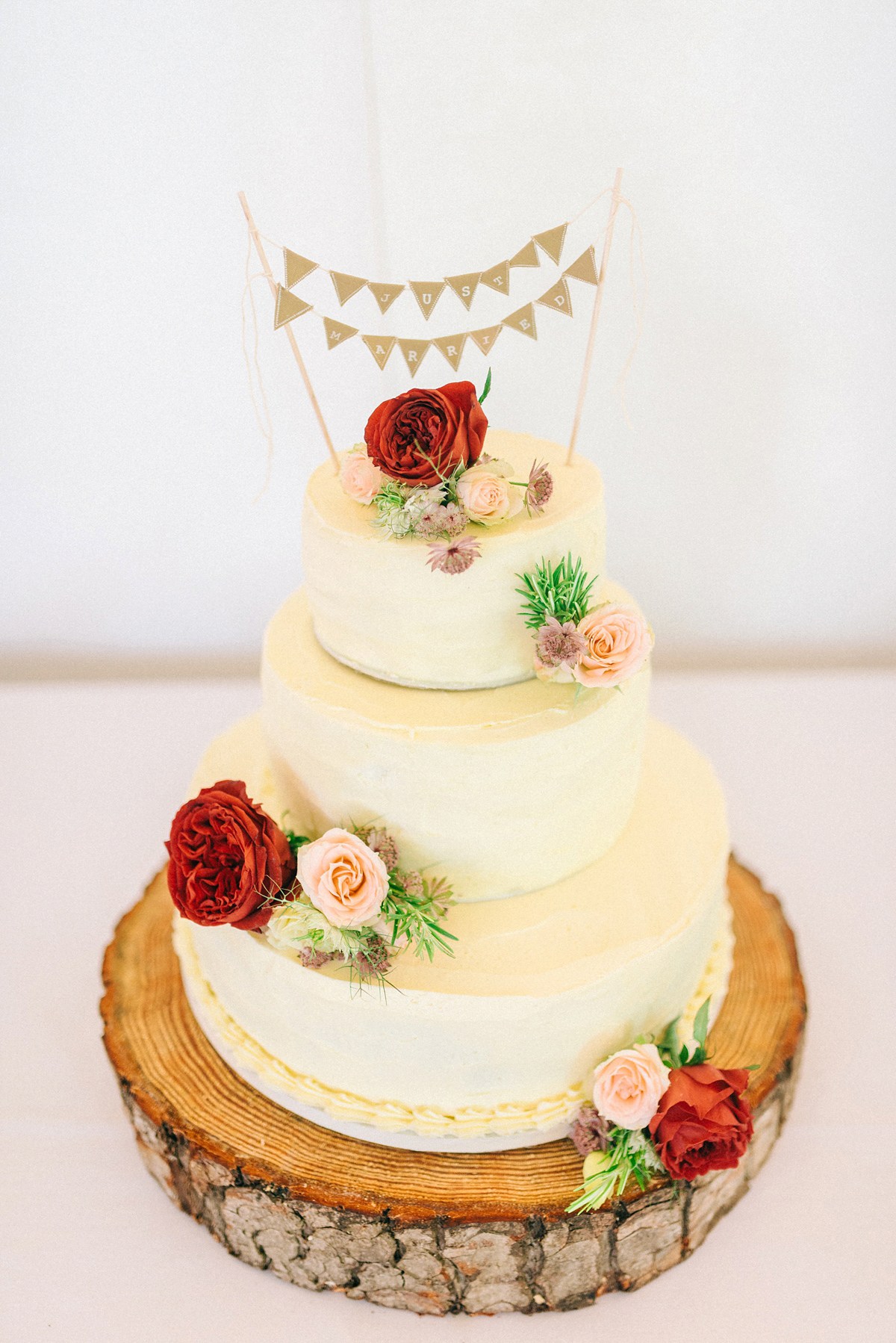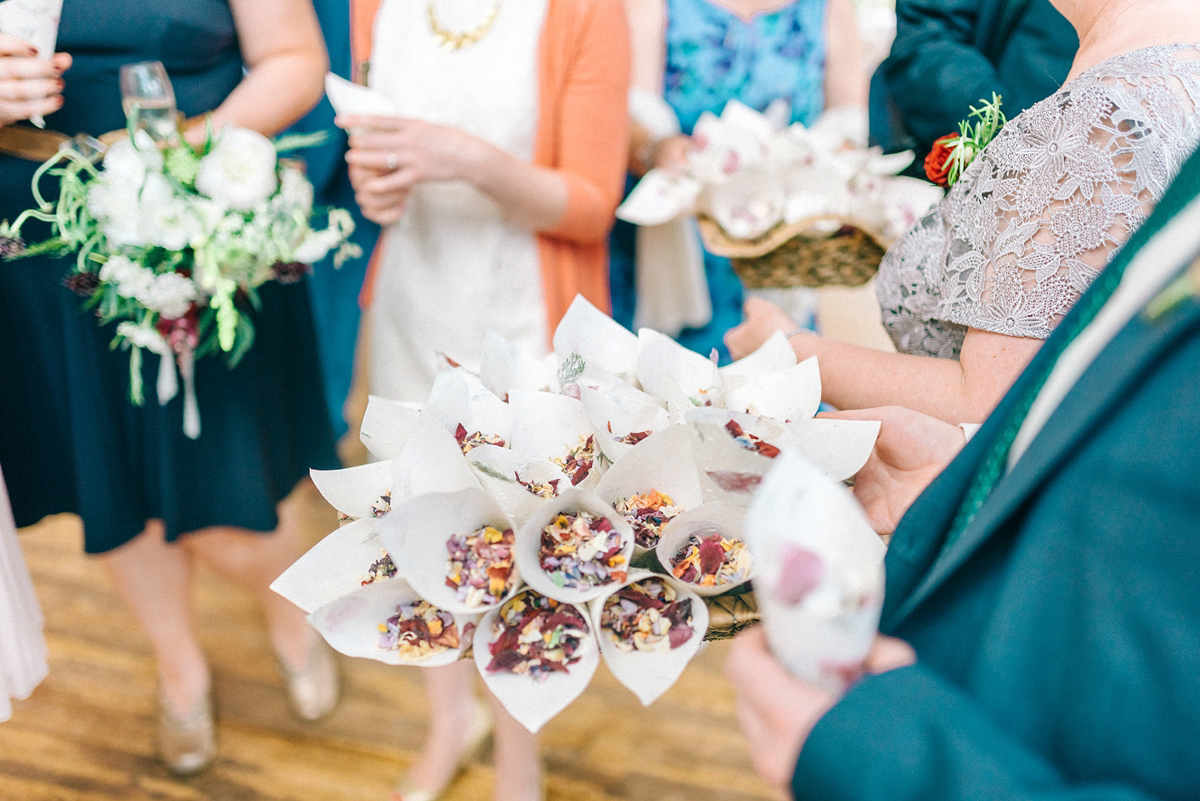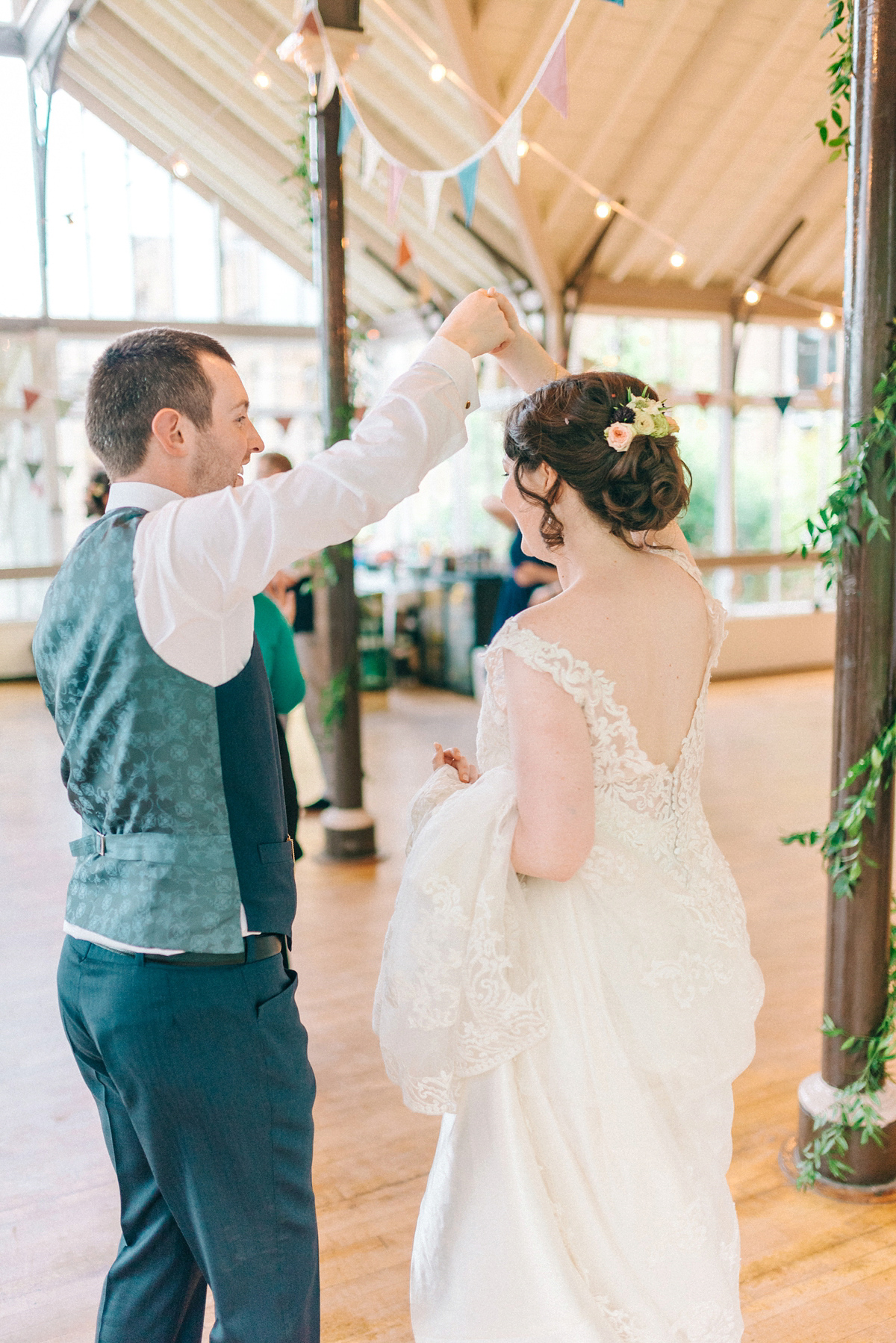 The evening dancing took the form of a ceilidh and everyone danced the first set together, in lieu of the traditional first dance alone- much more sociable!
"It was so amazing having our friends and family all together with us on the day.  So many people were so generous with their time, making things beforehand, helping with the set up and tidying up the next day- it was perfect.  We managed to stay together pretty much the whole time and it was lovely to see everyone enjoying themselves and share that with each other."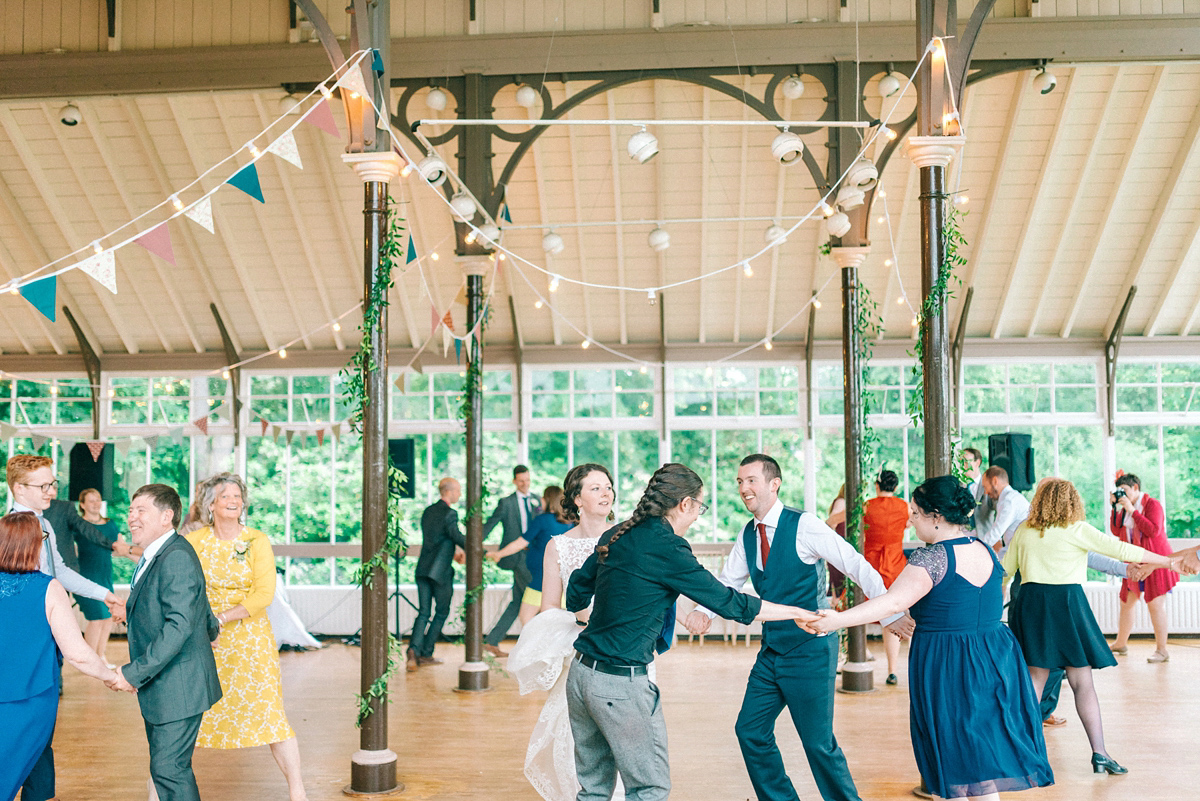 Words of Wedded Wisdom
"I loved how involved everyone was in the wedding and was repeatedly surprised by how excited they were about the whole thing.  It's important to do what is right for you as a couple but it's also great to involve your loved ones in the day.  Delegation will keep you sane and also will allow people to be involved."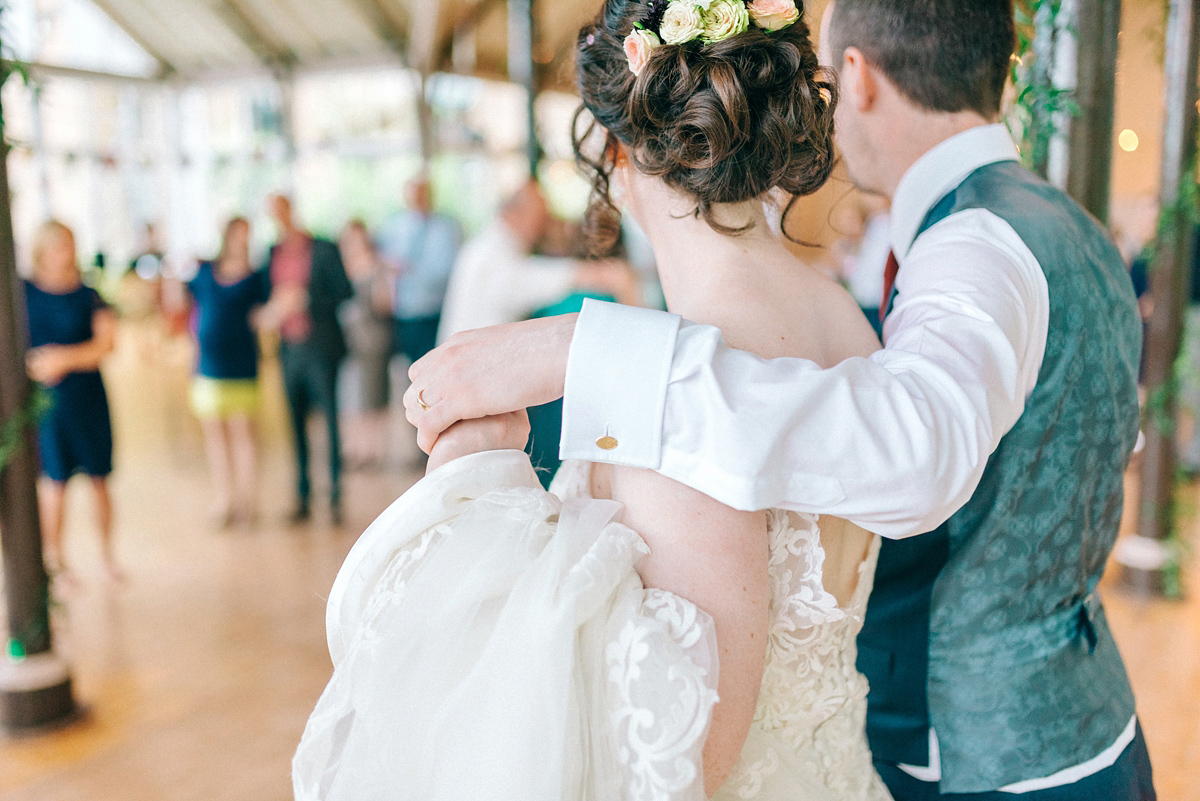 So many thanks to Jude and Matt for sharing their beautiful wedding with us today- I'm just in love with all the flowers, the pretty details and the wonderful warmth this day exudes. Huge thanks to Sarah Jane Ethan for sharing her work with us too.  For more weddings by this lovely lady have a look here and for more Love My Dress weddings at this lovely venue- take a peek at this link.
Much love,
Shona x