Hi there you lovely lot – less than two weeks to go until Christmas! Anyone else displaying slightly crazy festive tendencies at the moment? I also seem to have lost my mind a little bit and bought several sequin-strewn, glittery items of clothing; Christmassy little numbers it's only really socially acceptable to wear for one month of the year. And give me more than a passing resemblance to tinsel.
Today I'm absolutely delighted to be sharing a pretty spring meadow wedding with you all. The talented (and pretty blooming gorgeous) Connie, a Graphic Designer, wed co-founder of Honest Burgers (um, yum!), Tom on 21st May. Our lovely bride rocked a leather jacket and a stunning gown by Belle & Bunty; one of our beloved Little Book for Brides darlings whose incredible designs you can swoon over in our new Style Files.
"The feel of our wedding day was inspired by the location, a rural English meadow in spring; wild flowers, lush greens and photos in front of the valley beyond. We also combined the Scottish and English family ties with thistles and rosebuds through the flowers, cake and decorations, in the music choices and stationery."
Film by Clark and Palmer Wedding Films
https://vimeo.com/171794271
"We both wanted the day to be first and foremost a celebration, so the rest of our decisions revolved around creating fun and some surprises for our guests. It was a monumental  family effort pulling it all off, we couldn't have done it without them, and this really added to the informal and intimate feel of the day."
Photography by Emma Sekhon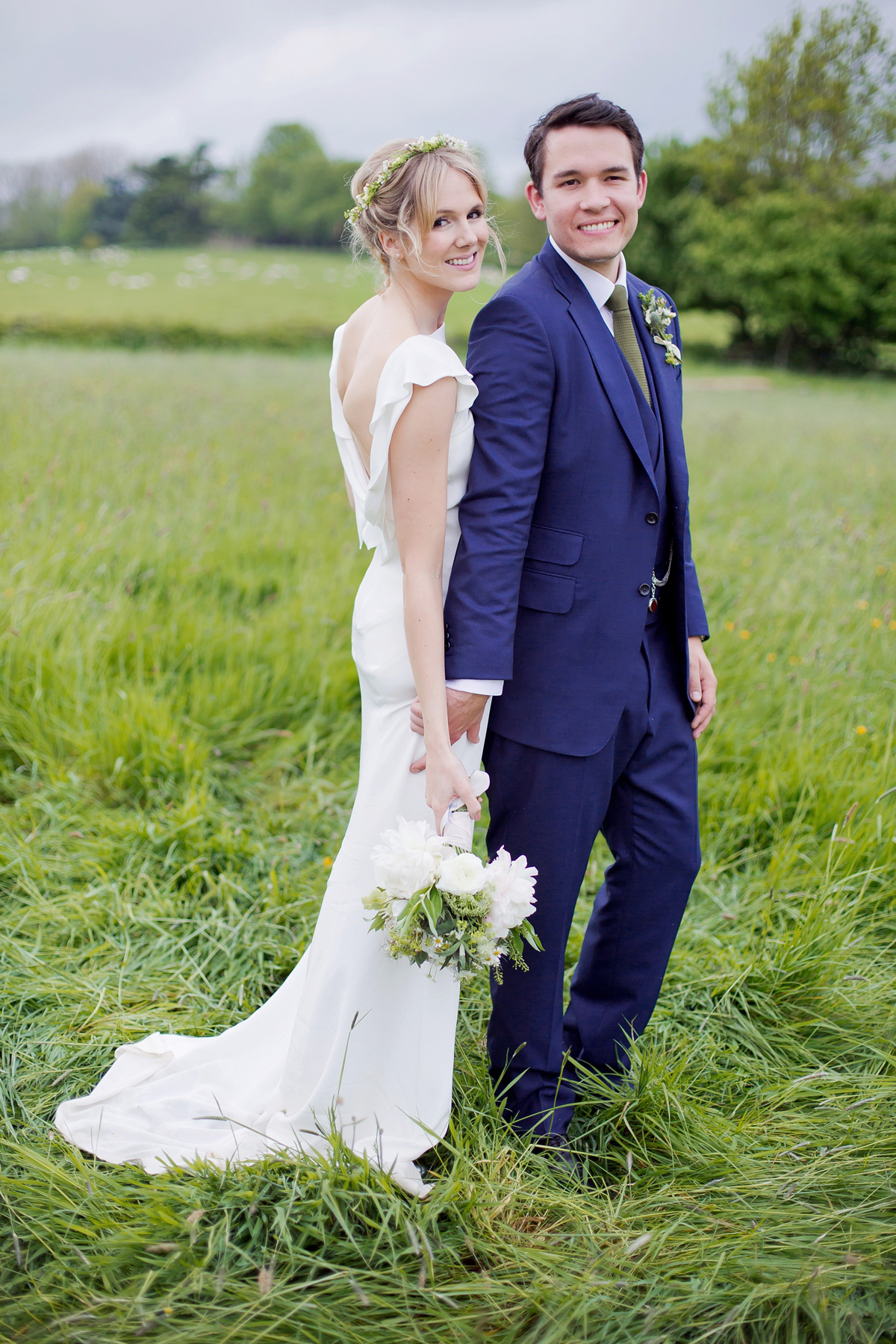 "My Belle & Bunty dress glided on like a silk slip, fitted like a glove, and was so comfortable to wear that I knew I'd be able to wade through the long grass and dance all night. It also transitioned perfectly from the church, with a sheer full-length veil, to the evening, where I wore flowers in my hair and threw on my beloved Acne leather jacket."
Connie discovered the divine Petal dress by Belle & Bunty at A Most Curious Wedding Fair. We adore the feminine, elegant designs of this wonderful creative duo, otherwise known as Hannah and Alice (and their Instagram is just beyond beautiful).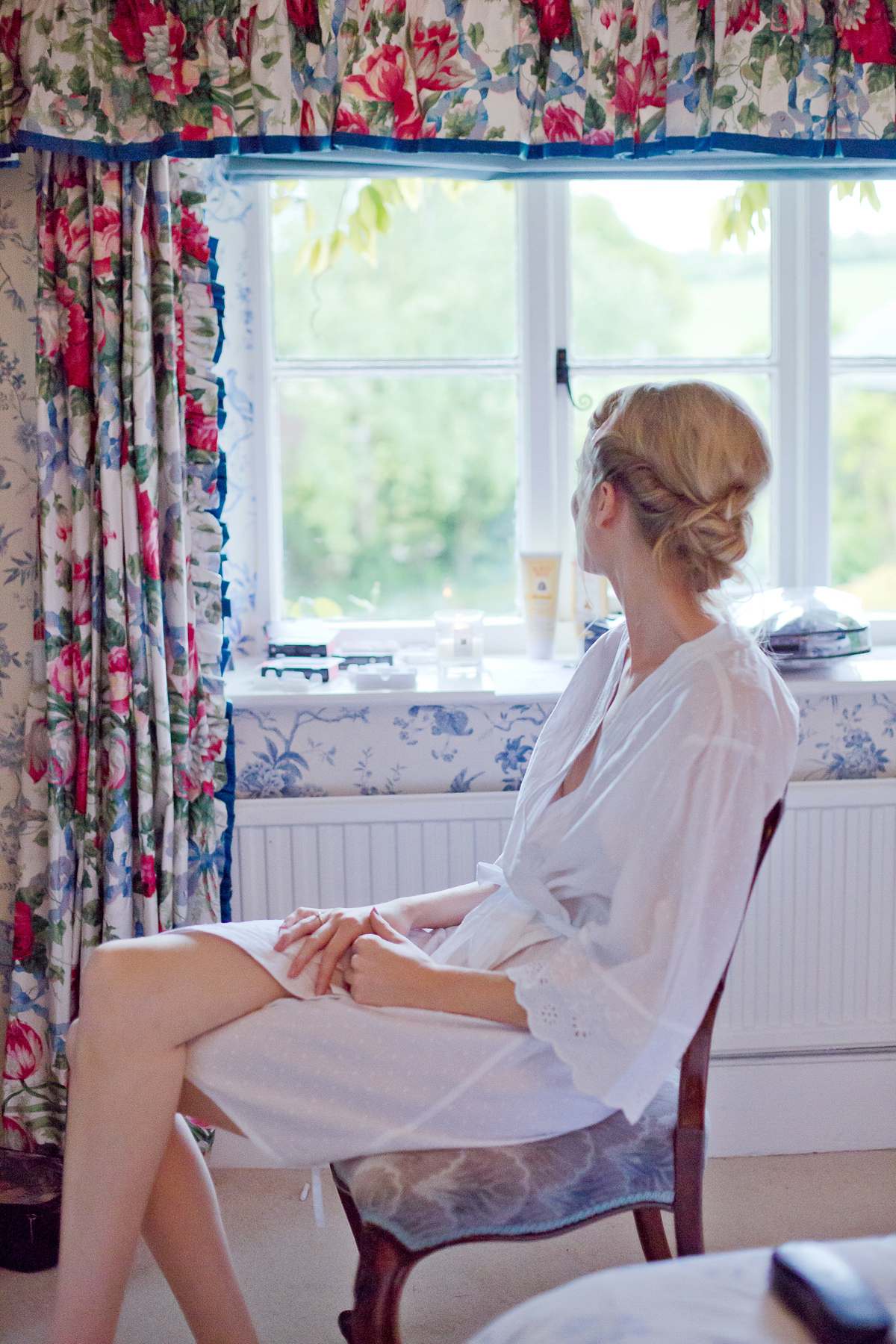 Did you happen to catch our feature on the story behind this coolest and most style-savvy wedding fair, penned by one of the show's organisers? I have met some of the most awesome women at Most Curious and I'll be there again this coming March with bells on.
A silk tulle full-length Belle & Bunty veil, silver leather block heels by L.K. Bennett and a pair of rather gorgeous earrings set off the delicate floating cap sleeves and sexy low back of Connie's figure-hugging gown.
Natural, pretty make-up by Jo Adams and a softly coiffed up-do by Carolina Crona completed a gorgeous bridal look, scented with Byredo's Gypsy Water perfume.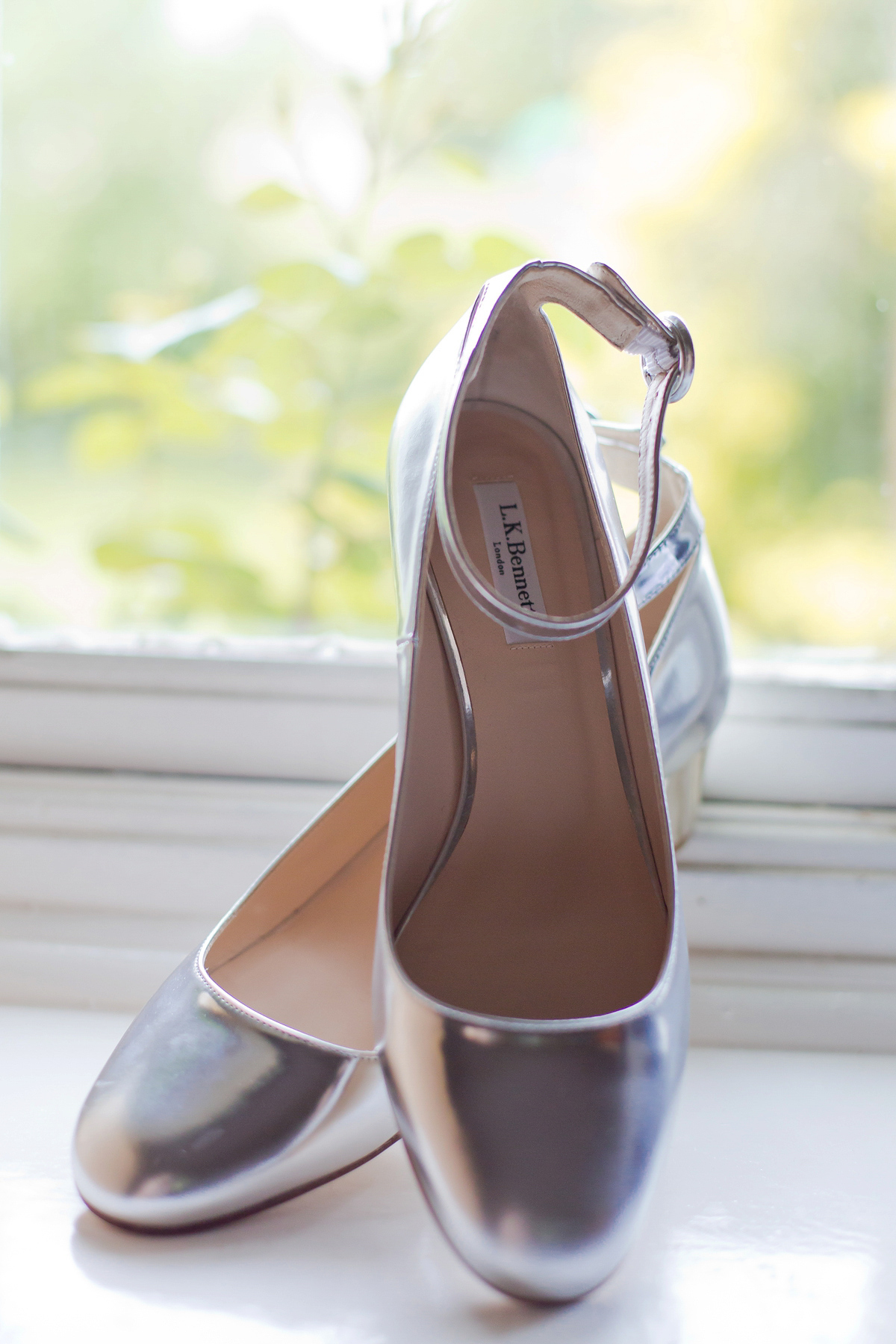 London-based florists One Flew Over have one of the most stunning online portfolios of wedding bouquets and floral styling, and we're super proud to support them through our wonderful directory, Little Book for Brides. Connie and Tom's fresh, foliage-filled blooms just ooze springtime prettiness, which perfectly complement the soft pink of the bridesmaids' Ghost dresses.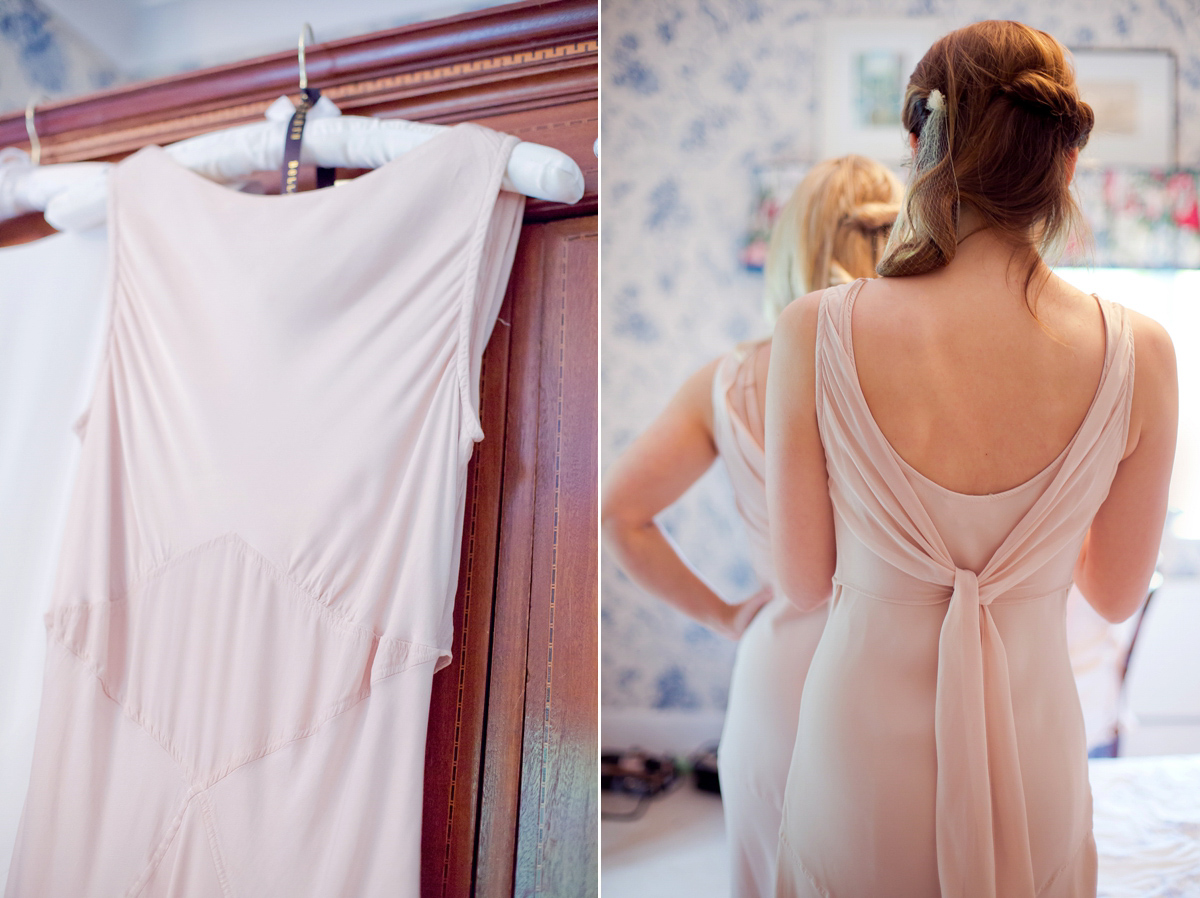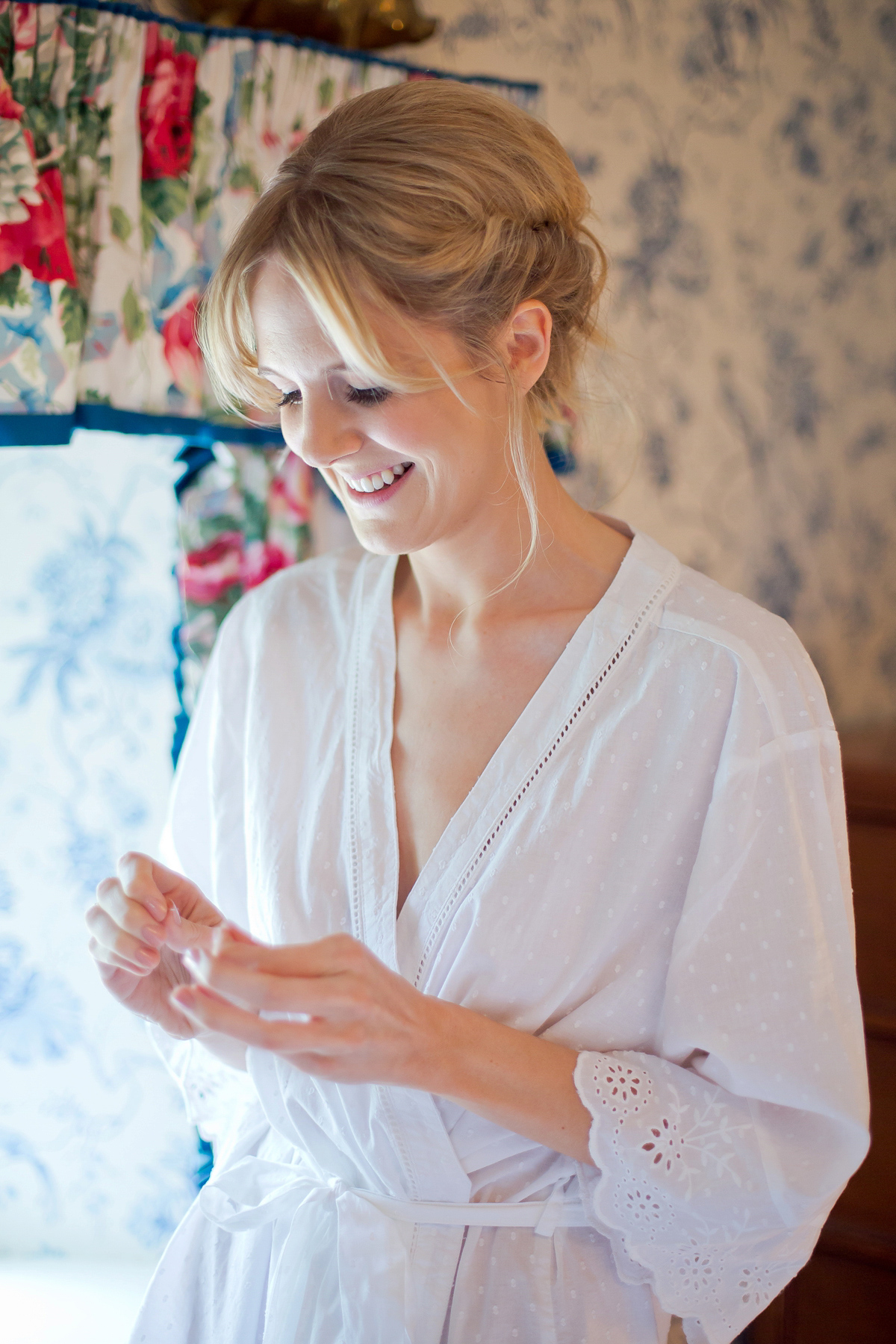 "My bridesmaids wore flower hairclips made to match our bouquets and the flowergirl dresses were handmade."
"Tom wore a bespoke Dunhill London three-piece suit and cufflinks with Crockett & Jones shoes and his grandfather George's pocket watch."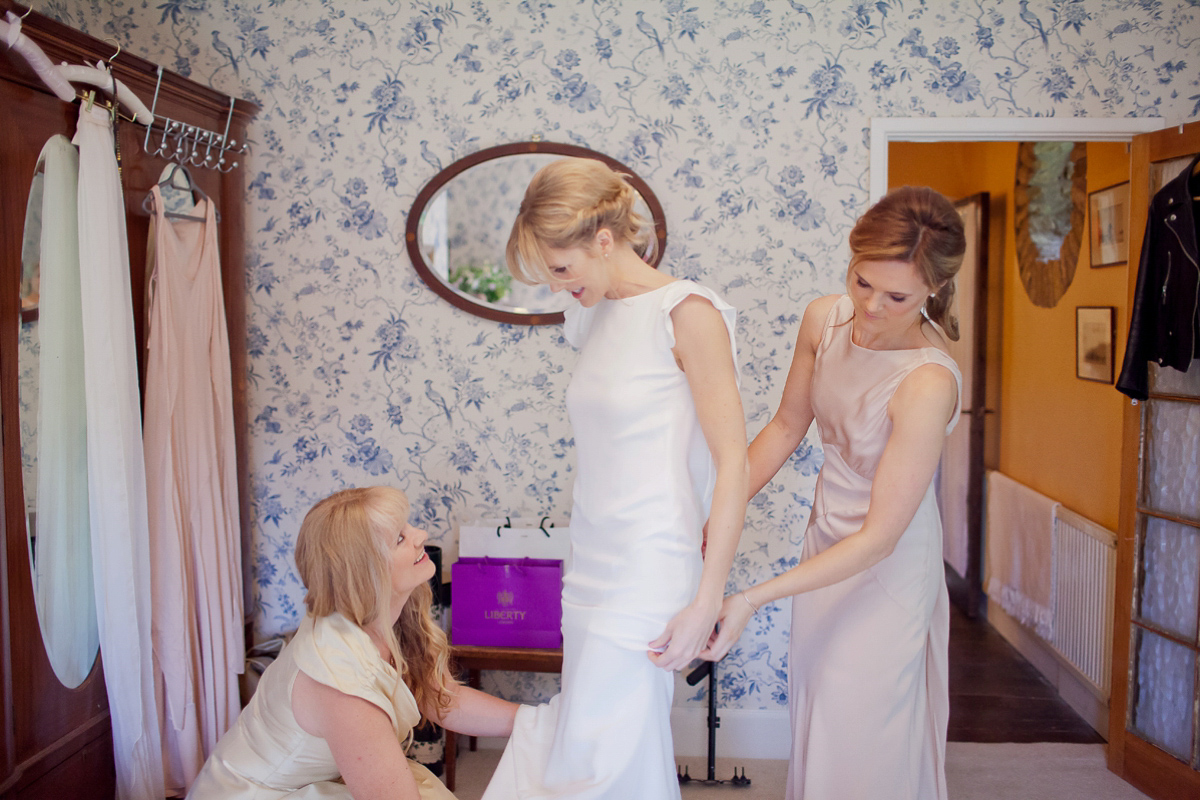 "My Pamela Love earrings were a surprise gift that morning from Tom, and I wore my mum's gold watch. My mum also gave me a beautiful handmade horseshoe corndolly which I'm holding in most of the group shots."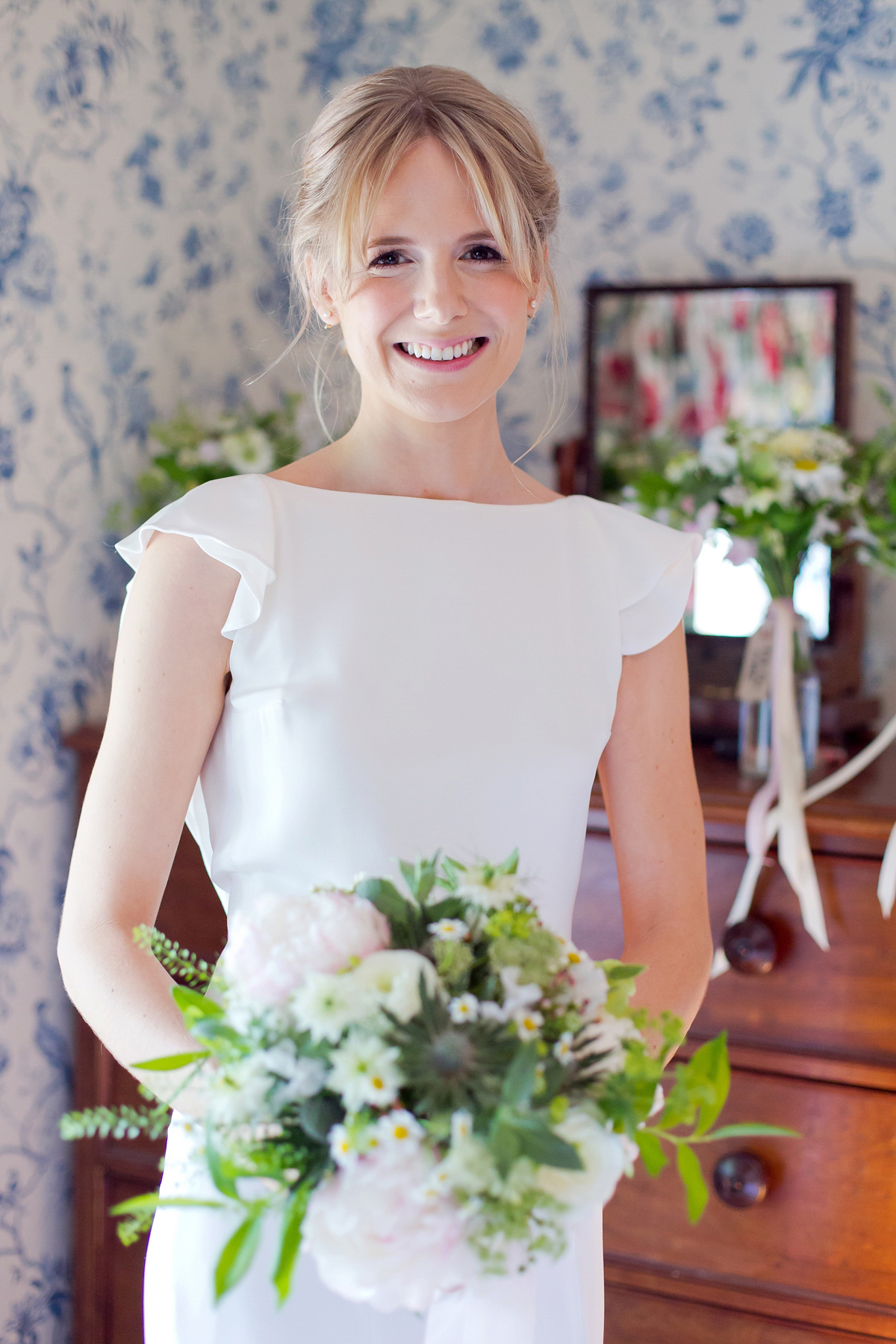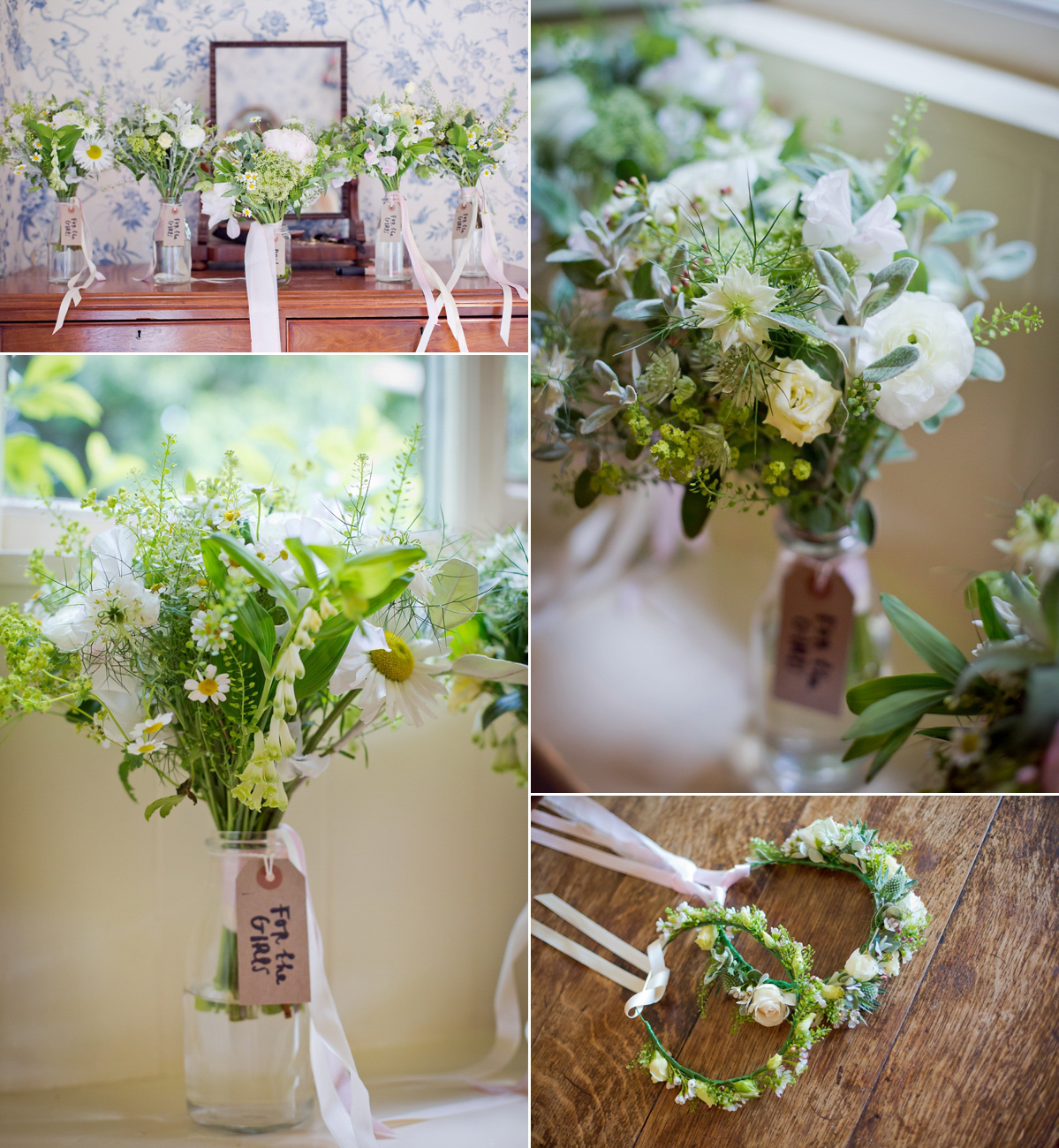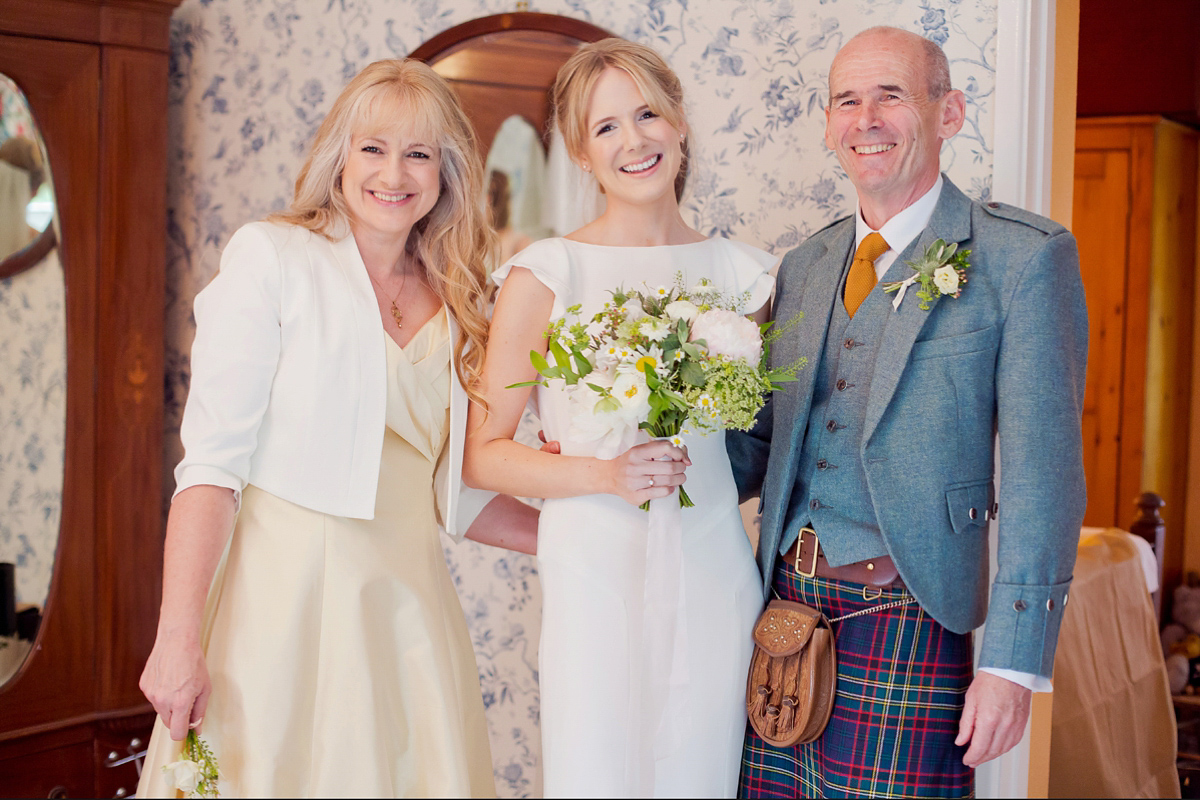 "Tom and I met in Brighton. We both stumbled into the same restaurant, Riddle & Finns (ooh my favourite!) to help pay our way through university. Unfortunately for Tom, it took me almost two years to realise that he was more than a best friend. In his own words, he was well and truly 'friendzoned!'"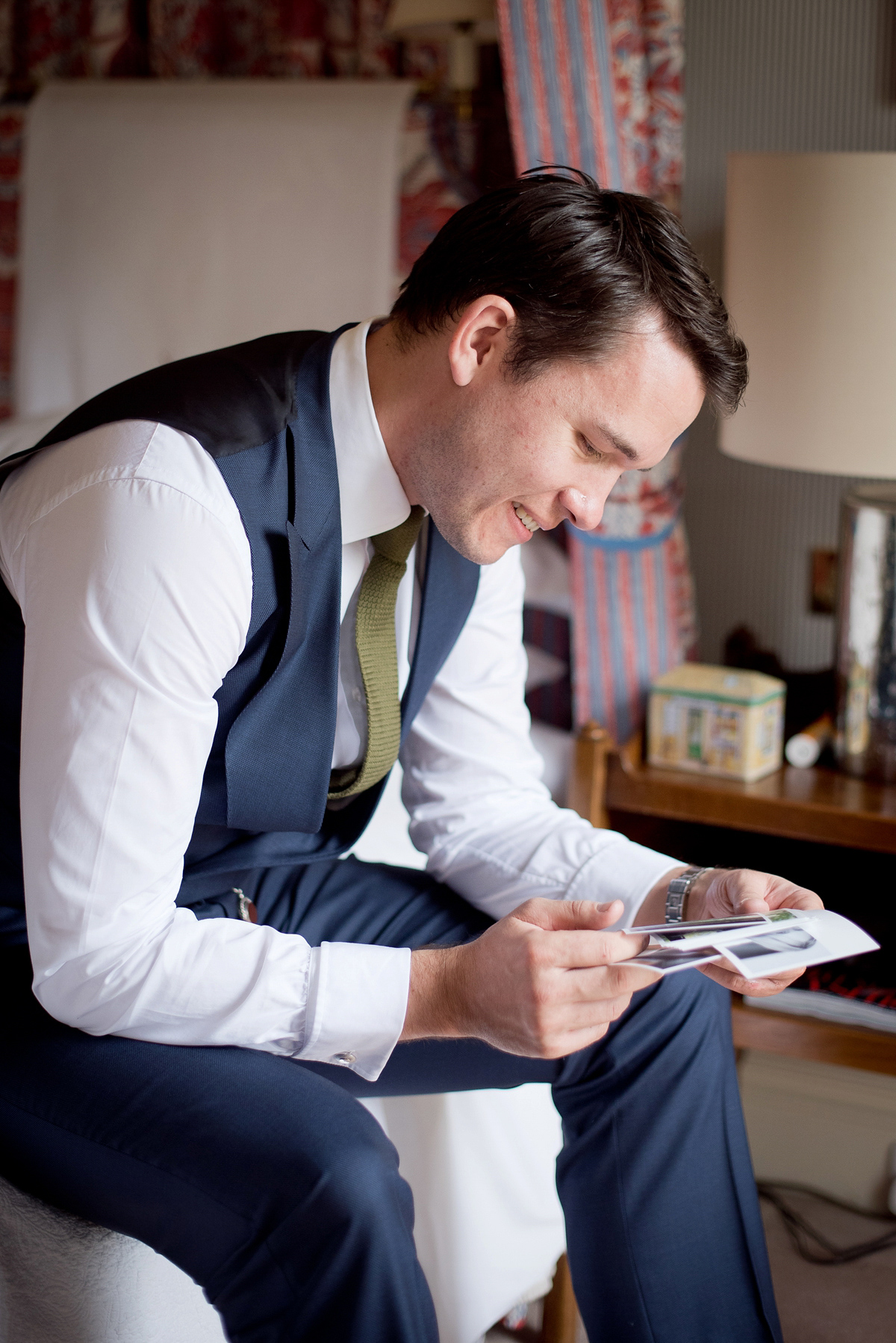 "Fittingly, we got engaged on Brighton beach in February, wrapped up in a blanket with a bottle of Ruinart. We were engaged for just over a year, enough time to simply enjoy it, and plenty of time to make sure all of our nearest and dearest could be there."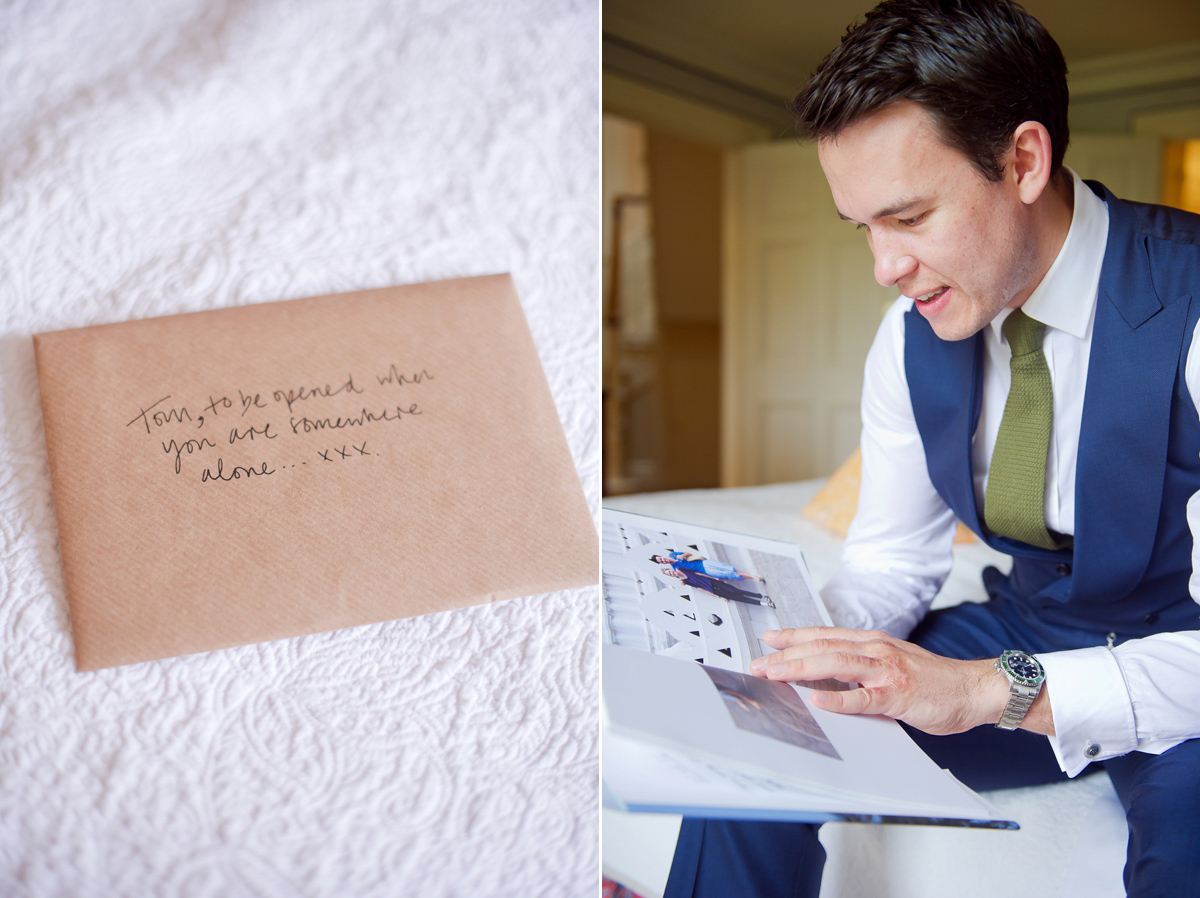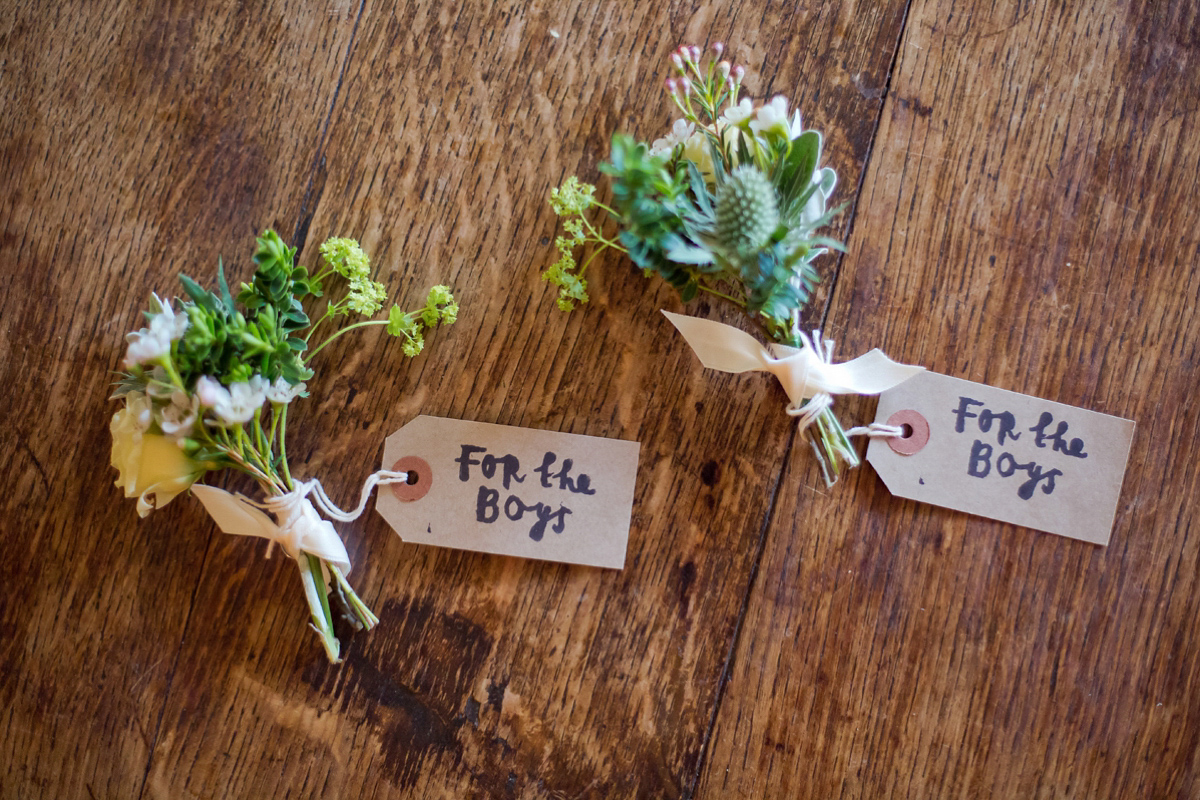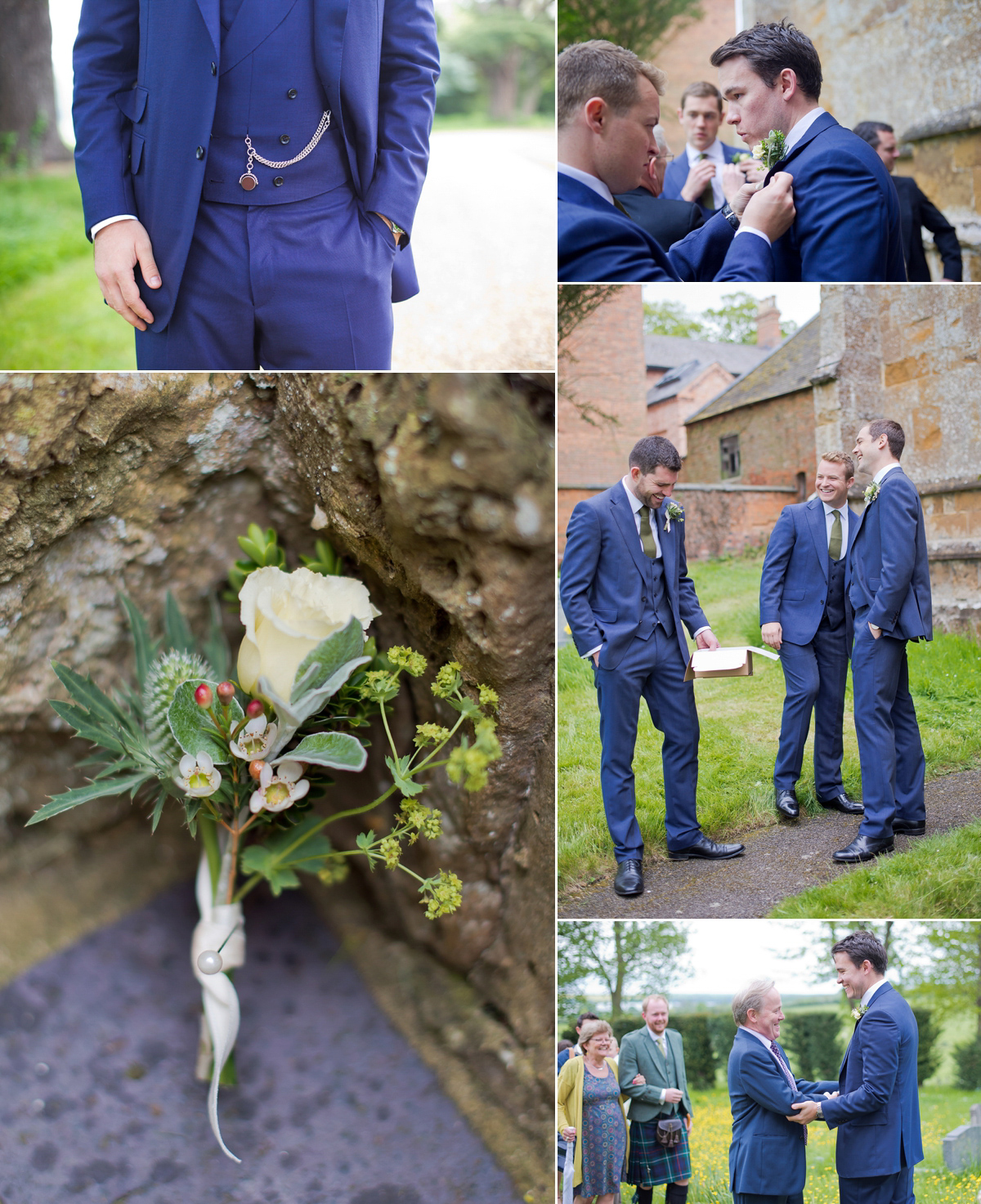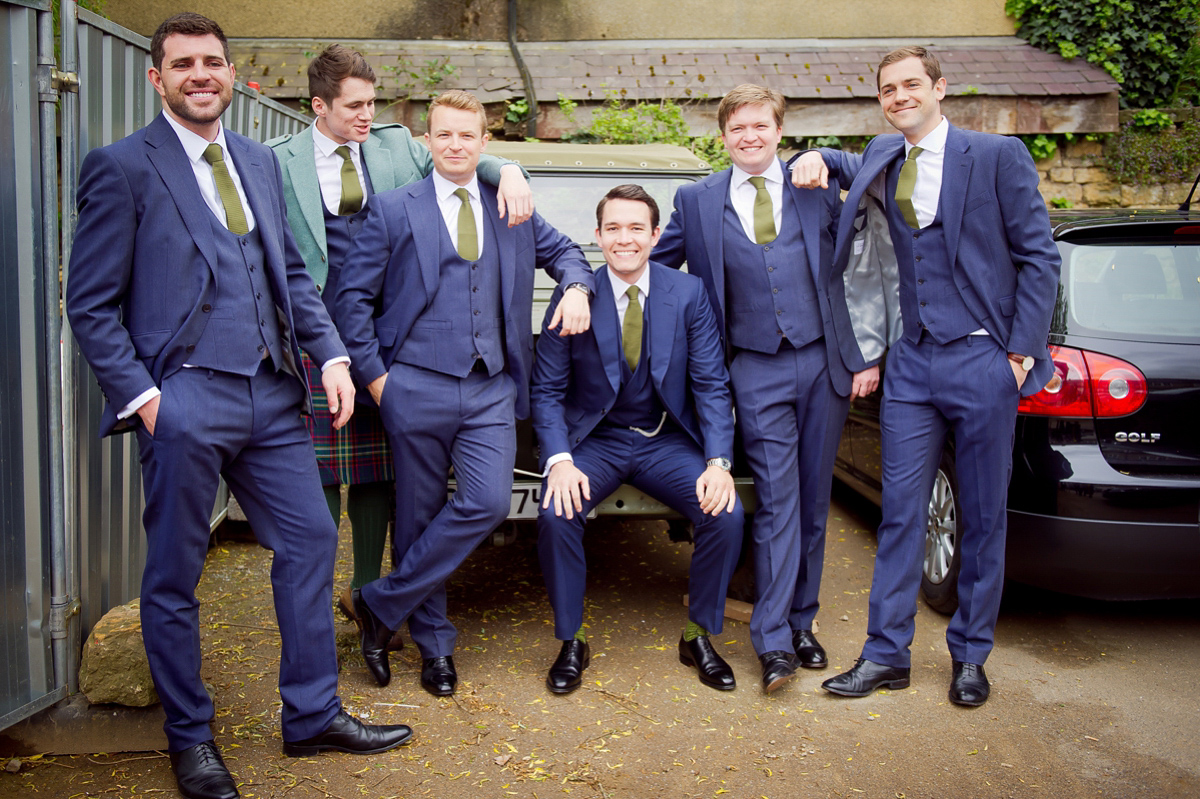 Tom's grandfather sadly passed away a year before the wedding, and in honour of his memory both Tom and Connie borrowed one of his treasured cars to transport them to the ceremony.
Connie was driven to Stockerston's church in a beautiful Rolls Royce, where she walked down the aisle to 'The Prince of Denmark's March' on the arm of her dad, Gordon.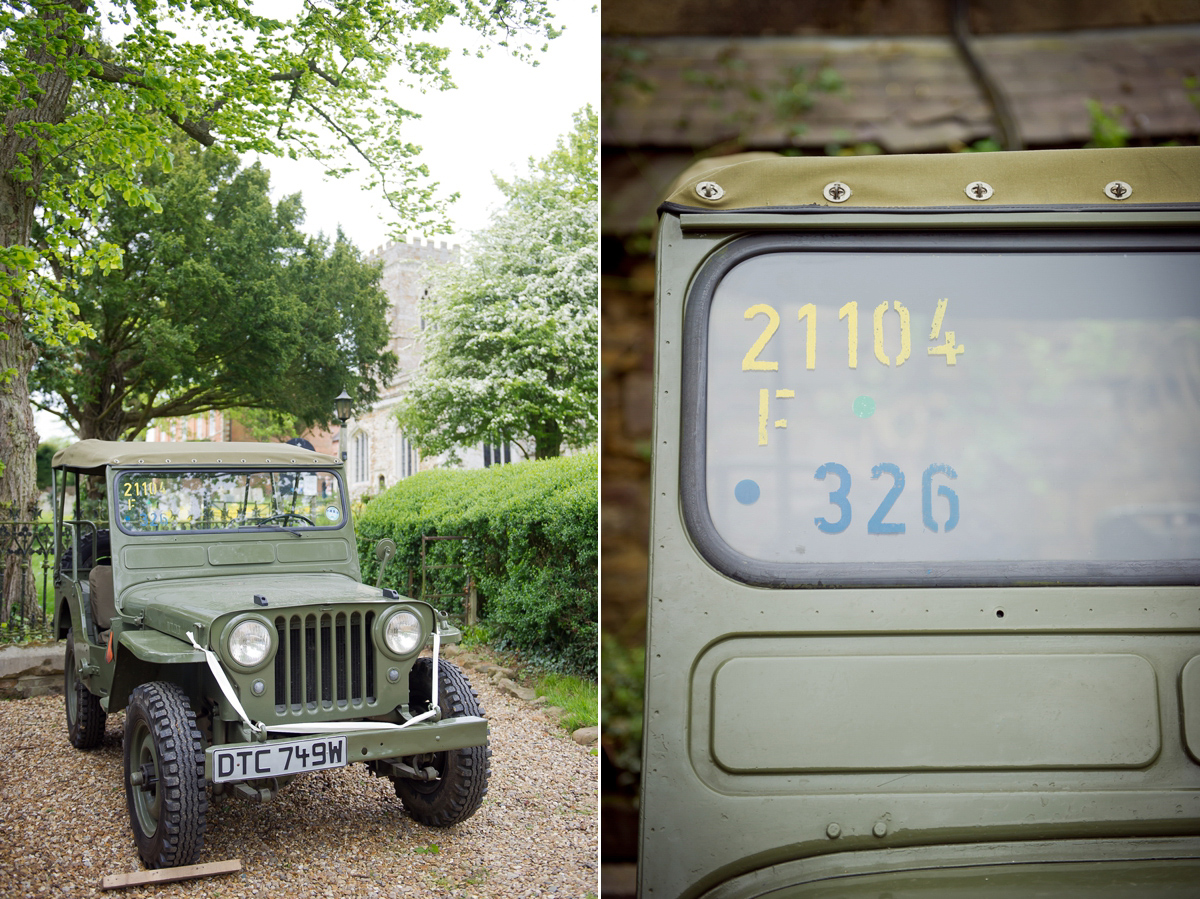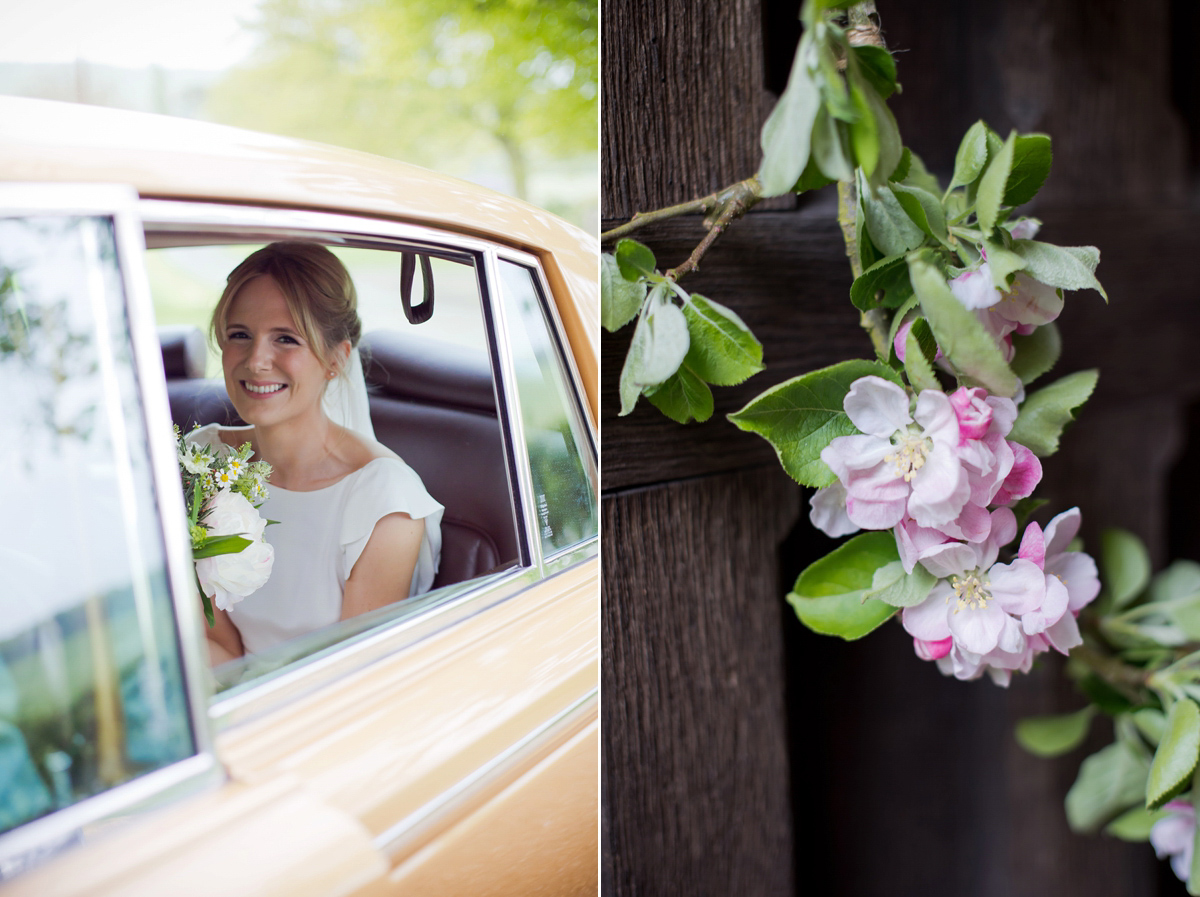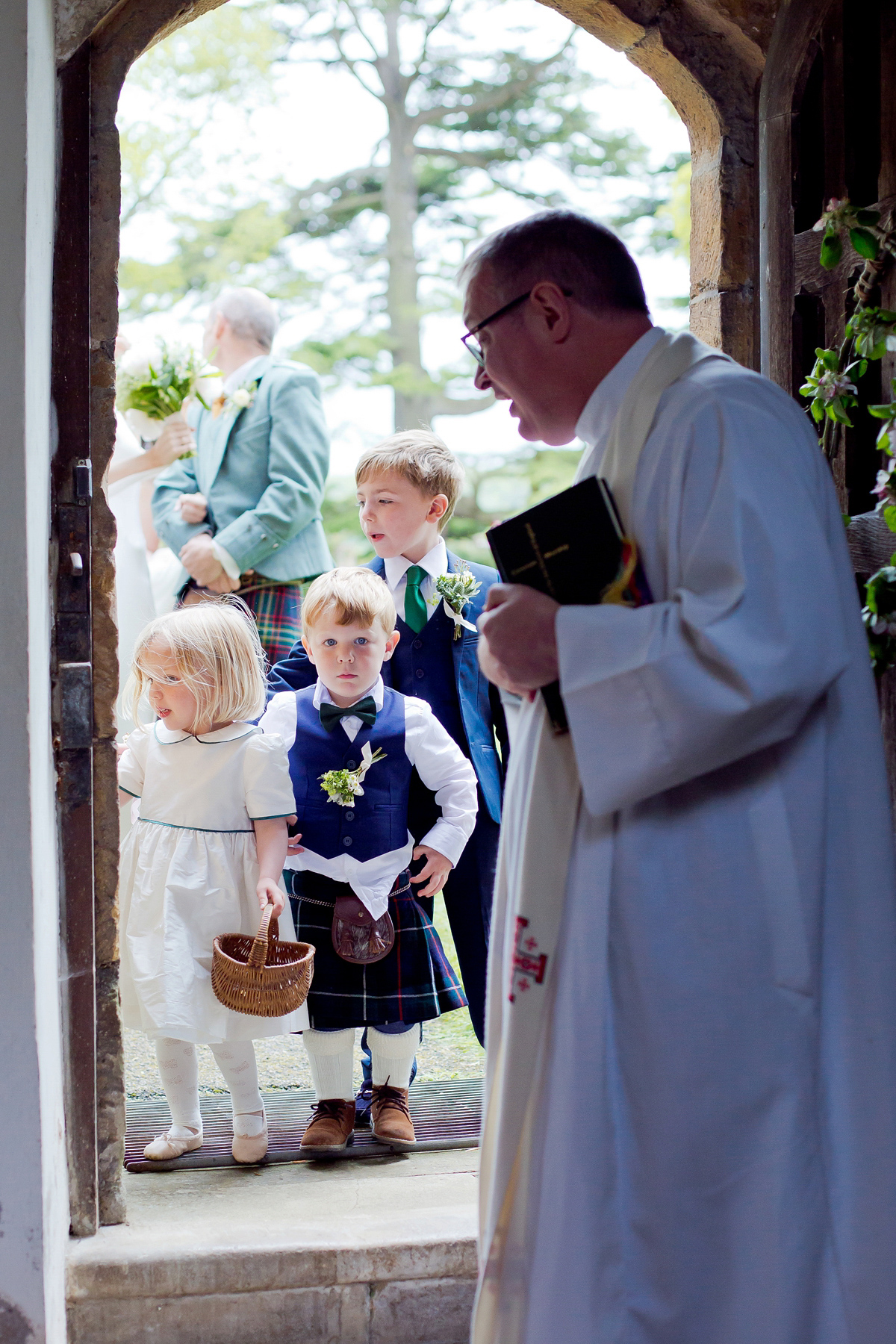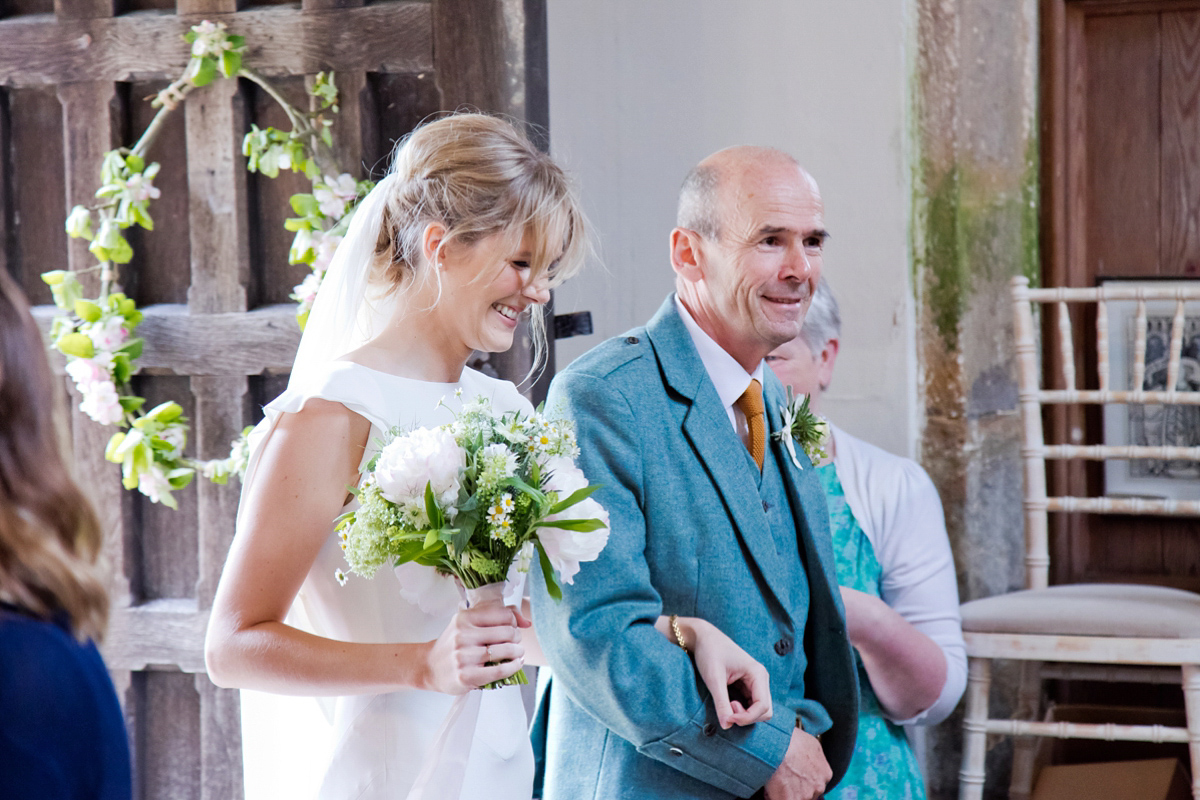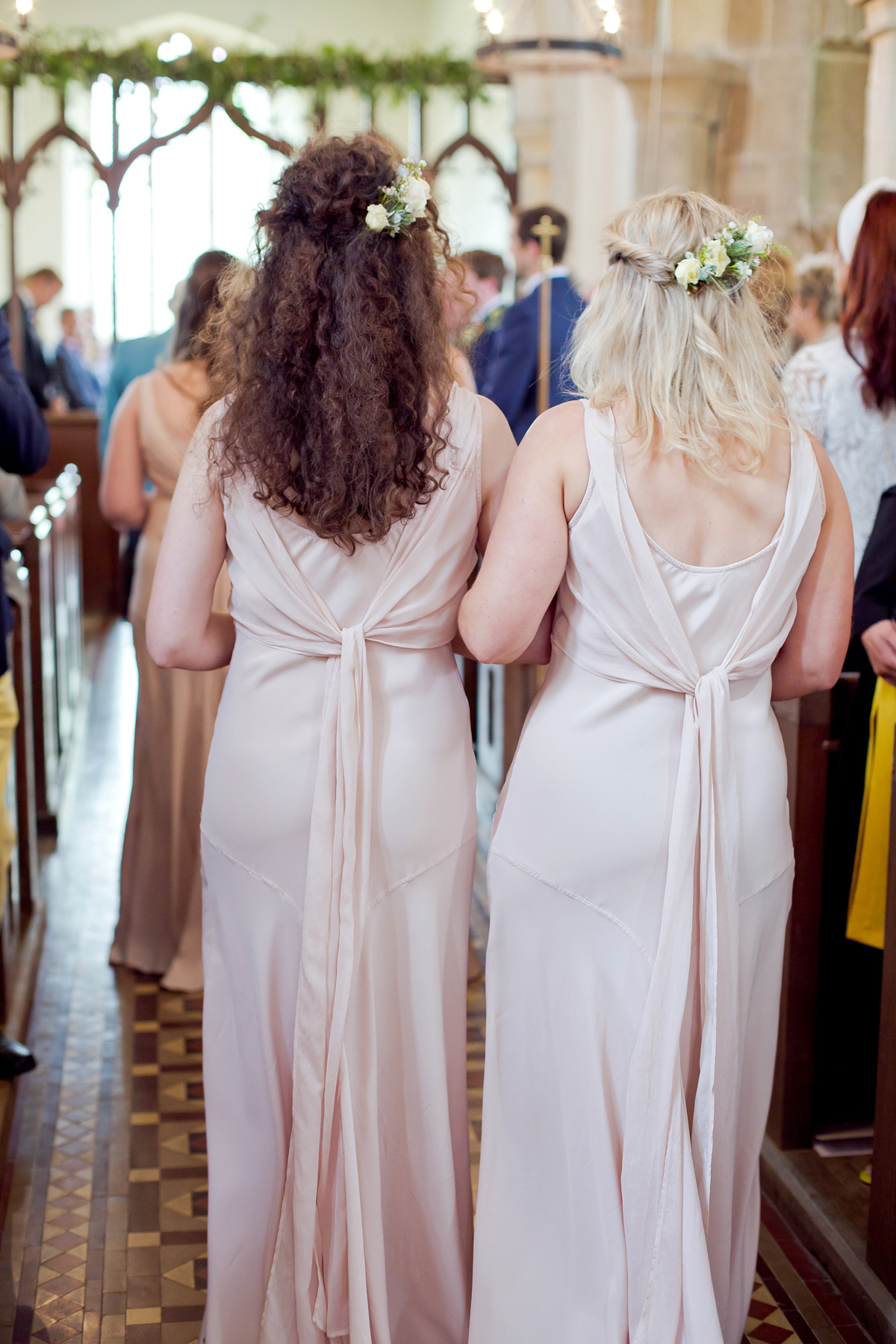 ]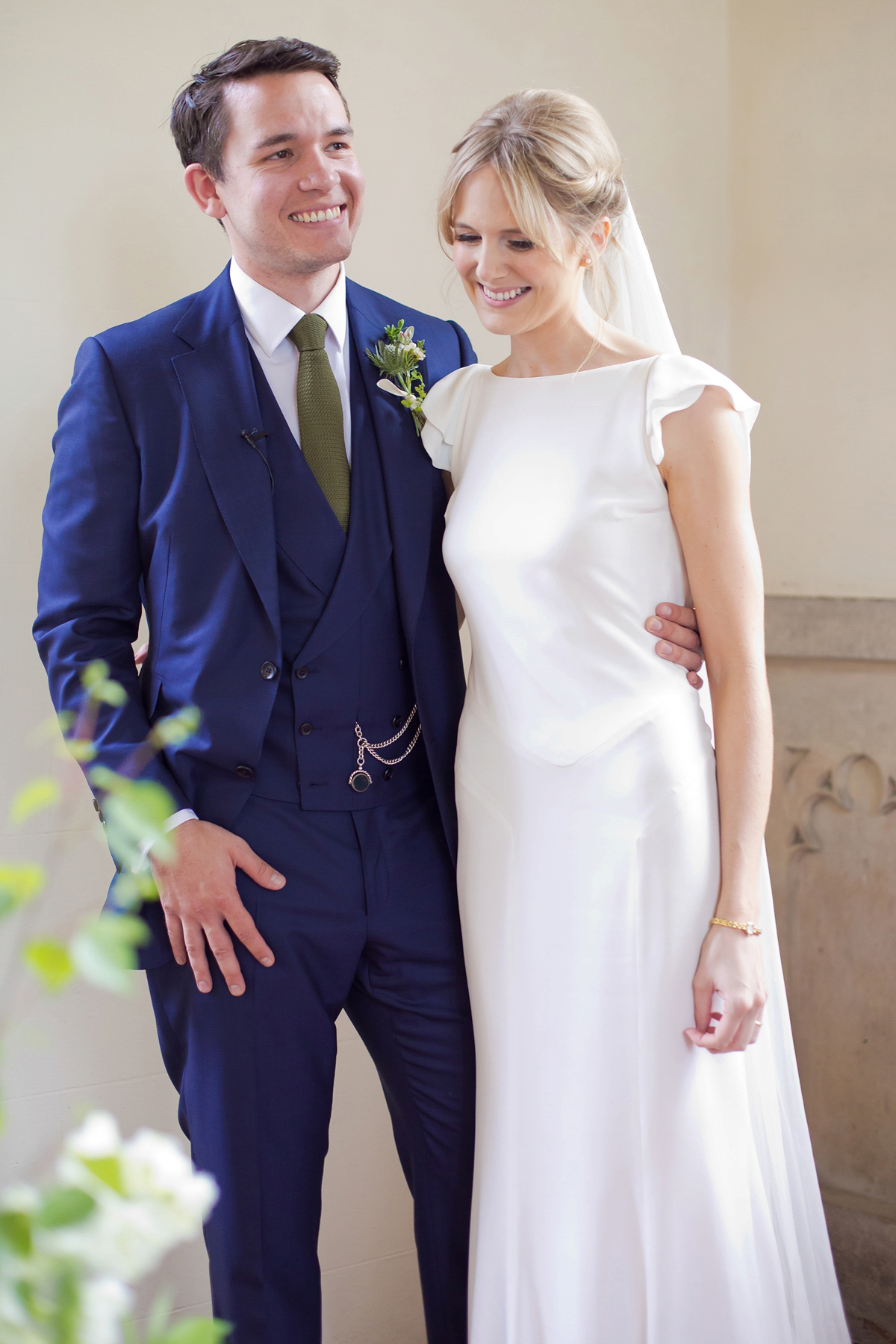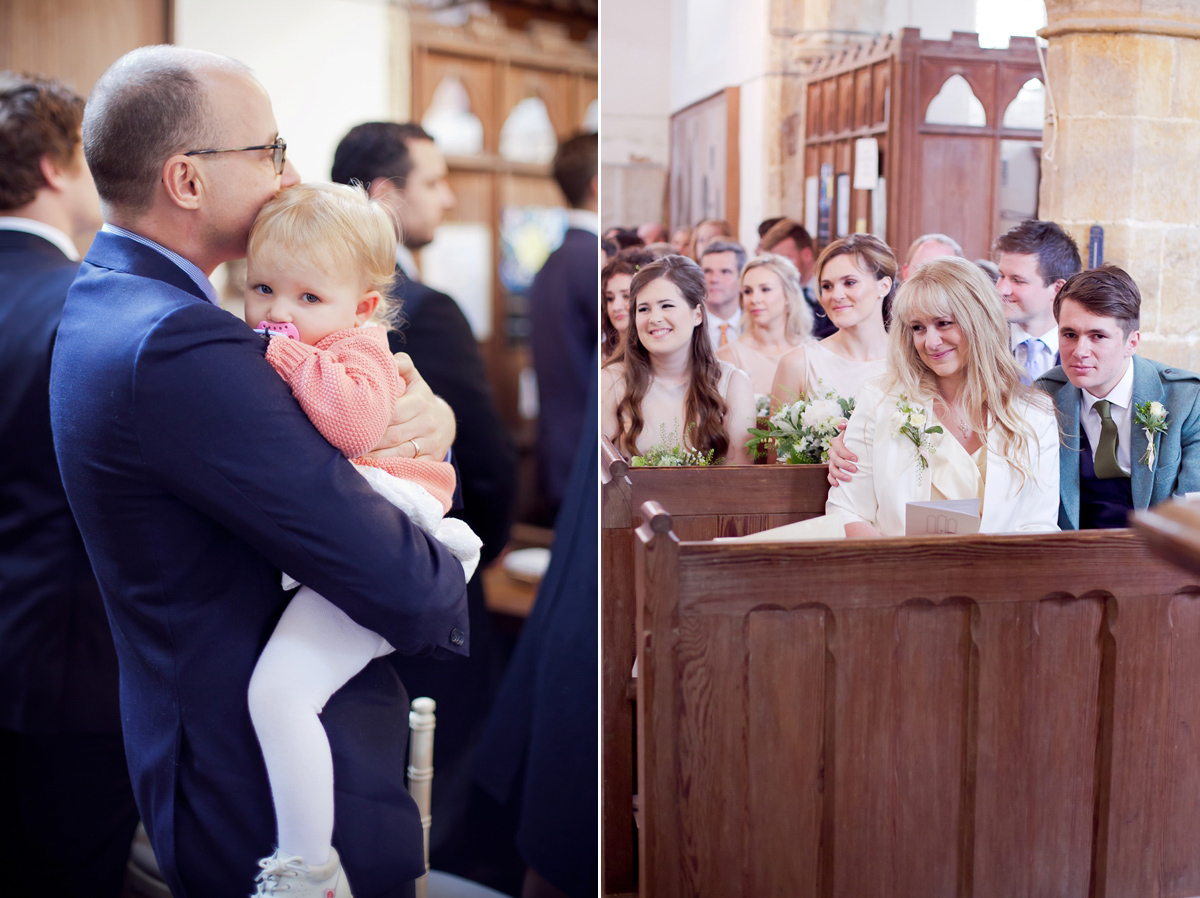 "Our rings were sourced through a family friend of Tom's. We had Corinthians and a reading written by E.E. Cummings; Tom chose it for us – the words explain better than I ever could:"

"i carry your heart with me (i carry it in
my heart) i am never without it (anywhere
i go you go,my dear;and whatever is done
by only me is your doing, my darling)
                                                      i fear
no fate (for you are my fate,my sweet) i want
no world (for beautiful you are my world, my true)
and it's you are whatever a moon has always meant
and whatever a sun will always sing is you
here is the deepest secret nobody knows
(here is the root of the root and the bud of the bud
and the sky of the sky of a tree called life; which grows
higher than soul can hope or mind can hide)
and this is the wonder that's keeping the stars apart
i carry your heart (i carry it in my heart)"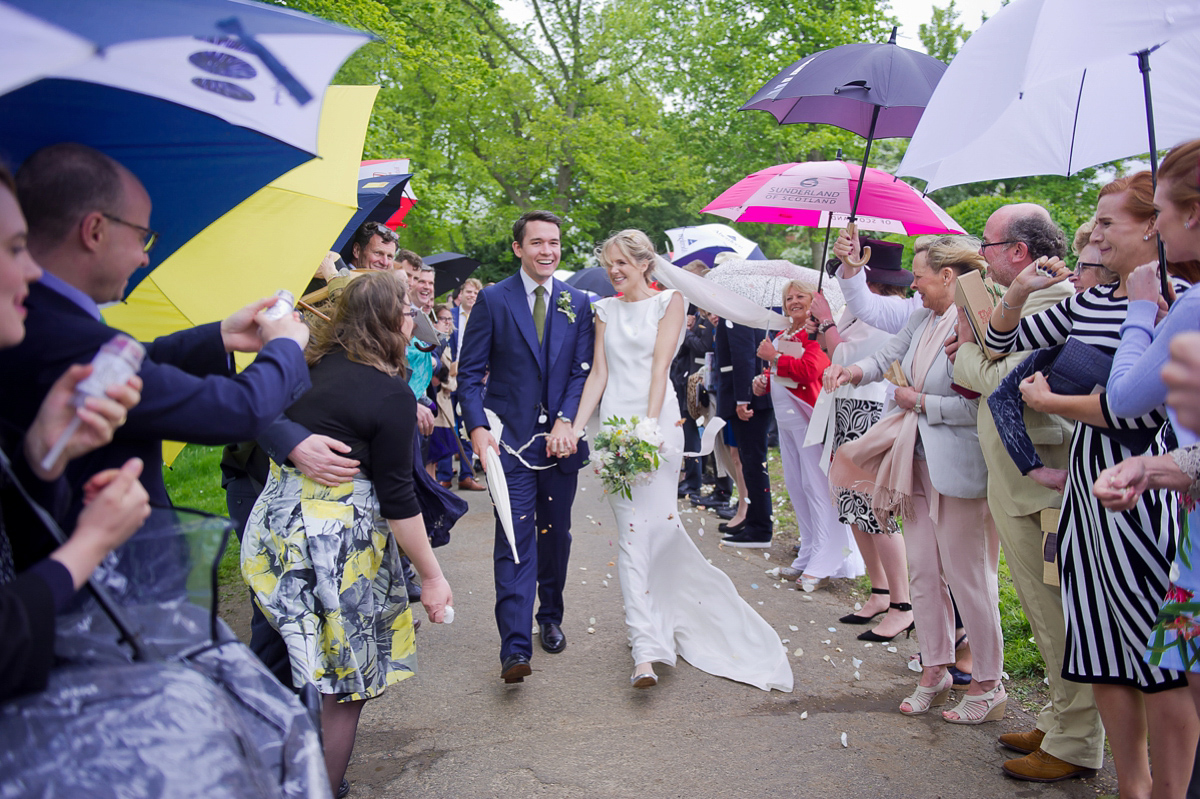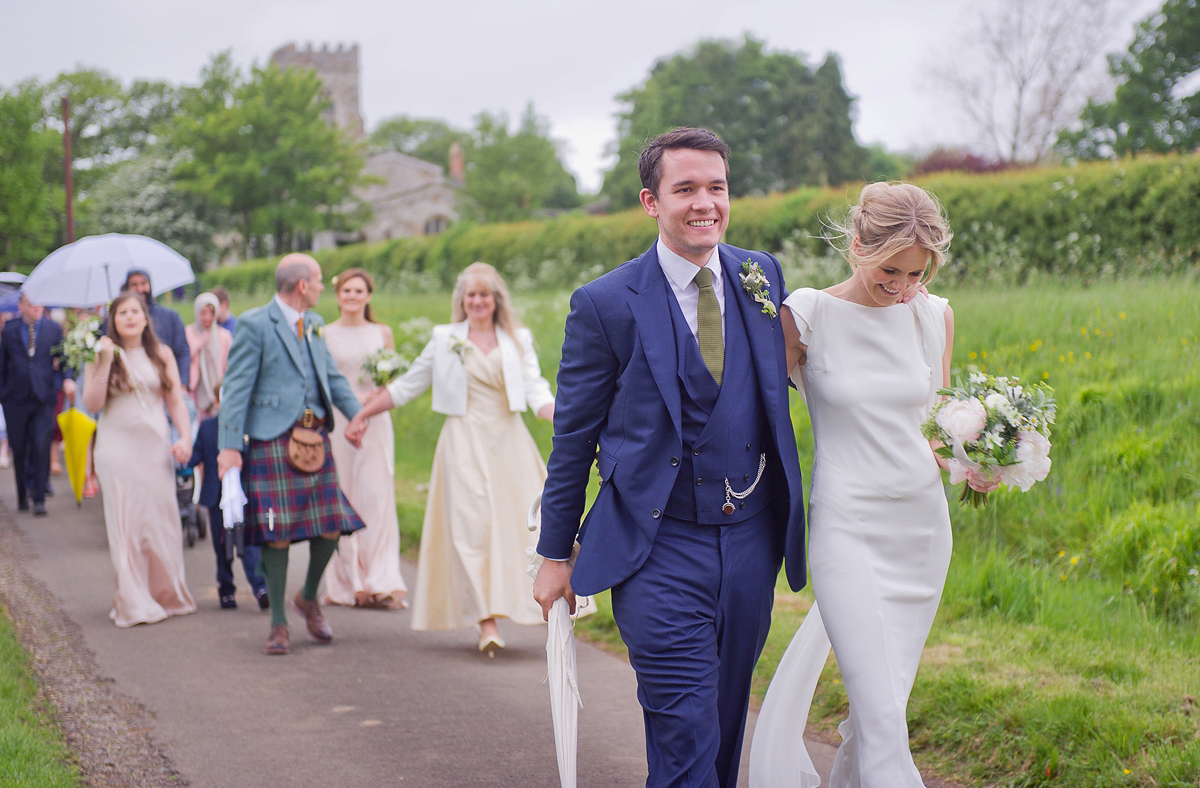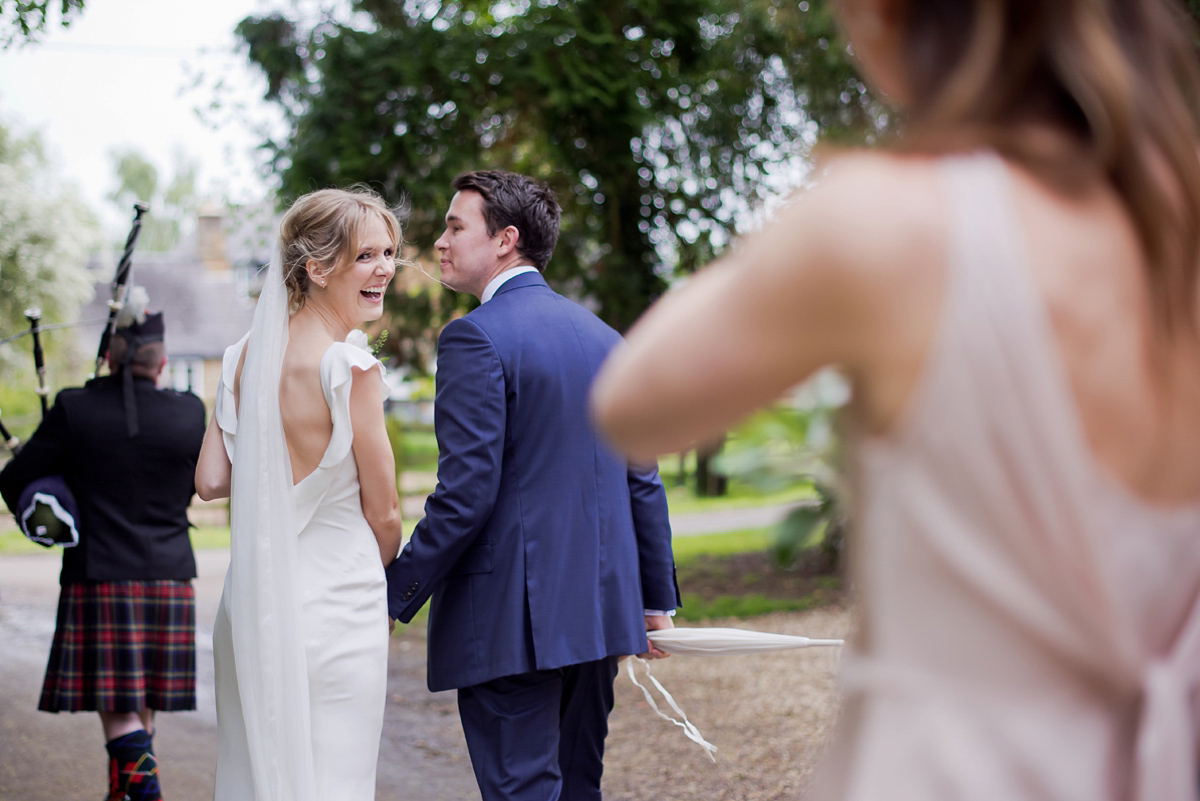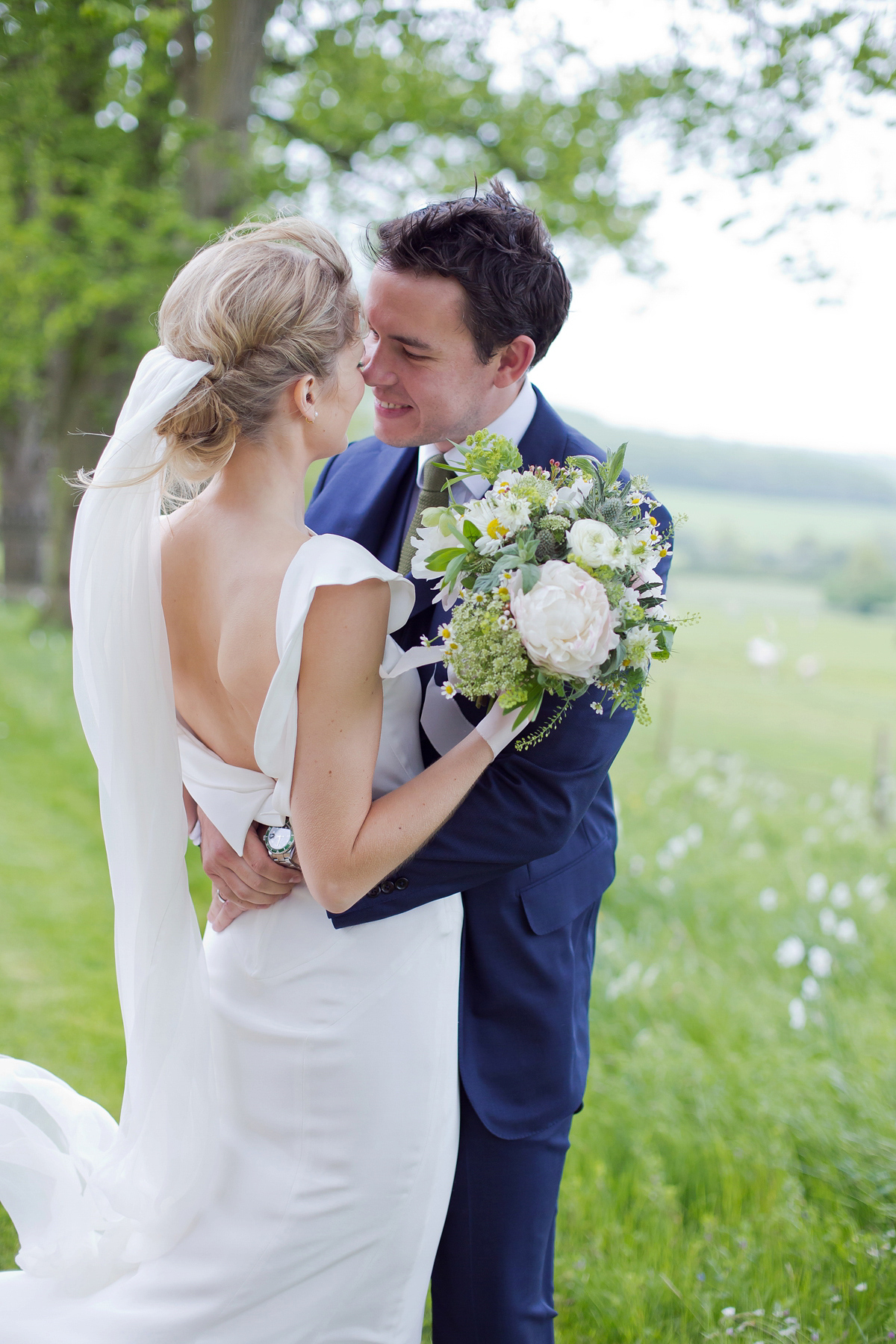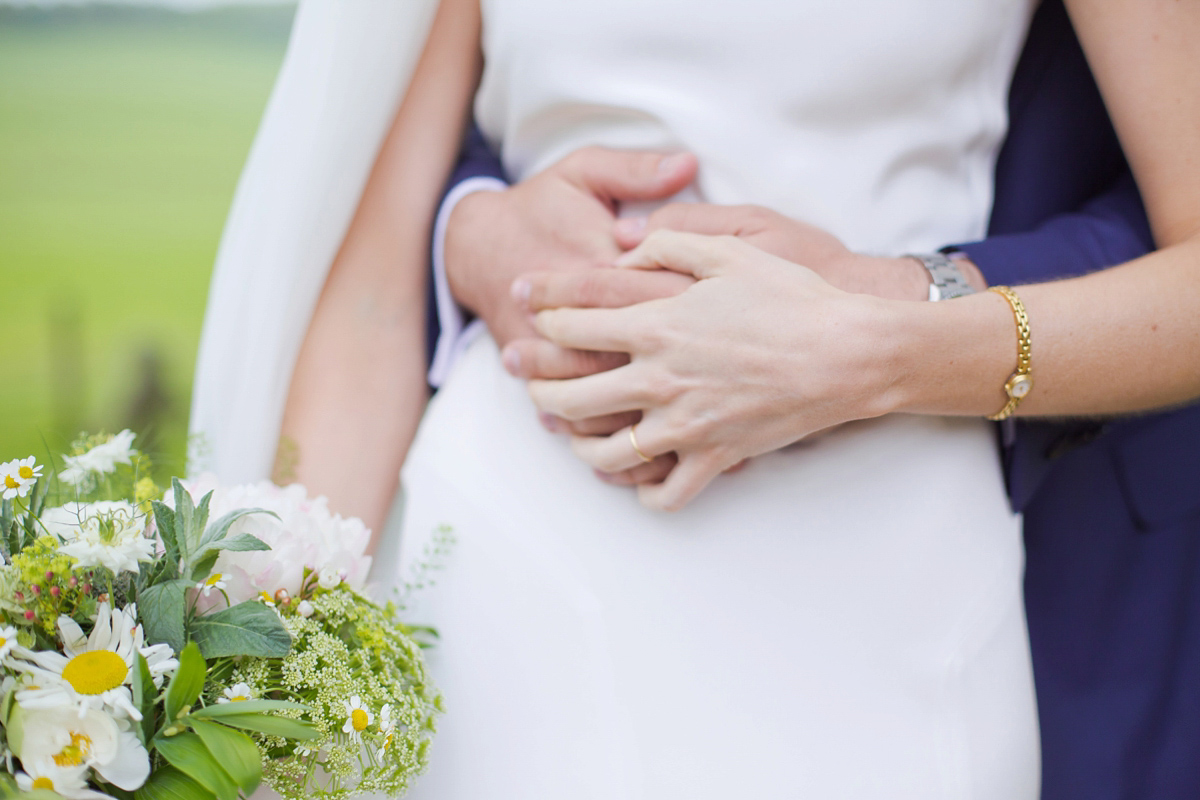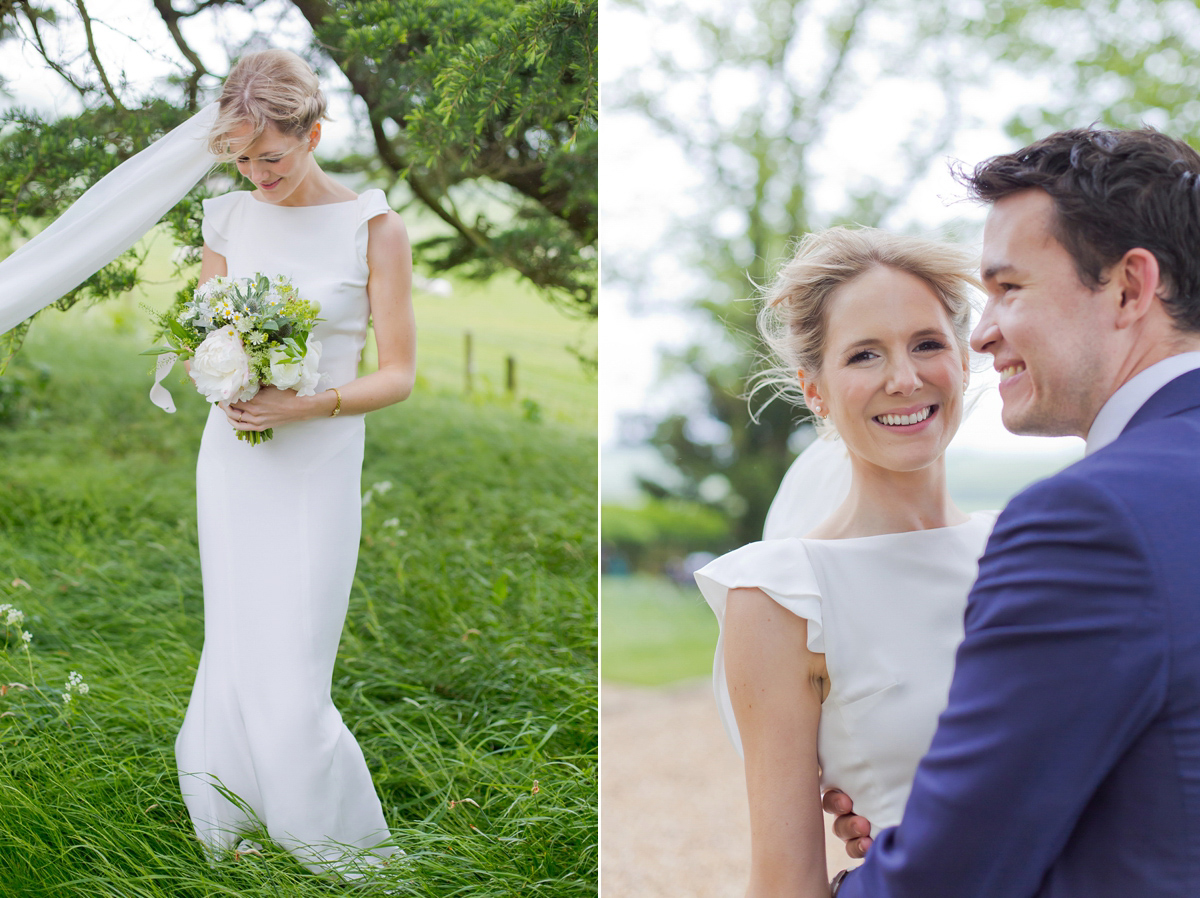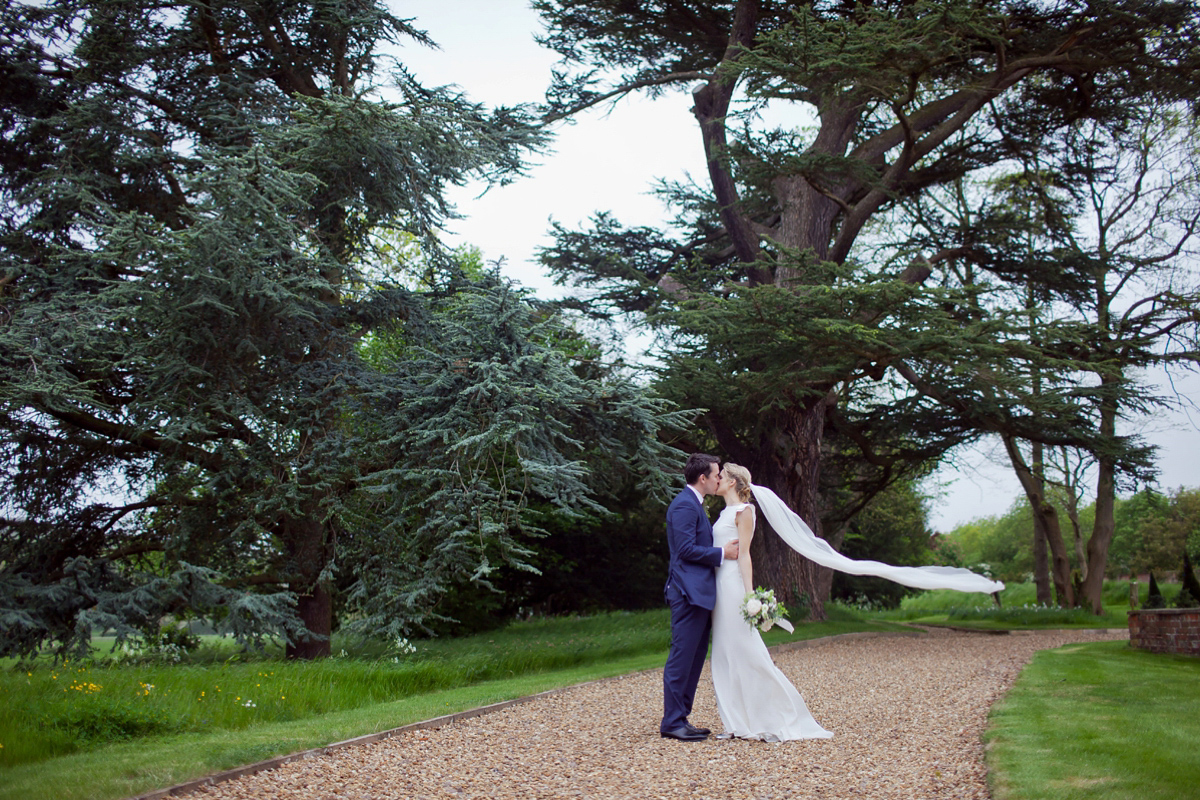 Something I whole-heartedly support, and will talk about until I'm blue in the face, is the importance of truly beautiful photography. Connie and Tom found their perfect image-making match in Emma Sekhon, a Swedish-born, natural light photographer based in London. Emma studied for an MA in fashion photography and specialises in fashion lifestyle and reportage styles. The couple also opted to have their day captured on film by Clark and Palmer Wedding Films.
"Tom and I hate being in front of a camera, selfies or otherwise. It was one of the few things I was nervous about beforehand, so to be presented with Emma's beautiful photos was just astounding. We look so happy and natural and they are such an accurate depiction of how we were feeling on the day. I can't thank Emma enough for the cherished photos, for making us relaxed enough to be ourselves, and for making it such an enjoyable experience. The moments on our own with Emma and Clark and Palmer are some of our favourite memories from the day."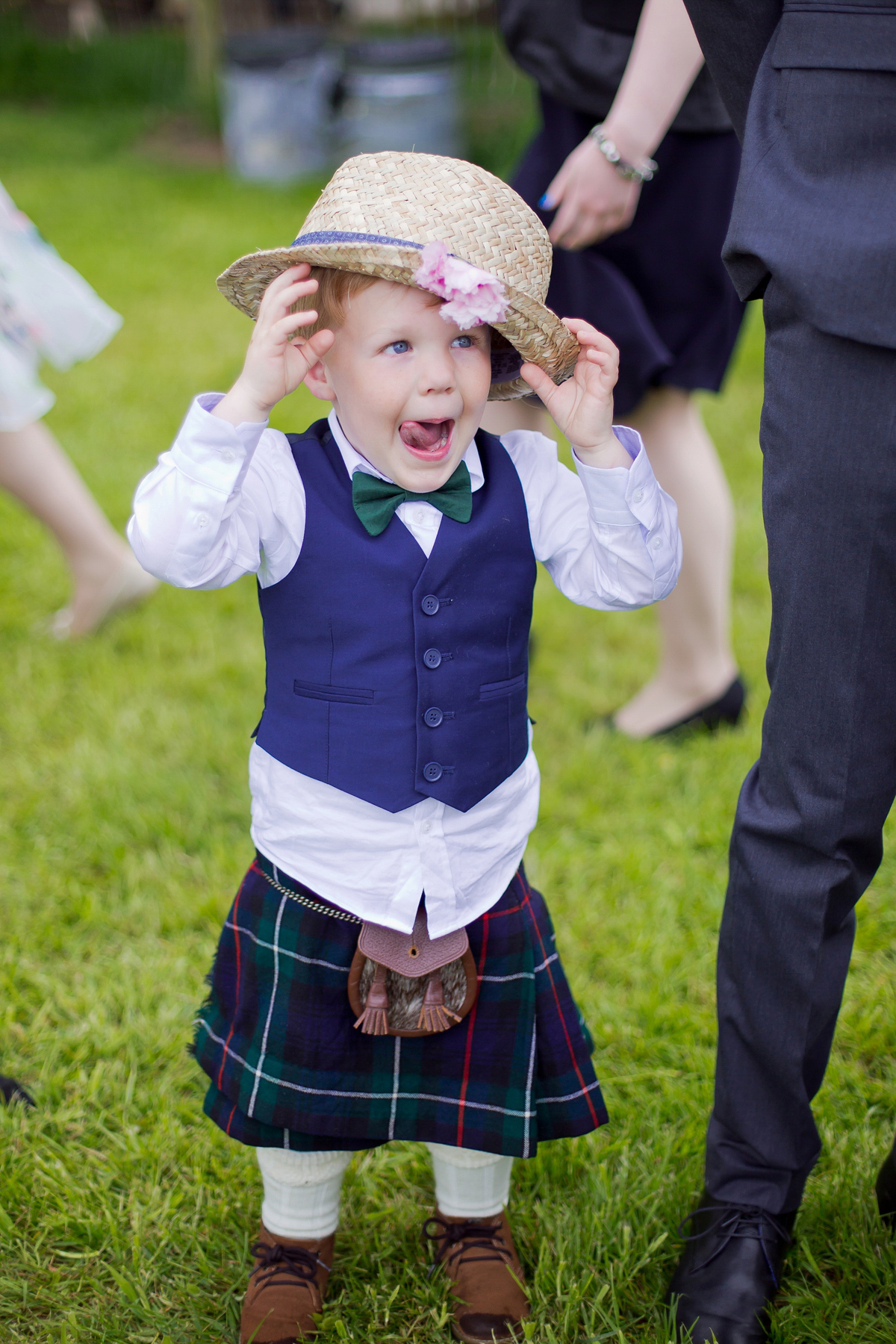 "Tom and Rob of Clark and Palmer Wedding Films were wonderful; we have had so many wonderful comments about the film. They absolutely nailed the excitement, joy and emotions of the day."
"After the church service, I replaced the veil with a flower garland by One Flew Over. Again we found them at A Most Curious Wedding Fair."
"I loved their informal, slightly 'wild' aesthetic which suited our meadow wedding perfectly, and both Charlotte and Jess were just so lovely to work with."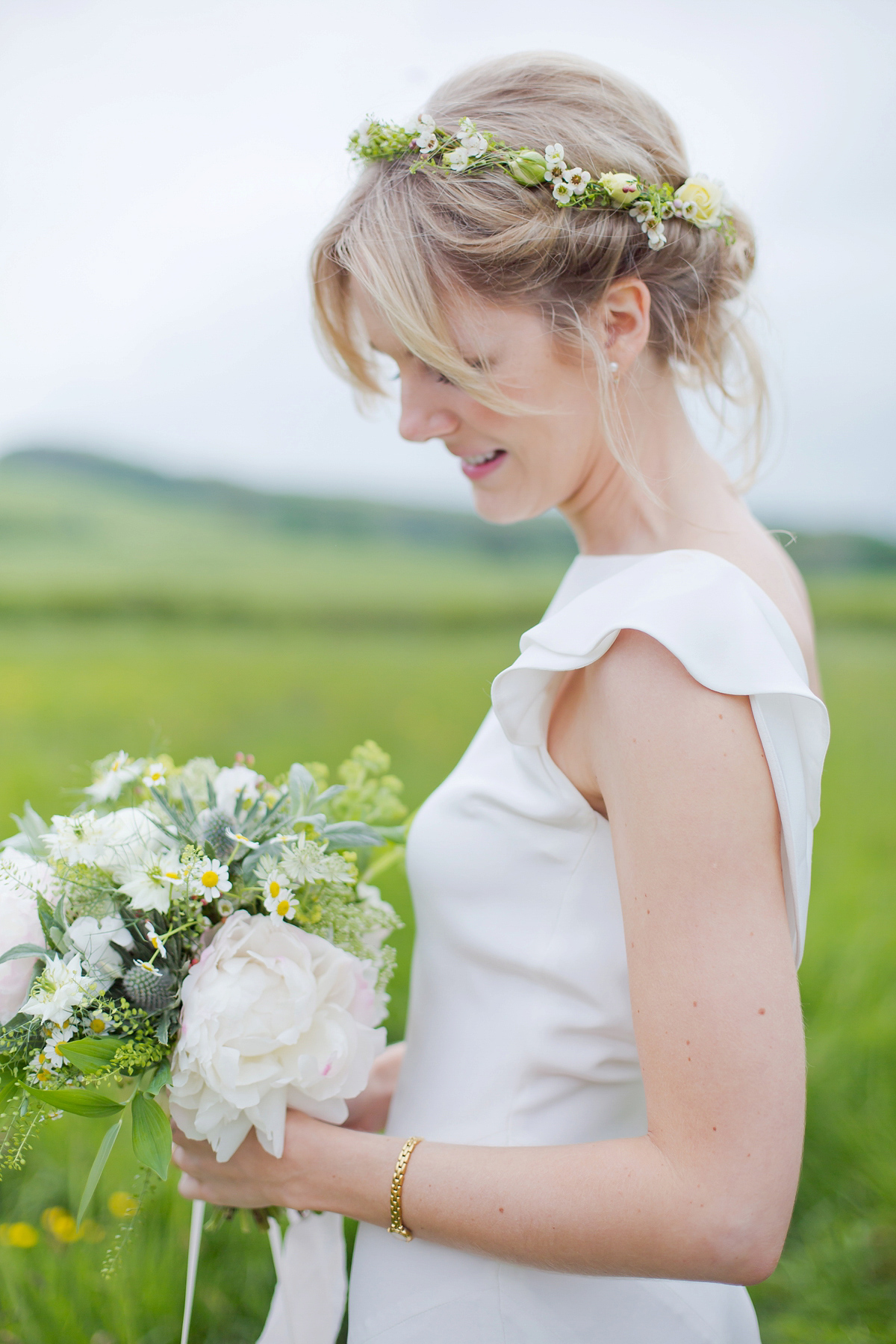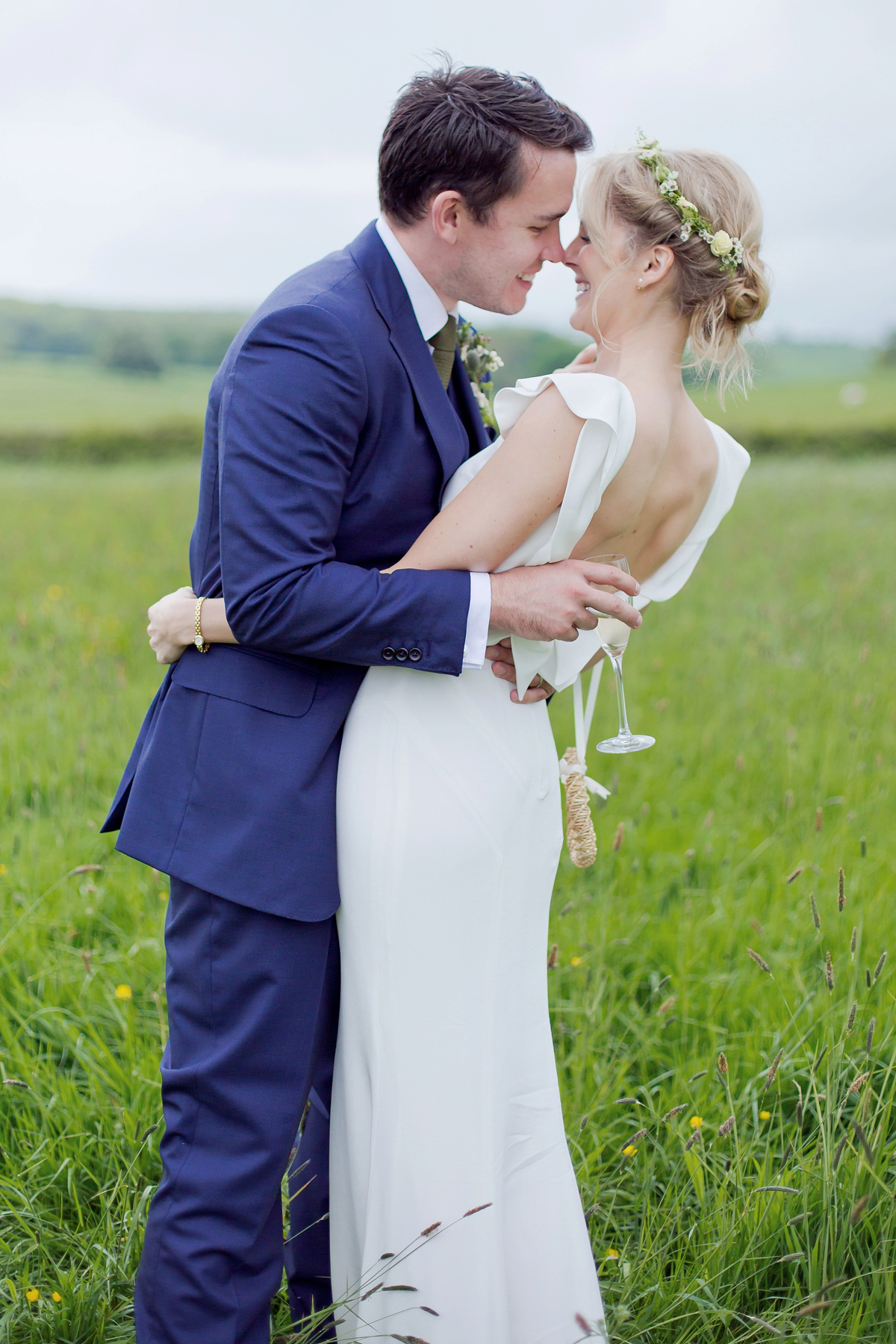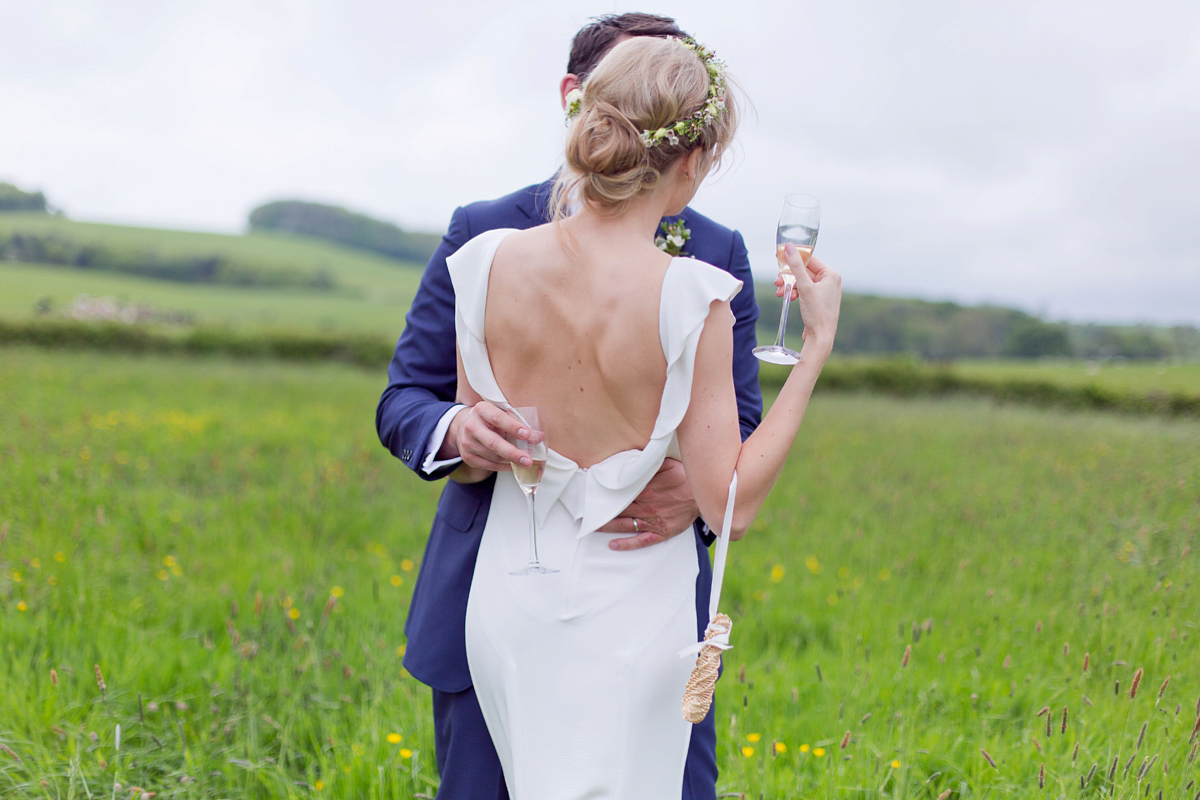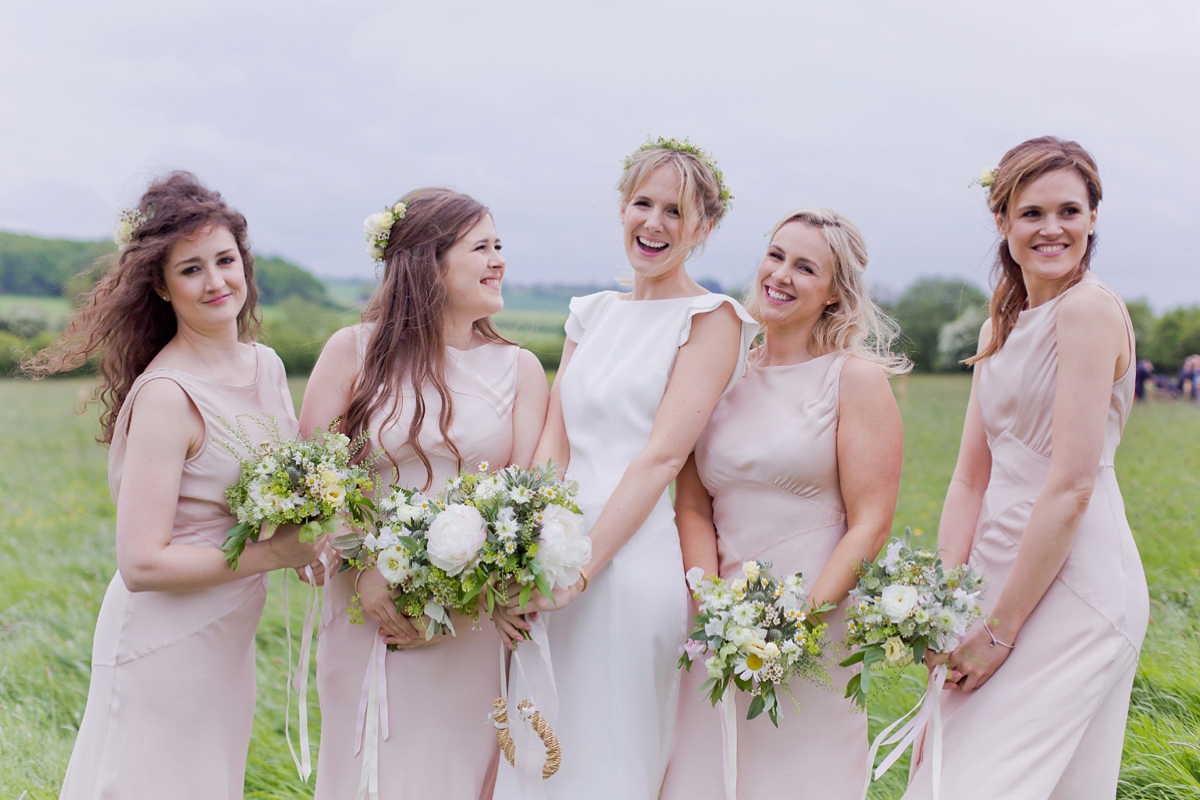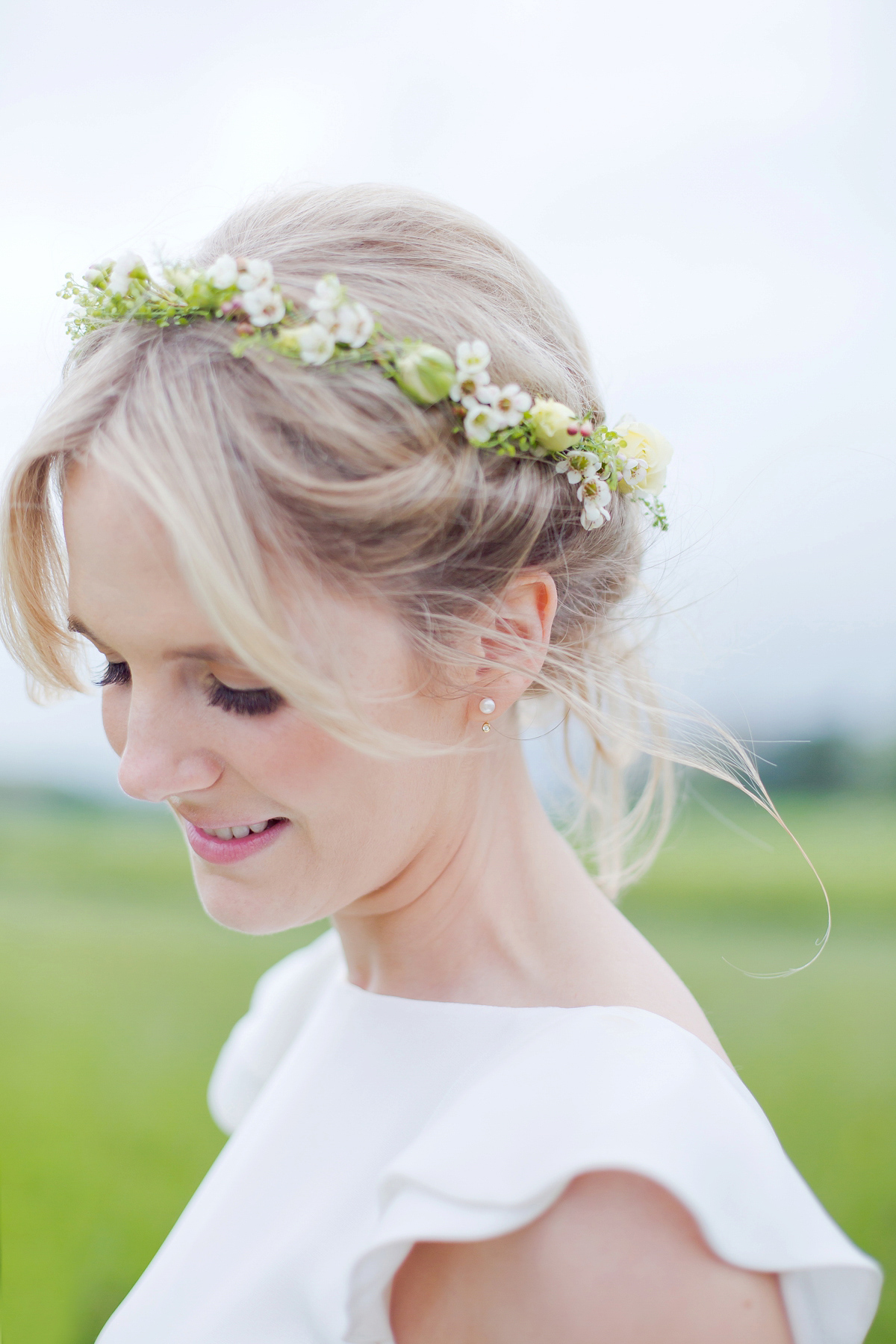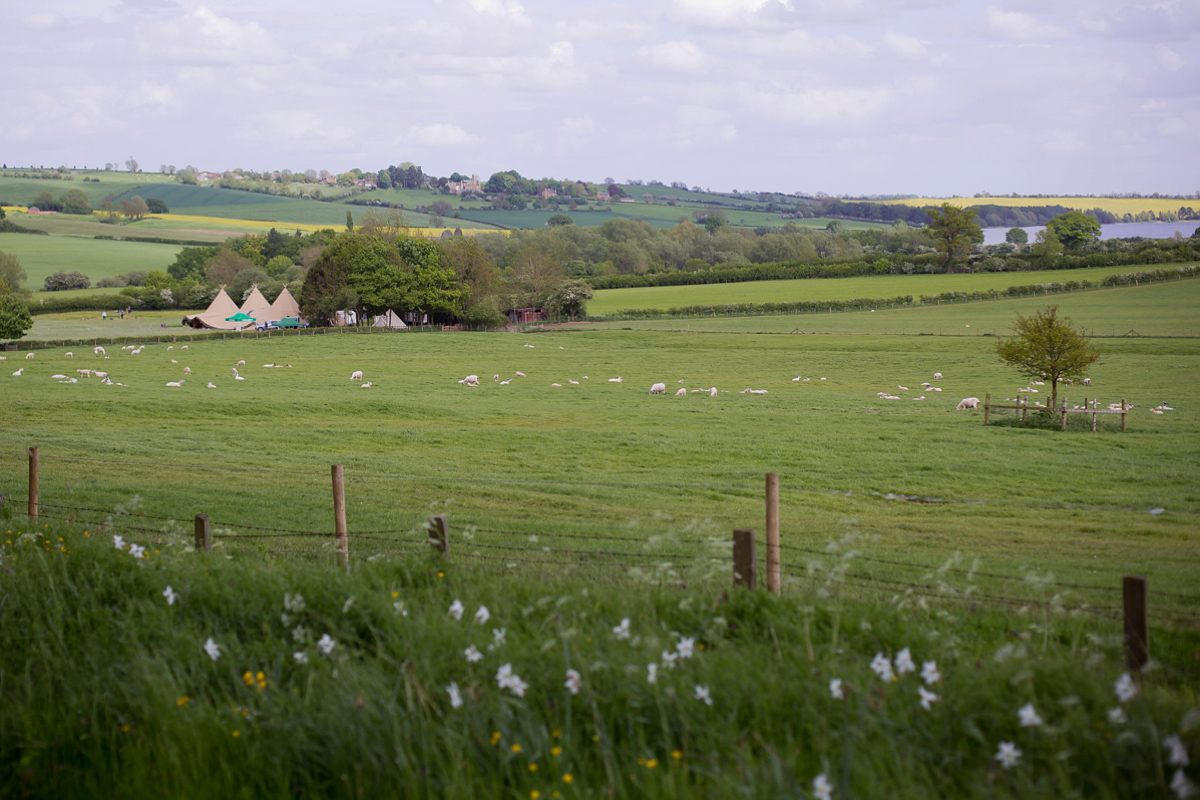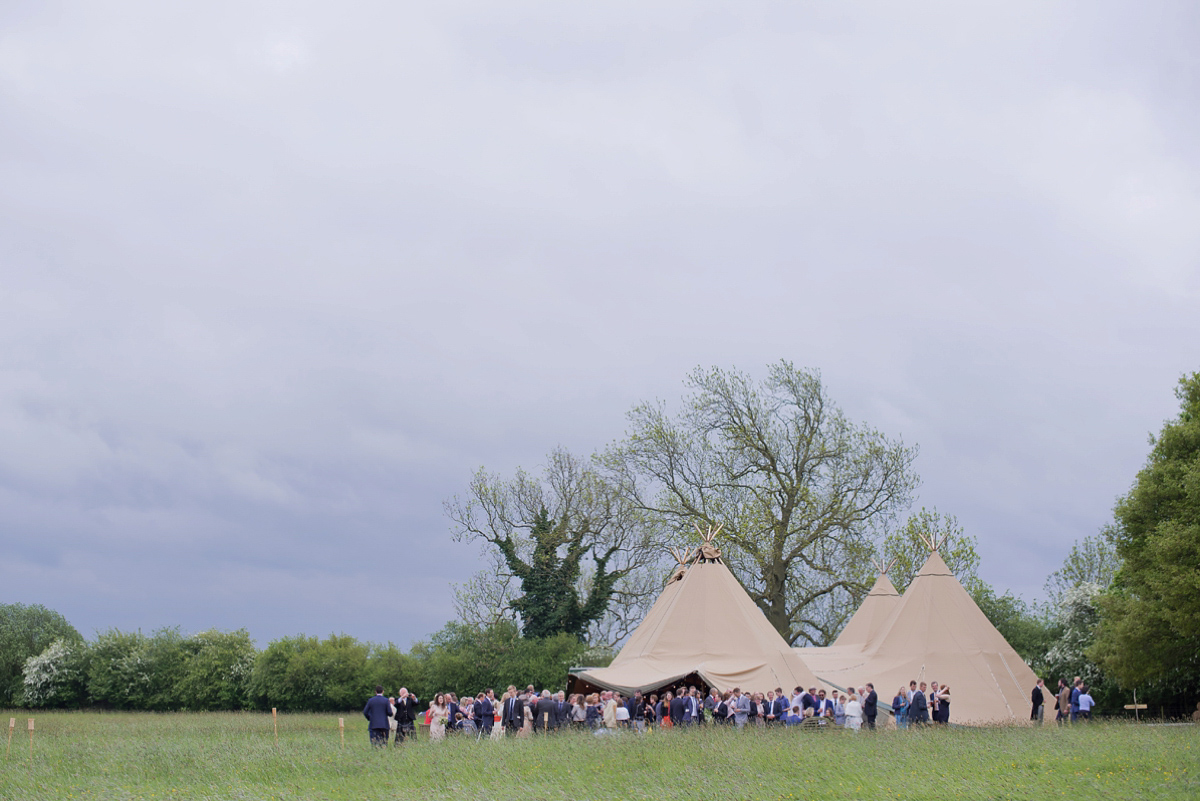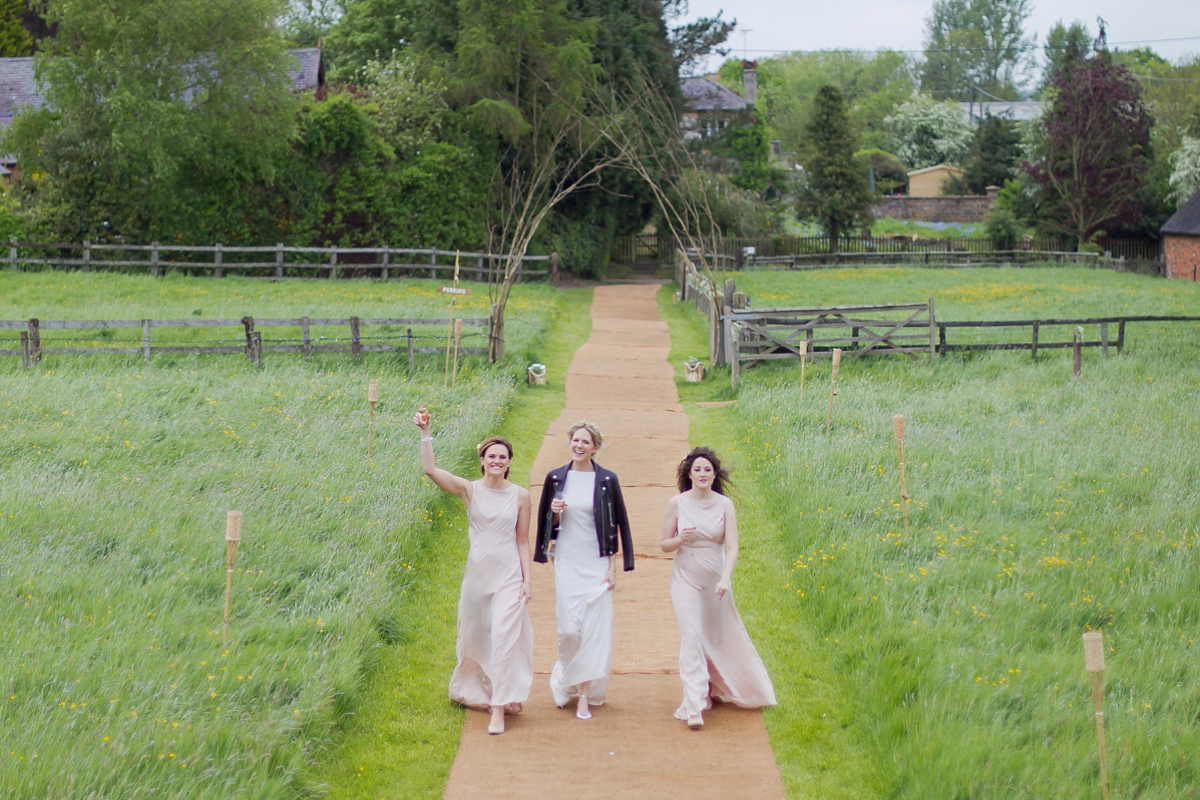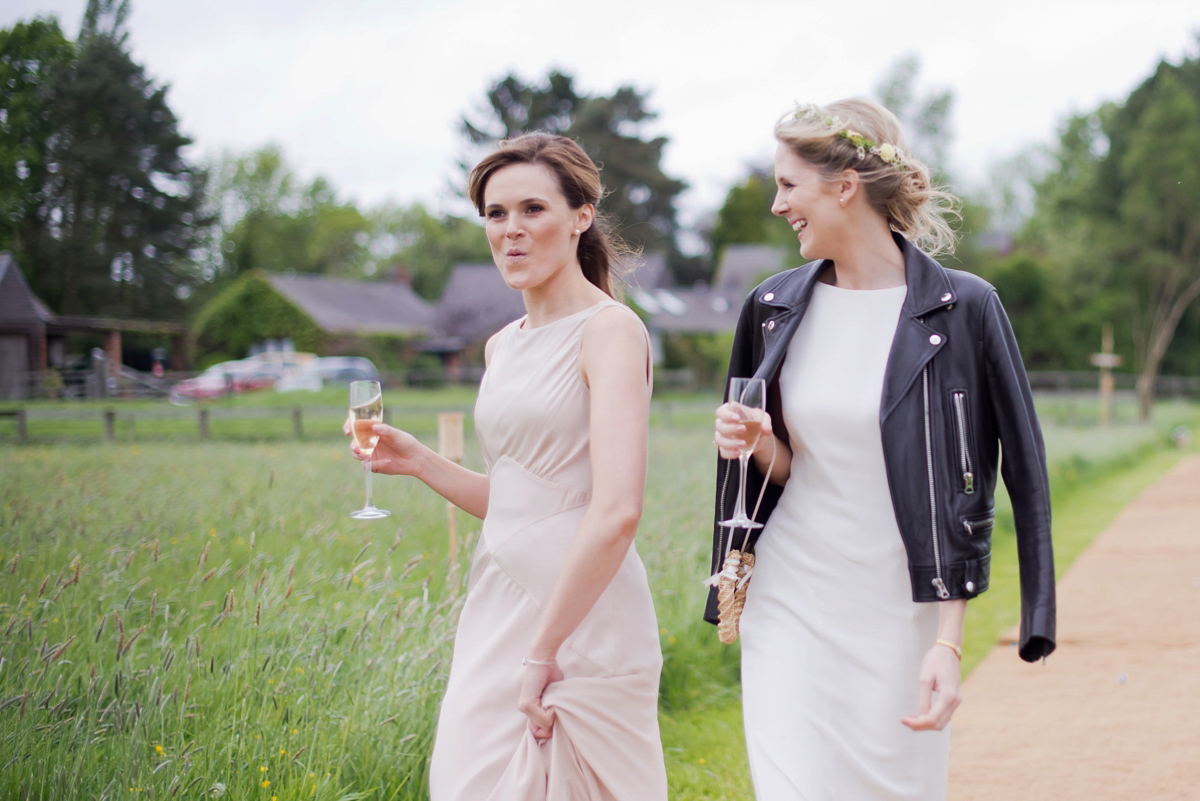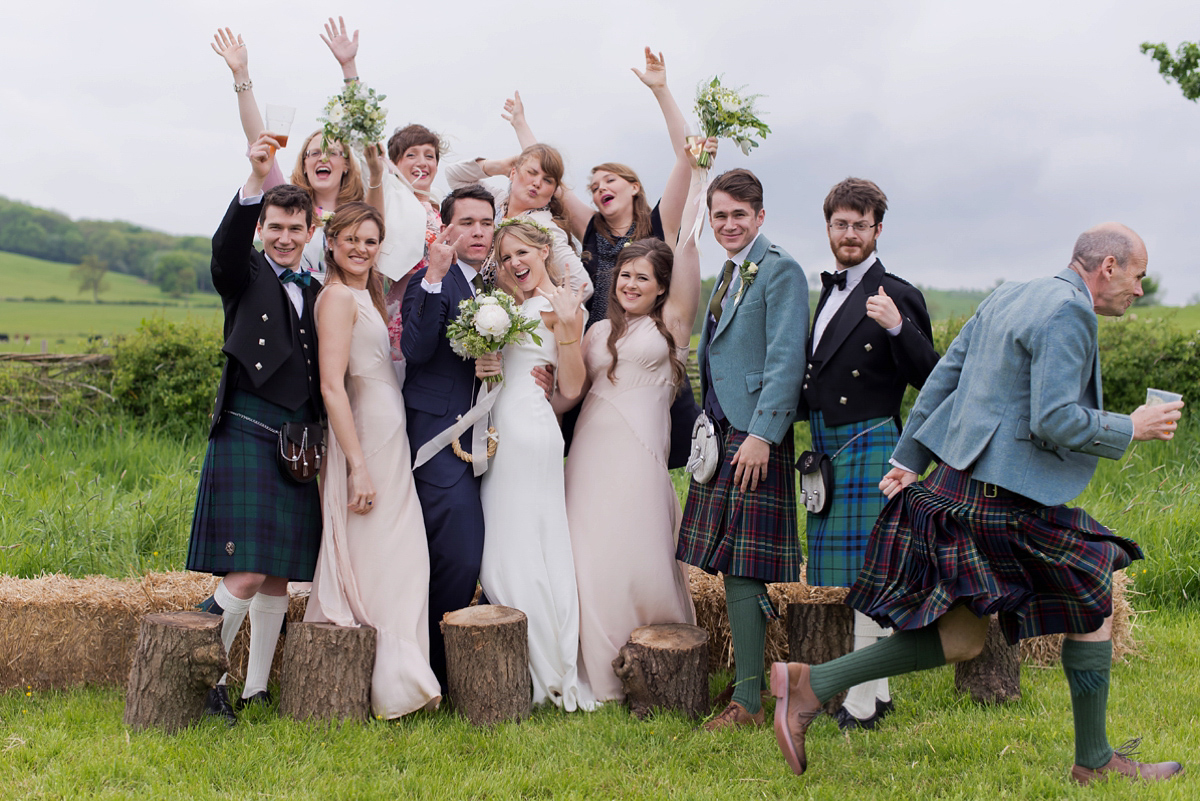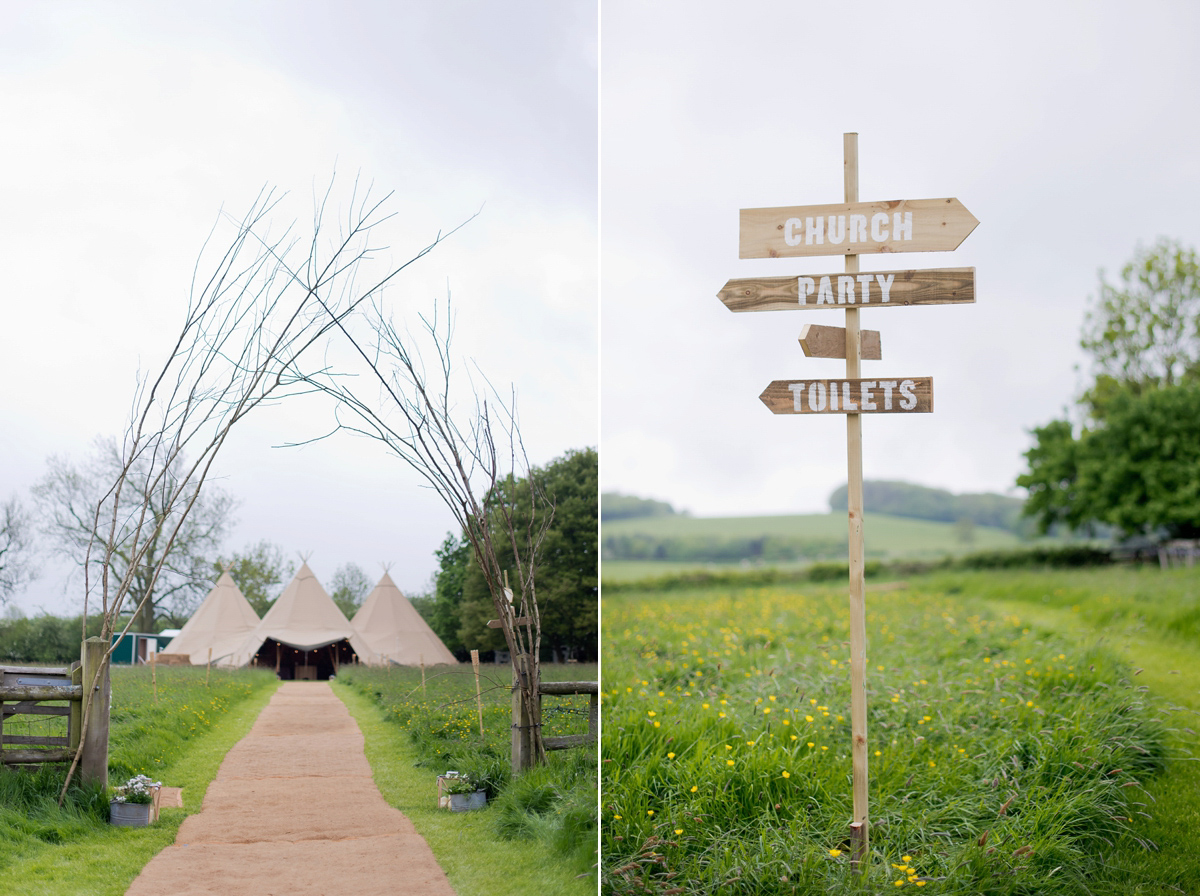 "I had two favourite moments. One was stepping foot in the church. It was the one moment I was dreading, all eyes on me. But once I stepped in, and saw everyone's beaming smiles and happy tears (including Tom's!) it was the best feeling in the world. The second was when we entered the tipis; this time there were no nerves and everyone was half a bottle of champagne down…Everyone roared as our piper piped us to our seats playing the theme tune from 'The Last of The Mohicans'. It was a very special moment."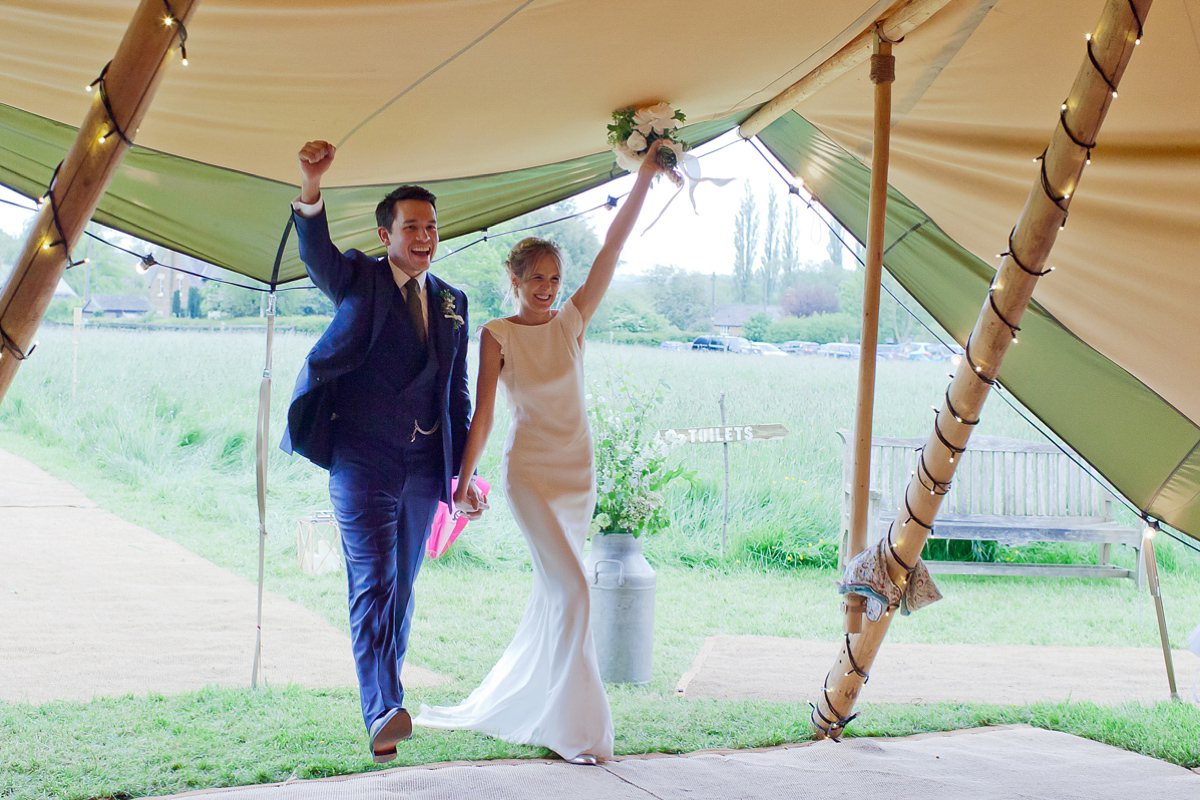 That beaming, jubilant walk from church to reception venue is just bursting with joy. The beautiful tipi-strewn meadow, just beyond Connie's childhood home was the only place our bride could ever envisage partying with her loved ones.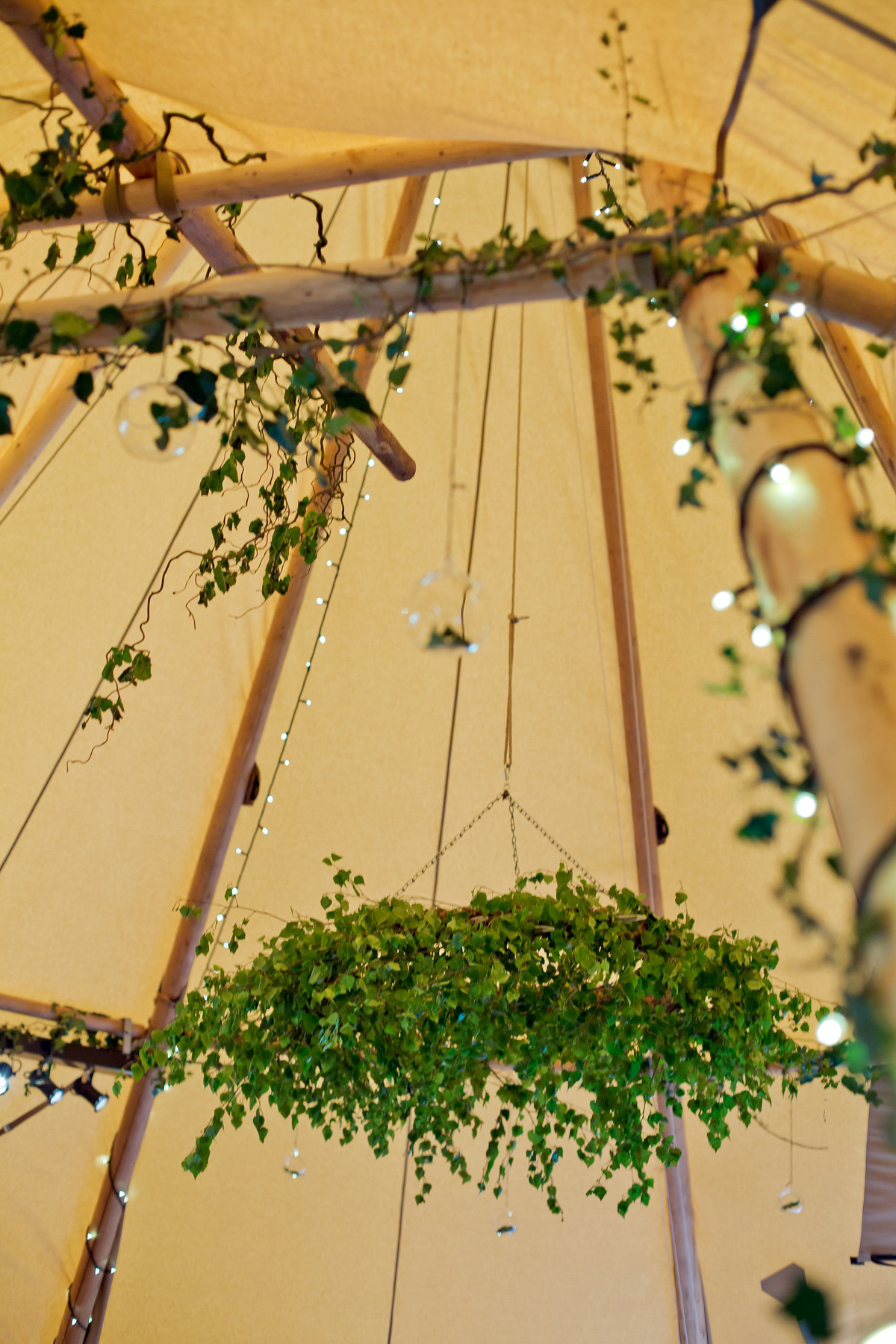 "Our reception was all very DIY. We had four large tipis from Simon of Buffalo Tipis which create beautiful spaces to play with. We hung foliage and huge wild wreaths made by One Flew Over from the beams and strung them with hundreds of glass baubles lit with flickering candles. It was one of those really moody and atmospheric days, so with the candlelight and the log fire burning it felt so enchanting and inviting coming in from outside."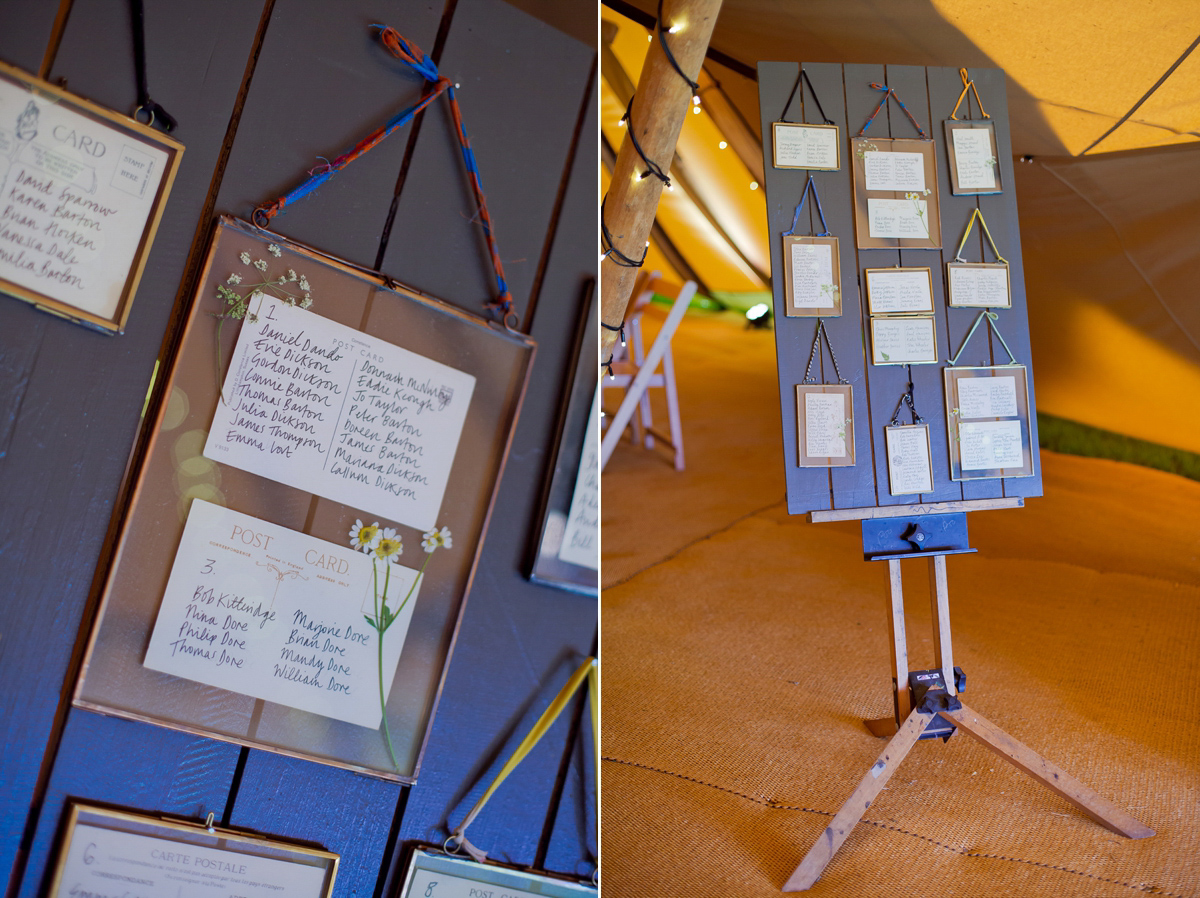 "We made our own 'Mulberry Moonshine' with gin and mulberries, handpicked from our garden in London. I designed bespoke labels and popped a large bottle on each table with shot glasses to toast during the speeches – very little made it to the speeches."
Caterers Kemp and Kemp delivered a faultless wedding meal, followed up, of course, by delicious Honest Burgers. A scrumptious and classic four-tiered Victoria Sponge cake by Victoria's Cake Company was the perfect sweet flourish, adorned with dainty white and green flowers.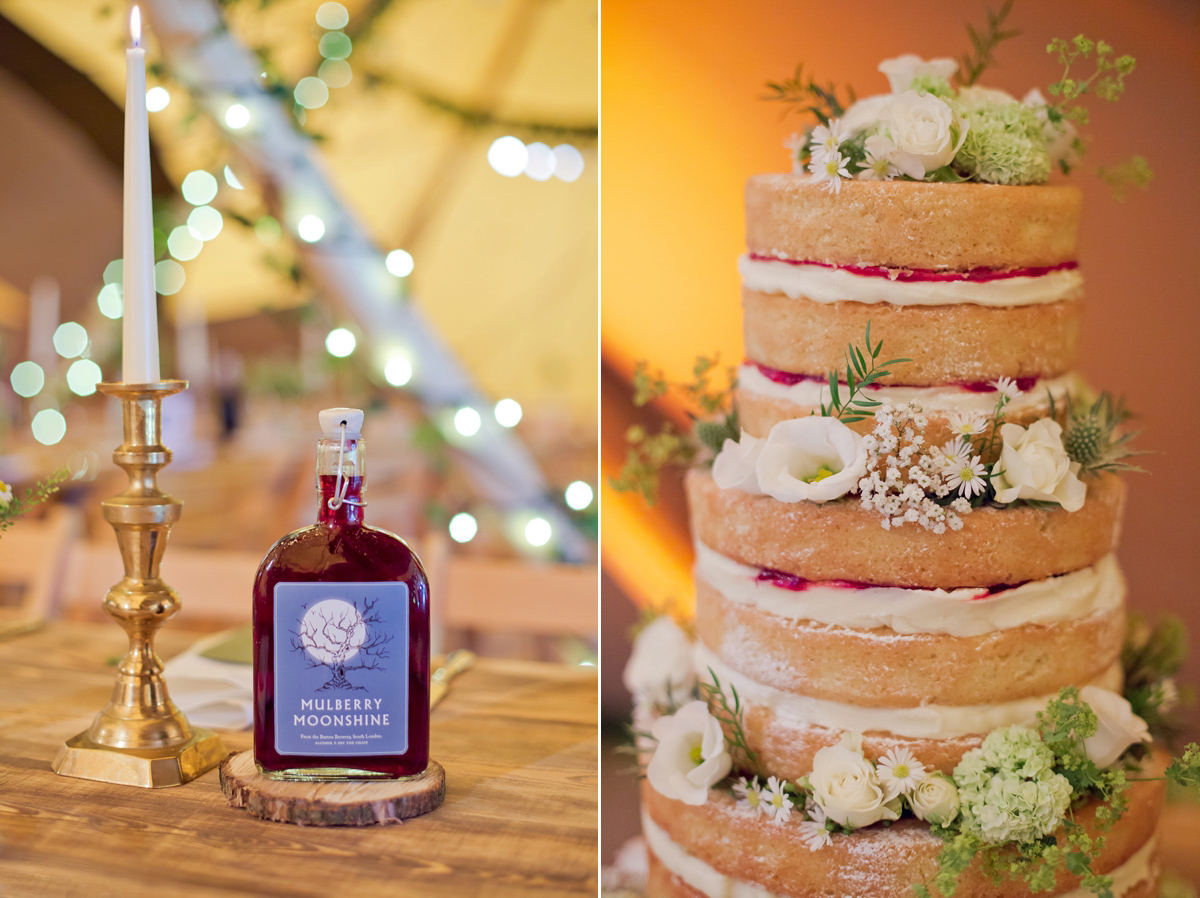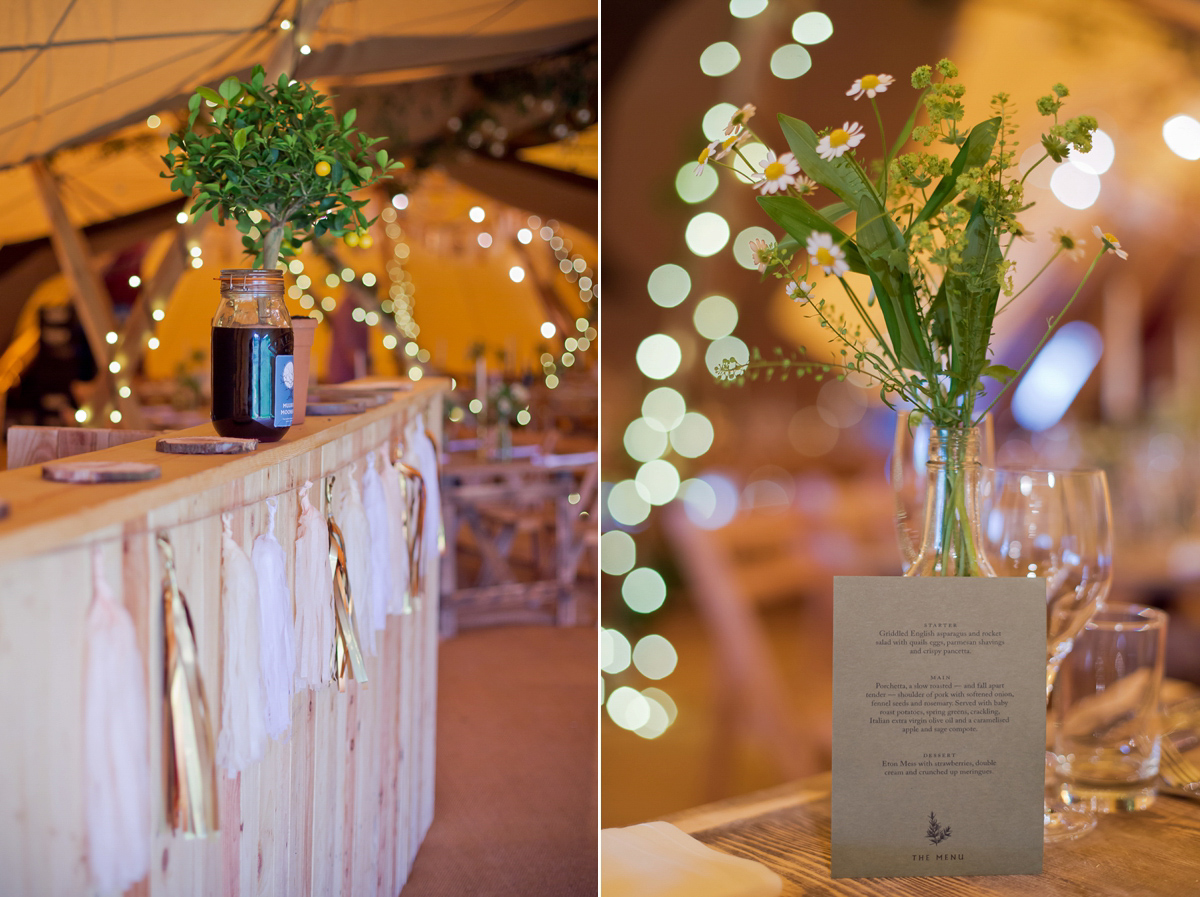 "We're not ones for slow dancing so Tom asked The Bluejays to perform Sam Cooke's 'What a Wonderful World'; one of our favourites, which we started dancing to in order to get everyone onto the dance floor. I can't recommend The Bluejays enough for getting everyone dancing; rock and roll is such a crowd pleaser for all generations."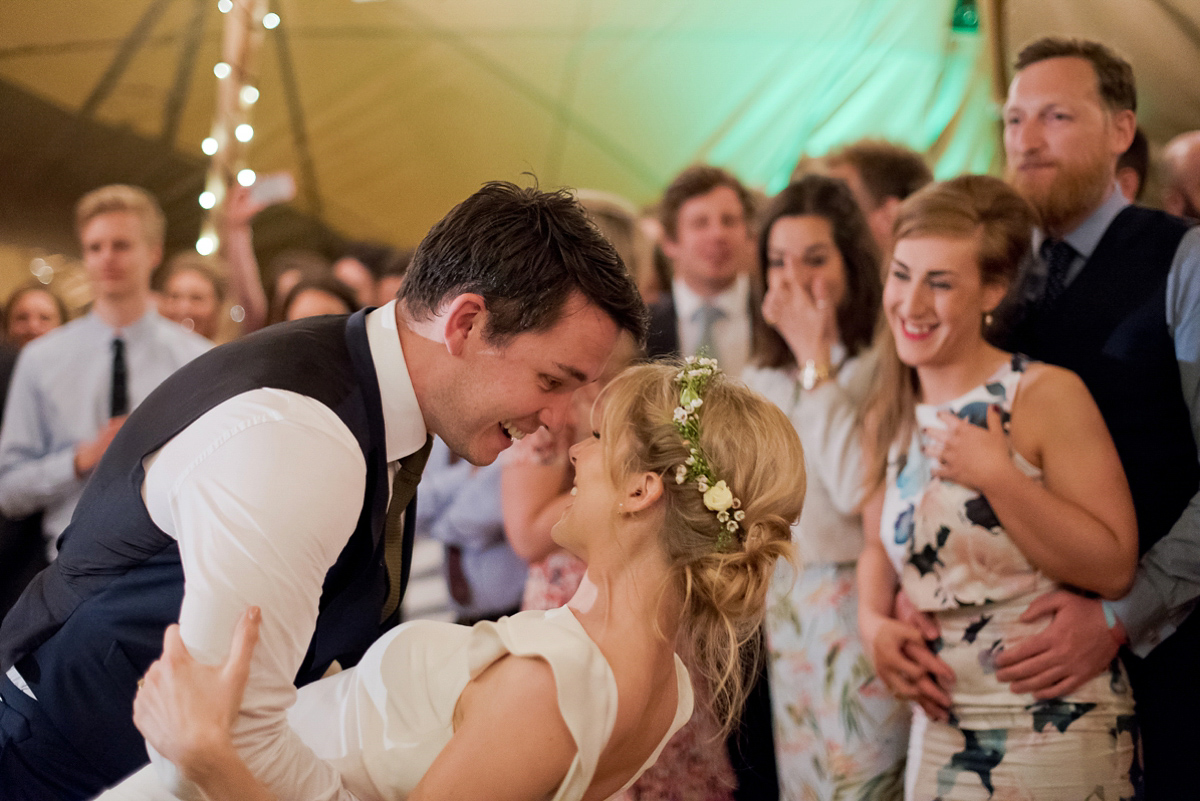 "On our signal the band then rocked into Pulp Fictions 'Misirlou' and (an on-theme) burger piñata came flying down into the middle of the dance floor. It did exactly what we intended, everyone went wild as we all took turns, and when Tom took the final swing it exploded showering us in gold confetti and fancy dress – it was the ultimate party starter!"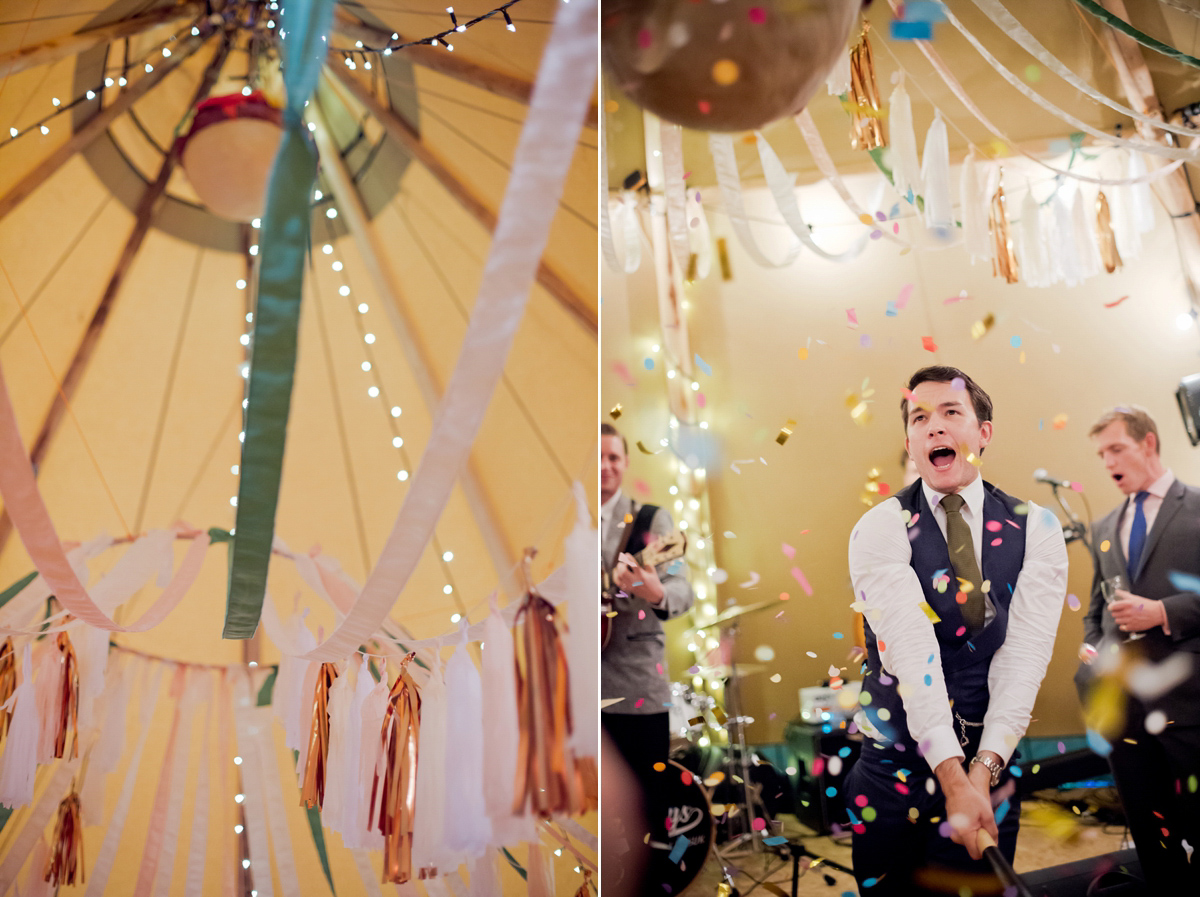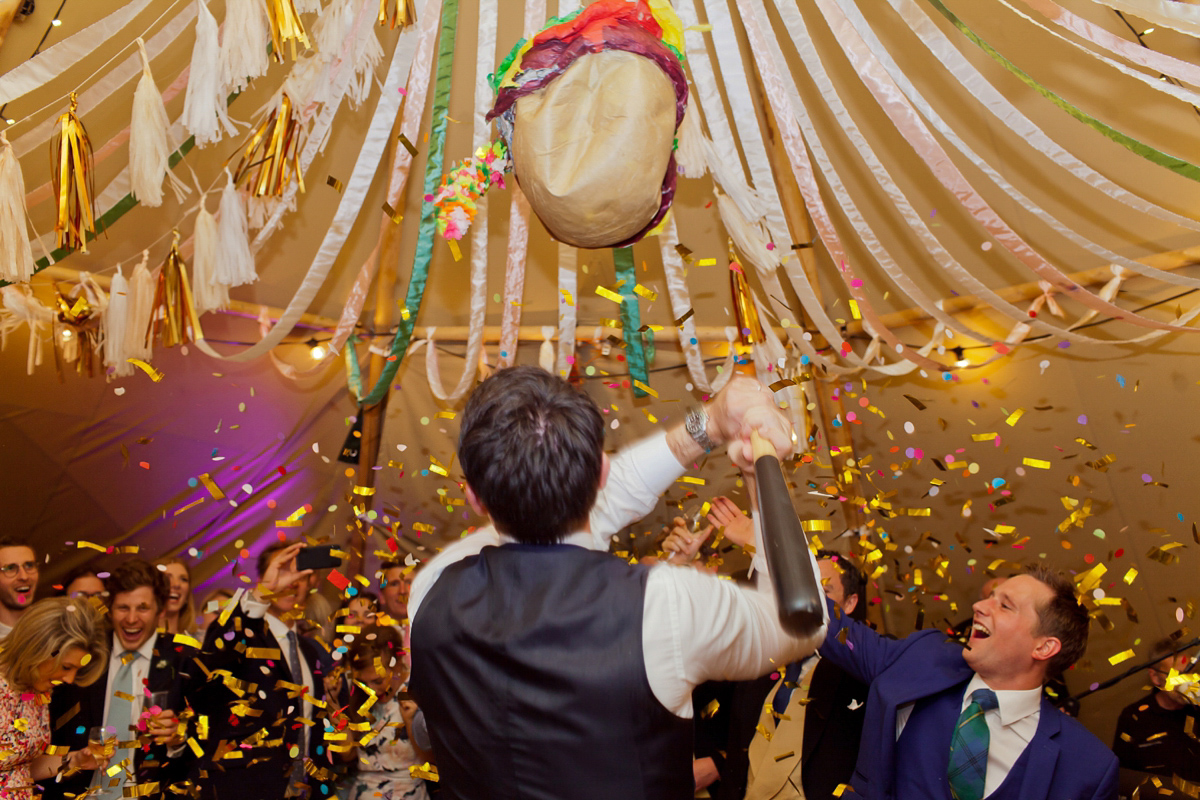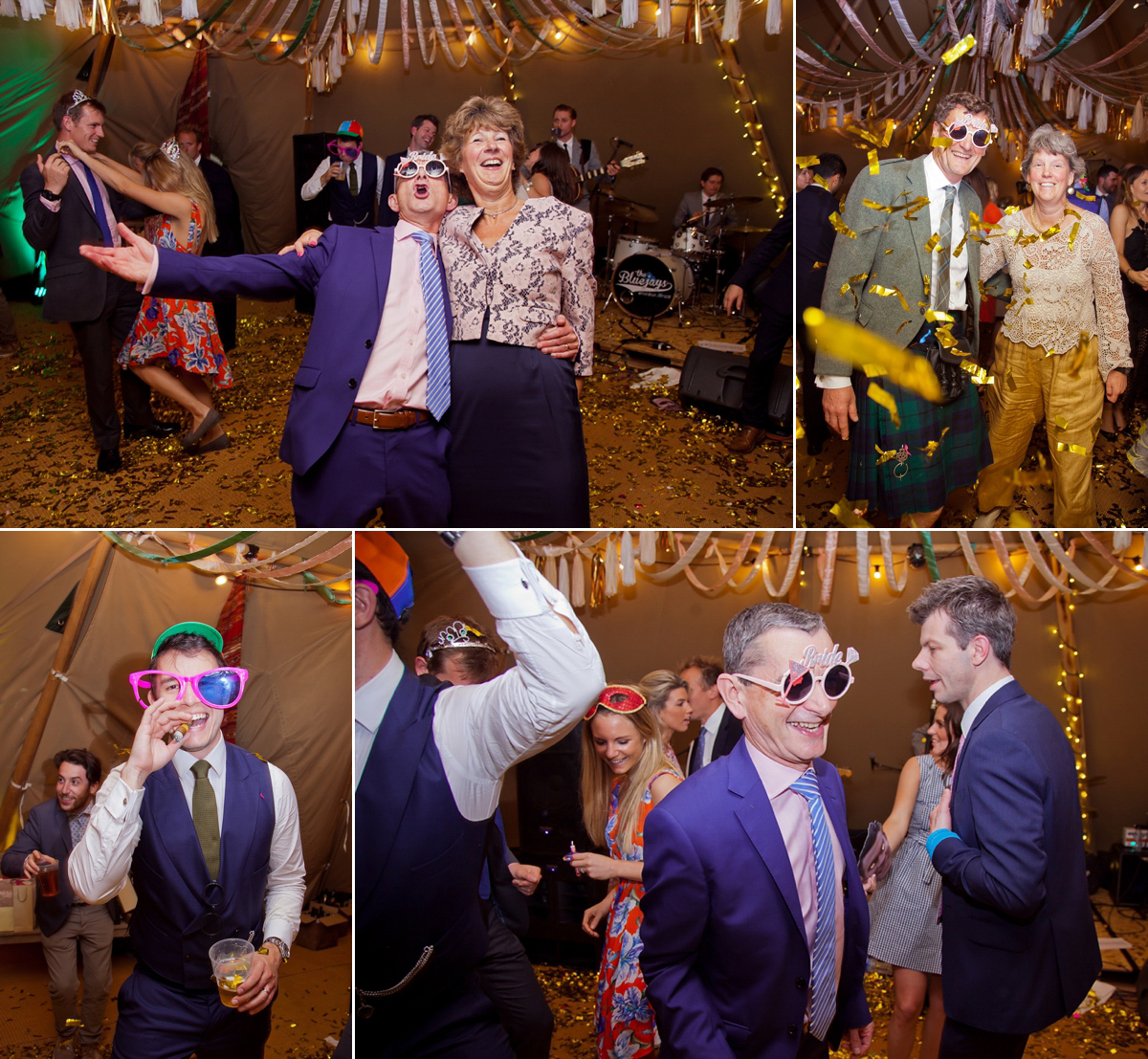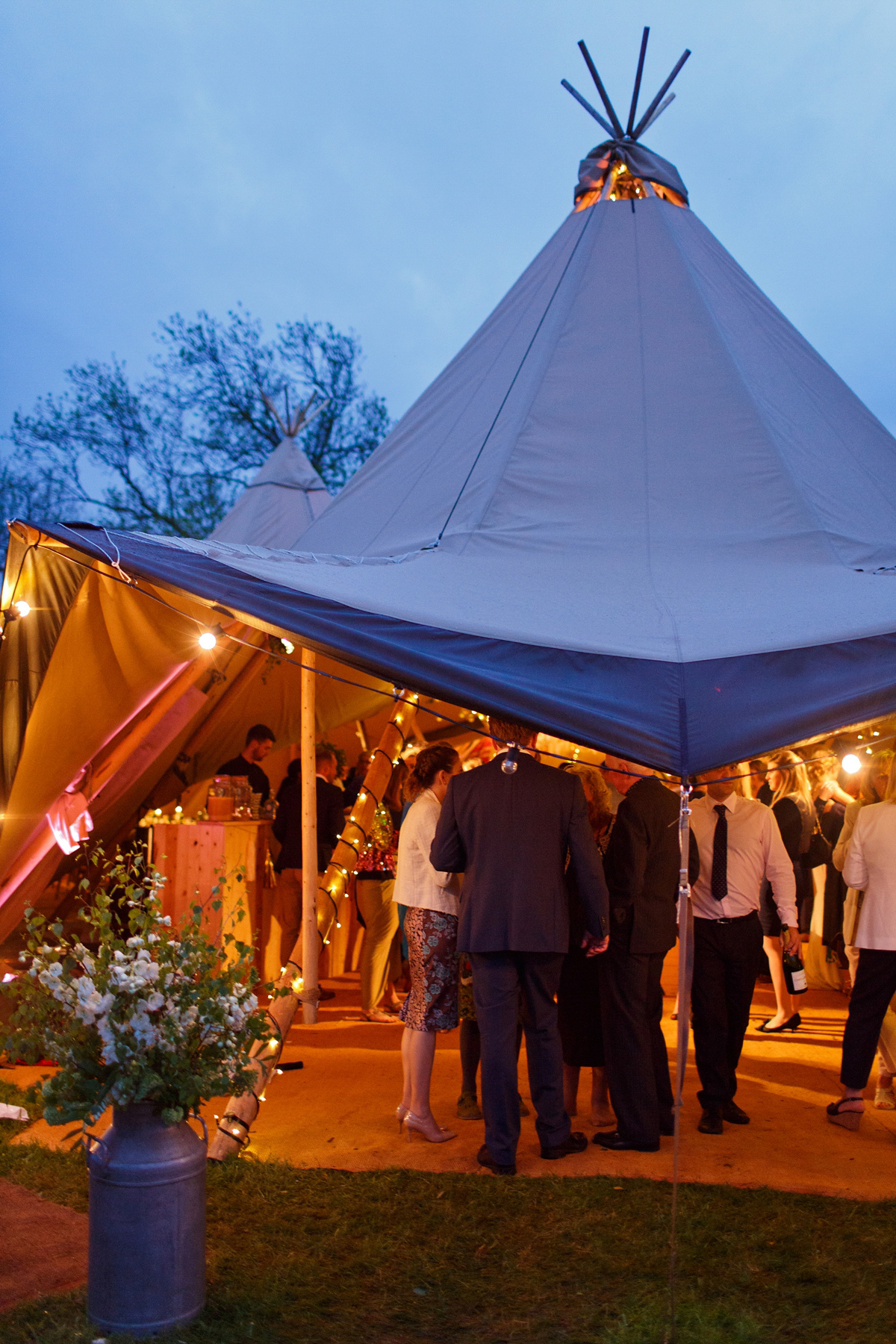 Words of Wedded Wisdom
"Relax, smile and enjoy every second of it. I always tell my friends who are still to get married how lucky they are; they still have it all to come! Now I just have memories but thanks to Emma and Clark & Palmer they won't be going anywhere.
Take some time together on your own, Tom and I took an umbrella and went out into the rain for a walk halfway through dinner. Oh, and if you're getting married in England – don't let the weather ruin your day! We had gale force winds and rain, but if we were to do it all over again we wouldn't change a thing.
We didn't hire an event planner, I had my mum! I would change absolutely nothing. Although in hindsight, booking a relaxing massage treatment for my exhausted parents the next day would have been a nice touch."
Thank you so much to the lovely Connie and Tom for sharing their gorgeous spring wedding with us all. You can find Tom on Instagram via the Honest Burgers account, but I warn you, you'll suddenly be starving. And Connie is on both Twitter and Instagram; heavily featuring one very cute hound.
I fully urge you to check out some more weddings captured by the talented Emma Sekhon – thank you for these gorgeous captures Emma! And if you're a Belle & Bunty bride, please do let us know in the comments box below.
Love, Em x