Good afternoon lovelies! Are you enjoying this beautiful bright winter's day? The sunshine is glorious up here in the North East of England. We've already shared one wedding this morning (the one where the bride cut off her dress sleeves in the afternoon, so intense was the summer sun!). This afternoon it gives me pleasure to be sharing the gorgeous, sunny and romantic country wedding of Director of Global Mobility Operations, Victoria, and Consultant George, who tied the knot on 1st July last year at Southend Barns, near Chichester in West Sussex.
"We wanted the wedding to reflect an English country wedding, but as George is Greek Cypriot, we wanted to incorporate this too so the day felt like the best of England and Cyprus – we both love Greek food so quickly came up with the idea of having the wedding breakfast styled as a Taverna. This helped us choose the colour scheme (blue and white), and the layout of the evening (long banquet tables)."
Photography by Helen Cawte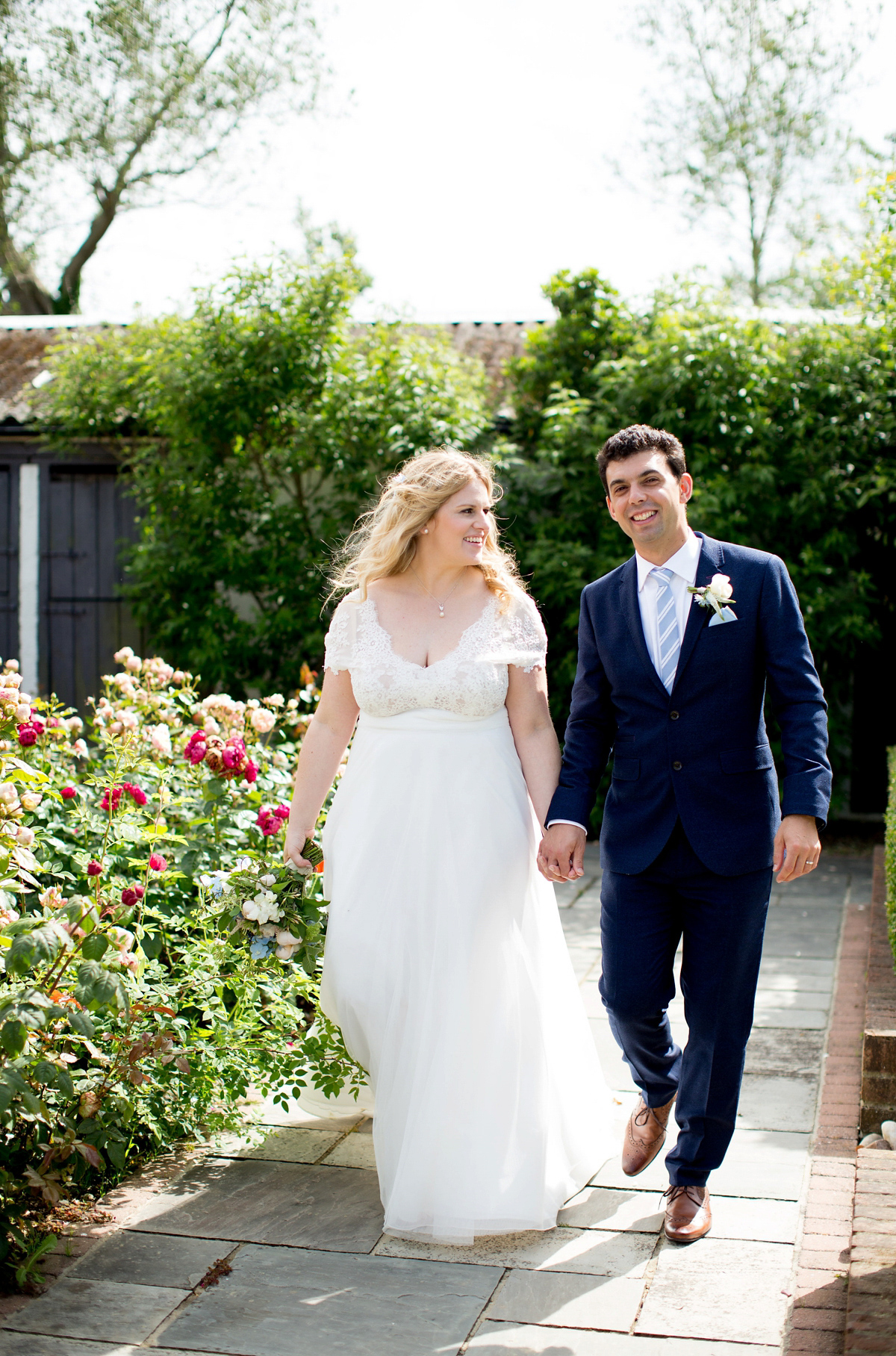 Victoria wore the most beautiful and flattering gown by Cymbeline, Paris. The dress is called Angel and was purchased from Mirror Mirror Bridal in Islington, London.
"I knew I wanted something quite simple, but with an element of lace. It also needed to be light, as I would need to wear it to our Greek Orthodox wedding in Cyprus on 5th July, and the weather was going to be very hot. My bridesmaid Jen picked up what was to be my dress, but I told her to put it back as it was very low at the front (bearing in mind the church wedding in Cyprus). ""All stationery was designed by Katy from Creationery via Etsy. She designed our wedding invitations and inserts, or orders of service and the 'Tonight at the Taverna' booklet which contained the menu, wines and also bios of each guest which we had written. We had everything printed through Creationery except the 'Tonight at the Taverna' booklet which we used Book Printing UK for, as was too large for Creationery to print using their suppliers."
"I wore Rose Absolut by Stella McCartney – my all time favourite fragrance which is now discontinued. I saved a bottle for my wedding day as that is the perfume I wore when we first started seeing each other."
"One of my wedding day presents to George was a bottle of Allure pour home Edition Blanche as that just reminds me of our first date!"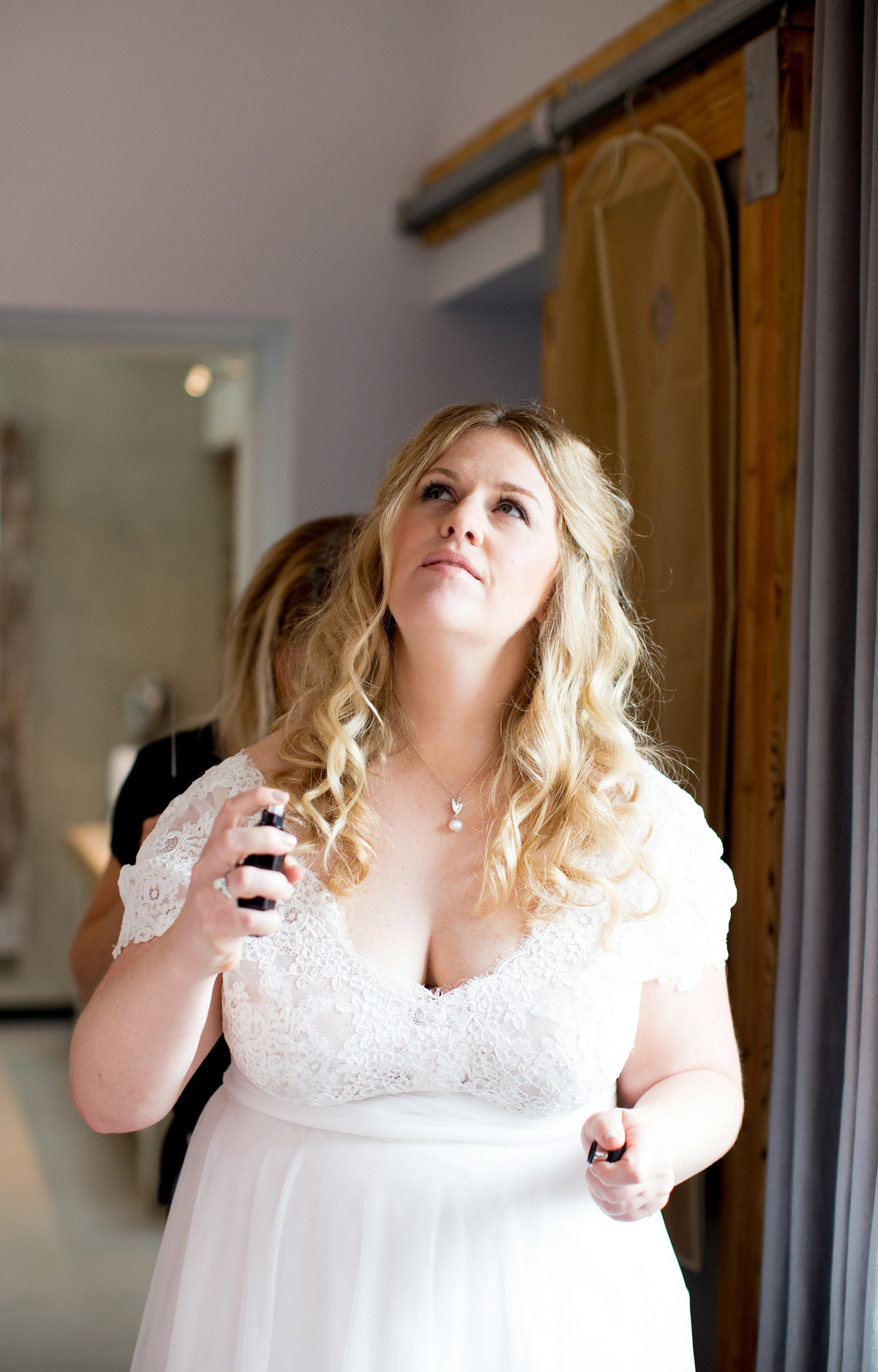 "My necklace is a silver heart and pearl given to me by my parents for my 25th birthday. I wore pearl earrings that had been given to me by a gift by my friend Chloe when I was her bridesmaid – she is in Australia and couldn't come back for the wedding so this meant she was with me."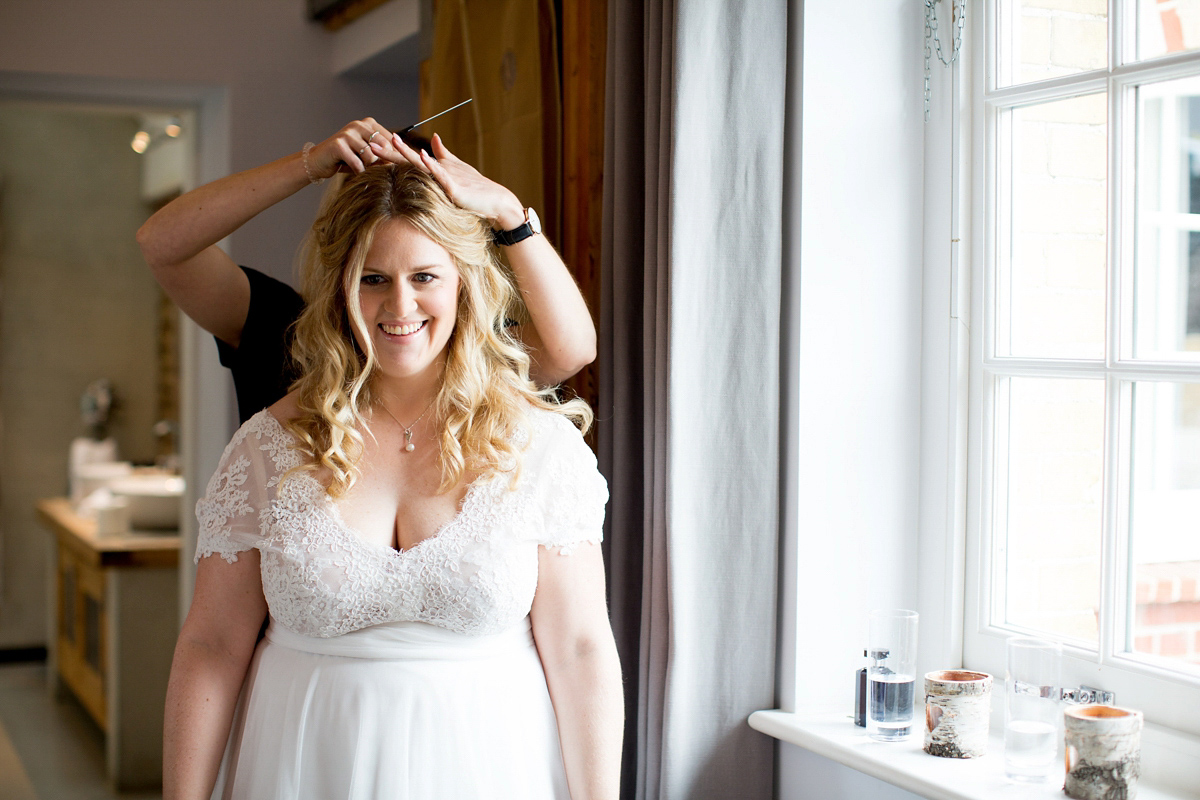 Victoria's bridesmaids wore The Kate Lace Midi dress via ASOS.
"I had the necklaces made for the bridesmaids by Karen Hannaford at Tinysilver on Etsy – I was hunting for a pearl necklace inside a shell, and she made 3 beautiful necklaces for the girls which looked perfect with their dresses."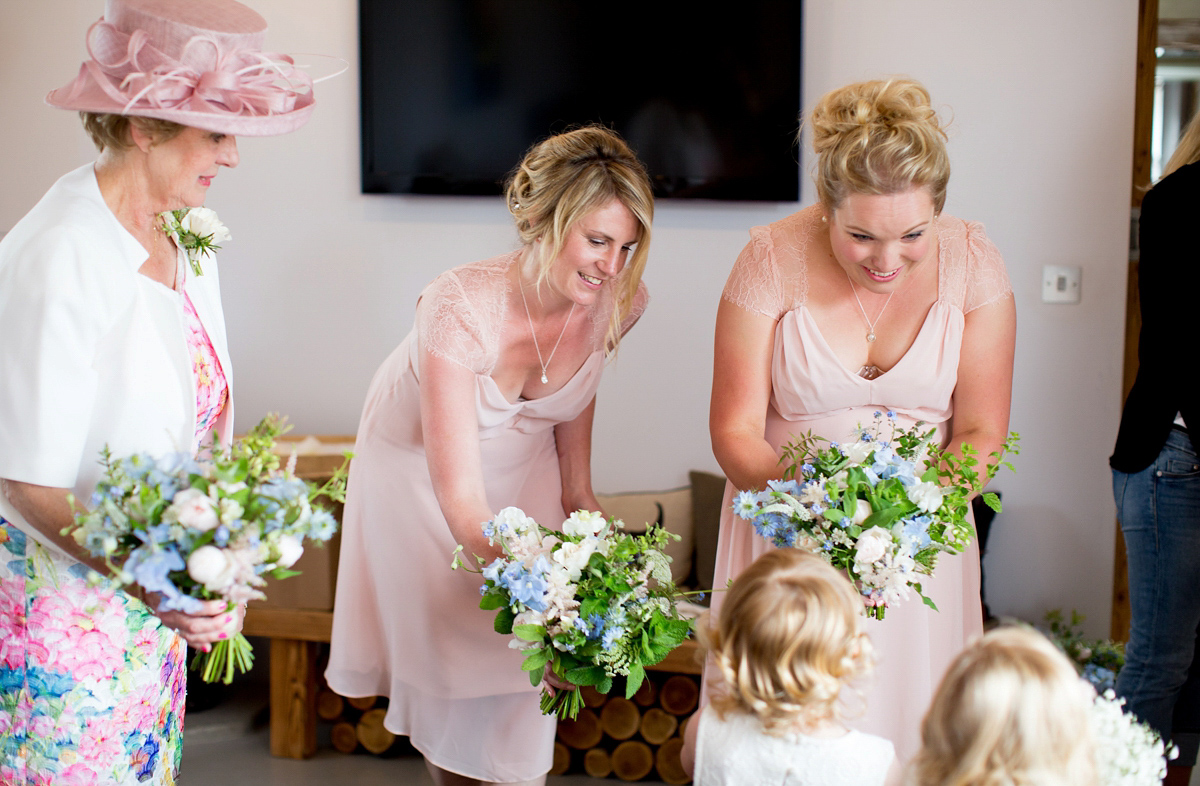 The sweet little flowergirls wore gowns from Next.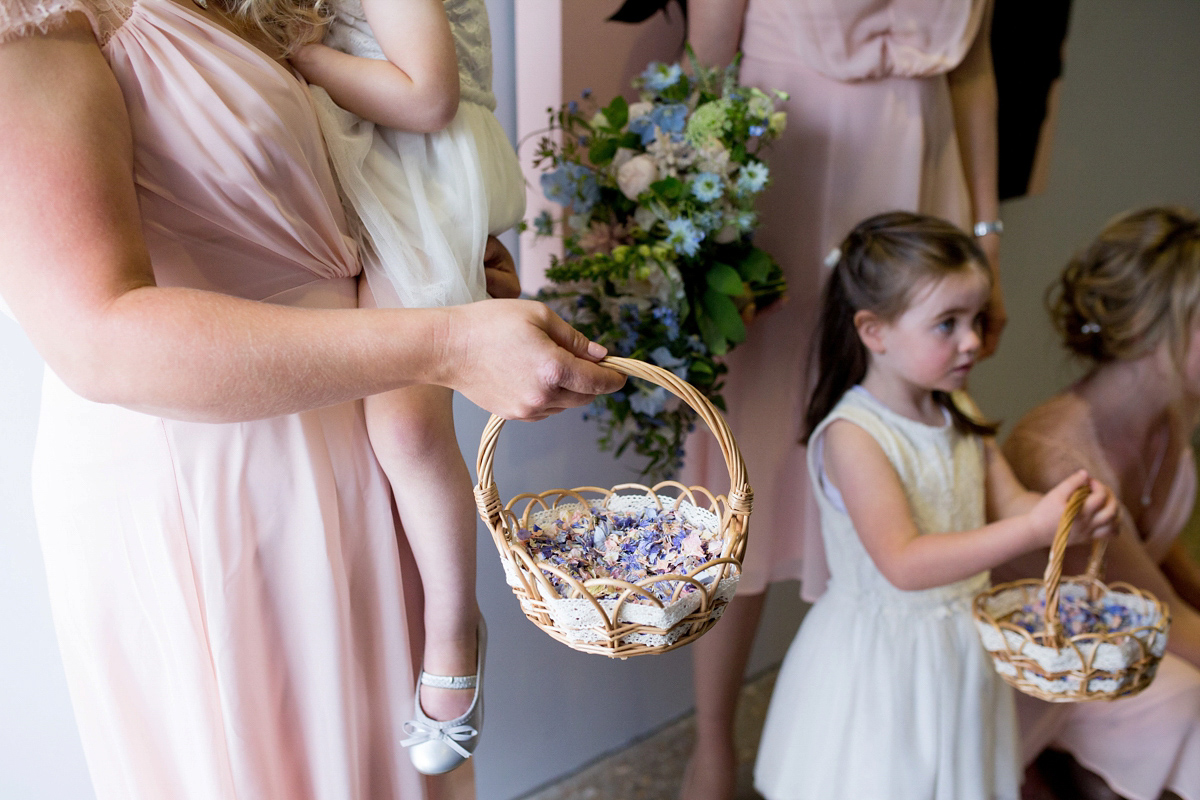 "The assistant at my bridal boutique, Mirror Mirror, convinced me to try my dress on as the front could be changed. As soon as I put it on I loved the French lace bodice and sleeves, and then the soft tulle skirt. I came back again the following week with my best friend and bridesmaid Anna to try on again – we both agreed it was the one!
All credit to Mirror Mirror and to Veronica, who made the necessary changes to the neckline to make it a perfect fit on the day."
"Our florist was Abigail Overton from Albert and Arthur.  I had quite a clear idea of what I wanted in terms of flowers – a very wildflower, soft feel, with lots of different arrangements on the tables. When we met with Abigail, she immediately understood my vision and made lots of other excellent suggestions. It was also important to us that some of the flowers would be supplied by the mother of the bride, particularly sweet peas which are my favourite flower and long grown by members of my family."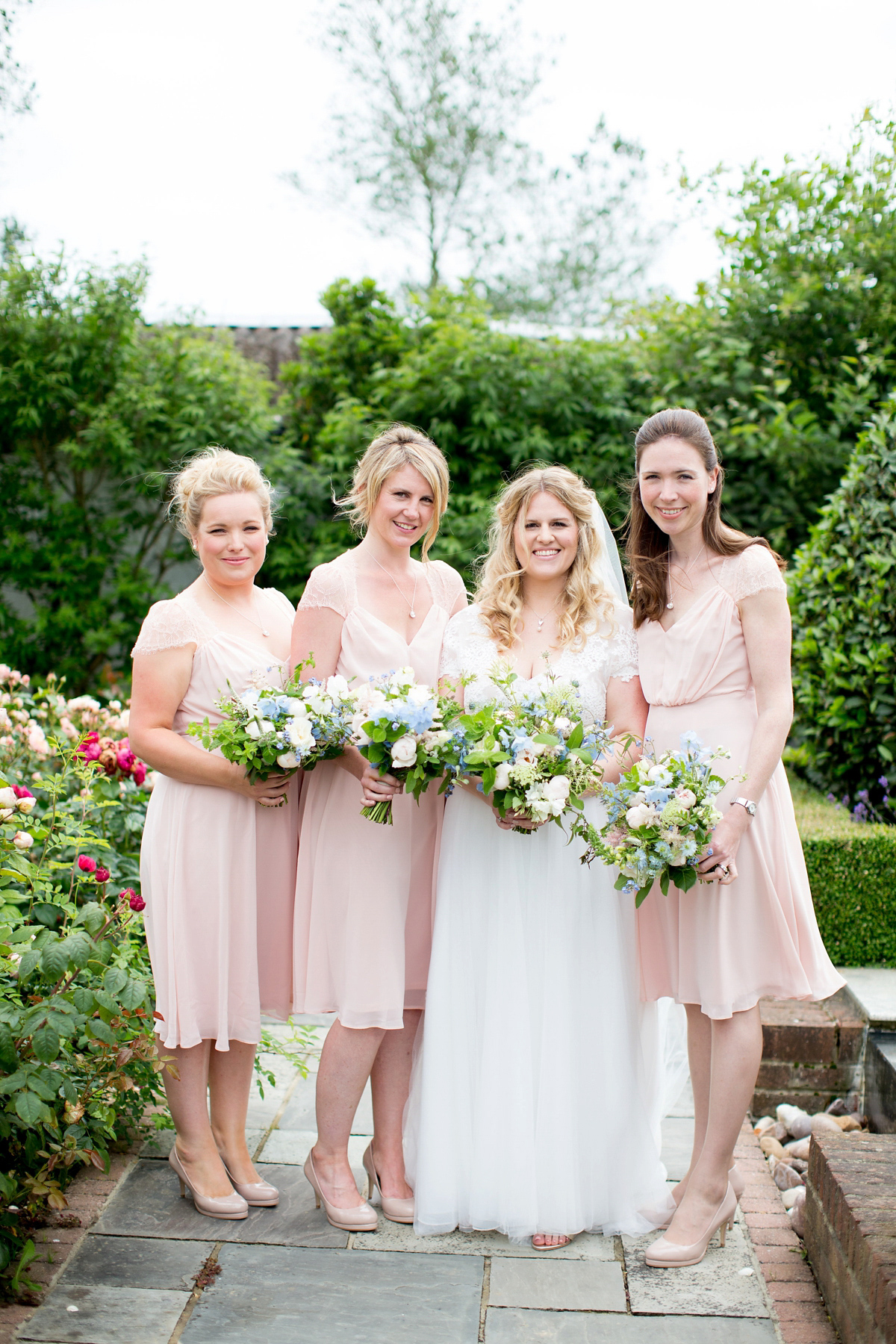 "She was very amenable to this and in fact encouraged the mother of the bride to cut as much from her garden as possible and she would use it all throughout the bouquets and table arrangements. It meant a huge amount to me that there were so many flowers from our family garden on the day as well as the beautiful flowers that Abigail sourced for us.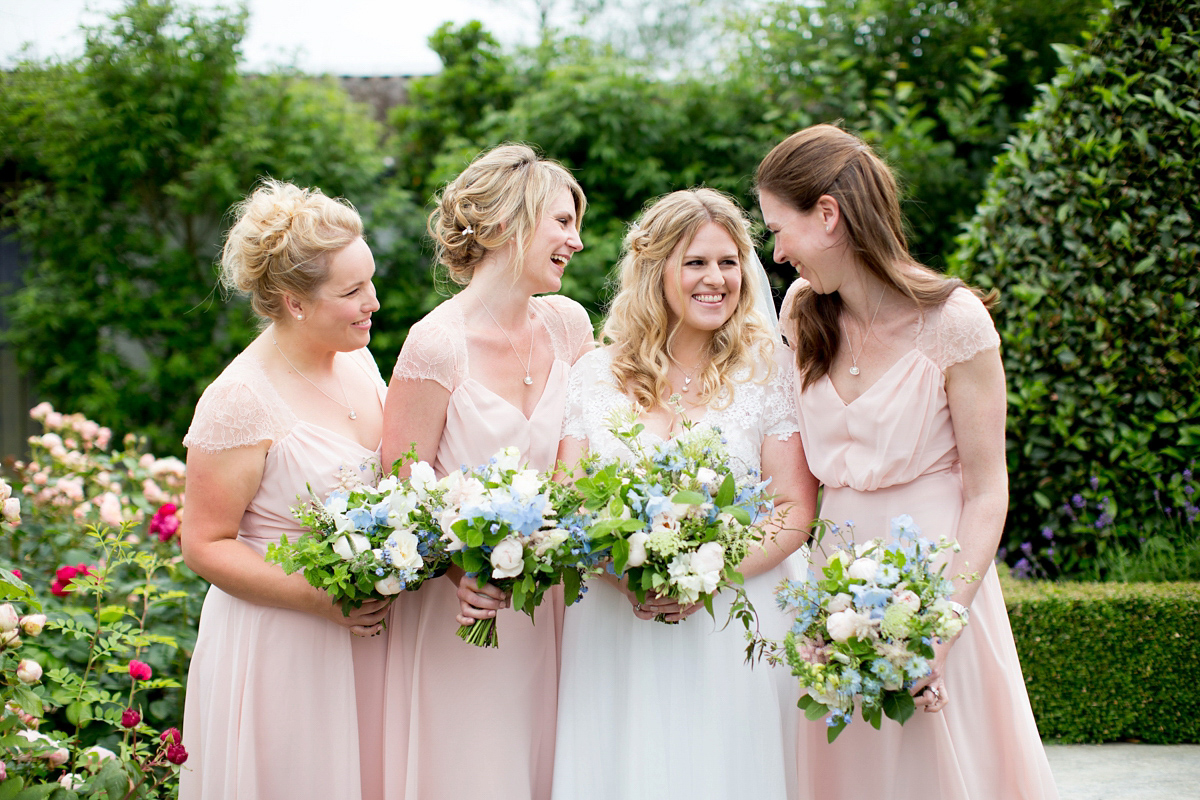 "The end result was stunning – pots of herbs, kilner jars with moss and votive candles plus bottles and kilner jars of blue and white flowers made the Threshing barn look absolutely stunning and complemented our Taverna theme perfectly. I had asked Abigail to add some blush pink into the bride and bridesmaids bouquets to complement their dresses."
"We opted for very simple arrangements down the aisle of the Dairy Barn, with simple posies of Gypsophila adorning alternate benches, and the same posies for the flower girls."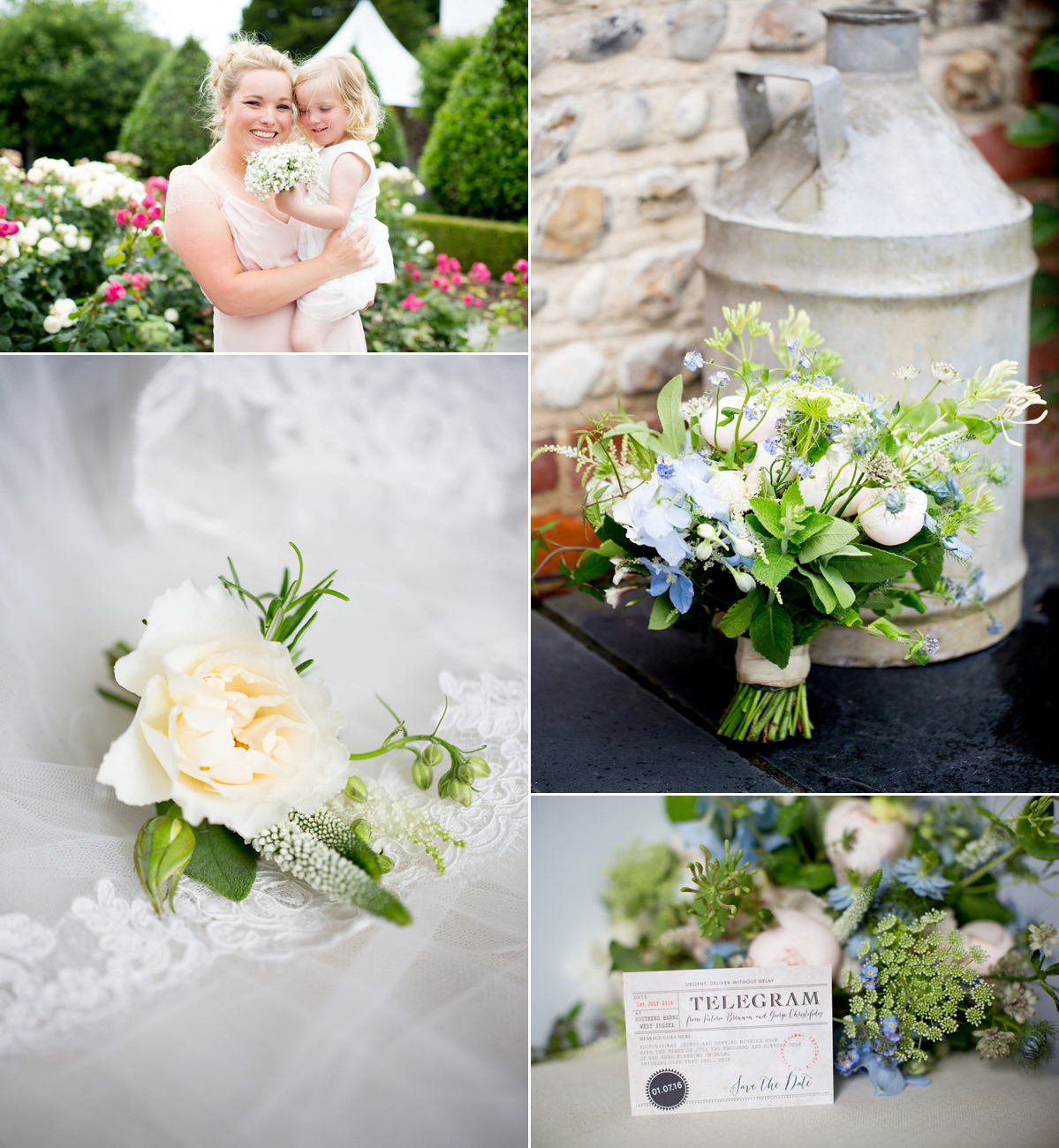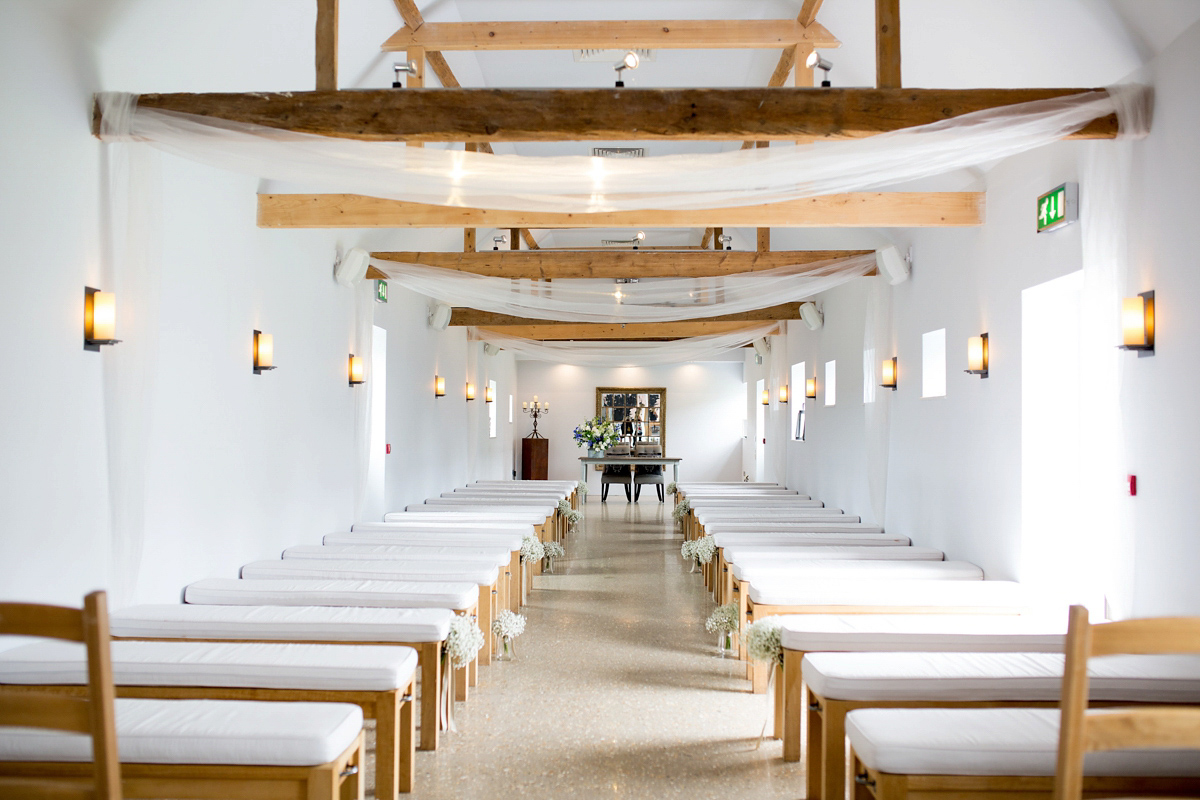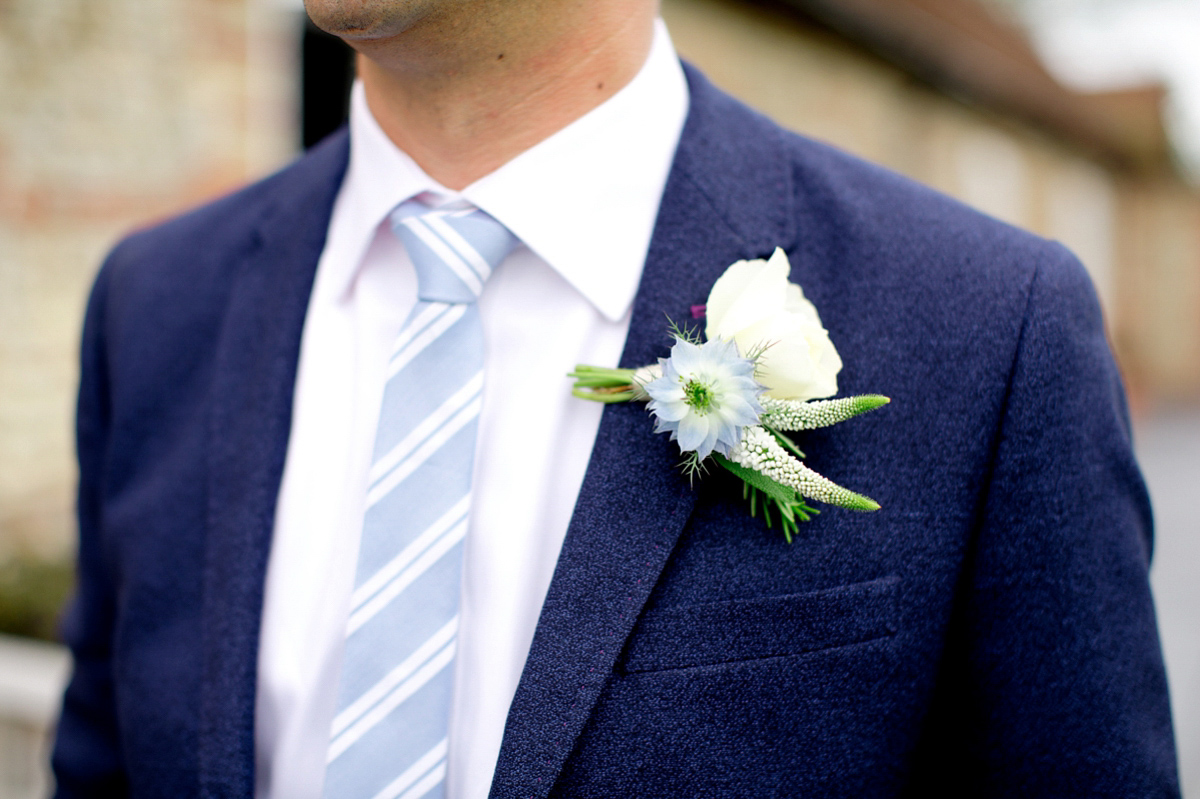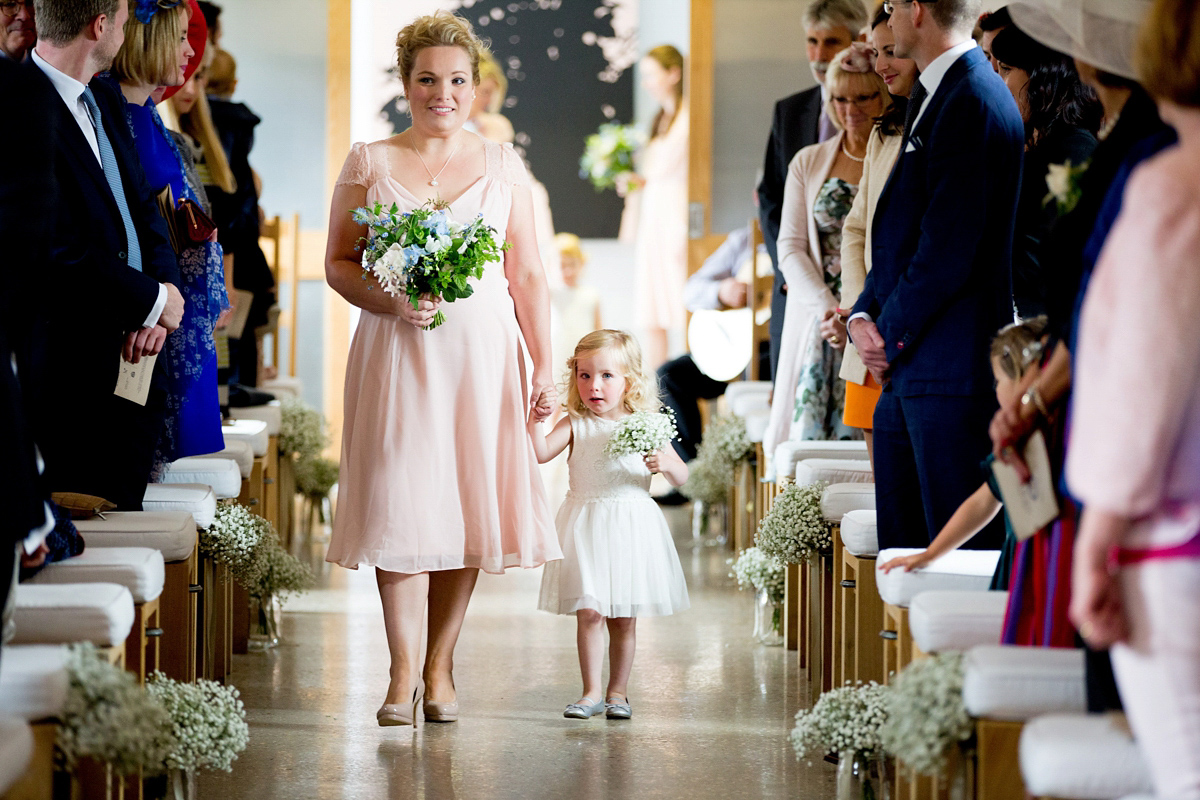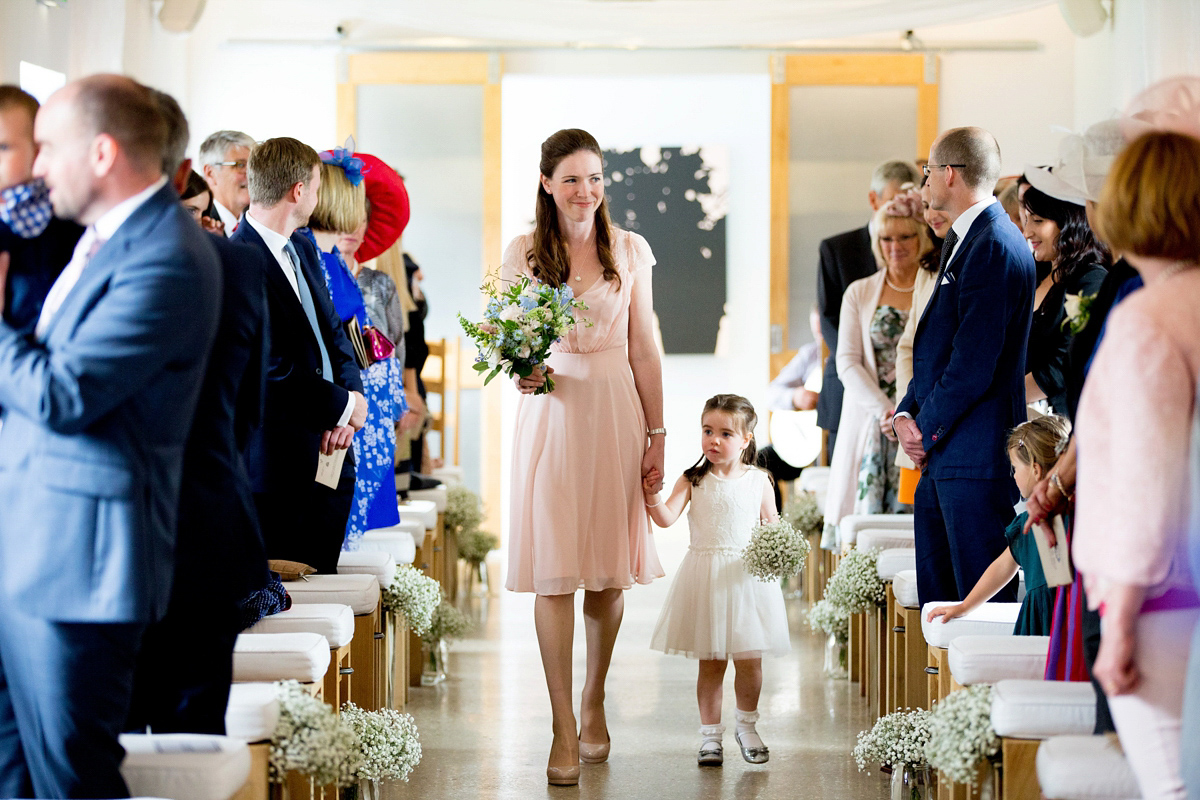 Victoria's father Tim accompanied her down the aisle to th sound of Prelude in D by JS Bach, which was played by musician Geoff Robb on the Spanish Guitar.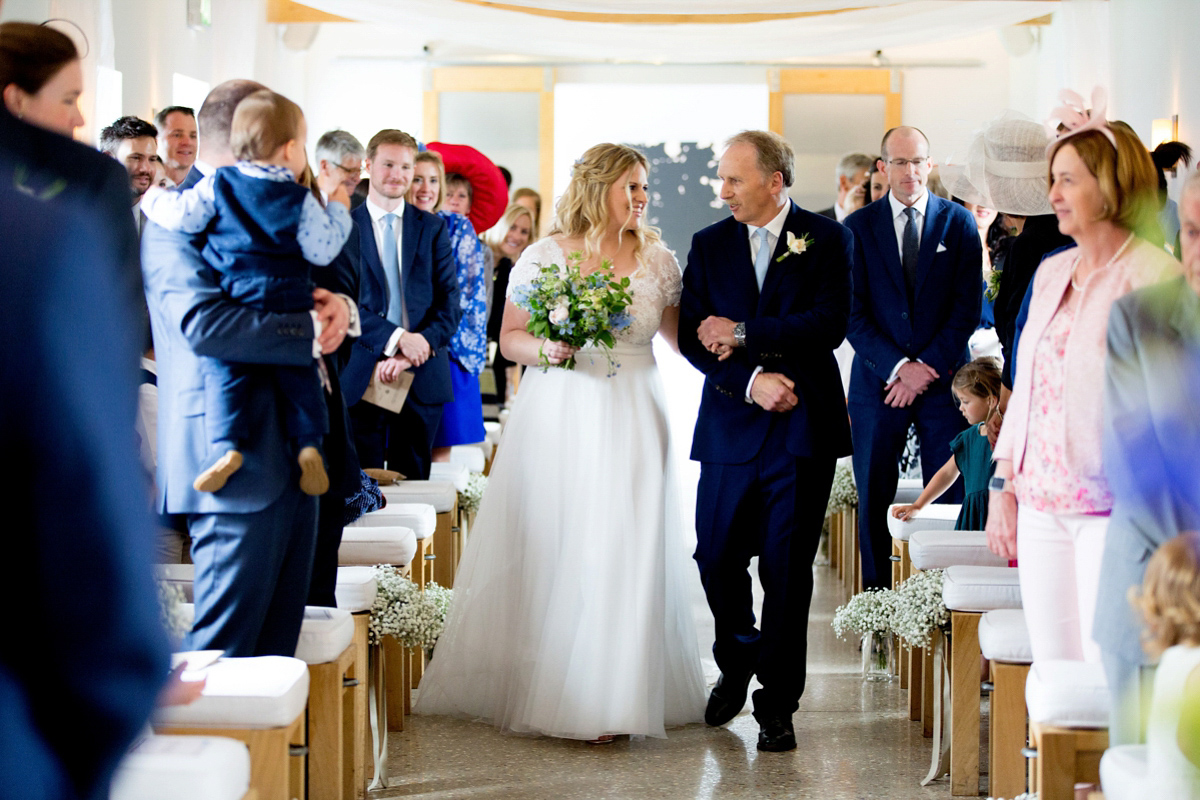 "We made no changes to the vows, however, following the civil ceremony we had a religious blessing by Reverend James Cooper from St George's Church, Donnington, as it was important to us to incorporate a religious aspect into our ceremony. We did not exchange rings in the civil part of the ceremony, but did this during the religious blessing."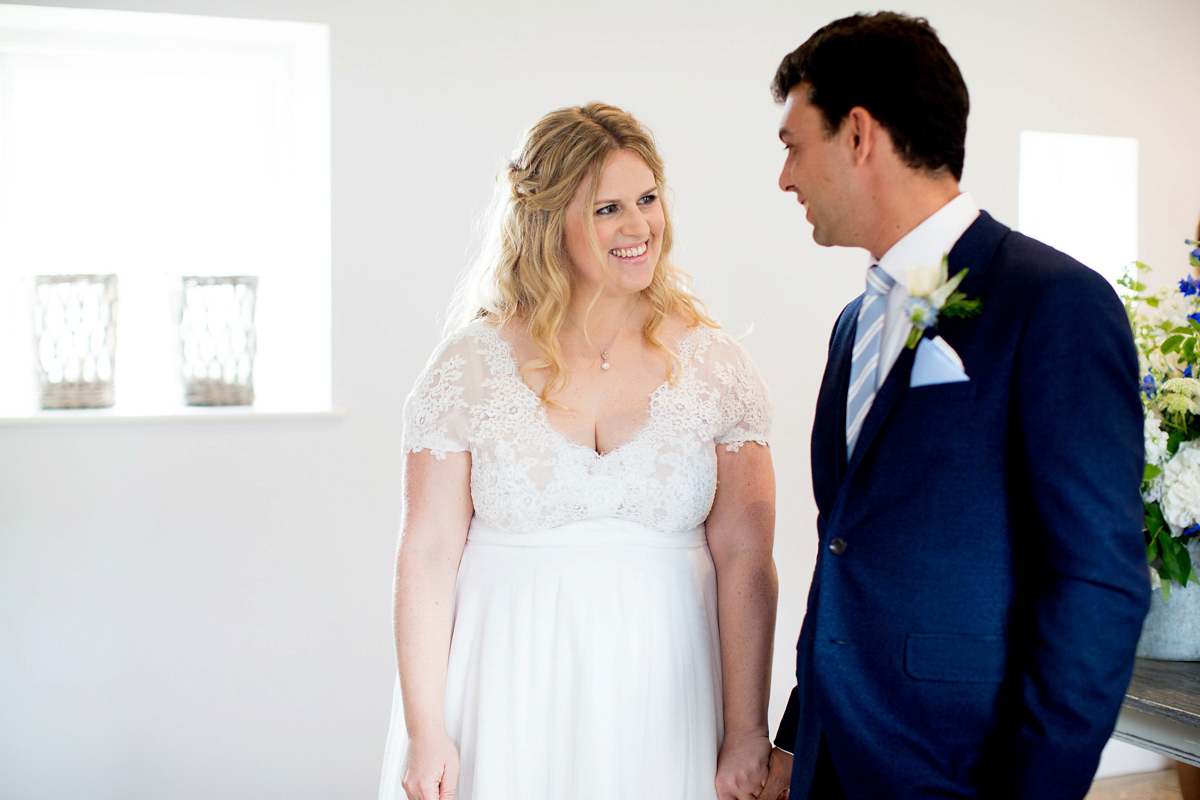 "During the Civil Ceremony we had 'I Carry You In My Heart" by E.E. Cummings and 'The Apache Wedding Blessing' which is anonymous. Both readings are beautiful and mean a huge amount to us as the E.E.Cummings reading reminds us of the time when George was on sabbatical during a ski season and I was on a volunteer project in Central America. During the religious blessing, George's mother read 1 Corinthians 13. We asked George's mother to choose a reading for us."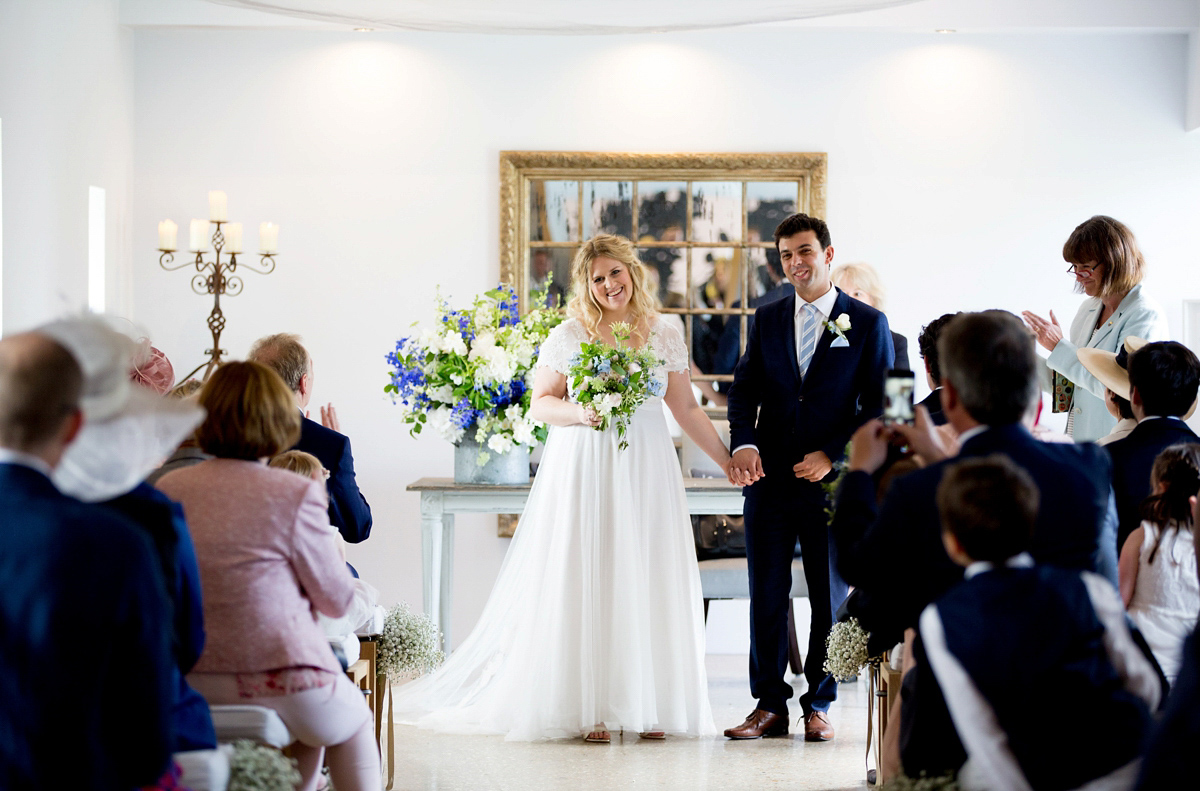 "Our rings were from Savvy and Sand in Hatton Garden, London. George had Victoria's engagement ring designed here and so we felt it only appropriate to have our wedding rings from the same shop."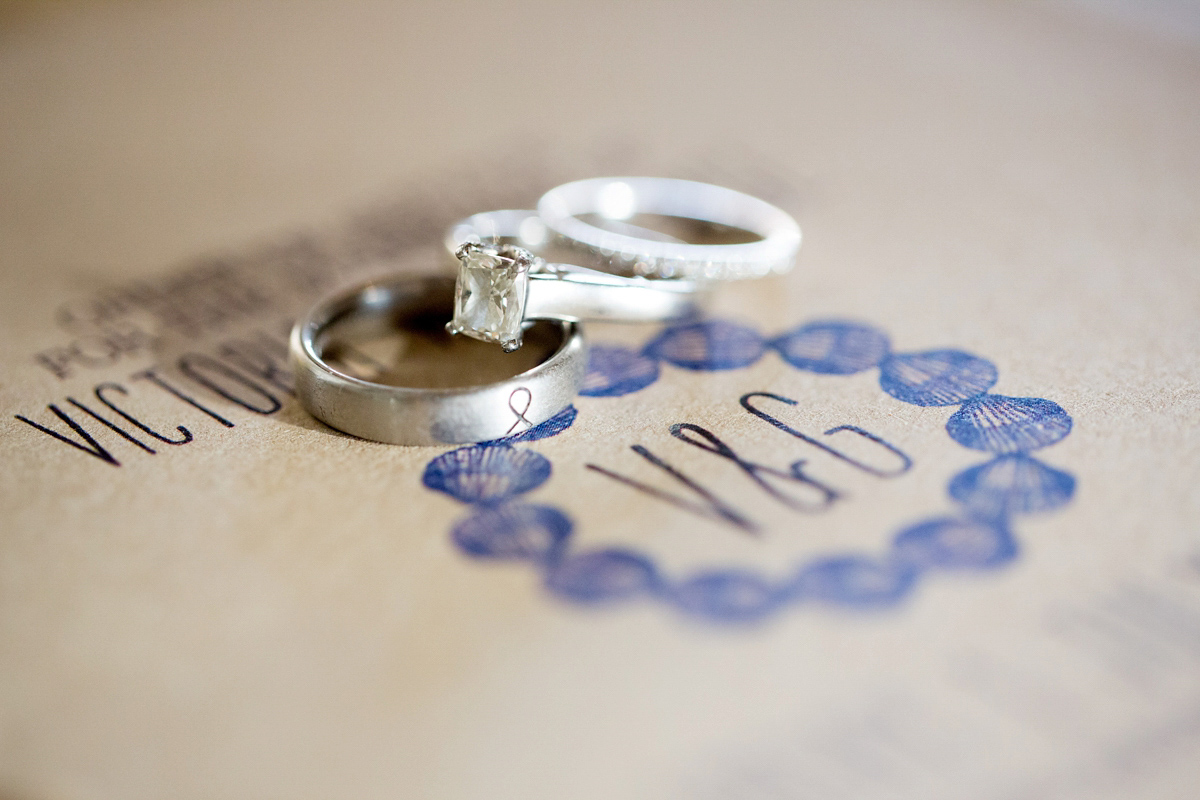 "Victoria wanted a thin diamond band to complement her engagement ring, and George chose a Palladium band. George designed the engagement ring to include an interlocking 'V' and 'G' in Greek letters, a design that carried into the wedding rings."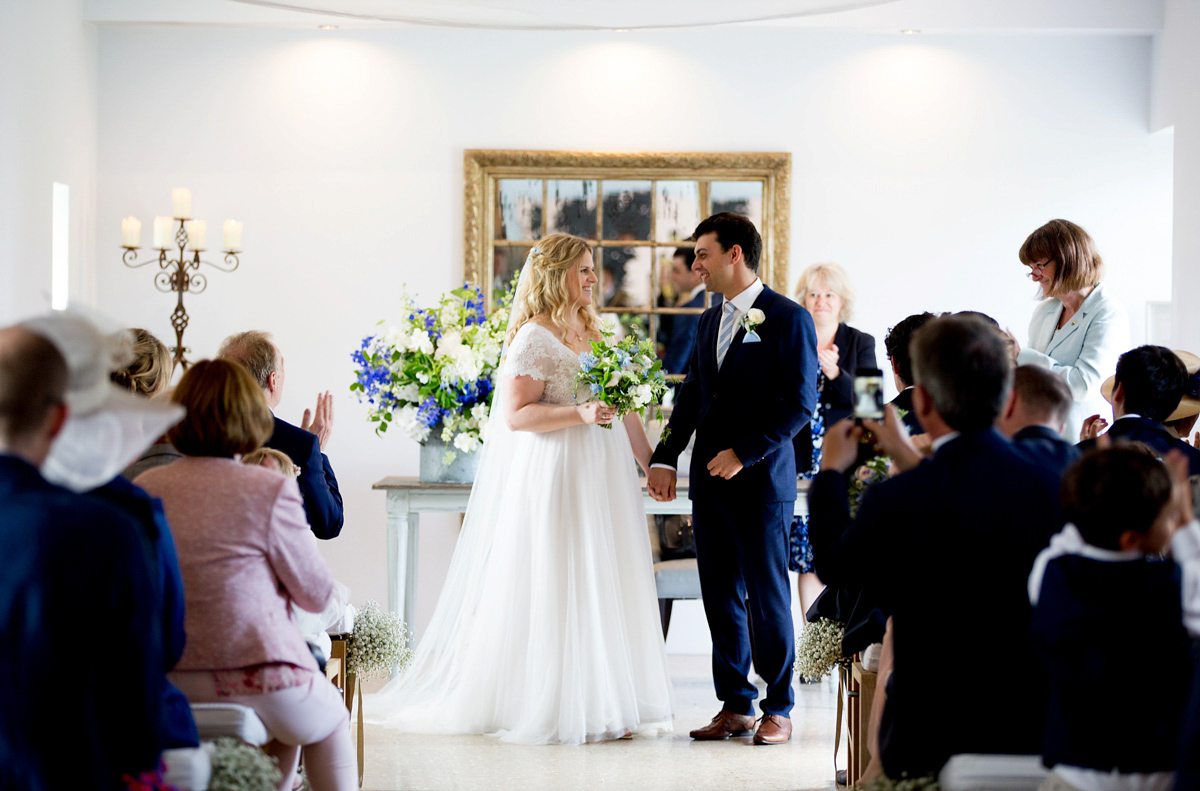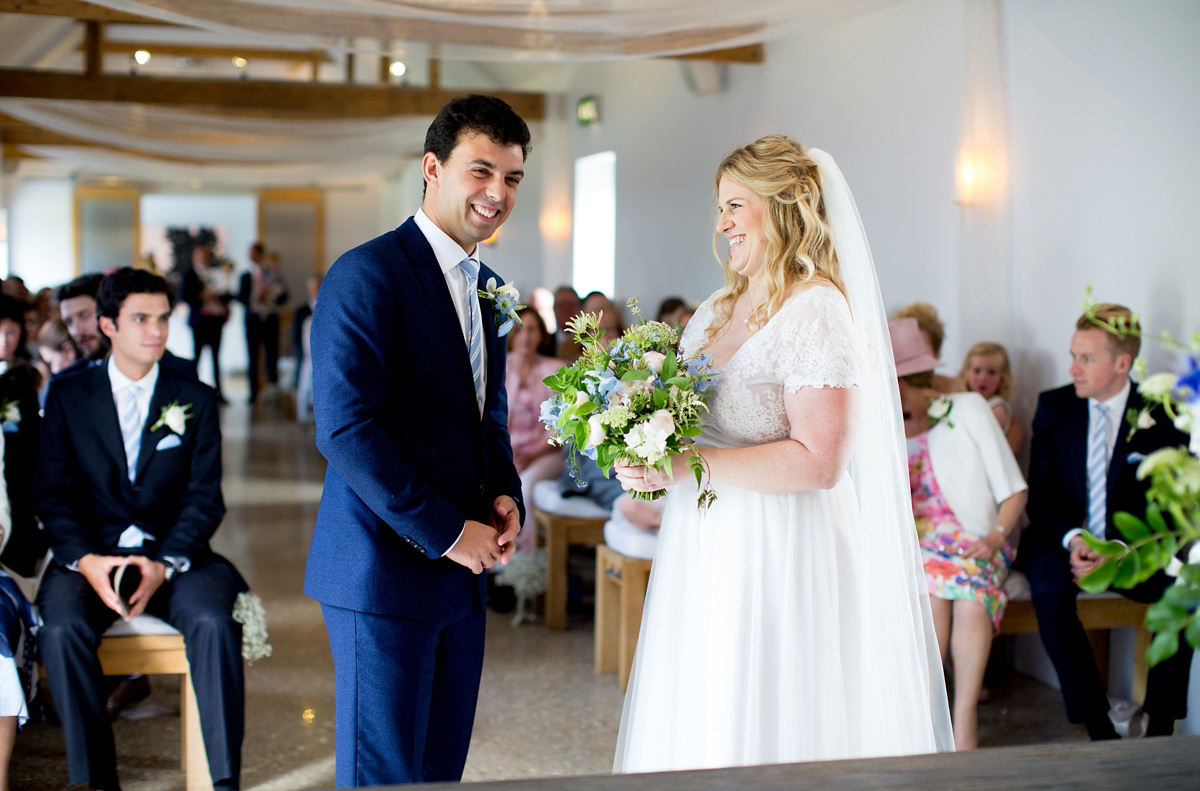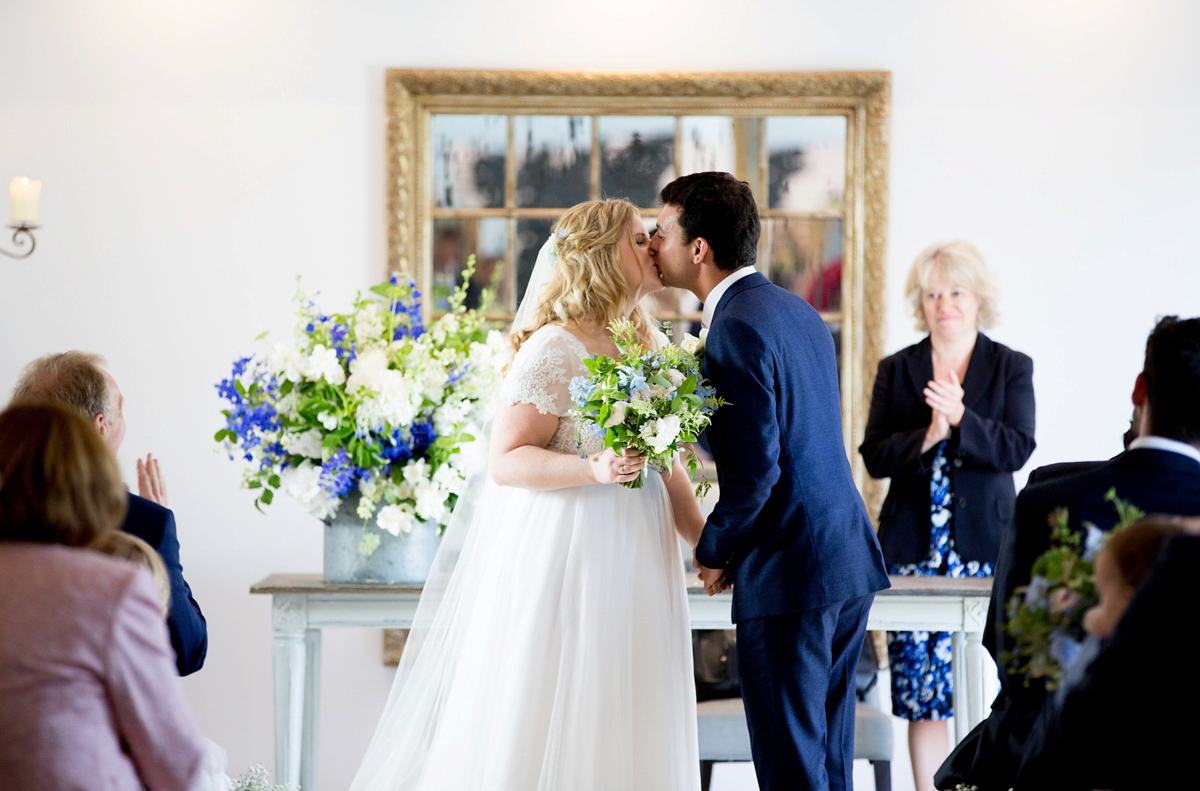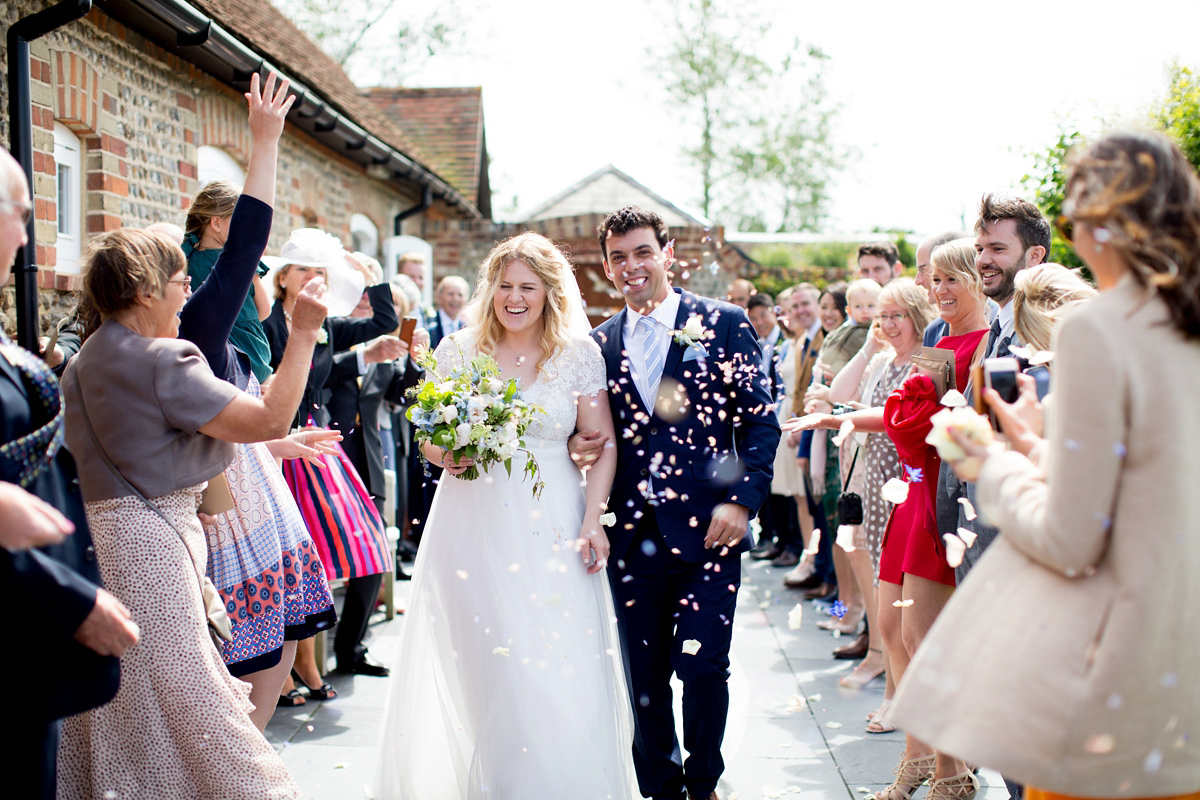 "Tara Saphir at the Sugar Plum Bakery in Itchenor created our cake. We went for a 4 tiered cake with different layers so that there would be something for everyone."
"We actually cut the cake straight after our ceremony and it was served to guests along with canapés during the afternoon drinks reception which worked really well."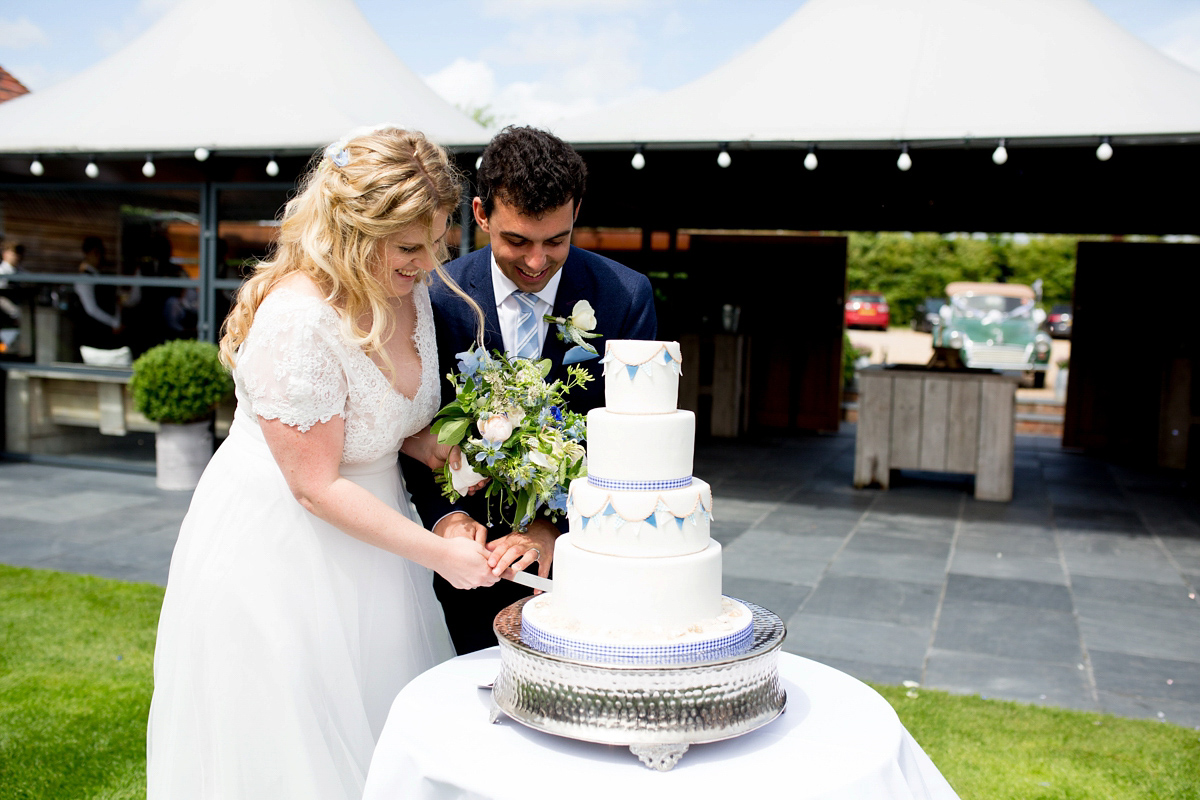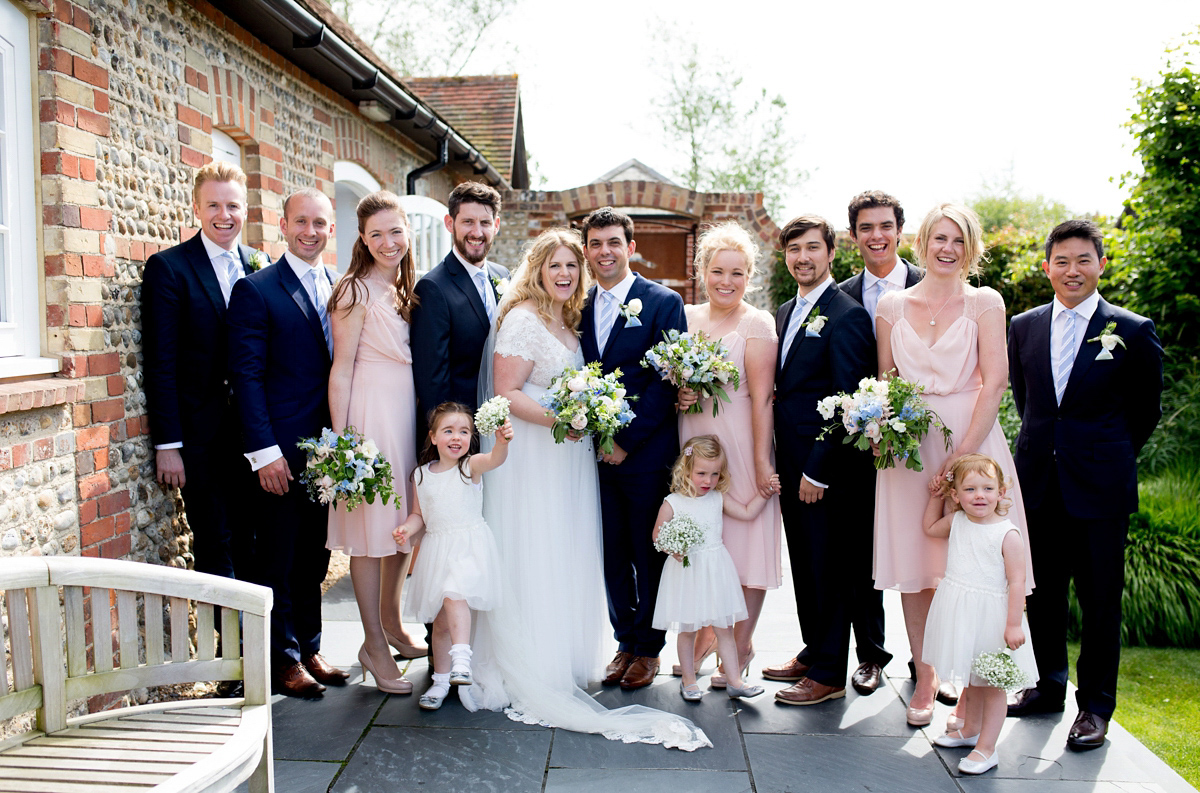 "Our photographer Helen Cawte was recommended by Southend Barns but also was recommended through some family friends. We had a Skype meeting with Helen where George and Helen bonded through their mutual love of skiing and we felt that Helen really understood what we were trying to achieve with the day."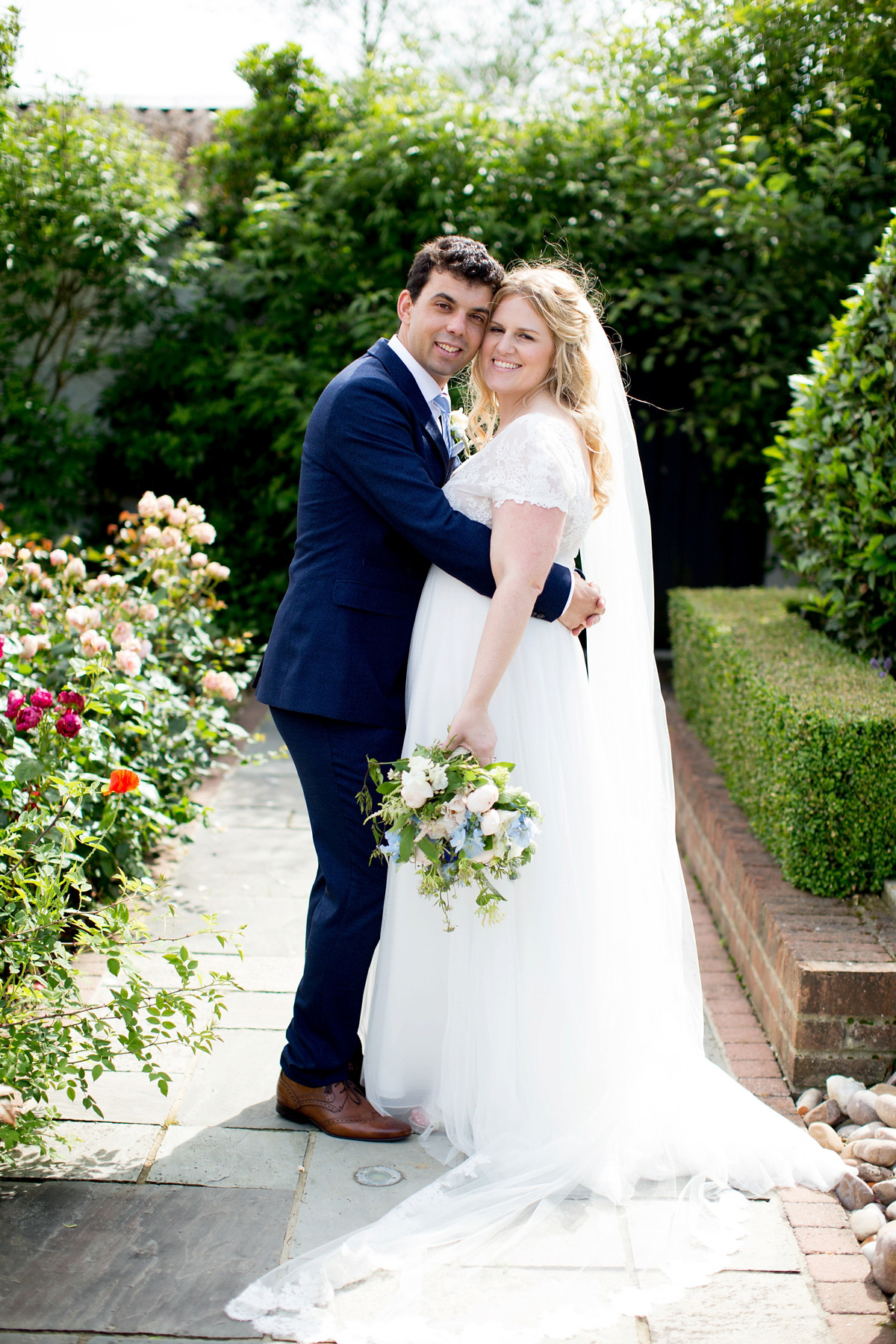 "On the day itself, Helen worked tirelessly to make sure she took the photos we wanted – she was so professional and friendly that she felt more like our guest than our photographer! Our wedding photos are so beautiful – she did an absolutely amazing job and we can't recommend her enough."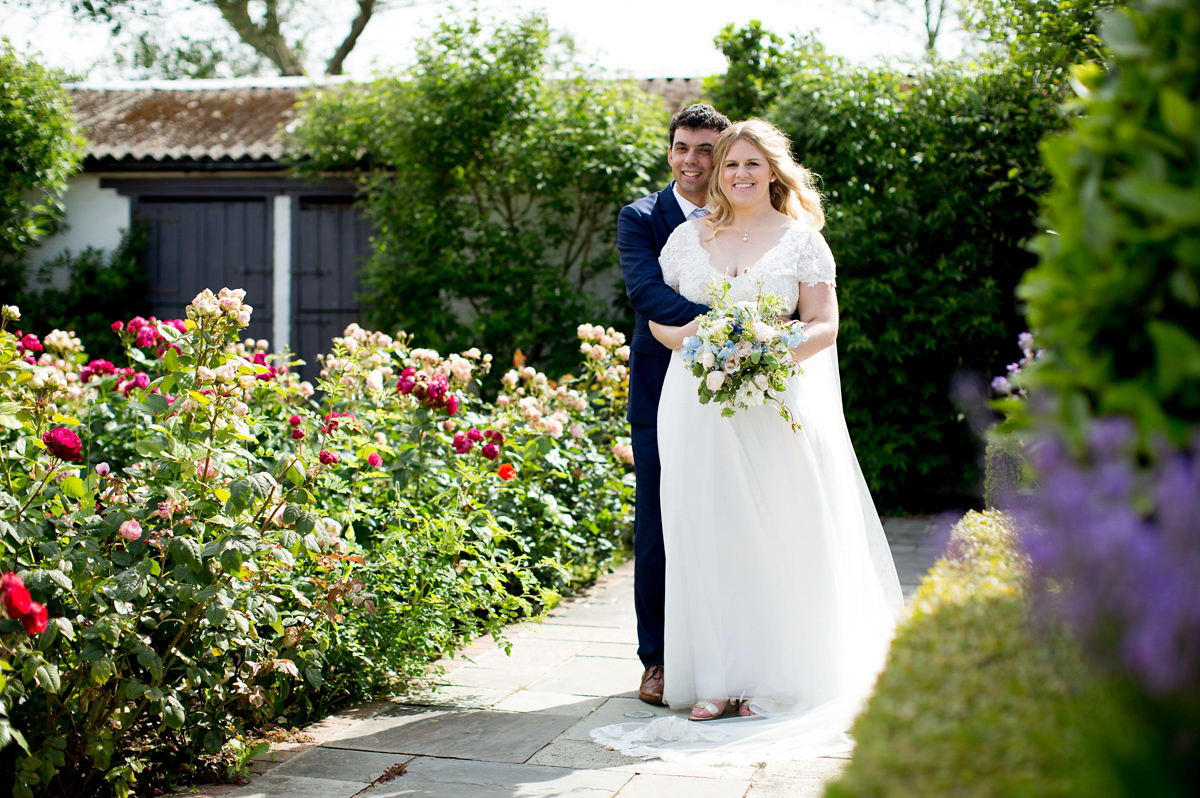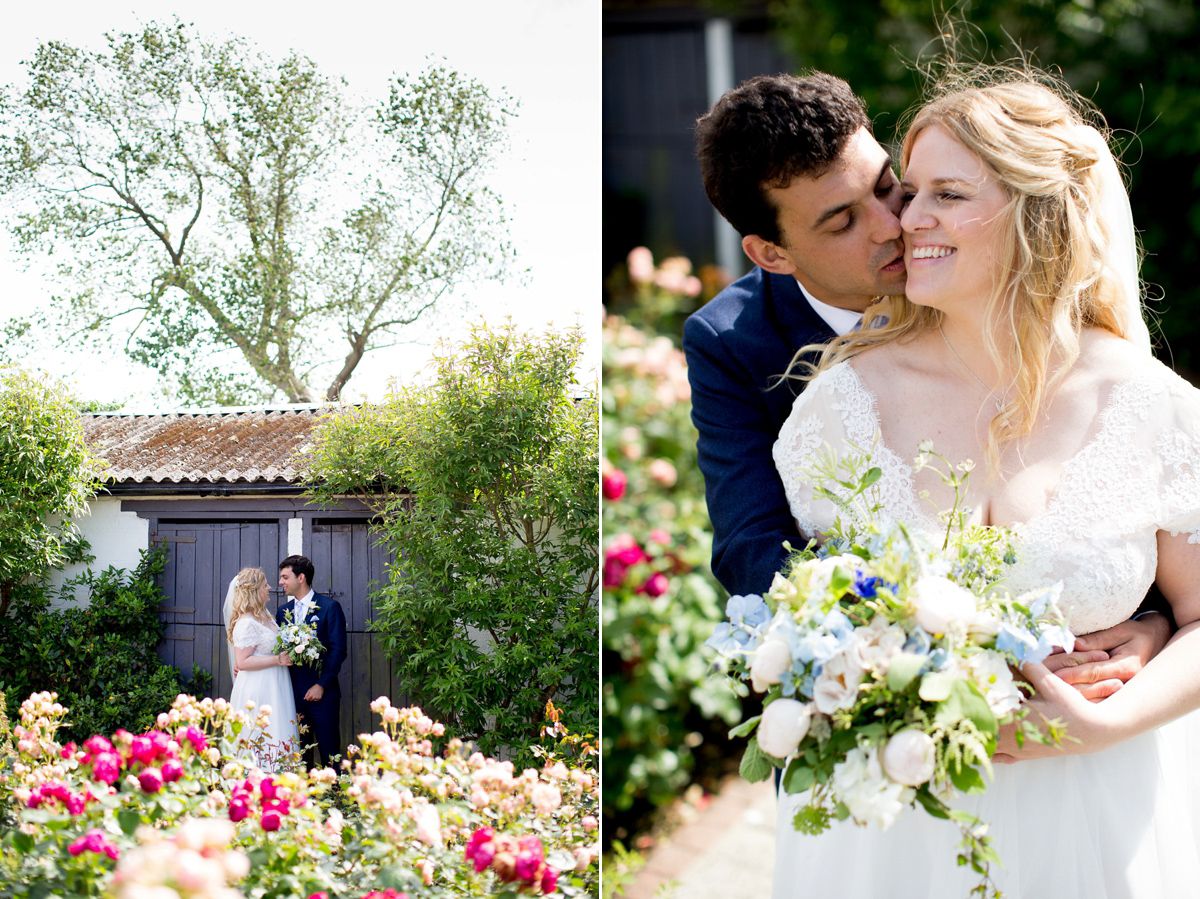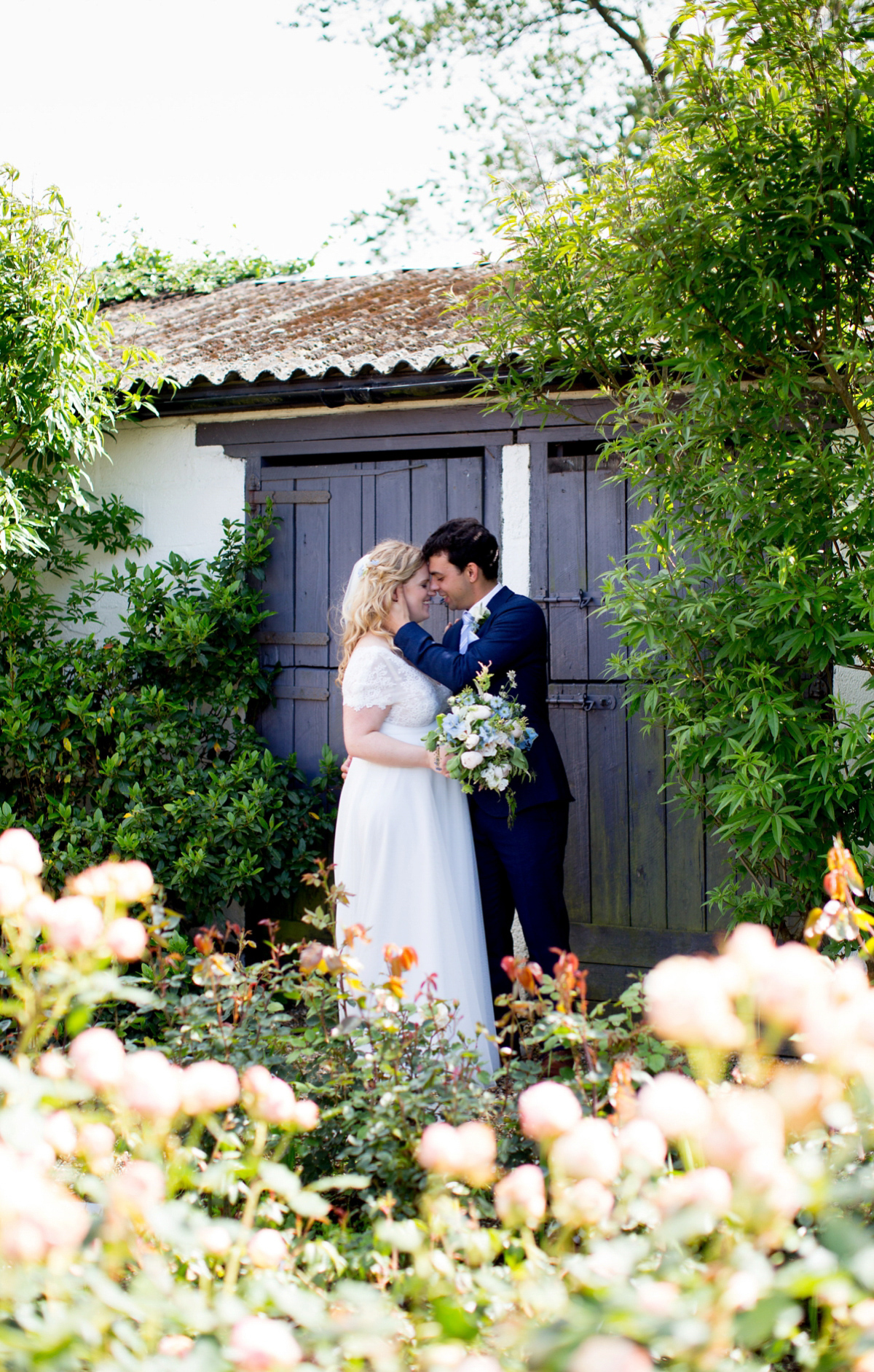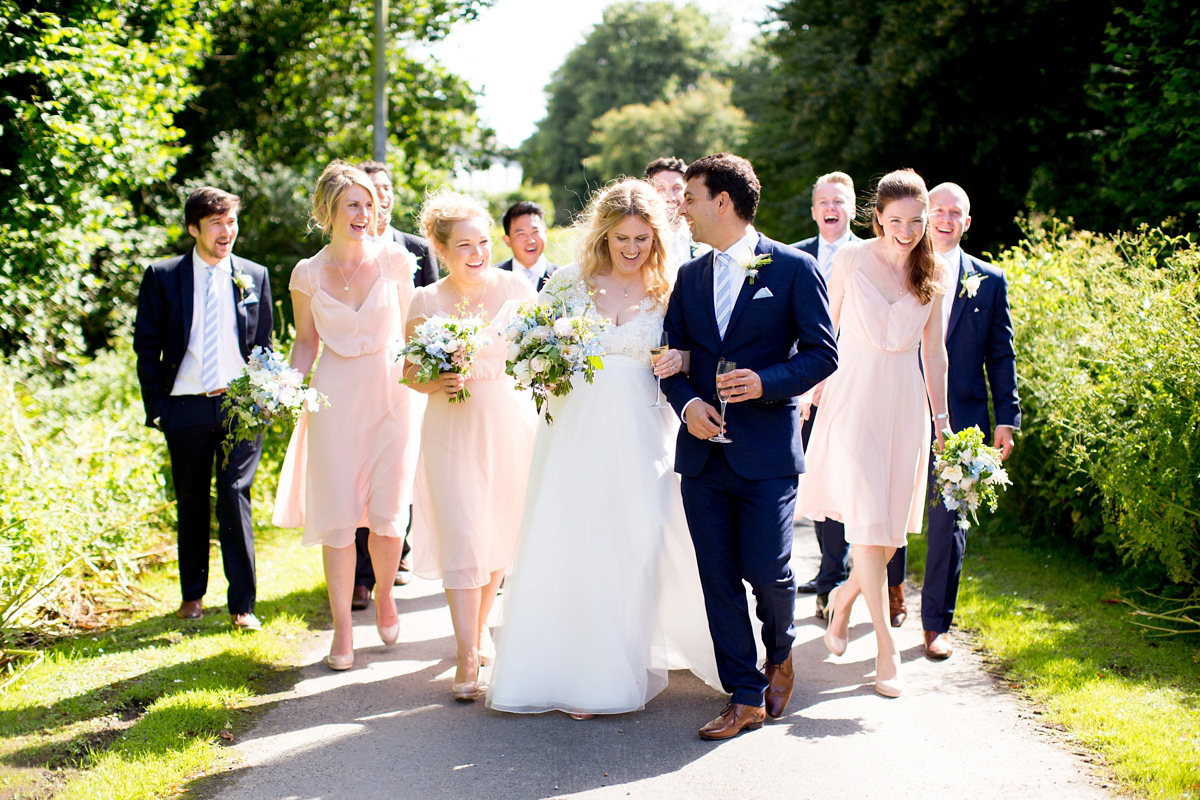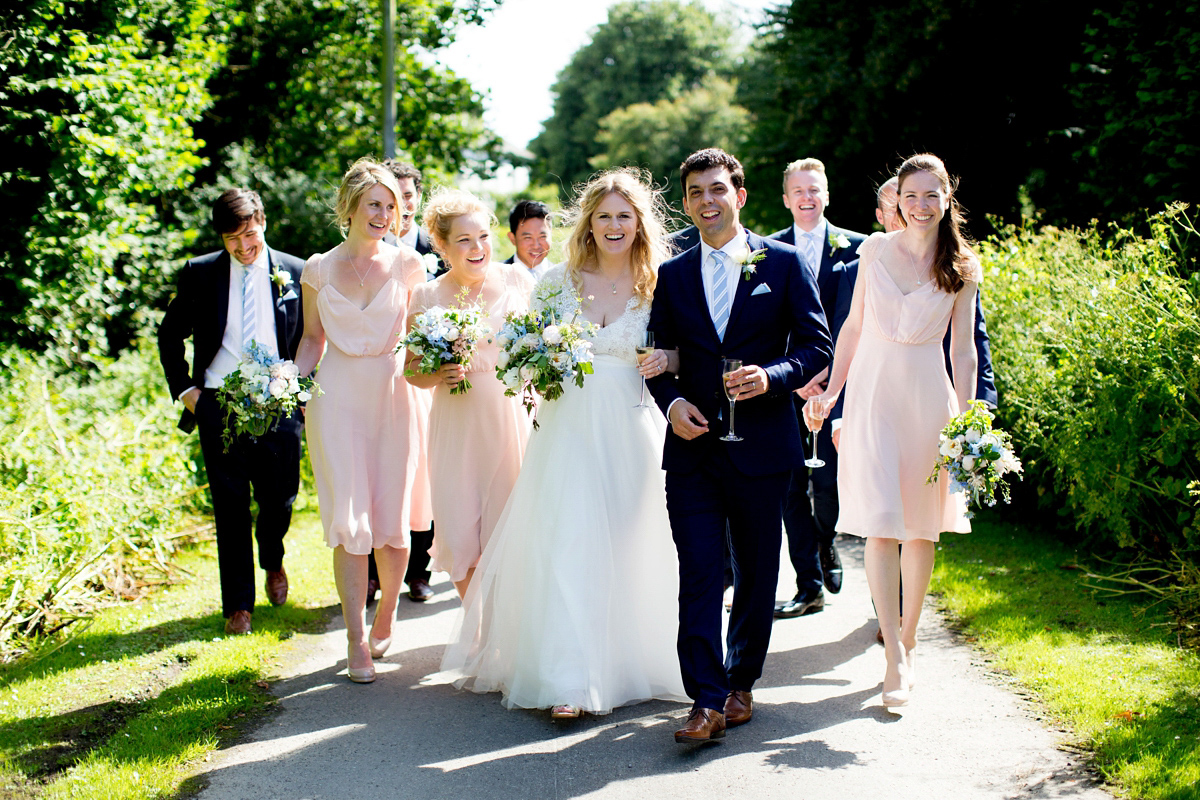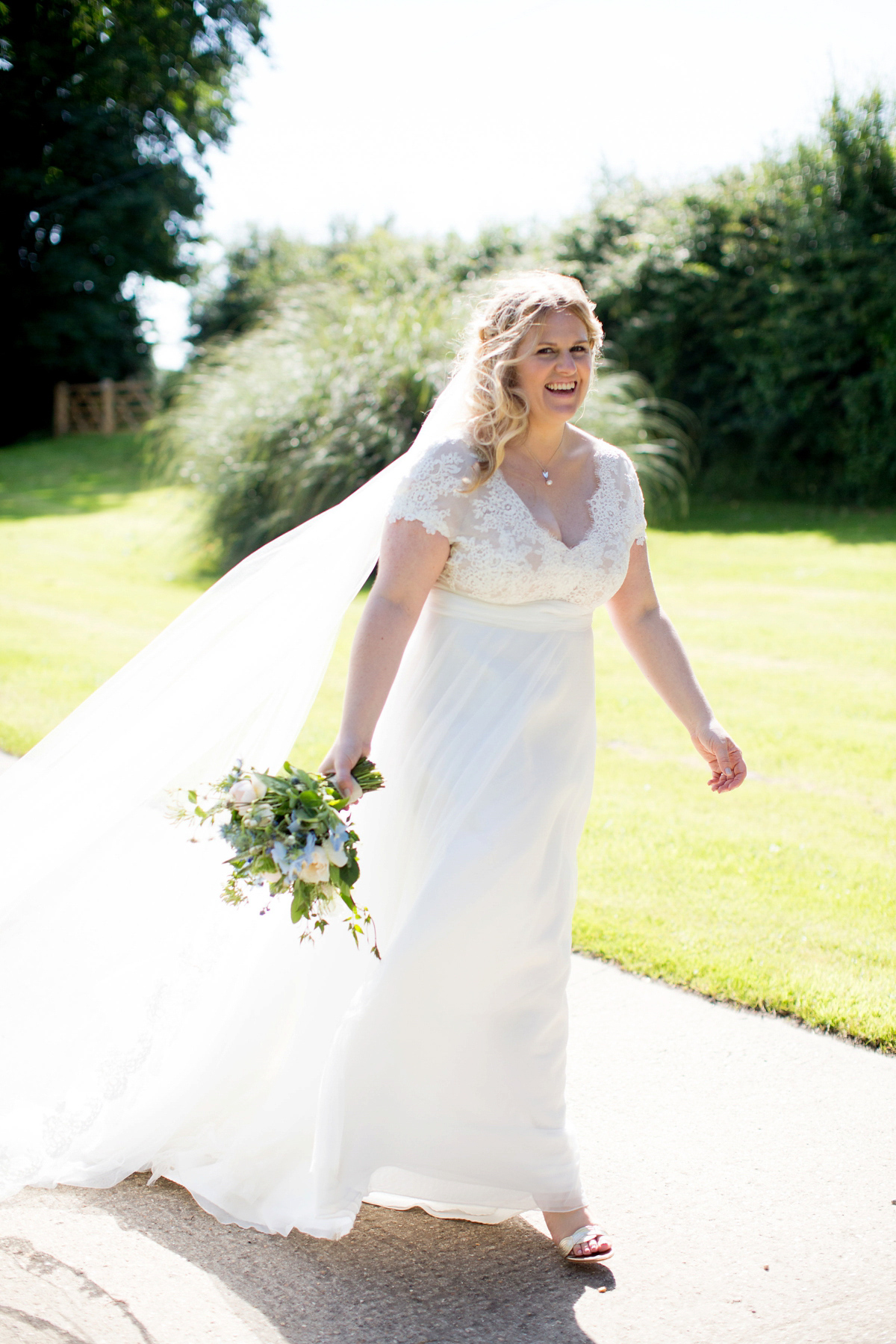 "My brother's Morris Minor was the wedding car (it had also been my parent's wedding car in 1981!). The Morris Minor was also used as a photo booth during the wedding reception."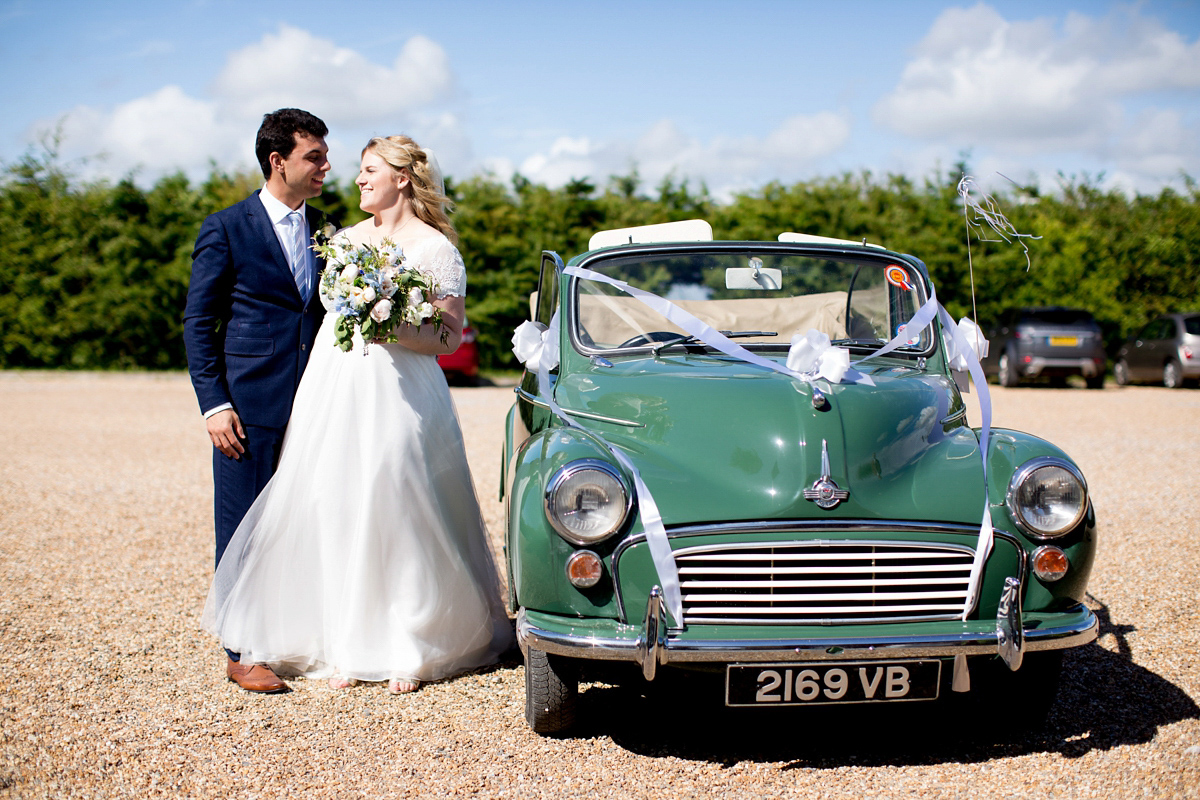 "To complete the Taverna look, George's parents arranged for blue and white gingham table runners to be made in Cyprus – which just looked absolutely perfect. Each napkin was tied with blue and white gingham ribbon to finish the look. We also used bunting that Louisa and her mother had made for her wedding."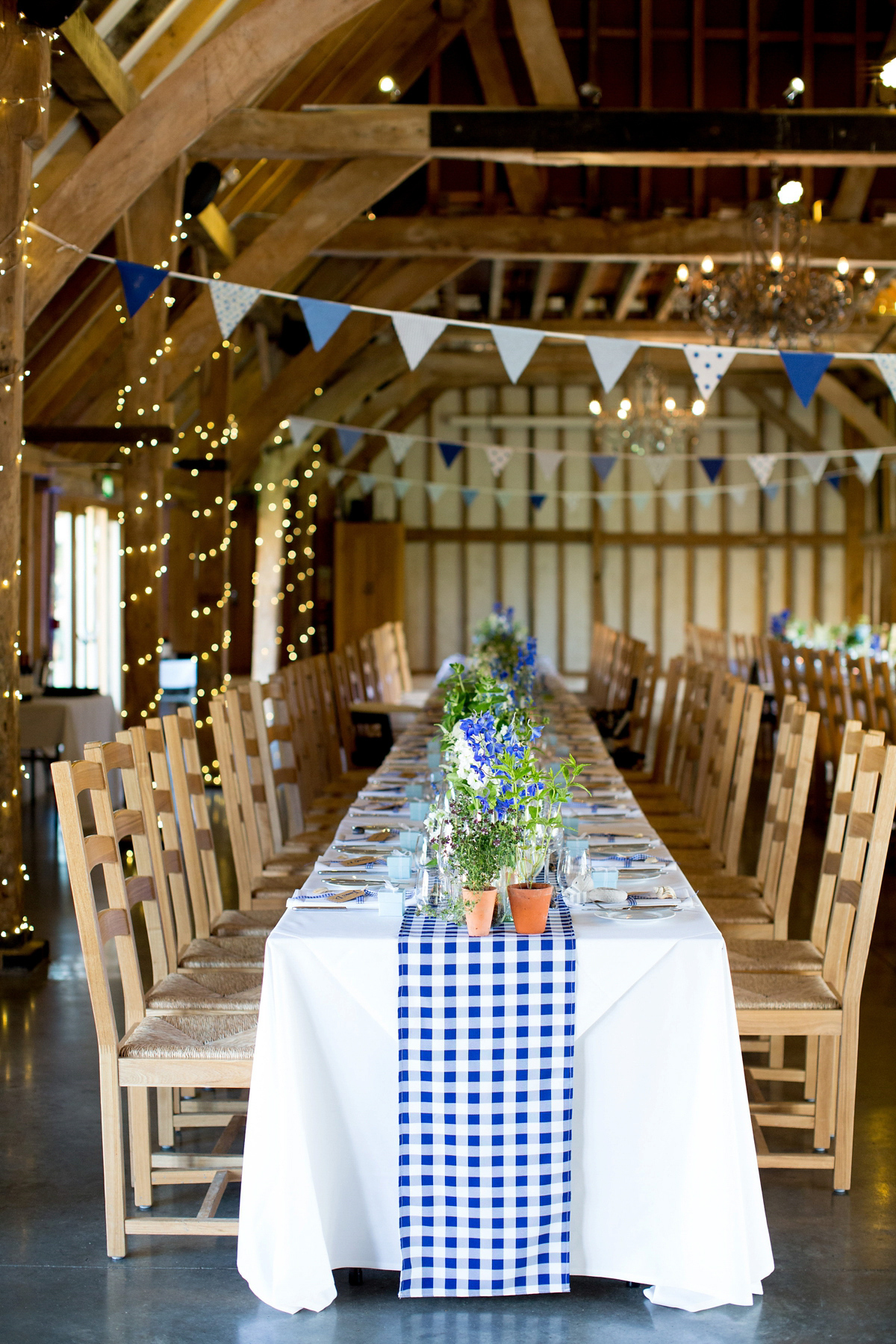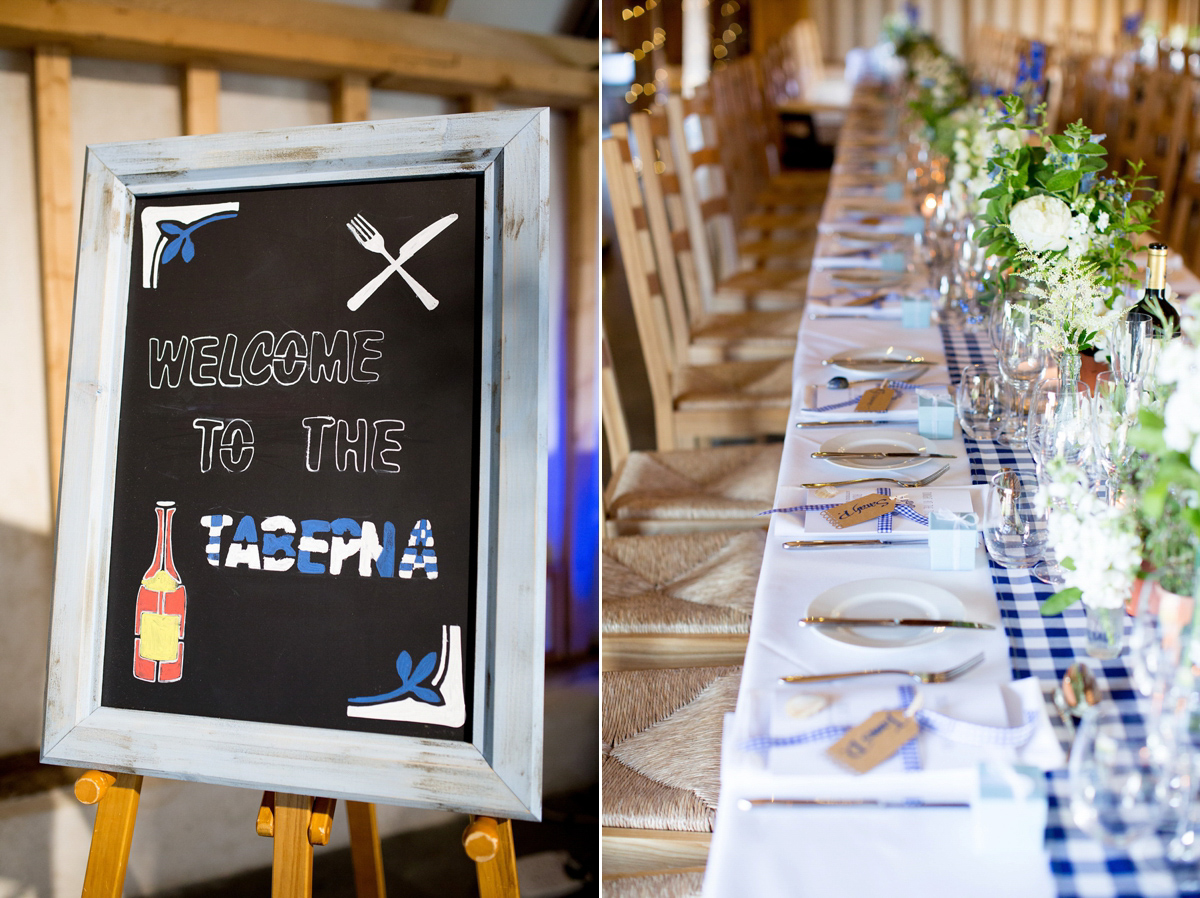 "For favours, we collected shells from West Wittering beach for each place setting and then the bride's cousin Louisa handmade chocolate shells which she boxed into pale blue boxes for each place setting."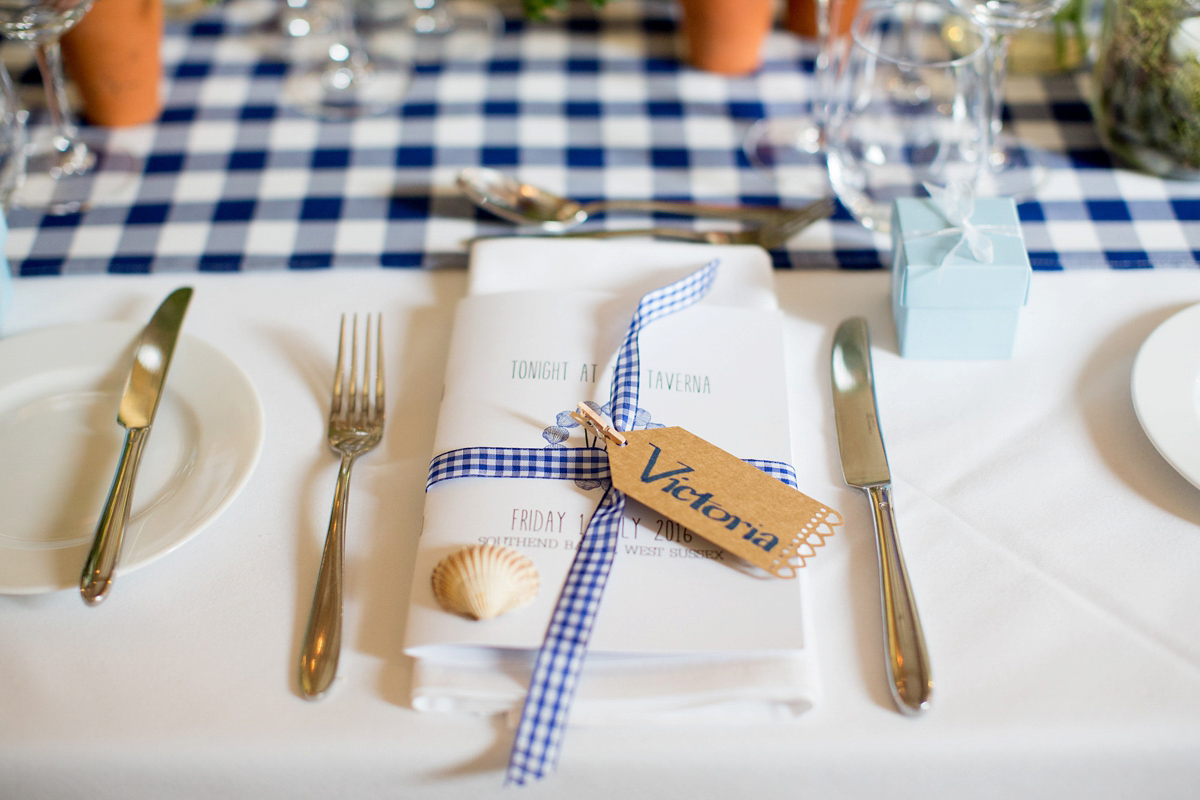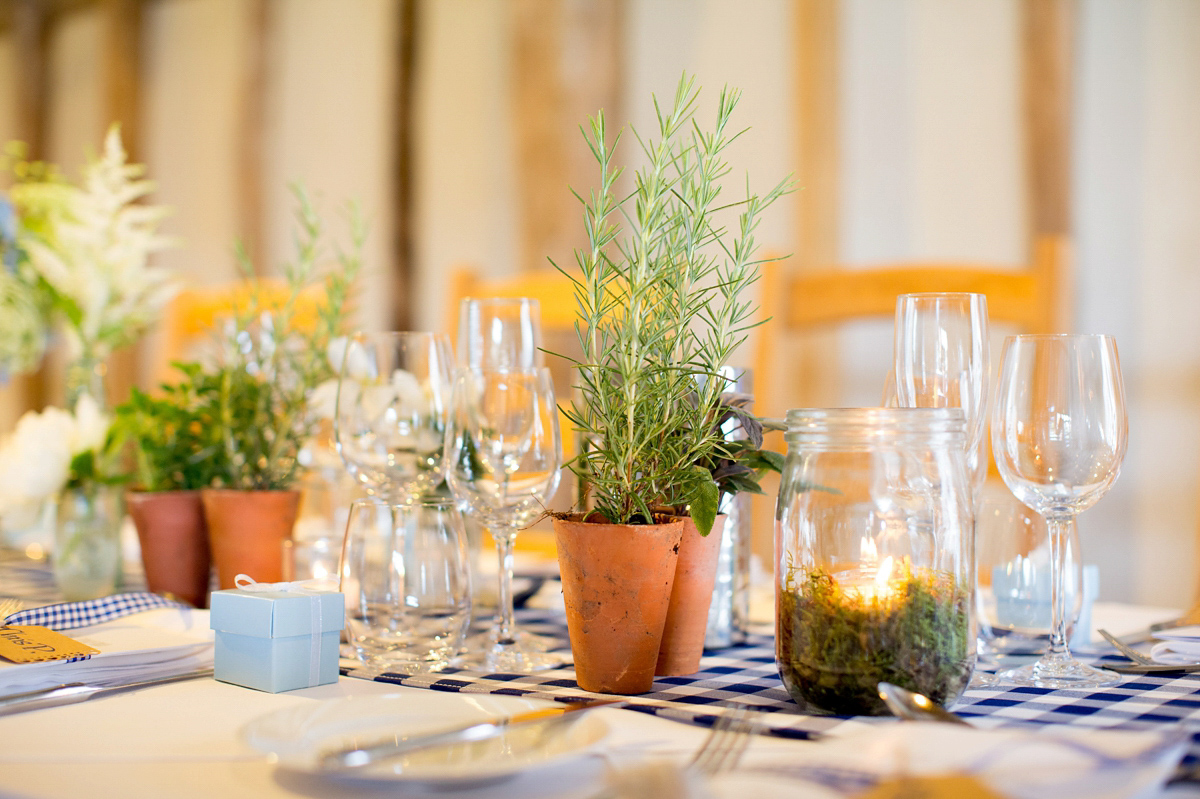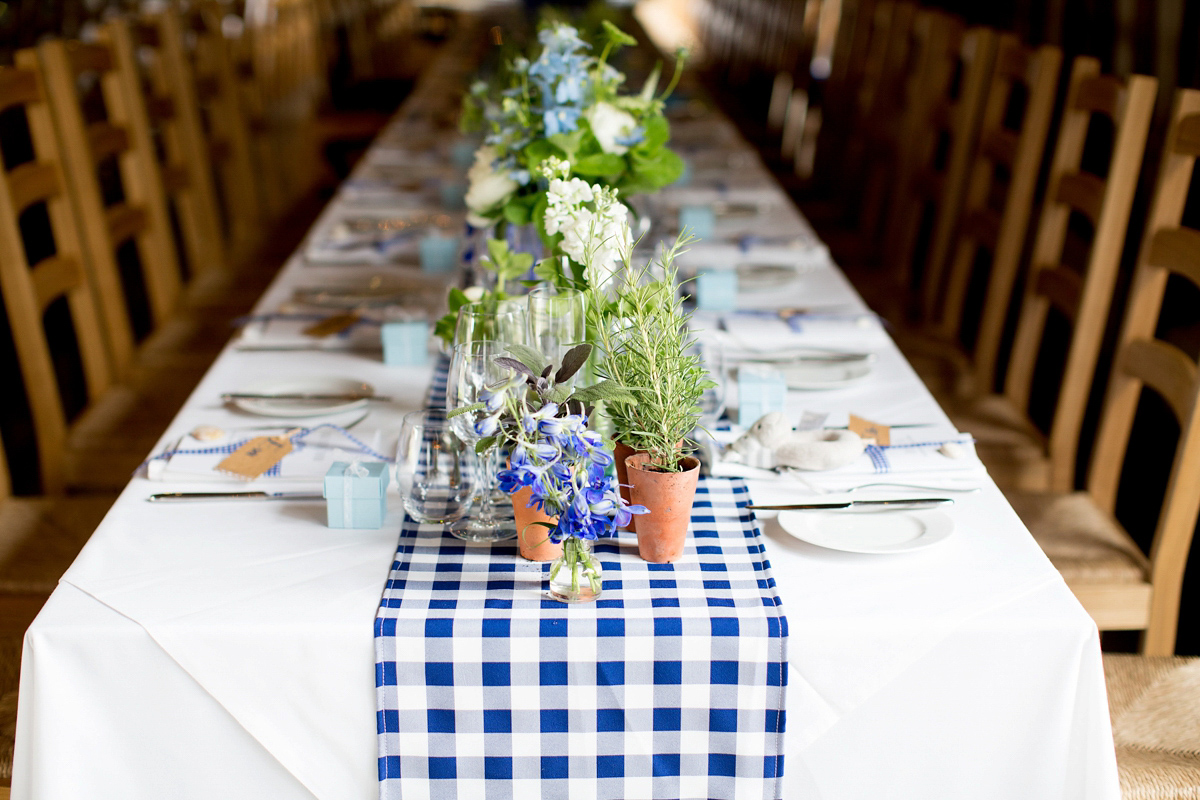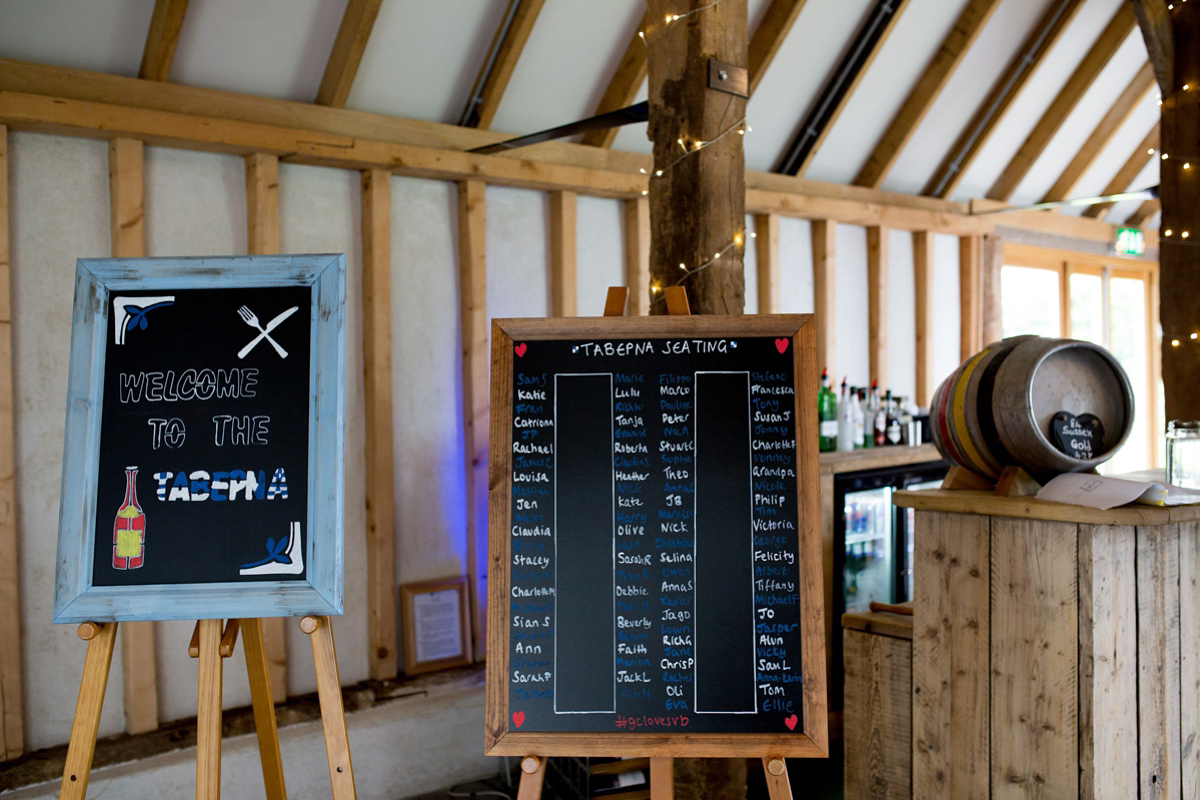 "Our caterers were Field and Fork, Chichester who are linked to the venue. Field and Fork did an amazing job given we had given them a tricky brief of Greek Cypriot Mezze for our wedding breakfast – it was all delicious and our guests loved it all. Our particular favourites were the Kolokithokeftedes (courgette and cheese croquettes) and the Baklava for dessert."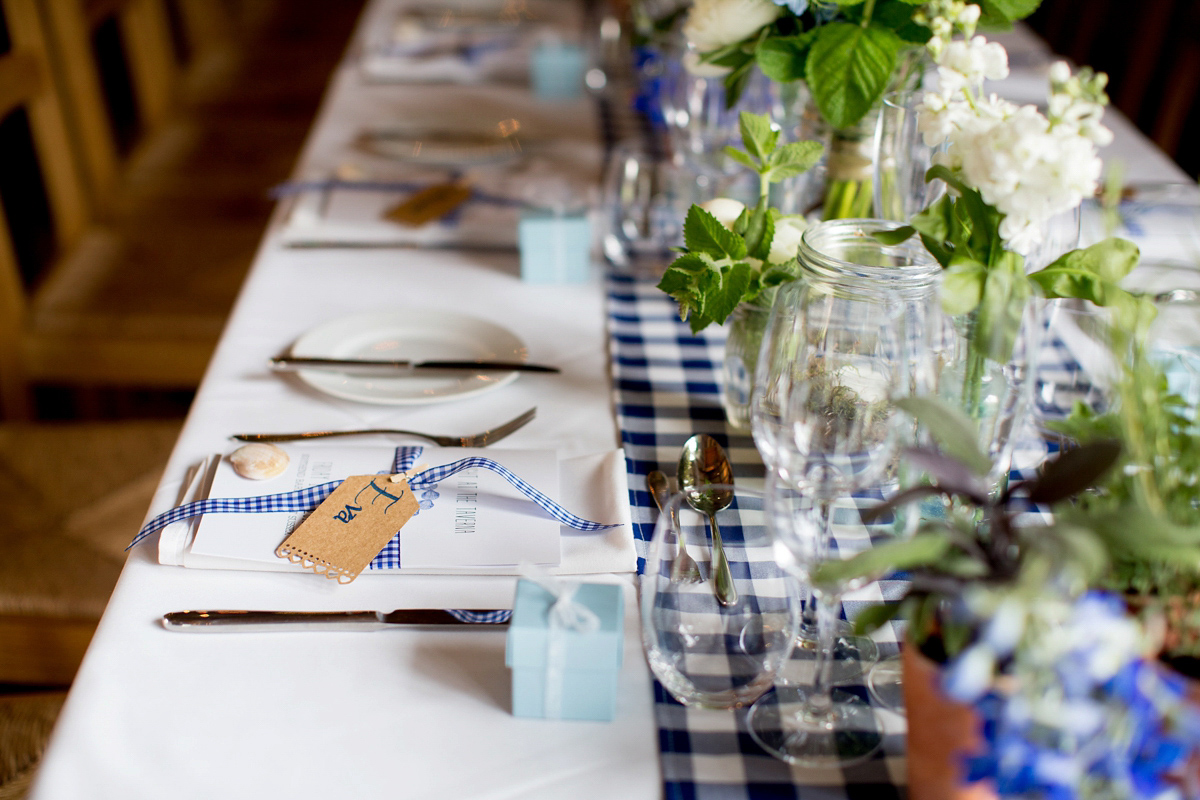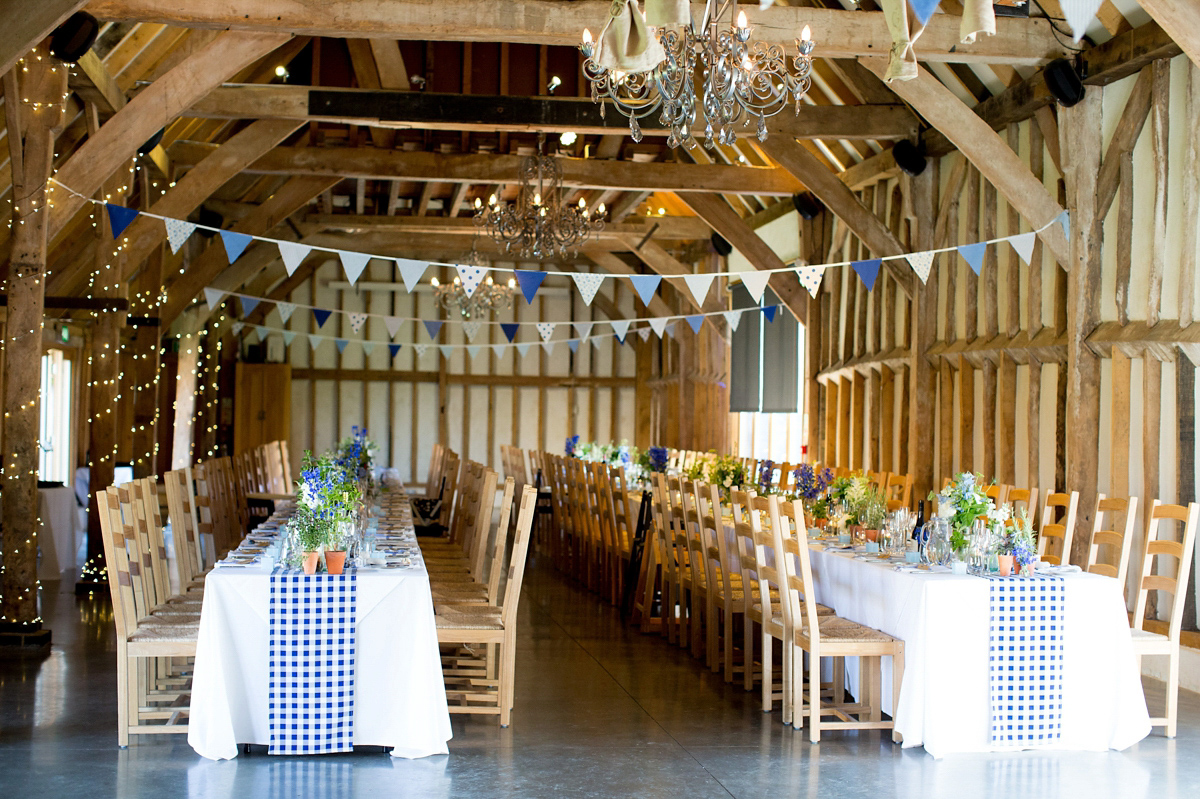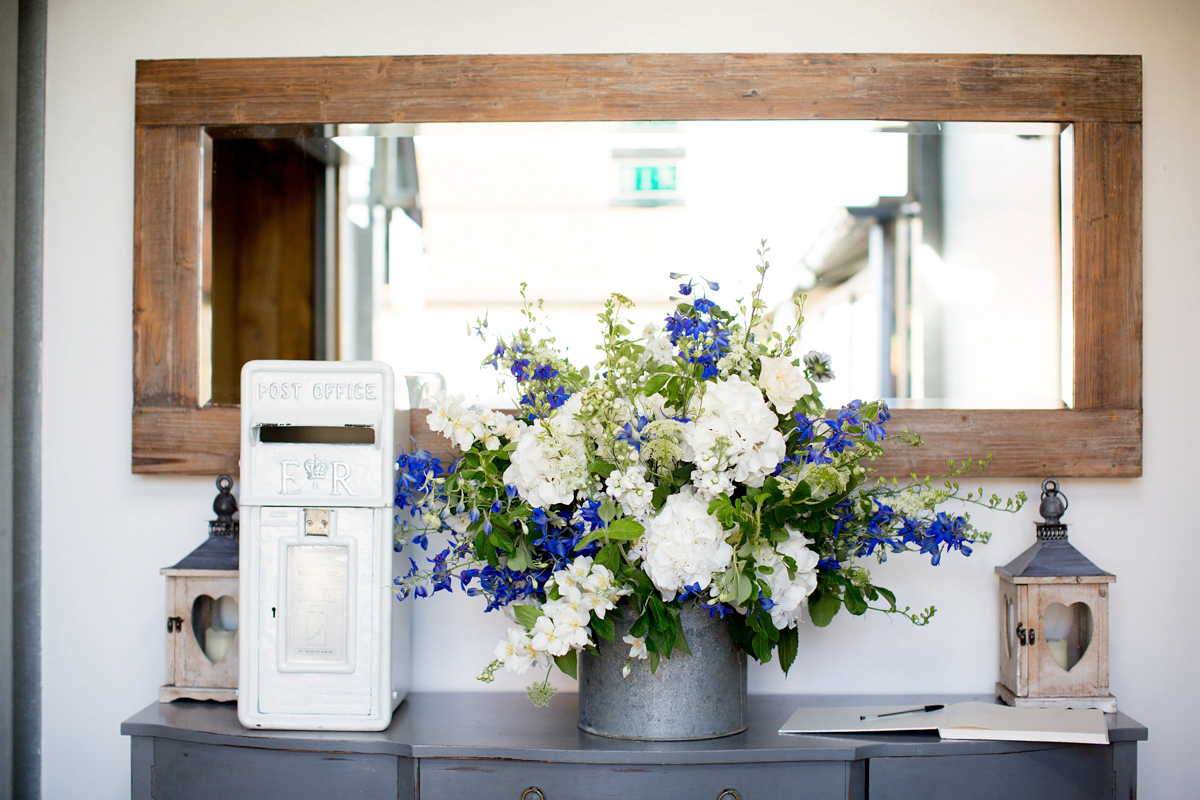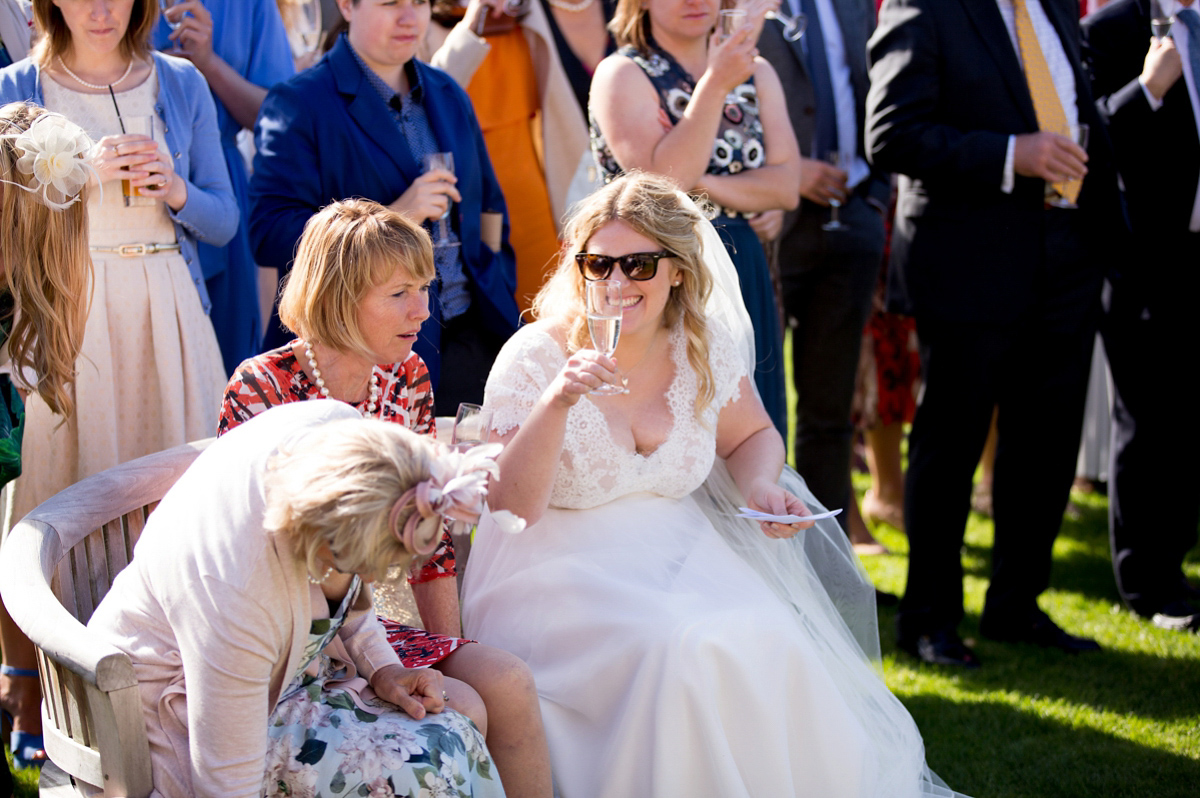 "It is difficult to find one favourite moment but two that stick in our minds are; Firstly, when we were in the middle of the ceremony, and we looked outside and what had been an overcast day had transformed into blue skies without a cloud in the sky – it was such a beautiful moment. Secondly, when we were part way through the wedding breakfast, just looking around the room at everyone we care so much about, all chatting, laughing and eating, and enjoying reading the bios we wrote – it made us feel so happy that all our hard work organising had been worth it to see everyone having so much fun."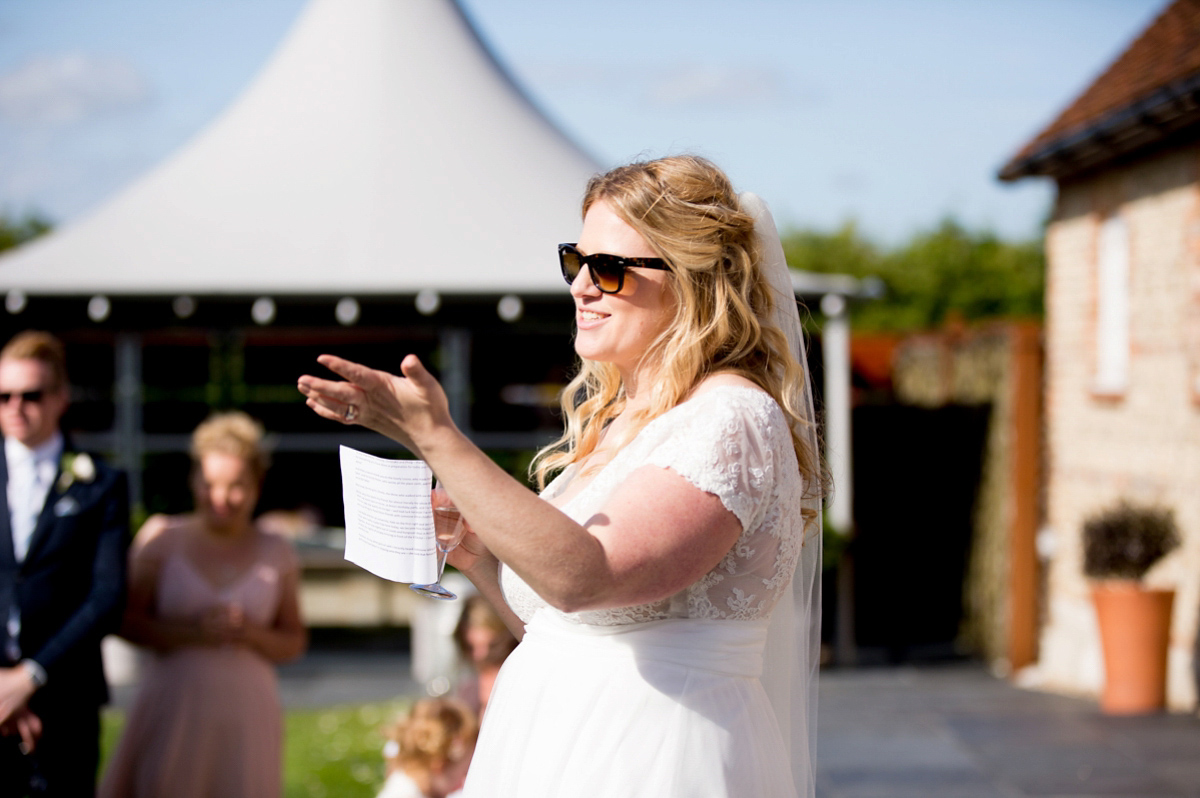 "Our first dance was to 'Let's go Fly a Kite' by Rebekah Angel. This song reminds us of the adventures we have had driving off to the coast for a day's kitesurfing, spending days on our favourite beach, West Wittering. Mary Poppins is one of Victoria's favourite films, but it took a while to find a version that didn't feature Dick Van Dyke! George found this version on Youtube and we loved it, and loved the fact that it was different to the usual 'first dance' tracks – our guests all sang along and it was brilliant!"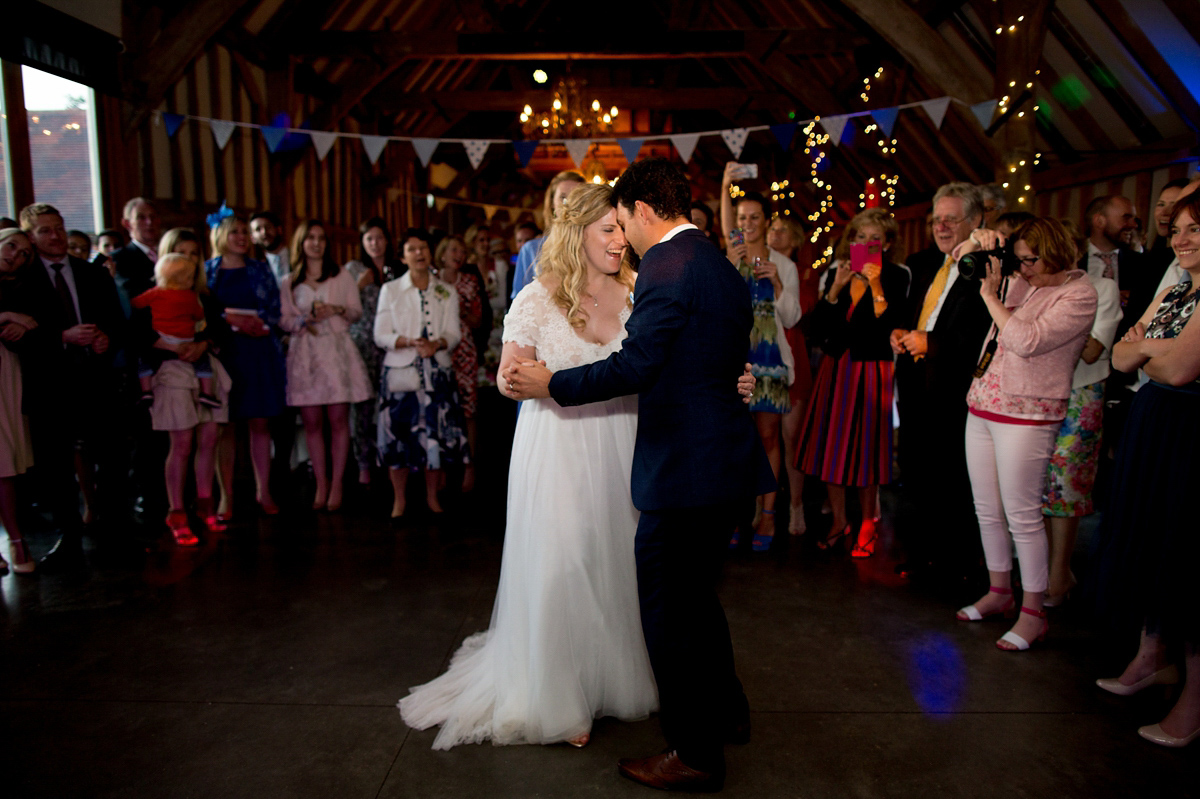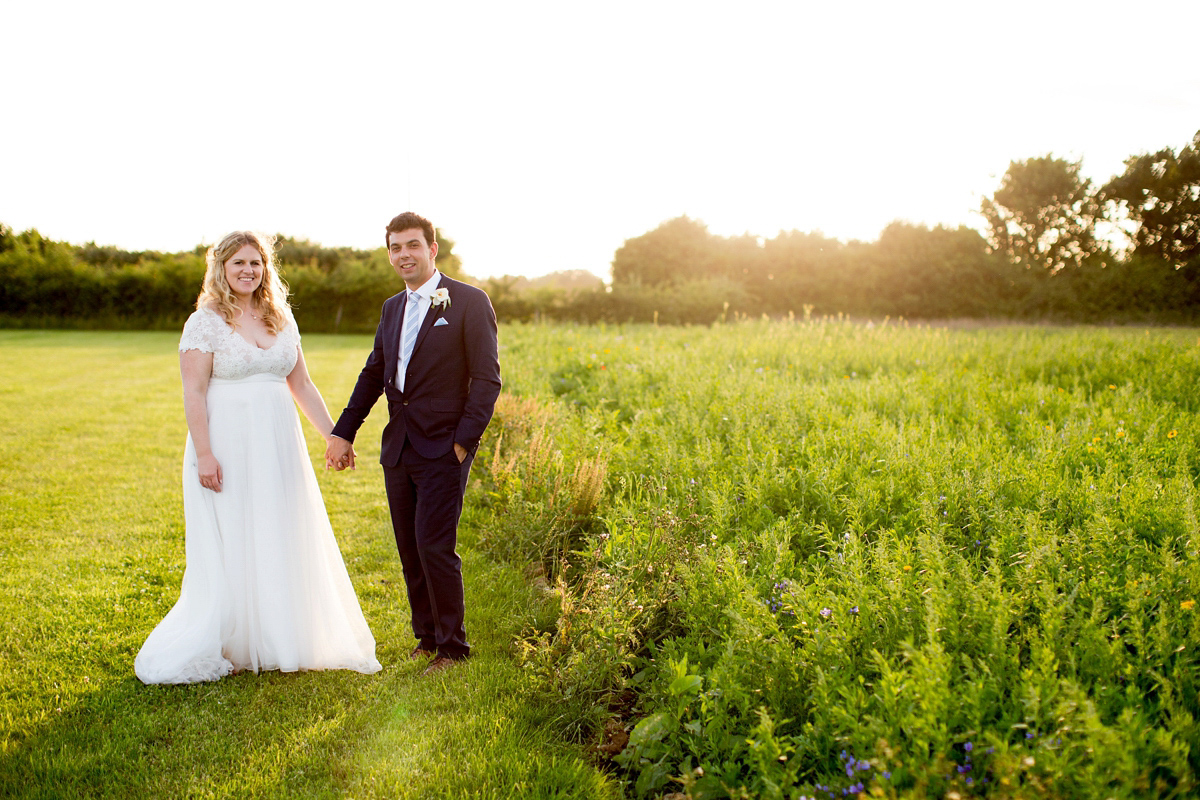 Words of Wisdom
"Make sure you are prepared for the last month before the wedding as there are a lot of things you can't do until right up until the last month.
On the day itself, just be ready for the day to flash by – we still can't believe quite how quickly it went. Enjoy every single moment as you will love it all.
I had not anticipated just how wonderful the feeling is to have everyone you care about in one place at one time. If you can, try and plan to have a welcome drinks the night before or a celebration the day after the wedding as well, as we did both, and it was so lovely to get the extra time with everyone.
We had four speeches on the day (as the bride also did a speech) so we split these up as we felt 4 in one go was too much – the bride and groom did their speeches before dinner outside on the lawn and then the Father of the Bride and the best man did their speeches after dinner inside in the Threshing Barn. This worked really well for us and I think in general breaking the speeches up is a good idea."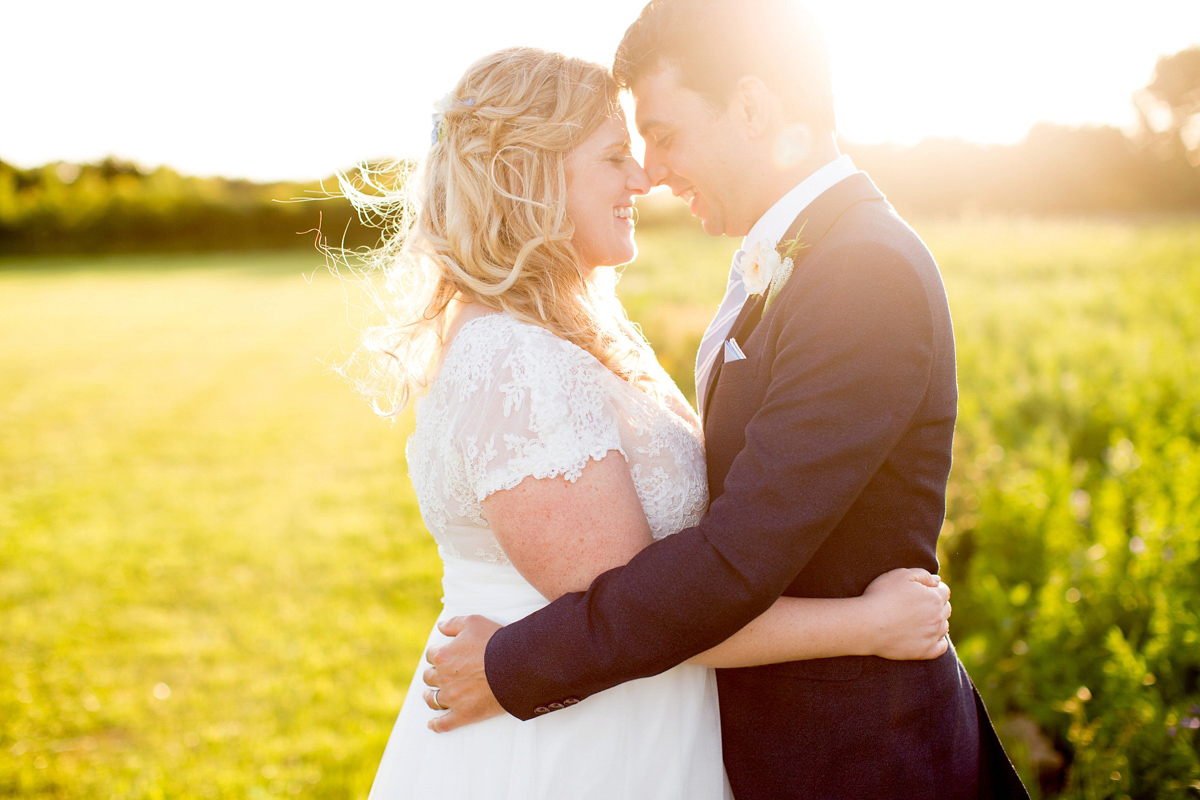 Love Annabel xx