As I write this, the heating is on and my cat Mildred is snuggled up on my lap (which makes writing quite difficult, I'll admit, but I don't have the heart to move her).  It still feels like midwinter – how on earth is the first month of 2017 almost over already?  What I need is the perfect summer wedding to lift the spirits and today's offering is just perfect- it'll have you smiling in no time.
Meet Tiwo, a retail executive, and her husband Daniel, an architect, who married on Saturday the 9th July 2016 at St Swithin's Church, Barston, followed by a reception at the beautiful Highbury Hall, the former residence of the Chamberlain family. Tiwo opted for a gorgeous one-shoulder bespoke gown, made by our talented Little Book For Brides members, The Couture Company, who are based in Birmingham – we highly recommend these guys if you are looking for a bespoke dress to be made from scratch and that will fit you to perfection.
"I wanted a dress that would flow and move with me and that was 100% silk.  For me, nothing feels or glides like silk and I wanted this from my dress.  I loved that my dress had a slightly more casual look and that it was so light – it felt like air!"
Photography by Simon Brettell Photography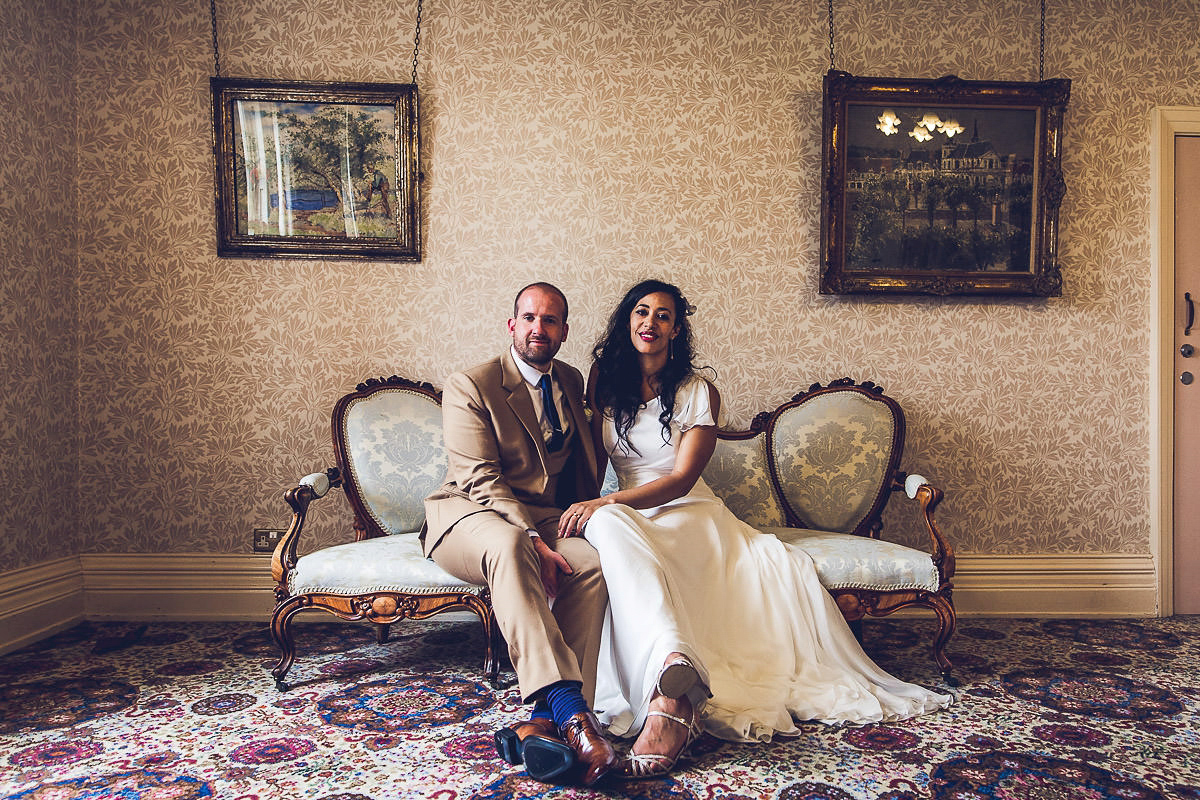 "Like many brides, I became obsessed with Pinterest and my secret wedding board – there are so many amazing weddings, designers and themes out there – but you can't do it all.  Our venues were a country church and grand 19th Century home so we took our cues from that – a bit of country and a bit of vintage glamour."On her feet Tiwo wore a beautifully sparkly pair of low heels from Pink Paradox, and in her hair, fresh flowers.  For accessories she opted for a pearl, diamante and rose gold arm cuff from Accessorize and rose gold drop earring from Jon Richard at Debenhams.
Tiwo chose to do her own make up after attending a Bobbi Brown make up lesson prior to the wedding and her long hair was styled to perfection by a mobile hairdresser recommended by a friend (sadly, no details).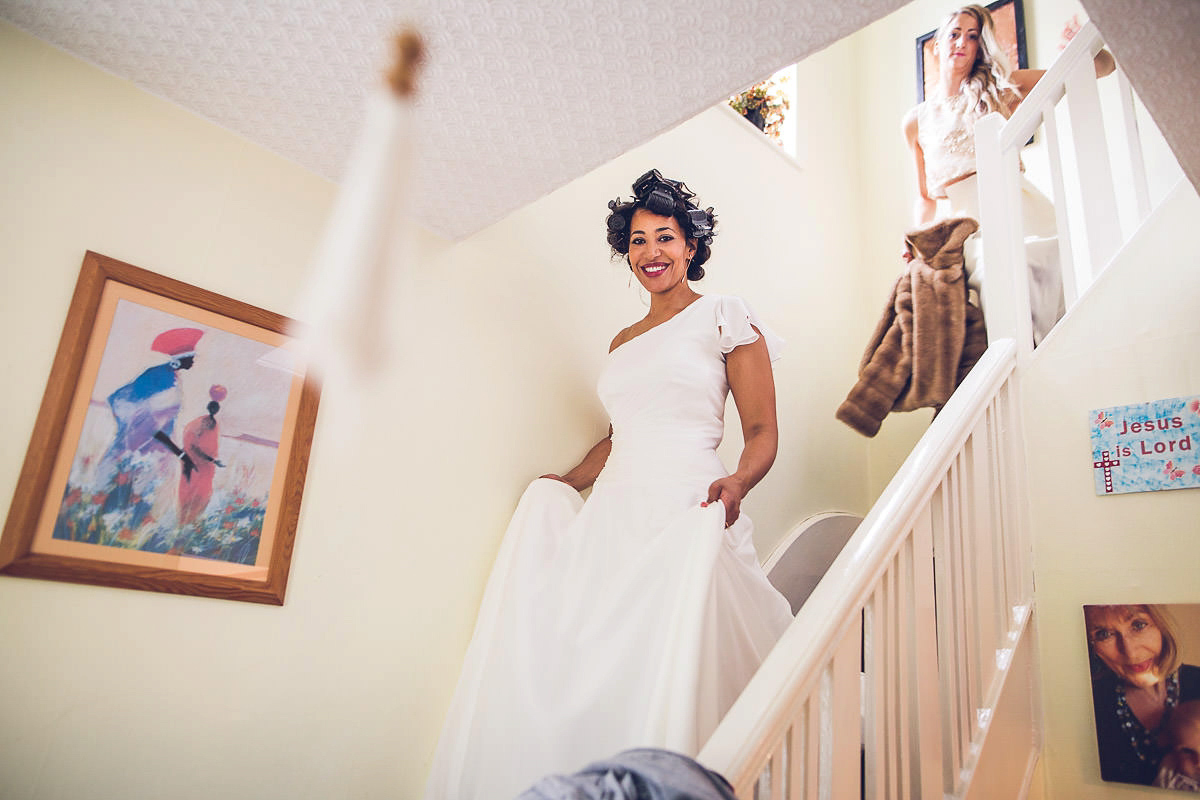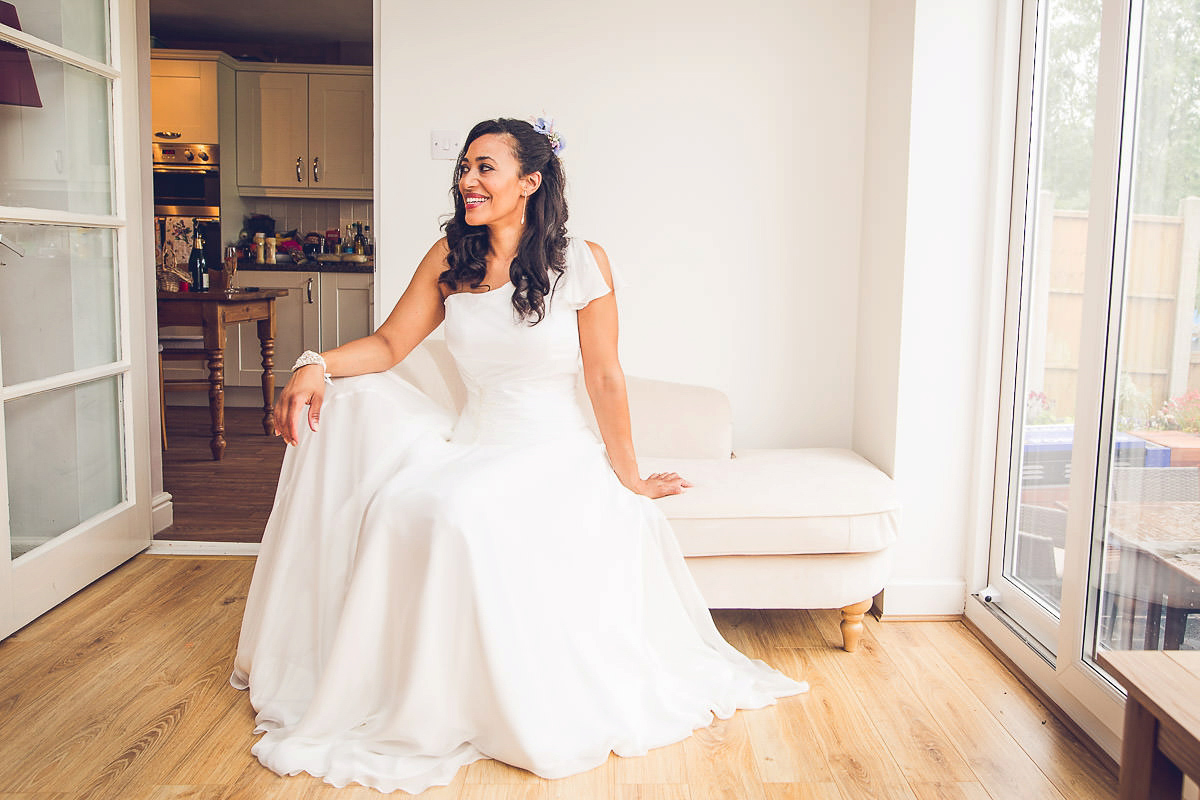 The bridesmaids glittered in full cream skirts, worn with gold cropped vests (made by Tiwo's Mum) and gold sparkly shoes, which each chose for herself.
Meanwhile the little flower girls looked super cute in dresses from Monsoon and the page boys echoed the groomsmen's suits in navy outfits from Next.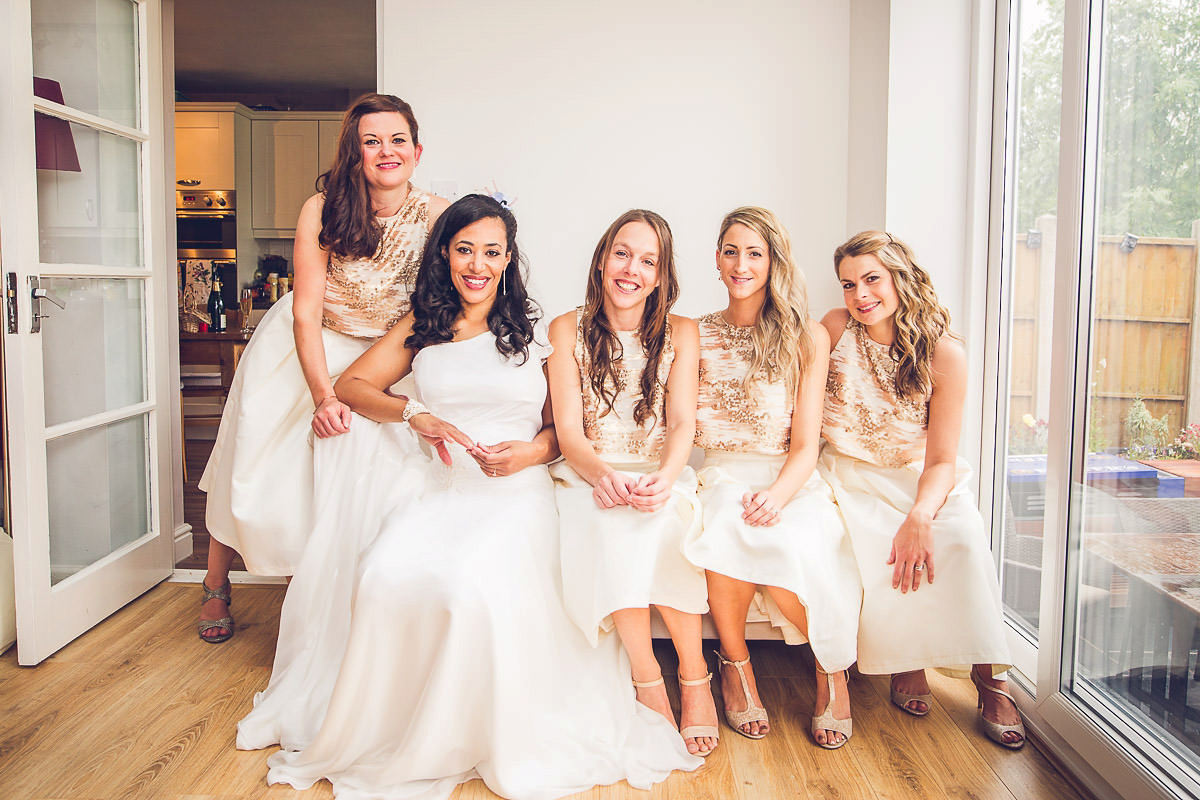 Like his bride, Daniel chose a bespoke outfit and purchased his ideal suit from A Suit That Fits, worn with shoes from Slaters Menswear, tie from Debenhams and a shirt which he had tailor-made in Hoi An, Vietnam, while on holiday last year.
"Simon and I met in Cornwall, where we were both working at the time.  We became friends and were in the same pub quiz team and it all started from there."
"We got engaged in October 2013 when Daniel took me to Budapest for my birthday and proposed during a night time walk at Buda Palace, on the banks of the Danube."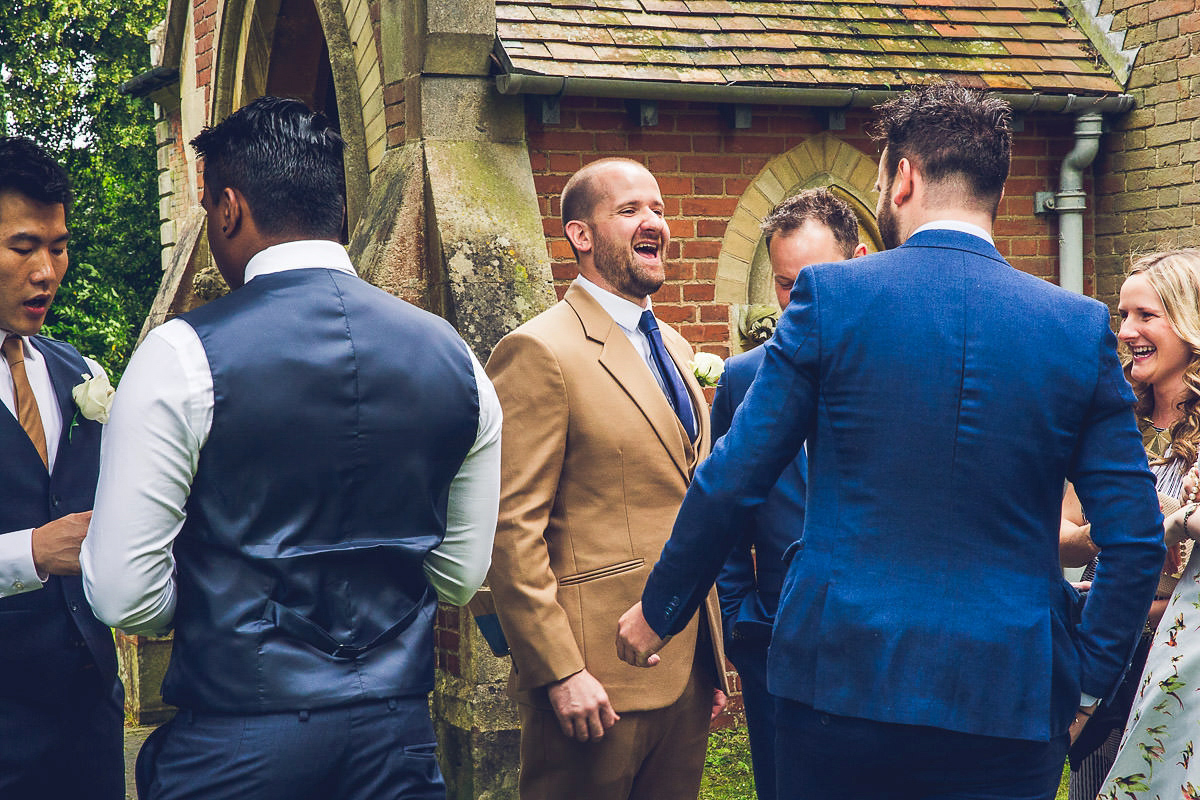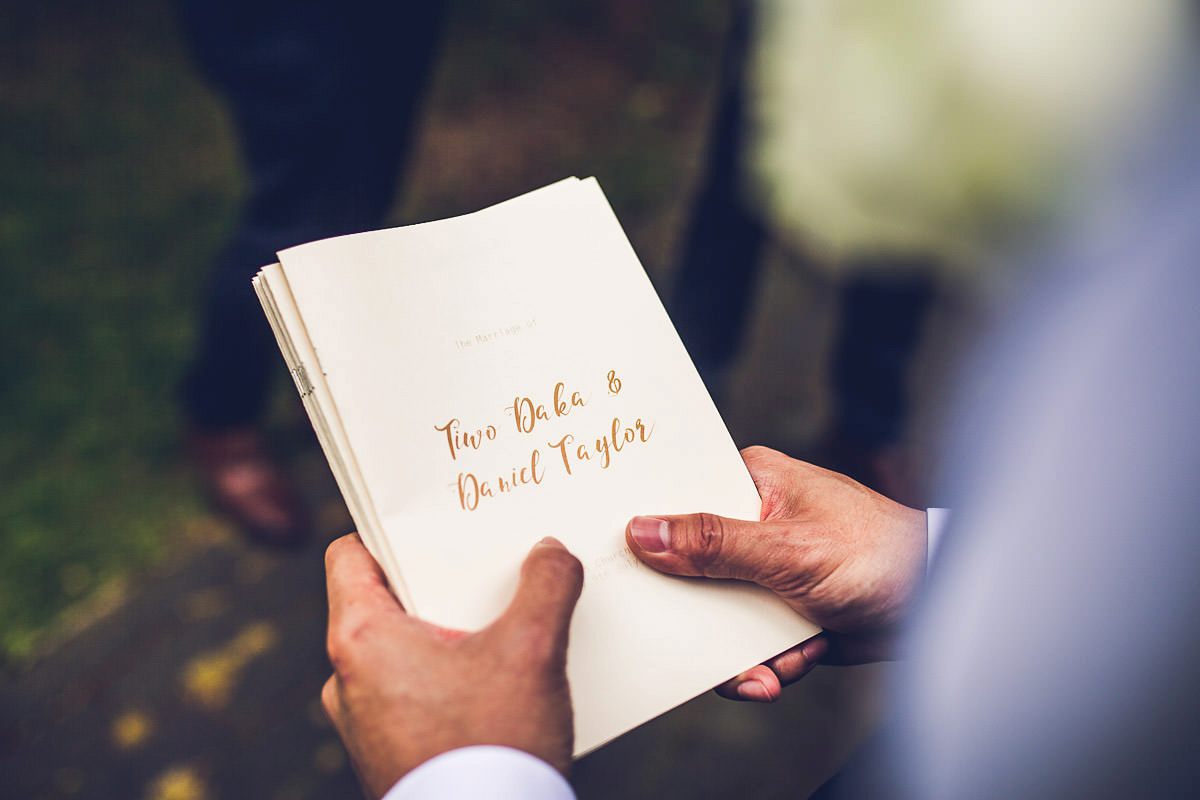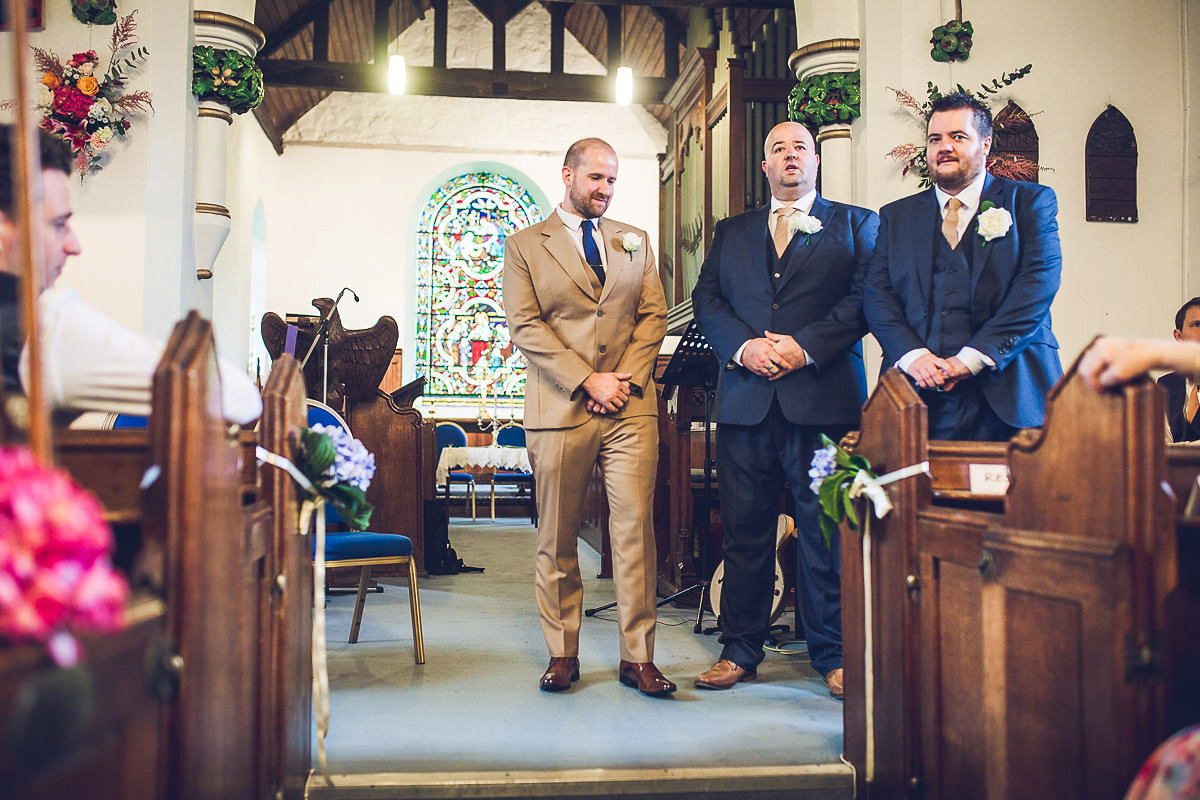 "We chose St Swithin's because it's a beautiful church steeped in history and is small and intimate.  We loved getting to know the congregation too, as we attended the church beforehand."
"We wanted to really get the most out of the day time-wise and involve as many people as we could so we had our friends and family involved in every aspect of the wedding.  Our friends played the piano and drums in church and prayed for us during the service. "
Tiwo and her brother Tiva travelled to the ceremony in a vintage Rolls Royce, hired from Aston Cars, before he accompanied her down the aisle to 'Staralfur' by Sigur Ros.   Tiwo and Daniel exchanged the traditional vows and swapped rose gold rings from Newey's Jewellers in Birmingham's Jewellery Quarter.
"For readings, we had the 1 Corinthians 13 about love, taken from The Message translation as this is more colloquial.  We also had Shakespeare's Sonnet 116.  For me these readings are about a decision to love and keep loving, not just the feeling of love."
"During the signing of the register my sister in law, Sara, sang accompanied by our friend, Ed, on guitar and our friends also did readings.  I made the wedding cake and my mum and I (along with friends) decorated the venues and did the flowers."
"It was all hands on deck for a few days before the wedding as friends and family were drafted in to spray candelabras, build champagne towers etc.  It was great fun and we all learnt some new skills."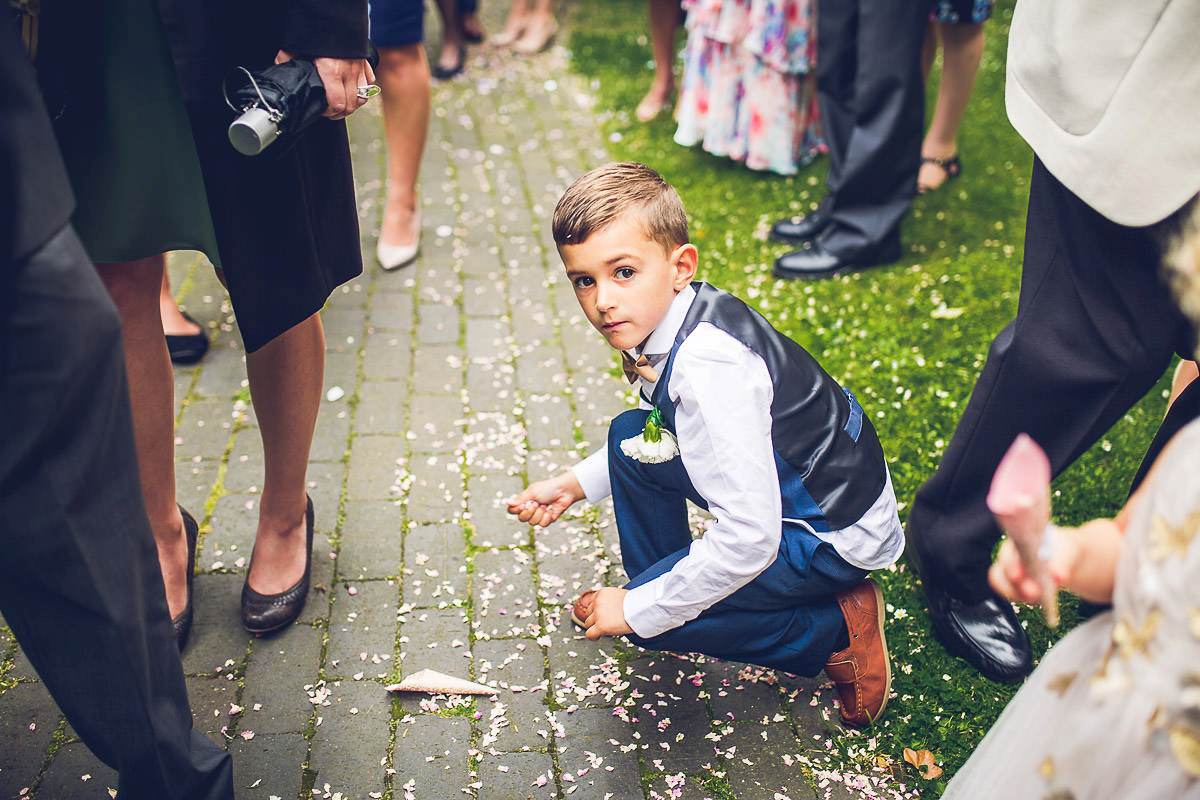 "At the church we had flowers with a country feel and straight after the service we went into the church garden where we had cake and mini trifles (made by me) and canapes."
"Vintage china teacups and plates gave a villagey feel and we also had a champagne tower."
"I bought the champagne saucers myself and a brave usher offered to build it.  Dan and I then poured (slightly nervously) but it was all fine.  There was also a massive hay bale which was great for photos and the kids loved it."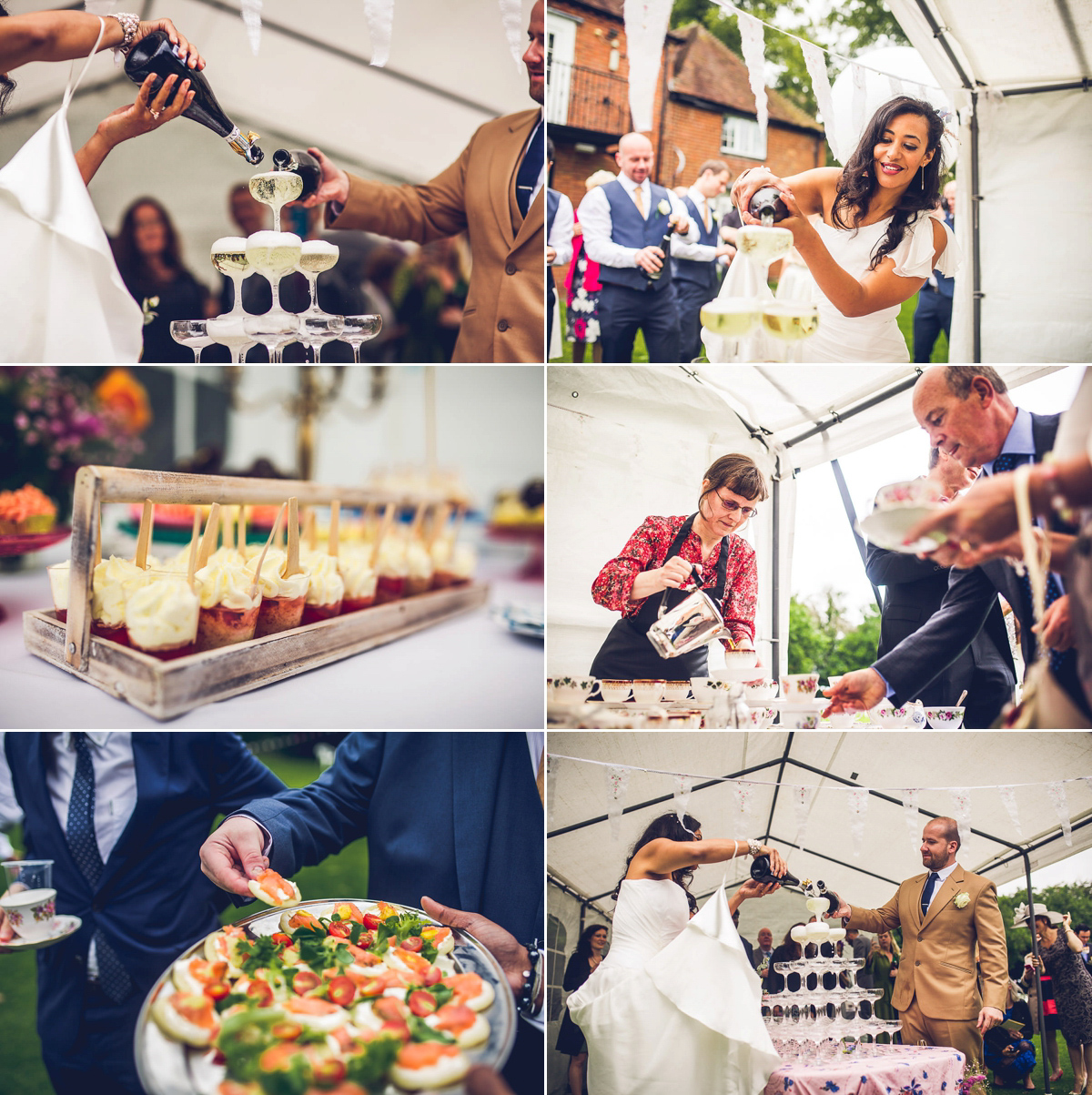 The talent behind today's light filled images is Simon Brettell, a new photographer to Love My Dress. 
"We chose  Simon Brettell to shoot our wedding – one of our best decisions.  He did a pre-wedding shoot a few weeks before, which put us at ease and meant he got to know us a bit.  He worked tirelessly from first shot to last and had a real feel for us and our guests, which shines through in his beautiful and fun images.  We loved all the great photos he captured."
To add to the glamour of Highbury Hall, our bride and groom chose gold accessories to create an even more opulent vintage feel to the reception.
"We bought loads of candelabras from eBay and spray painted them gold, bought gold fabric for tablecloths and Daniel's sister in law wrote the table plan on a big mirror with glass paint. We also borrowed handmade bunting from a friend.  We used odd glass jars and decanters to add to the look." 
The fabulously colourful reception flowers were the work of Tiwo's mum, purchased from Birmingham flower market.
"We chose bright flowers – hot pinks and oranges with powder blue hydrangeas and trailing ivy and there were highlights of gold in the candelabras."
Catering after the ceremony at the church was by 'Call The Chefs' (no website yet) and the wedding breakfast was catered by Highbury Hall.  The beautiful cake was Tiwo's own work.
"We used The Pork Society for evening food and they served guests outside from a food van with the best ribs and pulled pork nachos I've ever tasted.   They were a massive hit with our guests."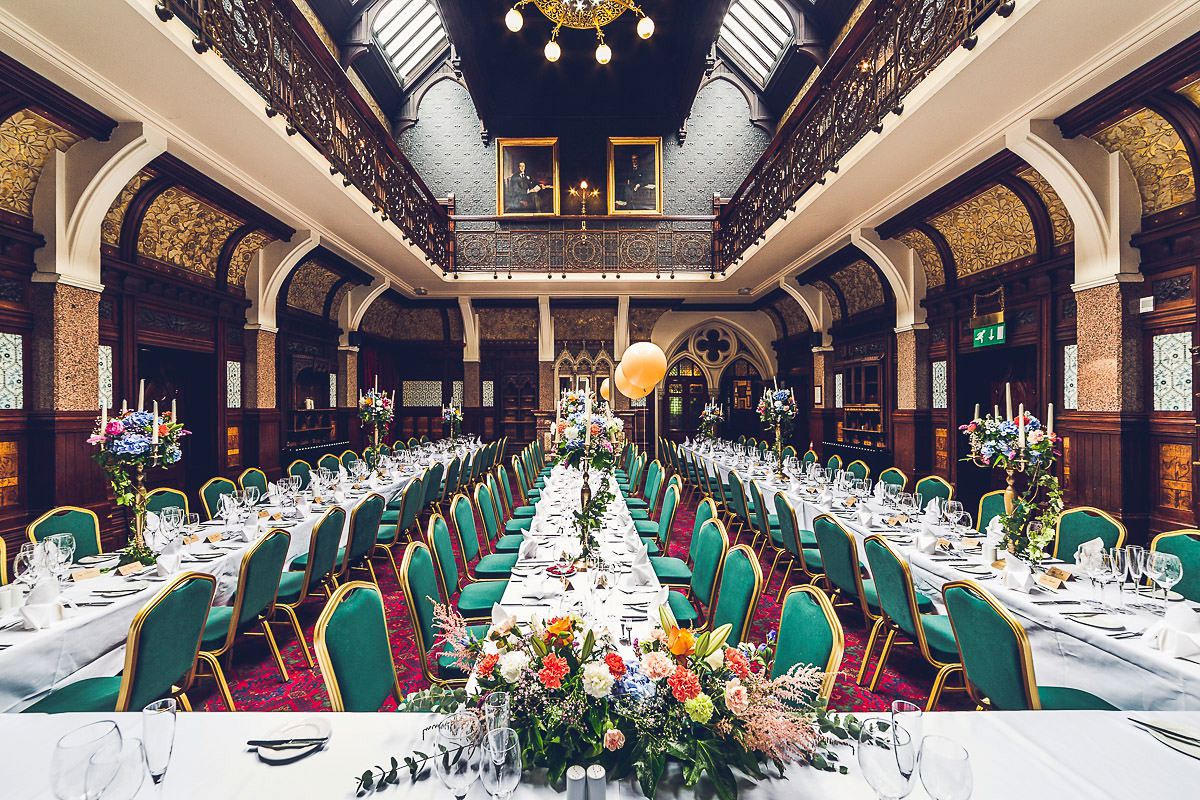 For their first dance as a newly married couple, Daniel and Tiwo chose the Billie Holiday version of 'It Had To Be You'.
"It was very important to us to have a great band.  We chose the Flynn and Tonics who were awesome and the dance floor was full all night!"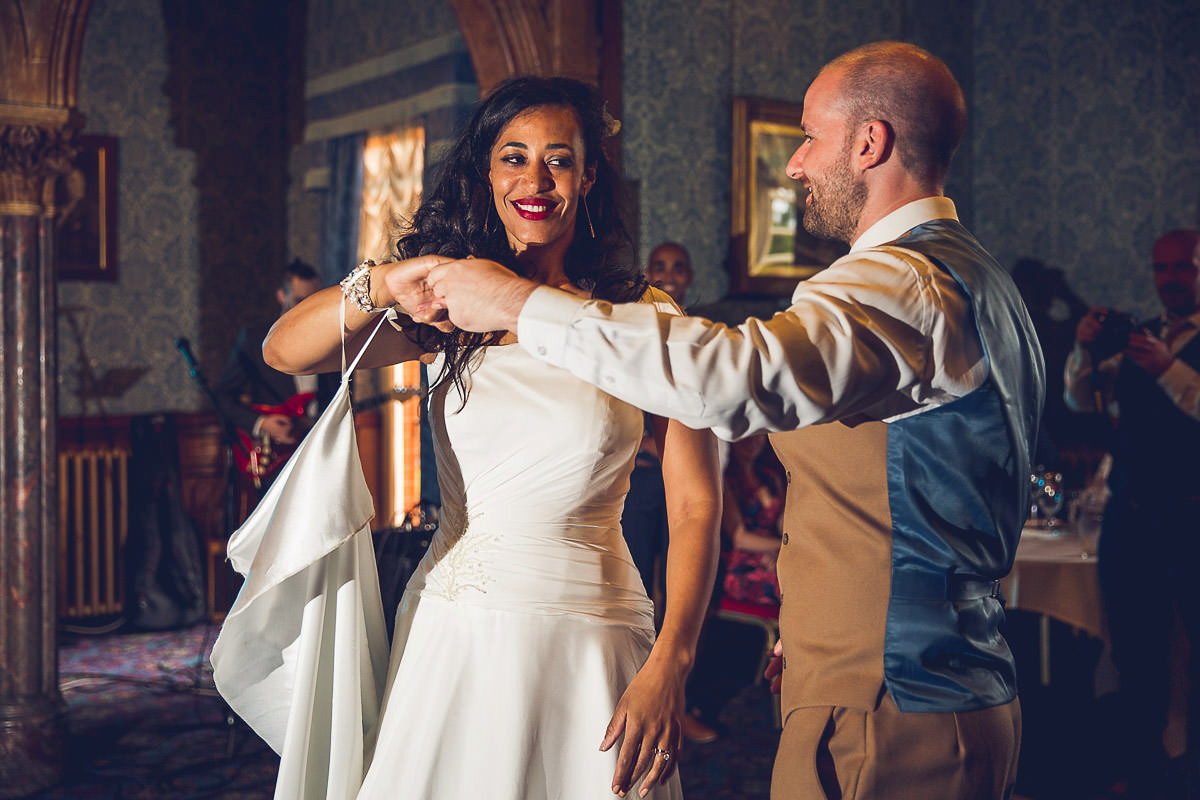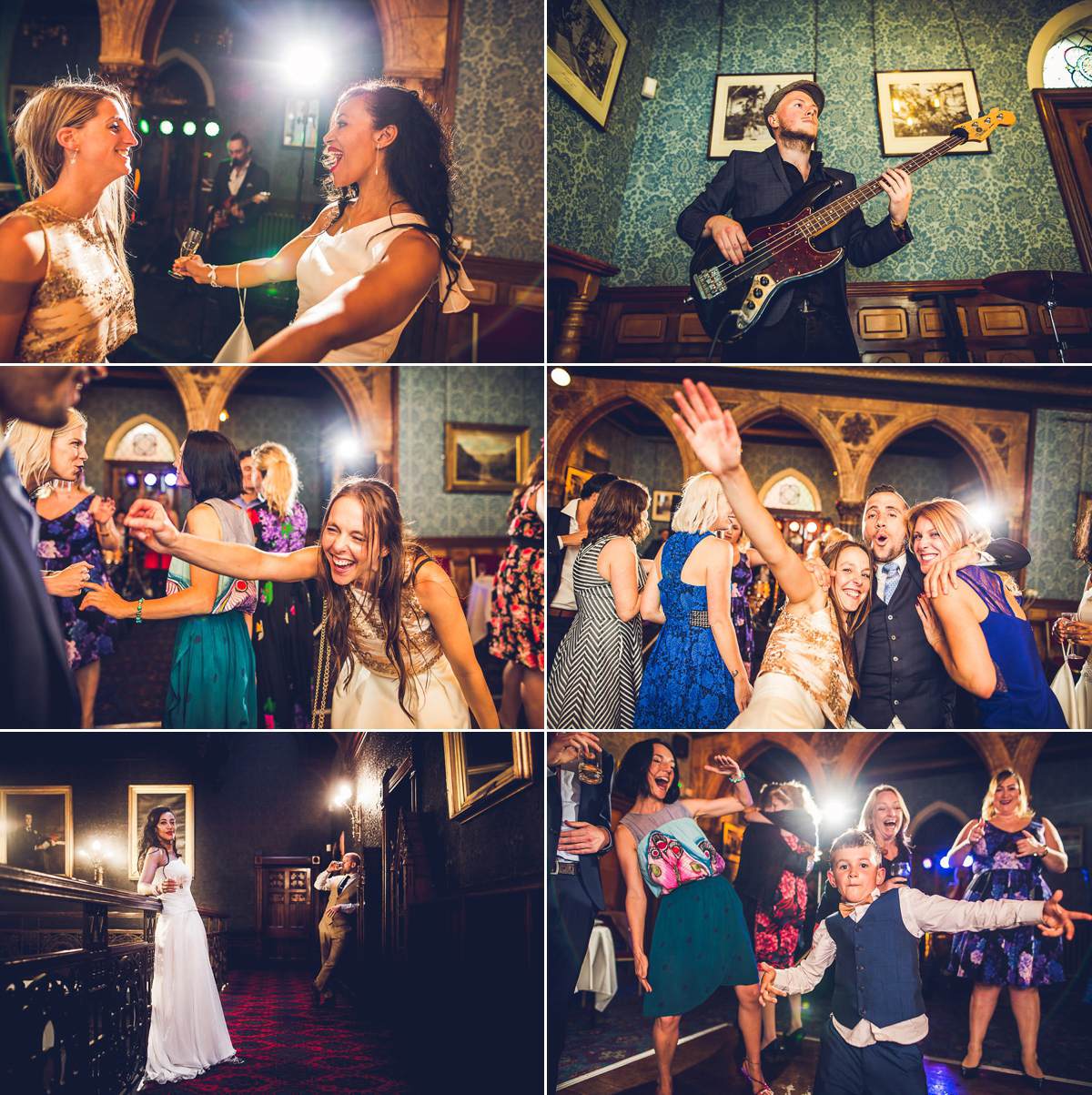 =
Words of Wedded Wisdom
"Enjoy it mainly, but use a planning spreadsheet.  I know it's sad (nope!) but it helped us to track costs, deadlines  and tasks. We were living in separate cities in the run up to the wedding – me in London and Dan in Liverpool and planning a wedding in Birmingham, so we really needed this shared spreadsheet.
I'd also say that it's so easy to overspend on things – but you have to stop and think whether this is really going to enhance your experience of the day.
Finally,  everything takes twice as long to do as you'd expect – so plan your time well."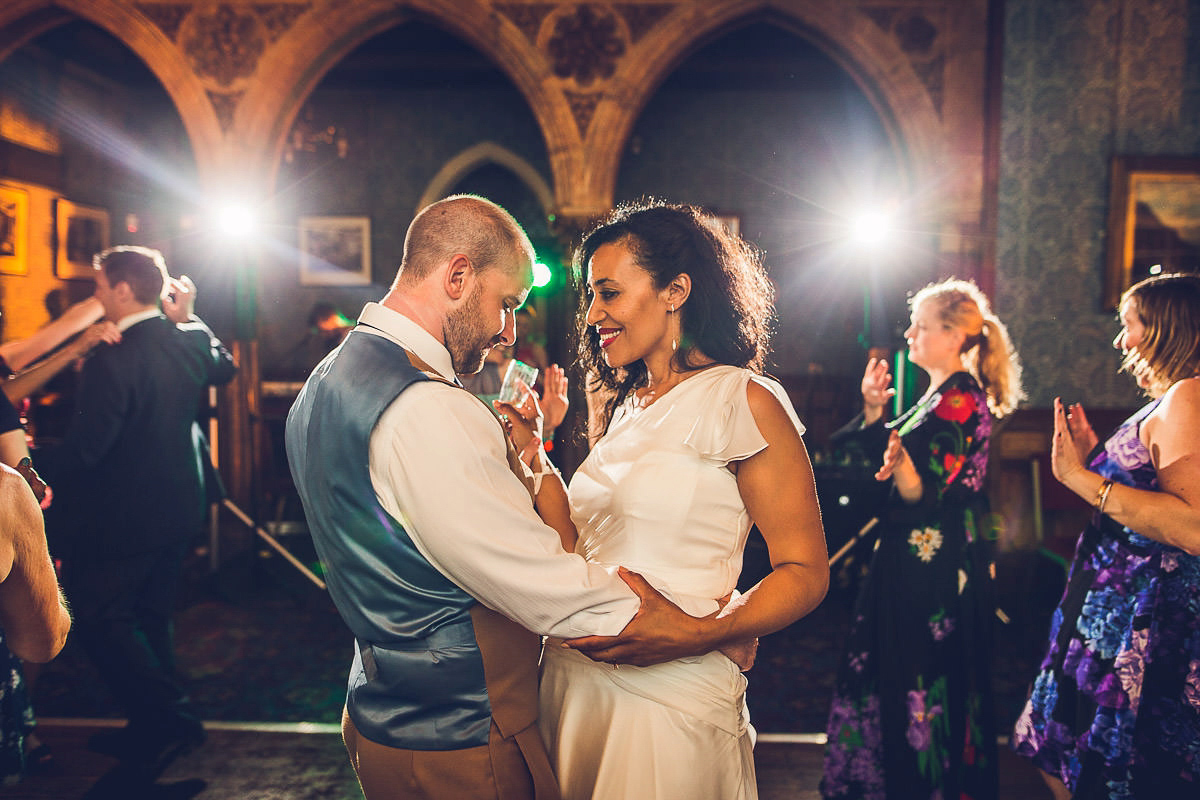 So many thanks to Tiwo and Daniel for sharing their beautiful day with us, and to Simon Brettell for his fabulous images.  Are you thinking of a church wedding?  I just love the idea of tea and cake in the church garden afterwards with the sun shining down.
Much love,
Shona x