Good morning to you and happy Friday, welcome to our beautiful wedding blog! Something to mention quickly, incase this is the first time you've visited in a while – we're currently running a competition to win your wedding dress, courtesy of Jesus Peiro and The Miss Bush Bridal – both highly recommended suppliers we've been working with a number of years. And talking about 'highly recommended', I am so delighted that our Little Book For Brides member, photographer Paul Santos took these images you see here today.  Paul is amongst the '30 Rising Stars of Wedding Photography' recently identified by Rangefinder Magazine.  And unsurprisingly so – Paul's work is beautiful and atmospheric. You can read more about this well deserved accolade on Paul's own website here. In the meantime, use the links below to connect with Paul.
The couple you see in these images commissioned Paul to shoot their wedding on 8th October last year at Doxford Barns in Northumberland. Social Worker Sophie married Research Biologist Max in beautiful vintage style, filling their day with antique lace, books and all manner of objects and curiosities that represented their live, tastes and personalities.  But it is the gown that stole the show for me. Created by Jane Bourvis, it is a thing of true beauty.
"I knew I wanted a vintage dress, and unfortunately my choices were going to be pretty limited if I didn't look further afield than Newcastle, where I live. My mam and I took a trip to London to stay with her brother, and we looked around several vintage shops which I found doing a google search. Jane Bourvis was the last we visited, and the whole experience was absolutely magical. Jane is an incredible woman, so warm and welcoming, and her shop is full of the most incredible pieces. The service from Jane was incredibly personal and every fitting was a joy."
Photography by Paul Santos
"Our photographer Paul Santos was absolutely amazing, both in terms of his way of working on the day as well as the final pictures. We had a good chat with him before the wedding and decided to go with him as his candid style fitted perfectly with what we wanted- a more relaxed feel with as little posed pictures as possible. We also noticed how well he was able to capture the emotion of the day, which is exactly what he was able to do for us.
On the day, he was there in all the right places to capture the big moments, but most of the time we (and our guests) had no idea he was taking pictures at all, making for some incredibly lovely surprises when we got our photos back.""The dress was the very last one I tried on, and until then I didn't think I would have that moment of 'knowing' you have found the right dress."
"I loved everything about it- the unusual lace, the design and especially the fact that nobody else, ever, would be wearing the same wedding dress as me."
"Its history also made it incredibly special to me – it is made from pieces of lace which are over 100 years old, and although I know it's not for everyone, I love imagining the other women who had worn the lace before me and the story of the dress."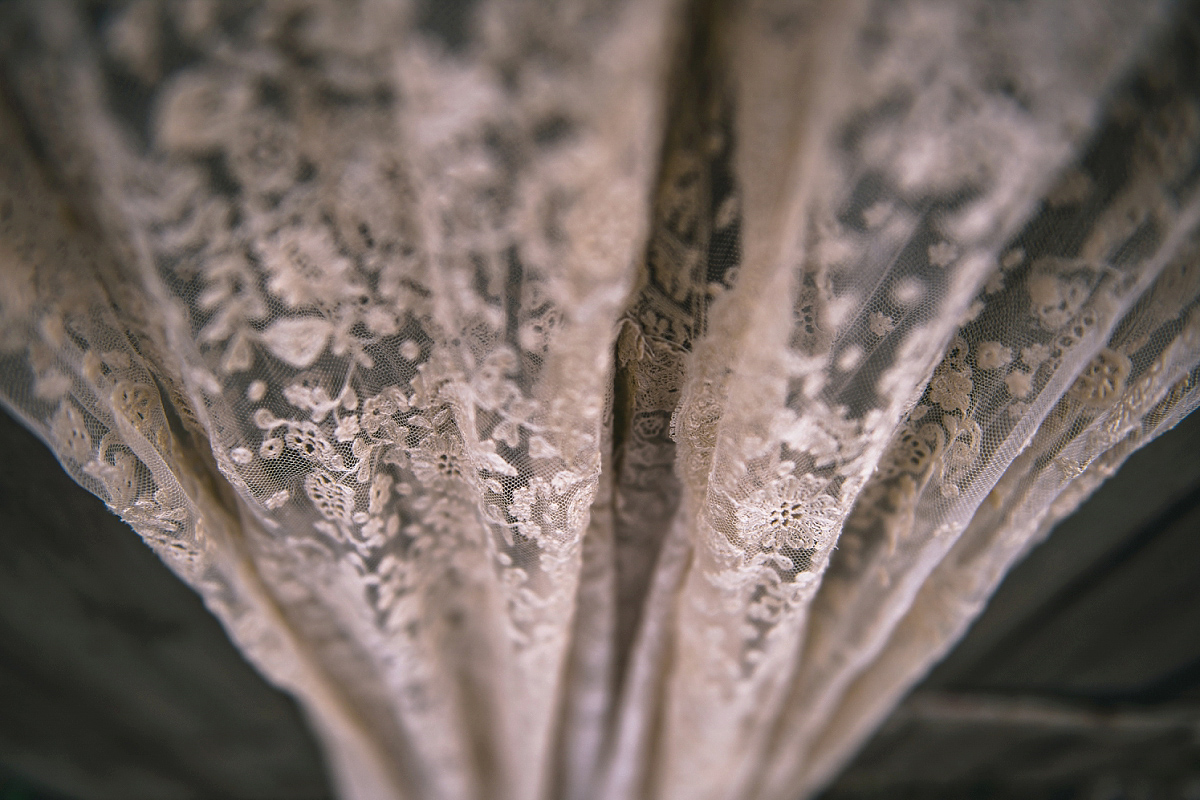 "I was dead set on a pair of deep red, velvet shoes, and searched online until I found the perfect pair at Boden."
"By the week of the wedding we had run out of money and perfume was one of the last things on my list to buy."
"I had asked my mam if I could borrow some from her, and she very kindly surprised me with my own bottle of Coco Chanel on the morning of the wedding. I had never worn it before but needless to say I love it now."
"Along with the dresses, Jane Bourvis has an incredible selection of vintage headwear and accessories. The headband I wore is incredibly fragile and required careful handling but managed to survive the day."
"My mam has a collection of lockets from all the women in our family going back four generations, and I knew I wanted to wear one of these on the day."
"I chose my grandmother's gold heart shaped locket, and I also wore her engagement ring on my right hand as well as using the cream beaded clutch bag which she used on her own wedding day. She died a few years before I was born and it meant a lot to be able to include her in the day."
"Hair Stylist Carly Charlton and Makeup artist Kristina of KF Makeup were brilliant. I don't usually spend a lot of time on my hair or make up and was concerned about not looking like 'myself' on my wedding day. Although I felt like I looked the most amazing I ever had, I still felt like me, just also like a 1930's Hollywood movie star.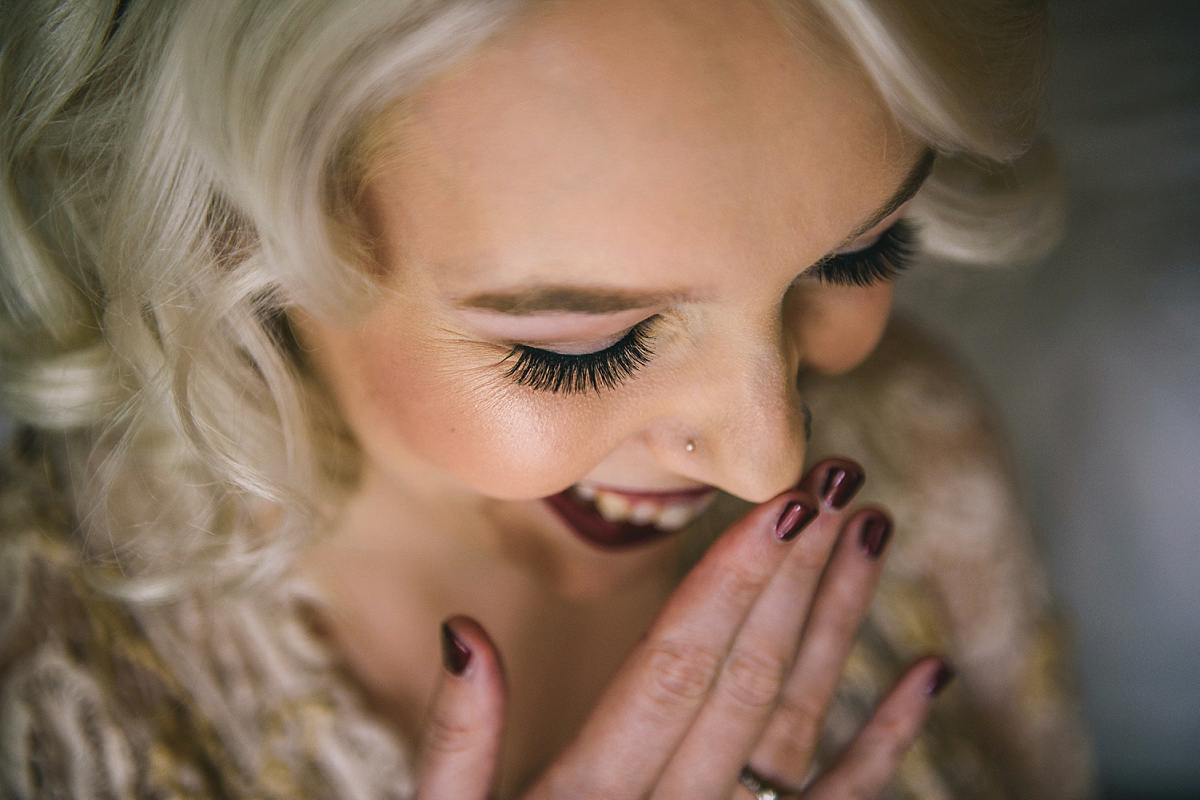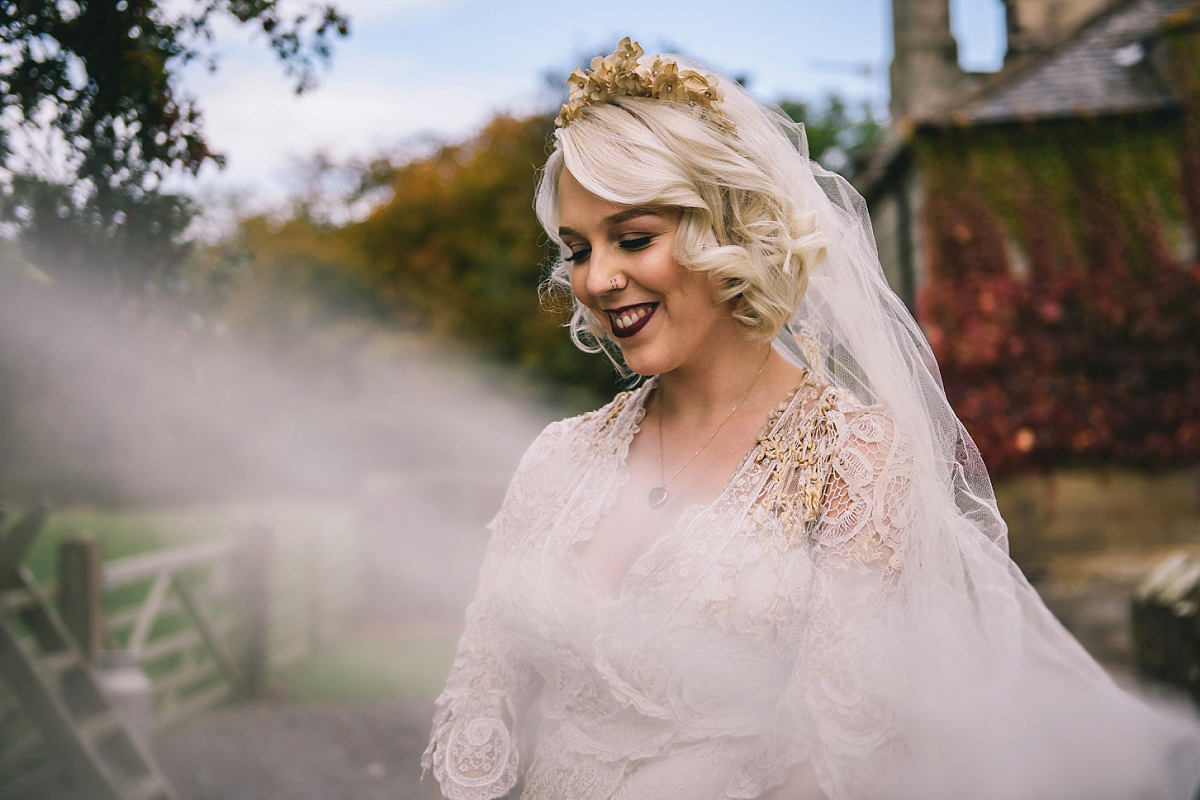 "My veil was also from Jane Bourvis. She has a large collection of vintage veils and I tried a few on before being taken by the length and embroidery on the one I eventually chose."
"Sue at The Cosmic Flower Shop was brilliant at tuning in to exactly what we wanted. She had a good look at our wedding Pinterest board and basically made this a reality from there."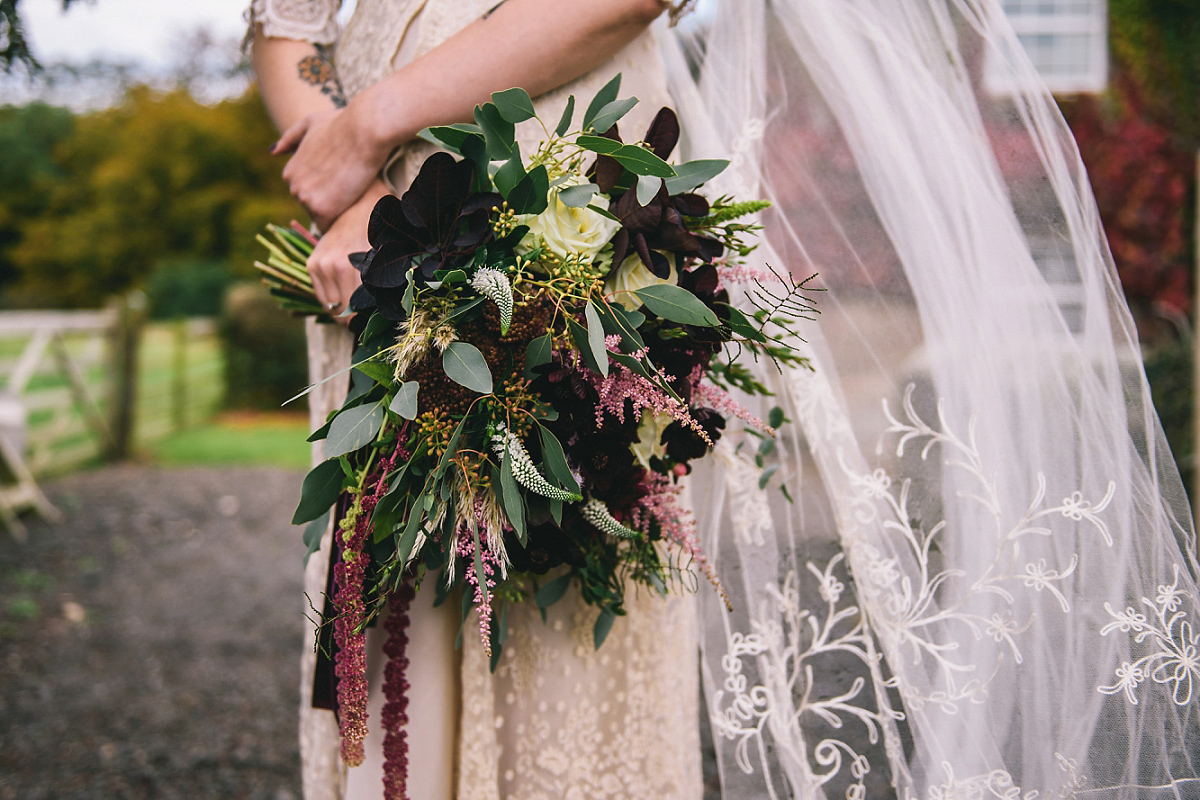 "Communication was on-going via email to clarify exactly which flowers we did and didn't want, but we didn't see anything until the wedding day itself, which required a lot of trust but which absolutely paid off in the end, especially in relation to my bouquet, the table decorations and the most incredible display on the mantle piece in the barn where the ceremony was held.
I loved my bouquet so much I have had it pressed and framed."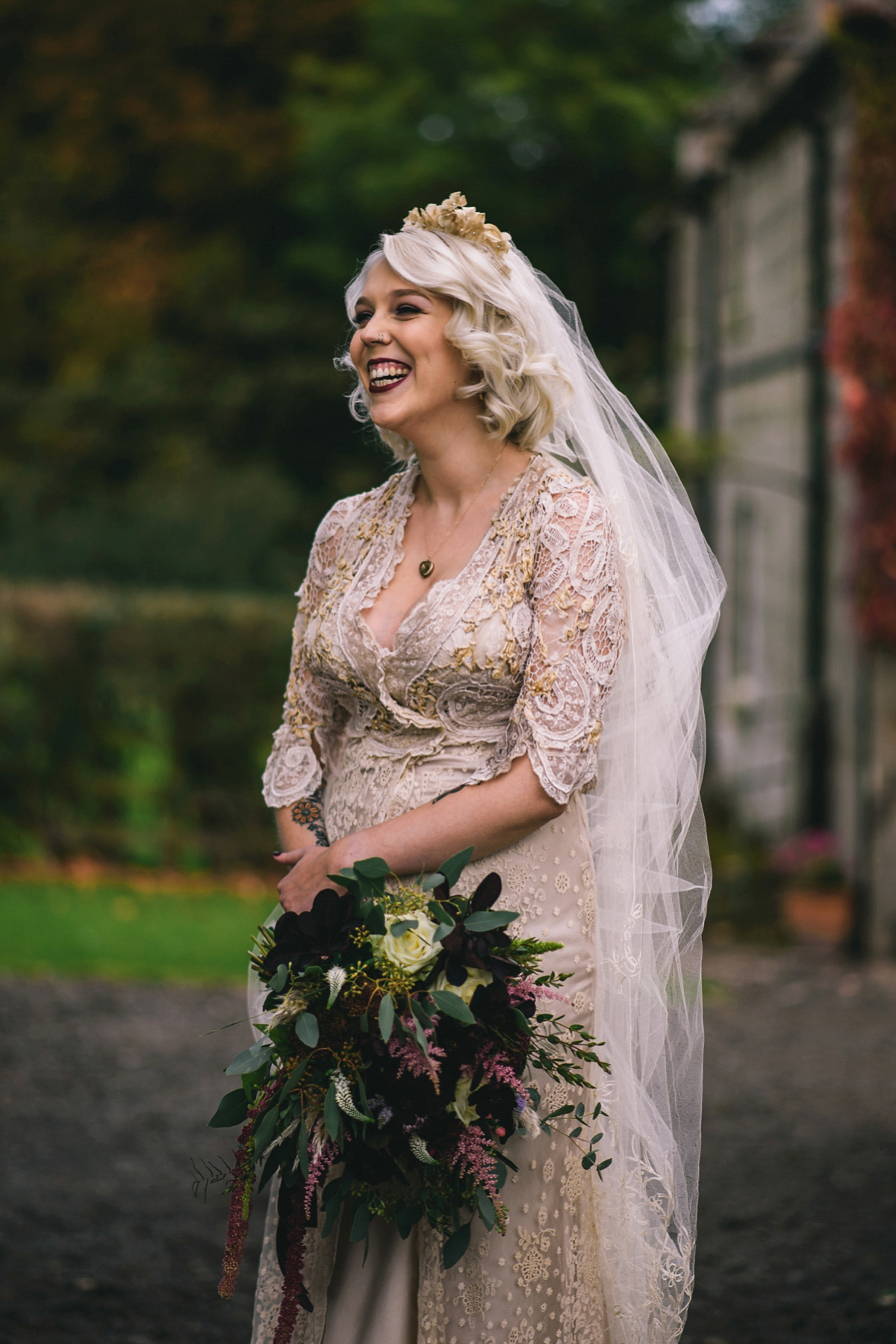 "I got extremely excited when Max proposed and immediately asked all eight of my closest friends, as well as my sister, to be bridesmaids. Unless we wanted to use a huge chunk of our budget, this meant asking them (very nicely!) to buy their own dresses. They were more than happy with this as it meant that everyone got something they wanted."
"My only requests were that some of them wore burgundy and some wore blush pink, as I thought all one colour might be a bit much on nine of them. They duly obliged and most of them ended up getting their dresses from ASOS. There were lots of changes and returns made, but in the end they looked fabulous together on the day."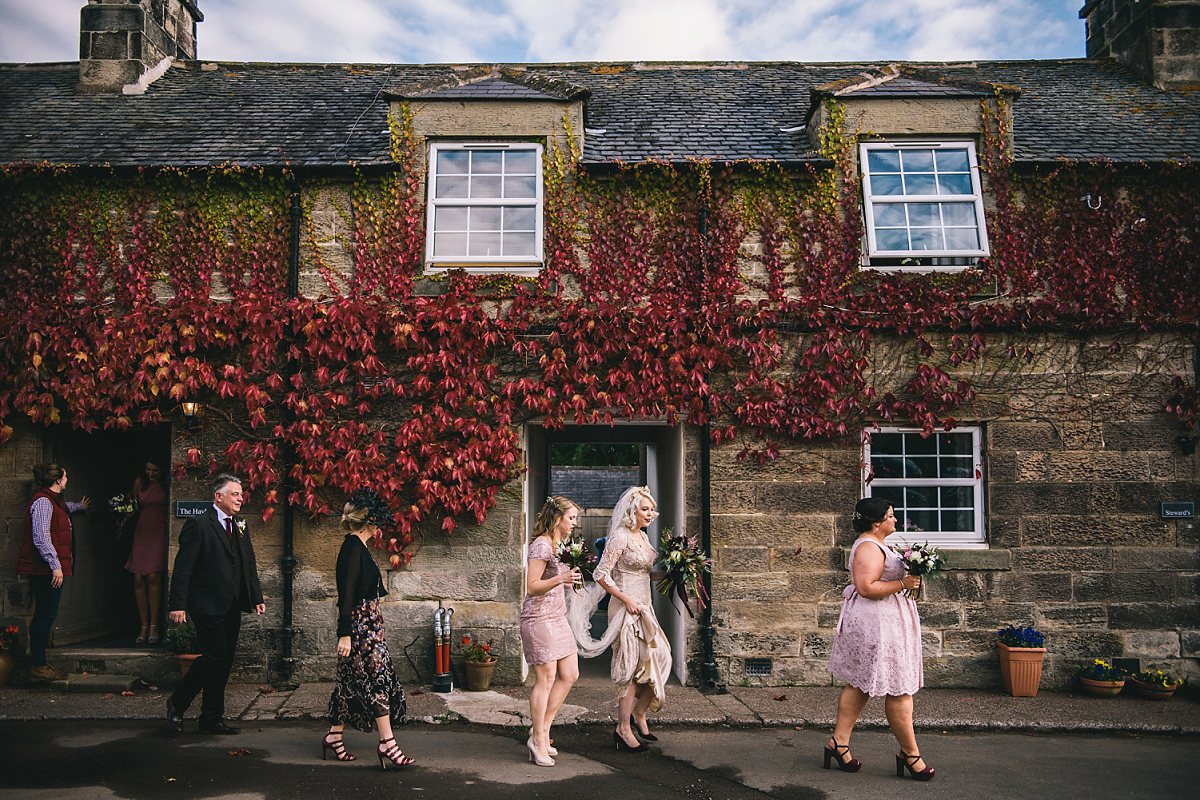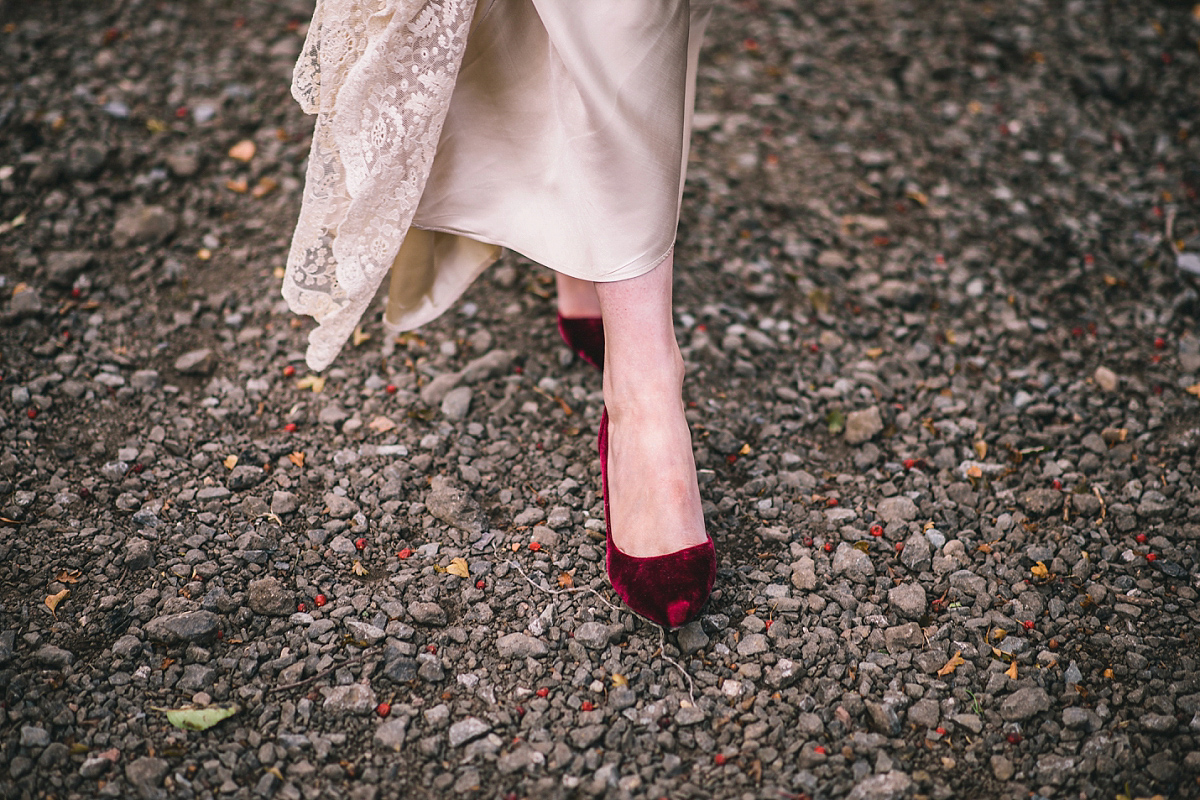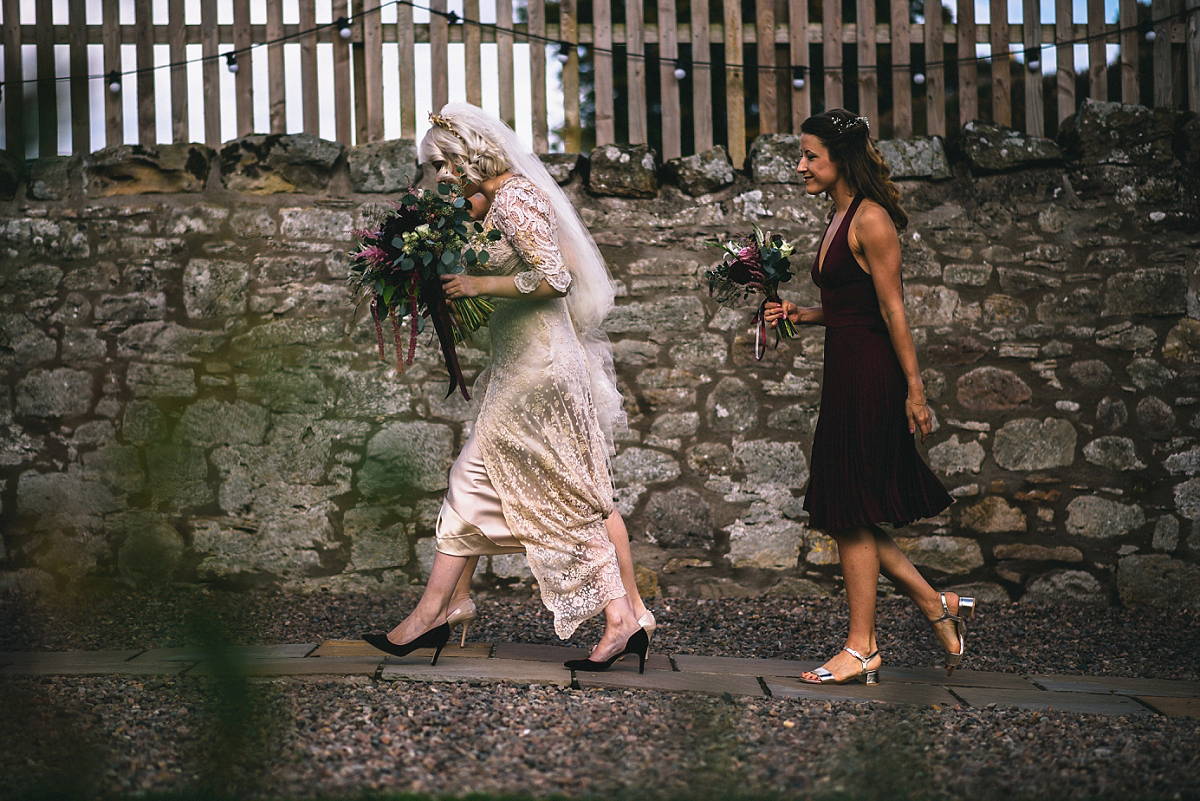 I was thrilled to find out the couple met online.  Isn't it crazy how our methods of meeting potential suitors has changed so much over the past 10 years? According to Bustle, online dating is now the second most popular way to meet someone. We've certainly featured plenty of weddings where the couple met online, either through dating sites or apps like Tinder – just like Sophie and Max did.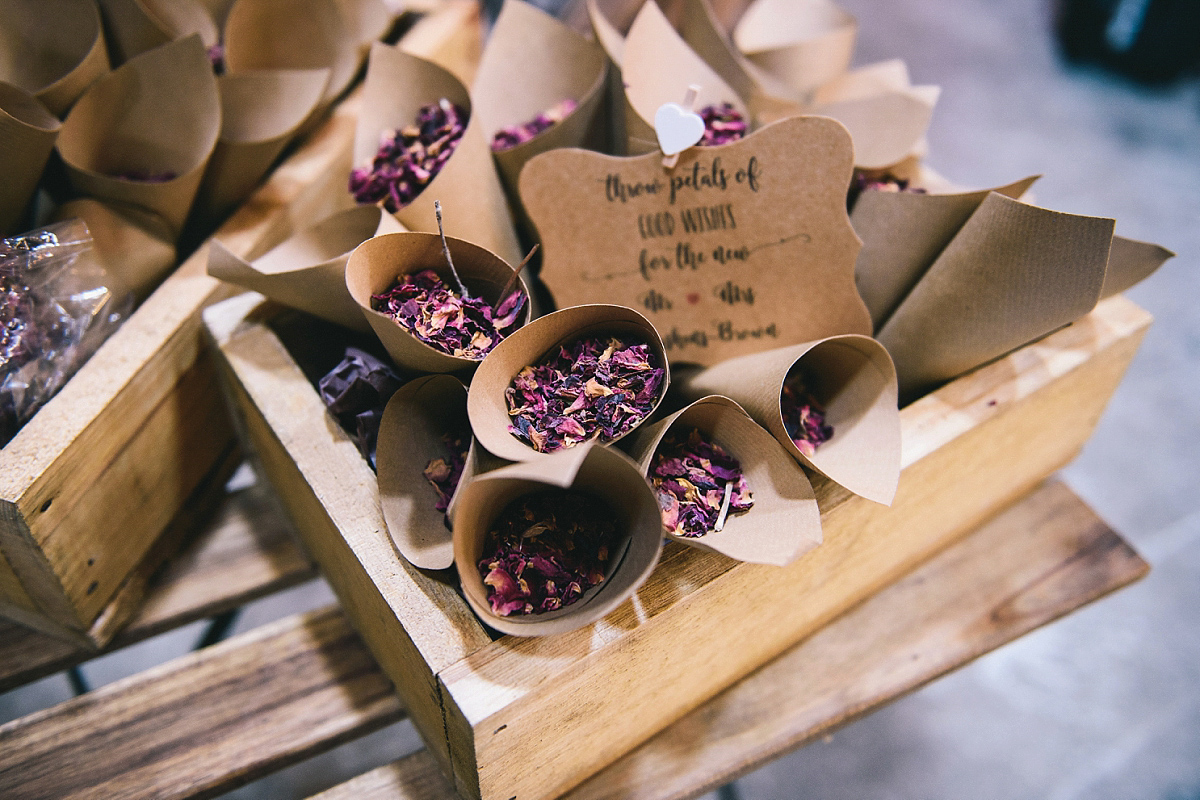 "We met on Tinder! Which we love telling people, especially those who are using the app and haven't had a great time with it, and which we both mentioned in our wedding speeches.
We still discuss (with horror) the possibility that we could have accidentally swiped the wrong way and never have met. Max proposed on King Edward's Bay in Tynemouth (where we had our first 'proper', ie. totally sober, date), just over a year after we met, and we were married almost a year to the day after that. It's definitely the fastest moving relationship either of us has ever had, but, as the cliché goes, it all felt very right."
"About two months before the wedding, we found out we were expecting out first baby, and also bought our first home around this time. 2016 was a big year for us!"
"All of this made for some very stressful moments, days and weeks, but we feel like these testing times have more than made up for the short amount of time we were together before taking the plunge and getting married."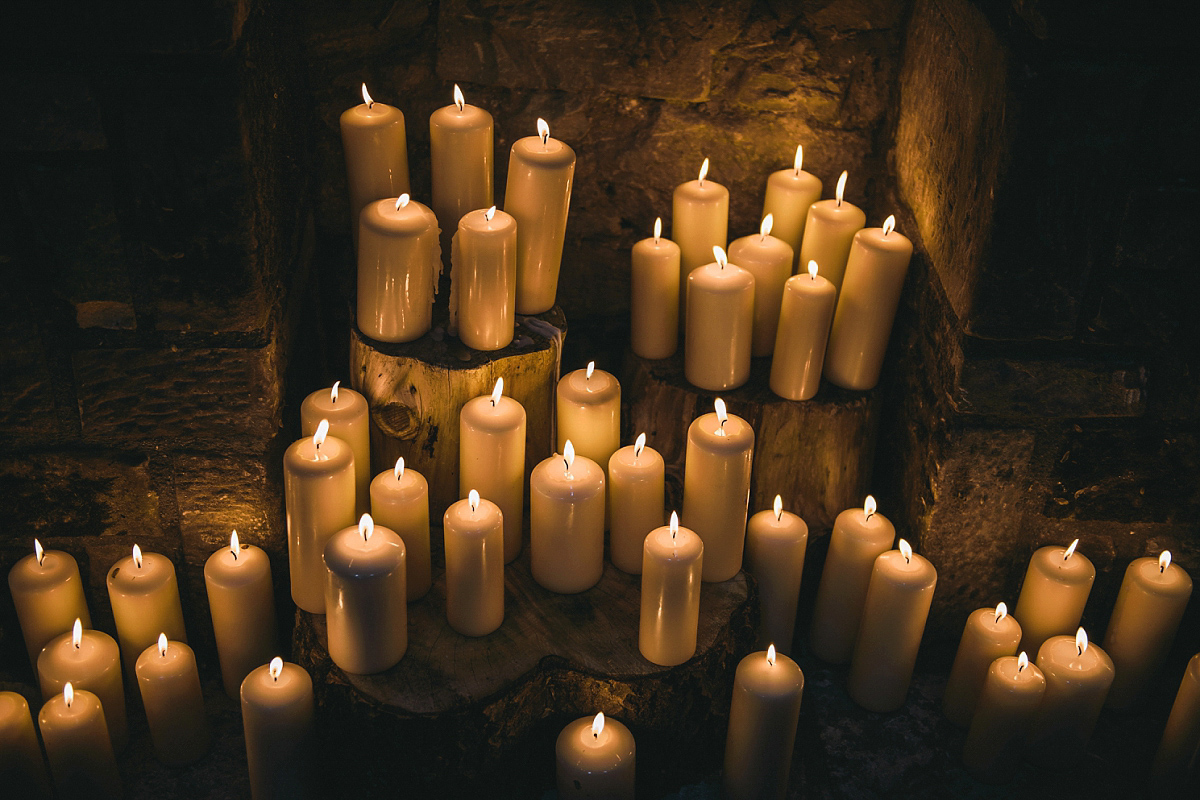 "Both my mam and dad walked me down the aisle. They separated when I was about 7 years old, I am close to them both and it was really important to me that they both had this role on my wedding day. We had an extremely special and memorable moment together outside the ceremony barn as we were waiting to head in, which, of course, was captured perfectly by Paul."
"With them separating when I was so young there have not been a lot of times like this which the three of us have shared, and it was something I will always remember."
"We were accompanied by the sound of 'Shaker Hymns' by Dry the River. We spent a lot of time choosing music for each part of the day, and paid particular attention to the ceremony. This song is just so beautiful, and this acoustic version in particular really suited the venue and also captured the feeling in the moment."
"We tailored our vows and wrote personal promises to read to each other. Some of these were light hearted ('I will cook you more chicken pies, I will love you until one of us dies'), some more deep and meaningful, and we also both wanted to acknowledge what we love about each other and also demonstrate an awareness of the difficulties which might lie ahead and how we will help each other through these."
The couple's readings included 'I Carry Your Heart', by E. E. Cummings, 'Invisible Kisses' by Lemn Sissay and 'I Wanna Be Yours', by John Cooper Clarke.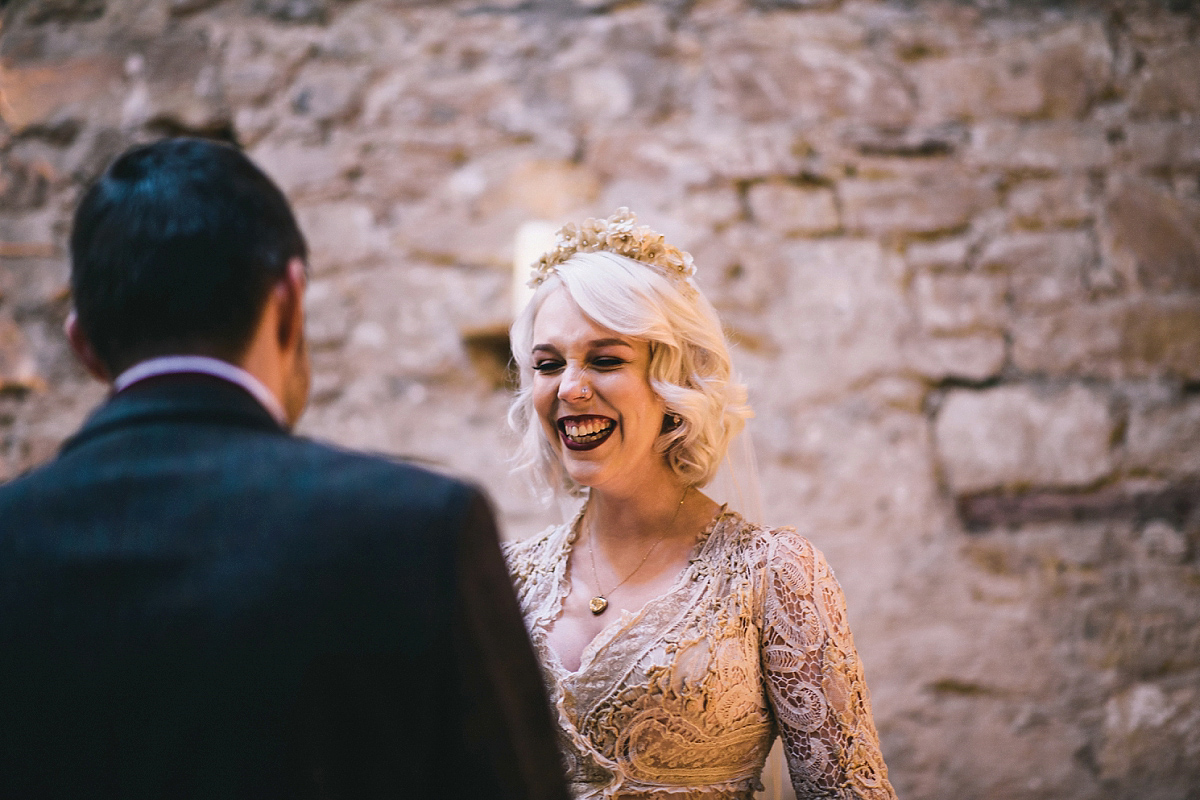 "I Wanna Be Yours went down particularly well with the guests. The first two readings were beautiful and meaningful to us, but quite serious. I Wanna Be Yours was the last reading, and was read jointly by two of the groomsmen, which was a last minute decision but which worked really well and their excellent delivery ensured it provided lots of laughs."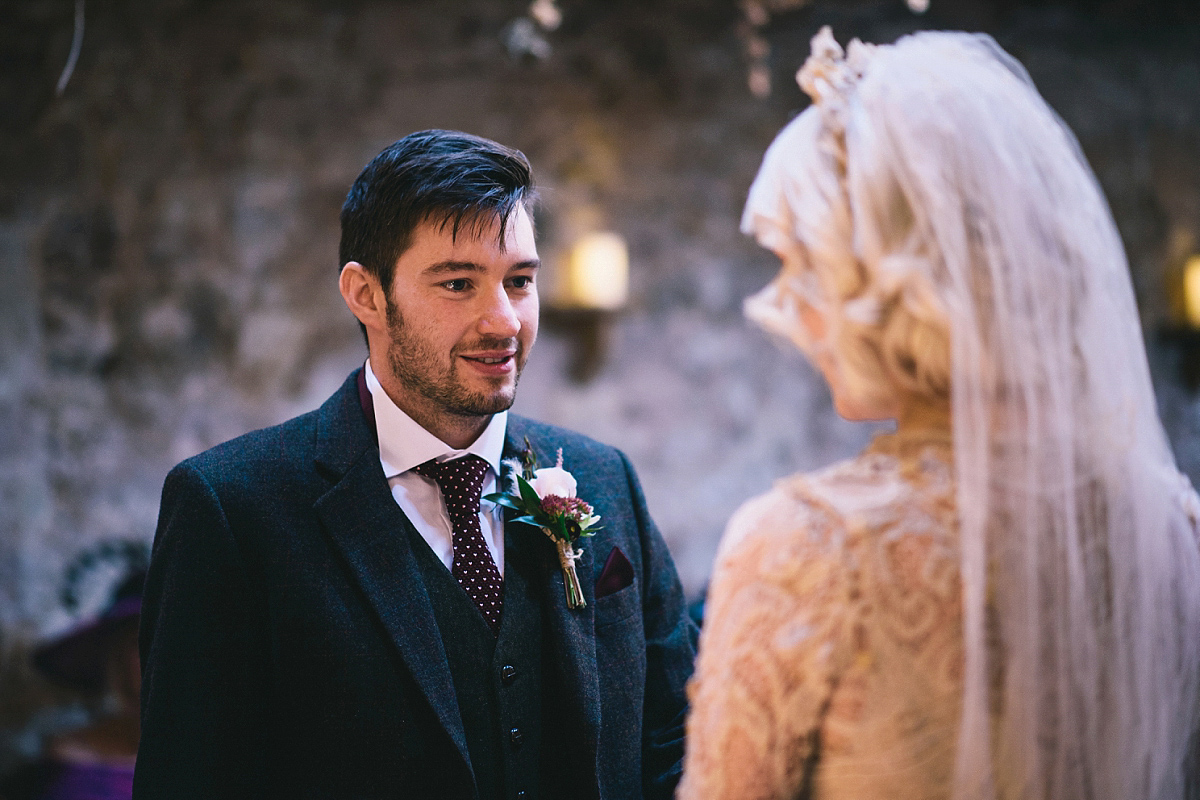 "We did consider a reading of Tim Minchin's song, 'If You Really Loved Me', but thought it would be ruined as it would have to be so heavily censored. Instead we played it during the wedding breakfast, and it wasn't loud enough for anyone who would get offended to notice, but we knew it was playing."
"We both wanted simple gold bands – we were planning on getting them engraved but ran out of time before the wedding so are looking to do this for our anniversary. Our rings were from Newcastle Jewellers."
"From the initial stages of planning, we knew we wanted to look for somewhere with a more laid back feel than a castle or stately home venue, but which would also be big enough for our sizeable families."
"With this in mind, although we considered getting married outside, the North East isn't known for its great weather, and when we found Doxford Barns, it ticked all the boxes and more."
"We are both from the North East, and Max is from Northumberland, making the location particularly special."
"We were really pleased that we could hire cottages on site for ourselves and immediate family members to stay in for the whole weekend of the wedding, and the team at Doxford could not have been more accommodating in making sure that everyone was comfortable and well fed from the moment they arrived on Friday evening until they left following an amazing buffet breakfast on Sunday morning."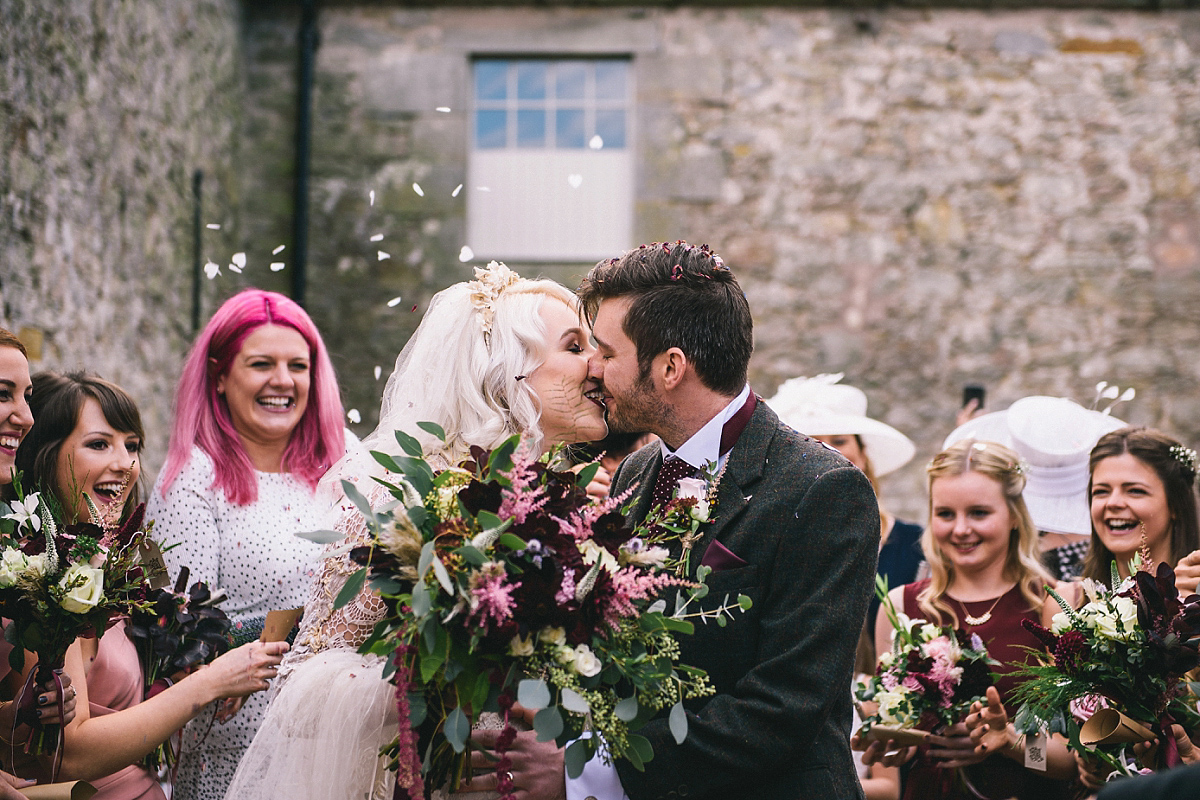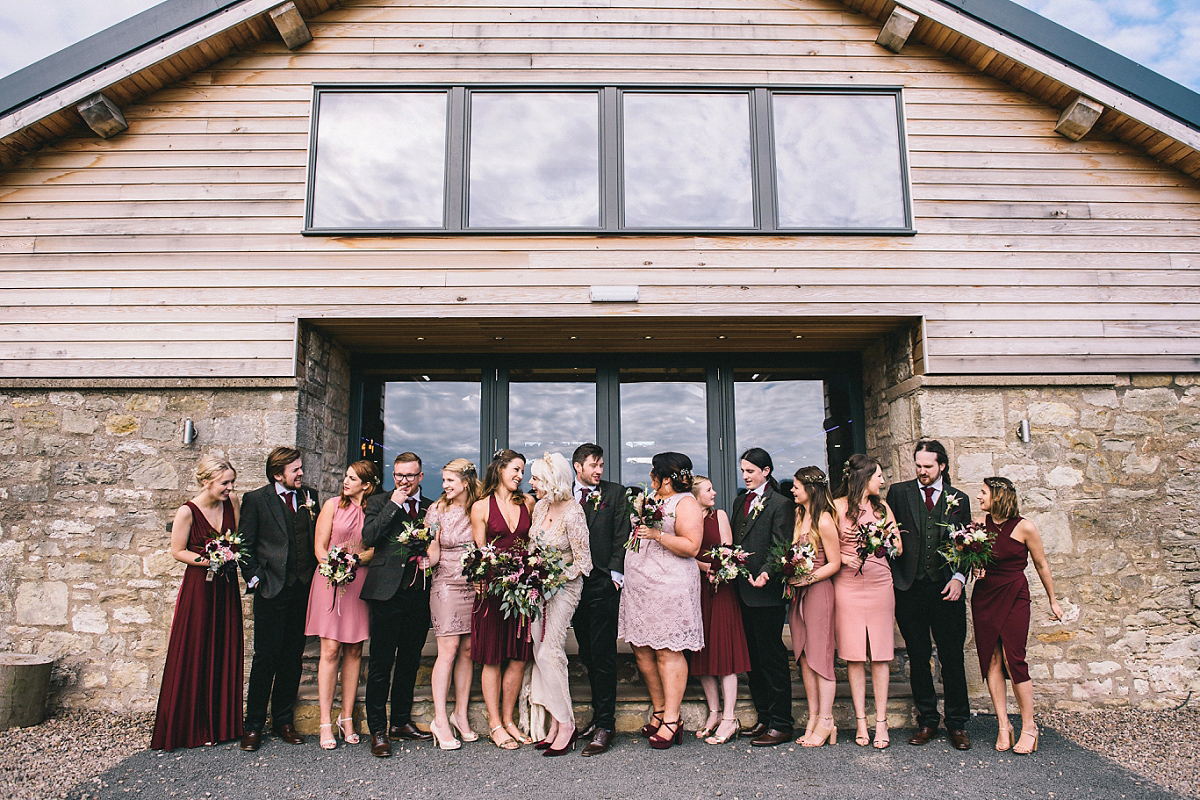 "When we moved in together, we both brought a decent amount of beloved old tat picked up over the years from markets and charity shops, and a vintage look was definitely the way we wanted to go with the whole day. We were incredibly lucky in that the love of old objects runs in the family, and Max's brother and best man lent us a lot of items from his sizeable collection of vintage cameras, bottles, books and suitcases to decorate the tables with. To top these up, we spent lots of weekends scouring car boot sales (a lot cheaper than our local vintage market) for additional items and picked up some incredible bargains."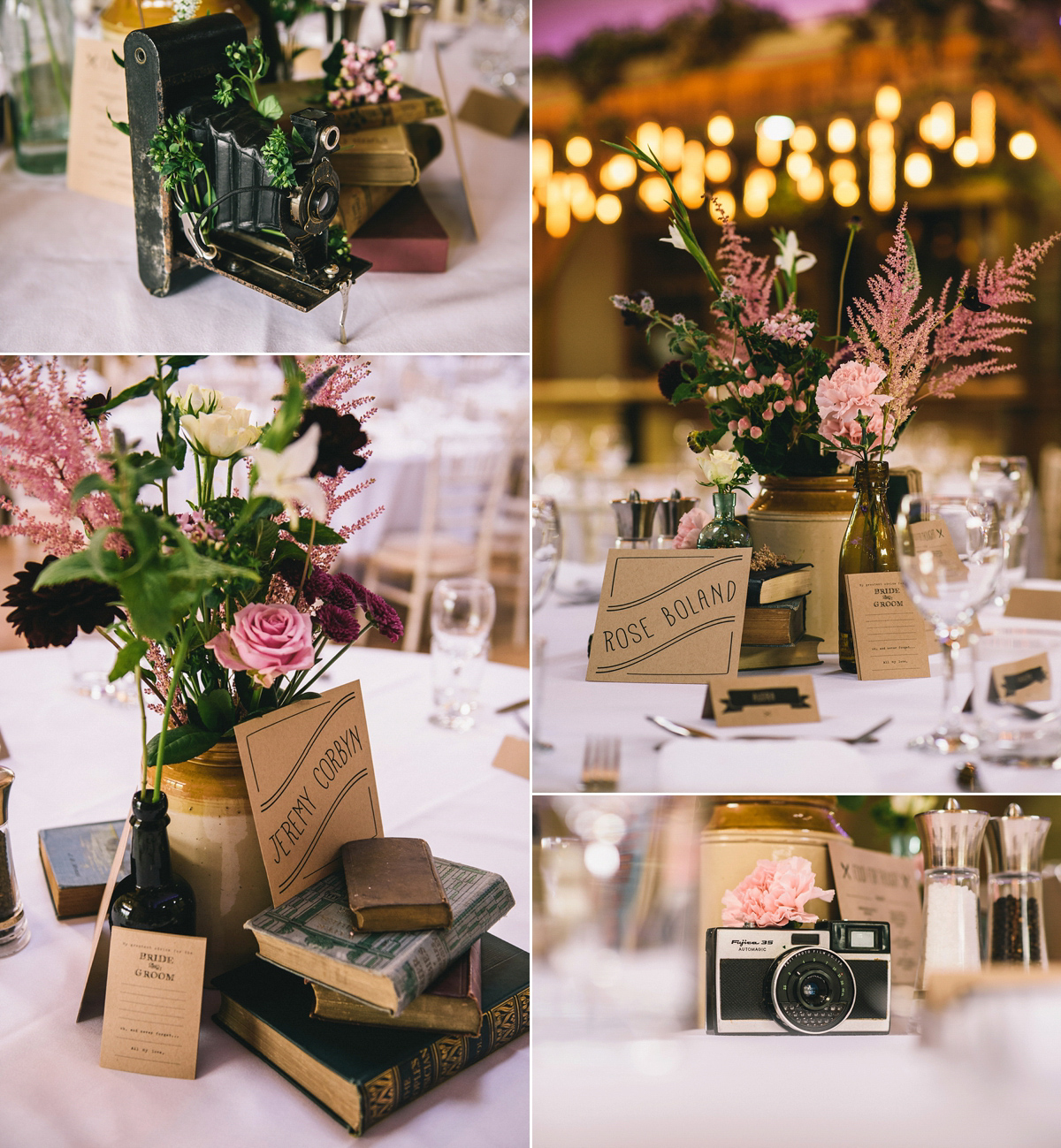 "When we first met we immediately bonded over our shared political beliefs, and choosing left wing politicians and activists for our table names was an obvious choice to us, as well as all those who know us and get sick of us ruining trips to the pub with our political rants.
Our menus, table plans and place cards were designed and printed by PinglePie, an Etsy shop – excellent quality and good value for money. Most of our larger items were loaned to us by Max's brother/best man, who has built up an amazing collection of vintage items found in charity shops, car boot sales and markets."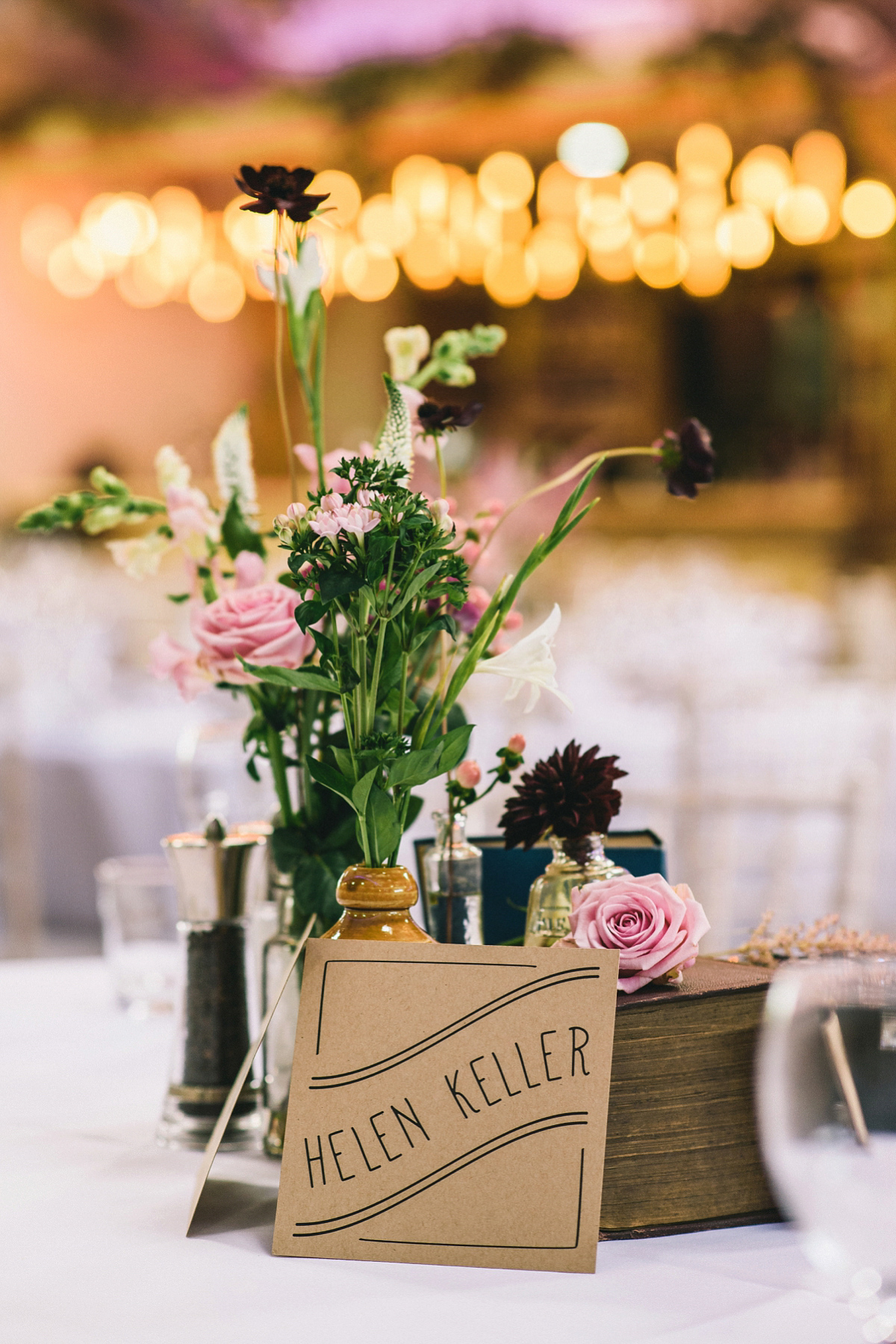 "We topped these up with our own purchases from similar sources, car boots being the preference due to their good value for money. Signs and bunting were purchased from various Etsy sellers."
"Doxford Barns' chef, John Blackmore, was excellent and in charge of all the catering, from the meal for 46 of our closest family and friends on the Friday evening to the breakfast buffet on the Sunday morning. The food was all incredible, and one of the things we really wanted from the day was for our family and friends to really enjoy this, which a lot of feedback confirms was the case. We weren't keen on the idea of a three course meal and Doxford Barns offered us so many different options and flexibility to accommodate this.
We ended up going for their 'BBQ Choices' menu for the wedding breakfast, which allowed us to choose seven skewers/small dishes to be served to each guest, as well as shared side orders. This went down particularly well, and there were plenty of options for guests with alternative dietary requirements."
"We looked to Pinterest for colour inspiration, and the warm shades of pink and burgundy which we finally chose seemed particularly fitting for an Autumn wedding. A couple of months before the wedding, we attended my grandparents' 60th wedding anniversary celebration, where the room was decorated with pictures from their big day.
We noticed a photo of them drinking from a cup outside the church, and found out that this was a tradition called 'the Loving Cup', where the local pub would fill a cup with a secret concoction made from sweet and sour drinks (to represent the different elements of marriage, and life) for the couple to share a drink from to symbolise their union. We really loved this idea and bought our own Loving Cup to carry on the tradition."
"As his wedding gift, Max's brother visited all the places where our parents and grandparents had married and collected berries which were used in our drink- which couldn't be alcoholic for both legal and pregnancy reasons.
It went down really well during the ceremony, particularly with Sophie's grandparents, who were unaware we had been so inspired by their own wedding until the registrar announced what was going to happen."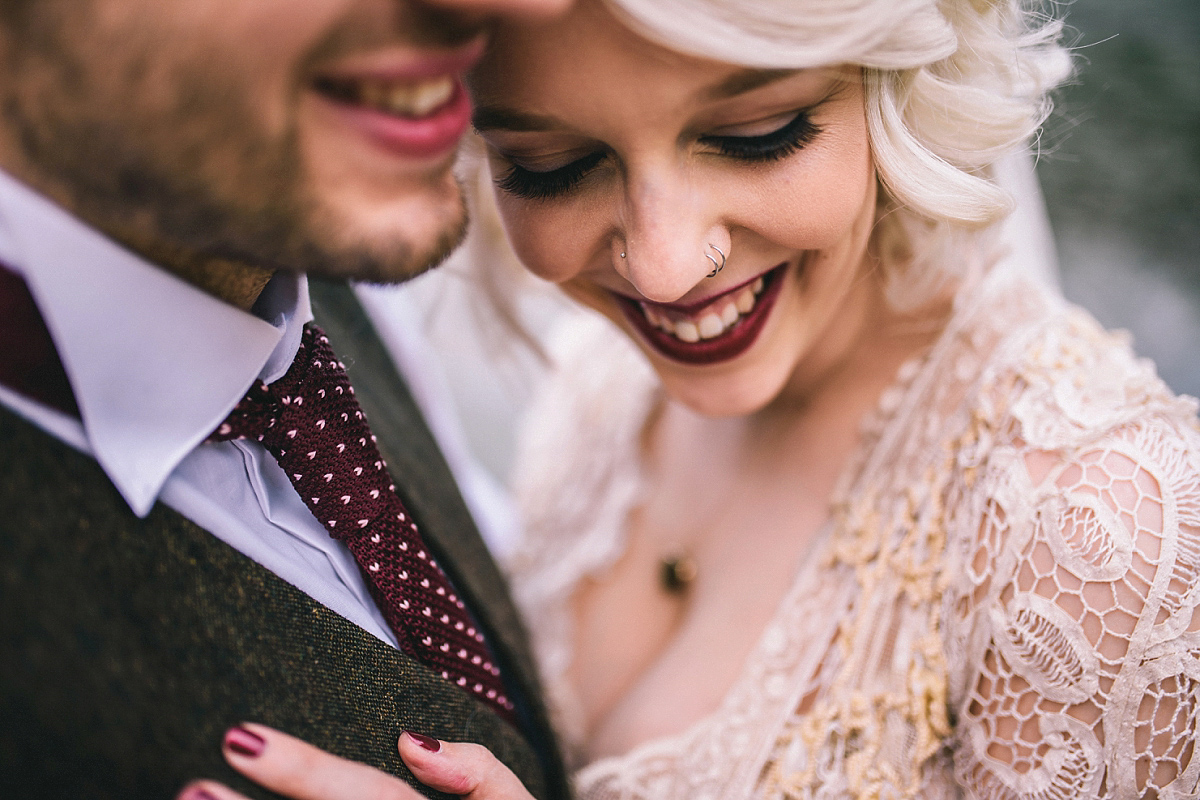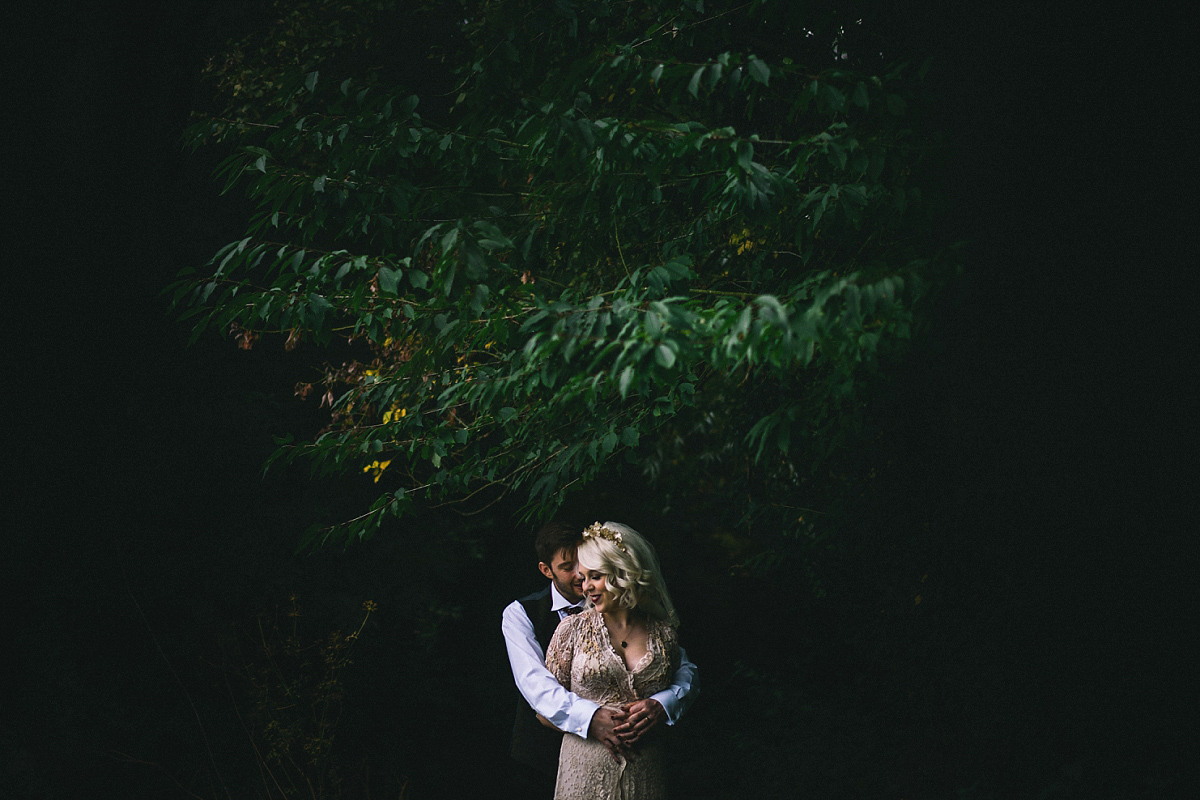 "Neither of us are big fans of icing or fruit cake, so we went for a naked sponge decorated with flowers from All Things Iced. My mam got us a cake from All Things Iced for our engagement party, and it went down so well we decided to use her again for our wedding."
The couple chose to first dance to an acoustic version of 'Something Like Happiness' by the The Maccabees.
"It took us a long time to decide on the first dance song, but when we heard this we knew it was perfect. The music and lyrics are just beautiful, even the bittersweet verse which some might not find particularly romantic. There is a line which really stood out for us, as naff as it sounds- you just know when you know, you just know."
"For entertainment we used Spotify and a hired sound system. We wanted to be in control of the music and make sure that there was a good mix of songs to suit everyone, so this was the perfect option. We did hire a photo booth and vintage heart sign from Party Pics Photobooth Hire for the evening.
The photo booth was extremely popular, and Party Pics made sure that each strip of photos was printed out twice and that one was stuck in a book for our guests to leave a message in, which made for hilarious reading the next day- as we turned the pages the guests were clearly getting drunker and the messages getting funnier/less legible."
"The ceremony, undoubtedly for us both, was our favourite part of the day. We put a lot of thought into it, and everything from the décor and the lighting to the music, the readings and the vows, was geared towards a conveying real sense of how we feel about each other. We didn't want it to be rushed and soulless, but not really long and boring for our guests either.
We were both really happy with the tone it struck in the end, and we got a lot of comments from friends and family about it being the best ceremony they can remember attending and how it made them feel. This was all helped along by our brilliant registrar, who confirmed with us individually before the ceremony that we would like her to keep her delivery light-hearted and warm with a few jokes.
We wouldn't have changed a thing."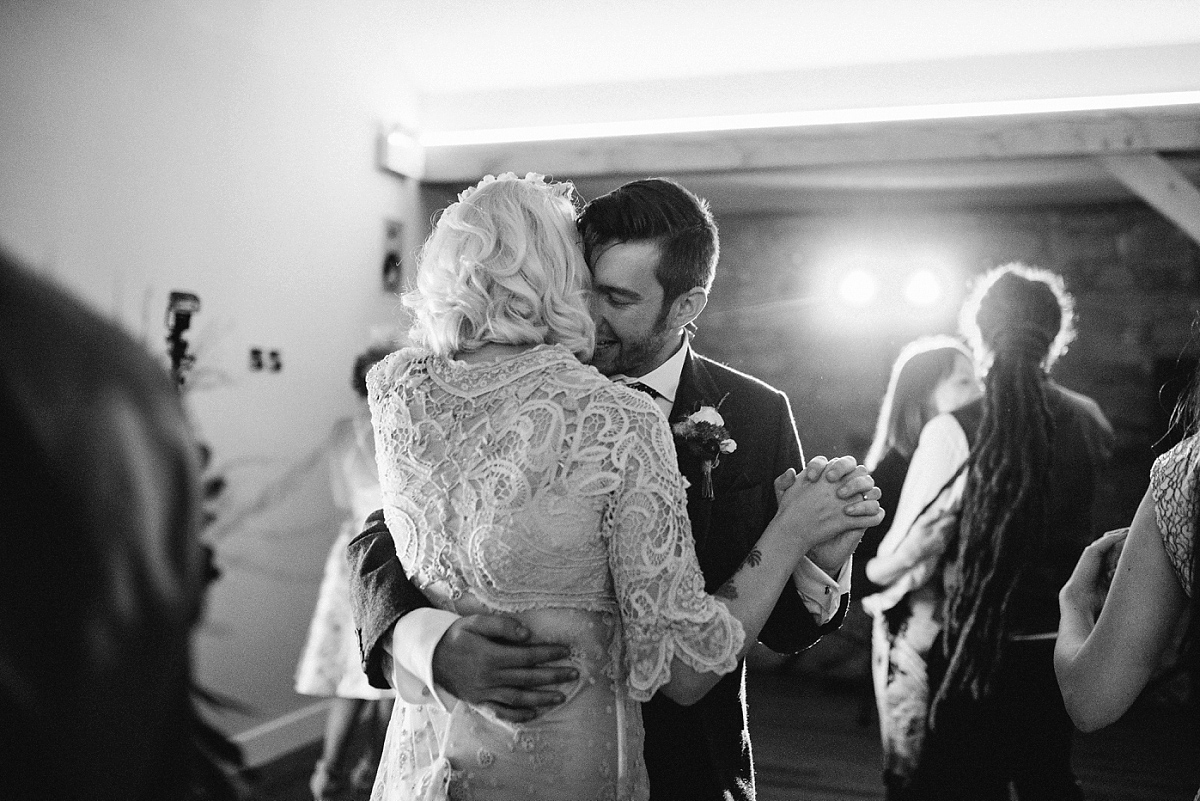 Words of Wedded Wisdom
"Don't get too hung up about things going perfectly on the day. I made a big effort not to do this from the start and think it paid off. I didn't put too much store in anything other than the fact that I was marrying the love of my life, and there were no disappointments or let downs on the day. Absolutely everyone says this, but it is so true that the day flies by and try to savour every minute.
The day before the wedding, I had some stresses about family members arriving and things not being right for them, but Max reminded me that the day was about us, and to let him know if I started worrying about other people again so he could remind me of this. It really helped and brought it back to me that the day was about us, and nobody else. If anyone wasn't happy about anything after that, I didn't notice, or care, and that's the way it should be.
And for any brides who find out they are pregnant just before their wedding- this definitely made the day extra special for us both, and don't worry, the whole thing is such a whirlwind you feel drunk without having to have a drop to drink."
What a truly beautiful day, honest and so personal and wonderfully captured in images by the talented Paul Santos – you can see more from Paul on Love My Dress here, you can also see more brides wearing divine Jane Bourvis gowns here too.
Have a most wonderful Friday folks,
Annabel x