Good morning loves, and what a beautiful morning it is from where I'm sitting! January is always a good month in wedding blogging world; for a start, as the previous year comes to a close, we tend to save all our favourite features for January, knowing that our readership tends to soar this month, thanks to all those seasonal proposals of marriage (congratulations ladies!). We also have a month of competitions here at Love My Dress – the newest of which, we're launching through this very post. How do you fancy winning your wedding dress?
I'm thrilled today to bring you this wonderful opportunity to do just that, thanks to our long-term partner, the wonderful Miss Bush Bridal.
Photography by Nick Tucker
Image from the 2017 Miss Bush lookbook
Now if you're new to Love My Dress, let me briefly explain; forget everything you know about boutiques – and that, most importantly, includes any negativity associated with 'going wedding dress shopping'. Whilst bridal boutiques offer a service and, like any other business doing the same, are prone to intense scrutiny by their clients and constantly subjected to customer service litmus tests, I want to tell you that there are a new breed of bridal boutiques in the UK that are excellent at what they do. You'll find most of them listed in the boutiques category of our lovely wedding directory over at Little Book For Brides. And for me, Miss Bush Bridal is a leading example of how to do it right.
Why? Because she and her team are just so completely on it – their whole world is bridal and they work only with some of the best designers in the world – designers who truly understand how to design for the real, modern woman.
The Miss Bush team are passionate about making sure that every single bride who steps through their door has a positive, memorable, wonderful experience.  No hard sell, no bullshit, just a innate desire to empower the woman, and make finding a perfect dress a wonderful trouble free experience.
The Miss Bush team, lead by the inimitable and inspirational Emma Meek (whose own wedding we shared on Love My Dress recently) have been working with women of every kind. They have a fine-tuned ability to make you feel like you've walked into a huge comfort blanket when you enter their beautiful boutique (which is an actual de commissioned Chapel, by the way, and utterly beautiful).
They won't patronise or force you into ill-fitting gowns. They will however offer you honest, heartfelt advice, listen to you and take on board what is truly important to you. They'll work with you through any concerns or niggles. They will help you navigate the world of mother in laws, and sometimes, fussy mums too. They will counsel, console and make sure you say 'I do' on your wedding day whilst wearing the most beautiful dress you will ever wear in your life.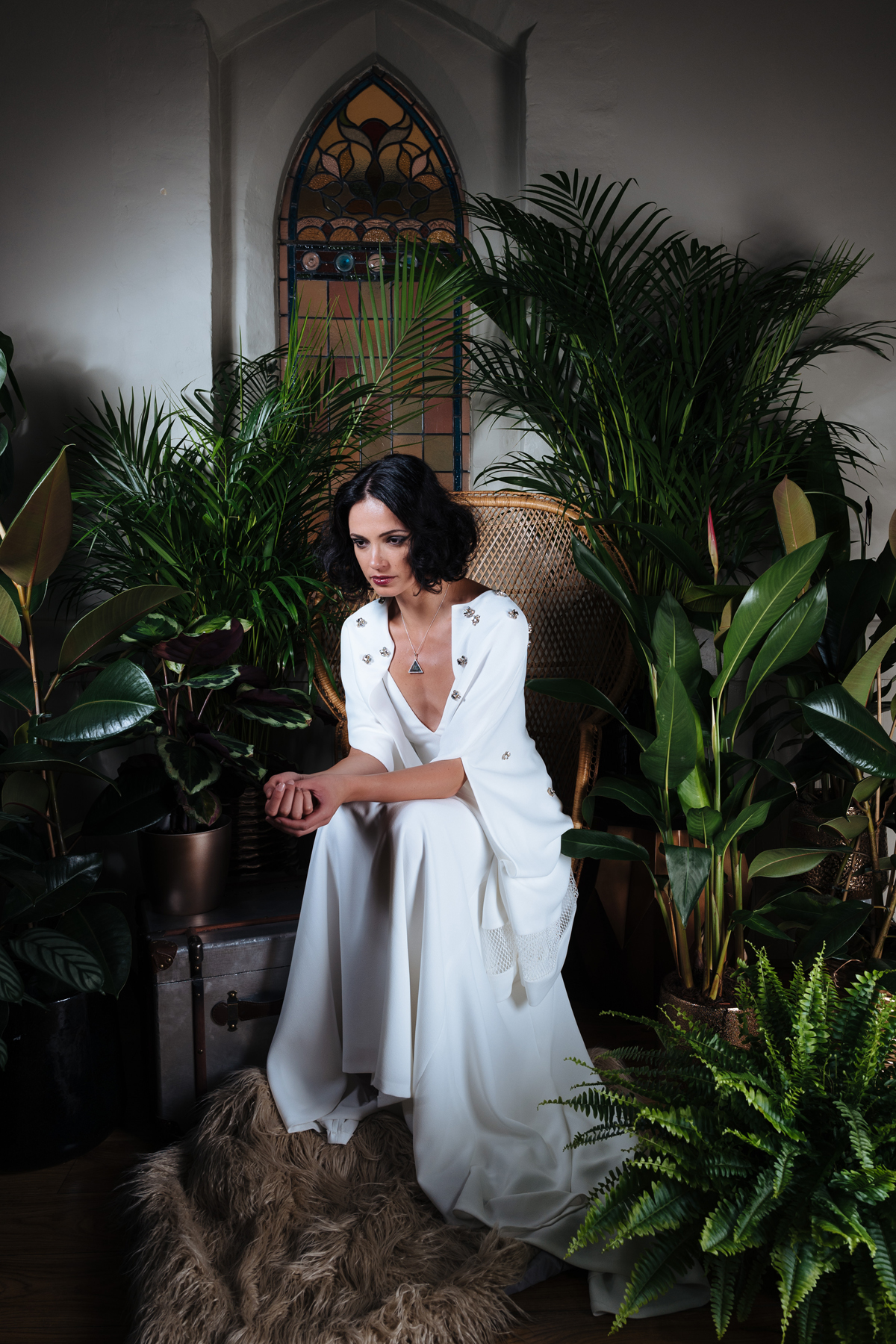 Miss Bush stock some of my favourite designer brands, one of them being Jesus Peiro. I'm a huge and dedicated fan of this absolutely gorgeous bridal wear. By the way, you pronounce that 'hay-zoos pear-oh'. Just incase you were wondering 🙂
We've been working directly with the Jesus Peiro brand for sometime now – I have attended Barcelona bridal fashion week twice as their guest and had privileged behind the scenes access to this wonderful family run business. My love for the brand is authentic and very legitimate, so when Jesus Peiro approached us to suggest they'd like to gift one of our readers with a wedding dress, I nearly popped with excitement! Emma Meek of Miss Bush Bridal explains…
"When I was given the opportunity to get involved in one of the most exciting competitions I have EVER seen on Love My Dress I jumped at the chance. Jesus Peiro, although considered  the  'next big thing', is a brand that Miss Bush has been championing since 2006. Similarly, considering the lightning fast growth of online influence in wedding media, my trek 'up north' to meet up 'with Annabel 'in real life' at Love My Dress's coming of age party in 2011 still seems pioneering. Both Jesus Peiro and Love My Dress have been standard bearers for the values, aesthetics and unique vision that are fundamental to the Miss Bush philosophy."
"Incredible design, fantastic value for money and absolutely the best service in the whole of wedding world are unifying traits of both companies. I rely on Annabel to put me in front of the most wonderful brides and Jesus Peiro to help me dress them.
One of my favourite things about Jesus Peiro is that they constantly provide the 'something different' that brides love without losing that classic wedding dress appeal. There are always new fabrics, cool details and of course a brilliant made to measure service!  As it says on our website, those who appreciate the aesthetic of Jesus Peiro gowns will love the split in the collection between gossamer-soft tulle relaxed dresses channelling a hippy luxe vibe and the strong architectural lines and uncompromising minimalism of Jesus Peiro's signature look. And there is something to suit all tastes – First Lady feminism or barefoot and boho; which bride are you?"
There are no photos with those IDs or post 681498 does not have any attached images!
"I am so delighted to partner with both Love My Dress and Jesus Peiro to give one bride a chance to win a Jesus Peiro dress from Miss Bush and to hopefully be a future featured bride on Love My Dress. In the words of our brides themselves…"
"The second I walked out in the Jesus Peiro dress my mum and sister both cried and I knew from their faces that the dress was the one. I felt amazing in it and it just felt like it was meant for me." (Nicola – pictured below)
You can see bride Nicola (pictured below) on her wedding day on the Miss Bush bridal blog here (photography by Schutters).
There are no photos with those IDs or post 681498 does not have any attached images!
"I chose Jesus Peiro 6017, it was stunning and as soon as I put it on I had the famous 'when you know you know moment'. The bow detail at the back was a bonus and the overall look was simple, classic but still modern – exactly what I wanted." (Ali – pictured below)
You can see bride Ali (pictured below) on her wedding day on the Miss Bush bridal blog here (photography by Anna Fowler).
There are no photos with those IDs or post 681498 does not have any attached images!
"I found it very hard to find the right dress as I knew I wanted something very simple and classic. I loved the neckline, revealing back, statement bow and most of all the forgiving shape that was flattering and comfortable to wear" (Gayle – pictured below)
You can see bride Gayle (pictured below) on her wedding day on the Miss Bush bridal blog here (photography by Tom G. Photo).
There are no photos with those IDs or post 681498 does not have any attached images!
You can see bride Lisa (pictured below) on her wedding day on the Miss Bush bridal blog here (photography by Alex Dimos).
There are no photos with those IDs or post 681498 does not have any attached images!
Interested? Oh I do hope so! We love to treat our readers! So, to clarify, we've teamed up with Miss Bush Bridal to give away a Jesus Peiro wedding dress to one of our readers. A dress entirely of their choice, from the collection that is available at Miss Bush – you'll find the collection here! Hover over each of the images and you'll see a pop up dress title, description, like this, 'Jesus Peiro wedding dress 6037' (gowns are numbered to keep things easy).
All we ask, is that you spend time exploring the Jesus Peiro gowns on the Miss Bush website and then pop back here to complete the form below – one of the questions asks which is your favourite Jesus Peiro dress. Don't worry if you can't locate just one – you can list several, and furthermore, we won't hold you to your choices! If you end up being our competition winner, you'll be able to change your mind.
You must also read the Terms and Conditions at the end of the page before entering. The competition prize can only be awarded to a bride due to marry by the end of December 2018. The winner will need to be able to visit the Miss Bush Bridal boutique in Ripley, Surrey. Don't worry too much if you don't live in the area – think of the £2,500 you'll be saving on your dress, and get booking some low-cost train tickets in advance and enjoy a day out being pampered with the Miss Bush team. Trust me, it is well worth a visit from further afield.
Love, and good luck my lovely wedding belles,
Annabel x
Terms & Conditions
The prize can be used as full or part payment for a non-sale Jesus Peiro gown at Miss Bush (Ripley) Ltd, Surrey, GU23 8AQ.

The prize is to be used for one wedding dress order only and no substitutions, cash equivalents, transfers or change will be given.

The prize is to be arranged for a wedding to take place by the end of December 2018.

Made-to-measure, fabric or style changes, alterations or any extra services will be chargeable on top of the prize value.

Travel costs will not be covered for brides who need to travel to get to us.

UK entries only

Upon entering this competition you consent to receiving correspondence from Miss Bush, Jesus Peiro and Love My Dress. You may unsubscribe from these emails at any time. Your details will never be shared with any other third parties.

Entries will be judged by Emma Meek from Miss Bush along with her team and the partners listed above.

The winner will be contacted after the competition has closed and should liaise with Emma Meek or one of the team from Miss Bush to arrange the details of the prize. If the winner does fails to respond within 3 weeks of being chosen a new winner will be chosen and notified.