Readers, I swear my 'must visit' list of places was considerably shorter before I started writing for Love My Dress – now it's as long as my arm!  Today's beautiful wedding in Tallinn, Estonia, has added yet another to that list.  Meet Kadri and Sergio, who married on the 21st May 2016 at the beautiful Kõltsu Manor near Tallinn in Estonia, surrounded by family and friends.
Kadri's gown was from Temperley London, purchased via Net-a-Porter.  Isn't it gorgeous?  So unusual and elegant.  The shape is reminiscent of the 1970's but the geometric design also makes me think of the 1930's and Art Deco style.  Beautiful.
"I sort of designed everything around my dress using its golden details and light and soft tones for inspiration."
Photography by Gerry Sulp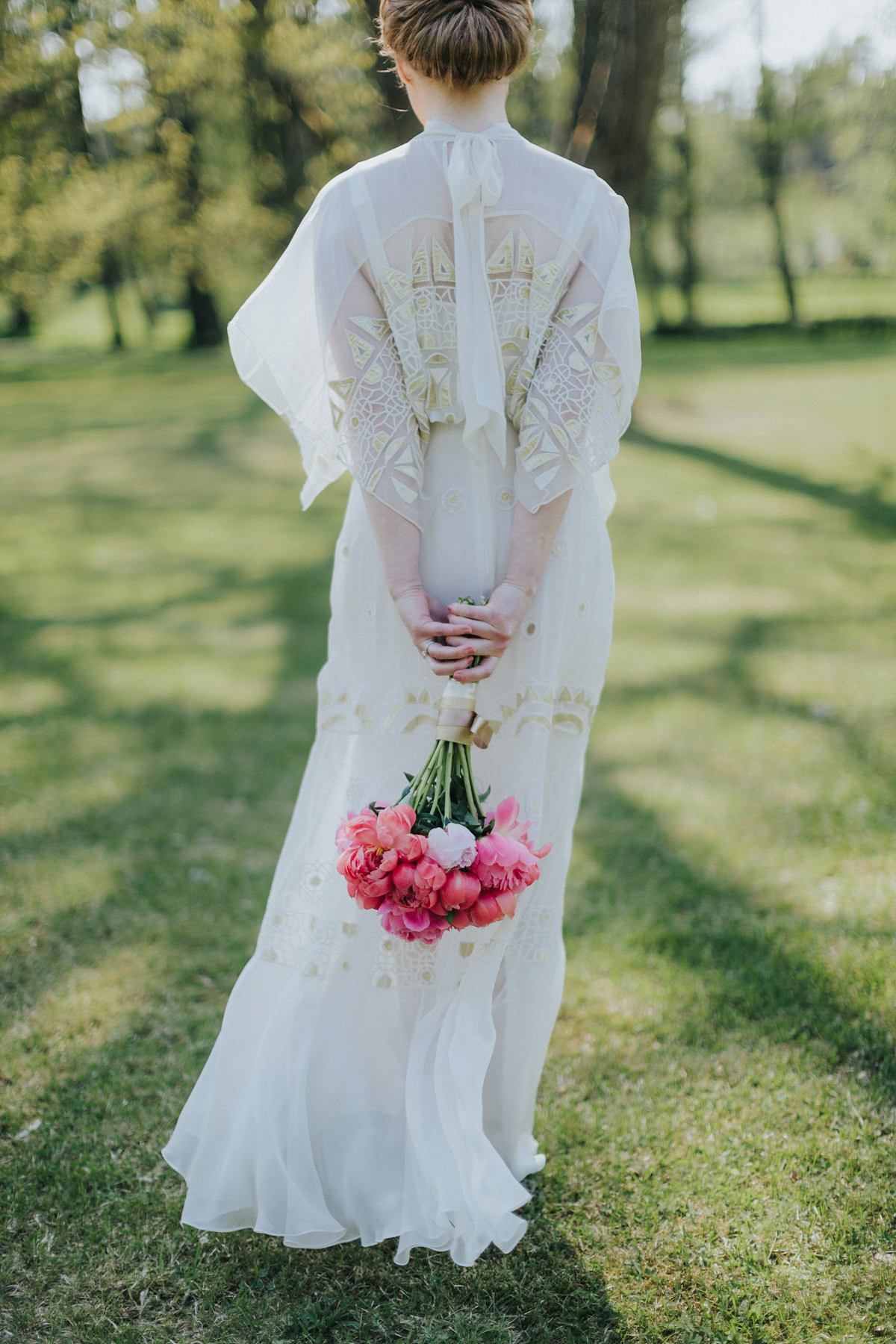 "Because I usually don't wear much jewellery, I decided that I felt more comfortable wearing less so I decided on tetra-pyramid shaped gold earrings, tailor made for me by Alexis Jewels in Hatton Garden.""I shared my thoughts with Chris and helped him design this pair.  I loved the process and I think that it contributed in making the wedding memorable."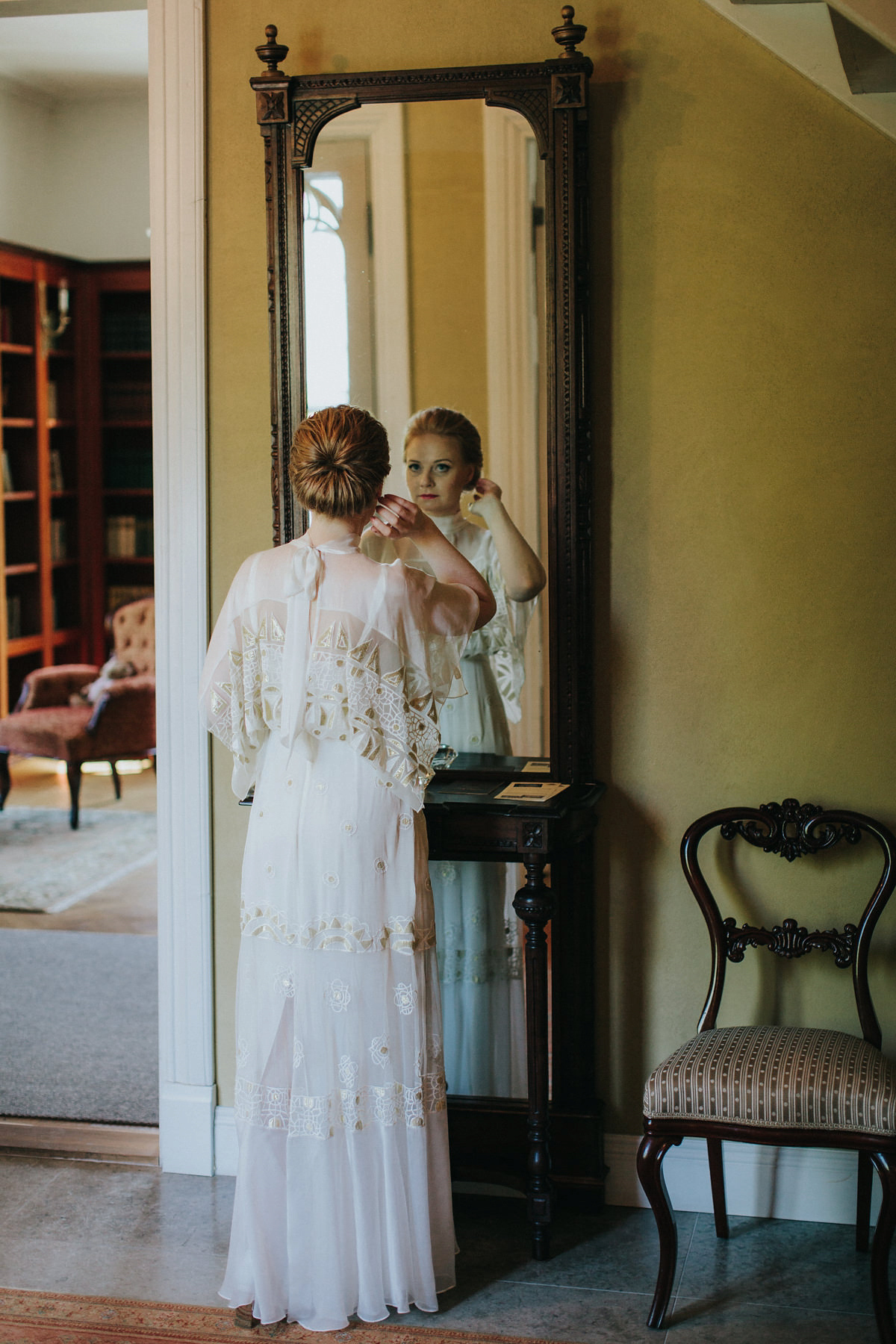 On her feet she wore 'Briona Prism' pumps by Nicholas Kirkwood in off- white leather with a gold-tone triangle block heel which went beautifully with the gold geometric embroidery on her dress.
"Choosing the location wasn't easy as we had Italy, Estonia and England to pick from.  In the end we decided to go for Tallinn because we liked the idea of having most of our friends travelling there."
"For the majority of them it was also the first time visiting Estonia and the venue we found was just perfect."
"Kõltsu is a newly renovated typical Estonian countryside manor. The house is immersed in the forest, and a short walk from the sea.  The venue usually hosts small conventions and classical concerts in the summertime."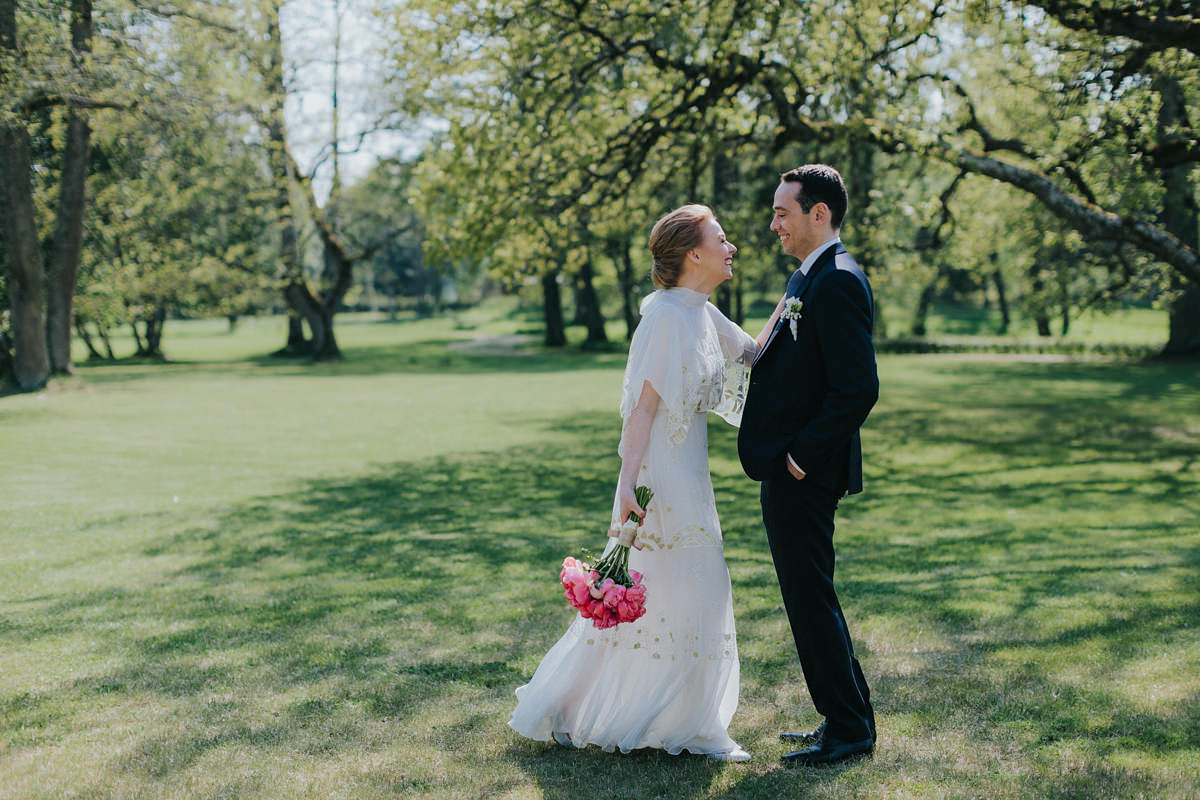 Sergio looked very smart indeed in a dark three-piece suit by Paul Smith, purchased in Covent Garden.
The ceremony took place in the garden under a magnificent oak tree (Kadri tells us that in Estonian culture, the oak tree is sacred and symbolises life and power, so it was the perfect spot) and the couple walked down the aisle together to 'Wonderwall' by Oasis, played on the piano and cello.
The couple exchanged rings from Alexis Jewels to symbolise their vows, both made from platinum.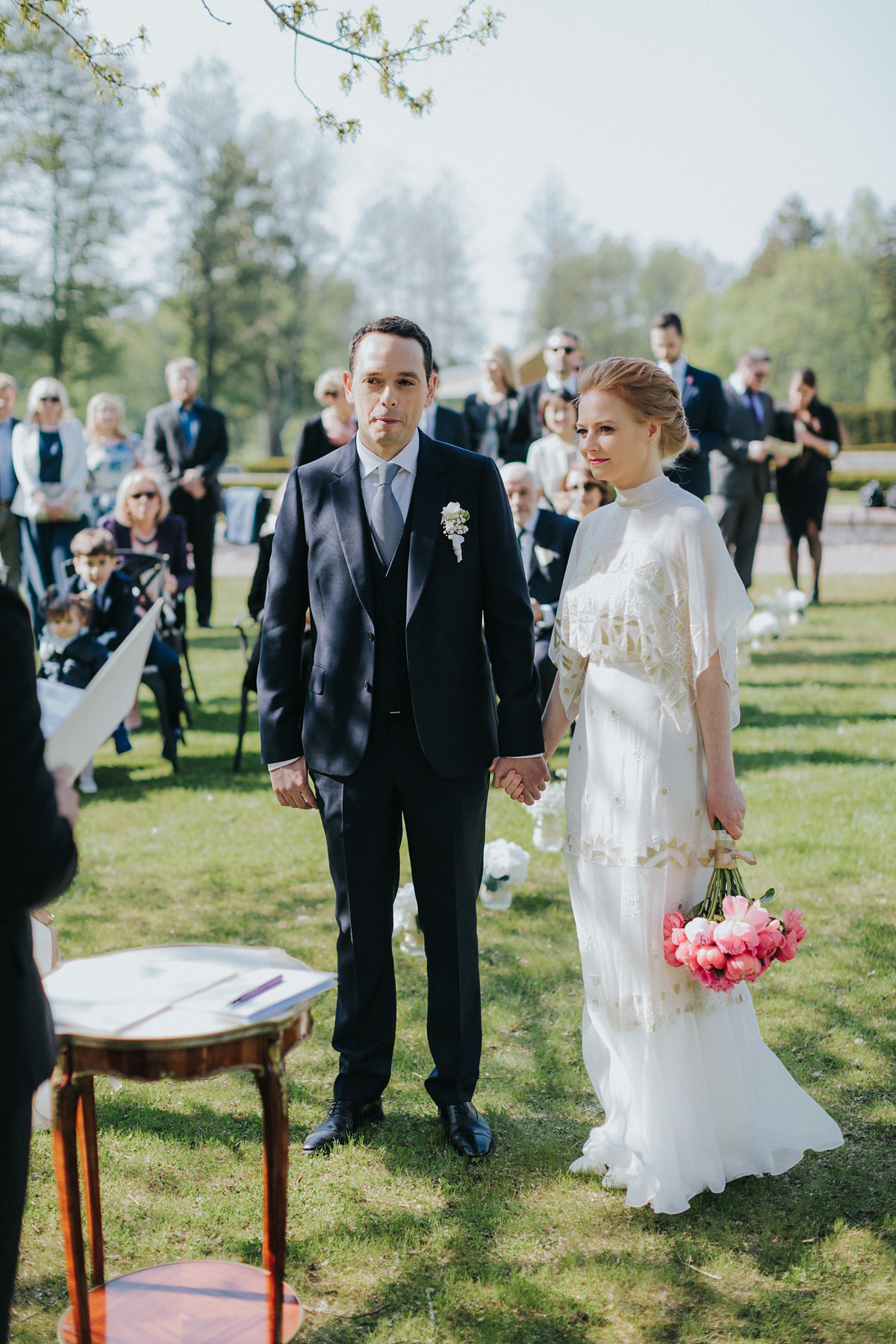 Today's wonderful images are the work of Estonian photographer Gerry Sulp.  I adore the energy and joy he has managed to capture in these pictures (especially the stunning smile on Kadri's face all day long!)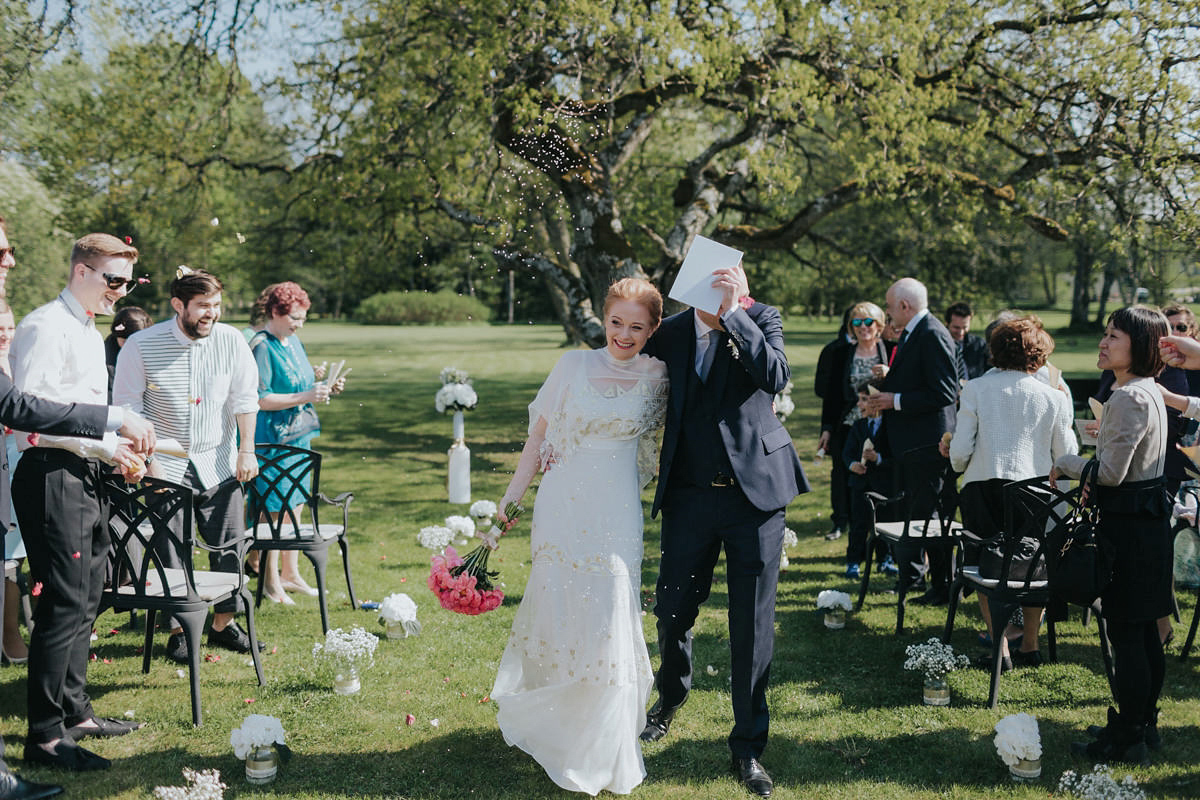 "After much searching and several Skype and in-person interviews, we asked Gerry Sulp to take our wedding pictures.  He is a young photographer who surprisingly only takes pictures as a second job."
"We loved his documentary and artistic style, always emotional and involving.  During the wedding day he was discreet and managed to take more than a thousand great pictures without anyone even noticing him."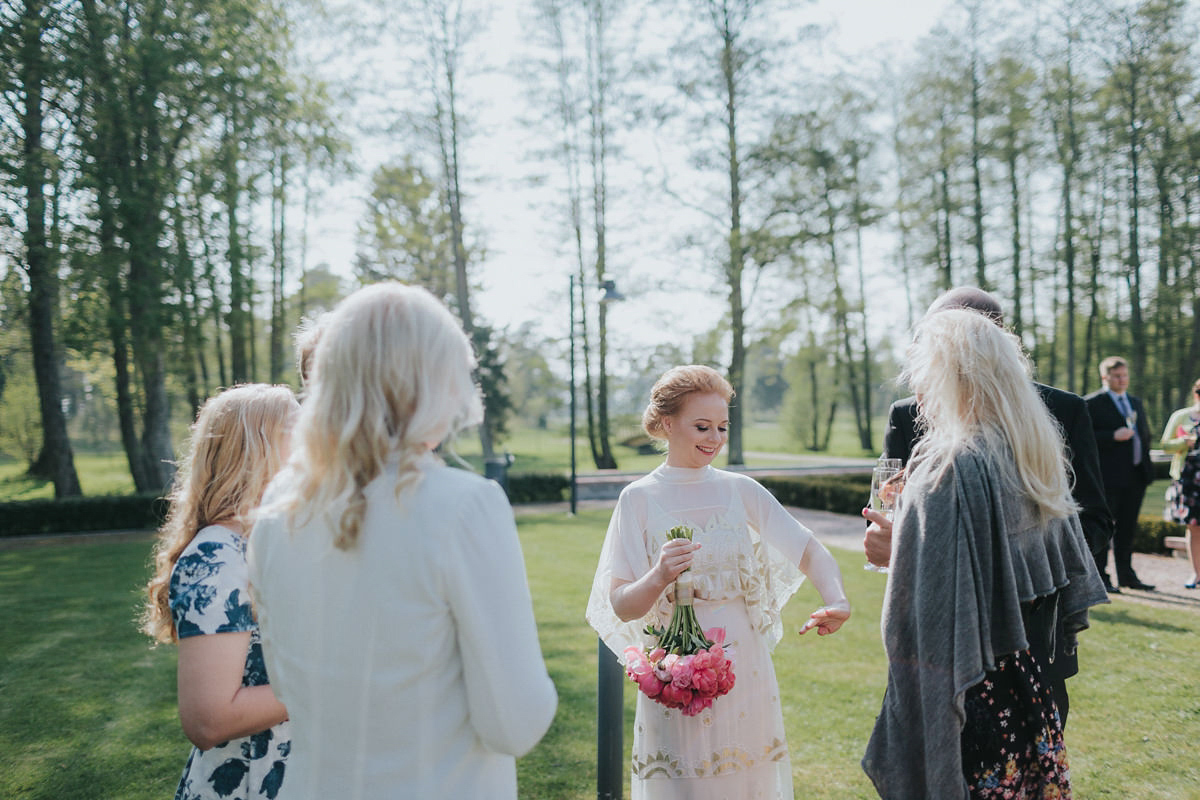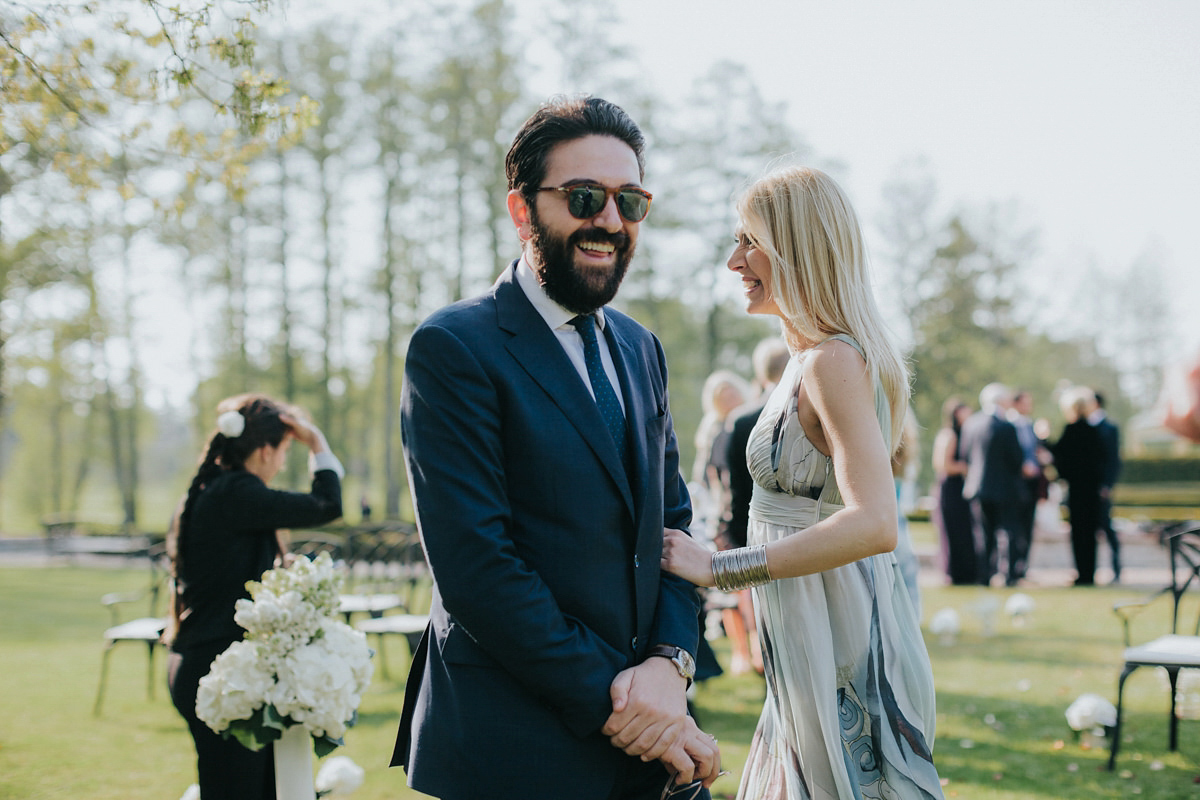 Flowers were the work of Katrin of Decoration and Fleur, in Tallinn.
"I wanted flowers that were in season and which smelled good.  My bouquet was made entirely of coral peonies, a colour that worked well with the gold and ivory.  Table flowers were a mix of peonies and hortensia and outside, decorating the ceremony, we had baby's breath, hortensia and lilac."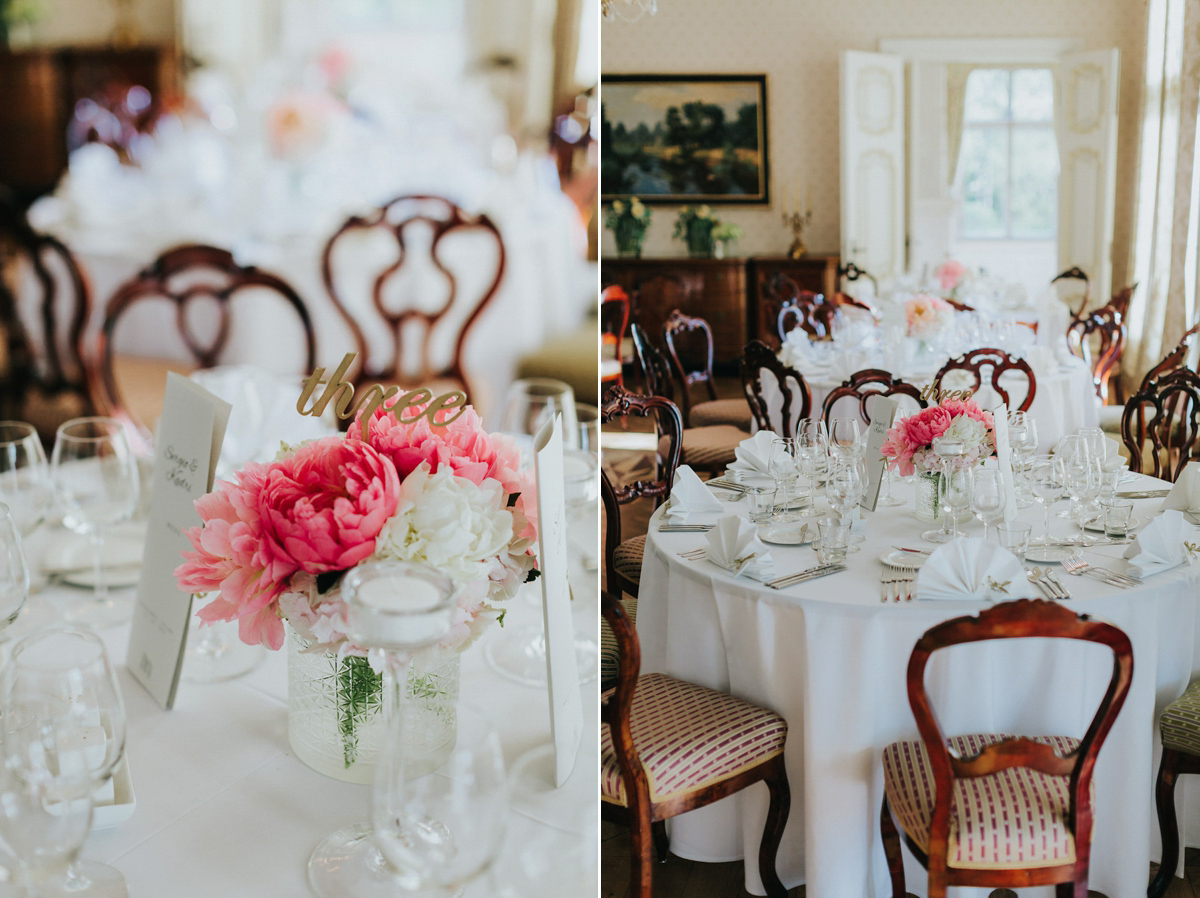 "Katrin helped arranging all of the decorations, including the hand-crafted names plates that I prepared, the tables and the table plan drawn on helium balloons.  I liked her attention to detail and I enjoyed sharing all the ideas I had with her."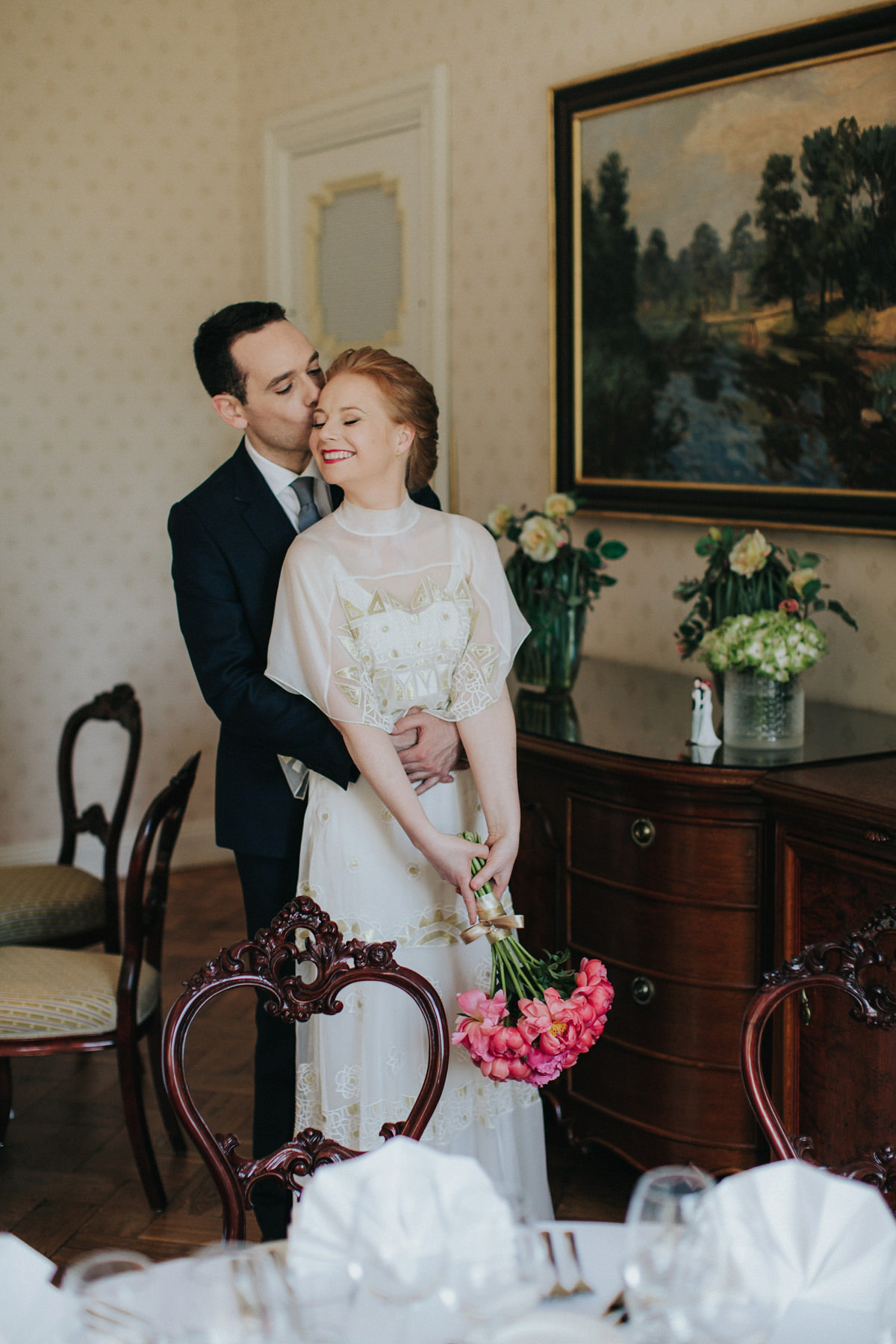 "We had favour boxes made out of a world map that we ordered on Etsy.  Every wedding in Italy has 'confetti' which are sugar coated almonds, filled with different flavours and we put them in the box together with a small wood carved paper plane magnet, made by Lember Disain."
"The magnet is for us the symbol of a trip souvenir and we liked the idea of our wedding being a special trip for us and for our guests; a trip to a special place but also a journey in our lives.  The paper plane was made out of a juniper tree and carved with our initials."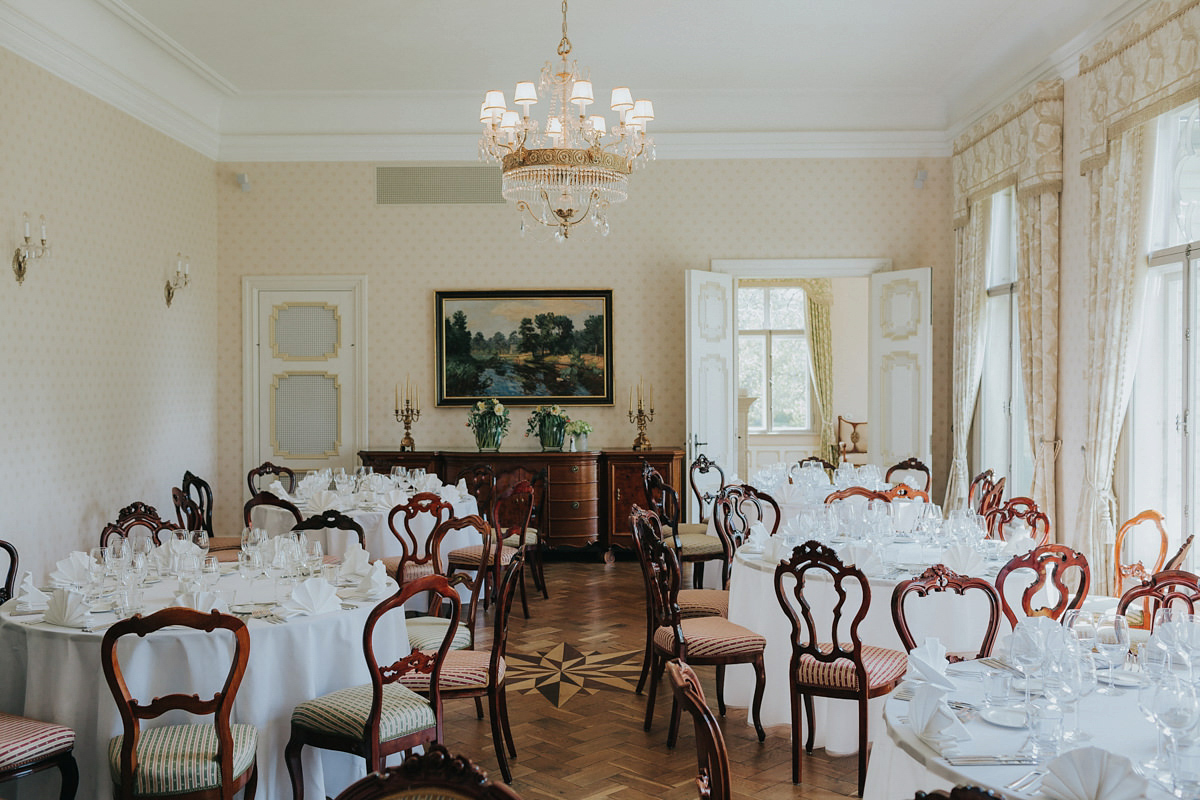 "I got quite addicted to Etsy and found lots of suppliers on there.  For example we had the guests taking their own pictures with an instant camera and collected them in an album made by LiuMy, we asked EngraveCelebration to provide the table numbers, consisting of the number written down in letters, in a calligraphic font on a wooden stick."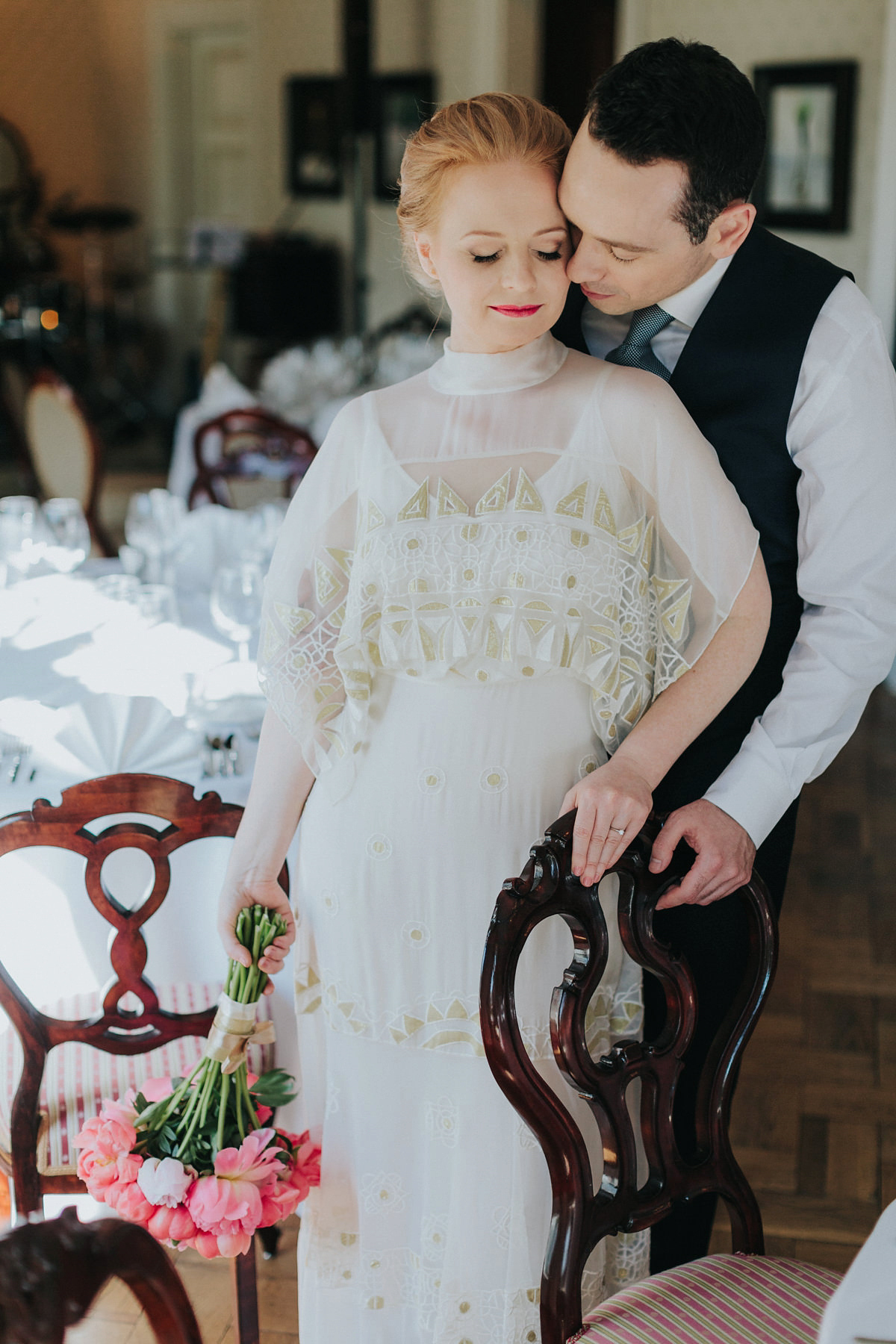 Catering was the work of local eatery Wicca Restaurant, Angelica, who provided everything from staff to tables and cutlery.
"We love food and wanted to have something special for the day.  Our main struggle was to please the Italian guests but still deliver a traditional Estonian experience.  We found a perfect mix with the chef of Wicca Restaurant.  We met her on our preliminary trip to Tallinn and she made us taste some of the dishes she had on the menu. We were delighted by the quality of the ingredients and the elegance of the compositions."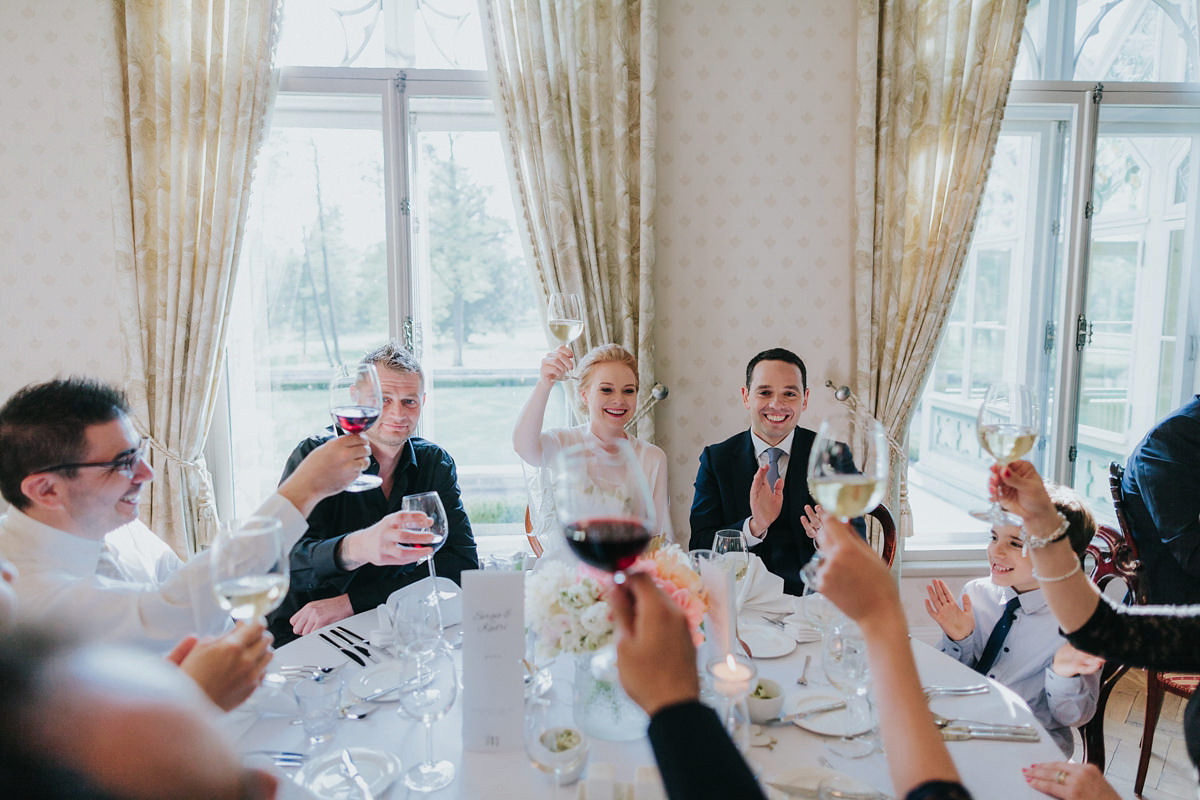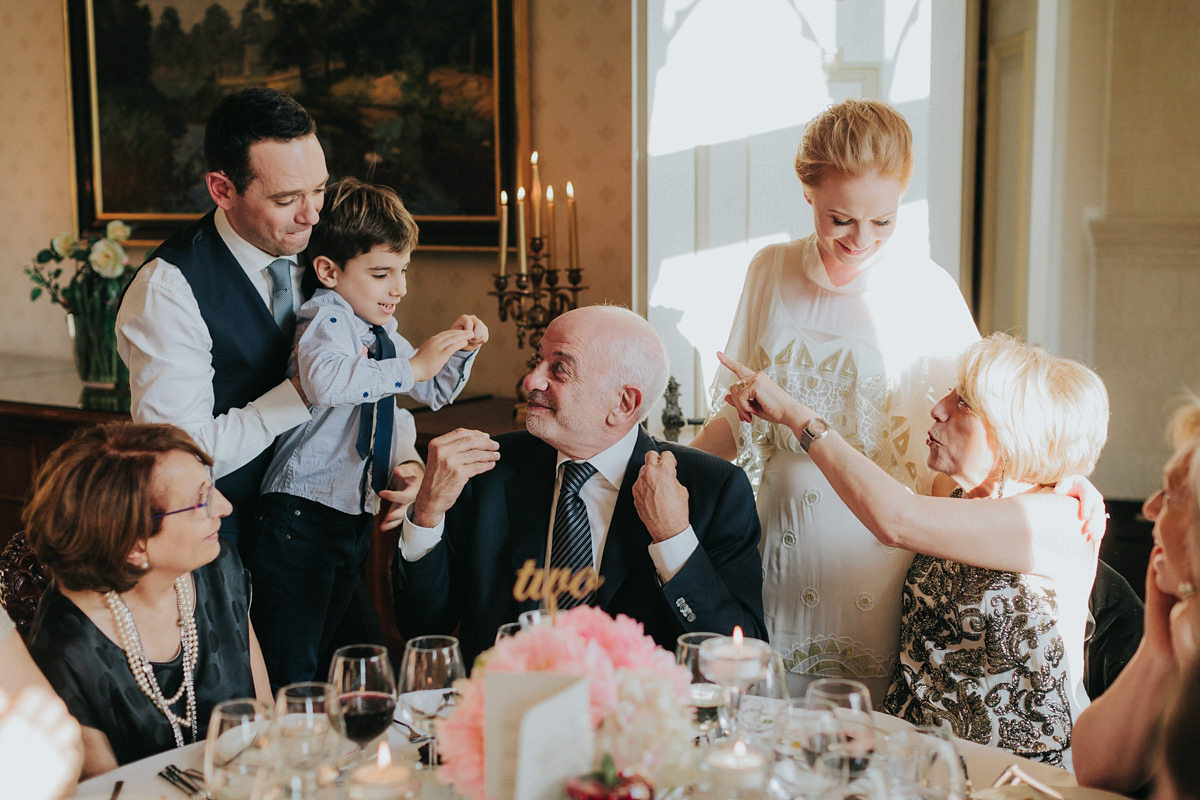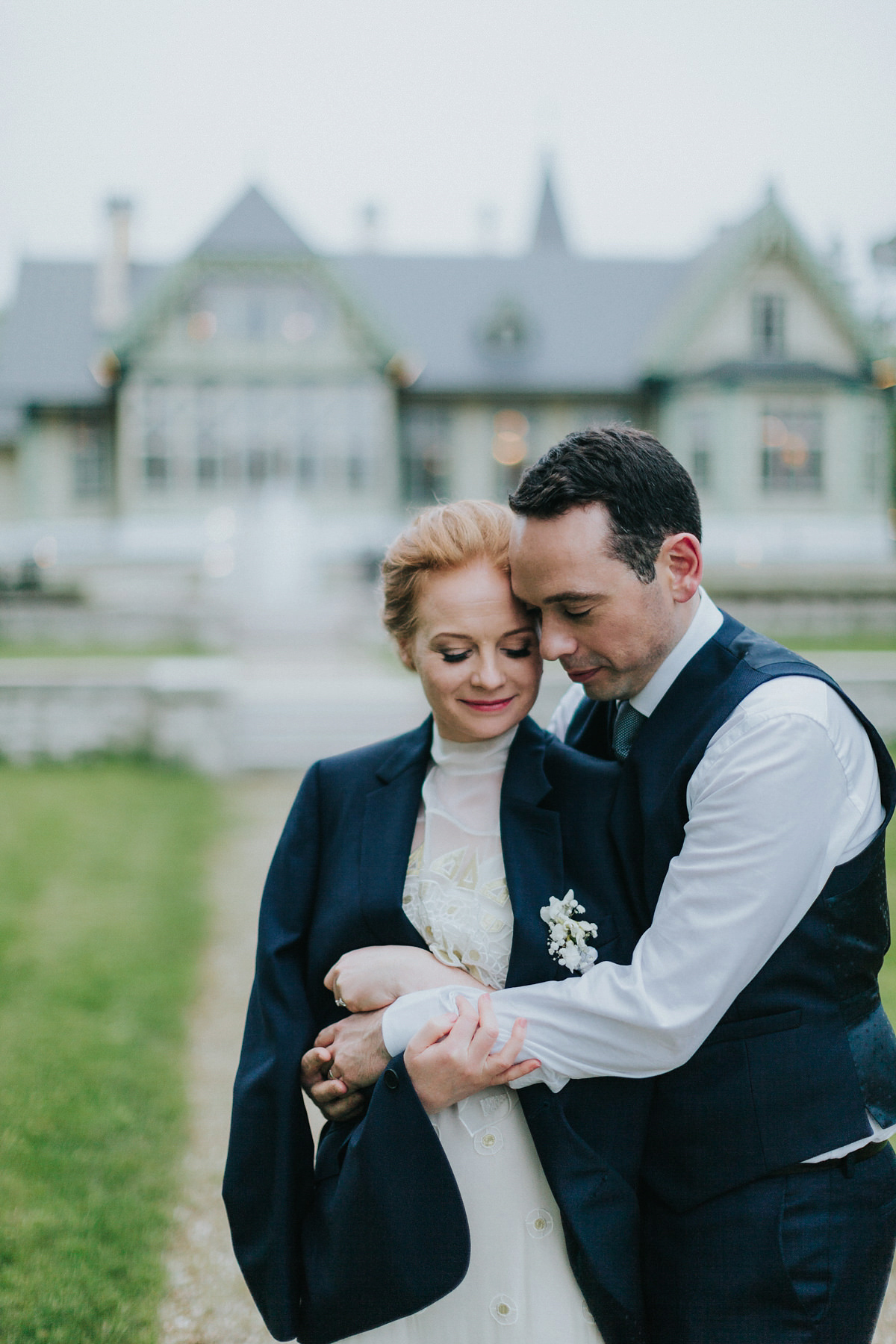 As Kadri and Sergio were planning their wedding from the UK, they sadly couldn't make it over to taste their wedding cake samples beforehand so some kind friends stepped in to help them out, even tasting over Skype to make sure it was perfect.
In the end they decided on a passion fruit cheesecake, decorated with a peony, provided by Kondiiter.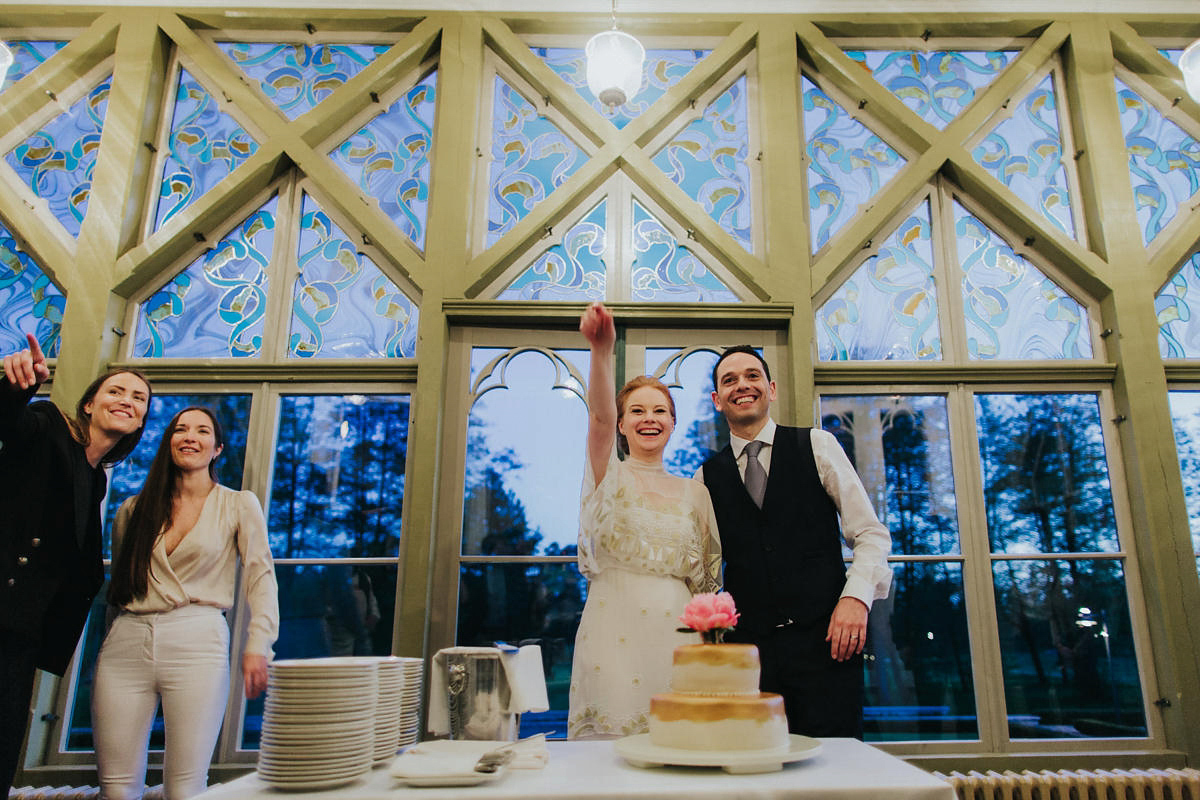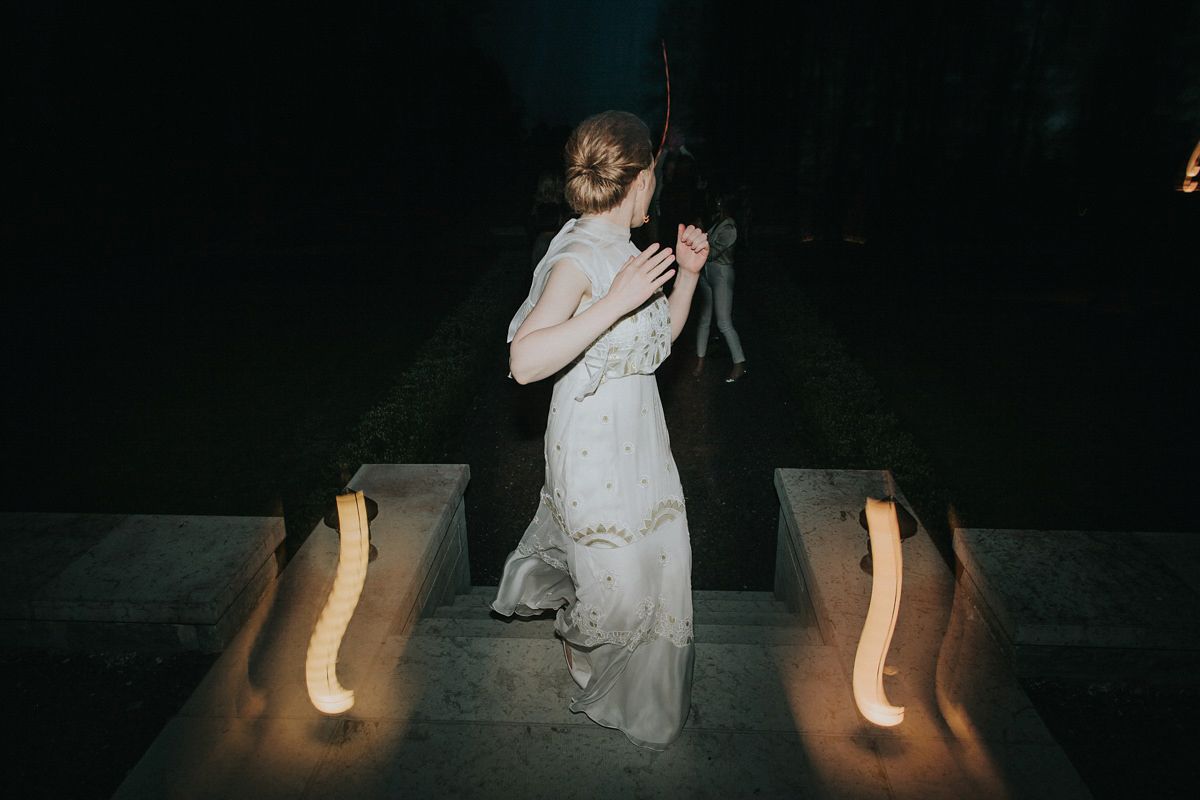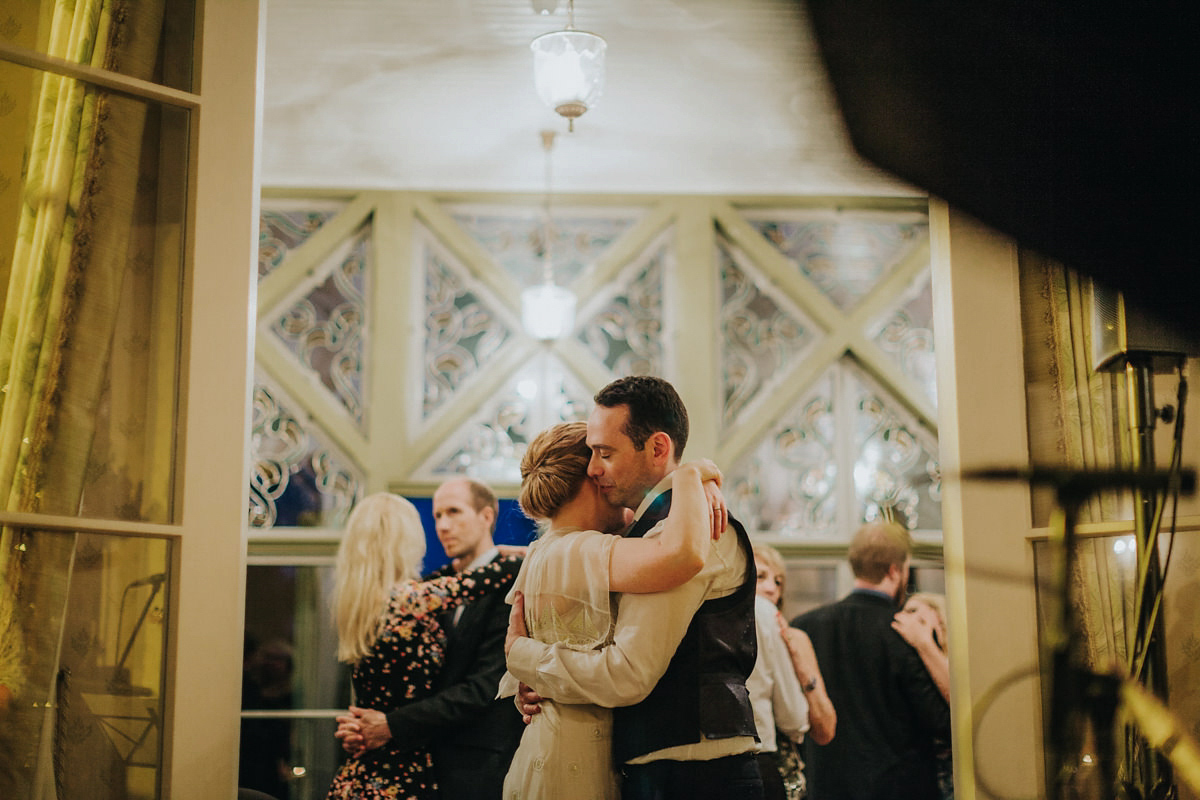 "We had live music from a band called Dance-O-Phones in the evening. They are five elements, including trumpets and they reinterpret pop music in a jazzy up-tempo key, which worked perfectly for our guests. They all danced until the end, maybe helped by the vodka, who knows."
Words of Wedded Wisdom
"Be very organised.  If everything is done and agreed before the wedding, you will have a much more relaxing day.
Don't try to do everything yourself.  Your friends are happy to help you achieve your dreams so let them contribute (but don't forget to thank them after!)"
Huge thanks to Kadri and Sergio for sharing their beautiful day with us.  I do love a destination wedding (although I have yet to attend one as a guest- anyone with spare seats need filling feel free to drop me a line…) and I love hearing about the different wedding traditions that take place.
Do you love Kadri's gown as much as me?  Take a look here for some more beautiful dresses by Temperley London.
Much love,
S x