I'm not quite sure how it's Monday already my loves, time has suddenly hit warp speed after dragging it's heels for the last 22 months and somehow I'm getting married in under 150 days time! I hope you've all had a lovely weekend? I've got a gorgeously relaxed outdoor celebration to share with you today, smattered with fluffy clouds of gypsophila and cheery tartan – is there a better way to start the week?
Sarah, a Vet, wed her husband James, an Estate Manager, on 30th May 2015 surrounded by beautiful nature at Mains of Taymouth in Kenmore, Scotland – a place very dear to her heart. Their wonderful humanist ceremony and teepee reception was captured on camera by our super-talented Little Book for Brides photographer, Glasgow-based Rooftop Mosaic.
Sarah sourced her dress and shoes from two more suppliers we're insanely proud to support through our carefully curated directory; the fabulous Belle & Bunty and the very gorgeous Rachel Simpson. If you missed it last week, do take a look at this little gem all about Belle & Bunty's made to order wedding dresses for the low-down on designers Alice and Hannah and their gorgeous creations.
"I loved the colour and the softness of the material; the lace was exquisite and the silk skirt extremely light. The dress was very comfortable and it flowed beautifully."
Glasgow based Gail Kelly of Rooftop Mosaic has captured moments of sublime joy alongside insights into the stunning natural surroundings; the images of Sarah and James, nestled among the bright, delicate wildflowers are some of my favourites.
"Gail was wonderful, she is a lovely person and made us feel at ease. She was very professional."
Sarah chose The Lace Willow gown by Belle & Bunty, bought from Lamesley Bridal in Edinburgh; a divine creation with delicate lace cap sleeves and a flowing silk skirt.
We just adore Belle & Bunty's flirtatiously British designs; über-feminine, elegant and beautifully made.
"I didn't have a veil, I wore a circlet of daisies and wild flowers in my hair instead to match my bouquet."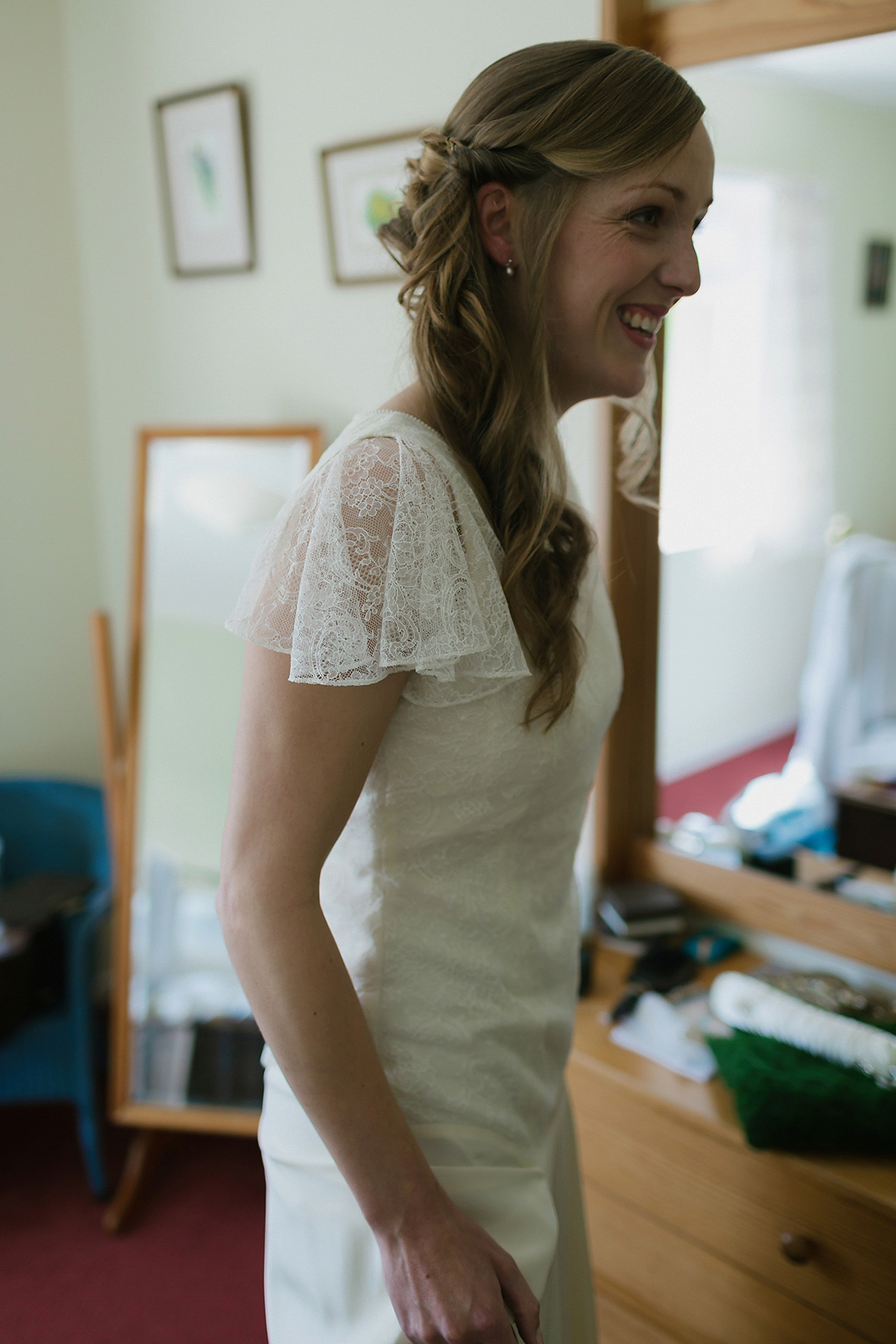 Sarah wore a very special and treasured piece of jewellery; a bracelet crafted especially for this occasion from an old pearl necklace which belonged to her grandmother. Her pearl drop earrings were from John Lewis and Fiona O'Donnell of Bridal Hair & Make Up Design Scotland was responsible for our bride's perfectly tousled half up-do and fresh, pretty make-up.
"My shoes were called Honeysuckle, bought from Rachel Simpson."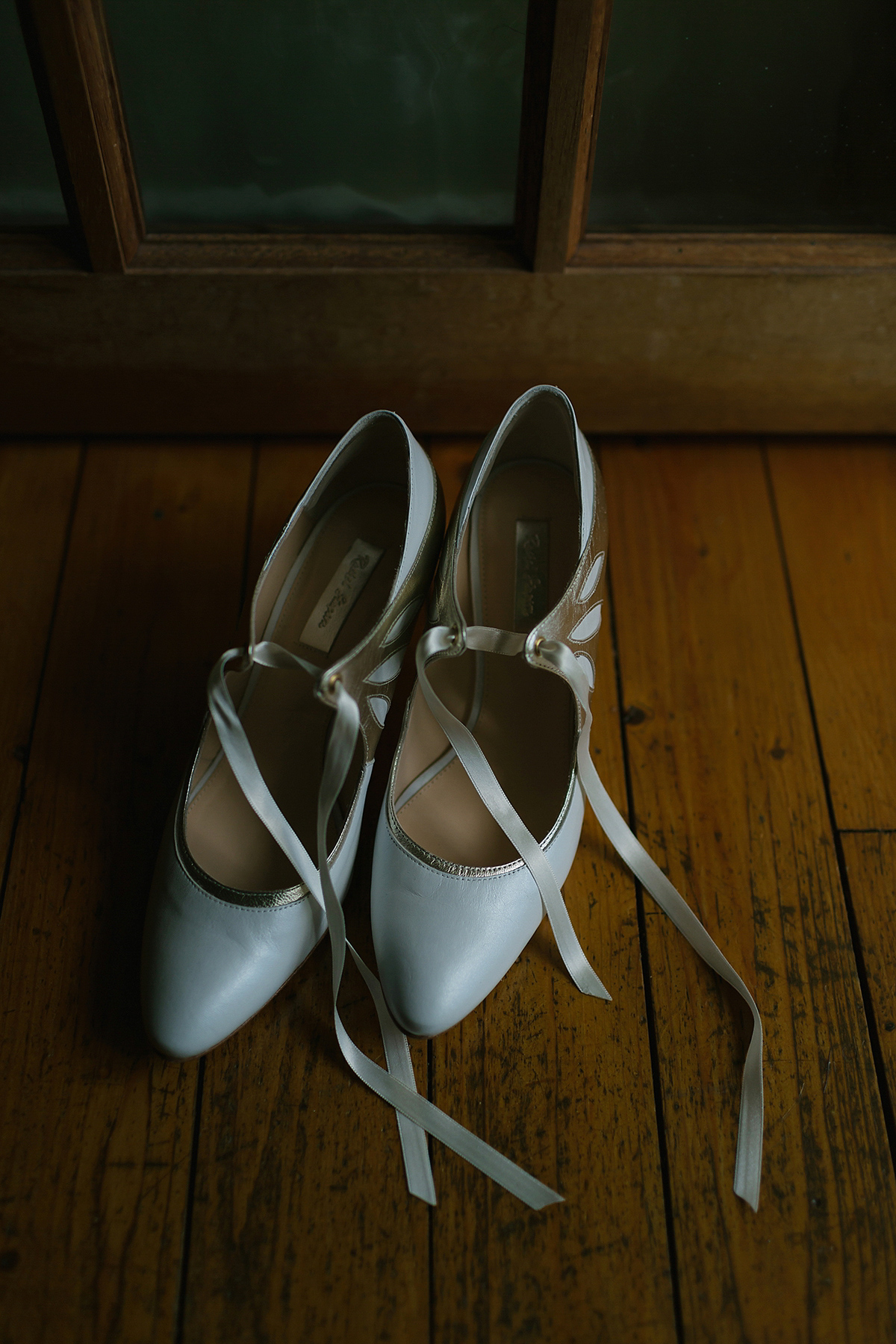 "Emma Harvey of Coach House Flowers was our florist. We knew we wanted wildflowers to go with the setting and informal feel of the day and we were happy to let Emma choose the details. She did a wonderful job."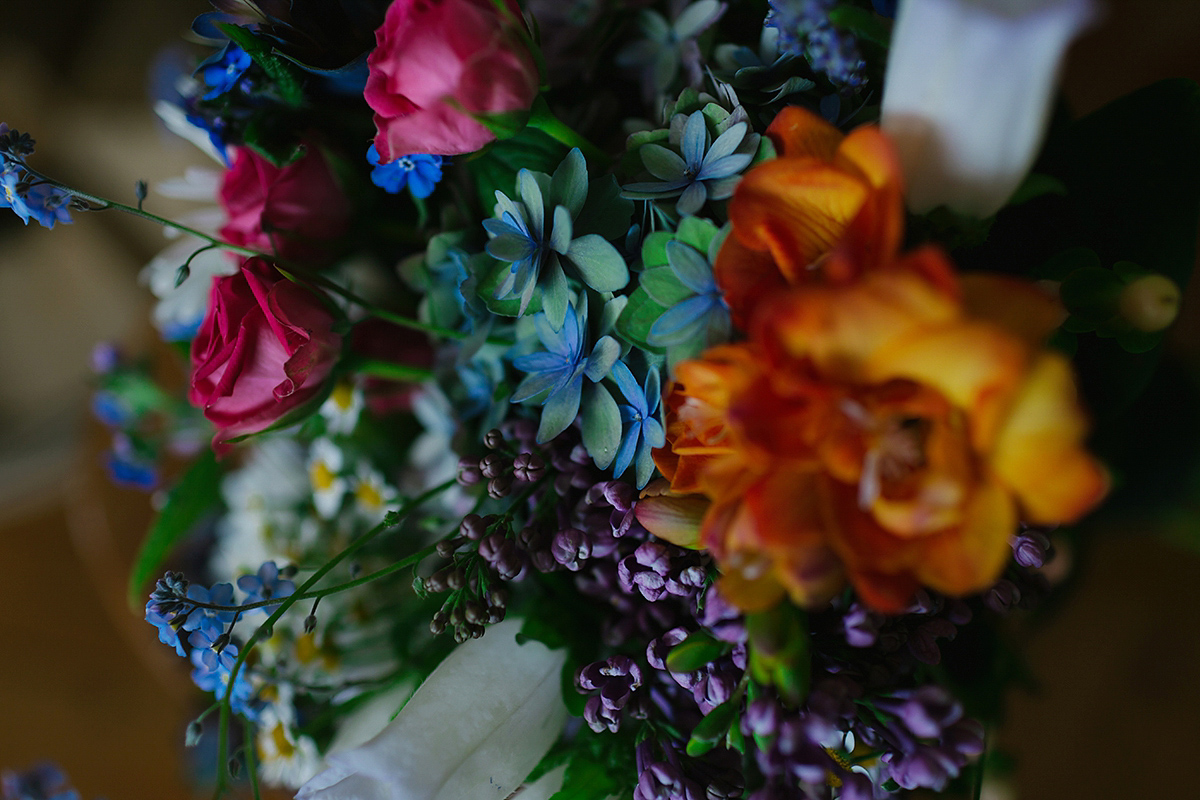 This pretty, natural aesthetic was carried into each piece of stationery, lovingly crafted by the bride.
"I made the invites and orders of service myself. The name place cards (leaves) and table plan were a collaborative effort. My mum, Liz, collected fallen oak leaves and pressed them over winter and my dad made a selection of small wooden holders to place the leaves in with the guests name written on."
Sarah's brother, Gerald, drove her and her dad, Peter, to their outdoor ceremony location, while one of the groomsmen, Andrew, chauffeured the bridesmaids. Sarah walked down the aisle on her dad's arm to a Swedish folk tune played on flutes, chosen by their wedding band Dancing Feet. Their outdoor aisle led to a huge, twisting tree; its branches hung with little bottles filled with frothy gypsophila.
"We kept it natural, other than the flowers and hay bales for the seating we didn't add any extra decoration. We let the environment surrounding us do its thing. We did compile our own vows; it was a bit of a mix and match to find what reflected our love and commitment to each other in a way that was most personal to us. We ended with 'as I have given you my hand to hold, so I give you my life to keep.'"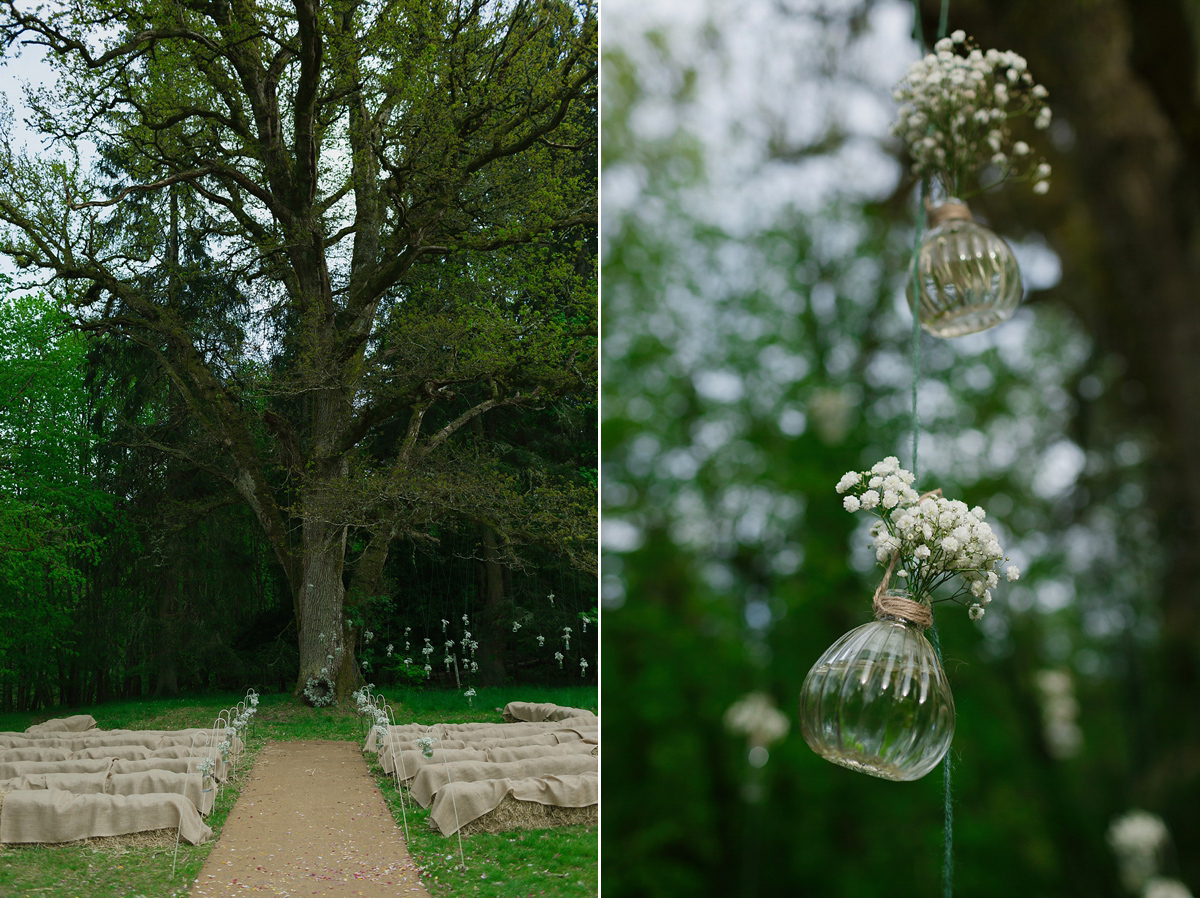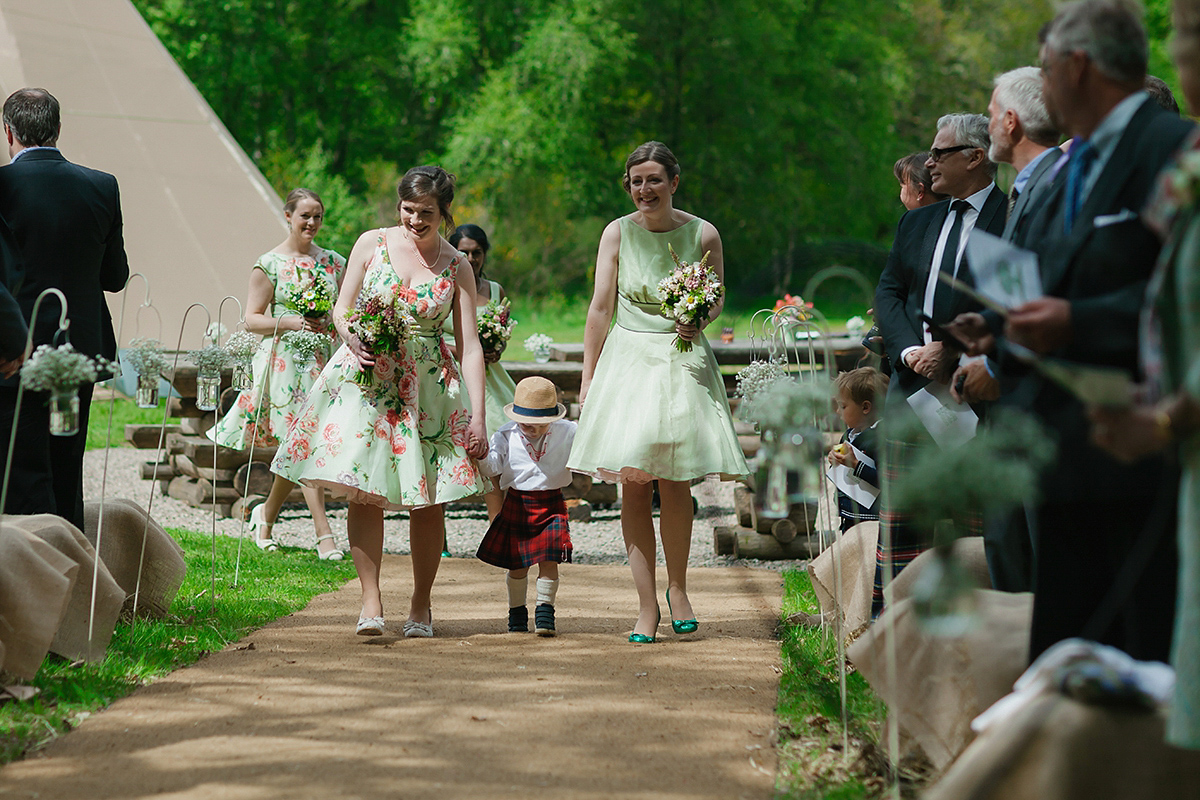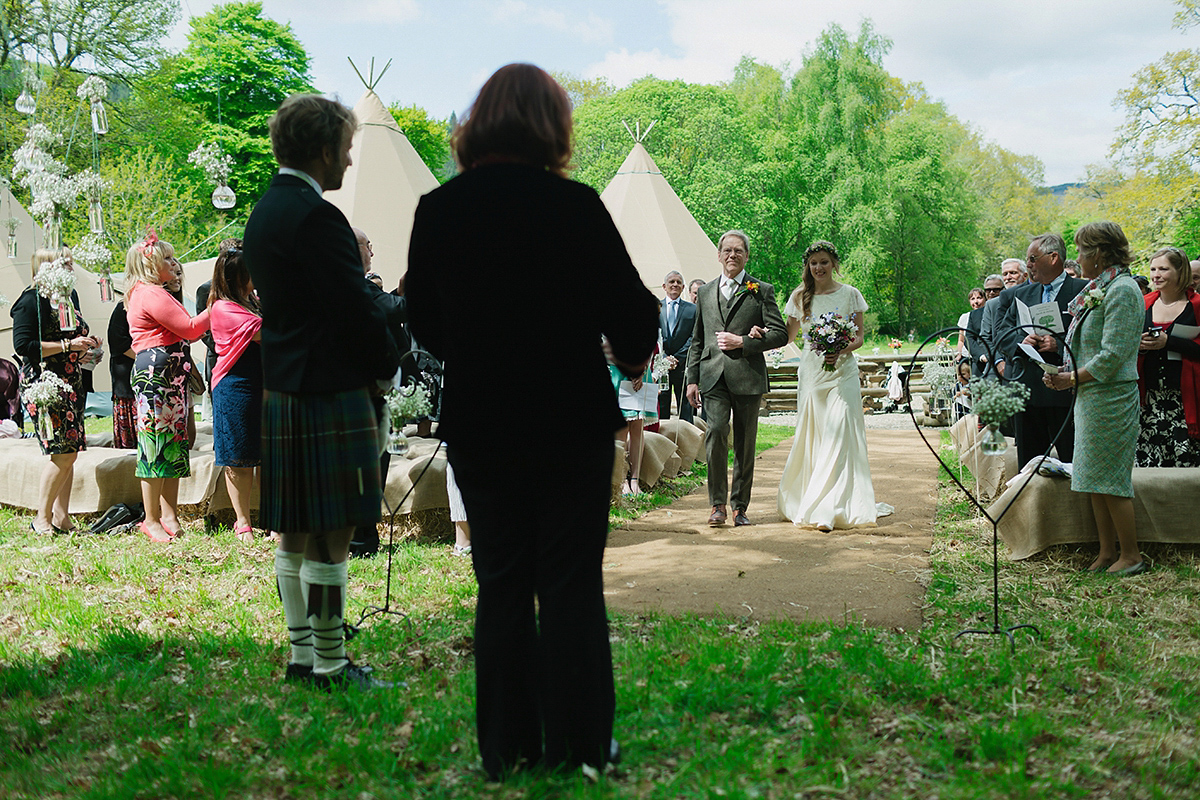 "James and I met at the airport in Nairobi, Kenya in December 2006. We got engaged on a weekend away in Glasgow just before Christmas in 2013, eighteen months before our wedding."
The couple chose three readings for their ceremony including a lovely poem called The One. I just could't resist sharing a few of them with you as they're passages I've never heard before.
Sarah and James felt that these choices were all relevant to their life together:
A Spring Morning by John Clare
"The spring comes in with all her hues and smells,
In freshness breathing over hills and dells;
O'er woods where May her gorgeous drapery flings,
And mead washed fragrant by their laughing springs.
Fresh are new opened flowers, untouched and free
From the bold rifling of the amorous bee.
The happy time of singing birds is come,
And Love's lone pilgrimage now finds a home;
Among the mossy oaks now coos the dove,
And the hoarse crow finds softer notes to love.
The foxes play around their dens, and bark
In joy's excess, 'mid woodland shadows dark.
The flowers join lips below;the leaves above;
And every sound that meets the ear is Love."
Instructions for Life in the New Millennium by His Holiness the 14th Dalai Lama
Take into account that great love
and great achievements involve great risk.
And that a loving atmosphere in your home
is the foundation for your life.
Be gentle with the earth, be gentle with one another.
When disagreements come remember always
to protect the spirit of your union.
When you realise you've made a mistake,
take immediate steps to correct it.
Remember that the best relationship is one
in which your love for each other
exceeds your need for each other.
So love yourselves, love one another,
love all that is your life together and all else will follow.
Sarah and James exchanged simple, elegant wedding bands bought from 
Beaverbrooks
in Aberdeen; the very first place they visited while ring shopping. Triumphantly they walked back down their aisle under a flurry of colourful confetti.
"All of it was wonderful, we couldn't have had a better day. If I had to pick one part to be my favourite, it would be the ceremony. It was so personal to us and ultimately that was what the wedding was about. It was amazing to have all our family and friends there to celebrate with us."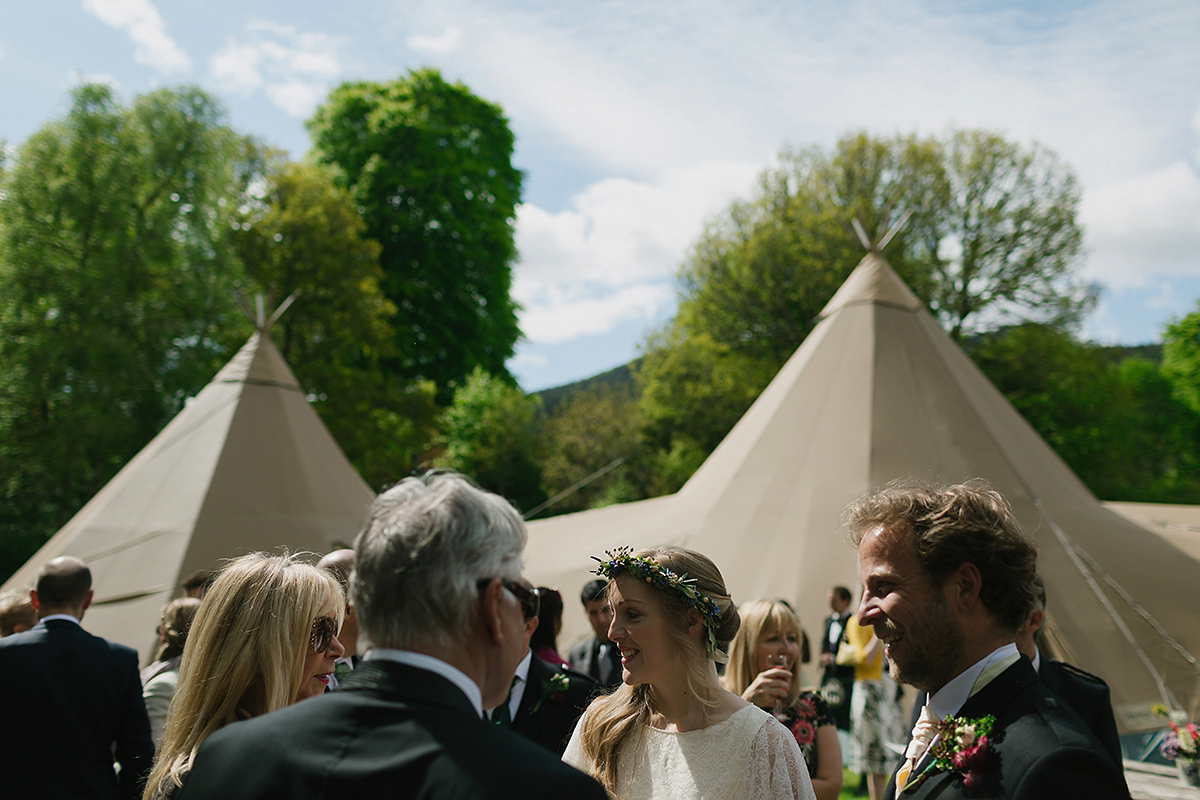 While the bridesmaids wore frocks by Dig for Victory and a collection of shoes from Red or Dead and Schuh, James looked handsome in his own Hunting Fraser tartan kilt, with his page boy sporting his own Robertson tartan.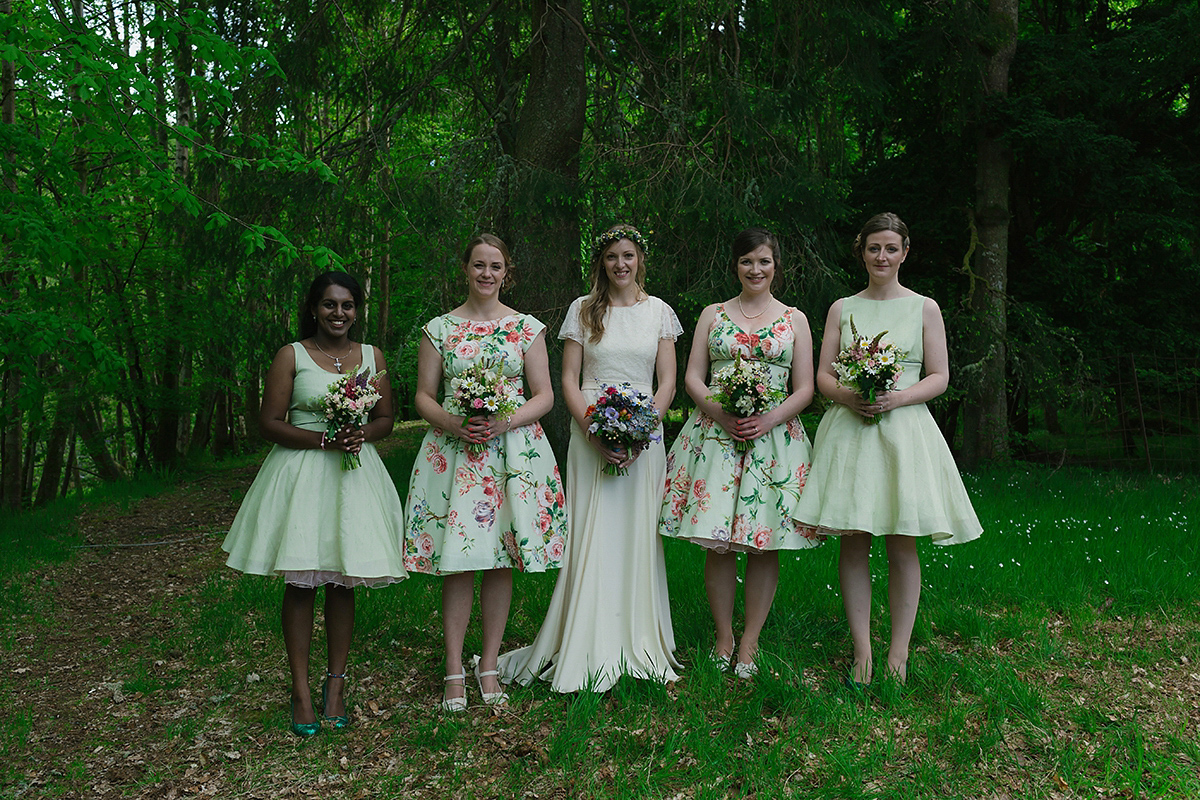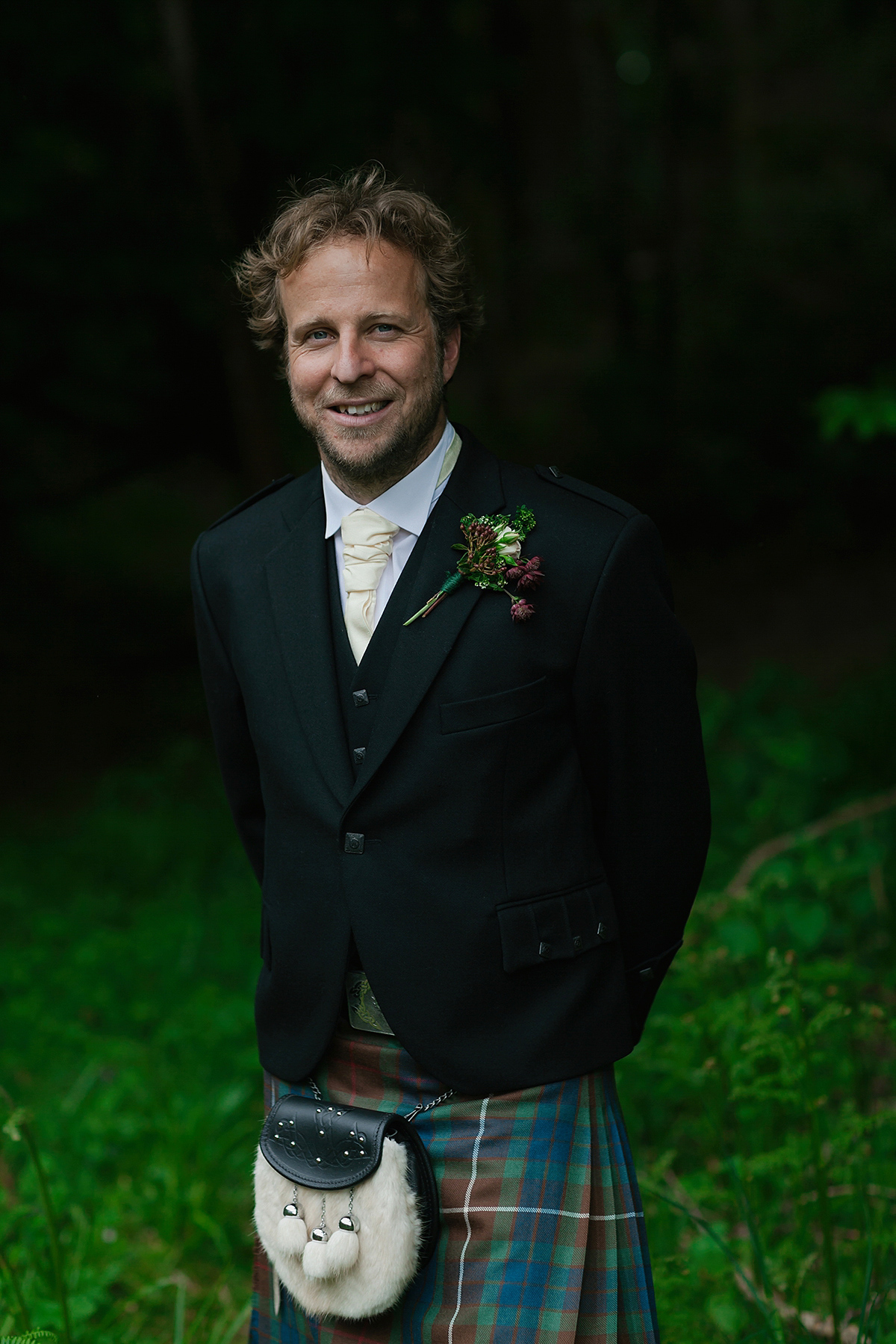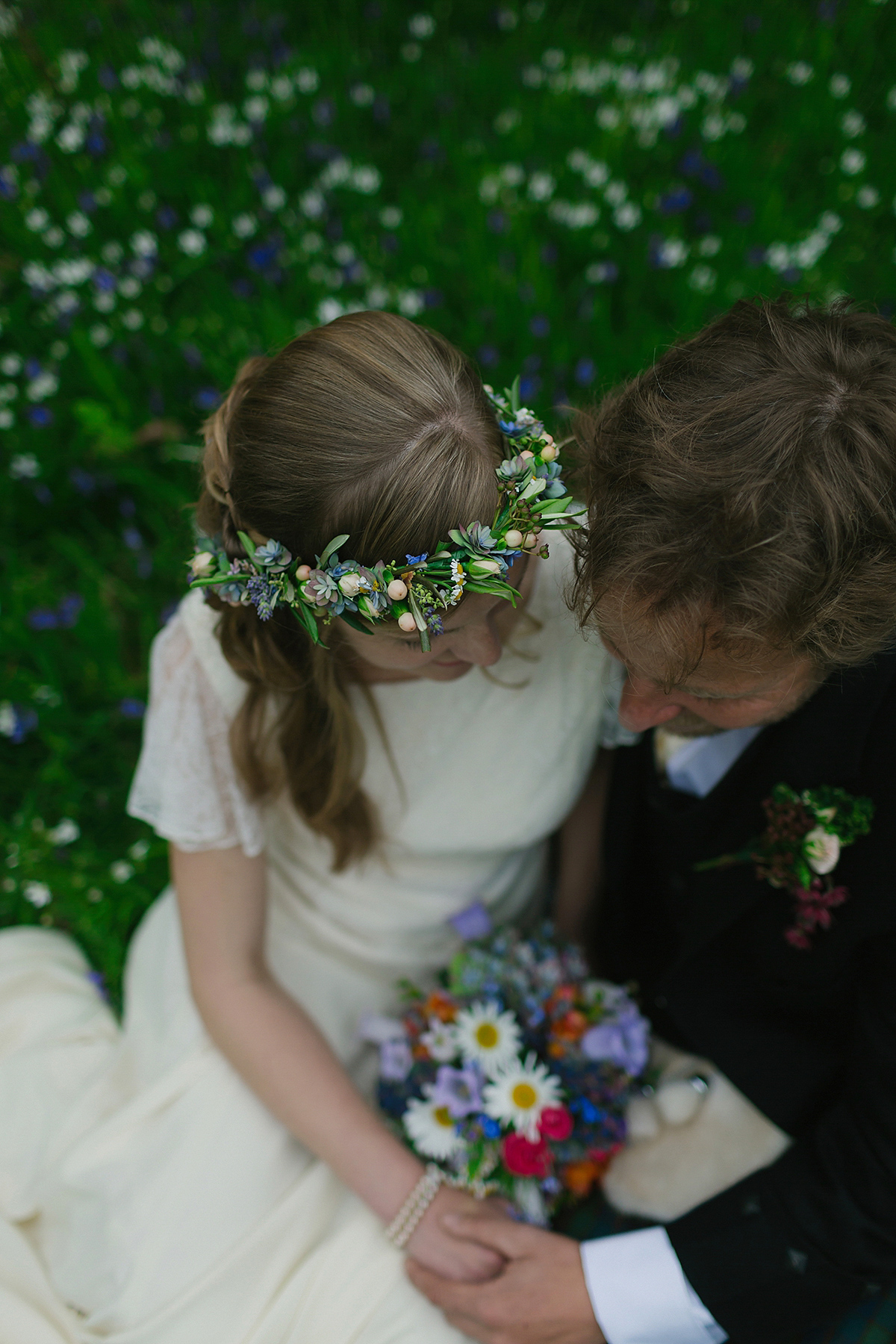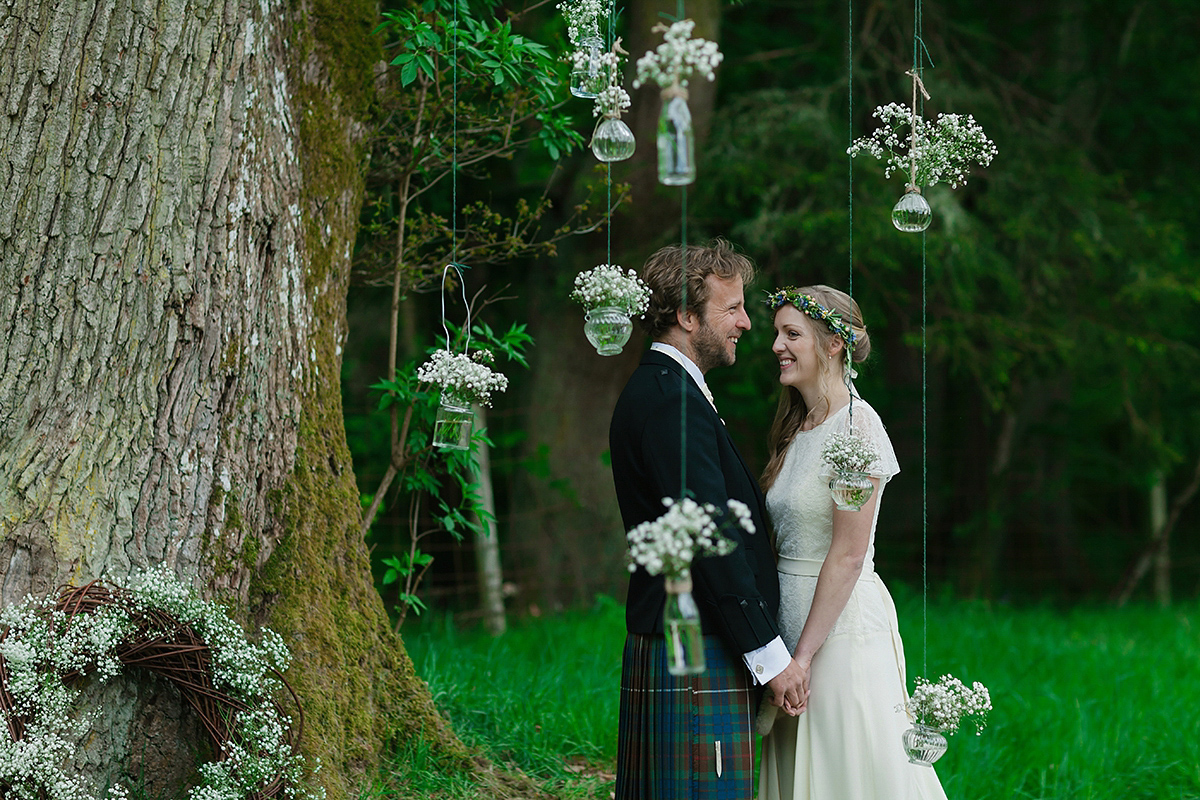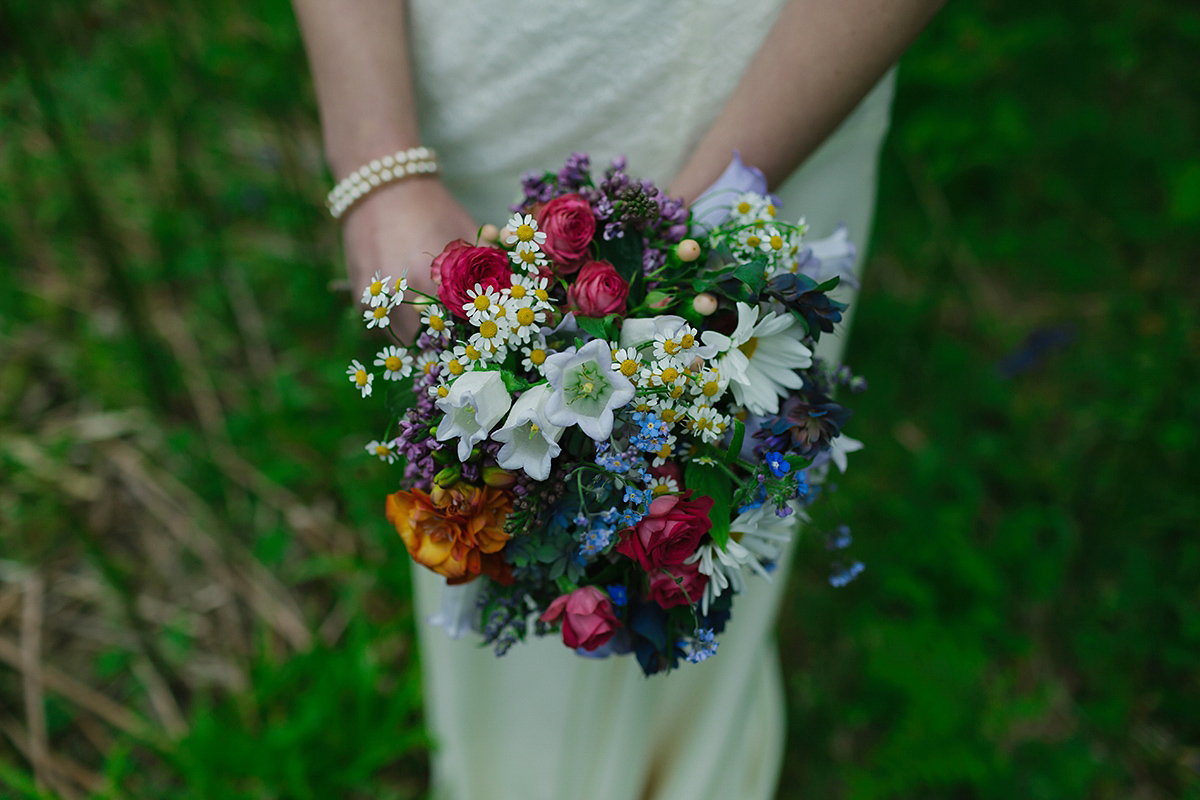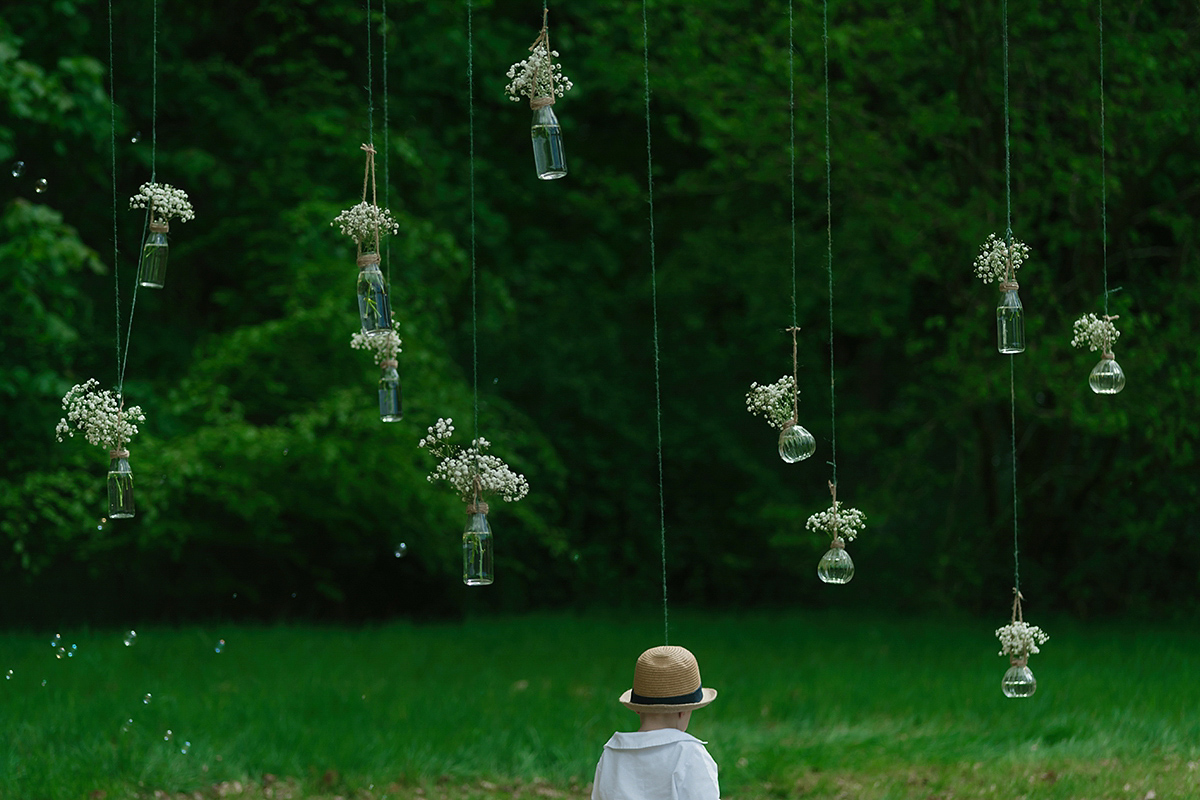 "I made the invites and orders of service myself. The name place cards (leaves) and table plan were a collaborative effort."
"My mum, Liz, collected fallen oak leaves and pressed them over winter and my dad made a selection of small wooden holders to place the leaves in with the guests name written on."
"My soon-to-be-sister-in-law, Emma, wrote the names on these and on the table plan, which was hung on a Manzanita tree provided by the florist."
"I made my own cake – a traditional fruit cake, about eight weeks before the wedding. I scaled up a Mary Berry recipe which worked very well. My sister, Emma, did the icing decoration which we left to her to choose. My Dad made the cake stands from a windblown elm tree from close to where we live."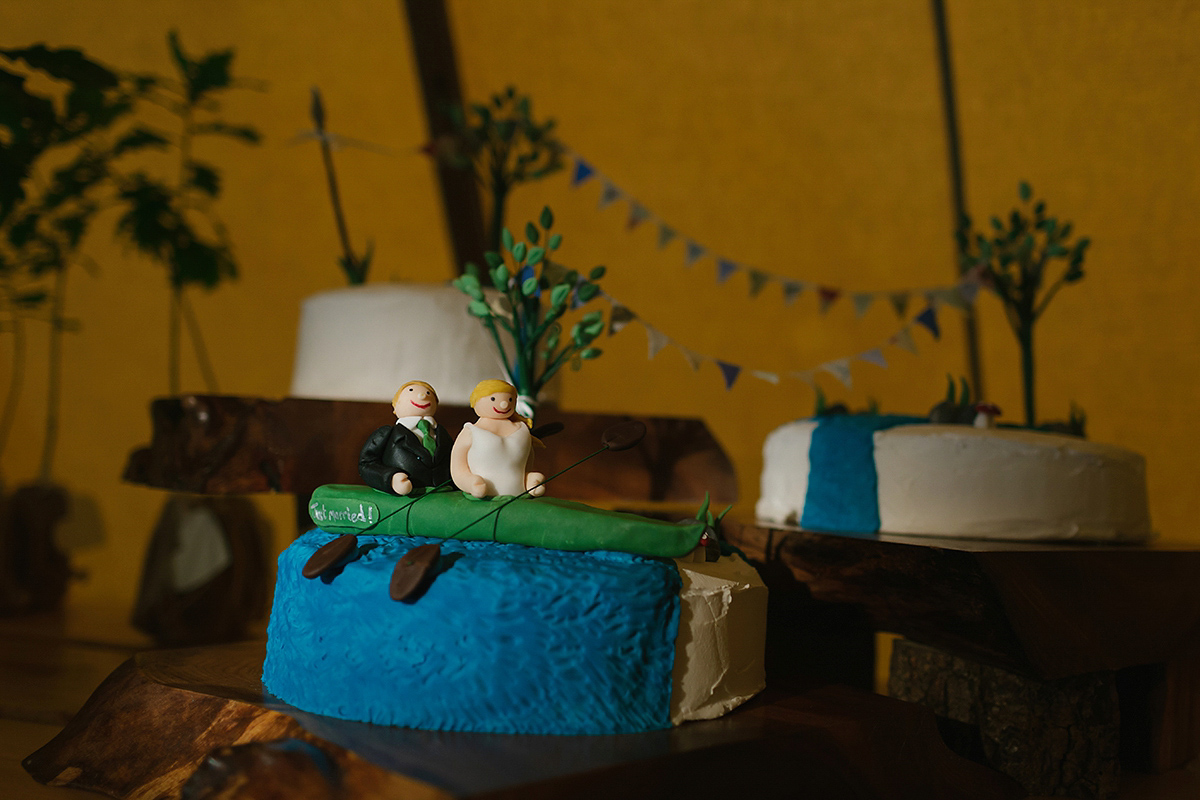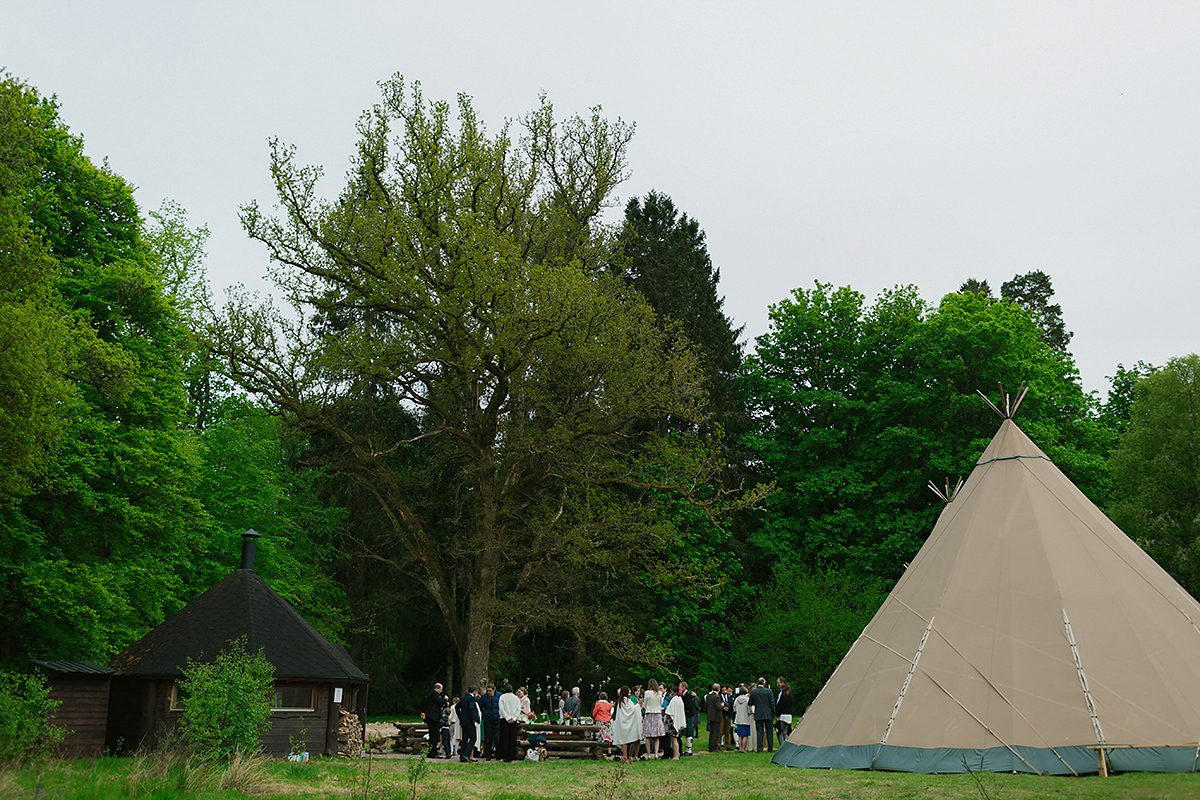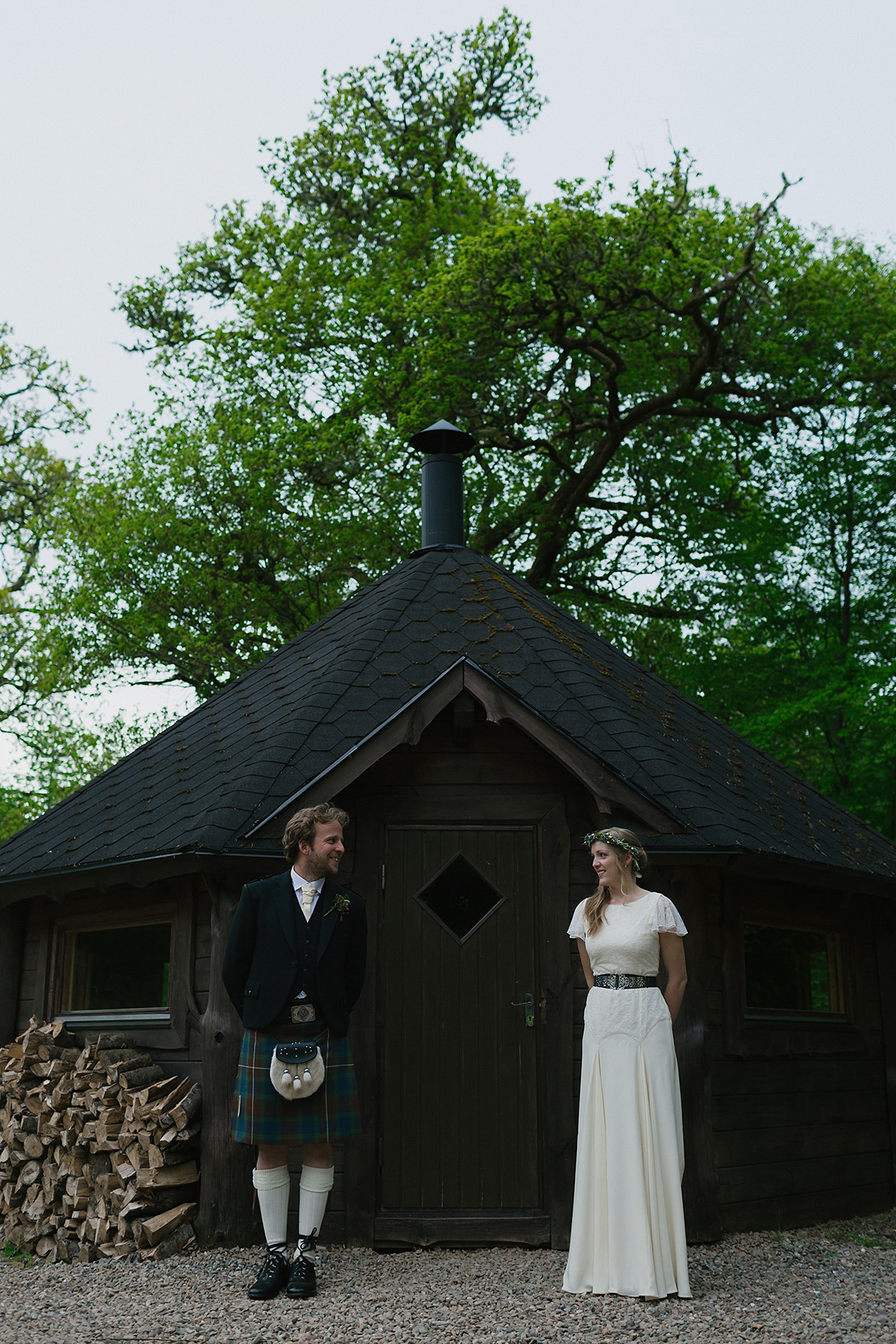 "Dancing Feet Ceilidh Band provided music for the ceremony and the drinks reception then a ceilidh in the evening. We had 'The Gay Gordons' for our first dance because it's an easy one to dancing to, and we knew a lot of our friends and family would know it or quickly be able to pick it up and we wanted them to join us after we started."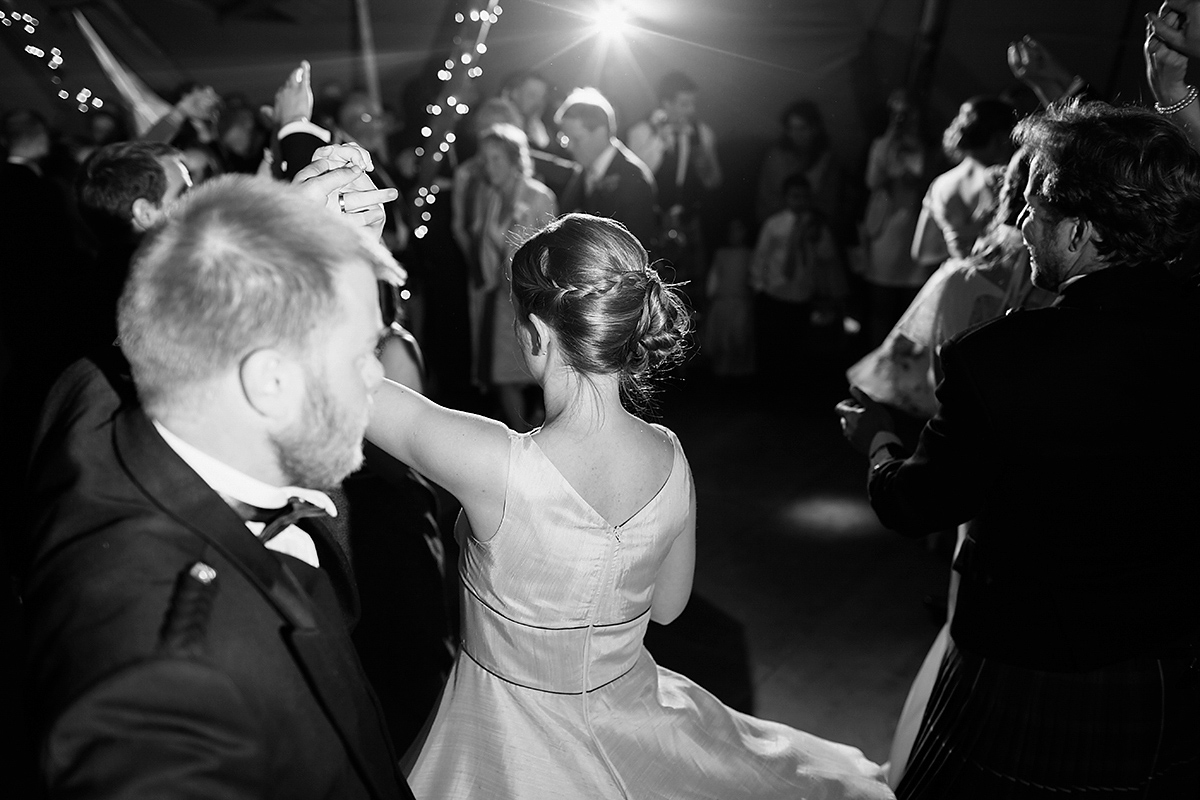 Words of Wedded Wisdom
"Enjoy the process and just do what you and your fiancé want to do, everyone else will love it if you love it!"
Such simple, wise words of advice, which can all too easily be forgotten in the crazy emotional process that is wedding planning, thank you Sarah!
A very big thank you to the lovely Sarah and James for allowing us an insight into their gorgeous outdoor celebration, and of course a huuggeee thank you to the wonderful Gail of Rooftop Mosaic for these gorgeous images.
Em x