Either you lovely lot are upping your wedding game, or I have become even more romance-obsessed now that I'm without my own big day to plan. Both of which seem very plausible, and I seem to helplessly fall in love with every single celebration that graces this most-glorious of wedding blogs recently, from atmospheric seventies Bohemia to bold, handmade happiness. Greedily devouring the delicious inspiration-fest that Annabel is serving up like its pizza and I've just got home from work, I'd like to add a sprinkling of Italian sunshine (for the second time today) and obscenely romantic floral joy to this feast of love.
Say 'Ciao' to Noemi and Chris, the gorgeous pair we can thank for this glimpse of Puglia in April, resplendent in its charming history and burgeoning springtime greenery. Tenuta Luca Giovanni played host to all manner of perfectly styled wedding delights, from cigar bar to impressive photo booth, all with a little help from Amoretti wedding planners. I cannot decide which of these images from beloved Little Book for Brides lovelies Olliver Photography are my favourites. Light is captured so expressively, with both the warmth of sun drenched happiness and the atmospheric interior of European wonder shown so vibrantly. You can see more of Olliver Photography's impressive work that we have shared here.
"Christian our photographer was fantastic, made us feel calm and worked hard. As you will see from the photos, he captured the day perfectly. Also, the little touches provided with the quote and delivery of the final wedding photos was thoughtful. We would definitely recommend Olliver Photography."
Photography by Olliver Photography
"The focus for us was the venue, the food and the music. We wanted our guests to feel relaxed and have fun, we didn't want there to be a moment where anybody got bored, hungry, tired or thirsty. The venue offered a selection of different areas, which meant the pace of the day was fast and full of surprises.  The wedding décor etc. came together organically as the time went on and we created a mood board with our planner."I cannot help but dive straight into dress discussion, with Noemi wearing an embellished vision from none other than Jenny Packham, the 'Noa' gown combines sultry goddess vibes with feminine detail and breezy wearability (basically everything you could ever ask of a dress). Purchased at Exquisite Bridal Couture, Noemi was drawn to the way the dress fit, such beautiful back detailing and thoughts of just how glorious it would look within the confines of Tenuta Luca Giovanni.
Jenny Packham also provided the bejewelled hair piece that united in shiny glory with these Sophia Webster beauties. Framing all of the loveliness was a cathedral length veil from Blackburn Bridal as the classic scent of Chanel Coco Mademoiselle permeated the air around our bride. Victoria Percival gave our bride gloriously glowing skin and gentle, cascading waves.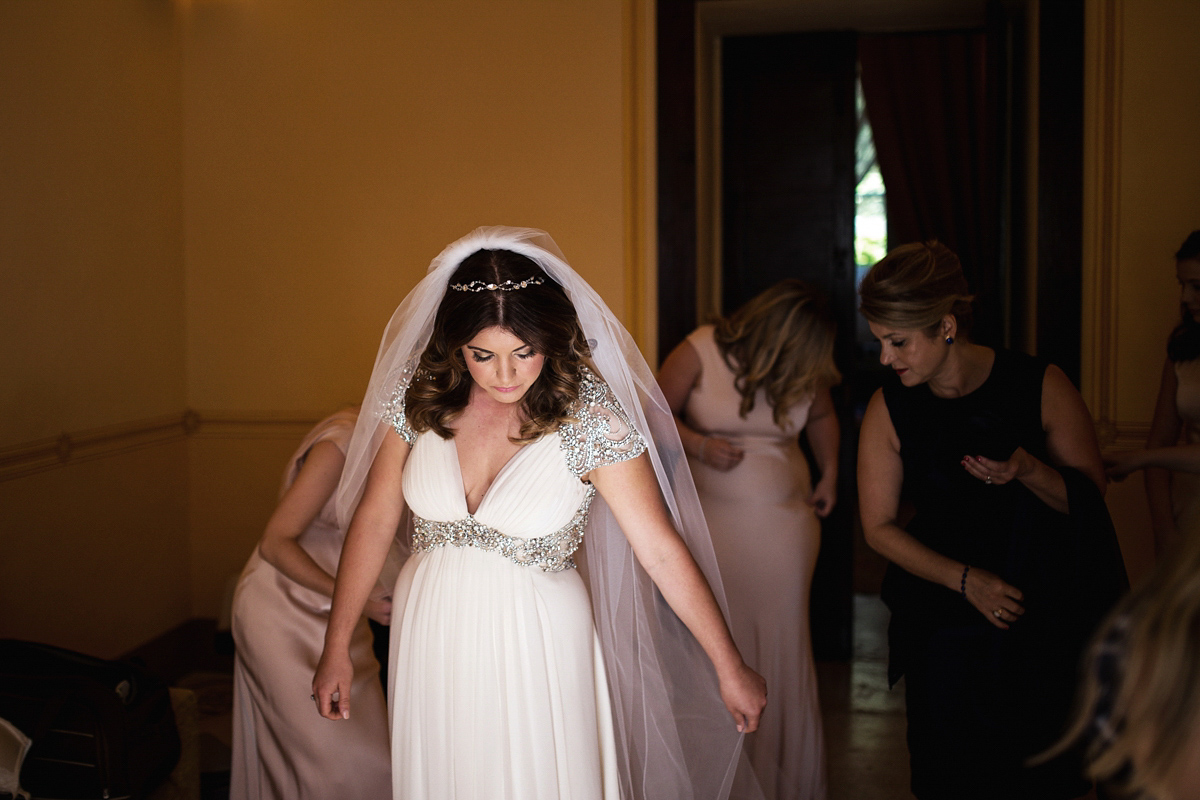 Combining the classic embellishment of a Jenny Packham dress with the idolised sleek silhouette of Coast bridesmaids dresses earns Noemi some serious brownie points, add to that bursts of berry blooms and pastel ribbons and you have yourself some awe-inspiring squad goals of the most refined variety.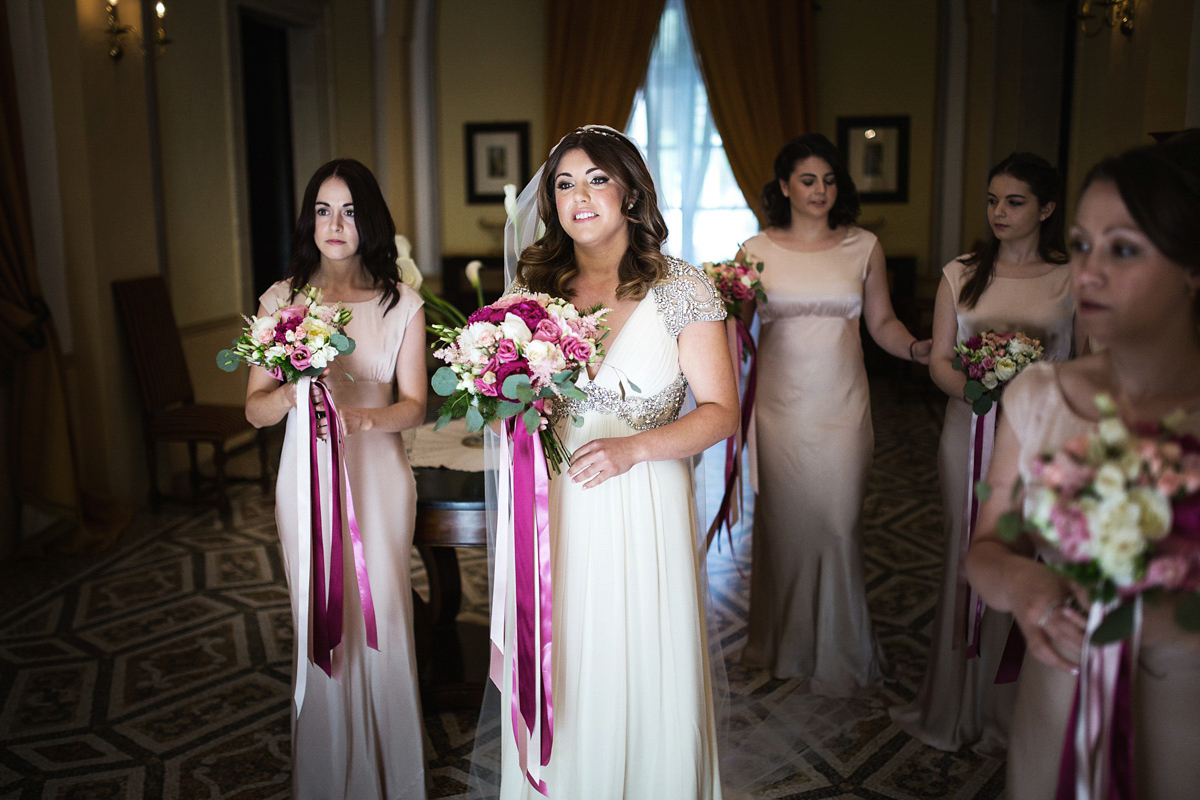 "I used to travel to Puglia on holiday as a child and we both have Italian heritage and family still based around Italy. Puglia is reasonably unknown as a holiday destination in Italy, we thought this was a good opportunity for people to visit a place they wouldn't usually visit, at a reasonable price."
"We chose Spring time as it's our favourite time of year and all the flowers are in bloom, it's also no too hot to wear a suit or wedding dress."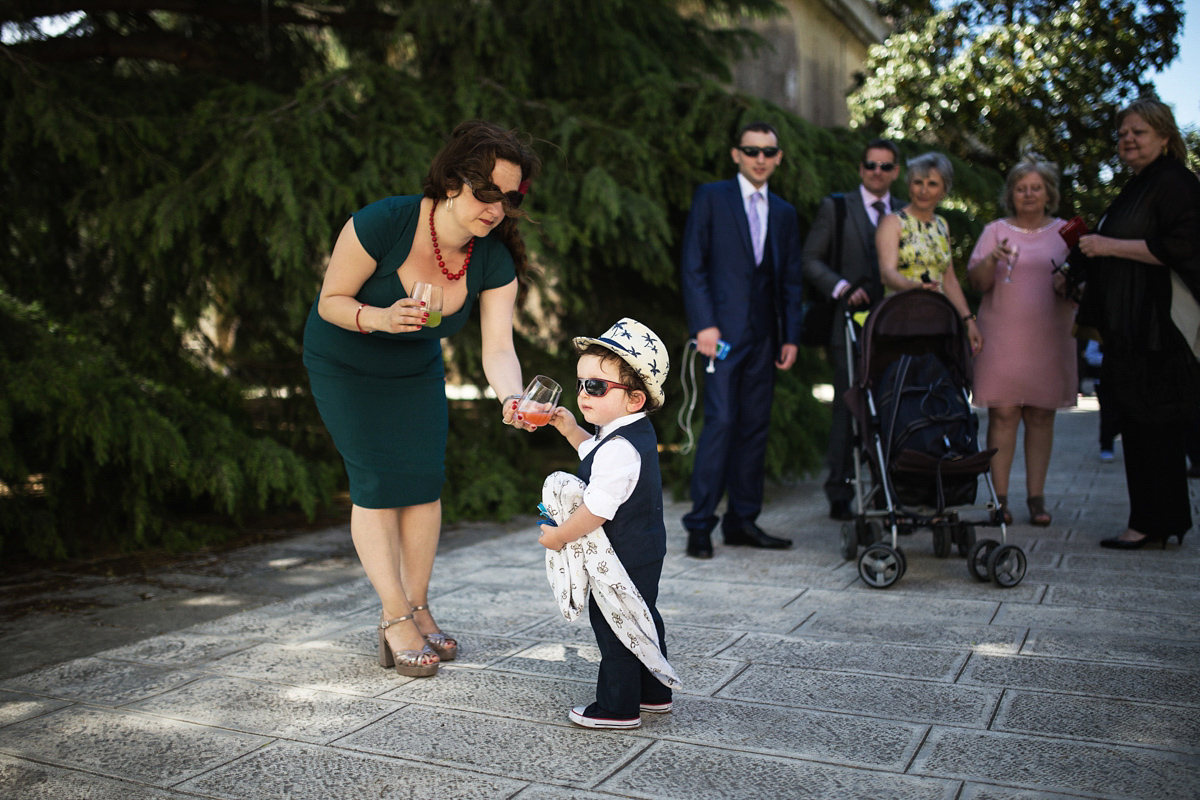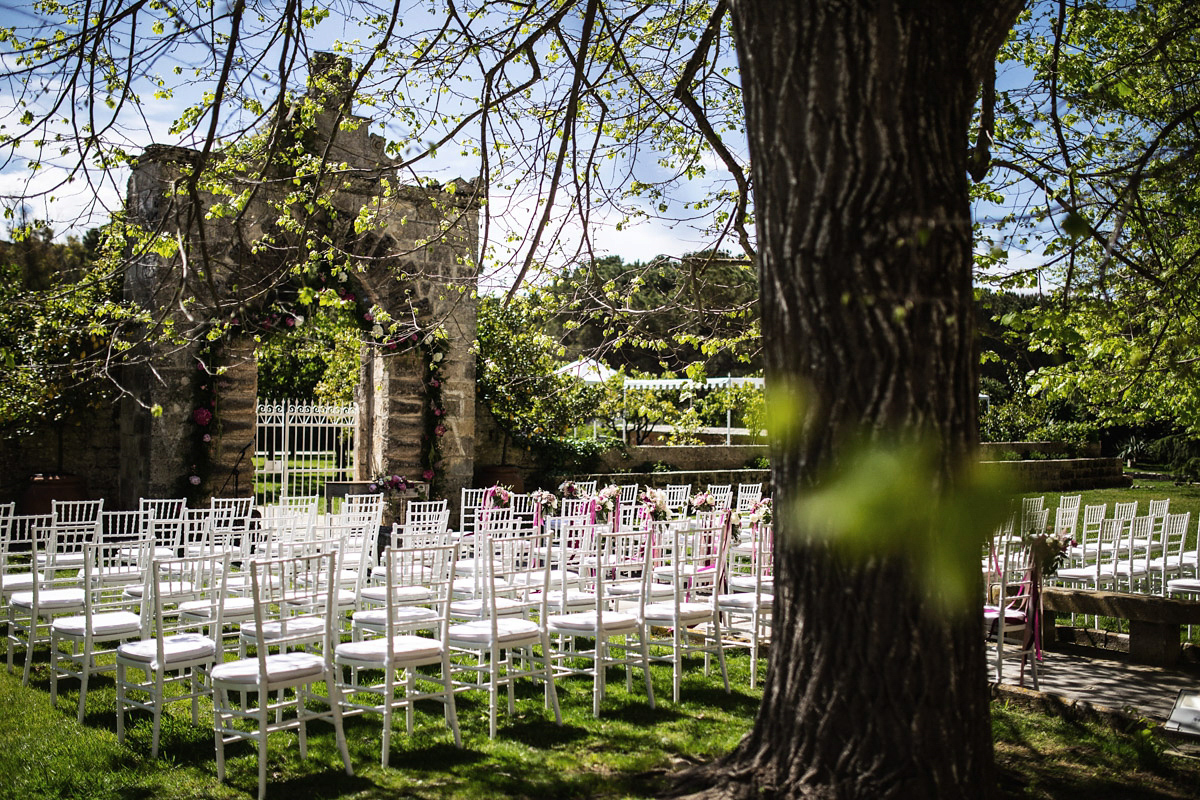 Groom Chris rocked an Austin Reed Bespoke suit and Oliver Littley shirt with a Paul Smith tie and I love the addition of a Alexander McQueen pocket square and vintage cufflinks.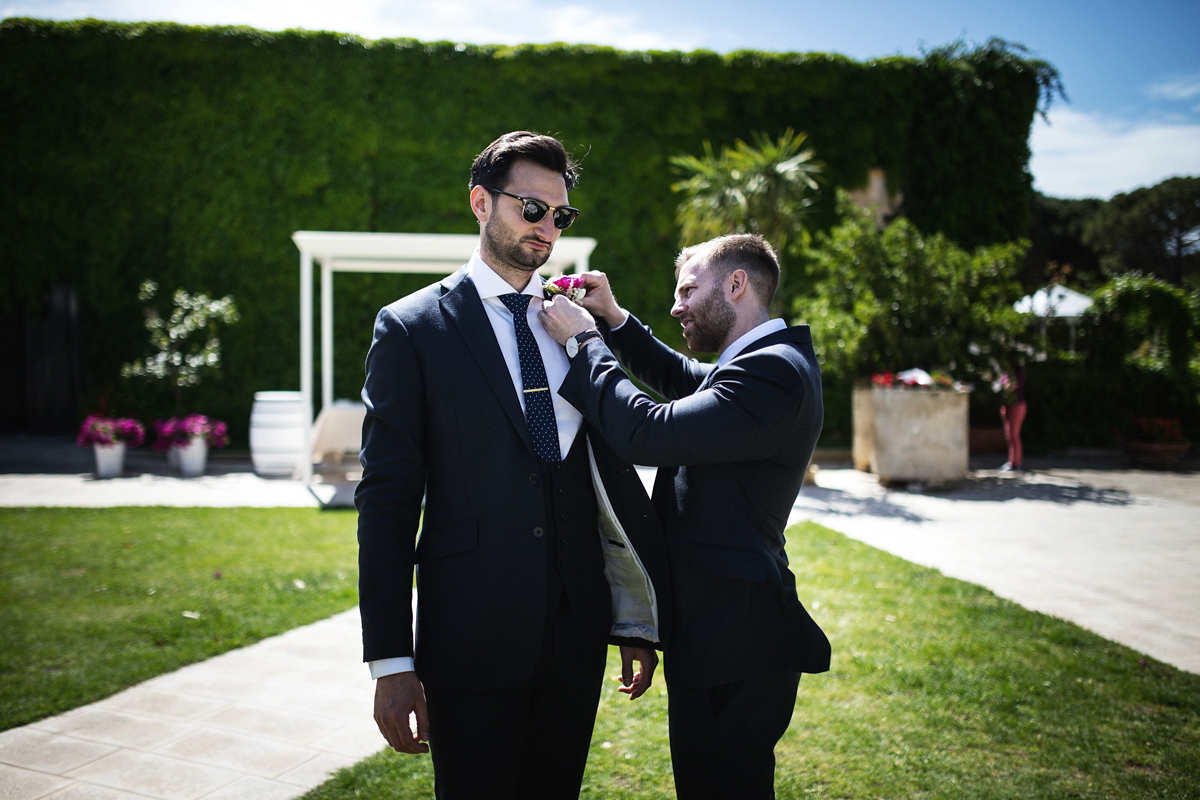 Noemi stepped out into the spring sunshine with her father, clutching spectacular blooms by Rollo Fiorand as she moved ever-closer to her nearly-husband. The garden was filled with the moving sounds of 'The Book Of Love' by Peter Gabriel, emotional loved ones and the citrus scent of the surrounding lemon trees. After making personalised vows to each other in front of the florally-adorned arch, two readings were chosen to further reflect the couples relationship.
Does anyone else love to read about how two people came to be together as they gaze at the resulting, glowing wedding images? It solidifies my awe and total belief in marriage and meeting that one person who completes your world, becoming your best friend and partner-in-adventures.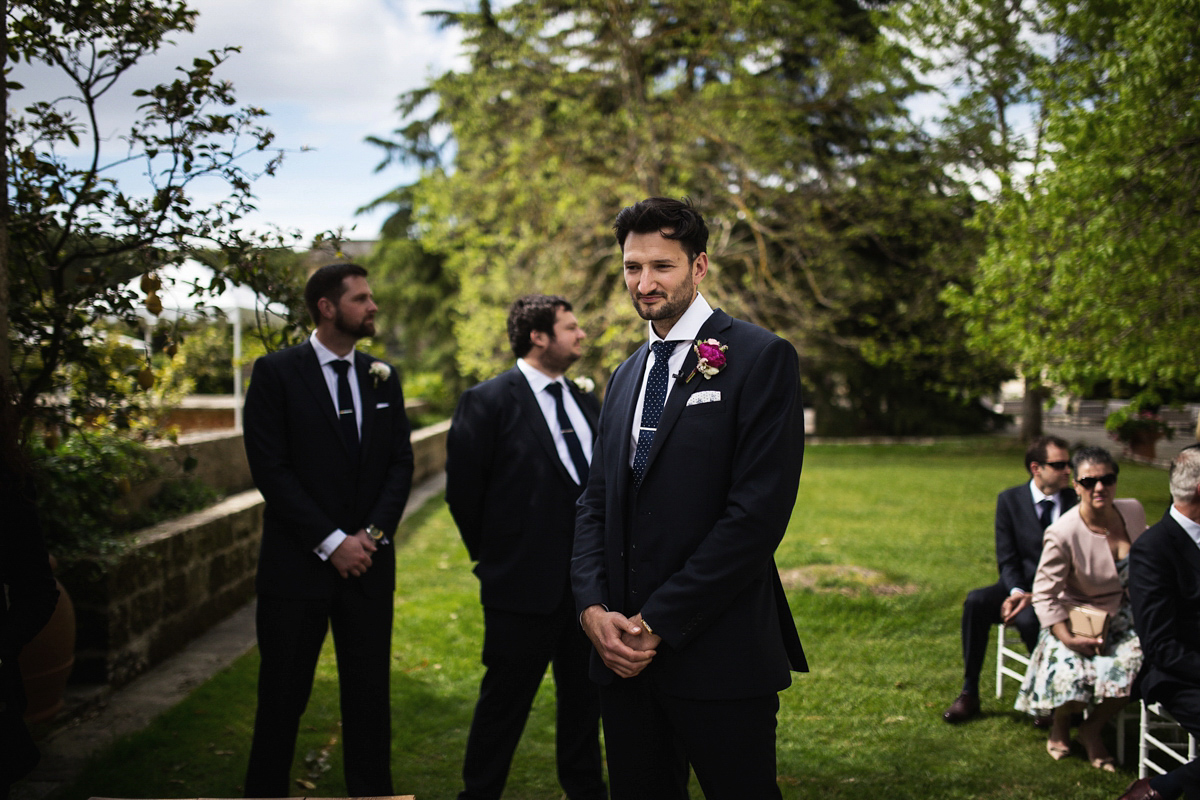 Noemi and Chris have the most sigh-inducing Italian proposal story that I just know you need to hear.
"We met through mutual friends in 2003. After a few dodgy first dates and spending time apart whilst I moved to to New Zealand for a year, we knew we were meant to be together. We got engaged in Venice Italy 2012."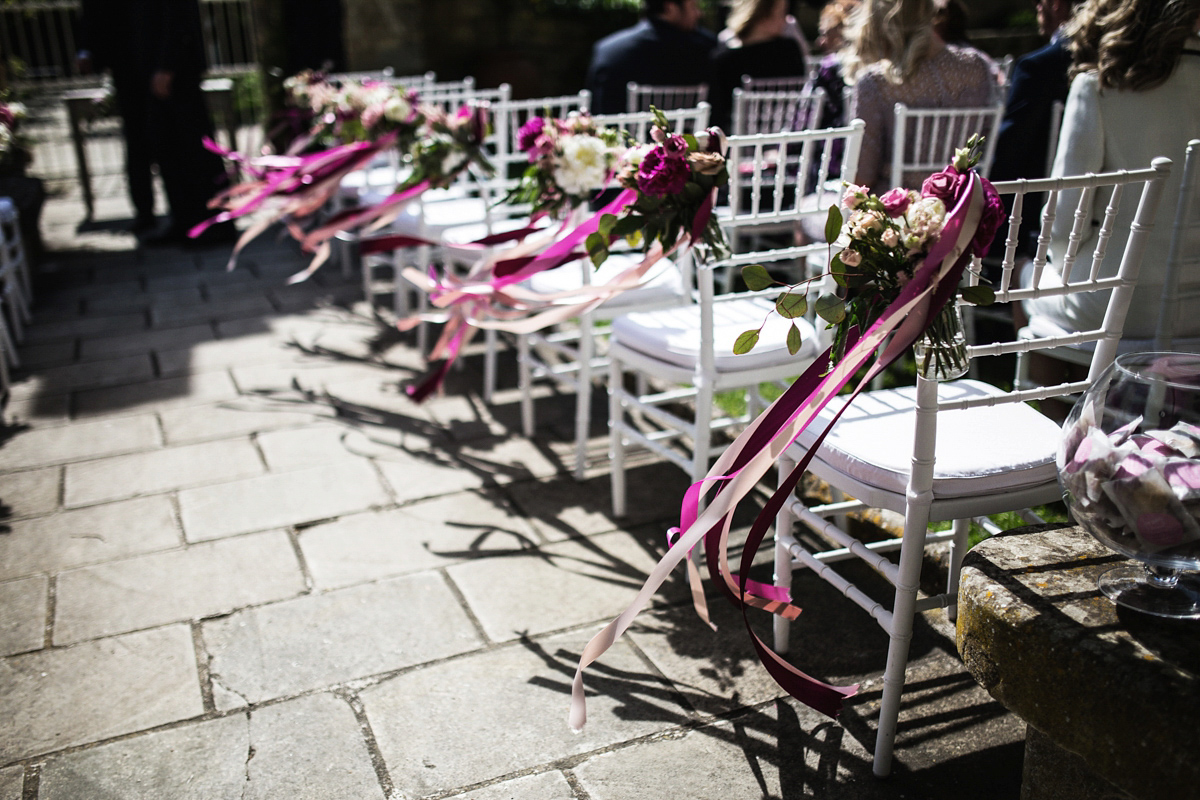 "Chris surprised me with a weekend away to Venice claiming it was my birthday present. He had been acting strange for a few months and I couldn't work out why. My Mum kept suggesting that I get some new clothes, get my hair and nails done and I just thought she was being bossy, little did I know Chris had asked my parents for permission to marry me."
"Chris picked me up from work and said we had to rush home to which I was disappointed, as I thought we were going for dinner. When we arrived home, I was greeted with packed suitcases and an envelope. Chris had been working away in Egypt and whilst he was away he had a scroll written in hieroglyphics, which said Venice. I was so excited as it was a few weeks before my birthday and assumed it was an early birthday present."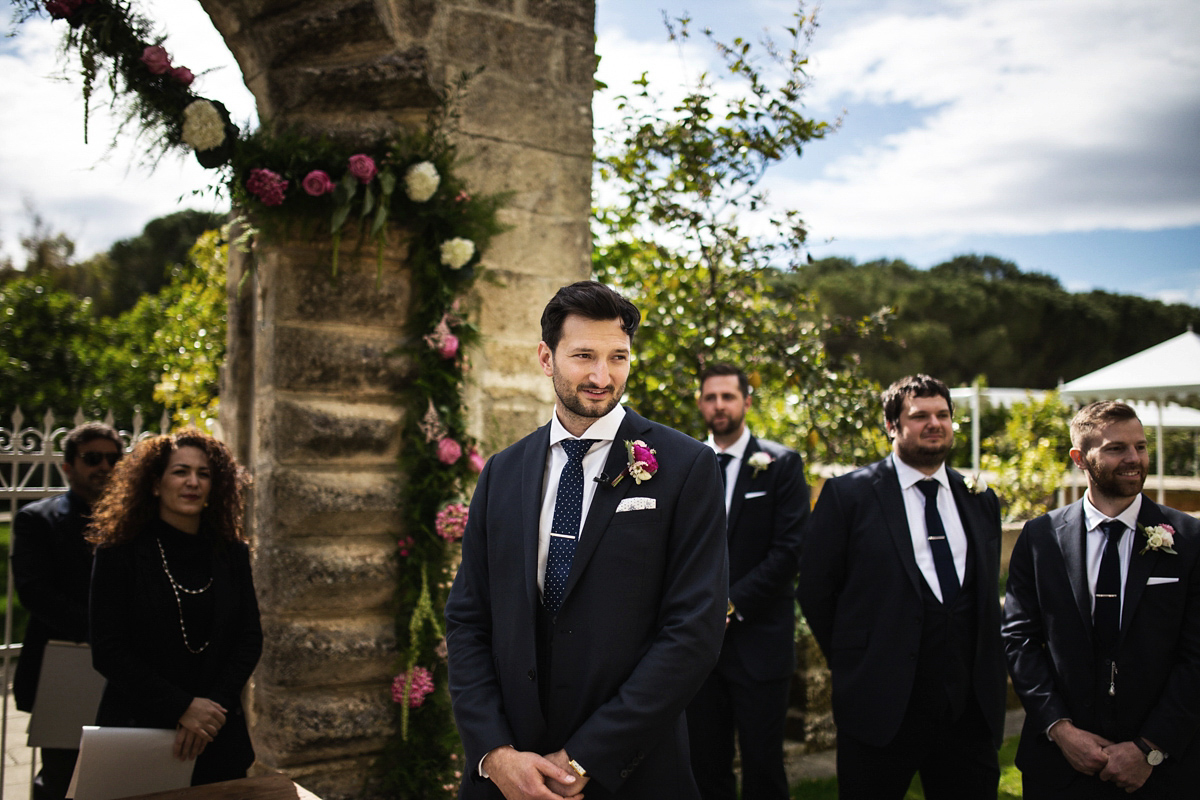 "When we arrived in Venice we stayed in Hotel Noemi and it was so quaint and pretty. We had some beautiful days strolling the streets, eating gorgeous food and even a little gondola ride. One morning Chris woke up and said I had to dress up as we were going out for lunch, he played it casual and said if I didn't want to go we didn't have to (what he would have done if I said I wasn't up for it I don't know) we went to the waterfront where we were greeted by a private water taxi and whisked of to Hotel Ciprianni. When we arrived, the waiter led us to a private table in a garden overlooking the water."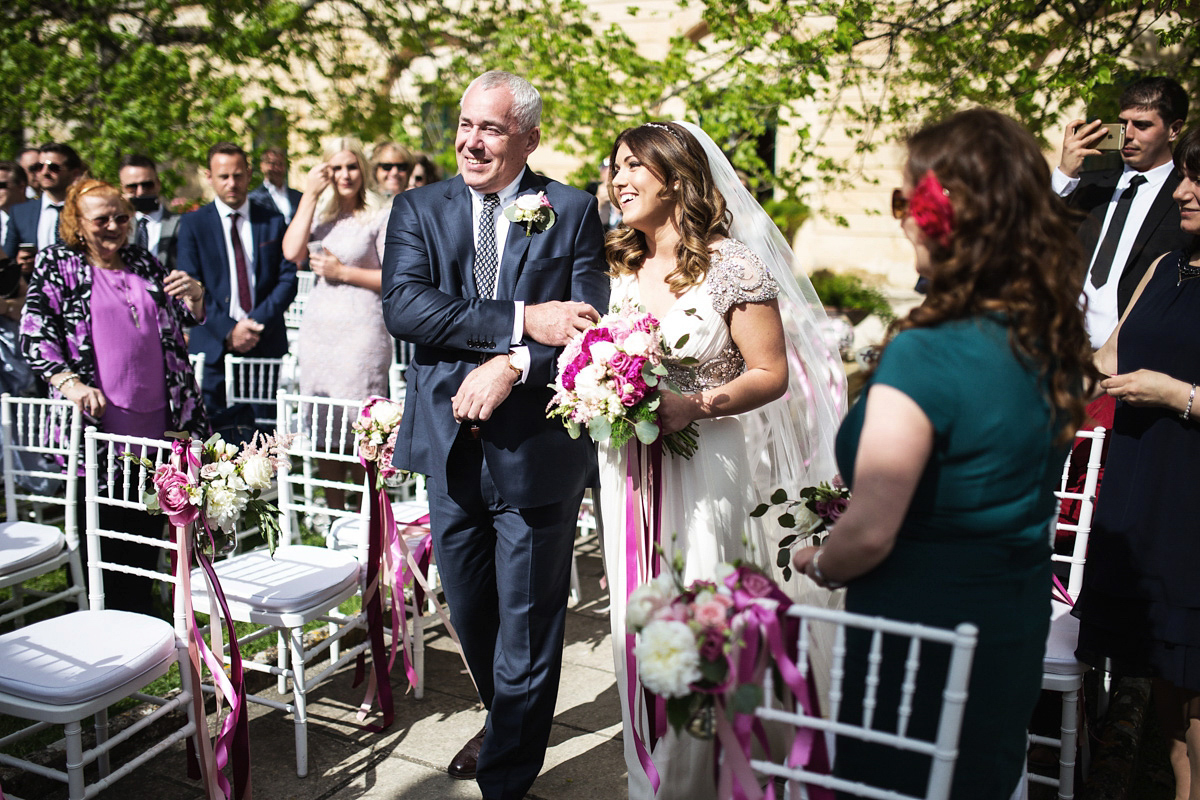 "We ordered two peach bellinis whilst we looked over the menu. Chris began fidgeting with his wallet and I was still clueless, he promptly said Noemi you didn't think I would bring you here just for your birthday, to which I replied, why not? He said I love you and I want to spend the rest of my life with you, to which I darted my hand across and said yes. It turned out Chris had been having my ring made and that is why he was acting strange. He chose a tanzanite and diamond ring as tanzanite is rare and running out."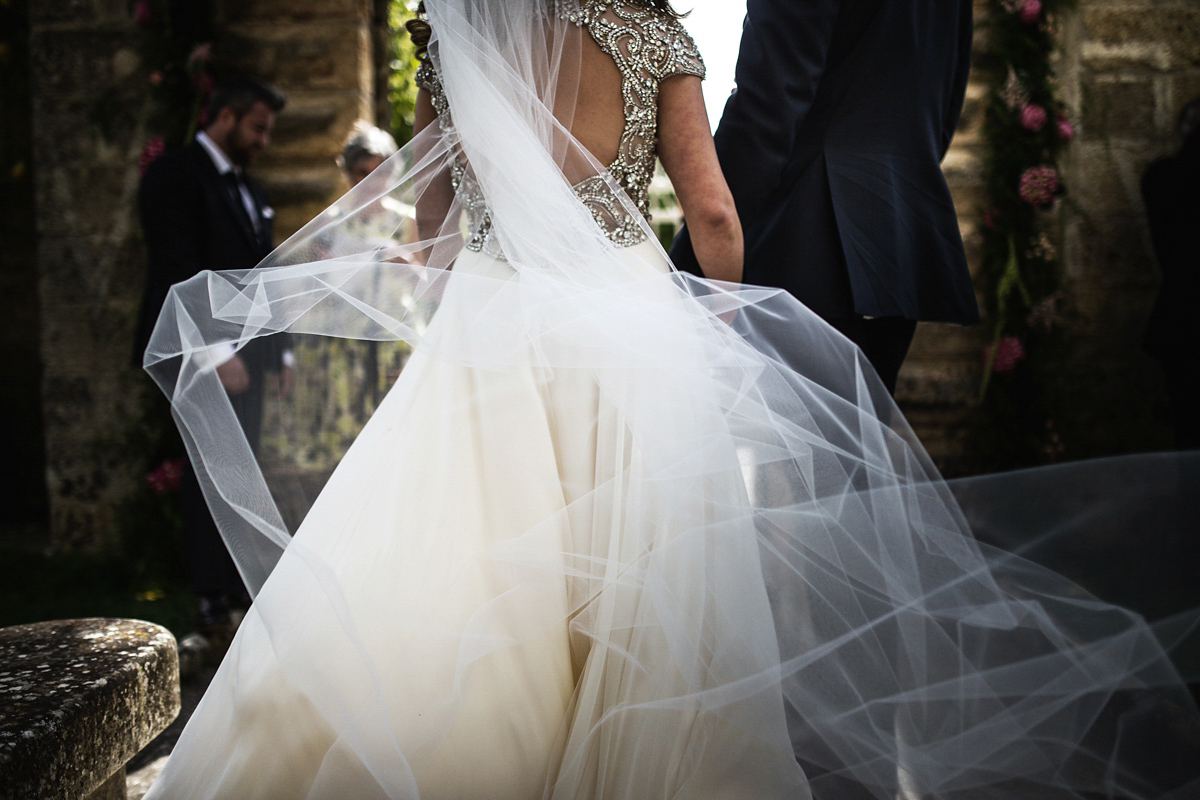 Polished elegance, classic Italian glamour and rustic charm were provided by the bucket load at Tenuta Luca Giovanni, as were delectable delicacies and all of the wine.
"We had decided we wanted to get married outside and have the ceremony and reception in the same venue. As soon as I saw the arch in the venue gardens I knew that was where I wanted it to be. I loved the feeling of being surrounded by old buildings and nature."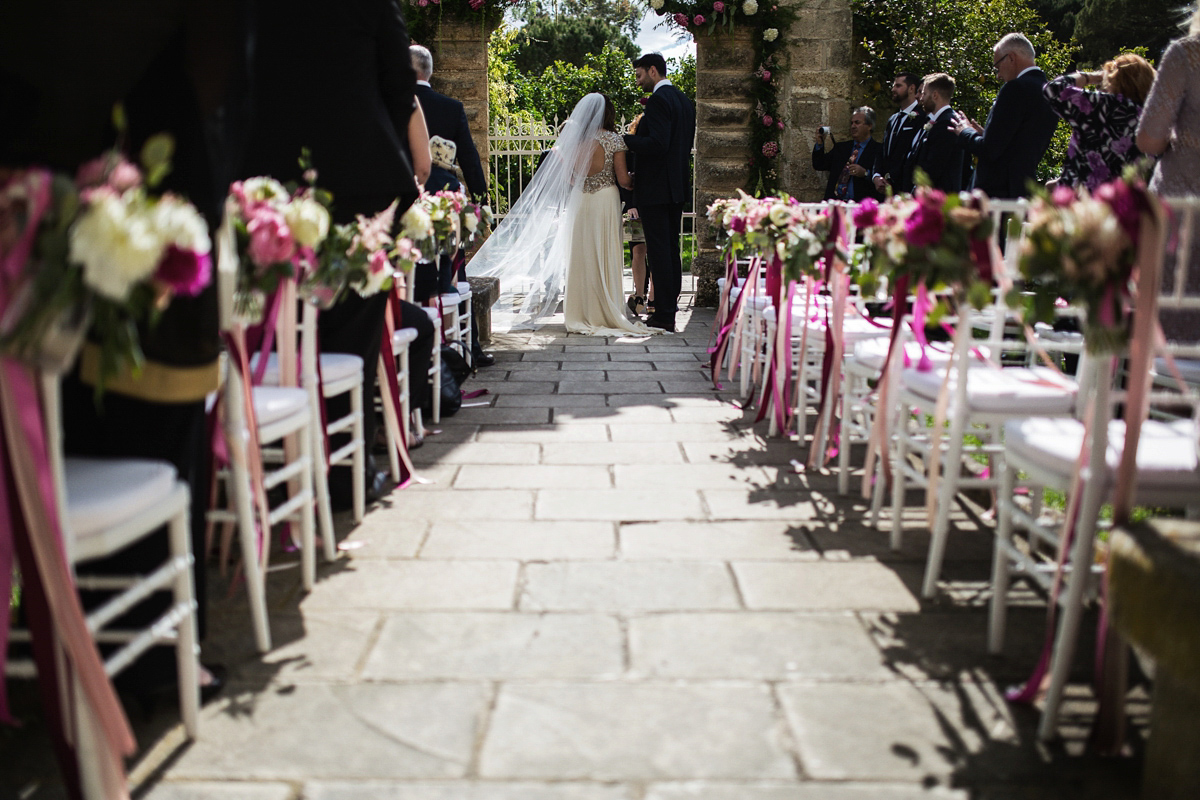 "We wanted our guests to have a glimpse in to our family and heritage and to see why we love Italy. The beautiful venue offered privacy and flexibility, enabling us to hold both the ceremony and reception in one location, either outside or inside."
"The venue also offered its own catering which was exceptional in both quality and quantity! As we asked guests to travel so far, we didn't want them to pay for anything on the wedding day. Tenuta Luca Giovanni was great value for money and enabled us to include all guest food and drink from start to finish to a very high standard."
Noemi, Chris and planners Amoretti added all manner of impressive touches and fun frolics to the sun dappled gardens, with the photo-booth making me actually gasp! Lawn games were revelled in, with a gelato cart providing authentic Italian refreshment and mini bottles of Limoncello adding pretty touches to the tables.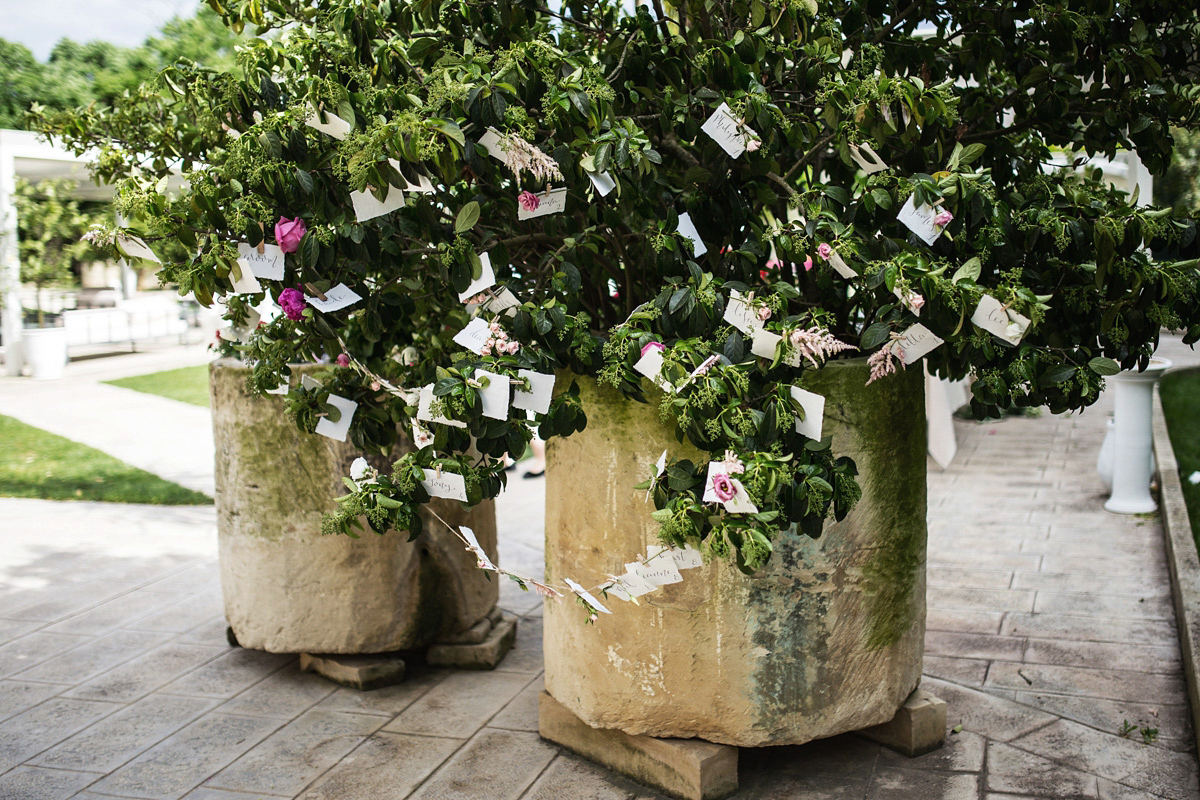 Piaggio vans were transformed into a cocktail bar and late night pizza provider (two of my favourite things) and the local, Italian produce served needs no explaining, only salivating over.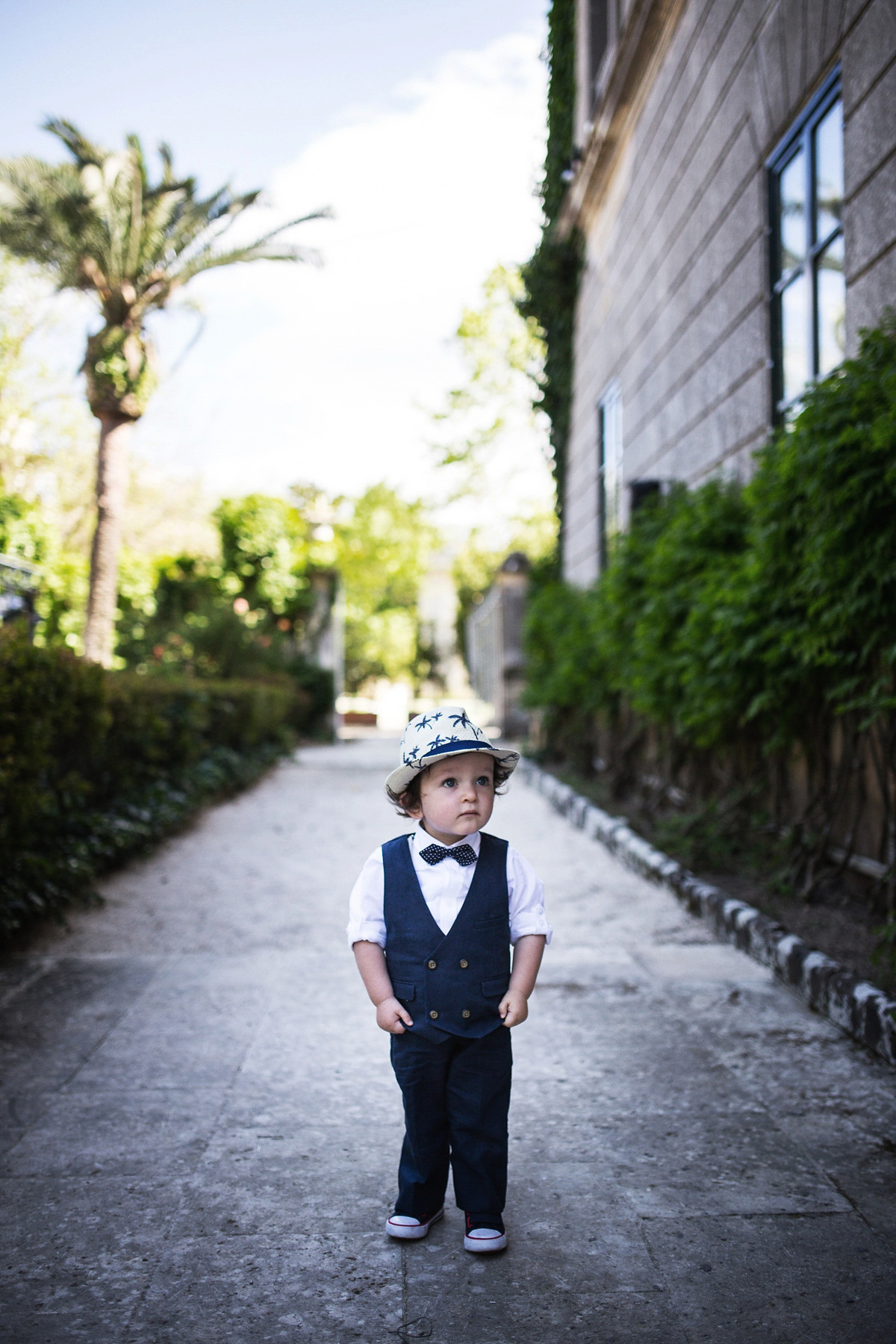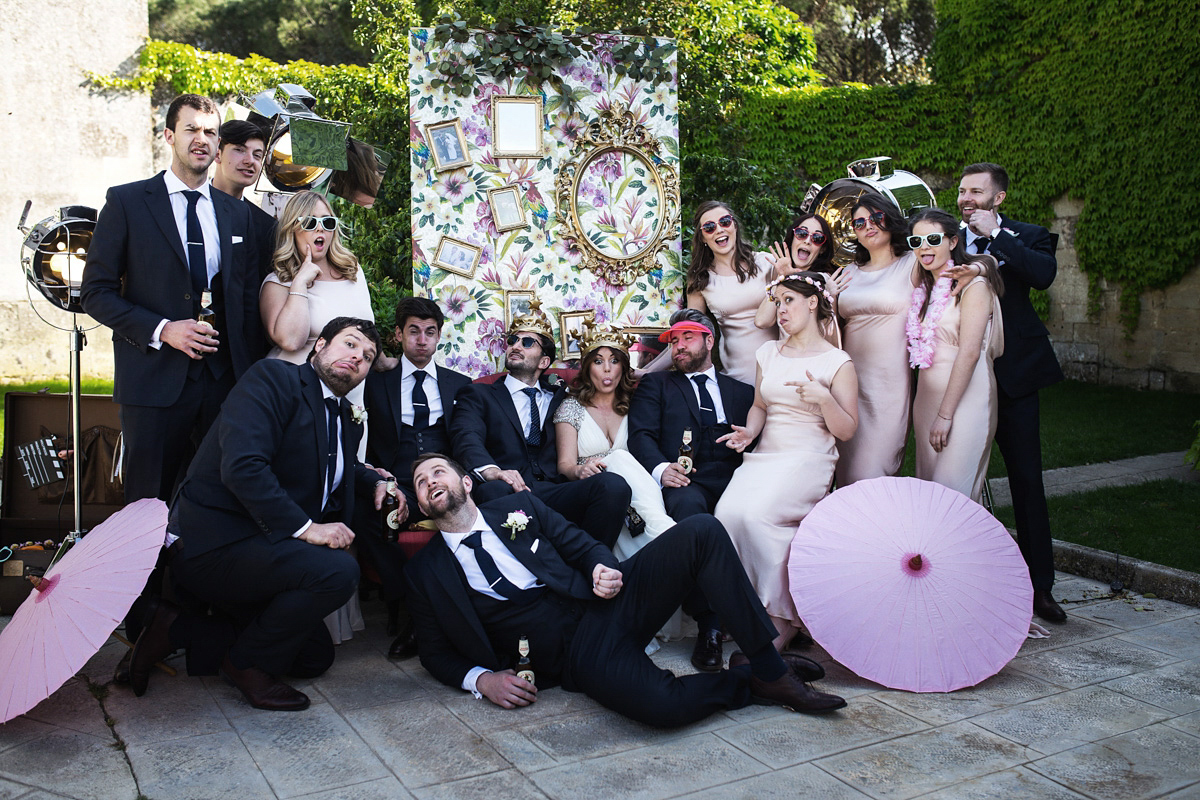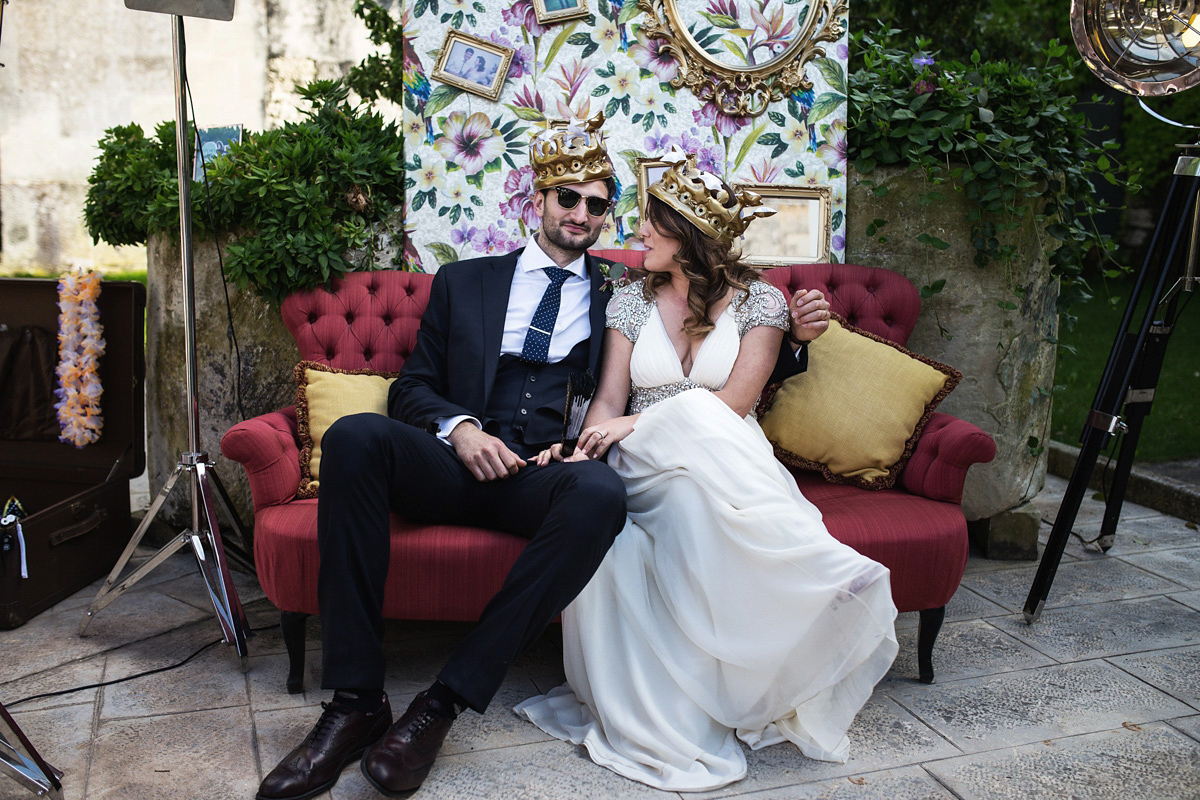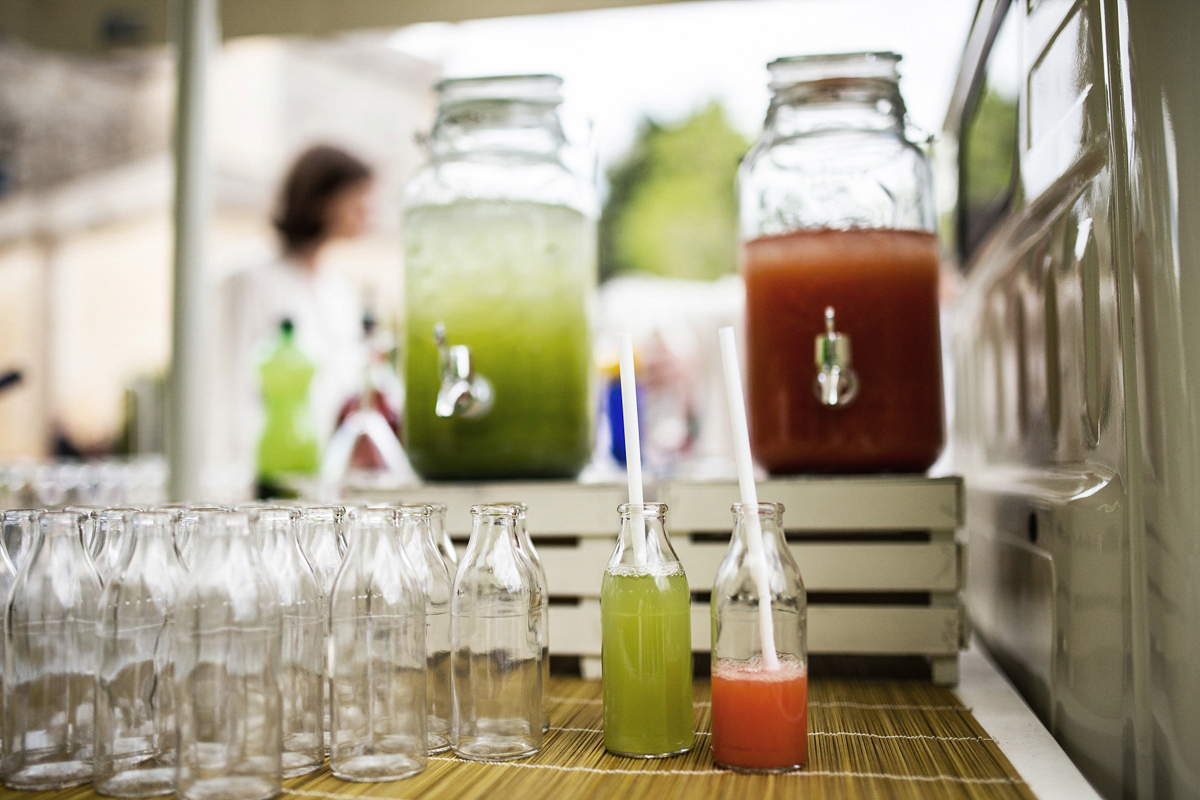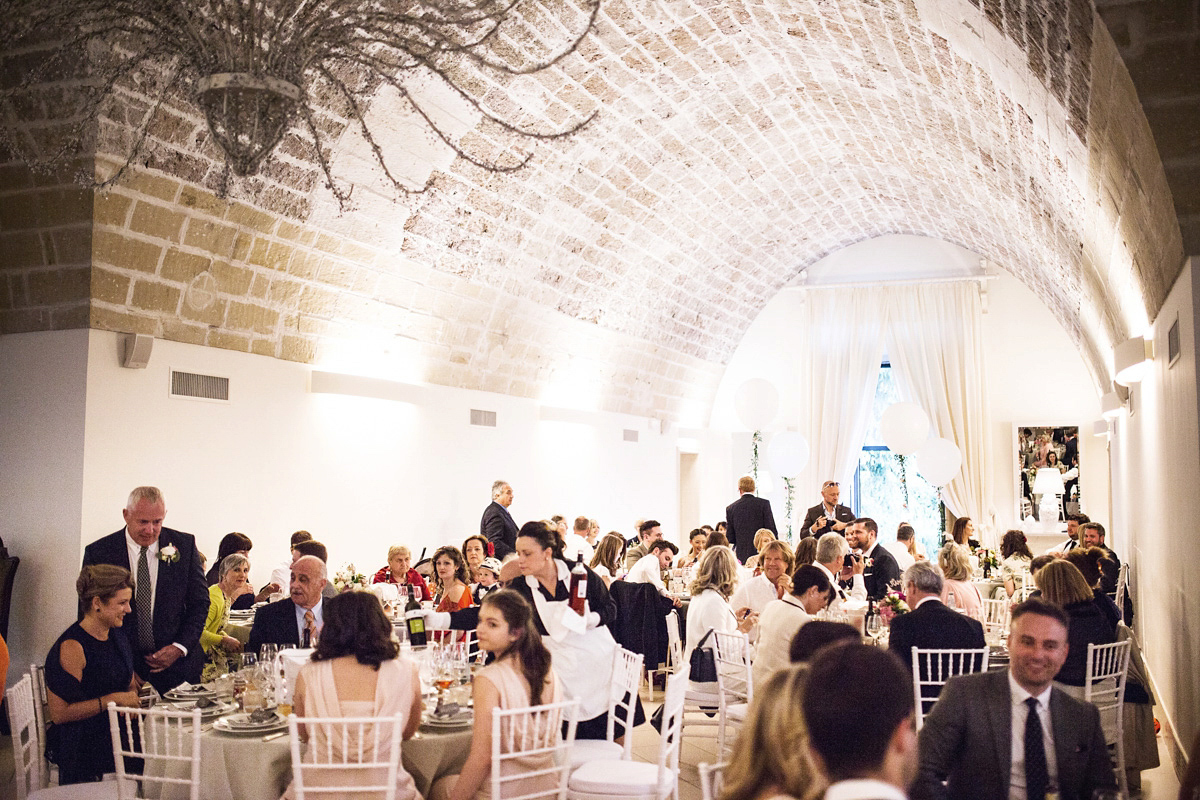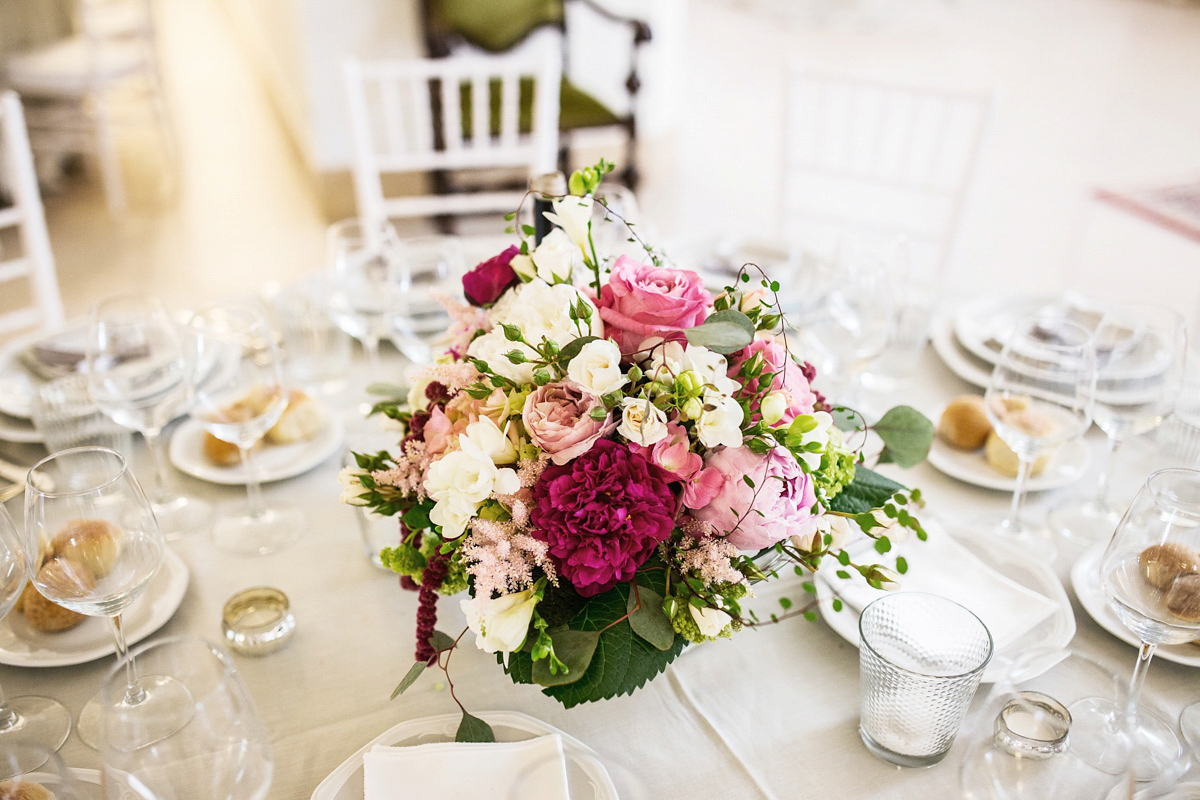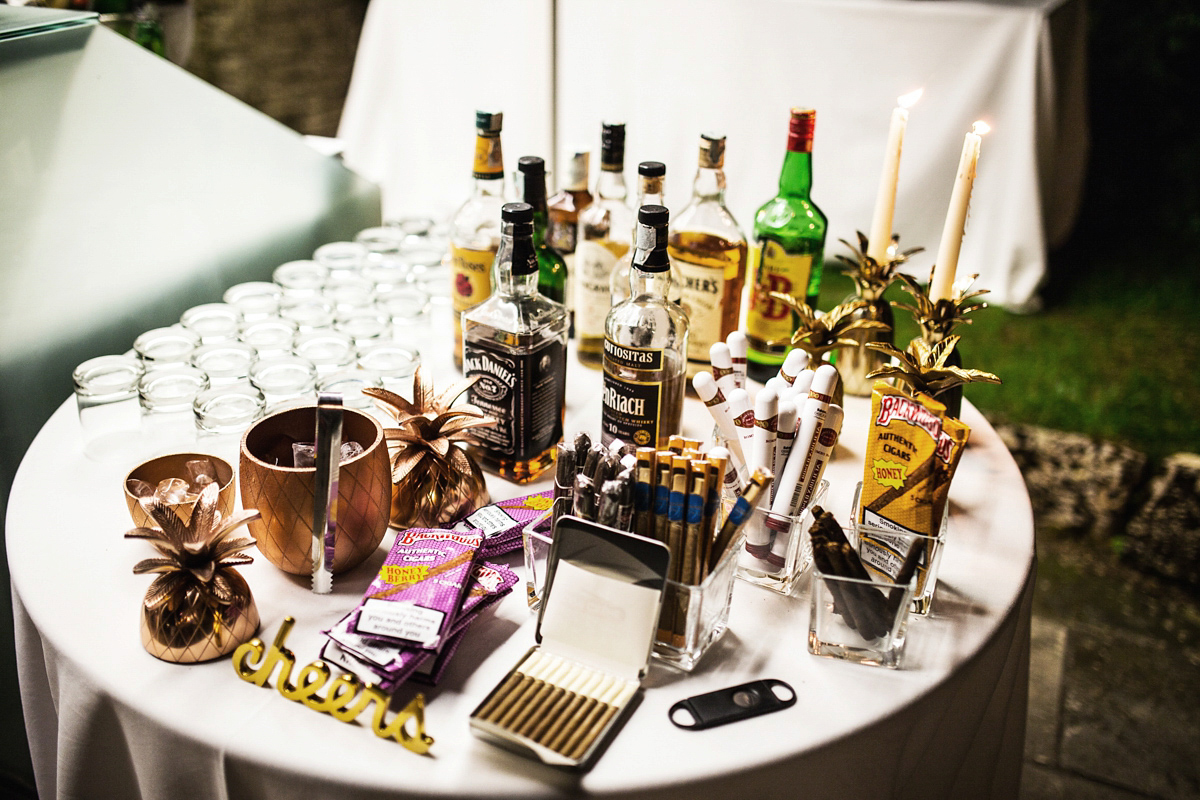 Evocative of the early years in Noemi and Chris's relationship, when it was played during early morning drives to the beach, 'Lovely Day' by Bill Withers was chosen as the first dance. Sparklers and fireworks added delights as guests danced the night away under the stars. Sigh.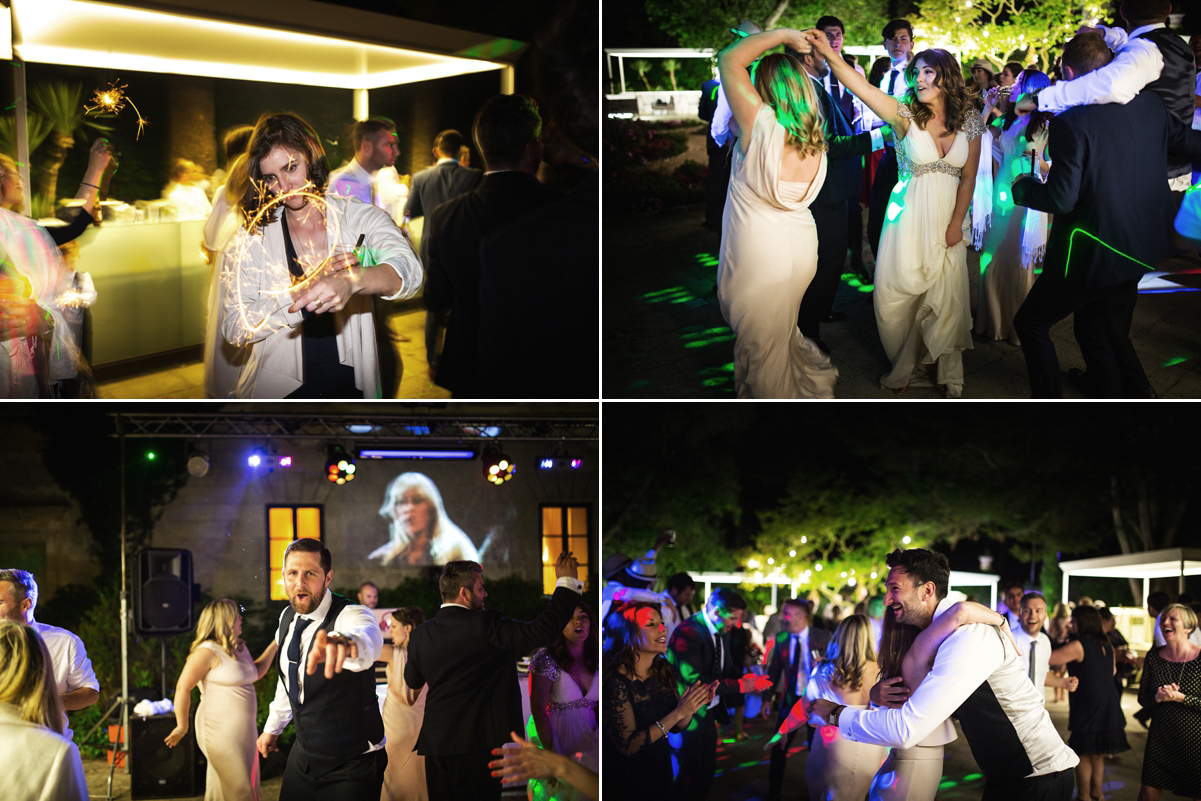 Words of Wedded Wisdom
"Make sure you and your new husband take five minutes to yourselves, we had a sweetheart table to ourselves for dinner so we could spend a bit of time together and see everyone enjoying themselves. Get the big things right and you won't notice the little things that might go wrong. Stop worrying about everyone else as it's your day and about the love you share with each other."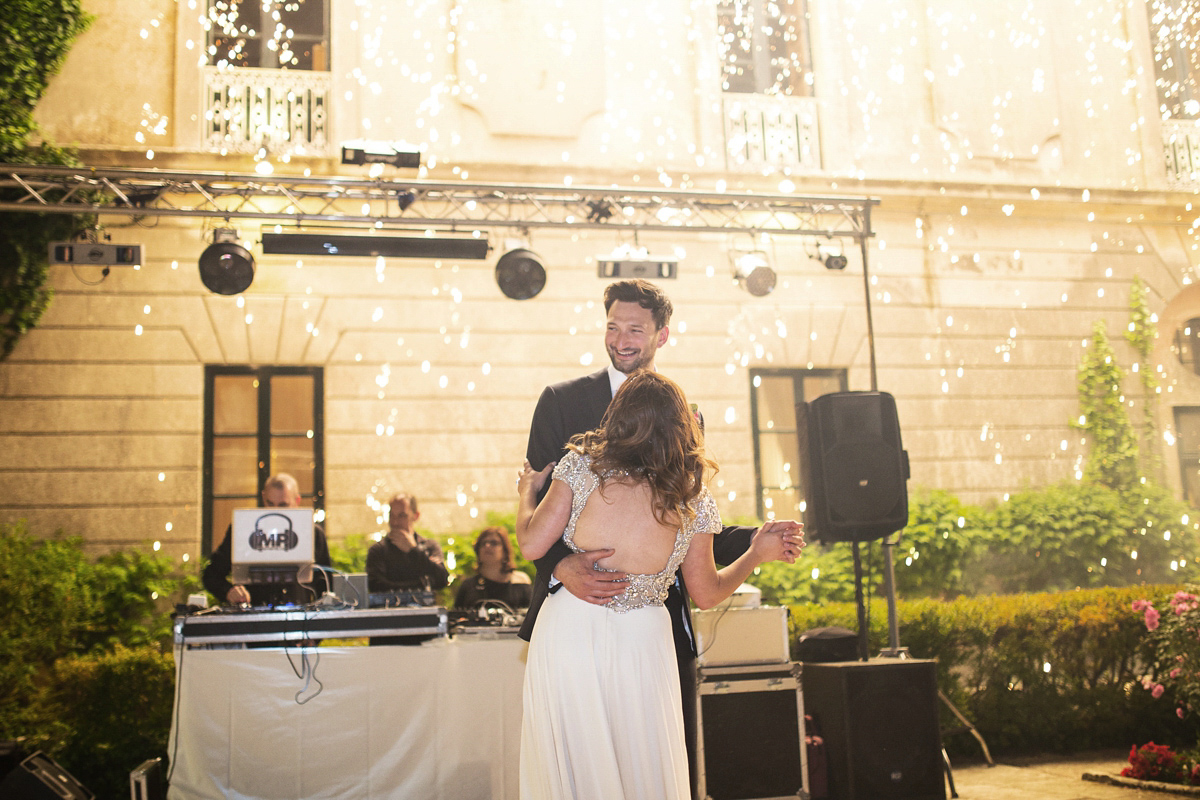 Huge thanks to Noemi and Chris for spoiling us with such lavish celebrations and beautifully thought out touches, it's felt like a tiny holiday to an sublime destination, so thank you to Olliver Photography for allowing us to come along. You can stretch out your Italian vacation by clicking here for more bellissimo nuptials.
Emily D, I need time to speed up so that we can be in Italy celebrating your sun-soaked day!
All my love,
Emily C