Whilst I'm taking a little step away from writing real wedding features to focus on some big Love My Dress projects (that you'll all benefit from, I promise), there was one wedding I simply couldn't let anyone else write on my behalf. Beautiful bride Helaina first came to my attention back in May last year, when she sent me a touching email to express her thanks for Love My Dress and all the inspiration it had provided for her wedding; 'I am quite literally a self-confessed Love My Dress 'groupie' and I think 90% of my wedding suppliers are from your Little Book for Brides which was an incredible idea – thank you so much.'
'We booked our photographer, the marvellous Rik Pennington, as a result of reading all about the divine wedding of Clara Francis. Such a powerful, heart-warming and emotional story, which as a mother of three, really resonated with me. Since reading that, I have been hooked, and think I have probably read about every captivating little detail and swooned over every beautiful photograph posted every day, ever since.'
Photography by Rik Pennington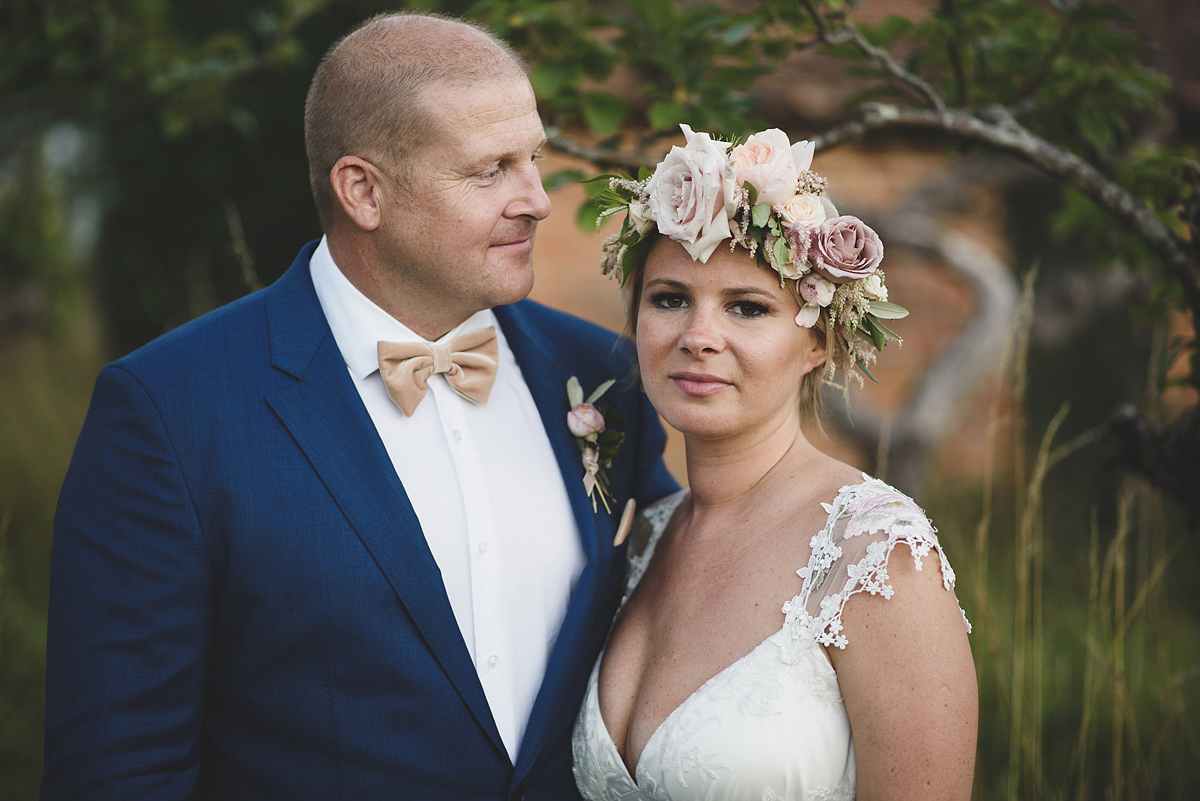 'Not only have you inspired most elements of the wedding day, but you have encouraged me to embrace my individual style in general and worry far less about baby-weight or the thoughts of others, and more about what matters – the love, joy and beauty of it all. You really have made an impact in not just my wedding planning process but my entire daily life.'
'I am SO excited about the big day in France and really really can't wait to share it with you; we have India of Vervain Flowers travelling with us to do the florals – she is a genius and now a very lovely friend. Clara Francis herself has also designed me the most stunningly intricate and ethereal hair comb. I will say a little prayer for her daughter Maude when I wear it. I adore Clara  – what as special, strong and delightful lady.'
'Mark Brown Films is also joining us – legend! I feel so lucky to have him on board.'
Film by Mark Brown Films
'They are all flying out to France – which is just wonderful. I'm all for supporting the UK. I have bought my Claire Pettibone 'Papillon' dress from gorgeous Russell at Blackburn Bridal Couture – eeeek! And a beautiful pair of Rachel Simpson shoes for the 'legal bit' in Westminster too.' (<– click to see Helaina's London wedding).'
Helaina works as an Executive Assistant in the Finance Industry – she is also proud mummy of three and newly appointed Wedding Designer at Helaina Storey Wedding Design. She married her beau Dan, Owner of a Flooring company, on 6th August last year with a beautiful ceremony at St. Thomas Church in Excedeuil, followed by the most wonderful reception at Chateau La Durantie in Lanouaille.The Dordogne, France. Now, I know I'm not meant to say this, but, this might well be my very favourite wedding of 2017 already. It's not even for the film, or the photographers, or the dress, which are all sublime, but for the sentiment and passion that lies in Helaina's words.
Let me explain a little further; 2016 was a dire year for lots of people, but for many, it was a year of celebration and love, a time when beautiful, precious memories were made and meaningful, heartfelt vows were exchanged.
Being immersed in weddings every day through my job, reminds me that there is still good and positivity and love in this world, and that those things are becoming more and more precious and should be celebrated and held on to with all our might.
For me, Helaina and Dan's wedding perfectly captures the reason for 'marrying' – there is a sense of ineffable joy and love within these images.
This wedding is heart-burstingly wonderful in every way and represents everything that I wish to represent through Love My Dress. I hope you love it as much as I do.
"Love My Dress inspired almost every single element of our wedding day from the venue and photographer to the shade of lipstick I wore. I think the colour scheme was even subconsciously inspired by the Love My Dress website branding!"
"Our theme was a bit of a fusion of English Country Garden meets French Boho Chic and a complete mixture of elegant and relaxed. It was really important to us that our wedding day was fairly laid back and family-friendly as we have three children of our own. The colour scheme was blush, sage and gold."
"Not only has the blog been fabulous in that respect but I adore how most features can be applied to general every day life as well. Although I am no longer a bride-to-be, I would find it impossible to tear myself away."
"The emotional, personal and thoughtful aspects as well as being sophisticated, classy and bang on trend (ahead of its time, in fact) makes Love My Dress THE wedding blog and just leagues ahead of the rest. Thank you so much, Annabel and all of the team. I don't think I have ever missed a feature, and feel like part of the family. There is just so much passion and warmth – such a wonderful community to be part of."
"Your blog is just worlds apart from all the rest! Also, I have not picked up a bridal magazine once. Just no need. And they don't cover anywhere near the ground that you do on such a wonderfully personal (and incredible tasteful and stylish) level. Thank you thank you thank you – from the bottom of my heart."
"My wedding gift from Dan was our incredible hair and make-up artist from Paris, so I didn't expect for a moment that he planned to give me anything else."
"Dan is not a typical thoughtful/romantic surprise arranger, so I was blown away when he sent our Son into the bridal suite on the morning of the wedding, with a little bag containing the most perfect, dainty gold bracelet, which he had caught me admiring years ago."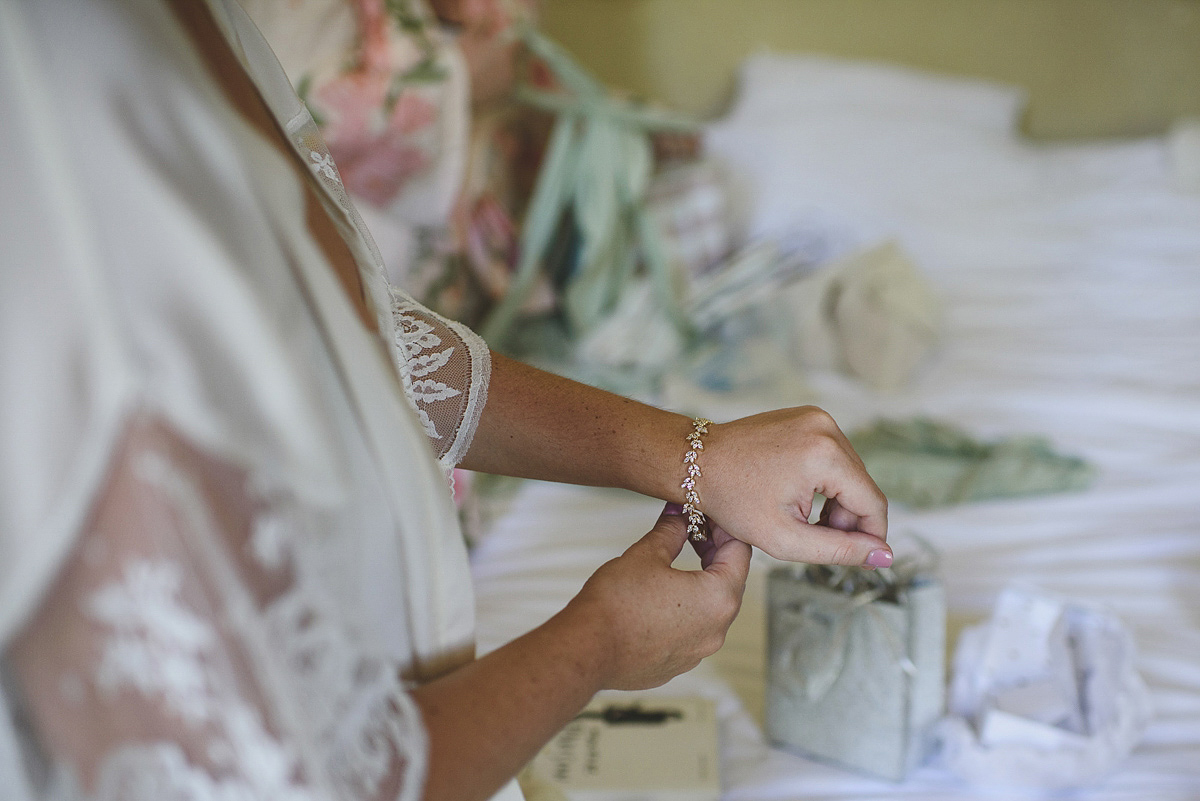 "I don't wear a lot of jewellery so it was such a special, delicate little addition to my outfit and subtle enough not to take away from the detail of the dress."
"My headpiece was by Clara Francis – Clara designed a bespoke hair comb to match my gown perfectly and it was the most beautiful, intricate thing I have ever seen. It's the perfect heirloom to hand down to my daughters and I absolutely adore it."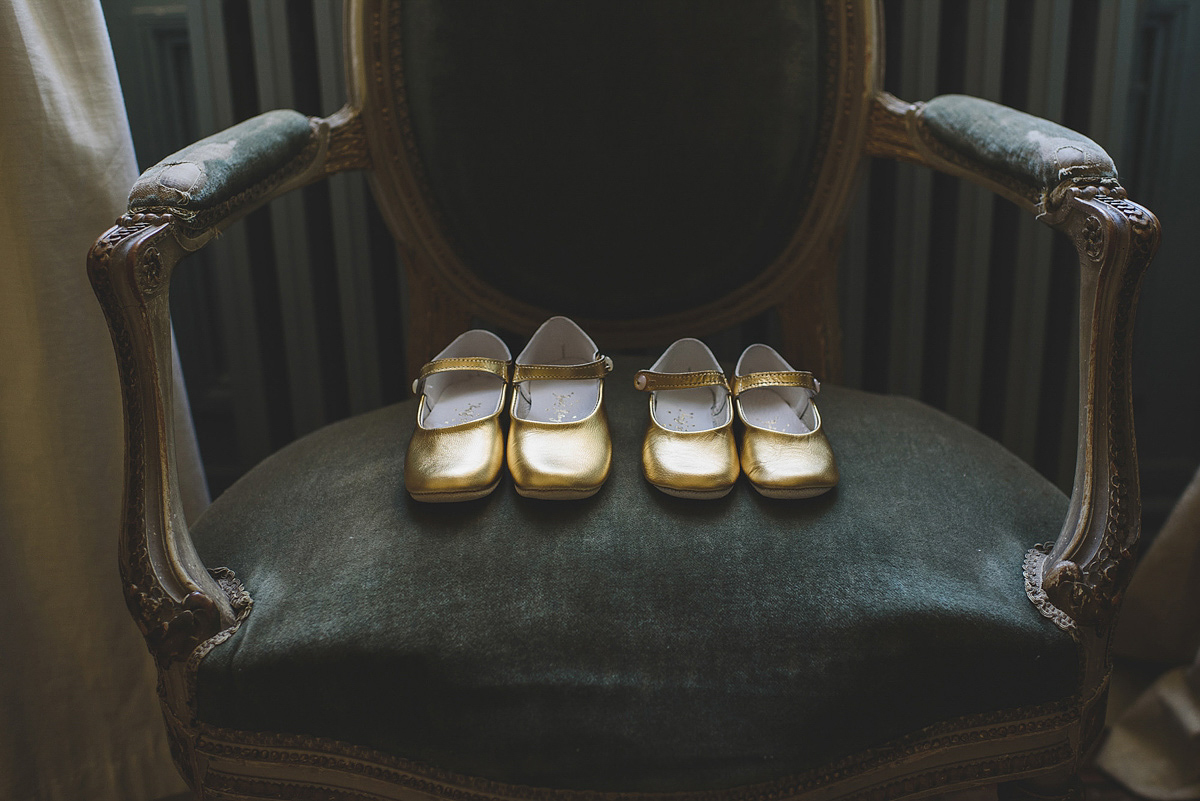 "India of Vervain Flowers blew my mind – amazing flowers were really important to us. We knew exactly the style of florals we wanted and just couldn't find this locally to the venue, so we went all out and invited India across the Channel with her 4 assistants and the result was phenomenal."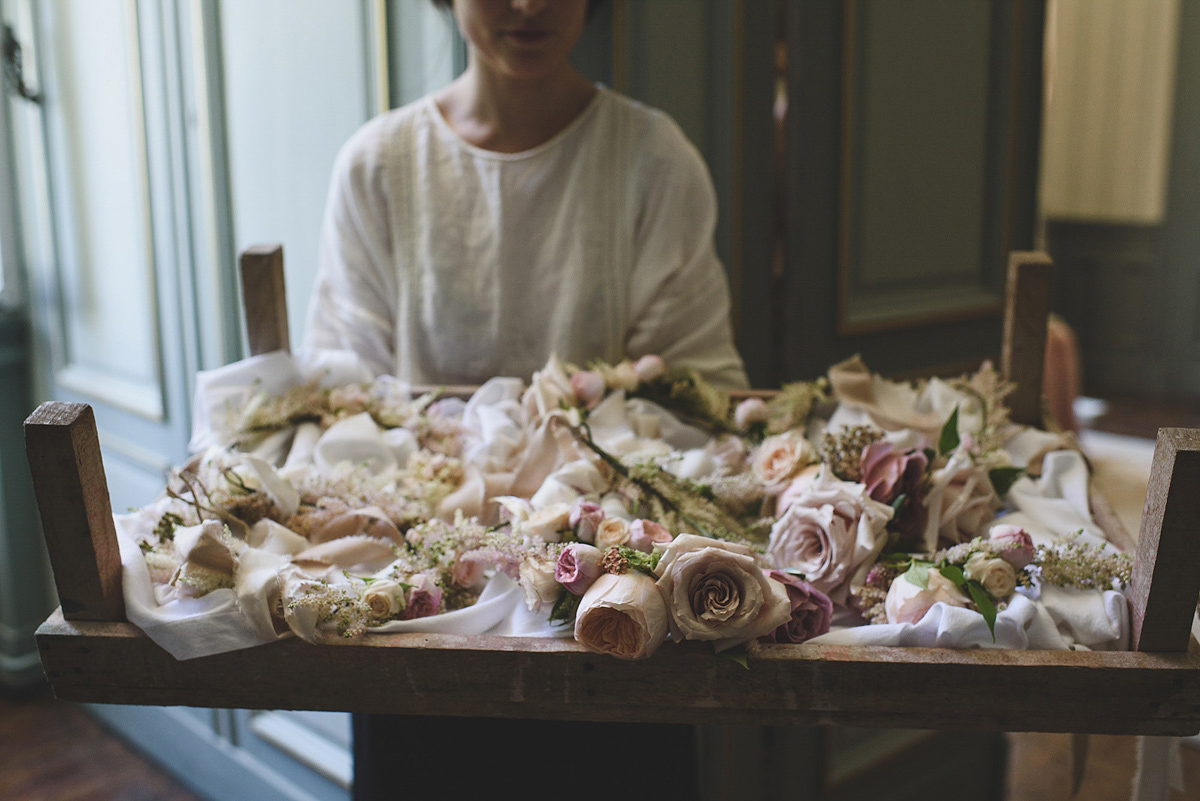 "Vervain's tagline 'orchestrated chaos' sums up her approach perfectly."
"I just loved the wild, natural unruly structure of her pieces and the colours and textures she used were absolutely divine. India was definitely one of our 'luxury items' and we had so many compliments on how incredible the table centres looked and the huge fabulous urns in the church, which we later had moved to the marquee. I've also made a very dear friend and loved sharing almost every wedding detail with her in the lead-up."
"The bamboo silk ribbon on our bouquets and flower crowns was from Lancaster & Cornish in the most gorgeous shades of blush, rose and ivory with 24 carat gold leaf."
"She understood our vision completely and we trusted her every step of the way. She is just the sweetest person and a total floral design genius!"
"My dress was a gift from my lovely Mum. I had 13 bridal appointments booked (I like to have plenty of options!) and was convinced I would be an absolute nightmare choosing my dress as I am very indecisive and was overwhelmed by such a diverse range of fabulous designers. I wanted one of each and only wish that I could dress every day of my life in Katya Katya Shehurina, Kate Halfpenny, Rime Arodaky and Laure de Sagazan!"
"There was one designer however that stood out especially for me. I had seen a particular dress online with the most incredible embroidered illusion back. The detail and pop of colour made it so unique and like nothing I had ever seen before. Although I had originally pictured something with cap-sleeves and a floaty skirt I knew I had to try it on."
"I booked a VIP appointment with my Mum at Blackburn Bridal which meant we could have the entire boutique to ourselves one Sunday afternoon with Russell Blackburn himself, who also has his own gorgeous collection of gowns. It was so worth paying for this privilege. The appointment was so much fun and we were both made to feel really special with bubbles and Russell's undivided attention throughout."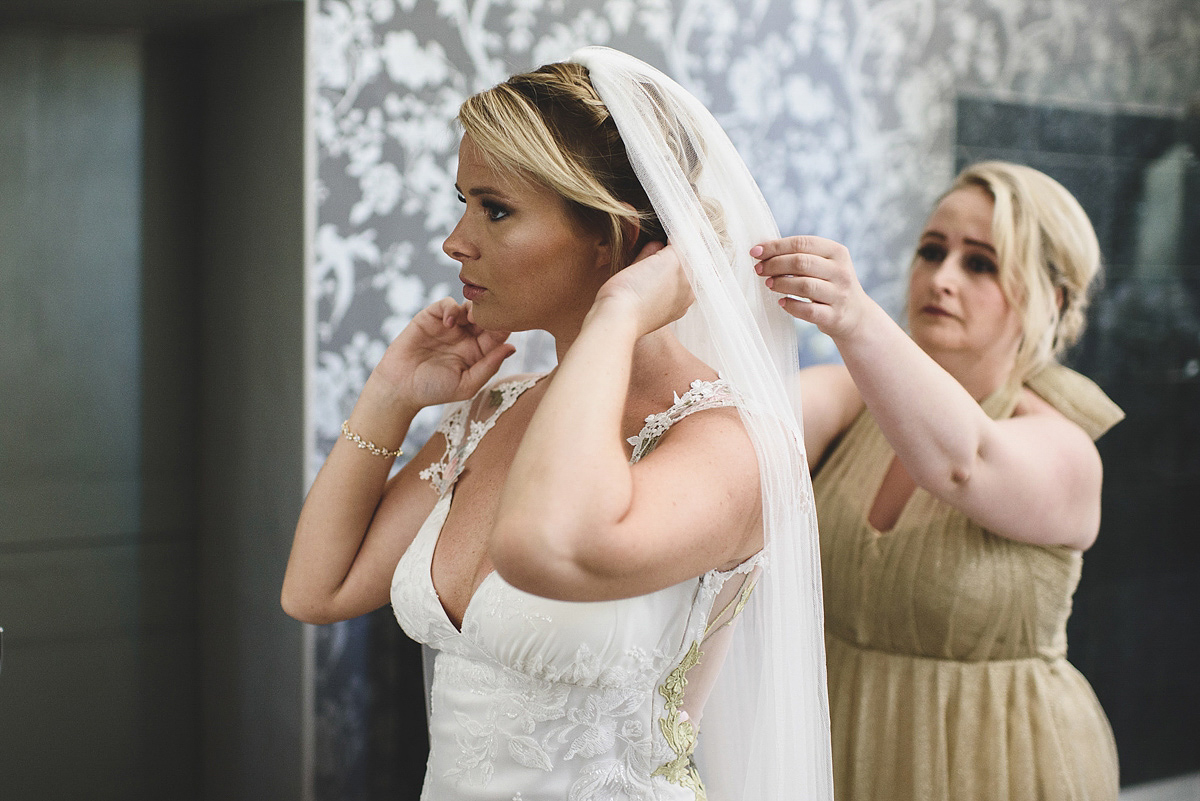 "The moment I saw the rail of Claire Pettibone gowns I was in heaven. Her designs are unmistakable and so distinctive and ethereal, with the most wonderful, delicate lace and embroidery. Papillon was the first dress I wanted to try and I absolutely fell in love. It was the epitome of Bohemian Chic and perfect for our French Summer wedding. I really surprised myself, cancelling every single other appointment I had booked and bought it on the spot!"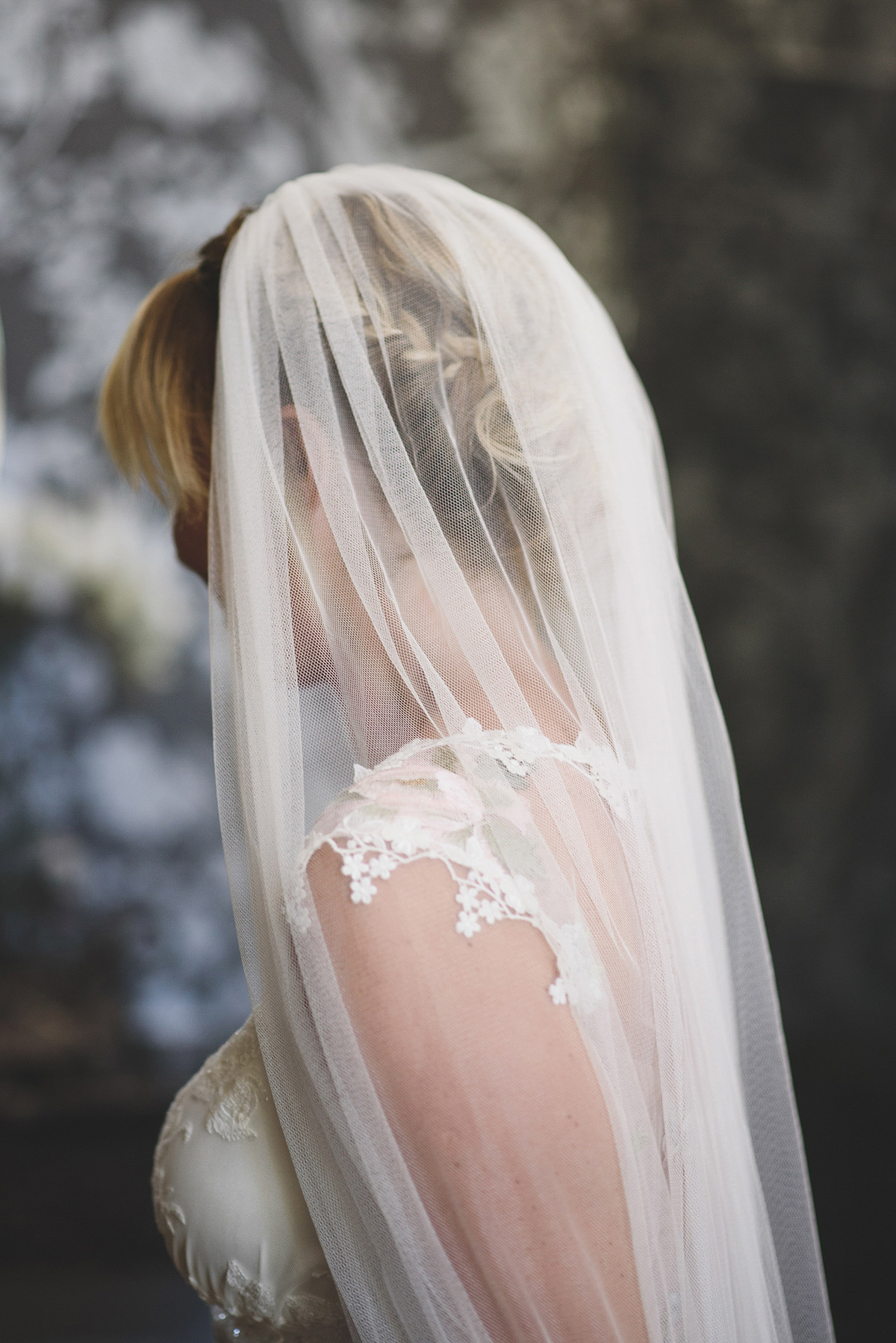 "I very rarely wear perfume (it makes me sneeze!) but have had a tiny bottle of Chanel, Mademoiselle since it was given to me for my 18th birthday. It's a wonderfully subtle, soft and feminine scent, so having lasted me 9 whole years, I decided to treat myself to a brand new fresh bottle especially for the occasion, which should now last me well into my 40s!"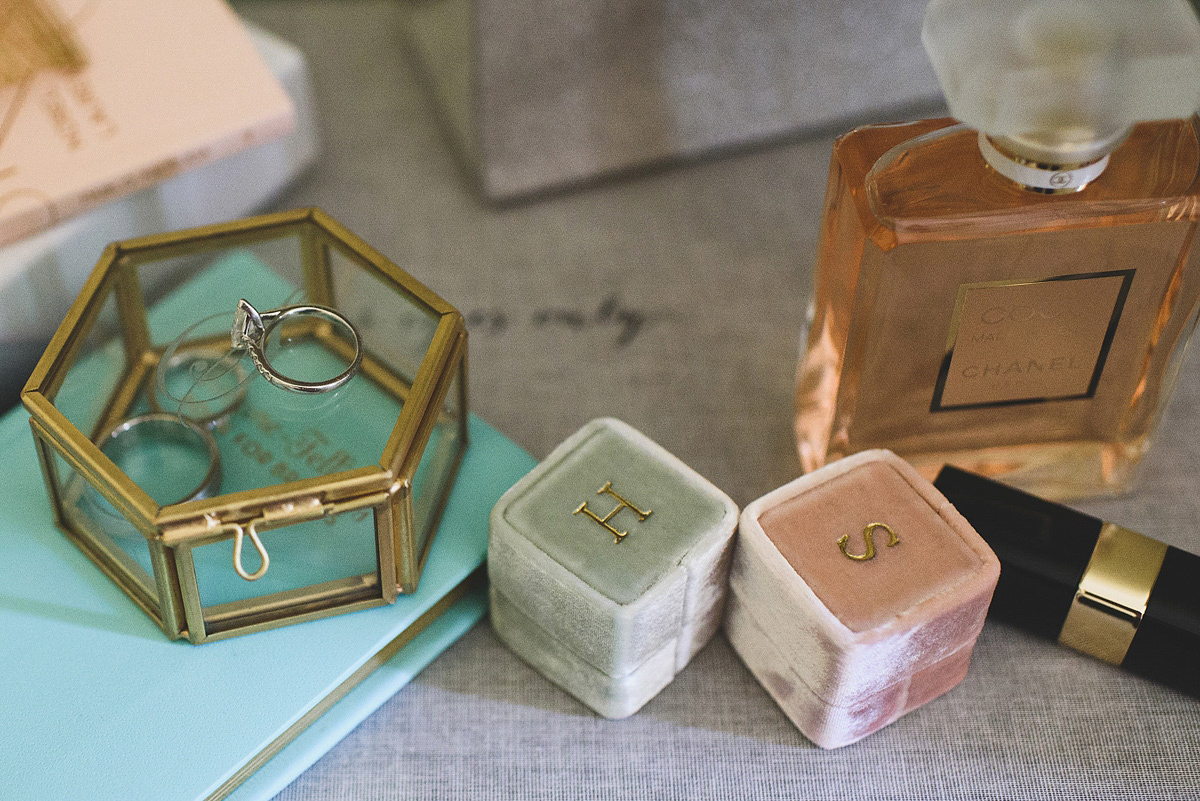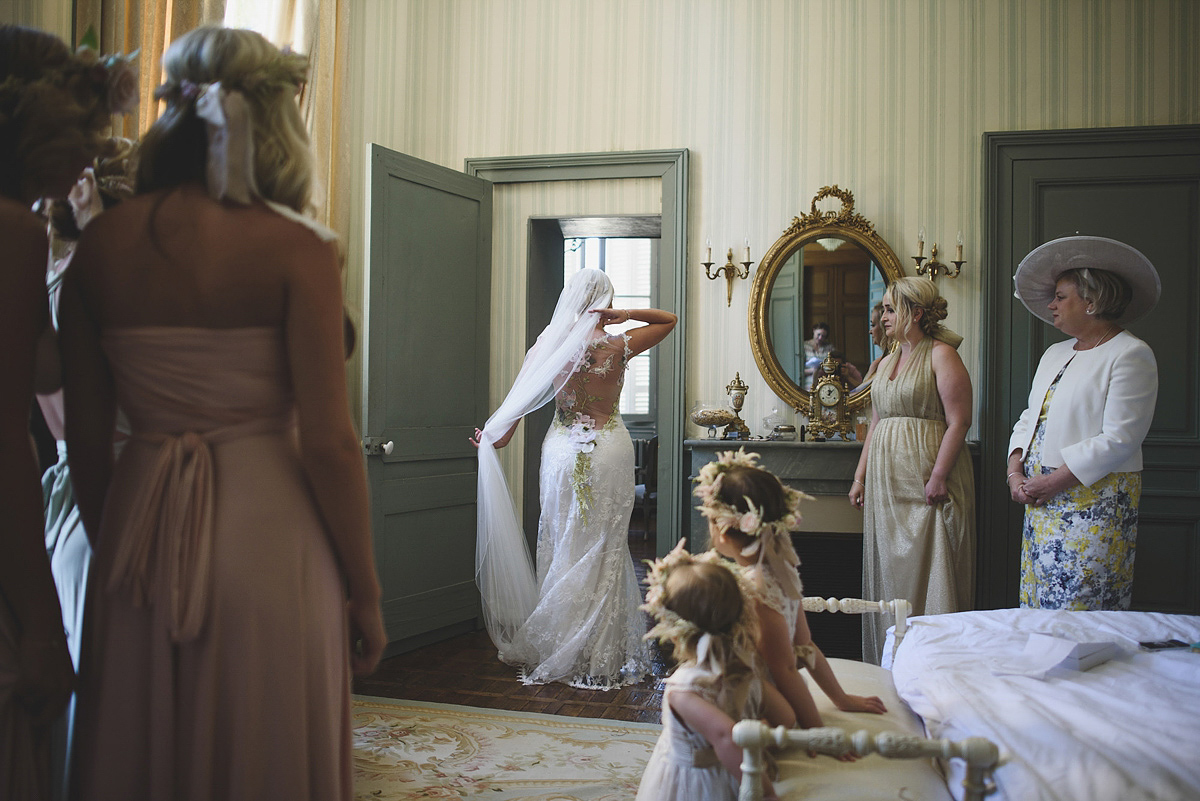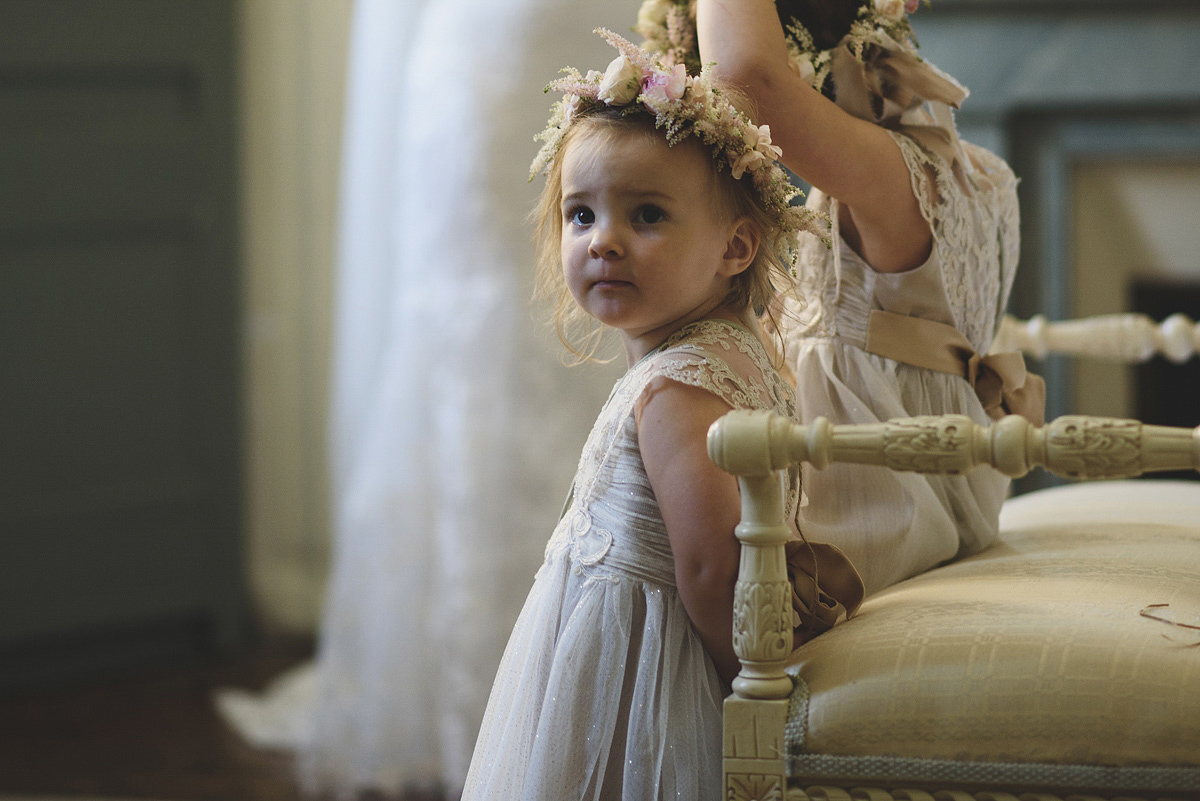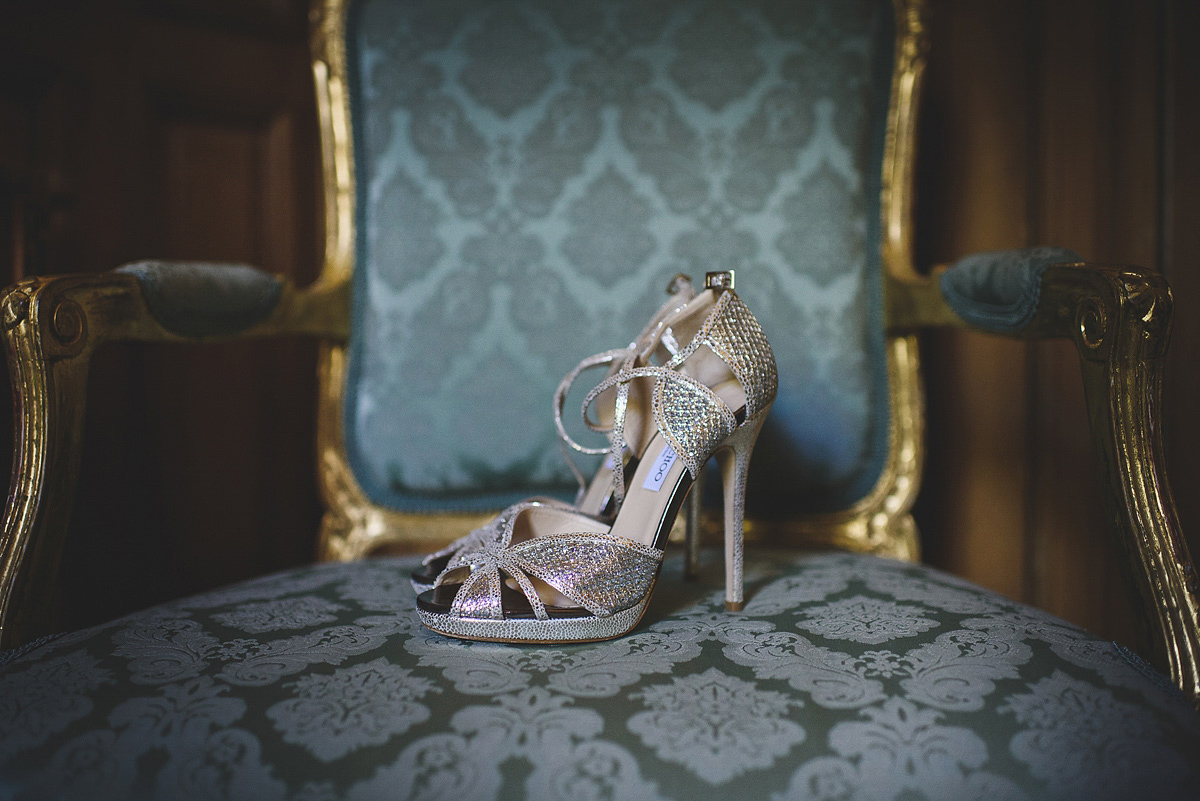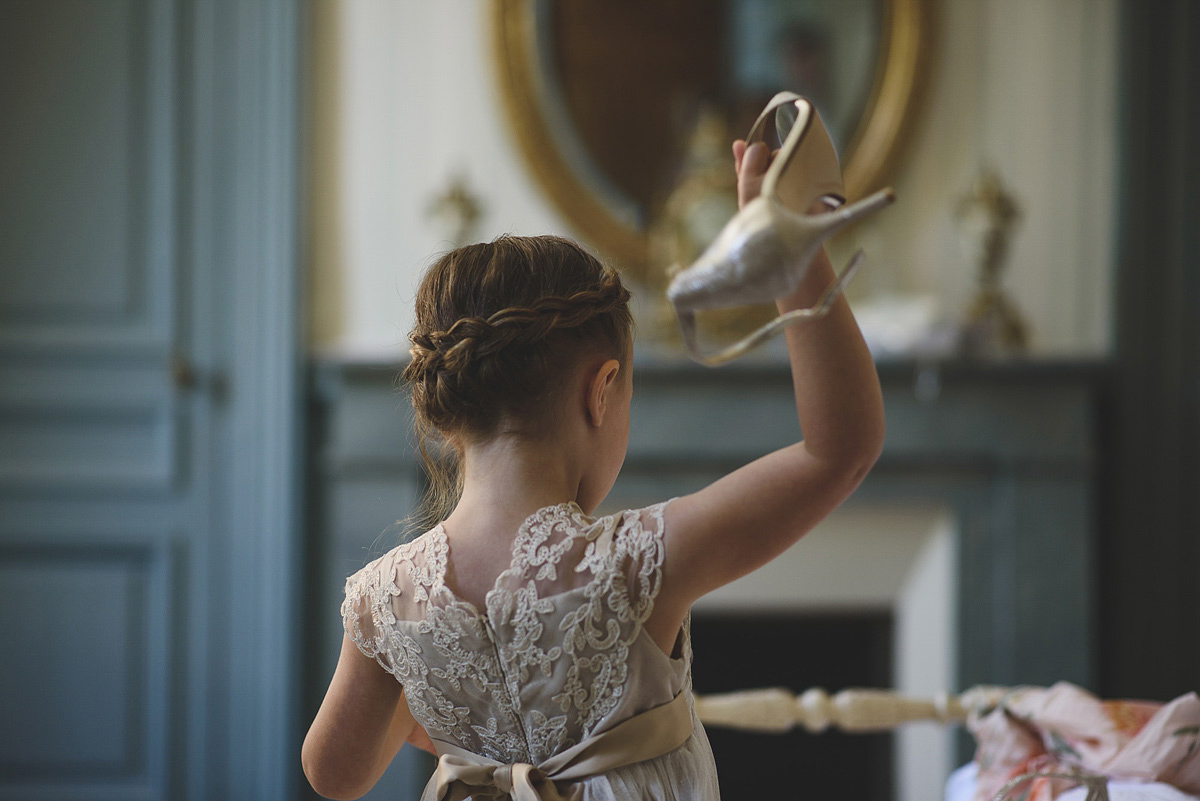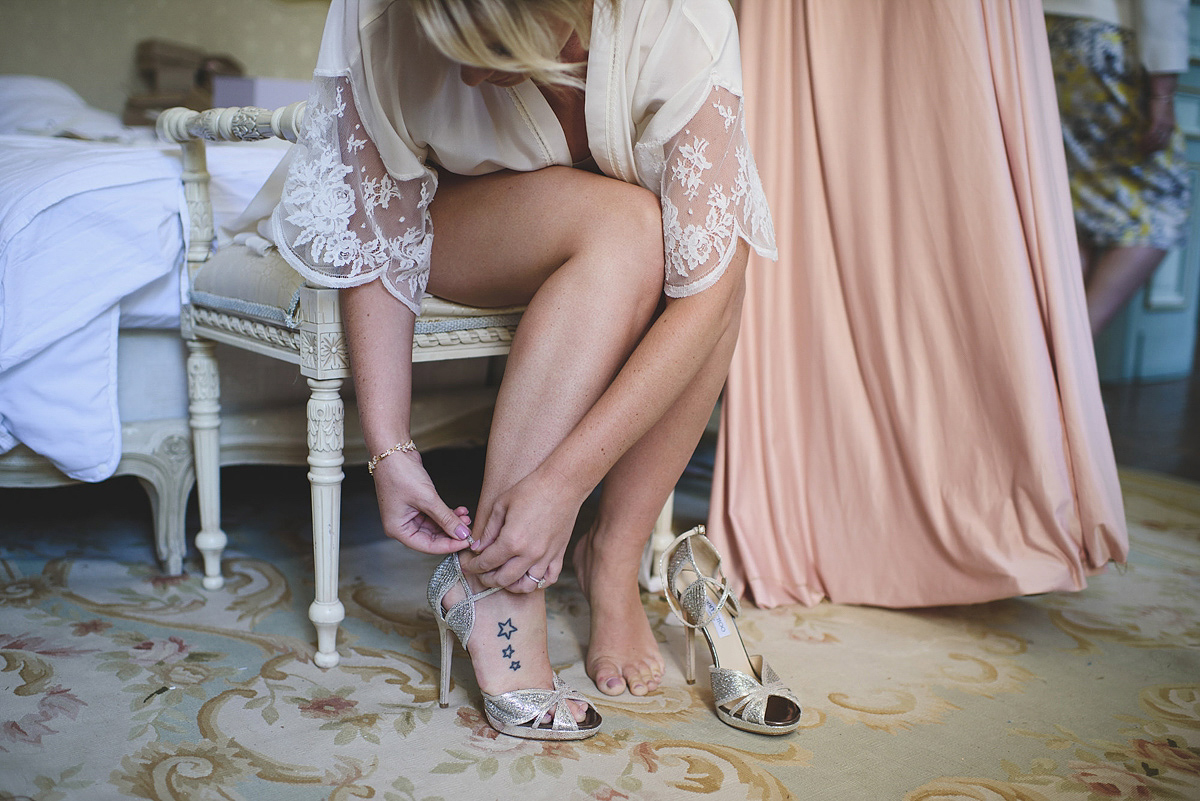 "I opted for a simple, sheer cathedral length veil, to allow the exquisite detail on the back of the dress to show through."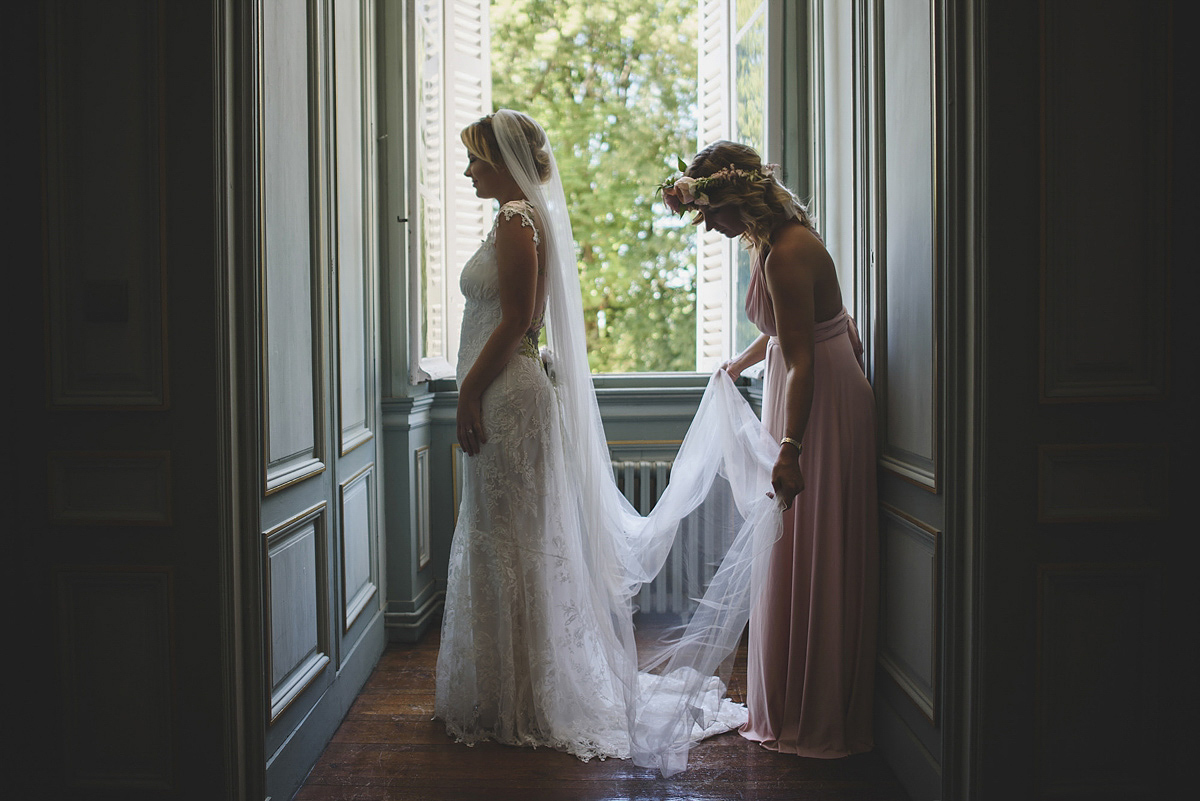 "I sewed an embroidered message into the lining of Dan's suit jacket on the night before the wedding, for him to find when he got dressed, signed with Bella (Dan's nickname for me)."
"I asked our children to draw Daddy as a Groom and Mummy as a Bride and had the drawings engraved into solid silver cufflinks and given to Dan by our Son on the morning of the wedding."
"They are so precious and personal and made Dan so emotional, he was unable to read the card I wrote him, so our seven year old stepped in and read it to him."
"I am so grateful for the images that capture those beautiful moments which I otherwise wouldn't have even known existed. (Second shooters highly recommended!)"
"We pictured our wedding being close to home at first and never actually imagined that a destination wedding would be for us. However, after going to see so many different venues across the whole of the UK and weighing up the costs and many limitations and restrictions at a lot of them, we were feeling like nothing was quite perfect and just didn't blow us away."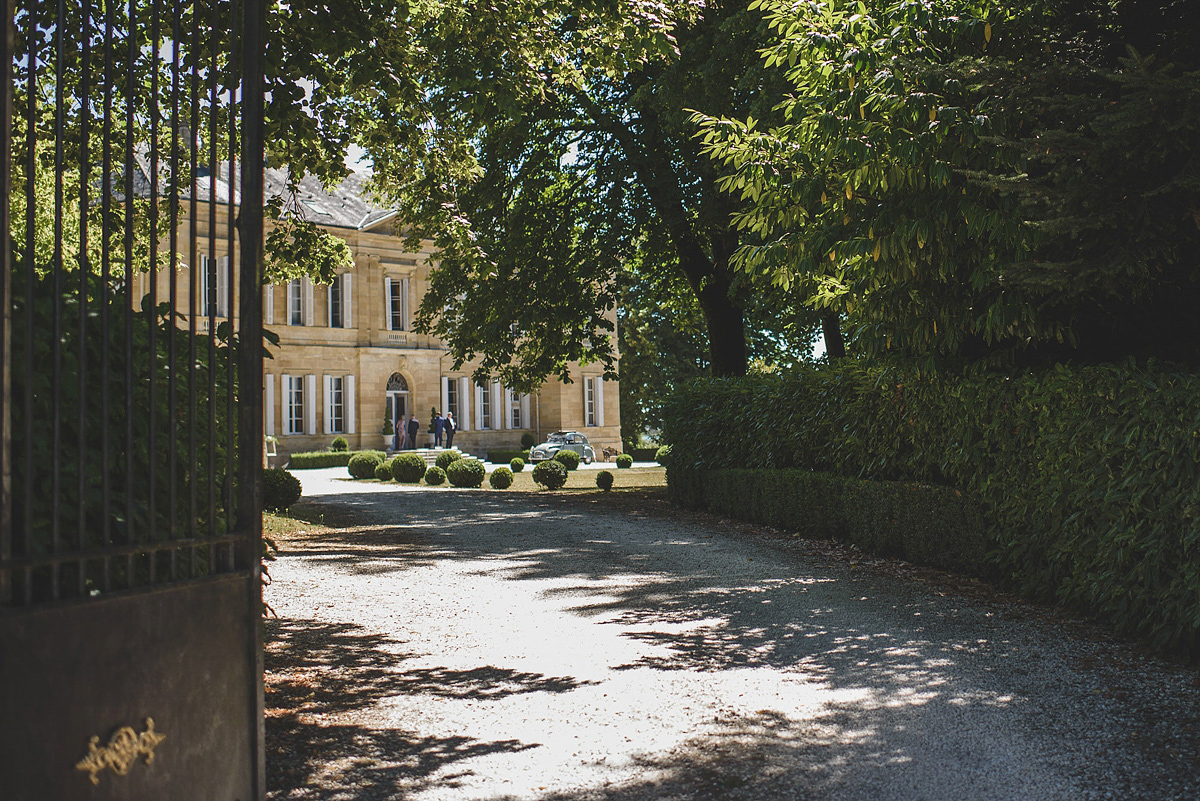 "We began to feel rather deflated until we came across images of a wedding in The Dordogne by Tom Ravenshear in a competition feature on Love My Dress. Chateau La Durantie looked glorious and well worth a peep. We have been to many family holidays in France and Dan proposed in Paris so the idea quickly started to feel very exciting and rather nostalgic.
When we walked around the chateau and its grounds and imagined a full week to celebrate with our loved ones in the most idyllic setting and no curfews or supplier restrictions on the wedding day, it was such an easy decision."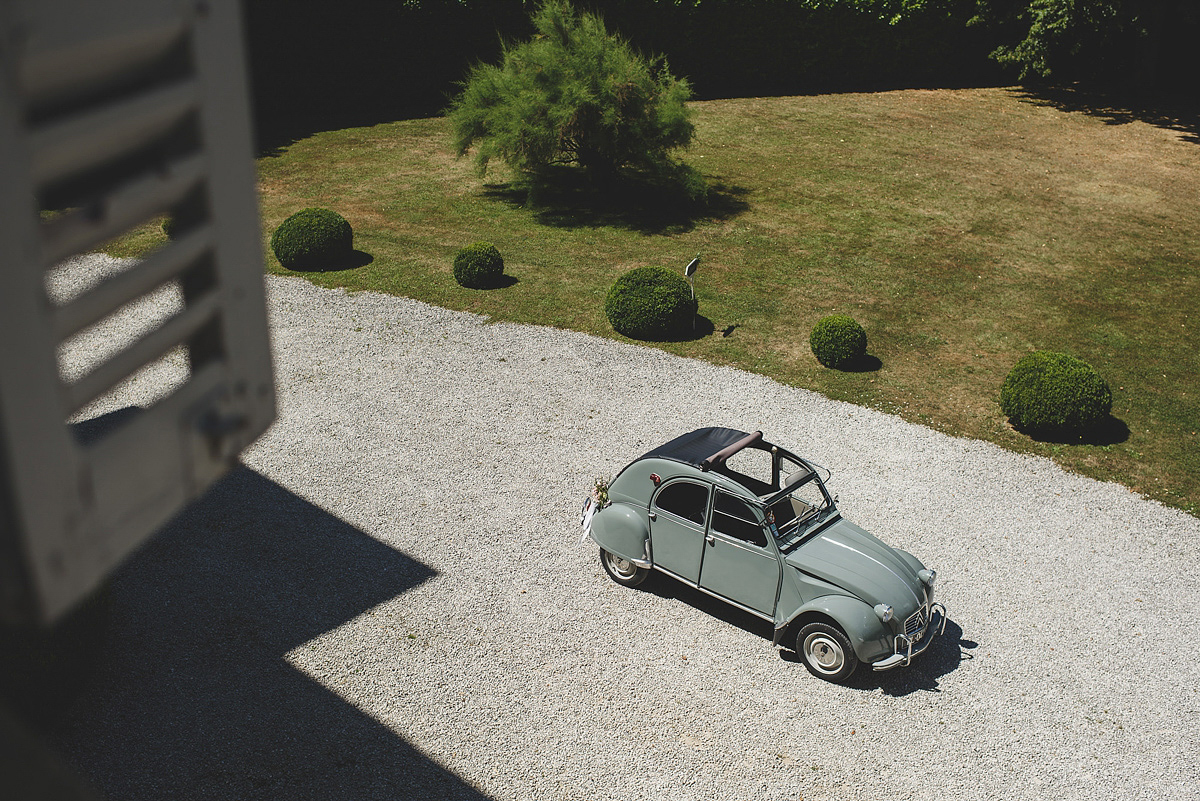 "We had so much freedom to plan exactly what we wanted. It was effectively a beautiful blank canvas and no set packages which was my worst nightmare. Chateau La Durantie will now forever hold a dear place in our hearts and we look forward to any excuse to go back in the future."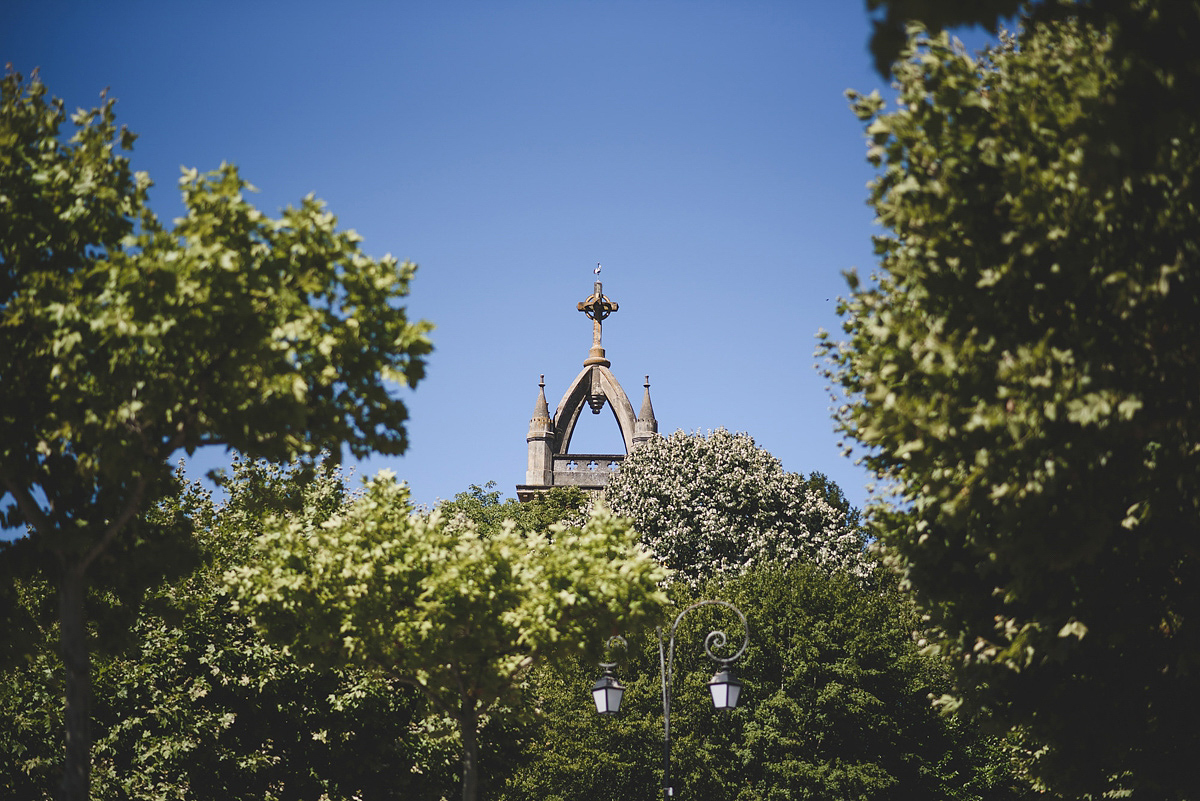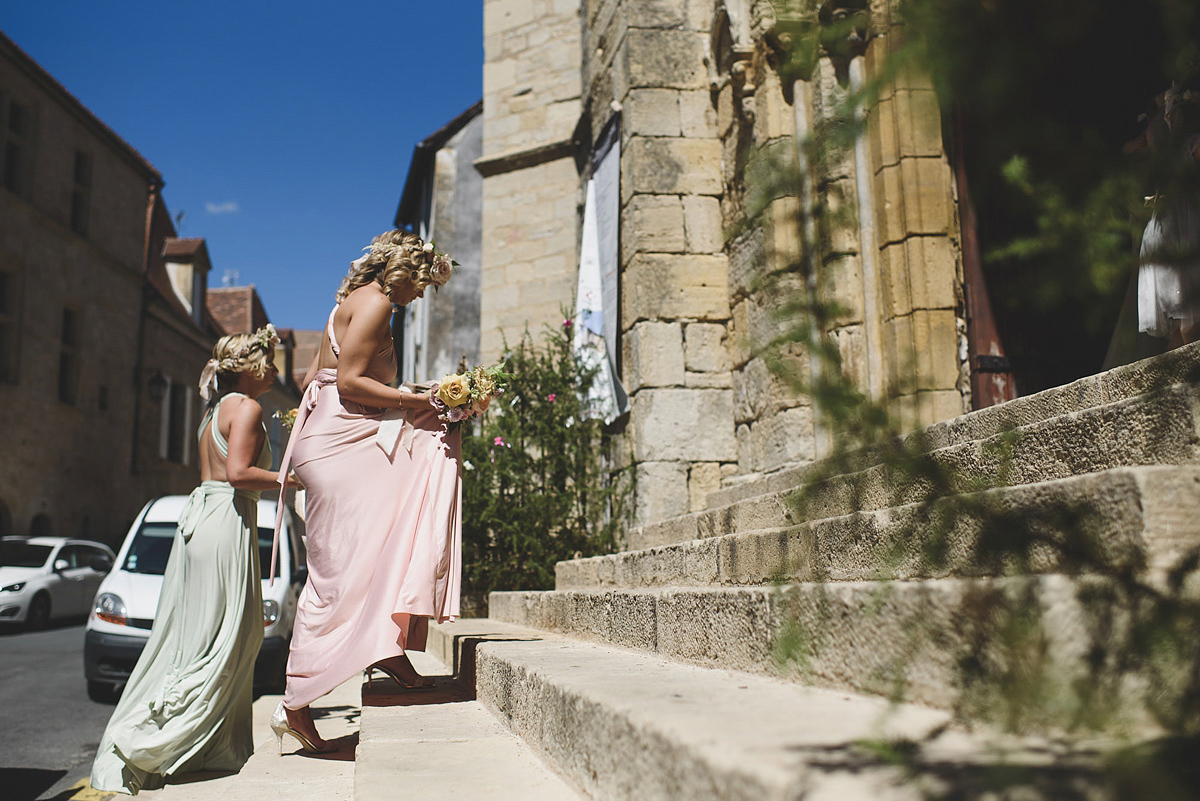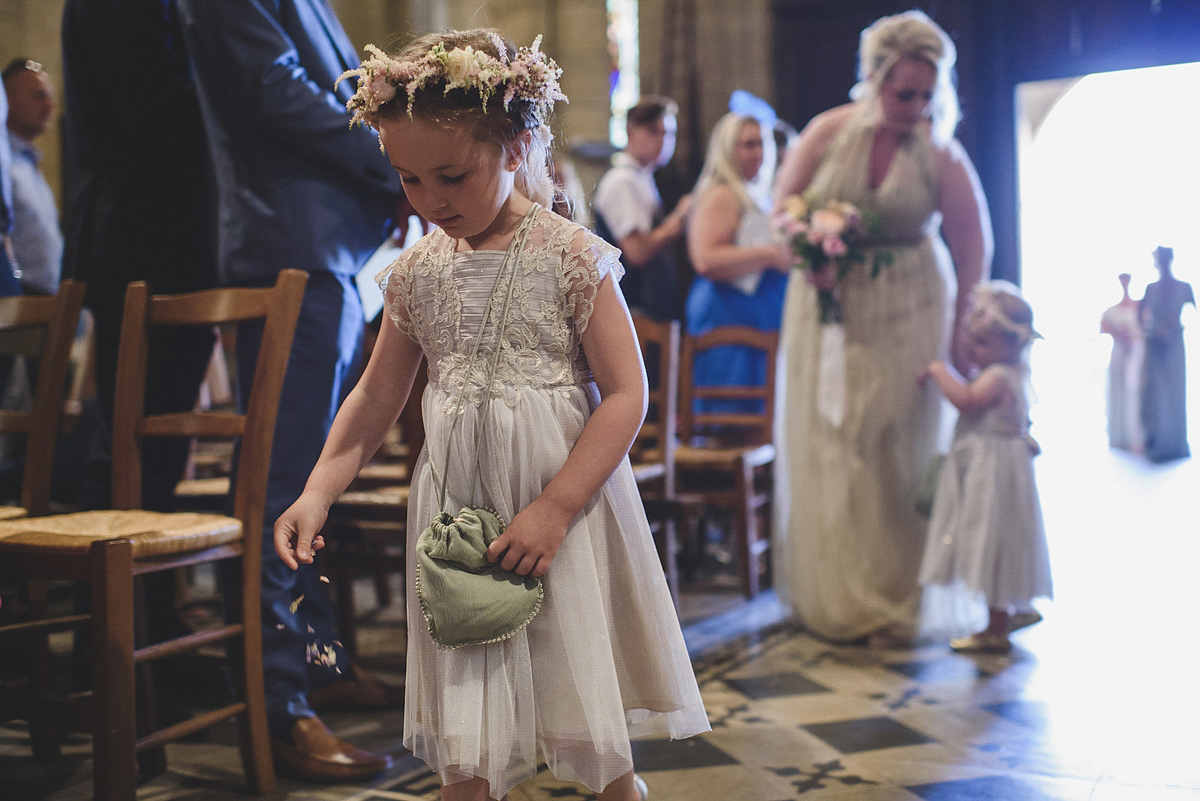 "My gorgeous (not so) little brother gave me away, as I don't have a relationship with our Dad, and it was so so special. I think he was even more nervous than I was on the drive to the church and was singing and chatting all to me all the way, whilst I just sat there silently with butterflies."
"He made me giggle all the way down the aisle as I tried to hold back the tears and it was such a very proud moment for me. He even did a 'Father of the Bride' speech after dinner, which was just adorable. We were accompanied by the sound of 'Higher Love' by James Vincent McMorrow."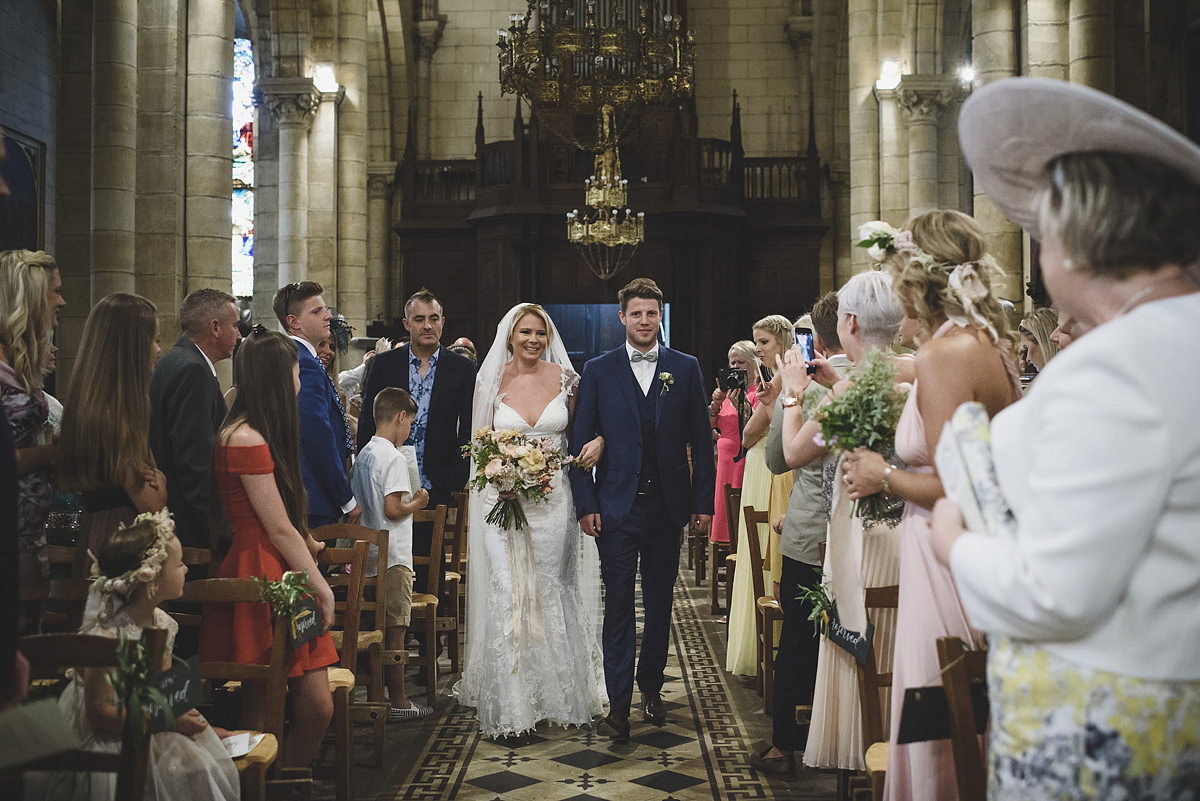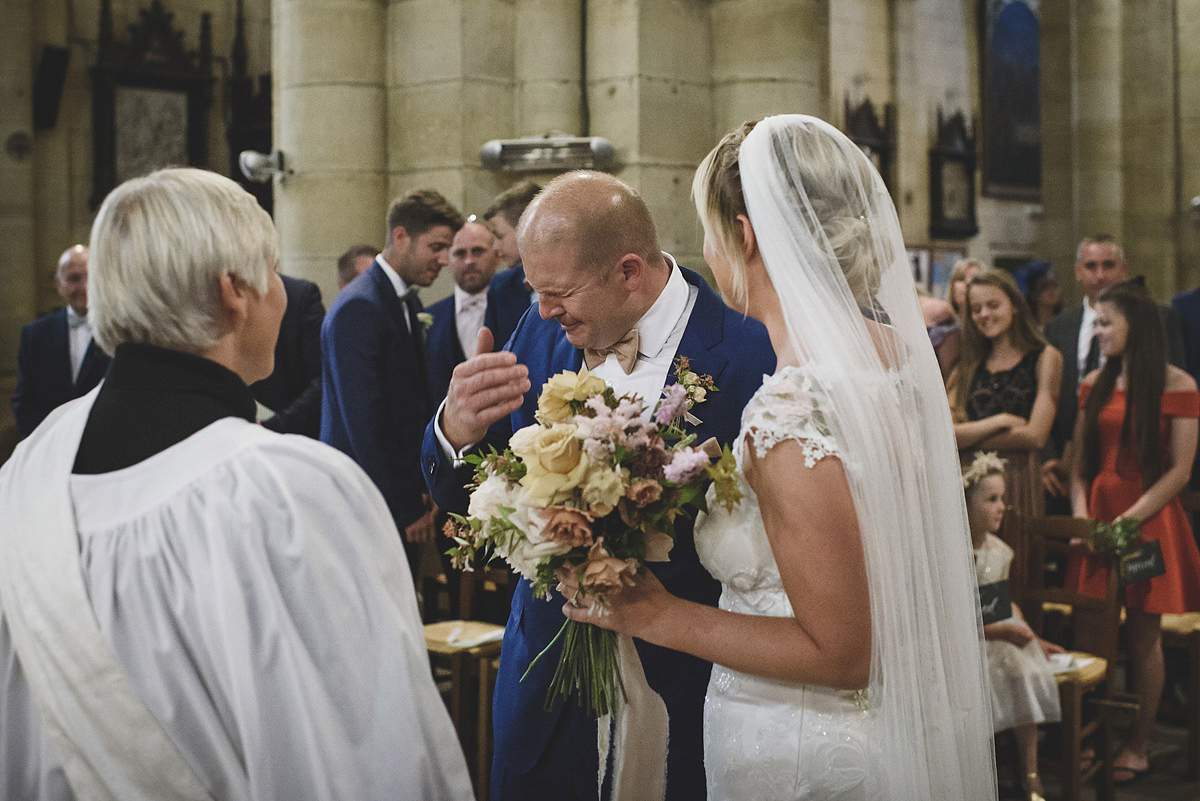 "My Grandmother, who is affectionately referred to within our family as Nana Goat, read an extract from The Velveteen Rabbit by Margery Williams, which is a children's book we read to our own little ones, and which I remember growing up with myself. It is the most beautiful metaphor about being loved and it was so touching to hear our beloved 'head of the family' and my only living grandparent read this in the Church. My best friend also read a poem called Love by Roy Croft. It was stunning. I don't think there was a dry eye in the house!"
'What is REAL?' asked the Rabbit one day, when they were lying side by side near the nursery fender, before Nana came to tidy the room. 'Does it mean having things that buzz inside you and a stick-out handle?'
'Real isn't how you are made,' said the Rocking Horse. 'It's a thing that happens to you. When someone loves you for a long, long time, not just to play with, but REALLY loves you, then you become Real.'
'Does it hurt?' asked the Rabbit.
'Sometimes,' said the Rocking Horse, for he was always truthful. 'When you are Real you don't mind being hurt.'
'Does it happen all at once, like being wound up,' he asked, 'or bit by bit?'
' It doesn't happen all at once,' said the Rocking Horse. 'You become. It takes a long time. That's why it doesn't happen often to people who break easily, or have sharp edges, or who have to be carefully kept. Generally, by the time you are Real, most of your hair has been loved off, and your eyes drop out and you get loose in your joints and very shabby. But these things don't matter at all, because once you are Real you can't be ugly, except to people who don't understand.'
'I suppose you are real?' said the Rabbit. And then he wished he had not said it, for he thought the Rocking Horse only smiled.
'Someone made me Real,' he said. 'That was a great many years ago; but once you are Real you can't become unreal again. It lasts for always.'
(Extract from 'The Velveteen Rabbit', By Margery Williams)
"We made each other's wedding rings at The Wedding Ring Workshop in Hatton Garden, which was honestly one of the most amazing experiences we have ever had together. Dan was unconvinced at first that the rings wouldn't end up looking like a pair of old metal washers, so I forced him into it by surprising him for Valentine's Day."
"They give you so much guidance and supervision, you can't go wrong and provided bubbles and a delicious lunch. The rings turned out absolutely perfectly. We were both amazed by the final result and really glad we did it. We also had the rings engraved on the inside with our wedding date. I would highly recommend it to anyone. Such a fabulous, memorable day to share together and a pair of wonderful precious heirlooms to treasure forever."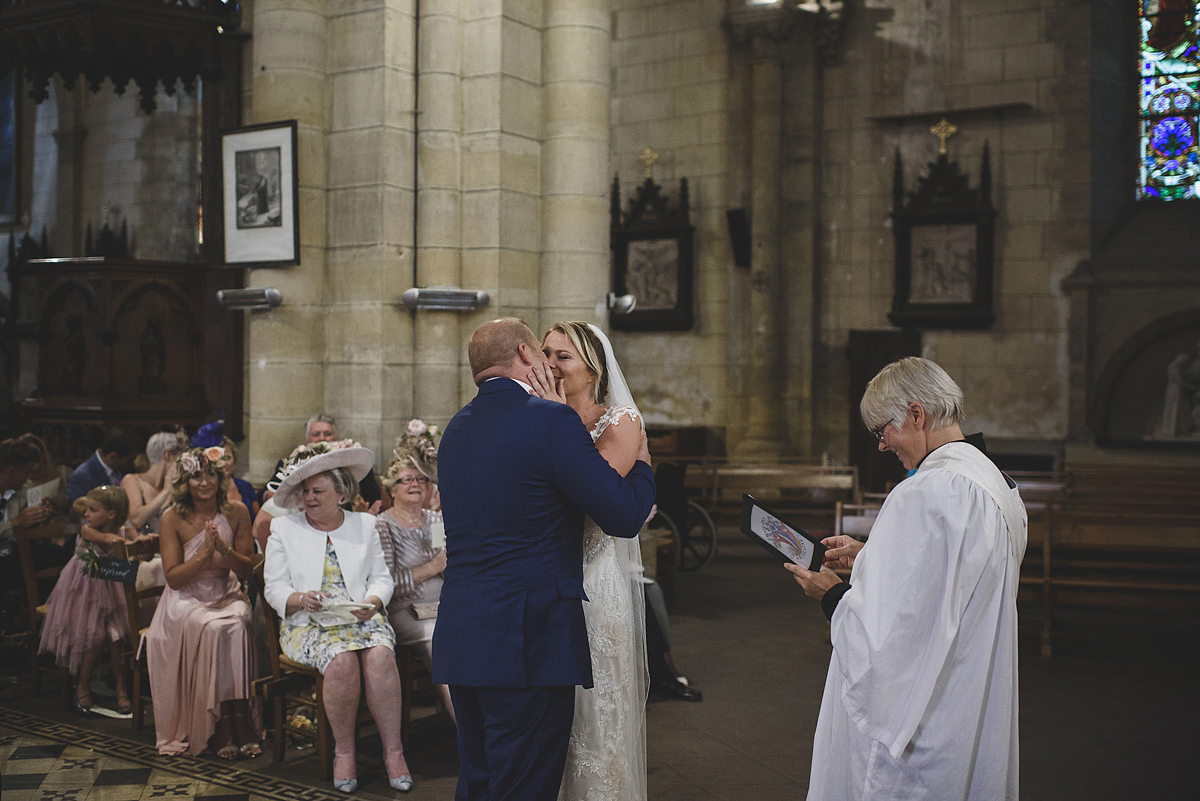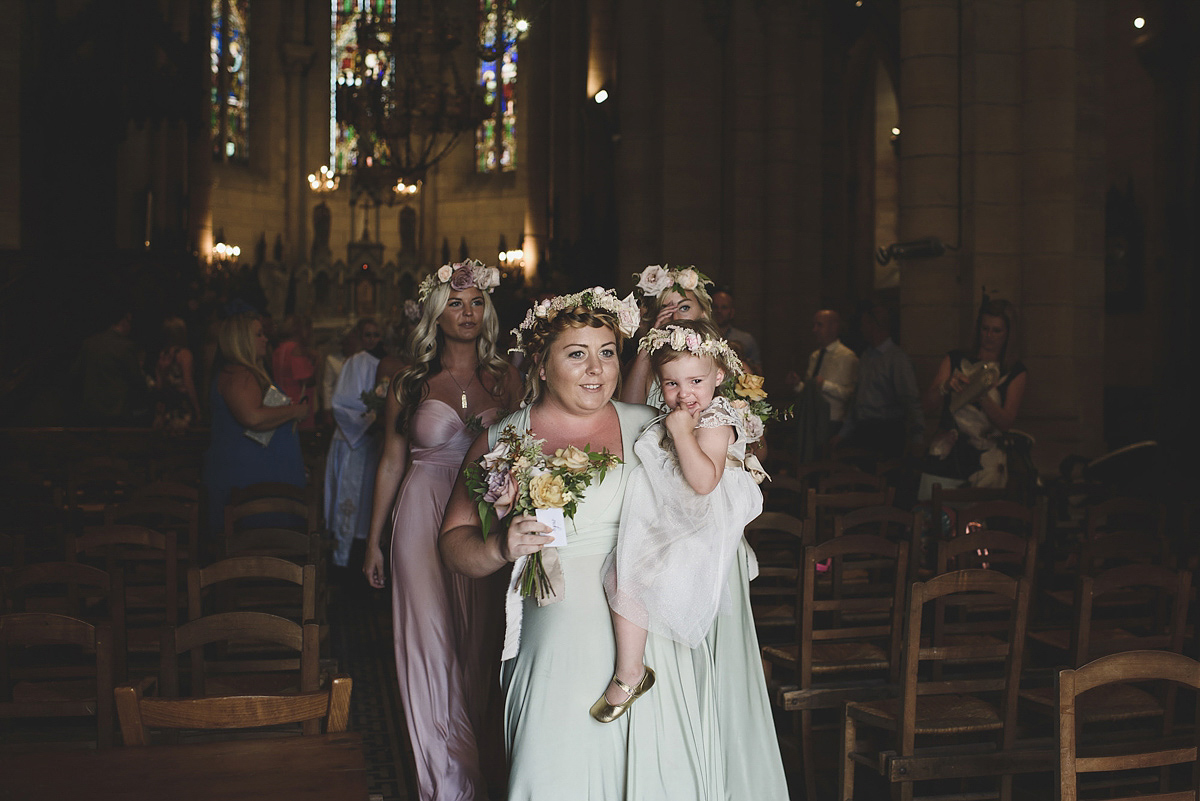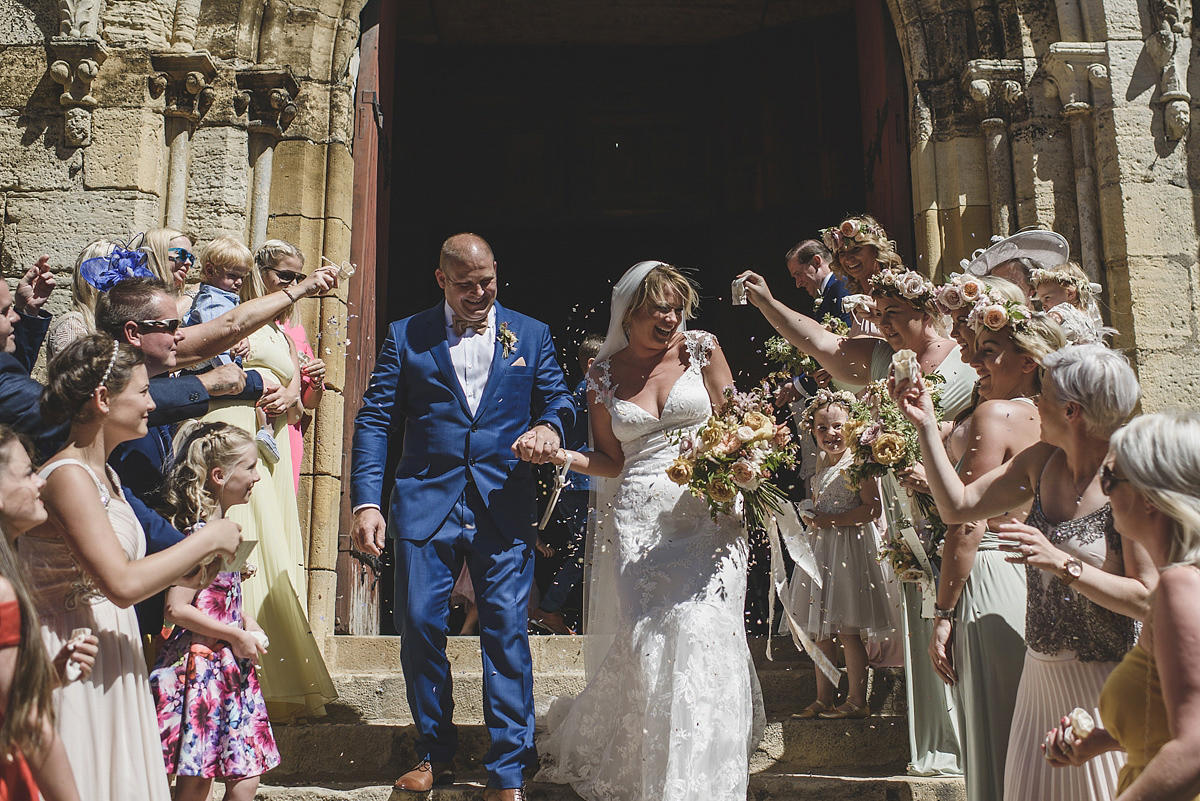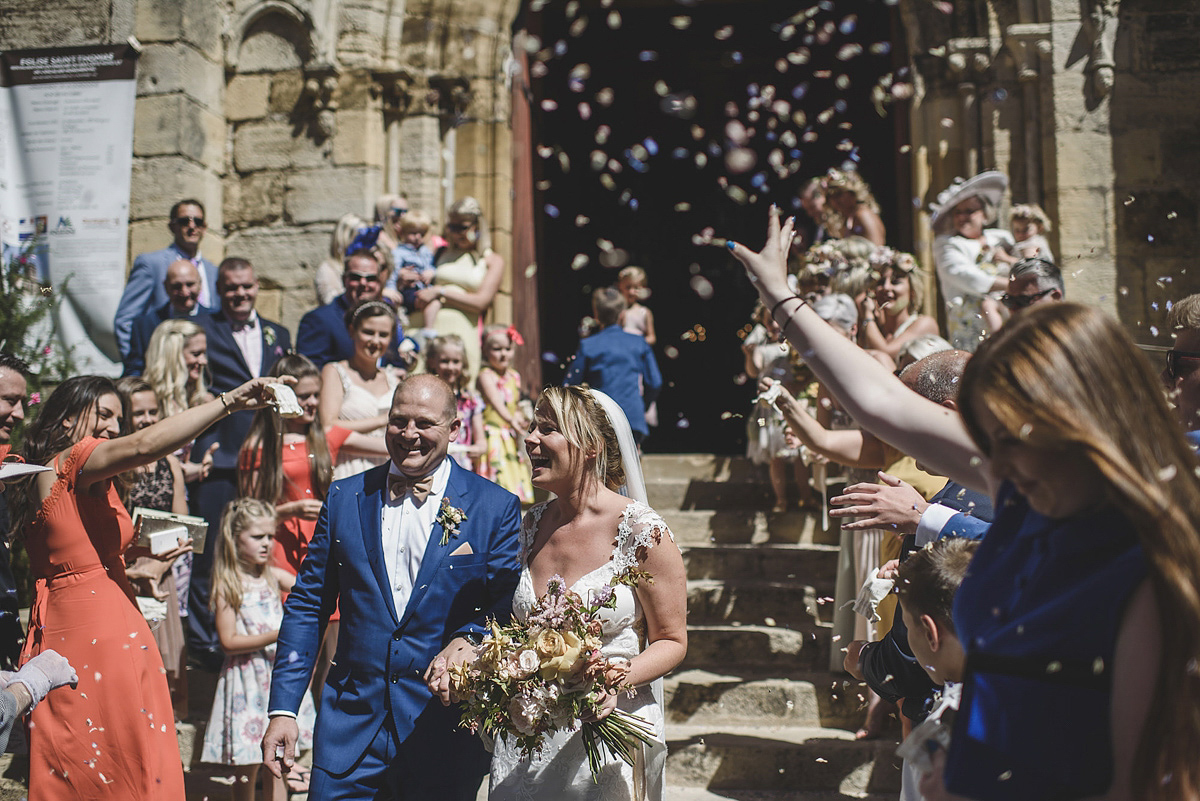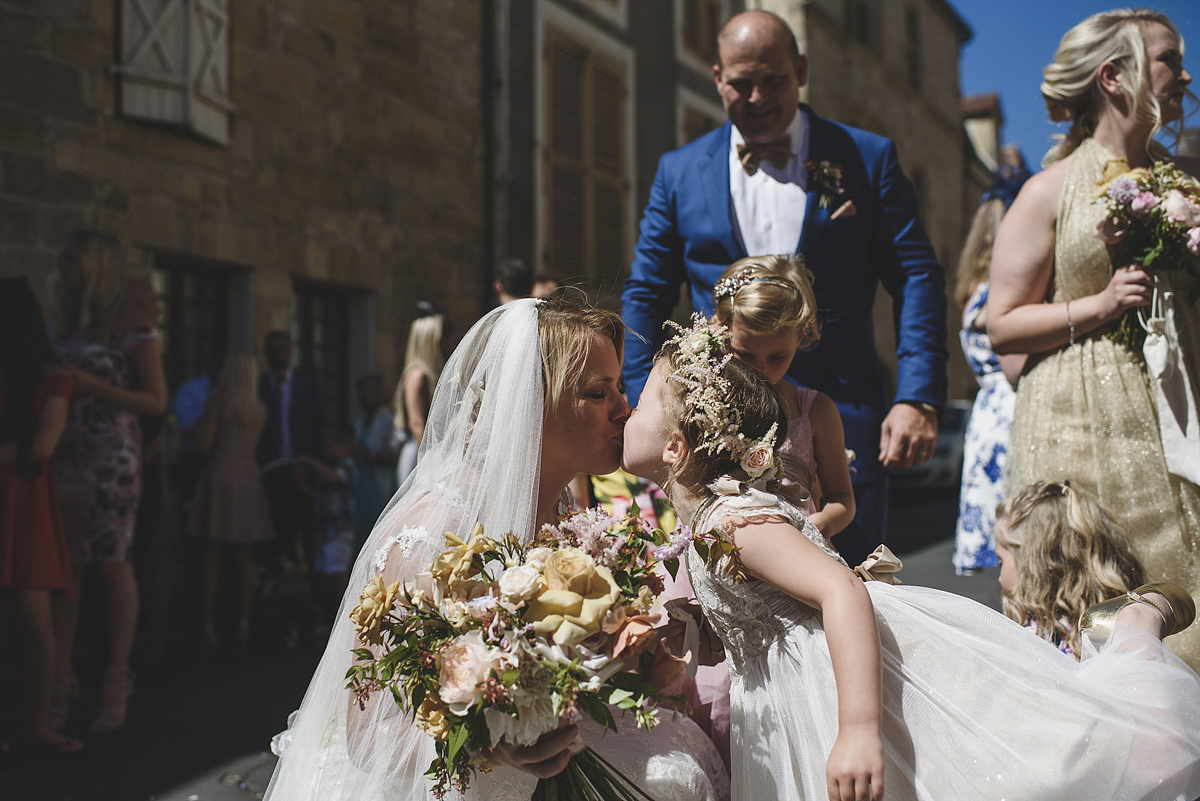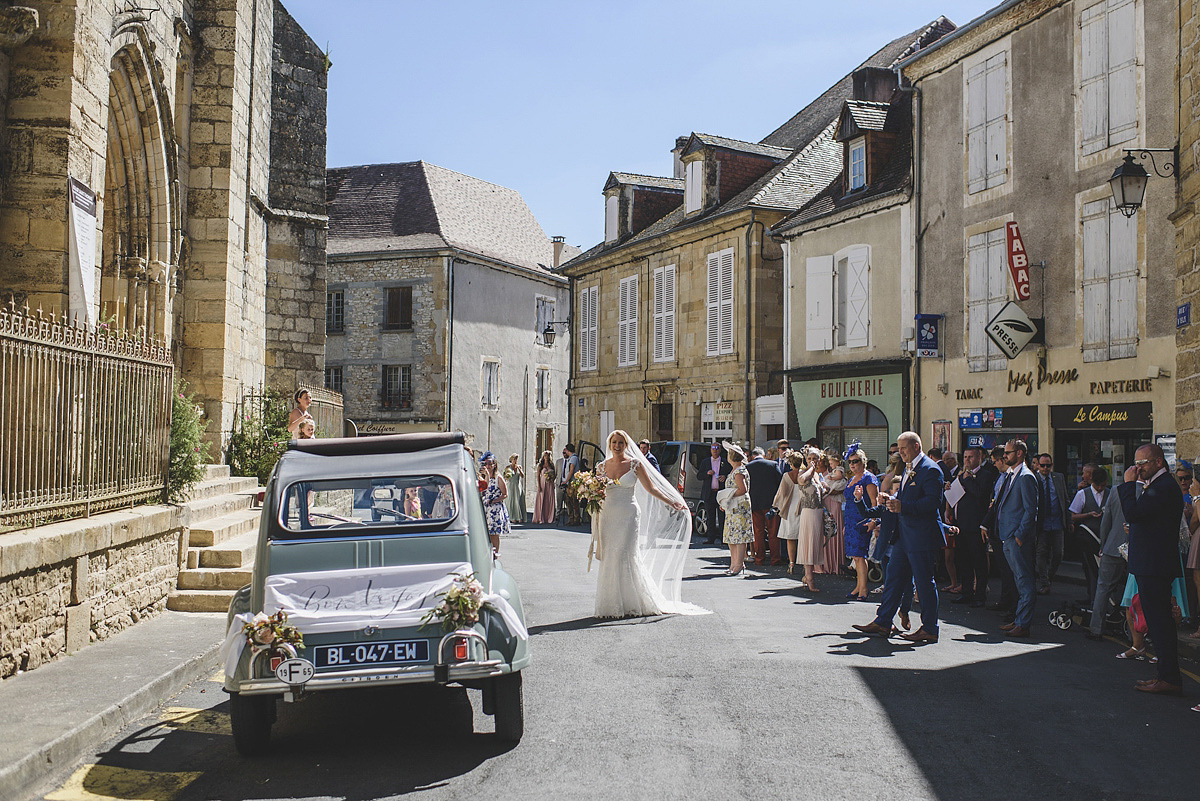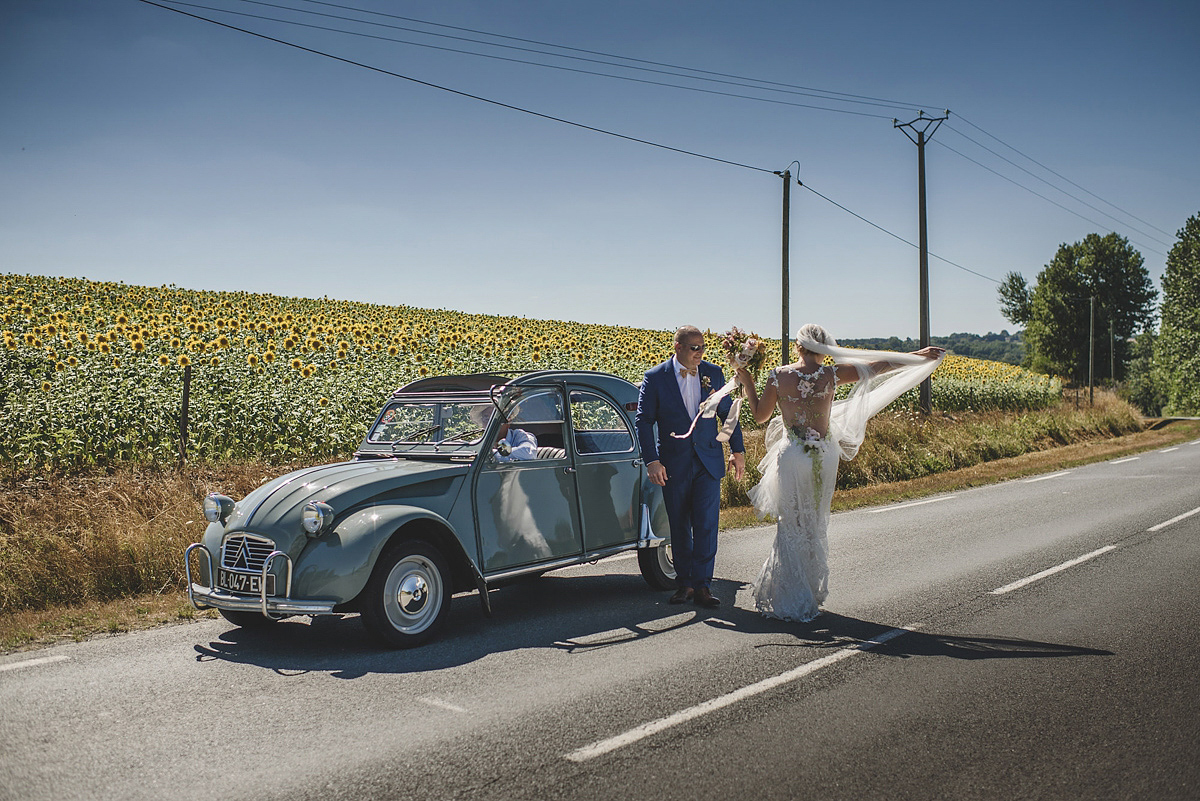 "The five day build up to the wedding was a fantastic way for all of our guests to get to know each other and made the big day itself so relaxed and enjoyable for everyone. We also had a pool party and BBQ at the chateau on the day after the wedding which kept the celebrations going for even longer. It was amazing to get together and exchange stories of the previous day, rather than it all abruptly ending with a thud. We also arranged a wine tasting for the ladies with a sommelier at the chateau on the eve before the wedding, whilst the boys played poker in the billiards room."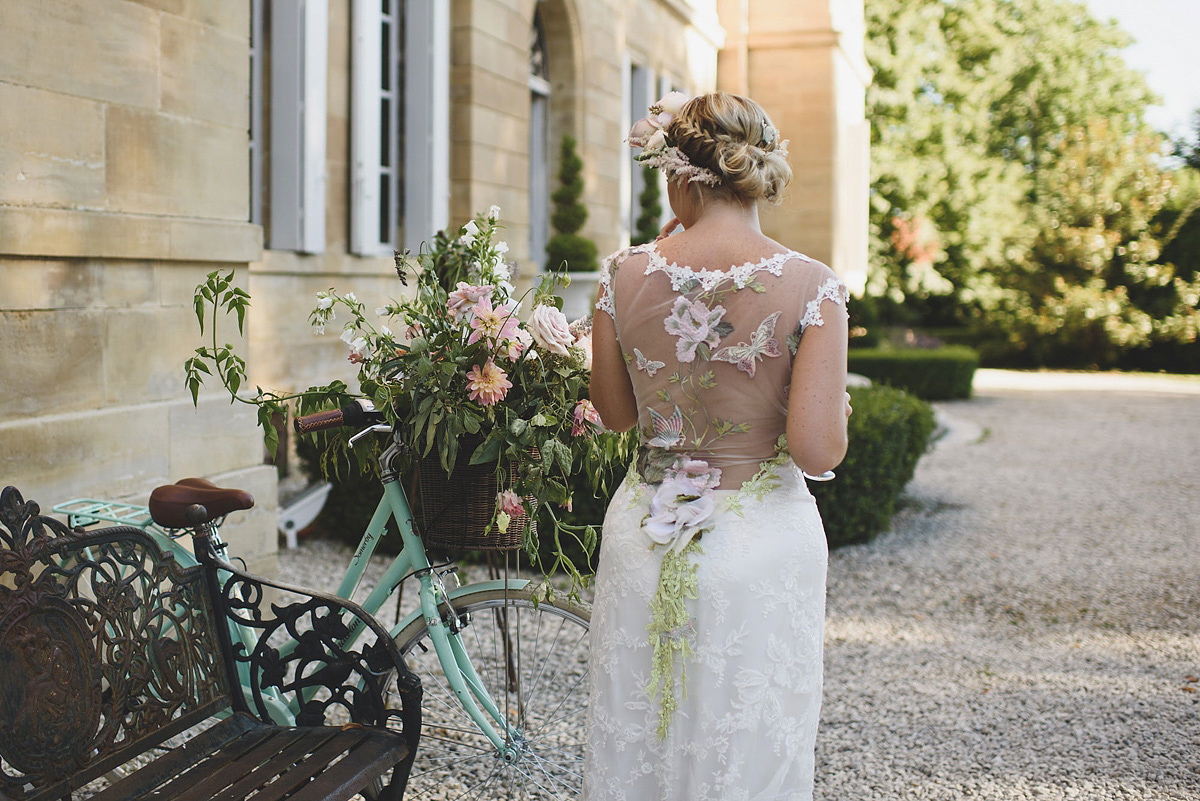 "There was also no corkage fee on supplying our own alcohol which meant we could stock up in Calais on the way, and provide a free bar all day and night as a thank you to our guests for making the special effort travelling to France with us. This made for a hilarious (and pretty messy) evening!"
"We could have had our ceremony in the gardens of the chateau which had been our original obvious choice during Summer in France, but the church was so beautiful and we thought it would break the day up a little and cover us just in case of rain. So glad we made that decision. The church gave us a fairy-tale-like, more traditional aspect to the day."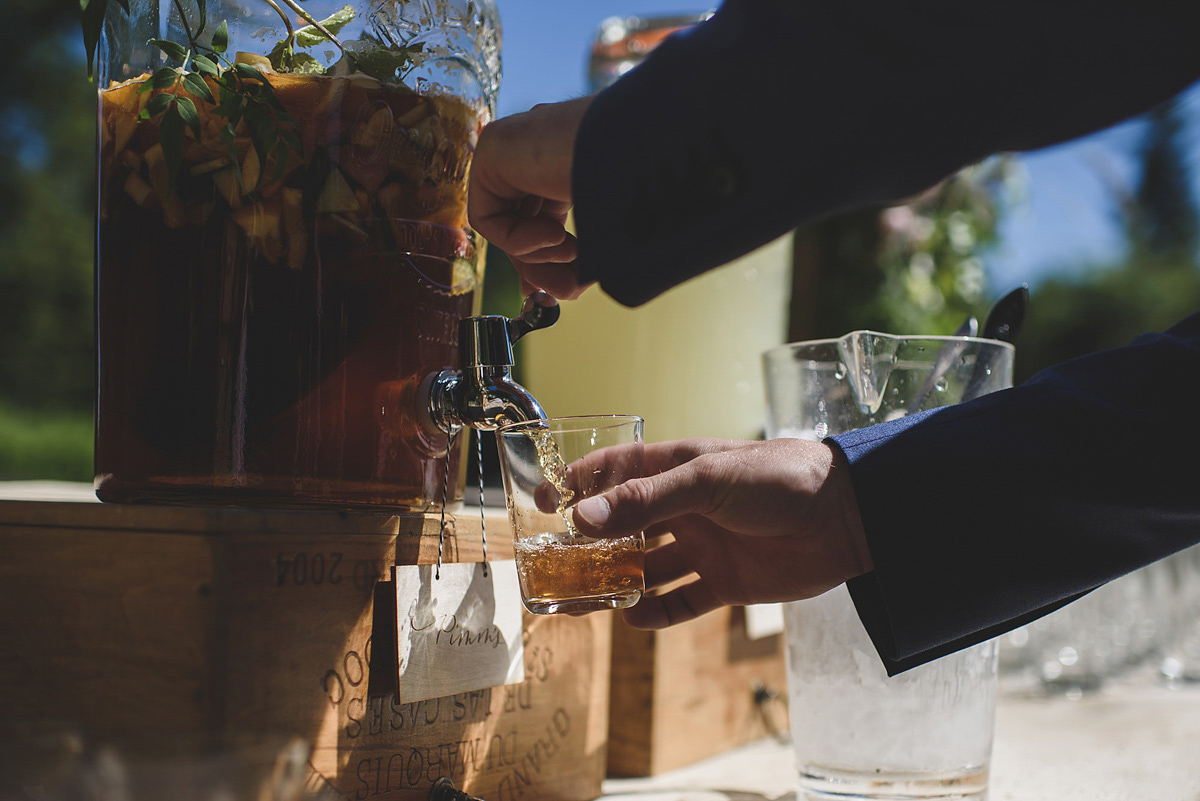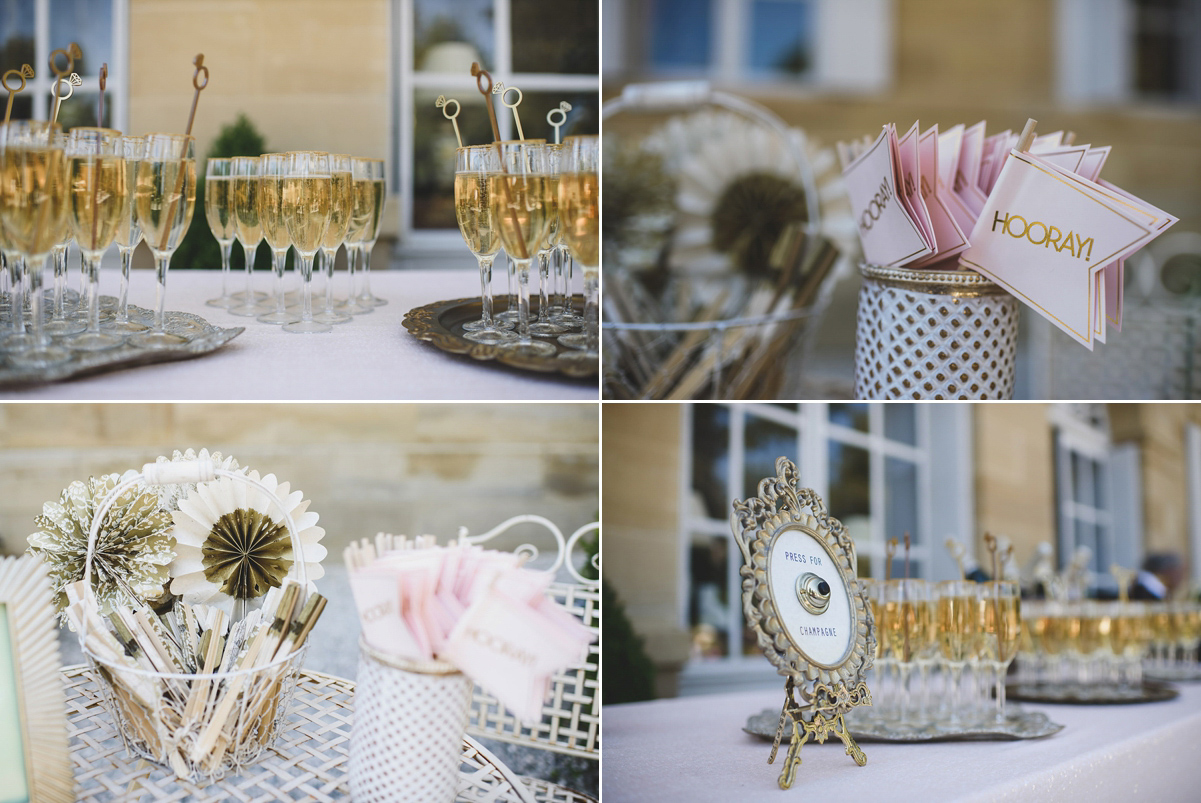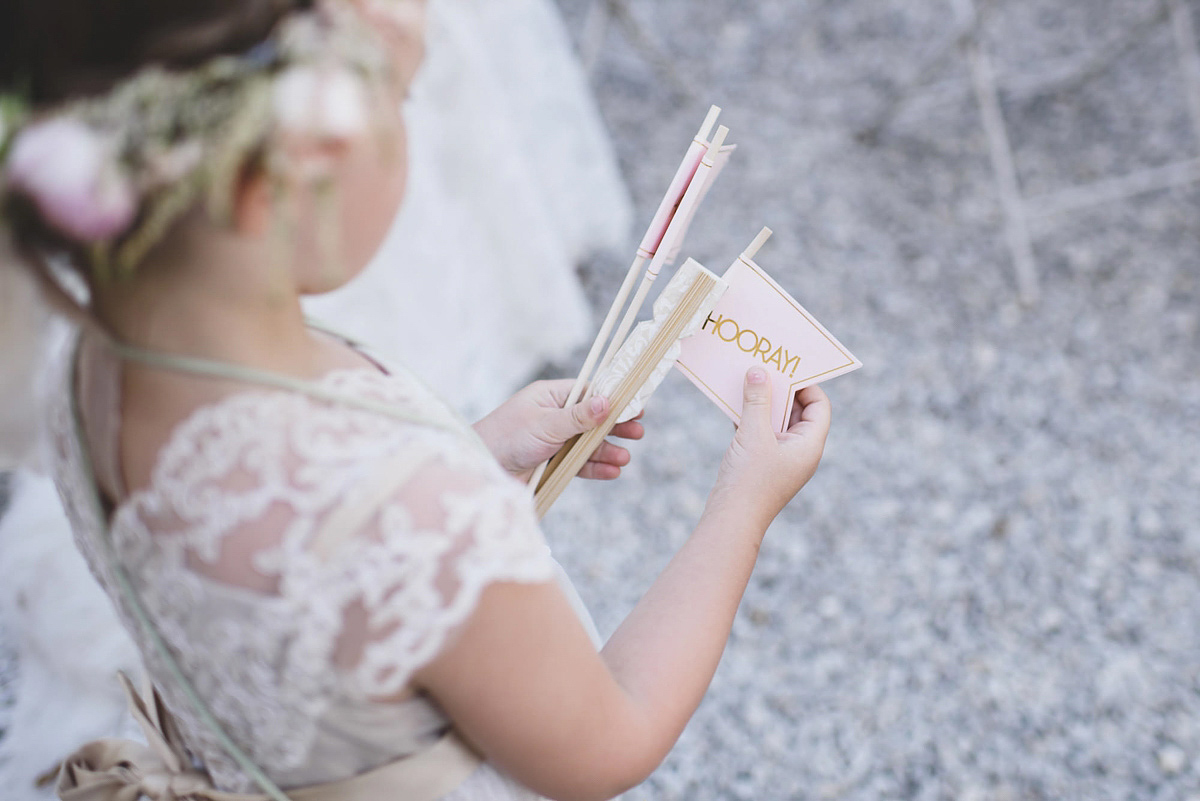 "We hired an ice-cream car supplier via 'Ice Roll, Paris'. This was a hit with the guests! Apparently it's a trend which started in Thai street markets, which involves pouring different flavoured liquid ice cream onto a freezing plate and scraping it off into rolls. It was fabulous and a real talking point during the drinks reception. Also great for keeping the kids amused and a refreshing treat in the hot weather."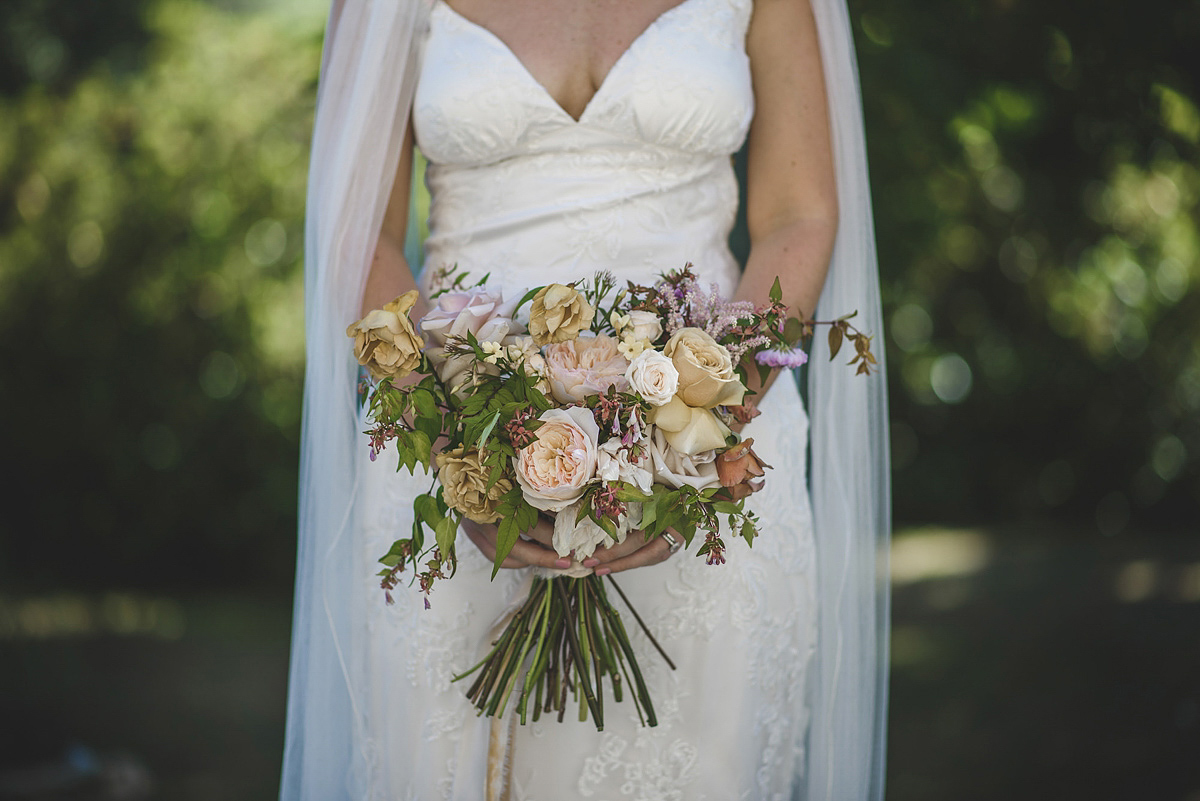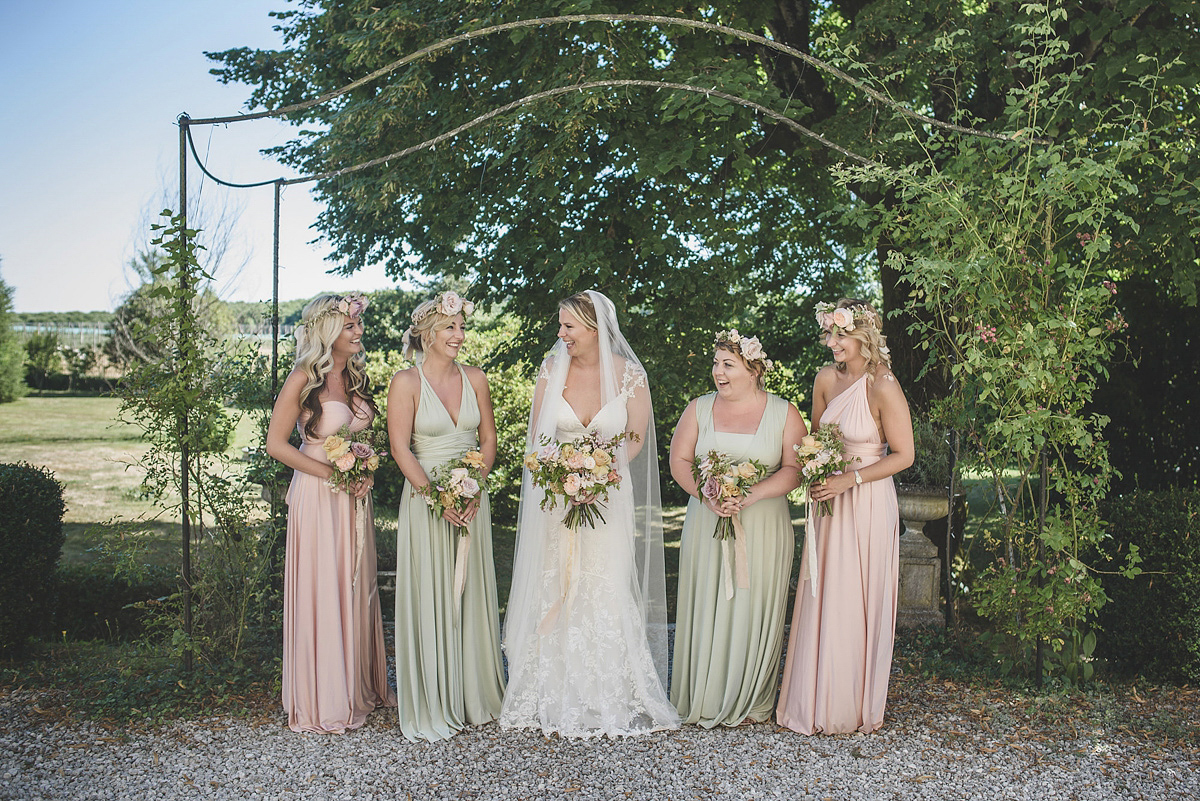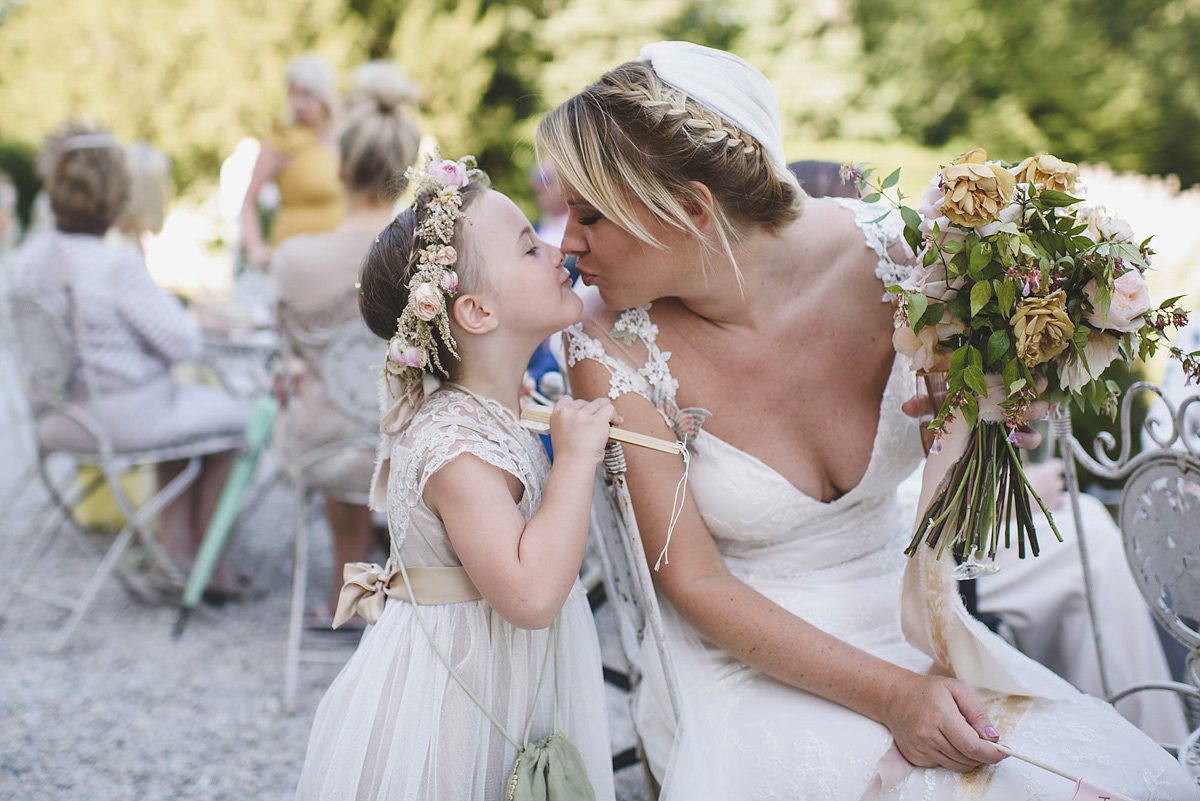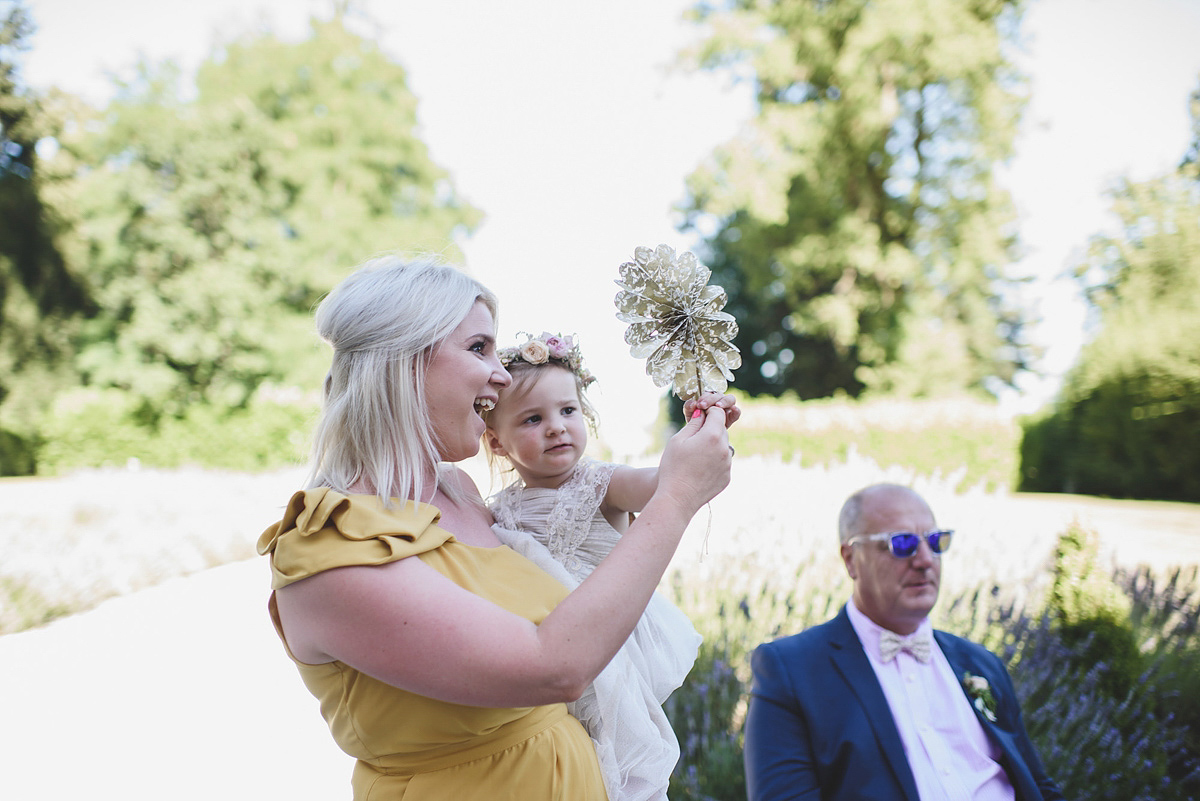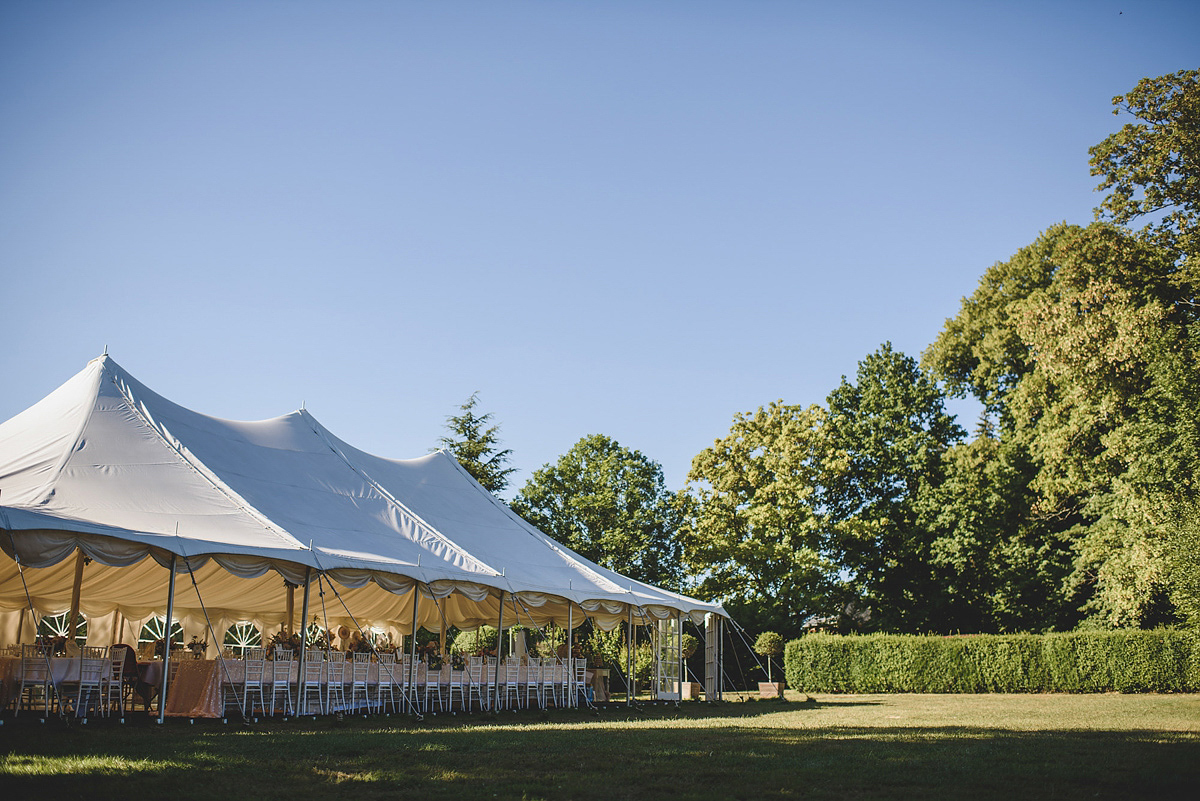 "Sourcing materials and helping to design everything from the bar menu and table plan to the button hole labels and bedroom door hangers was one of the most enjoyable parts of the planning process for me. I was set on having modern calligraphy everywhere (as a result of quite an extreme Pinterest addiction)."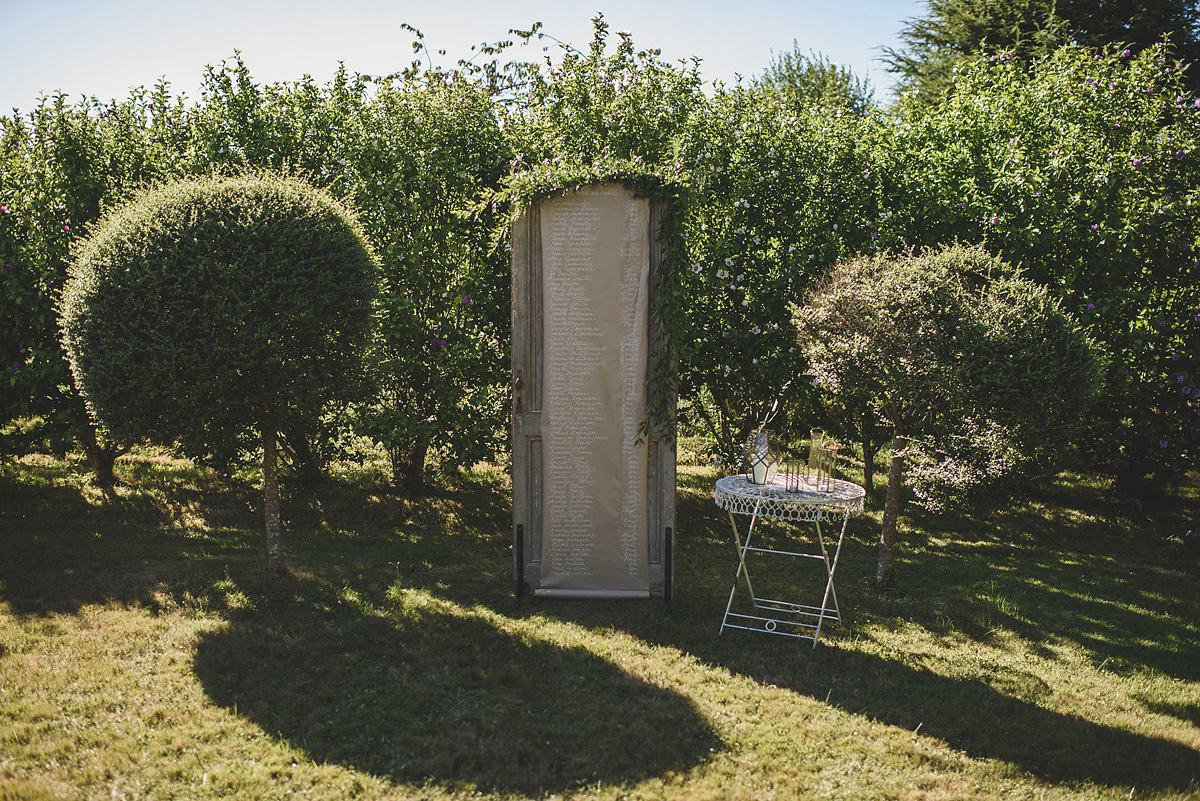 "Calligrapher Megan Riera did an amazing job of pulling it all off. It looked absolutely beautiful and I know she worked so hard to get it all done for us on time."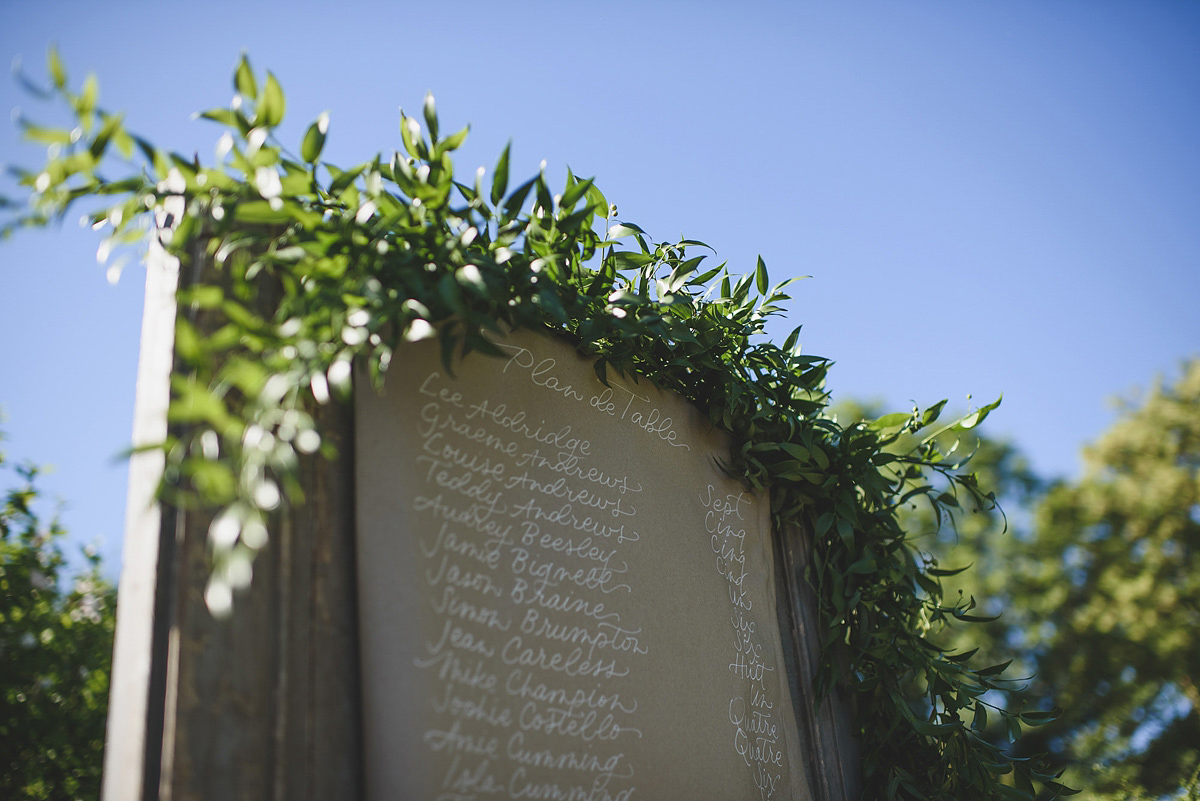 "We hired the sequin table linens from Magpie Linens in the UK, who were incredibly helpful and accommodating. They really set off the marquee."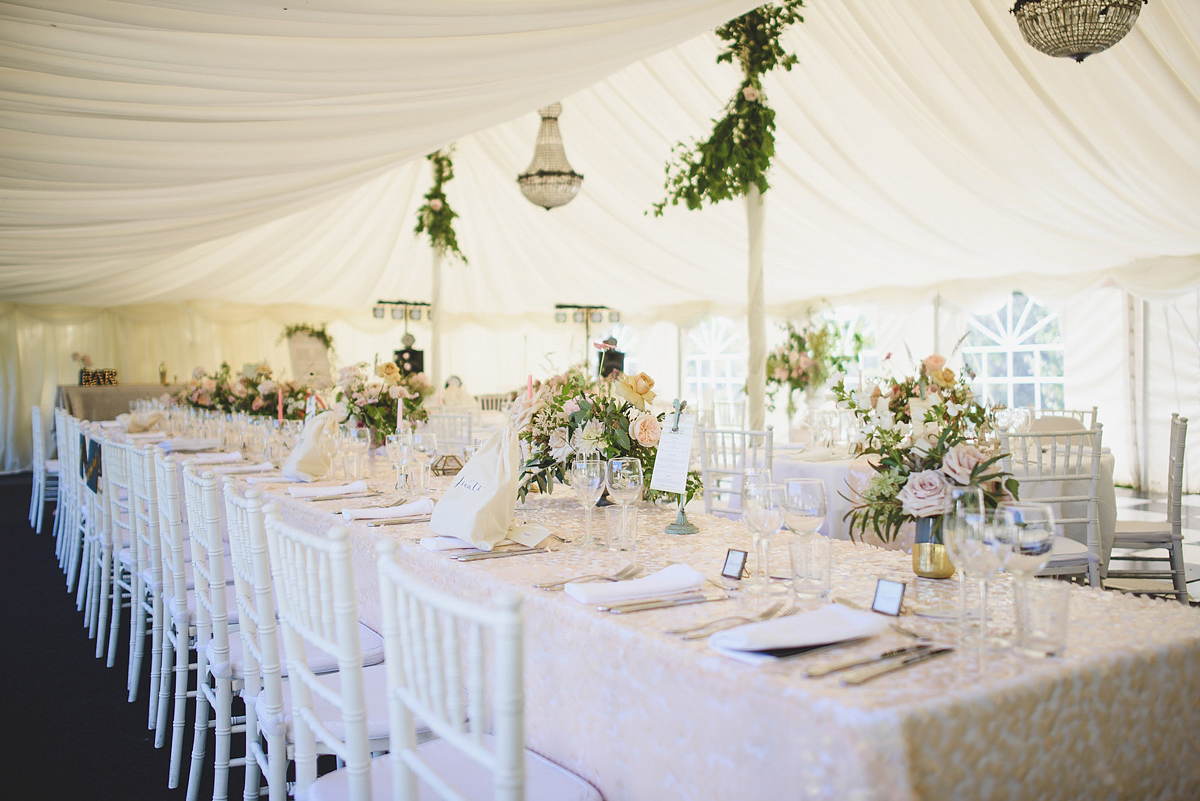 "We purchased lots of tiny brass frames from Nkuku as keepsake wedding favours and these also doubled up as place names. Calligrapher Megan Riera wrote each guest's name on tiny pieces of card to go inside the frames, with water colour and more gold leaf."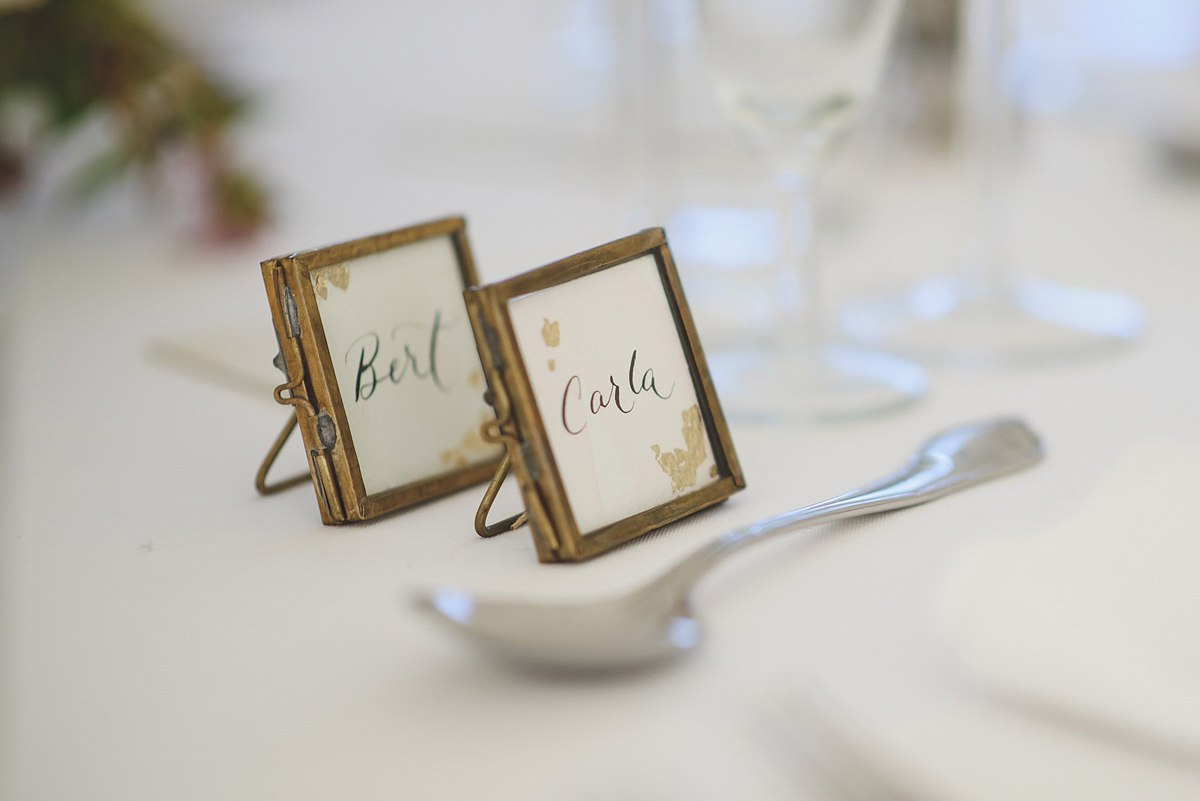 "I absolutely loved planning all of the visual aspects of our wedding. I went detail crazy, buying a few items each month for the whole three year engagement! I was so pleased at how many people noticed the effort and enjoyed taking it all in, as I had worried a little that it wouldn't be so appreciated on the day. I went for it anyway and it really paid off. People really do notice all the little touches and details."
"We made a couple of trips over to France in a van, to take everything over beforehand and store it with a neighbour of the chateau. I am planning to keep hold of it all and hire bits out for weddings and events as I have ended up with quite a vast collection of beautiful props including the lemonade stand we had built, lots of antique gold frames and a sage green bicycle which I couldn't resist, but have still never actually ridden! I don't know what we would have done without the storage facility in France!! Our dining room looked like Aladdin's cave for a good while."
"Most of the other décor, we purchased from Etsy, The Wedding of My Dreams, Not on The High Street and BHLDN."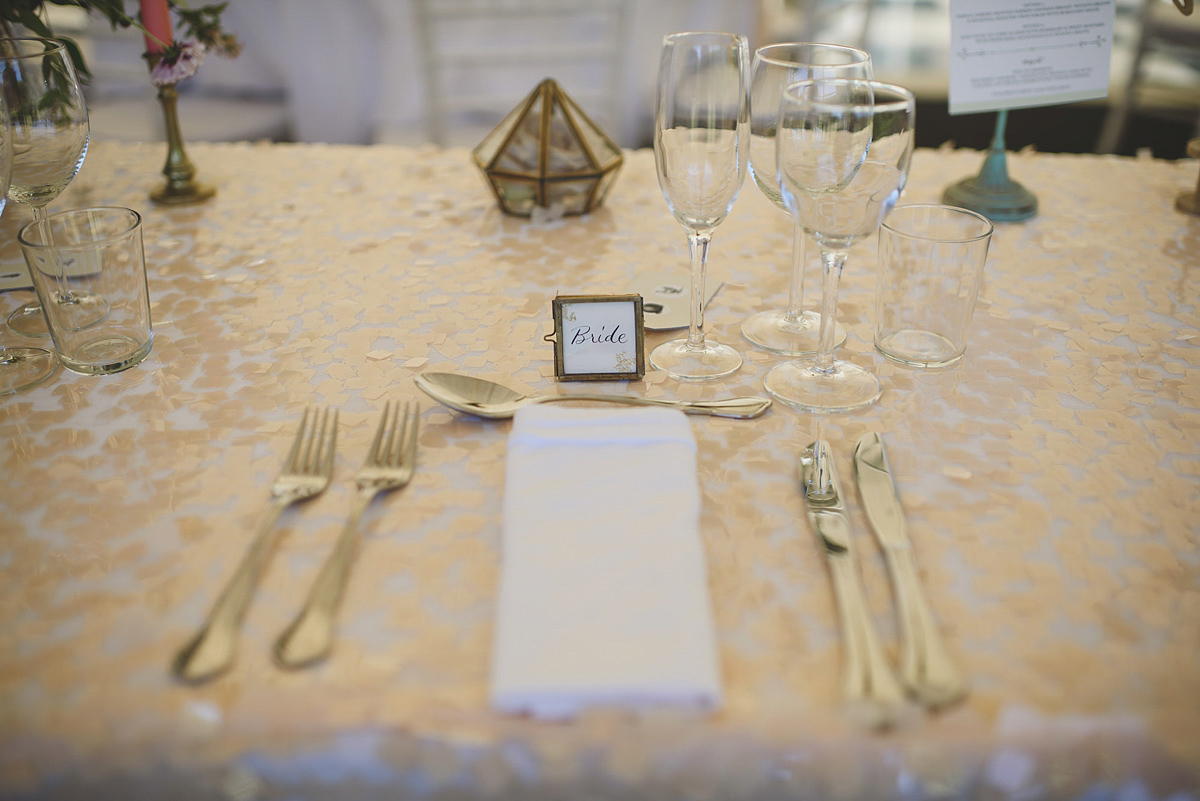 "Dan loves cake. This was one thing he was very happy not to compromise on and didn't resist in the slightest when I suggested we have four! I met Samina of Mon Dessert at The Most Curious Wedding Fair on Brick Lane, London which is so creative, stylish and quirky! My favourite of all the wedding fairs. Samina's desserts follow a French theme and her macarons were to die for, so we were delighted that she was happy to travel."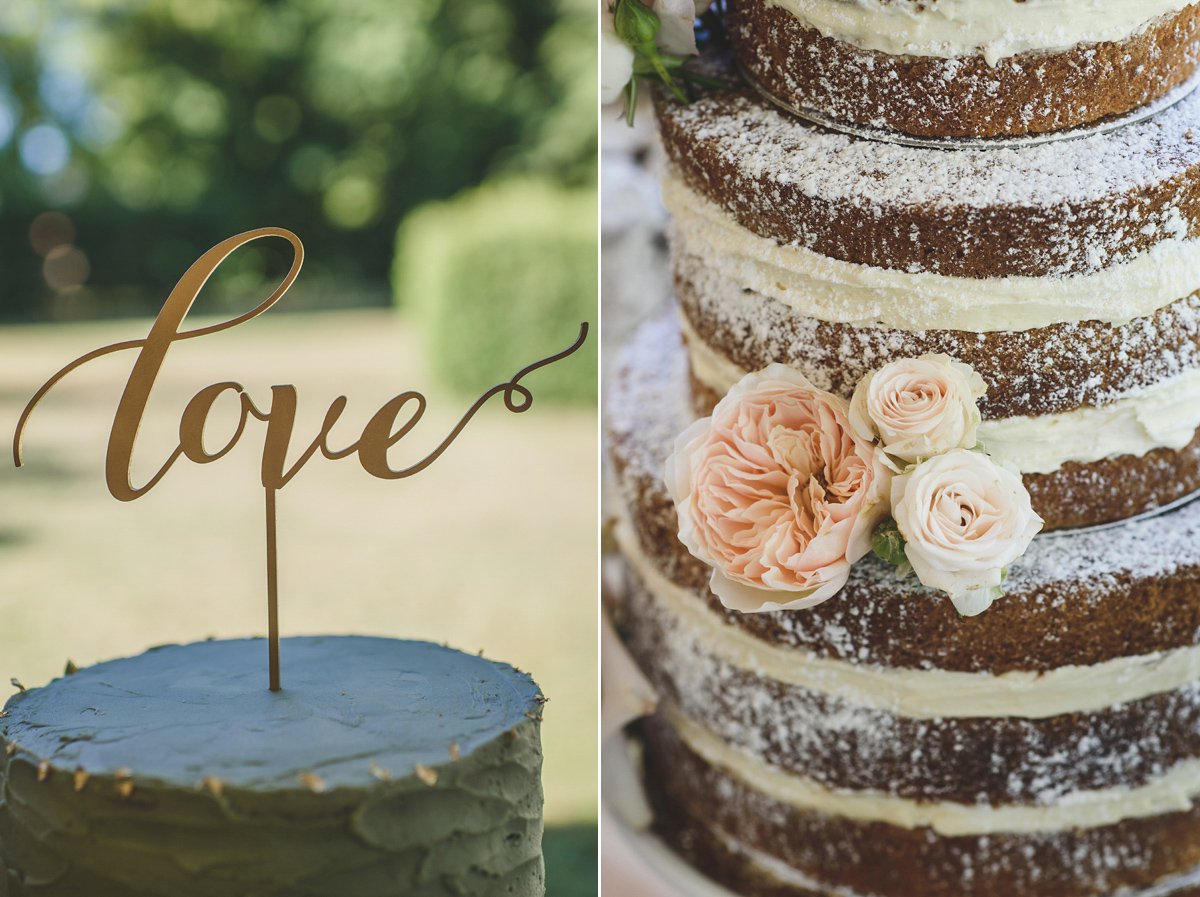 "Samina was so accommodating and even met us again in London for a tasting."
"We love the 'naked cake' trend so we had this as our main wedding cake with the most adorable fox & hare topper from BHLDN. The smaller iced cake was absolutely delicious with chocolate sponge inside. We also had a modern twist on a small Croquembouche (a traditional French wedding cake) and the macaron tower in our wedding colours with gold leaf.
You can never have too much gold leaf. This is my new moto."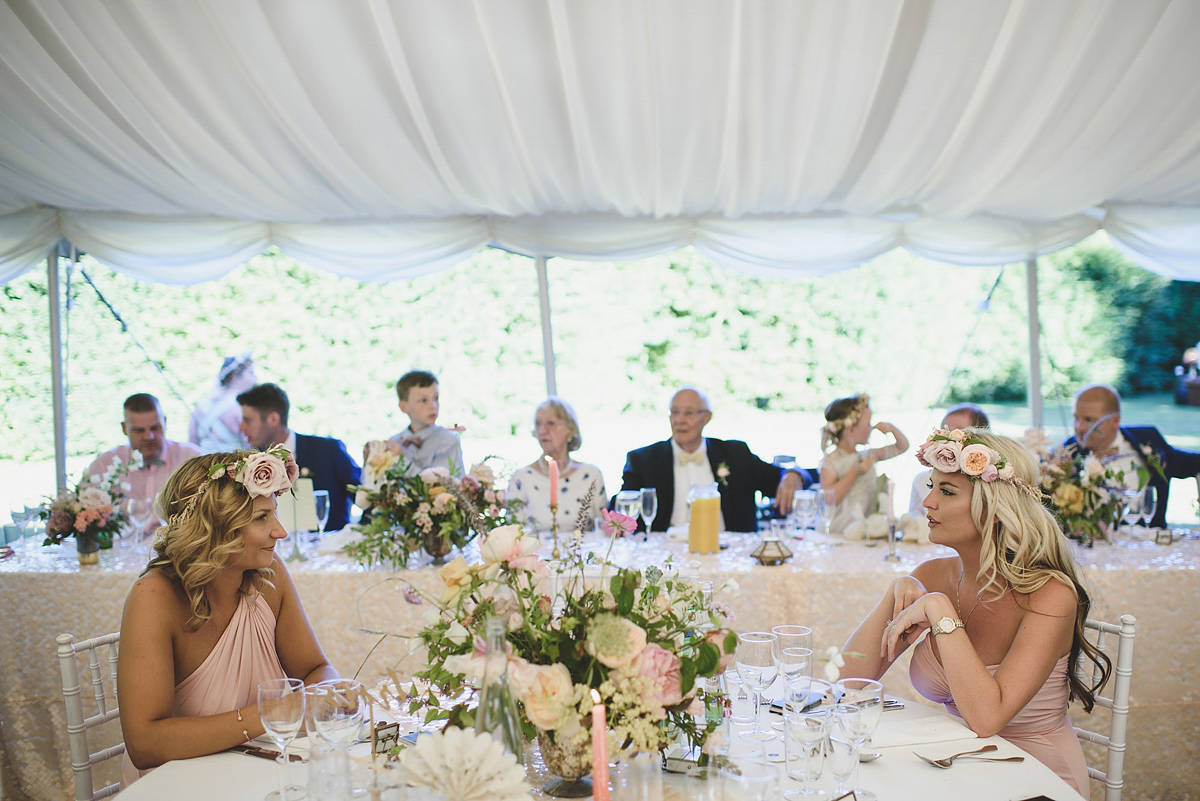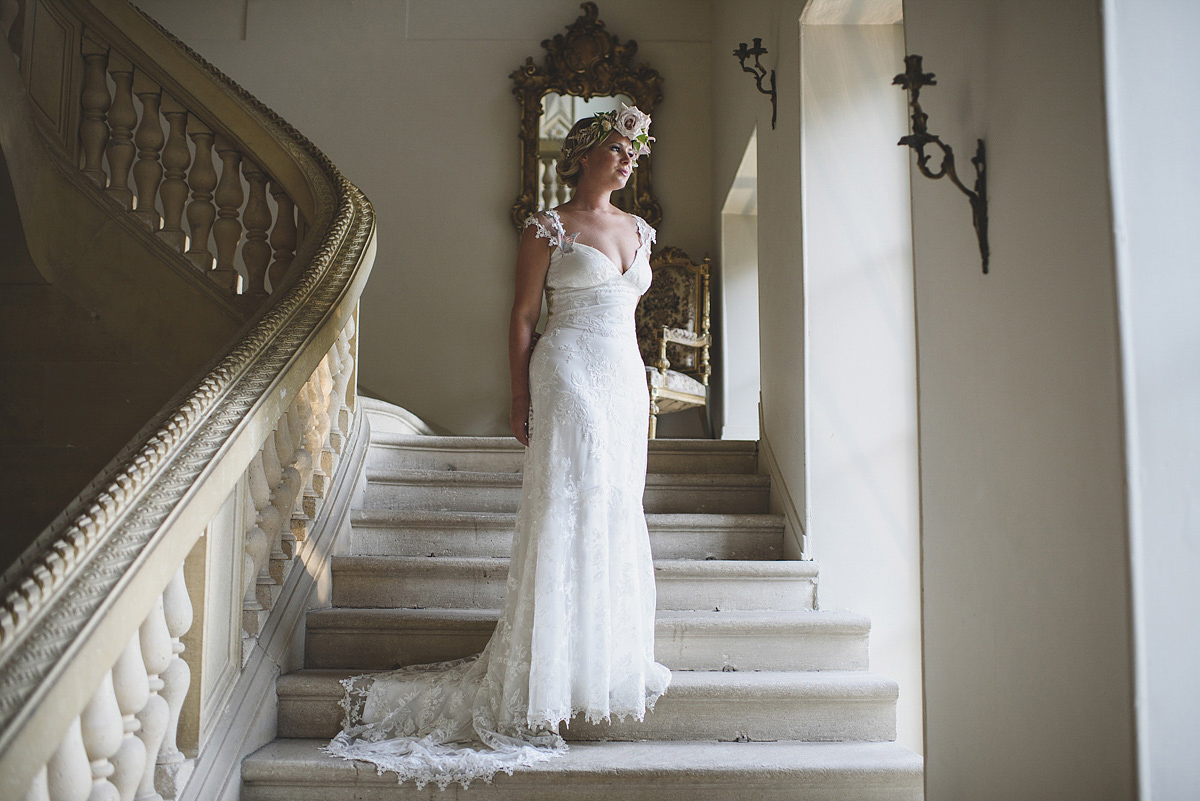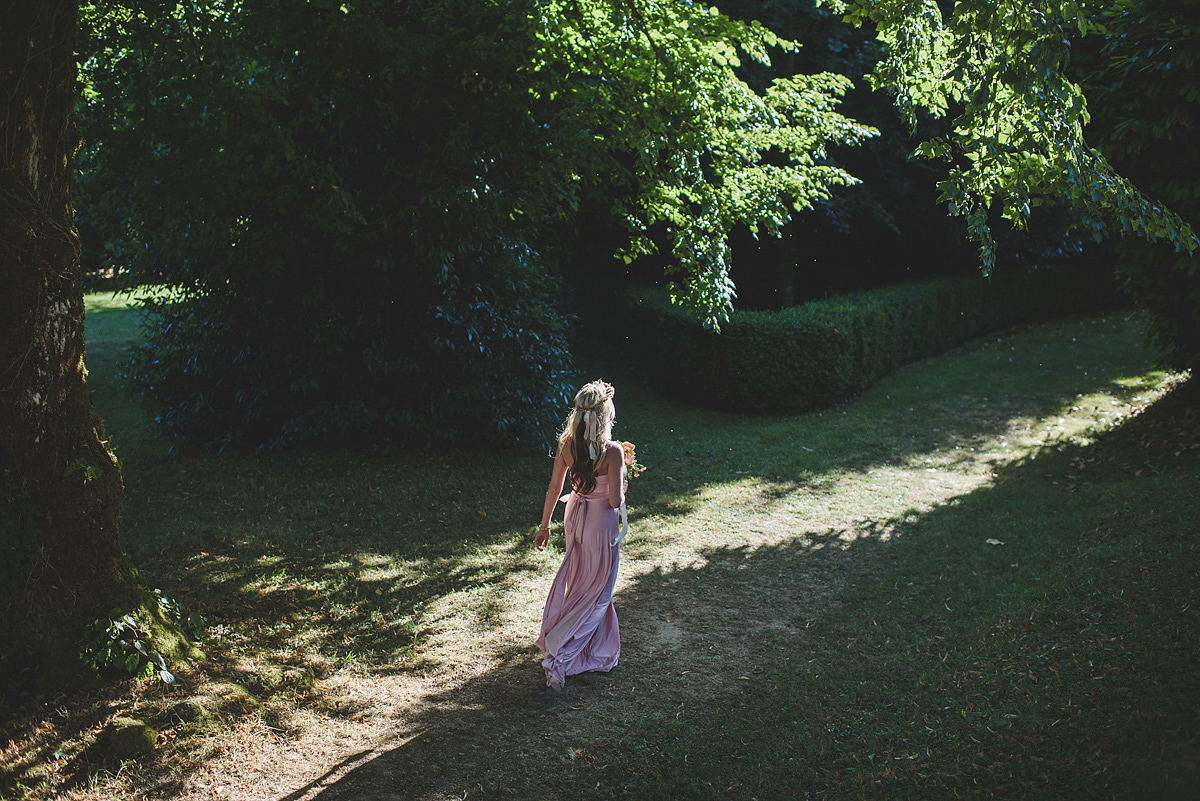 "We discovered our photographer Rik Pennington through a feature on Love My Dress, it was the wedding of my headpiece designer, Clara Francis to her actor husband, Jason Watkins. This particular wedding feature moved me deeply and Rik's ability to capture the heart-warming emotion of the day was utterly captivating."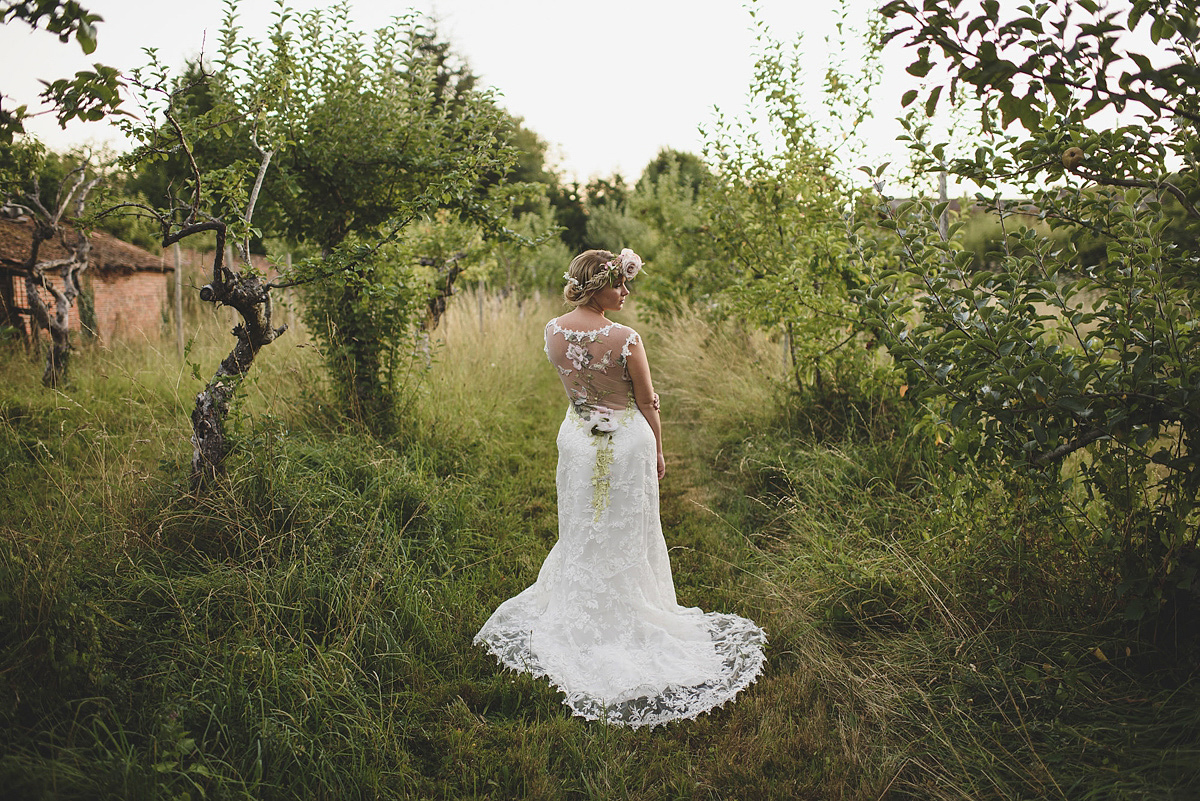 "I had never seen such artistic, raw, emotive images. I absolutely adore photography and its ability to transform moments into memories. Apart from our marriage itself, our photo album would be one of the only parts of our wedding day to last forever and ever and be handed down through generations to be admired, so this was one of the most important decisions of all for us."
"Rik was so accommodating, set no time limits on the day and most importantly we trusted him wholeheartedly to work his magic. Wow, did he deliver!! Every single photograph is a work of art in its own right. We are seriously at risk of turning all of the walls in our house into a shrine of ourselves!"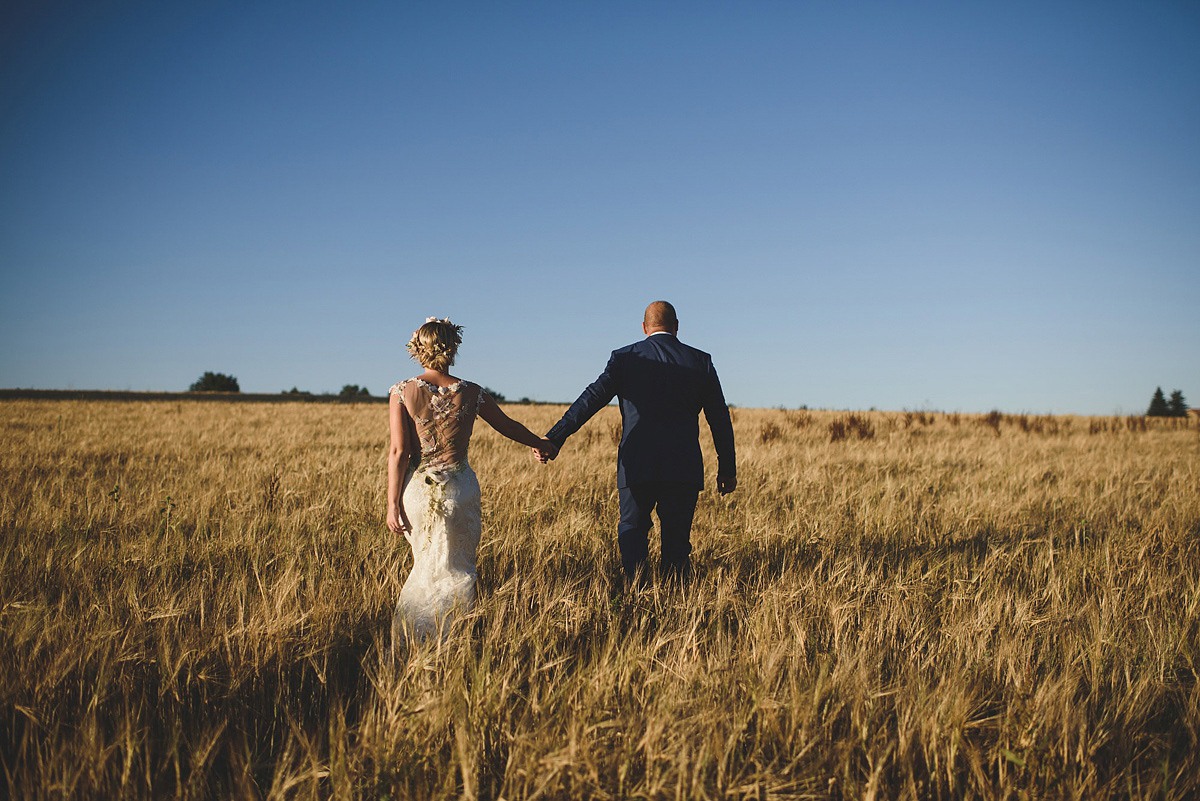 "I think our film maker Mark W. Brown knew about our wedding before the groom did! I have been admiring his work for years and actually got in contact with him before Dan had even proposed, to insist that I couldn't possibly ever get married without him."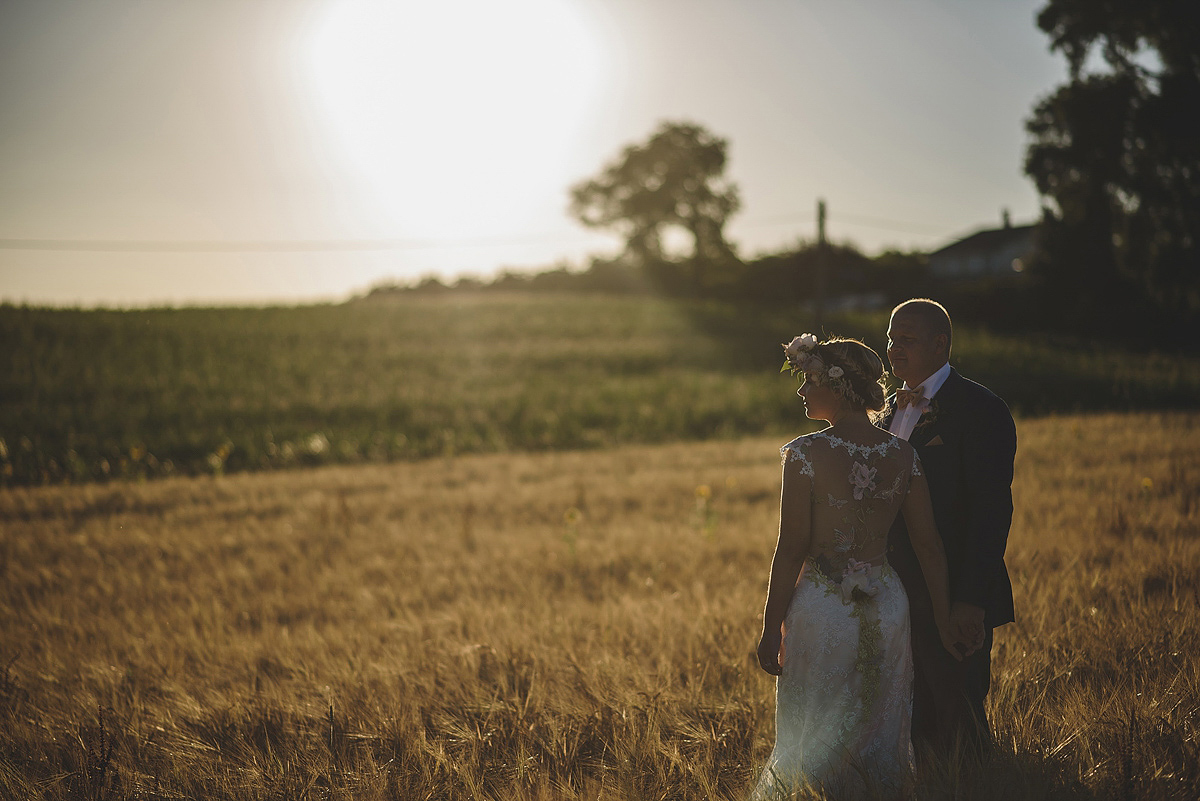 "His super 8mm films are so authentic and timeless. Each one is a magical little creative masterpiece. We were so honoured to have had him shoot our wedding. We cry tears of joy and notice another little detail or fleeting moment every single time we watch it back, which is daily!"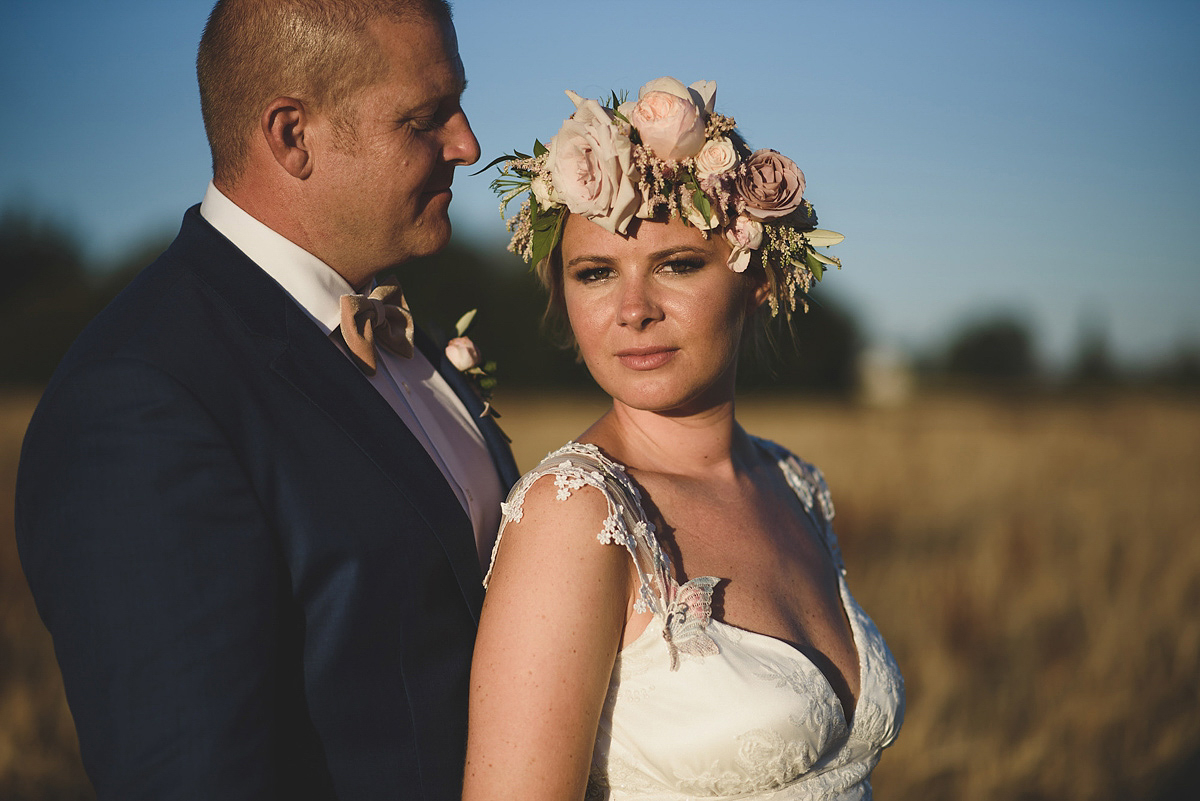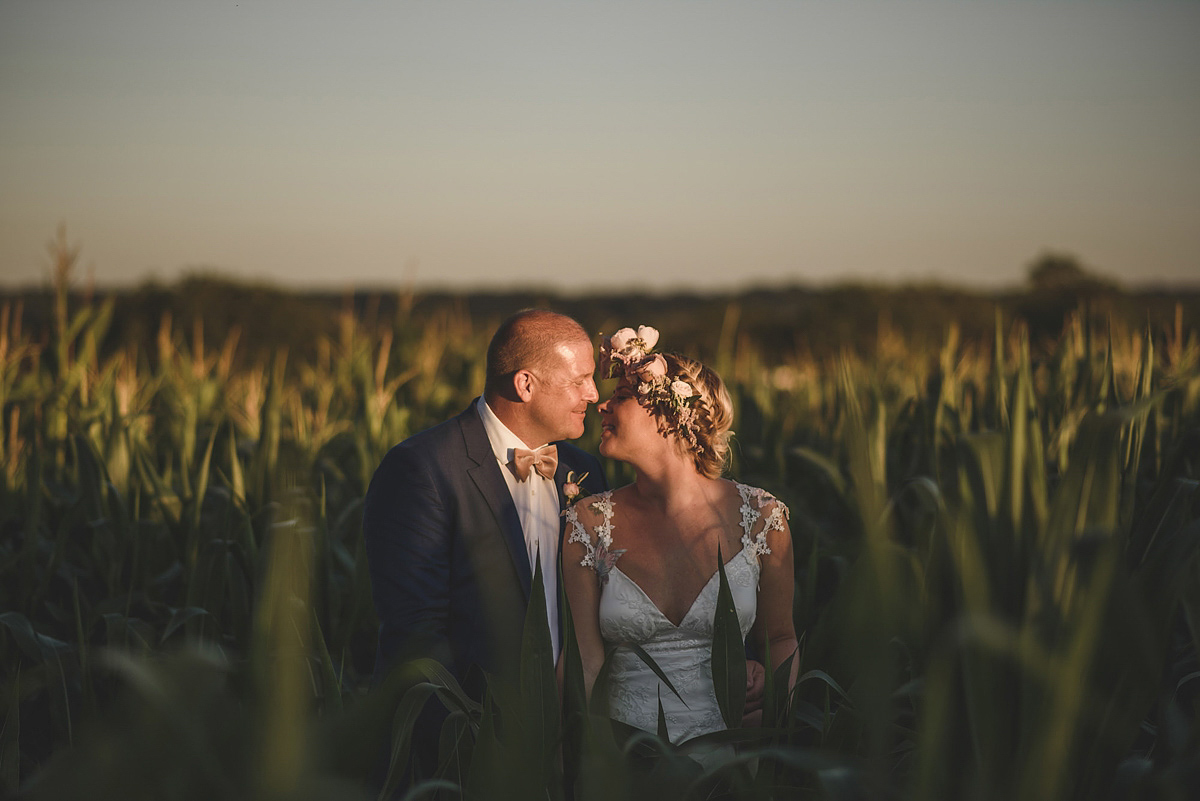 "We had leather hip flasks from Aspinal of London engraved with each of the groomsman's initials and gave these out during the speeches as a thank you gift. We also gave beautiful little Vera Wang trinket boxes from Harrods to our Mothers and my Grandmother and Kate Spade 'Partners in Crime' gold bangles to the bridesmaids."
"They all chipped in and bought me one to match after the wedding day, which I thought was adorable. We gave my Maid of Honour a beaded butterfly necklace by Clara Francis Jewellery."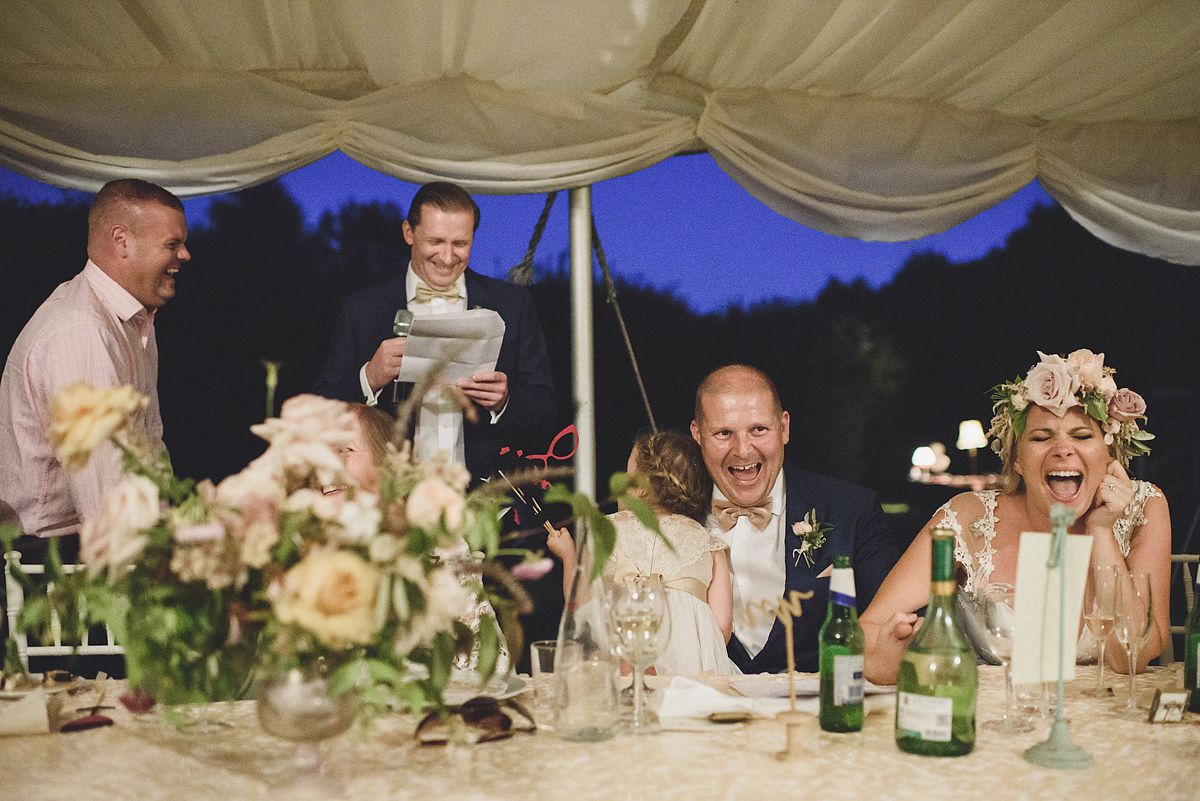 "For the children, we put together plain teddy bears in personalised drawstring bags, which they could design and draw on. These were a hit! Lots of children walked around the tables to have their bears signed by every guest as a little memento."
"Our first dance was to 'Grow Old With Me' by Tom O'Dell. Growing old together is one of the biggest dreams we share and what we aspire to, so the lyrics really resonate with us."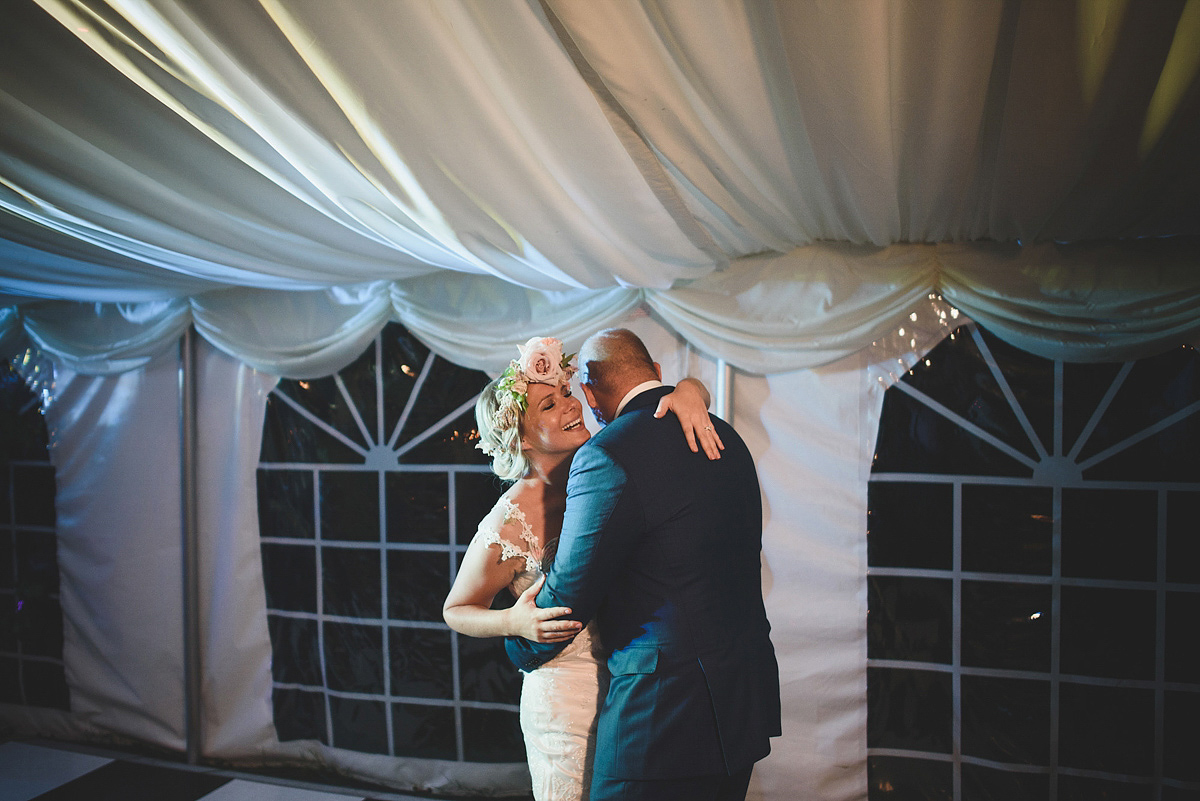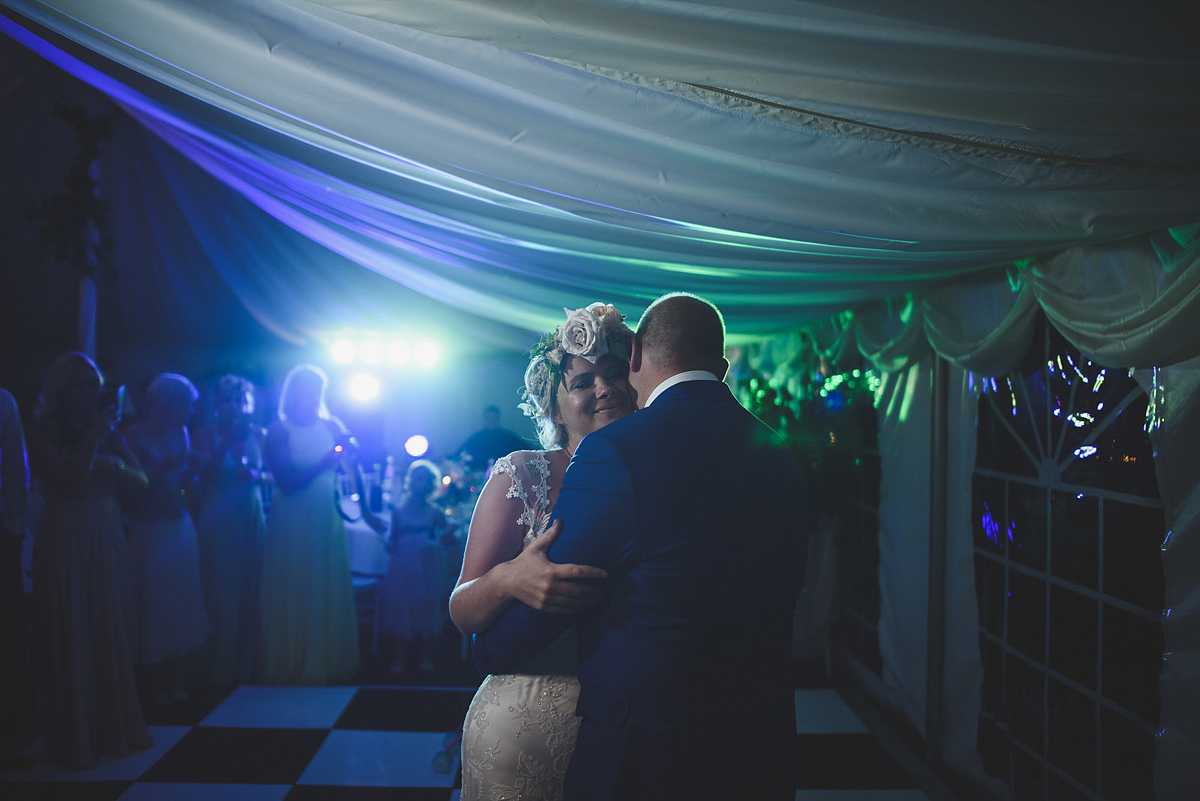 "I honestly don't think I would change a thing about the day or do anything differently. It was a dream come true. No little hiccups matter in the slightest when it finally comes around. We lost a couple of valuable items during the hectic lead-up and I was so overwhelmed at the canape reception that we didn't end up getting quite as many of the group shots we may have liked, but I didn't care at all."
"I just wanted to have fun and enjoy being in the moment. With so much time and effort having gone into the planning, I just decided to let go of all control on the day and let it unfold naturally as the day it was destined to be. Having the planner to co-ordinate everything on the day and tie it all together for us helped immensely with this. Charlotte was an angel!"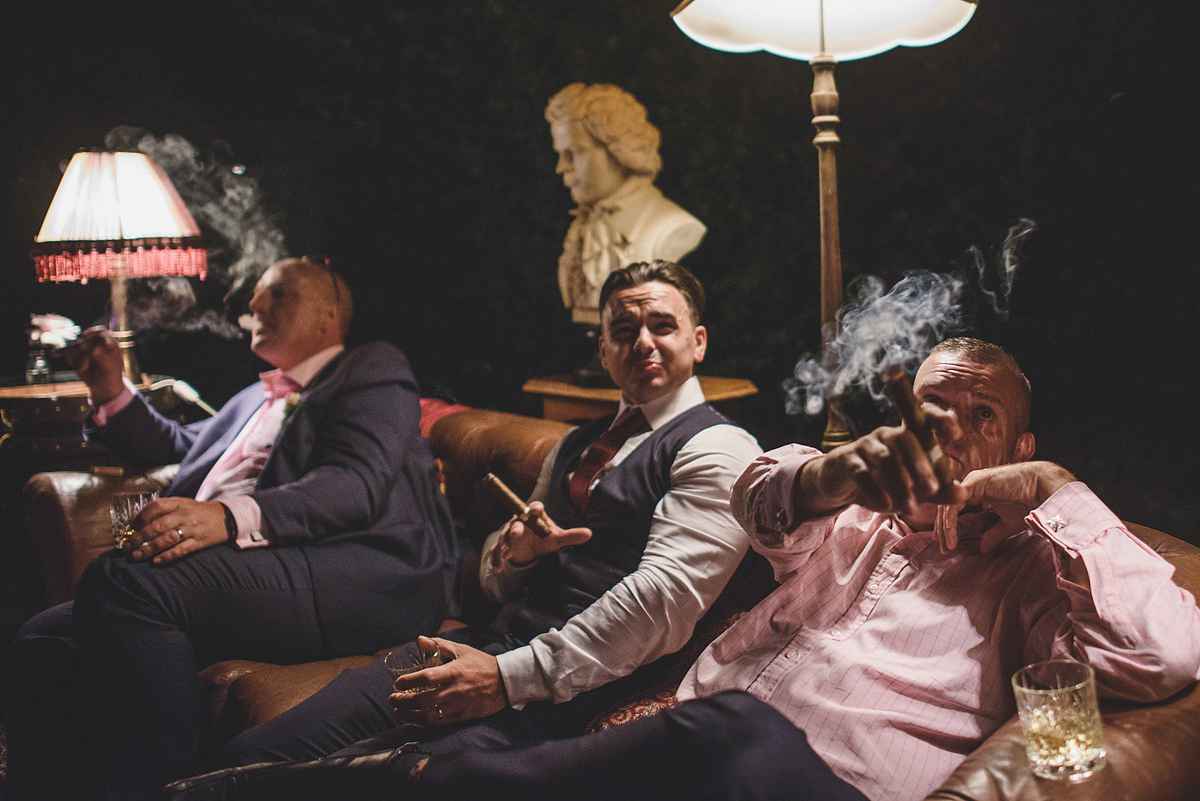 "I booked fireworks (via the chateau) as Dan's main wedding present from me and managed to keep it a total secret from everyone including Dan for almost 3 years!! It was the best thing ever to see everyone so surprised, especially Dan, who had absolutely no idea. It was the most impressive display and went on for ages and ages.
Every time we thought it was about to end, it carried on again, even bigger and better and more spectacular."
"To stand and watch them side by side with my new Husband, and listening to the incredible reaction of all our loved ones on the steps of the chateau behind us, was such a euphoric feeling and the most wonderful way to wrap up a perfect day. We laughed with joy, arm-in-arm through the entire display, just soaking it all in together."
Words of Wedded Wisdom…
"If affordable, I would highly recommend a wedding planner or co-ordinator, even if it's just for the day itself to help you relax and enjoy yourself. Charlotte was worth her weight in gold and I couldn't have done it all without her. She (along with Google Translate) also helped a lot dealing with French speaking suppliers! I would also suggest taking as few people as possible to buy your dress. Sharing that experience with just my Mum was so special and intimate and I am glad I didn't have too may opinions to overwhelm or confuse me. It was also a lot of fun keeping the dress secret from my bridesmaids right up until I was wearing it on the morning of the wedding!
Use suppliers because you love them and not because you just sort of 'need to have them' or because they are based closest. We chose every individual/business involved in our wedding because we were passionate about what they did, adored their work and trusted them totally creatively and professionally. We were very lucky to be able to support so many UK suppliers, despite our wedding being abroad, which was really important to me. I'd also say look after your suppliers and they will look after you.
A good relationship with the people responsible for making your day what you want it to be is so important. Feed them well on the day! They work so so hard and will really appreciate any thought you have put in to making them comfortable and welcome and their job easier. We tried to treat everyone from the DJ to our photographer as much like wedding guests as possible, which actually made for a really fun night and we have also made some amazing new friends."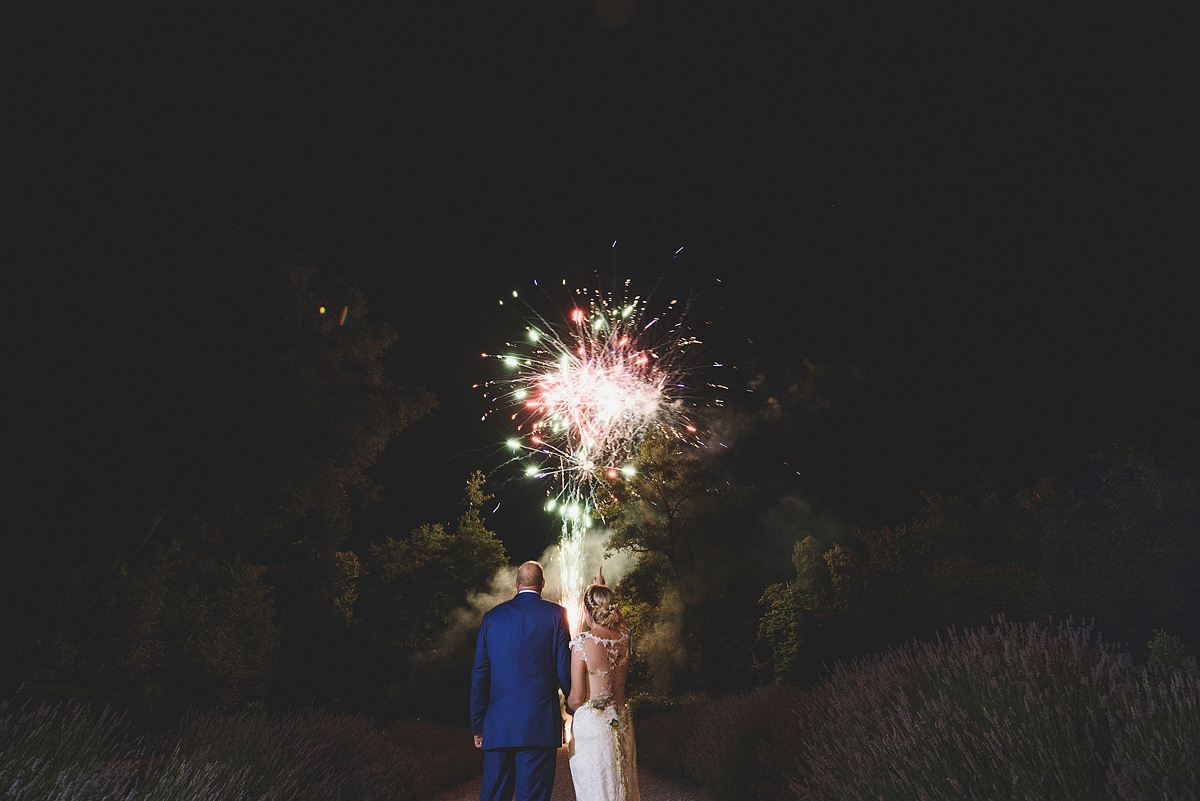 "Weddings are so expensive and the industry gets some stick for it, but the level of commitment and effort that goes into it all is astounding. I really believe you get what you pay for if you chose to work with the right people. You can't really go wrong taking recommendations from a trusted, reputable source like Little Book for Brides.
Try and give yourself as much time as possible for getting ready. We thought we had forever between getting started with hair and make-up at 9am and a 3pm ceremony but it soon flies by with all the excitement. I think I spent a bit too long being relaxed and enjoying watching it all happen around me to begin with and then felt a little overwhelmed, crammed in after all of the bridesmaids, my Mum and my daughters in the end!
Make a pact to set aside some alone time together as husband and wife on the day, even if it's brief. It is such a whirlwind and very easy to feel like you have barely seen each other. We spent quite a while away for our portraits which was the best time for us to squeeze this in and so much fun. We had also agreed to try to mingle with our guests together rather than separately, but this was a lot trickier than anticipated."
"Lastly, to all of the brides (or grooms) worrying about their image or losing weight before their upcoming wedding – PLEASE don't let it consume you. Having had three children by the time our big day came around, I certainly wasn't a size 8 and my self esteem was pretty low for a while. I put myself under a lot of pressure at first to look 'perfect' by the wedding day, but I realised eventually that my body is amazing to have produced our gorgeous babies and that I should be bloody proud of it. Focusing on planning the wedding of our dreams helped me to stop caring so much about shifting my love handles and realise what was most important.
Remember what it's about. All anyone will notice on the day is your beaming smile, including your bride/groom who loves you exactly as you are and wants to marry you for being that very person – inside and out."
(Readers, you *must* read Helaina's 'body confidence and bridal boudoir' feature on Love My Dress)
It sometimes feels like there are no words adequate enough to thank our wonderful readers for such kind words, for such generosity and kindness in sharing their heartfelt wedding celebrations to inspire others, but Helaina, please know my heart is indeed full of gratitude and that I felt incredibly humbled preparing this piece to share today.
Readers, if you are as blown away by this wedding as we all are here at team Love My Dress, you might want to contact Helaina for some advice on styling your own wedding – Helaina offers all kinds of services from advice to full on-the-day planning and styling. We are all just a little bit in love with her and would recommend her in an instant. Visit her website here or take a look through her new addition to our Little Book For Brides pages.
My love and thanks also to photographer Rik Pennington and to my precious friend Clara Francis, for being the ultimate inspiration behind this beautiful day.
Love Annabel x