Good morning everyone and how does this Tuesday morning find you? I have a most beautiful and inspiring view from my office chair – it's incredible watching the sun-appear from above the hills in the distance. Now if you follow Love My Dress on Instagram (and you do, don't you), you might have spotted this image that caused quite a hit last night. And that, unsurprisingly, was because the bride looks incredible. Her name is Bethany and when her wedding photographs first arrived, I thought they were from a bridal fashion photoshoot!
Bethany and Ajay's wedding took placed on 19th August last year at the beautiful Cripps Barn in Cheltenham. Their wedding day was full of incredible floral design that fit in beautifully with the rustic, stone backdrop offered by their chosen venue. But of course, it was Bethany's divine dress that stole the show. Bethany pulled off a a sense of chic, glamorous, Studio 54/1970's inspired style with absolute perfection in a gown created by independent designer Jenny Lessin – who I'm immensely proud to have listed in our Little Book For Brides,
"I knew in advance that I wanted to design my own unique wedding dress so didn't spend time visiting bridal shops. I researched online and found dressmaker, Jenny Lessin, who designed my dress with me and made it a reality. I knew that I wanted a dress that was form fitting but not exposing, with full length sleeves, to create a modern sultry shape with classic design. I wanted the lacework to compliment the curves of my dress and I was delighted with the outcome."
Photography by The Hendrys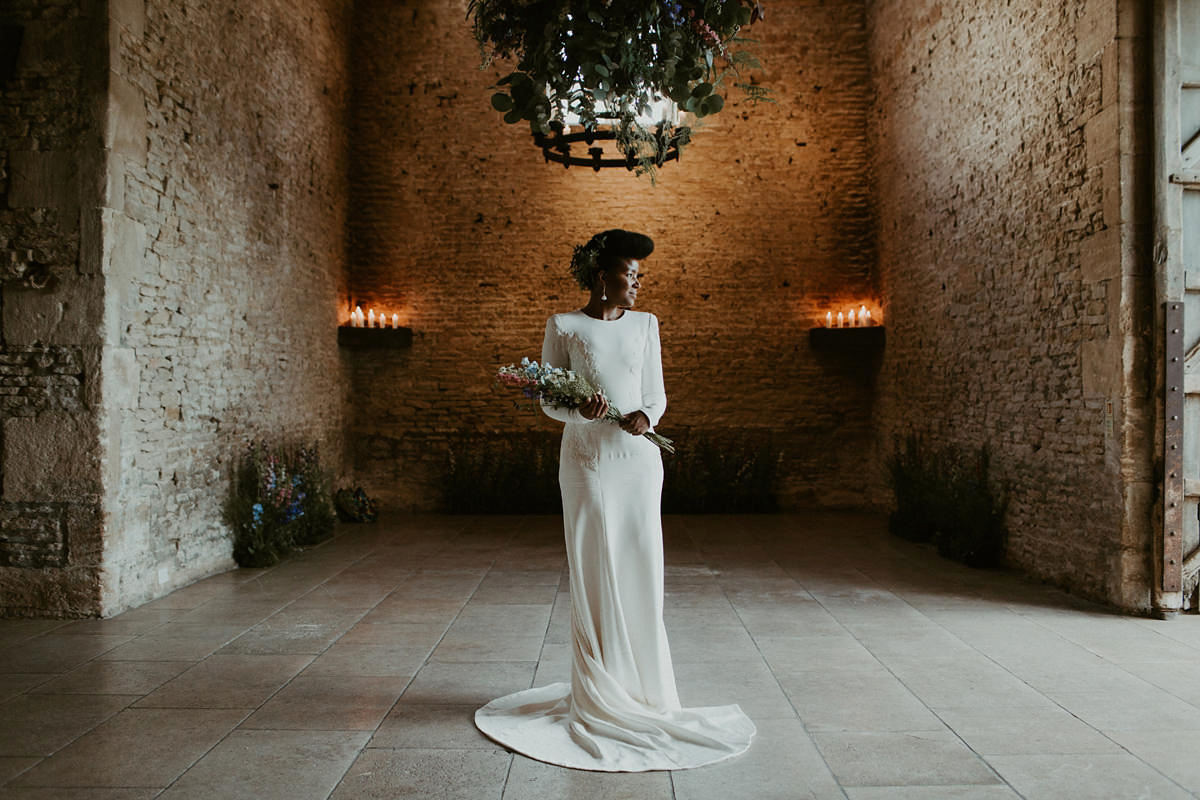 "We fostered a flexible approach to the wedding style planning and this was in keeping with the way we envisioned the day. We wanted something more informal and relaxed for everyone (particularly ourselves), than conventional Hindu celebrations."
"To compliment the rural barn venue we opted to focus on a rustic floral decor with fresh and vivid greens, blue, lilac and pink that would be vibrant but not overpowering."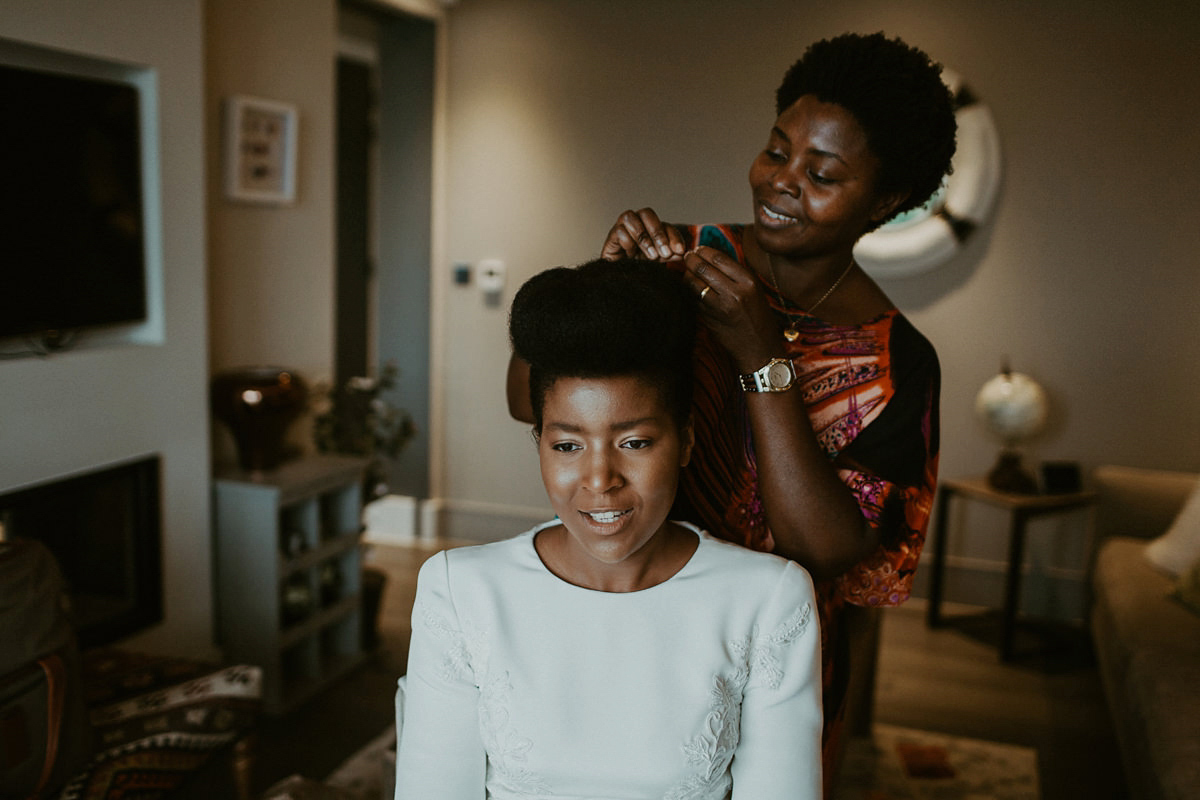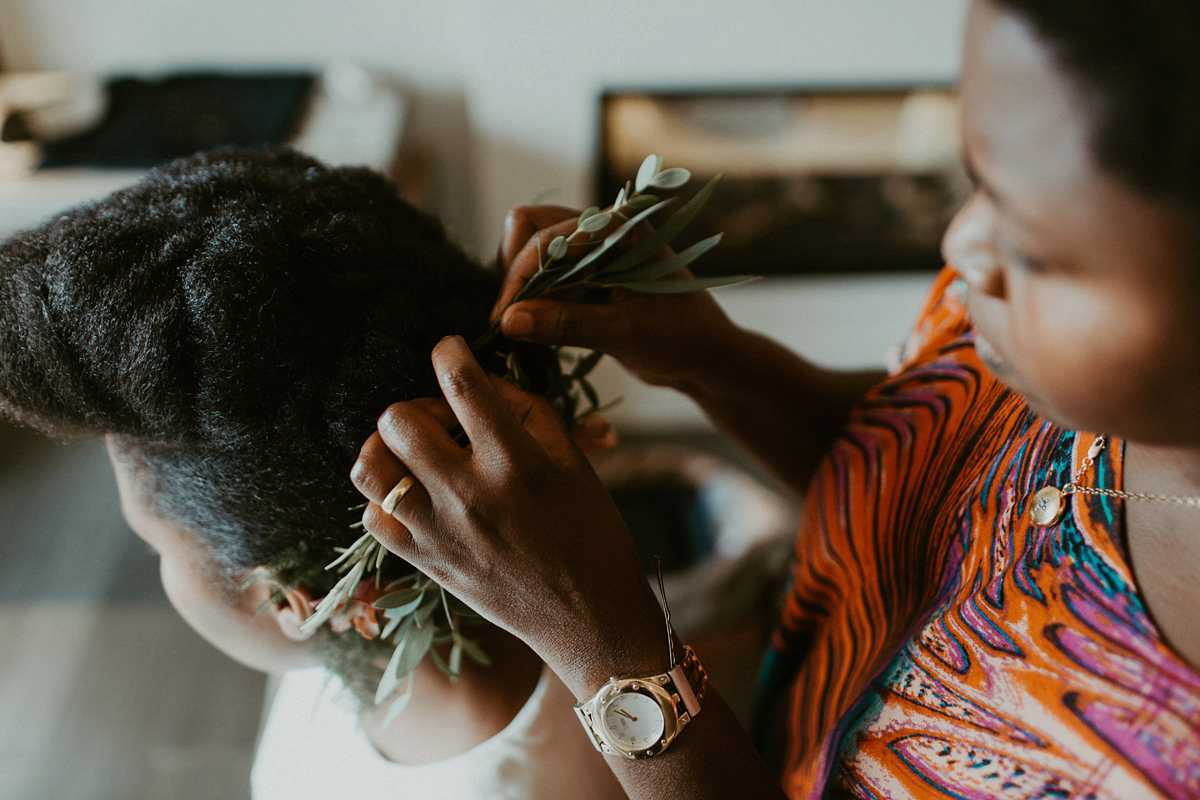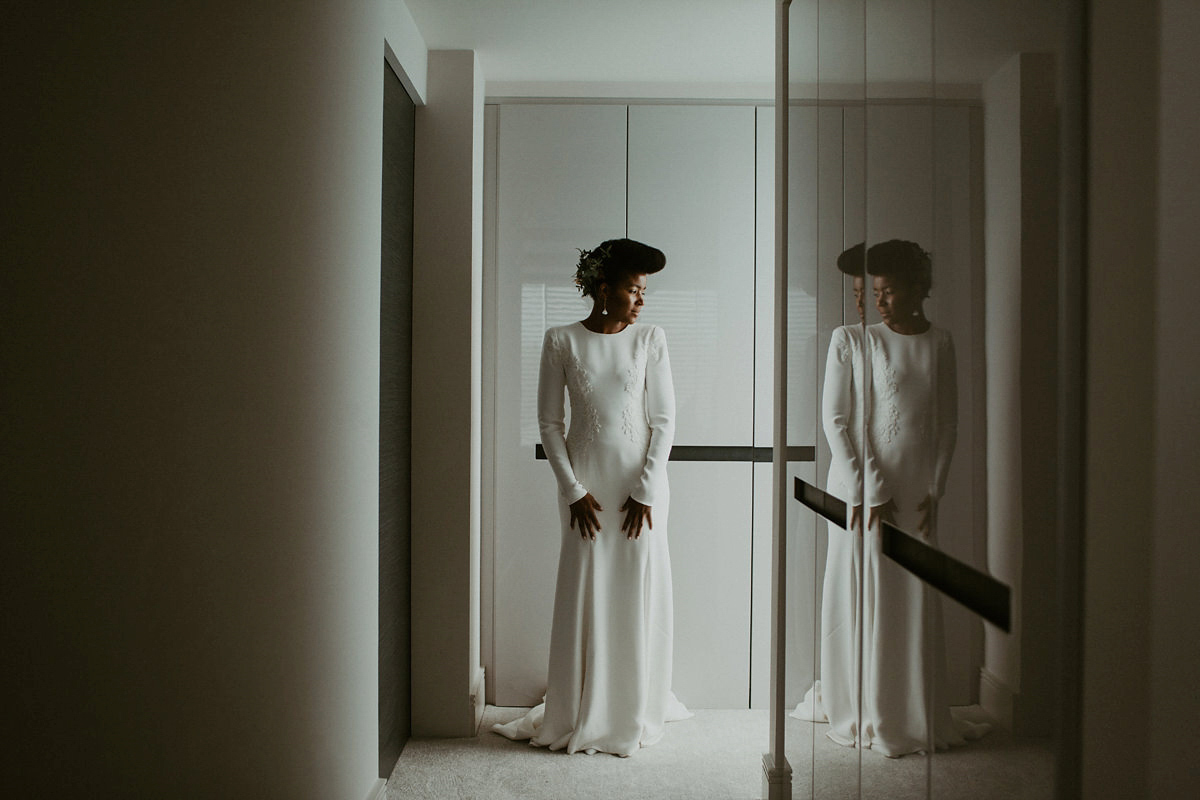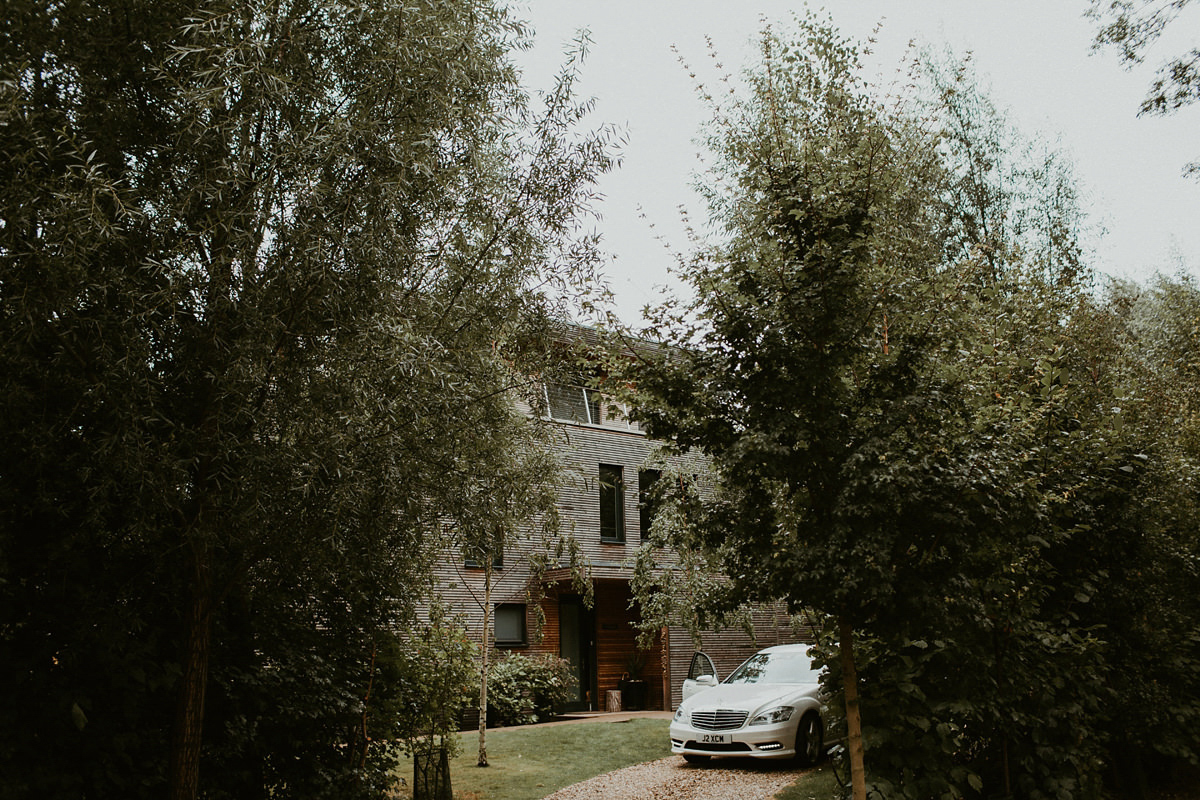 "Cripps Barn is a beautiful venue surrounded by lush fields and not another building in sight – there is authentic exposed brickwork with well-placed subtle lighting throughout."
"The fairy lights on the ceiling of the Dutch barn are magical. And this venue has the UK's LARGEST indoor open fire BBQ!"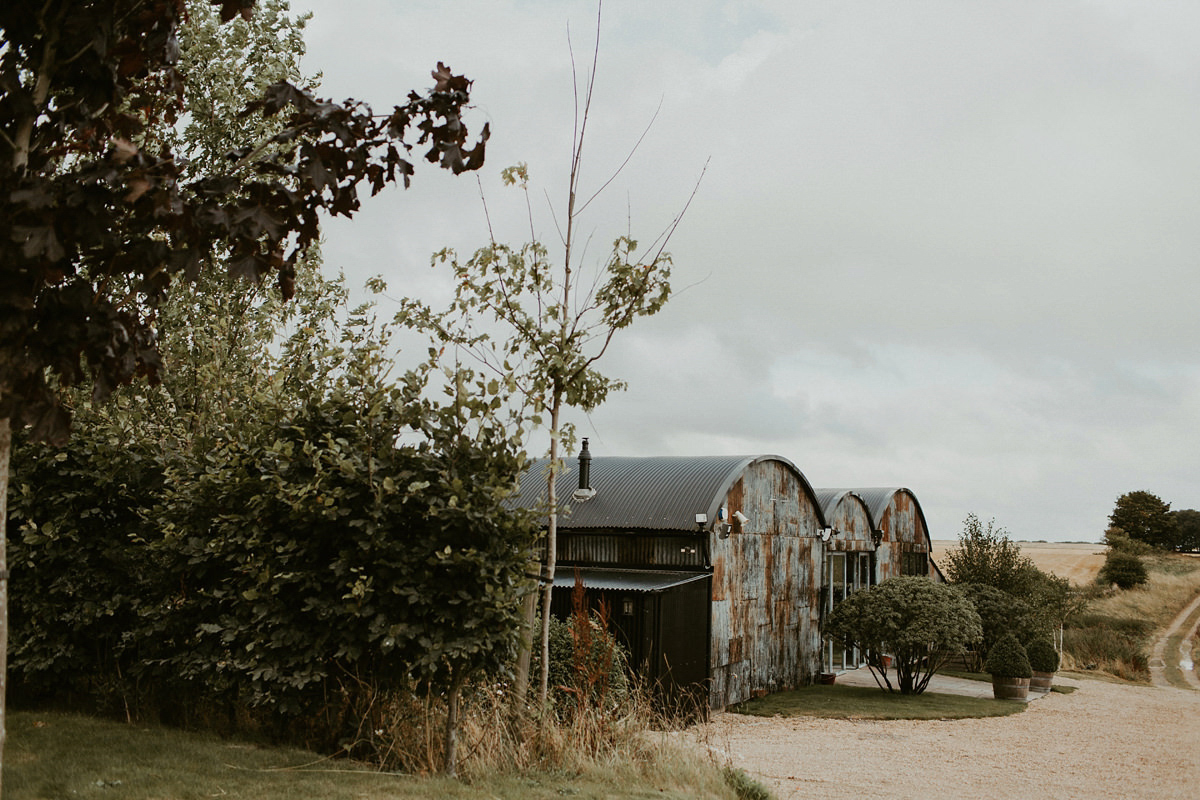 "We invested quite a bit of money in the floral design, with a stunning flower aisle and huge hanging flower arrangement. The dining tables had rows of coordinating flower filled bottles too. The inherent beauty of Stone Barn meant that we did not need or want to put lots of decorations into it."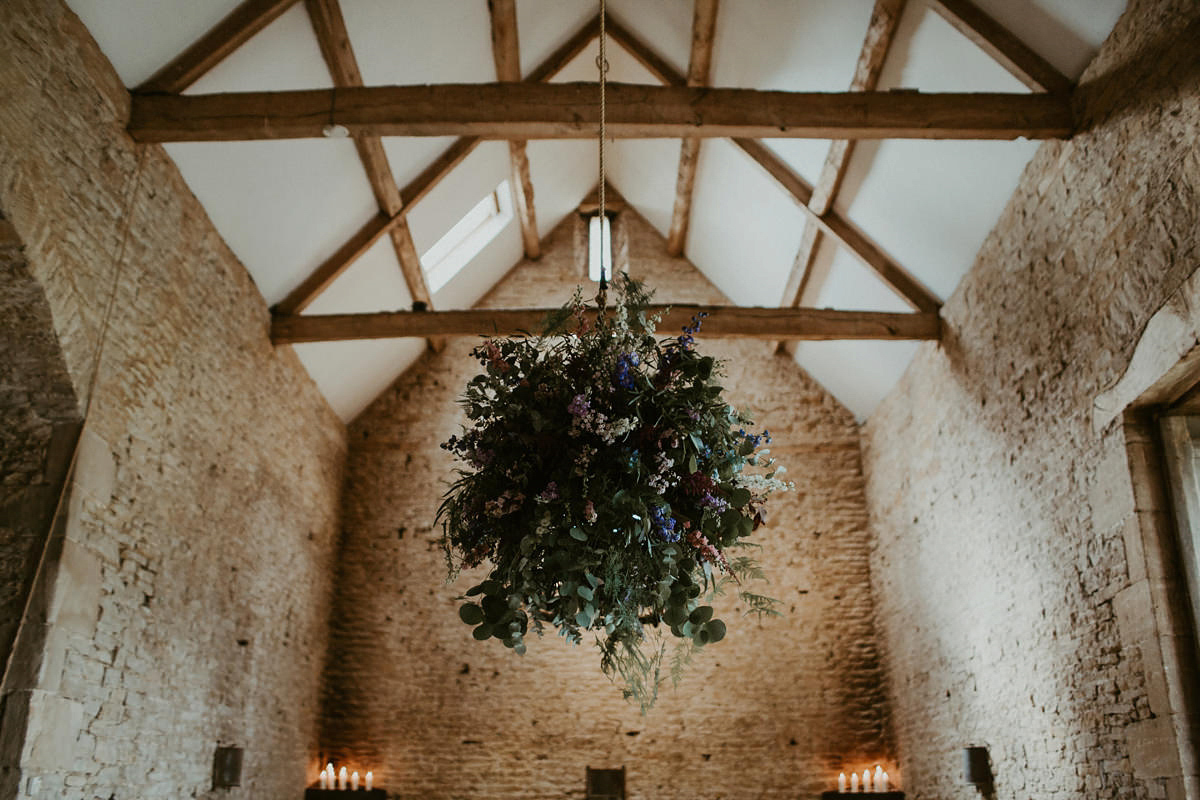 "Our florist, The Rose Shed, had pictures from her own wedding on her website. She created her own stunning flower aisle which I wanted to recreate. She did a marvellous job also with the huge hanging flower basket that created a feature in our ceremony hall."
"Ajay and I went to university together but became friends a year after we finished our degrees and things just developed organically. Ajay proposed to me in Ōkōchi Sansō garden, Kyoto (Japan) halfway up a mountain."
"He ran ahead about 20 meters and up a path so that he was out of sight and waited on one knee until I came around the corner. We were engaged for 15 months before tying the knot."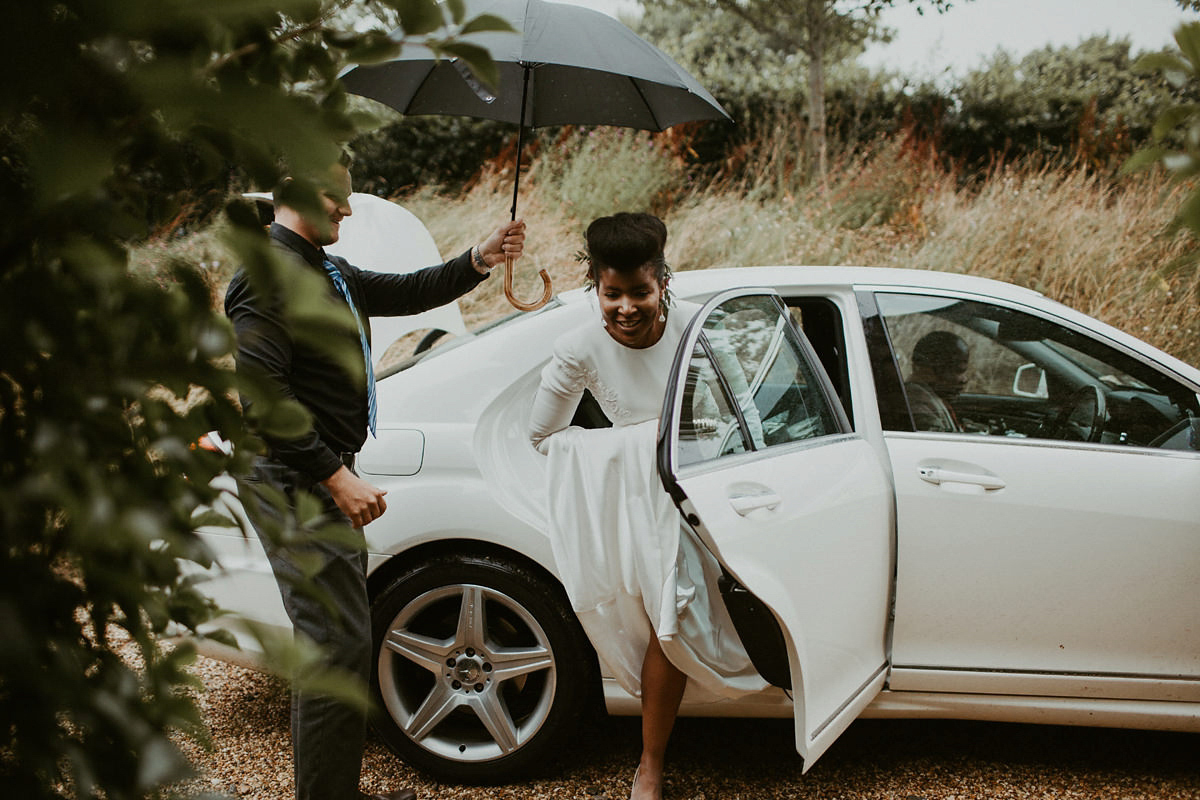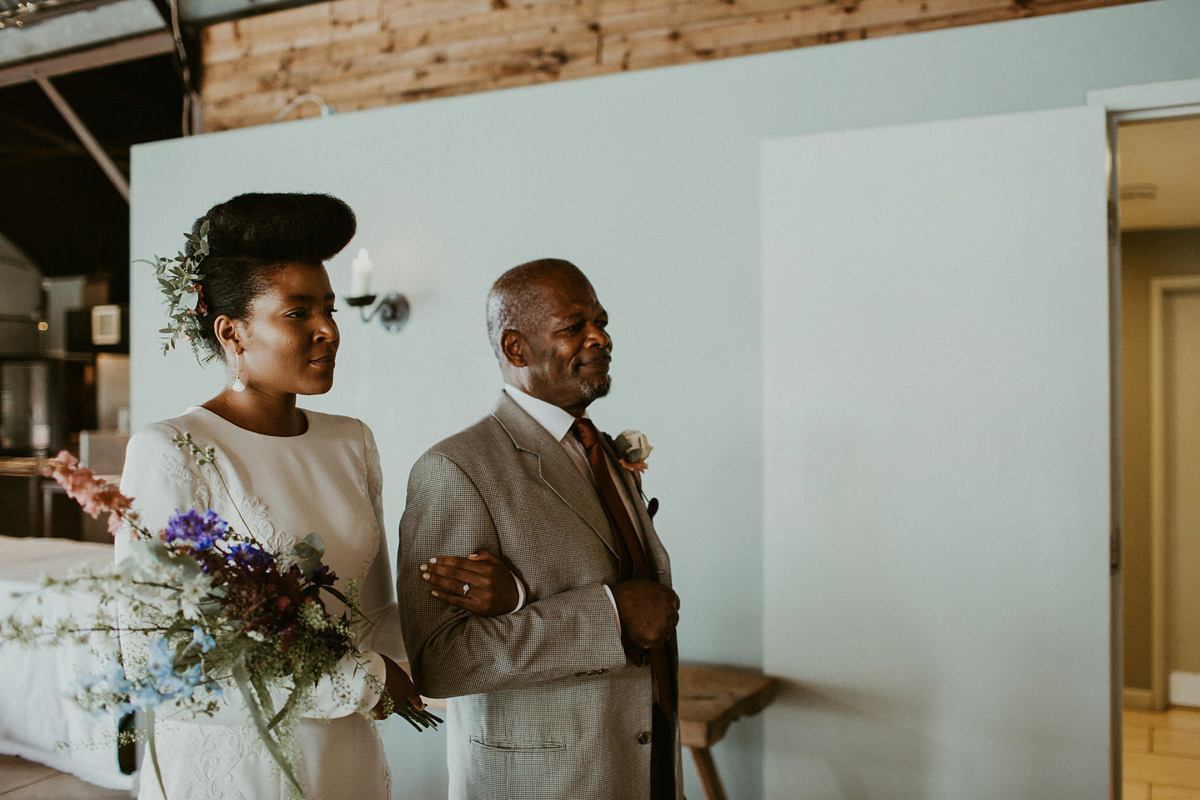 "It had been raining all morning on the day and as I arrived at the venue! Literally, as I began walking down the aisle it stopped raining and the sun streamed in through the full length windows behind where we were to give our vows. What a beautiful backdrop with endless fields in the background and sunshine. I got to the front with my dad and exclaimed, 'the sun came out!'."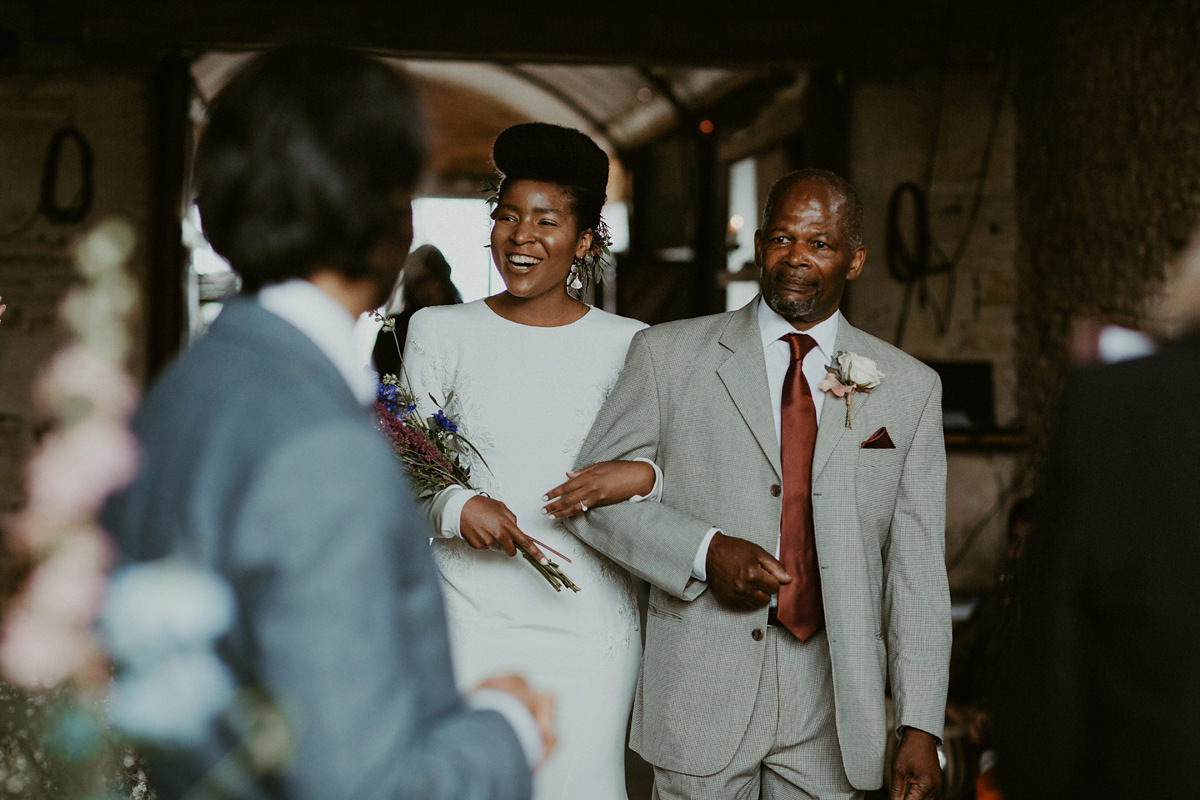 "It was an amazing moment. We were not at all nervous despite normally being a little shy. Our nerves about having everyone staring at us disappeared in an instant and then it was just Ajay and I."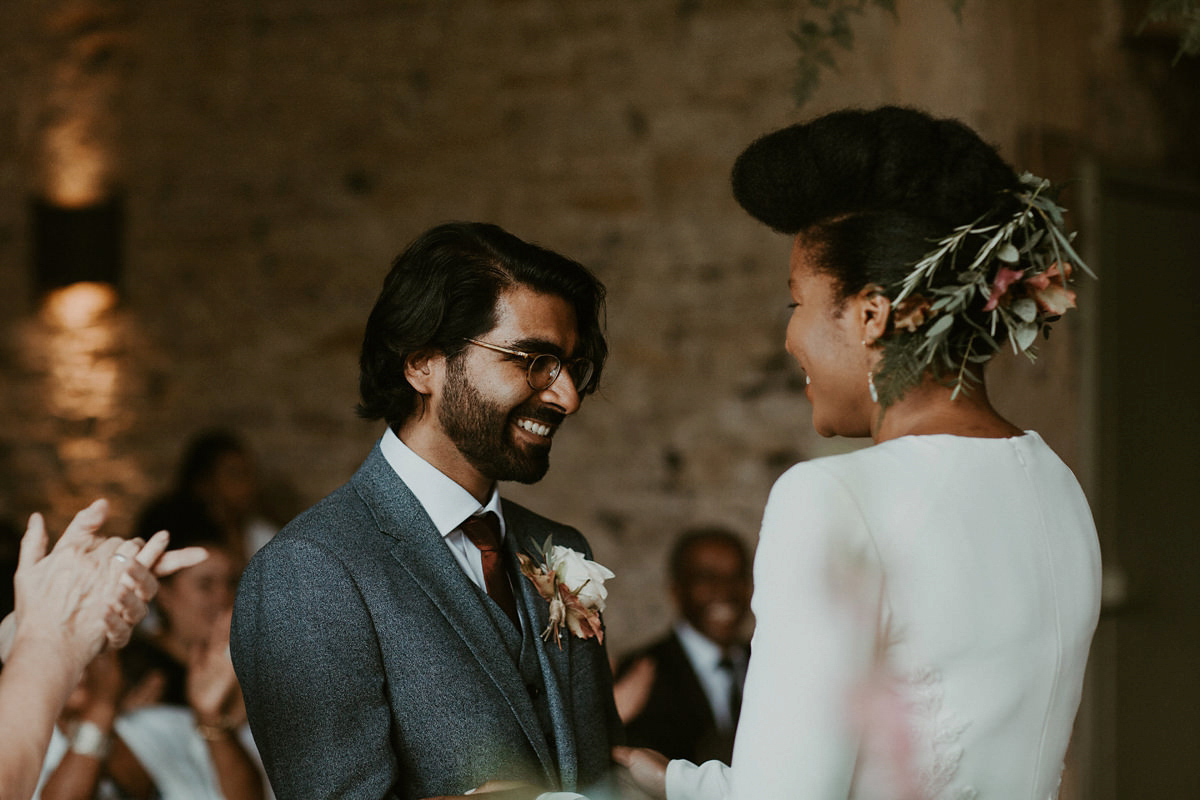 "Although we did not tailor our vows, we did take the opportunity to read a personally significant poem in full together as part of the ceremony, 'The Invitation', by Oriah Mountain Dreamer. My favourite extract is below…"
It doesn't interest me
what planets are
squaring your moon…
I want to know
if you have touched
the centre of your own sorrow
if you have been opened
by life's betrayals
or have become shrivelled and closed
from fear of further pain.

I want to know
if you can sit with pain
mine or your own
without moving to hide it
or fade it
or fix it.

I want to know
if you can be with joy
mine or your own
if you can dance with wildness
and let the ecstasy fill you
to the tips of your fingers and toes
without cautioning us
to be careful
to be realistic
to remember the limitations
of being human.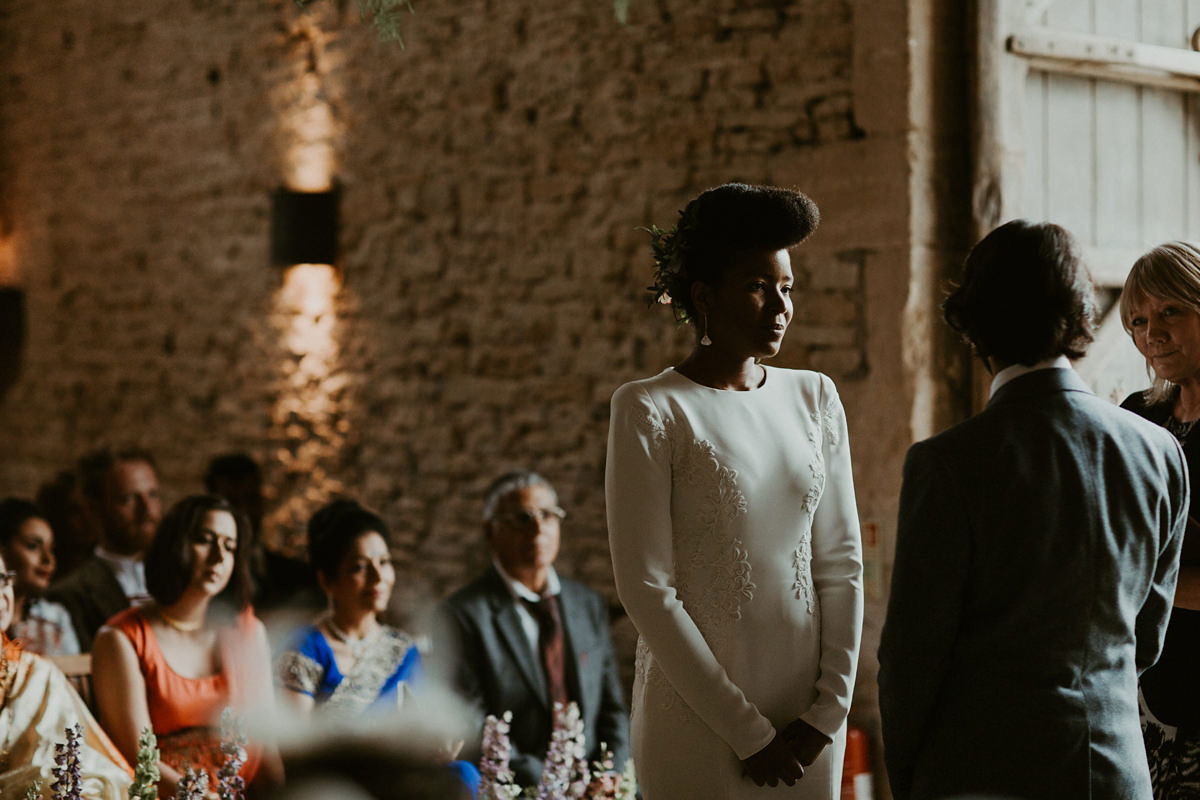 "Ajay's Best Man read an extract from 'Captain Corelli's Mandolin' by Louis de Bernières. We also placed a poem on each table for guests to read during the wedding breakfast."
"We chose these readings to publicly acknowledge that marriage to us is not pure whimsy. We have committed to experience highs and lows, joy and pain together."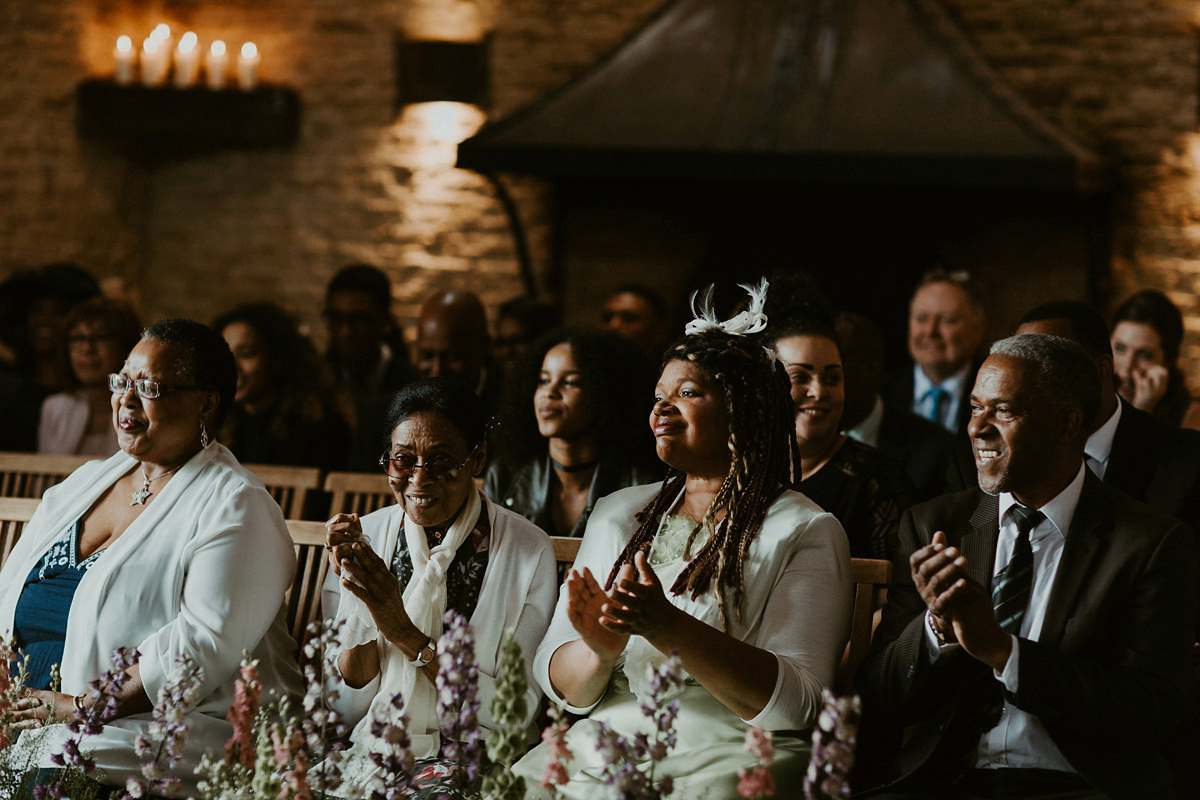 "Ajay's ring is a 22ct heavy gold ring from an authentic Indian jeweller's in the heart of one of England's main Indian districts, Southall. My platinum and diamond ring is from Diamond Palace in Hatton Gardens, Central London."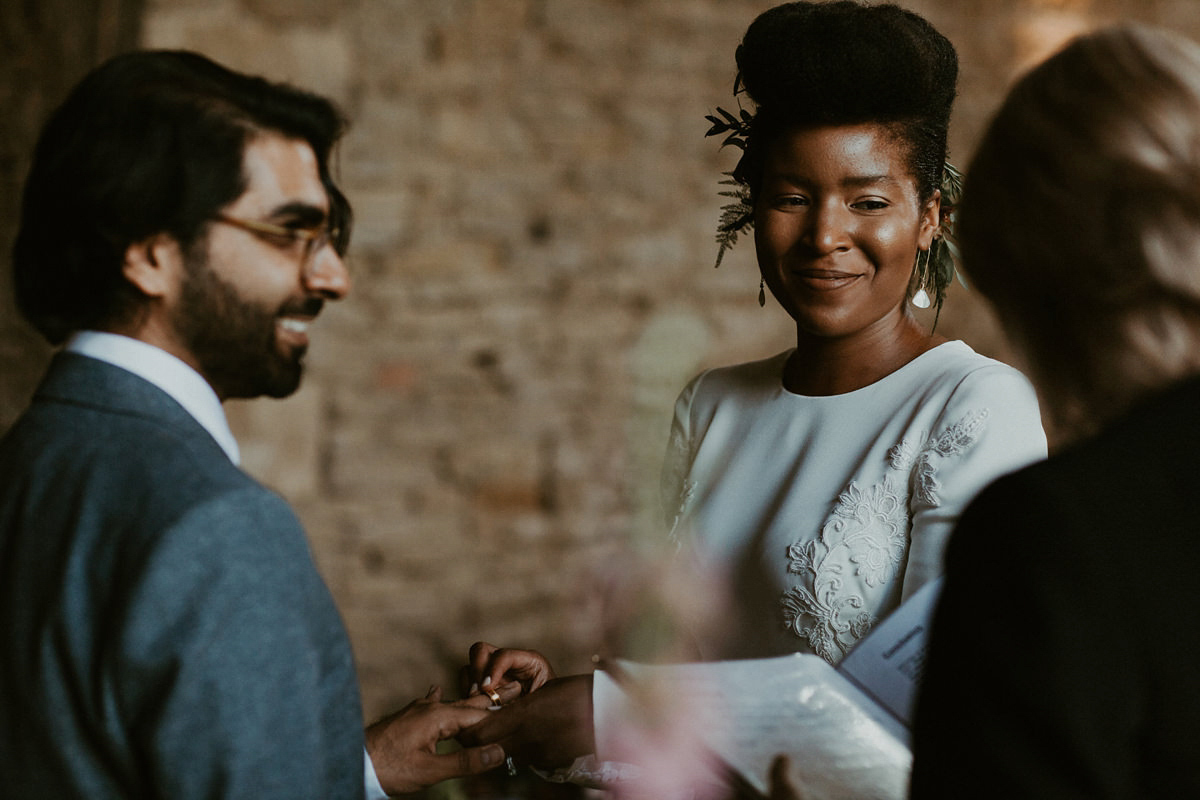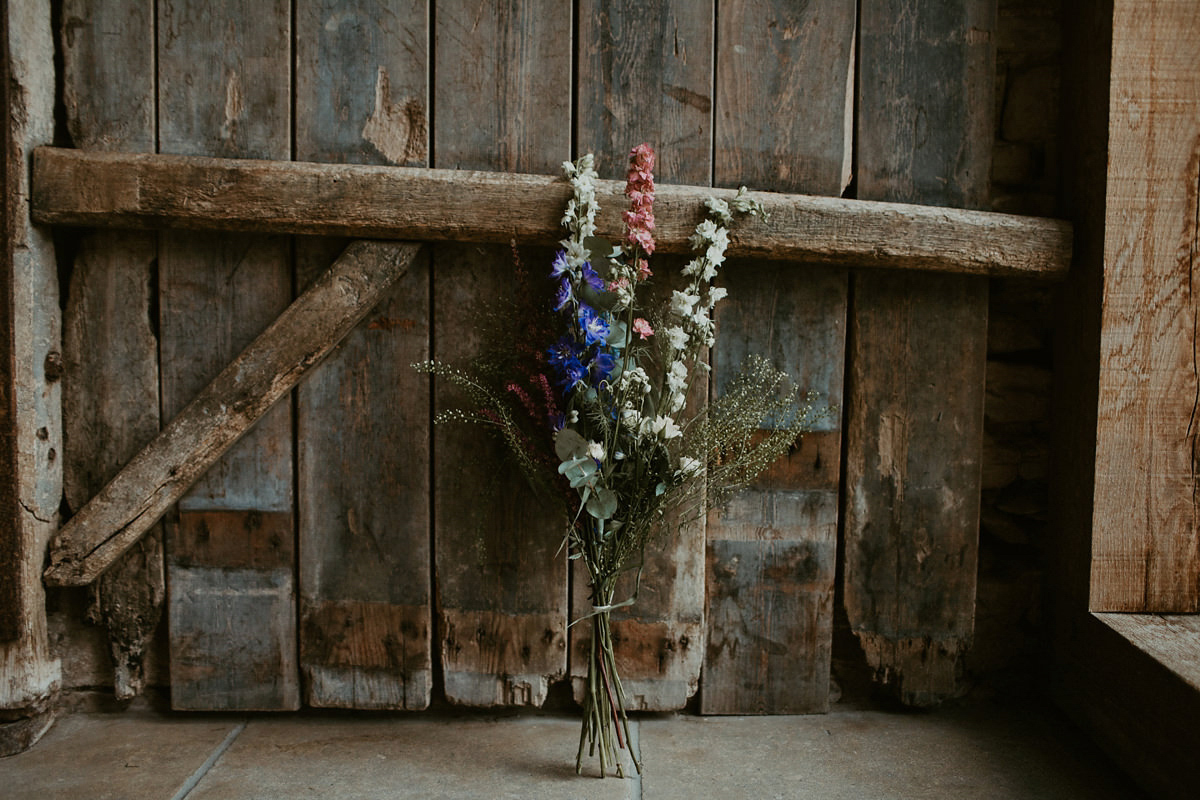 "Our photographers were The Hendrys – beautiful photography using natural light and capturing the day as it happened. We are both so pleased with the images we have received and the friendly, helpful service from The Hendrys. They are a fantastic creative duo."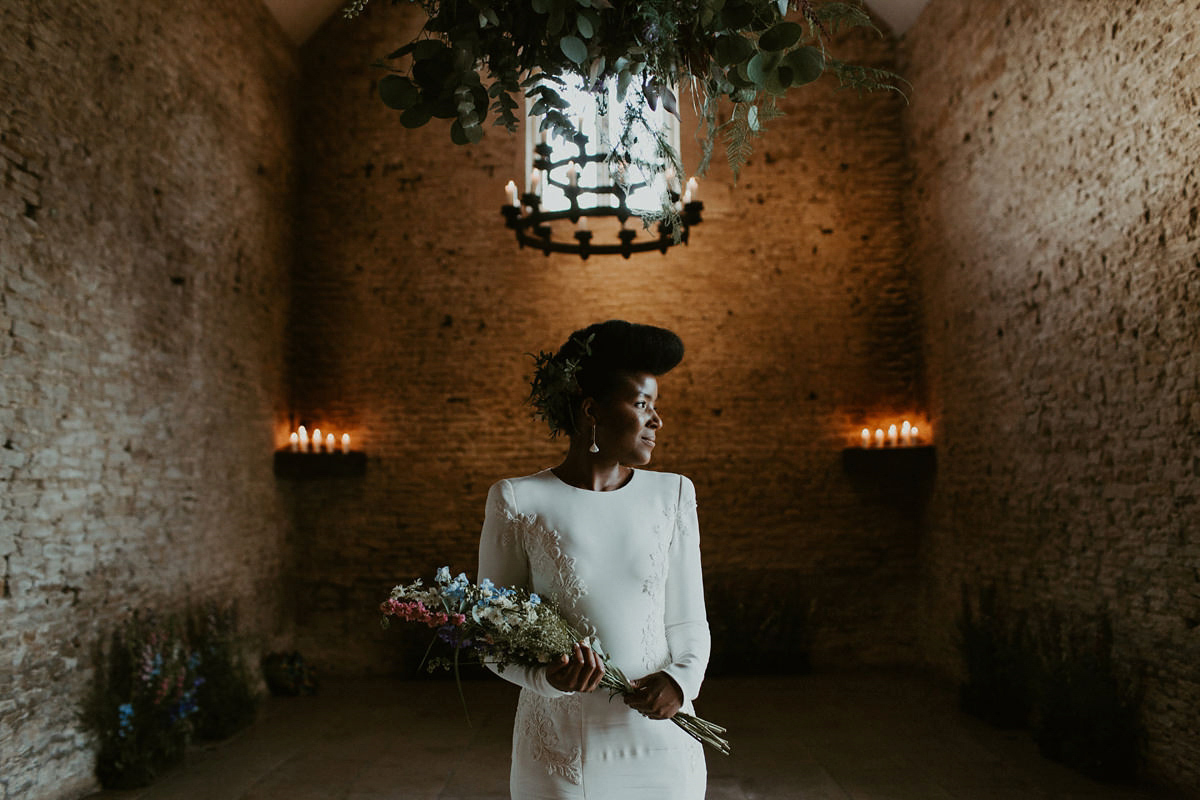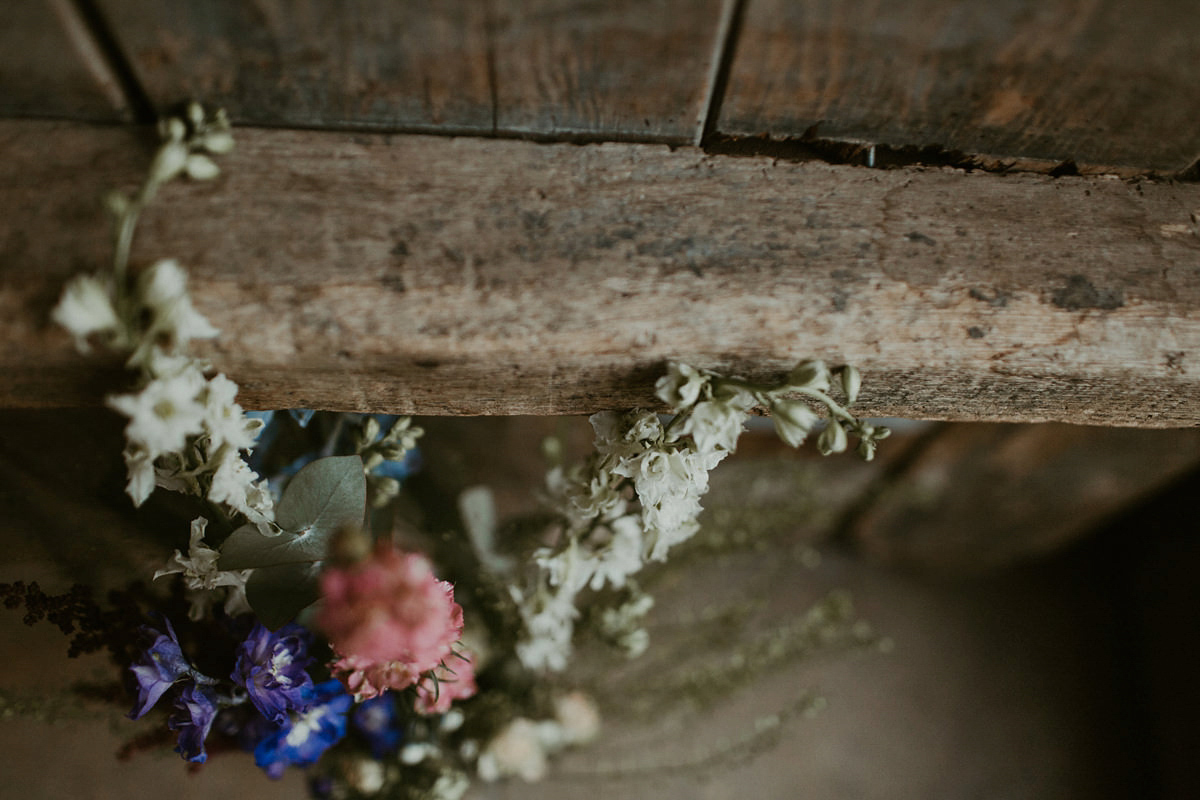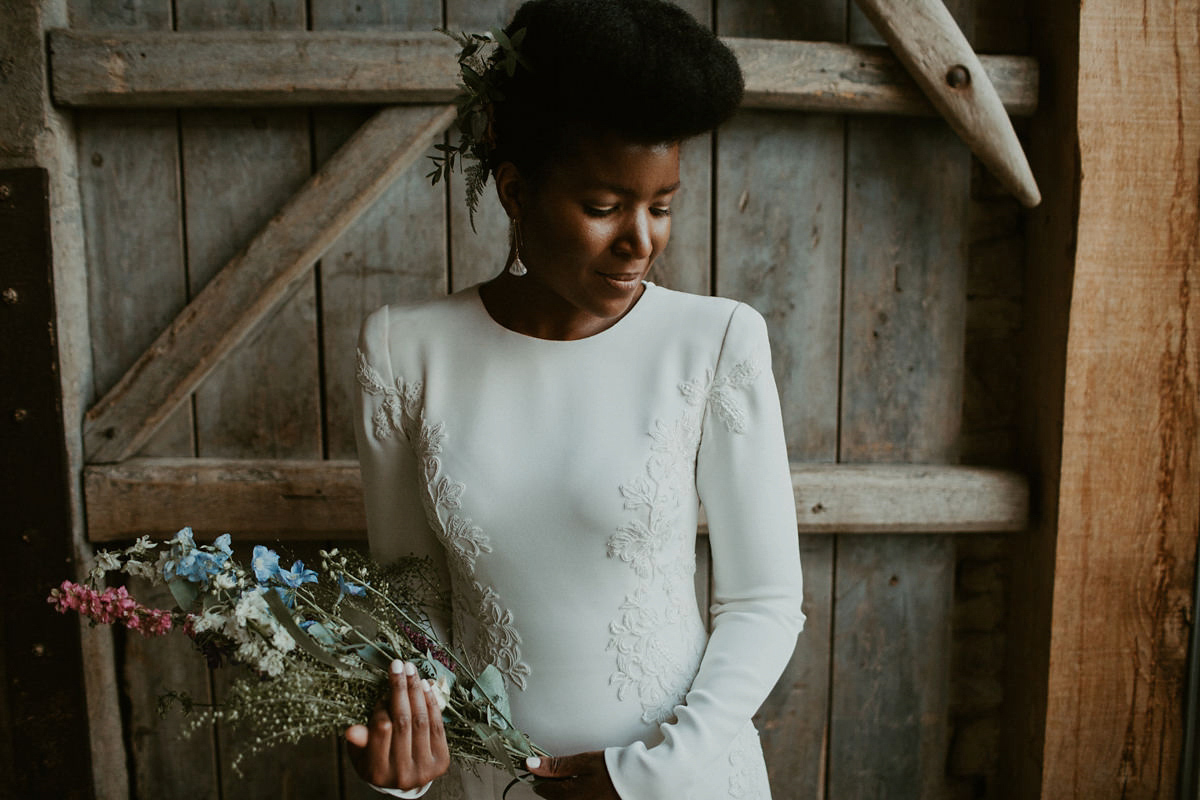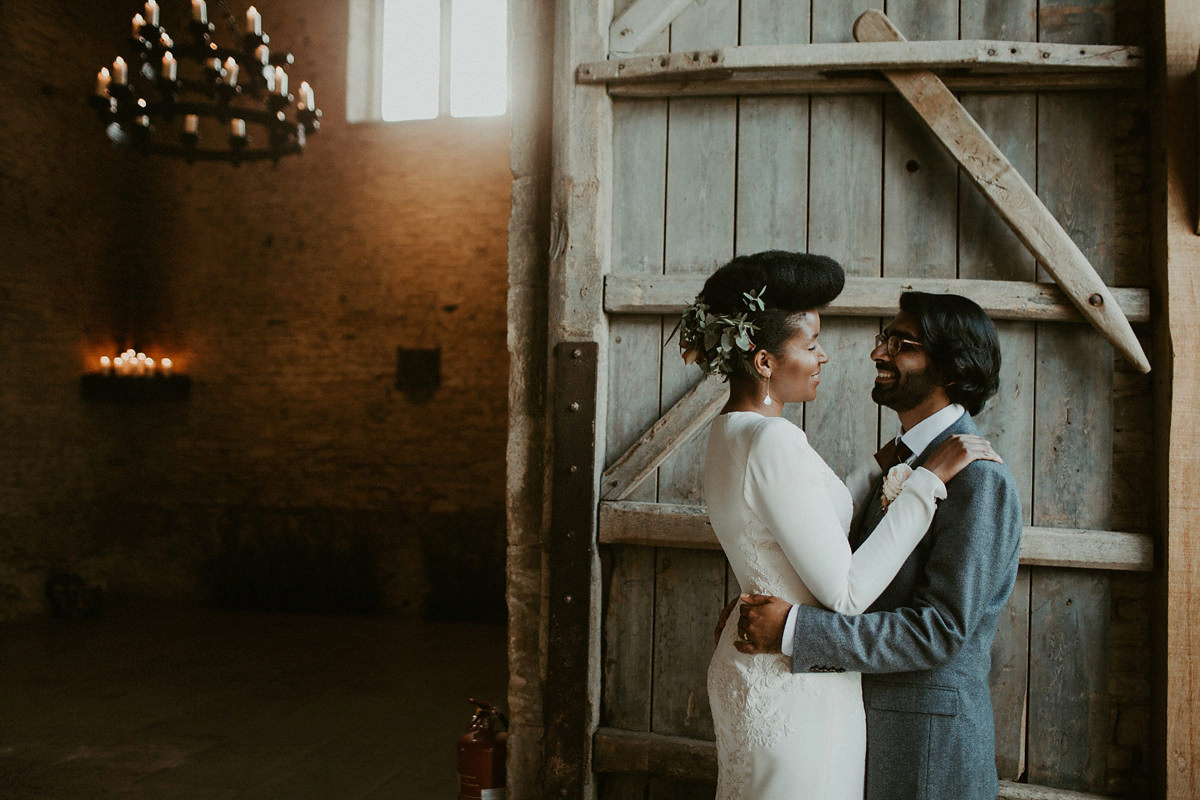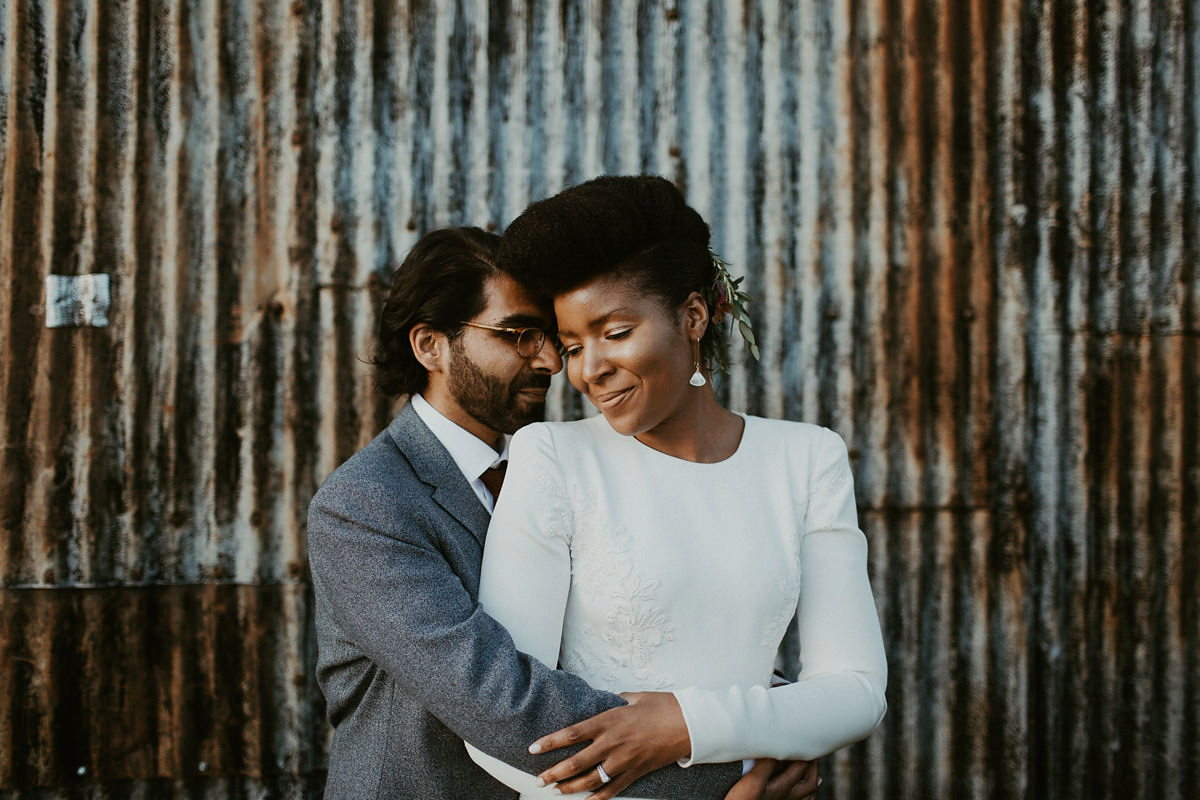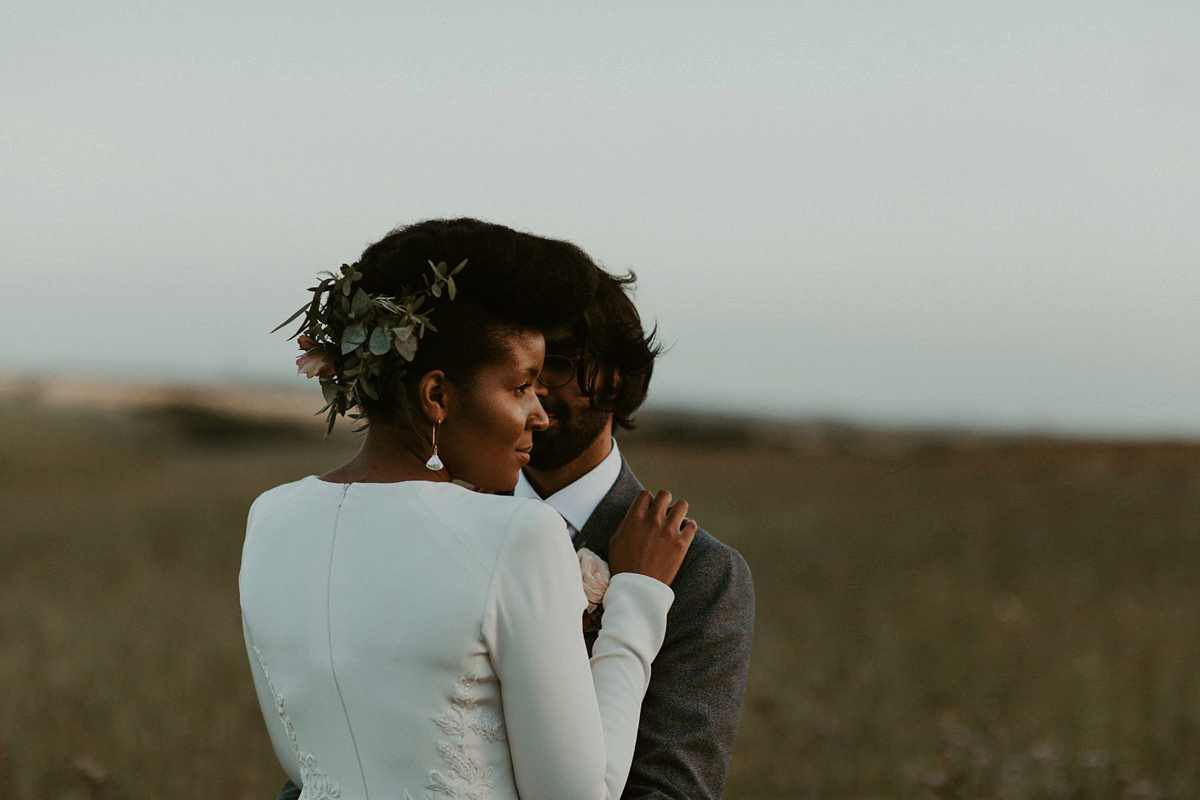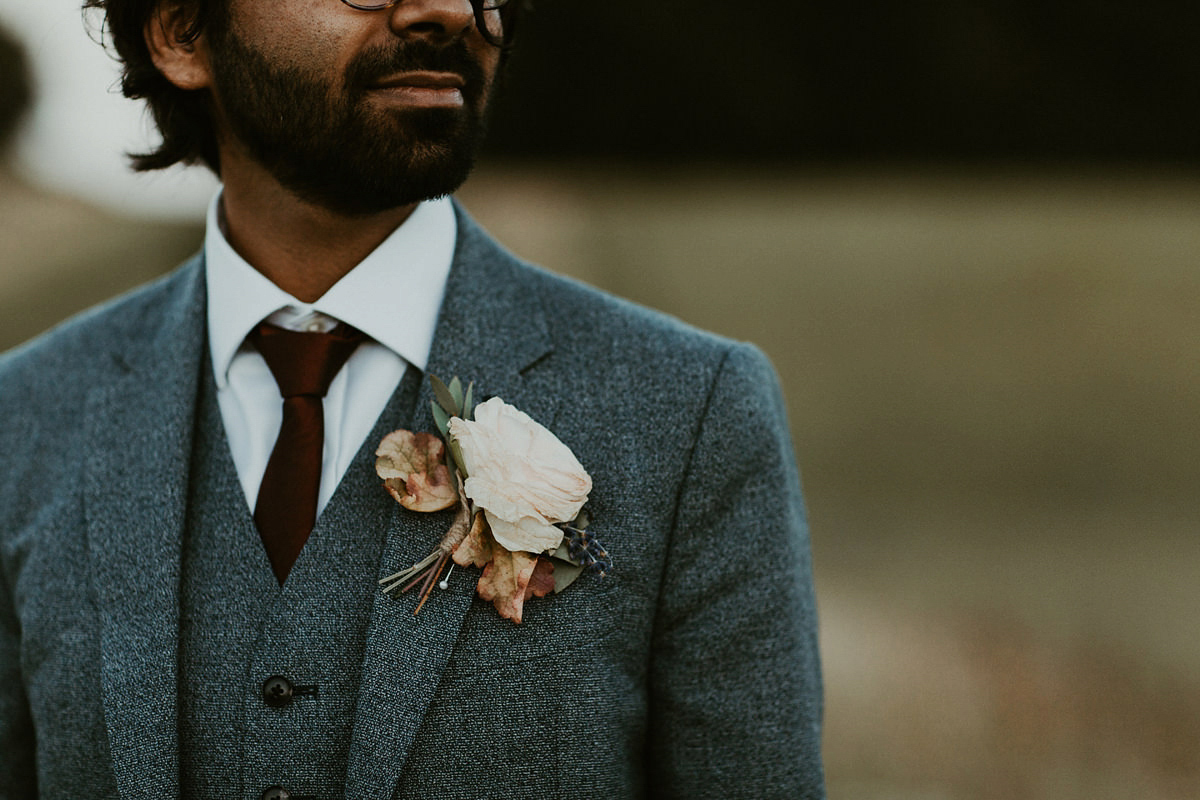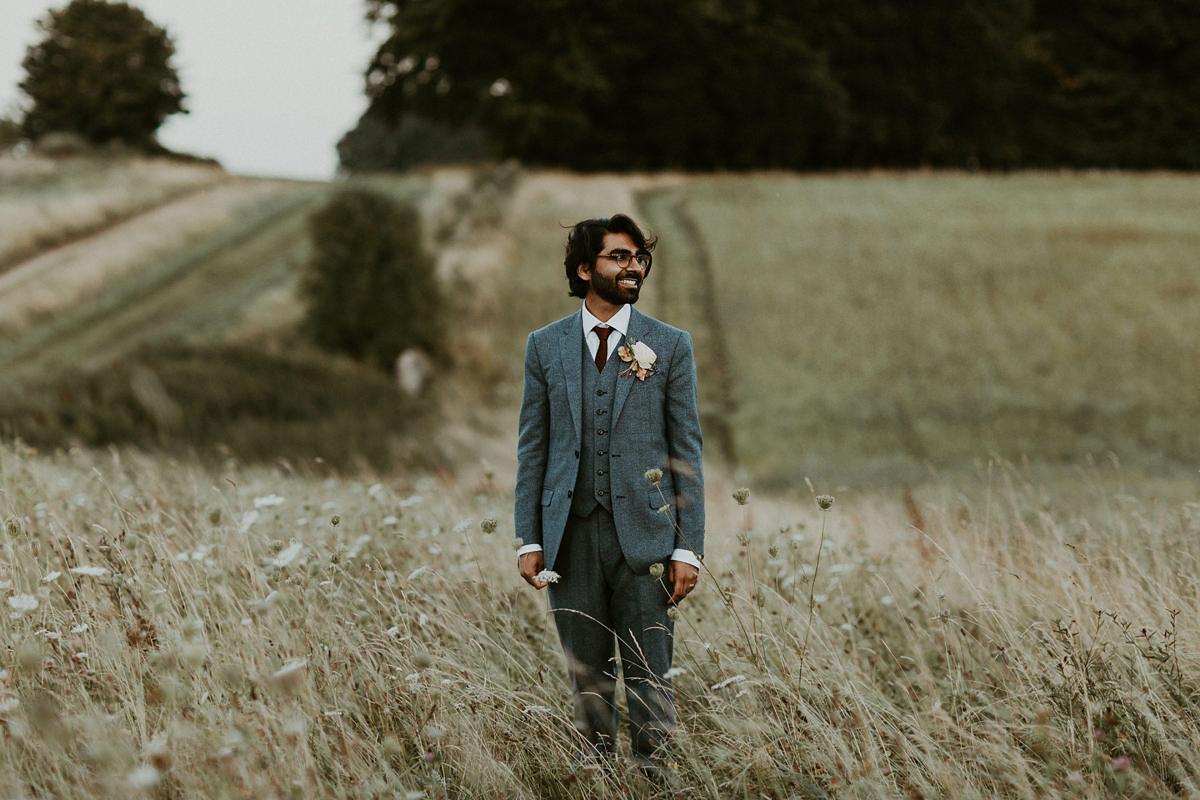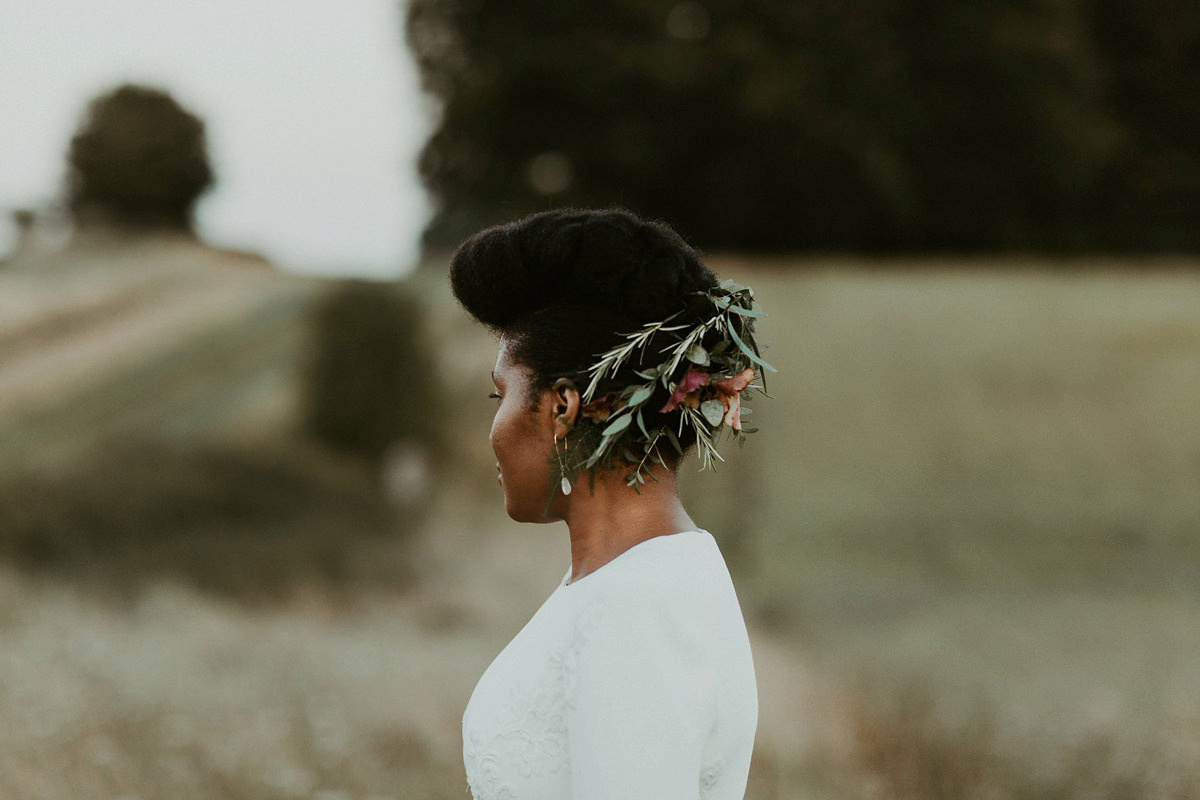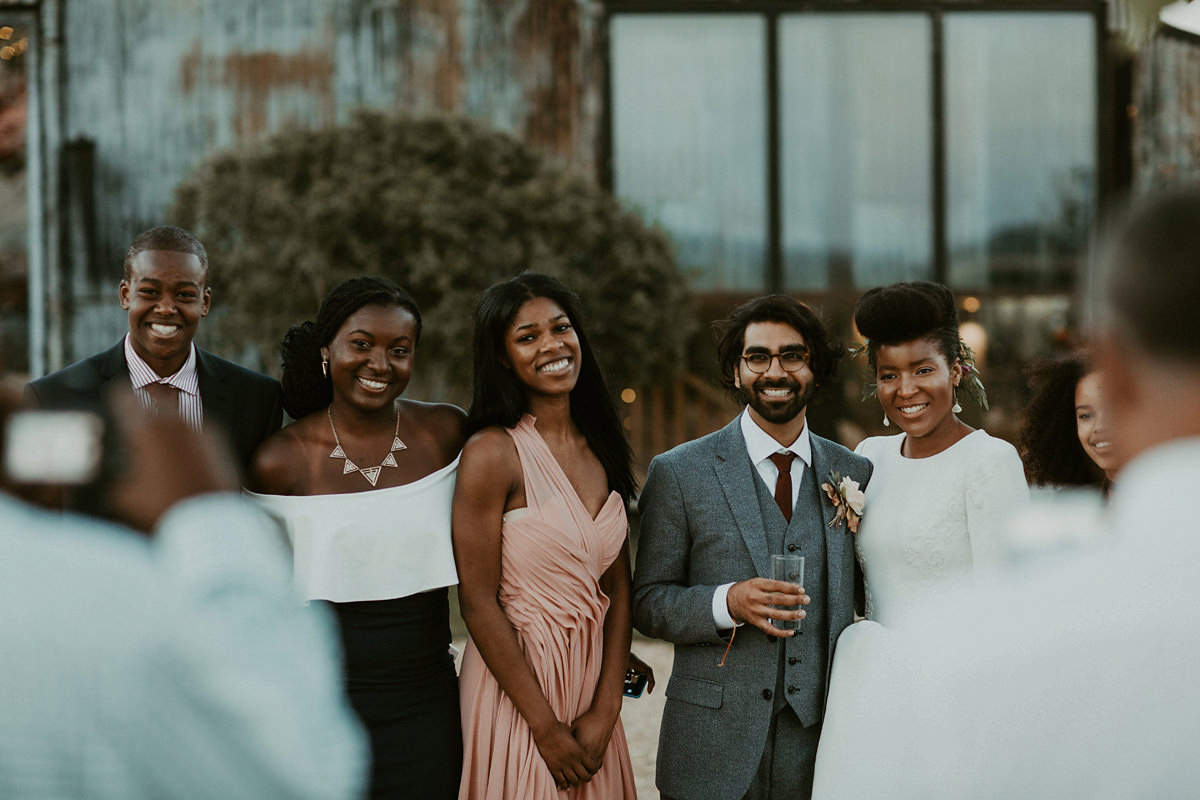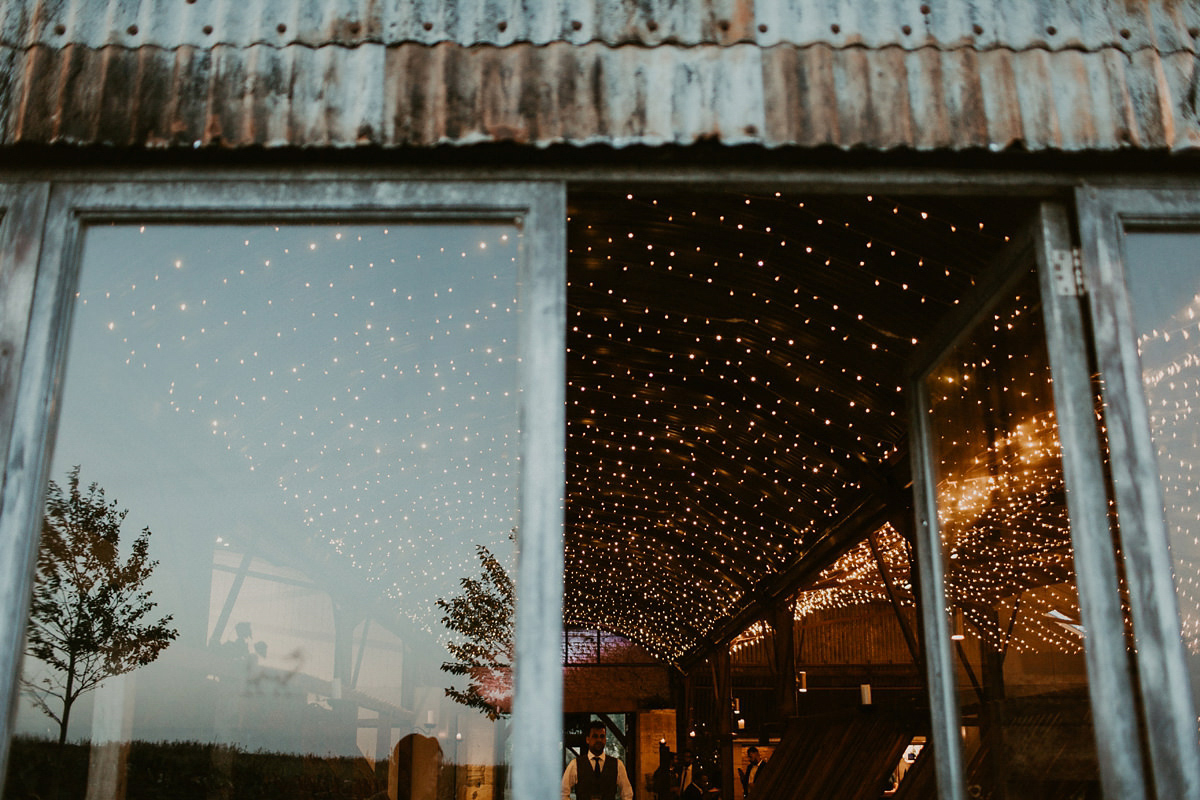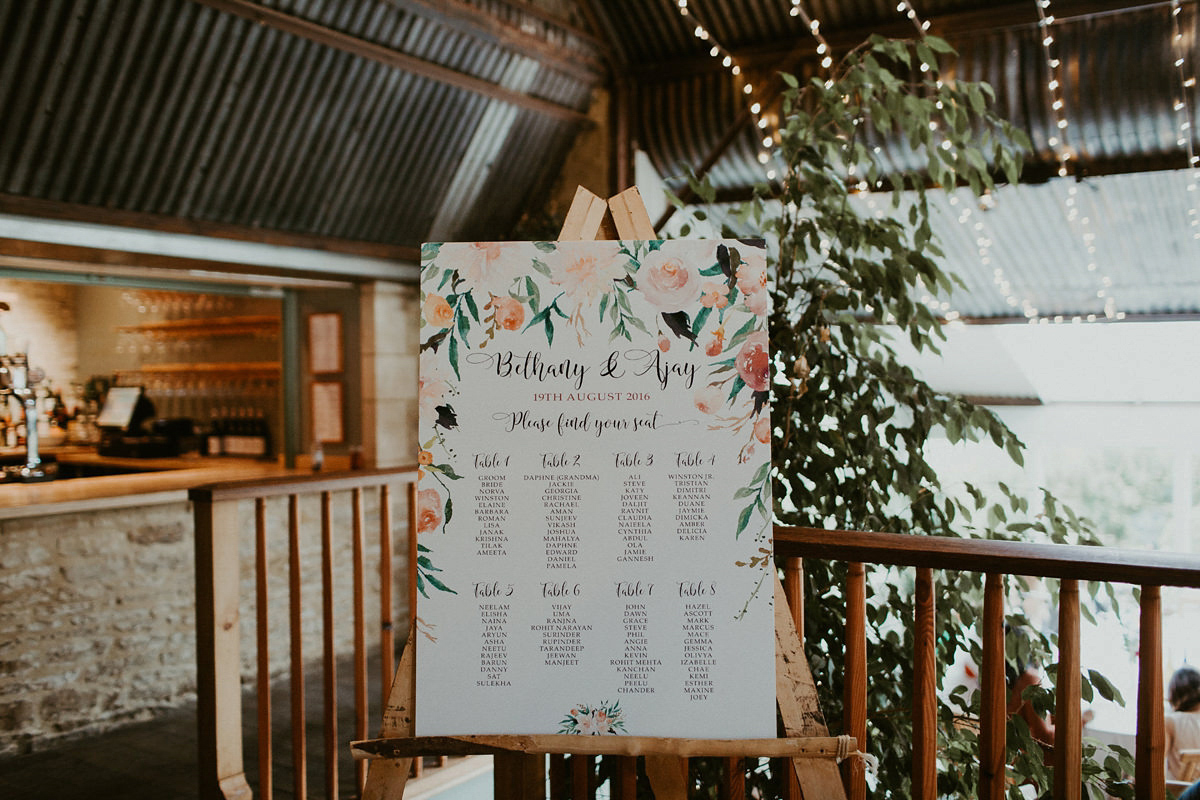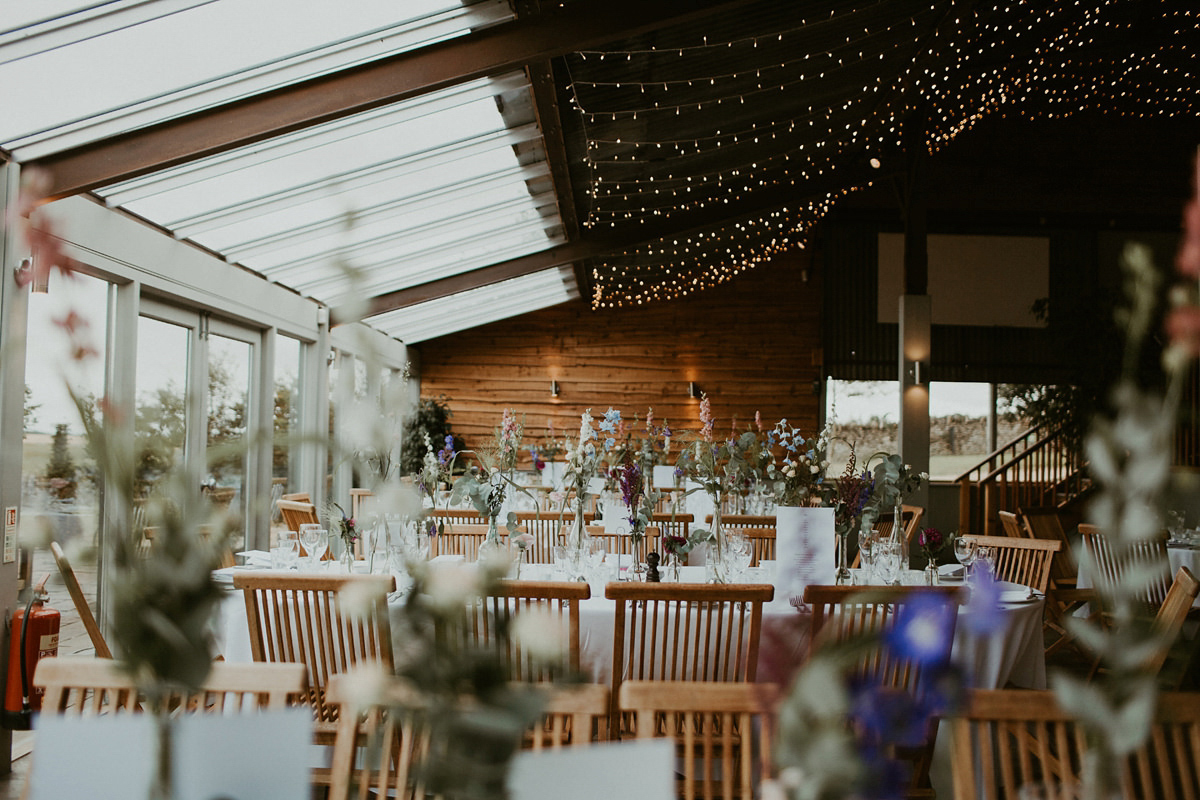 "For favours, we provided traditional Indian sweets called ladoo, handmade by Ajay's family."
"There were six sweets in each box, and over 150 boxes making for an approximate total of 900 sweets, made over a period of three days..!"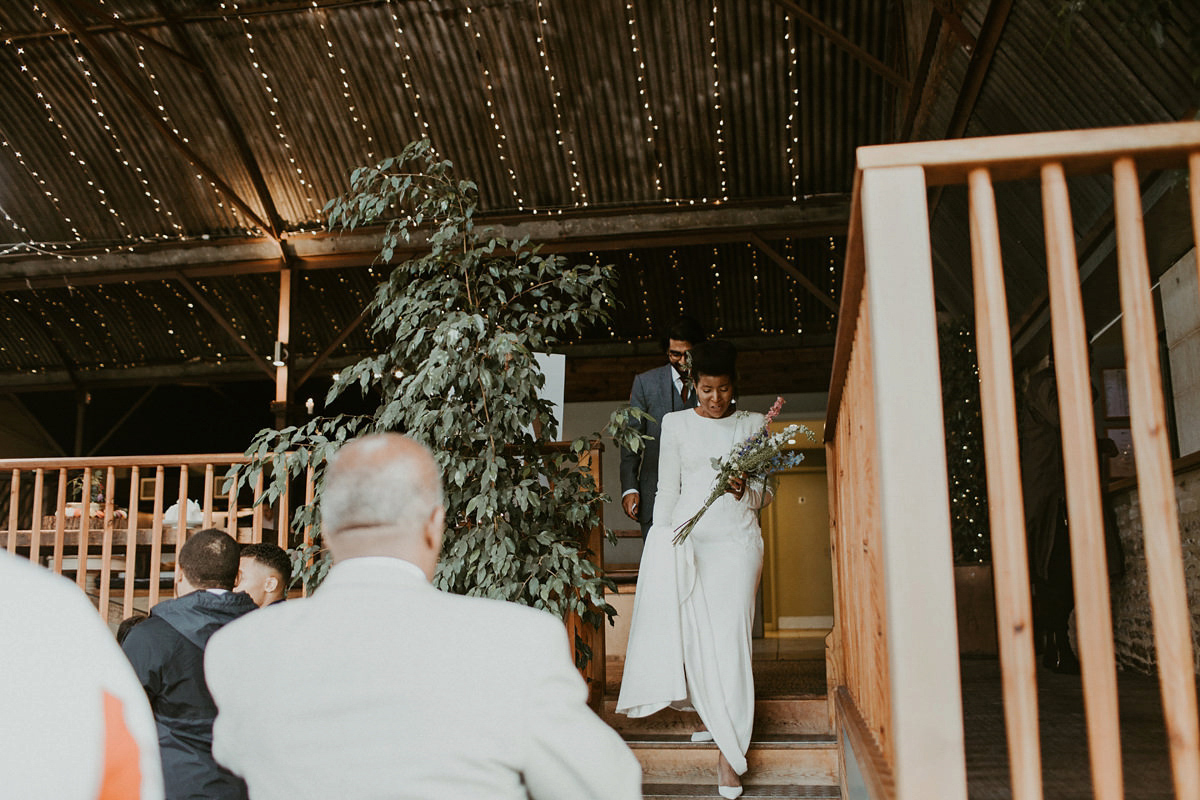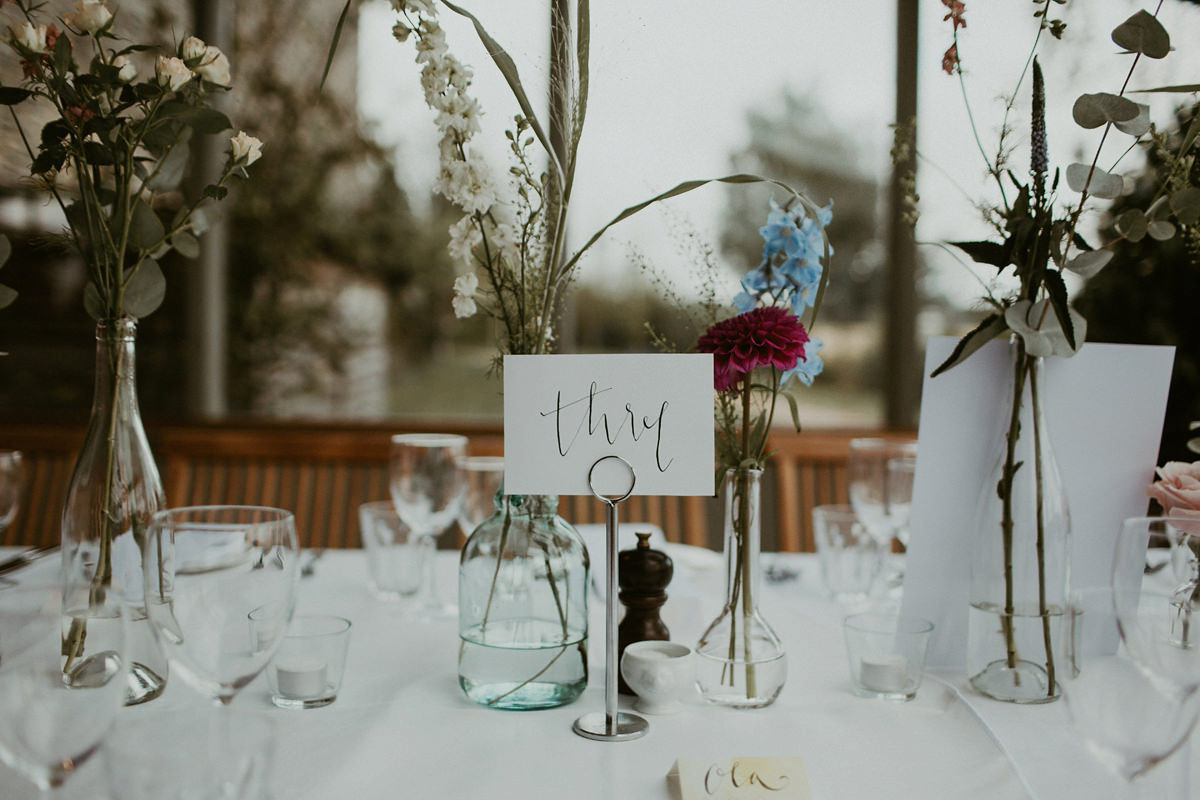 "We had a cake disaster! We chose a bakery that makes the tastiest, moistest cakes. We had a free tasting and got to try unlimited full size cupcakes. Anything we couldn't eat we were able to take home. To save on the cost of having the bakery carry our cake from London to Cheltenham, we opted to pick up the cake ourselves. The day before the wedding, our cake made it all the way to Cheltenham in one piece but on the big day, on the short 20 minute car ride from our prep location to the venue the cake tiers completely land slid in the box."
"I was oblivious to this right up to the point that I was about to walk down the aisle arm in arm with my father. I looked to my right and saw only the top tier of my cake displayed alongside the extra rum and chocolate cake we had purchased to boost serving numbers. My brother had by chance also purchased brightly coloured macaroons as a sweet surprise and these were used to dress up the chocolate cake.
Honestly, despite the abrupt realisation that something really bad had happened to my beautiful cake, I found it quite amusing in that moment and proceeded to walk down the aisle and get married to my soul mate. I use this as evidence that I was definitely not a bridezilla!"
"In the evening, we cut the chocolate cake. We also still served and ate the absolutely delicious original wedding cake. Everyone raved about that cake. Oh, and my bouquet was left behind at the prep location so the registrar spontaneously made me a new one from the flower decoration as the venue. It was rustic and quite divine. Moral of the story – do not transport your own tiered cake and have multiple people in charge of remembering the bouquet!"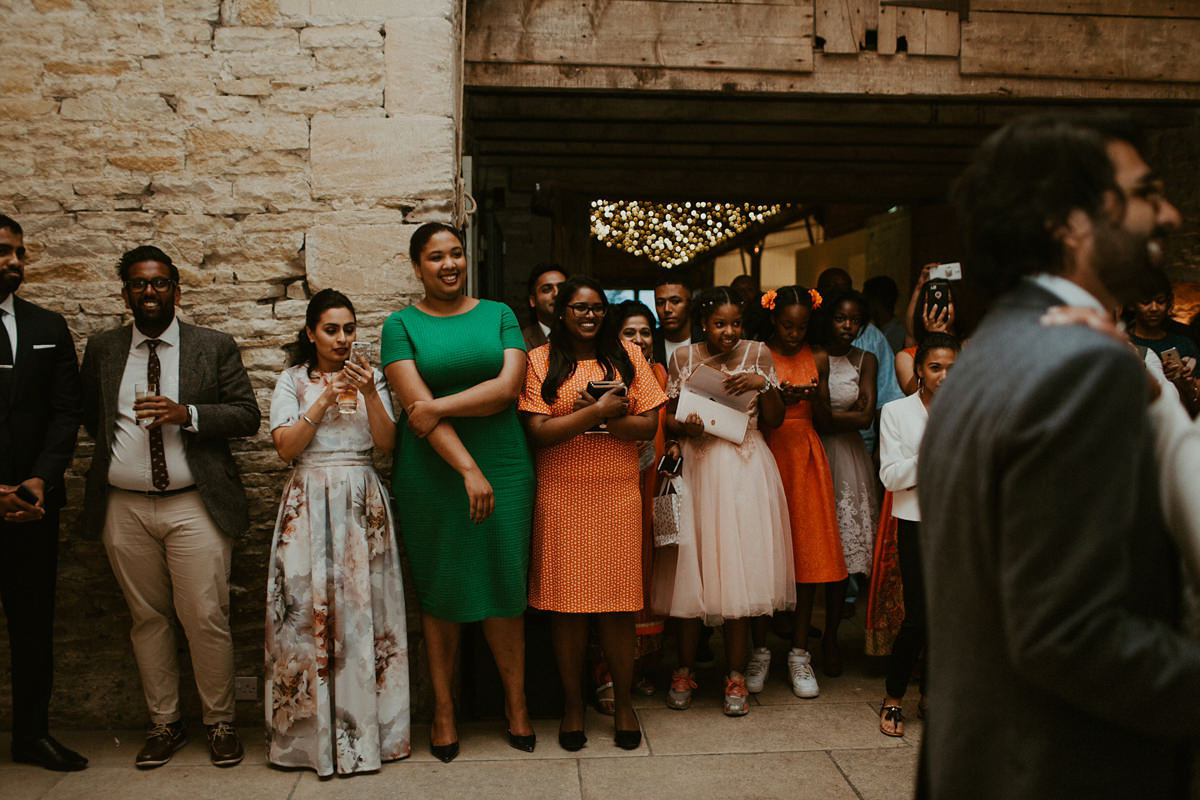 "Our first dance was to 'Nakamurra' by Hiatus Kaiyote – listen to the track and it becomes quite obvious! It's a special track that we both LOVE.
Words of Wedded Wisdom
"Always keep in mind how you want the day to feel and how smoothly you want the preparations to go. Part of the reason we opted not to have a traditional Hindu ceremony was to avoid the stress that comes with organising such a HUGE (often days long) event and satisfying everyone except ourselves. This contributed to the parred down styling of our wedding and we loved it! A charmed day rather than an overwhelming one."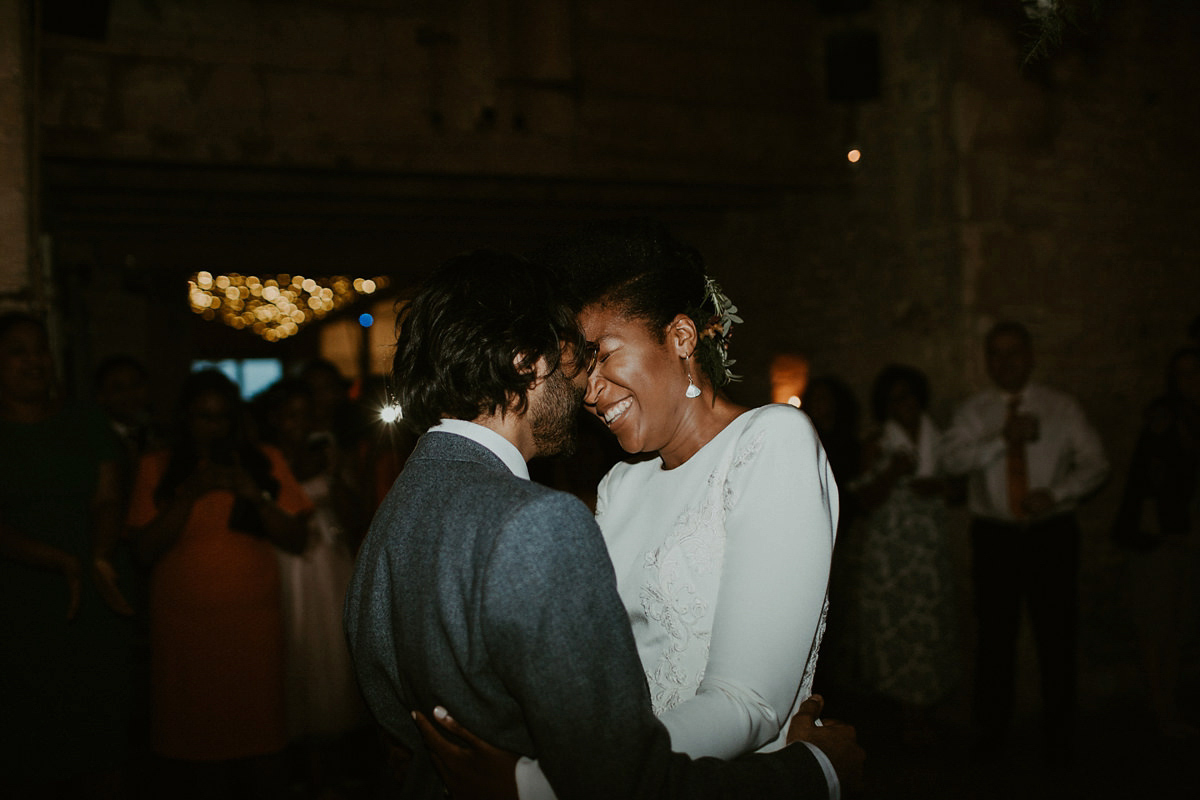 Beautiful, stylish, utterly gorgeous. You can see more features photographed by The Hendrys here, and more brides wearing  Jenny Lessin here.
My huge thanks to both The Hendrys and to Bethany too for enabling us to inspire you with these gorgeous images today.
Love Annabel x