We love a gorgeous destination wedding here at Love My Dress, and this morning's nuptials provide a glorious example of what can be achieved if you are looking to marry abroad. Dean and Rachel, who both work in law (Rachel is also a freelance writer) tied the knot on 10th September last year at El Cortijo Pedro Jimenez in Casares, Malaga, Spain. We strongly advise that those of you looking to tie the knot overseas, use the help of a professional wedding planner to avoid any of those logistical problems that can often pop up when you're trying to organise an event in another country.
"We wanted to have a destination wedding, somewhere with a massive villa and a pool, to bring our families and mutual friends together to celebrate our marriage, and also as an excuse for everyone to guzzle sangria in the sunshine. Dean writes about heavy metal and I'm into 1960s/70s rock music and metal, so we wanted something quite free-spirited, colourful, with a little bit of the dark side intertwined."
Photography by Radka Horvath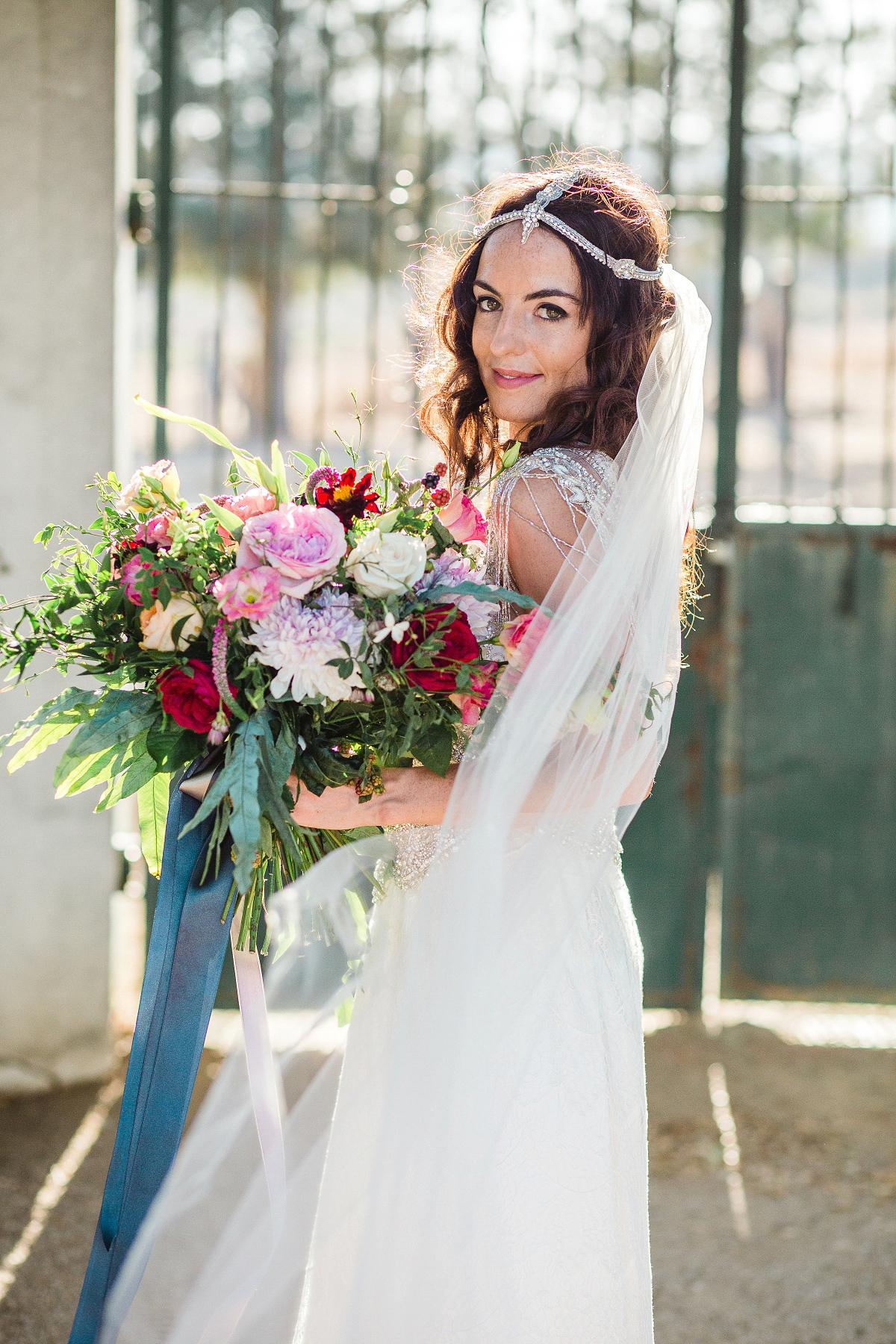 "Anna Campbell designed my wedding dress. The dress was purchased from Ivory and Pearl in Northern Ireland. Since I was a child, my mother always said that she wanted to buy my wedding dress as a special gift from a mother to a daughter, so when it happened it was such an unforgettable moment shared between us. I spotted the Anna Campbell Collection online.""The light flow of the lace suited the extremely hot Spanish weather (it turned out to be 36 degrees on the day) and I just loved the contrasting heavy embellishments.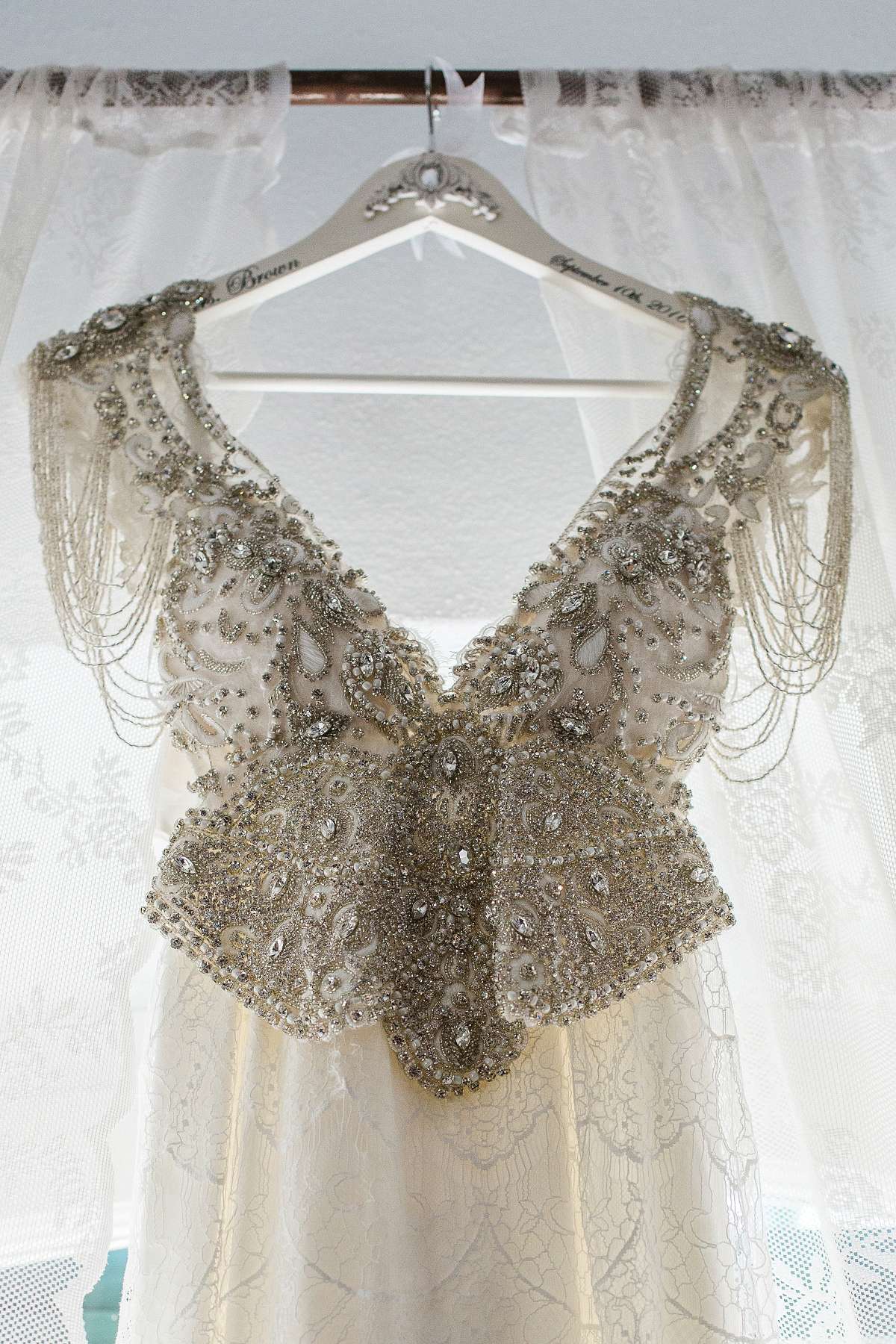 On this occasion, Rachel and Dean turned to the services of Rachel Rose Weddings for assistance. Take a look through our Little Book for Brides pages for a list of planners and stylists that we highly recommend.
"The wedding venue is connected to Rachel Rose Weddings, a fantastic wedding planning and styling company."
"We booked Rachel Rose Weddings after a friend of ours attended a wedding at the same venue we subsequently chose and she was raving about how well the wedding went and how stress free it was for the couple."
"Our experience was just as relaxed and we're extremely thankful to Rachel Rose Weddings for making the experience so enjoyable."
"Dean and I met in college and were great friends all the way through but unfortunately neither of us were single at the same time – which was a pity because there was always a spark between us. When we graduated, Dean went to live in Australia and I went travelling around Asia and we lost contact."
"Shortly after I returned from travelling, I received a text message from Dean telling me he had just dreamt about me! Nothing creepy, mind! We got talking again and he said that he was going to be home for Christmas and he asked me if I wanted to meet up for a drink in Dublin."
"There was very heavy snowfall that Christmas so we almost cancelled, but we decided to brave the weather in the end! We fell in love during that Christmas break and stayed together long distance when Dean went back to Australia."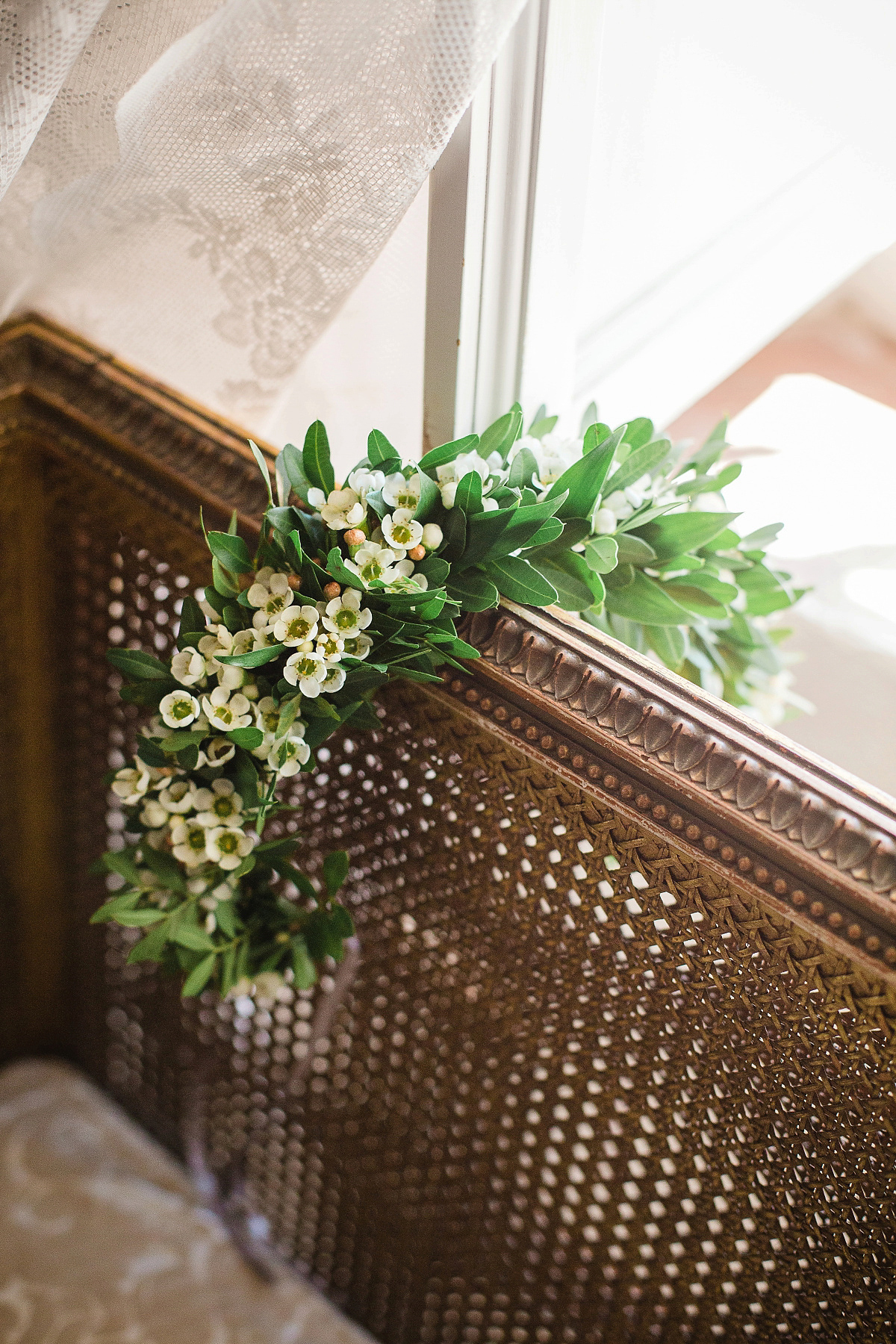 "Dean moved home three months later and we moved in together after two weeks, and we've been together for six years in total this Christmas. So, Christmas has always felt like a very special time for us, and two years ago just days before Christmas, Dean surprised me with a night away to the Cliff House Hotel, Waterford, and he proposed on the balcony overlooking the sea!
We were engaged for a year and nine months before we got married this September."
"We cannot recommend our florist enough, Flor Valentin – another great recommendation from Rachel Rose Weddings. Everyone commented how the whole venue smelled like fresh flowers!"
"Overall, the flowers exceeded my expectations – I even got some black roses which I had not thought of ordering, and they, along with Flors other selections, enhanced the theme greatly."
"As there was a lot of detail on the dress and headpiece, I wanted to keep jewellery to a minimum, so I wore a small pair of earrings from Pandora."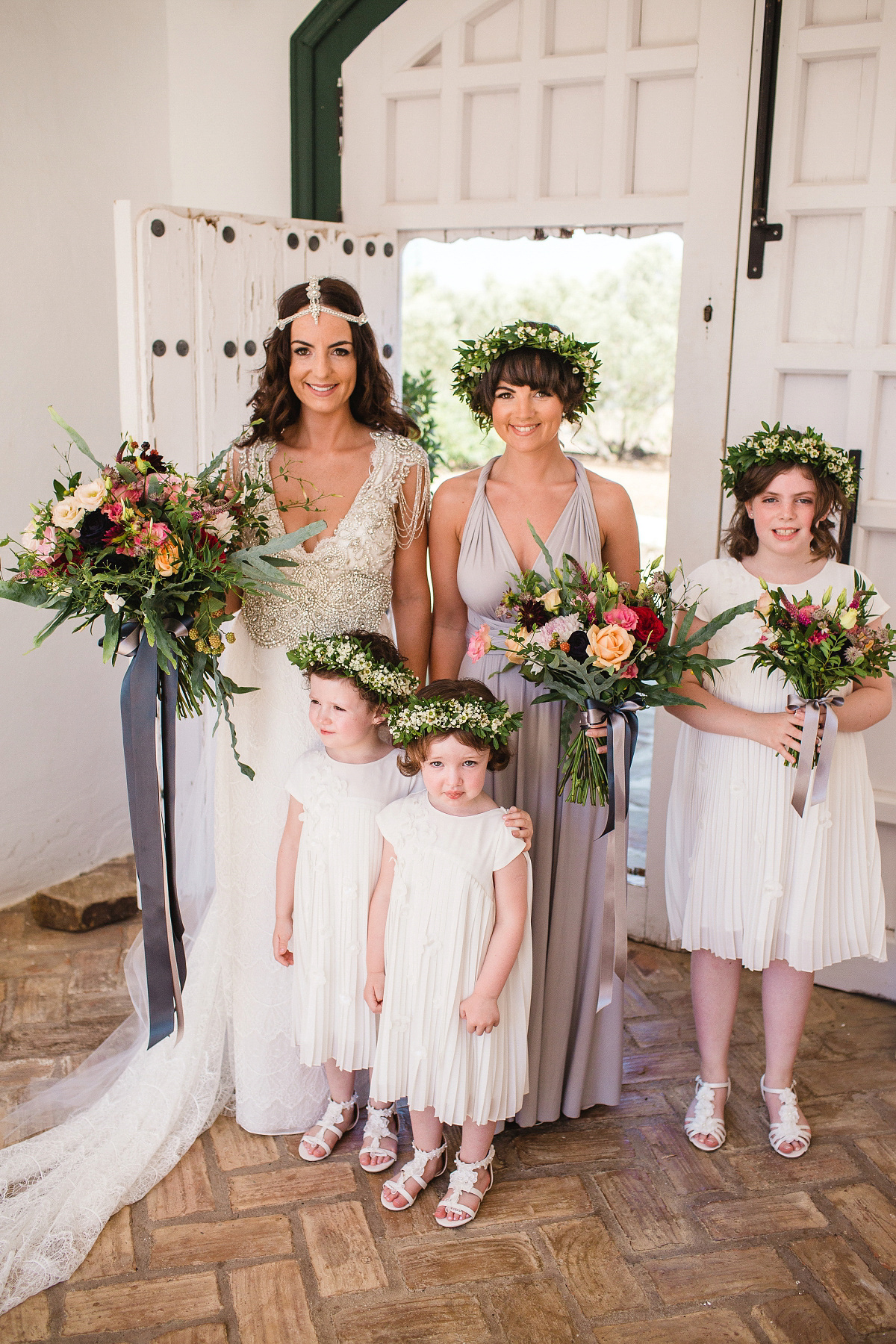 "My dad, who is always there for us and who I love dearly, accompanied me down the aisle – the guitarist accompanied us and continued to play traditional Spanish music throughout the ceremony."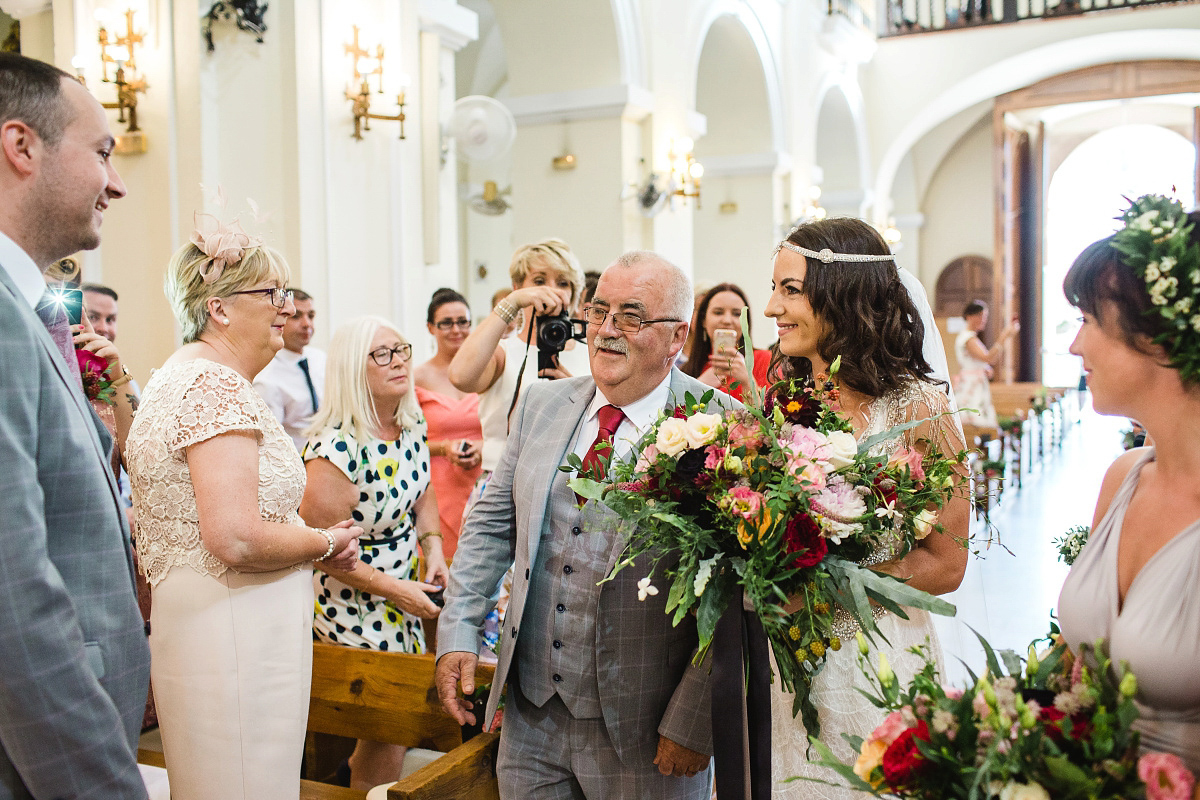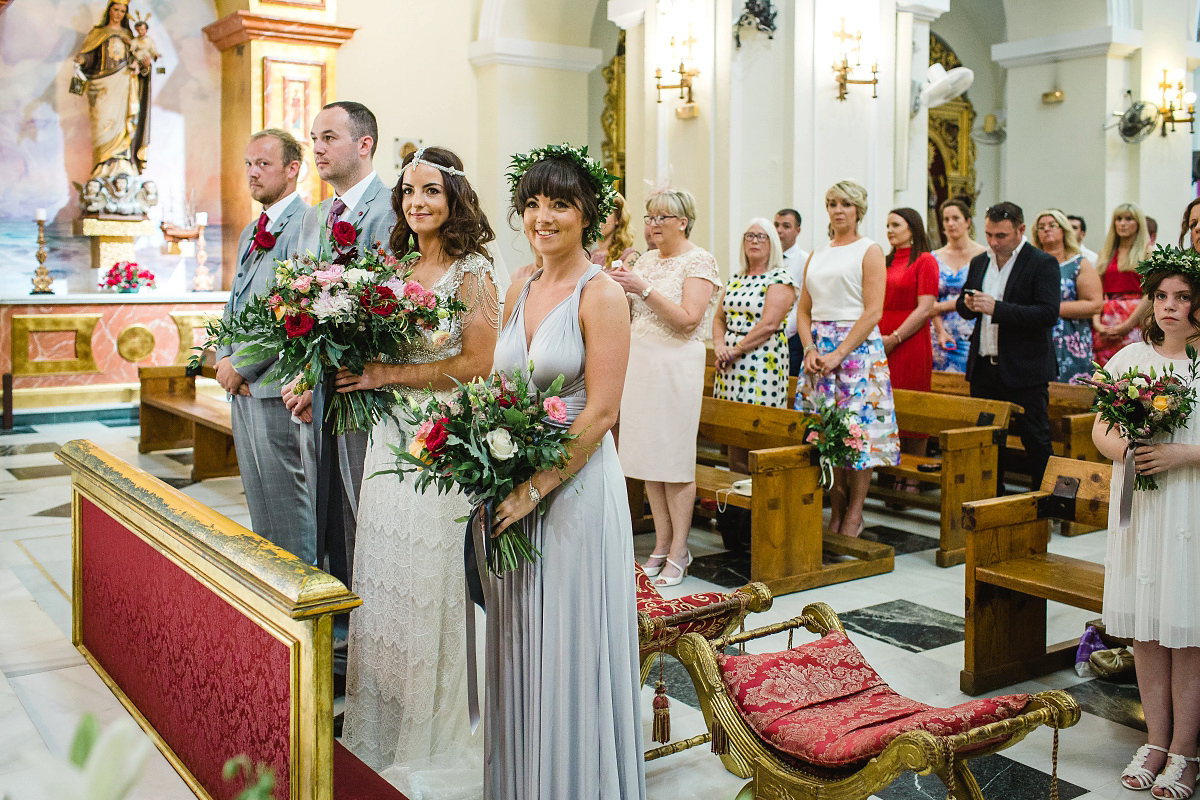 "Our mass was in Spanish. Dean thinks he might be able to get out of the marriage down the line because he didn't understand what the priest was saying. I don't reckon this will work considering we did have a translator!"
"We chose fitting readings from the Bible, which are the usual requirements for a Catholic wedding."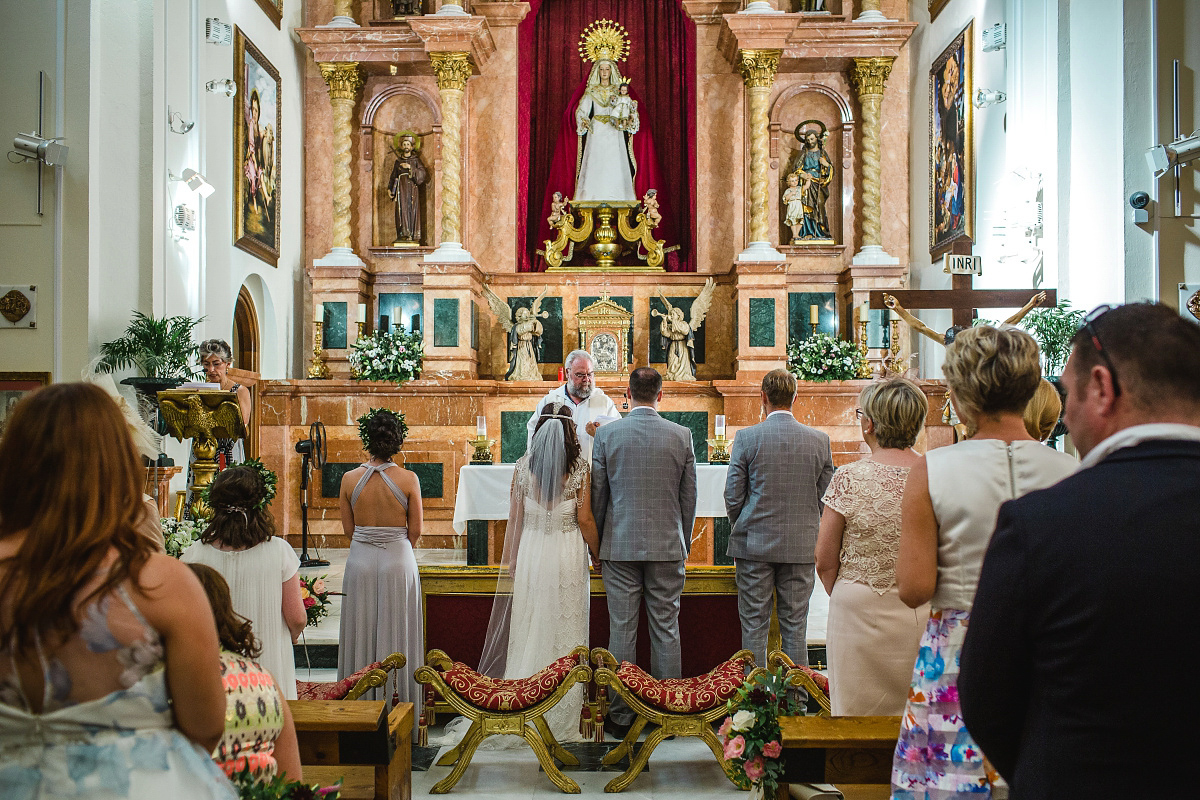 The couple chose photographer Radka Horvath to document their beautiful day in images.
"We would especially like to extend huge thanks to Radka Horvath and her partner James for being so nice and for putting both of us and our guests at complete ease."
"Their style of photographing clients is very relaxed and unobtrusive and they've a keen ability for catching natural moments – which is something we were hoping for. We couldn't be happier with their service and we recommend them wholeheartedly – lovely people and really professional."
"Rachel Rose's team handled all the styling – we were blown away by how fast they transformed the venue while we were at the church – it looked stunning by the time we returned."
"For favours, we sourced ivory-coloured tambourines from AliExpress. Our entrance song for the meal was 'Jump in the Line', taken from the film 'Beetlejuice'! The tambourines went well with this song."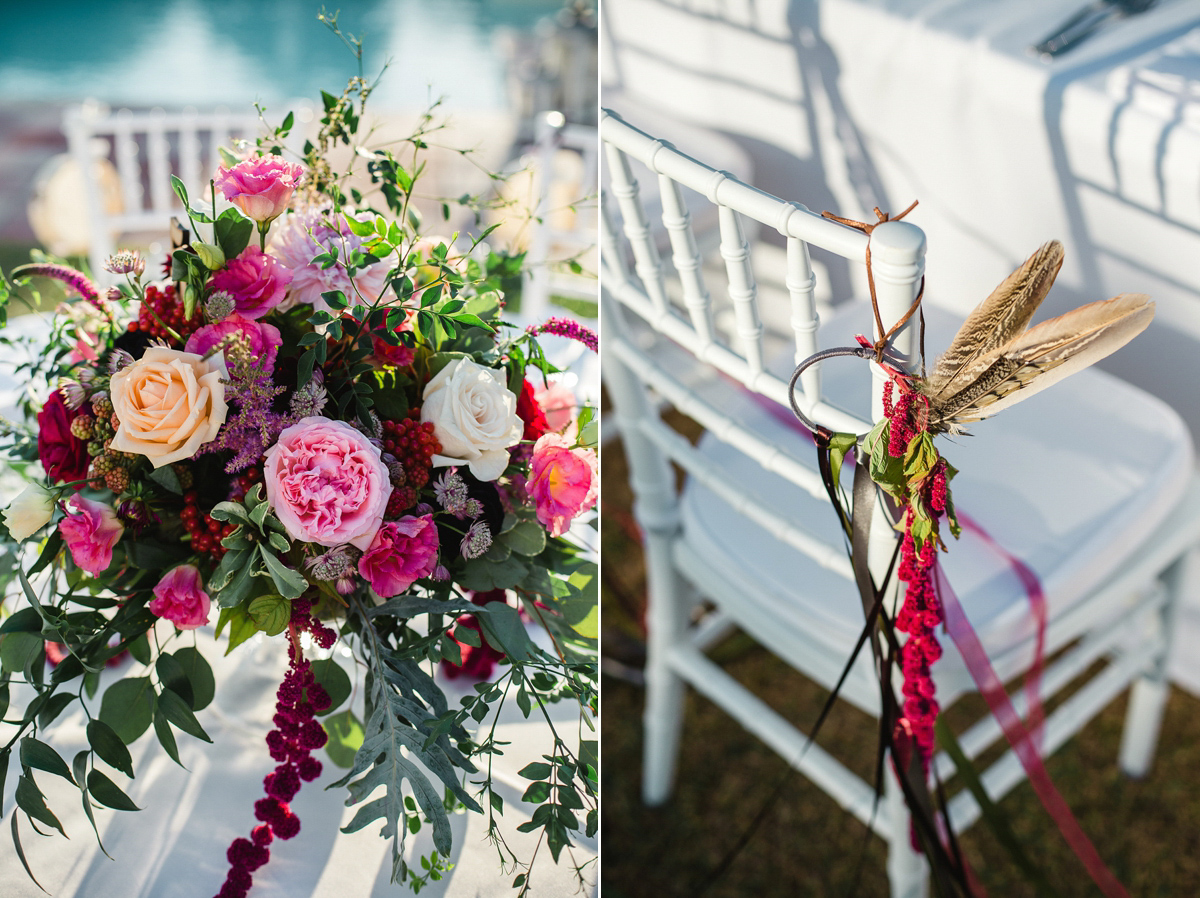 "I purchased a faux cow skull online and built my Pinterest page around it. I then contacted Curious Fair, who made us a bespoke dreamcatcher table plan."
"I also relayed a lot of my ideas to Rachel Rose Weddings and they sourced and made a lot of the trinkets and decorations used on the day, which worked out brilliantly."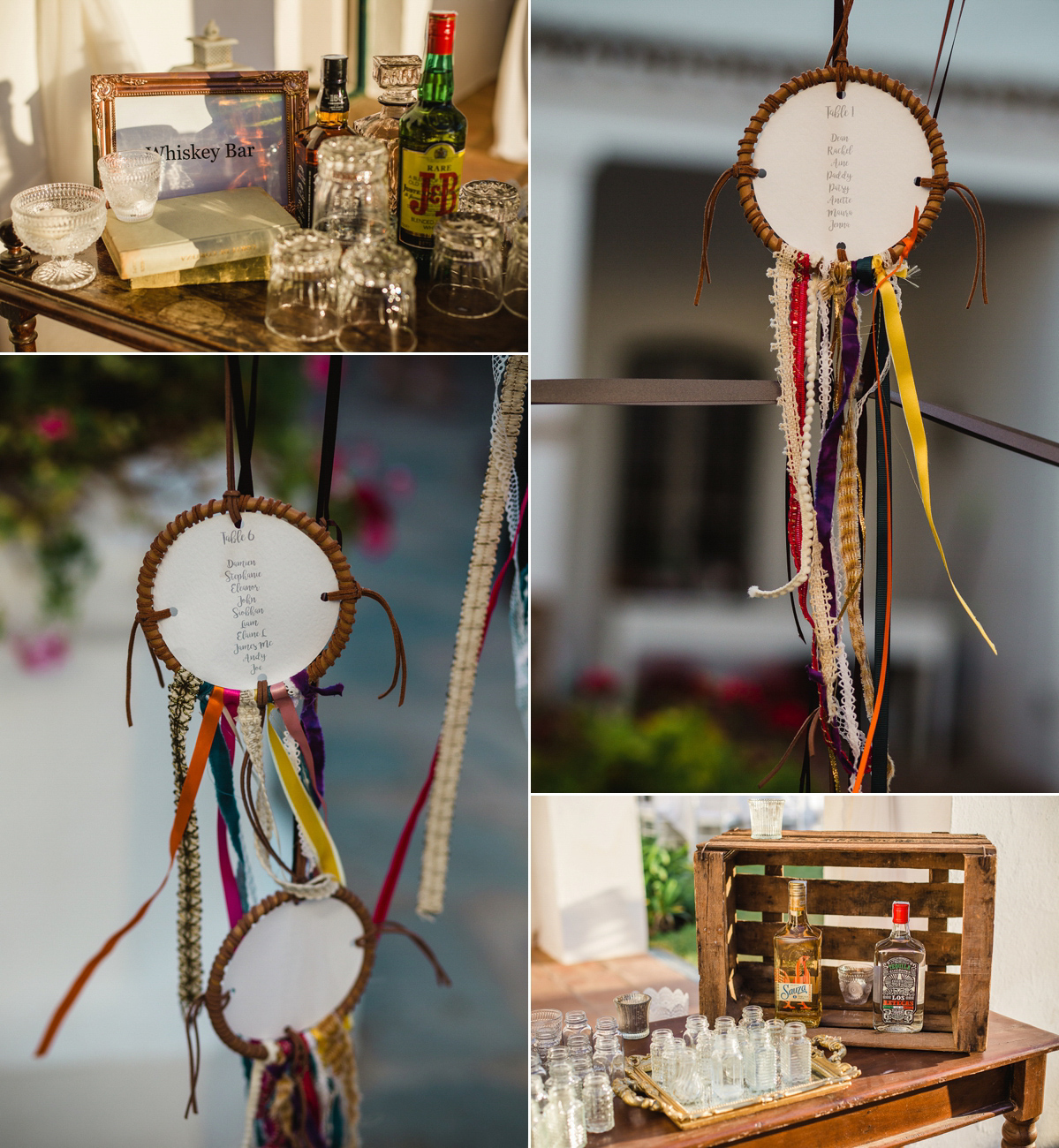 "The whole day was very special to us but just having everyone together to share it with us made it all the better. Our favourite part of the day was probably near the end of the dinner and we looked out at everyone sitting down, laughing and chatting and enjoying the last of the sun. It really brought it all home to us."
"We chose 'Thank You' by Led Zeppelin as our first dance song – it has always been our special song so for our wedding day with lyrics like 'and so today, my world it smiles, your hand in mine, we walk the miles / Thanks to you it will be done, for you to me are the only one '. It could not have been more fitting."
Words of Wedded Wisdom
"We would definitely recommend hiring a wedding planner so you can sit back and relax for the whole day. If you are getting married abroad, I would also recommend purchasing a wedding travel bag with the bar in the middle. I bought mine on Amazon for around £15 and it just made the whole transportation of the dress easier. But perhaps the biggest words of wisdom we received from a friend is to take a moment together during the day to just take it all in and look at everyone around you and bask in the joy of it all as a married couple."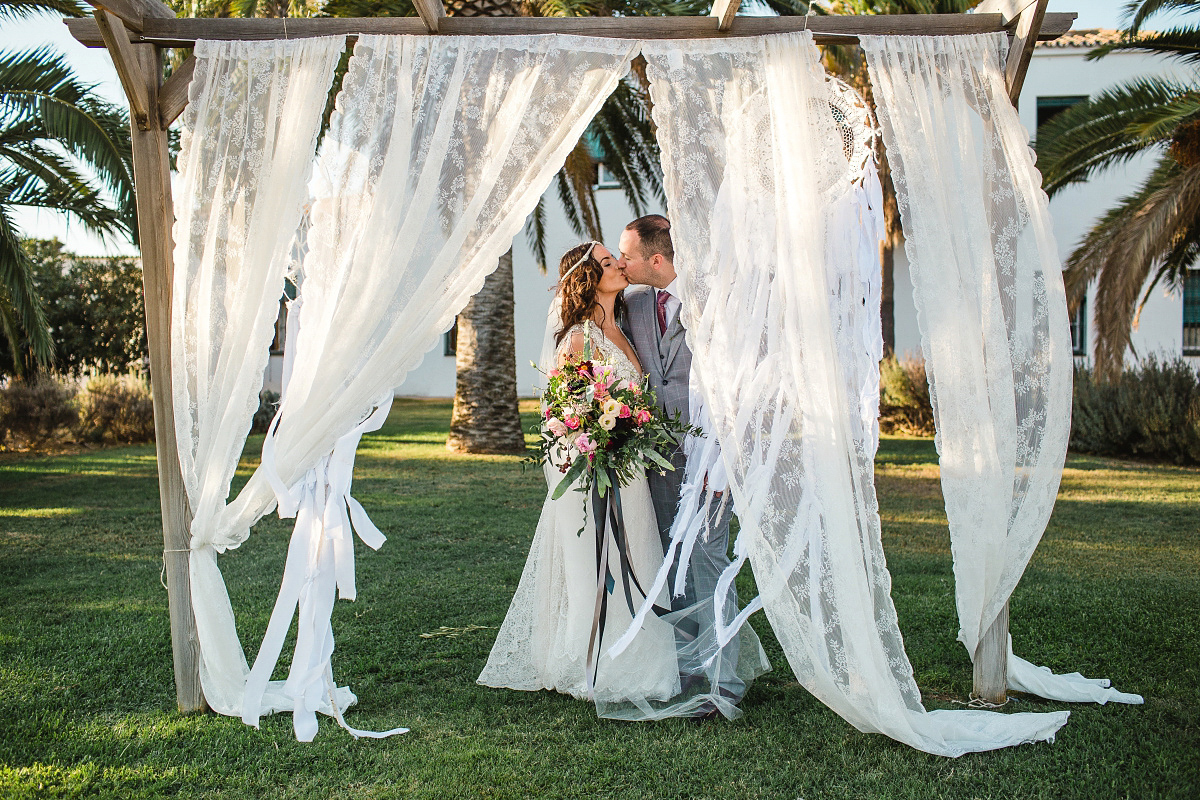 Effortless glamour from start to finish. My love and thanks to photographer Radka Horvath for sharing her imagery, and congratulations from all at Love My Dress to Rachel and Dean. What a beautiful wedding to be inspired by if you too are looking to get married in Spain. You can explore many more destination weddings here on Love My Dress.
Love Annabel x