Someone asked me the other day if, after two years of writing for Love My Dress, I was 'bored of weddings yet'?  My answer (possibly delivered more vehemently than was polite) was a resounding 'no', and the reason is that apart from the fact I am a diehard romantic and have met some wonderful people through this role, every single wedding I write up is different and has its own interests and quirks, just like the couple marrying.  How could that ever get boring? Today's treat is a real beauty and a perfect example of the most personal of days.  Meet David and Lucy, who married on the 30th September 2016 at Cripps Stone Barn.
"We both love the outdoors and are country bumpkins at heart so we wanted the day to reflect that.  Most of all we wanted it to be relaxed and fun with good food, drink and all our family and friends together.  We wanted there to be lots of colour mixed with traditional wood and stone and as soon as we set foot in Cripps Stone Barn we knew it would be perfect for the image we had in mind."
Film by Tom Caldwell Visuals 
The talent behind today's beautiful images was the lovely Frankee Victoria, who we are delighted to recommend most highly through our beautiful wedding directory, Little Book For Brides. The couple also decided to have the day filmed, and asked friend Tom of Tom Caldwell Visuals to do the honours.
"Dave was in charge of finding a photographer and as soon as he showed me Frankee's website I loved her style.  Frankee's pictures are simple and effortless and captured the relaxed style we loved. Her pictures seem to capture the real feeling of the day.  We are over the moon with the pictures."
Photography by Frankee Victoria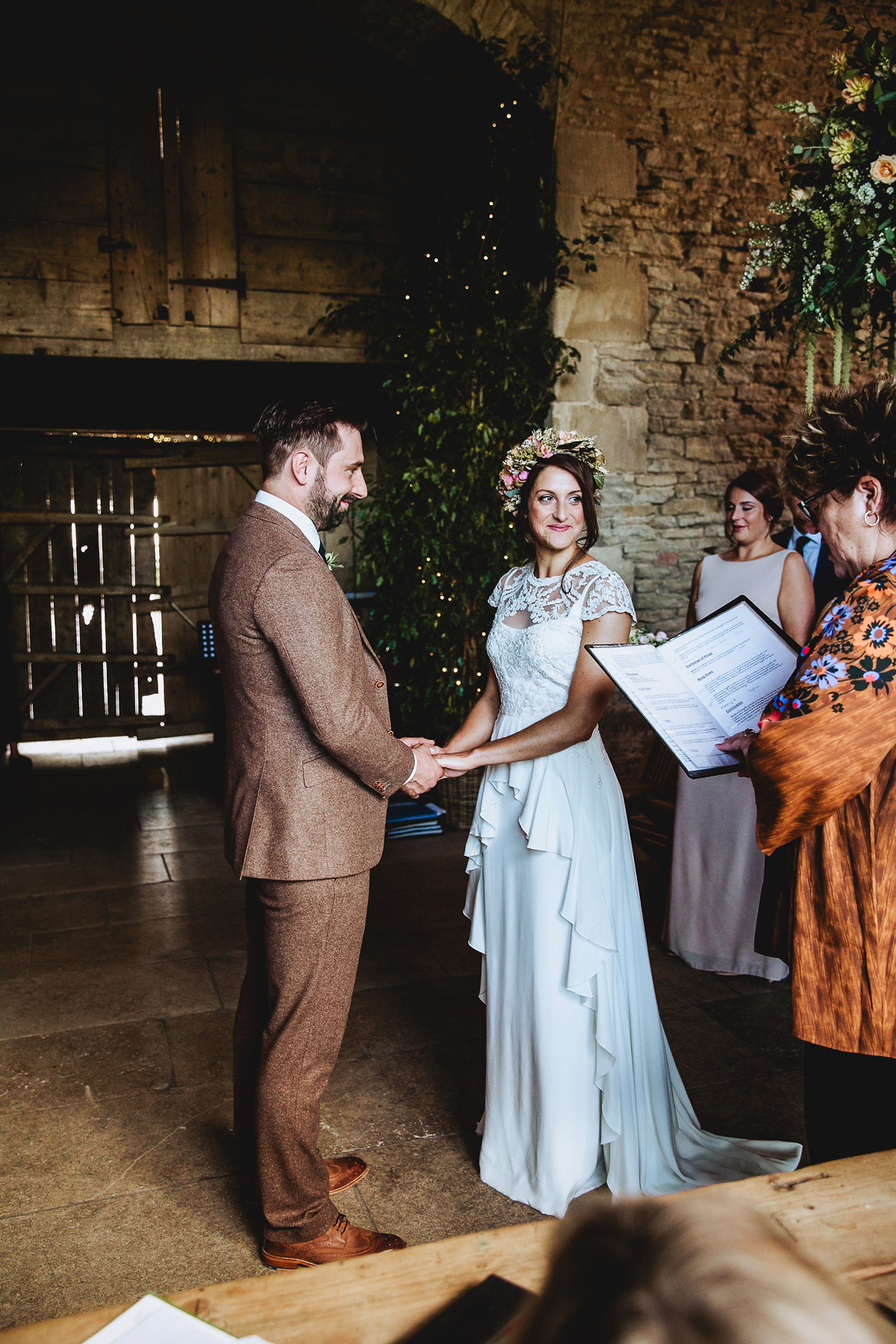 Lucy looked fabulous in 'Bluebell' by Alice Temperley, purchased from Carina Baverstock Couture – another of our Little Book For Brides highly recommended suppliers…
"Carina and her team were incredible.  Carina chatted with me, my Mum and sister, asking what we wanted the day to be like, what they imagined when they thought of me walking down the aisle and building a picture of what I am like from the two women who know me best.  I tried on lots of beautiful dresses and as soon as I put Bluebell on I felt amazing."
"It was so beautiful with the most incredible detailing and made from the most exquisite silk. It was also so simple and effortless and the way the fabric moved was gorgeous.  I knew straight away it was the dress for me."
Makeup was by Victoria Draper…
"Vicky is so easy to work with and listened to everything I wanted.  I couldn't believe it was me when I looked in the mirror; it all felt like such an amazing treat."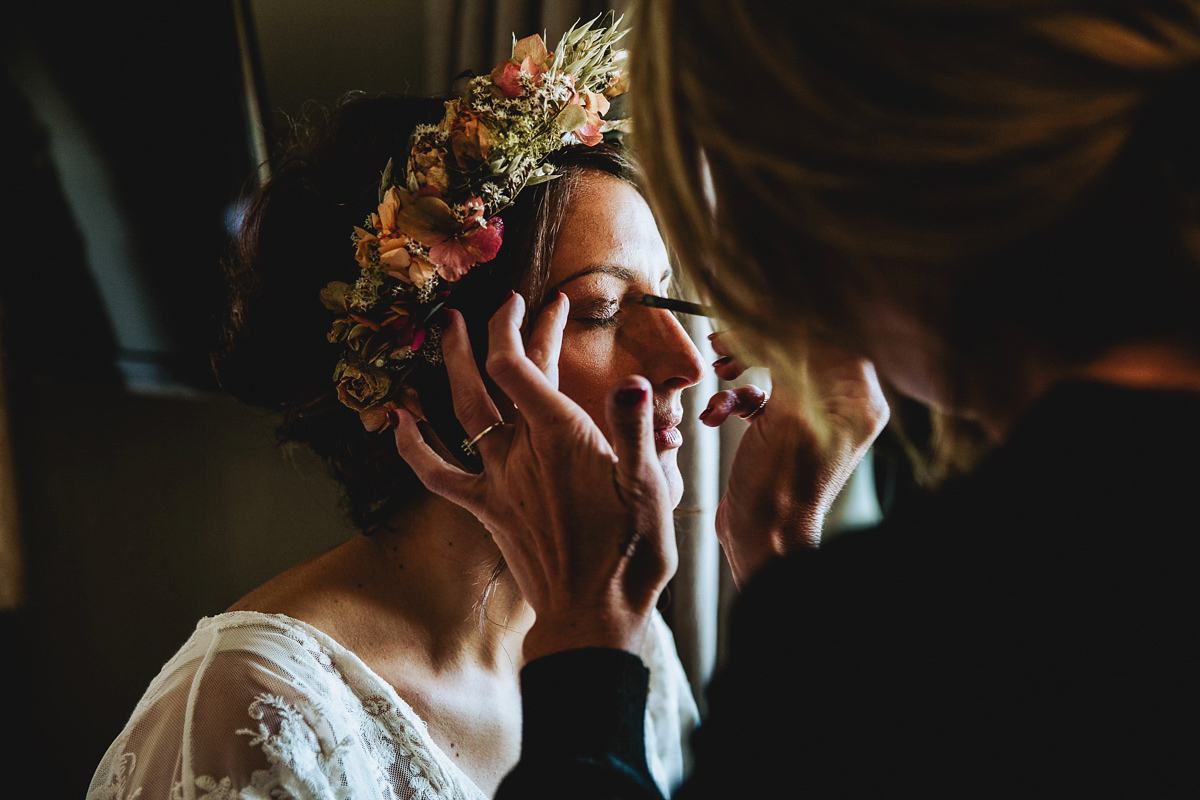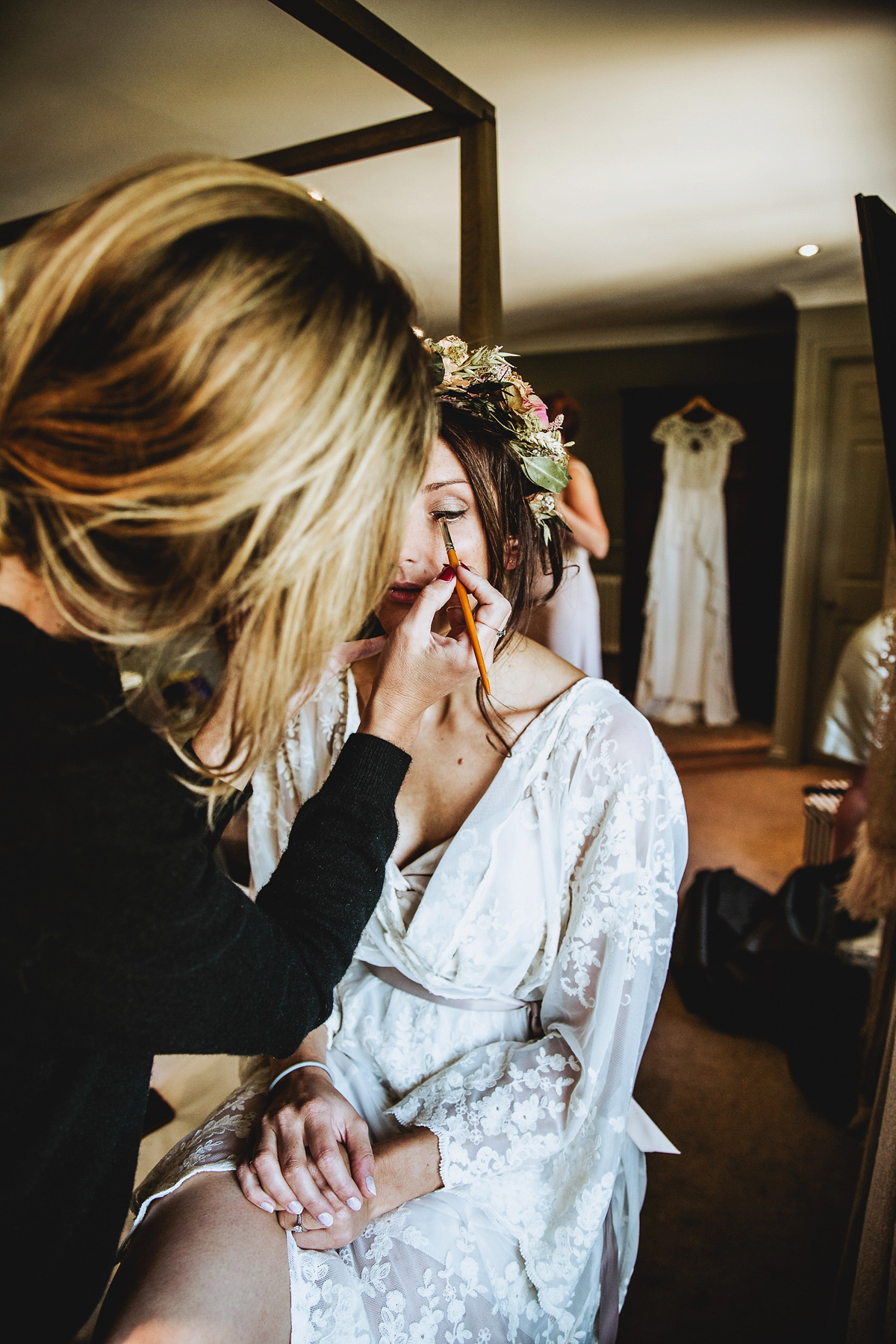 Hair was the work of Joseph Bespoke Hairdressing.
"Joseph is a good friend of mine and I trust him completely- I knew he would create a beautiful style for the day.  Joseph's husband Phillip is also a good friend and conveniently also a hairdresser so he did my Mum's hair.  It was so good to get ready with them– they completely made the morning."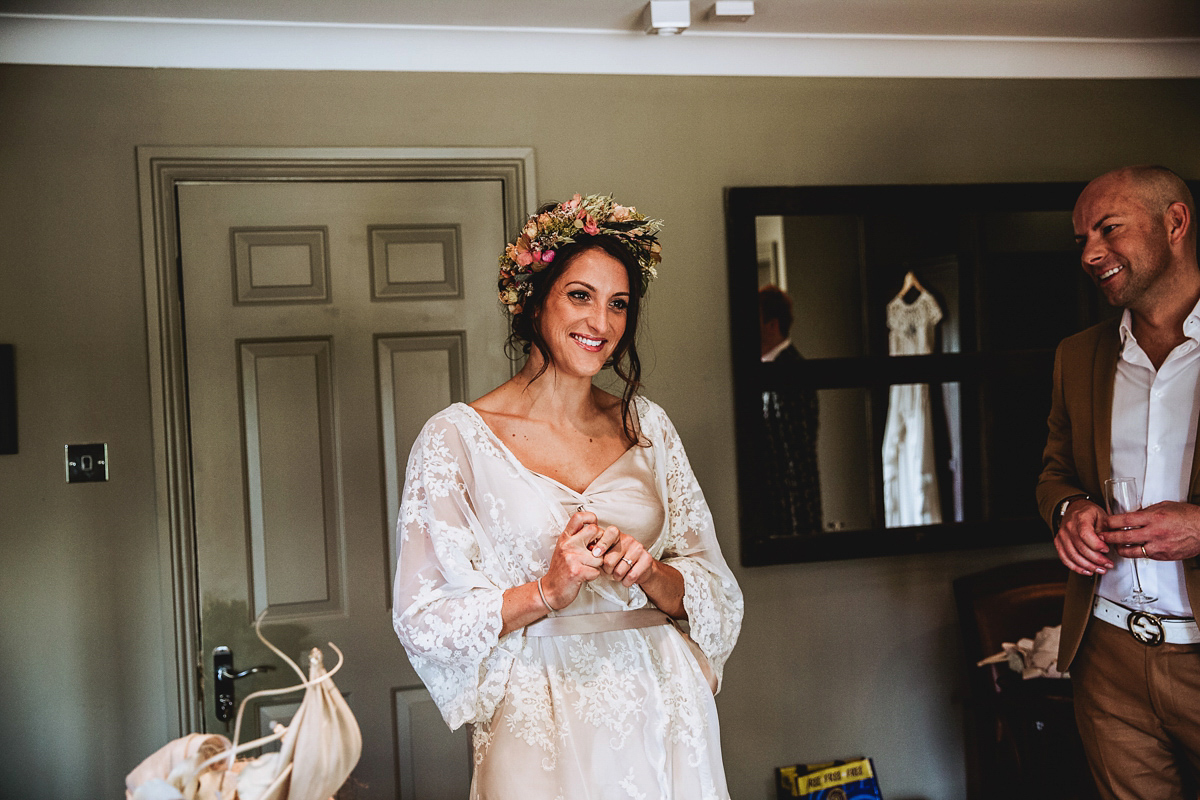 On her feet Lucy wore 'Ella' in silver from Little Book for Brides favourite, Emmy London, while for a hairpiece she chose a fabulous dried flower crown by Folky Dokey Bespoke.
For jewellery she chose antique diamond earrings which were a gift from her Mum, who surprised Lucy with a box of gifts (some of which she had been collecting since she was a little girl), including a handkerchief from Lucy's great Grandmother.
The bridesmaids looked lovely in a mixture of different dresses from ASOS, worn with their own choice of shoes, earrings from Banana Republic and a bracelet from Abigail Jewellery on Etsy which was a gift from Lucy.
"I wanted my bridesmaids to wear different dresses in similar colours but different styles. I felt this was really important so they were comfortable and the dresses reflected their personality."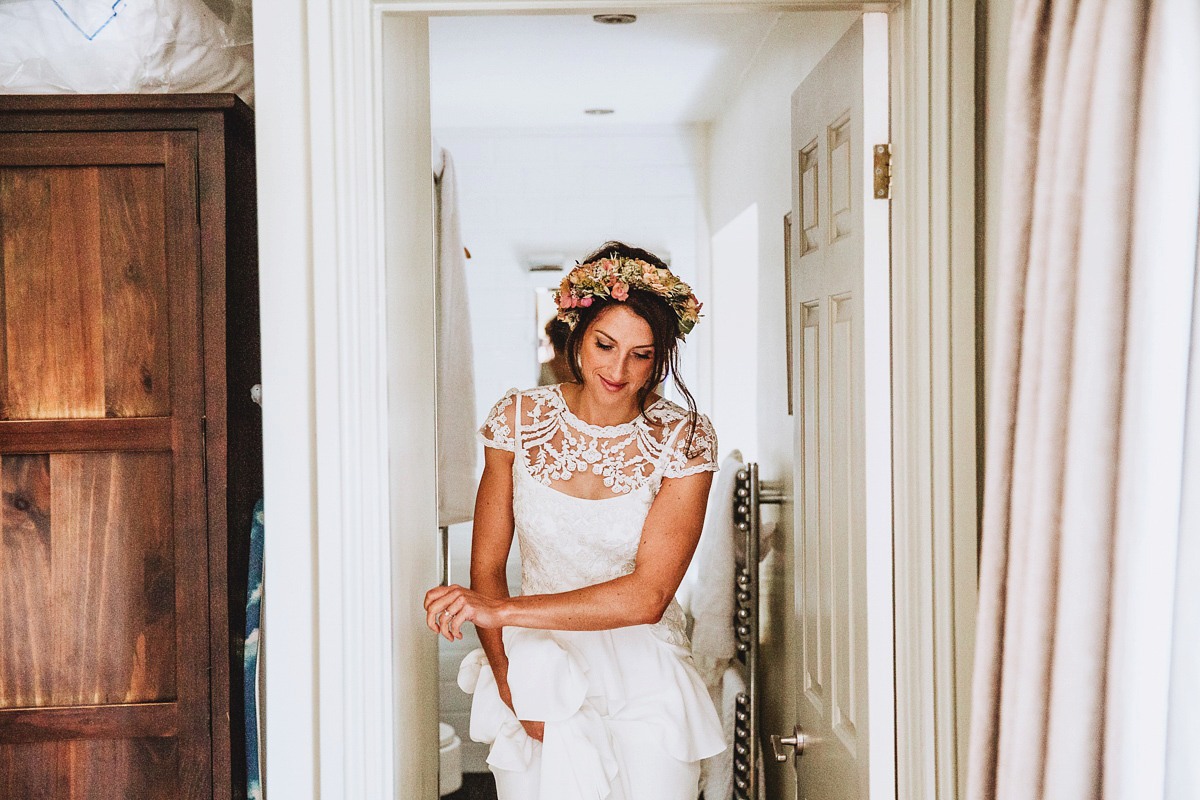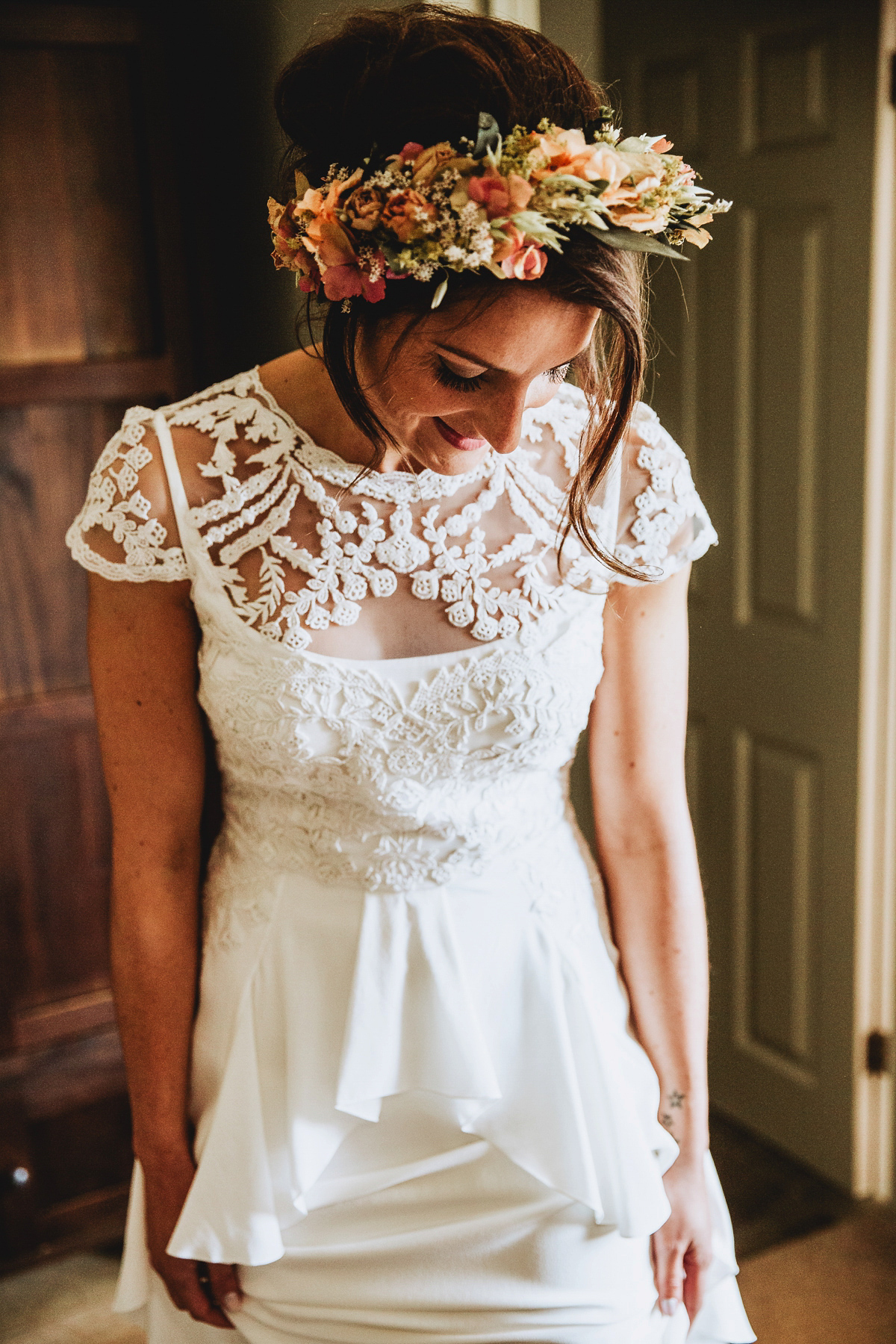 "Our florist Beth at Go Wild Flowers was recommended to us by Cripps Stone Barn.  Her flowers are natural, simple and beautiful and she listened to all my ideas and was so helpful.  She really took the time to get to know us.
She made all the button holes, bouquets, supplied and decorated the vintage bike, made the giant hanging flower balls in the barn, all the jars and bottles, the table decorations and all the flowers around the venue. The flower balls were insane and so amazing, so many people commented on how incredible they were.  Everything tied together so well and the peachy colours were just what we wanted."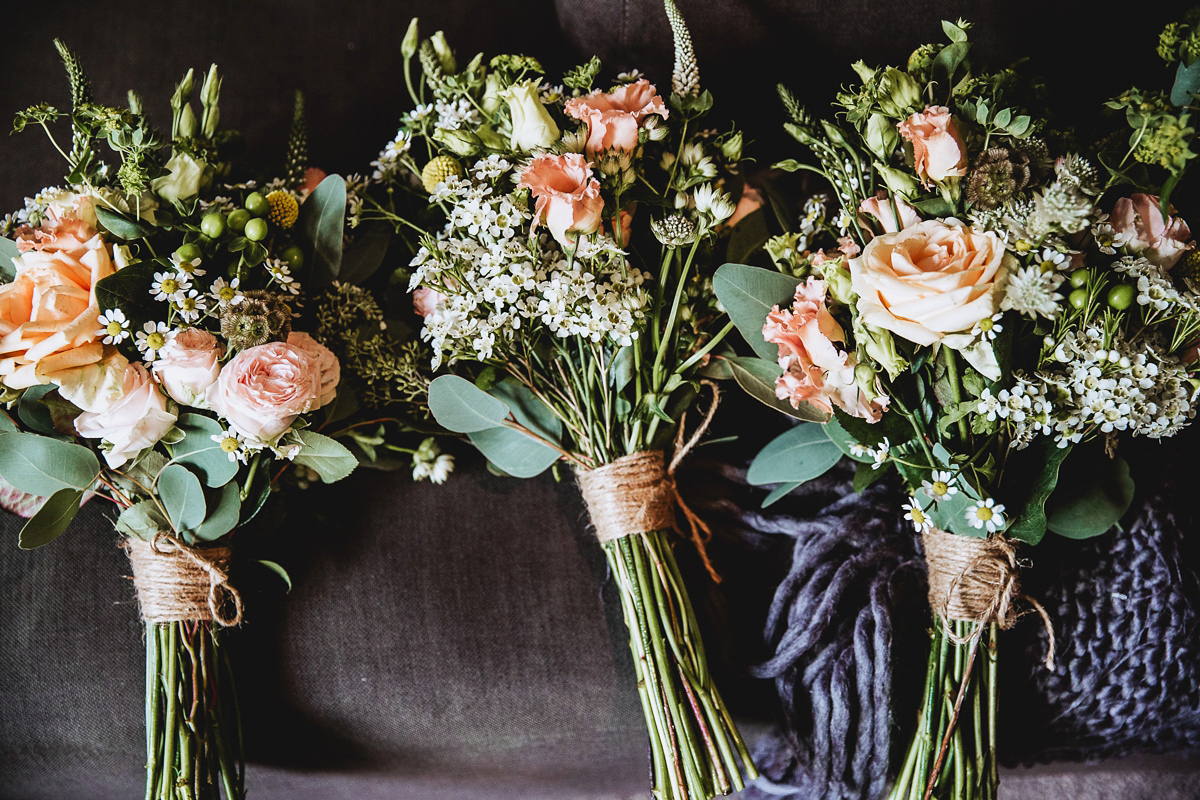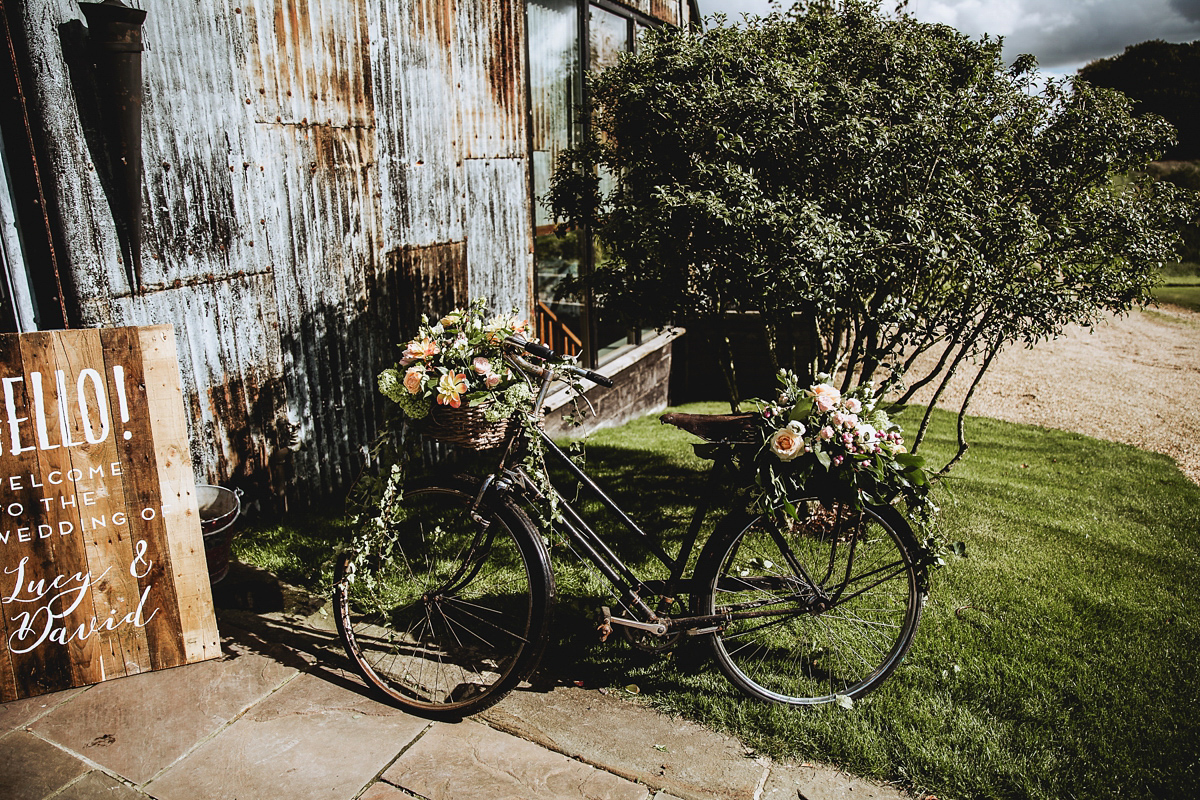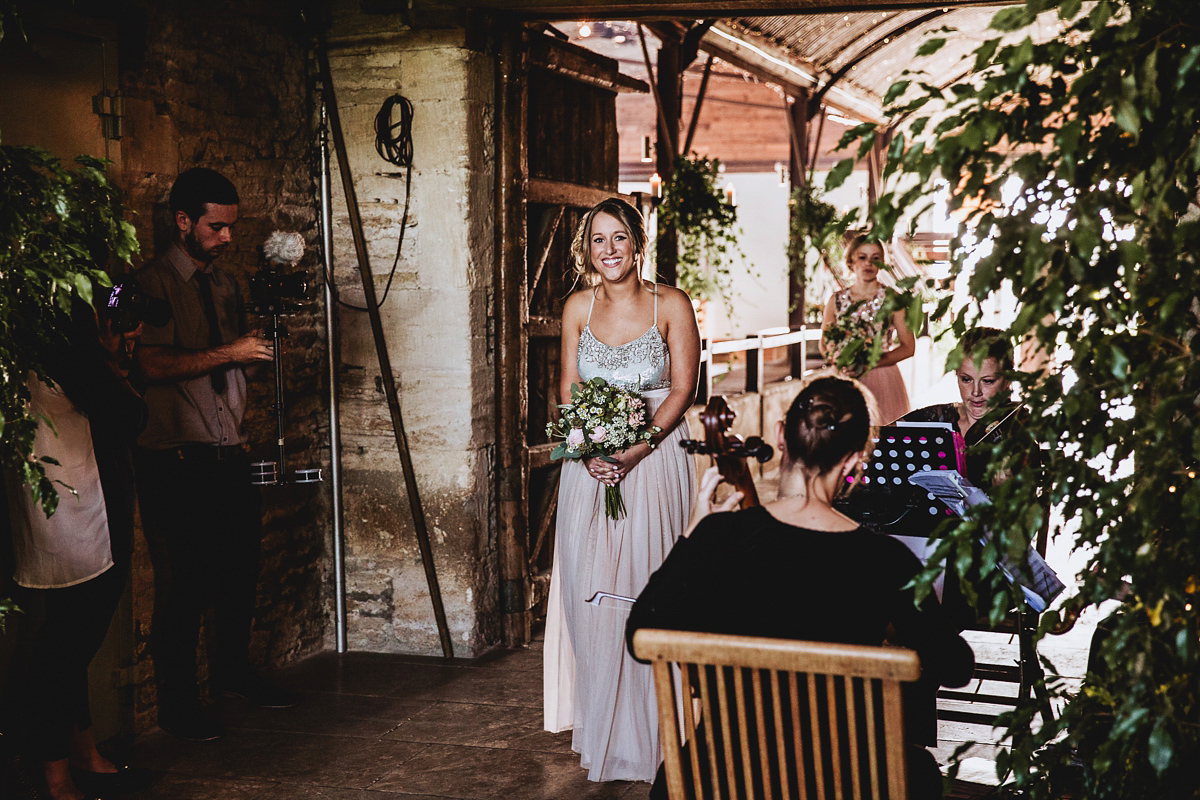 Lucy arrived at the venue in a vintage Bentley supplied by Cripps Stone Barn.  For the other members of the bridal party, they hired a Mercedes from Green Chauffeuring. 
"My Dad and I were driven to the barn together and he walked me down the aisle.  I'm the first of three daughters in my family to get married so it was really special.  It was so emotional and such a special few moments to share together."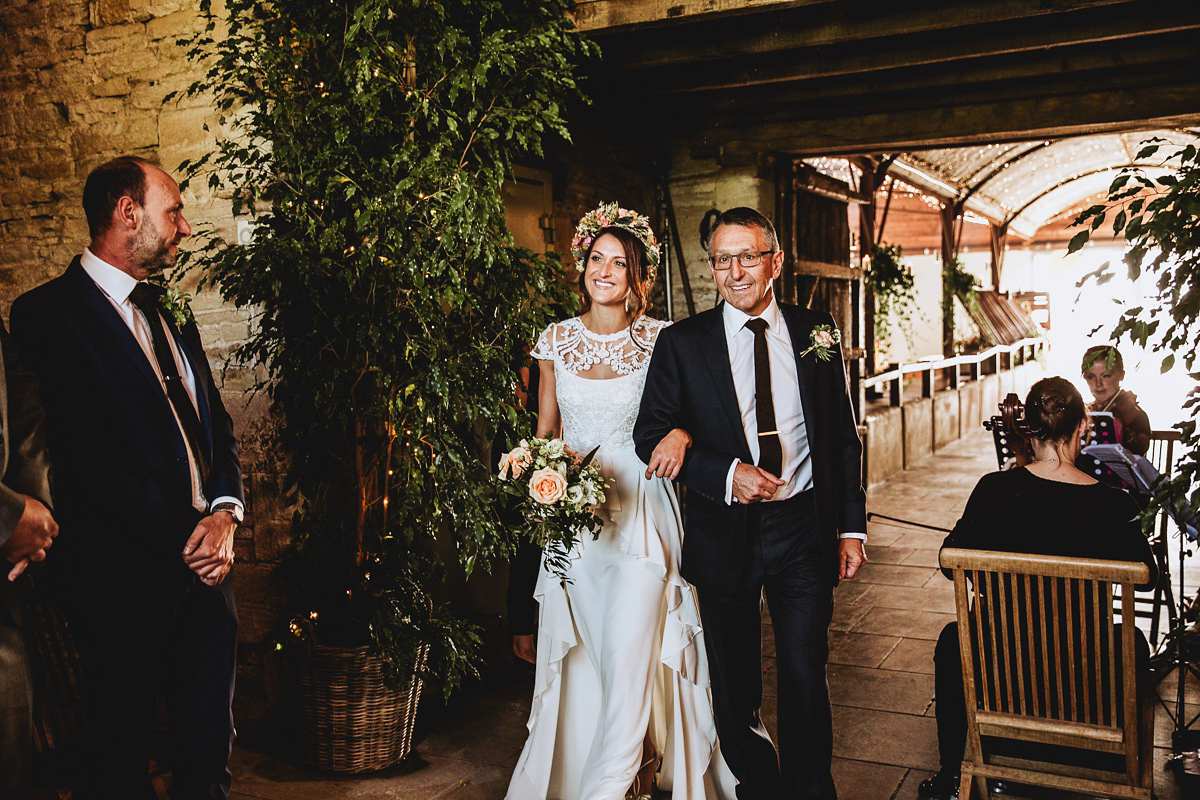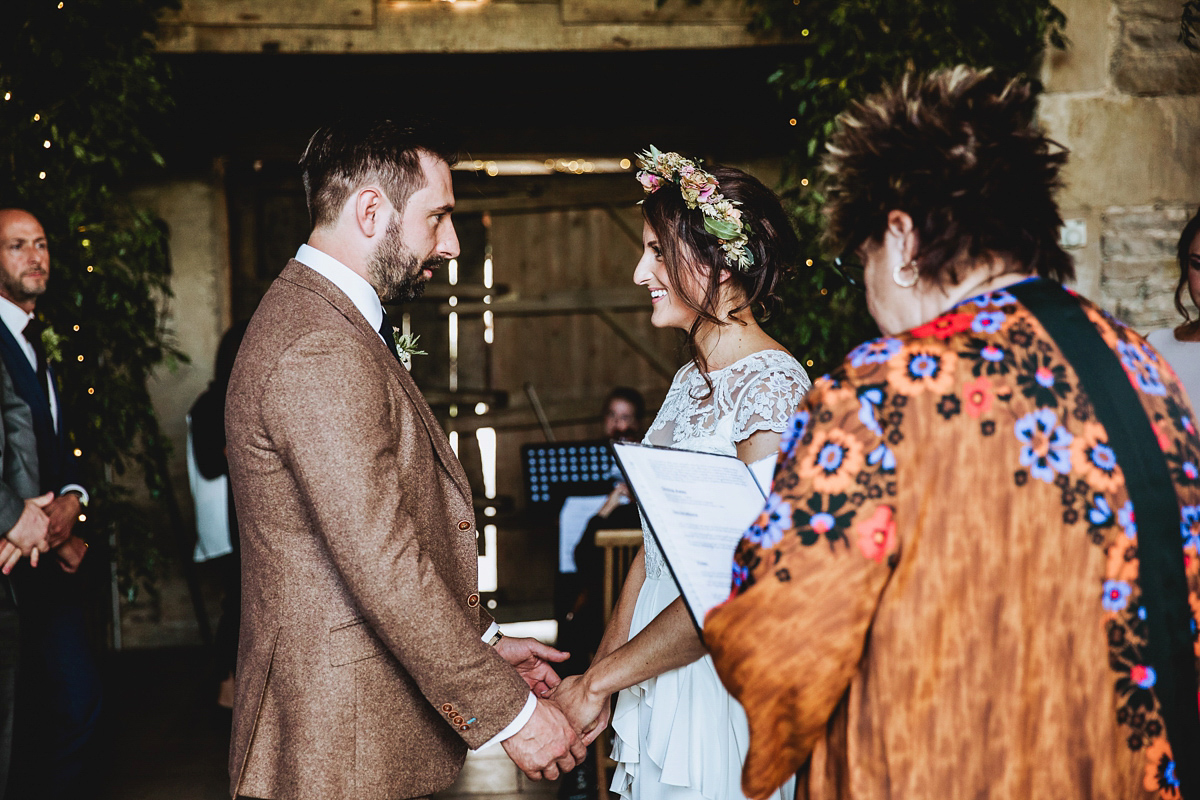 Lucy and her Dad walked to Nero String Quartet playing Beethoven's 'Five Secrets'.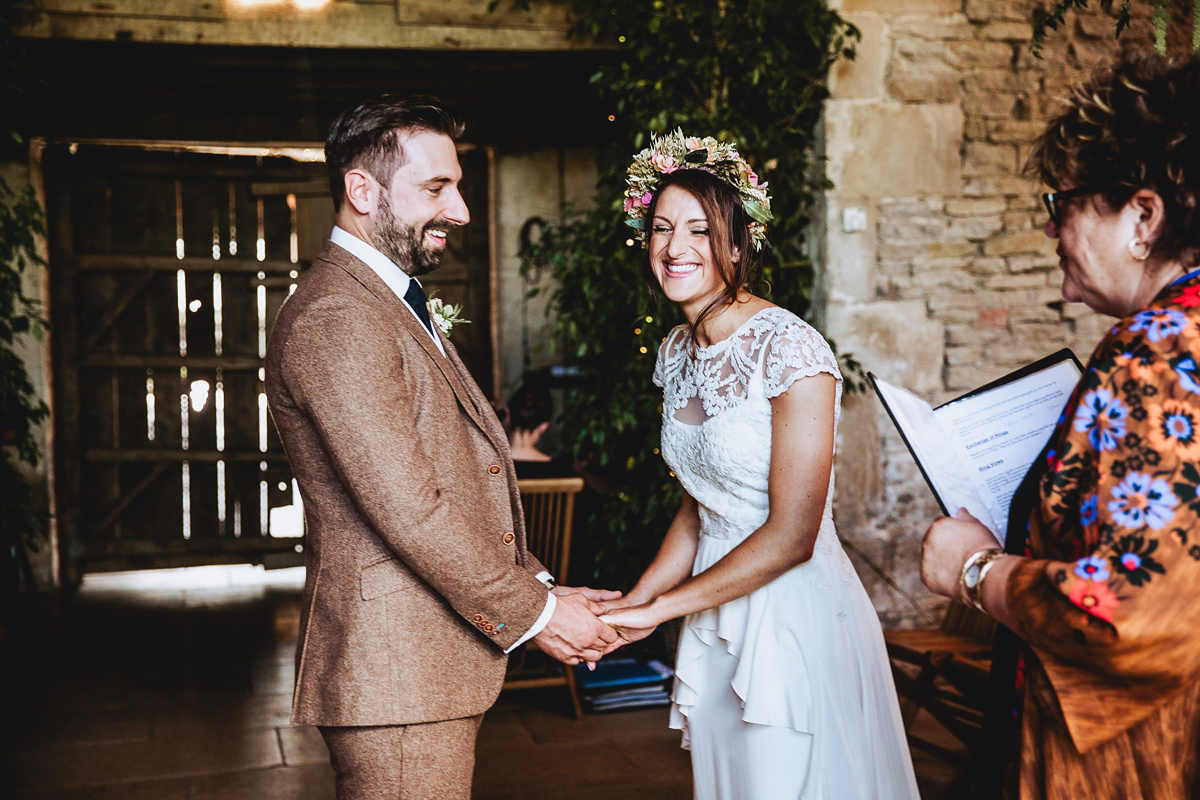 For readings, Lucy and David chose 'Love is a Temporary Madness' from Captain Corelli's Mandolin by Louis de Bernieres and 'The Universe and Her and I 235' by Christopher Poindexter.
The couple exchanged rings from Crystal Link, Birmingham.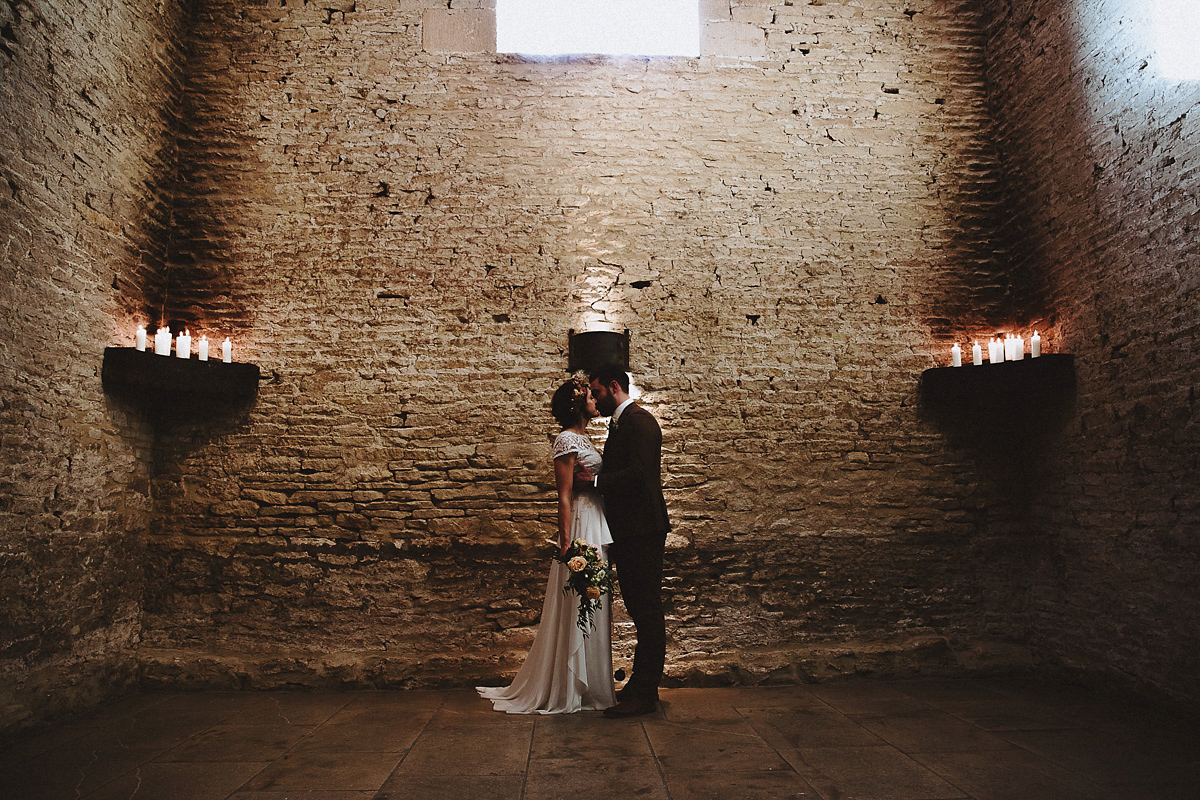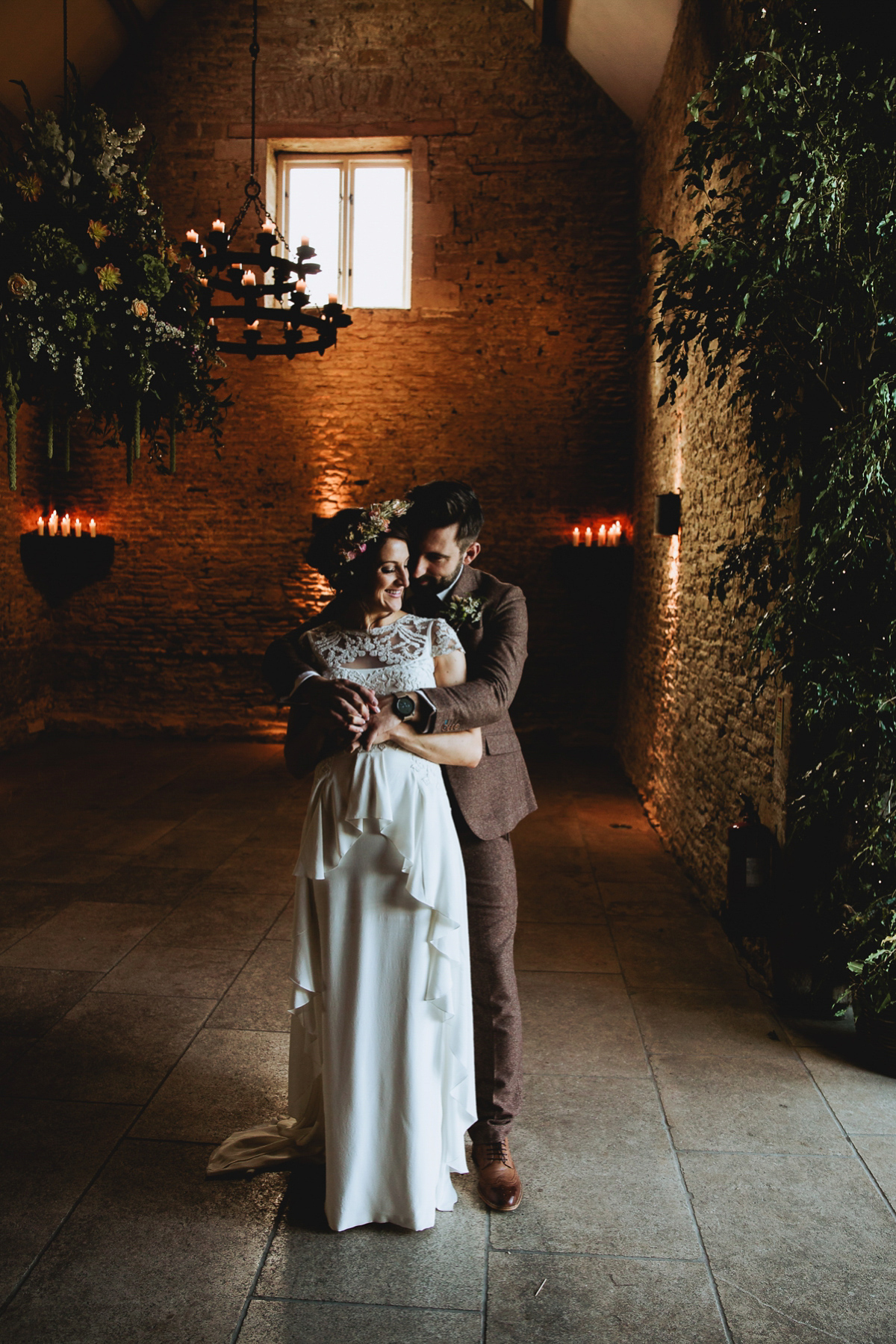 "One of the things we loved about Cripps was the food.  They have an enormous indoor BBQ which looks incredible but also creates an amazing atmosphere.  We opted for sharer platters for each table to continue the relaxed feel and in the evening Baz and Fred came and made pizzas, which were delicious!"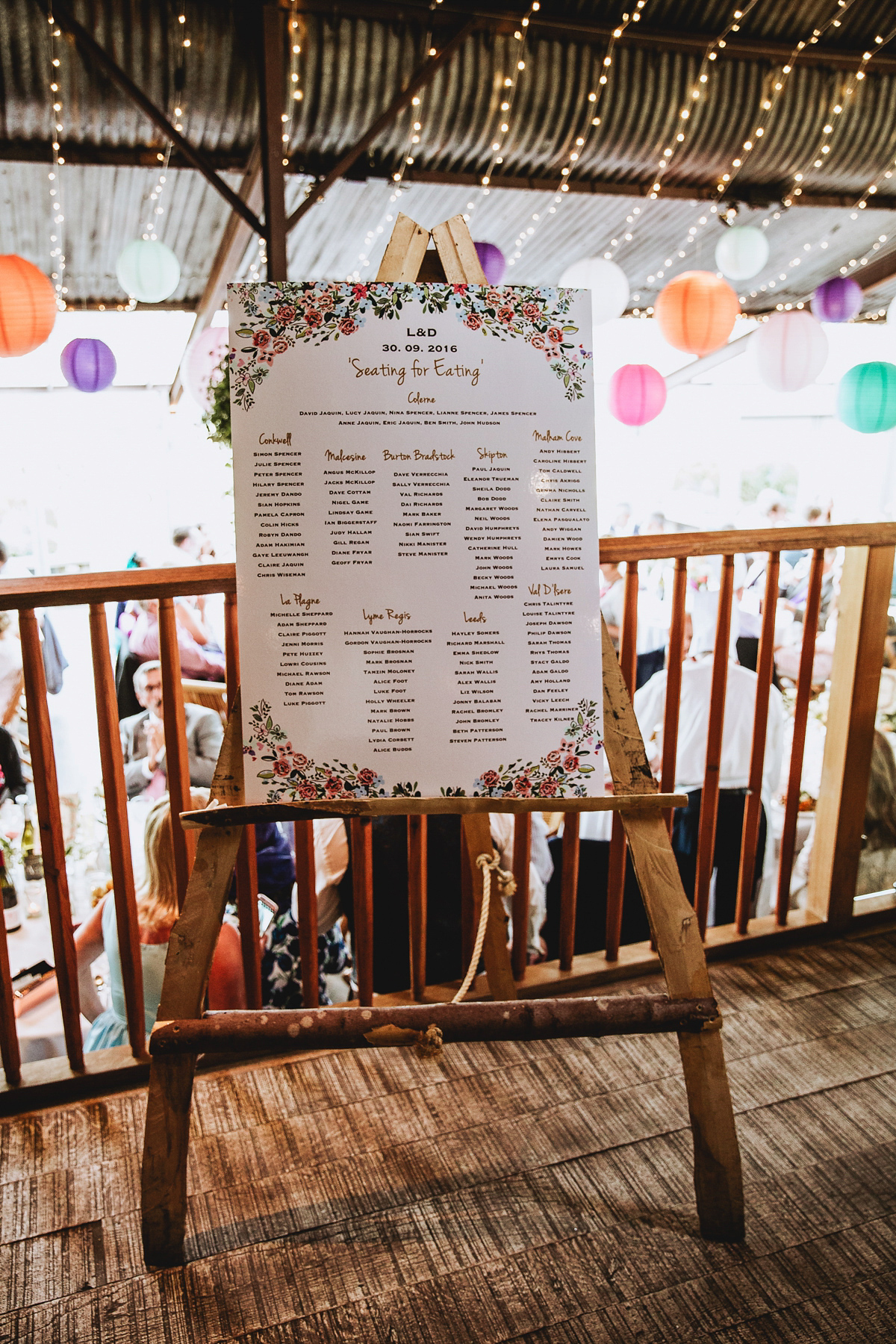 The beautiful venue required very little additional decor, but to personalise the space Lucy and David purchased several signs from Made by Wood and Wood, coloured lanterns supplied by The Hanging Lantern Company and two huge balloons to go either side of the glass entrance doors from the Giant Balloon Company.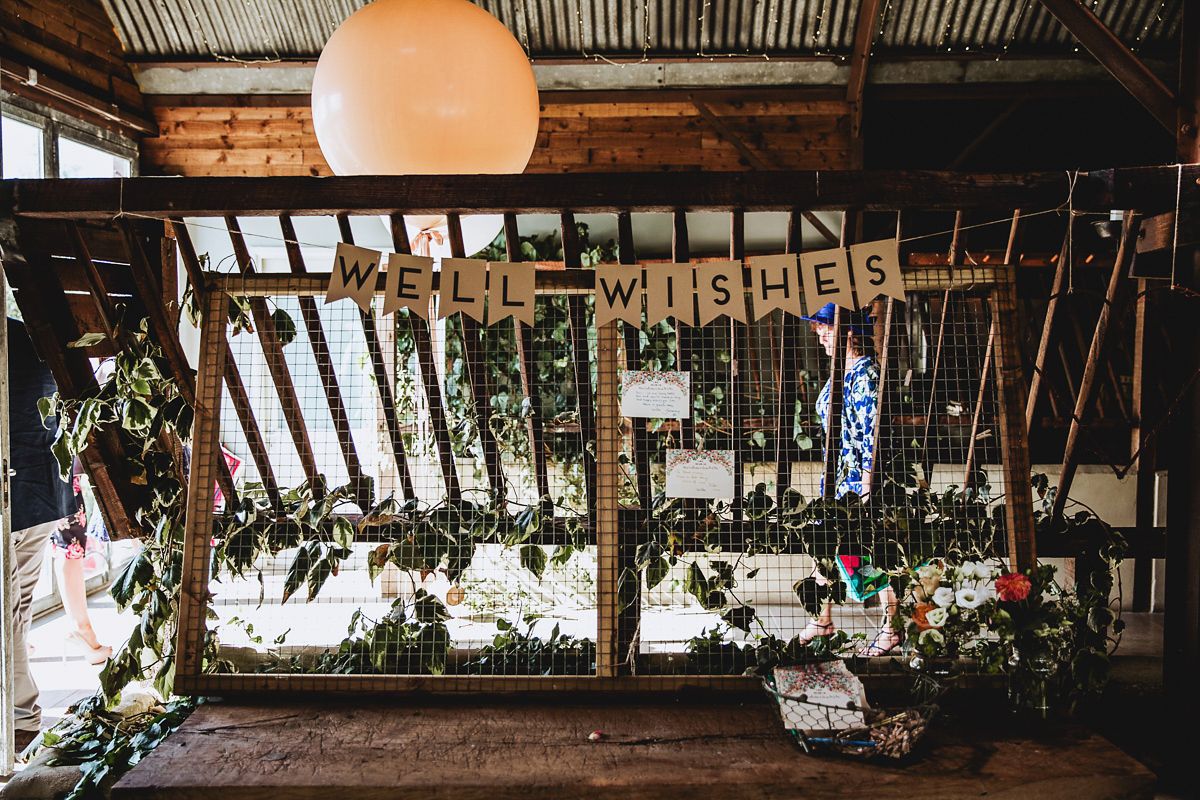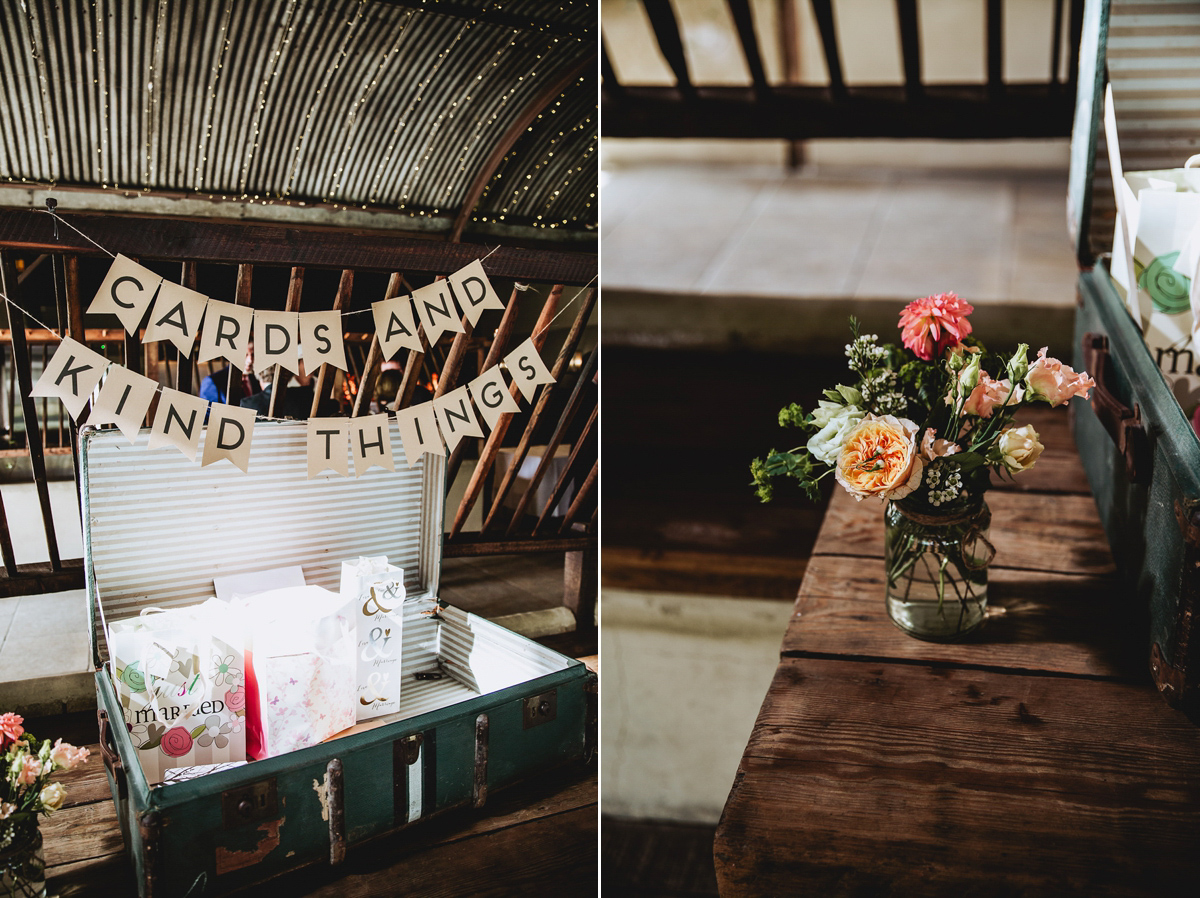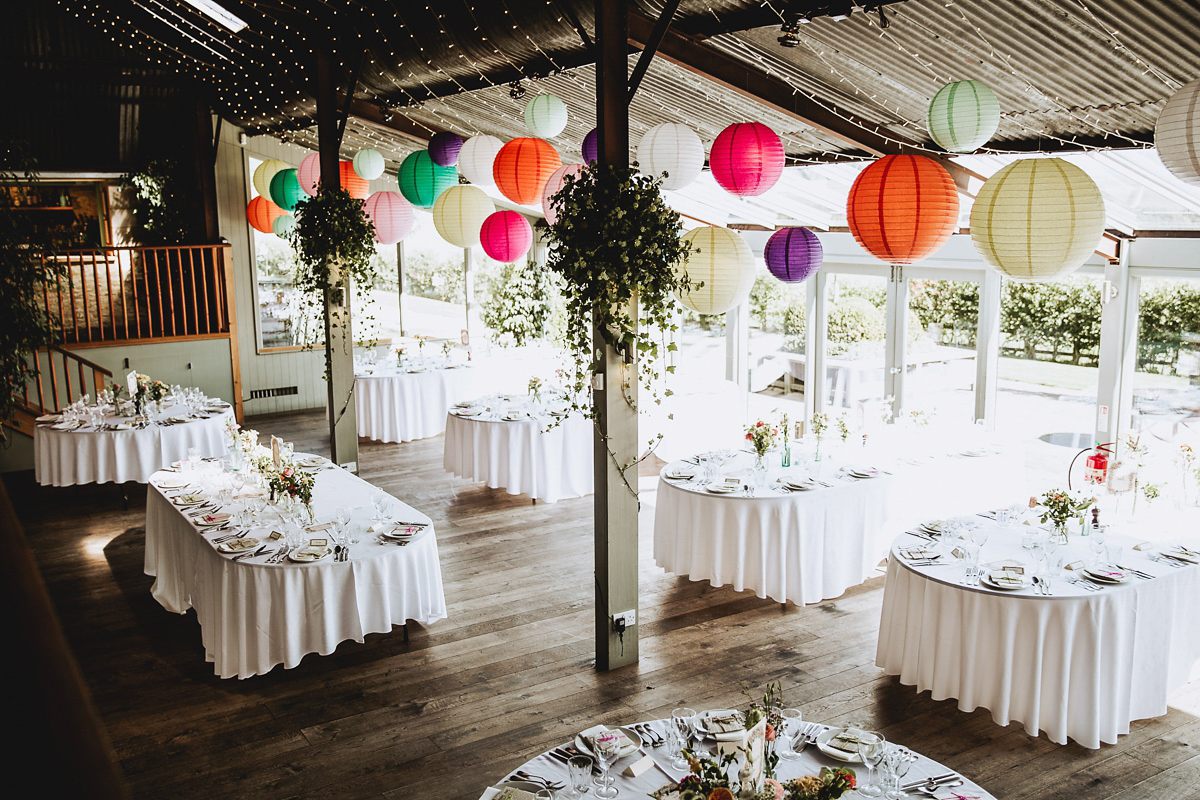 "Keeping with the natural theme we made flower favours which consisted of wild seed flowers in a little packet we made out of an of book of my Grandfather's, stamped with a bespoke stamp bought from The Little Stamp Store on Etsy."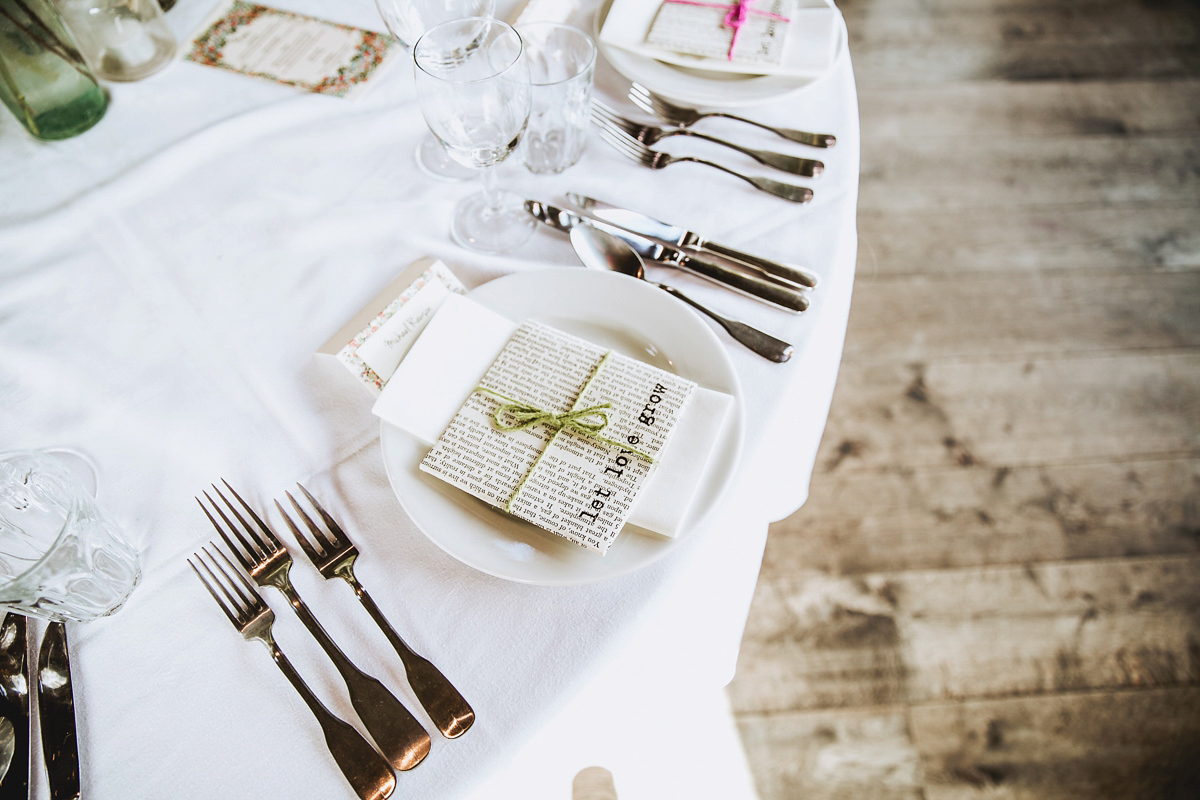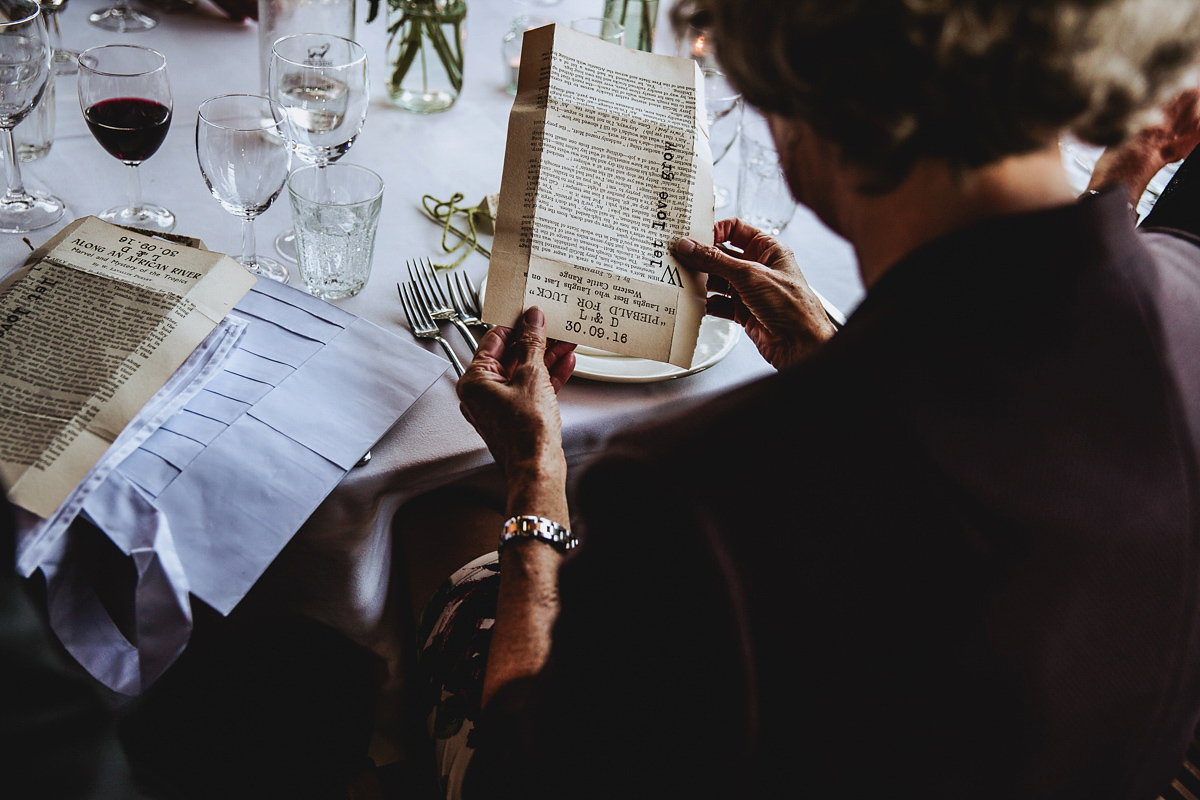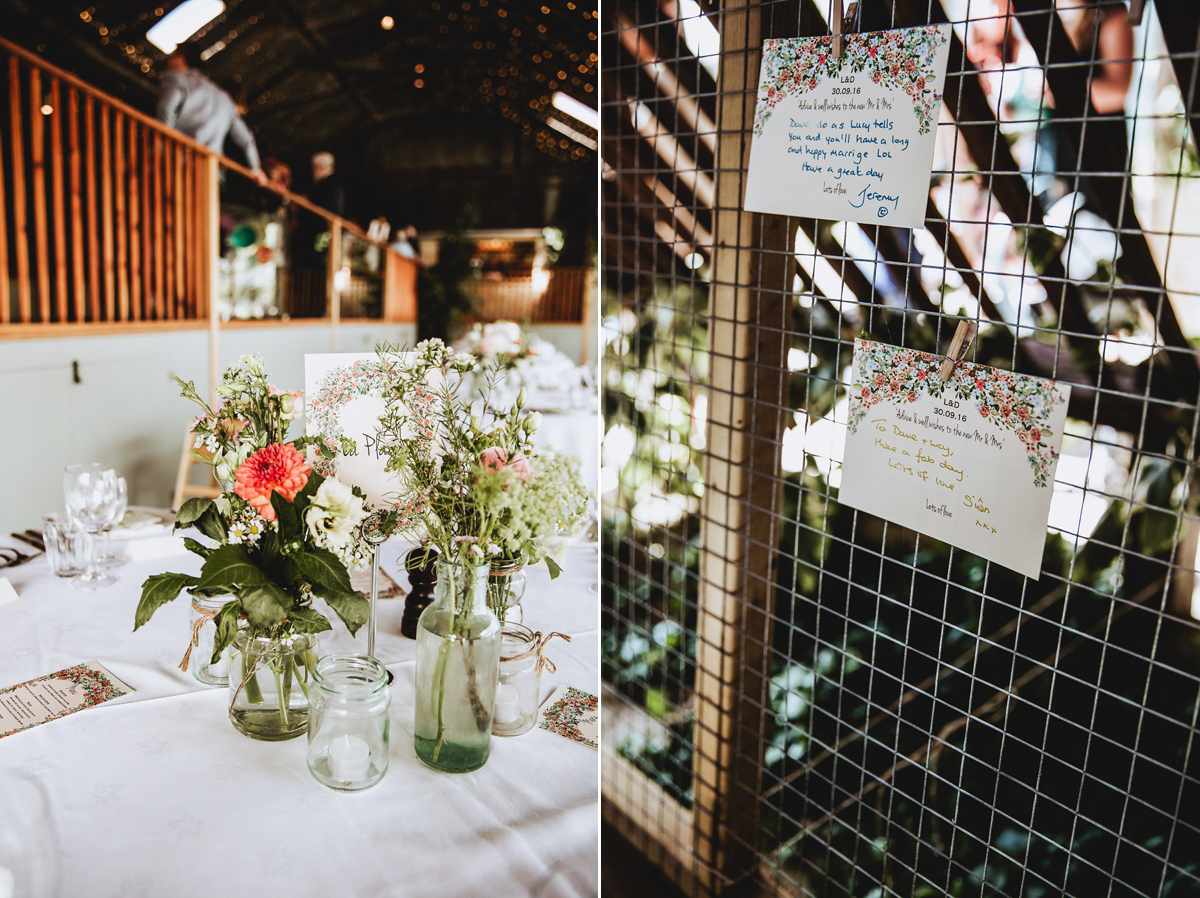 "I loved sitting at the top table with Dave and looking at all our family and friends having an amazing time, everyone who is special to us in a room together, laughing and having fun– it was very special."
All paper goods were the work of Geri Loves Emi…
"Geri's designs are so contemporary and pretty but also classic and when the stationary arrived it was so beautifully wrapped I didn't want to open it."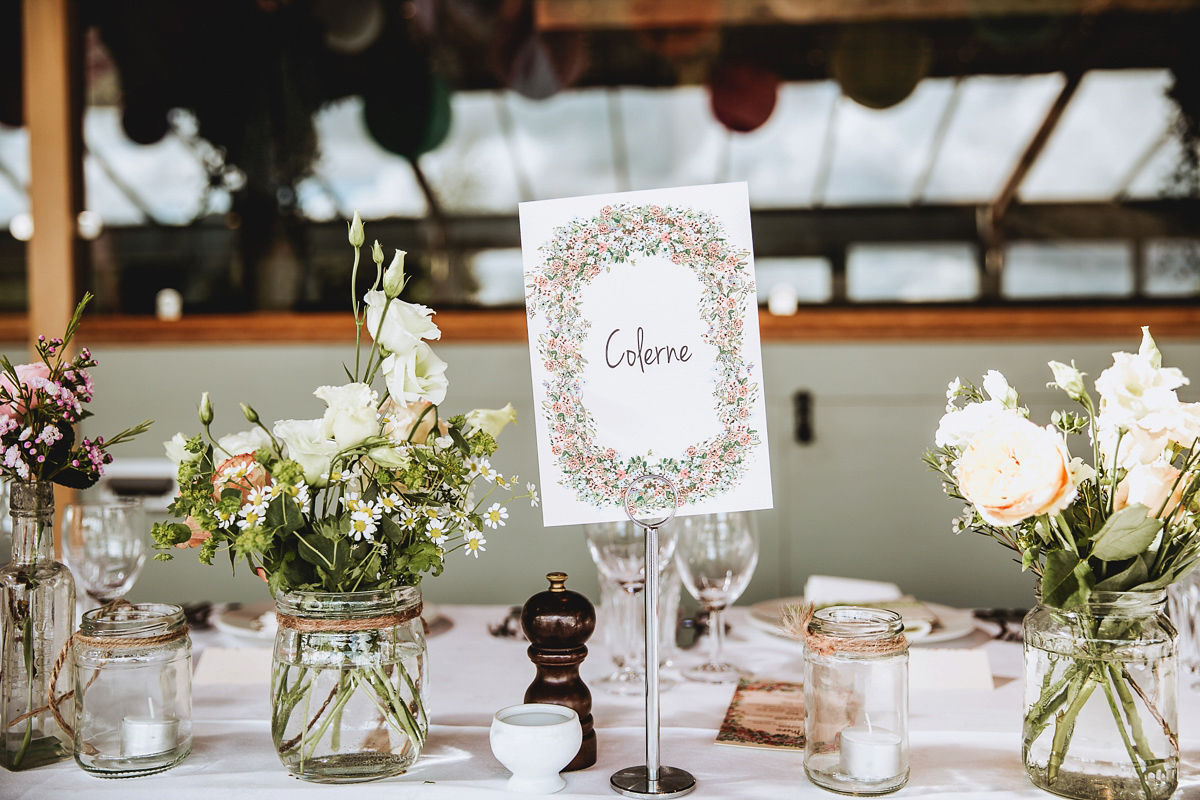 "We were lucky that Dave's sister Claire is a master cake maker and made the wedding cake as our wedding present.  We loved the idea and look of a naked cake and Claire made one for us with three different flavours; chocolate, lemon and Victoria sponge. It was heaven and exactly what we wanted."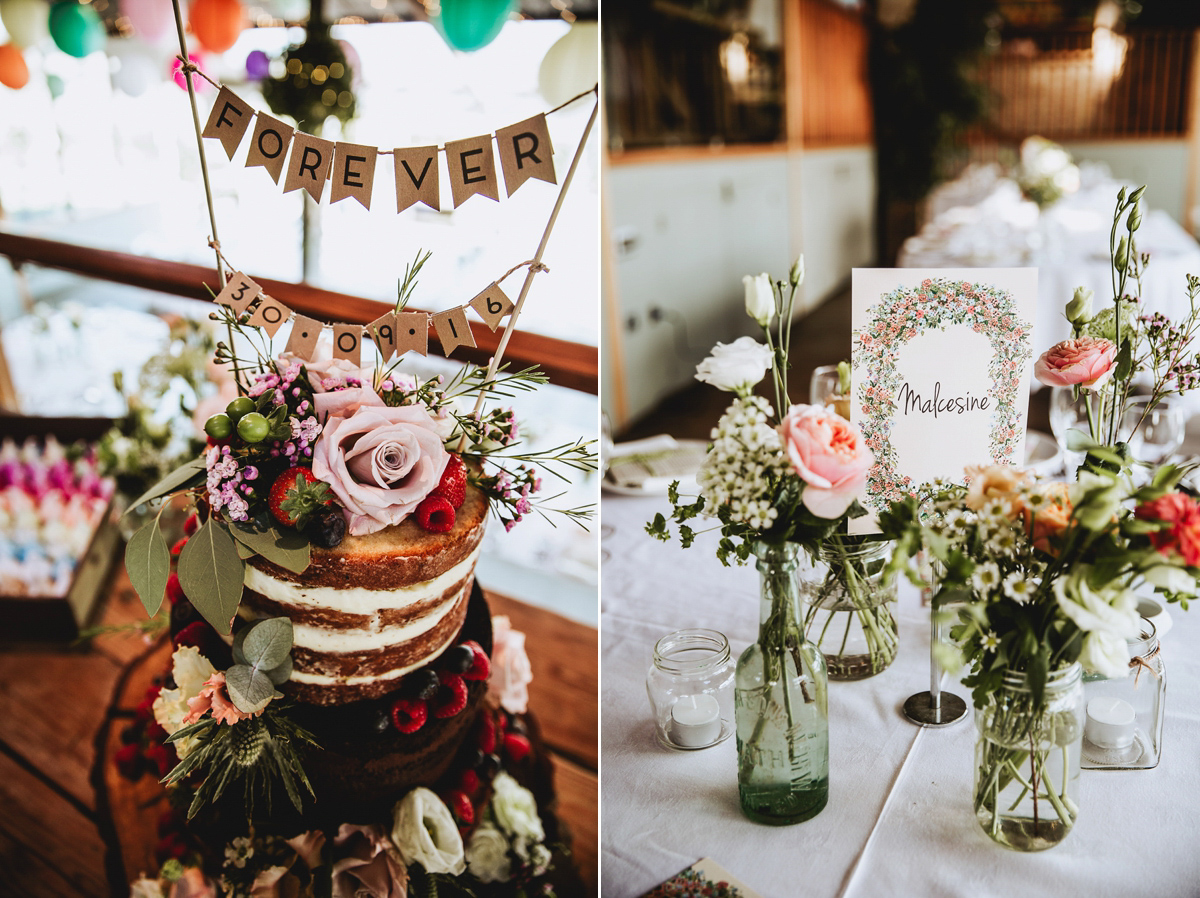 "We also had some incredible meringue kisses made by The Meringue Girls which were so beautiful and tasted amazing."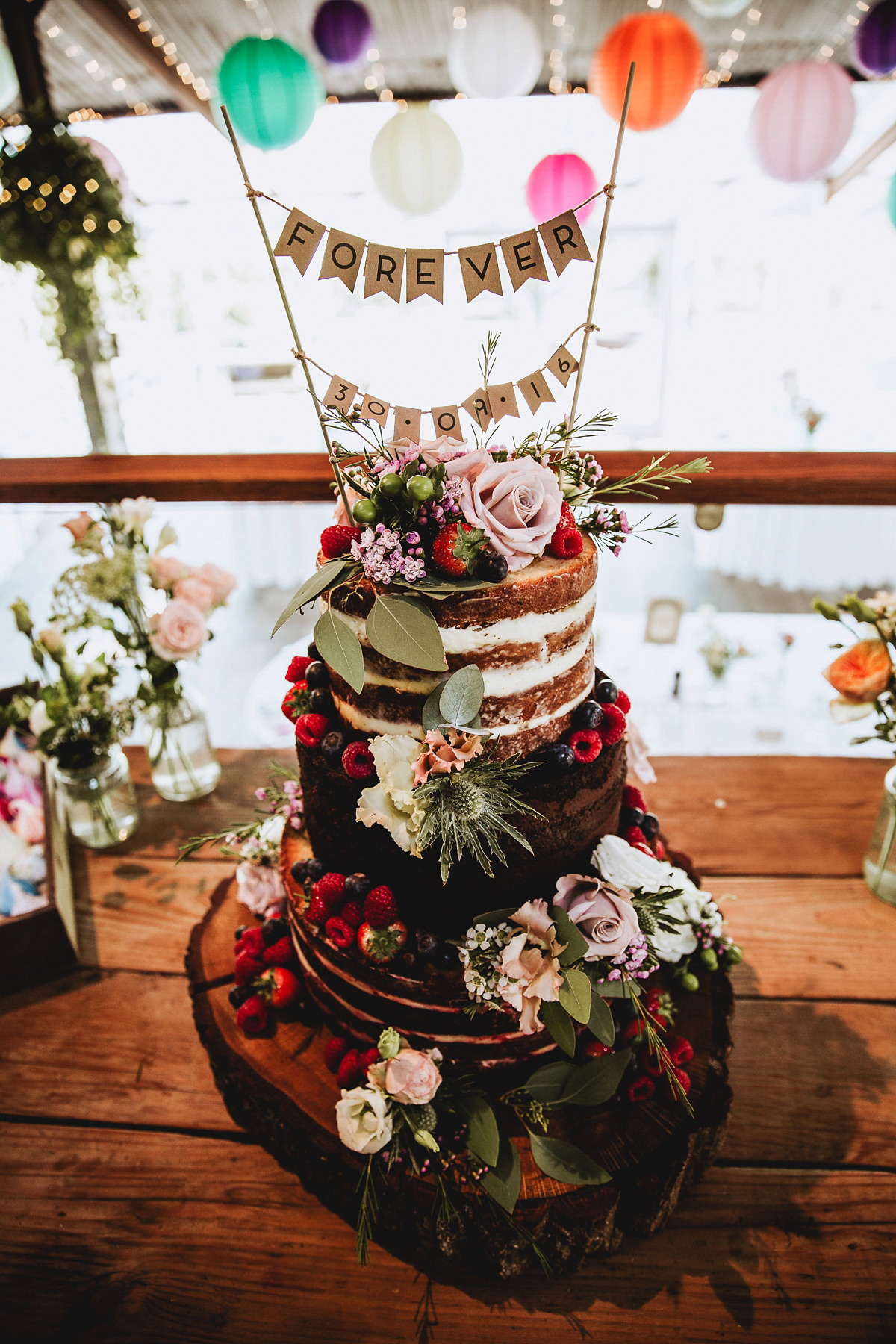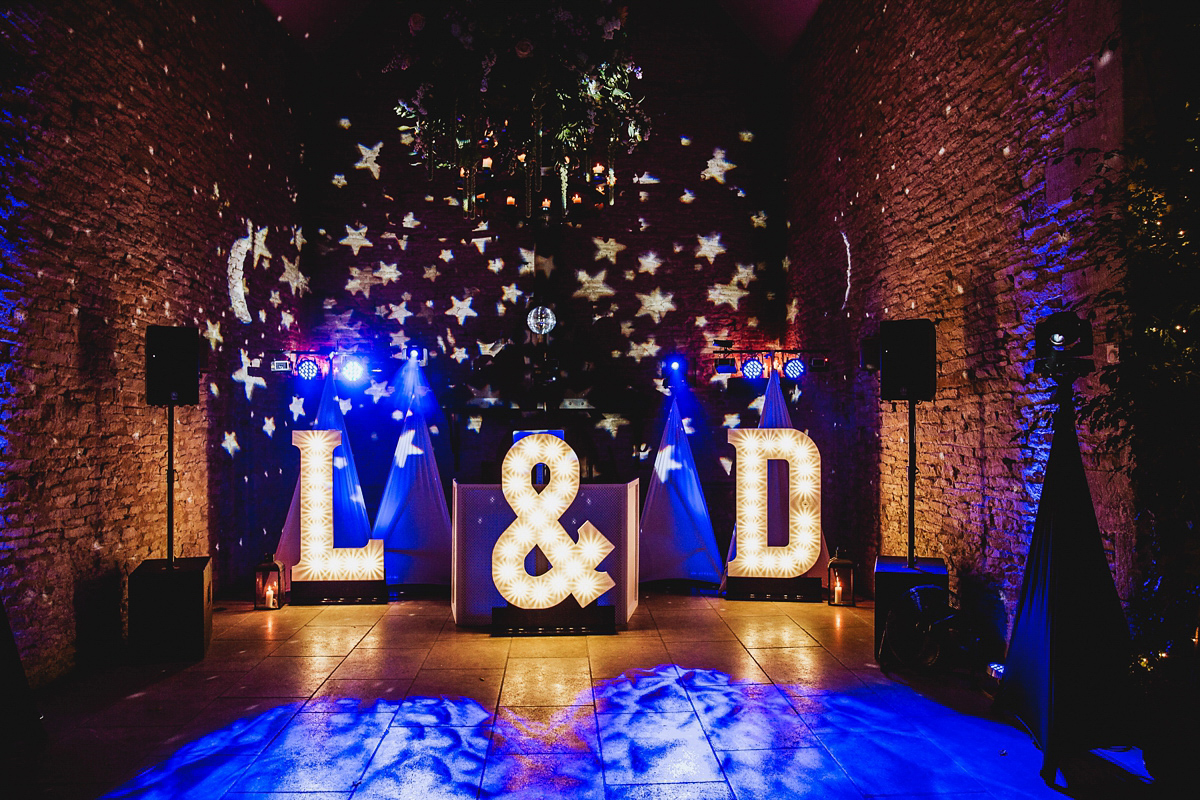 Evening entertainment was provided by the Folk Junkies, booked through Tailored Entertainment, with DJ Will of Cotswold DJ providing the music between sets.
"We wanted a folk band who would get everyone dancing.  Folk Junkies were really good and helped make the night an amazing party."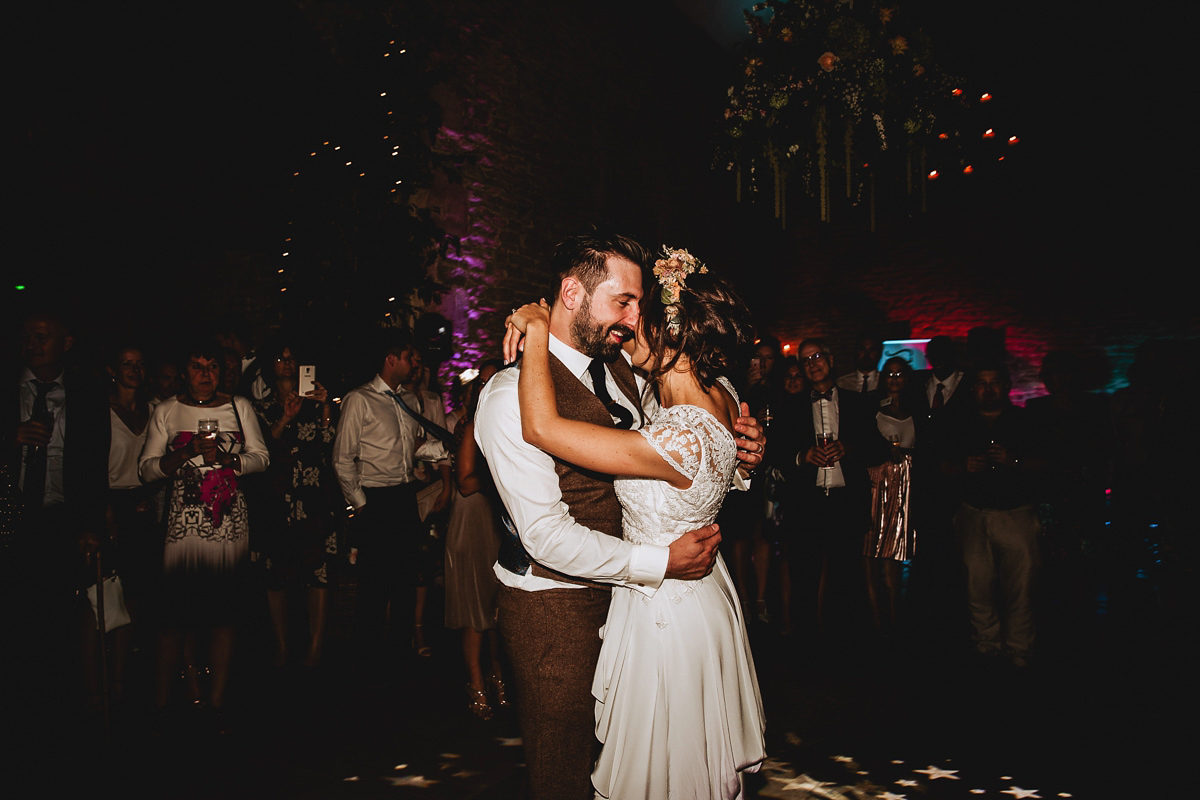 Words of Wedded Wisdom
"My main advice would be to try to enjoy the planning and build up as much as possible.  It's easy to get caught up and stressed about things that really are not important. We only had nine months to plan the wedding and I was determined I was going to enjoy it as much as possible.  
Decide early on what you want to feel like on the day, what is important to you and your husband to be and keep this in mind. The planning stages are much longer than the day so you might as well enjoy them.  There are some amazing suppliers and truly lovely people out there who you can work with and you get so much more from them if you are relaxed and easy to deal with.
What really is important is the memories you'll make and treasure, not always the tiny details."
Thank you so much to Lucy and David for sharing.  Inspired by this glorious day?  Take a peek here for more weddings photographed by Frankee Victoria and here for more brides in Temperley gowns.
Much love,
S x