Hello Saturday lovers, this one is for all of you who have chosen to curl up on the sofa this afternoon with a mug of tea, some magazines and a little time to catch up on your favourite blogs. Imô, a Project Manager and Creative Producer married Setor, an Actuary, married on 19th November last year, at Devonshire Terrace in London. The first word that came to mind when I saw these photographs was 'glamorous' (how gorgeous does Imô look?), swiftly followed by 'joyous'. These images by photographer Thierry Joubert, beautifully capture the celebratory vibe of this stylish wedding. I was also rather delighted to learn that the florist for this wedding is our Little Book For Brides member, the wonderful Vervain.
"I was inspired by a darkly decadent palette with bright and bold accents. I wanted to include verdant, lush and leafy textures in the styling to add life and light to the space. Setor and I are both originally from West Africa so the latter was a nod to our culture and the rich rural landscapes."
Photography by Thierry Joubert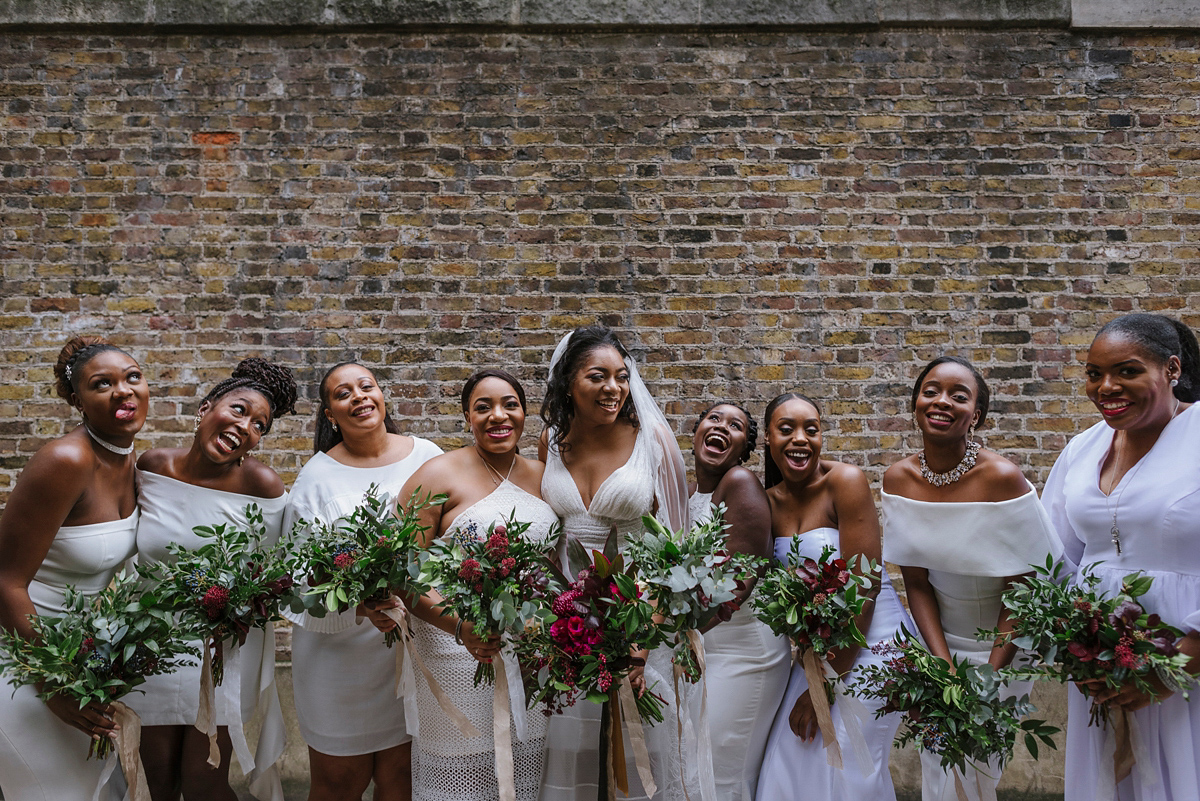 Imô wore a Yolan Cris dress that she purchased from Mirror Mirror Bridal Boutique in London.
"The mix of beading, embroidery, lace and silk were right up my alley. I wanted a dress that was interesting with lots of texture. As soon as I saw it I knew it was the one – after my husband that is!"
The couple used Mon Voir for their wedding invitations, and then turned to the incredibly talented Clare of 'By Moon and Tide' for their order of the day booklets, menus, table plans and place cards. We recently featured a sublime shoot curated by and featuring the work of By Moon and Tide on Love My Dress, which was a huge hit on our Instagram feed.
"I kept my jewellery very simple with a mix of opal threaded studs from Maria Tash and Freedom at Topshop jewellery."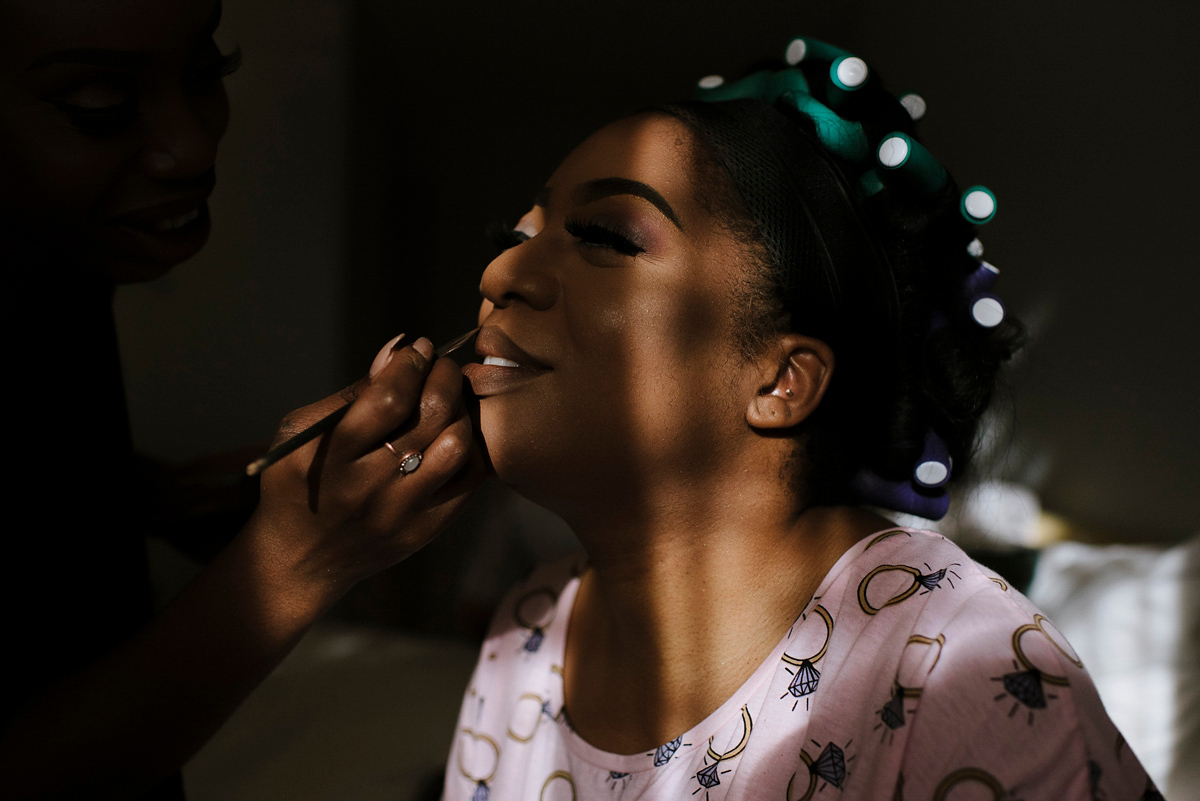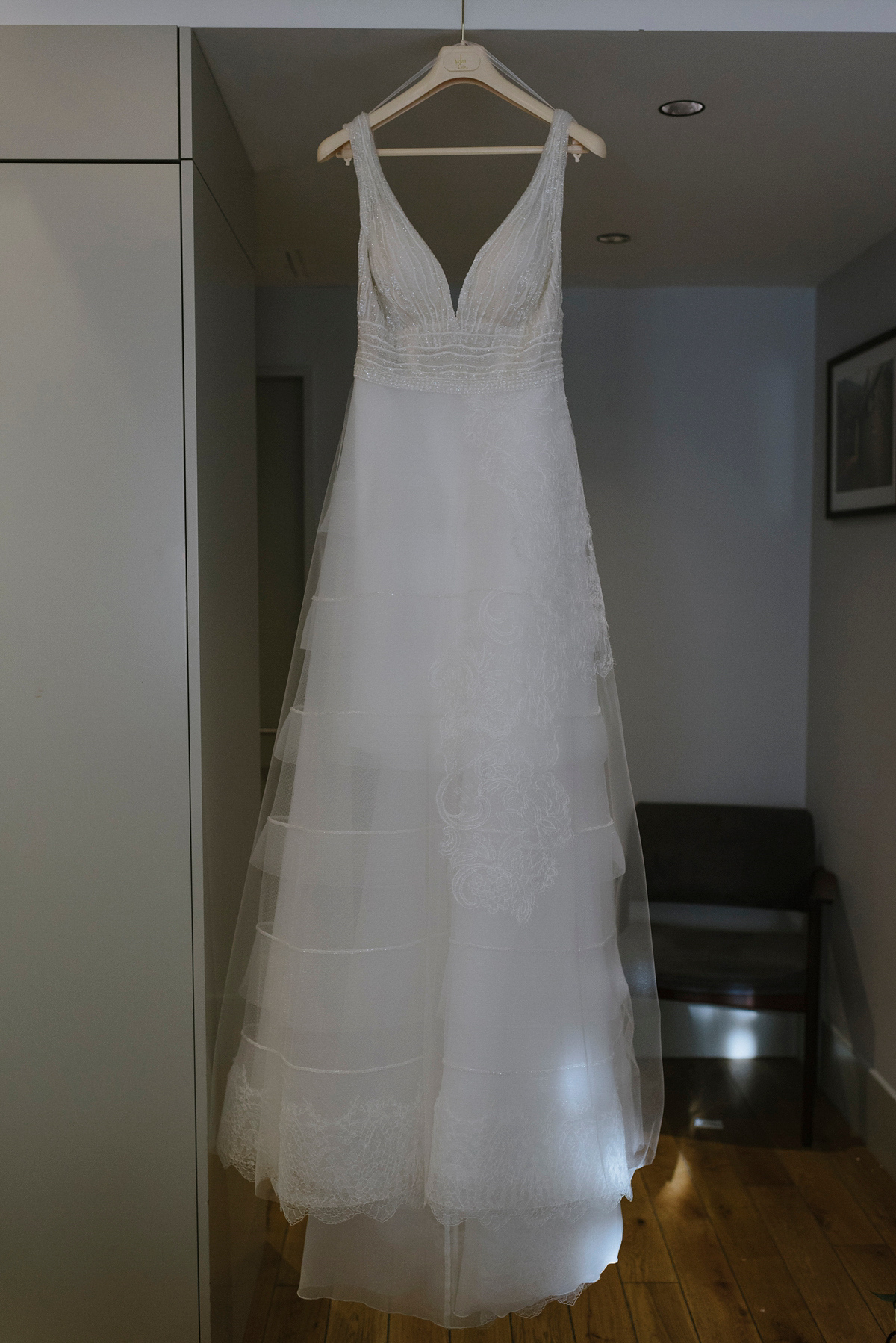 "Our venue was Devonshire Terrace, London – it was a great mix of industrial modern and masculine decadence we were after."
"After meeting Nina, the venue wedding co-ordinator, we knew we had made the right choice for us. We were both born and bred in London so we couldn't imagine getting married anywhere else. It's our home."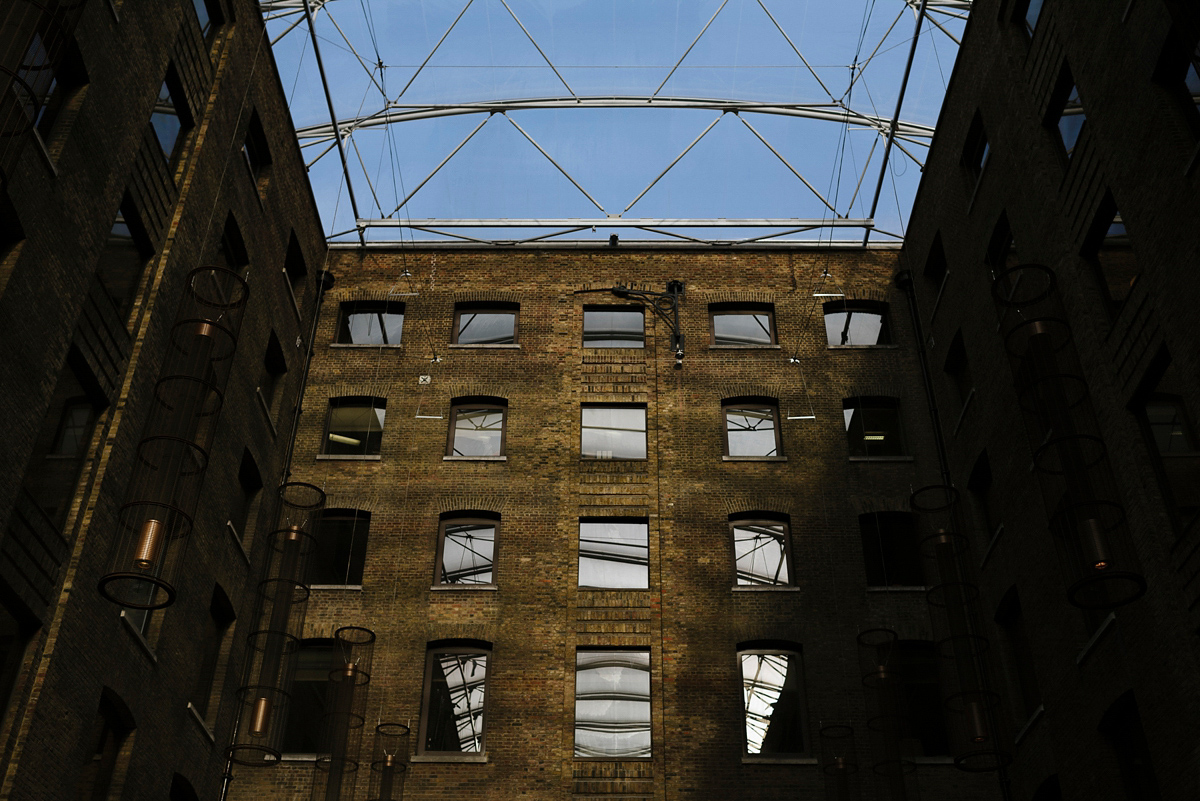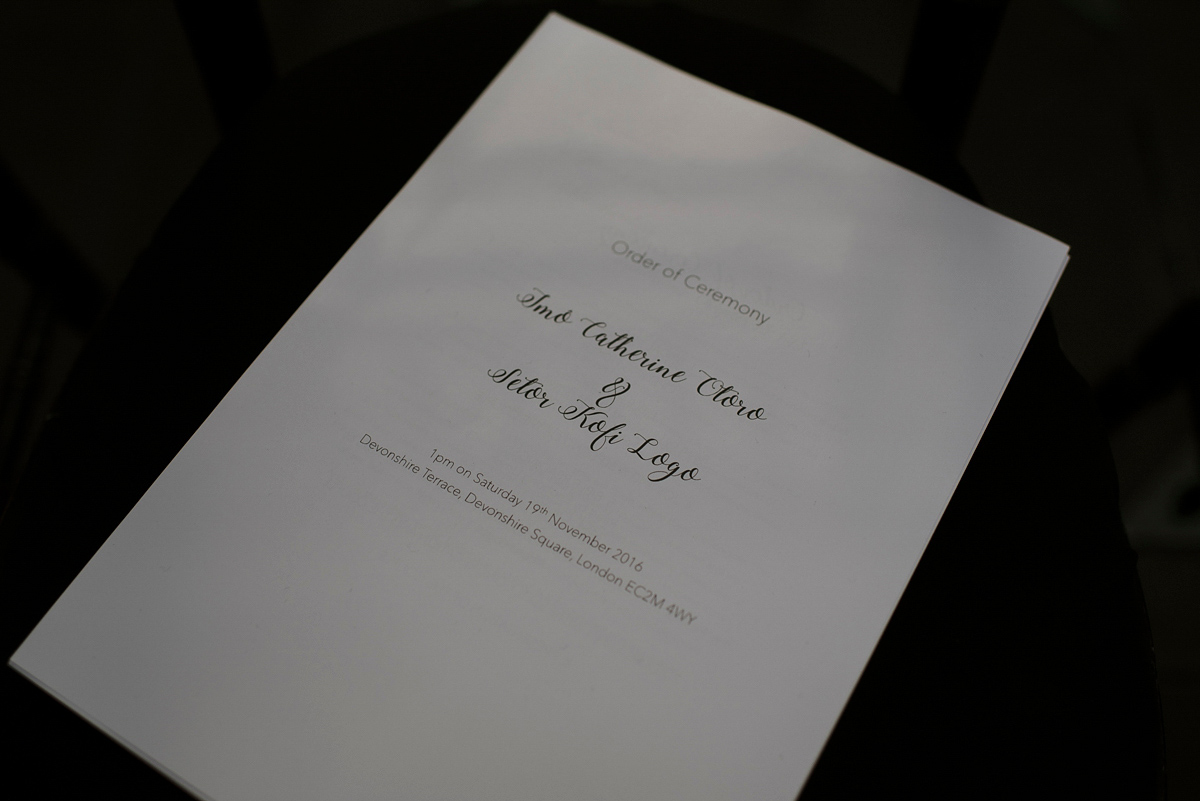 I am delighted to see that our Little Book For Brides member, Vervain, provided the sumptuous florals for this beautiful wedding.
"Our florists were Vervain, who I discovered on Instagram after looking for a florist to create the lush green and decadent aesthetic I was after. And India at Vervain delivered!"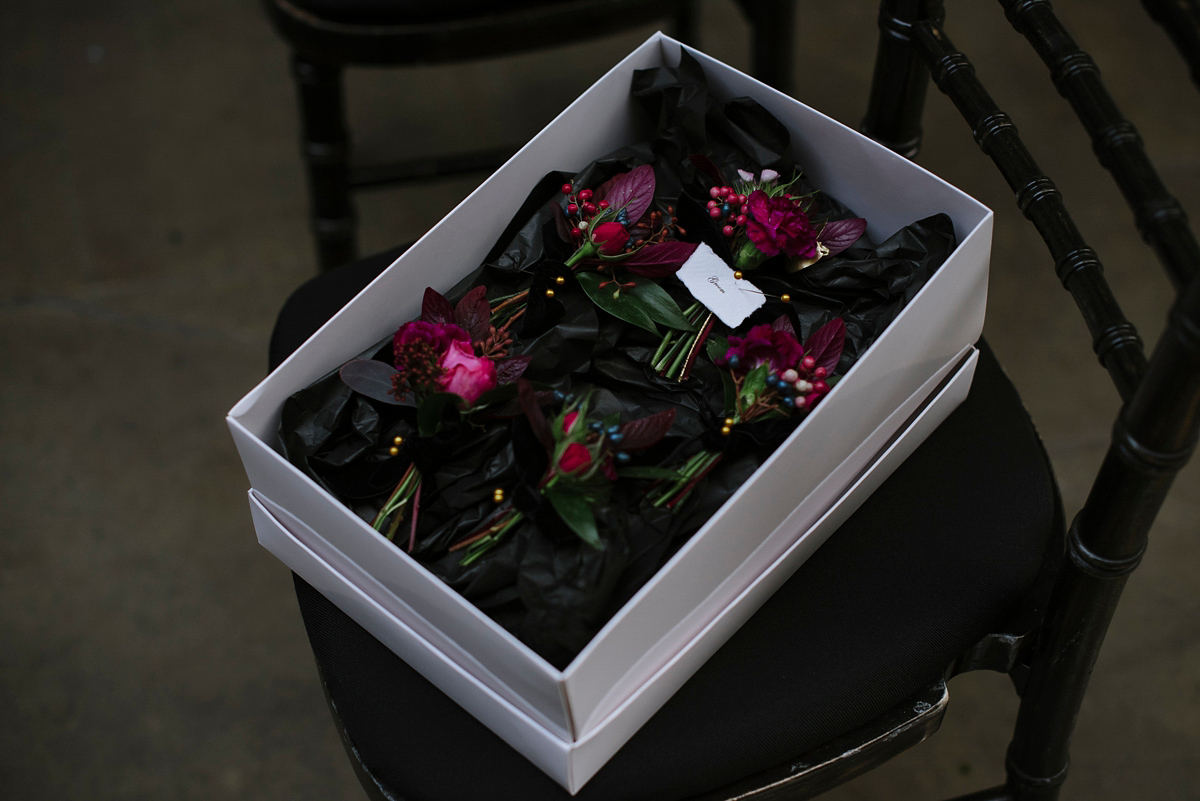 "When I saw all the flowers on the day I was floored- I couldn't believe it was my wedding and India had brought my vision to life so perfectly."
"I had a very strong vision and plan about what I wanted and hired Emma from Tebbey & Co to help with the event styling and together we delivered my vision on the day."
"Emma was so thoughtful, attentive and organised! She made sure everything was executed perfectly and I couldn't recommend her enough."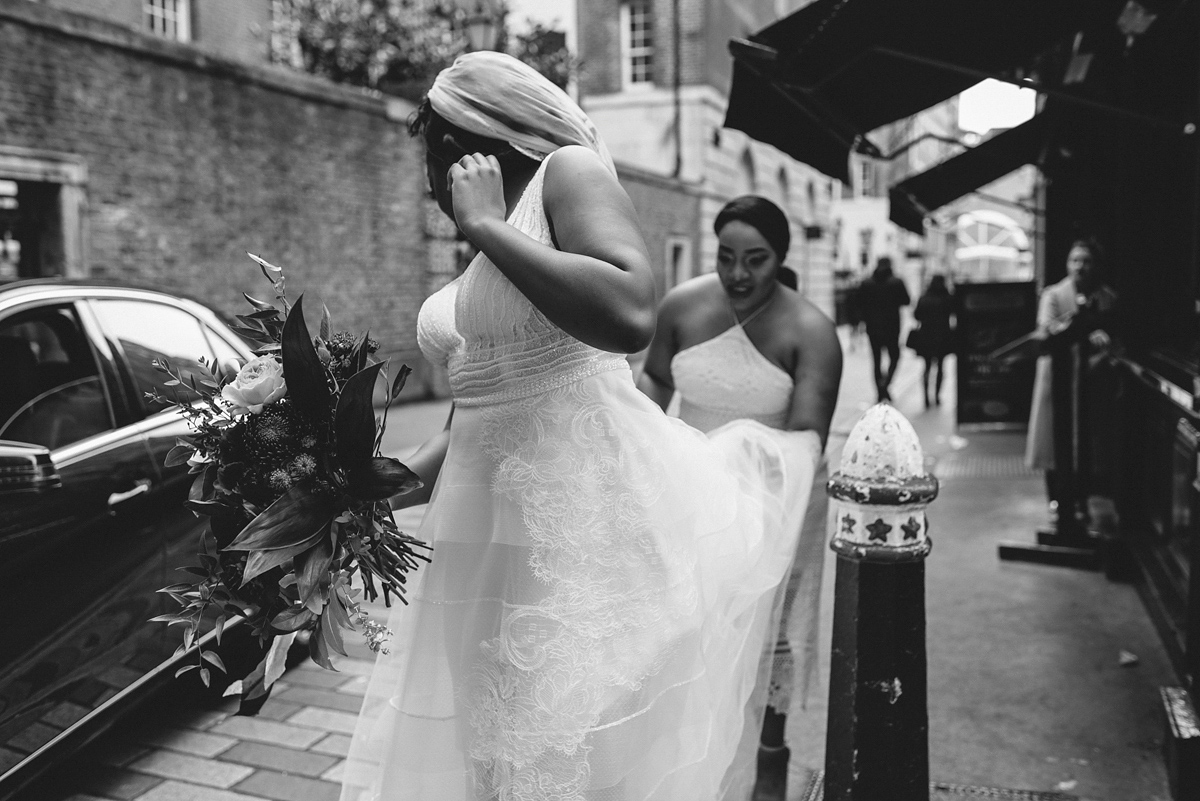 "I woreLa Perla Peony Blossom perfume, mixed with Domonique Ropion for Fredric Maille, 'Portrait of a Lady' – I wanted something floral and romantic that dries down to a sweet woody scent."
"Setor and I met when we were in Sixth Form College but we started officially dating many years later. Setor popped the question whilst we were on the escalators at Monument Station in London."
"I met him after work in a beanie and tracksuit bottoms and when he asked me to marry him I squealed like a piglet from excitement and the hilarity of the timing, surroundings and laid back nature of it all. We were engaged for two years before we got married."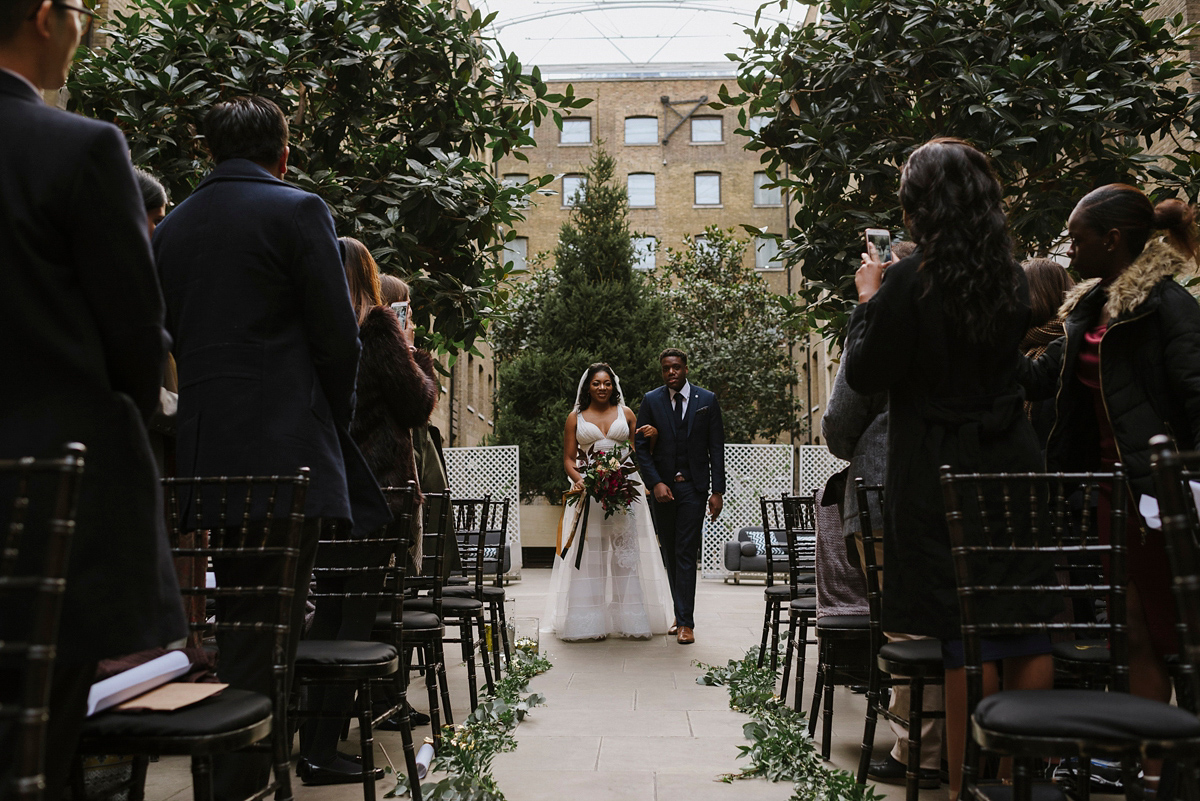 Imô's brother accompanied her to the ceremony to the sound of James Blake's 'Love You Whatever Way'.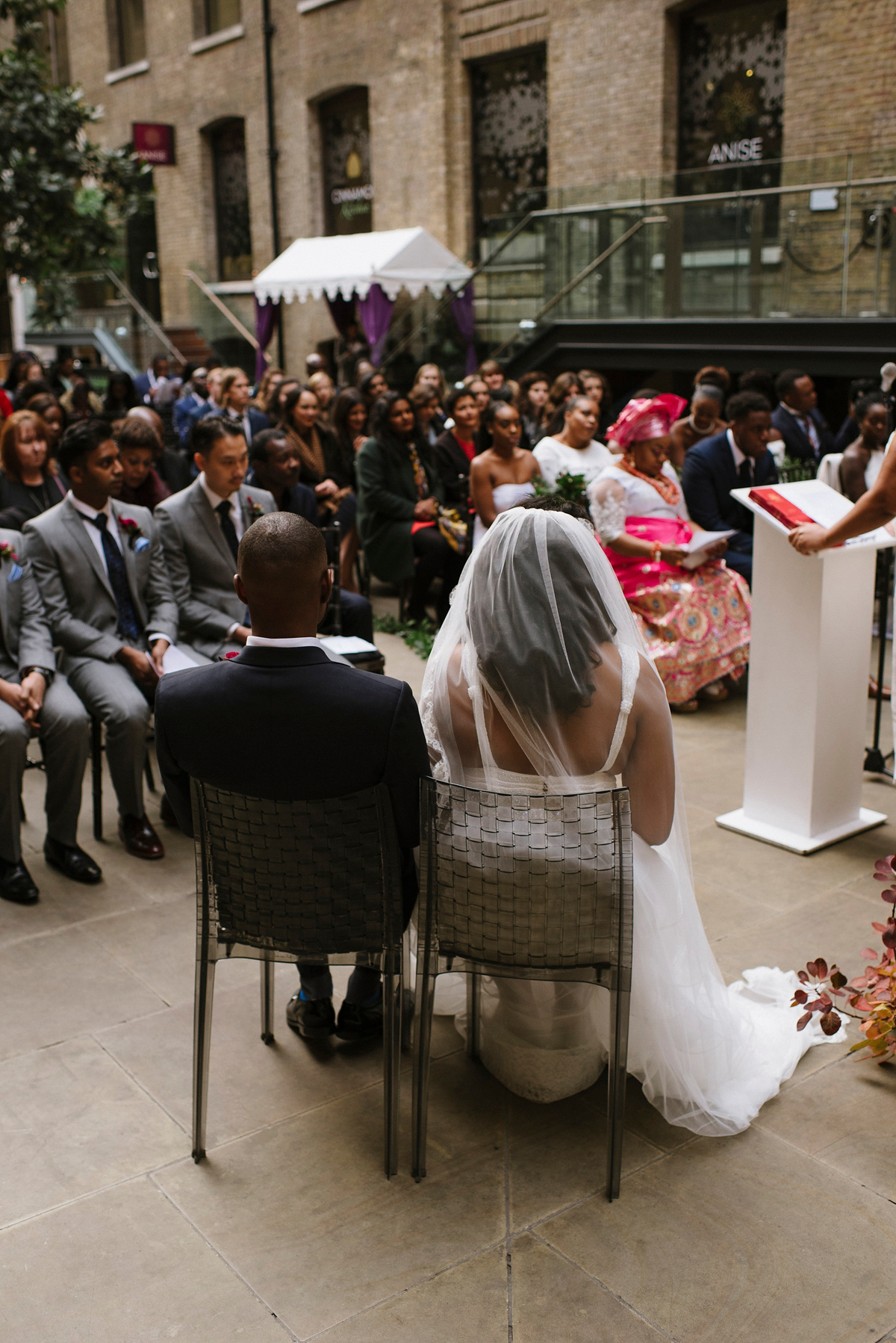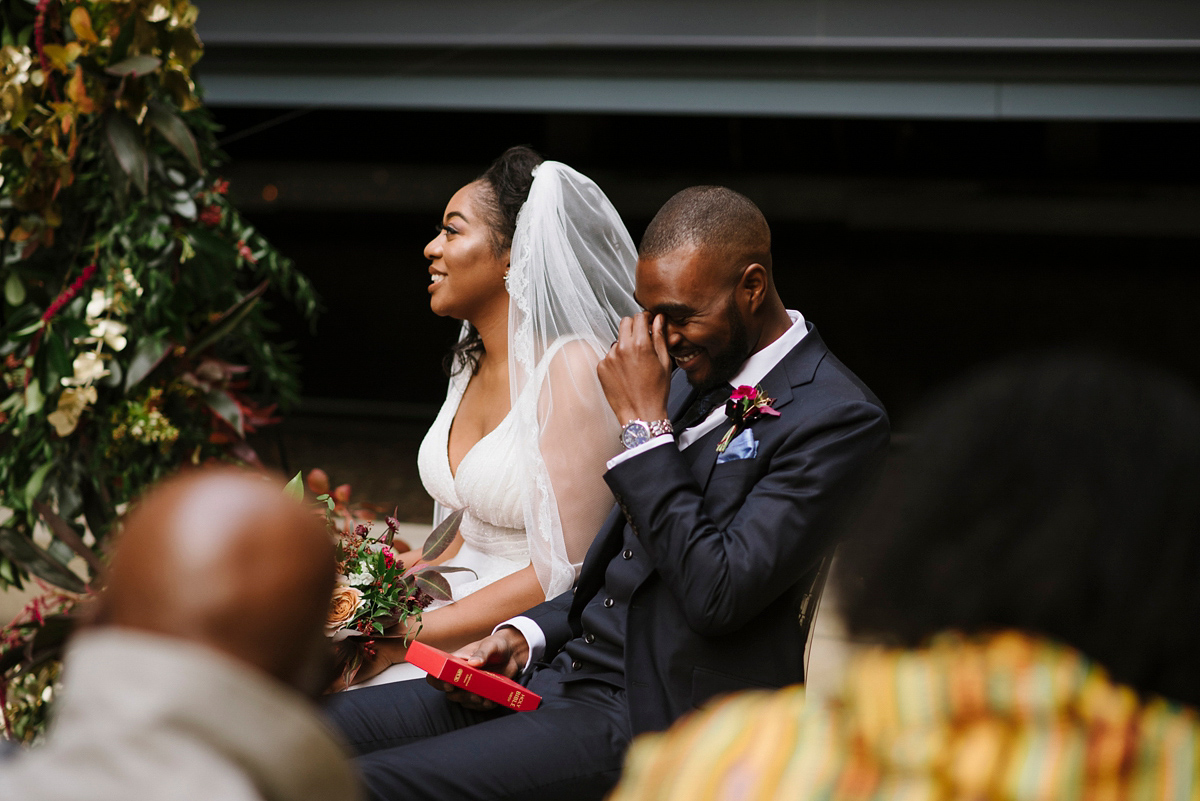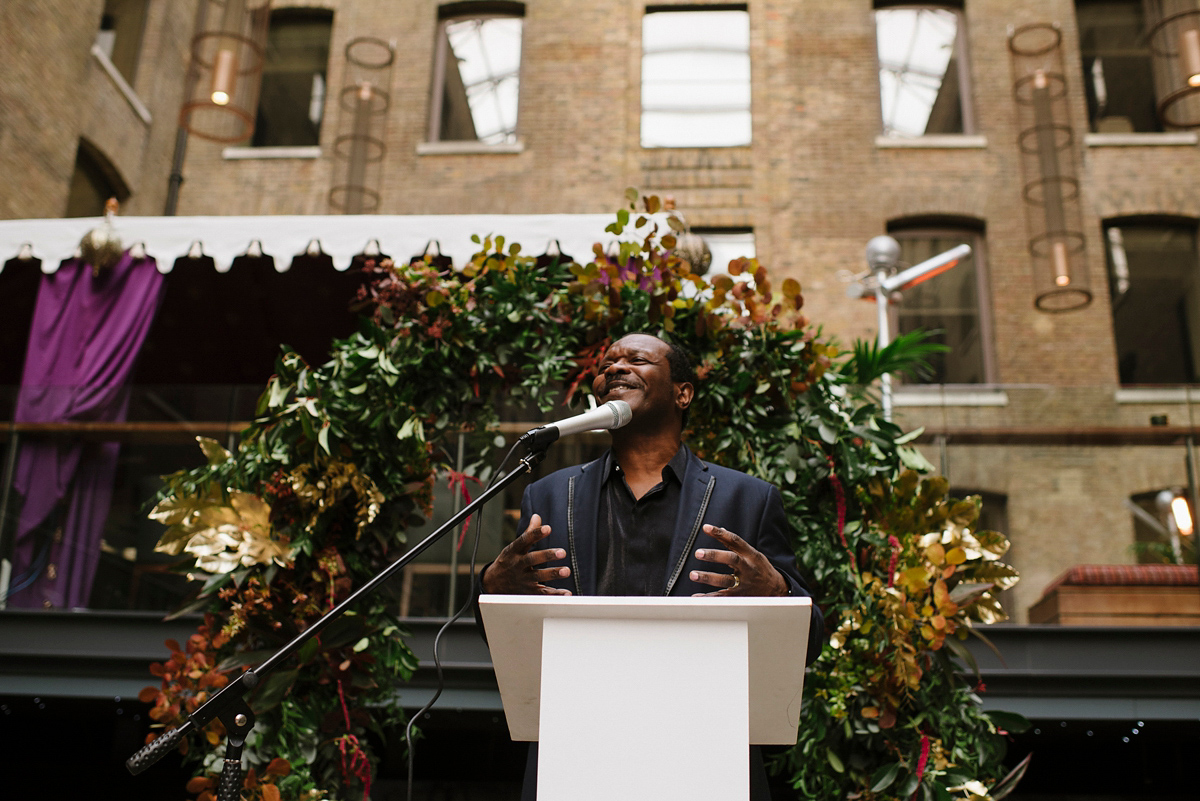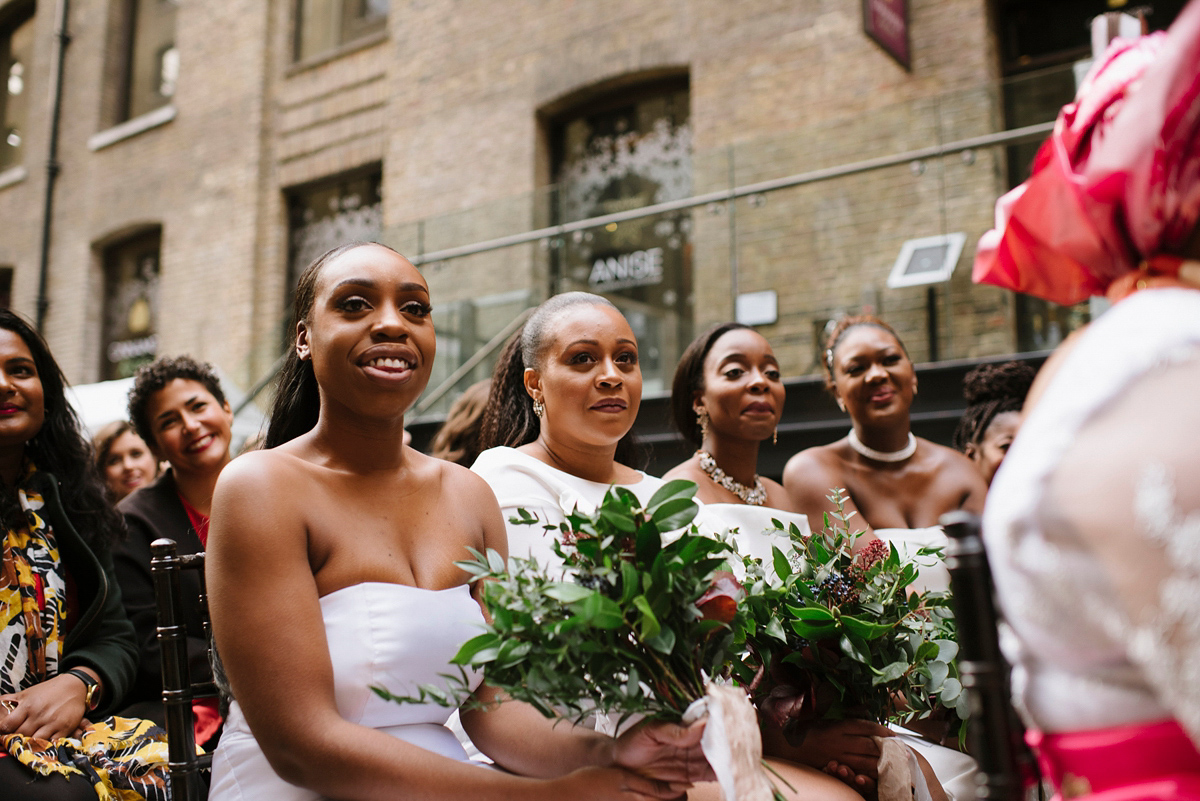 "I connected with our photographer, Thierry Joubert, almost immediately and knew he was the one to capture our wedding story."
"Thierry is a storyteller and beautifully captured the most special and touching moments of our day. His attention to detail and impeccable style mean that I have photos and memories to last a lifetime."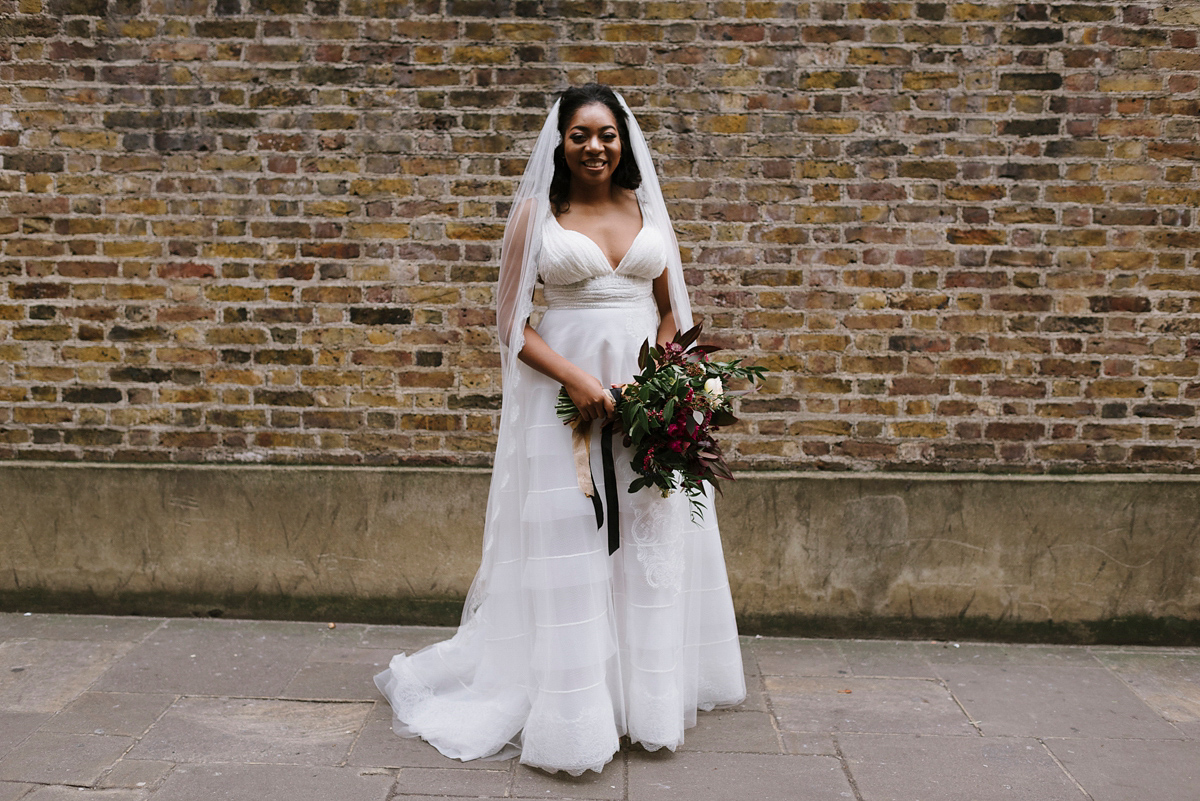 "Our cake was made by my wonderful friends Cosima and Suba! We went for a tiered chocolate cake with real cascading flowers."
"We had live music during cocktail hour. I stumbled across a very talented trumpet player (Tito Gomez) in Liverpool Street Station 3 weeks before my wedding. I got his contact details and asked him to play at our wedding. During the music my uncle got on the mic and started vibing with some afro- latin ad libs. It was AMAZING!"