This morning's wedding took place at Hilltop Country House in Prestbury, Cheshire on the 19th of August 2016, it was a bit rainy (always adds a bit of atmosphere) but the day still looks bright and cheerful. It's full of country charm and they had a 'Bake Off' – yes the bride and groom gave Mary and Paul a run for their money, and their wedding breakfast was a gorgeously social, picnic style sharing feast. Without further ado, meet Jo, a crafty primary school teacher and Luke, a chartered accountant. Before you immerse yourself in the stunning images by Ragdoll Photography, take a moment to enjoy their beautiful wedding film by Matthew Modget Films.
"We wanted our wedding to be as much about the favourite people in our lives as it was about us as a couple, to thank them for being so important in our lives. We love markets, vintage, the countryside and village fêtes so we took our inspiration from that, along with lots of stuff that we liked and the people we love."
Film by Matthew Modget Films
Joanne met dress designer Kate Beaumont at a wedding fair, where she had seen a few of her dresses on the catwalk. Months later, she still couldn't get the dresses out of her head so booked to go and try them for herself.
"All of Kate's dresses looked like they would let you move, dance and climb trees – everything I needed. We talked a lot at the fair and I fell in love with her as well as her dresses. It took me a while to get to the stage where I wanted to try on and when I went to Kate's gorgeous, light filled attic I wanted all of them."
Photography by Ragdoll Photography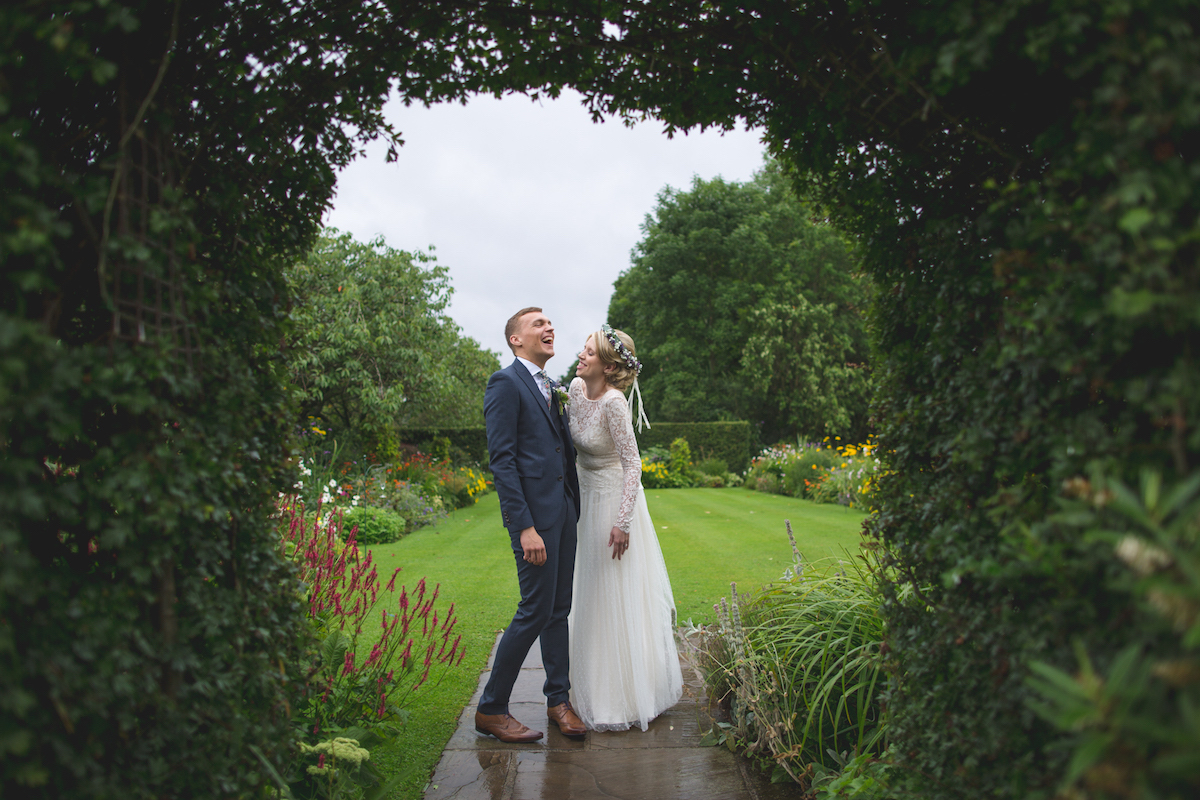 "Peony was the dress I couldn't forget though; I loved the flexibility of a 3 piece and the floaty, relaxed feel. With some changes to the sleeves and neckline, I went back for my final fitting and it was everything I wanted it to be, and more, she had nailed it. Kate is an absolute genius and I felt amazing in it."
The bride's usual hairdresser Vicki was able to take all of Jo's ideas on board and created a beautiful vintage style up do to compliment her delicate flower crown.
"Vicki has done my hair since I was a teenager, I trusted nobody else with my hair on the day. Pinterest became my enemy as I wanted everything but somehow she created something perfect. Kerry Baker stepped in last minute when my original make up artist cancelled. She really listened to what I wanted and even changed things on the day to suit."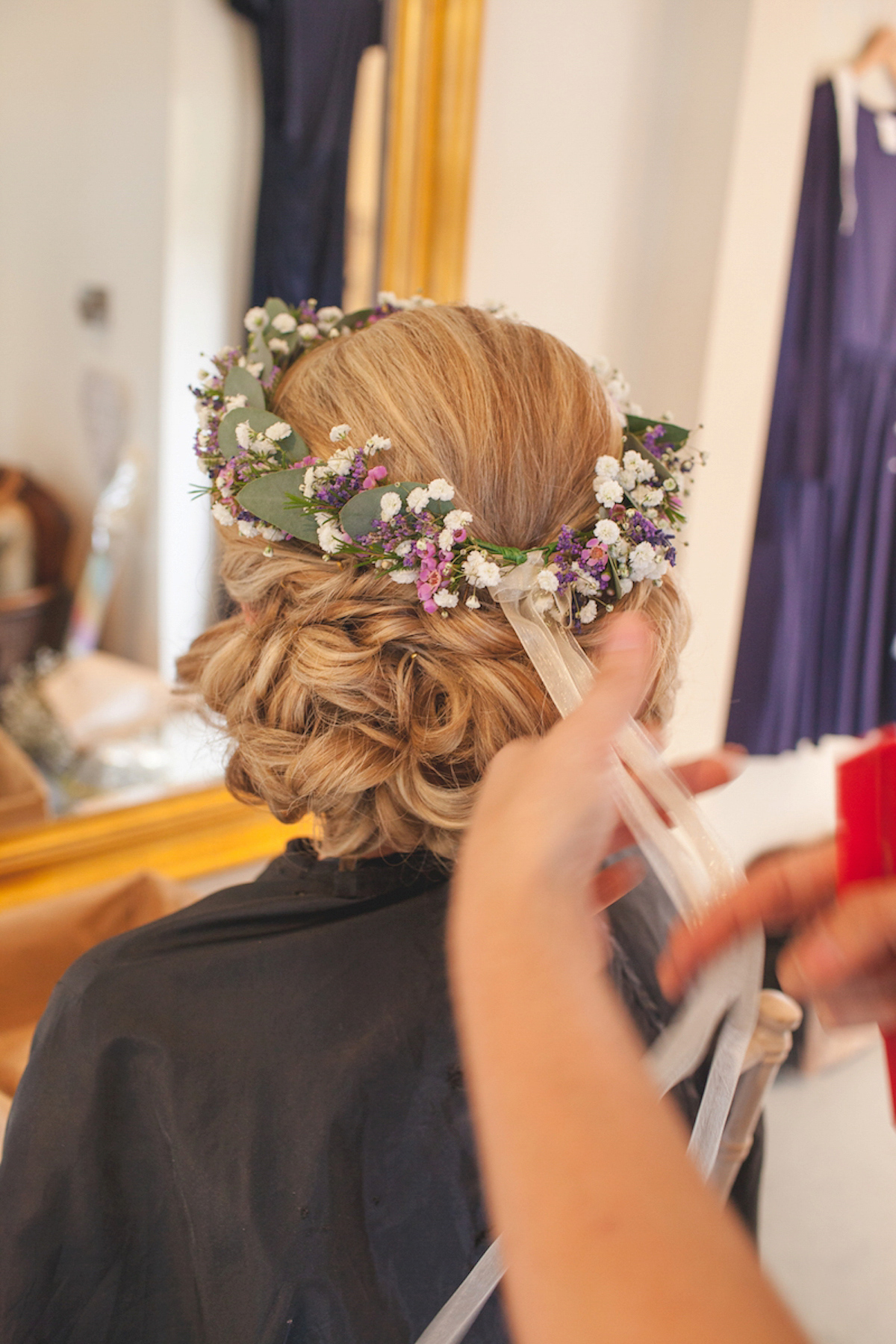 "Getting ready on the day I looked at the dress and couldn't believe how right it was. Only Kate and I had seen the final version so watching everyone's faces when I did the big reveal was priceless."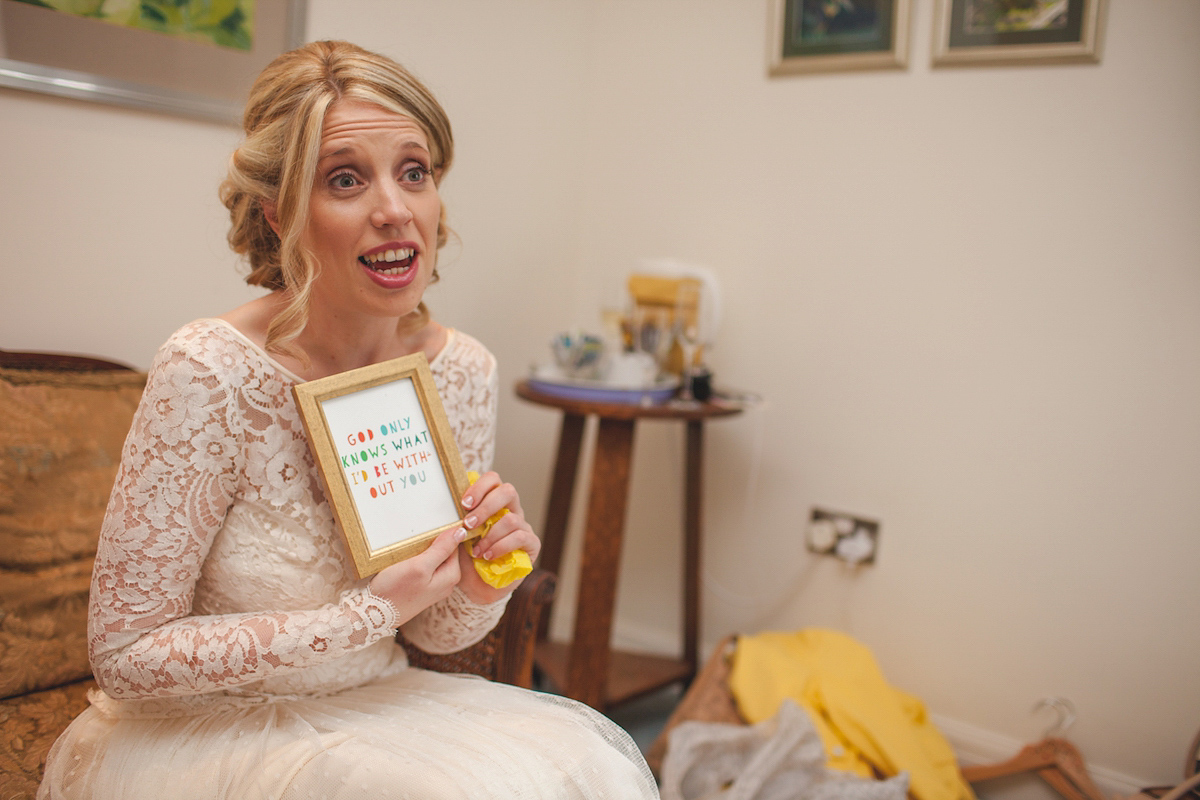 "We met in our second year of Uni when Luke moved into my student house and bonded over Luke's lack of culinary prowess. When we'd been together for over six years Luke took me on a whirlwind tour of a number of my favourite places ending at Lake Vyrnwy, where he got down on one knee with afternoon tea and a view of a lake and a princess turret. We cried and kept it a secret until we could tell all our favourites face to face."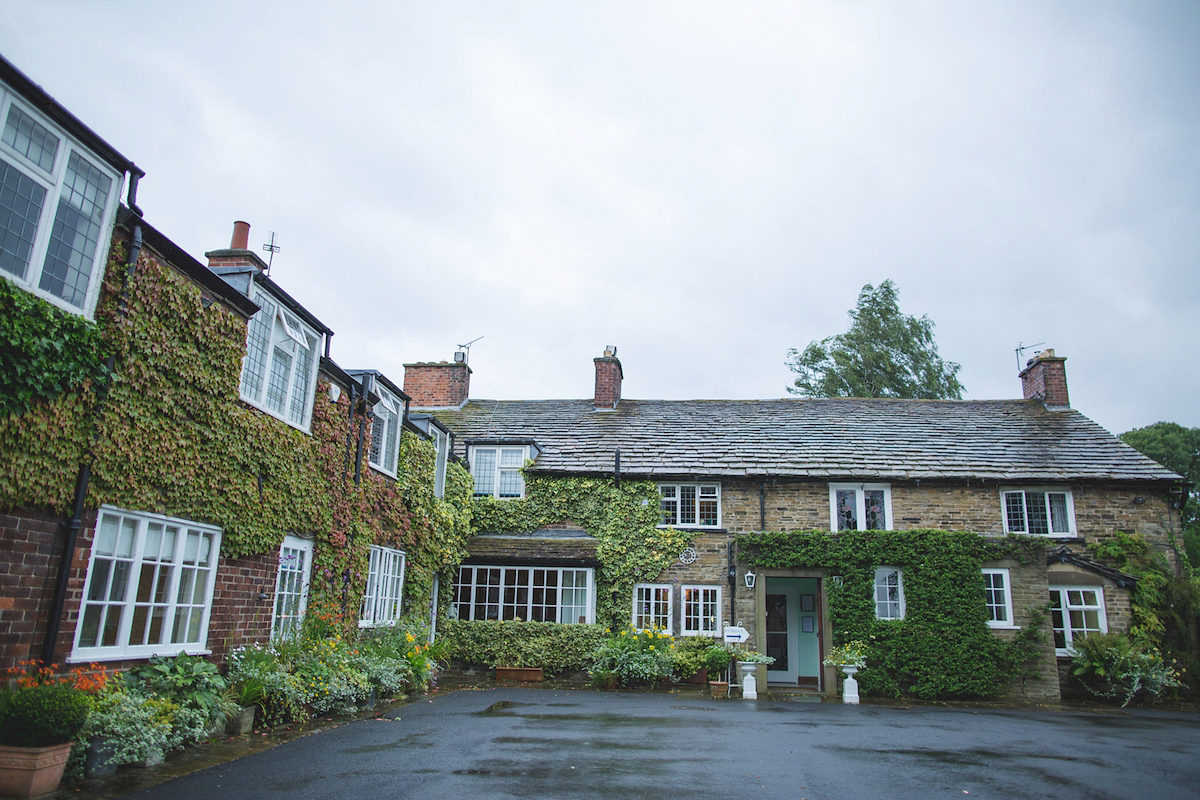 Luke wears a suit everyday for work so he wanted something a bit more special for his wedding day, opting for a sharp navy three piece puppytooth suit from Next with a TM Lewin cutaway collar shirt, braces and a floral tie and pocket square.
He also wore bee cufflinks and metal bee badge (a nod to the Manchester Bee – all guests received a hairy manila Manchester Bee logo badge instead of a button hole).
"Hearing the intro to 'God Only Knows' by The Beach Boys and walking with my lovely dad, was the moment that everything suddenly became reality. It was truly magical."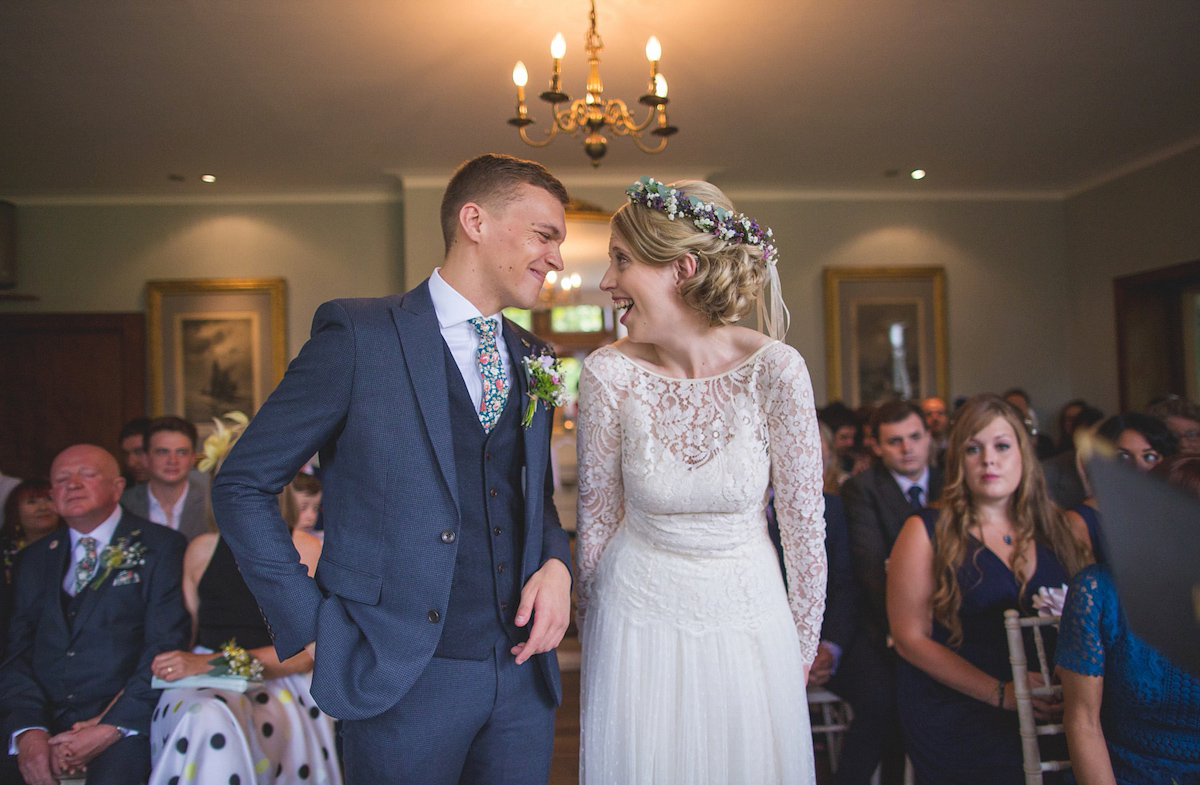 "Luke didn't know that I had picked this song but he got me a little framed postcard of the lyrics on the morning of the wedding which was such a surprise. I can't listen to it without a little smile appearing on my face now."
"We are so glad we wrote our own vows – a statement about why we love each other and three promises. It meant so much more to hear Luke saying something personal and heartfelt and he felt the same too."
"They were a complete surprise for each other and it was amazing how similar they were. We wrote them in a little book so that we didn't need to learn them off by heart;
I promise to take you to all of the places that you want to see and give you the courage to do all of the things you want to do…
You are my one, my favourite and you are my biggest adventure… I promise to laugh with you and fiercely love you, today and always…
I give you this ring as a symbol of our future together, no matter what life throws at us we will take it on together.
I will love you, and have faith in your love for me, through all our years and all that life brings.
"We stumbled across Mayfly Jewellery at a market and said she could make us some bespoke rings. The rings she created were perfect and it's so special that they are unique to us. Luke was worried that he wouldn't like wearing a wedding ring but as soon as he put it on he said it just felt right."
"I didn't take Luke's name, I don't see this as being a non-negotiable and I'm not saying I never will. For me the wedding was always about the two of us making a declaration of our love in front of our favourite people. I know this shocked a few people but Luke's my husband and I'm super proud of that."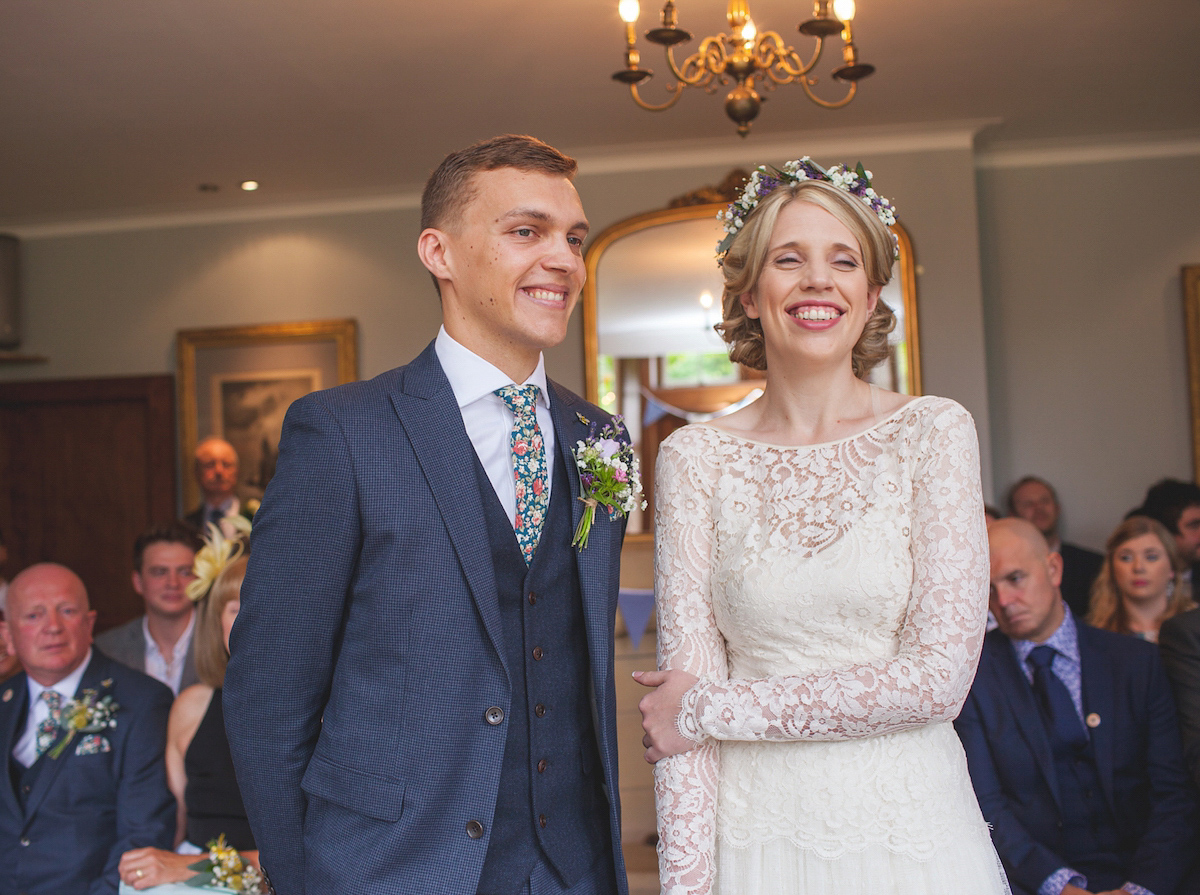 Jo and Luke also decided to have Matthew Modget Films make a beautiful vintage style 8mm film of their day.
"On the day Matt was amazing, he is a truly talented videographer as well as being a hero – he rescued me from a daddy long legs that had found it's way under my skirt! Matt's video is such a lovely piece of footage to watch and every time we do, we see something different and remember something new. I'd highly recommend splashing some of your budget on a videographer if you can. The moment when Luke sees me for the first time just melts my heart."
Rosie from Ragdoll Photography was the couple's top choice to capture their wedding after Jo and her mum hit it off with her at a wedding fair.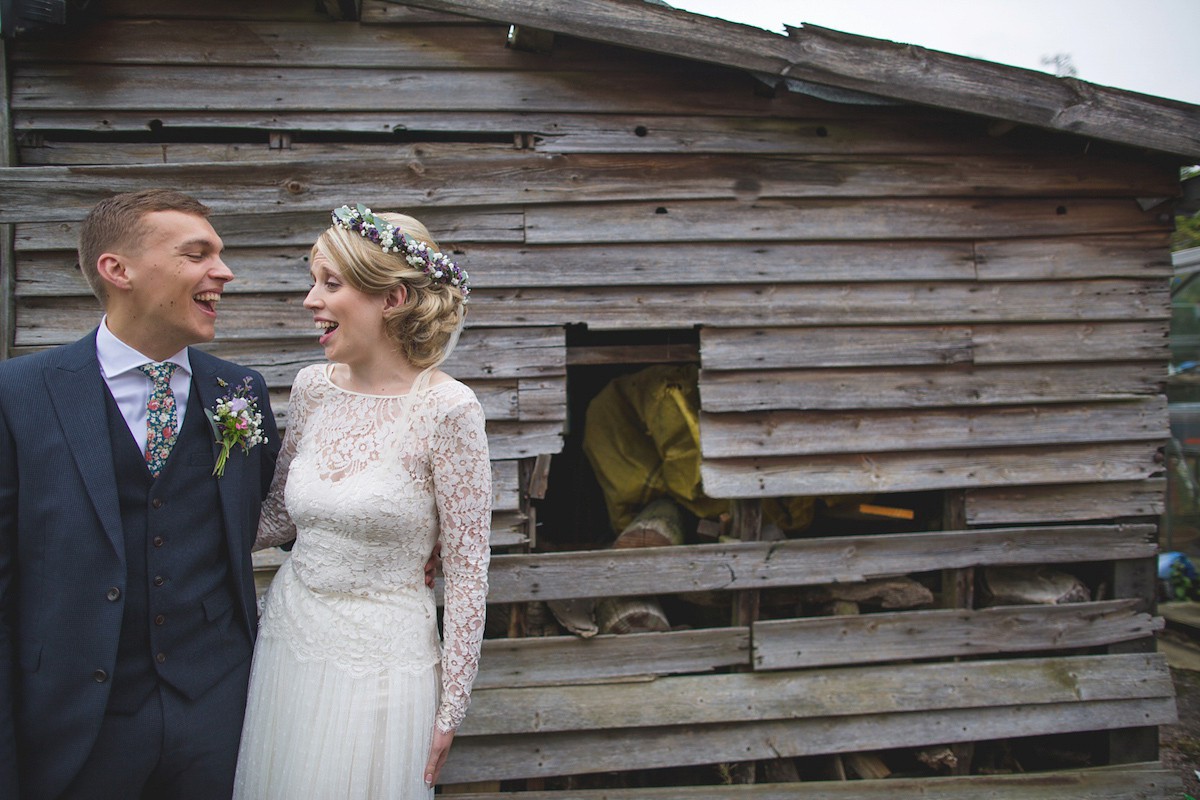 "Picking the photographer was the hardest thing for us as neither of us wanted to have posed photographs (which ended up happening anyway, Rosie managed this very well). We both wanted natural photographs that displayed true emotion.
My Mum and I met Rosie at a wedding fair where we discussed rain (she likes it), Rosie and Jim (doesn't like it) and one of her photos made my Mum cry. We then met up for tea and cake and we instantly felt like Rosie was an old friend."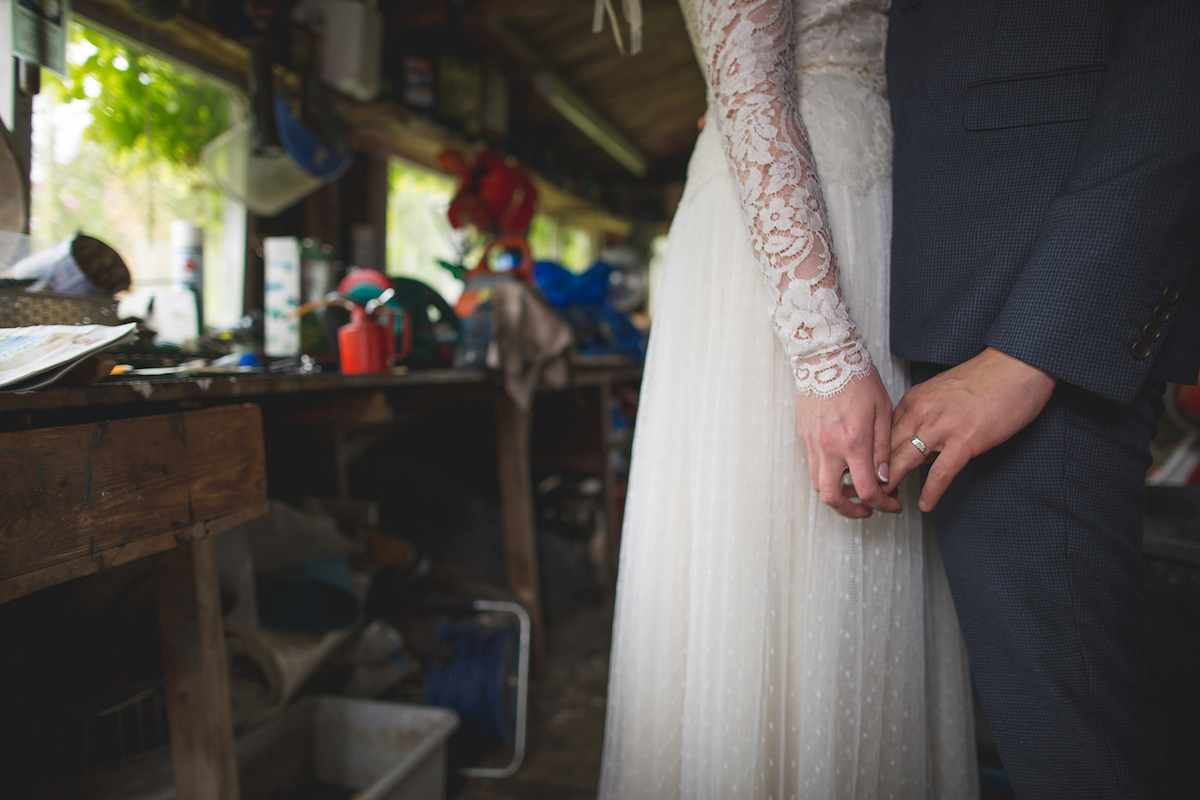 "On the day Rosie mucked in with everyone, helping me locate flowers, keeping time for me, while also taking pictures. I have no idea how she gets into the spots she does but she's definitely a ninja. She's discreet and instantly puts everyone at ease. I couldn't recommend Rosie highly enough, she goes the extra mile and takes time to get to know the couples she works with. She's definitely much more than a wedding photographer."
"Funk Soul Family kept the whole party going until the very end, we danced/sung/limboed until the early hours. They even got a 'one more song' chant (to which they responded and encouraged a conga)."
"We had Grannie's Sloe Gin or a bottle of beer for welcome drinks and Luke loves real ale so we got a barrel of White Nancy by Bollington Brewing Co. which we served, along with a Lovelace Martini, for the toast. Louis from Thirstaid made sure that everything was presented to the highest standard."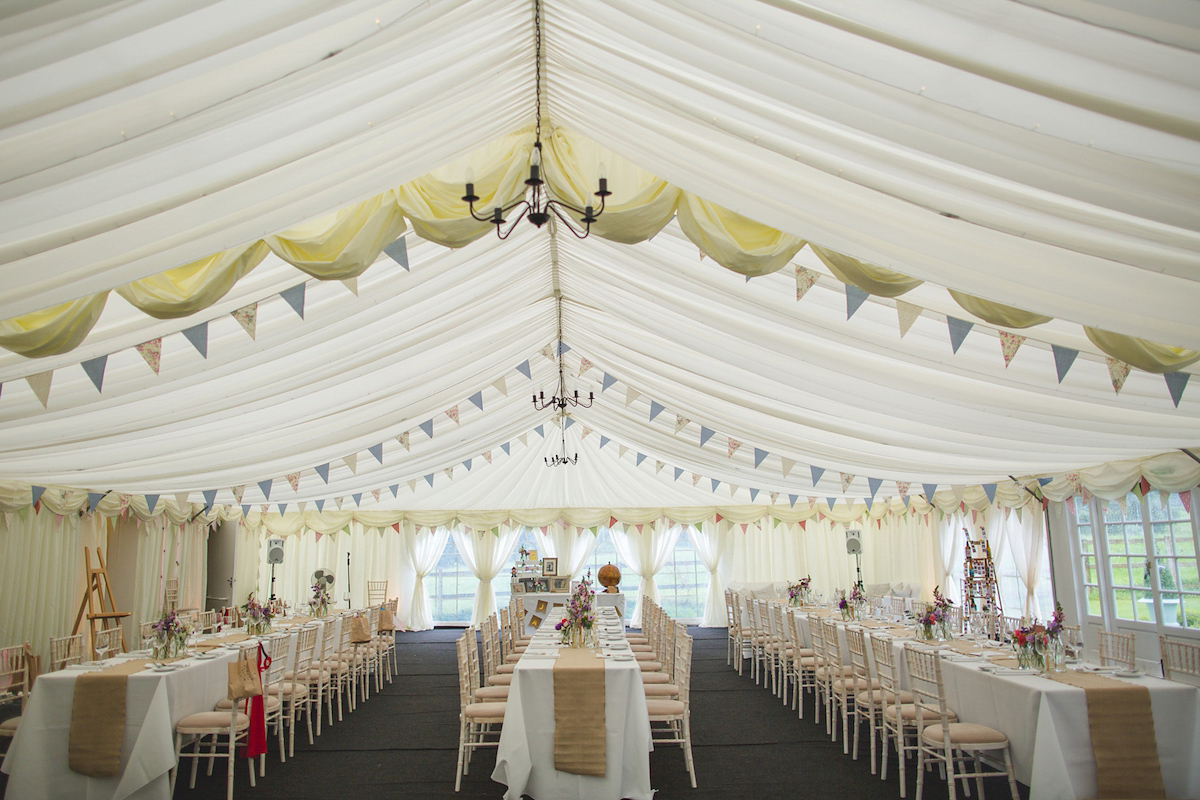 The couple got seriously create in the marquee, using it as a way to stamp their personalities on the wedding. For the table plan, they used old step ladders with bottles of Luke's favourite beer and gin, Jo's drink of choice and guests found their face on a photo strip corresponding to a biscuit table name (brilliant!). They set up their own photobooth and had the great idea of displaying their guests creativity on easels.
"For our RSVPs, we sent blank postcards and asked for the replies to be decorated as they wished. It was so exciting waiting for the replies, no two were the same and we displayed them in the marquee on the day."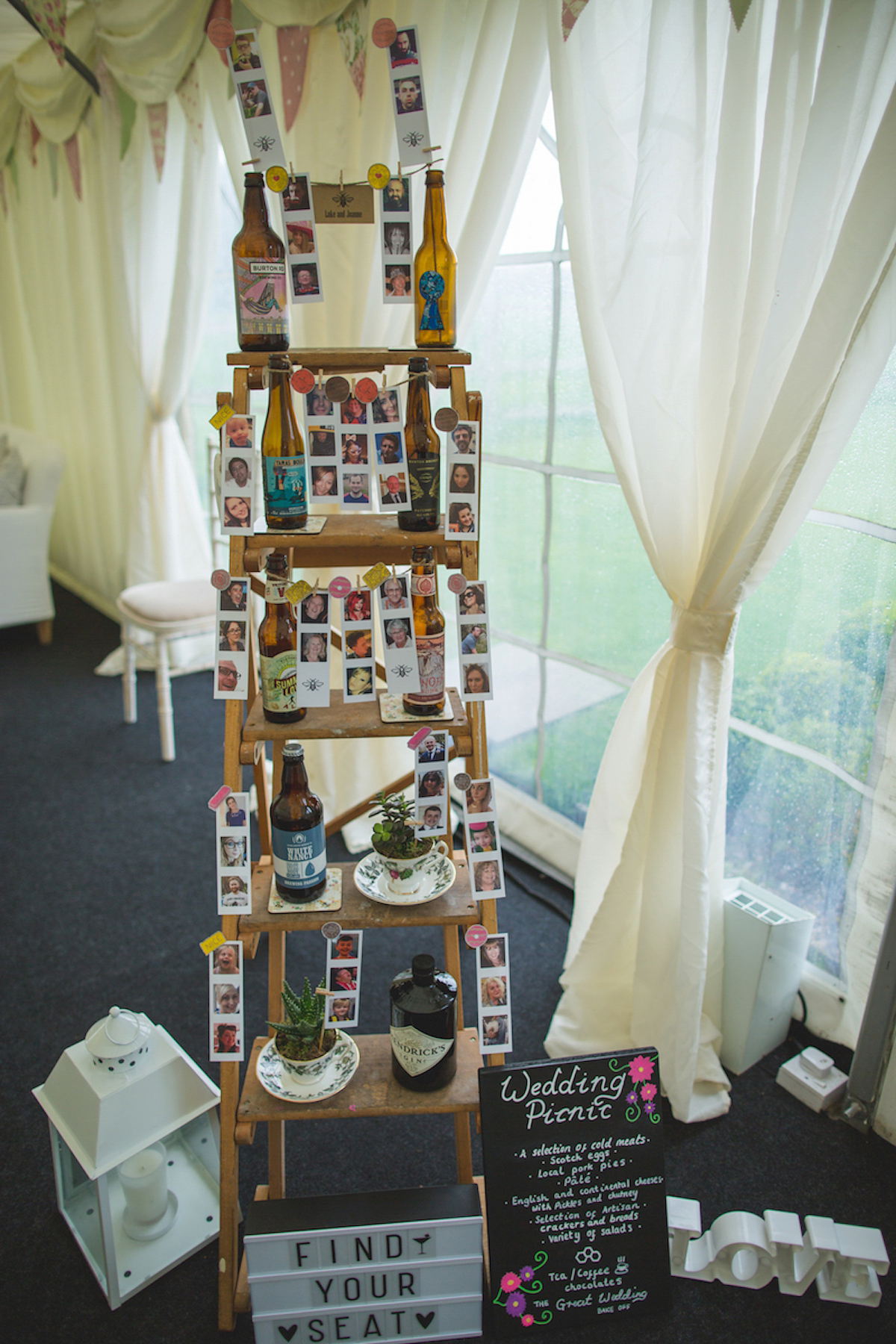 "We had Tunnocks teacakes as part of our place settings and everyone got a little bee badge from ManBeeCo. The children received a little bag of fancy dress props, treats and things to keep them busy." 
"It was so hard for both of us to know we were going to have a wedding without some of the most important people in our lives. Both of our nanas were keen bakers so we had some of their specialities available on the day, my cousin Helen was a keen Doctor Who fan so we had a Tardis and Mash Smith and we had Blue Ribands, which my grandma would always give us. We had photos of all of them and raised a glass to those who were sadly missed, during the speeches."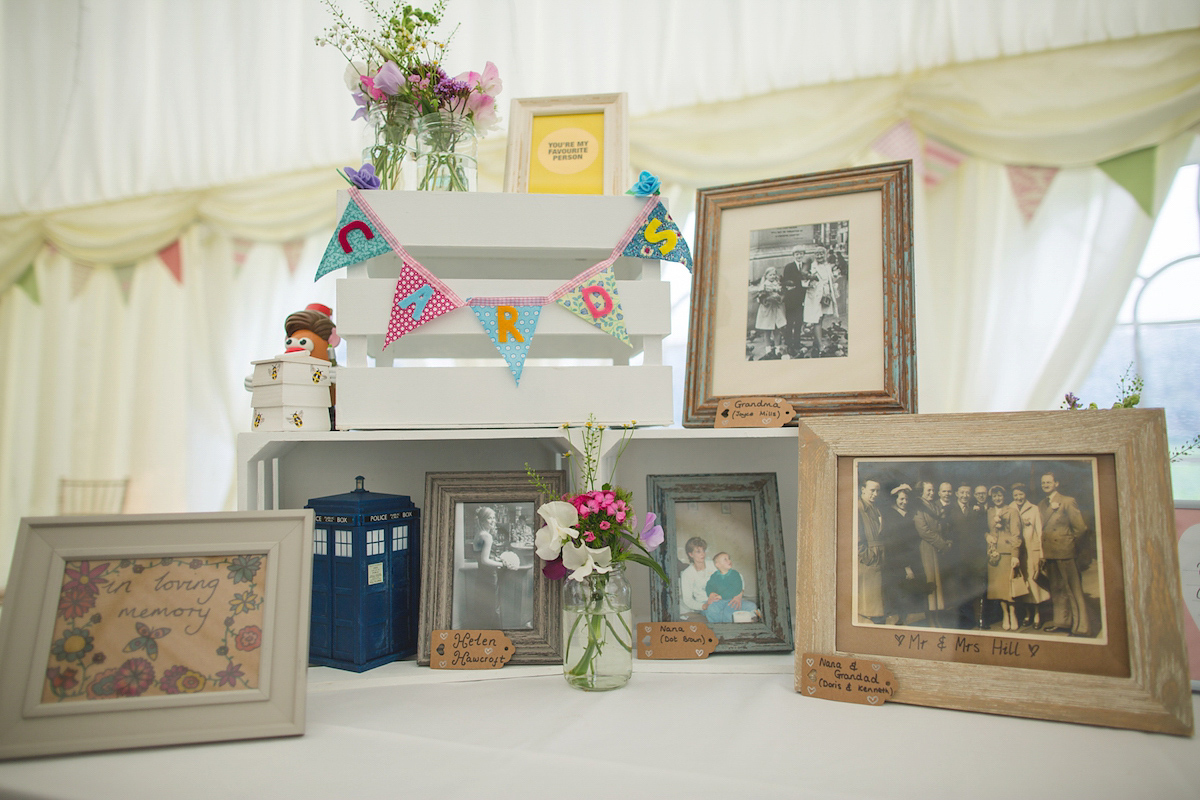 The couple were keen to use English wild flowers so turned to The Flower Farm to make their vision a reality.
"The enthusiasm and knowledge of the team at The Flower Farm was clear from the start so we were happy to give them free rein. My Mum collected lots of glass jars and bottles and they filled them with gorgeous flowers. We also got gypsophila for the Bridesmaid's hair and my beautiful flower crown with ribbon trails that blew in the breeze."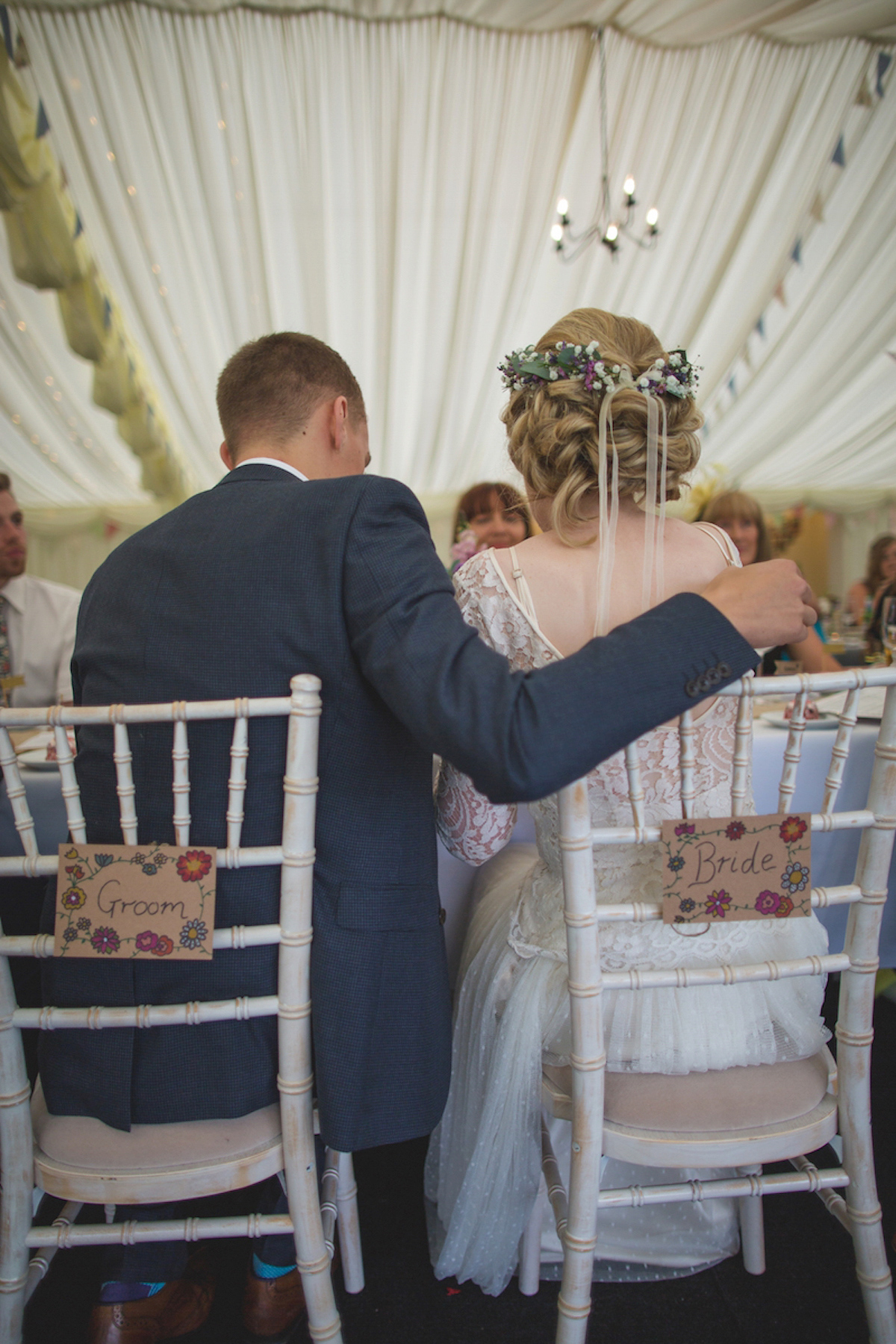 "The cake was always going to be an important part of our day. We didn't want a cake cutting ceremony but we both loved the Great British Bake Off and I'm a member of the WI so we thought a WI bake off would fit perfectly and asked guests to bake cakes to be judged. Everyone really brought their A game.
We also asked the fabulously talented Stuart Thornley to bake us some of his tasty treats with the cake scotch eggs being a massive hit, as were his Pineapple Upside Down loaves (a tribute to Luke's Nana). At the end of the night there was very little left."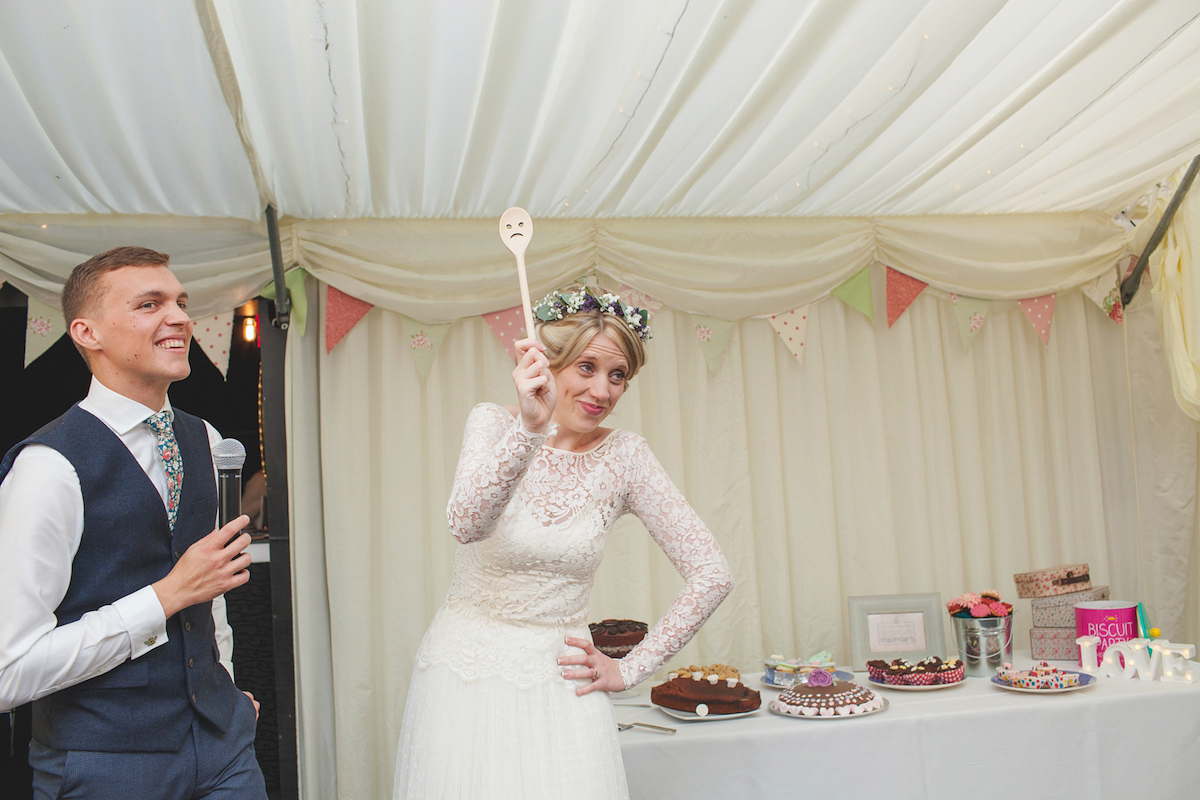 "There were so many parts of the day that will forever stick in my mind. The moment the confetti cannons fired during the first dance, the time a daddy long legs got stuck in my dress and the amazing conga to the end the night. But, walking into the ceremony was the first moment I nearly lost it. Before I knew it I had walked into a room full of the people I loved most in the entire world, all smiling, shedding a tear of joy. In that moment I felt so lucky that these people were there to celebrate with us. It sounds cheesy but there was so much love in that room it was virtually impossible not to smile."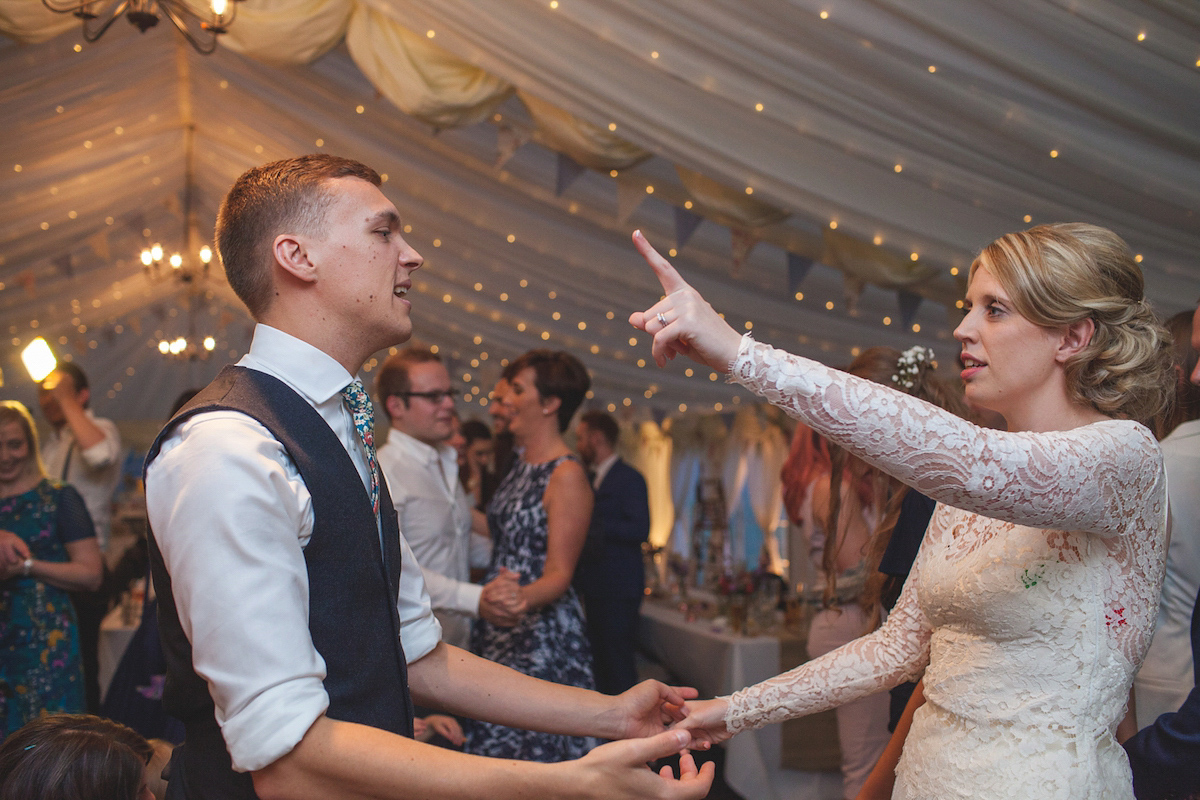 Words of Wedded Wisdom
"Have a handkerchief handy (I had to use Luke's budget tissues). We picked suppliers that we trusted and would absolutely recommend to anyone. We also made sure that we got on with them by putting them through their paces over tea and cake. On the day they felt part of the team and like they were meant to be there.
We wanted to do things our way and we did. A wedding should be a reflection of you as a couple, of the people that are important to you both and the love you share. I'm pretty sure we nailed that at our wedding. Also, do things that you want to do, but might be scared of. Make that speech, climb that tree because you only get to do it once. Some things didn't work the way that we thought but the reality didn't spoil the day, we had a great time.
We were both fully involved in the planning and that was just as amazing as the day itself. Accept help, but keep some secrets. We loved that nobody really knew what to expect and people spent ages guessing what it would be like. On the day watching people take everything in and explore our vision was a real highlight."
Thank you very much to Joanne and Luke, it has been a pleasure to share your special day, poring over the gorgeous images by the fabulous Rosie and that absolutely stunning film by Matthew Modget Films.
Love Caoimhe xx