Happy Friday belles, I hope this week has been kind to you. Before we slide into the weekend, we have the gorgeously fun and colourful wedding of Katie, senior editor at Cosmopolitan (total job envy!) and her beau Ian, director of Materials Council (a company who advise architects on the best materials). They chose Comrie Croft in Perthshire for their September 17th wedding because they wanted space for everyone to stay for the whole weekend and they were also able to have a humanist ceremony at the edge of a beautiful lake.
There's a totally amazing balloon cloud sculpture, a magnificent flower arch and 700 paper cranes but there's a fuss-free, party feel to this wedding with bridesmaids in sparkly dresses and the groom sipping a beer at the top of the altar. This wedding also has heart though, the ceremony is emotional and Katie's vows are hilarious. Photographer Kirsty MacKenzie has done a wonderful job of capturing all of those split second shots and the images are divine.
Photography by Kirsty Mackenzie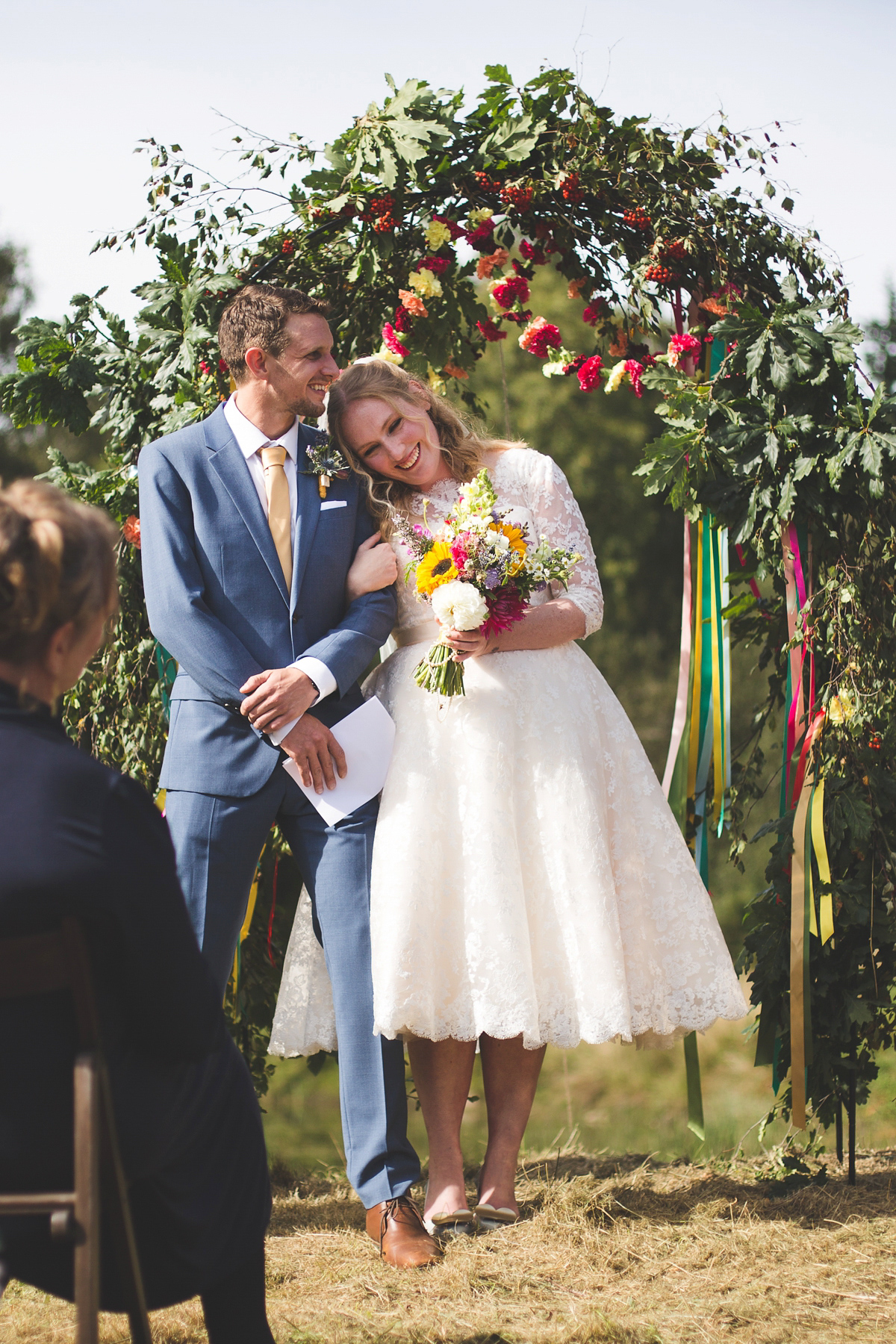 "We just wanted it to be really colourful and fun. I wasn't too keen on doing a theme as I thought it would be stressful to try and match everything to it and we wanted the process to be as fuss free as possible! We also loved the Japanese crane tradition and with the help of our friends managed to fold 700 which we strung up across the barn."
"Jenny Mugford from Flowermug did our flowers. They were a really important element of the day for us as I really wanted my mum (who died when I was 19) to be honoured in a way that wasn't too morbid or sad."
"She loved flowers so Jenny sourced seasonal flowers that were bright and colourful, that mum would have loved. I was so impressed, she did an incredible job. Jenny also built us the most amazing flower arch using brightly coloured carnation chains and lots of ribbon."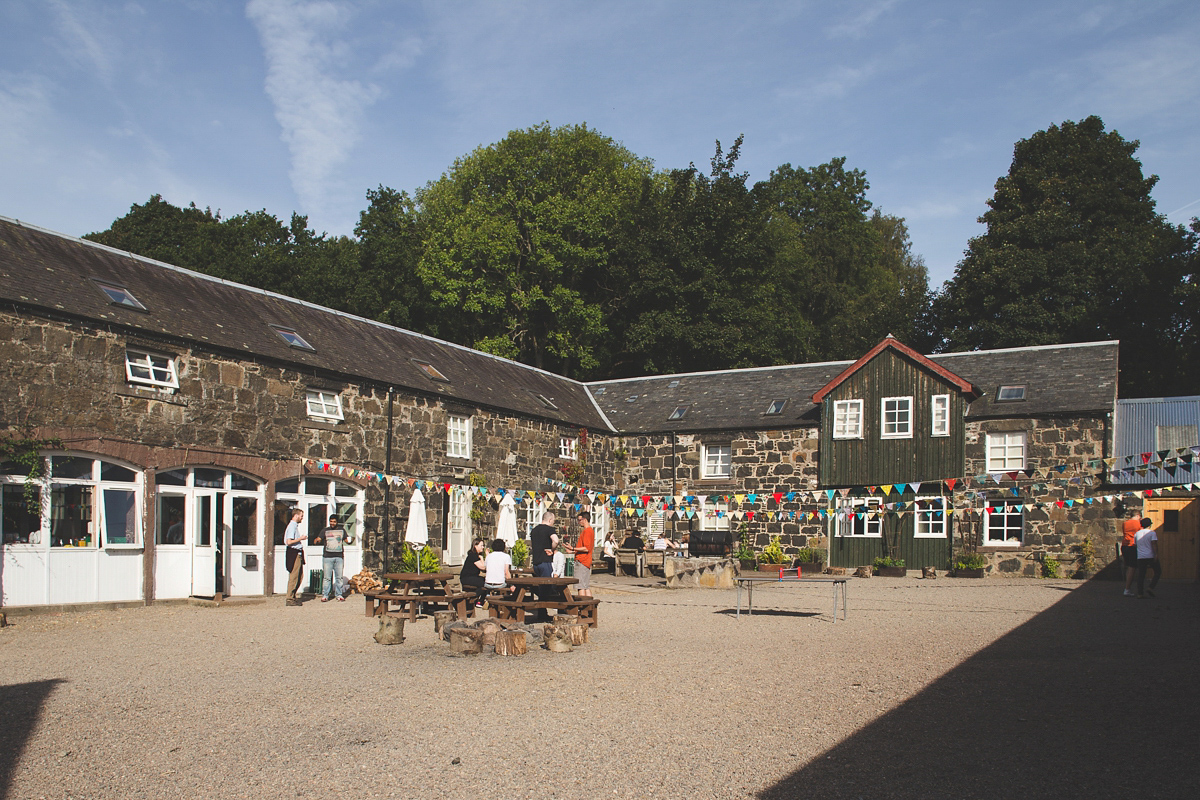 Groom Ian wore a tailored blue suit from Reiss with a yellow tie and his groomsmen were kitted out in smart navy suits from Topman.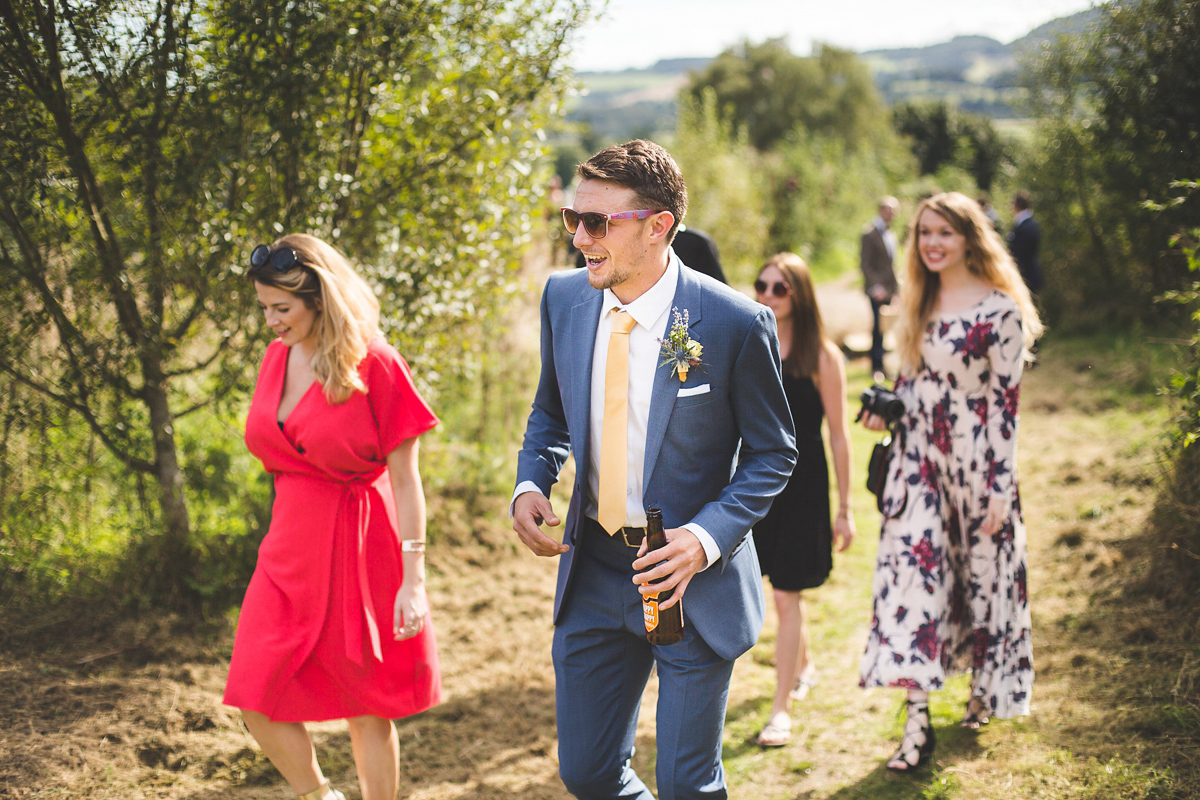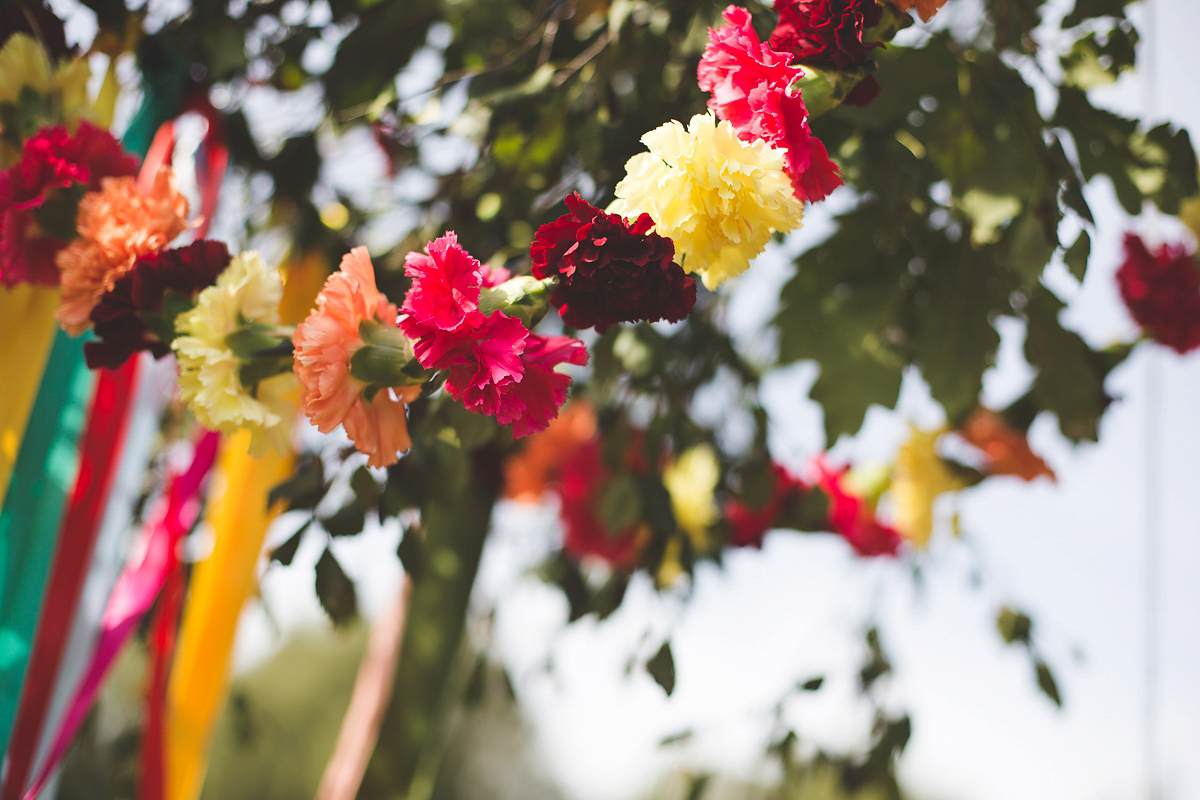 "Ian and I met eleven years ago working at a bar in Edinburgh together – and had our first date tree climbing up Arthur's Seat."
"Ian proposed two years ago in Richmond Park in London (where we now live). He asked me to go sit in a tree while we figured out how to get home and to my total surprise, asked me to marry him."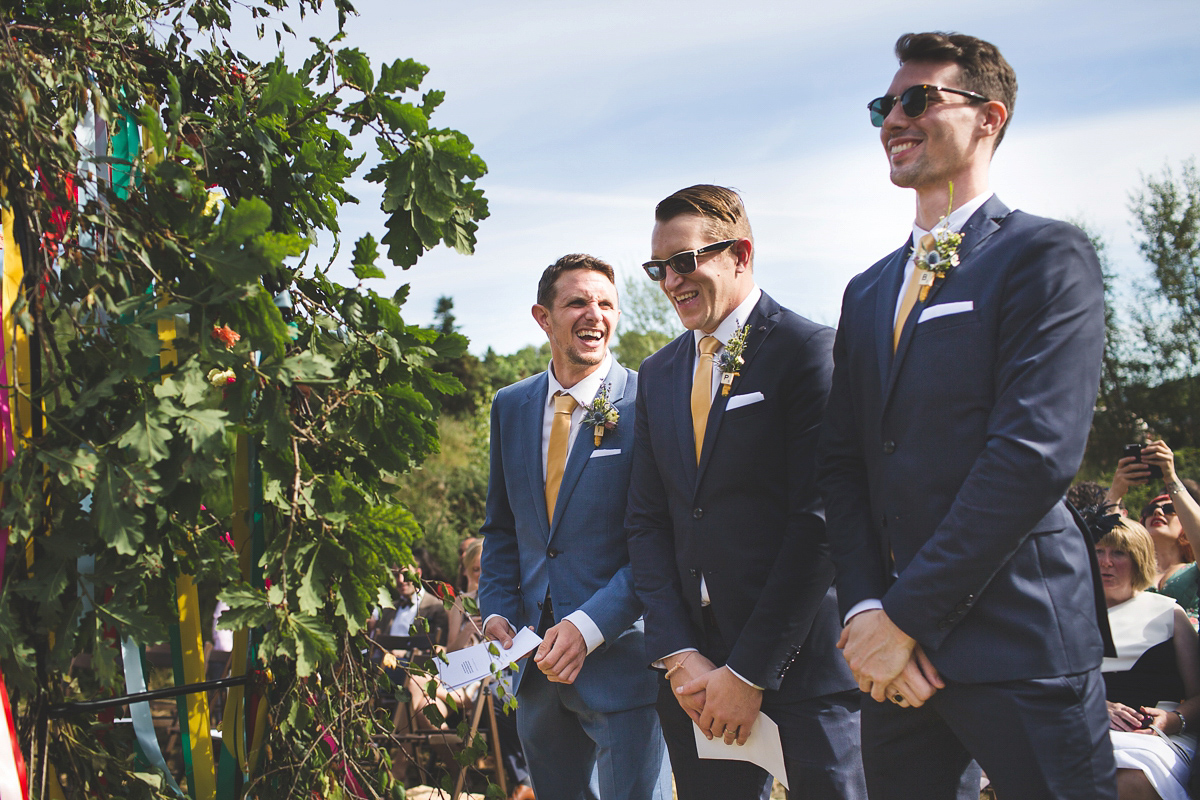 "I wanted my bridesmaids to feel as comfortable as possible so I let them pick out their own sparkly dresses. Verity wore an Oasis slip with a vintage sequin jacket on top, Heather got her amazingly talented friend to make hers, Rebecca, Amber, Annabelle and Anne's were all from ASOS, Jennie's was from French Connection and Elle's was from eBay."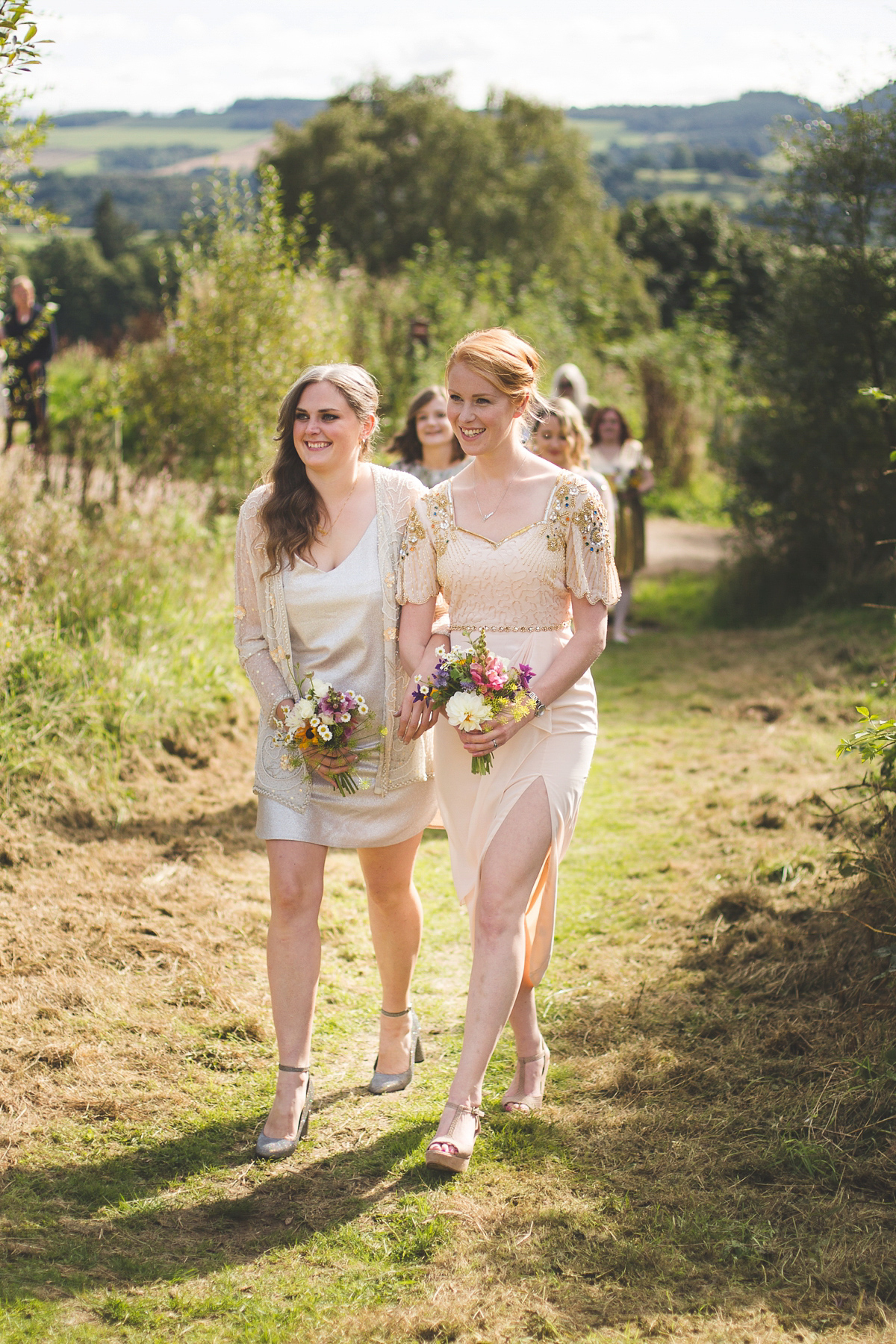 "I also bought name necklaces for each of the ladies, a symbol that I have found friends who will love me no matter what. My three bridesboys Edward, Louis and Alex all wore kilts."
I have to admit that I shed a little tear when I read Katie's beautiful tribute to her dad.
"My dad walked me down the aisle, along with one of my oldest friends Louis. It was really important to me that my dad walked down the aisle with me – she's transgender and when she first came out, people said things like; 'your daughter would never want you to walk her down the aisle in a dress'."
"I hated that – my dad's the most amazing, loving, inspiring person and she's one of the most important people in my life. I wanted to have that moment and that tradition with her to show that these stuffy norms and ideas as to what a family should look like don't matter. Loving unconditionally is all that really matters."
With it's soft hints of apricot and tea length, Katie's House Of Mooshki dress from Pretty Woman in Edinburgh is a dress made for twirling in a field (which she duly did!). A matching veil, a gorgeous pair of Vivienne Westwood shoes and her grandma's engagement ring were all the accessories she needed.
"As we were getting married outside, I knew I wanted tea length as I didn't like the idea of my dress trailing in the mud. What really stood out for me with this dress were the Apricot hints within the lace, which matched the golden flecks in my hair (and my bridesmaids sparkly dresses)."
"We wrote our own vows with the help of our humanist celebrant Anna McKessock. I didn't realise until afterwards that I swore TWICE in my vows!
There's a point on our road, under that really big overgrown bush, where I just speed up – as I just want to see you faster.
And I love that. It's been just over eleven years and the thought of being with you excites me just as much as it did way back in The Tron.
You're the first person I want to tell everything to, whether it's something big or simply just some gossip I read about Taylor Swift.
And no matter what it is, you're always happy to hear it.
And I love hearing everything you say, your thirst for knowledge is one of the things I admire most about you – you teach me so much.
We joke that everyone – local shopkeepers, the cat, people's boyfriends – like you more than me.
I am often exclaiming – "oh you love Ian Hunter? Of course you f**king do!"
But truthfully I am just so proud to be able to look across a room, and see you smiling and
laughing, making people as happy as you make me…
"Ian's vows were similar, listing things like how he loved that I say thank you to cash machines and dogs. We then recited some lines that we had written together."
"We asked our friends Heather and Fiona to come up with a reading each that they felt represented us. Heather chose 'All I Really Need To Know I Learned In Nursery' by Robert Fulghum which is great fun and made everyone laugh."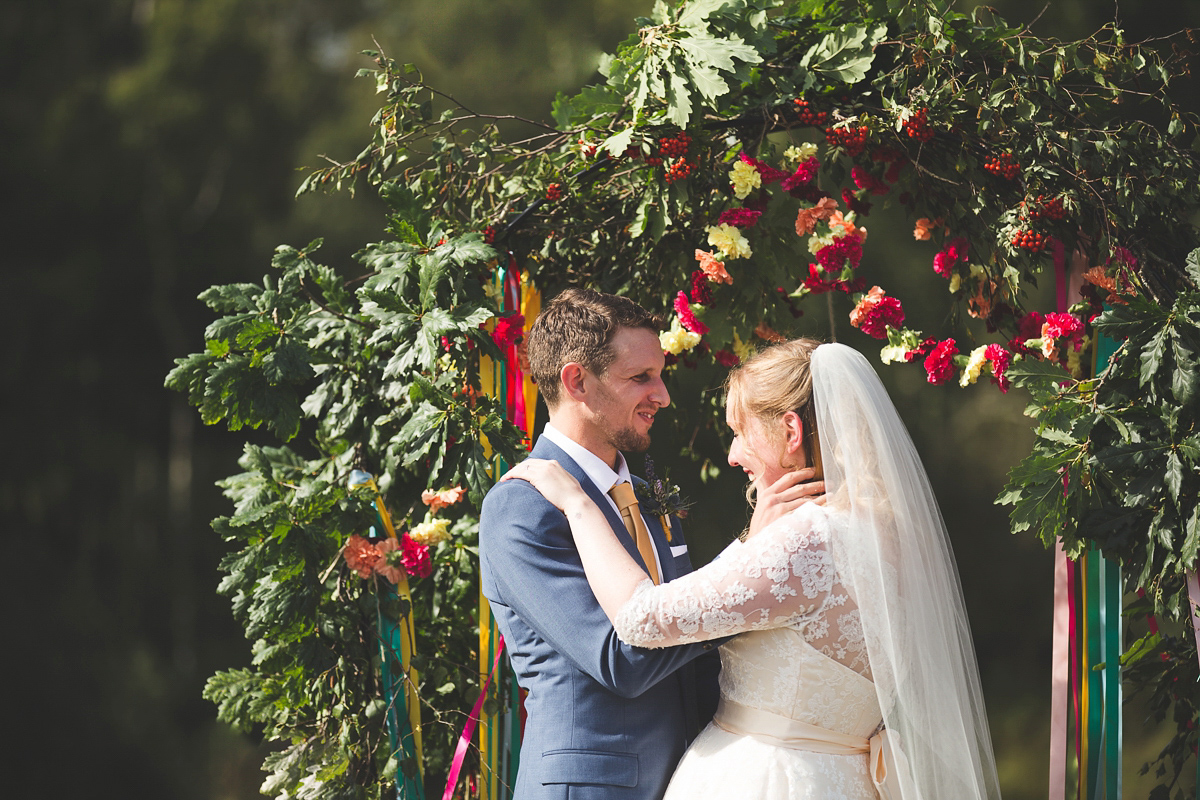 "Fiona chose a passage from Kurt Vonnegut's 'A Man Without A Country'. We absolutely loved it because it captured everything Ian and I believe together about happiness."
And now I want to tell you about my late Uncle Alex. He was my father's kid brother, a childless graduate of Harvard who was an honest life insurance salesman in Indianapolis. He was well-read and wise. And his principal complaint about other human beings was that they so seldom noticed it when they were happy. So when we were drinking lemonade under an apple tree in the summer, say, and talking lazily about this and that, almost buzzing like honeybees, Uncle Alex would suddenly interrupt the agreeable blather to exclaim, If this isn't nice, I don't know what is. So I do the same now, and so do my kids and grandkids. And I urge you to please notice when you are happy, and exclaim or murmur or think at some point, If this isn't nice, I don't know what is.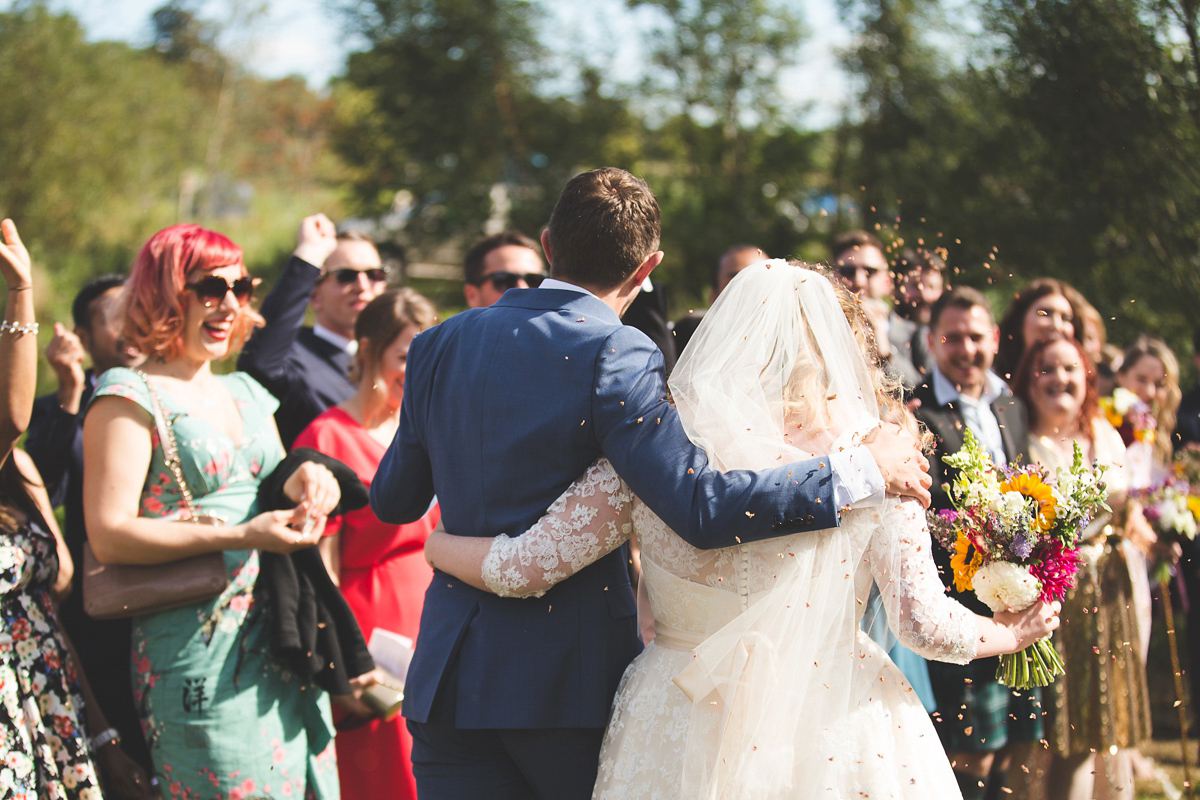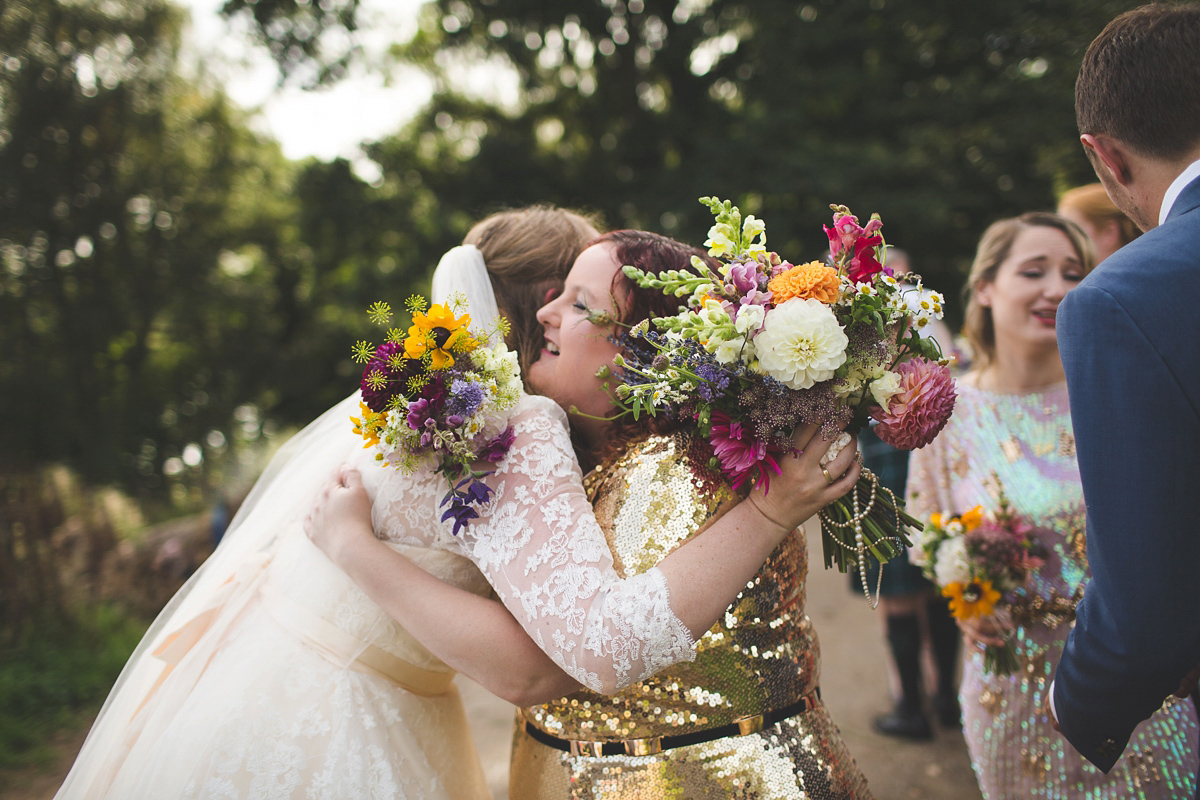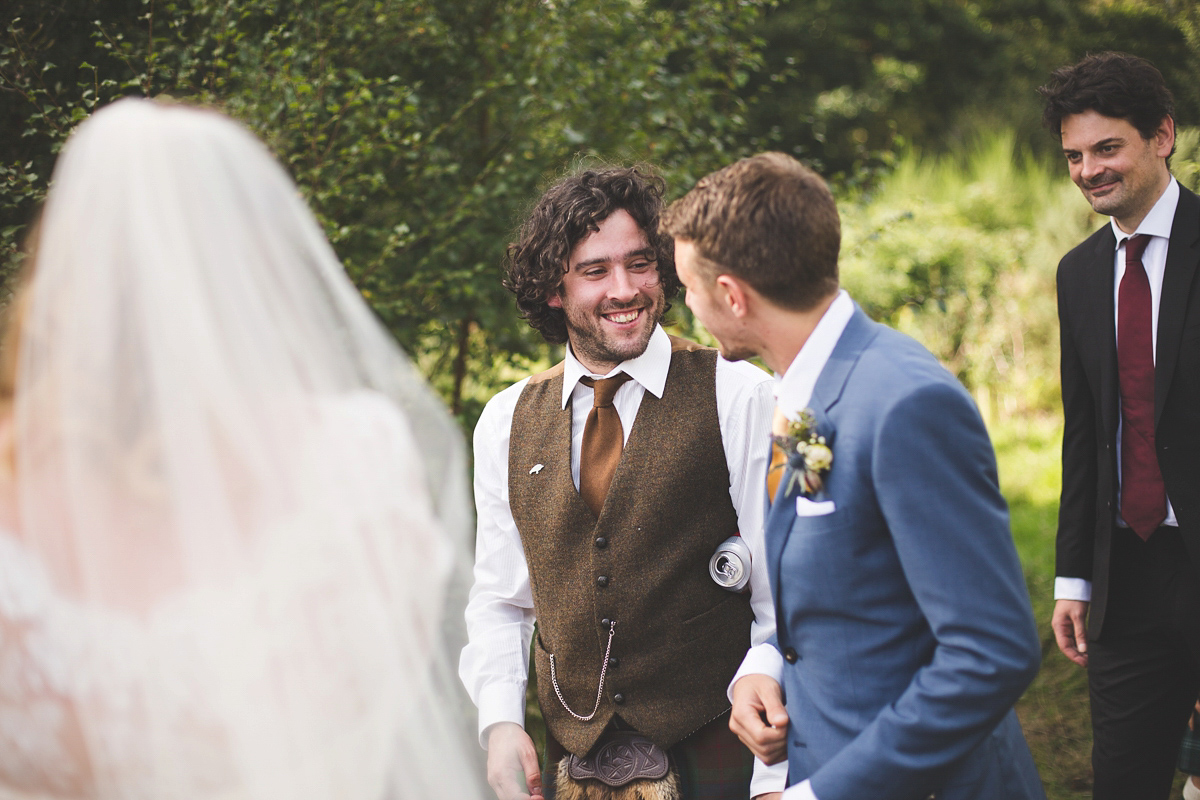 "Our friend Jeremy learned the steel pans just for our wedding. Ian and I lived in Brixton for a while and always loved the steel drum band by the tube, step in the amazing Jeremy. It was the most magical sound."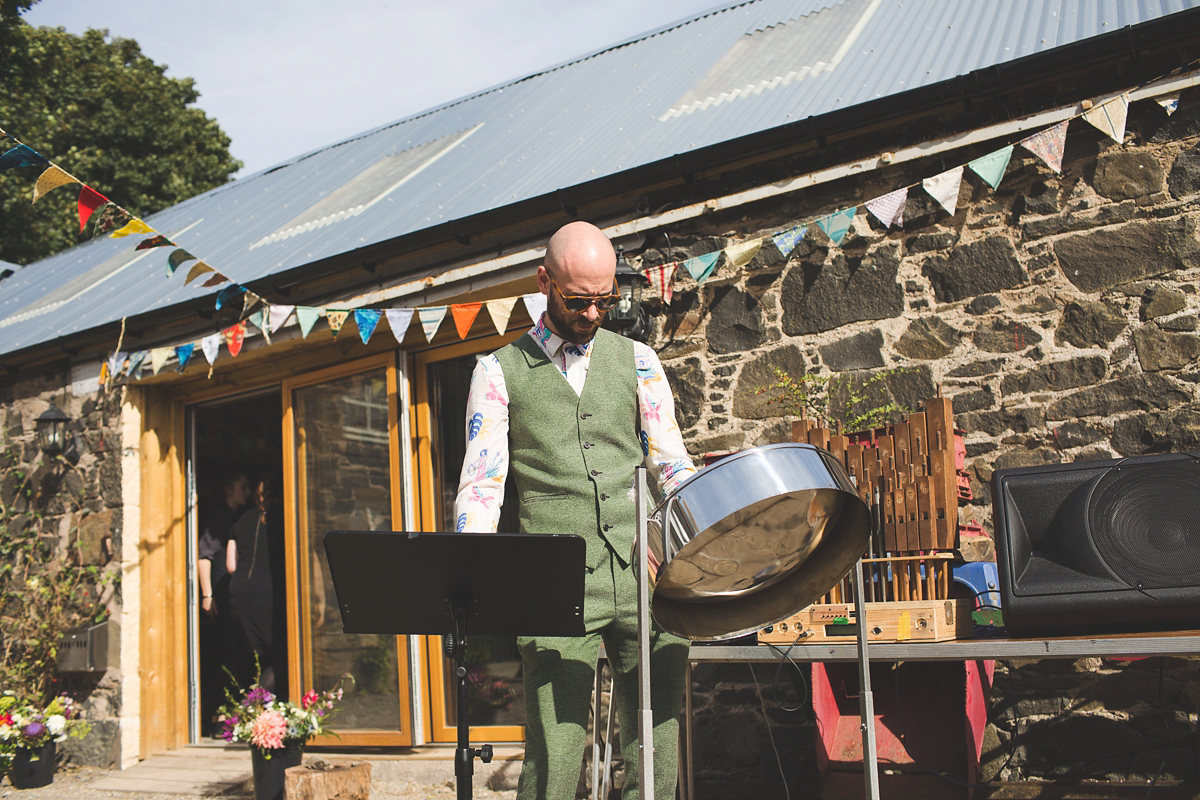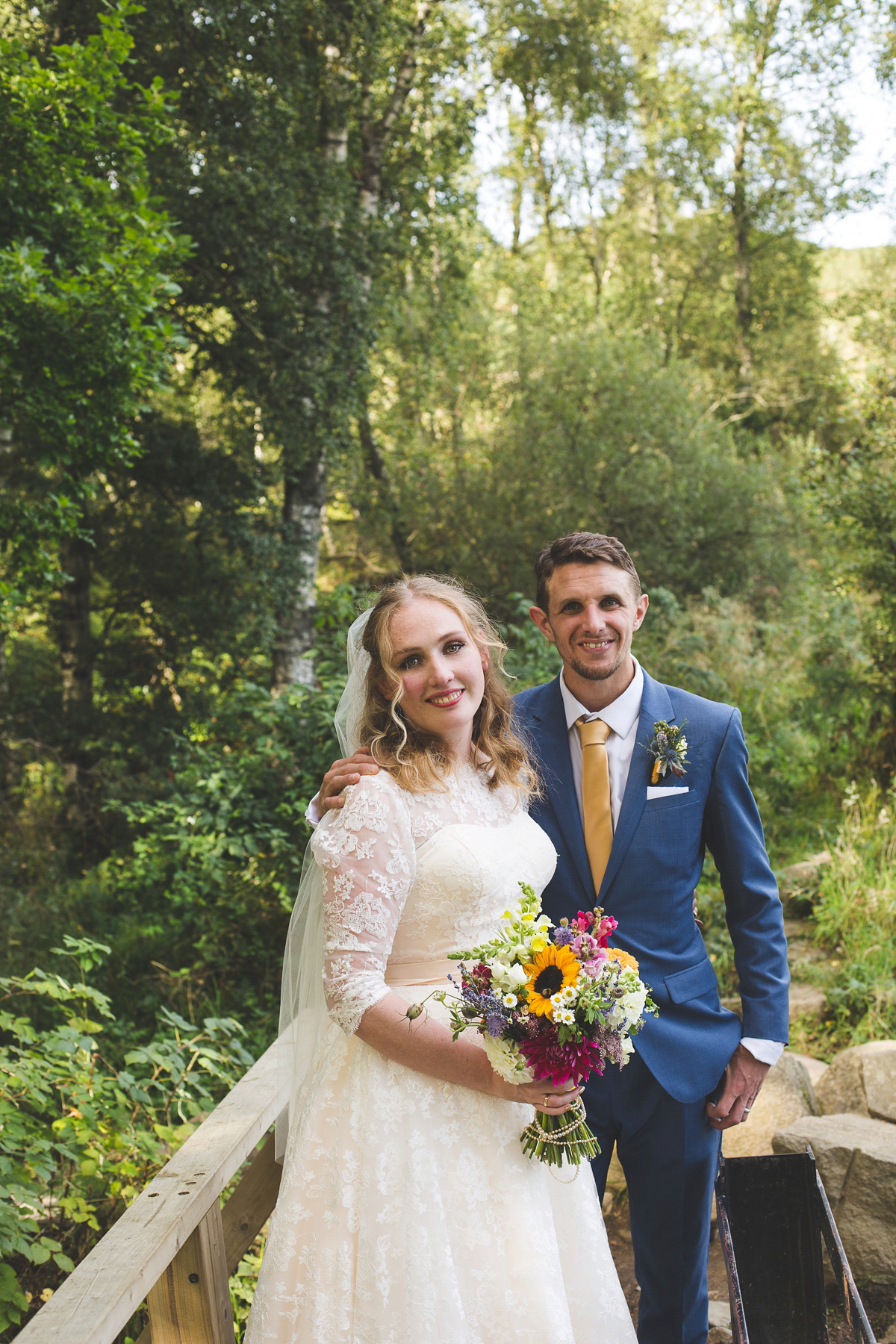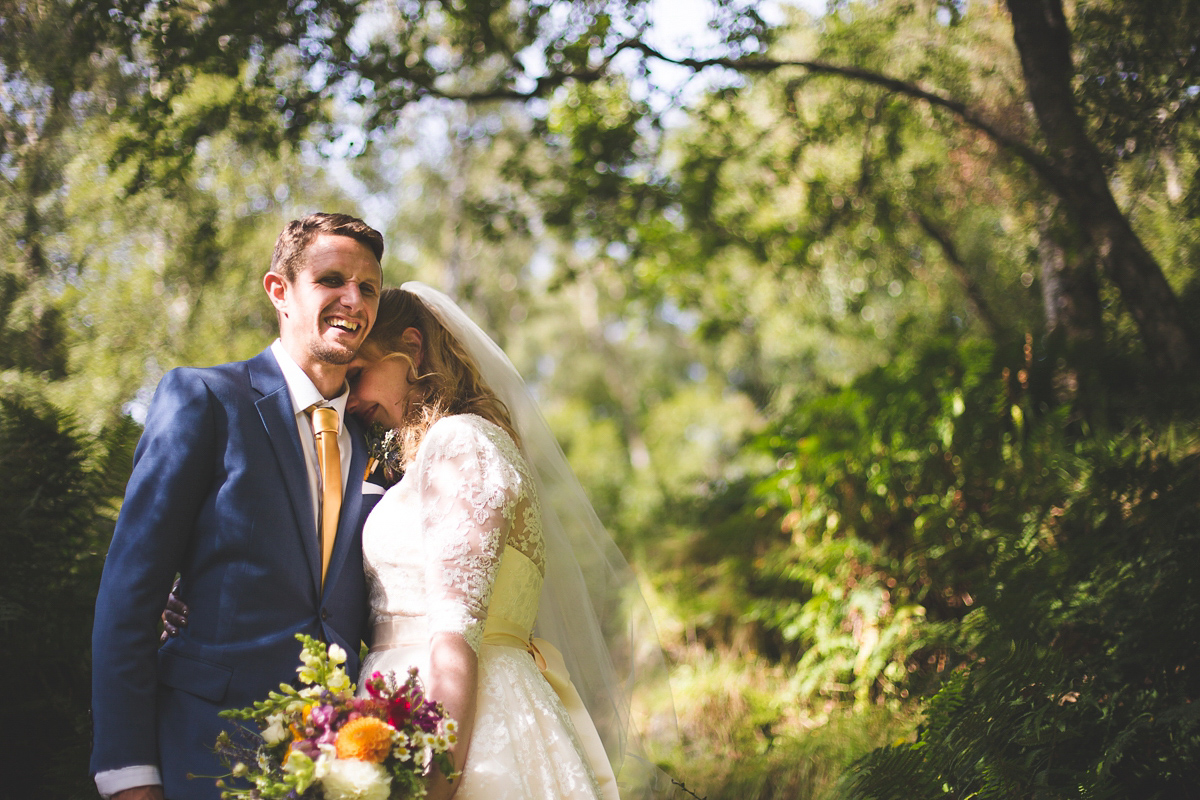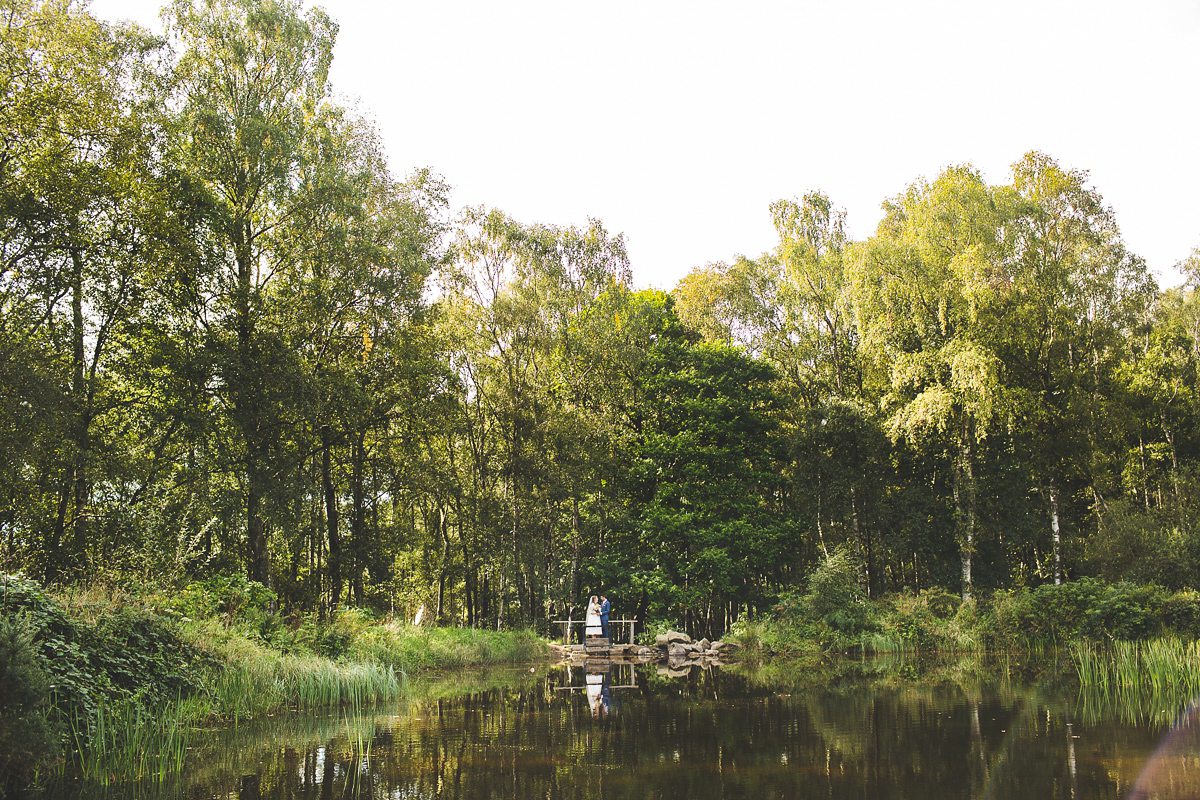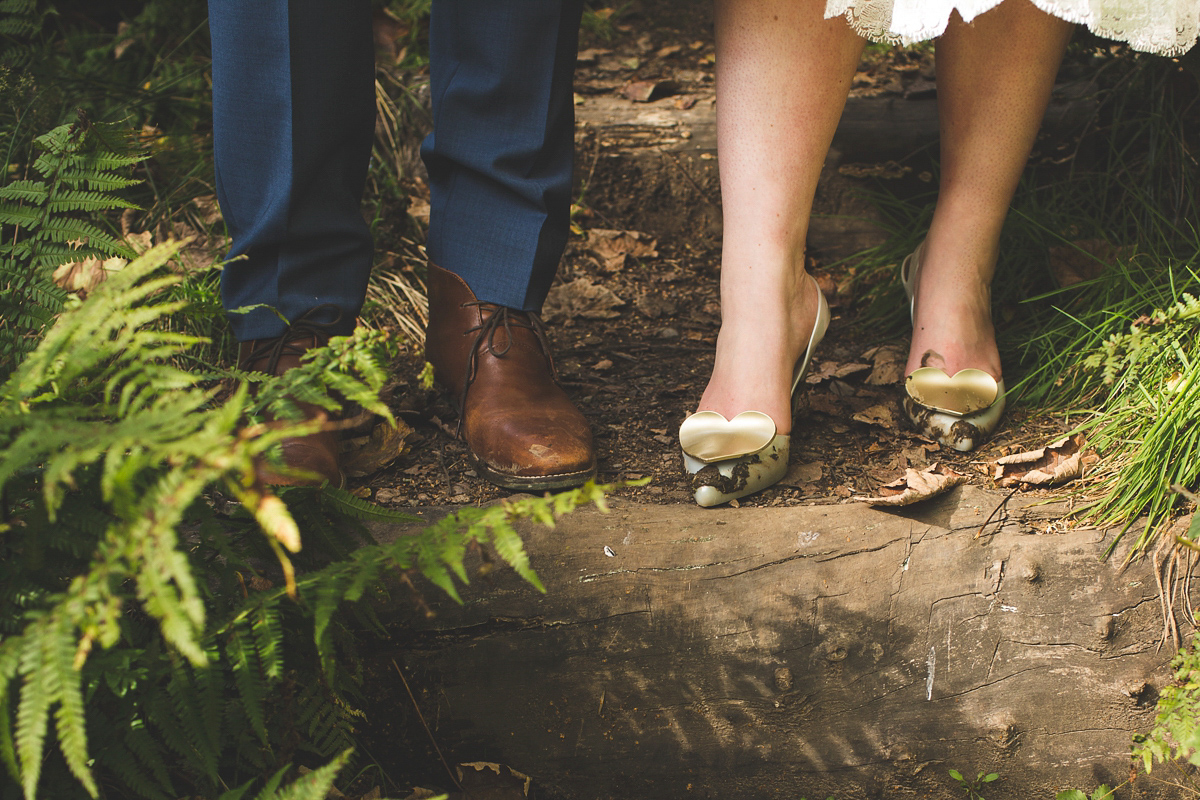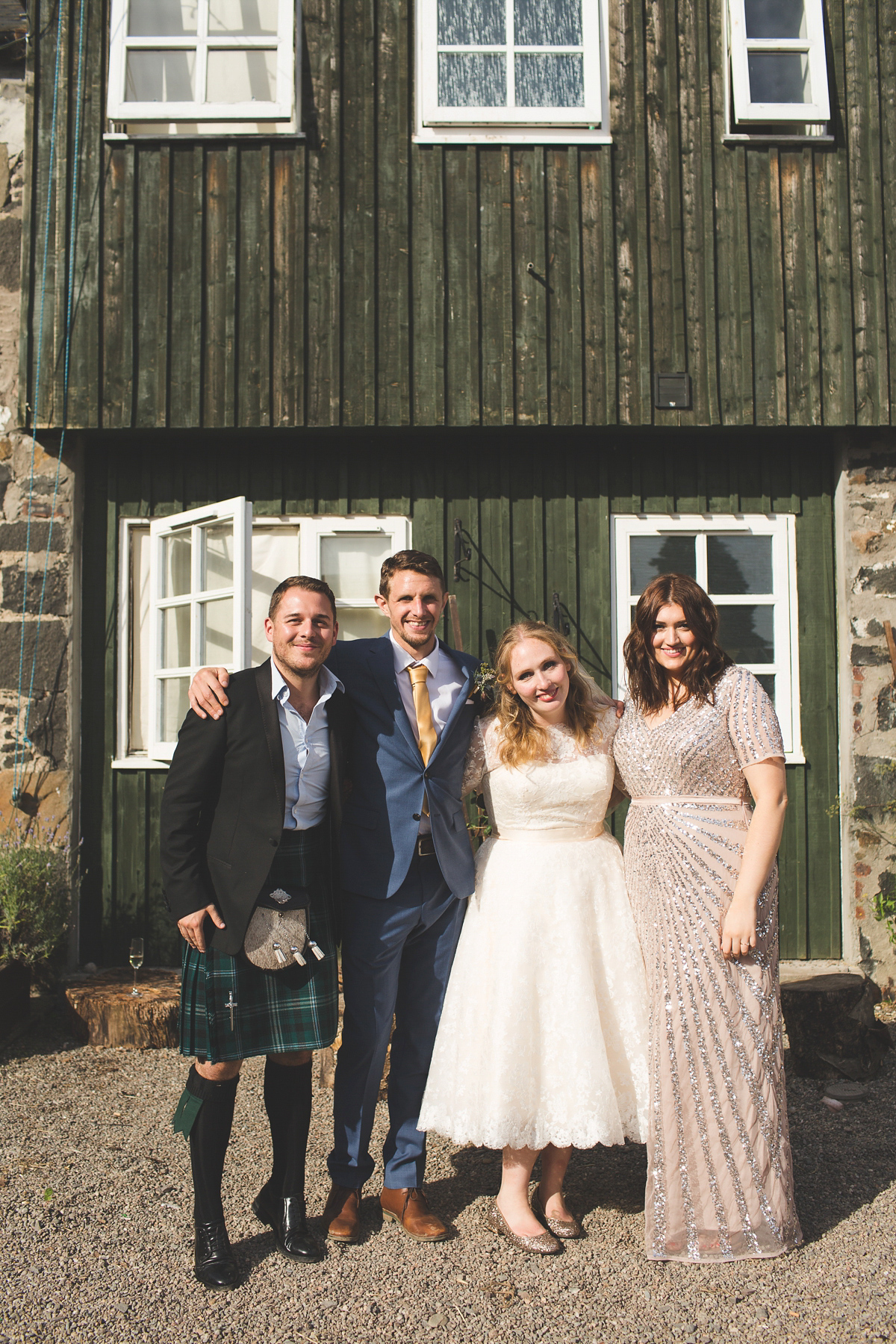 Katie and Ian chose London based photographer Kirsty Mackenzie to capture their wedding day. There's such joy in these images, Kirsty has really got the vibe of the day and the couple were thrilled with the results.
"Where do I start with Kirsty? She was exactly what we wanted in a photographer as she just wanted to get fun and laid back shots with little posing."
"She totally blended in with the party, and managed to take so many photos without making anyone feel uncomfortable or like they had to play up to the cameras."
"Our couple shots also felt totally natural and very us. That was all down to her friendly, relaxed vibe."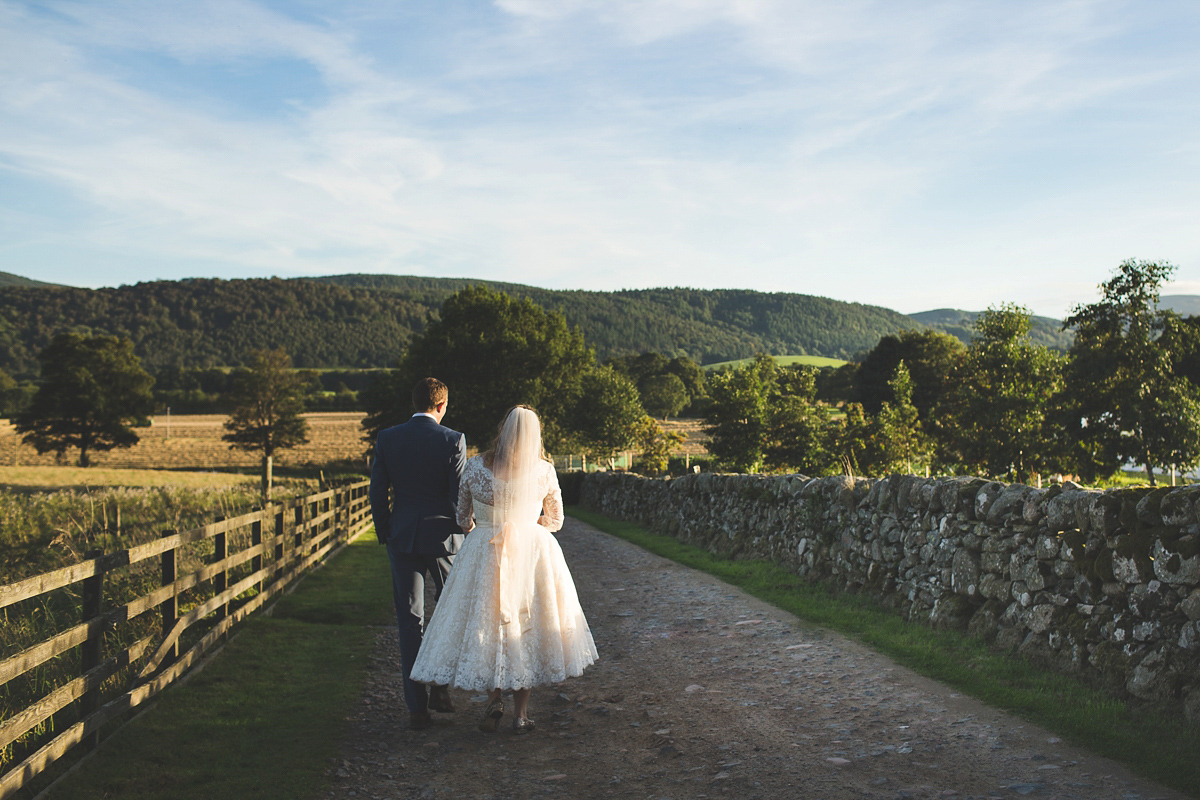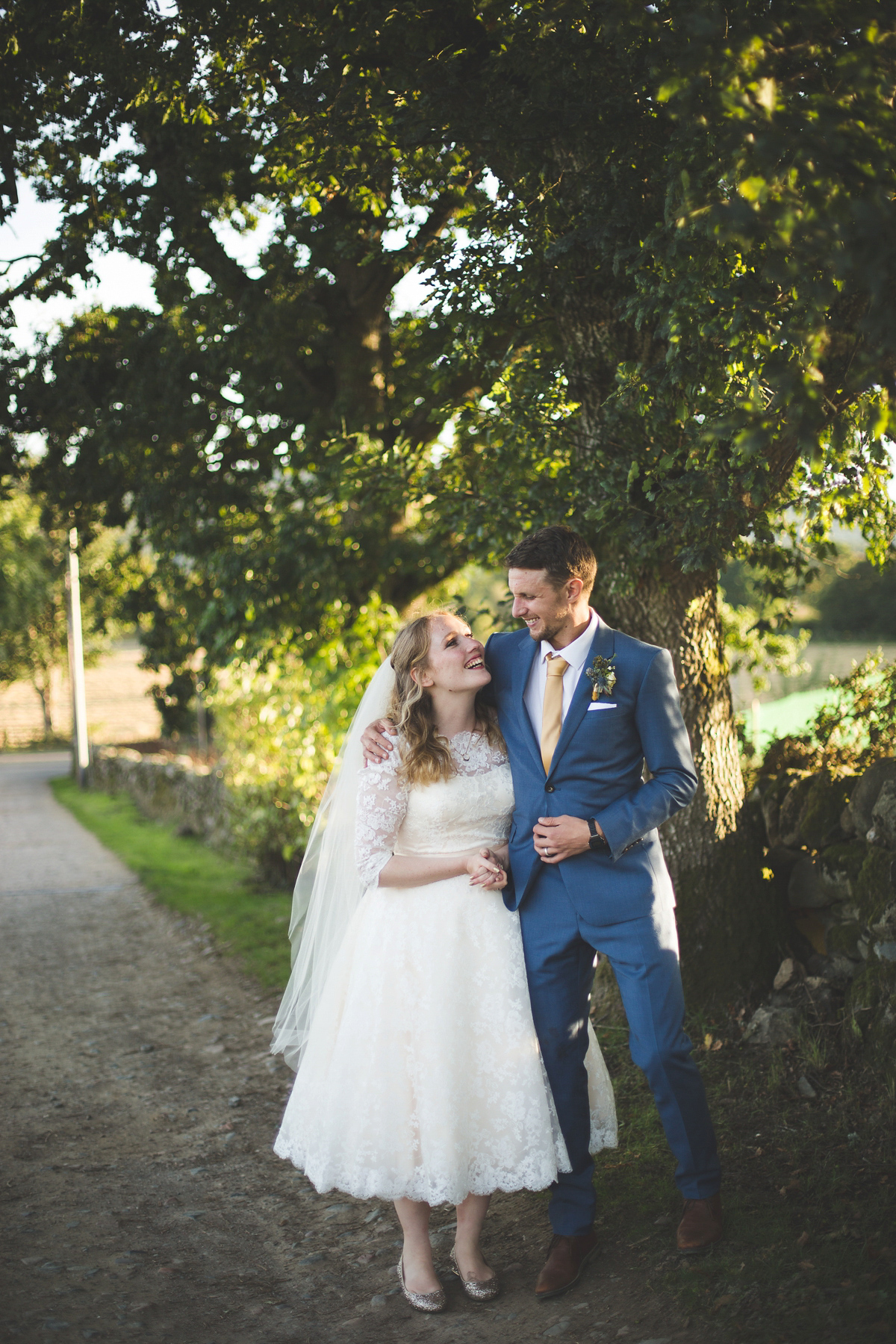 Between the huge cloud balloon sculpture hanging from the ceiling and the many, many paper cranes, the décor in the barn really does have the wow factor.
"We ordered a thousand balloons online and Ian and our friend Gary built it, then strung it up on the pulley. I was SO impressed."
"Bespoke Catering delivered the most amazing feast with loads of different sharing platters and bowls. They made the whole process so easy and we really trusted them."
"The food was delicious and there was so much of it. Ian's mam and aunt put on an amazing midnight feast later on."
"We printed photos of everyone for the table plan, and we were incredibly lucky that my friend Anne's family had so much bunting, which we strung up in the courtyard. Each table had a gingham table runner and my brother in law carved wooden discs for the centrepieces, which we loaded with jam jars filled with flowers."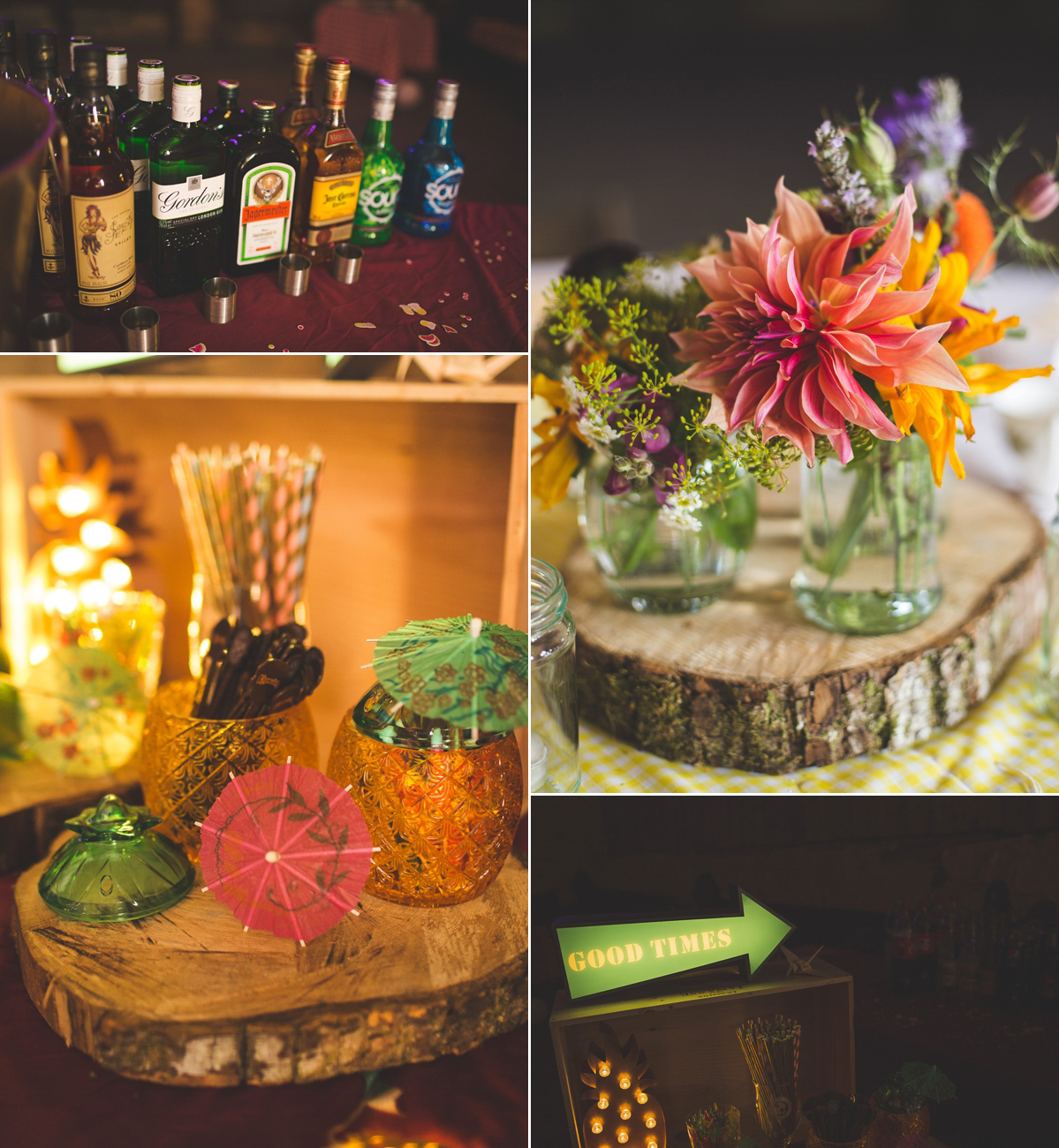 "Our friend Heather also made a photo wall using washing line, mini pegs and polaroid cameras. She encouraged people to write their favourite memory and take pictures and string them up on the line. It was so cool watching it build throughout the night and we made it into a guest book afterwards."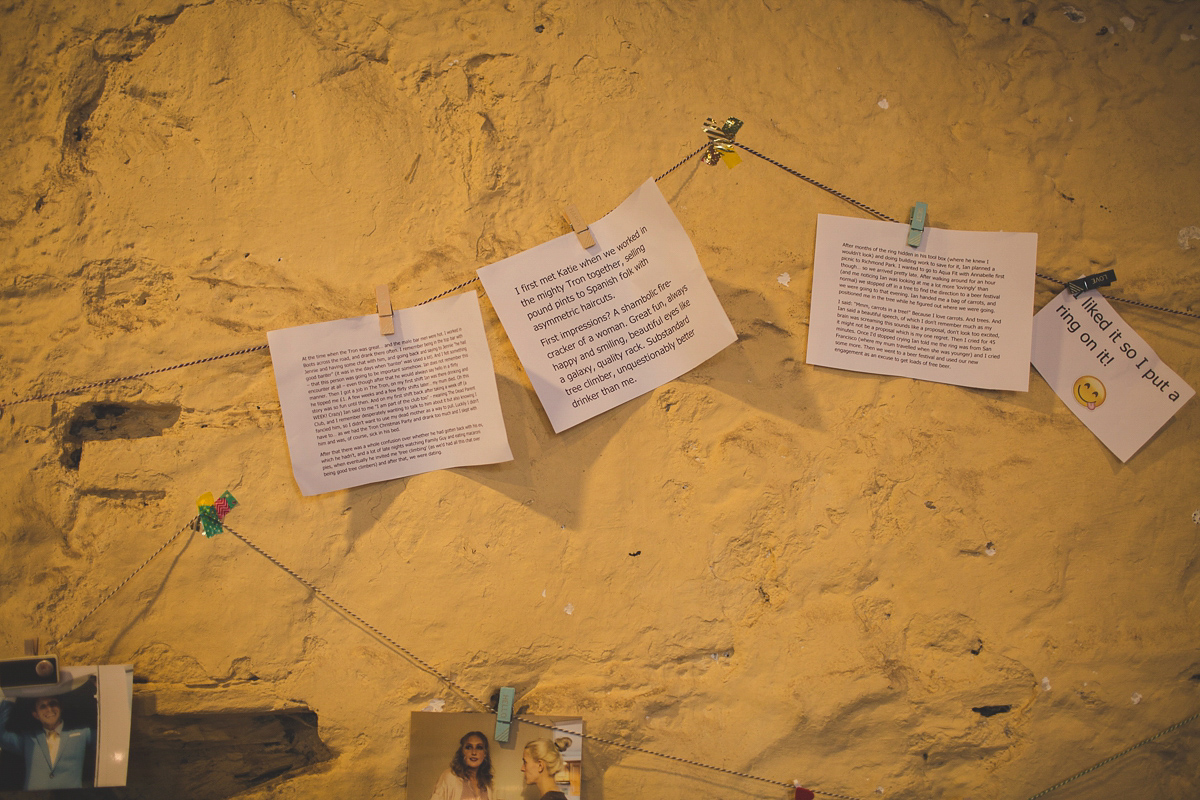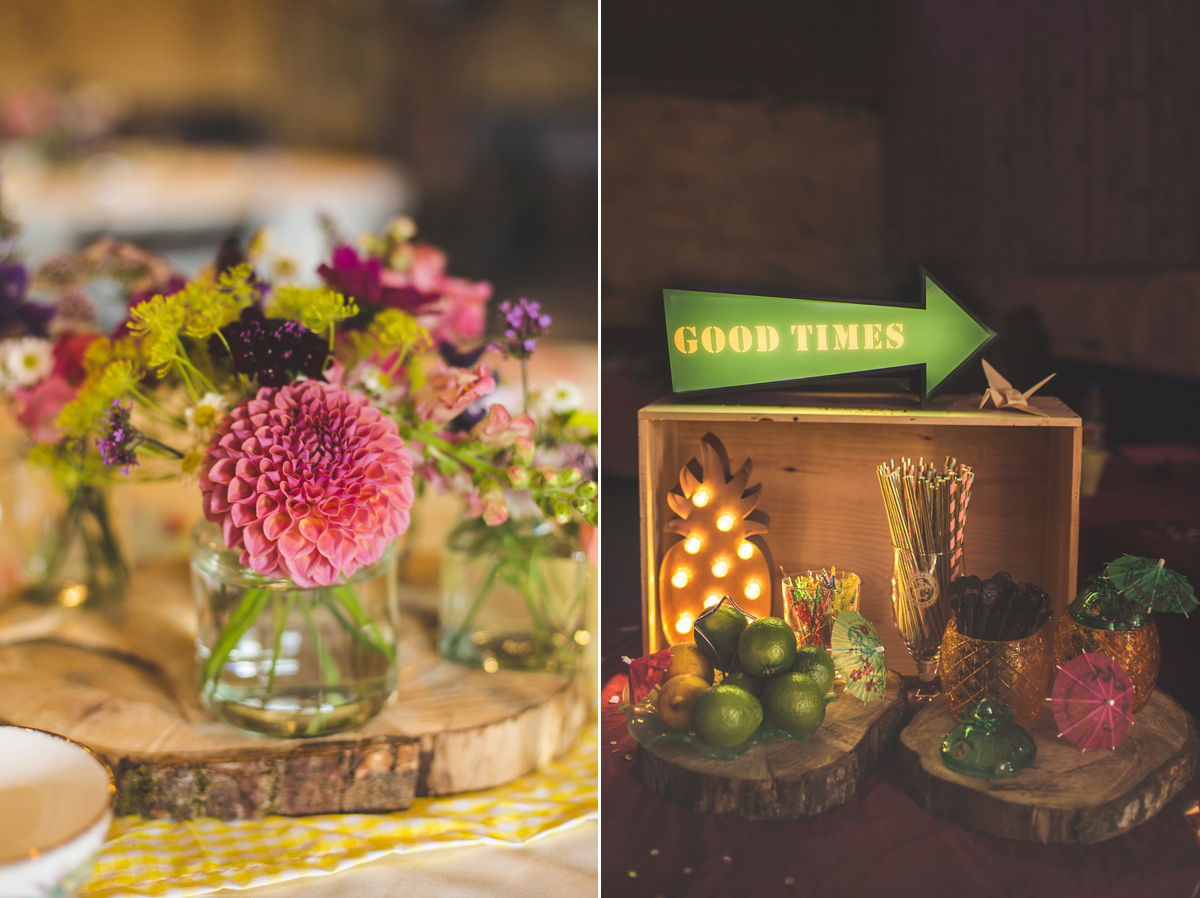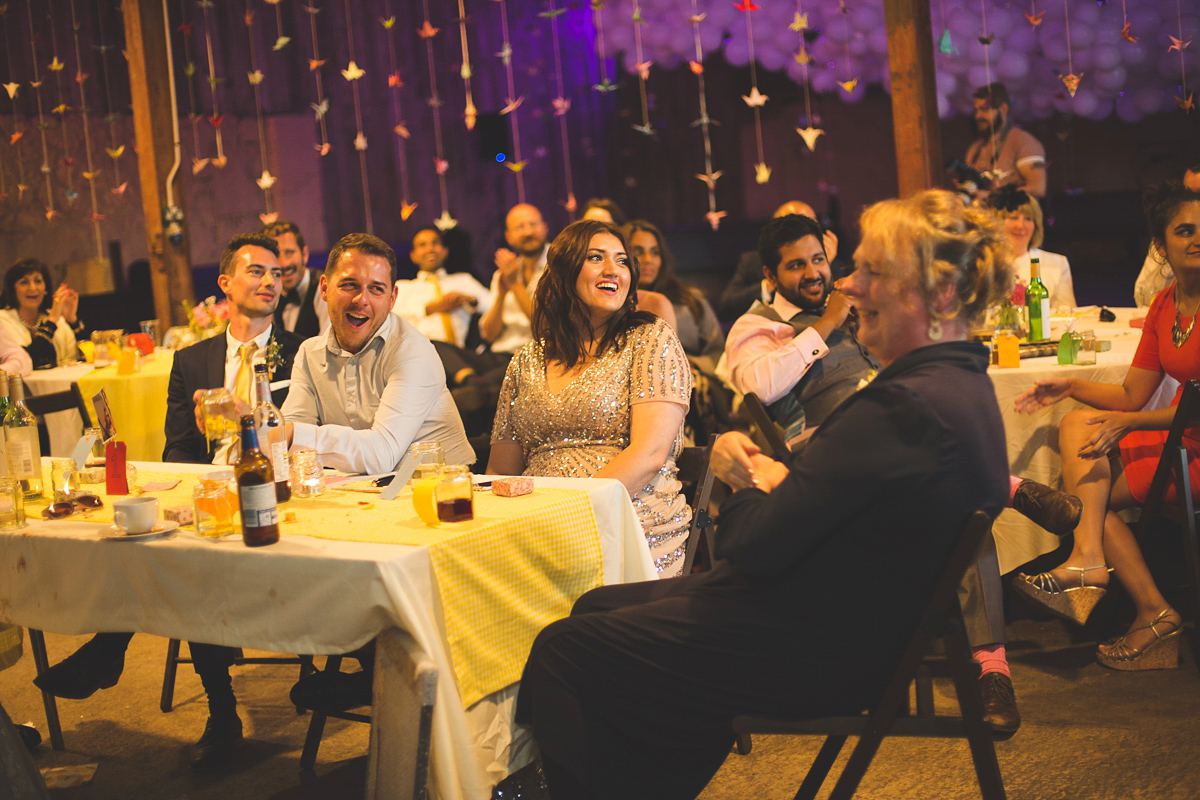 Ian and Katie both agree that their favourite moment was when they were reading their vows to each other in the sunshine, both laughing and crying. Smashing up the balloon sculpture, doing a big strip the willow dance with their friends and the speeches were also big highlights.
"We danced (really, really badly) to 'Mr Brightside' by The Killers. We always dance to it when we're out together and we're both so uncoordinated so we thought a slow dance would be too embarrassing. It turned out that dancing to a fast song was even more embarrassing!"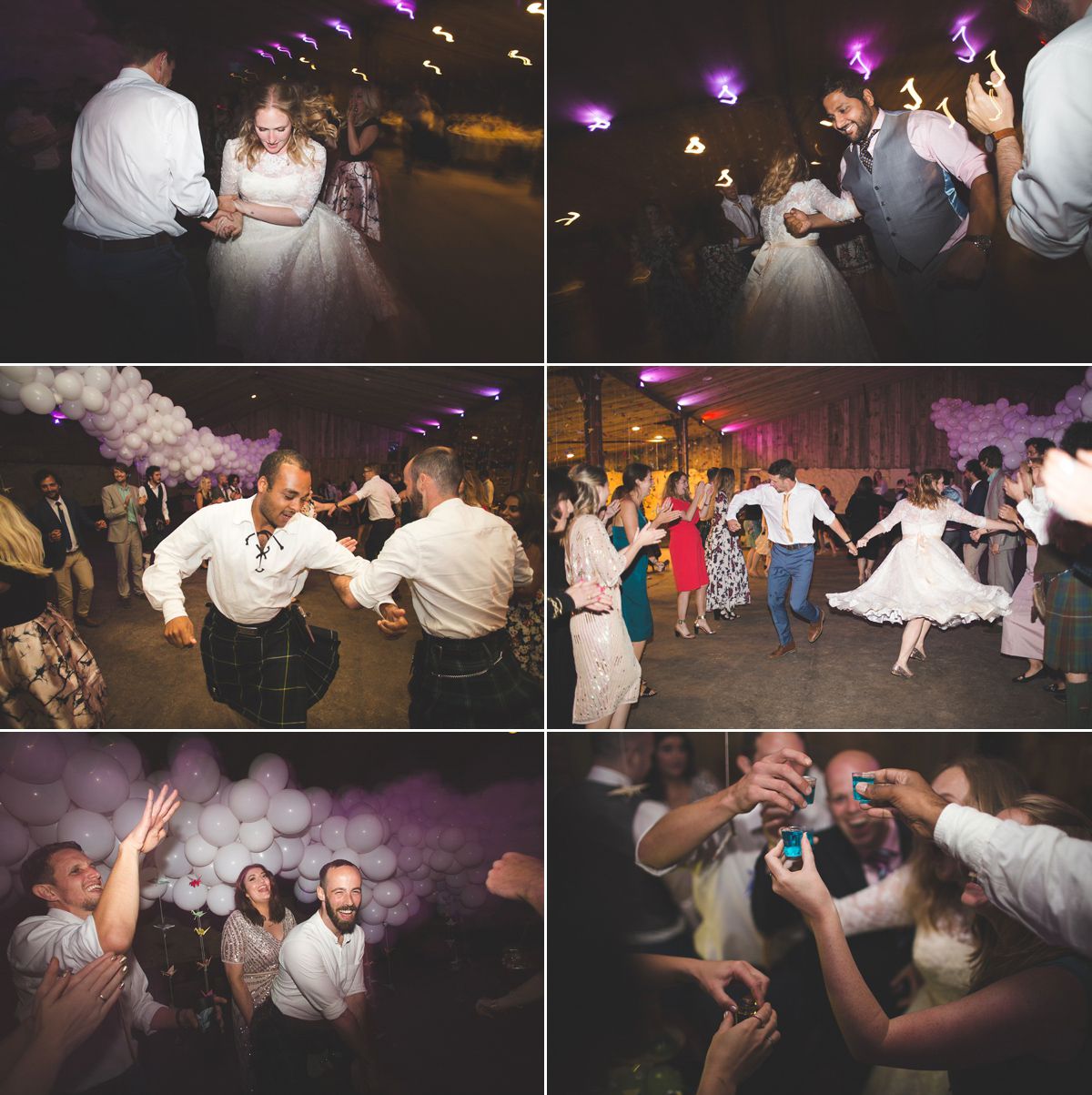 Words of Wedded Wisdom
"Decide what you want, stick with your decisions and focus on what matters to you. We were really lucky that our families didn't put too much pressure on us so we could do exactly what we wanted. Weddings cost so much, if you're paying for something, make sure it's something you really want. Once we had found a supplier we liked, we just went with them and moved on. Our focus was on fun; we wanted everything to be amazing for our guests.
When you write your budget think about things like a coach to transport guests or heating for the barn… both essential but really, really boring things! We hadn't factored them in and had to pay them at a time when things were quite stressful.
Don't stress too much about everything matching. On the day it won't matter and someone feeling happy and comfortable looks much better in the photos. If you can, choose somewhere that allows guests to stay the night before, or organise a pub lunch the day after the wedding – it really does go by so fast and we were grateful we got to spend extra time with our friends and family. Our guests also loved staying as it really added to the party atmosphere.
The only thing we would have changed is that we would have invited more people. We were worried about budget so kept the guest list quite small but actually with the help of all our amazing suppliers we managed to keep to budget."
Thank you so very much to Katie and Ian, we have loved sharing your beautiful wedding with our readers. Thanks also to the lovely Kirsty MacKenzie for the fabulous images.
Love Caoimhe xx