The WIND today! It's blowing an absolute gale out there – I hope if you are reading this, you're tucked up somewhere cozy and warm. It's a real pleasure to be sharing this particular wedding this afternoon. The photographer, Melissa Beattie, is a member of our Little Book For Brides wedding directory – we recently ran a competition with Melissa to win a full package of wedding photography – our winner and runner-up prizes were announced last month (much to the recipients absolute delight), so it's great to see Melissa on the blog again today with these lovely images of an elegant winter wedding she photographed in December.
Hannah, a Project Manager at award winning digital agency, Orange Bus, married Chris a Marketing Manager for the Art House Cinema in Tyneside on Saturday 10th December last year at Middleton Hall in Belford, Northumberland.
"Our photographer Melissa Beattie was incredible – her photography is timeless, so full of light. She has such an eye for detail and so many of the shots we got back were really stunning. I think the best thing was how seamlessly she fit into the day, She made us both feel at ease and managed to take so many lovely candid shots."
Photography by Melissa Beattie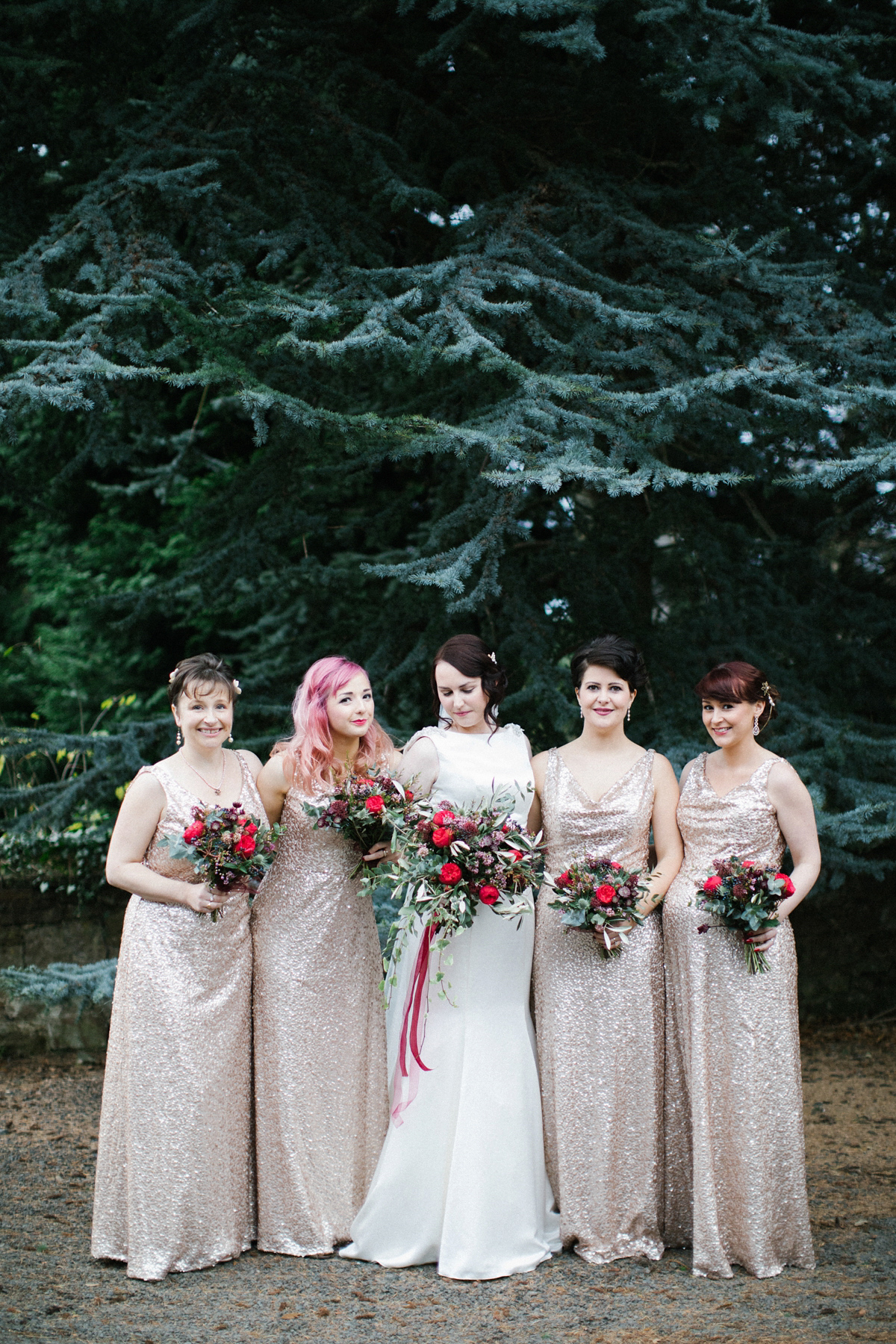 "We got married in December so we wanted the decor to be warm, romantic and festive without going down the typical Christmas-theme route. We had candles everywhere and a wine red and gold colour scheme. We were very inspired by the 1920's era, and whilst it wasn't full on Gatsby feathers etc, there were plenty of little art deco touches here and there from my hair accessories and shoes, the vintage key favours and gold, vintage-style decorative table name frames, the swing band and the 'Paper Moon' photo booth."
"Apart from the setting, we loved how relaxed and flexible the venue was as well. June who runs the house is amazing and couldn't be more accommodating. She completely got the vision and made sure everything ran seamlessly. Another selling point for us was the food set up. The caterer worked closely with us to come up with a bespoke menu that fit our tastes and the feel of the day."
"I think the best thing was that we were able to hire the entire house with its 10 bedrooms the night before the wedding as well. It was lovely spending the night before with close family and friends. We felt so much more relaxed and excited being surrounded by our loved ones and getting comfortable in the surroundings before the big day itself."
"We got married at Middleton Hall, which is set right back in it's own grounds surrounded by beautiful lakes and woodland. I loved how overgrown and natural the setting was, some of the other manor houses we'd looked at were all manicured lawns and golf courses which wasn't us. As we drove down the winding driveway amongst the gorgeous blue-green fur trees I knew straight away it was what we'd been looking for.
Chris works in an Art Deco cinema building and I love all things art deco and 1920s from our house to my favourite book being F.Scott Fitzgerald's The Great Gatsby. I think this was as close to Gatsby's mansion as you can get in North East England."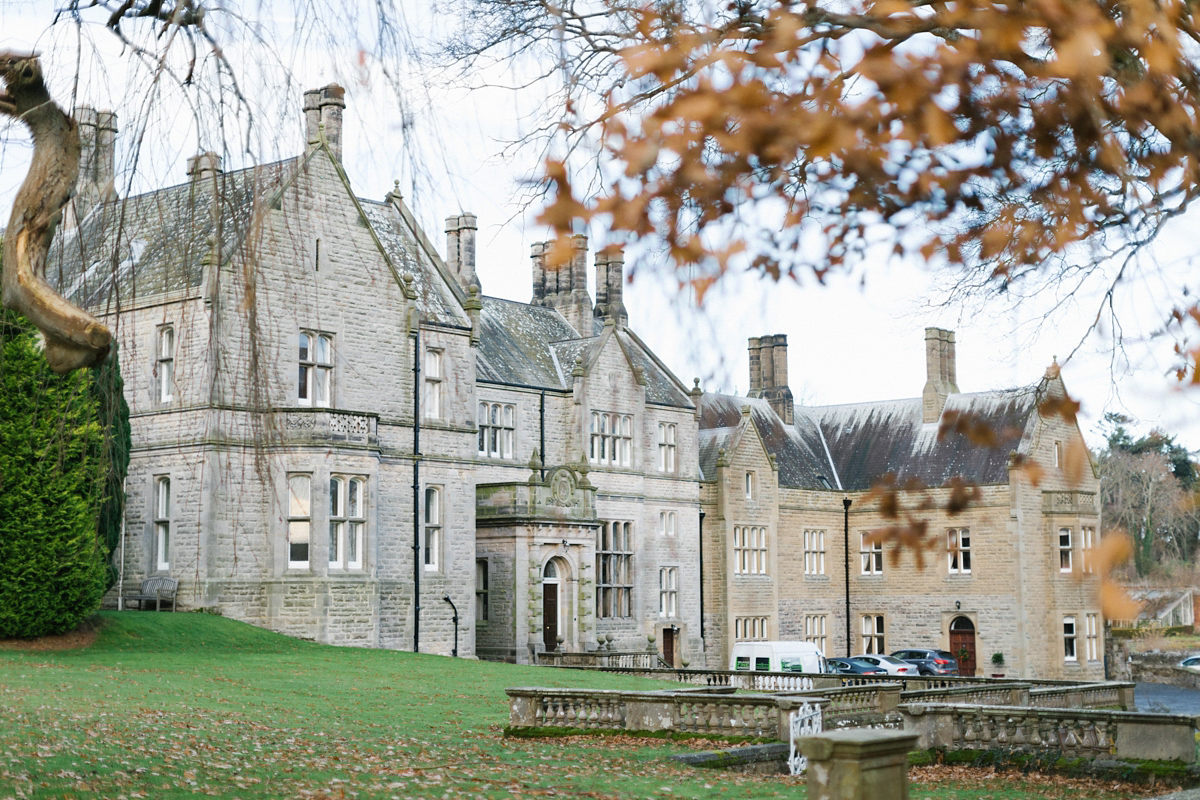 "My bridesmaid's dresses were rose gold Dessy dresses, also from Mia Sposa. If you can't sparkle at Christmas, when can you? One of my bridesmaids was heavily pregnant by the time of the wedding but the shop were so good at accommodating her and making sure the dress fitted perfectly."
Hannah's beautiful gold headpiece was a find via Vintage Styler, a beautiful online bridal accessories boutique.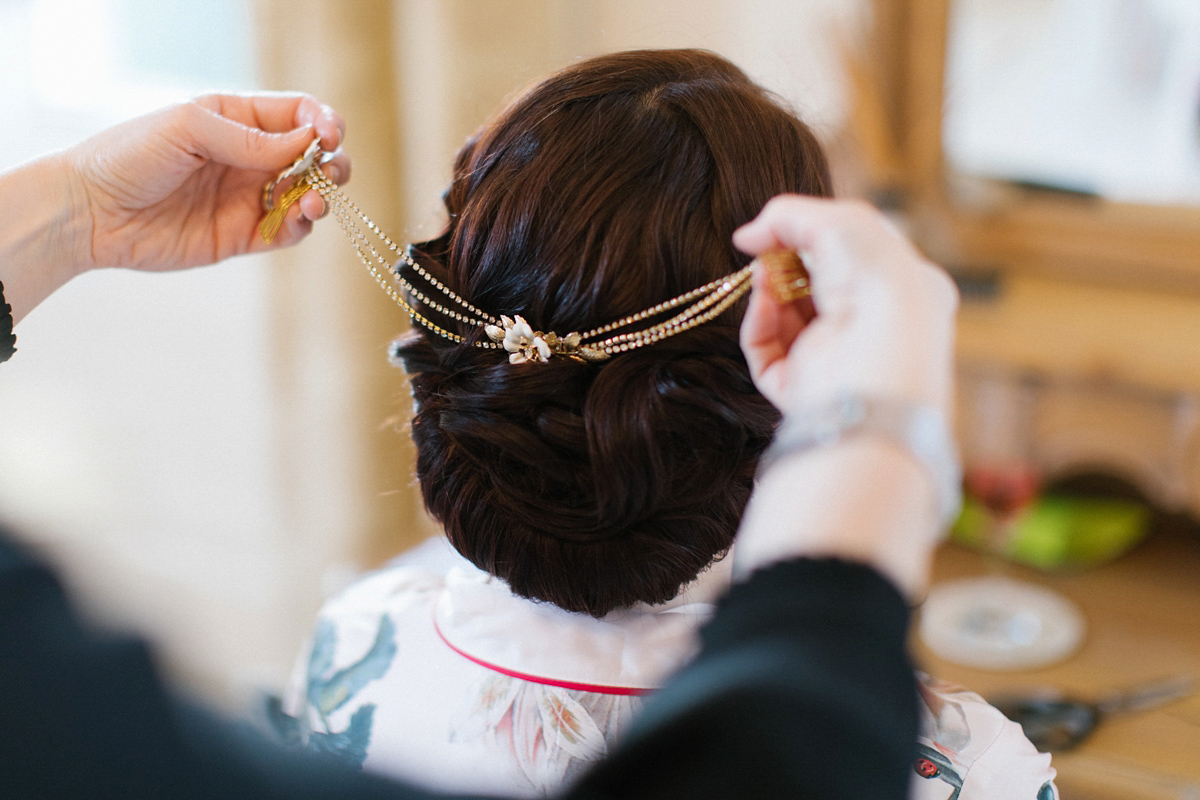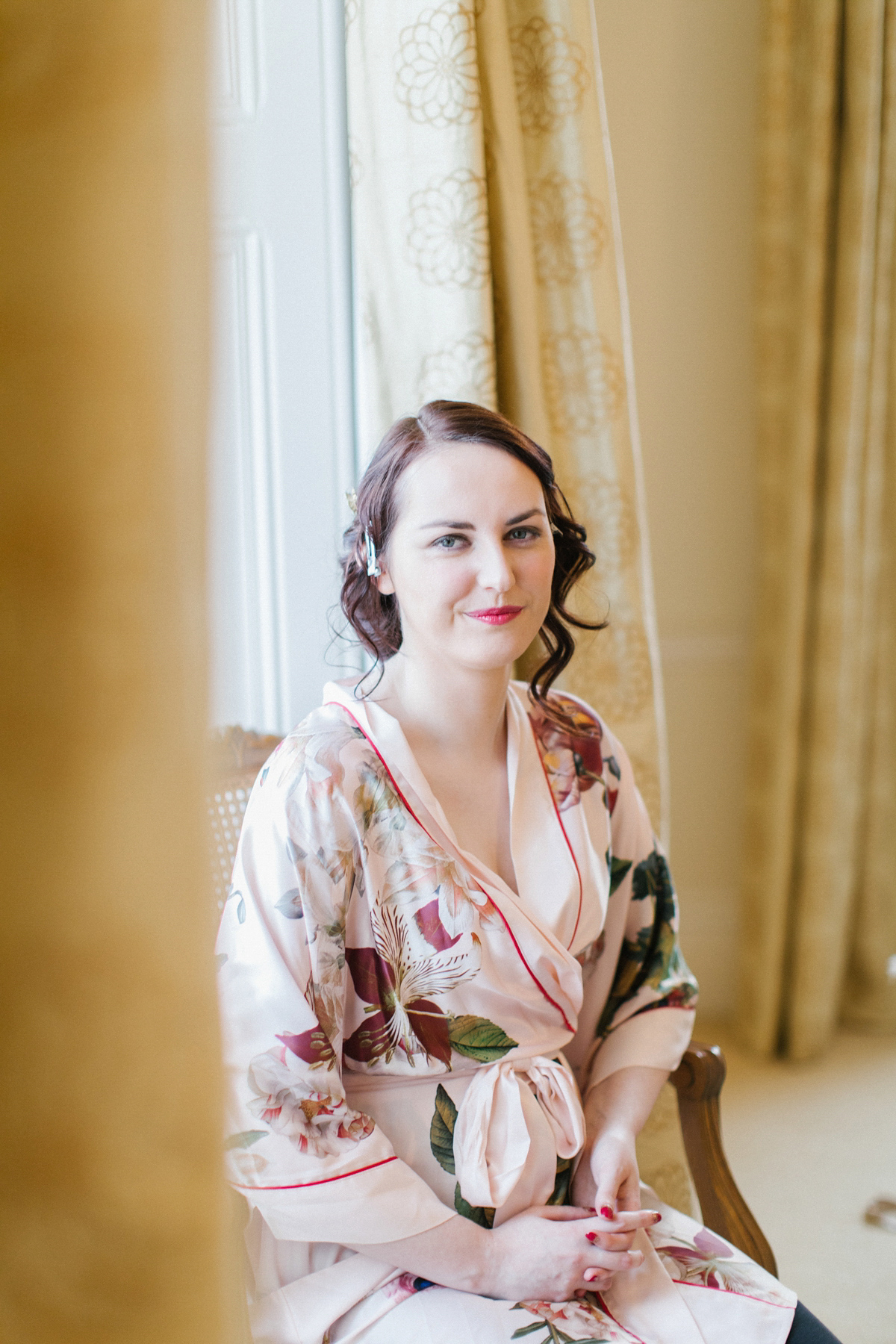 "The wedding dress was the most difficult part of the wedding planning for me. I had an idea in my head of what I thought I'd chose – fitted and lace with a sweetheart neckline but nothing I tried on felt right. I visited 3 shops. Accent Original in the centre of Newcastle, Kathryn Trueman in Morpeth and Mia Sposa near Central Station. I tried quite a lot of dresses on before visiting the shop where I found my dress and was starting to feel like I'd never have the 'this is the one' moment. It was Mia Sposa where I ended up finding my dress – a fitted silky, charmeuse gown with a cowl back, sabrina neckline and gorgeous vintage beading work on the shoulders."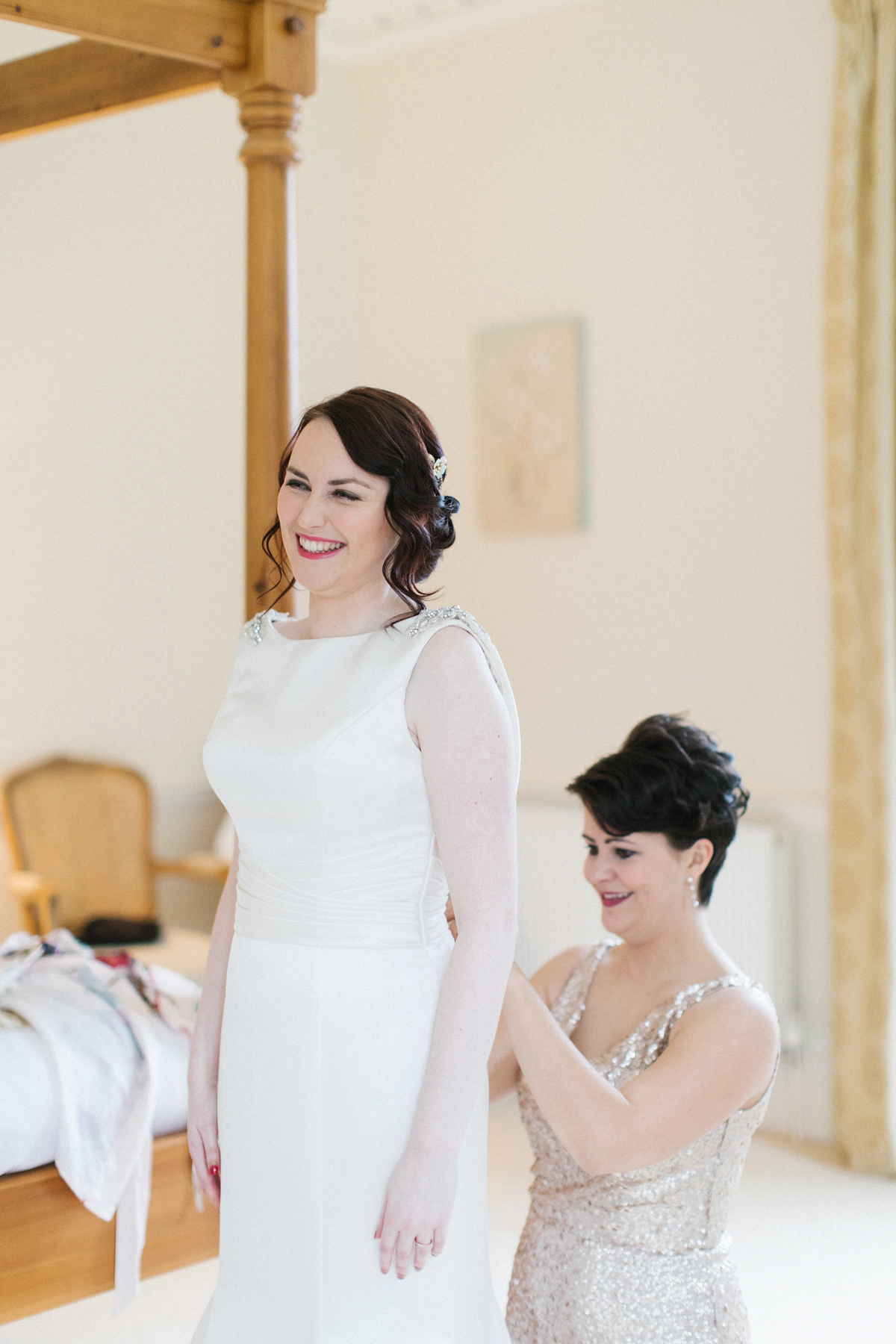 "I actually hadn't even chosen to look at this dress, after trying a few dresses on and liking a few aspects from each, the lady in the shop disappeared for a bit and came back with this one. I never would have picked it out myself, it was simple and classic and I wasn't sure about a sabrina neckline at all. But as soon as she zipped it up on me I instantly felt comfortable in it.
I completely fell in love with the detail on the back from the cowl back to the buttons all the way down the trail."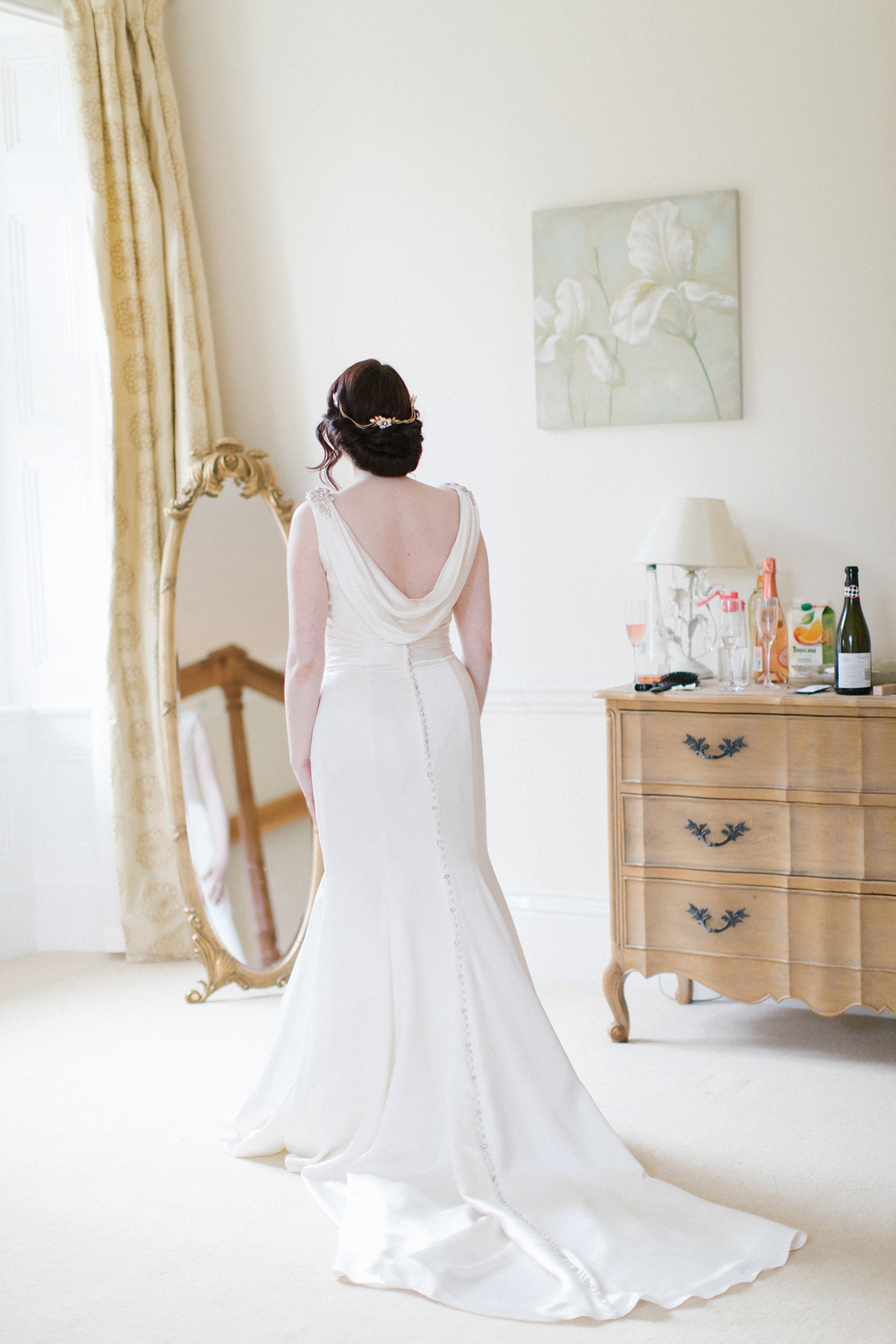 "As soon as I'd chosen the dress all the other details quickly fell into place. I knew I wanted a red lip and a coloured shoe and an elaborate cathedral length lace trimmed veil to offset the simplicity of the dress."
"Chris and I went to pick out my perfume together on a pre-wedding trip to Edinburgh. I loved the calming, oriental scent of Jo Malone's 'Dark Amber and Ginger Lily', one and it was quite fitting as we planned to visit Japan for our honeymoon."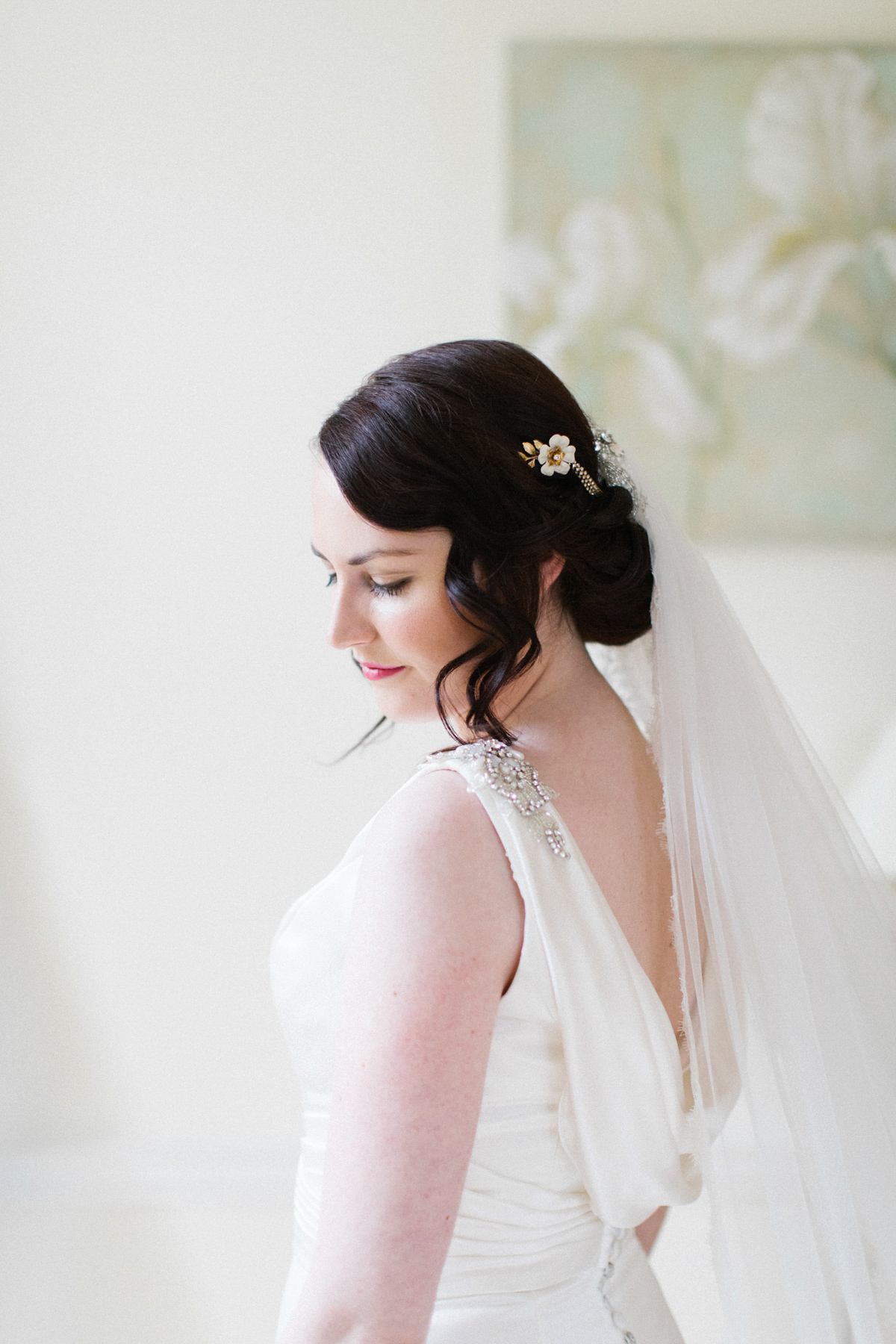 "My husband bought me beautiful earrings as a gift to open on the morning of the wedding and my lovely bridesmaids bought me a gorgeous rose gold bracelet to wear."
"I found Emmy London shoes through the Love My Dress Pinterest boards, which I will be forever thankful for."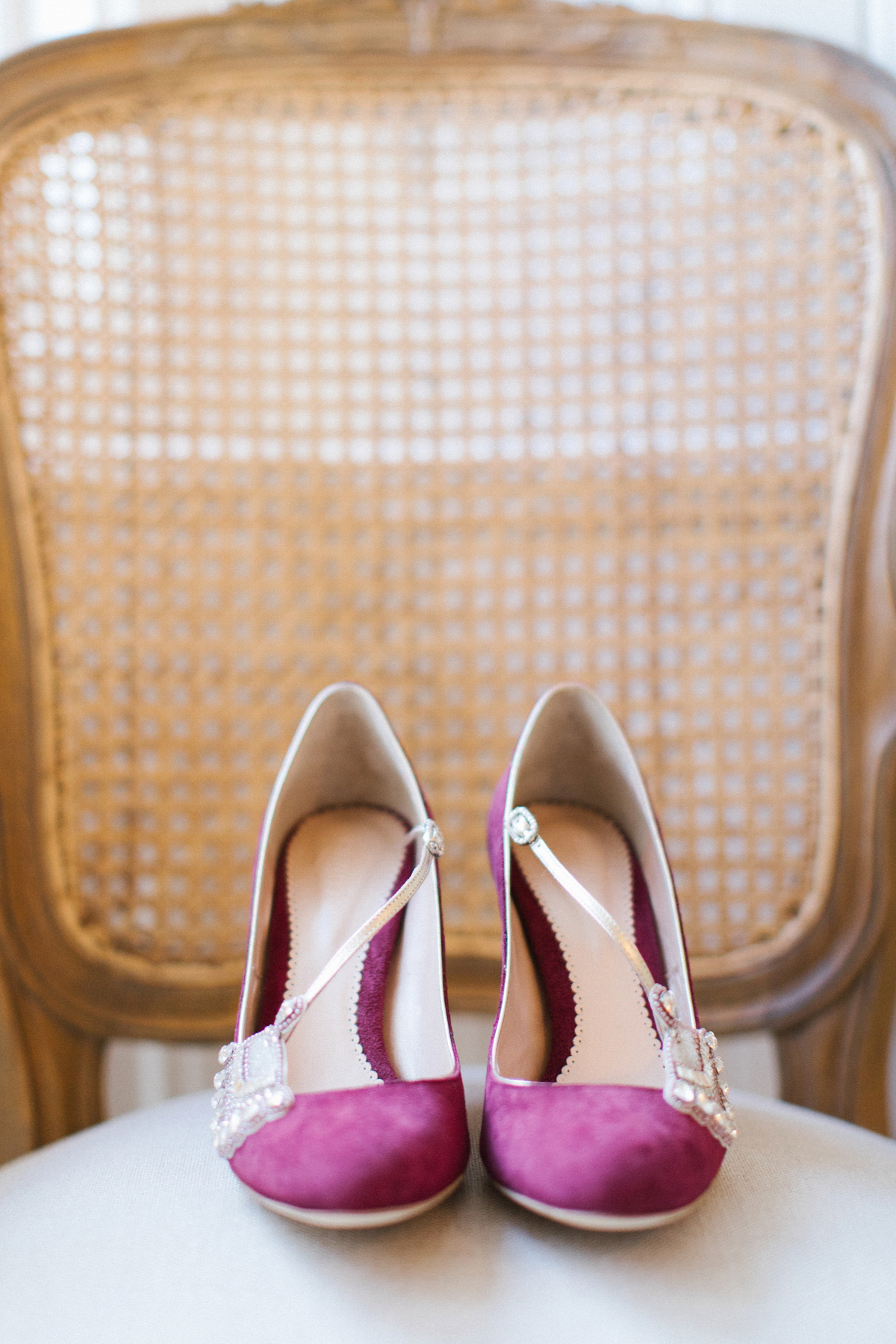 "Our florist was Lavender's Blue in Morpeth – I loved the idea of a wild, loosely-tied bouquet using lots of foliage like olive leaves, Eucalyptus and trailing ivy among the flowers. I chose deep wine coloured Piano Roses, Skimmia, red Astrantia, black Viburnum Berries, pink heather, and green thistle. The thistle was a nod to Scotland where we got engaged."
"The florist also wanted to include trailing Red Amaranthus but sadly they didn't bloom in time. When the Florist brought the bouquets up to the room I was thrilled, they were even more beautiful than I imagined."
"It's hard to chose one a favourite moment, but there was a moment when one of my bridesmaids sneeked me out of my room to have a peek down the staircase at everything set up downstairs for the ceremony just before I put my dress on. It was incredible seeing how everything had come together and I also got a glimpse of Chris for the first time that day too which was exciting and gave me butterflies obviously."
"Chris and I met at an exhibition opening that he was running as part of the Tyneside Cinema's art programme. We were introduced by a mutual friend and as we got talking we realised we lived on the same street. However, we didn't bump into each other again for another two months, on the bus of all places, very romantic! A year and a half later we moved in together and spent the next 2 years living happily together with a ginger cat called Jeffrey before Chris popped the question on top of Carlton Hill in Edinburgh on a winter evening walk at dusk. We were engaged for just under a year before our wedding day."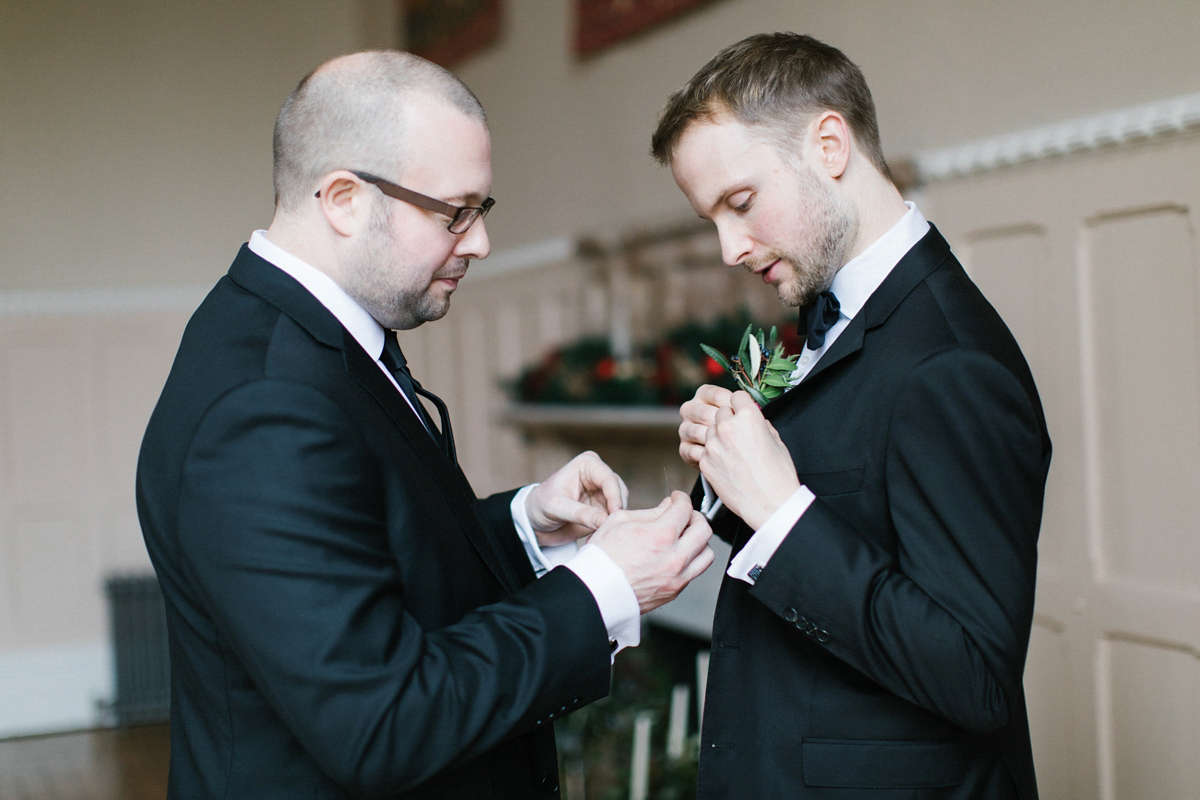 "Chris wore a Hugo Boss suit. Chris and I went to pick out his suit together in Fenwicks, Newcastle. We went with black to fit the black-tie, Gatsby theme and also because it would compliment the wine red and gold colour scheme."
"I gifted Chris clapper board cufflinks on the morning of the wedding as he's a massive film buff."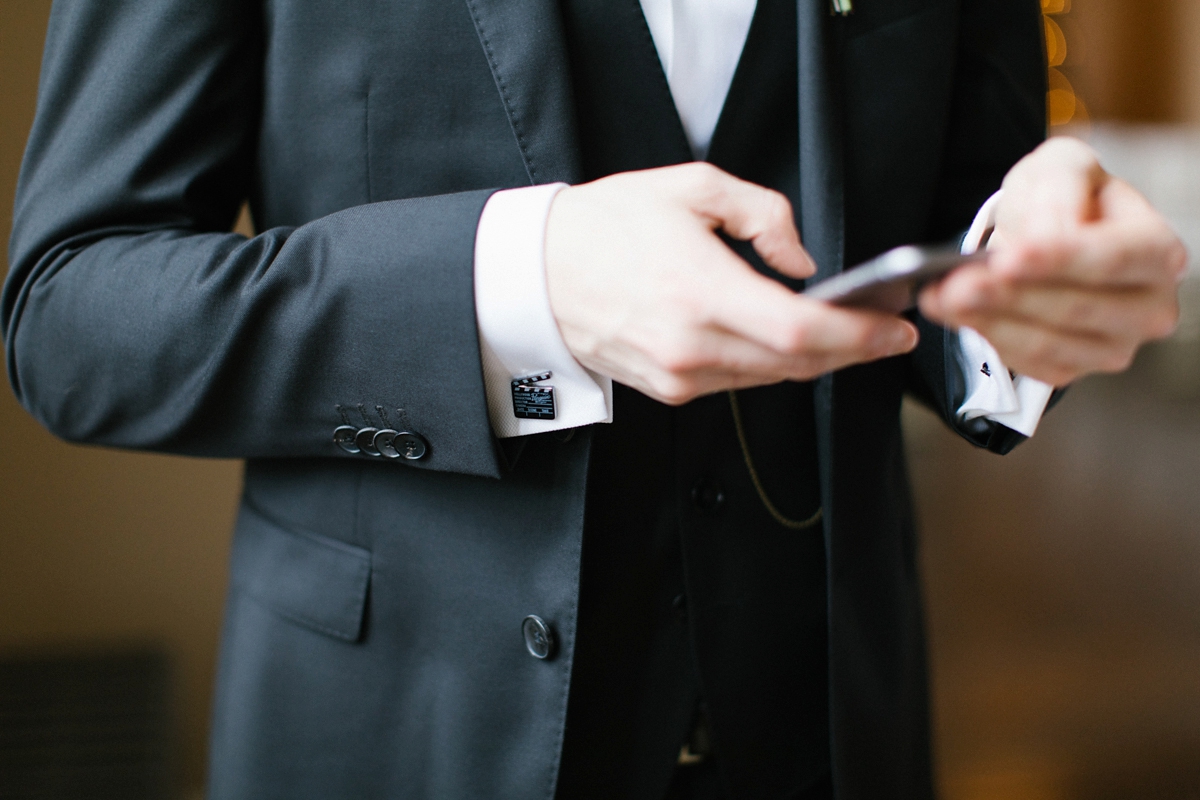 "My Dad accompanied me down the aisle to 'As Time Goes By', from my favourite film Casablanca."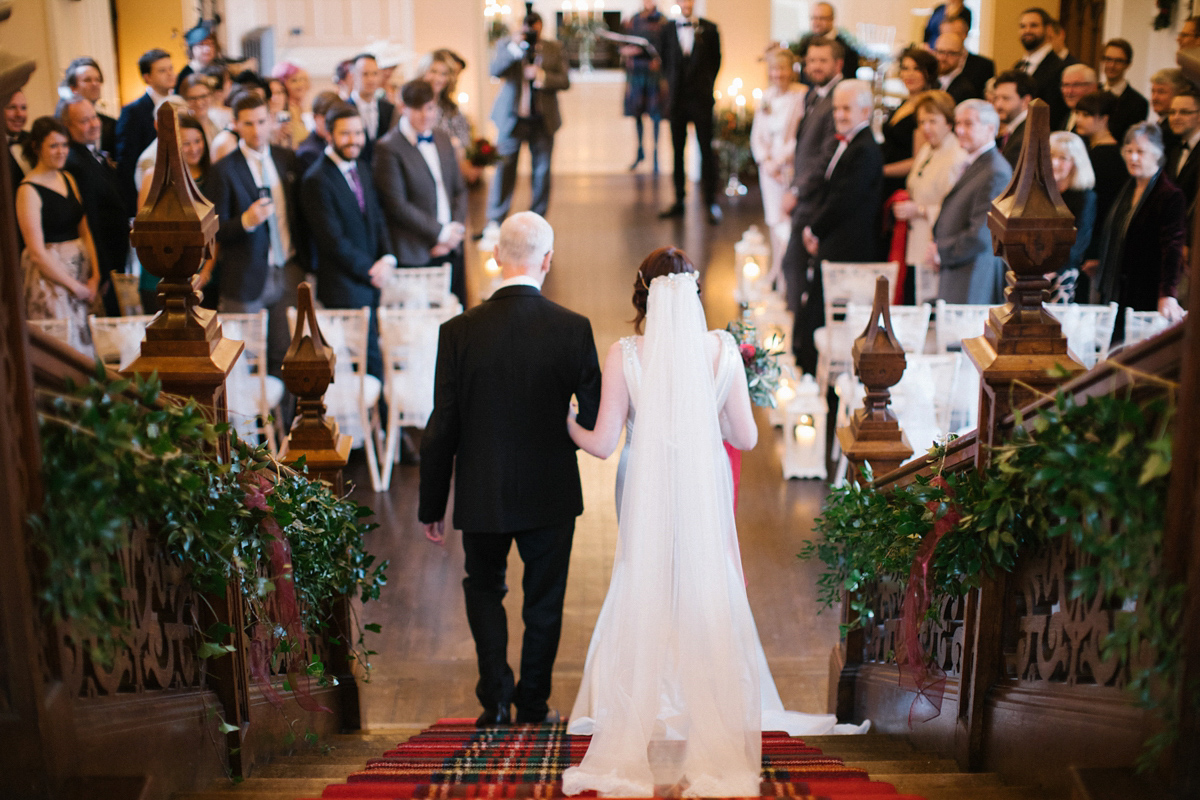 "We also had a candle ceremony which was a lovely way to involve both of our mum's in the ceremony and to acknowledge the joining of our two families, especially as we had decided to combine our surname's."
"We opted for a civil ceremony and we tailored our own vows. Neither of us are religious so getting married in a church and didn't feel right. We wanted the ceremony to be about the commitment we were making to each other and nothing else so wanted the vows and readings to be as personal to us as possible.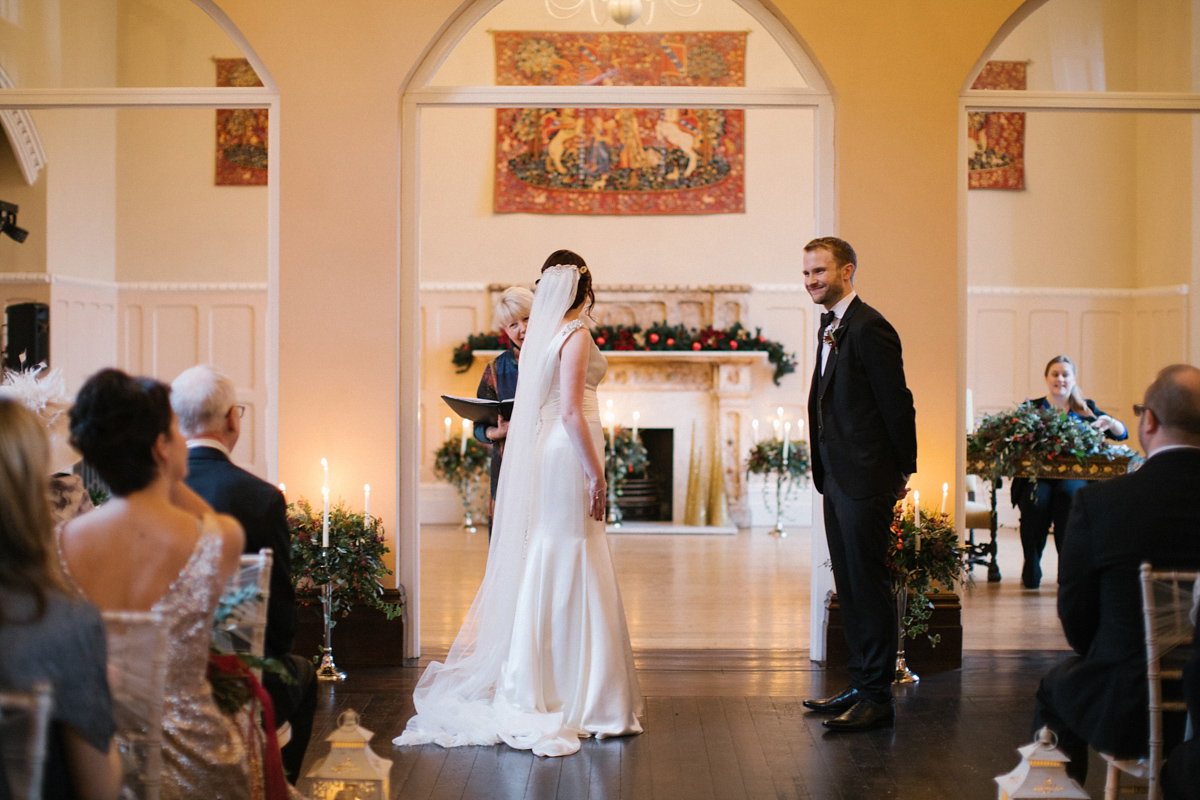 "We had a reading from F Scott Fitzgerald's 'The Great Gatsby' which fit the theme of the day read by my cousin. And one of our close friends read John Cooper Clarke's 'I wanna be yours' which is actually a favourite poem of my dads. Chris picked in out of a book of poems we were scanning through. He liked that it was a bit more relaxed."
"The vows we chose were still traditional but allowed us to share what was important to us about the commitment we were making to each other. And allowed Chris to put a bit of his humour into it as well."
"Chris opted for a matt-gold ring from Goldsmith's and I picked out a rose gold Tiffany & co diamond encrusted ring. My engagement ring has a very dainty, thin band which really suits my finger as I have such small hands. The ring complimented it perfectly, plus going to Tiffany on Old Bond Street in London was so much fun!"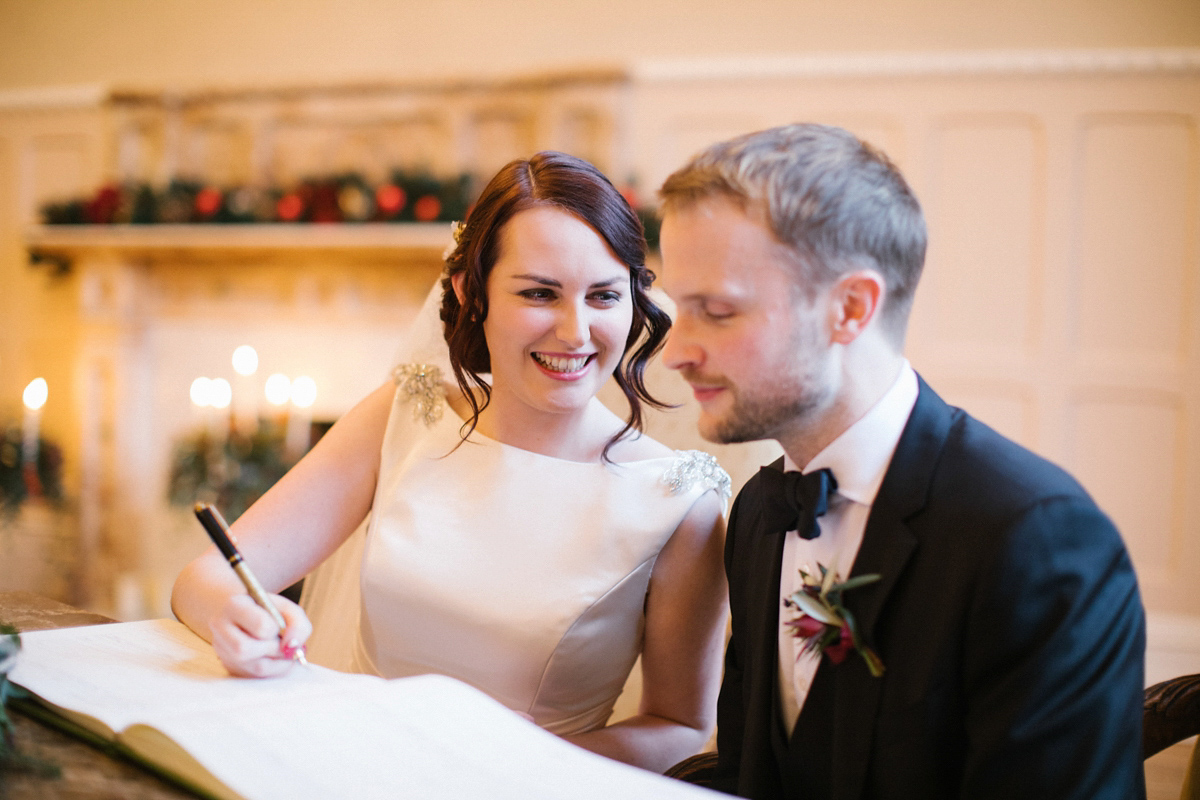 "We both said that we were surprised by how much we enjoyed the ceremony itself. I think we thought it would be all stuffy and something to 'get through' but actually because we'd personalised it so much it was probably the best part of the day. We were both beaming all the way through it and he gave me one hell of a movie-worthy kiss at the end as well!"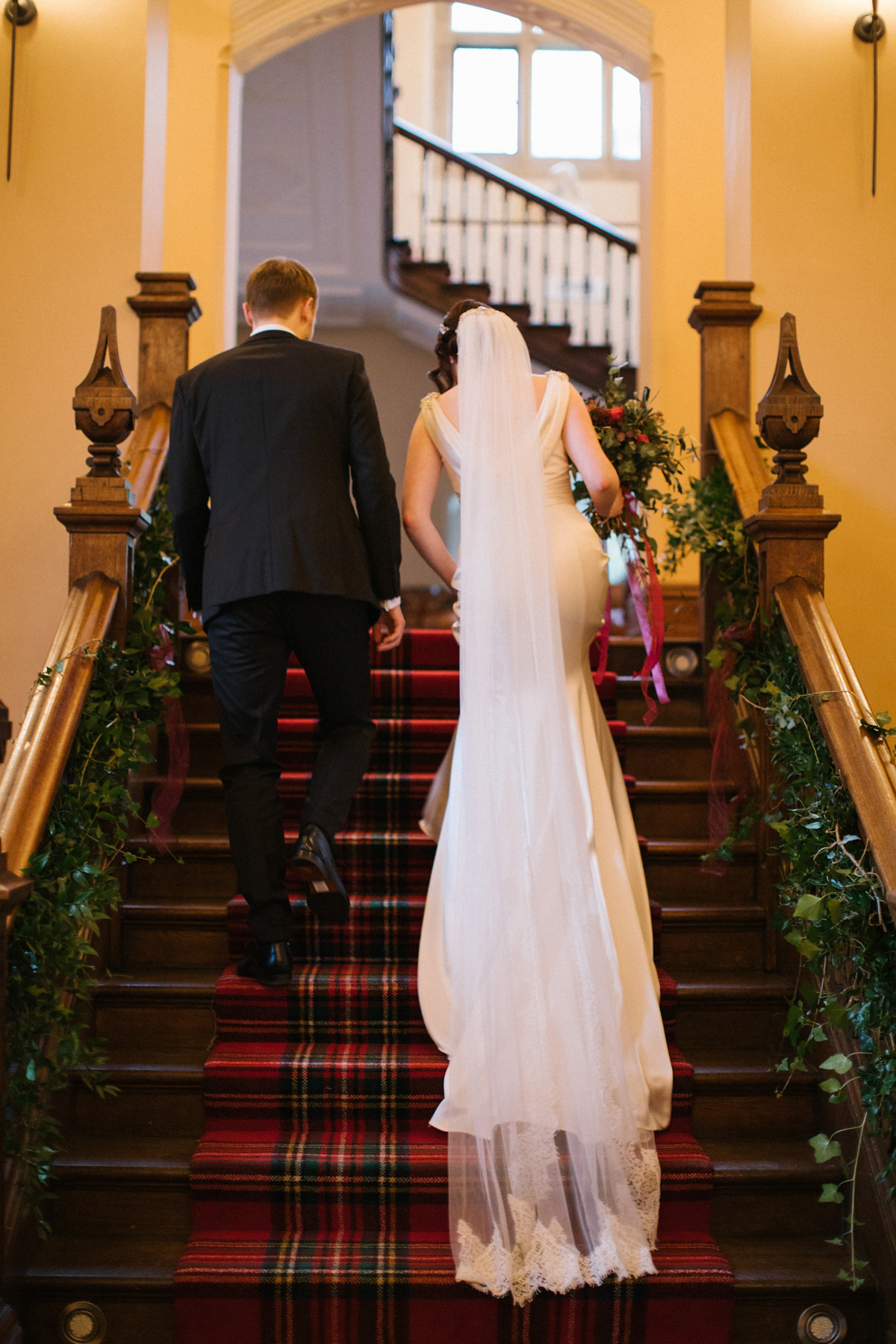 "We asked the groomsmen to dress in black suits and picked out black ties from Reiss for them."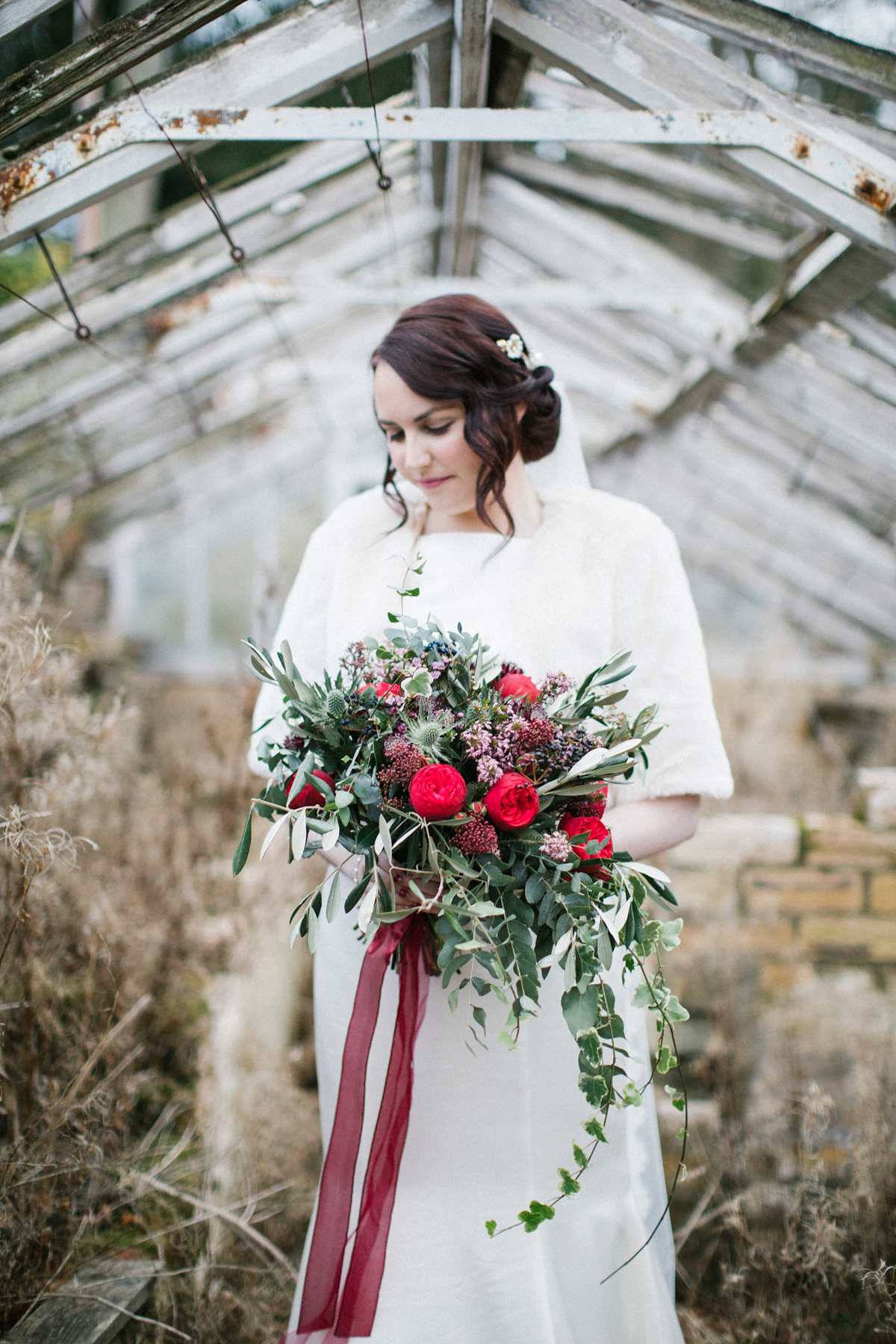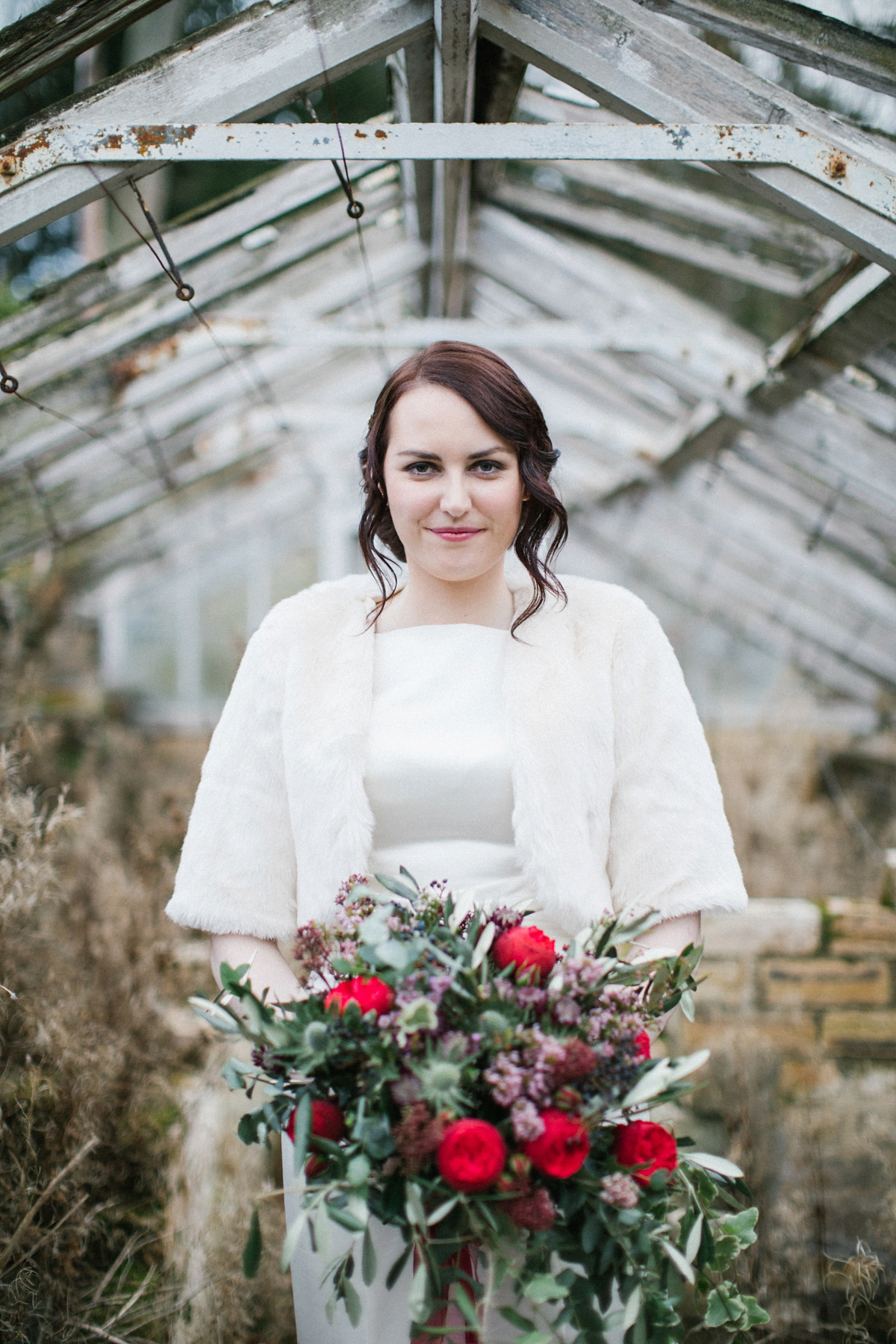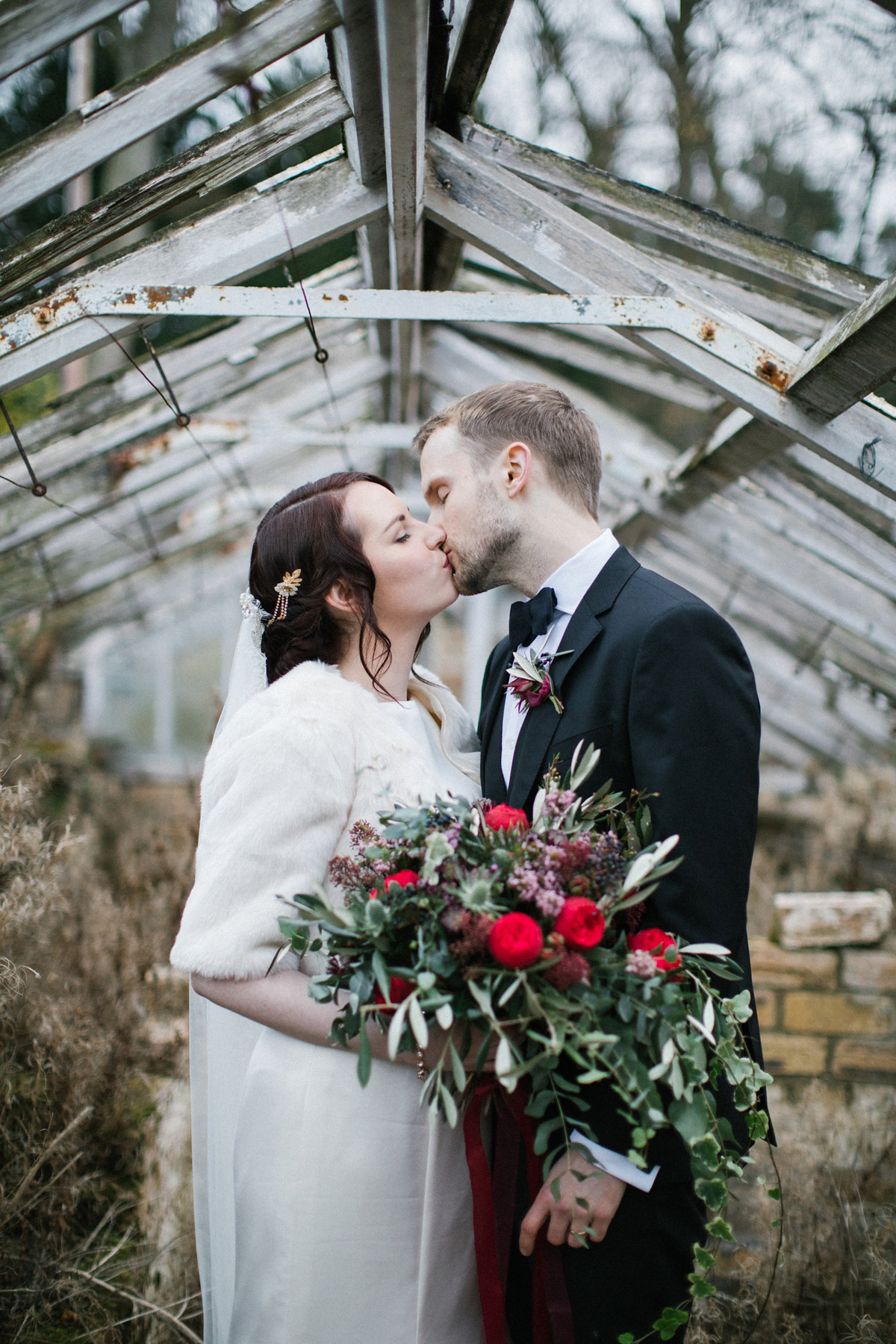 "With it being Christmas, I decided to make Christmas tree decorations for favours. I made them by attaching different styles of vintage keys to gold ribbon and labelling each one with the date of our wedding so our guests could hang them on their christmas trees and remember the day."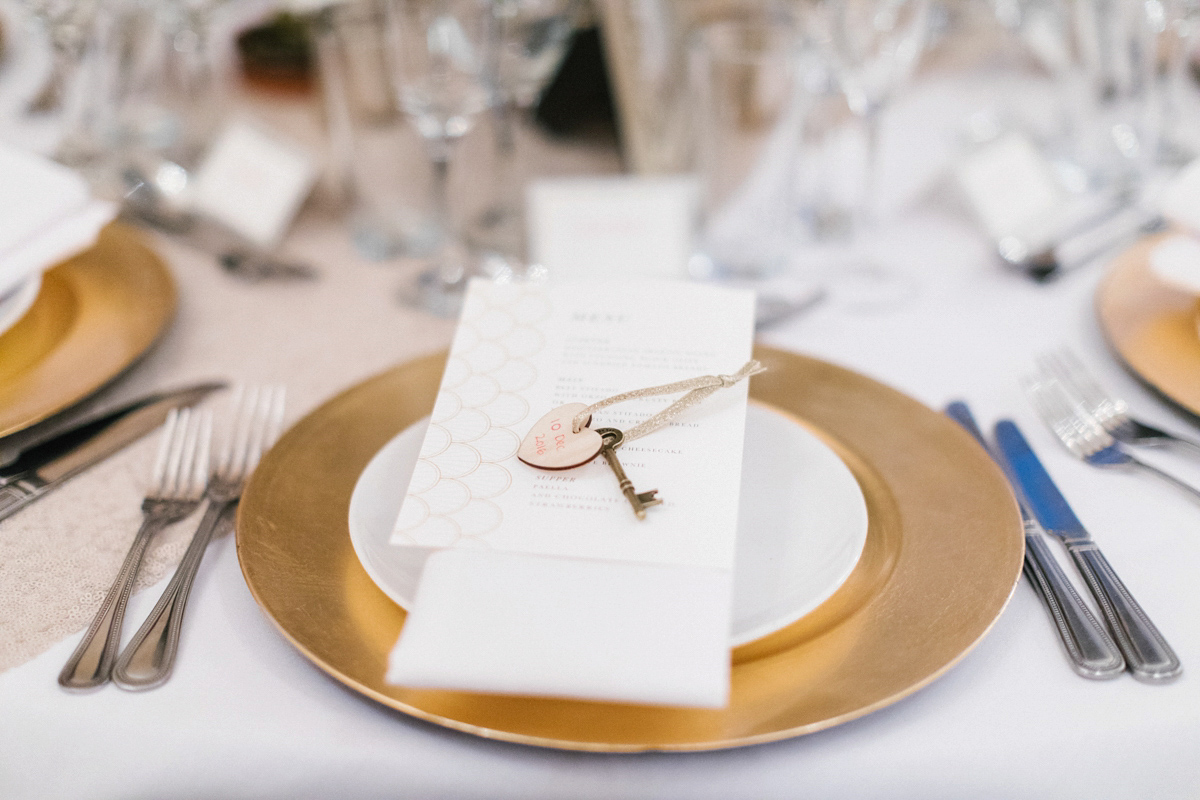 "We hired a lot of our decorative items from The Event Dressers. This included gold table runners, lanterns to line the aisle, tealight holders for the table and chiavari chairs with lace bows. We also had candelabras on the tables but these were provided by the florist.We also had crystals scattered on the tables, candles everywhere and the table names were in gold vintage style frames. It's a strange feeling leaving everything out the night before and hoping it's all going to come together on the day. June and Ashley at Middleton Hall were absolutely amazing at co-ordinating ad setting everything up though. The place looked amazing, exactly as I'd pictured it."
"Chris's friend, the very talented friend David McClure, founder of Velcro Belly offered to design our wedding stationery for us. He got the brief straight away and created beautiful art deco designs for us."
"Our page boy was a little bit ill on the day so ended up sleeping through the ceremony and the best man took care of the rings for us but he had the cutest little bow tie on when he came down to party later!"
"Wilkins Fine Dining worked closely with us to create a bespoke menu and really listen to what you're wanting from your food on the day. In the end we opted with a mediterranean sharing board for the starter and beef stifado with orzo for the main course. Then guests had a choice of cheesecake or chocolate brownie for dessert.
The reception food was incredible too. Neil made us mini shepherds pies with Henderson's relish as a nod to my side of the family from Sheffield. As well as Prosecco we also had Gin Ricky cocktails for the reception."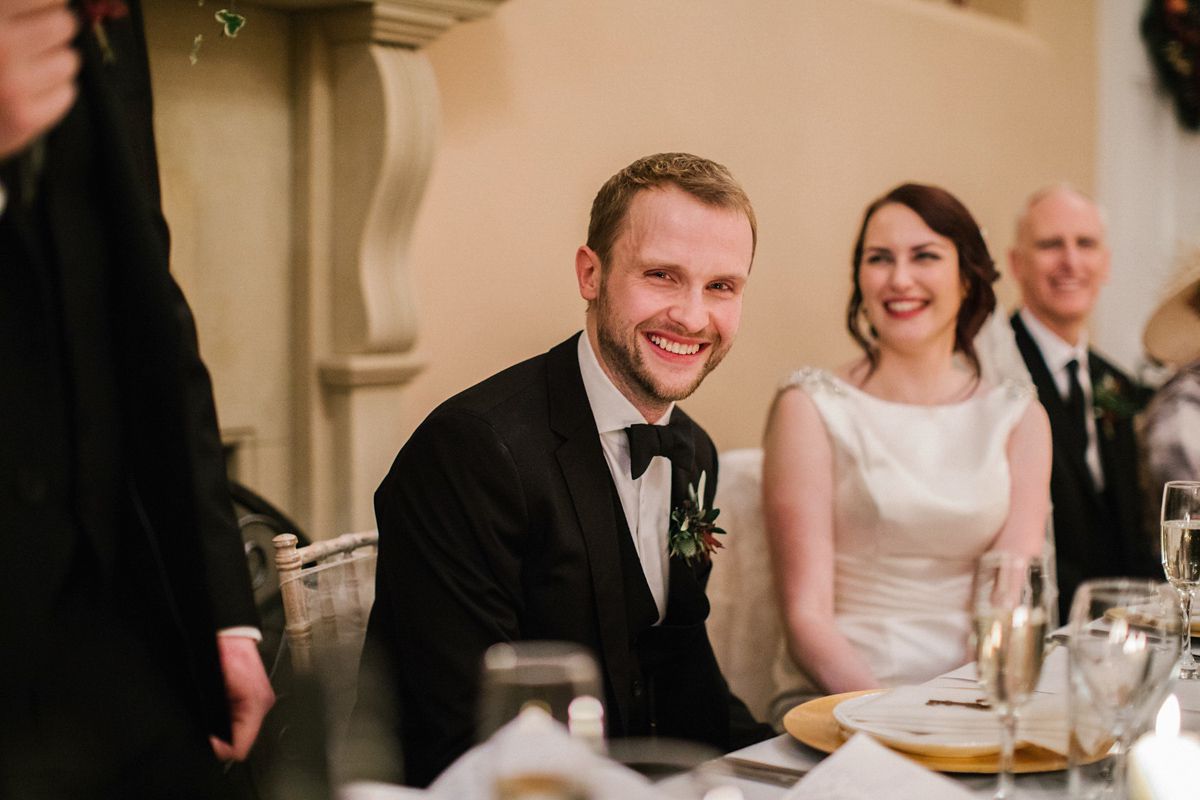 "Our cake maker was The Cake Garden – we chose a four tier cake made up of three different flavours – chocolate orange, and velvet and caramel apple. We went for a gold brush-stroke design decorated with wild flowers."
"We had a four piece jazz/swing band playing during the wedding breakfast and for the evening. It brought a lovely relaxed atmosphere to the room during the meal and the band upped the pace in the evening for the party. We've seen Scott Bradley's Postmodern Jukebox live a couple of times, his band puts together vintage compilations of modern songs and we wanted something similar for the wedding. Alice Grace and her Jazz Quartet were perfect."
"Our first dance was to 'Just Like Heaven', by The Cure but in a 1920's style performed live by Alice Grace. We both love The Cure and both dance a bit of lindy hop so it meant we could dance to it in a slowed down swing style."
"Chris had put together a playlist of our favourite songs for when the live music finished and we just hooked our laptop up to a PA system and pressed play."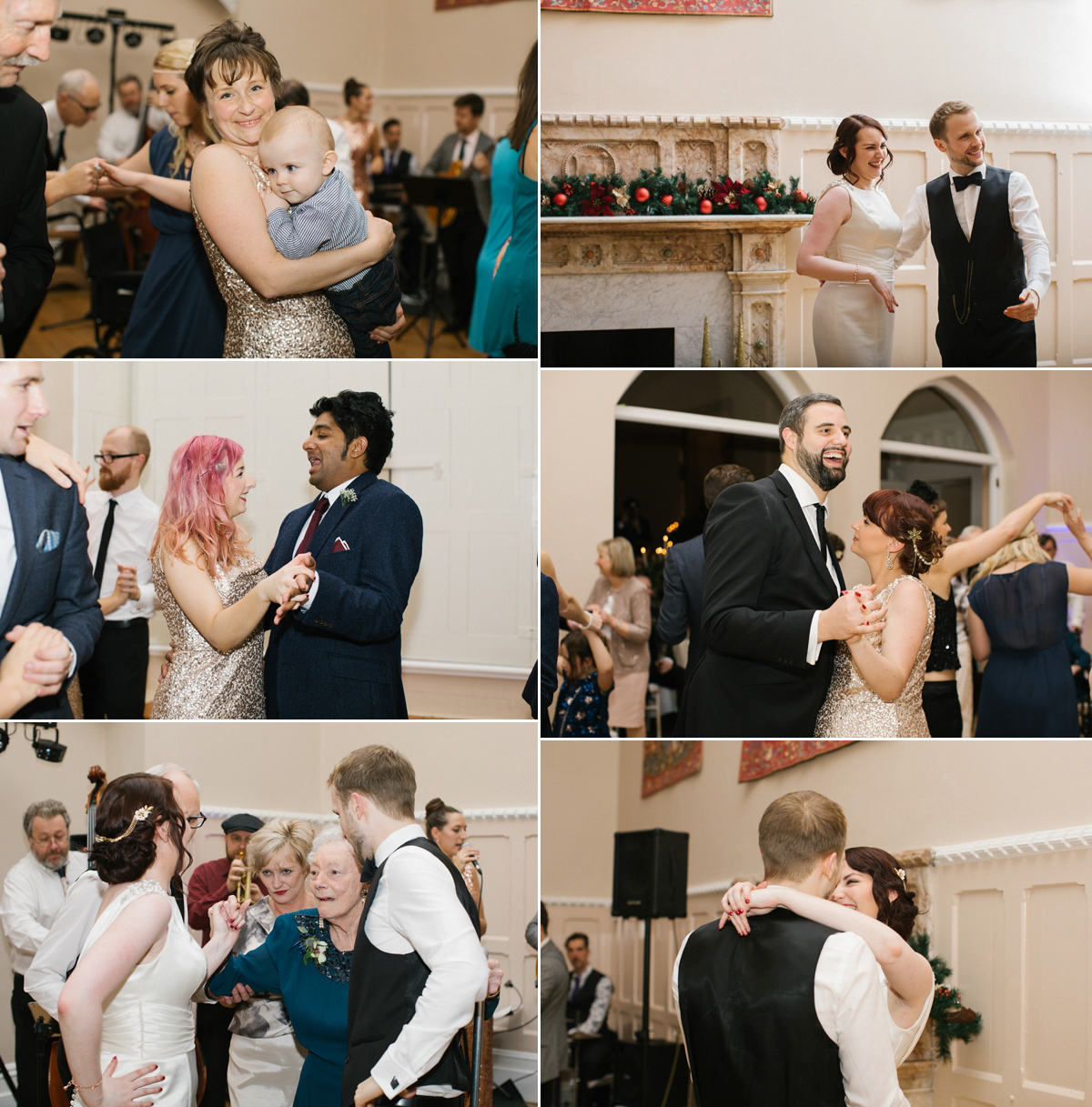 Words of Wedded Wisdom
"On the day itself, just don't worry, relax! Your bridesmaids, groomsmen and parents will take care of everything, and you've already done everything you can. Just sit back and enjoy everyone fussing over you and try to take in every moment instead of obsessing about the details.
Also, tell your husband-to-be to face you as you walk down the aisle. There's nothing better than looking at each other as you're walking down.
I don't think we realised how much stuff we had to transport to the venue the evening before. Definitely think ahead and maybe hire a van or arrange for the groomsmen to help out."
Thank you so much Melissa for sharing your lovely photography with us today. And our love and congratulations to you too Hannah and Chris.
Love Annabel x