This bride and I have a love of rose gold in common. A little bit different, soft yet alluring, it's a colour that lends itself beautifully to a wedding without feeling too overdone. Her engagement ring is rose gold so they used this as a starting point in the planning. The bride in question is the lovely Nikki, an assistant manager at a golf club. She married her beau Adrian, a contract and logistics manager at a furniture company, on a rainy Saturday in September last year. Their venue Knepp Castle Estate has an outdoor feel and is a complete blank canvas so they hired a tipi with fire pit from Beautiful World Tents and their bespoke ceremony took place in the garden.
These colourful and fun images were taken by Emma of ELS Photography, who is a member of our Little Book For Brides directory.
"We spent all of Friday setting up and dressing the tipis. Seeing it all come together as the best, some things were altered by the pouring rain but that was nothing we could control, we had done everything that we wanted."
Nikki's sleek Enzoani dress was paired with her ivory birdcage veil from Lily Bella.
"I wanted something quite simple in shape and fit but with lace and a little wow – this just fit the bill perfectly. It was really comfy and I loved the detail on the back. Initially, I was looking for a wider off the shoulder neck with a ¾ sleeve but ended up with a high neck with no sleeves! Just shows you have to try different styles to find 'the dress'."
"We used a gettingmarried.co.uk wedding website to inform our guests of all the information rather than have a book for an invitation. It was great and we were able to incorporate RSVP's and our gift list in to it to keep everything in one place. We also had our own wedding blog in ours to keep everyone up to date when things might have changed."
"We met at the golf club where I work. We got to know each other a little before becoming a couple. We had been together five years when we got engaged. It wasn't a surprise proposal but something we both wanted once the time was right. We looked at engagement rings together and ended up having one made – we then had to wait 8 weeks before we could tell everyone, until I could wear the ring. We were engaged just over a year before our wedding day."
Nikki's dad walked down the aisle with her while 'Sweetest Devotion' by Adele played. The couple chose two readings which included 'I carry your heart' by EE Cummings, Nikki's favourite poem.
The readings also included an an extract from Captain Corelli's Mandolin by Louis de Bernières, where a father is telling his daughter about love and that it isn't just about lust but all the other things left over once lust has gone.
"Our wedding was performed by a celebrant called Claire from Creating Ceremony as we are not religious and wanted quite modern vows. We answered a questionnaire and met with her a few times so that she was able to really capture us in our ceremony."
"Whibley's Jewellers in Horsham had made my engagement ring and were so great we went back to get our wedding rings. I chose a plain rose gold band to sit alongside my engagement ring. Adrian opted for a palladium band with rose gold channel and inside."
Nikki's two bridesmaids wore wrap dresses from TwoBirds in rosewater, a lovely soft shade of pink and her two little flowergirls wore John Rocha at Debenhams.
The ladies wore the same ivory/blush flower clips as the bride and got their own accessories from Accessorize.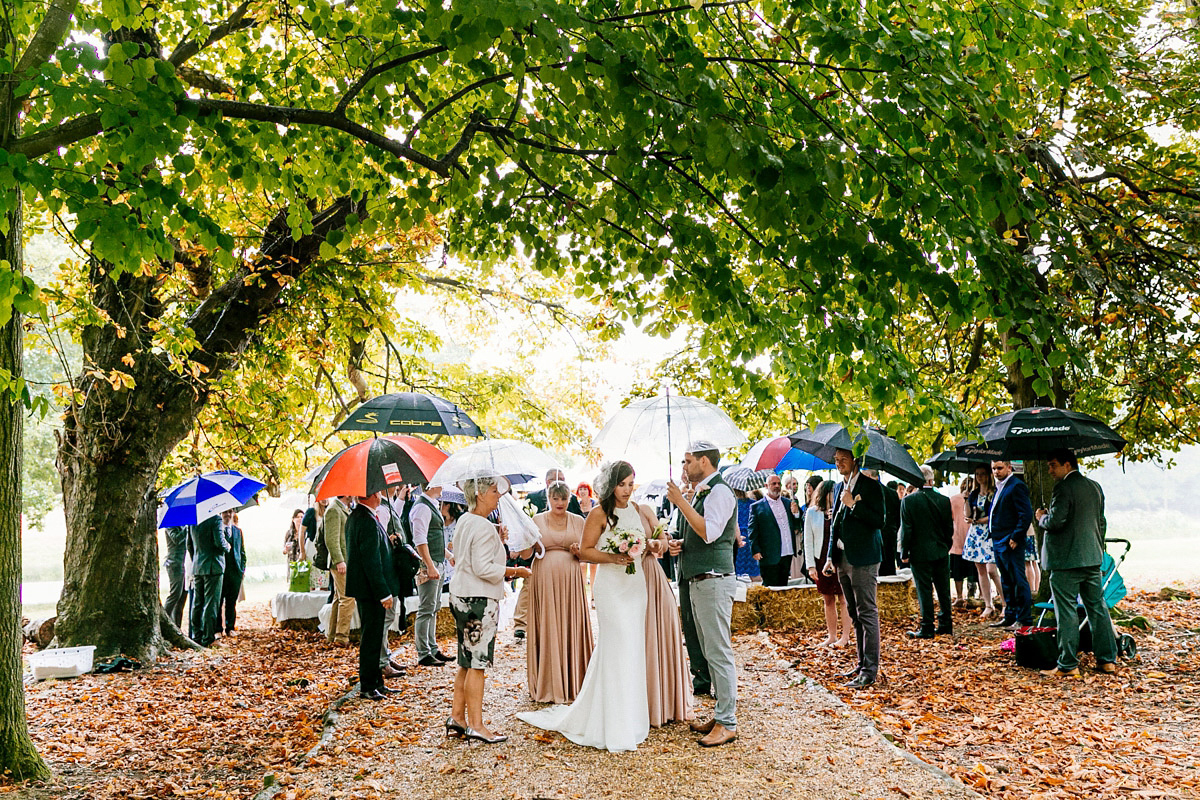 Nikki and Adrian chose the fantastic Emma of ELS Photography to capture their beautiful day.
"Emma was fantastic. We found her using google and various wedding blogs and loved her style of colour and fun. We met her for a drink and chat before officially booking which was great as we got to see her enthusiasm first hand (and her gorgeous albums) and get a feel for how she worked."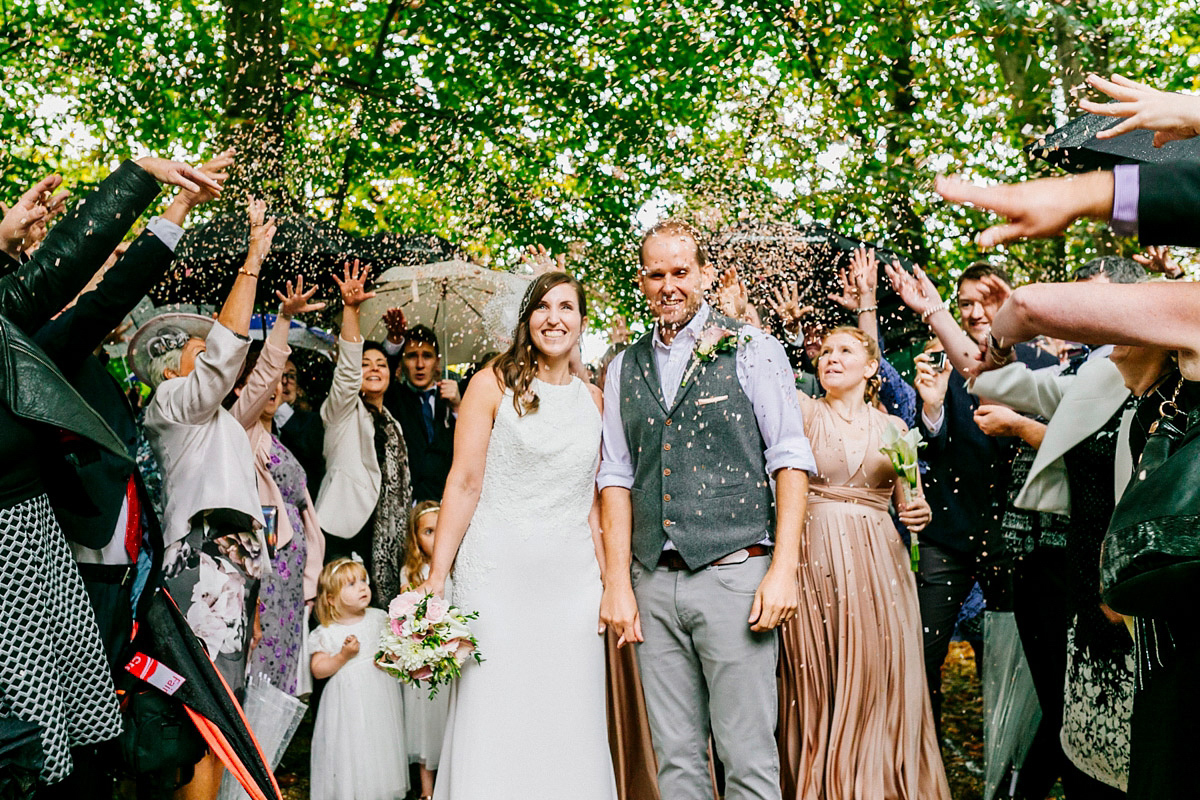 "She was the only photographer that offered us the chance to meet first and it definitely helped us to decide that she was the photographer for us. Whenever we needed to speak to her she was approachable and always kept us up to date, especially when a few days before the weather was clearly going to be wet.
We chatted and she was so reassuring that everything would be great and we should just embrace it with fun umbrellas and wellies. Our pictures are all the better for her making us feel so relaxed."
"Emma totally captured the essence of our day and our whole gallery is a photo commentary of that day. I would recommend her to anyone and cannot wait for our albums to arrive. A friend gave us the advice that this part of our day would stay with us forever and so it was the most important investment we would make. Emma was worth every penny."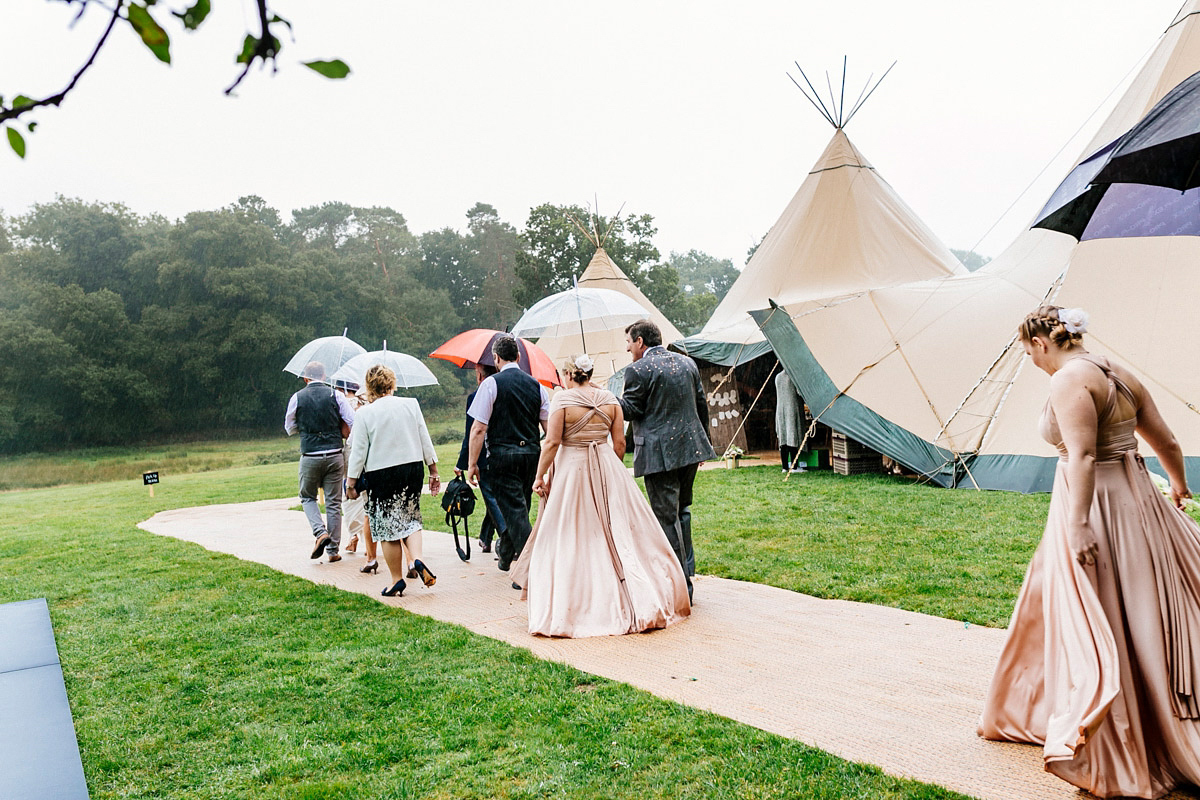 "We hired all the crockery, glassware and napkins from Co-Ordination Hire. Adrian made the copper napkin rings and we used lots of bunting and paper lanterns in ivory and lace to decorate the tipis, some of which were sprayed rose gold."
Nikki and Adrian wanted their food to have a social and interactive feel. They both love tapas so Paella Fella provided a gorgeous Spanish feast which the guests loved. They also hired The Ale Van, a mobile bar in a horse box.
In homage to every bunch of flowers Adrian has ever bought for Nikki there, the couple chose their local florist Stems of Southwater to provide the flowers for their wedding. Nikki's favourite flower, the Calla Lily was used for button holes, the delicate bridesmaids bouquets and in the bride's bouquet mixed with some seasonal blooms.
They wanted to keep a rustic look to the decorative flowers so used jam jars and tins which were spray painted to work with colour scheme.
The groom and his ushers shunned suits, instead opting for chinos from Zara, white shirts from TM Lewin and made to order tweed waistcoats from Victor Valentine.
"Victor Valentine make to order so Adrian was able to adapt the fabric, lining and stitch colour as well as adding a personal monogram. TM Lewin were also excellent. They measured everyone for neck, arm length and made sure they fit perfectly."
∂F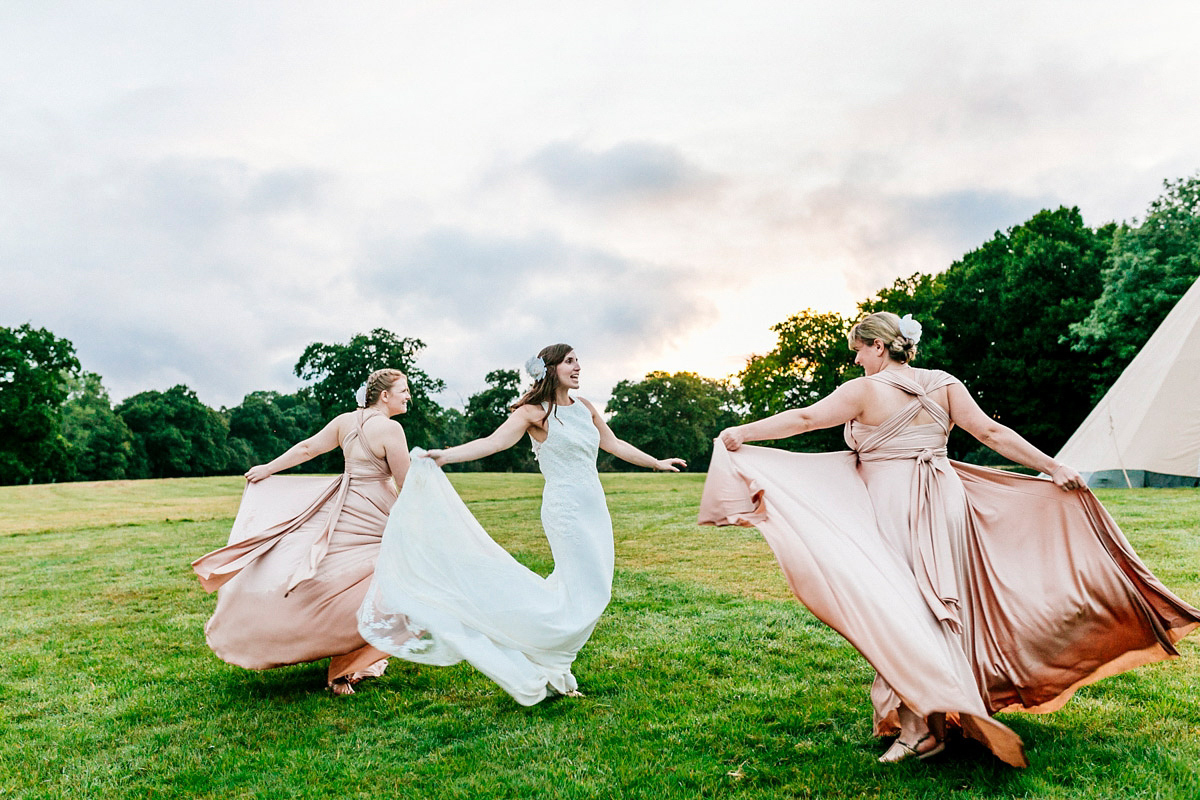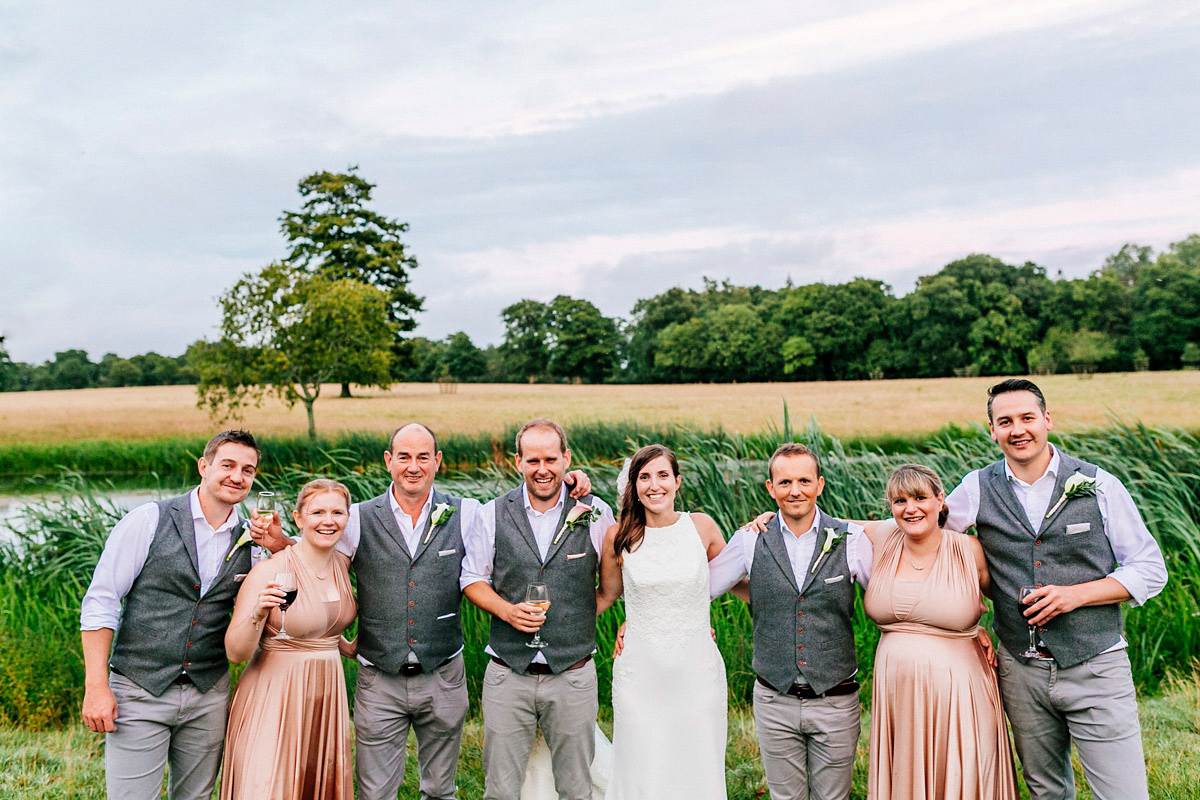 This clever bride made her own wedding cakes, three delicious white chocolate and ginger cheesecakes to be exact. They were placed on tree stump tiers and served up as dessert. A friend also made some cupcakes to serve with the evening buffet.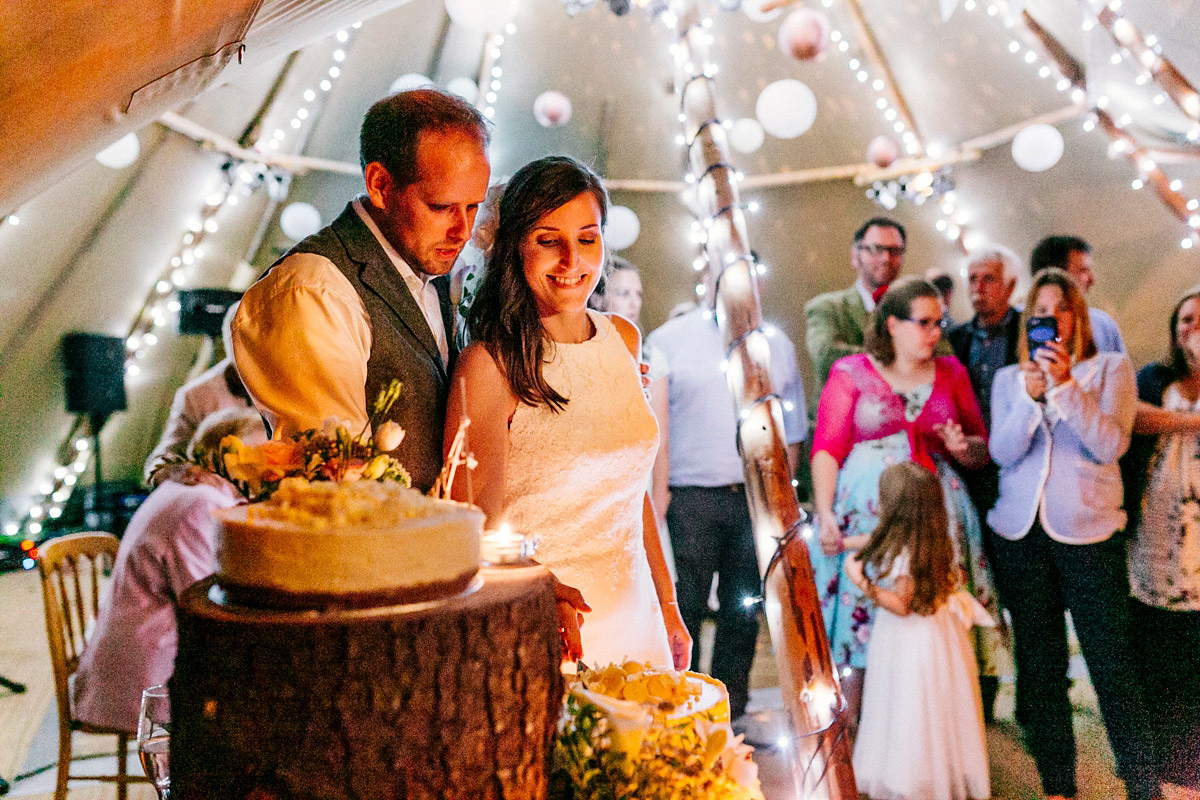 "We used iPod playlists throughout the day and had a live musician in the evening. We had seen him in local pubs and is also a friend of a friend."
"We weren't going to do a first dance but when we saw our musician perform in a pub a couple of months before the wedding he played 'Wicked Game' by Chris Issacs, a favourite of both of ours.
On our wedding day he was started with it so we had our first dance almost by accident. Our very last dance of the wedding was 'One Day Like This' by Elbow, where everyone got up and got involved."
Words of Wedded Wisdom
"Pinterest is amazing for giving you ideas, however, a lot of the things are professionally done and very hard to replicate so try to be realistic about it. Do what you want to do as a couple (don't let parents/family/other weddings make you think that what you are doing isn't okay) it's your day so have it your way. We spent a lot of time and effort sourcing items to have exactly what we wanted (and to save some money) and we handmade things to make our wedding very personal – it is a lot of effort but it is worth it. Make an investment into the things that will last forever – namely your photographer/photos/albums. The good ones do cost more money but they are good for a reason.
Enjoy it! Everyone tells you before your wedding that it goes so fast and it really really does. You spend months getting all the little things right, worrying about all the stupid things that might go wrong but on the day it won't matter. I felt very frantic the few days before the wedding but on the day I was so calm and happy. Everyone is there for you and to celebrate with you and nothing else is important – it is and always will be the best day of your life."
Thank you to Nikki and Adrian, it has been a pleasure sharing your wedding and Emma's gorgeous images of the day. More of her weddings can be found here if you haven't quite had enough pretty for one day.
Love Caoimhe xx