It seems sad to me, that the term 'vintage' has become a bit of a dirty word in the wedding world. It stems back to the vintage theme that became so popular c.2010-2013 but that then pretty much became a victim of it's own success; everyone wanting a piece of it to the point that the word became meaningless, cliche almost – an unattractive way to describe weddings. Such a shame, don't you think? Especially when the are genuinely so many incredible weddings on this blog alone that were inspired by the fashions and cultures of eras gone by. Perhaps they feature a gorgeous reclaimed vintage wedding dress, or the decor and styling is inspired by a particular decade. The 1980's are a relatively new addition to the vintage arena, the book I had published on vintage weddings in 2014, didn't even cover this decade, but were about to change all that with this gorgeous wedding today.
Sally, a Media Produce married Graphic Designer David on 27th August last year at Glenisla Parish Kirk, Kirkton of Glenisla, Angus. Their wedding is an incredible amalgamation of their love of 80's fashion and culture and colourful geometrics. These images were taken by our Little Book For Brides members and highly recommended suppliers, Rooftop Mosaic.
"The style of our day was very 'us' – a colourful combination of geometric shapes, mid-century and 80's graphics and a touch of rural Scottish-ness. We both have a background in design so were keen to create everything ourselves – from invitations to table names and decorations, orders-of-service to favours and all the venue-dressing. For the months before the wedding, our small flat was crammed with cardboard, origami, fairy-lights, paint, glue, home-made table runners, candles, bamboo skewers, fluorescent napkins and picture frames. David and I are also massive Prince fans so we managed to sneak in a few subtle references to His Royal Badness. After five days of hard work setting up, we had created our very own multi-coloured, geometric funk festival in the Angus glens!"
Photography by Rooftop Mosaic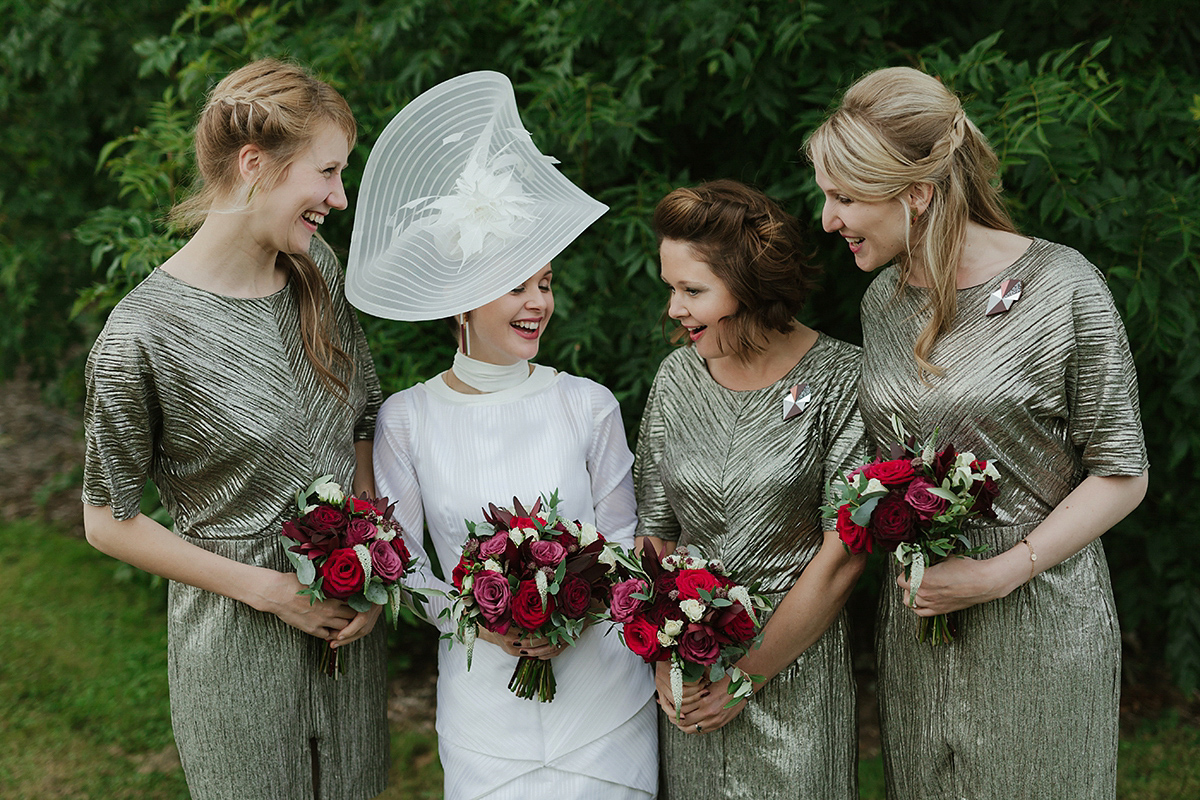 "My dress was made bespoke by Dragonfly Dress Design in Glasgow – it was two dresses (the base was a modern dress with origami skirt detail by AQAQ, and we combined this with a striped geometric fabric taken from a vintage 1980s dress). I also had an evening dress which was a 1920s-style beaded and sequinned number for some late-night disco glam.
I also wore a massive, ridiculous striped hat which I bought online and just fell in love with. It was so OTT it was either going to look totally chic or totally silly, so I didn't show anyone and just thought 'what would Grace Jones do?'""I spent a long time searching online for inspiration (I've never been into traditional wedding dresses so creating/designing my own seemed the best option!). My Pinterest board was filled with tailored Dior designs and mod-style short shift dresses. I also struggled to find anything which wasn't lace, crochet or flowers so when I finally saw the diagonal stripes of the vintage fabric I was very excited (even if it was on a big 80s meringue at the time).
Lisa at Dragonfly thankfully totally got it when I described my vision of diagonal stripy sleeves and contrasting angles."
"Our photographers were the fantastic and absolutely lovely Gail and David of Rooftop Mosaic. Not only are they extremely talented but also thoroughly decent people (and David is a fellow Prince fan, so we knew we'd made the right choice). They also did us a fabulous engagement shoot which really helped put us at ease on the big day."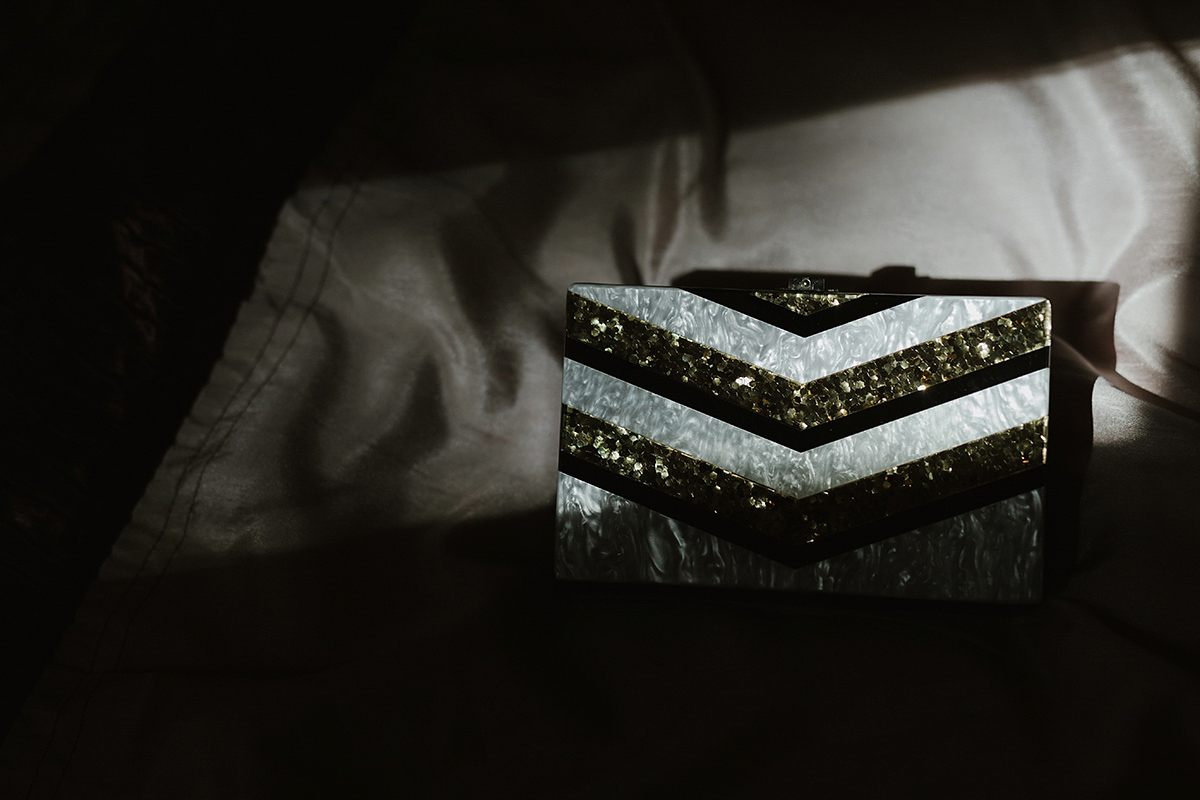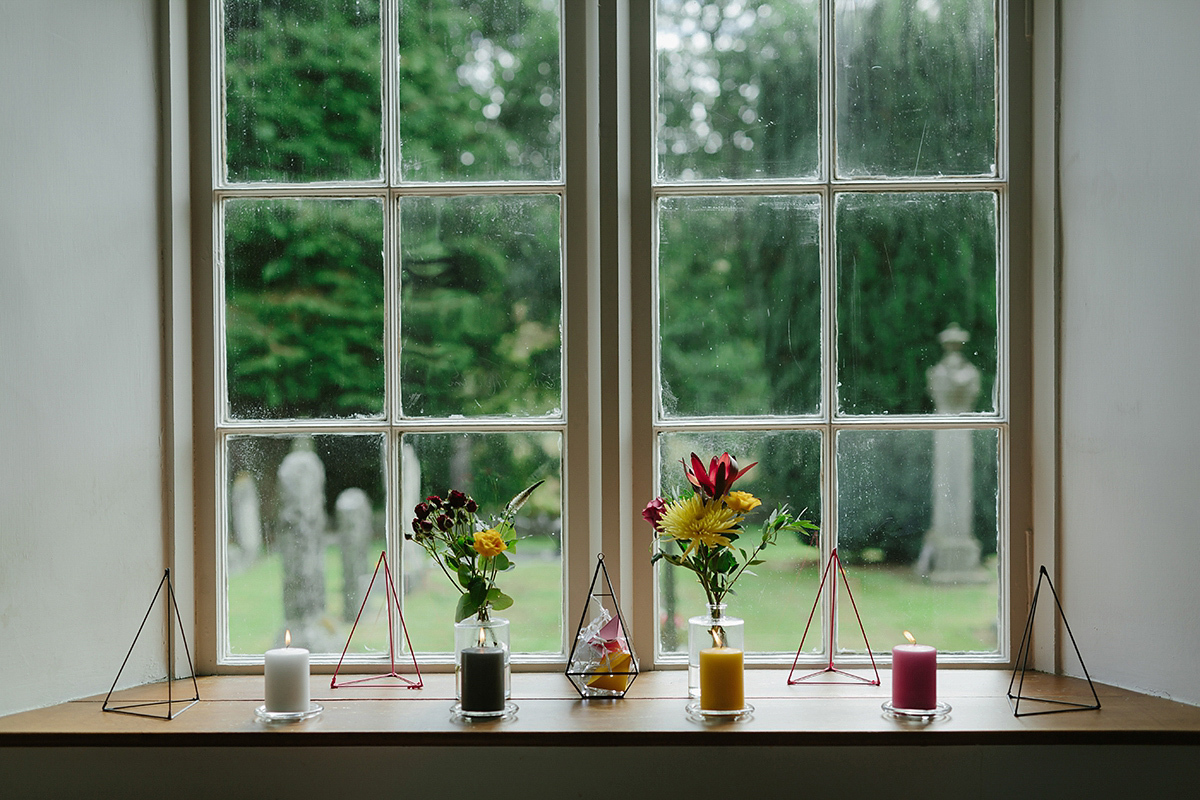 "I arrived in style in the back of a white convertible VW Beetle, provided by Classic Car Holiday, handily just up the road from the Church in Glenisla (thanks Bob!)."
"Our florist we chose was the lovely Emma from Betty Bluebell. I had seen her work online, then met her at a Braw Brides workshop in Glasgow."
"We wanted flowers to match the wedding colours of burgundy and deep reds with a splash of white. She also made a gorgeous flower crown for our flowergirl, as well as arrangements for the Church, the hall and the tables."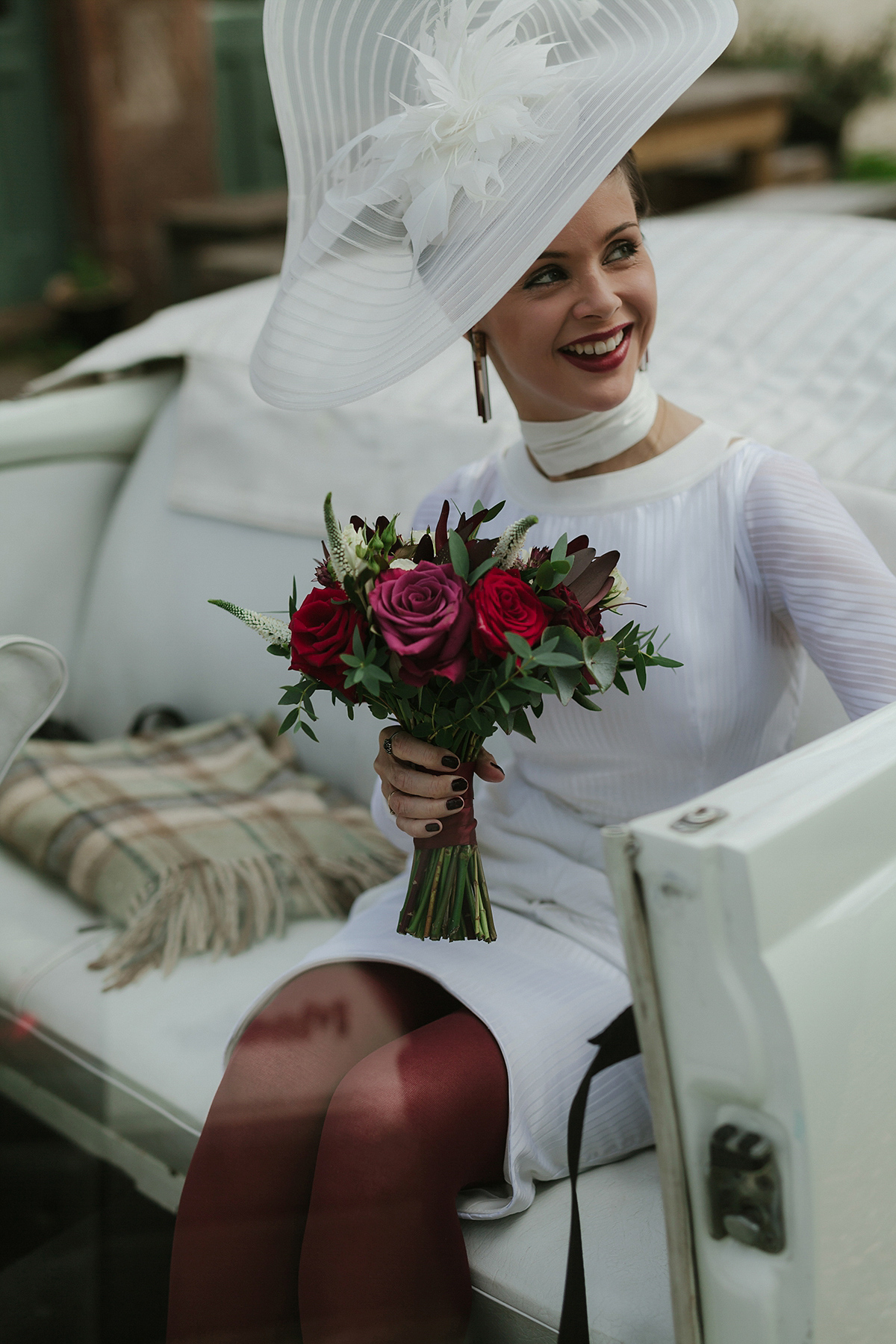 "My earrings were from Wolf and Moon (long, geometric white and burgundy numbers from their River collection) and I wore burgundy tights to match the Chanel rouge noir nail varnish."
"I also wore my Mum's vintage pearl from her own wedding day for 'something borrowed' and one of my Auntie's rings for 'something old'."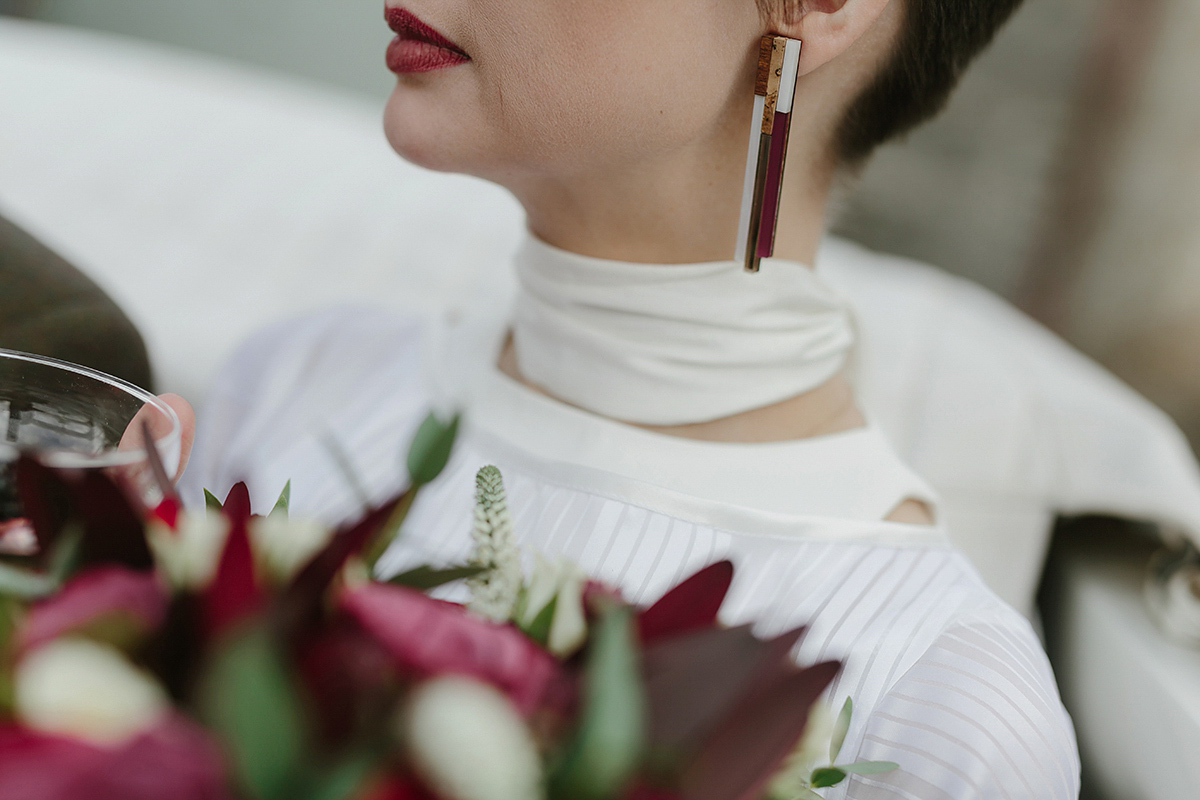 "I did my own hair, but my bridesmaids' hair was styled by Louise from SaloNori in Dundee (where I also get my hair cut). We also did our own make-up, although I did treat myself to a Chanel eye-liner as it was the most special of special occasions."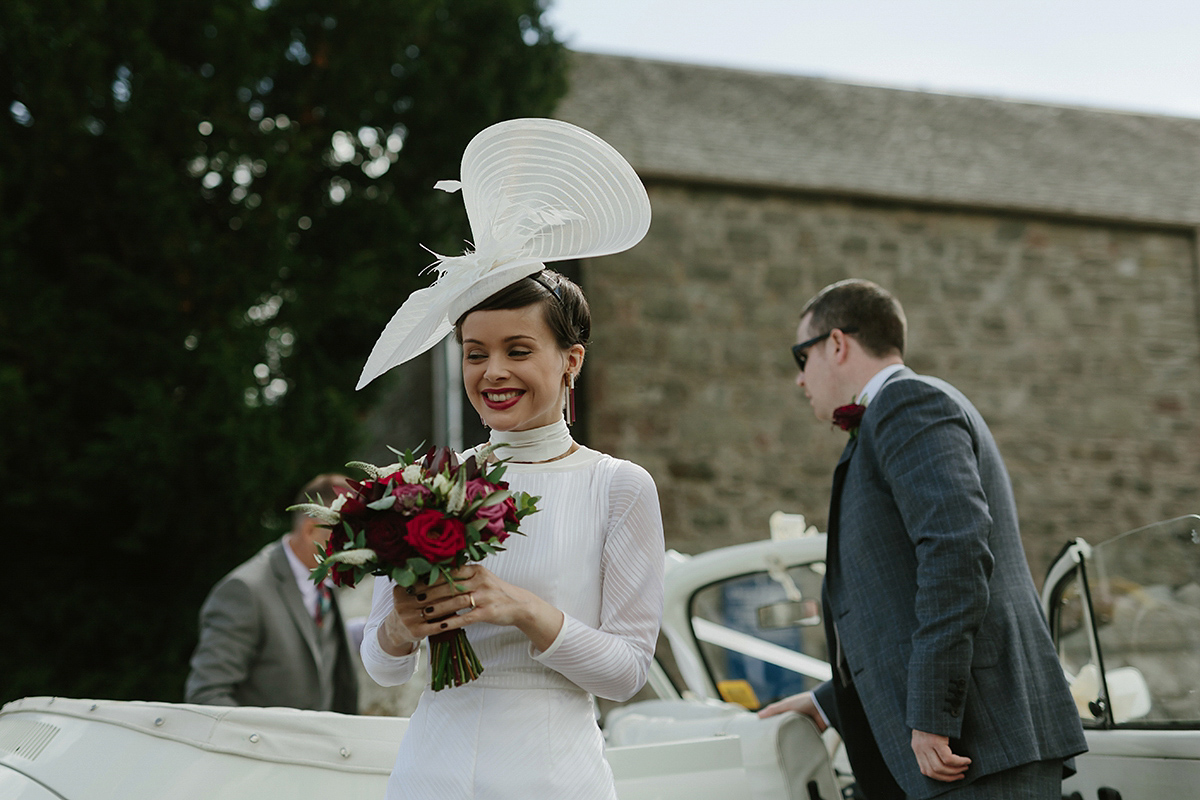 "My flowergirl wore a 1960s-style crochet shift dress from Next, with M&S tights and glittery shoes."
"My bridesmaids wore metallic, lame disco numbers from Mango and gold block heels from Topshop."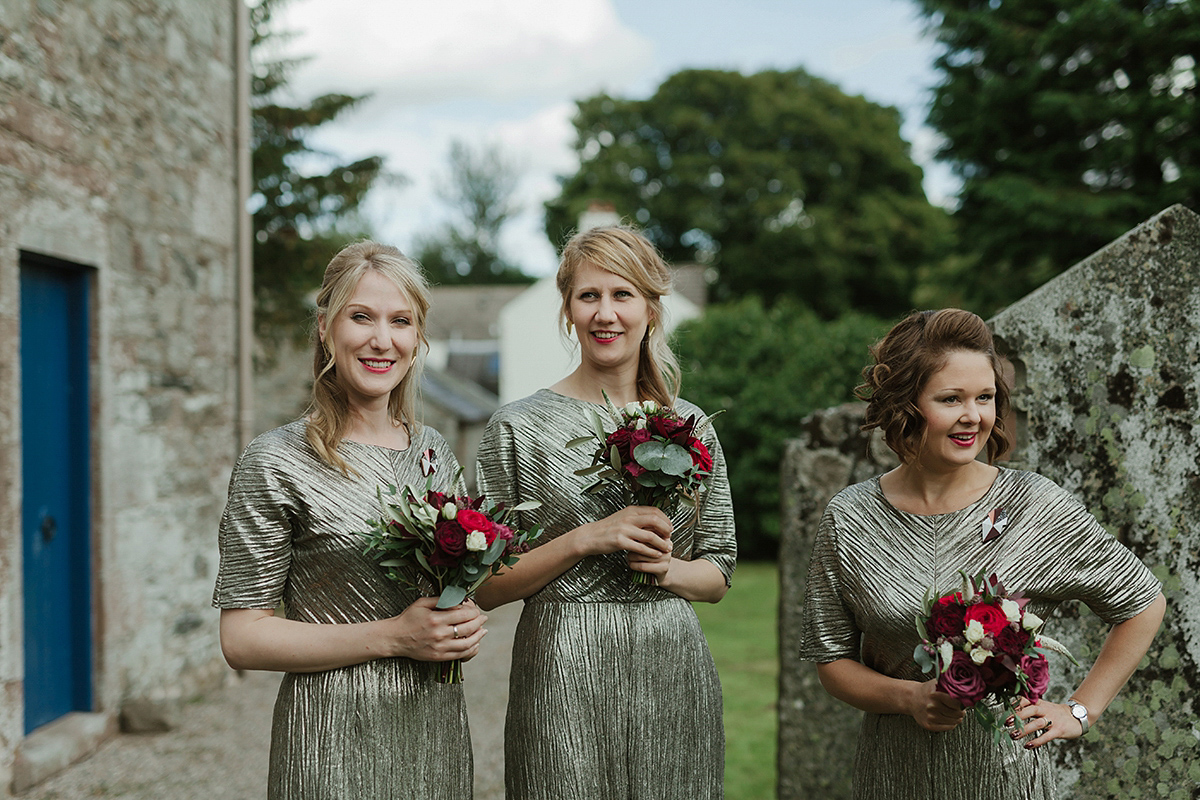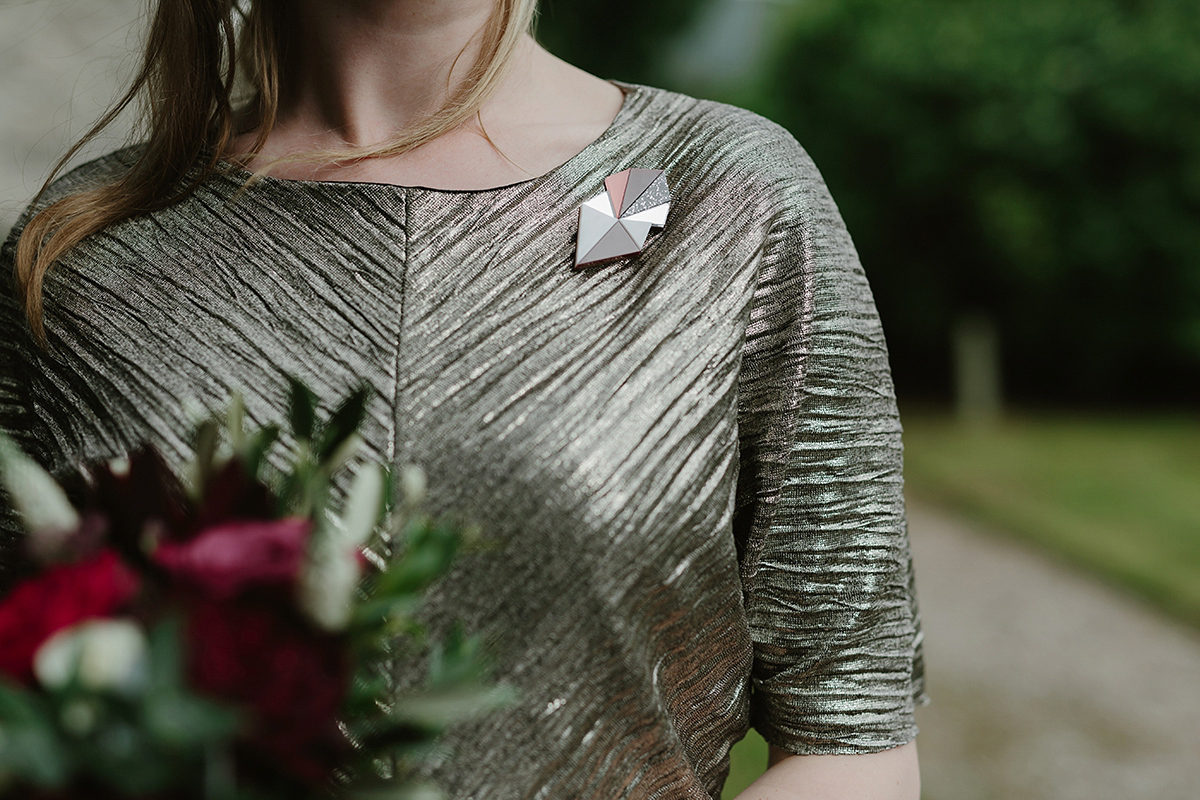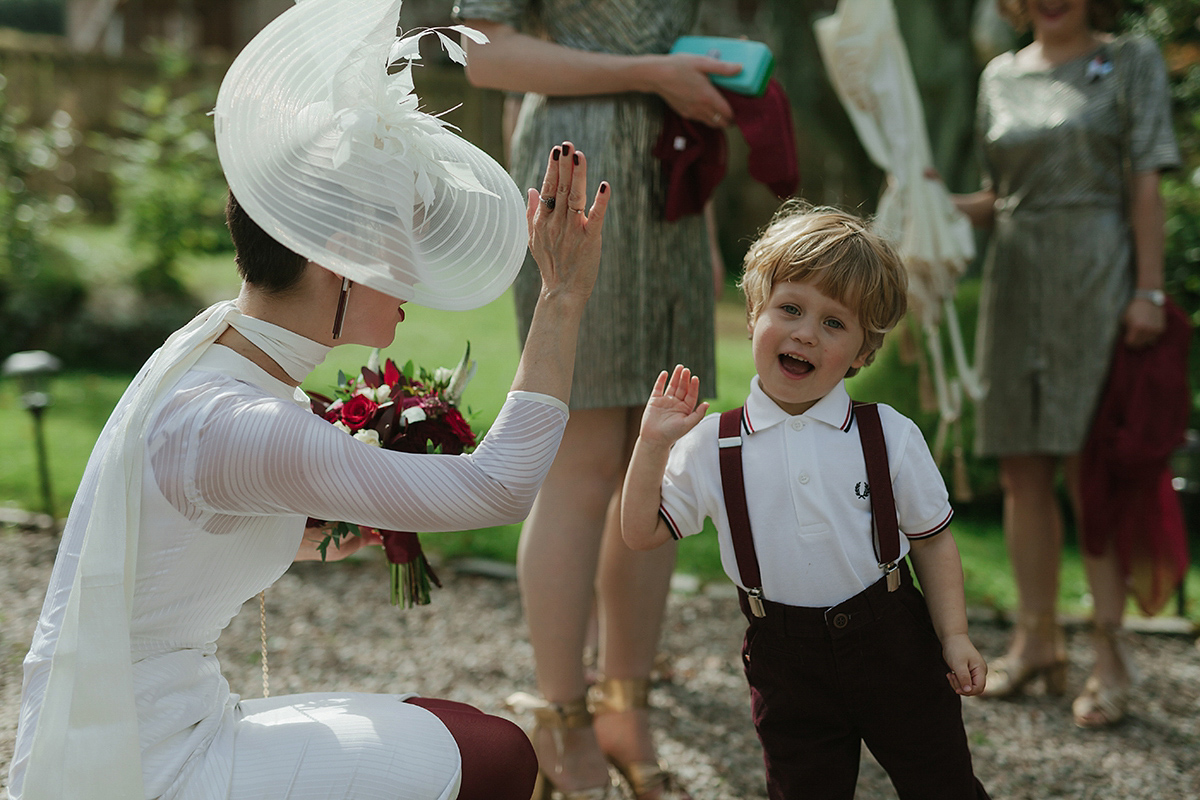 "We met many years ago when I was 16 and David was 17 – we pretty much knew straight away that we wanted to be together. We spent our formative years having a ball growing up together, and got engaged after our 16th 'non-iversarry'. David had planned to propose on holiday in New York, but a few weeks before we were due to go we decided, on a whim, to go for a walk in the village where my Granny lived."
"It was a beautiful late summer's day with not a cloud in the sky, and it was just a perfect afternoon. I had no idea that David was going to propose, so was busy rambling about something daft as we wandered up a sun-dappled, tree-lined avenue, when I turned around and he was down on one knee. We cruised back to my folk's house, giddy with excitement and had a fish supper to celebrate."
The couple designed and created all the stationery themselves – it had a geometric theme in keeping with the rest of the day.
"Our Church is a tiny, plain Scottish Church in a little village close to where my Granny lived and where my Mum grew up. I knew it from childhood walks and Easter picnics. It was a very personal, very relaxed Church of Scotland wedding."
"My Dad walked me down the aisle – it was pretty emotional. My guitar teacher, the amazingly talented John Curran, played an arrangement of Bernhoft's Stay With Me as I walked down the aisle, then he performed acoustic versions of Aretha Franklin's Say a Little Prayer and Jimi Hendrix's Little Wing during the service and the signing of the register."
"Our Minister made the ceremony very relaxed and personal, giving a lovely address about love, rainbows and one of her favourite bands. Our vows were simple and heartfelt (with some Prince lyrics subtly incorporated as well)."
"We had readings of Robert Burns, Corinthians and Dante's Divine Comedy, and our orders-of-service included a John Cooper Clarke poem (I Wanna be Yours) and another Prince song (Forever in my Life). Each one said something different about love, which is what it's all about really."
"Our rings were made by the very talented Katie Lees, who also made matching cuff-links for David. I had admired her work and David had previously bought me a pair of her Prism oxidised silver earrings."
"We took our own designs to Katie who transformed our symbolic scribbles into something beautiful."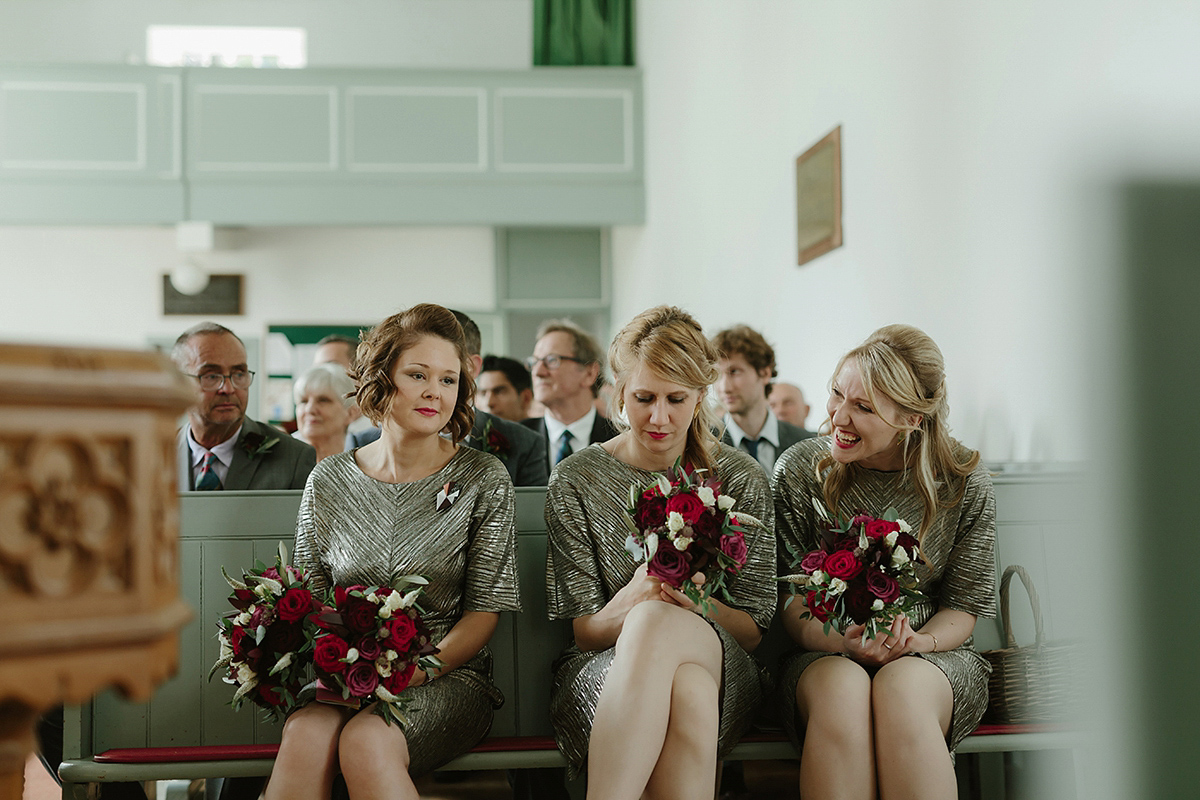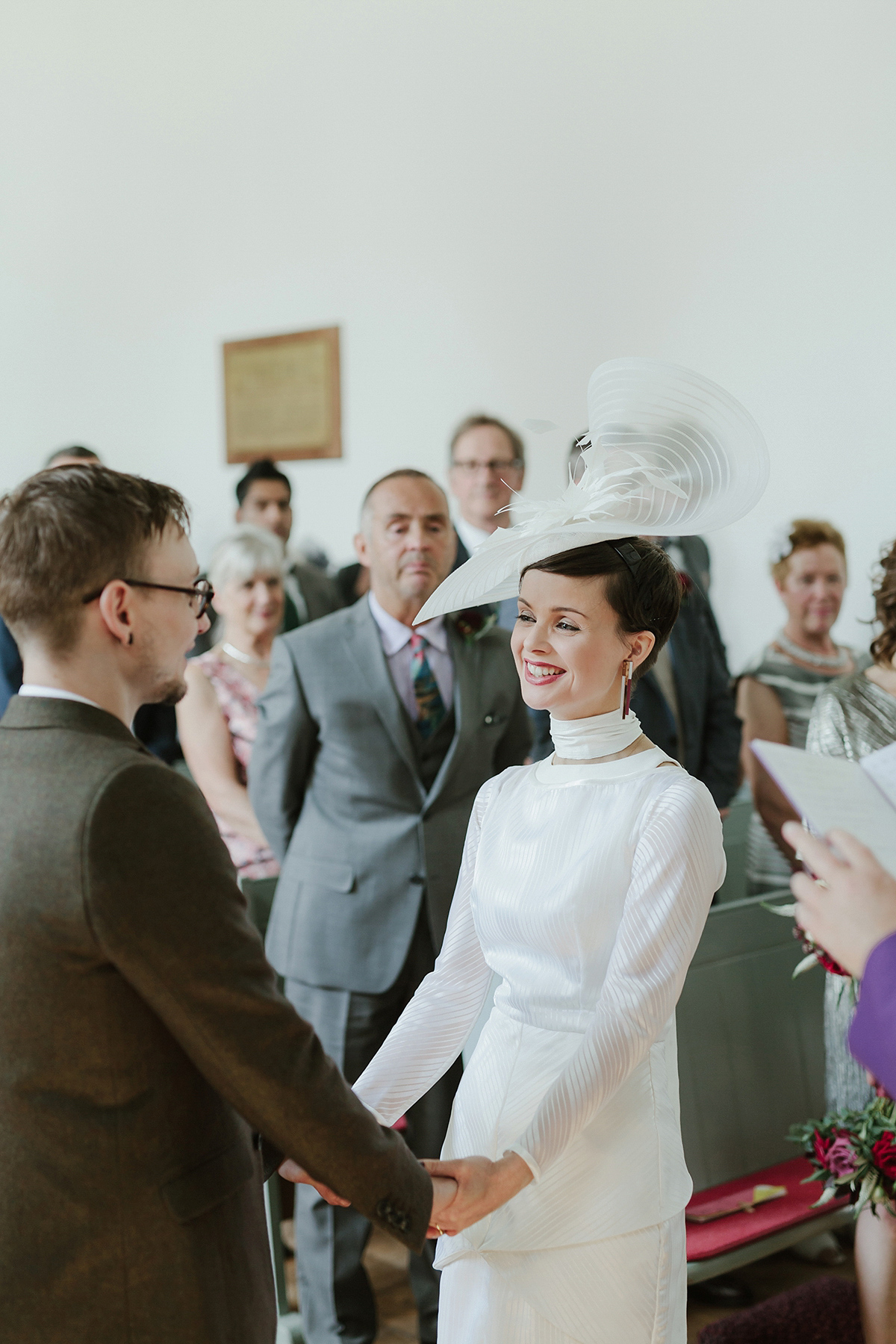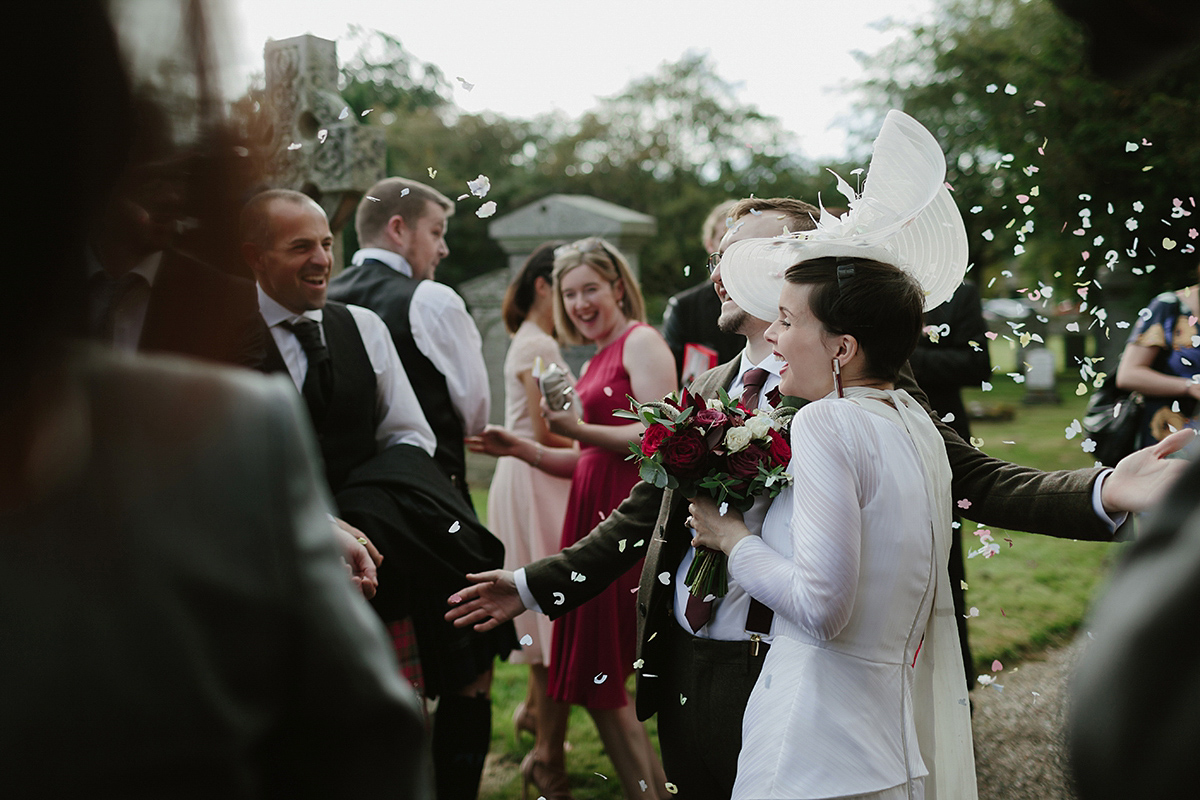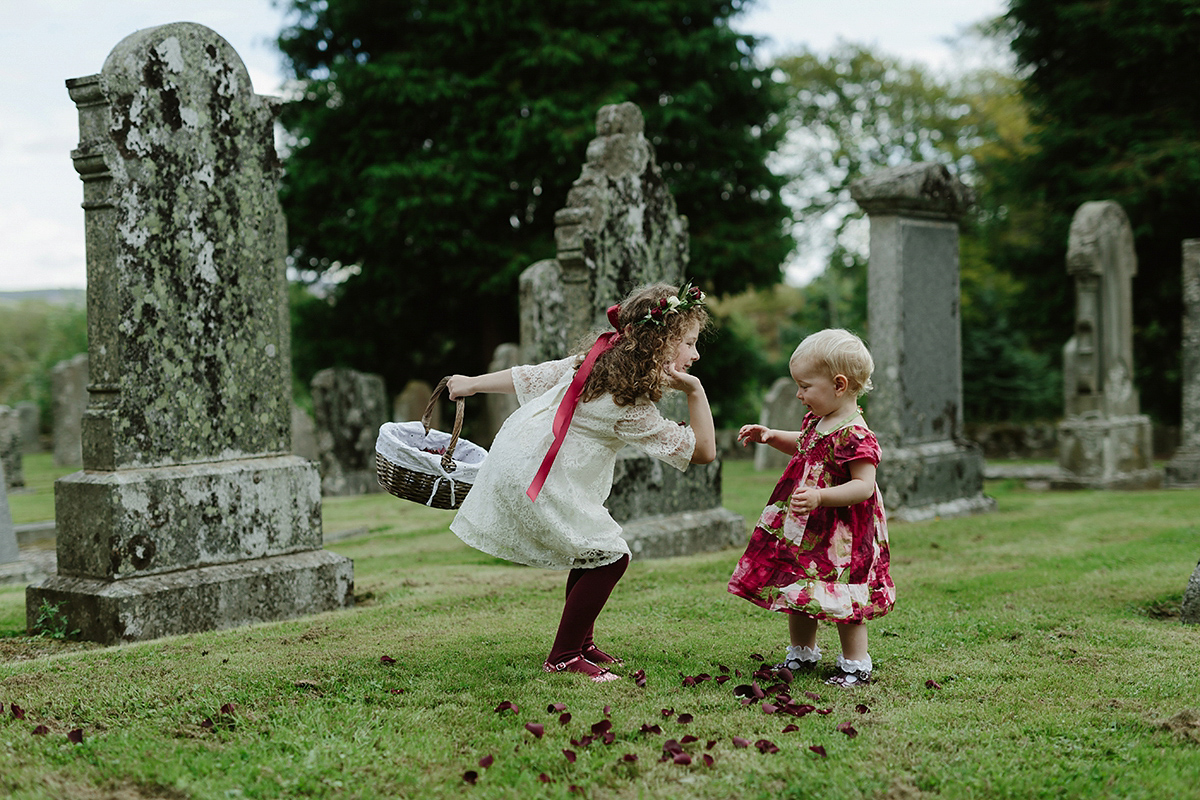 "Our page boy wore a white Fred Perry shirt with burgundy trousers and braces, and Adidas trainers."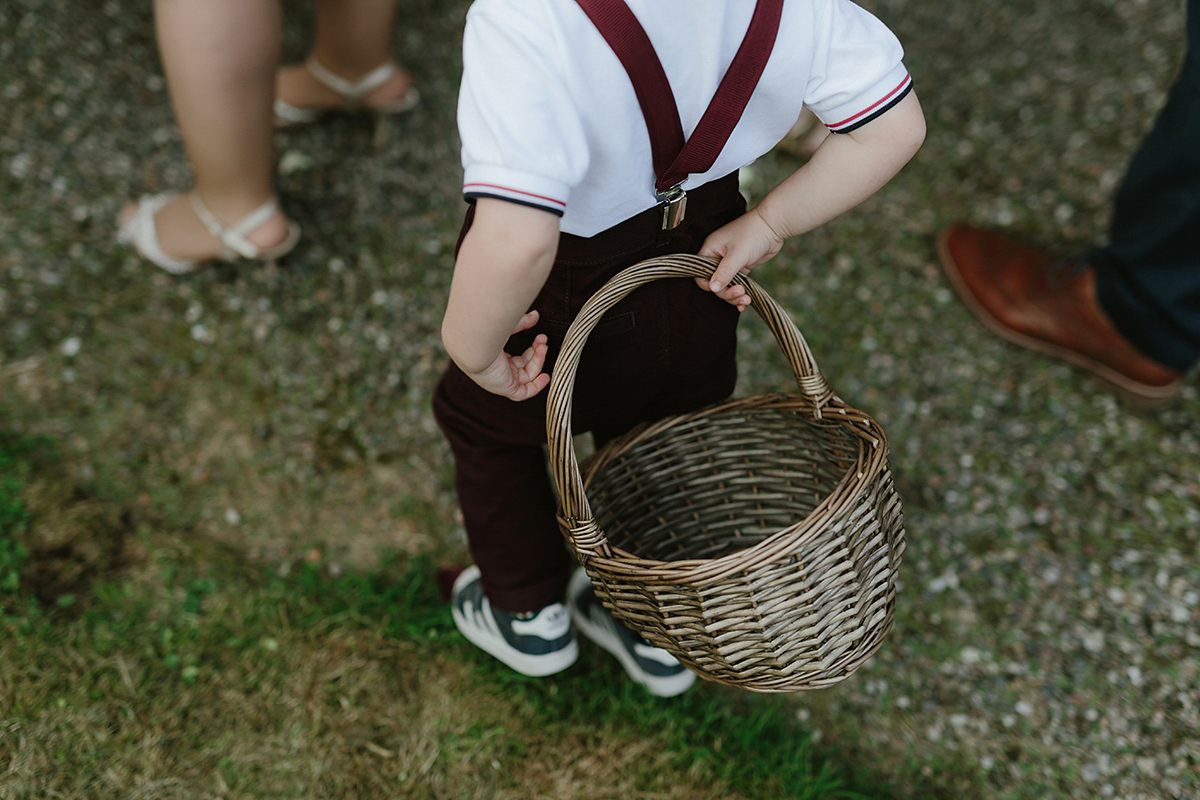 "David wore a wool, skinny-fit suit from Topman. His shirt was bespoke and tailored and he wore burgundy brogues by Loakes of England."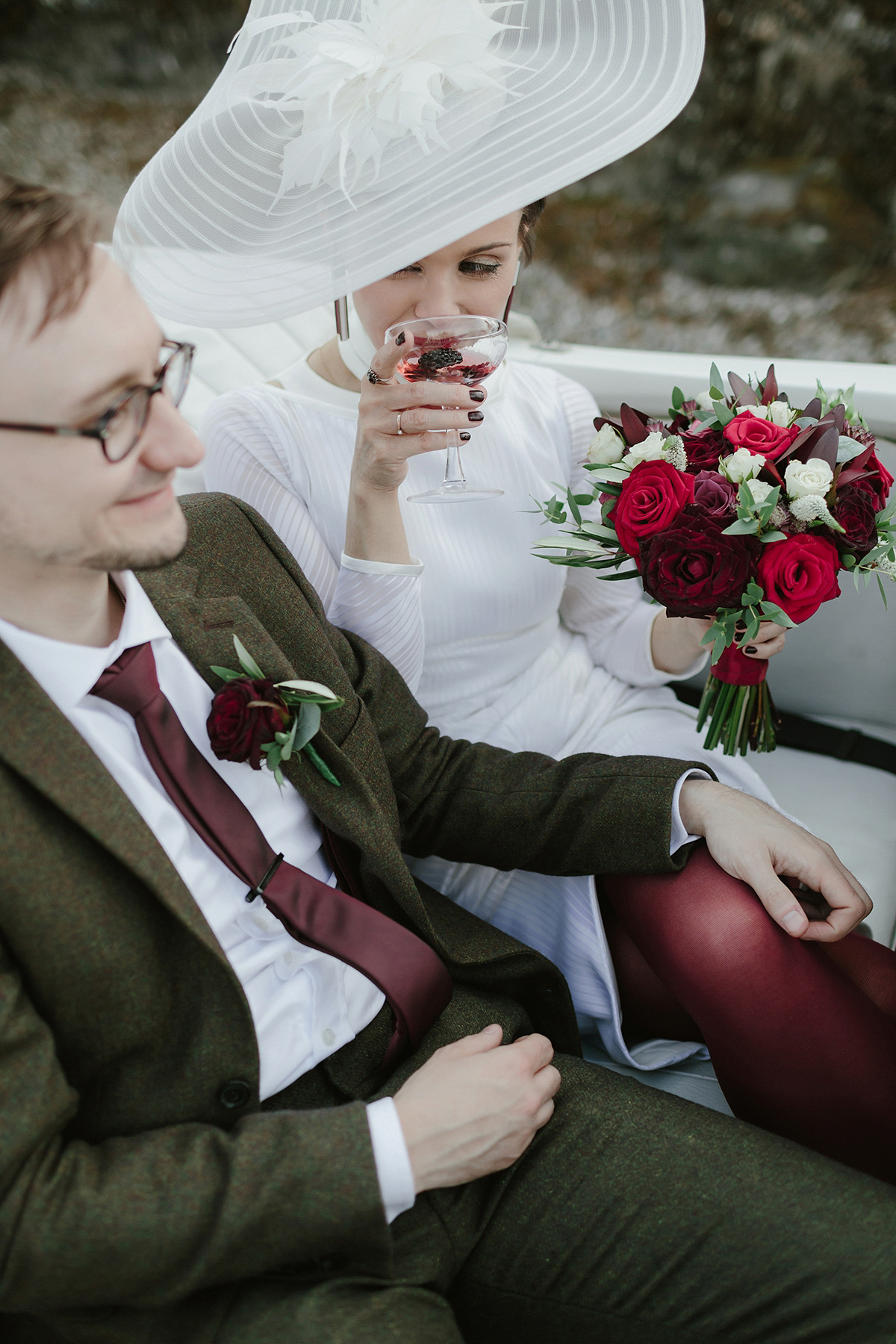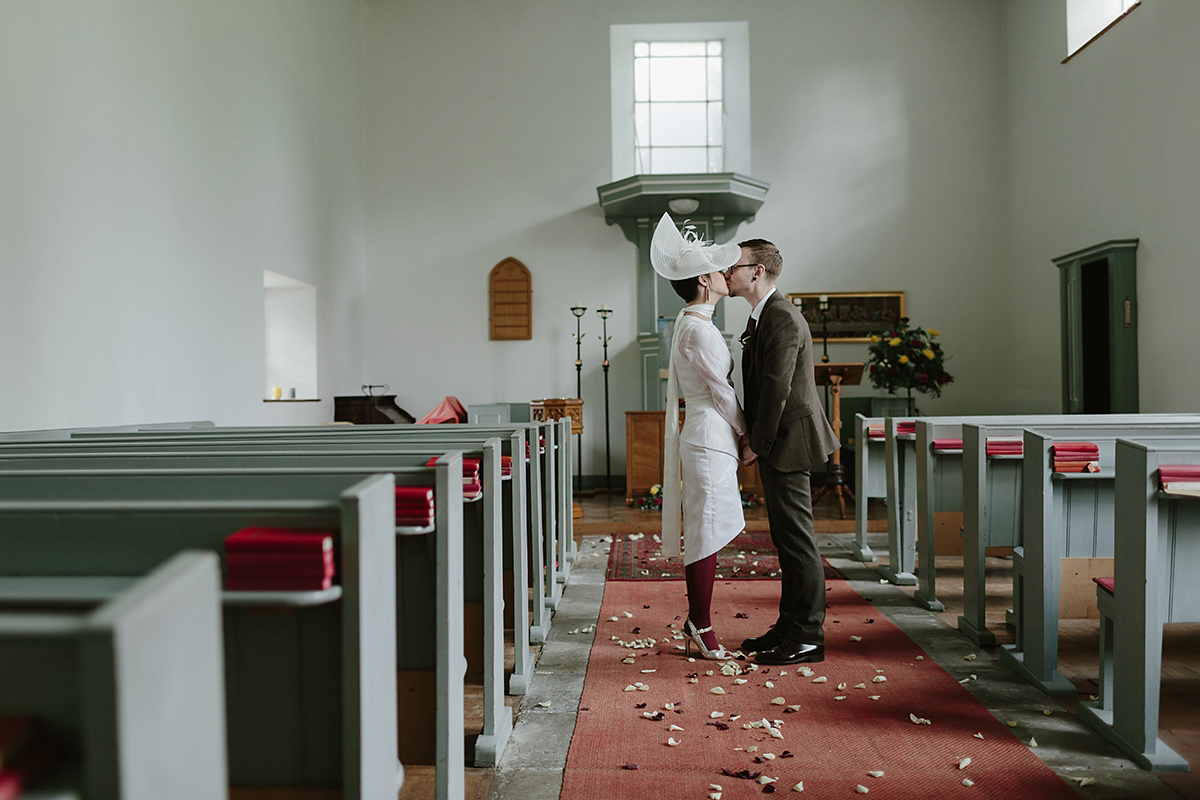 "I bought Kurt Geiger Carvela vintage-style heeled sandals and customised the soles (which were originally beige – who wants beige?) with Chanel rouge noir nail varnish and gold Posca pen! For the late-night dancing, I changed into patent burgundy block-heeled sandals from Office."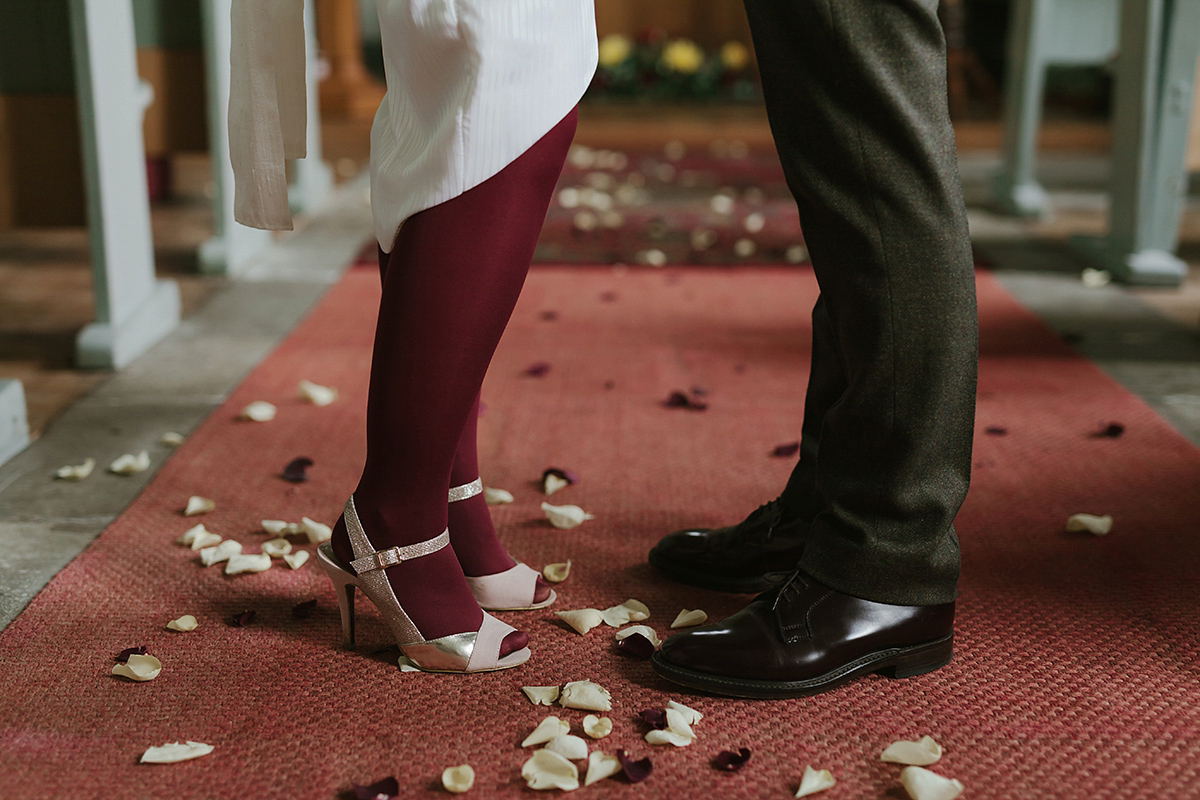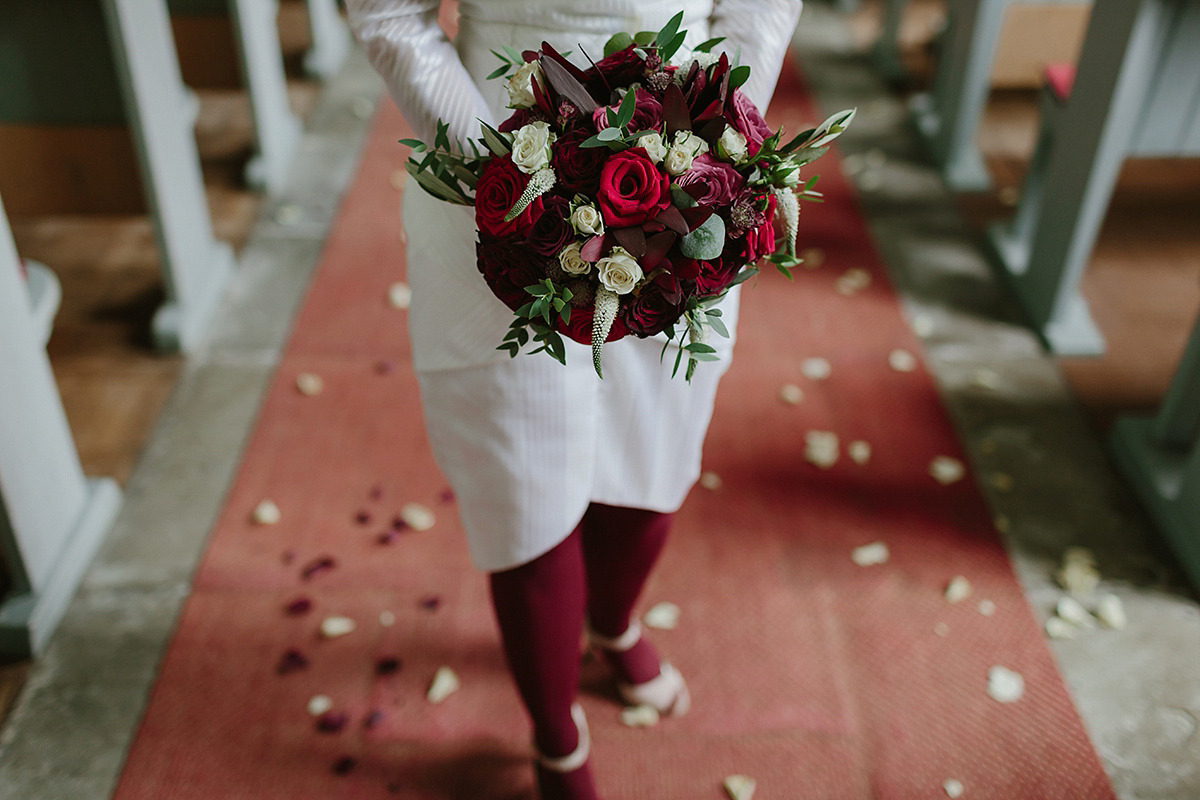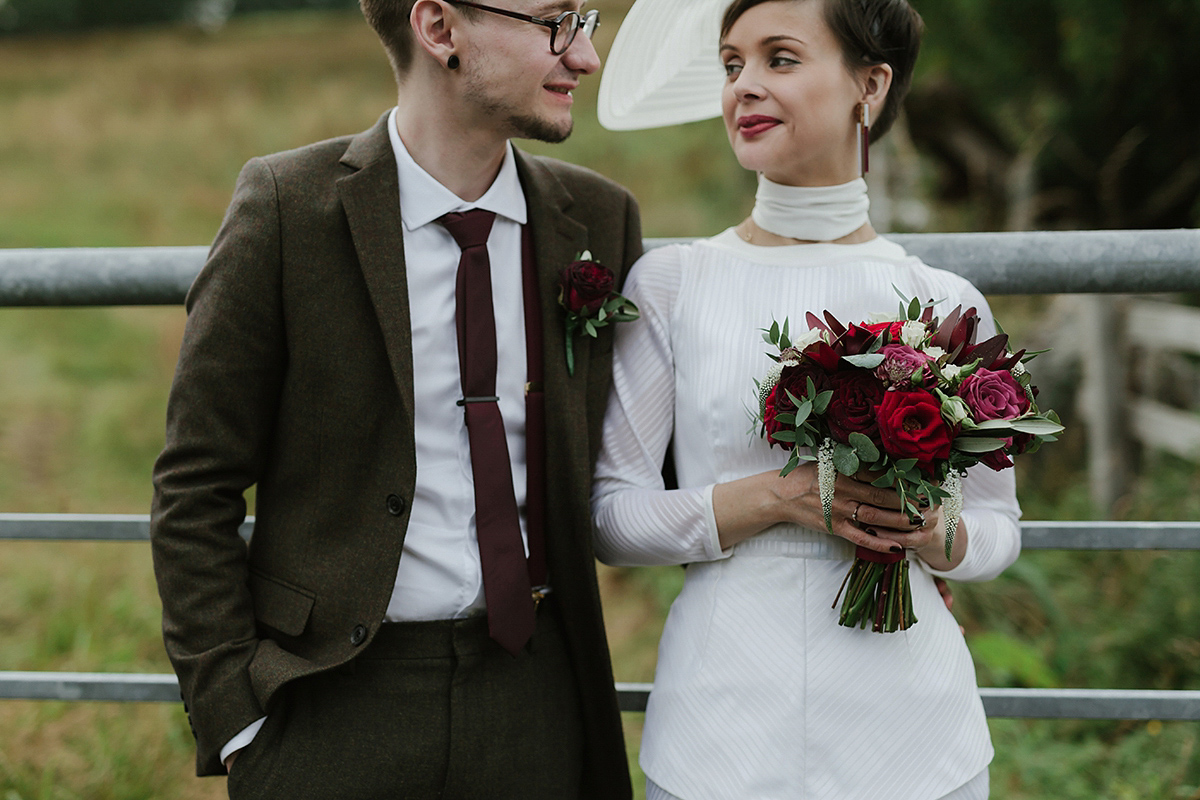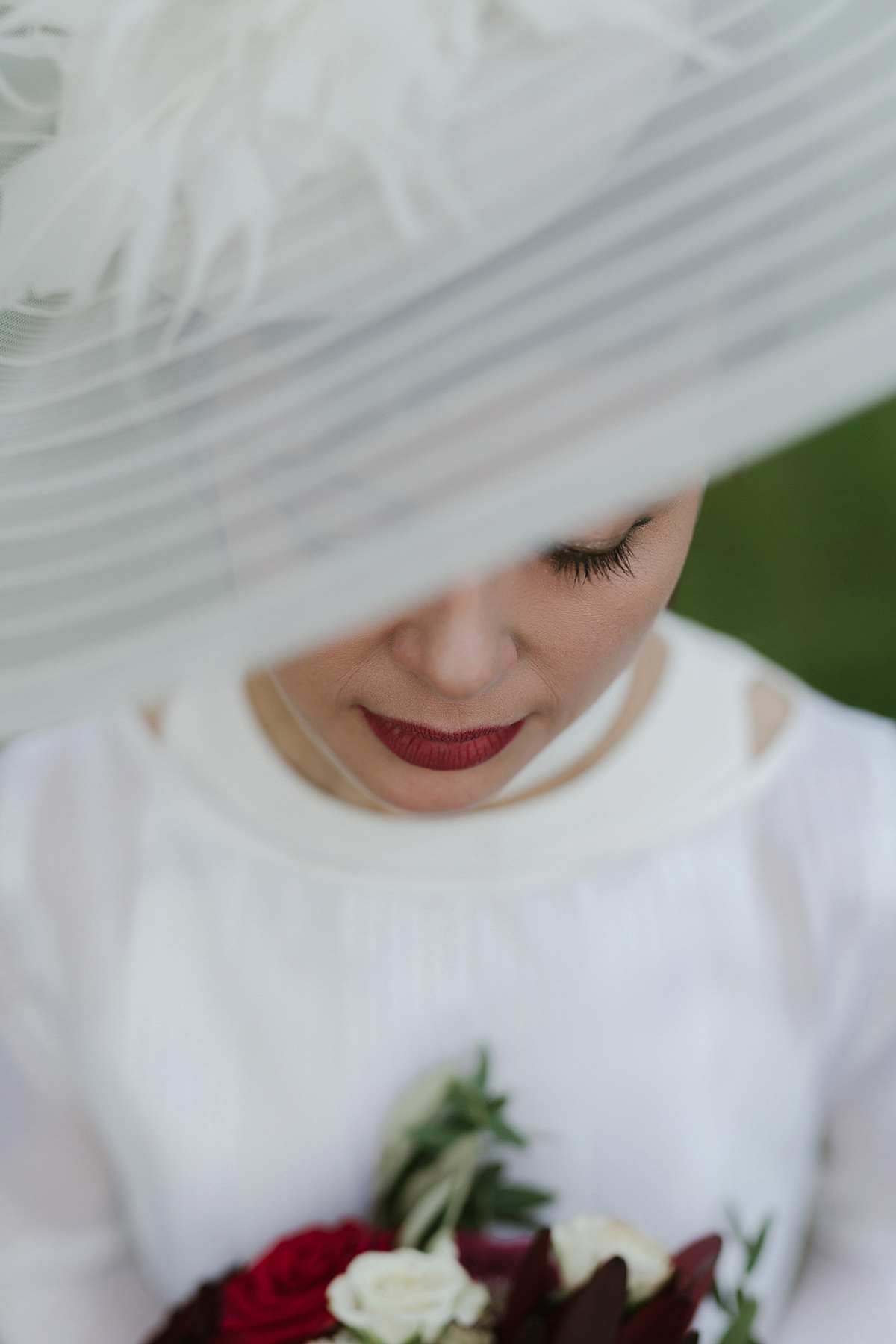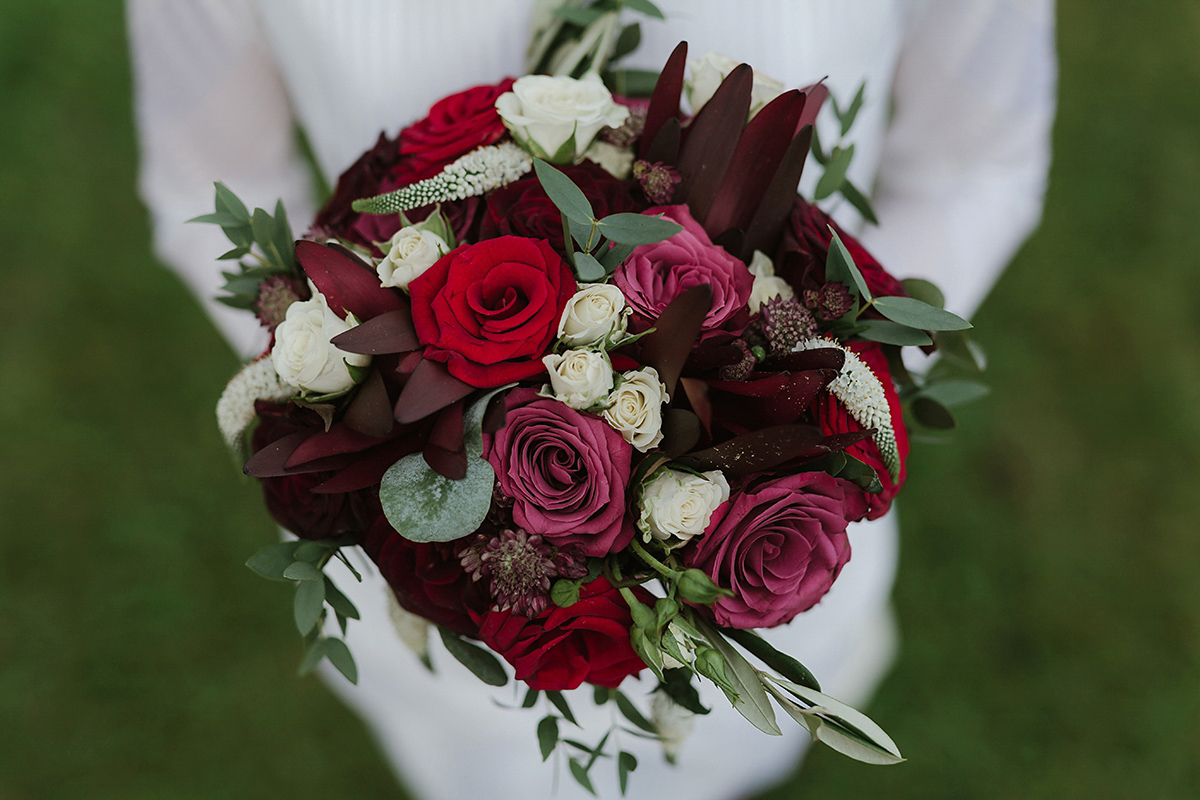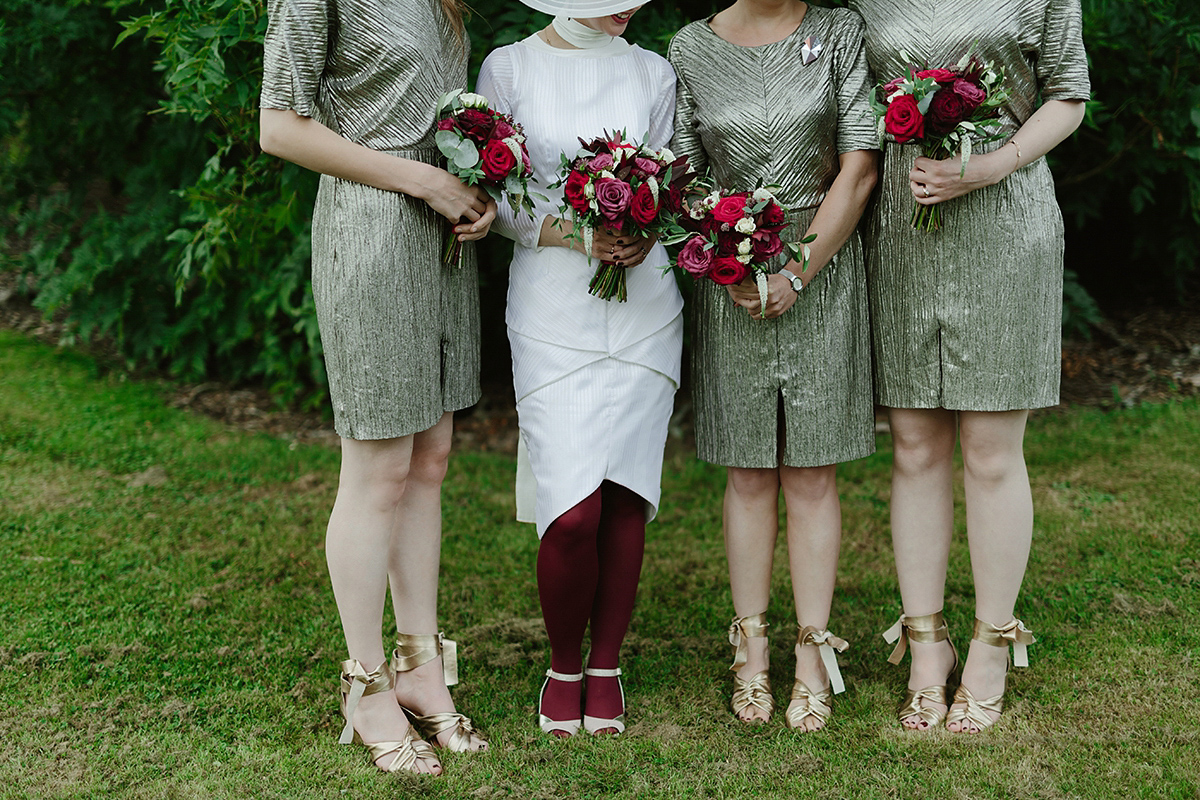 "We hired our tipi from Timber and Canvas, who travelled all the way from Manchester and worked like troopers to transform the field by the river into a beautiful party venue. We also hired vintage trestle tables and wooden chairs from Virginia's Vintage Hire Scotland."
"We had our reception in the village hall and put a tipi up in the field next to the river, so there was a lot of decorating to do. We covered the hall walls with pictures of our friends and family, which was great to give everyone a laugh and something to chat about over champagne, and also meant we could have those who couldn't be there still there."
"We had boxes and boxes of hand-made origami shapes which were scattered across tables and strung behind the cake table, and many, many strings of fairy-lights draped all over – as well as a customised wedding bike, bought off eBay and fixed up nicely by Bike Love in Glasgow."
"My Dad did an amazing job transforming the hall with a canopy of streamers and lights, spending hours up a ladder with a staple-gun (operation hide-the-tartan), while my Mum and sister spent hours making favours and folding the orders-of-service, and our pals were roped into much furniture-shifting."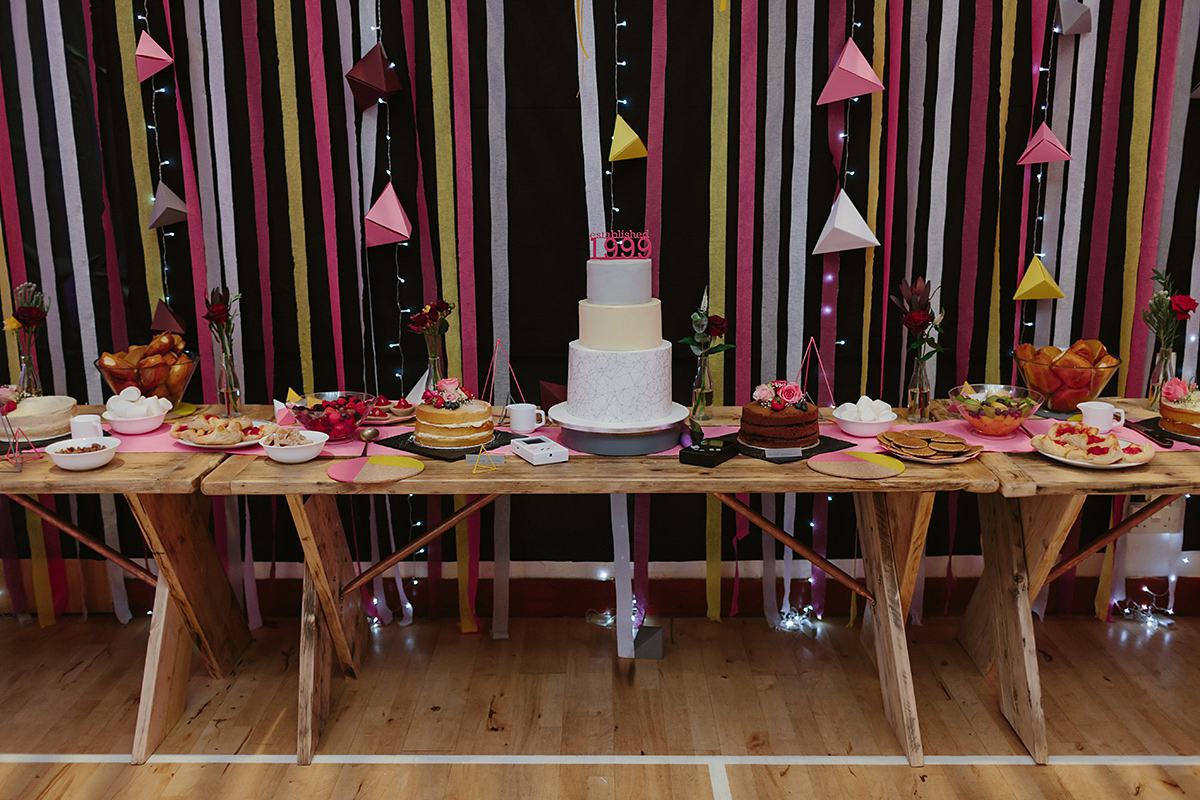 "Our wedding meal was a relaxed, tapas-style buffet with foods from various places around the world, as a reminder of places we've visited together. We had sushi, provided by Kobee in Dundee, along with a lovely selection of barbecued skewers, spiced prawns, antipasti, sliders, salads and breads, all catered by Scott Brothers, also from Dundee."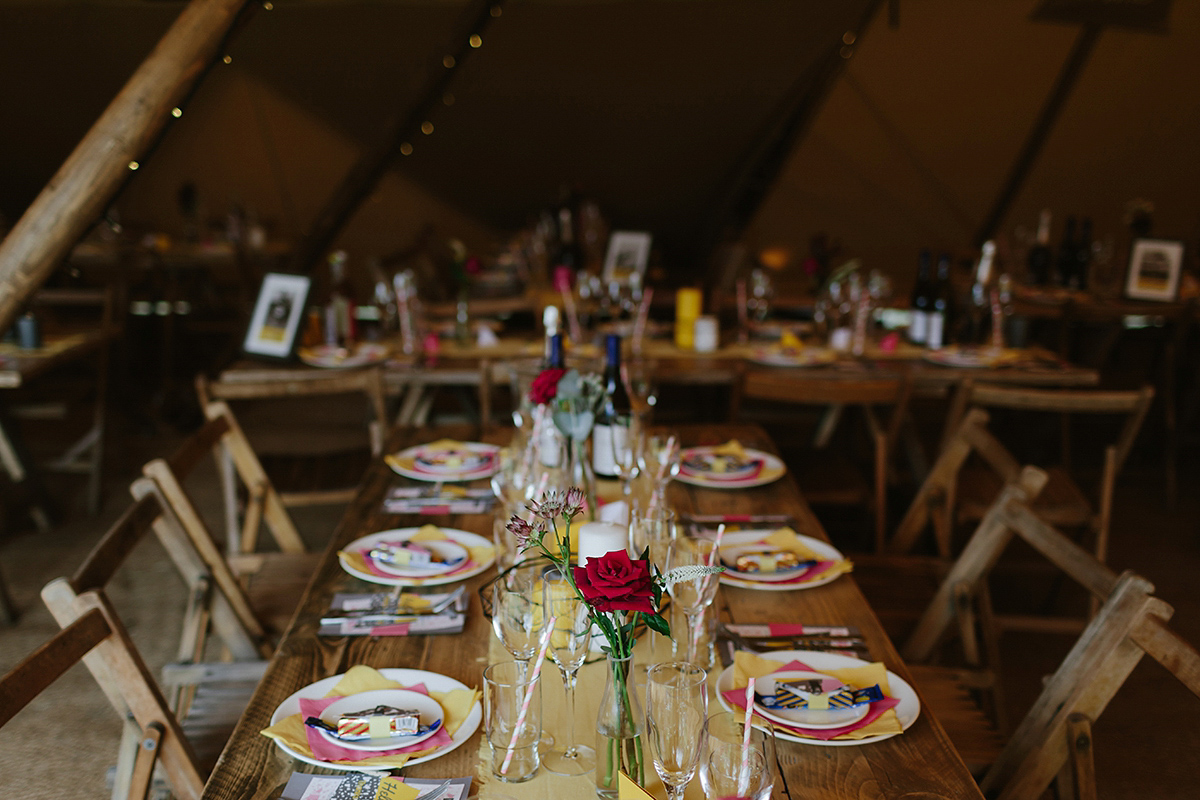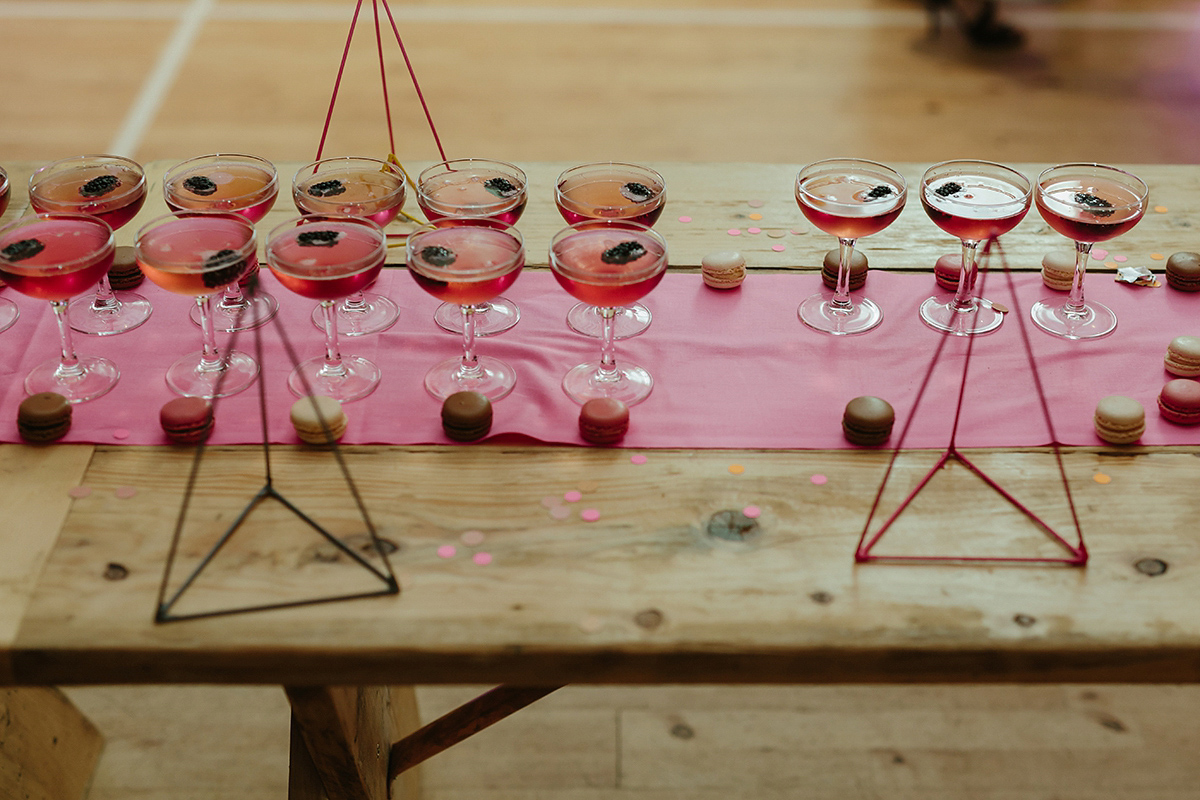 "Our wedding favours were designed and made them out of Tunnock's caramel wafers and Wham bars (traditional Scottish fare!)."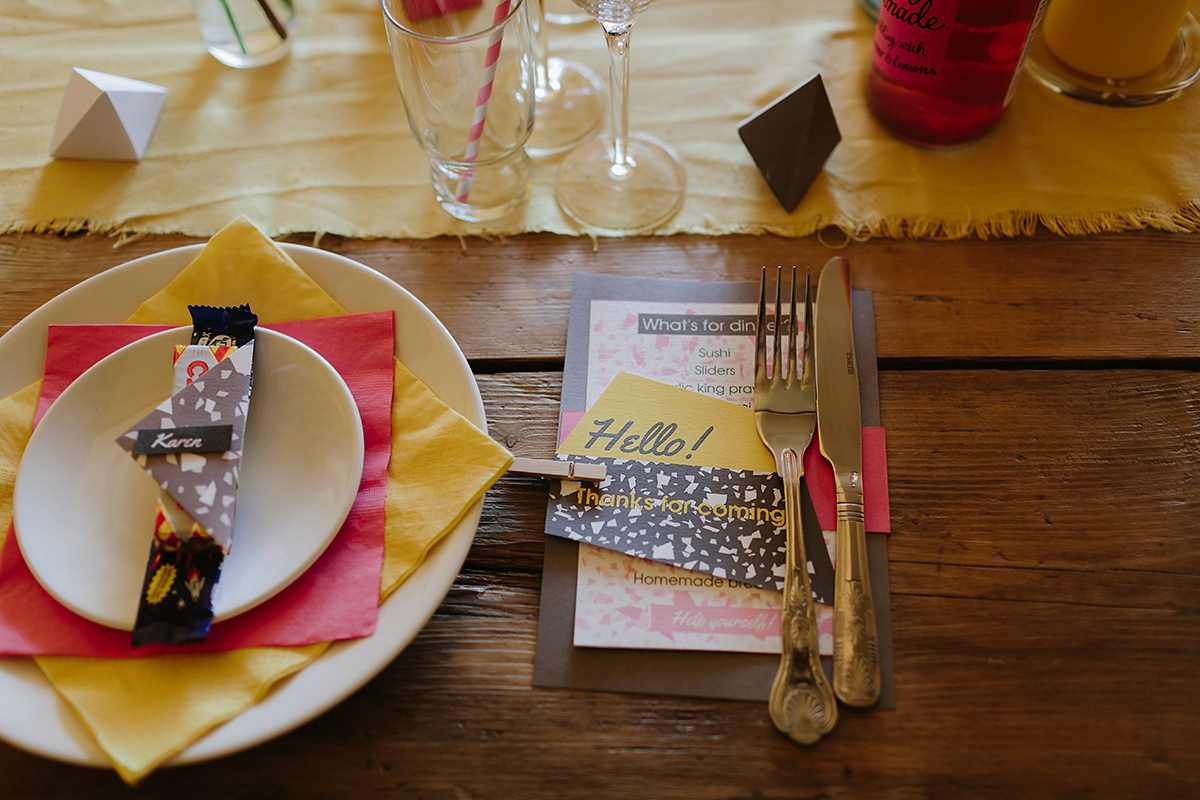 "We also had customised Mr and Mrs Game Boys (David is a big Nintendo fan and a dab-hand with a soldering iron), with more for the kids to play with."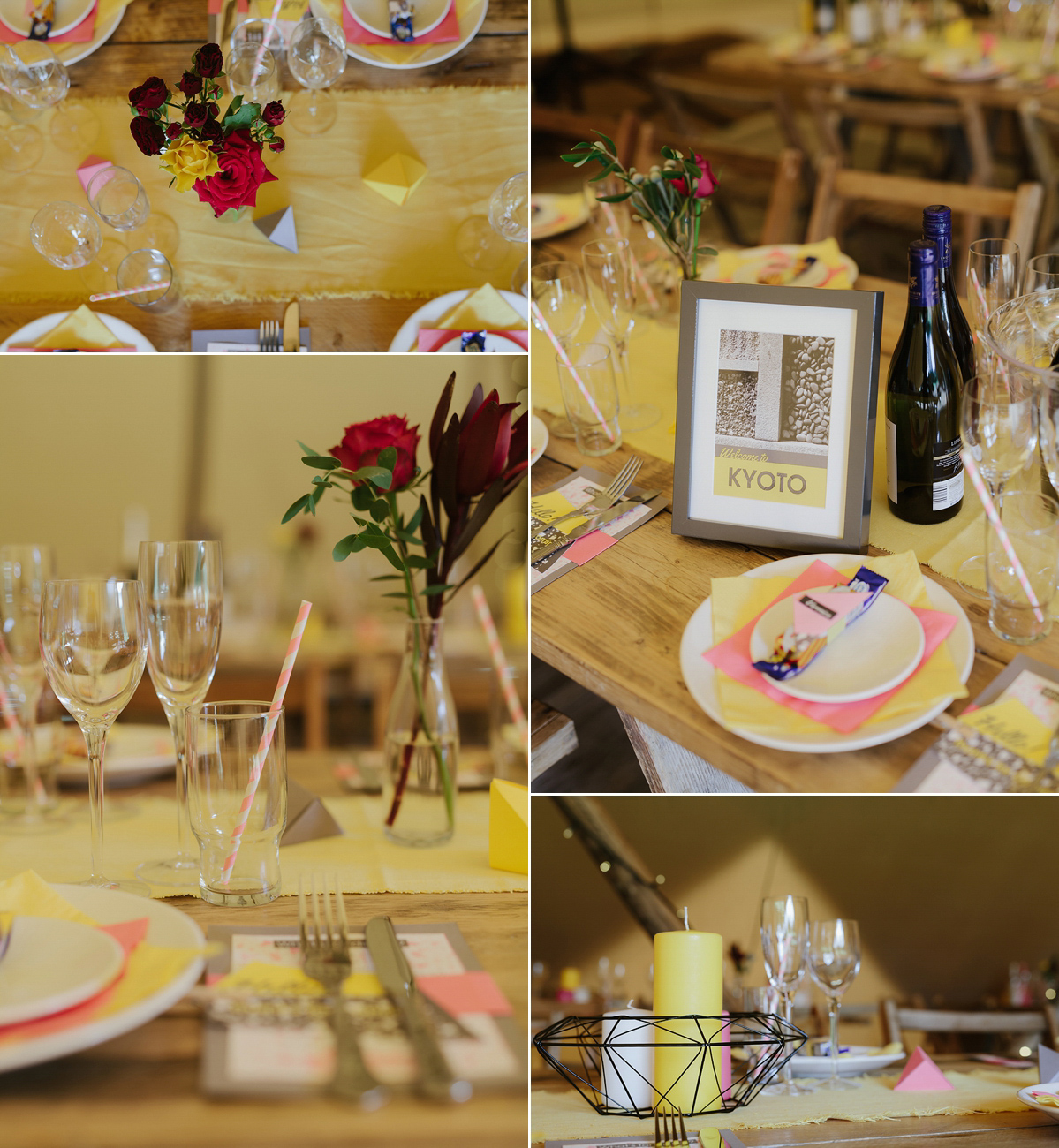 "Our main wedding cake was made by Made By Mike in Glasgow, after we saw his cool geometric designs advertised in Scottish Wedding Directory."
"Pam at Glasgow's Cushion and Cake made us some fabulous table cakes which just made us go 'wow!' and got swiftly demolished by hungry guests. And we also ordered a job-lot of legendary Fisher and Donaldson fudge doughnuts – so tasty!"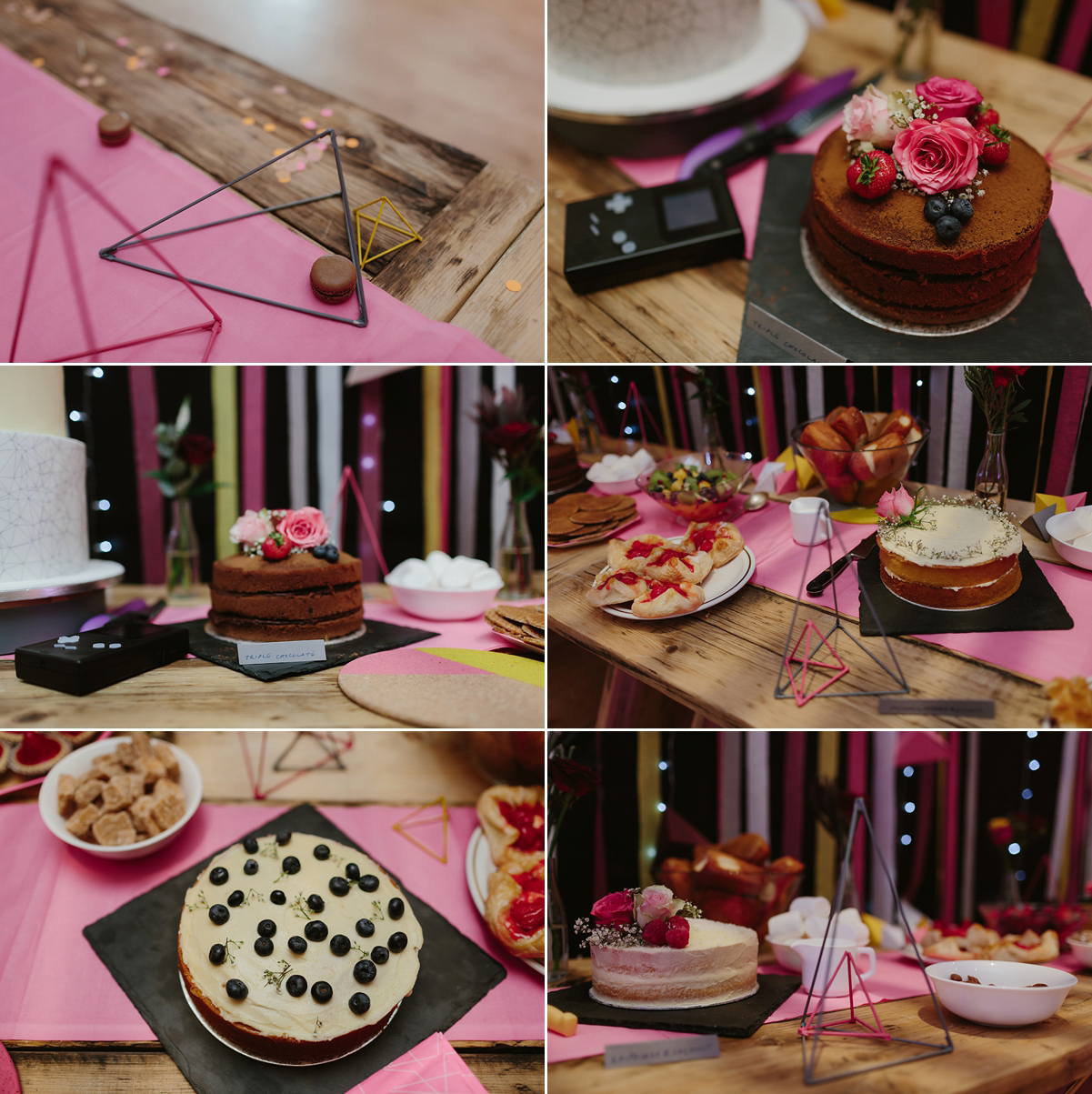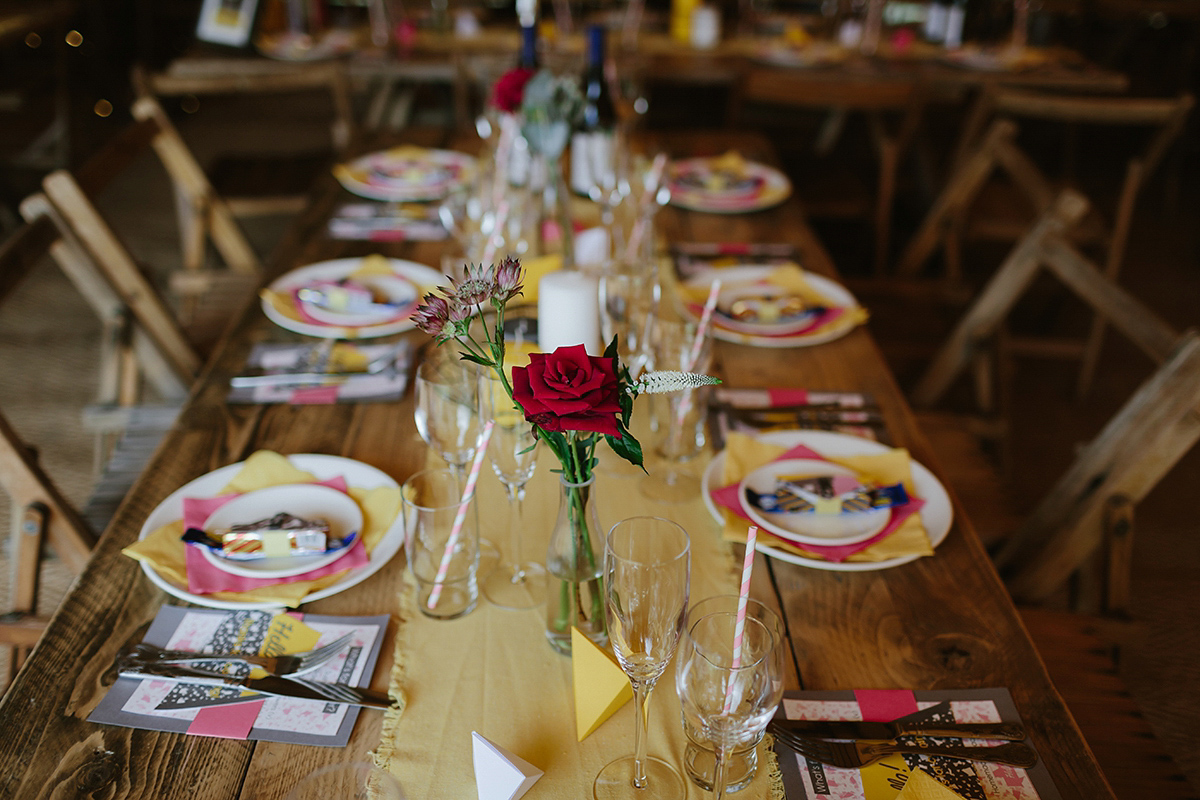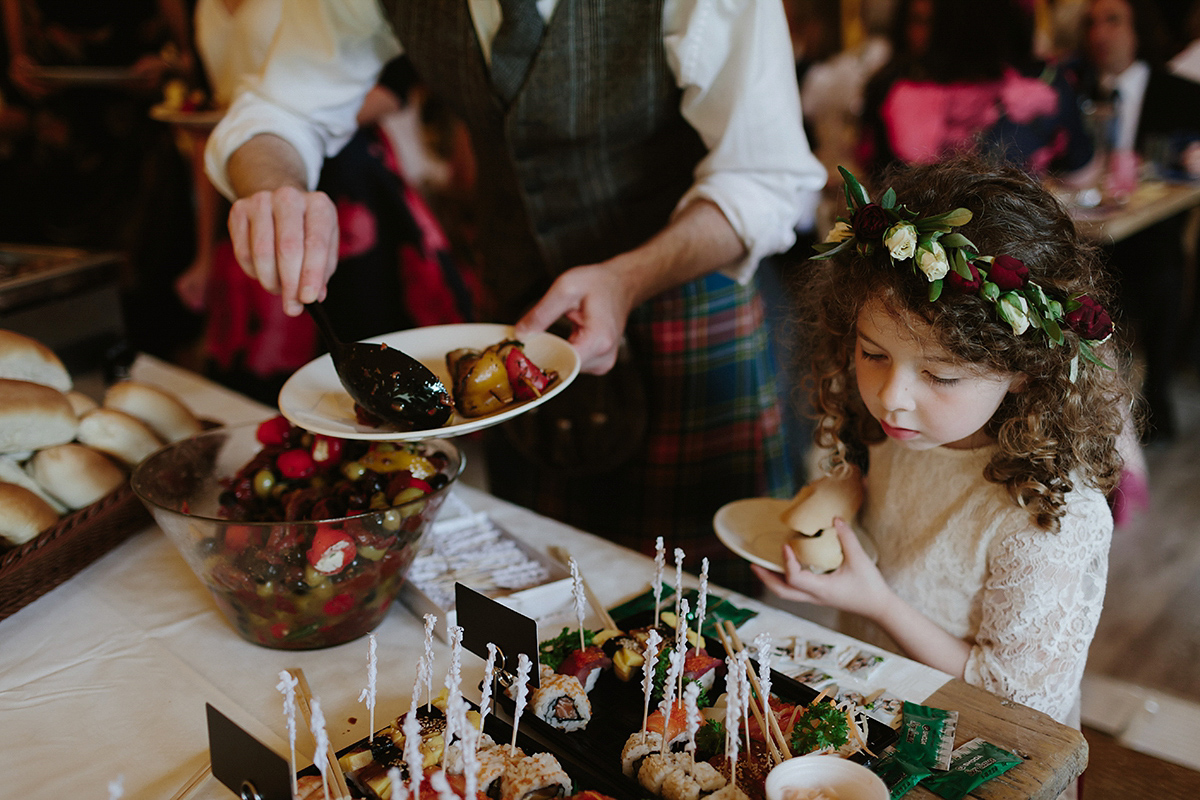 "It was such an amazing day, it's very difficult to choose a favourite part. The ceremony itself was so beautiful and full of love and happiness – with all our family and friends and the sun streaming in through the window – that it set the tone for the whole day."
"David's speech was a big highlight (I didn't think he was going to do one at all, and then he stunned us all with a sweet, funny and beautiful speech which had everyone holding back the tears). Totes emosh! Just looking around seeing all our favourite people having a wonderful time was incredibly special. We really couldn't have asked for more."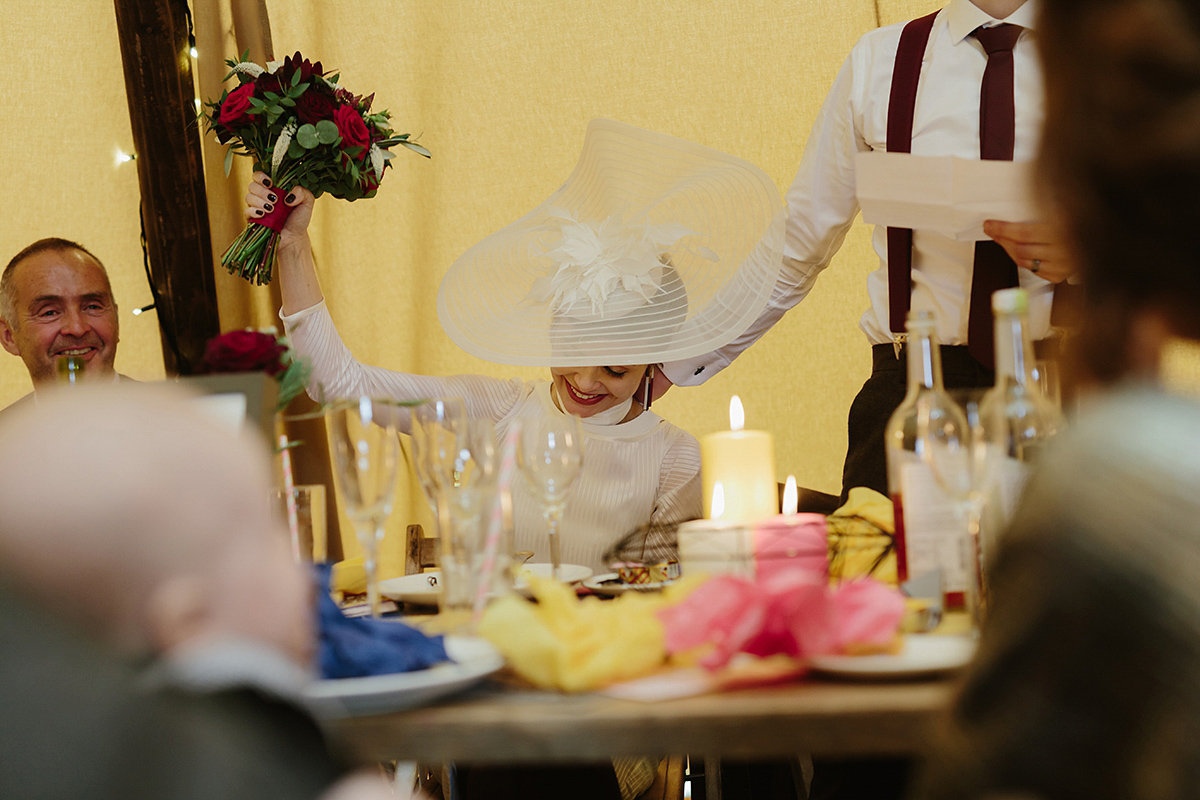 "We had a brilliant band called Tarpaulin (they cover everything!). Not only did they have a cracking repertoire, including Pulp, Daft Punk and the Beastie Boys (Sabotage went down a storm), but they also learned some soul and ska classics especially for us."
"Our first dance was I Wanna be your Lover by Prince – the full 8-minute album version, of course! We only decided what it was going to be 15 minutes beforehand because we couldn't choose."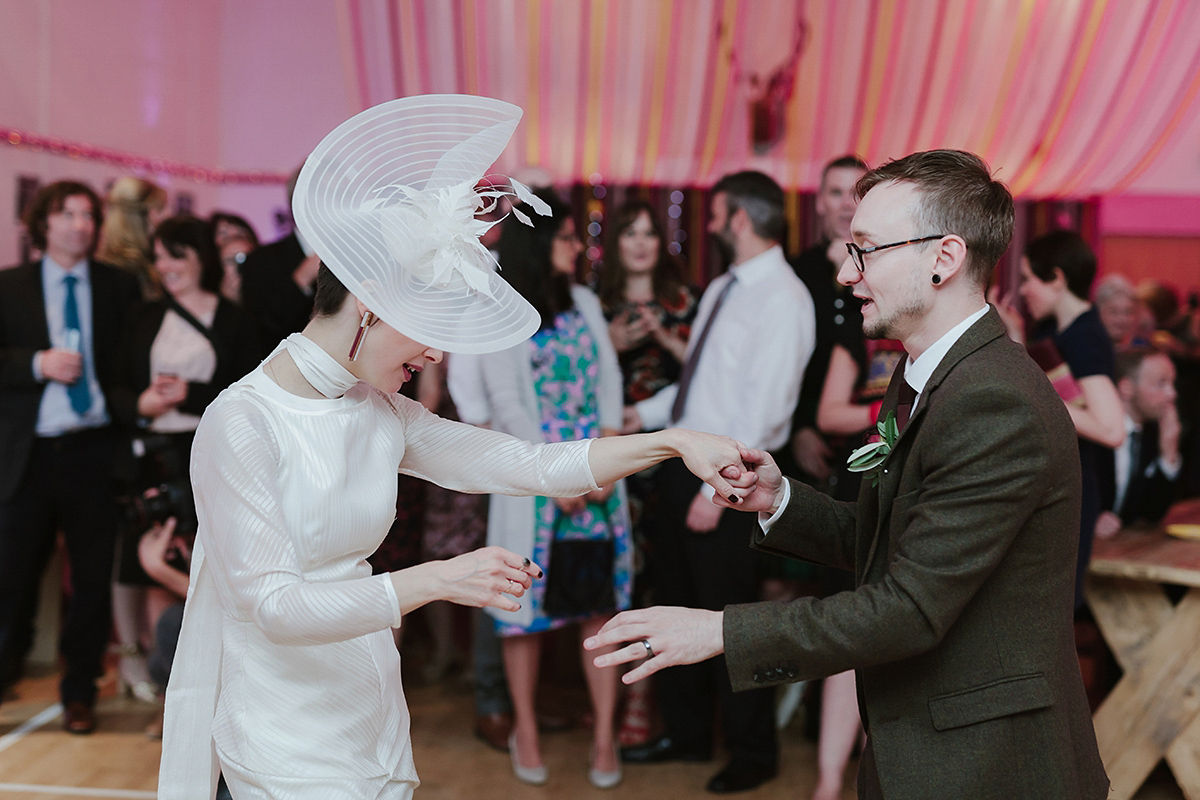 "My sister took charge of the decks and DJ-ed in the tipi until the wee hours, with a crowd-pleasing mix of funk, disco and 90s dance classics."
Words of Wedded Wisdom
"Do exactly what you want to do – you will be offered lots of advice and tips, so smile, accept them graciously and then just carry on doing your own thing and not worrying what anyone else thinks.
One thing I would do differently – remember to put bottle openers on the tables!"
Utterly fabulous! I adore this wedding so much. Vintage will never be a dirty word here at Love My Dress. And if vintage is your thing, you might want to explore our Edwardian, 1920's, 1930's, 1940's, 1950's, 1960's, 1970's and yes, 1980's inspired wedding pages on our beloved wedding blog.
My love and thanks to our super talented Little Book For Bride members, Rooftop Mosaic, for sharing this wedding today.
Love Annabel x