I will always look upon my time spent in Surrey as one of my most life-changing periods. I met, fell in love and shacked up with my gorgeous hubby in Epsom; visited my sweet English cousins and watched them grow up in Surbiton; and I regularly frolicked amongst my beloved trees in endless parks and areas of outstanding natural beauty. So when this delightful wedding landed in my inbox I did a little jump for joy and immediately hugged a tree, as it took me right back to Richmond Park and many Sundays spent spotting deer, taking pictures of the colourful wildflowers, walking in the sunshine along the riverbank, and finishing off with a scrummy pub lunch.
Sian, a business development manager in the medical aesthetics industry and Michael, a property developer, adore this area too and live on Richmond Park and hence chose to hold their wedding on the 27th August 2016 at the spectacular venue, The Bingham Hotel, situated right along the banks of the River Thames. Their most loveliest of days was brilliantly captured by Matt Penberthy Photography. Sian's gown was by designer Ian Stuart and we adore her headpiece which was crafted by hand by our talented Little Book for Brides member, Cherished.
"My stunning hair vine was made specifically for me by Abby Gadd of Cherished, using hand-picked diamond and pearl beads to co-ordinate with our wedding colours. The wedding colours themselves were inspired by my bridesmaids – who donned baby-blue tiered Self Portrait dresses."
Photography by Matt Penberthy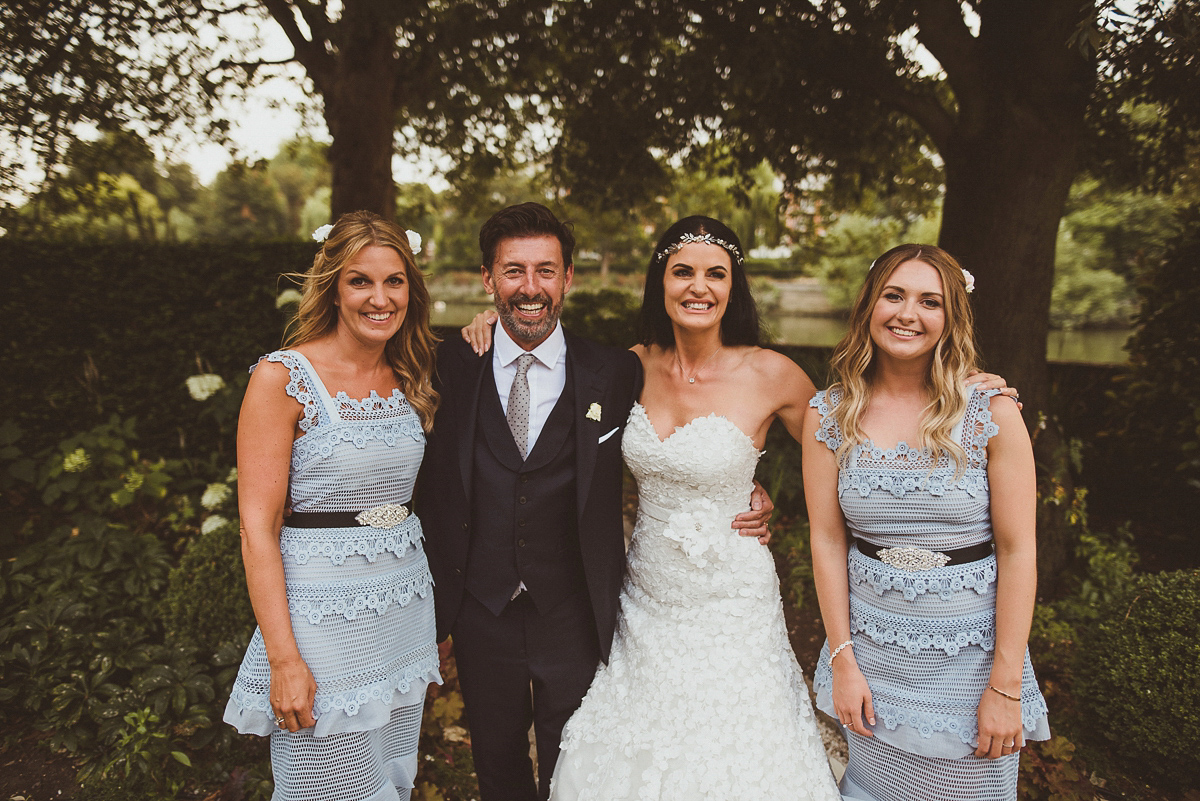 "My dress and veil both came from Ian Stuart and were purchased at his beautiful London studio called 'The Blewcoat', which was a treat in itself as it's truly stunning. I found the dress in a magazine and was astonished it wasn't a haute couture dress. I loved it when I saw it on the catwalk and loved the way it looked and moved on the model."
"The designer also advised me that I could change and alter the shape a little if I wanted to and it was this 'nothing is too much trouble' demeanour that I loved – Ian couldn't have been more accommodating."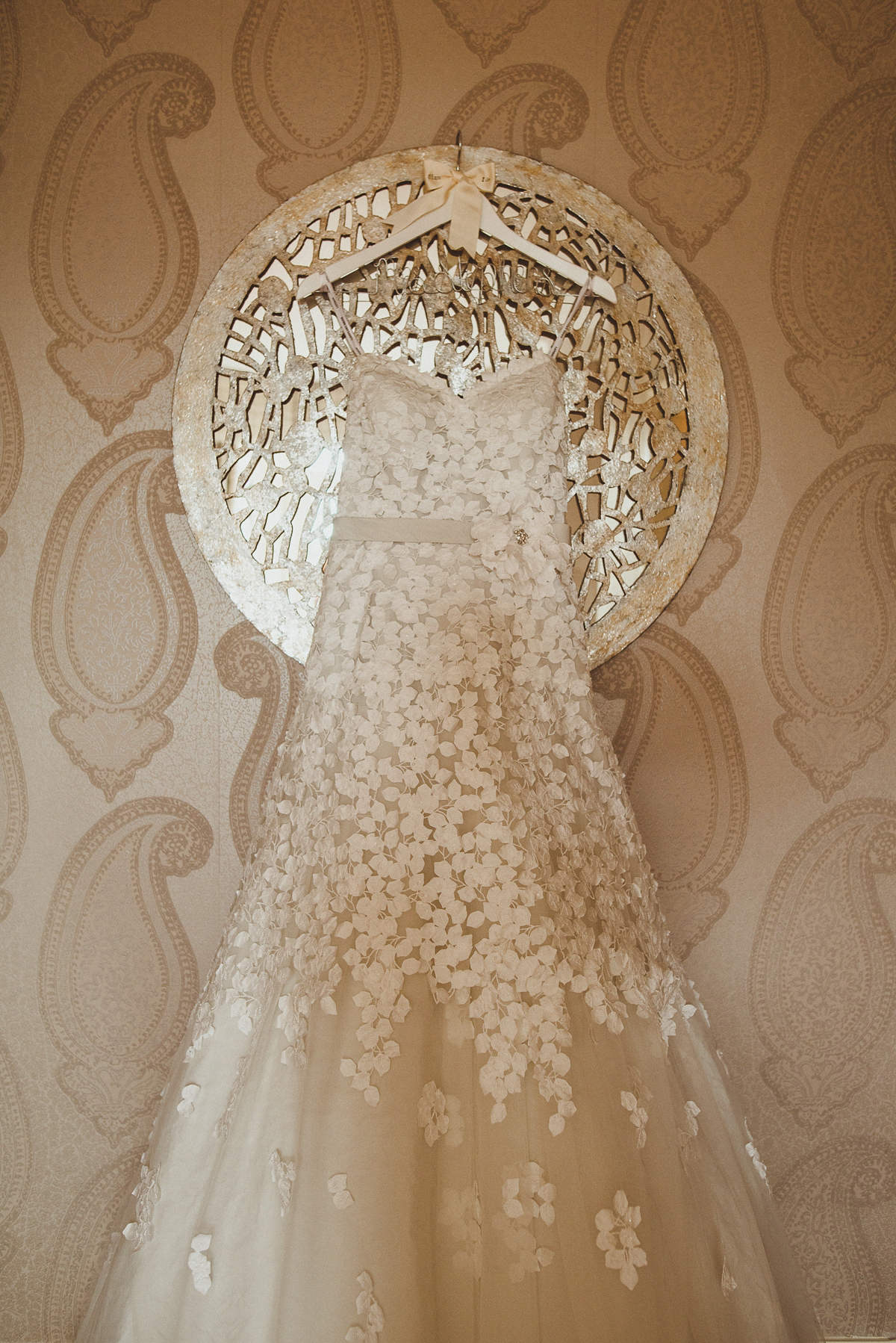 Sian added a pair of Nina Ricci patent kitten-heeled slingbacks in pale blue, wedding underwear from Agent Provocateur, and a beautiful diamond pendant and earrings from Michael to match her engagement ring – presented to her on the morning of the wedding by their daughter.
She finished off with a spritz of Tom Ford's 'Noir de Noir Private Collection',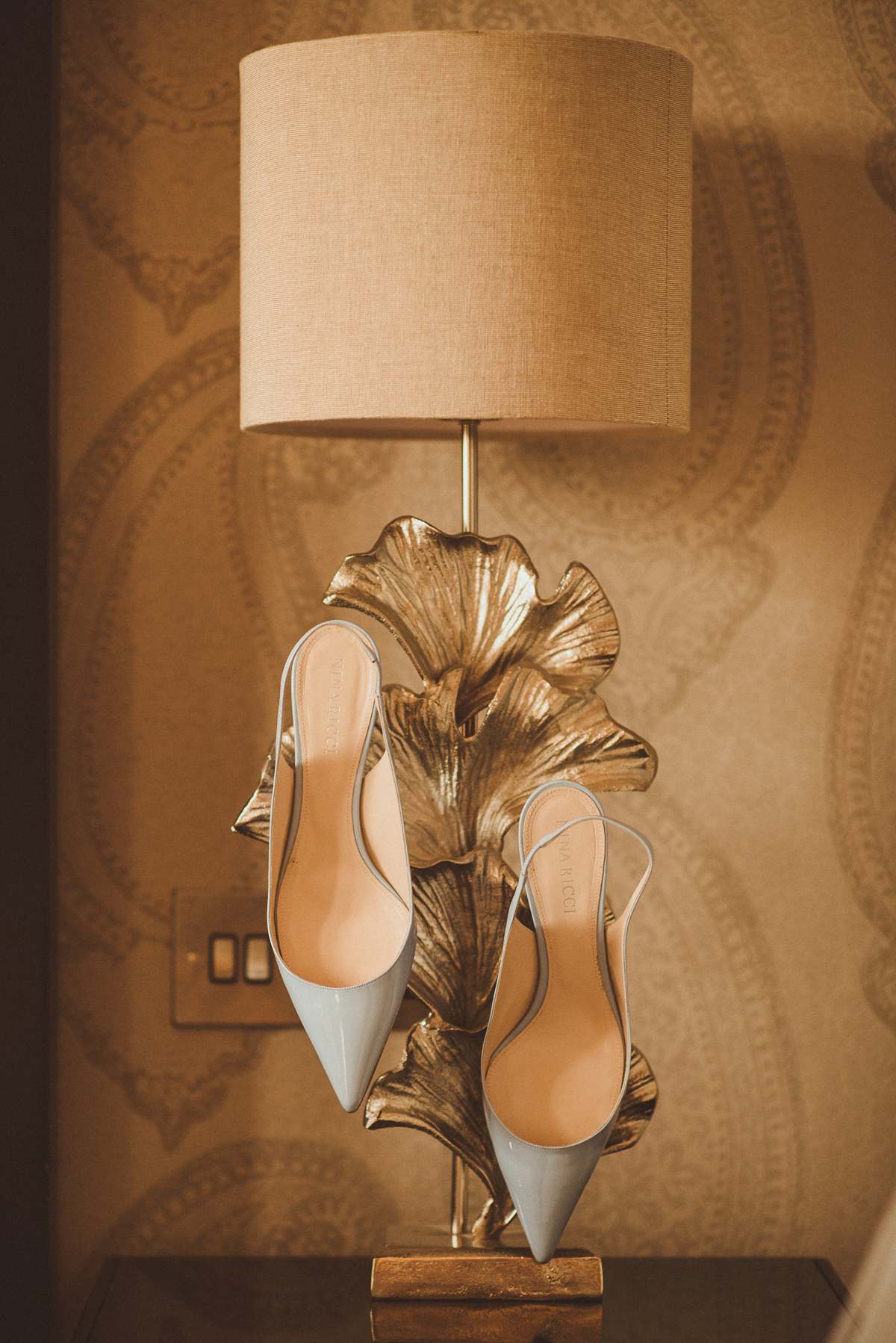 Louise Coultas Pitman from The Cracked Pot created a vast array of beautiful floral displays.
"Our flowers were all roses of varying types ranging from white to pale pink in all the bouquets and vases and blue hydrangeas to match the girl's dresses. As the theme had delicious green apples we had them planted into the glass vases too, so the room was full of lovely, fresh green apples."
Another member of our helpful Little Book For Brides resource is Kristina Gasperas, whose hair and make-up artistry has previously featured on this beautiful blog (view their LBFB listing here) and helped out Sian and her maids on the big day with total aplomb.
"Tania King and Ausra Ruksene from Kristina Gasperas arrived at 6.30am in the morning and worked like troopers for hours preparing us. The skill and the dedication they show to their work were phenomenal. We looked like movie stars and I don't think I'm ever going to look as beautiful as I did that day. Thank you to these two amazing artists who were consummate professionals."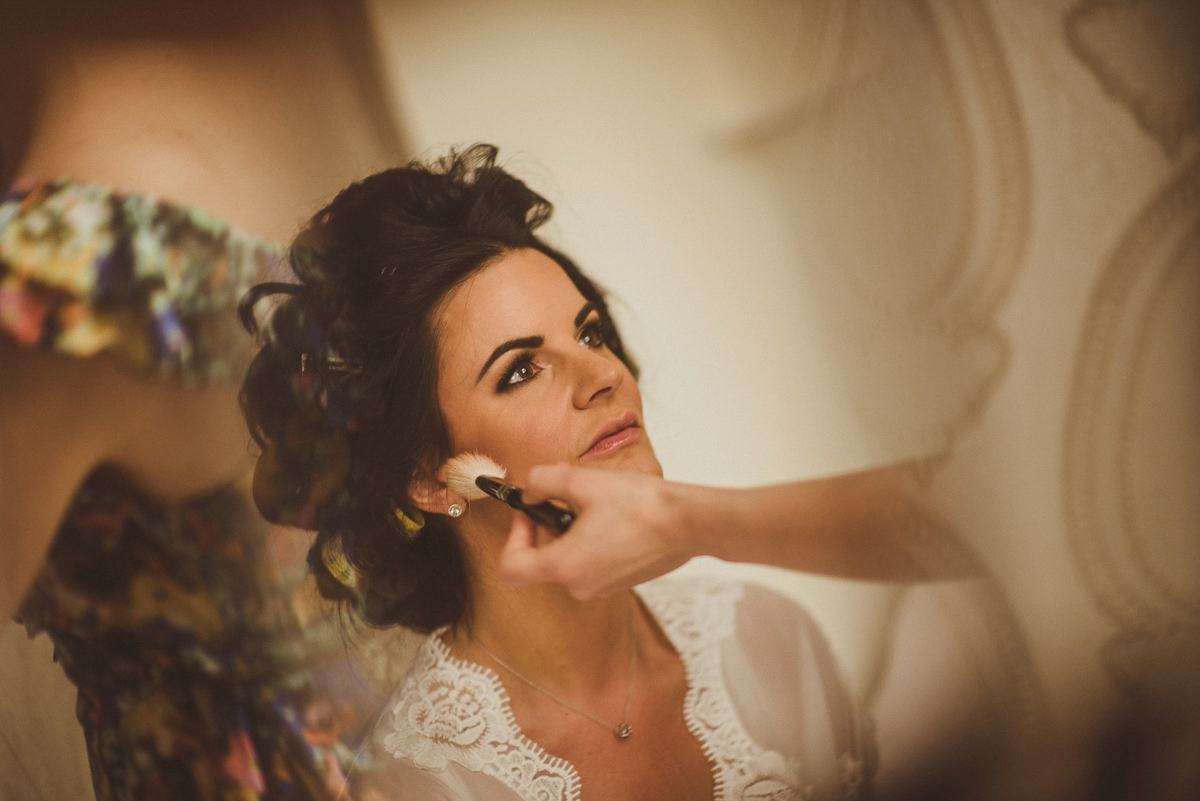 "My bridesmaids hair was adorned with silk flowers by our hairdresser Tania King of Kristina Gasperas and their bracelets were from Monica Vinader."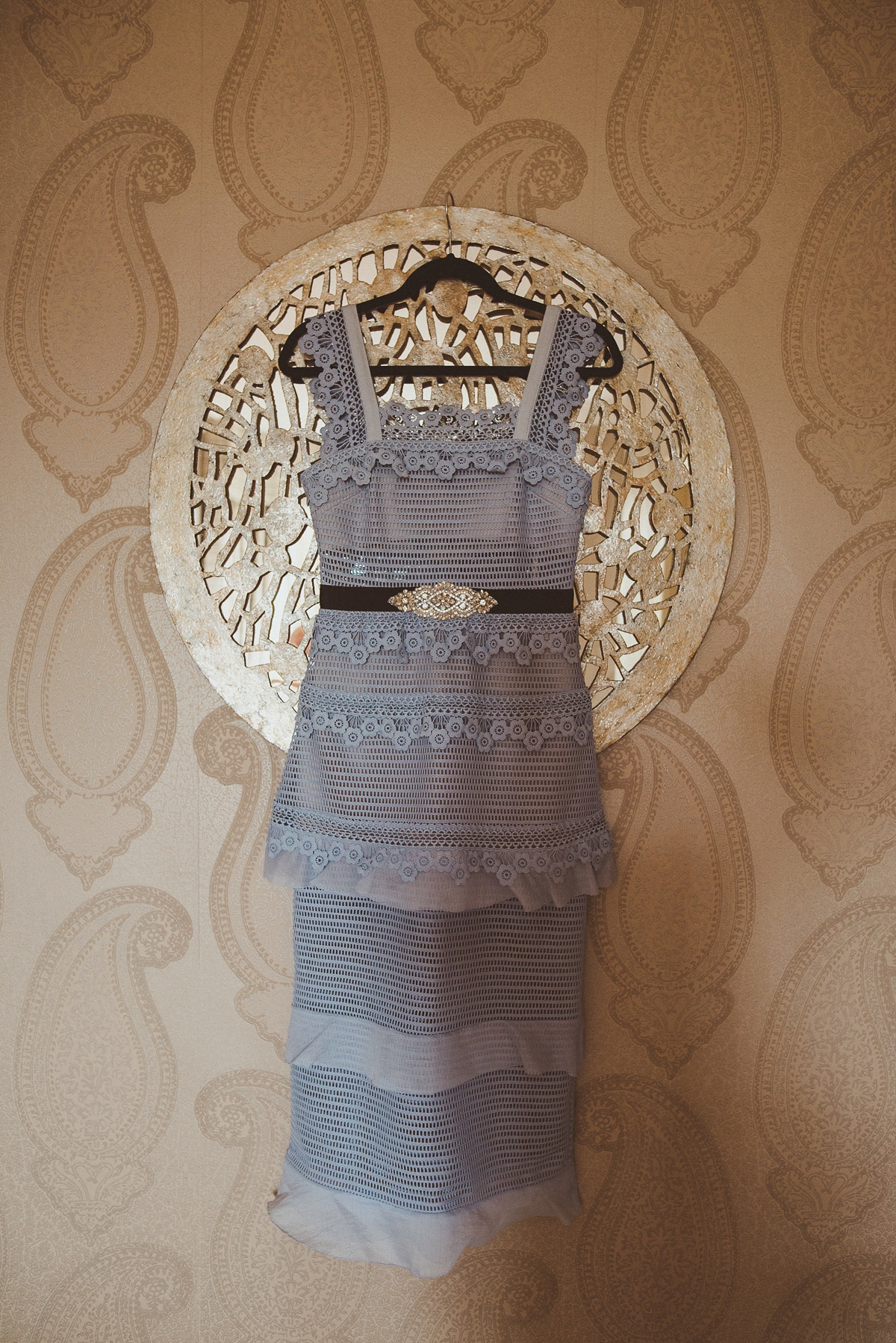 I simply love Sian and Michael's meeting story and their funny engagement tale made me chuckle!
"We met in Wimbledon Village and it was our dogs that brought us together (eventually), but if it wasn't for my (existing) dog Rocco being the reason for me recommending that Michael get a dog (now Ruby) and him wanting to show off the puppy to me, it would never have happened!"
"We got engaged in Venice at the same restaurant that George Clooney had his bachelor party at – Da Ivo – which was magical and quite unexpected. The only issue is that I didn't like the stone, and it almost negated the entire process."
"It took Martin Vainer, a diamond dealer friend of ours, to have to admit that even he didn't get it right when proposing to his wife to persuade a very upset Michael that this was quite normal, hence him suggesting just the stone and not a ring at the proposal stage (there's a good tip for the boys!)."
"We were engaged in October and married the following August."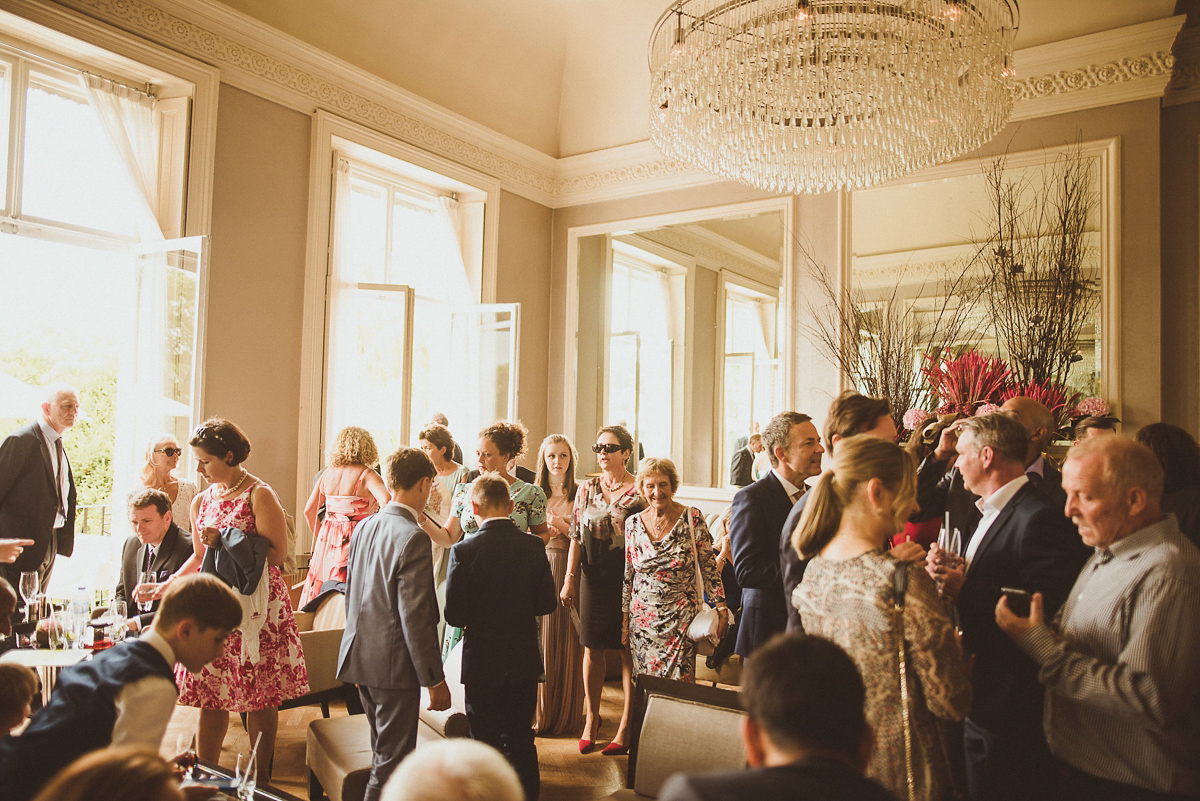 The groom and his fellas made for a very handsome bunch in their handmade and oh so stylish attire.
"Michael's suit was handmade from Gieves and Hawkes in Saville Row, together with all the grooms men too. They had an absolute ball having their suits fitted, made and re-fitted and of course this had to involve several boozy lunches! Their shoes were from Grenson and Michael had rose-gold personalised hip flasks made for each groomsman and his best man too."      
"My dad walked me down the aisle to Debussy's 'Claire de lune'. For our vows, we simply took instruction from our registrar for the words as they gave us examples and templates to work with which was great."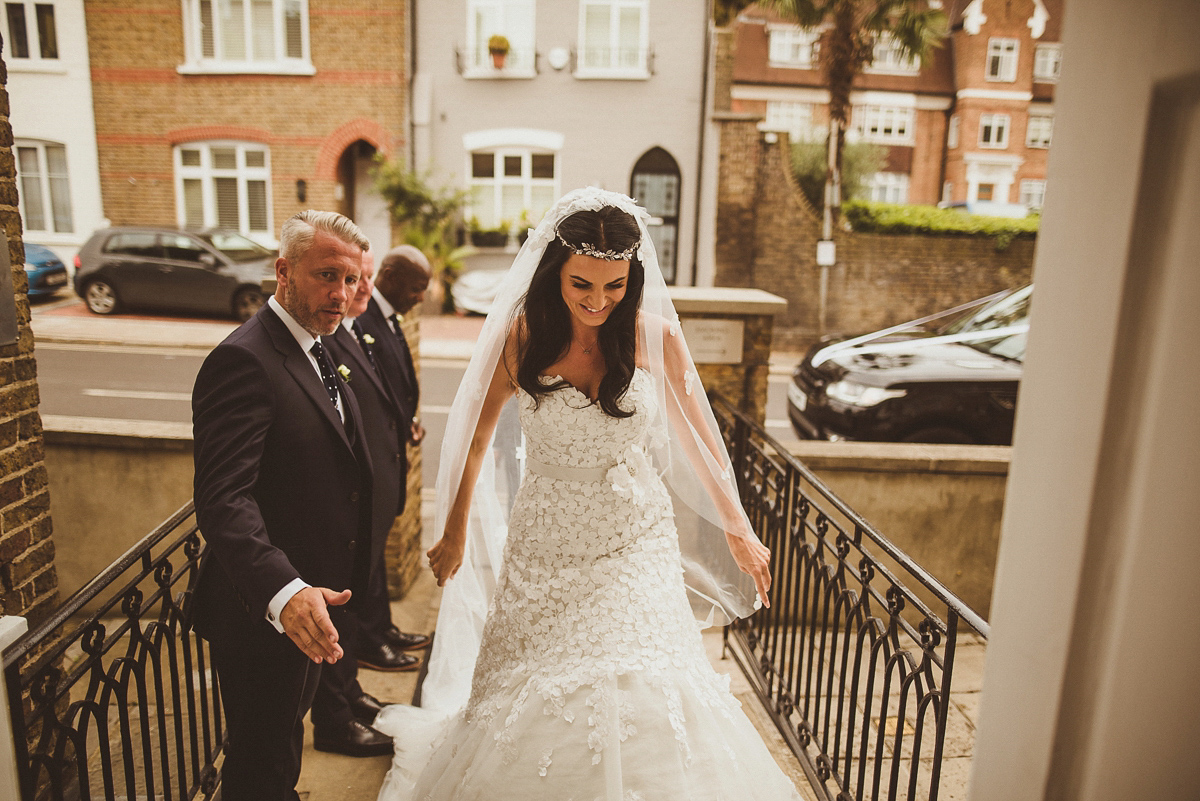 "Martin Vainer is a very well-known diamond dealer in Hatton Garden supplying the jewellery giants with stones such as Tiffany, Cartier and Graff and as he is a good friend he supplied the stone (the second one!) and his workshop made the rings. Michael had a rose gold wedding ring created too."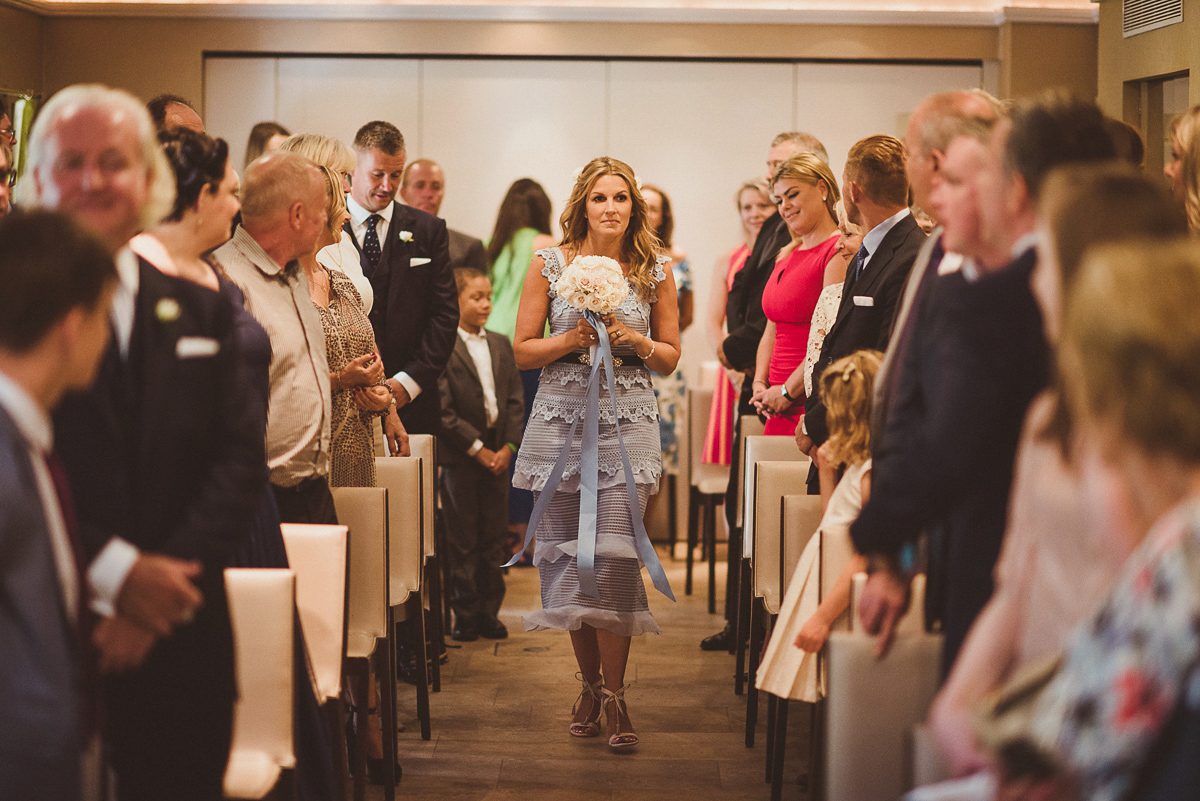 "We didn't want any religious connotations at all and just had simple, but succinct words. We had two Shakespeare sonnets read out by one of the bridesmaids which was Sonnet 18 ('Shall I compare thee to a summers day…'); and Sonnet 116 ('Let me not to the marriage of minds…') read by a dear friend who is an actor with amazing voice projection."
"We chose these as we love words and books and his sonnets are haunting and beautiful."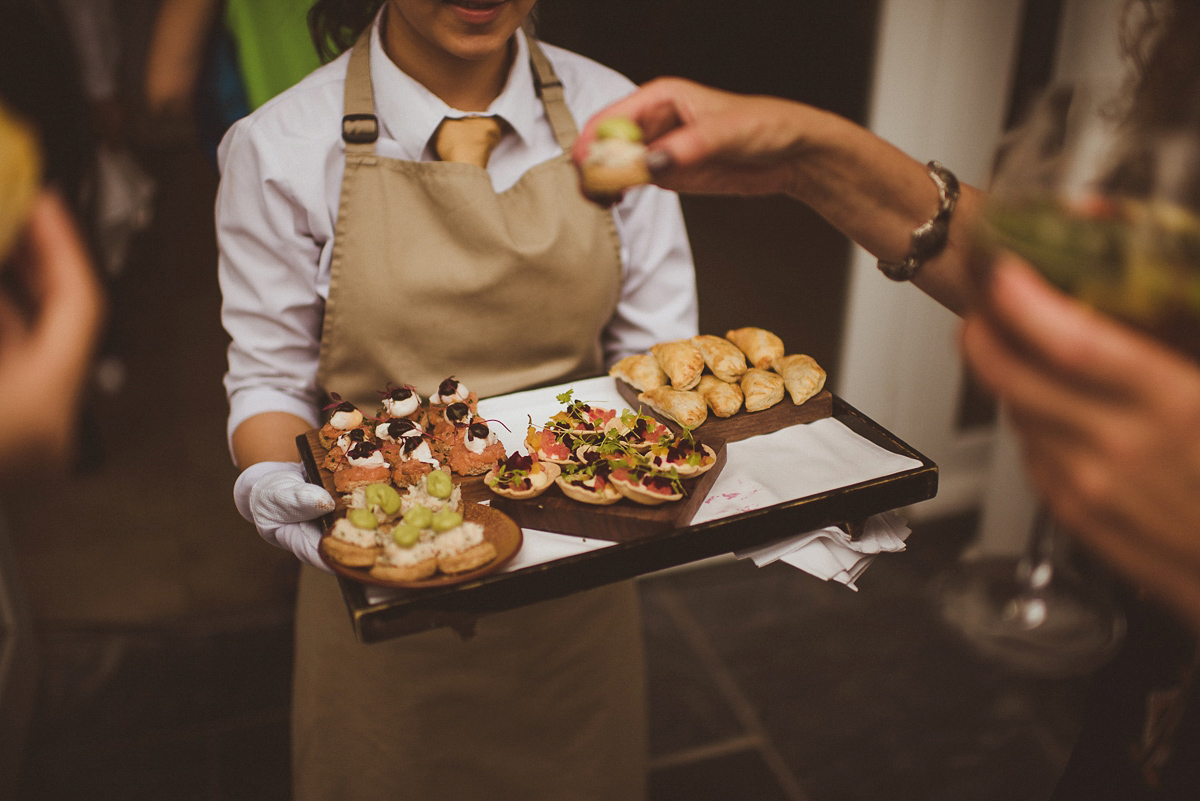 "Our wedding photographer Matt Penberthy literally saved our lives as we were monumentally let down by a previous one causing the most unimaginable stress just four weeks before the date. Matt was amazing, his photos on the website were magical, turning his couples into romantic, ethereal, almost movie-like players in a beautiful film. We knew as soon as we met him that he was the one and from start to finish he was so professional. It's no mean feat keeping a party of over a hundred people organised, but he was astonishingly good. He must have been exhausted at the end but he was joyous for the entire day – our guests loved him."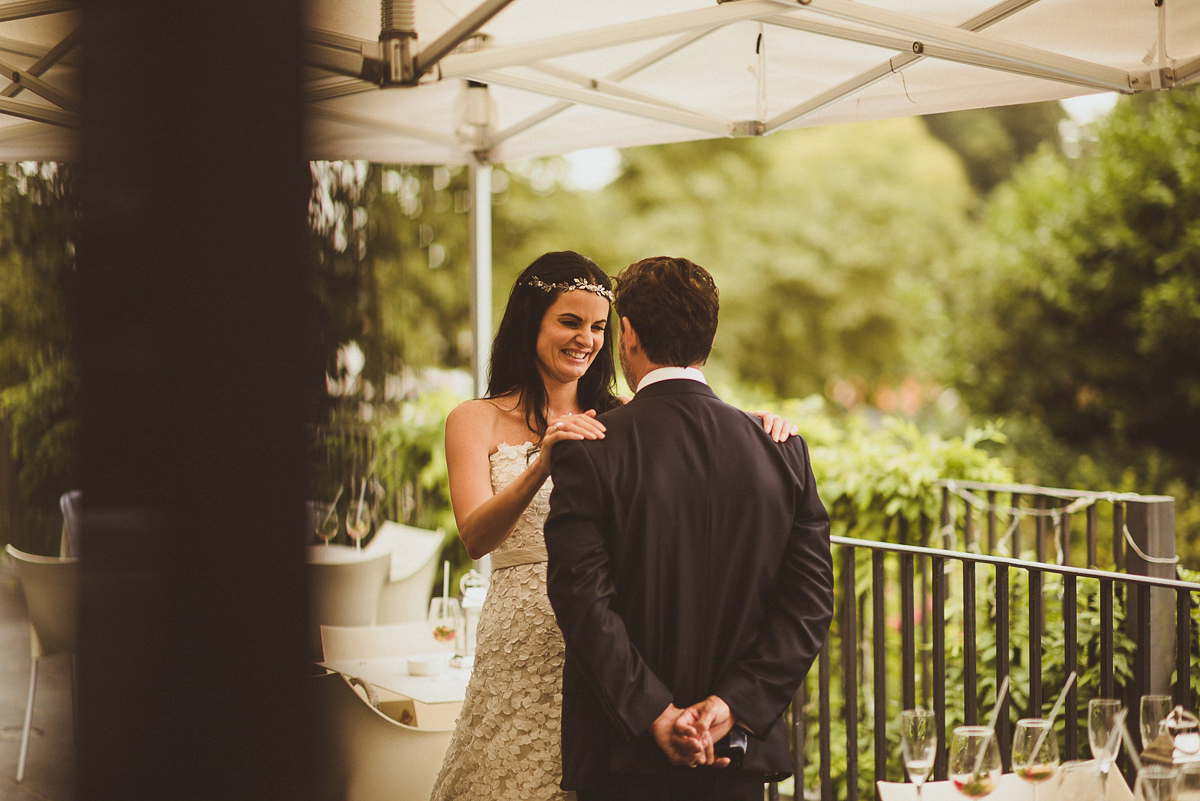 I was thrilled to see this wedding feature another of our delightful Little Book For Brides suppliers, the fabulous 'Little Top', who specialise in entertainment for children at wedding.
"The children were looked after all day by a gorgeous company called The Little Top, where they were entertained with games, arts and crafts, treasure hunts and then in the evening they scoop them up into the mini marquee and show them films and give them popcorn – the kids adored this and were blissfully happy all day!"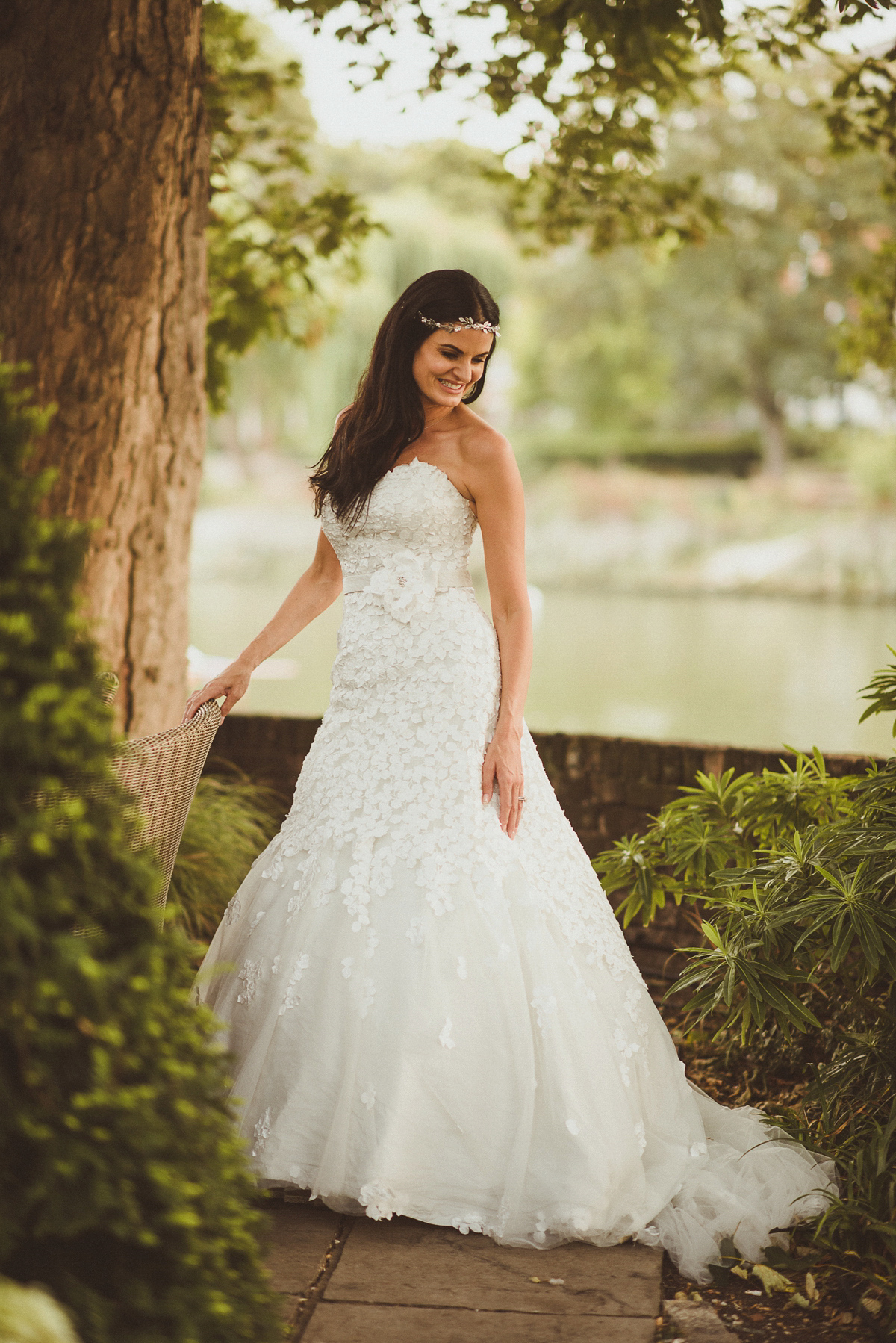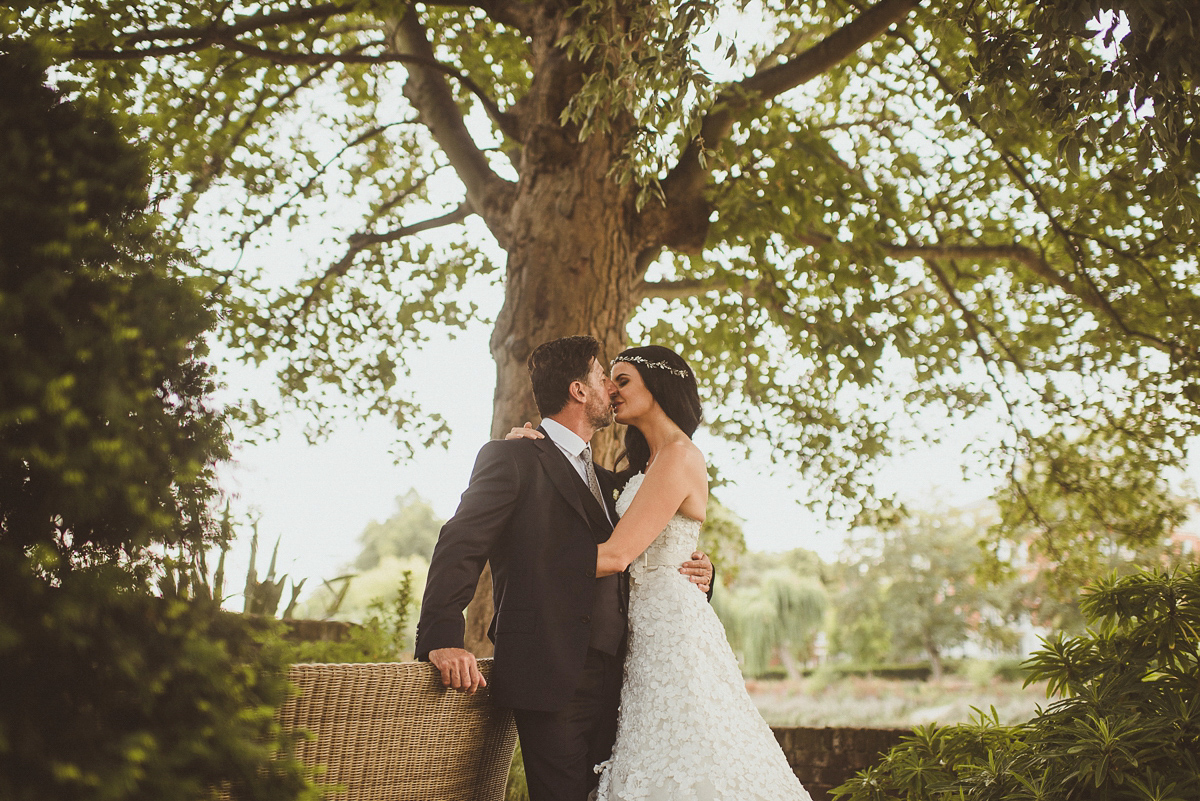 Michael and Sian set up a ton of fun for their guests, with a magician, a river cruise, and even a special surprise for the littlest wedding guests.
"The magician we had was superb and has appeared at several celebrity parties and weddings and came highly recommended. His name is Stephen Karl and he was breathtaking."
"The other thing that we did which we though would be really special was to take our guests onto a boat via Colliers Launches and take them along the River Thames to fill the 'dead time' after the wedding breakfast and before the evening guess arrived. It was so tranquil to have a slow meander along the river with all our guests and everyone loved it, especially the children!"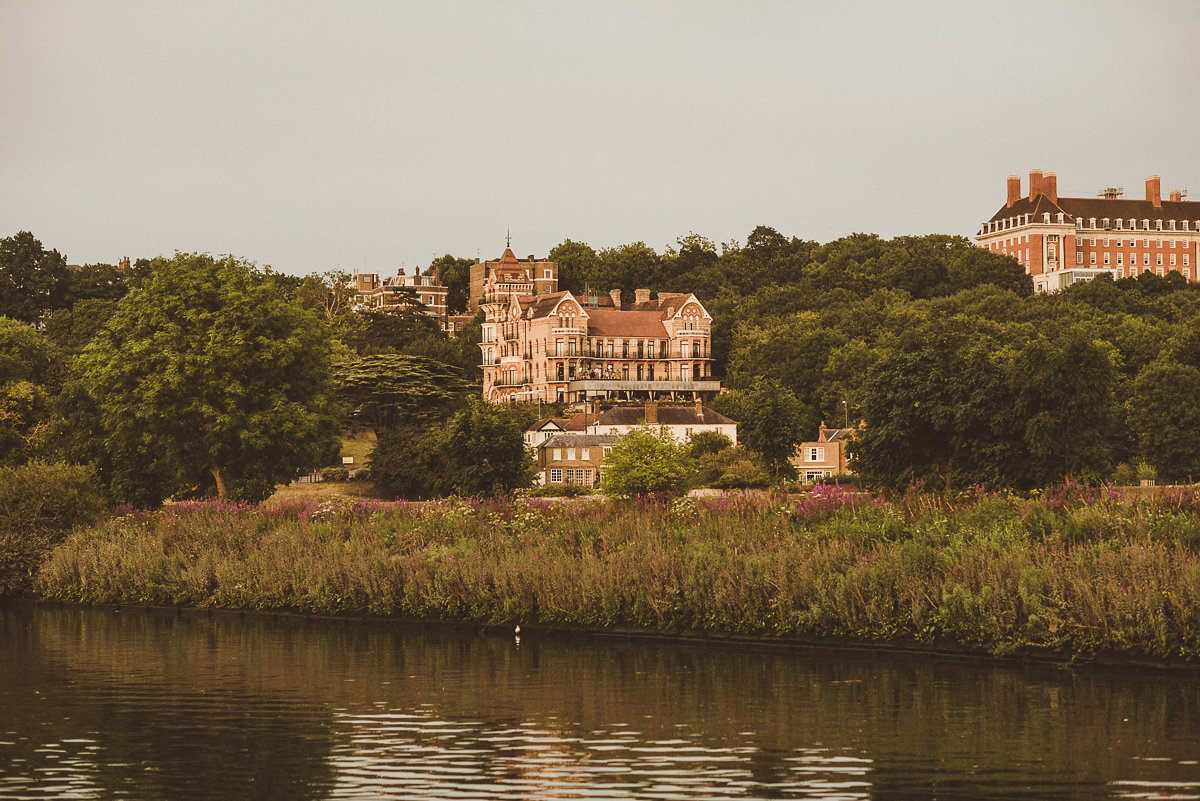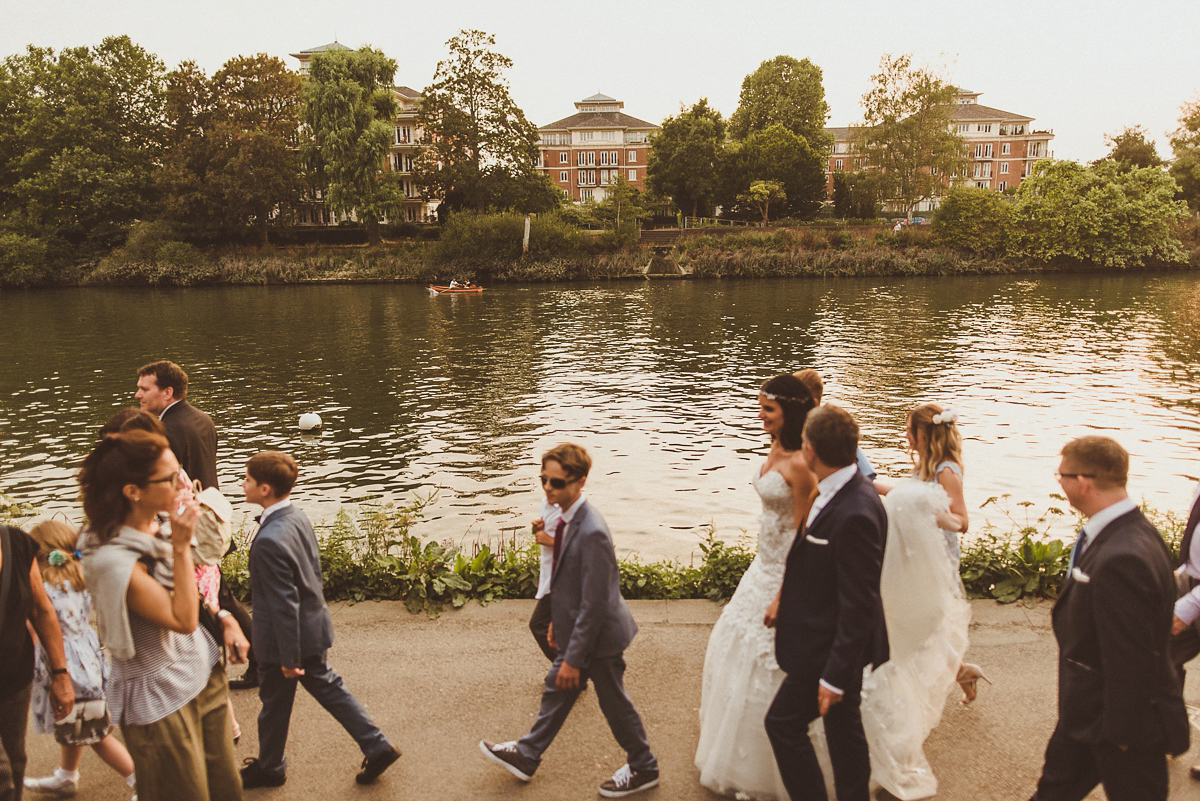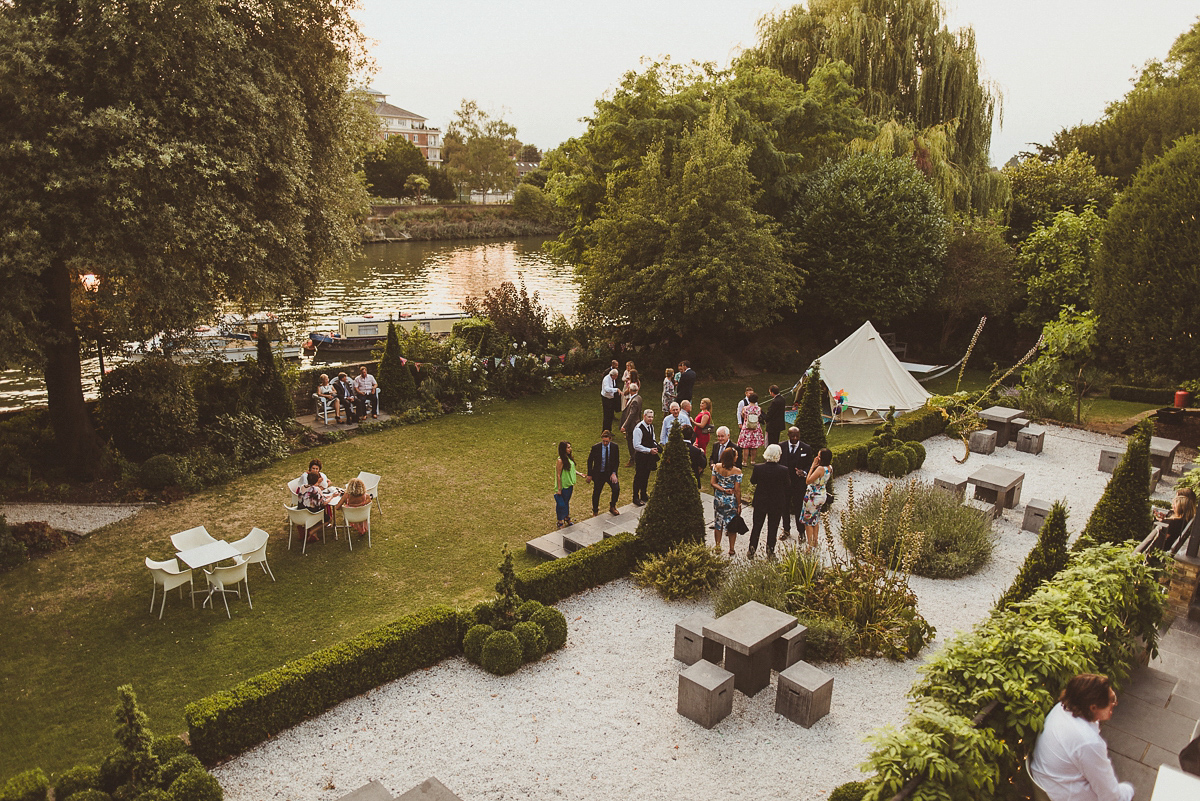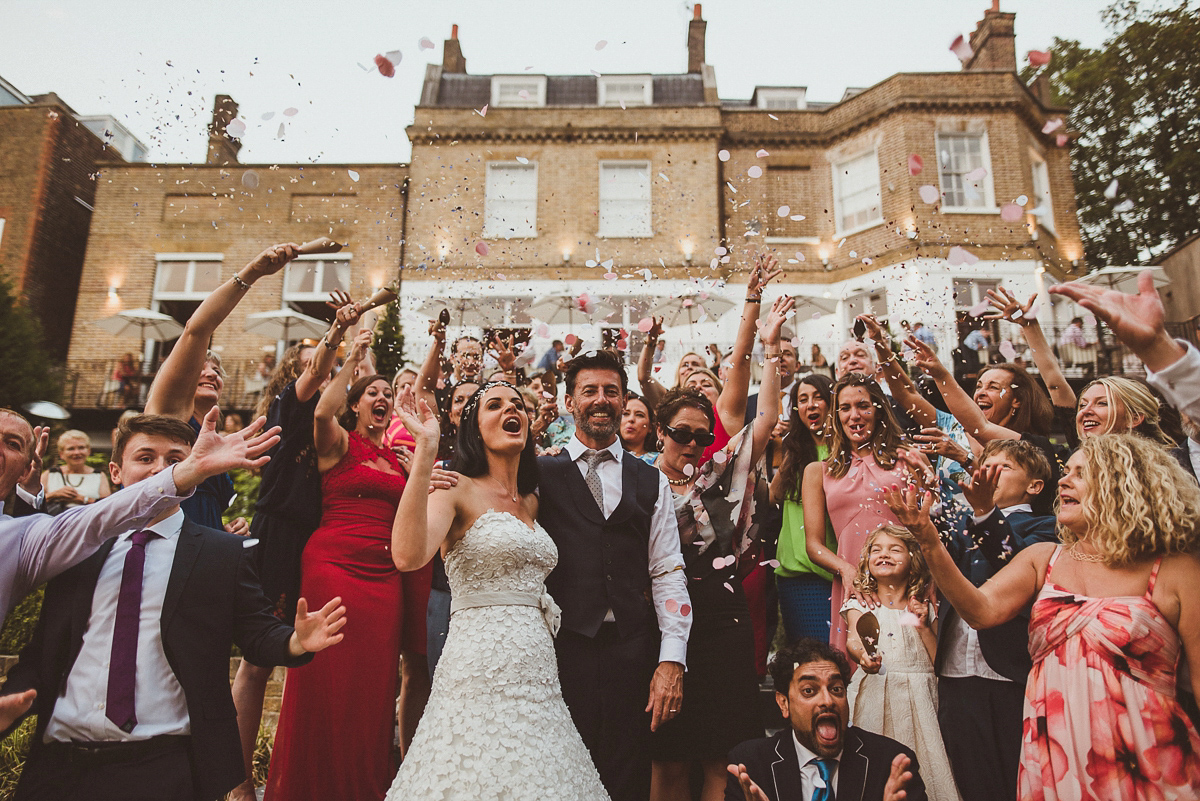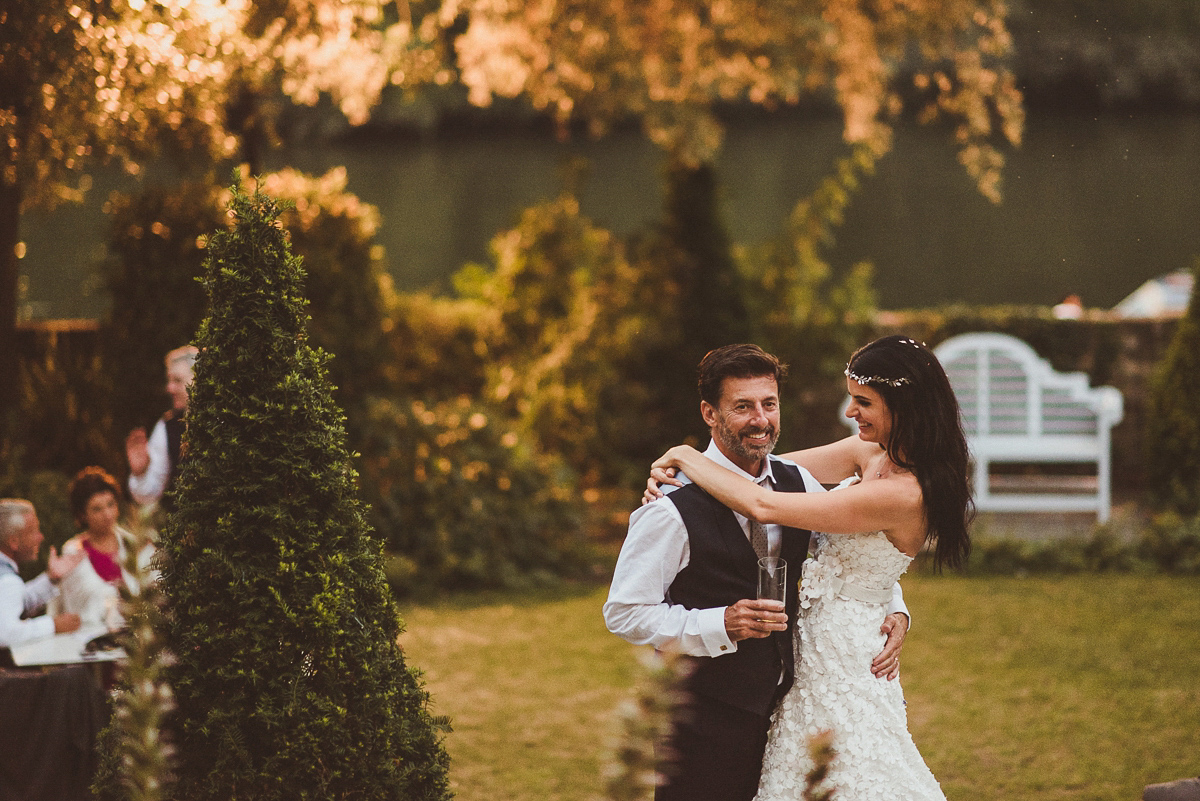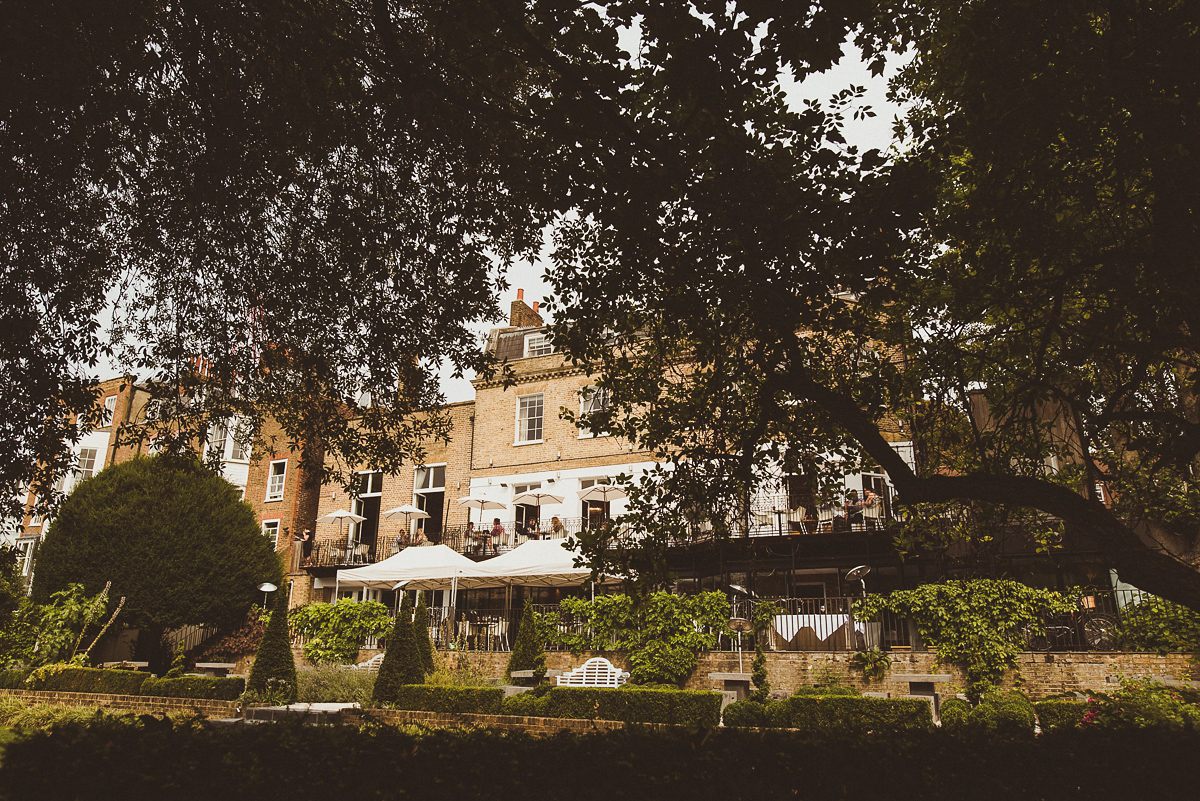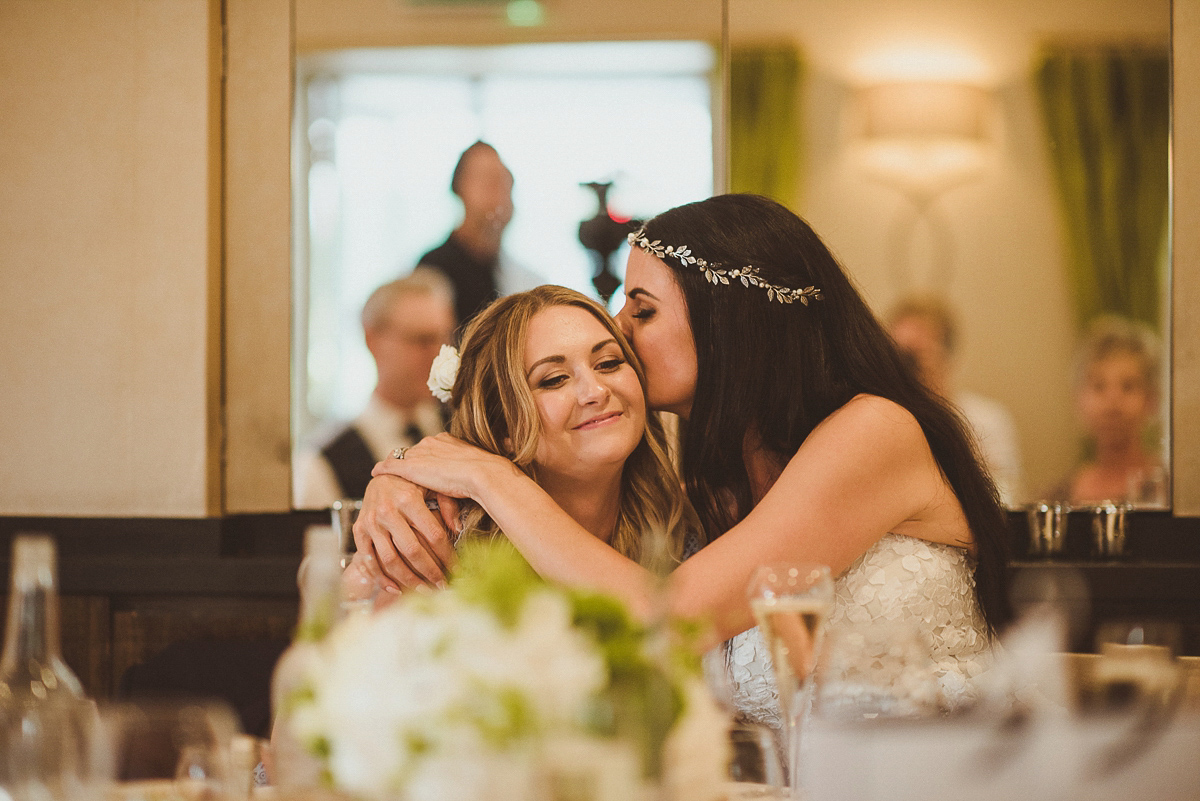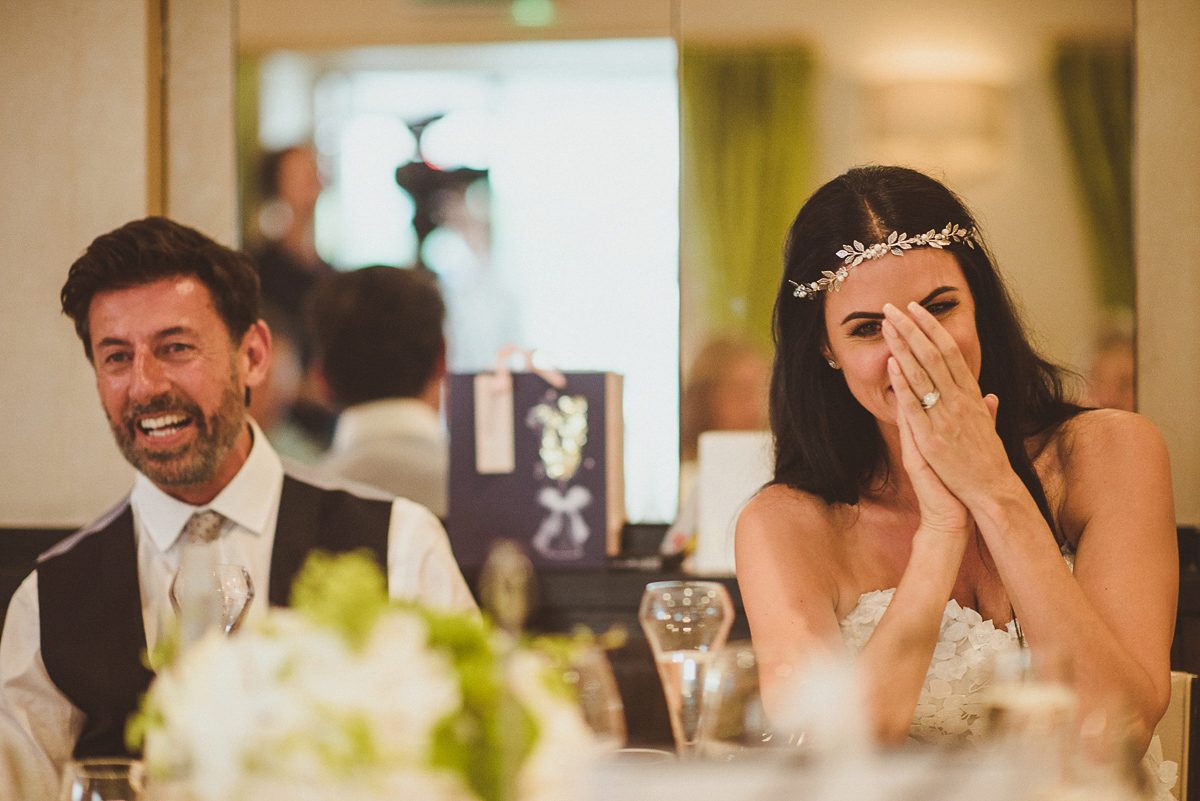 "Our cake was made by the lovely Katie from Katie's Cake-Whole, who added little photos of the dogs in icing so they featured somewhere in the day. It was a tower of gold and white with little tiny white flowers appliquéd into it that matched the dress."
"My favourite part of the day has to be as we were getting ready as the feelings and emotions I was experiencing were so special and exciting that I shall never forget it.
I loved the vows too because again the emotions were so intense. I think I may have tried to slow down a bit because everyone is trying to get a part of you and sometimes I was just being grabbed in all directions. It's fine to say to people 'Hold on just a sec' and 'I'll be right over' and just take some time to breathe and reflect, otherwise it's all such a blur."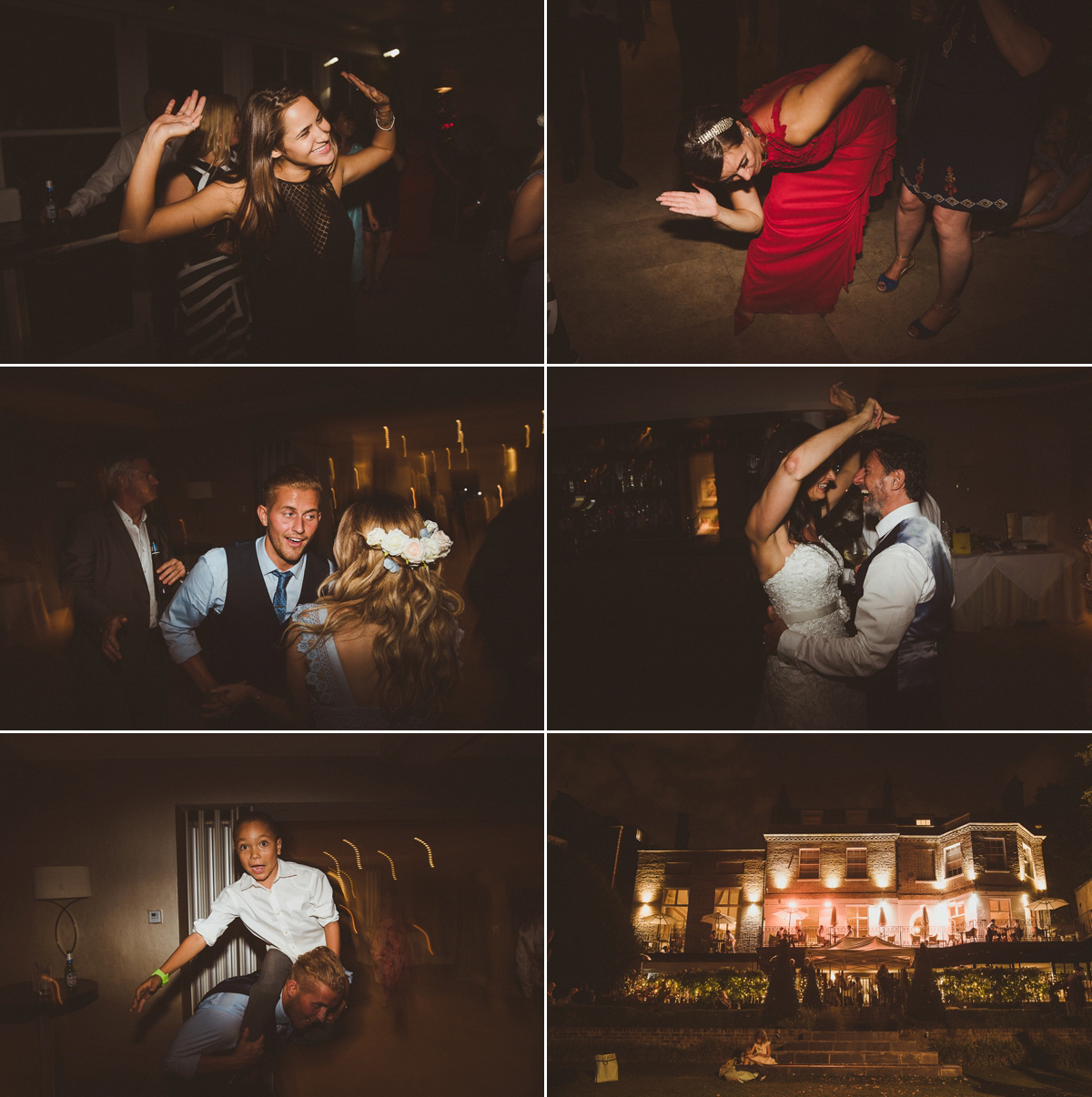 Words of Wedded Wisdom
"It was difficult to think at first of the style and you can get swept along with the idea that you have to have a theme, but it's just not necessary. Your wedding has to be about you as a couple with little references and gestures obviously, but it's not these that your guests remember. My sister said that the wedding favours that she had spent days pouring over in magazines and websites were littered all over the floor at the end of the night, so don't waste the money on these and add that to the bar bill for example.
Just do what you want to do and don't listen to other people saying what they want from your wedding. Invite who you want to invite and don't invite who you don't want to invite, it's your day and no-one else's, and most of all try to stop and take five minutes with your new husband just to escape and be alone – it makes the day so special when you do that and you'll remember it for the rest of your lives."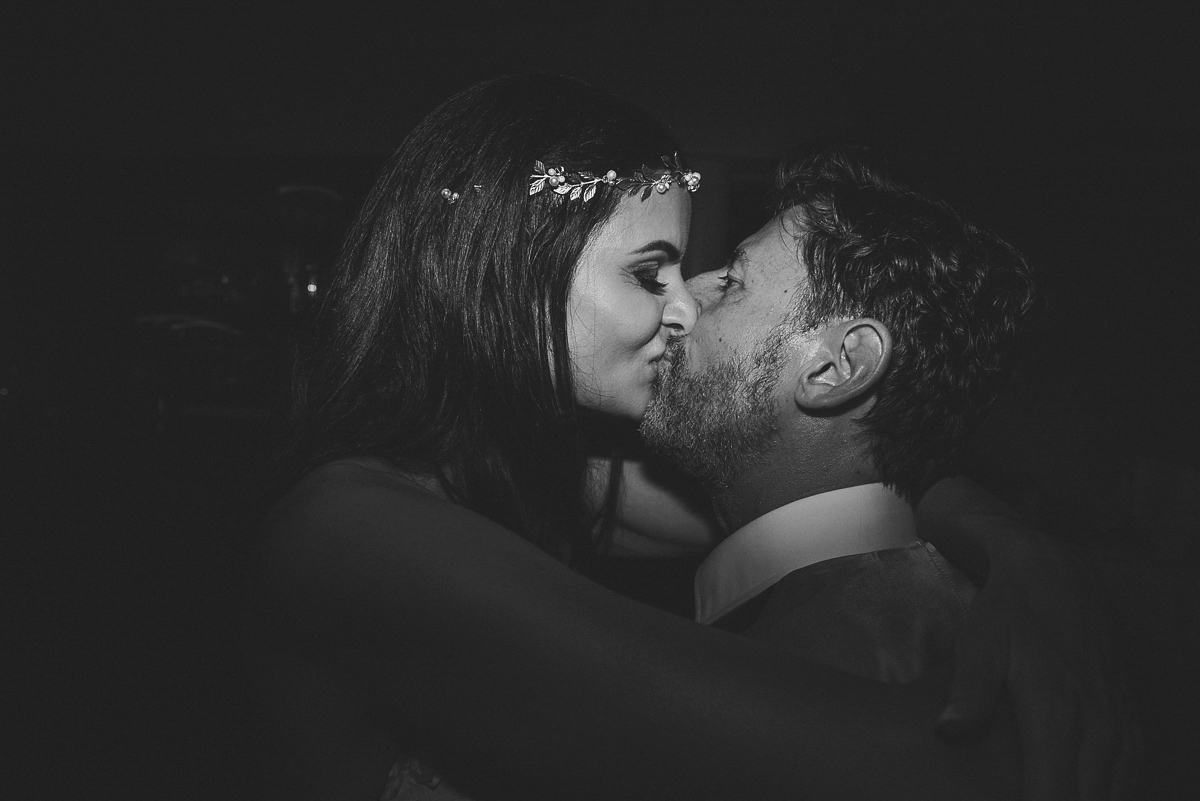 Thank you so very much to lovely Sian and Michael for taking me back to my time in Richmond and for allowing us all a little peek into your beautiful big day. Many thanks too to Matt for sharing these pictures of the couple's special moments of their summer celebrations.  
If you've fallen for Sian's glamorous gown, make sure you bookmark this link to discover more of Ian Stuart's gorgeous designs.
Here's to a productive rest of week lovelies!
Love Jo -x-