Jenny and Antony tied the knot on 29th July last year at The Reid Rooms in Margaret Roding, Essex. Their wedding was full of delightful, whimsical style romance and documented beautifully by photographers Sam and Louise, whose work is debuting on Love My Dress this morning. You might recognise the person sandwiched in between the bride and groom below too, by the way…
"We wanted a relaxed family day, full of love, about the coming together of our families, not just our marriage. We also wanted the wedding to include key Italian references and traditions, due to Antony's heritage and love of Italy. Our first dance song was performed on acoustic guitar by Antony's old friend, who mixed Elvis I Can't Help Falling in Love with 'Thinking Out Loud'. The room went into stunned silence and I've never felt love so strongly in my whole life whilst we kissed and slow danced with the most special people in our life surrounding us. It was completely magical – the most romantic, beautiful moment that I will never forget."
Photography by Sam and Louise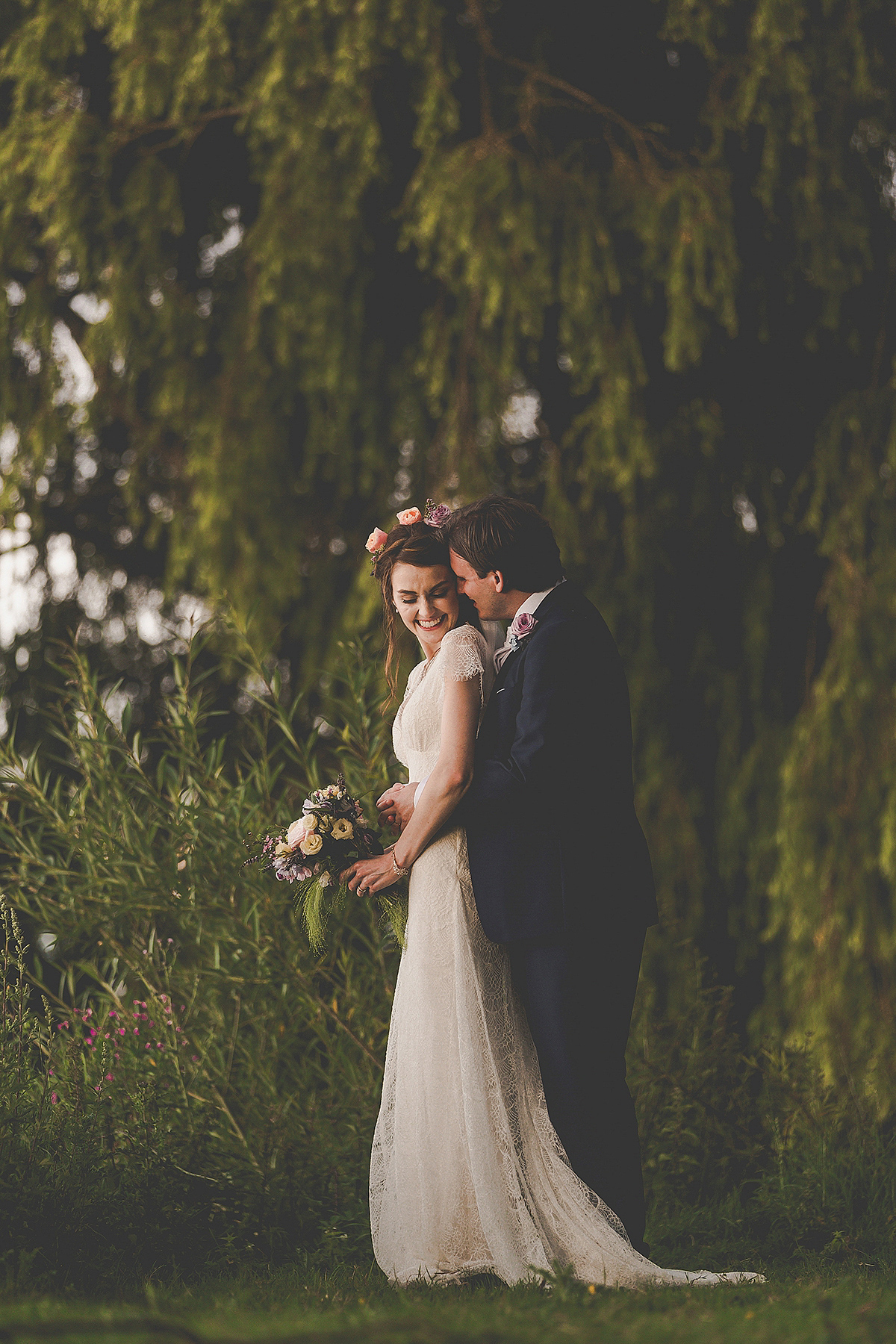 "We based the wedding upon a romantic Secret Garden theme, with wild, whimsical tumbling flowers, foliage and moss, vintage books, lace ribbon and ornate keys. Jenny rekindled her love of crafting, hand-making all the stationery, and other DIY details including wooden crafts made by Jenny's father and hand painted by Jenny."
"The main thing that drew us to the venue was the beautiful meadow where the ceremony was held – it took my breath away, all you can hear is birds and nature, no cars, stress or noise, so peaceful and natural and beautiful."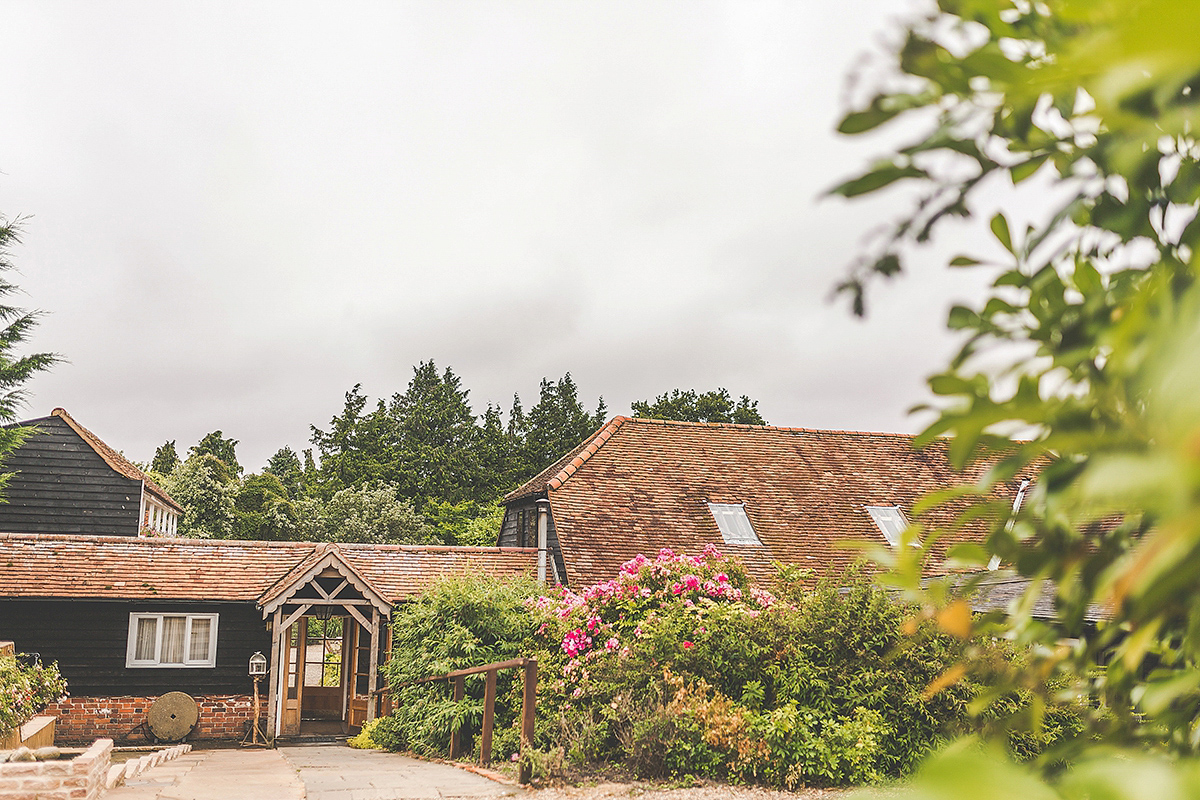 "When we heard the bride and groom can take a romantic little boat ride along a moat following the ceremony, it sealed the deal. It had to be our venue!"
"My flowing silk lace wedding dress from Temperley and seemed like it was made for me. It fitted like a glove and made me feel pretty, feminine and elegant."
"My grandad paid for my dress and I even got to try it on in front of my beloved Nan before she passed away a month before the wedding."
"I was willing to blow the budget on a beautiful pair of wedding shoes, but my mum fell in love with some sweet and elegant simple ivory lace court shoes from Debenhams, they were perfect, and I added handmade key and lace adornments to fit in with my theme."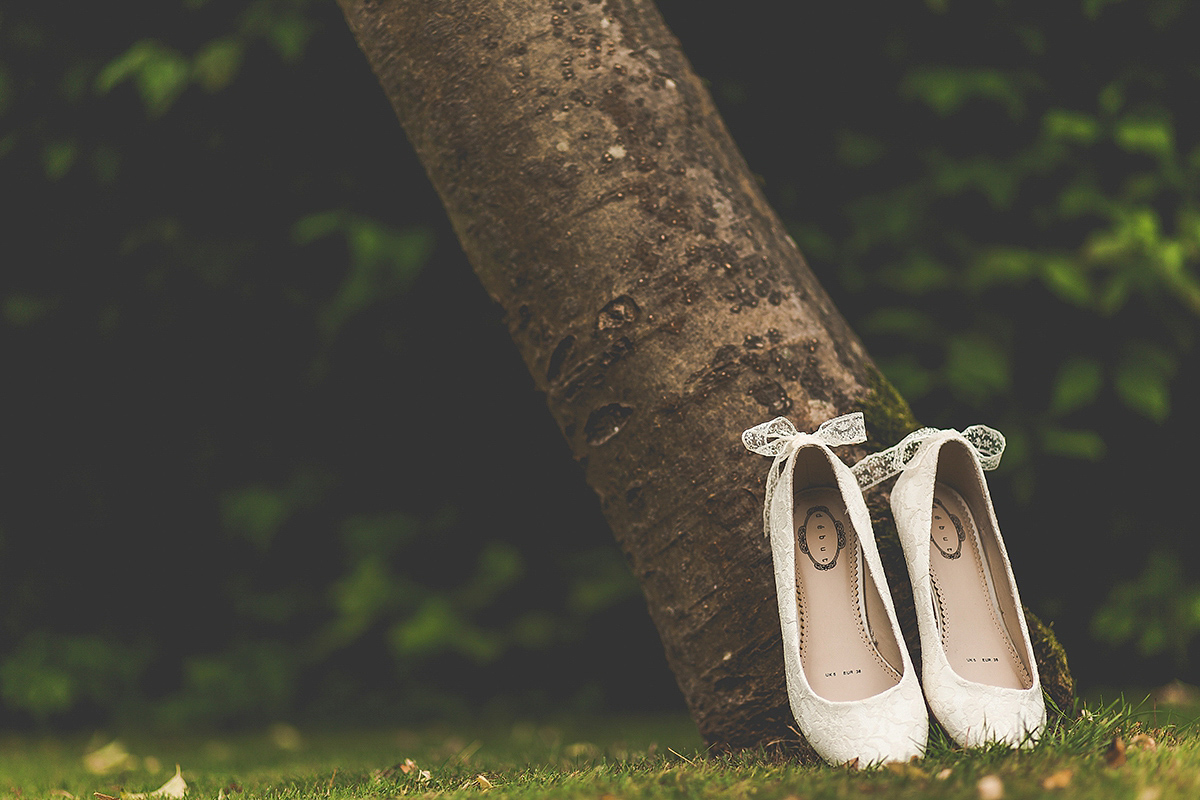 "Amanda of Amanda Croke Hair Design and Natasha of ND Makeup were both fantastic, not only providing us with intricate beautiful hair and make-up, but calming bridal party nerves on the morning and helping the morning to flow calmly and beautifully."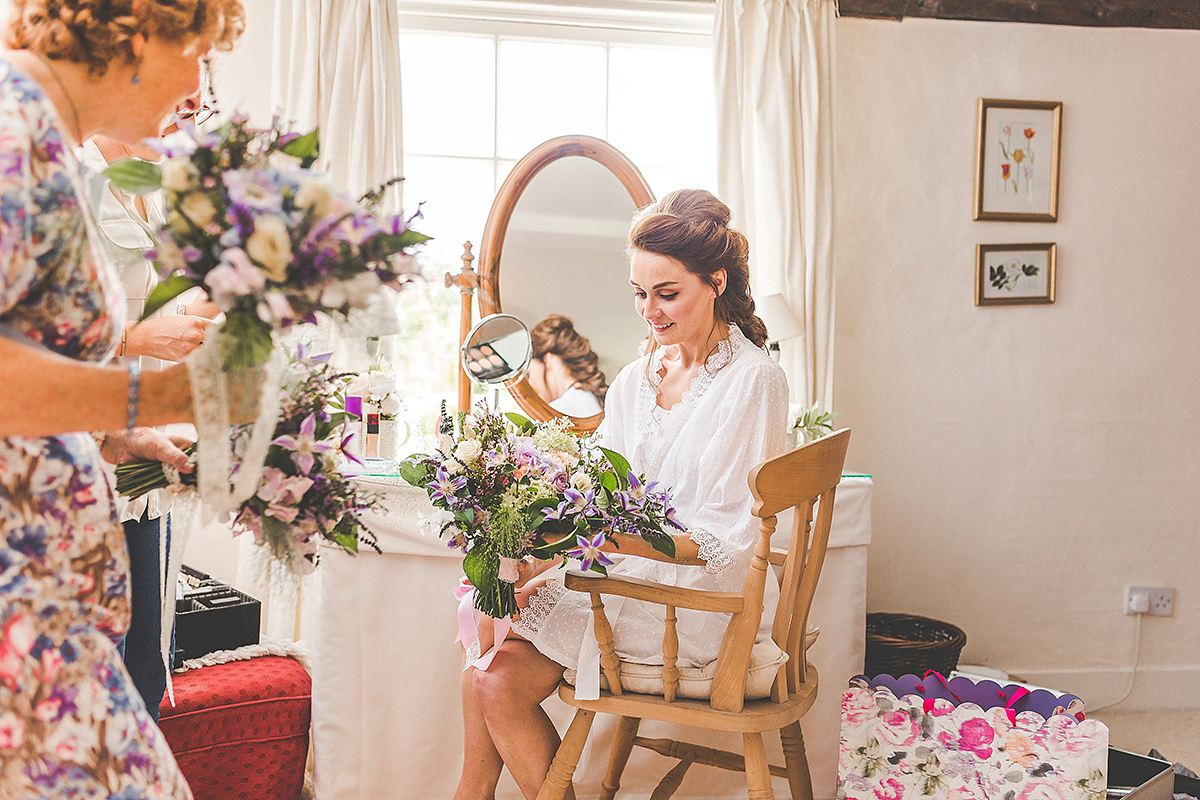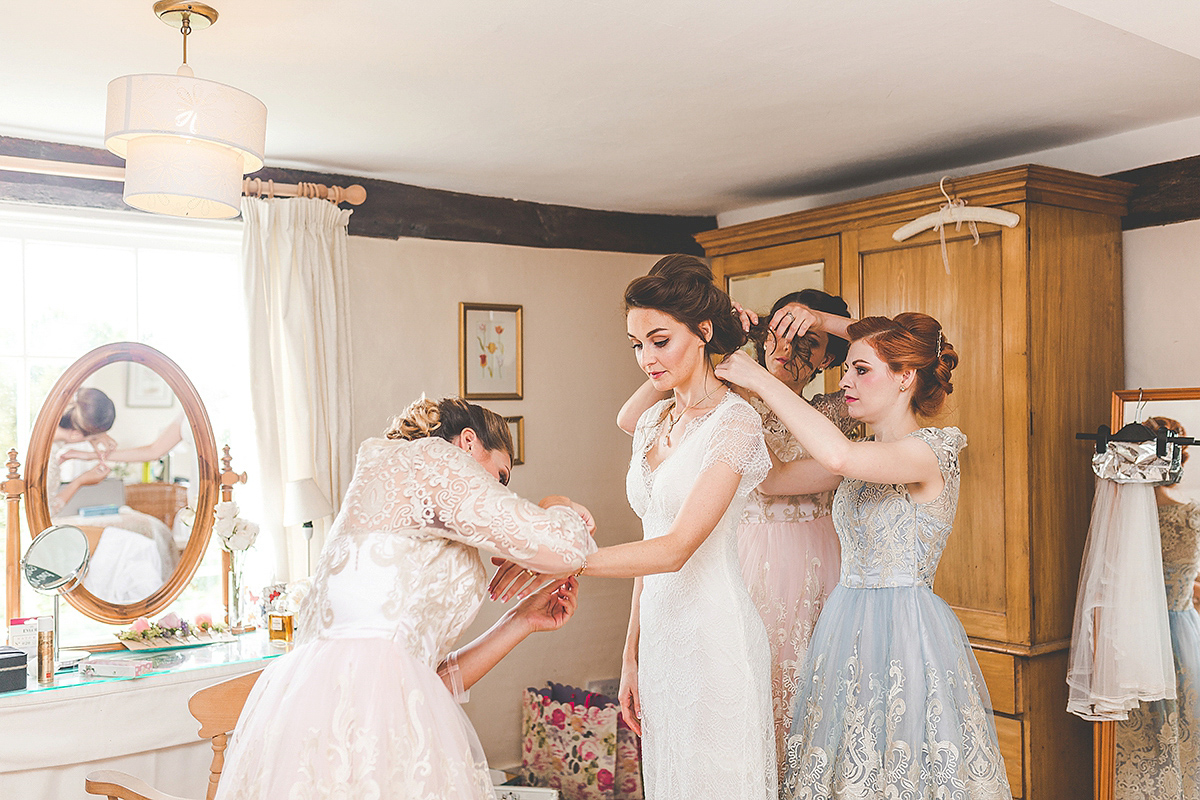 "My four bridesmaids stunned the guests, wearing dresses from Chi Chi London in pastel pink and pastel blue with gold embroidery. My bridesmaids are each so unique and beautiful, but so different. Yet the dresses seemed to compliment each of them."
"I didn't want traditional bridesmaid dresses, so these were perfect, something unique and different and we got so many compliments, my sister was mistaken for the bride several times on the day. Each bridesmaids wore their own gold shoes."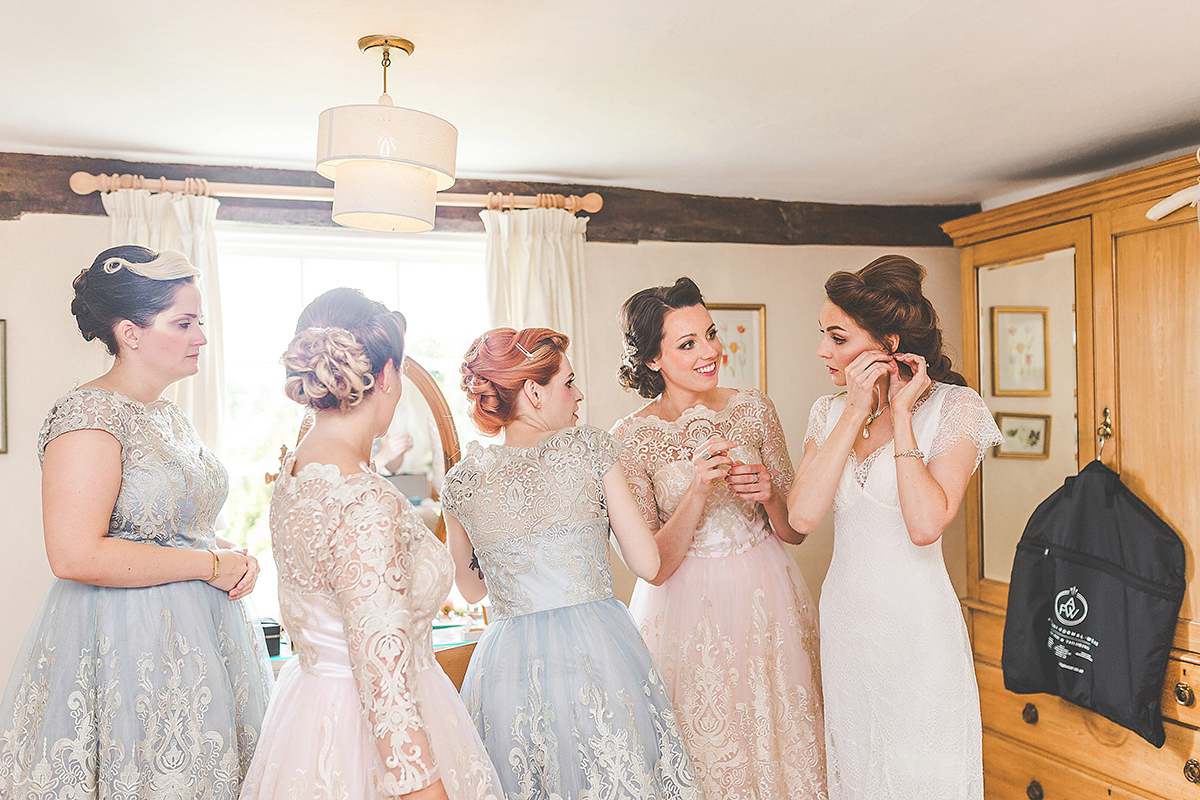 "I wore a Vintage Edwardian ivory lace silk veil – it was my something borrowed, a precious heirloom from my mum. I also wore a pair of rose gold diamond earrings were a gift from Antony, a surprise on the morning of the wedding, he had them handmade to copy a costume pair I had purchased for the day – they were so beautiful and meaningful."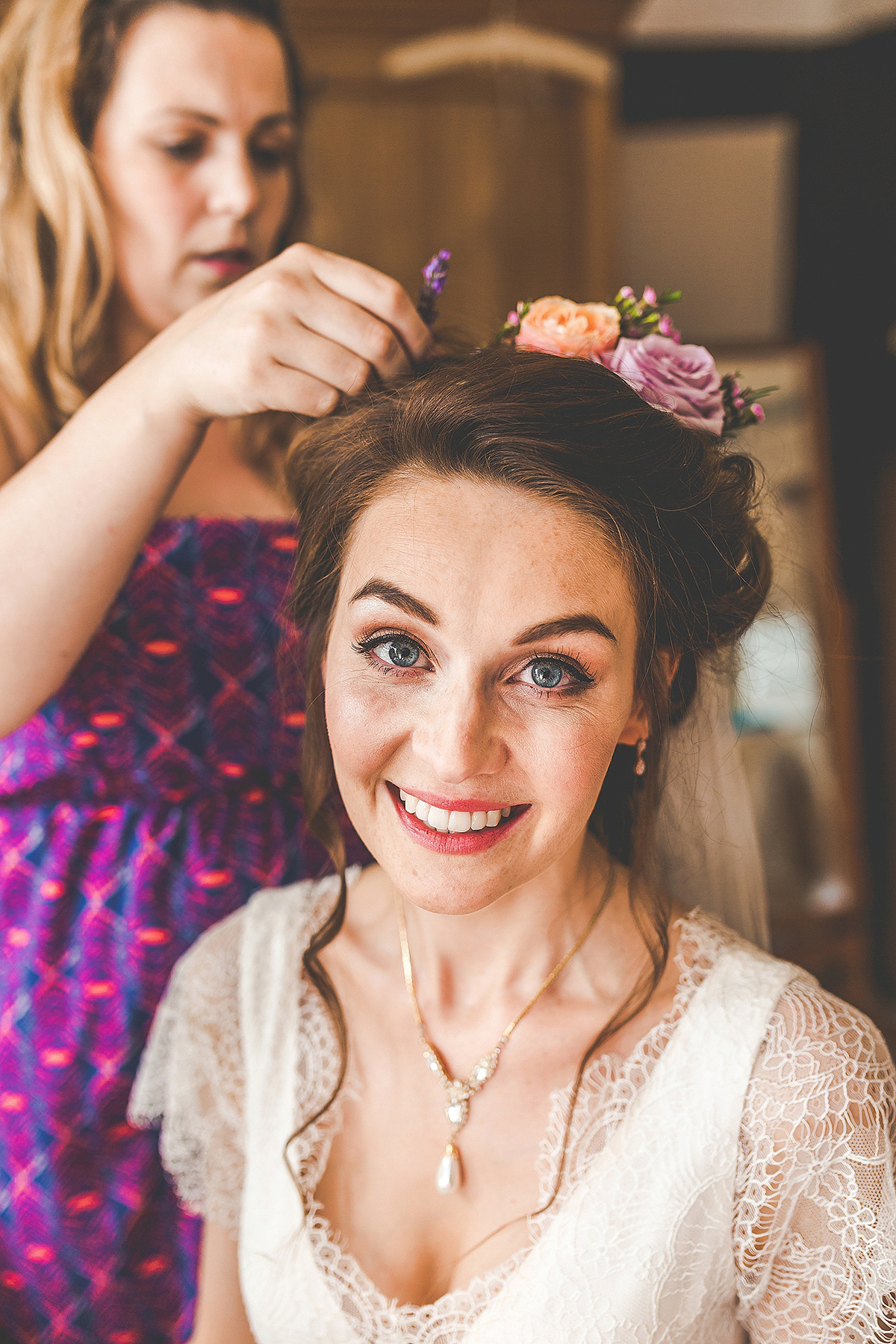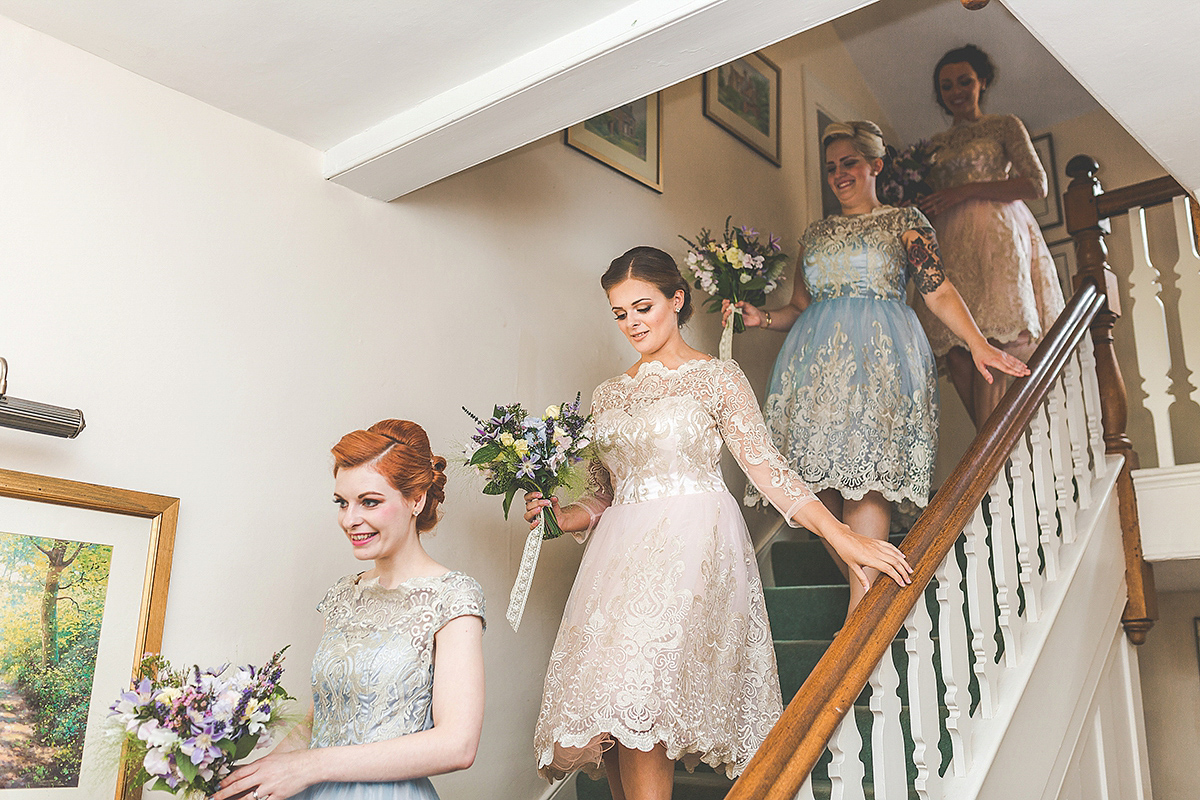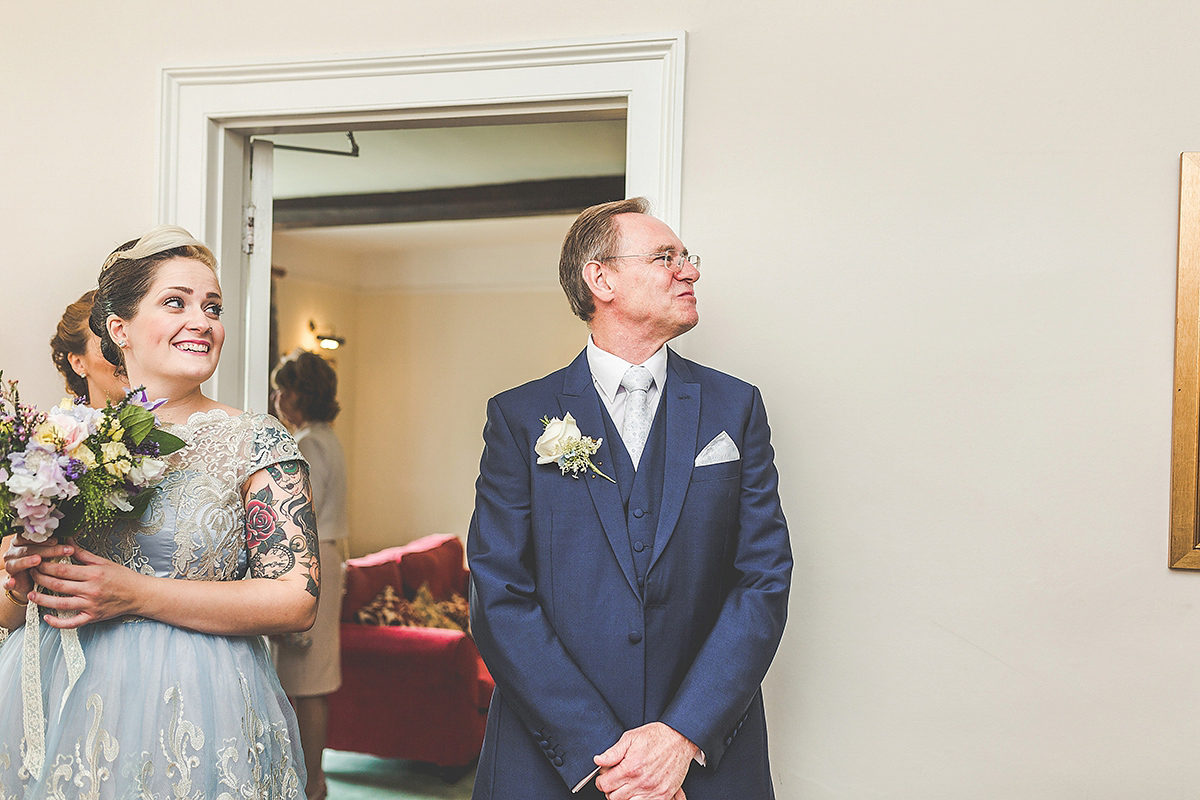 "Our local family florist – Marion Jacobs, from Rainham, with much help in the planning from my mother who is a keen gardener, saw to all the flowers. We had wild, tumbling flowers, foliage and moss, to fit with the Secret Garden theme and suit the whimsical beauty of the meadow wedding."
"Our florist was up at 5am on the morning and day before the wedding hand picking wild berries and foliage from local fields to add to the wild beautiful arrangements and she carefully co-ordinated the rose colours with the bridesmaid dresses. My sister thoughtfully bought me a paperweight containing a flower from my bouquet to preserve the memories of the flowers forever."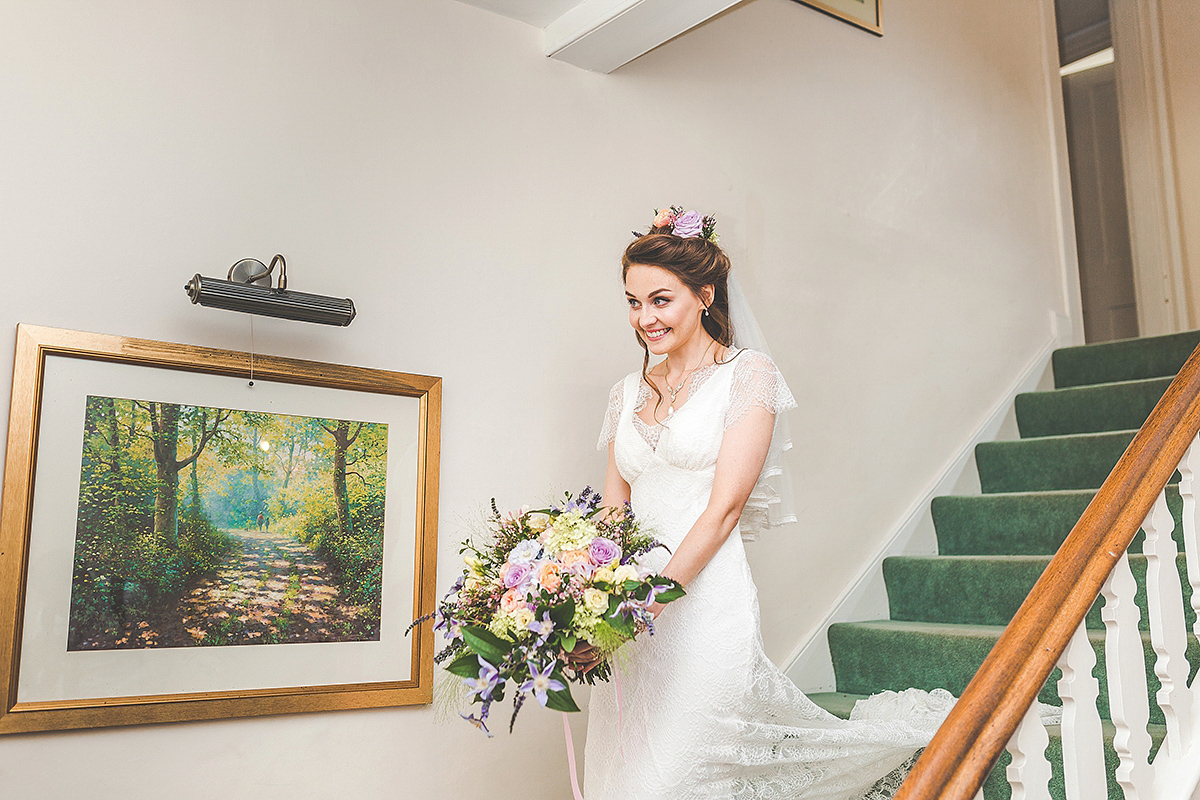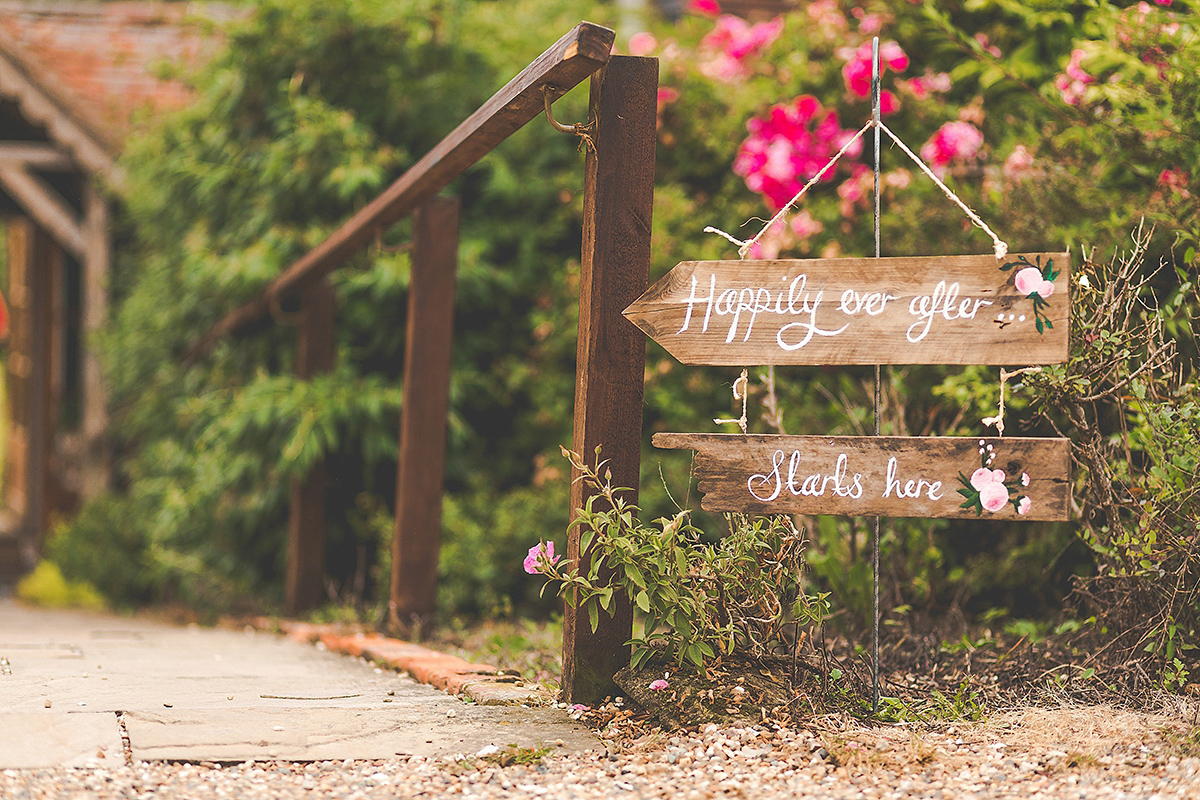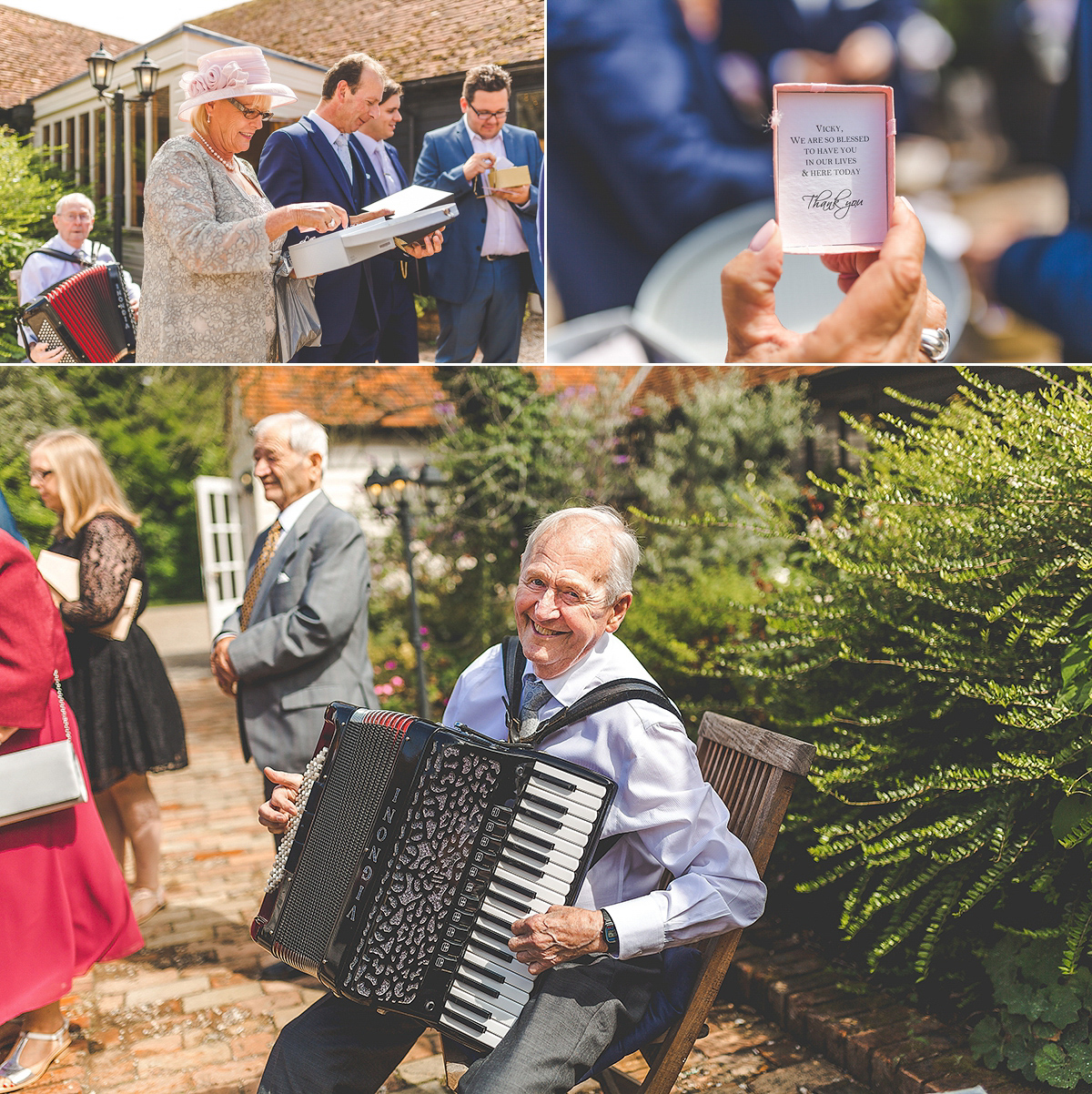 "Antony wore a navy three piece suit hired from Anthony Formalwear with an ivory silk tie. He also carried an engraved gold pocket watch, a gift from his mum. On the inside of his jacket, he had a memory pin with photographs of his late grandmothers which was a gift from me."
"And finally, he sported a variety of Italian gold jewellery, including gold cufflinks and an Italian good luck charm – again, a gift from me."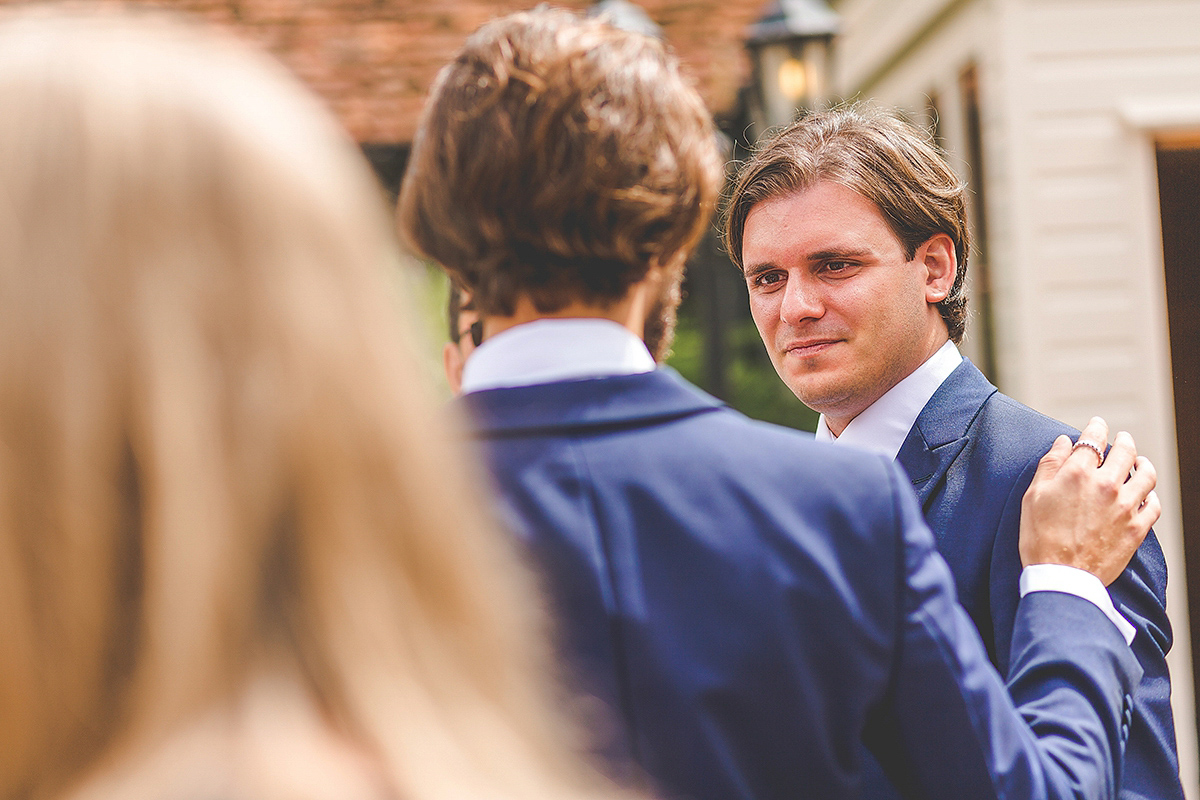 "Antony and I have been friends for ten years – I had a thing for him from the moment I met him. We lost contact for a couple of years whilst Antony was travelling – but when he returned, he got in touch and we fell in love very quickly after just a couple of dates."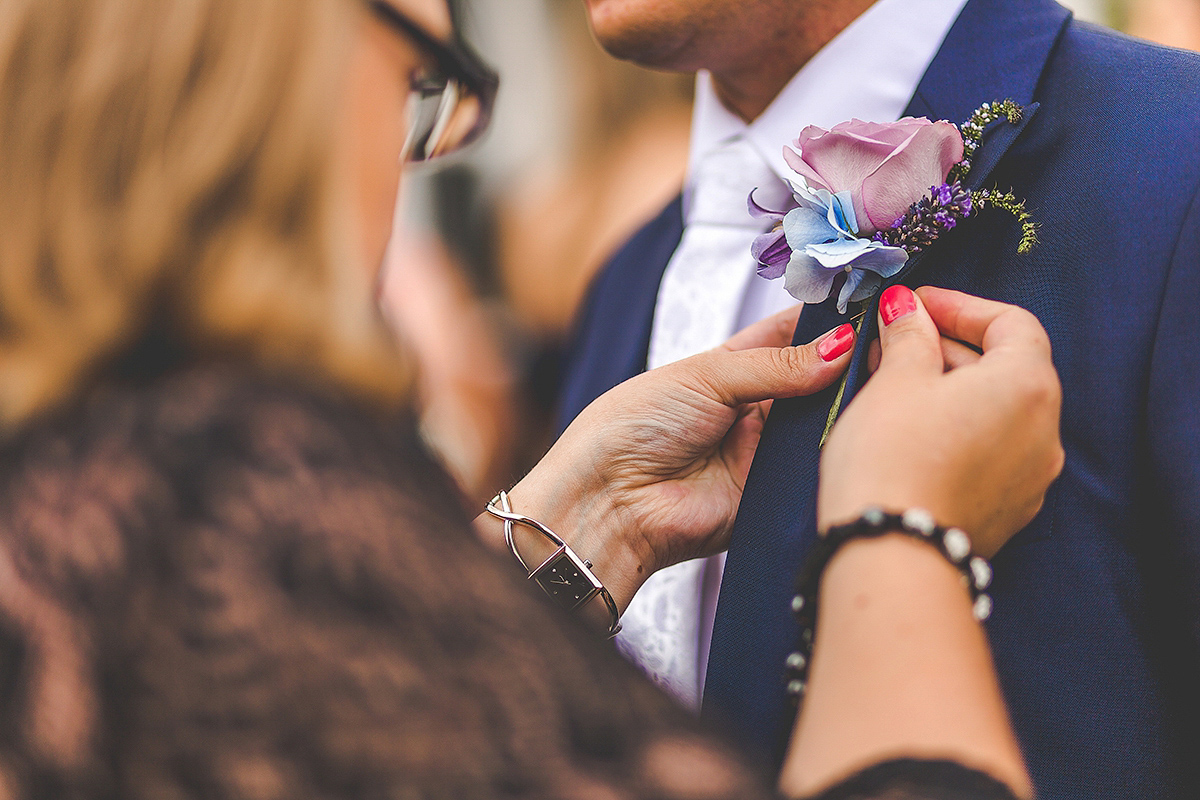 "Antony surprised me with an overnight stay and dinner at The Savoy in London, pretending he had won it as a magazine competition. He got down on one knee and proposed in the beautiful hotel room and told me he had been saving for the ring from our very first date two years previously. We had two happy engaged years before we tied the knot."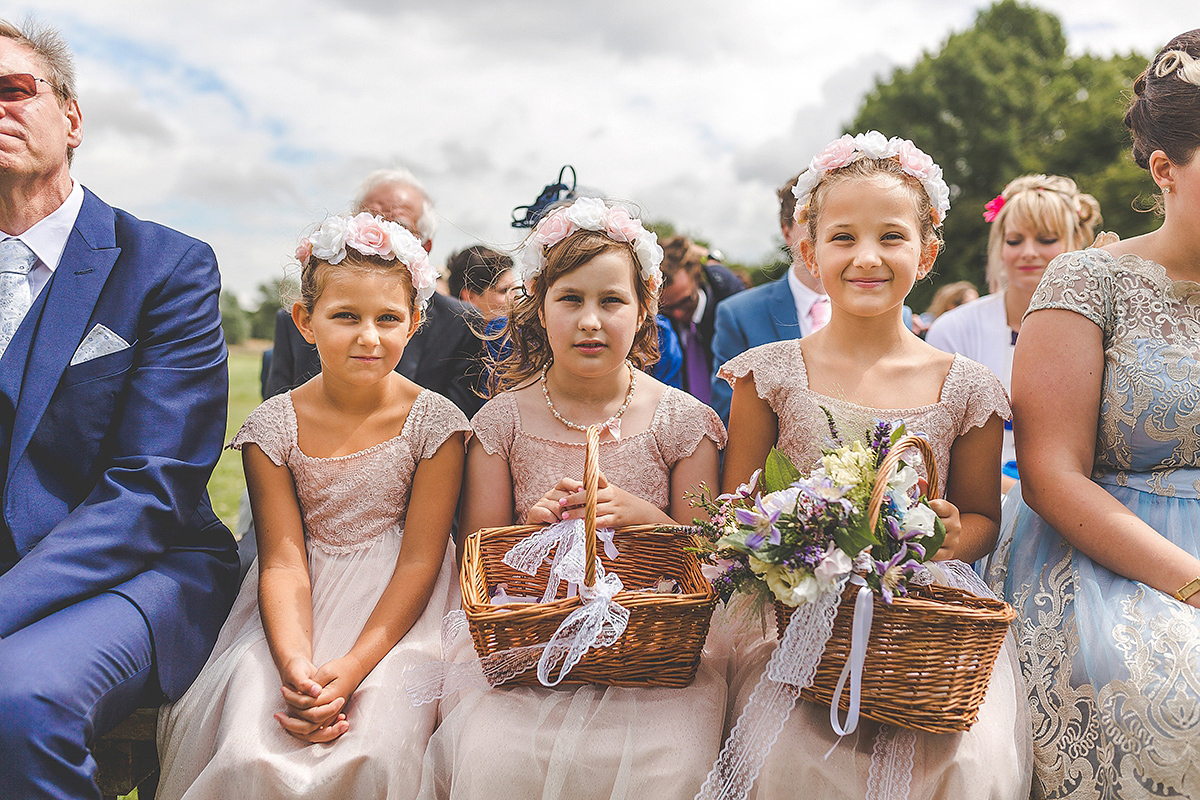 "We had wooden trailers pulled by tractors took guests down a wobbly country lane to the ceremony place on a meadow. It was a fun, unique experience that guests will never forget."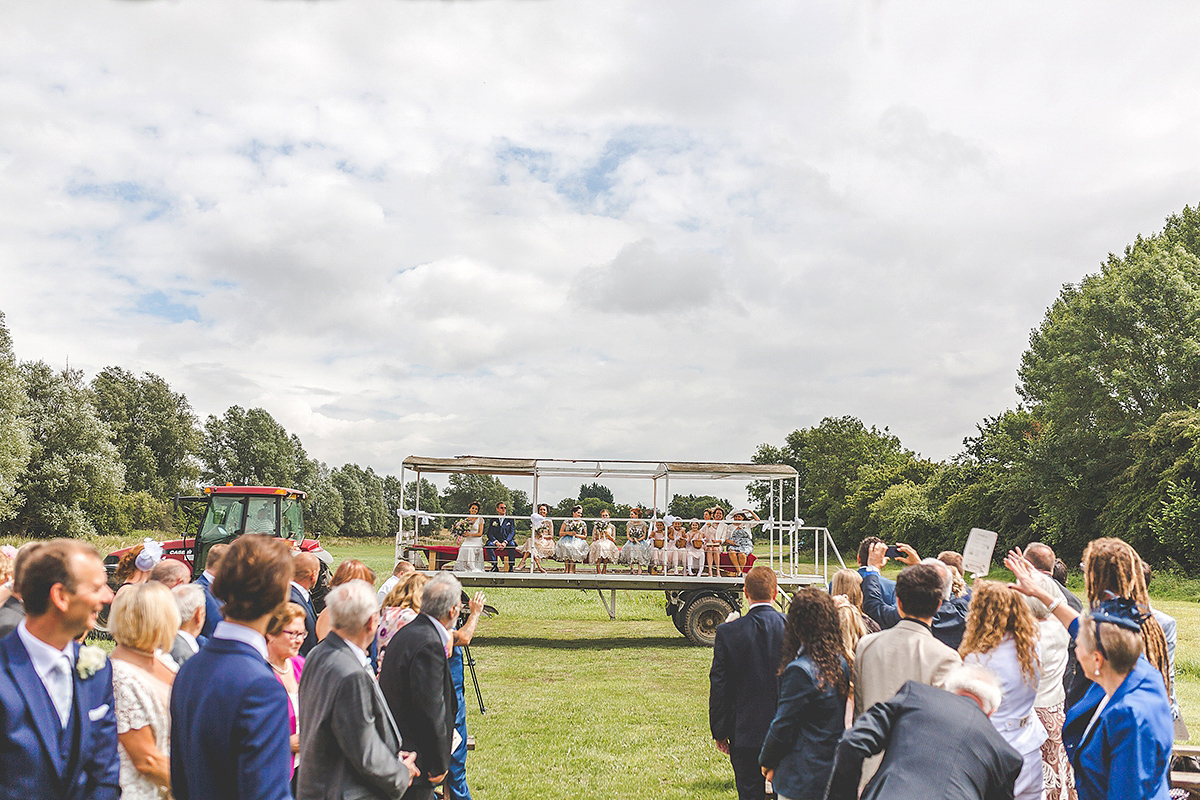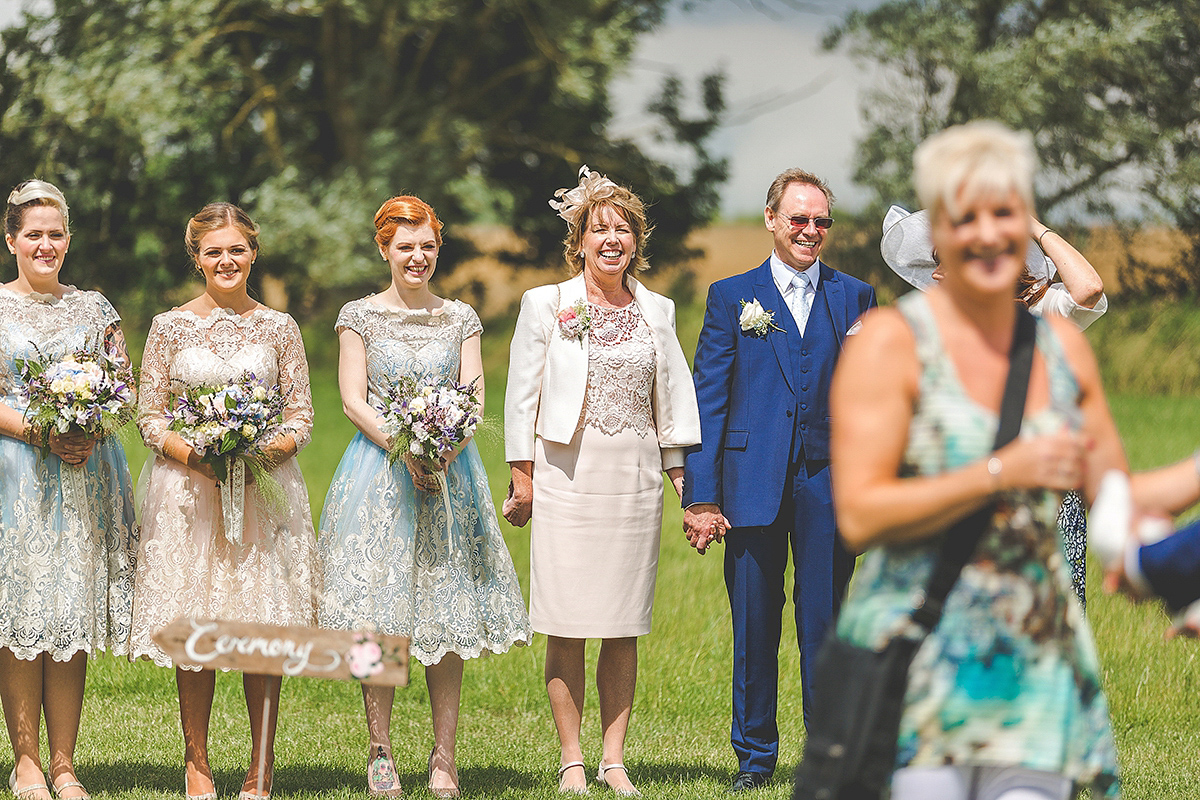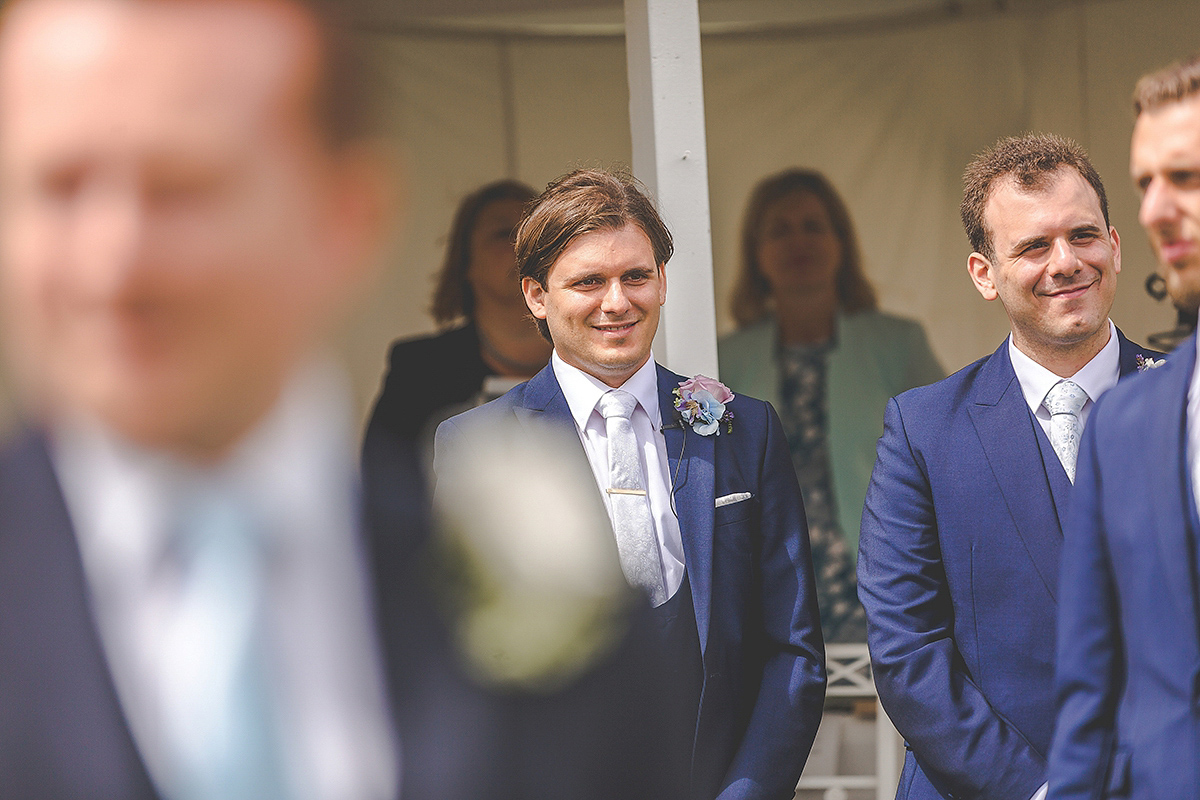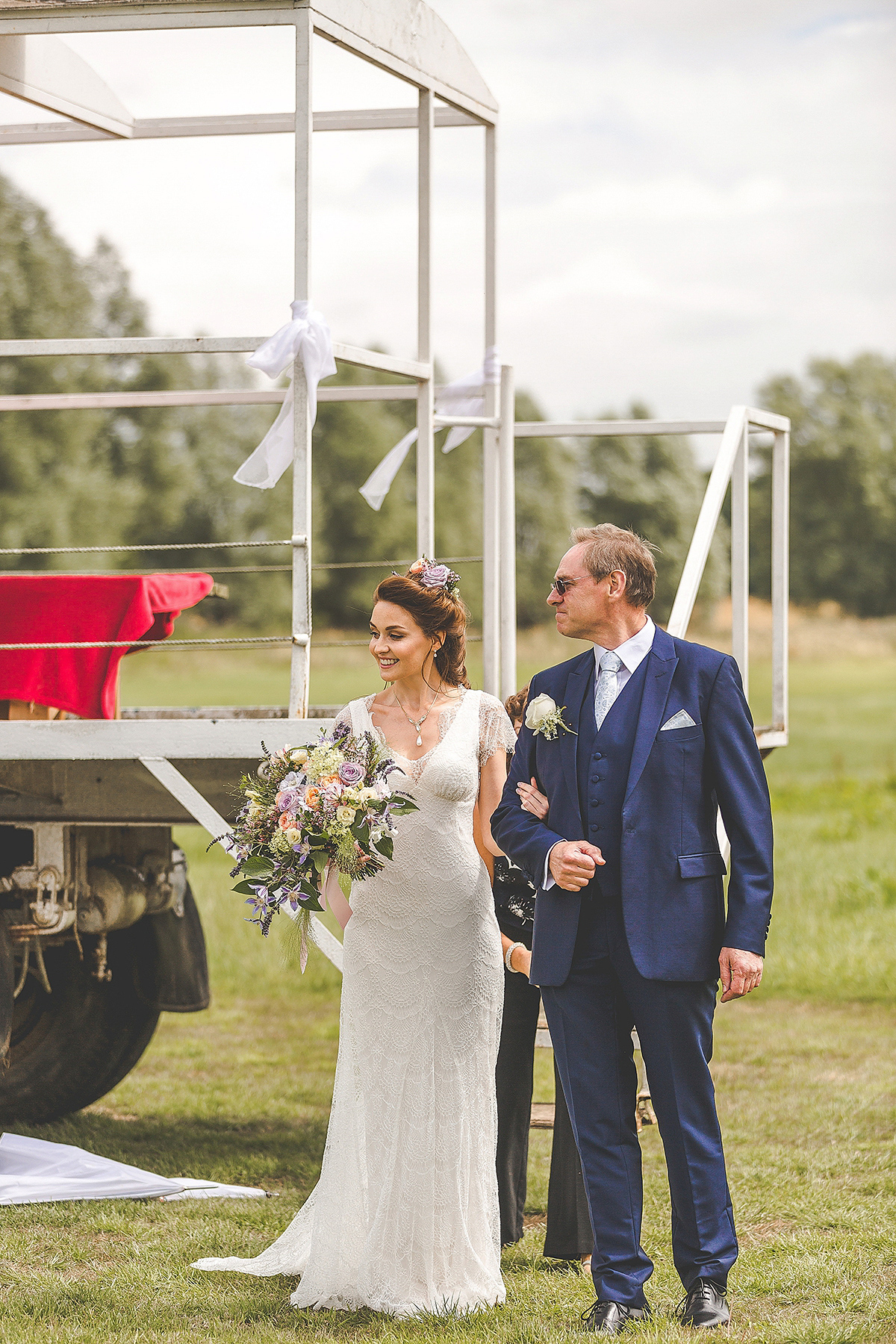 "My Dad walked us down the aisle to the beautiful sound of a harp playing Wagner's Bridal Chorus."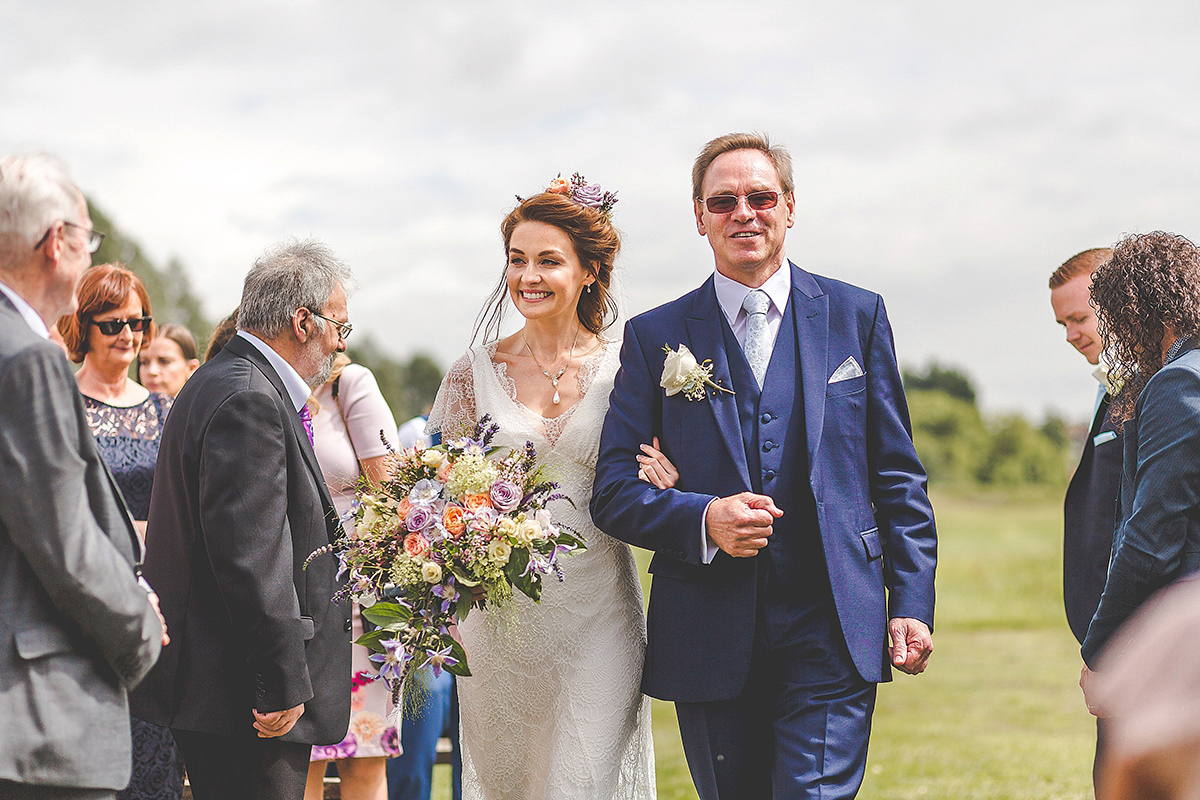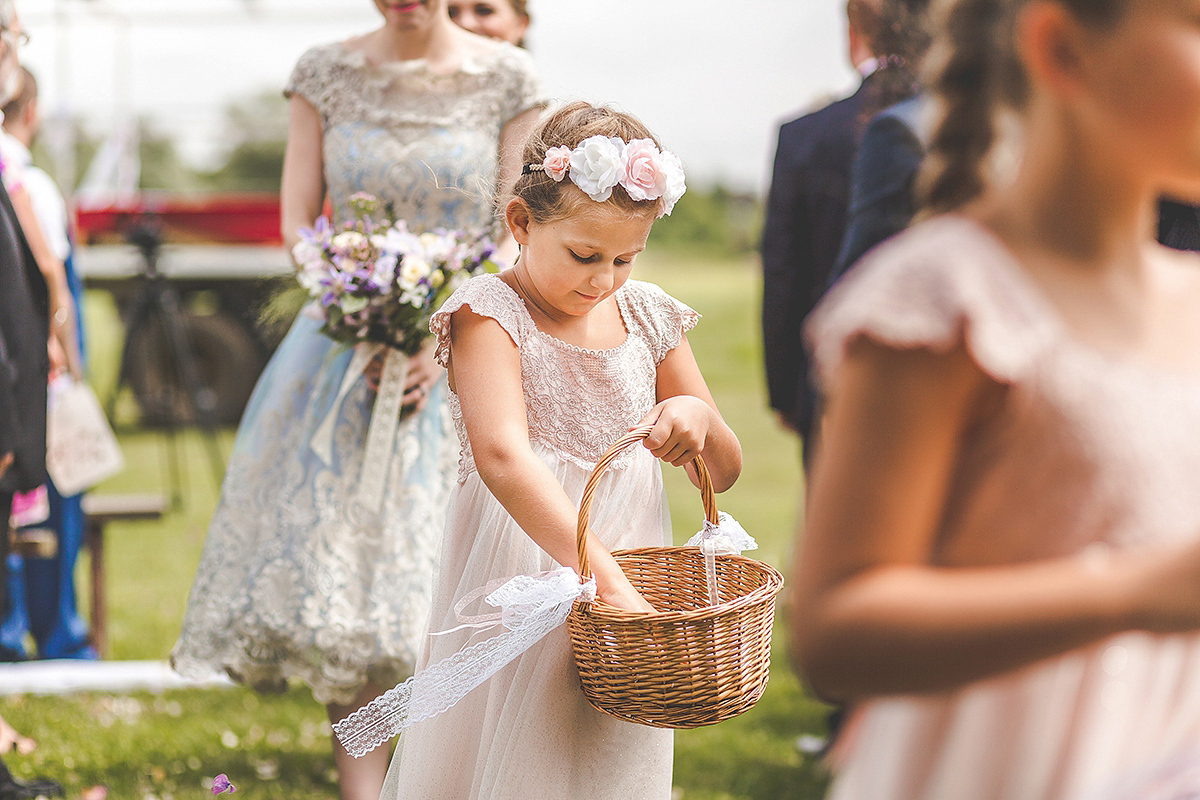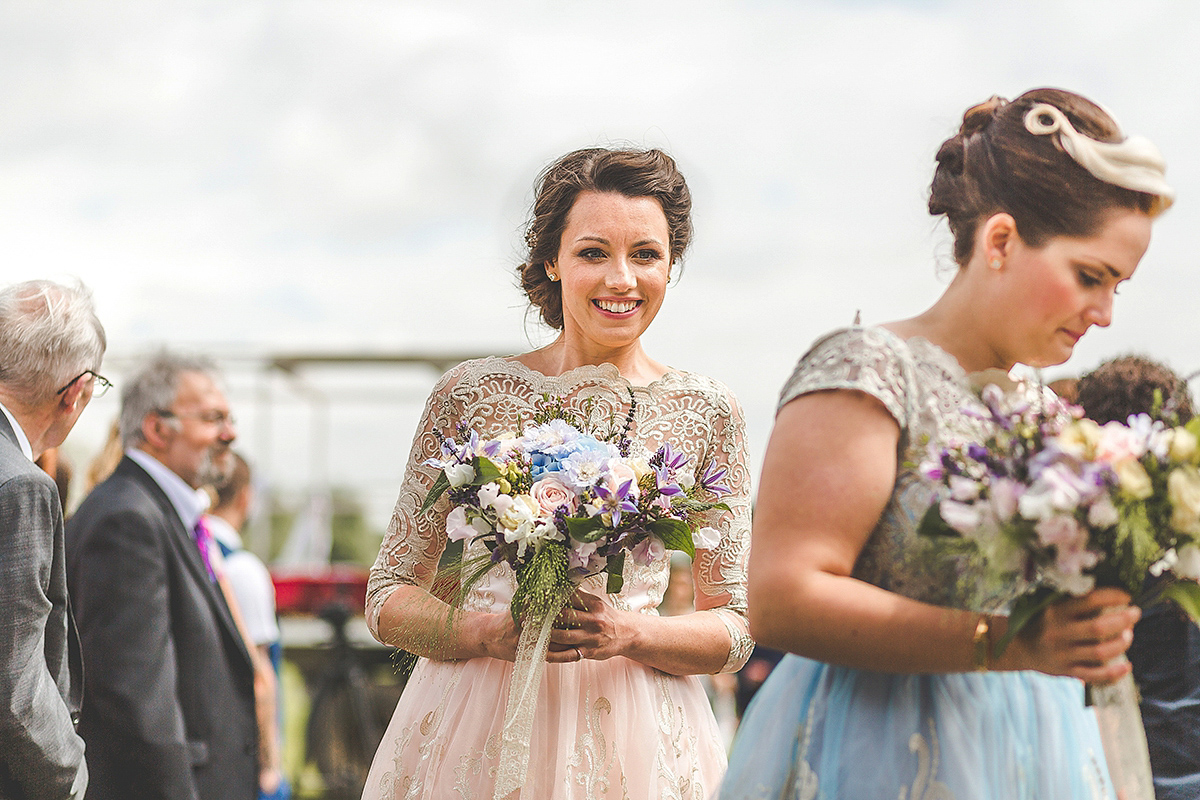 "The ceremony was really peaceful and emotional, the registrar and photographers had tears in their eyes. Our readings included 'I Will Be Here', by Steven Curtis Chapman and 'Blessing for a Marriage', by James Dillet Freeman, read by Jenny's sister and Antony's sister and brother."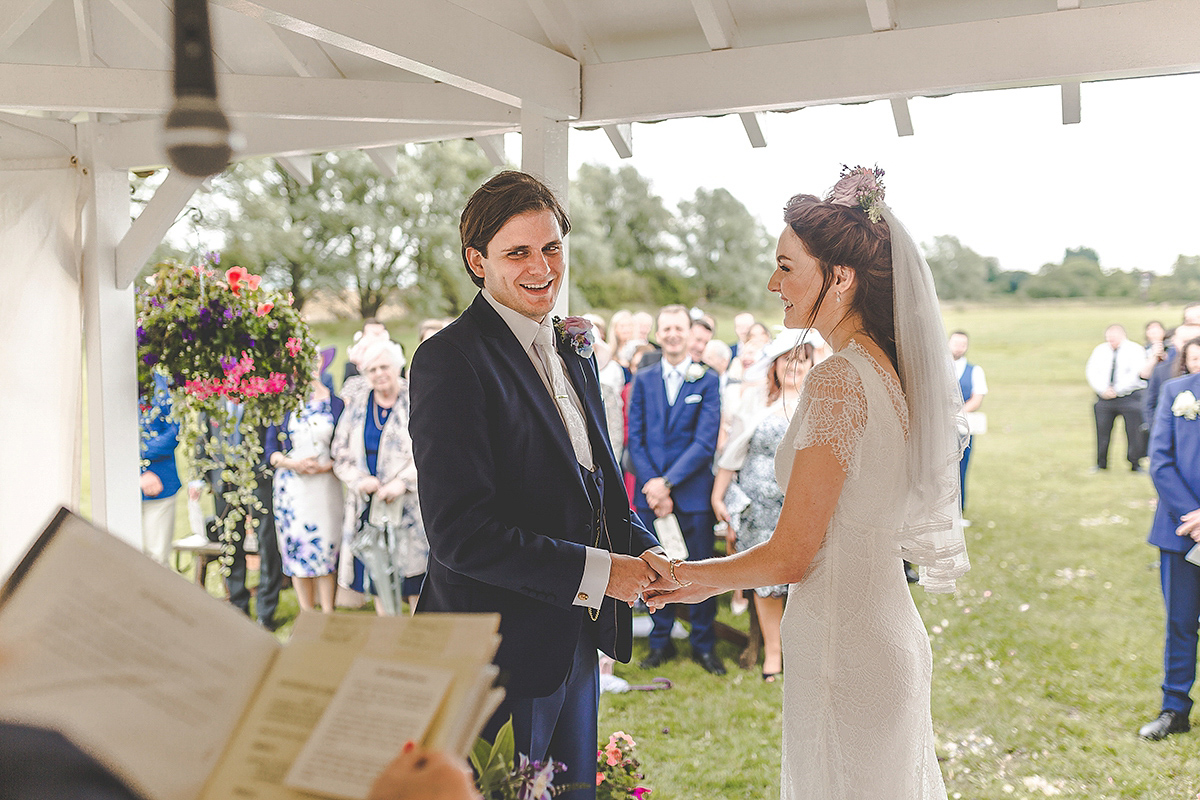 "We had a blessing by my family vicar Henry, who blessed the marriage and asked all the wedding guests present to touch hands with us and pray individual wishes and blessings for our marriage. It was so touching and reminded us of the real reason for our marriage."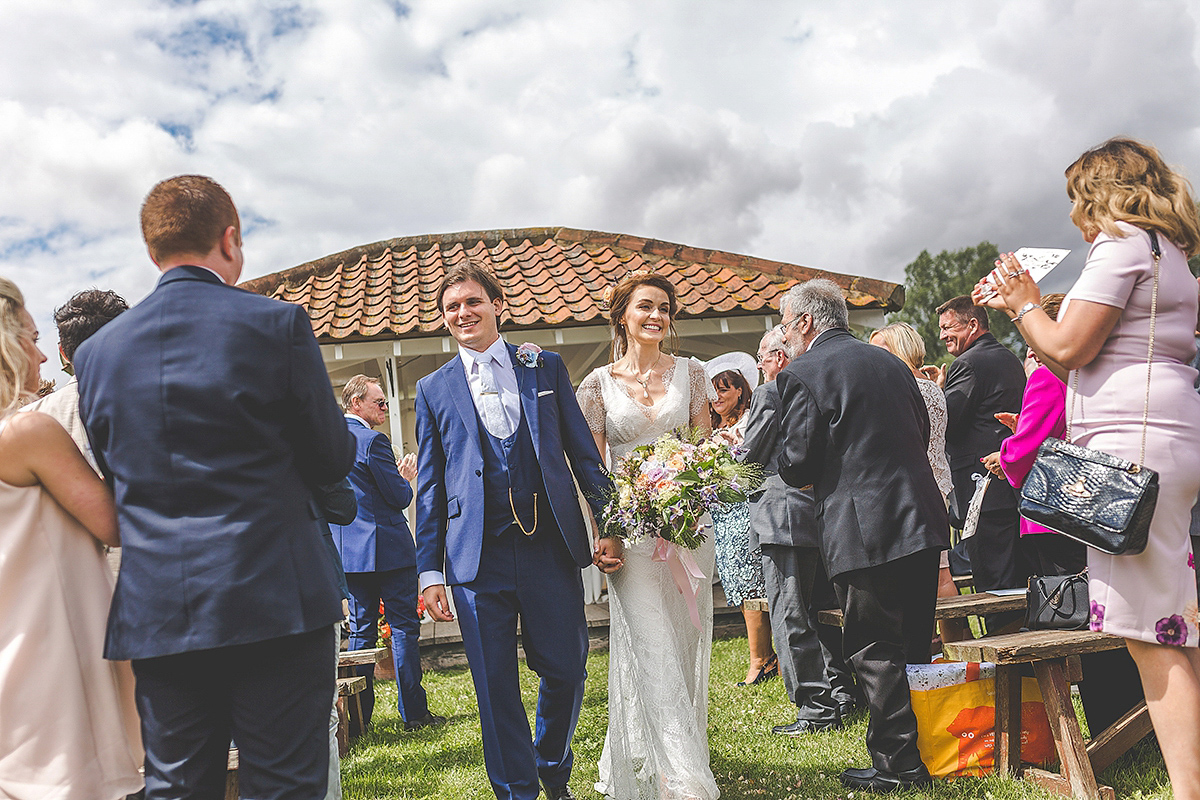 "Antony's mum surprised us with a gift of releasing doves after our ceremony, one each for bride and groom and one each for the mothers to remember their late mothers. It was a very special moment."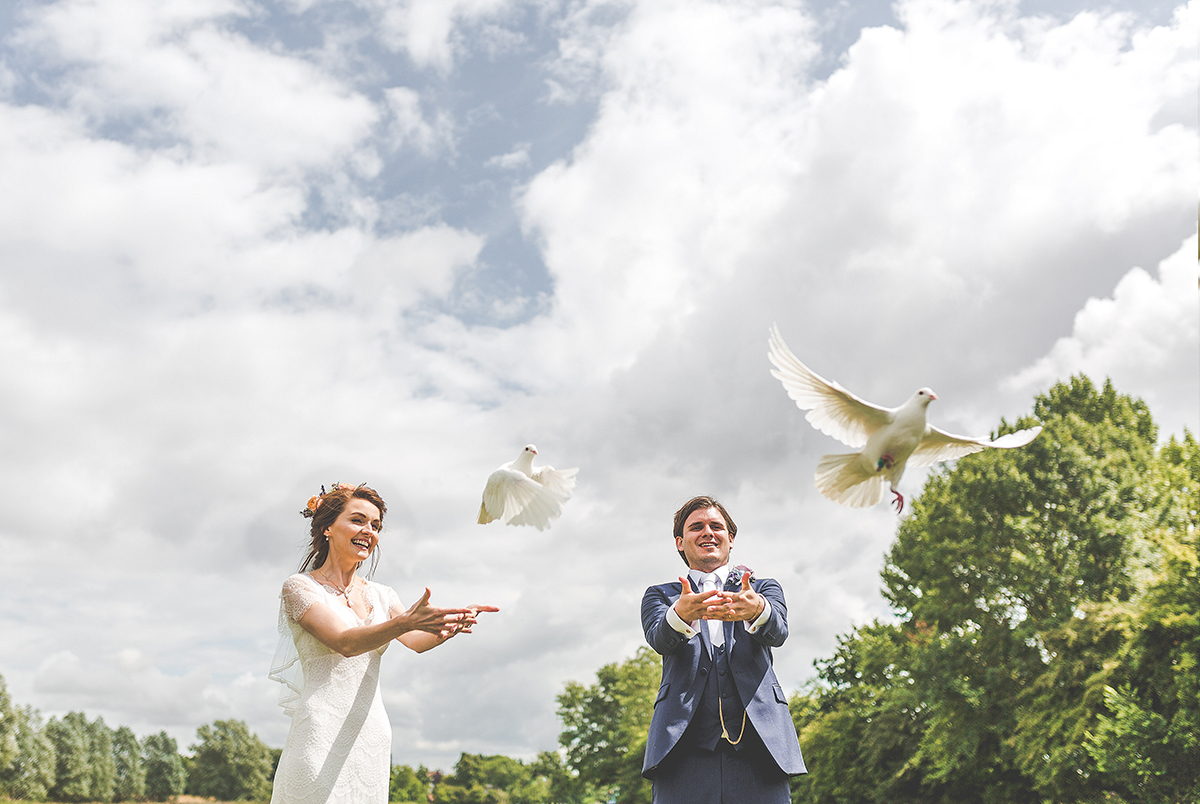 "Our fantastic photographers, Sam and Louise, we knew through a mutual friend many years previously at Antony's college."
"After meeting up with them again, we instantly clicked and booking them was by far the best decision we made about our wedding."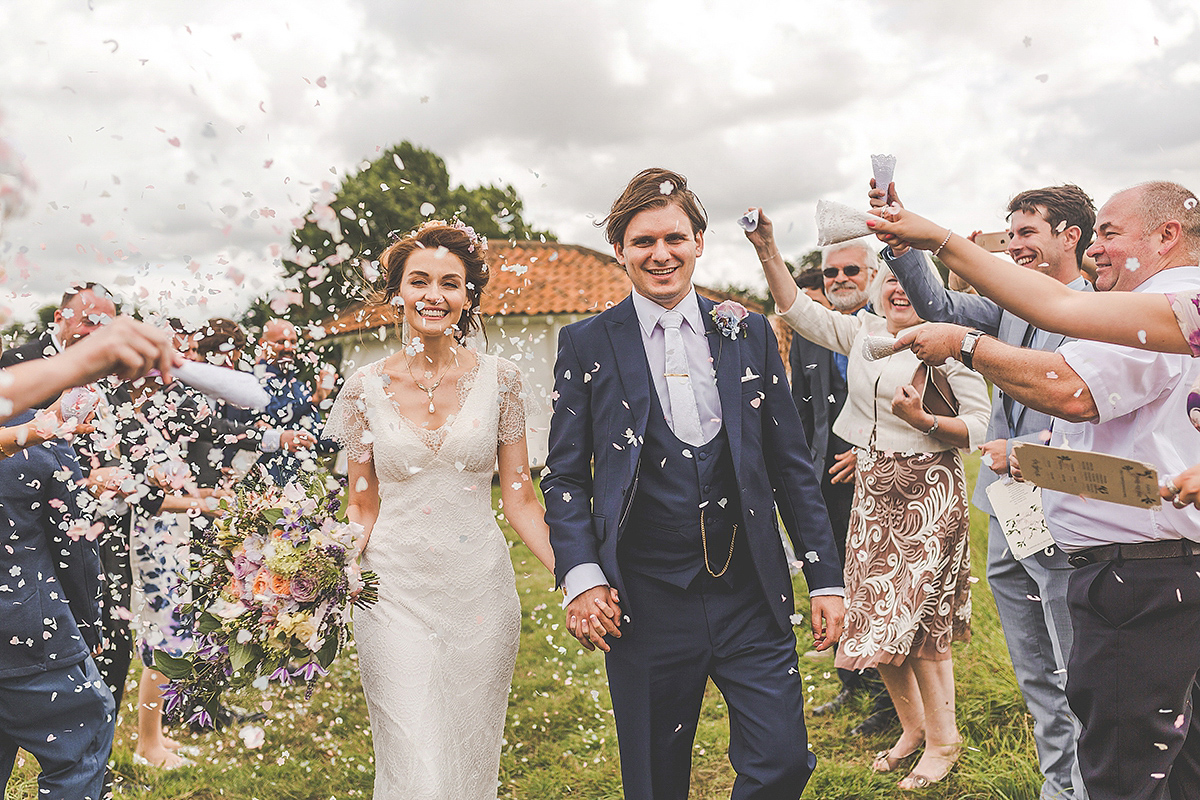 "They were wonderful on the day, capturing all the personal details, joining in our laughter and discreetly catching natural emotional moments, even shedding a tear or two themselves. Our photographs are natural, beautiful and we think really capture the happiness and love of the day."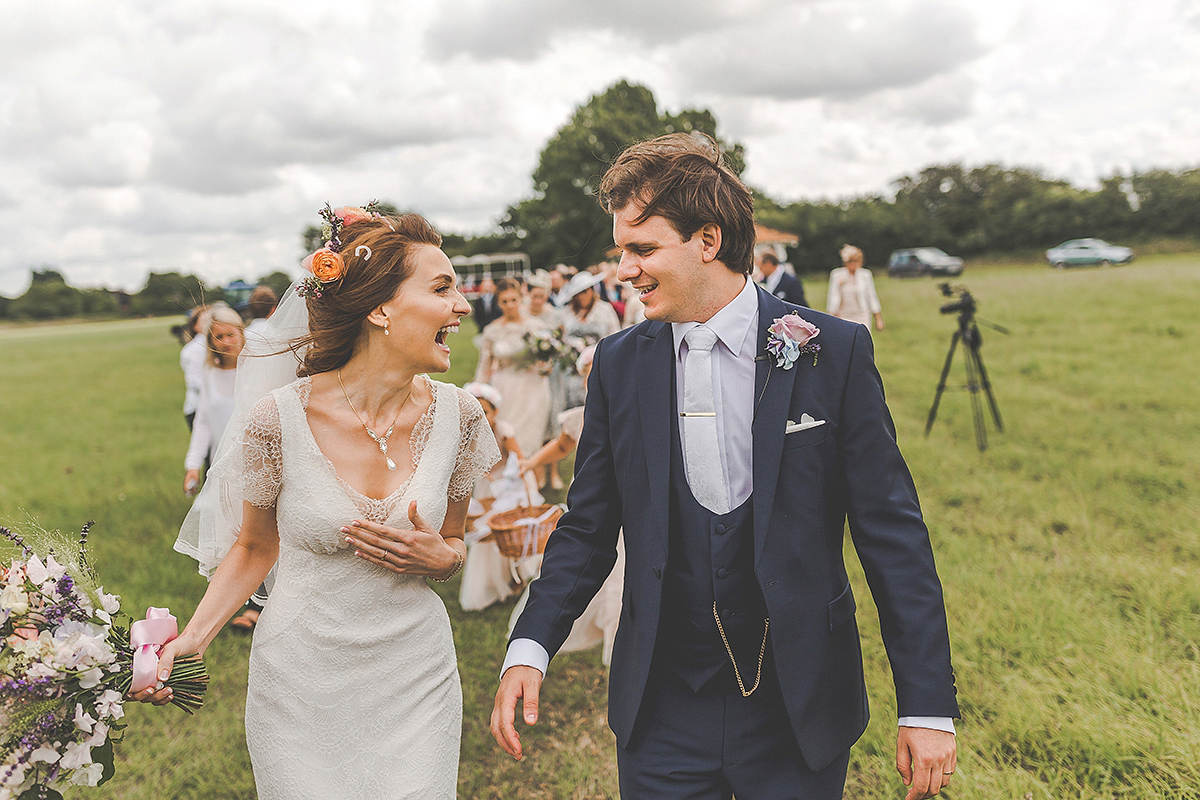 "They have gone above and beyond to make us happy, even editing a photograph to include a rainbow, signifying the presence of Jenny's late Nan."
"Moments Videography captured our wedding on film. The team of three videographers were low key, relaxed and informal on the day, they just let us get on with it capturing the day in a natural relaxed way. This is exactly what we wanted and when we received our short 'Highlights' video a few weeks after the wedding, it was exactly as we had remembered the day, full of happiness, love and laughter."
"My three flower girls wore pastel pink fairy dresses from Monsoon."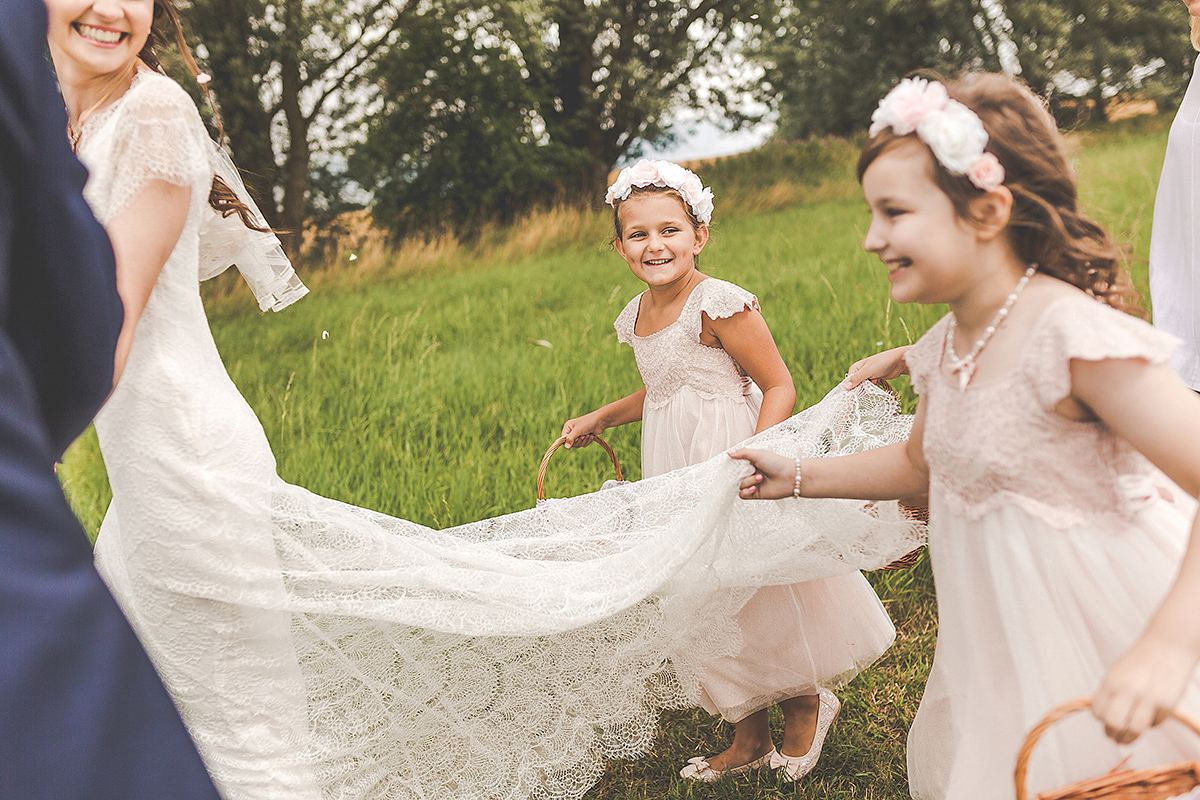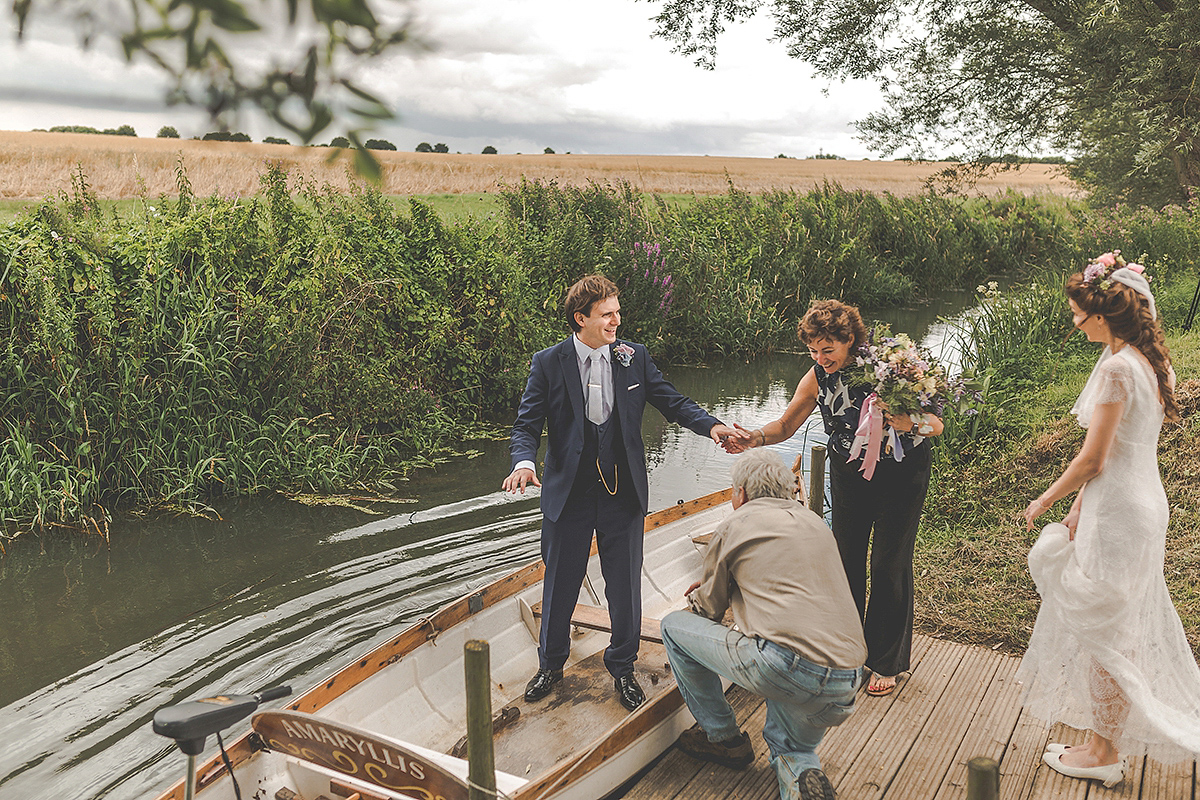 "After our ceremony, we had a boat send off down a romantic moat alongside the meadow, just the two of us, sharing the chaos and happiness of the morning and I remember just feeling so peaceful and happy, happiness that I have never felt before. I felt so special, waving at guests."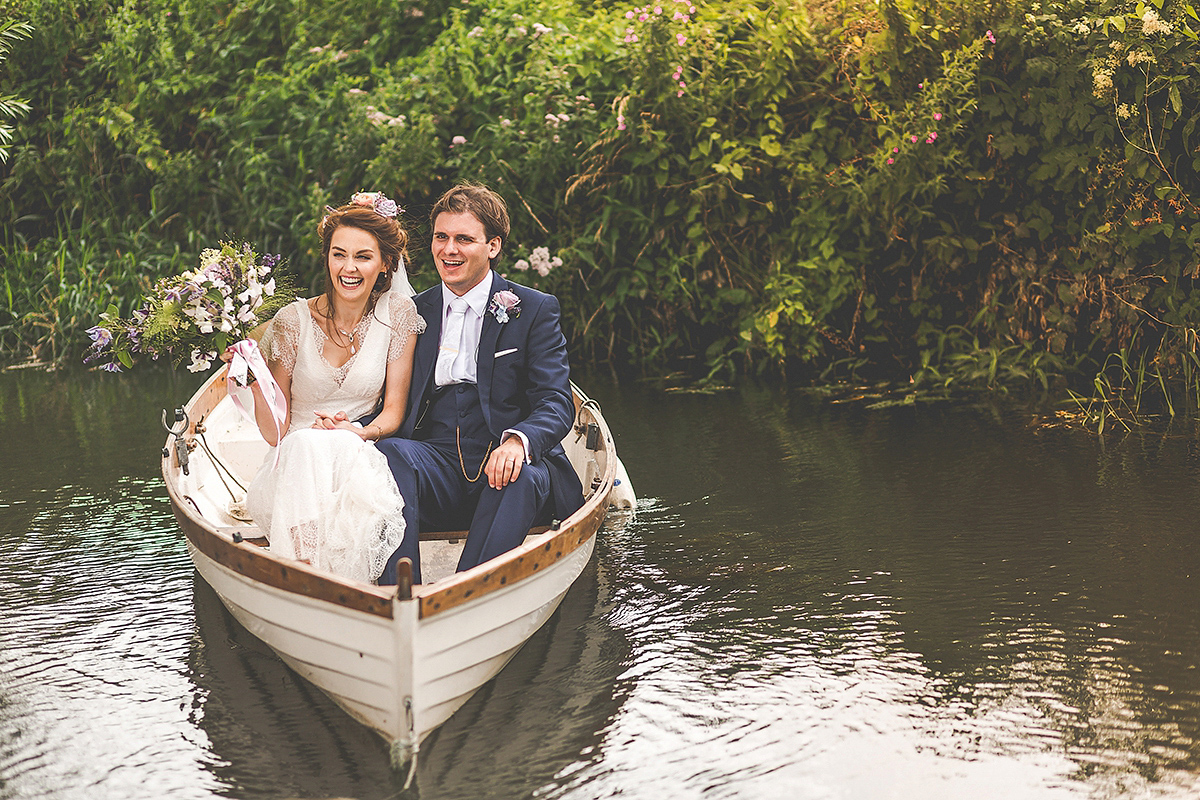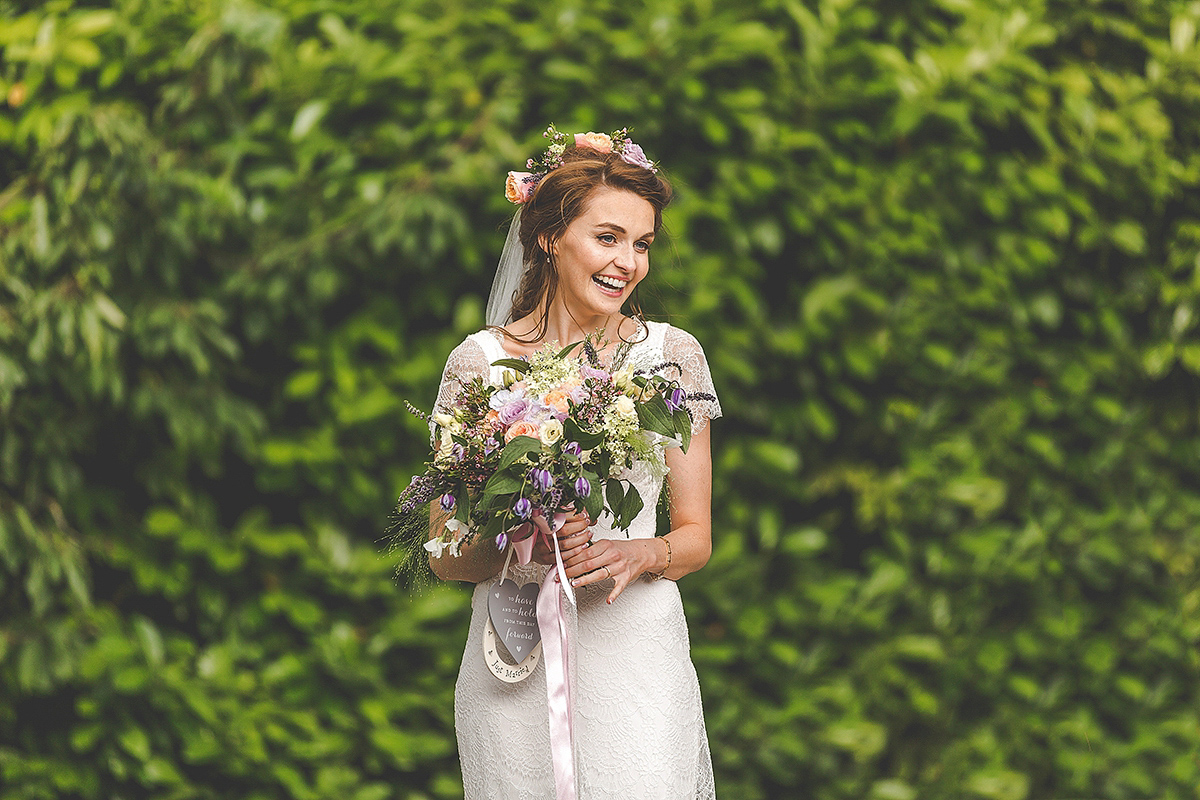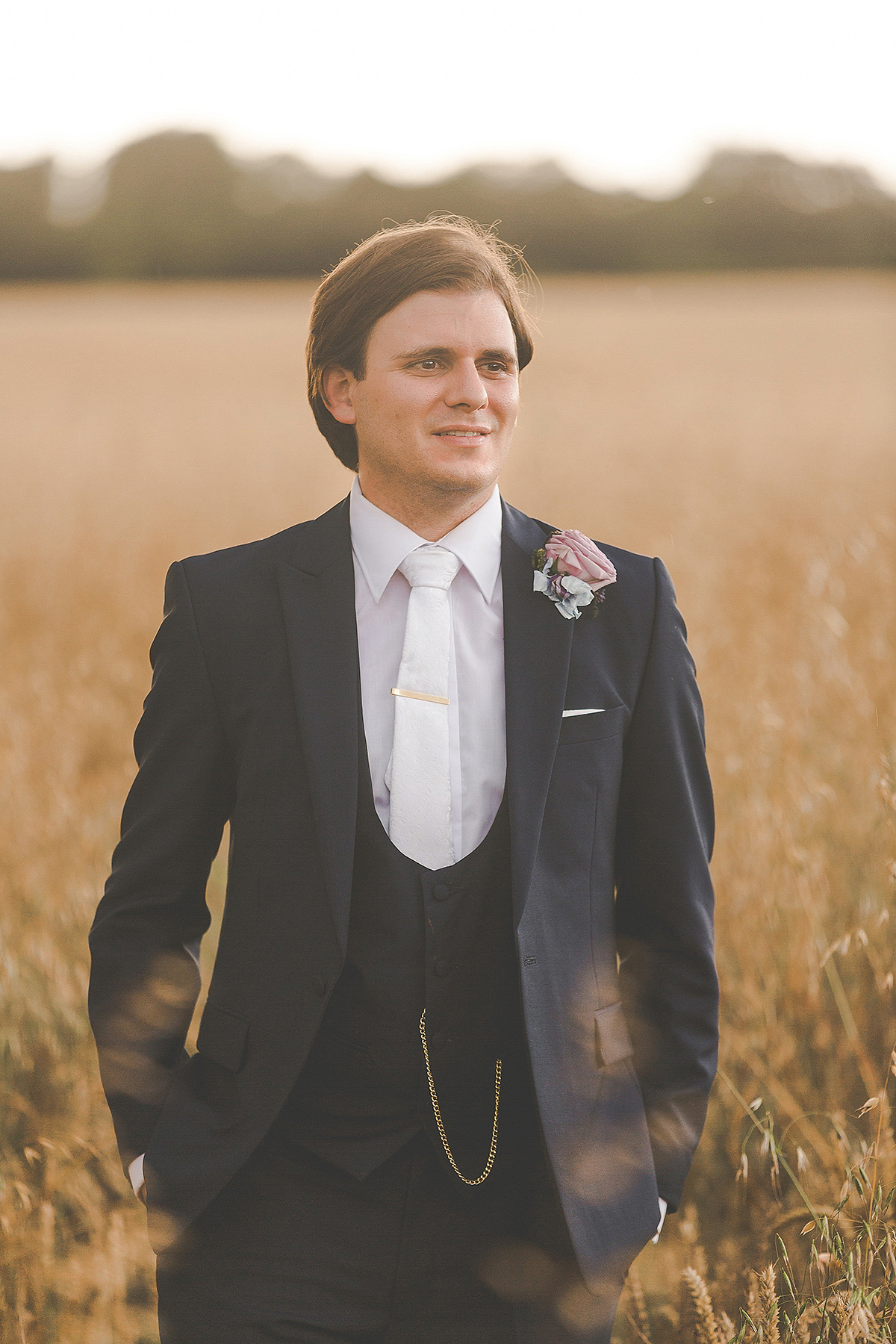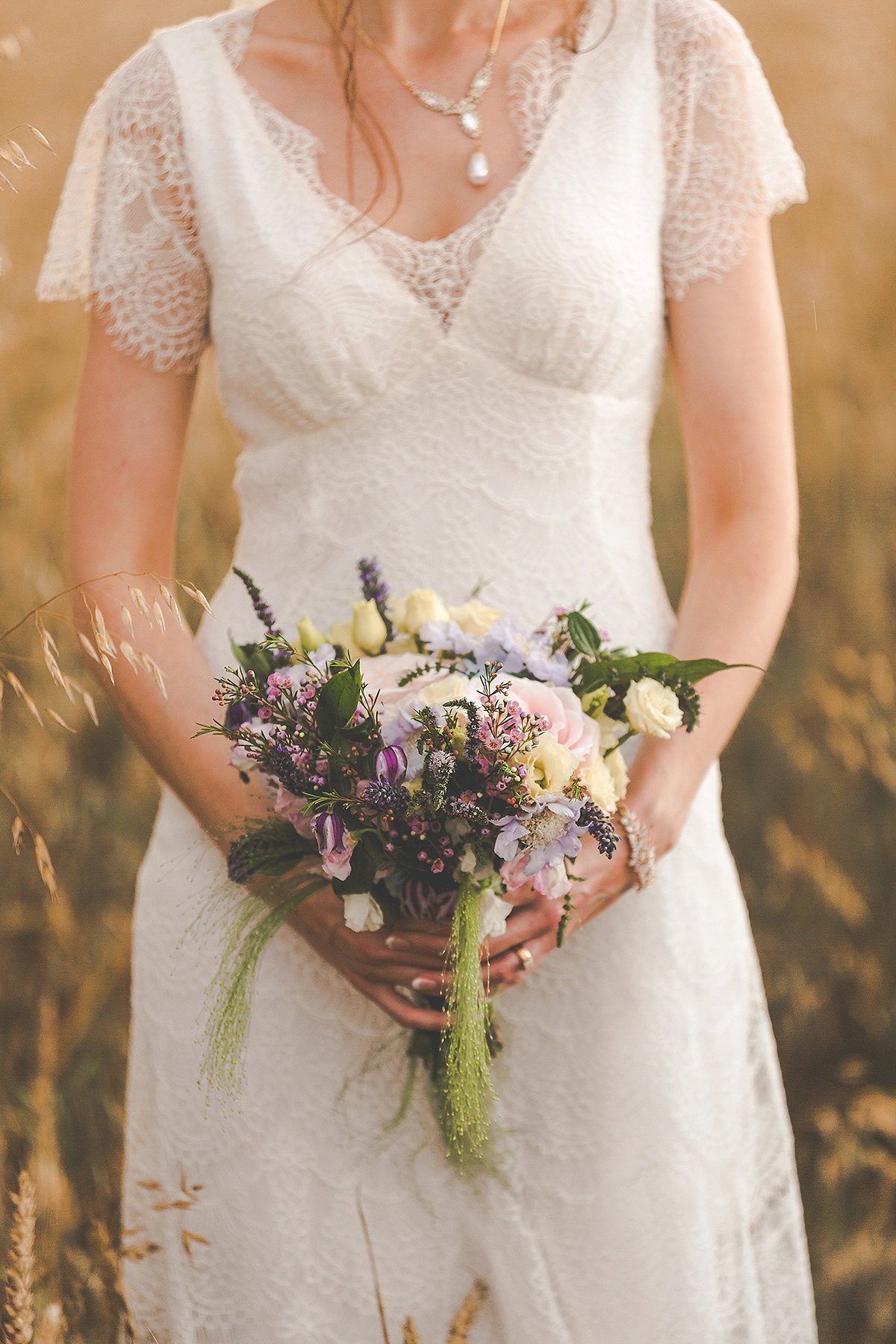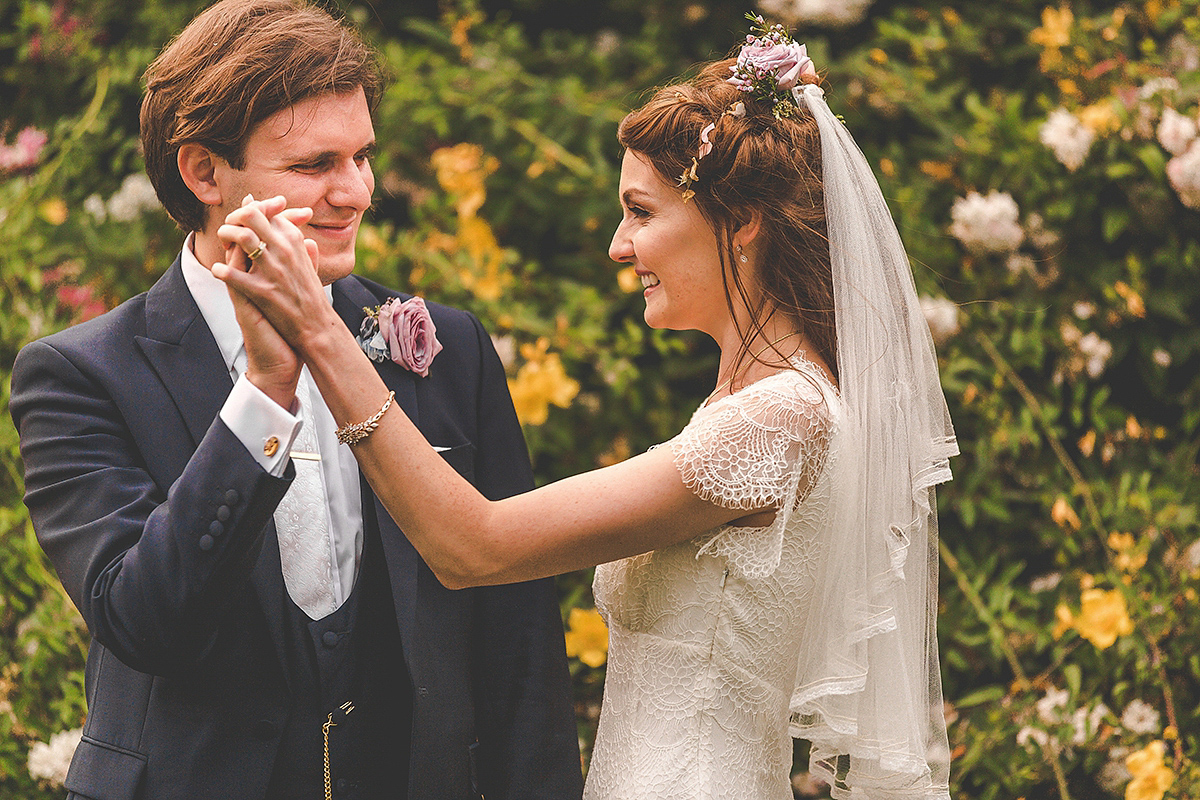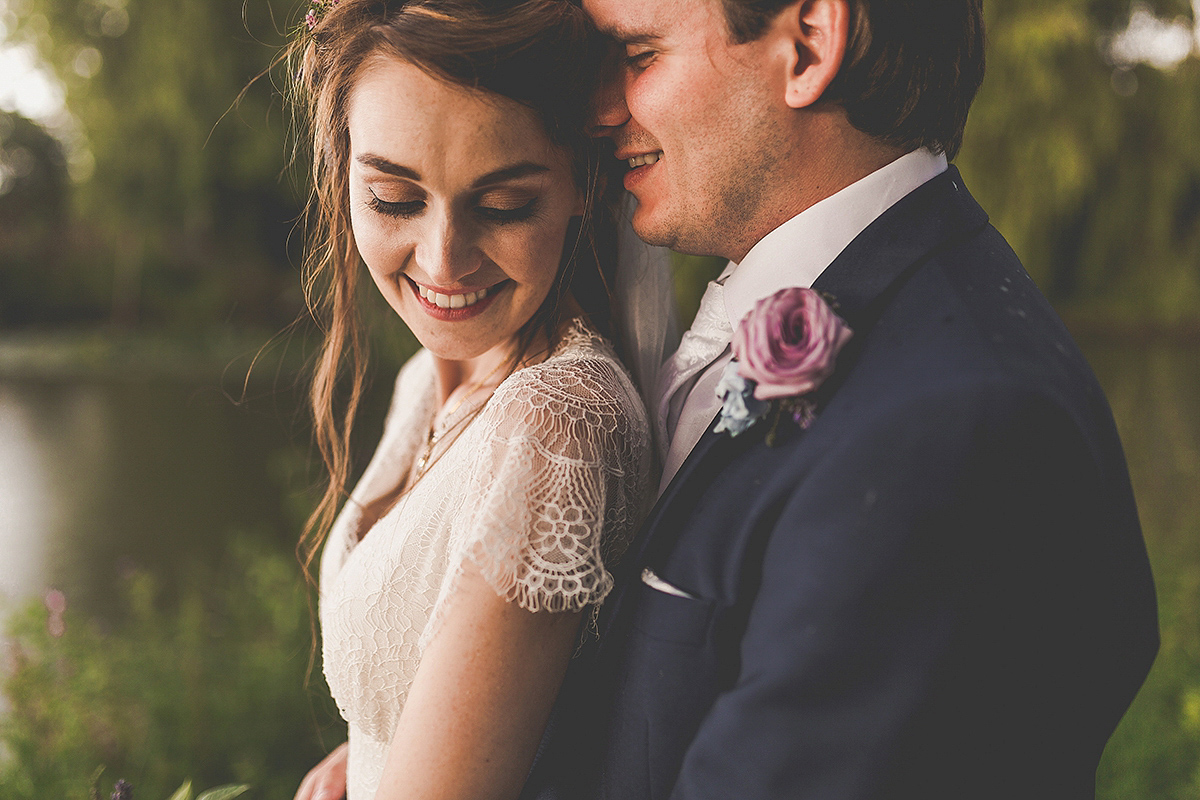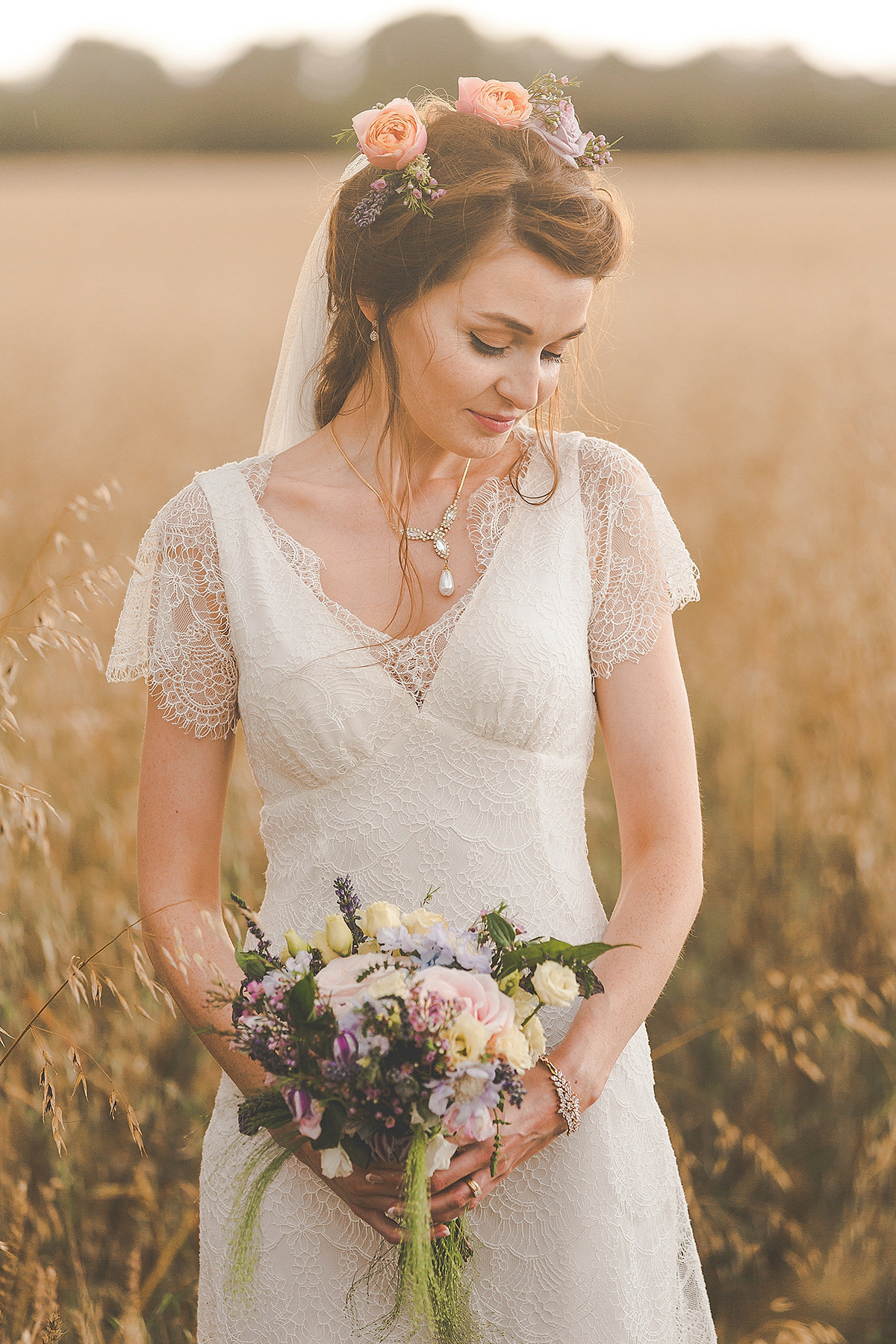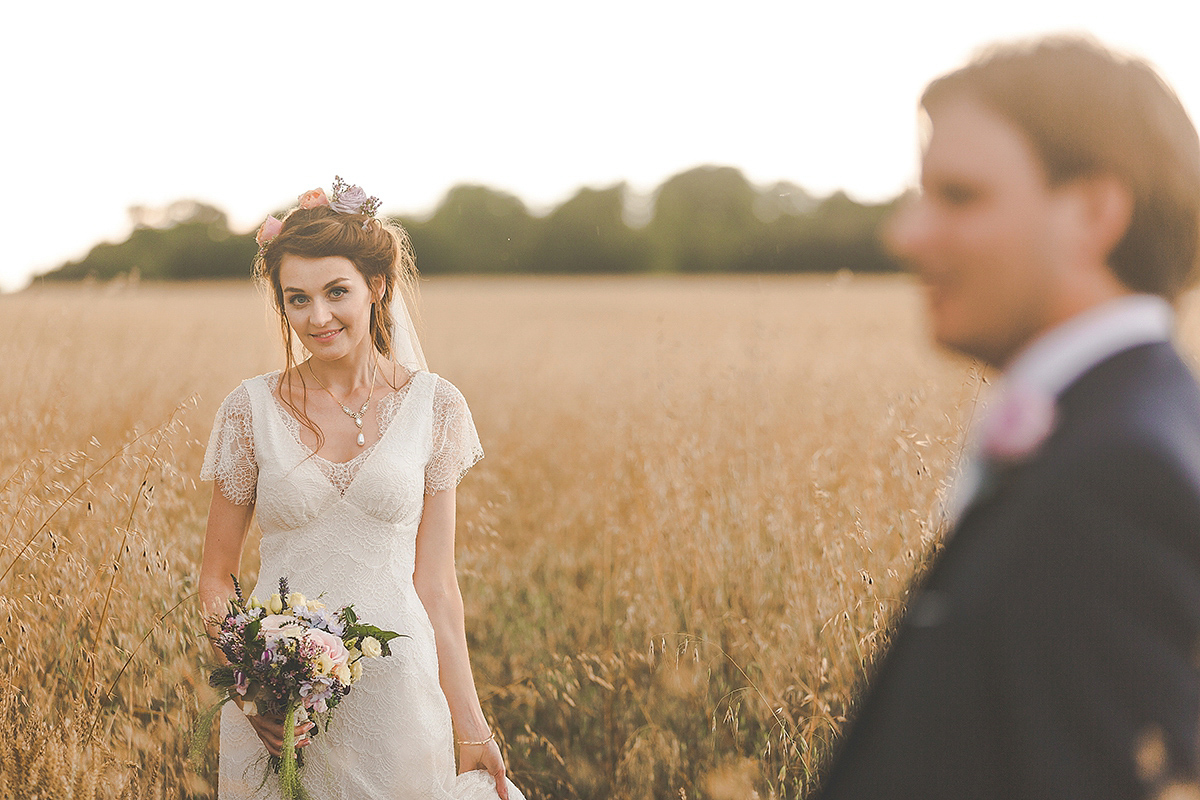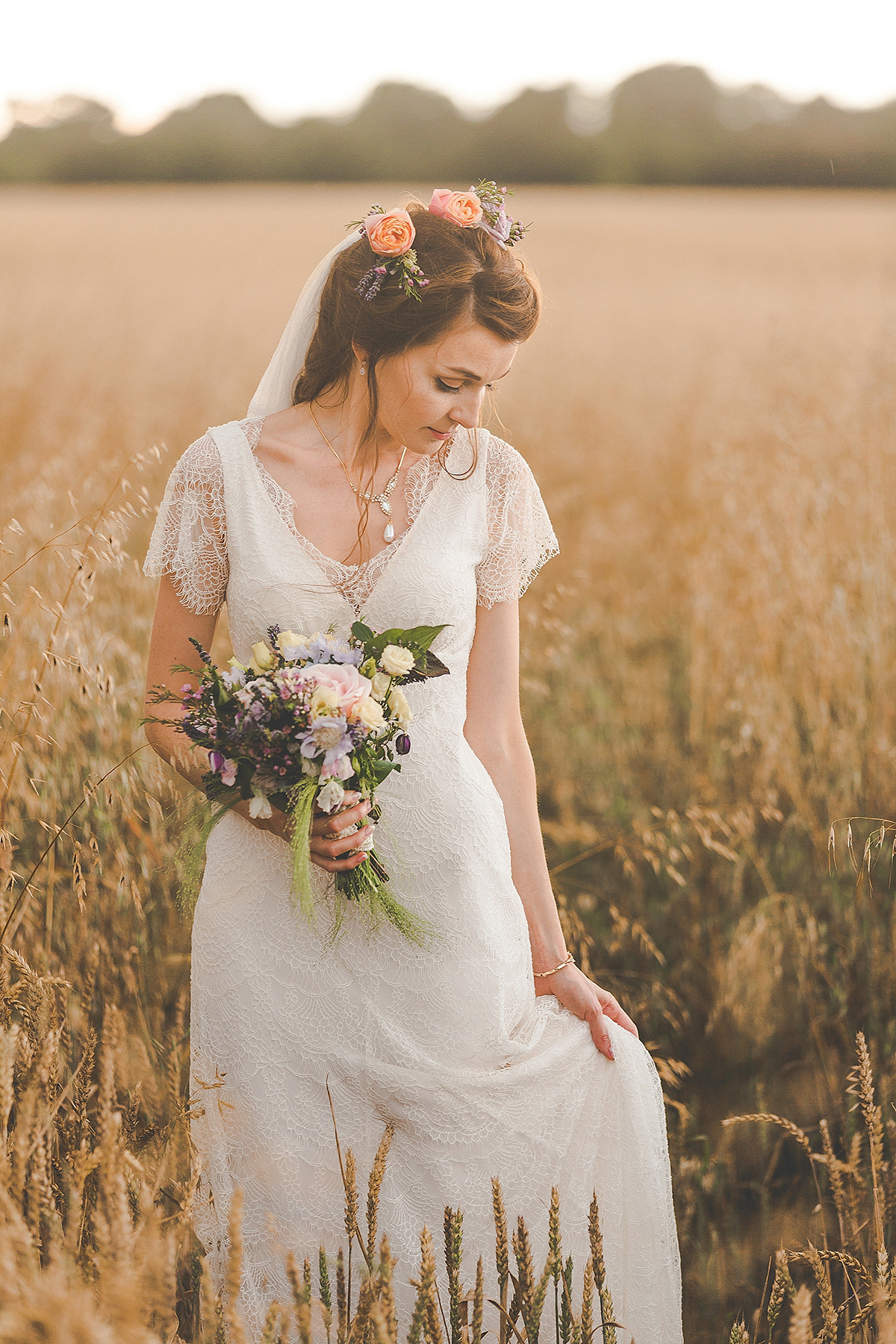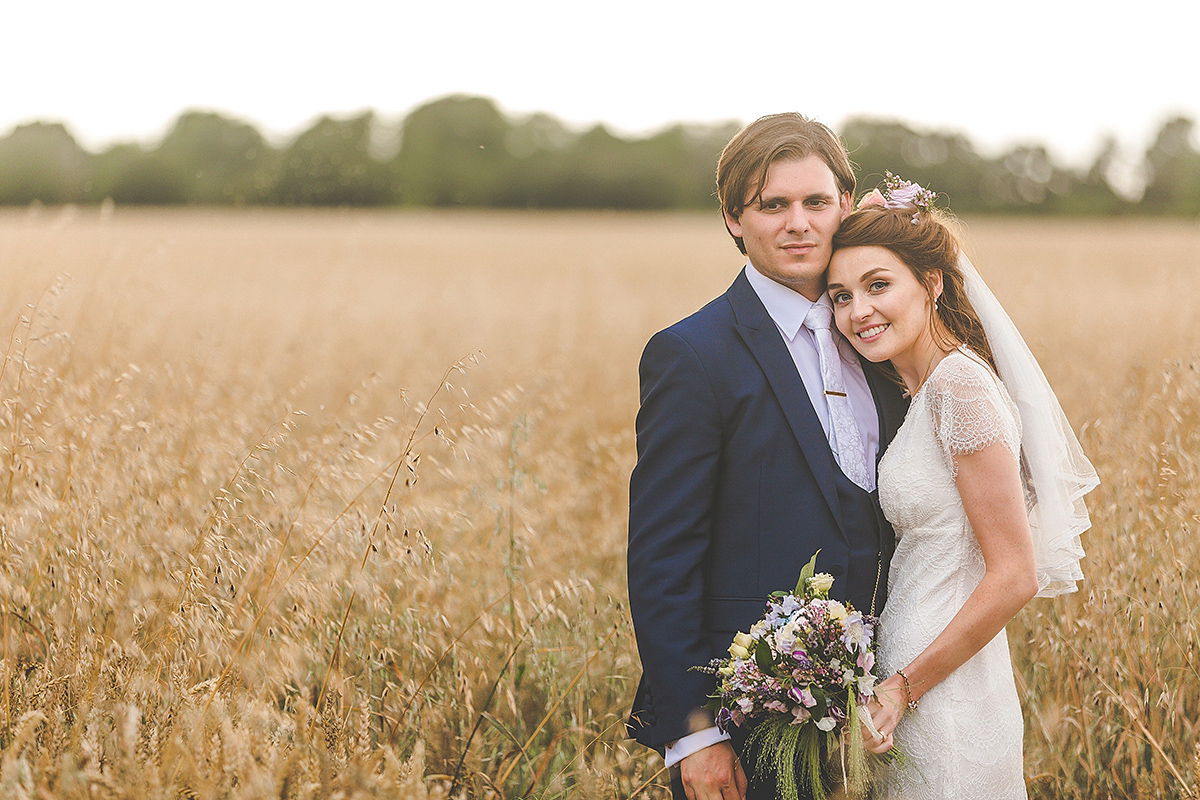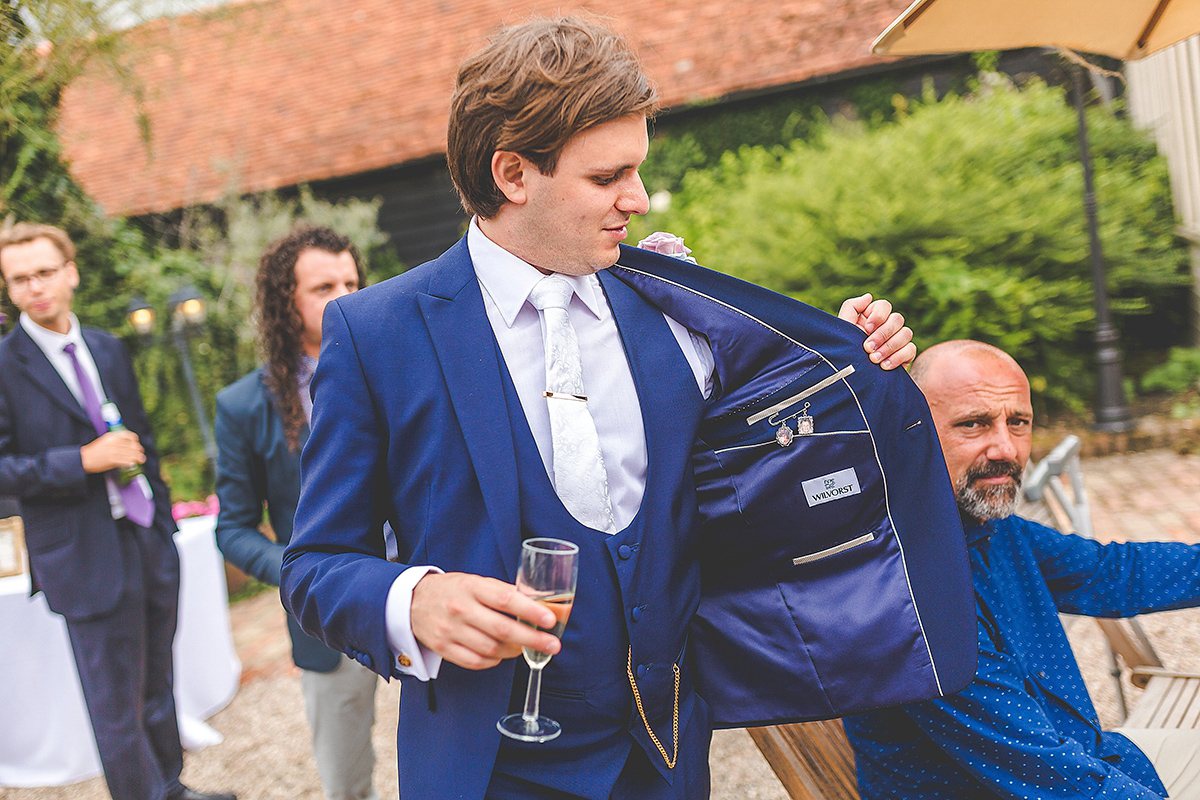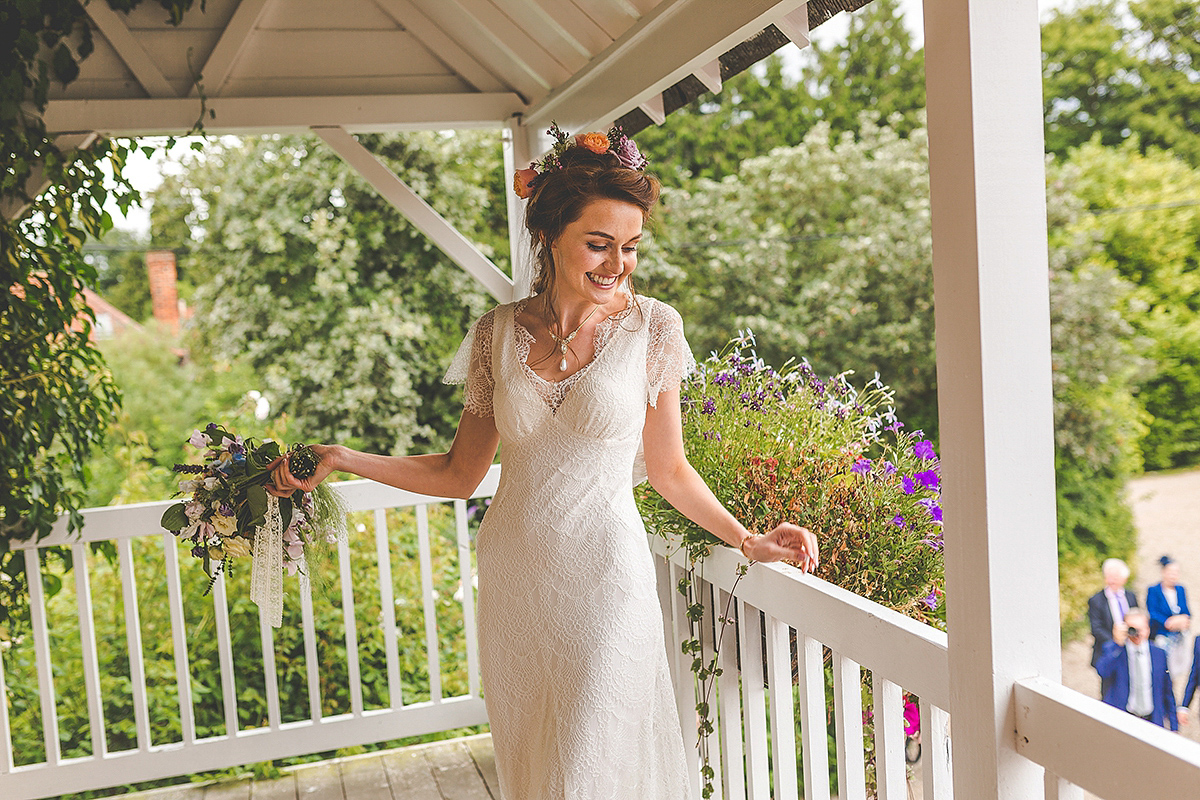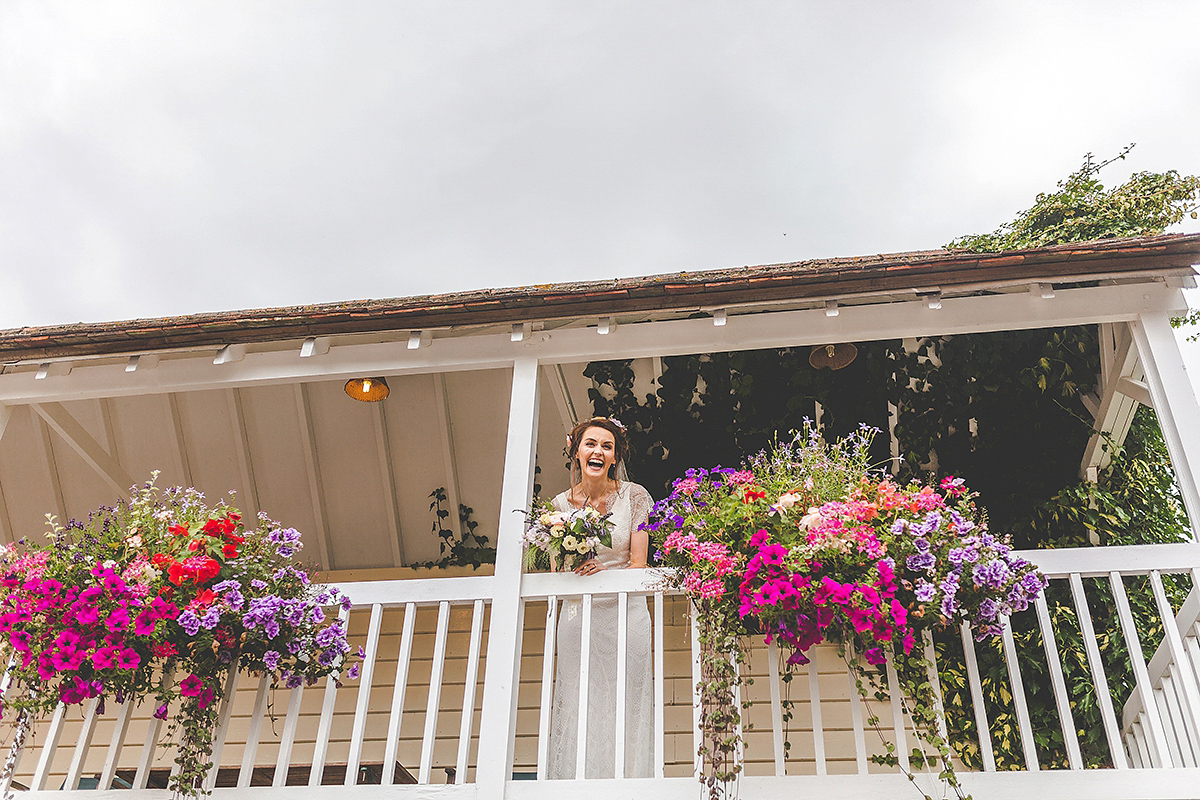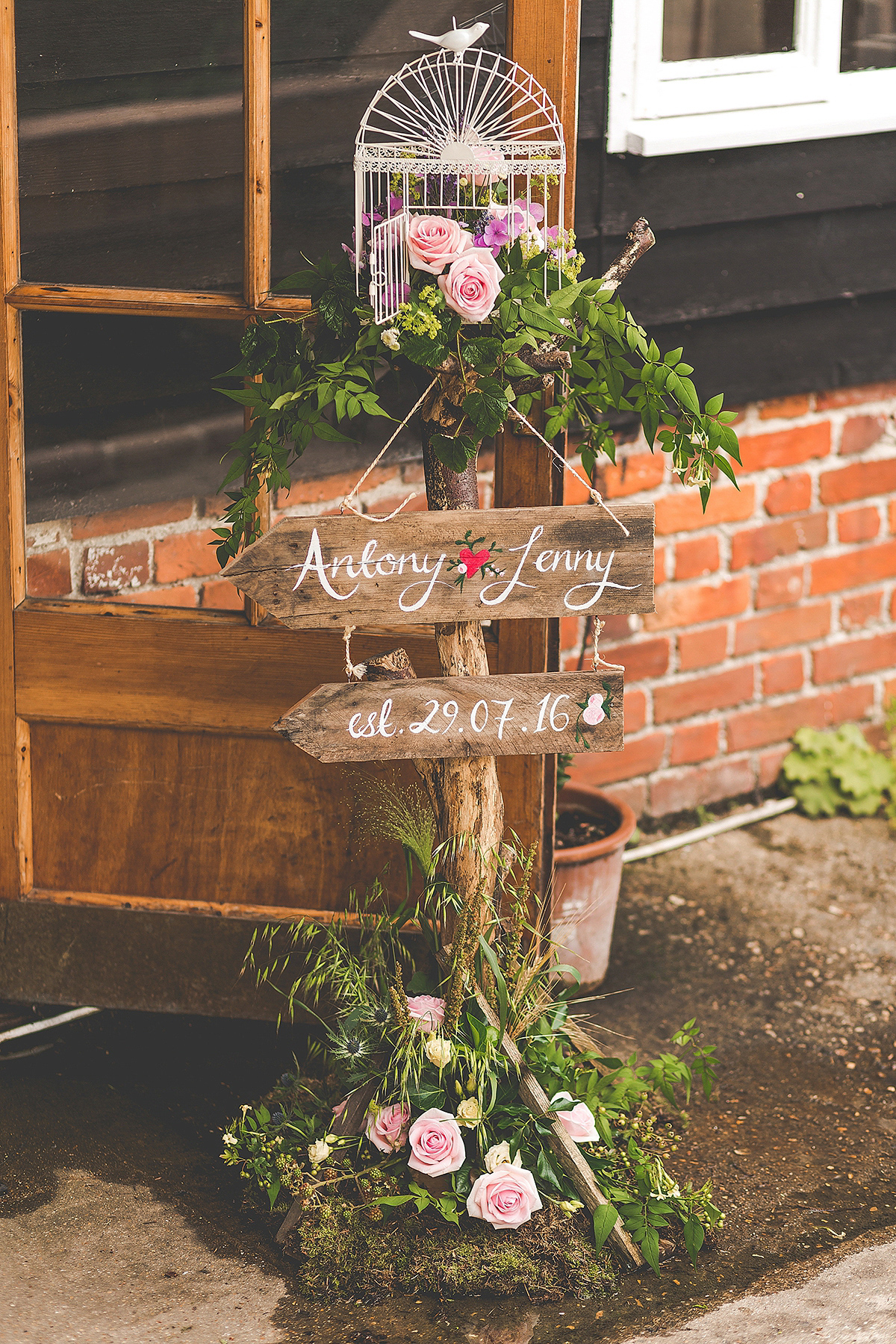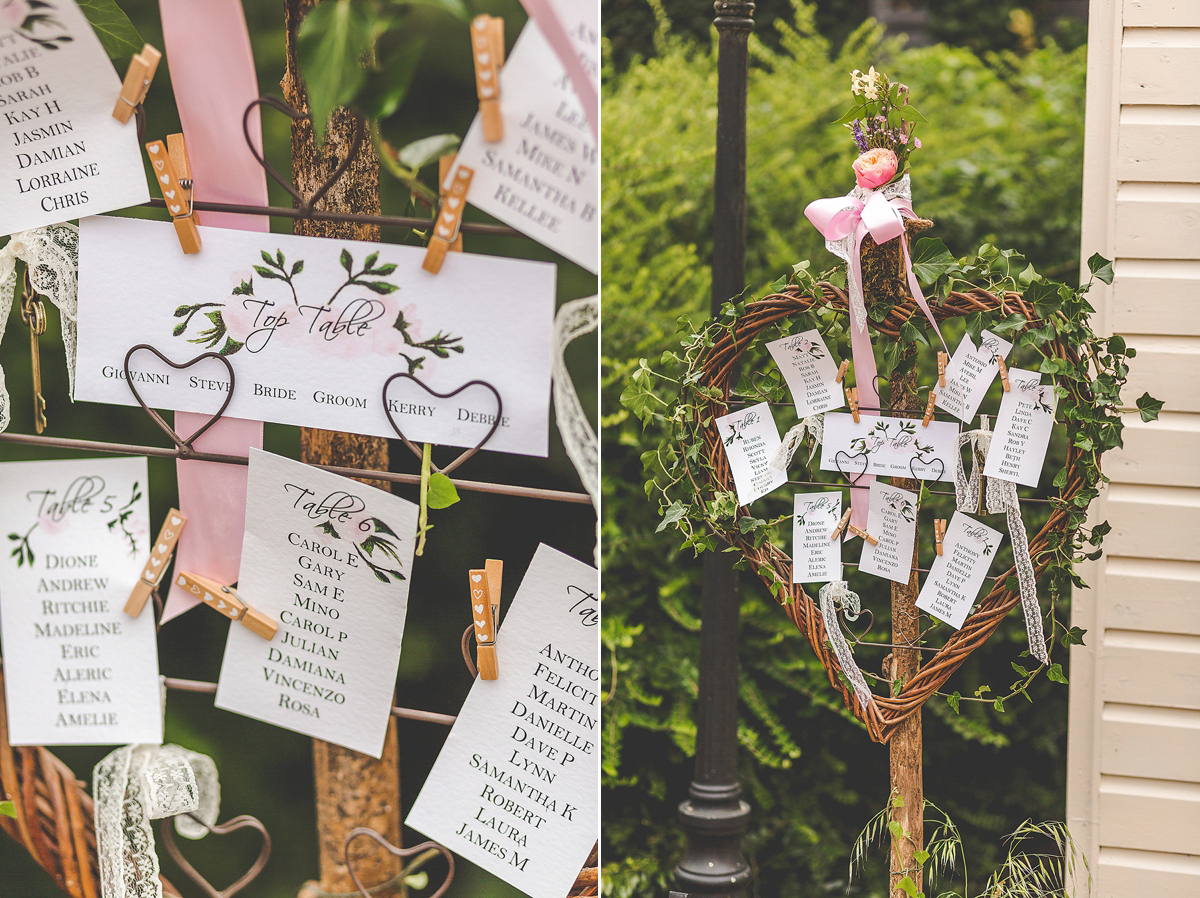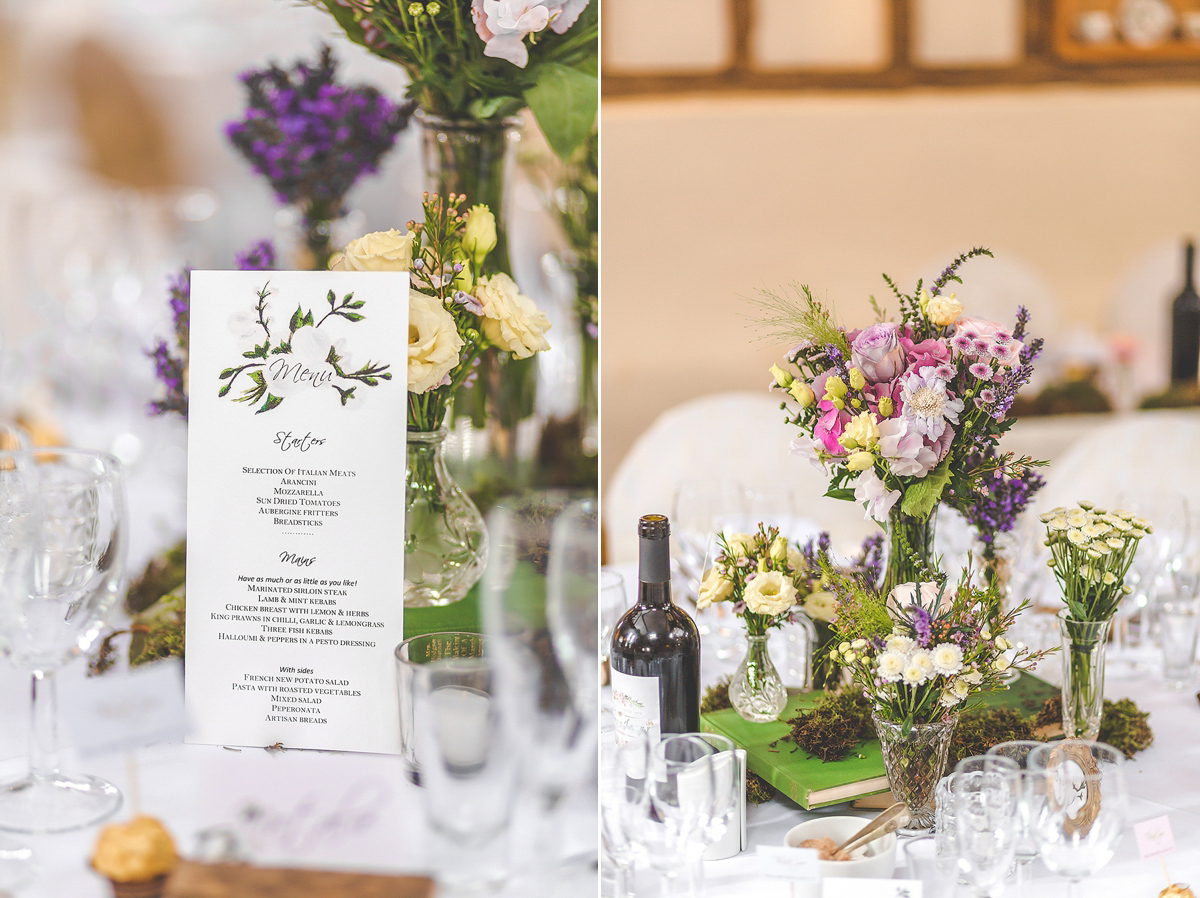 "During our reception, we had a delicious Brazilian and Italian fusion of barbecued meats, salads and antipasti by Premier Crew Hospitality, provided by Antony's father. Wine was from the Italian family vineyard in Ponte, with handmade wine labels created by Antony's brother."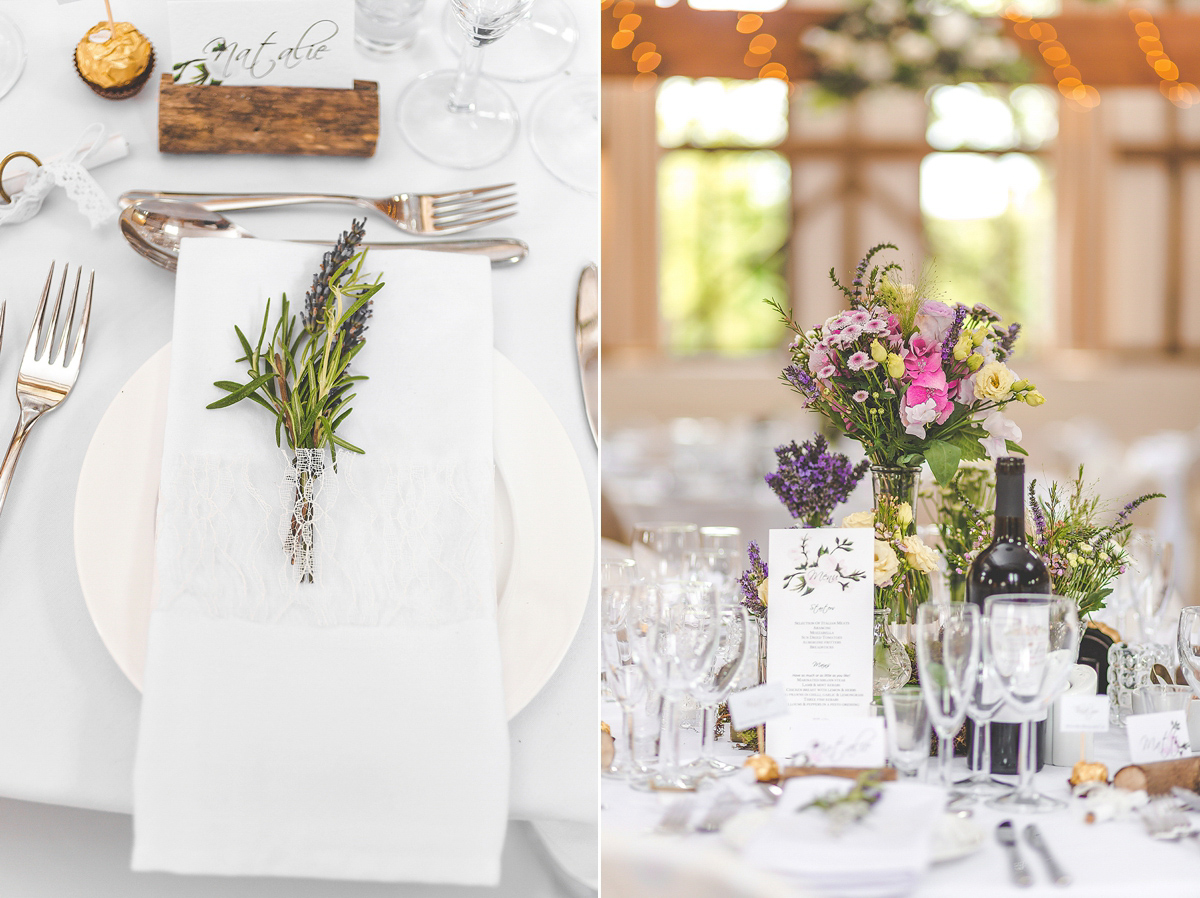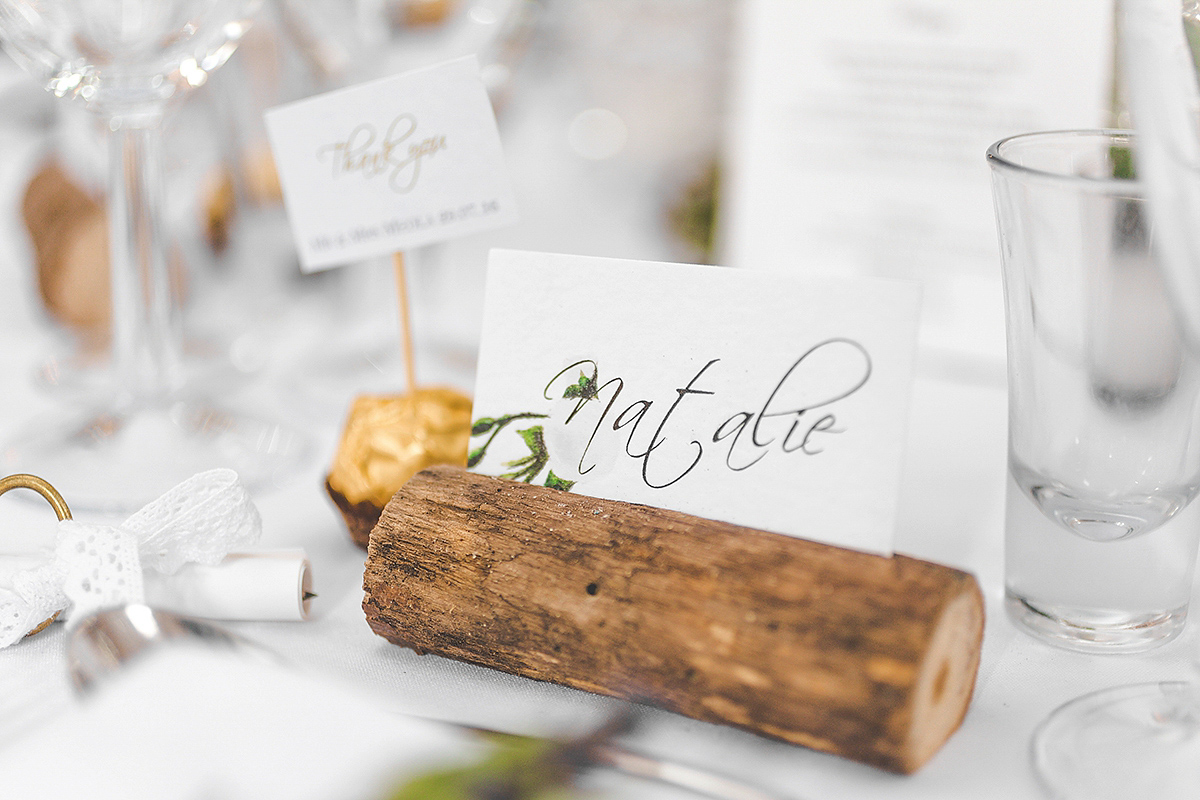 "We had a vintage ladder – an heirloom from my late grandfather, to display wedding and family photos of every one of our 200 guests who attended the wedding It was a surprise gift from Jenny's parents who had spent almost two years working on it!"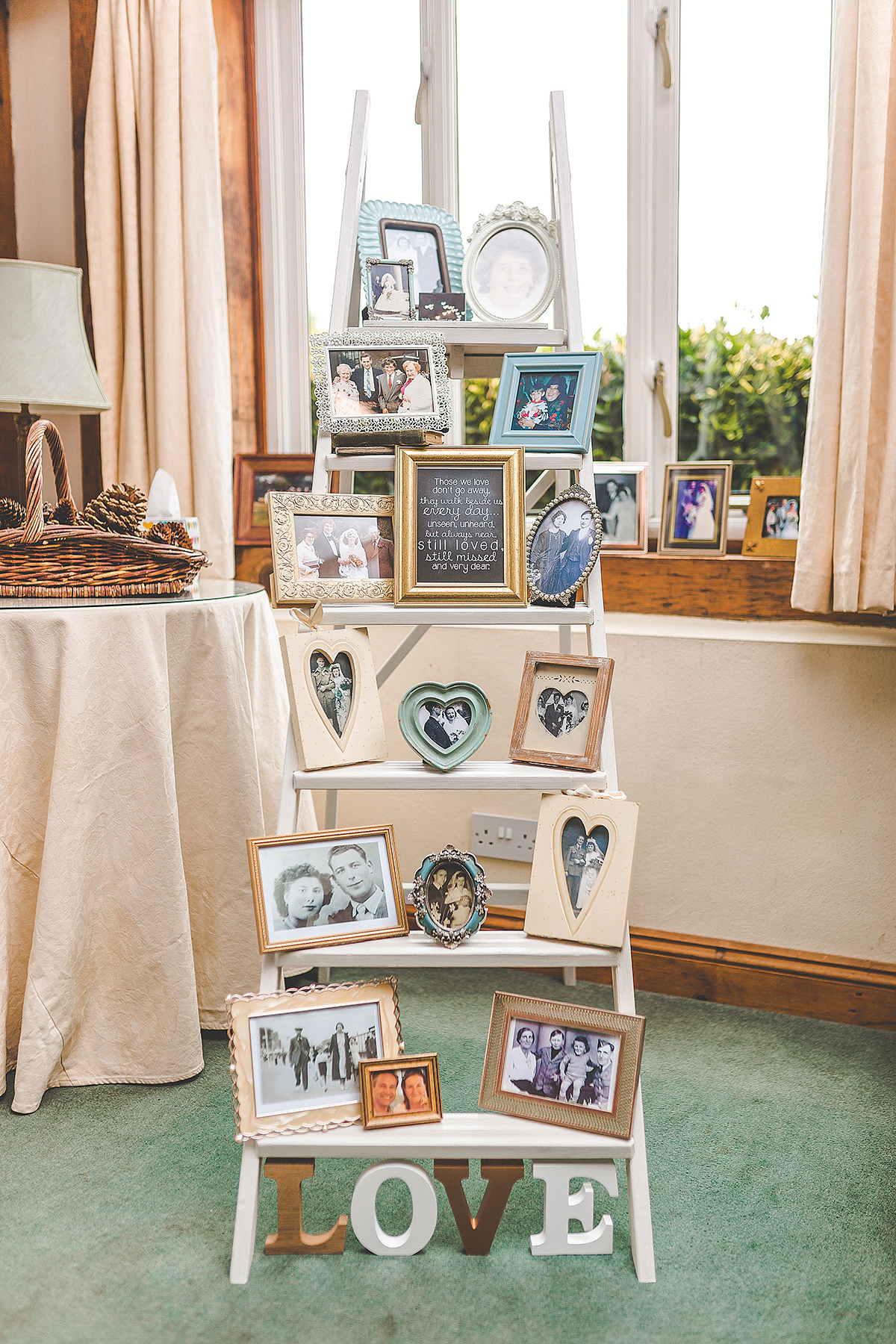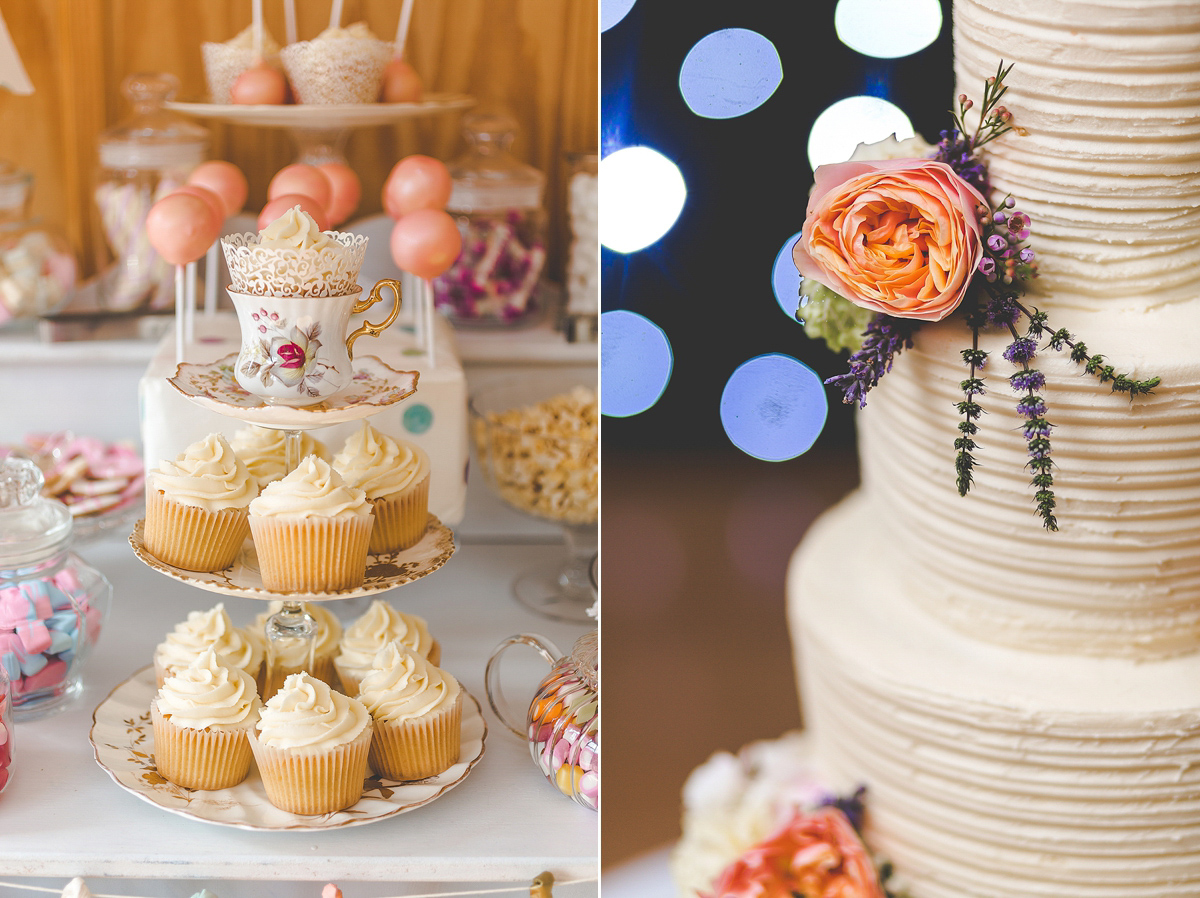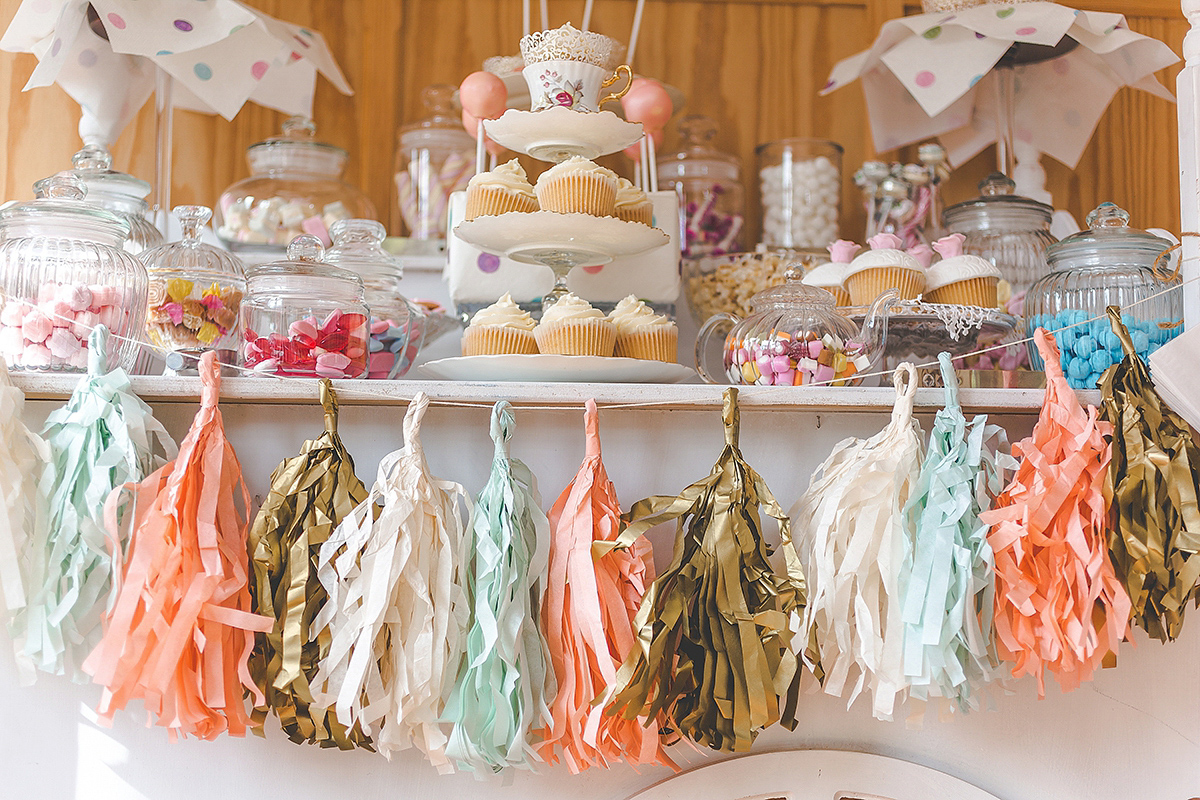 "I made our stationery myself – I hand painted a floral design and included it in all stationery. I made save the dates, invitations, signs, menu cards, Order of the Day fans, and placecards. My bridesmaids, mother and mother-in-law spent hours with me, helping me with my creations."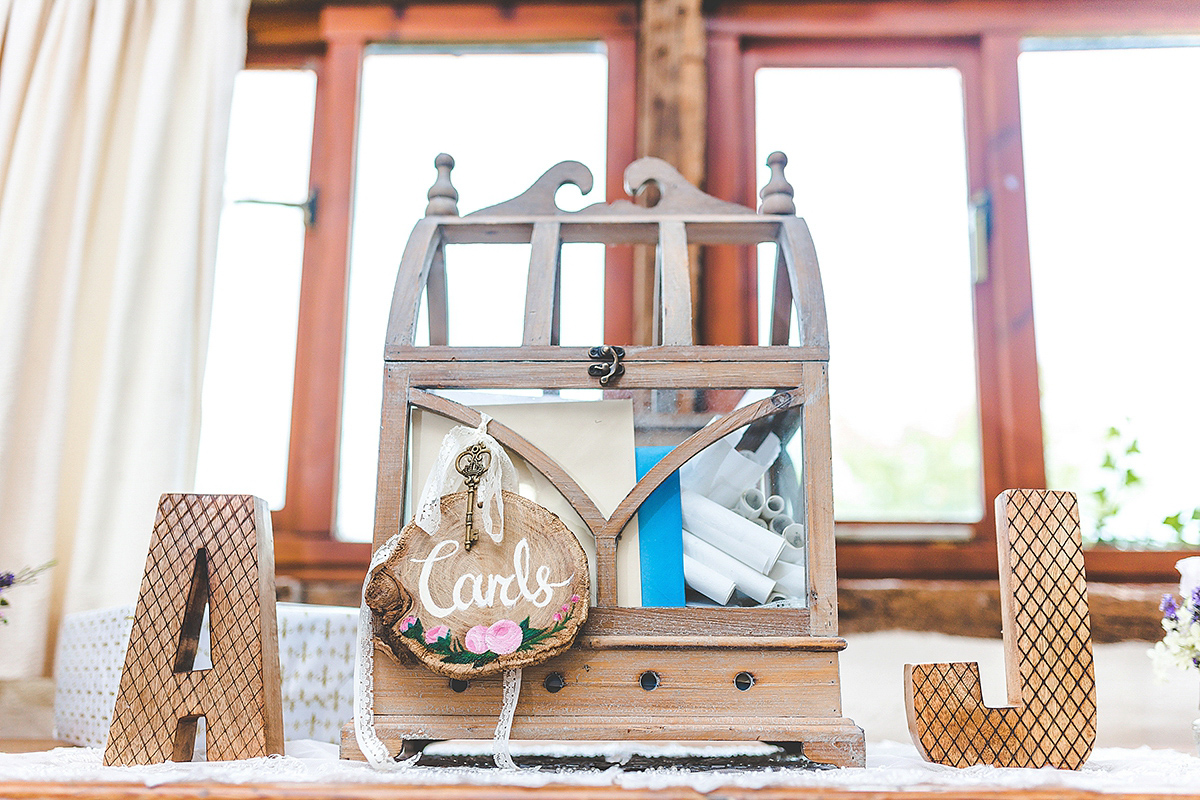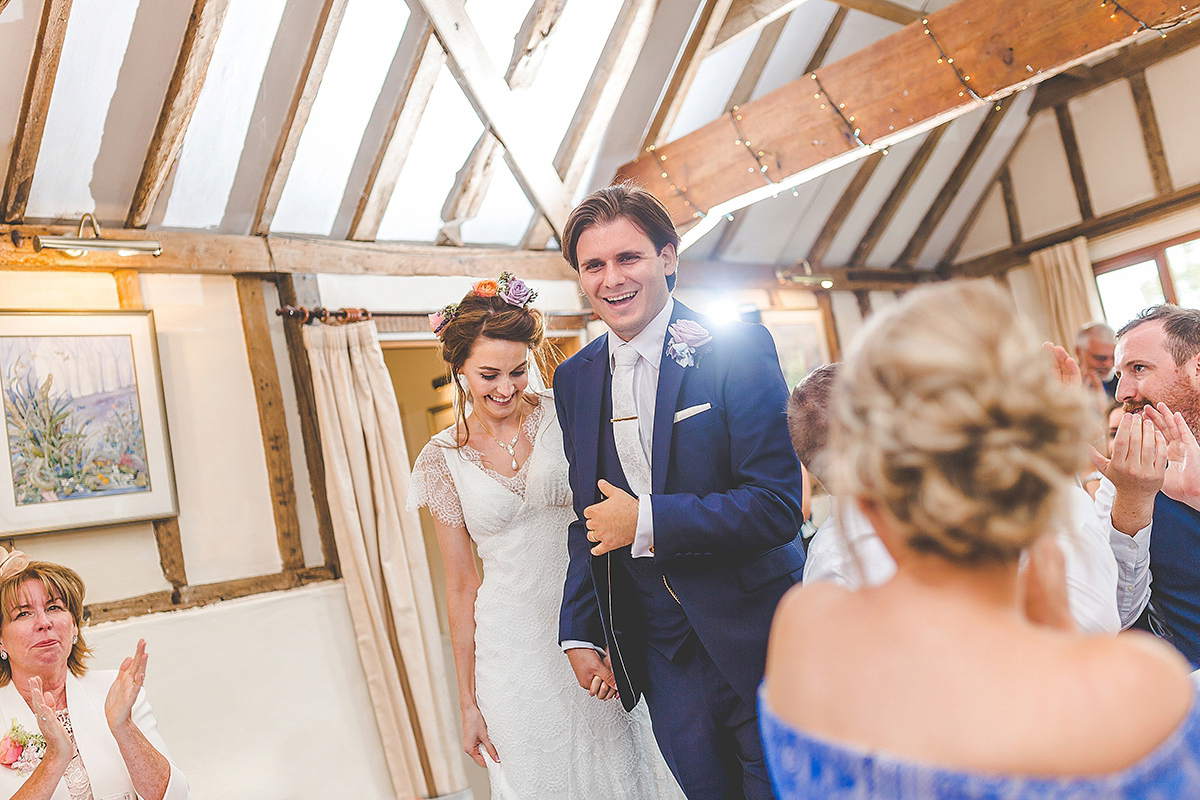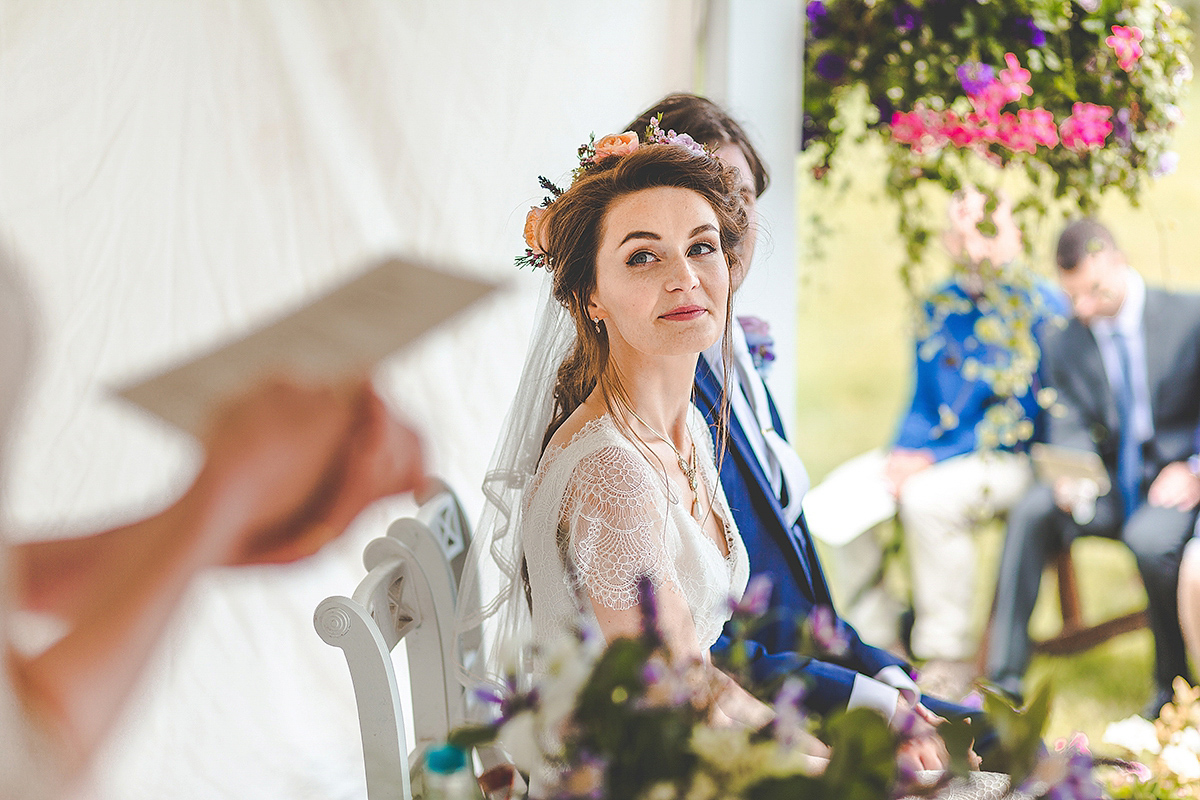 "The Father of the Bride Speech was very emotional, as two years ago a serious illness made him lose his speech. I knew he had worked very hard preparing it, and on the day he spoke so clearly and beautifully, and he had the whole wedding party roaring with laughter as he joked about Antony's previous rock n roll lifestyle."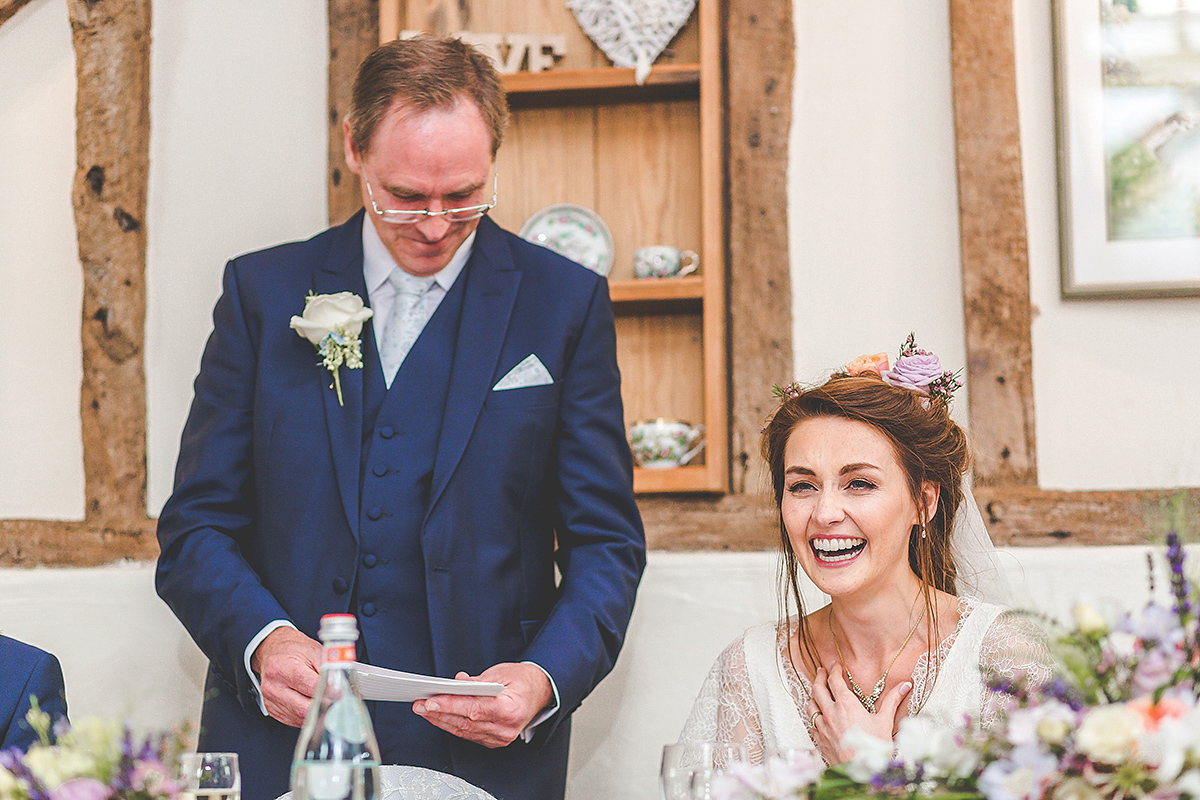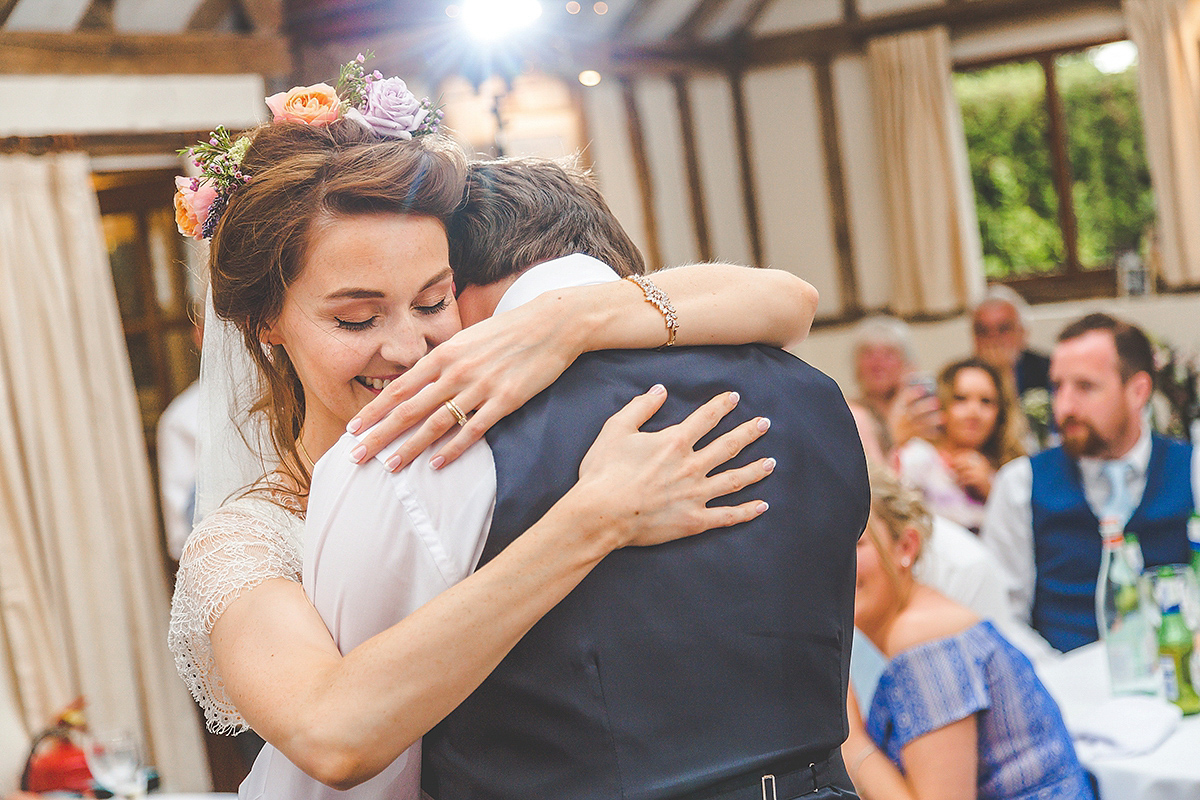 "Sarah at Heart & Soul Cakes provided a three tier butter icing cake adorned with real flowers. She also set up a beautiful sweet cart for us including cake pops, cupcakes and sweeties all in pastel colours on vintage crockery."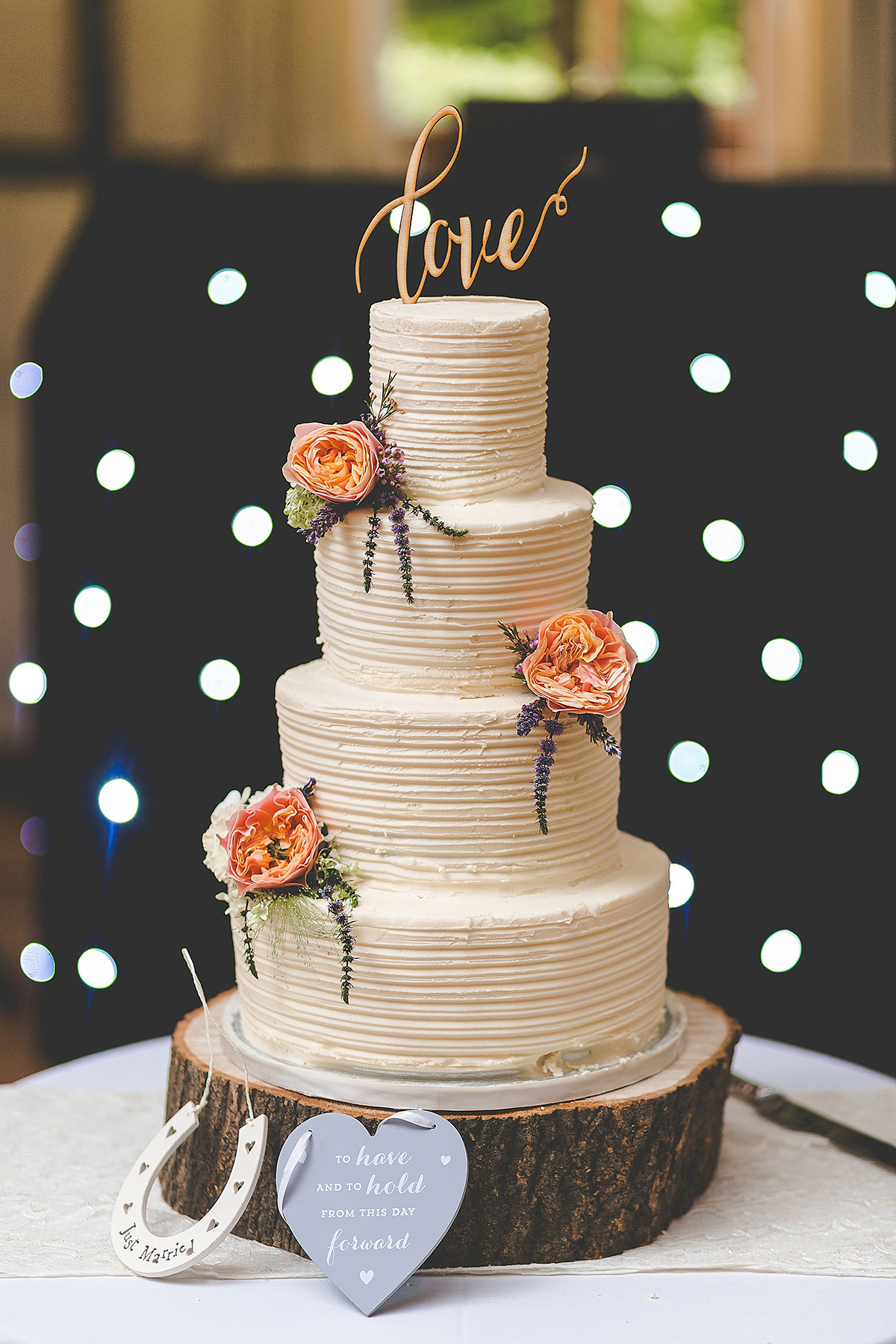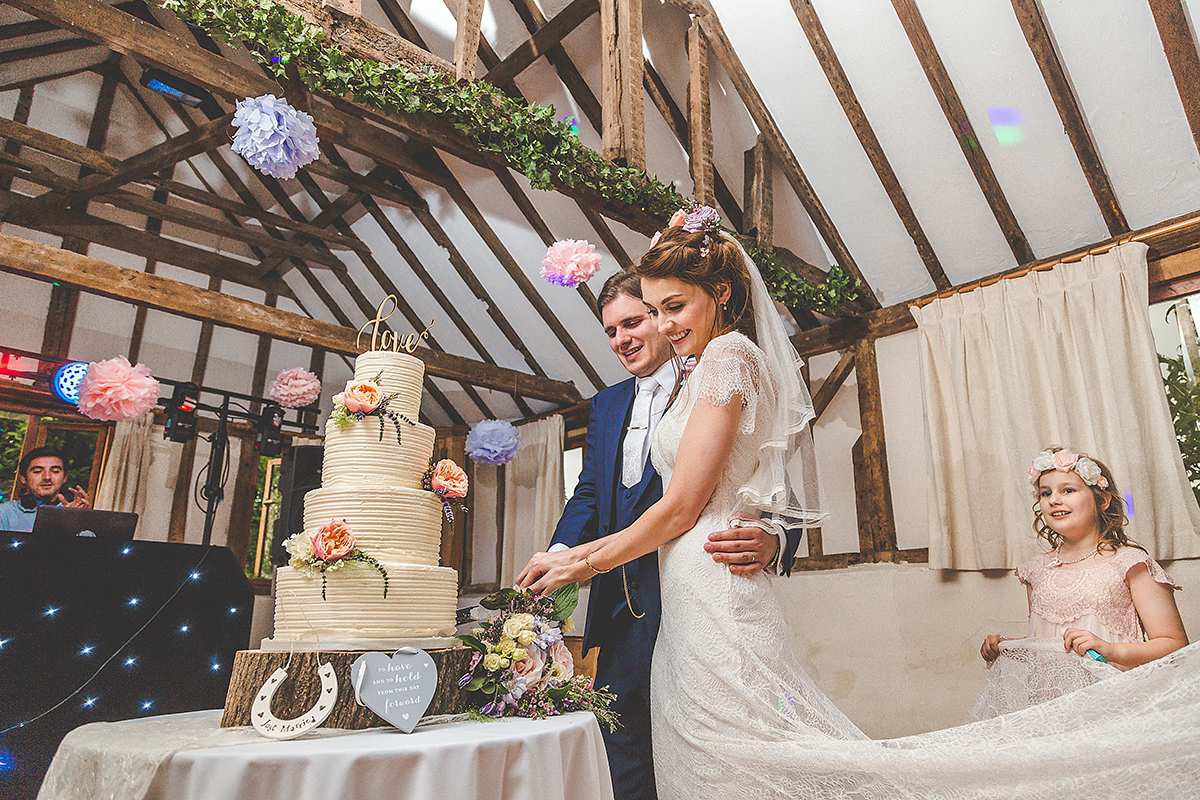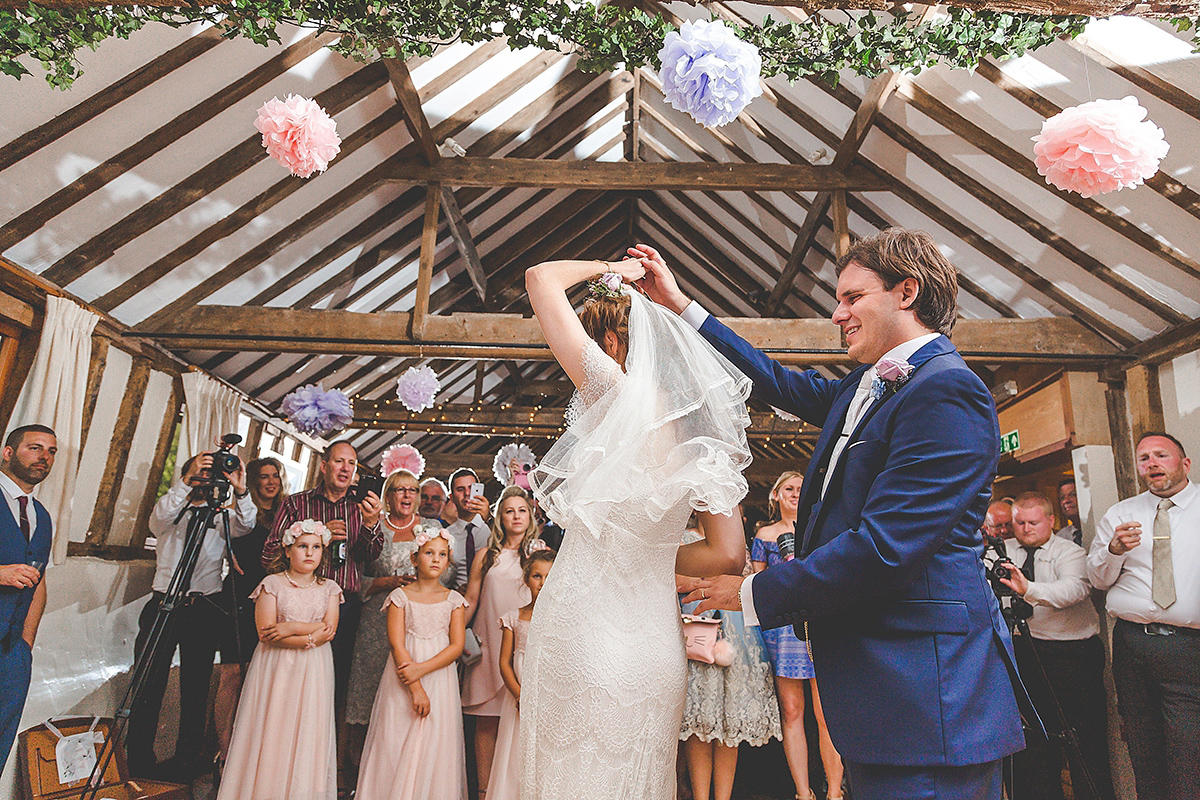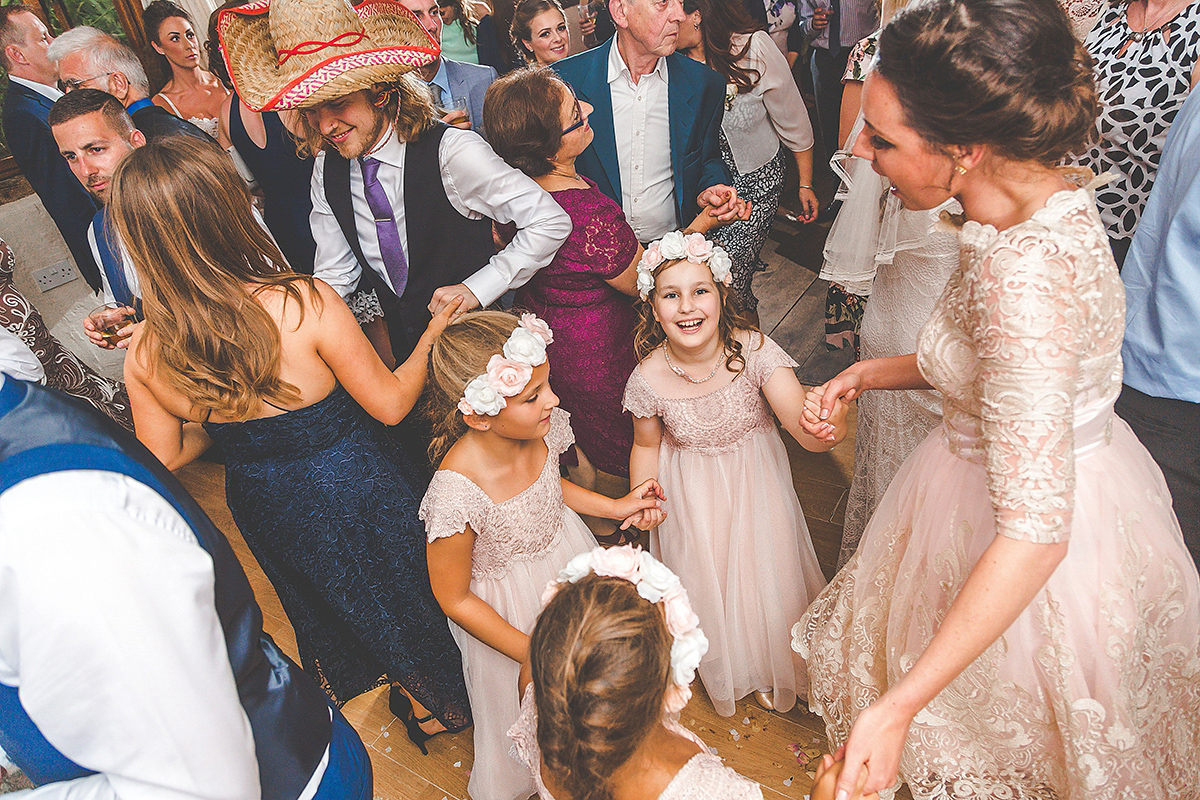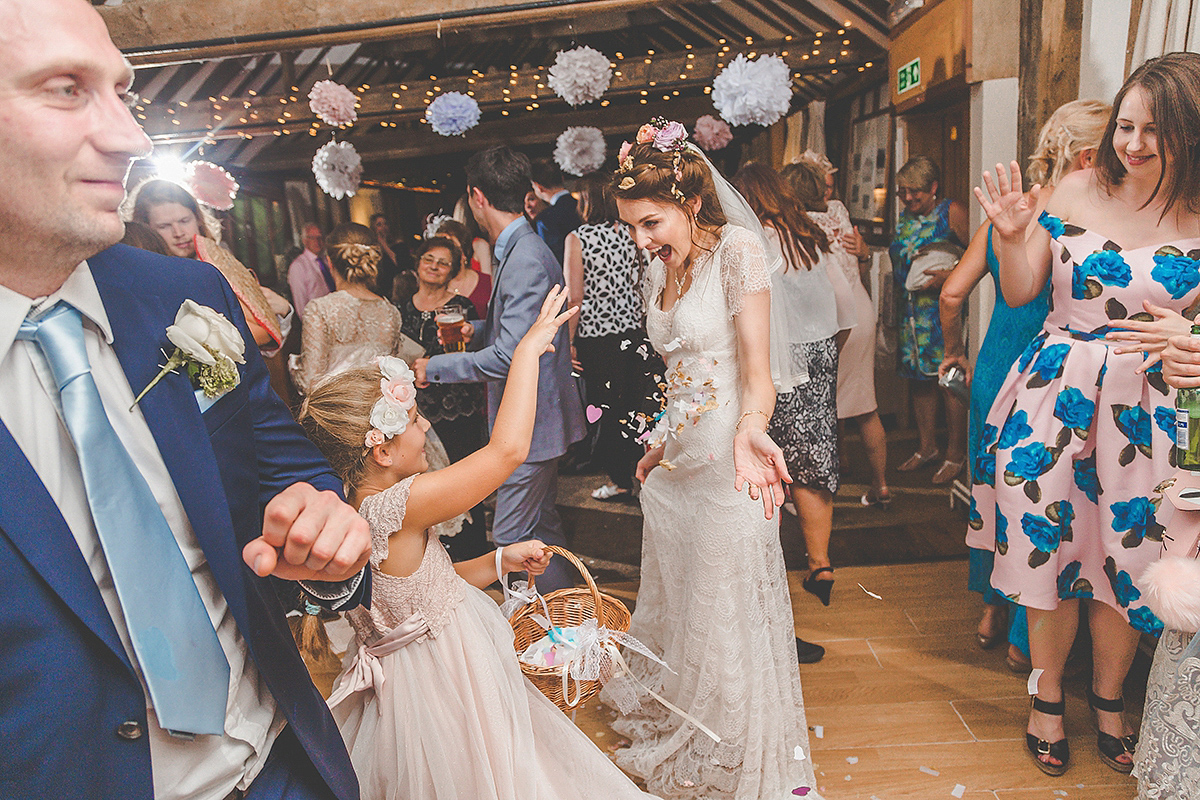 Words of Wedded Wisdom
"Spend time researching your suppliers. Choose people who really love what they do, because they are ones who will go above and beyond to make the day so special.
I would have not done anything differently – though Antony says I should have stressed out less with the planning! The day just went so beautifully."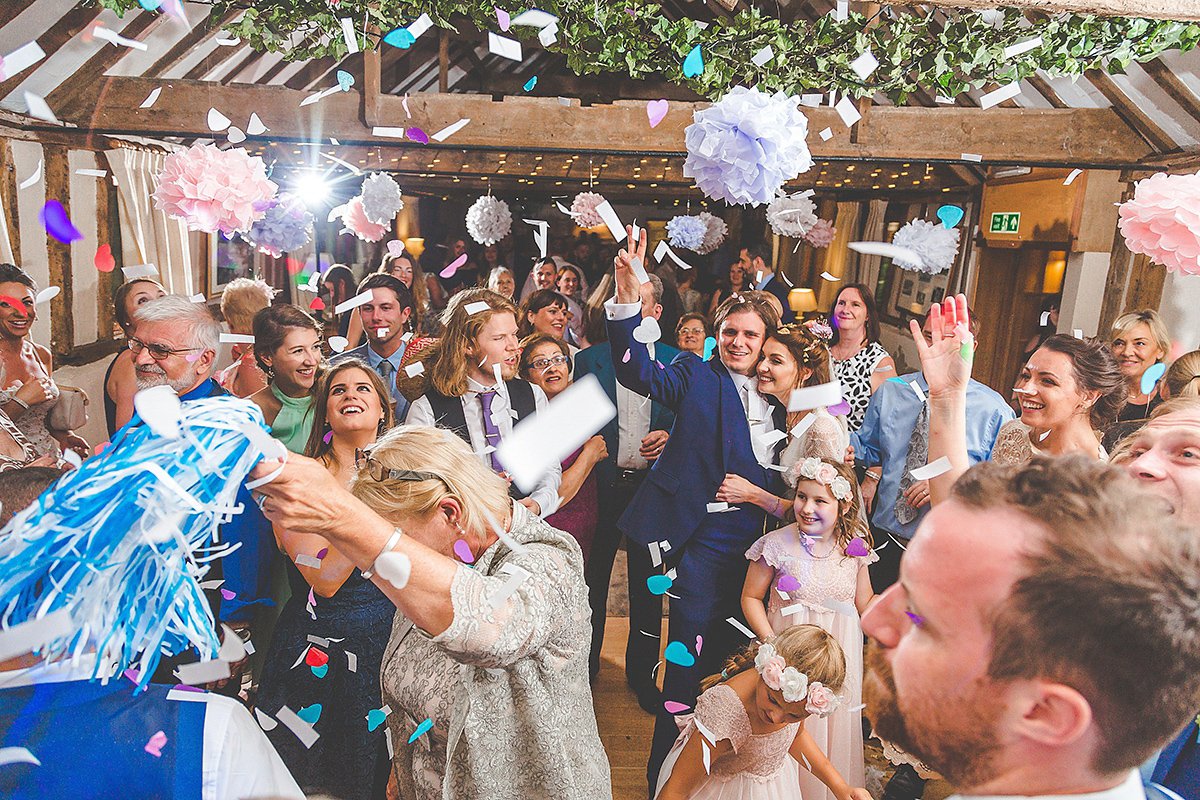 How utterly gorgeous – my love and thanks to photographers Sam and Louise for sharing these utterly gorgeous, gorgeous images and to bride Jenny for recounting her day for us all.
If you want to see more brides looking delicious in their Temperley London gowns, click here.
Annabel x