Every once in a while, a wedding comes along that blows everything out of the water. A riot of colour, and honestly, I couldn't love this more if I tried. Kate, with her beautiful multi coloured curls, completely rocked her floaty Anna Campbell dress when she married Chris at Hargate Hall in Buxton on the 20th of August last year. The couple skipped getting a florist, instead making duck tape flowers and knitted buttonholes. The décor is made up of their many loves, from robots and flamingoes to top trumps cards on each table. There's also a frankly amazing chandelier made from egg boxes. These gorgeous images are by the wonderful Lorna Lovecraft.
"We wanted the wedding to be completely original, full of bright colours, lots of handmade touches and very personal. There were Mexican touches with knitted cacti and a shrine table full of crazy ornaments and lots of kitsch little details, crazy painted lampshades in the trees and the pièce de résistance – my mum's amazingly unique handmade bunting."
Photography by Lorna Lovecraft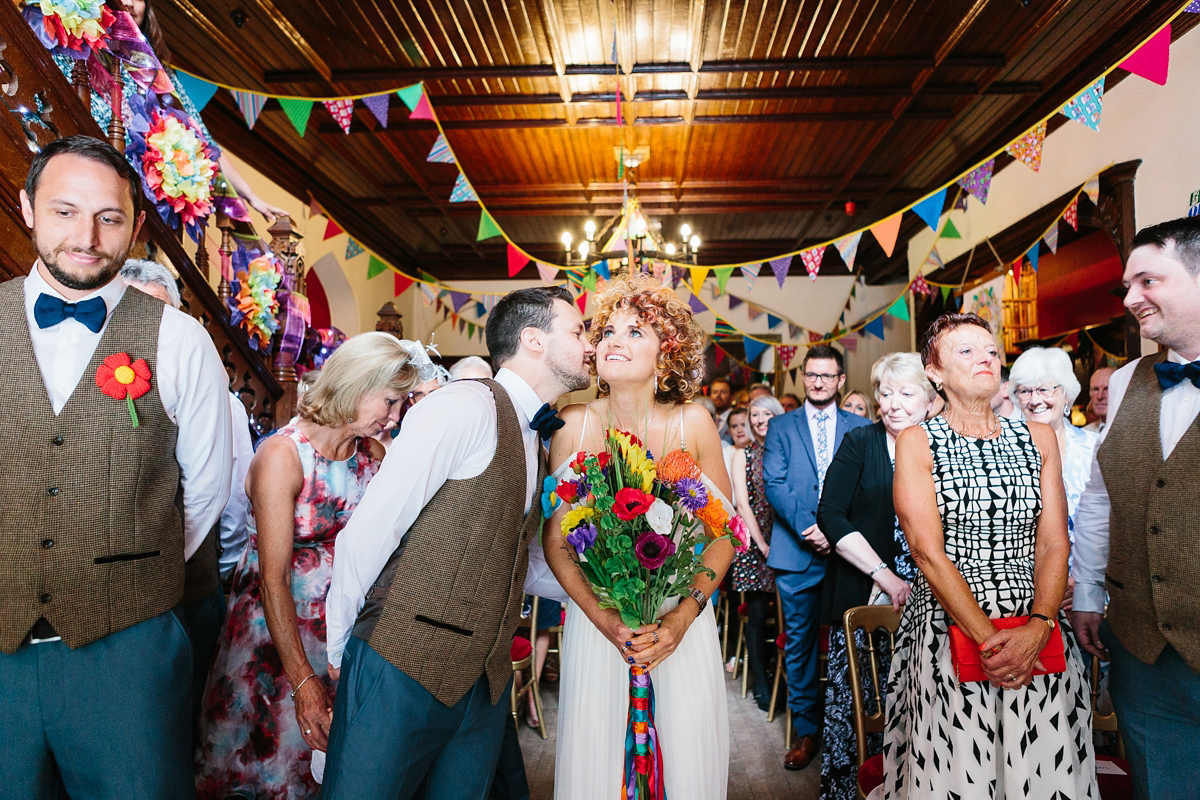 Kate is a woman with style in buckets and her draped Anna Campbell dress from Jean Jackson Couture is perfect on her.
"I love the simplicity and elegance of the dress. I don't like fussy things, sparkles or lace, so it seemed like the obvious choice! I also loved the fact it showed off my tattoos too."Kate made all of the stationery and her mum made chutney for the favours, given out with Alka Seltzers for hangovers, a detox tea bag and Kate's uncle Joe's mint balls.
"Everything was handmade and really bright.  Tissue paper flowers, Mum's homemade bunting, huge paper chandeliers, knitted cacti, duck tape flowers, tissue paper garlands, lots of fairy lights, painted lampshades in the trees, jars stuffed with cuddly toys, egg box chandelier and chairs decorated with brightly coloured ribbons."
"We loved the quirkiness of Hargate Hall and the fact that we had free reign to decorate it as we wanted. The beautiful hall was perfect for our intimate and personal ceremony."
"We also loved that we could have the venue from Friday until Monday."
The bride added a pair of gold heels from House of Fraser, a heart pendant from her mum, and a silver bangle that used to be her grandmother's.
The bridesmaids look fabulous in their cream 70's style minidresses from ASOS.
The ladies added cork and glitter wedges from Debenhams, customised bracelets from Lisa Angel and wicker clutch bags with embroidered fruit patterns.
"We met on 'Plenty of Fish' in November 2012. Chris proposed whilst we were travelling the world, on Christmas Eve 2014, on a beach in Nelson, New Zealand."
"He took me down to the beach at sunset and got down on one knee. I wasn't expecting it at all!"
Kate's dad passed away two years ago so her brother had the honour of accompanying her down the aisle to meet Chris. They chose 'You're The One' by The Carpenters for the occasion.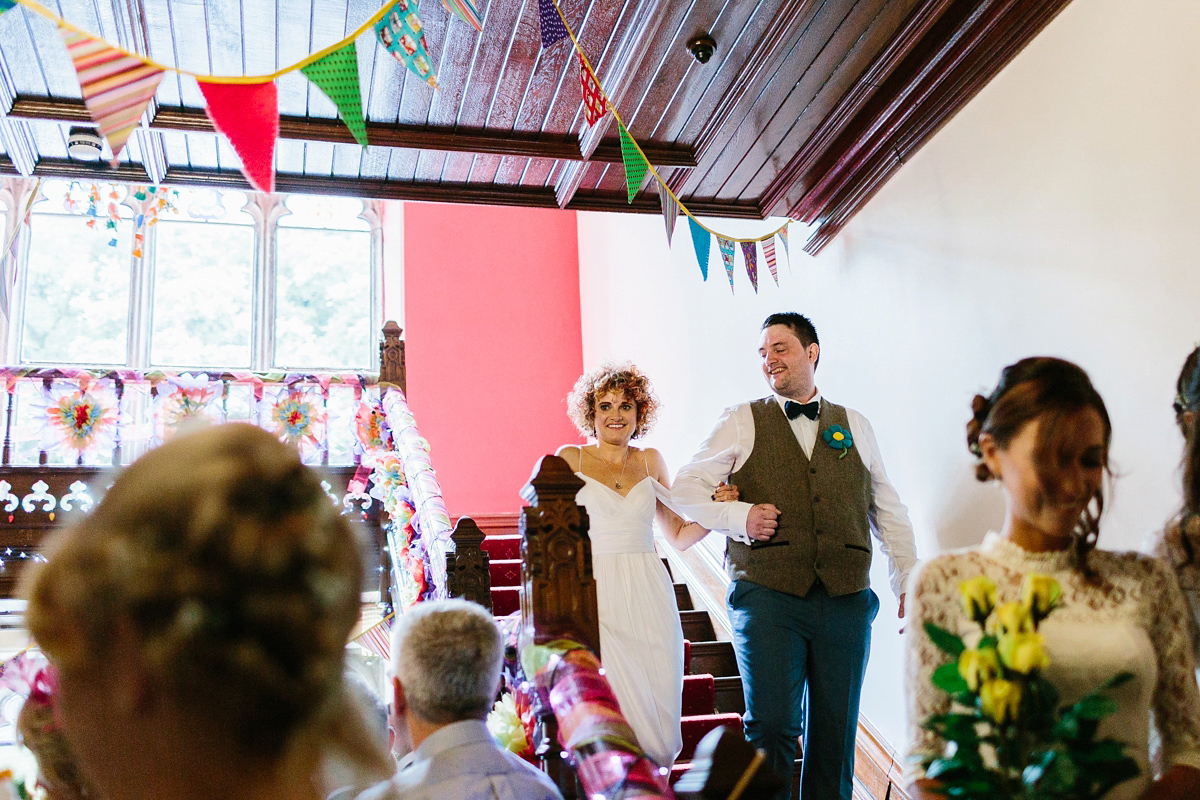 Groom Chris paired a tan colour herringbone waistcoat by Marc Darcy with blue trousers from River Island and a bow tie. Kate's mum knitted his floral buttonhole, and those of his best men and adorable pageboy too.
The couple had three surprise readings chosen by their friends. 'Invisible Kisses', 'You're my Cup of Tea' and a personal poem written by Chris' sister.
"We got our rings at Rebecca's, a little jewellers in Southport. It was my late Dad's favourite jewellers so it was the obvious choice."
The couple made promises to each other alongside their vows.
Kate to Chris;
I can't promise that I won't leave my hair grips all over the house or that I will stop biting my thumbs, but I do promise to love you as much as I do right now, for the rest of my life.
Chris to Kate;
I can't promise to stop fiddling with the back of the TV remote, or mushing my nose (he presses his nose into his face… it's so weird!) but I do promise to love you as much as I do right now for the rest of my life.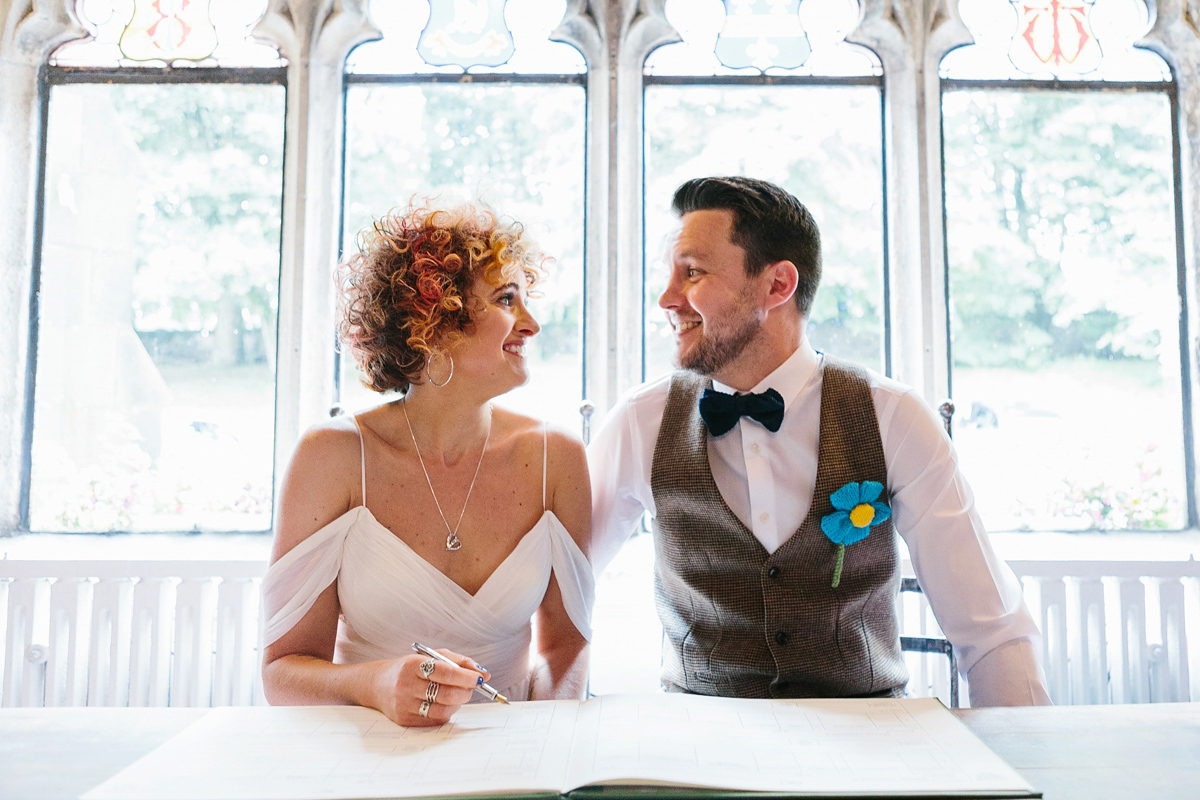 It's easy to see why the couple chose Lorna Lovecraft to photograph their wedding day. She has captured the joy of the day beautifully. I particularly adore the image of the couple exiting the ceremony with streamers all around them.
"Lorna was absolutely brilliant all day and got some amazing snaps of both us, our friends and family and the all important wedding craft. She really captured the essence of the day and some really poignant moments throughout."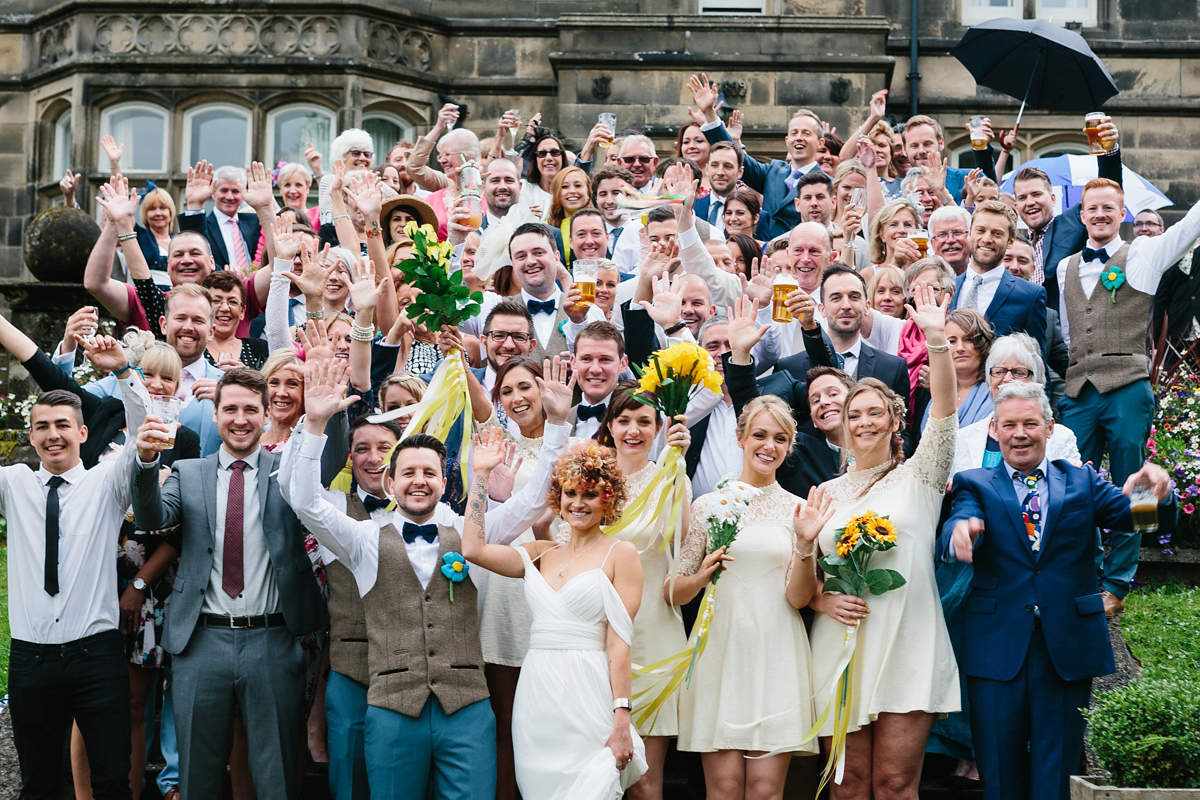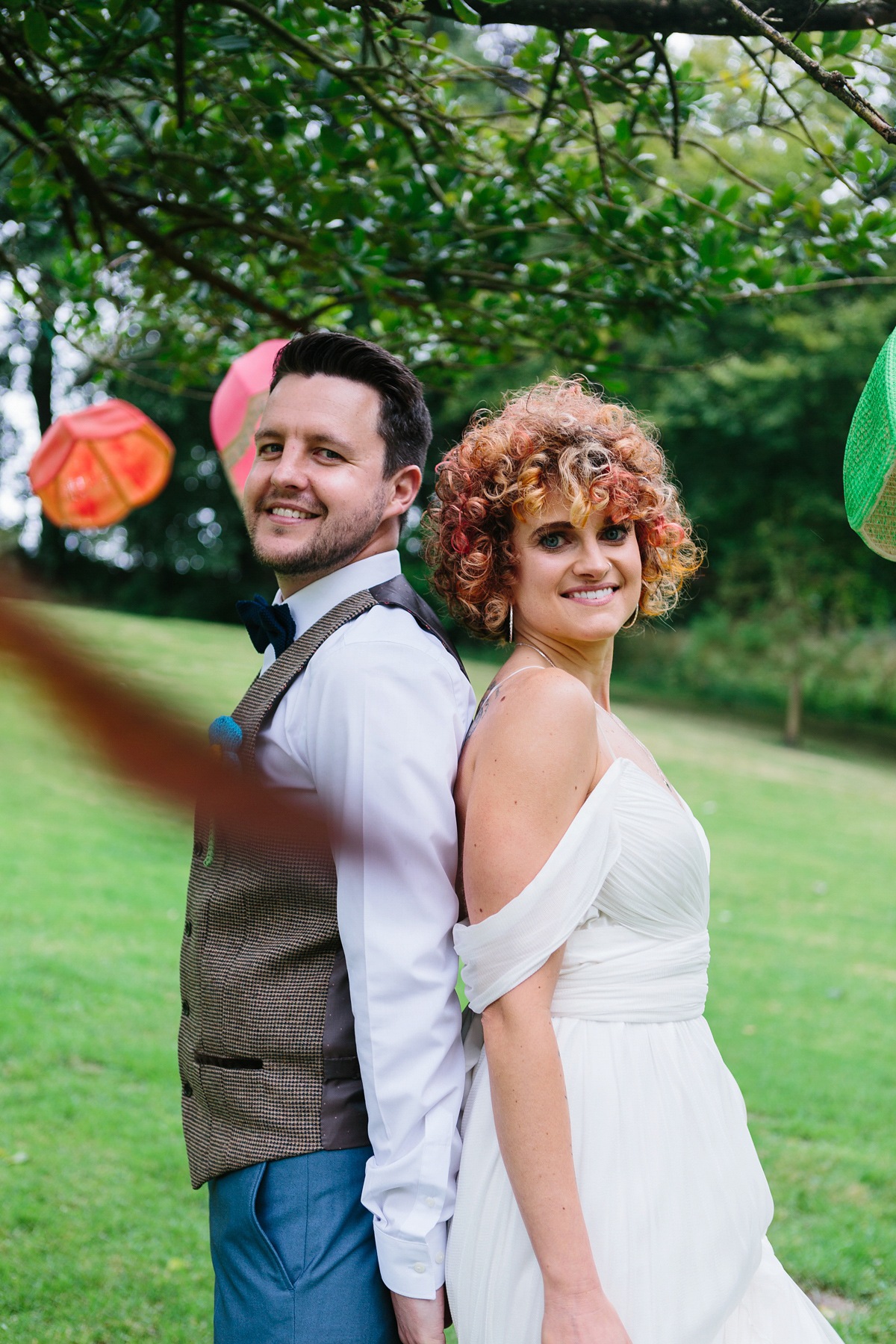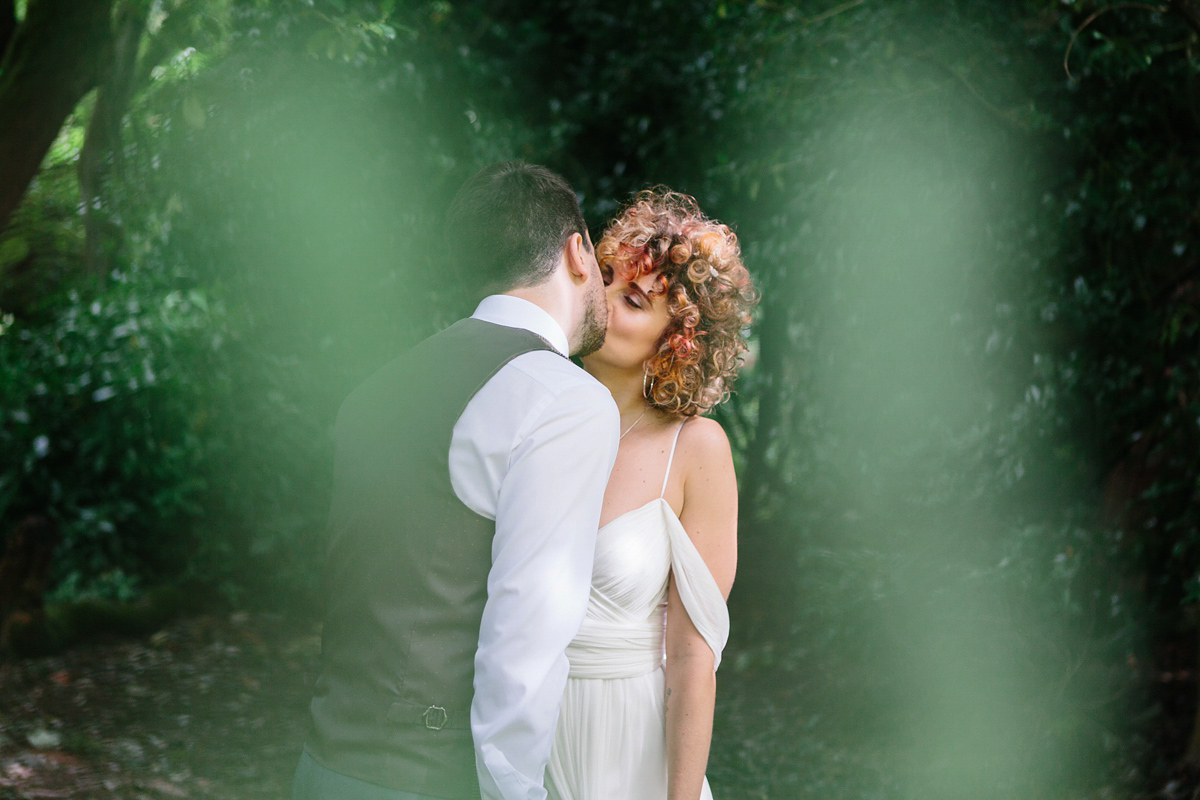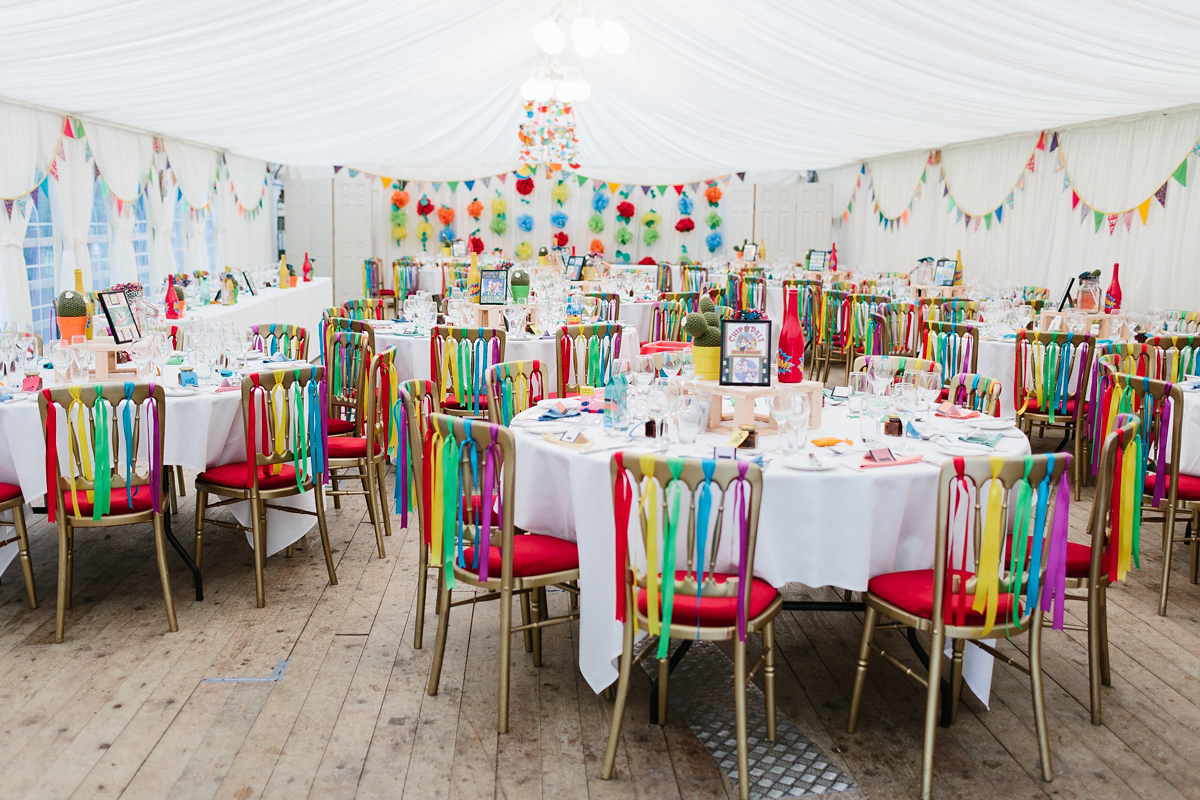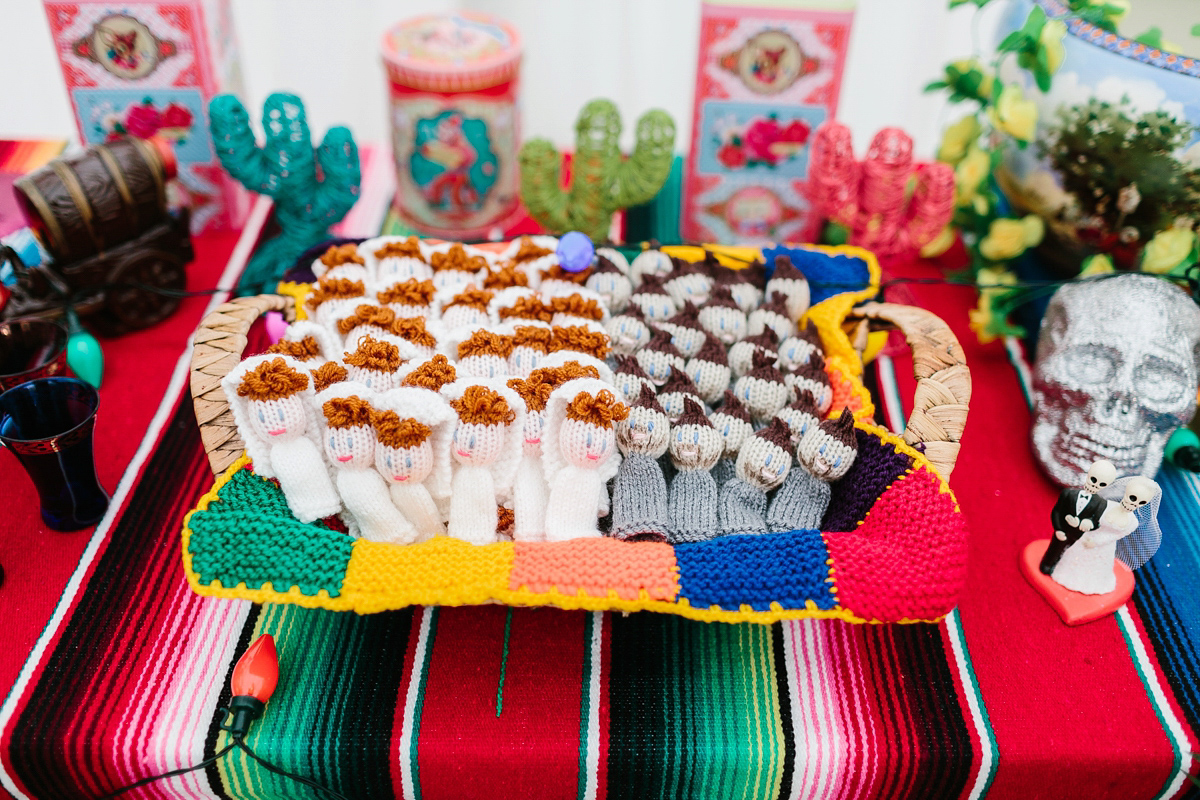 "My best friend, Leila Freeman made the vegan wedding cake as a complete surprise for us. She based it on our wedding invite, iced robots, flamingos, campervans, pelicans, rockets and sunflowers – all of our favourite things!"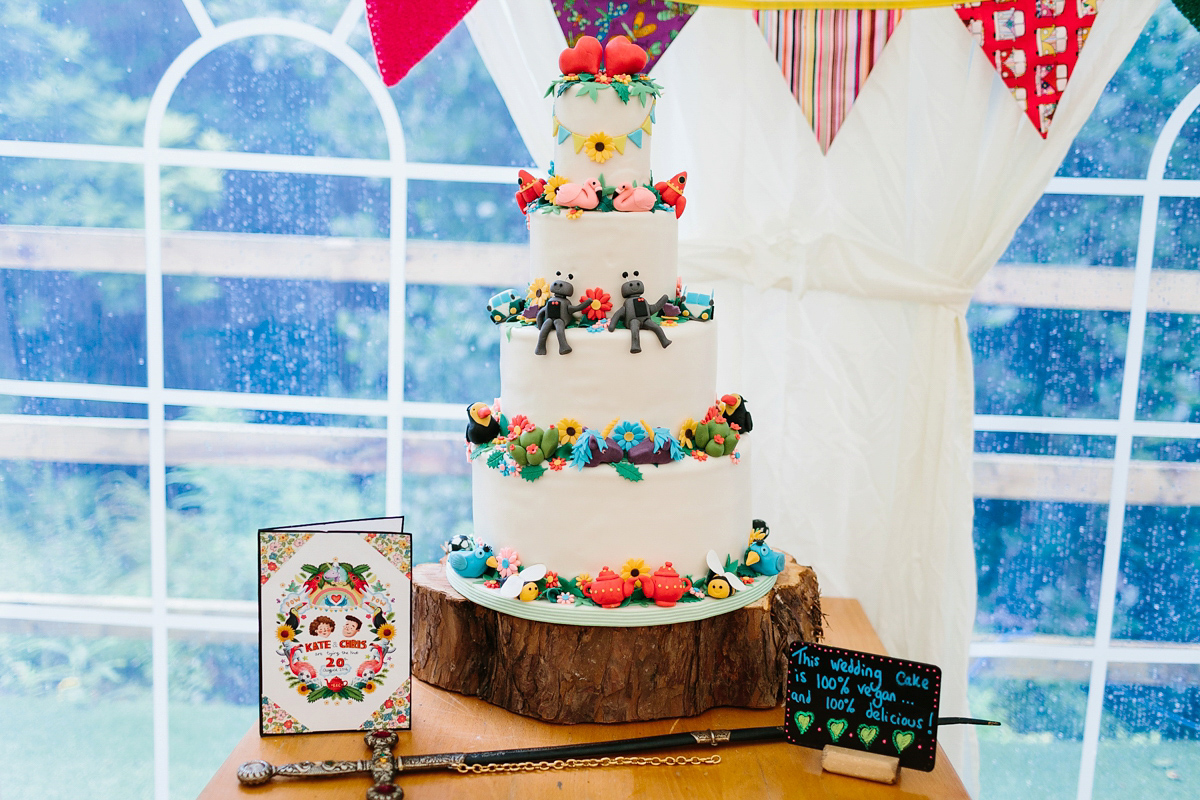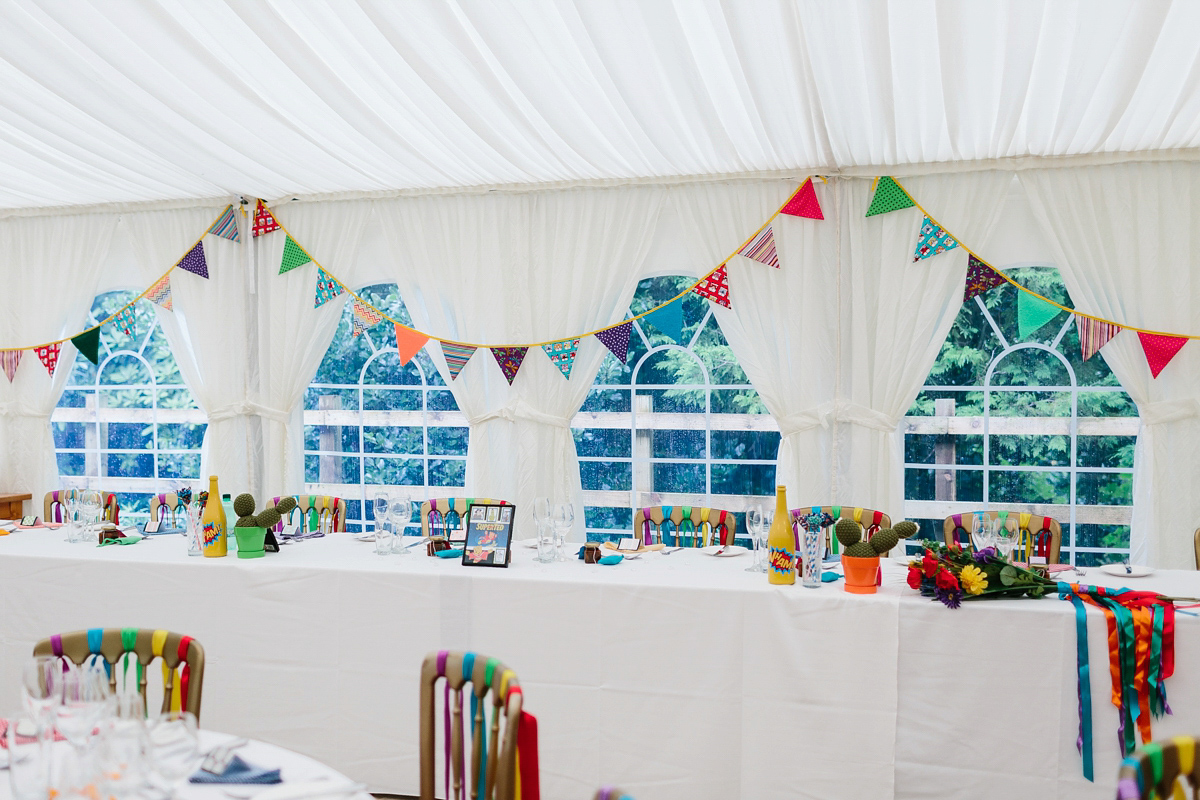 "It's so hard to pick a favourite moment but the speeches really were hilarious and so touching. My brother, Chris and his best men absolutely pulled it out of the bag. I also loved walking down the stairs just before we got married – seeing everyone's smiling faces and realising what was about to happen was just magical!"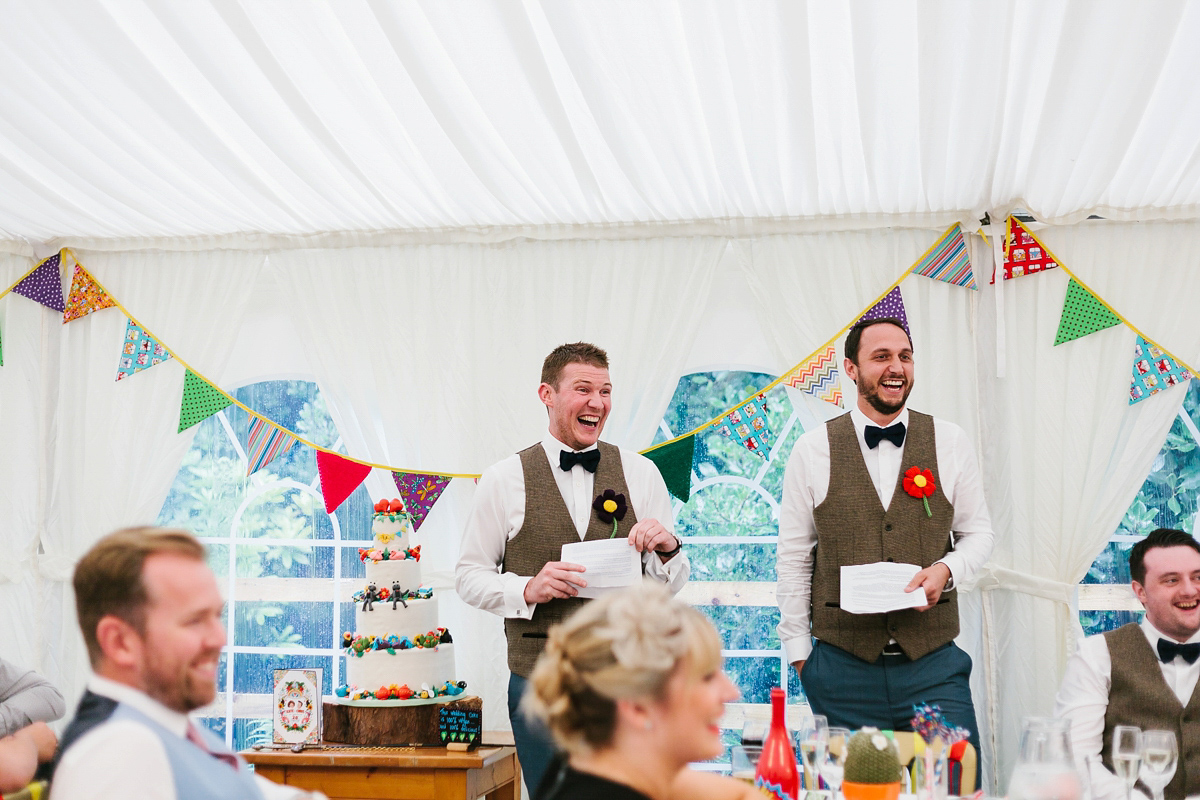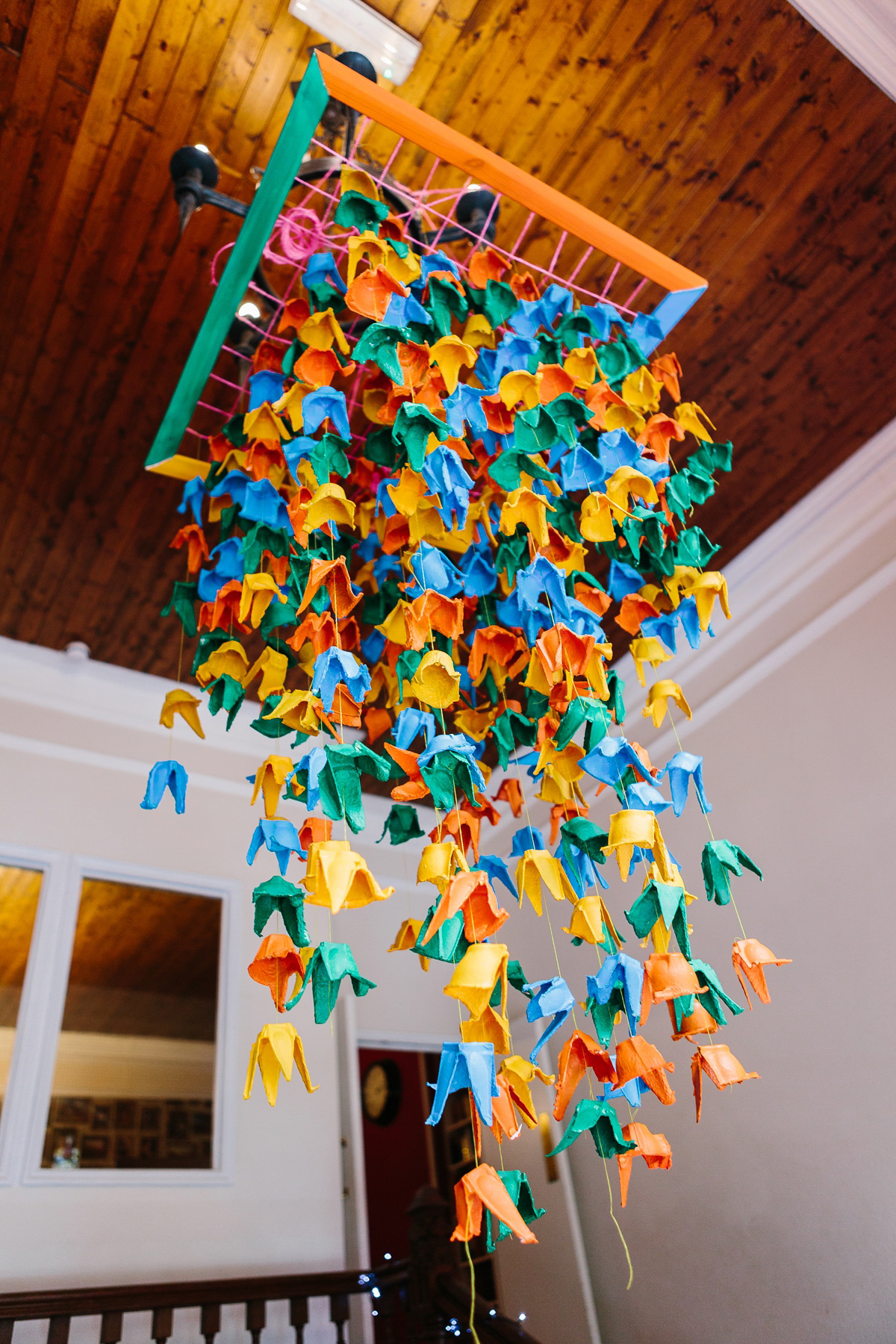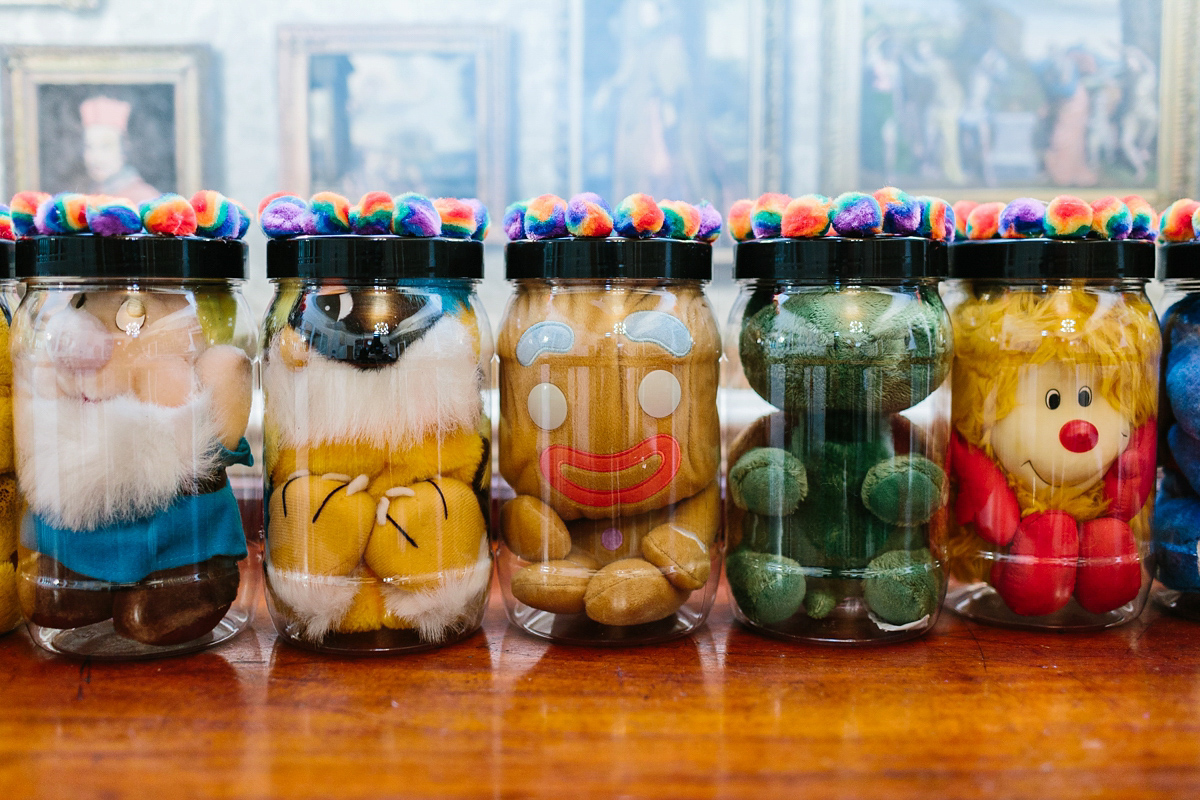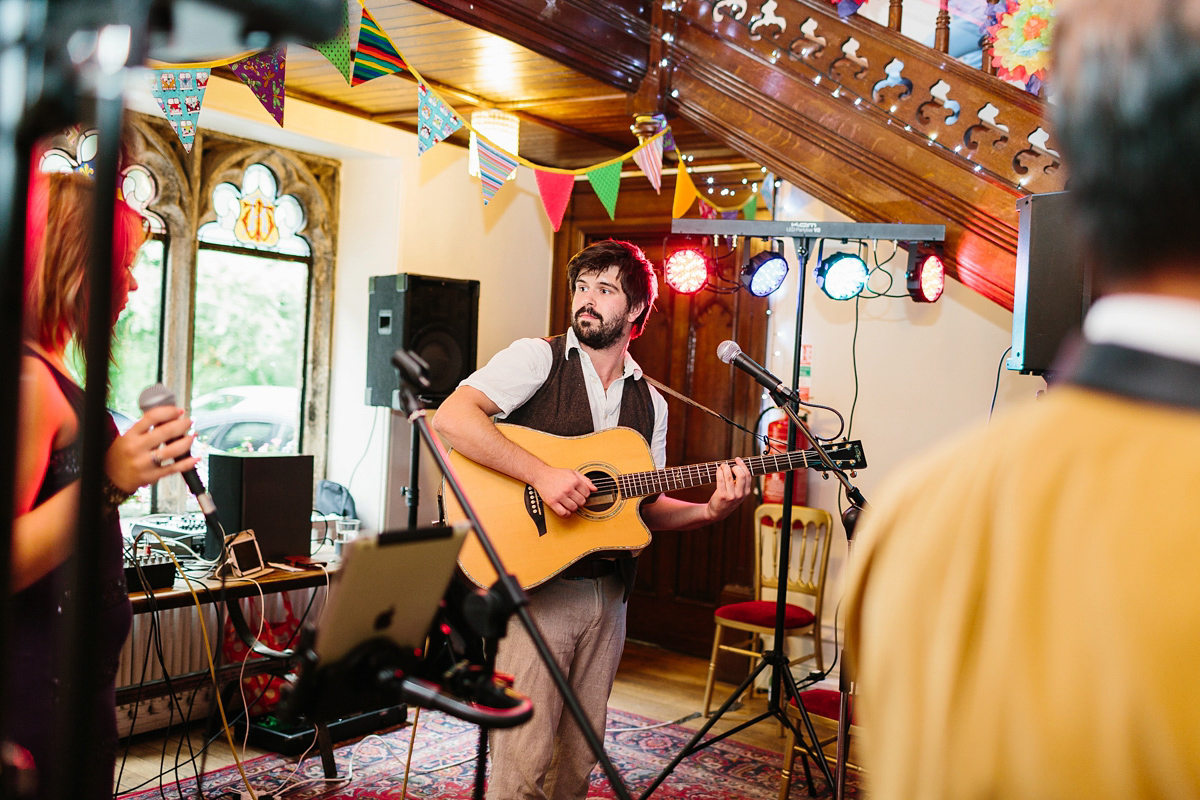 "Our first dance song was 'Step into Christmas' by Elton John. It reminds us of one of our happiest times, travelling around New Zealand in a campervan over Christmas time and Chris proposing to me on Christmas Eve."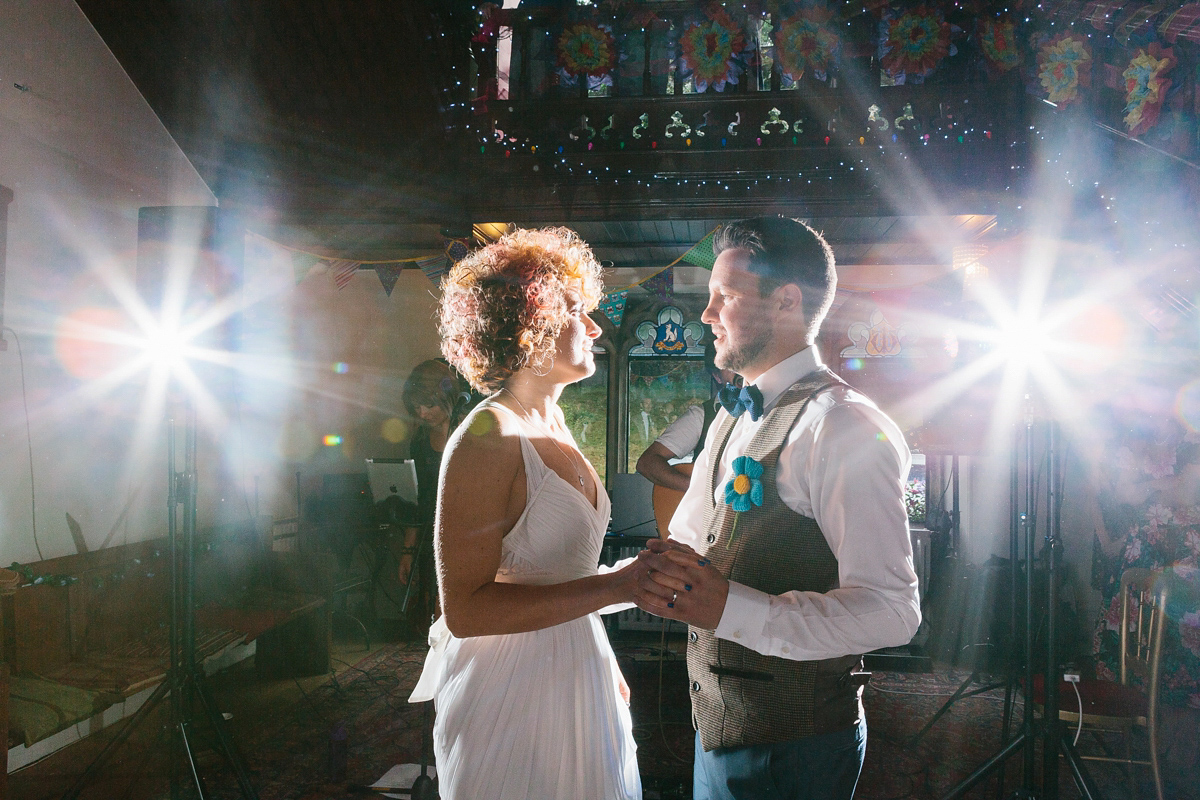 Words of Wedded Wisdom
"If we could change one thing, we would pick a first dance song that we could actually dance to. We are both a bit awkward with stuff like that and on reflection we both wish we had just picked a slow one that we could have bobbed about to, rather than one we almost should have had a routine for.
It sounds obvious but enjoy and relish every moment. It's just the most wonderful day and you'll take away so many amazing memories. If something doesn't quite go to plan in your eyes, don't worry about it – it doesn't matter. No one will notice!
Thank you ever so much Kate and Chris, your wedding has been an absolute joy to see. Thanks also to the fabulous Lorna Lovecraft for the gorgeous images.
Love Caoimhe xx