Good morning loves – may you be feeling well rested after the weekend and ready to tackle another week. Thank you for stopping by our beautiful wedding blog, it's love to see you here. This morning's wedding is a true celebration of community spirit – one of those celebrations where everyone pitched in to make it a little bit wonderful. Matt and Lucy tied the knot on 27th August last year at a private farm in Somerset. They had a magical, laid back and relaxed kind of day, their rural setting peppered with delightfully glamorous elements, which included a most beautiful Halfpenny London wedding dress.
"My incredible friend Bee won a Halfpenny London wedding dress in a magazine competition, didn't want it and gifted it to me. Blown away, and ridiculously lucky!  I went to Halfpenny a good two of three times before picking the dress. The beautiful shop in Euston is full to the brim with beautiful dresses and separates, I couldn't decide! The girls there – Izie, Marilyne and Kate – were just so lovely through the whole process. So very lucky."
Film by Dan Dolan Films
https://vimeo.com/186009217
"We wanted our wedding to be simply and naturally beautiful. The rolling hills of Somerset as our backdrop, the stone of the beautiful farmhouse and the height and scale of the old Dutch barn were stunning in themselves. We decided to keep it pared back and simple-to-source-and-make with a white, green and gold colour palette."
Photography by Mark Tattersall
Lucy's bridesmaids wore Needle and Thread and looked fabulous, don't you think?
"Our photographer was the wonderful Mark Tattersall. We couldn't recommend him highly enough. He hooked us up with our venue, which we fell in love with because of his photography so it was only natural to book him in. It wouldn't have been the day it was if it wasn't for him. So relaxed and friendly, and made us feel completely at ease when we were a bit nervous of a surreal day being papped!"
"My wonderfully talented Aunty Anna made my veil for me. The lace trim matched my headpiece perfectly, and she took so much care making sure it was the perfect length. I will never forget when it arrived, and swishing around in it in my room after unpicking layers of tissue paper. So special."
"Anna designs wedding dresses and lives in Cornwall – she was my rock with advice when putting my wedding outfit together."
"My shoes were £9.99 on eBay! They were exactly what I wanted (gold with a block heel so I didn't sink into the grass) – and so very comfy."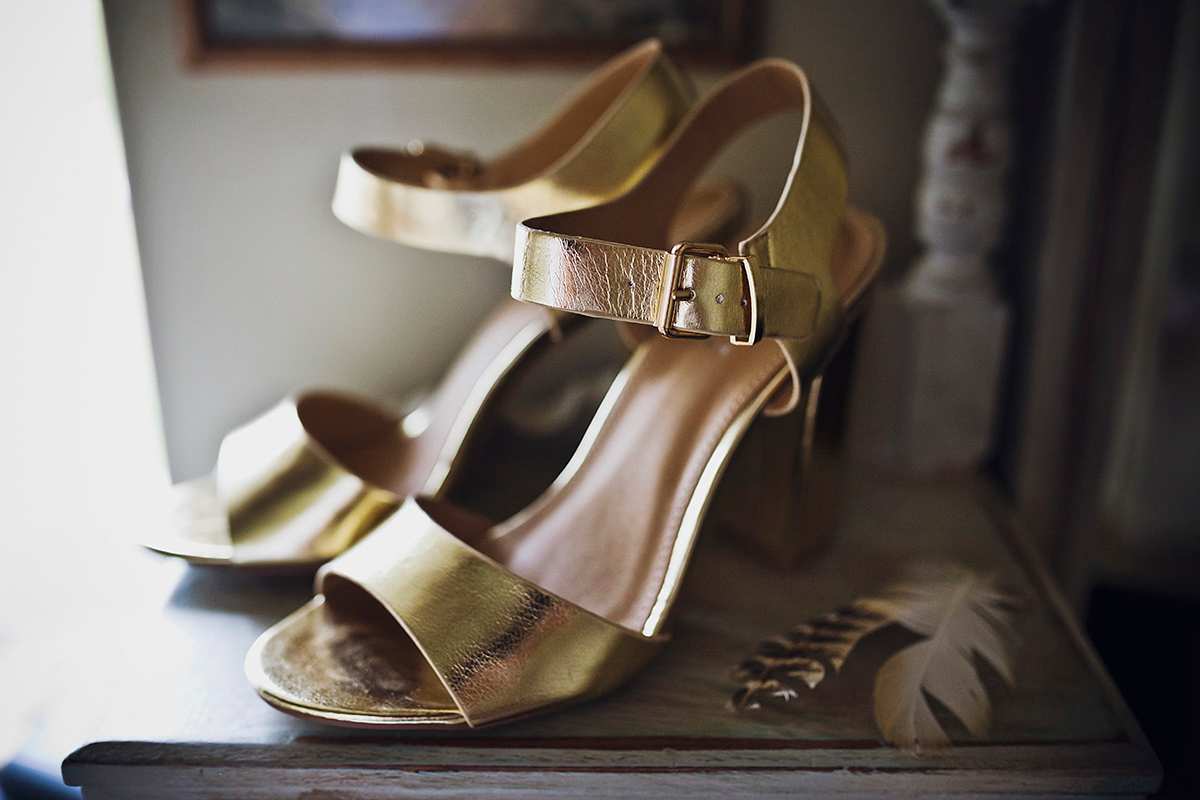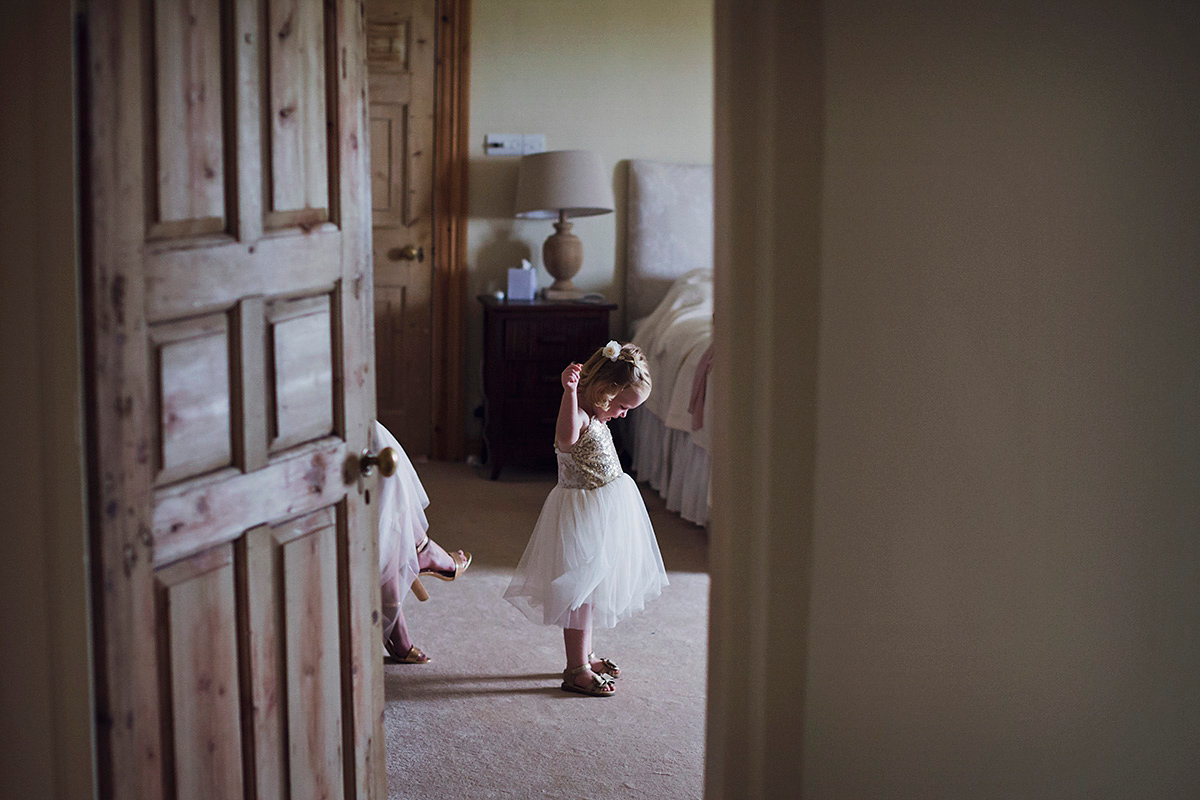 "My makeup artist was Becky Flynn who was just lovely, and really calmed my nerves when I got some last minute, unexpected butterflies. My hair stylist was Louise Alway who understood what I wanted and nailed it straight away."
"My mum bought me a pair of beautiful freshwater pearl earrings, which I will treasure. I kept everything else fairly simple, except that I had a little cutting of my granny's pale blue wedding dress sewn into the seam of my dress and my nana's brooch on my bouquet."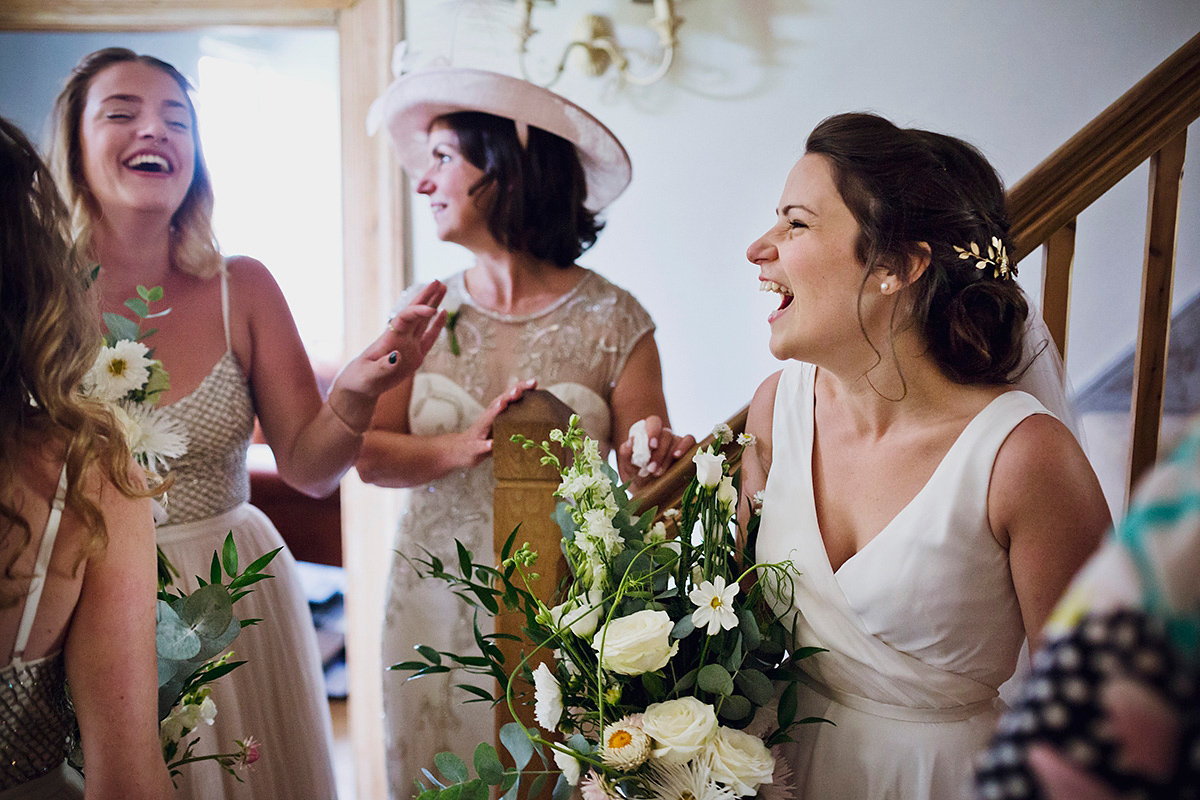 "I bought my hairpiece from Anna Marguerite on Etsy. Her pieces are all absolutely beautiful – I took a long time deciding which to buy and it was everything I thought it would be when it arrived from New Zealand. Such a beautiful finish."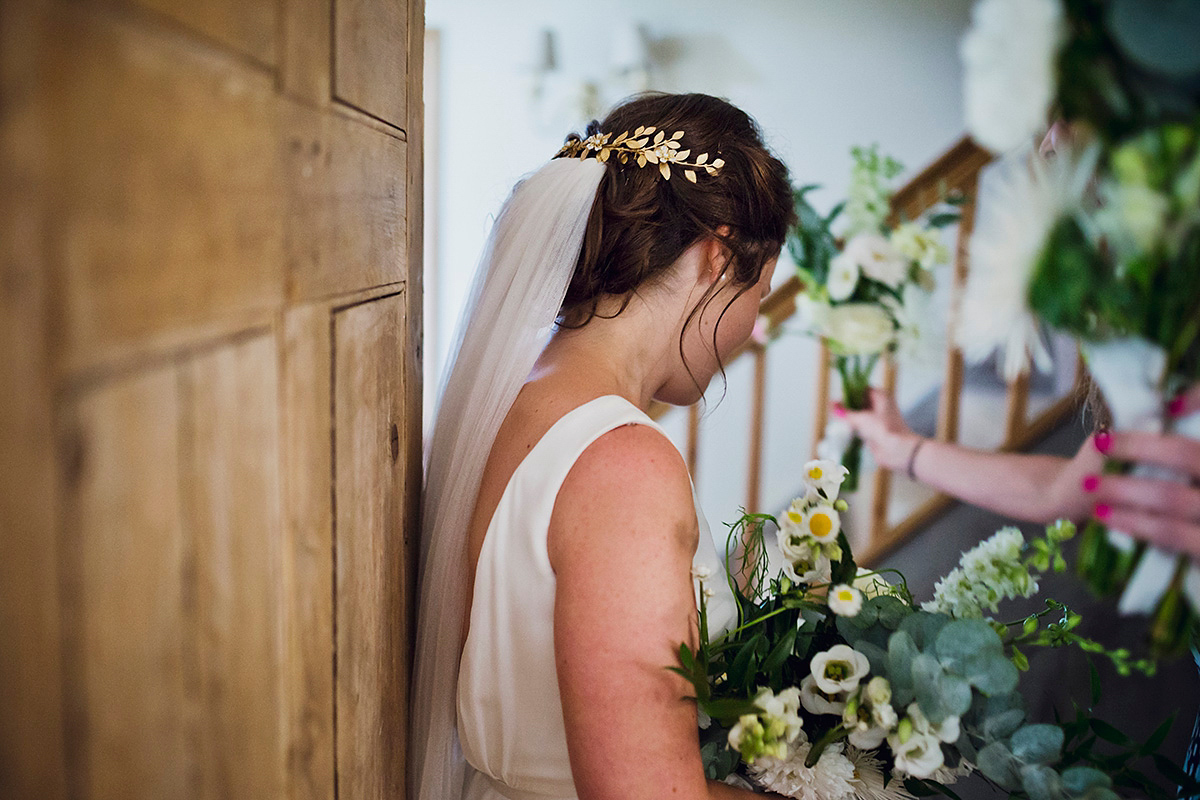 "We didn't have a florist. My mum grew a lot of our flowers in her garden, as well as the white french lavender we had on the tables. I also got in touch with a farm near the venue who planted a load of white flowers and sold us everything that had come into bloom that week.
Mum also made cherry blossom confetti!"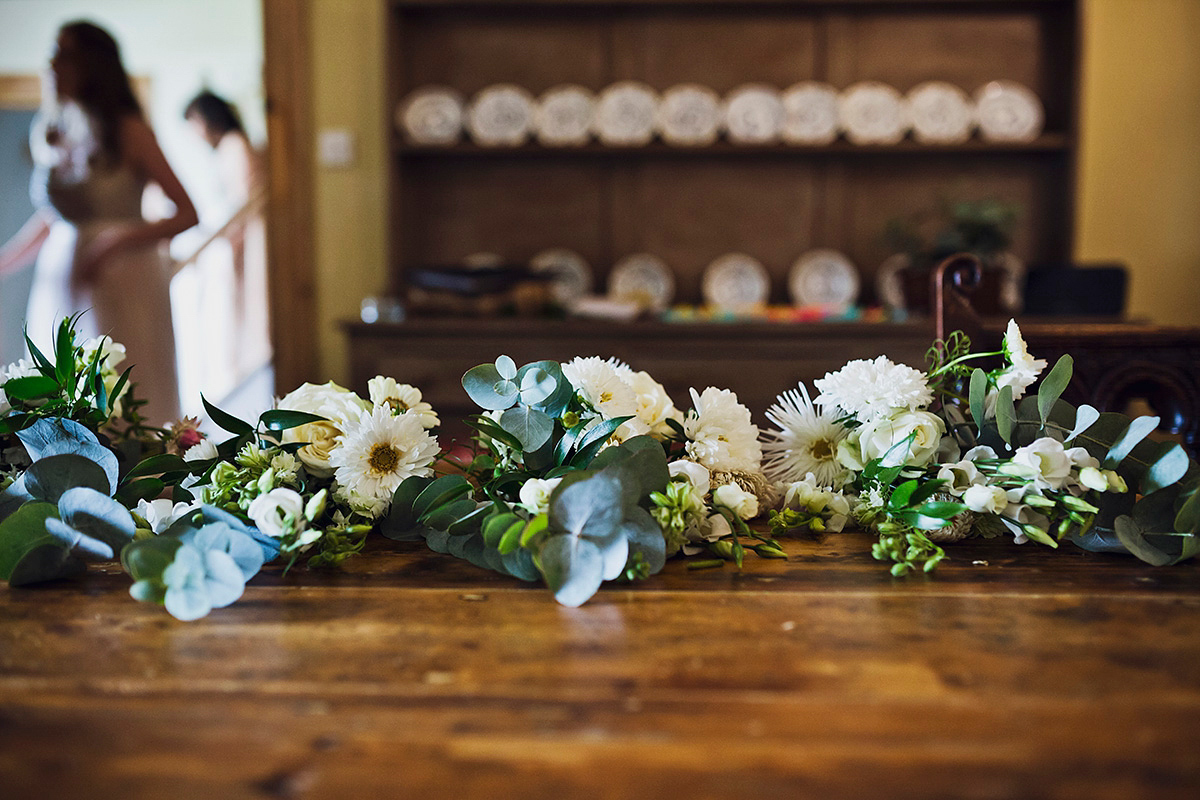 "Matt and I met at university. For the proposal, Matt sneakily got in touch with my boss, booked time off work and set up a surprise proposal at the top of St Paul's cathedral (my favourite view of London) before whisking me off on a weekend away to Berlin. It was the most romantic thing he's done in the last 9 years, and I'm still to this day in awe/shocked that he managed to keep it all a secret from me!"
"My brother's talented friend made all the groomsmen's ties for us (as well as the one for our little nephew). Holly is lovely, she sent little samples of the material she was thinking of using, and then they were made and packaged so beautifully."
"My wonderful friends Sophie and Jess came round the morning of the wedding to make the bouquets and buttonholes. I honestly thought I'd have way more time to help, but made just one buttonhole before getting pulled away to sort something else – such a busy morning."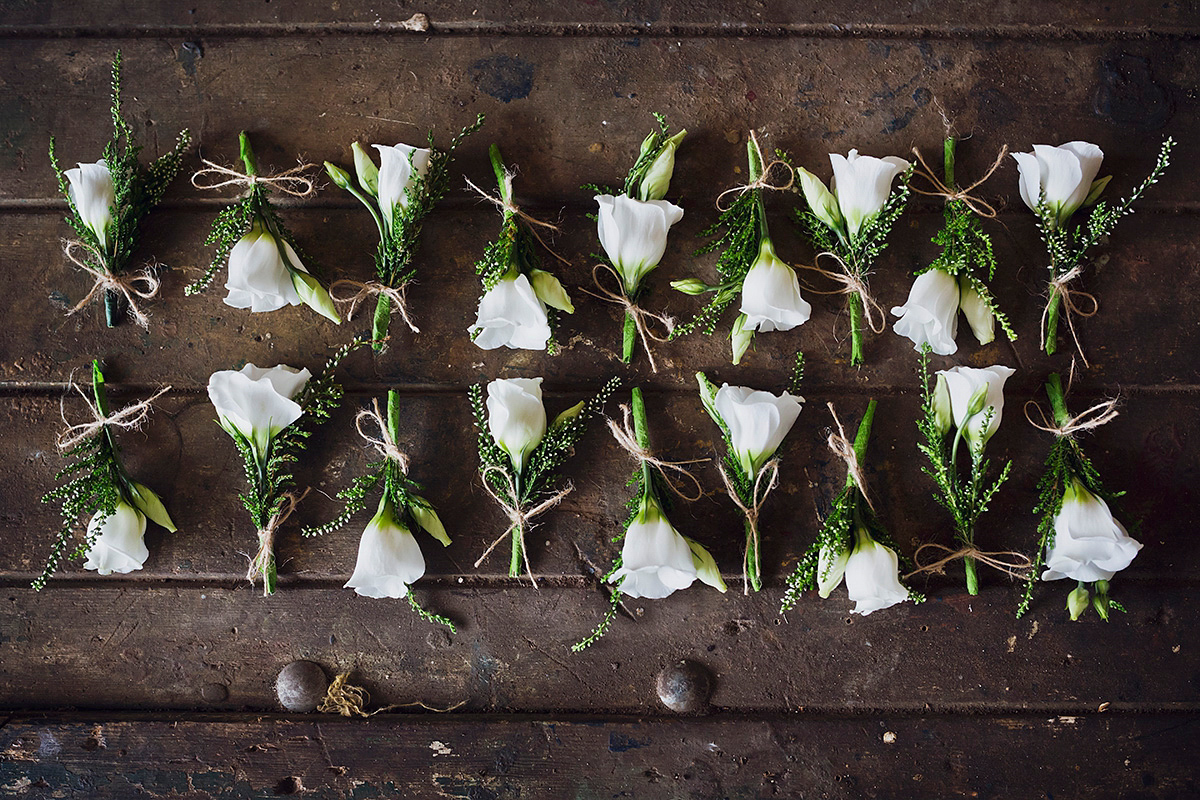 "The farmer had a beautiful black Austin and offered to drive me to the ceremony in it. Approaching the top of the aisle in the car, getting nervous (even though I was about to see all our friends), with the farmer's dog running alongside us is an incredible memory I will treasure forever."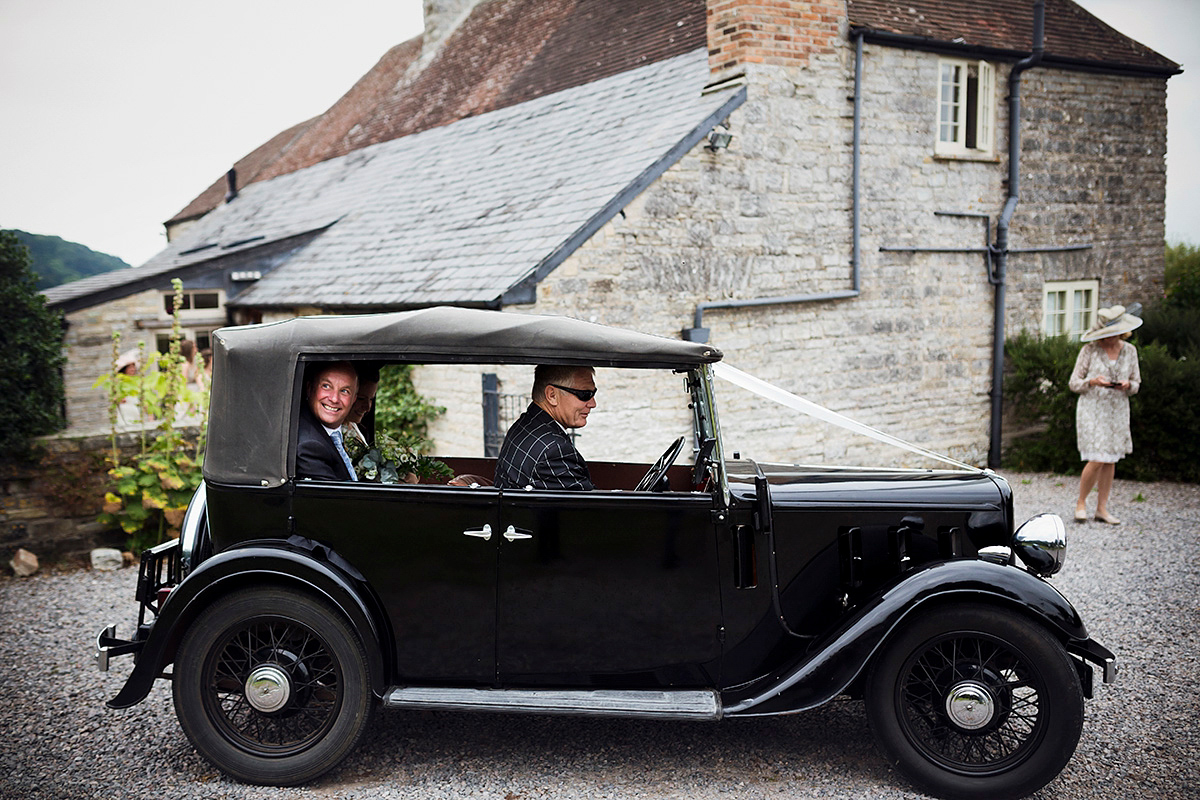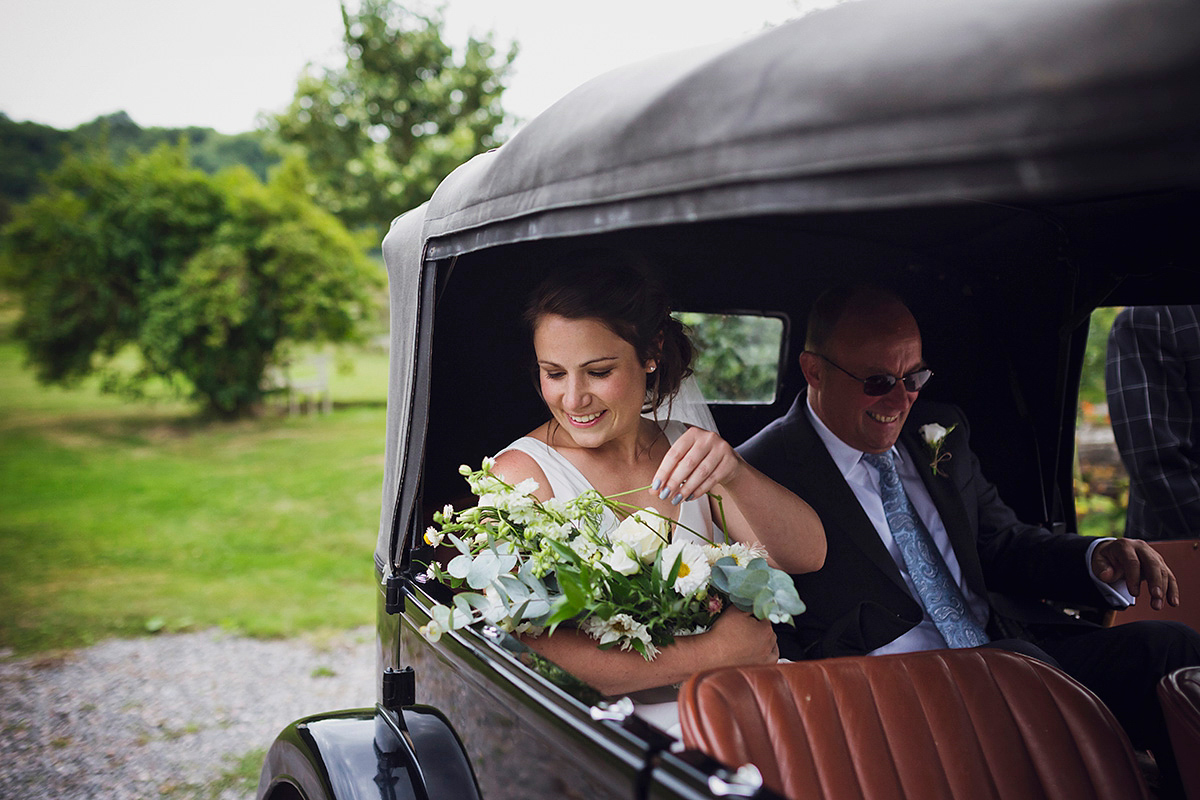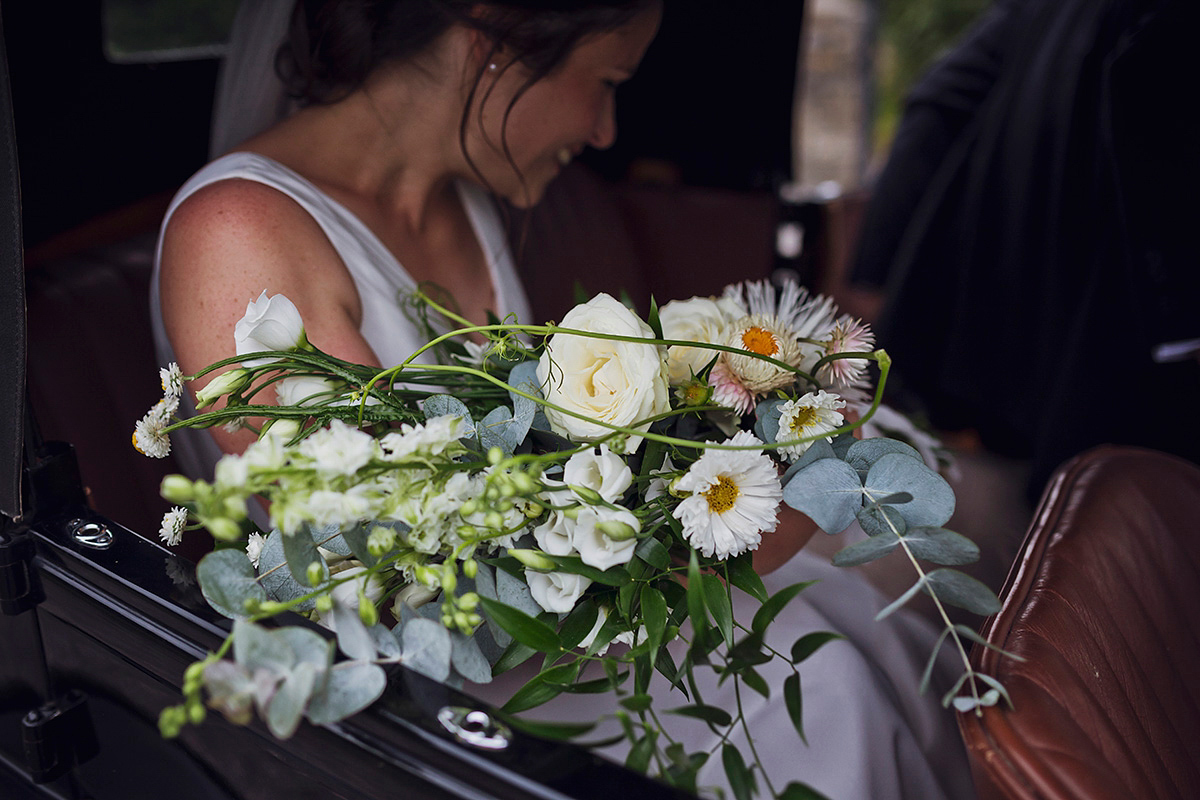 "I found this cute little dress from a Lily & Bo, a small creative business on notonthehighstreet.com for my flowergirl – it was tooooo good! It was like a mini version of the bridesmaid dresses! Adorable. I'll never forget my niece trying it on for the first time – she wouldn't take it off! She lives in Singapore and still wears it to all her friend's parties and on Skype calls."
"We spent a long time hunting for the perfect venue. We knew we wanted to get married in Somerset which is where a lot of our family live, and we (madly!) set quite a few challenging criteria for ourselves – we really wanted something that felt completely private, we loved the idea of an outdoor ceremony and it was really important to us to have a blank slate so that we could get creative and set our own, relaxed tone for the day. We were prepared to get hands on."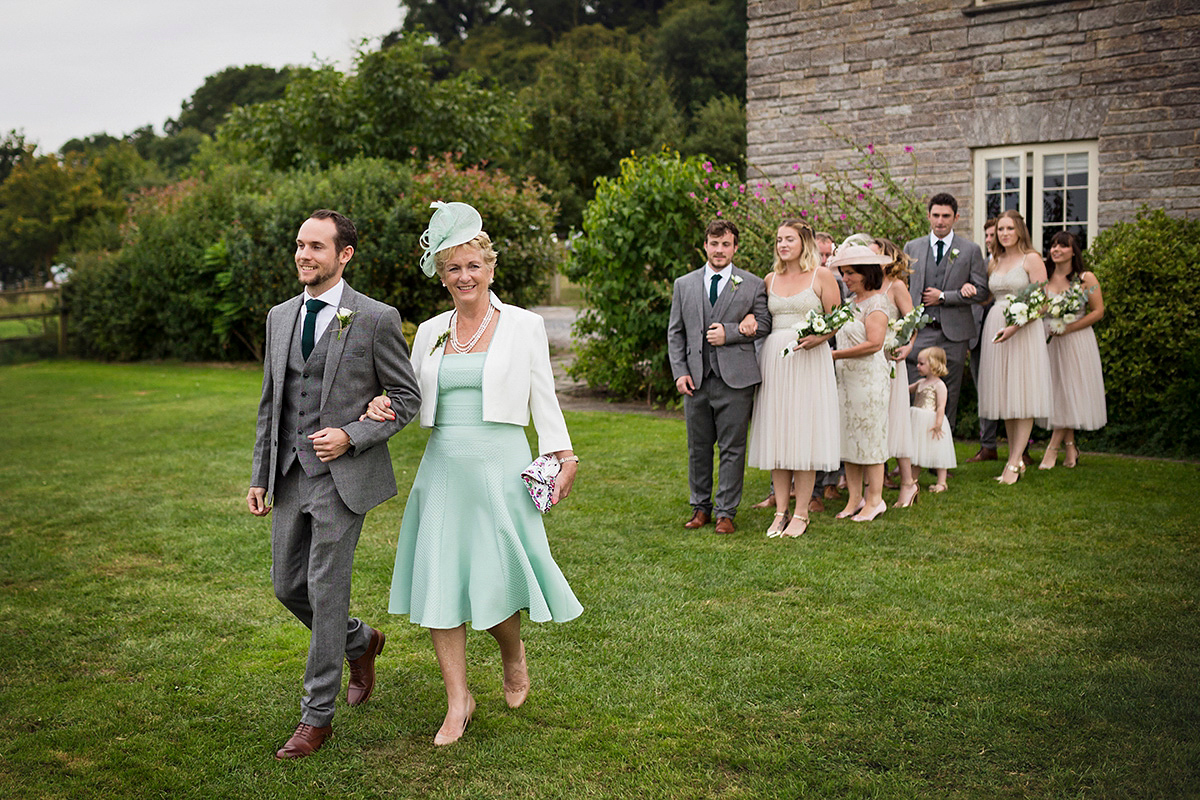 "My dad walked me down the aisle, but Matt also walked down with his mum and our whole wedding party came two by two so it was more of a procession of the most important people to us kicking the ceremony off and giving us both away."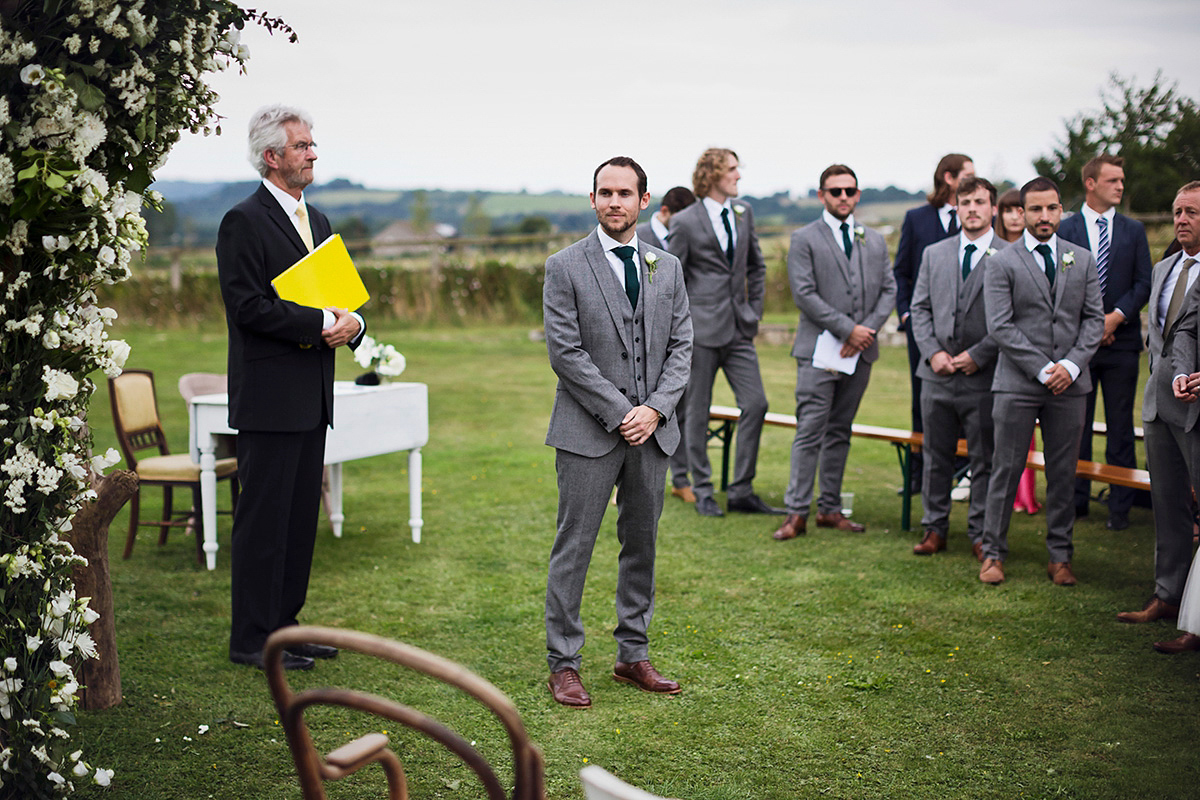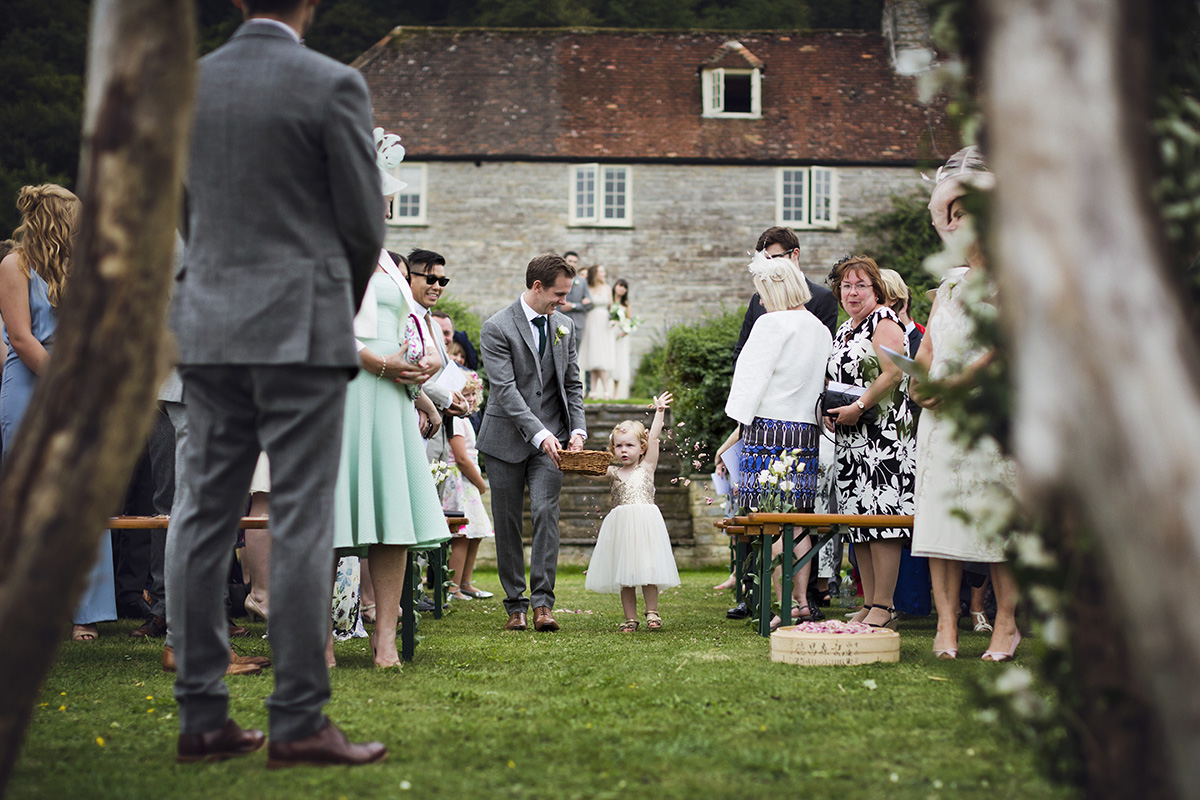 "My bridesmaid, Phoebe, sang me down the aisle with a song she wrote with the wonderful boys from Normanton Street 'You Know Who You Are'. I love the song – the lyrics are gorgeous. I used to babysit Phoebe and she is like family to me – it was the most special thing. Phoebe and I managed to make it through without crying… just!
My bridesways by the way wore bracelets which I gave them as a thank you gift that morning – they were from notonthehighstreet.com."
"My 'fairy godmother' Sue decorated the arch, which two of my brothers had made out of driftwood from our local beach. I cried when I saw it up and decorated. It was the most incredible thing and we were so sad to take it down."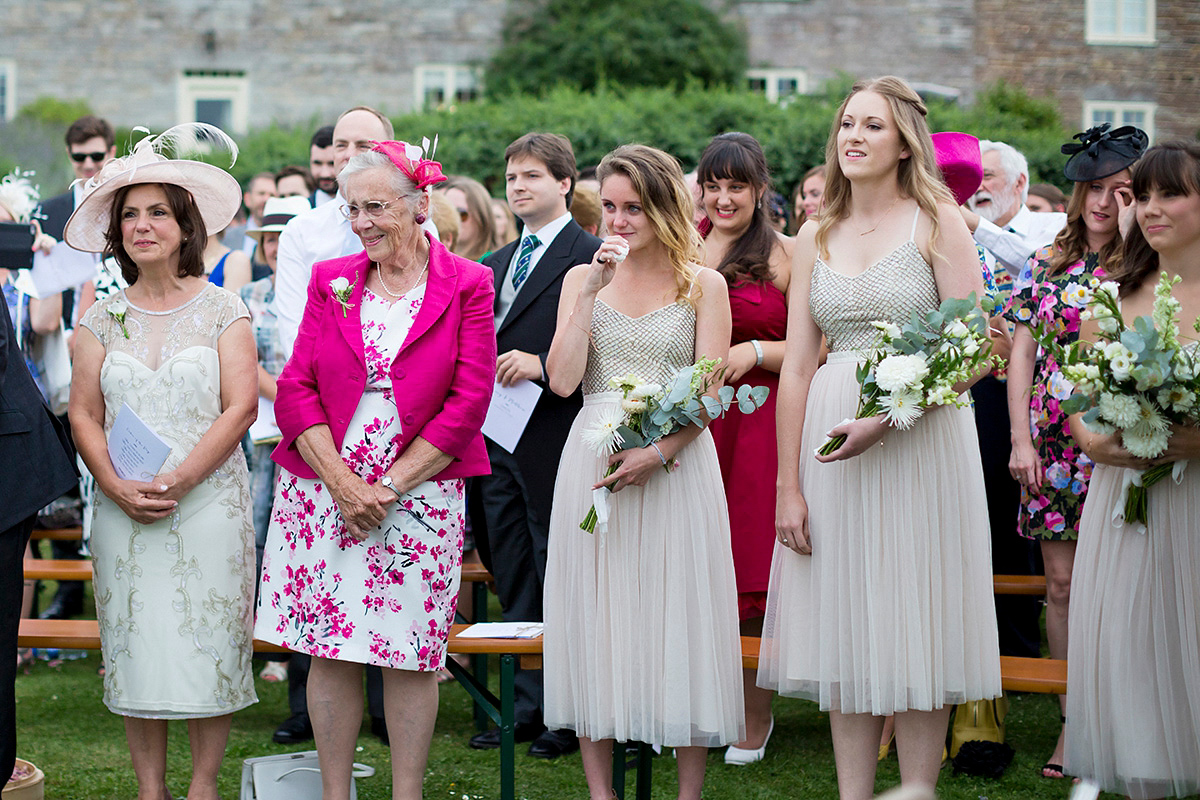 "Matt and I had the same vows, and discussed them at length!! It was such a lovely process that forced us to think about what marriage really meant to us, the commitment we were making to each other and the lives we wanted to build for ourselves and together."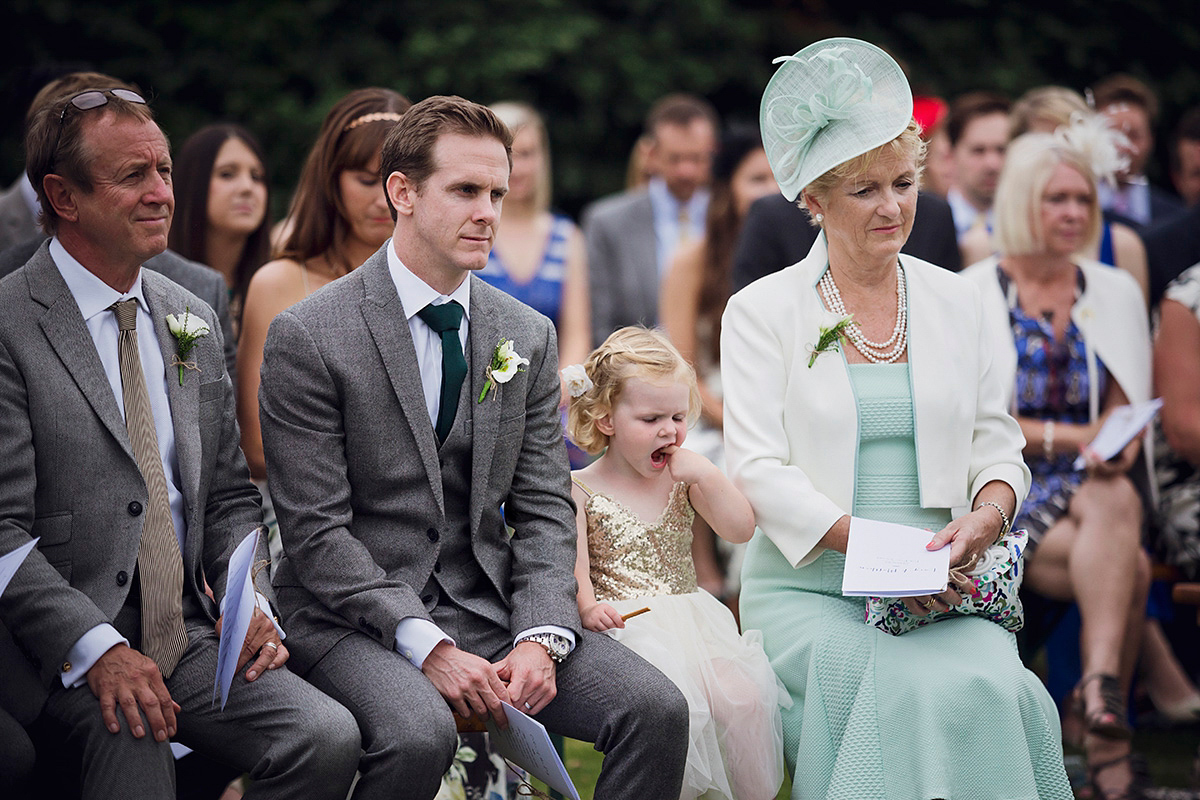 "We had three readings, read by three of our closest friends. Each of them encapsulated views we had on our relationship and marriage perfectly. We also had music performed by friends, finishing on a singalong of 'It Must Be Love' which my brother led."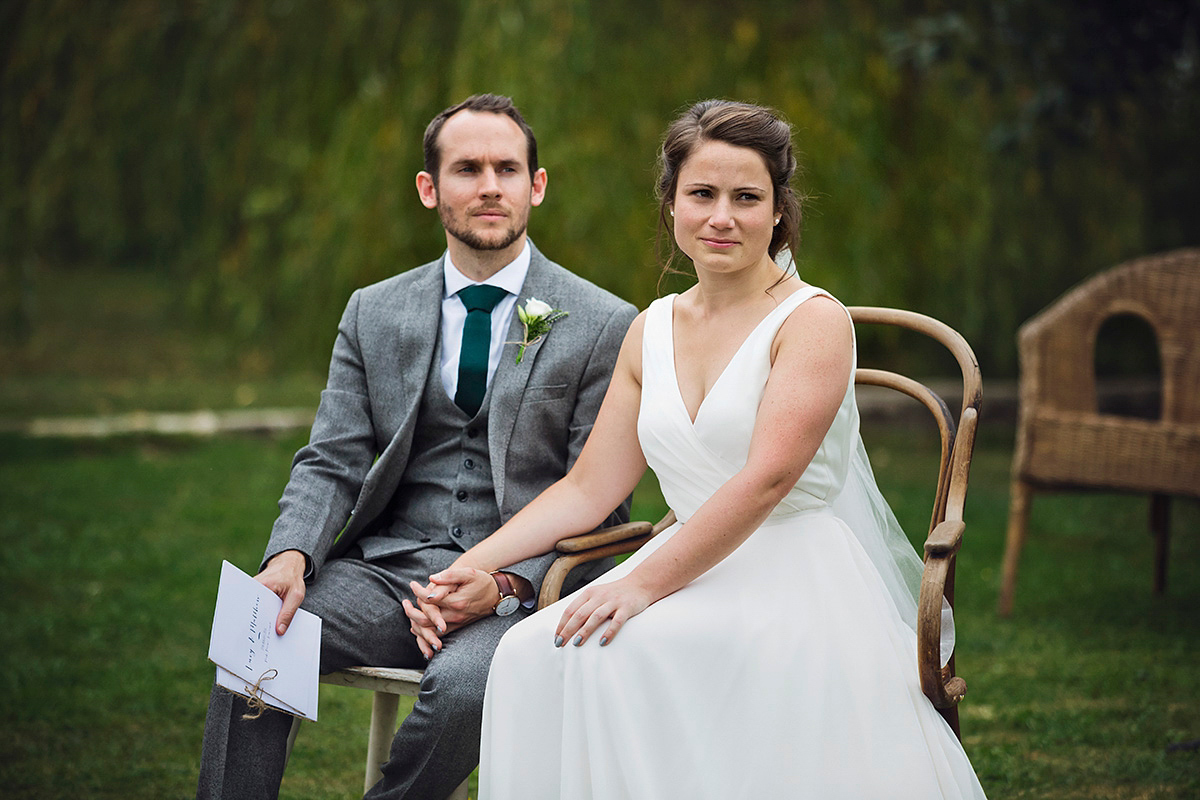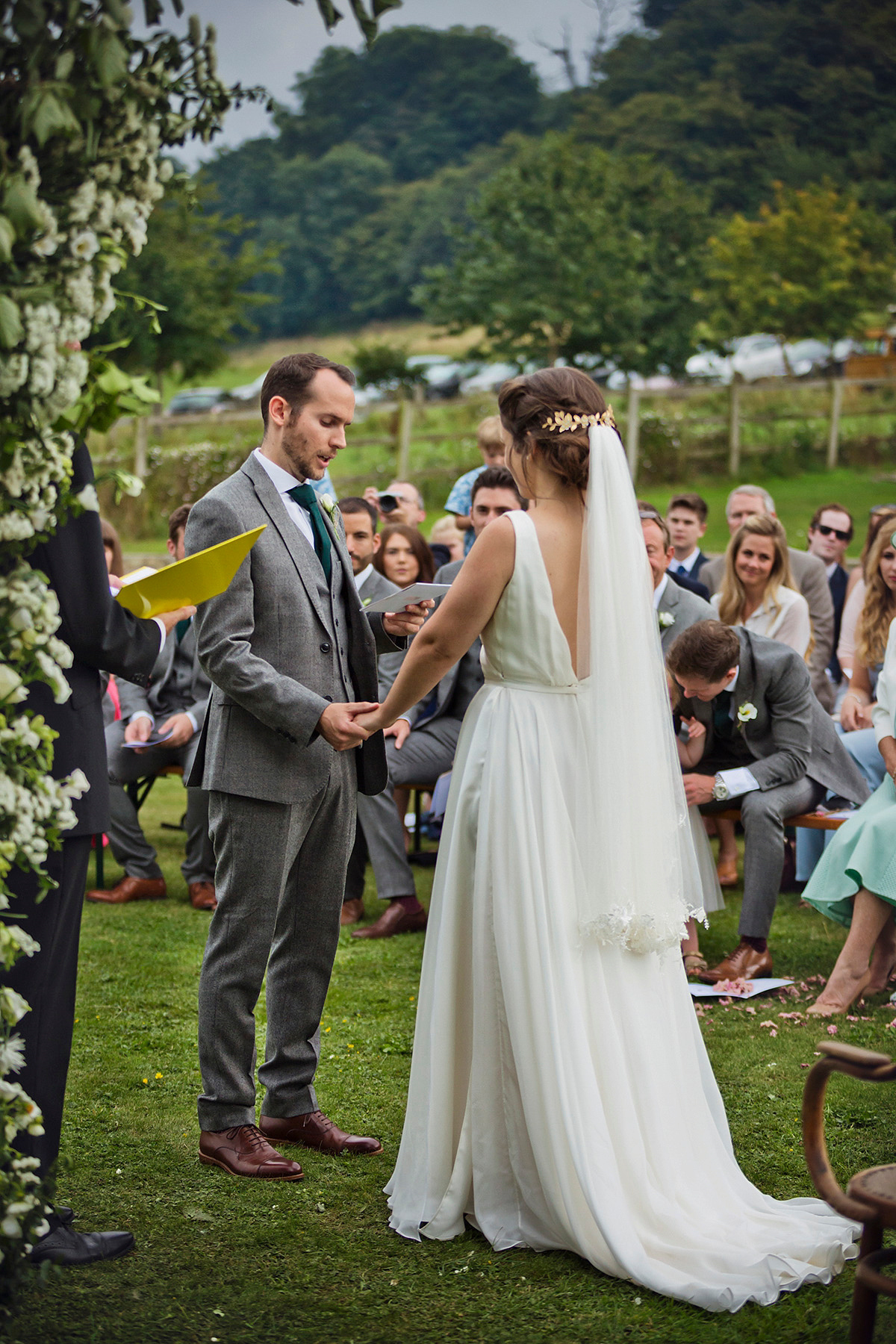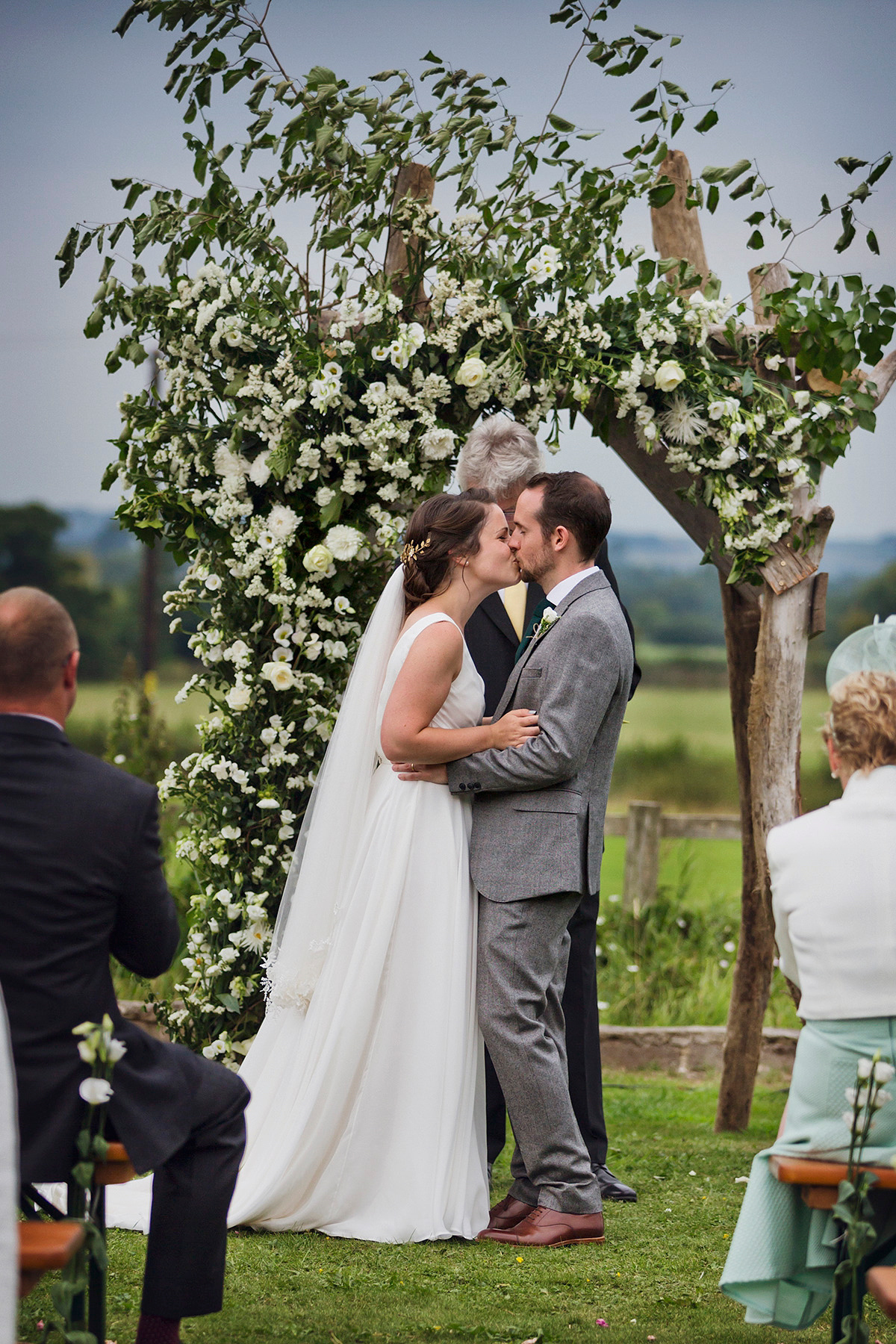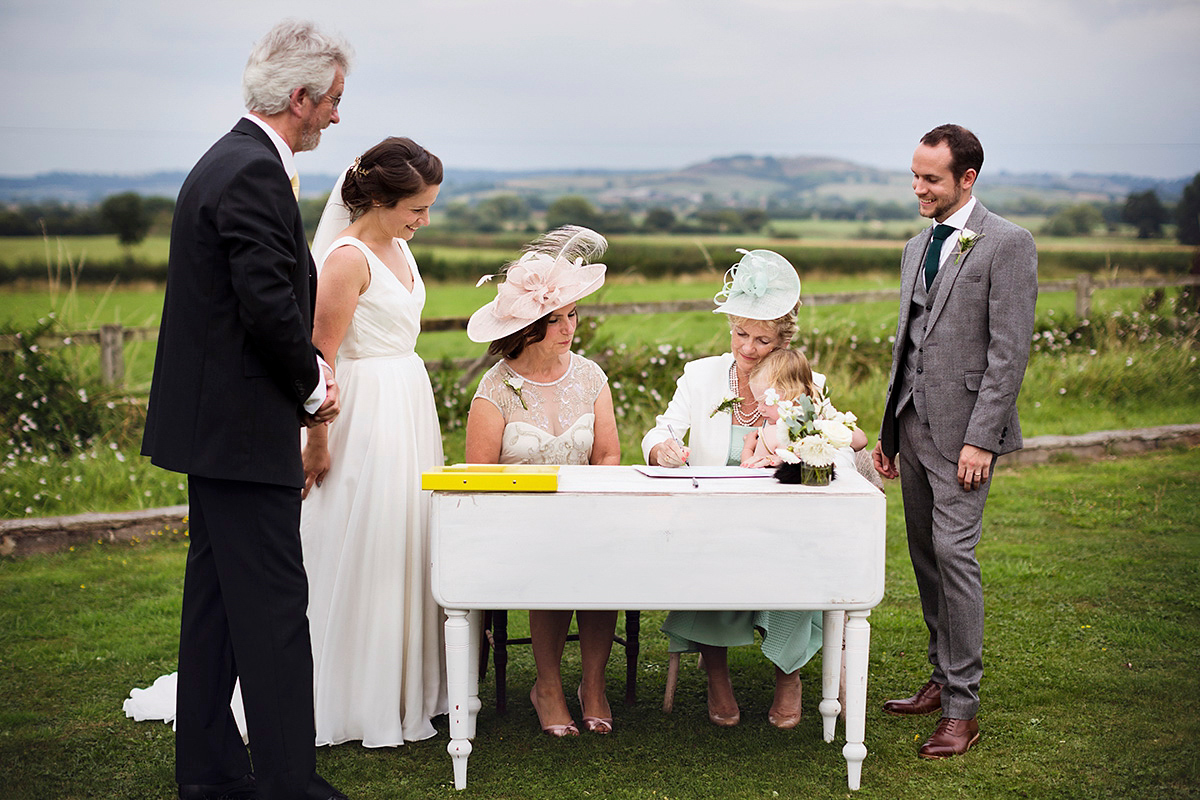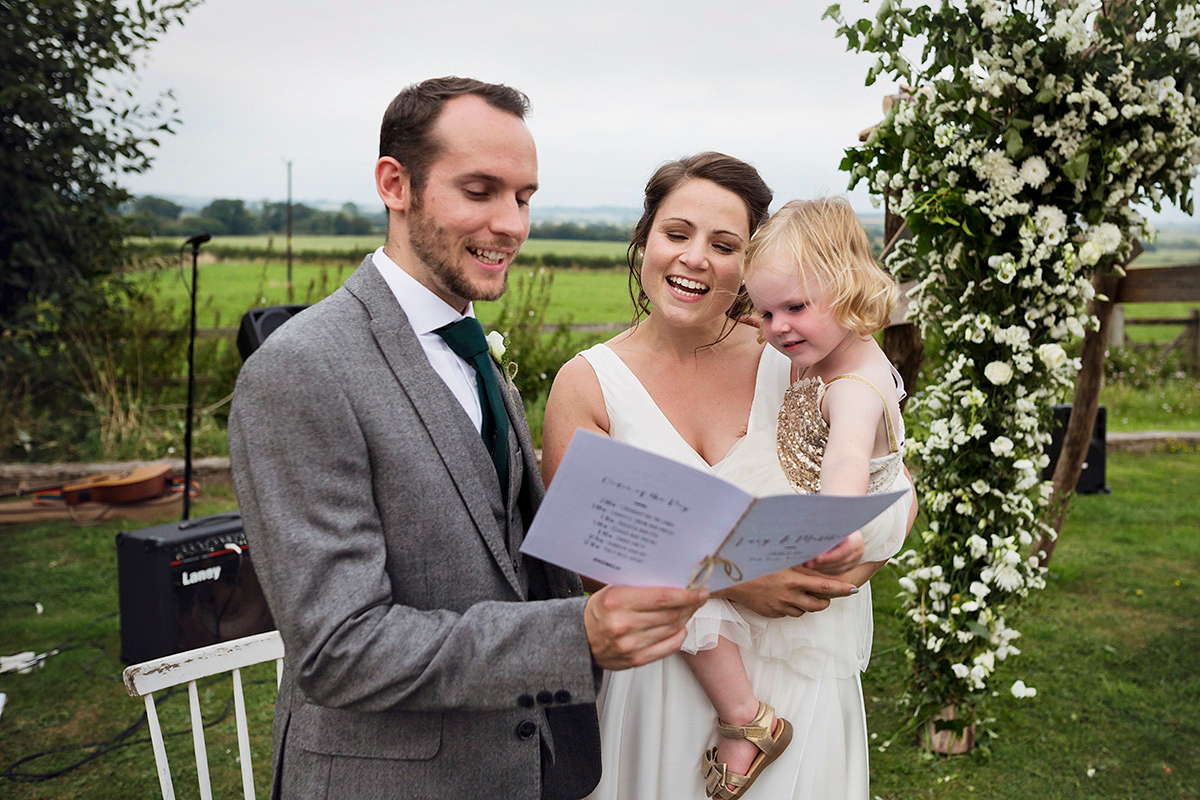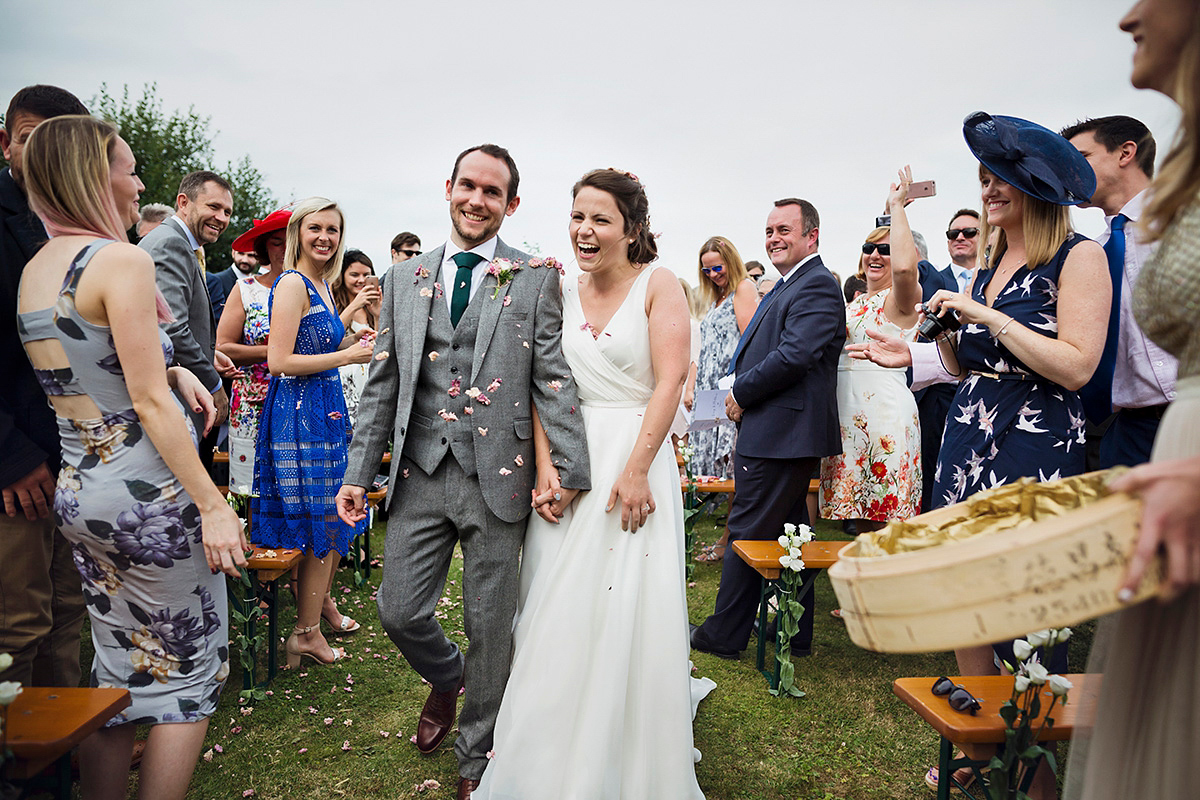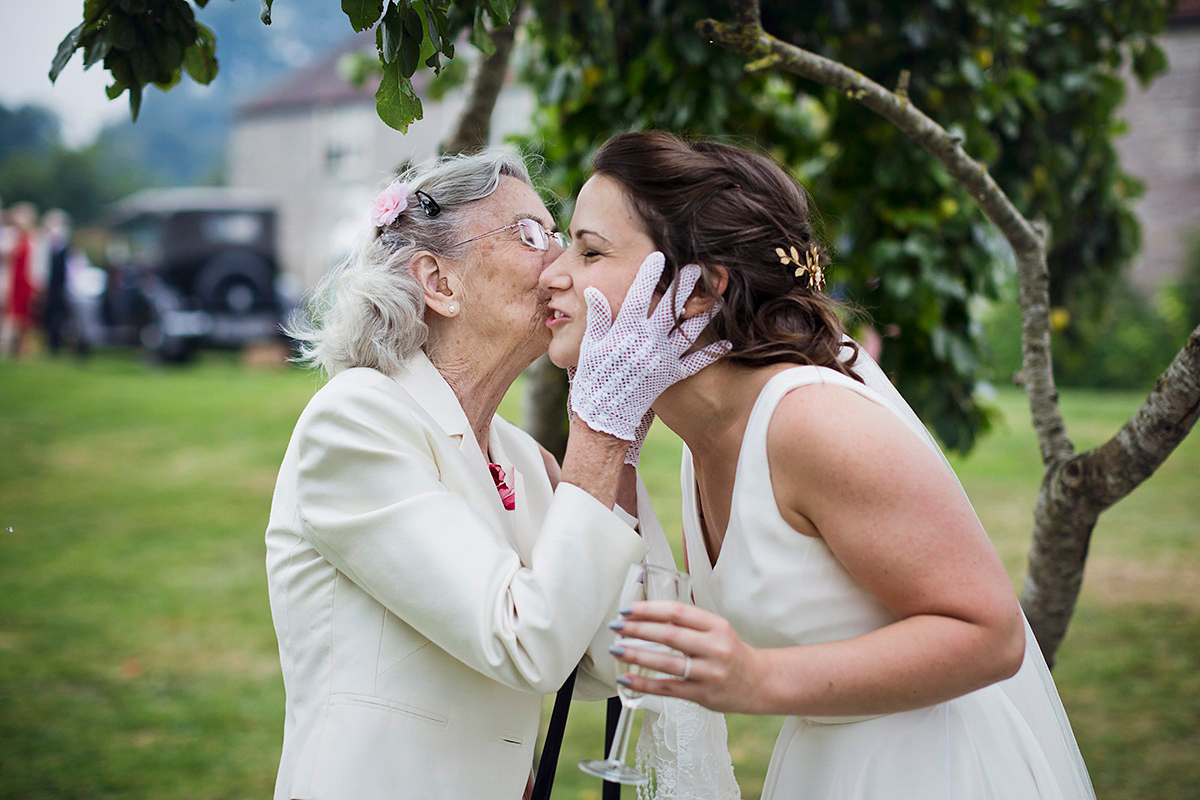 "After the ceremony my bridesmaid's band, Normanton Street, did an incredible acoustic set. In the evening, my cousin's band, Mammoth, played. Our guests loved them – especially the 90s mash ups. Highly, highly recommended."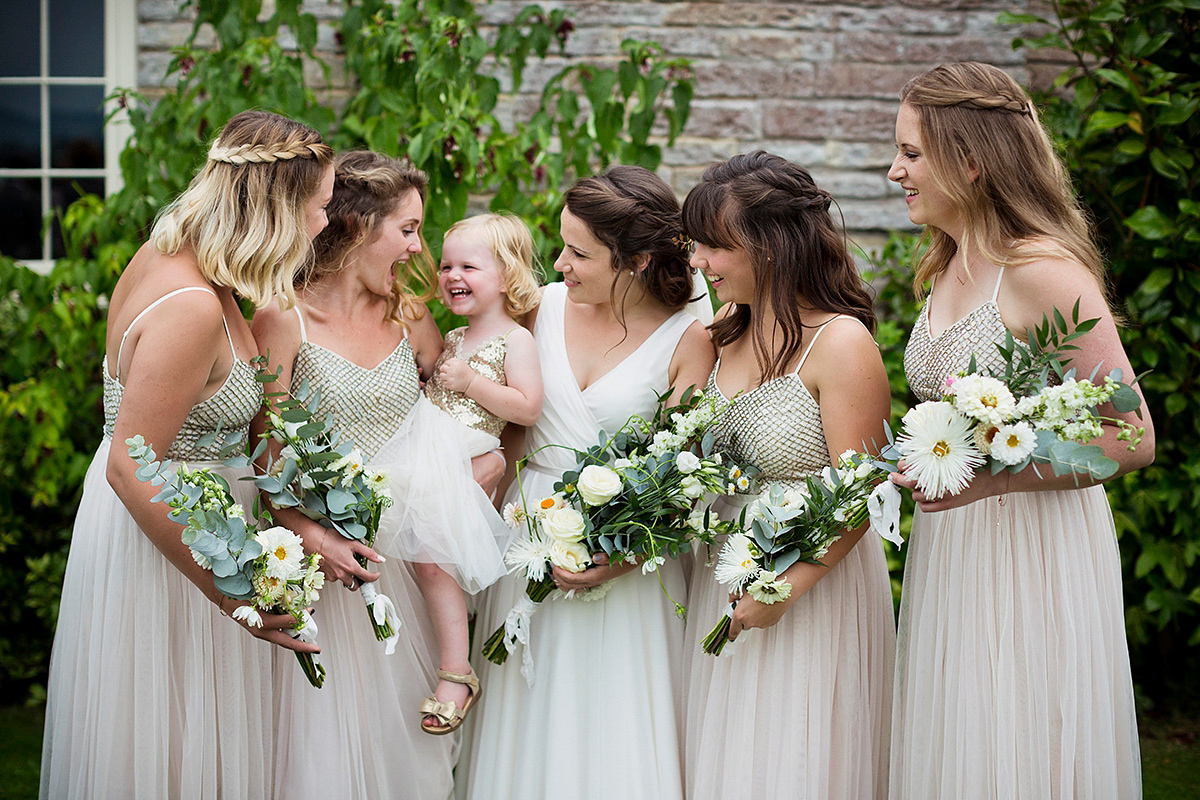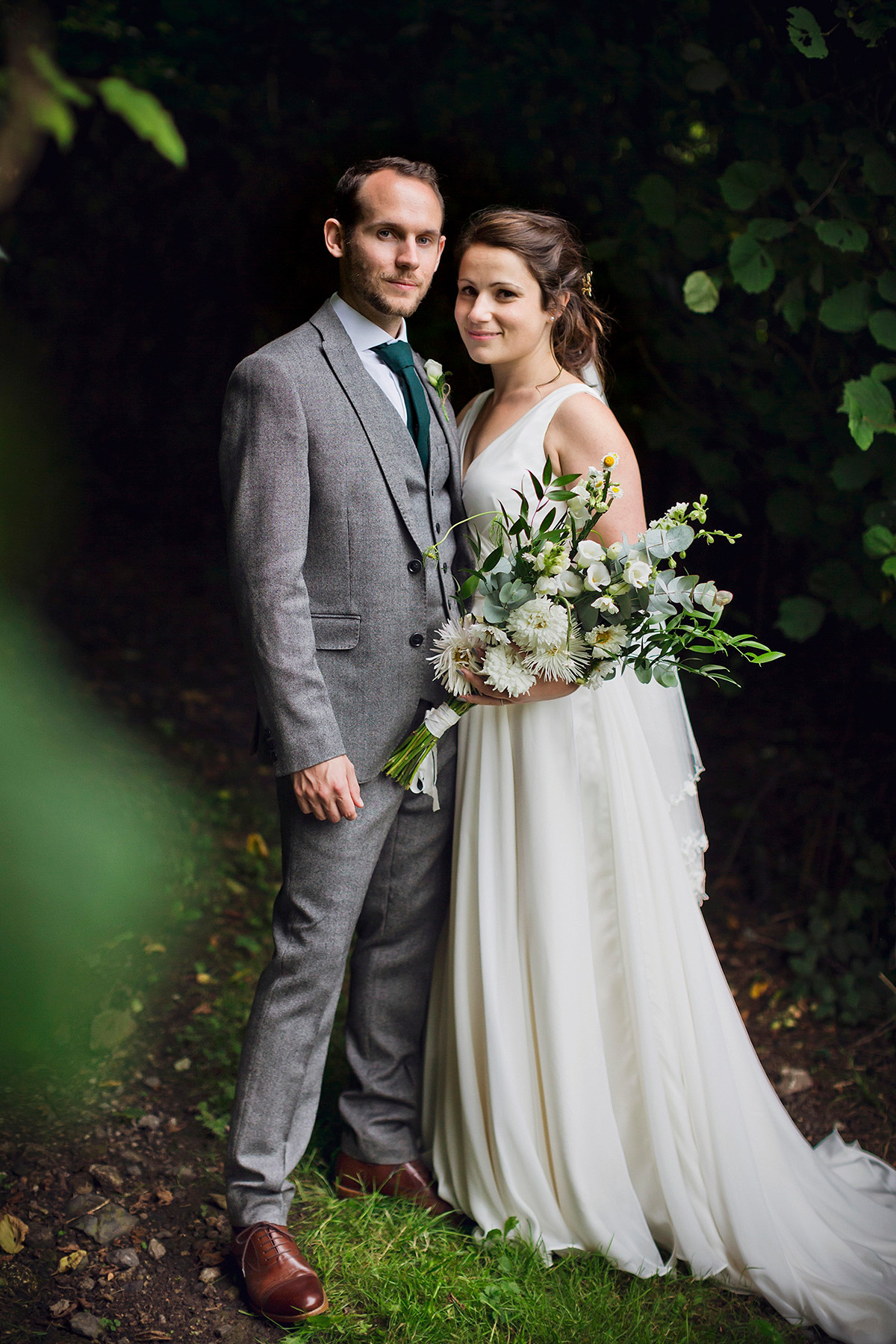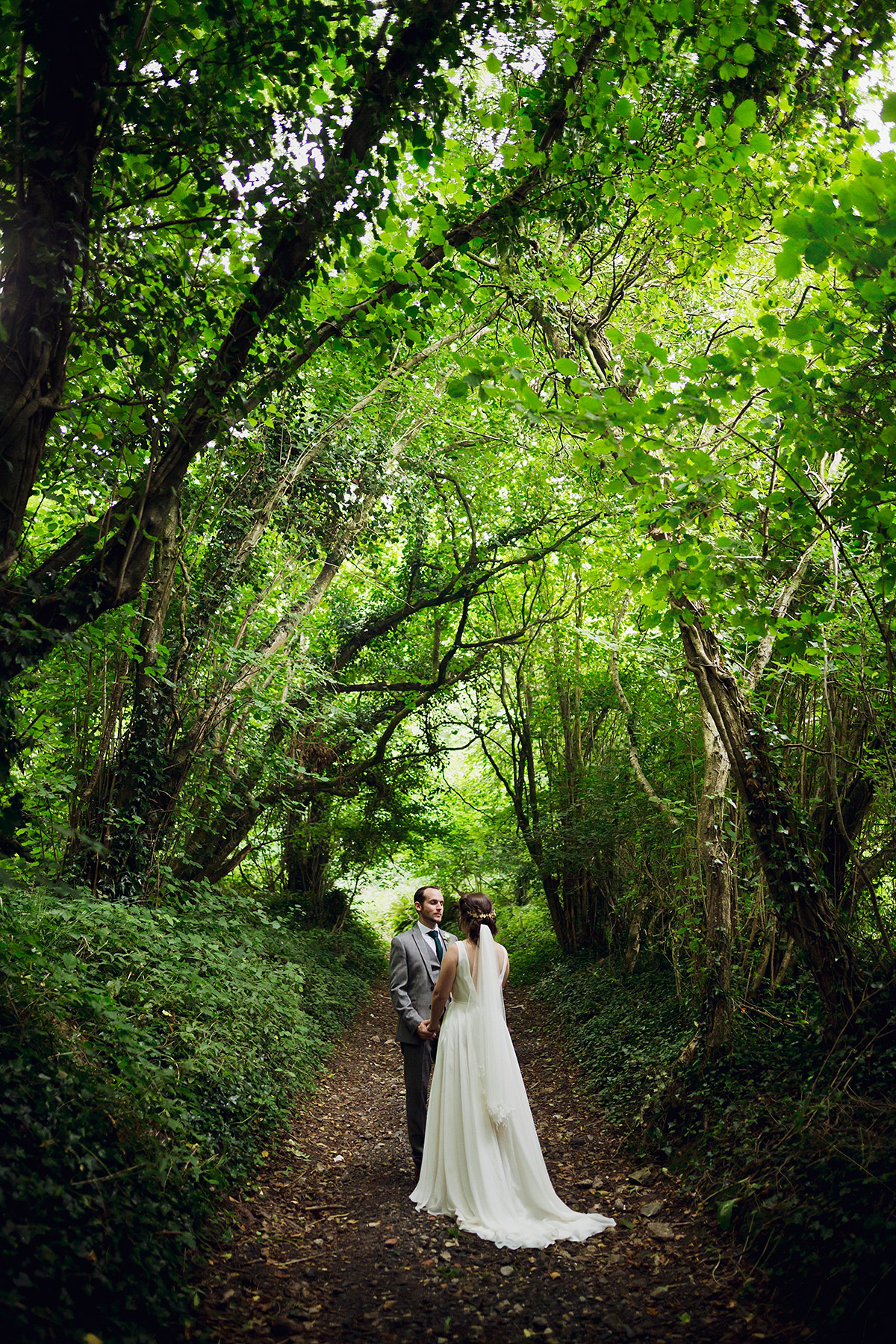 "The night before the wedding, my older brother unveiled his gift to us – our very own brew of cider made with apples from my mum's garden. He'd bottled it all up and made the most beautiful labels. We called the caterer and scrapped the post-ceremony prosecco to make way for our own-brand scrumpy! Everyone loved it."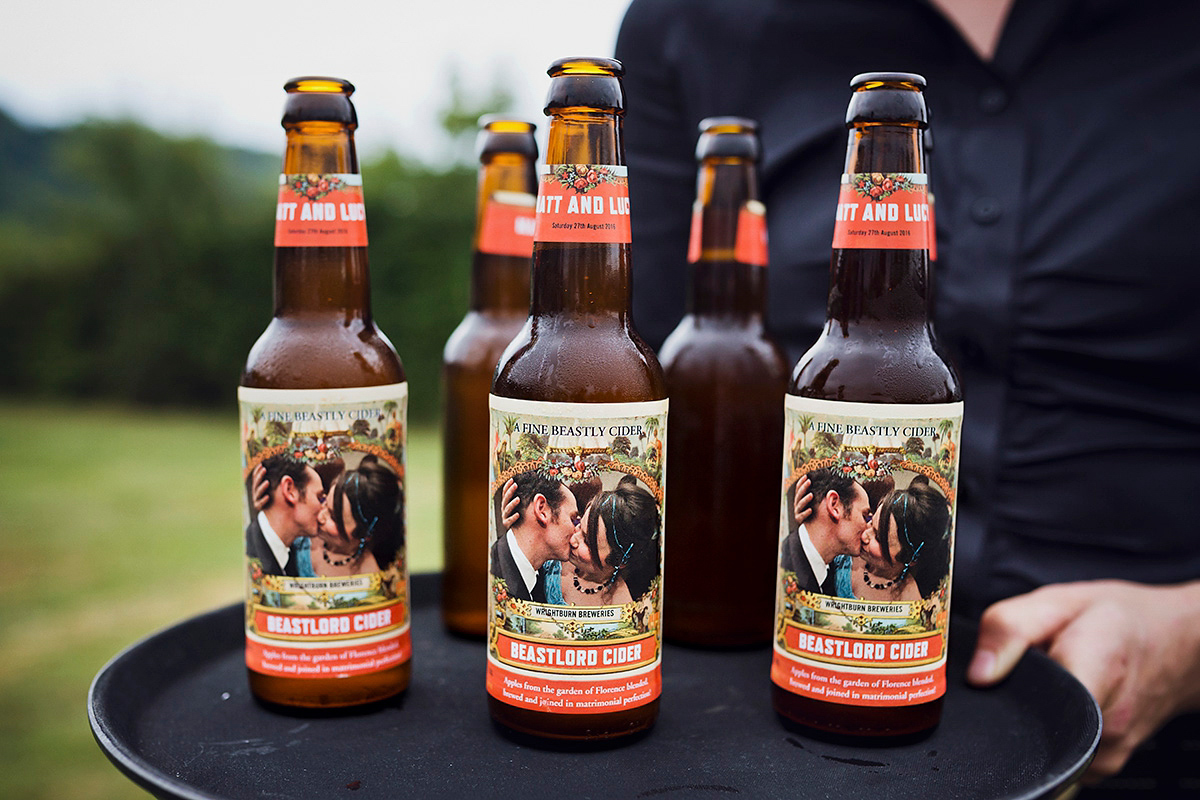 "We spent a weekend at my dad's earlier in the summer painting signs with him, his partner and my sister. My dad was incredible – up ladders all week putting the marquee sides up on the side of the barn and putting signage in place. We couldn't have done it without him."
"We were lucky to have lots of gorgeous old furniture and rusty farm equipment that belonged the farmer and his wife at our fingertips as props. They even let me get my gold marker pen out and draw our seating plan on the back of an old barn door."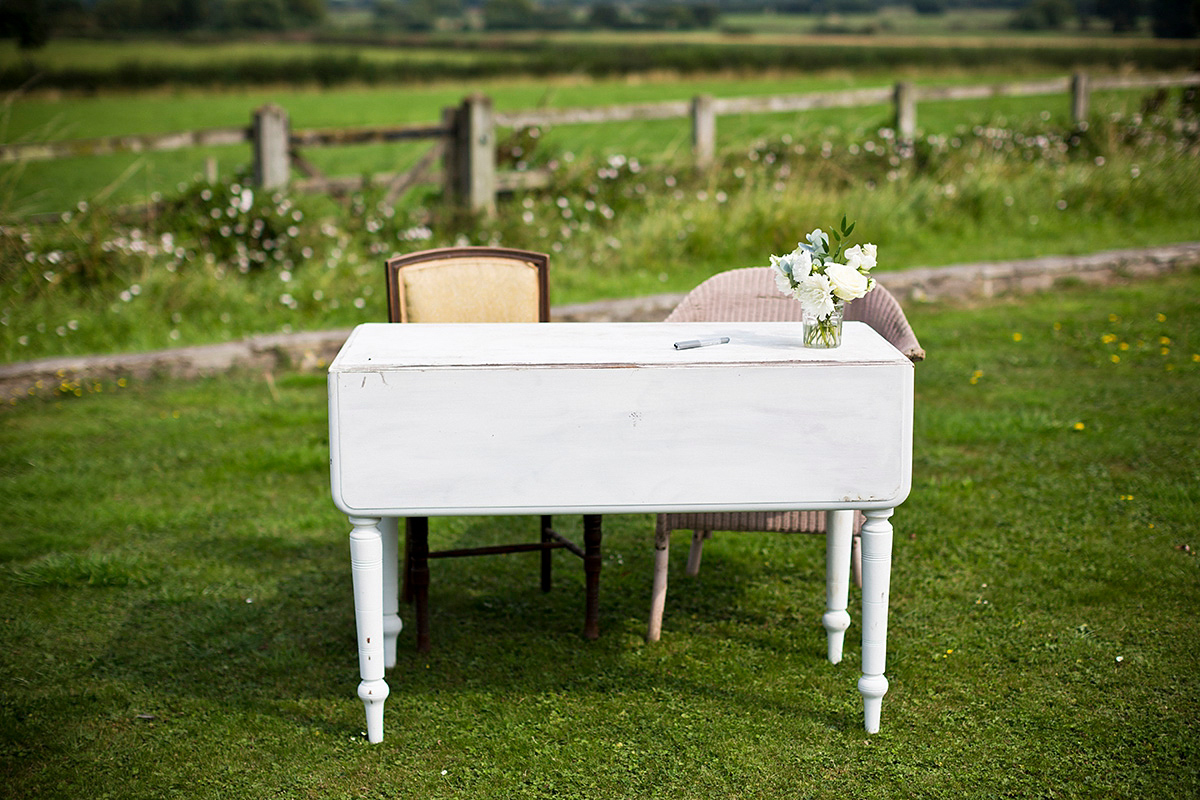 "We planned our wedding by ourselves. It was a mega operation – we made spreadsheets upon spreadsheets and our friends and family were incredible getting involved and lending us their talents. On the day itself, my gorgeous friend Jess kept a check in on timings and met the suppliers we were too busy to meet."
"We searched and searched, and actually found our dream venue fairly early on on lovemydress where we stumbled upon Lucy and Gregor's blog post, quickly followed by Russell and Barbie's after some sleuthing. We fell in love with everything we saw from the pictures, and contacted the photographer  who gave us their details but told us it was a private farm and that the first groom, Gregor, had been the farmer's nephew but that it was worth an email as they'd allowed Barbie and Russell to get married there. We emailed, and after an initial refusal, we met the lovely farmer and his lovely wife for coffee and they wonderfully agreed to let us get married there."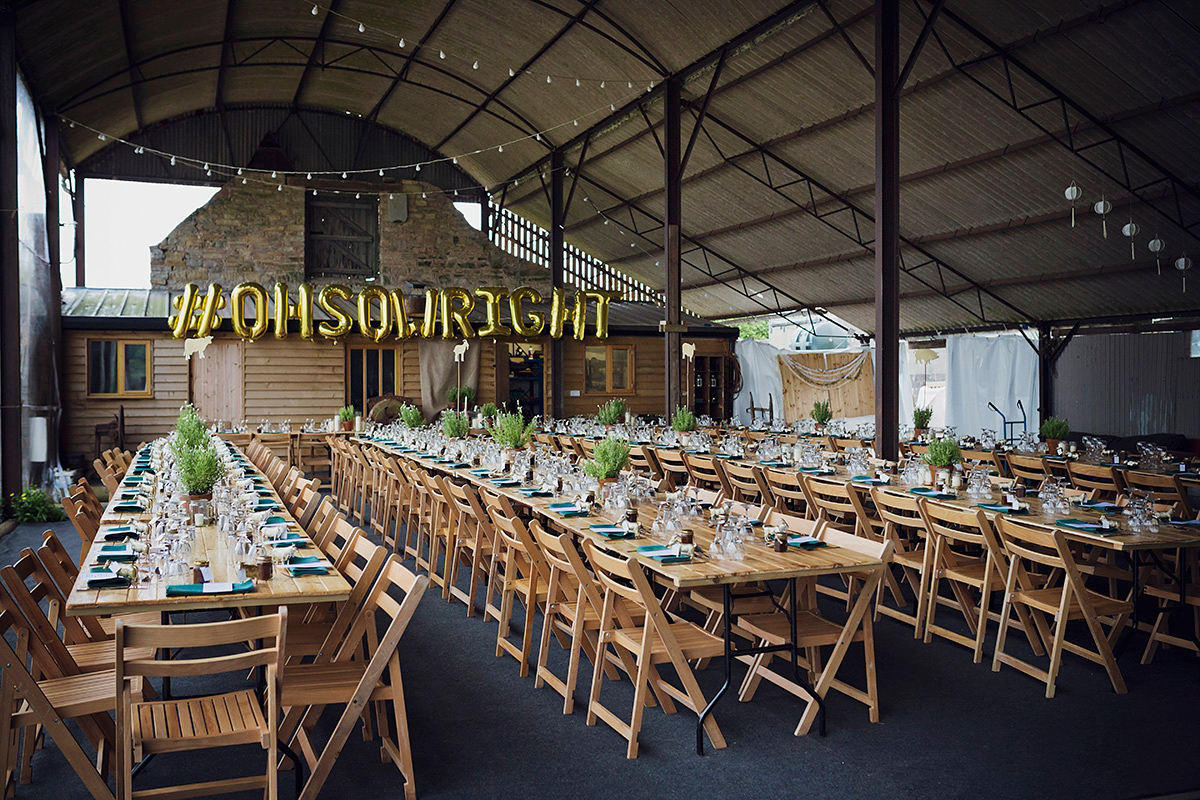 "It was going to be a lot of work (converting a working Dutch barn into a wedding venue!), but it was all so beautiful and gave us the blank slate we wanted. Thankfully, our wedding was a huge effort from our friends and family, who saw past/accepted our madness, moved into the B&B next door with us for the week before and rolled up their wonderful sleeves. It was such a special week. Friends came from all over, and we really wanted the day to be relaxed and as much about them and what they mean to us as it was about us and what we were doing."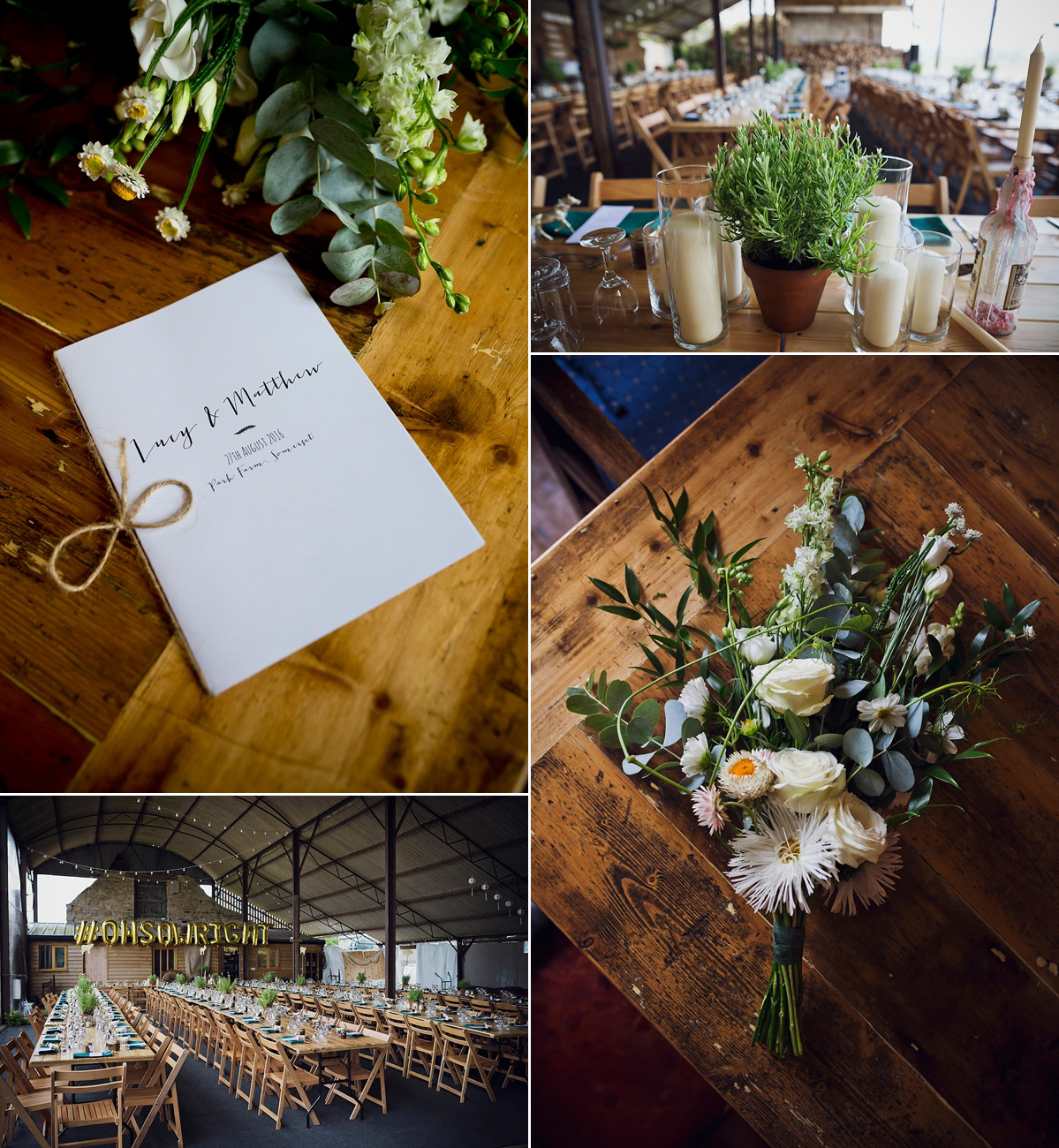 "We completely overhauled the barn – after we'd emptied it of all the machinery, swept up hay and my dad and brothers had put up clear tarpaulin sides (sounds horrible, but it worked a treat!), it was fitted out with flooring, stage and lighting by the wonderful team at South West Marquees."
"Peter Mundy, who worked with us to create our menu. He recreated an old family recipe 'Granny Pudding' for afters – a delicious mess of sponge, chocolate and custard. It was big hit."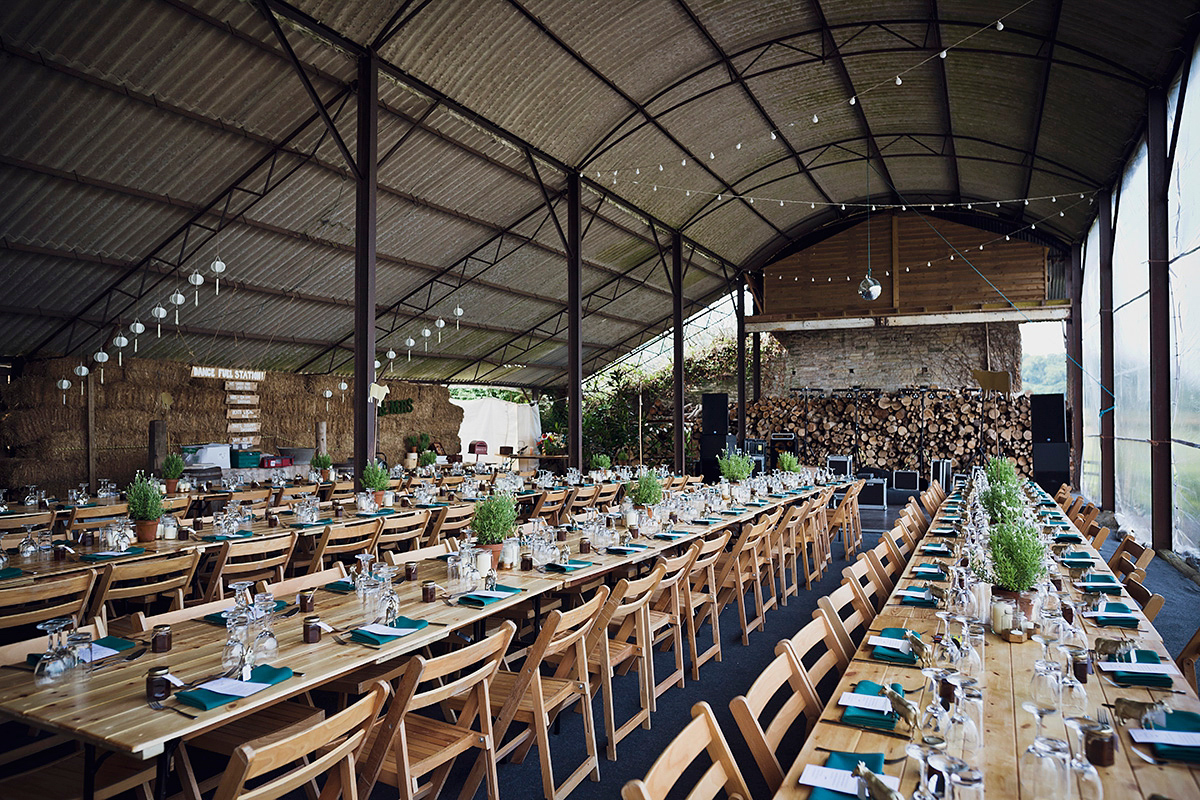 "For the tables, my sister spent hours spray painting plastic farm animals gold (for the second time as our first attempt went badly wrong!) for the place settings. We had white French lavender at each table surrounded by jars and candles that I'd borrowed and bought from gumtree."
"We spent a weekend with my Granny making chutney as our favours. Friends sent pictures of their chutney-accompanied meals for weeks after! Granny is struggling to keep up with the demand for more!"
"We went all-out with decorations. So much fun. The ceremony was punctuated with the incredible arch I mentioned earlier."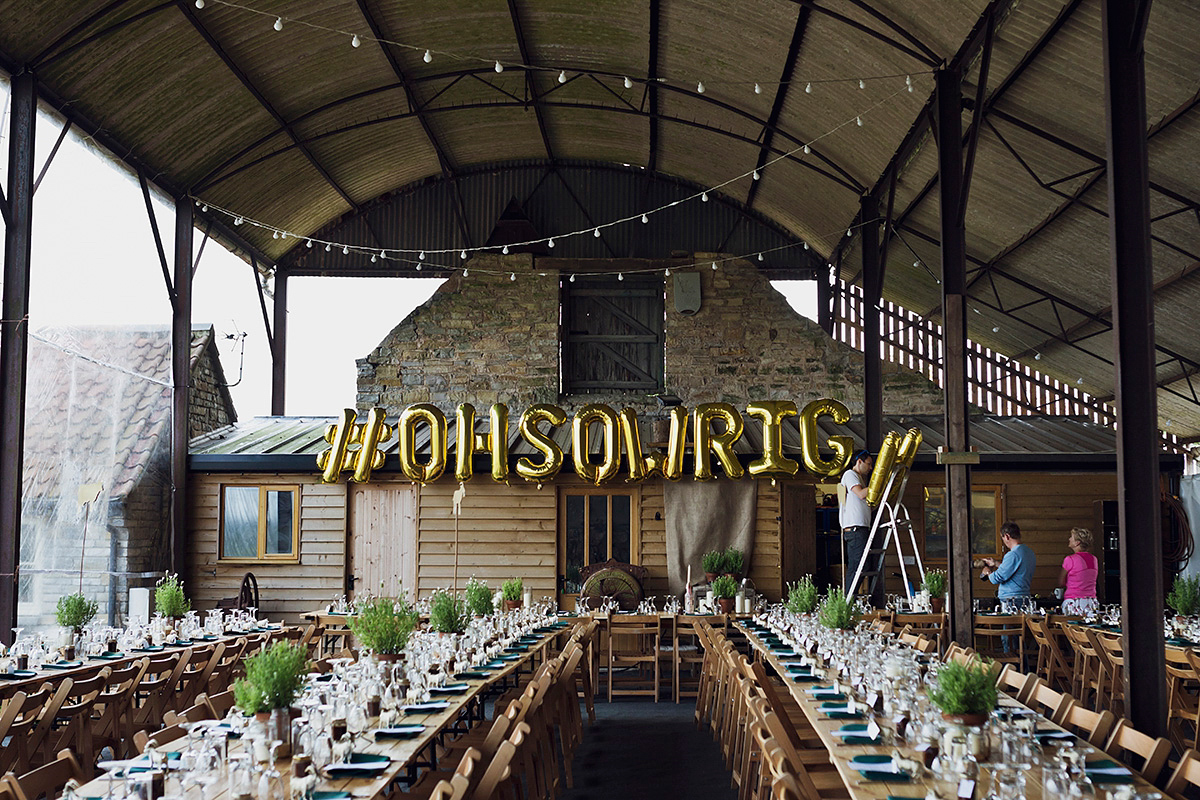 "My bridesmaids helped with lots of cutting and tying and sticking. Matt's dad spent a morning blowing up balloons, and he and Matt's brother spent an afternoon putting up lanterns that his parents had bought in a market in Hong Kong where they live."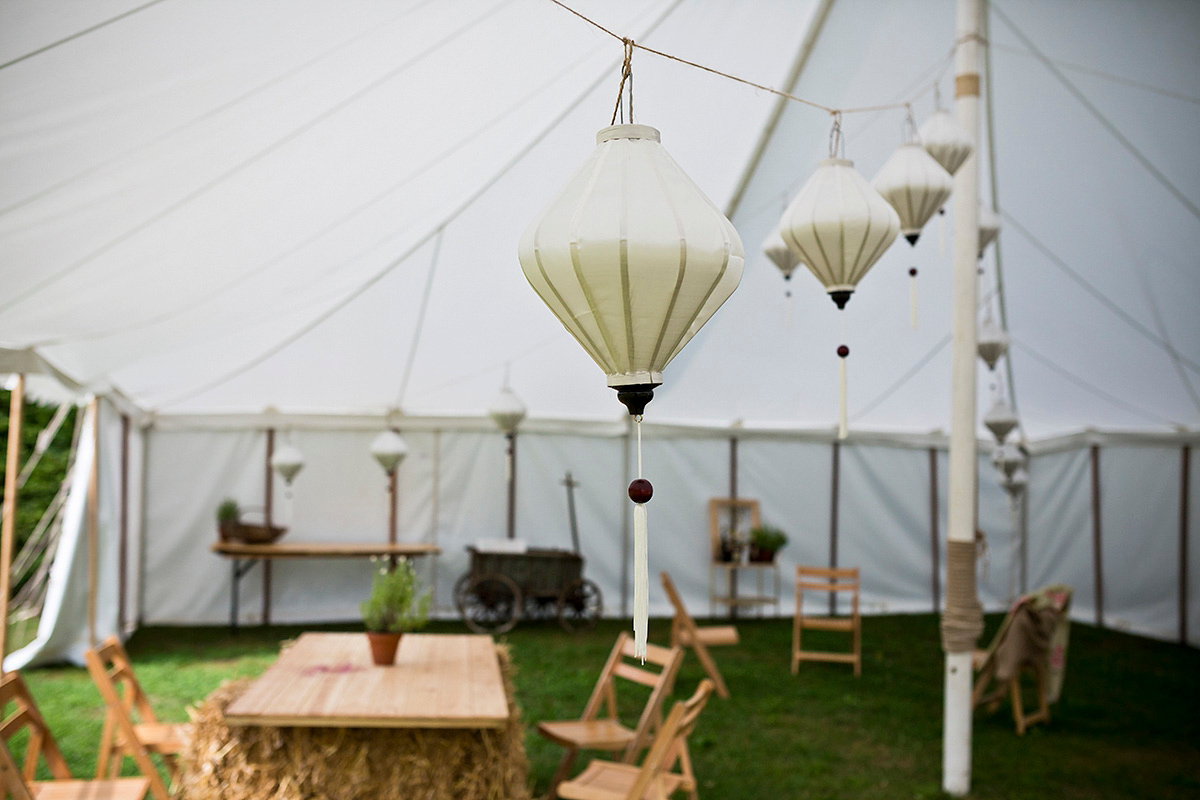 "We cut the cake with a kukri – the same kukri my grandparents cut their wedding cake with, and which my grandfather (who was a doctor) had been given as a gift after treating a gurkha whilst working at a hospital in Singapore."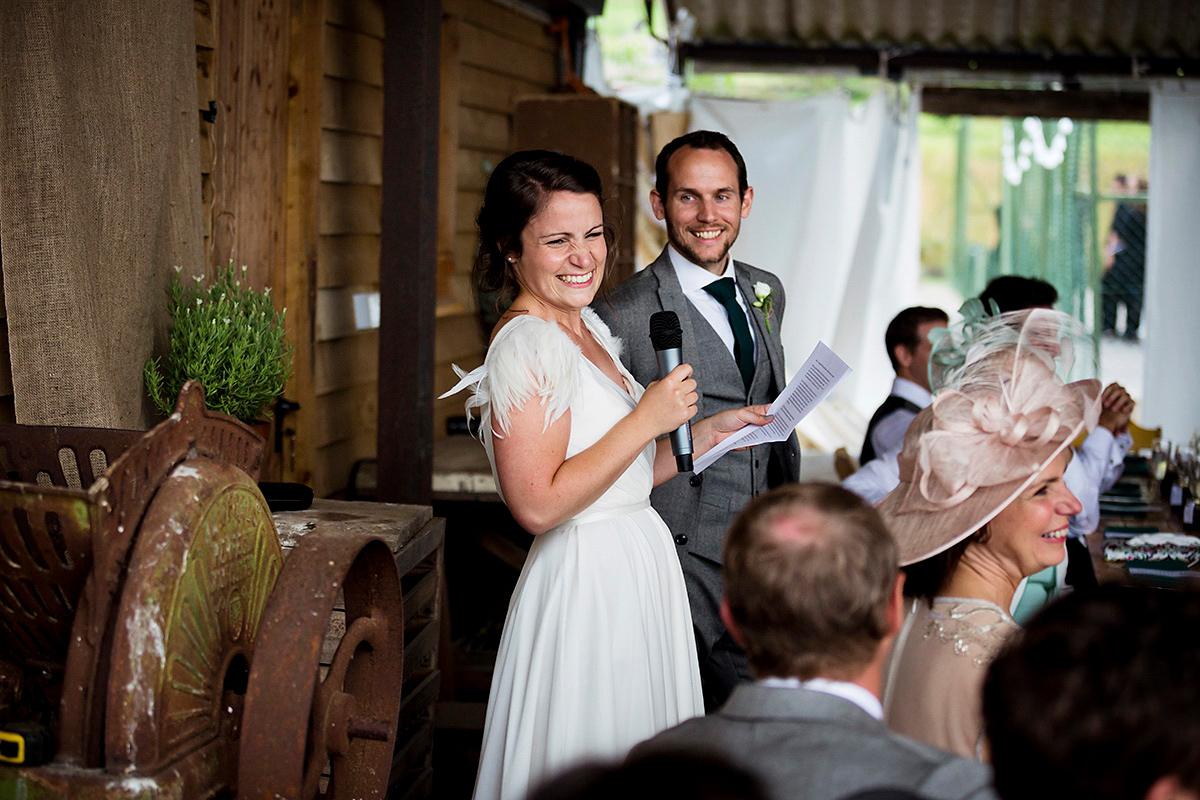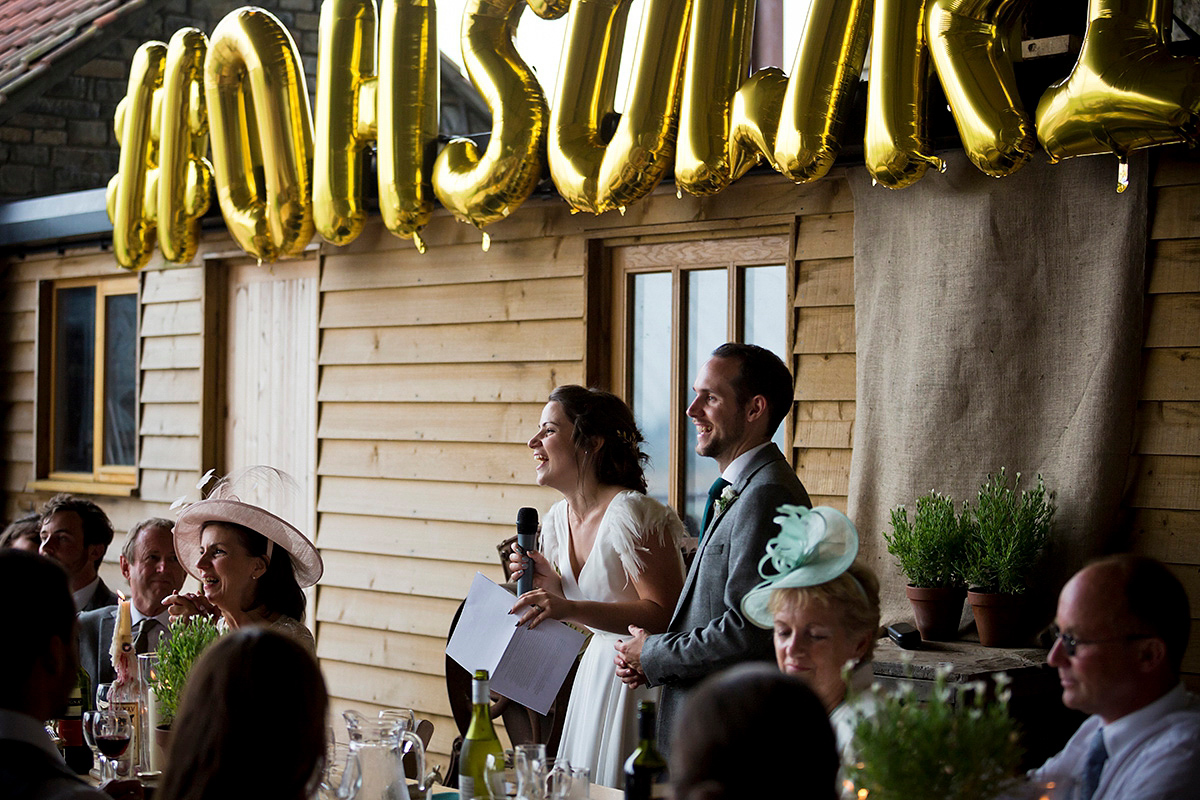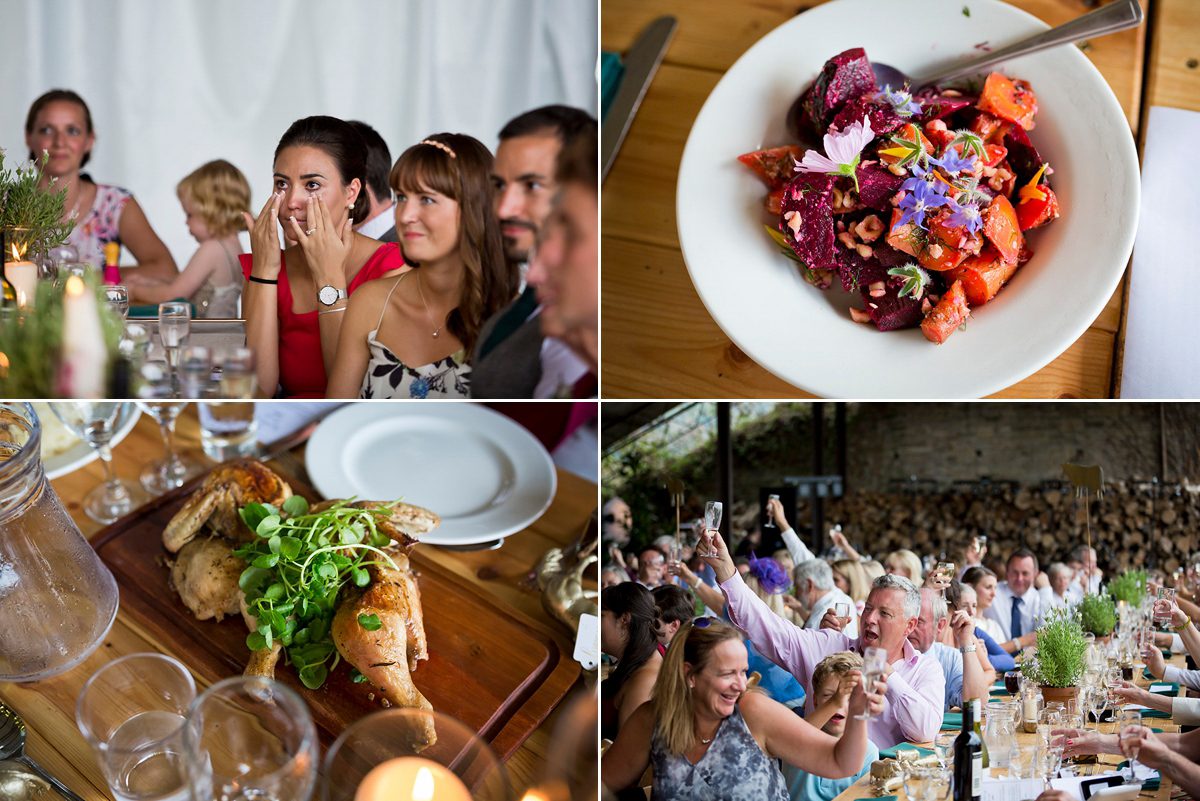 "My mum's colleague and friend Rebecca made the cake. I sent my mum a Pinterest picture of what I was thinking, and it was a thousand times better (and oh so tasty!) NHS physio and baker extraordinaire."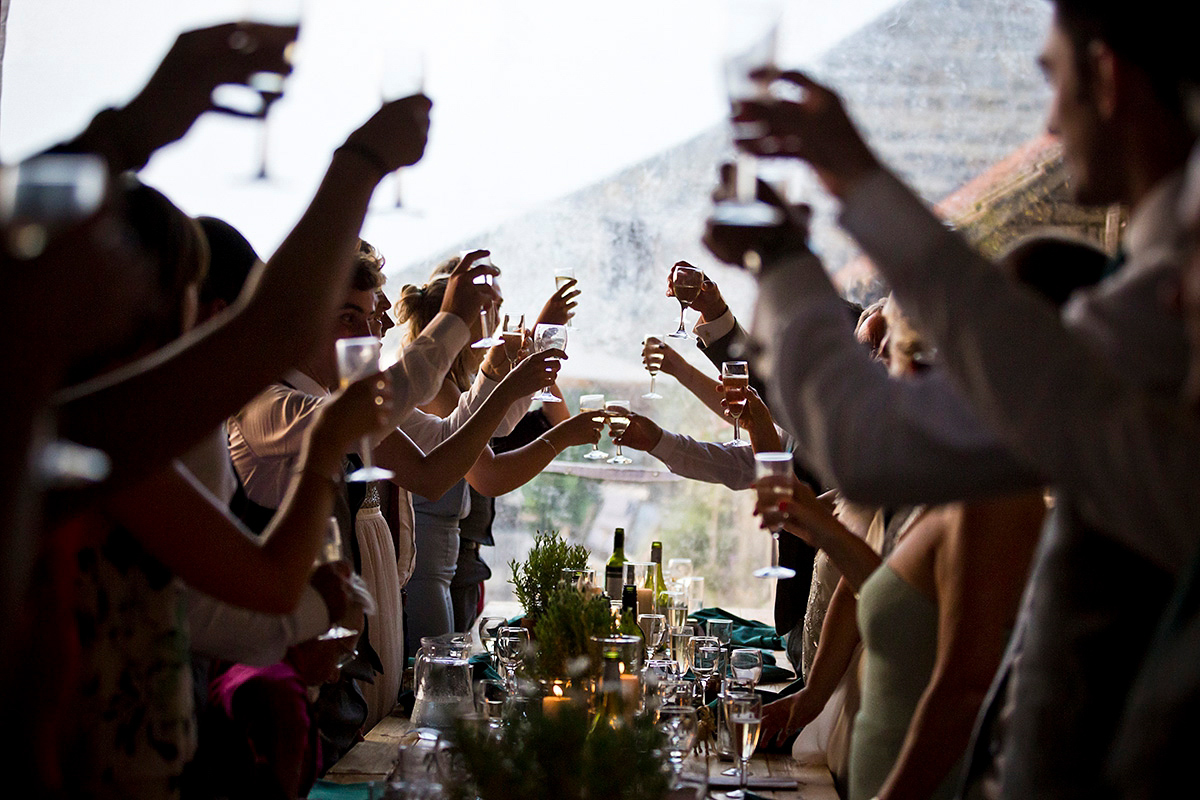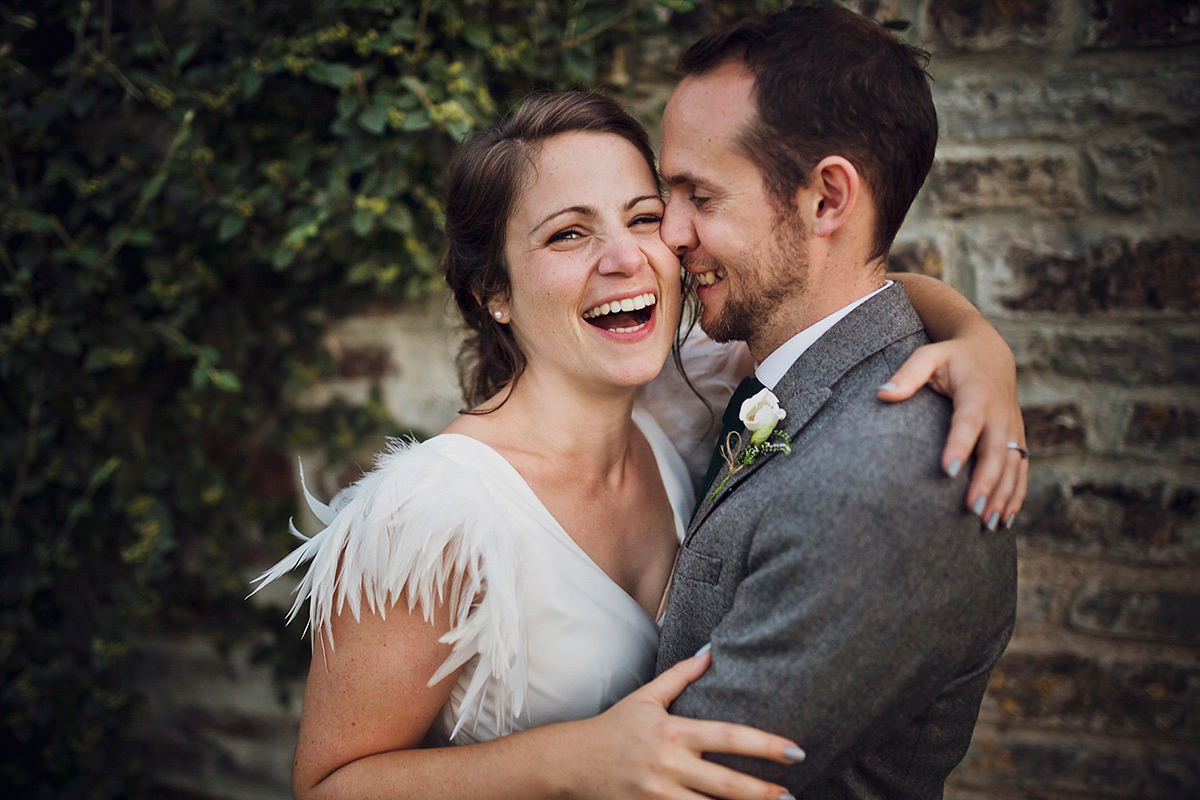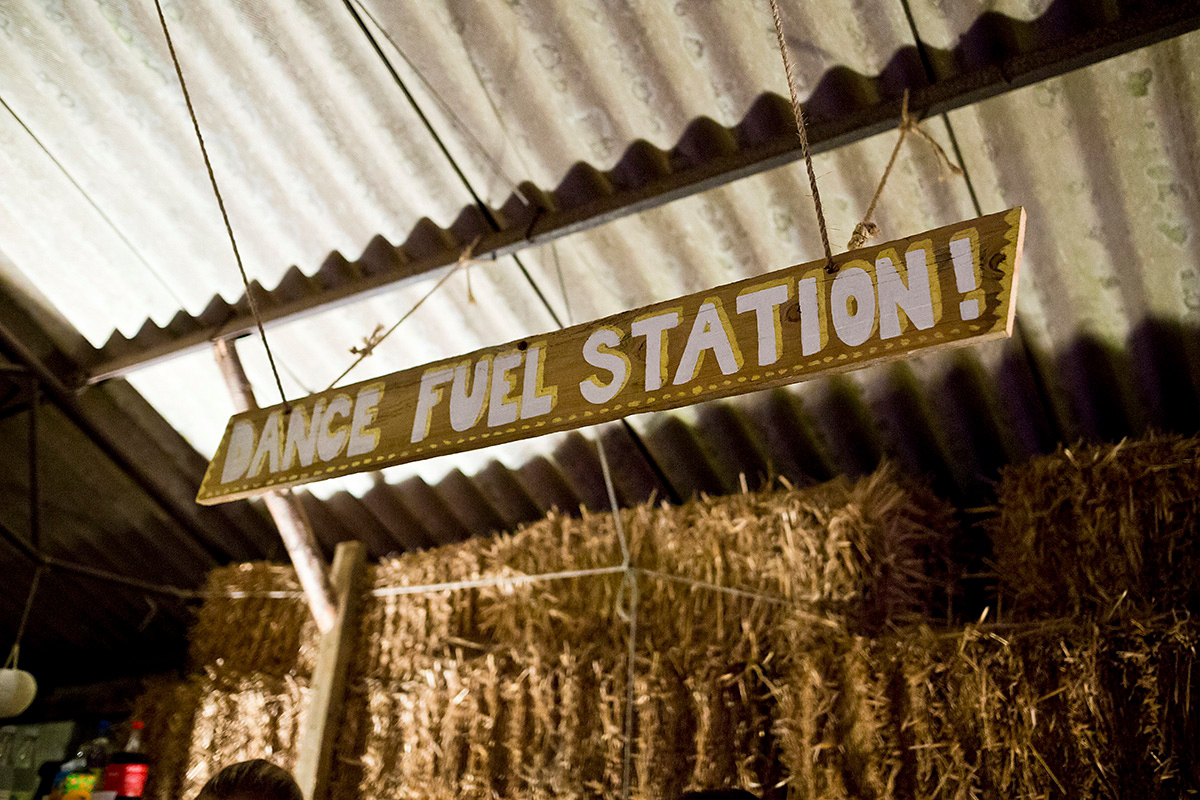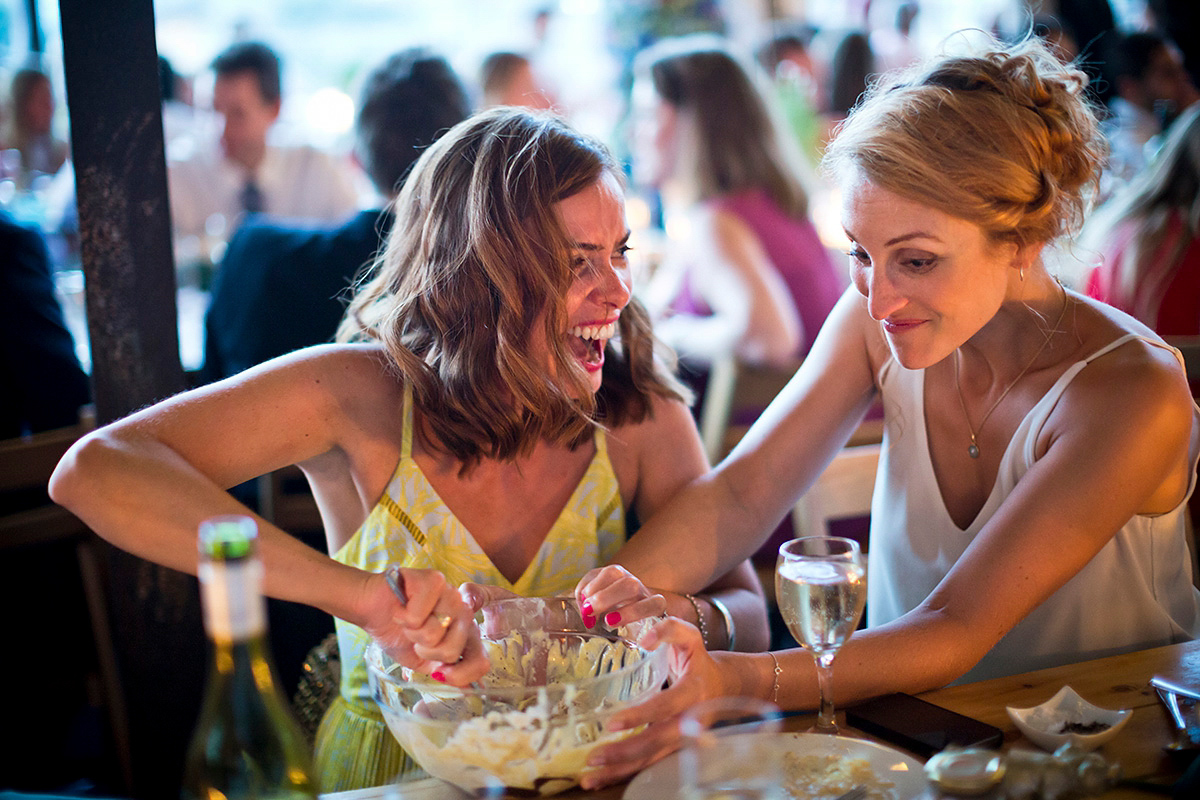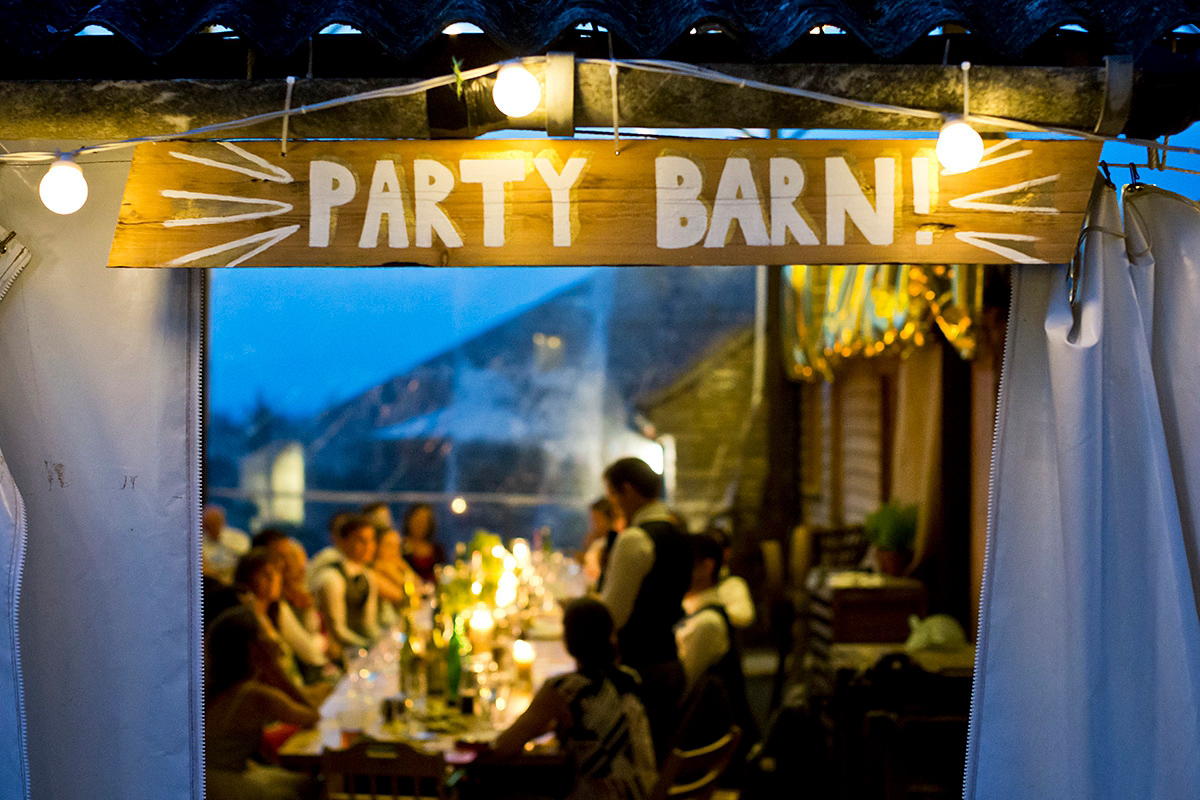 "In the evening, we danced to 'Call Me Al', by Paul Simon. We didn't really want to do a first dance, but we really did want a way to get everyone on the dance floor straight away and the party going. We were lucky we could ask my cousin to make a special arrangement of Call Me Al so that it started slowly, but quickly went into the bass solo (which my dad played!) and on into the main tune."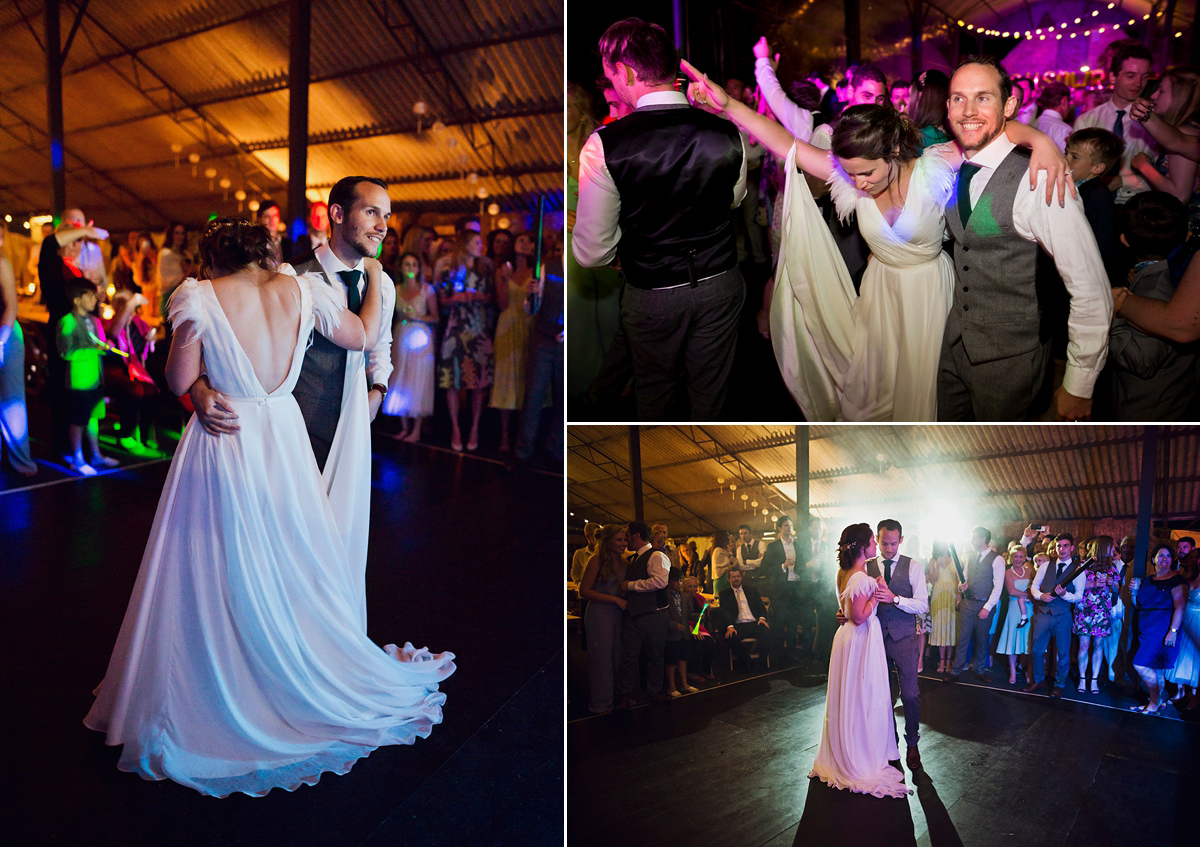 "We led the way with a conga line. Of course. So, so cringe but we're so glad we did it – it worked and absolutely everyone got involved and then crowded onto the dance floor!"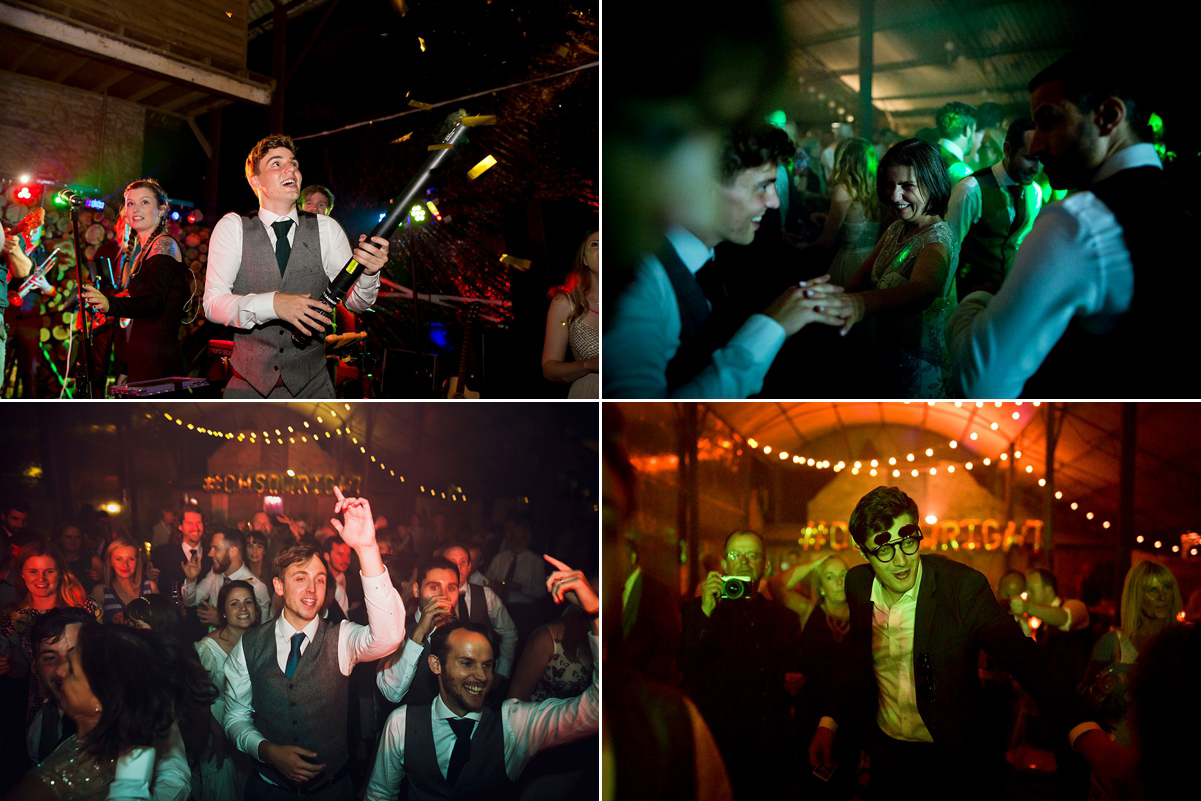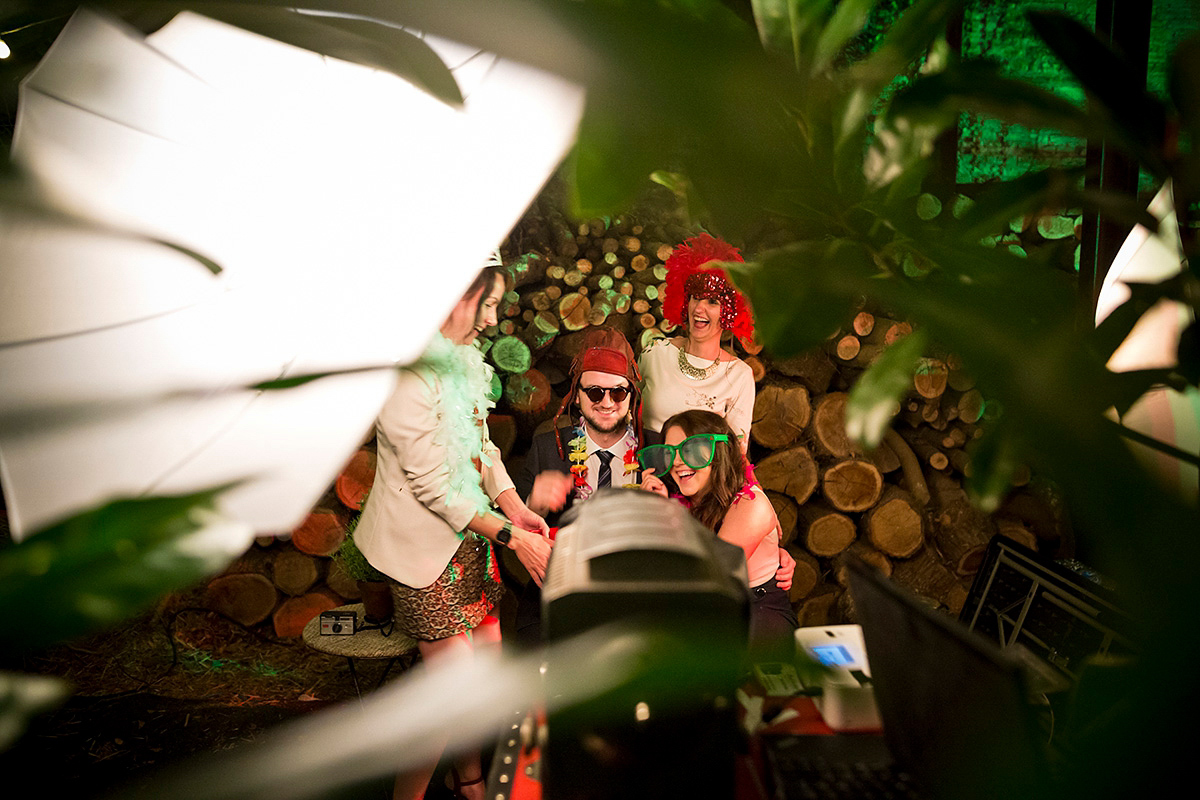 Words of Wedded Wisdom
"We took on a lot, but I wouldn't have done it differently. Our friends and family were instrumental in making everything happen and the whole thing really shone a light on how lucky we are to be surrounded by the community we have. My sister was especially amazing throughout the whole planning process."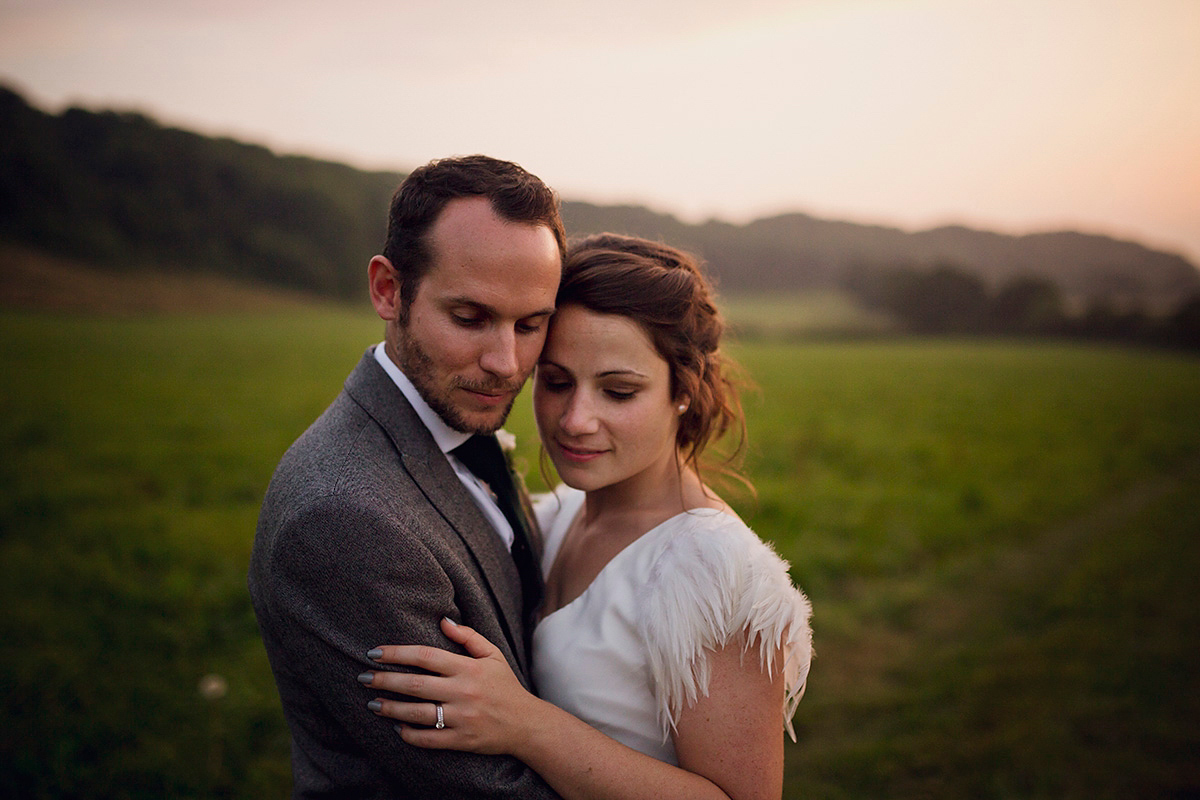 "We were very reliant on the weather and stubbornly refused to make a wet weather plan, which worked out well in the end but proved nerve racking the week before. We would have done that differently – a solid plan B! 
We weren't going to have a film made, but decided to fairly last minute. We think we would have really regretted not having it. We have loved looking at photos and watching the film – lasting memories of an incredible day."
It's always such a delight and pleasure to be able to share the work of photographer Mark Tattersall.
Love Annabel xx