How is it Monday again my loves!? After complaining about the painfully slow passage of time in the run up to my wedding, 2017 just seems to be slipping through my fingers like very speedy grains of sand. Does anyone else wish they could just press pause and cram a couple more hours into each day? Turning back the clock to last summer, today I'm delighted to be sharing the gorgeous summer wedding of Mr and Mrs S with you all.
The couple wed on 4th June last year in a family and friends focussed celebration in sunny Scotland. I don't know what it is about this magical place but we have so many incredibly beautiful Scottish weddings in our gorgeous archives, just feast your eyes on this lovely lot. Let's start with a peak at the newlyweds' wedding video, documented by Cinemate Films.
"Our focus for our wedding day was very much on our incredible friends and family who have enriched our lives beyond words. We wanted our wedding to be a celebration of love in its many forms, to bring our guests together and provide a space to unwind, relax, and enjoy."
Film by Cinemate Films
"Neither of us are natural planners and I would be lying if I didn't say that we found the process quite overwhelming at times, and considered packing it all in and escaping to somewhere just the two of us to get married. But what kept us on track was reminding ourselves of what a gift it is to be able to bring our nearest and dearest together for that one day to celebrate life – it was a profoundly joyful experience. We have been living a marriage in a way since we were nineteen so the wedding was this beautiful, big fun cherry on the top."
Photography by Joanna Brown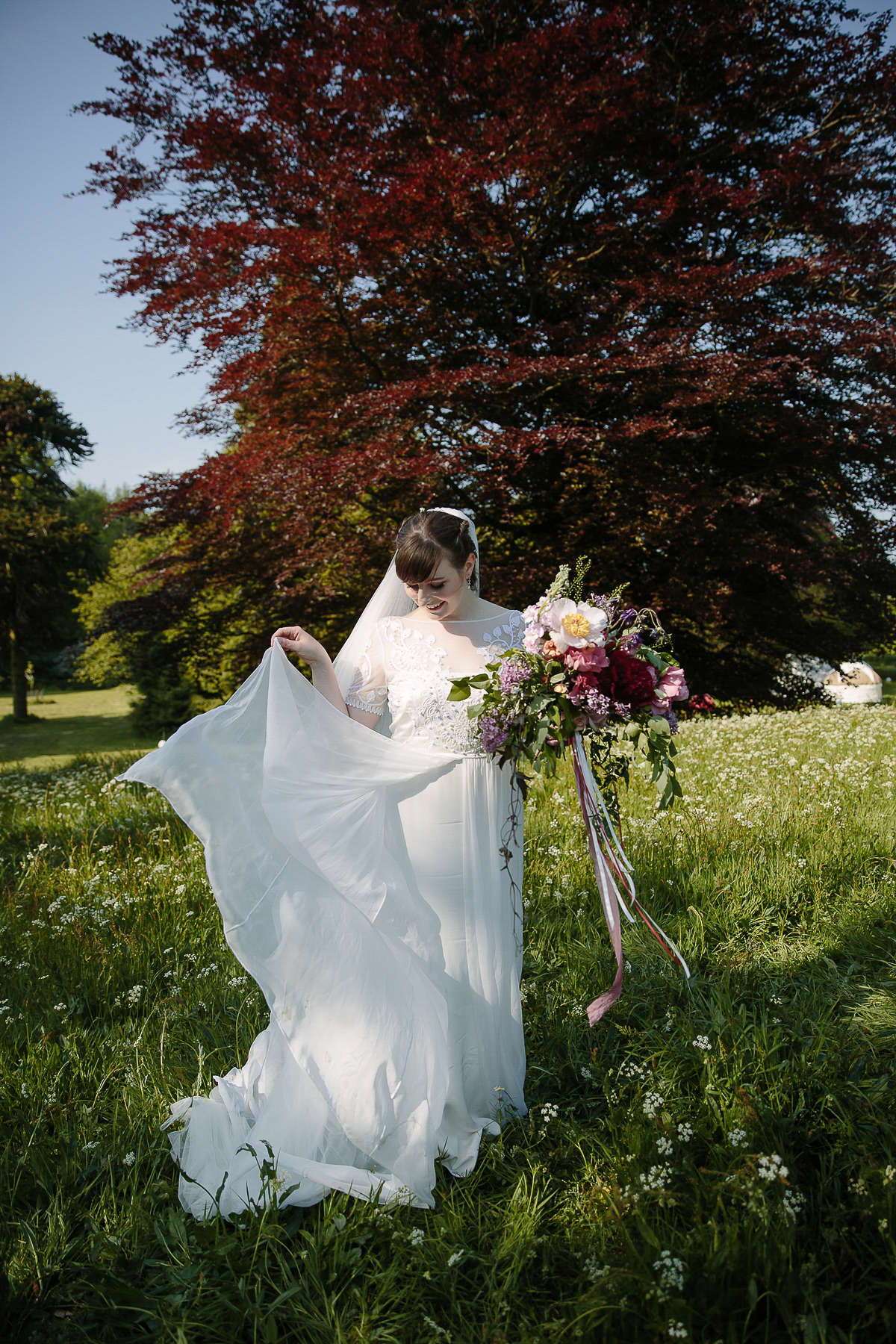 Mrs S wore a divine Temperley London gown with pretty pearlescent details. Our bride added a cathedral length veil, purchased from Rachel Scott Accessories, accentuating the flowing train of her dress, and reminding Mrs S of the 1920s. Her glossy locks were crafted into a gorgeous tumbling wave by Sarah Stewart at Marra Hair & Beauty in Crieff, while Gillian Galbraith took care of her make-up. I am besotted with the contrast of those interwoven peachy blooms against Mrs S' luscious dark hair.Mrs S added a pair of shoes designed by the lovely Harriet Wilde, who we are very proud to support through our curated supplier directory, Little Book for Brides. So comfortable were these beauties that our bride was able to ceilidh dance in them right through until midnight. Mrs S wore Coco Chanel Mademoiselle perfume, one of her favourite scents and also the first perfume that Mr S ever bought her.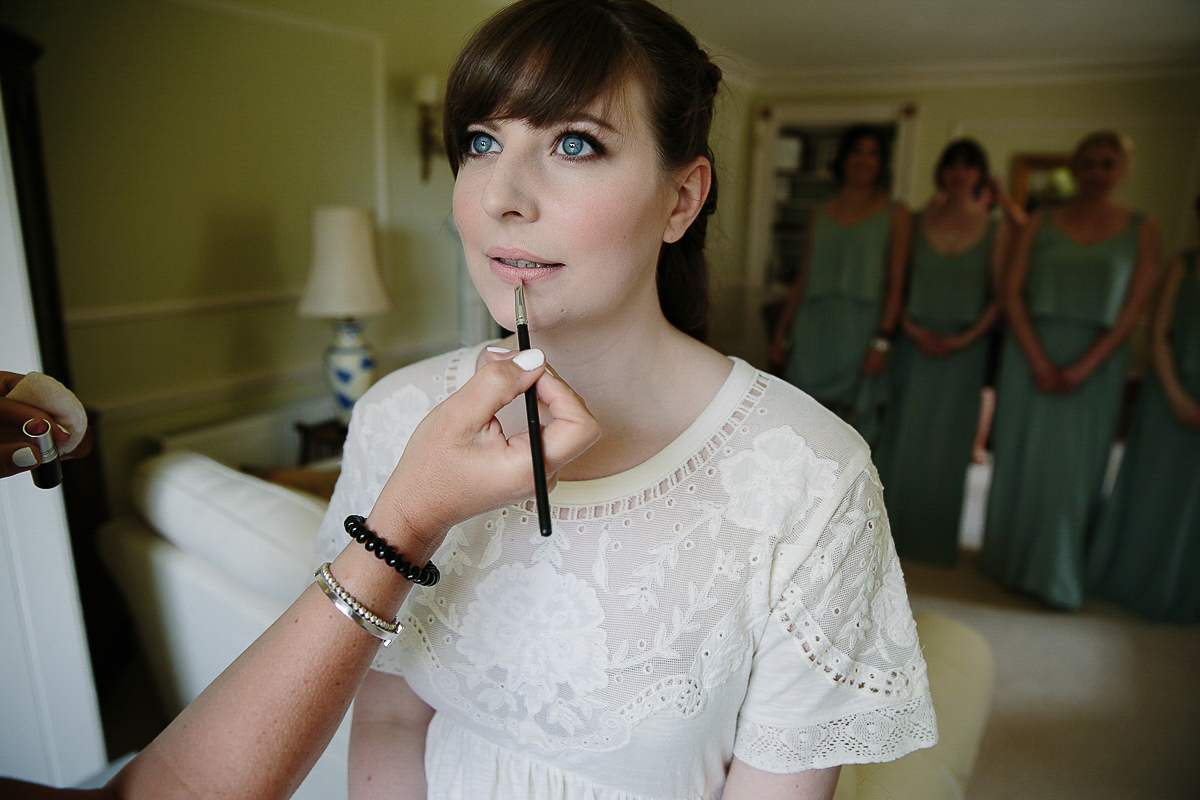 "I bought my Temperley London dress from Rachel Scott Bridal Couture in Edinburgh, who I cannot recommend enough. As soon as I walked into Rachel's shop I knew that this was the place was where I would like to get my dress."
"The atmosphere that Rachel created was one of calm, peace and had an air of childhood magic, like the place you imagined you would go to when you were a little girl to try on dresses. I probably sound like I had a few too many glasses of Prosecco, but it did feel that special to me."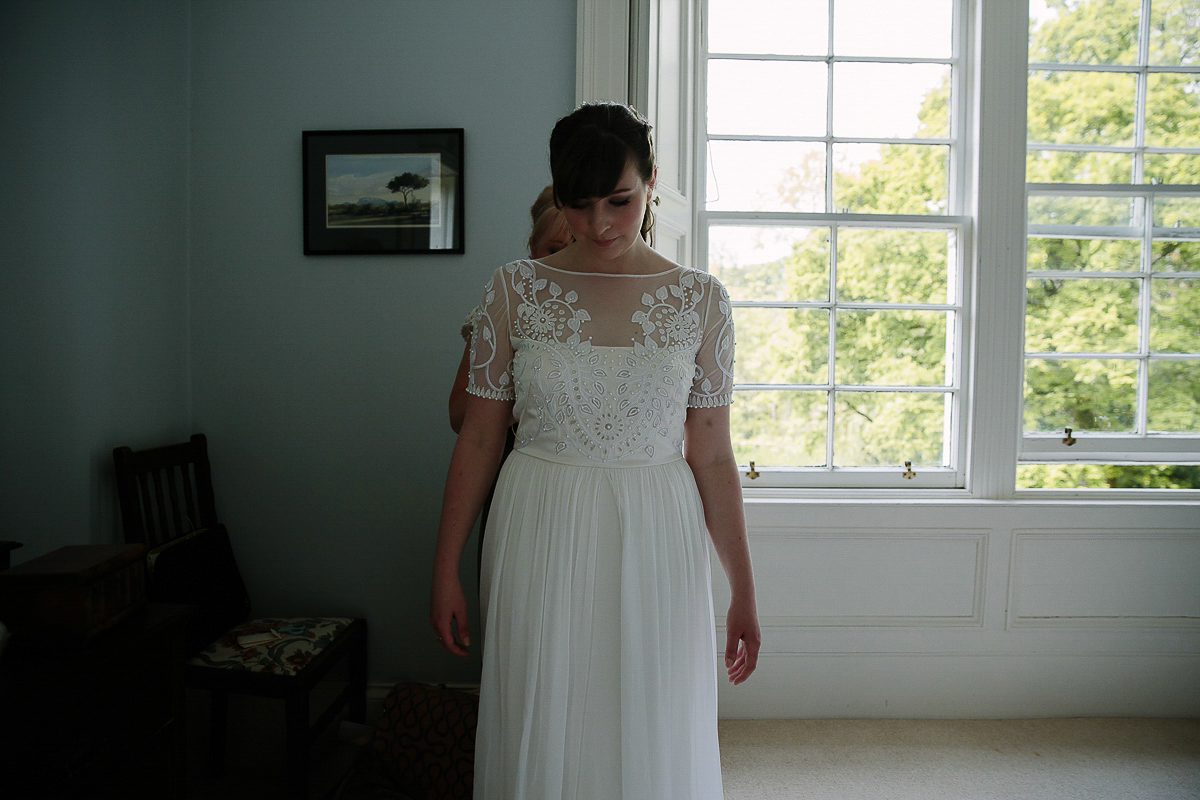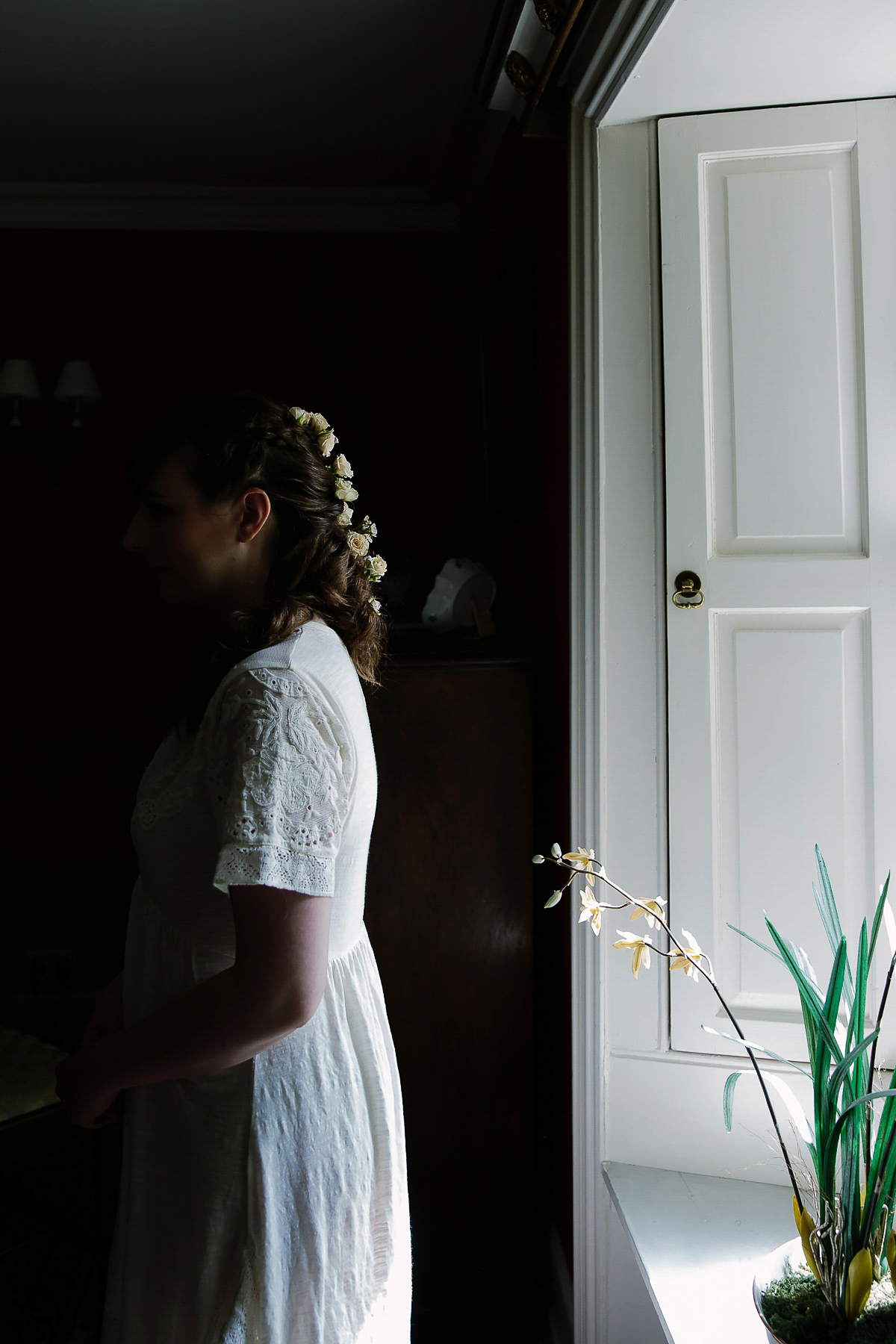 "I found the process of finding a dress quite difficult. I was also doing it a bit down to the wire in the context of the wedding world, but my mum was amazing and came down from Shetland to help me which was so special."
"I knew what I didn't like, I just didn't know what I was looking for until I found it. I think what made me choose the dress was the feeling I got when I put it on – it just felt like me. It felt special but relaxed, a bit whimsical and like a dress I would have worn when I was little but also grown up and elegant."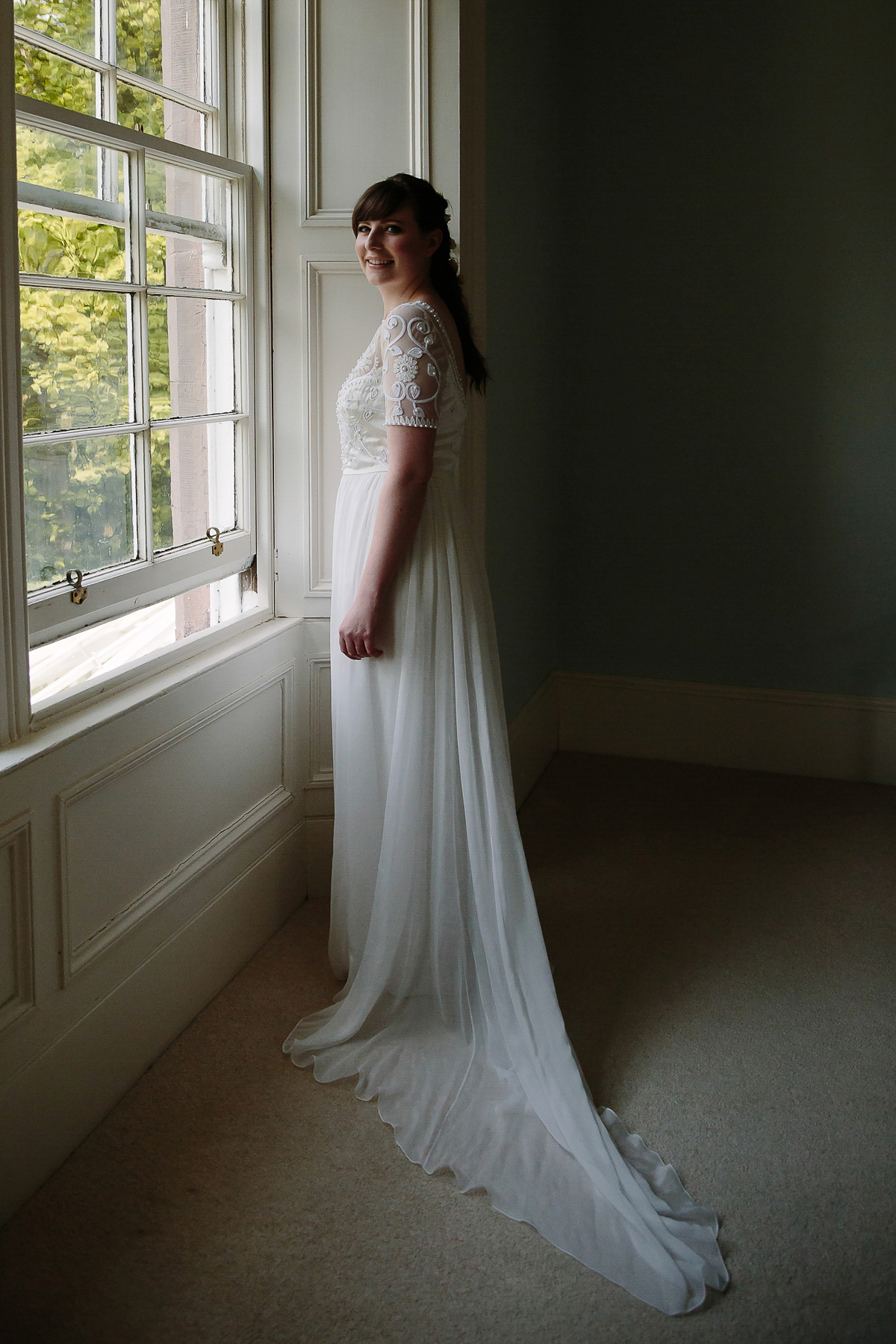 "We got married in Kinross Parish Church, where both my grandmothers were members and where my parents got married as well as my auntie and uncle (who was our minister). The area also held significance for Mr S and his family and it just felt right."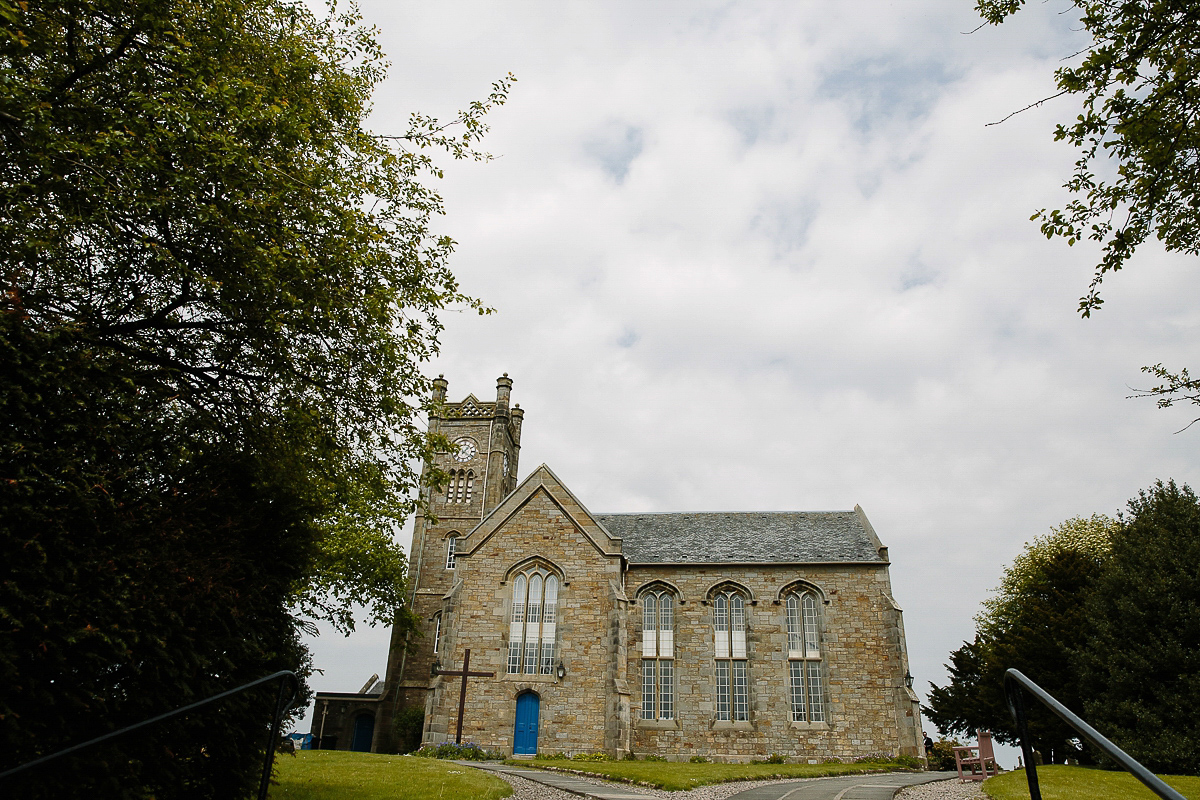 "Our reception was ten minutes down the road at Tullibole Castle and it couldn't have been better. The owners were so flexible, helpful and generous with their grounds. It was like a big playground for our very much loved guests. We were also incredibly lucky with the weather for Scottish standards."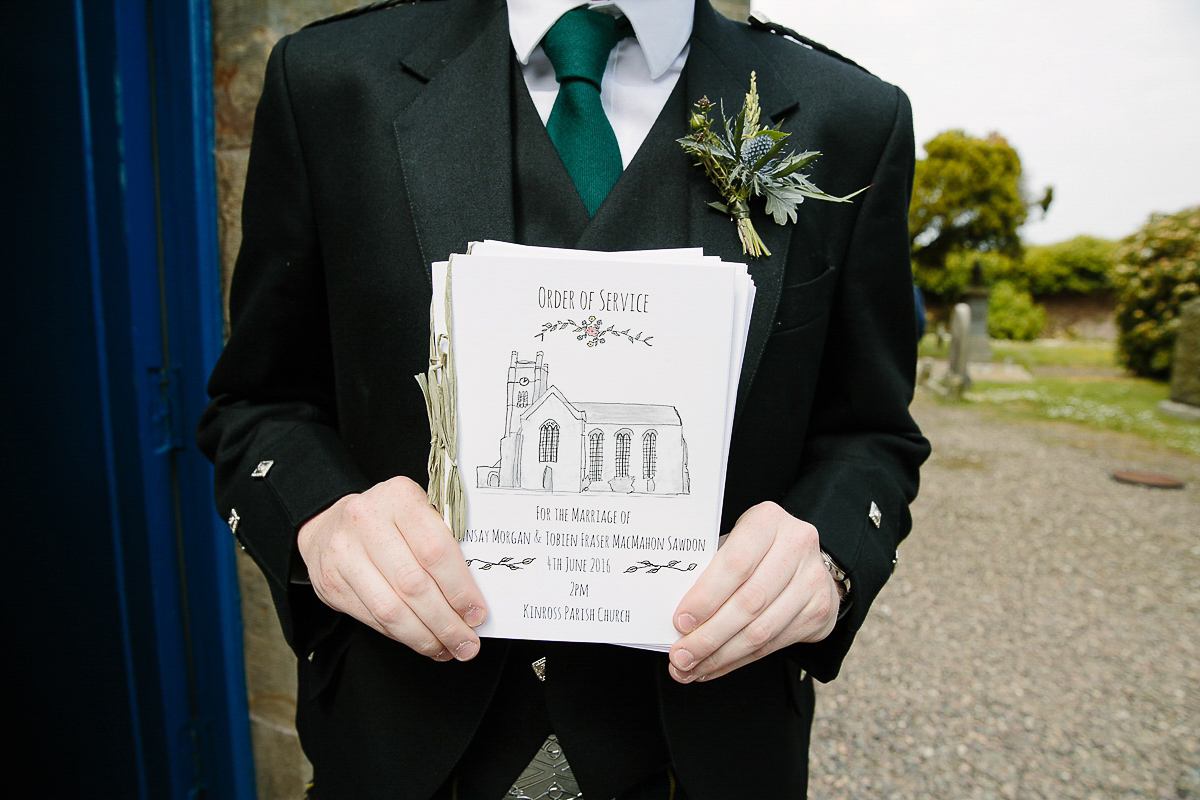 "I am from the Shetland Islands and Mr S is from Edinburgh, so our families and friends are quite wide spread, with many of them living and working in London."
"My first choice would have been to get married at home in Shetland, but practically it made sense to get married on the mainland as the majority of our guests were coming from there. We were very lucky to find somewhere that was not only geographically practical but also emotionally significant to us."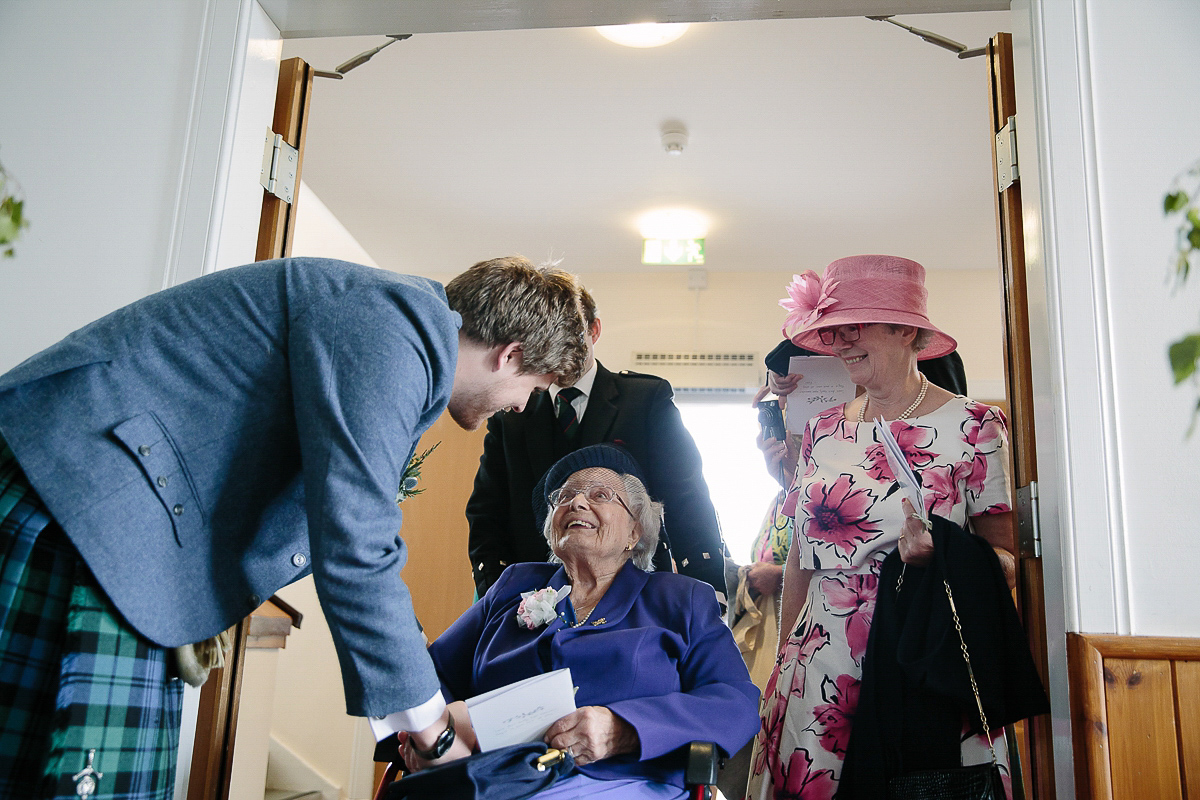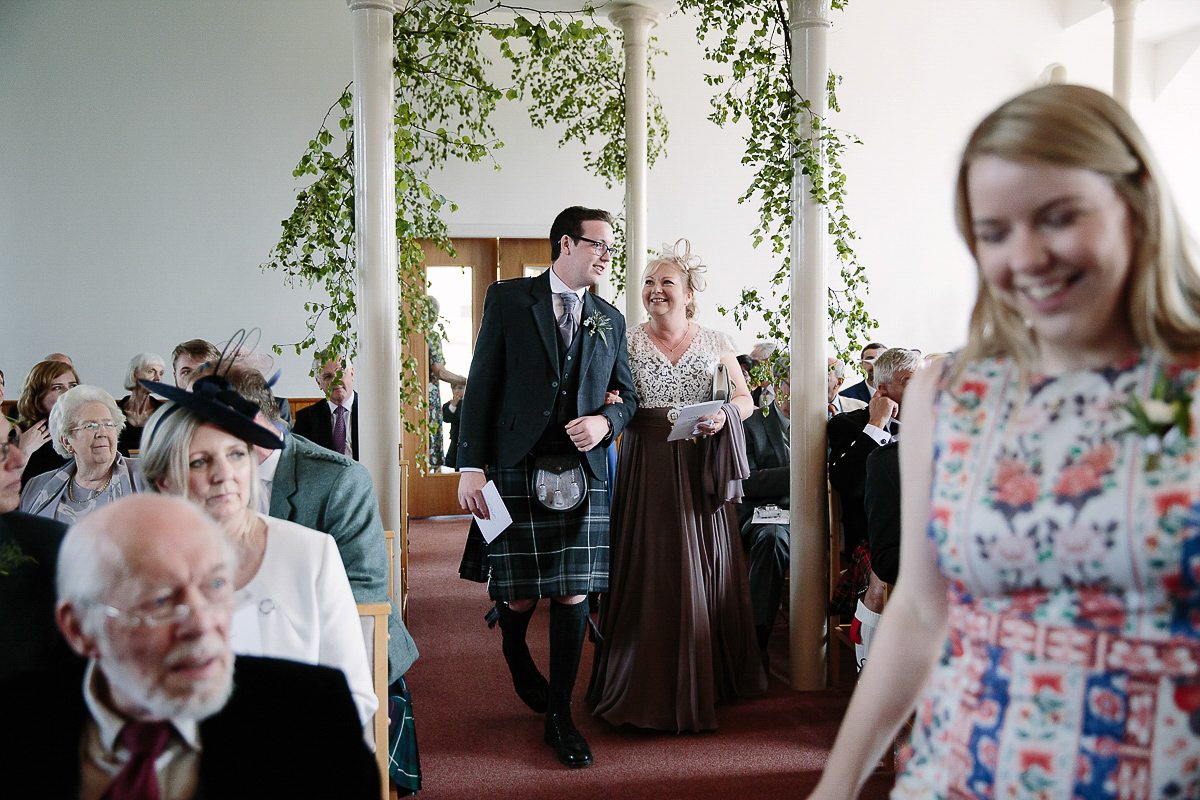 Mr and Mrs S hired wedding cars from Wedding Cars by St. Clair to whisk them away to their wedding venue, who they were thoroughly impressed with, even managing to keep the bride and her dad calm on the way to church. I just adore the happy shot of Mrs S laughing next to her proud papa, it oozes so much emotion – love, excitement, anticipation. Joanna Brown has captured such warmth in these images and a real sense of intimacy.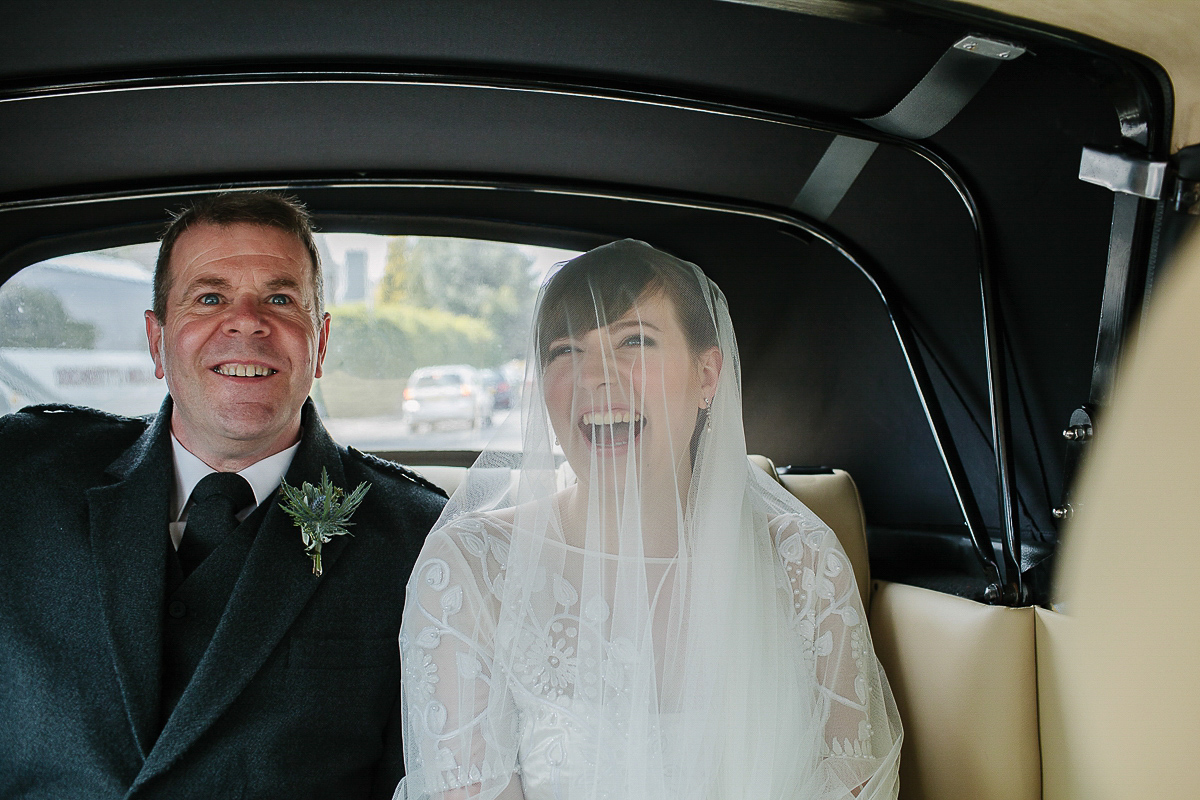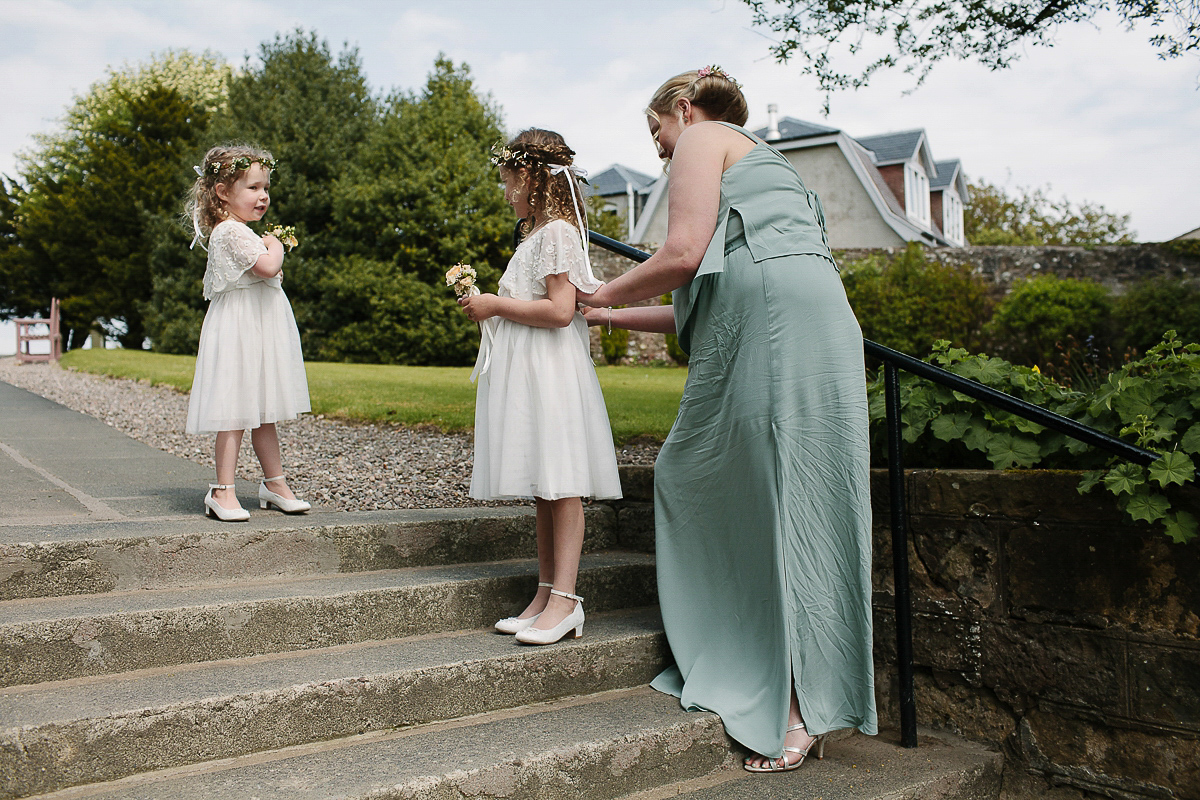 I cannot begin to tell you how much I adore Pyrus Botanicals. This incredibly talented florist has crafted dramatic, whimsical, downright beautiful blooms for some of my favourite ever Love My Dress weddings. There seems to be no end to their creativity and ingenuity and their styling is just to die for. Continuing the floral theme, Mrs S' bridesmaids wore blooms in their hair, clad in floaty Zara dresses and silver House of Fraser shoes.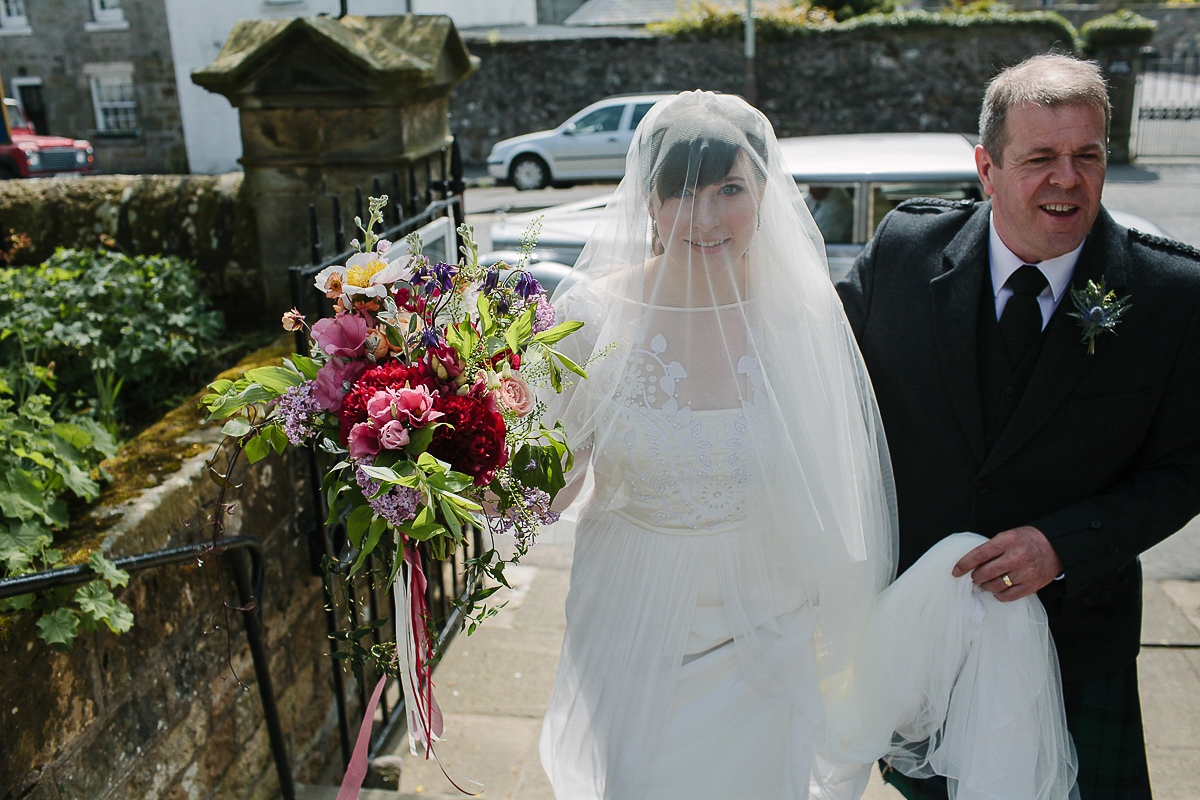 "Our florist was Pyrus Botanicals in Edinburgh and they were amazing, I was absolutely blown away by what they did. It was their creativity and natural aesthetic that drew us to them."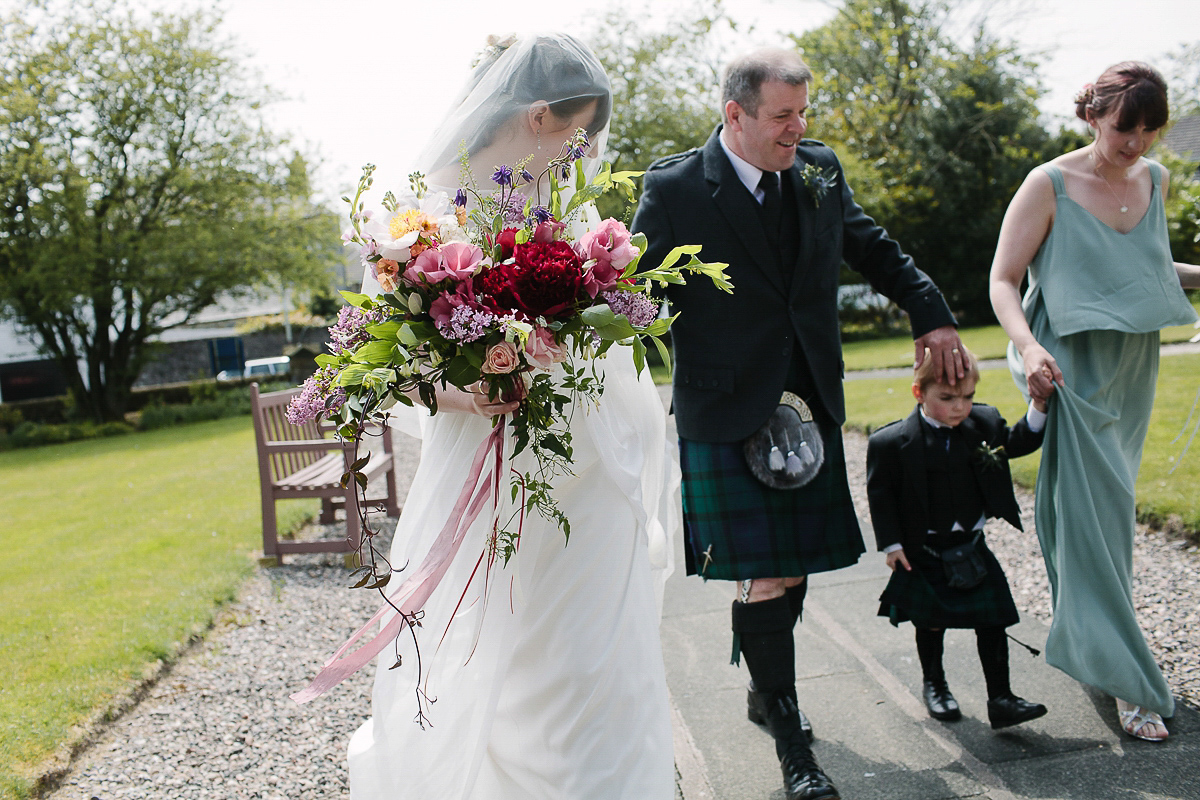 "Mr S and I met when I was at Edinburgh University and he was working as a security guard. A school friend of his, who was best man at our wedding, lived in the same halls of residence as me. We moved in similar friendship circles for quite a while and it was fairly obvious to everyone around us that we liked each other. After a gentle nudge, or rather shove from our friends, our mutual shyness was overcome and the rest, as they say, is history."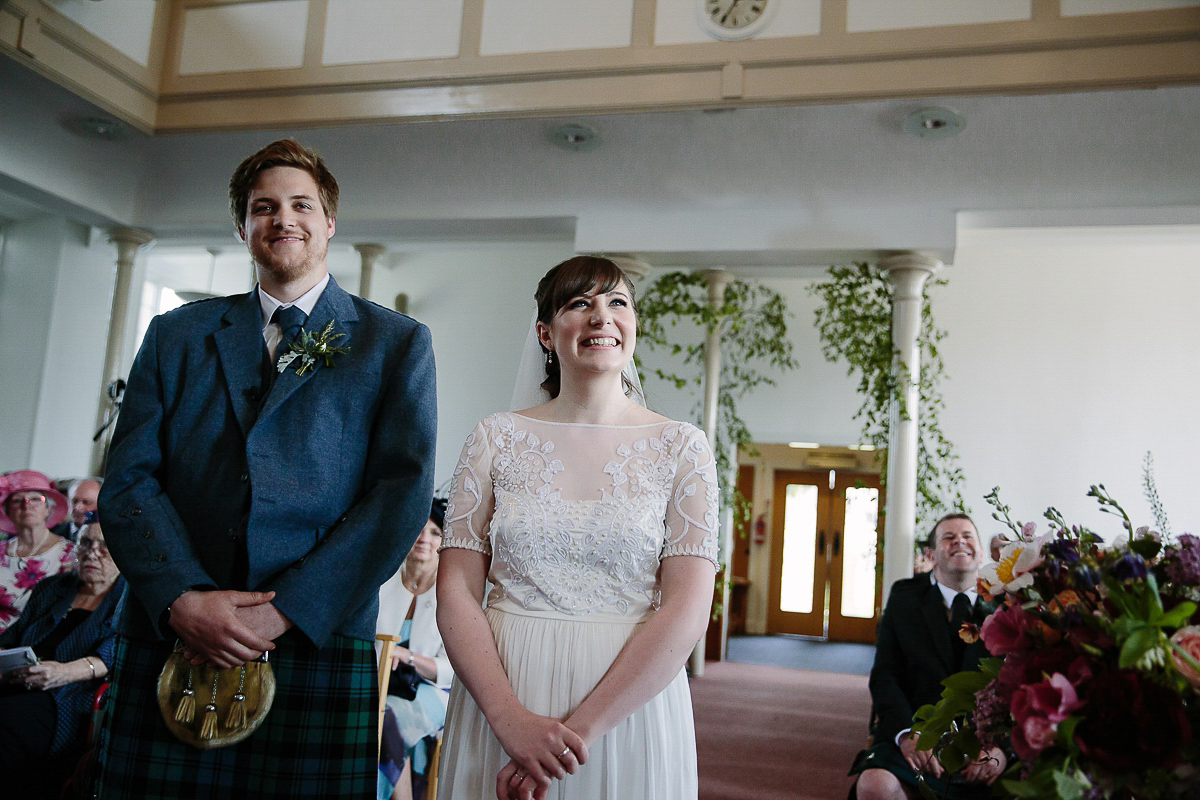 "We started going out at nineteen, moved to New Zealand when I graduated, worked, studied, explored and we grew together, and just before we moved back home at the end of 2013 we announced our engagement to our friends and family through a series of warbling Skype calls!"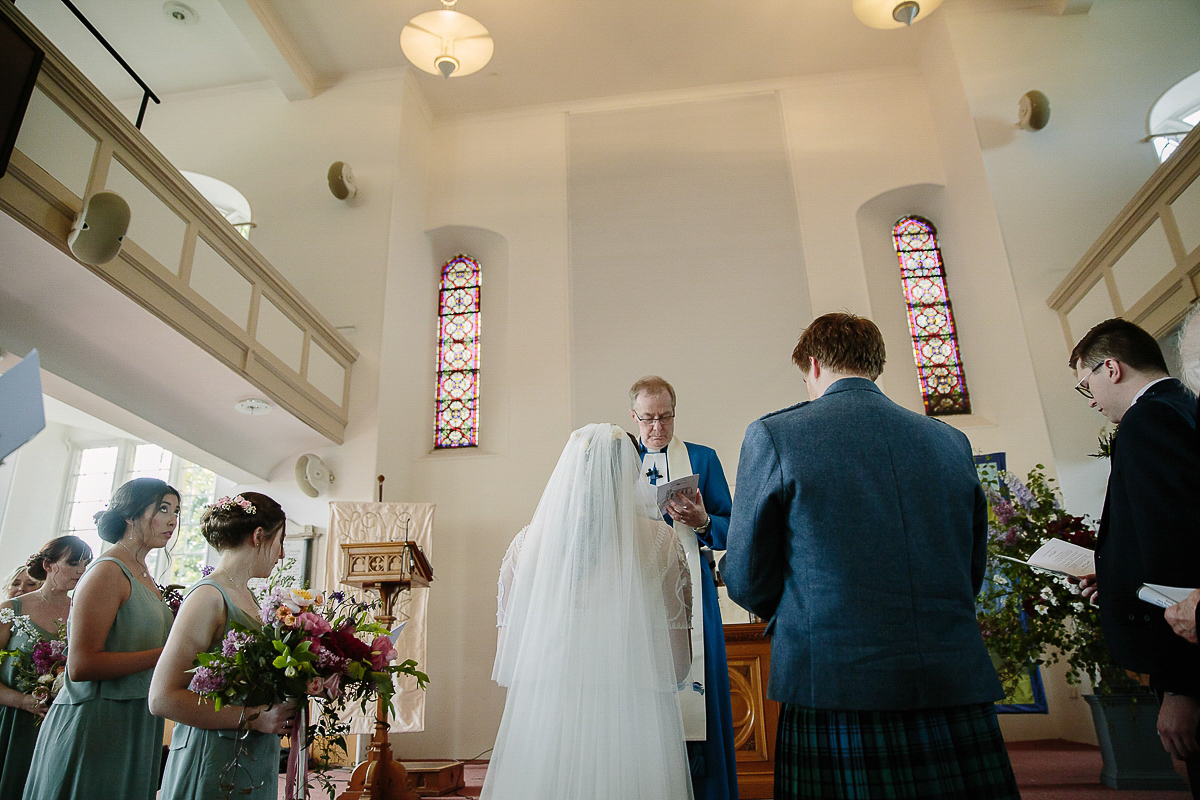 "My dad walked me down the aisle and we held each other up. I walked down the aisle to Caoineadh Cu Chulainn by Davey Spillane (I'm told its from River Dance!?) but I have loved the song since I was about fifteen and the music is just so beautiful."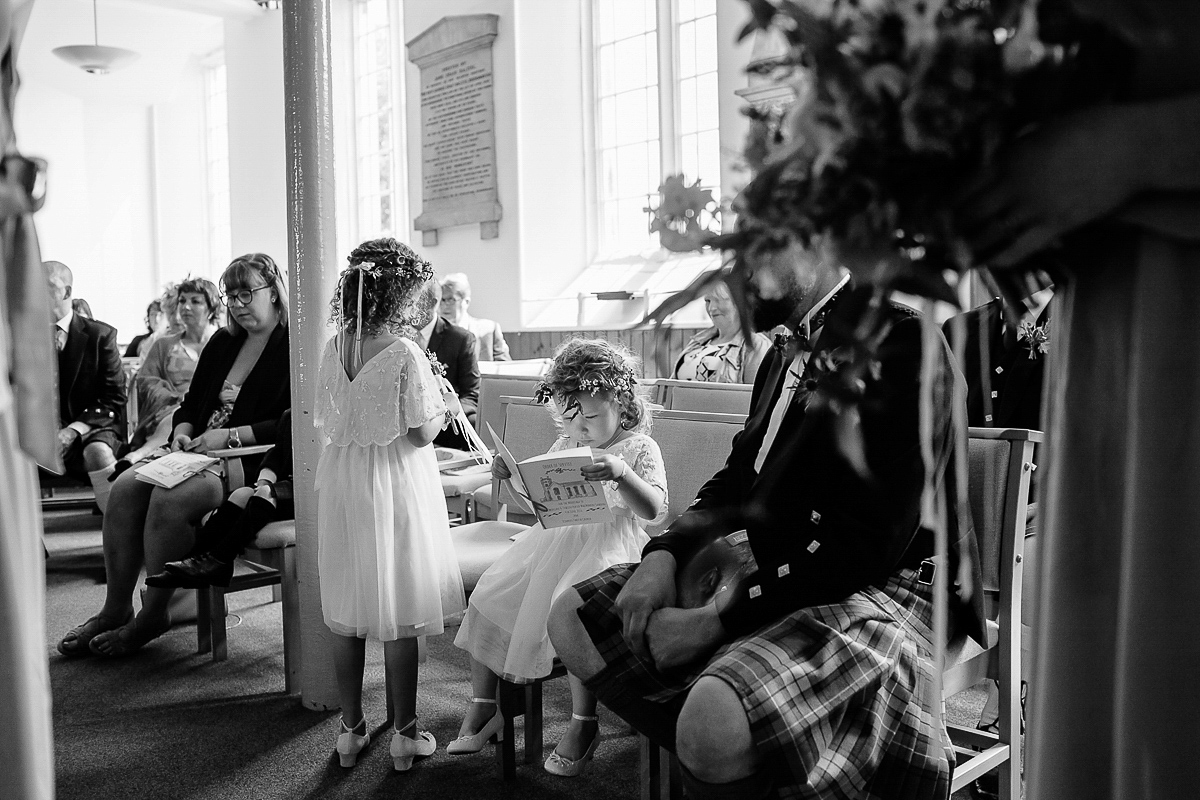 The couple wrote their own vows following a traditional structure, allowing them to express exactly how they felt about each other but with a comforting framework to refer to:
"I promise to be your constant friend, your partner in life, and your true love. I will love you without reservation, honour and respect you, protect you from harm, and comfort you in times of distress, and grow with you in mind and spirit."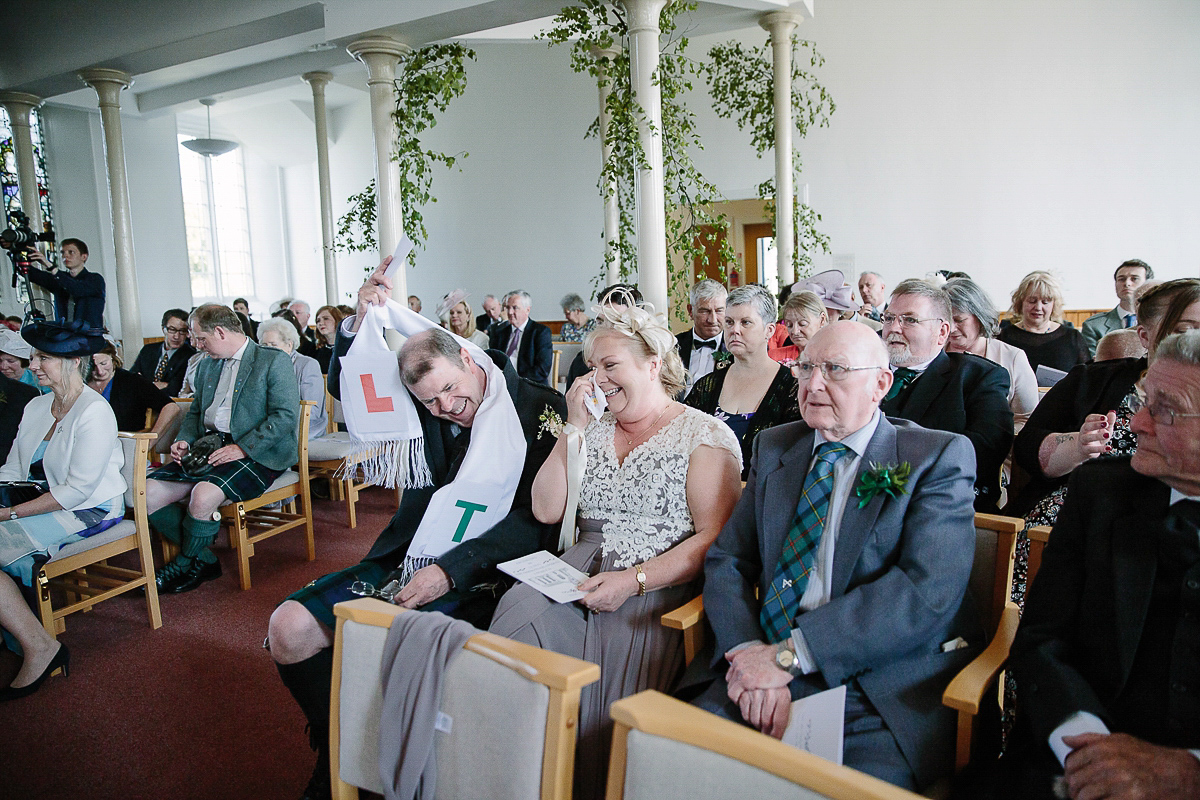 Mrs S' dad gave a short talk on what he'd learned about love as part of the ceremony, while her brother recited an extract from The Little Prince. Mr S' grandfather also read a poem he'd written for the couple, which they are sure to treasure forever.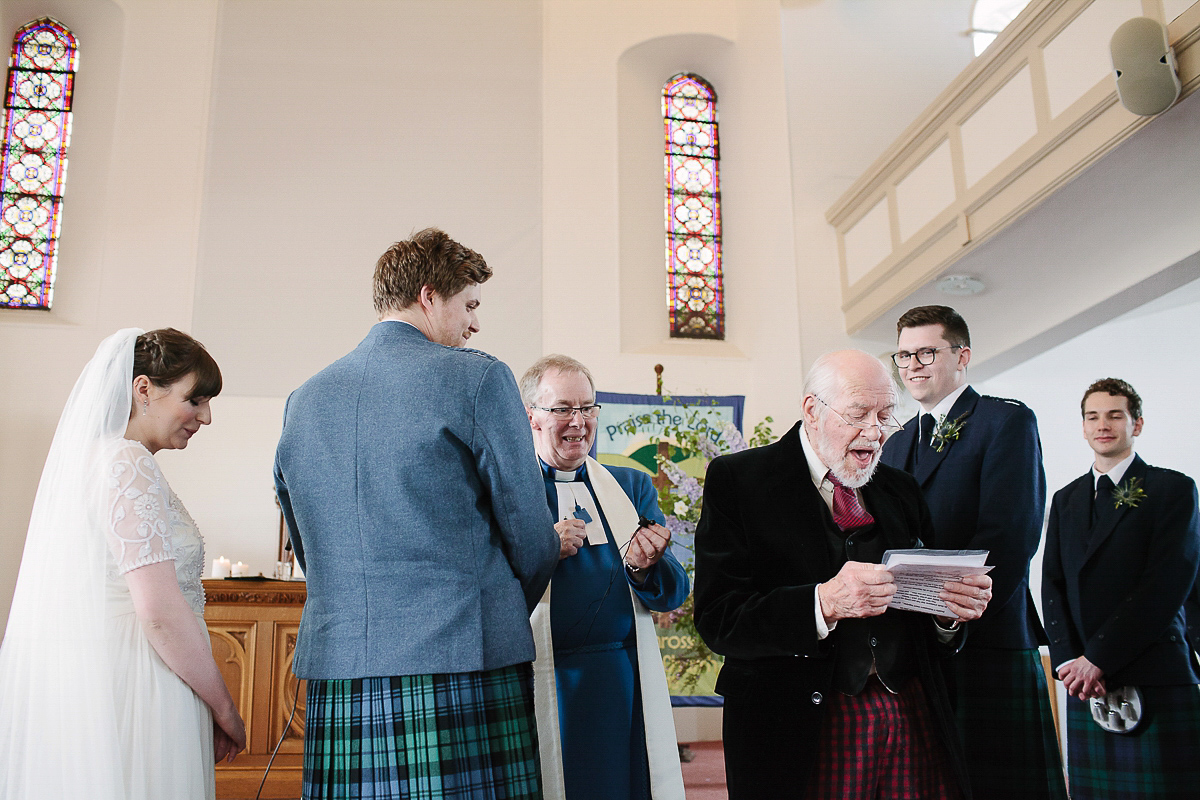 "As our whole day was about family, friendship and love, these readings and the speeches that our family did just seemed to really get to the heart of how we see things and how we want to live, going forward together. In my dad's 'sermon' one of my favourite quotes that he chose was by Carl R Rogers; 'People are just as wonderful as sunsets if you let them be. When I look at a sunset, I don't find myself saying, "Soften the orange a bit on the right hand corner." I don't try to control a sunset. I watch with awe as it unfolds.'"
Mr and Mrs S sealed their vows by exchanging rings; hers a gorgeous design by the talented Alison Macleod, which perfectly complemented her engagement ring, his a band bought from a local jewellery shop in Shetland, bought a few months before the wedding. Many euphoric hugs and happy tears later, the newlyweds drove to their reception at Tullibole Castle. The floral decoration of their pretty marquee has my heart doing some serious fluttering.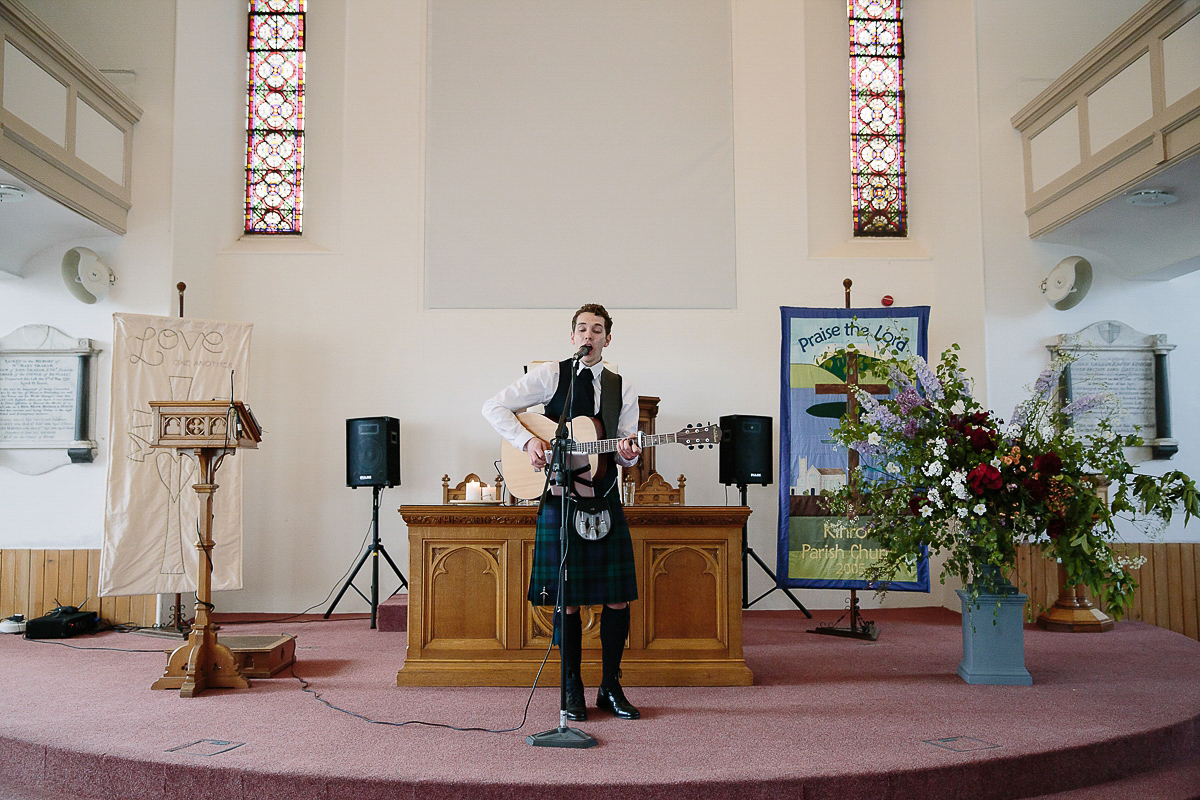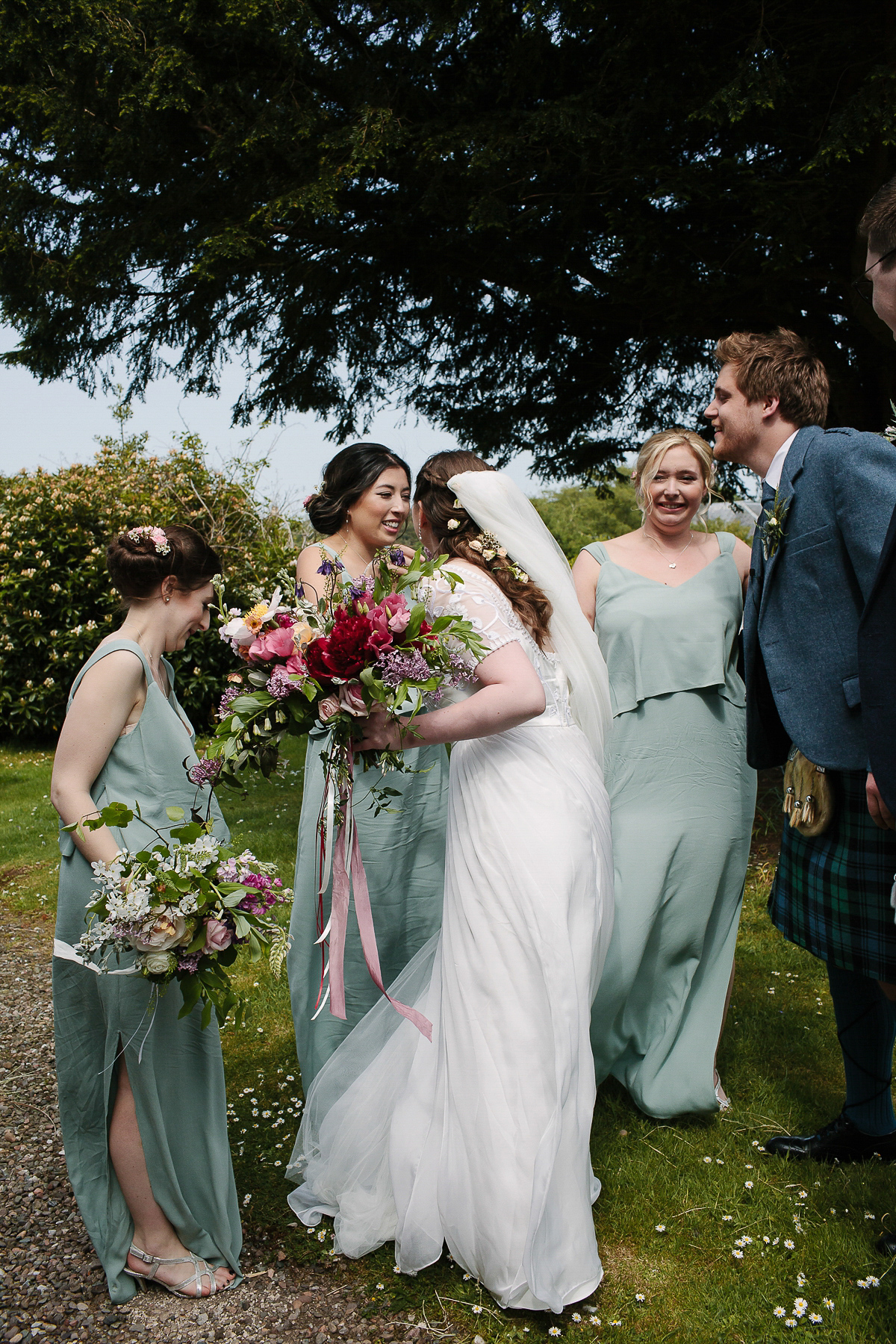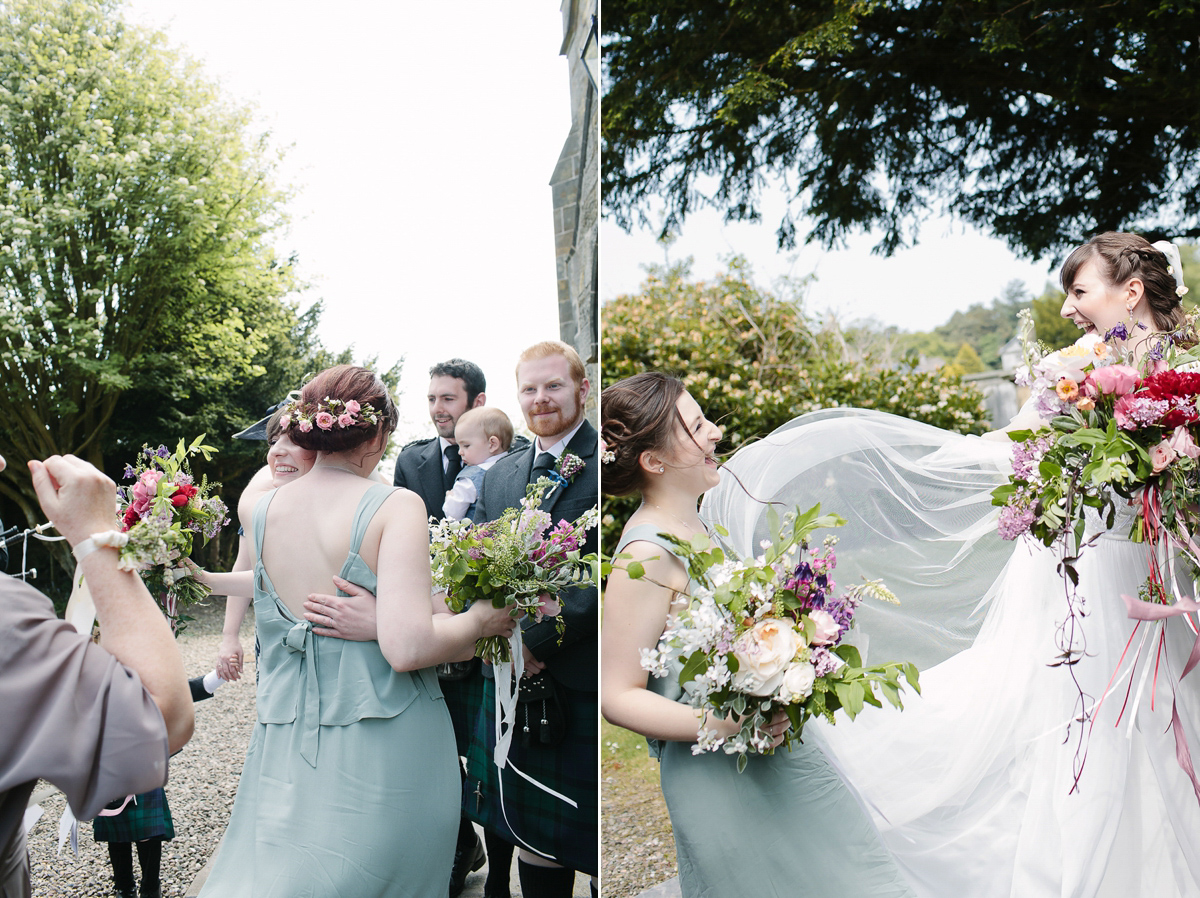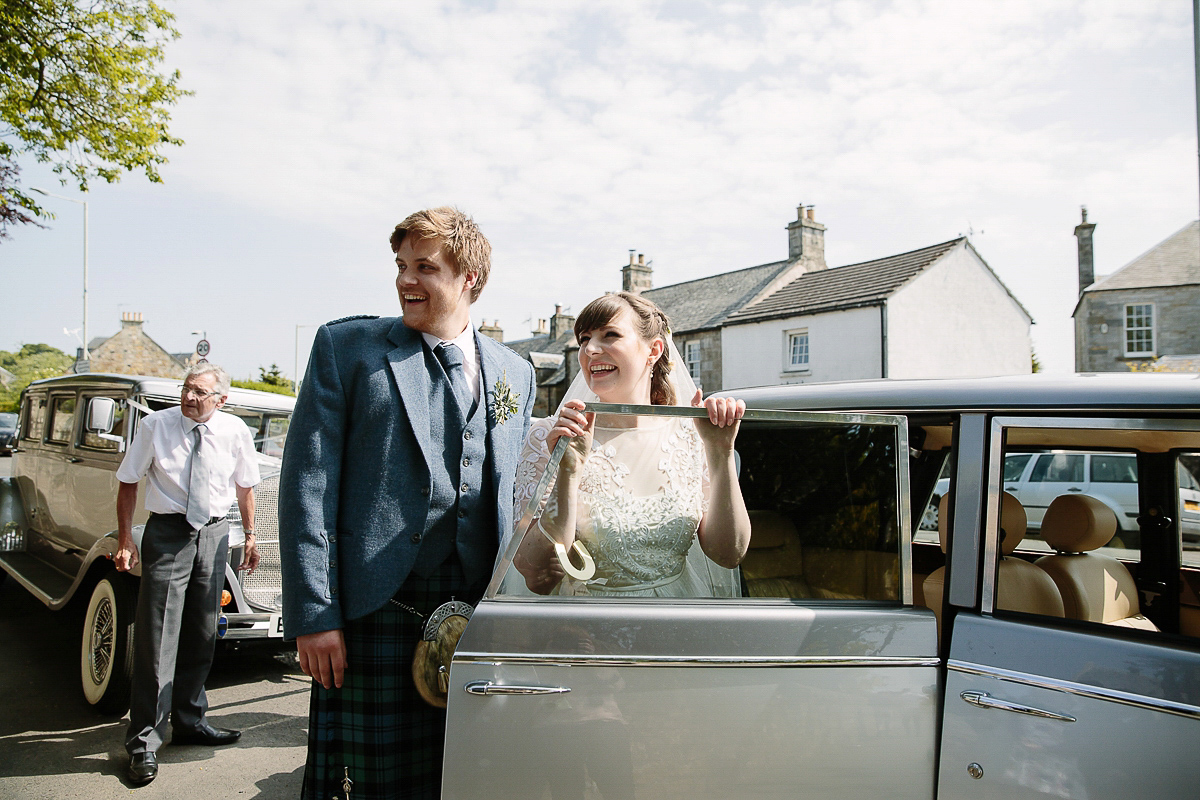 "I only wore earrings on the day as the neckline of my dress came up quite high and was so beautifully detailed. The earrings I wore were very special; my mother-in-law gave them to me to borrow because they were the earrings she had worn on her wedding day, and they were also the earrings that Mr S's sister wore on hers."
"It was very special and emotional and the little leaf design on them also happened to reflect the design that was on the dress."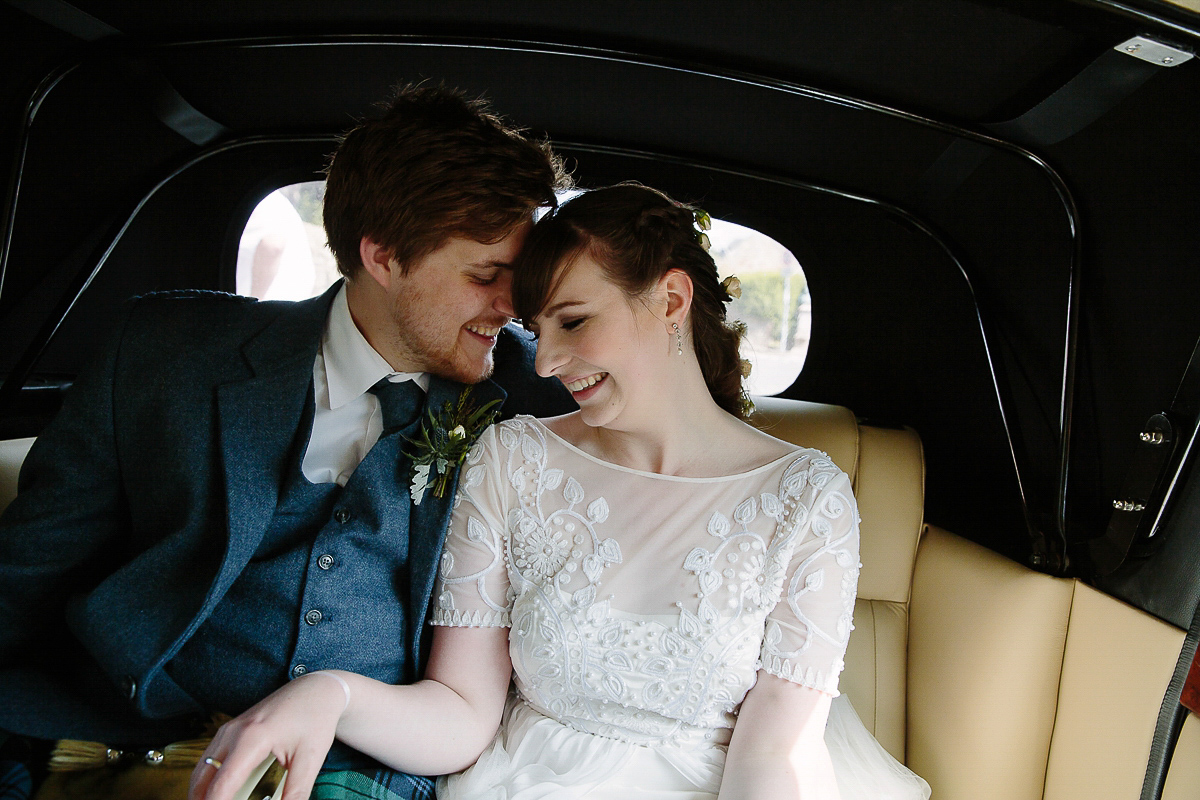 "I got the bridesmaids a leaf necklace from a jewellers in Edinburgh called Badger & Baird and their service was brilliant. The flower girls dresses and shoes were from Monsoon and our page boy wore an outfit from Davison Kilt Hire in Edinburgh."
"The groomsmen also wore the black watch tartan with navy tweed jackets from Davison Kilt Hire, while Mr S wore his own kilt and jacket in his family tartan."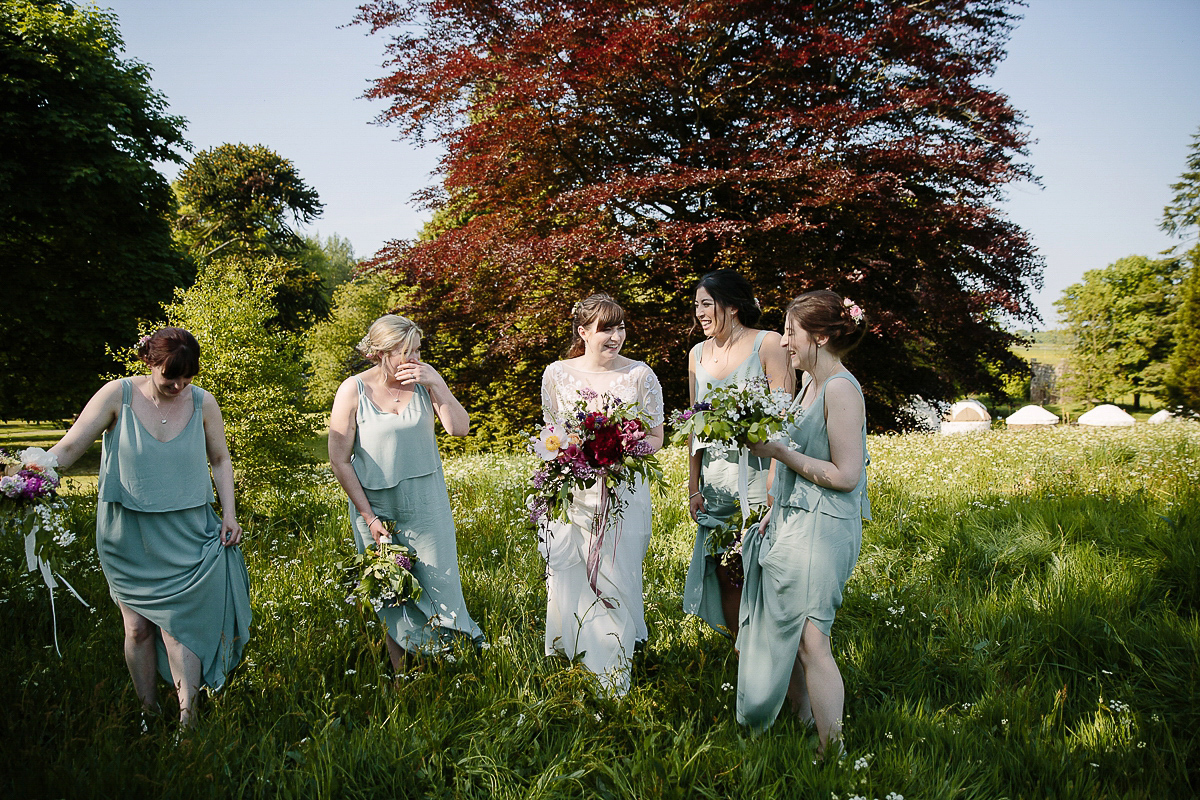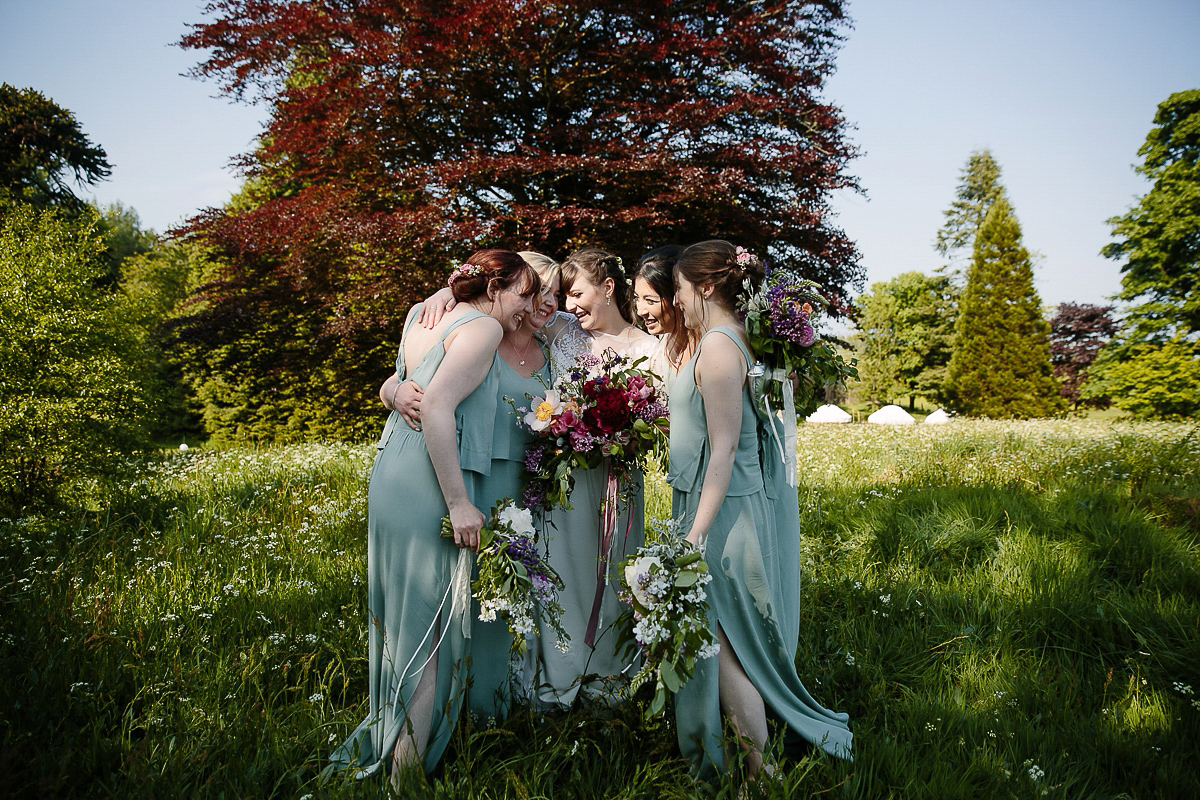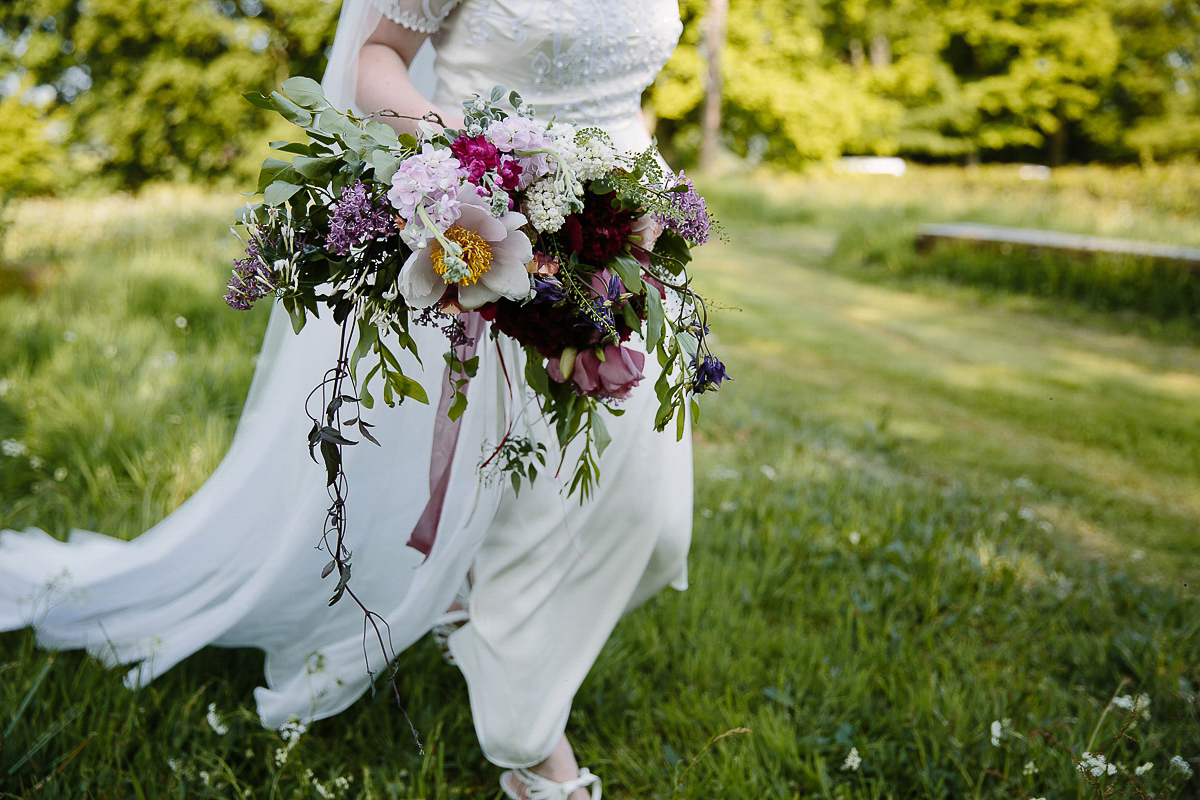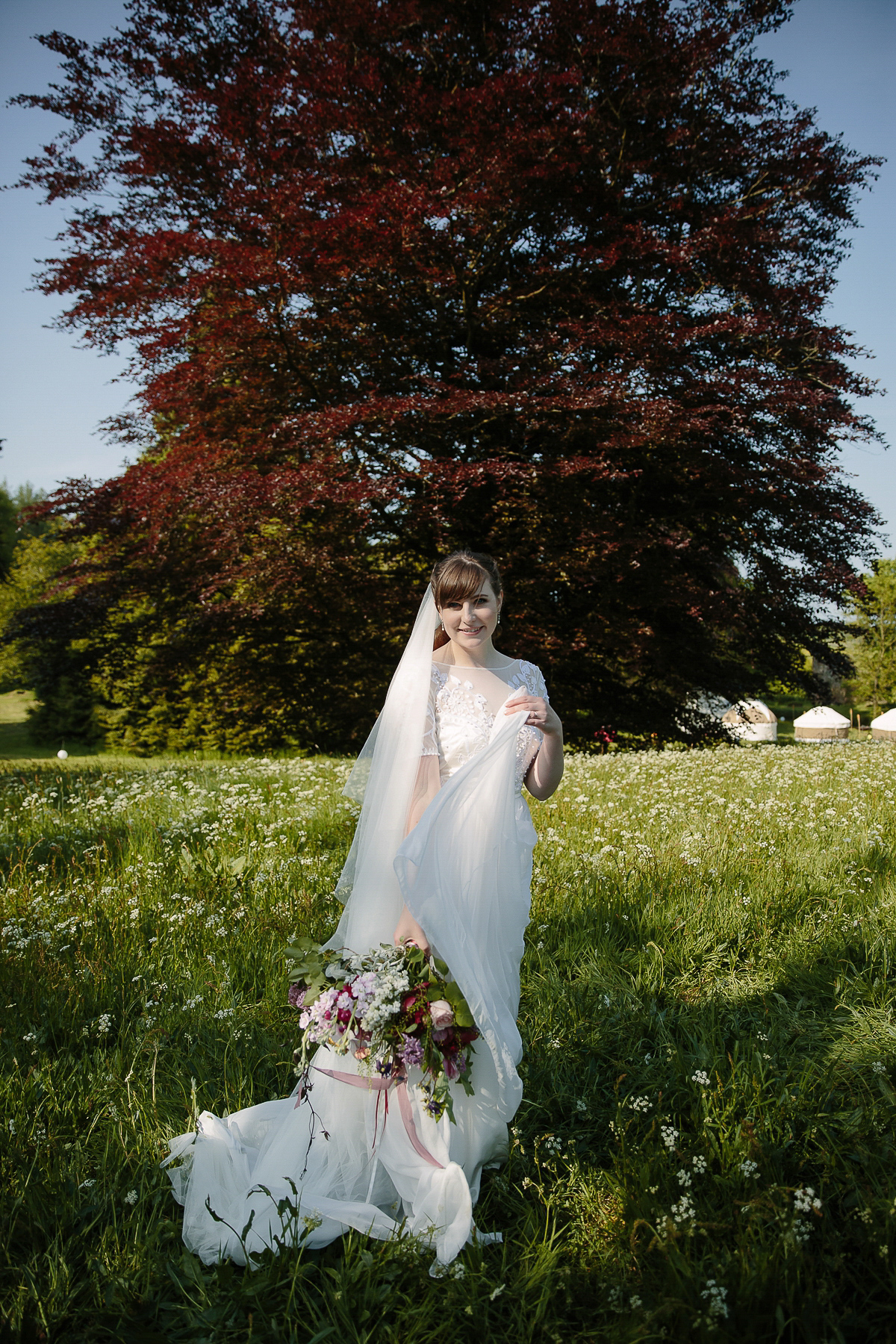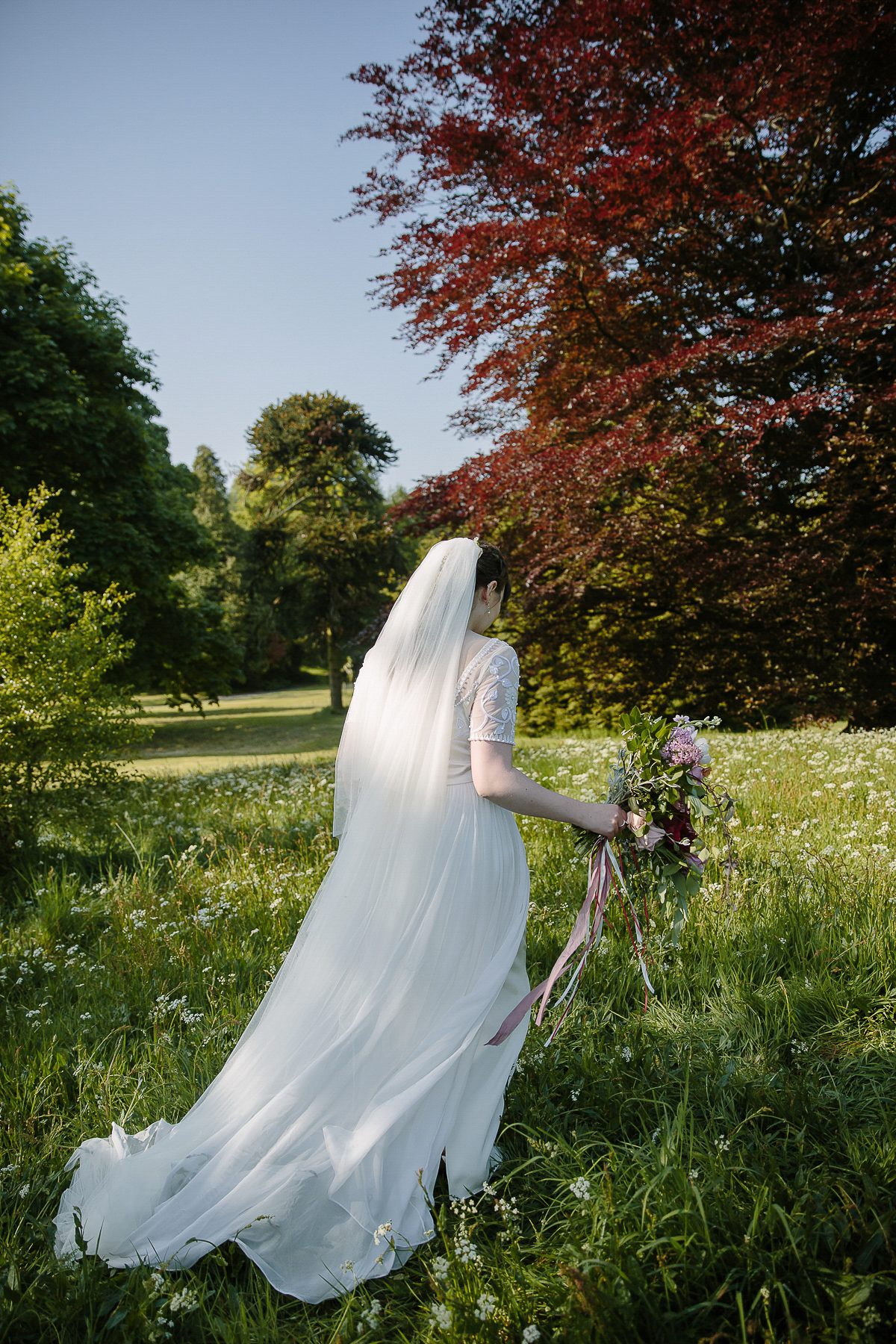 "Our photographer was Joanna Brown and we couldn't be happier with our photos. Jo just totally got what we were after and we both felt like we had a friend taking our photos even though we had only met once before on Skype. Jo managed to beautifully capture movement in a way I have not seen before, bringing our pictures alive. We absolutely loved the candid photos that caught the moments of emotion, that had Jo not been there we would have otherwise missed."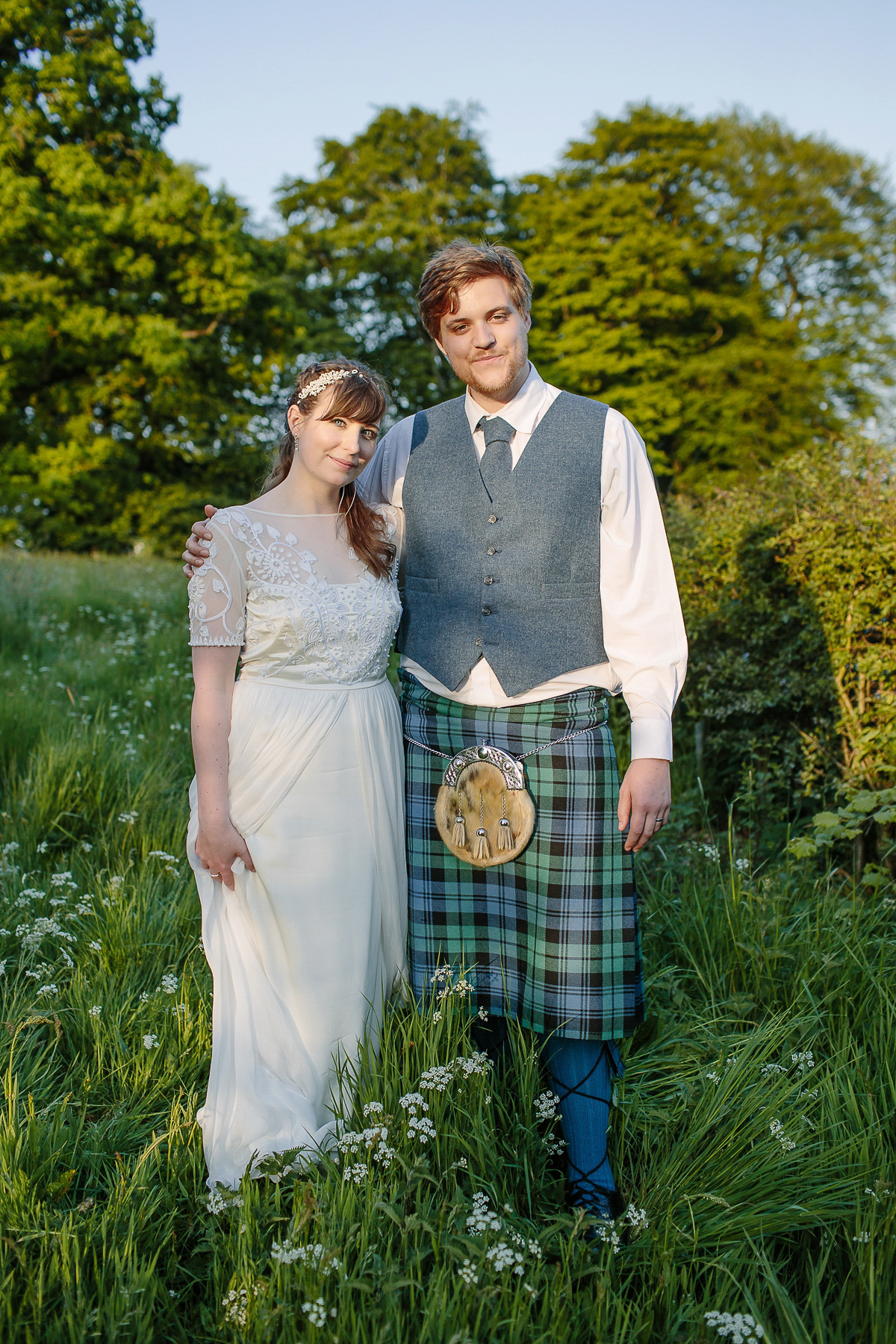 "Cinemate Films were absolutely brilliant. Really great guys and we hardly noticed they were there, but what they produced was incredible and we are very thankful that we decided to get a videographer."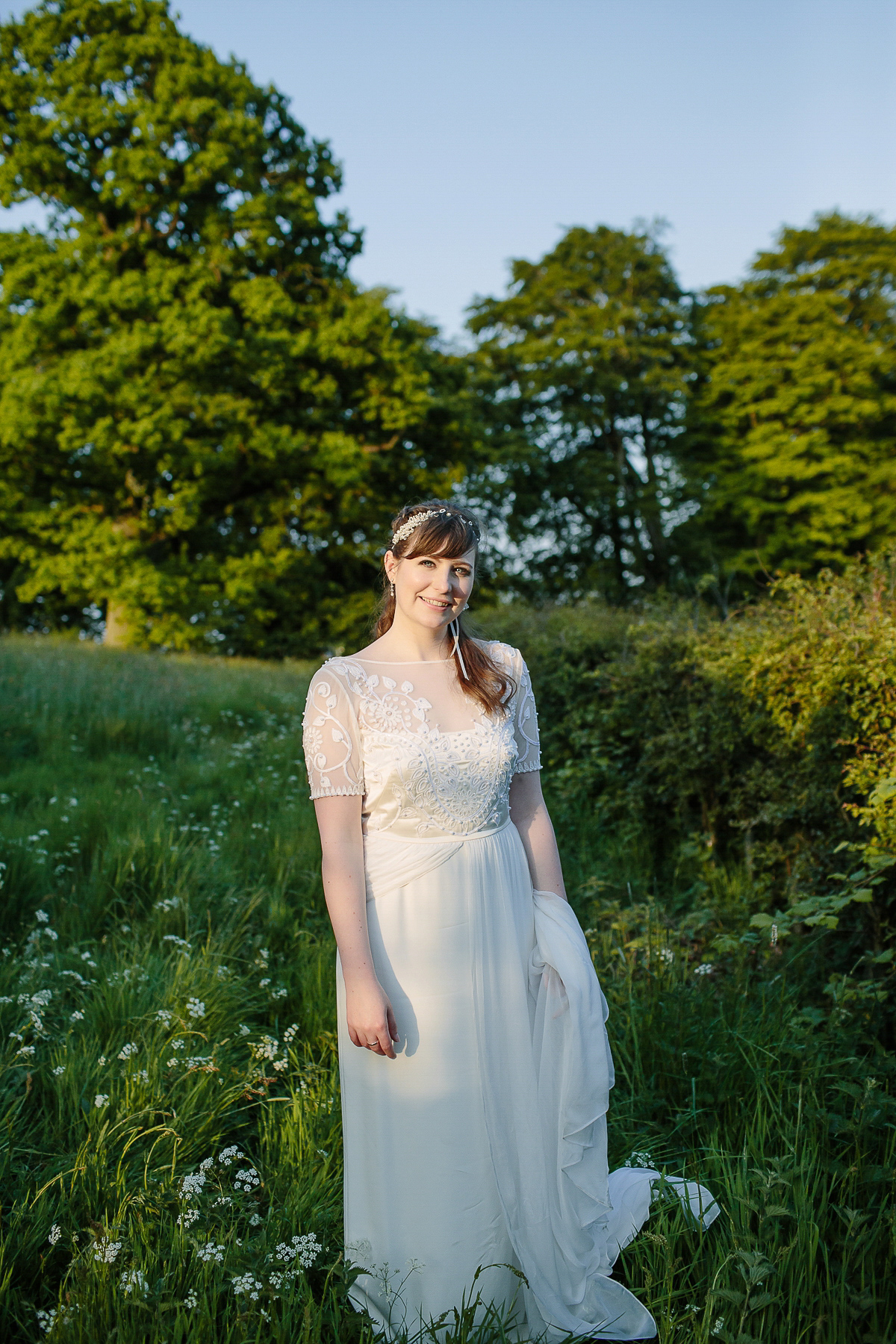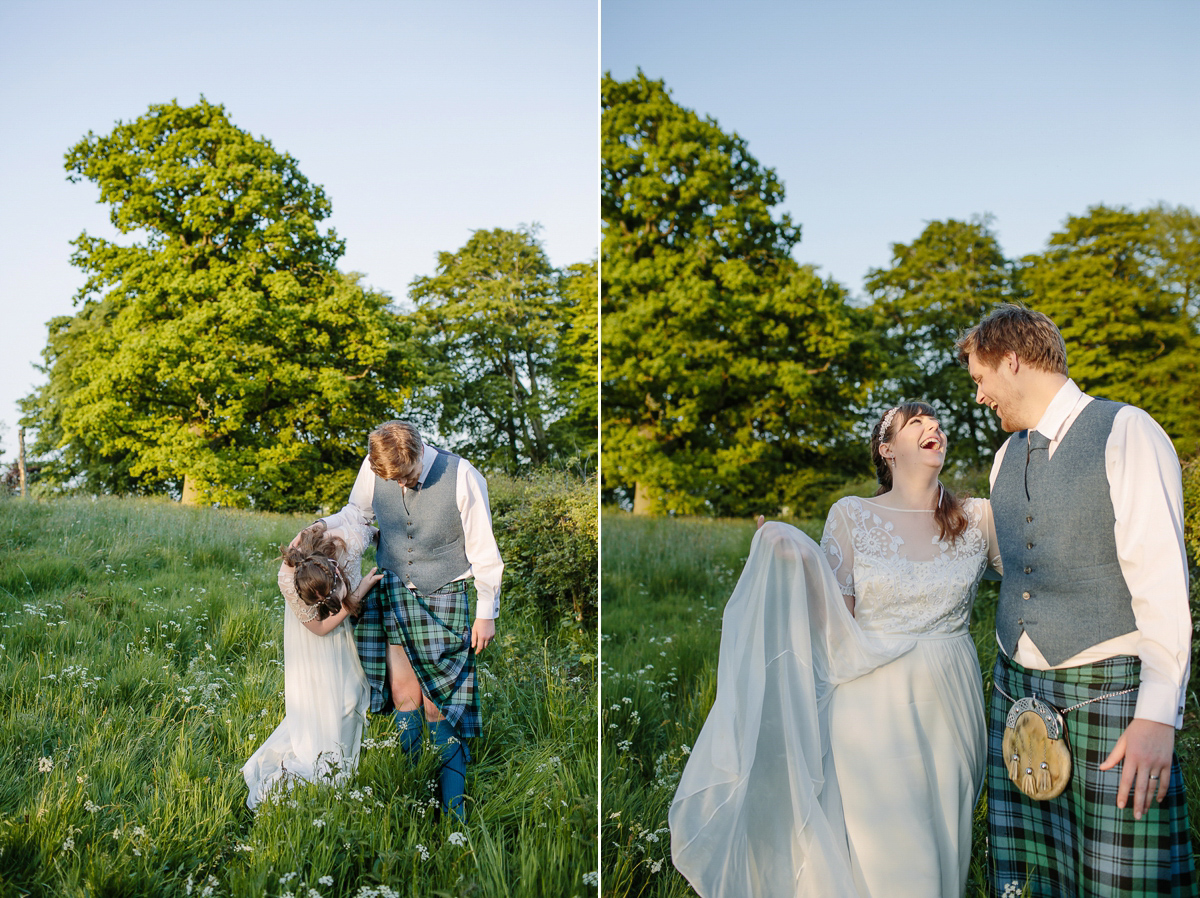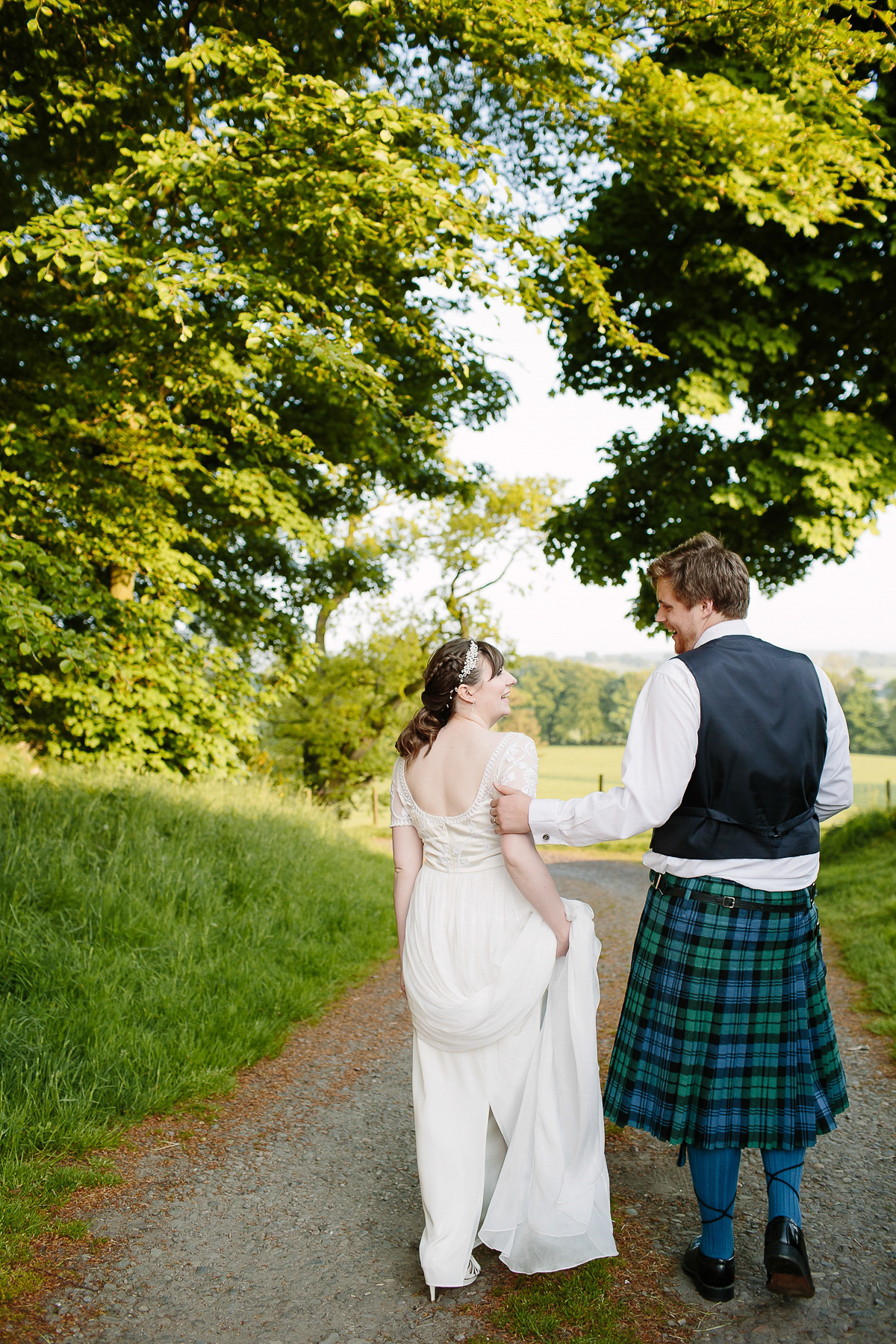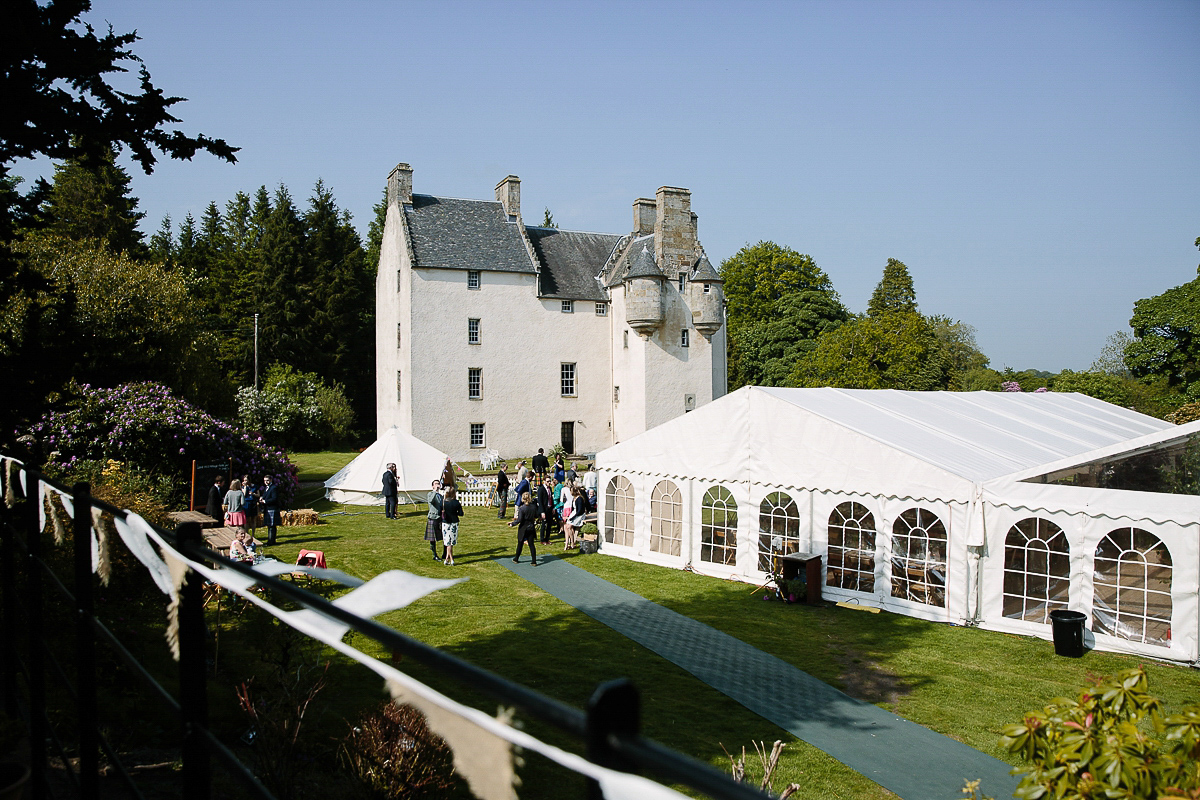 "We kept things pretty minimal in styling our reception – Pyrus Botanicals did an amazing job of putting up interesting botanical features to create backdrops and fill the space out. We also had some festoon lights which created a lovely hue in the evening. Apart from marrying my best friend, my favourite part was looking around the room and seeing so much joy and happiness – friends and family having a great time and being together."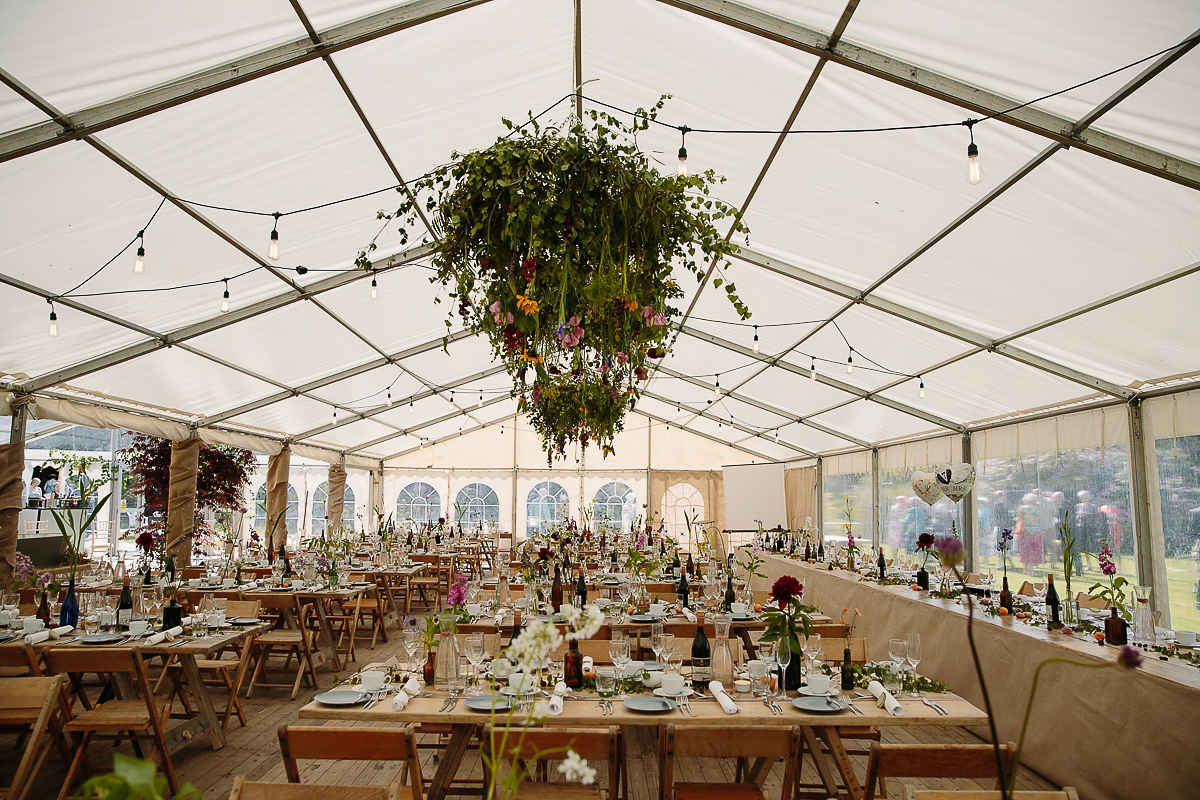 Carrying on the floral theme of their invitations, the couples' wedding stationery also doubled up as their sweet wildflower favours. While the place cards were purchased from Zoe Gibbons, Mrs S crafted the order of service herself and her brilliant mum dreamt up the table plan design.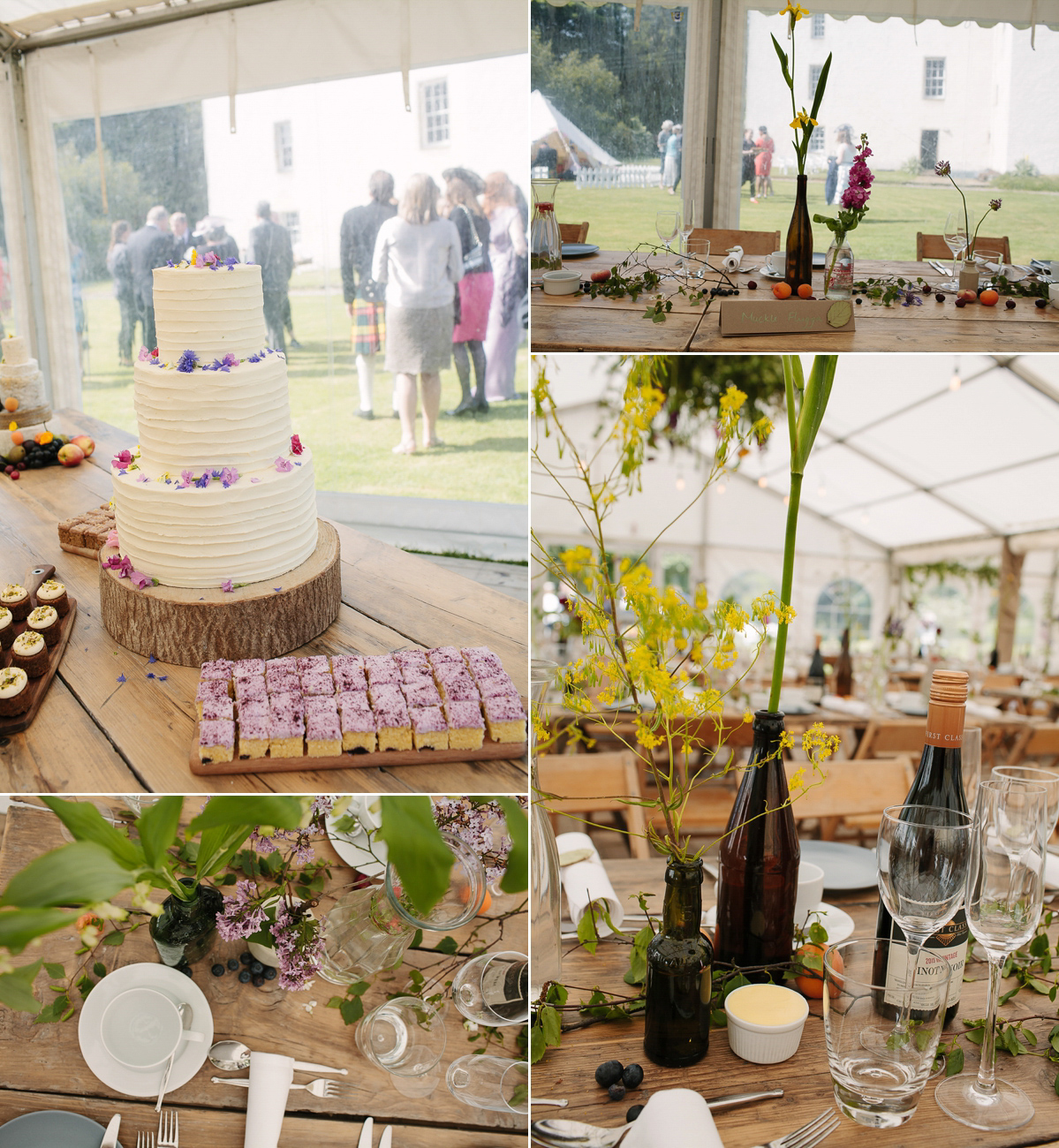 "Bespoke Catering were just amazing to work with and really got the atmosphere that we were trying to create. They were very laid back and able to go with the flow and at no point were we worried or stressed – perfect! Our cake was done by Big Bear Bakery, a company based in Glasgow."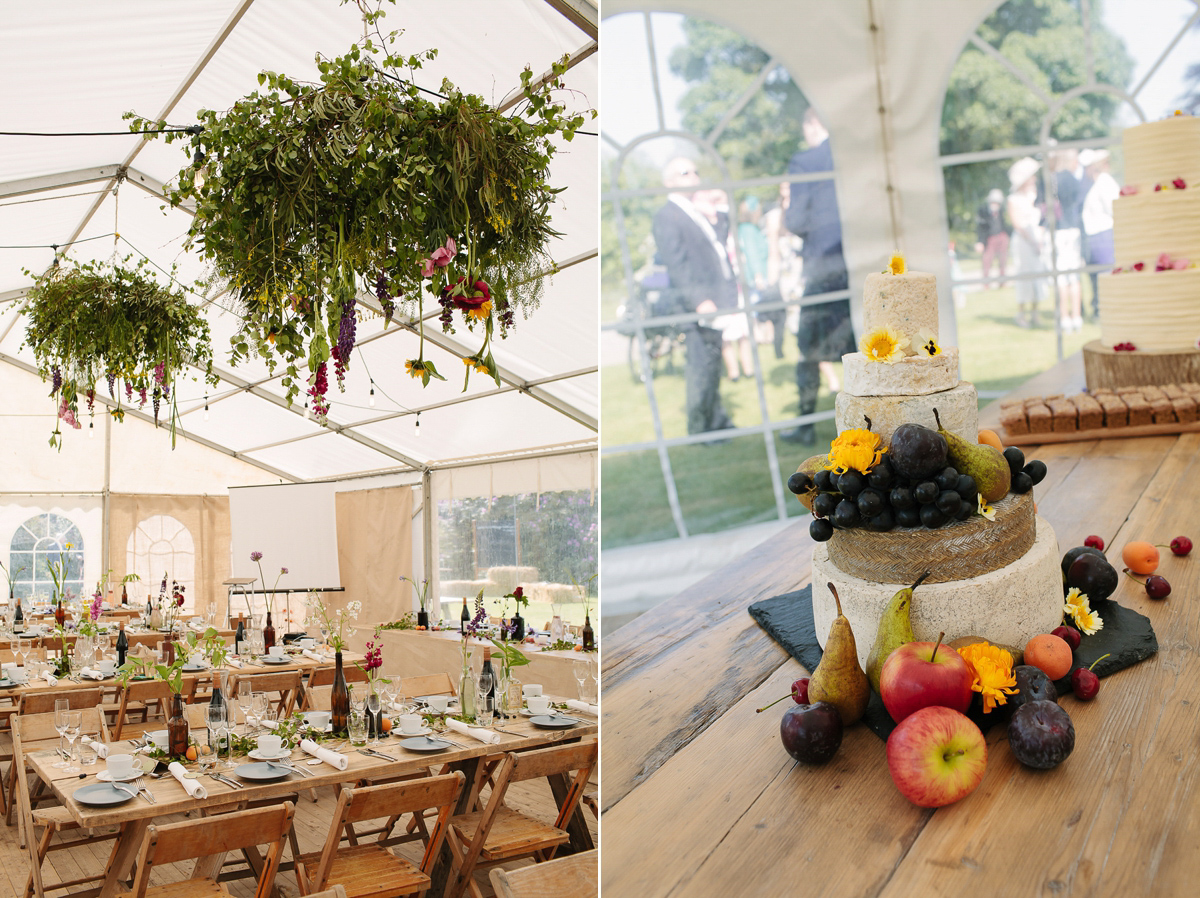 "We went with them because they were so easy to work with, their cakes looked beautiful and versatile, not to mention delicious . Their flavour combinations were so interesting, we had a three tiered cake with each tier a different flavour."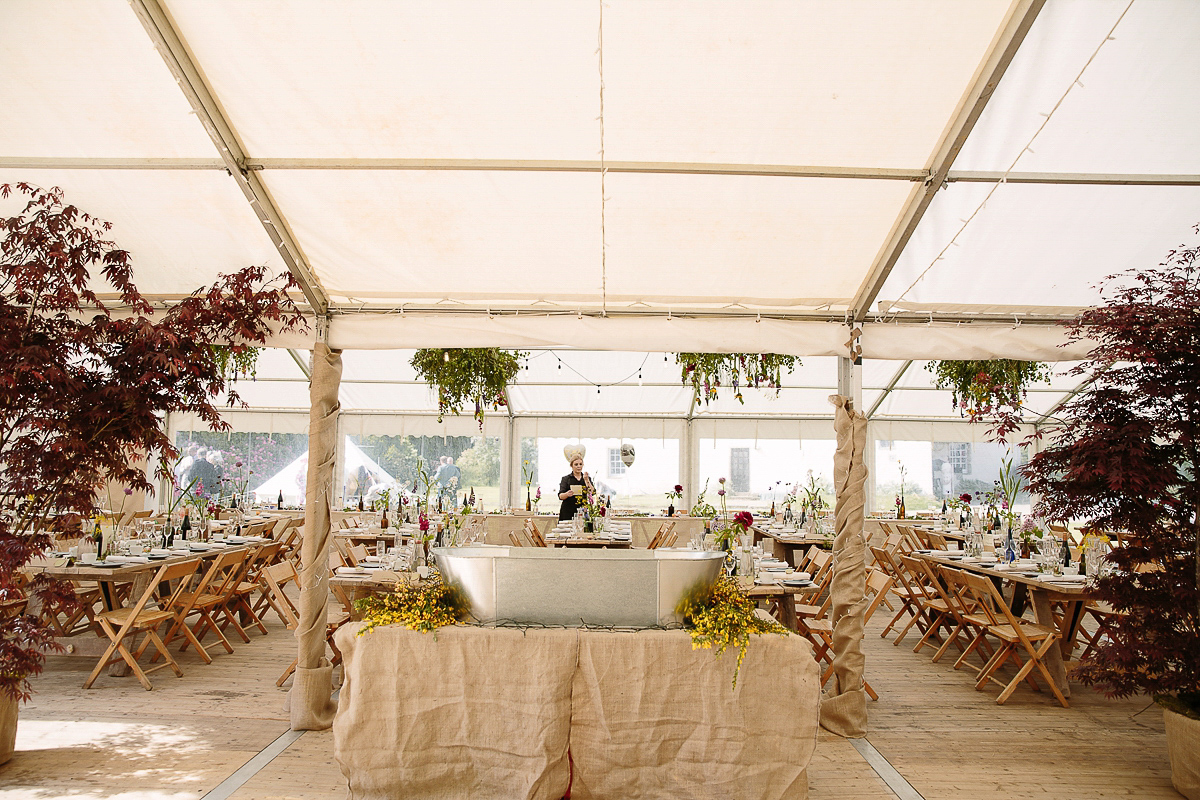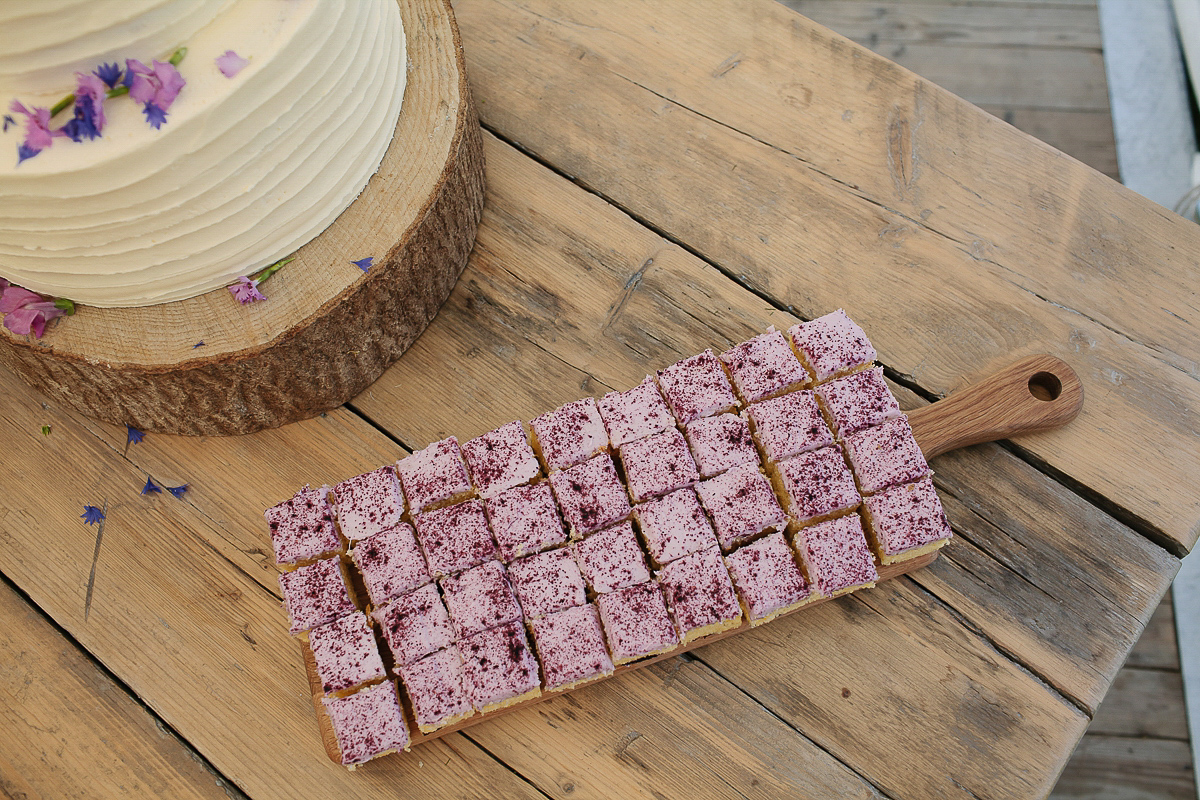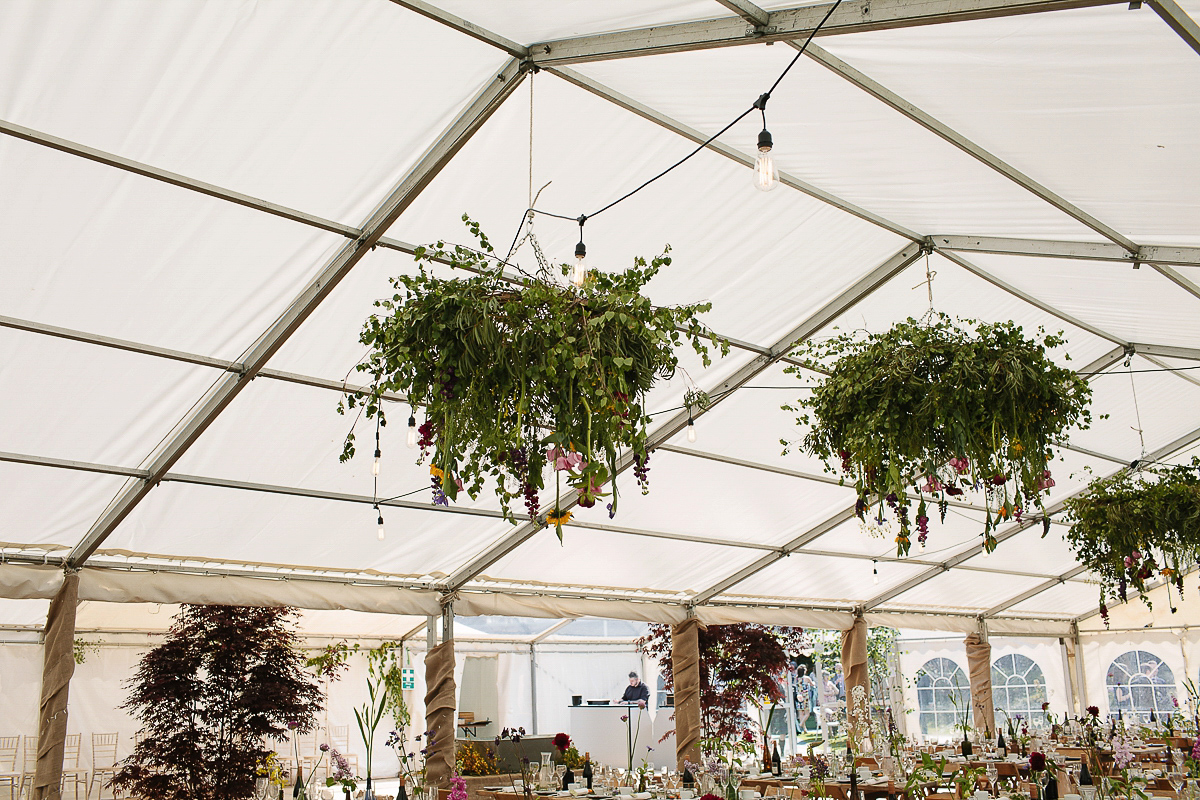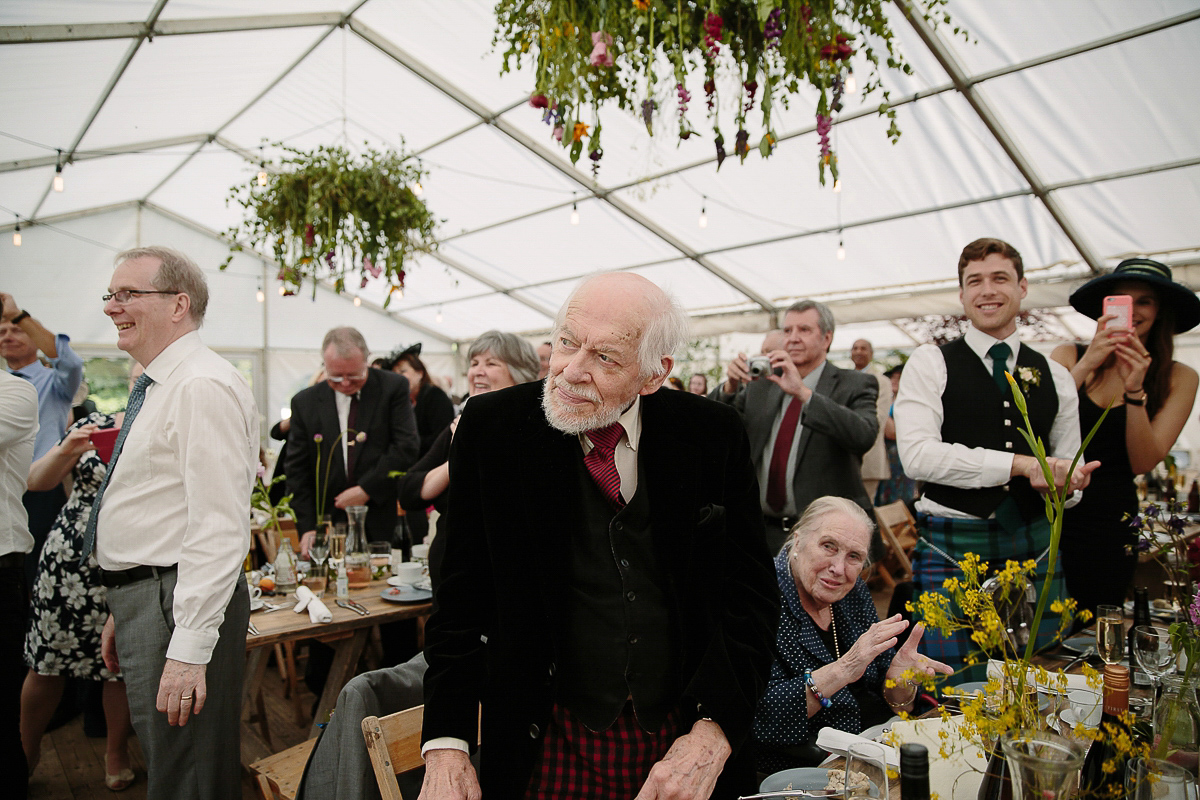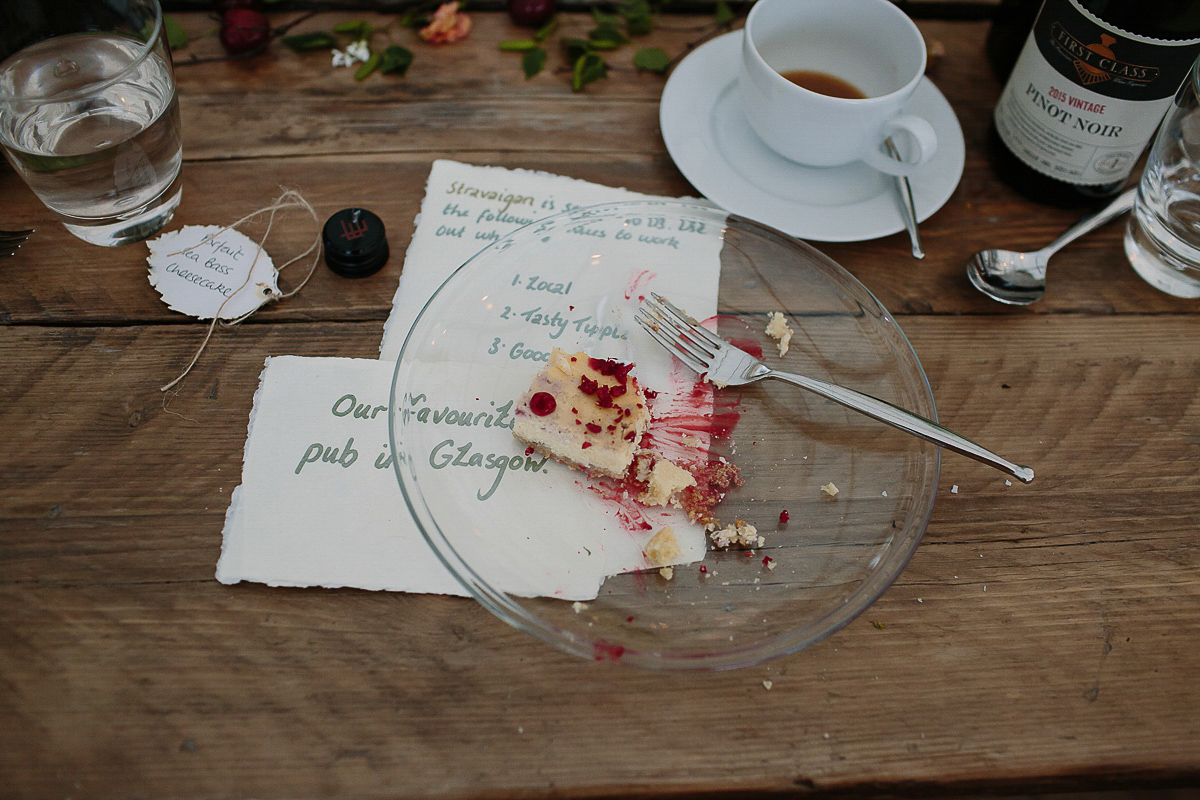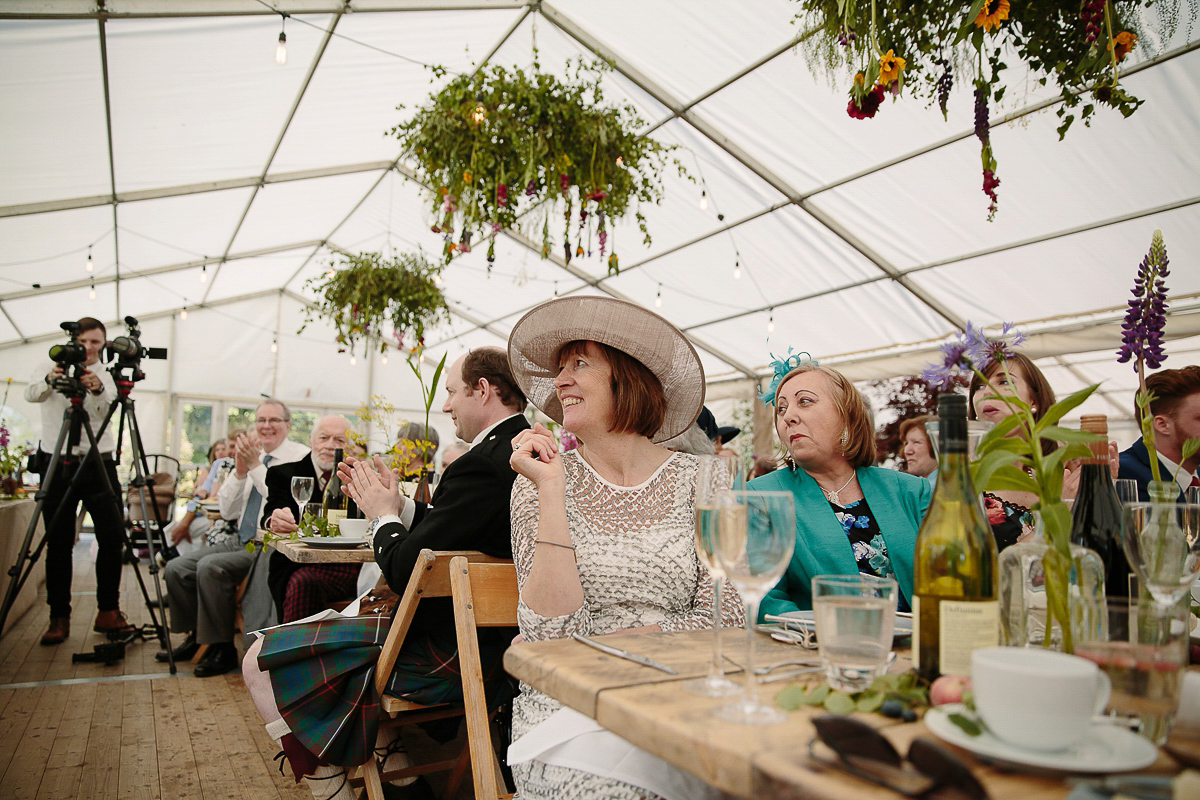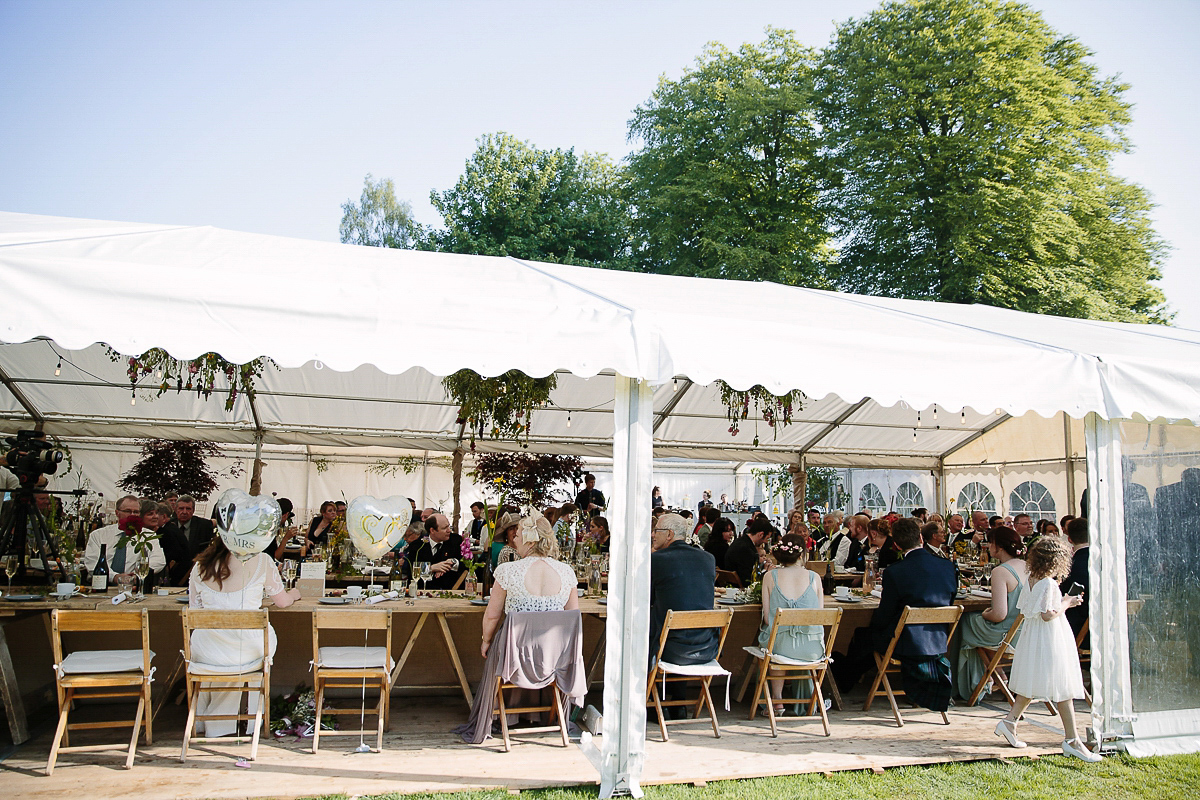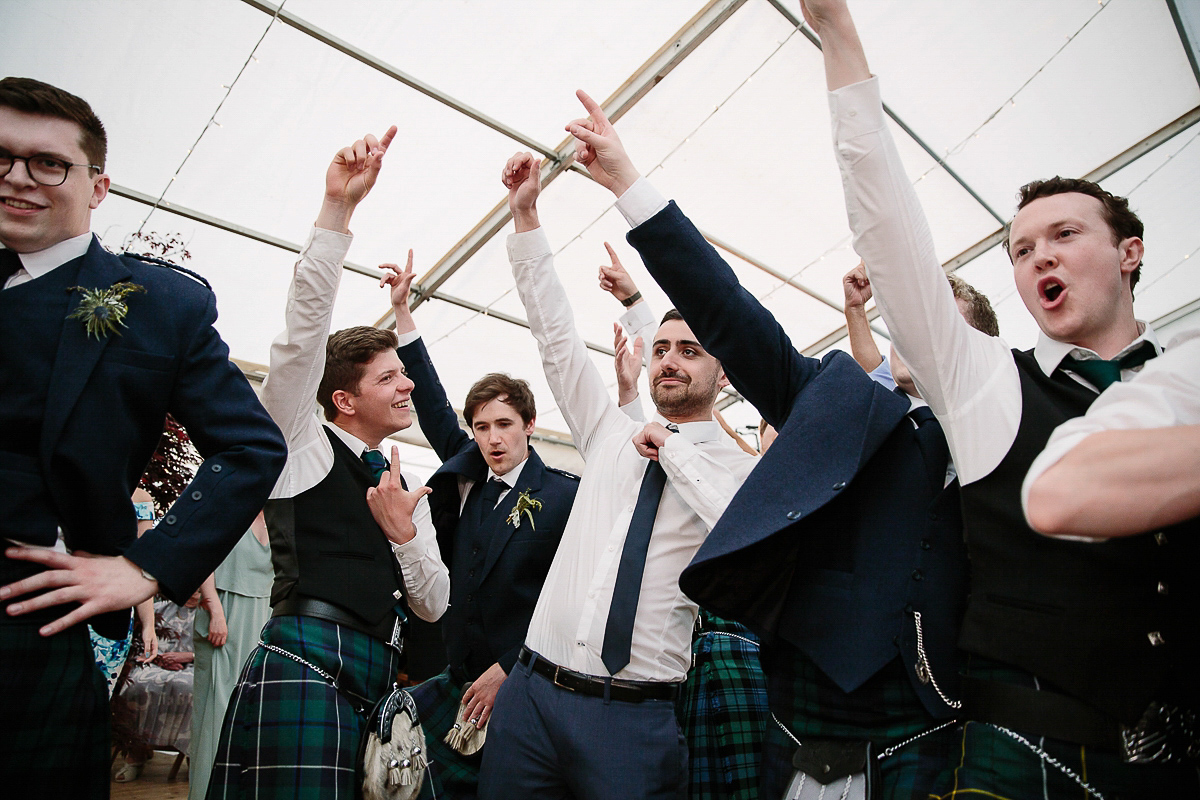 Mrs S swapped her blossom-studded hair do for a delicate hair vine designed by Rachel Scott for the evening's festivities. Ceilidh bands just look like the most fun, I've never heard of a Scottish wedding where the guests didn't do some serious boogying.
"Our first dance was chosen two nights before the wedding; Ho Hey by the Lumineers. We love so many songs and have so many that mean things to us as a couple, that we didn't know where to start. We also wanted a song to get people in the party spirit and get up on the dance floor for the ceilidh afterwards. The band used this momentum so well and it couldn't have been better."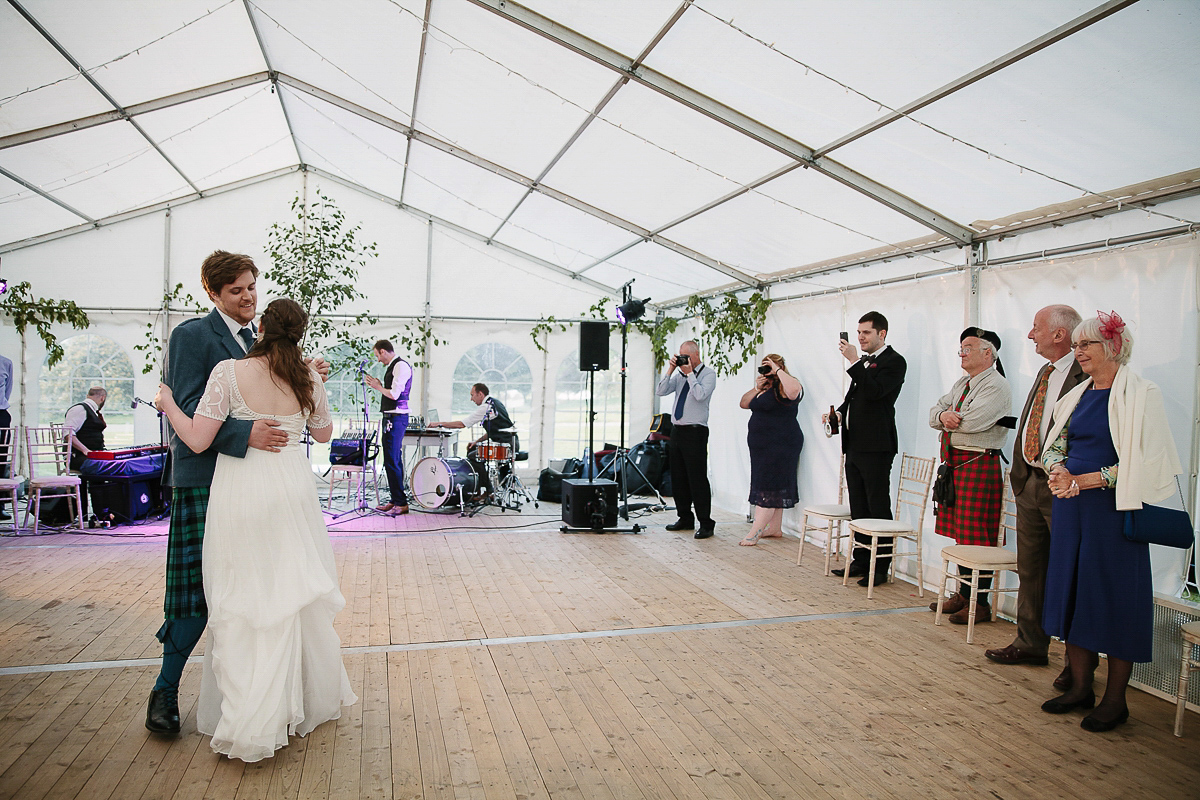 "Our ceilidh band was a very important part of our day, we both play music and so we wanted the band to be just right. We chose Cask Strength and they blew us away – we could not get over how good they were and they really made the evening portion for us. They were relaxed, very good at calling the dances and really got the vibe."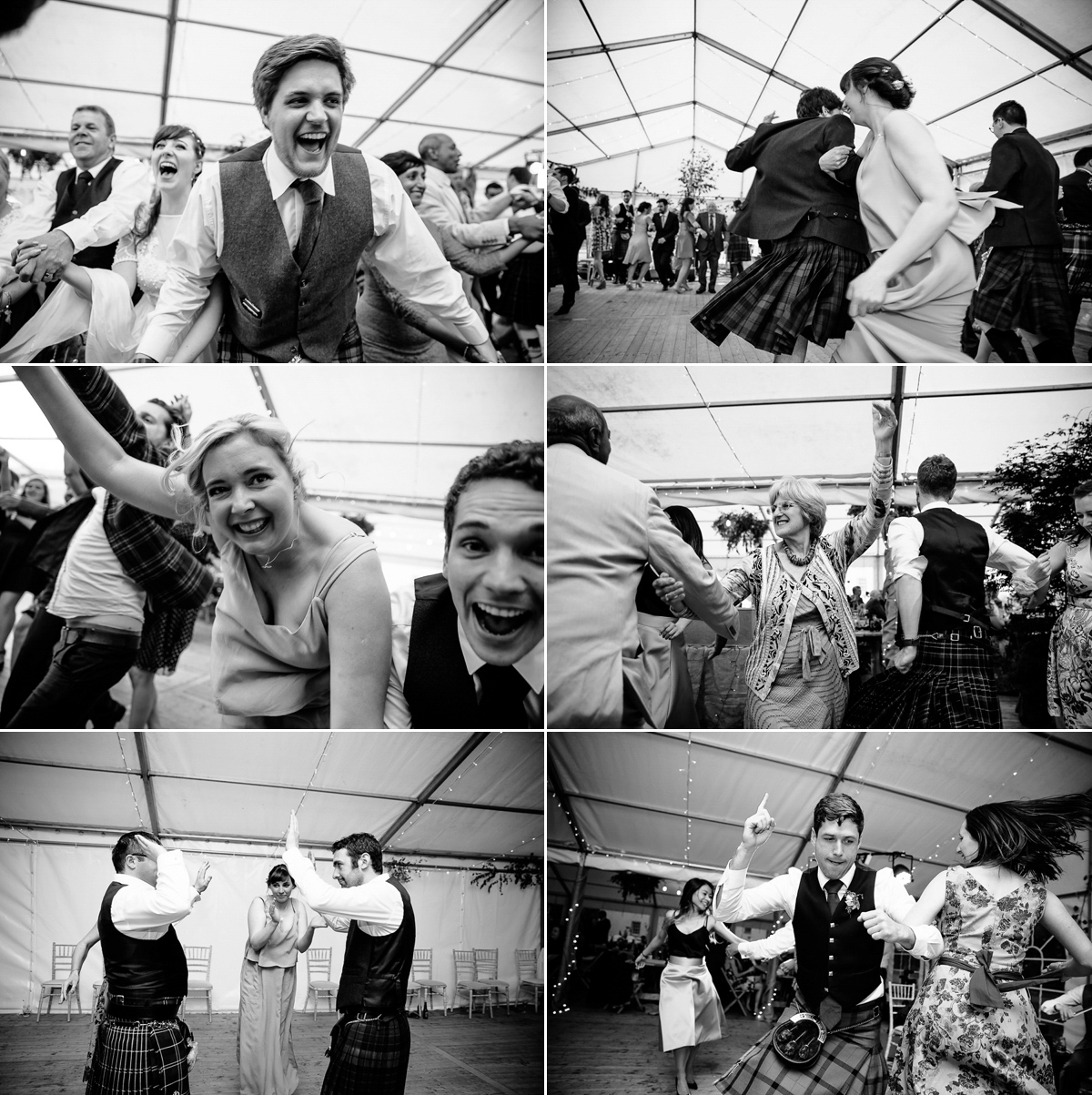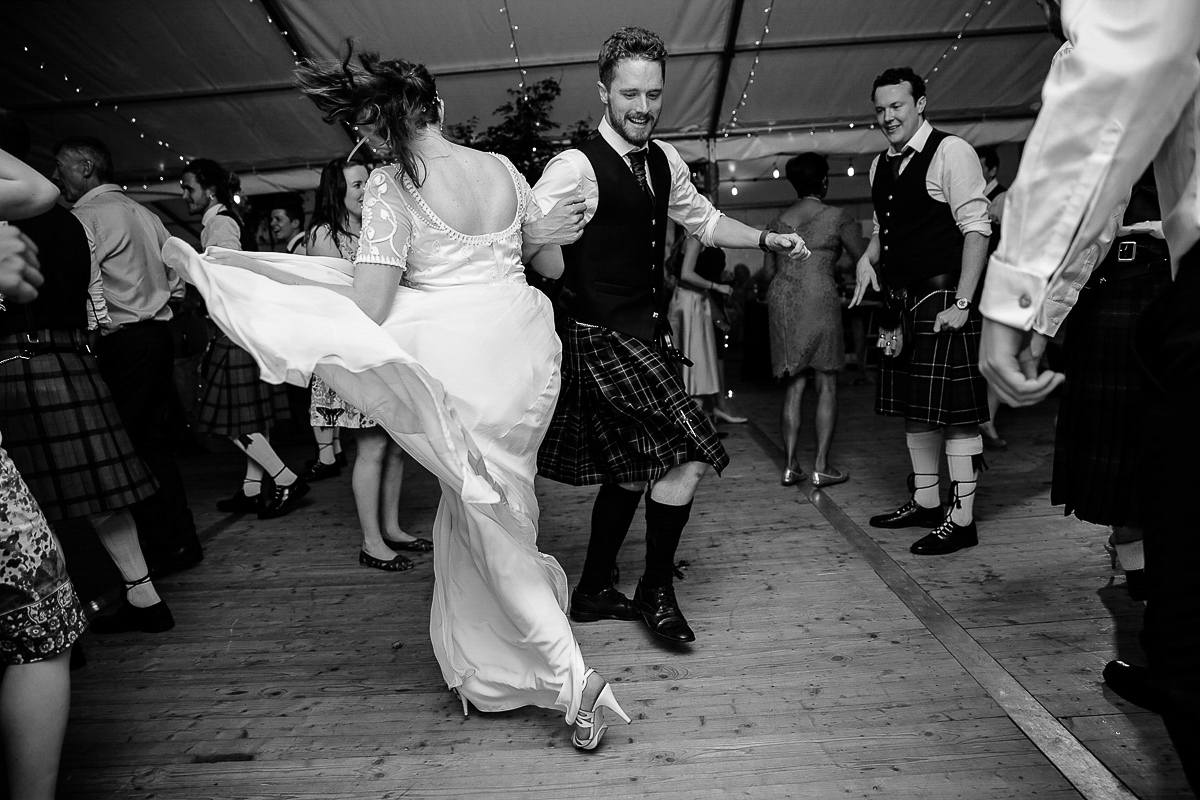 Words of Wedded Wisdom
"Be yourself – yourself as an individual and yourselves as a couple. At the end of the day everyone is coming to see you, they don't notice the bits of parcel tape that are sticking out of the hessian around the poles, or the fact that you forgot to get something to display table names on (whoops!), or that some of the bridal party were in the bathroom when the processional music started (it was a long car journey!) And if they do – they don't care because they are there to see you and to see you have an amazing time."
"I think on reflection I wouldn't have got so caught up on the little things and enjoyed the journey of planning a bit more. It was so special to get together with different members of each family to plan different elements of the wedding. Each of those moments I will cherish."
"We've got one life and a wedding is one day in that life, so if you are feeling stressed, take a deep breath and think of all the people that love you, want to support you and encourage you. Grab your husband or wife-to-be and spend sometime together in amongst all the wedding planning chaos because it is all these little in between moments that make up a life."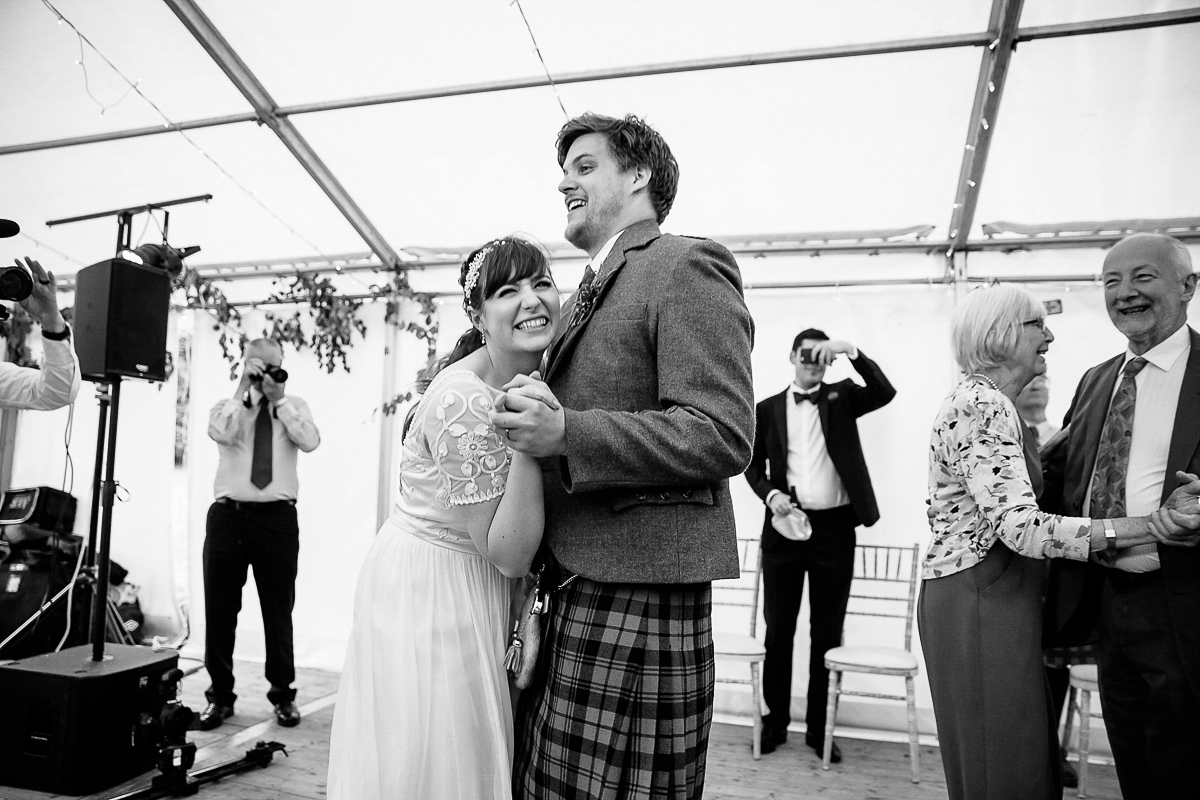 The lovely Mrs S found our beloved blog most useful in planning her wedding, so if you're searching for inspiration for your own summer celebrations, look no further. That just leaves me to say a great big thank you to Mr and Mrs S and the talented Joanna Brown Photography (whose work you can see oodles of in our fabulous archives by the way, including this Brixton-based beauty) for sharing this gorgeous day with us all.
Em x