So it's no secret that everyone here at Love My Dress has a major crush on A Most Curious Wedding Fair. This is genuinely the coolest, most creative, bursting-at-the-seams-with-awesomeness show around – packed full of insanely gorgeous suppliers and some of the loveliest people you'll ever meet. Last year I attended the show for the first time, and within minutes bumped into a fellow bride-to-be by the name of Alice – the very same Alice who played a starring role in this wild boho heaven of a wedding. (Also the very same Alice who has become my pleasingly regular Shoreditch cocktail date, and on whose sofa, ok dog's bed, I passed out on after a rather boozy murder mystery party.)
Today's achingly cool bride, Emily, Studio Manager for Knox Bhavan Architects, who wed husband Jon, Head Art Technician at the Victoria Miro Gallery on  2nd June 2016, found her wedding photographer at Most Curious – the truly talented Karolina of Hearts on Fire Photography. We are super proud to support this wonderful lady through our curated supplier directory, Little Book for Brides.
Karolina's work is modern, sophisticated and oh-so-cool; the perfect fit for this awesome couple, who held their ceremony at The Old Library at Dulwich College, and their reception at the industrial warehouse haven that is Brixton East 1871. Their vibrant wedding video by the bride's old school friend Harry Chesterton is the perfect way to kick this off.
"We wanted our wedding to be cool and casual. Both venues were so stunning that we didn't want to do too much to them – it definitely wasn't over the top. The wonderful Karolina at Hearts on Fire was our photographer. I first met her at A Most Curious Wedding Fair in East London after my bridesmaid bought me a ticket as an engagement present. I'd already seen Karolina's work on blogs and it really stood out to me, so when I saw it at the fair I went up and told her how much I liked her work. We kept in touch and although we had a friend lined up to do out photos, that fell through. Karolina stepped in and saved the day and we're so happy we had her."
Images by Hearts on Fire Photography
Emily headed to Otherwise Design Studio in Peckham to design her dream gown – a structural, modern beauty that has to be one of my all-time favourite wedding dresses. Simple, clean and with such gorgeous movement, it's totally divine, and so beautifully paired with minimal Whistles heels in the same nude colour palette as the bridesmaids dresses, purchased from my high street favourites, COS and Zara. You may also recognise musician La Roux in amongst that fabulous girl gang, an über-cool maid of honour in her vintage silk shirt and tailored trousers."The wonderful couple Christopher and Lera of Otherwise Design Studio, helped me design my dress based on an image I showed them of a (non-wedding) Rosie Assoulin dress I had found on Net-A-Porter. I really loved the cinched waist and high neckline, but most of all I loved the shape and the way the beautifully heavy wool crepe made the dress move. The fabric was from the Aladdin's cave that is Joel & Son Fabrics, off Edgeware Road (recommended by Lera.) I really wanted something structural, not flimsy, with weight to it."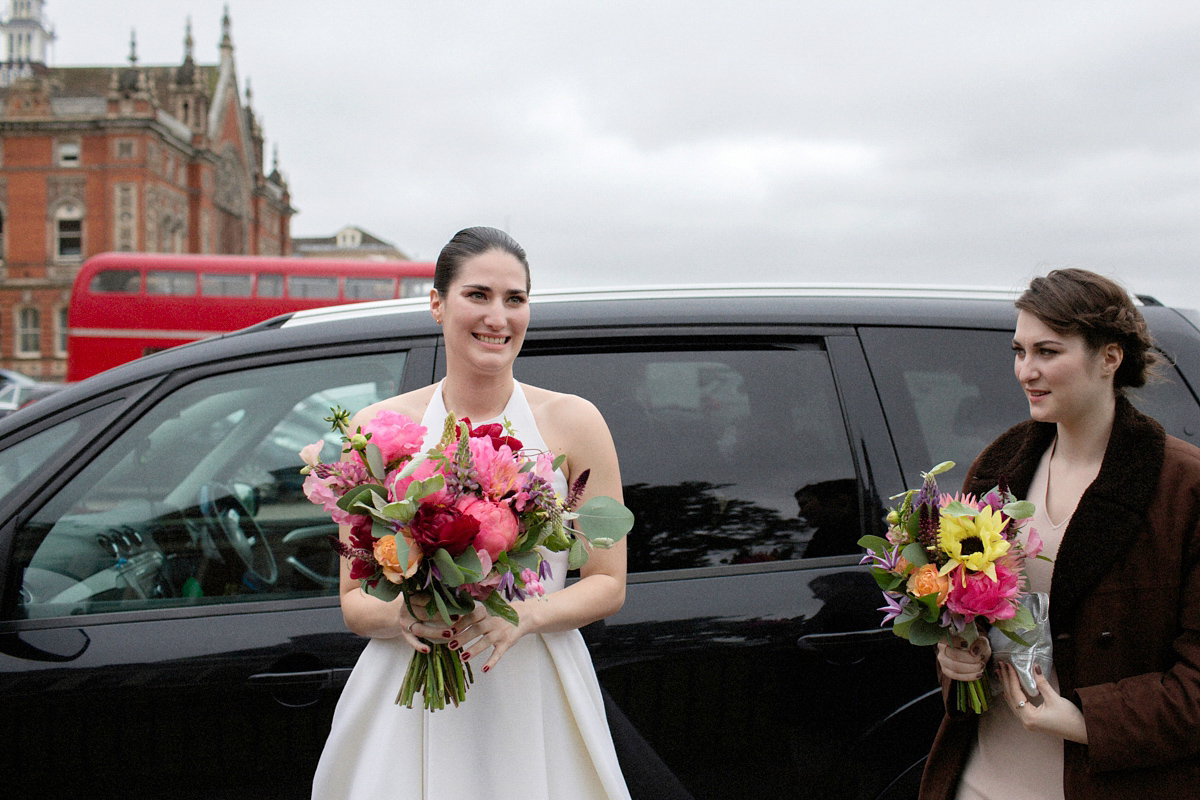 Emily and Jon chose the stunning Old Library at Dulwich College to hold their ceremony, a wood panelled, red brick beauty with vaulted ceilings and filled with gorgeous light.
"We chose The Old Library at Dulwich College because it's beautiful, but also because it was important to us that we could legally get married in front of our friends and family, so we were somewhat limited by places with licenses that could fit everyone in. We also wanted it to be close to our home together in Peckham Rye."
Emily walked down the aisle with her dad, Simon Burrett, to the theme tune from the show Transparent, a beautiful piece of music by composer, Dustin O'Halloran. Our bride has long been a fan of this extremely emotive music, which the couples' dear friend Freddie played on piano for them.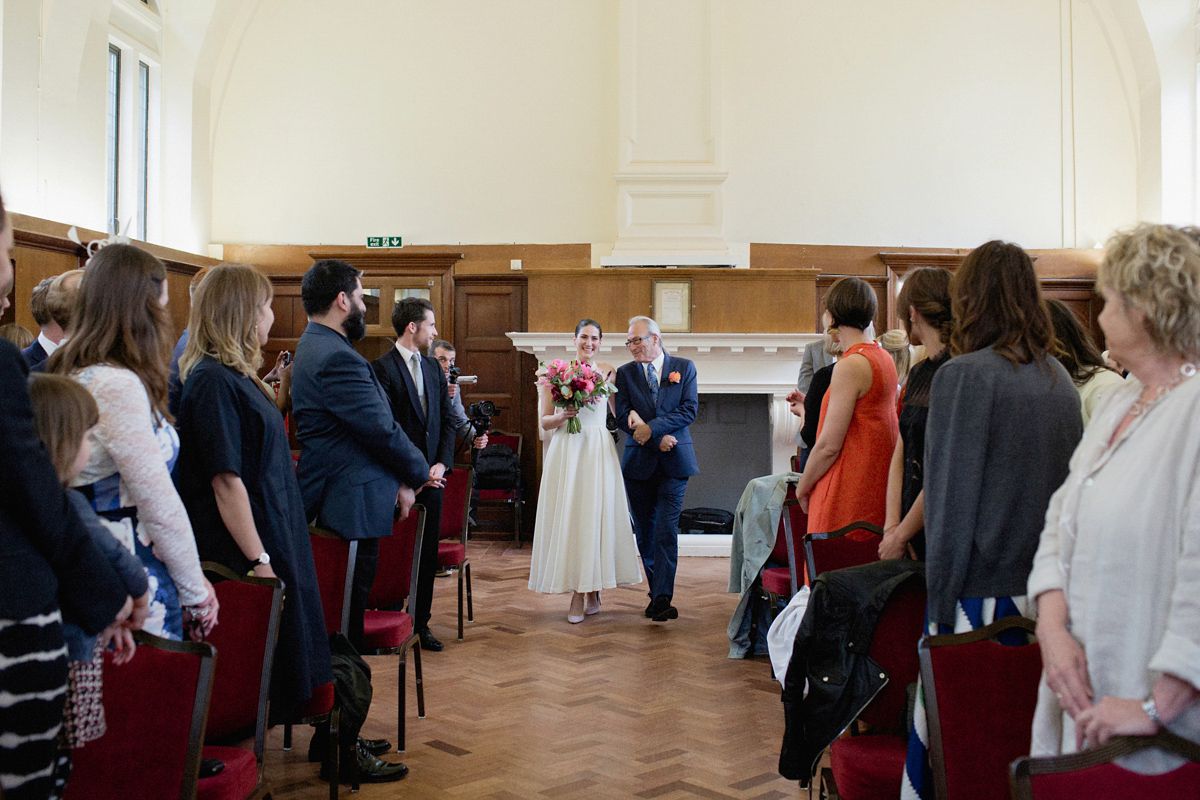 "Jonathan and I met when we were both working at White Cube gallery in Hoxton (before it closed). I was there on a temporary contract and we hooked up at the Christmas party. After three and a half years together, Jonathan asked me to marry him in Lyme Regis, Dorset on a weekend away to see family."
"He asked me in our hotel after breakfast in bed on the Sunday morning. My grandfather and parents live close by so we were able to tell them in person that day."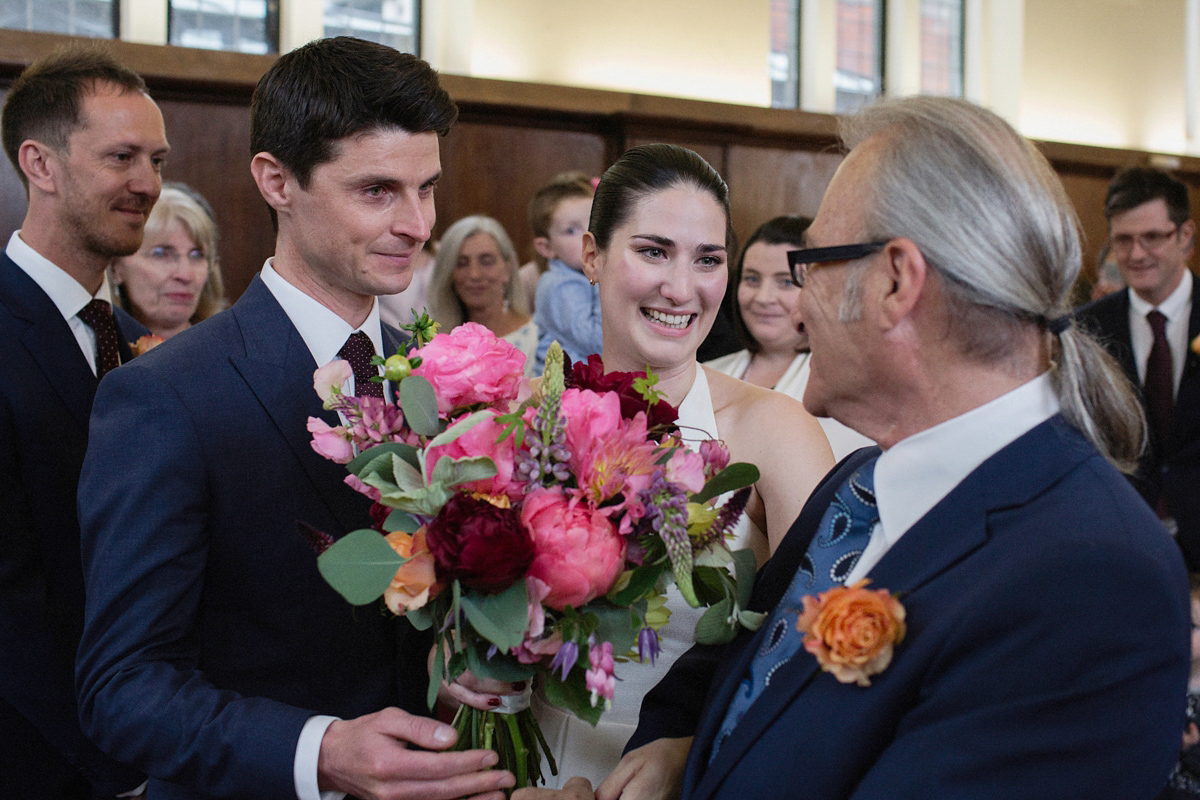 Jon wore a suit from Aquascutum, paired with shoes from Loake. His groomsmen accessorised with ties bought from the store Peckham Rye, a little nod to the couple's East London home. In keeping with the structurally inspired style of Emily's dress, the couples' Bauhaus inspired e-invites were designed by their close friends, Sarah and Matt Fisher of Involved design agency and their flowers also had a bold, architectural feel, the colours particularly lovely against the muted tones of the bridesmaids' ensembles.
"Neither of us could stop crying the whole way through the ceremony so tailoring our vows would have made it even harder. We did have a reading by Jonathan's sister, which was a poem written by him. Jon is a wonderful writer and it comes easily to him, unlike me."
"Both our rings were from Tomfoolery London, a friend's amazing family jewellery store. Jon didn't want anything too silver and cold, but also didn't want a super bright and brash yellow gold so Laura, the owner, helped him chose a brushed, slightly dulled, gold crescent ring. Jonathan chose his ring within a few minutes of Laura's help and I had chosen my ring on the website before we got there. I was always sure I wanted a rose gold ring; rounded all the way rather than being flat to the skin or crescent shaped. Laura had designed a ring exactly like that, only this one had an added tiny, flush diamond."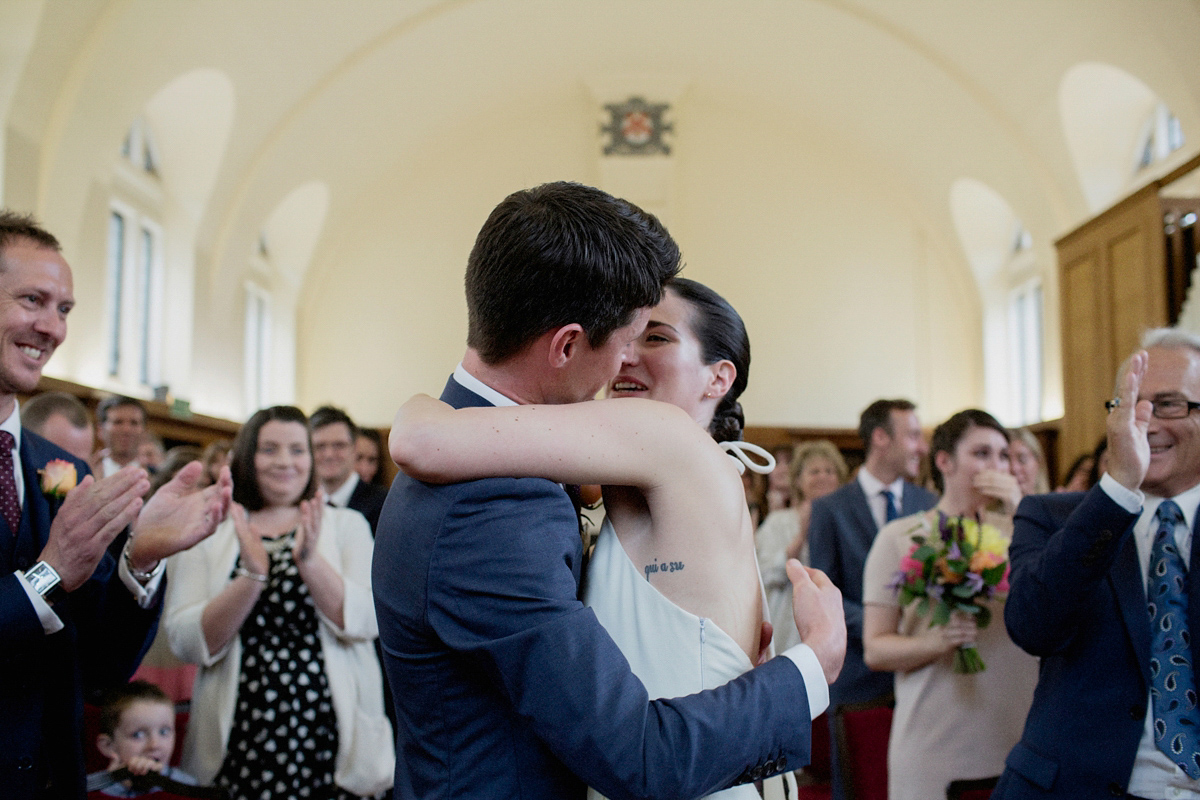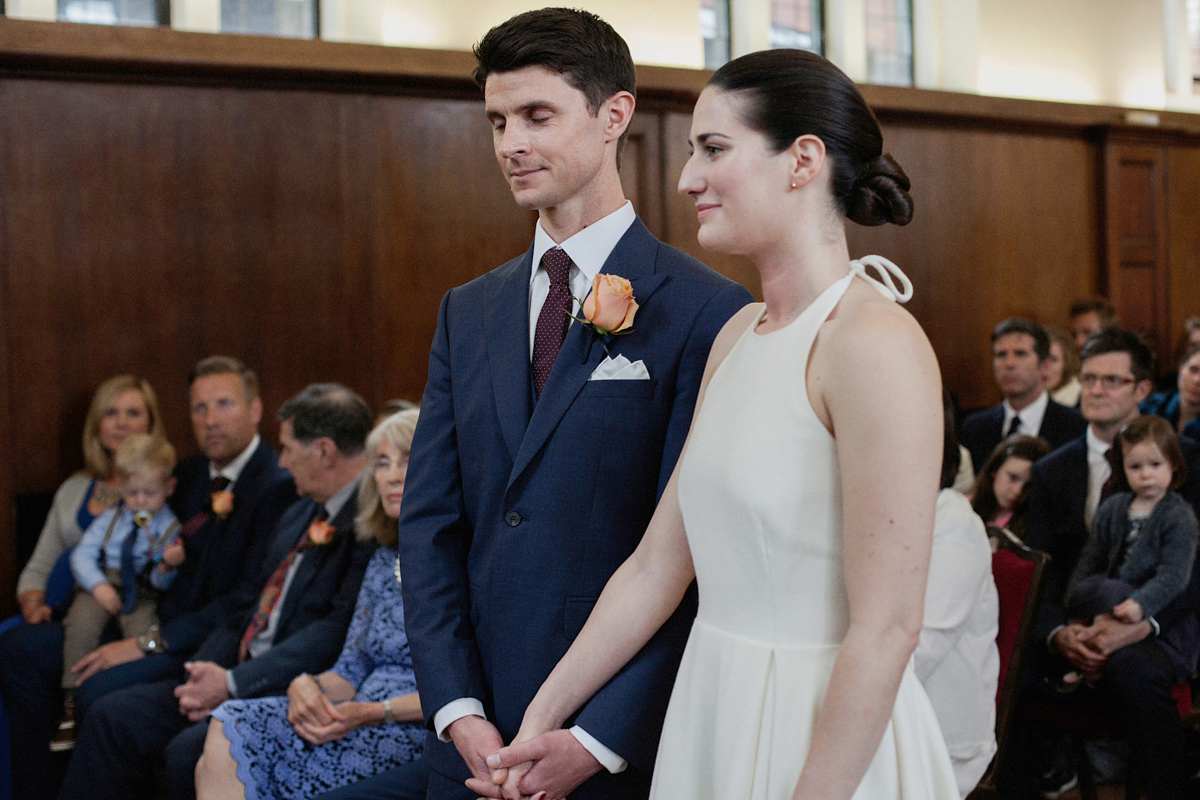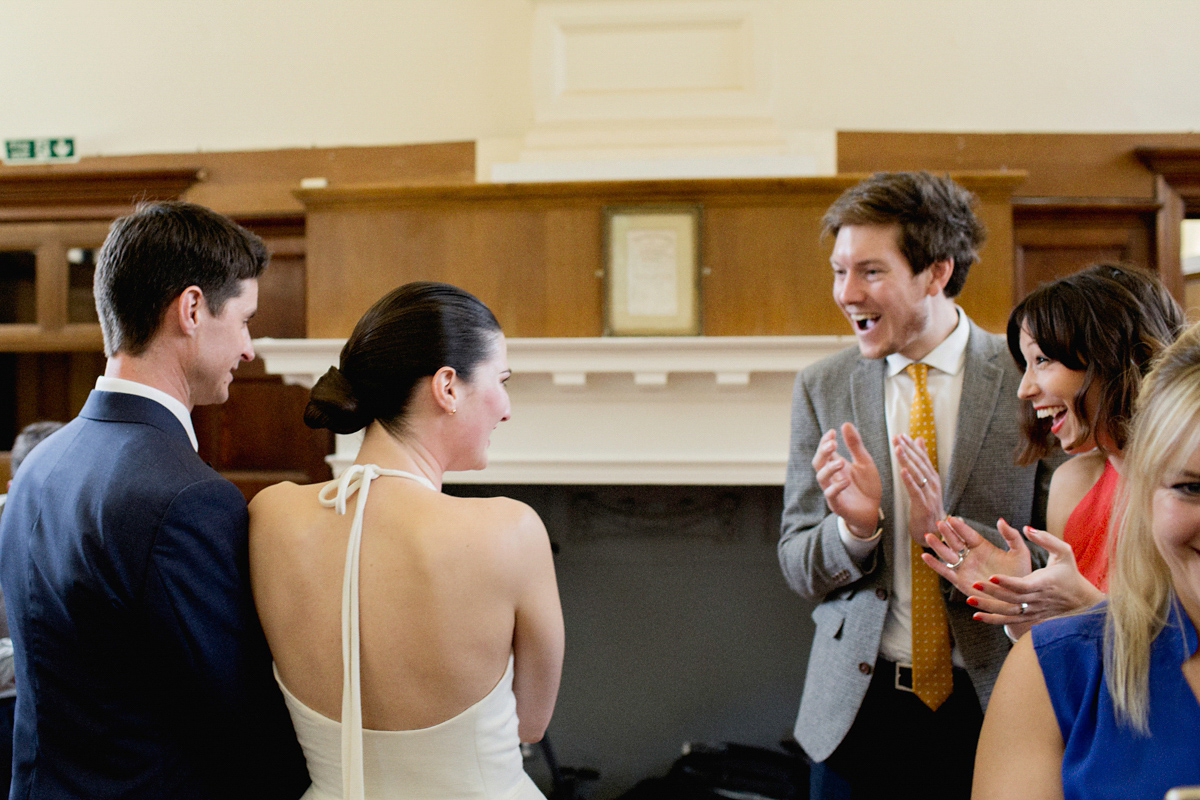 "A friend recommended Charlie at The London Flower House. I looked at her website and immediately loved the vibrancy and unusual shapes. I didn't want anything too girly or creamy or pink – I wanted sculptural, bright and bold. I hugely regret that I didn't press the flowers."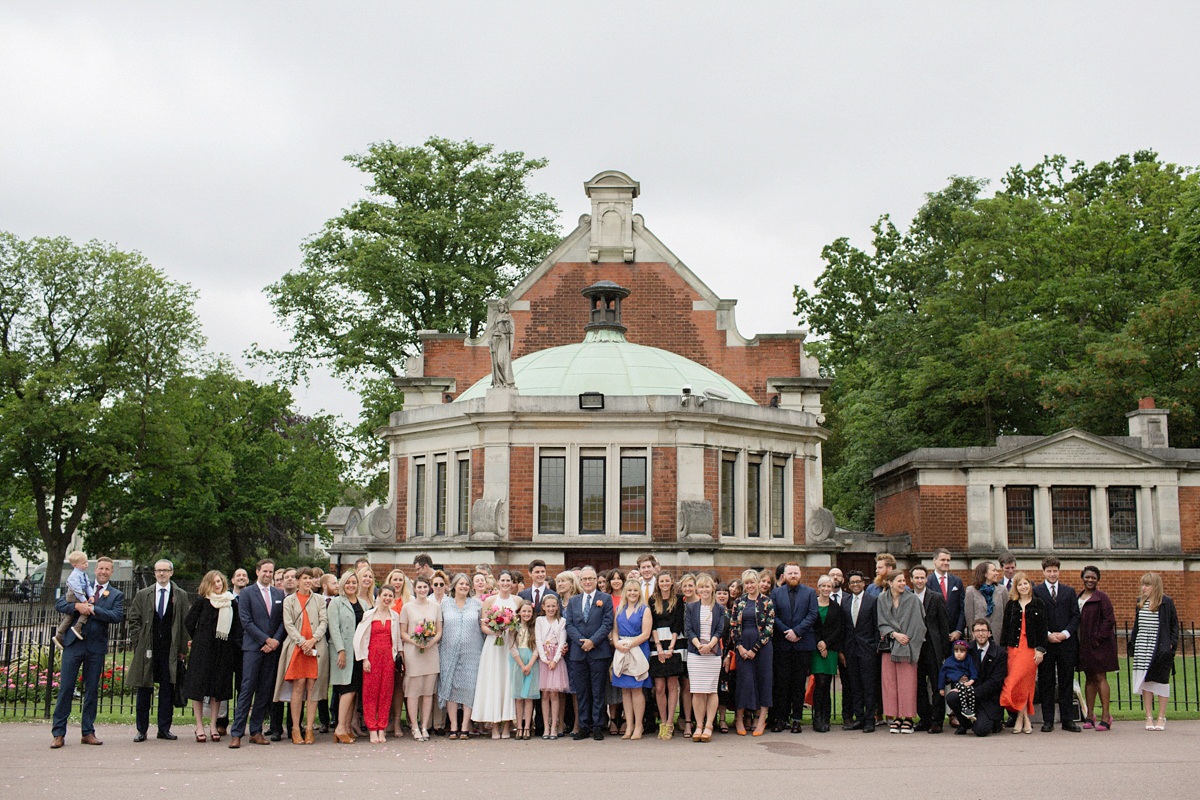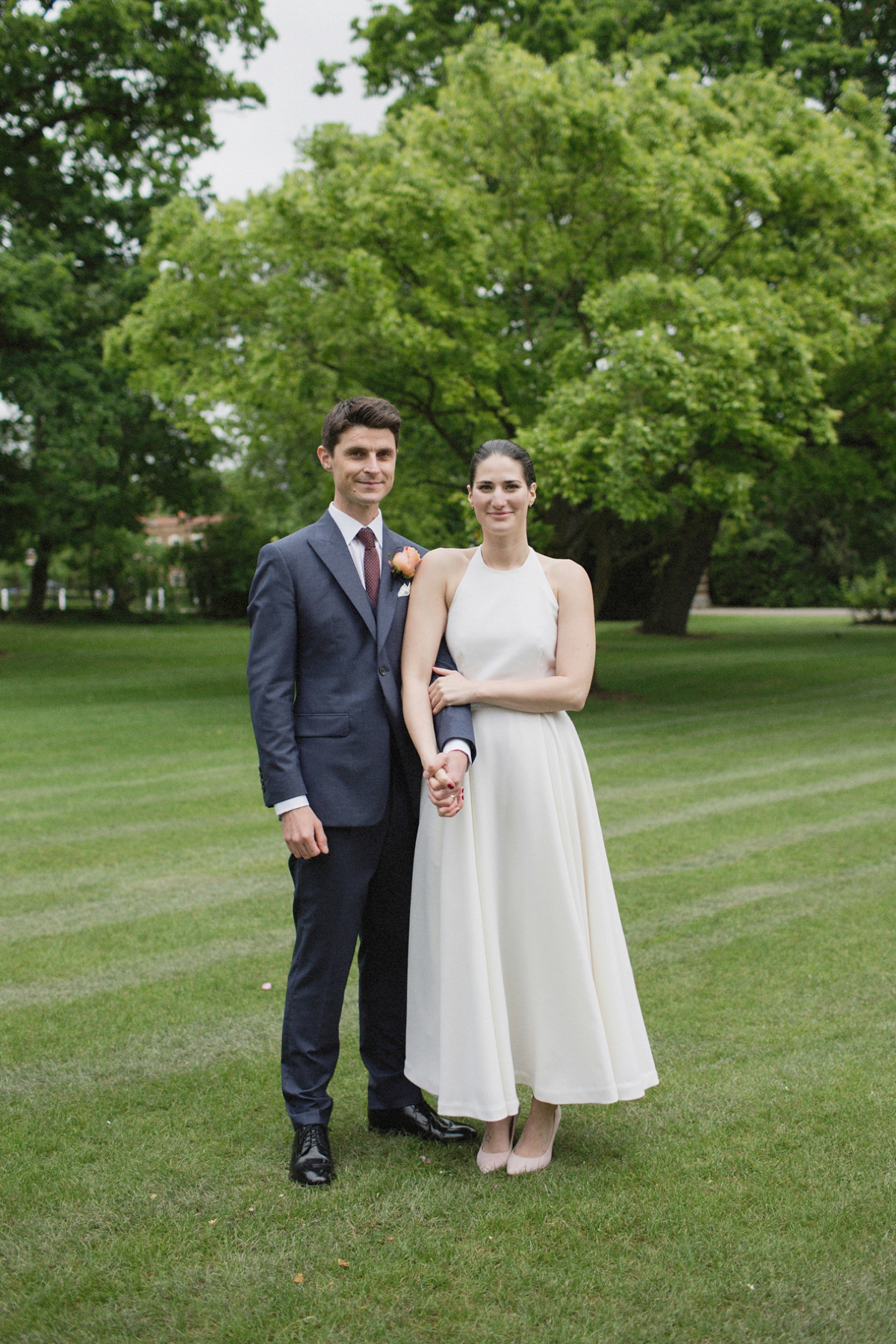 The newlyweds left their ceremony venue to the musical strains of Sound & Vision by David Bowie before hopping on an Old London Bus to their reception at Brixton East. Emily and Jon were lucky enough to have their wedding catering supplied by a family friend, Julia Gray. Guests enjoyed relaxed seasonal food; grilled mackerel and spring lamb with seasonal vegetables, sharing platters and lots of salads. Yum!
"I fell in love with Brixton East at first site; Ansy the owner is lovely and so helpful. We have a very good friend who had made hundreds of pom-poms for her wedding in Germany, and she became the ringmaster of the decorations – we were her elves for a couple of weekends of tissue paper cutting. Jon and I mutually agreed on green hues with the pastel pink, but I really like the idea of having a golden sunshine cloud above the main table."
Emily and Jon encouraged guests to re-home the plants and succulents decorating the dining tables, sweet favours bought from Dulwich Pot and Plant Garden. I love the idea of your loved ones taking a piece of your day home with them, a real living piece of your history to be loved, nourished and nurtured.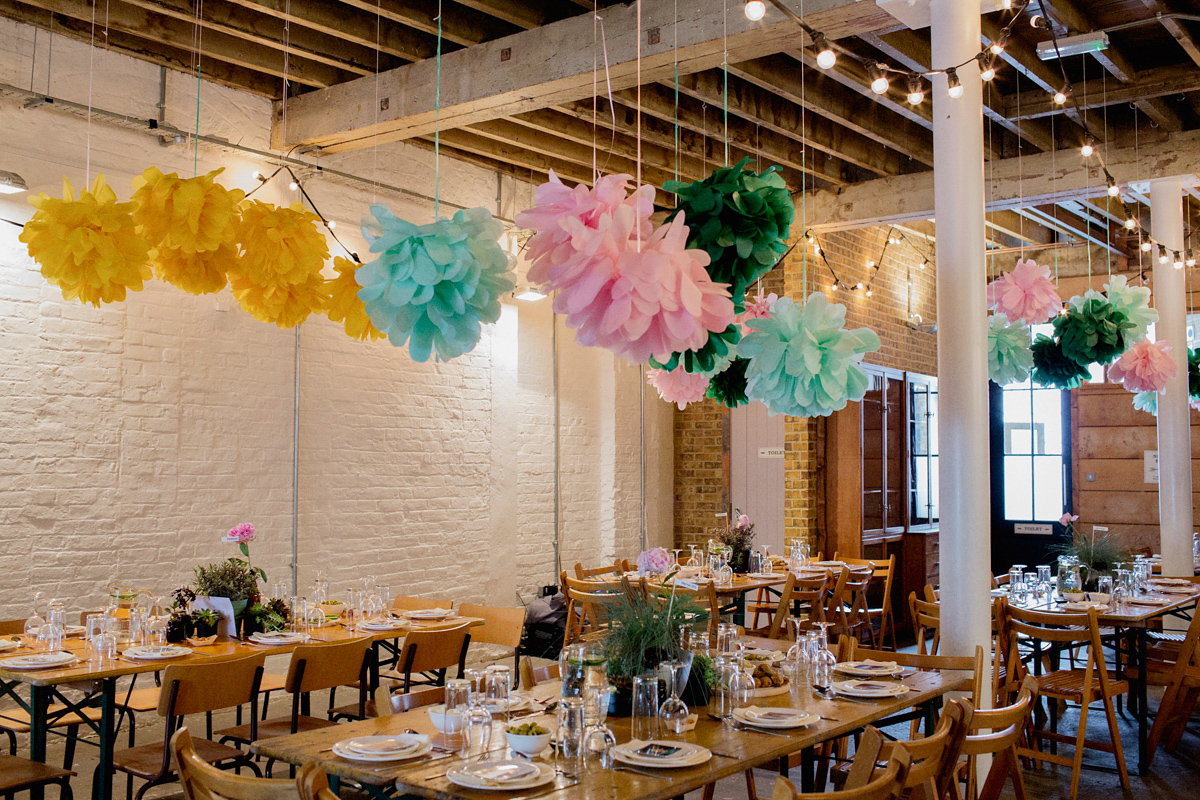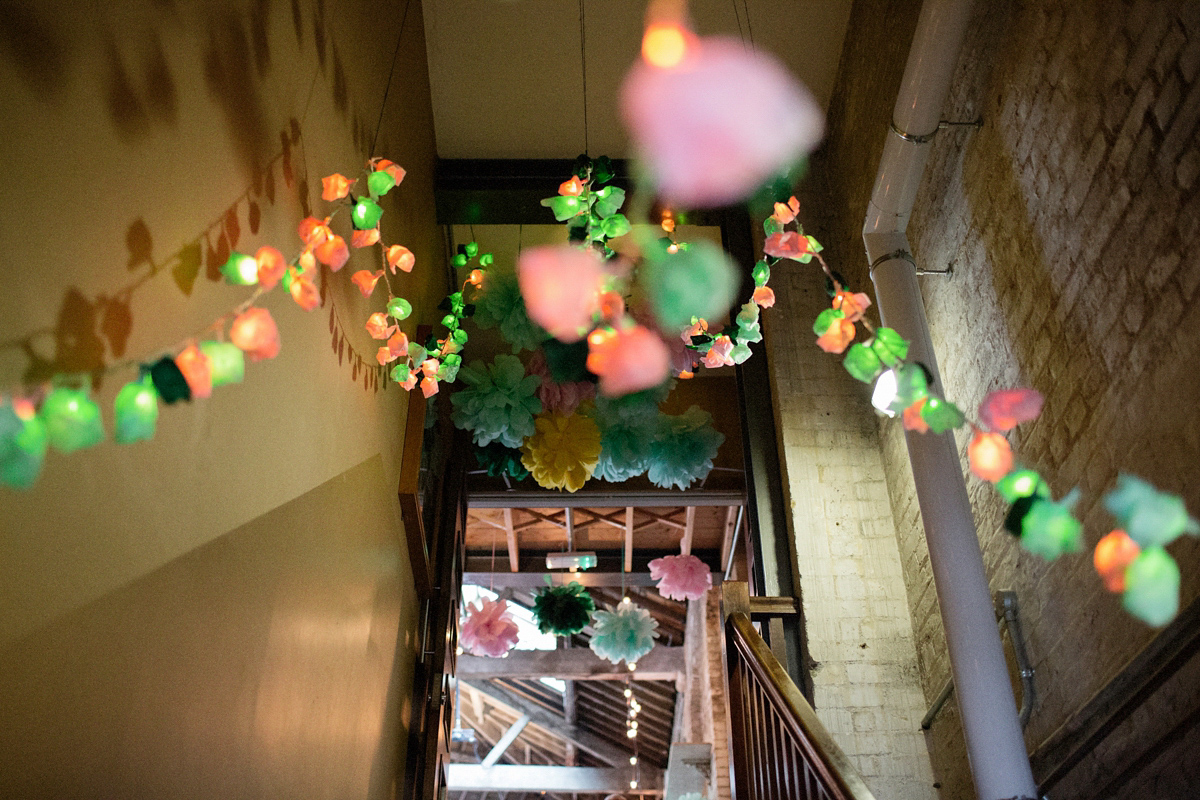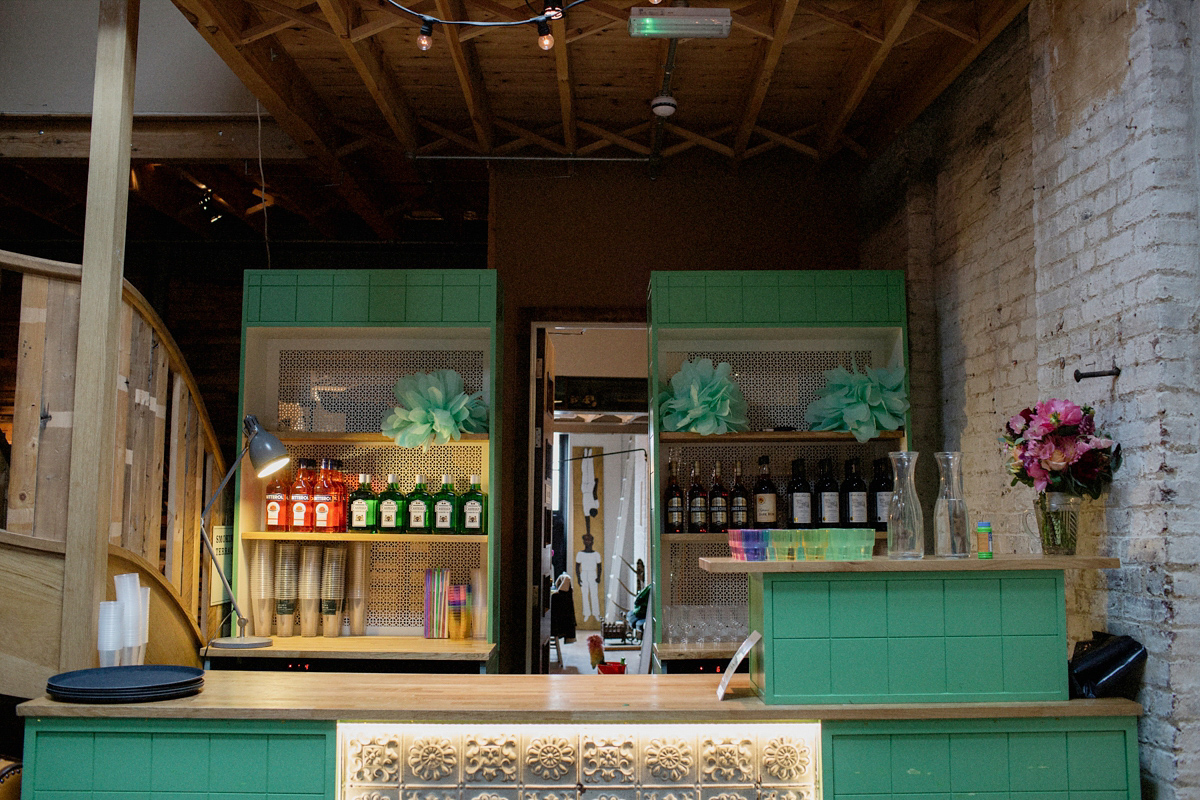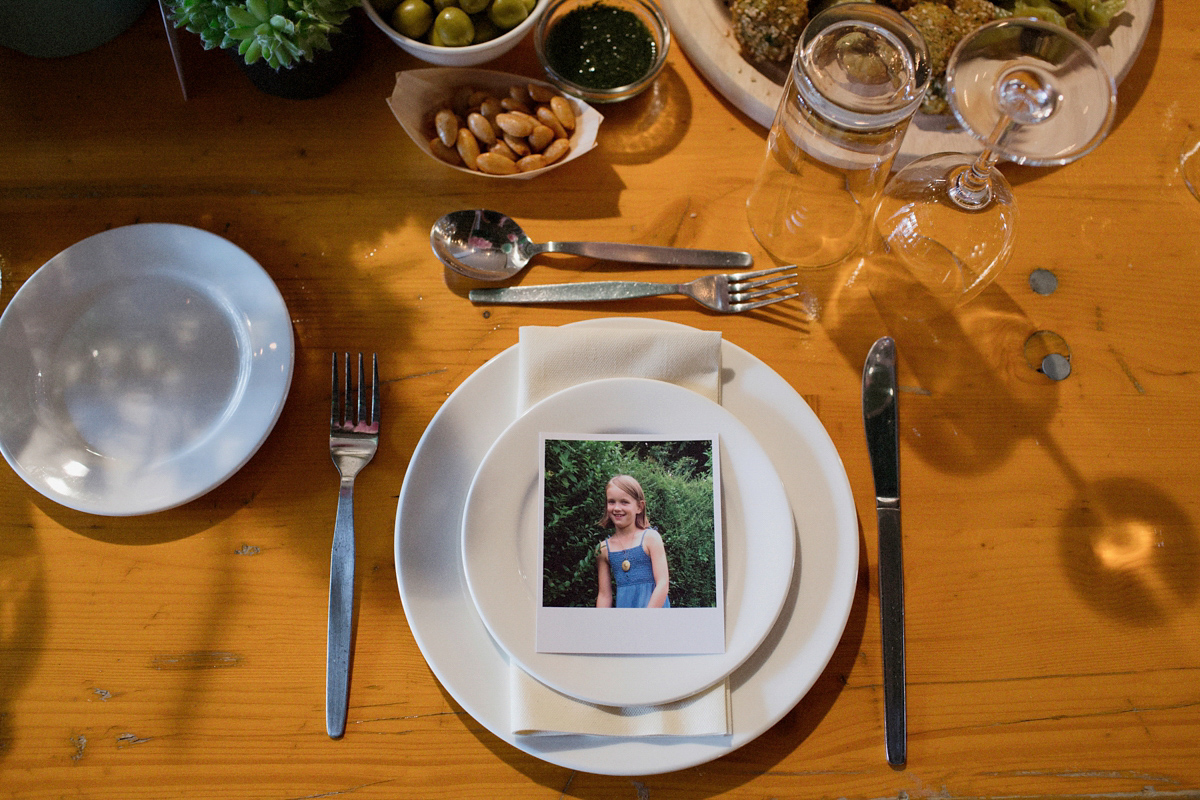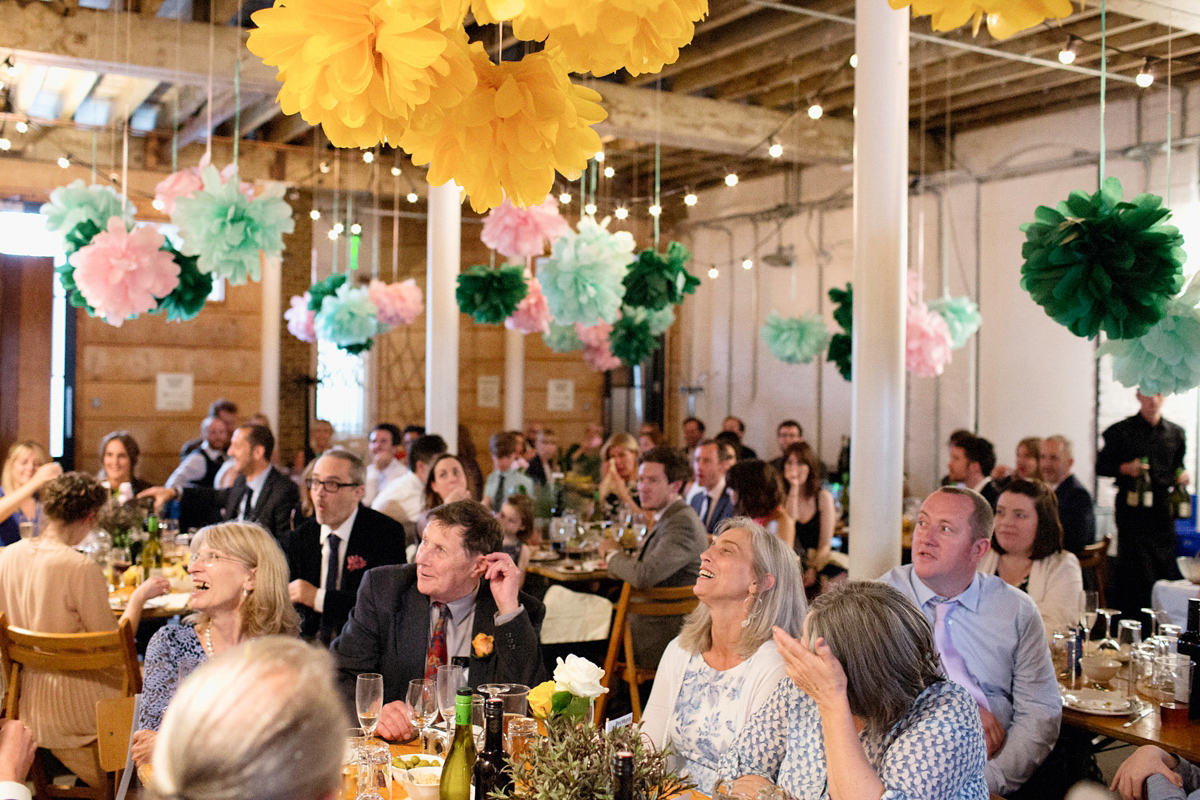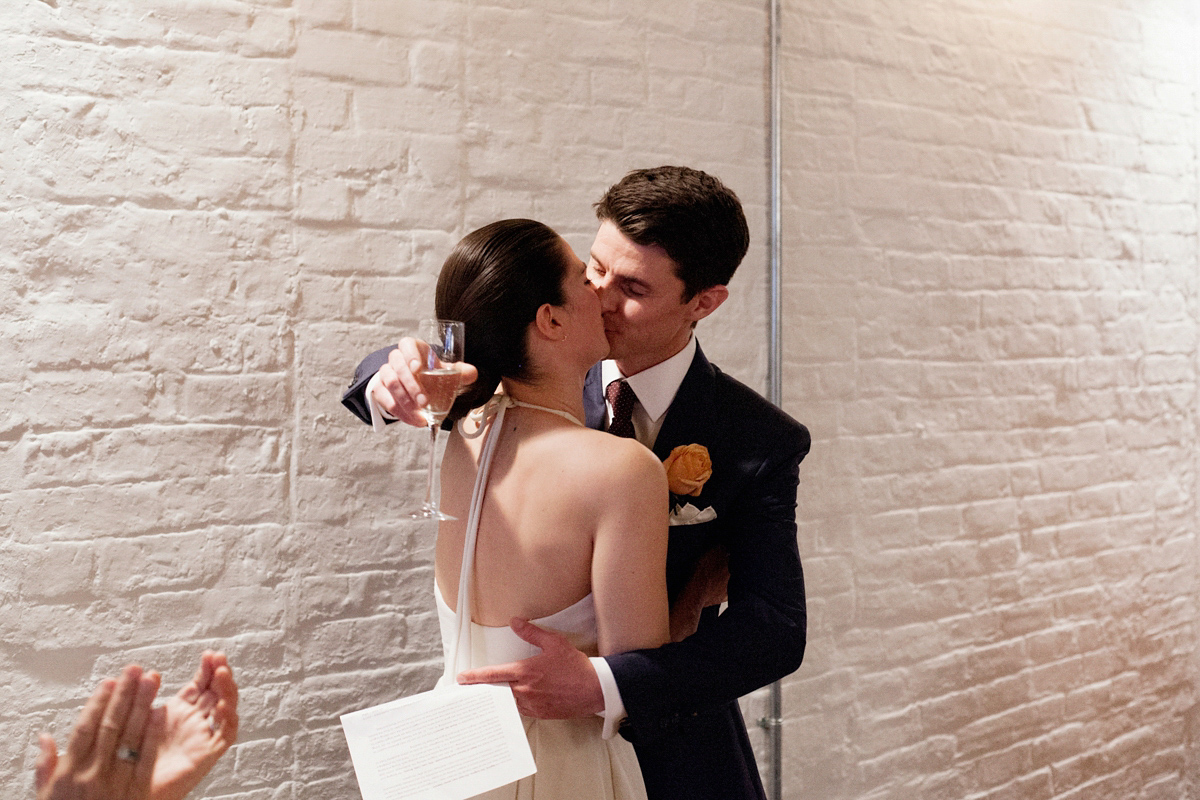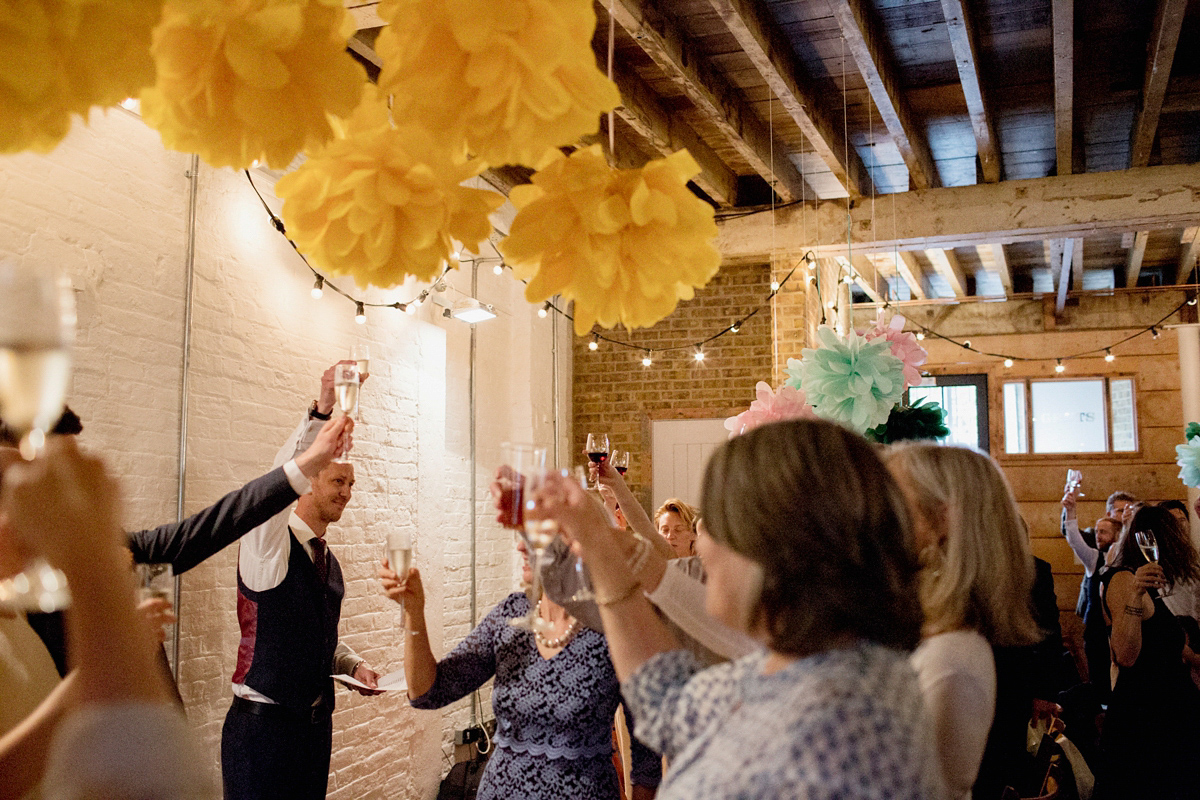 Stylist Kevin Fortune fashioned Emily's dark locks into a sleek, low style, emphasising the perfectly subtle make-up skills of the bride's very good friend, Maddie Austin. Emily added rose gold earrings by Dinny Hall bought at Liberty London, and a spritz of her favourite perfume, Addict by Chrsitian Dior – a scent she's been wearing for twelve years.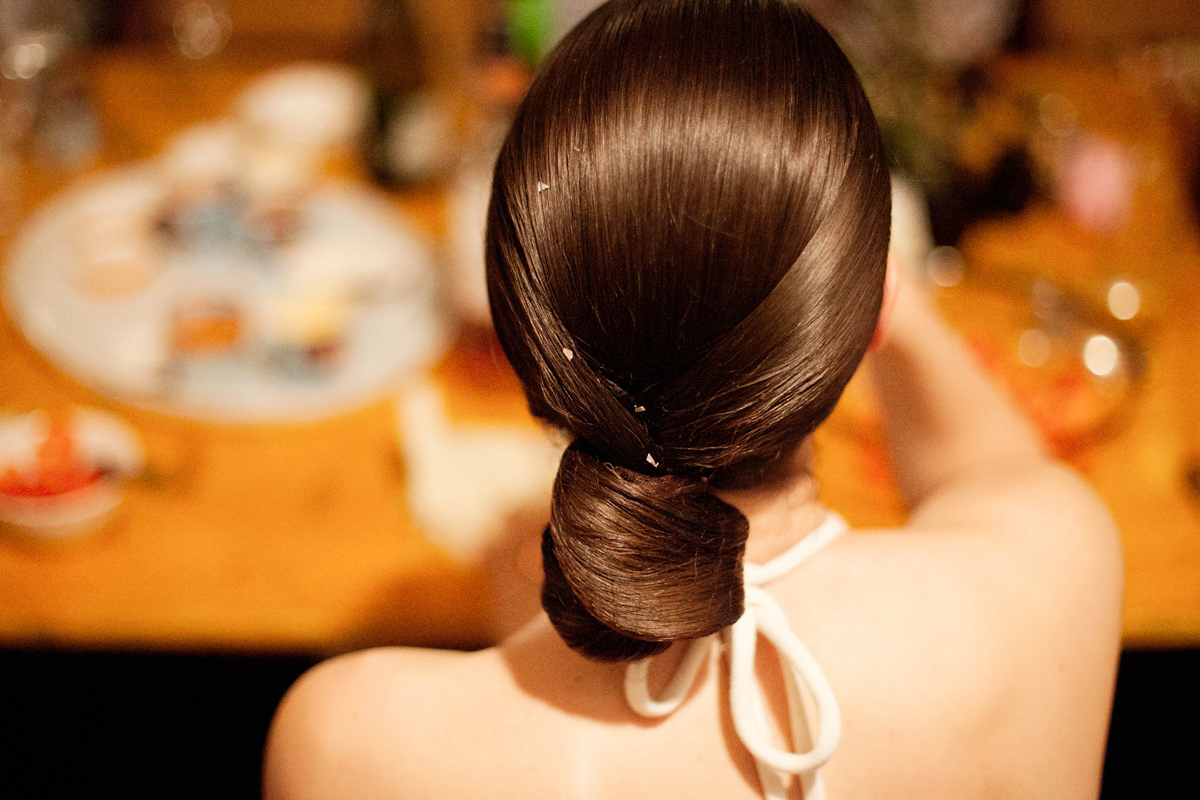 The couple kick-started the party with a first dance to Kissing My Love by Bill Withers, an artist Emily got Jon hooked on in the early stages of their relationship. They both felt that the sentiment of this track was spot on and just had the best beat.
"An incredible wedding band made up of some of Jonathan's best friends as a surprise to him. They played an incredible spectrum of some of both of our favourites songs, from and Eurhythmics and Bronski Beat, to Drake. This was followed by my Dad's band, The Blue Bishops, who also played. They were later joined by my maid of honour Elly Jackson of La Roux, who sung a I Can't Dance by Genesis with them. We listened to a lot of Genesis when we were young."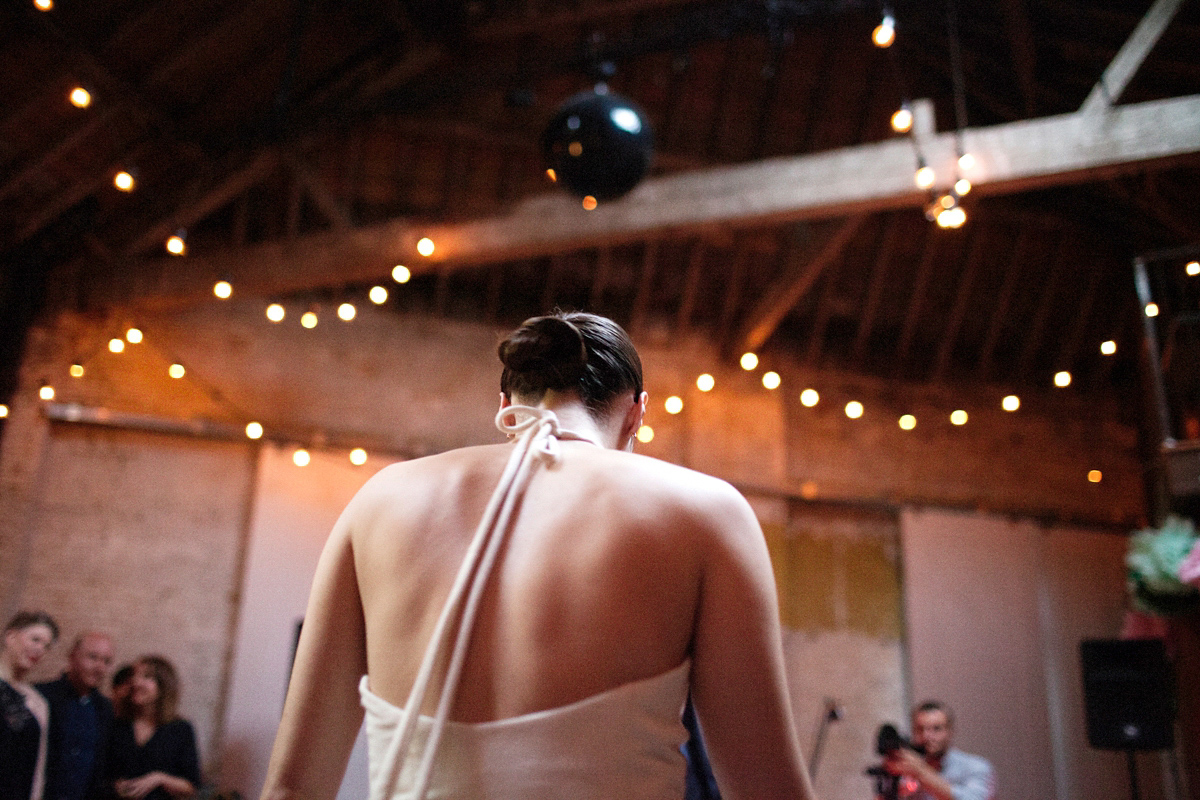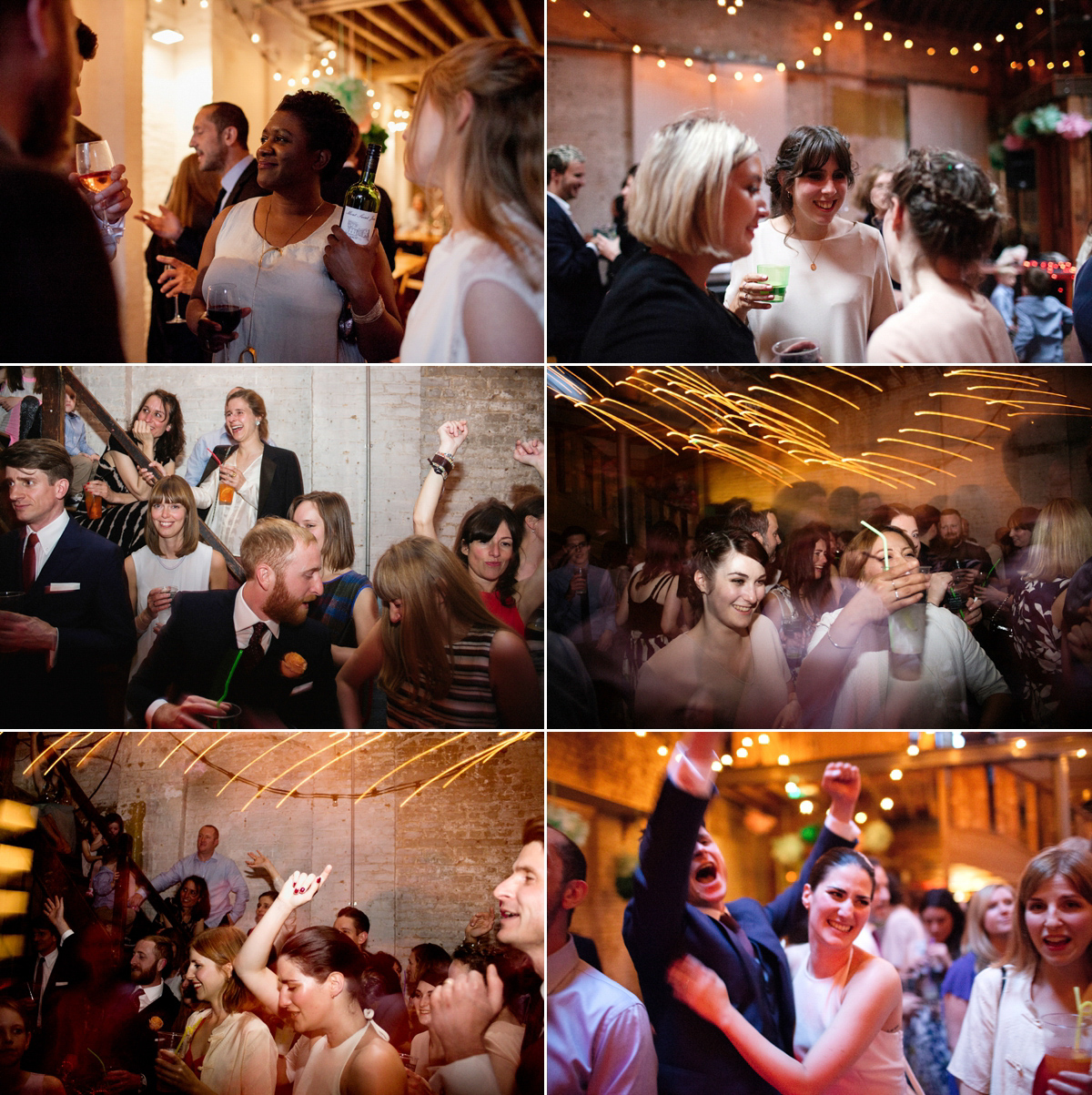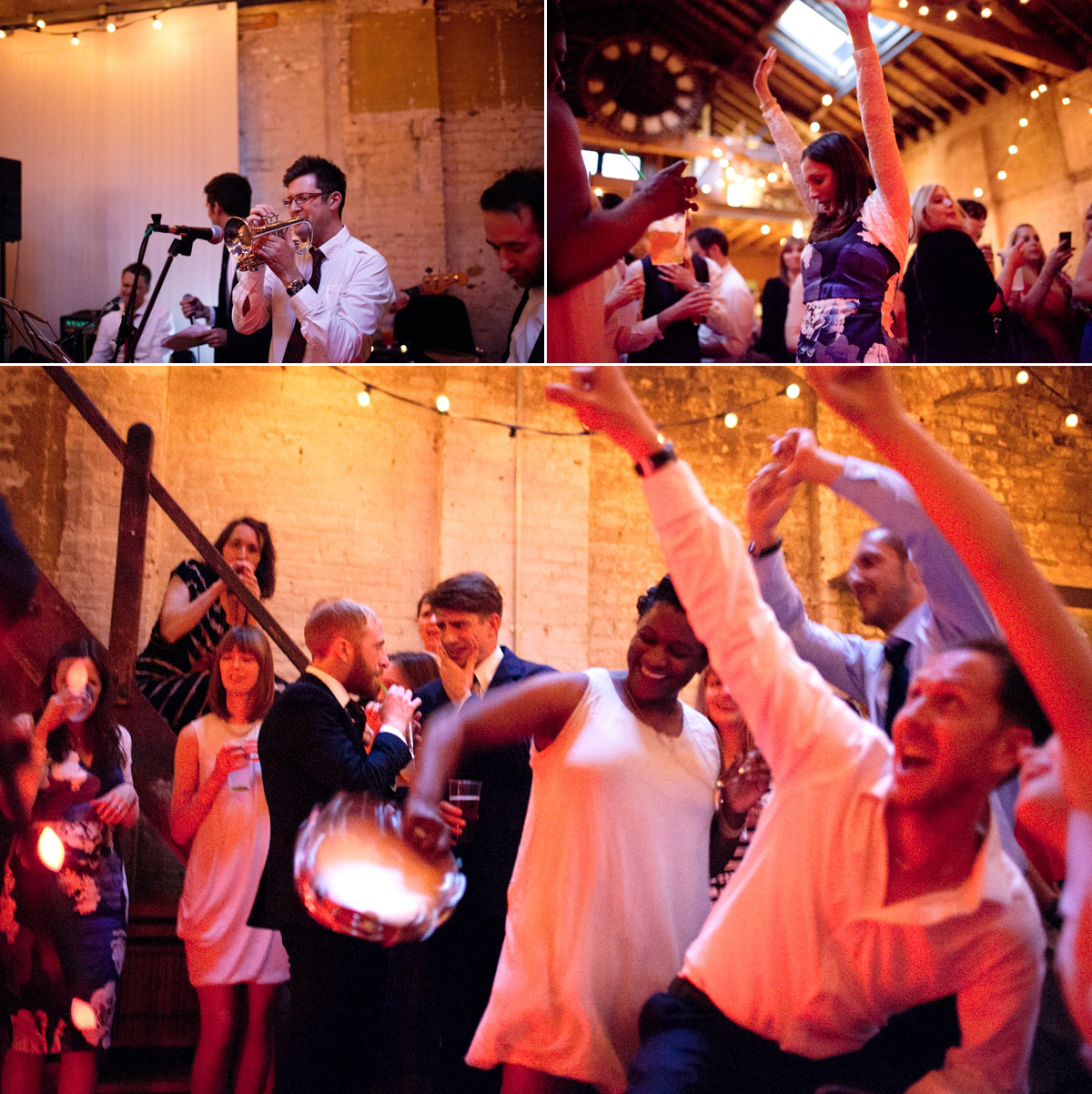 Words of Wedded Wisdom
"There is always a budget so the most important thing is to prioritise. For us, having everyone we loved there was important to us, as were good food, drink and music – luckily one of those came free. Fancy cutlery and flouncy napkins are things we didn't fork out for. We even had an e-invite but the joy of having everyone we wanted there was worth some little sacrifices. Having the wedding on a Thursday also meant that we could afford our favourite wedding reception venue."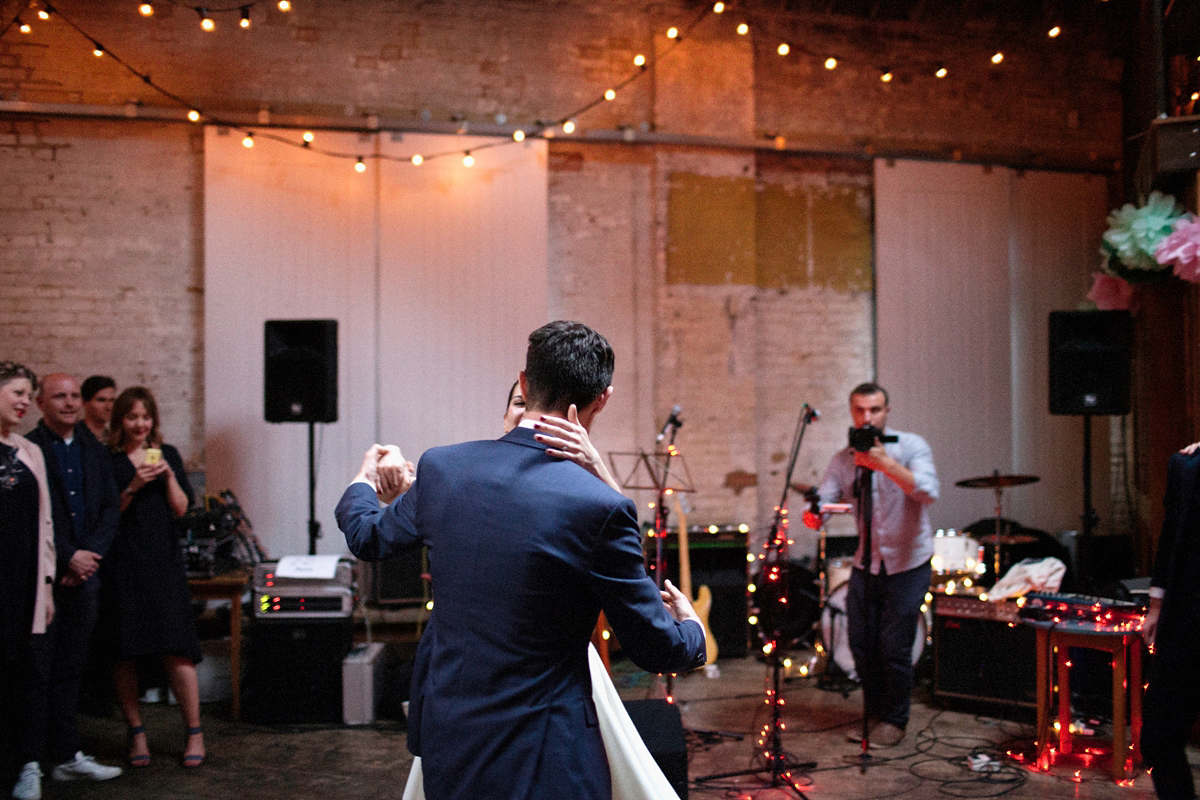 If you've been as captivated as I have by these frankly gorgeous images, explore our archives for more weddings captured by the talented Hearts on Fire Photography. So that just leaves me to say a huge, rather crush-worthy thank you to Emily and Jon for sharing this incredible day with us all – major couple goals!
I can't quite believe that the 2017 Most Curious London show is this weekend! If you're going, look out for me, and also for Annabel – our much-loved editor is sure to be found camera in hand, while you'll spot me on the stand of the gorgeous Tilly Thomas Lux – a truly lovely fellow northerner, bridal jewellery queen and one of our superstar Little Book for Brides suppliers. I'm practically salivating about all the gorgeous sparkle I'm going to be allowed to smother myself in.
Love, Em x