Hello Sunday lovers – here's one for all of you dreaming about an elegant wedding in the Italian countryside. Alison, who is the School Artistic Director of the Atlantic Theater Company, as well as a theatre director and choreographer and Psychology Counselling MA student, married Seth, the CEO of Enabling Devices and fiction writer, in June last year at Villa di Ulignano in Tuscany, Italy. The couple were assisted in planning their Italian nuptials by professional planners Super Tuscan Wedding Planners.
"To some extent I was inspired by the venue and rustic beauty of Tuscany but also I just followed my own aesthetic sensibility. I think the style was romance meets whimsy with a few vintage aspects thrown in. We knew we wanted an intimate destination wedding in a beautiful, romantic location with great food and wine. We took an amazing vacation in Italy together a couple of years ago and fell in love with it. What was most important to us was for our loved ones, friends and family, to really have time to spend together and get to know each other so that by the time the wedding rolled around, we all felt like one community."
Photography by David Bastianoni
Alison's beautiful off-the-shoulder gown was by designer Sarah Seven.
"My Sarah Seven gown was actually the first dress I tried on! I did try on others but always came back to this one. I love that it is simple, romantic and elegant without a ton of detail (ie. beading or lace). It was really the off the shoulder sleeves that sold me….they felt sexy but effortless.""I knew I wanted a dress that I would feel comfortable really going for it on the dance floor and swinging this skirt around was a blast."
"My accessories included a pink sash from BHLDN, stacked rings from Catbird and Carma Collection."
"I also wore a bracelet from Liz IX26 from Etsy and a locket on my bouquet, which included a picture of my mum, which I purchased from Sea Maiden Jewellery on Etsy."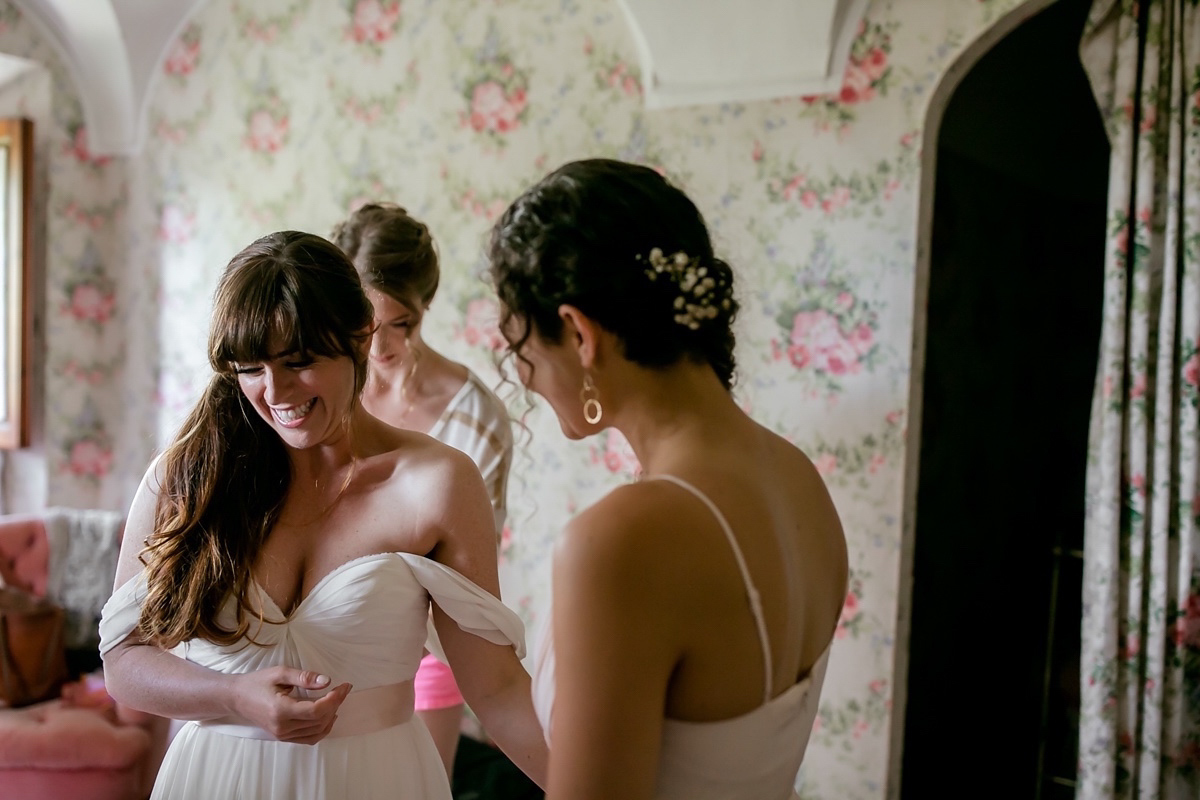 "For perfume, I wore Tresor by Lancôme. This was my mother's perfume and because she has passed, I wore it in her memory."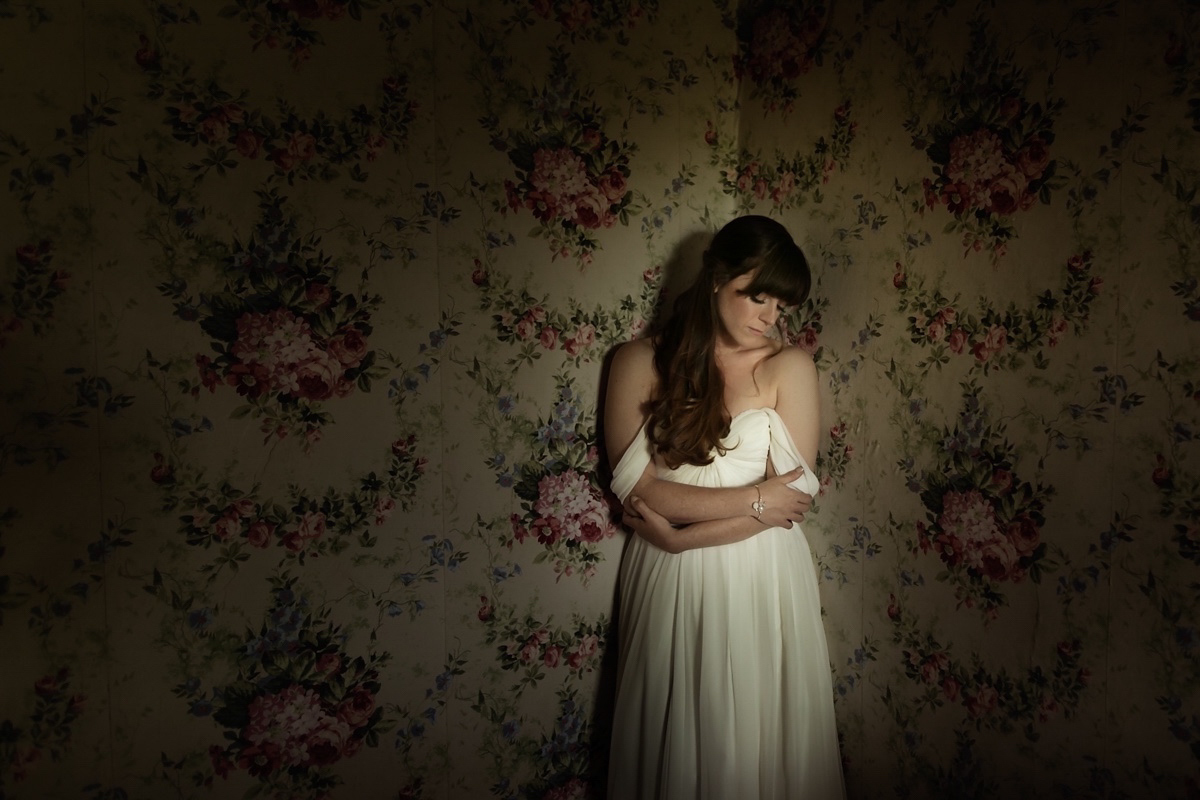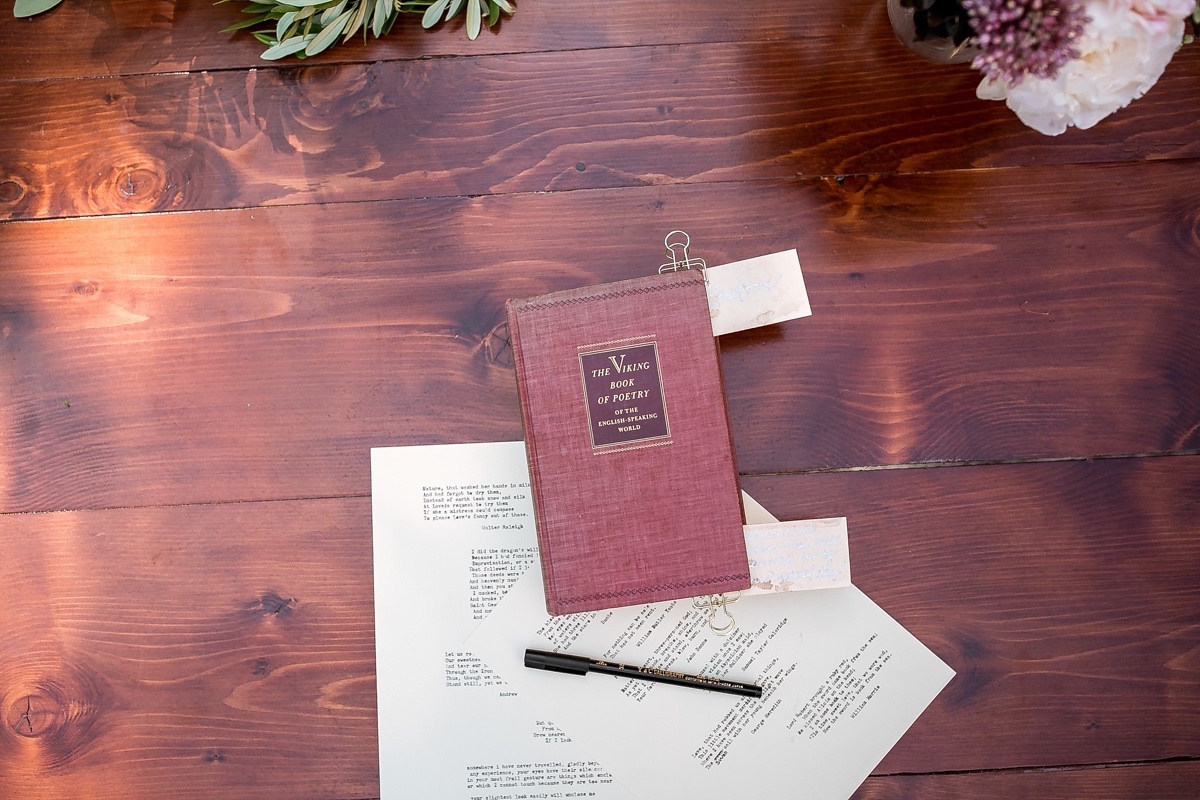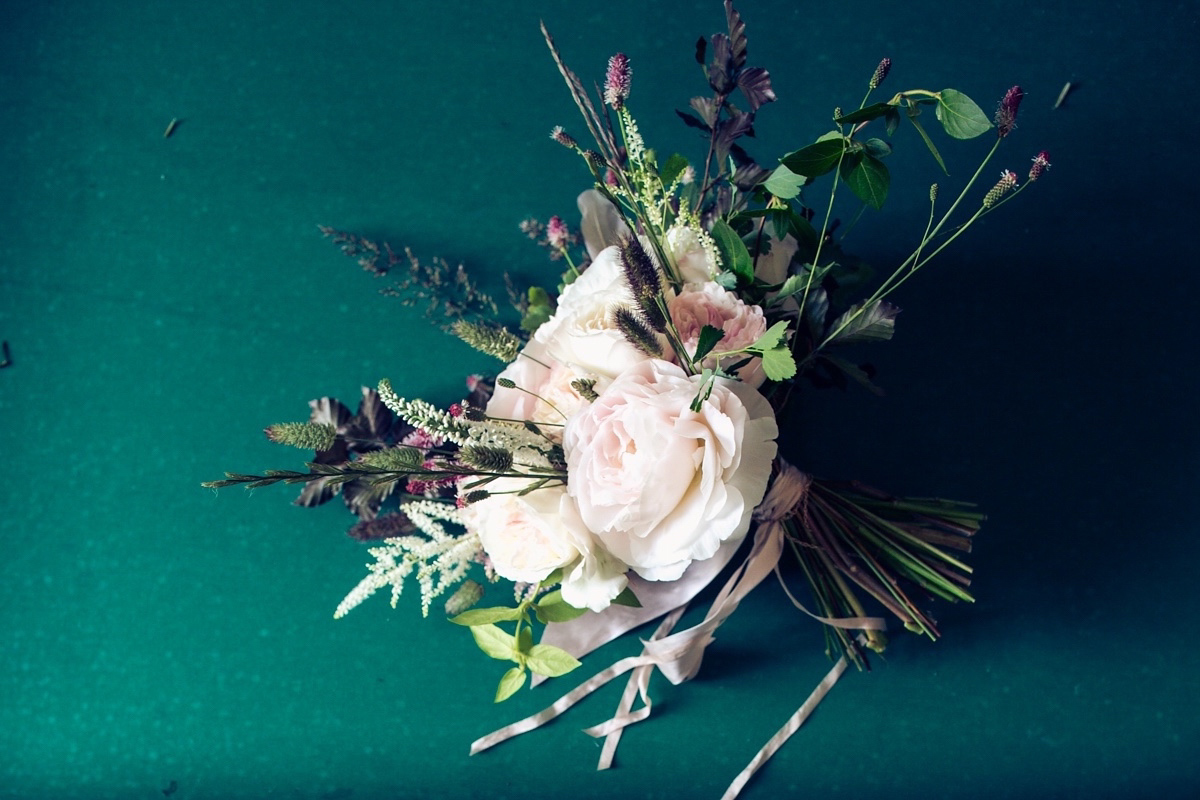 "I wanted the flowers to feel organic and sort of bohemian – nothing too coiffed."
"I especially loved the long garland on the table with gold baby's breathe in it! Our florists were Puscina Flowers."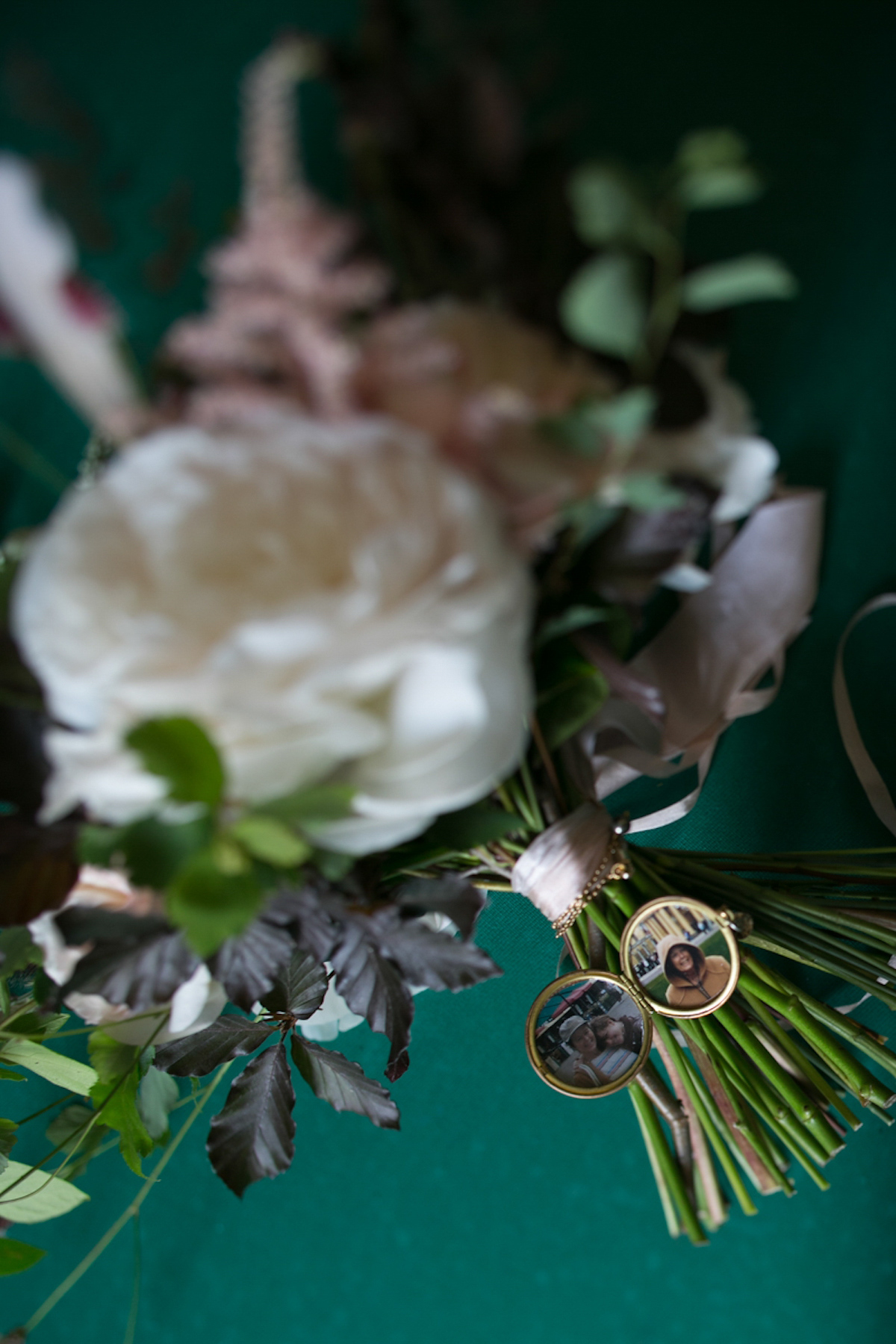 "My florist spray painted baby's breath gold and all the ladies wore some sort of braid (expect for my male bridesman!)"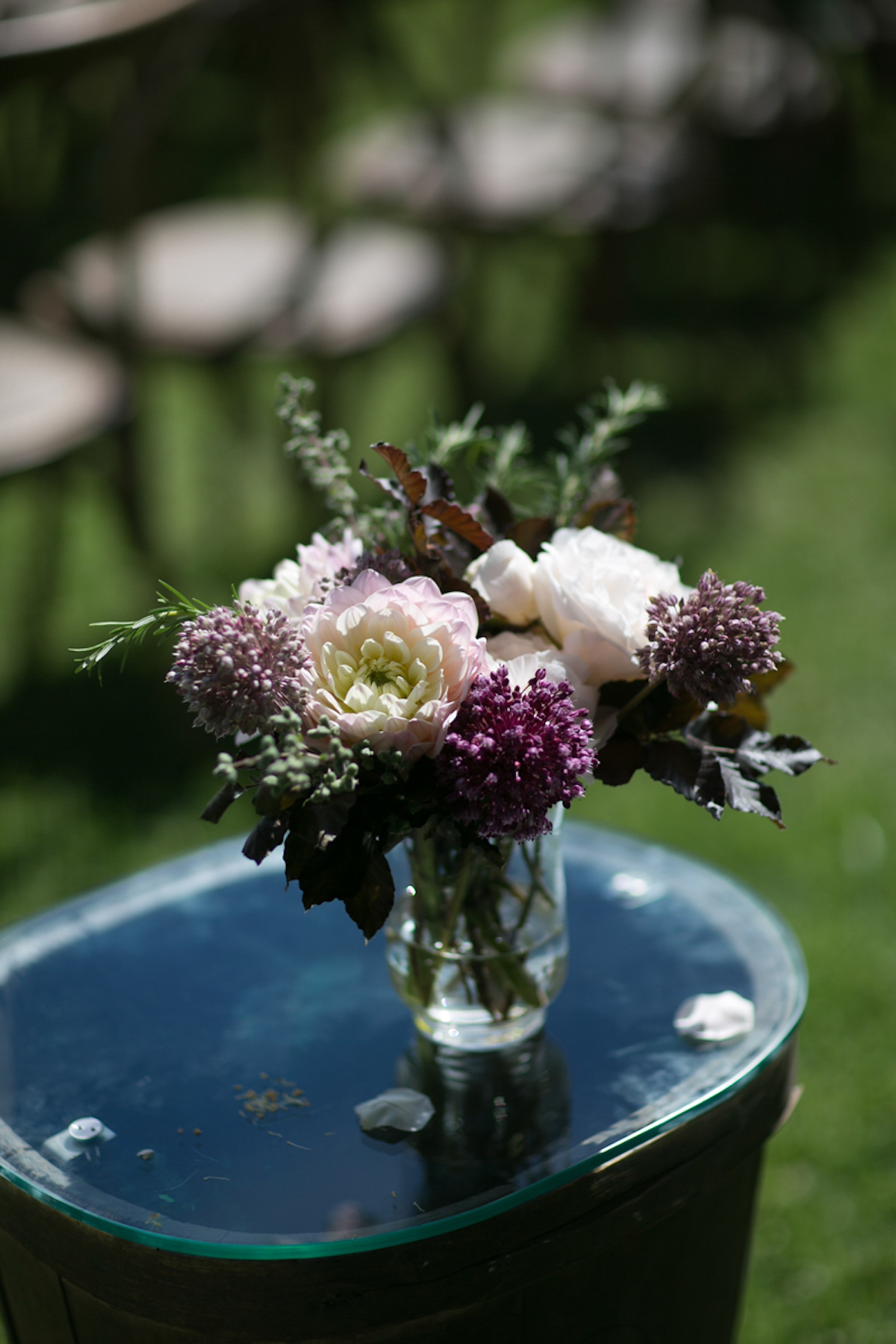 "My veil was by SmithaMenonbridal – a designer I found on Etsy."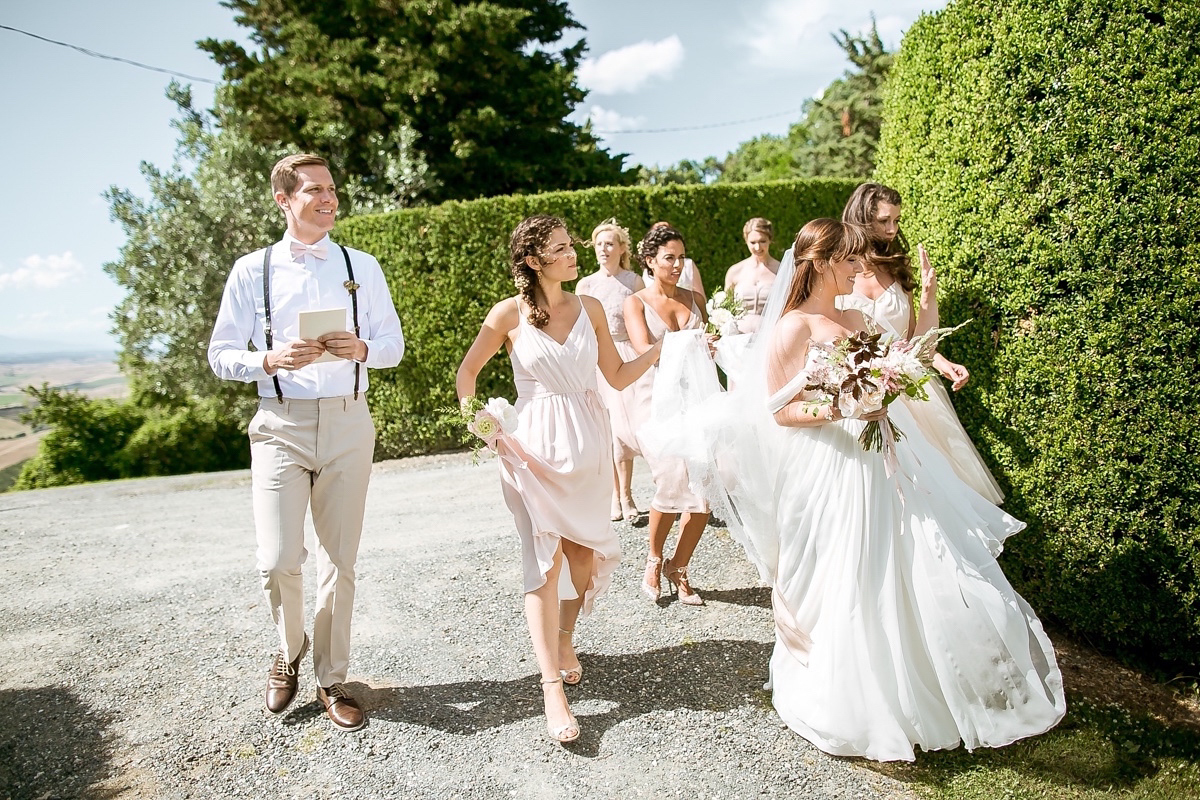 Alison's bridesmaids all wore different dresses of their own choice, but her favourites of these were the Saja dress and an Alexandra Grecco gown in tulle.
"I purchased these necklaces in rose gold for the ladies as gifts (which some of them wore in the wedding)- they had the latitude and longitude for where I met each of my bridesmaids."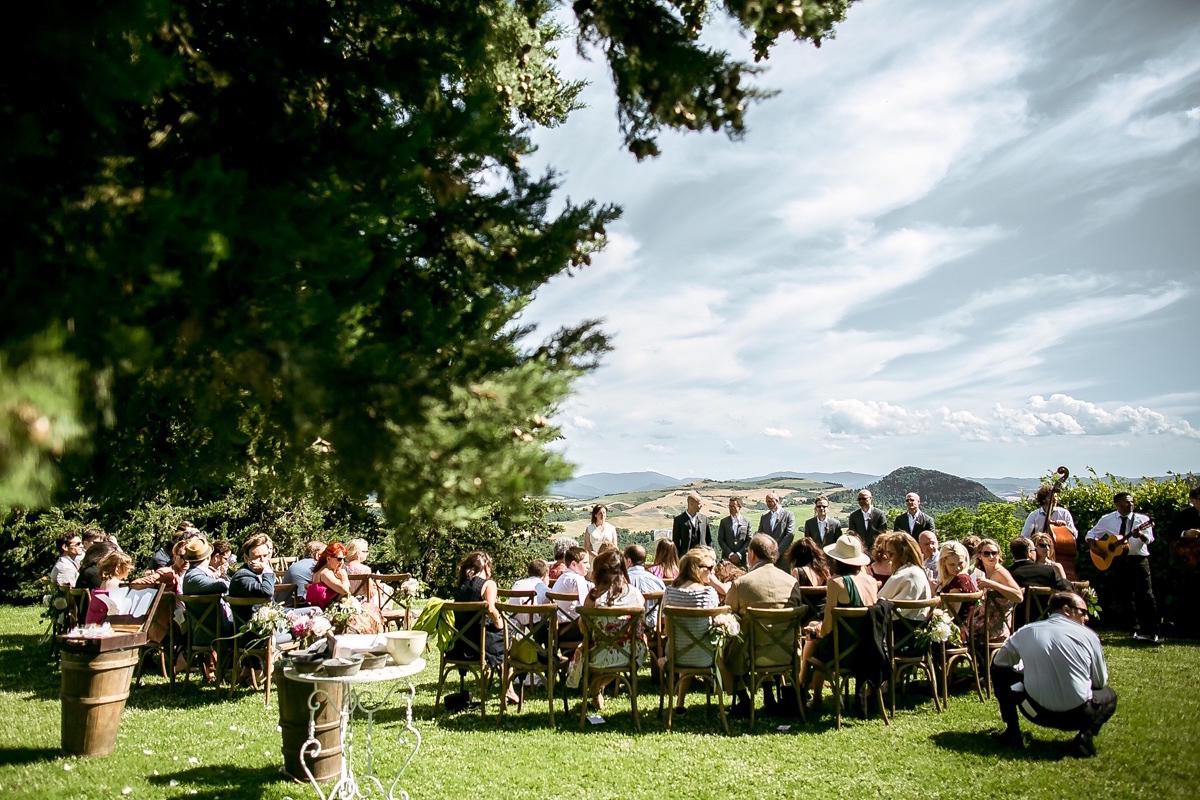 "My dad accompanied me down the aisle to the sound of 'Here comes The Sun' being performed by B Katch."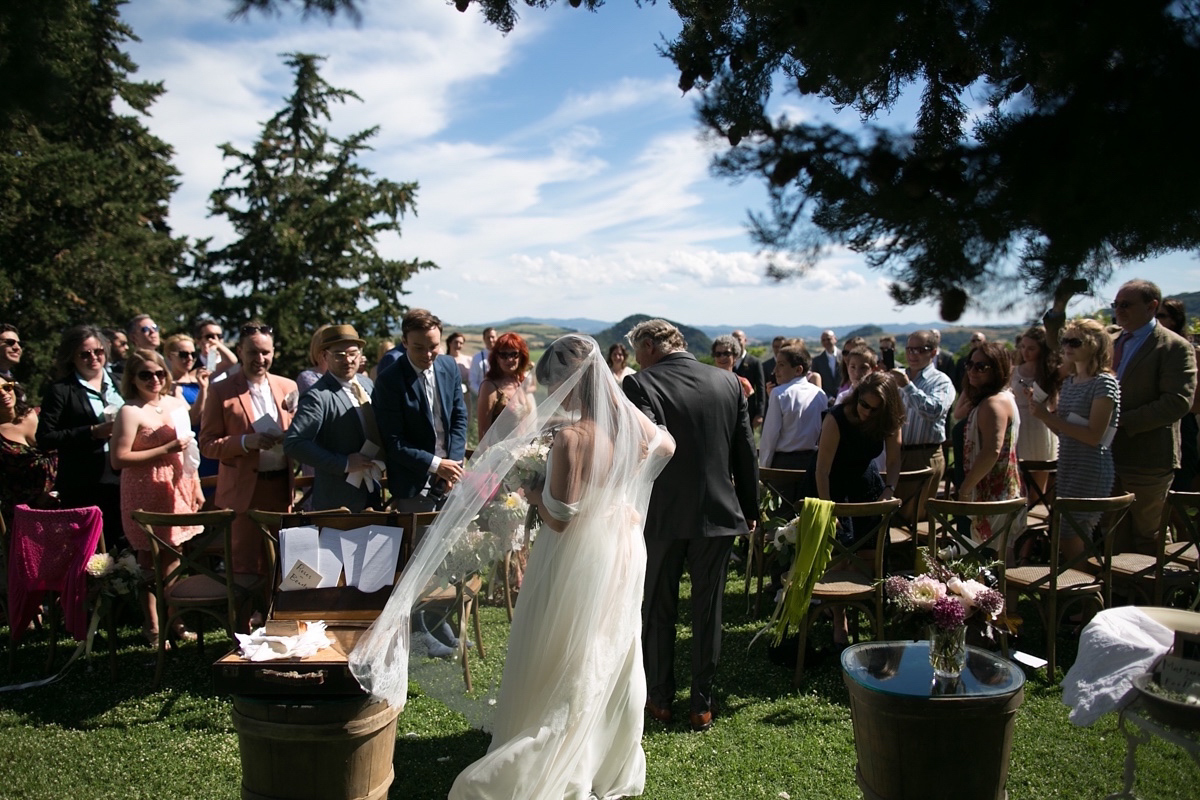 "Seth and I met ten years ago and were together for eight years before we decided to get married. He surprised me while we were on vacation in southern Spain. We were in these beautiful Moroccan gardens in Cordoba Spain in an orange orchard with fountains all around at sunset. We both just sat in the garden crying for an hour. We were engaged for 18 months before our wedding but did not start planning anything until about a year before."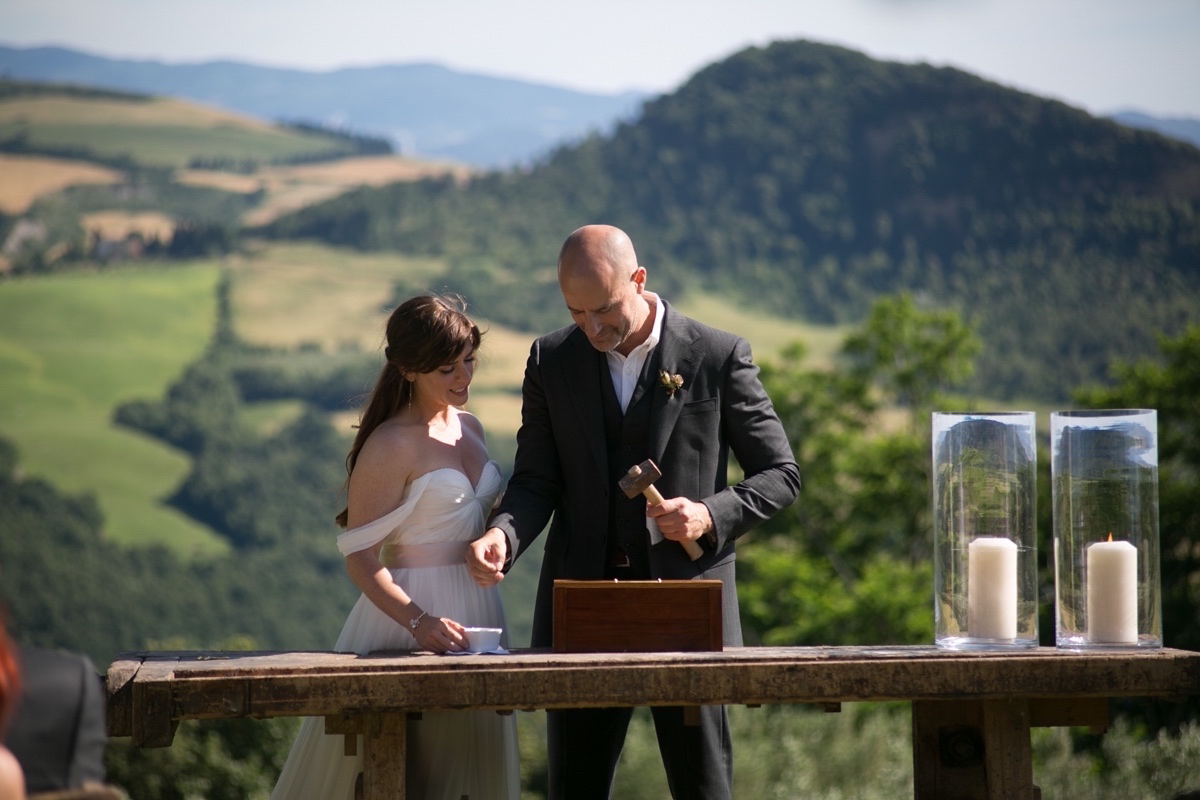 "We wrote our own vows. And this was our favuorite part of the day."
"Our friend Jessika sang 'Hallelujah' by Leonard Cohen and our friends Nick and Nadia sang 'Wish you were Here' by Pink Floyd while we lit candles for my mom and seth's dad who have passed. We read from Vita Nuova by Dante Alighieri in Italian and English, and a poem by E.E. Cummings."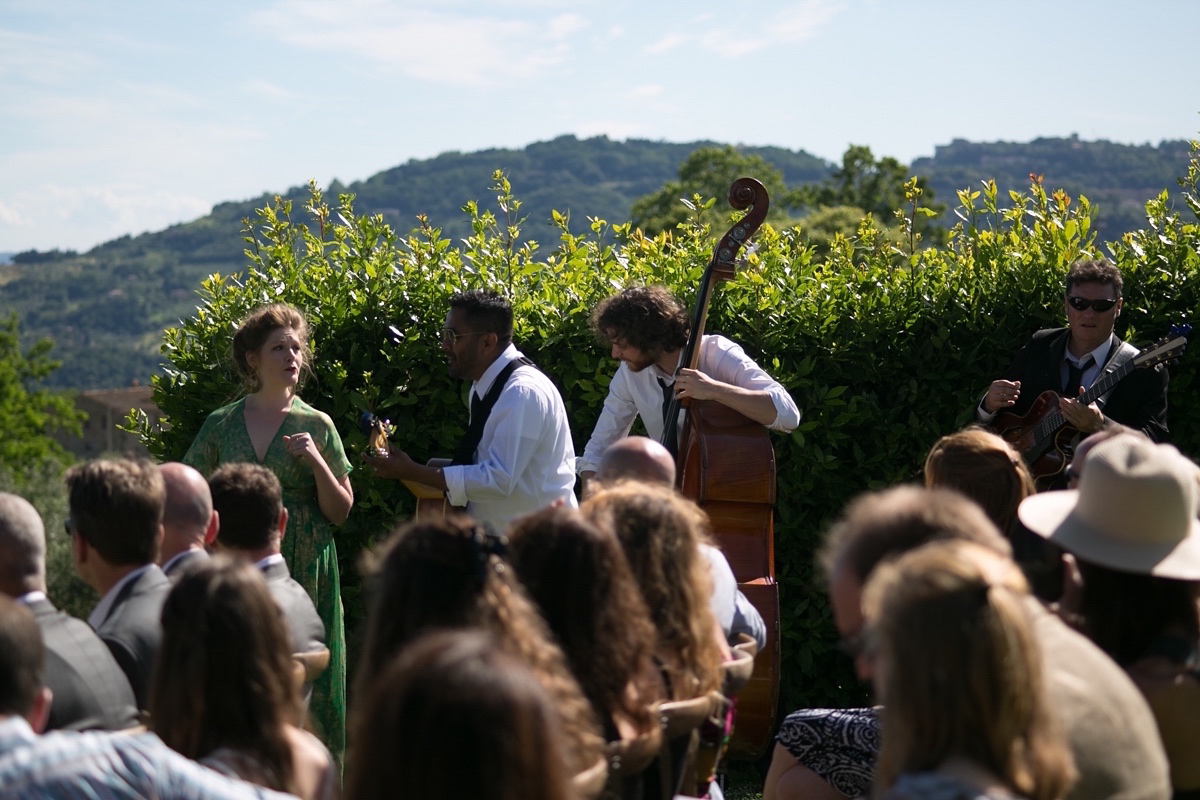 "Our photographer was David Bastianoni. Not only were we so happy with how the photos came out, he was so fun to be around and made us feel instantly comfortable! I love the variety of his photos, some dramatic, others are playful, and all capture the emotional undercurrent of the event."
"He has a great sense of humour and he is a true storyteller so he captures the unique narrative of each wedding. He was a dream!"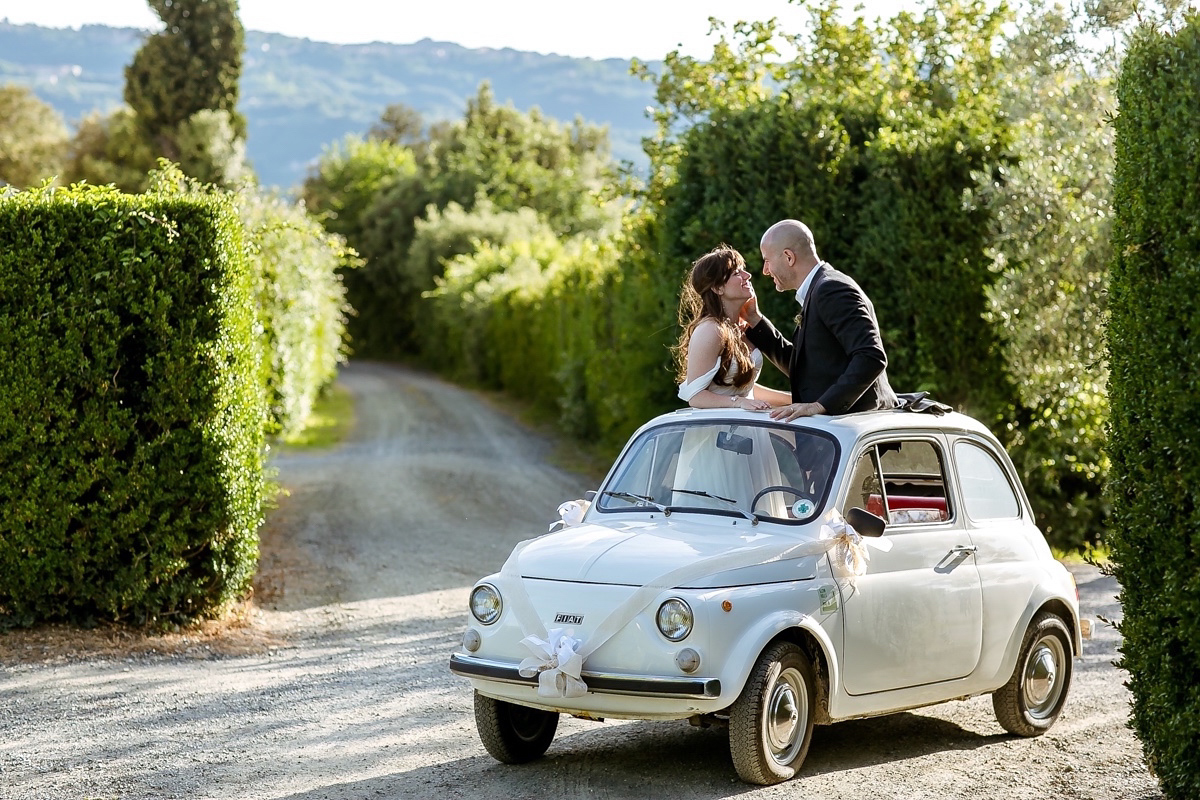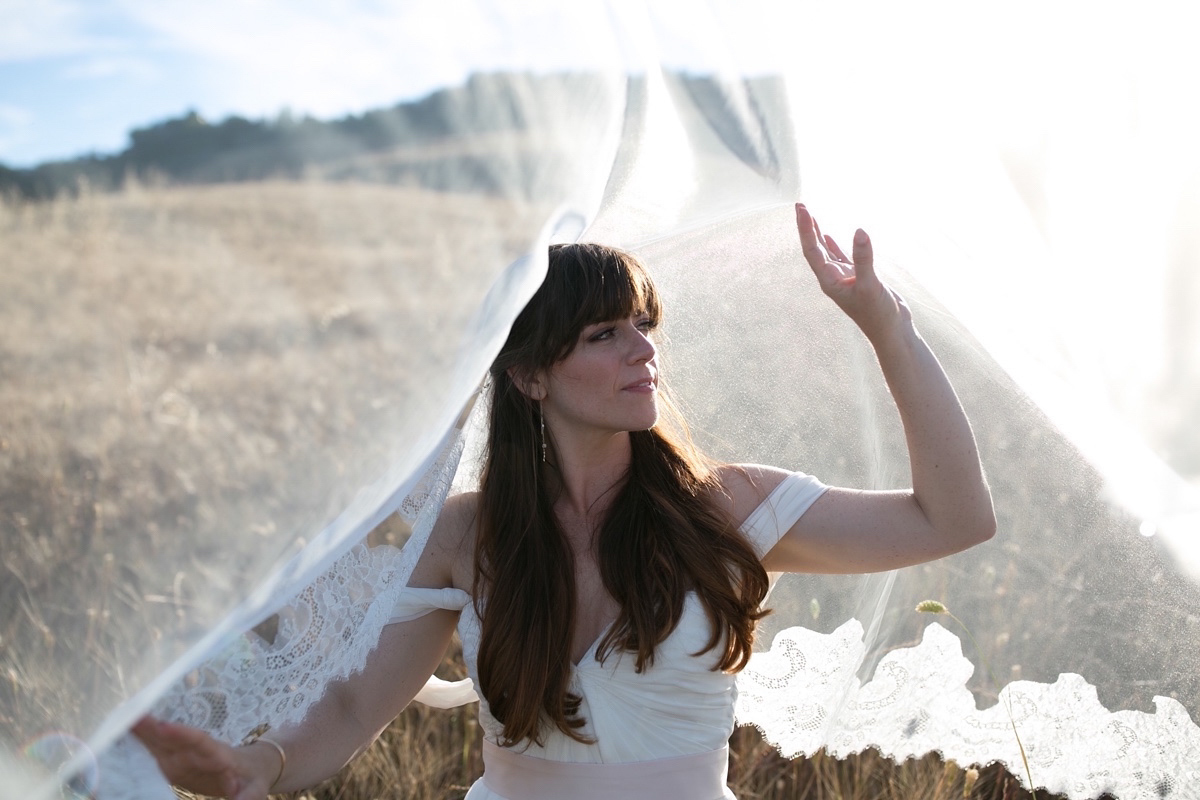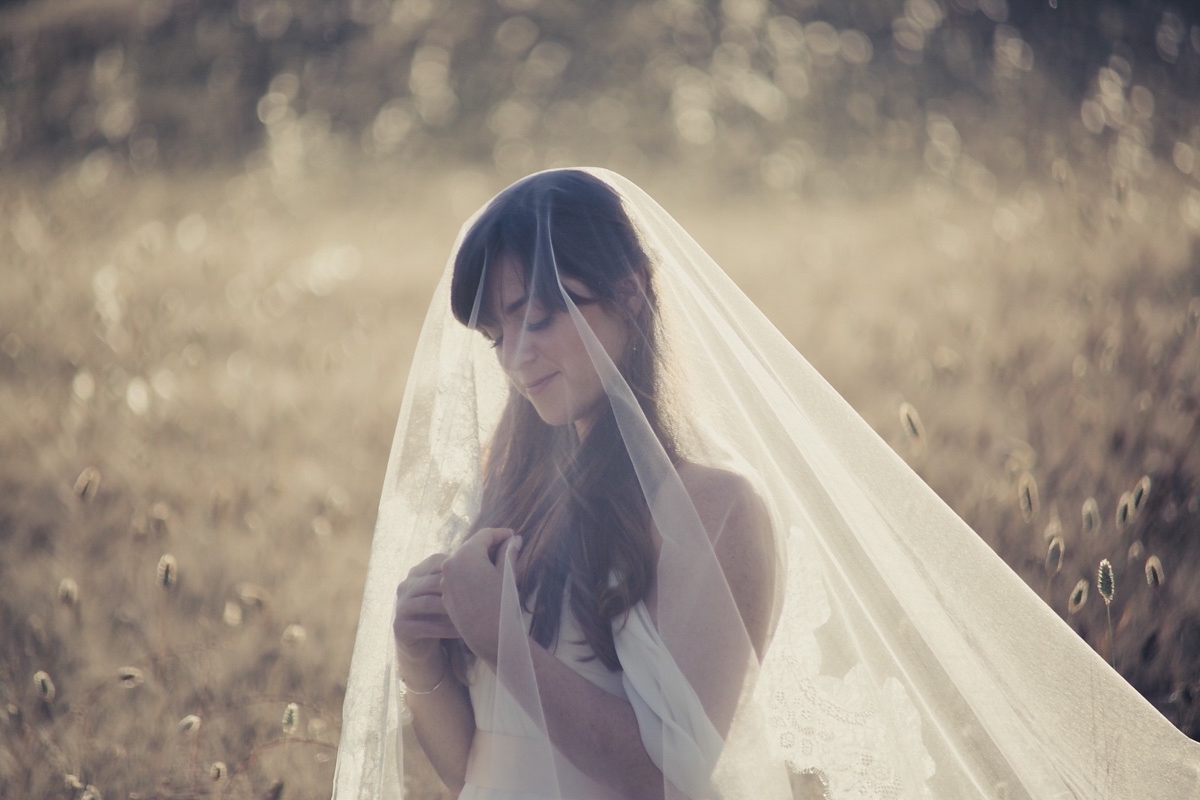 "We had bottles of Tuscan olive oil from Frantoio as favours."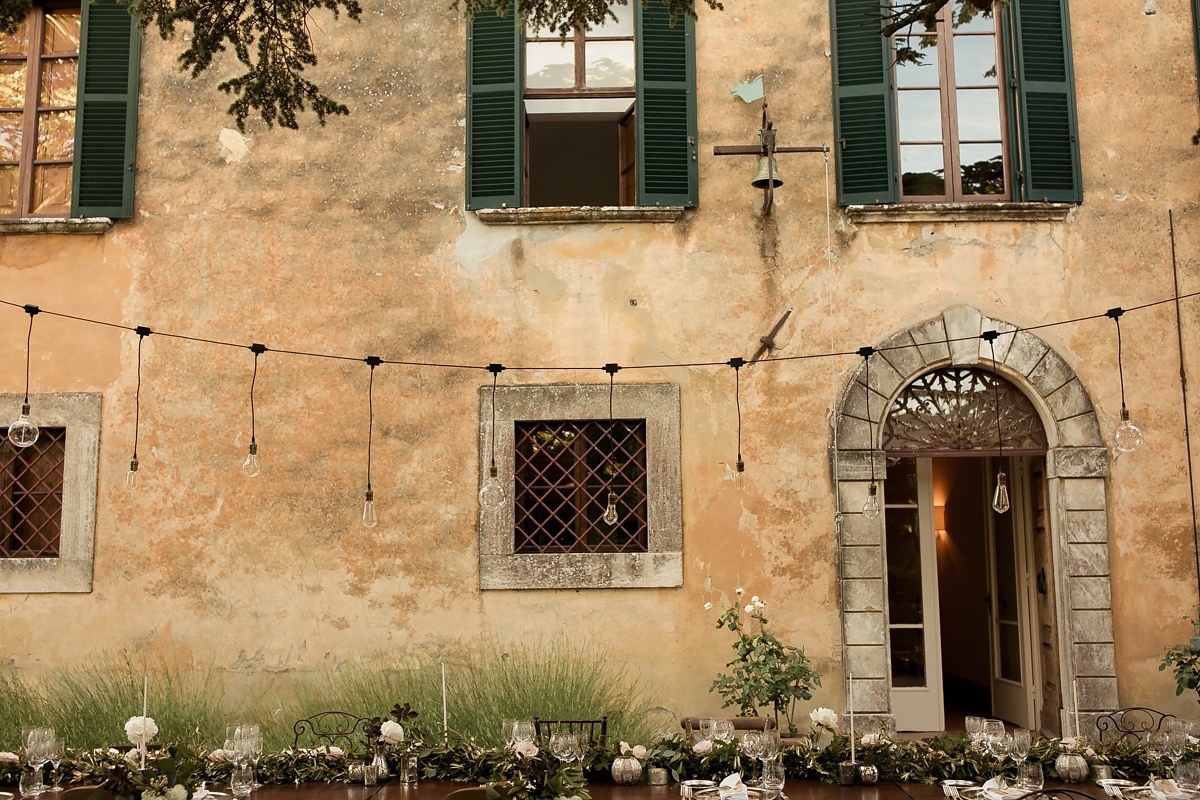 Most of our guests stayed at the Villa di Uligano (or at the bed and breakfast down the road) with us for the entire week. The villa itself (which had a pool, several saunas, a movie theater, a wood burning oven) was gorgeous and the perfect place for our wedding week!"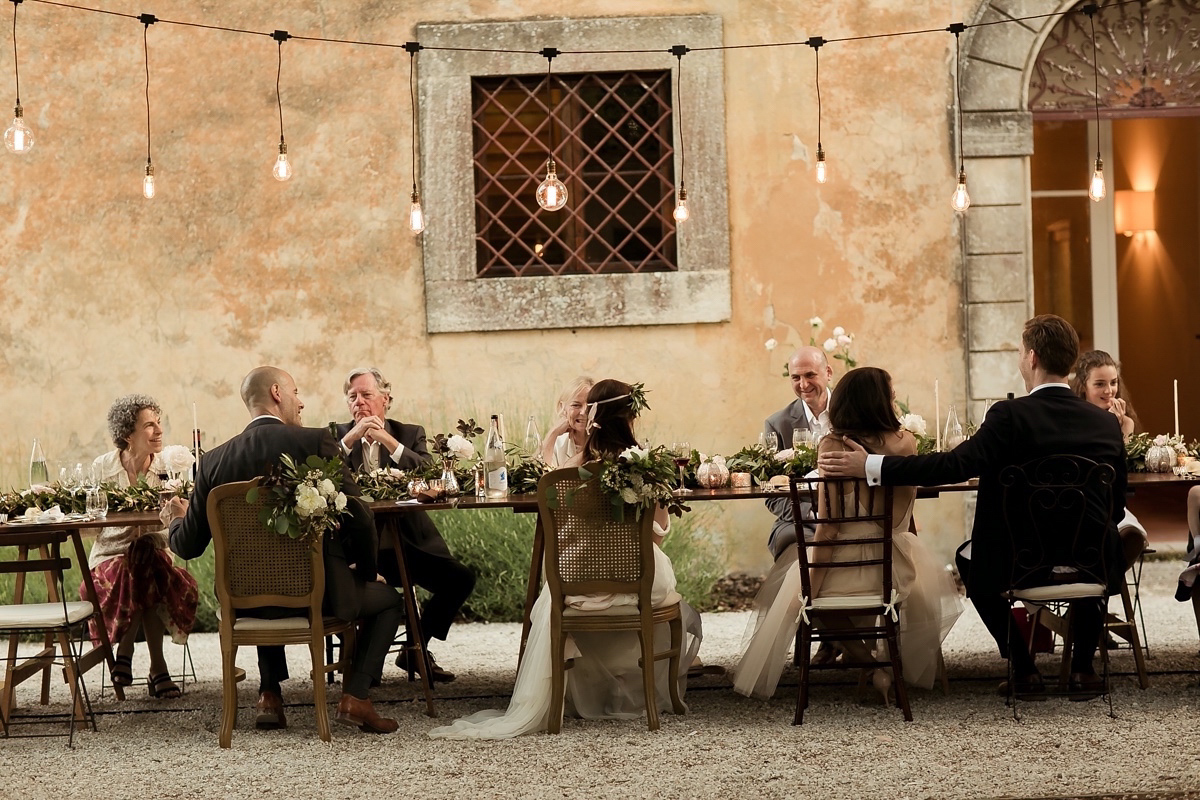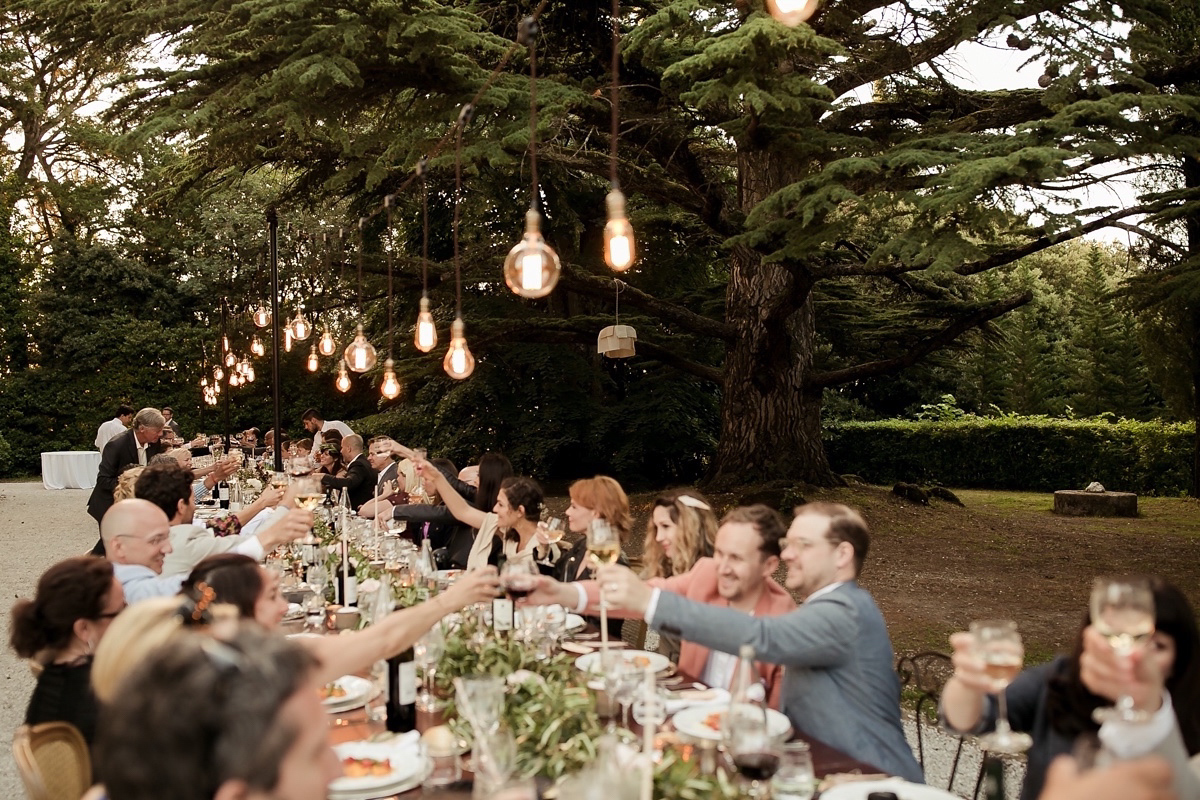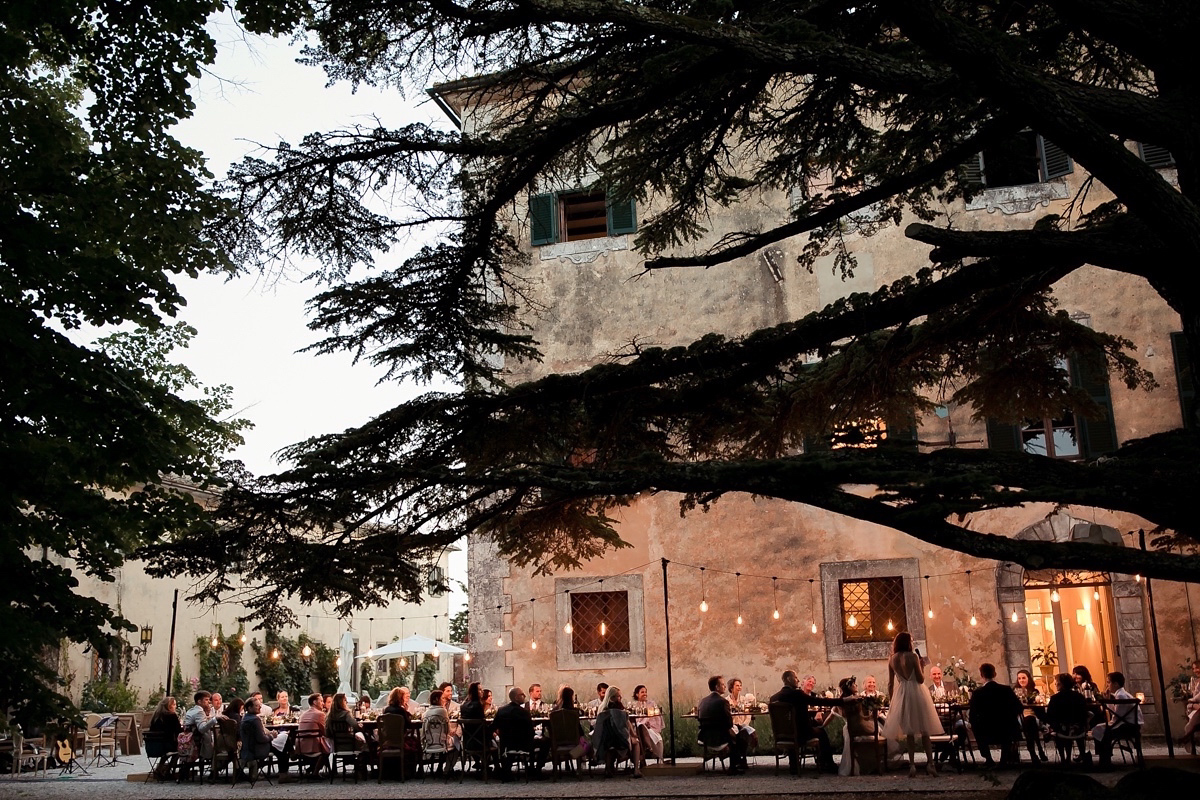 "Our caterers were Preludio – we had a traditional Italian millefoglie with flowers and berries on top. It was delicious!"
"We had a wonderful 3-piece gypsy jazz band called B Katch, who played during cocktail hour and dinner. We also had a DJ play after dinner. Our first dance was to Otis Redding's 'Try a Little Tenderness'."
Words of Wedded Wisdom
"No matter how crazed or stressed or overwhelmed you feel through the planning process, let yourself enjoy the day. Every second of it. Stay present."
Absolutely beautiful – you can see many more destination weddings here on Love My Dress.
My love and thanks to Alison and Seth for so generously sharing their wedding with us today. And thanks to photographer David Bastianoni too.
Have a lovely Sunday all,
Love Annabel x