I just love the way that all the weddings we feature on Love My Dress are so personal.  By this, I don't just mean that brides and grooms have spent a lot of time doing DIY, making chutney or flavoured gin for favours and making their own stationery (although this is certainly true for many), but that no matter what the style, or whether the day is simple, fancy, small or huge, it represents the couple in question and is a visual display of their personality and relationship.
Based on this assumption, I would love to meet today's brides, Hannah and Jenny, as their wedding day was so colourful and full of fun that I can only imagine that they are exactly the same.  These lovely ladies married at The Asylum, London on the 8th of July 2016 surrounded by their talented family and friends and every colour of the rainbow.  They followed the ceremony with a reception at Trinity Buoy Wharf. We love this wedding for so many reasons, but Jenny's glorious sequin veil completely steals the show.
"Ashish created my veil for me from a sequin-embroidered fabric design from their Spring/Summer 2014 show.  As soon as I thought about the veil I'd like, this design popped into my head.  It was custom-made in India, and absolutely beautiful."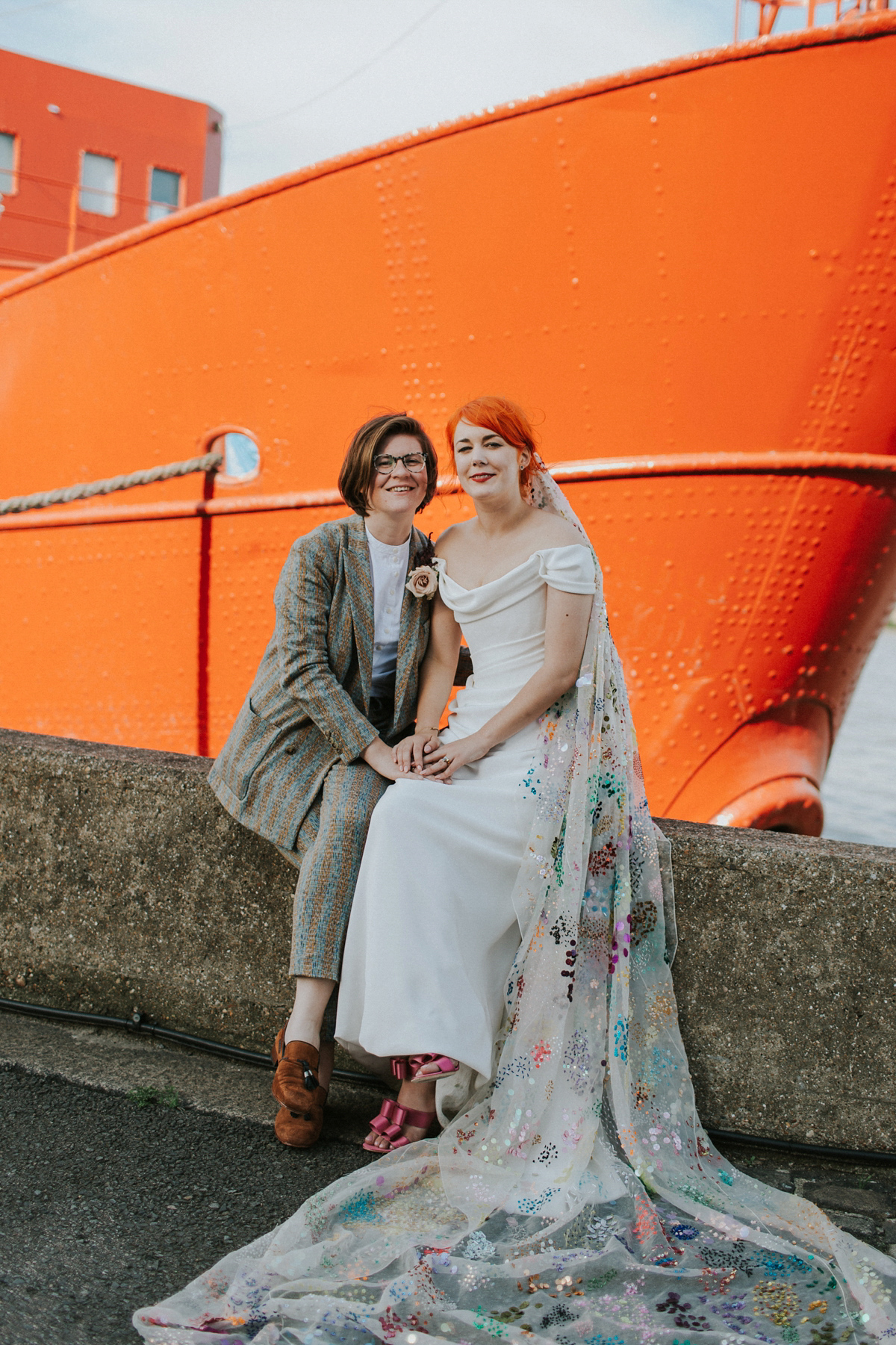 The photographers behind today's colour-filled images are Hector and Charlie of We Heart Pictures, who are brand new to Love My Dress – we love welcoming new talent.Jenny looked beautiful in a very glamorous gown by Belinda Chorley, of Beyond Burlesque, which she chose to set off her curves.  With her red hair she looks every inch the vintage siren.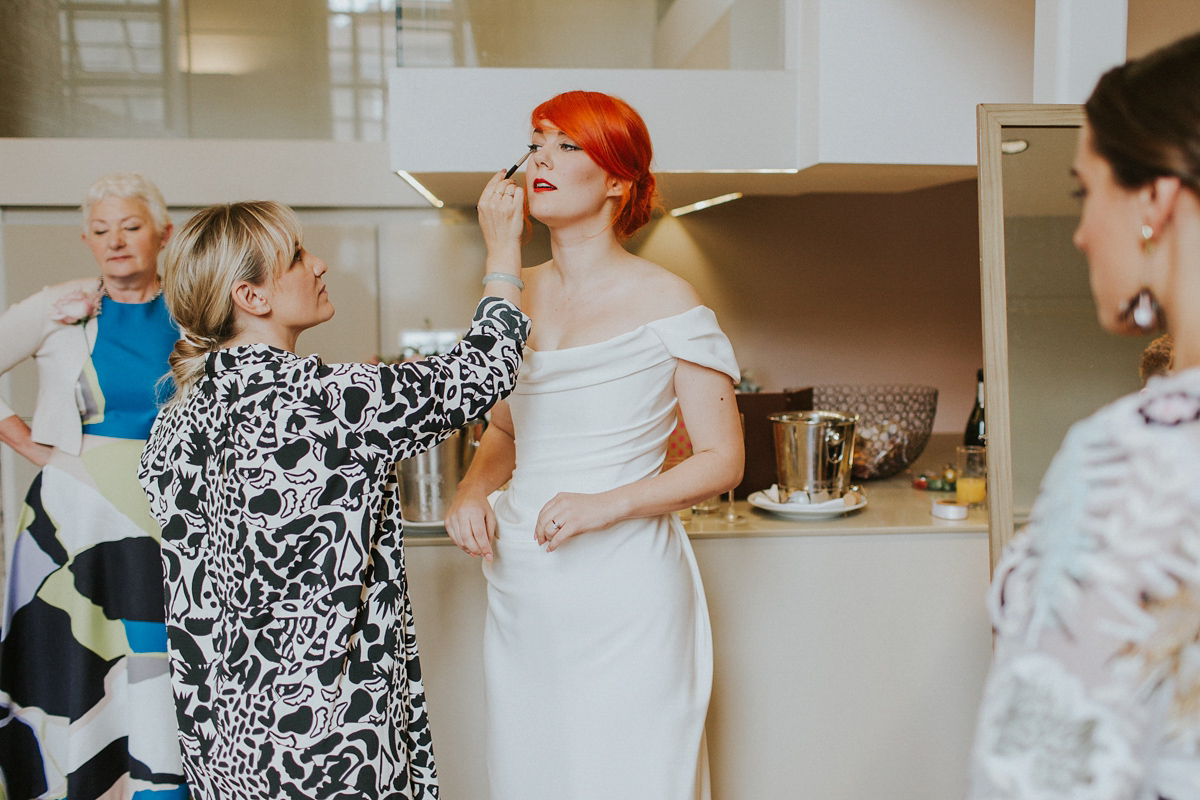 Hair was by Michael Howie at Bleach and make up by Sian Duke.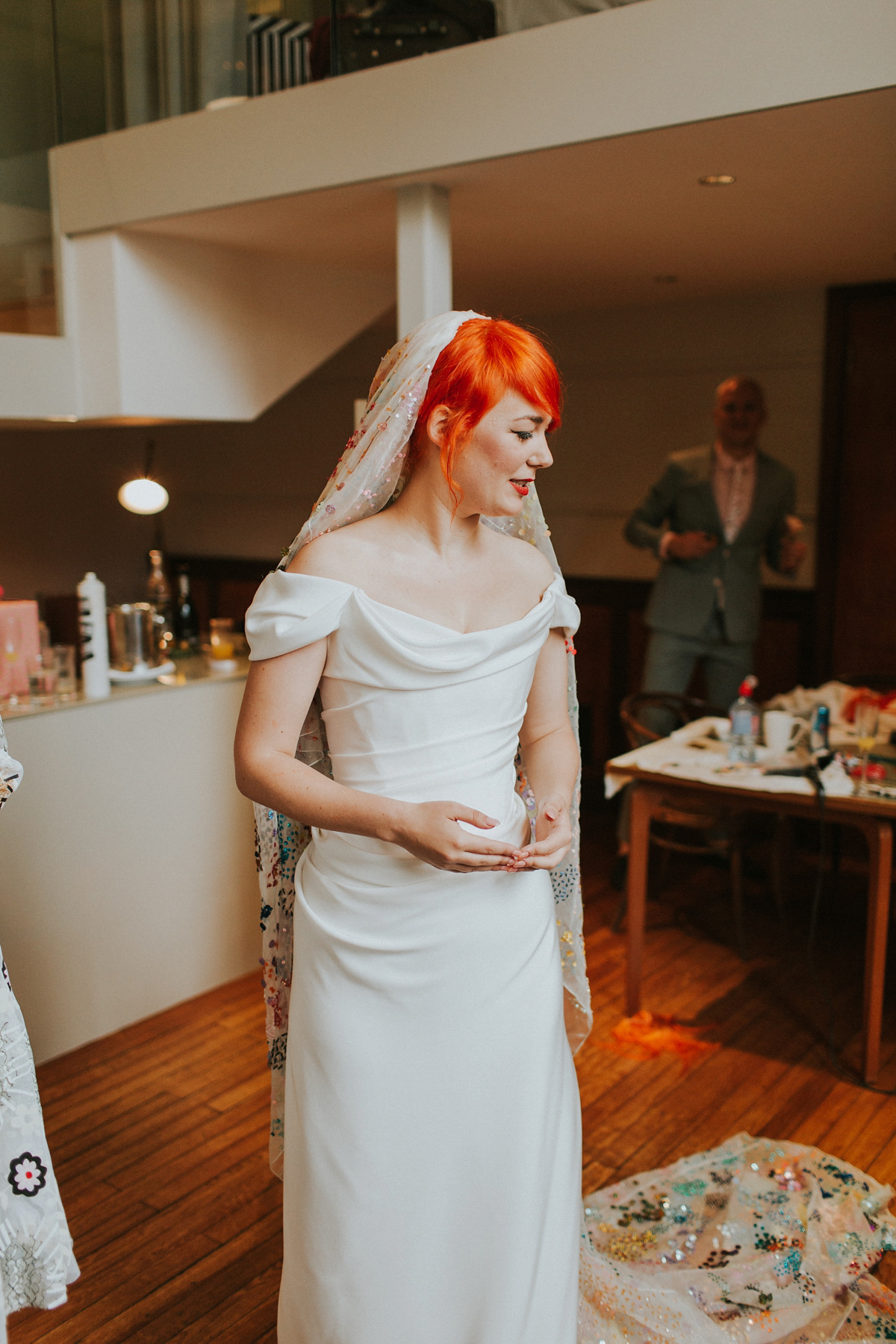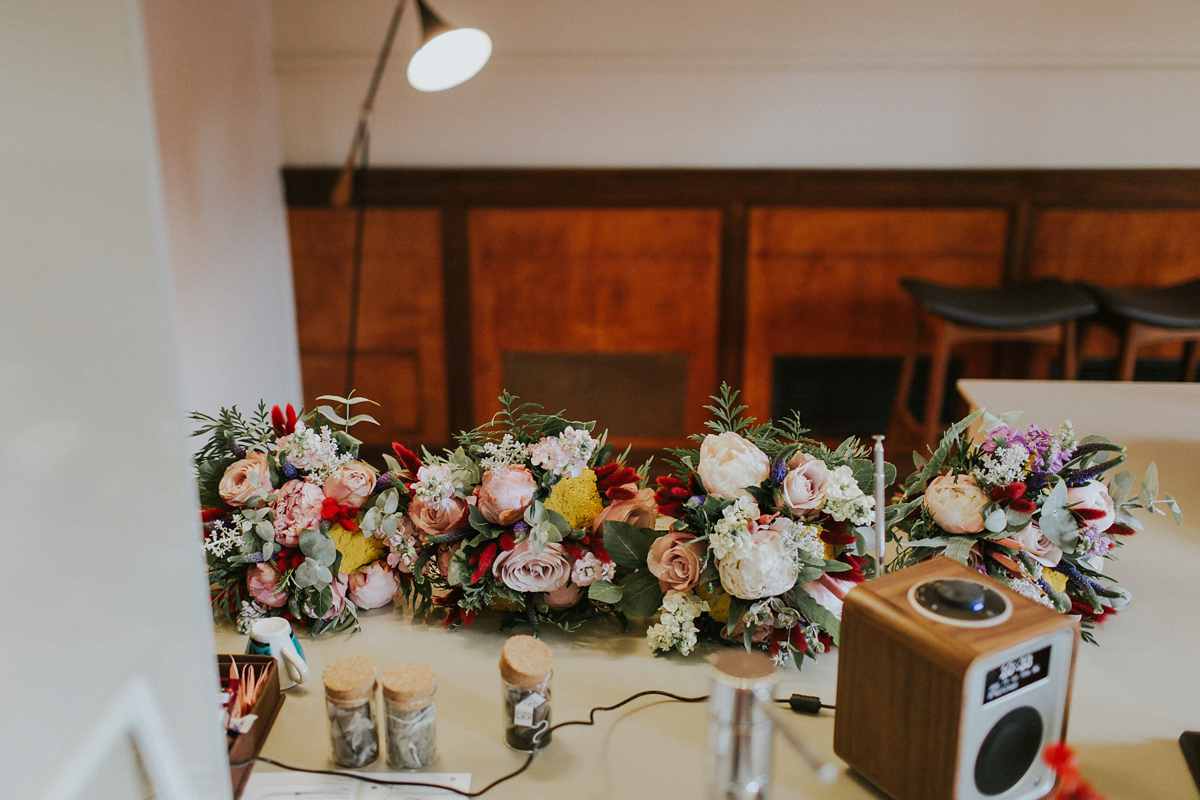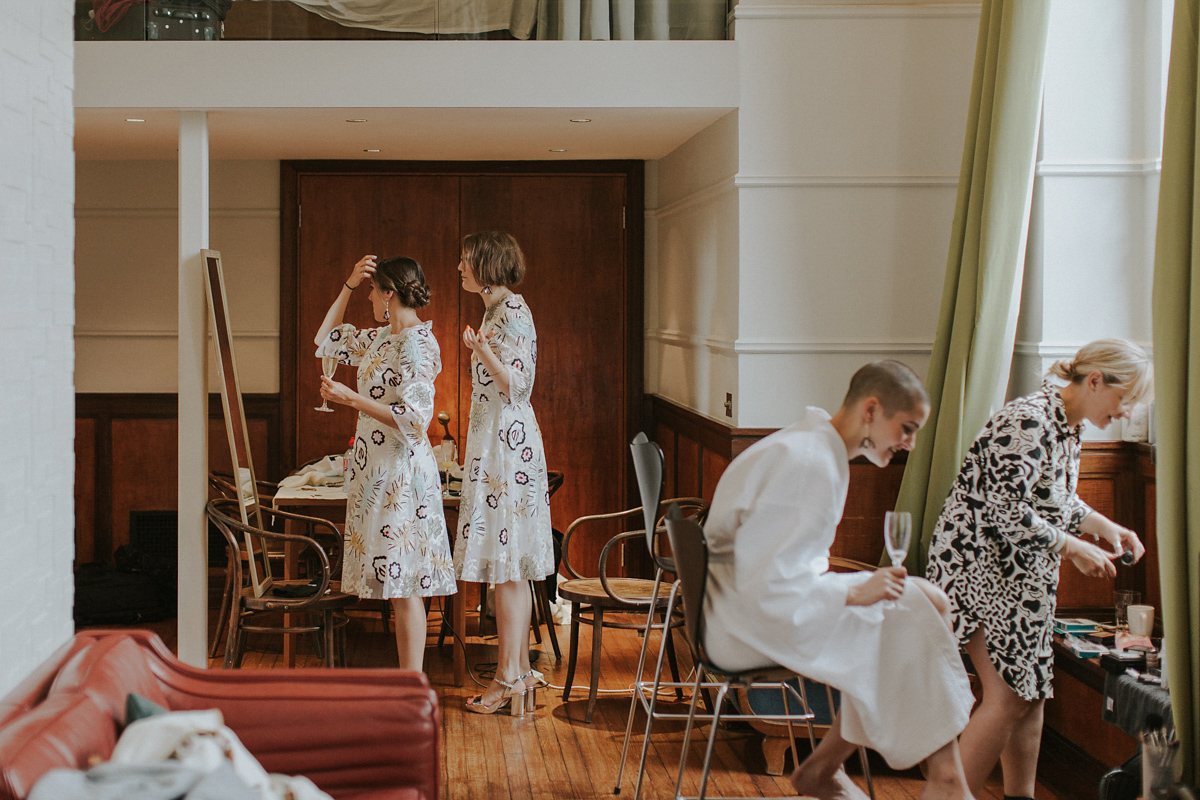 The bridesmaids looked fabulous  in dresses made by Jenny's sister and Mum, Beth and Jan Postle, who also made the fabric itself, printing it to their own design – how fabulous.
The gentlemen looked smart in pale green suits by Kin by John Lewis, paired with ties made by Beth.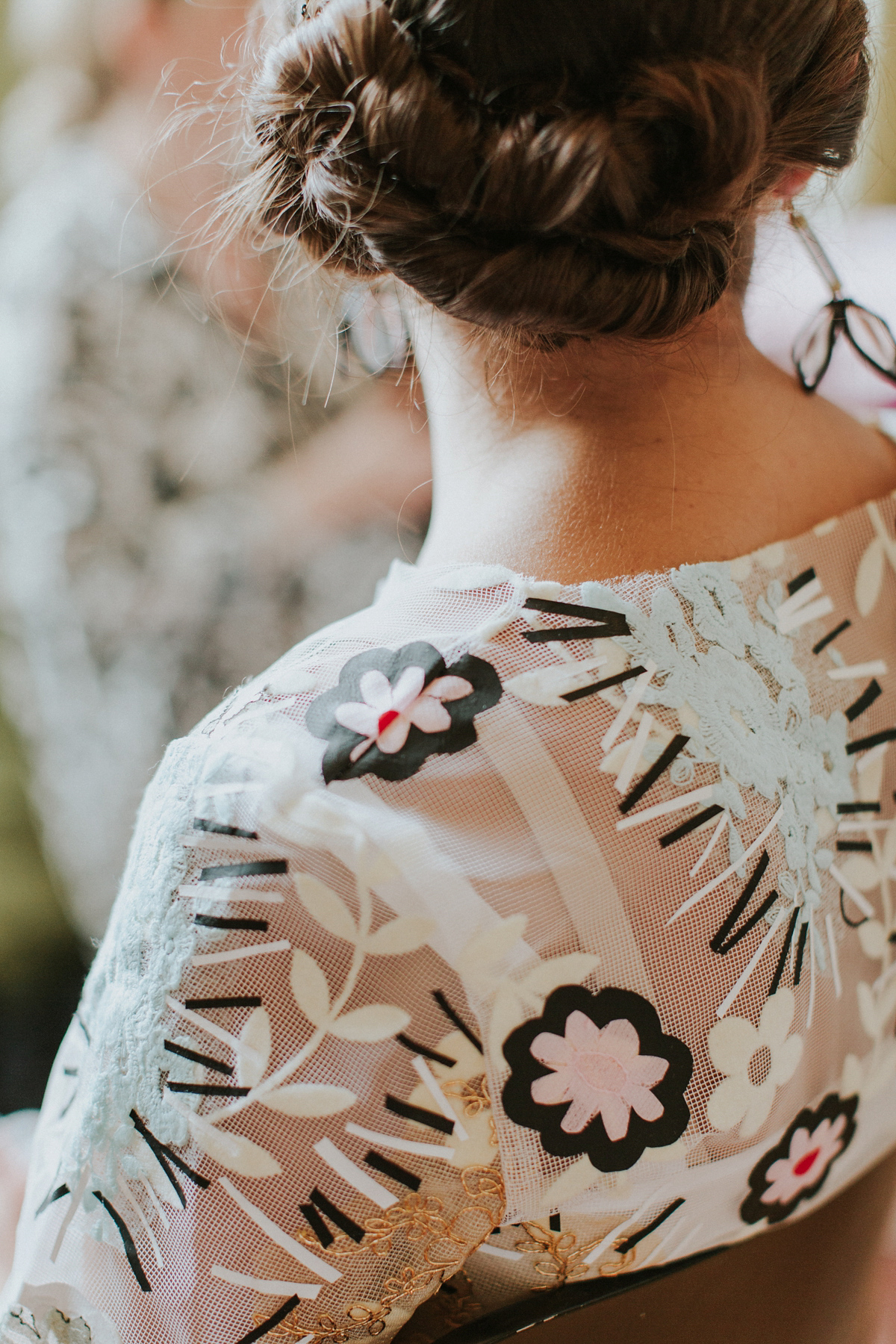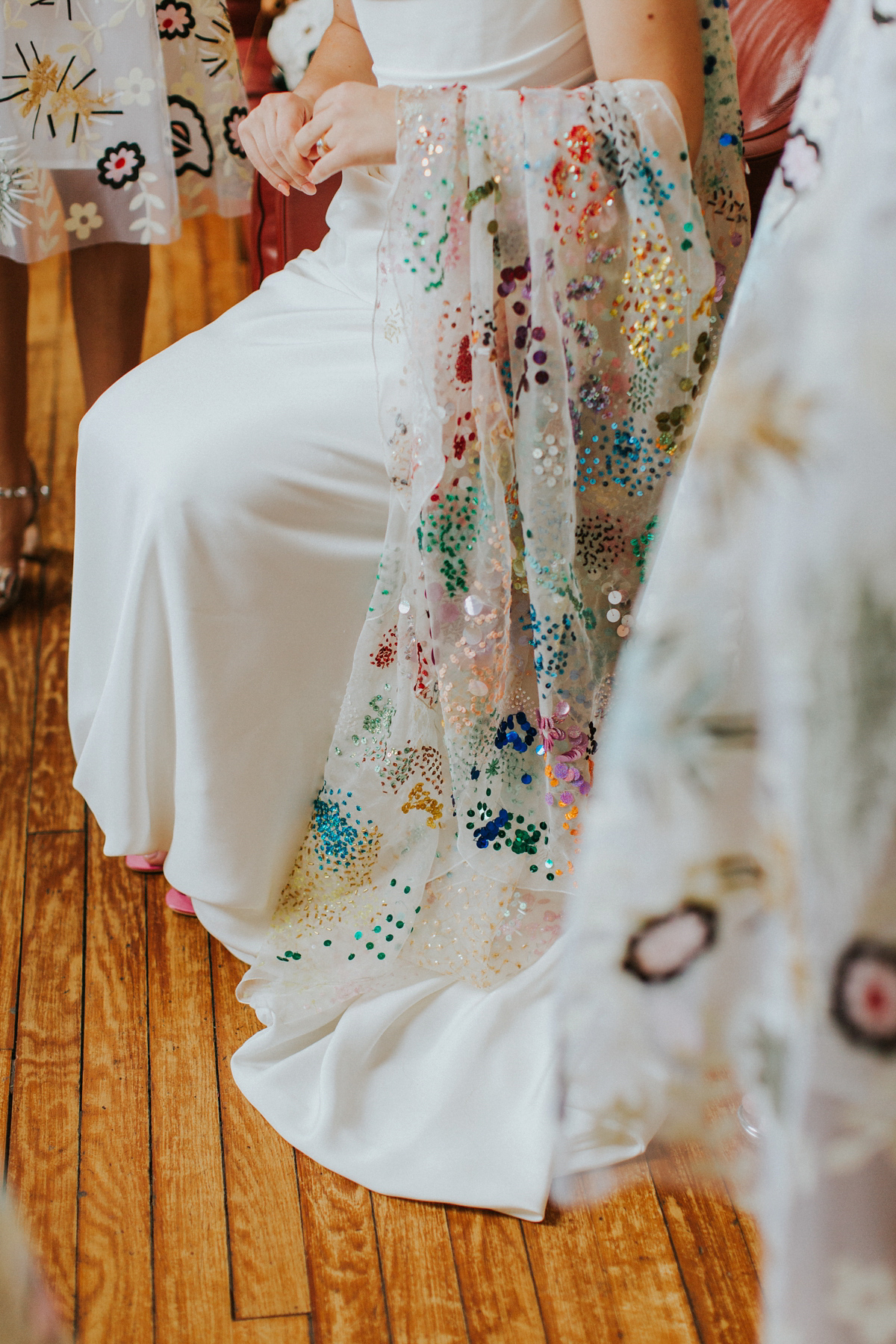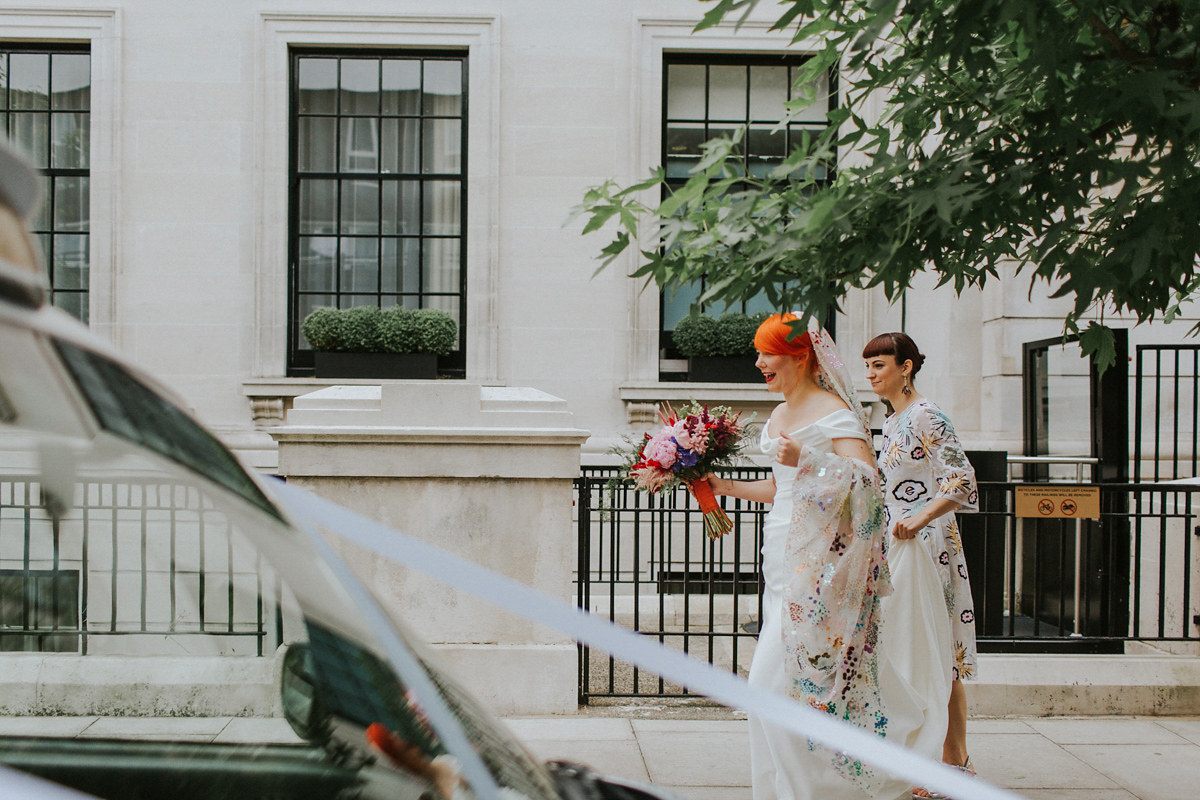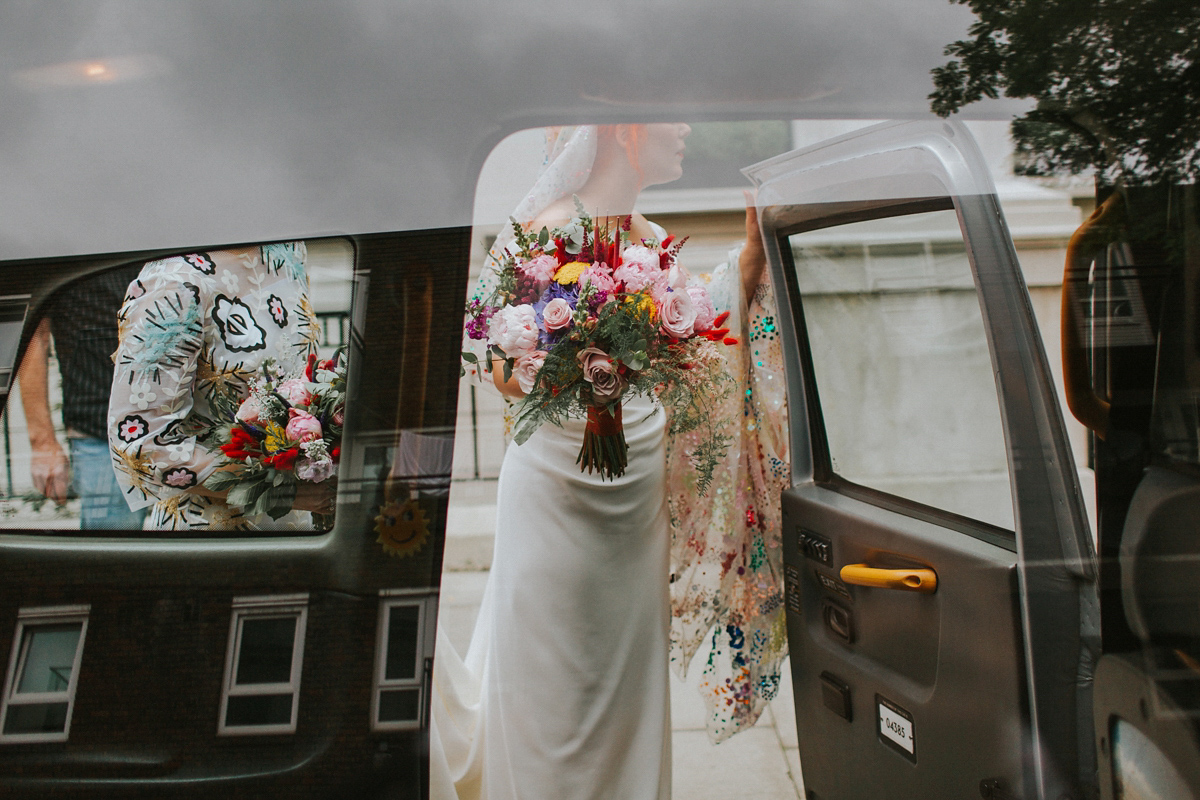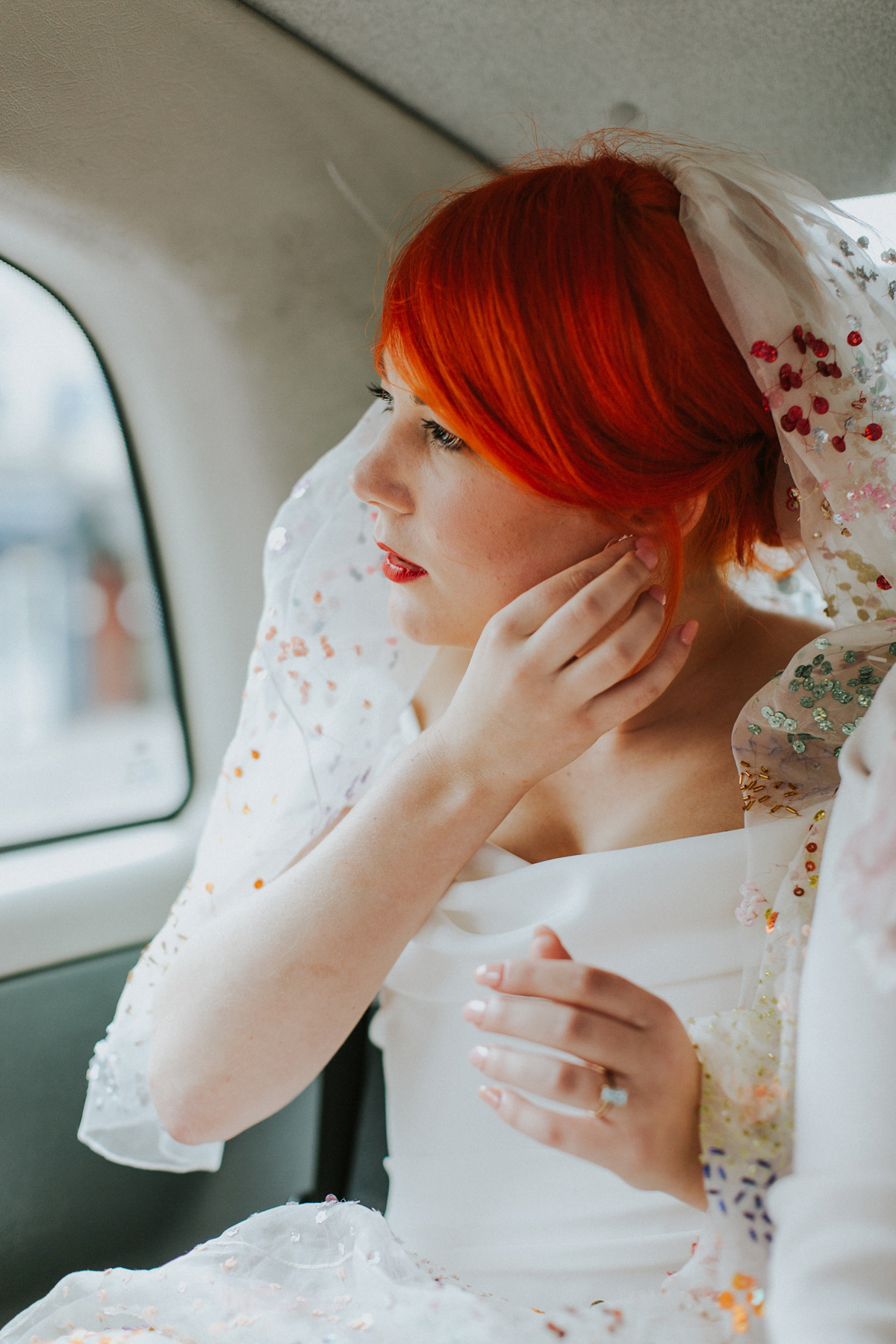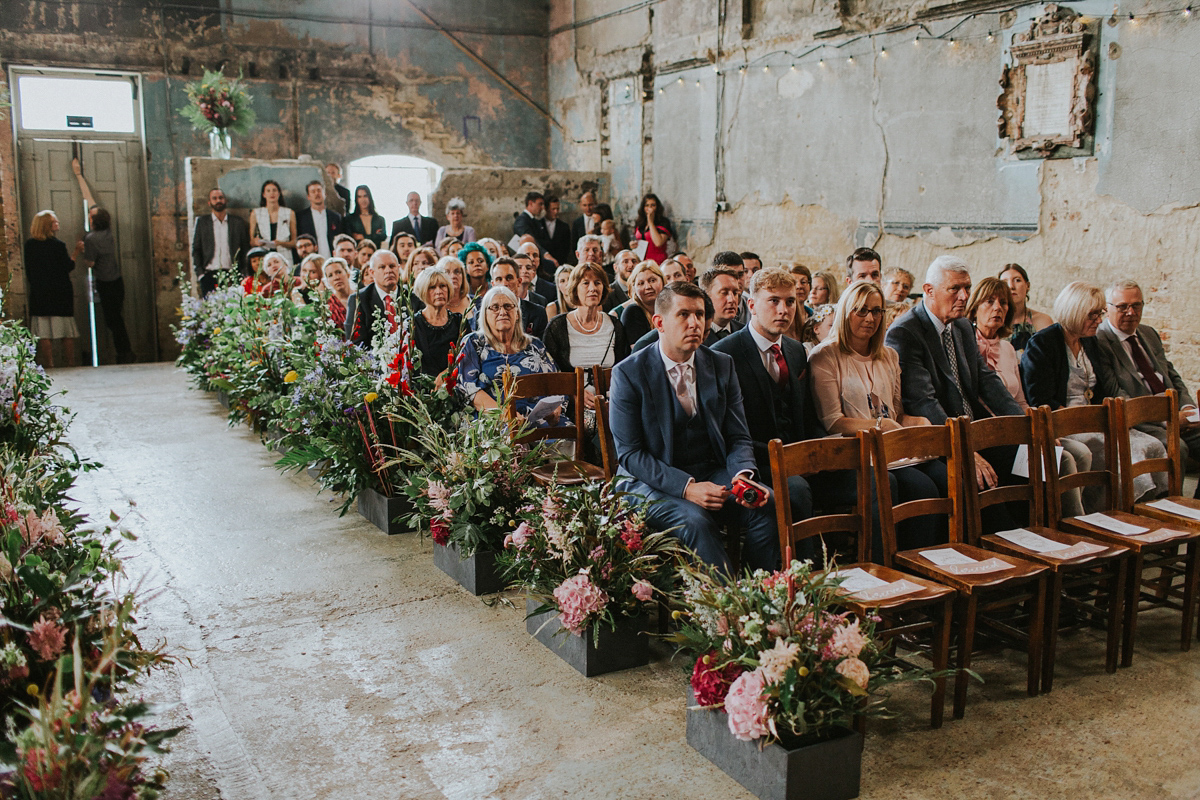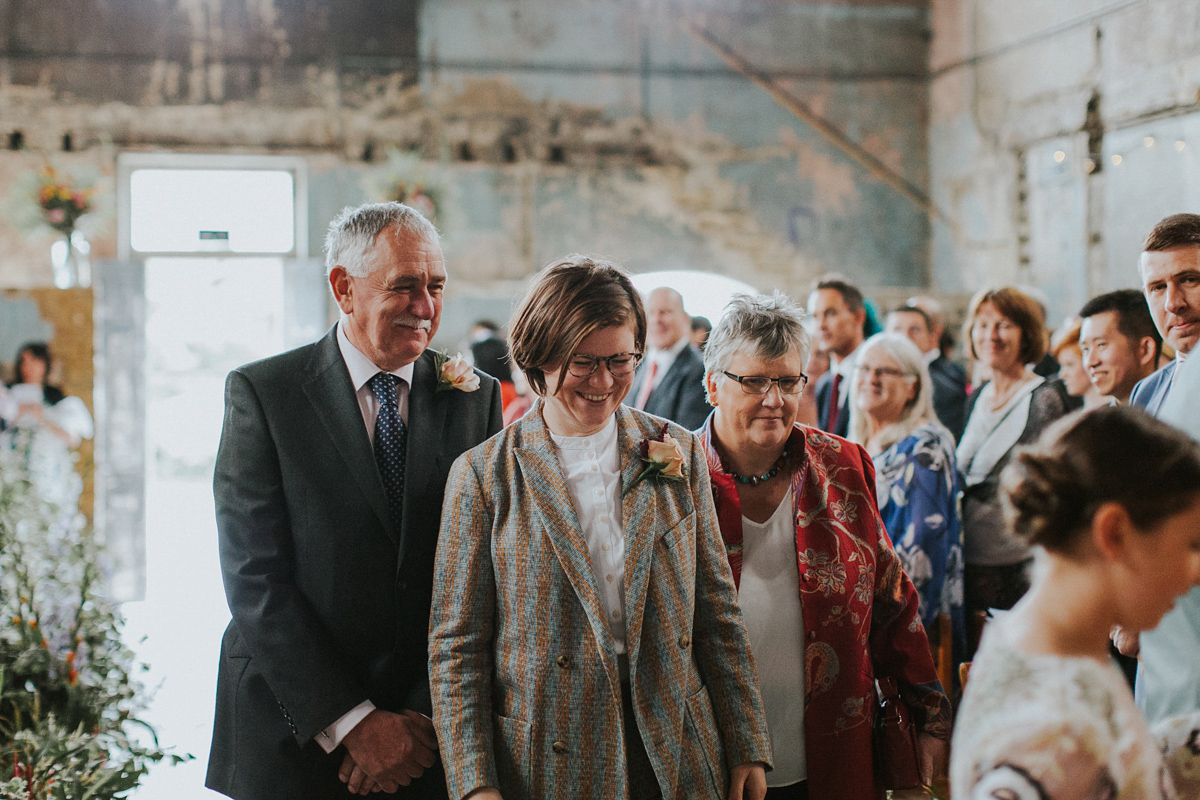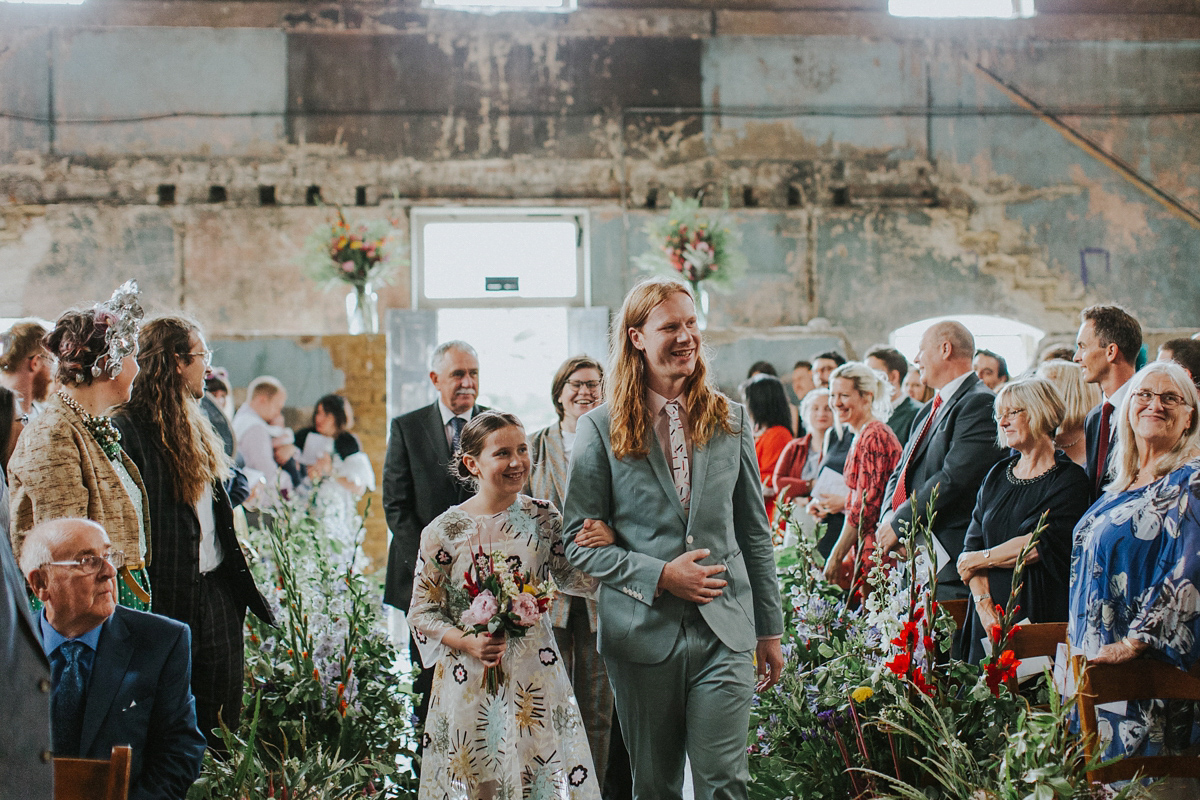 Hannah chose to wear a wonderful tailored striped suit from Missoni, worn with a shirt by Phoebe English.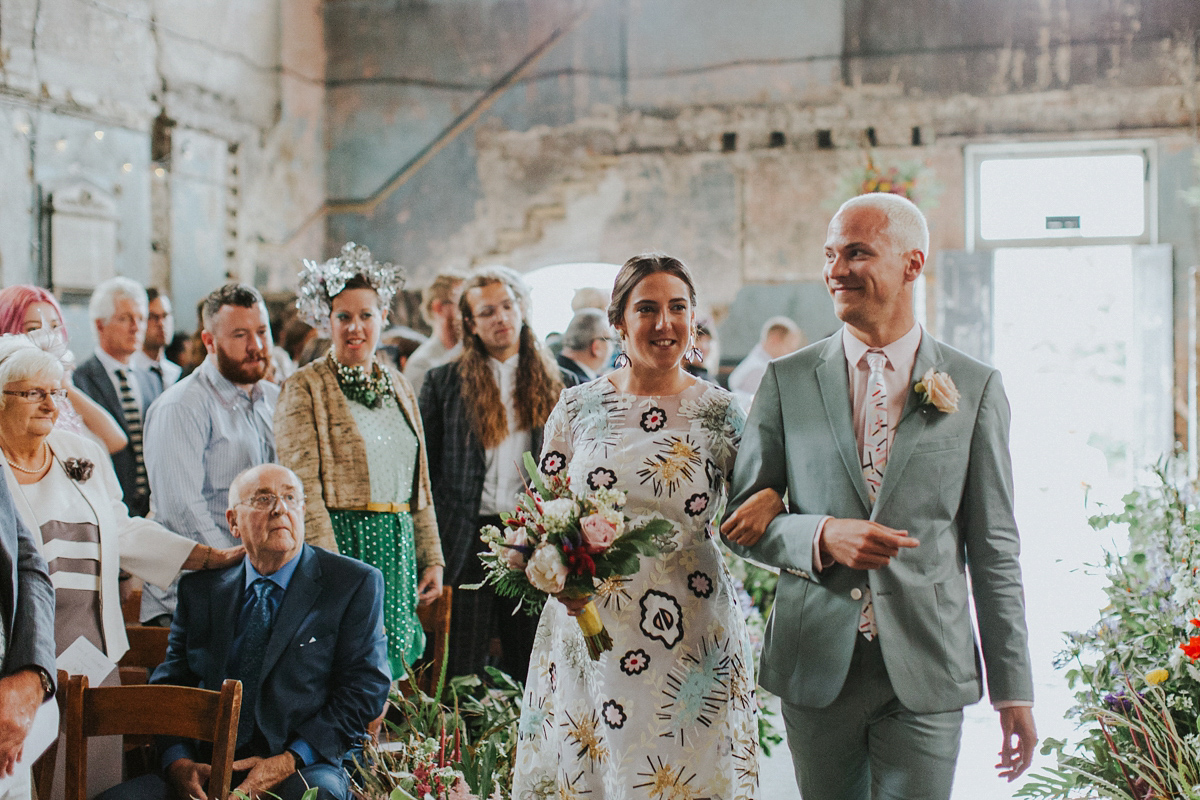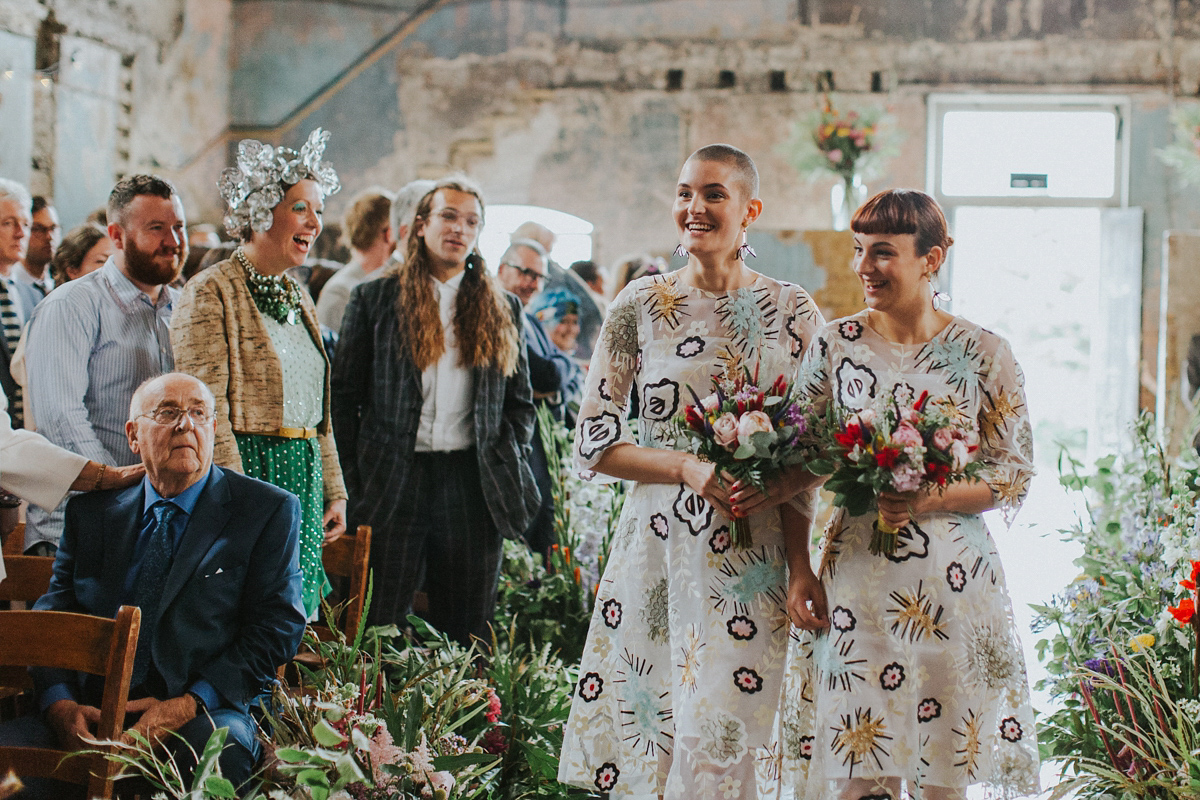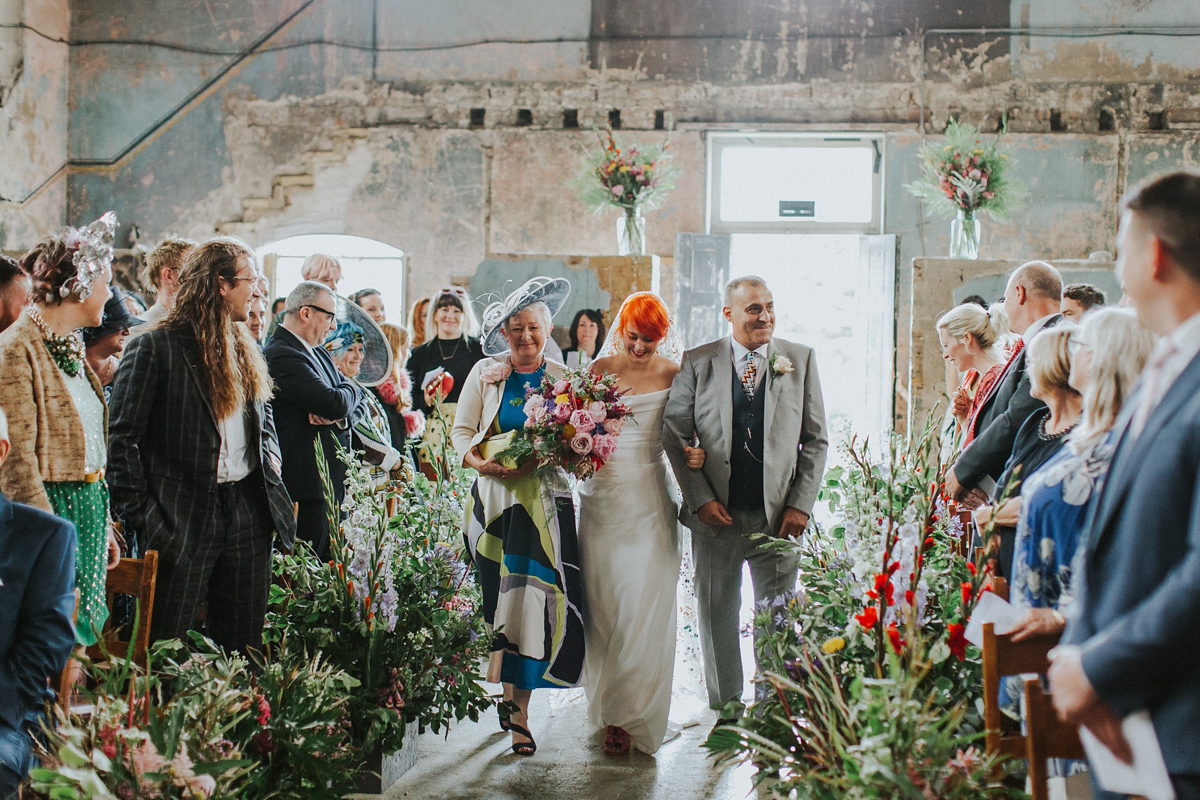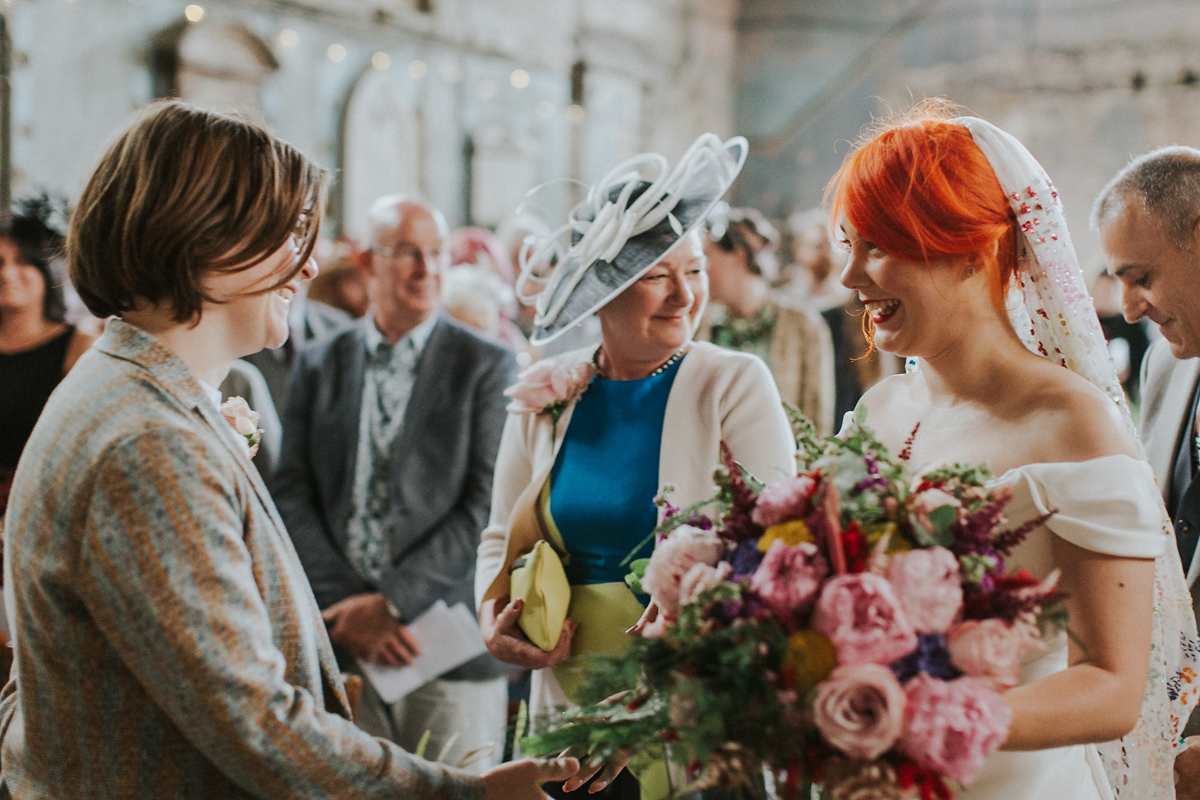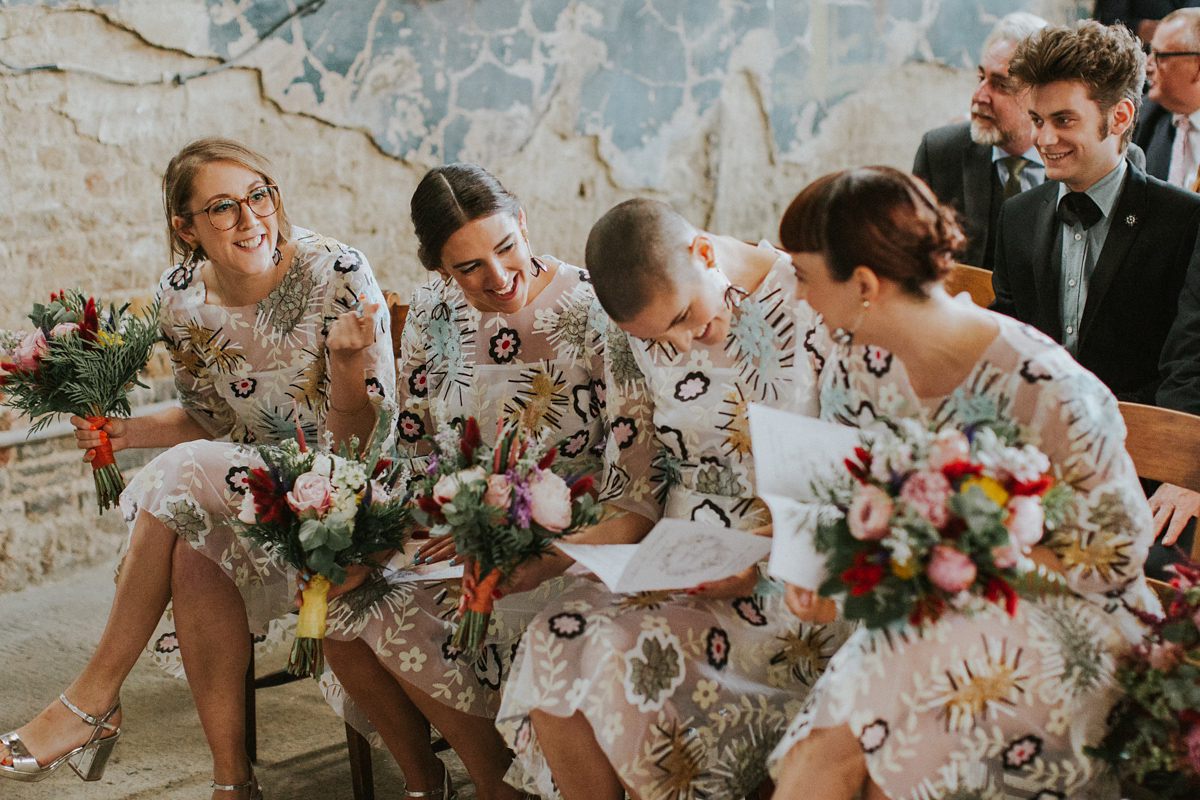 The brides exchanged vows before friends and family and then they and their guests celebrated their newly wed status with drinks and snacks at The Asylum, before travelling to their reception venue at Trinity Buoy Wharf.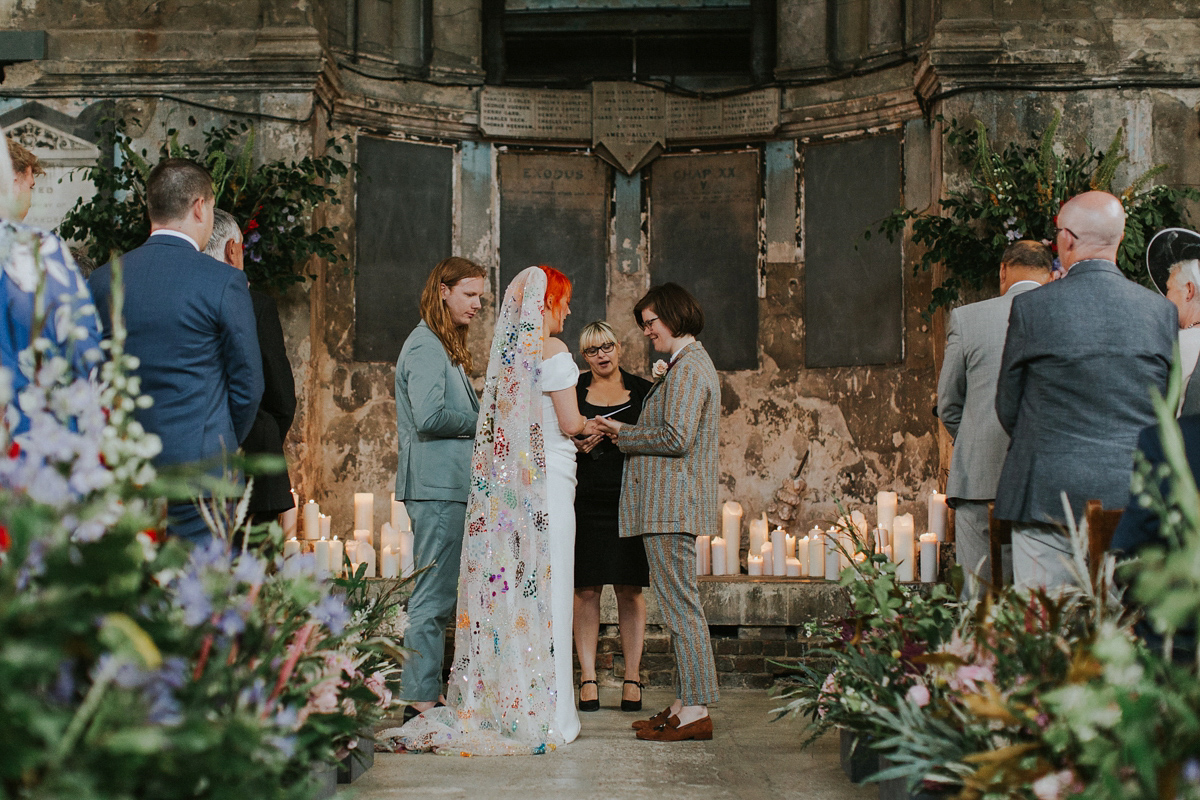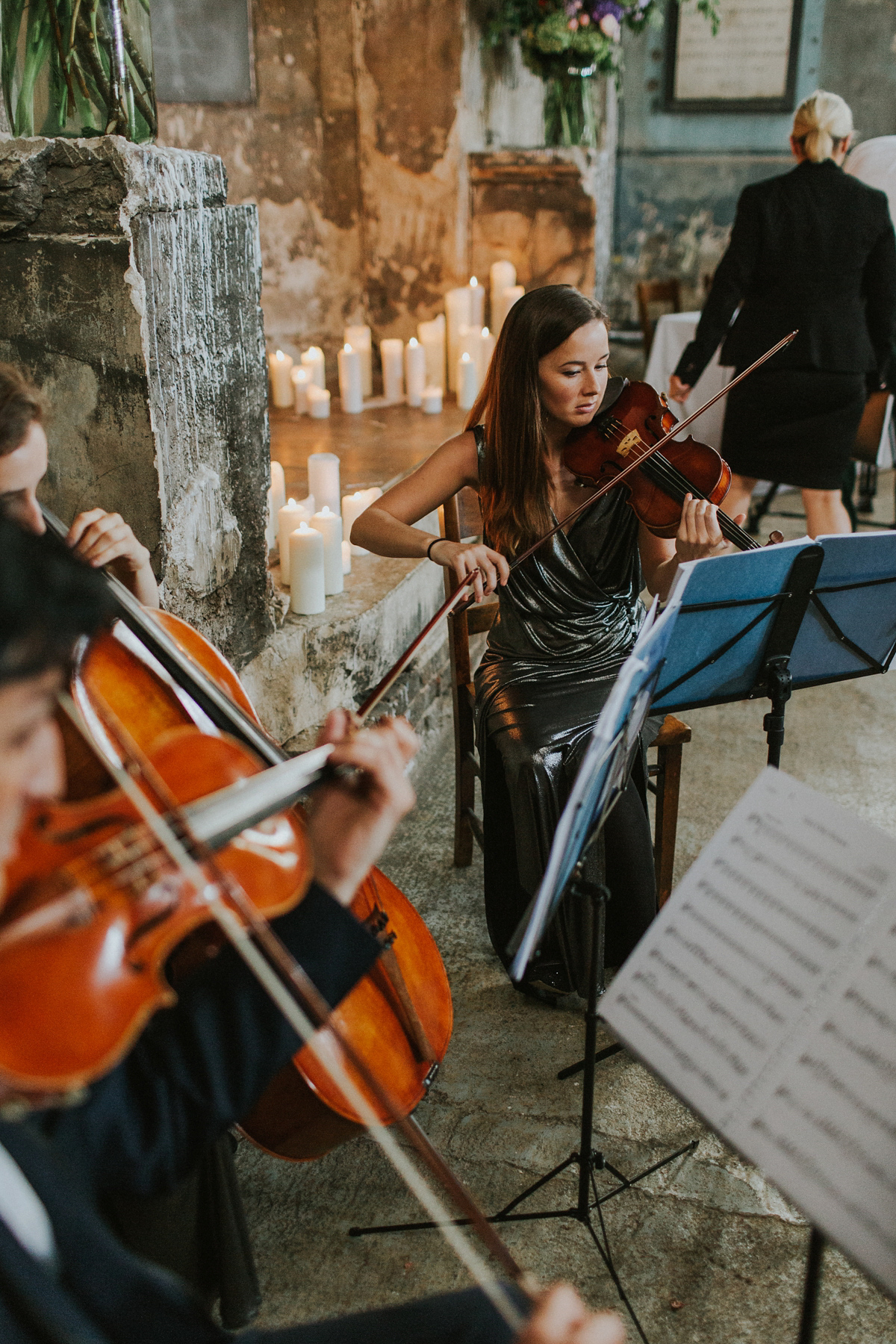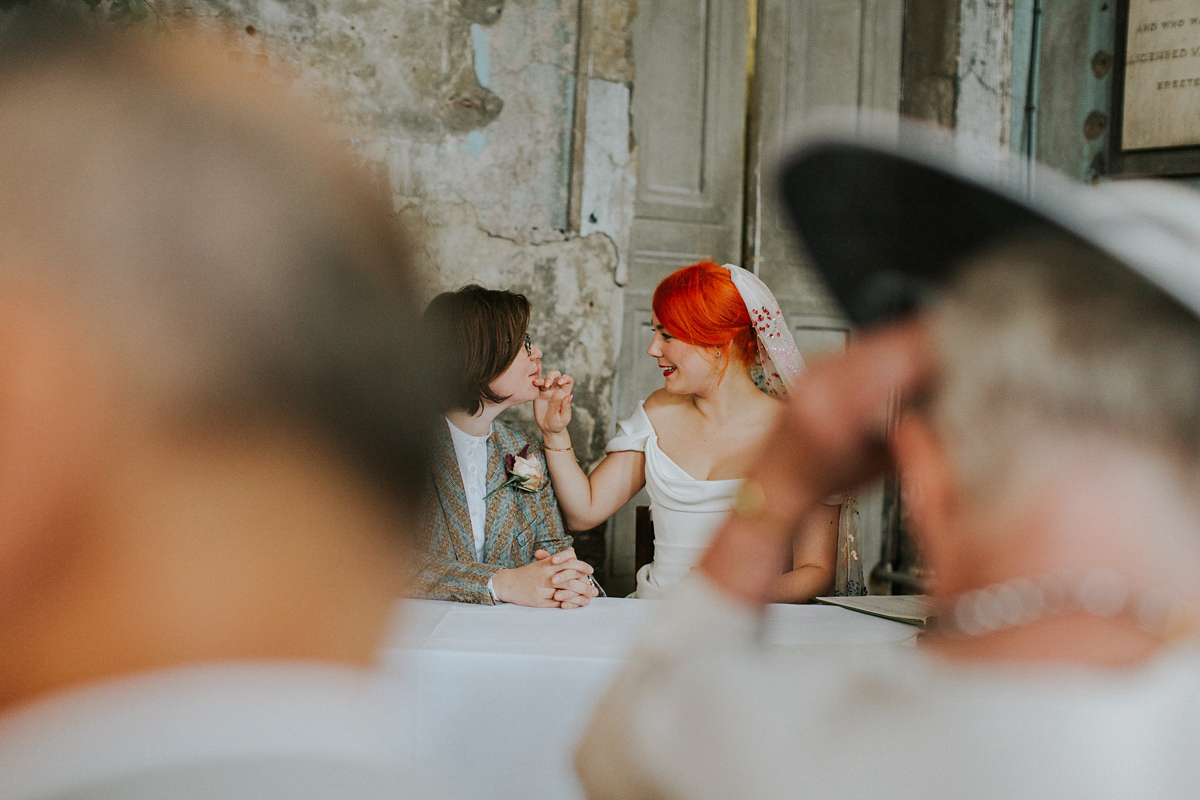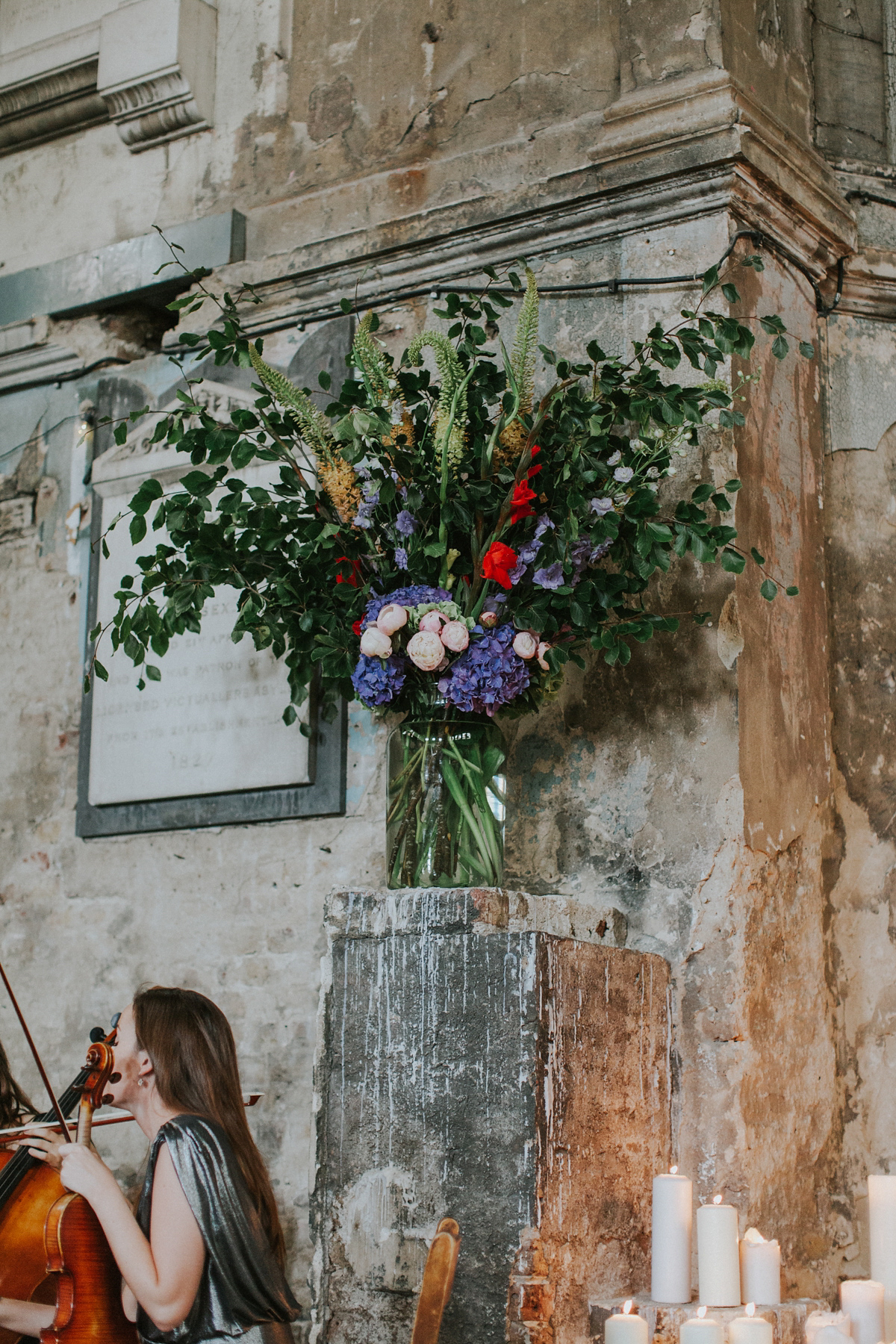 Flowers were the work of Adam Knights (no details) who created the most beautiful vibrant bouquets for Jenny and her bridesmaids, as well as absolutely filling the venue with flowers, grasses and greenery and adding to that wonderful feel of abundance this day characterises.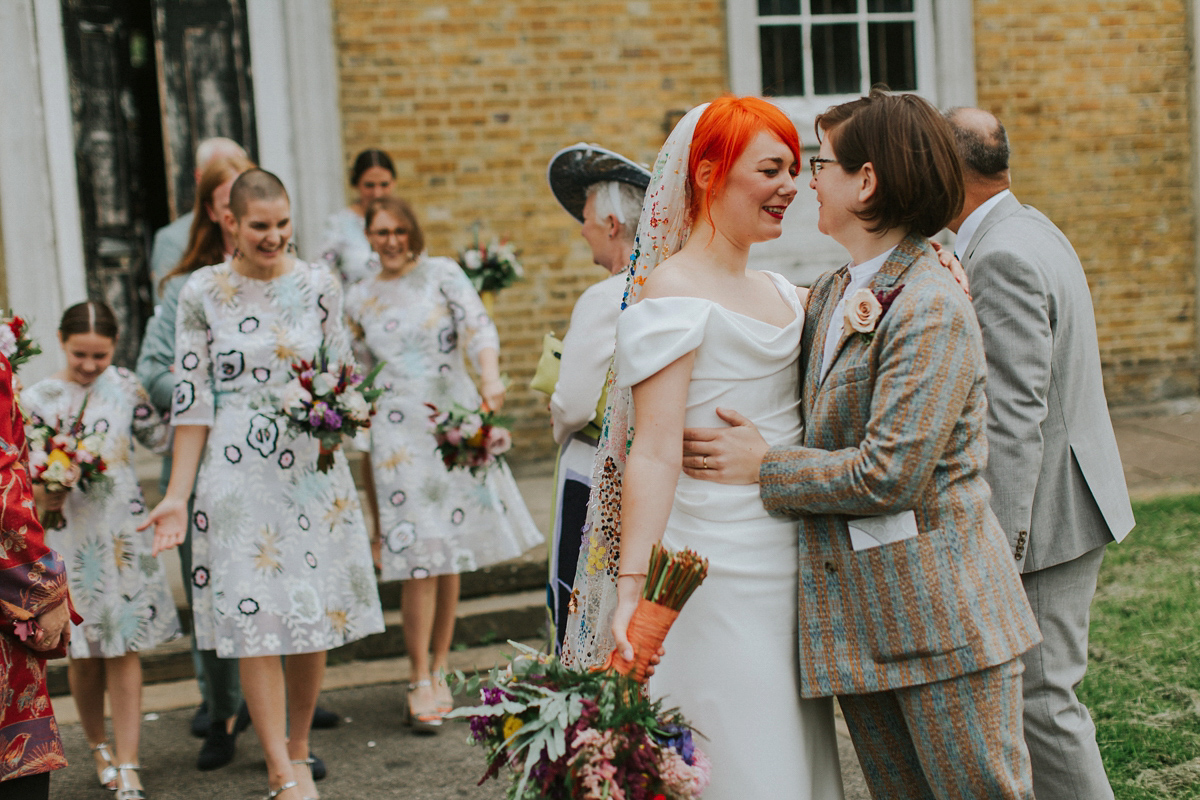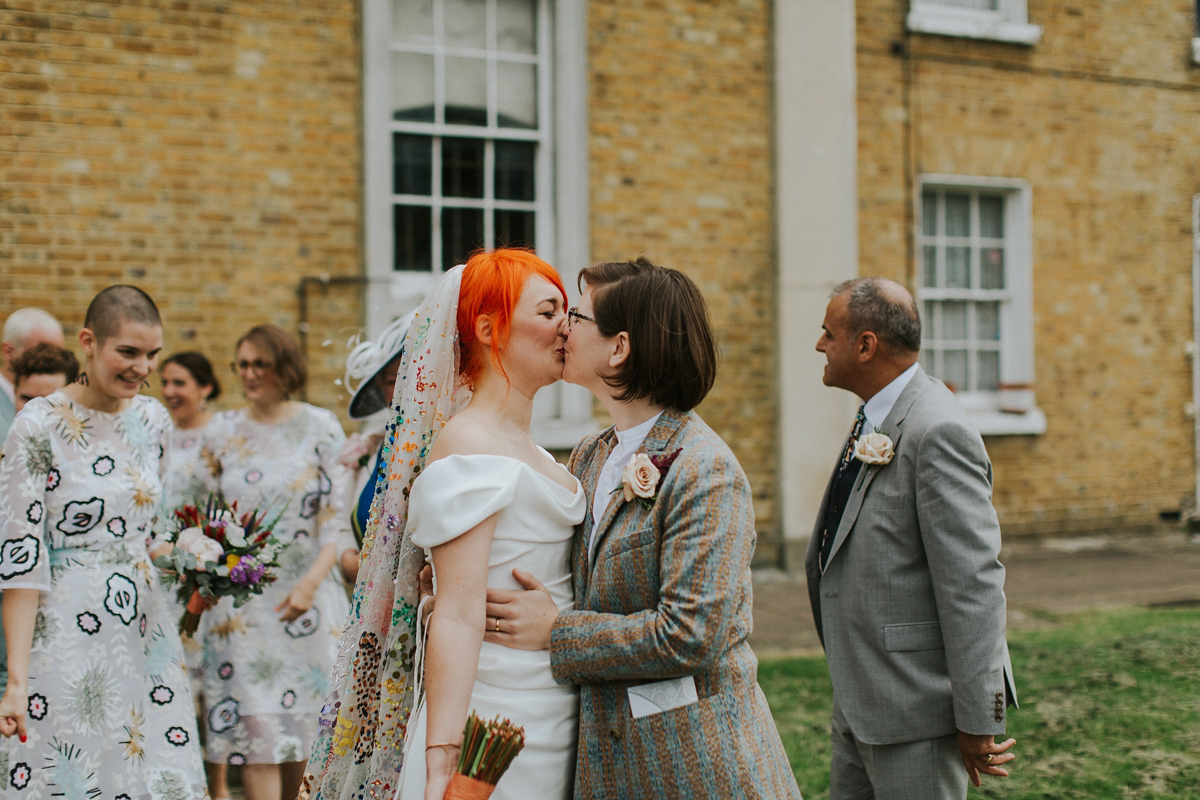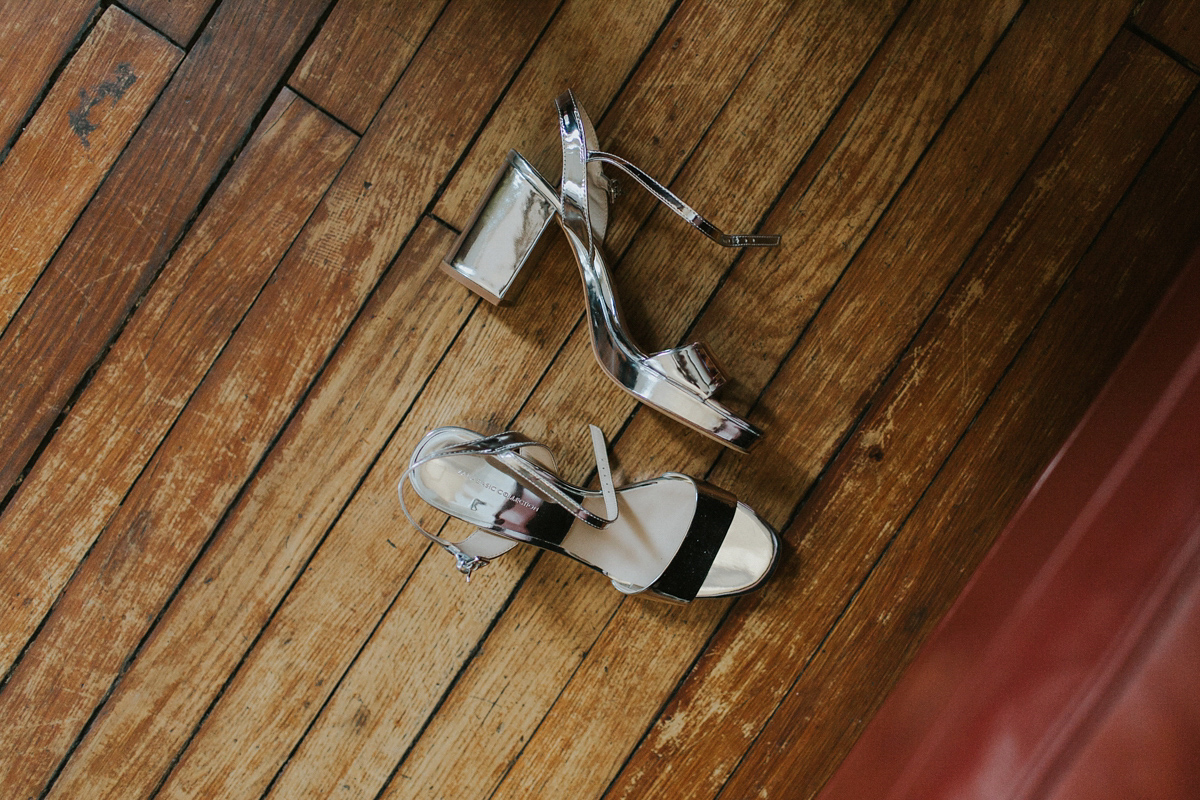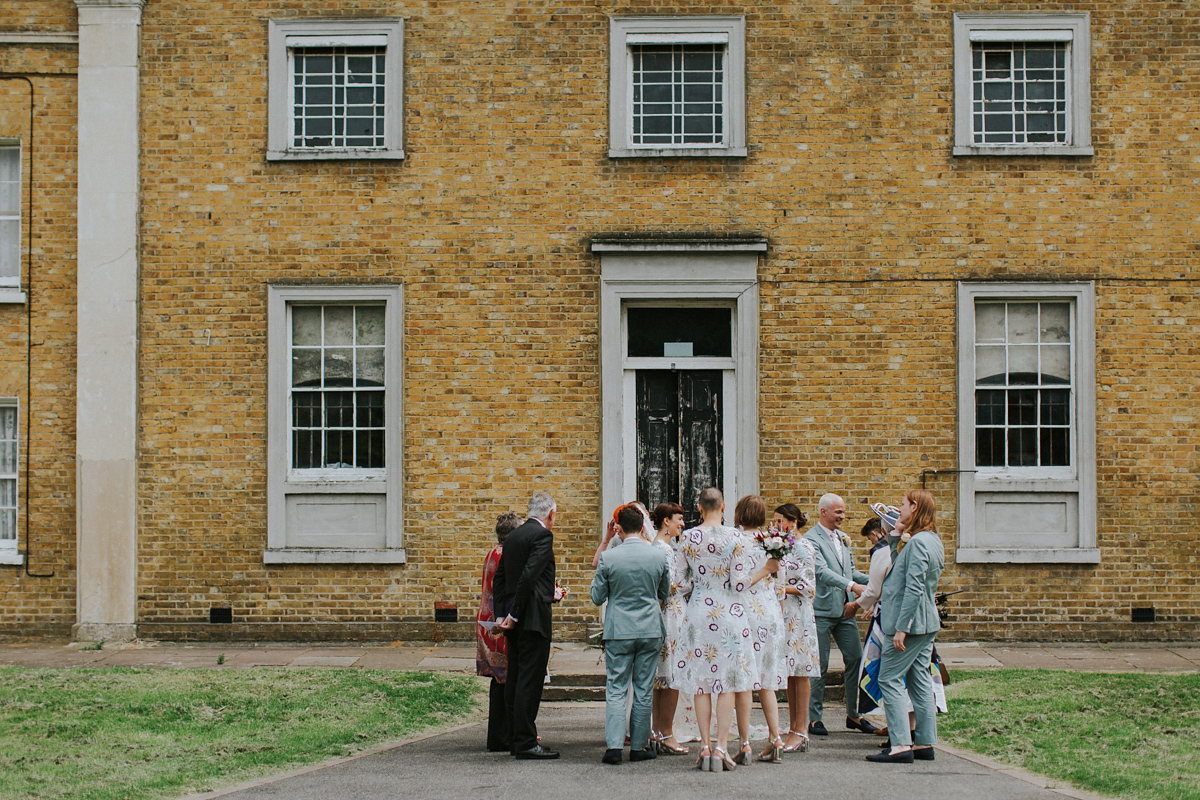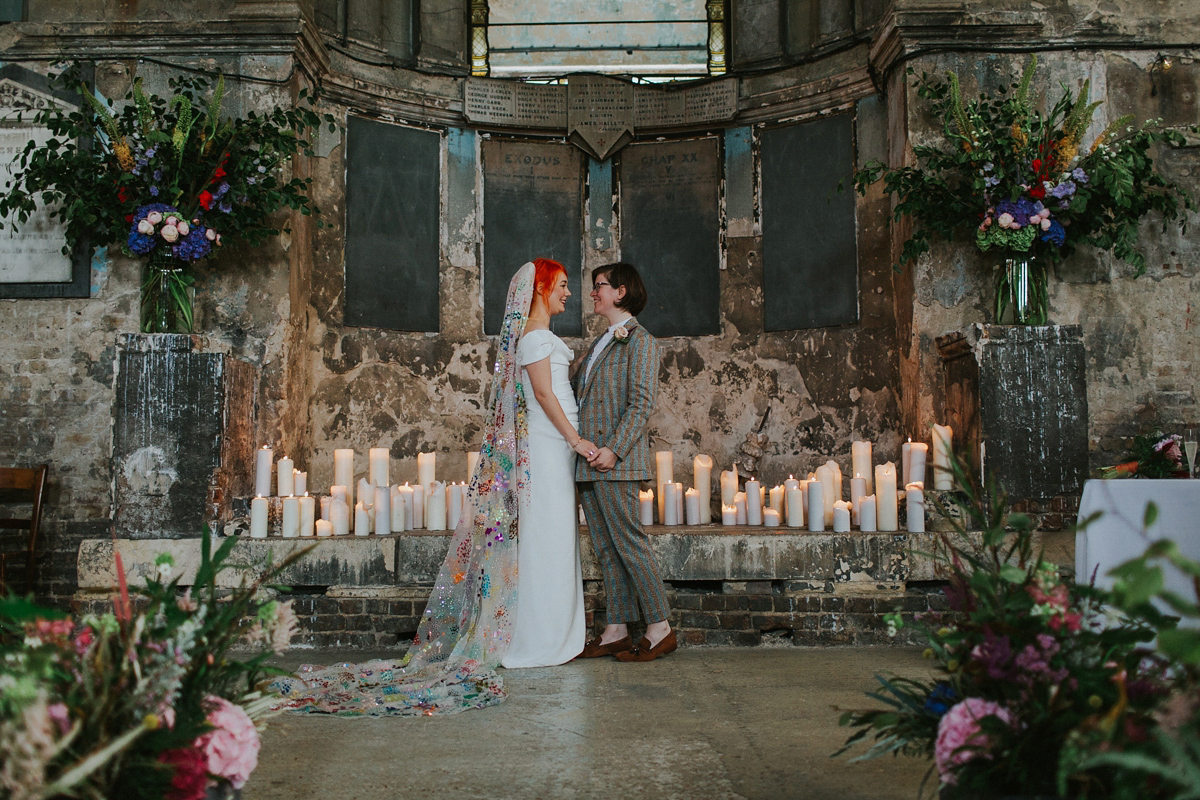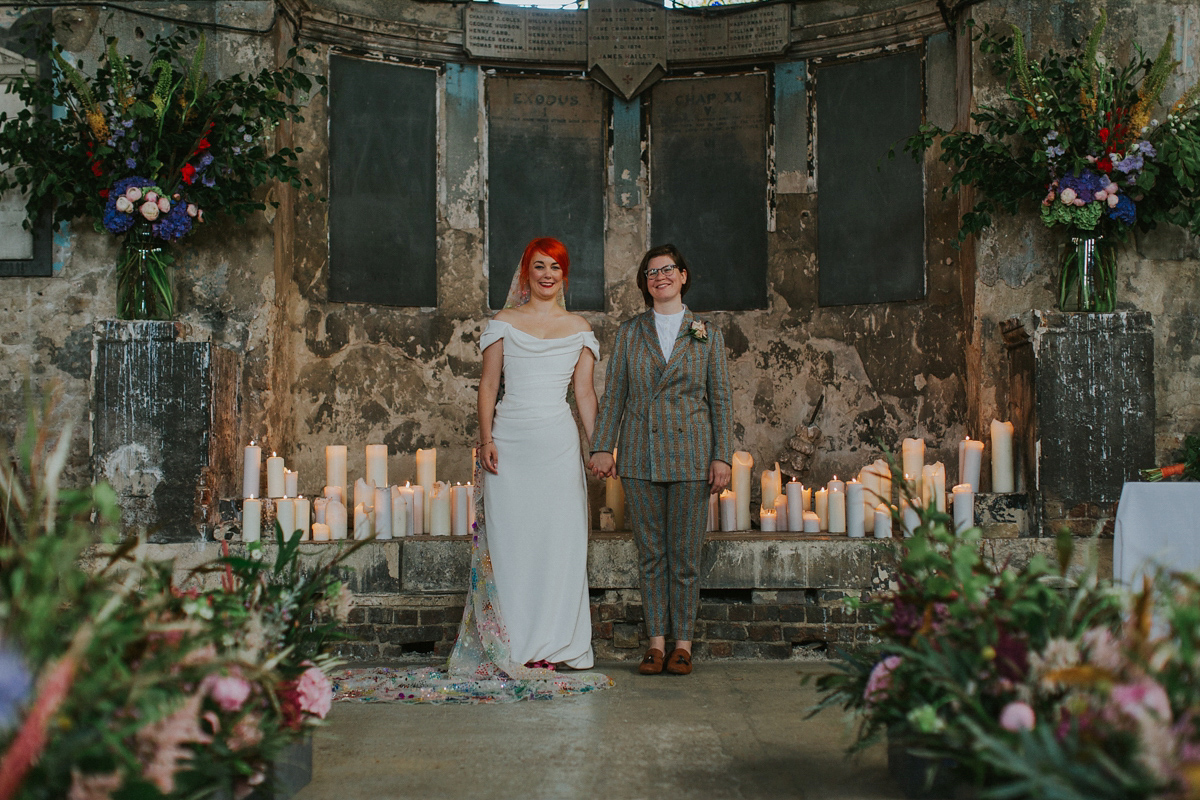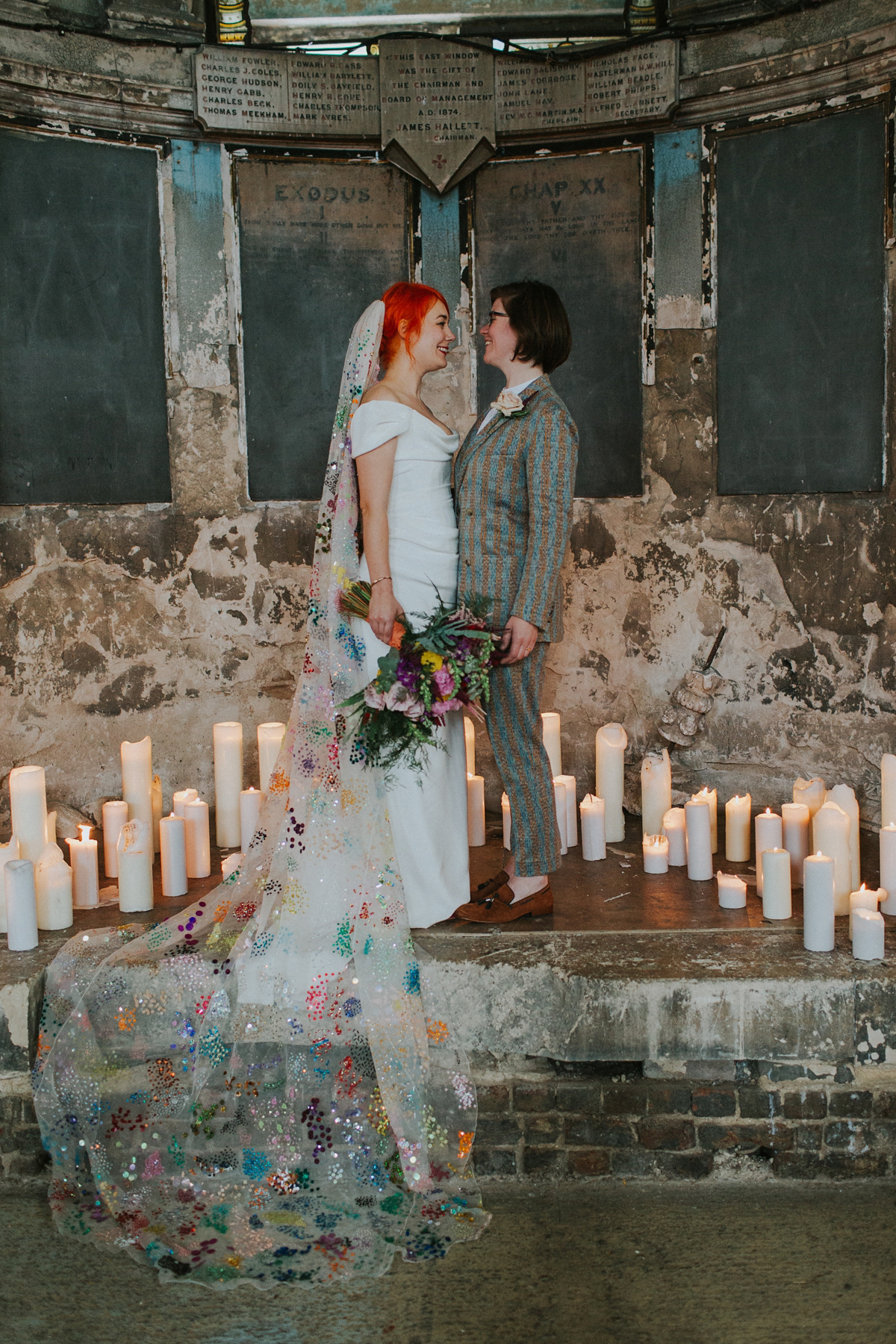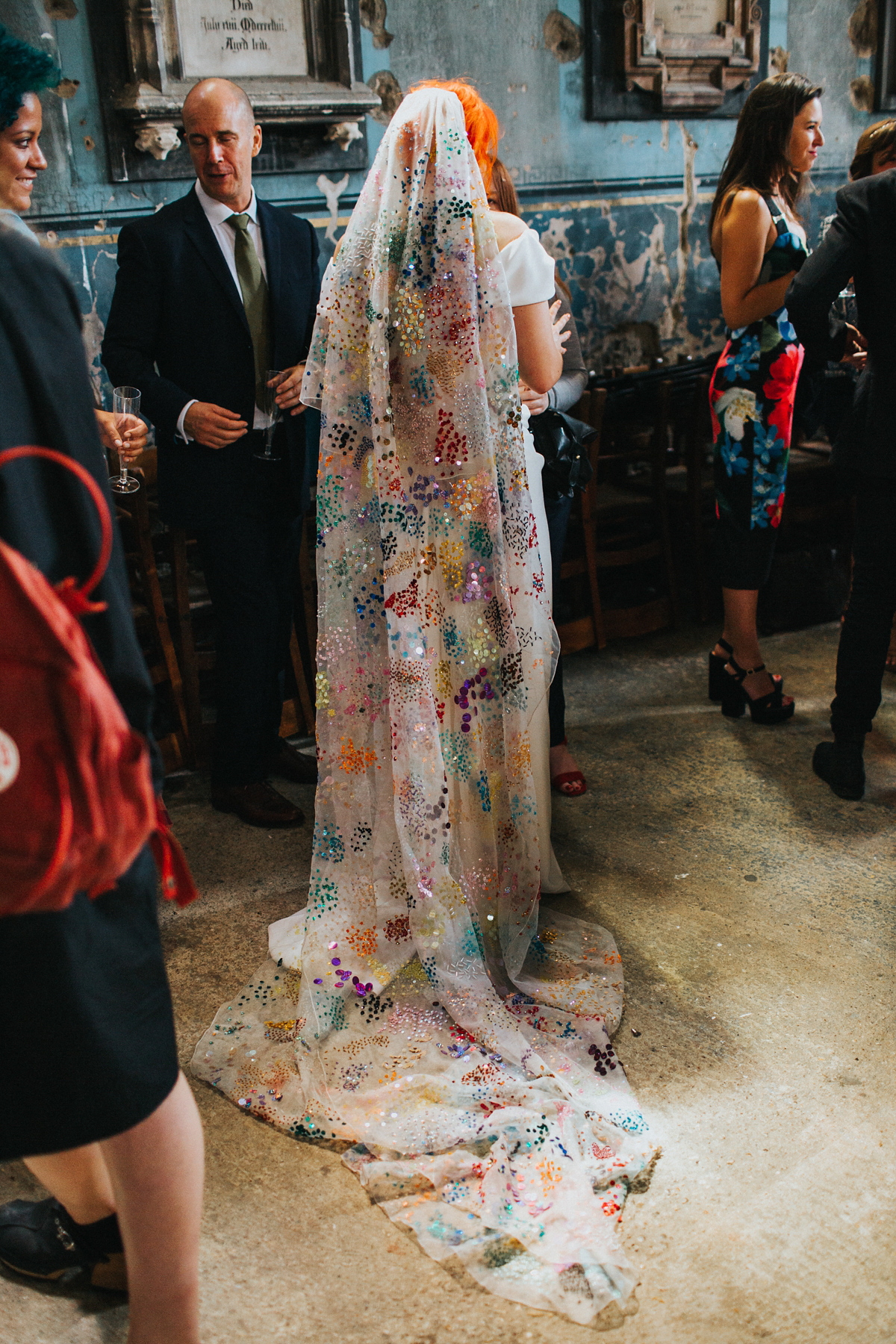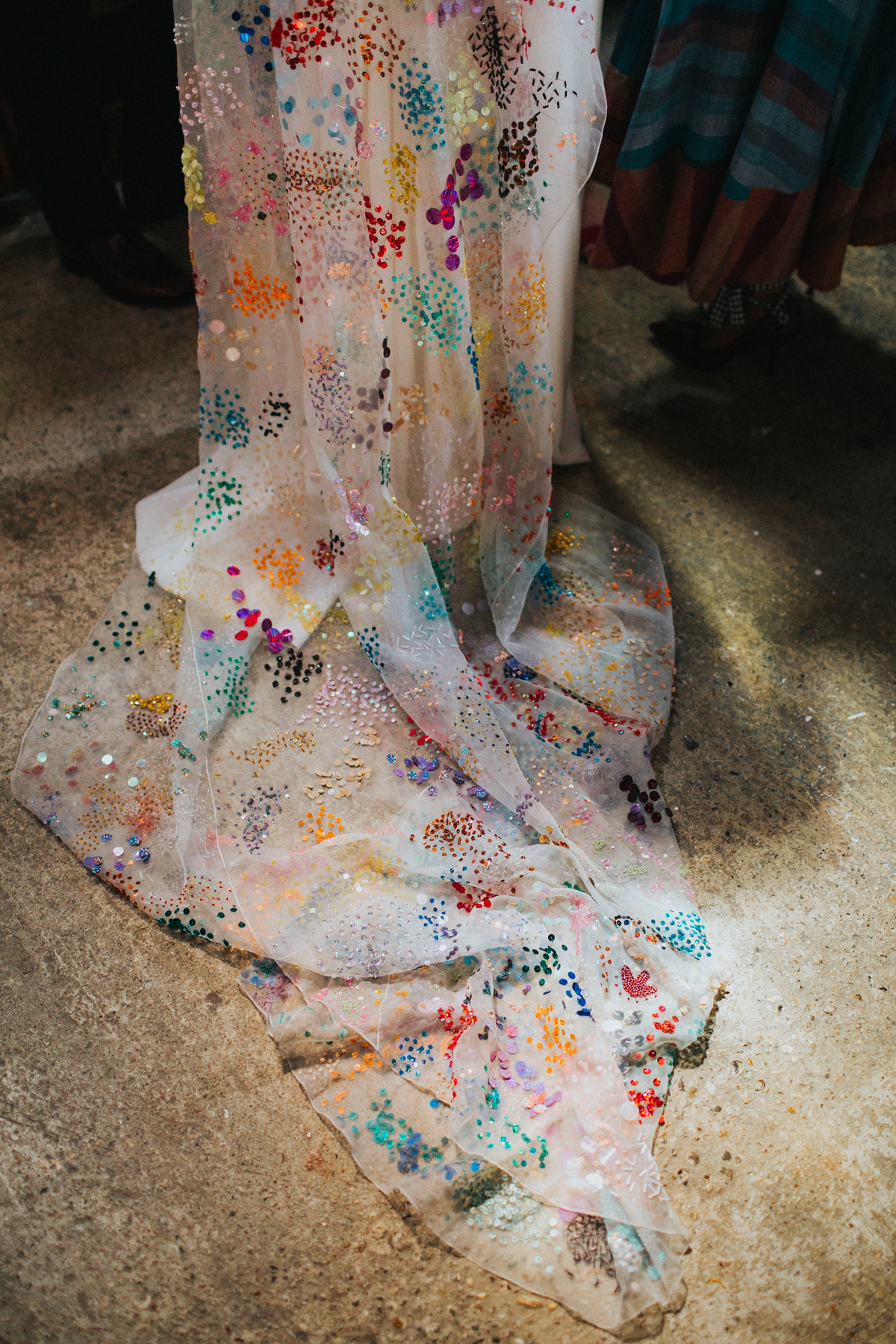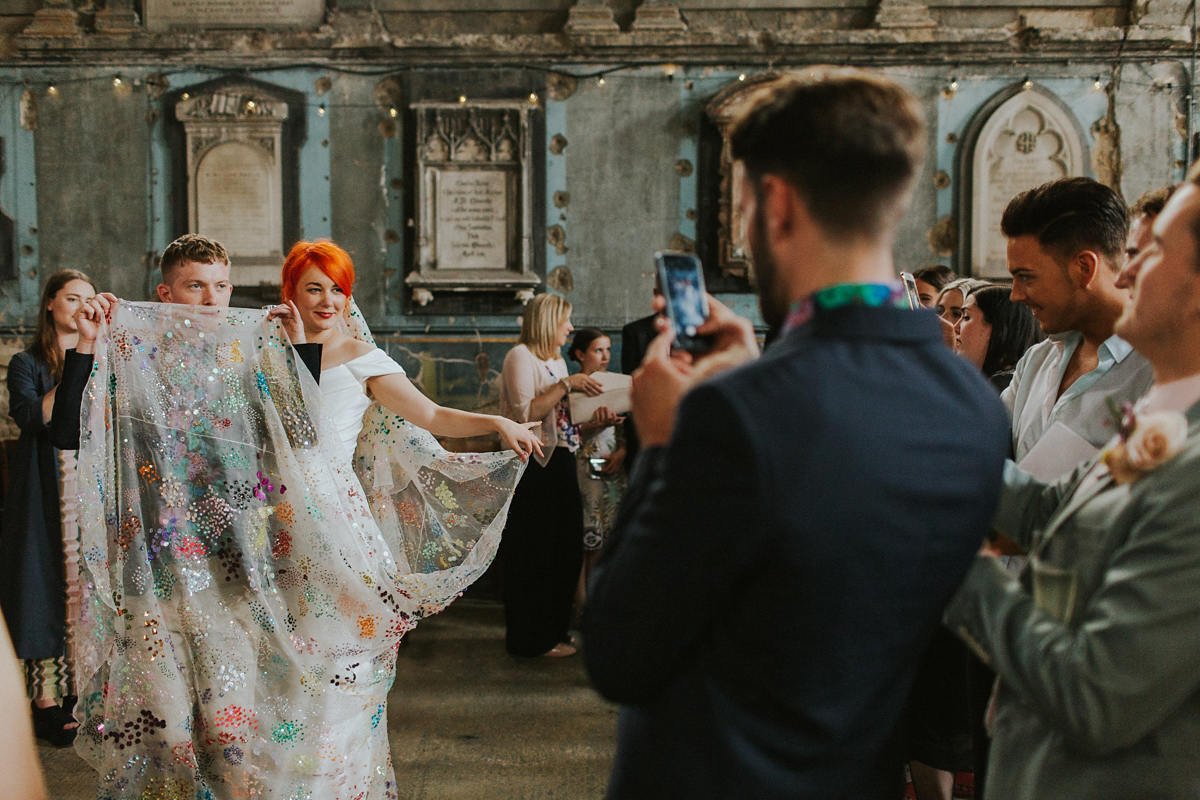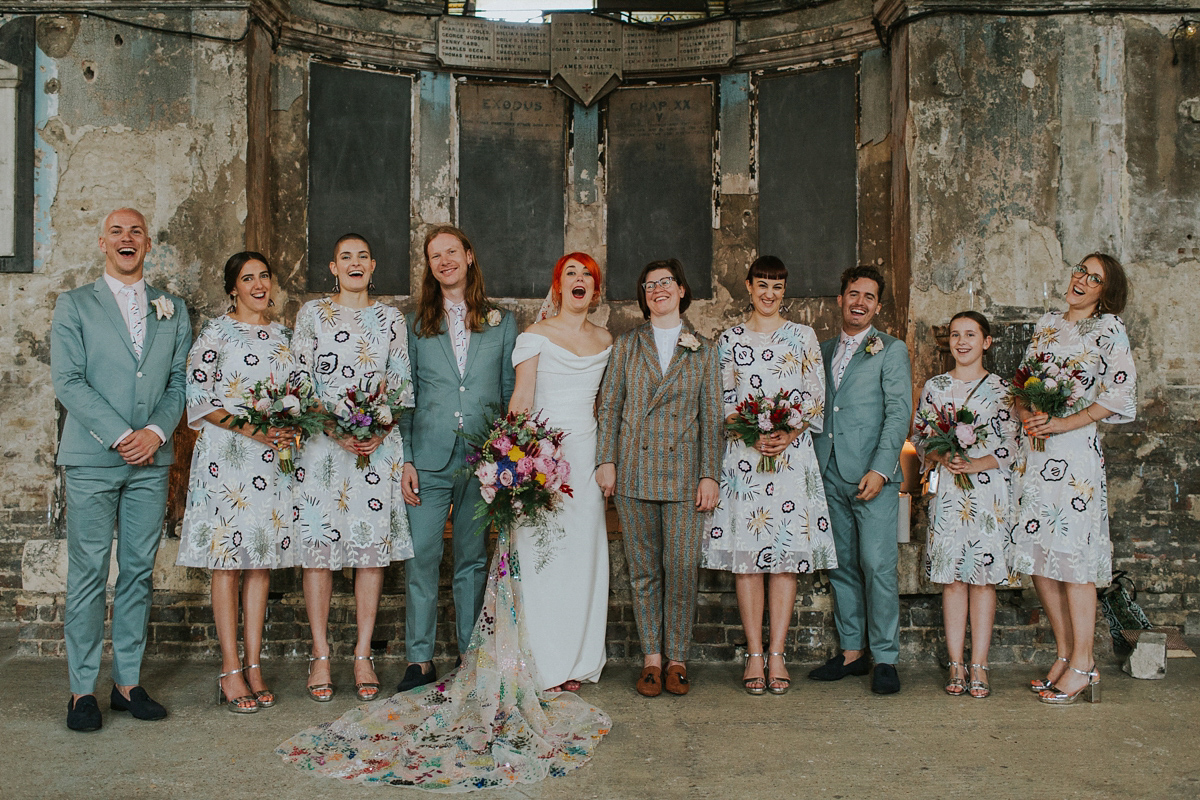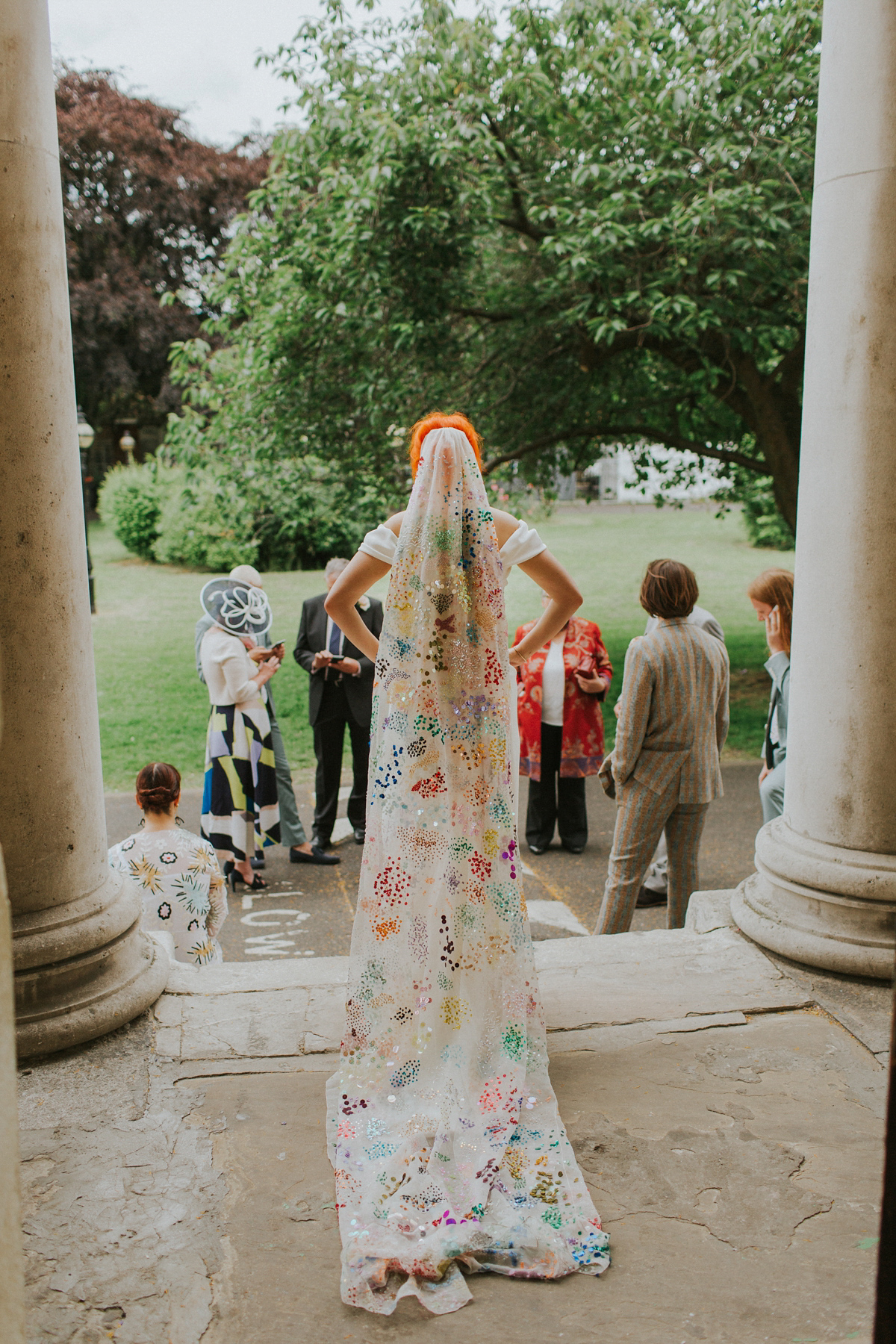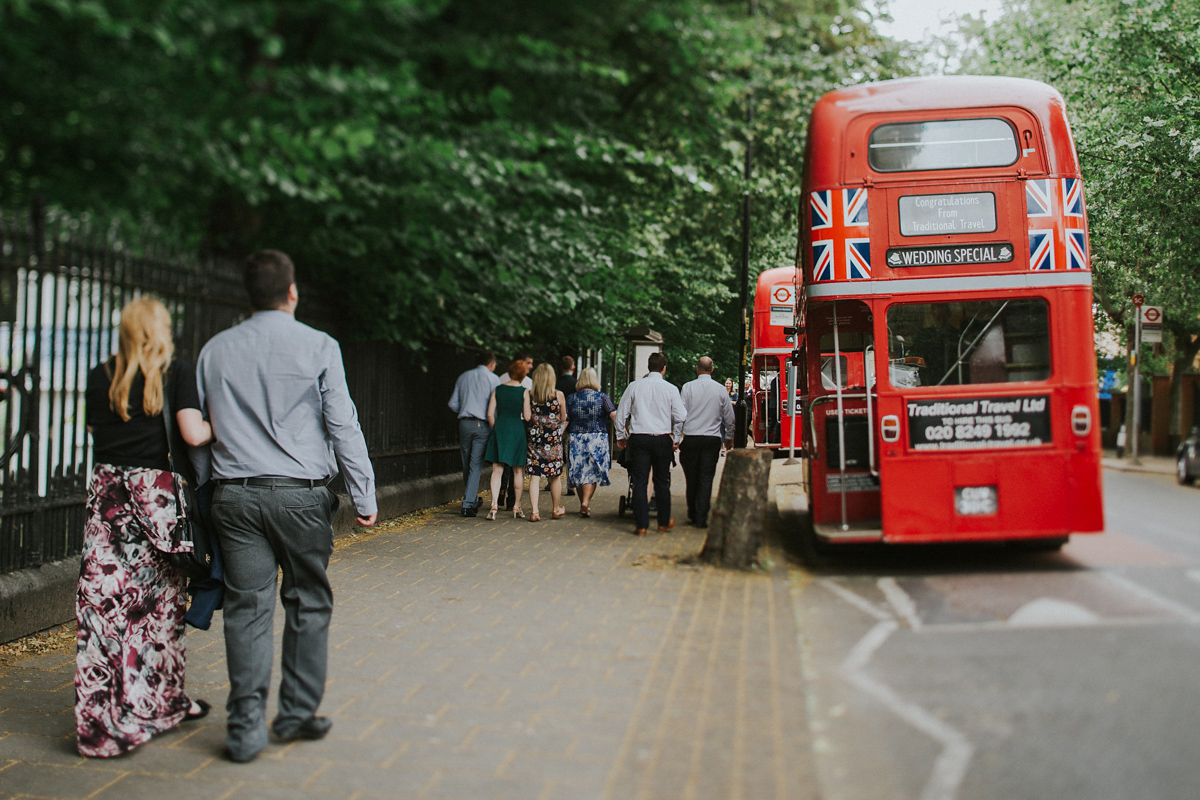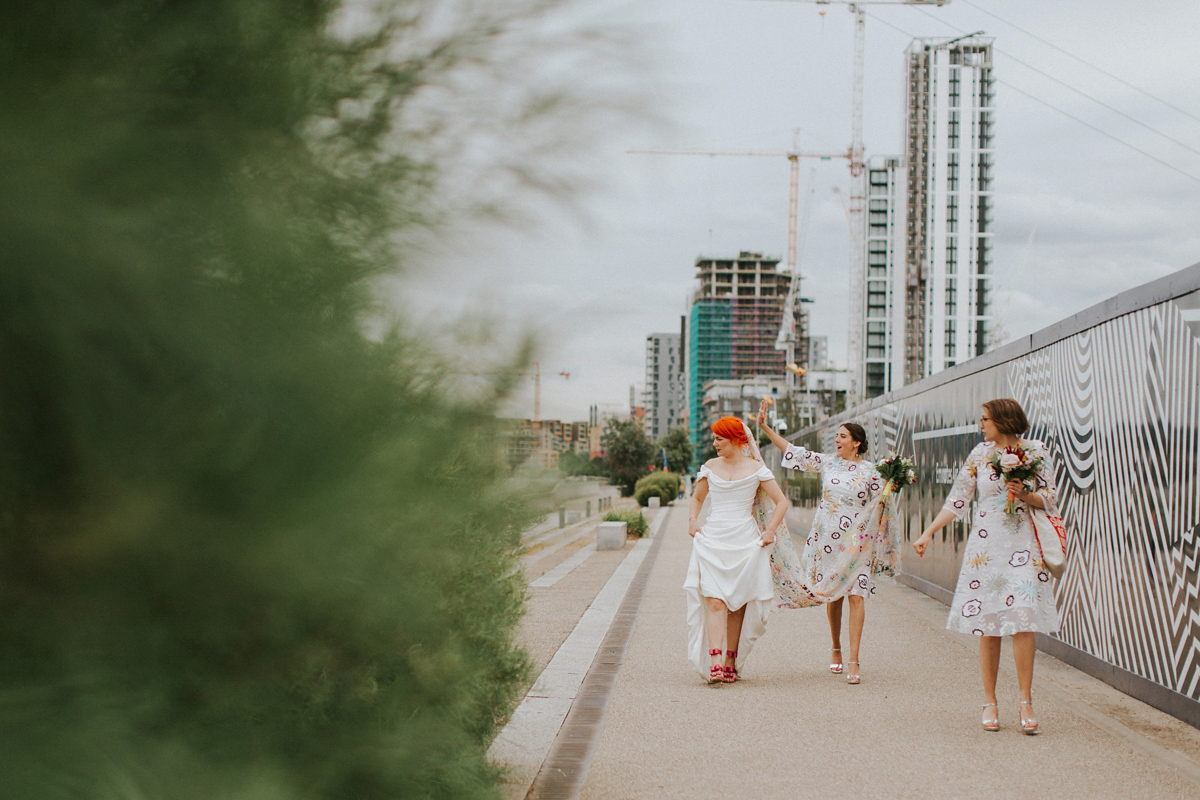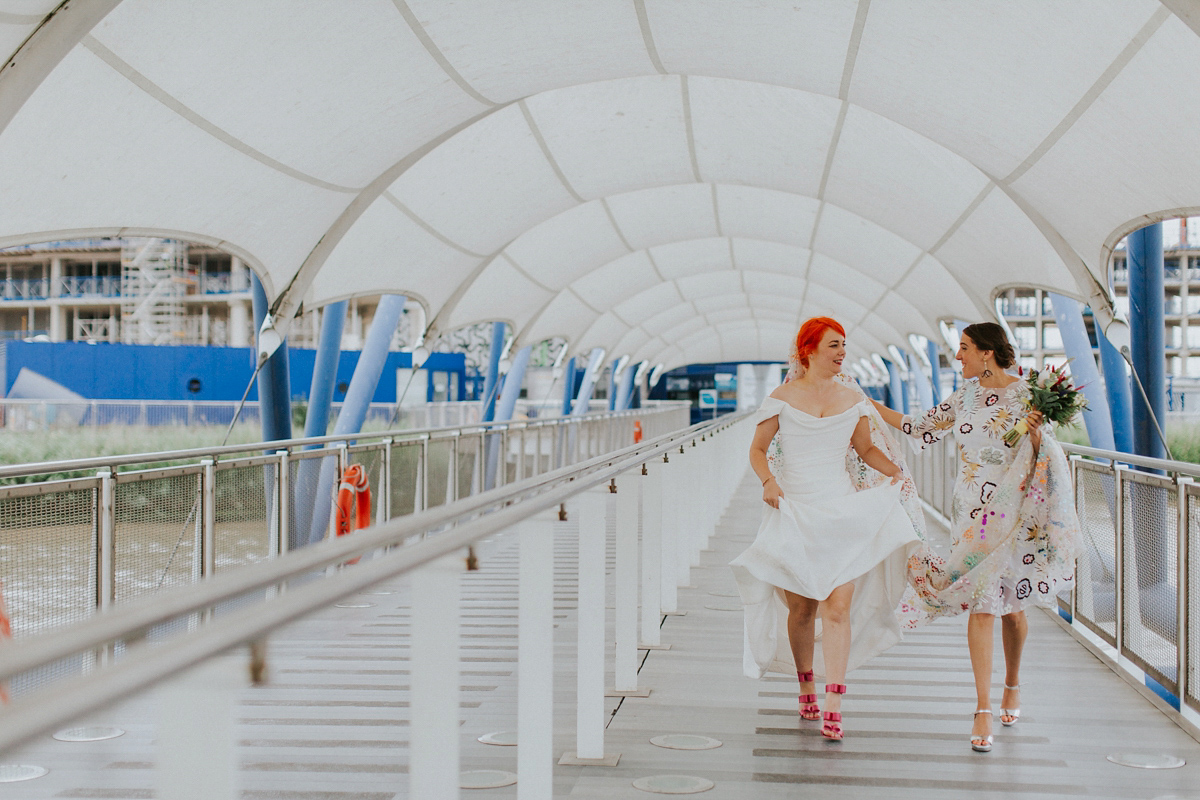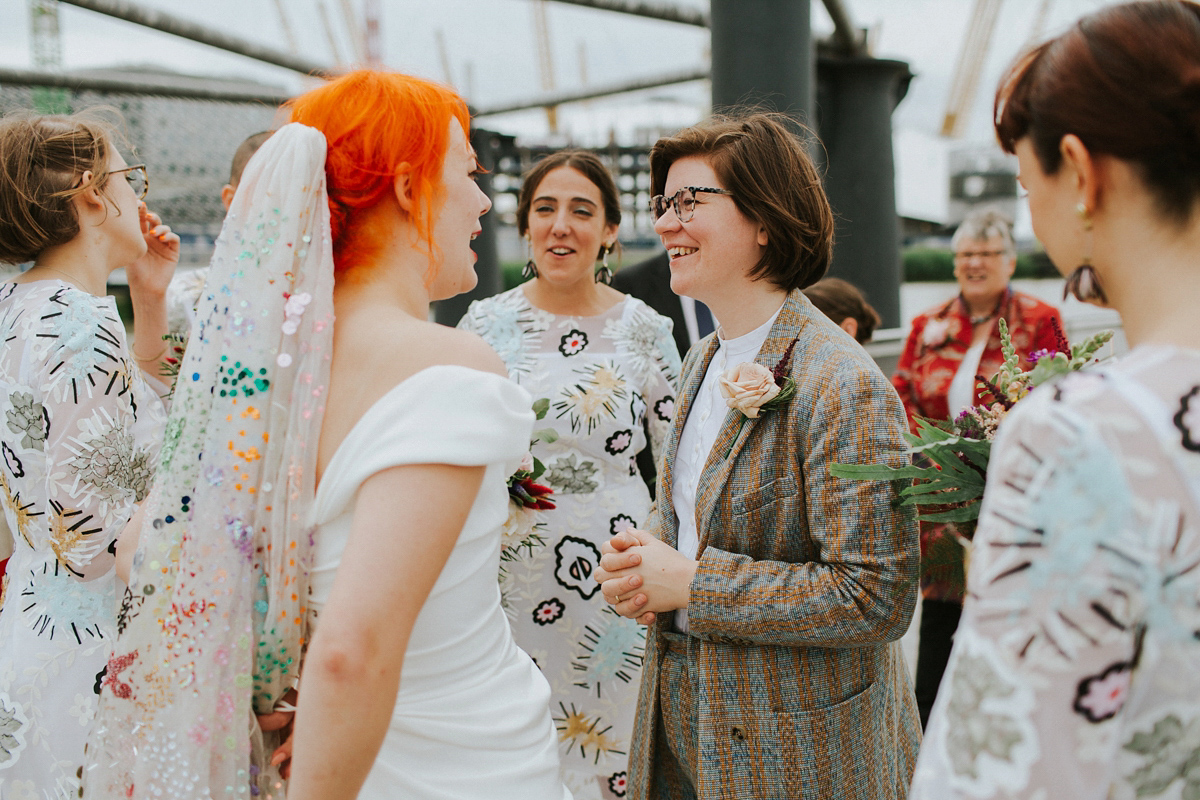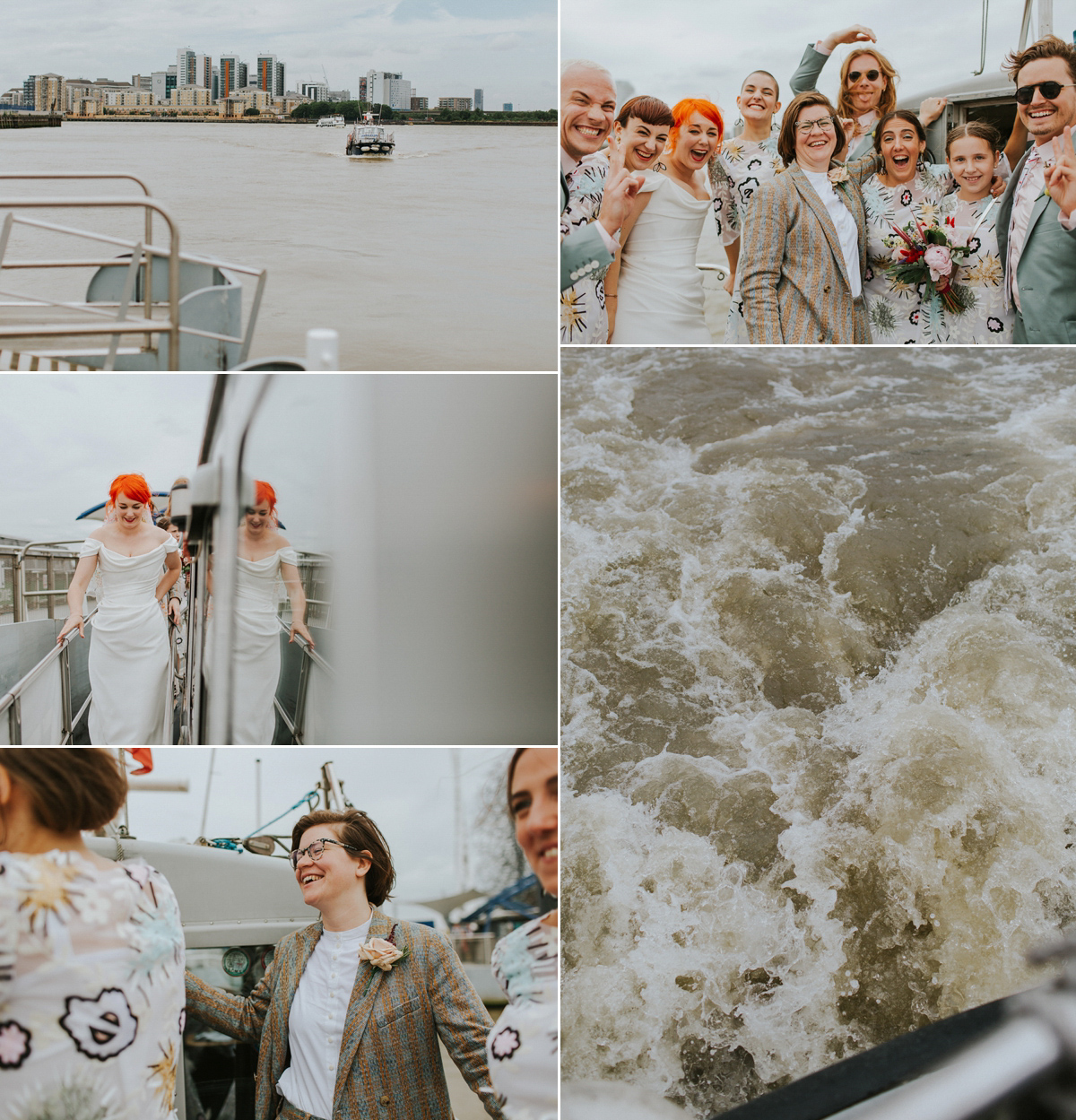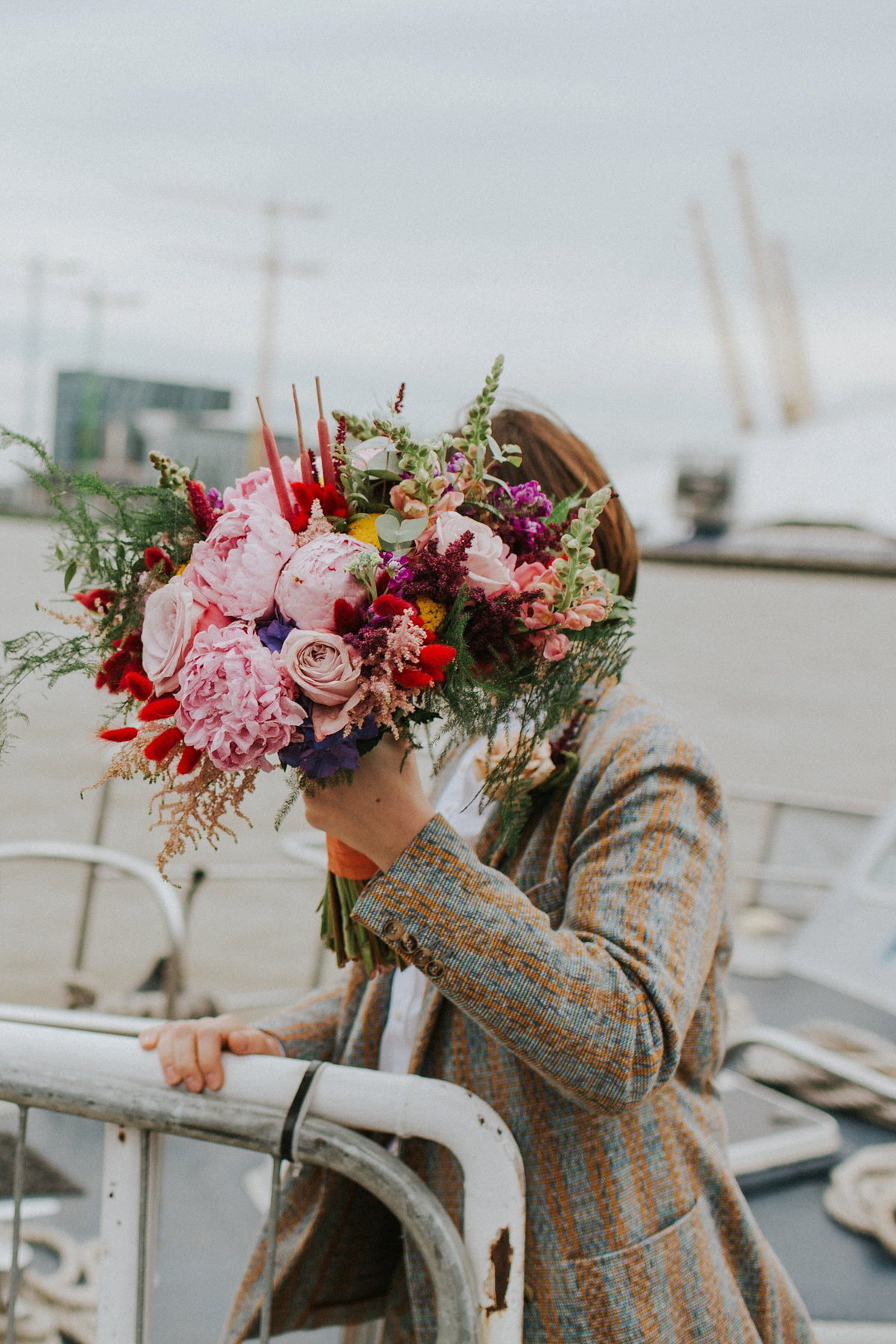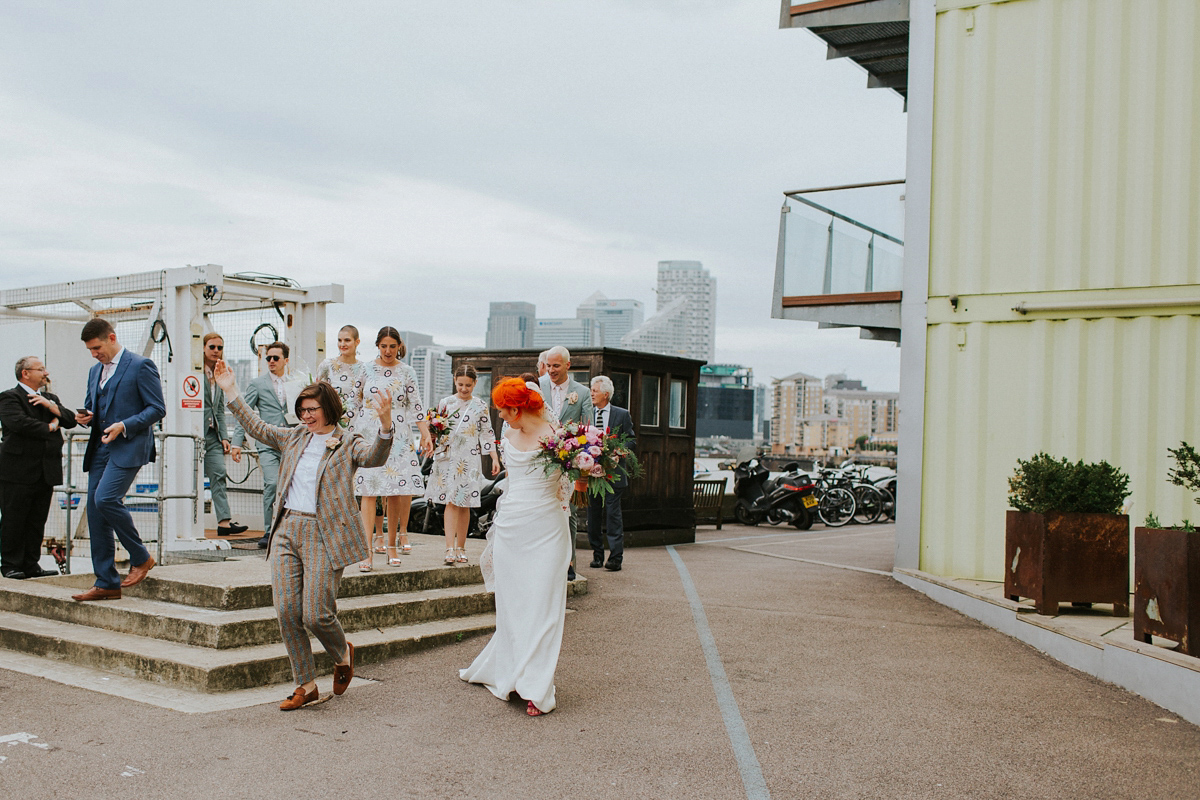 The reception decor is really something to behold- I absolutely love the amount of colour, texture and fun squeezed into this one room.
The fabulous garlands were the work of Bethan Laura Wood, while a group of friends of the brides who are textile designers painted all the table cloths.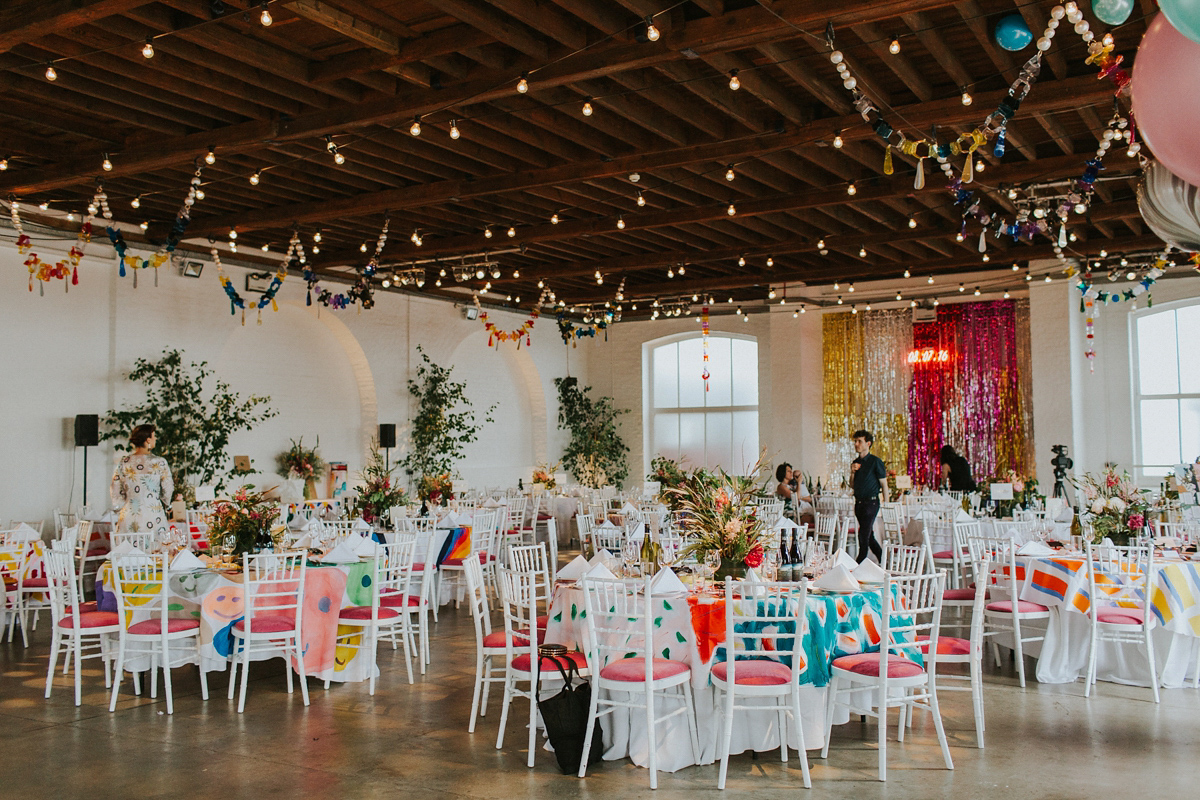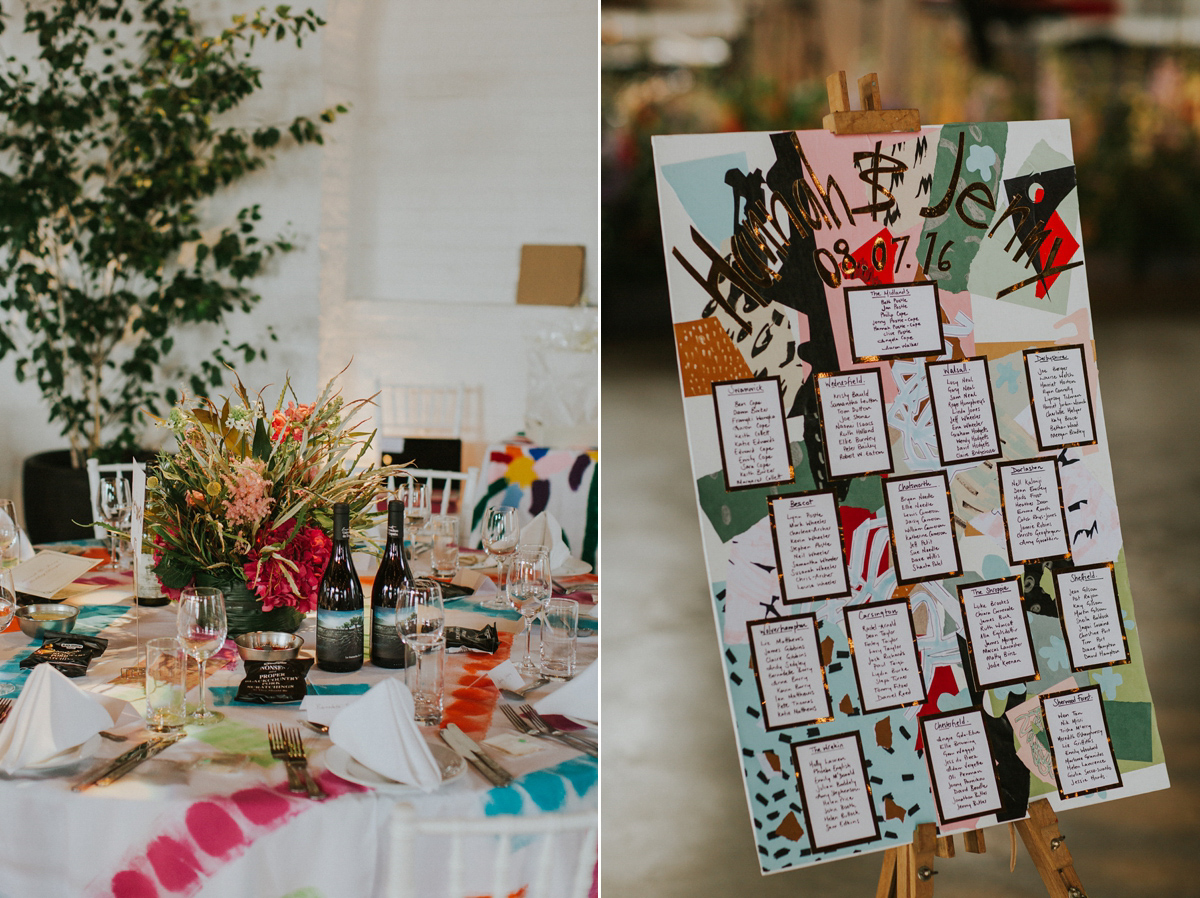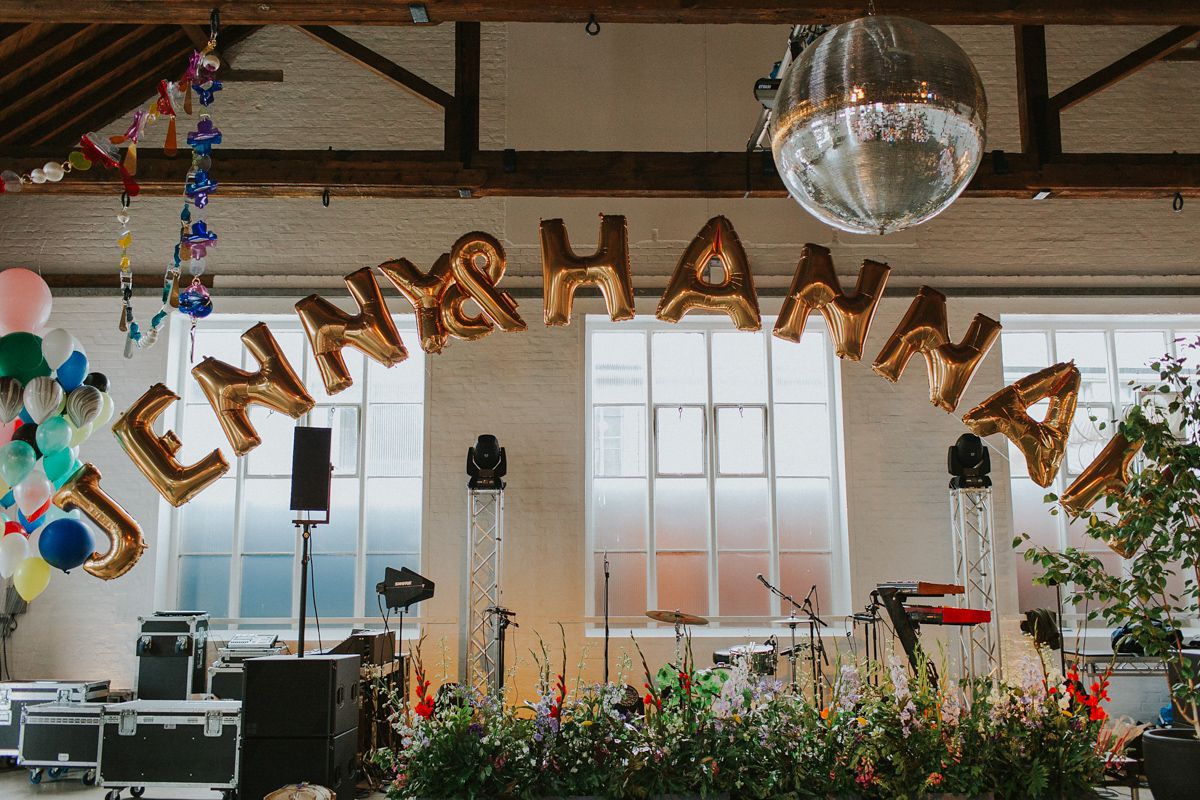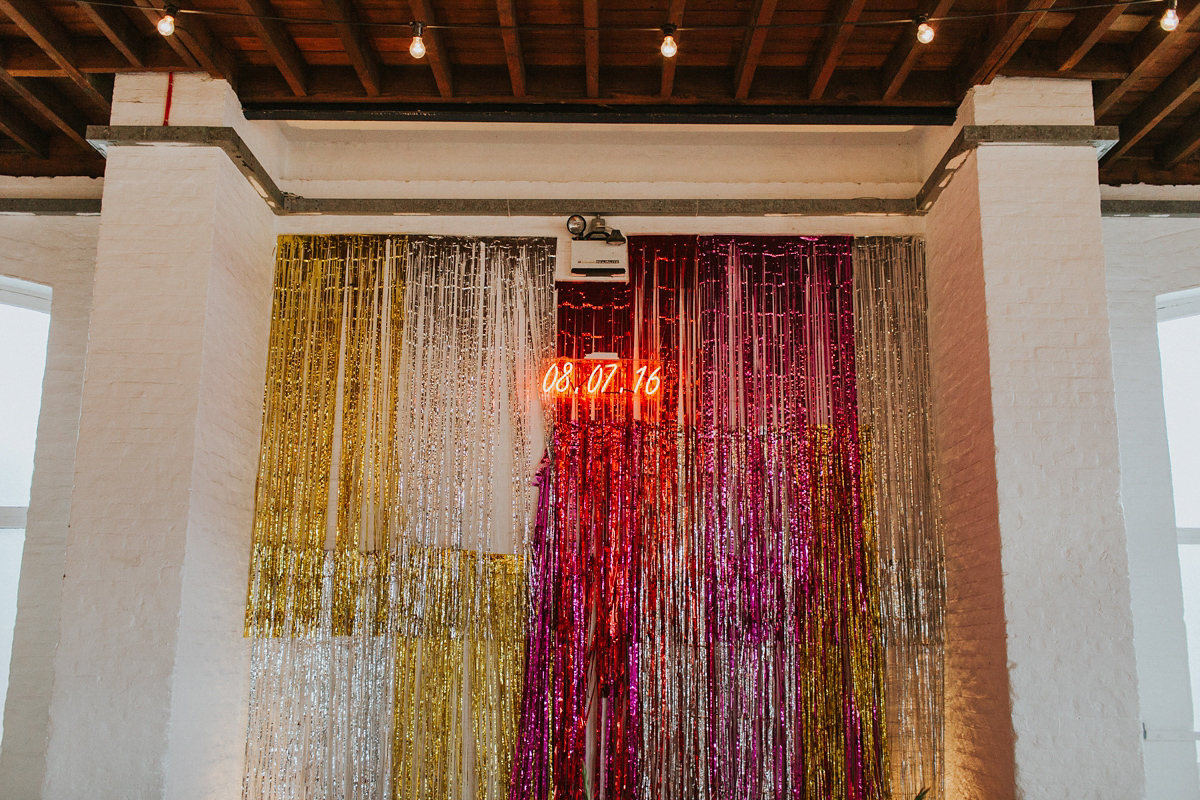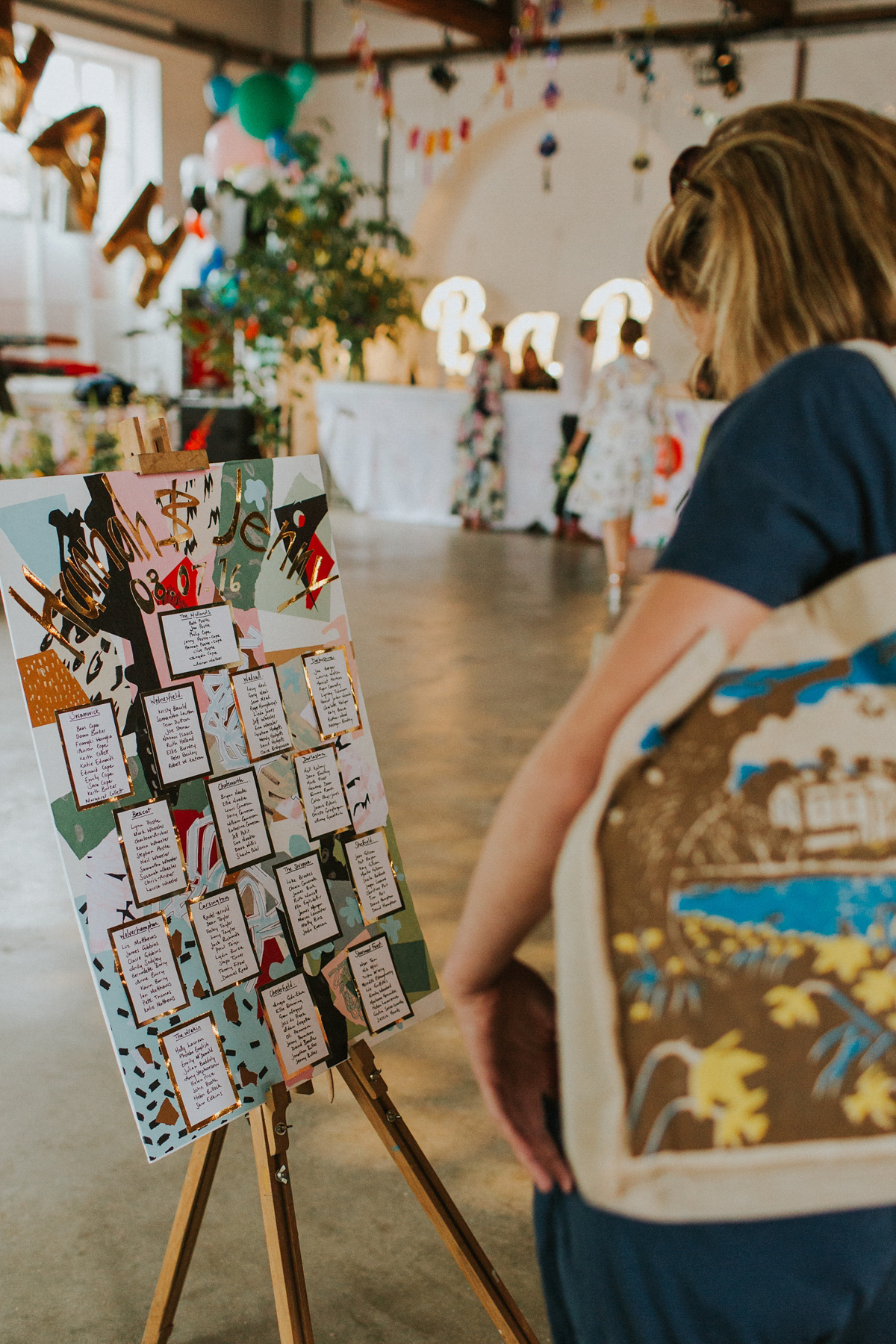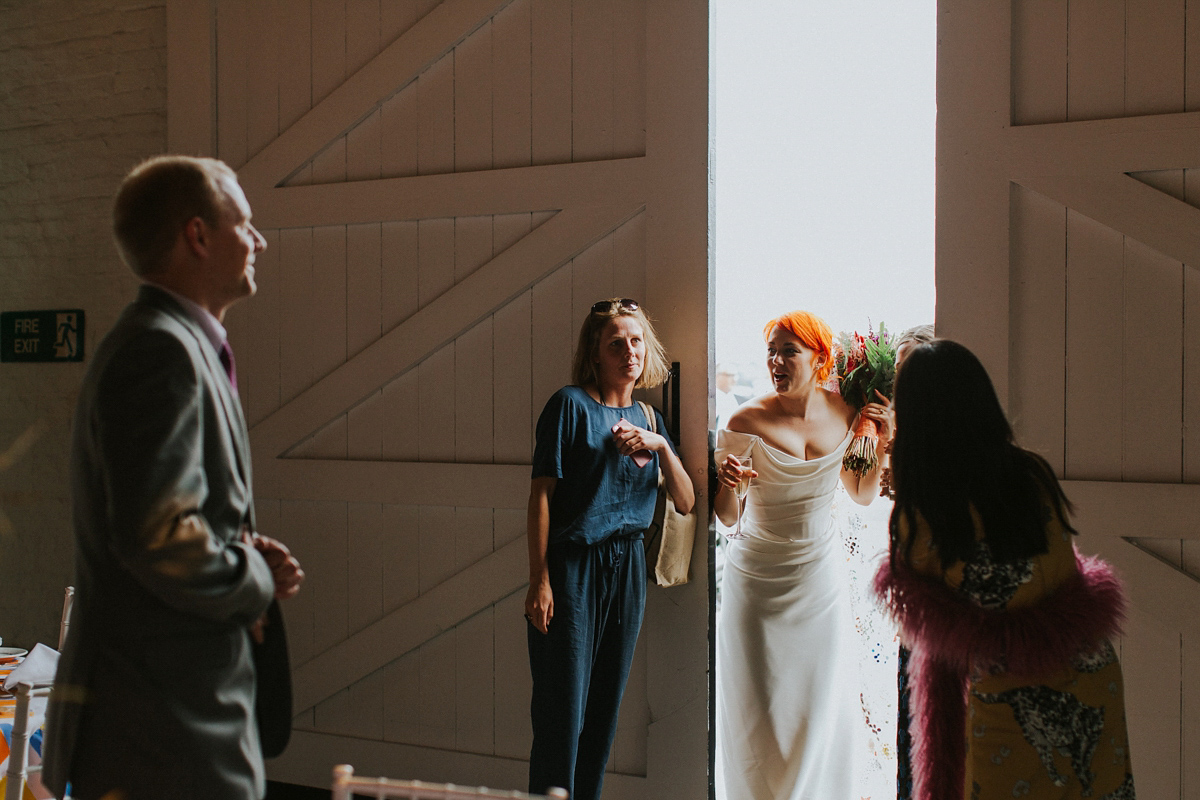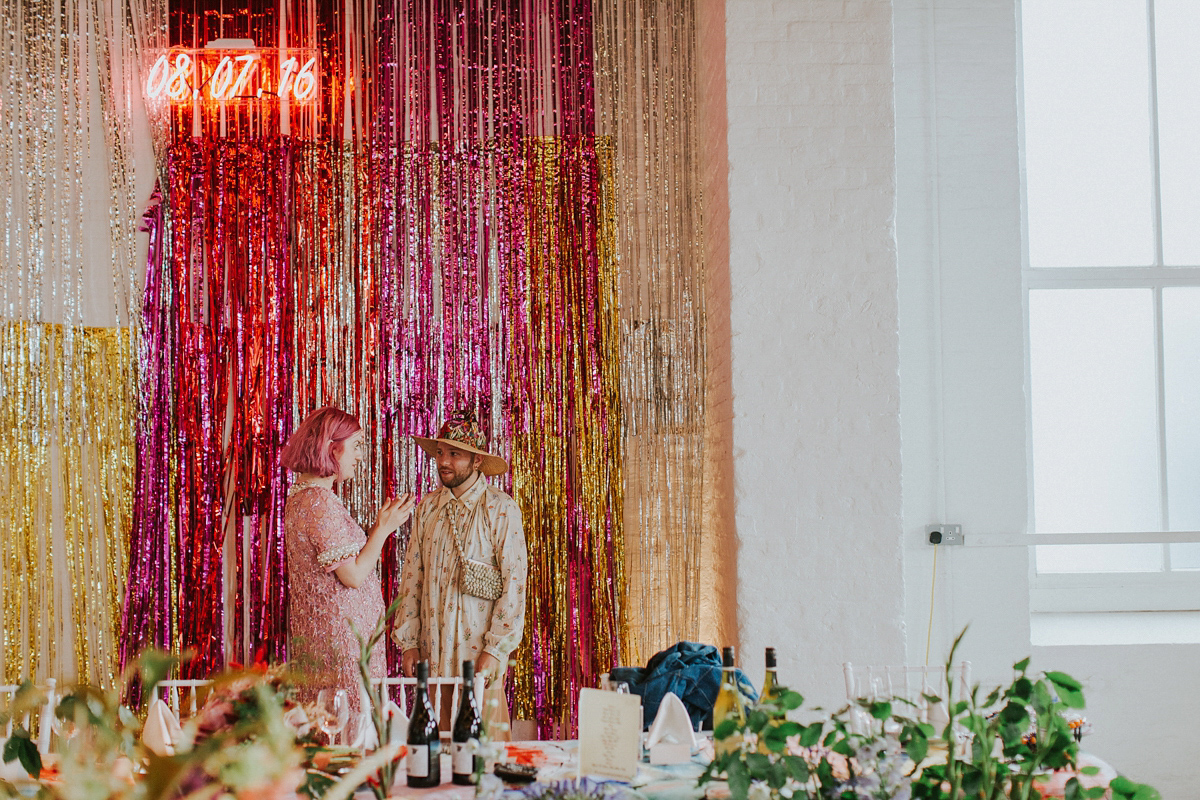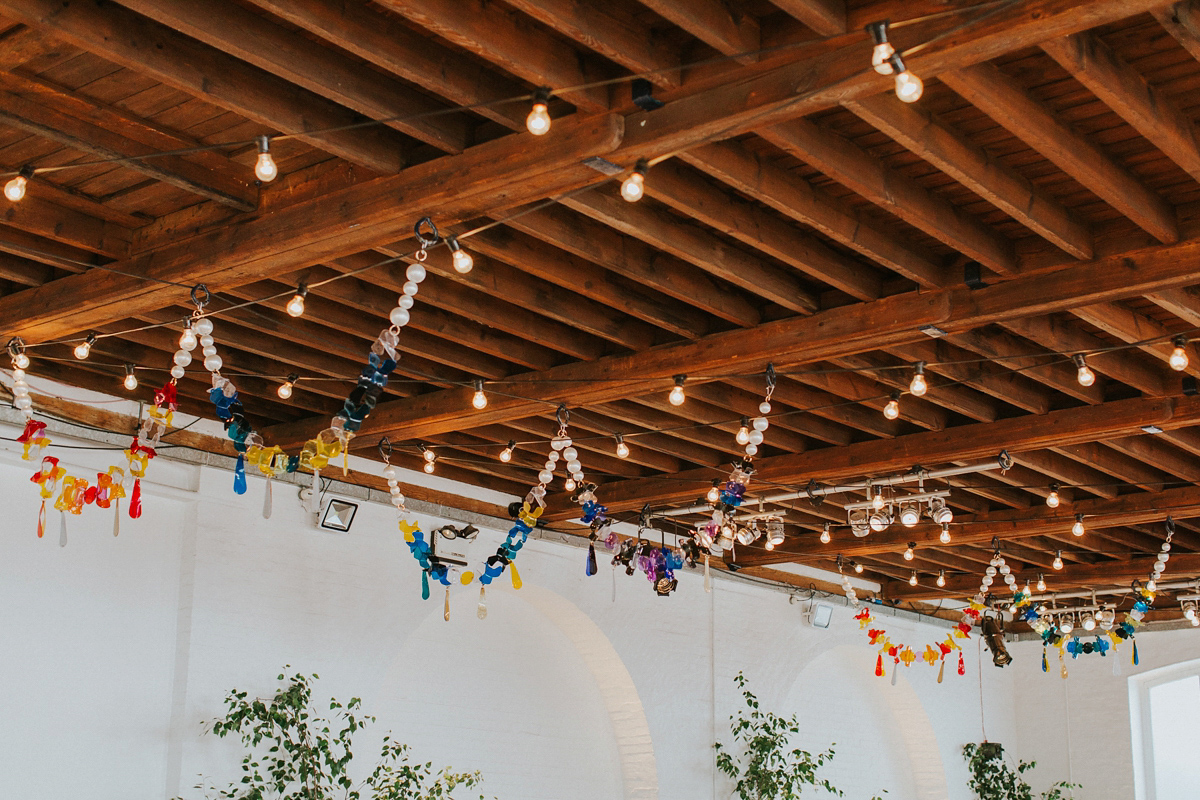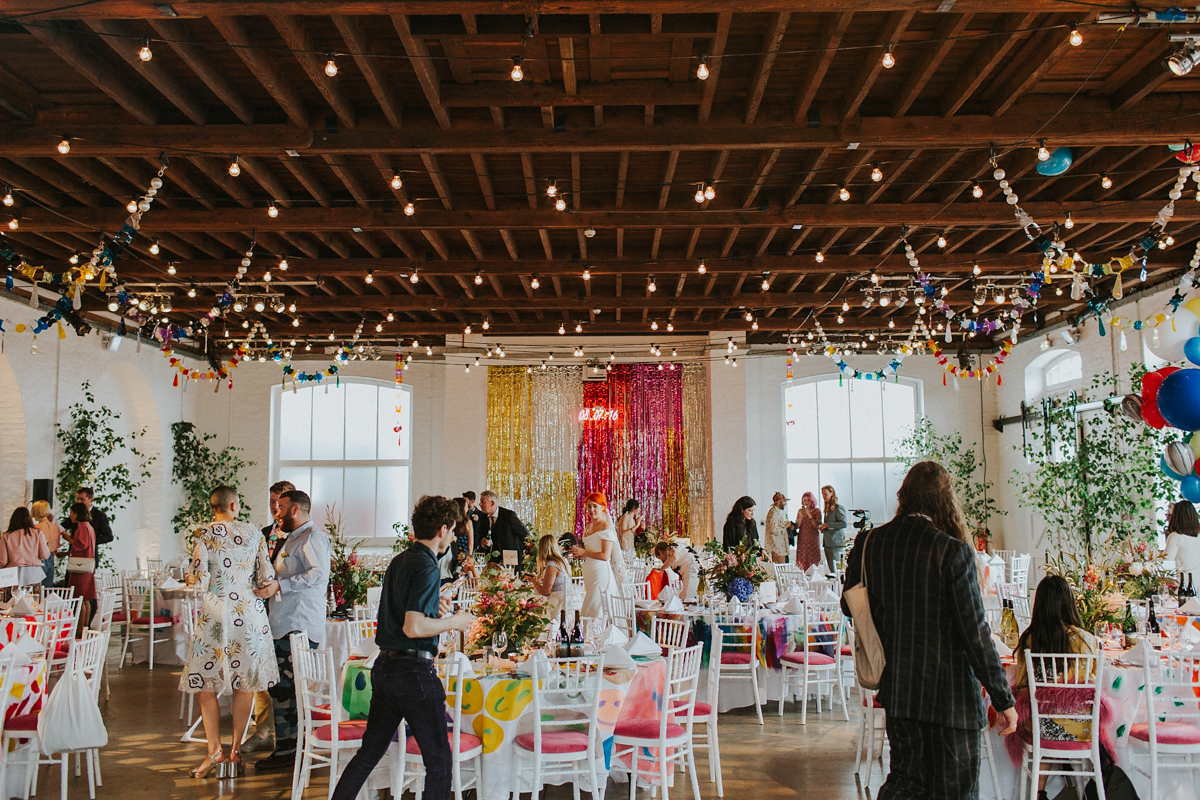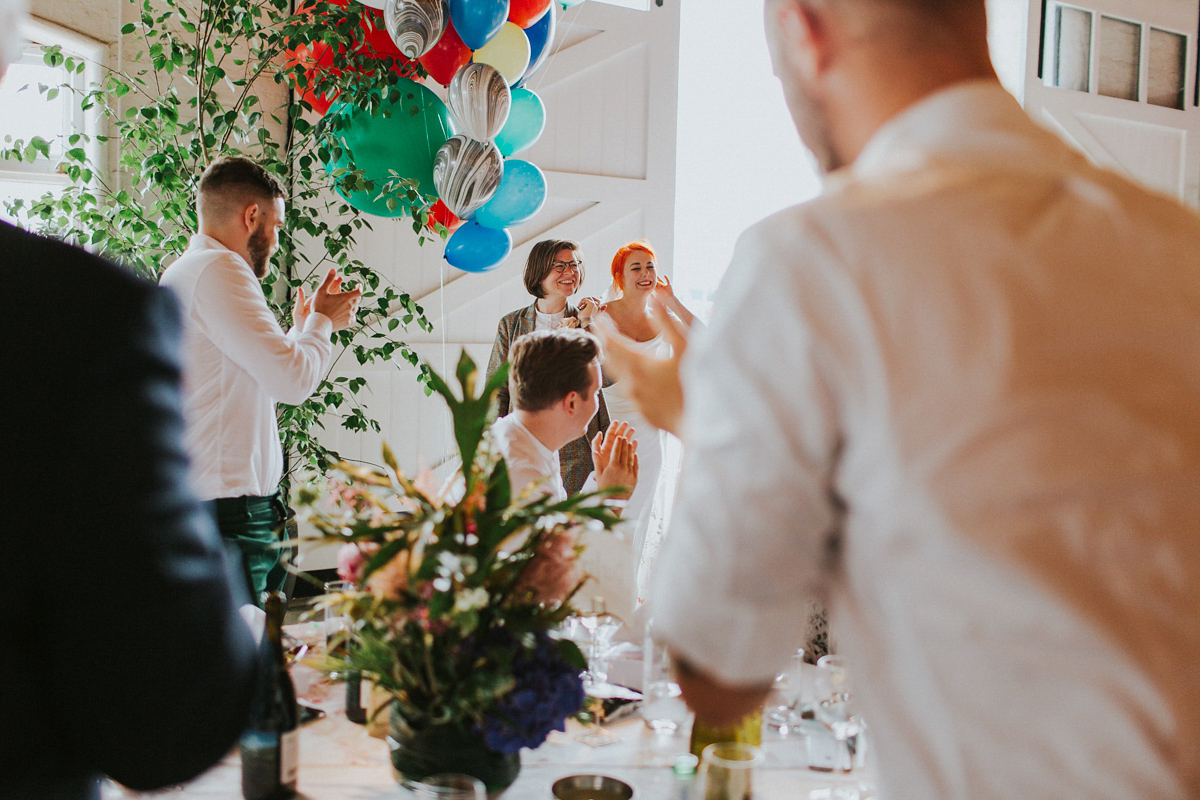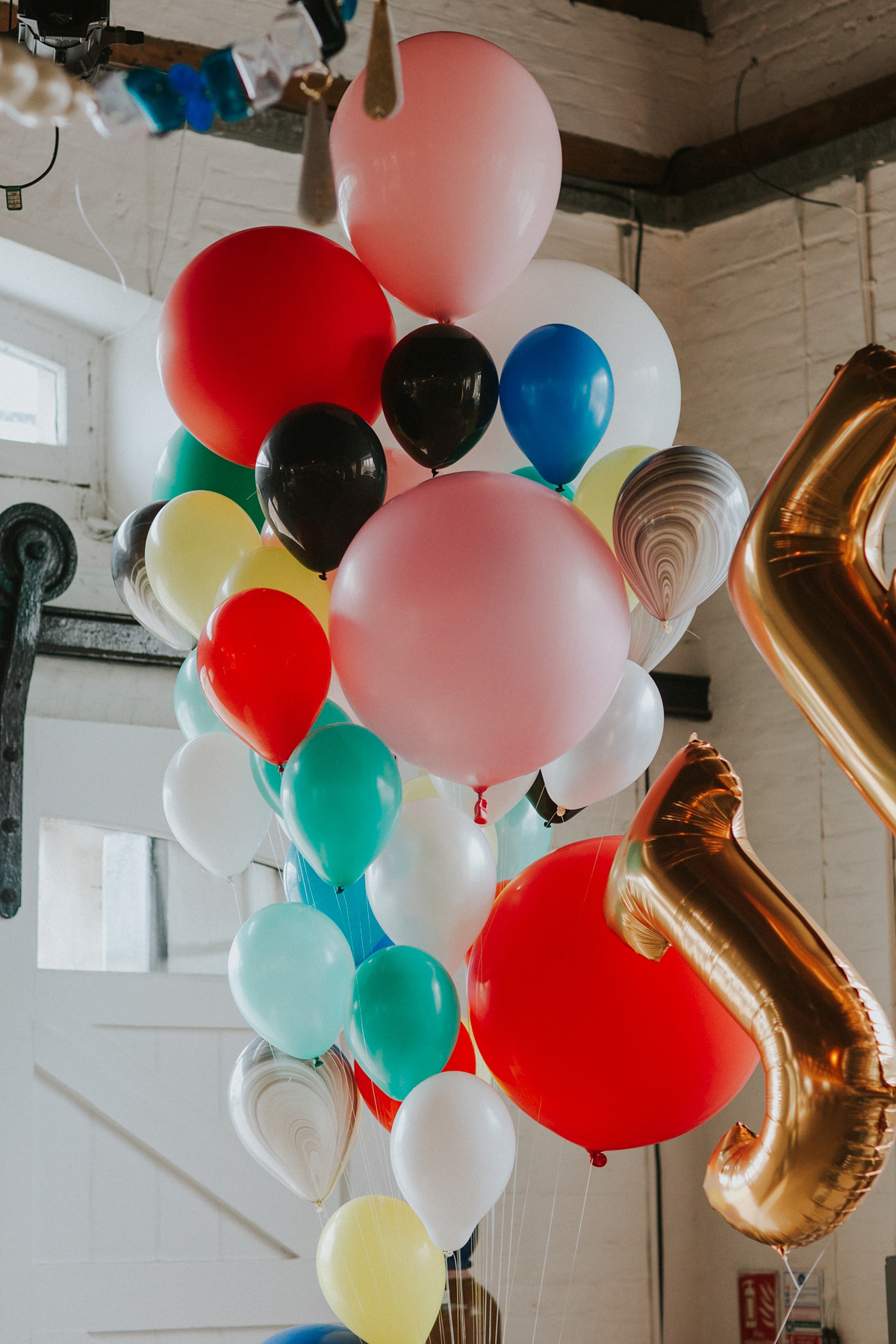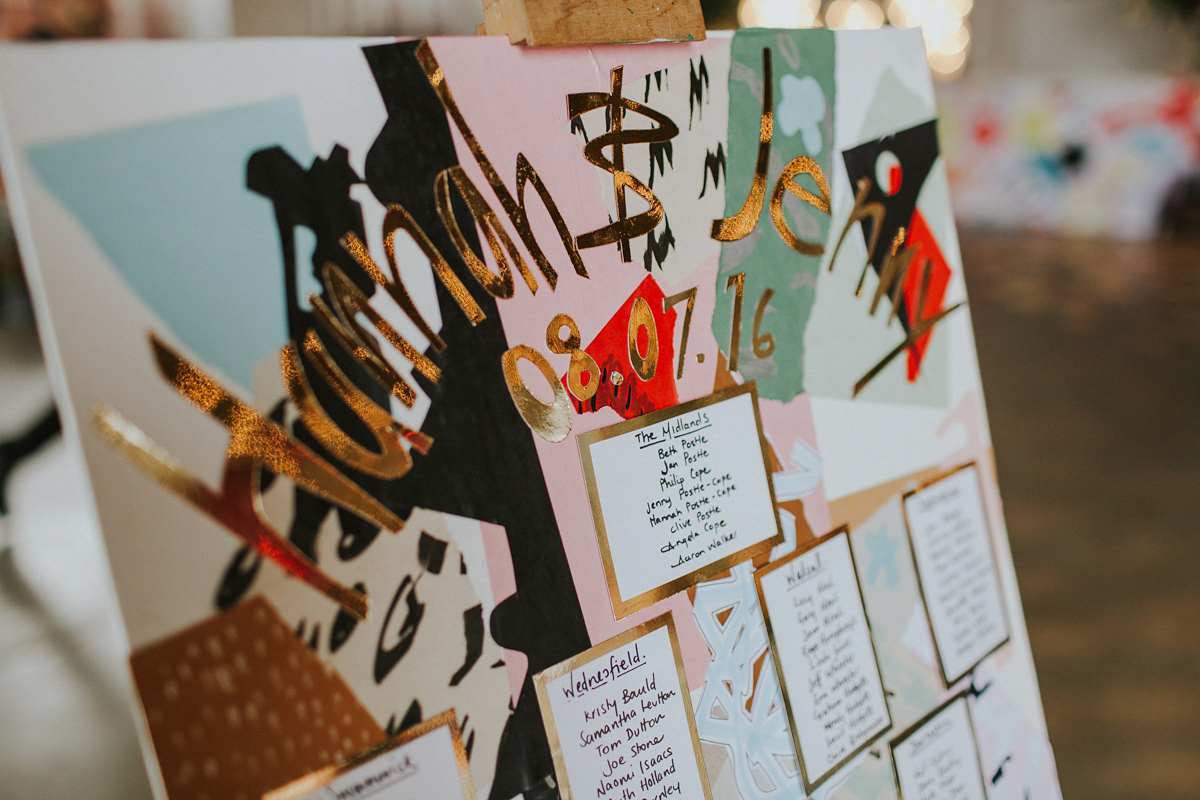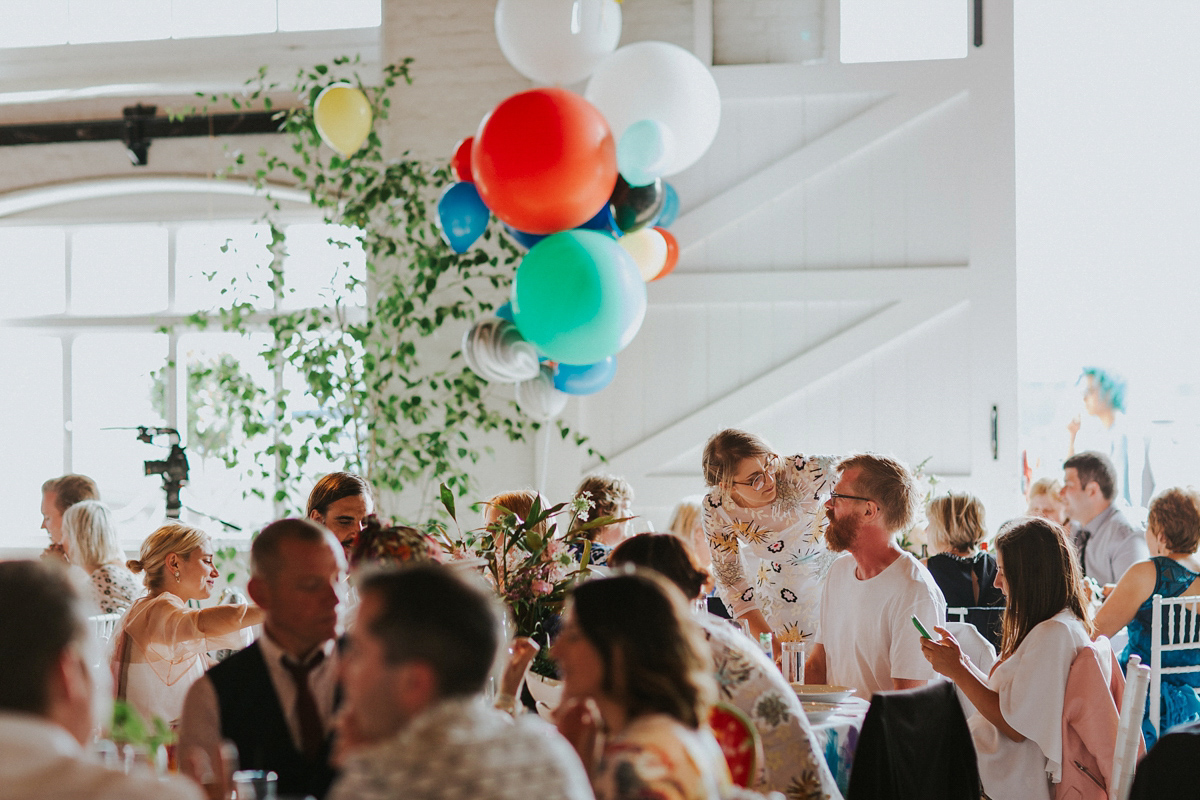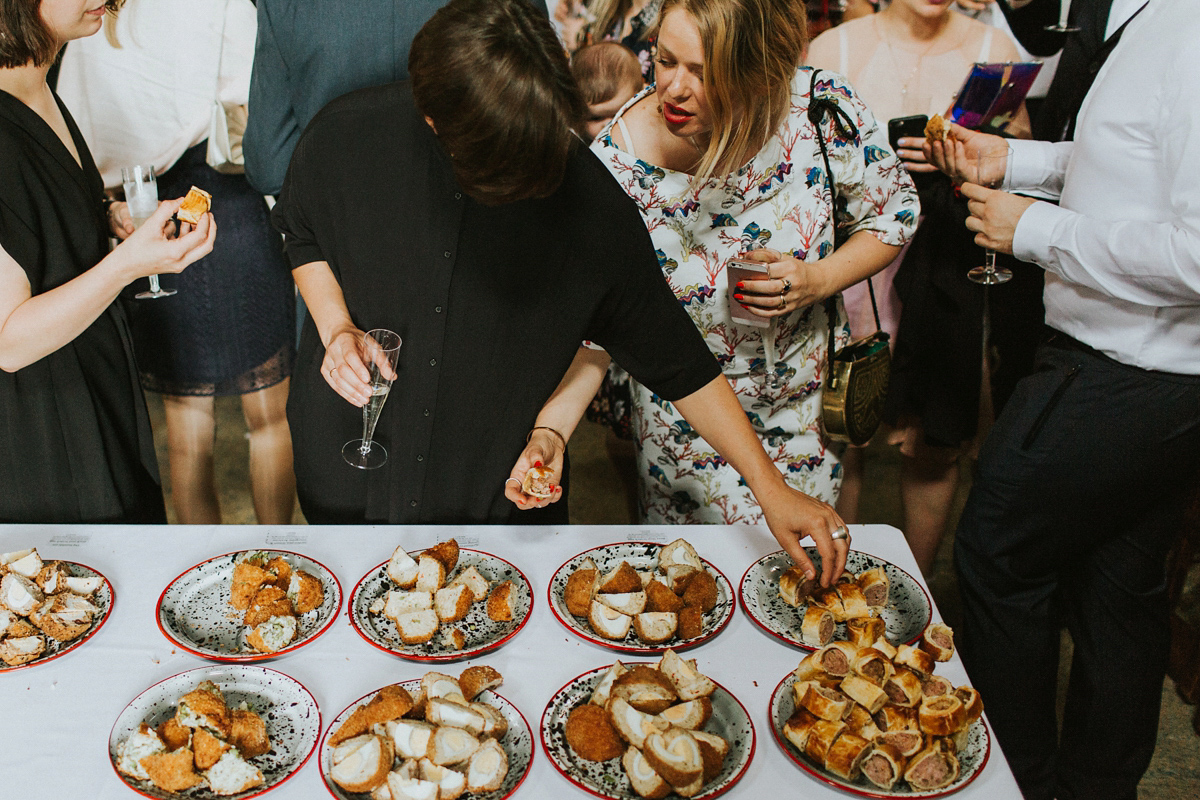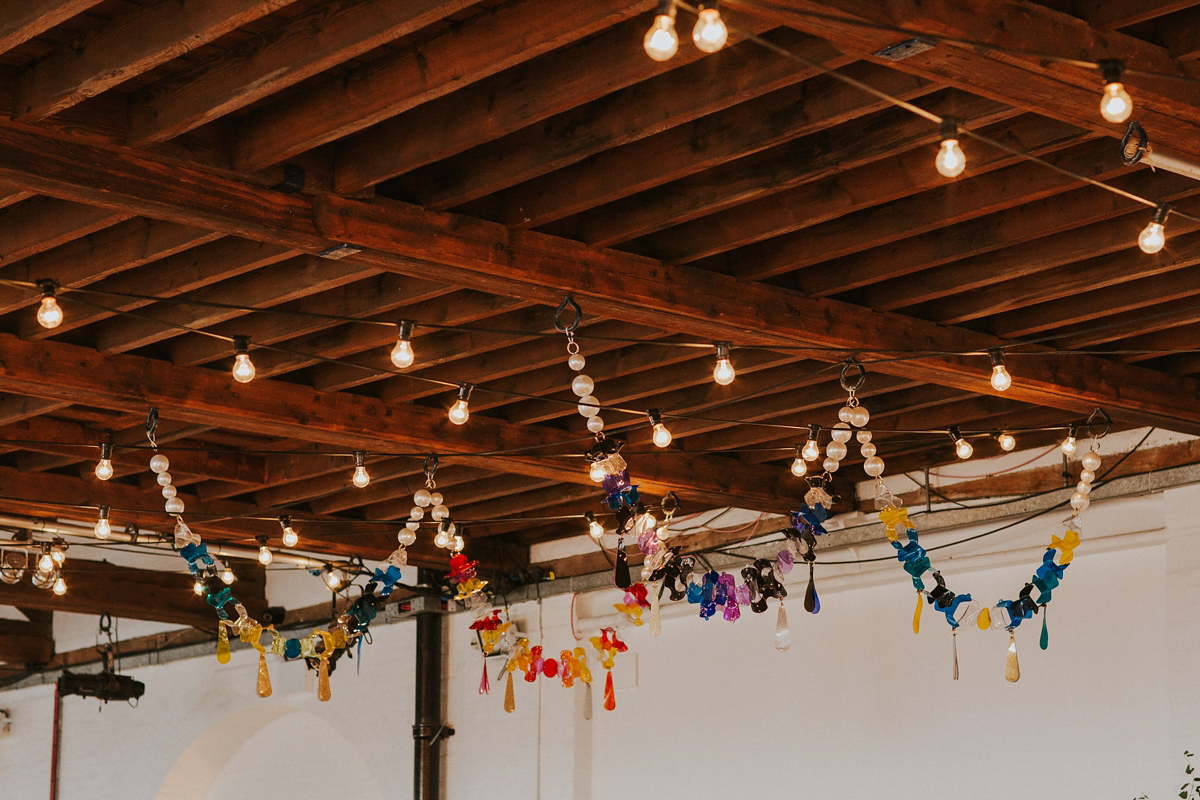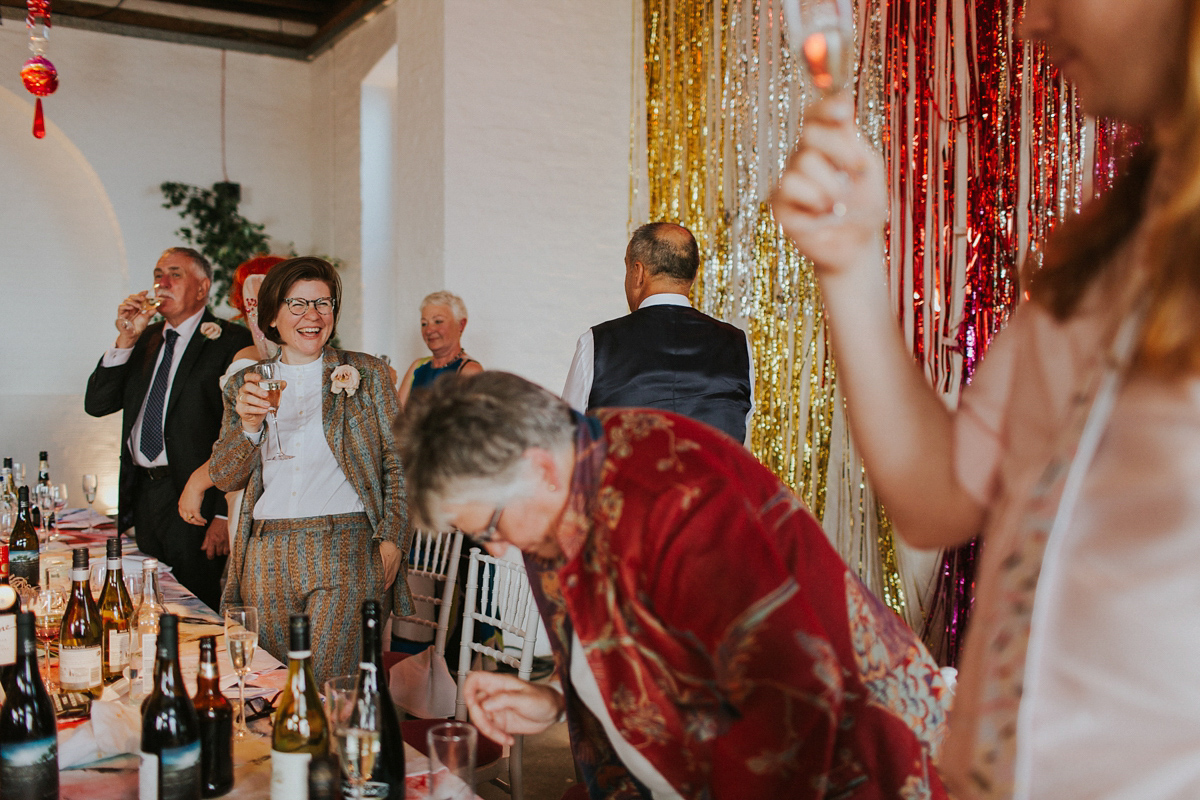 The winner, for those interested, was 'Spice Up Your Life' by The Spice Girls.
"Our favourite part of the day was the speeches- we didn't expect it to be so emotional."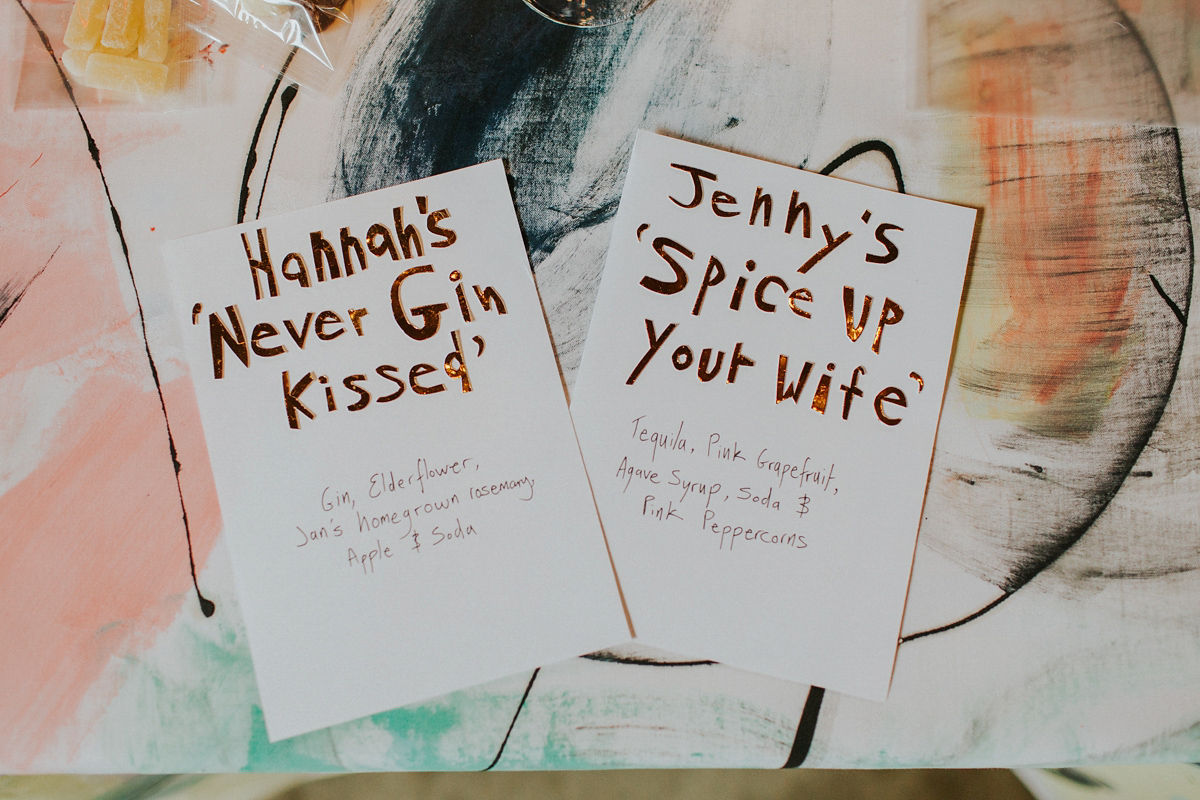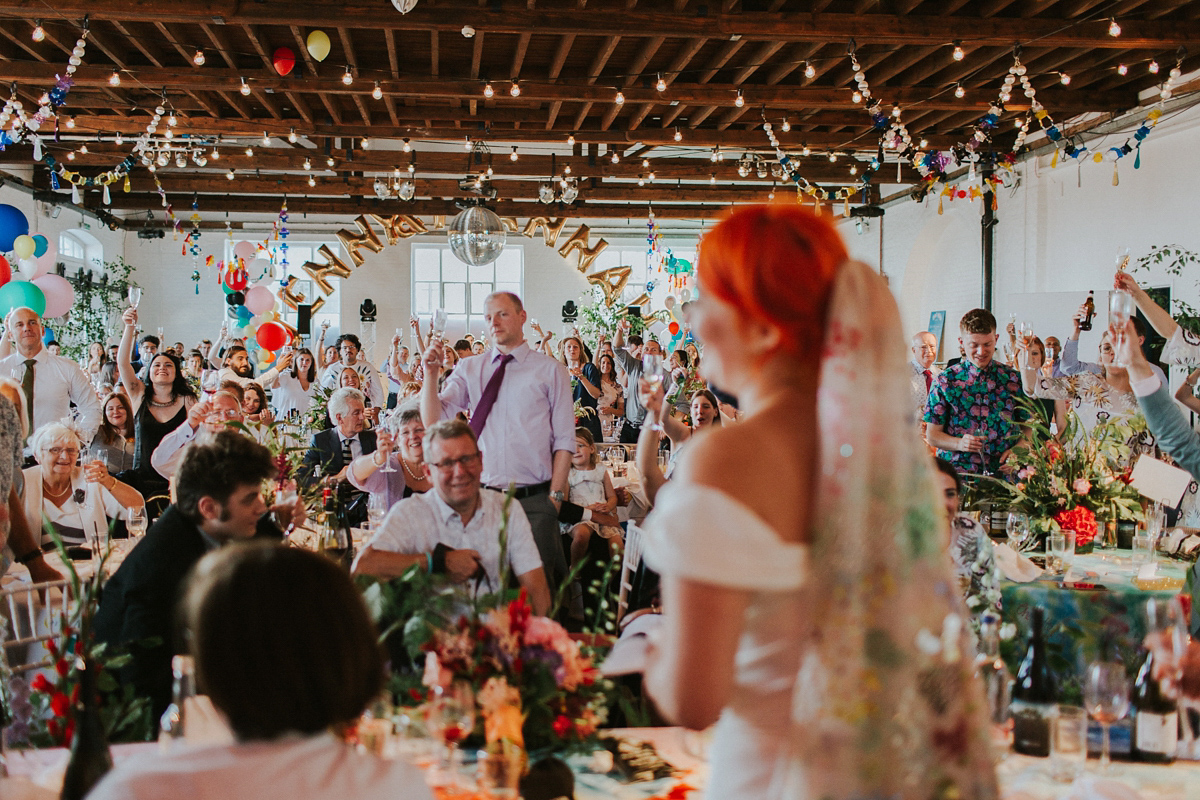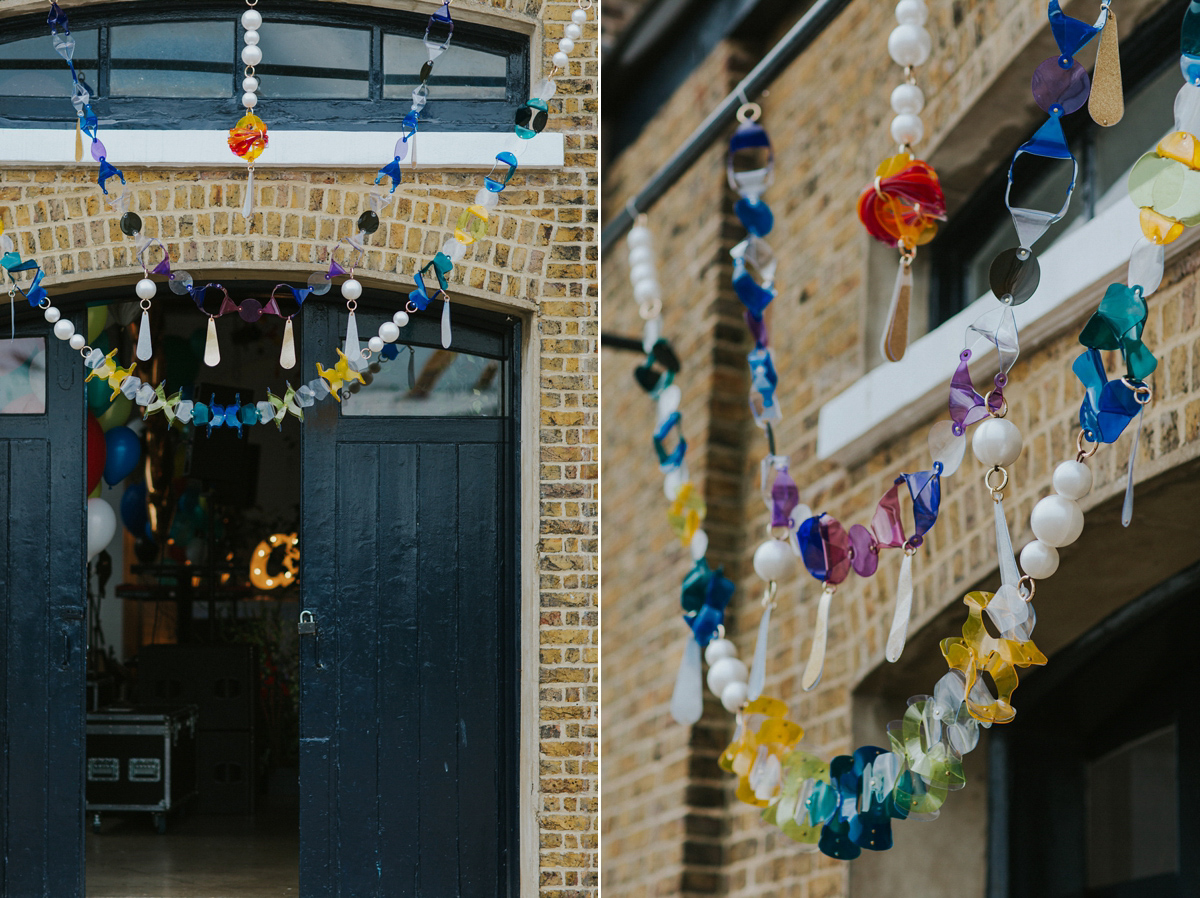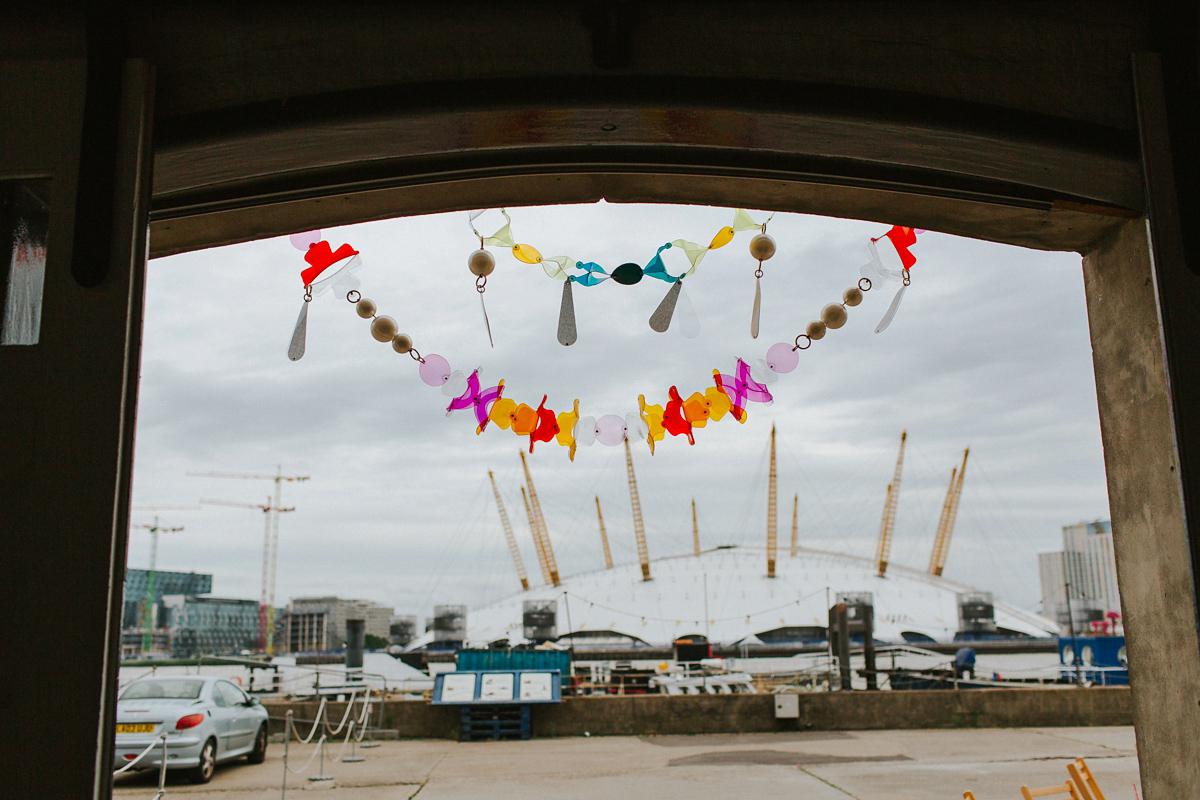 The guests were entertained throughout the day by DJs Aaron Francis Walker, Tom Aspaul and Bob Eaton and later in the evening, The White Keys had guests up and dancing once again.
"We did a lottery for our first dance.  Everyone paid a pound to put a song in of their choice on the promise we would dance to whatever was pulled out, and all the money was donated to LGBT charities in Wolverhampton and Derbyshire (where we are originally from)."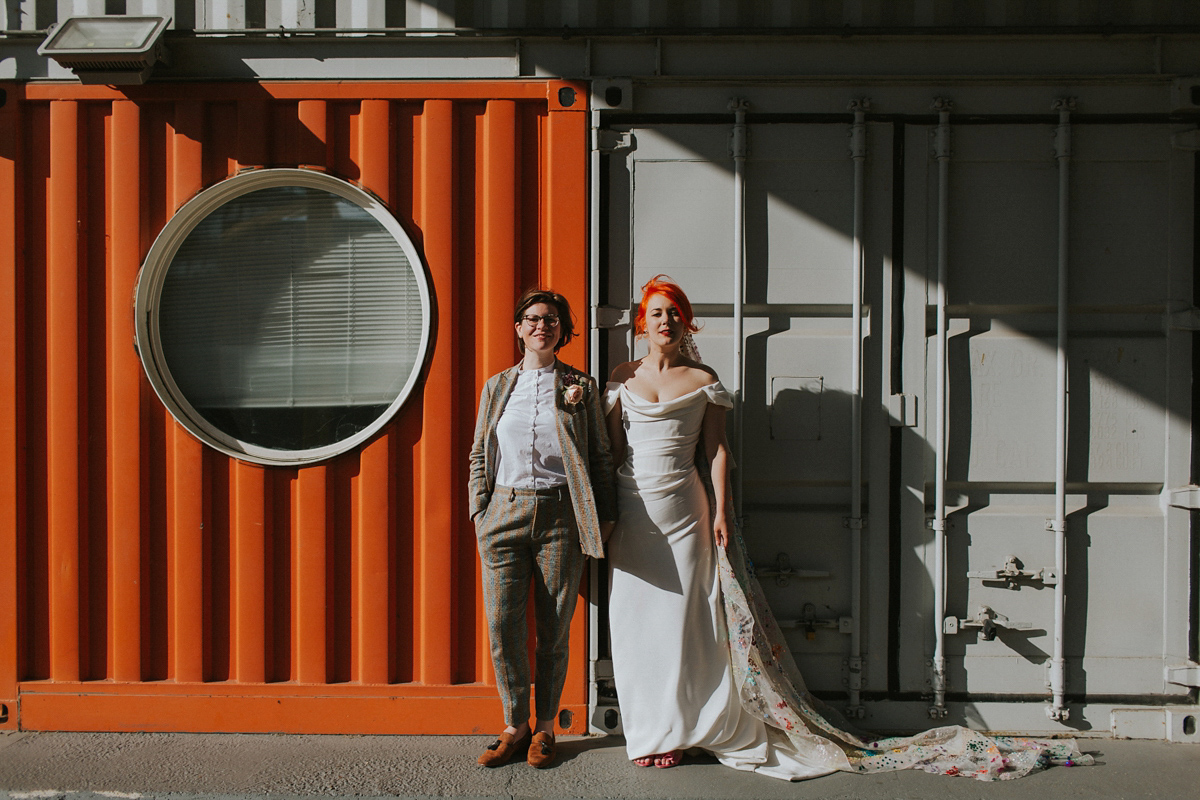 Words of Wedded Wisdom
"Use your friends to help you!"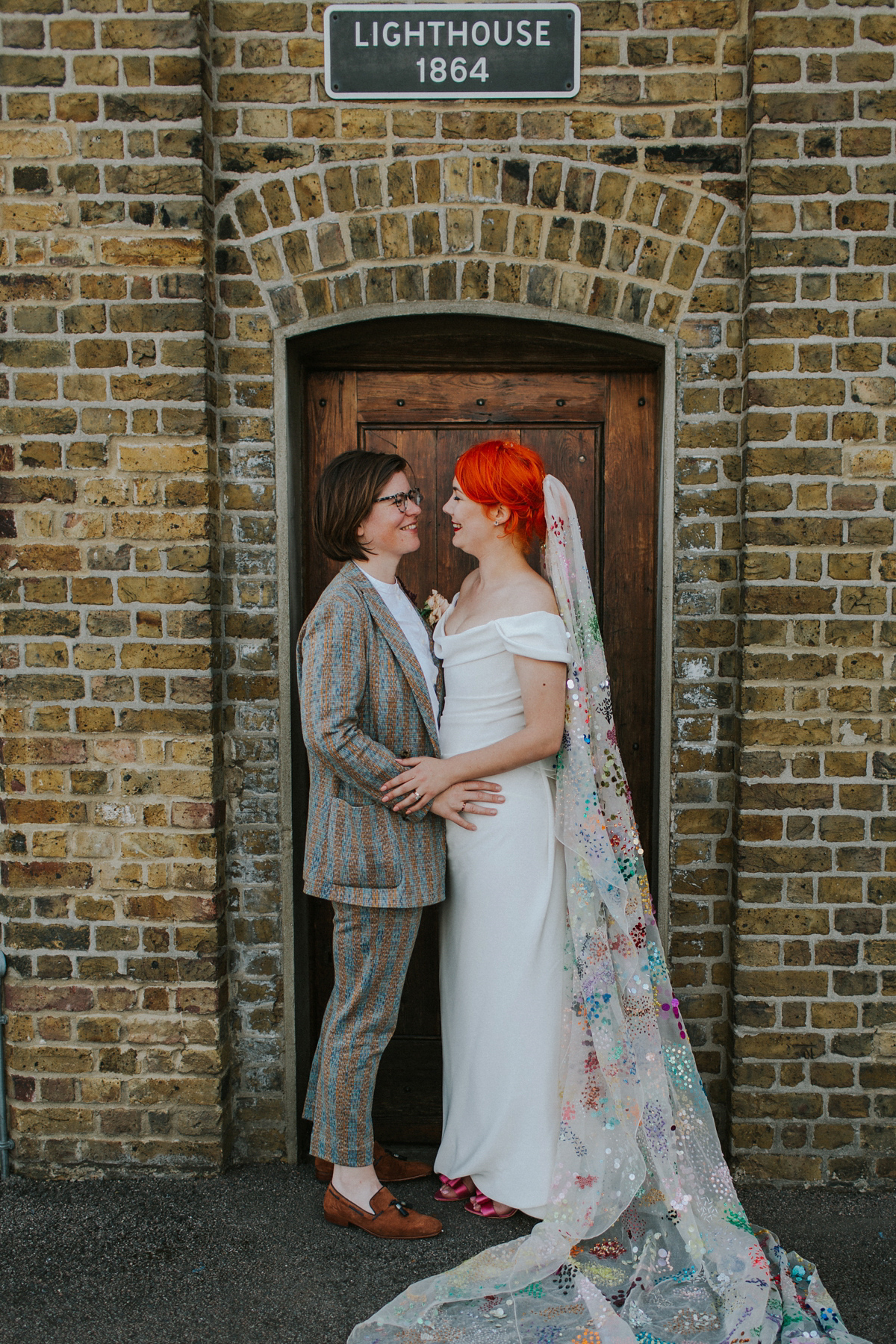 I'm genuinely taken aback by the amount of talent shown by Hannah and Jenny's family and friends and the sheer amount of love and effort which went into producing their beautiful day. It's so lovely when loved ones come together to help the couple create their perfect day.  Huge congratulations to Jenny and Hannah and many thanks indeed to Hector and Charlie of We Heart Pictures, for allowing us to use their images.  The Asylum Chapel is a venue which is very popular with Love My Dress brides, and for very good reason – take a peek here to see some more real weddings which have taken place here.
Much love,
S x